Il-96-300 Aeroflot SU552/551: BKK-SVO-FRA-SVO-BKK
Dear all,
Thanks to the public holiday and continuous rain, I have found the time to write another trip report about some rare aircraft I was lucky to fly on in 2009. This one will cover a memorable round trip on Aeroflot's Il-96-300s.
Background, Preparation & Booking
There were numerous topics on a.net about SU's announcement to retire all Russian types at the end of the summer schedule 2009. After getting hold of the news, I was carefully observing the destinations & routes they serve, and checking the SU website until when they would appear in the booking engine to figure out their exact retirement. Being based in Melbourne, Australia, the most logical starting point was Bangkok, where I have been many times before and which was at that time the only remaining SU Il-96 destination in Asia (the only alternative was New Delhi). As I had to go to back home Germany in August 2009 anyway, I was committed to combine this journey with the SU Il-96-300.
In order to grab the best fare, I did some search on SU's website and other booking websites. They actually advertised their 'Hit' fares, which were quoted at EUR 360 + taxes return for SVO-BKK-SVO during August 09. However, as I had to fly the other way and connect to a German / Swiss city, I just wasn't able to get a comparable fare. The other strange thing was that the website would quote me different fares every time I checked, they randomly de- & increased. I also crosschecked with my travel agent in Melbourne if he was able to beat the fares on SU's website, but he couldn't, not even in combination with a TG connection MEL-BKK. I tried various arrival cities in Germany, but the connections and prices never worked out, so eventually I committed to the only affordable solution FRA. However the return connection was red eye extreme, departure from FRA at midnight and arrival in SVO at 5am, and then departing from SVO to BKK at 7pm the same day some 14 tiring hours later! I did a lot of research on the net regarding transiting in the old SVO terminal, which didn't reveal very promising results. For those who have never been to SVO, it was then easily voted as Europe's worst airport from both, transit and arriving & departing passengers for various reasons. The airport barely made a one star rating, but I will come to that later. At the time of booking I already had the idea of flying to SVO a day earlier and do some sightseeing in Moscow to avoid the long transit time. This extension would also leave enough room to catch Atlant-Soyuz' Il-86.
In June 09 fares jumped up by another USD 70, hence I decided to book BKK-SVO-FRA-SVO-BKK for USD 1100 online. Not necessarily cheap, but cheaper than travelling all the way to Cuba to hit the only remaining Il-96-300 operator in case I missed this one. Booking with Credit Card worked fine and the system automatically allocated two great window seats to me in the front of the cabin.
Also, I was due to book a hotel for an overnight stay in BKK after arrival from MEL. I was lucky to find an awesome deal on Agoda for the BKK Novotel airport hotel for AUD 65, quite cheap considering that the regular fare is about three times as much. The departure on SU's Il-96-300 then would be the next morning at around 10am, a very convenient connection.
Some more words on the Il-96. In 2009, Aeroflot operated a fleet of six aircraft, and only about 20 aircraft were built from 1993 onwards. Some elements of this design were based on the Il-86, however serving the long range market and built in much less numbers than its older mid-range sister. Cubana is the only remaining passenger Il-96 operator once SU will retire them. I think CU has a fleet of three Il-96. Domodedovo Airlines & Kras Air were two other Russian operators, but both went out of business in 2008. There are still unfulfilled orders for the Il-96, so there may be new operators in the future (Conviasa?).
Here are ships RA-96010 and RA-96007 which I flew on:
Part 1: SU552 BKK-SVO
My connection flight from MEL on TG's 777-200 on a Friday afternoon was uneventful and relatively empty. After arriving in BKK at 9pm local time I grabbed my luggage and proceeded to the pick-up point for the Novotel bus shuttle. After two minutes in the extreme humidity & heat I was lucky to sit in the shuttle bus and I was in the entrance hall of the airport hotel shortly after. Check-in was smooth and I asked for a room with view to the North due to today's approach pattern, which I received without problems.
After falling into bed, I set the alarm for 6am to leave the hotel at 7am and be at the check-in before most people arrive, that was the plan. The next morning I woke up on time, and was greeted by this nice view.
I rode the shuttle bus back to the terminal and proceeded to check-in only to see that there were already about 50 people waiting. My first experience with a Russian airline & aircraft was about to begin. There was no counter staff yet and people kept accumulating, without lining up in a row, everyone just tried to push forward. Eventually about 2.5h before scheduled departure the counters opened and as the first instance the monitors above the counters indicating the desks for Business & Eco swapped. This resulted in total chaos, people were moving around and everything got even more confused. Luckily I was able to gain some space within the change and I got through quite quickly. The Thai check-in staff was very friendly, speaking German to me after they saw my passport. Additionally, everyone waiting in the line received an 'Aeroflot' sticker to be attached to your chest. No idea why this was done, maybe too many Pax got lost in the airport. And at that time, I also realized that there were a lot of non-Russian passengers checking in for this flight.
I made my way to the F concourse to make sure I see the Il-96-300 arriving from SVO at about 8:20 am. I got there on time, and I spotted one cockpit crew member waiting for the Gate to open. I walked up to him and had a quick chat. Before I could confirm equipment type, I found out that he was the flight engineer, indirectly confirming that equipment type was indeed the Il-96. He also had some golden teeth and looked like he was an experienced aviator
He was a really a very nice guy. I asked whether Aeroflot would permit Cockpit visits, but he said it is not allowed any more. Not long after the chat, I spotted the unique shape of the Il-96 on finals for a Rwy 19R approach. The aircraft produced a huge condensation cloud above the wings in the characteristic elliptical shape due to the pressure field and hence lift distribution. What a great sight, unfortunately I wasn't able to catch it on film with the terminal windows in between. The reverse thrust of the Aviadvigatel PS-90A engines was by far the loudest I did hear the whole morning, good stuff I would say.
When the Il-96 pulled into Gate F5, I was able to take a close look at the aircraft and its design. The airframe looked like it was in good shape.
The crew and most passengers had also arrived by now, and it looked like today's flight was going to be full. I observed that the arriving and departing crews had a quick chat, I guess there must be a small circle of Il-96 crews with SU and everyone knows each other quite well.
Boarding was smooth and I was curious to experience the Russian interior design. So far I had only seen a few cabin shots in the database. The different Russian cabin design also led to the fact that I embarrassed myself big time, similar to some fellow (non-Russian) pax. The Il-96 cabin has no overhead bins in the center section and hence no seat numbers above the seats. The seat numbers are found at the back of your seat, which means while seated you look at the seat number of the seat in front of you. I had been allocated seat 16A, hence I sat down where I saw the sign 16A in front of me. However that meant seat 16A was indeed the one in front of me and I was in fact sitting on seat 17A. I only found out after some person asked whether I was on his seat. Quite embarrassing but funny. Due to the many (non-Russian) pax on-board, I spotted the same scene a good dozen of times around the cabin. And this was only one of many differences in Russian cabin designs I observed.
Push-back was on time, and engine start-up was absolutely silent. No vibrations or noise at all from the PS-90A power plants. We then made our way to the holding point of Runway 19R.
We are right before departure, so here are the flight details:
Il-96-300
Reg: RA-96010 (cn 74393201007)
Delivered to: Aeroflot
Built: 25.05.1994
Flight: BKK-SVO (SU552)
Date: Saturday 22. August 2009
Time: 10:25 – 16:42, flying time 9:50h
Seat: 16A
Load Factor: 100%.
The Il-96 turned into the runway without holding short and began to spool up for take-off thrust while lining-up with Rwy 19R. The crew stabilized the engines for a while and subsequently applied take-off thrust. The Aviadvigatel PS-90A power plants revealed a unique sound at take-off. Ship RA-96010 took almost the entire length of Runway 19R, we roughly were airborne at the second last intersection of taxiway E17. The heavy airframe combined with the high temperature guarantees for an excessively long take-off. Here is a video of the take-off run, check-out the unique sound of the fan kicking in:
http://www.youtube.com/watch?v=rbKf6Ignb4E
Once airborne, we climbed straight out until above the beach, followed by a right turn flying almost over the city center of Bangkok and bound northwest.
Various interesting condensation patterns developed over the wing in this phase of climb, initiated by the high humidity and the unique aerodynamic characteristics of the wing design. At some stage everything was completely fogged when I looked outside. I imagine how this must have looked like from the outside - aerodynamics at its best. It took a while to reach initial cruising altitude, and the crew was busy in constantly avoiding large thunderstorm cells around Burma and flying zic-zac patterns.
I can't specifically remember, but the service was quite good, I think we got drinks served and then later a lunch followed by a dinner in the evening. I could tell the crew tried hard to be polite and offer good service to overcome the Soviet-era service reputation, which some people claimed it still had. I have to say I was happy with the service and it was quite good.
I got into a chat with my seat neighbors, who were French and returning back home from a holiday in Thailand. I was curious as to why they were flying Aeroflot. I initially thought it was due to some ties with Skyteam, but they simply said it was the cheapest fare on Expedia. And by then I realized that there were dozens of western European tourists on-board, all due to the cheapest fare.
Due to the lack of IFE on Russian types, all experienced Russian passengers were prepared. They brought their own portable DVD players, laptops, games, books, etc. Initially it was fine, but after the fifth DVD player played a Disney movie in Russian language at full volume a few seats next to us, some people cracked it. One Russian passenger got up and almost threw headphones at them
Great entertainment, it was hilarious but useless as there were just too many people watching movies. My purpose of this flight was the plane geek experience to fly as many different types as possible. I told my seat neighbors who found that interesting, but if I was a 'regular' passenger, I may have been quite unhappy with the non-existent IFE, and various other circumstances such as SVO as a transit point. But I guess the rule applies 'you get what you pay for'.
A few hours into the flight I took a walk to the back of the cabin with my SLR to check out how everything looks like. Here is the wing from a different perspective:
The Il-96 cabin is one of the most interesting design aspects. It has a single non-separated economy class seating 3-3-3. Due to the absence of the overhead bins, the oxygen masks, reading lights and fresh air vents have to be provided from the seat in front of you. Hence the seats are much thicker than in western designs. Not sure what the exact advantage is of the missing overhead bins except the more spacious cabin feeling. Seat pitch was ok but nothing special. I cannot recall the exact amount of seats as they had two seating variants in the fleet of six aircraft, but I think it was 225 in Eco and 22 in Business.
This shot was from my return flight, hence the different seat number, but it demonstrates the above design features quite well. The middle seat hosts the oxygen masks for all three seats in a group, and the reading light is above the double-folded tray table. Air comes from the vent on the upper right.
This shot was taken somewhere near Turkmenistan:
Once we approached the Moscow region, traffic intensified. It is hard to grasp, but down there is the unique shape of a Tupolev, although not sure if it was a Ty-134 or -154.
We avoided Moscow by bypassing the city in the north, and turned in for a 07L landing. Above the threshold, I saw a sister ship holding short for a domestic flight. Touchdown was very smooth, it felt that the aircraft has good shock absorbers also due to the rough runway surface. Again as mentioned in my two earlier trip reports, I know we can't judge pilot skills on the landings, but it felt like there were some very experienced aviators at the controls, very well done. Also at touchdown, I got to know that it is a common thing that the guests applaud at every landing – funny. We vacated the Runway and made our way to the terminal.
http://www.youtube.com/watch?v=2weLiORMm3g
Part 2: Connection SU109/110 SVO-FRA-SVO
After we got off ship RA-96010, I was quite lucky to be seated in the front of the cabin, as a good half of the passengers were transiting as well. I was able to be off-board as one of the first. The transit desk wasn't open and a huge queue developed. I have read about the transit procedures at SVO before, and many people were quite upset that it is inefficient and slow, combined with rude staff. Because I was at the front of the queue, I was lucky to get through and get my boarding pass in less than 10 minutes, but I would guess the rear of the queue would have waited a long time. There was another security screening and I was back in the departure hall.
I made my way to a spot where I was able to watch some landing traffic. Then, I found out why everyone hates the SVO terminal. It is indeed that the staff doesn't really look as if they were glad to serve customers, they rather appeared to be cold and impolite. Signs were not always clear, and gates changed randomly with announcements difficult to understand. Even I had trouble in finding my gate, which never happened to me before at any airport. It was hard to find a seating place at all. Few monitors across the terminal listing the departures meant that every 20 mins I had to walk around and check for a screen and my designated departure gate but lose my seating spot. I had about 4h of transit time, more than enough and I was glad to eventually be out of there. The good thing was watching the SVO approach traffic, still featuring some Tupolevs, Antonovs, Ilyushins, and much more rare stuff. There were also plenty of military aircraft coming in.
The connection flight to FRA was uneventful and I won't lose too many words about it here. It was operated by an A319, departing at 21:50 and arriving in FRA at 22:40. By the time I reached the designated luggage carousel in FRA, my bag was already there, quite impressive.
During my time in FRA I decided to extend my stay in Moscow and give the Il-86 a try, so I went to the SU office in FRA city to change my departure one day ahead. Although there are three SU flights daily FRA-SVO, the best connection would still result in a transit time of 14h
Talk about good connection airports... One more reason to make it an extended 14h + 24h stay was that I would have enough time to do some sightseeing around Red Square. A very good visa service got me a tourist visa within 24h and I booked a convenient hotel, so all was set.
The flight back to SVO was red-eye extreme. Departure in FRA at 00:15am and arrival in SVO at 04:50am with a flight time of 2:30h. This flight was also operated by an A319, and I was barely able to sleep. After arrival, I immediately proceeded to immigration, as there were many other European arrivals shortly after us resulting in long queues. I grabbed my luggage and avoided the many taxi drivers looking for business and headed straight outside looking for the 'Aepoekcpecc' train station.
After a few hundred meters of walking I was to find out that it was still closed. I waited for an hour and the ticket booth opened. The lady told me something in Russian which I didn't understand, but I was able to communicate that I wanted a return ticket. For some mysterious reason she charged me the price of two o/w tickets, which is more expensive than a return ticket. I pointed it out and she just gave me the 'go away' look and shrugged her shoulders. Eventually I gave up as the fare wasn't that high anyway. The train ride was smooth and after arriving at the train station in the city, I grabbed a taxi to the hotel. The hotel I chose was in walking distance to the Red Square and affordable. Luckily the staff allowed me to check-in at 7am without charging an early check-in fee. I went for a sleep immediately and woke up again at around 11am, due to fly on Atlant-Soyuz' Il-86 out of VKO at 4pm with an immediate return on the same aircraft on the same day. I will write about this flight in a separate report soon. So far I can say worked out, but only just
The next morning I got up early again to a walk around the city center, and did the basic sightseeing stuff. Here are some impressions: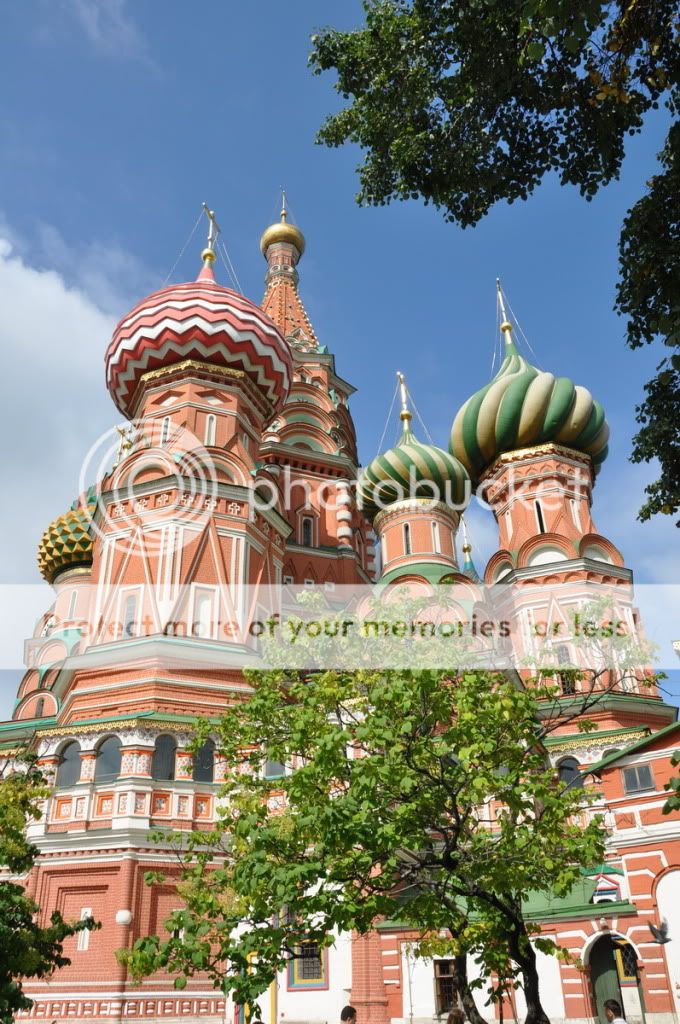 Part 3: SU551 SVO-BKK
At around 2pm, I made my way back to the hotel, train station and eventually airport. Here are some impressions of the return trip to SVO airport. Check out the new train station and old terminal building.
Arriving back in the terminal, I was due to find out that you are only allowed to enter the check-in area about 2hrs before departure, resulting in chaos in the main hall with thousands of people loitering around. I luckily found a good spot to wait 1h for a 5pm check-in and 7:50 pm departure. At check-in, again everything appeared to be unorganized and the confusing queues developed with lots of pushy people. There were simply too many flights departing and not enough check-in desks. As a consequence, there were only 2 rows open for a flight with 200+ people, resulting in a long queue jamming up the screening area, hilarious.
When it was my turn, I was due to be surprised one more time. The very impolite check-in lady said my bag is 21.4kg, and I will have to remove 1.4kg or pay an extra charge. Hard to believe but true, considering the plane wasn't even going to be full as I found out later. I luckily packed the way that I was able to remove some heavy stuff quickly without shifting clothes in front of a long queue at the check-in desk. I got below 20kg quickly by removing my suit and some books, where she didn't object me carrying this stuff into the cabin.
On my way to customs, again large queues developed everywhere, and it took another 30mins to move a good 15m until I proceeded through. All up I had not even moved 50m from getting into the check-in area until making it through customs, and this took about 90mins! Definitely a new experience. I went up to the departure level area, looked for my gate only to find out that boarding had already commenced (!). I was one of the first to check-in for this flight, with the majority of people still stuck at check-in and customs. I decided to skip a bathroom visit, moved to the gate and on a bus driving a few fellow pax to the remote ramps at the southern side of the airport. Boarding was from the ground using stairs, always a good opportunity to take a look at the aircraft.
I was wondering if we would be able to depart on-time, since most people were still stuck at customs. Also, I saw that the return flight was only about 60% full. The seat next to me was vacant, promising for have a good sleep and relaxed return flight. Boarding indeed took a long time due to the late arrival of everyone stuck at customs, and we departed 30 mins late to the holding point of Runway 25L just around sunset.
Here are the flight details of the return flight.
Il-96-300
Reg: RA-96007 (cn 74393201004)
Delivered to: Aeroflot
Built: 1992
Flight: SVO-BKK (SU551)
Date: Friday, 28. August 2009
Time: 20:20 – 08:25, flying time 9:10h
Seat: 12A
Load Factor: approx.60%.
Again, I was looking forward to the unique feeling and sound of the Ilyushin and its PS-90A engines. The spool-up phase was interrupted by a crew announcement to fasten the seatbelts, where it was hard to distinguish which part was in Russian or English.
Luckily the crew stabilized the engines longer than the announcement took. Once takeoff thrust was set, a very annoying continuous whistling noise appeared from somewhere in the cabin, no idea why. Departure procedures called for an immediate very heavy right turn after we finally made it into the air by using almost the entire runway 25L. Check out all of the above in this take-off video:
http://www.youtube.com/watch?v=UFuZhESmUYk
Some shots during the long right turn to establish an East-bound heading.
Correcting to the left to get on course.
The sun just about to set behind us.
The ride through the night was uneventful and I cannot exactly recall how many meals were served, but I guess it was dinner and then breakfast before landing. I did not move around the cabin any more, but had a very interesting chat with my seat neighbor who was Canadian, living in Moscow but travelling on SU to Bangkok several times a year. He was quite surprised to hear that the Ilyushins would be gone soon, but I guess as a frequent flyer he wouldn't mind the newer A330 equipment.
I was greeted with this view when I woke up in the morning.
Here are two more cabin shots I took to highlight the Il-96 cabin design.
Some more shots in flight over Thailand shortly before commencing our descend.
Descending into Bangkok revealed the high humidity again with very interesting condensation patterns above the wings. One could tell that it was soaking wet in Thailand due to the rain season.
A wet runway also calls for some good reverse thrust action which I was looking forward to, but unfortunately the crew disengaged reversers before the water spray would be visible from my seat. Again, touchdown was extremely gentle, very well done by the crew. Here is a video with the landing:
http://www.youtube.com/watch?v=gTWSCokWaJc
We taxied to Gate F6 and I think my Canadian seat neighbor and I set up a new record in disembarking and proceeding to customs. If there is a long queue at the Western customs area in BKK, I usually try the Eastern one which was mostly empty in the past. However I still had to wait for my bag to arrive, which sometimes takes a while in BKK.
Conclusion
In conclusion I was happy with the experience on my first Russian type & airline. I cannot say the same thing about SVO as a transit/arrival/departure airport; however the newly opened terminal would have solved most of the issues I had to deal with. I missed the opening of the new terminal by a few months; maybe it was a good thing to experience the Soviet-style terminal one (last) time before it was closed. Also, I was discrete with photography in Russia, hence you didn't find any shots within the terminal or other sensitive areas as I didn't want to get in trouble over there.
If I was a regular passenger without particular interest in flying these planes, then I think the overall product cannot yet compete against the established carriers in the Gulf area, Asia and Europe. However SU is aware (they mentioned in their magazine that they are working hard on customer service, in-flight experience, airport services, etc.) and I would assume that they will be able to catch up in the future. Also I would guess that the other SkyTeam members (like in all alliances) have an interest in having equivalent levels of service across their alliance. One part of this initiative was the retirement announcement of all Russian aircraft types.
However for all of you who may have found interest in the Il-96-300, there is still a chance to fly them in 2010 without going to Cuba. Despite all the retirement announcements, SU still seems to operate them on occasional services to Istambul, Salzburg, Antalya, etc. Check out the photo search engine here on a.net, and you will get the idea. The same actually happened to Atlant-Soyuz' Il-86 retirement announcement in 2009. Two of their Il-86s are still operating at the moment and probably throughout the summer schedule, so take this last chance while you can.
I hope you enjoyed reading this report. I am looking forward to your comments, suggestions and feedback
Regards,
Loran
Here are the two previous trip reports I wrote about memorable flights on the BG DC-10 and OX 747-100, both last year. Have a look:
DC-10-30 Biman - Bangladesh Airlines: BG78 DAC-HKG
(by
Loran
Dec 25 2009 in Trip Reports)
747-100B(SR/SUD) Orient Thai 203/200: HKG-BKK-HKG
(by
Loran
Jan 27 2010 in Trip Reports)