Turkish Delight in Istanbul: LHR-IST
Background
Back in April myself and friend and fellow a.nutter, Tom, were discussing another 'jaunt' away somewhere for a day trip. Now we always like to try flying a new airline/aircraft/country/airport. We were pretty stumped first of all where to go, I fancied going to Madrid, Barcelona, Zurich or Oslo. We were still pretty undecided then after Tom read a report from Istanbul, flying a PIA A310 from Amsterdam. He became pretty set on this idea but also making a few days of it.
After much debating the idea I agreed. I had visited Turkey, to Bodrum, back in 1998 as a child so I was looking forward to returning to the country.
After checking the flights on PIA, the prices were pretty good, although moving on to the next stage adding on the taxes really bumped the price up. However, Tom had a 'Plan B' up his sleeve, fly the Turkish Airlines 77W from LHR. Prices were about £50 cheaper so we booked this up straight away, the return leg would be flown on BA on one of their short haul 767 aircraft. Look out for Tom's trip report covering that leg of the journey.
The Trip
The night before we were due to fly out to IST, the dreaded ash cloud was approaching the UK once again, forcing the closure of airports in Ireland. We were hopeful this wouldn't affect our plans and luckily, it didn't.
Tom arrived at my house not long after 9AM and left his car on my drive. My Dad drove us both the short 6 mile journey over to LHR, coupled with the morning traffic, this was near on half an hour instead of the usual 15 minutes. We arrived at Terminal 3 not long before 10AM and made our way over to the Turkish Airlines check in at Zone C, which is handled by Scandinavian Airlines staff. The last time I was at T3 and not using the Virgin Zone A, the place was very dark and dingy, now BAA has given the check in areas a makeover and now looks very T5-esque.
There was one person in front of us queuing and we waited no longer than one minute to be called forward to a desk. I had checked us both in online the day before and had selected our seats, 55A and 55K. After handing over our passports we were delivered news I didn't want to hear. "I see you have checked in online and chosen your seats, now the aircraft has been changed in Istanbul so you have different seats, in row 32". Tom and I both looked at each other, me with a face of disgust that was apparently "a picture". After some more tapping away on her keyboard, we asked what aircraft we would be flying on and was informed it was an "Airbus". We asked "A321?" and she responded with "A340". We then joked this was the main reason for the trip and she said that a lot of people often do fly especially for the 777 and she commented on how nice the aircraft was.
After our bags disappeared into the abyss of T3 our passports and boarding passes were handed back to us. We had been reassigned in seats 32A and B, unfortunately for Tom; he now didn't have a window seat. I was pretty gutted not to be flying the 777, as this would have been my first flight on the type, however, Tom didn't mind as he had never flown an A340-300 before.
Next port of call was security. It took about 10 minutes to clear and was pretty busy at this time of the morning; staff were very good at sending passengers along the line to manage the queues. The staff were also quite pleasant, for a change. Once we cleared security we had a check of the information screens and our flight was showing a delay of 30 minutes.
After grabbing something to eat, we had wander around the 'holding pen', otherwise known as the departure lounge, then headed to some of the gate areas to try get some photos, whilst we were up near the gate 36 we watched out aircraft land on 09L.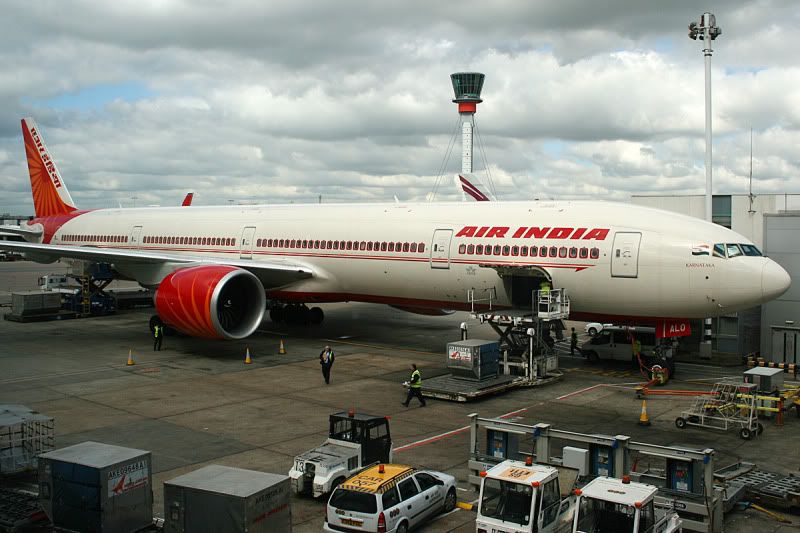 Our aircraft arriving on 09R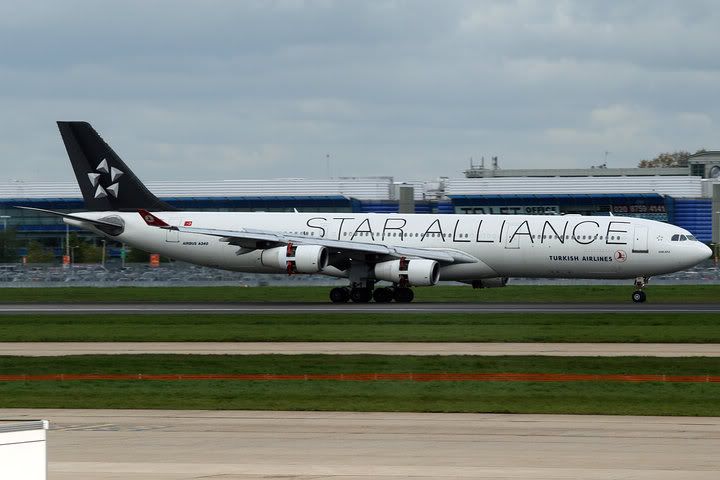 Tom took this one.
You'd be forgiven for thinking you were in Toronto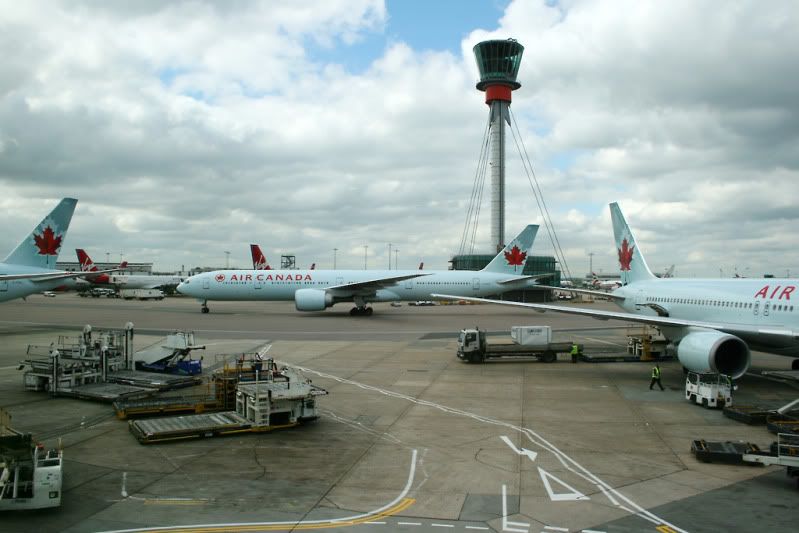 We thought it best to head back to the holding pen then to see what gate we would be leaving from. Screens were showing "Go to Gate 16" so we then headed over to the opposite side of the terminal, to gate 16. I was at this gate 3 month previously when I flew out of LHR to LAX.
Date: 04/05/2010
Route: LHR-IST
Flight: TK1980
Aircraft: Airbus A340-300 (3rd flight on A340-300 and 1st flight on this aircraft)
Reg: TC-JDL 'Ankara'
Seat: 32A
Scheduled Departure Time: 11:25
Actual Departure Time: 12:24
Scheduled Arrival Time: 17:15
Actual Arrival Time: 17:51
TC-JDL is one of 9 Airbus A340-300 aircraft in the Turkish Airlines fleet and was delivered brand new to the airline in July 1994. The aircraft is named 'Ankara', after the Turkish capital city and wears the Star Alliance colour scheme, promoting the airline as a member of this global airline alliance.
When we arrived at the gate, Tom asked if there were any window seats left and he was in luck. He was re-assigned 7A, the first row of economy, in a bulkhead seat.
Parked on stand 316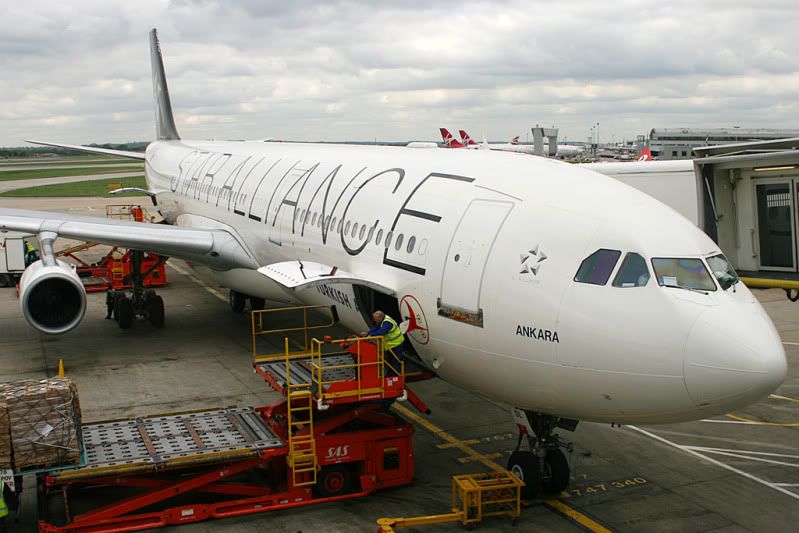 Boarding was announced at 11:40 and was done by the group that was printed on the boarding pass. We both had Group A but as the announcements were practically inaudible, all we heard was Star Alliance gold, business and something about Group A, so we just decided to chance it and go ahead for boarding and moments later we were walking down the jet bridge to our aircraft.
Once onboard I was greeted by a smiling member of crew, probably the only experience of a smile for the duration of the flight. They directed me down the aisle to my seat. In the overhead lockers were pillows and blankets for passengers to use. I didn't see many passengers make use of these.
Definitely Virgin territory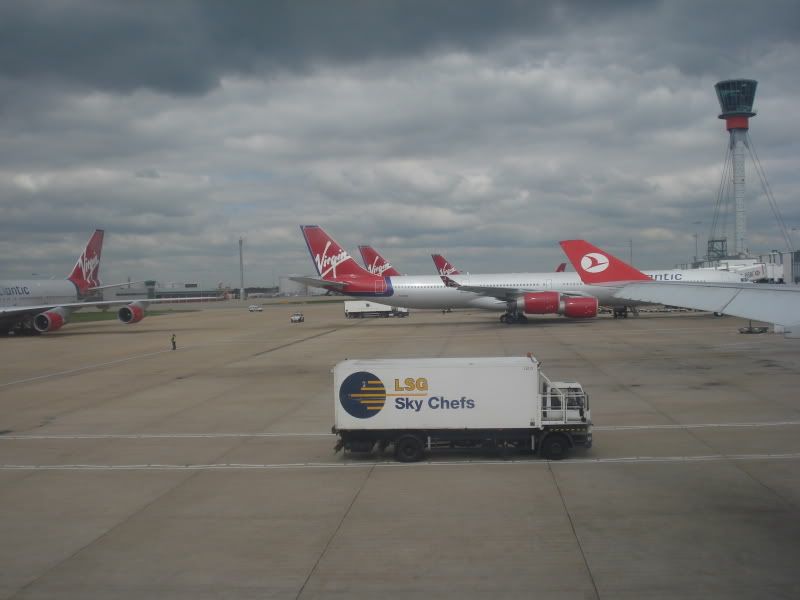 Despite the aircraft being nearly 16 years old, it looked in surprisingly in good condition inside; the cabin was bright, seats were finished in a nice turquoise colour and had a nice feel to them, large PTV's and what surprised me the most was the amount of leg room offered. According to the TK website, seat pitch on A340 aircraft is 33". I found the seats to be comfortable; they had footrests and also lumbar support.
However the size of the IFE box was pretty hefty, but fortunately the seat next to me remained free, so I put my bag under that seat once the doors had closed. On a short flight, such as today, this wasn't really a problem, but on longer flights I might find this sort of thing irritating.
Obligatory legroom shot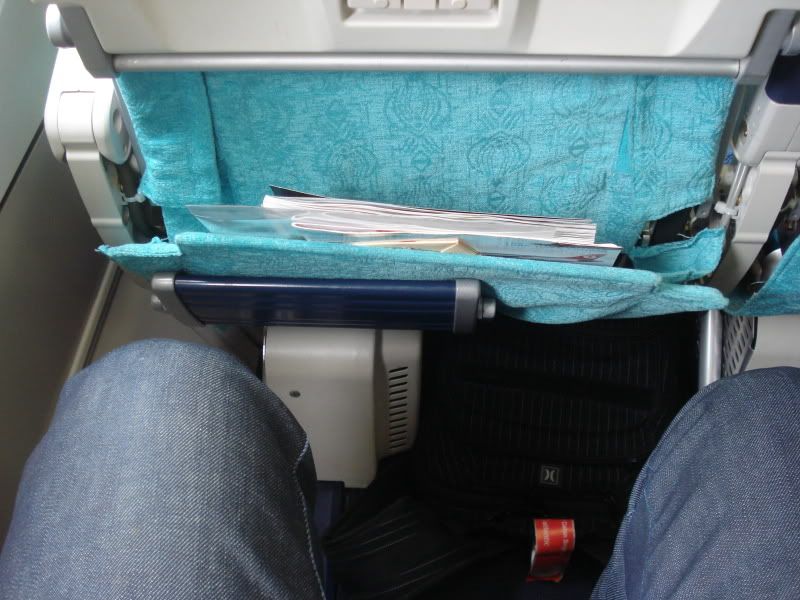 Comparison of BA 767 legroom on the return flight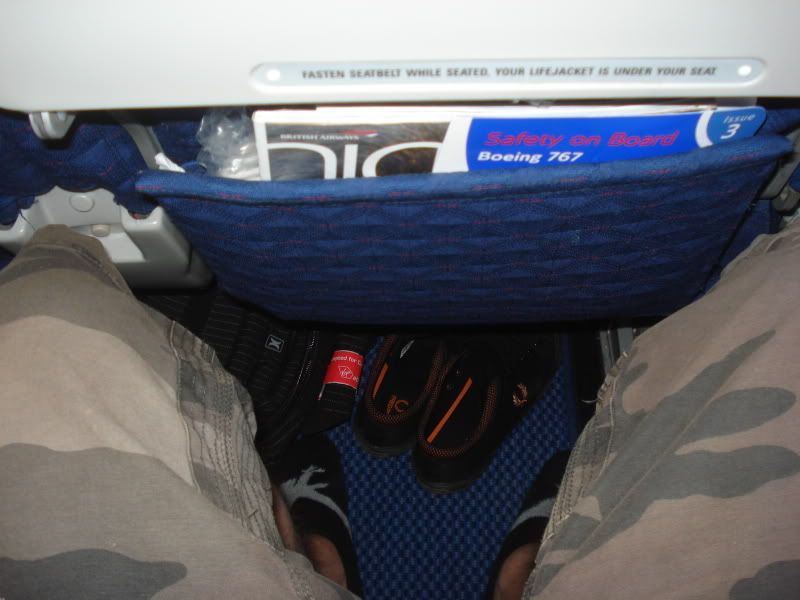 Once all boarding was completed, we finally pushed back at 12:05 and there was a safety demonstration being performed on the IFE screens, however, I didn't hear any announcement of a safety demonstration taking place. I couldn't really hear the sound from the video over the speakers and the crew did not perform any actions of the safety demo that I am used to seeing, like pointing out the location of the nearest emergency exits.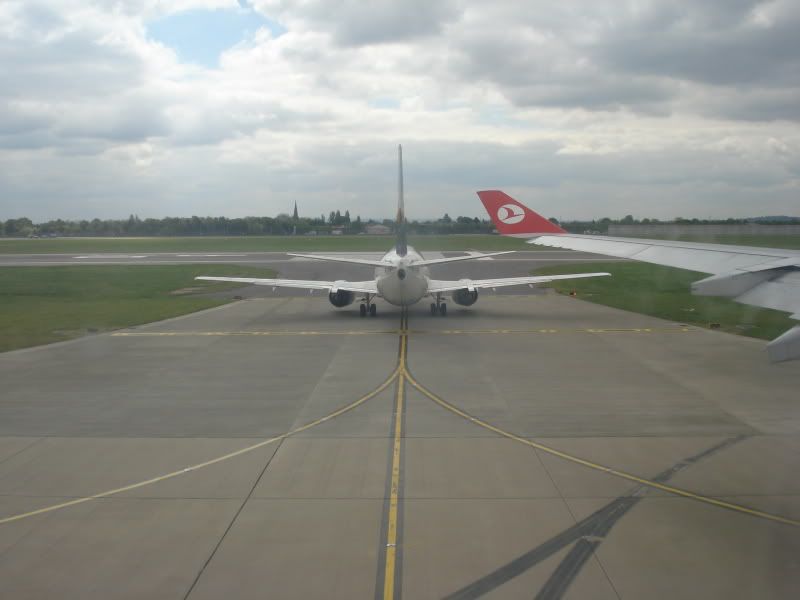 It was a relatively short distance to taxi down to 09R but did take about 15 minutes before we were actually turning on to the active. Just before we entered the active, ATC instructions to the AA 777 ahead of us could be heard over the speakers for a few moments.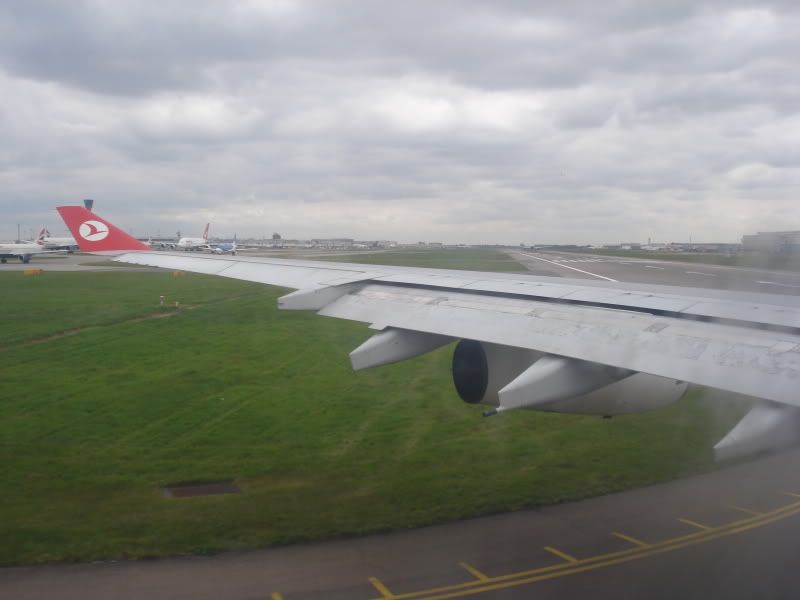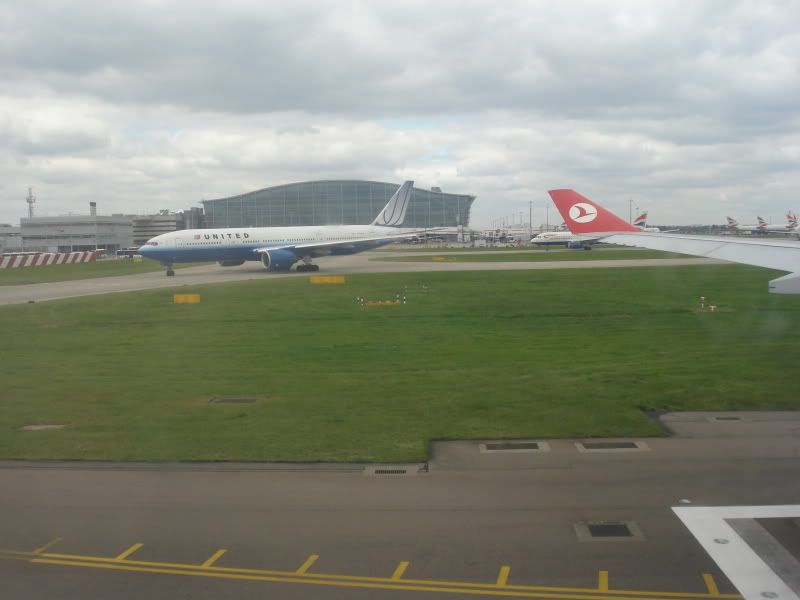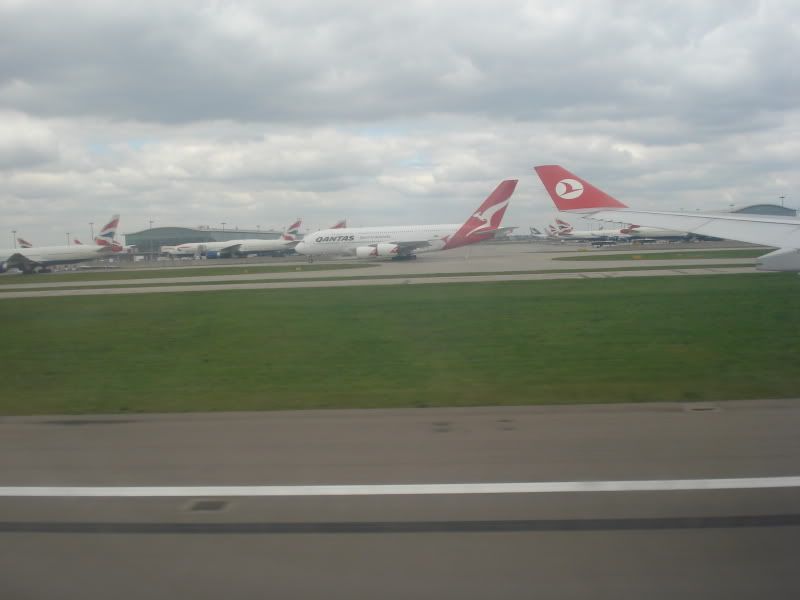 Once lined up, engines were powered up and we slowly gained speed before rotating just before the now redundant and mostly demolished Terminal 2 at 12:24, 59 minutes late.
Remains of T2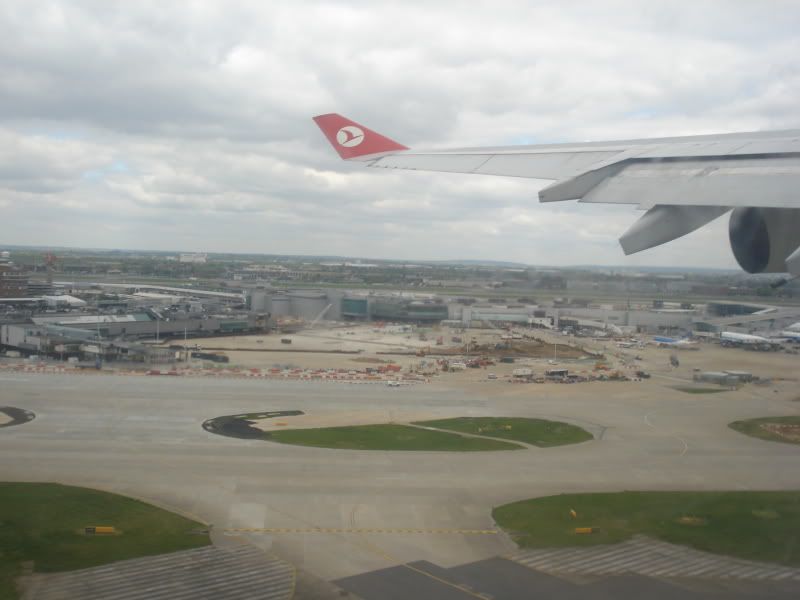 After take off we headed out over South West London, passing over Richmond, Wimbledon and Clapham before the sprawling suburbs of South London disappeared under cloud cover.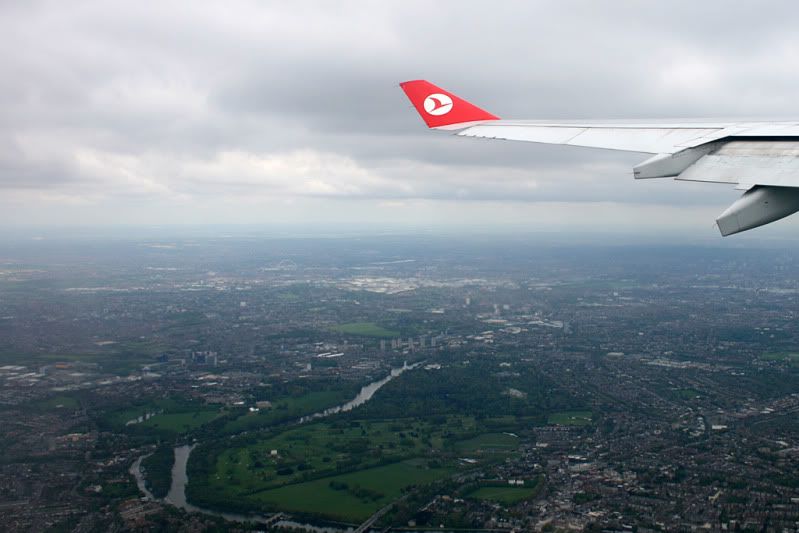 We maintained the same altitude for quite some time, before finally making our way to cruising altitude as we passed over Kent. Not long after, the crew were released to start performing their duties. Another odd observation was that the seat belt sign remained on and it did so for the whole three and a half hour duration of the flight. I don't know if perhaps this was an oversight but the crew did not seem to be bothered by anyone heading off to the toilet or moving around the cabin.
First the crew passed through the cabin with a selection of Turkish newspapers, then shortly afterwards, headsets were distributed for the IFE along with Menu's which was a shock to myself. I wasn't aware of the service we would be getting on the flight today but the menu showed a full meal service. I was given my menu and headset by one of the male members of crew who just looks so uninterested.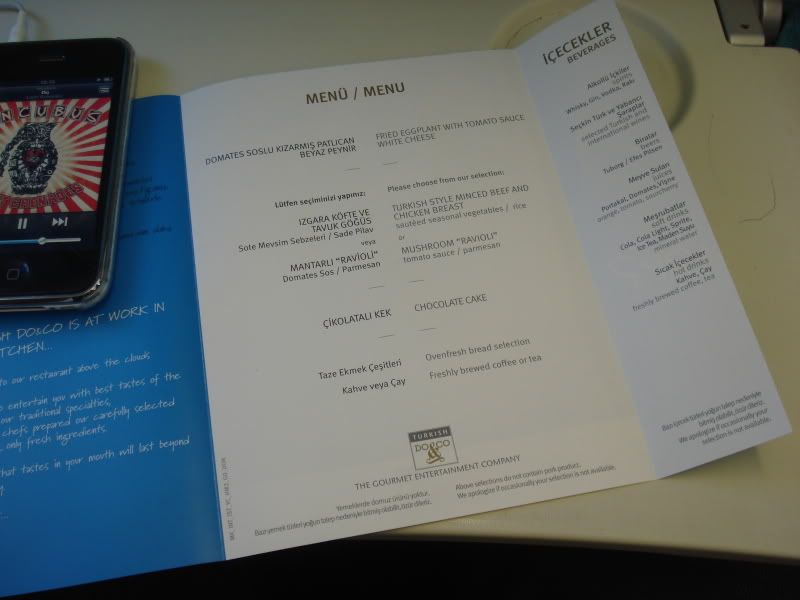 Our meal was served roughly one hour into the flight. On offer today was: Fried Eggplant in Tomato sauce with Cheese for starters, for main, a choice of either Turkish Style minced Beef and Chicken with Rice or Mushroom Ravioli and for afters was Chocolate cake. Warm bread rolls that smelt lovely and tasted good were also served with the meal. I decided on the Beef and Chicken and it was really nice. It was served with Rice, Red Peppers and some green coloured vegetable, I think it might have possibly been Courgette, but I didn't eat it. I chose a Beer to accompany my meal, a can of Efes or Tuborg was on offer, I went for the Efes and I quite liked it. The male member of crew who served me was the same Mr Uninterested as before and didn't show any smiles.
Perhaps the biggest surprise with the meal service was the use of actual metal cutlery and the food being served in a china dish. Wow TK, I really wasn't expecting this.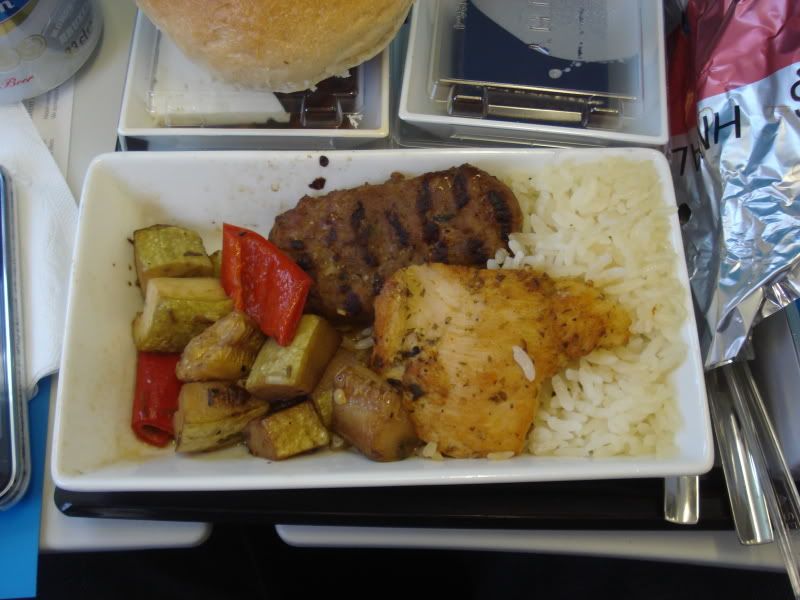 A tea and coffee run was done about 15 minutes after I had been served my meal, I went for Tea. The female member of crew doing this was nice and smiley, a rare thing for this flight it would seem.
Music and Beer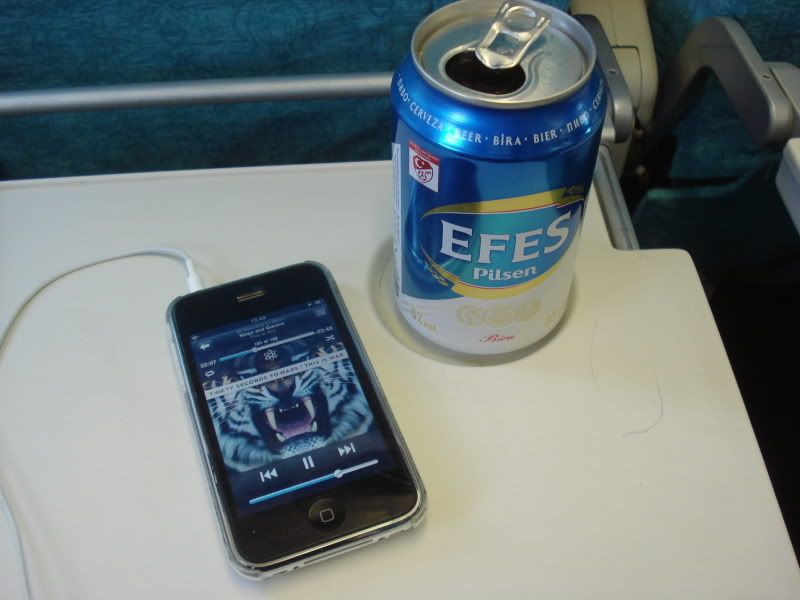 A short while later the crew returned the aisles and started to clear away the meal trays, again, not much smiling going on here.
The IFE on TK was on demand and after a while I found it fairly easy to navigate, by no means is it the best in the business but it is nowhere near the worst. Available was a selection of films, not the greatest, but still, there was quite a bit that would probably suit everyone's taste. There was a fairly substantial collection of music as well as Games, Fleet and Company information and destination guides. I didn't make use of any of these as I had my iPod. I only used the map function as well as the belly and forward facing cameras, which I found rather cool.
Flight Map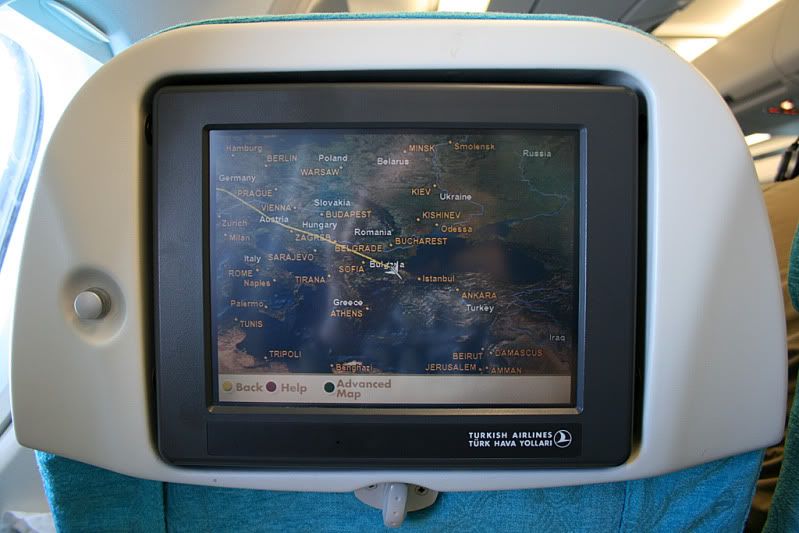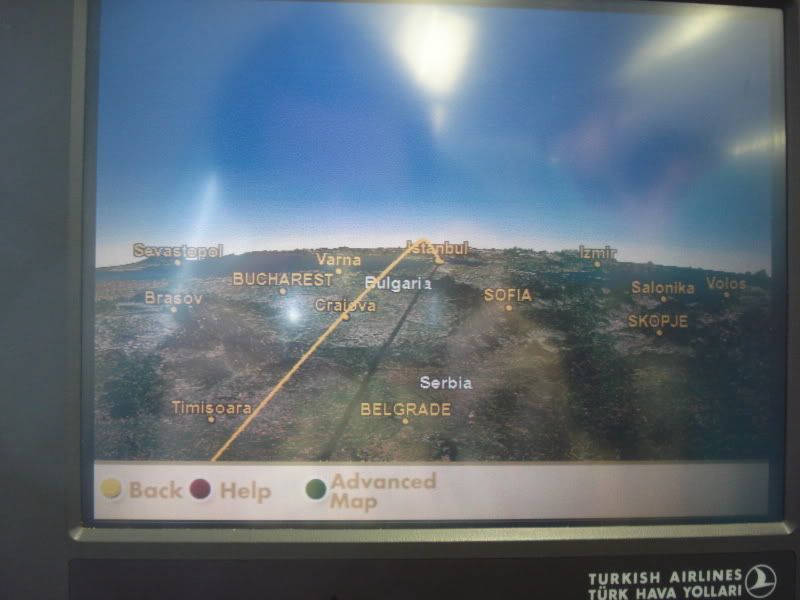 Back to the announcements now, most, if not all of the announcements were pre-recorded. I could barely hear any of these being broadcast over the speakers, I'm not sure if this is true for the whole aircraft, but defiantly from where I was sitting.
When the aisles were clear I decided to take a walk up to see Tom in row 7, he had moved from 7A to 7K and we had a chat for a while. I then headed back to my seat and Tom came with me, he sat in my window seat and took some photos. By now it was an hour until arrival time and the crew came round offering water. I declined as I had a bottle of my own in my bag.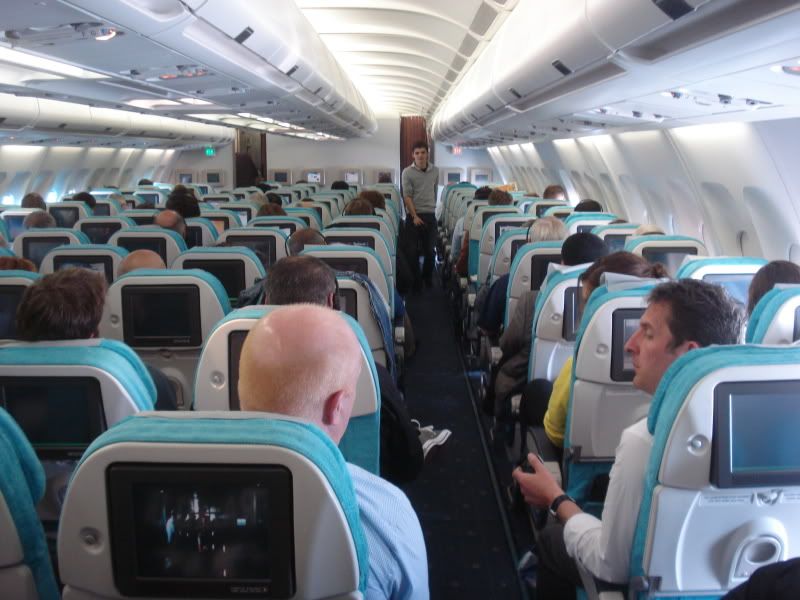 Photo uploaded to the database by Tom of the cabin on our flight.
View Large
View Medium


Photo © Tom Lowther
By now I could feel us descending and was now getting pretty excited to be nearing Istanbul.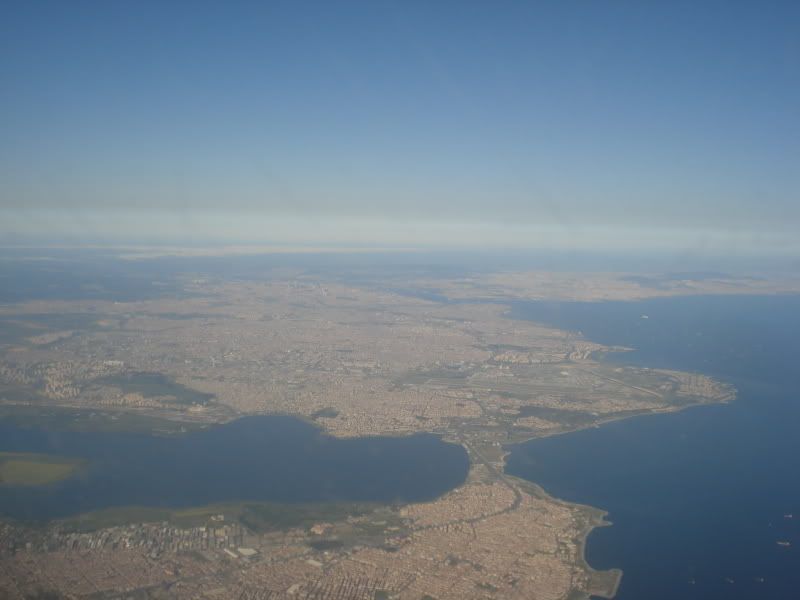 From looking on the map I knew we were very close now. Soon a pre-recorded announcement was made (that I actually managed to hear) that we were to prepare for landing. I put my iPod away and tray table away and enjoyed the view on descent. At this time I was flicking between the map screen and forward facing camera on the IFE.
Istanbul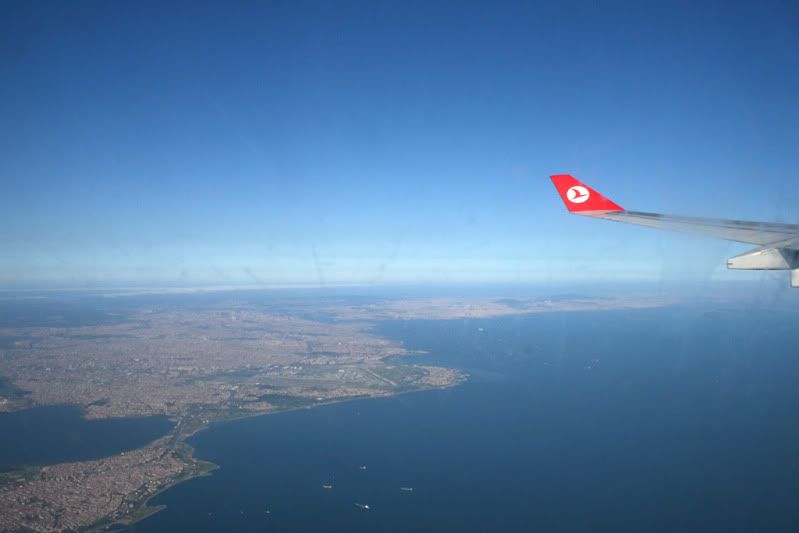 Ten minutes before touch down, we made a right hand turn and the city of Istanbul became visible, along with Ataturk airport and aircraft downwind of us on approach to the airport. Soon we were banking over the Sea of Marmara turning back towards the airport. Meanwhile I had noticed that all of the IFE screens had been set to the forward facing camera view, a nice touch by TK.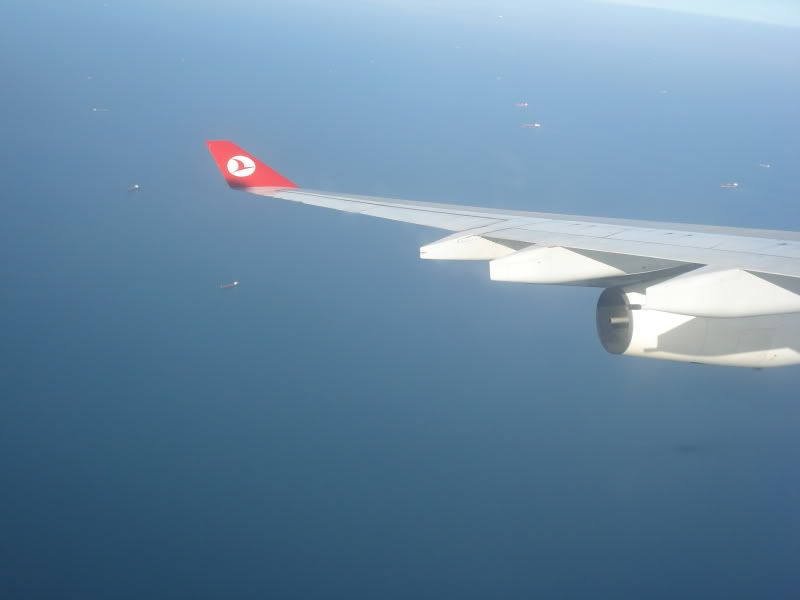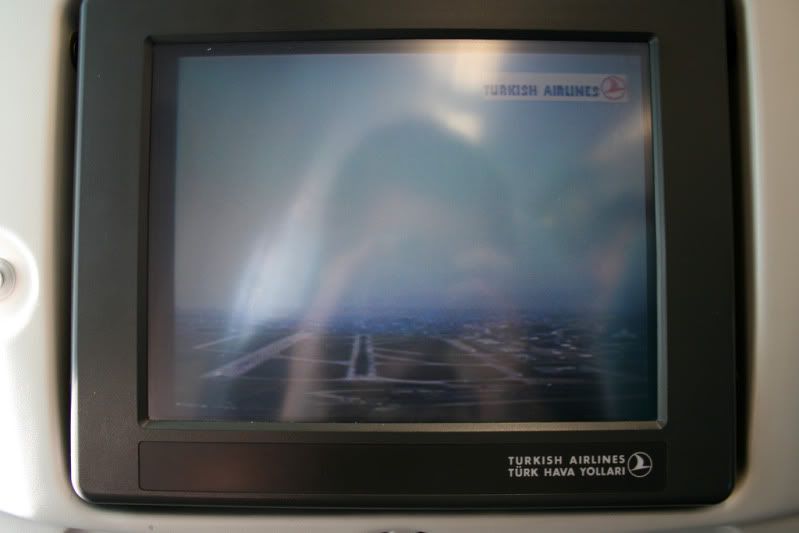 A photo Tom has uploaded of our landing into IST
View Large
View Medium


Photo © Tom Lowther
Watching the view on the screen, in the distance I could see the land approaching and within no time we made a smooth touch down on the tarmac of runway 36R, 36 minutes late, to a beautiful and warm evening in Istanbul. We taxied past the Turkish Technic maintenance area and parking stands, before finally parking on the corner of the main terminal building.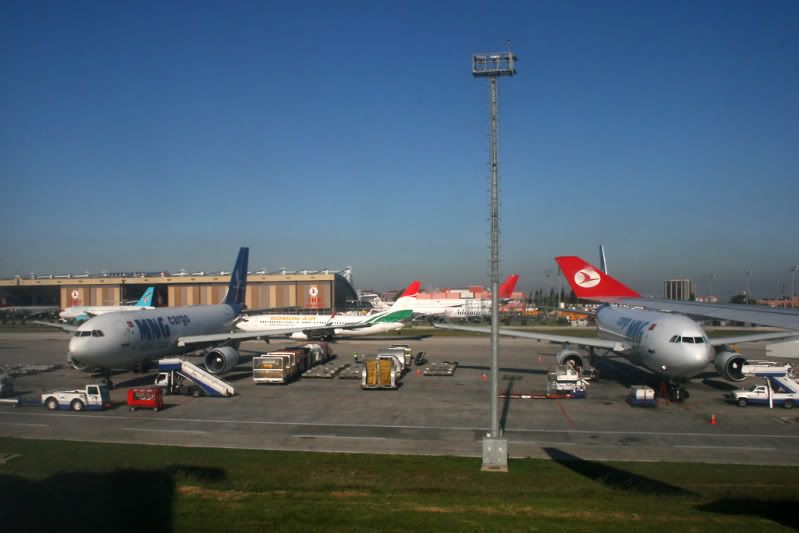 On leaving the aircraft, it dawned on me; the nicer members of crew must have been working either the forward or business cabin as I received a few thankyous and smiles as I was leaving the aircraft.
After leaving the aircraft we made our stop at the visa desk to pay our £10 for our visa sticker to enter the country. Once we made our way through the stuff and hot immigration hall we were greeted by a very open, long and cool baggage hall and a fairly large duty free store.
Once we had exited the airport we made our way down to the Metro to take us into the city centre to where we were staying in Sultanahmet, not far from the Blue Mosque and Ayia Sophia.
Overall, despite the fact I was a bit gutted I didn't get to fly a 777, this was still a good flight, the service offered onboard was way more than I expected and I can see TK are a good airline. The only criticism of this flight would be the crew, most, not all didn't really seem very interested in their job and rarely showed a smile, however the ones that did smile and were friendly were very nice. Just seems we were a little bit unlucky.
I had an absolutely fantastic few days in Istanbul enjoying the Sun, Culture, Food, Beer, Photography and made some new friends from. I would love to return again one day.
Thank you for taking the time to read my latest trip report. I hope you enjoyed reading.
Matt
Here are some pictures from around Istanbul.
View from our Hostel Bar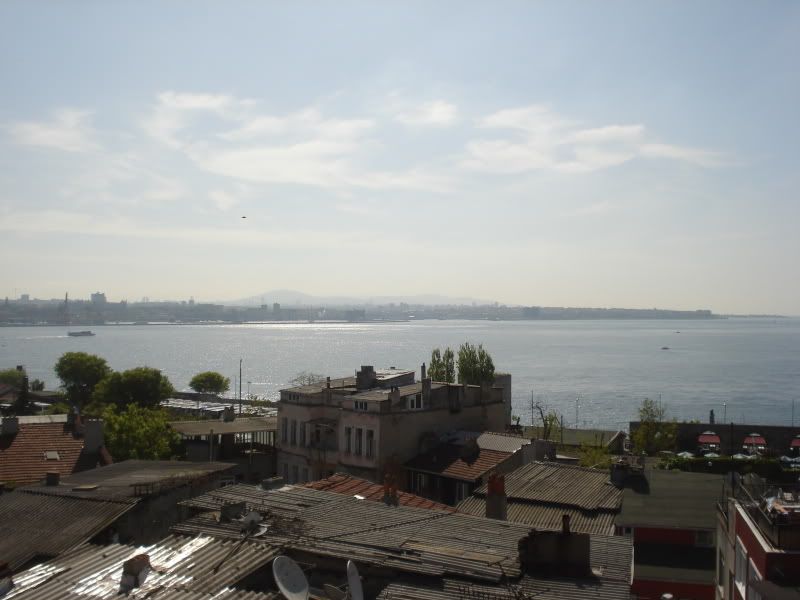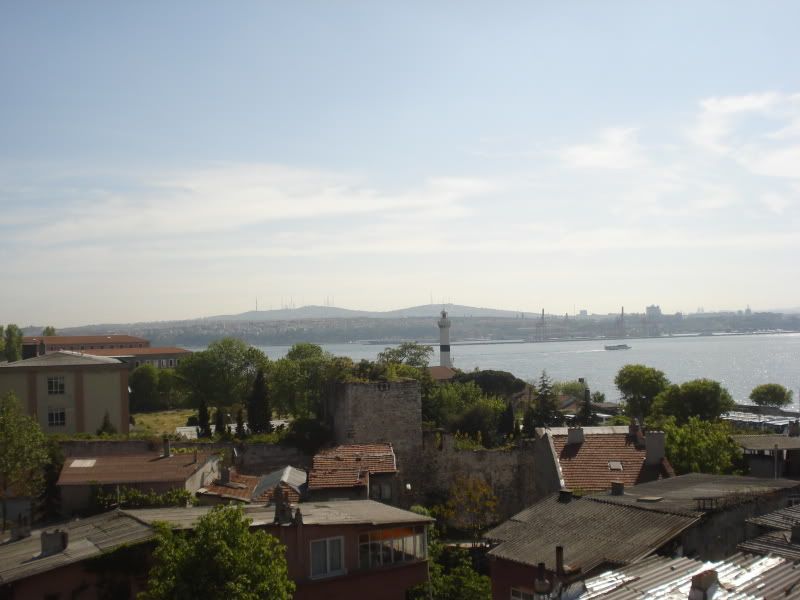 Dinner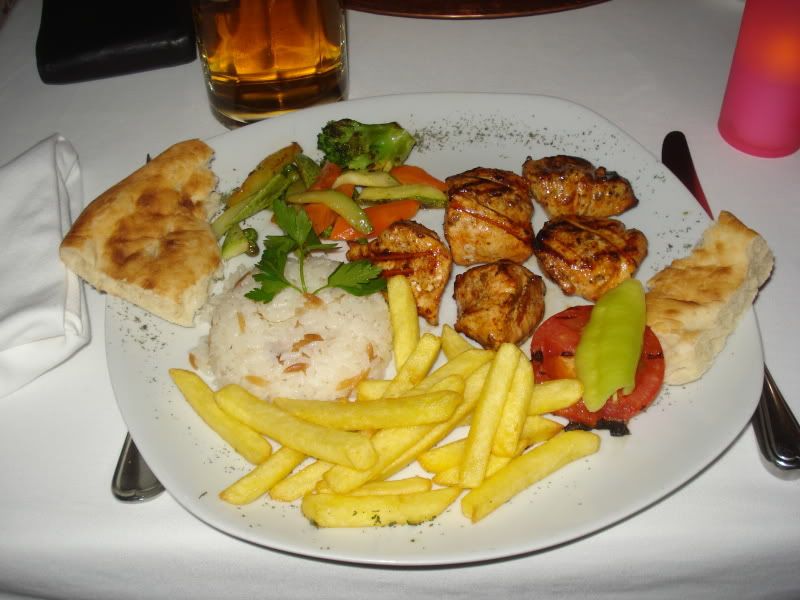 View from our room by night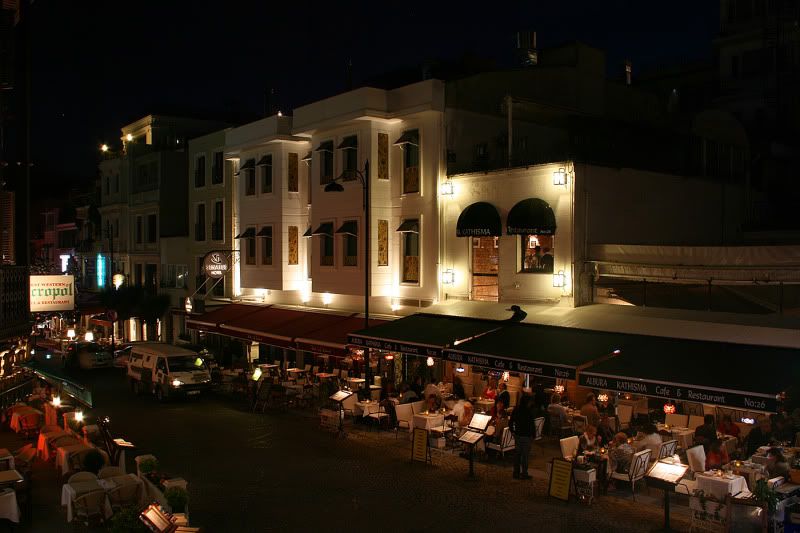 View by day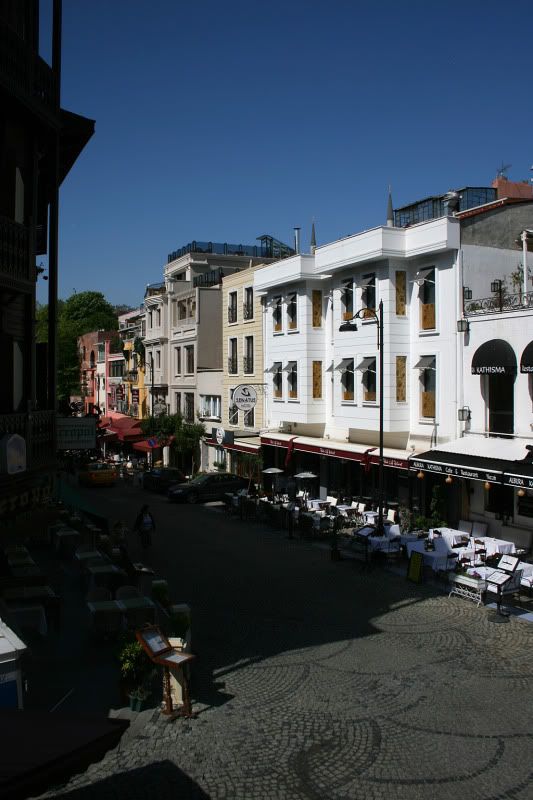 Inside a Mausoleum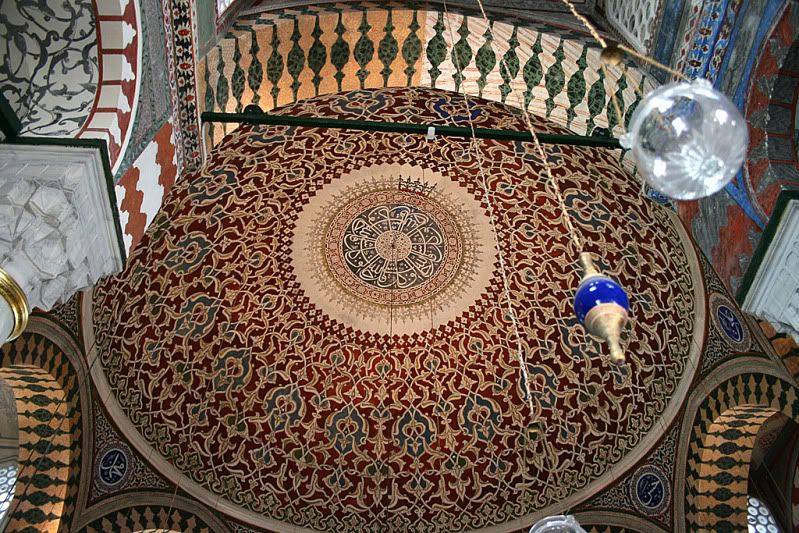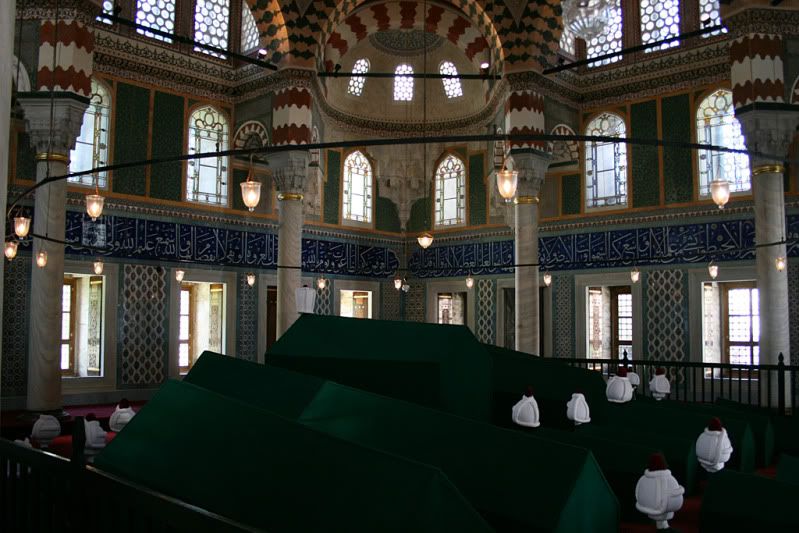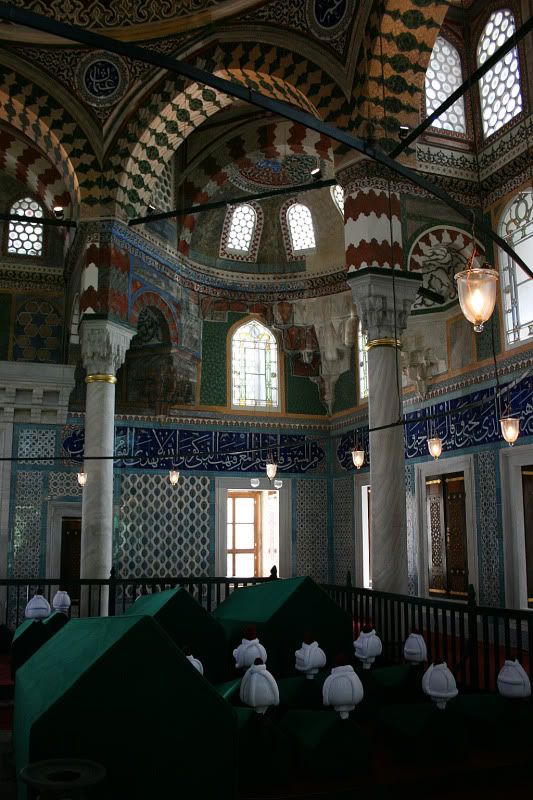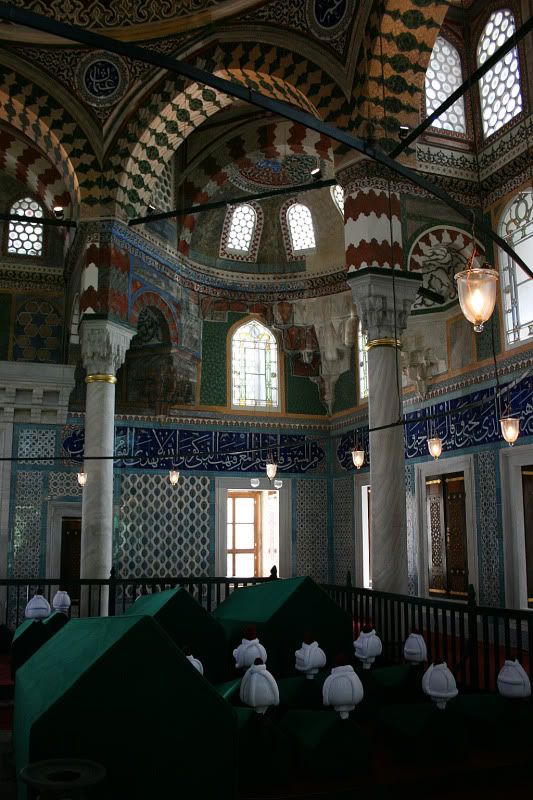 Blue Mosque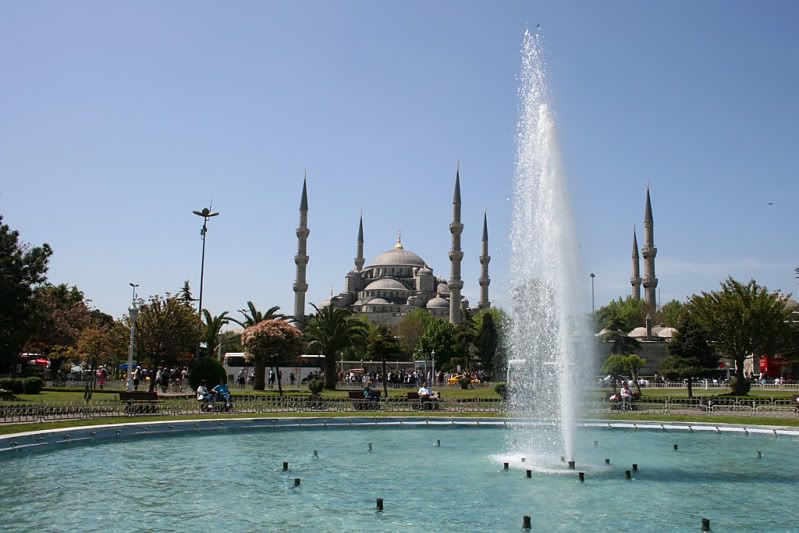 Tom outside the Blue Mosque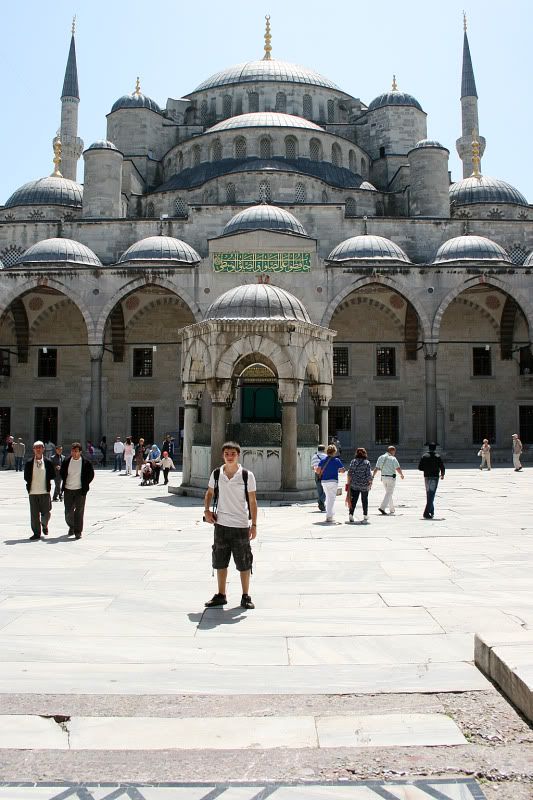 Street Life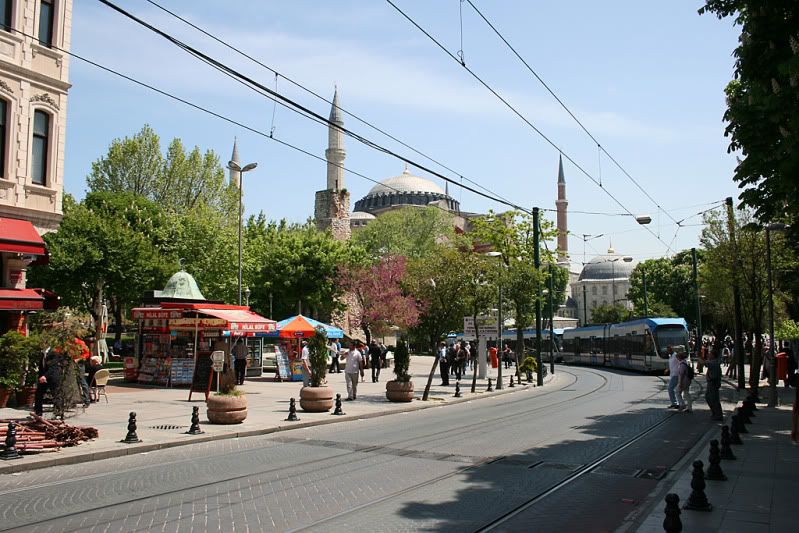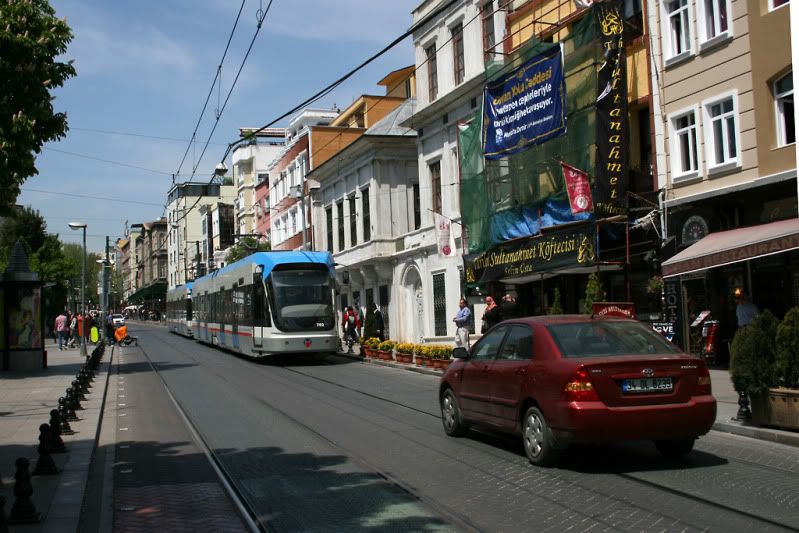 Looking towards Asia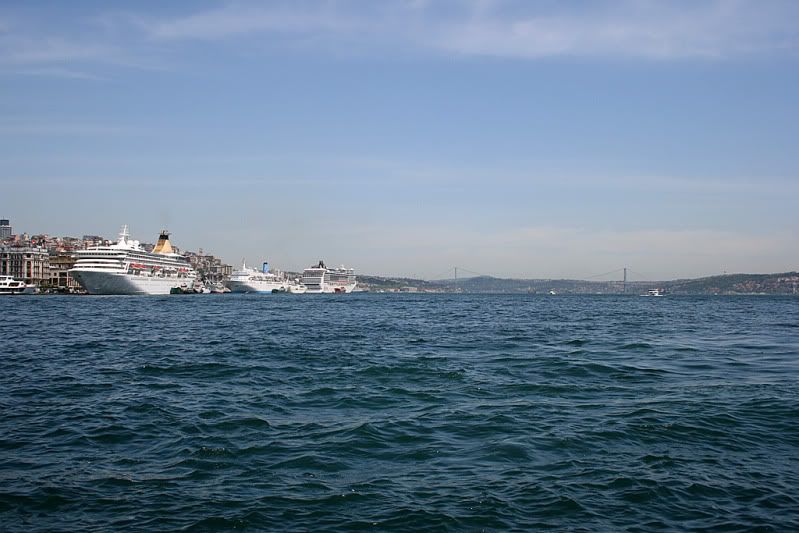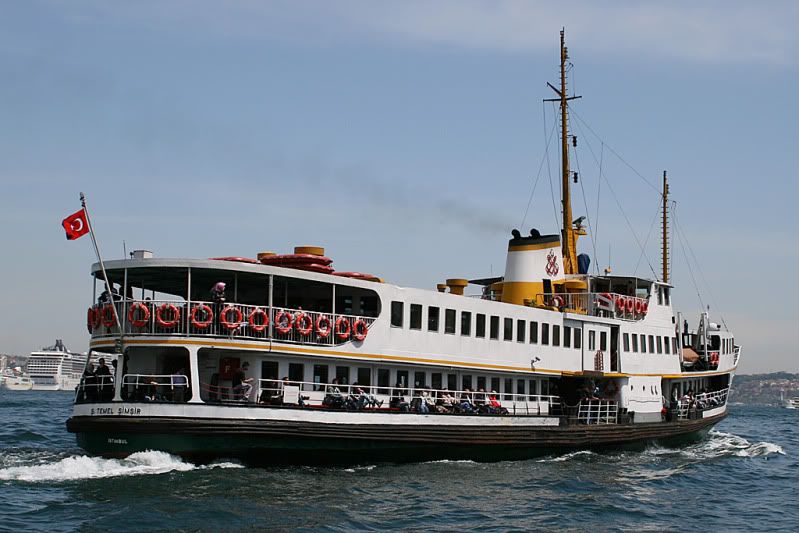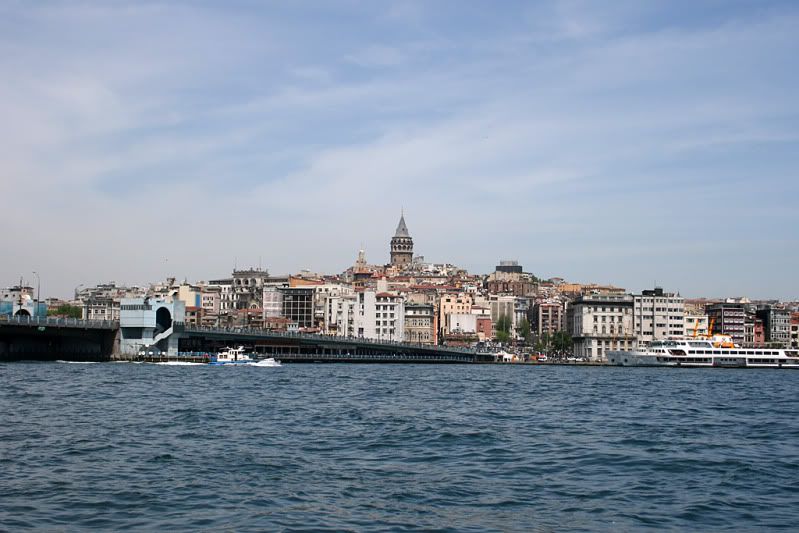 Fishermen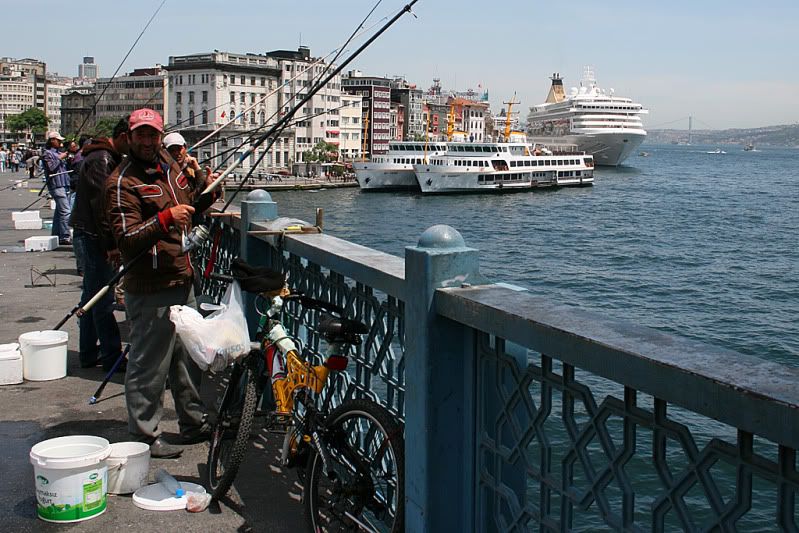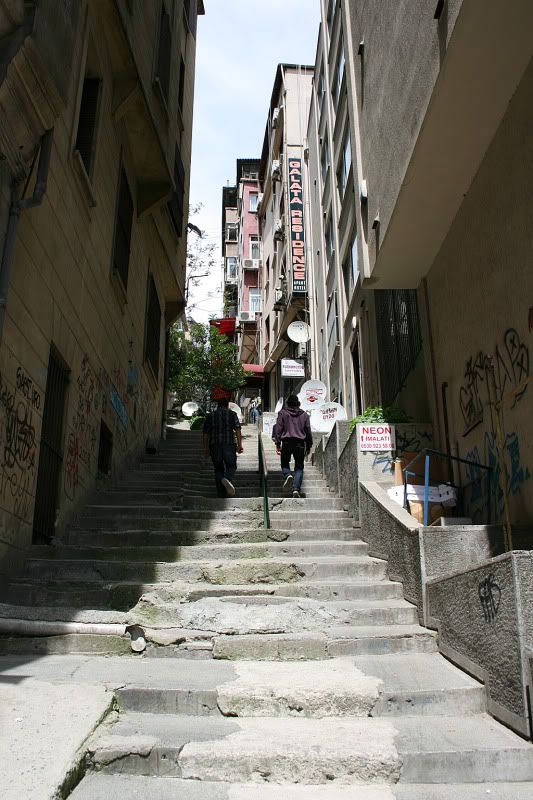 View from the Galata Tower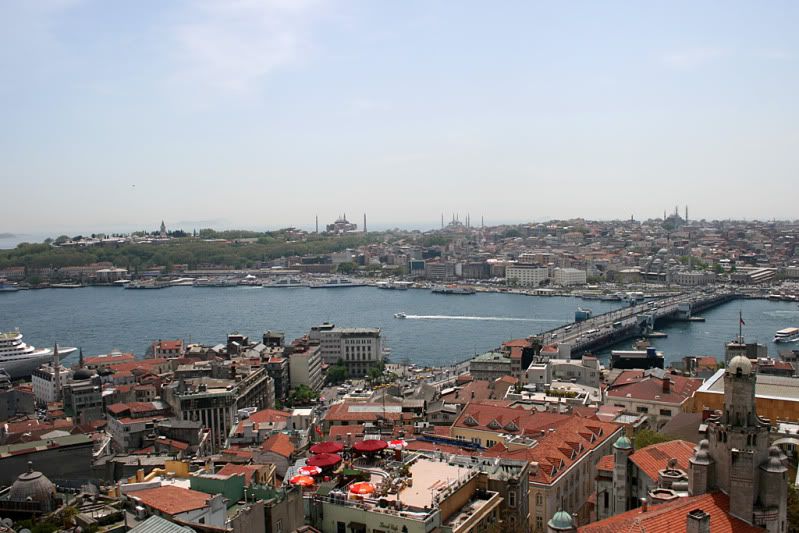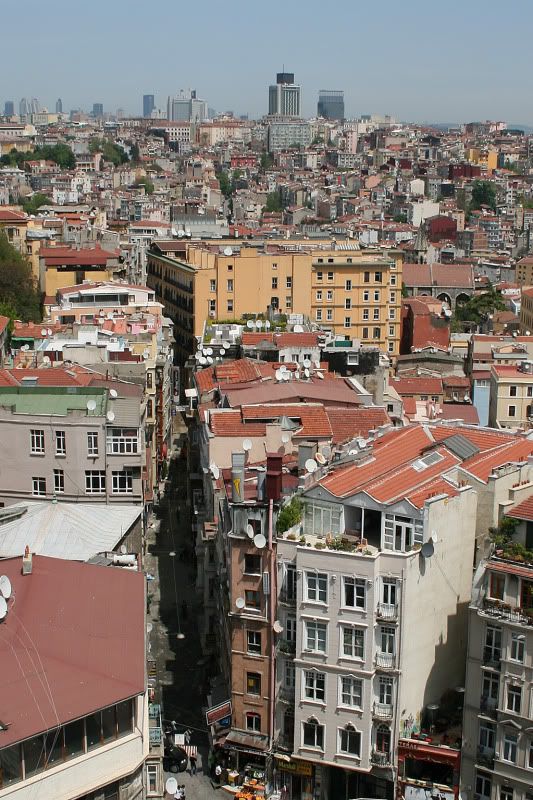 The Grand Bazaar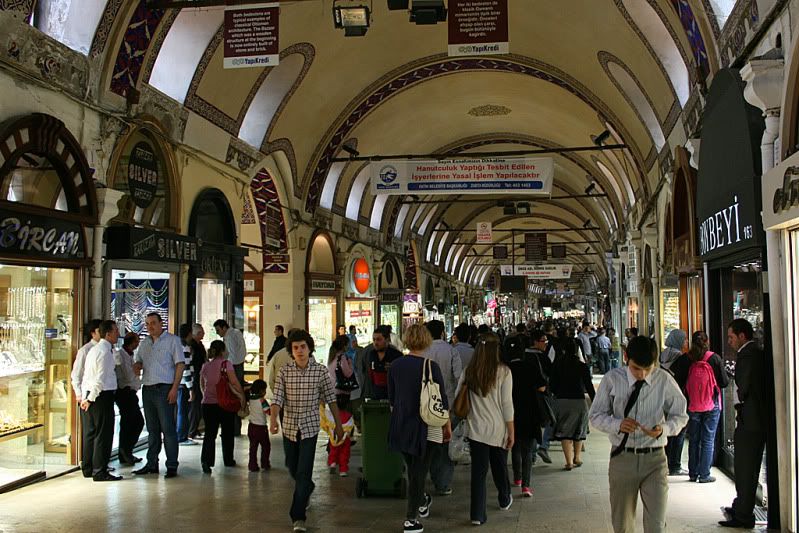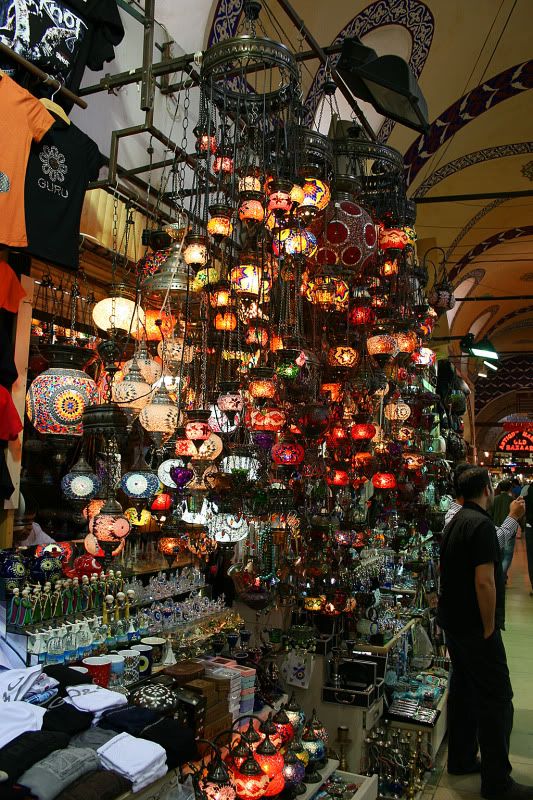 Spice Bazaar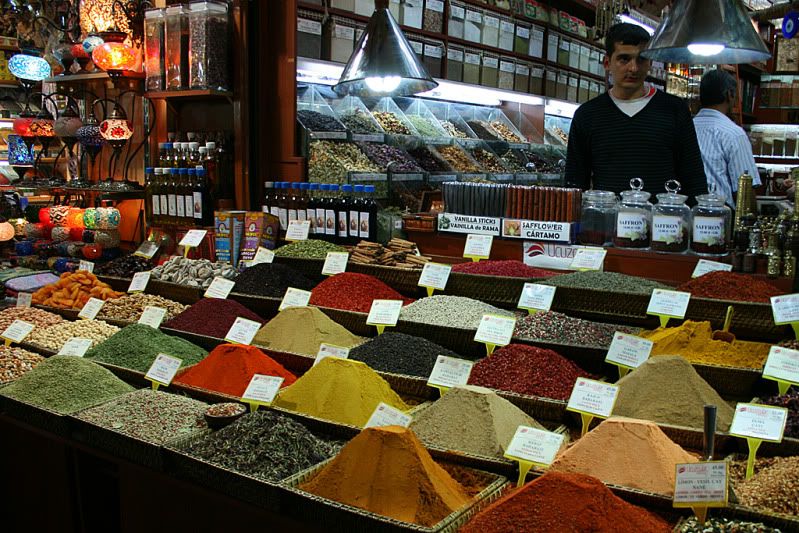 Once again, thanks for reading and look out for Tom's report of the return leg of this trip.
Matt