Cancellation Brings Joy:
Hong Kong - Beijing on Dragonair A330-300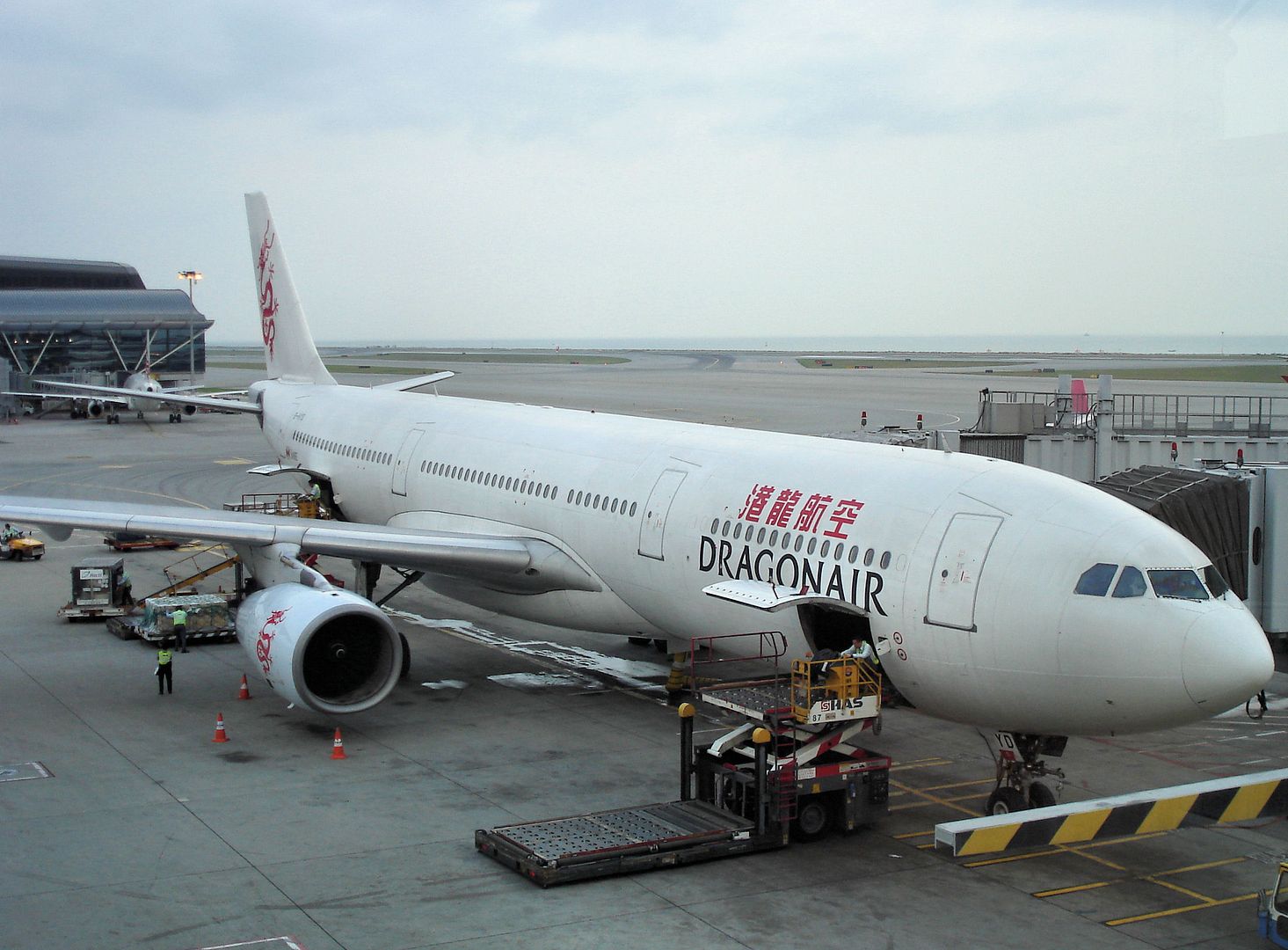 Intro
Flight cancellations are major annoyances in many cases - but sometimes cancellations may bring pure joy. The latter happened to my brother and me when
Air China
cancelled our
A321-200
flight and rebooked us on an
Dragonair A330-300
service. This report, part 3 of my latest series, will give an impression of the Economy Class product on flight KA900 between Hong Kong and Beijing. All those who are exclusively interested in the flight review should scroll down a bit - and all those who want to see more can also enjoy a selection of pictures from Hong Kong.
If you have missed parts 1 & 2 you simply need to click here:
The Next 5* Carrier? MUC-MCT-DXB, Oman Air A330
A380 Cacophony, 777 Star Livery: DXB-SIN-HKG on SQ
Background
In early January my brother and I decided to go on a sightseeing trip to Asia by the end of February. Our focus had been on Hong Kong from the very beginning, but we also wanted to enhance a possible trip by another city. My brother suggested to pick Dubai so that we could visit the new Burj Khalifa. I agreed and started searching for the most interesting flight options. It didn't take very long until I found an unbelievable fare offered by a most interesting carrier: Munich-Muscat-Dubai return on Oman Air for 260 Euro!

We decided to try Oman Air and then I started searching for adequate flights between Dubai and Hong Kong. The plan was to spend one night in Dubai each time on the outbound journey and the inbound journey. The whole trip shouldn't last more than one week, so it was clear we wouldn't be able to spend more than three nights in Hong Kong. It wasn't difficult at all to find interesting and affordable flights between Dubai and Hong Kong. In contrast, satisfying options were rare between Hong Kong and Dubai. Problematic were either high fares or unfavorable flying times. Leaving Hong Kong too early would have drastically reduced the sightseeing options - and leaving too late would have been risky regarding the onward flights between Dubai, Muscat and Munich. We also couldn't just add one day due to the limited frequencies between Muscat and Munich. In the end we decided to fly back from Hong Kong to Munich without stopping again in Dubai - it was the most convenient option and absolutely free of risk.

While searching for flights between Dubai and Hong Kong, Singapore Airlines soon caught my attention by offering a one-way connection for 318 Euro - including an A380 flight. My brother hadn't flown on the A380 yet and I was very interested in getting on the bird for the second time (after the premiere on Emirates). Great service and high-quality catering were further arguments for SIA. Unfortunately, the low fare suddenly disappeared and SQ wanted 350 Euro - at least for the A380 combo. We decided it would be worth it.

In addition to the Oman Air and Singapore Airlines flights we selected a Hong Kong-Beijing-Munich connection on Air China (A321-200 and A330-200) for only 290 Euro. I had never flown on Air China before and I knew the A330-200 on the long-haul sector would be equipped with personal IFE screens - so it was worth a try. Even though the final itinerary consisted of only six flights, it included two new airlines and four widebody jets. Well, so much for the plan...
Hong Kong Sightseeing
After arriving at the Kowloon Station on the Airport Express we took a taxi which dropped us off at the
Prudential Hotel
only ten minutes later. The 3 star plus hotel is located in the heart of
Tsim Sha Tsui
, just above
Jordan
MTR station. With 90 Euro per night it belongs to the cheaper hotels in the area, but we were absolutely satisfied. Friendly staff, clean and comfortable room, excellent location - what else can you ask for?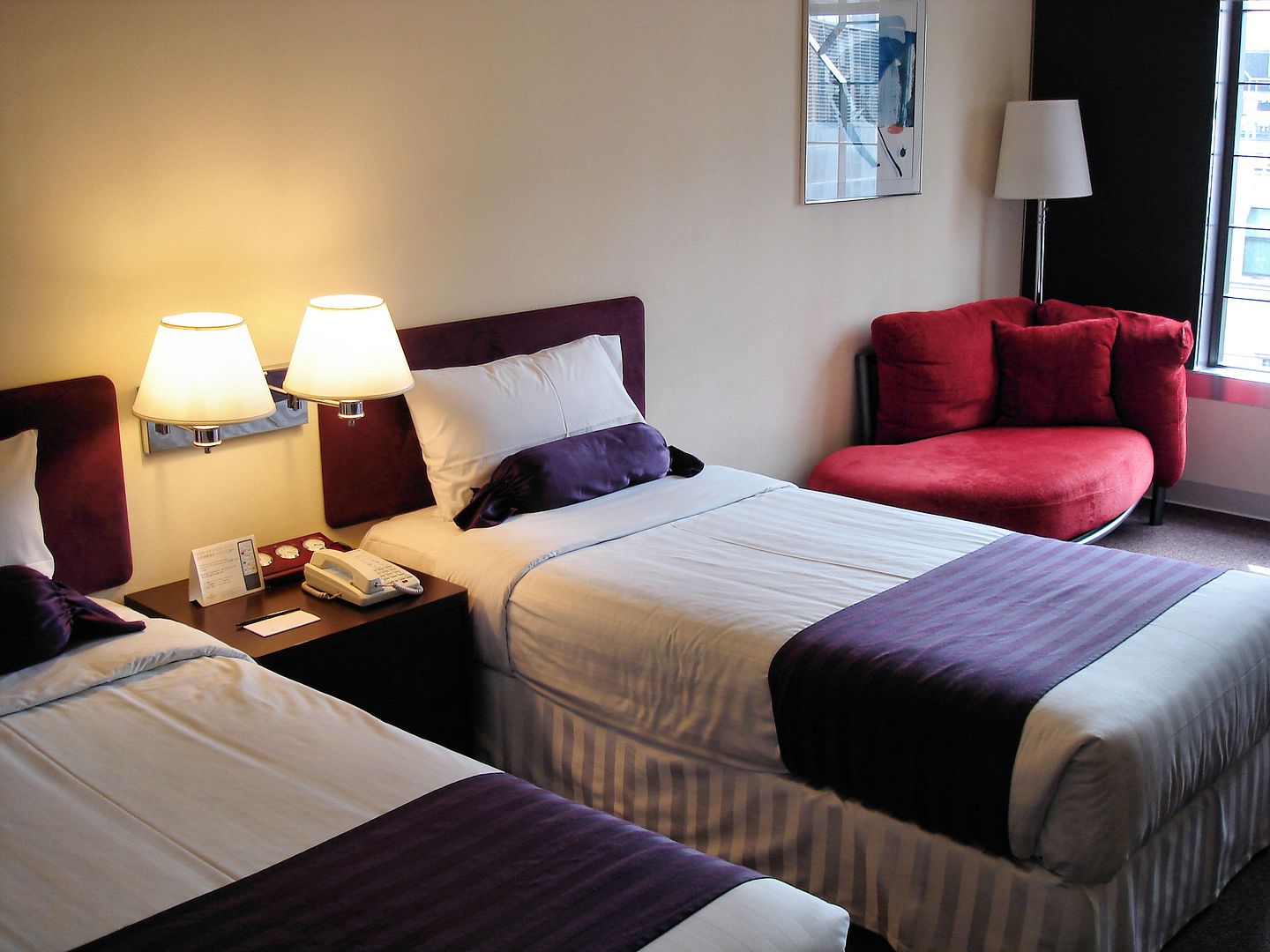 Views from the room...
...and the rooftop terrace: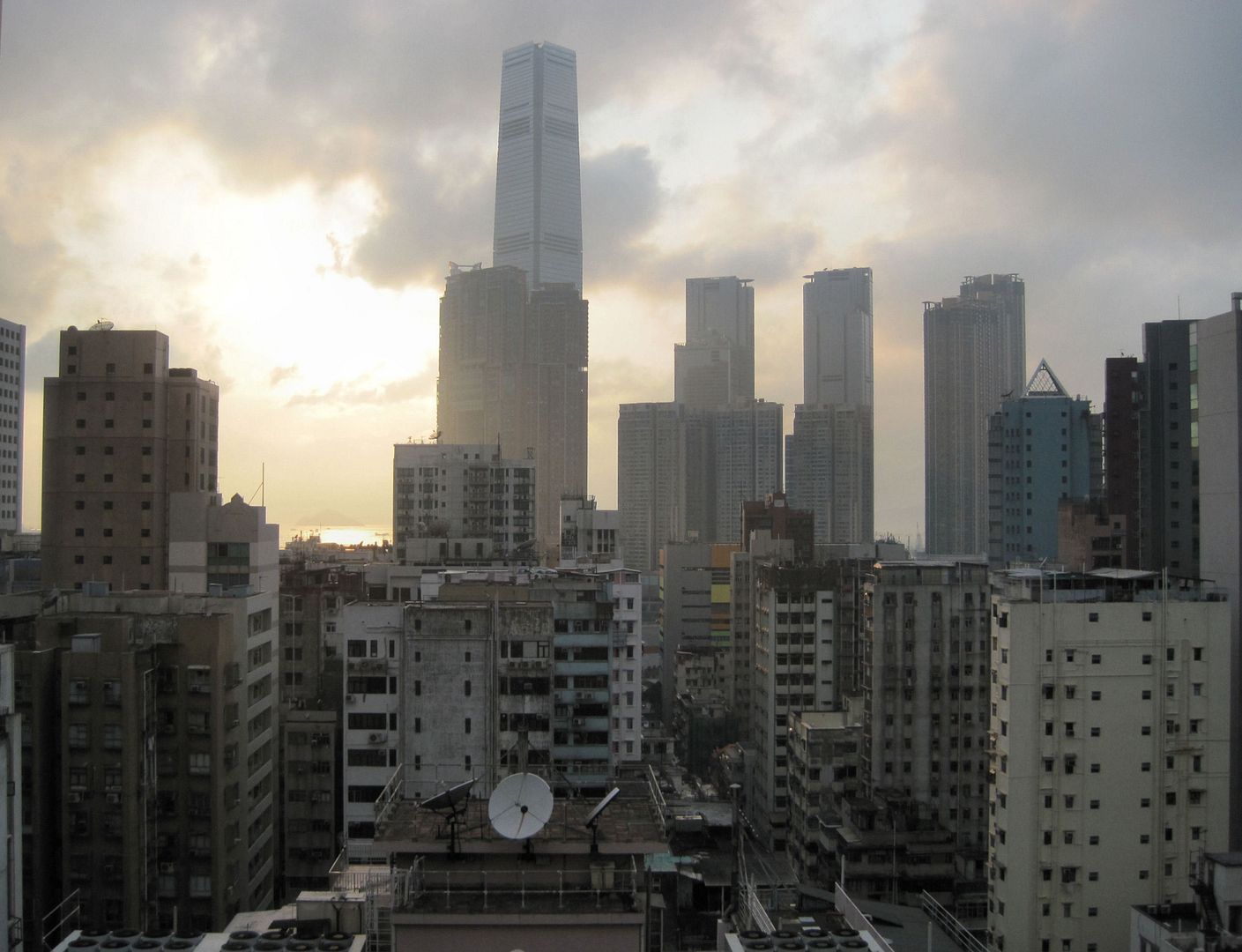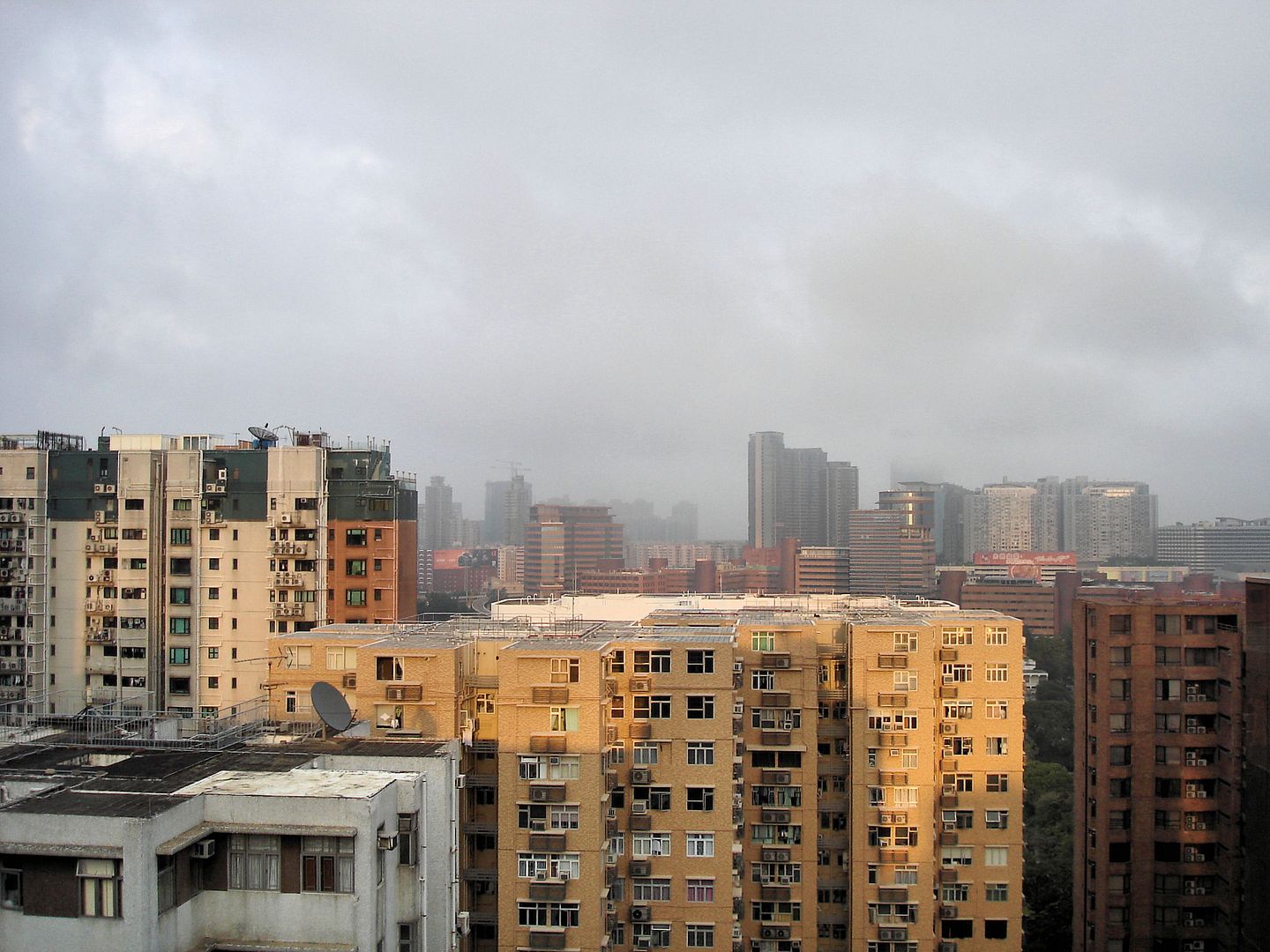 Always a pleasure to walk through the streets of Kowloon: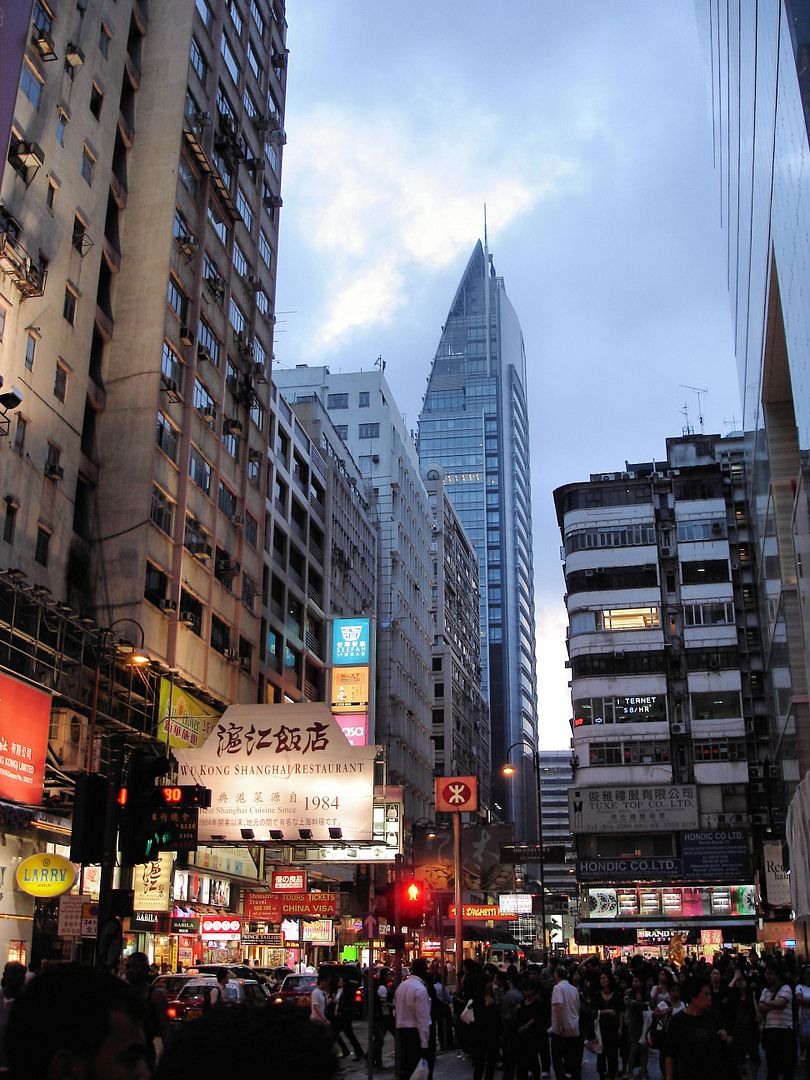 Hyatt Regency
:
Hong Kong Space Museum
:
The legendary
Peninsula
:
Hong Kong's skyline at night is always a great sight:
On the next day we took part in a
Gray Line
city tour and visited some famous places, e.g.
The Peak
. The upper terminus station: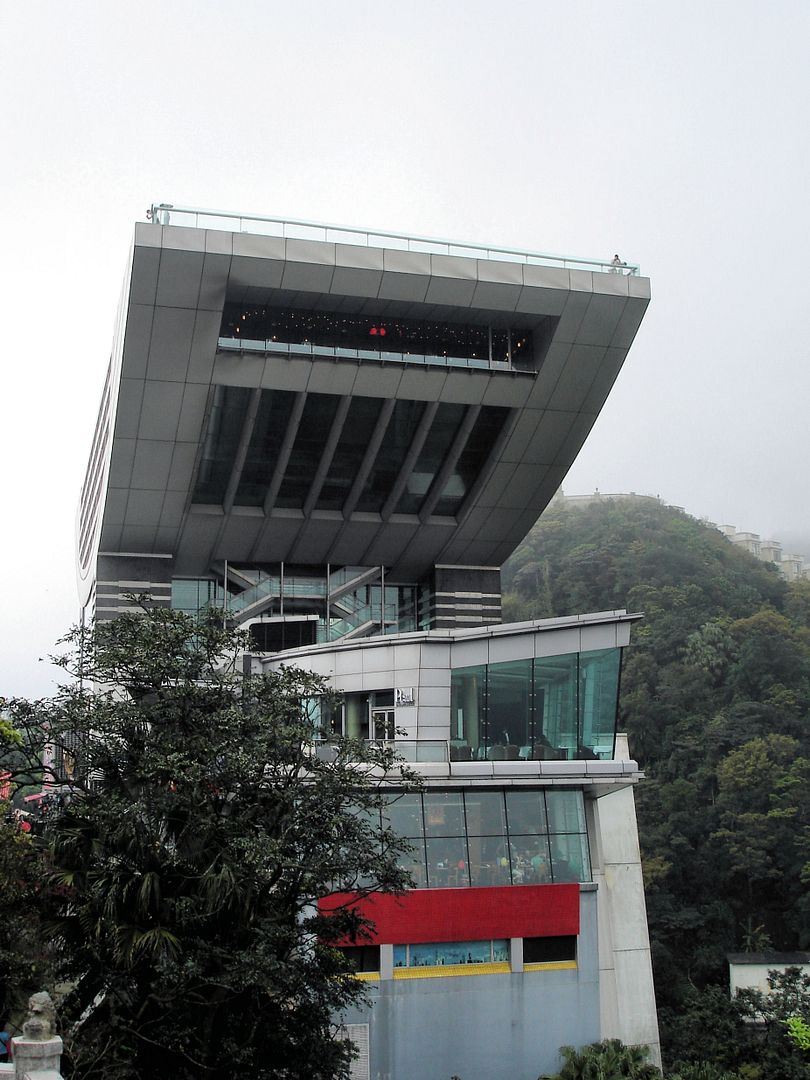 The weather was disappointing, but we still enjoyed the views: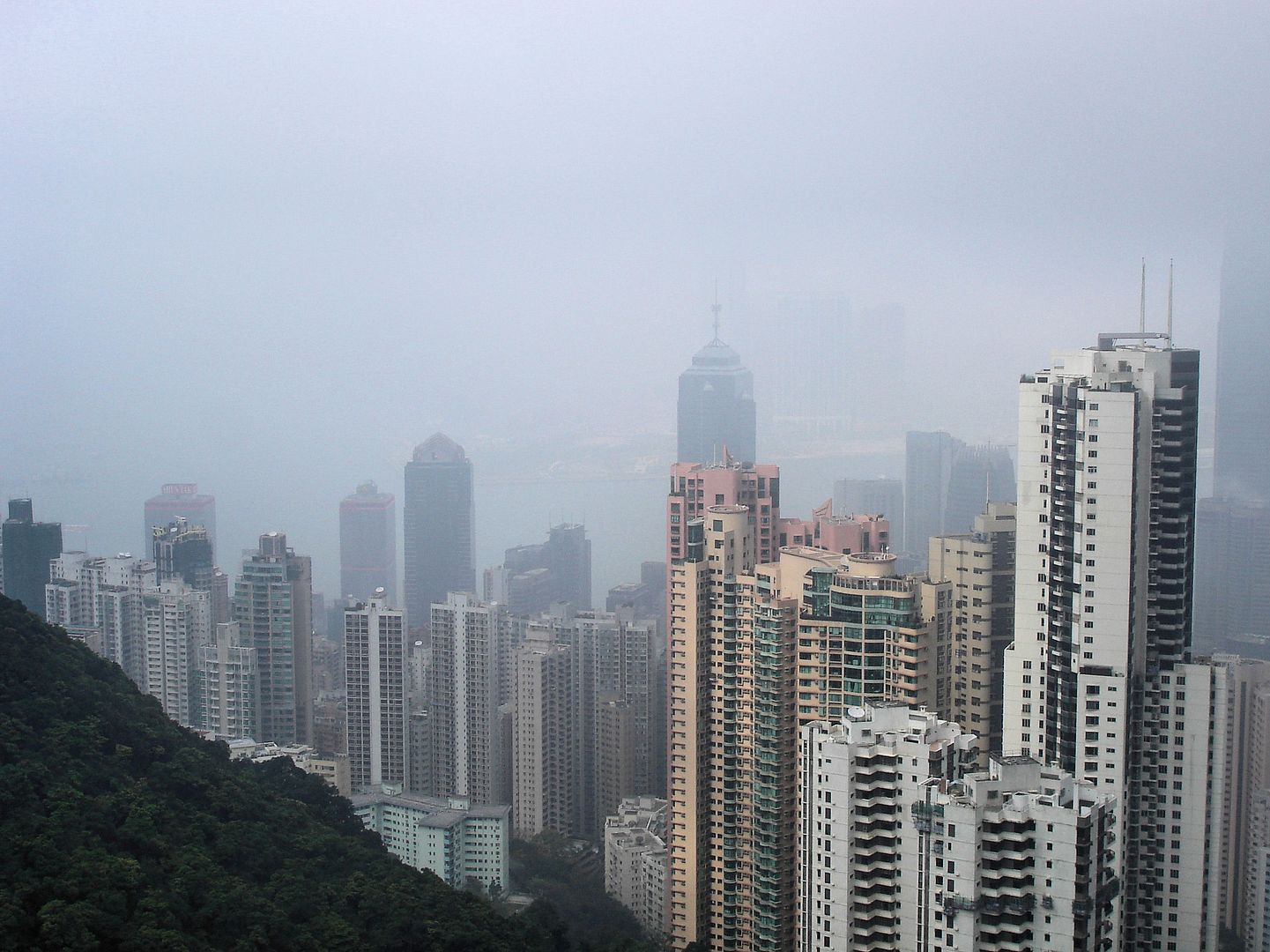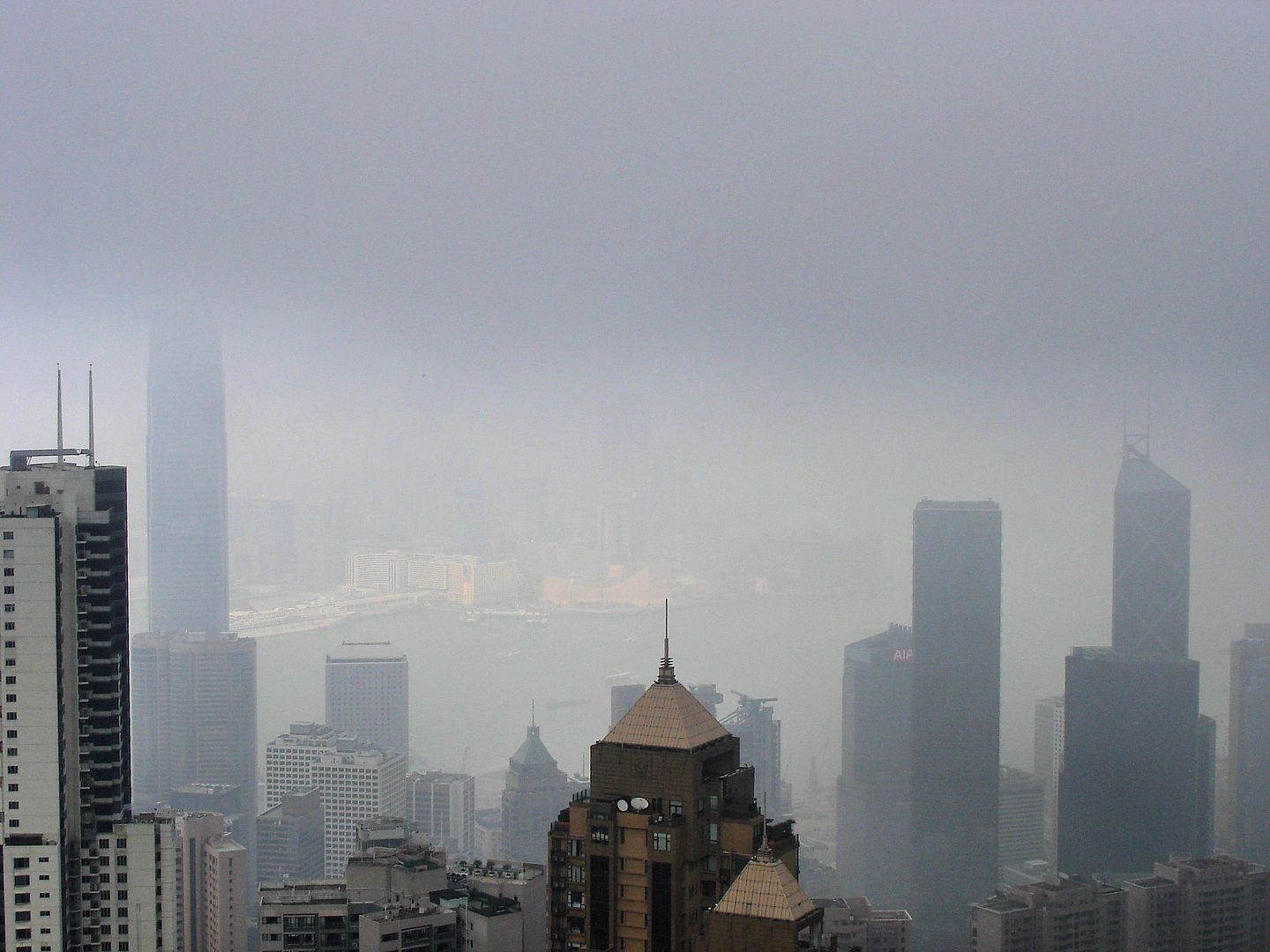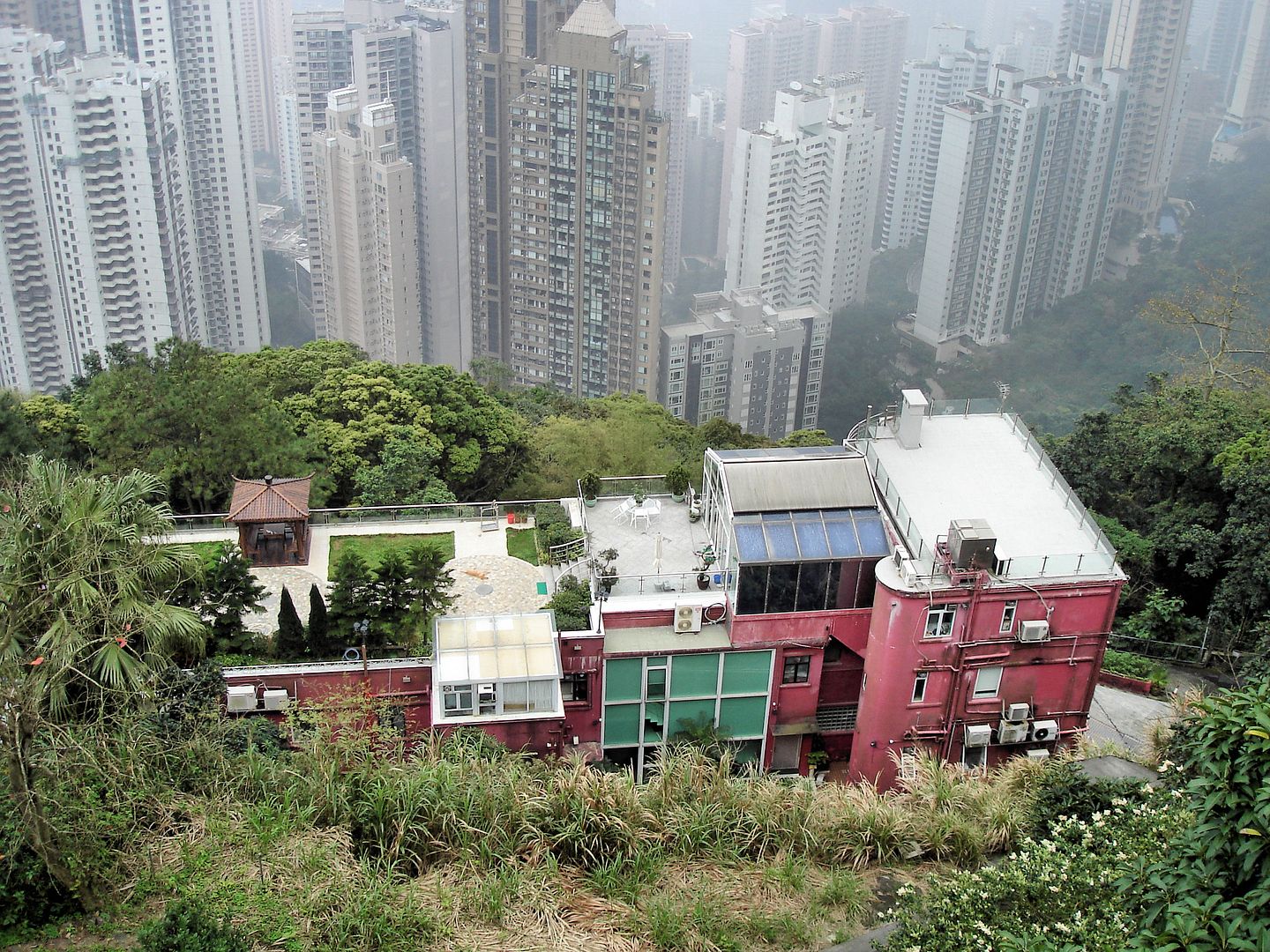 Aberdeen Fishing Village
: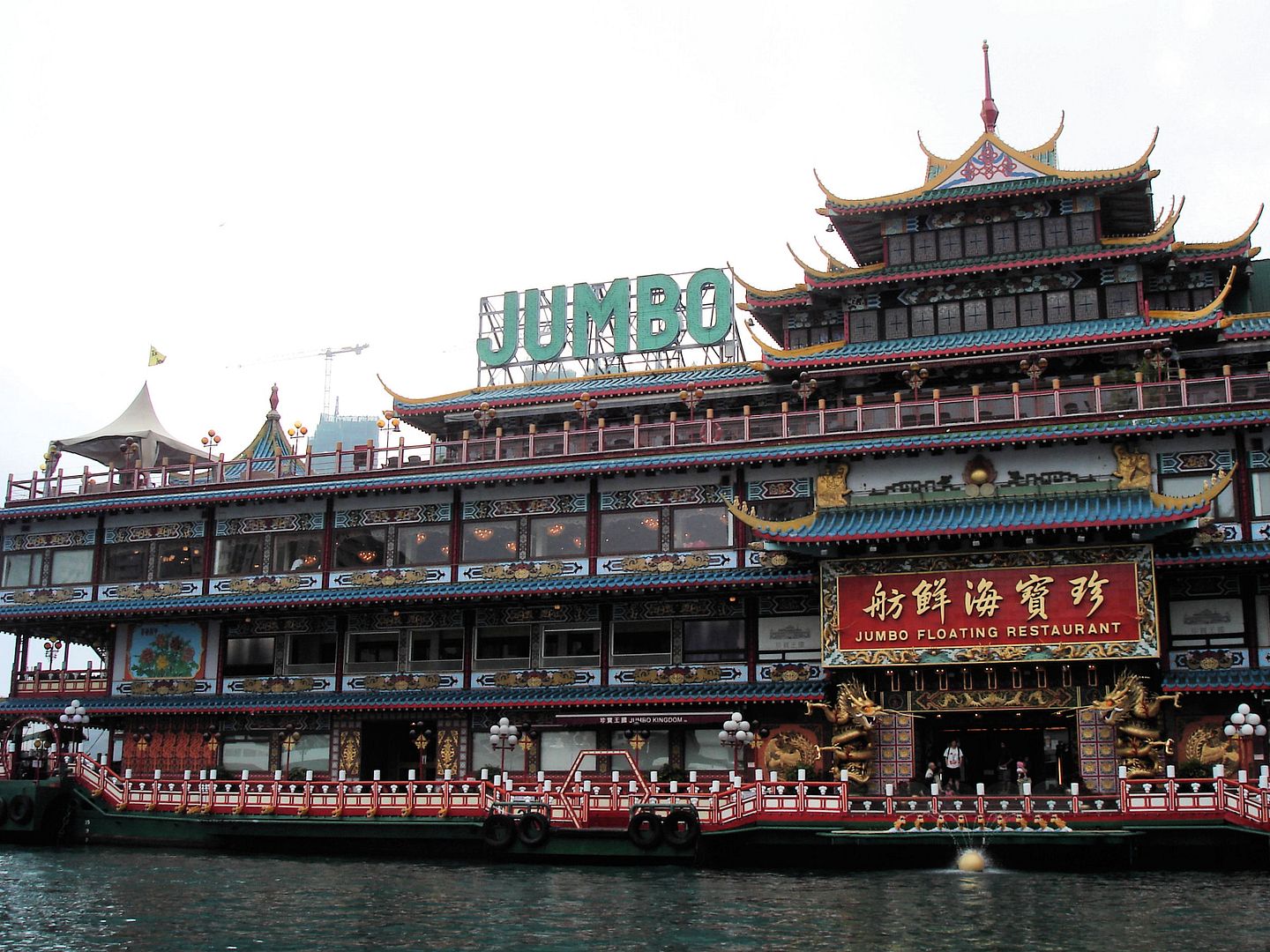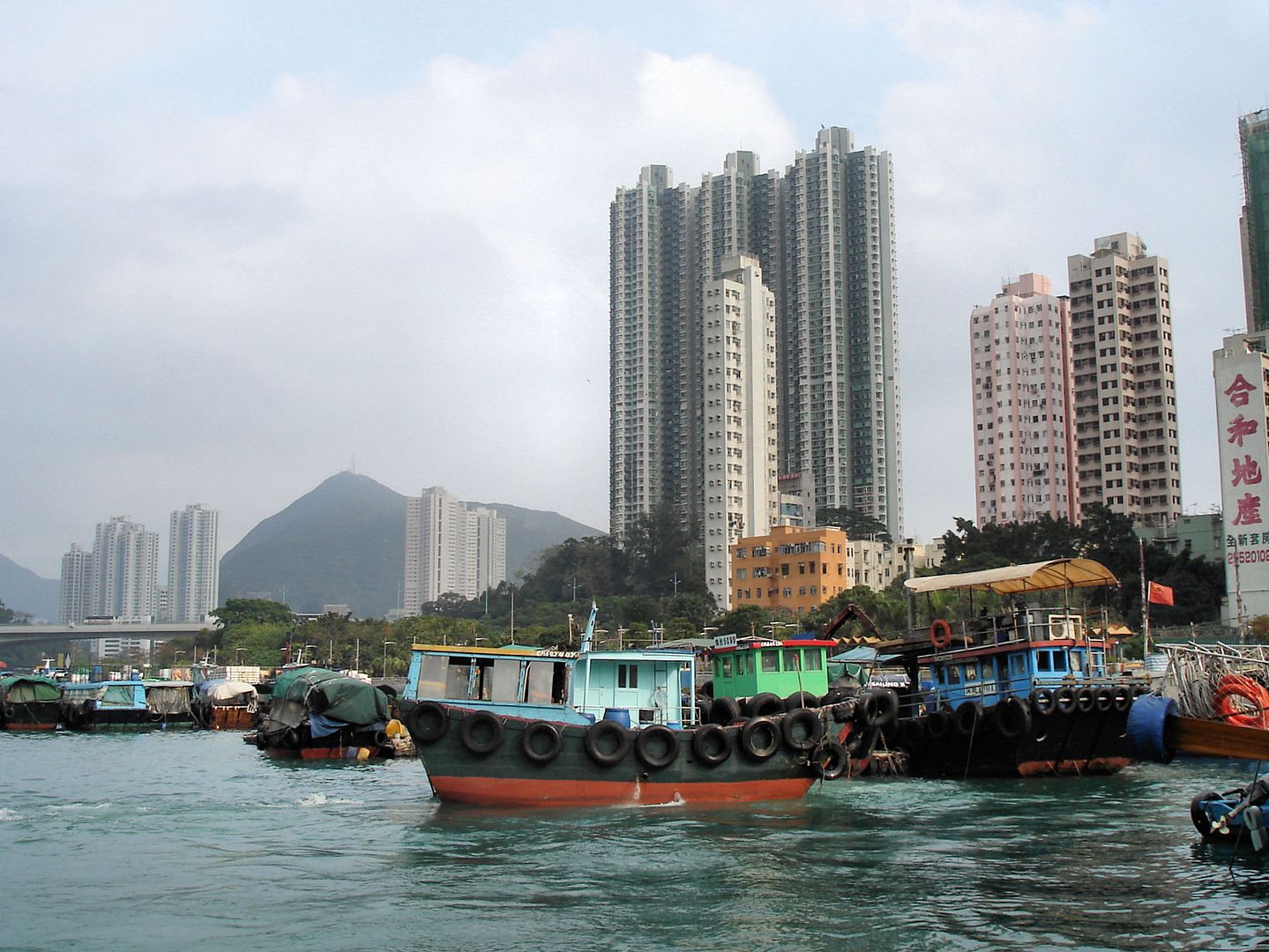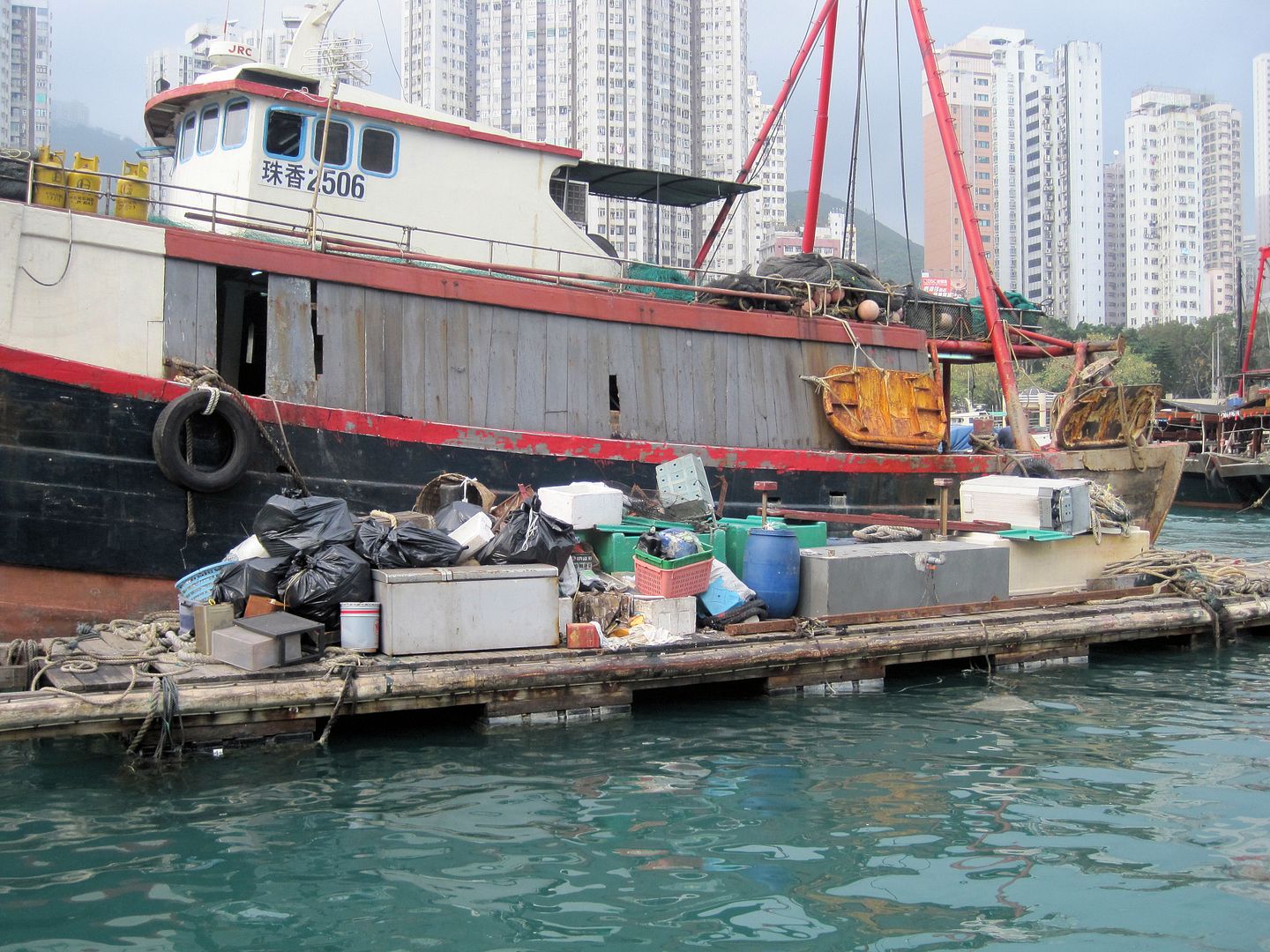 If you need any souvenirs, you should visit the
Stanley Market
:
How about some duck after shopping?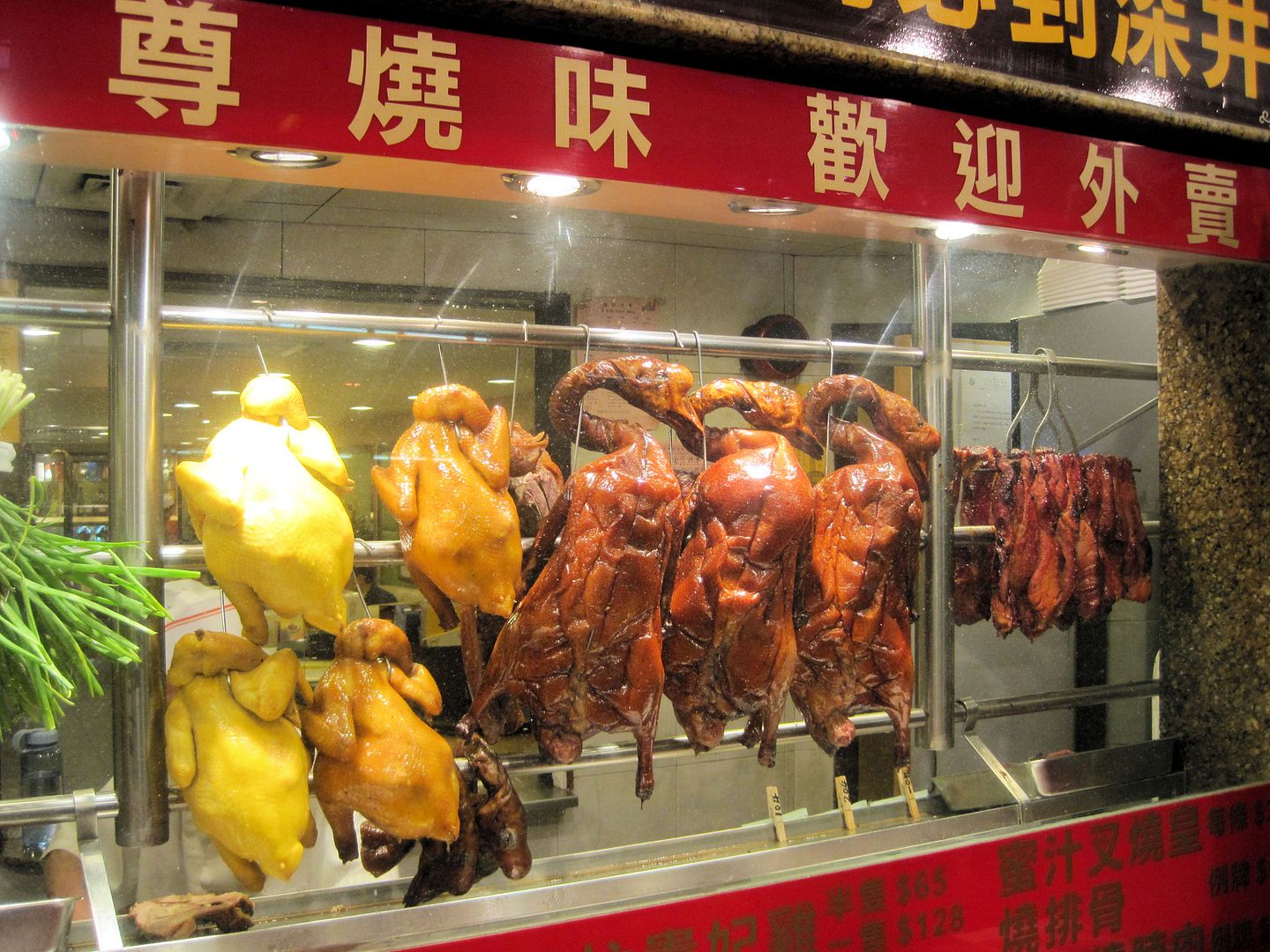 Neon lights everywhere:
On the third day we walked down to the waterfront for the last time. Typical Hong Kong street view: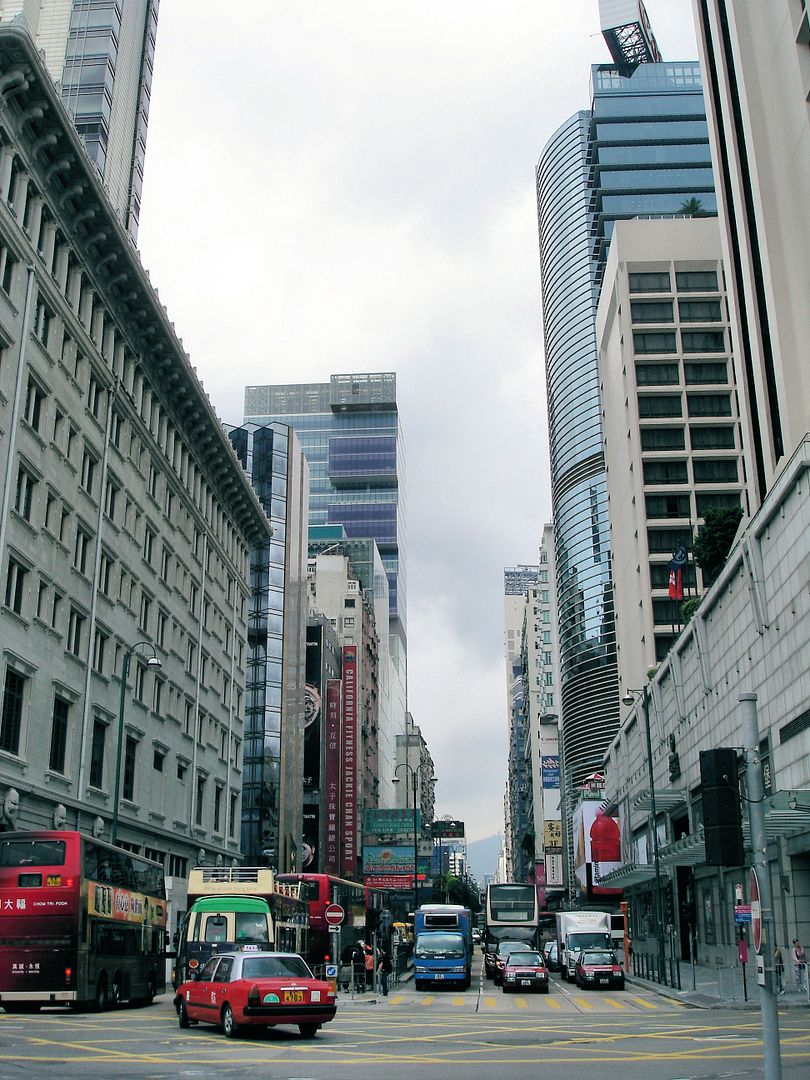 Clock Tower
: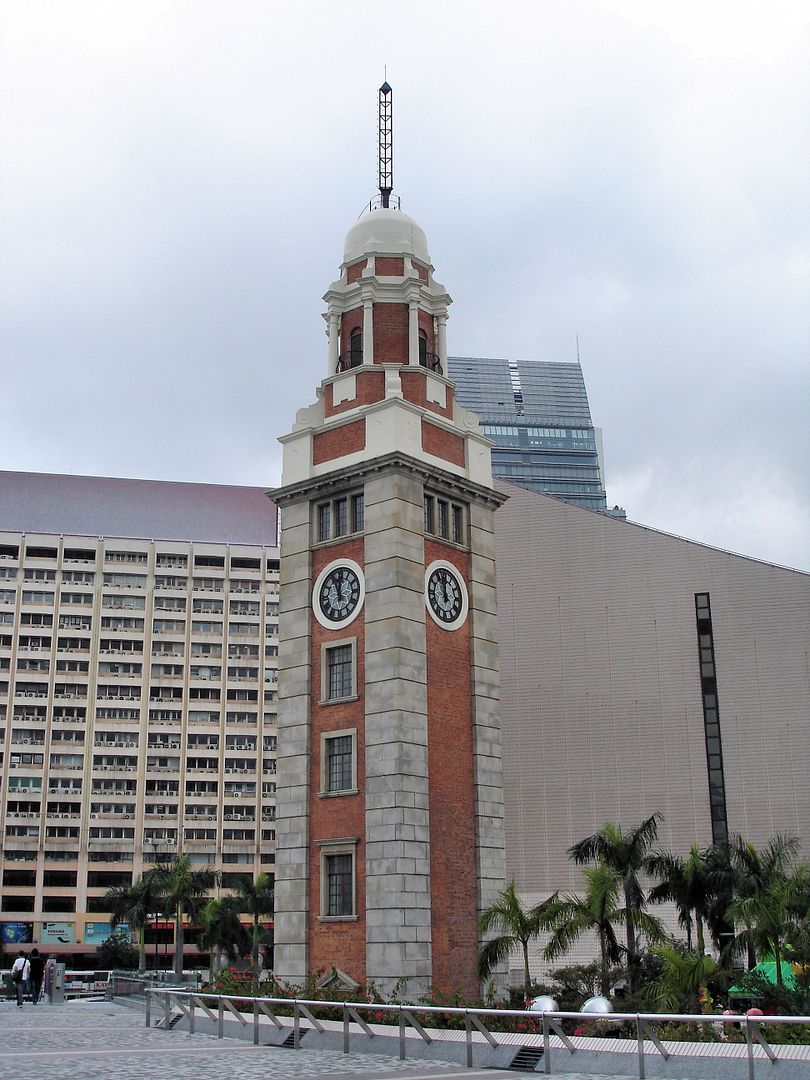 Opera House
: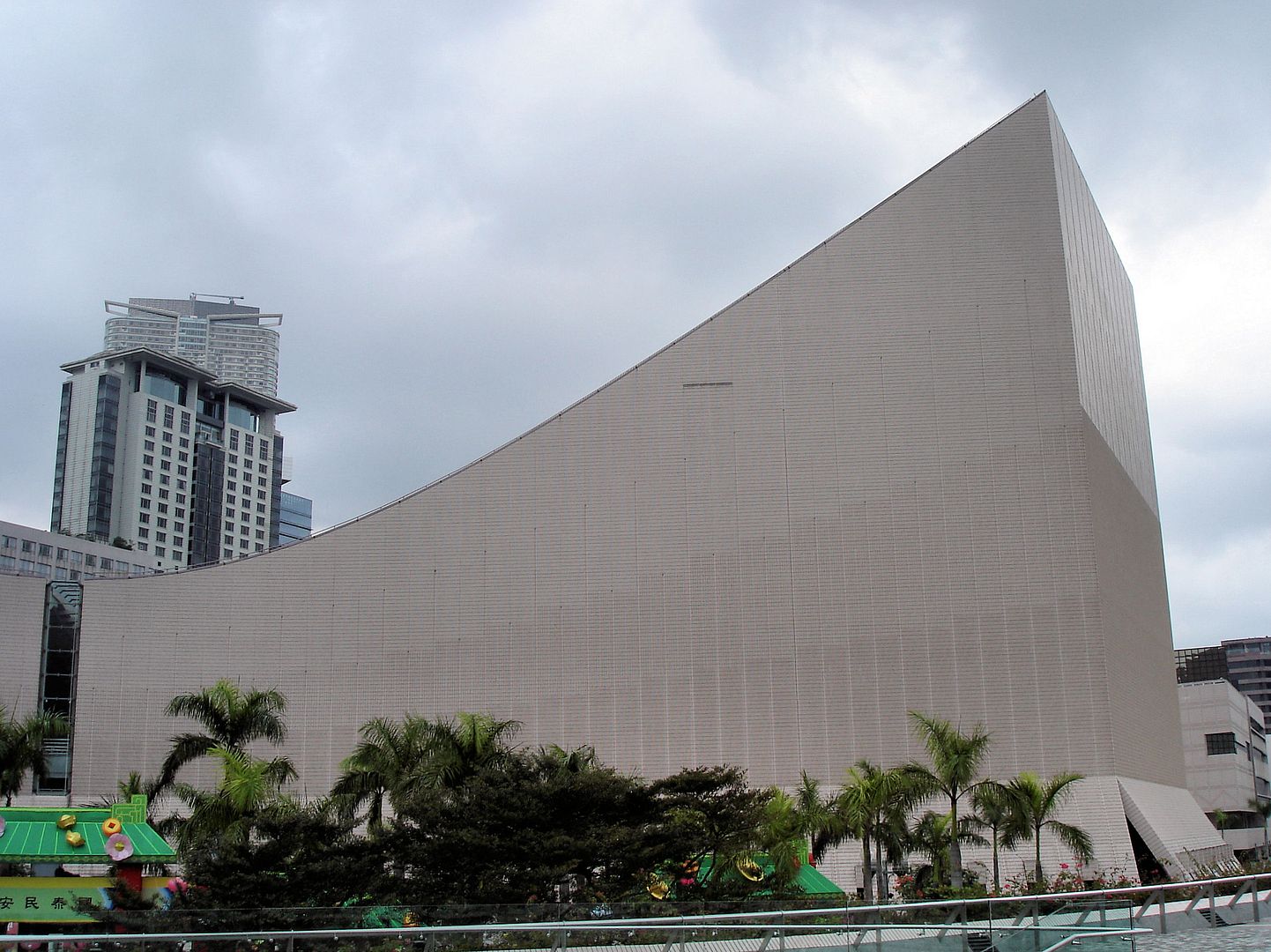 Simply stunning skyline: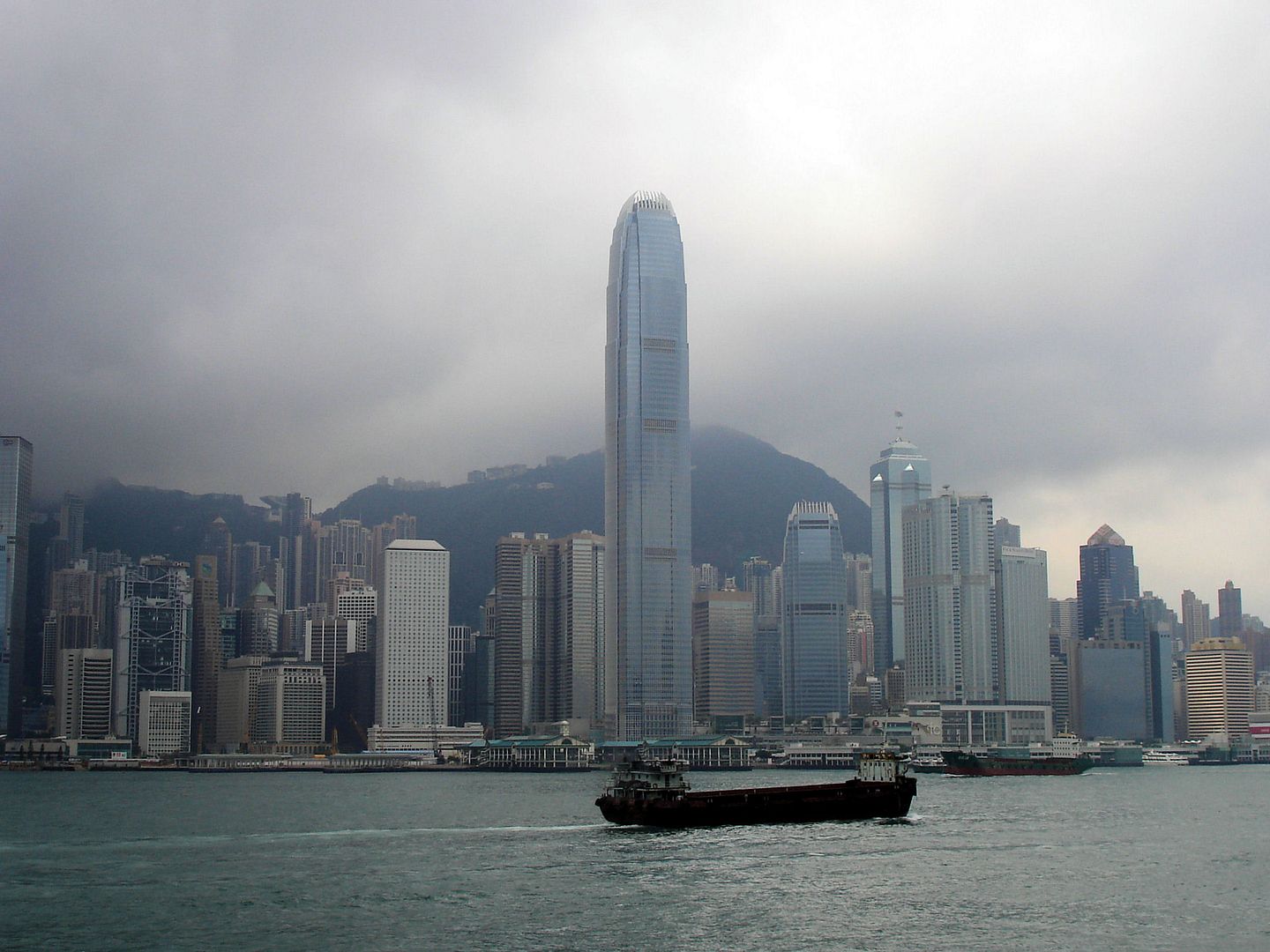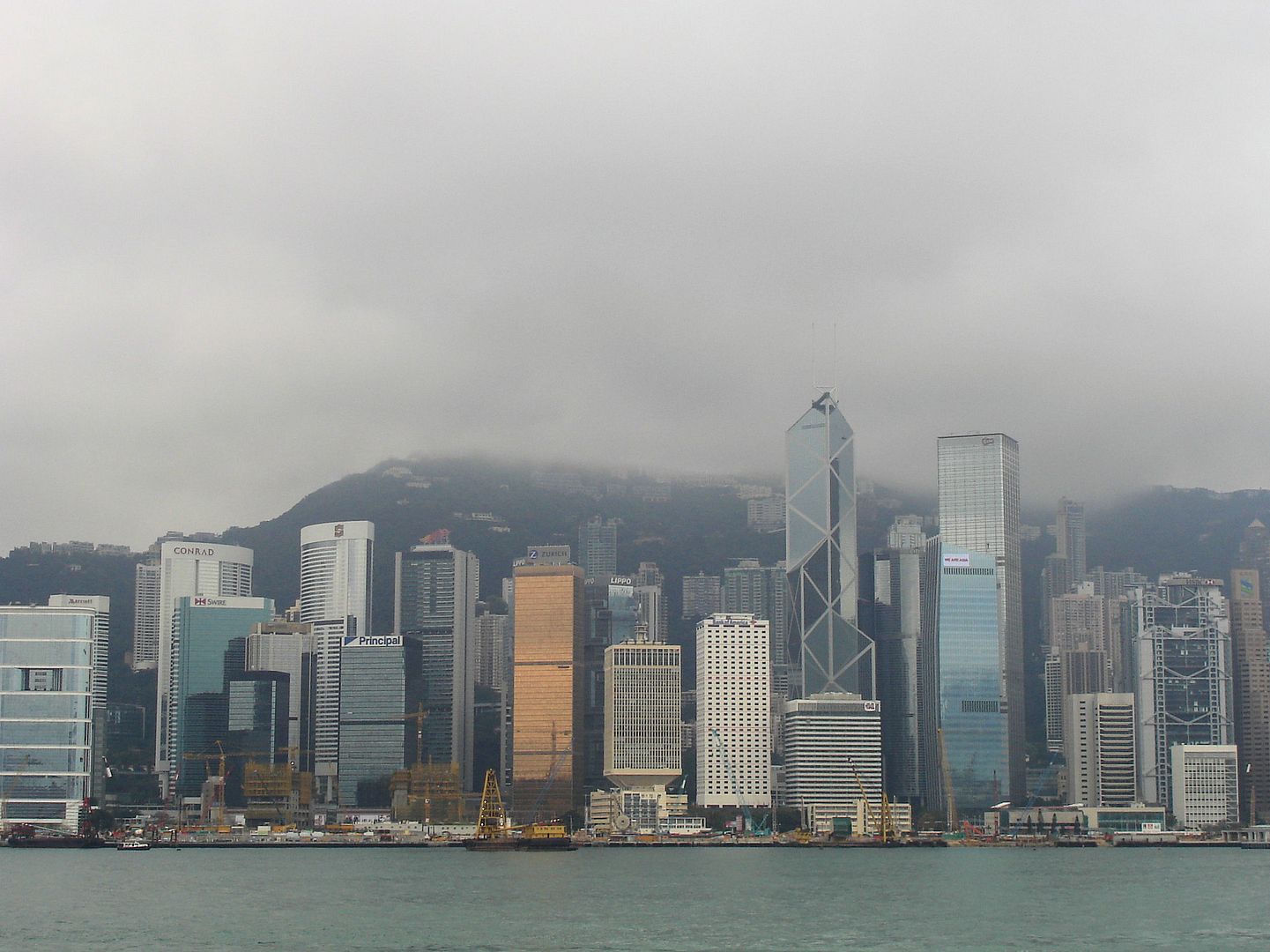 The
2IFC
(Two International Finance Centre) is Hong Kong's second tallest building:
Legend of the Seas
at the pier: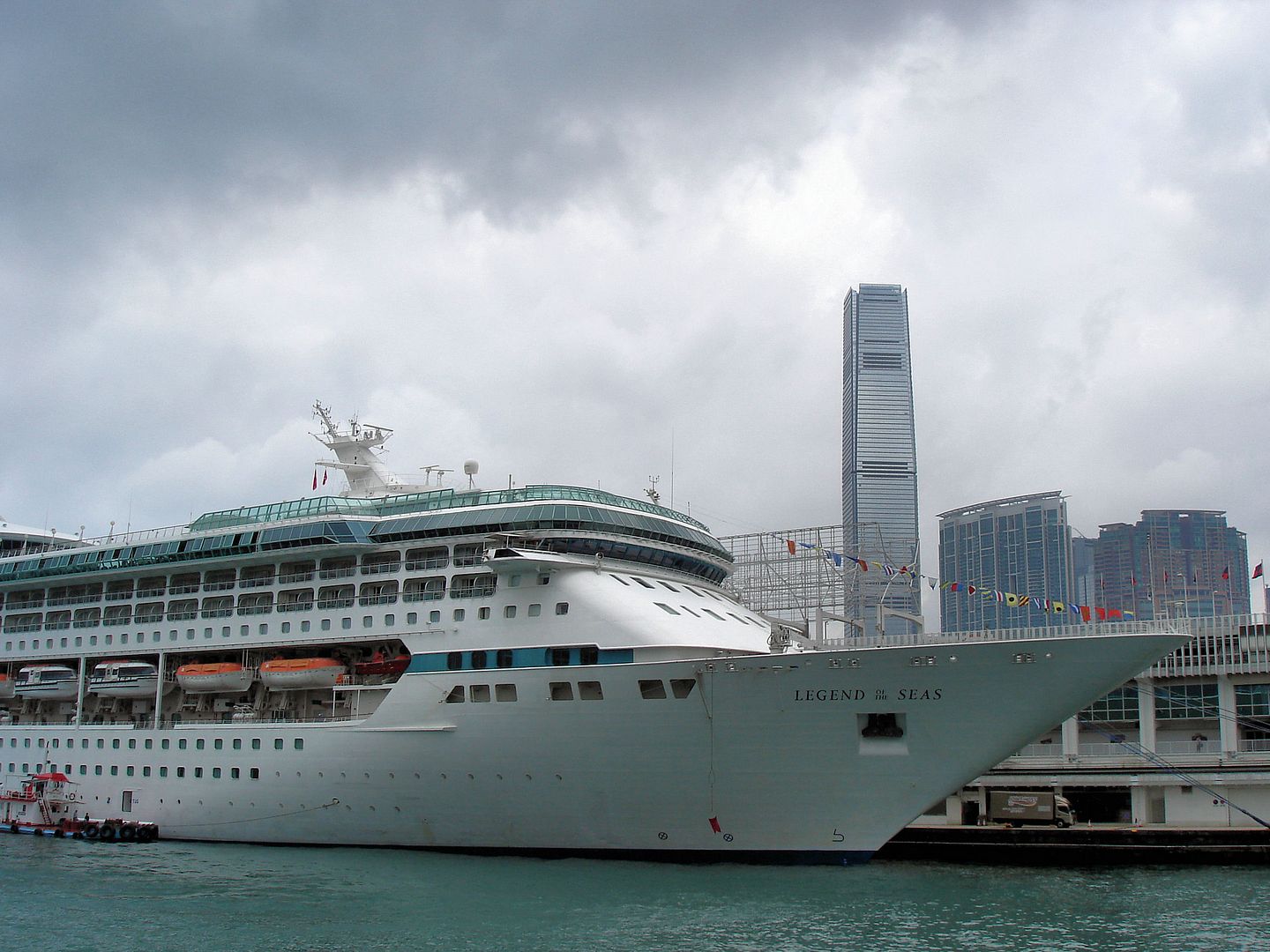 We took the
Star Ferry
to Hong Kong Island and passed the Chinese cargo ship
Ming Fen
: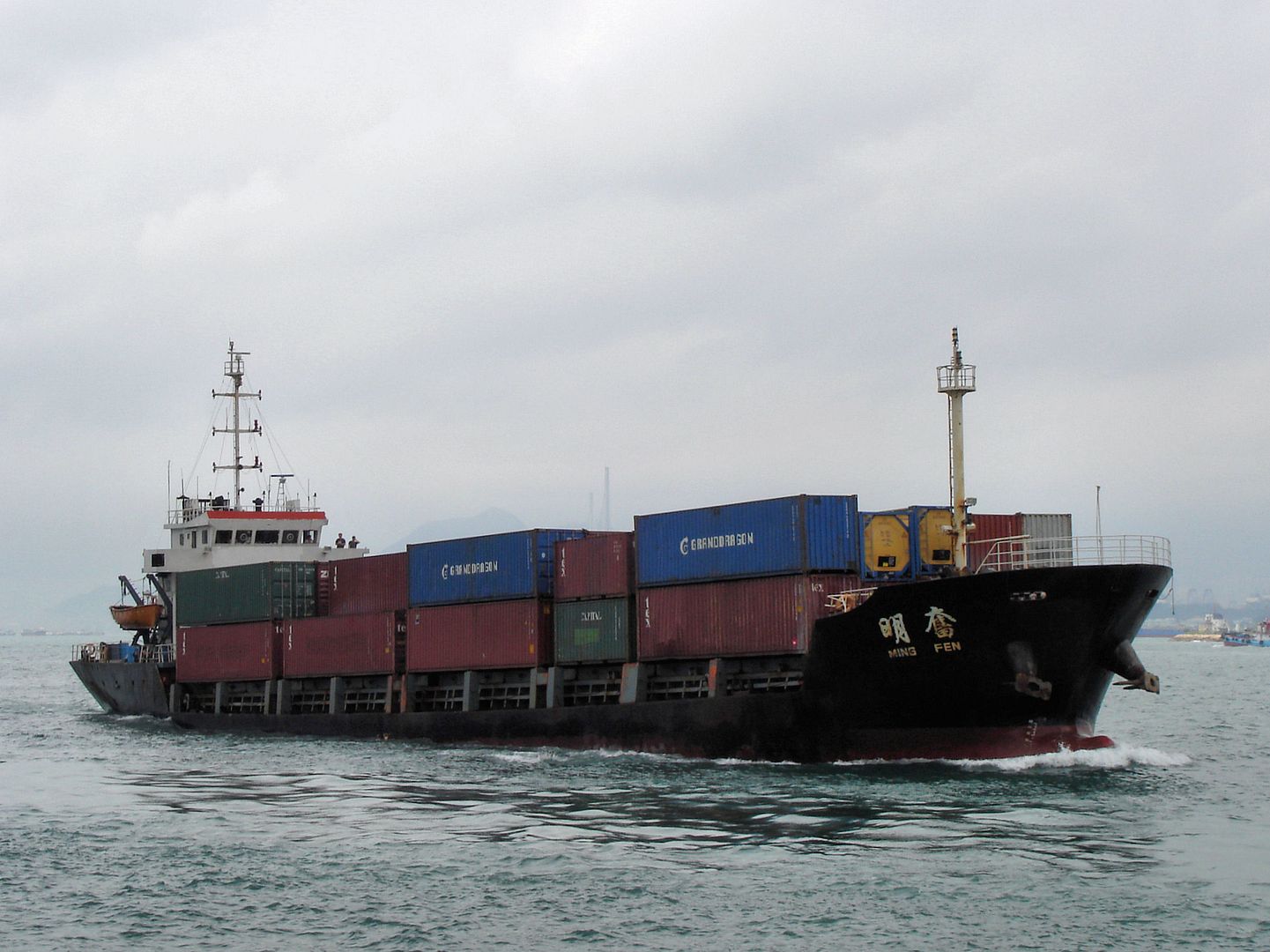 This was our ferry, named
Solar Star
: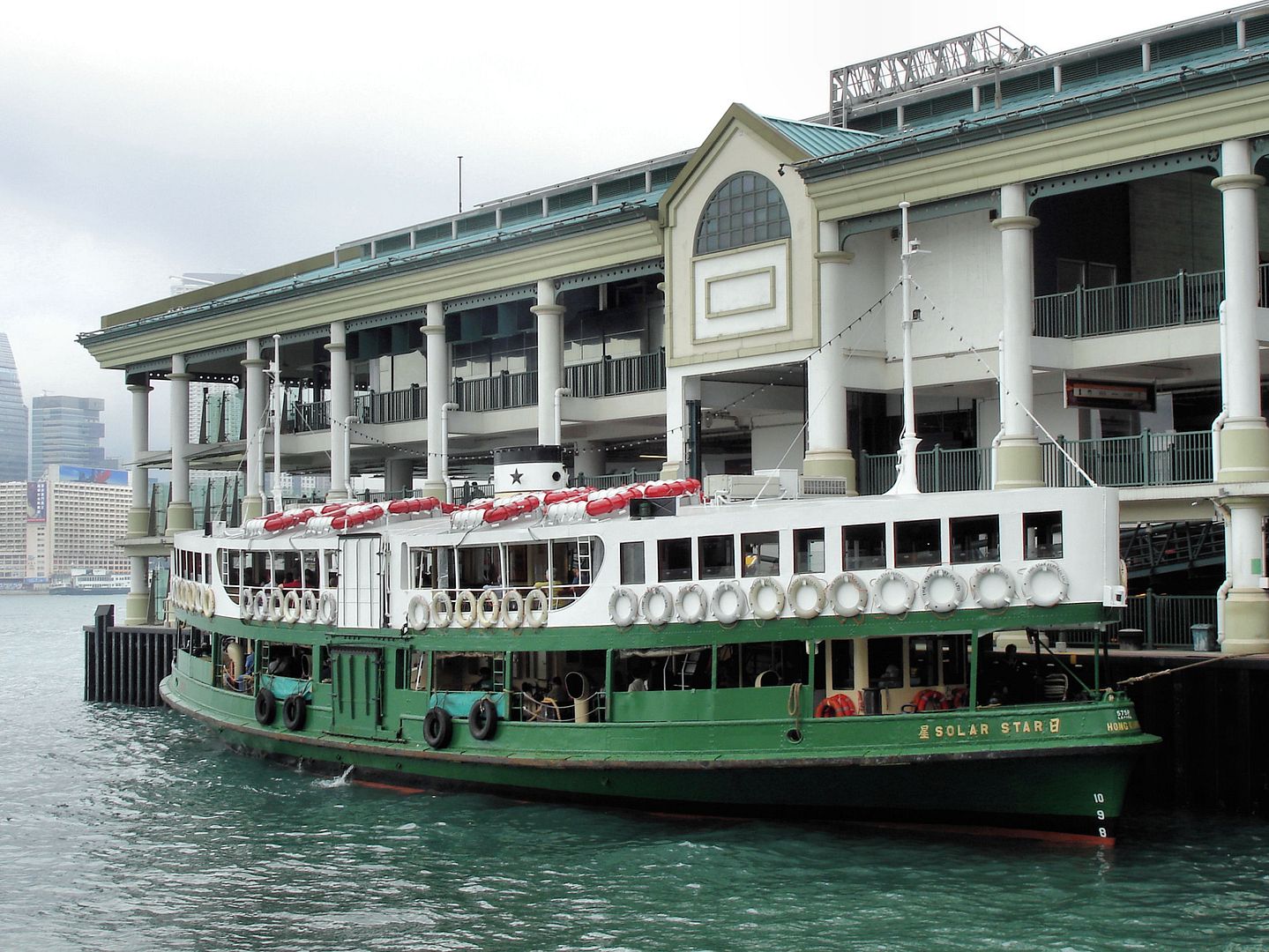 We went straight to the
IFC
complex which also incorporates a huge mall: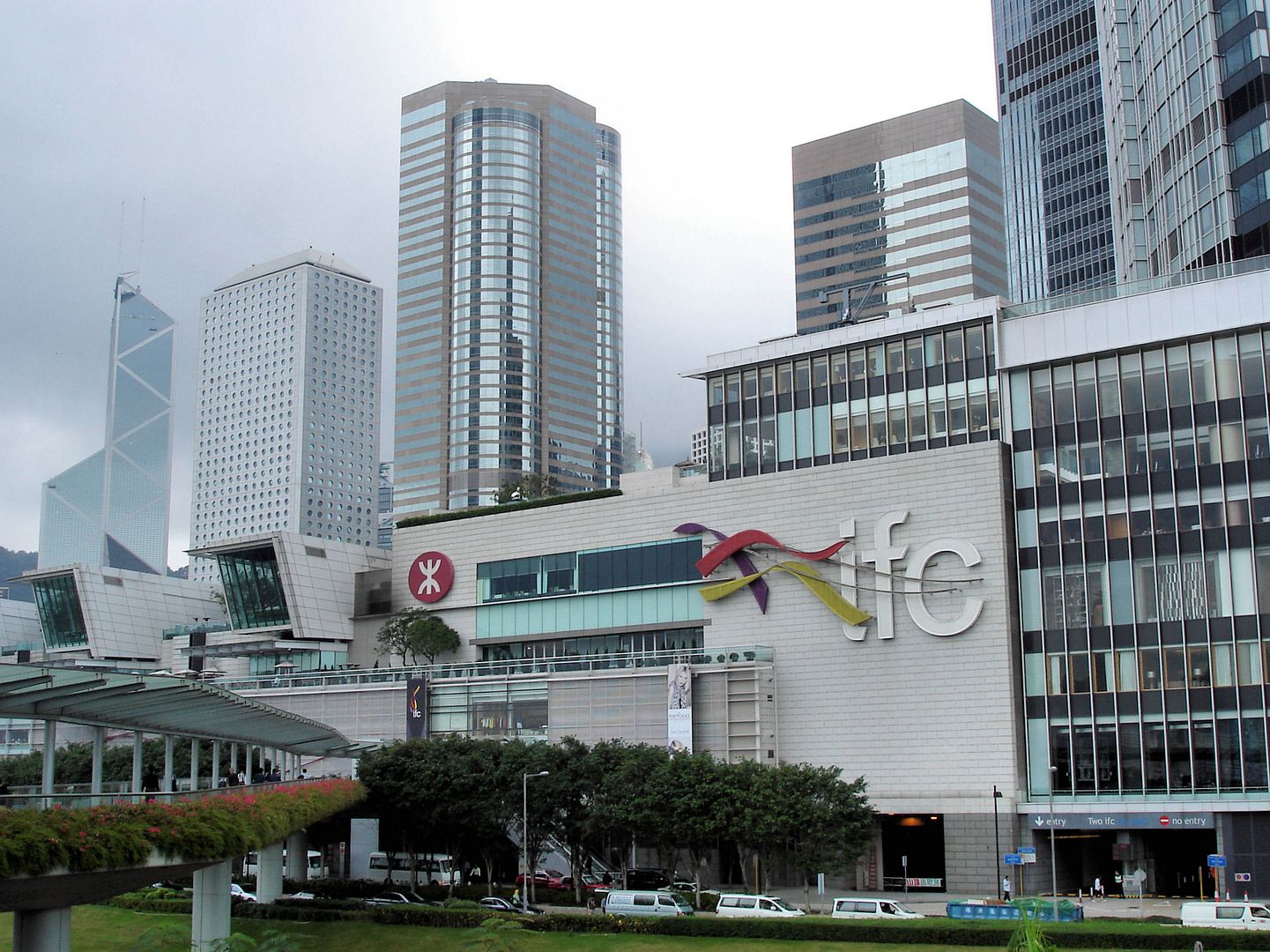 The 415-meter-tall
2IFC
is an impressive building: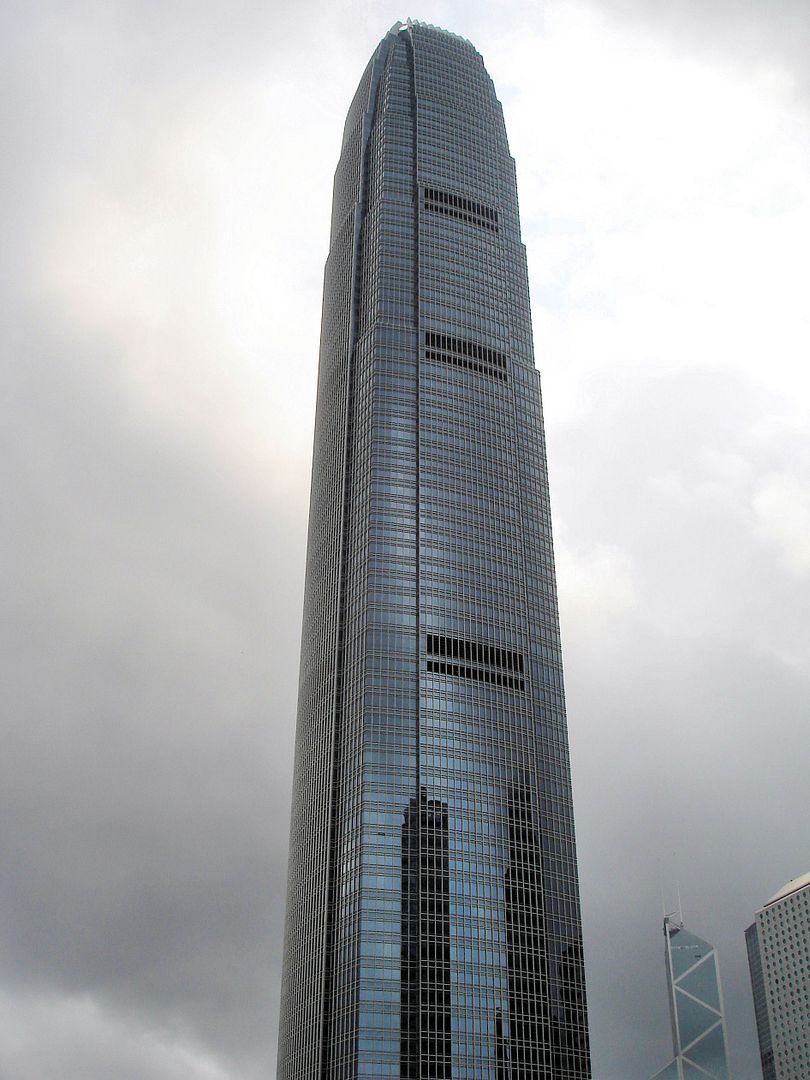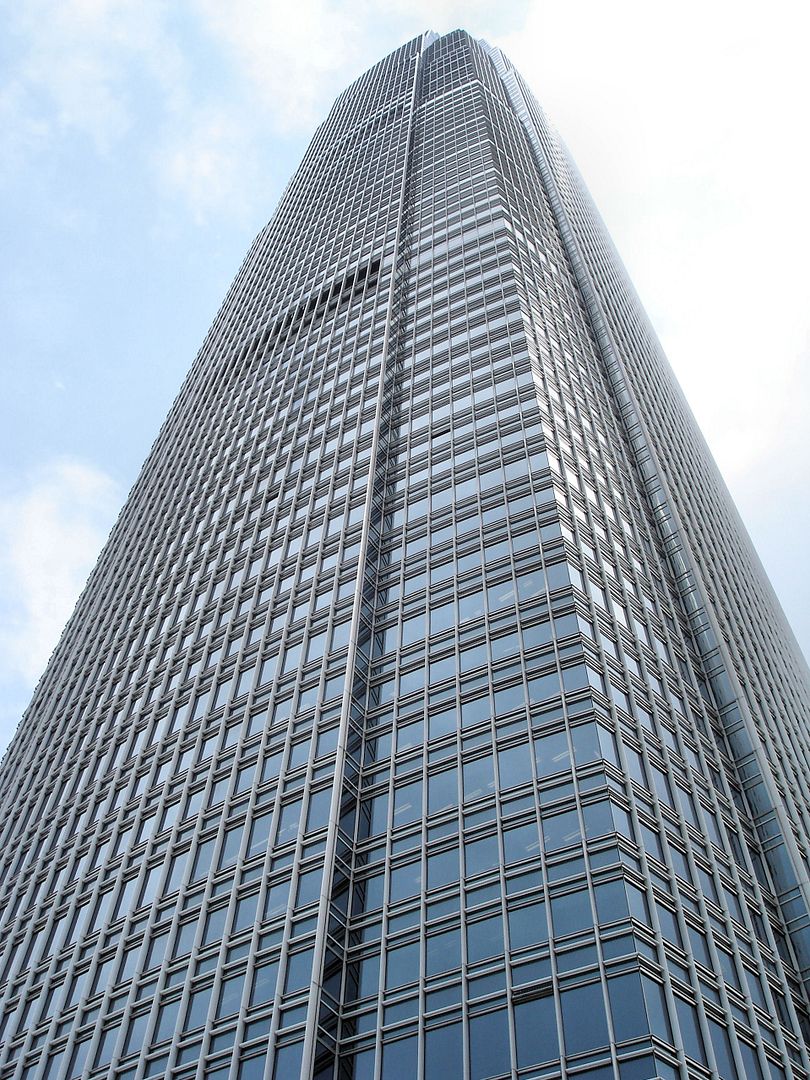 The
Bank of China Tower
is only the fourth tallest skyscraper in Hong Kong, but probably the most
recognisable: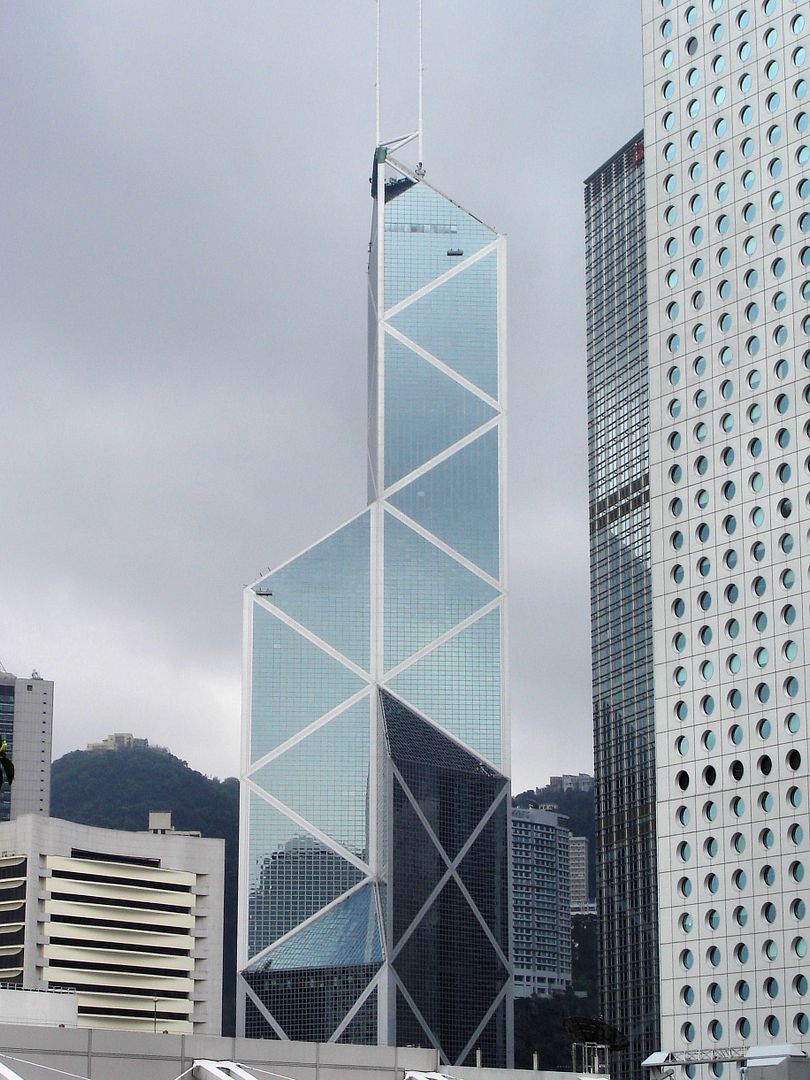 This is the
Jardine House
, formerly known as
Connaught Centre
. It was the city's tallest building between 1972 and 1980:
The recently completed 484-meter-tall
International Commerce Centre
in West Kowloon is Hong Kong's new number 1: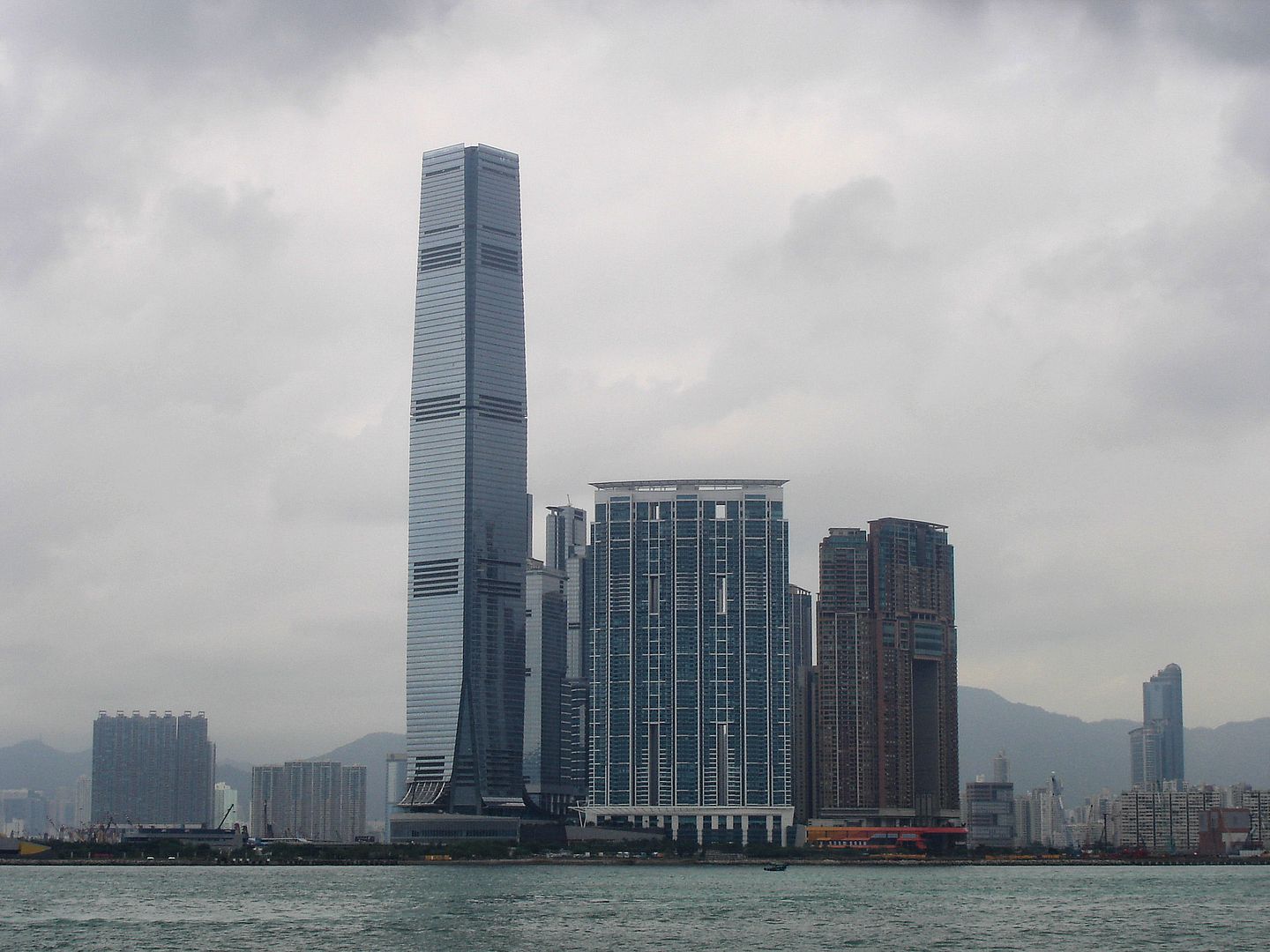 In the early afternoon we returned to our hotel, checked out and took the train to the airport.
Chek Lap Kok Spotting
After arriving at the airport we went straight to the
Regal Airport Hotel
where we would spend the last night during our journey. The hotel is directly connected to the terminal by a covered walkway. From the walkway you have good views of the masses of taxis waiting for passengers: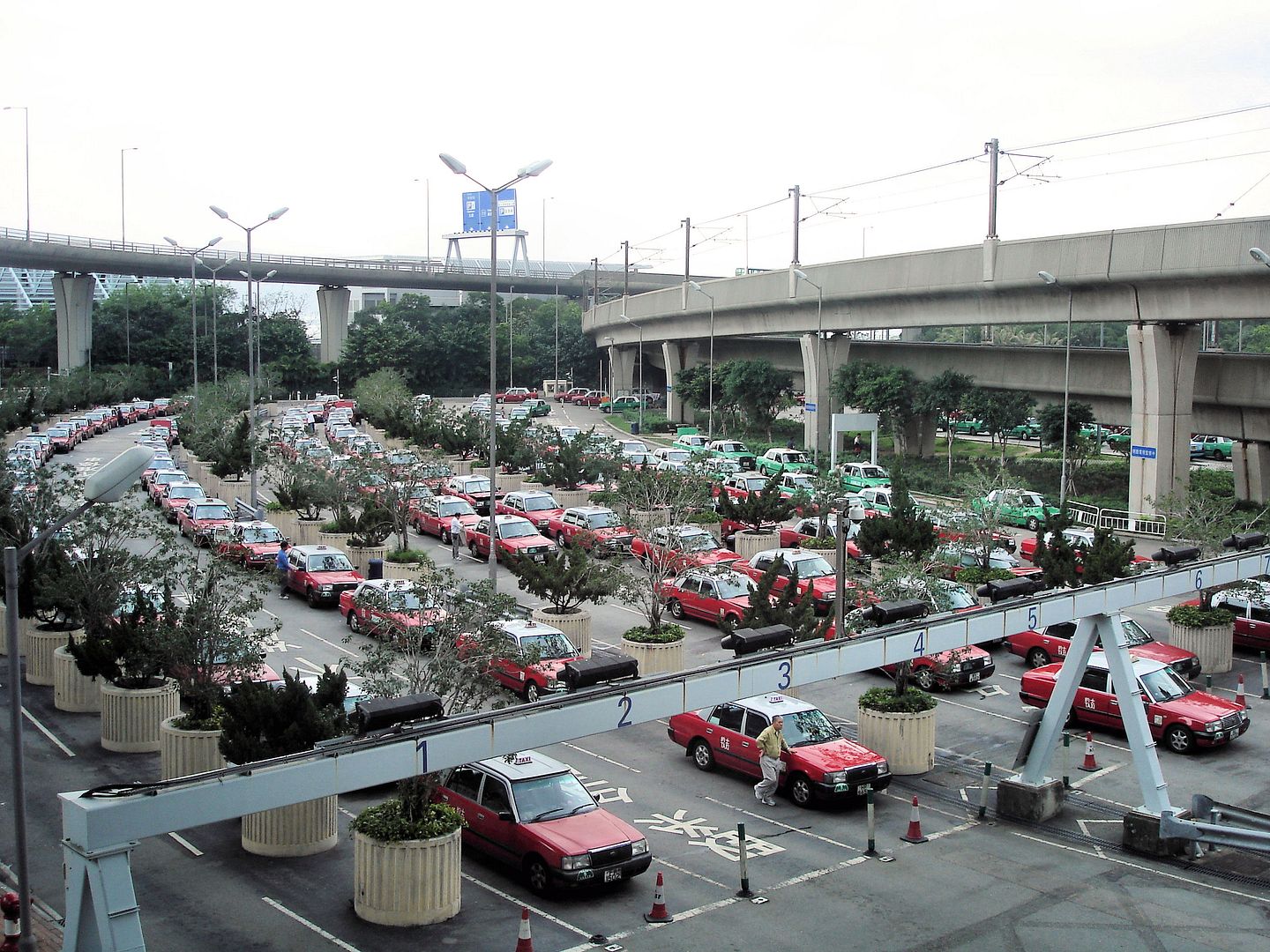 The 5 star hotel is usually quite expensive, but I had been able to find a special offer for about 100 Euro per night. I had read many positive comments about the hotel, so I was expecting a lot. However, the room was quite small and the furniture was not to my taste:
Now it was time to visit the
Aviation Discovery Centre
at Terminal 2 which also includes the
SkyDeck
. It is the place to go if runways 25L and 25R are in use - at least for registration spotters. Taking pictures may still be tricky. And btw - you neither find rain/sun shelters nor restrooms up there: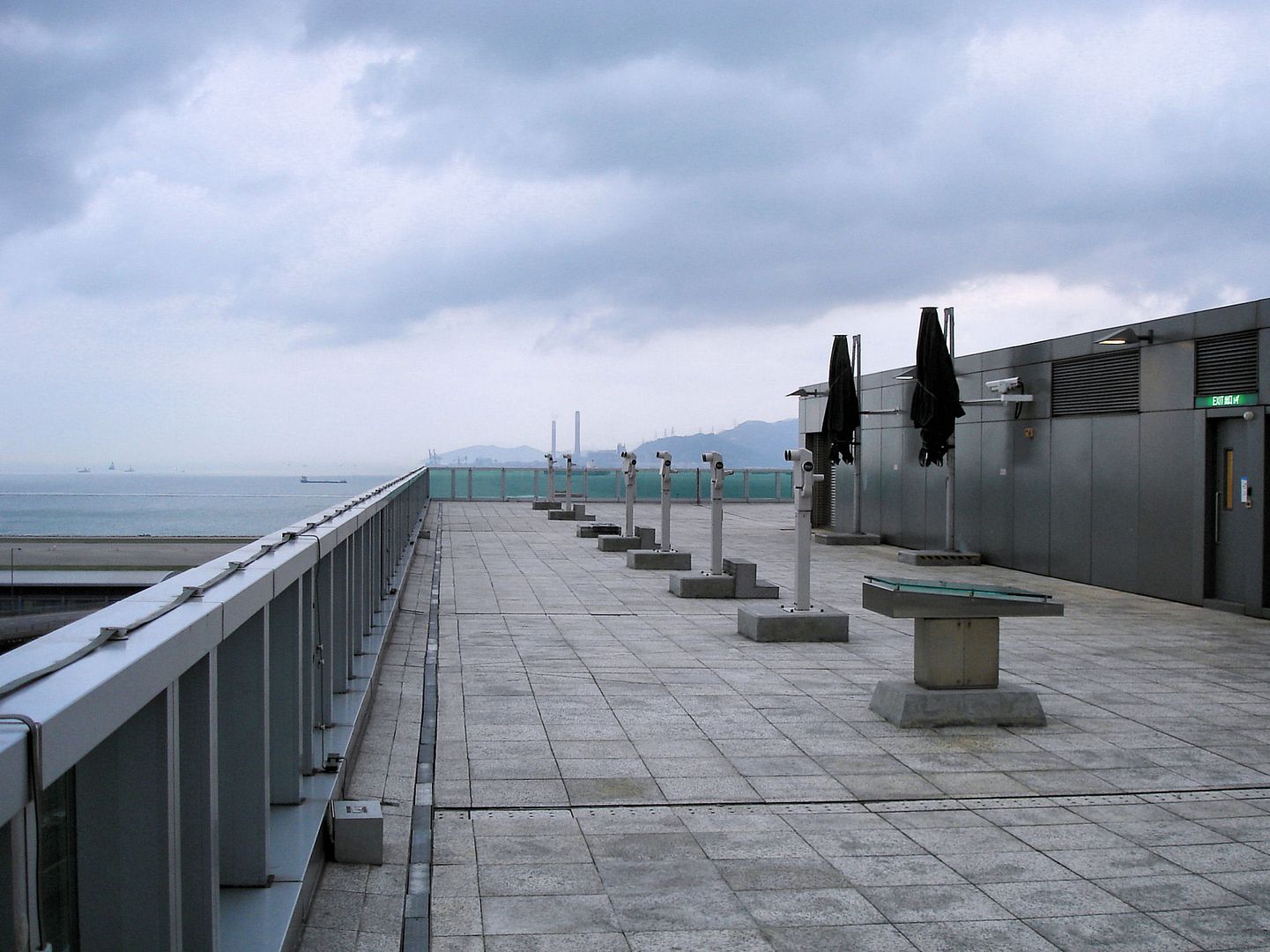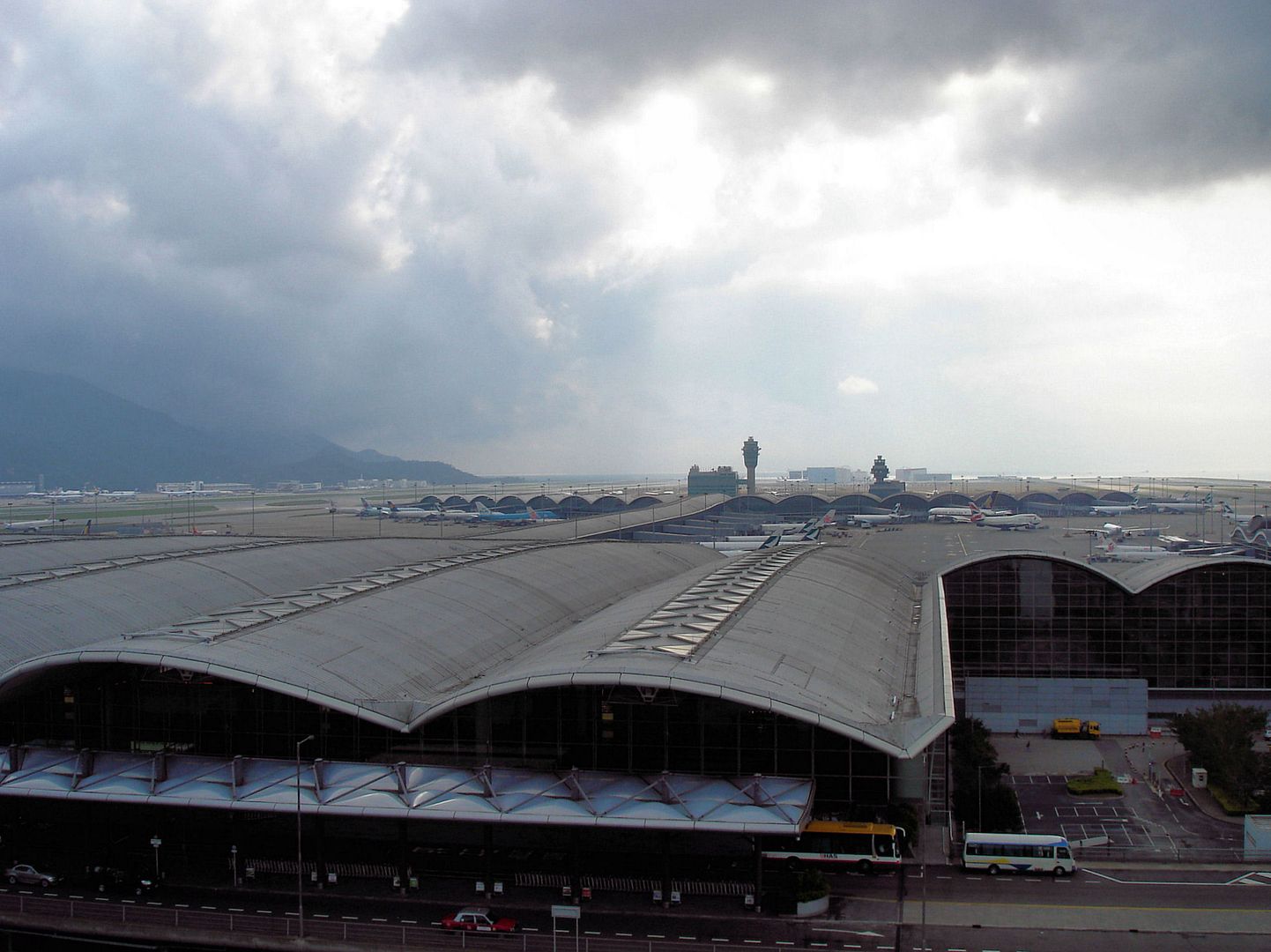 The
Regal Airport Hotel
:
British Airways 747-400 on approach to runway 25R: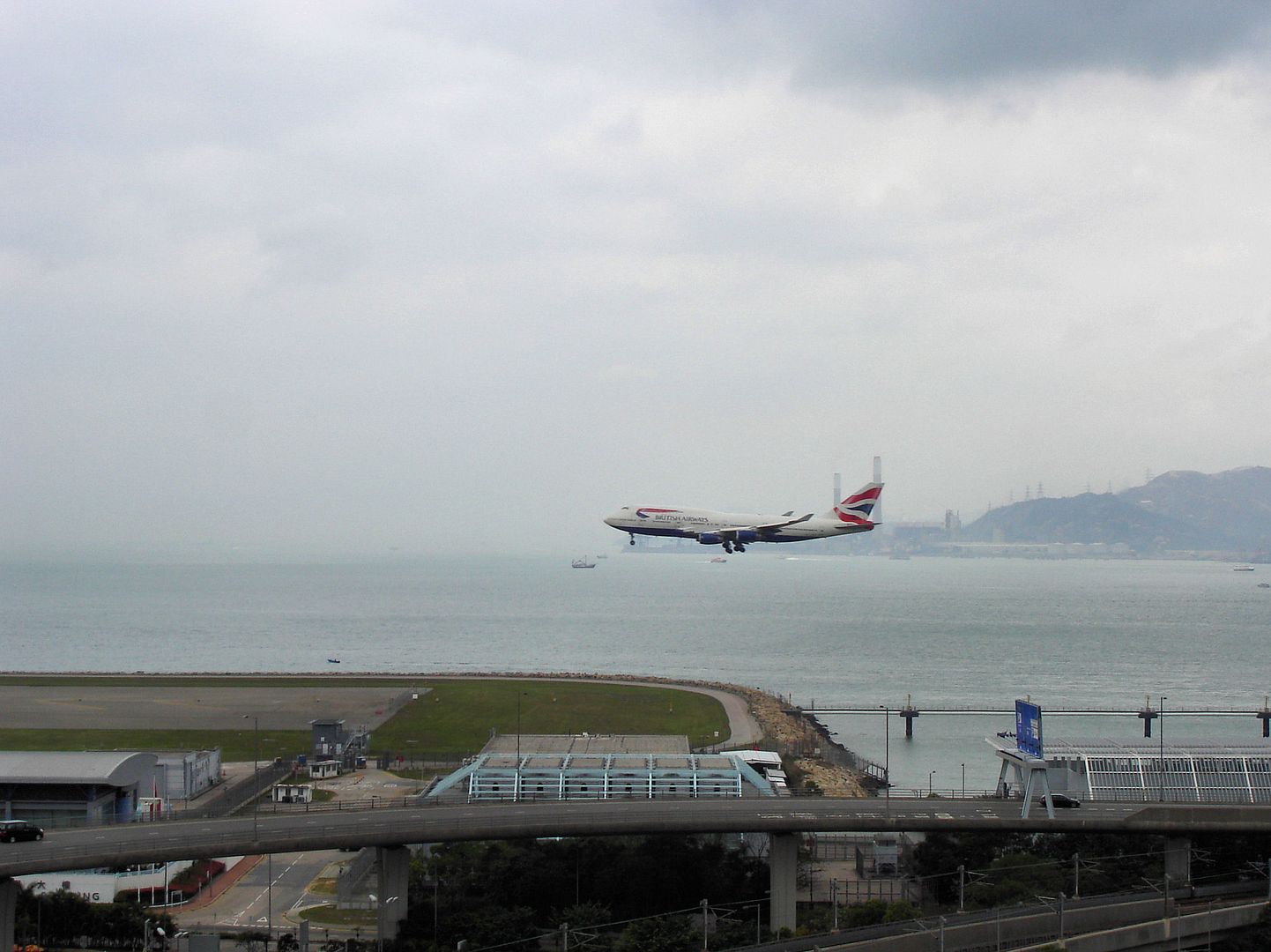 Singapore Airlines A380: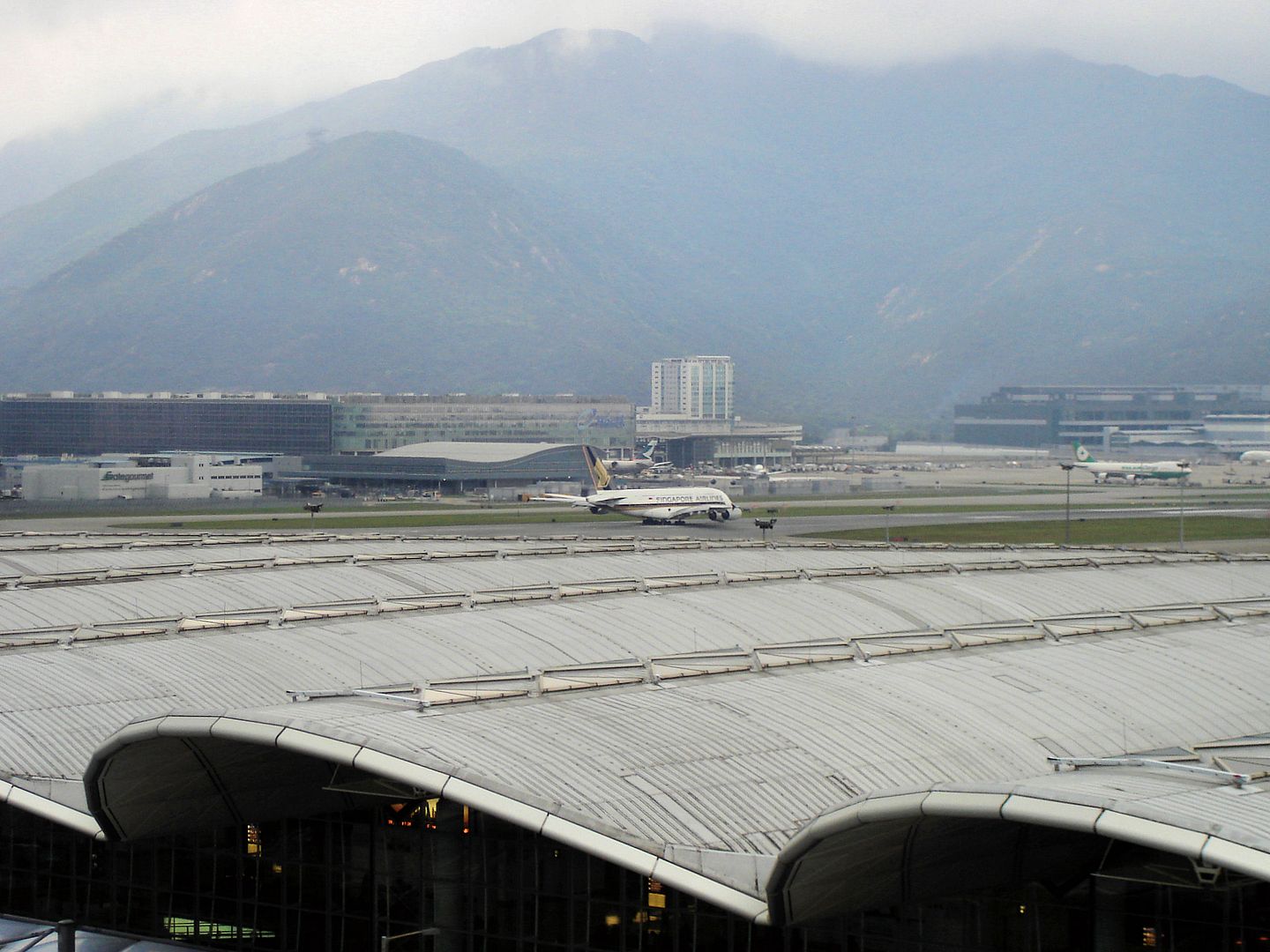 Beautiful evening light: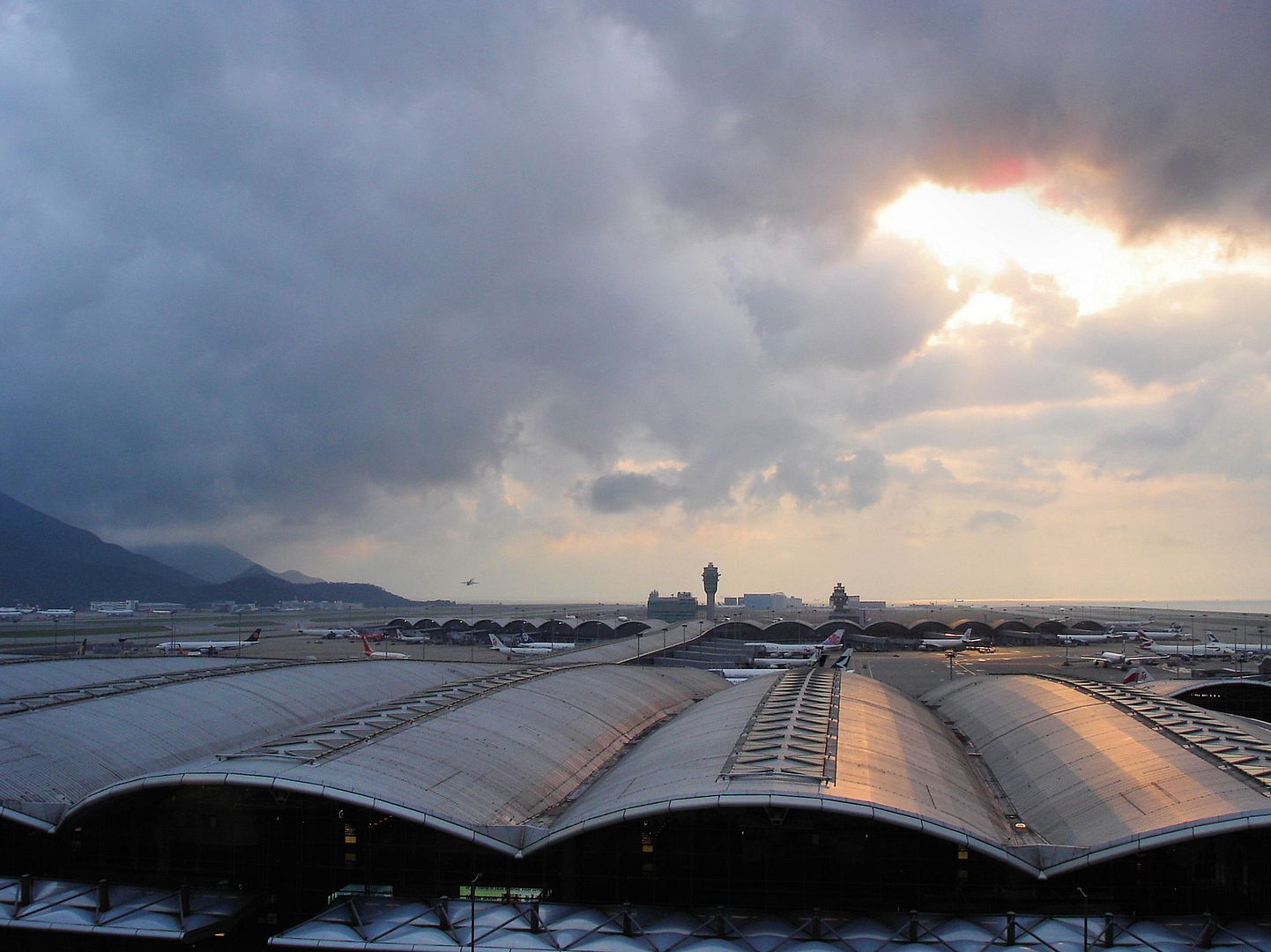 I got a total of 33 new registrations in less than three hours which was not bad.
Wednesday, 3 March 2010
Hong Kong (HKG) - Beijing (PEK)
Dragonair KA900
08:00-11:15 (08:07-11:11)
Flying time: 02:32 (hrs)
Economy Class, Seat 48A

Airbus A330-342
B-HYD (MSN 132)
First delivered to Cathay Pacific as VR-HYD in 04/1996
1st flight on B-HYD
8th A330-300 flight
20th A330 flight
89th airline
More than two hours prior to departure we left the hotel and headed to the terminal. First of all I checked the departures screen, but I couldn't find our flight CA118 to Beijing, originally scheduled to depart at 08:30. I believed that it was a software glitch - a cancellation would be shown on the screen, right? The Air China check-in counters were still closed, so I went to a ticket counter, jointly used by several Chinese carriers, including Air China. I showed the reservation confirmation to a female agent and after a few moments she said:
"Your flight to Beijing has been cancelled."
Before I could reply anything she continued:
"But you have already been rebooked to a Dragonair flight."
Now that remark made me very happy because I would get another new carrier - totally unexpectedly!
After finding out it would be the 08:00 departure I knew chances would be good to get an A330-300. When I was searching for Air China flights to MUC back in January I also noticed HKG-PEK code-sharing services operated by Dragonair A330s - but the attractive KA/CA combos were much more expensive (400-500 Euro instead of 290 Euro).
We were told to proceed to the Air China counters where a friendly CA agent with a passenger list was already waiting for us. He asked for our names and invited us to follow him to the Dragonair counters. He briefly talked to the Dragonair agents who immediately started the check-in process. After some ten minutes without any results I asked whether there was a problem, but the agent denied. She kindly accepted my request for a row in the back and we finally received our boarding passes. Seats 48A and B indicated that we would indeed fly on an A330!
20 minutes later we arrived at the gate where
B-HYD
was being prepared for flight KA900. It's the second oldest A330 in the fleet, built in March 1996: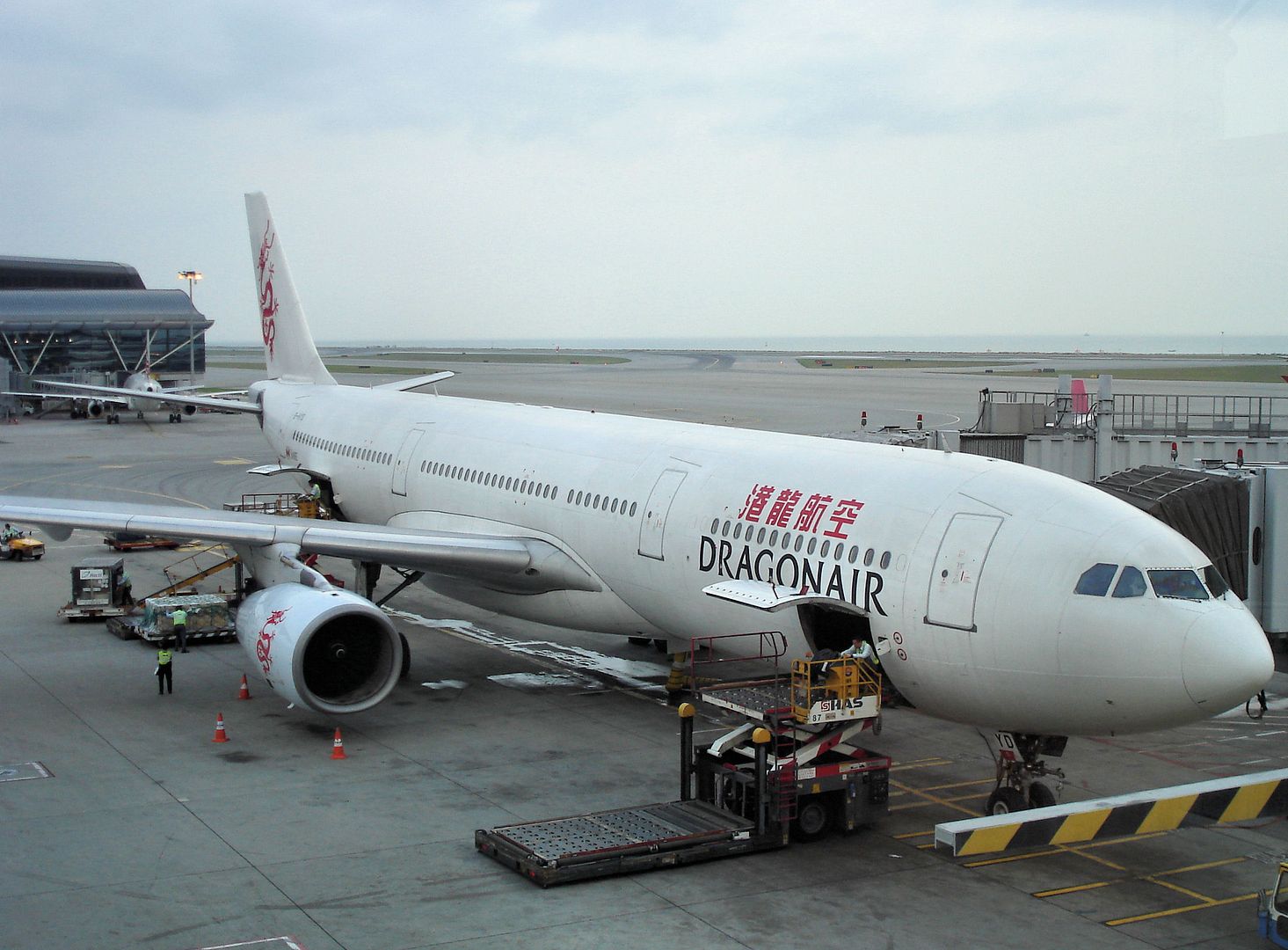 White fuselage, gray engines: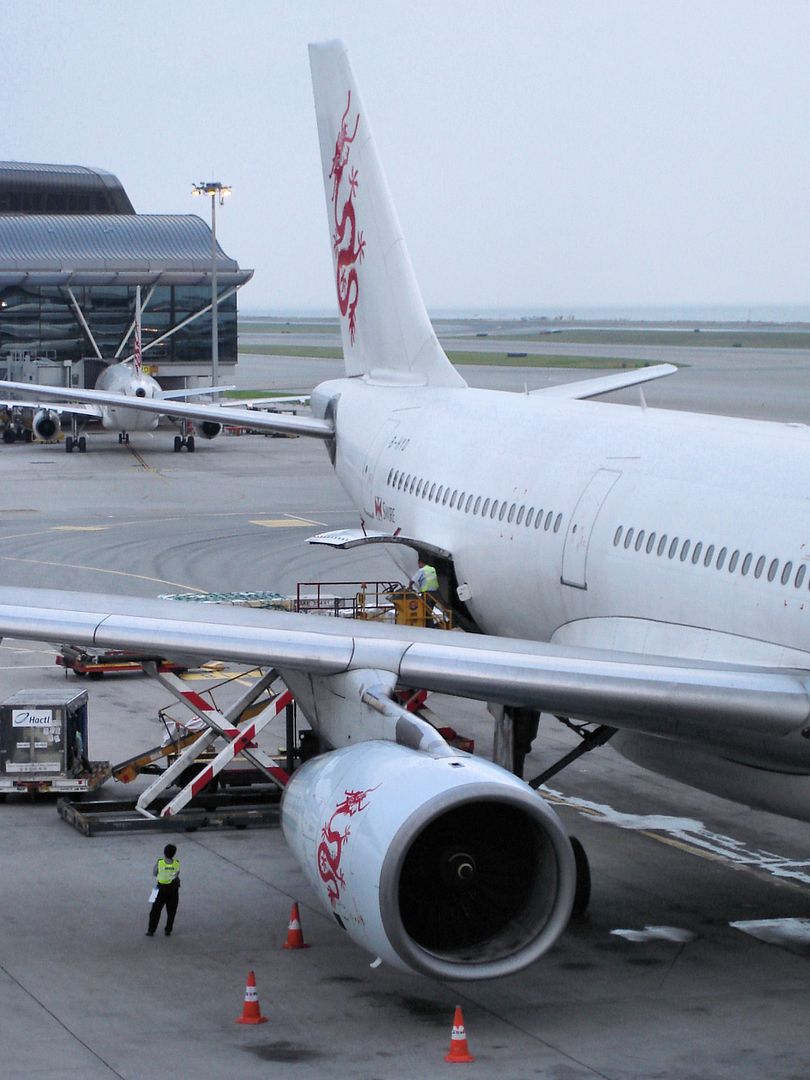 Friendly flight attendants welcomed us while we were walking to our row. The plane was still equipped with the original interior, but the old-style seats weren't bad at all: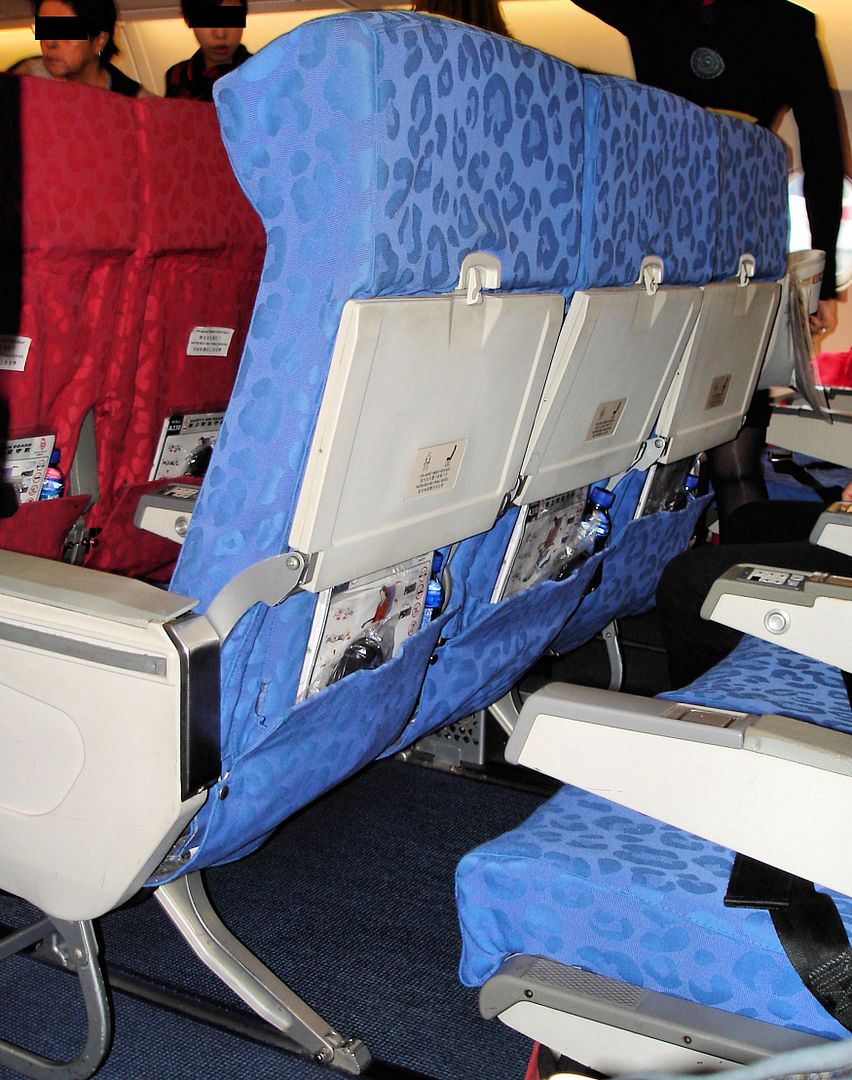 Legroom was sufficient, too: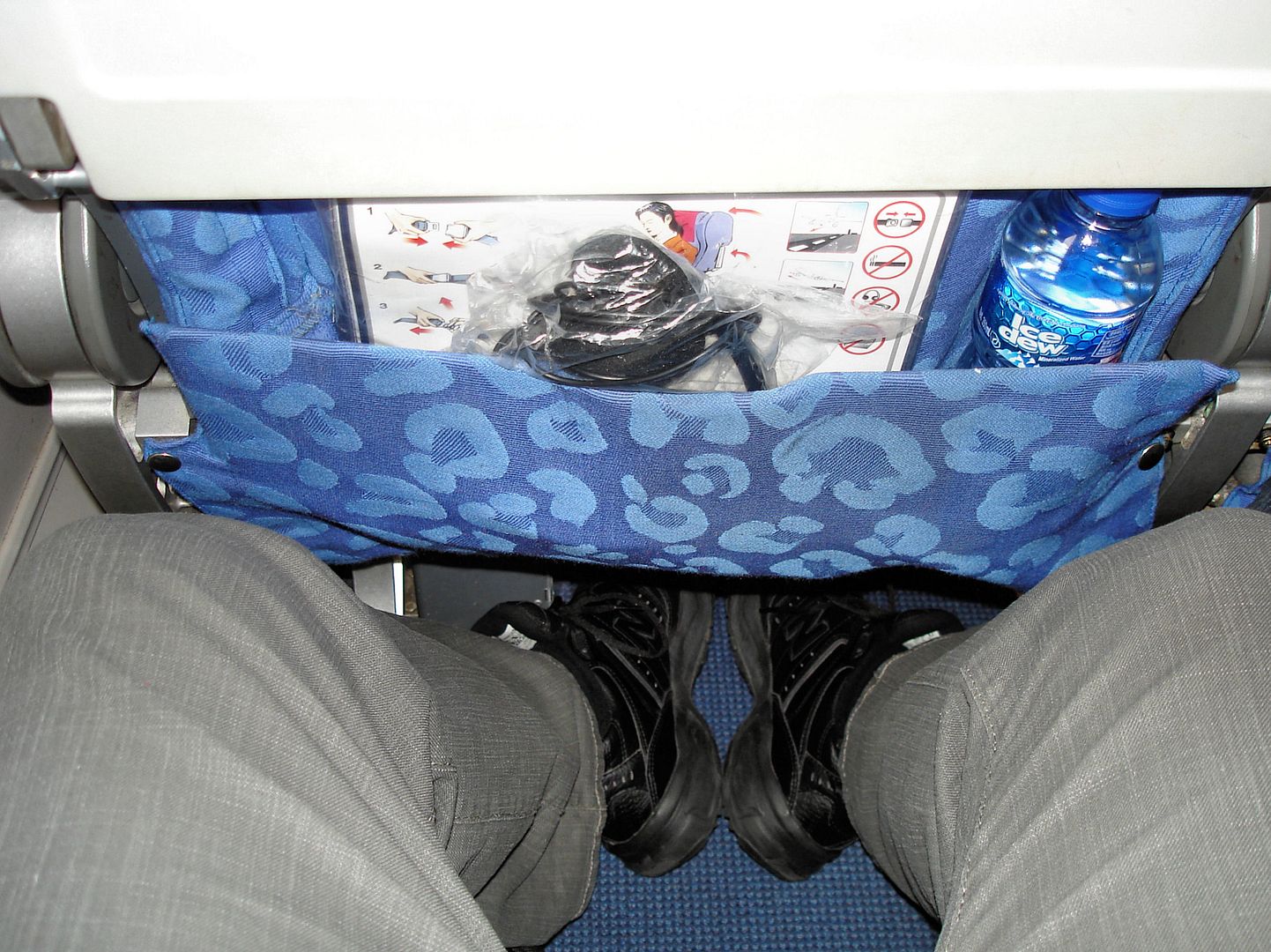 Water bottles had been placed in each seat pocket - nice service. The cabin was a bit worn out in general, but it had been cleaned well. After boarding was completed, the captain - most likely from Britain - made his welcome speech and informed us about a flying time of 2 hours and 40 minutes.
Parked next to us was sister ship B-HYG: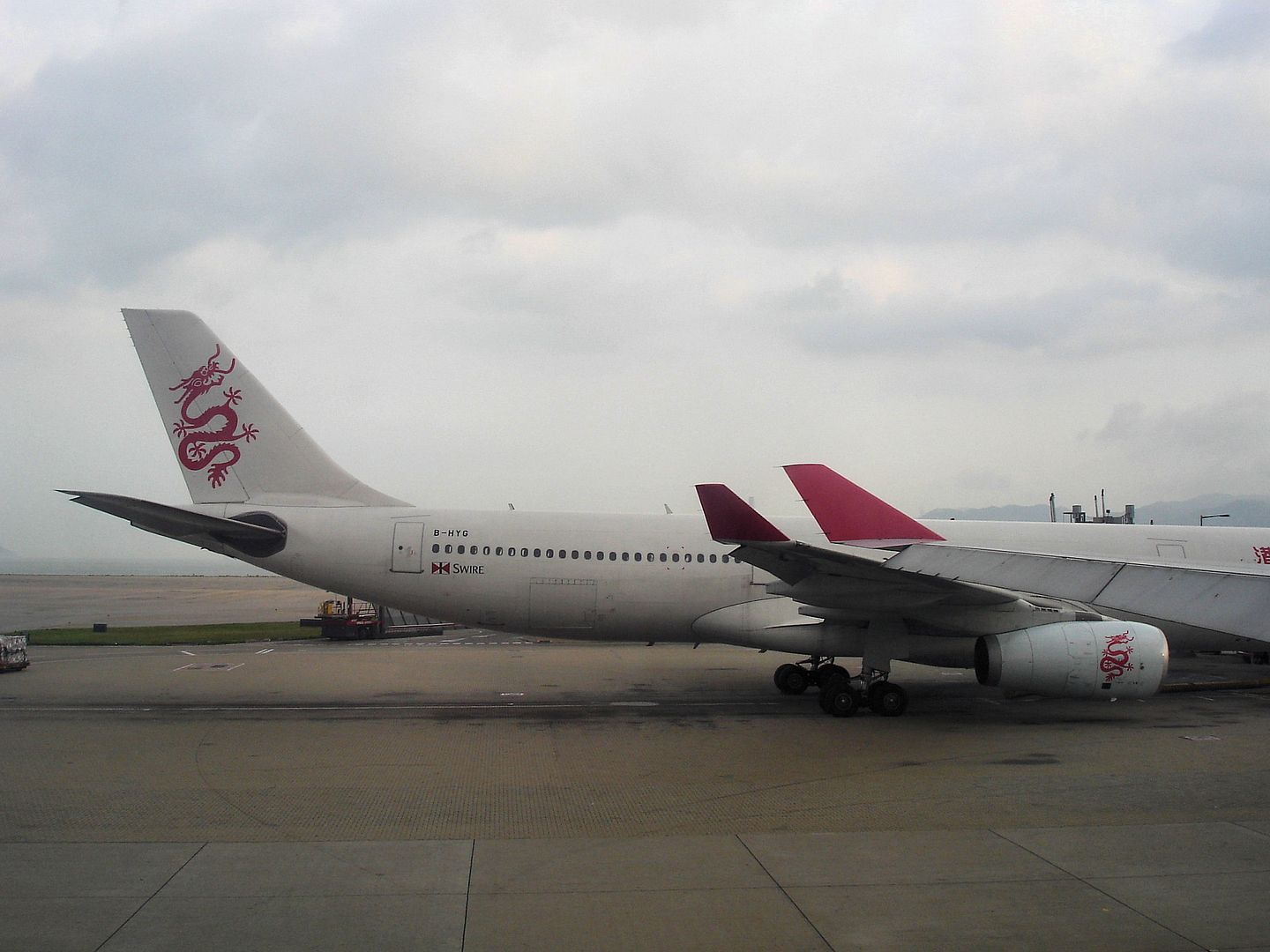 Dragonair A321 and A320: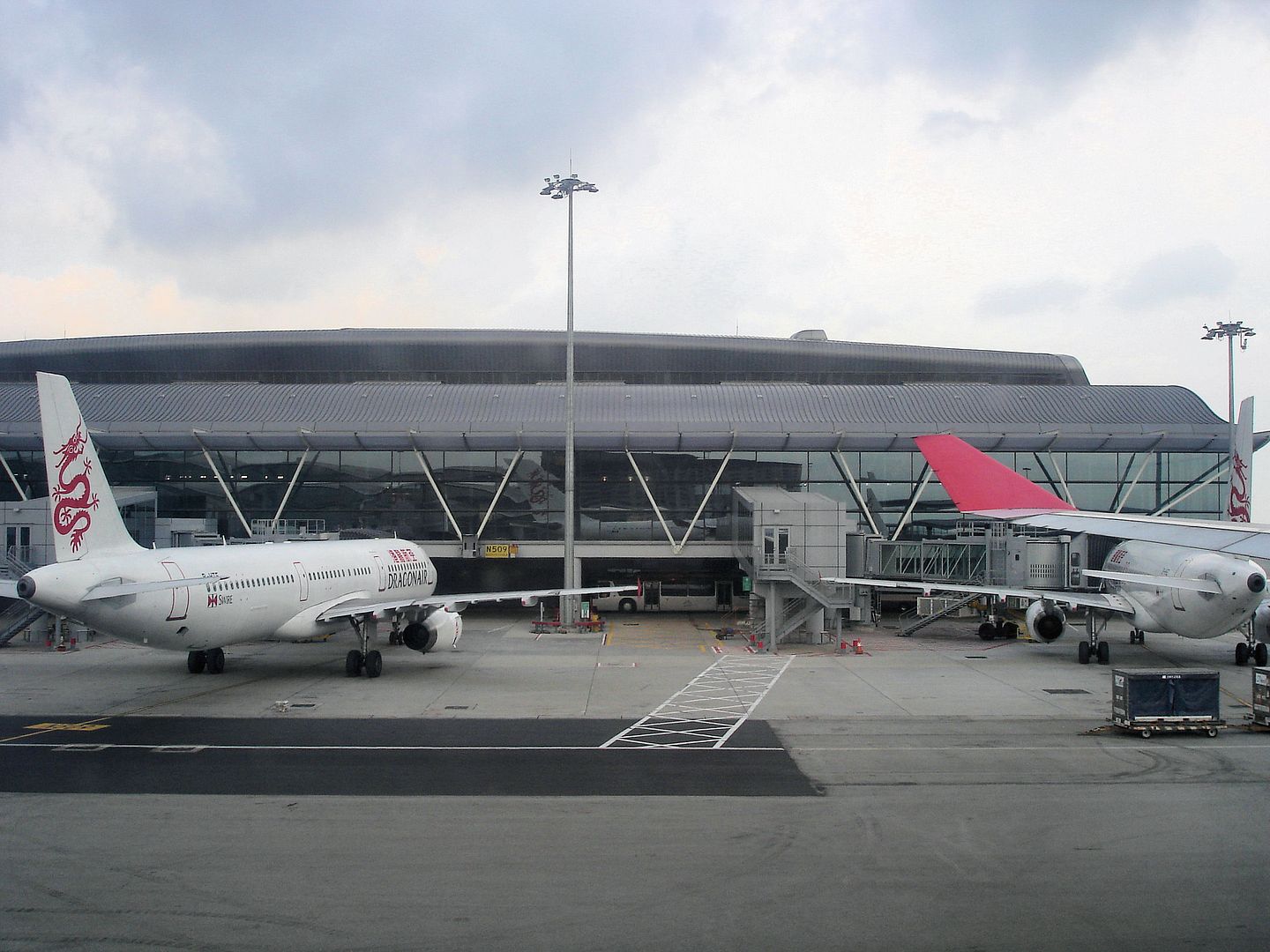 Another Dragonair A330 was taxiing in front of us:
Numerous planes were parked in front of the HAECO hangars:
Orient Thai Boeing 747-100 HS-UTM: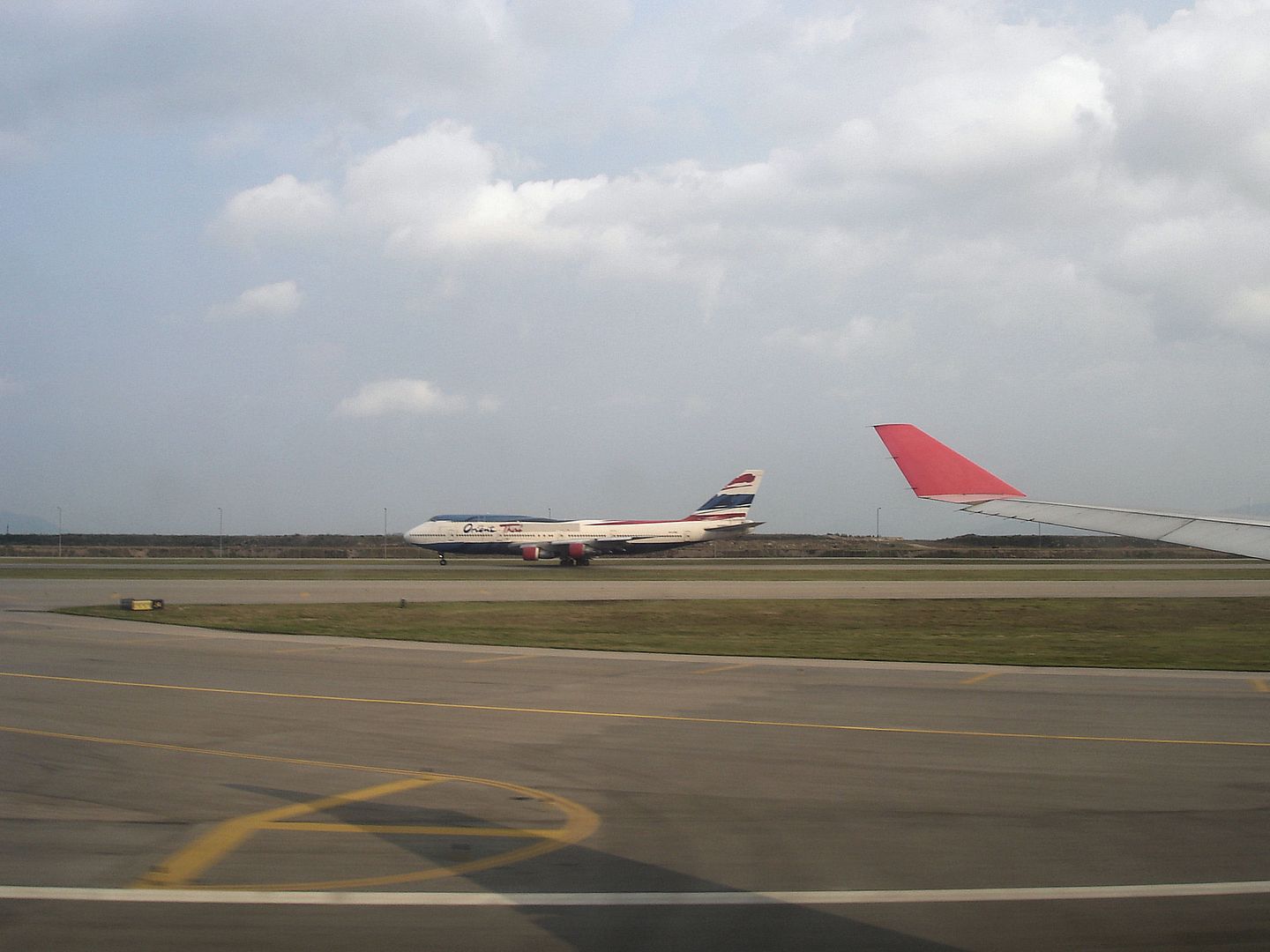 Finally the two Trent engines started roaring and we lifted off after a powerful takeoff roll: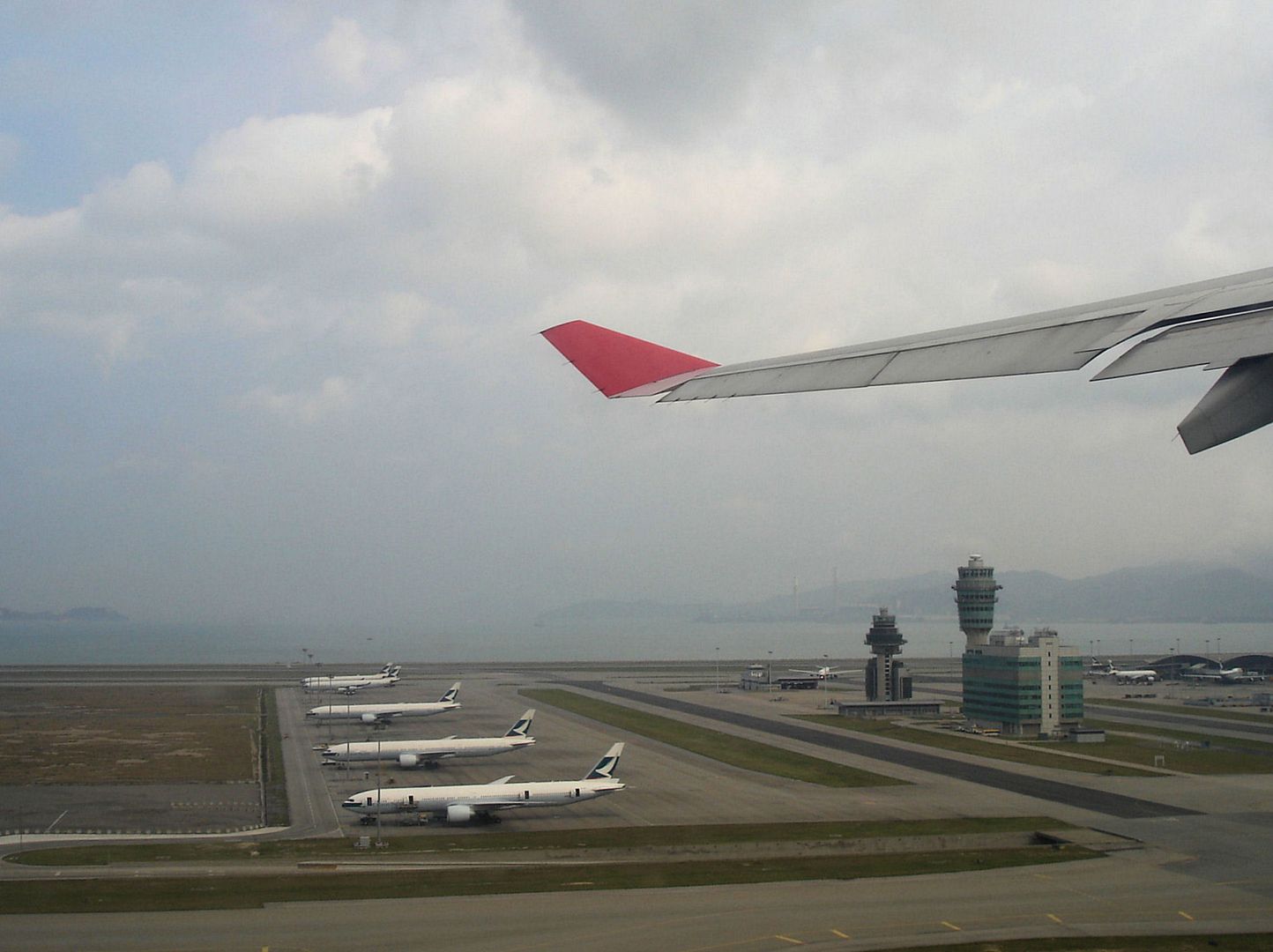 Continental 777 parked next to a Kingfisher A330: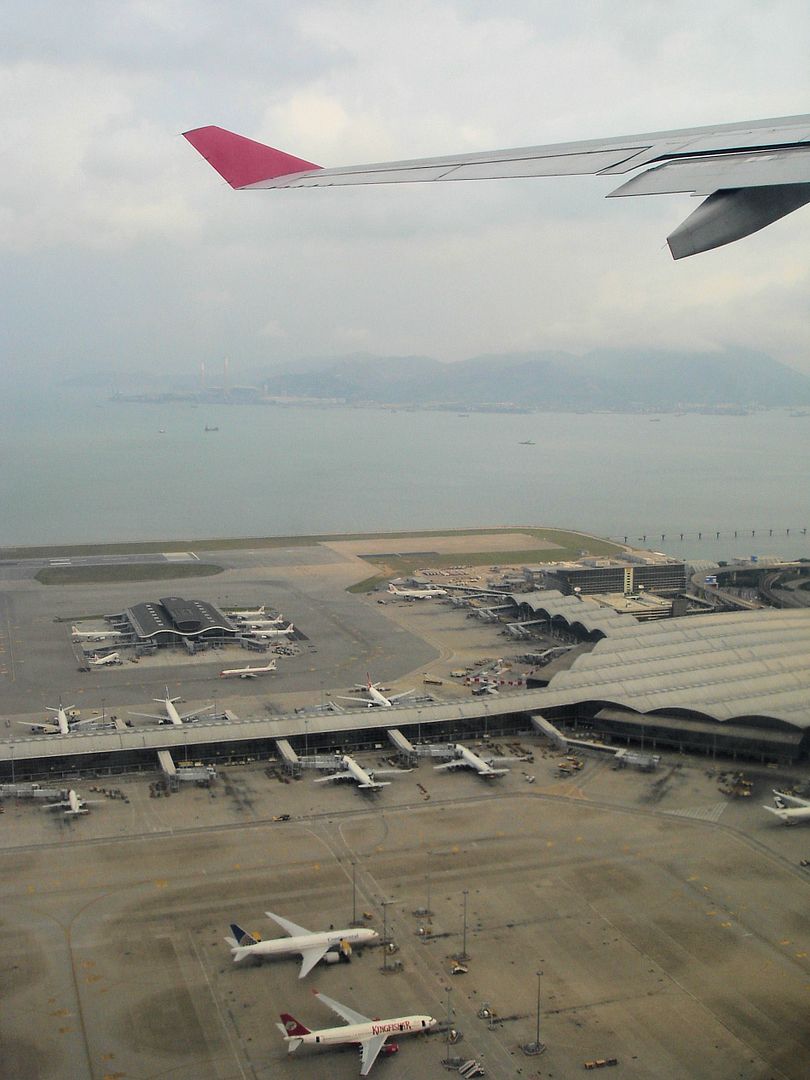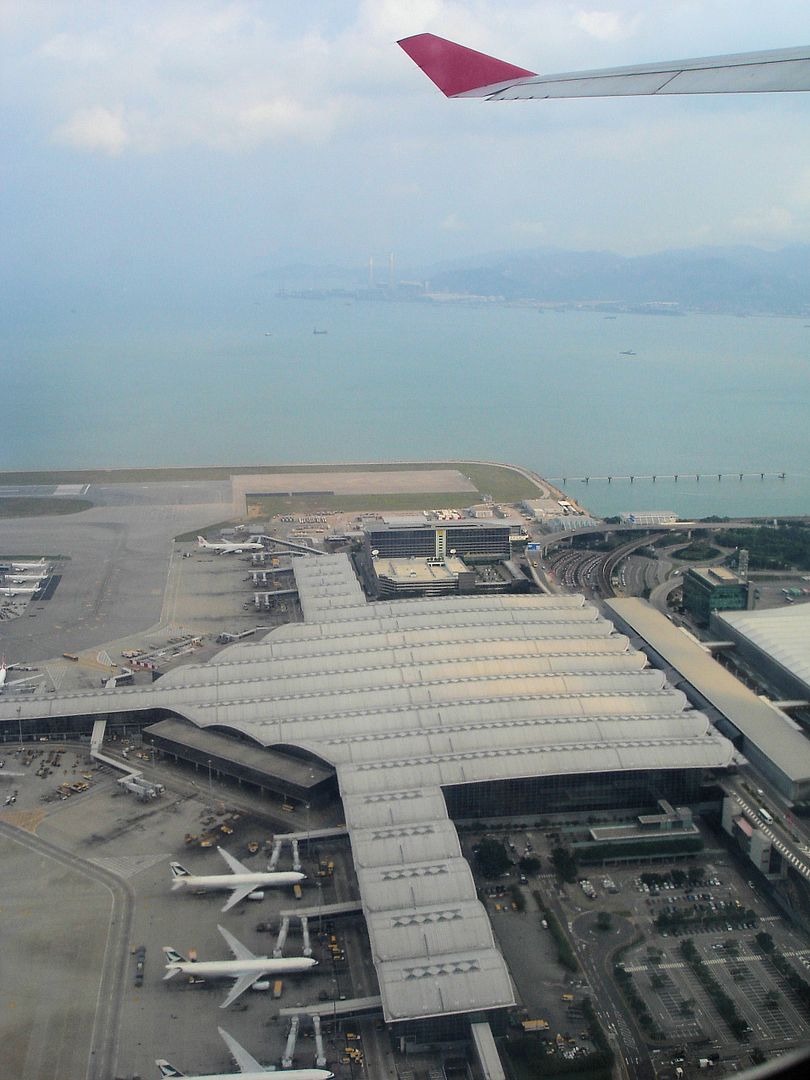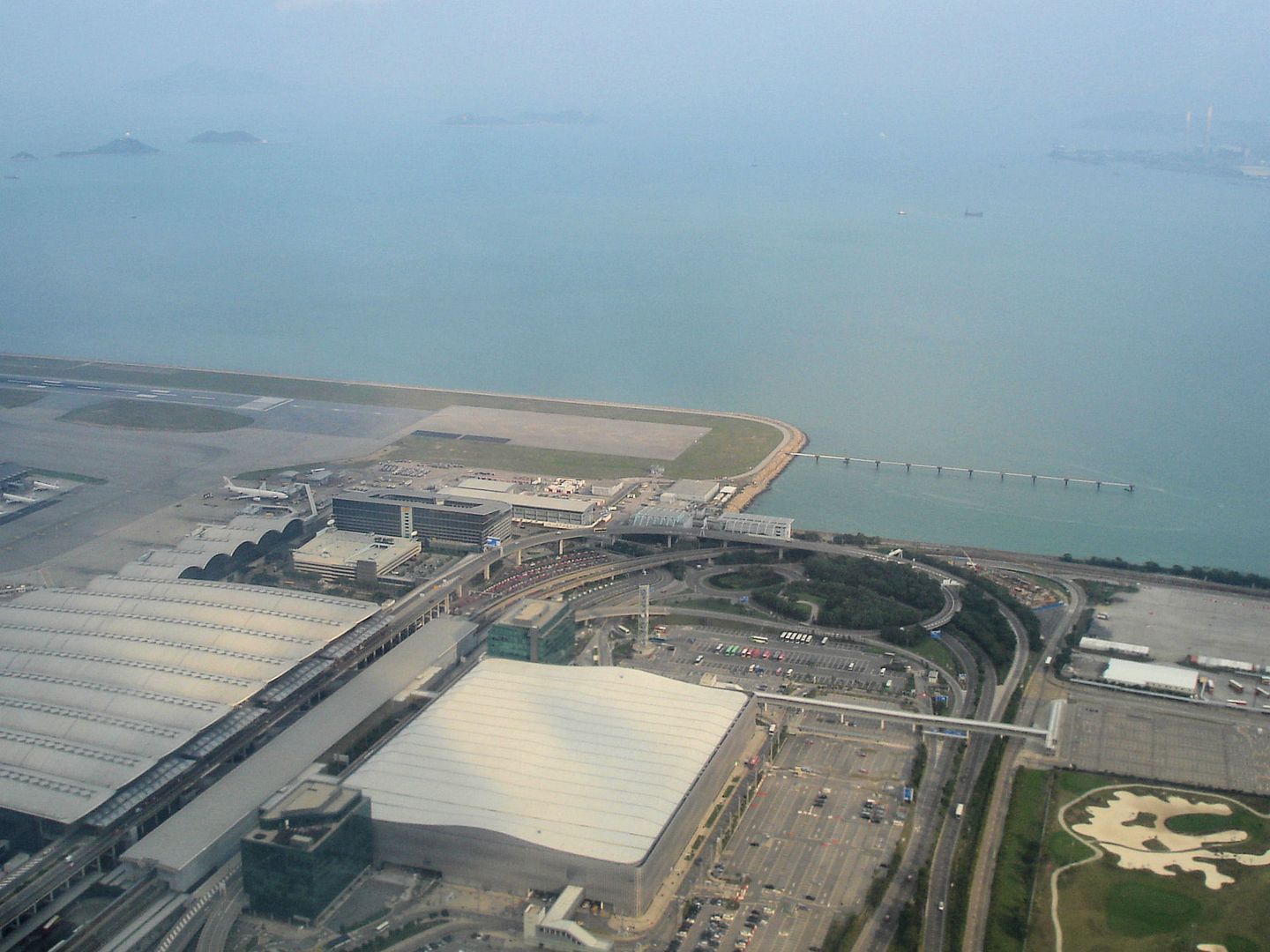 Tsing Ma Bridge
(to the right) and
Ting Kau Bridge
: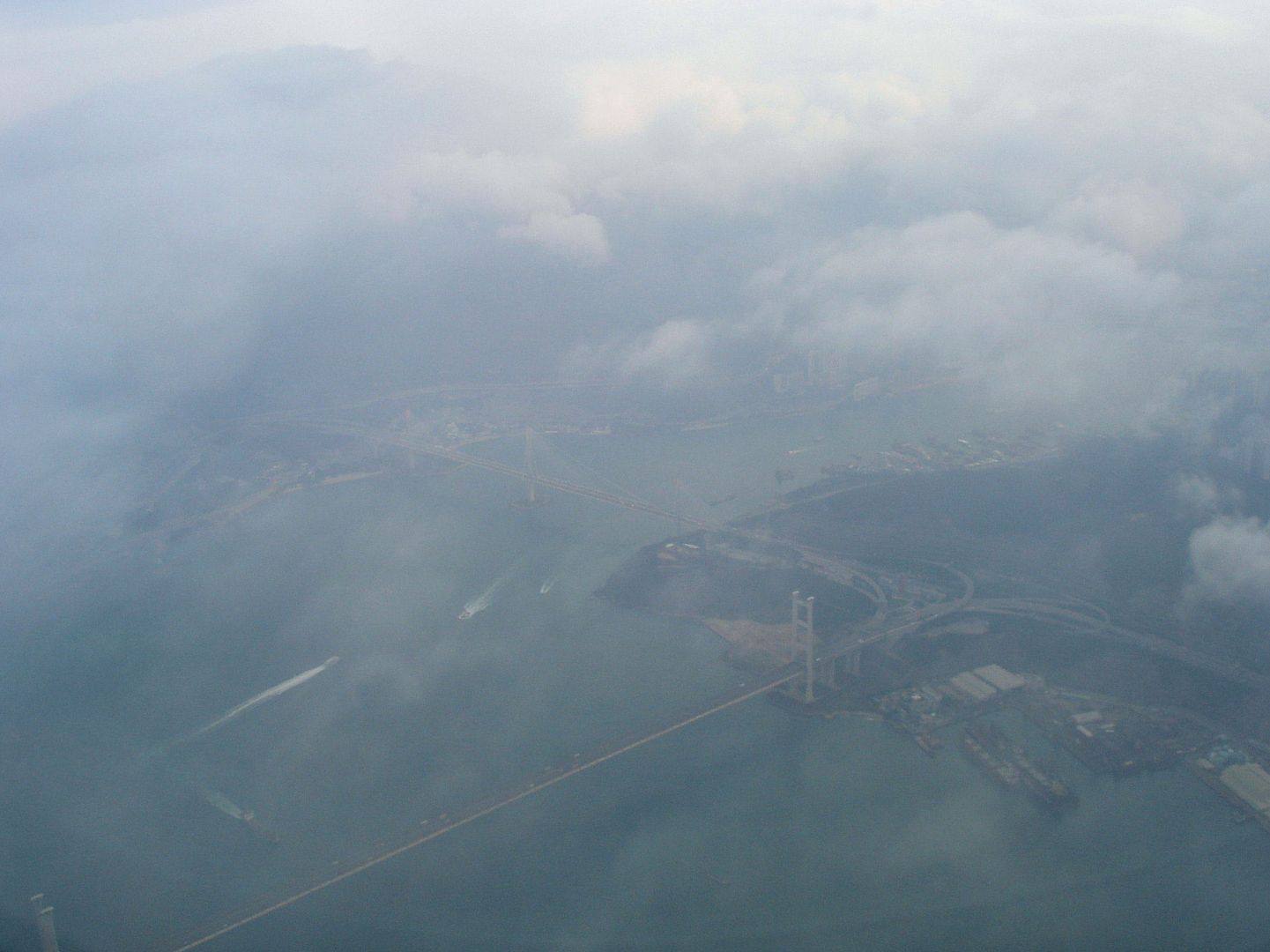 Countless containers: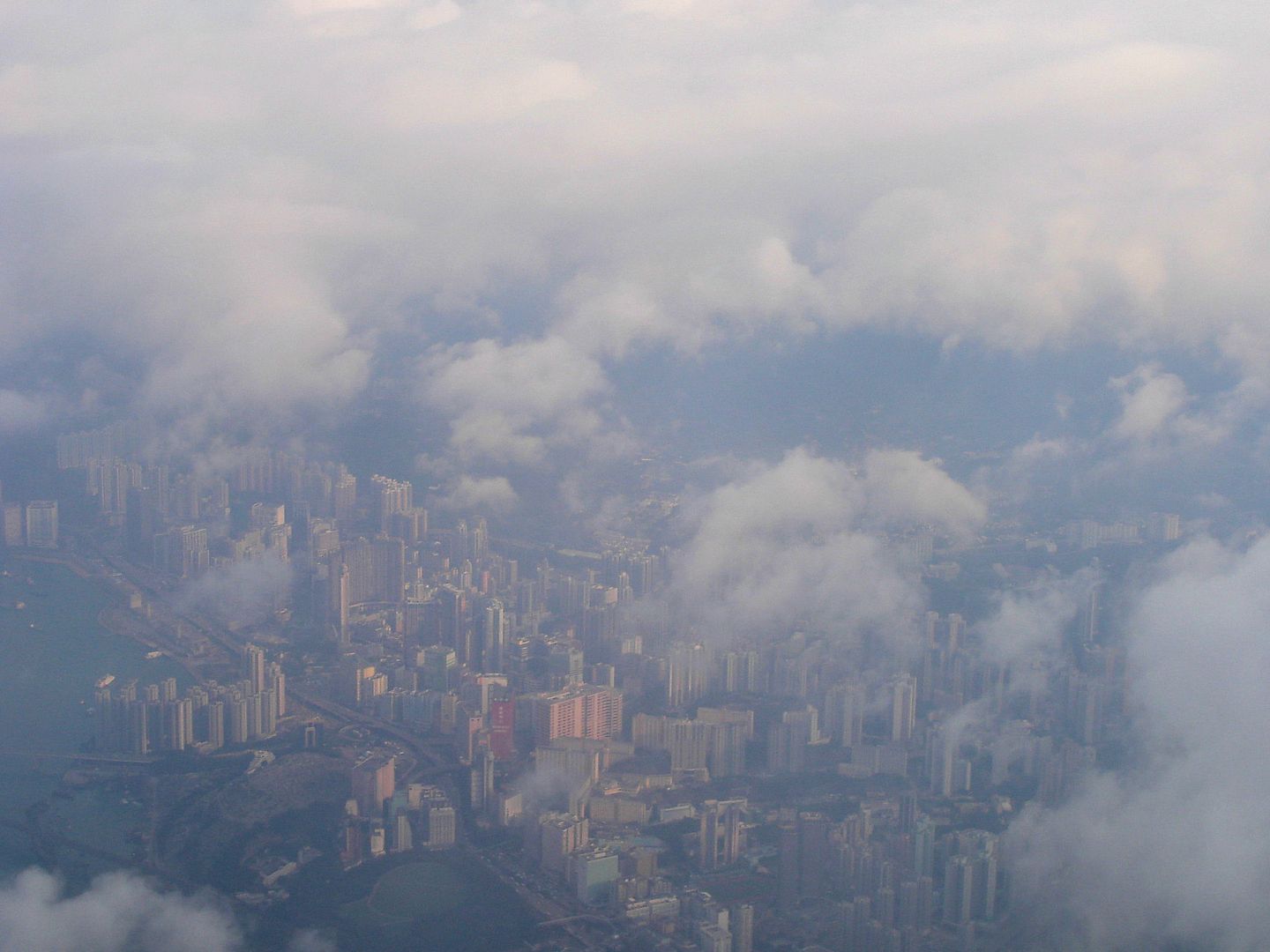 12 minutes after takeoff we were cruising under blue skies: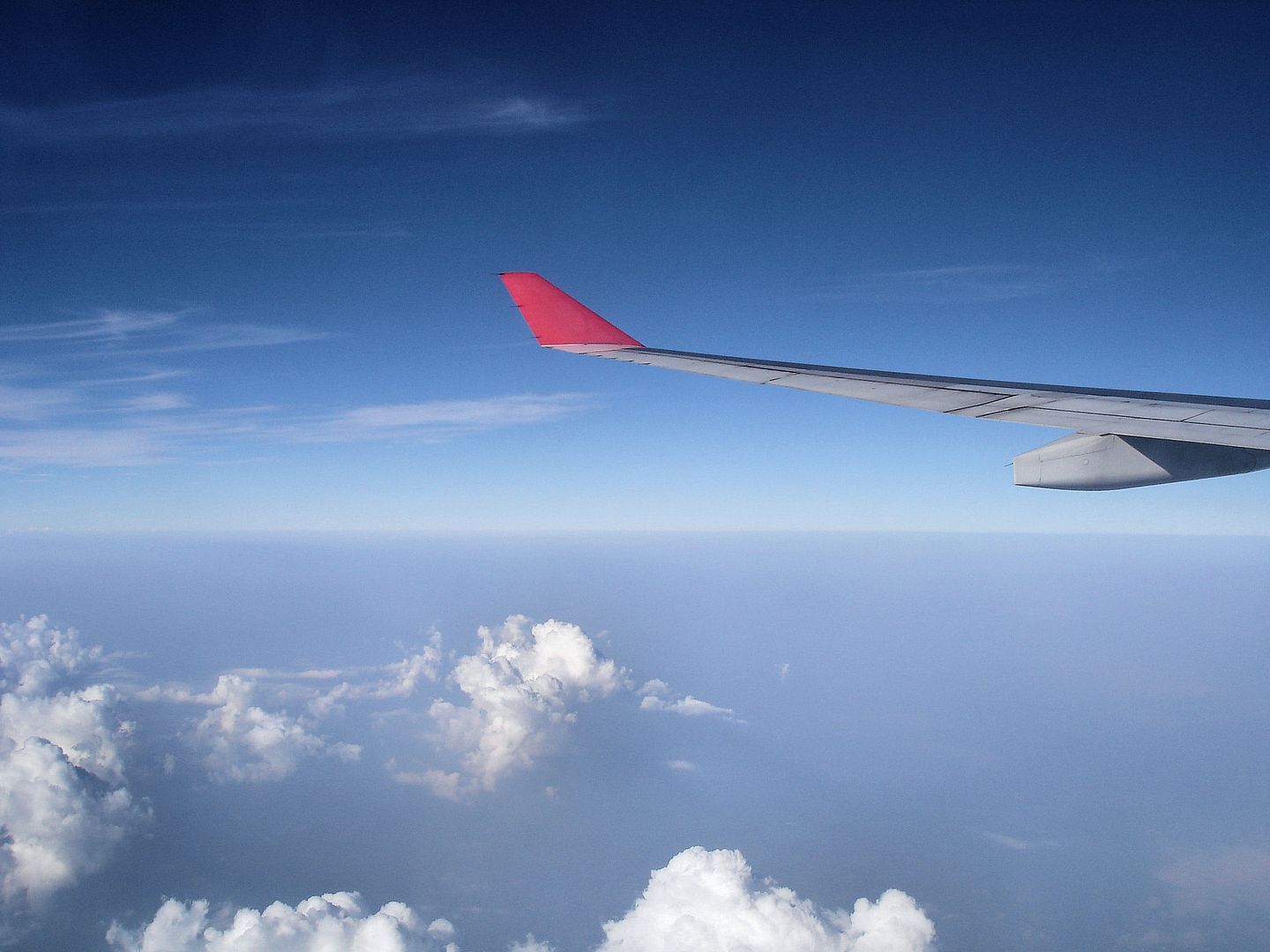 Before serving a hot breakfast the flight attendants passed through the cabin and offered water as well as apple, orange and tomato juice. Some minutes later we could choose between a Western style and a Chinese breakfast. We ordered the former, consisting of an omelette, potatoes, vegetable and fresh fruit: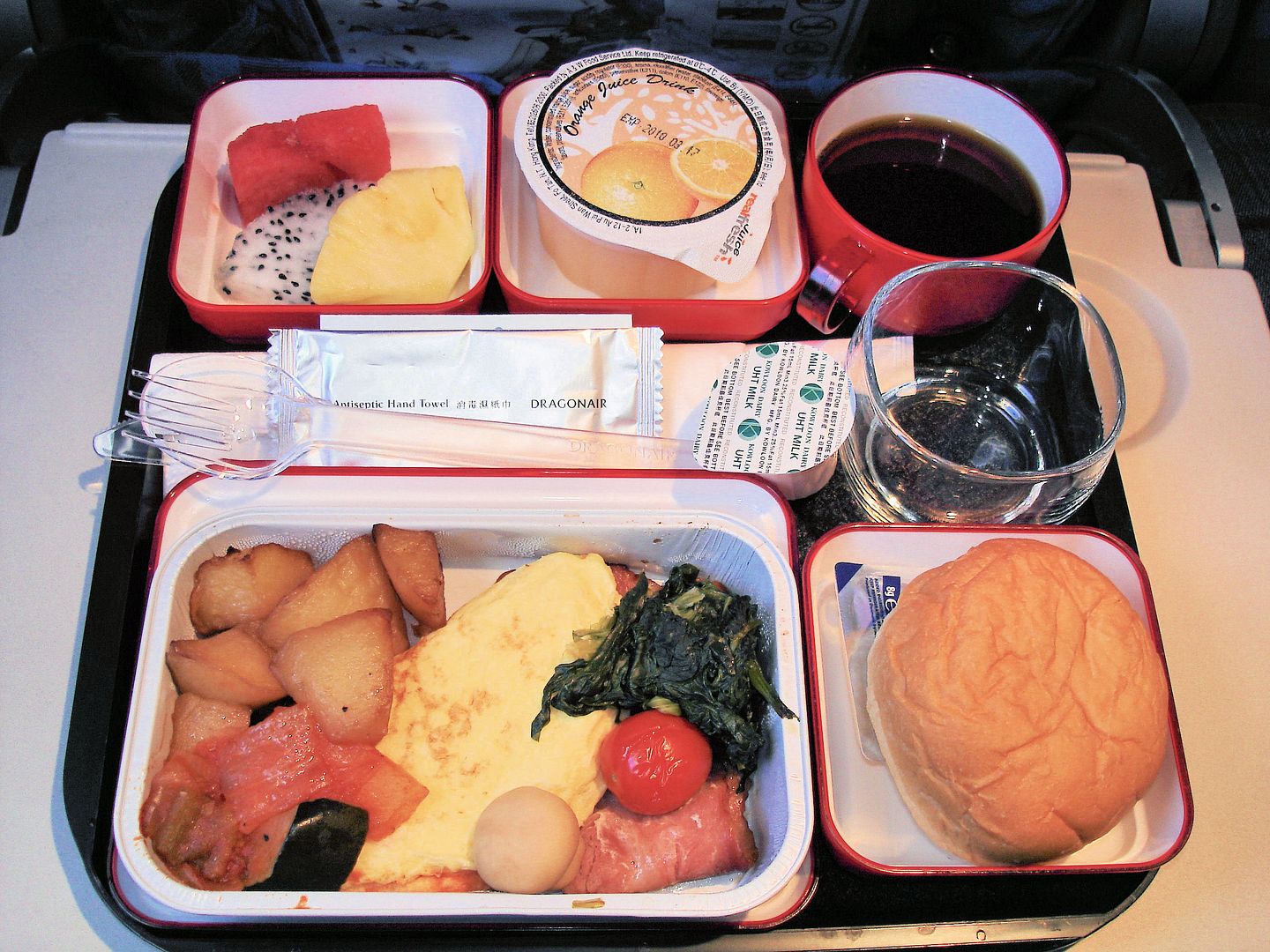 The breakfast was very tasty and filling - and the tea wasn't bad either. You cannot complain about such a catering on a 2.5 hour flight.
TV features were shown on the overhead screens, but I didn't watch anything. I would have preferred the airshow, of course. Only the six newest A330s in the 13-strong fleet are equipped with personal TV screens in Economy Class.
Later in the flight I took some cabin shots. The load factor in Economy Class was about 85 percent: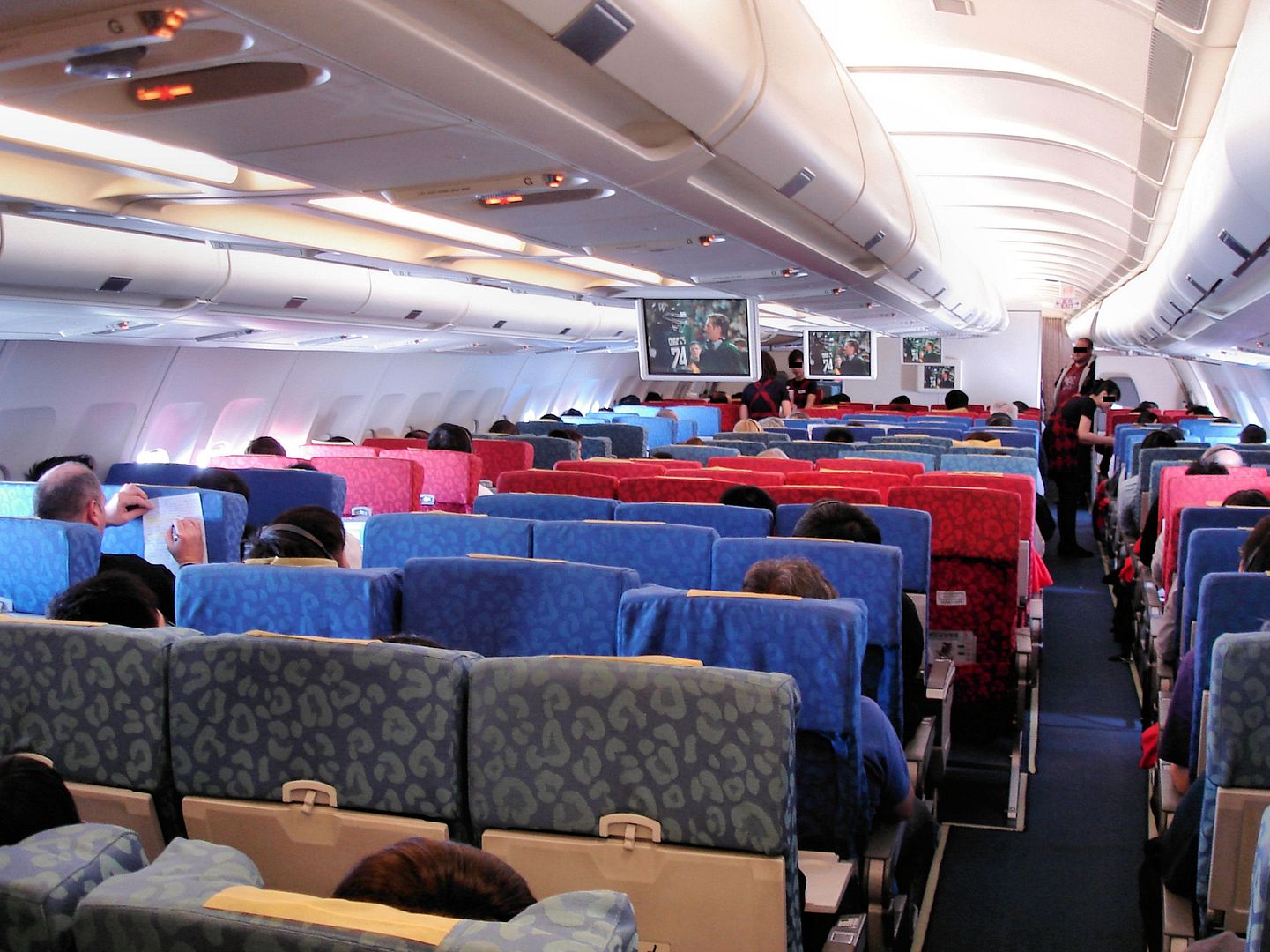 The blue skies were soon gone after we had started the approach to Beijing: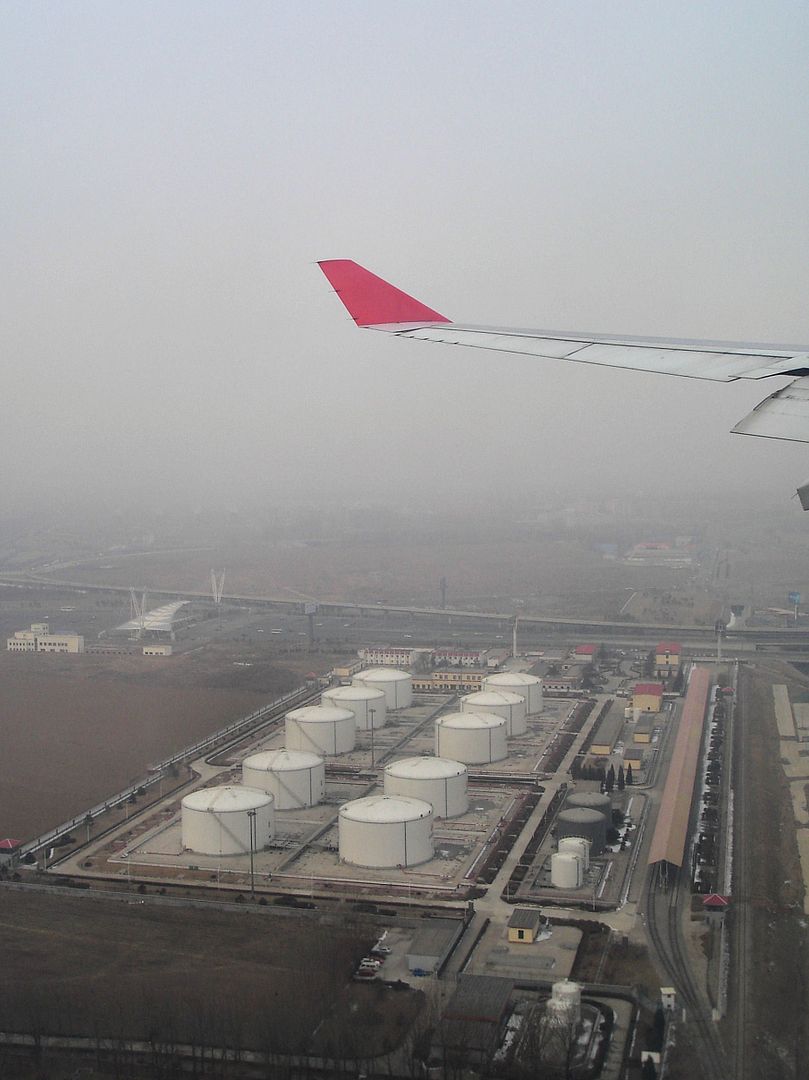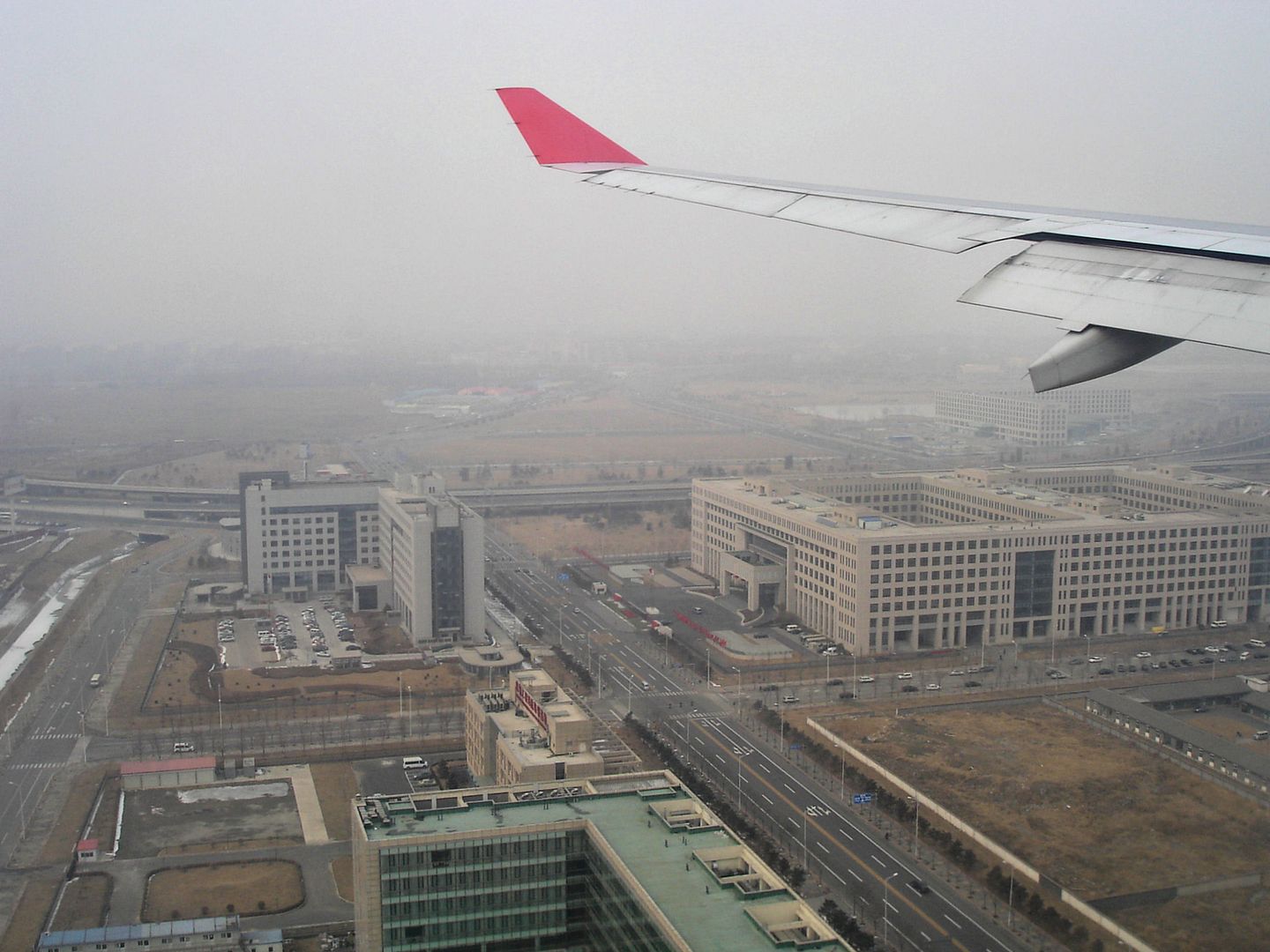 The massive Terminal 3...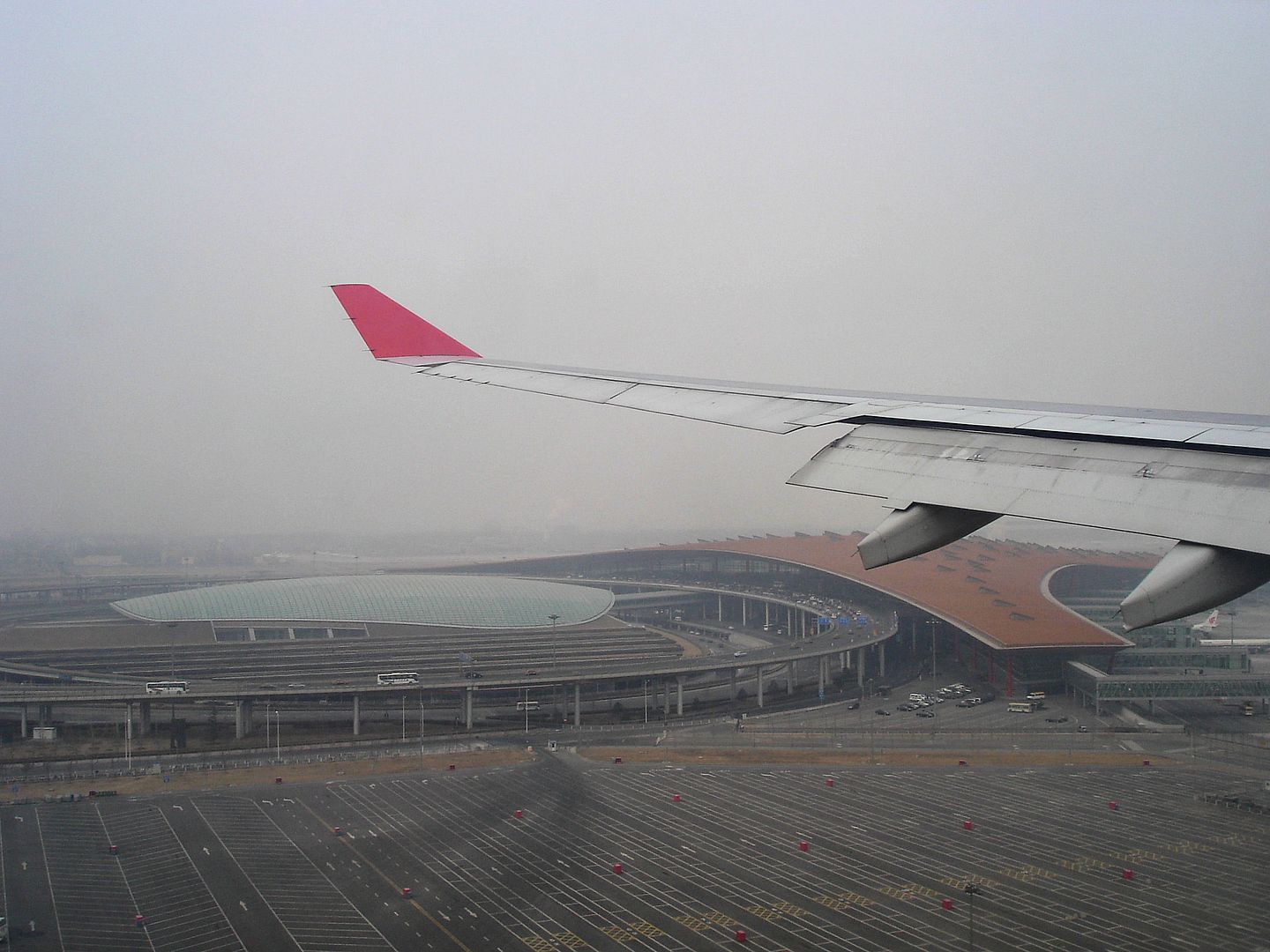 ...was quite deserted shortly after 11:00:
British Airways 777-200ER, Lufthansa 747-400 and Finnair A340-300: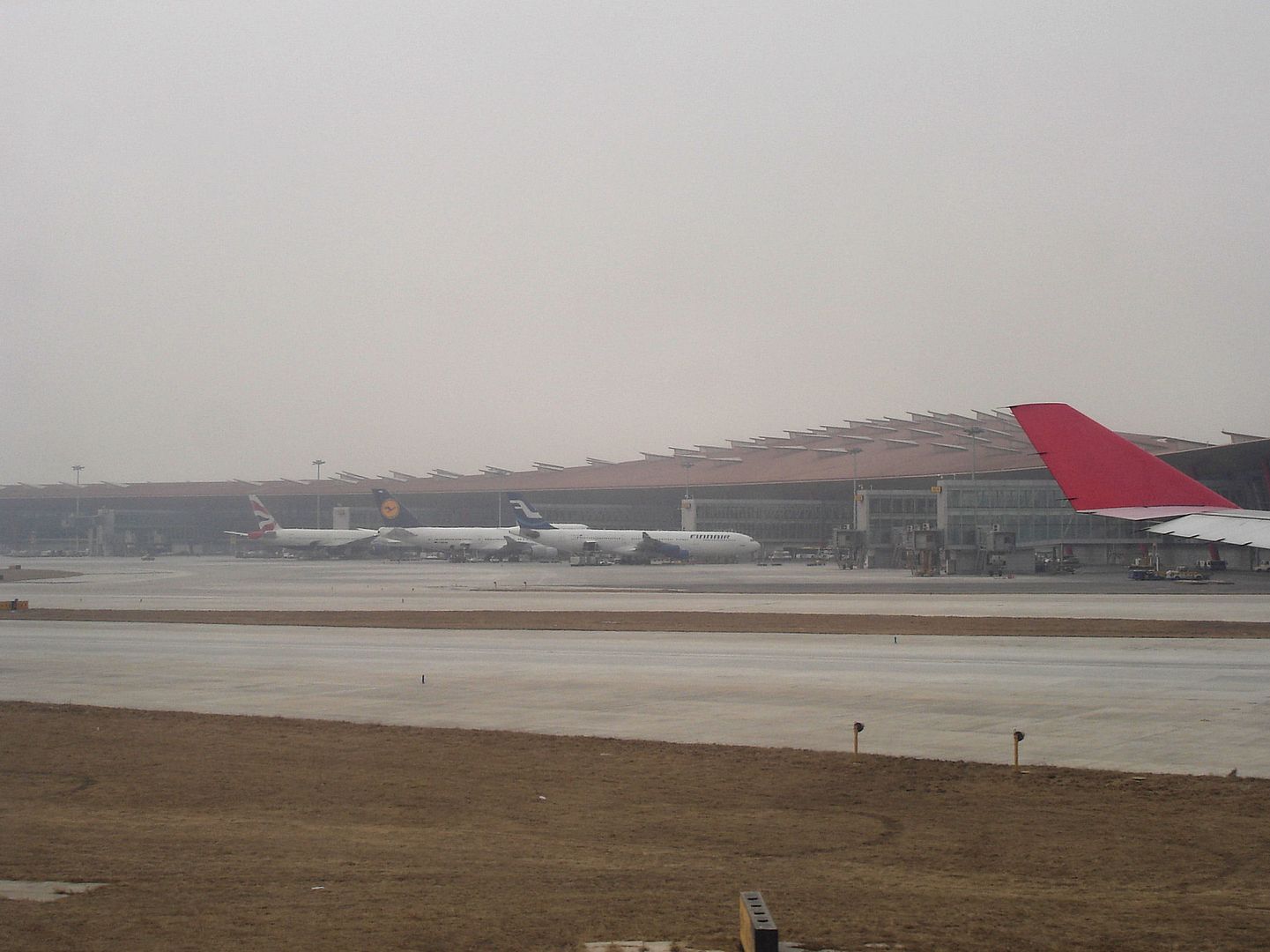 We arrived at the gate four minutes early: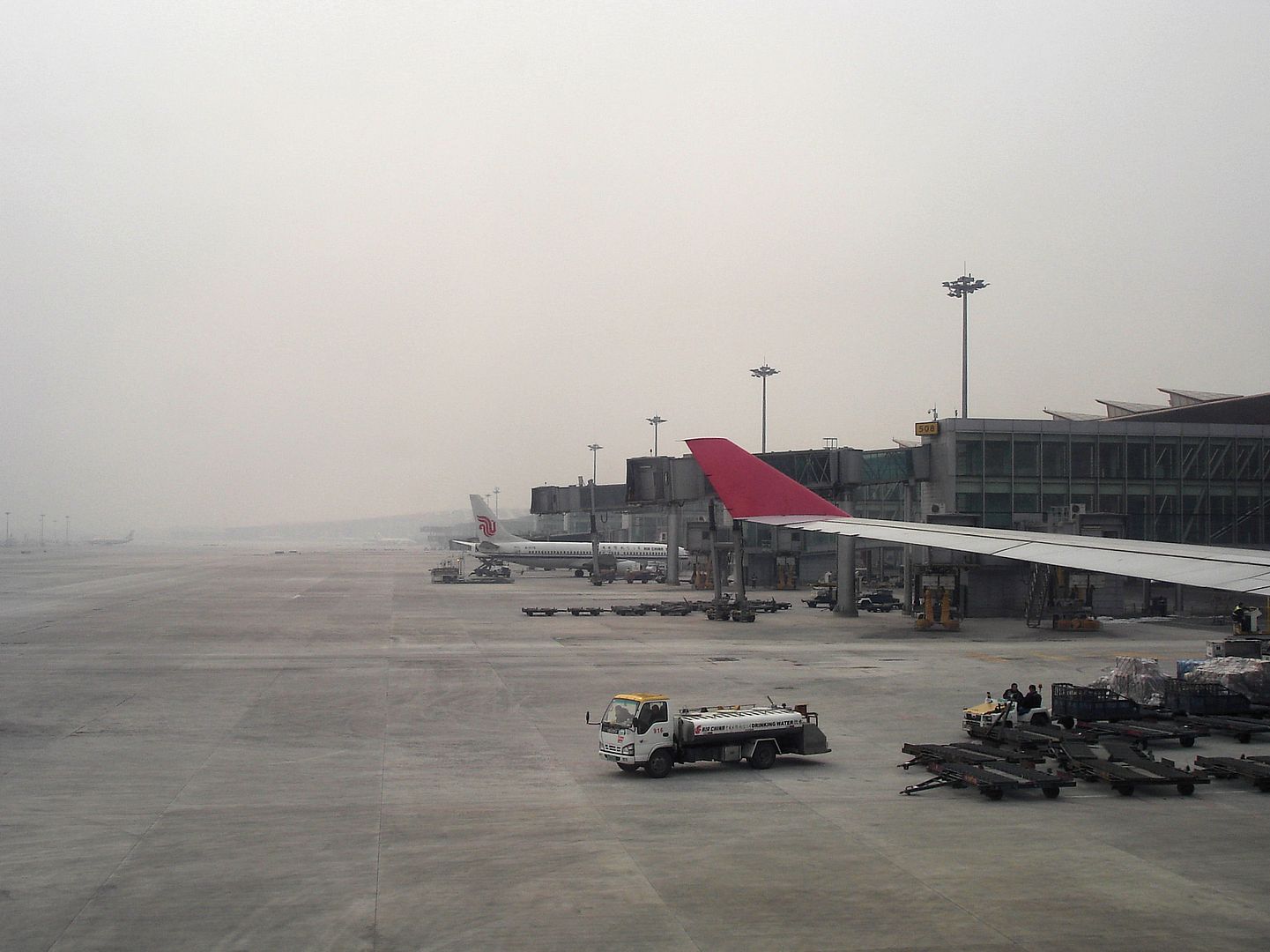 Last shot of
B-HYD
from the gate area:
I was quite glad that we had arrived at PEK some 30 minutes earlier than originally planned and I was expecting a smooth transfer at the hypermodern Terminal 3...but things were to turn out quite differently.
Story to be continued...
Conclusion
Flying
Dragonair
was a pleasure: Crew and ground staff members were friendly, the cabin was clean, seats were comfortable. I was also impressed by the catering in terms of quantity and quality. Personal video screens would have been the icing on the cake, but they are not essential on a 2.5 hour flight.
I didn't have a reason to complain about
Air China
either – we had been rebooked to an earlier flight and an agent was taking care of us until the check-in process at the Dragonair counters was finished.
Best Regards,
PlaneHunter
P.S.: Just in case you missed them - other more or less recent reports:
A380 Cacophony, 777 Star Livery: DXB-SIN-HKG on SQ
The Next 5* Carrier? MUC-MCT-DXB, Oman Air A330
Turkey For 1.5 Hrs: Daytrip To AYT On Sky Airlines
CO Scores Again: ATL-IAH-EWR-FRA On ERJ, 752 & 764
Riding The Ultra Long-Haul Twin: Delta 777-200LR
Pacific Coast Jaunt: 3 Carriers, E120, E140 & Fog
The Ultimate 737: LHR-IAH-PDX On CO 777 & 739ER
Bye Bye, Hell! TRD-OSL-TXL-NUE - DY/AB/HE DH4
My Trip To Hell: NUE-CPH-OSL-TRD On Cimber & SAS
SFO-YUL-FRA: Map- & Sleepless On Air Canada's 77W
Sin City Gloss & Virgin America's Chic First Class
Seat Dilemma & Canyon Glamour: FRA To LAX, AC 763
On Par With Air France? DTW-AMS-MUC, KLM A330
Goodbye, Red Tails! DC-9-40/50 & Chicago Tour
Champagne & World Of Coke: Air France A340 To ATL
"Mission A380": Disappointing Legs On BA/BD/EI
Delights Of Doha, 773 & 77W: DOH-DXB-LHR On EK
A380 Really a Step Forward? LHR-DXB-DOH On EK
Quality & Style: HKG-LHR On Air New Zealand 744
Taiwan Trio: TransAsia, UNI Air And The Taipei 101
"The Wings Of Taiwan": EVA Air A332, 744 Combi
SHA-SZX, Shanghai 757: Delayed By The Military
PEK-SHA, China Eastern A330 & Shanghai At Night
Striking Newcomer: Berlin-Beijing On Hainan A330
[Edited 2010-05-21 13:13:04]