The idea for this recent day-trip was born in December 2009. Alex (A.Net-member Ndebele) had found out that AB offered a "two for one" Christmas special on their domestic network. Flights from our home airport Stuttgart (STR) to Westerland (GWT) on the Isle of Sylt were available for the amazing price of EUR 30.00 per person for the return ticket (including taxes). AB links STR with GWT three times per week during summer. On Wednesday the routing of the aircraft is STR – GWT – MUC – GWT – STR which enabled us to book a day-trip with a stay of five hours on the isle while the aircraft is going to MUC and back. For EUR 30.00 you can't go wrong so we didn't hesitate and booked the day-trip for the beginning of the summer period (flights started on the 1st of May).
Wednesday, 05 May 2010
Stuttgart (STR) – Westerland / Sylt (GWT)
Airline: Air Berlin, operated by TUIfly
Flight number: AB 6866
Scheduled departure time: 10:00
Scheduled arrival time: 11:20
Type of aircraft: Boeing B 737-700
Registration: D-AHXJ
This aircraft was built and delivered to TUIfly in 2008. In October 2009 Air Berlin took over all "city-routes" (mainly the former HLX-routes) from TUIfly. At the same time, TUIfly leased its B 737-700-fleet to Air Berlin. The aircraft were painted in Air Berlin liveries.
And here are some pictures of D-AHXJ from TUIfly times:
I arrived at Stuttgart Airport by train and checked in at one of the AB check-in counters in Terminal 3 with no waiting time (Alex had already checked in before). After passing security check quickly I met Alex at gate 333. Our aircraft had just arrived from HAJ: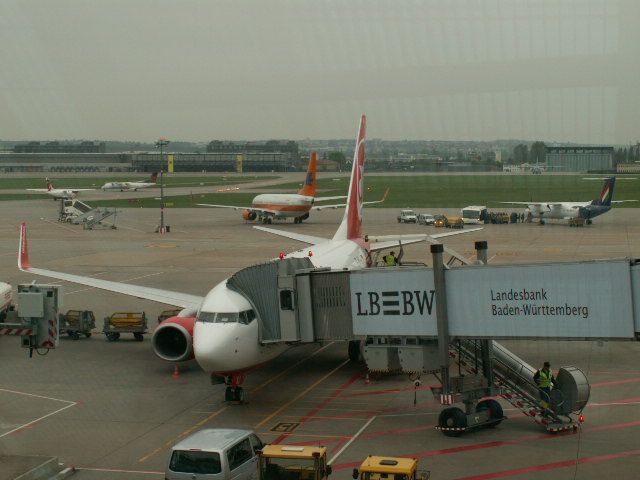 Local newspapers and a somehow special selection of magazines (gardening, yachting, trekking, etc.) were available at the gate. Boarding started on time and we walked down the jet-bridge to our aircraft where we were welcomed by the friendly flight attendants. We took our seats in the last row. I had flown the same aircraft about a year ago when it was still in service for TUIfly. Since then the cabin has been completely refurbished in AB-design with new seats and new cabin walls – the old walls in HLX-design (which weren't even up-to-date when the aircraft was built) have been removed. Wearing the AB-livery as well you don't get any hint on the owner and operator of the aircraft which is still TUIfly.
The captain made a welcome announcement as well and a safety video was shown on the screens. There were about 100 passengers on board which was a load factor of about 70%. We went off-block and taxied to runway 07 where we took off soon: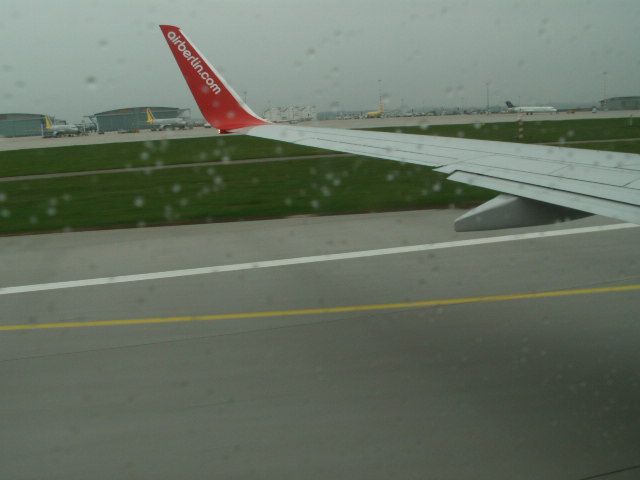 The Town of Scharnhausen: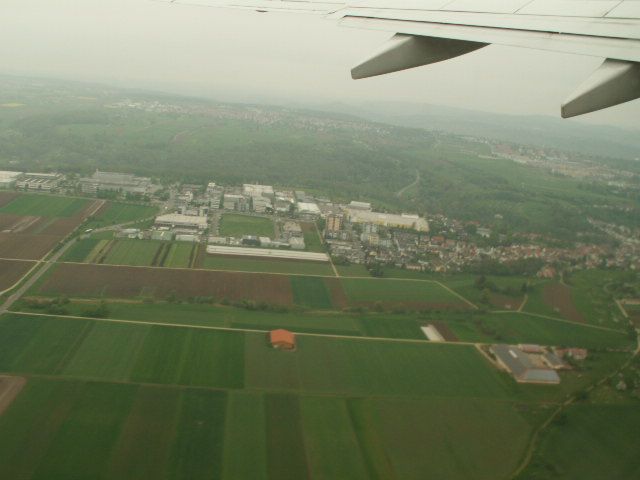 .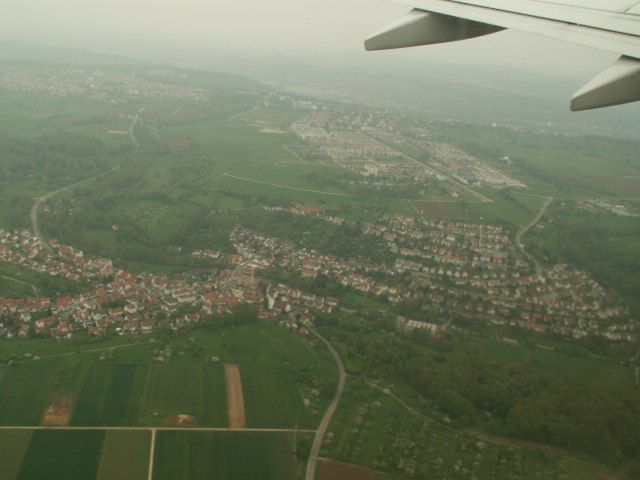 The weather in Southern Germany way awful and soon we were up in the clouds and there were no more views. Cabin crew started their service with hot and cold drinks and a sweet or a salty snack. Here you can see both: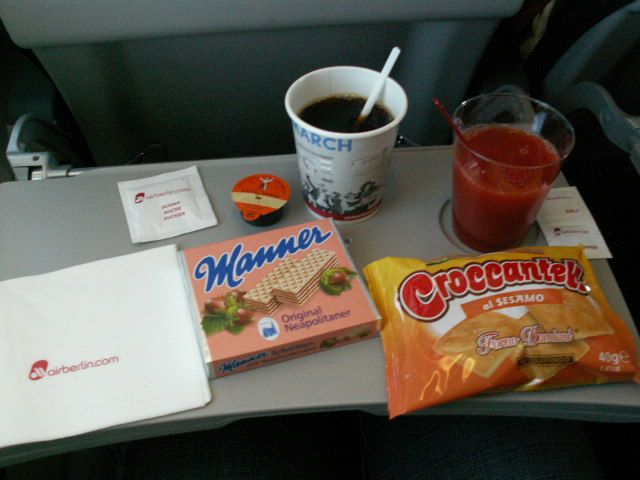 The aircraft is equipped with an audio system but they didn't switch it on for that domestic flight. On the screens they were showing the air-show – no other programme, which was fine for us.
A Germanwings A 319 is crossing our way: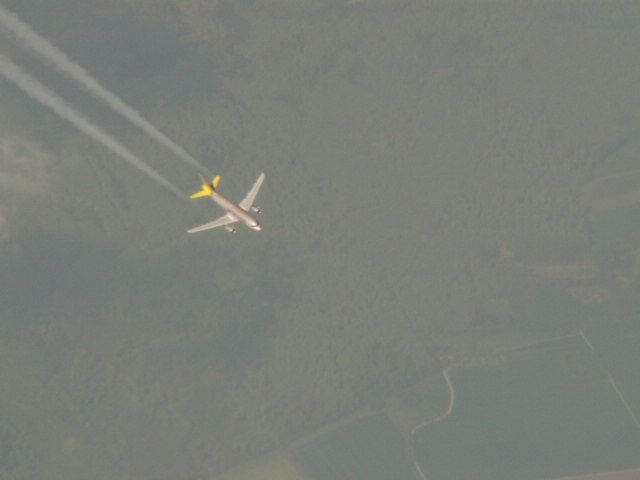 Somewhere in the middle of nowhere, in the middle of Germany: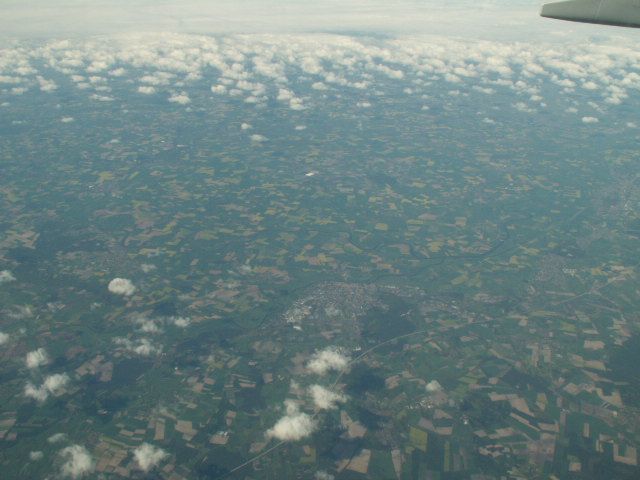 Luckily the weather was much better in the North. The City of Bremen with the airport in the upper right corner: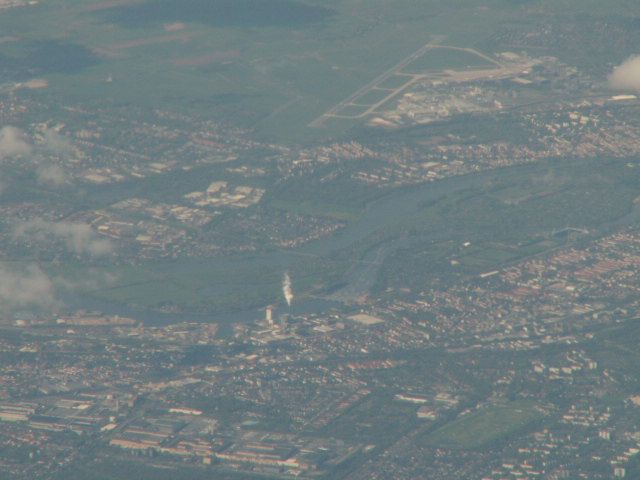 The City of Bremerhaven: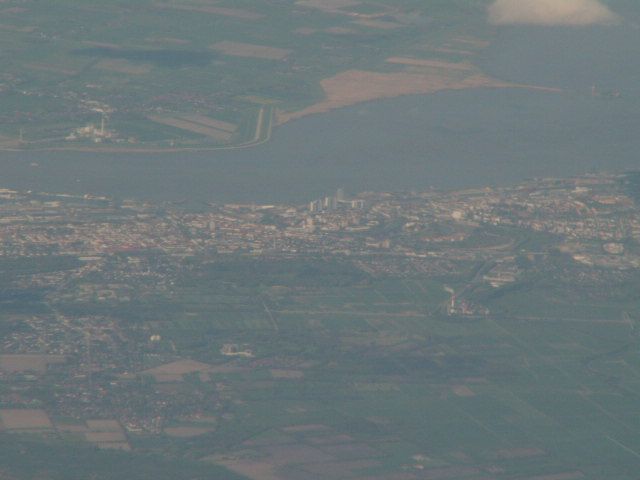 Nordholz, a military airfield: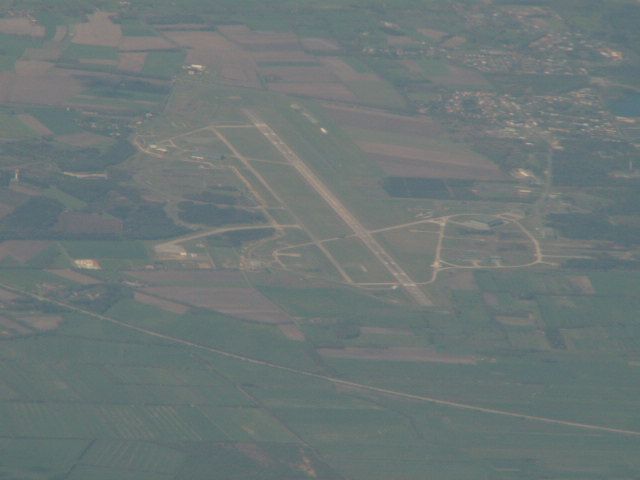 The City of Cuxhaven:
Sandbanks in the North Sea: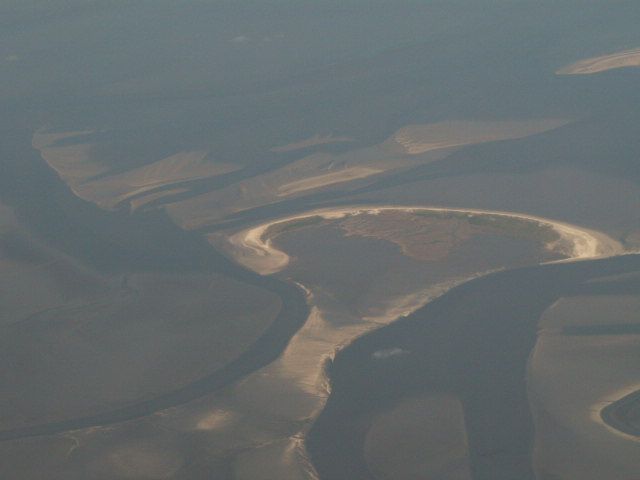 The airfield of St. Peter-Ording: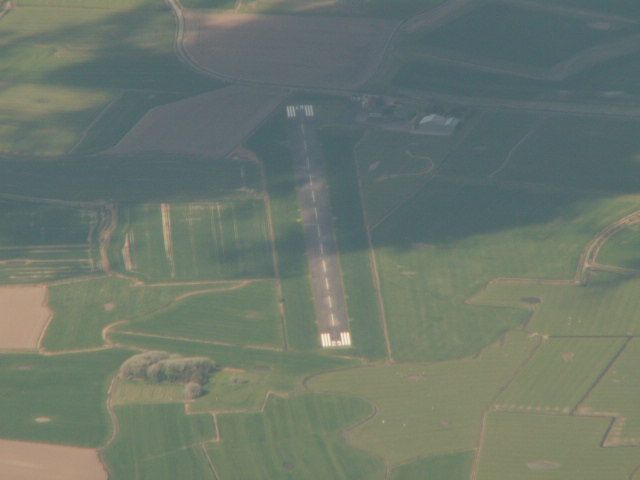 The island "Hallig Hooge":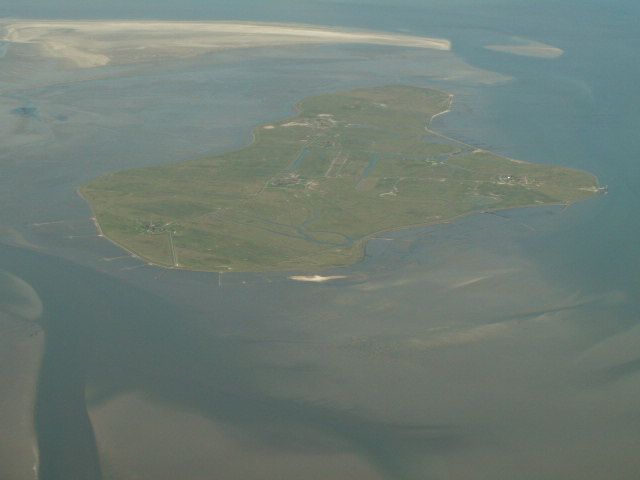 The island "Hallig Langeness"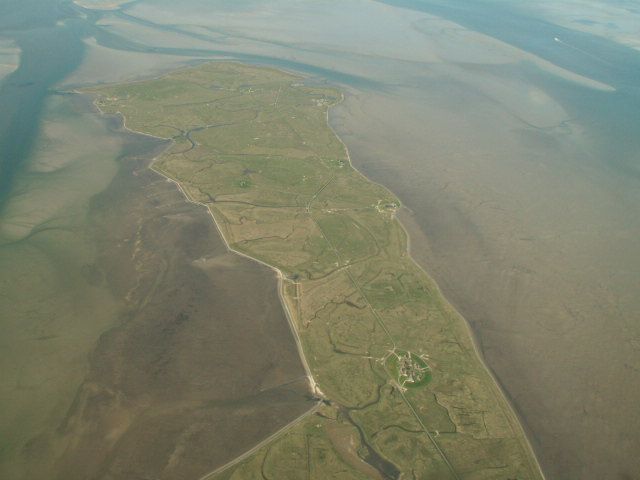 The Isle of Foehr with the Town of Wyk in the lower left corner: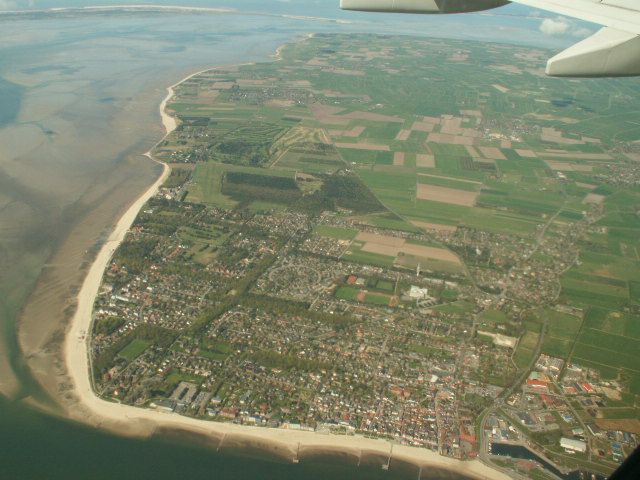 The airfield on the Isle of Foehr with its grass runways can be seen in the centre of this picture: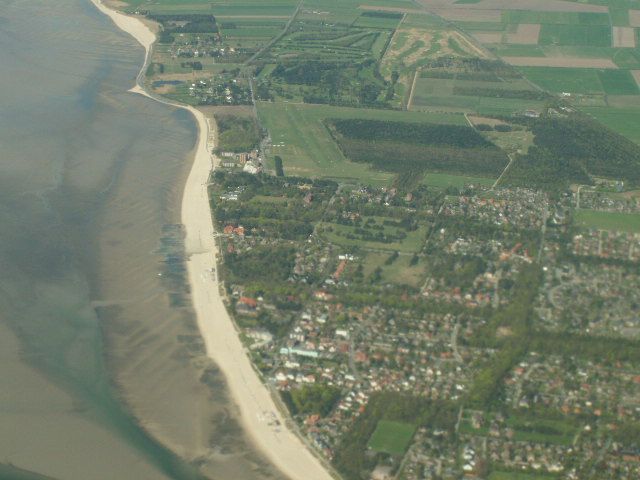 Reaching the Isle of Sylt from the Southeast: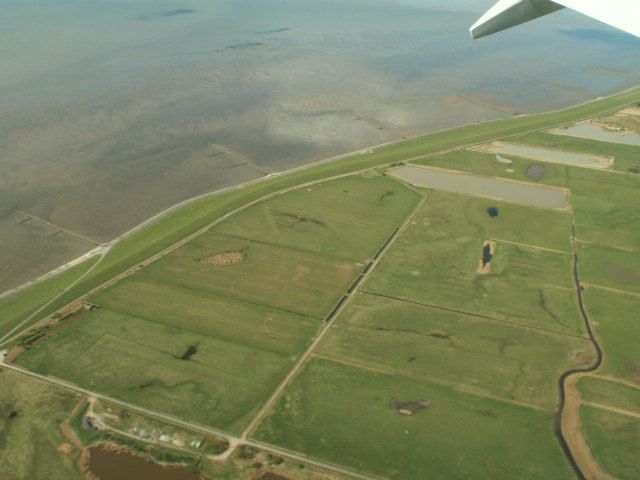 The Village of Archsum on the Isle of Sylt: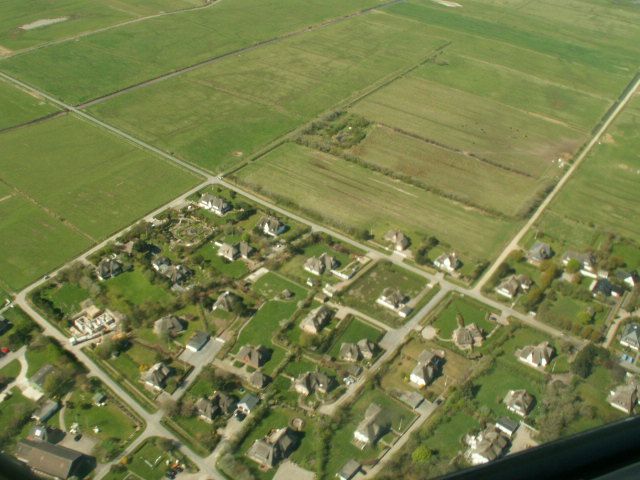 Final approach: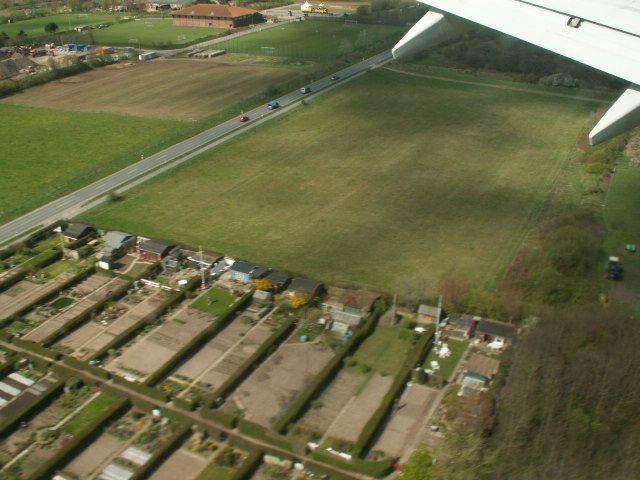 Touch-down on runway 32: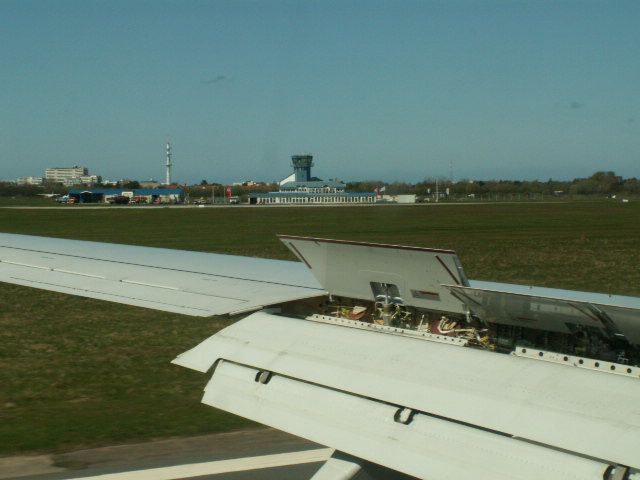 We taxied to a parking position in front of the small terminal building. We were the only larger aircraft at the airport; apart from us there were only small planes like Cessna around.
Flight attendants were distributing chocolate hearts at the doors – a tradition AB has taken over with DBA on all domestic flights. We left the aircraft through the rear door:
.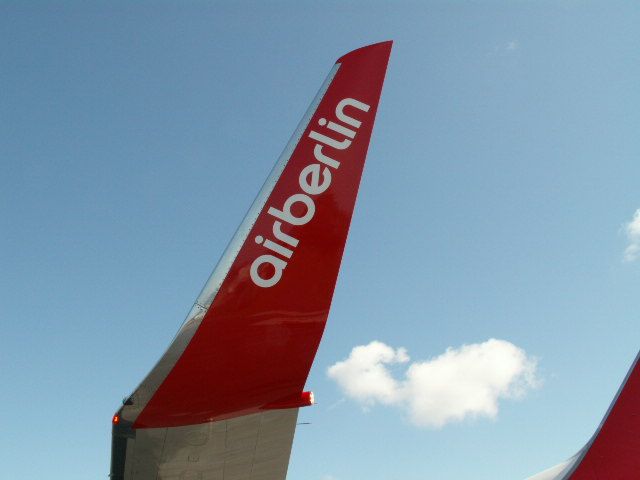 Bye-bye D-AHXJ, see you in five hours: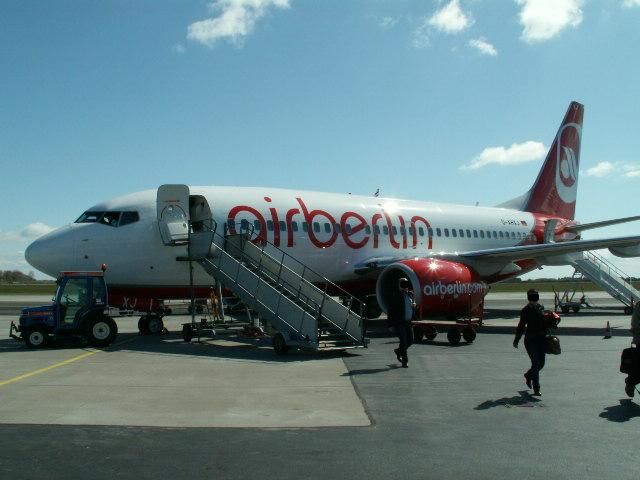 Now we had five hours which we could spend on the isle. Luckily the weather was great here – completely different from Southern Germany. We walked the two kilometres to the station of Westerland. From there we took a bus to Hoernum which is located in the South of the isle.
The lighthouse of Hoernum: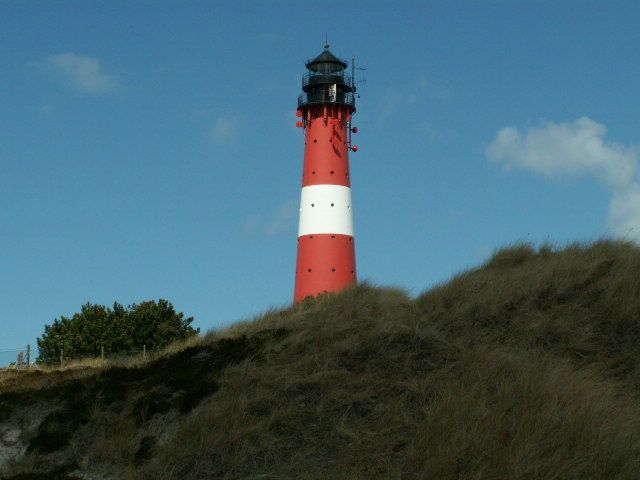 .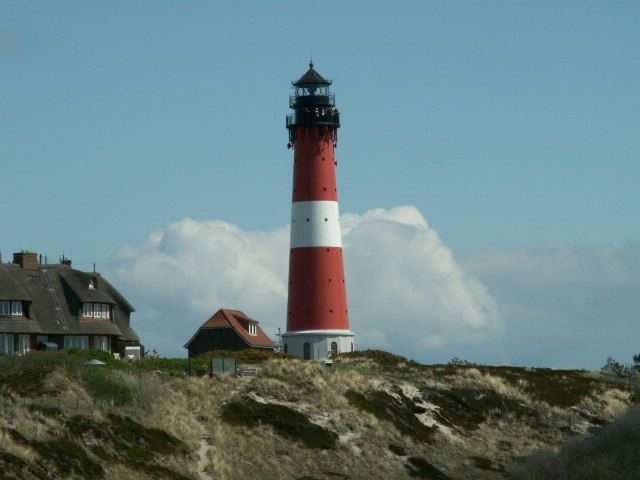 In the dunes: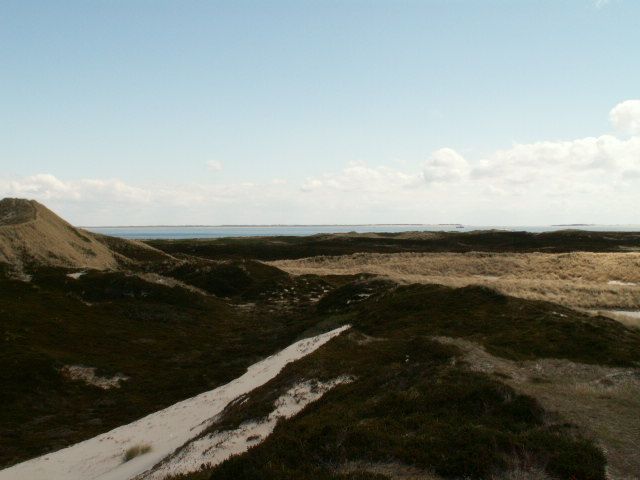 .
Wednesday, 05 May 2010
Westerland / Sylt (GWT) – Stuttgart (STR)
Airline: Air Berlin, operated by TUIfly
Flight number: AB 6867
Scheduled departure time: 16:25
Scheduled arrival time: 17:45
Type of aircraft: Boeing B 737-700
Registration: D.AHXJ
We returned to the airport about 45 minutes before the departure of our flight. As we had already got our boarding passes for our return flight at STR we didn't have to go to check-in.
The terminal building of GWT: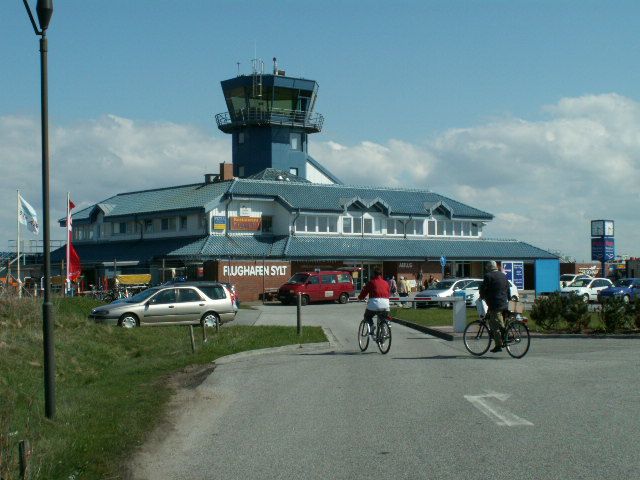 With the take-over of the TUIfly routes, AB has become by far the biggest airline at GWT: they are offering flights to nearly all important German airports like DUS, CGN, TXL, FRA, MUC, STR, FMO and NUE. LH has reduced its presence to two weekly flights to MUC. Besides, GWT sees only small aircraft like Sylt Air to HAM or Hanseflug to the neighbour isle Foehr.
D-AHXJ is arriving back from MUC: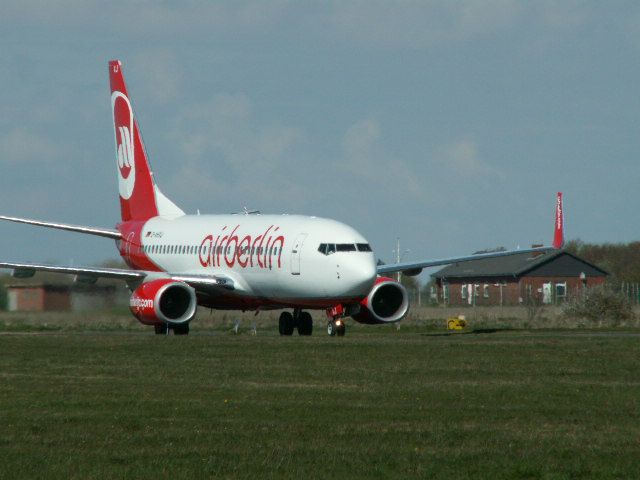 .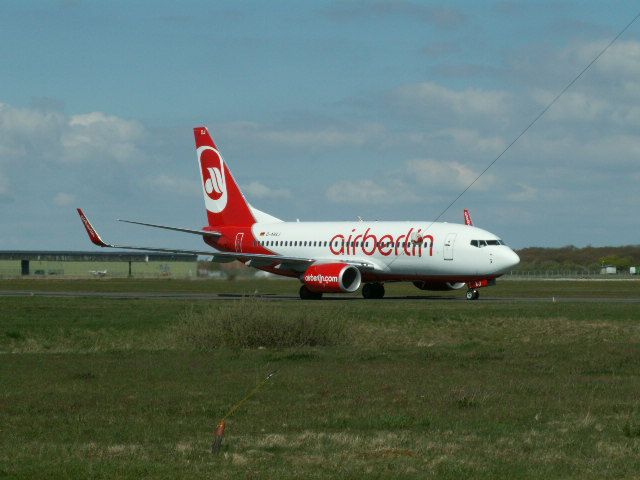 We passed security check quickly and entered the gate area: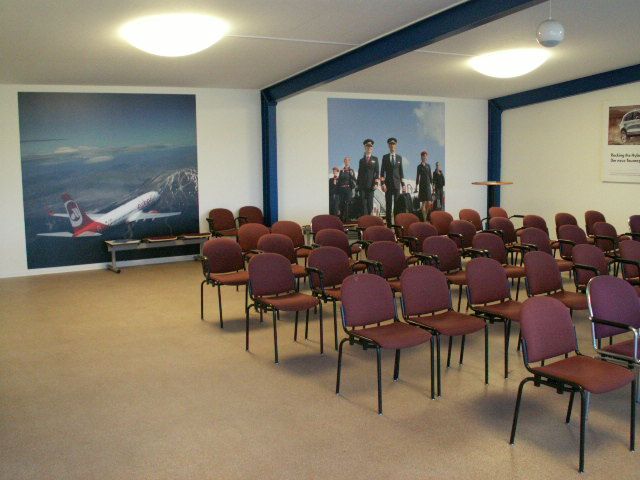 Children shall see as well who is number one at this airport: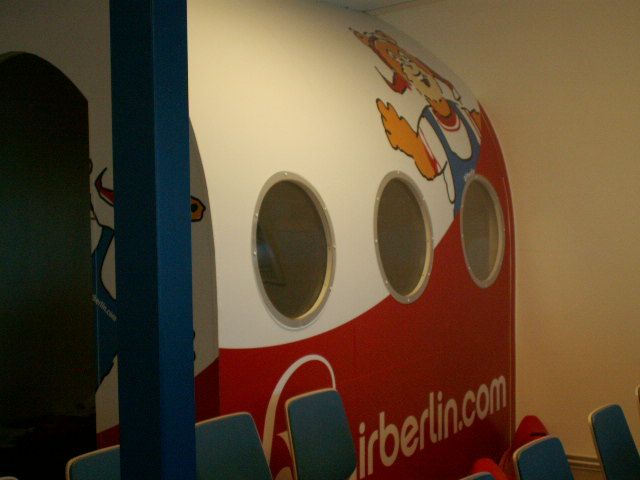 Our aircraft waiting for departure: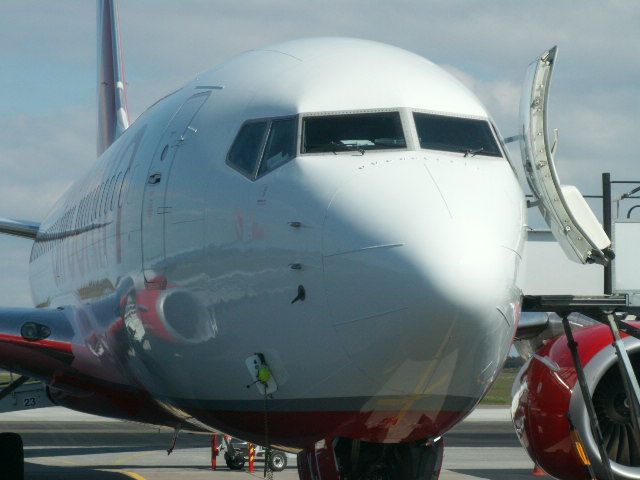 Boarding started and we made our way to the rear entrance of the aircraft: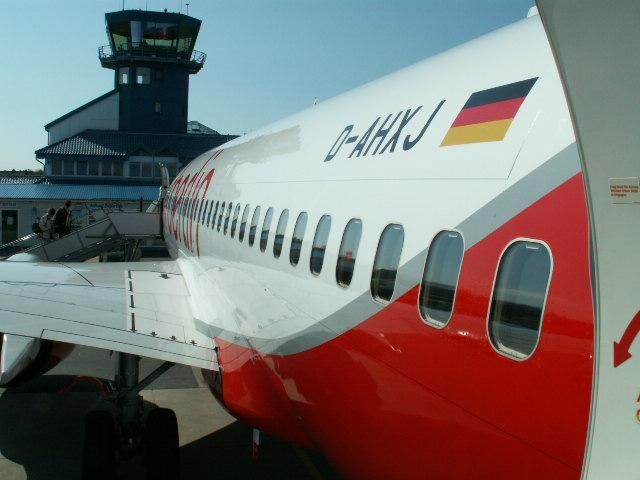 The cabin crew and the flight crew had changed at MUC so there were three different flight attendants this time. We had our seats in the last row again. There were only about 50 passengers on board, load factor around 30%; this resulted from the fact that the flights for this summer had started only four days before which meant that only few people had already finished their holiday on the isle. We had the last row for ourselves, so Alex took seat 25F while I took 25A.
A company A 319 had just arrived from DUS: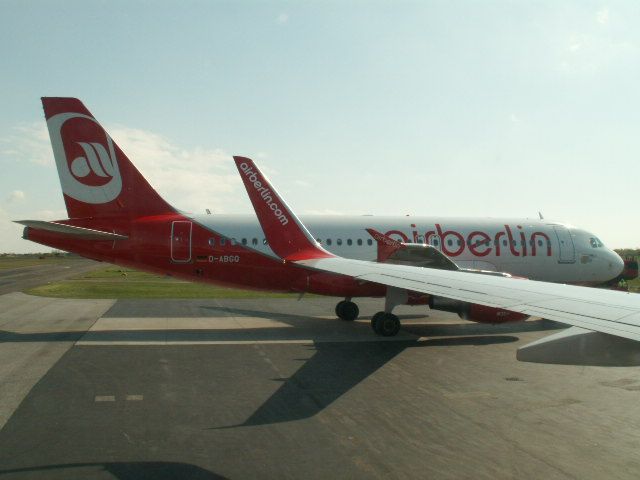 We still had to wait for a missing passenger but we went off-block only five minutes late and taxied to runway 32 where we took off in North-western direction: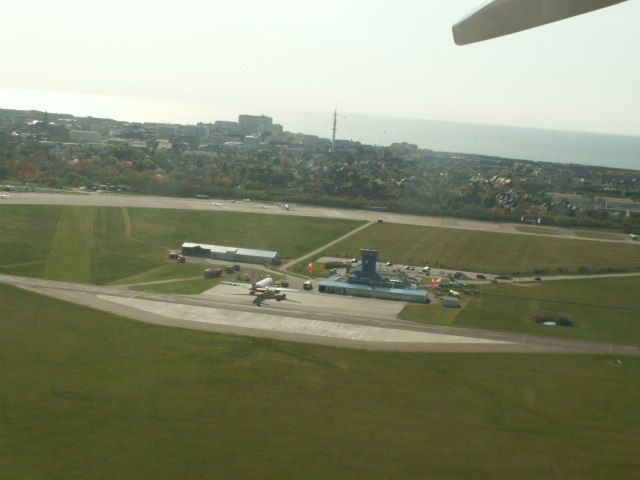 The City of Westerland: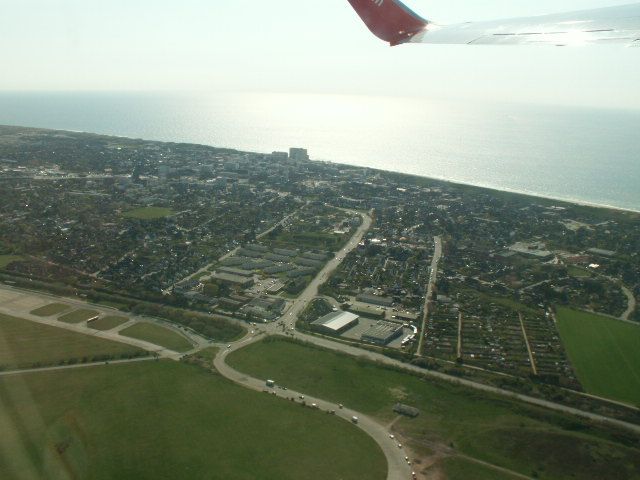 "Nordseeklinik" (North Sea Hospital):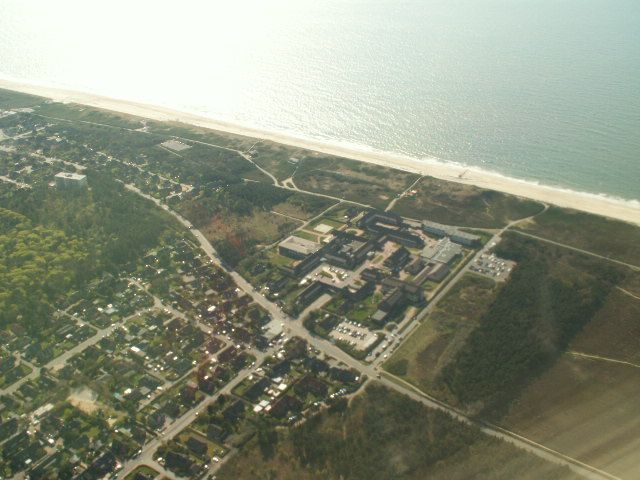 The coastline: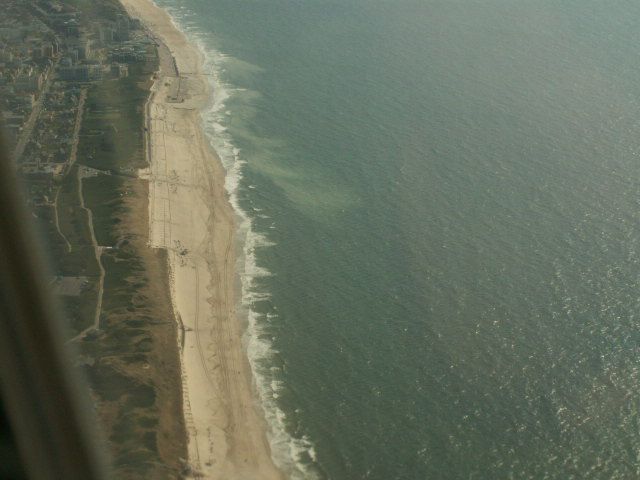 After a U-turn there was a good view to the northern part of Sylt; in the background you can see the Isle of Romo which belongs to Denmark: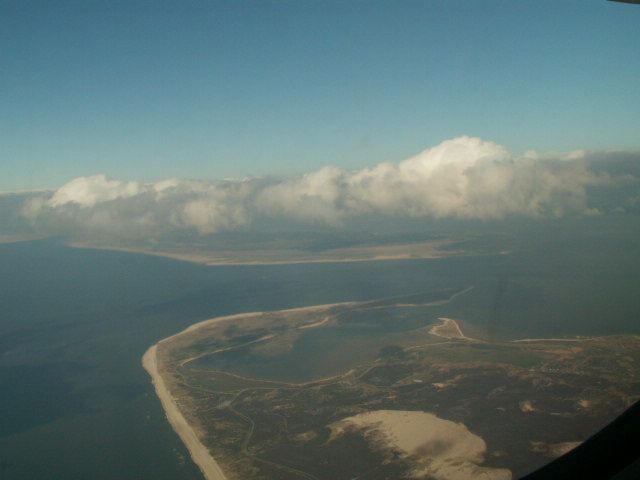 The most northern town in Germany: List on the Isle of Sylt: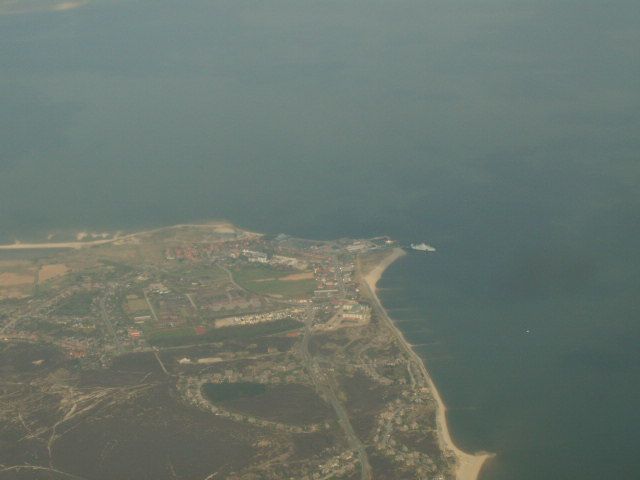 GWT airport came into sight again, with two active and one closed runway: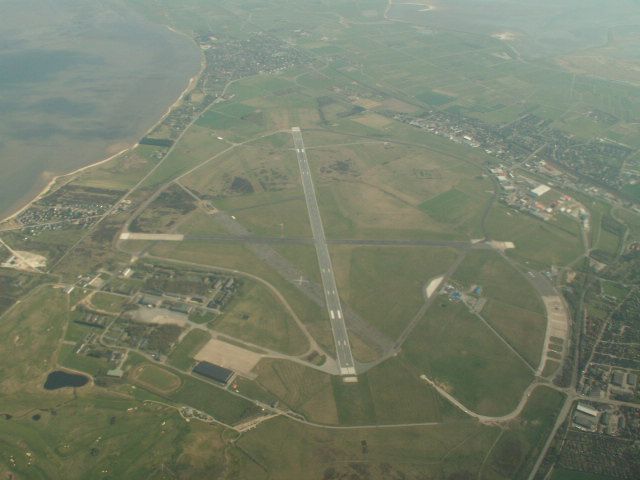 .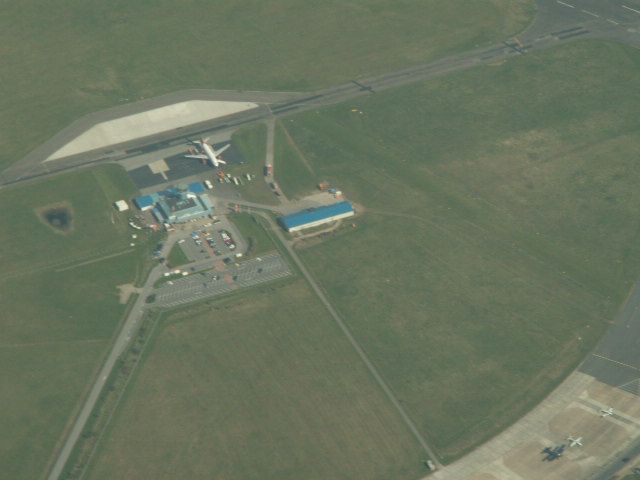 The station of Westerland, linking the isle with mainland:
The southern part of Sylt: the Town of Hoernum where we had been only two hours before: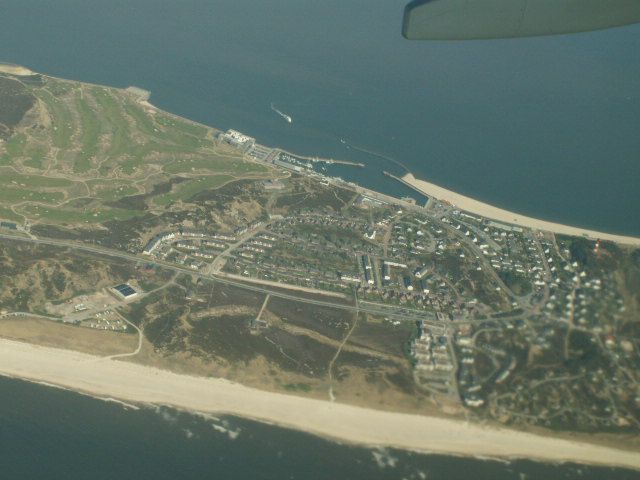 A last view to the Isle of Sylt: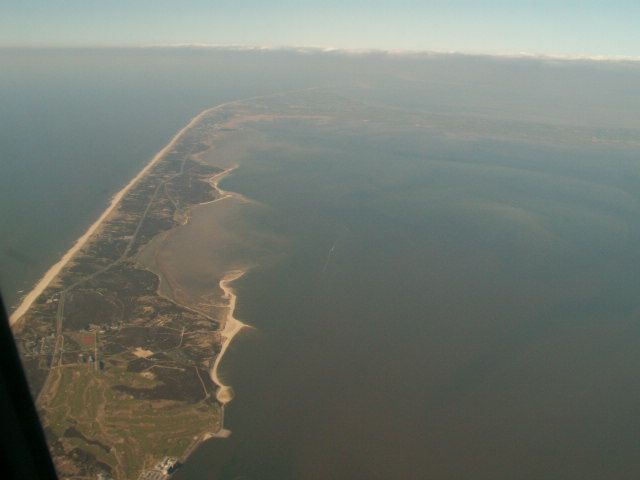 Our departure route had been a bit unusual, like an "8":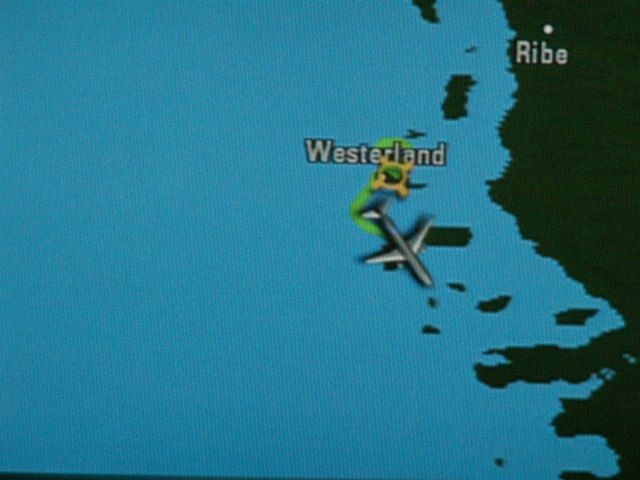 But this had offered fantastic views to all parts of the isle – really great.
Back to mainland again: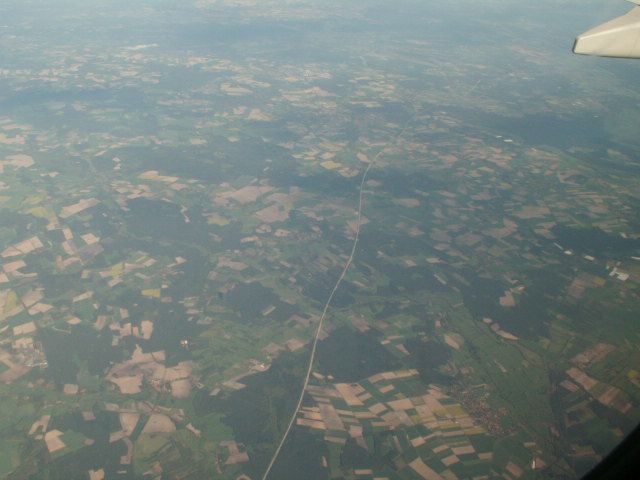 This time cabin crew had switched on the entertainment system so we could listen to several audio programmes. We had brought our own headphones and they didn't sell any actively (I'm sure you could have bought one if you had asked). Service was the same as on the outbound flight: hot and cold drinks and a sweet or salty snack.
Hannover Airport (HAJ):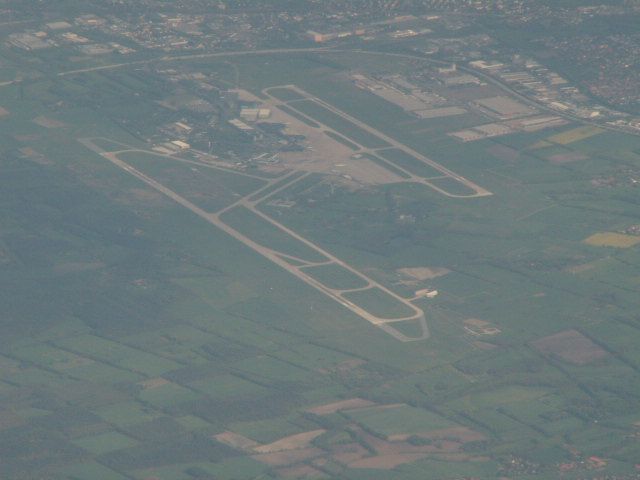 Military airfield at Wunstorf: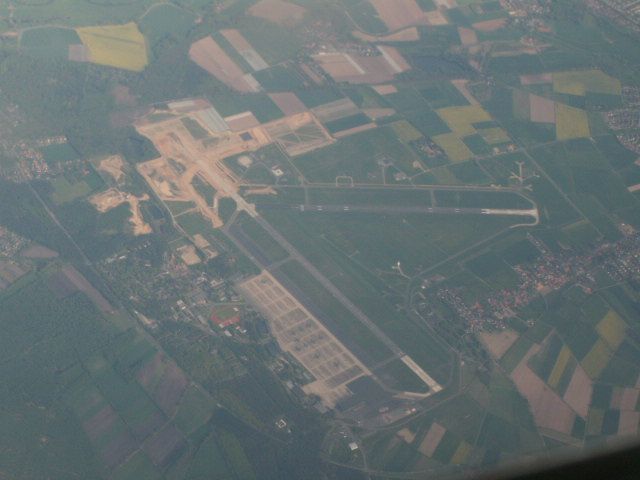 Winglet in the sun: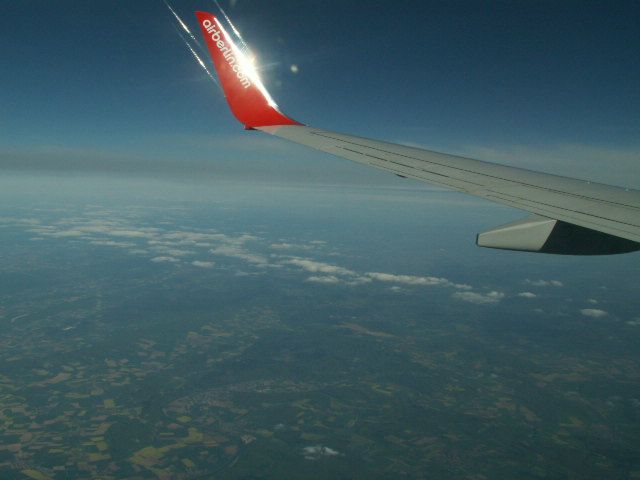 Our flight route: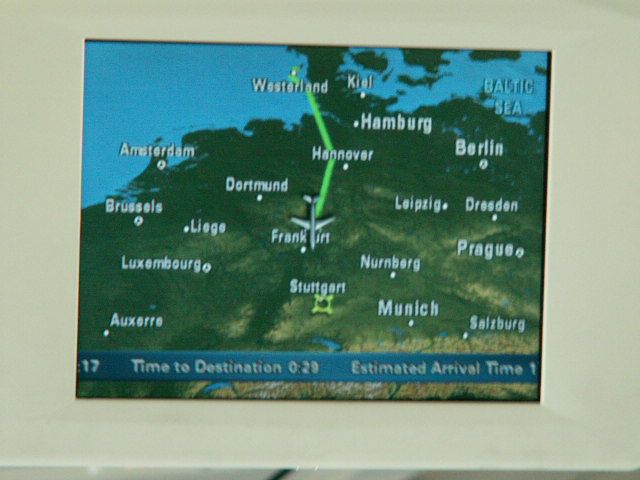 We were reaching Southern Germany again. Weather hadn't improved there: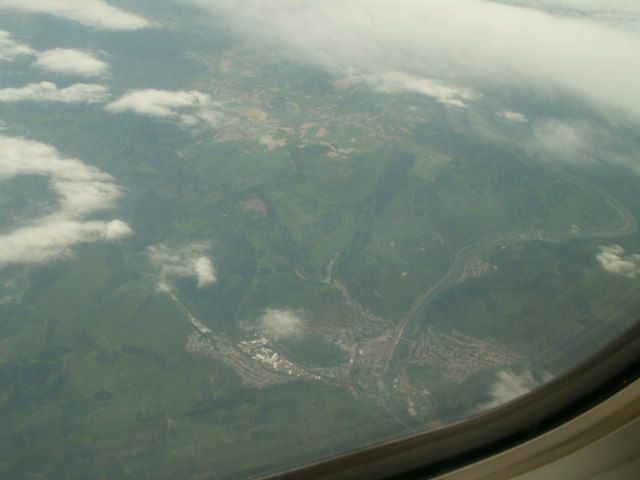 IBM office buildings at Boeblingen, my former home town: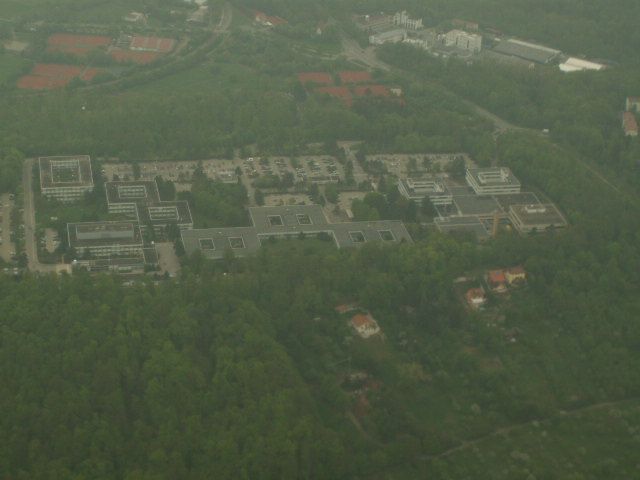 Industrial area of the Town of Schoenaich: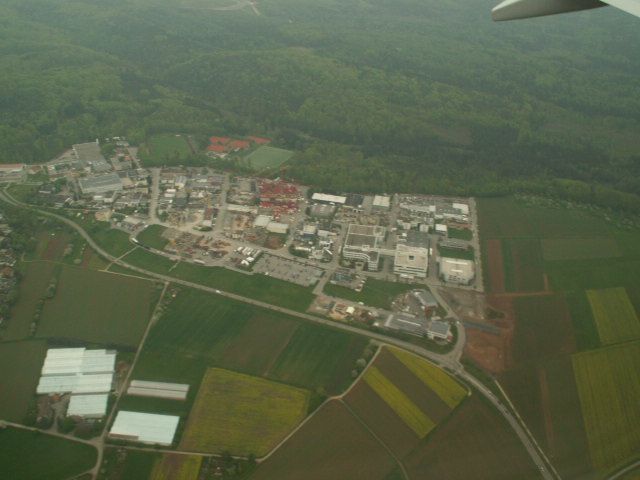 Seven Mills Valley: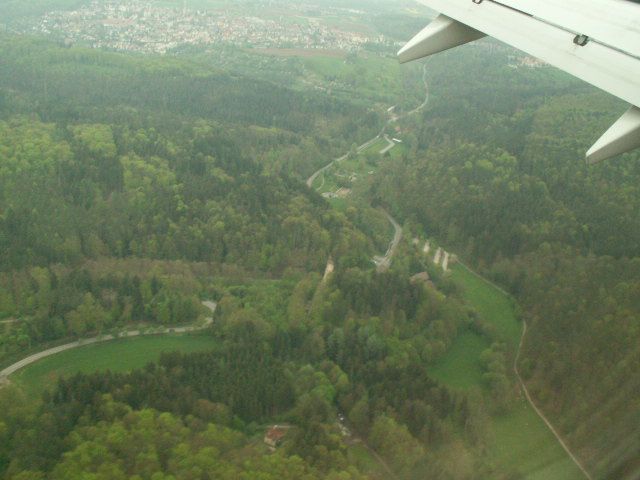 The Town of Echterdingen: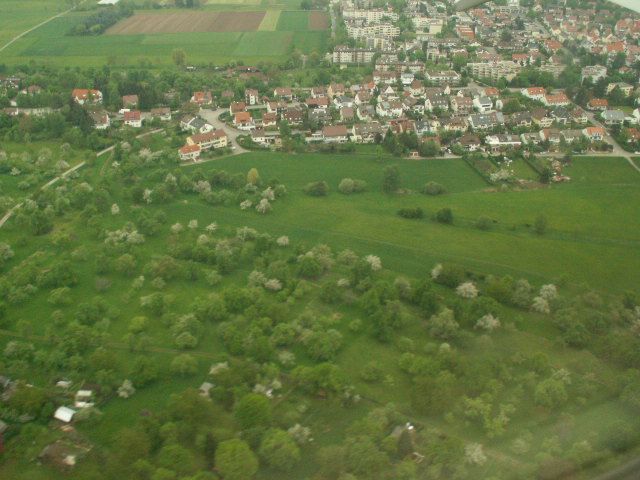 Stuttgart Airport apron extension works: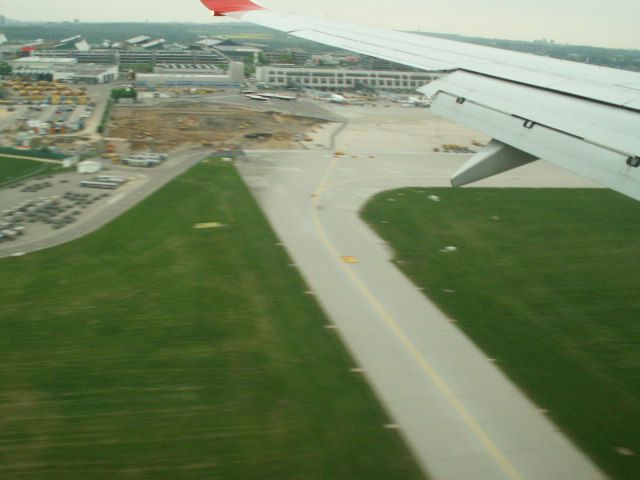 We touched down on runway 07 and taxied to a parking position in front of Terminal 3 – the same gate which we had used in the morning as well. We left the aircraft through the front door and entered Terminal 3. D-AHXJ is waiting for its next departure to HAJ: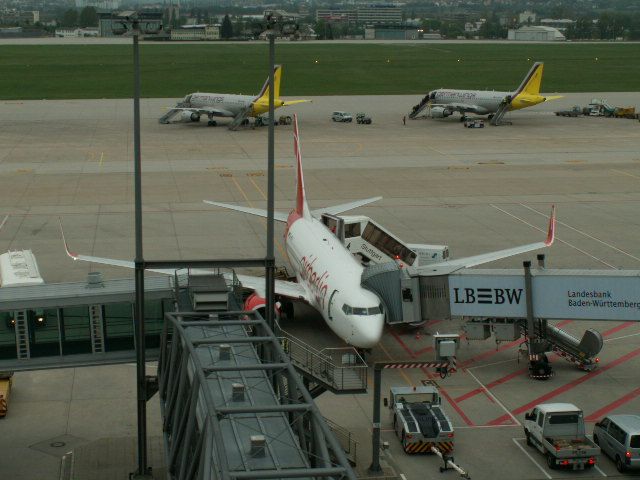 Alex and I said goodbye and we took trains home into different directions.
Conclusion:
AB offers a good domestic product with friendly crews, free drinks and snacks, monitors with air-show and sometimes even an audio programme. Our flights were on time and value for money was simply excellent. I wouldn't hesitate to book AB again.
Thanks for reading my report. Questions and comments are always appreciated.
Regards
Christoph