From 2004 my family and I were regular travellers on easyJet's BSL-LPL route. The fares were good and the flights were always well loaded, so we were very disappointed when the route was quietly discontinued in November 2008. As soon as these flights ceased, the prices on Swiss on their BSL-MAN route steadily increased.
I reverted to using LX from ZRH, having grown to love the web check-in and assigned seating. Since August 2009 I've been averaging a trip to England every month and Swiss have been making quite a bit of money out of me…….
So I was pleased when a colleague whose husband is a pilot with easyJet told me that they were planning to fly ZRH-MAN. I'd lived in hope they might reinstate the BSL-LPL or even try BSL-MAN, but never did I think they'd annouce this route, perfect for me. As soon as booking opened in December I secured a ticket on the inaugural flight on April 30th, returning 3 days later, for 115CHF, without baggage or speedy boarding .
The only slight disappointment were the flights timings, meaning I would have to leave Manchester at 0720 and therefore losing most of the day, so it's a bit of a waste. Perhaps EZY might adjust their timings for the winter timetable?
Friday April 30th
EZY1866 ZRH-MAN
STD 1045 / ATD 1108
STA 1140 / ATA 1135
A319 G-EZDY
112 Pax
Seat 23F
I took the direct train from my local station to the airport, arriving just before 9am. It was an interesting ride, peeking at suitcases to see where people were going and being forced to listen to phone conversations about upcoming trips ("Yes, I'm off to Larnaca for a week, booked it cheap on the internet, Barbara is with me and we're going to see if she can get a ticket too, well I'm going even if she can't,….."). You get the picture.
As I only had hand luggage I'd already done OLCI. A colleague gave me the passenger numbers, an impressive 133 on the MAN-ZRH and 112 on my leg. Not bad at all for the first flights. Up until recently easyJet used the B Gates here at Zurich. They've now moved over to E which makes the boarding procedure a bit easier as there are no buses involved. So I took the skymetro over to Dock E and passed security pretty quickly.
A new sight on the FIDS screens at Zurich: EZY from MAN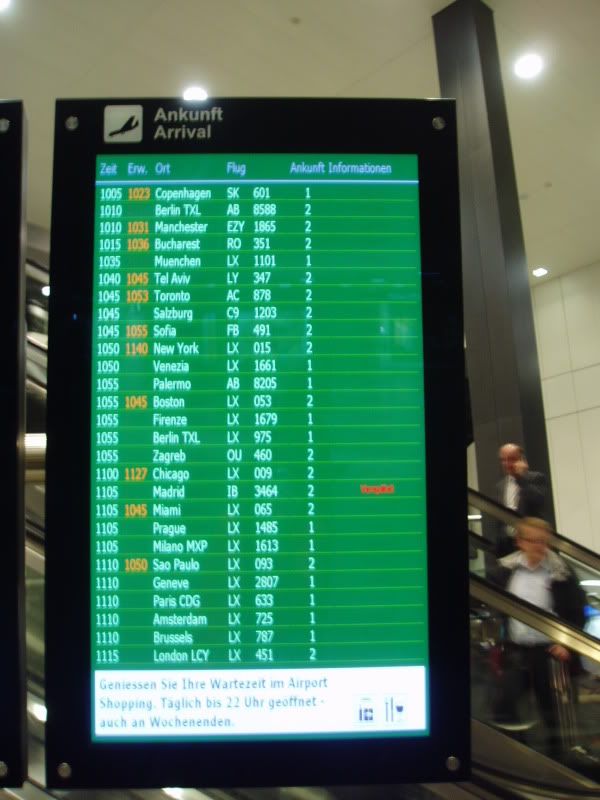 Sky metro station
Once at E53 an announcement was made which I couldn't understand a word of. People got up and started queuing and I was somewhat perplexed as the plane wasn't due to land for another 15 minutes. It turned out the queue was for a passport check which involved the boarding pass being stamped with something illegible.
After that a senior looking member of staff turned up and announced that there was no food or drink on the plane and that we should purchase what we need at the airport. Off to a good start then?!
Swiss A330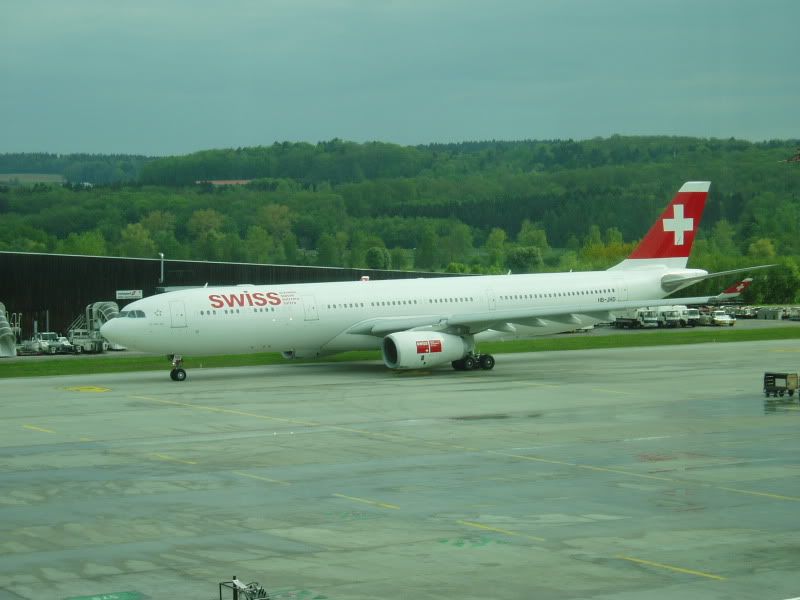 At 1020 I saw what looked like an easyJet land and sure enough a couple of minutes later: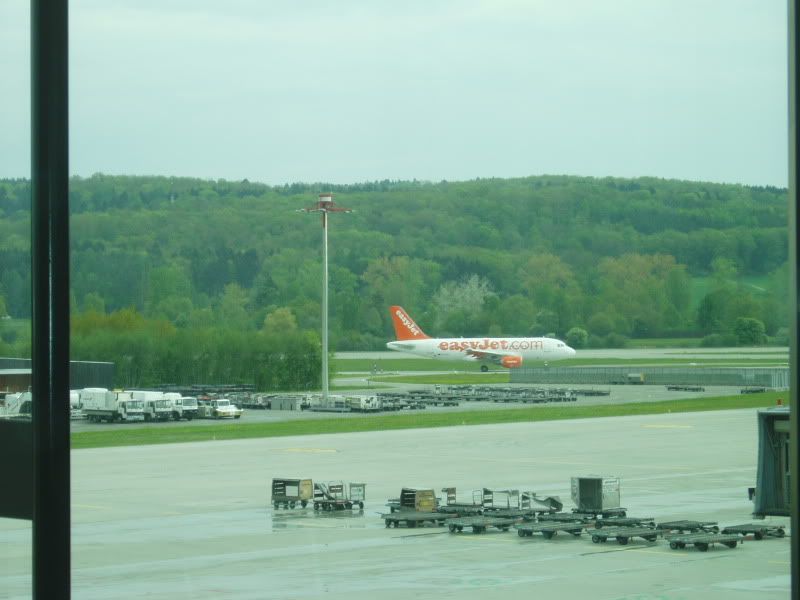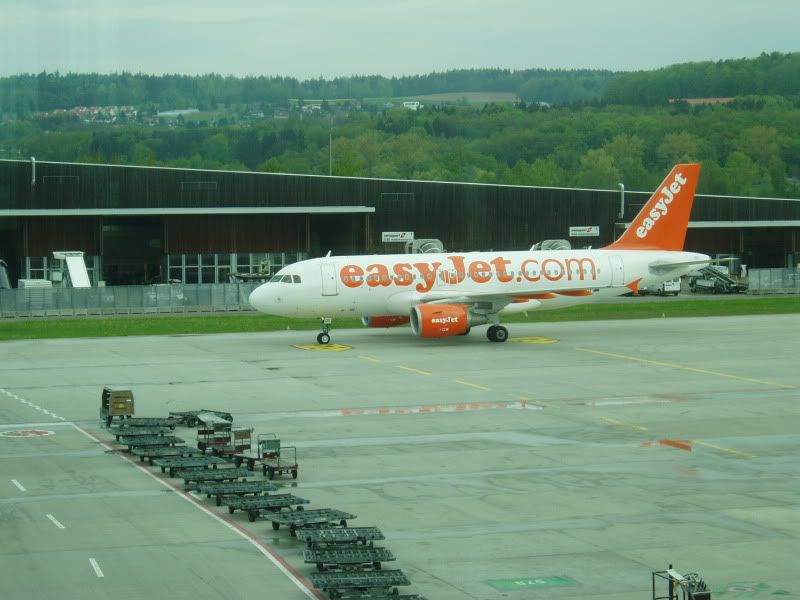 The boarding announcment was made at 1035 and the usual scrum followed. It's fascinating how orderly boarding can be at British airports, but not elsewhere…..
The gate agent was looking for Speedy Boarders, who had to push their way to the front of the queue, only 2 people had paid for this service. A few families with children followed then the rest of us were invited to board.
In the queue: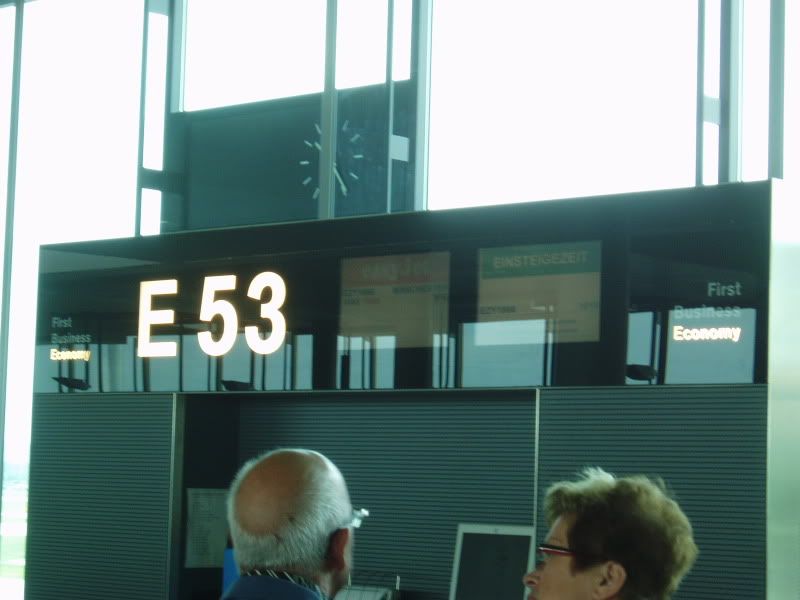 I miss the fact that online check-in and no hold luggage now no longer gives you the advantage of priority boarding.
I made my way down to the back of the plane and chose 23F. I had the whole row to myself. 3 rather noisy fellows took the back row, no TR contributors on today's flight then
Lots of adverts: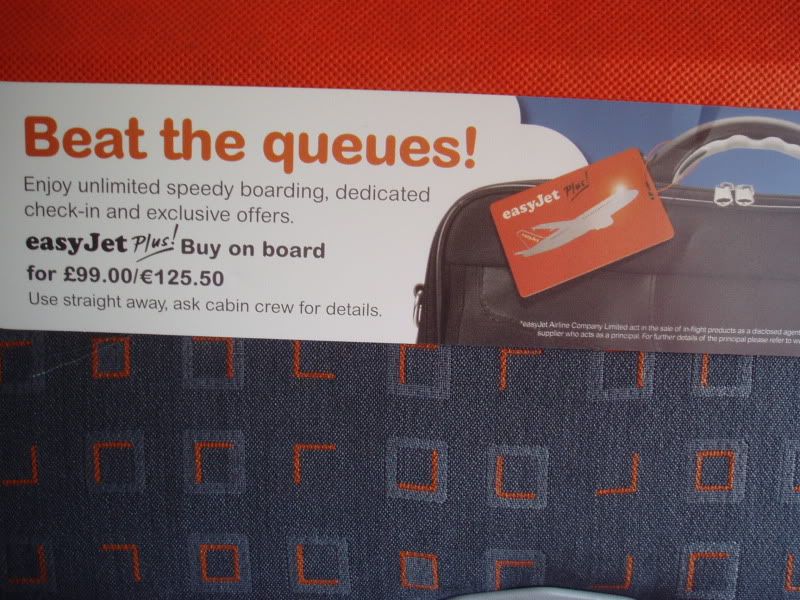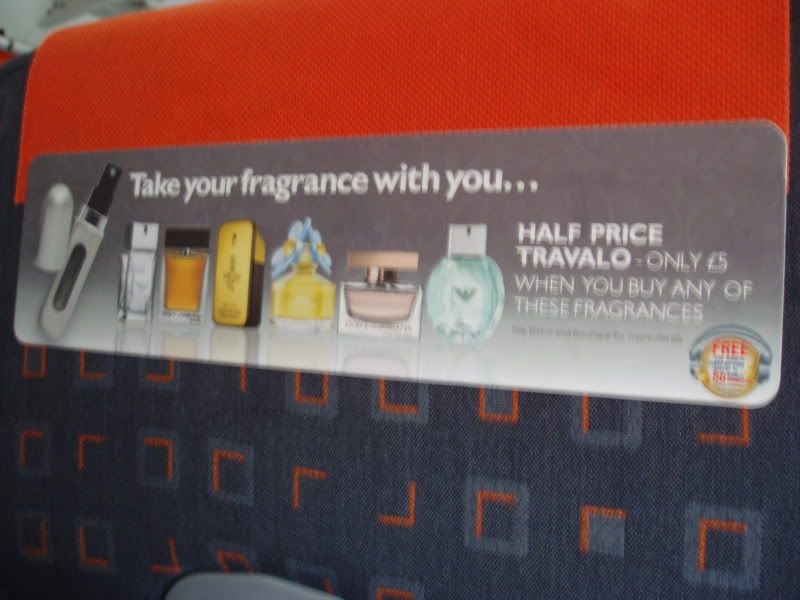 Boarding was completed quick enough and the first announcements were made. Then the senoir cabin crew member (whose name I didn't note) made some more announcements. Maybe he hadn't had too much sleep, because he welcomed us on the flight to Zurich much to the amusment of his colleagues. Then he introduced the crew «A is at the front with me, B in the centre of the cabin and C is working up the rear". This somewhat unfortunate choice of words sent the 3 lads on the back rows into loud laughter and the poor member of cabin crew went bright red. The pilot welcomed us on board the inaugural flight. There might not have been any bubbly or red carpet, but at least the crew knew about the occasion.
We pushed back at 1100 and taxied round to runway 28.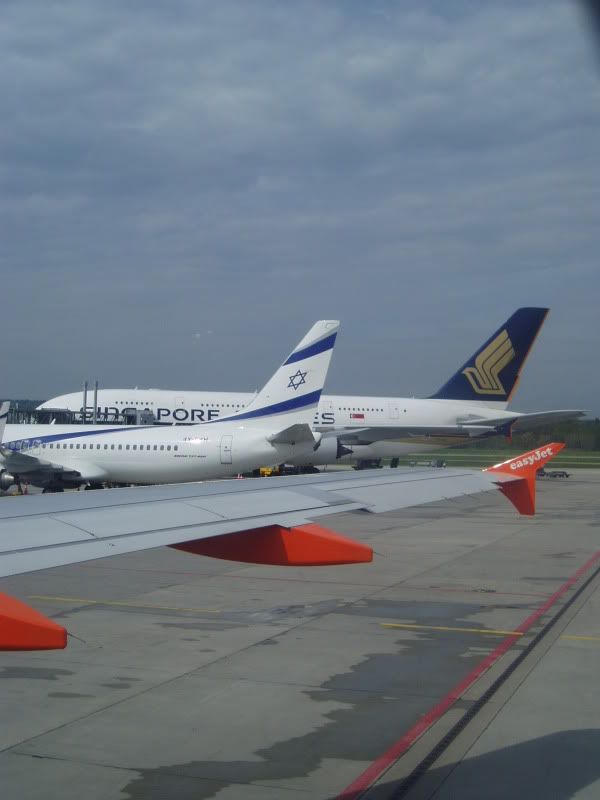 A daily visitor to Zurich now: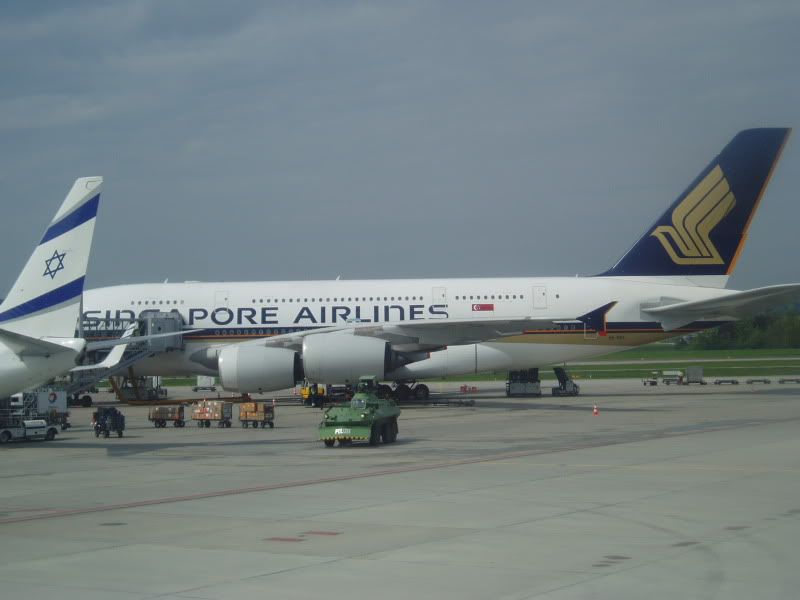 AC 767 having a rest before heading back to YYZ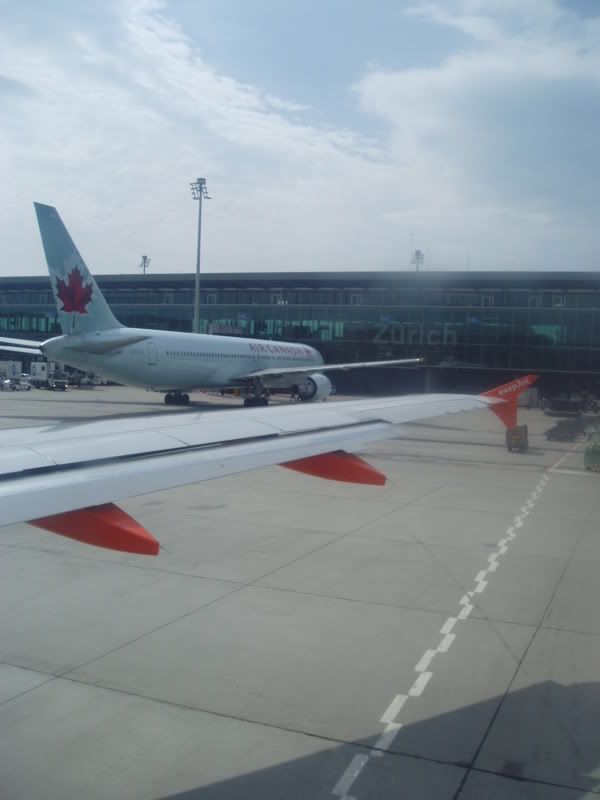 United preparing for the return to IAD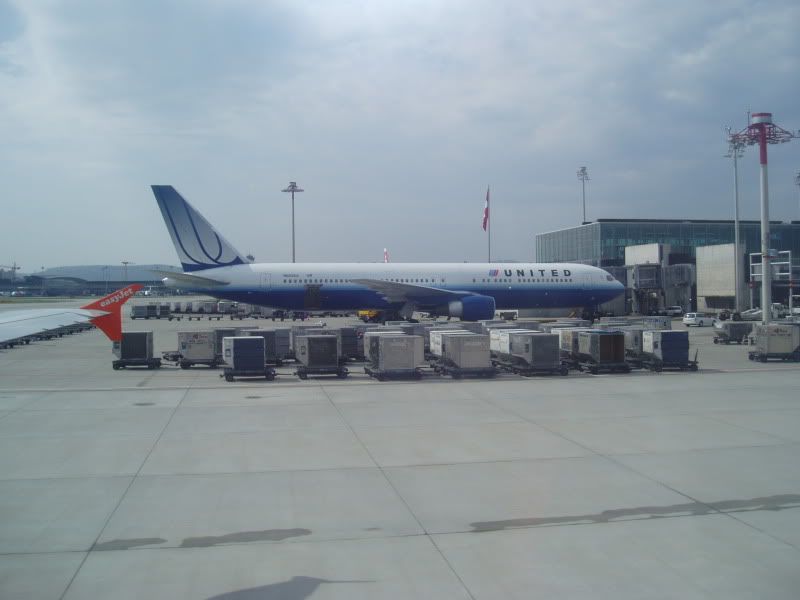 At 1108 we took off and until we went into the clouds I had some nice views: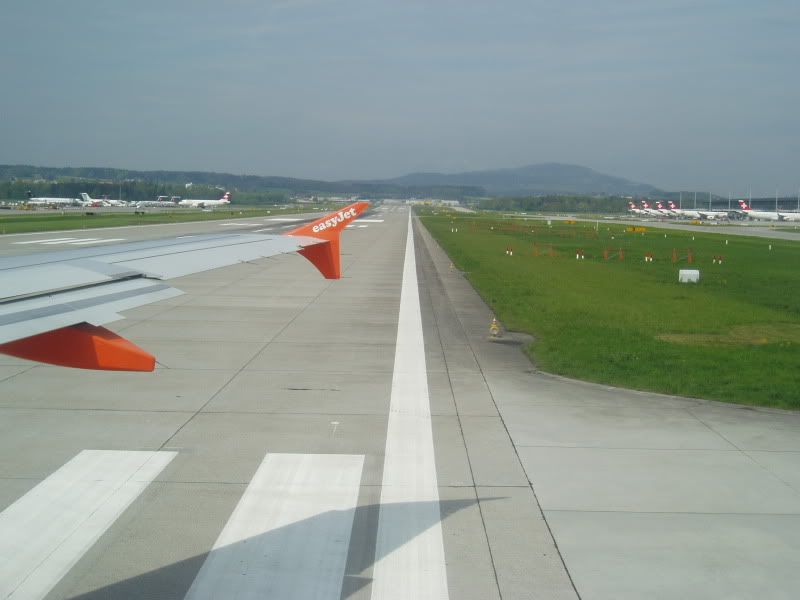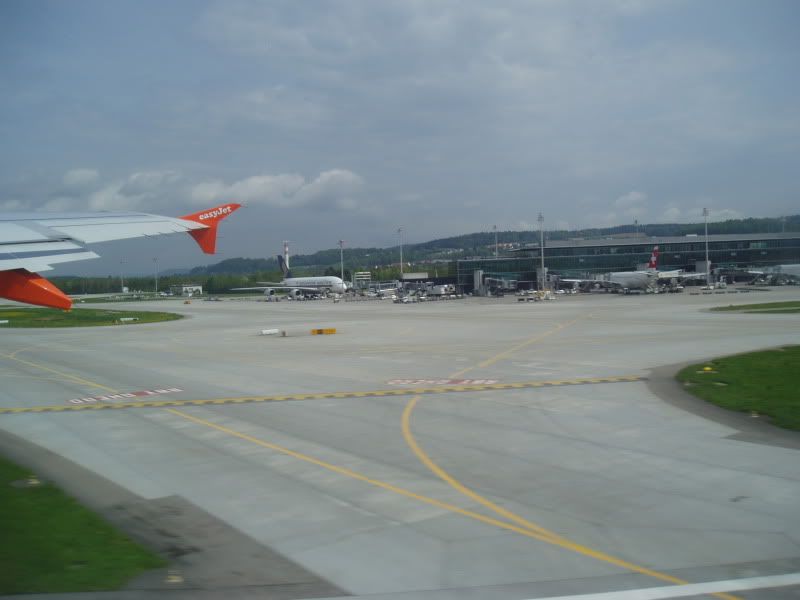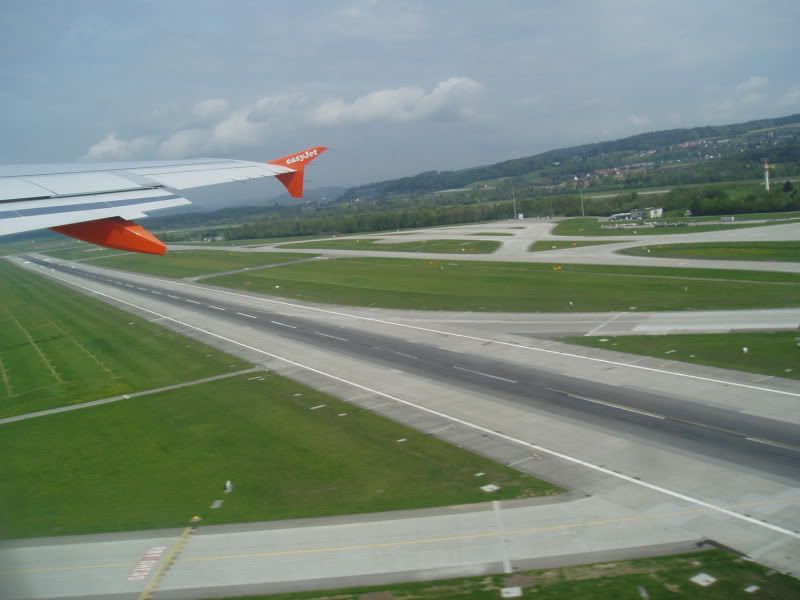 Oberglatt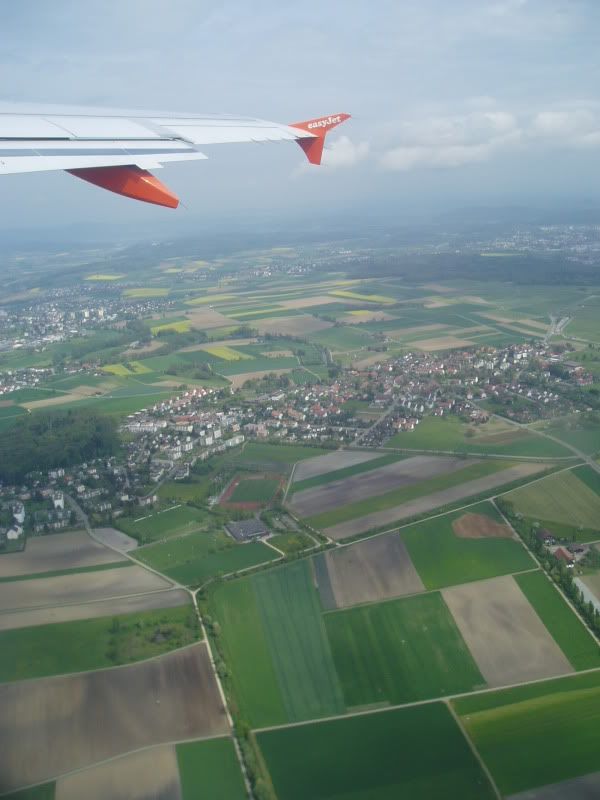 Niederhasli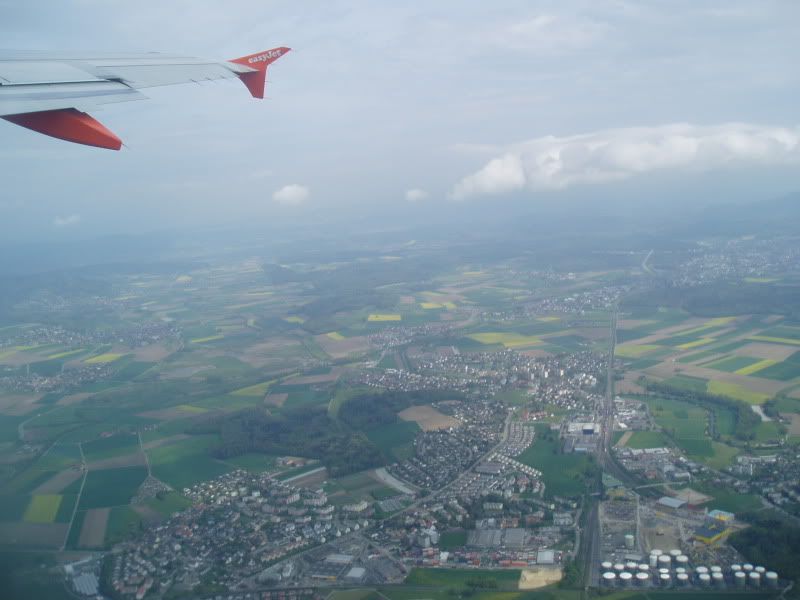 Lägern with the village of Boppelsen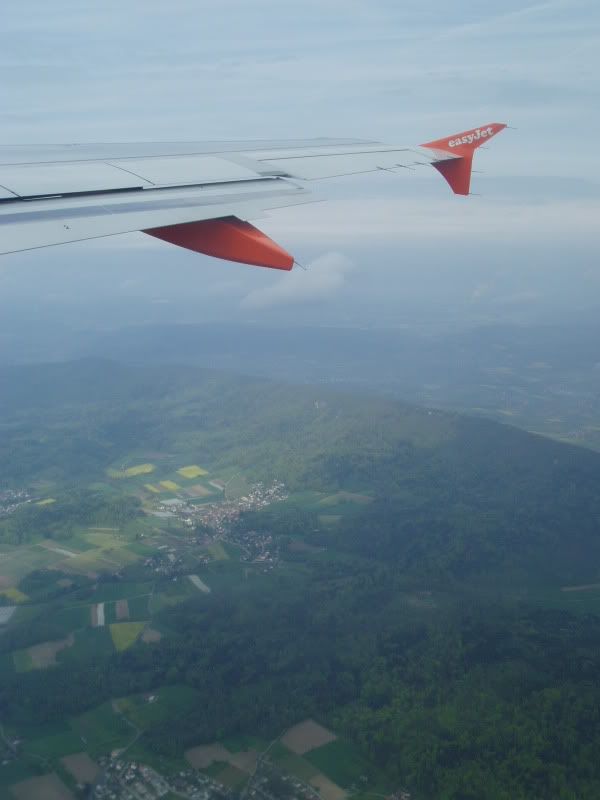 Otelfingen and the golf course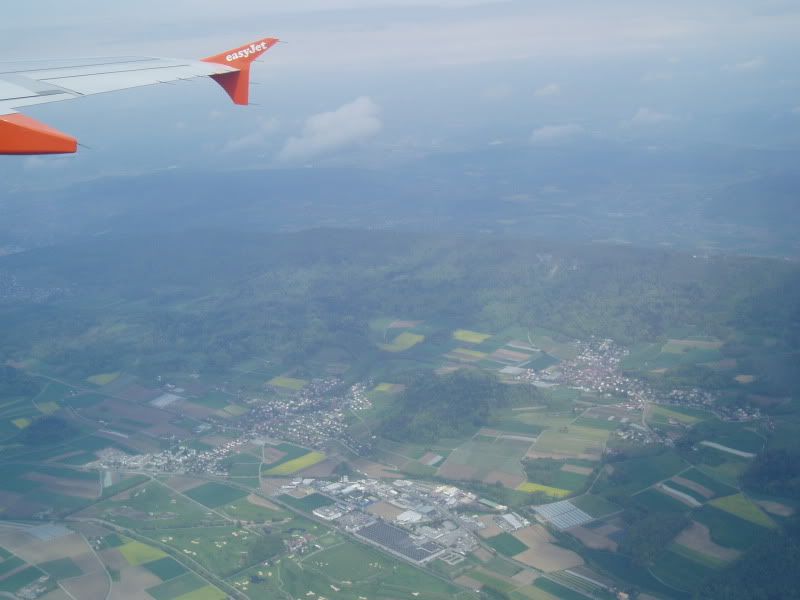 The Limmat river, the A1 motorway (my daily drive) with Würenlos and Killwangen in the foreground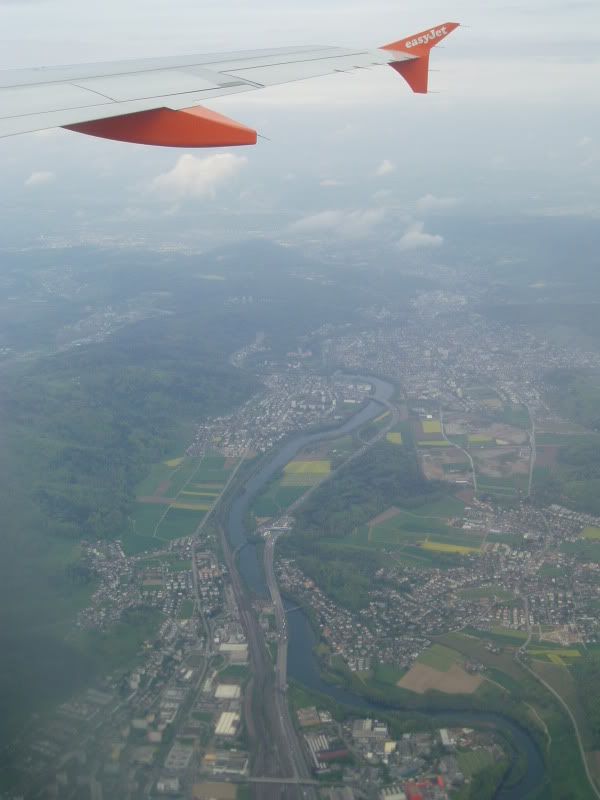 Neuenhof & Wettingen. You can follow the motorway winding its way up to the Baregg tunnel.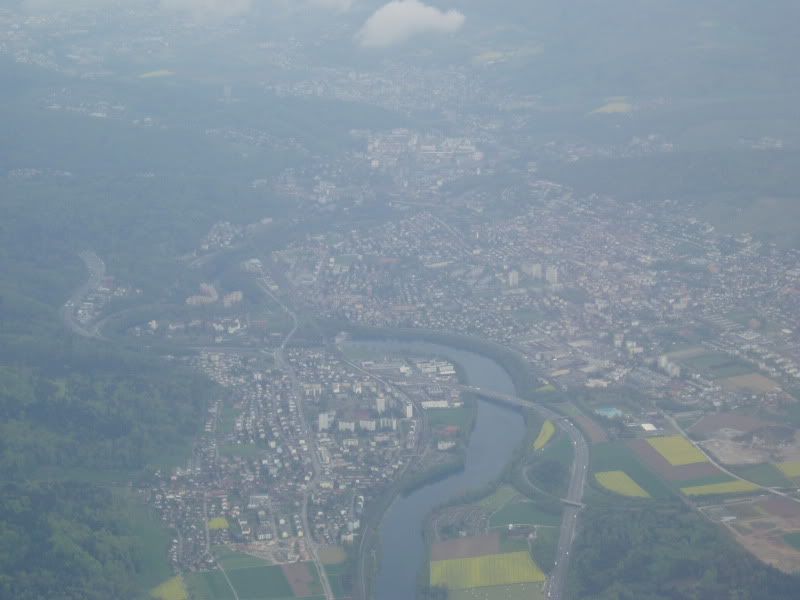 The other side of the Baregg at Dättwil
Mellingen on the left, Fislisbach & Niederrohrdorf on the right
Lenzburg. The little church on the top of the hill is at Staufen and in the bottom right you can see the star-shaped building that is Lenzburg prison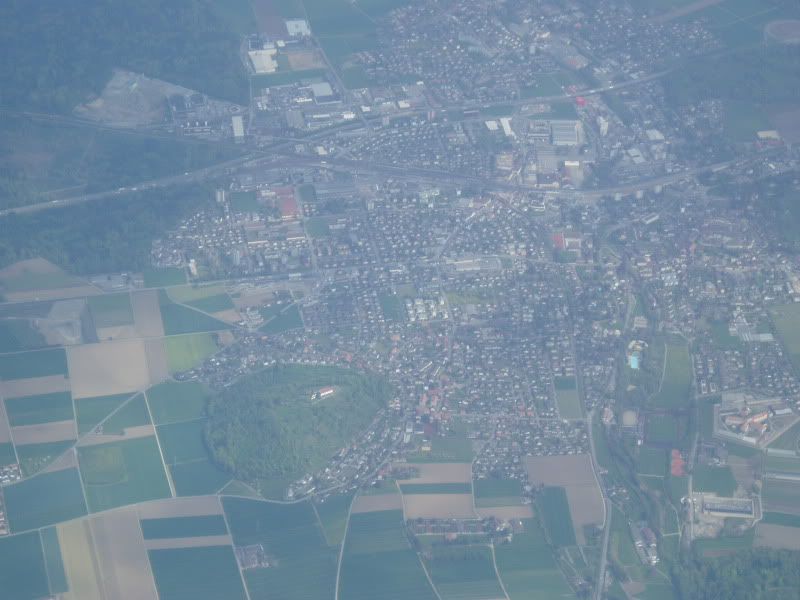 It turned out there had indeed been a "catering failure" at Manchester but the good news was there were drinks and snacks for sale, just no sandwiches. So I was able to have my standard easyJet snack, tea and shortbread. How very British!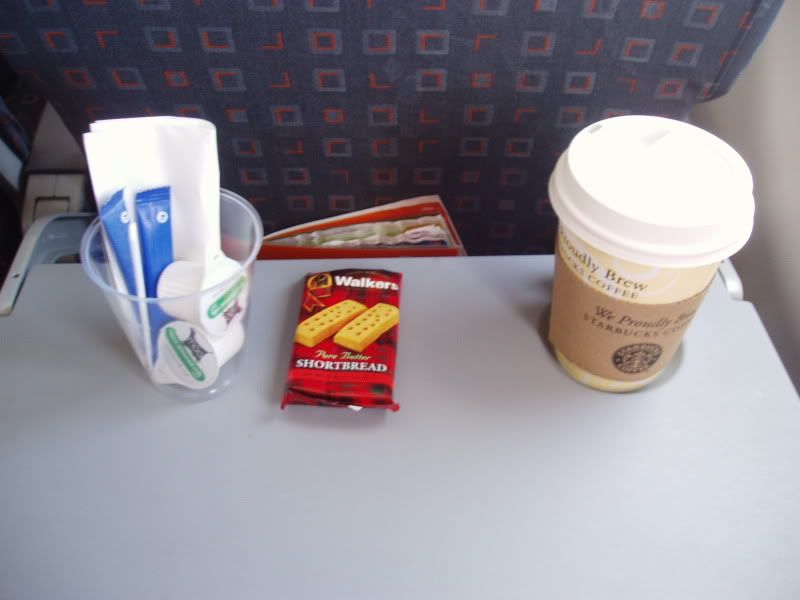 The rest of the flight was uneventful, no views because of the clouds. The pilot gave us some info about our route, which took us over Basel and Paris and said we should be landing in Manchester ahead of schedule.
easyJet made some more money out of me when I purchased a limited edition gulliver bear for my collection of airline teddies.
Before long we had started our descent. There weren't the usual nice views of the Peninnes due to the cloud. The 3 guys on the back row had another fit of hysterics when one proclaimed « How do you know the pilot's telling us the truth ? We could be landing in Birmingham for all we know, couldn't we ? All looks the same out of the window". Well, ok if that's what you think….
Tunstead quarry near Buxton, the largest producer of limestone in the Peak District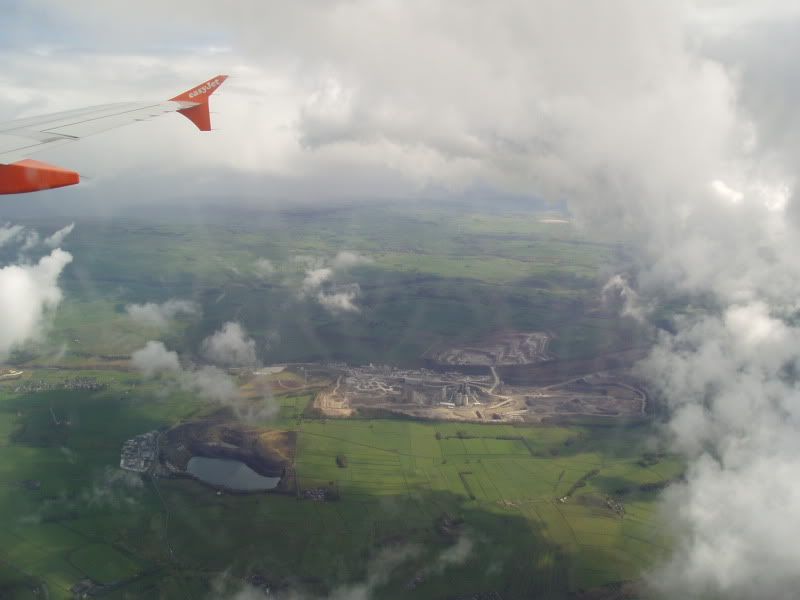 On approach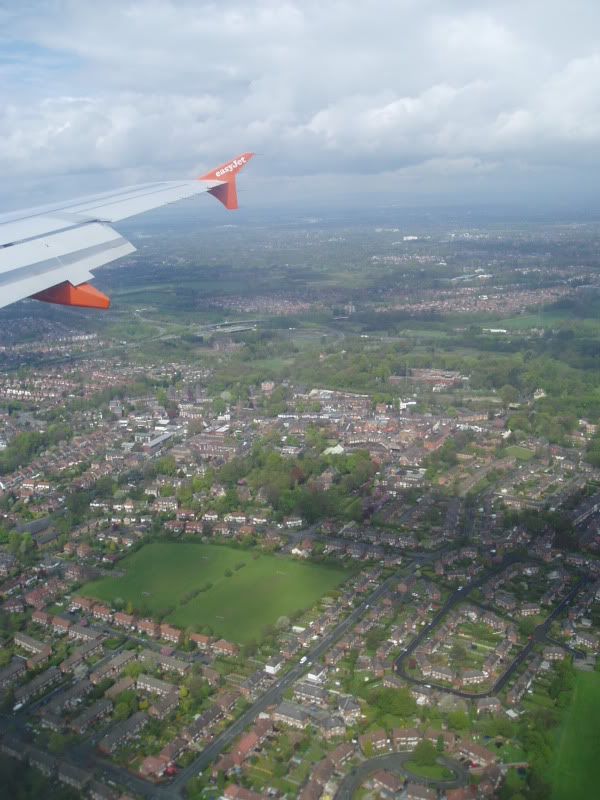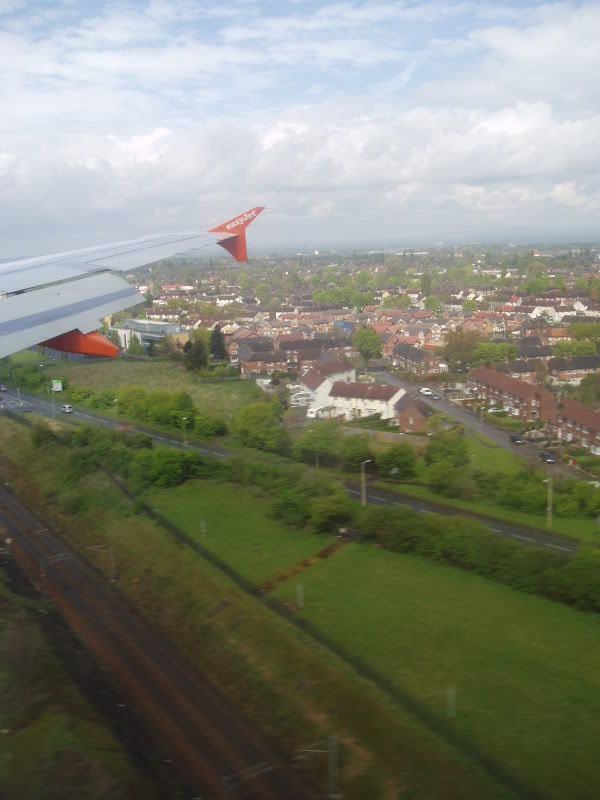 Touchdown was nice and smooth at 1135 and we taxied round to T3, a new place for me. We had a bit of a wait for the steps, I thanked the crew when deboarding and told them I hoped the new route would be a success.
Deboarding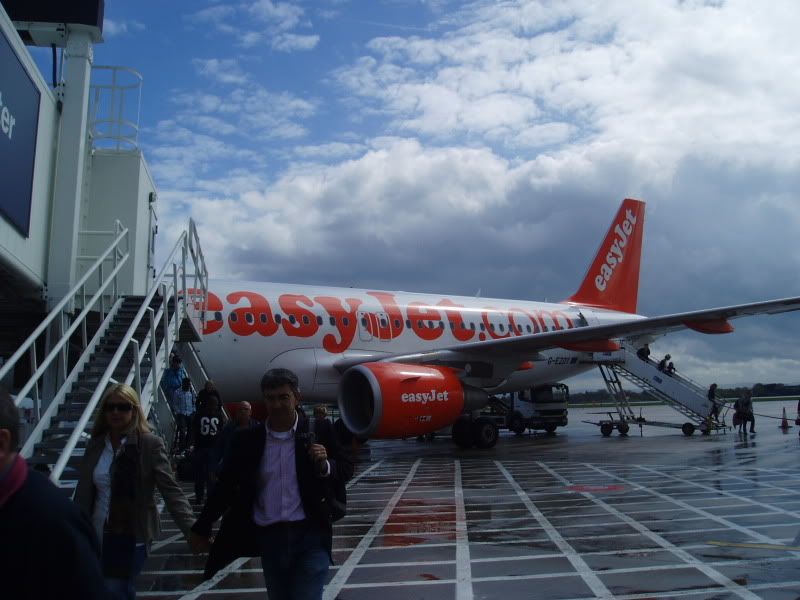 I managed to get through passport control before the queue built up and was out in arrivals before I knew it. I'd arranged a hire car and found the whole procedure far better than in T1, not having to hang around for the infamous lifts up to Level 13. There were quite a few people at the Europcar desk, all passengers off the ZRH flight, so they were doing good business.
Arrivals T3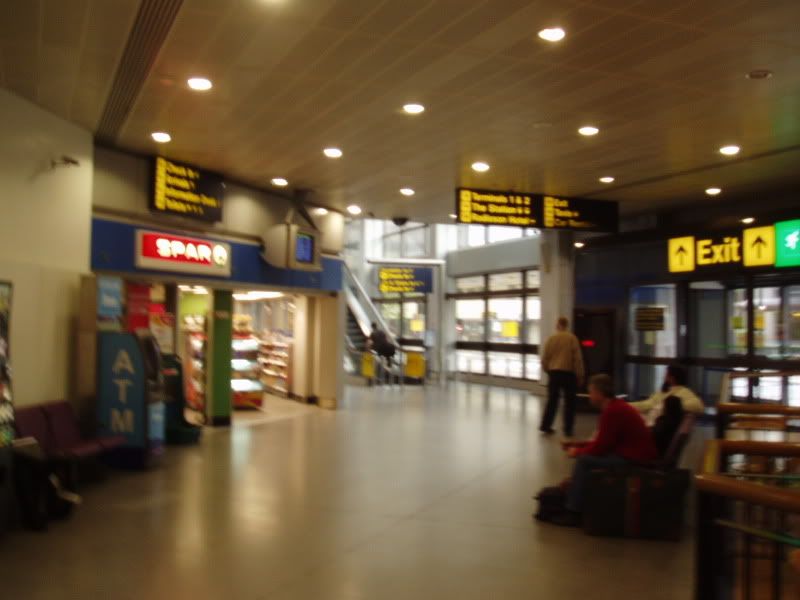 I flew back 3 days later, same aircraft, only 49pax and an uneventful flight. Therefore I haven't written a report on the return leg, but I'll share some of my photos with you:
A beautiful spring morning in MAN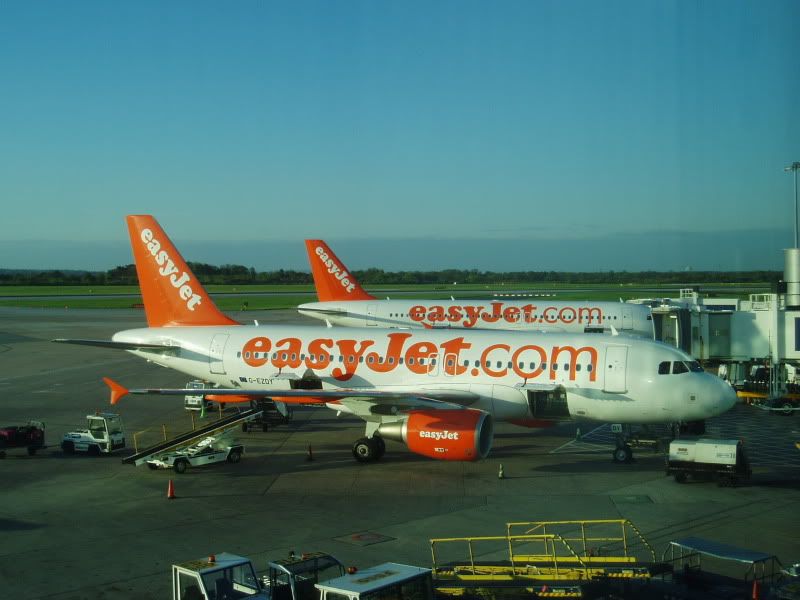 Take off! This time from runway 05L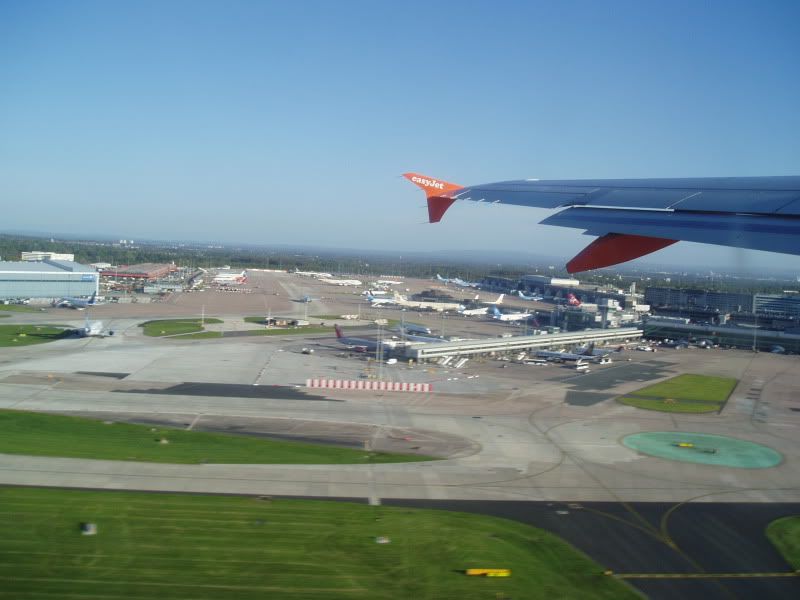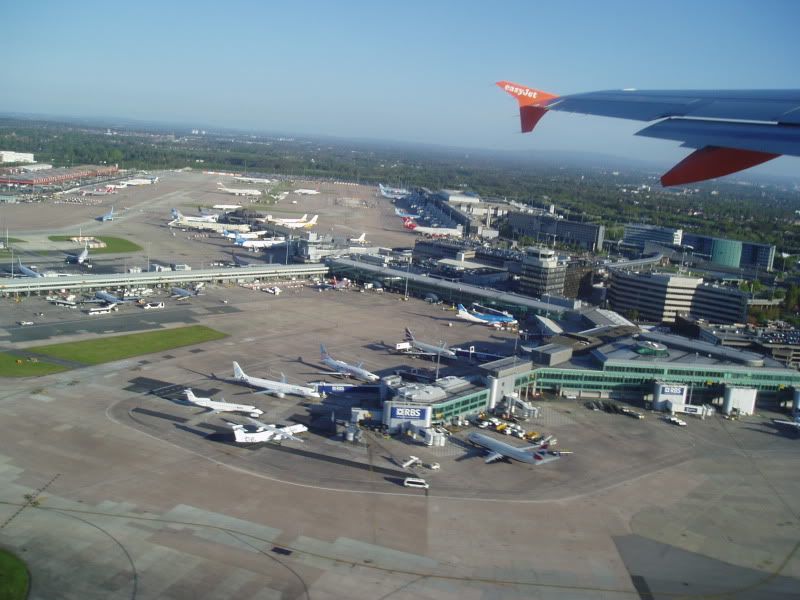 T3 car park on the left, Bewleys and Radisson hotels in the centre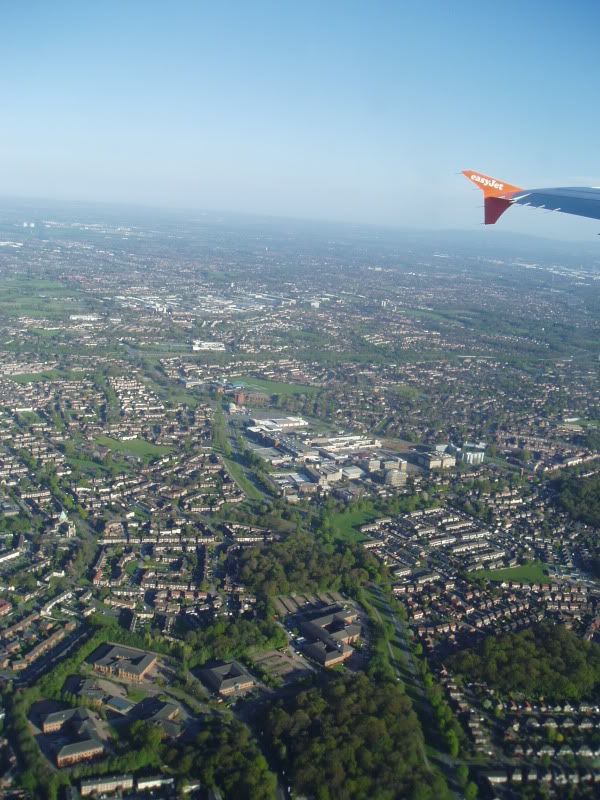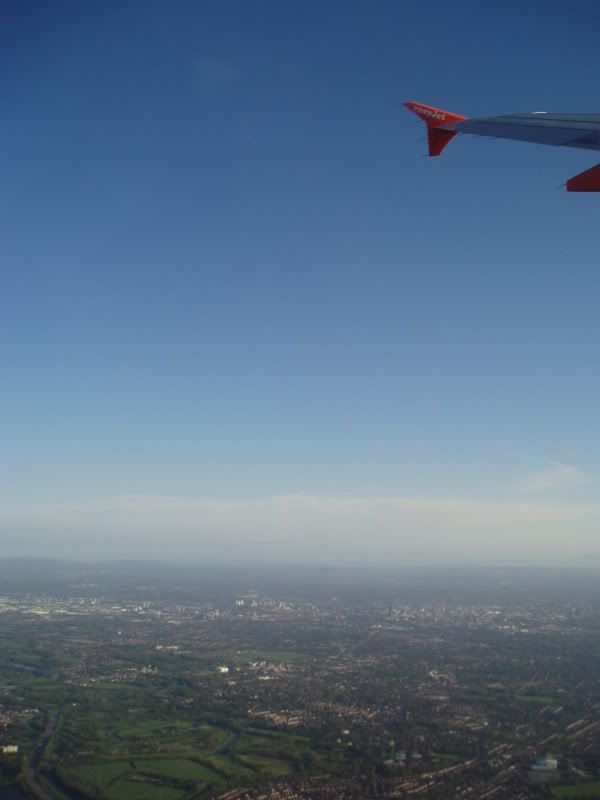 A very grey looking Switzerland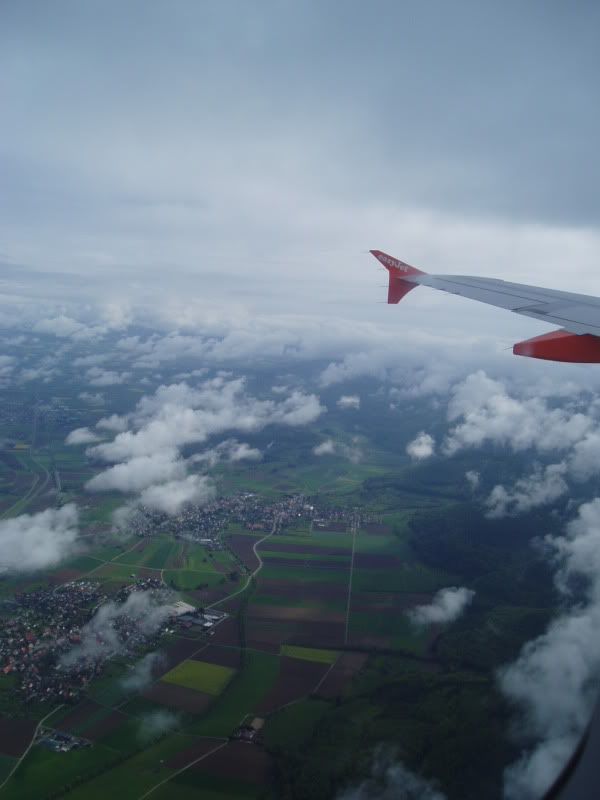 Company meeting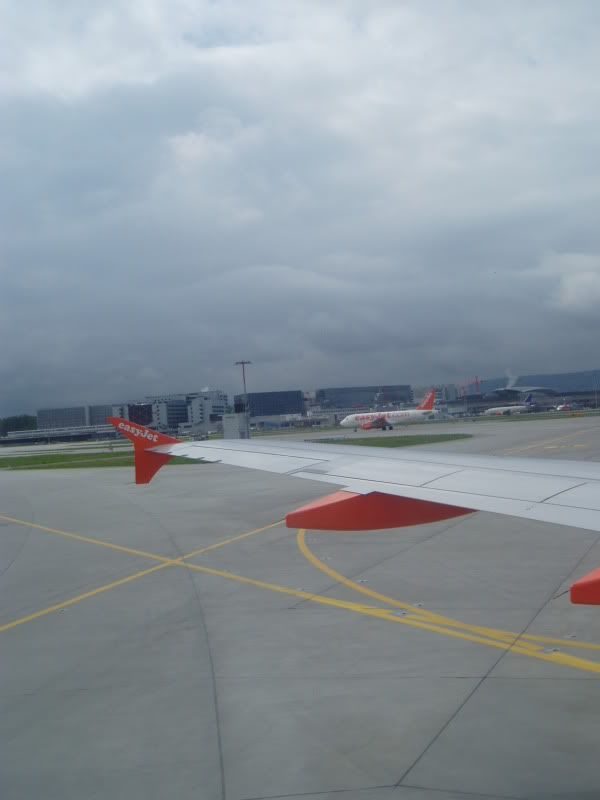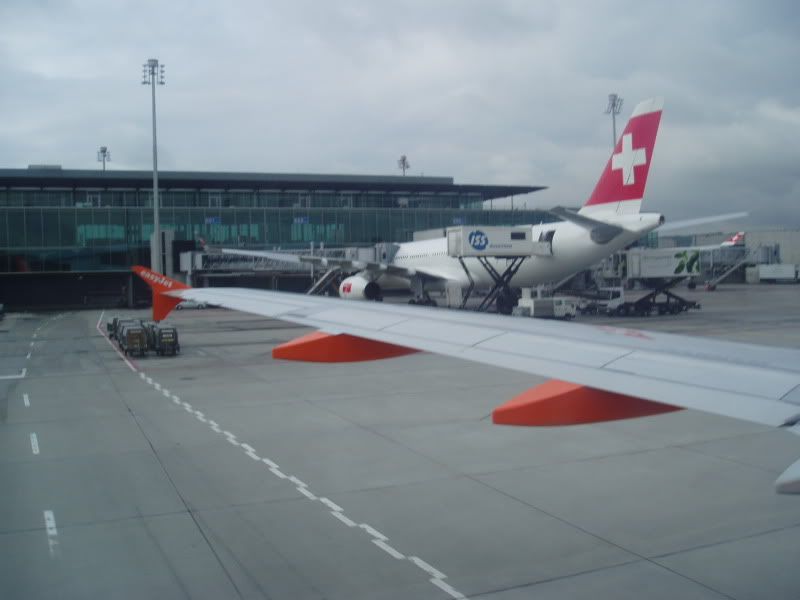 Always an impressive sight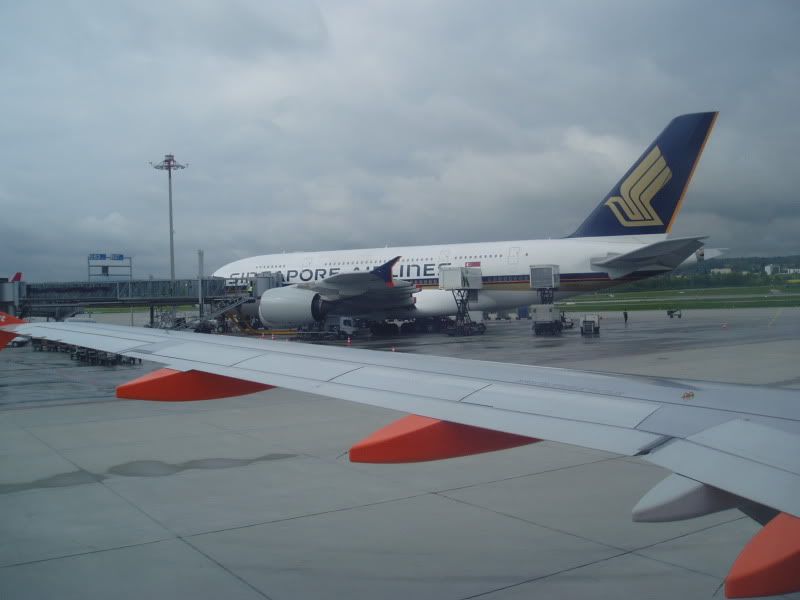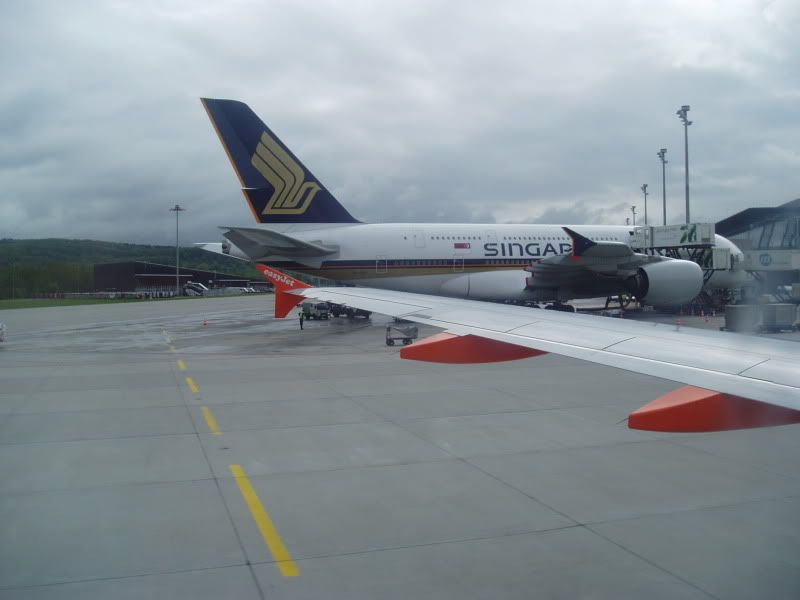 So my verdict:
Once again two excellent legs on easyJet, I rarely have cause for complaint with this airline. Yes, the boarding can be a bit tedious, but one just has to accept it. By the way, I had to change the date of the return leg and doing so only cost me 47chf as there was no difference in fare. I wish more airlines would make it as easy (no pun intended!) as this. LX also offer 3 daily flights and whilst their timings offer far greater flexibility, the fares can be pretty high (although in the event of something going wrong, you're certainly better off with them).
For the winter timetable the timings have indeed changed to afternoon / early evening which is great for me and the passengers numbers seem to be climbing steadily so good news. Thank you easyJet!
Thank you for reading. Comments and questions welcome as always !
Happy flying
Infodesk