Aer Lingus
23 May 2010
Airbus 320 - EI-DEH "St. Conleth"
Seat: 6A
LGW-DUB
Dep: 10:40am
Arr: 11:50am
It was time to return from another trip to see the boyfriend, and once again Aer Lingus was my carrier of choice. It was my second time returning to Dublin on Aer Lingus from Gatwick and this time I had remembered to bring my Bank of Ireland Gold Visa card which allows me into the lounge - I forgot it on my last trip, much to my chagrin!
Aer Lingus have their own separate check-in area at Gatwick (Zone B) which is down a ramp next to where the people arriving domestically come out. I proceeded downstairs and there was a lady assisting passengers with the Fast-Pass Check-in kiosks. After waiting for some other people, I moved up to one and was asked if I needed any help. I assured her I didn't need any - but asked her if she knew where the lounge was located. She went off to ask while I printed out my Boarding Pass - I'd already checked in online the day before.
Within seconds, it spat out my Boarding Pass, with my assigned seat of 6A. I usually choose this seat when flying Aer Lingus (just as I always try to get 5A on Ryanair) because I like it! On the inbound flight, the window in 6A was covered with grease, likely from a childs hands, obscuring the view, and as I didn't order anything to eat on board (and having no tissues) I was unable to clean it. More on this later!
I walked up to where the lady was asking about the lounge and she turned to me and said it was called the Number 1 lounge and that it was hard to find and located next to a particular shop (they have a website -
http://www.no1traveller.com/gatwick.php
). I noted this and proceeded to security. We all were directed to use the upstairs security, which I did. My picture was taken and a small barcode was placed on the back of my boarding pass. I then queued for my turn at the X-Ray machine and popped through without anything buzzing.
From there I went searching for the lounge, which wasn't so hard to find, but was a fair walk from where I was. The lounge is very near the Virgin Clubhouse. I gave the attendant my Boarding Pass and card and she noted down the details and directed me to take a seat.
Well, I was immediately astonished by the very good view out over the runway and apron!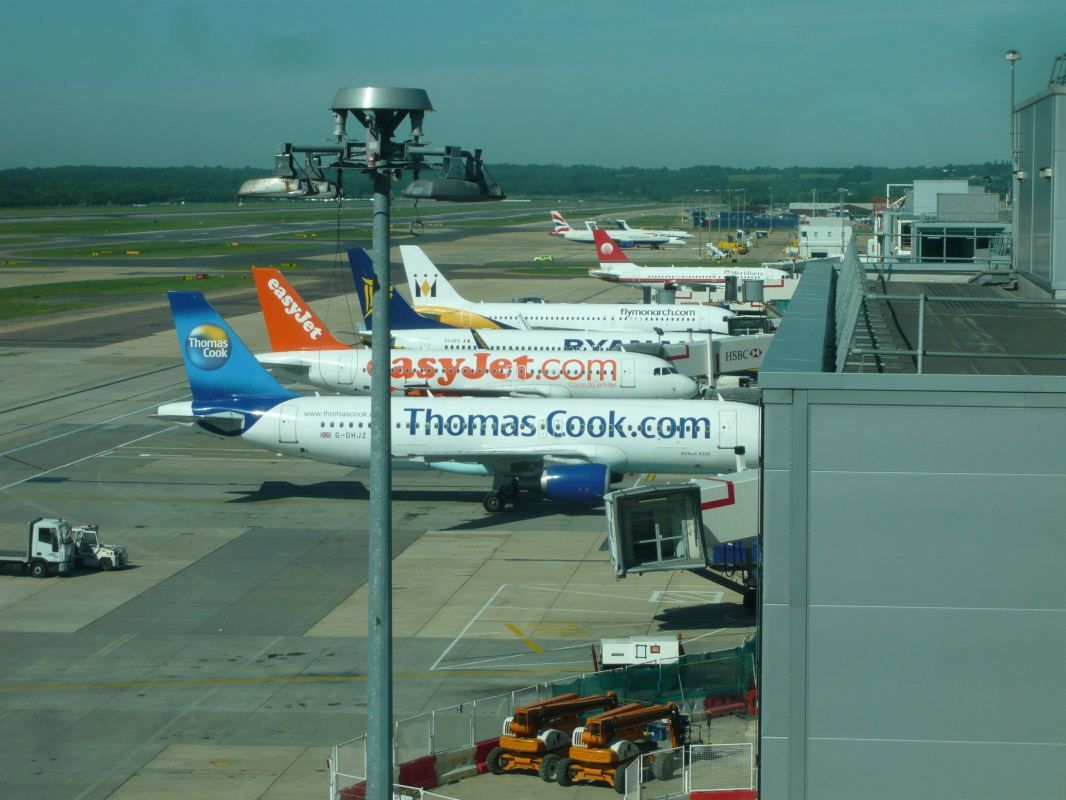 US Airways...
Easyjet...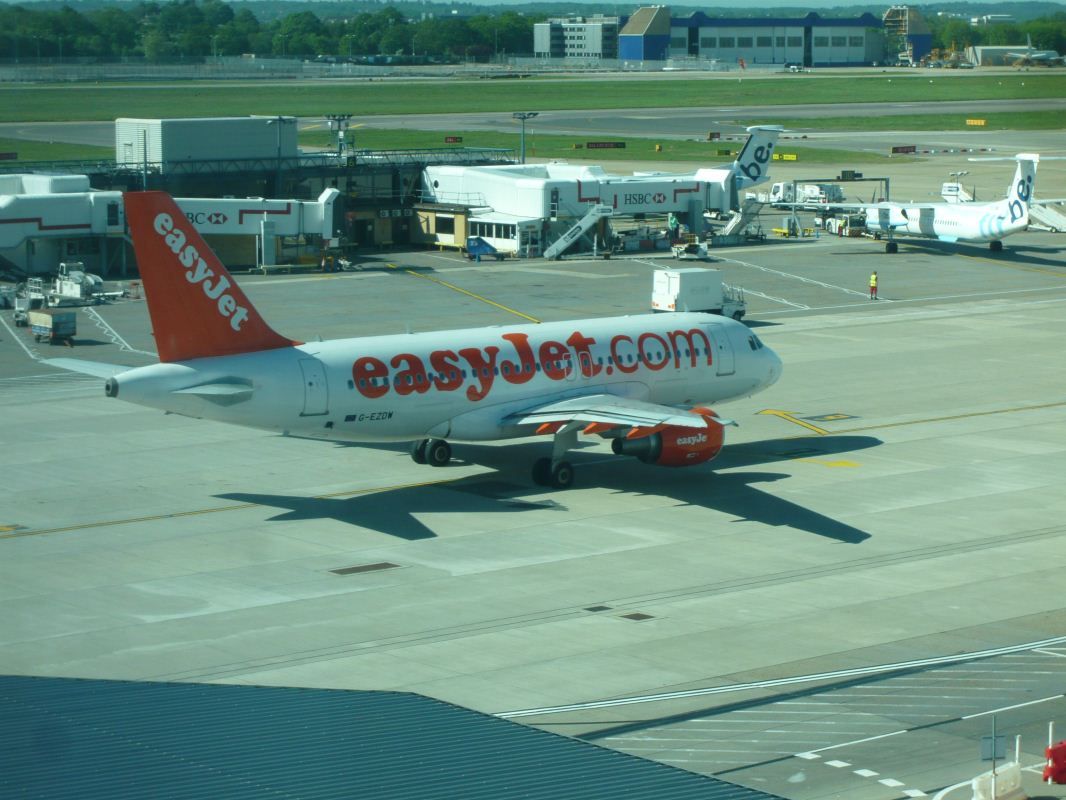 Thomas Cook...
A waiter came over to me asked what I would like to drink. I asked him what he had and chose to have a Corona. May as well start drinking at breakfast! Next he asked what I would like to eat, and I asked him what they had. The choice was - Eggs Benedict, a Bacon Roll or Pancakes. I am not used to table service in a lounge (guess who doesn't fly First very often?) and asked if it was complimentary. I was assured it was, so I went for the pancakes.
Meanwhile, I took a picture of the lounge...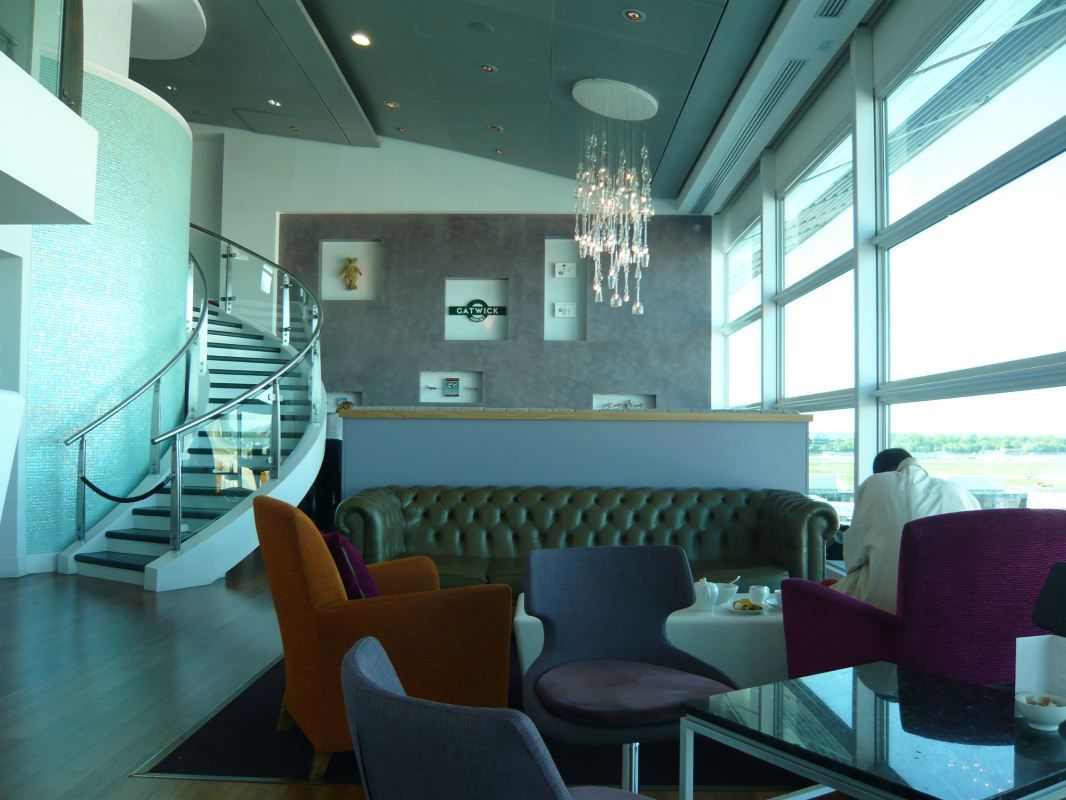 Upstairs was closed this morning, but it all looked rather swish. I walked over to the refreshment table and they had danish and pastries and what not, so I got myself a chocolate danish and sat down to wait for my pancakes. Soon, they had arrived, along with my drink.
They were delicious and the perfect breakfast. Meanwhile, I spent the time admiring the view and taking some pictures. This one is of Virgin landing.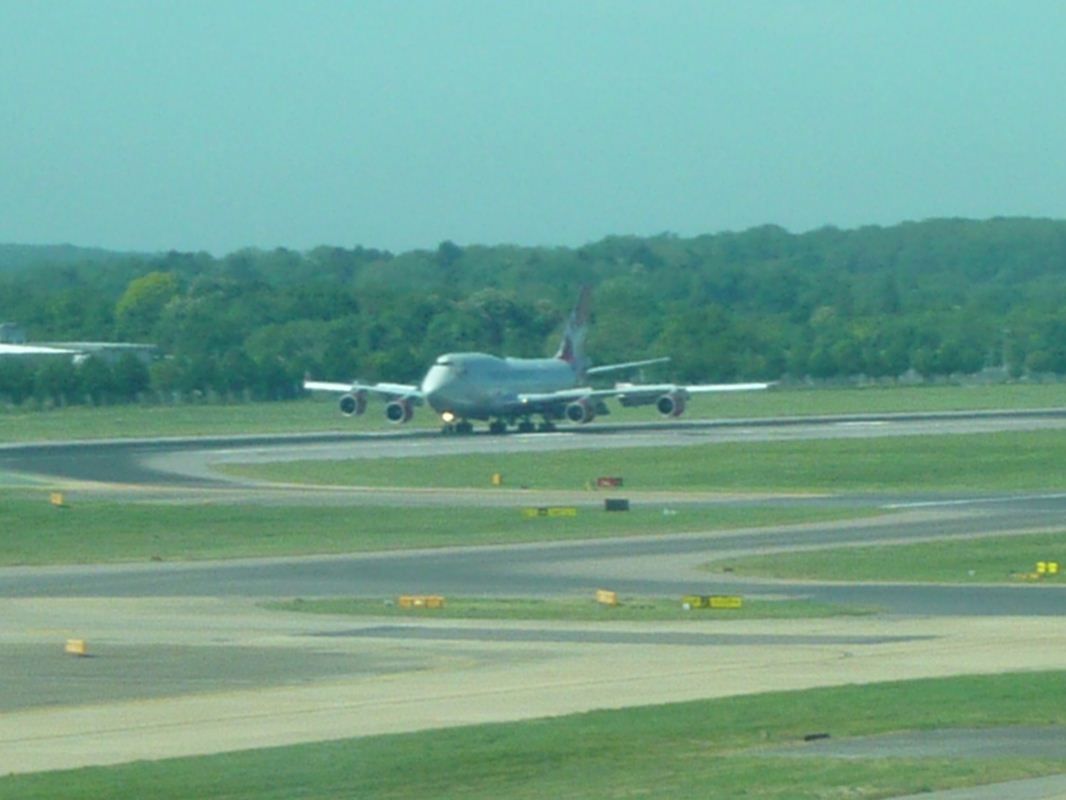 Almost at the gate...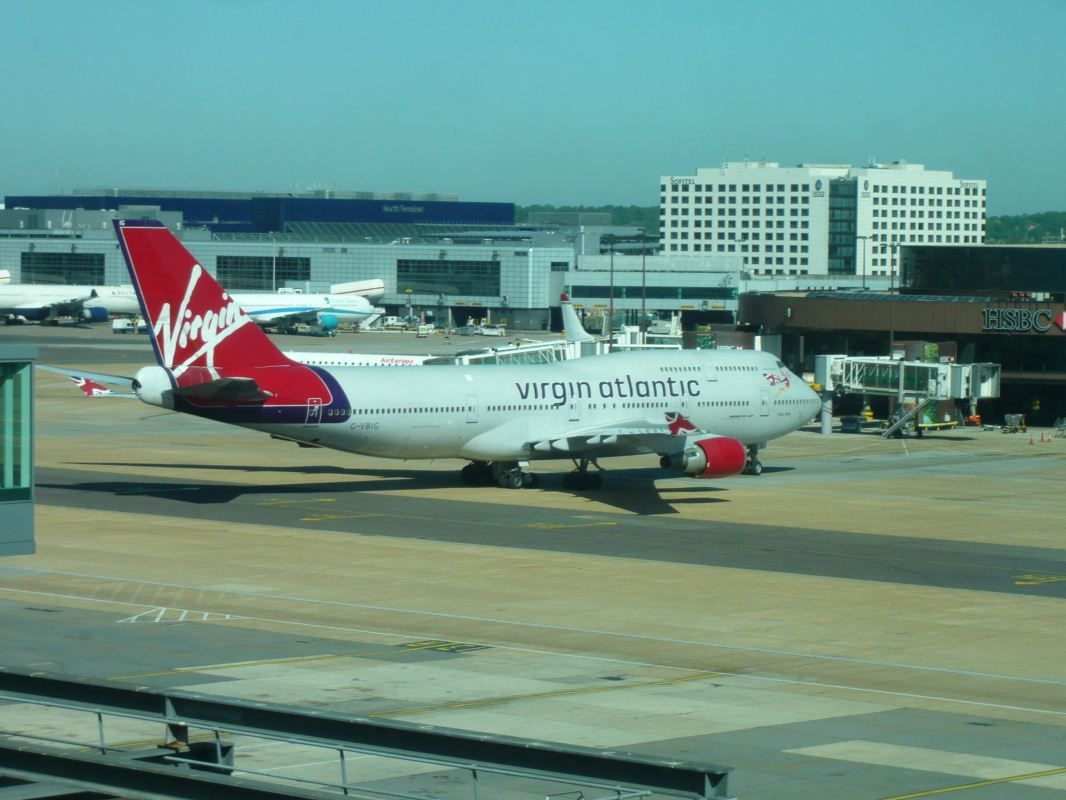 FlyBe...
Thomas Cook...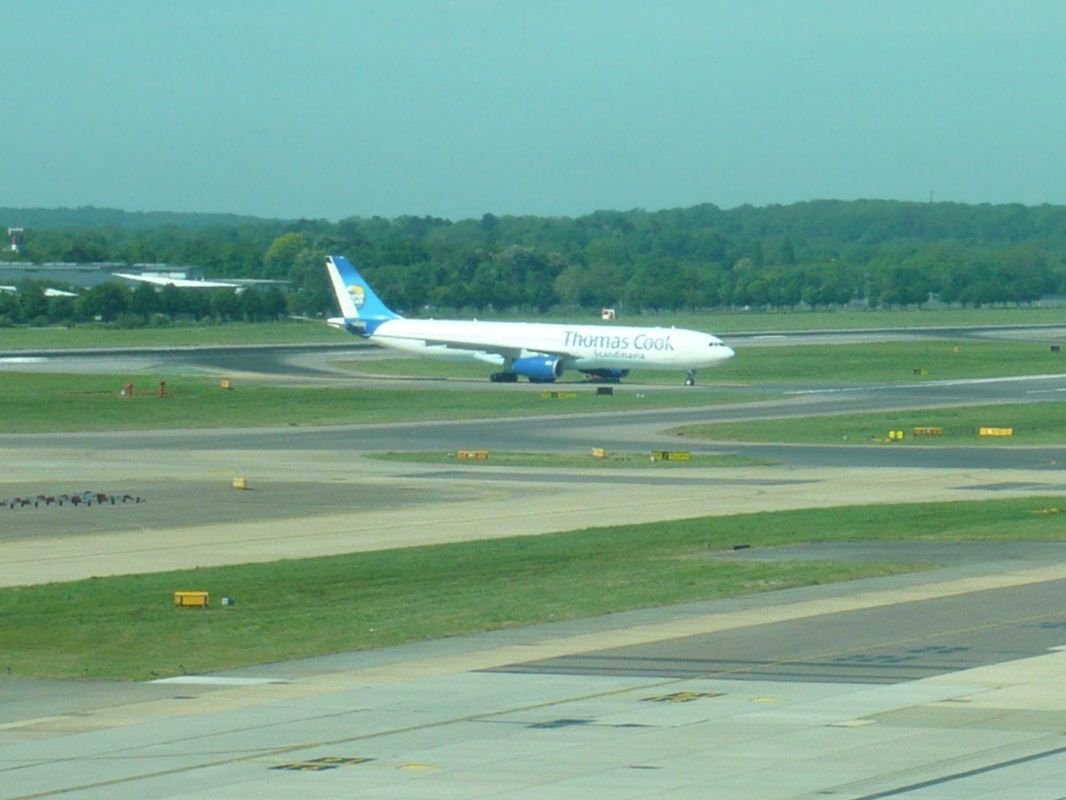 Soon enough, my Aer Lingus 320 arrived and I took some pictures of that also.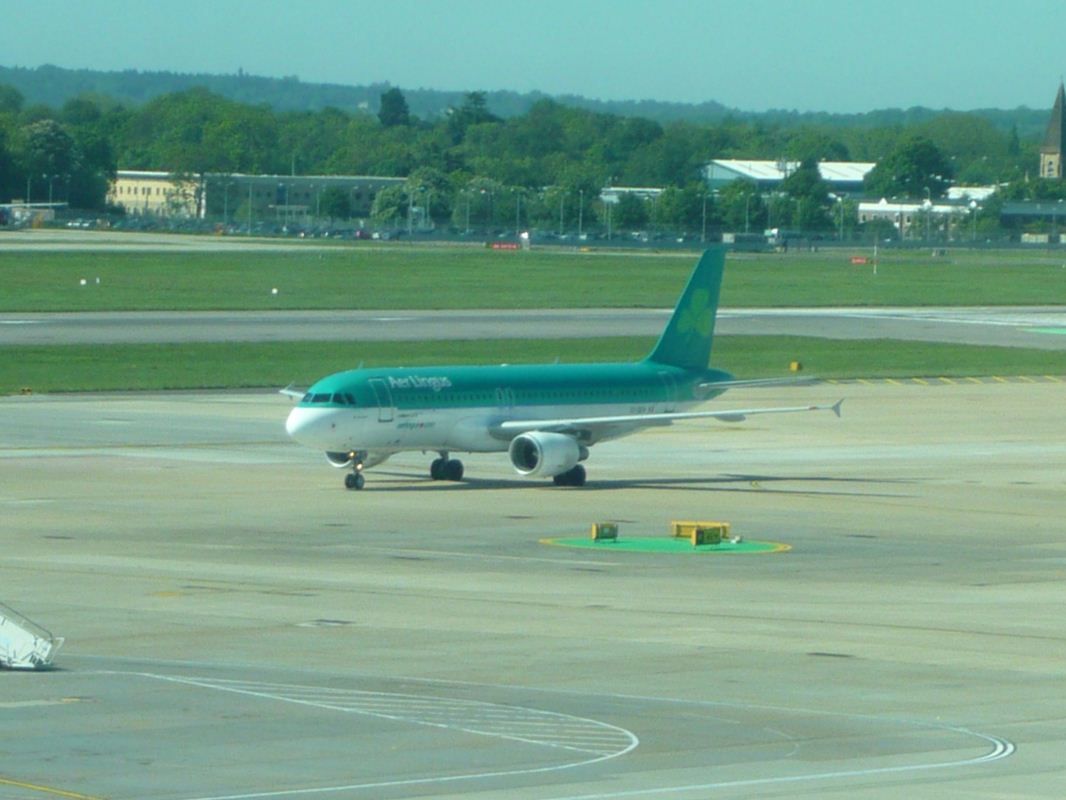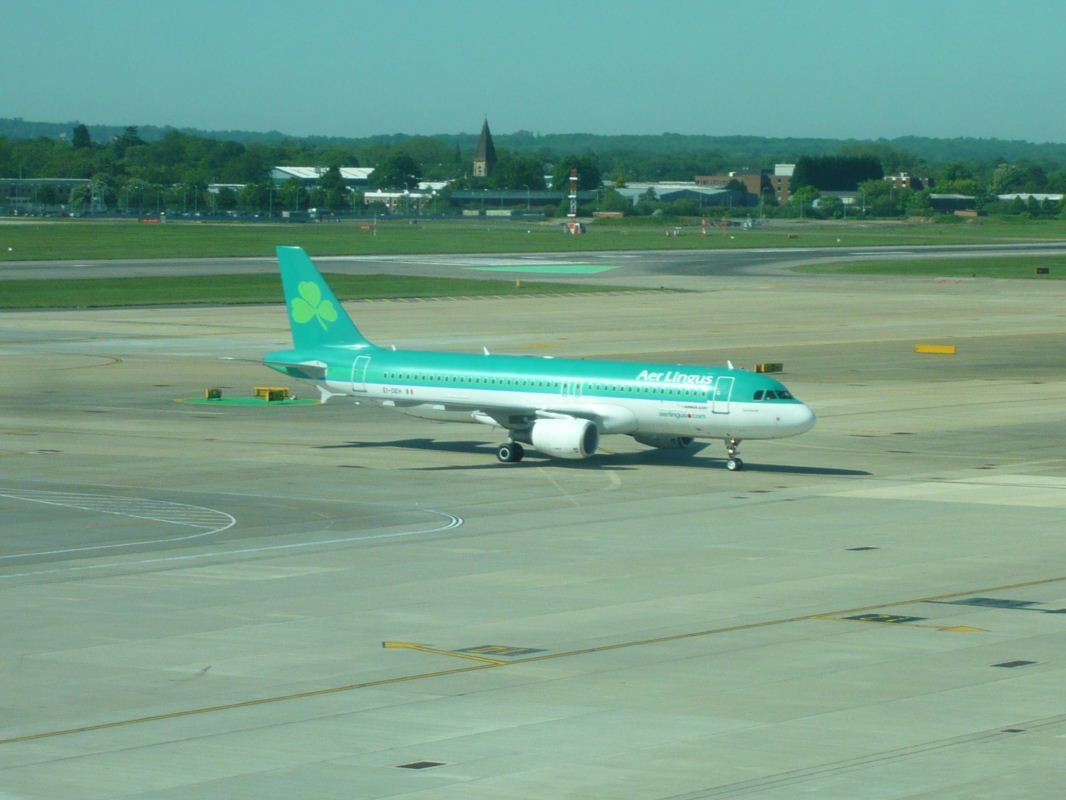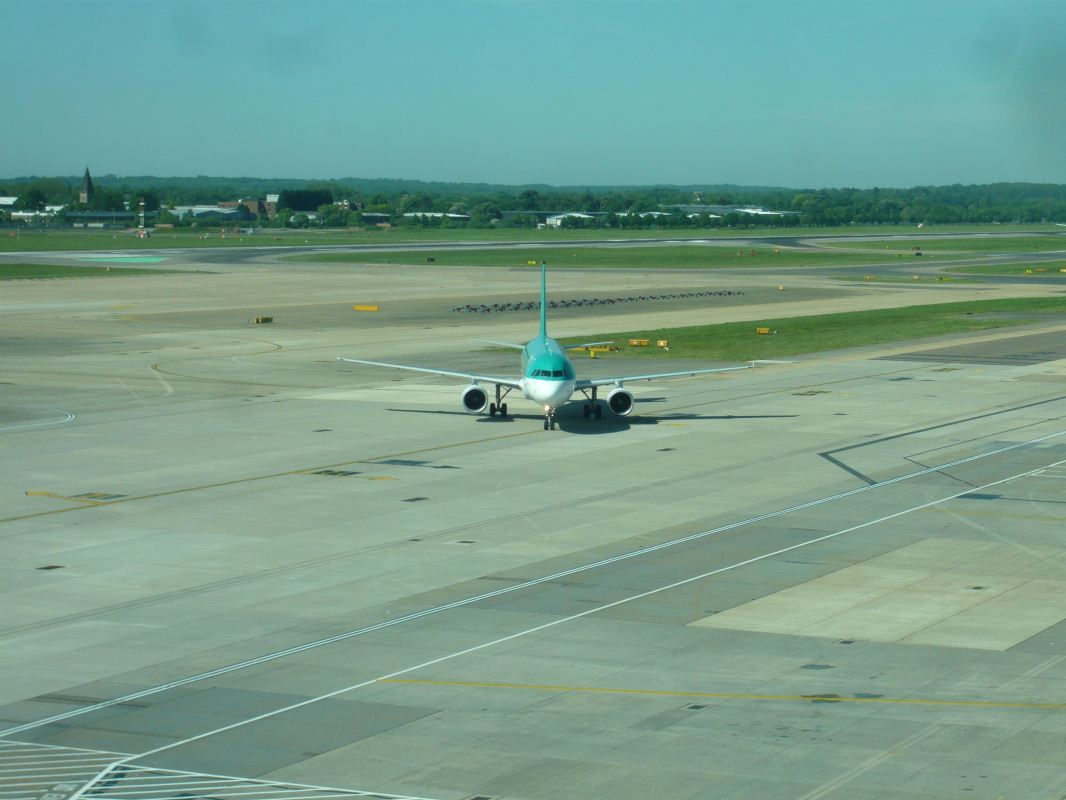 I noticed that it was the same aircraft that I had flown in on a couple of days beforehand. Anyway, as the aircraft had arrived, I left the lounge and saw that the gate had been assigned and off I went. When I arrived, the barcode on the back of my boarding pass was scanned and my photo matched up to me, then the main part was torn off by another person and I entered the gate area and sat down right at the entrance. In front of me was proof that the gate was also used by easyJet.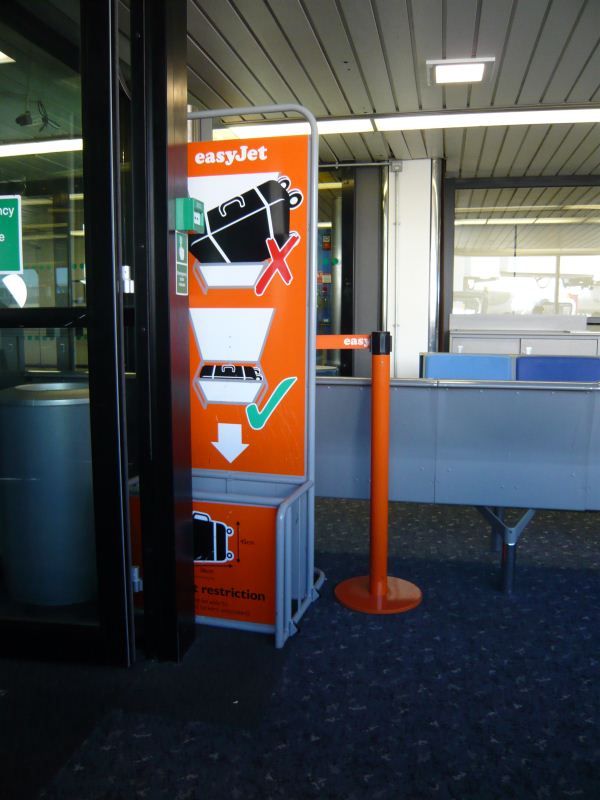 My aircraft waiting to take me home.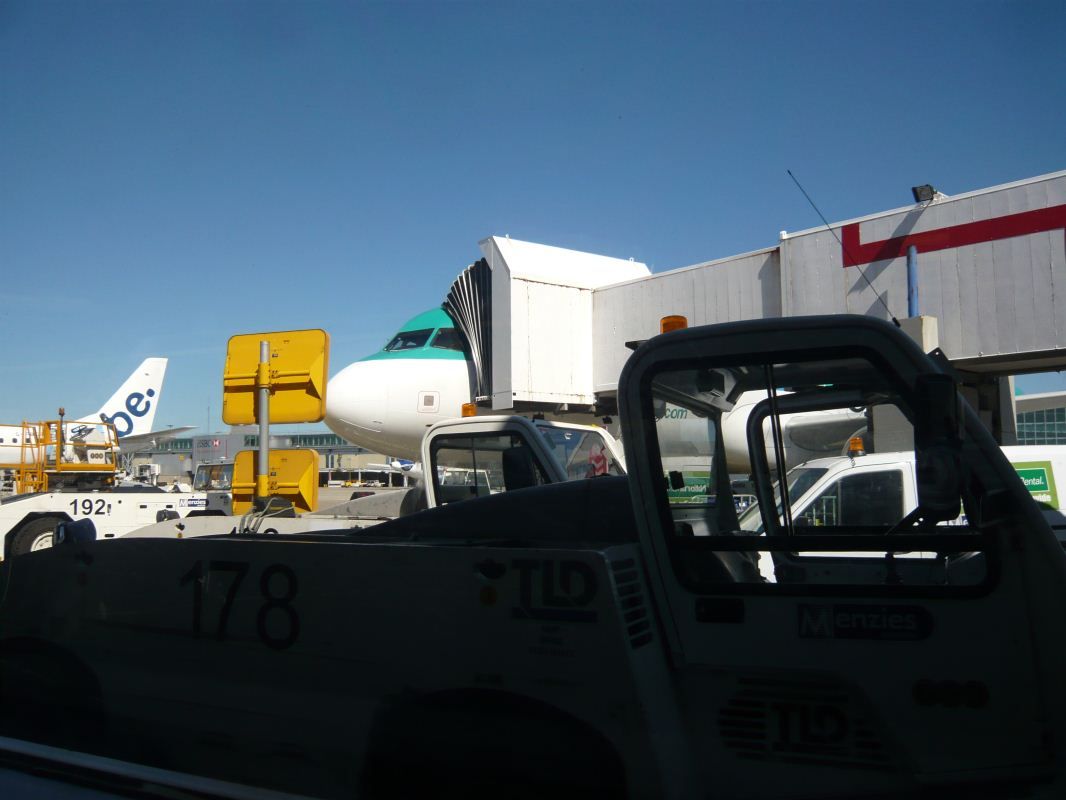 Soon it was time to board, and they called for people needing assistance and people with children. Soon after that, the rows at the rear of the aircraft were called to board. I ignored this as no-one was checking to ensure the row boarding was being followed, went up the stairs and was on the aerobridge.
I stowed my carry on over my head and sat down in my seat. I took this photo across the aisle...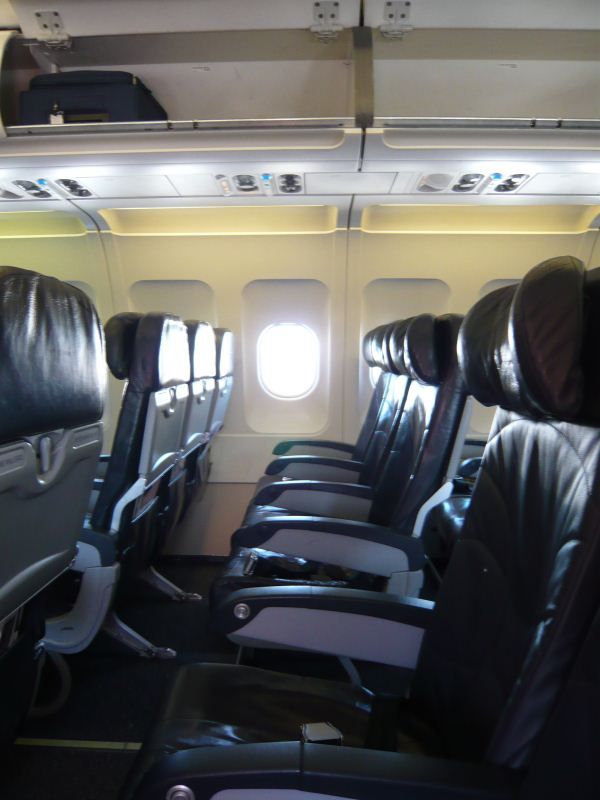 While waiting, I took photos of the safety card, from the seat pocket in front of me
Finally a sneaky one looking forwards.
I realised that the window in row 6 was still all greasy, the same as it had been on Friday night, more than a day beforehand. All the flights the aircraft had completed and no-one had bothered to clean the thing. During a lull in boarding, I asked the flight attendant if she had a napkin or tissue and she popped into the loo and got me a handful. The window was sparkingly clean and clear to see through in seconds - see, I did my bit for cabin cleanliness, must be my boyfriend's influence rubbing off on me!
Someone sat in the B seat next to me and C... but happily the guy in the B seat realised right at the end of boarding that there were seats in row 3 free and he cheekily moved - no complaints there from me at all.
We closed up and pushed back and watched the safety demonstration, then we took off, headed for Dublin on a gloriously clear Sunday morning!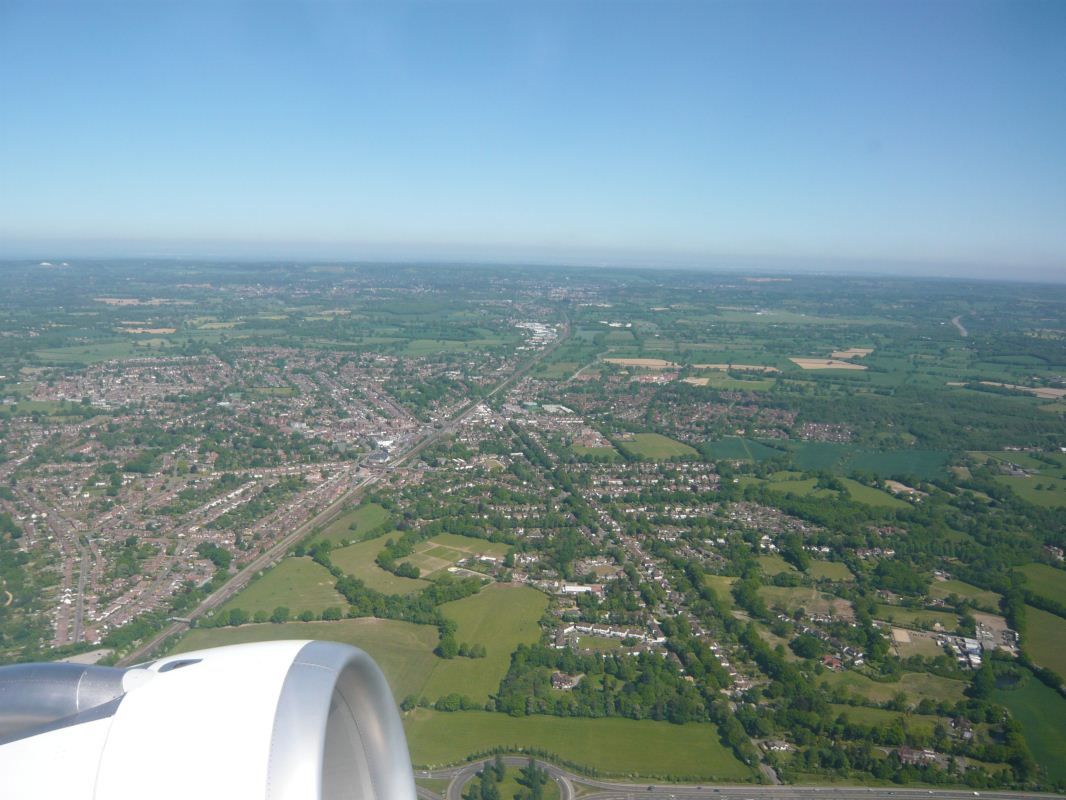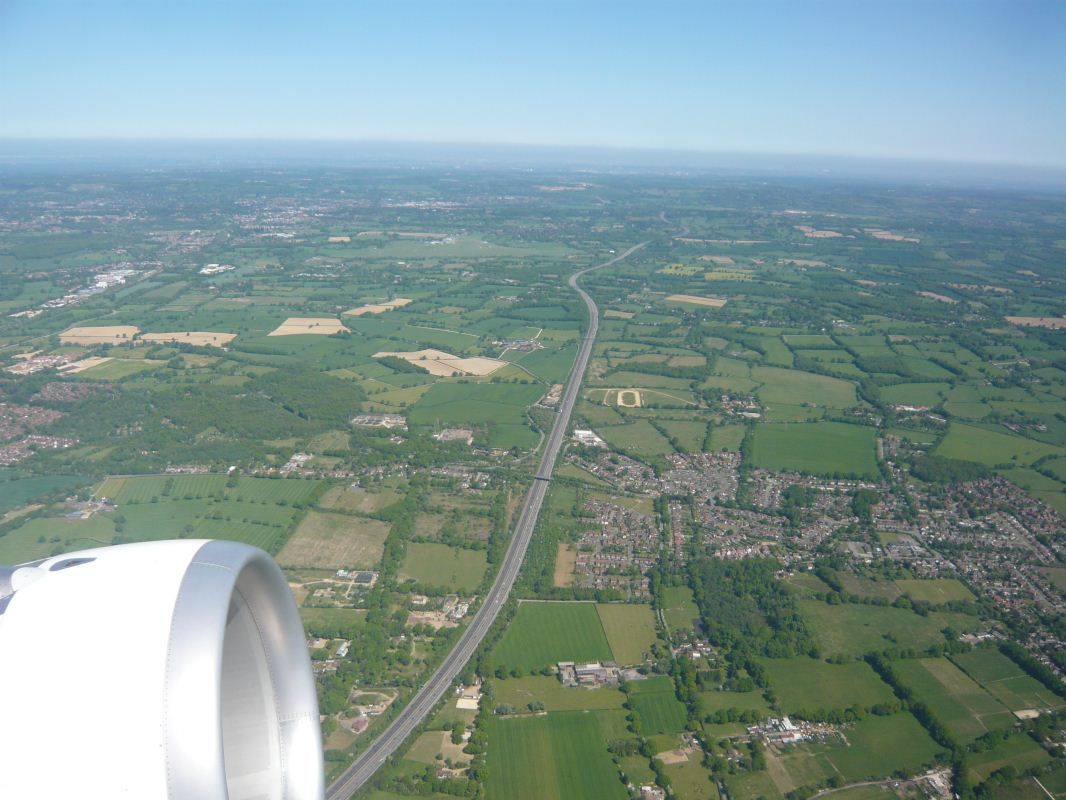 We did a complete U Turn and I realised I was in a perfect position to see London Gatwick airport as we passed by to one side.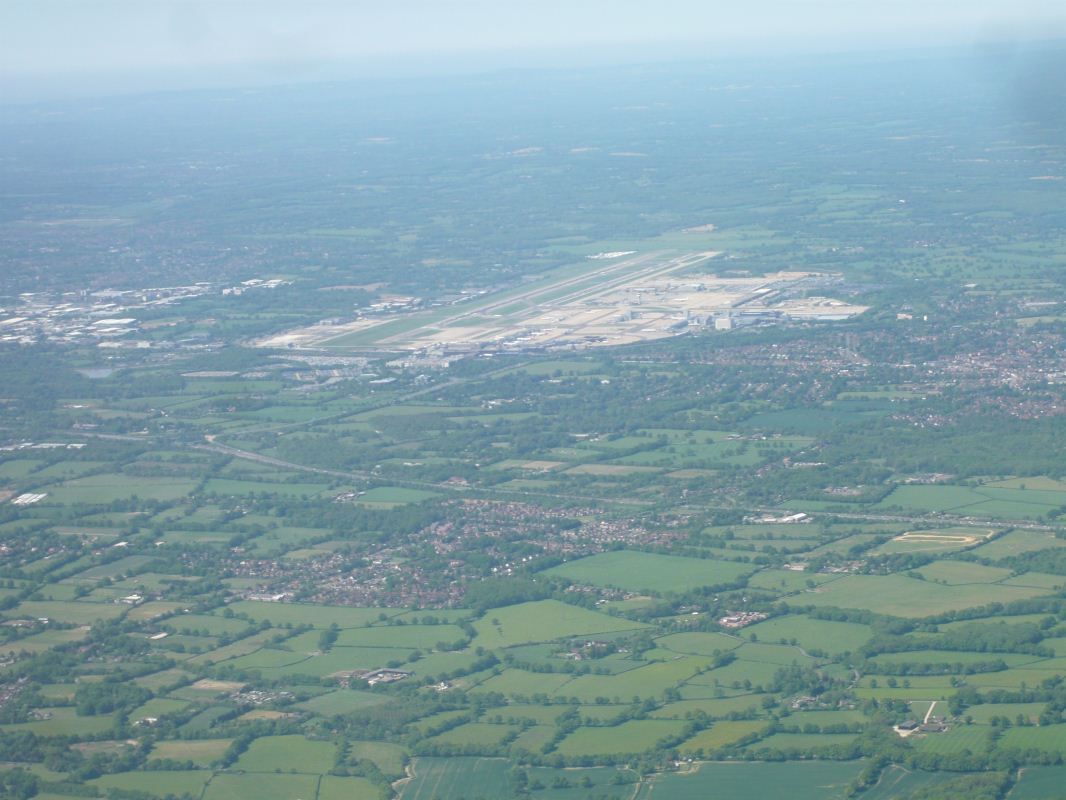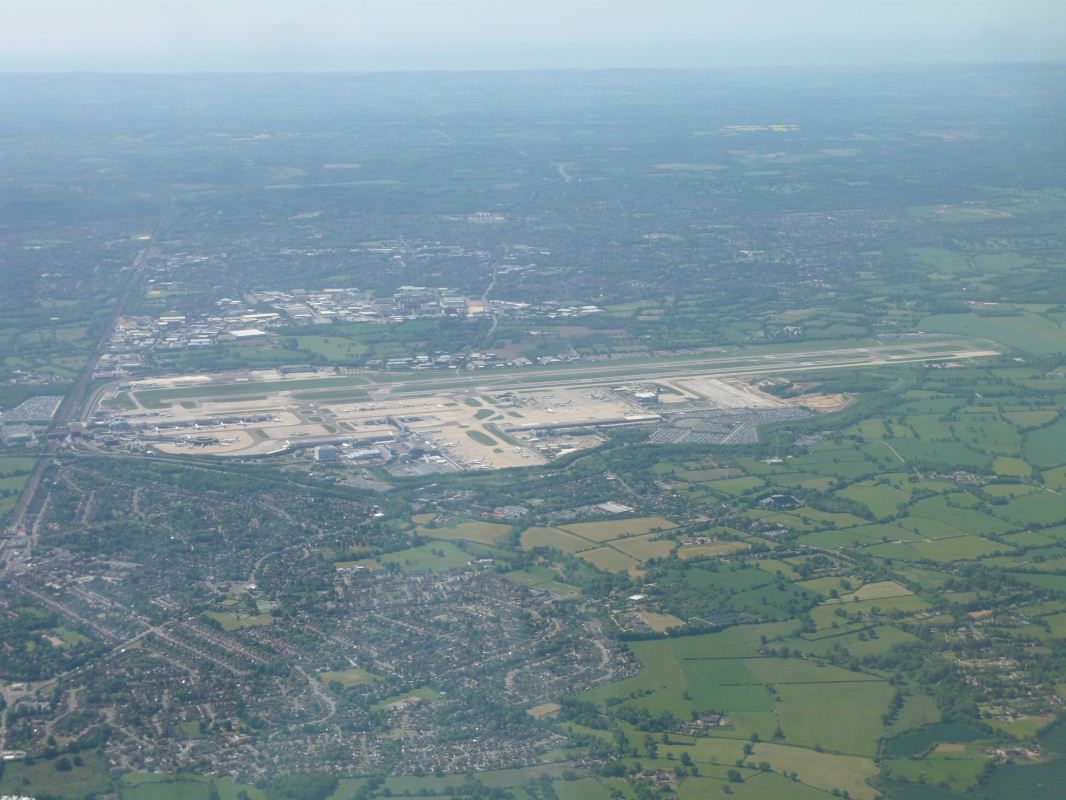 As I'd eaten breakfast, I declined to purchase any of the on board food. Yes, even the breakfast that I so adore was not bought on this trip! However, the day was so clear that I was glued to my window to watch the world go by... southern England is quite pretty!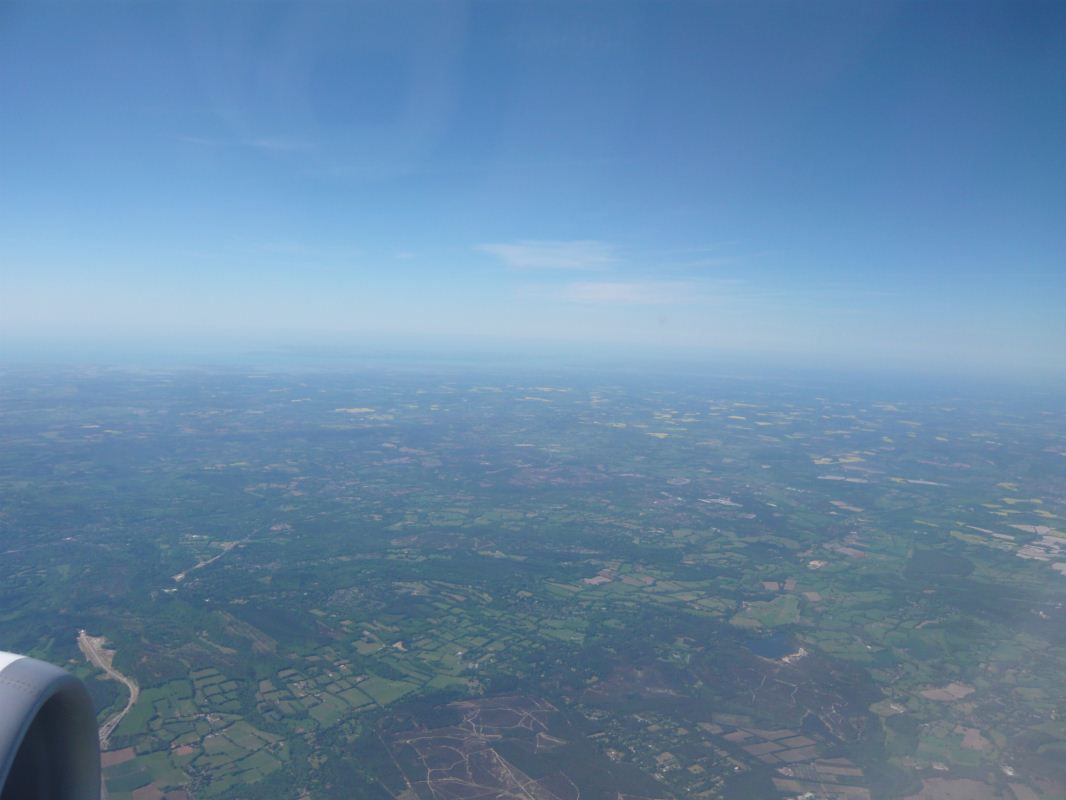 Crossing the coast of the Irish Sea...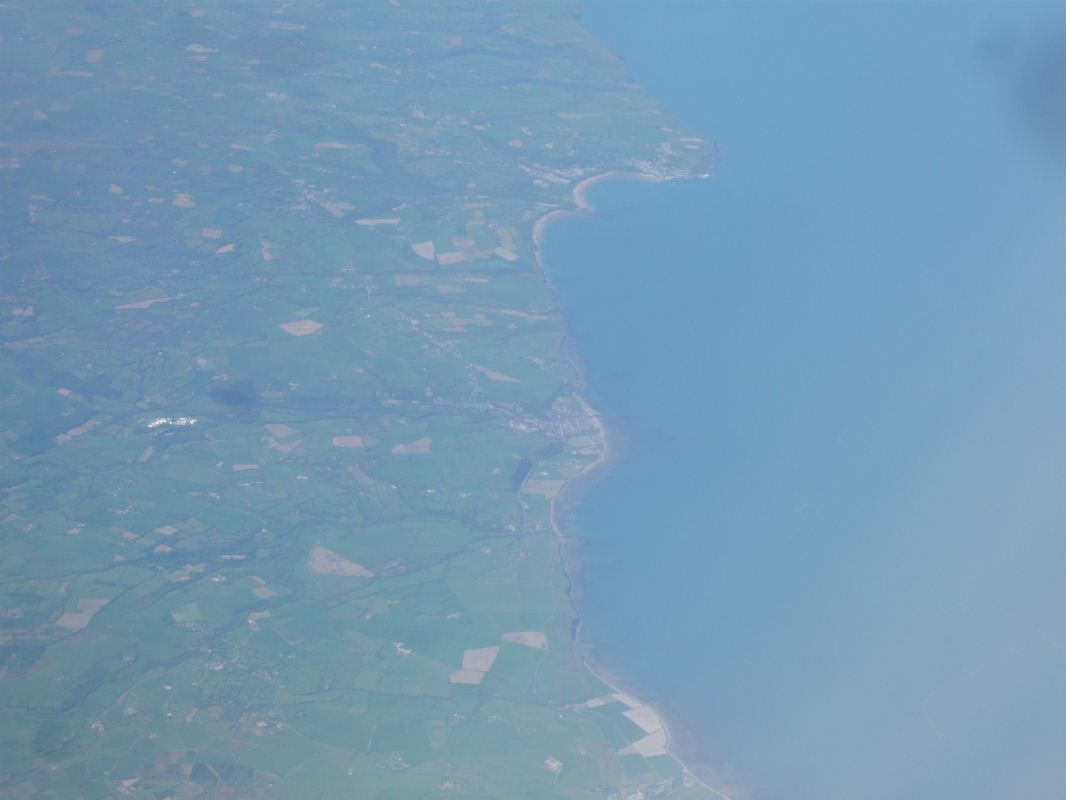 I could see what looked like a haze ahead, and of course as we got near Dublin everything was obscured by cloud. We descended and landed at Dublin airport. Happily we arrived on a 200 series gate (the gates formerly known as the A gates) which meant the walk to Passport control was a short one (for those not in the know, you don't want a 100 series gate, which was a D gate, as it's about 24 kilometres to the terminal! Ideally you want a 300 series gate, the old B gates, the closest to the exit!)
I went to the Non-EU line and was seen by a lady who flicked through my entire Passport and asked me lots of questions. To be perfectly honest, this pisses me off to the extreme. The UK and Ireland are part of the common travel area, meaning no Passports are required to travel between the two. The UK has it sorted - you arrive, get off the aircraft and go without showing anything. In Scotland, it's like flying domestically... in the UK, there is a separate line for Irish arriving passengers at International arrivals and you give them your boarding pass and off you go.
In Ireland, you are interrogated and your Passport stamped - which is incredibly pointless and has only served to make me fill my Australian Passport really quickly. This needs to be sorted and hopefully it will be in Terminal 2, though I somewhat doubt it. There should be an Arrivals from the UK/Ireland lane to avoid having this hassle.
Anyway, soon I was on the bus and off I went home
The highlight of the trip for me was the lounge - and I can't wait to get back in there and do a little more spotting and avail of the table service. Aer Lingus was on time (for a change, they are often not on time, compared to Ryanair) and the flights were good. It is weird having a whole crew of British people on board (I miss the Irish accents in the announcements), but as the aircraft was based in Gatwick it's to be expected. They were very good though and very well trained, so no complaints there at all.
Thanks for reading - I hope you enjoyed the report
[Edited 2010-05-28 11:24:08]