The Dead Slow Transfer:
Beijing - Munich on Air China A330-200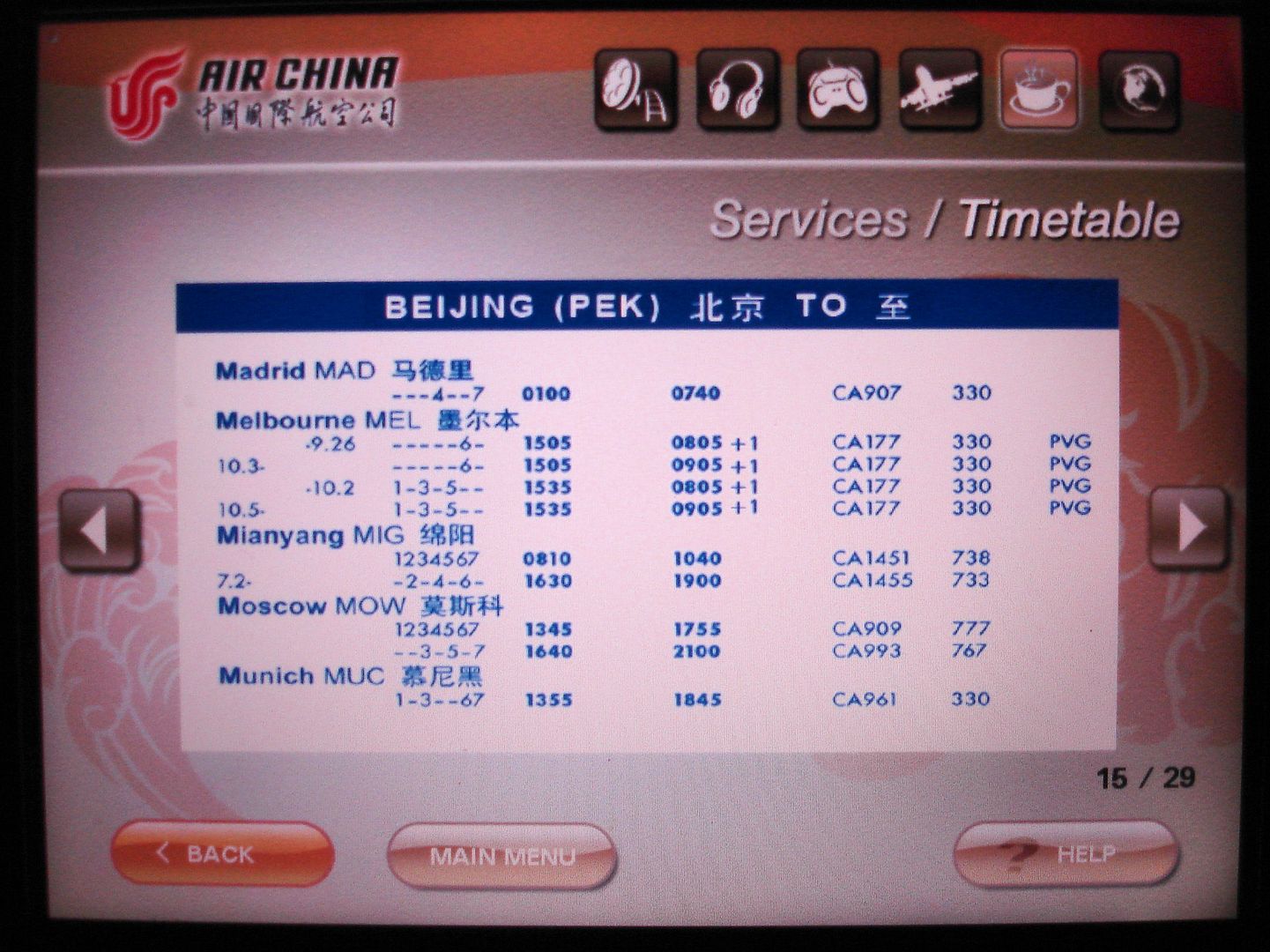 Intro
Having hypermodern terminals is one thing, but running them efficiently is another. I had always been impressed by the new Terminal 3 at
Beijing Capital Airport
- until I had to change planes there. The last part of my latest trip report series will show how unpleasant a transfer can be there - and it will go into detail about the product and services offered in Economy Class on an
Air China A330-200
flight from Beijing to Munich.
If you have missed parts 1, 2 & 3 you simply need to click here:
The Next 5* Carrier? MUC-MCT-DXB, Oman Air A330
A380 Cacophony, 777 Star Livery: DXB-SIN-HKG on SQ
Cancellation Brings Joy: HKG-PEK on Dragonair A330
Background
In early January my brother and I decided to go on a sightseeing trip to Asia by the end of February. Our focus had been on Hong Kong from the very beginning, but we also wanted to enhance a possible trip by another city. My brother suggested to pick Dubai so that we could visit the new Burj Khalifa. I agreed and started searching for the most interesting flight options. It didn't take very long until I found an unbelievable fare offered by a most interesting carrier: Munich-Muscat-Dubai return on Oman Air for 260 Euro!

We decided to try Oman Air and then I started searching for adequate flights between Dubai and Hong Kong. The plan was to spend one night in Dubai each time on the outbound journey and the inbound journey. The whole trip shouldn't last more than one week, so it was clear we wouldn't be able to spend more than three nights in Hong Kong. It wasn't difficult at all to find interesting and affordable flights between Dubai and Hong Kong. In contrast, satisfying options were rare between Hong Kong and Dubai. Problematic were either high fares or unfavorable flying times. Leaving Hong Kong too early would have drastically reduced the sightseeing options - and leaving too late would have been risky regarding the onward flights between Dubai, Muscat and Munich. We also couldn't just add one day due to the limited frequencies between Muscat and Munich. In the end we decided to fly back from Hong Kong to Munich without stopping again in Dubai - it was the most convenient option and absolutely free of risk.

While searching for flights between Dubai and Hong Kong, Singapore Airlines soon caught my attention by offering a one-way connection for 318 Euro - including an A380 flight. My brother hadn't flown on the A380 yet and I was very interested in getting on the bird for the second time (after the premiere on Emirates). Great service and high-quality catering were further arguments for SIA. Unfortunately, the low fare suddenly disappeared and SQ wanted 350 Euro - at least for the A380 combo. We decided it would be worth it.

In addition to the Oman Air and Singapore Airlines flights we selected a Hong Kong-Beijing-Munich connection on Air China (A321-200 and A330-200) for only 290 Euro. I had never flown on Air China before and I knew the A330-200 on the long-haul sector would be equipped with personal IFE screens - so it was worth a try. Even though the final itinerary consisted of only six flights, it included two new airlines and four widebody jets. Well, so much for the plan...
Transfer at Terminal 3
After stepping off the Dragonair plane at our Terminal 3 gate we were expecting a smooth transfer. Due to the switch to Dragonair we had arrived 30 minutes earlier than originally planned. I was quite optimistic to be able to log many registrations during that 145-minute layover…
The roof construction enables natural light to flood the spotlessly clean terminal: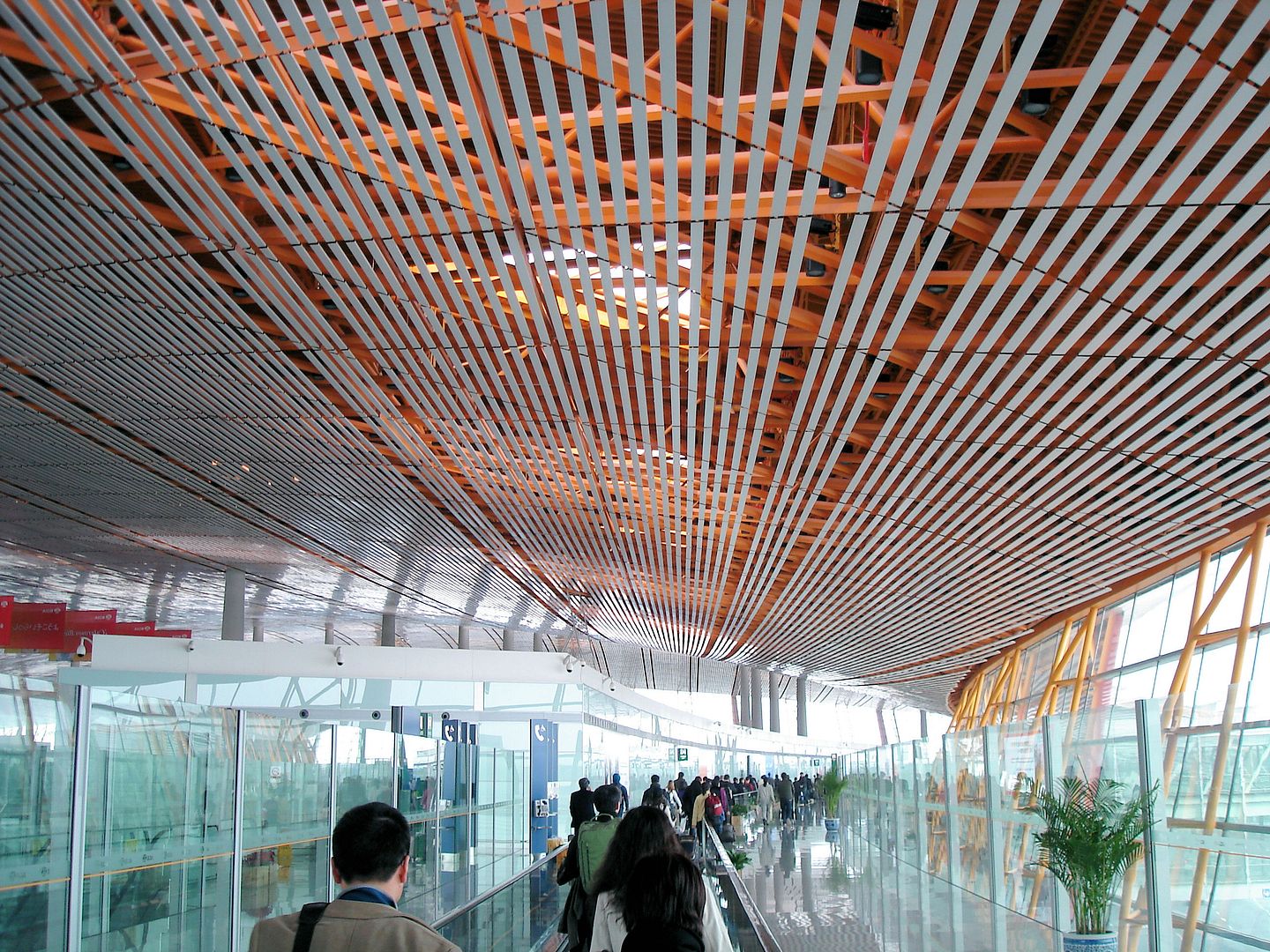 First of all some officers collected a kind of "health form" which we had filled out on the flight. The form asks about numerous disease symptoms including even minor ones such as headache. The questioning was also technically supported by infra-red cameras - good to see the authorities take disease control serious. Then we continued to the "International Transfers" desks in order to pick up our Air China boarding passes:
Only one counter was open, but the number of waiting passengers was limited. However, after a few minutes I realized that the queue was stuck. It was soon obvious that some Russian passengers, apparently booked on an S7 Airlines flight, were having trouble. Passports were being handed back and forth and while a Russian lady looked quite stressed, the older female Chinese agent behind the counter appeared quite unmotivated while talking on the phone all the time. An S7 representative repeatedly being involved in the discussions seemingly couldn't help to solve the problem either.
After 15 minutes I asked two airport employees standing close whether this was the right queue for Air China transfer passengers and the young man confirmed.
"Sorry, only one line"
, he added. Meanwhile some 40 people had joined the queue behind us and it was getting longer every minute. A lady behind us soon addressed the two employees, too, but she got the same answer. After 15 more minutes without any progress the young employee informed us that staff for a second counter had been called...that was overdue considering that numerous Air China long-haul flights would depart in the early afternoon. Finally, after a total waiting time of roughly 40 minutes, the unfriendly second agent handed out the boarding passes to us. At least the pre-reserved seats hadn't been changed...
The next bad surprise followed just a few minutes later: Dozens of passengers were waiting in a long and unorganized queue in front of two passport control counters.
The two officers checked boarding passes and passports carefully and the queue behind us was growing quickly. After a few minutes it happened again: the queue was stuck. And again it was a Russian being in trouble. I remembered the guy from the other queue where I had overheard a conversation that he and his family were booked on an Air China flight to Moscow. The young Chinese officer either rejected the passport or the boarding pass and tried to send the Russian away. However, the man's family members had already passed the counter, so he didn't go anywhere and started arguing with the officer. The latter wasn't interested in a discussion, pointed towards the end of the queue and told the Russian to go away.
When the officer called the next passenger in line, the Russian loudly shouted:
No, I will not go away! I want to go to my gate!"
The officer ignored him and the Russian freaked out: He started to hit a metal barrier with his fists! Now I was expecting several security officers to show up, but nothing happened. Then an Asian passenger waiting in queue accused the Russian of delaying the whole process.
"I do not want to delay anyone!"
, the man shouted back.
The Russian then started talking insistently to the older officer at the other counter. I heard the Russian mentioning the shoulder marks, so it seems he was hoping that the higher-ranking officer could help. The Russian repeatedly asked the older officer to call "his chief" - and after a few minutes the officer really took up the phone. Two minutes later a young, but high-ranking officer showed up, talked to the Russian and checked his documents. And what happened? Not even five minutes later the Russian was allowed to go to his gate!
So maybe his outrage had been absolutely justified? Who knows what went wrong. After a total waiting time of roughly 30 minutes we got our passports stamped and could continue to the security checkpoints.
Almost 80 minutes after joining the first queue we were able to enter the gate area - absolutely unacceptable for a major hub. If we hadn't been rebooked to the earlier HKG-PEK flight we would have been very concerned about catching our flight to Munich.
Wednesday, 3 March 2010
Beijing (PEK) - Munich (MUC)
Air China CA961
13:40-17:30 (14:04-17:41)
Flying time: 10:08 (hrs)
Economy Class, Seat 52L

Airbus A330-243
B-6080 (MSN 815)
Delivered in 02/2007
1st flight on B-6080
13th A330-200 flight
21st A330 flight
90th airline
The crowd at our gate, mostly consisting of young Chinese passengers, indicated that the flight would be full.
B-6080
, one of 20 A330-200s in the fleet, was built in January 2007 and delivered one month later.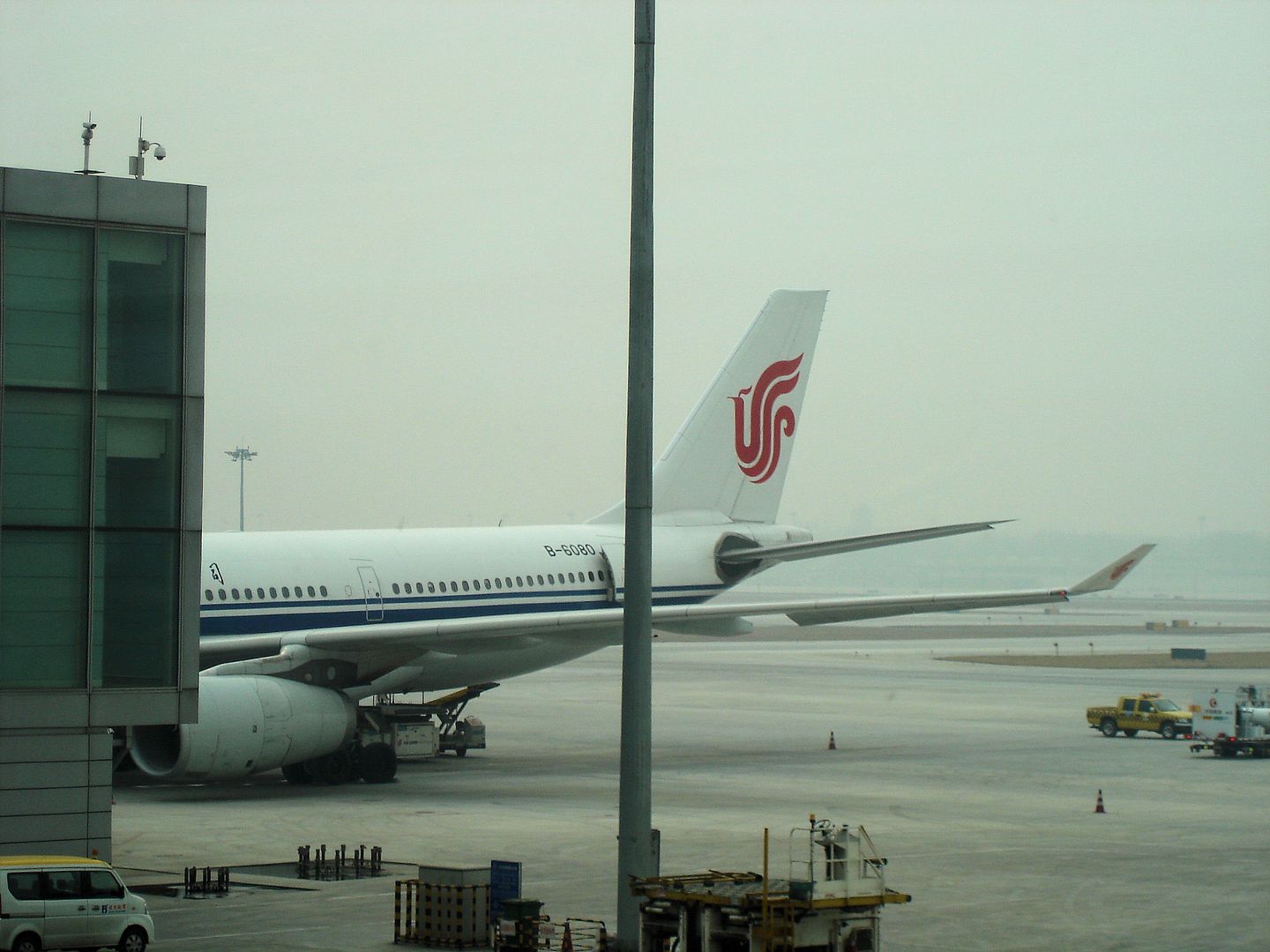 Taking pictures through the glass was tricky:
Parked at the adjacent gate was Boeing 747-400 B-2469: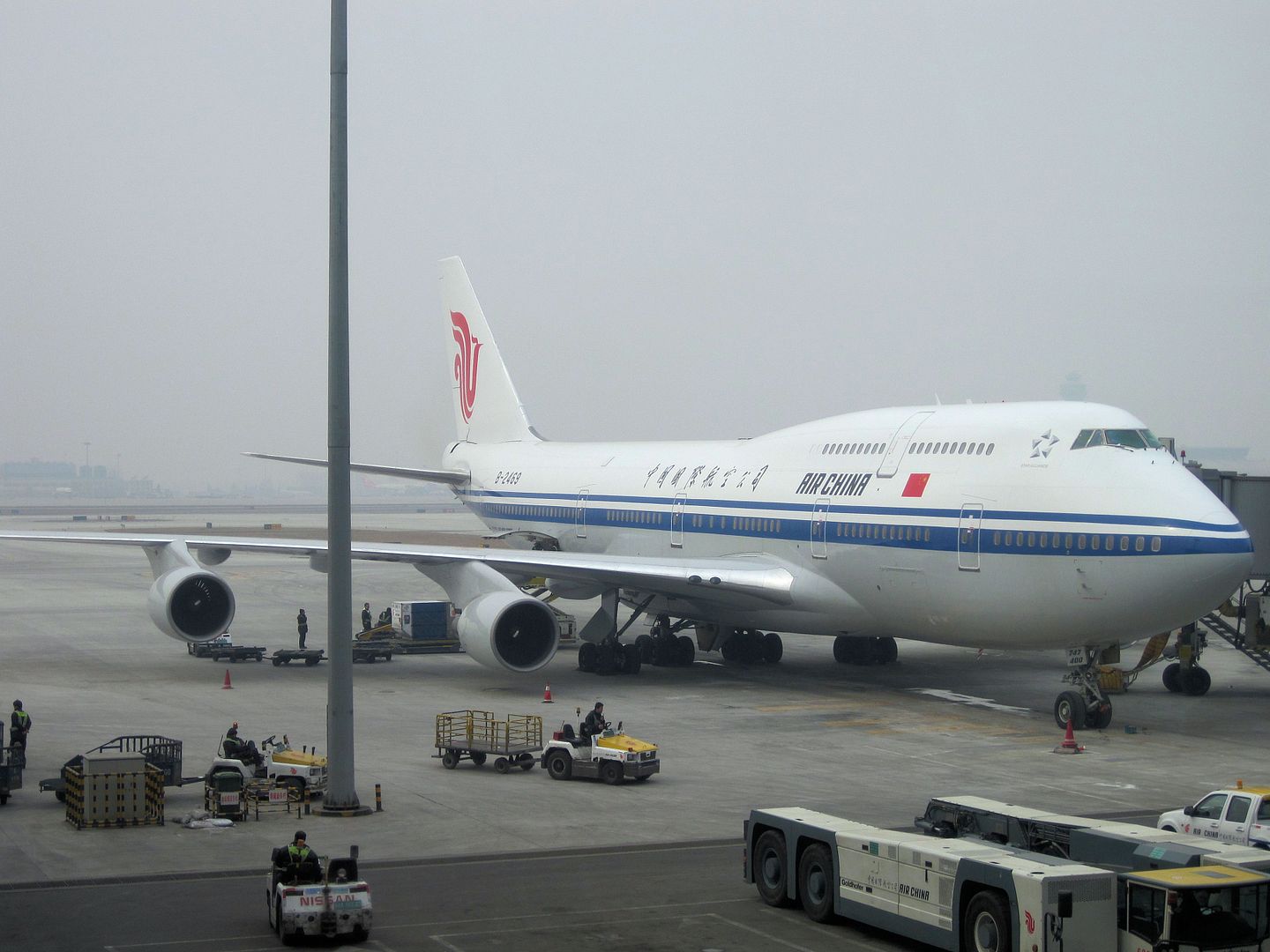 I was still able to log 23 new registrations in the remaining time. One of the most interesting planes was Air China A321-200 B-6361 painted in the
"Beautiful Sichuan"
(mouse) color scheme:
Finally it was time to step on board. Two flight attendants kindly welcomed us, but others didn't look at us while we were passing them. Interestingly, the Air China interior is absolutely identical to the interior on Hainan Airlines' A330s - except for the colors, of course. The seats were very comfortable: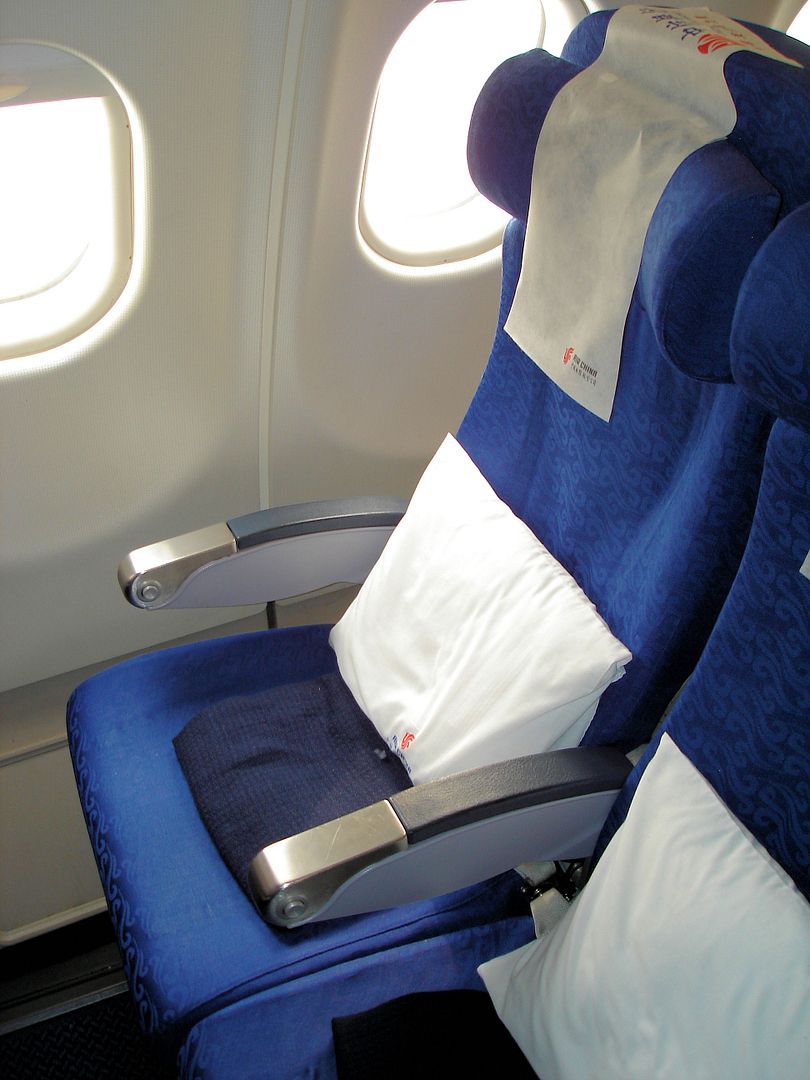 Seat features: Decent-sized video screen, seatback-mounted handset and cupholder:
Seat pitch was quite generous, but the IFE box took away some legroom:
Reflections made it tricky to take a shot of the welcome screen: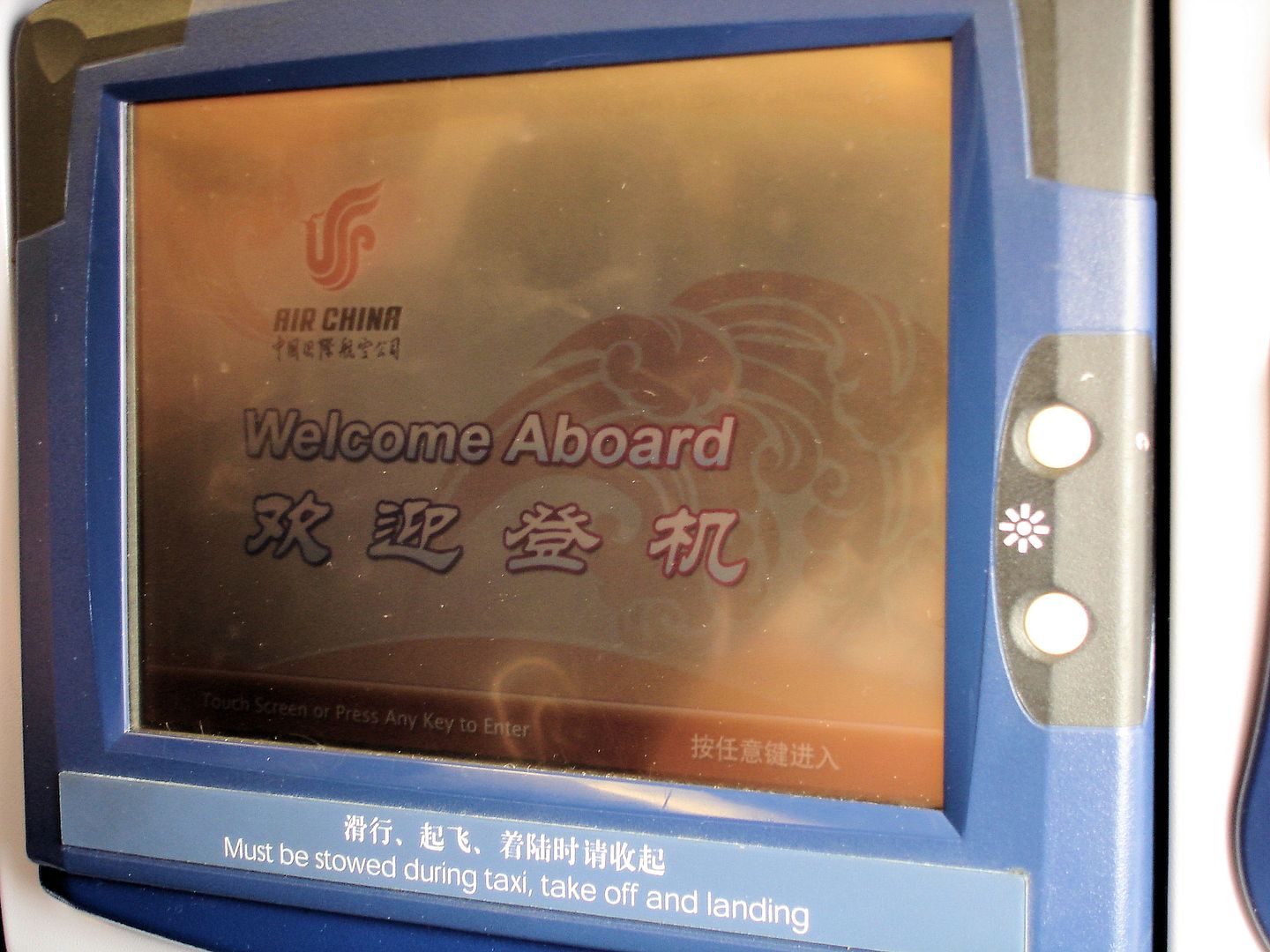 It hadn't become busier at Terminal 3 since our arrival: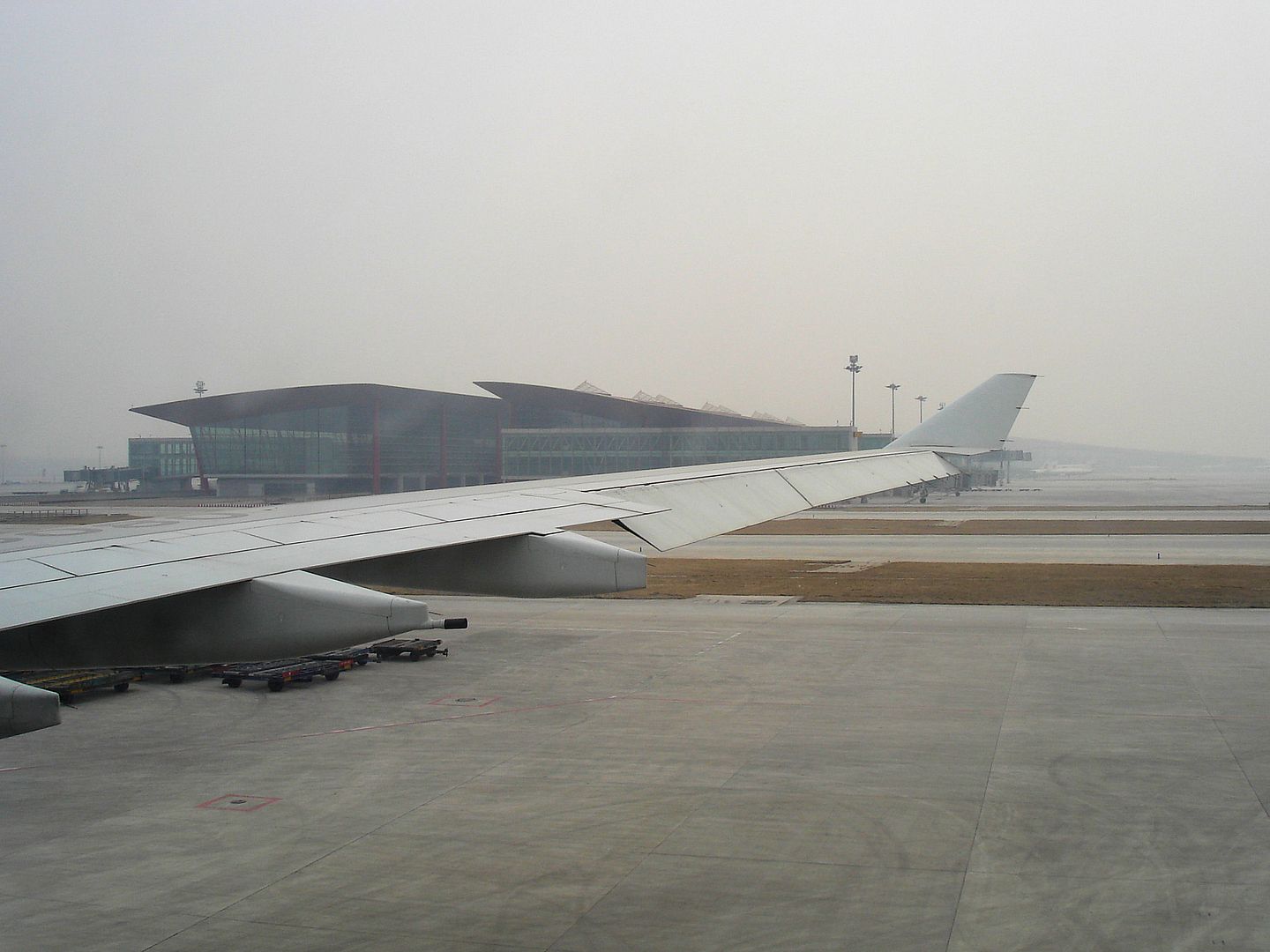 After boarding had been completed we were surprised by the welcome message from the flight deck - it was presented in English by a pilot with German accent. Much later, after landing, he presented a farewell message in German and then it was clear he was from Switzerland. He was a captain, but there was at least another (Chinese) captain on the flight, too. So I don't know who had been in command of the flight after all.
We left the gate 24 minutes behind schedule and taxied to runway 36R. We had to wait for five inbound planes, including an Air China A320...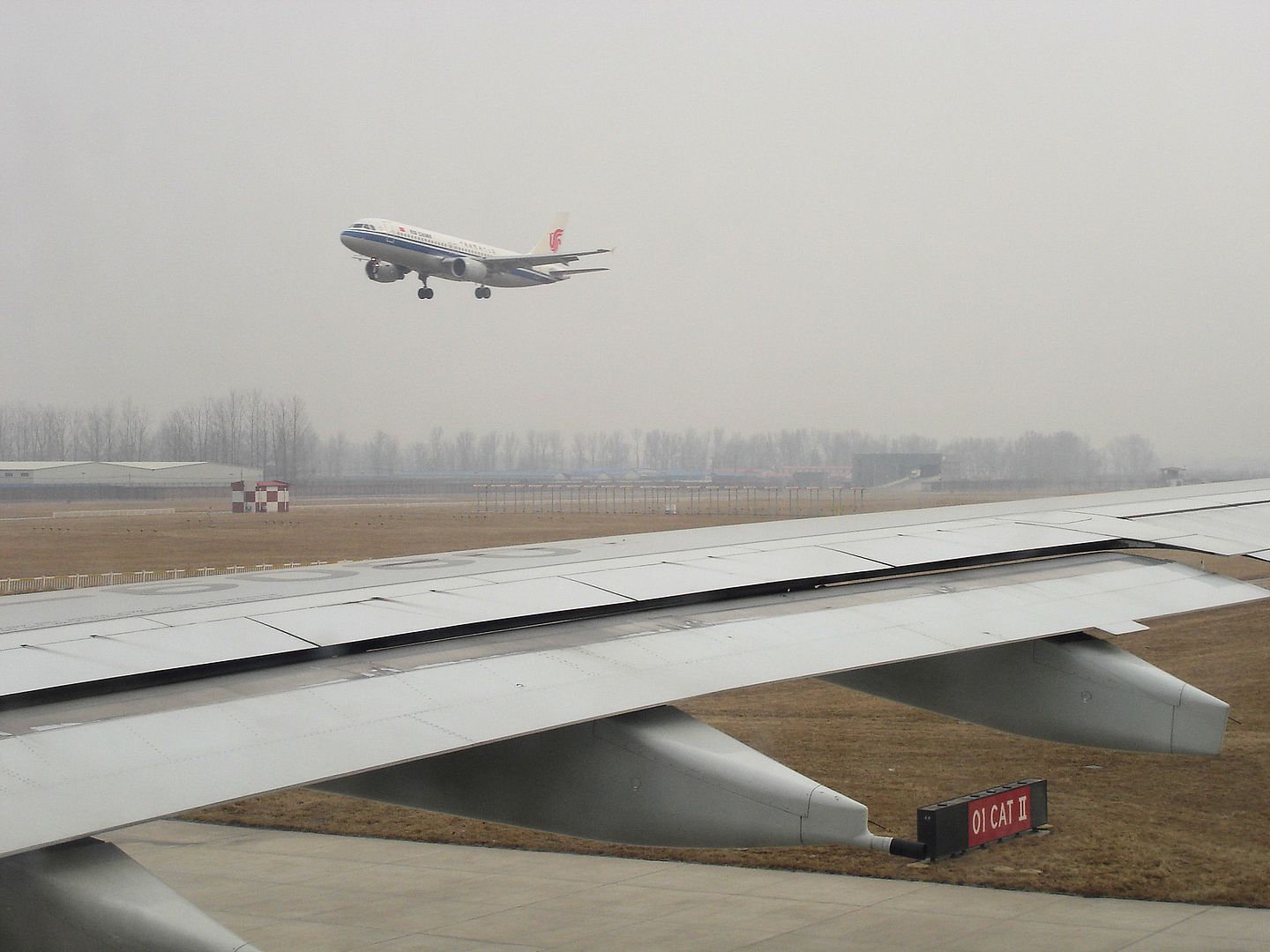 ...and a China Southern A321: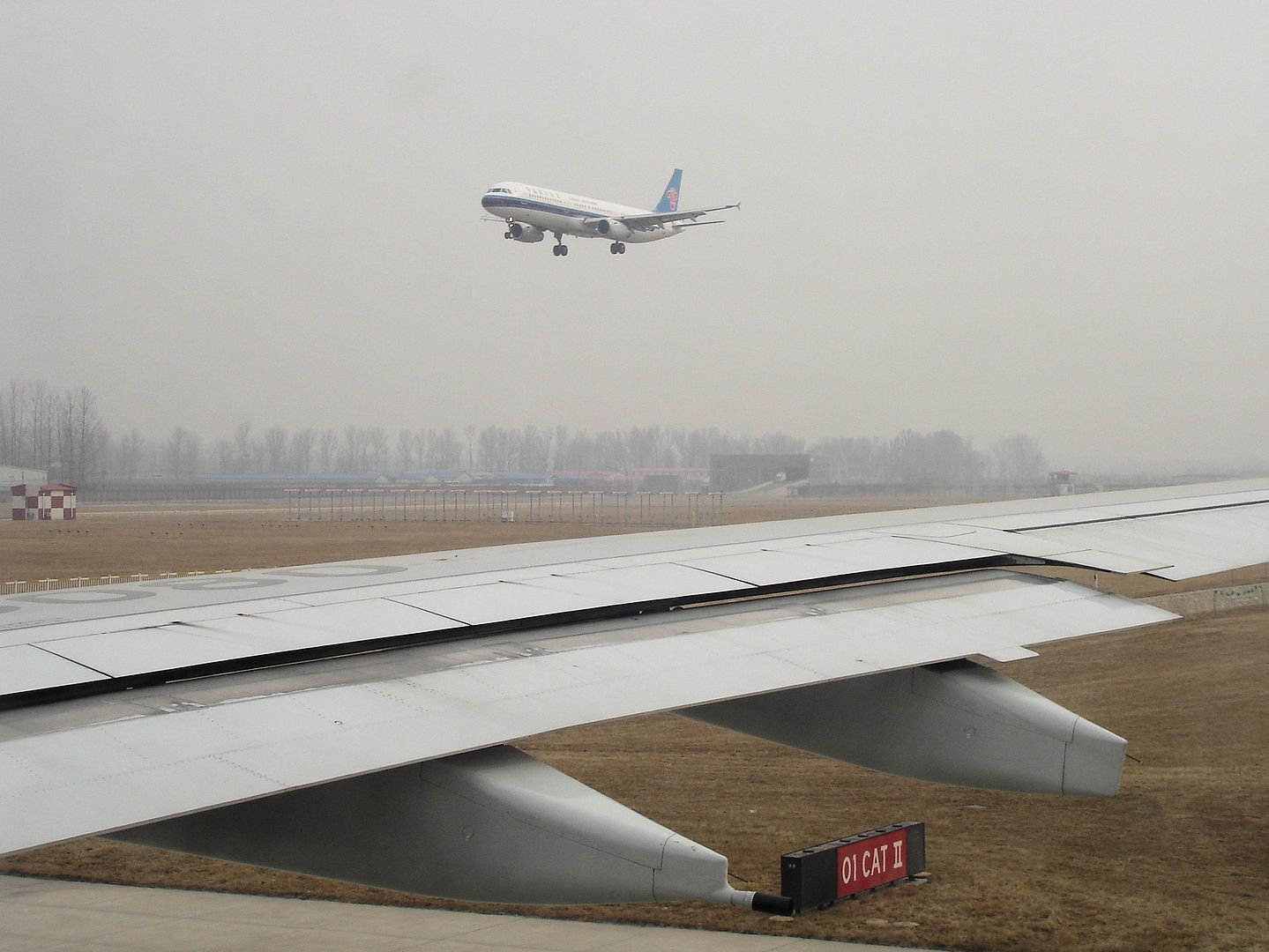 Finally the runway was clear and
B-6080
started a powerful takeoff roll:
Goodbye, lousy Beijing weather!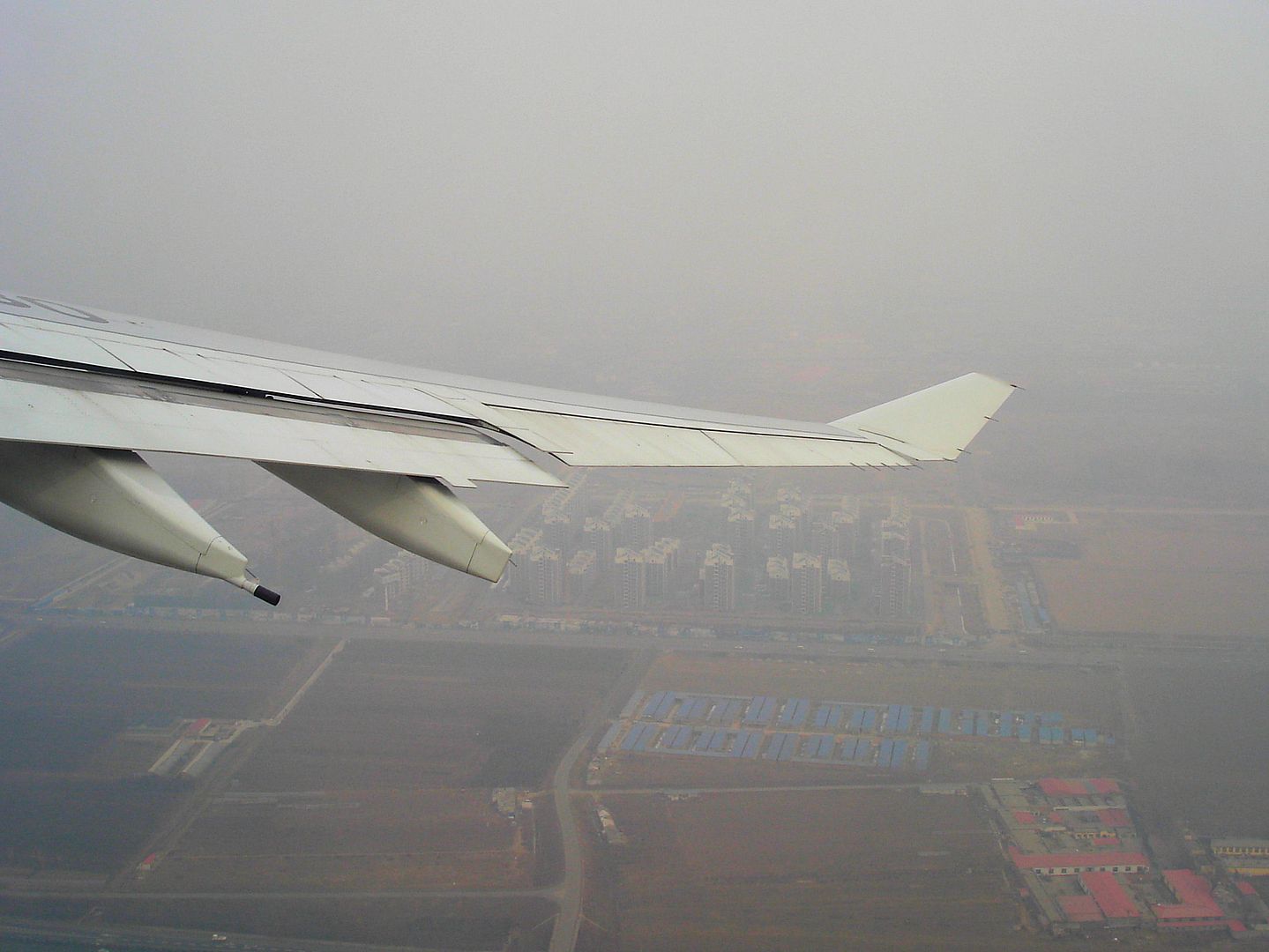 It took less than 20 minutes until we were cruising over sparse mountainous terrain:
The flight attendants started serving the first round of drinks less than 30 minutes after takeoff. I ordered a Chinese beer and was glad that Air China did have a local brand. It tasted quite good:
Lunch was served subsequently and I chose the fish over the beef option: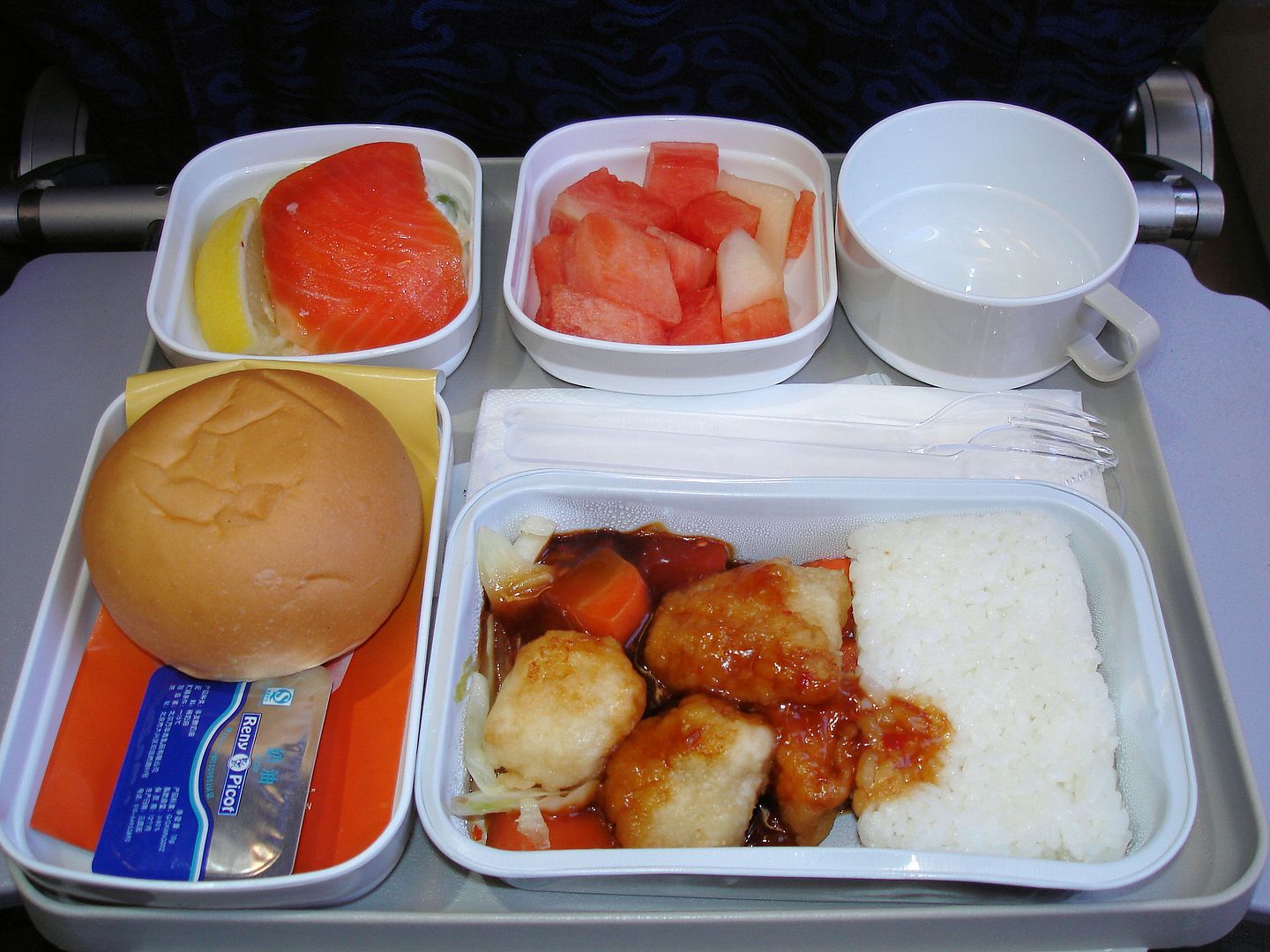 While the quantity was suboptimal, the quality of the meal was absolutely satisfying. The pieces of fried fish, the sauce and the rice in particular tasted really good. The salad, covered by a slice of salmon, and the melon pieces weren't bad either. Another round of drinks was served while we were eating, another round followed shortly after lunch.
After the trays had been collected it was time for a cabin shot: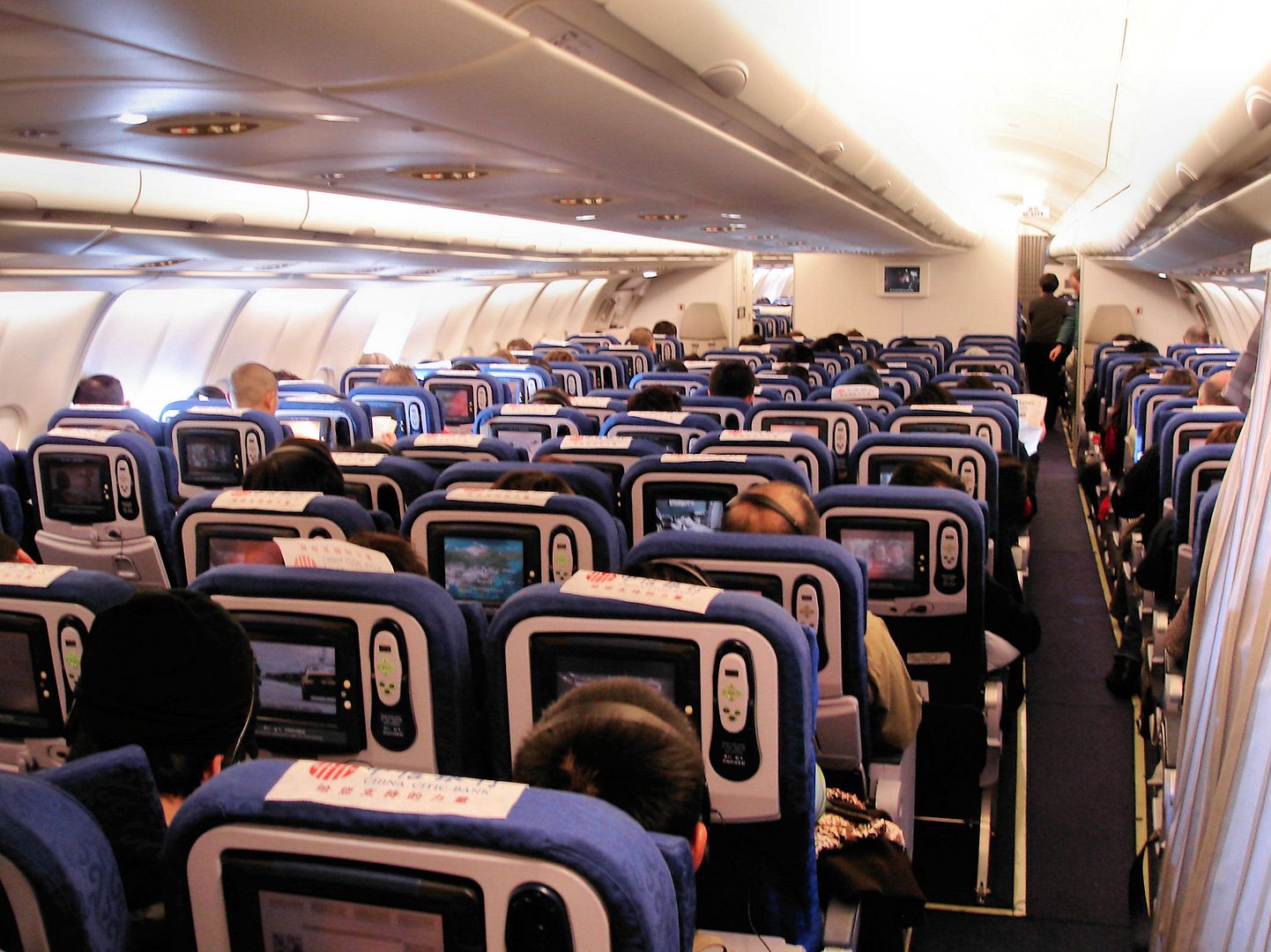 While hanging around in the galley for a while I decided to ask a male flight attendant how long the crew would stay in Munich before going home again.
"10 hours"
, he answered and smiled. Ok, I asked him again and I got the same answer again. Then I gave up. It was obvious he was talking about the flying time - but I'm wondering whether he simply didn't understand me or whether he didn't want to answer my question for whatever reason.
Cruising over the
Gobi Desert
: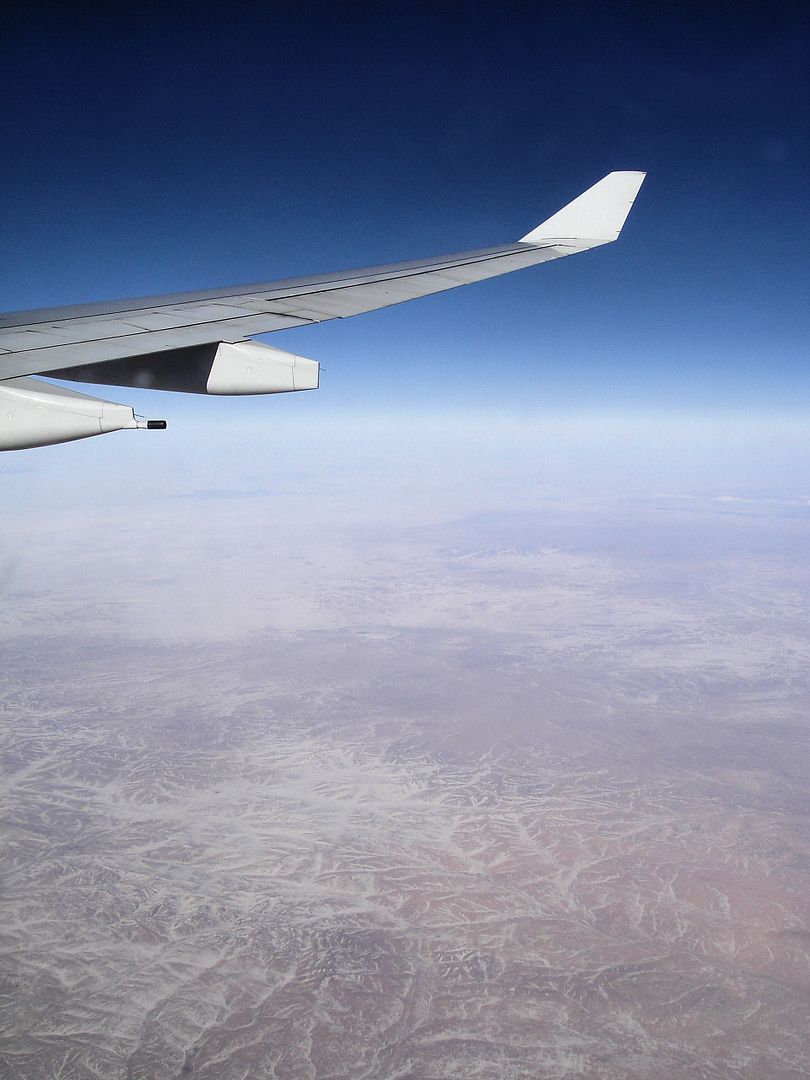 This is
Ulan Bator
: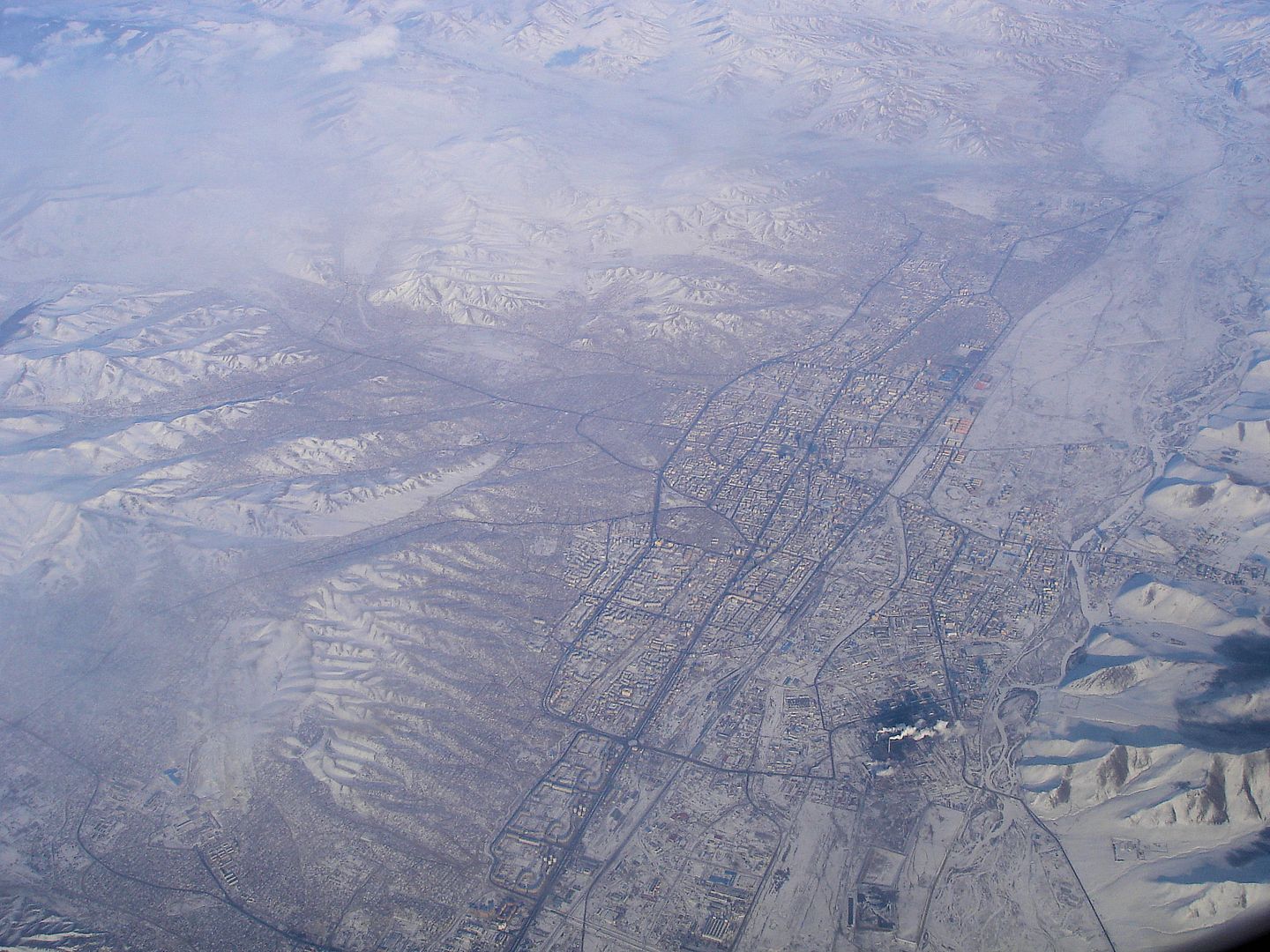 Two hours after takeoff it was time to explore the audio/video on-demand IFE system. After three years in service the black navigation button on the handset was totally worn out and it was difficult to navigate.
First of all you had to choose between three languages: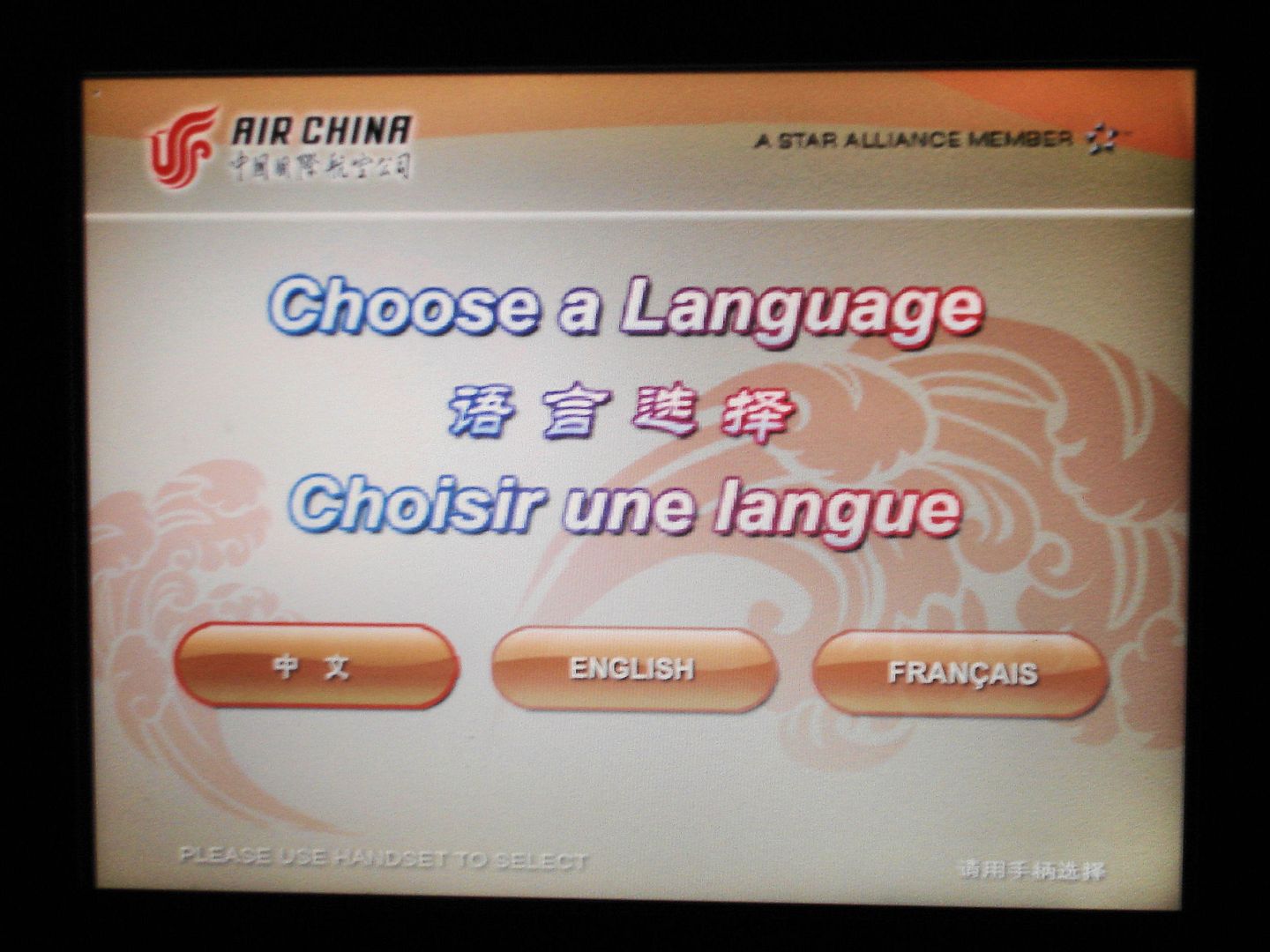 The menu was structured well and it was quite easy to find the desired features. Almost 80 different movies and TV features were available, as well as 12 games and 12 audio channels.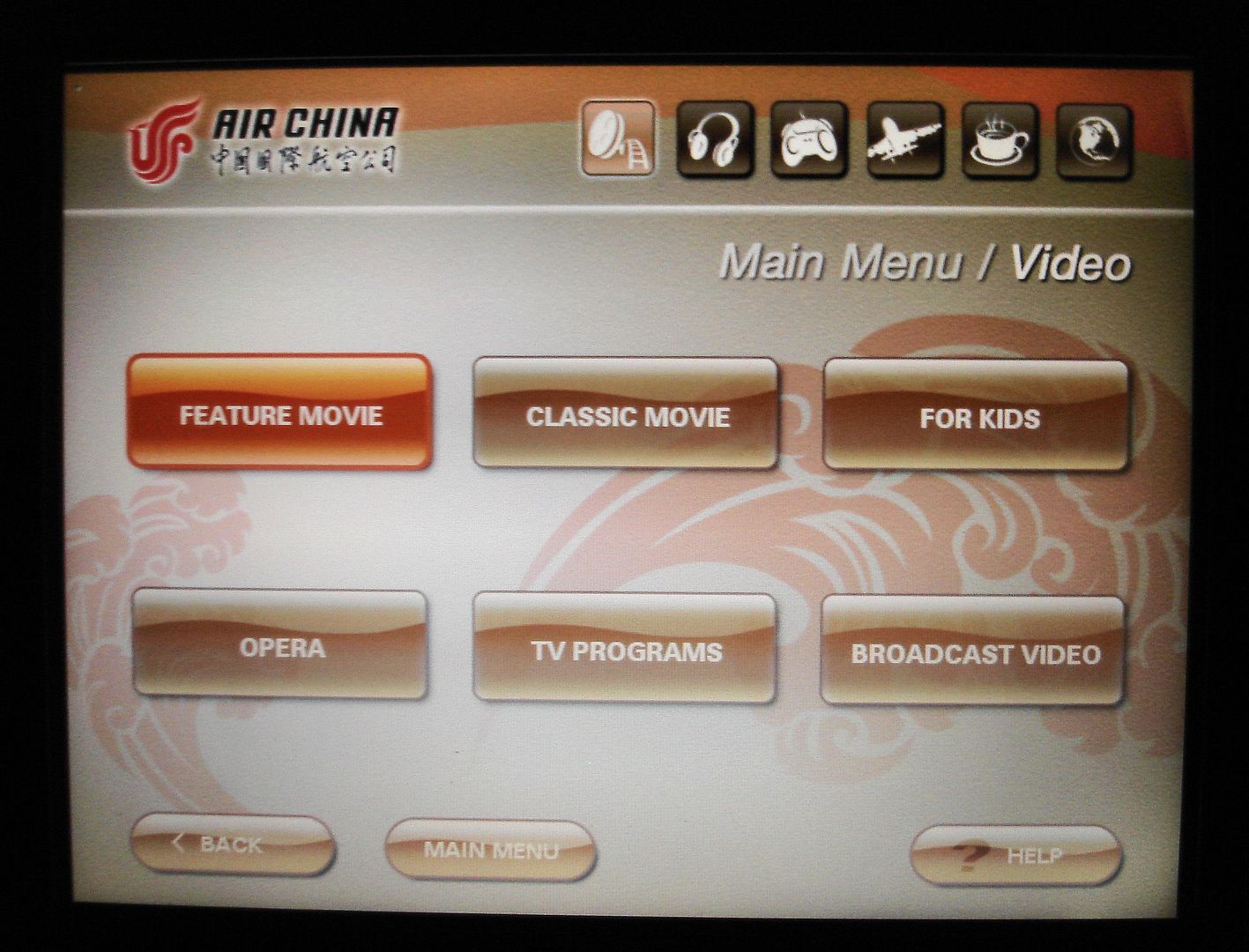 Interesting features could be found in the "Services" submenu...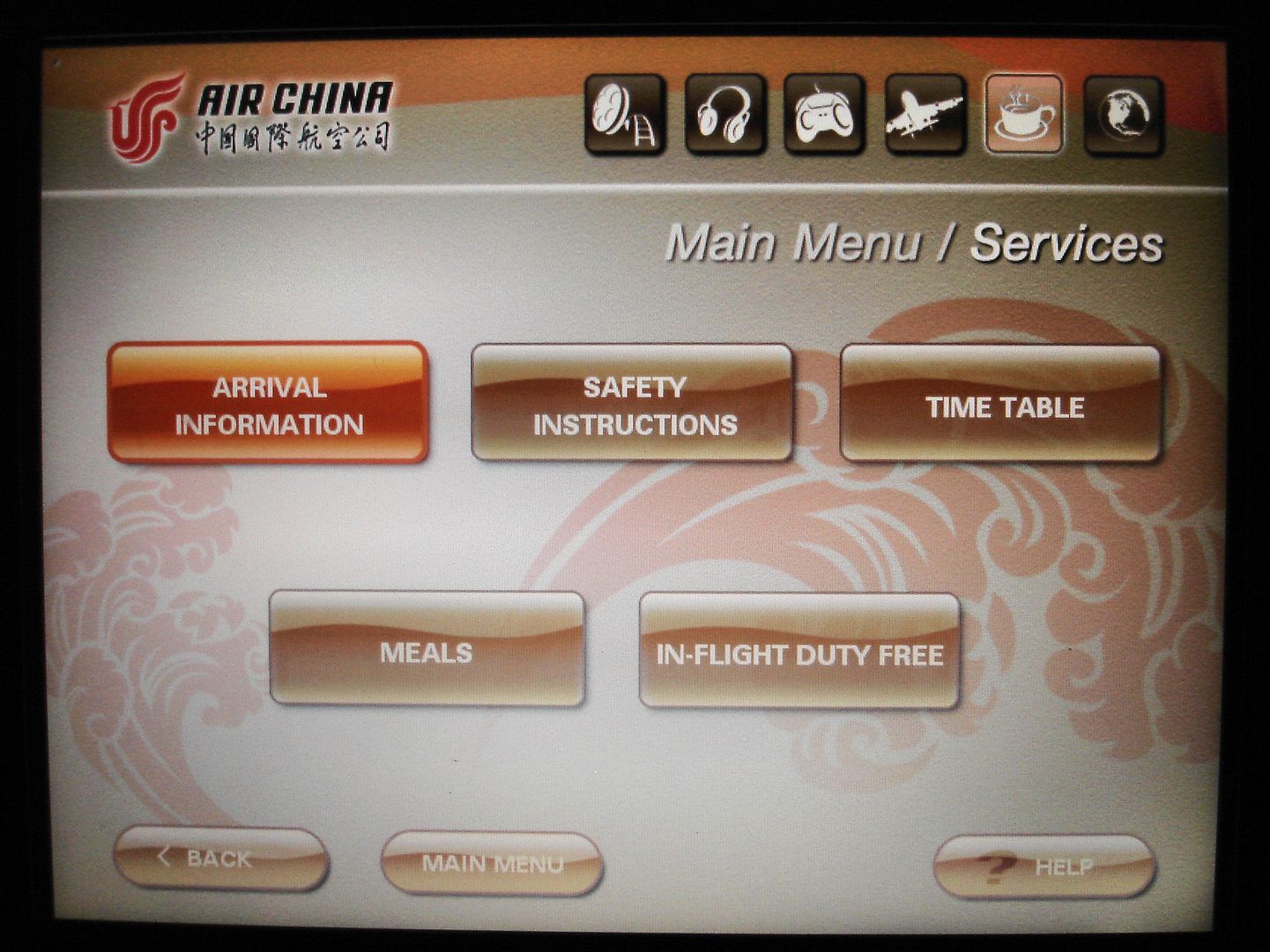 ...including the Air China timetable: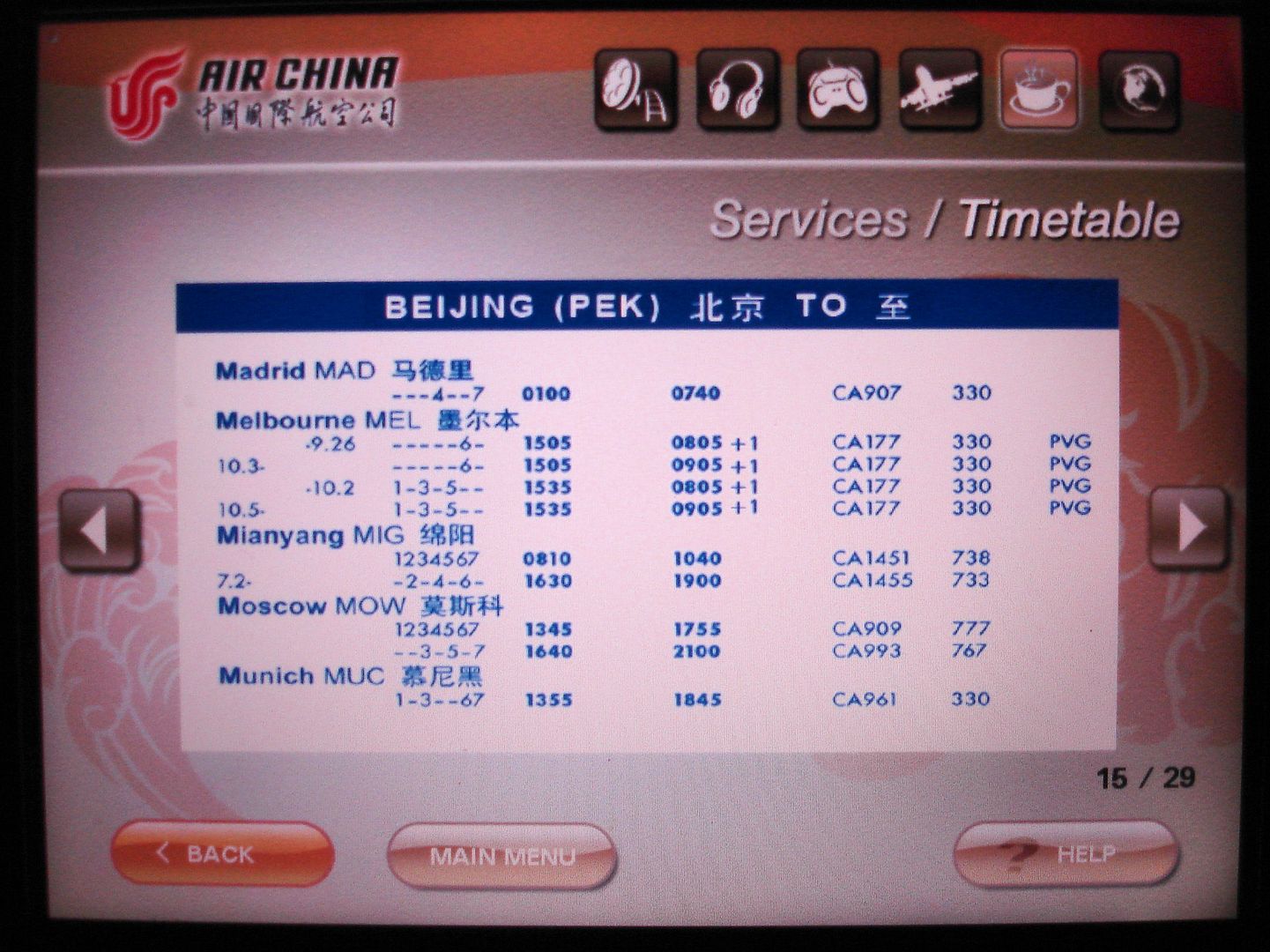 I had never seen such an IFE feature before. However, I'm not sure how old the data was - the departure and arrival times indicated that it wasn't the winter 2009/2010 timetable.
The submenu "Meals / Drinks & Beverages" even contained some drink descriptions - but I don't know whether all these drinks were really available on the flight. Probably in Business Class? Anyway, some of the features in the "Services" submenu weren't working.
As usual, I watched the airshow most of the time: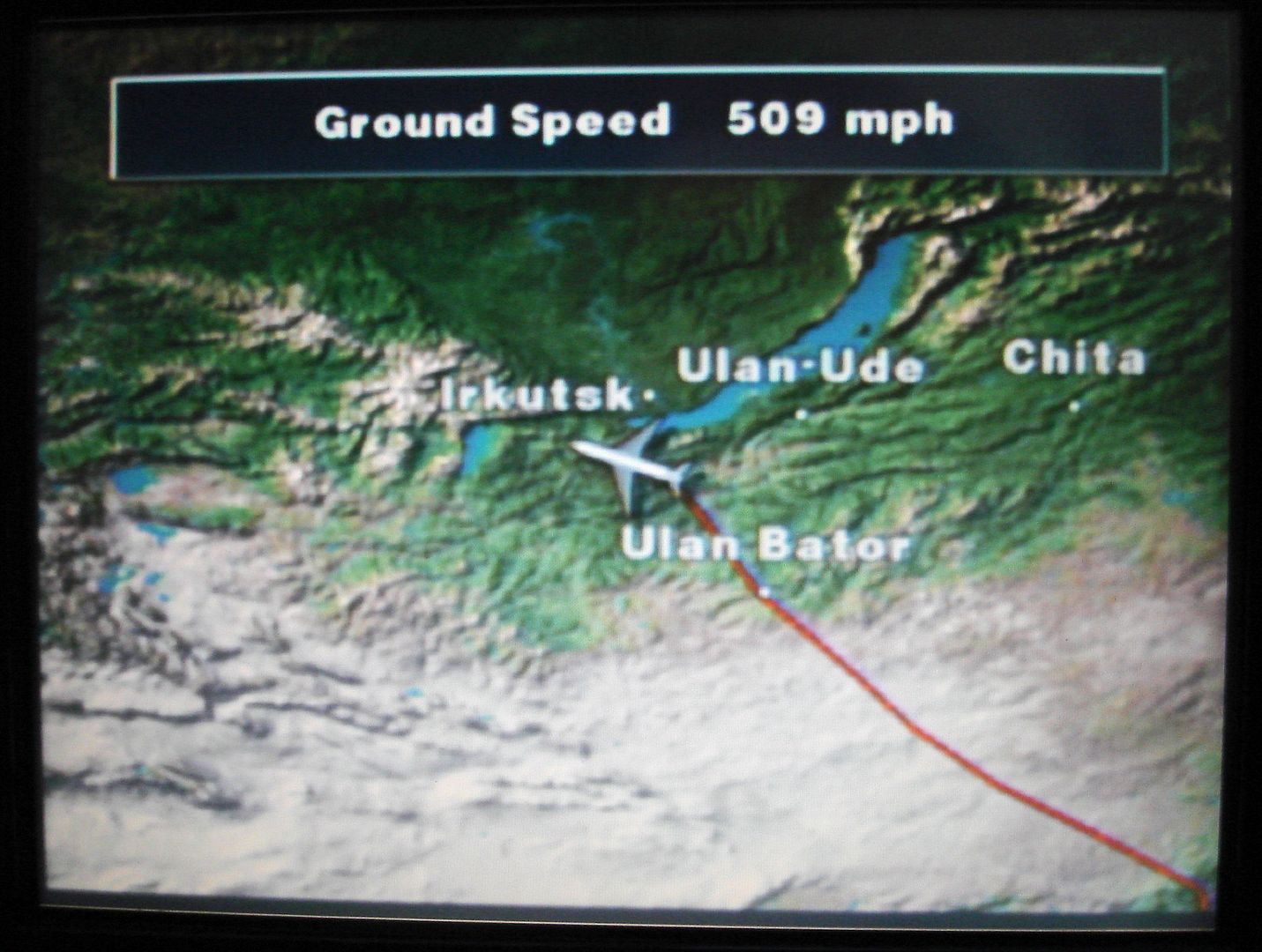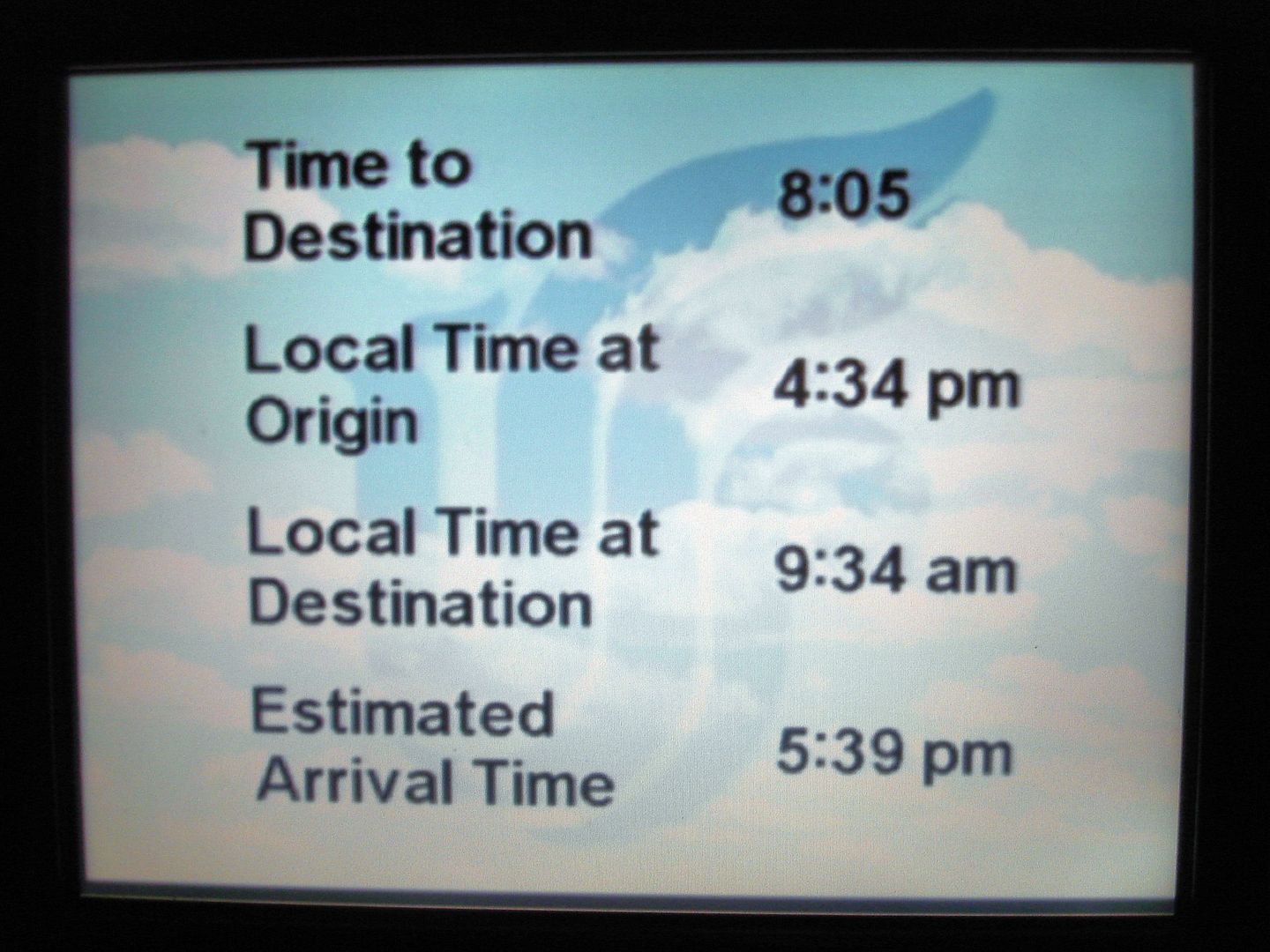 3.5 hours later: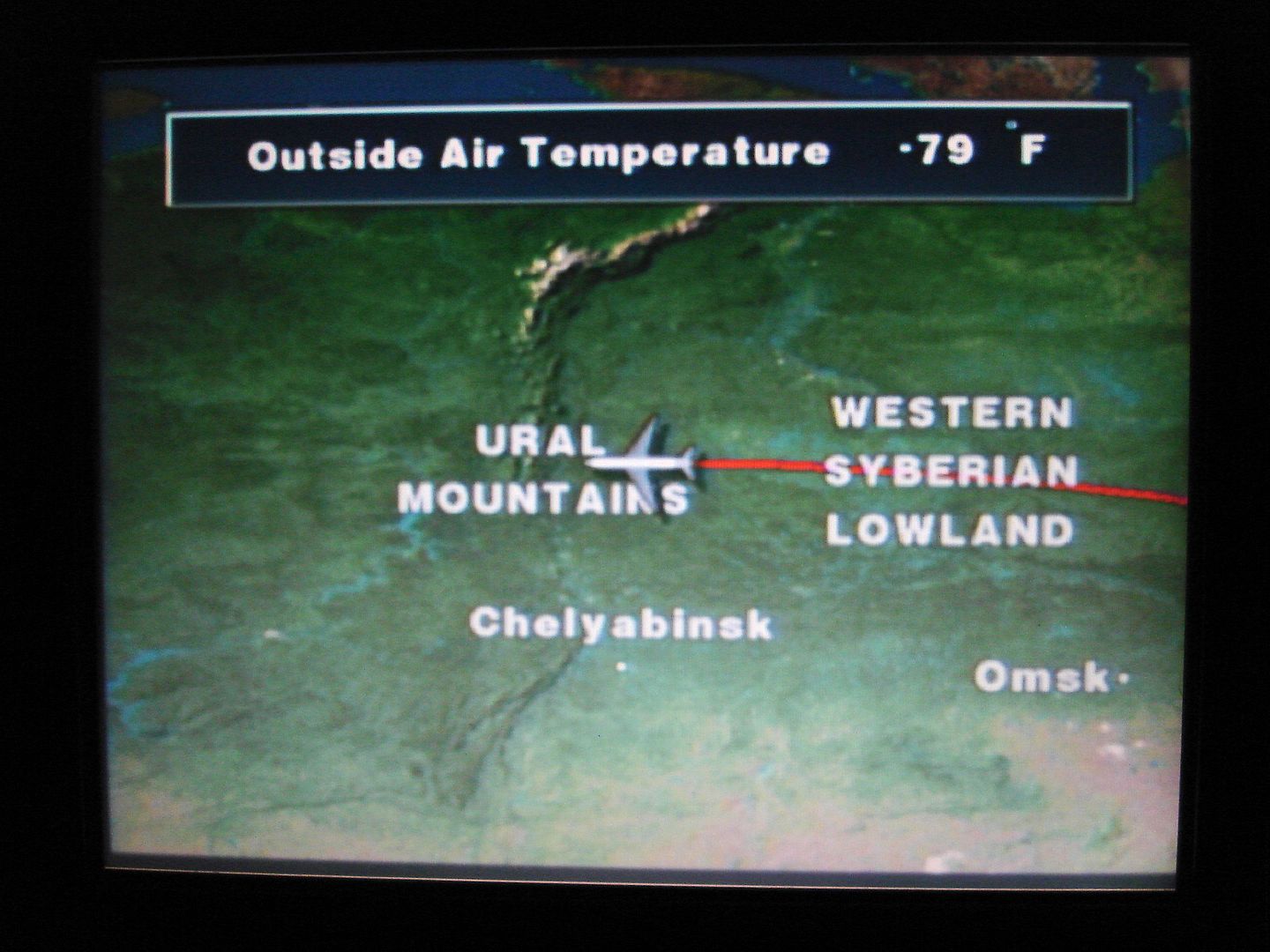 When drinks were offered prior to dinner I decided to try Air China's tea - which wasn't a good idea at all. I would describe it as pale yellow and tasteless hot water:
Some minutes later I had the choice between seafood and chicken and I ordered the latter: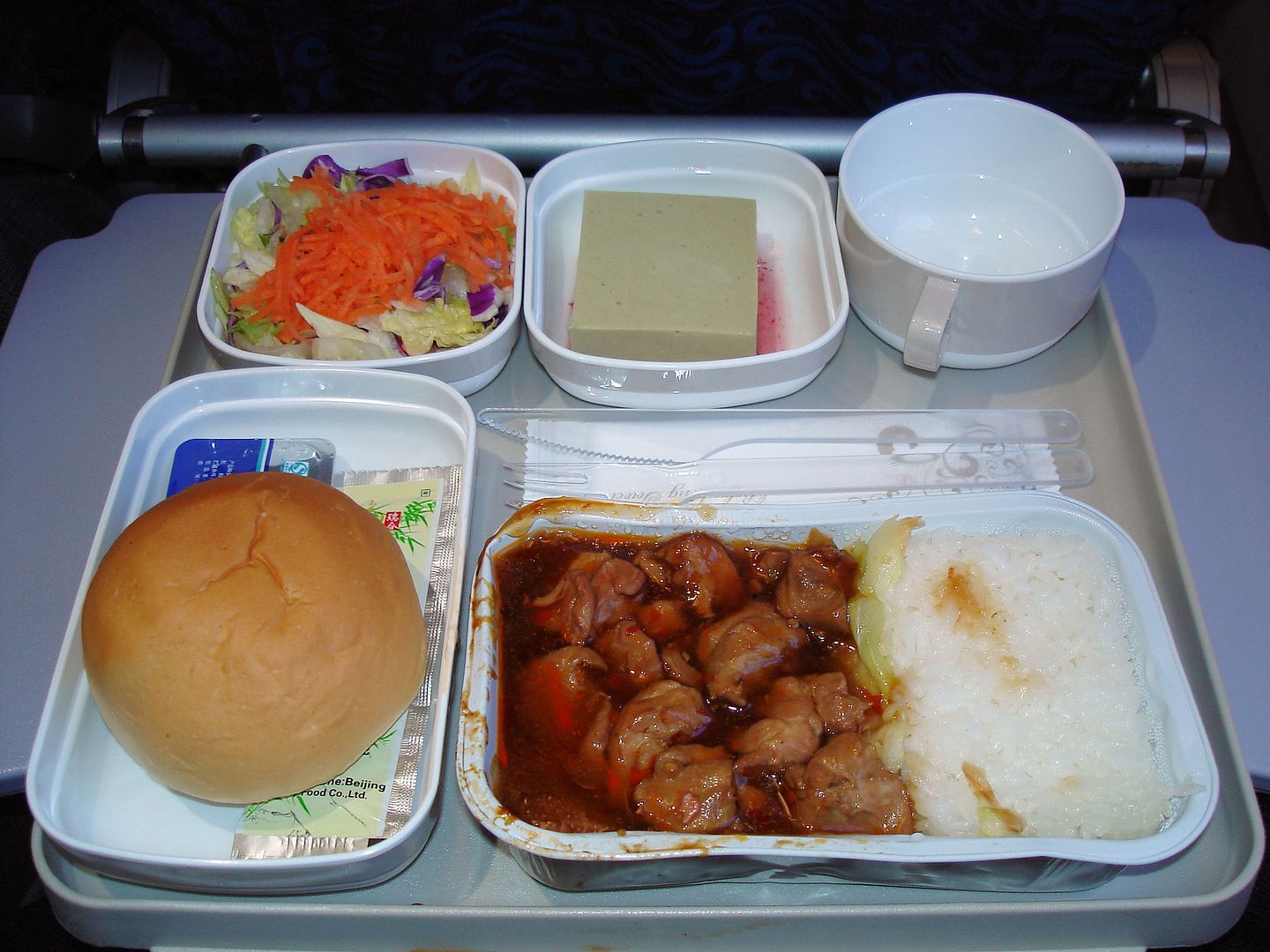 The rice was good again, but the fatty sauce tasted terrible. The meat was ok, but covered with the awful sauce. I was hoping that the dessert would help my taste buds to recover, but the green tea pudding (?) tasted just...strange. What a disappointing meal!
Snowy Polish landscape: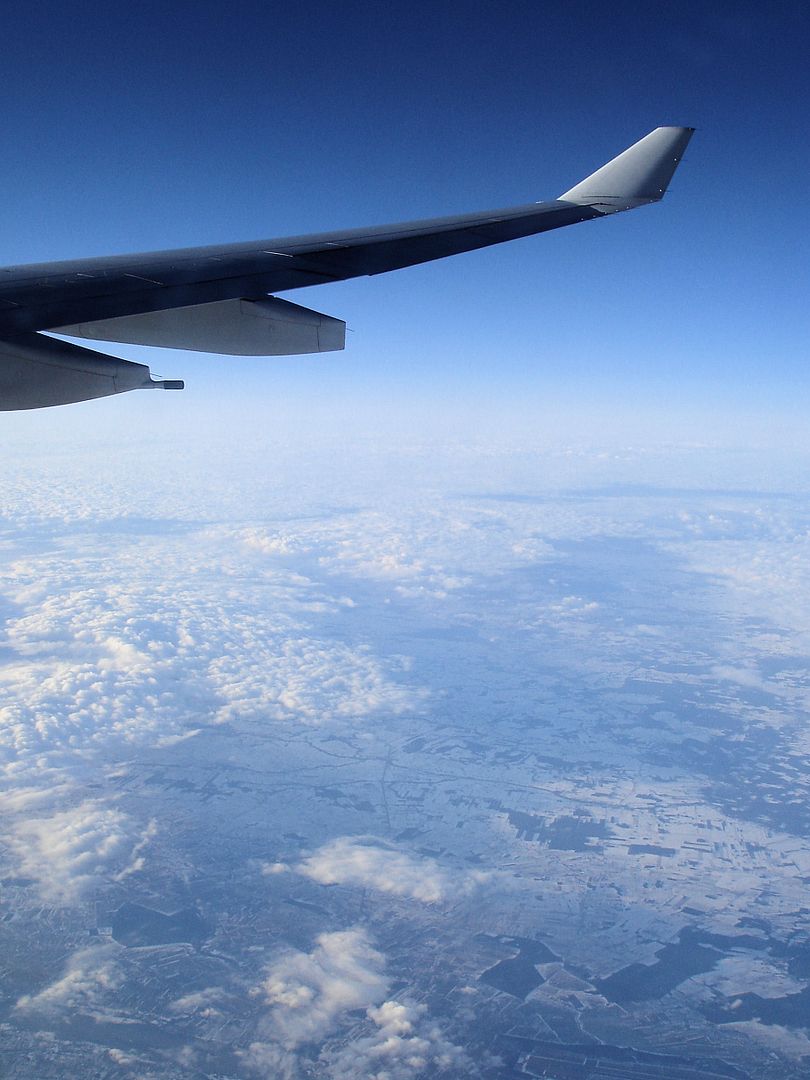 We left our cruising altitude about 30 minutes prior to landing and after more than 9.5 hours in the air I was glad that I would able to leave that cabin soon. The major reason for that attitude was the permanent intensive coughing and sputtering in the rows around us. Some Chinese passengers were real experts on that subject...
Btw - I wasn't amused either about the condition of the lavatories towards the end of the flight.
The
Danube
and the city of
Straubing
(at lower left):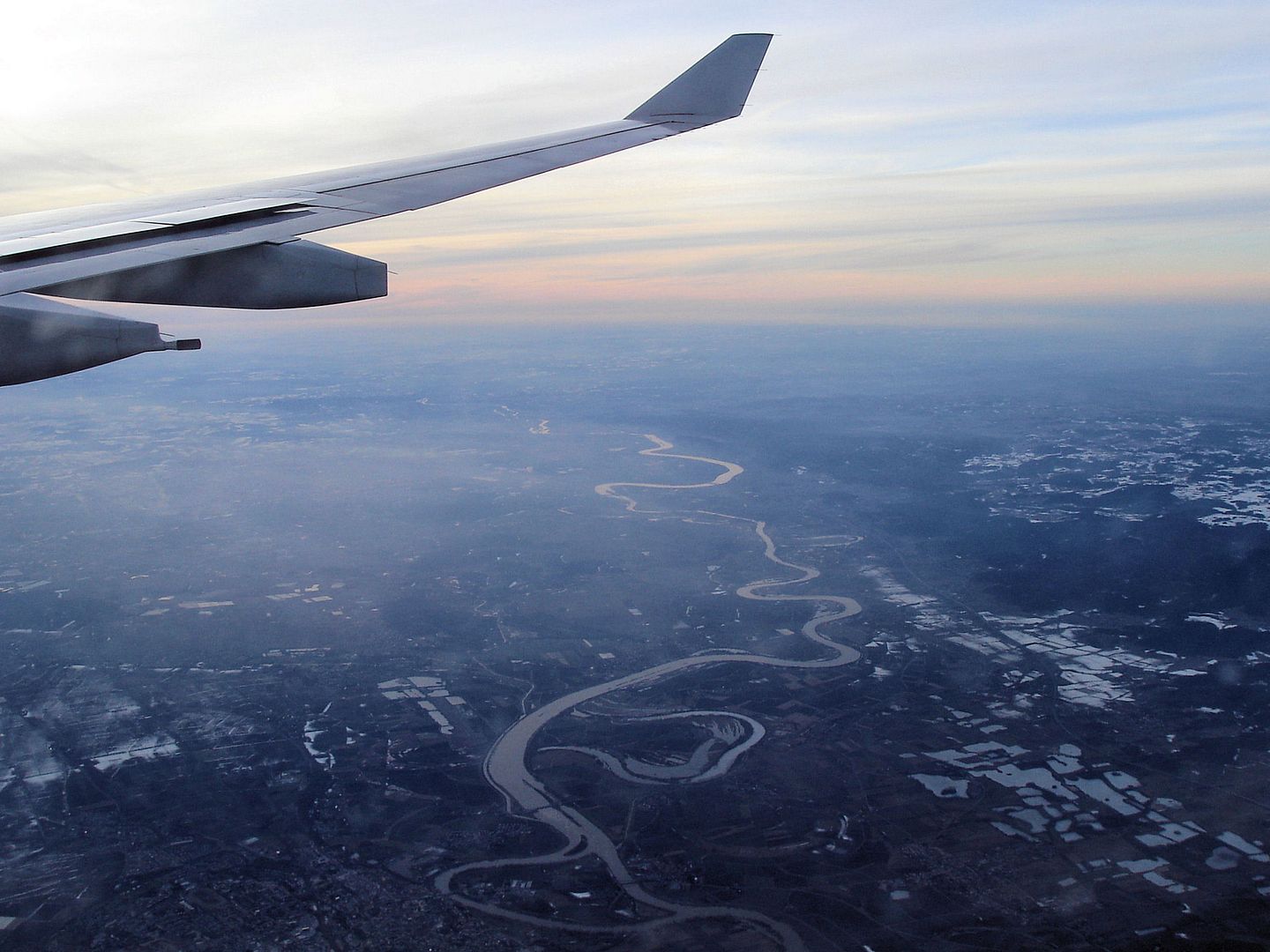 Isar 1
and
Isar 2
nuclear power plants near Landshut: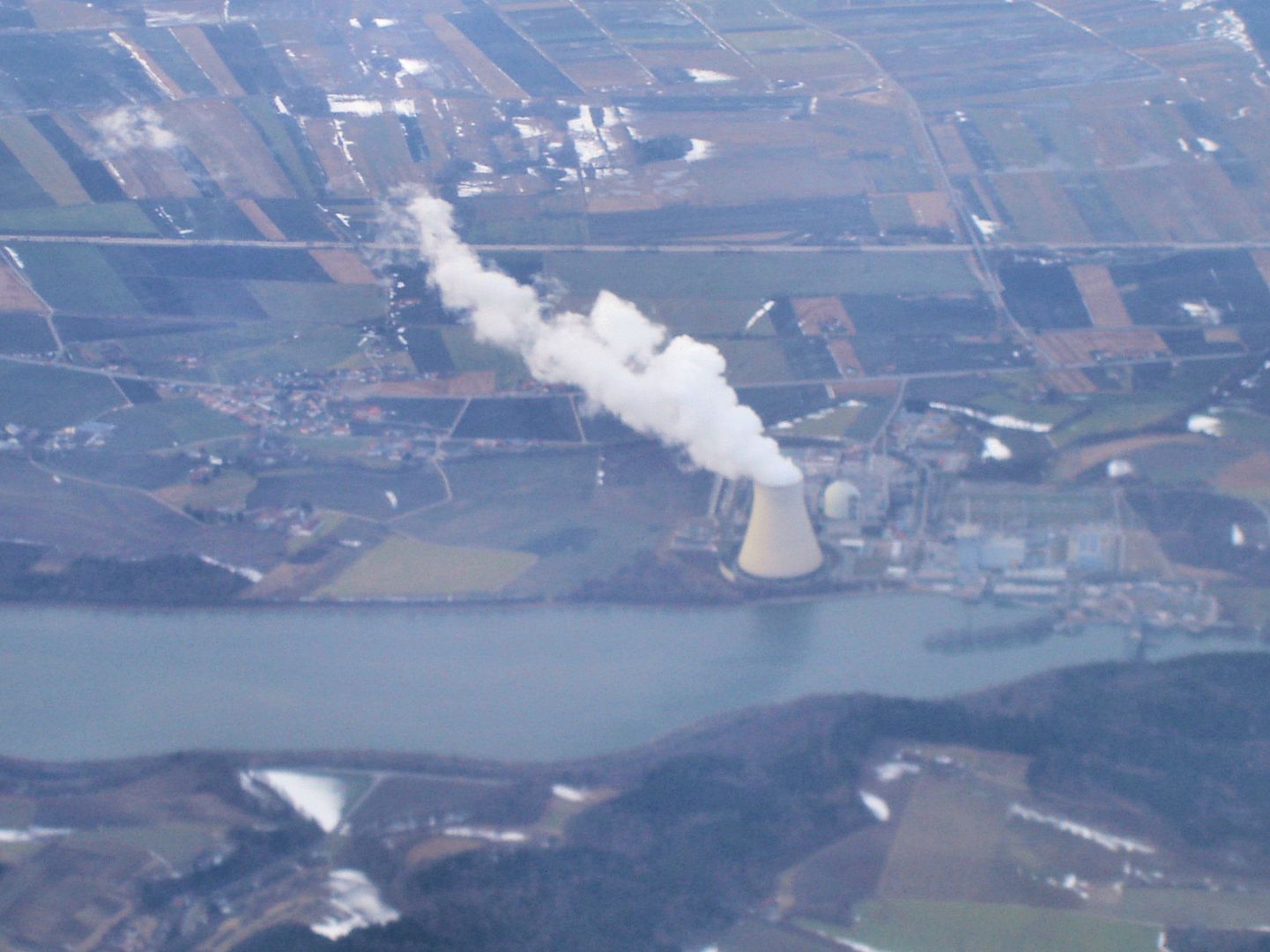 The city of
Landshut
: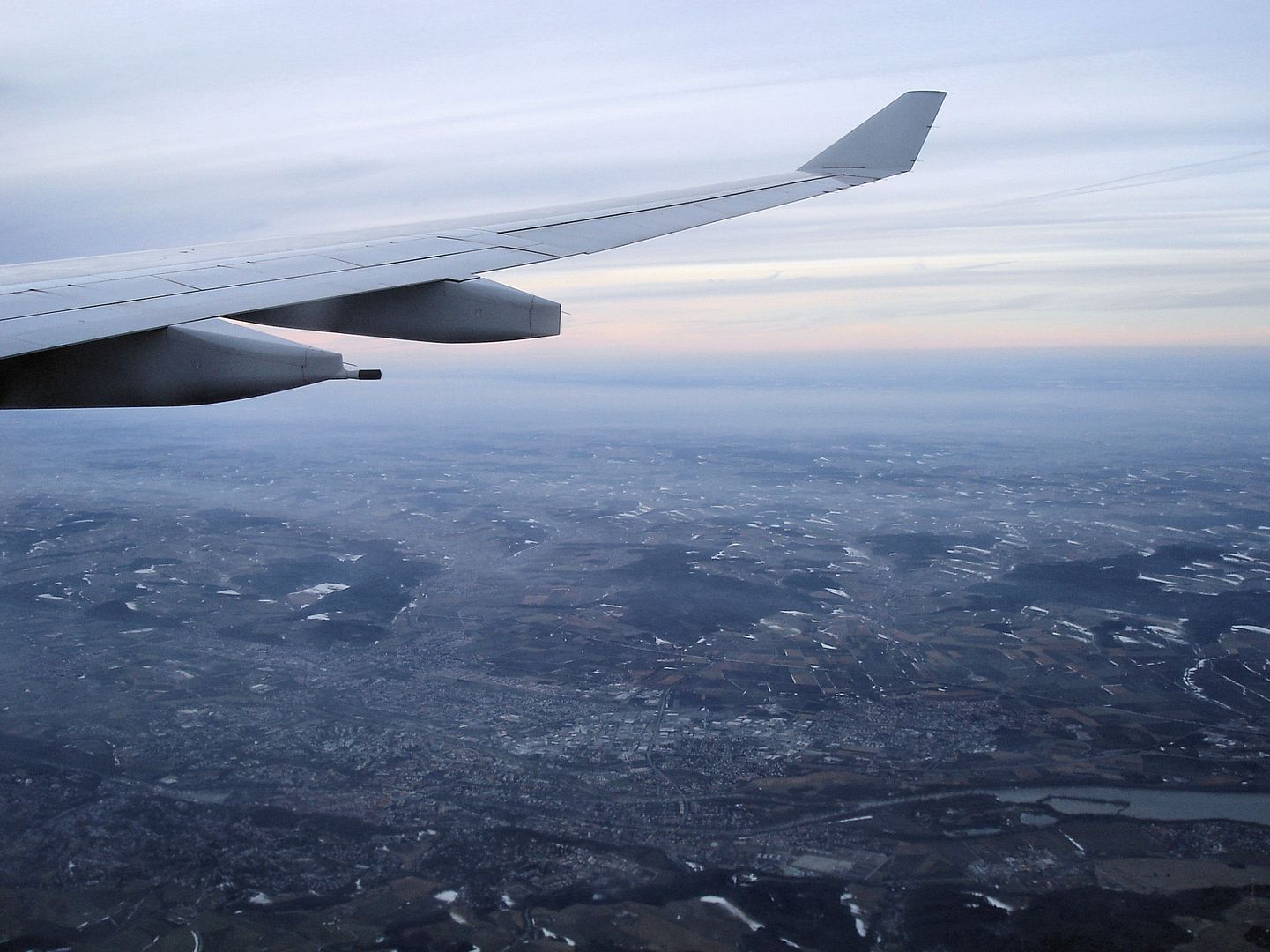 Nice view of the
Alps
:
Final approach to runway 08L: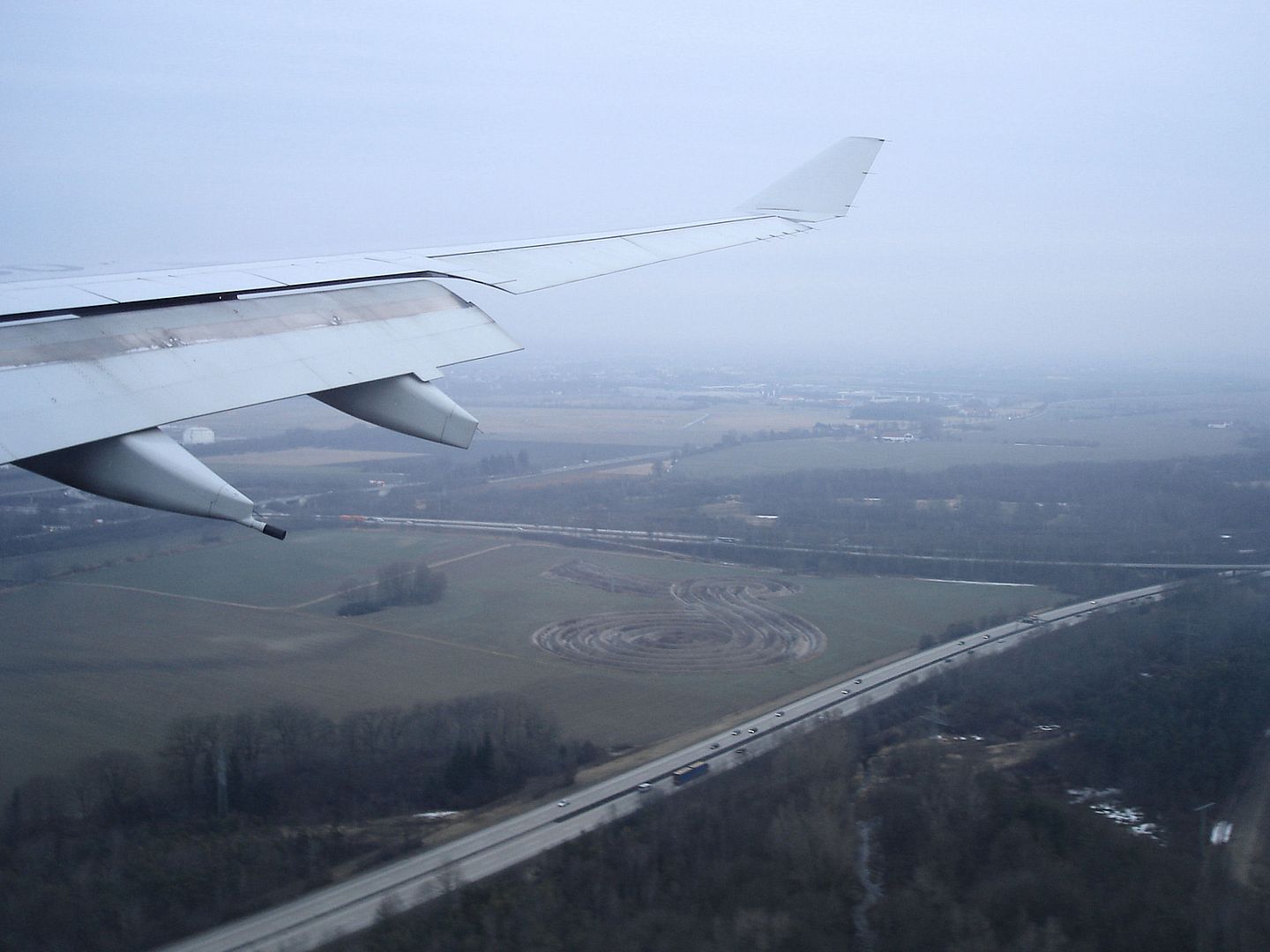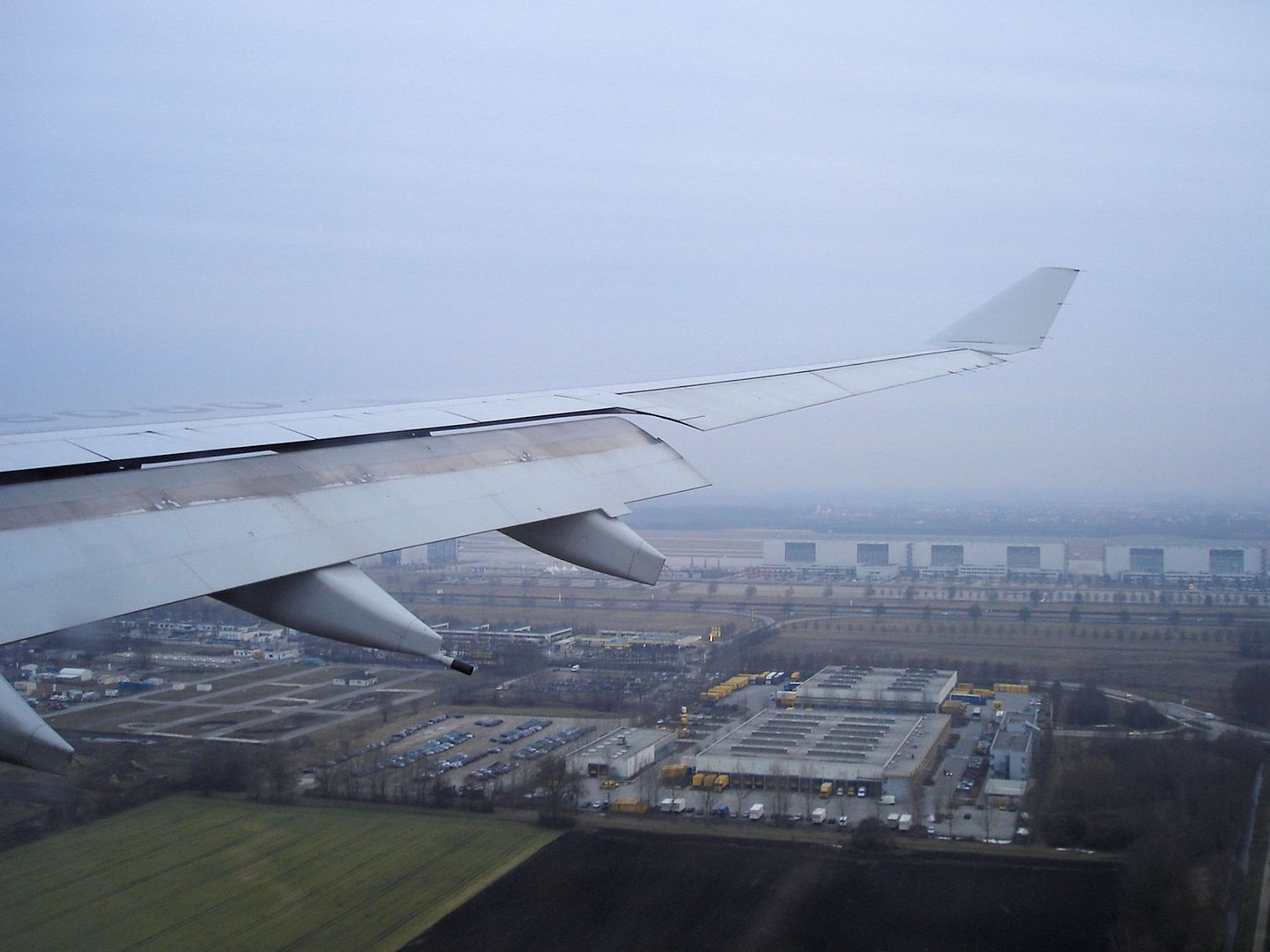 Lufthansa A320 ready for departure: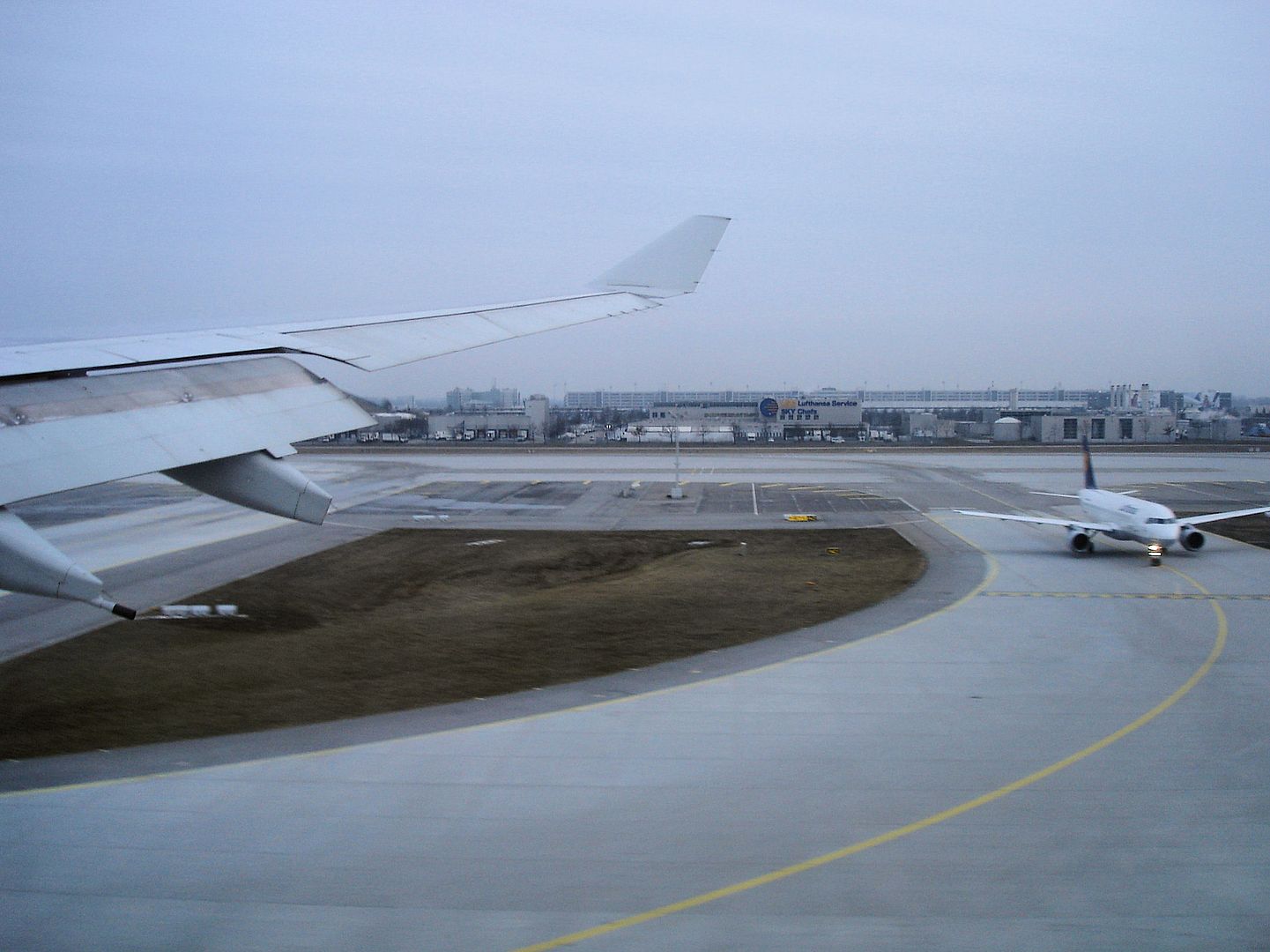 10 hours and 8 minutes after takeoff we touched down and taxied to our gate at Terminal 2...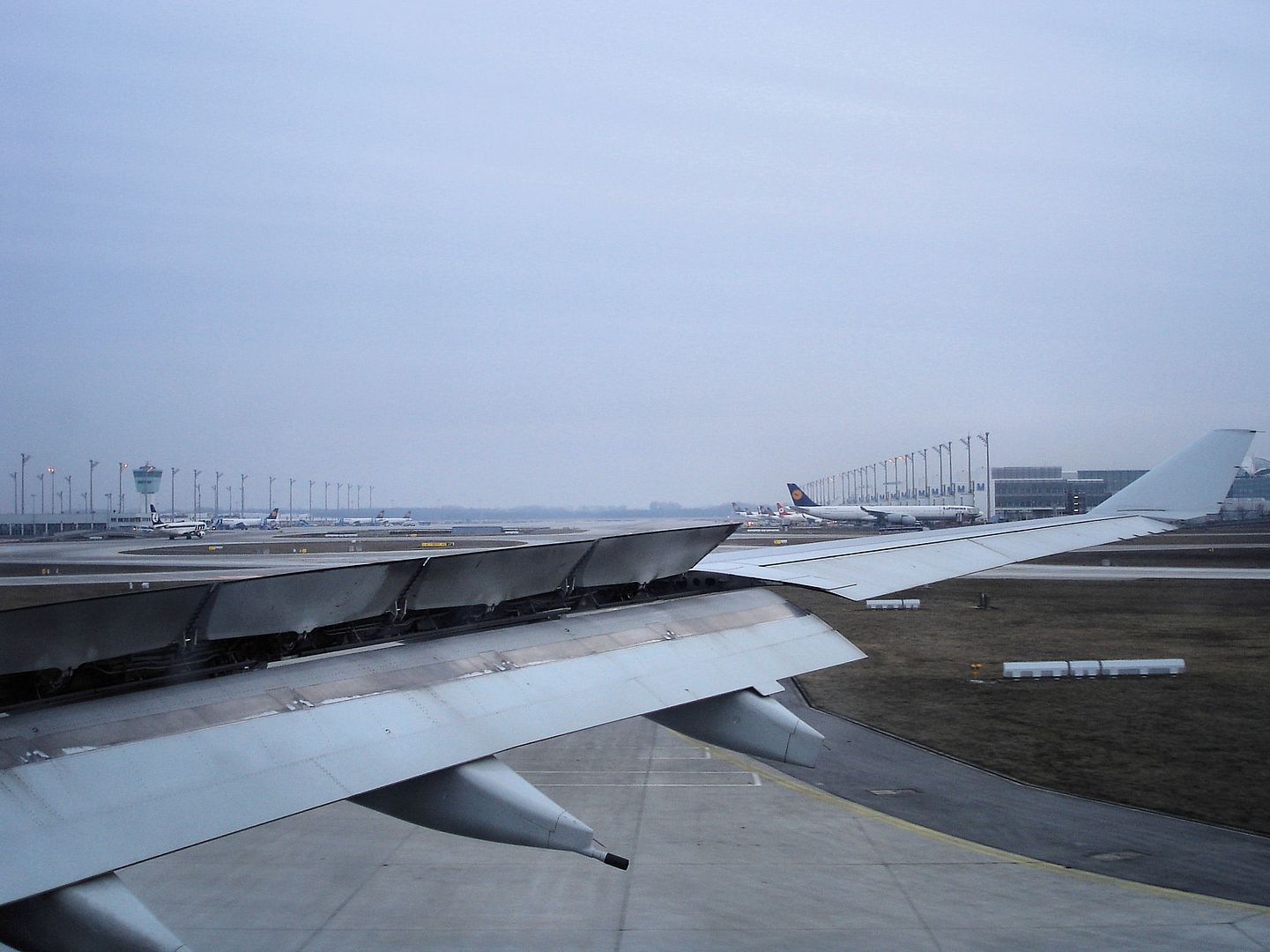 ...where we arrived 11 minutes behind schedule. After disembarking we were surprised to see two Bundespolizei officers (federal police, formerly known as border police) checking passports and IDs in the middle of the passage behind the jetway. It was a totally unorganized procedure and I wasn't sure about the purpose considering that all passengers had to pass the regular passport control counters anyway. After ten minutes we were able to continue to the counter area where about 200 passengers were lined up in two queues. Many Chinese passengers were waiting in the "EU citizens" line which was not surprising considering the small size of the signs - those are not easy to read. And the police didn't care about that, most likely due to a shortage of staff. So we had to spend another 15 minutes in line...welcome to Germany.
Conclusion
After reading numerous negative comments and reports about
Air China
prior to the trip my expectations hadn't been very high. However, the flight was much better than expected. The cabin was clean and in relatively good shape, the seat was comfortable and the legroom was generous. Even though the IFE system cannot match many other carriers' systems, it's still sufficient for long flights. The catering was not bad in general, but it needs to be improved. Air China should also enhance its crew training because some flight attendants weren't friendly and didn't smile at all. Anyway, I wouldn't mind to fly on Air China's PTV-equipped planes again (A330-200 and A330-300) as long as the fare is attractive. However, I would avoid tight connections at Beijing. Both the airport and the airline really have to make sure that transfer passengers don't have to wait an hour or even longer in various queues.
No doubts, the whole trip was a huge success from an enthusiast point of view. I flew on three new airlines and six new planes, including five widebody aircraft, and logged a total of 108 new registrations. I also thoroughly enjoyed the non-aviation parts of the journey - it's always a great pleasure to visit the Gulf States and South-East Asia. I can't wait to go again.
Best Regards,
PlaneHunter
P.S.: Just in case you missed them - other more or less recent reports:
Cancellation Brings Joy: HKG-PEK on Dragonair A330
A380 Cacophony, 777 Star Livery: DXB-SIN-HKG on SQ
The Next 5* Carrier? MUC-MCT-DXB, Oman Air A330
Turkey For 1.5 Hrs: Daytrip To AYT On Sky Airlines
CO Scores Again: ATL-IAH-EWR-FRA On ERJ, 752 & 764
Riding The Ultra Long-Haul Twin: Delta 777-200LR
Pacific Coast Jaunt: 3 Carriers, E120, E140 & Fog
The Ultimate 737: LHR-IAH-PDX On CO 777 & 739ER
Bye Bye, Hell! TRD-OSL-TXL-NUE - DY/AB/HE DH4
My Trip To Hell: NUE-CPH-OSL-TRD On Cimber & SAS
SFO-YUL-FRA: Map- & Sleepless On Air Canada's 77W
Sin City Gloss & Virgin America's Chic First Class
Seat Dilemma & Canyon Glamour: FRA To LAX, AC 763
On Par With Air France? DTW-AMS-MUC, KLM A330
Goodbye, Red Tails! DC-9-40/50 & Chicago Tour
Champagne & World Of Coke: Air France A340 To ATL
"Mission A380": Disappointing Legs On BA/BD/EI
Delights Of Doha, 773 & 77W: DOH-DXB-LHR On EK
A380 Really a Step Forward? LHR-DXB-DOH On EK
Quality & Style: HKG-LHR On Air New Zealand 744
Taiwan Trio: TransAsia, UNI Air And The Taipei 101
"The Wings Of Taiwan": EVA Air A332, 744 Combi
SHA-SZX, Shanghai 757: Delayed By The Military
PEK-SHA, China Eastern A330 & Shanghai At Night
Striking Newcomer: Berlin-Beijing On Hainan A330
[Edited 2010-05-29 03:12:58]