Background
As I have great interest in former communist countries, going to a former USSR republic has always been high on my travel list, after having been multiple times to Poland, Czech Republic, Slovakia, Hungary, and even to East Germany not long after the fall of the Berlin wall. For my first time in the former USSR, I chose Ukraine because of its specific location (geographically, but also politically) between Eastern Europe and Russia, for its rich history, for its diversity and vastness, and also because I think names such as Kiev, Sevastopol or the Crimea have something fascinating.
I would have loved to fly on soviet-era planes, which still lack in my log, but unfortunately, the need to plan the trip in advance, my time and budget constraints and the fact that both my travel companions have little interest in aviation made it impossible to find a reasonable plan. Still, as a consolation, I sampled a couple of domestic ukrainian flights, and paid a very interesting visit to Kiev's aviation museum.
After months of growing in my mind, the project advanced to its concrete phase in November of 2009 when I booked the first flight of the trip, between Brussels and Odessa, via Warsaw. The following months were spent in intensive preparations : reading books, press, websites, learning Russian and basic Ukrainian, ... By the end of April, I could read cyrillic fluently and speak and understand basic russian phrases without hesitation. This was very useful when I successfully tried to book ukrainian train tickets on-line (including on-line payment), using a brand new experimental booking engine of Ukrainian Railways website, available only in Ukrainian or Russian. All this may give the impression of an over-preparation for the trip, but this is something I like to do for those trips that are special to me, like my travels to Algeria.
On this trip to Ukraine, I was accompanied by 2 friends who were interested in discovering the country, but had no time or desire to go through intense preparation or learn the language. So, I ended up acting like their own personal "guide"
. Leaving my son and wife home in Belgium for 10 days was a bit difficult, especially given the fact that she discovered on the very first day of my absence that... she's expecting our second child
!
Note : most Ukrainian places have an Ukrainian and Russian name, and the country itself is divided into Ukrainian and Russian speakers. In this report I arbitrarily chose to use the spelling that seemed the most common to me. I'll write Russian names (Kiev instead of Kyiv, etc...) except for Lviv which seemed more common than Lvov.
Trip summary
- Flight Brussels - Warsaw - Odessa on LOT (B737-55D SP-LKC and Embraer ERJ-175SD SP-LIA).
- One full day (and night) to visit Odessa.
- Night train between Odessa and Simferopol.
- Car rental in Simferopol to visit Crimea during 5 days. We stayed in Feodosiya, Yalta and Sevastopol, and visited multiple places in between, including Stary Krym, Koktebel, Sudak, Bakchissaray and a couple of attractions near Yalta.
- Flight Simferopol - Kiev on AeroSvit operated by DnieproAvia (B737-3L9 UR-IVK).
- 2 days (and nights) in Kiev.
- Flight Kiev - Lviv on AeroSvit operated by DnieproAvia (Embraer ERJ-145LR UR-DNR).
- 1 day (and night) in Lviv.
- Flight Lviv - Warsaw - Brussels on LOT (Embraer ERJ-175LR SP-LIK and B737-55D).
Departure
The weeks and days before our departure were placed under the sign of volcanic ash disruptions. I monitored the situation as it evolved and searched for train timetables, should we be stuck in Ukraine. Finally, on the day of departure, everything was back to normal. One of my friends picked me up at home (near Charleroi, Belgium) and we drove to Brussels to pick up the third participant, then to Brussels airport on very quiet highways at this early time.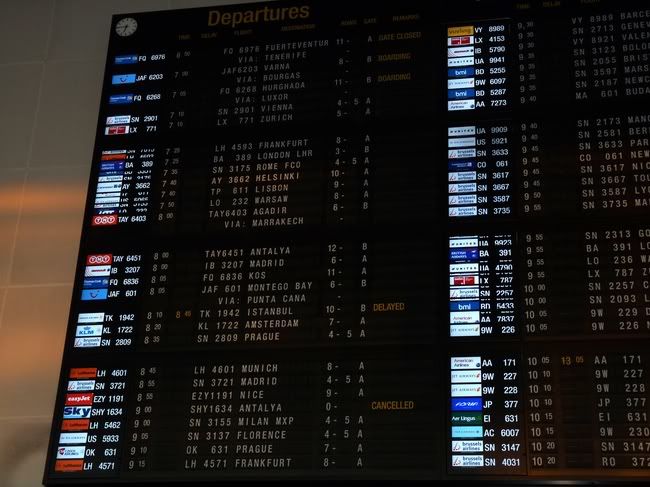 LO232 to Warsaw on time...
As I had printed our boarding passes online the day before, we only had to drop off our luggage at a surprisingly quiet LOT check-in counter then proceeded immediately through security. There was no wait at all, probably because it was Saturday, so after the long wall to pier A, we sat down at our gate well in advance, watching our 737-500 being prepared in front of the runway 25R take-offs.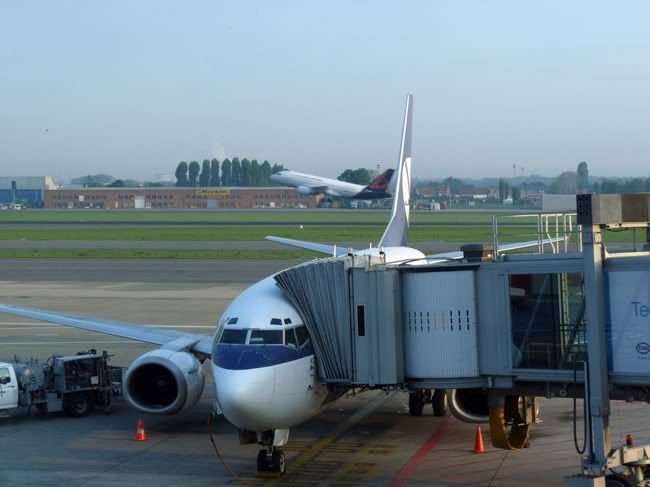 Our aircraft being prepared for its flight, with a Brussels Airlines A319 taking off behind.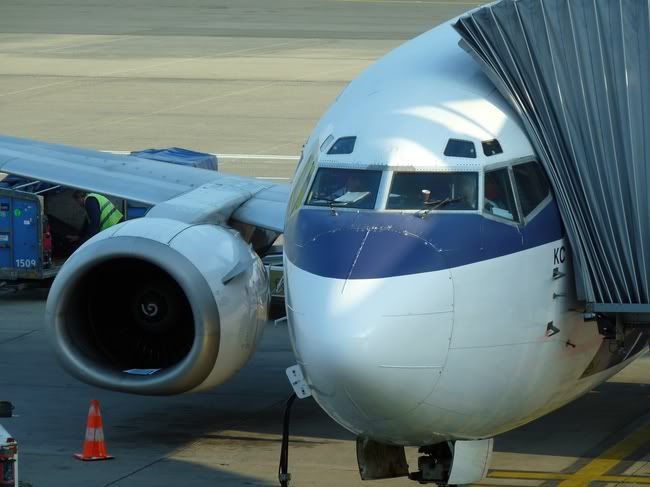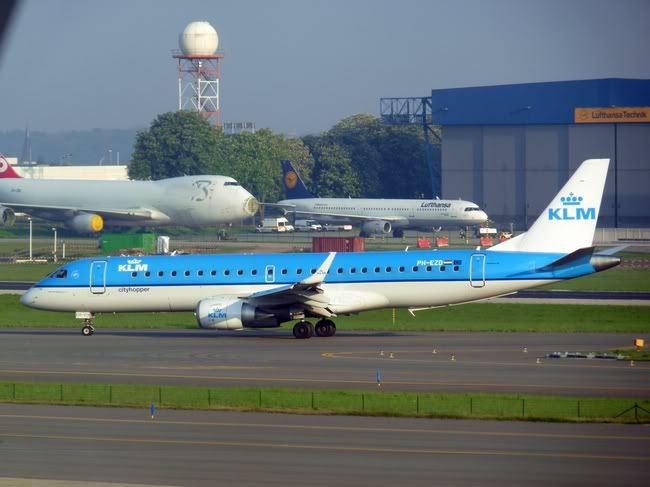 PH-EZD
We boarded through a jetbridge, and upon entering the cabin, I realized how short the -500 is, compared to my usual -800 or -400 flights. One of my friends picked up one of the free newspapers on offer and we took our seats on the second to last row. The load seemed good for a Saturday flight. We took off from runway 25R and made a long left turn offering an overview of the airport.
*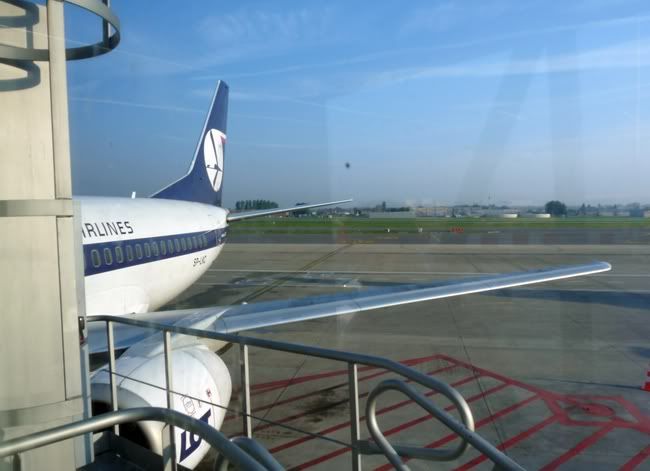 *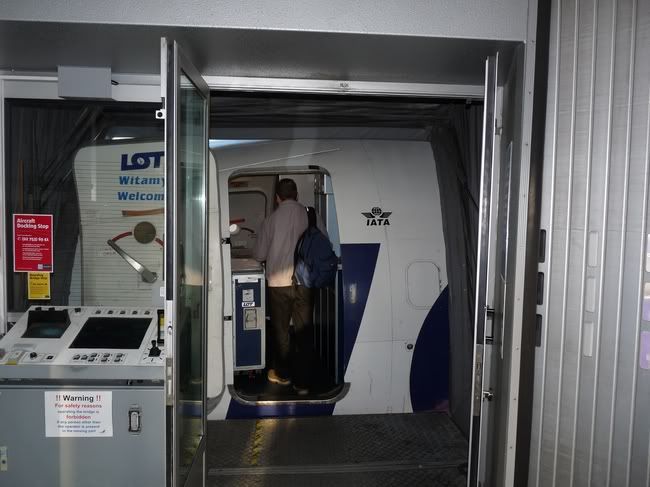 *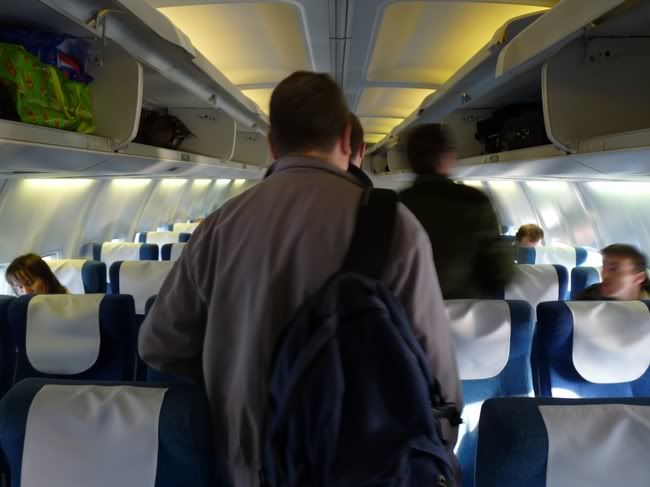 *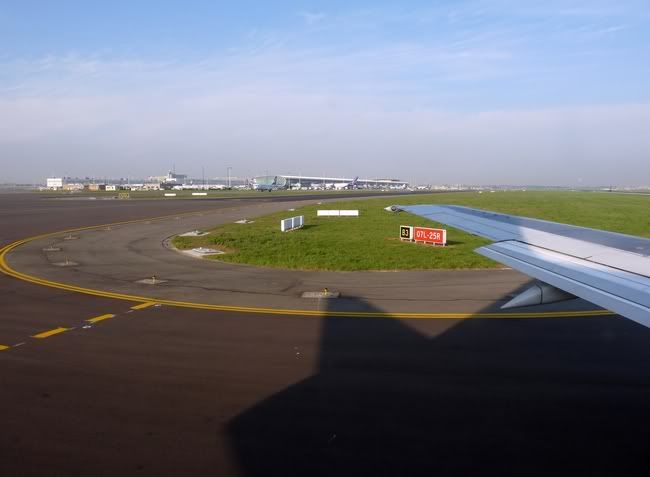 *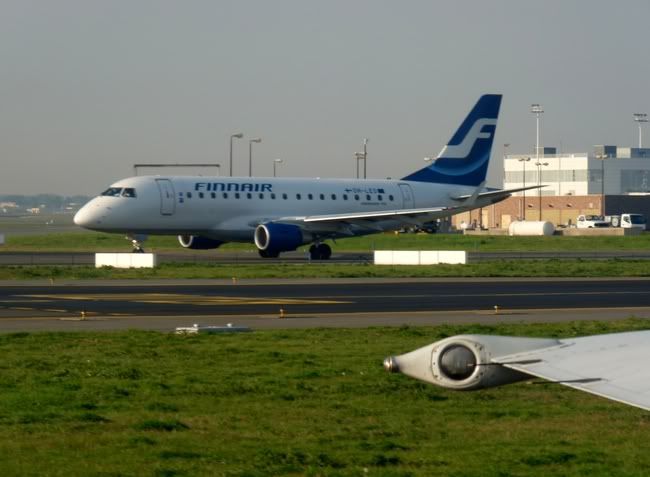 *
Overview of Brussels airport after departure.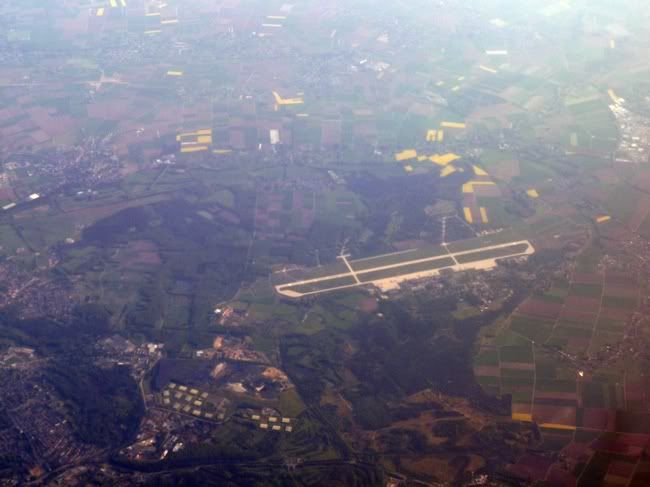 Haven't had time to look for this airport, probably in Germany near the Belgian border. If anyone can help...
A cold, correct breakfast was served 20 minutes after departure, and refreshing towels and warm bread rolls were offered separately, along with a choice of (free) cold drinks, coffee and tea. The F/A's insisted that we take both a cold and warm drink, and I even saw a gentleman order some wine... I mean, red wine with breakfast ? Even though the cabin showed its age, the comfortable seats, good breakfast, smiling and seemingly motivated flight attendants made the flight pleasant.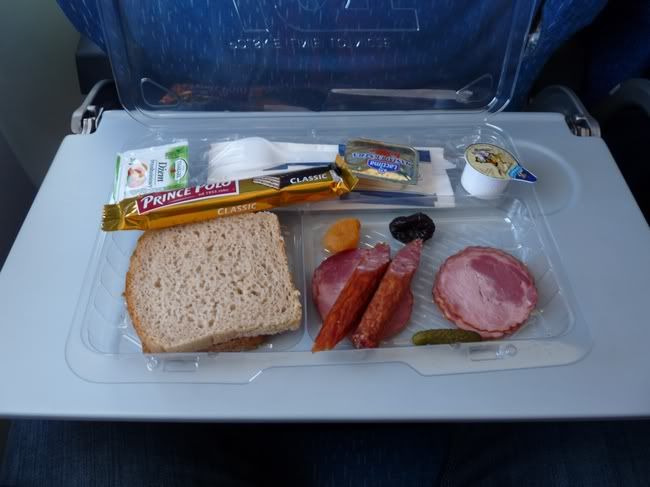 Warsaw airport
We landed at a dull Warsaw on time. Last time I was here (in 2007), terminal 2 was in its final days before completion, and its opening sure is a welcome addition. I find its architecture relatively uninspired, but at least it's functional, modern, clean and easy to navigate. Although we were just connecting, we had to pass through a security check which took forever, with only one station open for all connecting pax. When we finally passed, our flight to Odessa was almost ready for boarding, so we went to the gate located in the non-Schengen departures area (after a specific passport control), just beside the gate for LOT flight 001 to Chicago.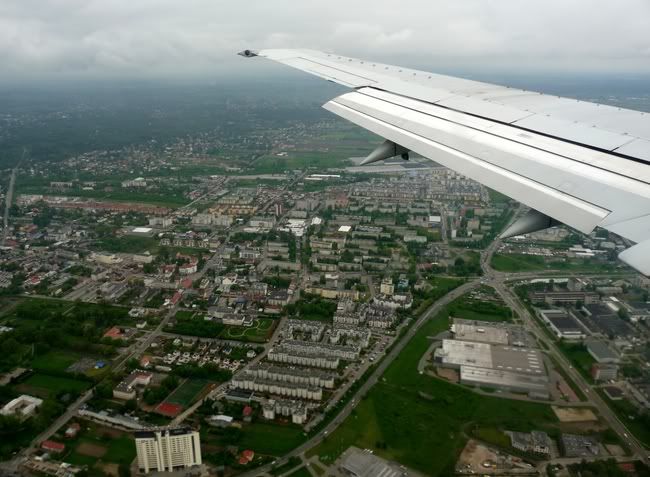 *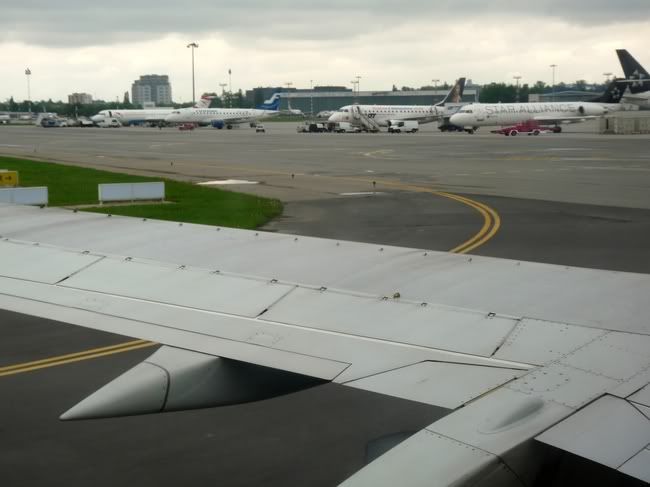 *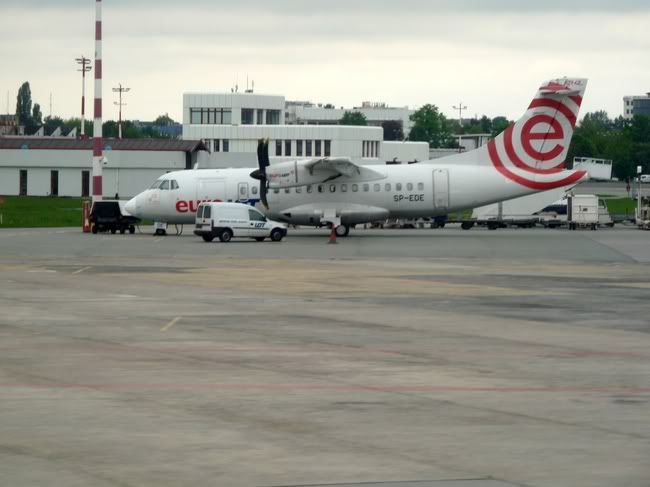 *
VIP terminal, I think.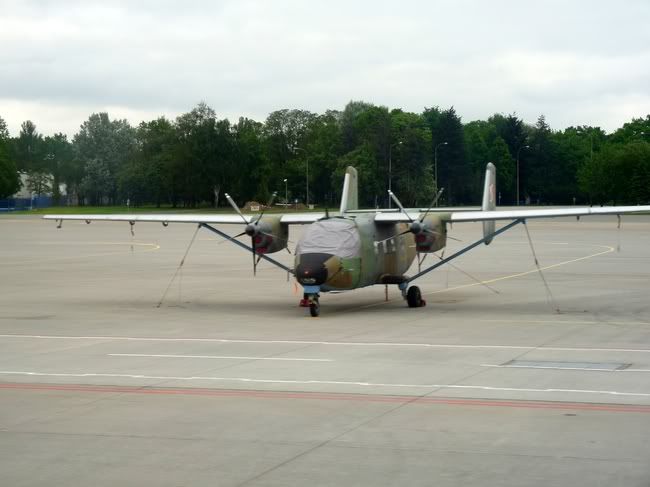 *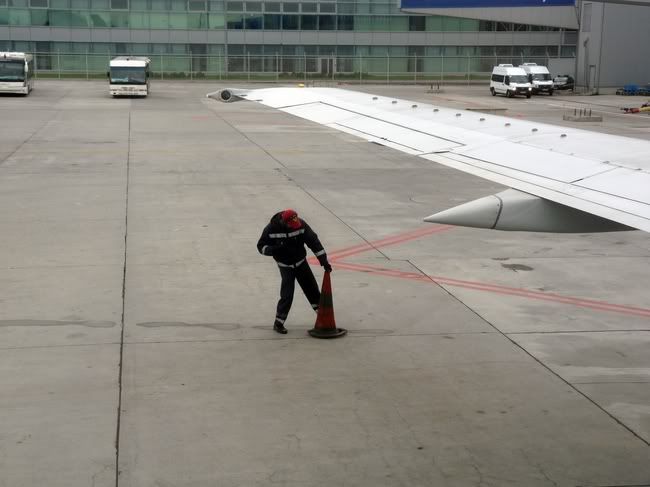 *
*
*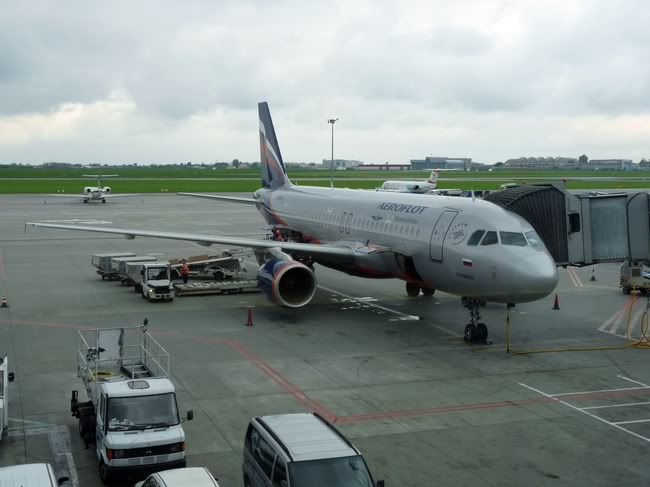 Flying to Ukraine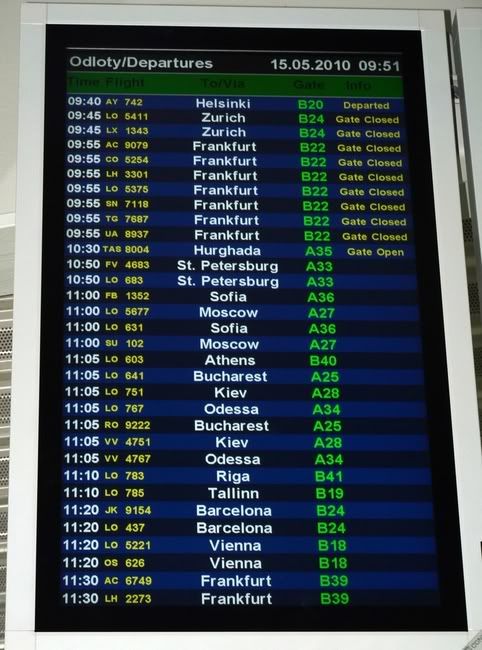 Our flight to Odessa at 11:05.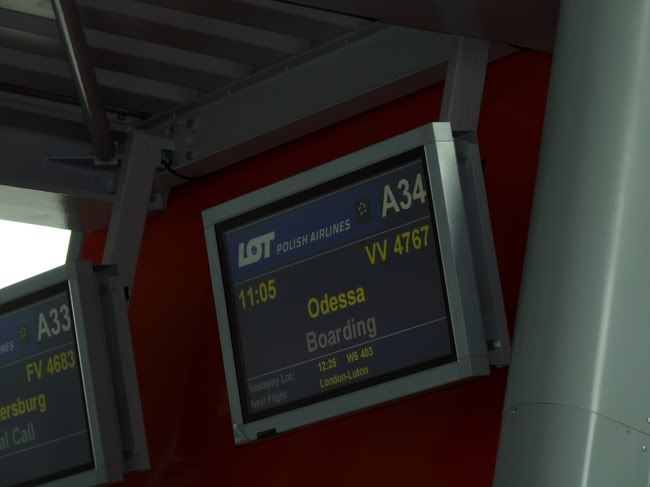 We were bussed to a remote stand where our Embraer ERJ-175 was waiting for us. We were originally scheduled to fly on a 145, but the equipment was changed 2 weeks before the flight, probably because of the good load, from what I figured out once on board. Since my first Embraer flight between Philadelphia and Montreal last year, I've come to think that those little birds are quite comfortable, sometimes even more so than mainline equipment, and this made no exception. After a small wait, the captain explained that we had to wait for some connecting pax inbound from New York. We ended up departing with some reasonable delay.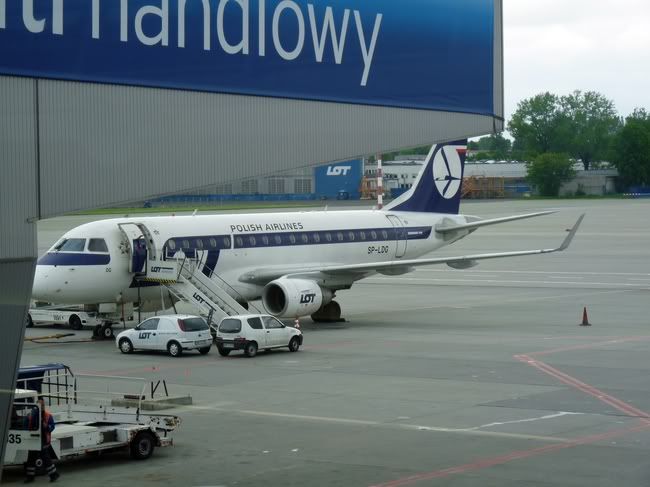 *
*
*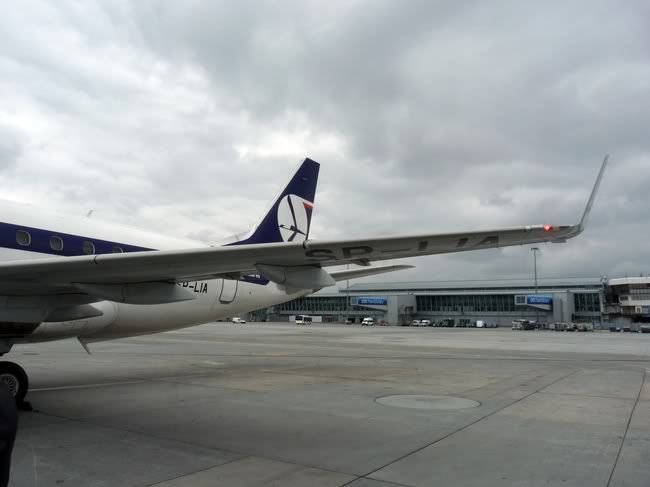 Our aircraft (SP-LIA).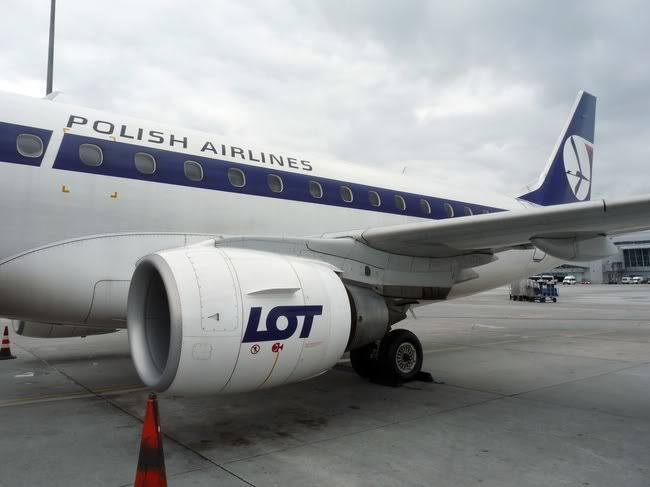 *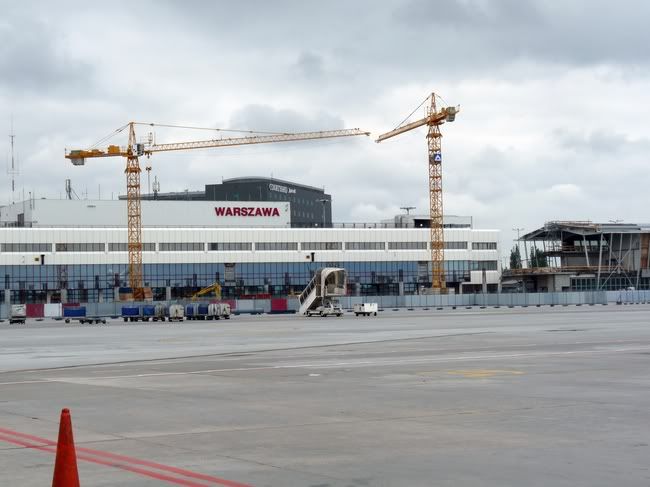 *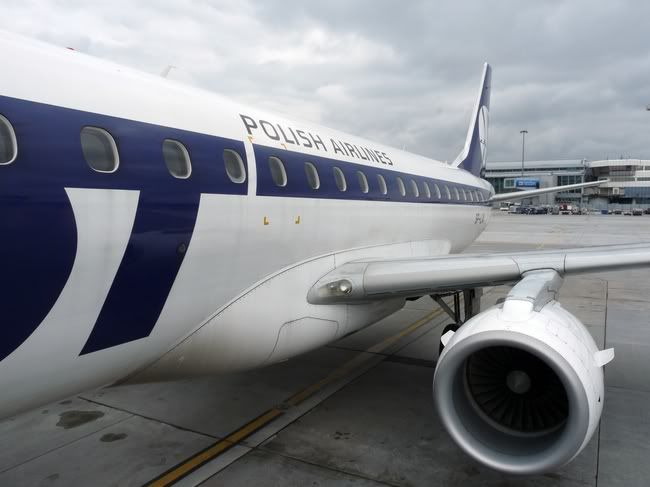 *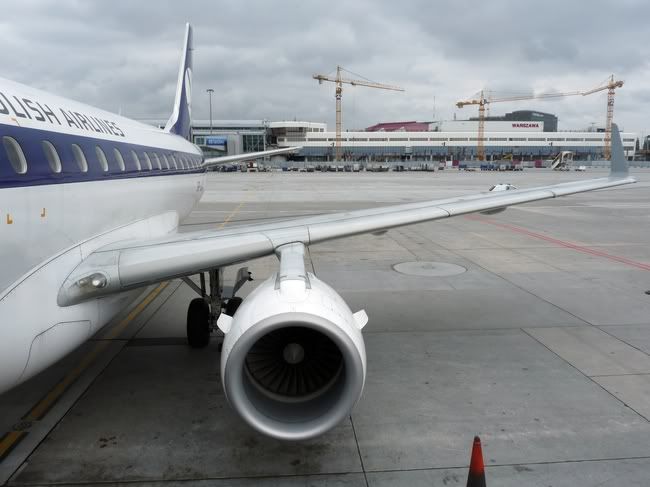 *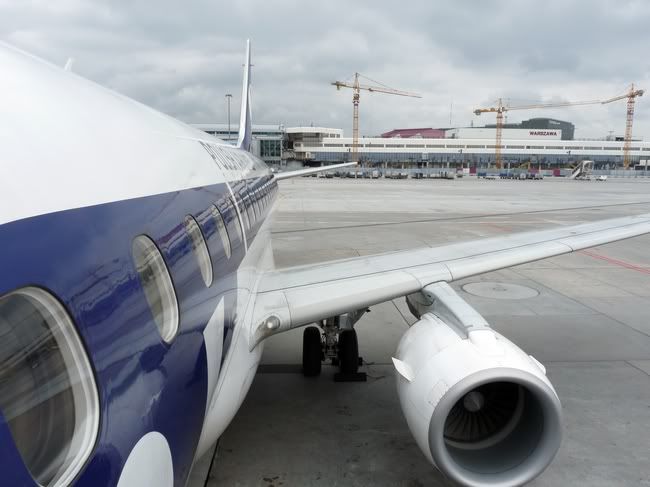 *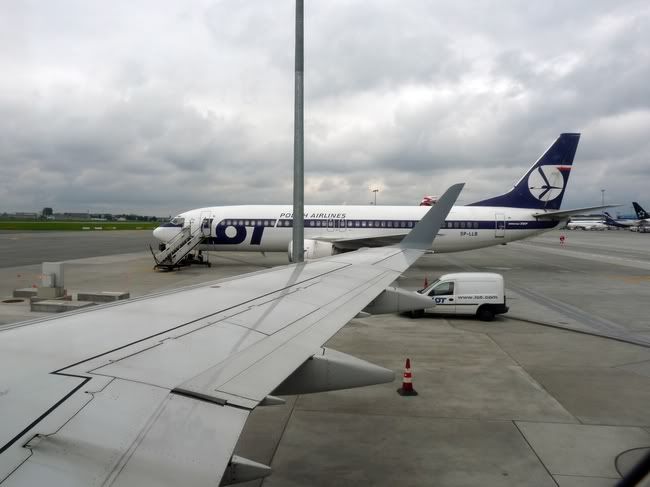 *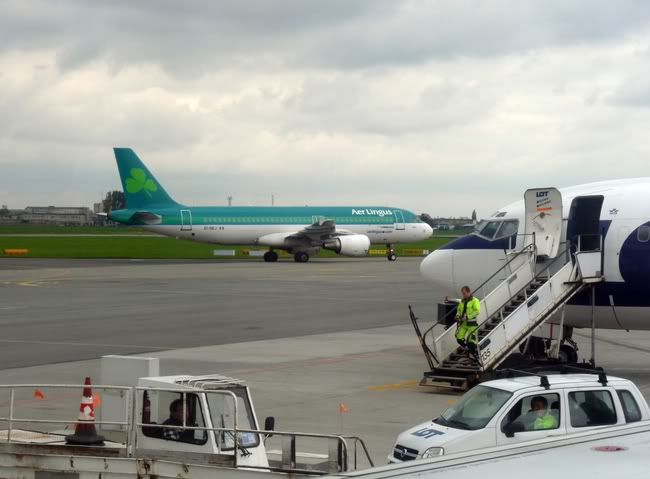 *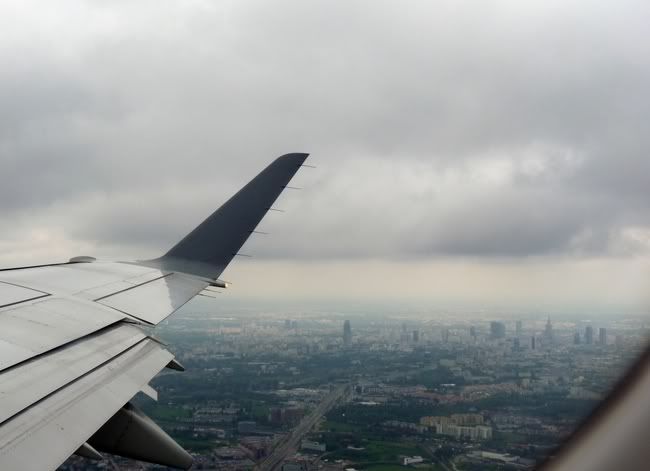 Warsaw skyline in the haze.
We didn't take a direct route to Odessa. Instead, we flew due East into Ukraine before turning South to the Black Sea. During the descent above the Dnister delta, I noticed the vastness of ukrainian countryside. We landed smoothly but the runway seemed in pretty bad shape (cracked concrete blocks with asphalt joints), which gave a pretty shaky sensation during the landing roll. We made a U-turn at the threshold and backtracked to a taxiway to finally end up on the small apron in front of the terminal building. An Ukraine International 737 seemed to be the only other active aircraft on the airport, but some other metal was resting on remote aprons, including an exotic Fars Air Qeshm Yak-42 with an ukrainian registration.
*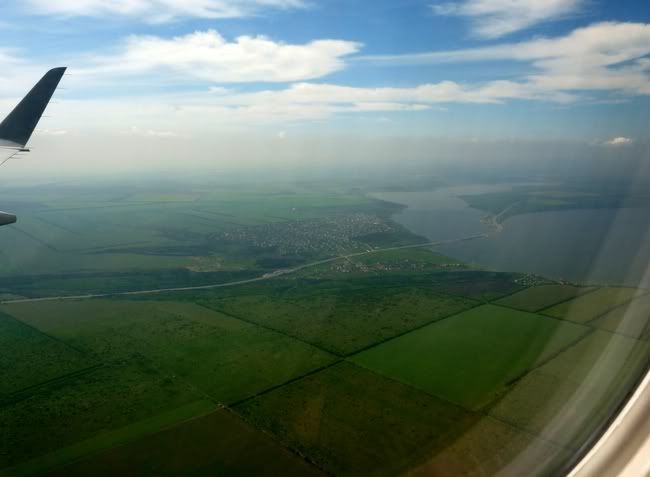 Near Odessa.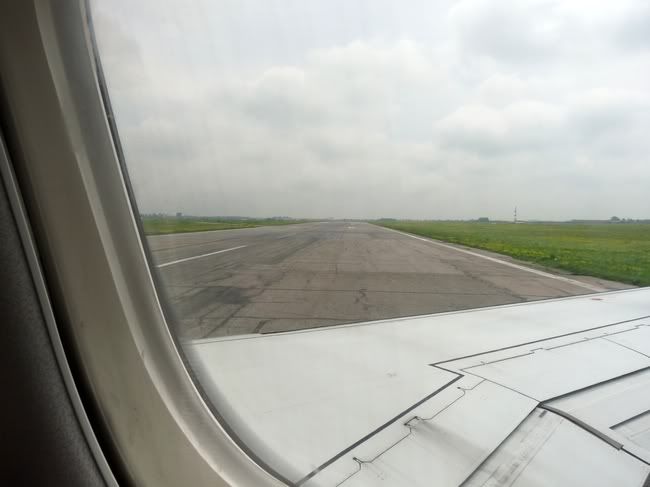 U-turn on the runway after landing.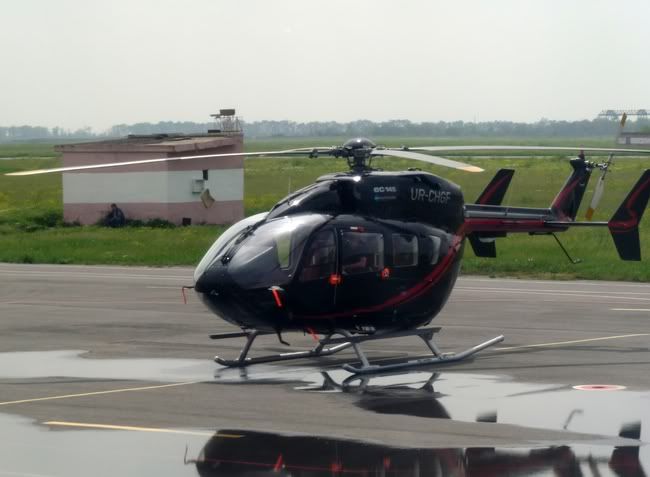 *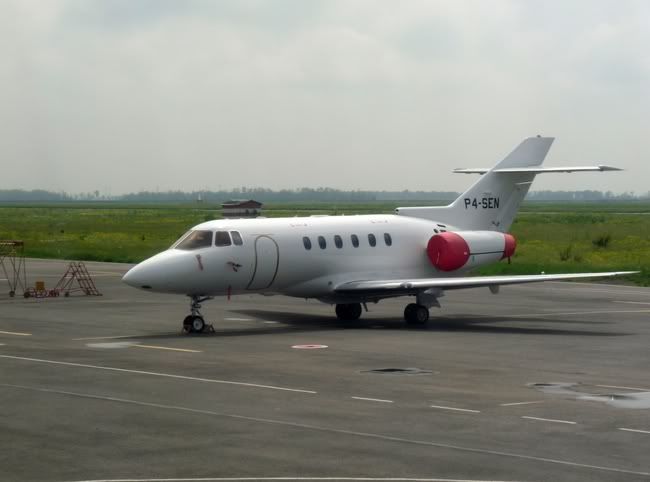 *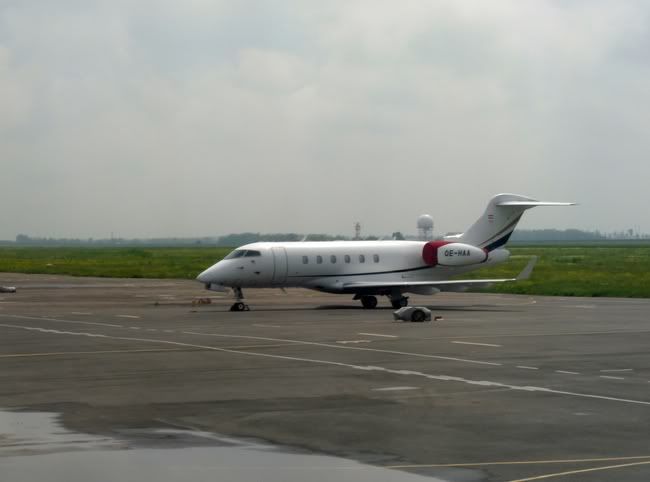 *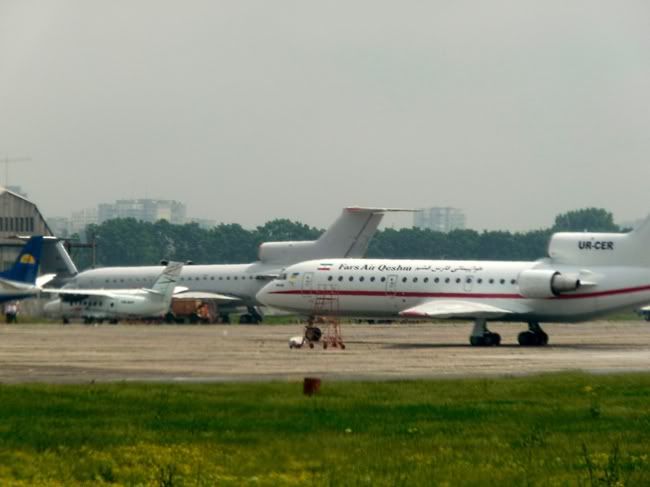 Odessa airport
Walking down the airstairs, I took a photo of the terminal, when a security officer waived at me and shouted "no picture !". Fortunately, I had pressed the shutter button just before I heard him, so, smiling at him I said "OK, no problem". We were bussed to the small, old-fashioned arrivals terminal where our driver was waiting for us. We passed through passport control (friendly officer) and collected back our luggage on one of the two carrousels in a sixties looking hall, before entering the public part of the terminal. I must add that customs services looked very alert, thoroughly looking at all bags on the carrousels with sniffer dogs. They seemed to scrutinize every luggage tag and pick some bags to inspect them then put them back on the carrousel. I was picked by an officer who seemingly wanted me to open my case, but our driver said something in Russian and the guy let us go.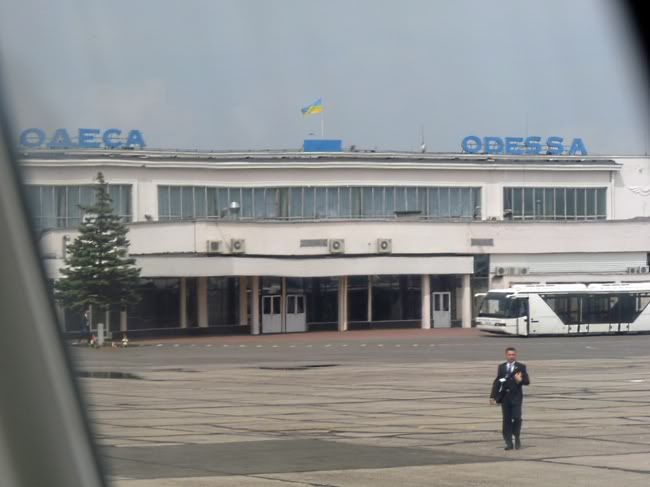 *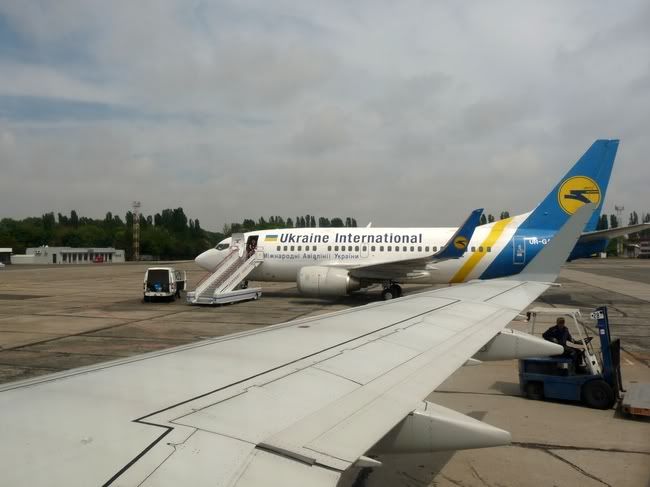 *
*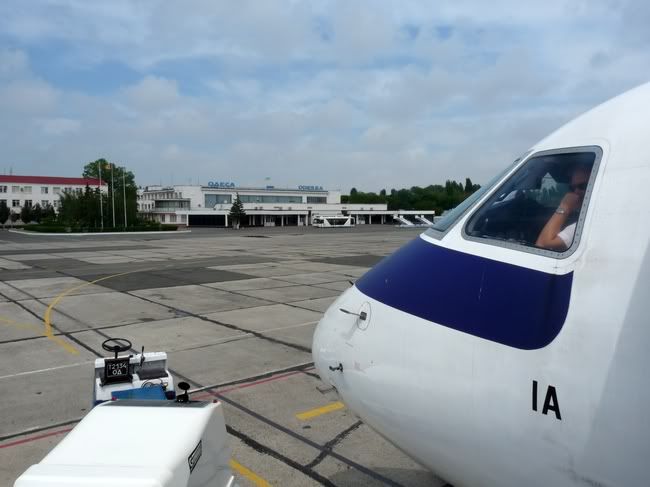 *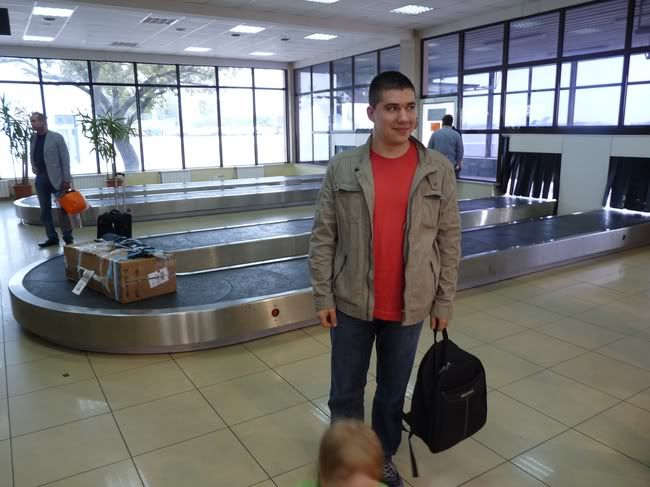 Certainly not the best picture of me, but I included it to show the baggage claim hall at Odessa.
The public part of the terminal looked old and was overcrowded. A lot of taxi drivers (official as well as unofficial) tried to sell their services, sometimes a bit agressively. Our driver was walking fast, ignoring them, leaving me no time to take a photo, however, once outside, I asked him to wait while I was shooting the terminal building.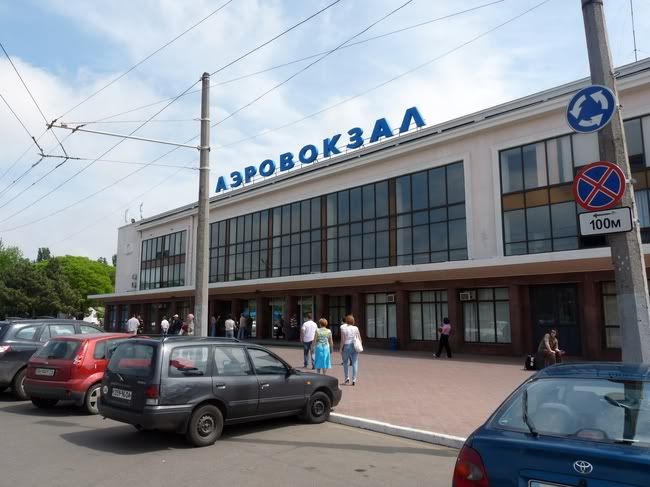 Odessa
Odessa made us a good impression. It has some nice architectural examples and an easy going atmosphere in a relatively compact centre. It doesn't have that many tourist attractions, but enough to keep us busy for two days. The city is famous for its Potemkin stairs, but save for the cinematographic interest, we didn't find them that impressive. It was however nice and interesting to wander around the city, in the animated streets of the centre, the parks, the deteriorated suburbs, and along the Black Sea beaches.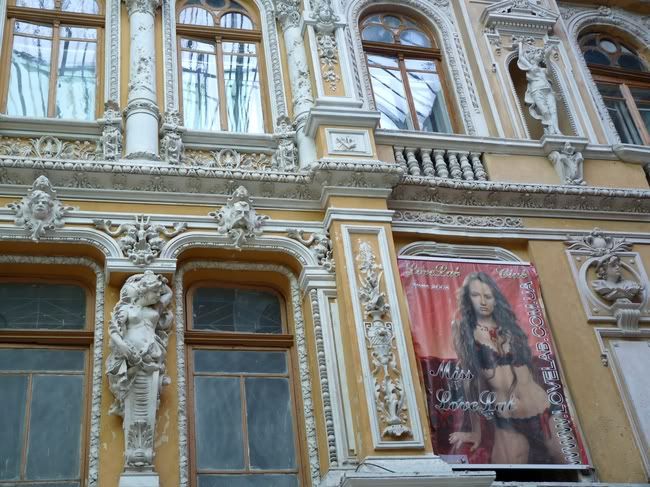 In the
Passaj
shopping galleria.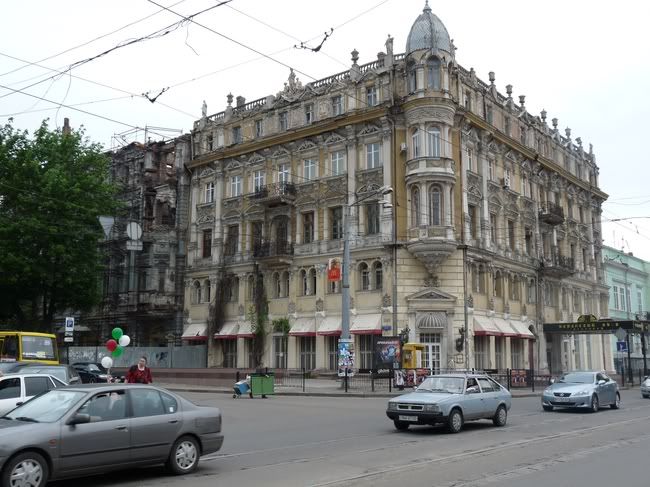 *
An old Volga.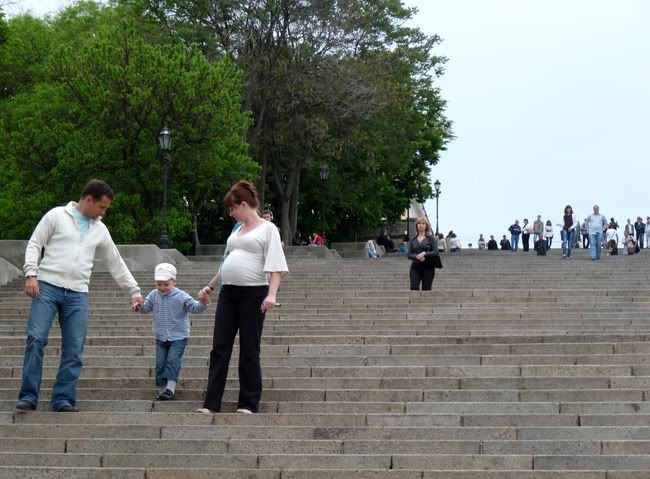 On the Potemkin stairs.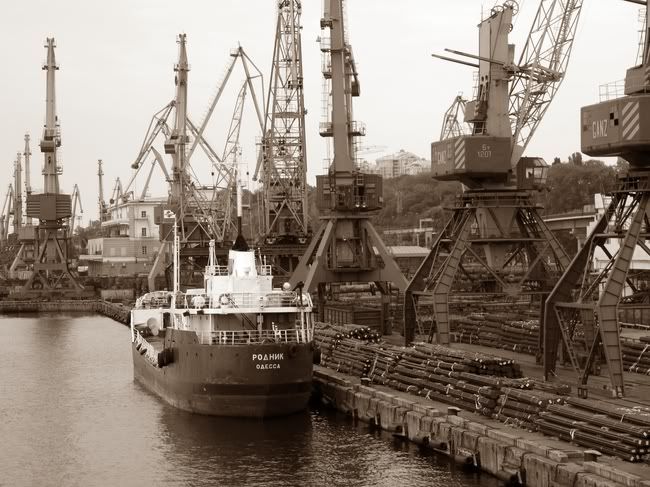 *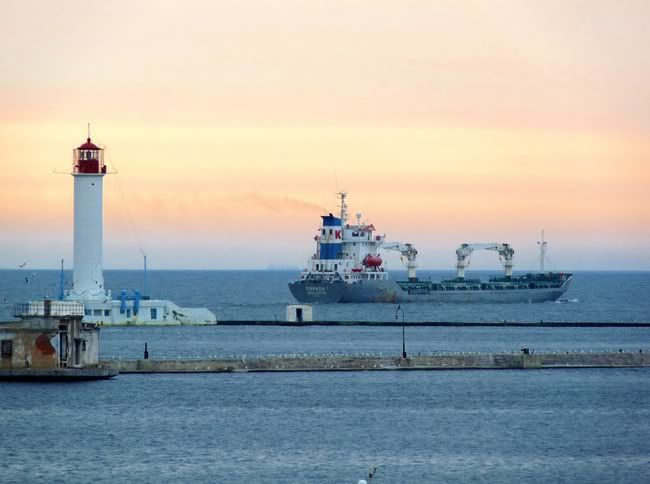 *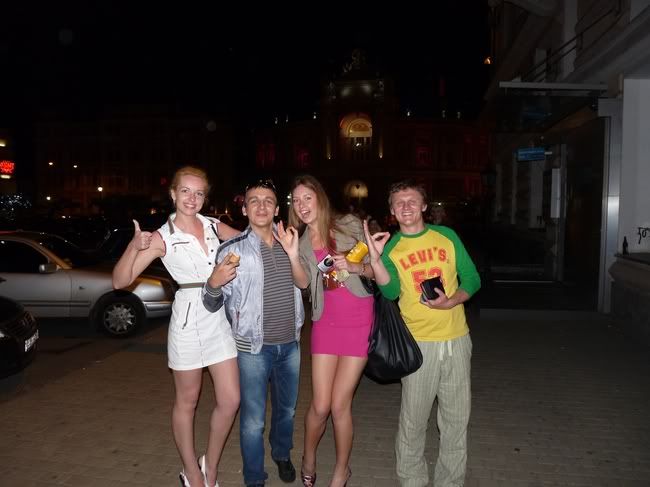 A nice group of Russian tourists who couldn't believe we were coming from Belgium...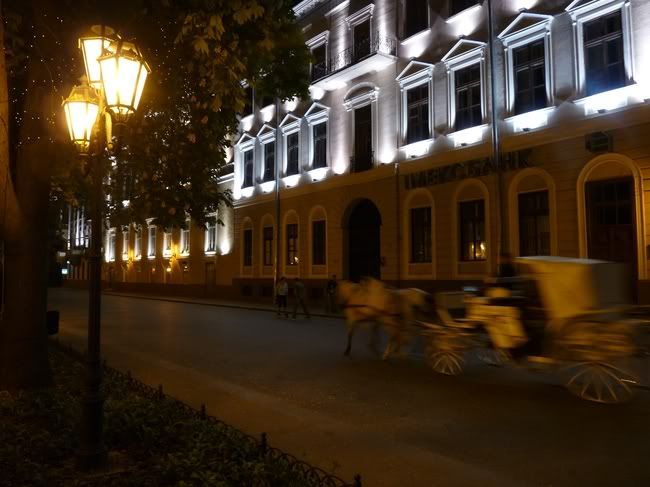 *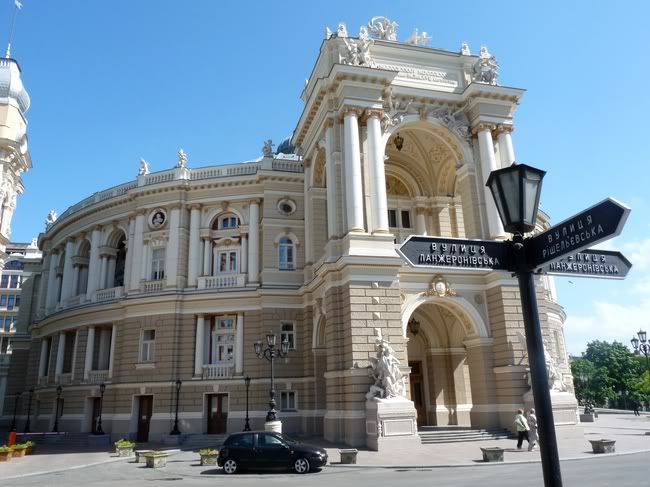 The Odessa opera building.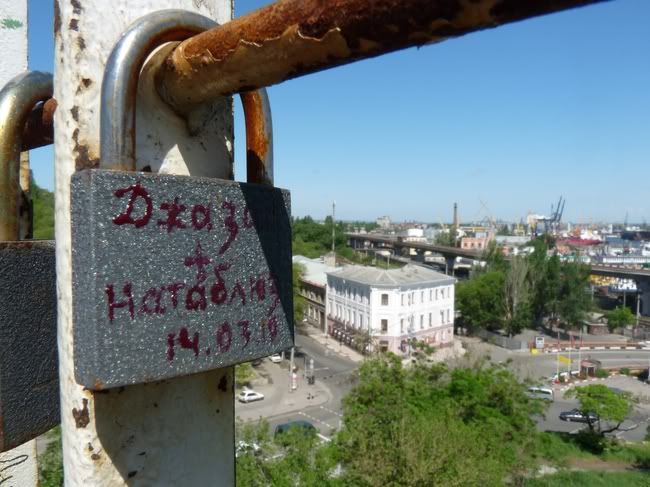 *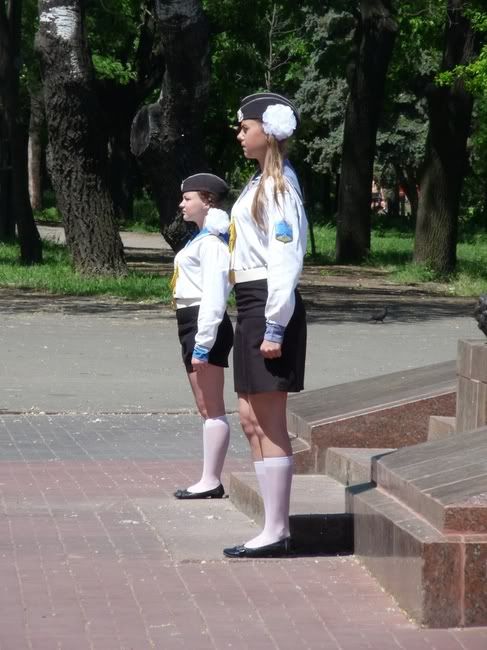 *
*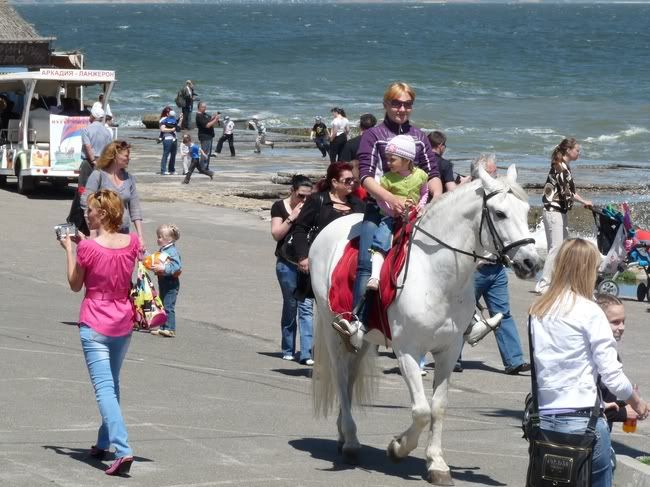 *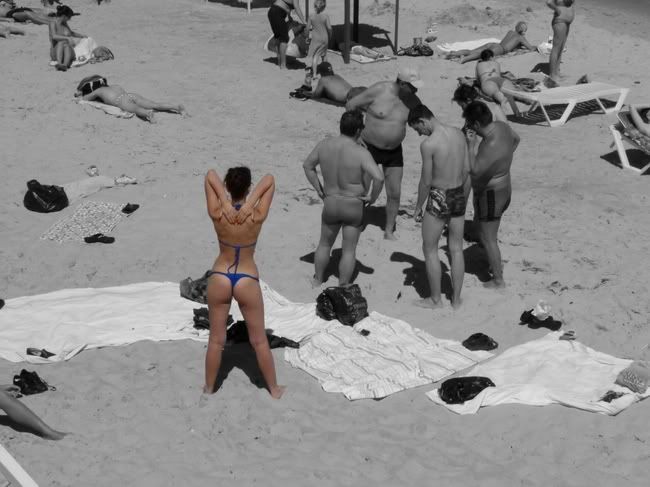 *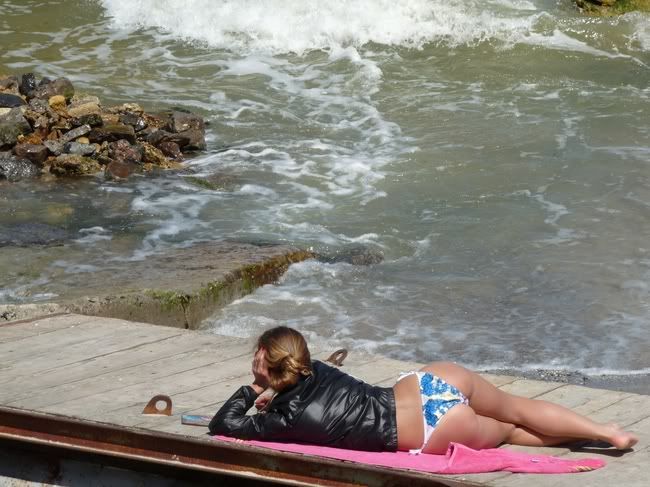 *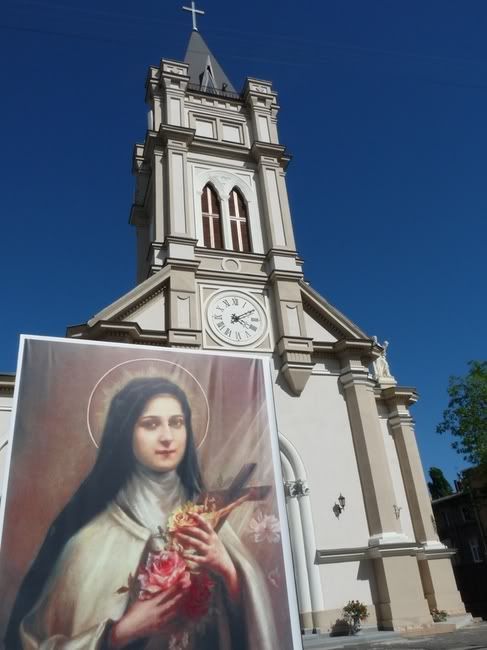 One of the very few (the only ?) catholic church in Odessa.
Night train between Odessa and Simferopol
Taking a night train in Ukraine was quite an experience. We boarded a soviet-era train in Odessa at 7:15 pm. The interior of the carriage looked really old and temperature inside our compartment reached 28°C (it cooled down a bit during the night). There were 4 couchettes in the compartment, with pillow and linen provided in a plastic bag, but without gate to prevent you from falling in case of sudden braking. The providnitsia (the carriage attendant) provided us with coffee and tea in the evening and in the morning. Although the ride was far from smooth, probably because of the bad state of the tracks (or carriage suspension...) and the numerous intermediate stops, we still managed to get some sleep. The atmosphere inside the train was interesting and the ride gave us a good occasion to get some insight in the preferred transportation mean of Ukrainians. Eventually, we arrived in Simferopol after a 12 hours ride, grabbed some breakfast, and took an ancient trolleybus to the airport to pick up our rental car.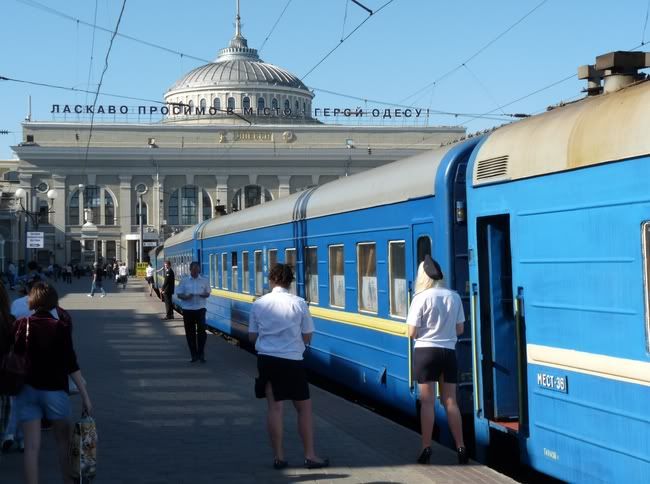 Unfortunately, our
provodnitsa
(carriage attendant) didn't look like that...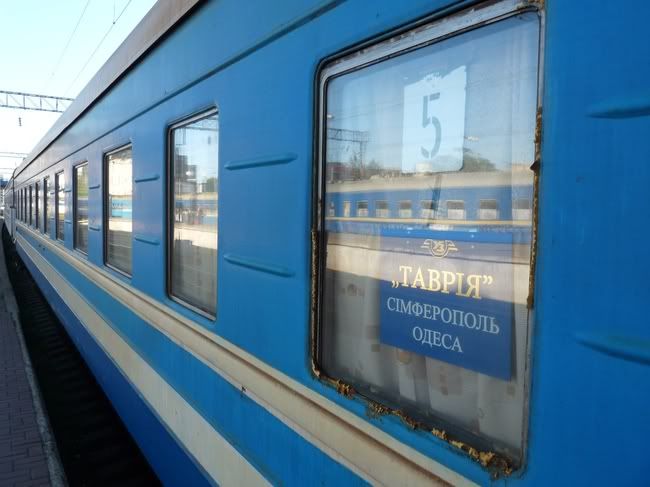 *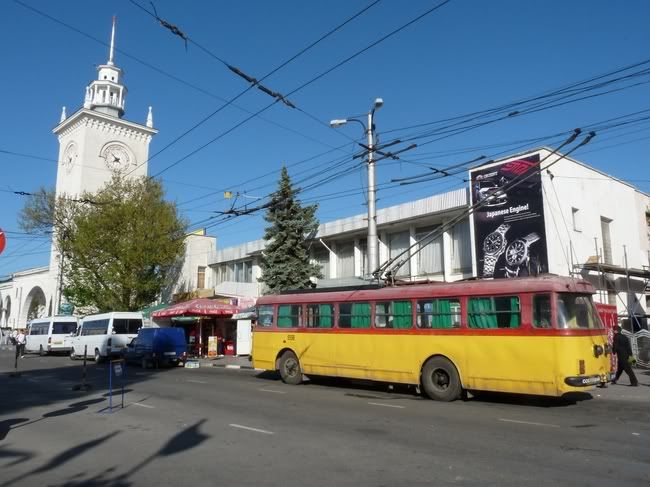 At Simferopol station.
Exploring Crimea
We had a great time exploring Crimea with the car. The first day, we left Simferopol for a very small village to walk around the Ak-Kaya white mountain. We had a basic lunch in the town of Belogorsk, then made our way to Stary Krim where we visited an old (but active) armenian monastery, as well as the oldest mosque in Crimea. The evening and night were spent in Feodosiya, a Black Sea resort crowded with Russian tourists (at least in the summer, because it was quiet when we were there).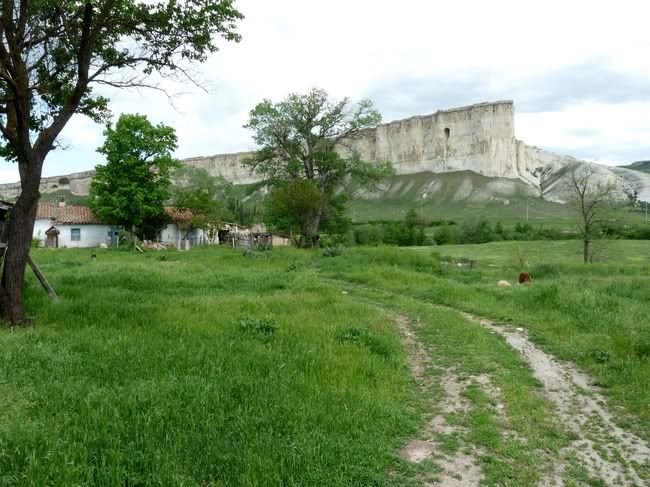 Ak-Kaya mountain.
*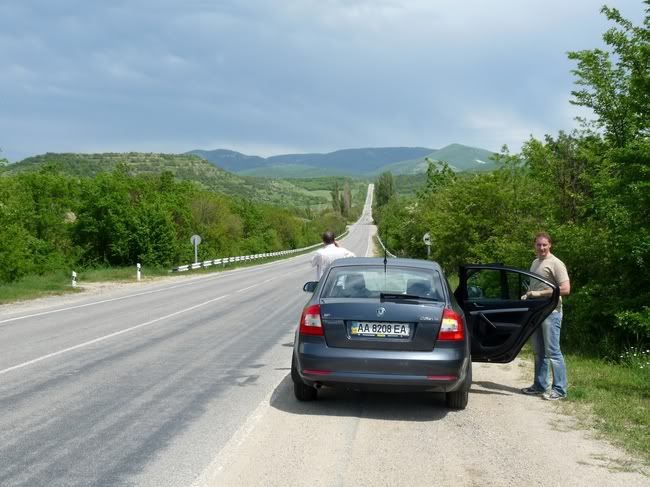 *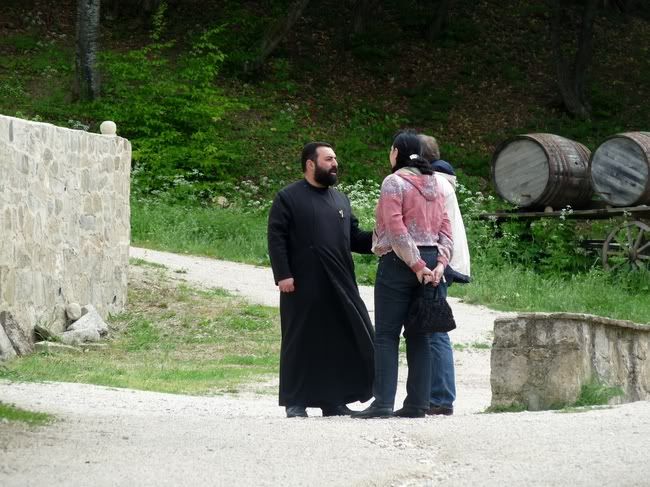 Armenian monk at a monastery near Stary Krim.
Stary Krim.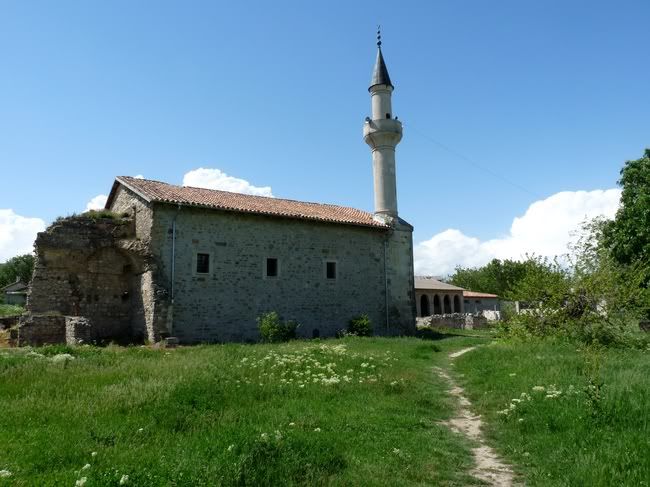 Oldest mosque in Crimea in Stary Krim (14th century). Front part rebuilt and active, back part in ruin.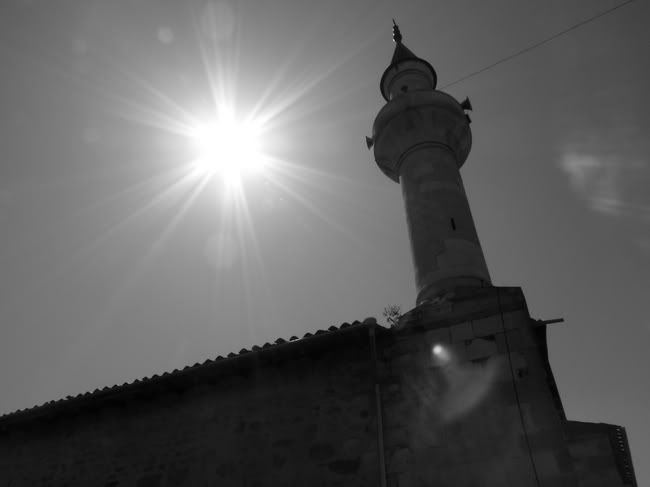 *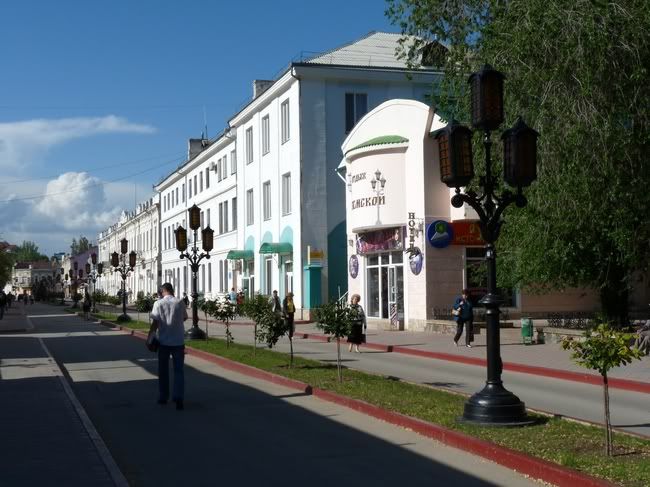 Feodosiya.
Feodosiya.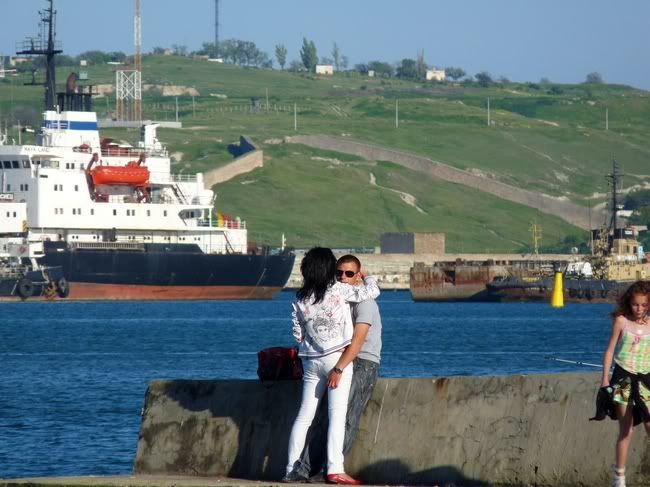 Feodosiya.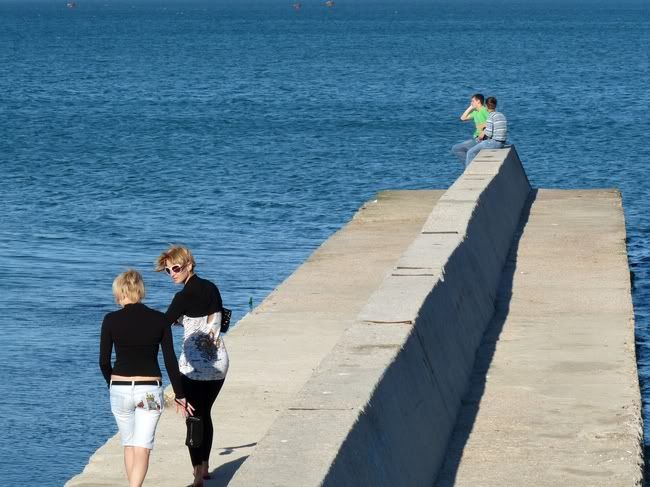 Feodosiya.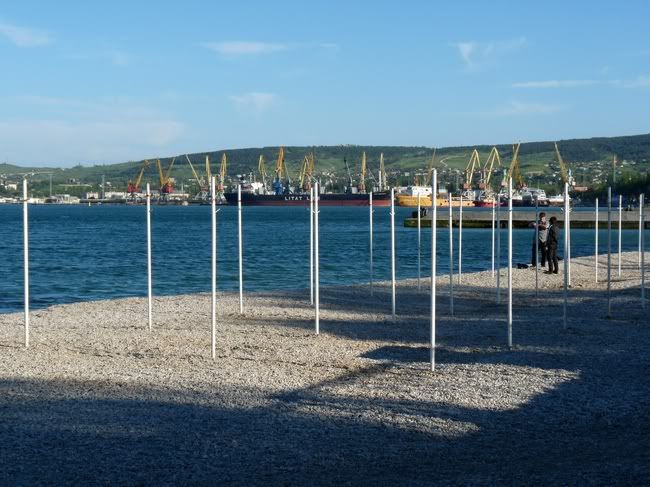 Feodosiya.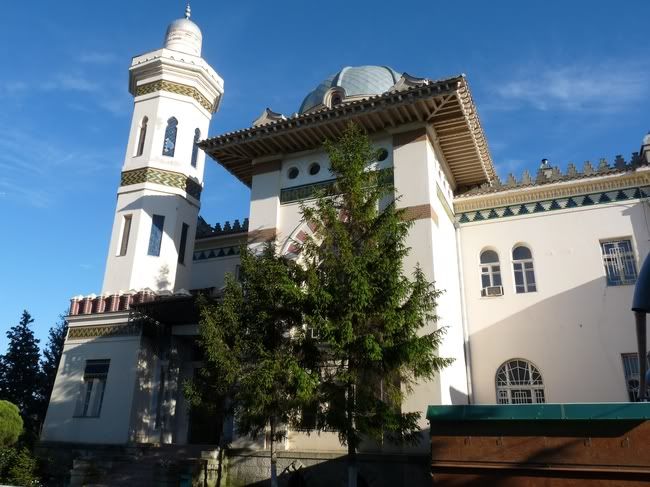 Datcha Stambuli in Feodosiya.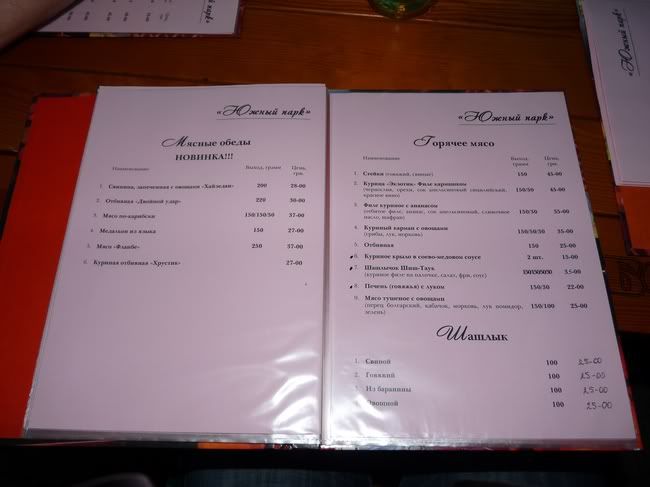 I told you you'd better learn some Russian to visit Ukraine...
The next day, we followed the coastal road until Yalta, stopping at Koktebel and Sudak, where we climbed the impressive genoese fortress and had lunch. We were kind of disappointed by Yalta, which is elegant and rich on the seafront (if you don't look at the beach, that is), but another badly maintained city as soon as you leave this small privileged area. We however spent the night there and had a couple of very good Mojito's at european prices.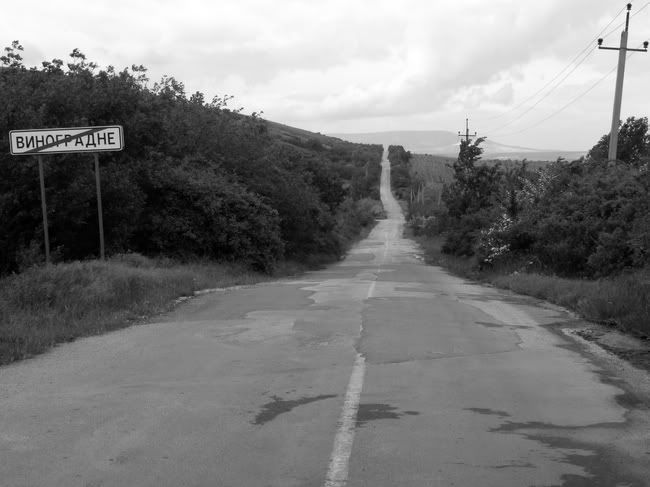 *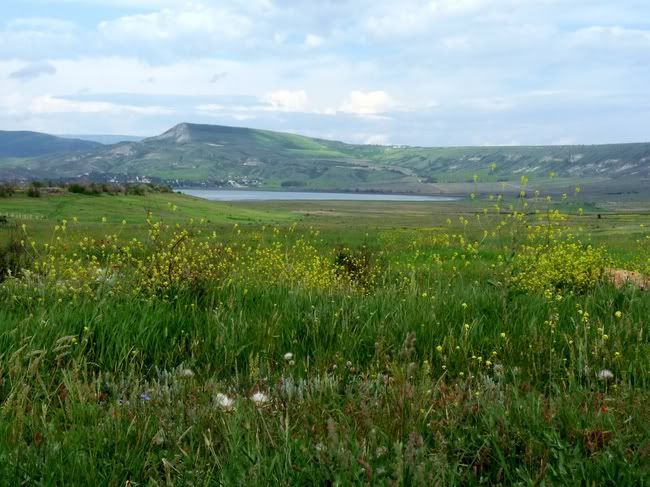 *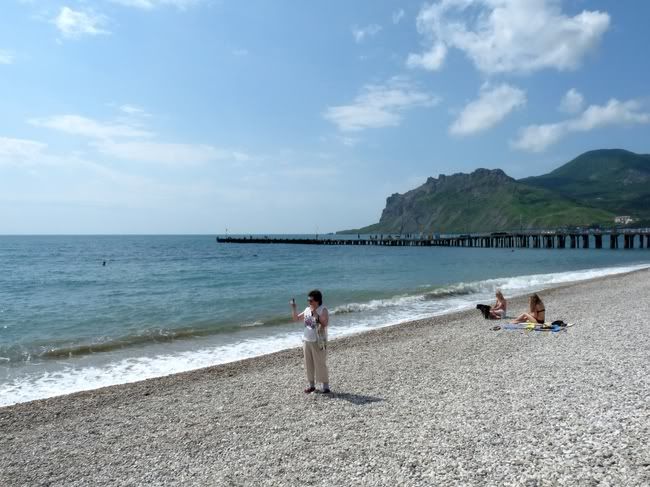 Koktebel beach.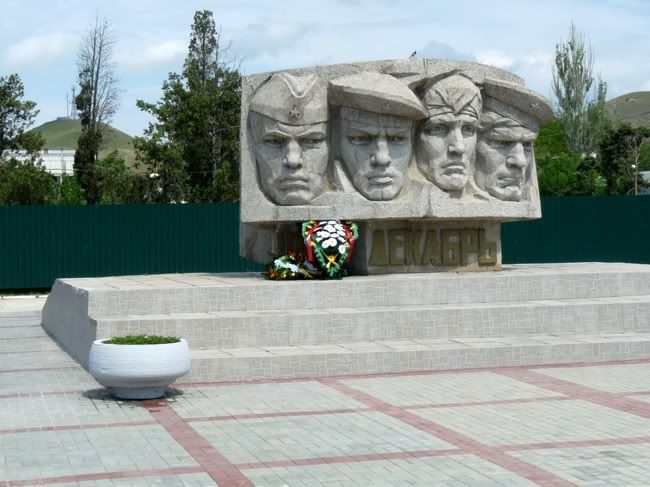 *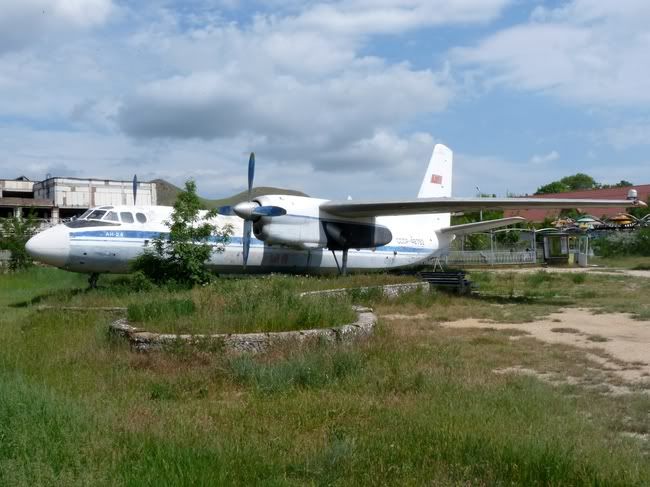 An abandoned An-24 in Koktebel (CCCP-46793).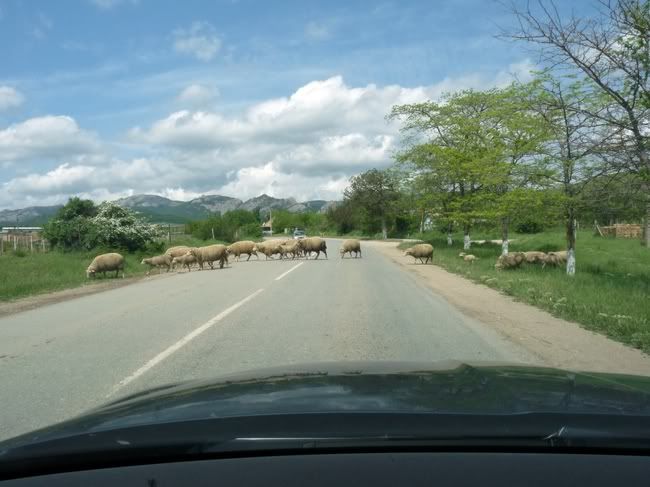 *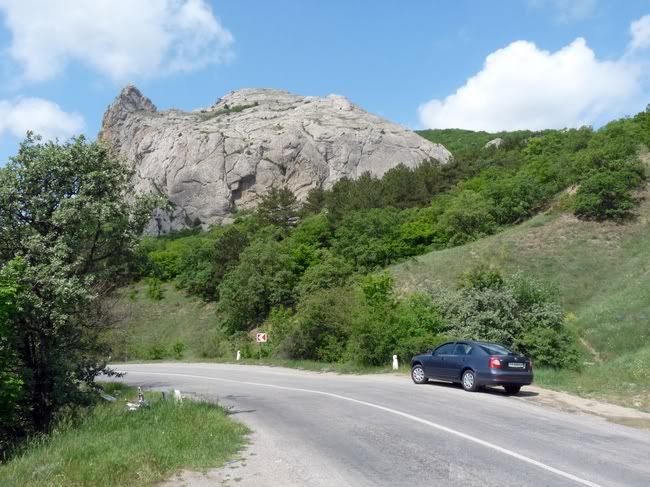 *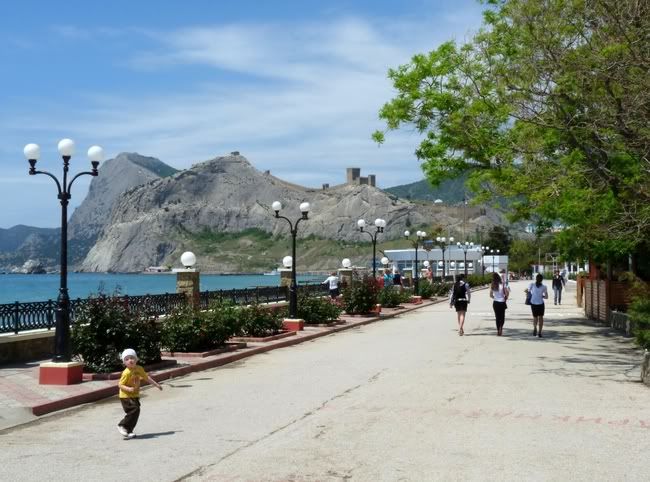 Sudak.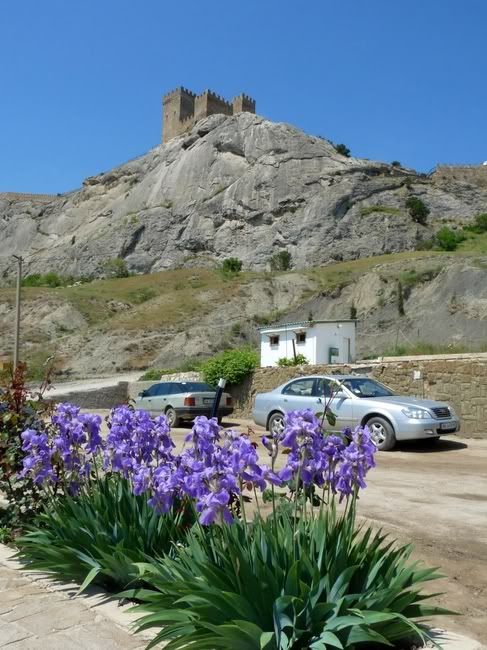 Sudak.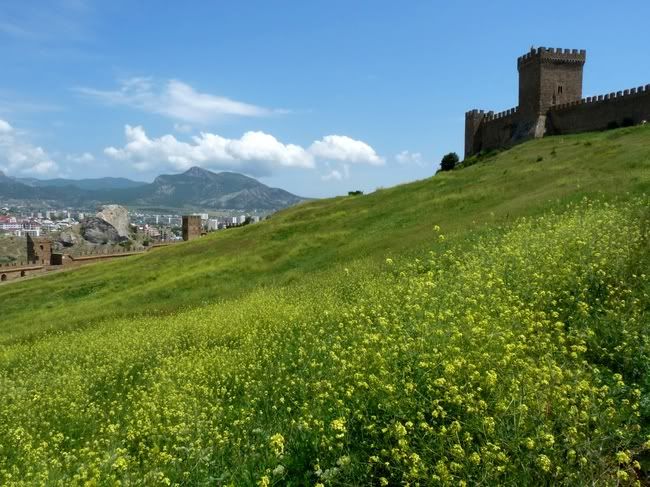 Sudak.
Sudak.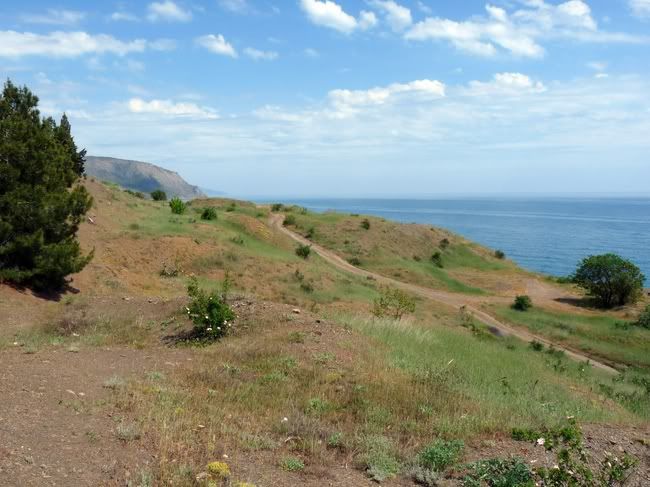 *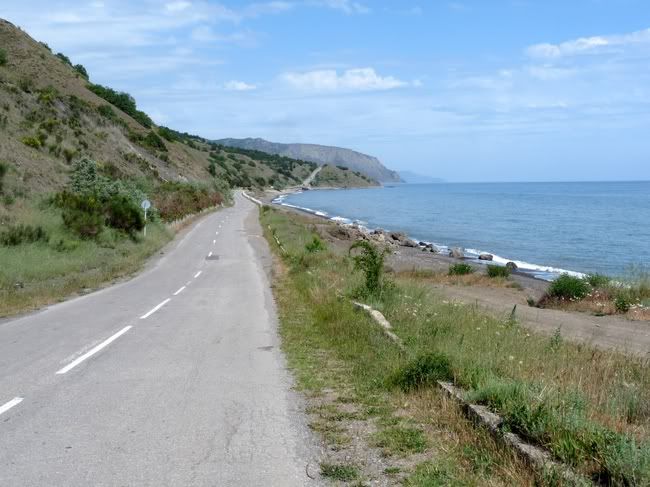 *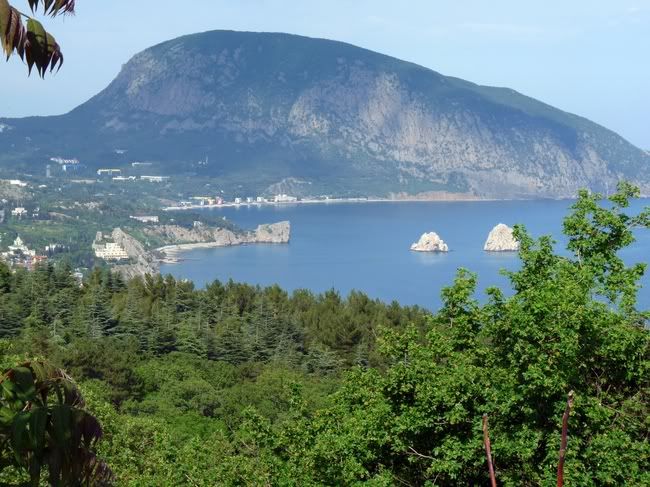 Gurzuf, near Yalta.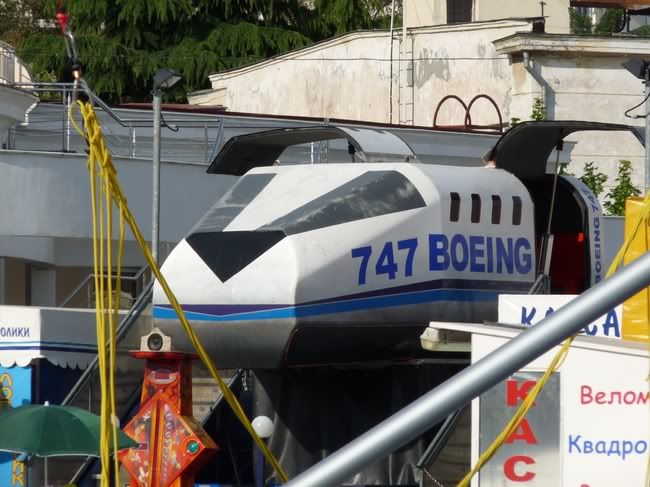 Boeing 747 "simulator" in Yalta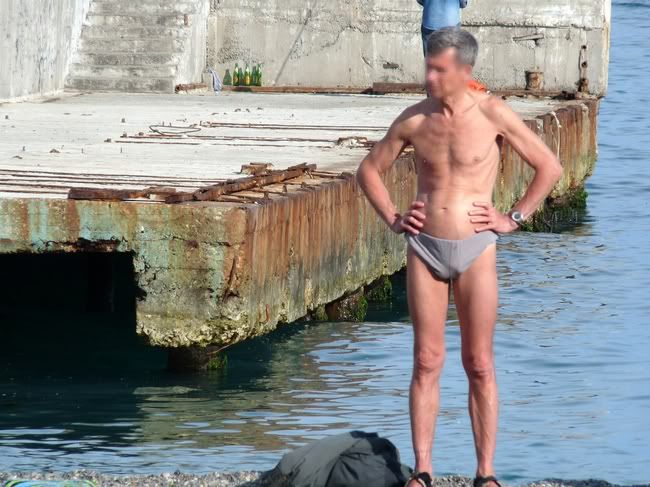 The lone guy among all the girls.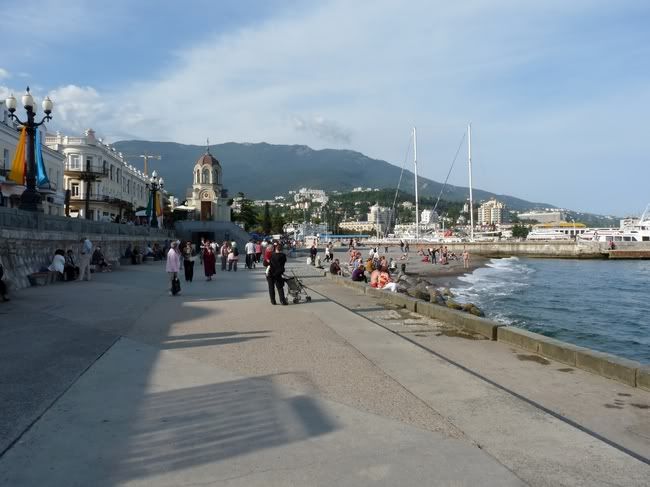 Yalta seafront.
On the Wednesday, we visited Yalta's surroundings, including the "swallow's nest" castle, the Vorontsov palace and the Livadia palace where the famous conference took place in 1945 (exterior only, as some bad luck made us go on the only day where it's closed...). After a nice lunch in the lovely village of Simeiz, we took an impressive cable car ride to the top of Aï-Petri mountain with fantastic views on the crimean coast.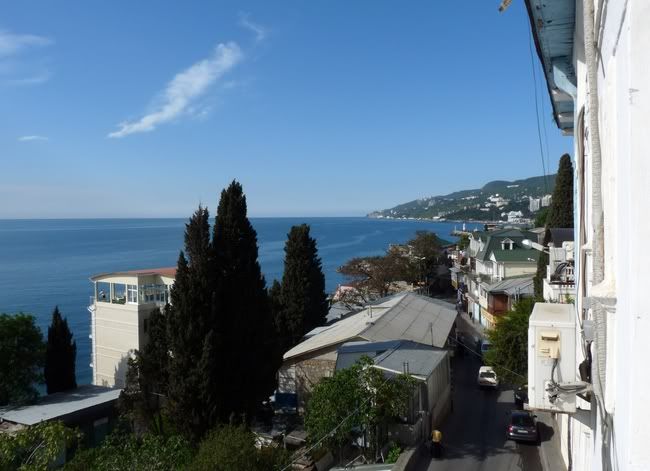 We had a really bad hotel in Yalta, but the view from the window was OK.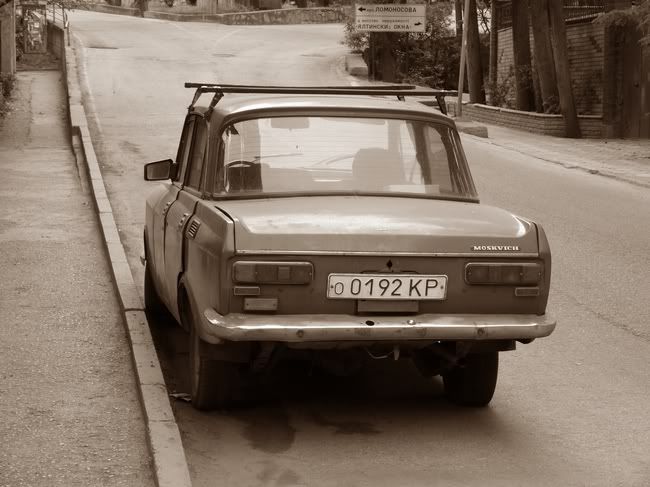 *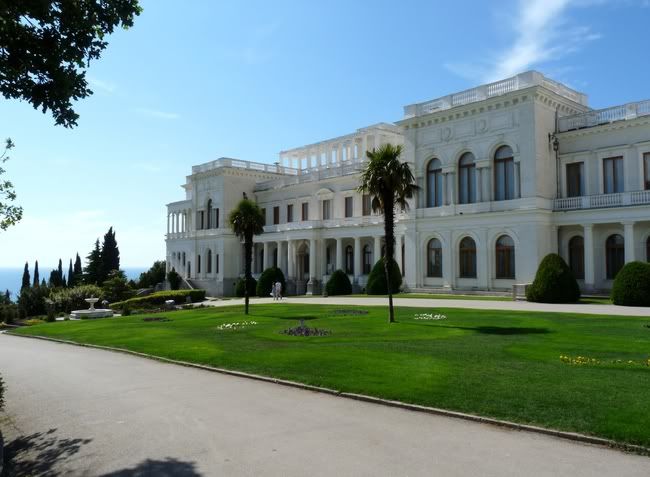 The Livadia palace, venue of the famous 1945 conference.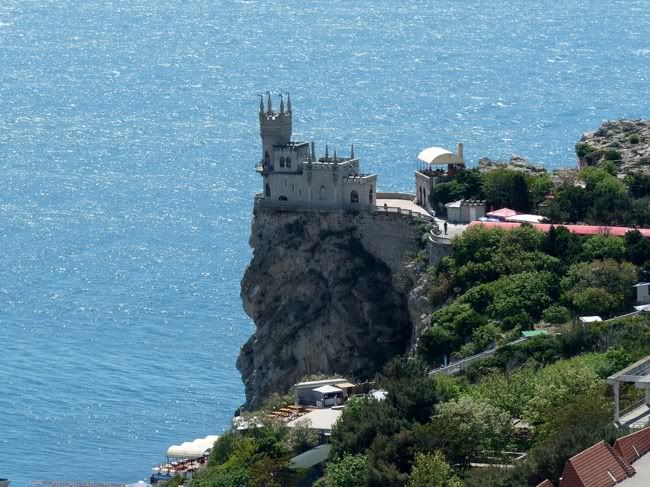 The "swallow nest" castle near Yalta is often pictured on Crimean postcards.
Vorontsov palace.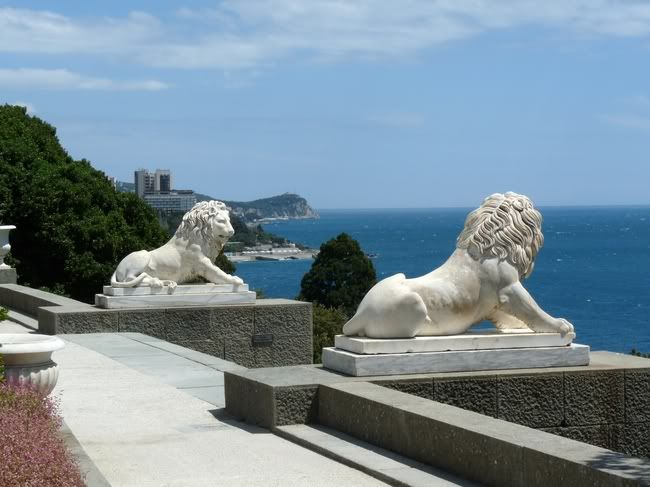 Vorontsov palace.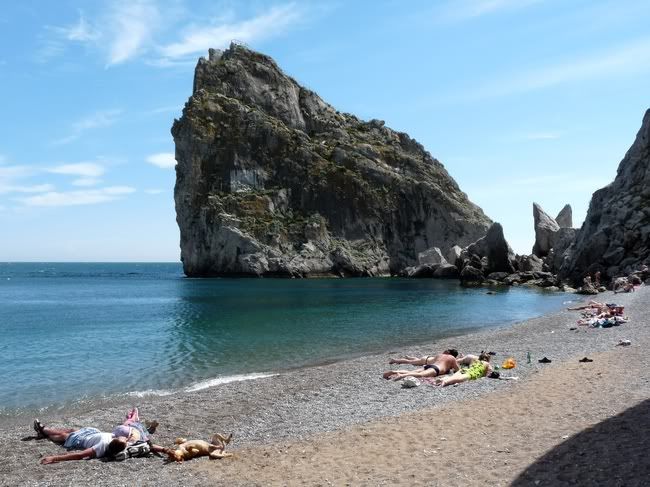 The beach in Simeiz.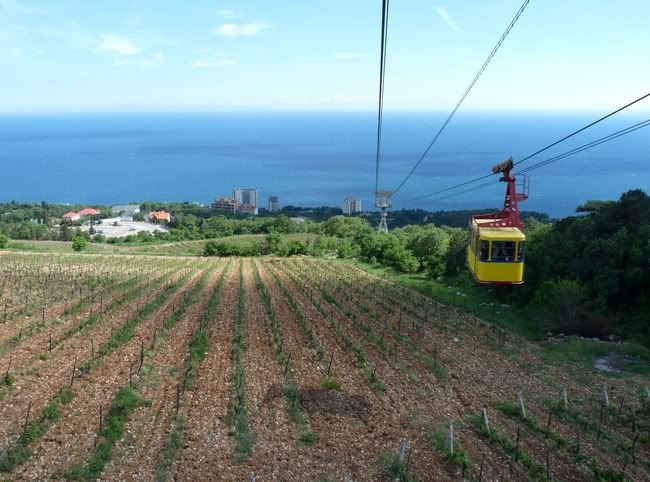 Ai-Petri cable car.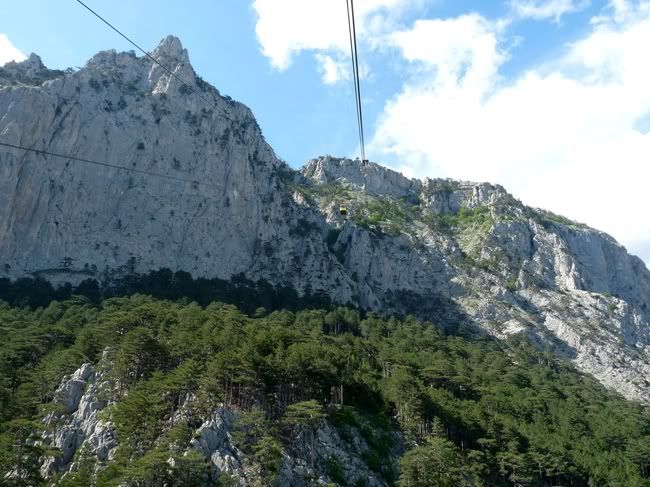 Ai-Petri mountain from the cable car.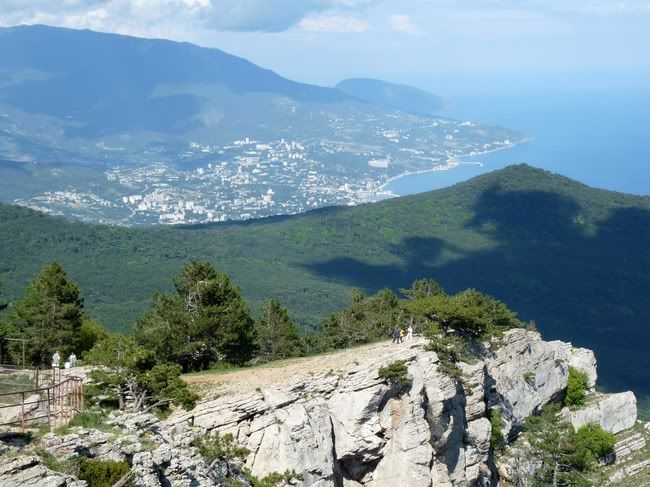 Yalta seen from Ai-Petri mountain.
We then spent 2 days and 2 nights in the interesting city of Sevastopol, the main base of Russia's Black Sea fleet, which was not accessible to foreigners until 1996. We took some time to explore the city by foot, from the nice sea front to the not so nice suburbs.
*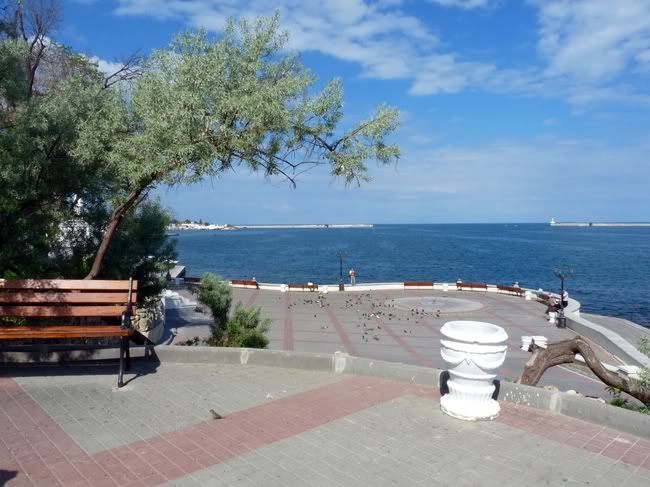 *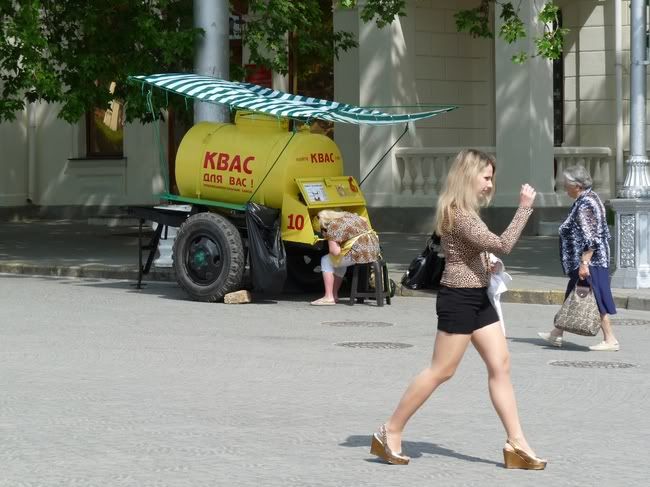 If you look closely, you'll see a traditional "kvas" street vendor.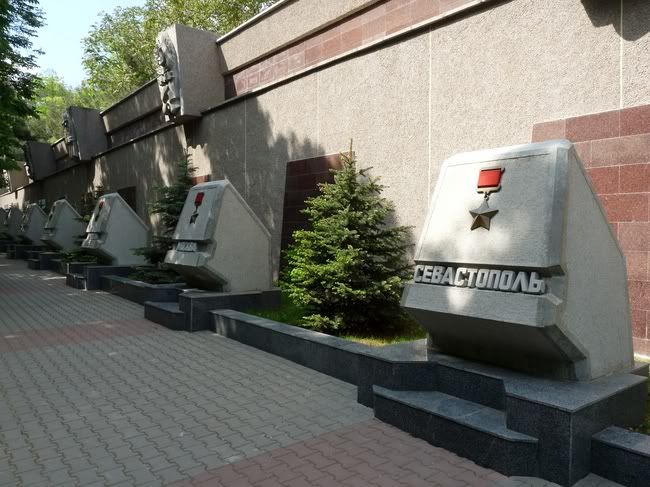 Sevastopol is a "hero-city" of the USSR.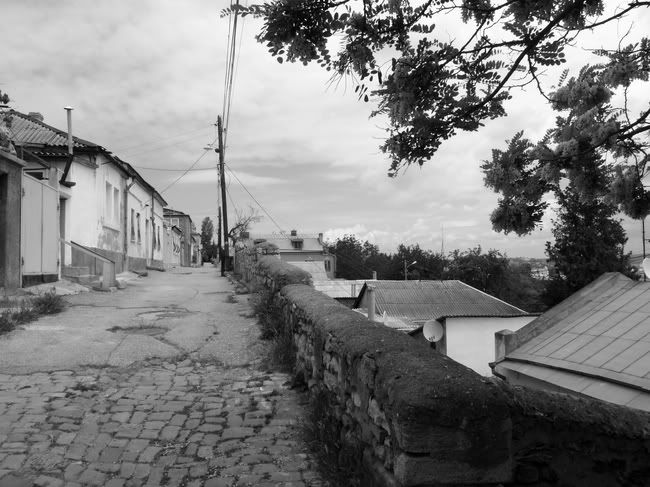 *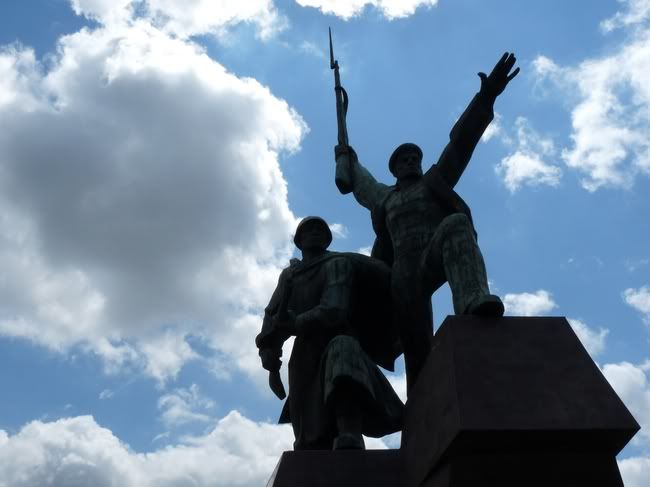 *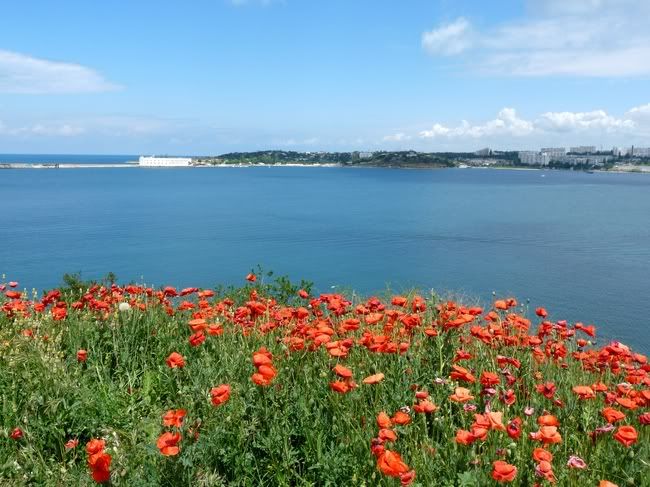 *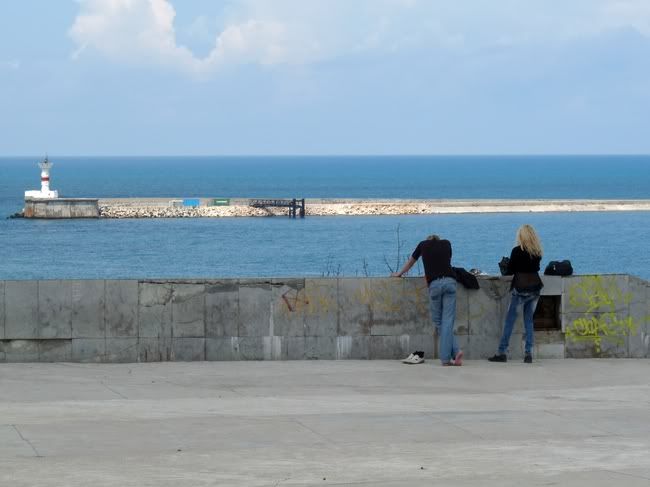 *
*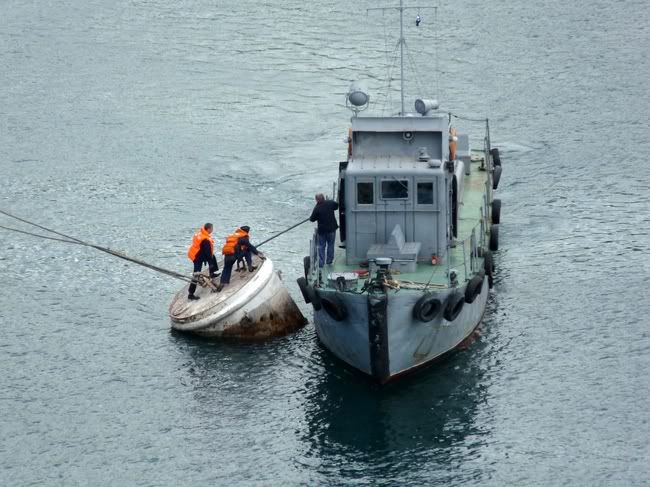 *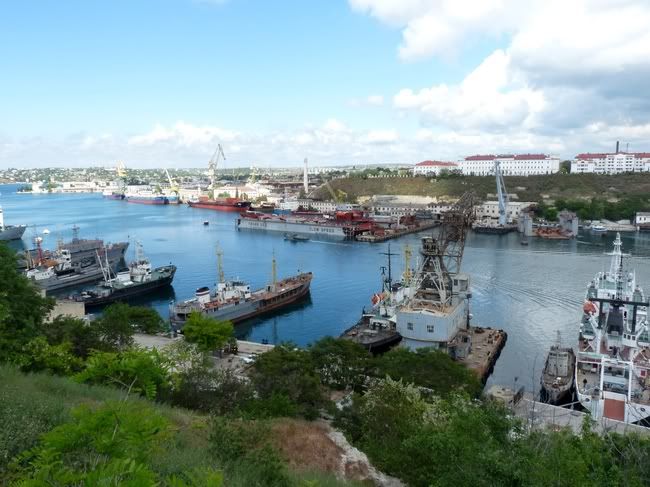 *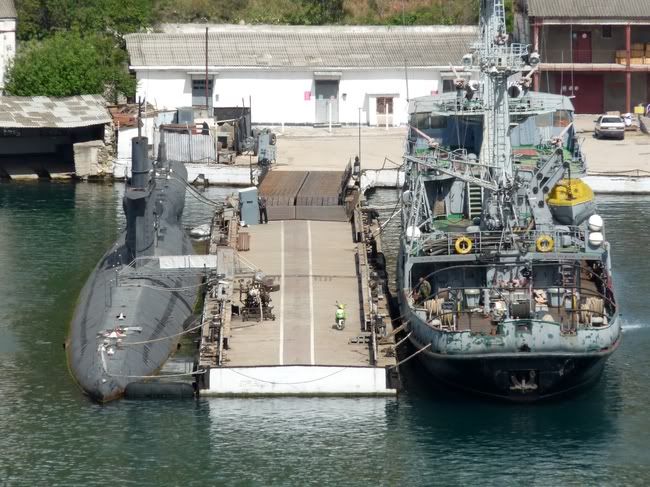 *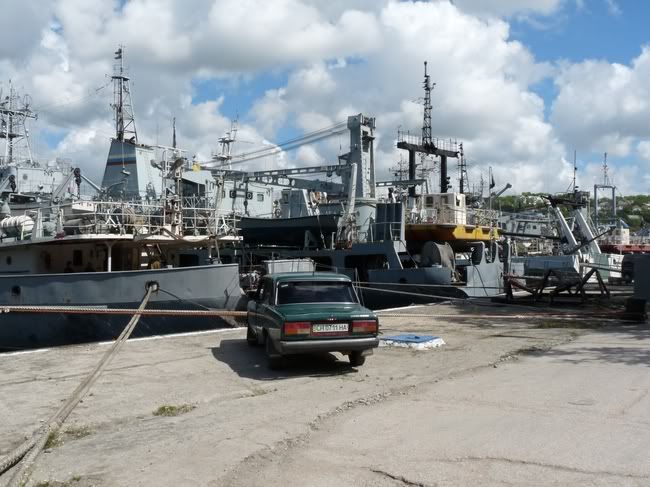 *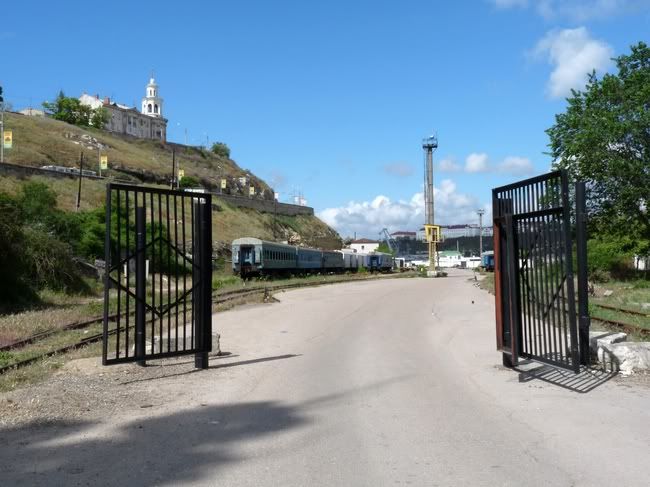 *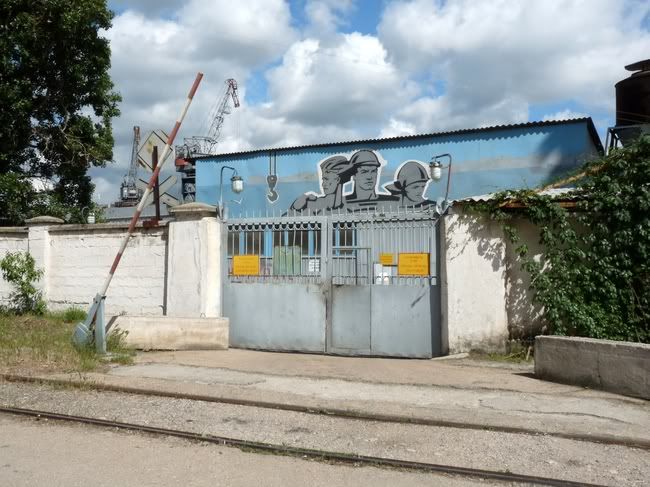 *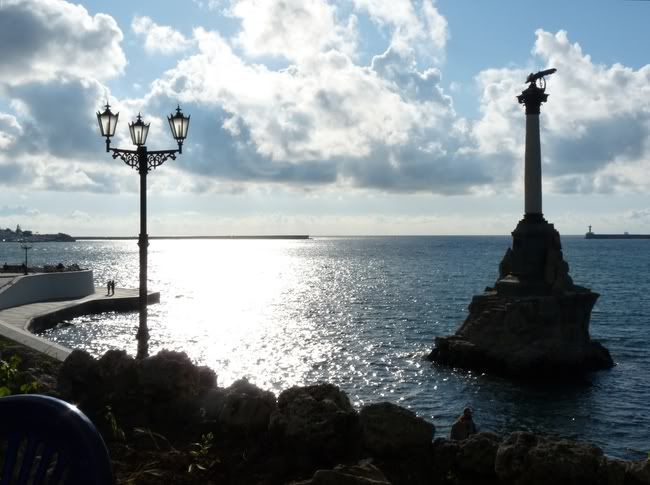 Before going back to Simferopol airport, we made a last stop in Bakchissaray, the former capital of the crimean khanate, where a beautiful palace can be visited.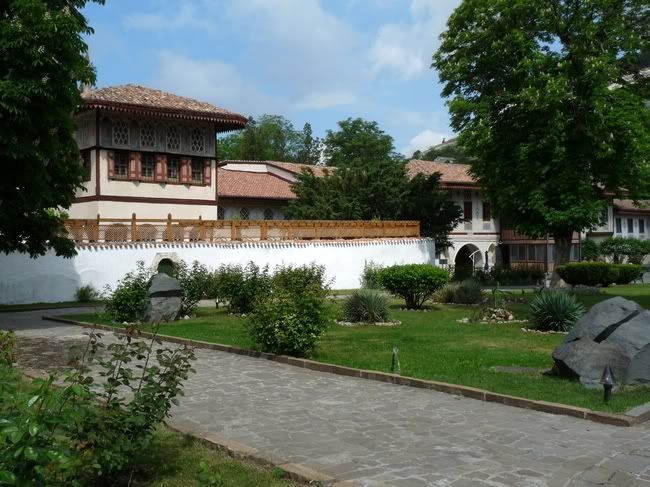 *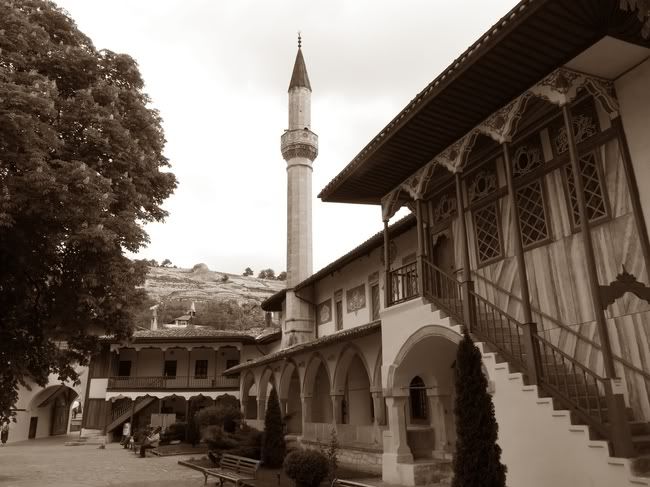 *
*
*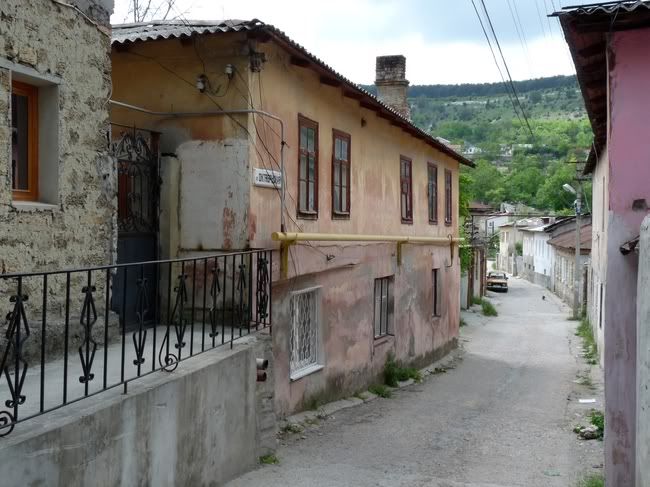 Simferopol airport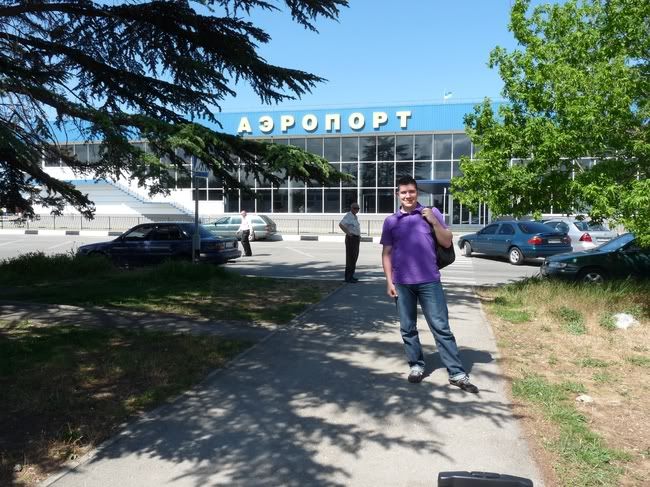 Yours faithfully, arriving at the airport...
After having dropped off the car, I took some time to explore Simferopol airport. Not much to see however, even if it is a bit larger than Odessa. At some point, the original, neo-classical, soviet building became too small and was converted into a restaurant, which it still is nowadays. Several buildings were built around it, including an international departures terminal, a very small domestic terminal, and an arrival terminal. We had a beer at the small bar located on the open-air car park, watching the old trolleybus come and go, hoping for some aviation action that never came.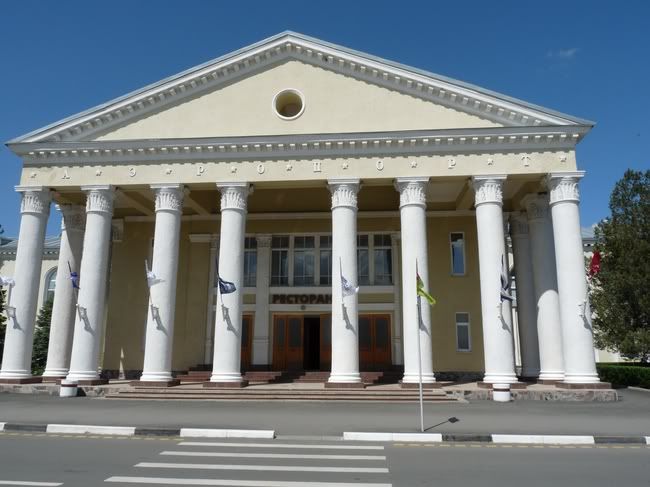 The original terminal building is now a restaurant.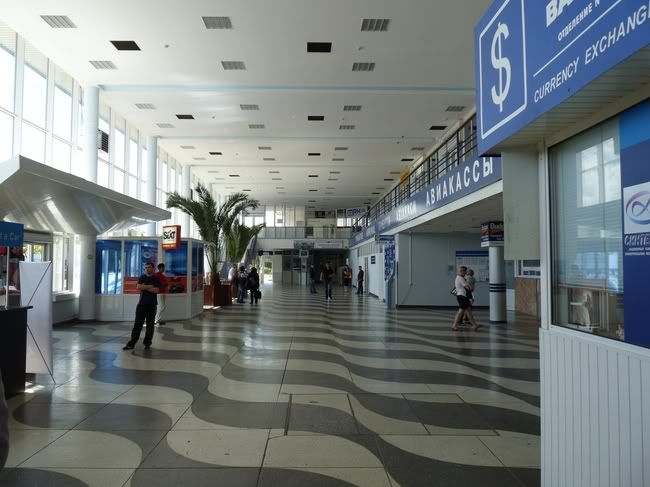 International arrivals hall.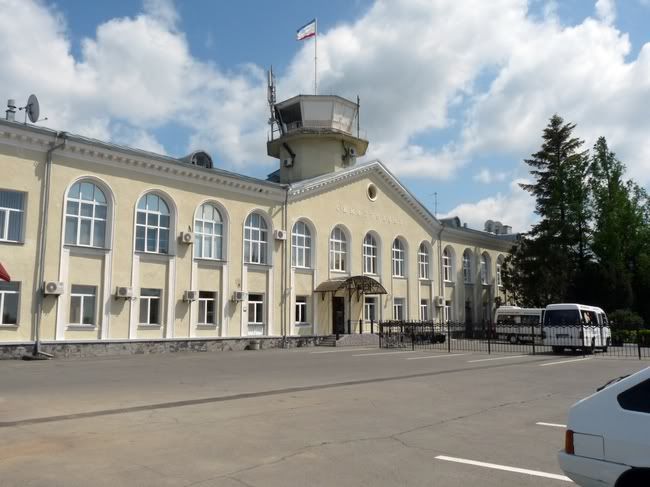 *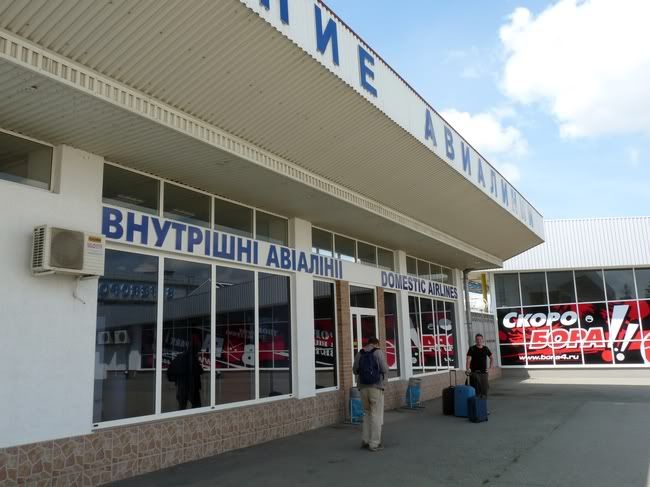 Domestic terminal.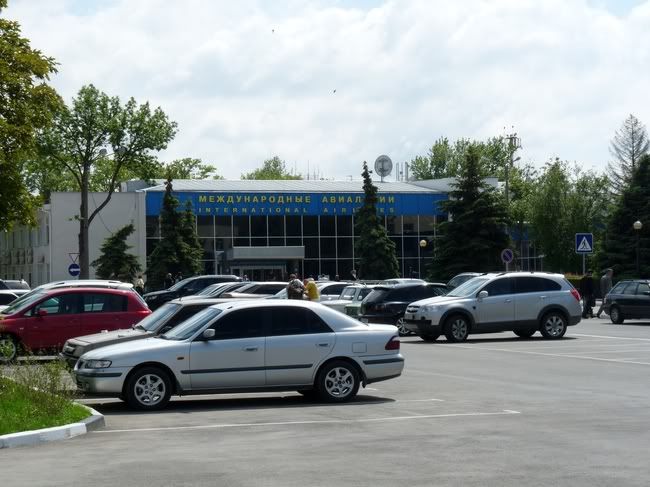 International departures terminal.
One hour and half before our scheduled departure, we went to the domestic terminal to check in our bags. The LCD TV showed that all domestic flights today (and, as I suspect, for other days too) were header to Kiev, either Borispol or Zhuliany. The terminal itself is small, but in correct condition. After that we passed a boarding pass check, a security check (only one machine) that included hold luggage, then had to simply leave our luggage near a door where they would be taken by loaders when the aircraft would be there.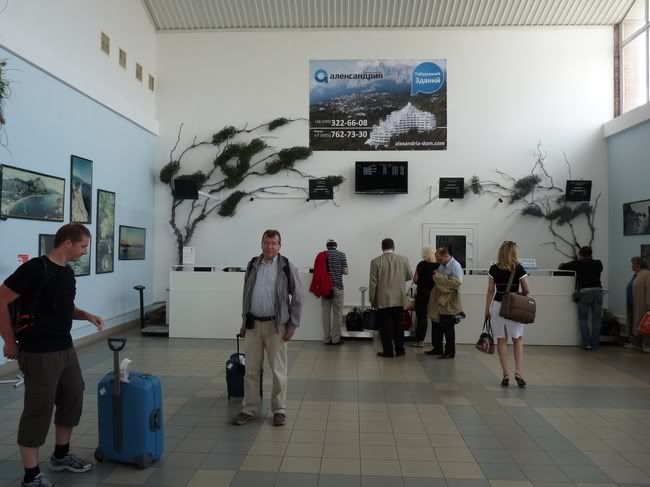 Domestic check-in hall.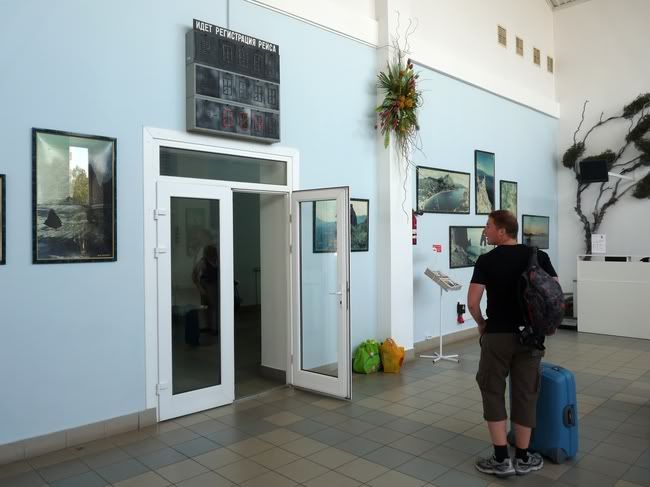 Yes, you must proceed through this door for domestic departures.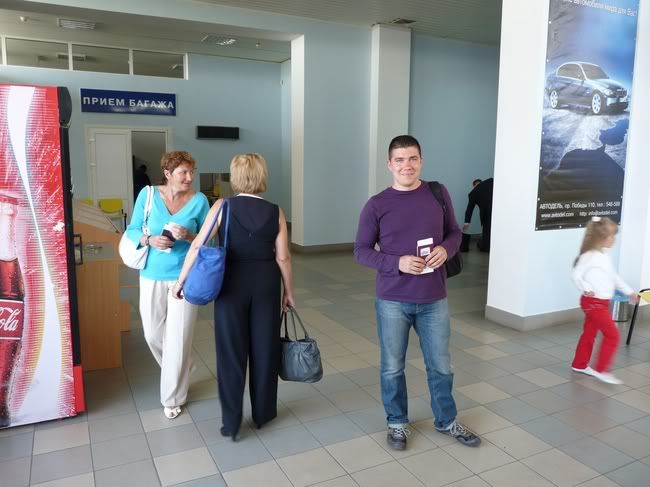 Behind me, the door in front of which bags are left.
This is the entire domesting waiting lounge.
As far as I could see, the "gate" area (only one domestic gate, again if I saw correctly) was designed to accomodate only one flight at a time. There was a small shop selling drinks and the likes. The good think is that the waiting area is glassed, with views on the apron, however not that much traffic was to be seen : an S7 737, a business jet preparing for departure, and a couple of parked aircraft including a Tu-134 with "Ukraïna" titles (most pictures are taken against the sun, so, sorry for the bad colors).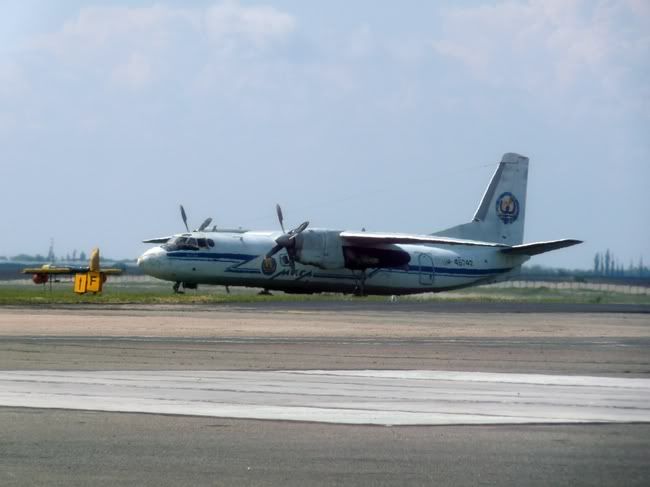 *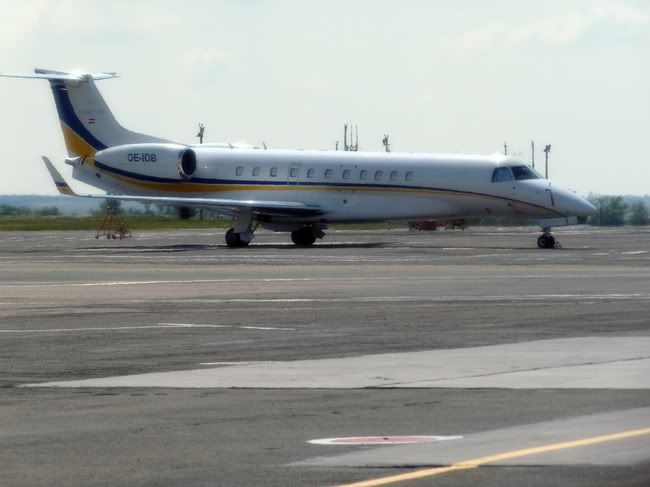 *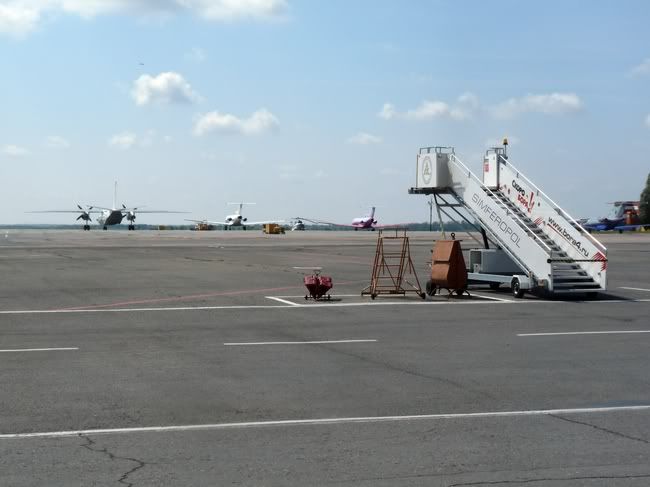 *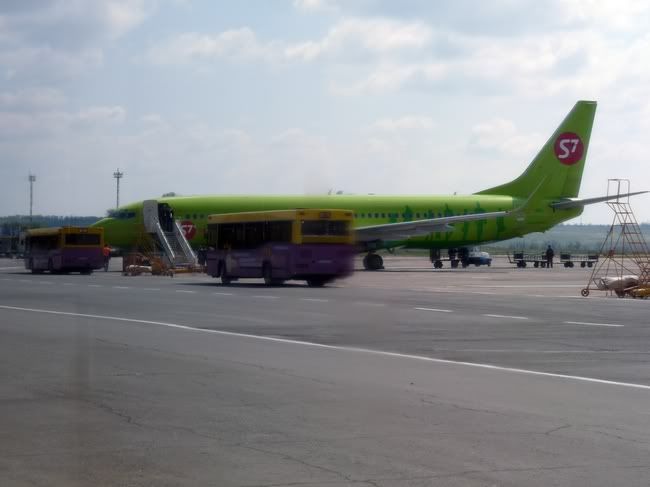 Sorry for the blurriness, picture taken through glass.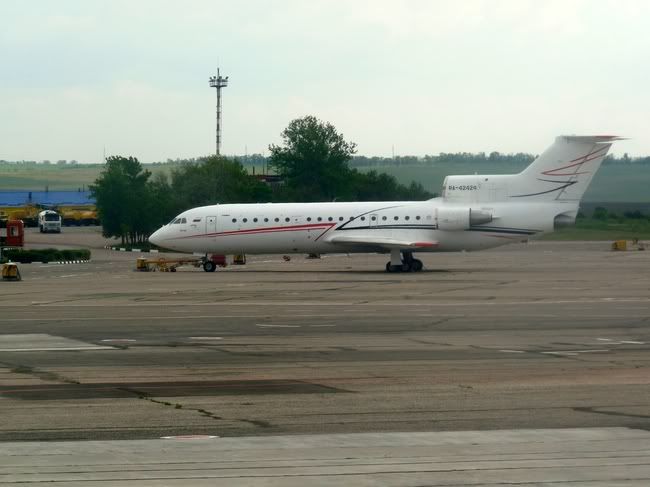 *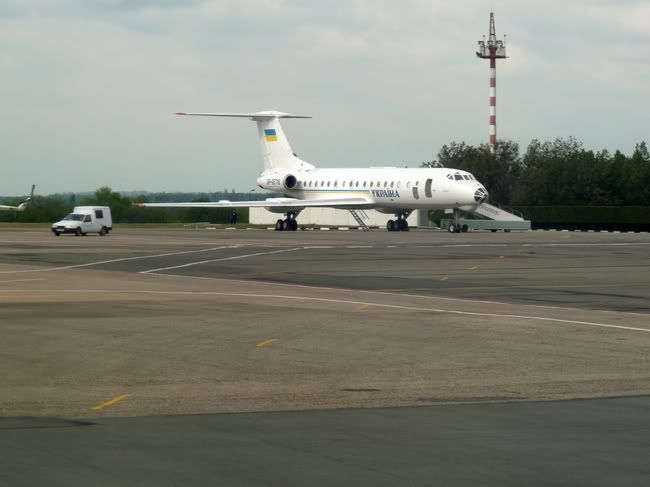 *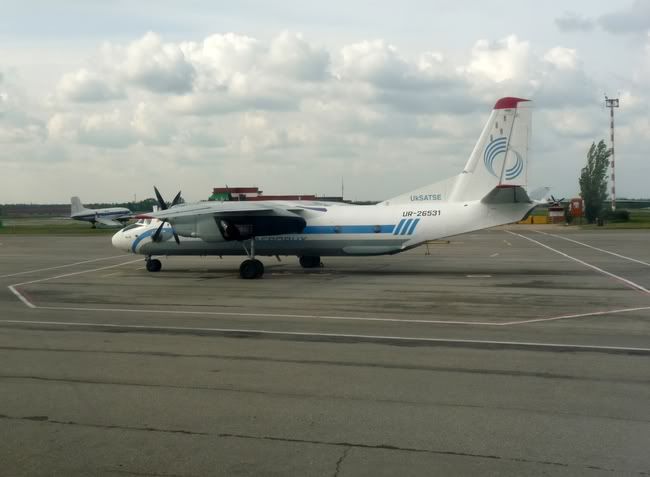 *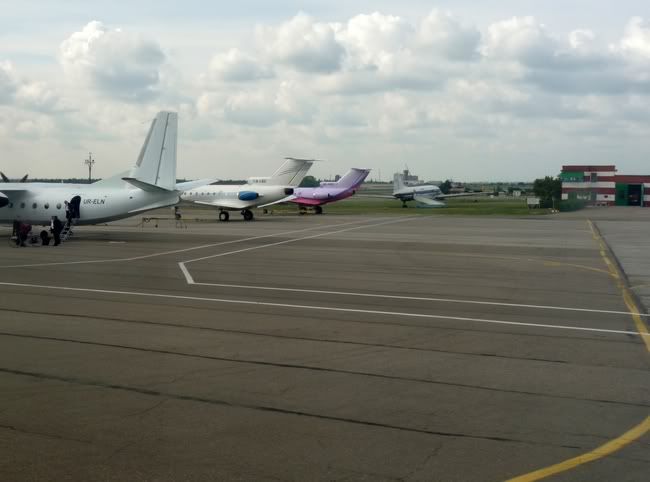 After a while, our aircraft landed and came to a rest just in front of the windows. To my surprise, it was a DniproAvia 737. At first, an AeroSvit 737 was scheduled for the route, then a couple of weeks later a Dniproavia ERJ-145, and finally it was this 737. I discreetly took a few pics while boarding. Inside, the interior was your average 737 cabin, with AeroSvit headrest covers. The flight attendants were average, certainly not worse than what I'm used to in the "West"
*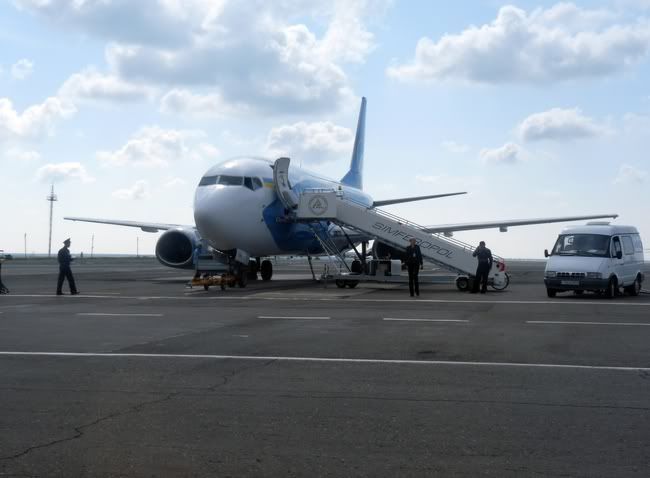 *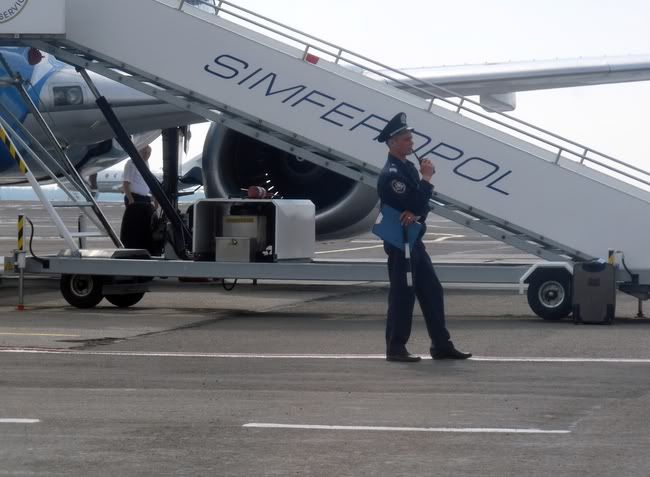 *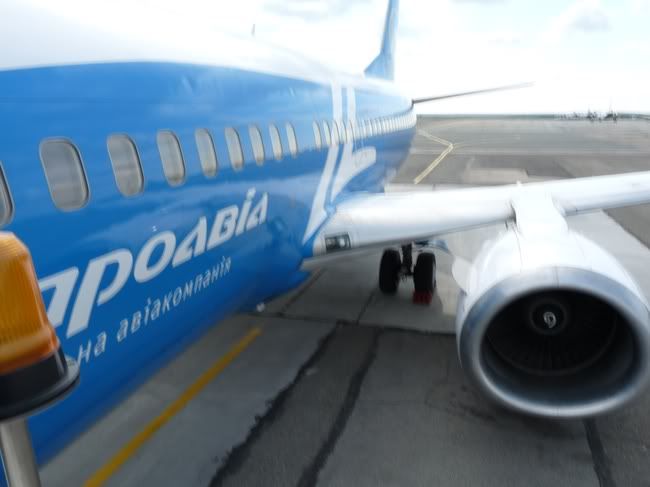 *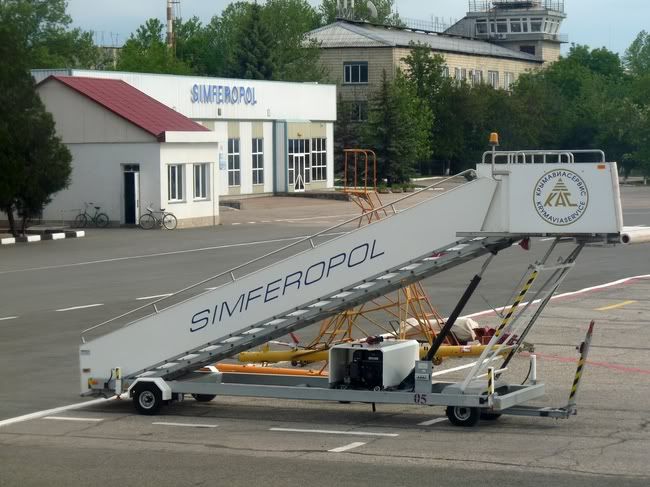 *
*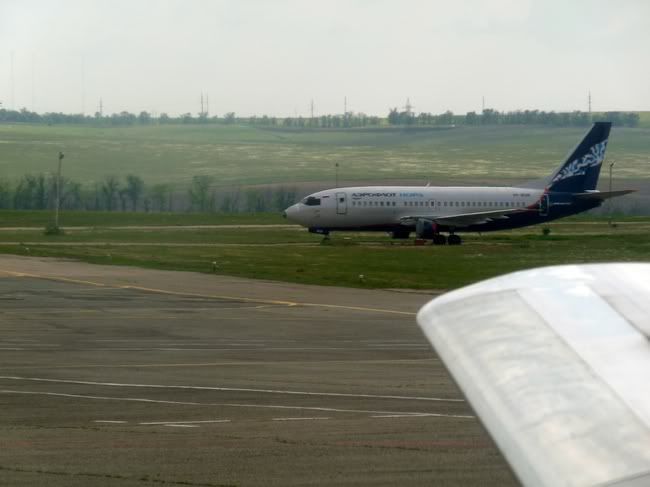 *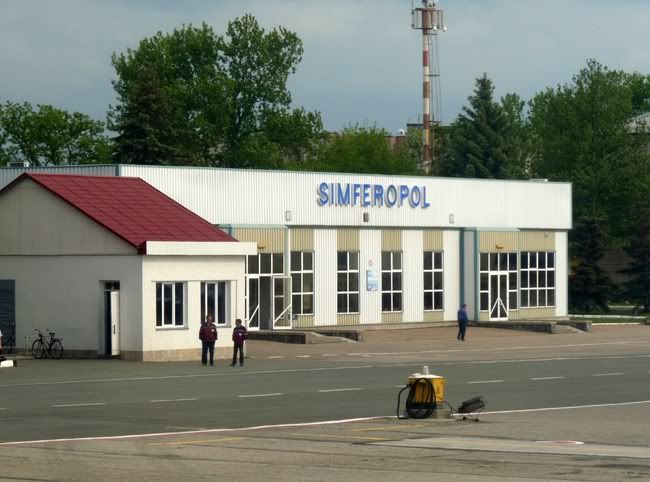 *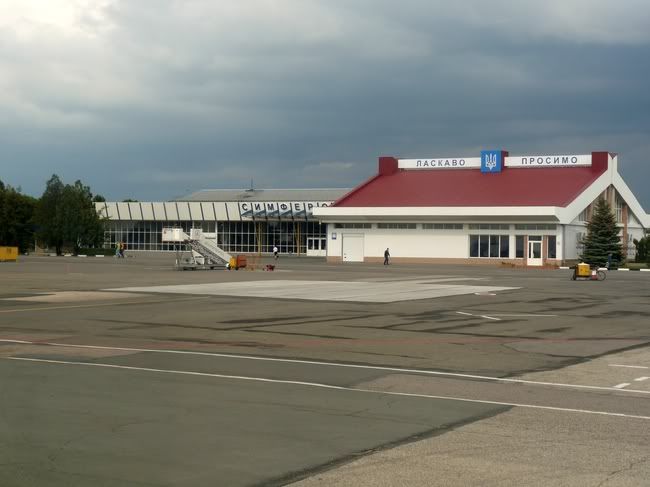 *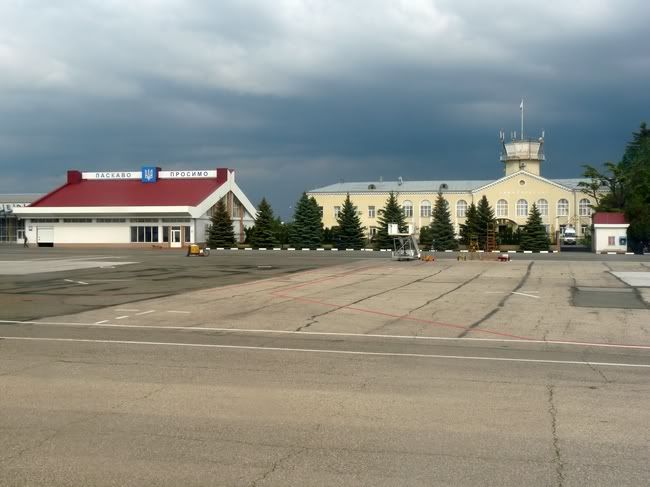 Flight Simferopol - Kiev
At 7.2 km (4,5 miles), the taxi to runway 19R was possibly the longest I ever experienced (in distance, not in time). Runway 01R/19L is much closer to the terminal, but I'm not sure it's still in use. The flight was smooth, the captain explained the routing once or twice during the flight, in Russian (or Ukrainian, I don't remember) and approximate but understandable English. The "service" was rather basic as it consisted in just one glass of still water.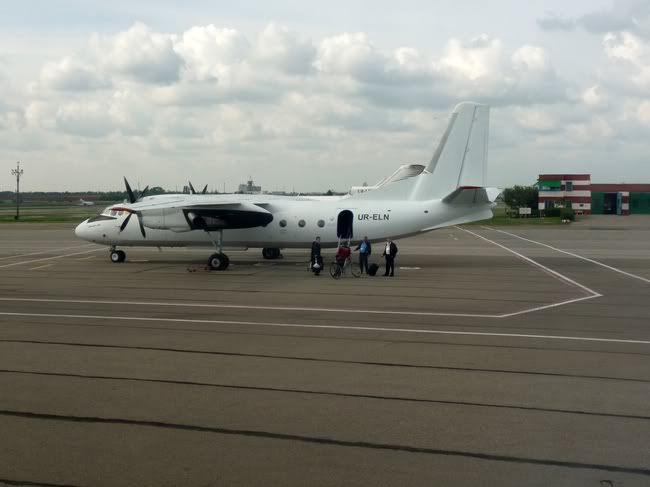 *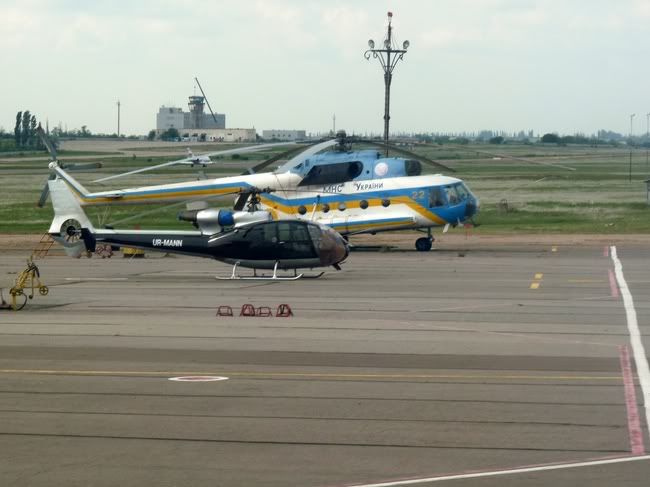 *
*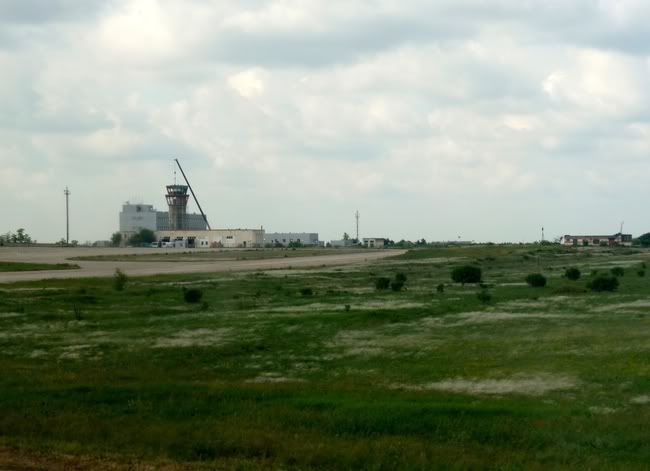 *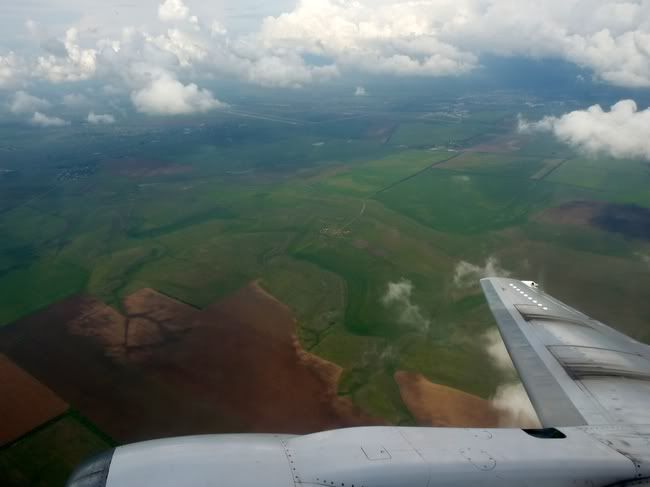 *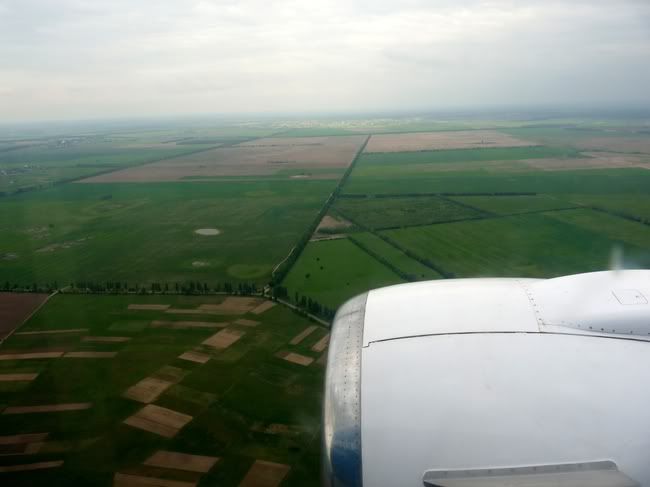 After landing in Kiev, we were bussed to the small domestic terminal ("Terminal A") which is far from being nice. Our driver was waiting for us in the public area.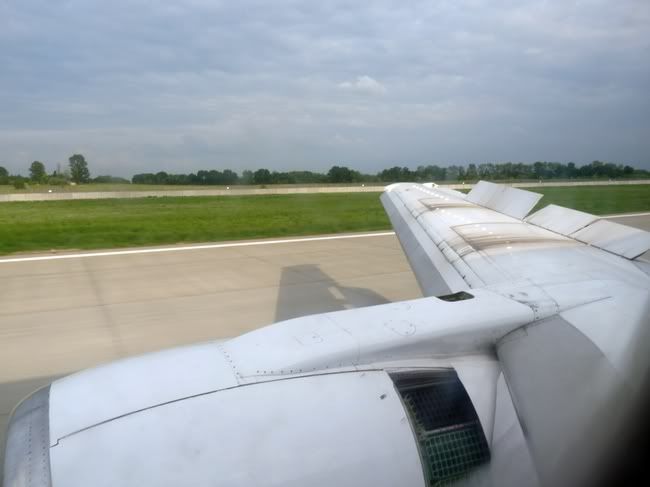 *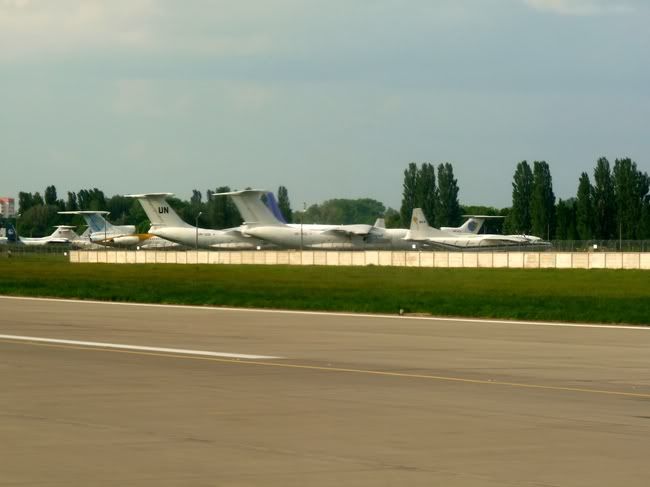 *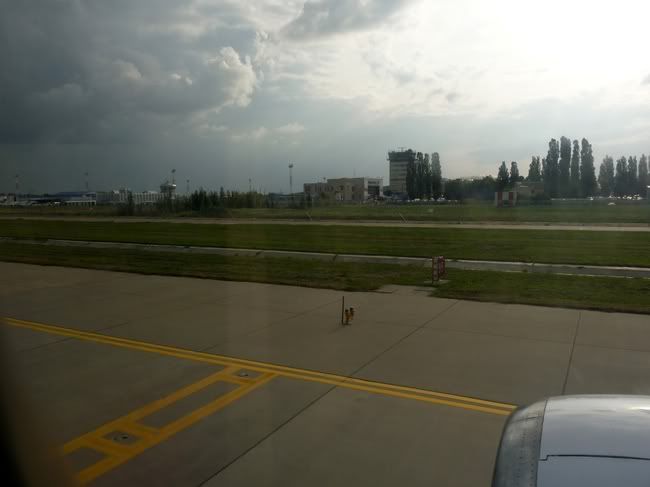 *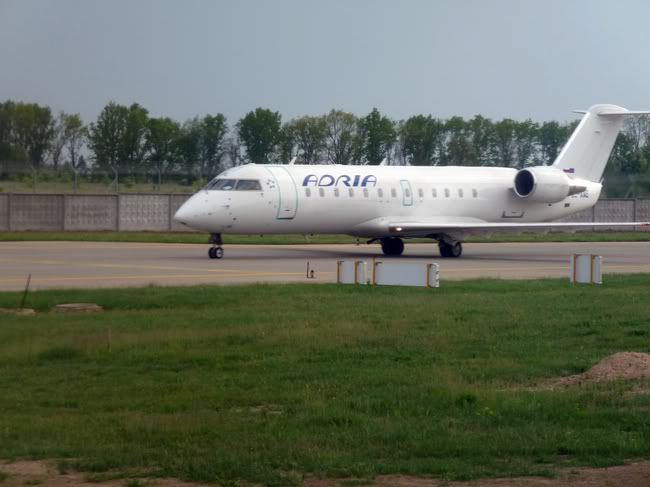 *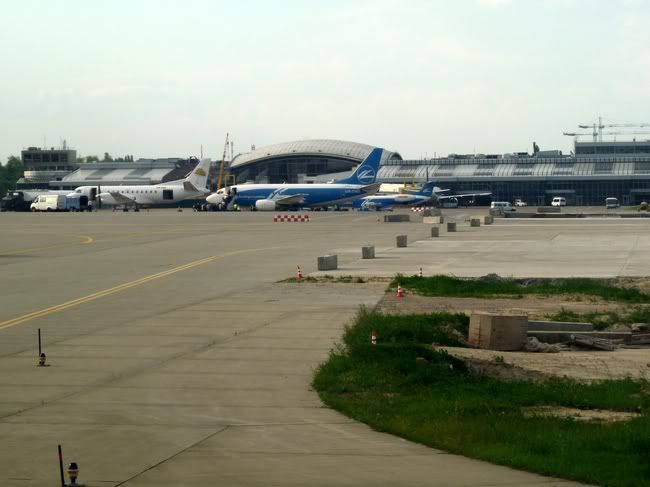 *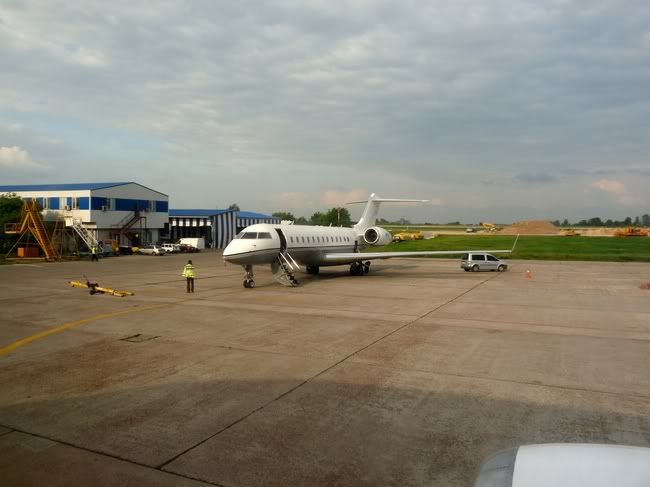 *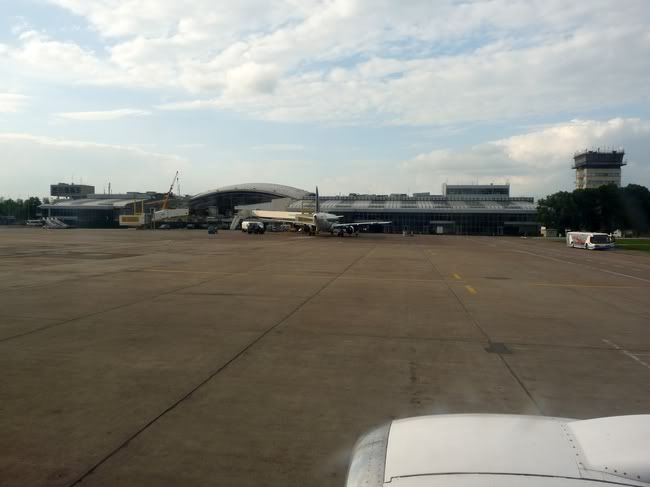 *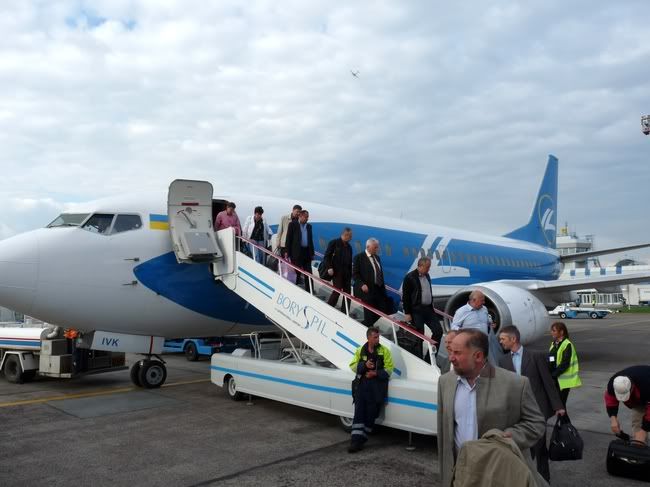 *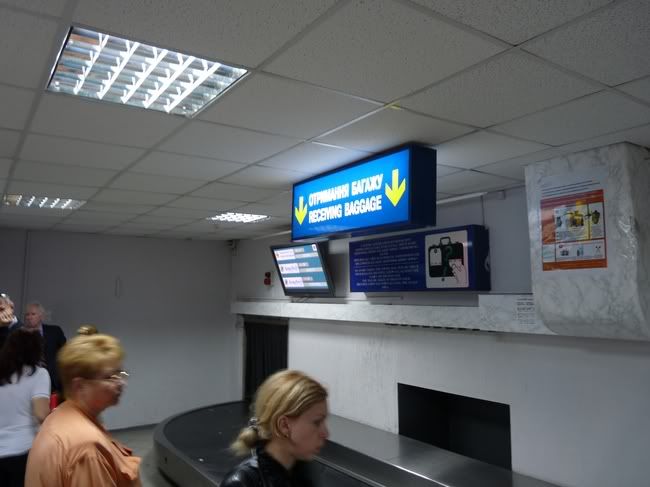 *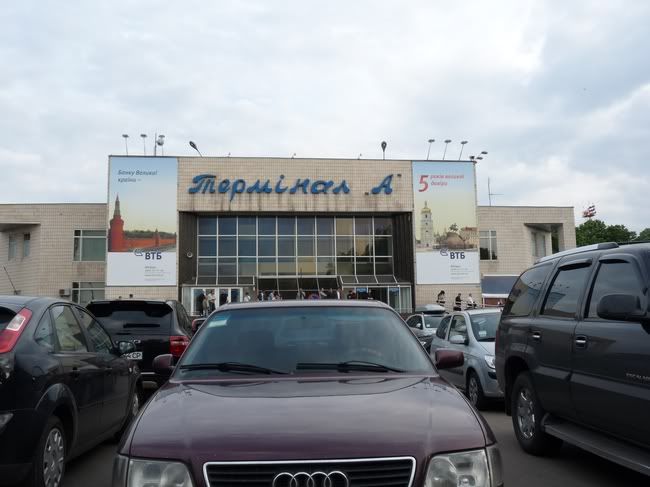 The shabby looking "Terminal A".
Continued in part 2 here :
Ukraine Part 2 : KBP-LWO, LWO-WAW-BRU (Pics)
(by
BrusselsSouth
May 30 2010 in Trip Reports)
[Edited 2010-05-30 04:45:18]