Part 1 here :
Ukraine Part 1 : BRU-WAW-ODS And SIP-KBP (Pics)
(by
BrusselsSouth
May 30 2010 in Trip Reports)
Kiev
With almost 3 million souls, Kiev is the capital and largest city of Ukraine. It boasts a decent touristic offer, including Unesco World Heritage sites such as the Pechersk Lavra (orthodox monastic complex). The very centre around the Independance Square and Kreschatik Boulevard is on par with european capitals with regard to animation, shopping and entertainment options, and English is sufficient to get around. Kiev as a whole has an impressive size, with a typical soviet configuration, including endless residential "block" suburbs which may seem oppressive for those not used to them. It's the only city of our trip where we felt that we could spend a few days without being bored.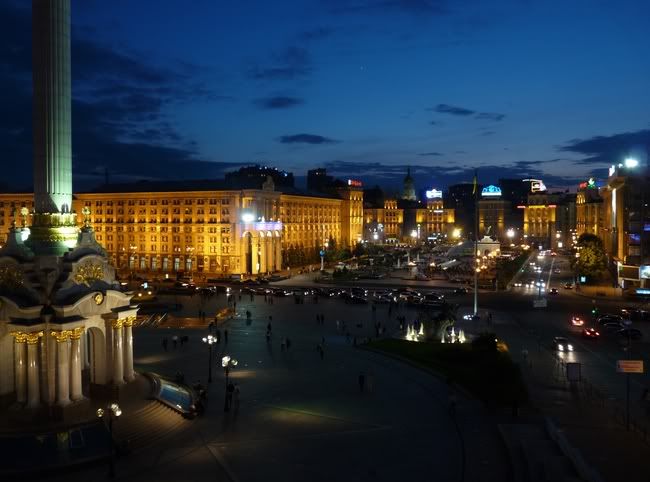 *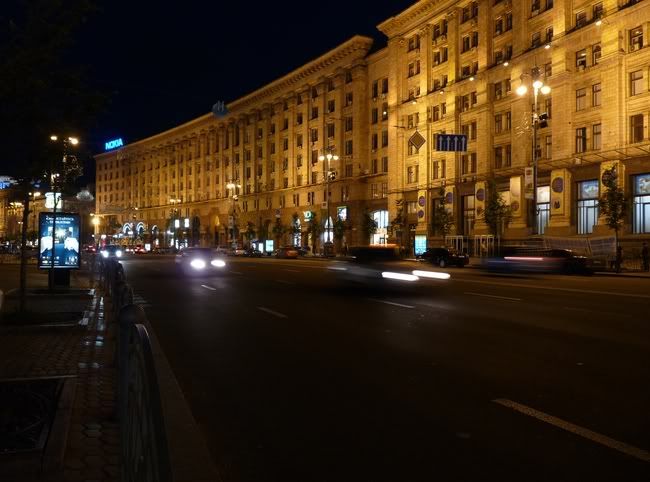 *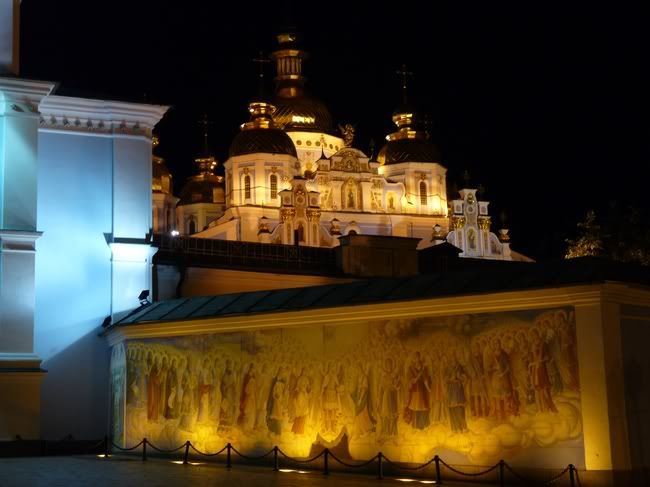 *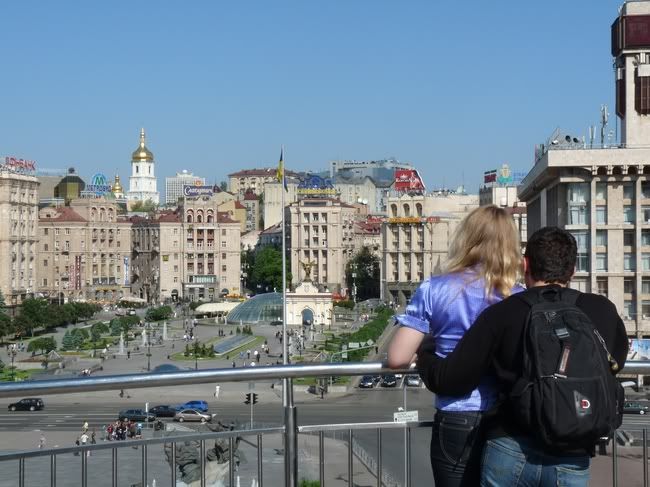 *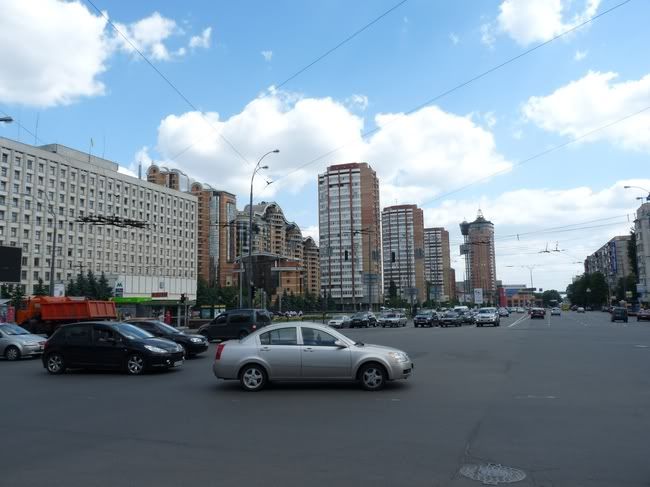 *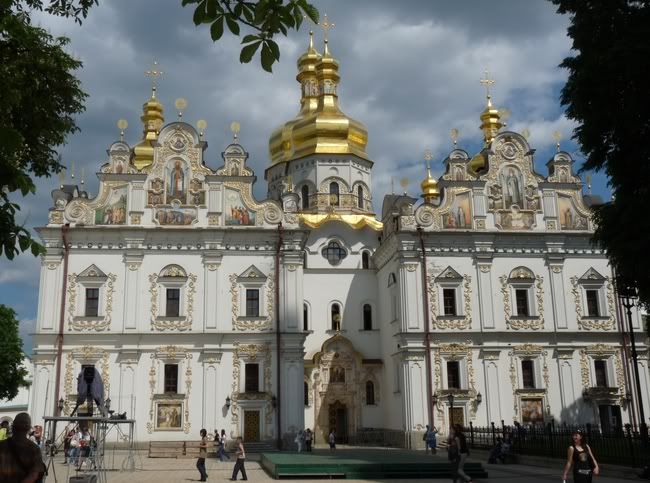 *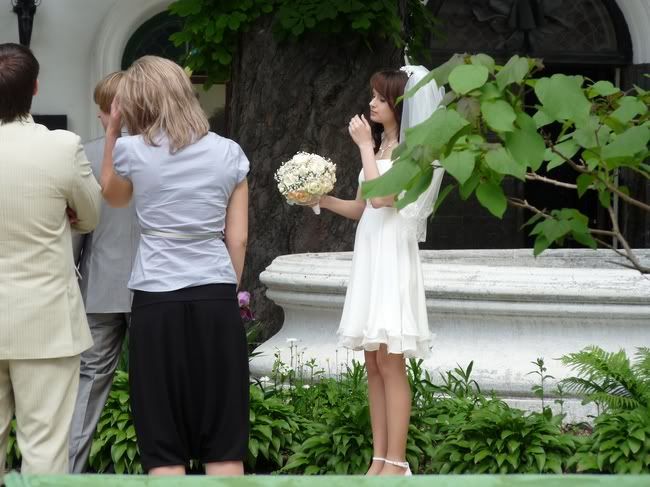 Not the wedding dress I would have chosen...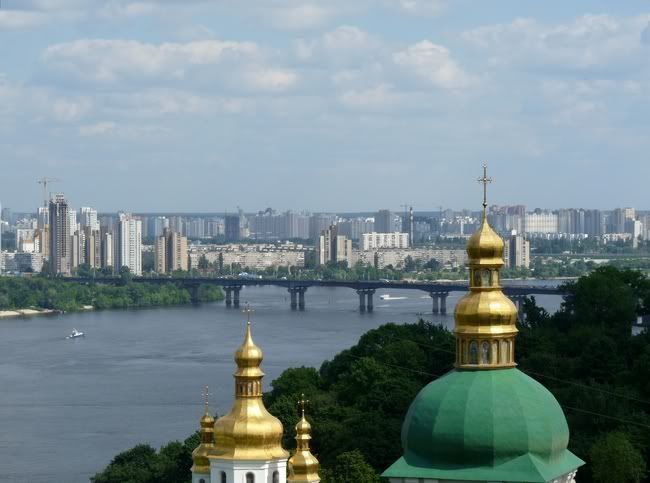 *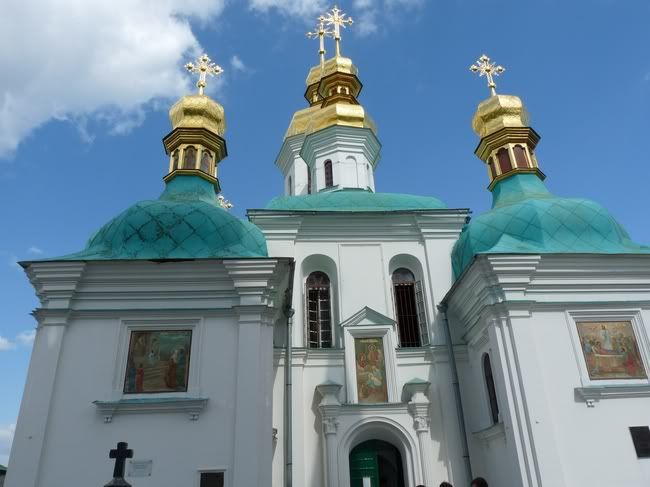 *
*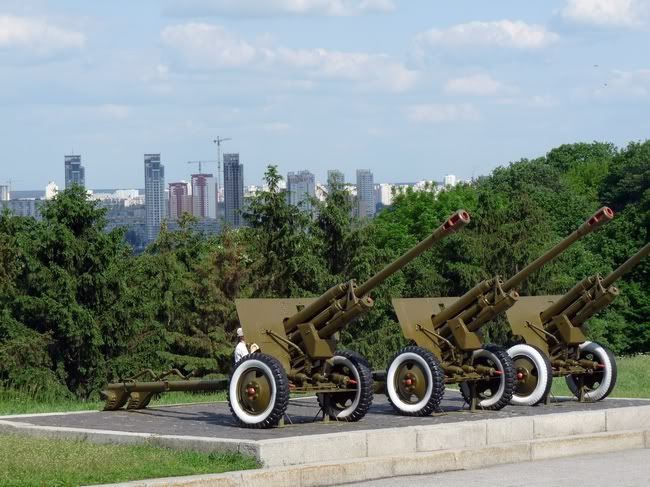 *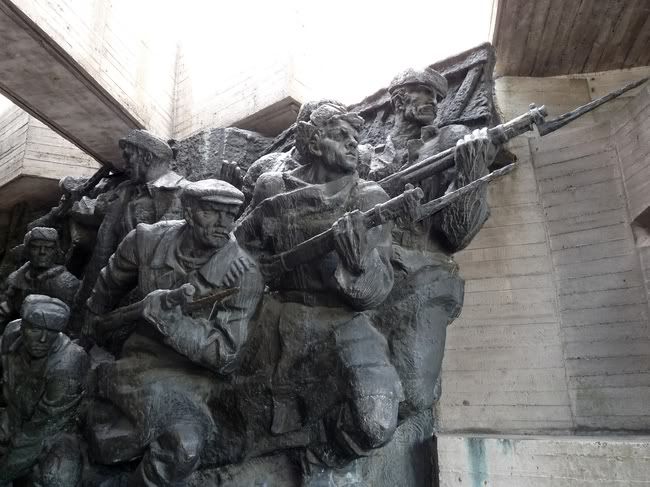 *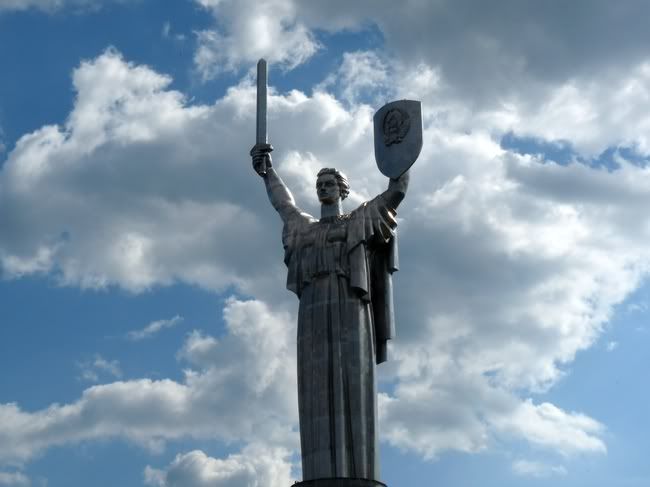 *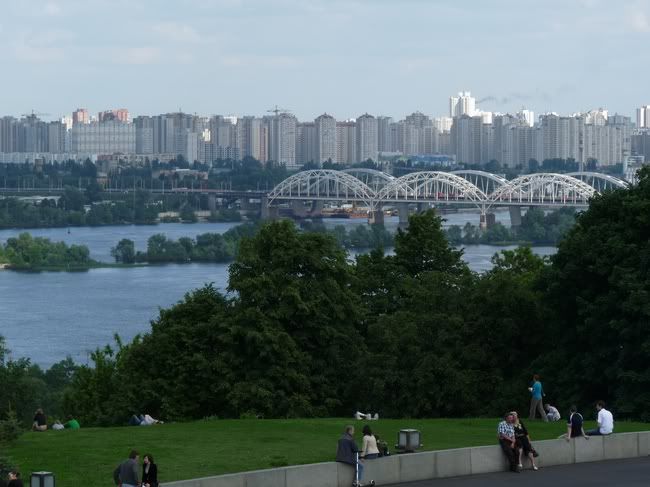 *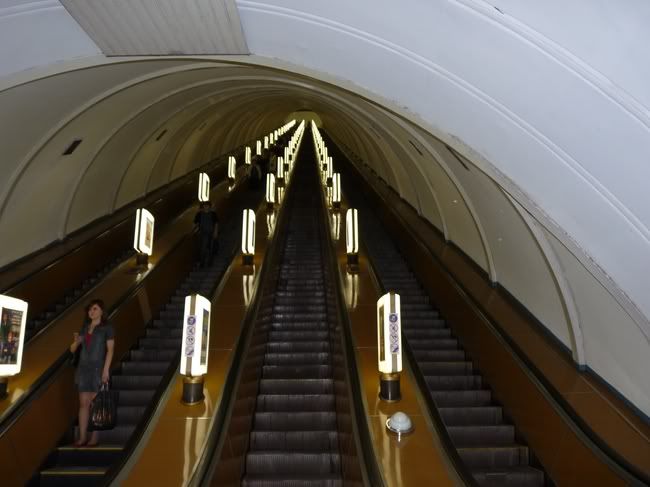 *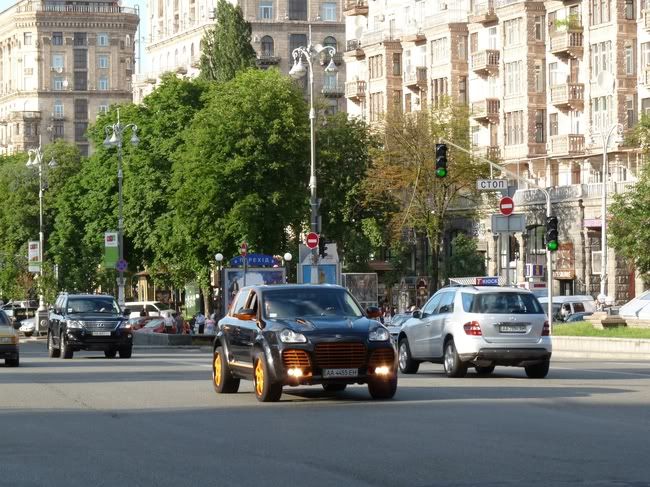 *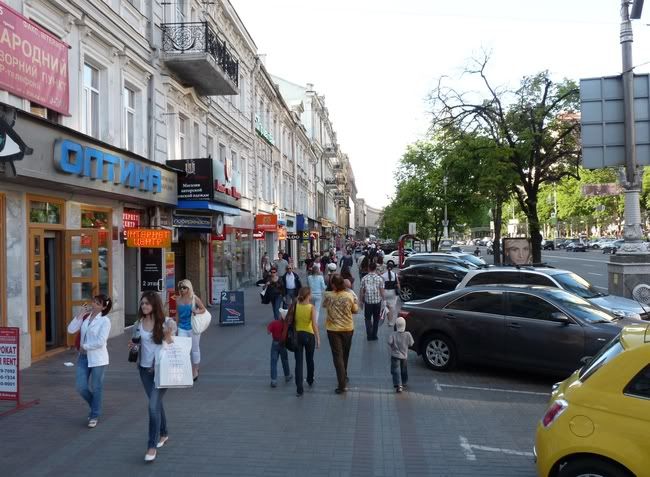 *
*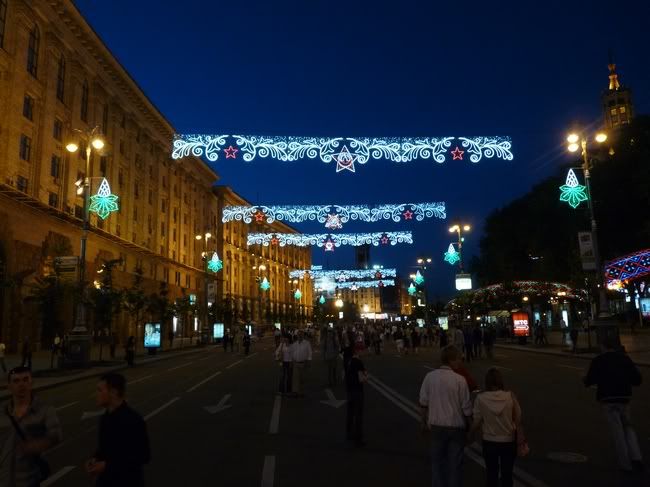 *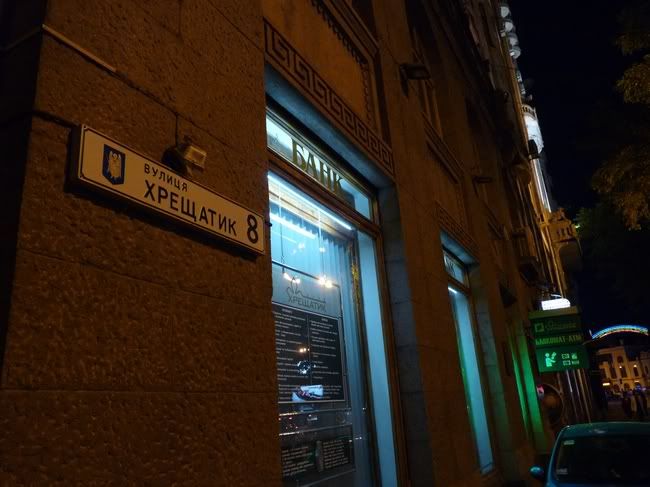 *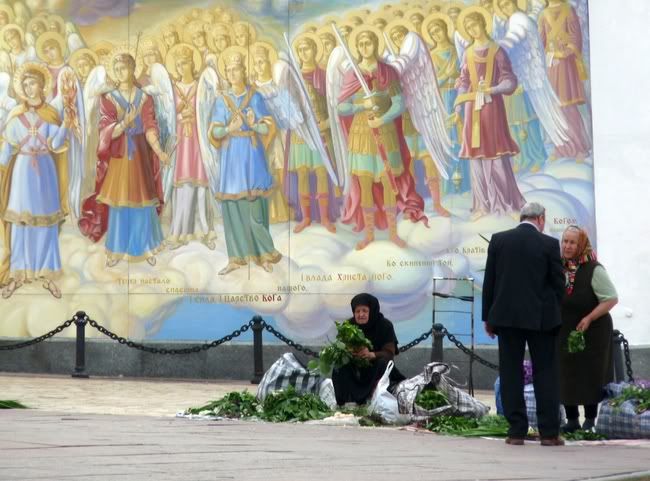 *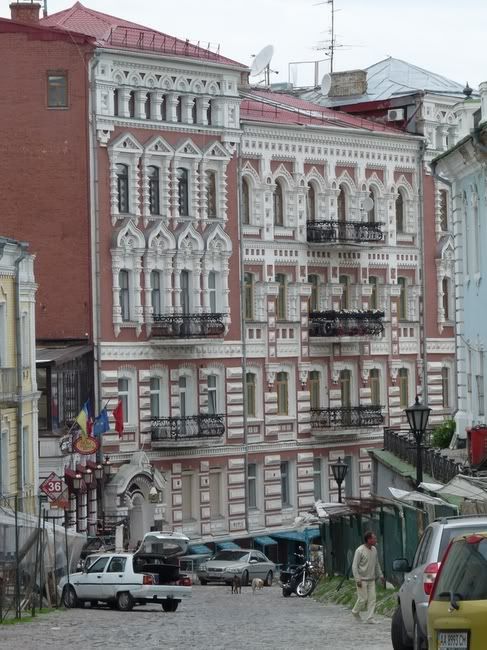 *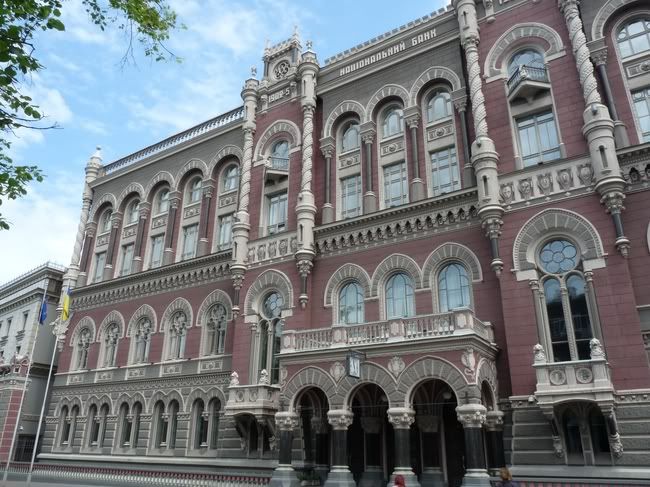 The Kiev aviation museum
Kiev has a very interesting aviation museum located on the northern side of Zhuliany airport, the city centre airport. Getting to the museum was a lot of fun, as we decided to give the "Marshrutkas" a try, after being unable to obtain a decent fare from the taxi drivers at Independance Square. Marshrutkas are a popular mean of transportation in several former Eastern Block countries. They are private minibuses or vans, of all kinds, some large, some small, some new, some old, that more or less follow public transportation lines but are much more frequent (and reliable ?). Just like their "official" counterpart, they are generally crowded... Finding the correct line was not that easy but by combining some key russian phrases with a good sense of resourcefulness we managed to land close to the museum. We had good fun inside the marshrutka because of the crazy driver, and also because as I was standing near him, I had to play the money-relay, with everyone passing me money and expecting the change back, shouting instructions in Russian/Ukrainian. Even if I was quite successful in understanding the system and instructions, I soon realized it was better to give the job to someone more experienced
As I wrote, the museum is really interesting. I could have stayed there for many hours, but I didn't want to bother my companions with too much of aviation stuff, so we just took the time to have a look at civil equipment (there is also a comprehensive military collection). There aren't any "western" machines on display, but I took a great pleasure at wandering around the Tu-134, 154, Il-14, 18, 62, 86, Yak-40, An-24 and many others on display. We were allowed to get inside the Il-62 as well as some helicopters. I'll let the pictures speak :
*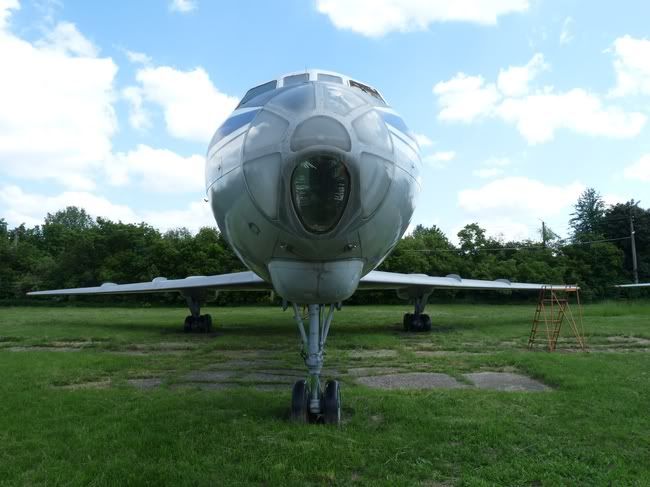 *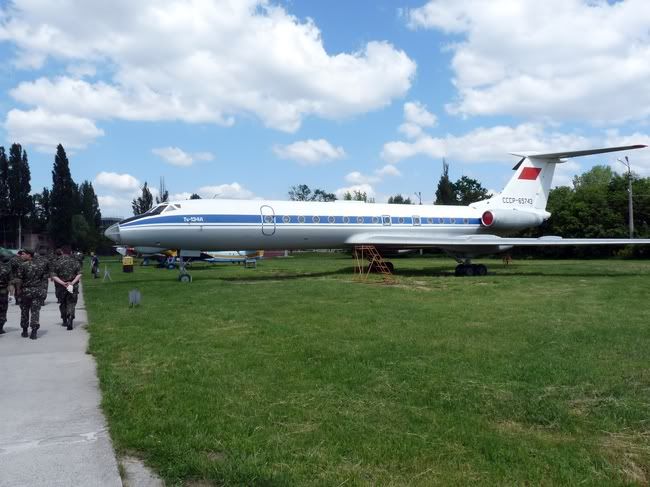 *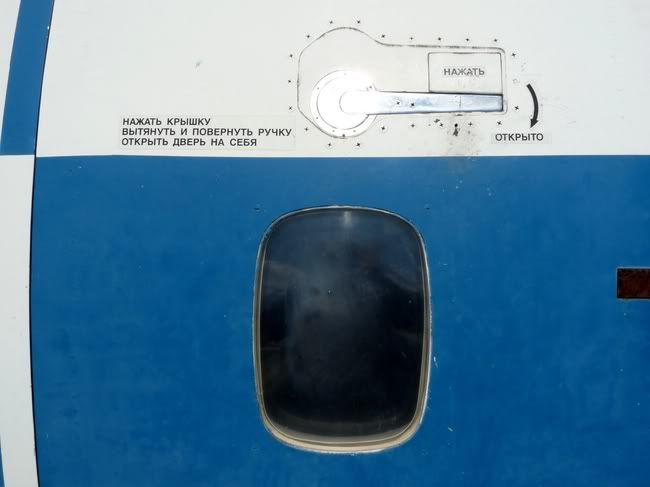 Tu-154 door.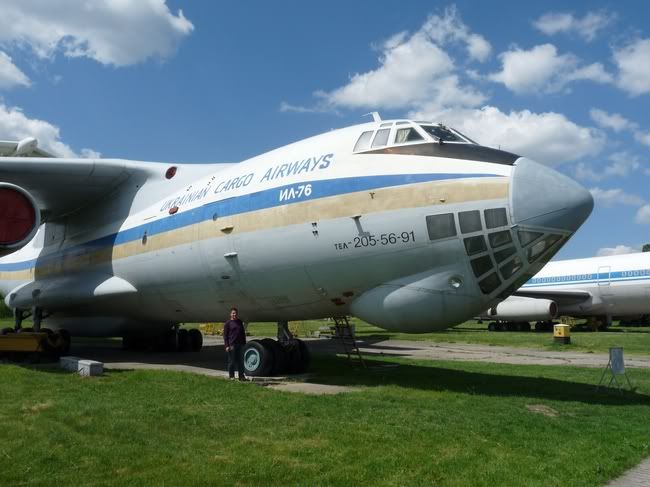 Me standing in front of the impressive Il-76.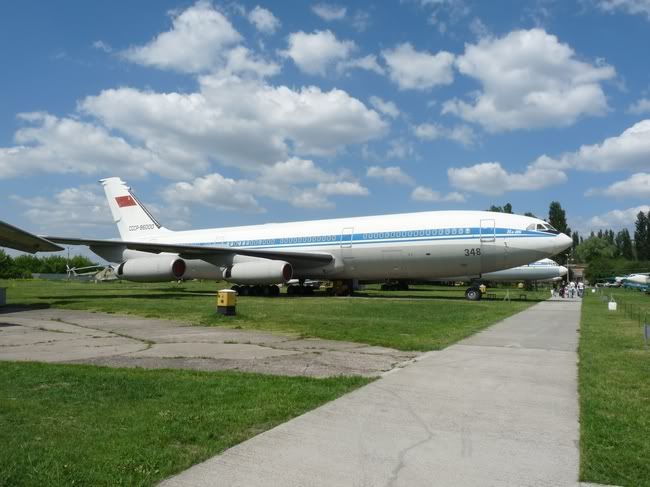 *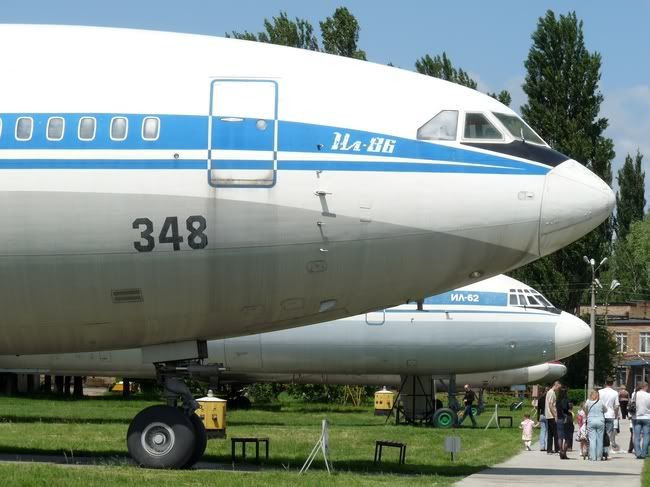 *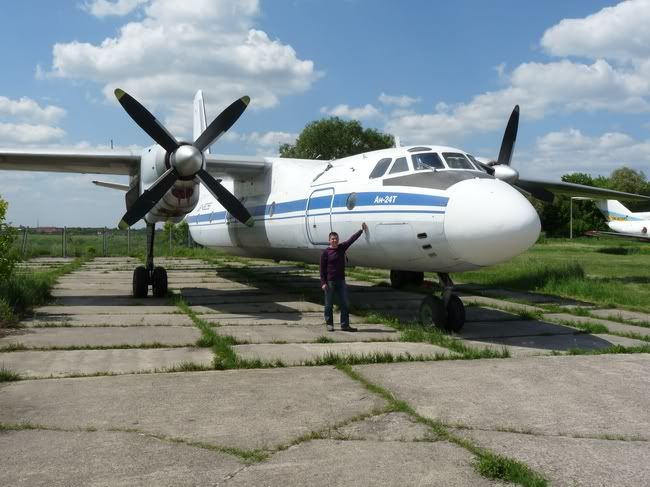 *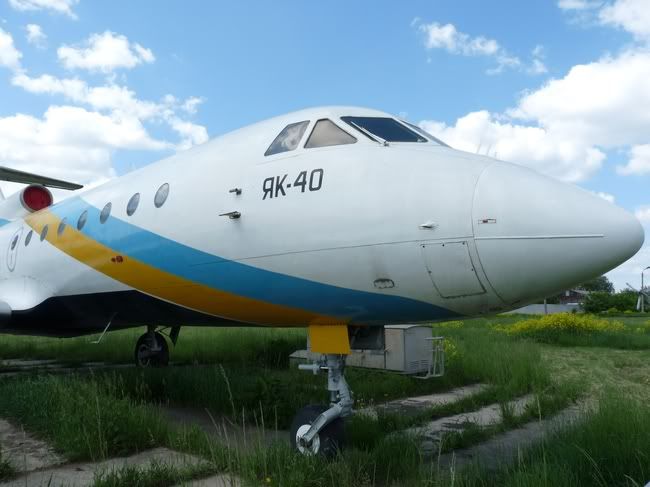 *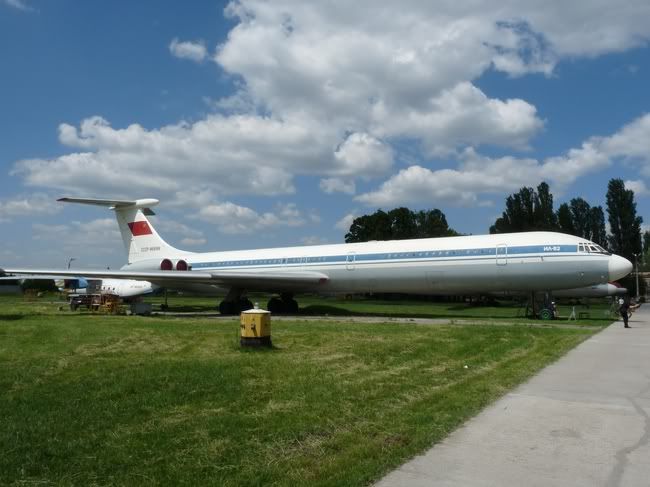 *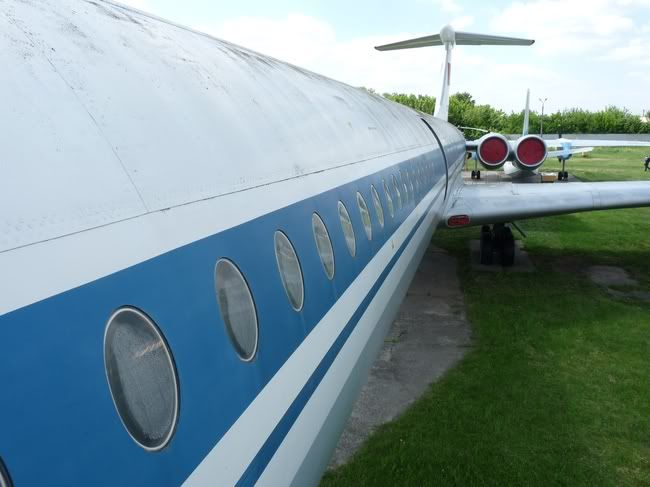 *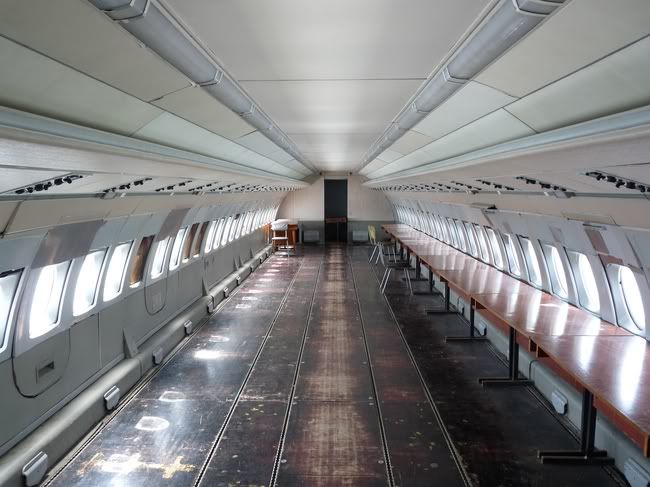 Il-62.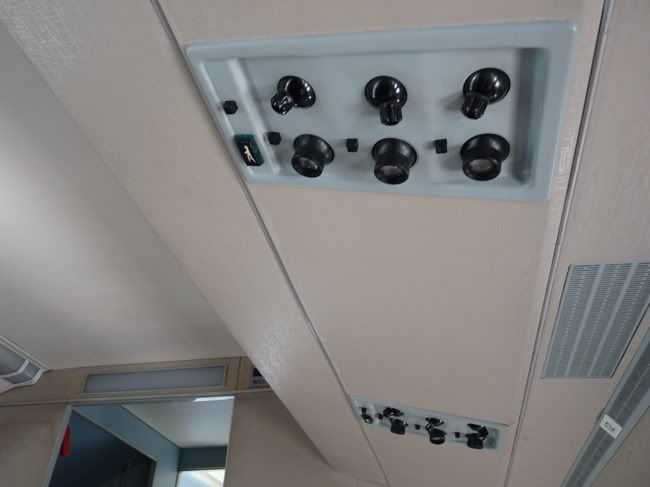 *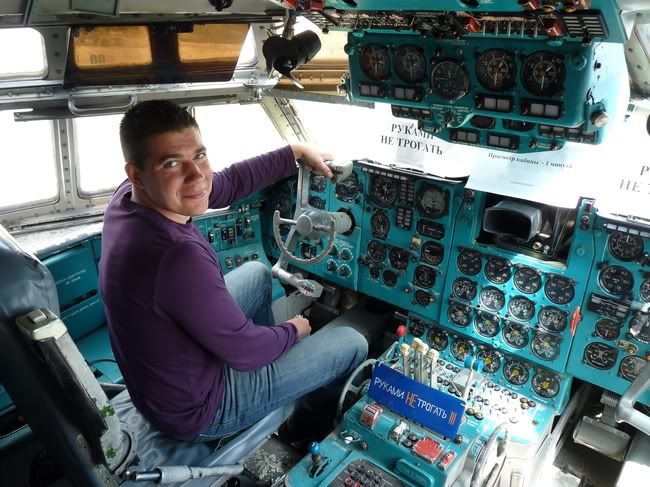 The author in the Il-62 office.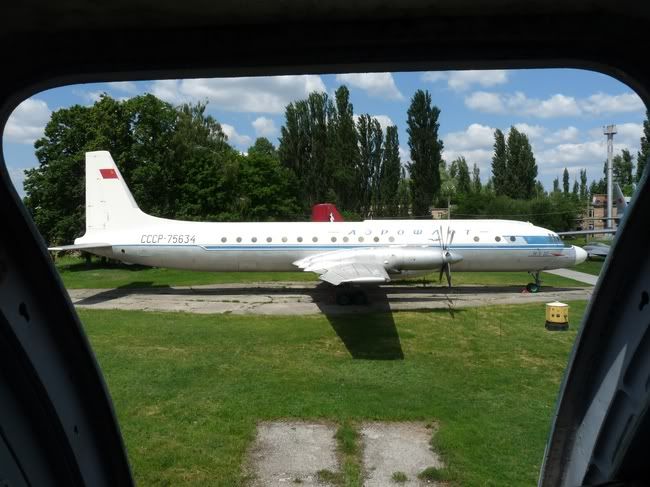 Il-18 seen through the Il-62 door.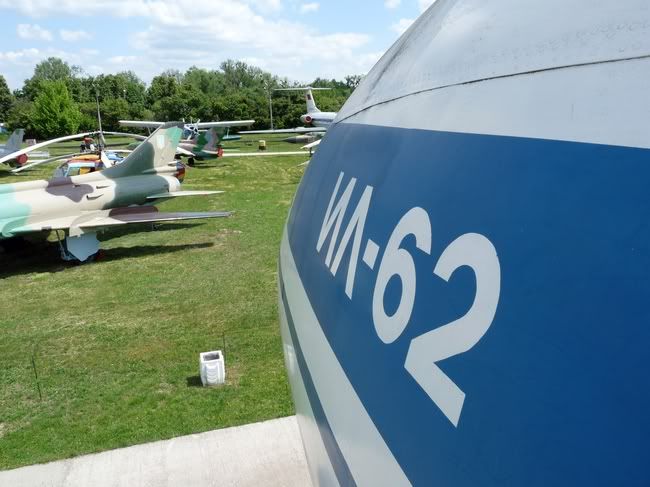 *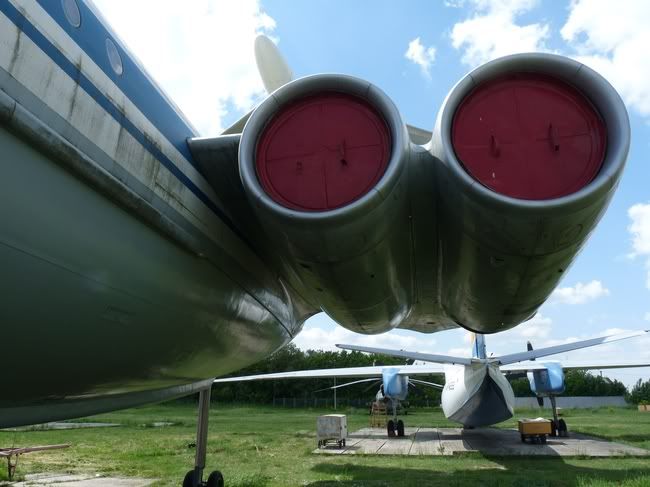 *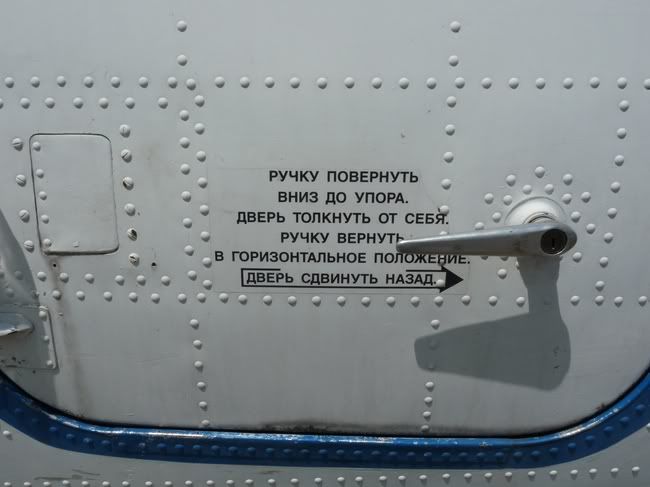 An-24 door.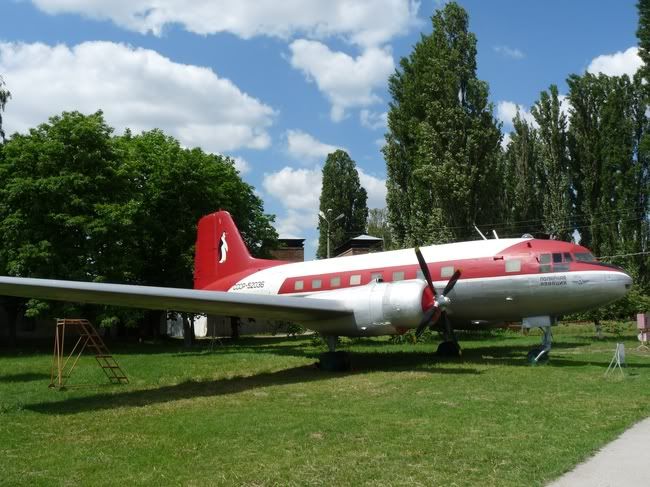 *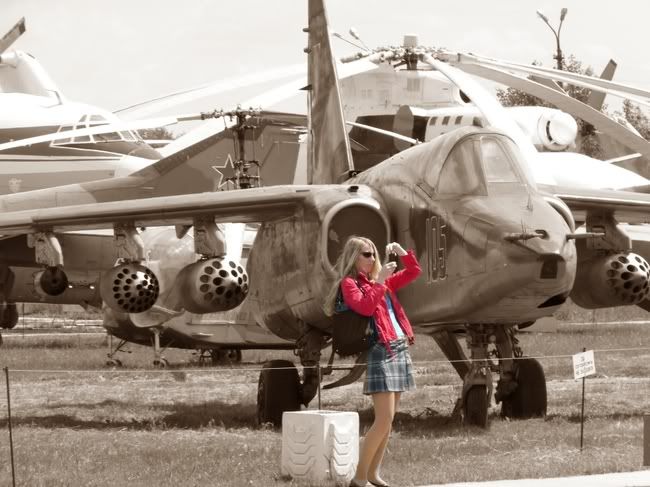 Kiev Borispol airport
Our flight to Lviv was scheduled at 15:05, so we left our appartment in the city centre at noon. Upon arriving at Borispol airport, we saw some construction sites, probably aimed at upgrading/expanding the airport for the Euro 2012 football tournament. Currently, two terminals are used : the small terminal A for domestic flights, and the larger terminal B for international flights. I can't comment on terminal B as we did not use it (I understand it is relatively decent), however terminal A (which we used for our arrival from Simferopol and our departure to Lviv) is kind of outdated.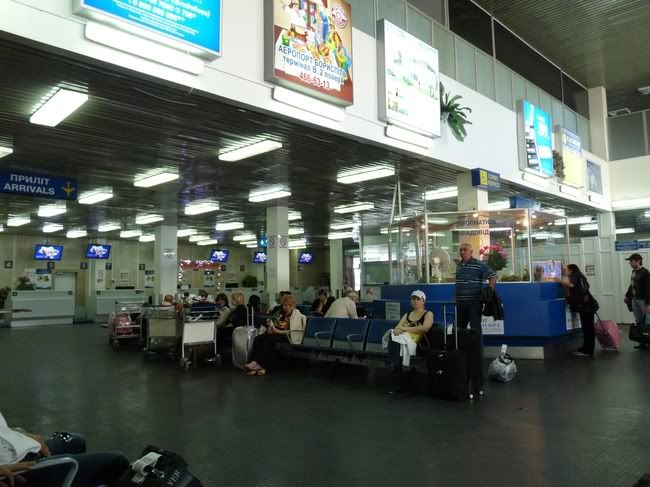 *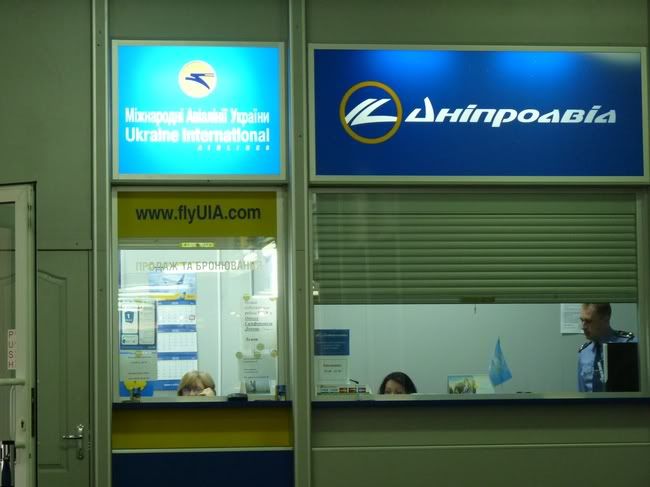 The check-in hall is dark, small and crowded, the check-in process itself (at least at that time) being disorganized, with multiple domestic flights being processed at the same counters while other count. The only highlight was the very friendly service we got at the bar where we tried our luck for lunch. After that we went through security (again, only one machine for all the domestic flights that seem to depart at around the same time), then we entered the gates area. This consisted in a waiting room with 4 "gates" (actually 4 different doors for the same waiting area). It soon became a bit crowded with flights departing to Lviv, Simferopol, Donetsk and Dnepropetrovsk, so we bought some drinks and sat at the small bar which is the only point of interest after security.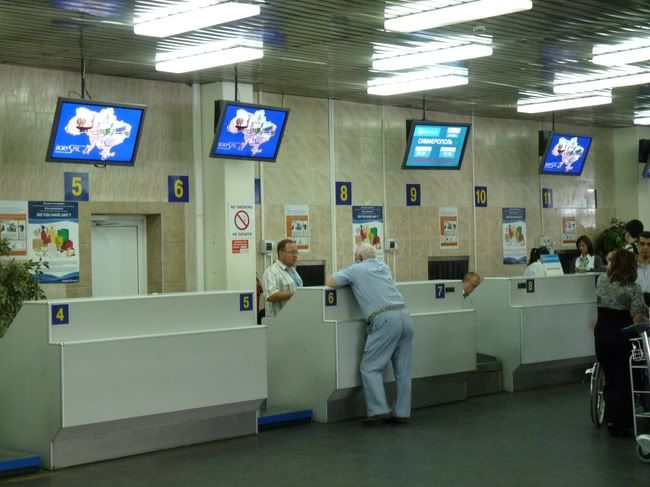 *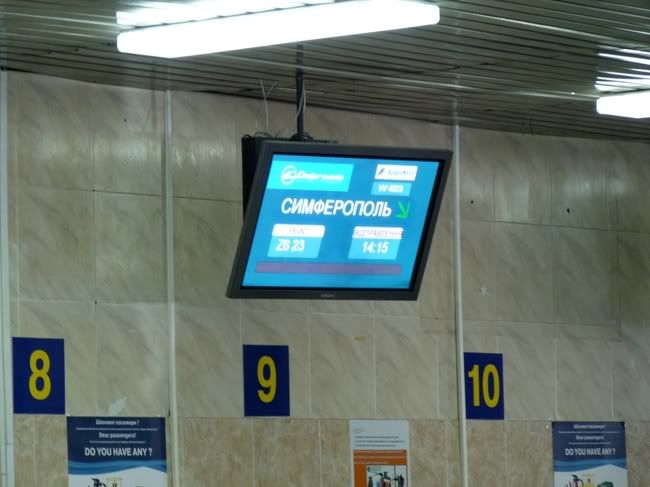 *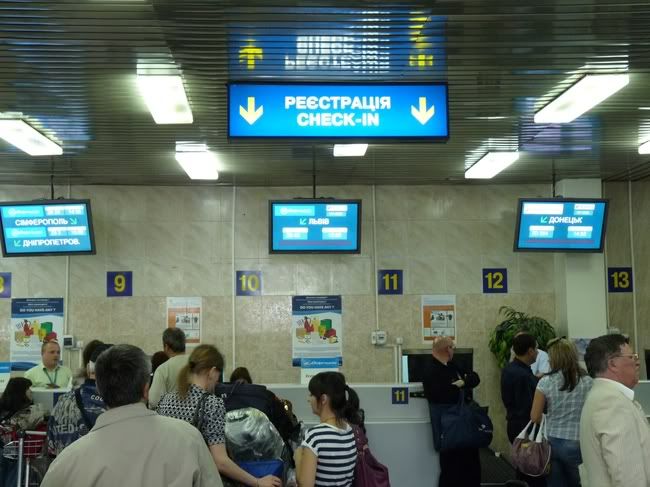 *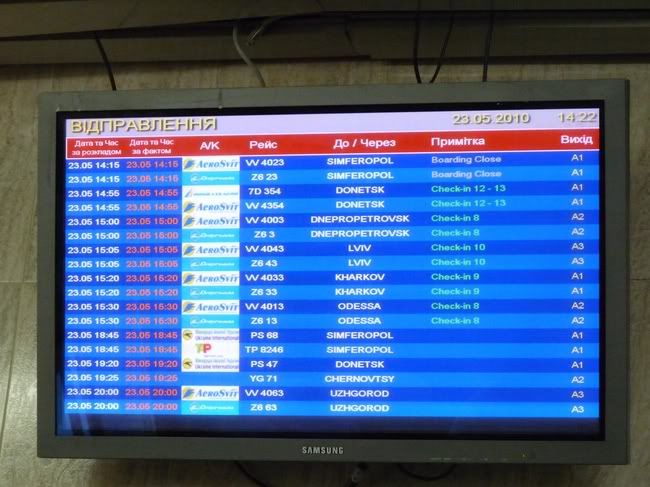 *
I tried to see whether it was possible to see some traffic, but the location of the terminal made it difficult to watch anything more than a few planes in the distance.
From Kiev to Lviv
After some wait, our flight to Lviv was called for boarding. Some agent came to open the small gate door with his key set... A modern bus brought us to our DnieproAvia Embraer 145 parked at a remote stand. I grabbed some photos, trying not to attract too much attention, and was helped by some Ukrainian-American guy, wearing a Texas shirt and an NRA cap, attracting all possible attention on him by speaking loudly, not following instructions and thinking he's got the plane's aisle all for himself. In a general way, I noticed that quite a few passengers on domestic flights out of Kiev were connecting from AeroSvit's JFK flight.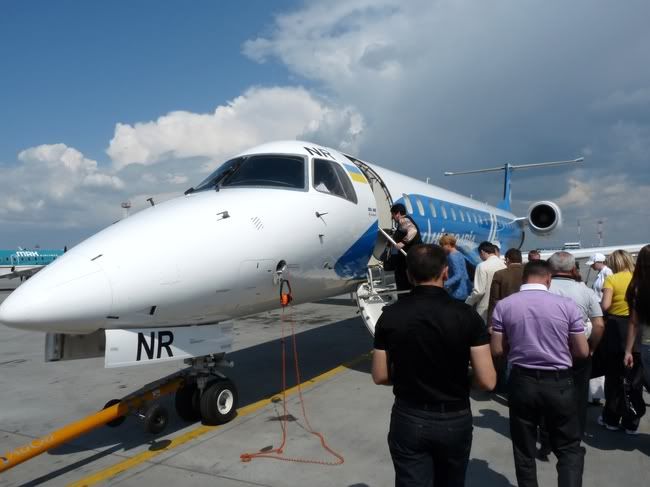 *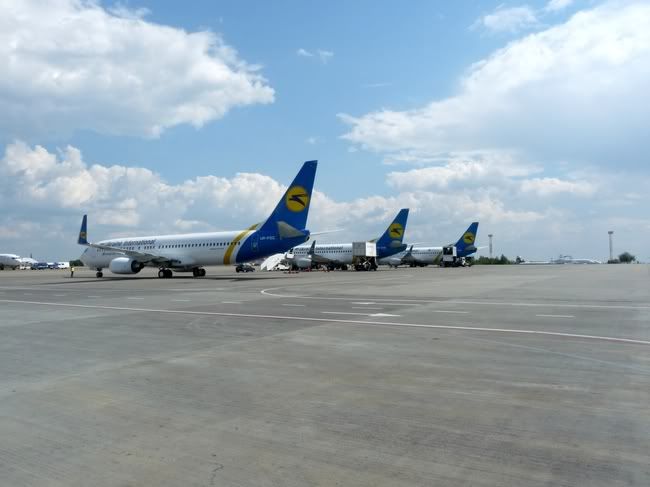 Those of you knowing the Embraer 145 know how small the cabin is, however the seats were comfortable. Signs in Italian and English gave a clue about the former operator : Alitalia Express. We taxied to runway 36L and made a short but shaky take-off roll. Soon after, the sole (male) flight attendant began the inflight service while I enjoyed the nice views on Kiev between the clouds. I was pleasantly surprised by the offer on such a flight : two meat sandwiches (tasty if a little dry) and a great choice of drinks (I took a banana/strawberry juice, but don't ask me to order that in Russian, I just showed the bottle
). The flight attendant looked professional and reasonably attentive.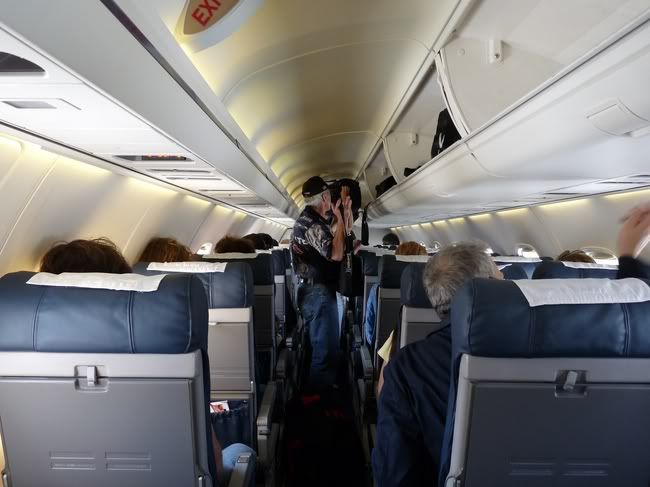 *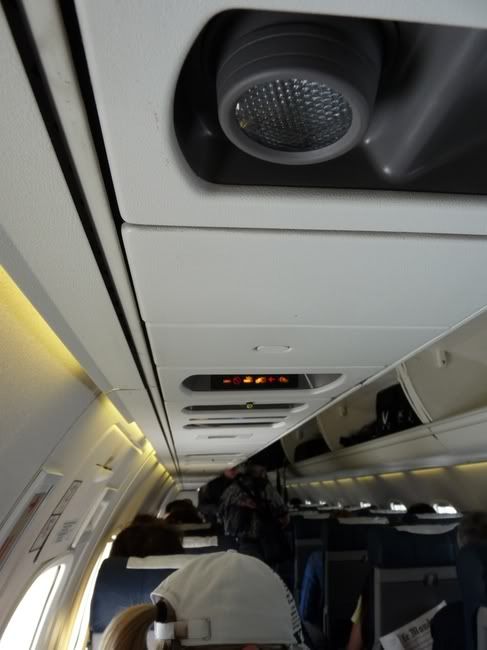 *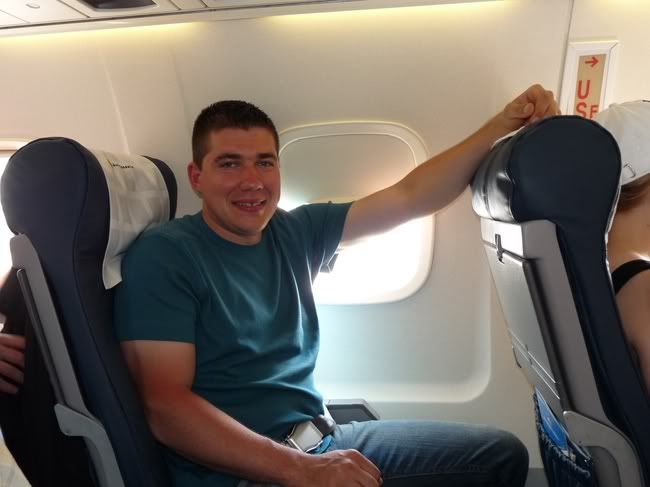 *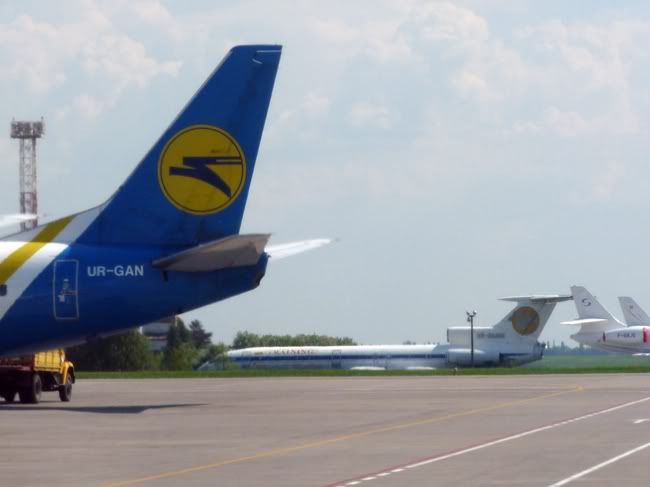 *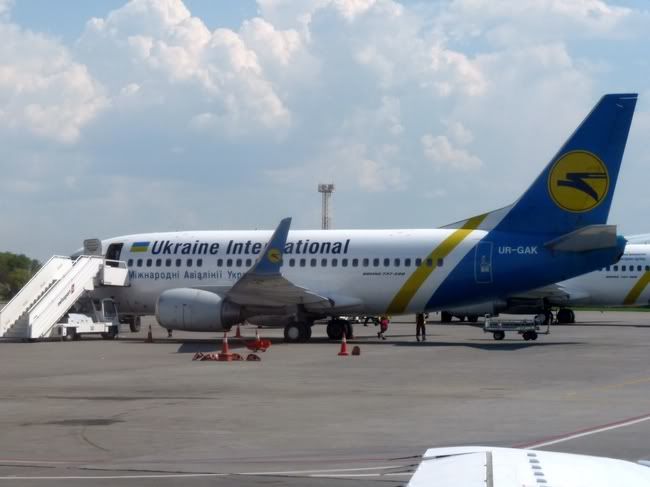 *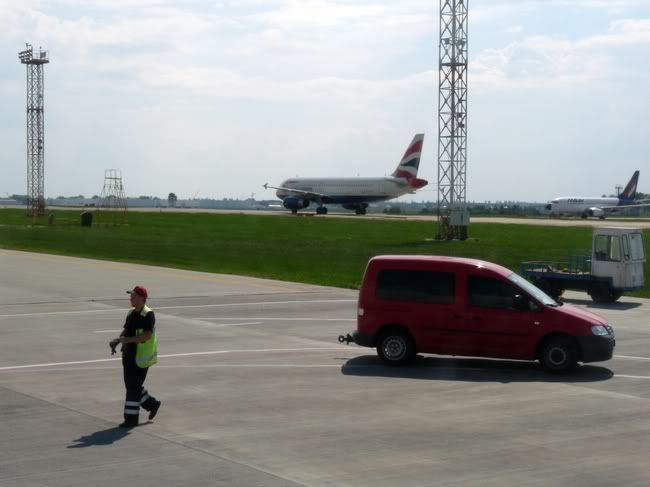 *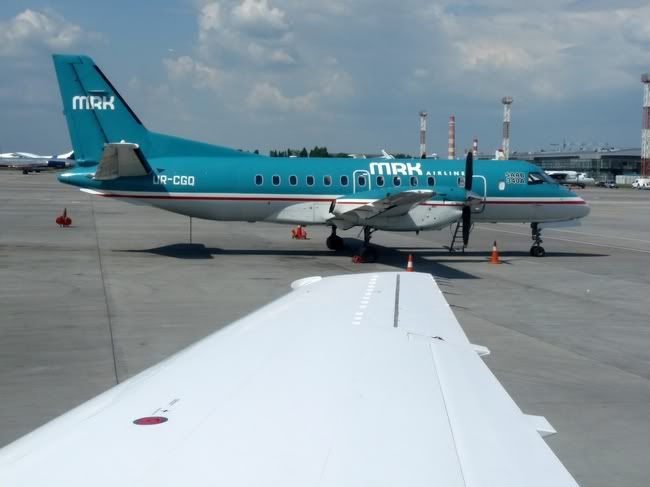 *
*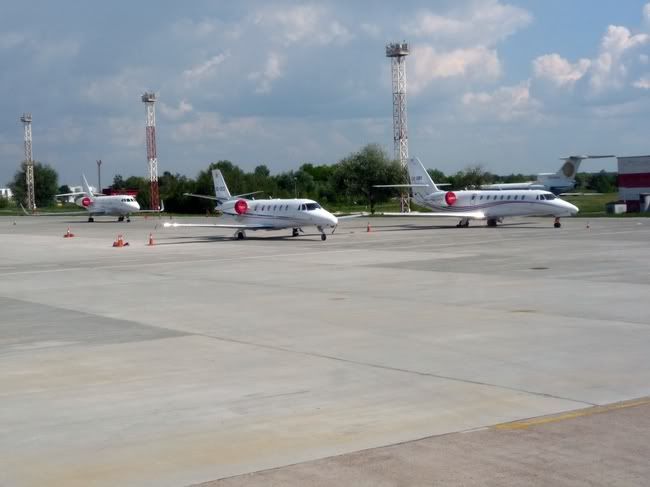 *
*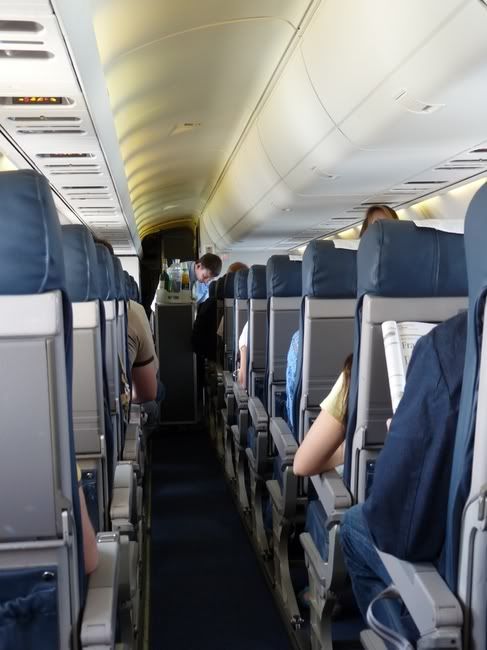 We had to make a good number of turns between cumulonimbus as the weather above western Ukraine was not so good that day. During the approach into Lviv, we were surrounded by dark clouds, rain and sometimes lightning, but the final approach and landing remained smooth enough. Immediately after our arrival, an Austrian Arrows Dash 8 took off to Vienna, and that's about all the action we saw at the airport.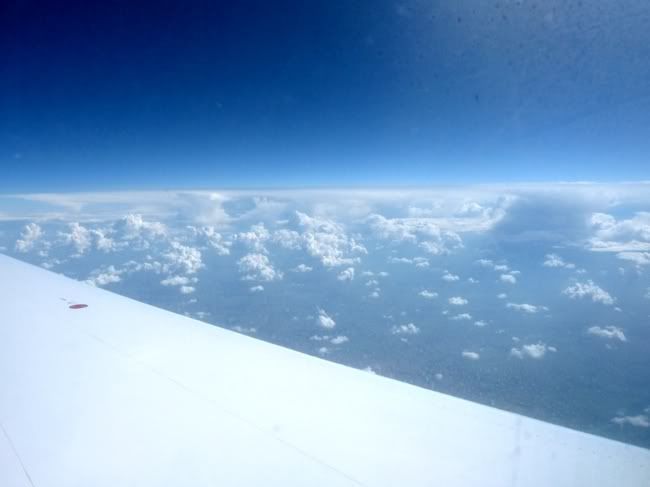 *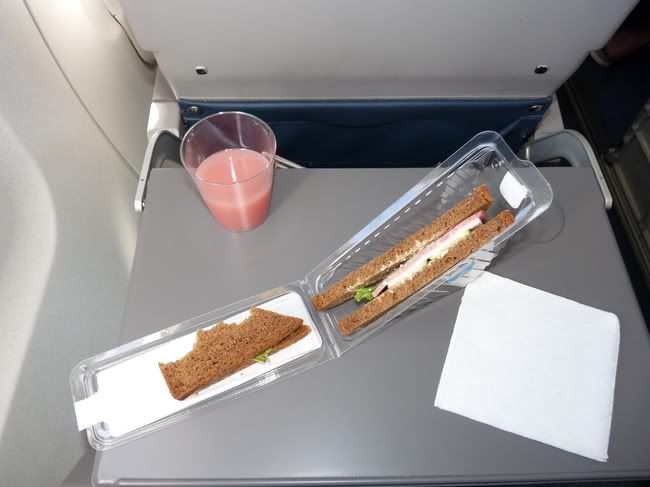 *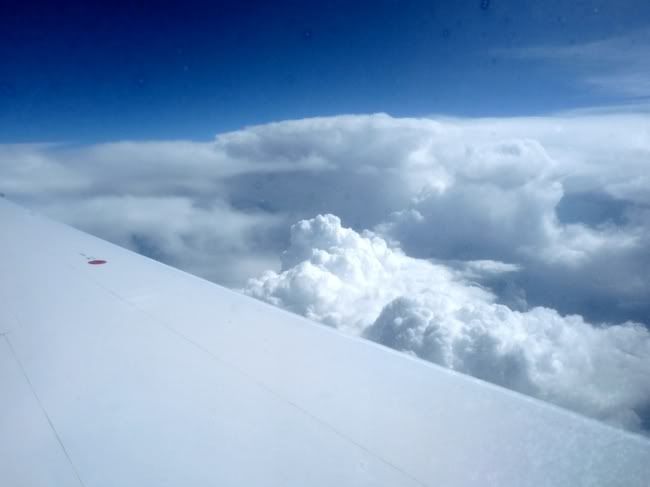 *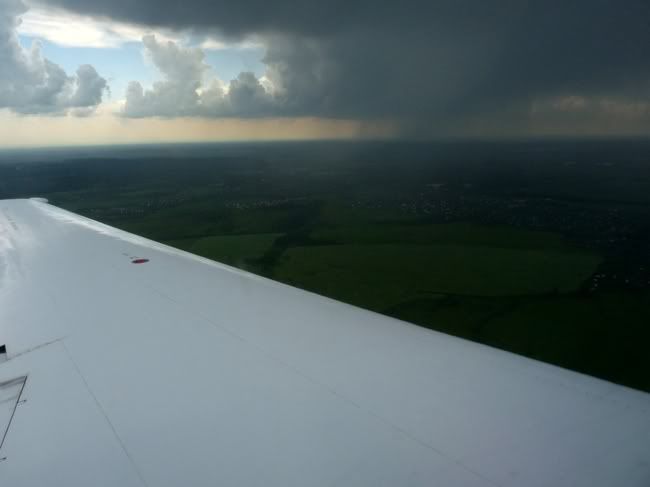 *
*
*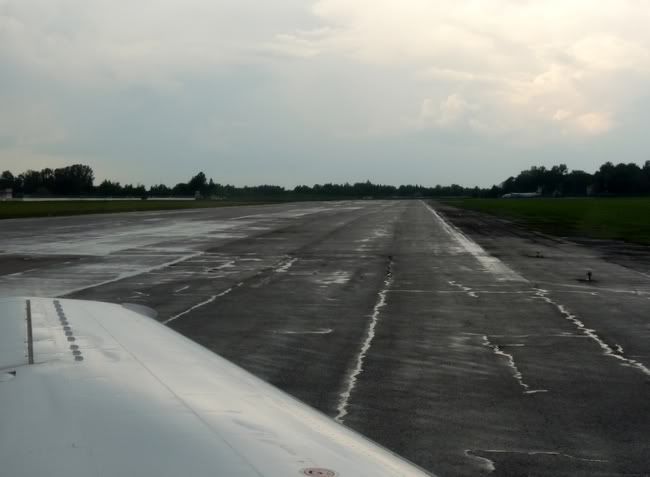 *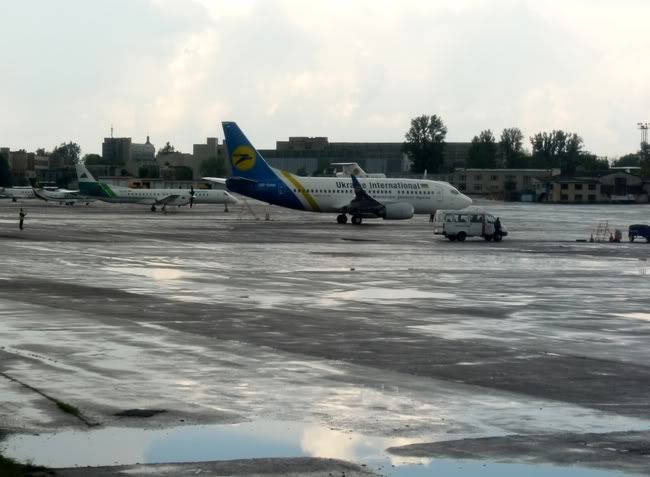 *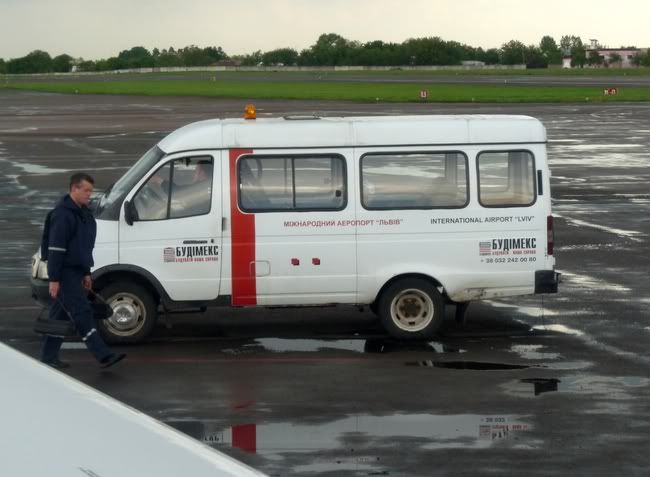 *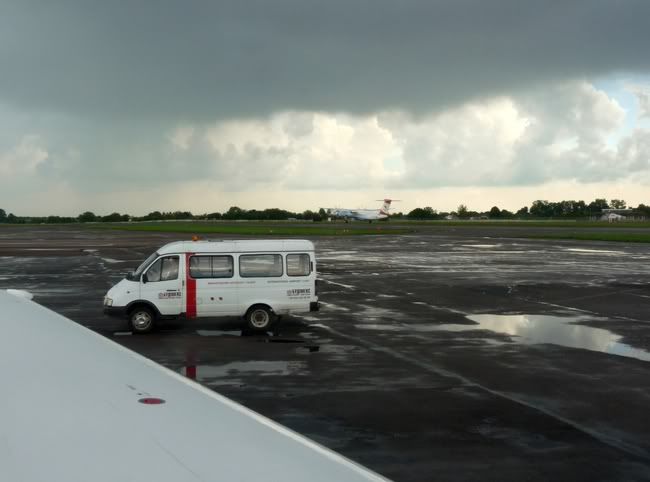 *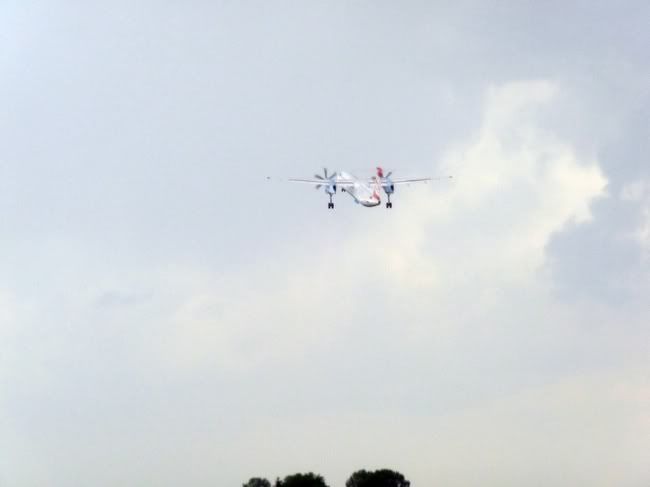 The arrival procedure was funny : half of the passengers went to the back cargo hold to pick up their bags in order to leave the airport without waiting. Then, while we were being bused to the terminal, the remaining luggage was loaded into a cart which was manually brought in front of the terminal. The remaining passengers (including us) took their bags directly on the cart, and we proceeded directly to the public part of the terminal, without meeting anyone to check anything. The arrivals section of the terminal was small and old-fashioned, filled with taxi drivers (most of them unofficial) trying to sell their services. As we needed one, I approached some of them who systematically asked very high (for Ukraine at least) prices. I bargained for a while and got a 50 UAH (5 euros) fare to the city, which is still more than what locals get, but very acceptable for us.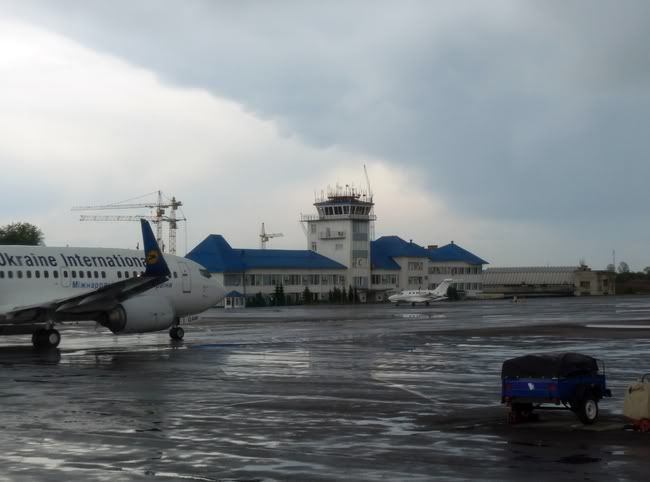 *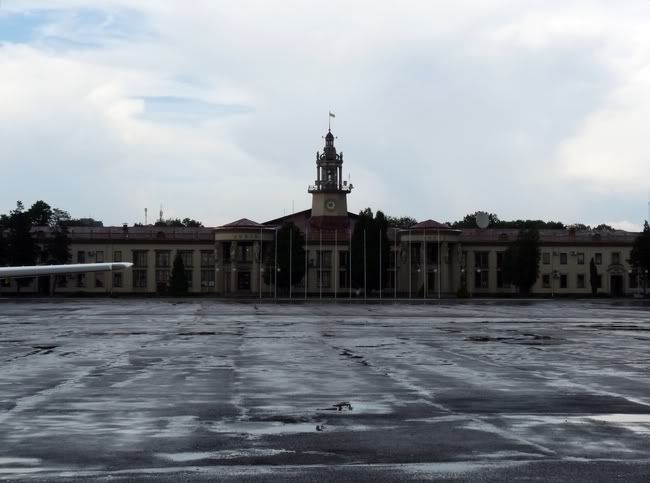 *
*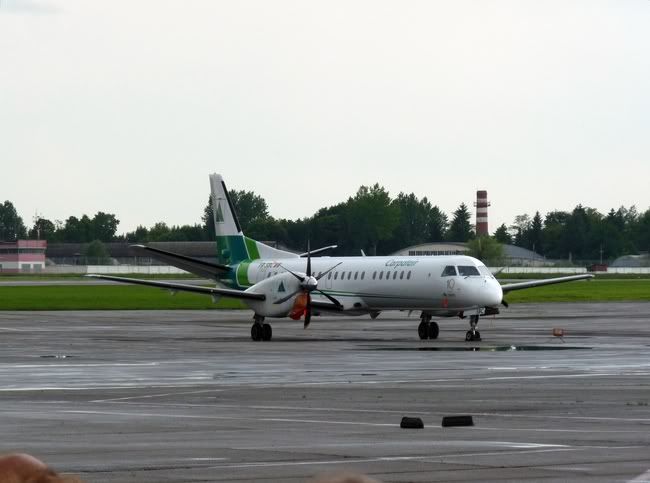 *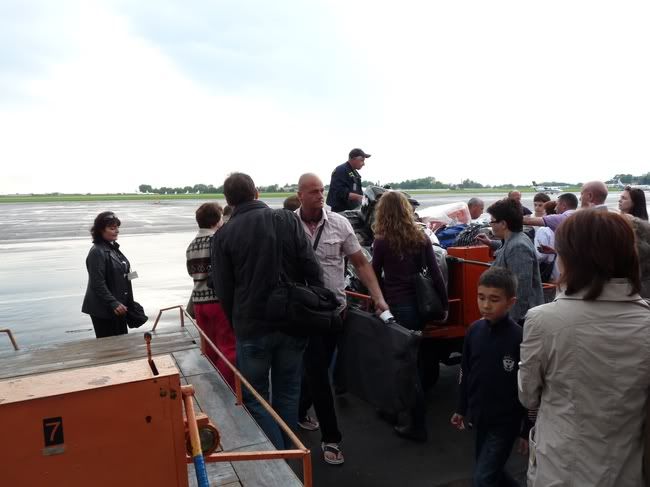 Reclaiming our luggage.
Our aircraft getting ready for its departure back to Kiev.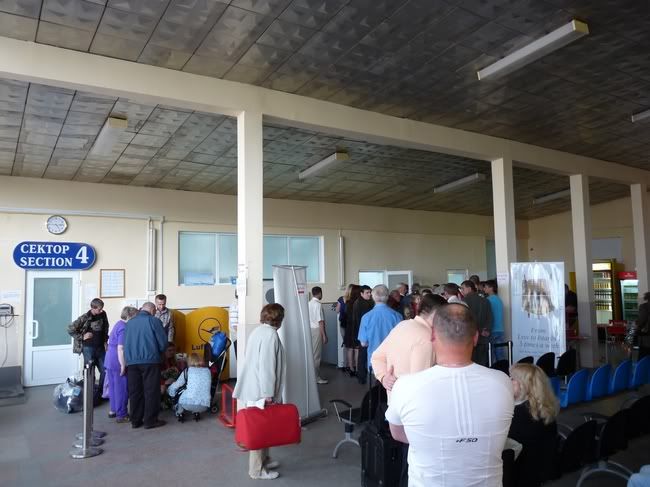 Lviv
Unfortunately, the weather was a bit on the bad side during our stay in Lviv. However, temperature remained sweet and we put every sunny interval into profit to enjoy the city, walking on the Svobody Prospekt with its magnificent opera building, having some beer and a typical kvas on the beautiful market square, and exploring one or two less well maintained neighborhoods. We also climbed the 408 steps to the top of the town hall tower from where we were treated with very nice views on the city.
As it was the last days of our Ukraine trip, we decided to spend our remaining money on a good hotel (the Grand Hotel, at the very center of the city), and on good restaurants and bars, and we were not disappointed (we sampled some good typical ukrainian cuisine). The city itself has an interesting history and some good architectural features (especially on the religious plan, which is not often the case in Ukraine), however, except for a few downtown streets and squares, a lot remains to be done to restore badly maintained buildings and streets. Anyway, we enjoyed our time there and I would recommend it to anyone although I think two days are more than enough to visit all the sights.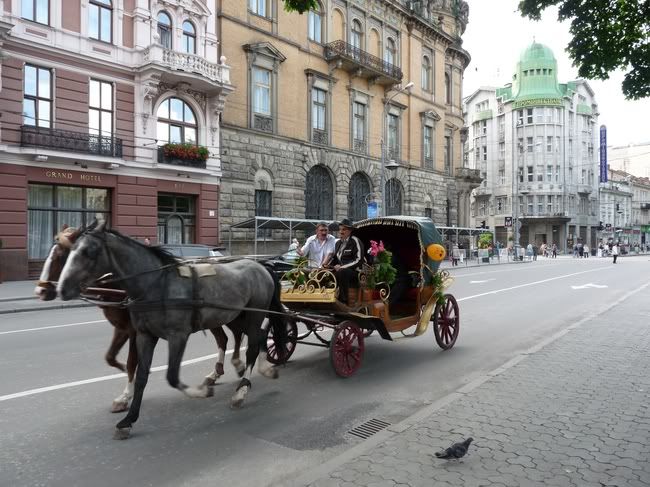 *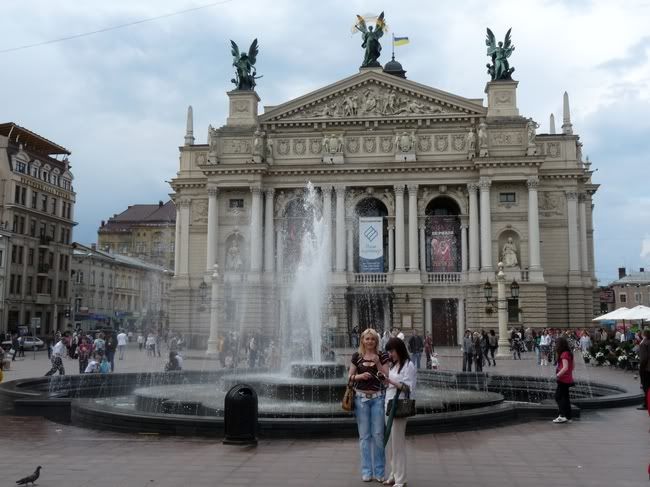 *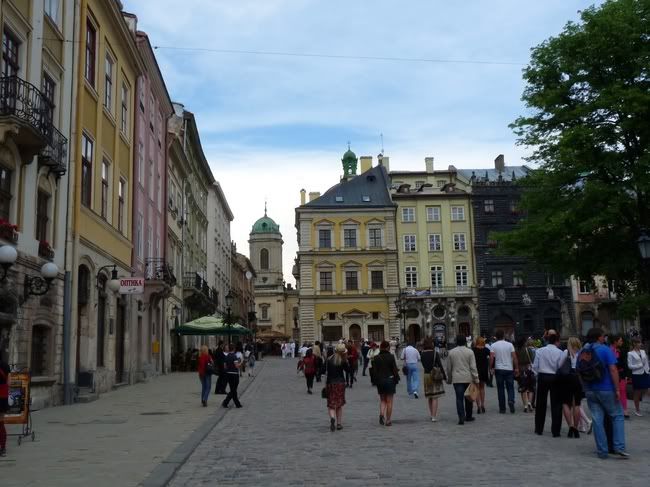 *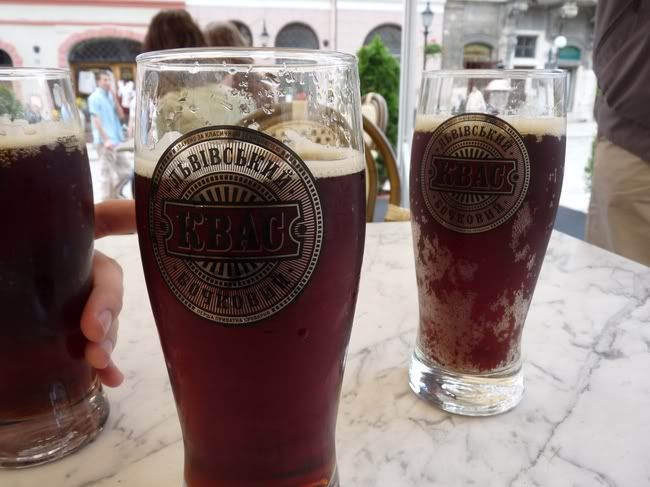 *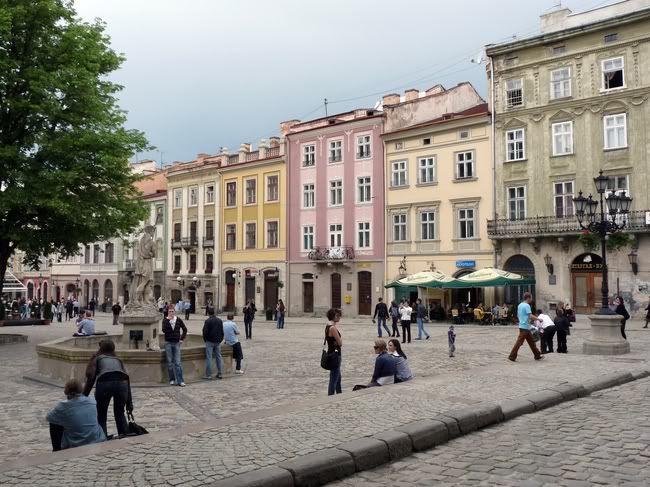 *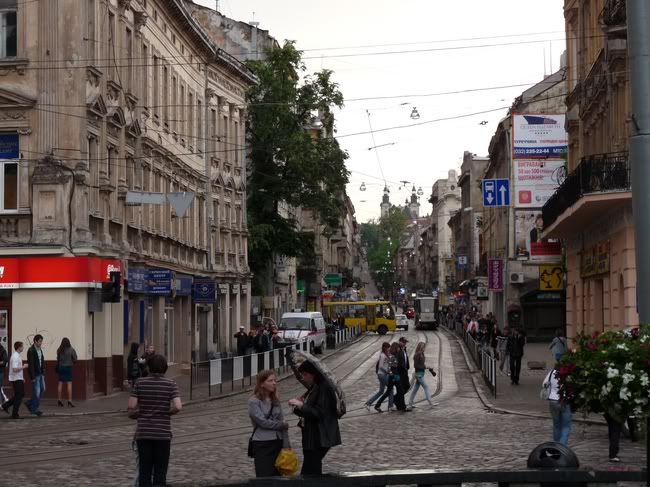 *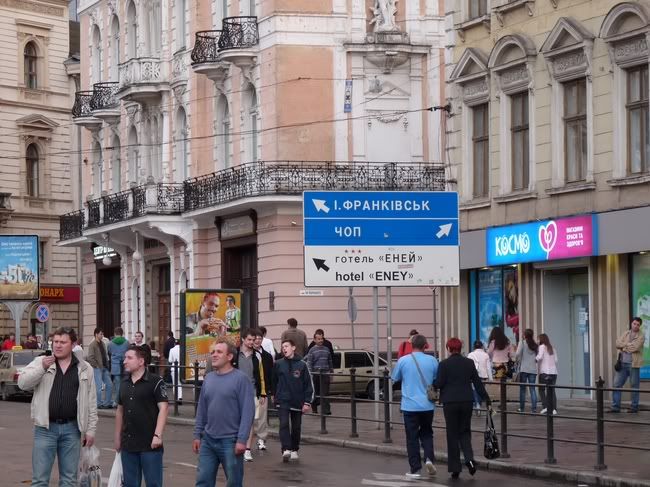 *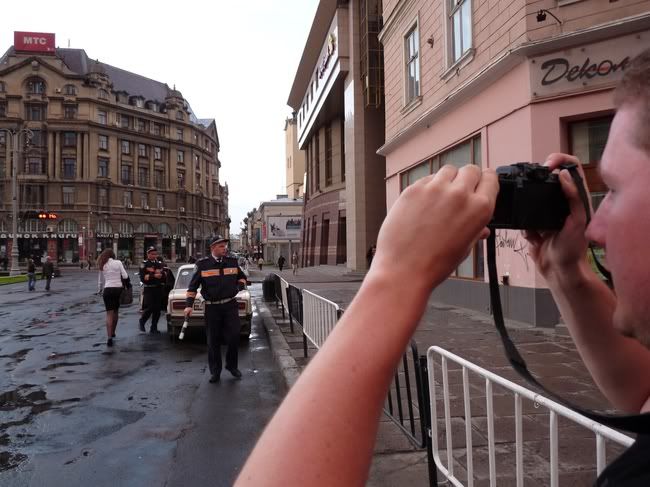 *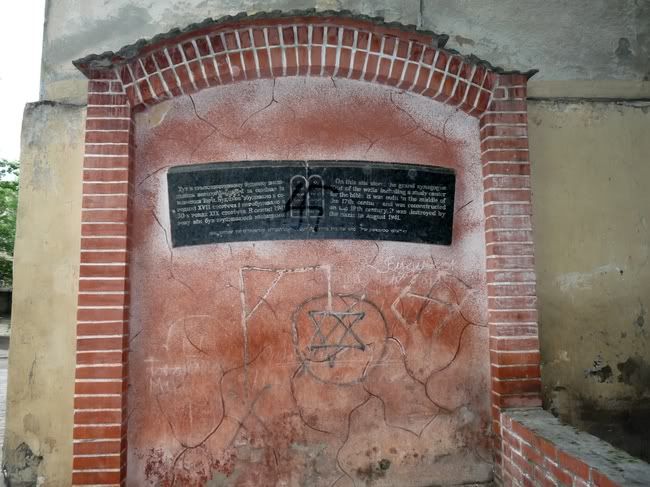 *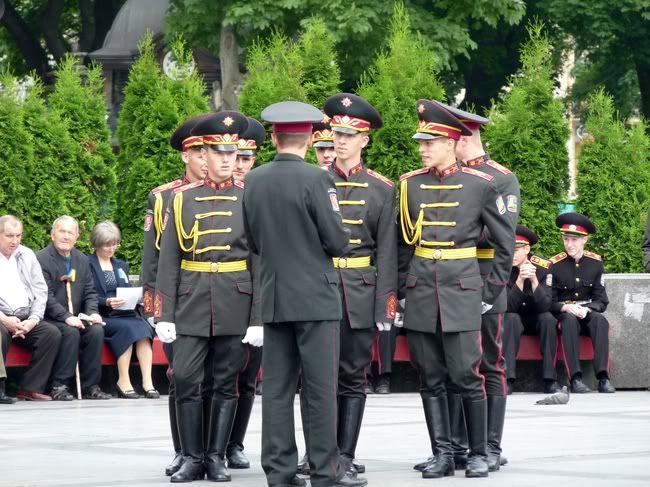 *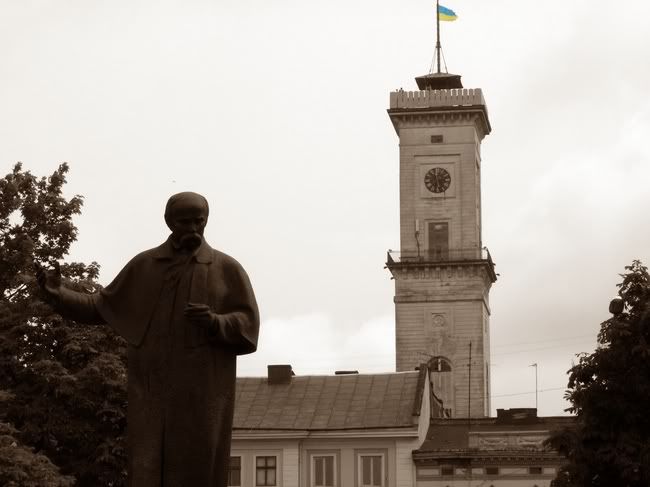 The famous Ukrainian poet Tarass Shevchenko.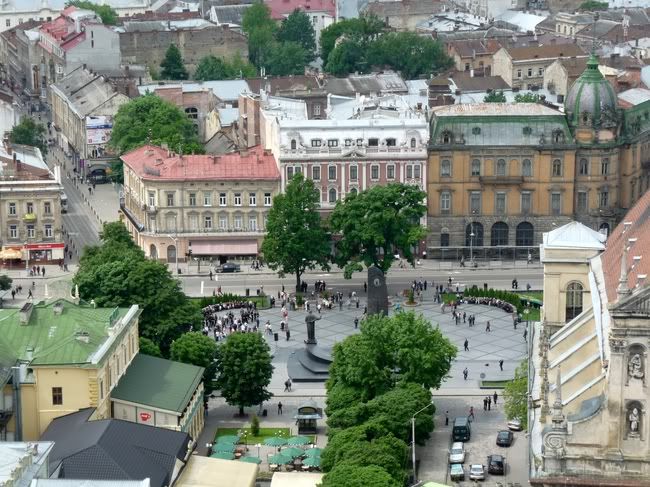 *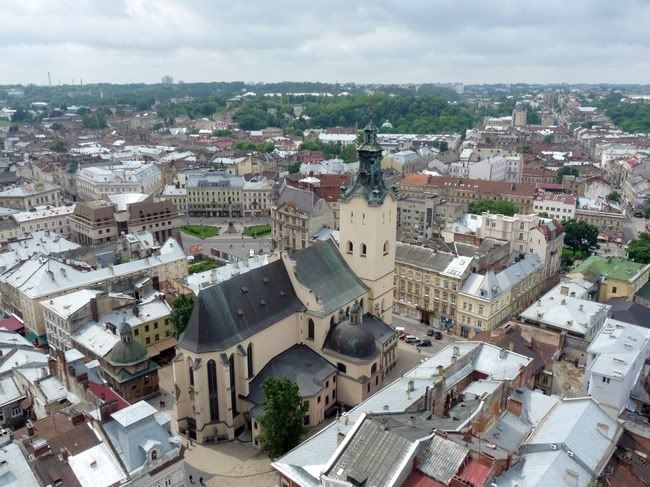 *
*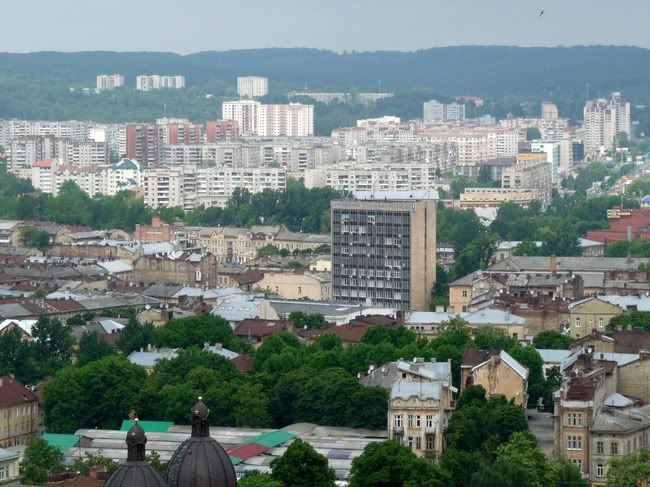 *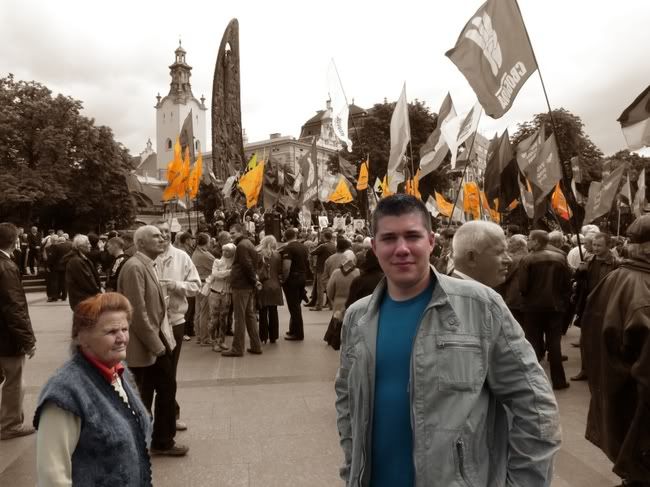 *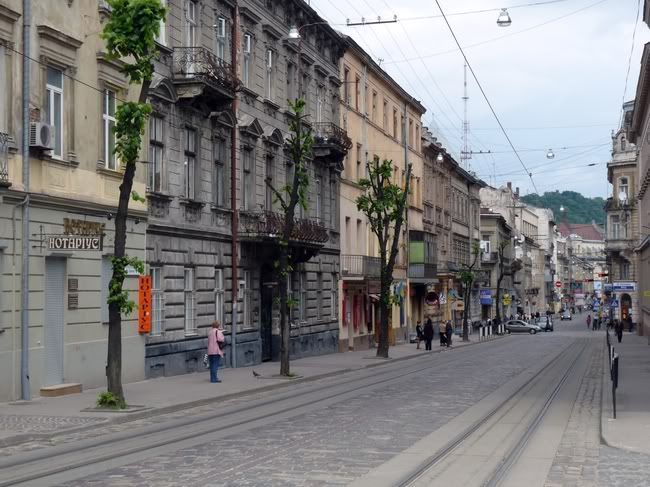 Lviv airport
We took a taxi to get to the airport, and as it was pouring rain during a thunderstorm, we completely forgot to negociate a price before getting in, which forced us to pay an expensive 80 UAH on arrival. Externally, Lviv airport is another fine example of soviet neo-classical secondary airports architecture. Unfortunately, the inside is another fine example of old, dark and too small terminals, this time with an unbelievable lack of indications of where and how to check-in. There is no electronic flight information display, only a fixed timetable in cyrillic only. The main hall and its impressive soviet architecture was really dark as not even one light was turned on in spite of the thunderstorm outside. There was no apparent check-in counter, so I asked a ticketing agent about the procedure. He told me to wait in front of the "Sector 1" door, and sure enough, 1 hour before scheduled departure time, a friendly LOT agent arrived, displaced some furniture to arrange something remotely looking like a counter, put a "LOT / Star Alliance" sign on it, plugged some old scales and voilà, there's your check-in desk
.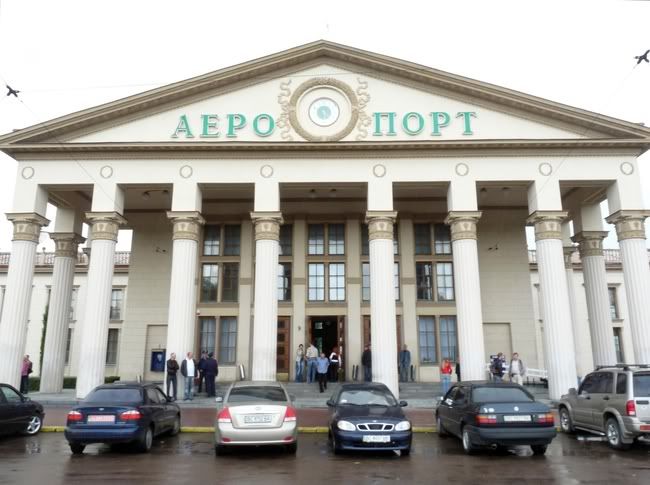 *
*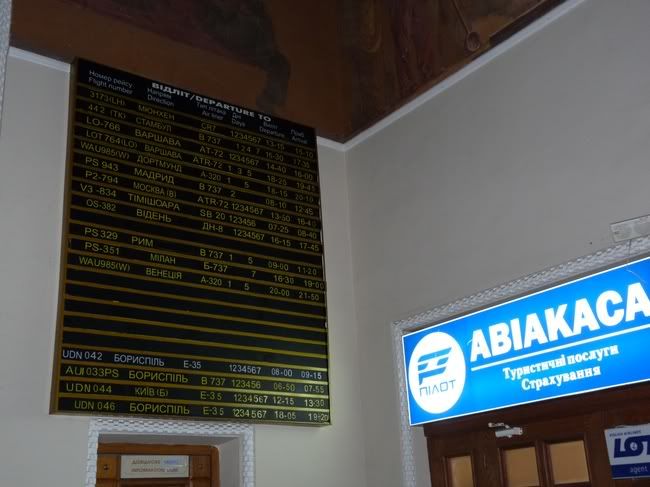 The only "FIDS" at the airport.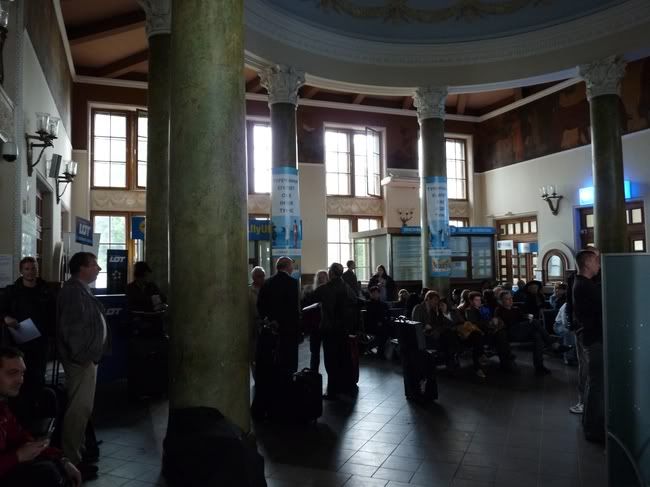 There's no exaggeration, it was really that dark.
After check-in, we opened this mysterious "Sector 1" door to discover a classic security check (including a scan of our hold luggage). What to do after ? It wasn't that clear, until a grumpy uniformed female agent, which we understood to be some customs officer, asked us to come, got a look at our bags, and asked us a few questions that needed to be repeated multiple times, the level of English being really bad (how many cash have you got ? cigarettes ? alcohol ? ...). After this control, we had to leave our luggage in front of a door, just like in Simferopol, then came the interesting part.
Out of Ukraine
When entering Ukraine, one has to fill in an "immigration form" which is a badly worded official document full of advertisement on cheap paper. One of my friends had not understood that this document must be kept in order to be handed back upon leaving Ukrainian territory. Long story (more than 30 minutes !) short : he got arrested by a gang of uniformed (all female) immigration officers who threatened him of a lot of things including missing his flight. The other solution was to pay them a 340 UAH fine. As he doesn't speak English well (neither did the officers for that matter), I played the translator and bargained more than 20 minutes to bring the fine down to 50 UAH.
However, before paying, I demanded to get a receipt. All of a sudden, the agents seemed to forget the little bit of English they still knew and began to act aggressively with me. I insisted that I was not going to give any money without an official receipt, asked to see their superior, and got threatened of being brought to the police station in the city centre (missing my flight). I kept trying to hold on until I saw the official identification plate of the agents on their desk. I then took my phone out of my bag and conspicuously began to write down their names and ID numbers. Suddenly they seemed to panic, talked to each other in Ukrainian and their change of attitude was amazing : they politely told me that we could all go, but please don't forget the immigration card next time...
Sure enough my friend was at fault for losing his card and we were ready to pay a fine for that, but the attitude of the agents was a blatant attempt at extorting money from us and I'm glad I didn't give in. Finally, the whole scene took so much time that it was already time to board (the gate waiting room, at ground level, offered good views of the apron).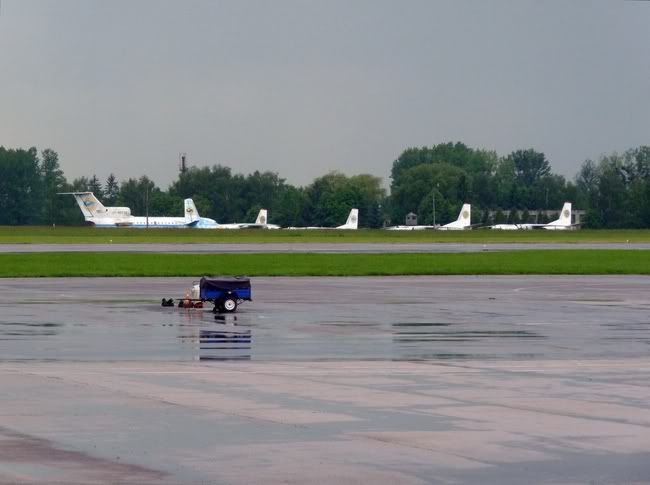 *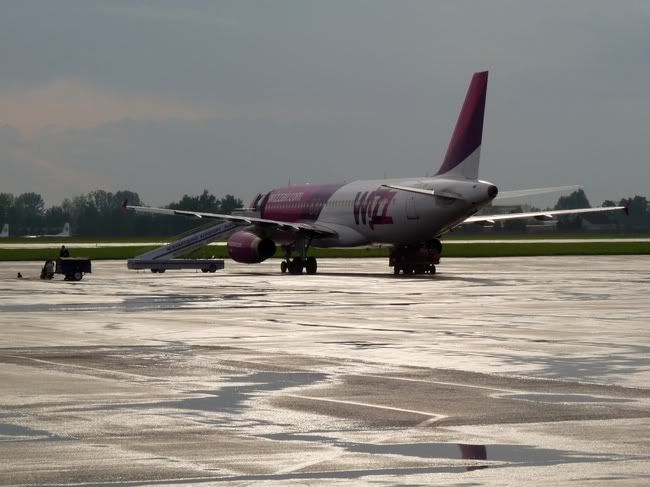 *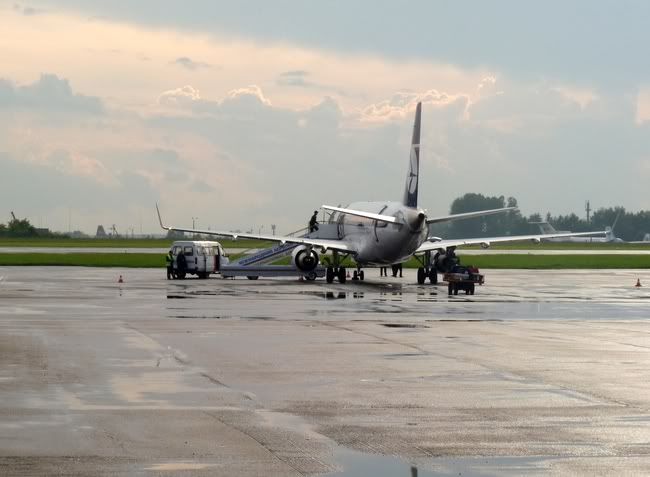 *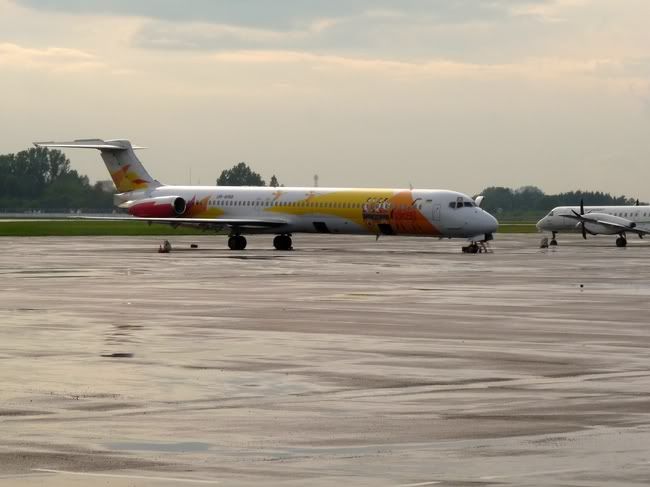 Wind Rose Aviation UR-WRB.
Flying back home
We were bussed to the aircraft where I decided not to take photos, seeing the police officer guarding the aircraft stairs and fearing that the previous altercation could have focused attention on us (it certainly did
) The cabin was of course exactly the same than on our Warsaw to Odessa leg, but the load factor was light (I had a look at the load sheet which said 1C/17Y, that is, a load factor of only 22%), so I moved to have a whole row to myself once door was closed. We began our taxi after a Wizz Air Ukraine A320 had taken off, because we needed the runway to backtrack to the 31 threshold.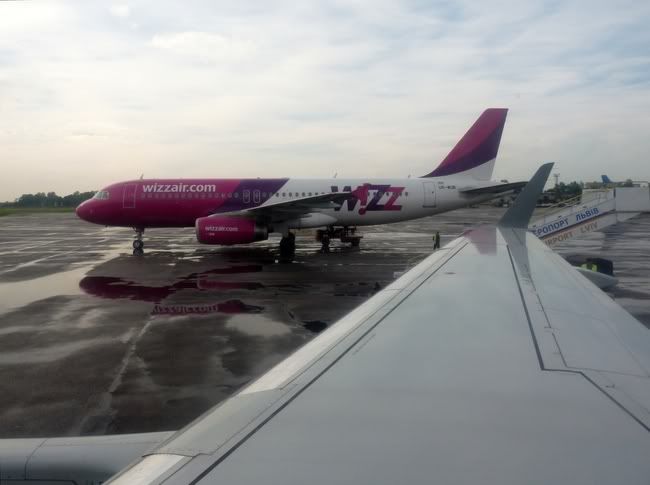 *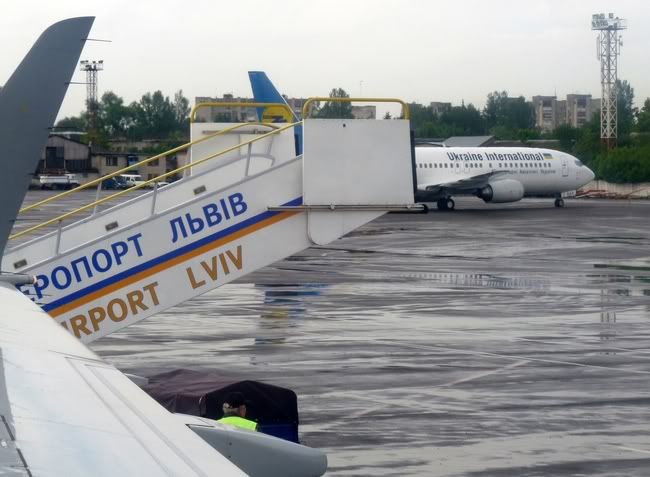 *
Arrivals terminal (I think).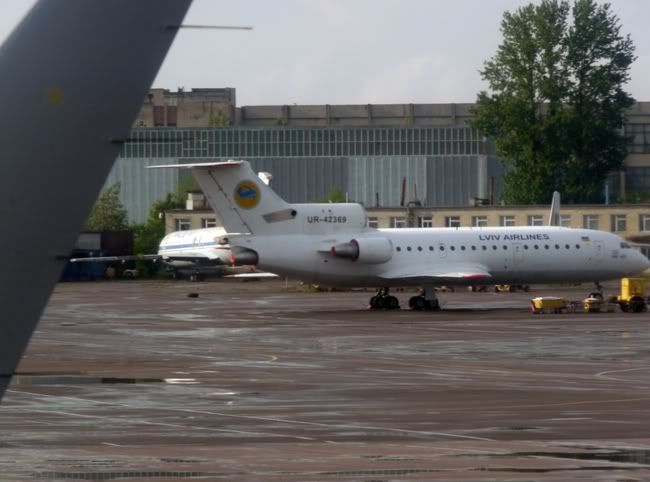 *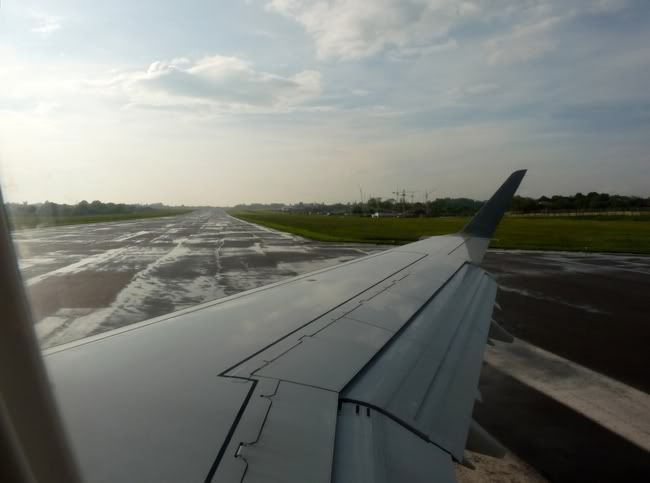 Lining up after backtracking.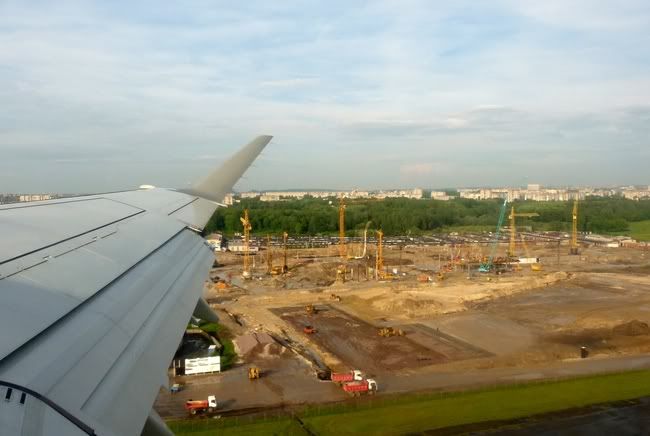 *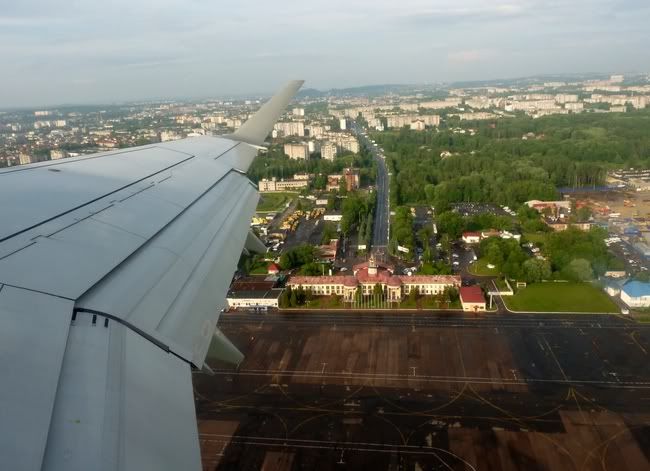 The terminal is visible under the wing.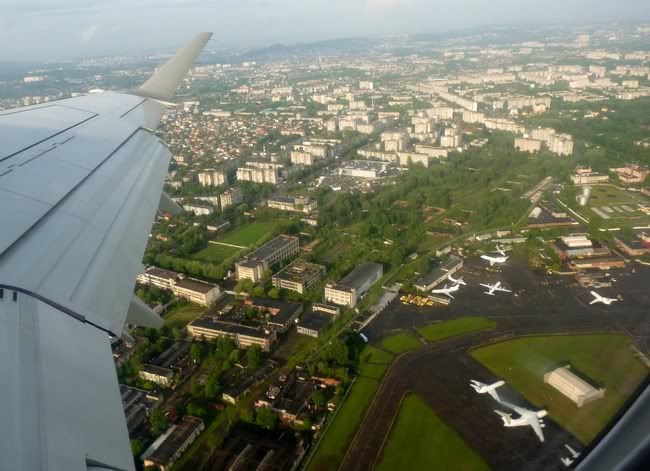 *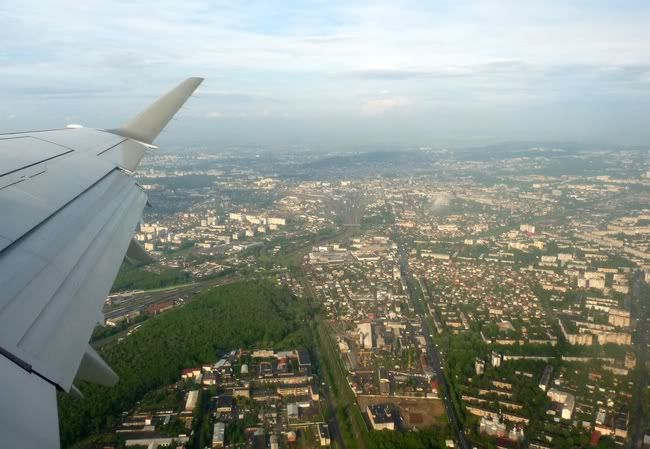 I must say that the crew (one male, one female F/A) made us feel welcome on bord. Smiles, kindness, refreshing towels, chocolate bars, sandwich, free wine. Combined with the low load factor, the flight felt very cosy and it was a good sensation after our problems with border control at Lviv.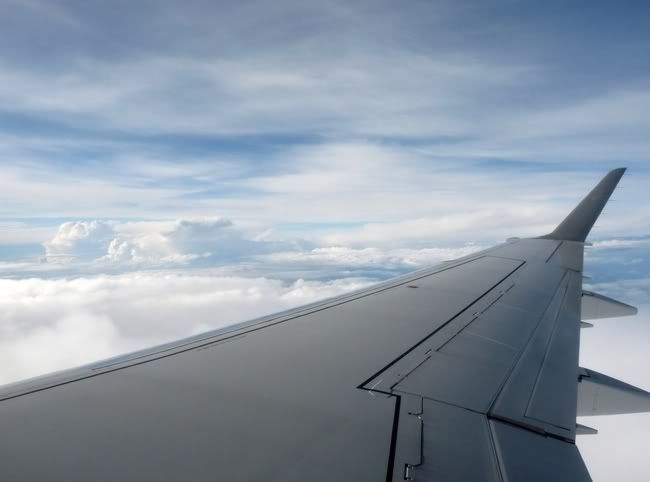 *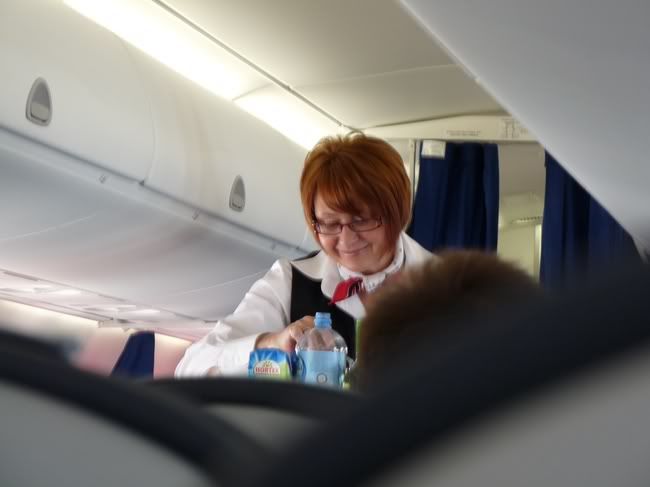 *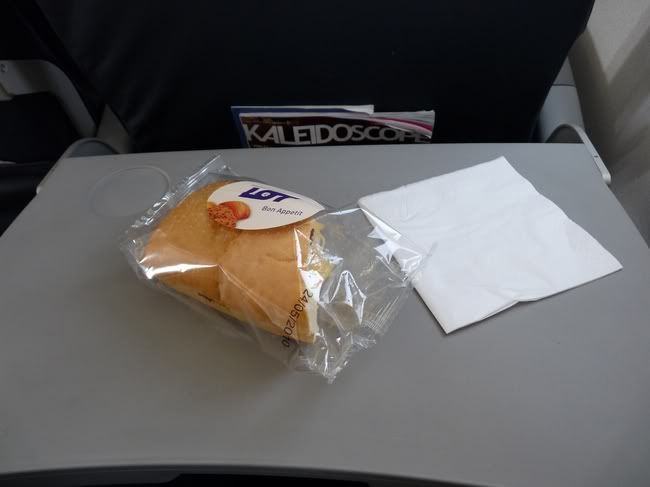 *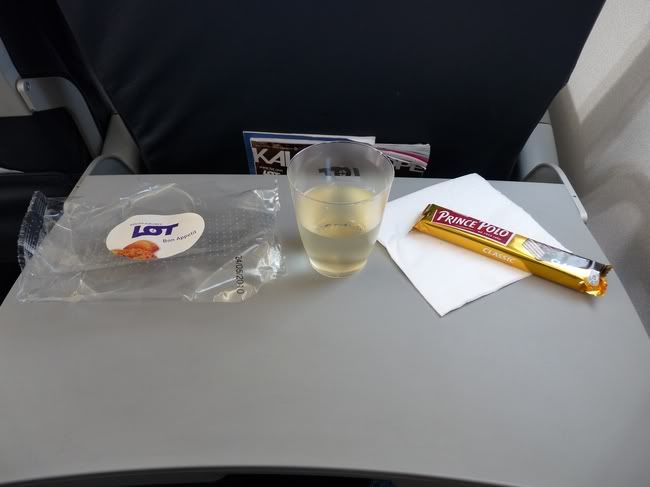 *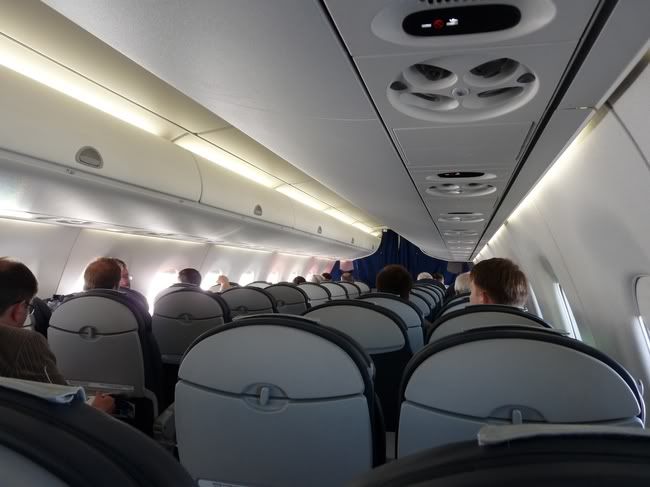 *
Just before our (on time) arrival in Warsaw, we flew over the flooded areas around the Vistula river (Poland suffered from heavy flooding at the time).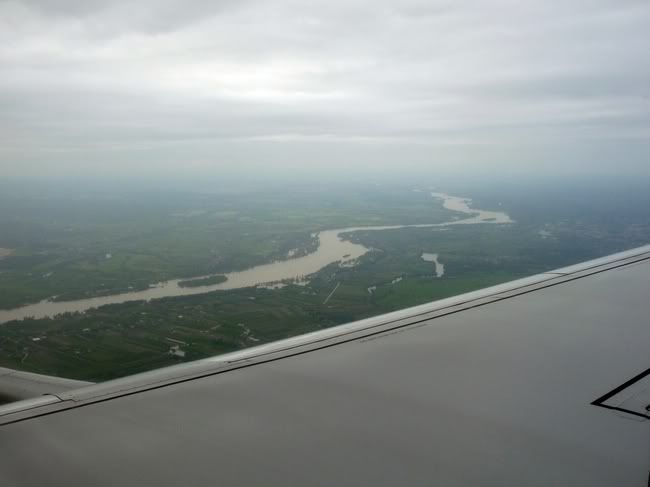 *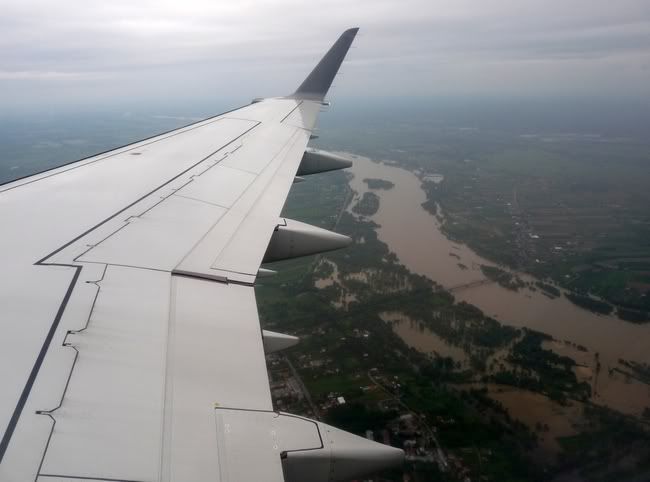 *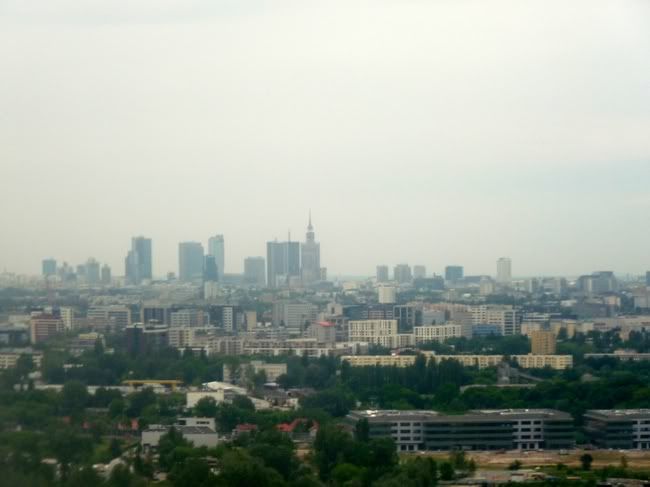 Connecting in Warsaw was once again very smooth and easy. We needed to pass passport control as we were transfering from a non-Schengen to a Schengen flight, but all went very well this time. We even had some time to taste a last (polish) beer before flying back to Belgium.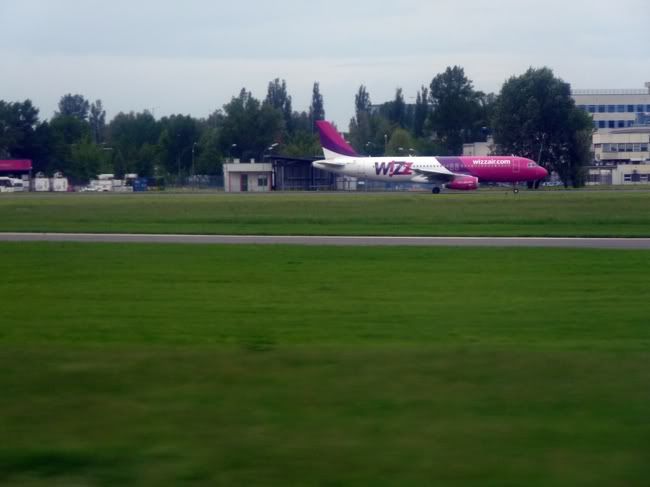 *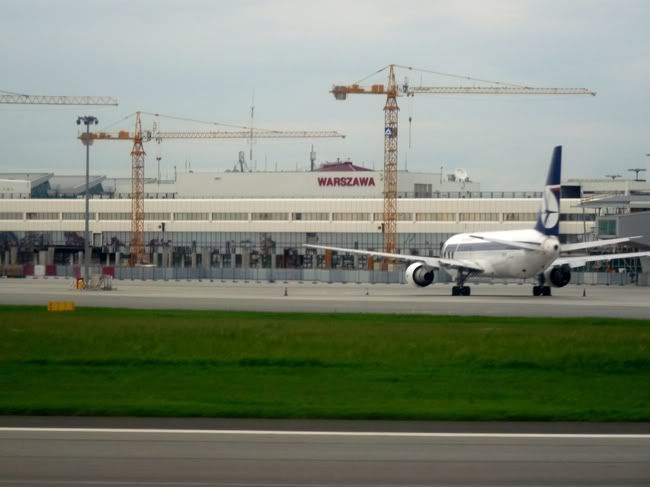 *
*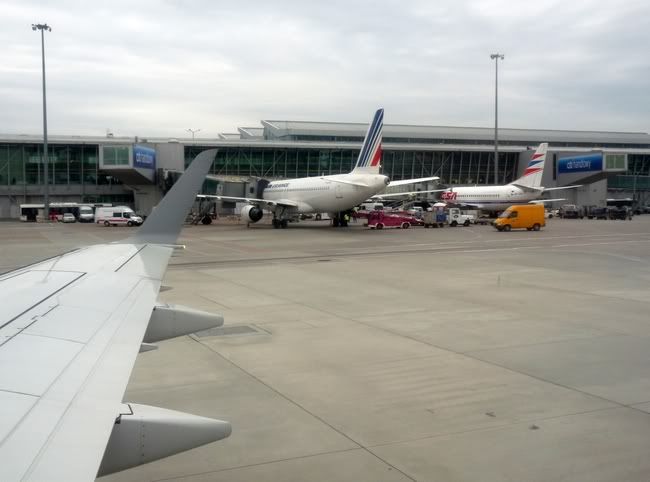 *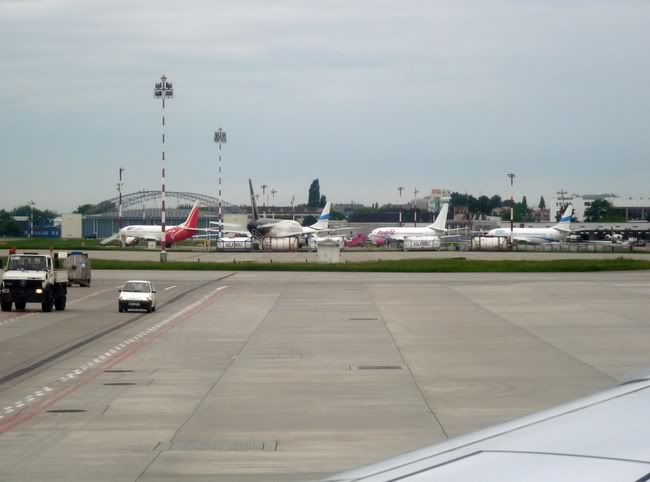 *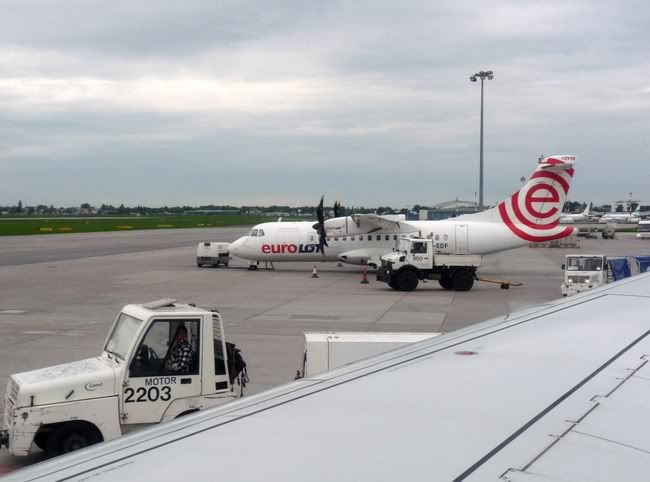 *
*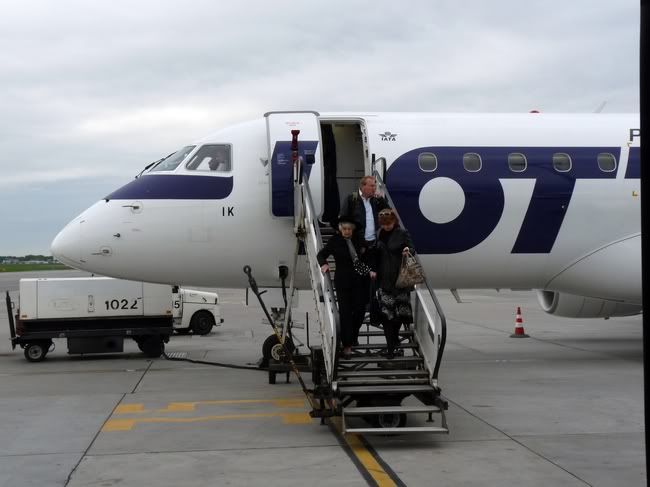 *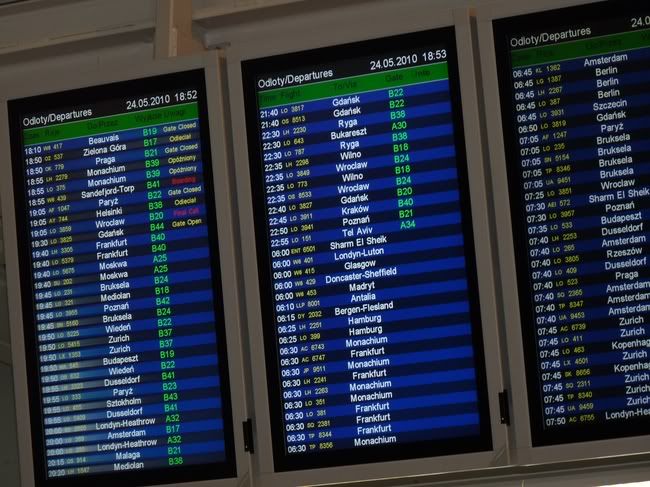 *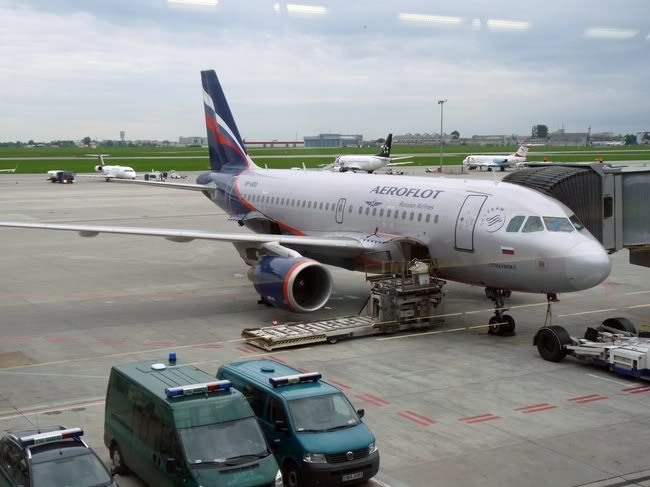 *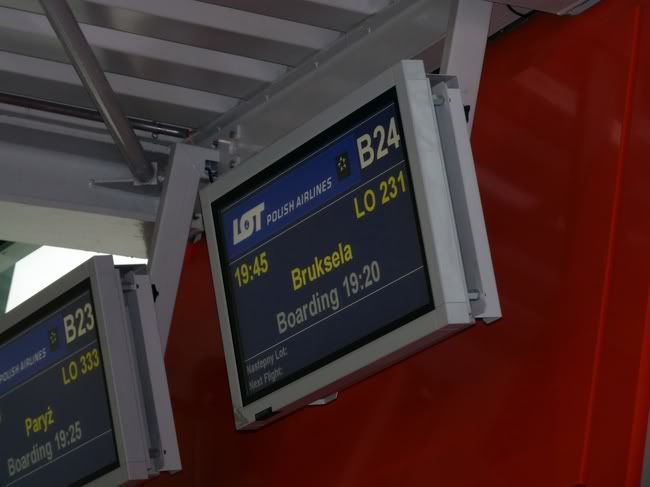 *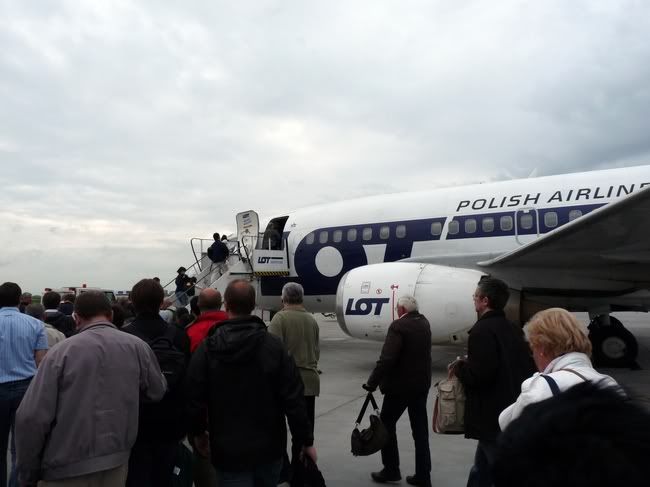 *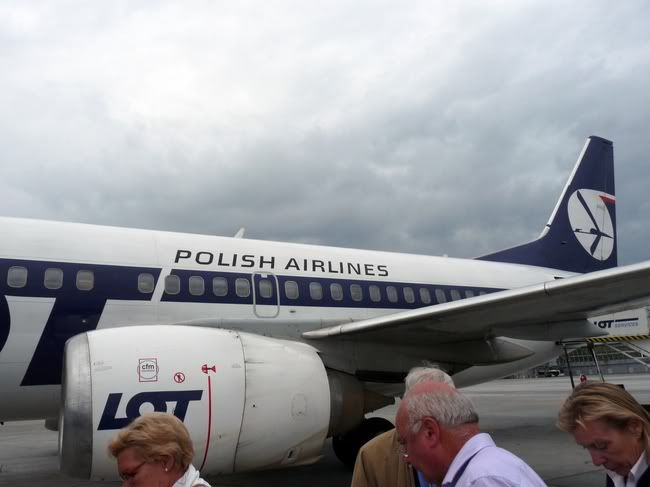 *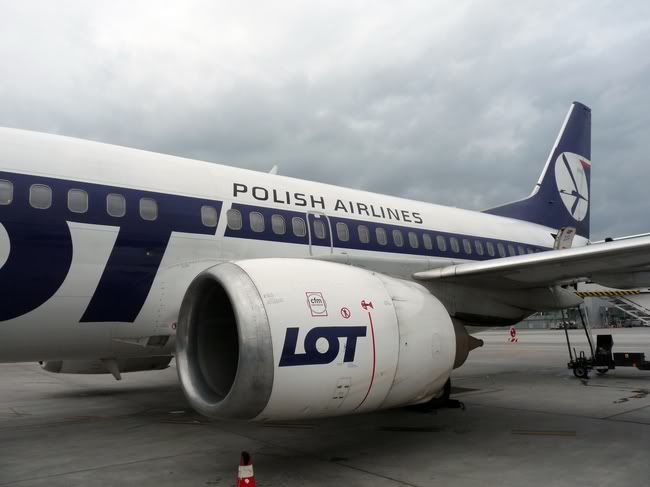 *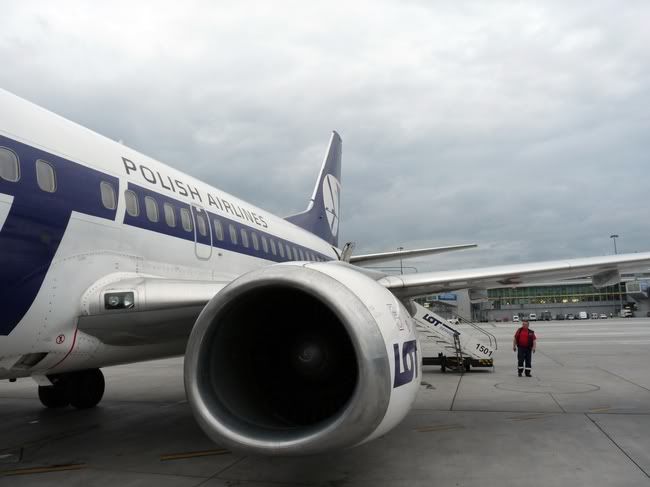 *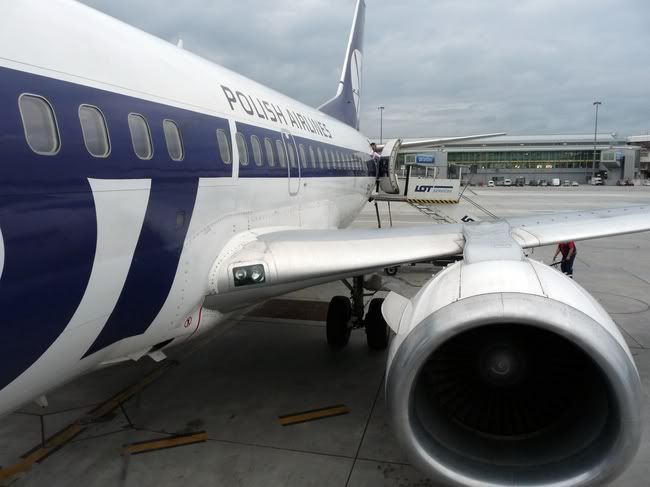 *
*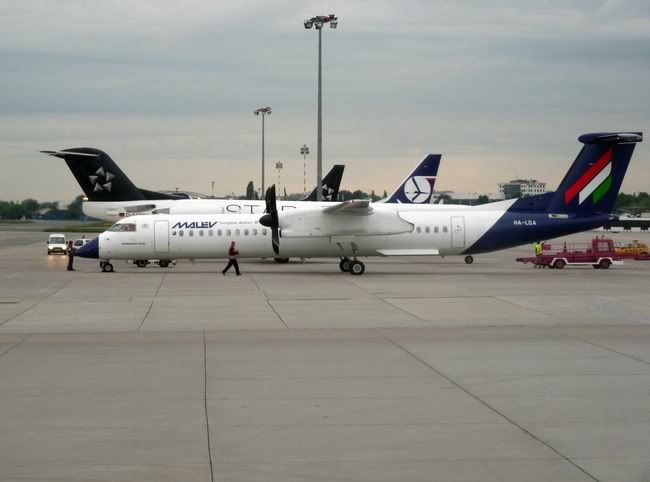 *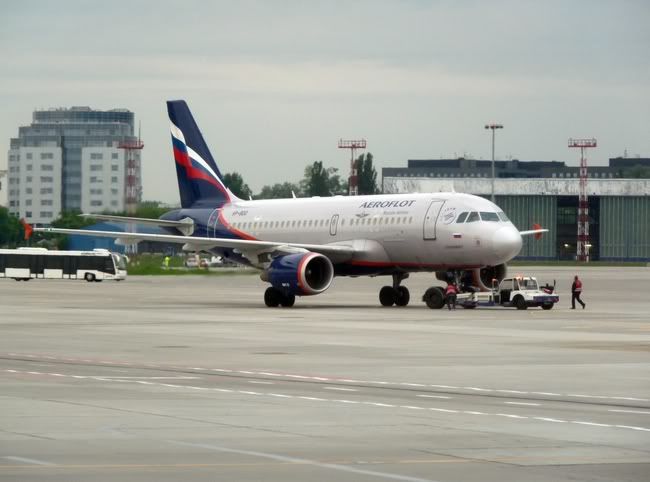 *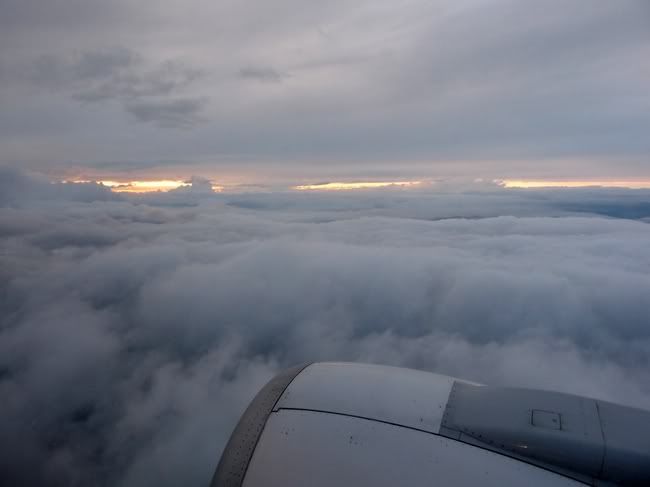 *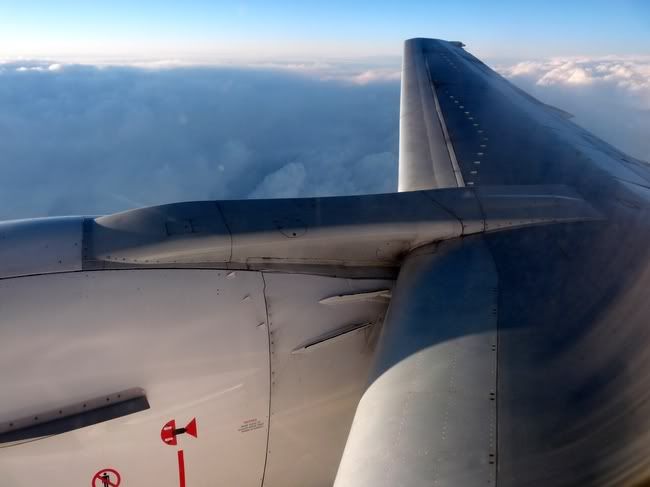 *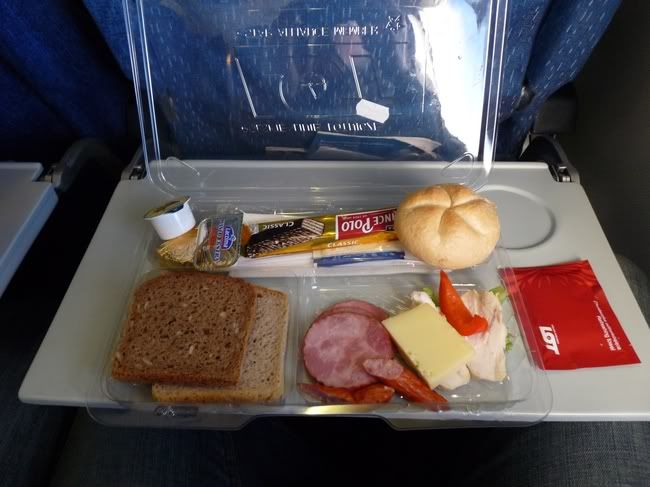 Conclusions
LOT Polish Airline
Nice surprise ! Good service, smiling and attentive flight attendants on all 4 flights. A small meal (but a meal nonetheless) even on the short Lviv-Warsaw sector, free drinks (including alcoholic) as much as you want. Comfortable cabin in the Embraers, a bit outdated but still very acceptable on the 737-500. Attractive fares and easy connection at Warsaw. I would not hesitate to fly with them again.
DniproAvia
The domestic Ukrainian airline market has seen chaotic times but is now in the process of consolidation. We had booked AeroSvit tickets and flew on DniproAvia metal, as it seems most domestic carriers are now code-sharing on most segments. The vast majority of domestic routes originate or terminate in Kiev, so flying from one secondary city to another can mean a suboptimal connection in the capital. DniproAvia offered correct aircraft on both our flights, no service (except for a glass of water) between Simferopol and Kiev, but a surprisingly good service on the Embraer between Kiev and Lviv. However, The airport infrastructure is *very* obsolete (with the possible exception of the international terminal in Kiev, which we didn't use), making me wonder how they hope to cope with the Euro 2012 football championship.
Ukraine
Ukraine might not be on many tour-operators' radar, but that doesn't mean is has nothing to offer. It was actually very pleasant to discover this vast and varied country, but learning some Russian is an absolute must to leave the big urban centres. Infrastructure is generally sub-par, but it's not difficult to find accomodation or to drive (as long as you stay very careful). Definitely recommended to travellers who can think out of the box.