Introduction
This trip started as an impulse purchase from the great Ezy sale in January. HEL-CDG was available for a bit under 20 EUR, so I really didn't have any choice but to get one of the tickets for a random Saturday evening in May. With a late Helsinki departure and an even later arrival at Charles de Gaulle I had to spend the night there and then do something interesting the next day.
I had a lot of options, my main plan involved Ezy down to LIS, then a Portugalia B1900 to AGP and an Air Finland 757 back to HEL. Too bad I hesitated a bit too long in booking it during which the OF flight went up by 100 EUR, from "acceptable" to "no way, Jose!", so I had to look for alternatives.
Somehow I had Spain in my mind all the time, and finally came up with the idea of catching the LAN A340 fifth freedom route MAD-FRA and hopefully also logging my first flight with Air Europa. With this in mind I searched for suitable flights, and finally came up with an itinerary: the morning Ezy flight down to BCN for 39 EUR, connecting a few hours later to UX to MAD, also cheap at 40 EUR and finally the LA flight to FRA, which was somewhat more expensive at 113 EUR but not bad for a widebody Airbus route on an exotic carrier.
Finally to get home from FRA I had some difficulties finding anything reasonable - SK offered one ways via both CPH and ARN but the price was around 150 EUR. LH had a perfect late night flight, but in true LH fashion the one way ticket priced in full Y - very very expensive. Luckily you can always work the system a bit - I searched around for suitable dates, and found a roundtrip with the LH flight I wanted for around 140 EUR with the return flight fixed a couple of months later - something to build another interesting itinerary around!
22.5.2010
After a not very relaxing Saturday involving driving almost 600 kilometers along the motorways and smaller country roads of Southwestern Finland (don't ask) I'm finally home just in time to refresh, pack up my kit and head to the airport, where I arrive a bit over two hours before departure. Ezy has moved the check in counters again - now they are in the main departure hall of T2 where the AY long haul check in used to be not too long ago. The counters are also still closed, with a small queue alread in front of them so I join it. The Ezy OLCI for HEL at least is utterly broken at the moment so no way doing that...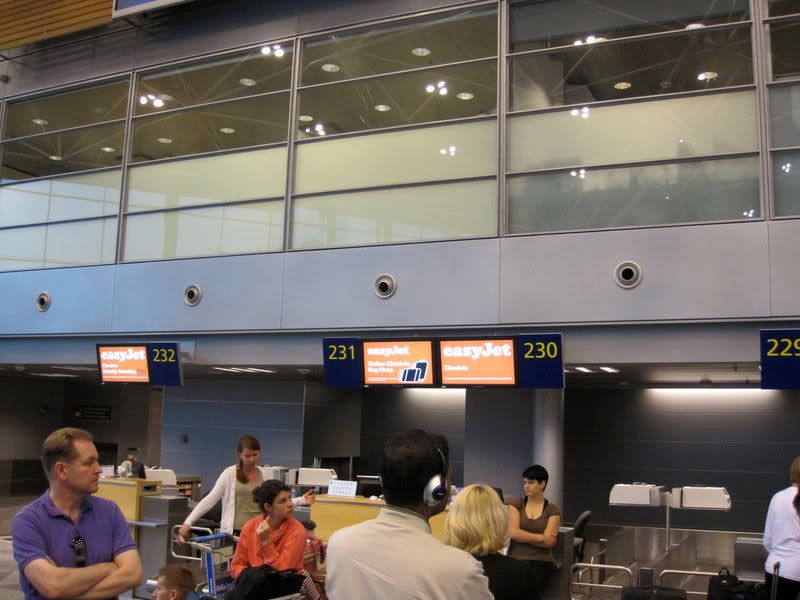 Finally two agents arrive and very slowly proceed to open two counters, and after 45 minutes of standing there I finally get checked in and proceed to have some food at one of the land side eateries. The airport is quite deserted at this late hour on a Saturday evening and most of the shops and restaurants are closed. Security is easy for the same reason, and I head to the gate 27, which this flight seems to always use a bit too late to find a huge queue already formed there - looks like I need to kiss my exit row seat goodbye on this flight. Lots and lots of Russians here, in the end I think almost half of the plane was full of them. The LCCs will be making a killing if EU and Russia ever make an Open Skies deal...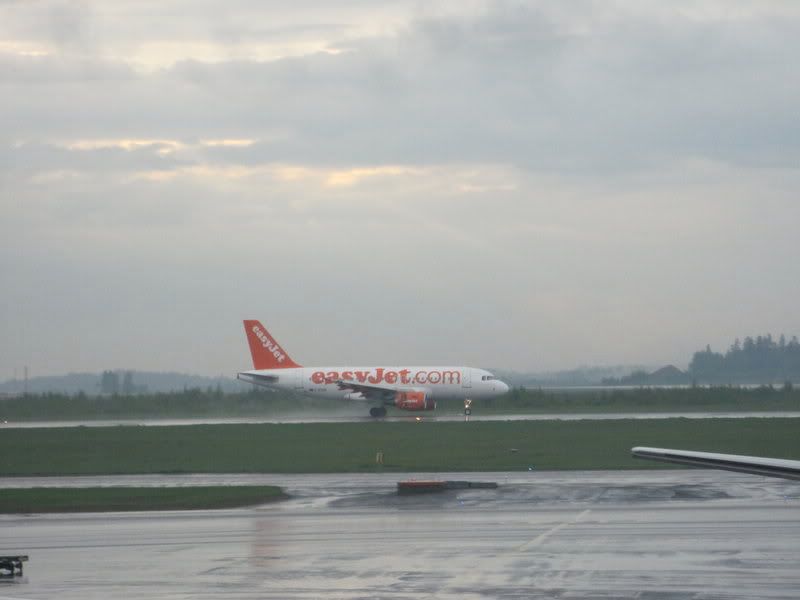 I spot the plane landing around 20.15, and a few minutes later it stops at the gate in front of us. It is G-EZDN, a new one for my log. Very efficient turnaround, as boarding is called only 10 minutes later.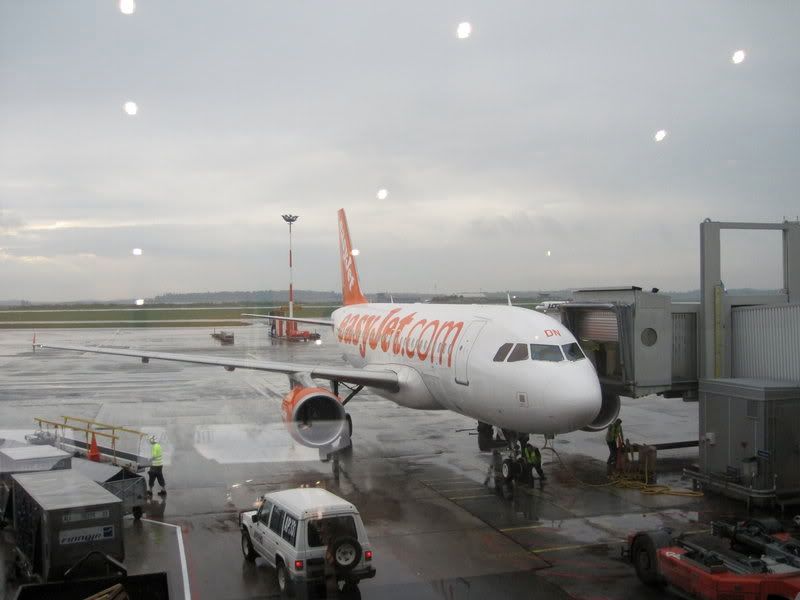 HEL-CDG
U23898
A319 G-EZDN
Seat 25F
20.50 - 22.37
Interesting crew on this flight, only one female FA and all the rest are males. Must be a French thing. As I anticipated the good seats on the bulkhead and exit rows are already gone (well educated travelers on this flight!), so I head towards the back of the cabin hoping that there would be more space there Well, there is some as there are a couple of vacant seats back here when boarding is completed, but unfortunately not next to me - instead I get a couple of teenage Russian girls next to me - the one on the aisle seat makes a few signs of the cross after sitting down and later during the flight as well - hmm, is there something I should know about this flight? Load is good, at least 90%, I'd say.
The captain welcomes us to "This easyJet flight to Charles de Gaulle 2B" with an expected flight time of 2h45mins. Pushback is five minutes late - some waiting for all the luggage to be loaded. Take off is from 04R after this beauty: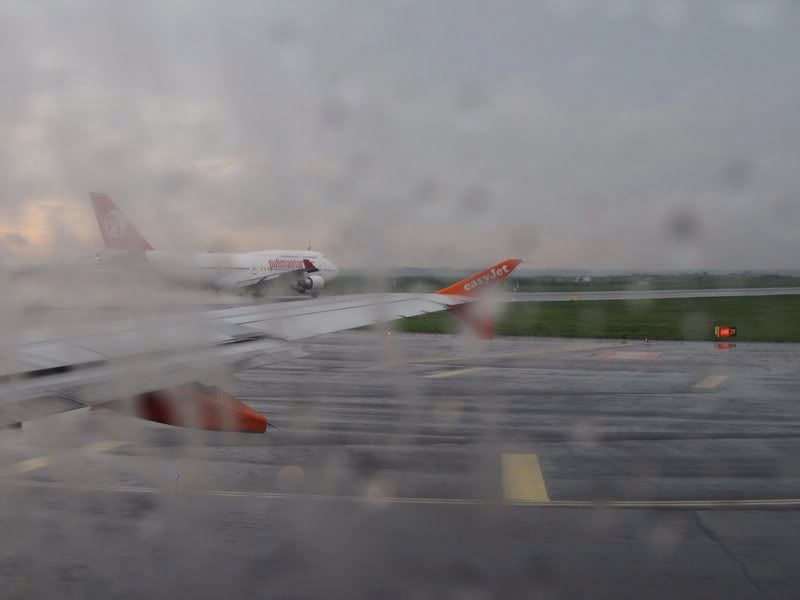 It's an Air Pullmantur B744, it has been years since I've seen a Jumbo at HEL.
Notice the AY MD-11 taxiing from what looks like a runway 15 landing in this picture: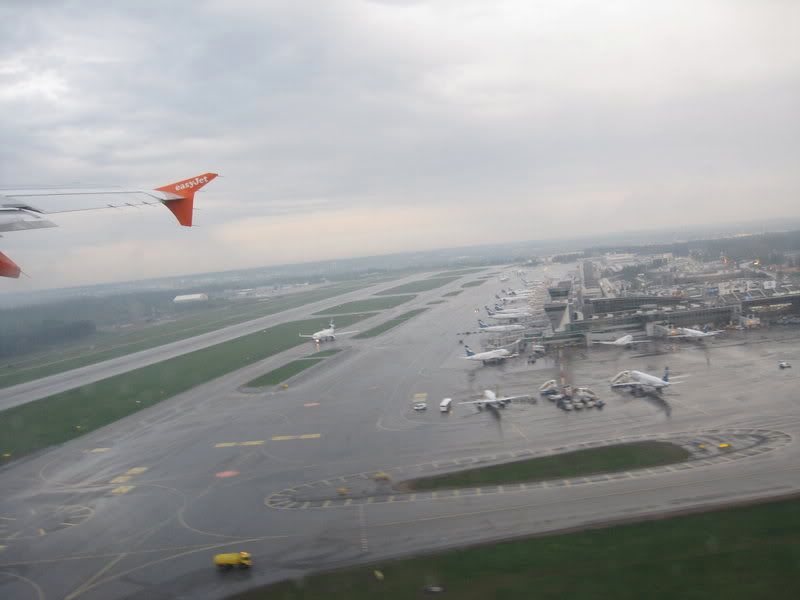 I have no idea where it is going or coming from - they haven't been in active service since February. Glad to see that at least one of them is still in running order, though.
The evening has been a wet and cloudy one, so no views of the ground until further away over the Baltic Sea. Approaching the island of Gotland: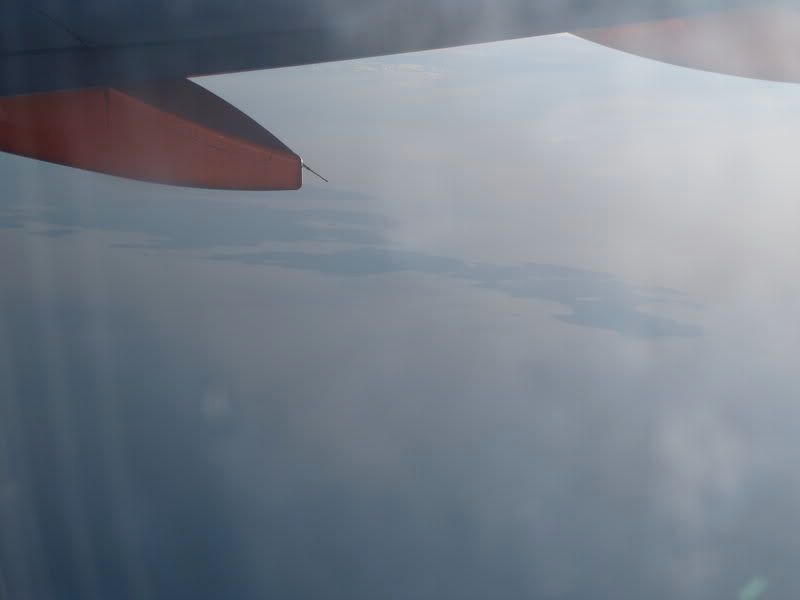 I grab some beverages from the sales cart and fire up the IPod for some video entertainment:
No announcement about the route, but I observe it to be roughly HEL-VBY-MMX-CPH-KEL-East of AMS-BRU-CDG.
Copenhagen, with Kastrup airport in the foreground: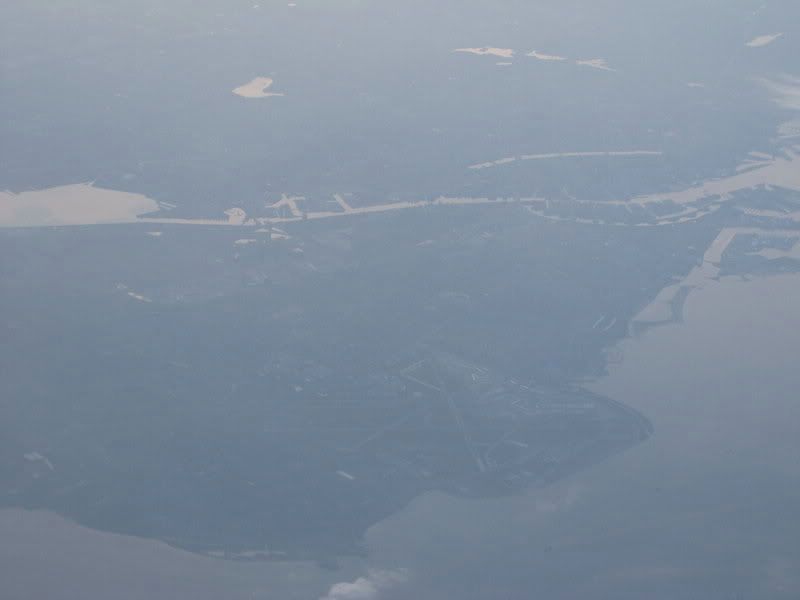 The Netherlands: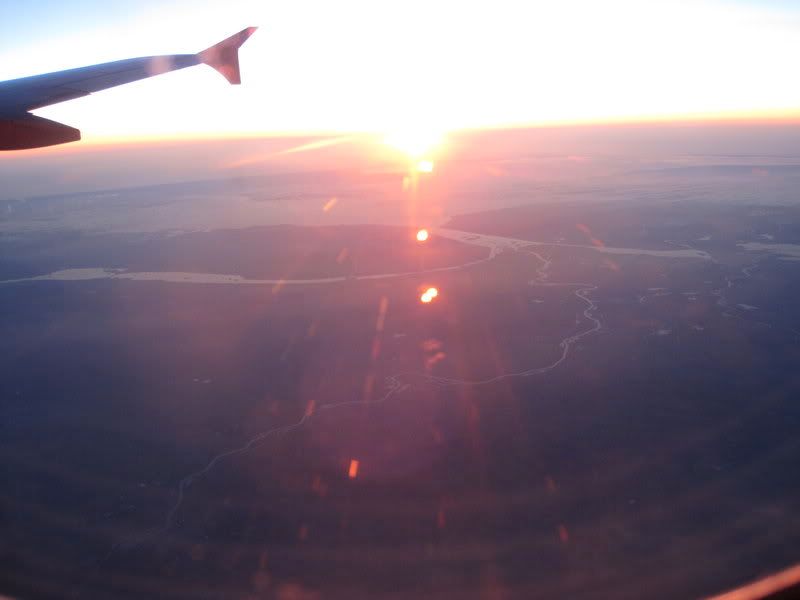 Antwerp: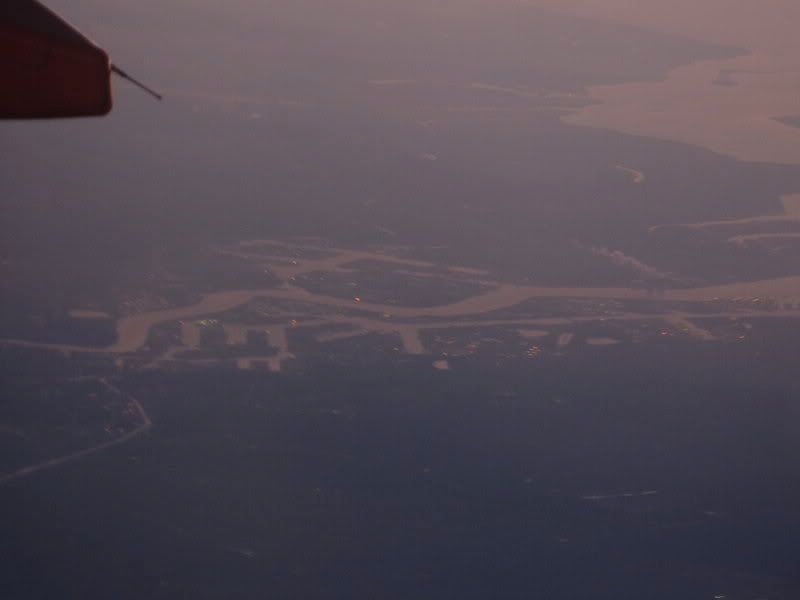 Brussels, BRU airport is the brightly lit area on the lower right corner:
At some point while queuing for the toilet in the back galley I notice the two stewards with a beer can that obviously has a leak - they are about to dispose of it when I jokingly offer to buy it for half price. The other one takes this seriously and offers to give the rest to me for free - I try to argue that I was only kidding but he insists, so after doing whatever it is that you normally do in toilets I walk back to my seat with a Starbucks coffee cup half full of a bit flat beer...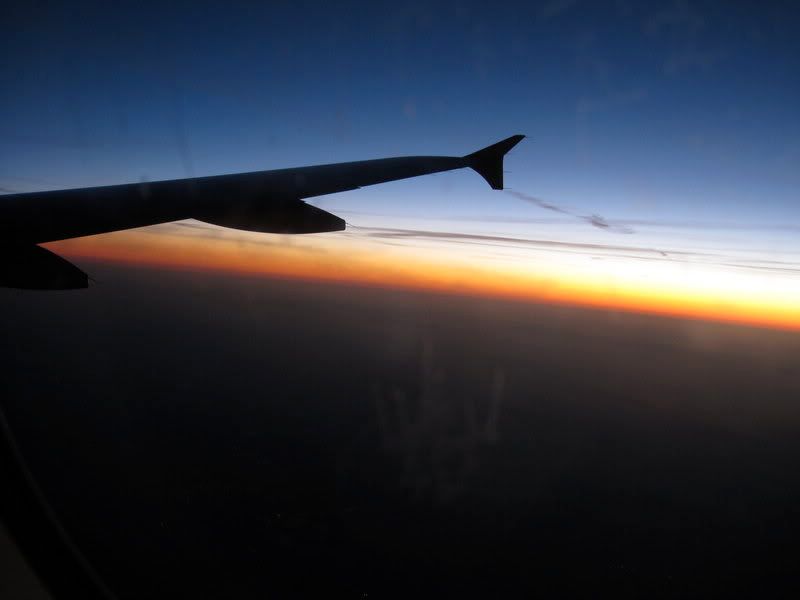 Descent starts a bit after passing Brussels. During the final approach there are great views of the City of Lights being completely lit-up. It looks like it is the first time for the girls on my row to Paris, they just can't get enough of the view (and I certainly don't mind pretty young girls leaning over me, sorry I'm a dirty old sod) - I point out the Eiffel tower at them.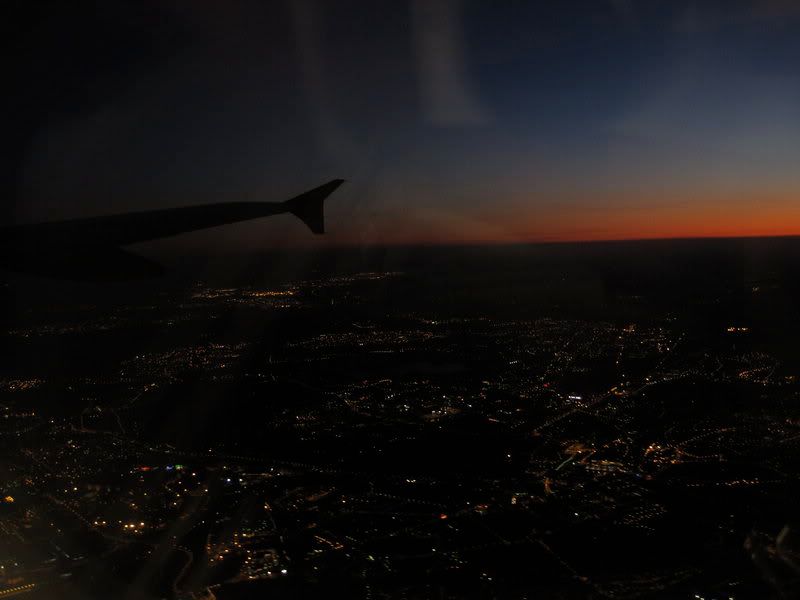 Spot the Eiffel Tower: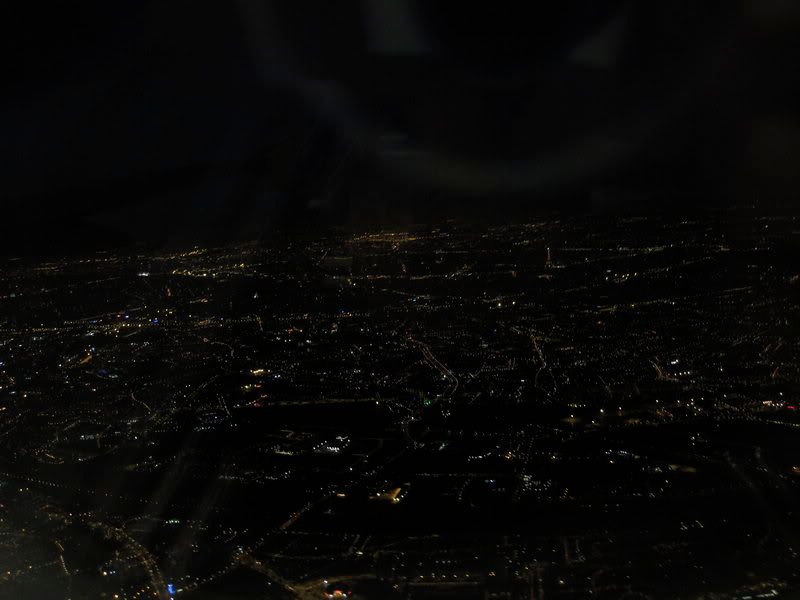 Landing is on runway 08R after around 2h40mins of flight, followed by a lengthy taxi to 2B where we dock to a jetway.
Charles de Gaulle Airport
I have no idea where my hotel shuttle is supposed to leave from - the hotel website wasn't very helpful. I figure out that the T3/RER station complex is probably the best bet so I head to the CDGVAL automated train thingy and ride it there. There's a large area reserved for shuttle pickups and fortunately I made the right decision, in a few minutes the shuttle pulls up and five minutes later it drops me at my hotel, the Mercure Charles de Gaulle. I got this one through Priceline for less than 60 EUR, not a bad deal as it is very close to the terminals, not something all the so called "Airport hotels" in Roissy are... The location is a bit weird, though, as you basically are on a street with nothing but hotels on it. After inquiring about the shuttle schedule for next morning I retire to my room, brew a quick cup of tea and call it a night.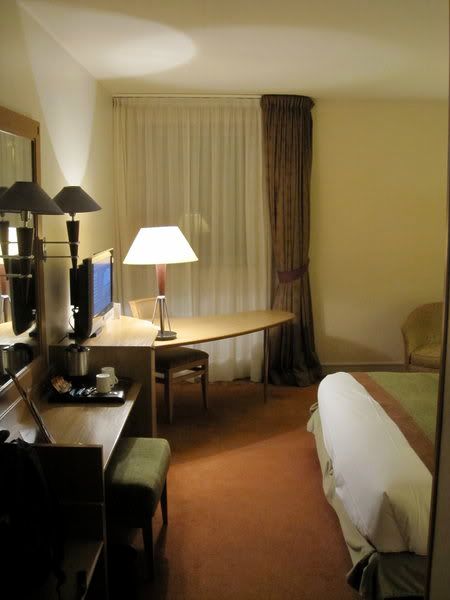 23.5.2010
Another Sunday morning with an OMG o'clock wake up, followed by a 6.15 shuttle back to the airport. While waiting for the shuttle I watch the stream of arrivals (mostly long haul) landing on one of the 08 runways, here's an AF A340: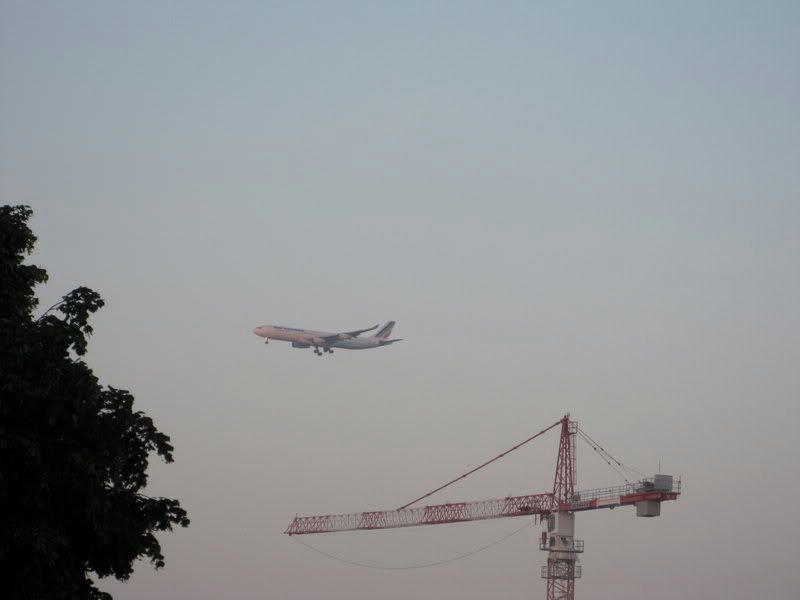 The shuttle is pretty punctual and soon drops me off in front of Terminal 2A, just opposite 2B that Ezy uses.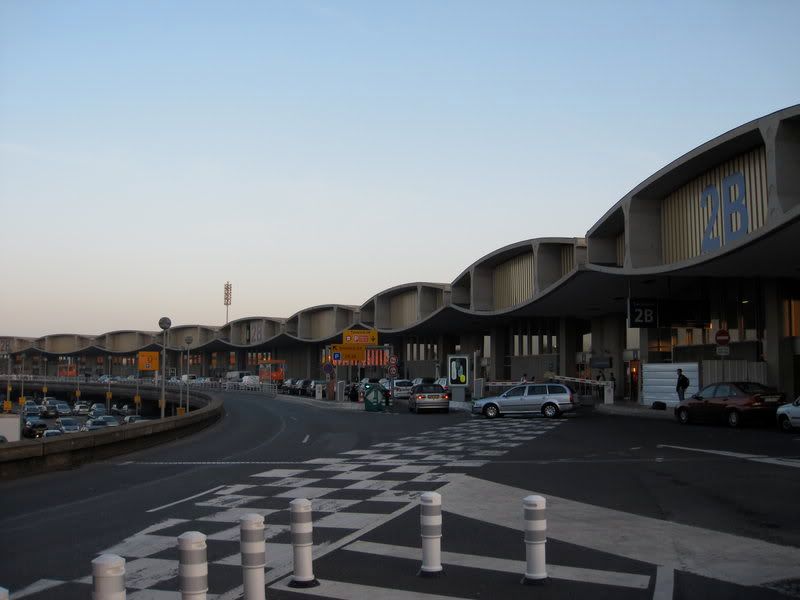 While the newer parts of T2 are rather nice - E and F especially, these older ones are looking very dated by today's standards. Horrible bare concrete architecture and very dark and sort of claustrophobic as well with not too many amenities. Sure, it is better than the whacky T1, but not much. I grab a quick French breakfast - i.e. a cup of coffee, orange juice and a croissant and head to the gate.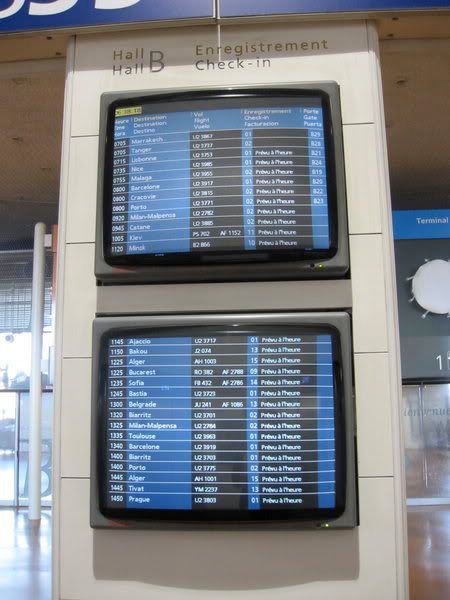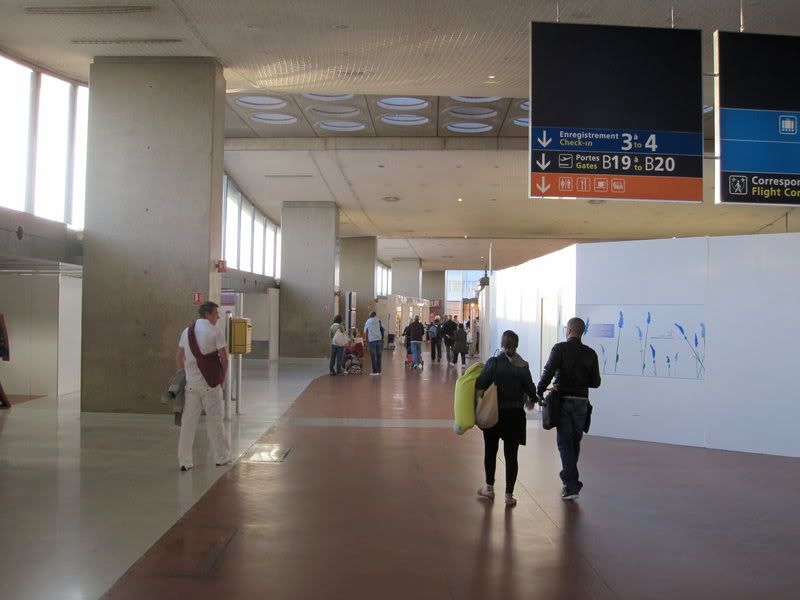 Interestingly none of the gate monitors in the main gate area are working, so I have no idea whether I'm entering the correct sterile area or not - but at least there are some Spaniards here so chances are good. There are no services apart from a few vending machines once past security - I don't even see any toilets, although there's a bus gate downstairs which might feature this kind of luxuries.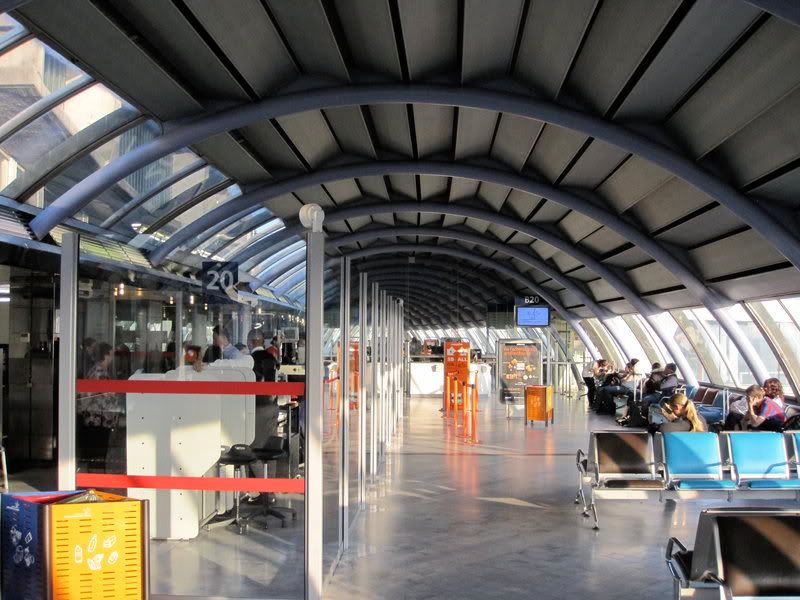 At the end of our jetway I notice a familiar registration - Delta Nevada again, my ride from last night. Bugger.
Boarding starts around half an hour before departure, there are a number of people who try to jump queues or use the priority boarding lane without the appropriate credentials but the two gate agents are great at putting these scam artists back to where they belong. I manage to be one of the first ones from the regular lane - the priority group features an extended Chinese family with 12 people, processing them sure takes some time. We wait for a couple of minutes in the jetway while the plane is ready for boarding - not too bad as this one is air conditioned avoiding the greenhouse effect one would normally get on a pretty morning like this and a glass jetway.
CDG-BCN
U23917
A319 G-EZDN
Seat 10F
7.58 - 9.27
Two female and two male cabin crew members on this flight. I snatch the first exit row window seat. The plane appears to be completely full - I don't see any vacant seats at all. Flight time is announced as 1h20mins and push back is two minutes early.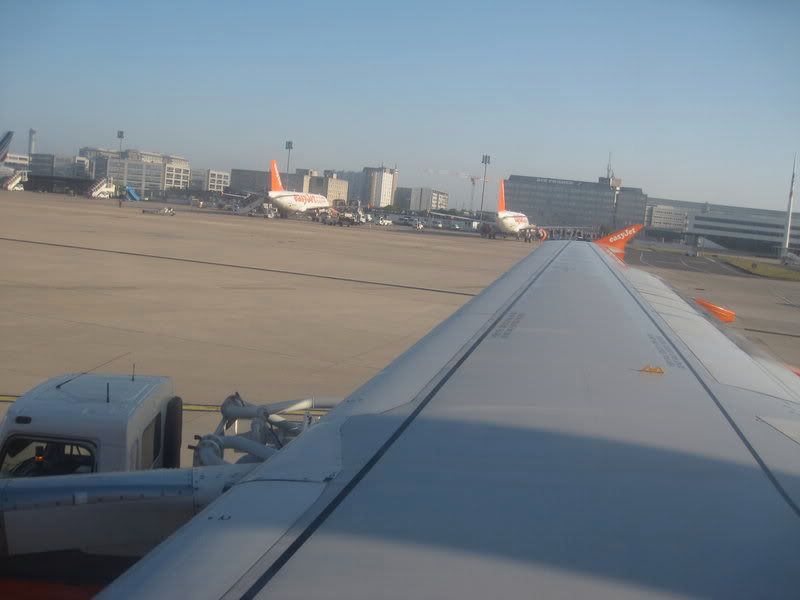 Oneworld brothers: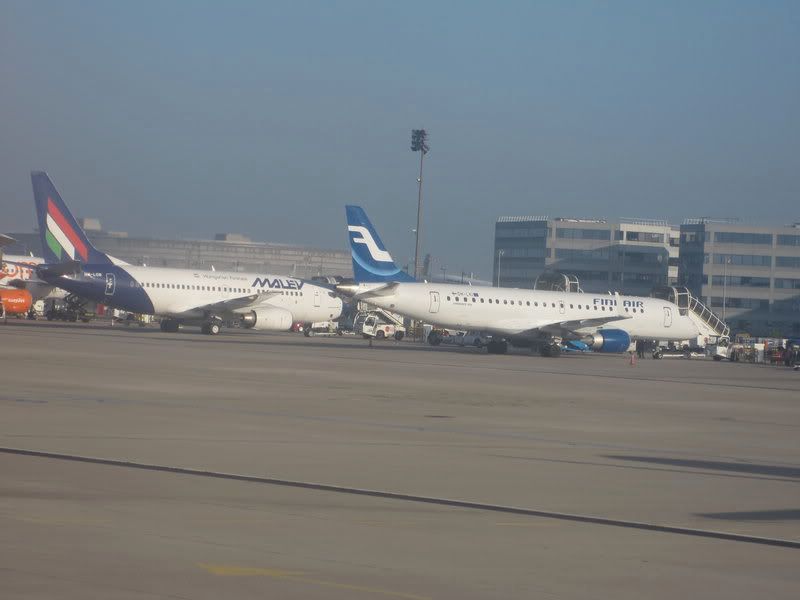 The Air France head office: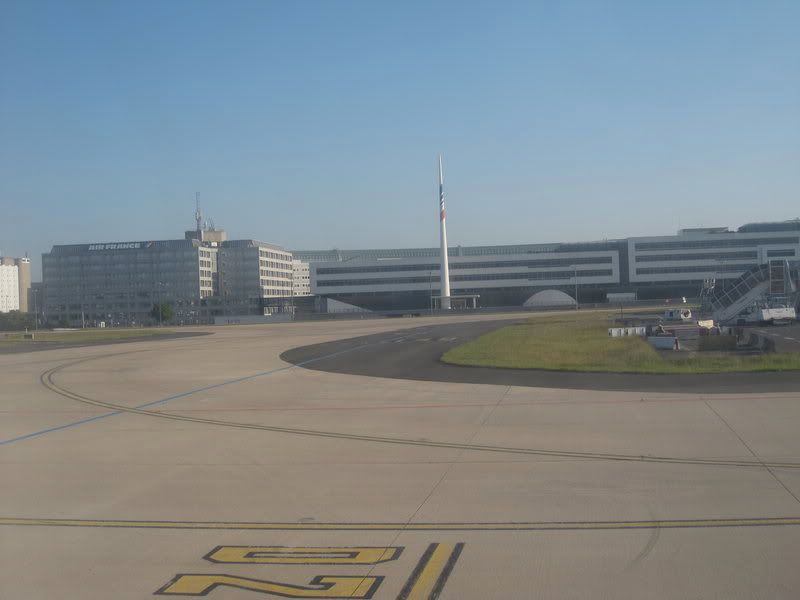 Concorde and the cylindrical shape of T1: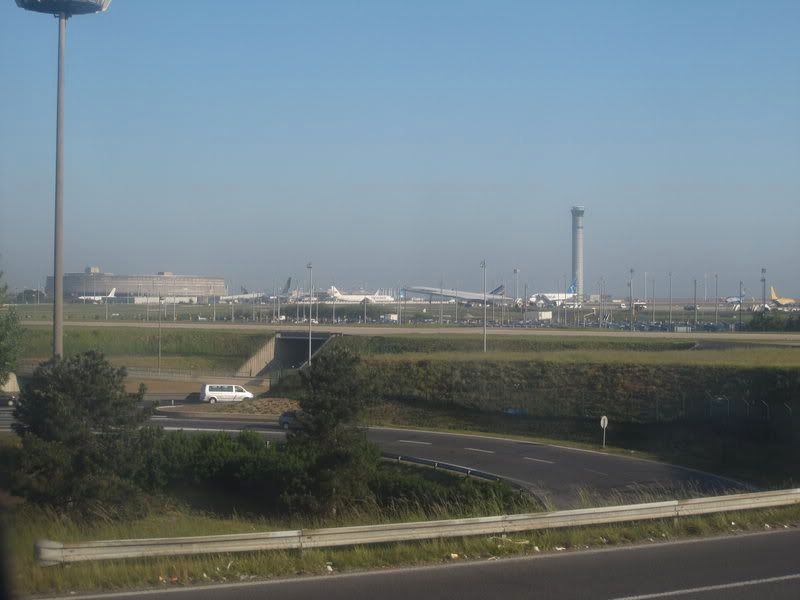 AF heavy landing on 08R: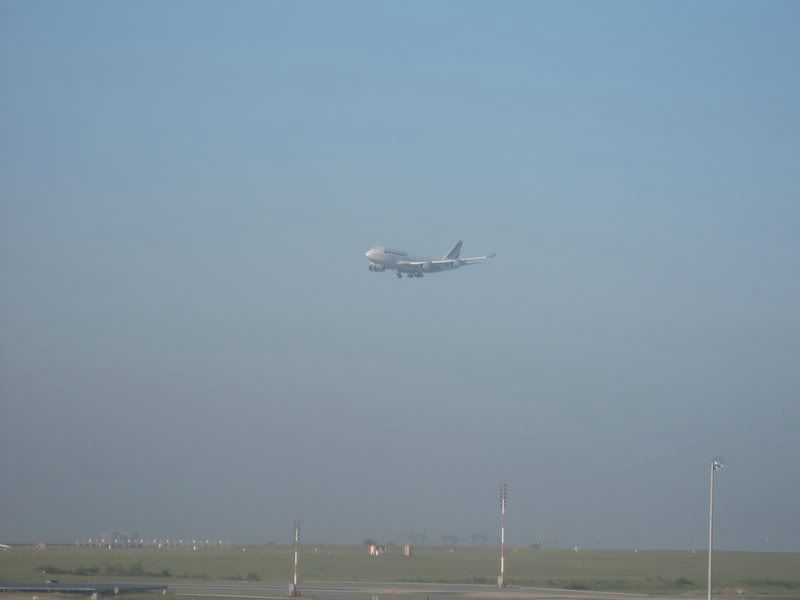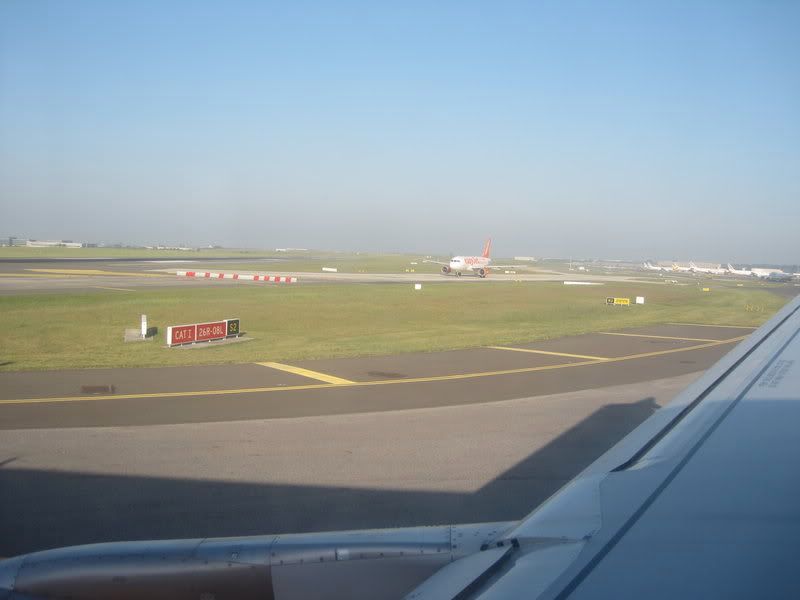 Arlinair: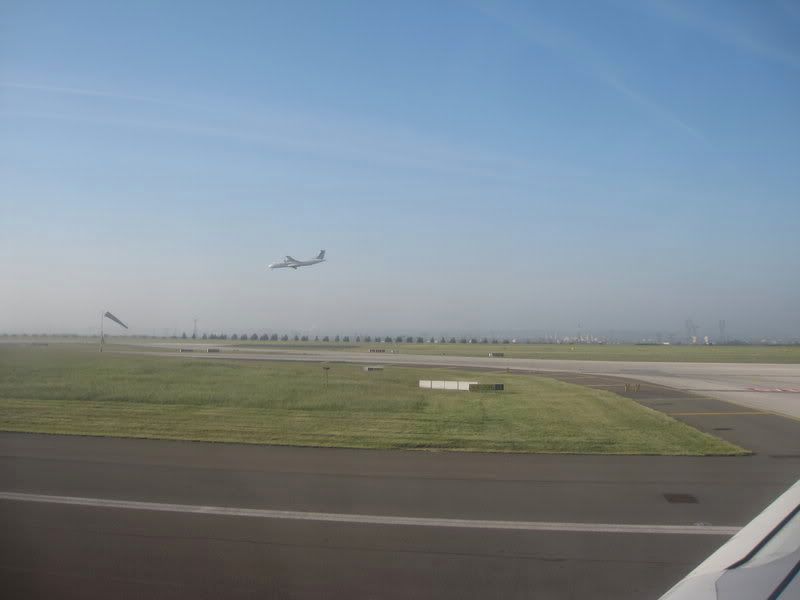 Take off is from runway 08L, followed by a right turn that takes us straight over the city centre of Paris. The captain makes a quick announcement "Ladies and gentlemen, on the right hand side: Paris.".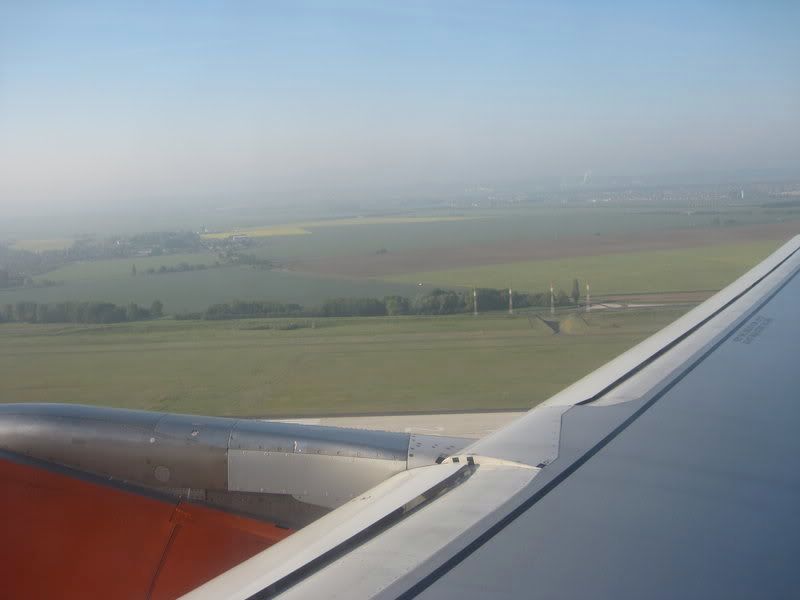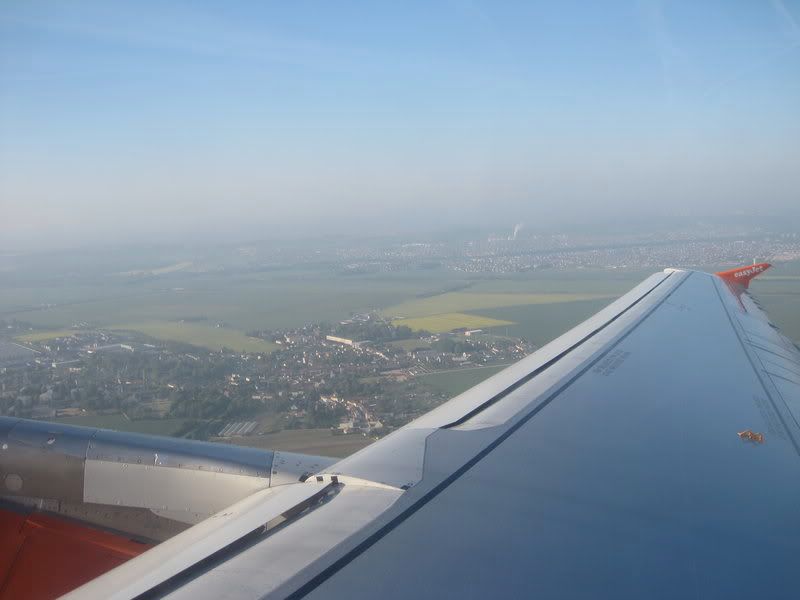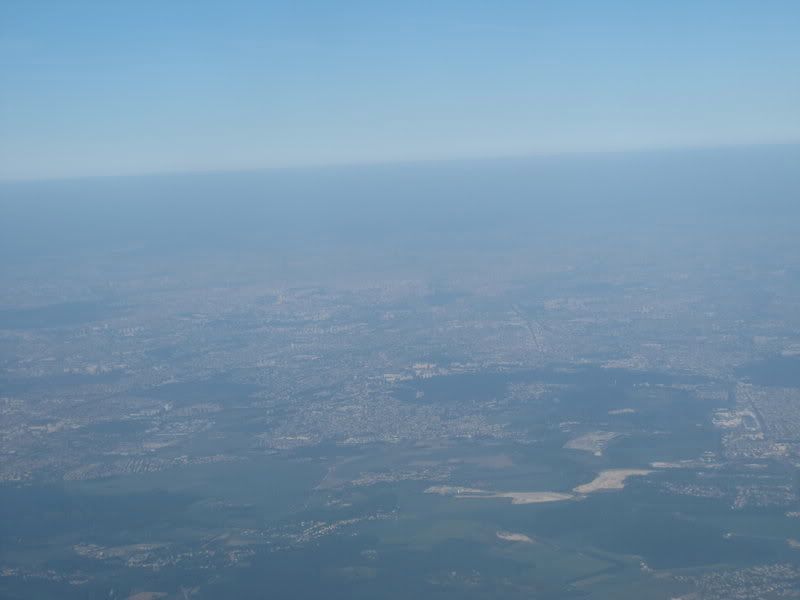 CDG: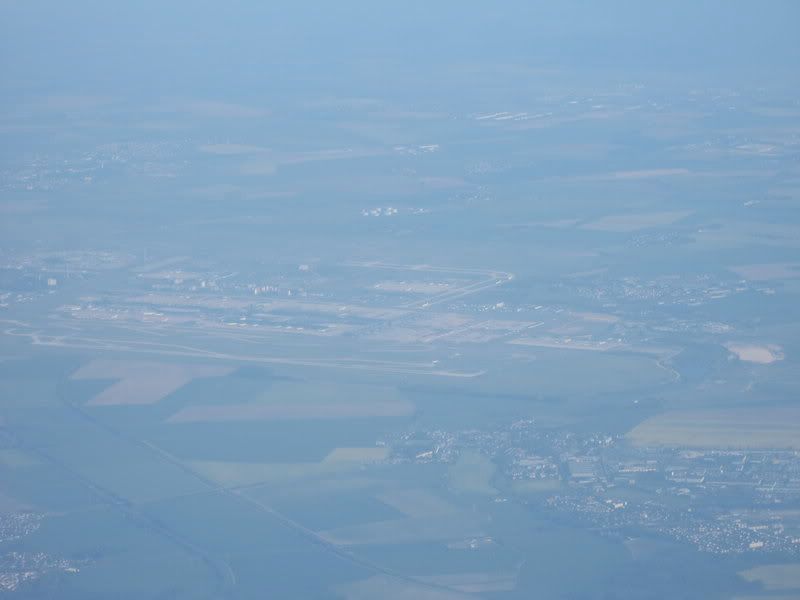 The skyscrapers of La Defense: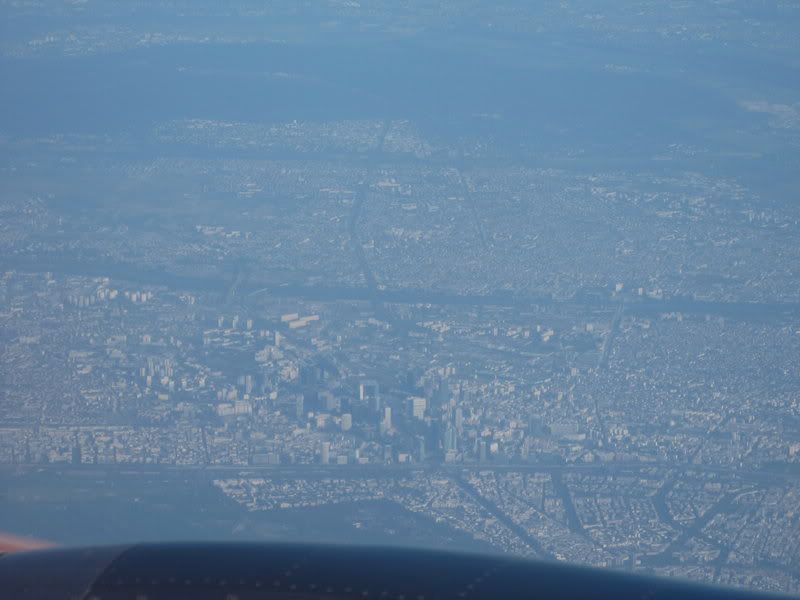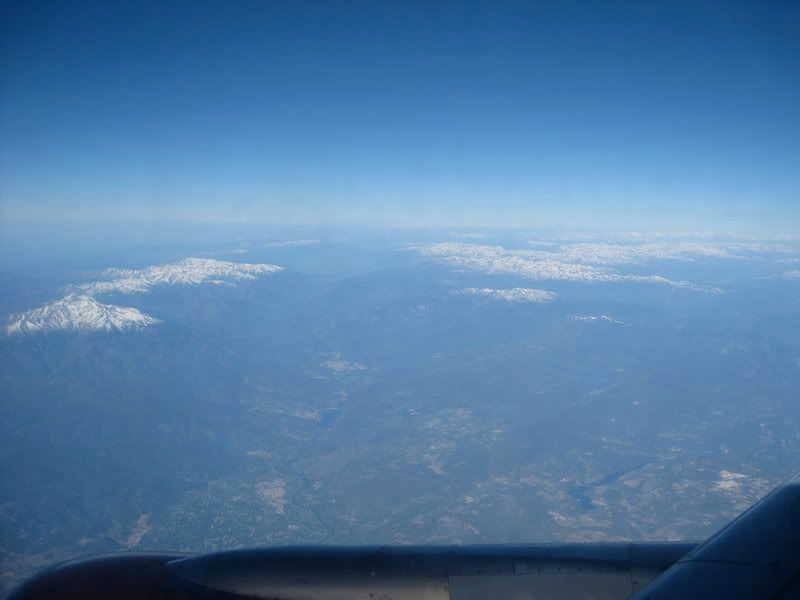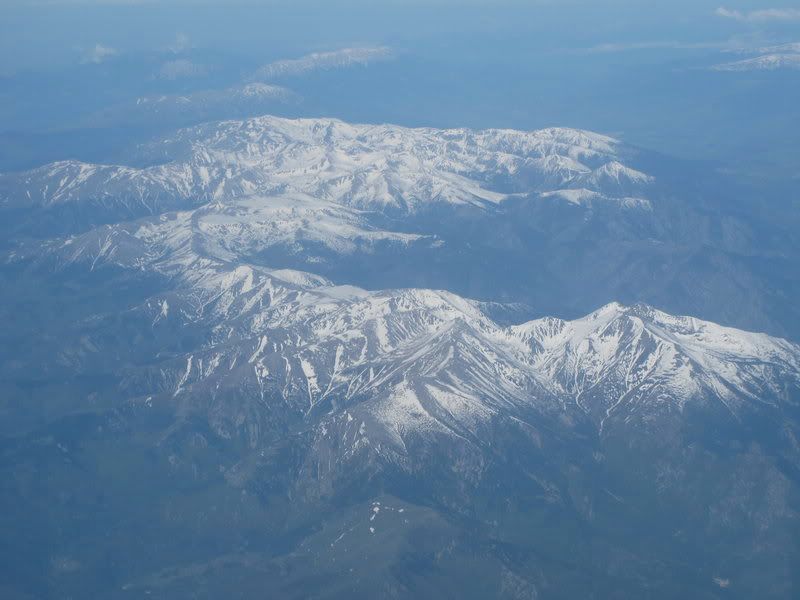 Service sure takes its time to reach the middle of the plane - by the time I get my coffee and muffin we are less than ten minutes away from the top of descent, overflying the Pyrenees and about to enter Spanish airspace. The seat belt sign is switched on some 20 minutes later at 9.15.
Some clouds over this valley: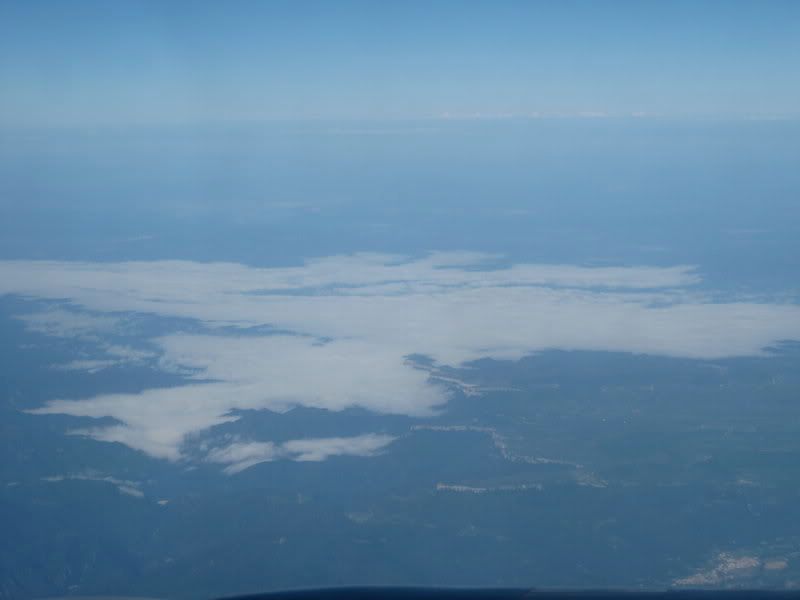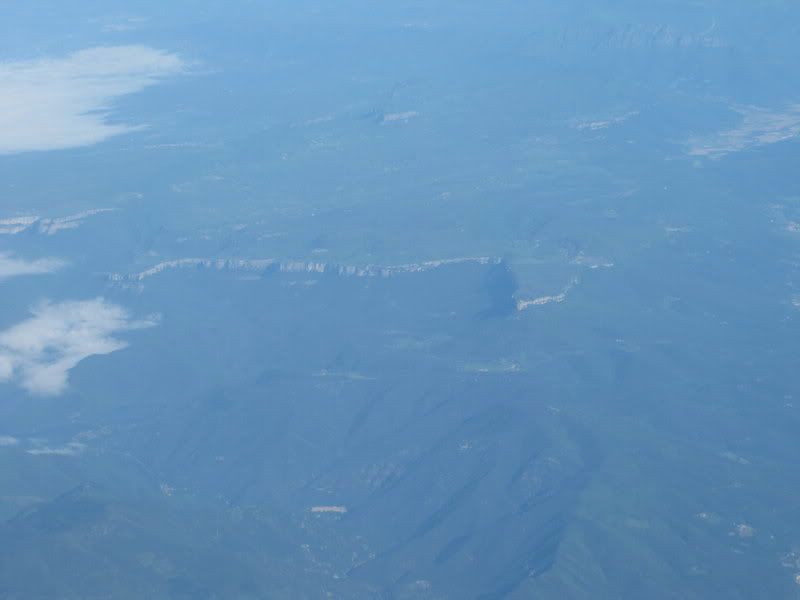 The city of Terrassa, Catalonia: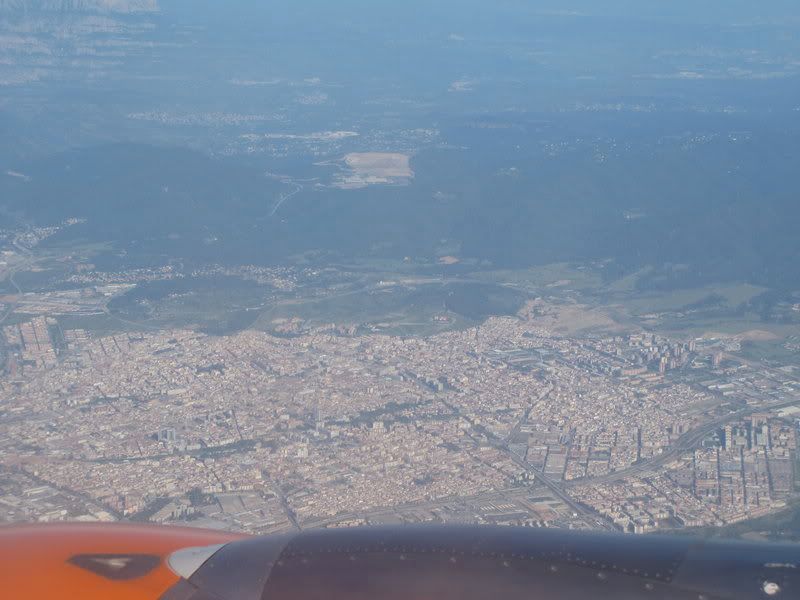 Crosssing the Med coast over Sitges, the port of Vilanova i la Geltrú is in the foreground: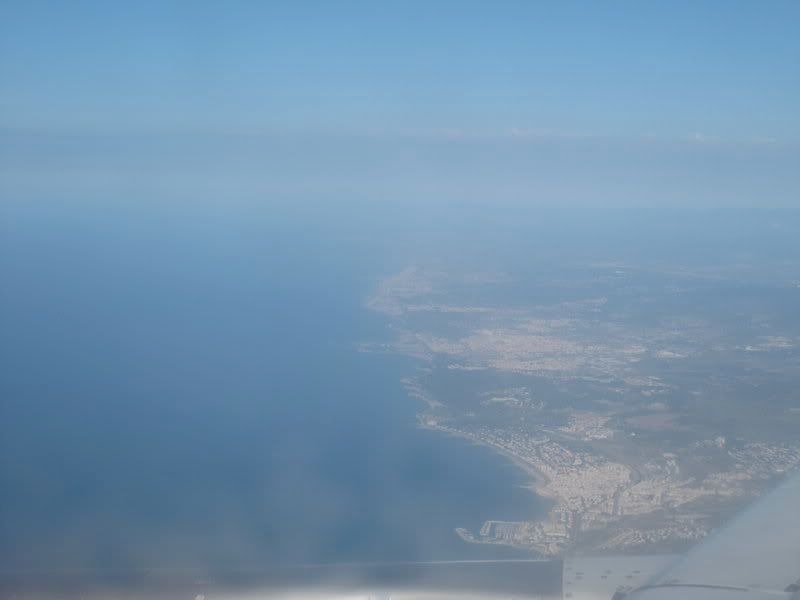 Hello, Med: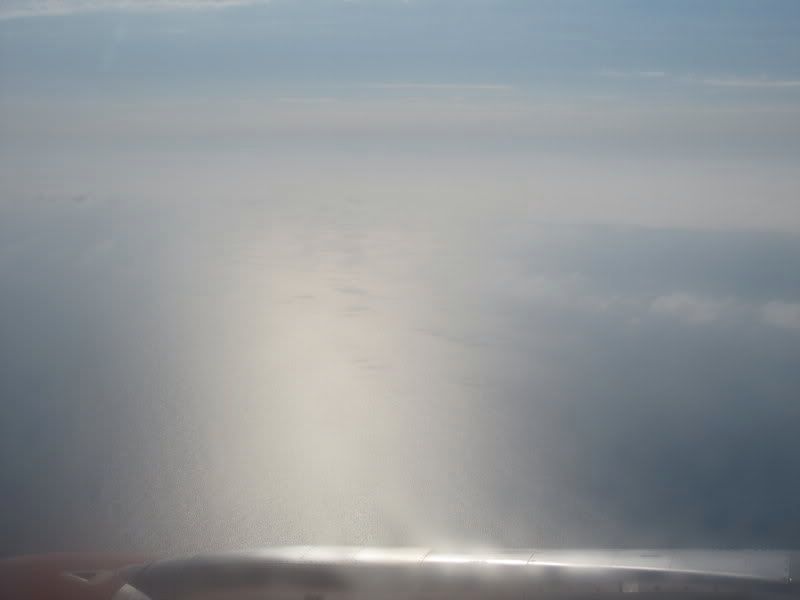 I picked a seat on the right hand side of the plane since I awaited an usual 25 landing - these are my favorite ones at BCN as the view over the city is just amazing on this side. Well, today our approach is very different, we basically fly south over the Mediterranean sea passing the airport on the western side, before making a 180 degree turn back towards the north for approach onto the 02 runway. No stunning views on my side this time, a shame. Let's hope for a better luck when I fly here the next time in August...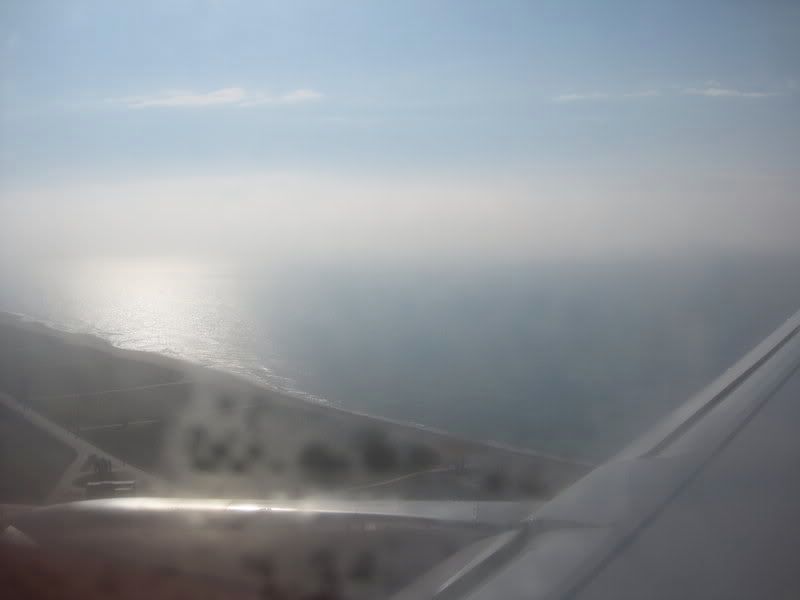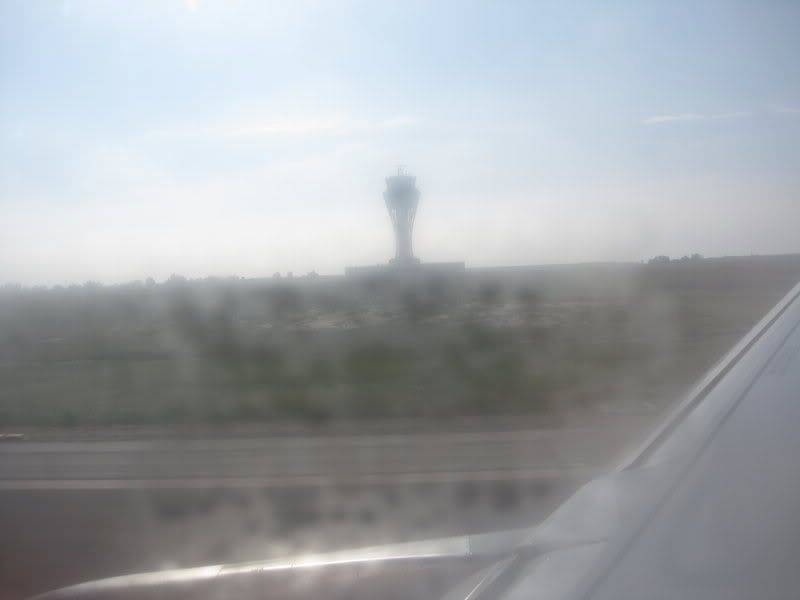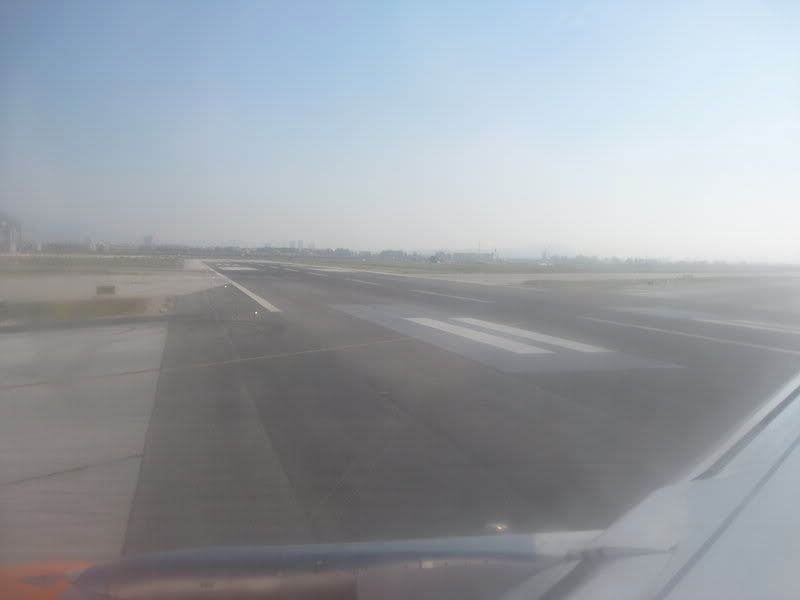 Landing is after around 1h20mins of flight. Taxi to the old main terminal, now renamed to Terminal 2 is fast, and I'm amazed at how empty this large building nowadays is - it only houses a bunch of LCC carriers with not nearly enough traffic to fill it. I think the airport company made a good decision when they recently struck the deal with Ryanair for a new base here.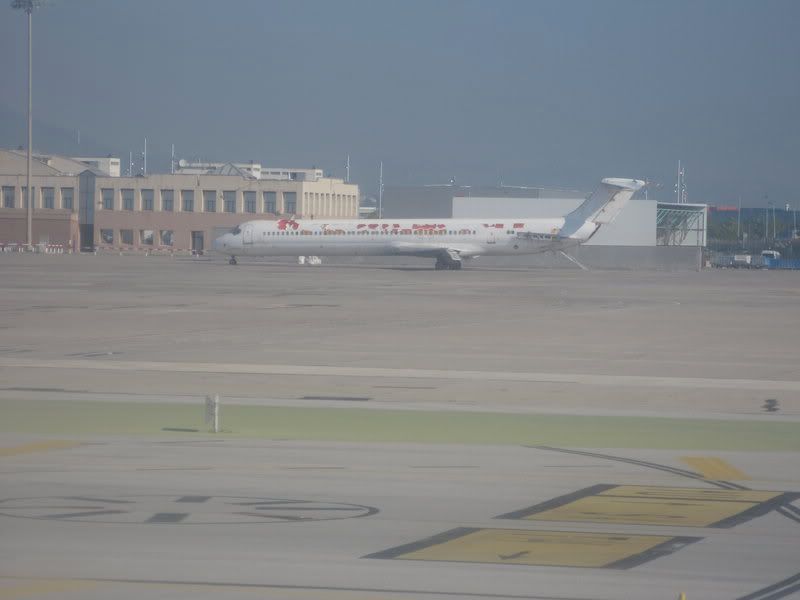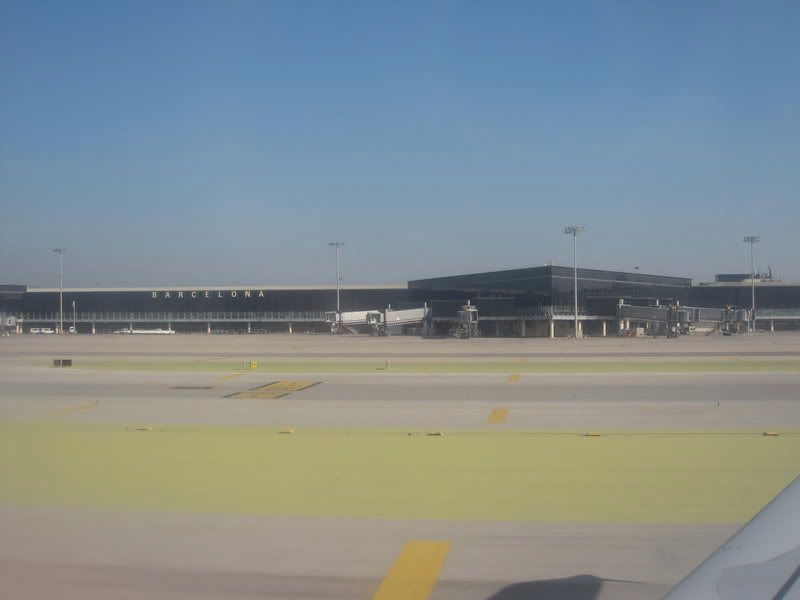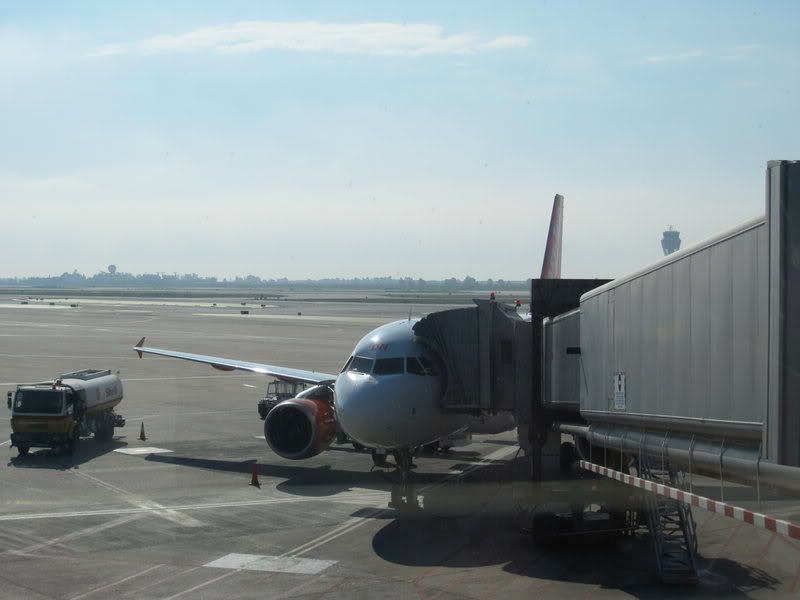 Closed shops in T2: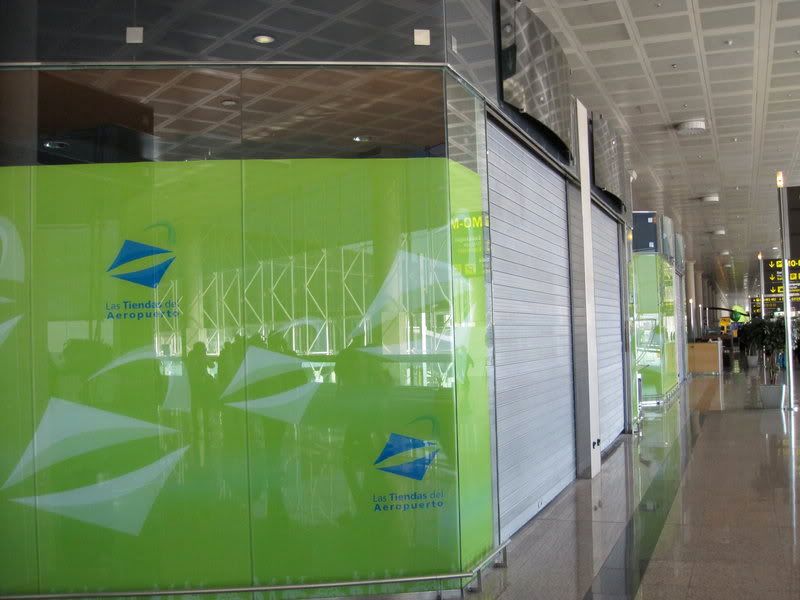 Barcelona El Prat Airport
With the T2 pretty empty and boring I quickly make my way outside and find the shuttle bus to T1. T1 is much more busy: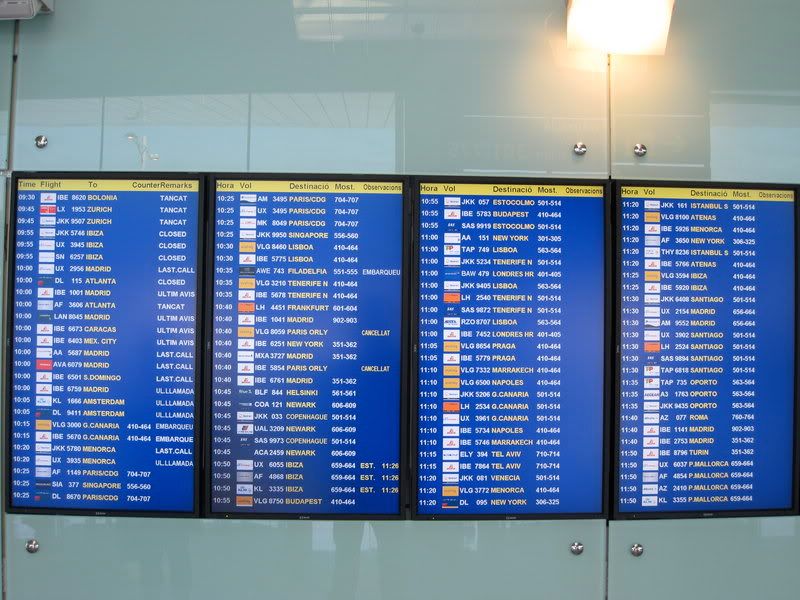 Nice Vueling ad: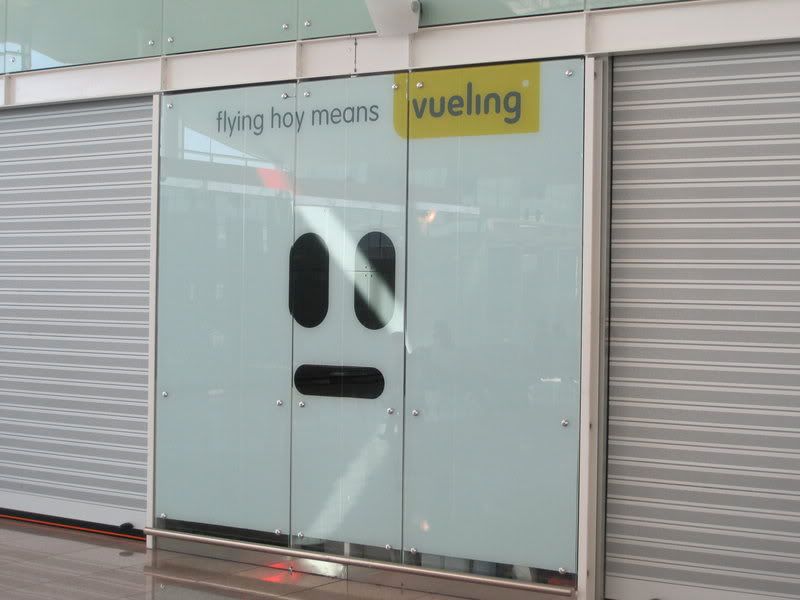 I'm still impressed by the architecture of this huge building, just as I was last summer when I was here the first time: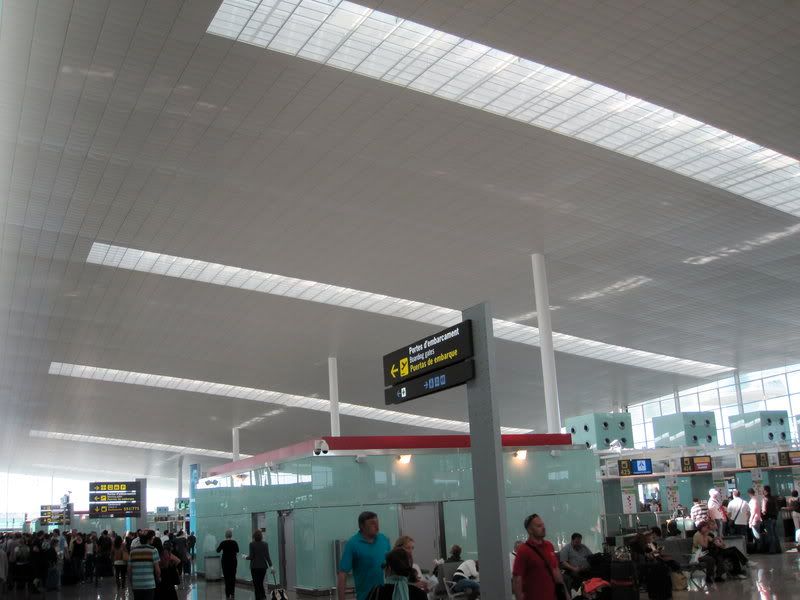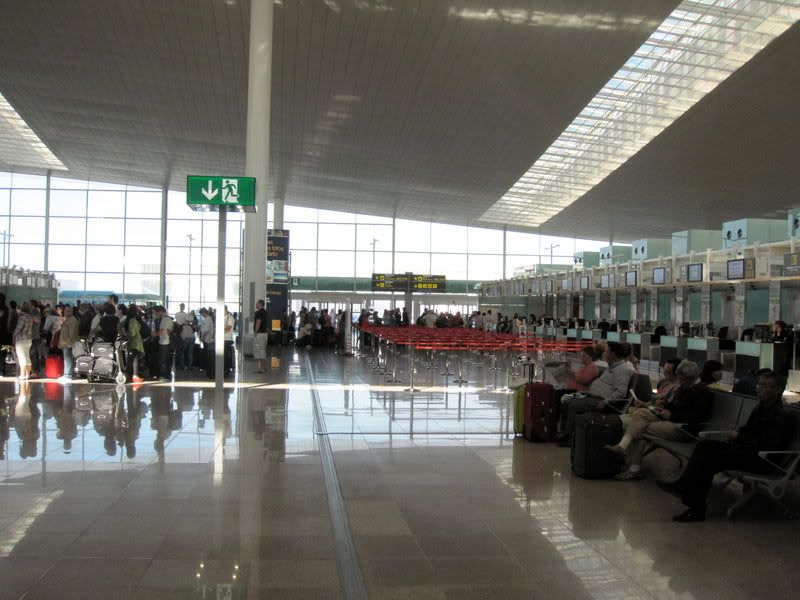 The security checkpoint has a huge queue: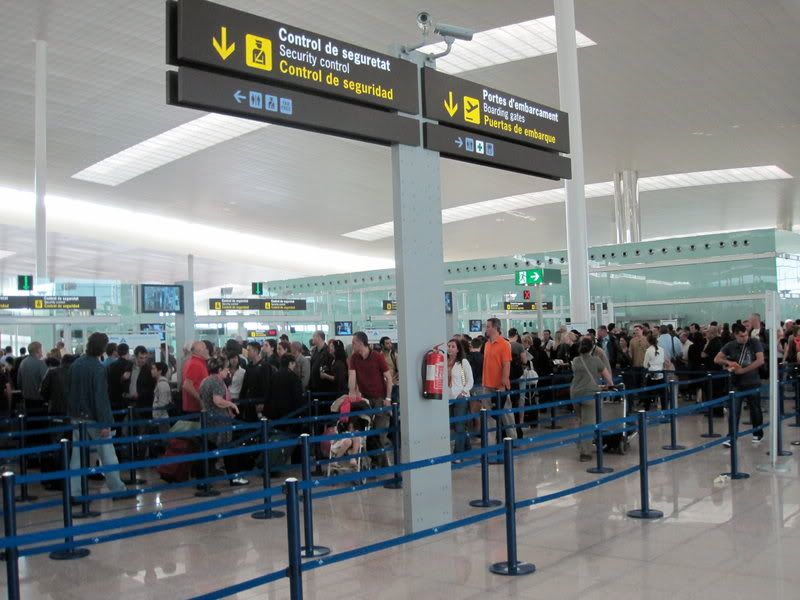 Somehow it ends up moving very fast - only 15 minutes to get through. Is this an airport or a shopping mall: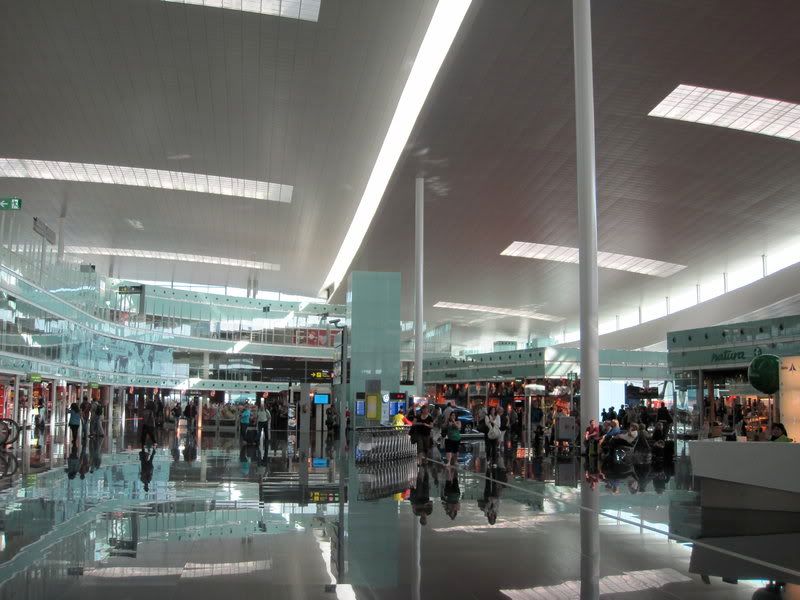 Nice that they have an enclosed terrace with an ice cream shop as well: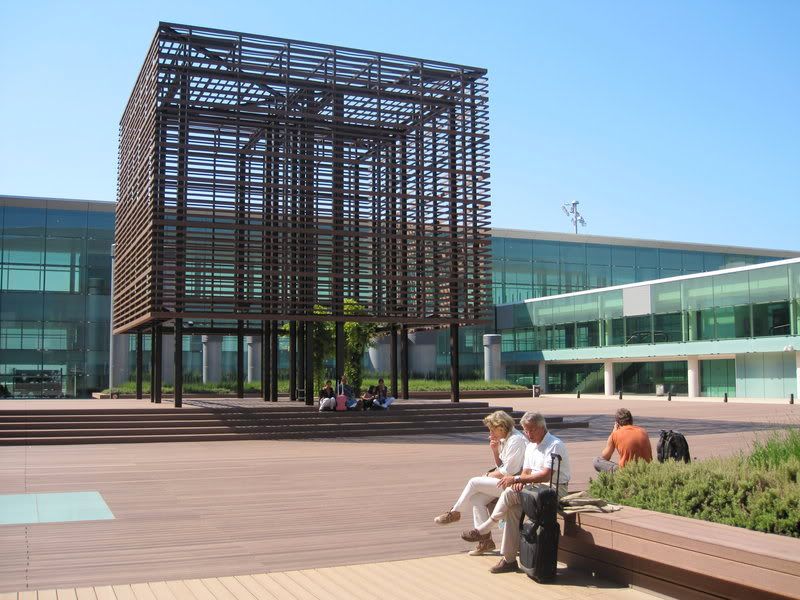 I grab some early lunch, afterwards I spend a lot of time walking around and watching and photographing the different planes here.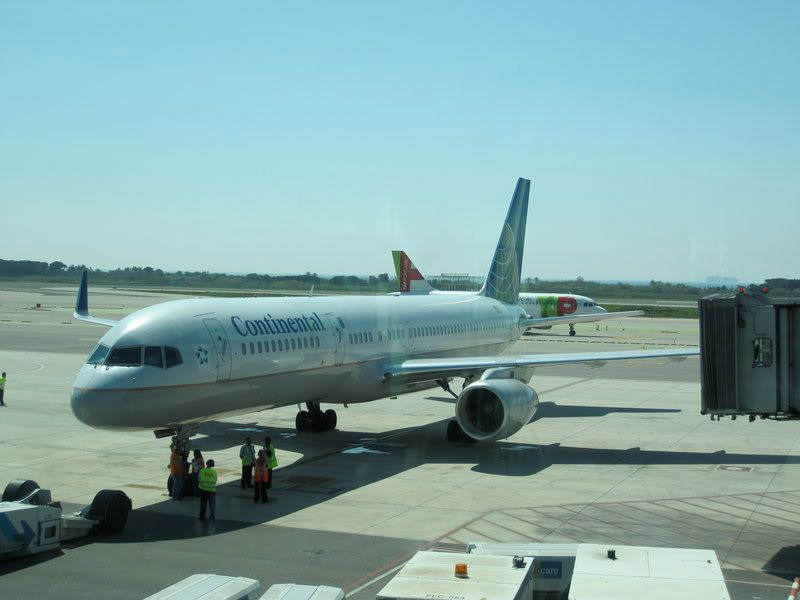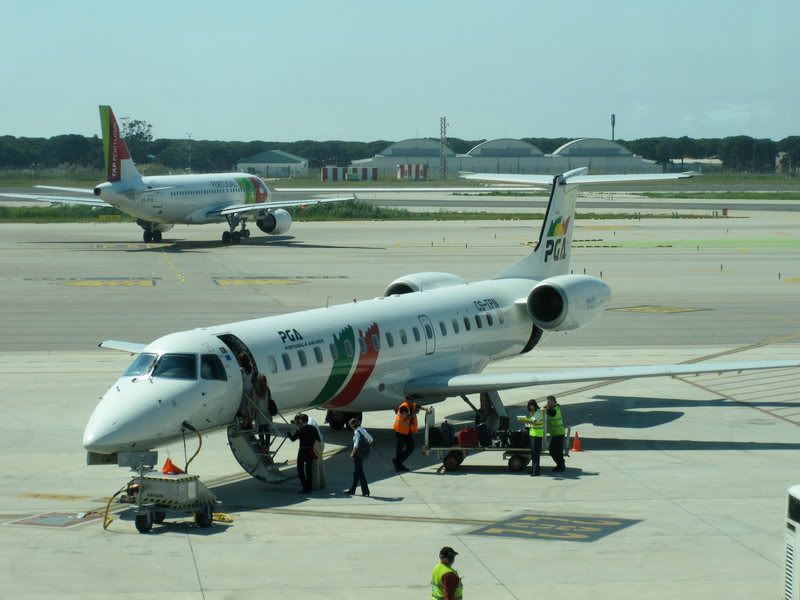 One of the few remaining Ezy 737-700's, on its way to LTN: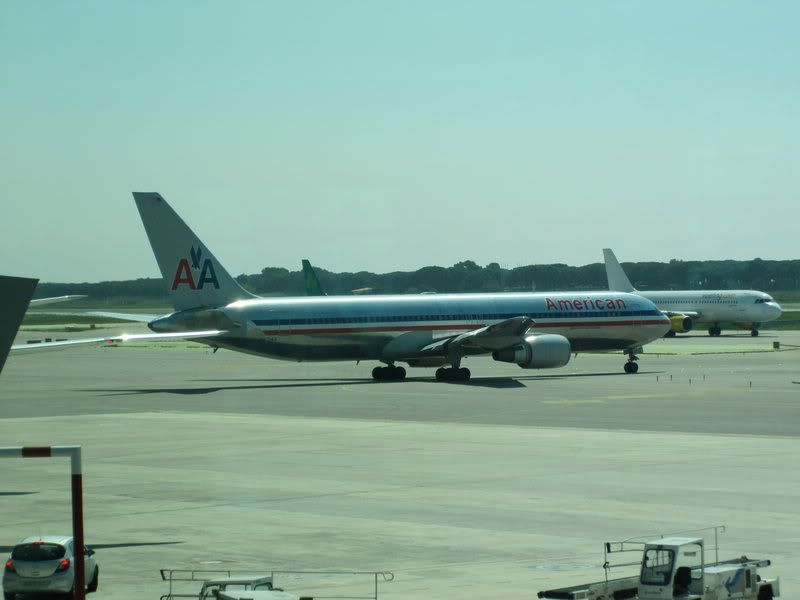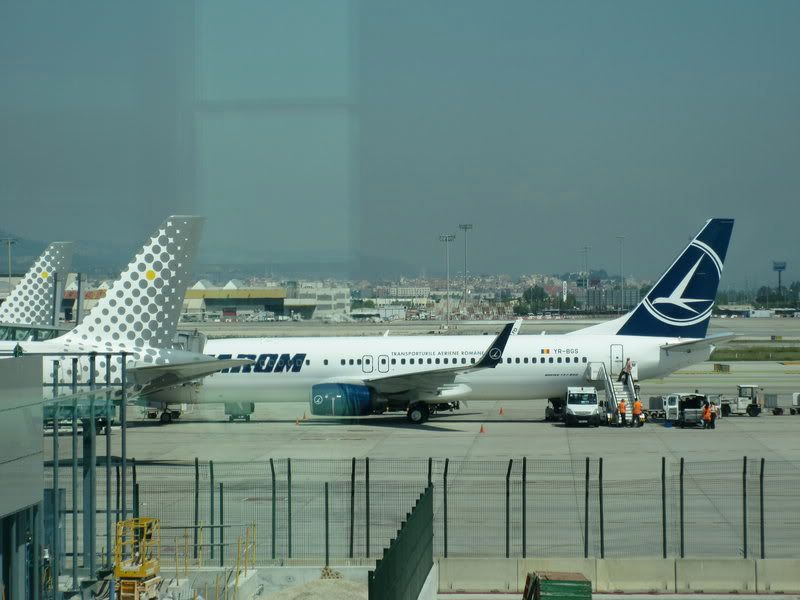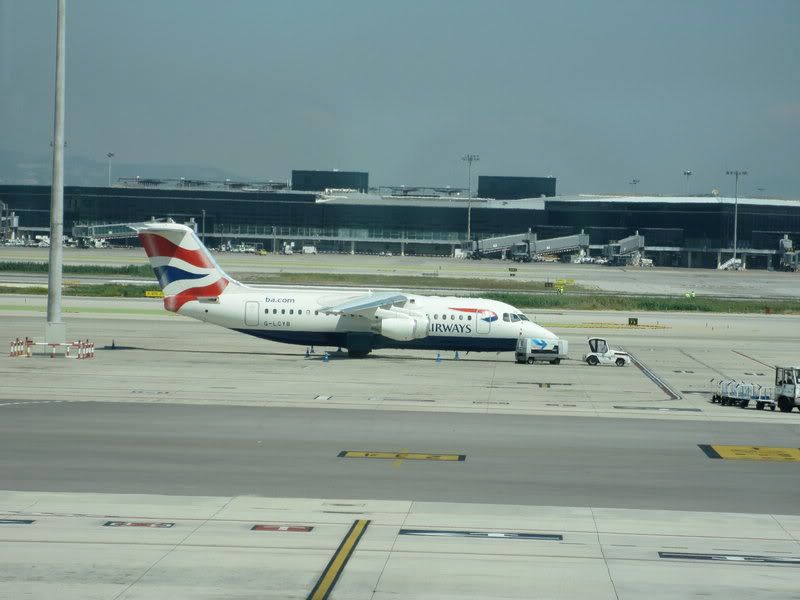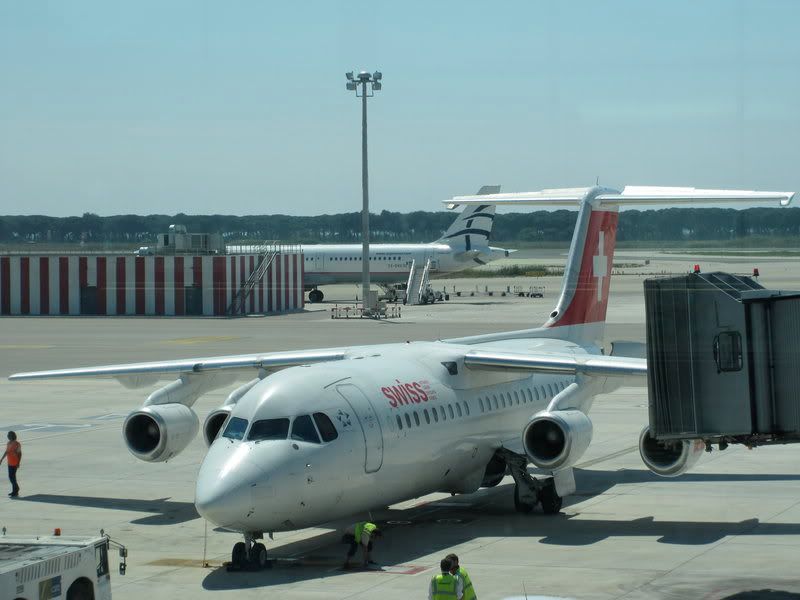 This picture is dedicated to Eric: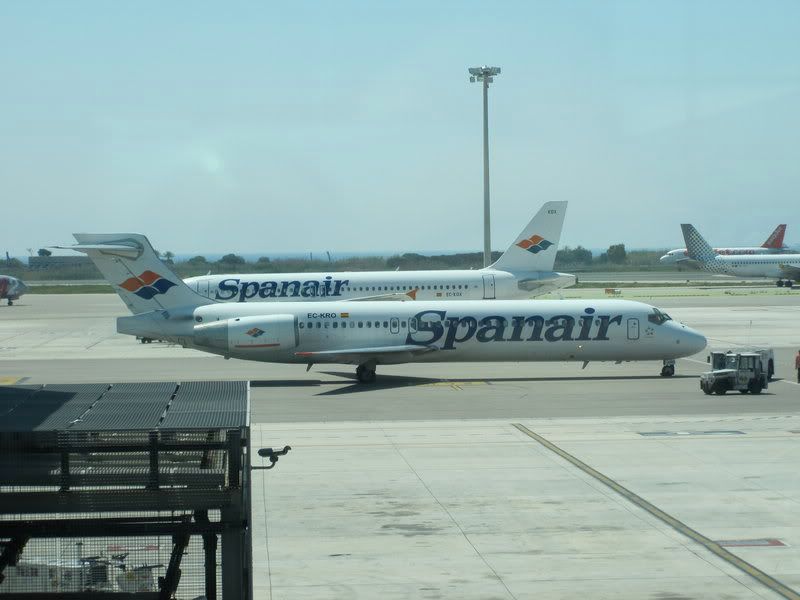 Close to the boarding time printed on my OLCI boarding pass I head to the gate to find a huge queue of people already there - looks like Ryanair and the others have had a definitive influence on people's behavior.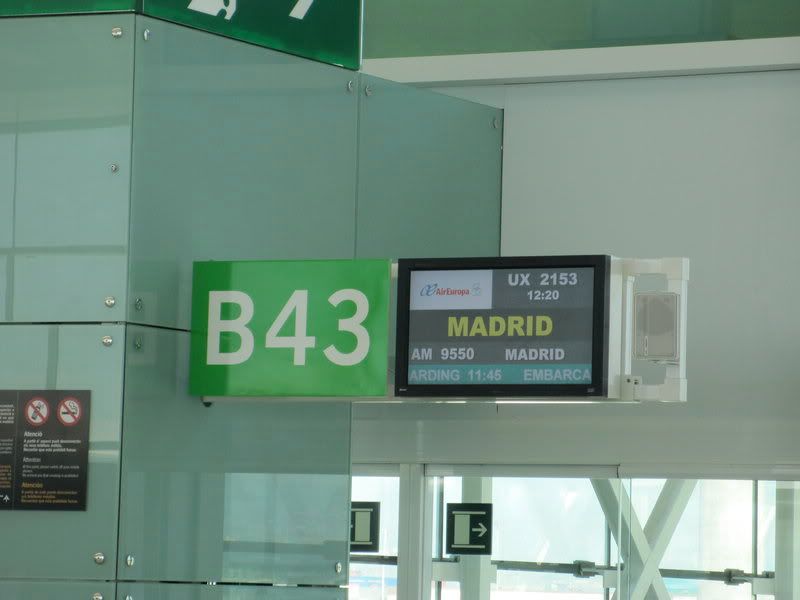 The plane is EC-JHL, another first for me.
Boarding starts late at only 15 minutes before departure and seems to take an eternity, the queue moves very slowly both before the gate podium and in the jetway - there are tons and tons of senior citizens here so maybe that's part of the reason.
I have no idea what these mean:
BCN-MAD
UX2153
B737-800 EC-JHL
Seat 7F
12.54 - 14.04
I have to ask one of the stewards to kick an elder lady out of my seat as she or her friend don't seem to speak anything apart from Spanish - turns out they have the aisle and middle seats next to me. The blue gray leather seats have a horrible seat pitch: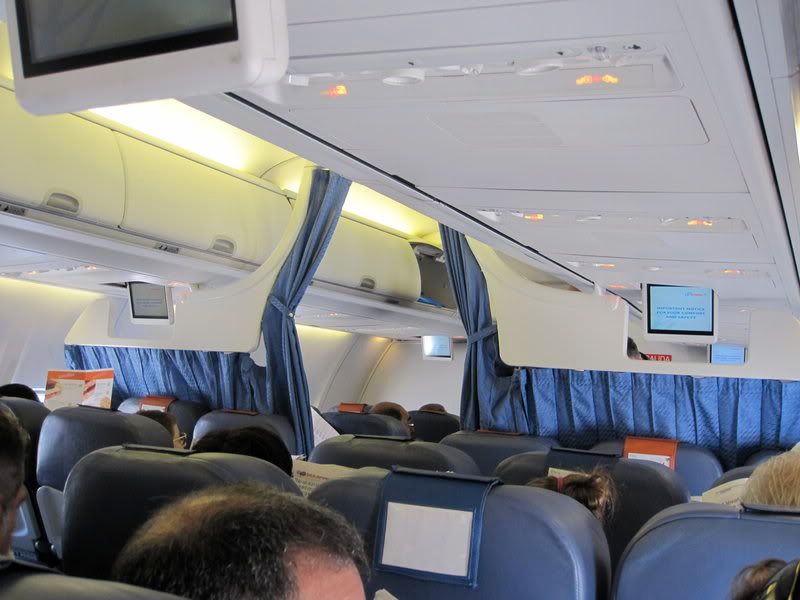 Boarding continues to be very slow - with a not too comfortable connection time and a terminal switch in Madrid I'm starting to get a bit nervous at the slow progress. Finally, at 12.35 or 15 minutes after the scheduled departure time boarding is finally completed - load looks to be pretty much full back in economy, and almost full in the business class cabin featuring three rows today.
Still nothing happens for another 20 minutes until we finally push back 34 minutes late - I'm getting very edgy by this time.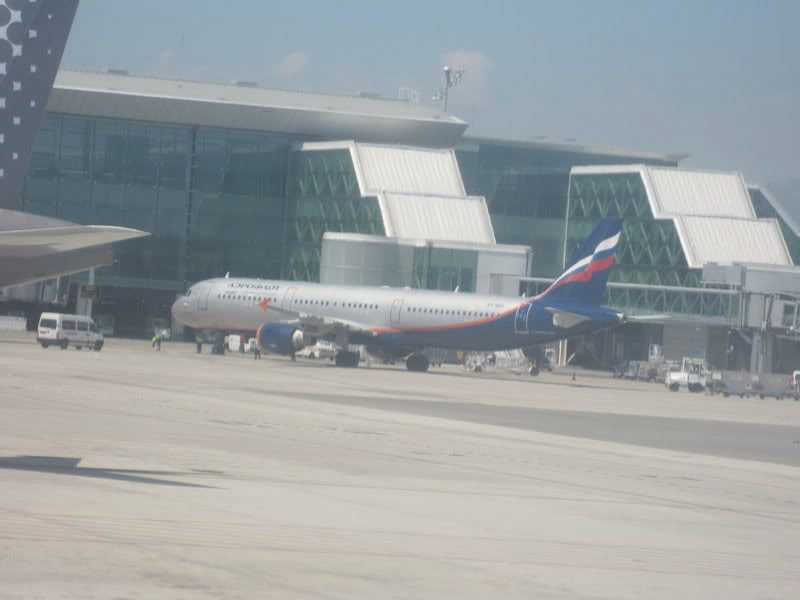 Well, hello there: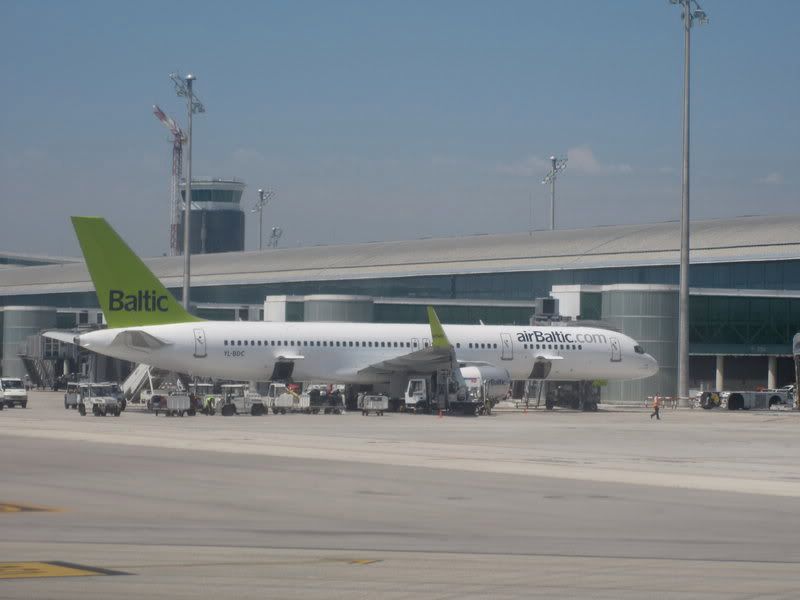 Notice the LH retrojet:
I don't know what happened with this flight, it was boarding almost two hours ago: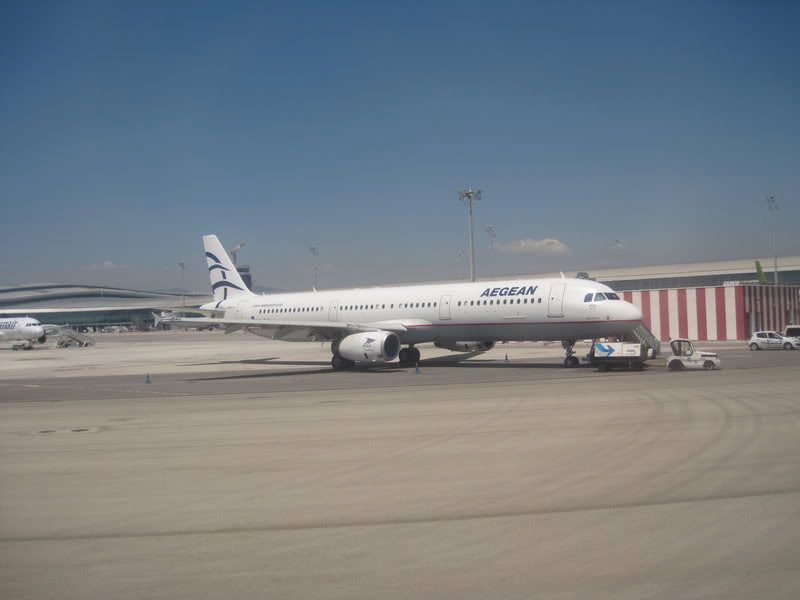 Unfortunately we aren't allowed to jump the queue due to our delay so take off from 07R is 15 minutes later. Right when we start our take off run I notice this weird cloud or fog front moving in from the sea and completely engulfing the airport - you can see it in these pictures: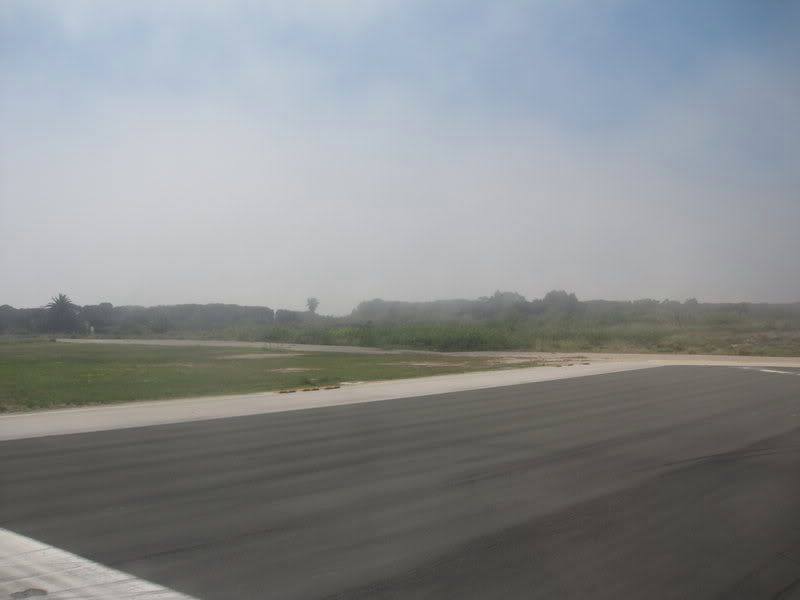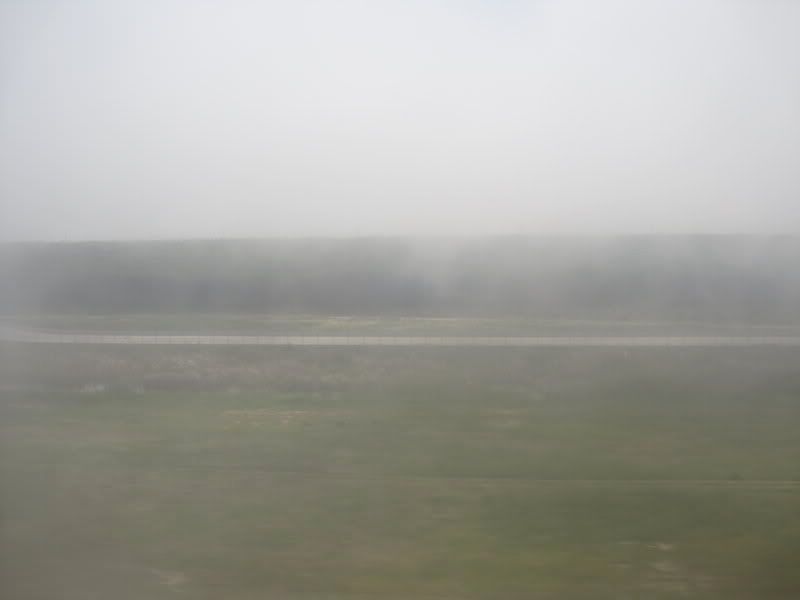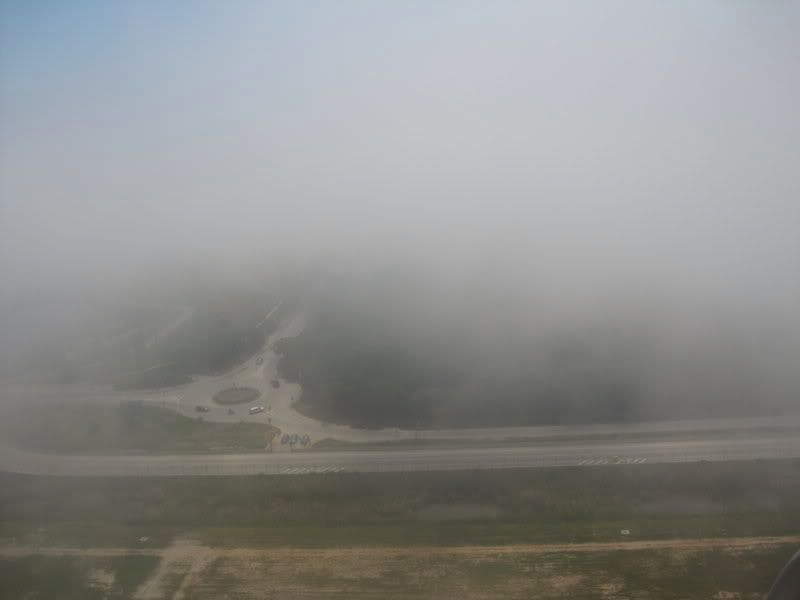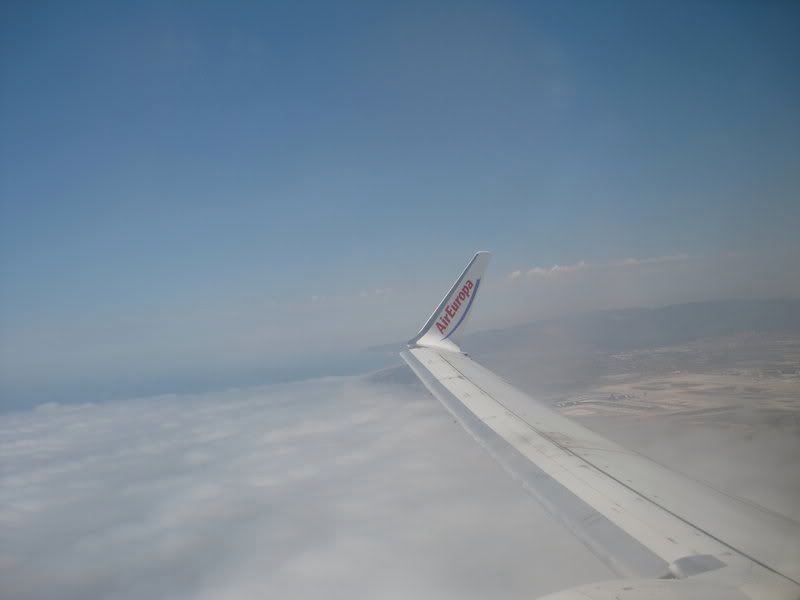 Top