Feedback always appreciated.

I > Background:
I am increasingly involved in business development in the Indian Ocean region and was slated to go back to Mauritius for work. However, I had a weekend and decided to stop and pay a visit to my friend whose wife had just given birth in Dubai. Being in London, Emirates was the obvious choice with its various departure options. Moreover, it would give me the perfect opportunity to do a non-business trip and a trip report. For some weird reason, several people on A.Net (on the public forum or privately) have been wondering when my EK report would come. What was up with that? Anyways, here it is!
Having lived in Pakistan for work in the early 2000's, Emirates used to be a great link via its expanding Dubai for me to escape. For me, their service had progressively lost its sheen and this was an opportunity for me to discover if they had regained it back. What better way than to fly their "flagship" 380 on their "flagship" flight. The rotation back from LHR to DXB.
While there has been several EK reports (surprisingly, several by EK 'insiders'), I believe this would be the first on the 380 on the LHR-DXB link. Perhaps I am wrong?
II > Pre-Flight:
a) Before Airport:
Emirates is the national airline of Dubai, United Arab Emirates and operates around 2200 passenger flights per week, from its hub at Dubai International Airport Terminal 3, to 108 destinations in 60 countries across 6 continents.
Ticketing for the flight was done by the significantly improved Emirates site at
www.emirates.com.
The site has improved tremendously and I was able to even choose my seat. Later on, I could view my itinerary … though, could not make any changes or edit my seat choice.
b) At Airport:
Emirates uses Zone C @ terminal 3 at LHR. As usual, the EK check-in area was busy with the usual collection of passengers flying to DXB and beyond. The premium check-in counters were hidden and the staff at the entrance were busy gossiping and chatting on their mobile phones. Thankfully, my check-in agent was efficient in getting my boarding pass issued with my seat choice and telling me about the lounge. While extremely efficient, she wasn't particularly hospitable.
Anyways, boarding card and departure card in hand, I made it past fast track security and soon made myself to the two-floor Emirates lounge at LHR. The check-in agent left much to be desired. When asked about the internet connection, she snapped, "sir, if you looked properly you would see it in front of you." WTF. I did not want to get into a conversation about her manners so went inside.
The lounge is big for a carrier not based at the airport and the dining options are above average. However, it is the attention to detail that seems to be missing. For example, several of the internet terminals were either not working and/or did not have a mouse; several food items were not stocked for long periods; and I noticed dirty utensils left around.
Boarding for J and F passengers happen directly from the lounge, and while this may seem exclusive, it just isn't. When you get an entire deck of "premium" passengers, the whole concept of "premium" and "intimate" gets lost. With significant lines to board, I felt like I was flying Y-class than J-class of a globally well established airline. Upon entering the big bird (my first time in commercial flight), I was shocked to see there were no flight attendants greeting us. In fact, they seem to be mostly chatting in the rear galley near the bar area. Not a great impression.
I was in for a second shock when I went to the bathroom prior to take-off to find it filthy with toilet paper everywhere and empty amenity drawers sticking out. While I can still understand this at the end of a flight, I just find it absolutely unacceptable at the beginning of a flight … that too in JCL! WTF! Of course, I made a note of it to the crew members hanging out in the rear galley (remember, this is the bathroom right there) who just shrugged with no apology and went to clean it.
J load was around 70%.
>Airport - External:
(Terminal 3, London)
*
Check-in:
Airport - Internal:
(FIDS)
NONE
(Post Security @ LHR)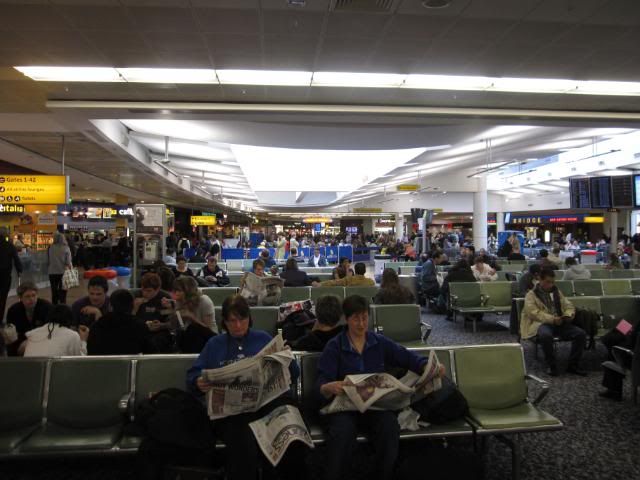 *
Scenes of the tarmac:
(Witnessing the diversity of LHR is probably the best thing that can be said of the Emirates lounge)
*
*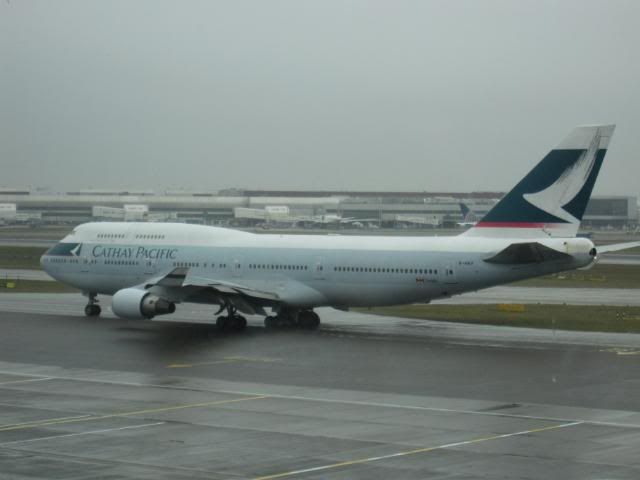 *
*
*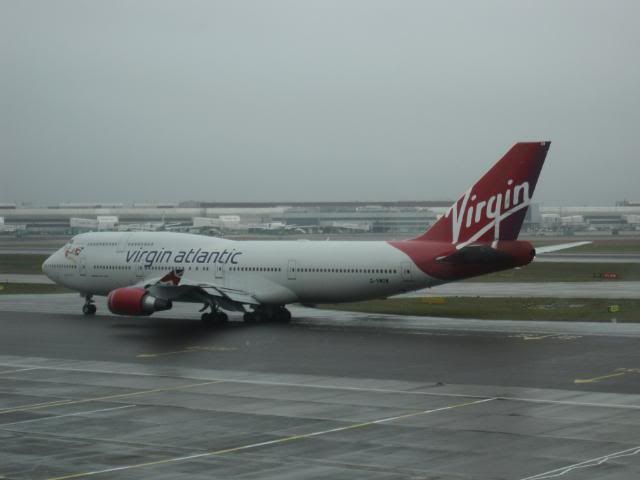 *
*
Lounge
(EK Lounge @ LHR)
*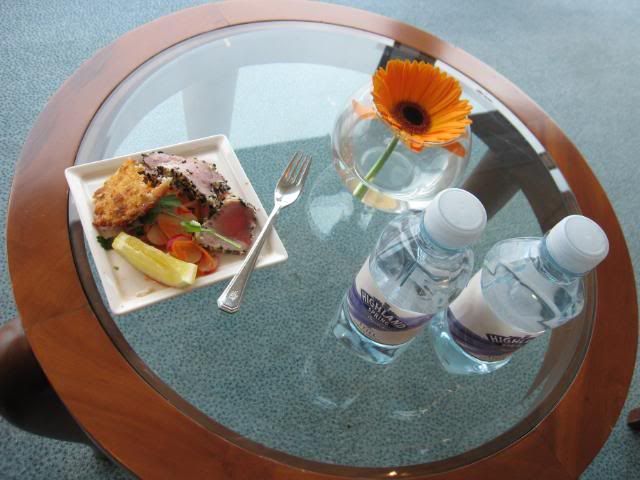 *
*
(Would be better if it worked)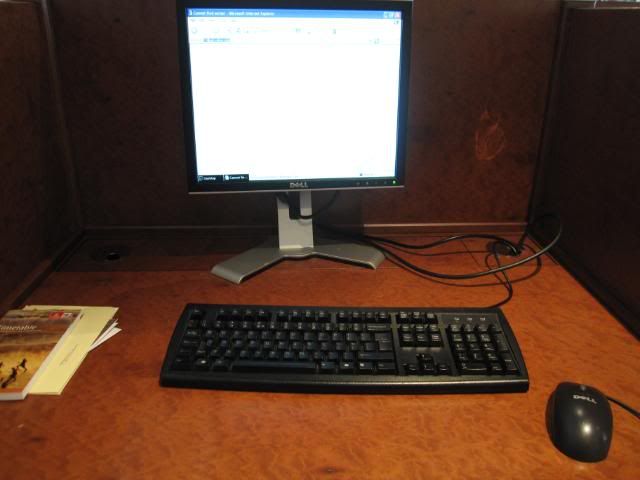 Boarding:
(Future of mass produced JCL)
III> In-Flight:
a) Service Schedule + Impressions:
While on the ground, water/OJ/champagne was offered. Menus were distributed and orders taken. Also offered were cold towels. After take-off, there was a drink run followed by lunch. No amenity kits, no further meals, and no further water runs. I was disappointed that no amenity kit or pyjamas were on offer … even on request.
b) Aircraft + Seats:
Emirates' J class cabin on their 380 lacked the intimate feeling that a Business class cabin should have. I recognize the revenue potential of having this many JCL seats and also understand that from their business model perspective, volume is only way to profitability. However, I felt that EK's configuration lost the very essence of what many seek from a J-class experience. Having said that, the seats themselves were fantastic offering several comfortable seating and relaxing options. It went to a full-flat bed seamlessly and the design offered ample privacy. There was enough storage space and I did like the "mini-bar" that came with it. It would have been nice if the water bottle actually was new and not empty. Attention to detail was again missing.
Controls for the seat were advanced and intuitive through a central console that detached. Sometimes the control would "lose signal", but that was to be expected when seats become so complicated. Unlike many in-seat massage functions, this was actually useful and the ability to control the myriad of settings uniquely appealing.
The roped off upper deck also added to the allure of being in an exclusive club … which had become a tad too popular for its own good
. I was extremely disappointed at the way the bathrooms were managed. As mentioned, they were filthy at take-off … and manageable during the rest of the flight. It would have been nice if amenities were stocked given that no kit was given out.
Finally, the bar area was a nice touch. On this flight, it was also extremely social with an interesting combination of expats, locals, and those going beyond DXB.
Aircraft:
(388 @ LHR)
*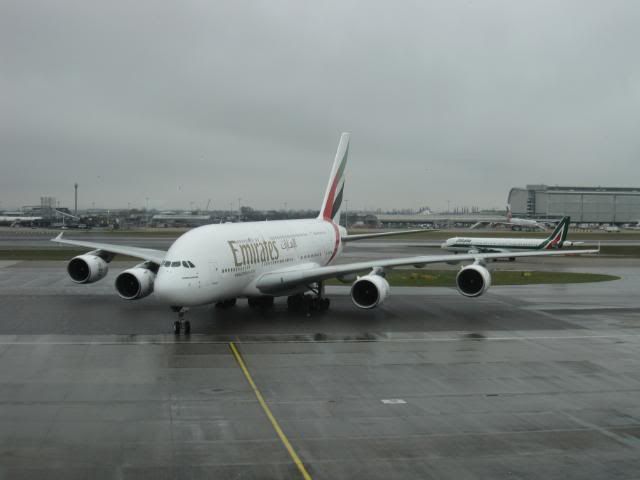 *
(The 744 is still the more graceful aircraft)
Views from Aircraft:
NONE
General Seat Views + Seat Legroom
(Seat controls)
*
*
(Too many errors however)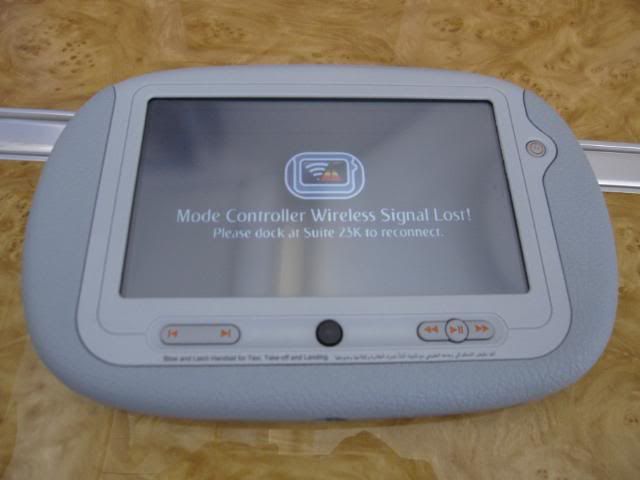 *
(Legroom)
(Seat Partition & Bar: though things were missing)
*
(Blanket)
NONE
(Storage)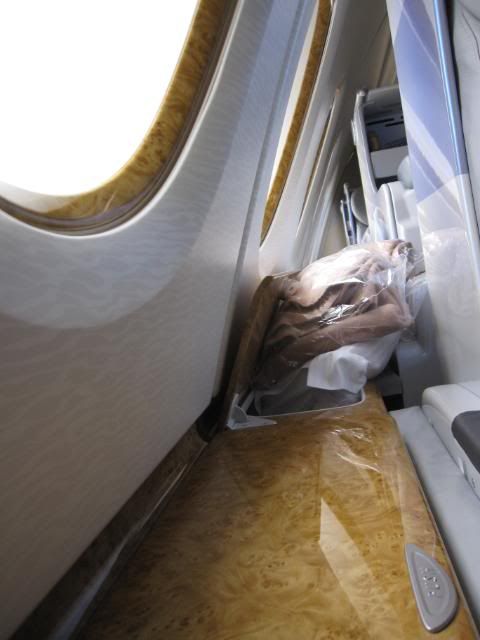 *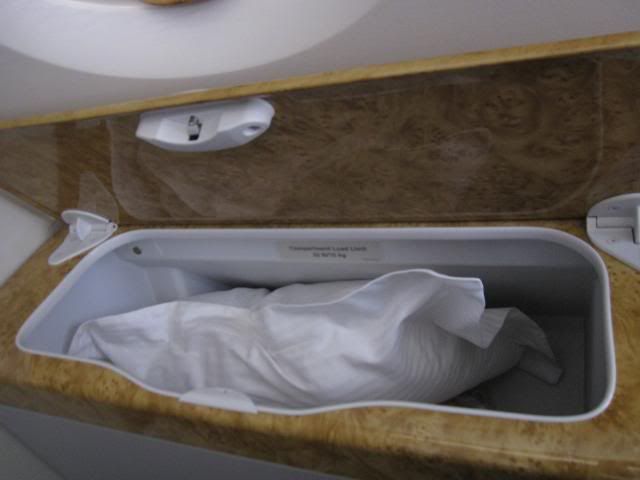 *
(Seat)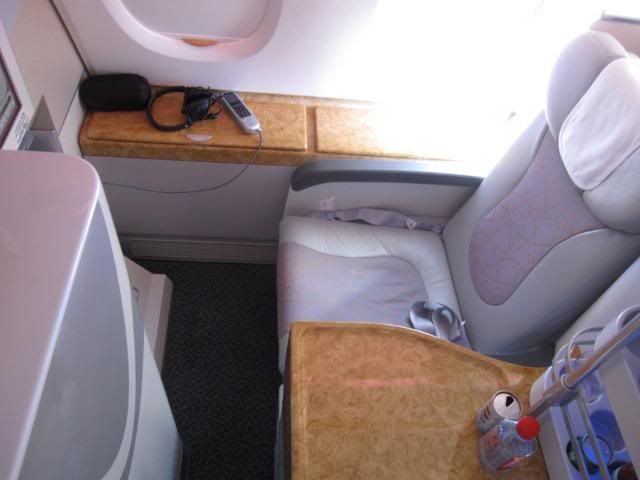 *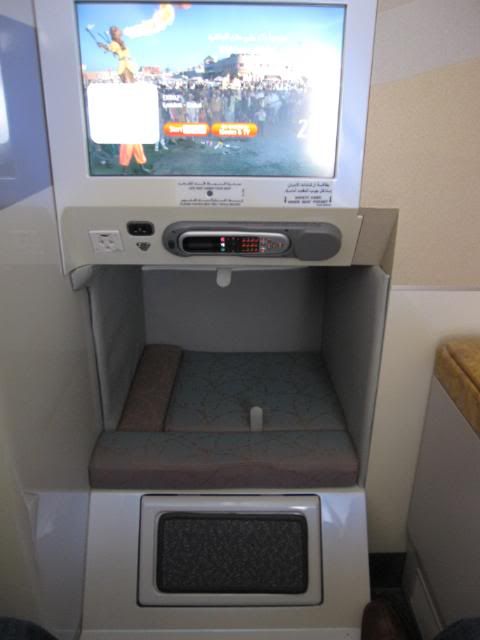 Seat Recline + Angle View: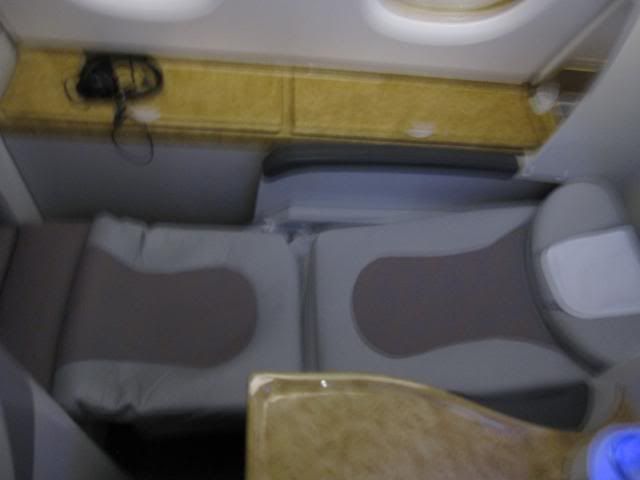 *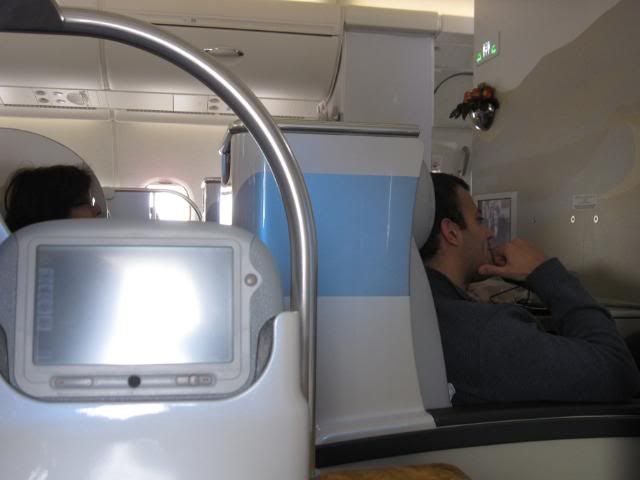 Cabin:
*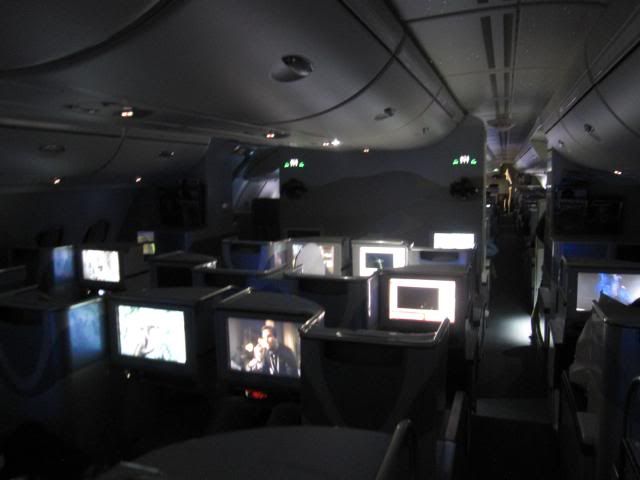 *
(Upper/Lower Deck)
*
*
(Sorry for picture quality – went to the bathroom without camera prior to take-off to find this)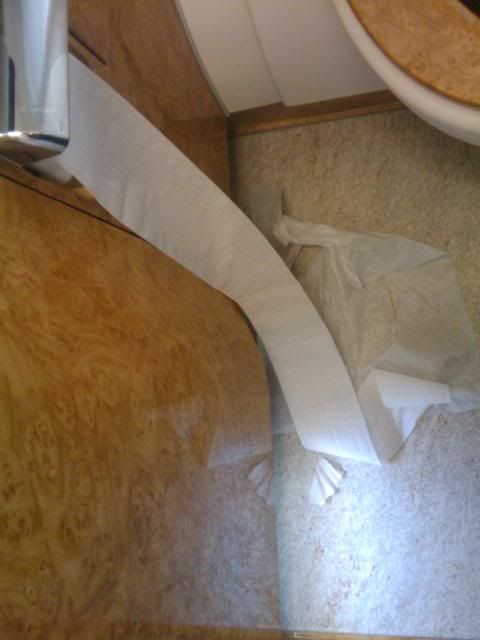 (Amenities – later in flight – still missing items)
(View)
(The bar)
c) Meal + Beverage:
First off, the bar continues to be such a great idea. It is definitely a nice touch and a great place to mix and mingle and observe the "expat scene" (good and bad) in full flow.
Lunch started with excellent cold canapés (though, poorly presented) and really good mezze. However, it all went downhill from there. Why does it take 45 minutes between my mezze and Main course is beyond me. When it arrived, it was hastily put together and without much taste. I had the choice of 4 entrées and perhaps I chose the wrong one … but the rubbery chicken served was unmemorable … like someone had quickly cooked something and then just thrown some red sauce on it. Probably one of the lease impressive main courses I have had in JCL for a while. The dessert served was also mediocre … and when asked for port wine, I was served in a regular glass. Now, normally, these are things I overlook … but this has never happened in JCL for me and I was actually surprised at the lack of thought to presentation. Finally, EK … you need to bring back the old cutlery … these are just way too plain and white for me.
As mentioned, the other thing missing was any other water runs/food runs/etc. during the entire flight. While I have come to expect this from some European carriers, it is disappointing that an airline like EK was so blasé about service.
(Menu)
*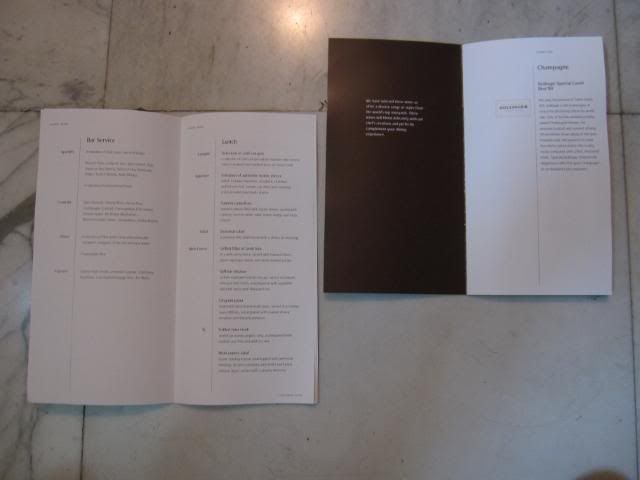 *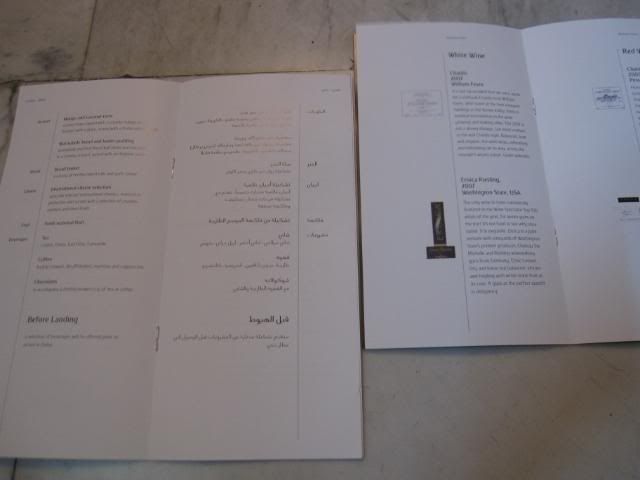 (Lunch Service)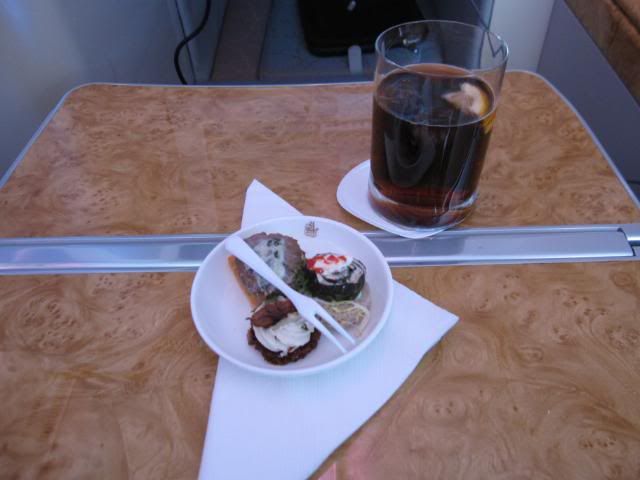 *
(Unbelievable time between courses)
*
*
*
(Unbelievable time between courses - again)
*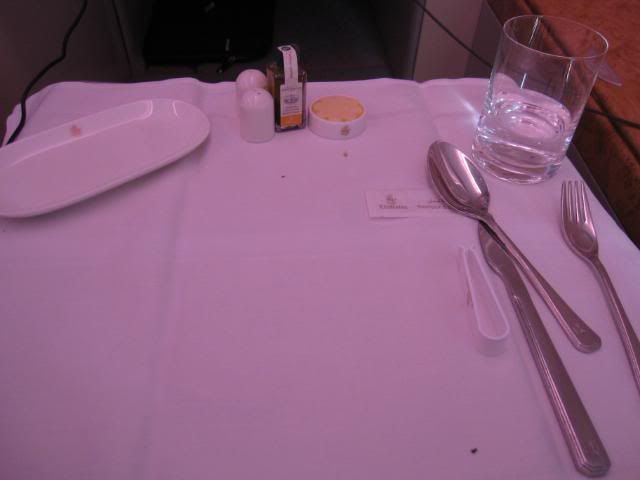 *
(Not so nice main dish)
*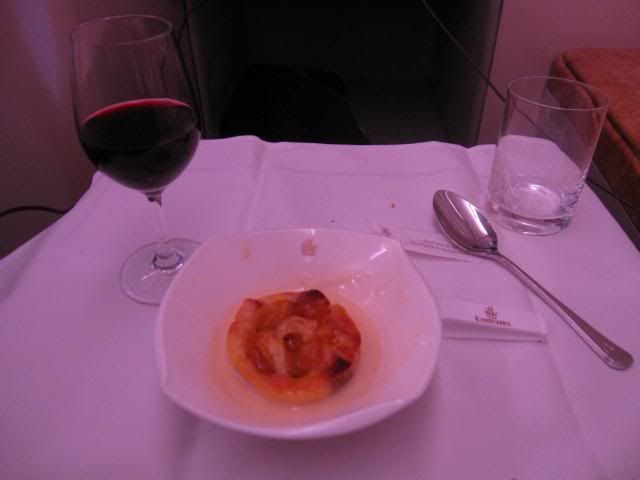 d) Inflight Entertainment:
This is probably Emirate's most impressive selling point. Their system ICE is probably the best IFE out there. At least, it is the best I have seen in a long time … the only major IFE I have not "tested" is SQ's new system. ICE has over 600 channels of premium entertainment including an amazing level of movies, television, sports, and other shows. You can also keep track of your flight and use the various cameras to watch what is above and ahead. News and communication would keep the most "connected" person be just that. All of this came with rather decent headphones. For sure, no one can complain about the IFE system on EK. Moreover, the controls were easy to navigate and could be done through touch-screen, detachable remote, or the wired joystick. My only "complain" was that it froze a little too many times … and perhaps the unresponsive crew made me feel that I could not properly take advantage of ICE.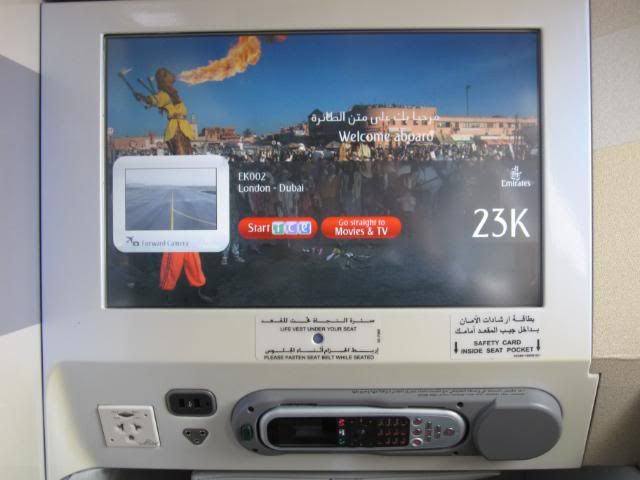 *
*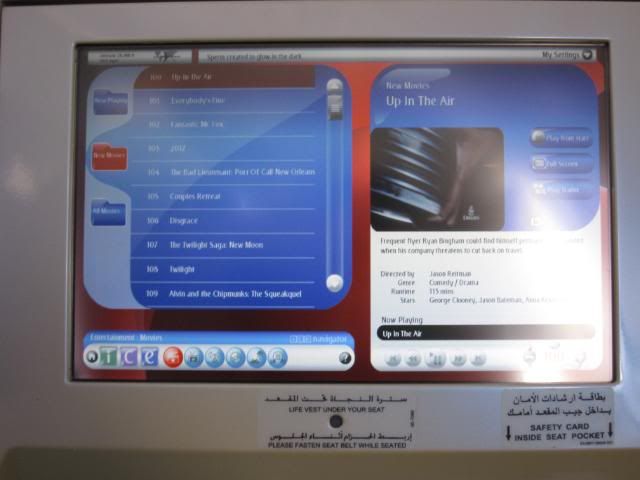 *
*
*
(Shouldn't they update this by now?)
("In-flight magazines", Boarding Passes, etc.)
e) Crew:
Crew makes and breaks a flight experience for me. Like a lot of my current EK legs, their crew was unimpressive and uninspiring. They were not memorable – and it seemed that they really did not care about their passengers. If an EK audit director was onboard, they would have been shocked. The crew I had (mostly Australian and 2 Kenyans in JCL) were just plain lazy. There were 2 good standouts (one South African and one Kiwi) which reaffirmed my belief that EK's best crews are South African and South Asian. Unfortunately, these two did not serve the starboard side. I call the crew lazy because they were never to be seen … not during boarding and not during the flight (come on, not even one drink run?). I did my "call button" test and it went unanswered … even though, two of them passed by it. Most of the time, they could be found chatting loudly in the rear galley (for example, I found out the "gossip" on who was sleeping with who; crew parties; how they thrashed a hotel in London and are "non grata" there, the two tracks of salary and duty and how you move between the two, and of course the latest on which club in DXB gives the girls free drinks). Those of you who know EK's 380 upper-deck would know exactly where I am talking about. Finally, when asked something, you felt like you were imposing on them. I felt this way when bringing the poor bathroom condition to their attention … and I felt like this again when it took several attempts to have someone reset my IFE.
Honestly, I have no idea how they are going to hire additional crew and maintain a standard if they have had their service slip to such horrid levels. Truly disappointing because EK crew was a joy to fly with and when I lived in Pakistan, I would look forward to being greeted by genuine cabin attendants who made you feel special. That Emirates is sadly long gone.
IV> Post-Flight:
Landing in Dubai was smooth and after the endless walk, I was through a rather quick immigration, and on to a big hug from my friend.
(DXB)
*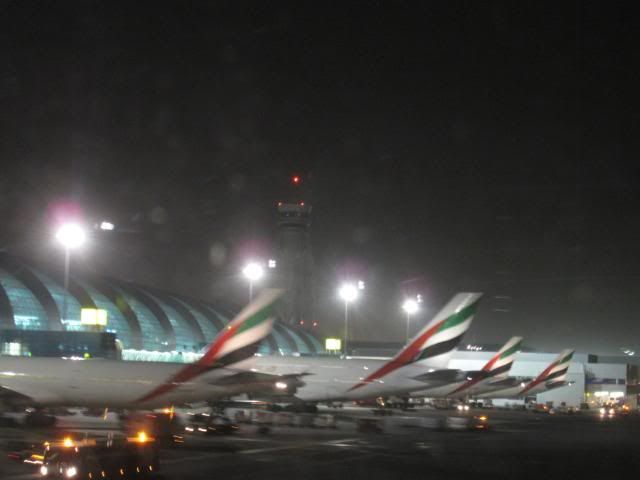 V> Impressions + Scores:
Emirates used to be a joy to fly with. For anything that can be bought by money, Emirates is stellar (aircraft, IFE, etc.). For me, however, it is an airline that lost her soul somewhere along the way. Emirates feels mass produced and not intimate for those of us who have a passion for flying. Passengers (especially in YCL) will be wowed by their IFE, their mood lighting, their shiny aircraft, etc. However, those interested in finding a service standard which is "special" will be left disappointed. Sub standard meals, crowded lounges with indifferent ground staff, poor drinks, etc. can be overlooked. However, the crew on board Emirates was just disappointing. Their attitude was completely misplaced – and as much as I have had consistently poor experience transiting at Doha, Qatar Airways on-board crew is really good. Perhaps, Emirates needs to look internally as it continues growing. And perhaps, it needs to revisit where it recruits her crew from.
I have had consistently poor experience on Emirates and have been able to moderate my expectations accordingly. I don't fly them much for business and this experience reaffirmed why. I know a lot of you were waiting for an EK report from me ... and I wish I could have done a more positive review of them. Don't get me wrong ... they do have great hardware, and ICE simply is awesome. However, I don't like "wal-mart" like feel to JCL ... and service even worse than the smiling "wal-mart" attendants. I would fly them if they were the cheapest way to get somewhere – nothing more. Two thumps down.
VI> Other Trip Reports:
PREMIUM:
8.66:
Brussels Airlines (93): FIH-BRU: 01/2010
8.64:
Turkish Airlines (59): JFK-IST: 11/2008
8.63:
Jet Airways (88): JFK-BRU: 10/2009
8.61:
Air Canada (49): YYZ-SCL: 06/2008
8.54:
Turkish Airlines (77): GRU-DKR-IST: 04/2009
8.36:
Kingfisher (98): BOM-HKG: 01/2010
8.30:
Jet Airways (74): KWI-BOM: 04/2009
8.23:
United Airlines (72): SFO-SYD: 03/2009
8.11:
Aeroflot (33): MOW-DEL: 09/2007
8.05:
Air India (80): CCU-JFK: 06/2009
8.04:
Korean Air (40): NRT-ICN: 10/2007
8.02:
Delta Airlines (24): JFK-CDG: 08/2007
7.64:
Royal Jordanian (91): AMM-YUL: 12/2009
7.46:
LAN (55): YYZ-JFK: 09/2008
7.82:
Singapore Airlines (06): EWR-SIN: 09/2006
7.25:
Iran Air (88): BOM-IKA: 12/2009
7.23:
Virgin Atlantic (81): BOS-LHR: 07/2009
7.14:
Swiss (52): SCL-GRU: 06/2008
7.11:
Austrian (79): VIE-JFK: 06/2009
7.07:
Privatair (84): BOM-FRA: 08/2009
7.02:
Qatar (68): DOH-JFK: 01/2009
6.96:
Etihad (61): JFK-AUH: 12/2008
6.93:
Delta Airlines (18): SEA-JFK: 11/2006
6.84:
ConViasa (65): CCS-DAM: 01/2009
6.81:
Air Canada (17): ICN-YYZ: 10/2006
6.70:
KLM (32): EBB-AMS: 08/2007
6.52: Emirates (99): LHR-DXB: 02/2010
6.39:
South African (97): EZE-JNB: 01/2010
6.36:
Privatair (60): MUC-BOS: 12/2008
6.29:
TAM Brasil (96): POA-EZE: 02/2010
6.25:
Korean Air (45): NAN-ICN: 10/2007
6.21:
Iberia (87): BOS-MAD: 10/2009
6.11:
TAP Portugal (53): GRU-OPO: 06/2008
6.00:
Gulf Air (75): BOM-BAH: 04/2009
5.88:
African Express (89): DXB-NBO: 11/2009
5.75:
Singapore Airlines (16): CCU-SIN: 10/2006
5.64:
NorthWest (46): ICN-NRT-SEA: 10/2007
5.54:
Ethiopian Airlines (95): ADD-BOM: 01/2010
5.46:
Icelandair (83): KEF-BOS: 08/2009
5.39:
LOT (54): WAW-JFK: 06/2008
5.21:
Egypt Air (73): CAI-IST: 02/2009
5.07:
TACA (66): JFK-SAP: 01/2009
4.42:
Air France: CDG-JNB (25): 08/2007
ECONOMY: Long + Medium:
9.26:
Air India (48): JFK-DEL: 02/2008
7.38:
Avianca (01): BOG-LIM: 07/2006
7.07:
Sri Lankan (62): KWI-CMB: 12/2008
7.00:
LAN (94): IPC-SCL: 01/2010
6.41:
Avianca (78): JFK-BOG: 05/2009
6.41:
American Airlines (58): LHR-BOS: 11/2008
6.39:
Condor (85): SEZ-FRA: 09/2009
6.26:
Jet Blue (21): CUN-JFK: 02/2007
6.06:
Air Canada (04): YYZ-YVR: 09/2006
5.89:
USA 3000 (19): PUJ-BDL: 01/2007
5.85:
Spanair (69): MAD-LPA: 02/2009
5.79:
Air New Zealand (42): RAR-NAN: 10/2007
5.52:
Aerolineas (86): USH-AEP: 10/2009
5.46:
TAP Air Portugal (23): OSL-LIS: 05/2007
5.19:
Air Europa (70): LPA-MAD: 02/2009
5.16:
Iberia (71): MAD-BOS: 02/2009
5.11:
Air China (82): FRA-PEK: 08/2009
ECONOMY: Short
8.56:
Paramount Airways (38): BLR-MAA: 09/2007
8.56:
Kingfisher (64): HYD-CCU: 12/2008
8.24:
Kingfisher (14): IXA-GAU: 10/2006
7.87:
Indian (34): BOM-MAA: 09/2007
7.72:
Alliance Air (13): CCU-IXA: 10/2006
7.57:
Indian Airlines (10): DEL-CCU: 09/2006
7.23:
West Jet (03): YYC-YVR: 09/2006
7.15:
JetLite (37): BOM-GOI: 09/2007
6.70:
Spice Jet (09): CCU-DEL: 09/2006
6.63:
Air Fiji (44): NAN-SUV: 10/2007
6.63:
Jazeera (67): DAM-KWI: 01/2009
6.58:
Air Tran (02): EWR-MDW: 08/2006
6.48:
Air India Express (63): CMB-MAA: 12/2008
6.44:
CO Micronesia (39): ROR-YAP: 10/2007
6.41:
Pacific Sun (43): NAN-SUV: 10/2007
6.37:
Skybus (47): SWF-CMH: 02/2008
6.33:
Kenya Airways (29): NBO-BJM: 08/2007
6.33:
Sky Europe (56): LTN-BTS: 10/2008
6.31:
Indigo (15): GAU-CCU: 10/2006
6.31:
easyJet (57): BUD-LTN: 11/2008
6.22:
Air Link Swazi (28): MTS-JNB: 08/2007
6.22:
Air India (36): HYD-BOM: 09/2007
6.13:
Adam Air (07): SIN-CGK: 09/2006
6.13:
Air Rarotonga (41): RAR-AIT: 10/2007
6.00:
Transairways (27): INH-MPM: 08/2007
5.95:
Air Canada (05): ALB-YYZ: 09/2006
5.85:
SAS Norge (22): OSL-AES: 05/2007
5.81:
LAM Mozambique (26): JNB-MPM: 08/2007
5.69:
Air Deccan (12): IXZ-CCU: 10/2006
5.67:
Rwanda Air Exp (30): KGL-NBO: 08/2007
5.37:
Felix Airways (92): SCT-SAH: 12/2009
5.11:
Aero Republica (76): BOG-CCS: 04/2009
5.07:
Go Air (35): MAA-HYD: 09/2007
5.00:
Sky Airline (51): IQQ-SCL: 06/2008
4.96:
Valuair (08): CGK-SIN: 09/2006
4.78:
Air Comet Chile (50): SCL-IQQ: 06/2008
4.74:
Fly 540 (31): MYD-LAU: 08/2007
4.33:
Viva Aerobus (20): ELP-MTY: 02/2007
4.11:
Air Sahara (11): CCU-BOM: 09/2006
(Note on Codes: Y – Economy, J – Business, F – First :: I/D – International/Domestic :: SR/MR/LR – Short/Medium/Long Haul)
(Note on Date: Dates are modified to be +/- 3 days from actual flight date to not reveal actual flight pattern)
VII> Other Pictures:
(No Amenity kit]