Introduction
On the first day of June 2010 airBaltic officially opened their new base in Tallinn. Surprisingly, they only launched one new route ex-TLL on the day, to ARN (and so far no new routes have been announced) - but I guess the existing routes will be moved over to TLL-based planes and crews. Anyway the plane flying the ARN route will actually do a roundtrip flight to OUL before returning back to TLL, so they also launched another new route, ARN-OUL on the very same day. This is a route Blue1 flew for a couple of years but then withdrew from - even AY tried to operate the route for a while with not much success, though.
I wasn't really sure whether I could make the inaugural flight or not, but since fate dealt me some unexpected airBaltic DBC vouchers I decided to go for it and booked it, together with a very early morning connection via RIX to ARN for around 120 EUR all on one ticket. To get back from Oulu I had some difficulties finding a suitably priced flight - all the decent prices were on late evening flights - I had some stuff to attend to early evening so went for the train, almost a six hour journey even with the high speed Pendolino train. I got one of the recently introduced early booker specials with a 20% discount but no refunds or changes for a train leaving a bit over an hour from my arrival in Oulu, which I assumed was enough time to get to the train station - in a worst case scenario I could always take a taxi. Little did I know, though...
1.6.2010
BT seems to keep making this early morning flight ever earlier - in the beginning it had a 5.25 departure, then it was 5.15 for a while and now it departs already at 5.10, which is just brutal. So I wake up in the wee hours after far too little sleep and somehow make my way to the bus to get to T1 at 4.25. There is a surprising number of people already here, with some early morning charter departures whose check in is yet to open. I use the self service machine, once again it works only halfway - I get a boarding pass for all the segments but it doesn't let me choose my seat for the first flight and completely ignores my seat selections for the next two flights, instead giving me some random seats... oh well, I'm too tired to care right now, I'll deal with it later.
Zombielike I wander through security to the gate and actually nod off for a while there before the bus boarding is announced around 20 minutes before departure. Short ride to the main apron where we stop next to the expected Fokker, YL-BAR this time, for my fifth flight with her. Next to us is YL-BAE, the first BT Dash-8 which I just flew last week - it will operate the next flight to RIX almost four hours later.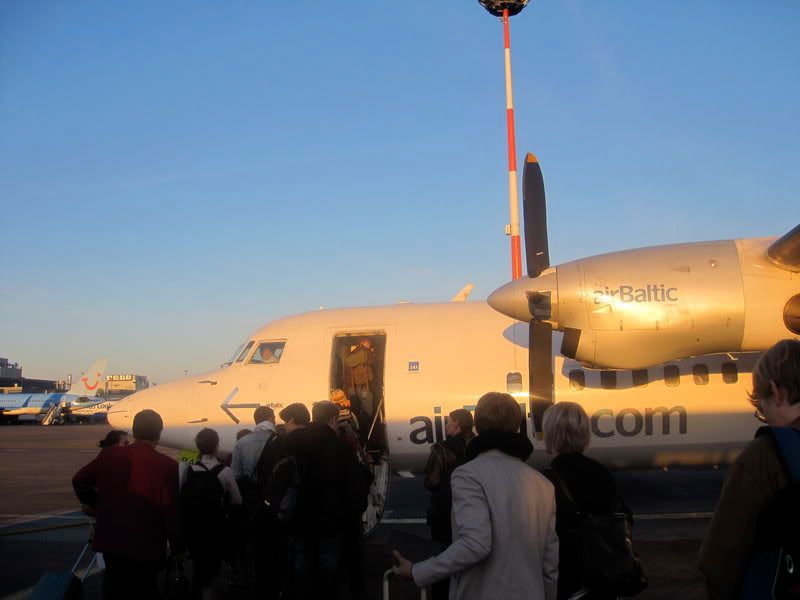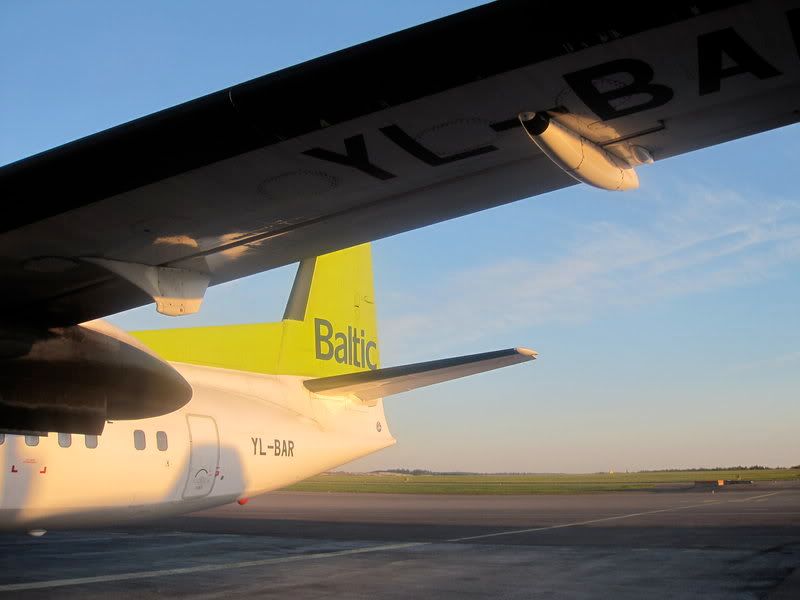 HEL-RIX
BT330
Fokker 50 YL-BAR
Seat 12D
5.08 - 6.16
I got some aisle seat assigned by the machine, 14B I think, but 12CD are completely empty so I snatch the window seat 12D instead. Load is surprisingly good at over 70% - when this early morning flight began the loads were very light, I flew one flight with just four pax onboard, but looks like it's getting much better.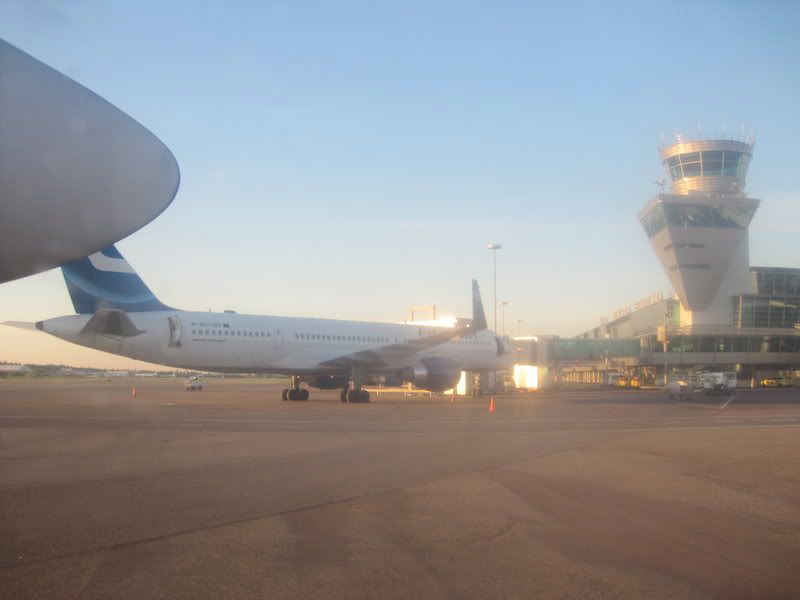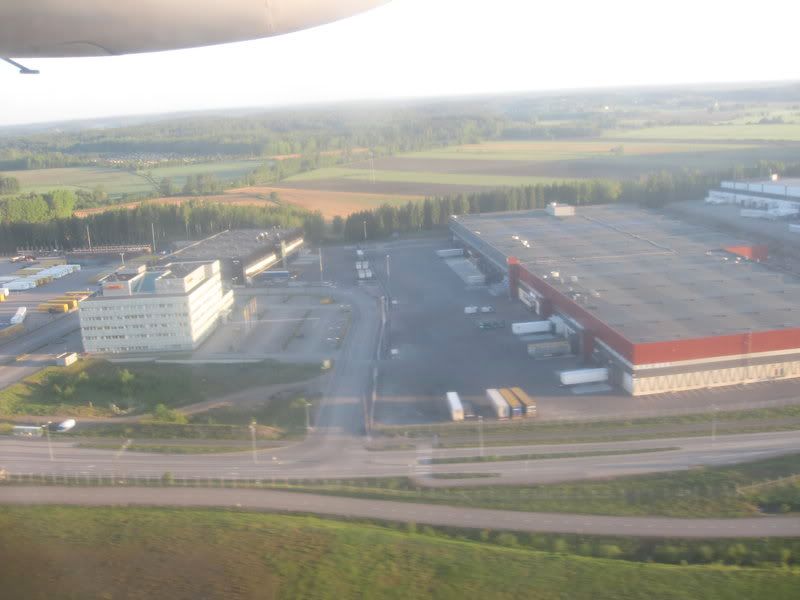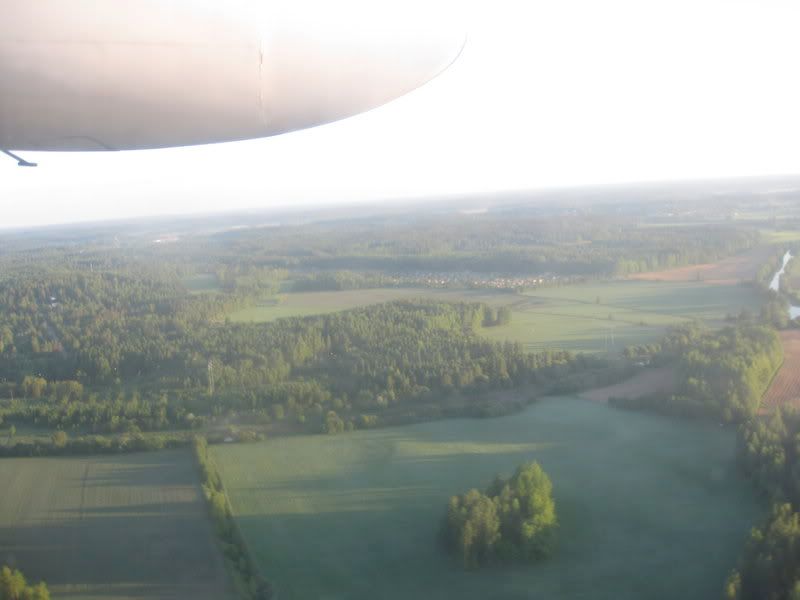 Departure is 2 minutes before schedule with take off from 22R. Right after getting airborne I drift off into sort of light slumber - I am aware of things happening around me but don't really care at all.
When starting our descent a good number of connecting gates are announced, at least to CPH, ARN, VNO, TXL and HAM - I make a note of my gate.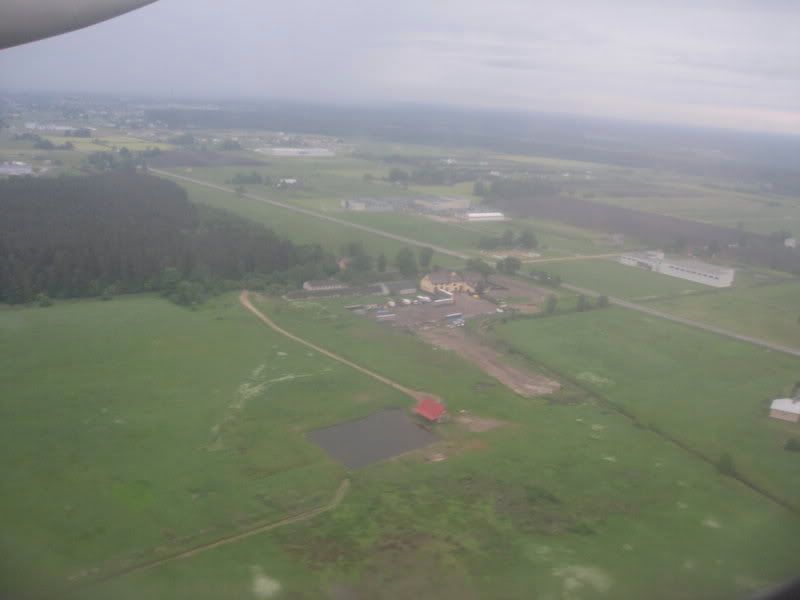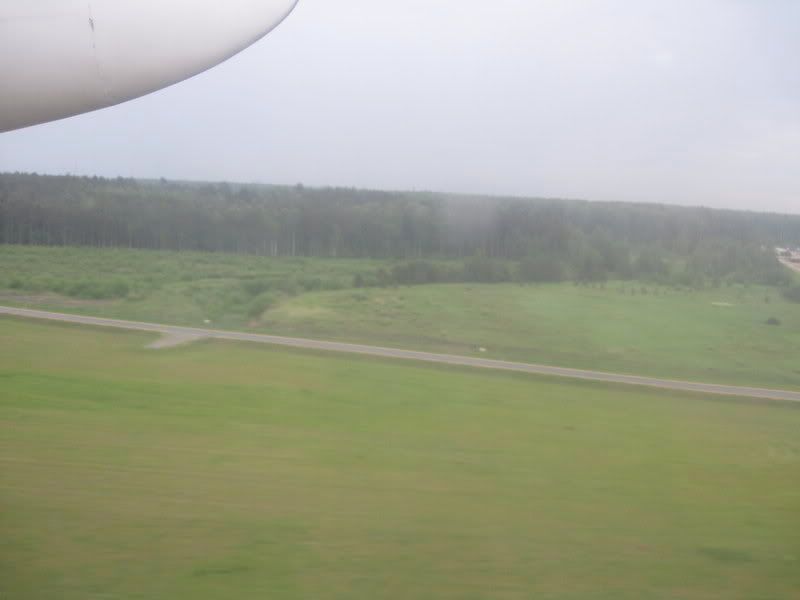 Landing in rather wet and gloomy RIX is on runway 36 roughly an hour after take off. While taxiing to the north apron I see something very interesting parked on the gate B7 assigned for my next flight: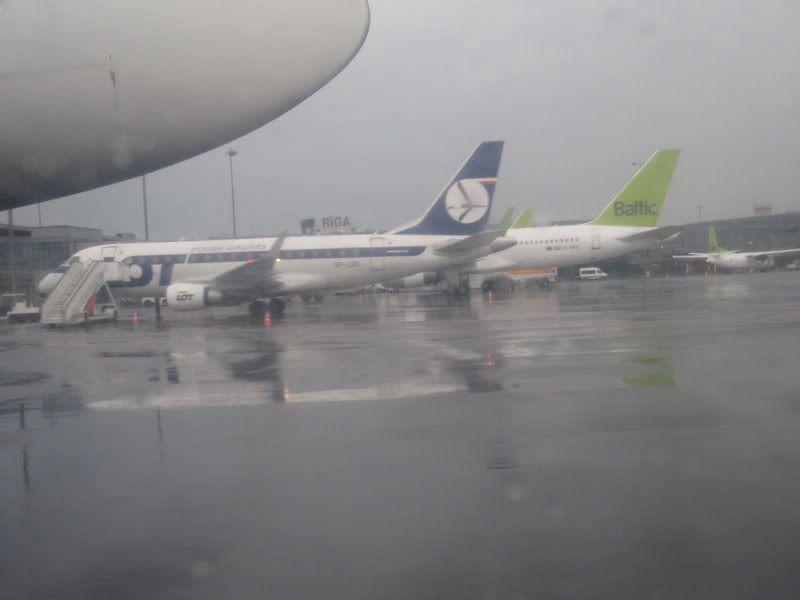 Yep, YL-BDB, the 757 I flew some weeks ago again! Looks like BT has been playing musical chairs with the equipment again, not that I complain of course. In all honesty it wasn't a complete surprise - when I booked the flight it was a 735 but some days prior some (but not all) booking engines showed a 757 and the seat map on the check in machine this morning was also for a 757.
Visitor from Ukraine: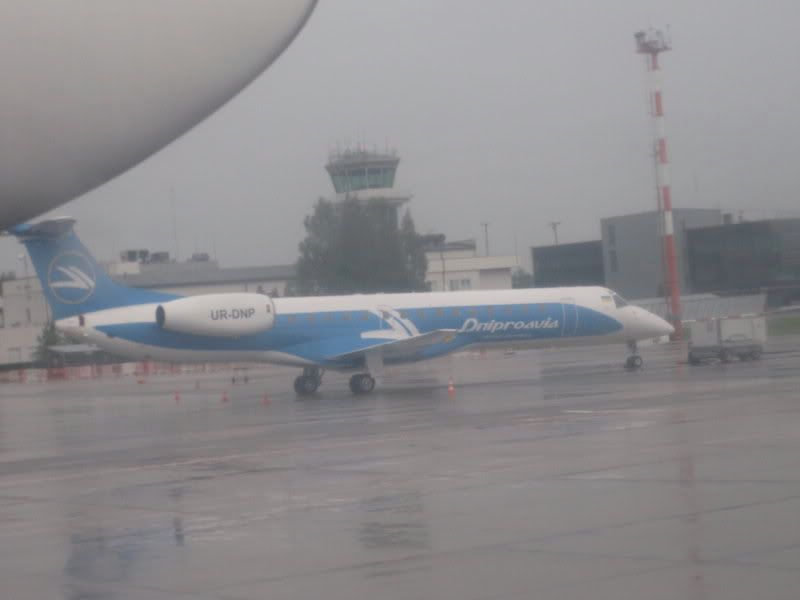 Riga Airport - very briefly
From the bus to the terminal I see people already walking down the glass jetway to the 757, so boarding has already commenced. By the time I'm walking to the gate they make an announcement about all the remaining passengers to hurry aboard, so I do. Complete transfer time from stepping to the bus to stepping aboard the next plane: around 10 minutes, time spent inside the terminal: less than five minutes. How about that?
RIX-ARN
BT101
B757-200 YL-BDB
Seat 22A
6.48 - 6.44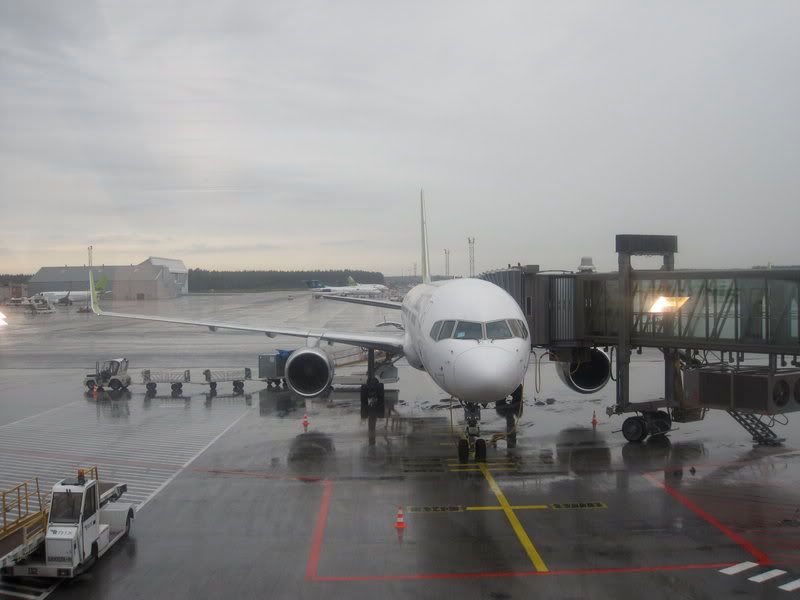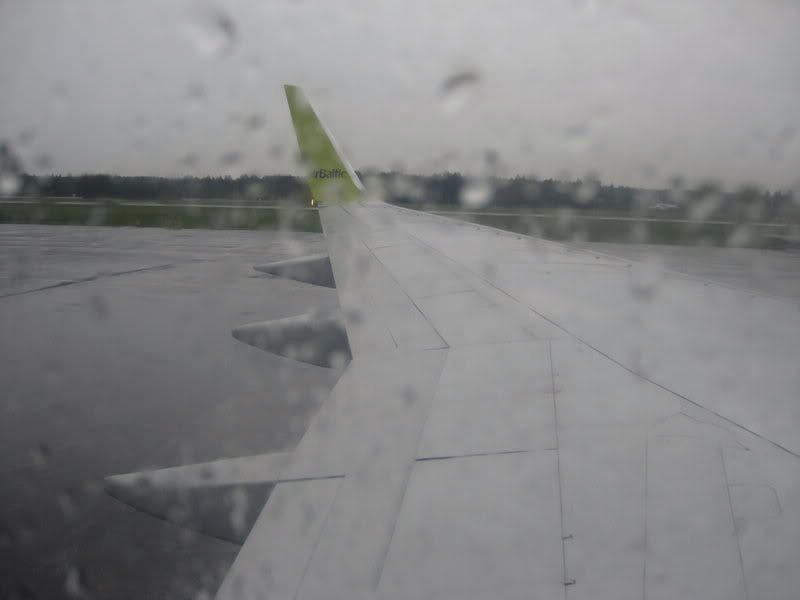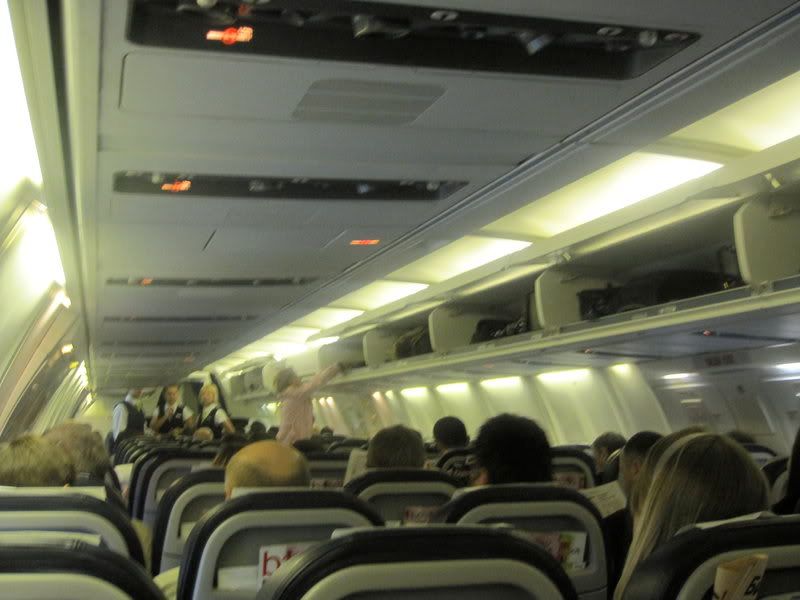 Luckily the machine at HEL assigned me a window seat for this flight as well as the load is quite decent with most window and aisle seats taken, but lots of vacant middle seats. I think the load is around 60% or so. We still wait for a few connecting passengers, boarding is completed at 6.40, five minutes before the scheduled departure time. Push back is three minutes late, followed by a fast taxi to runway 36. I recognize the captain as the same that was on my previous flight with this plane - he has a very distinct accent to his English and includes much more details than BT captains usually do.
That white BBJ on the right is in US register with an American flag on the tail - I think it brought some visitors to the ongoing NATO summit here: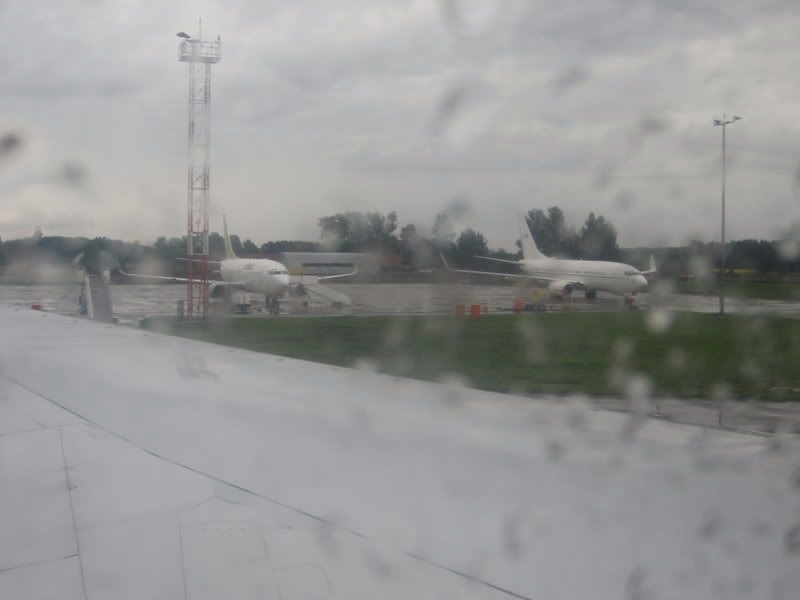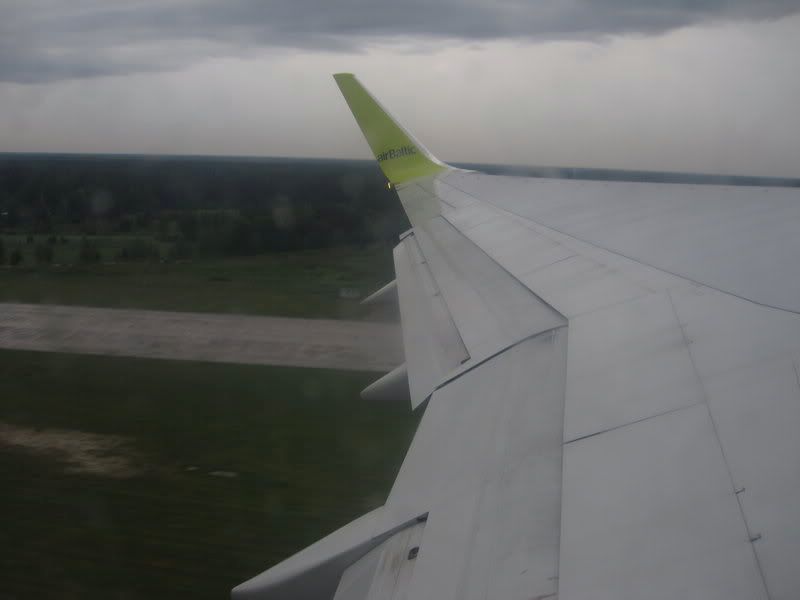 Take off is another very powerful 757 one for this short hop. Right after crossing over to the Gulf of Riga we turn left towards Sweden and disappear into the clouds.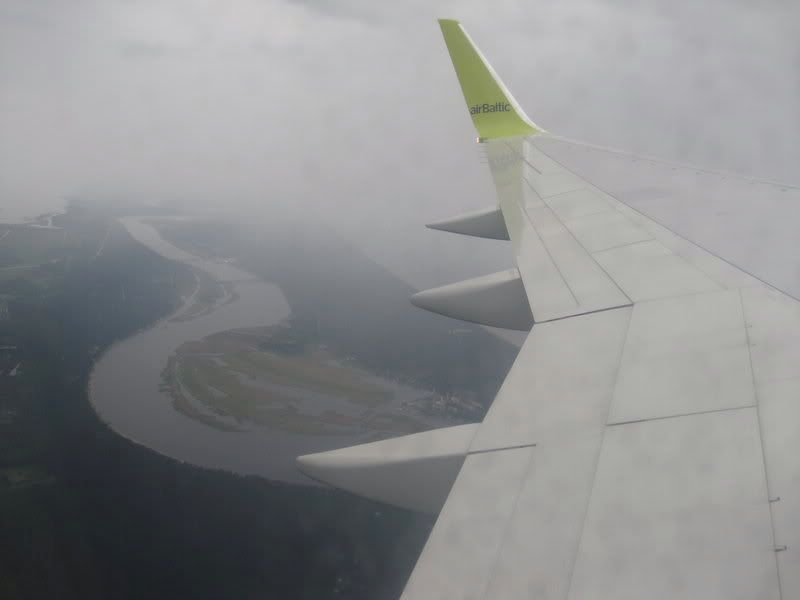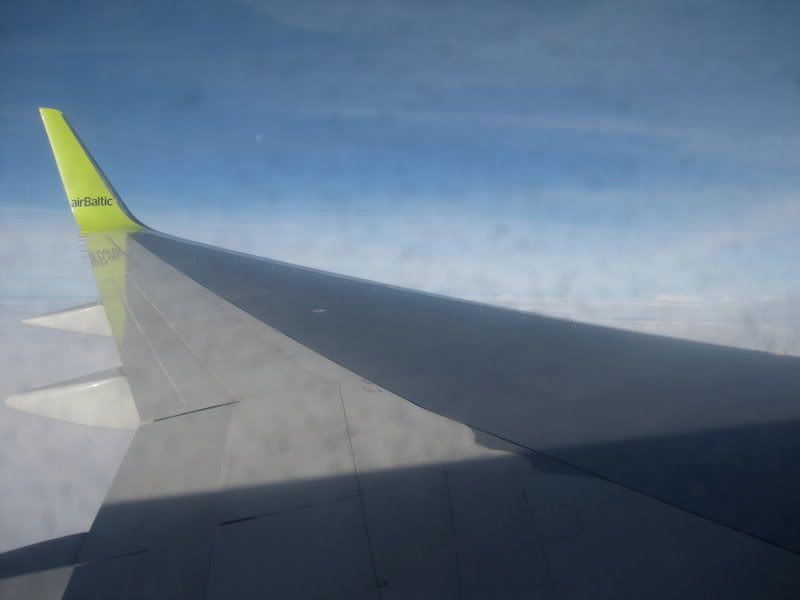 This is a very quick flight, around 25 minutes after take off we start descending again, and soon the captain announces landing in about 20 minutes. The Stockholm archipelago comes into view: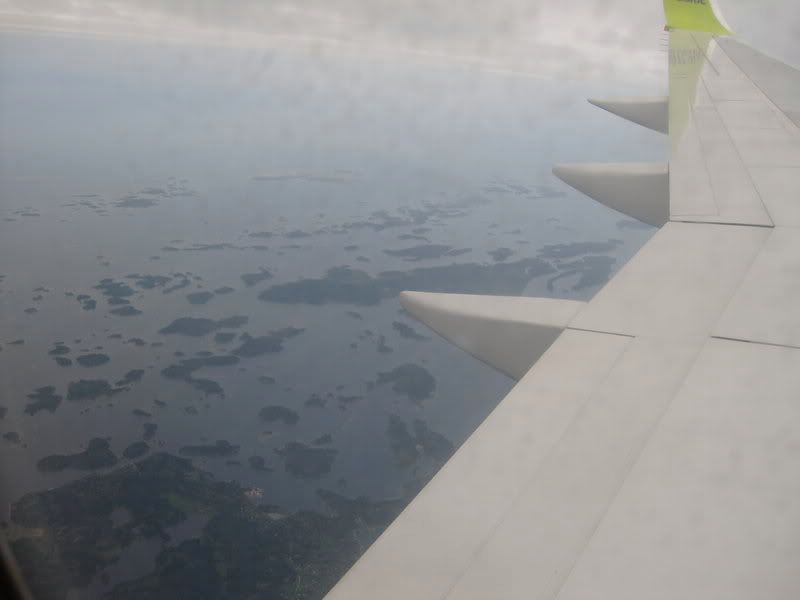 Followed by Stockholm city: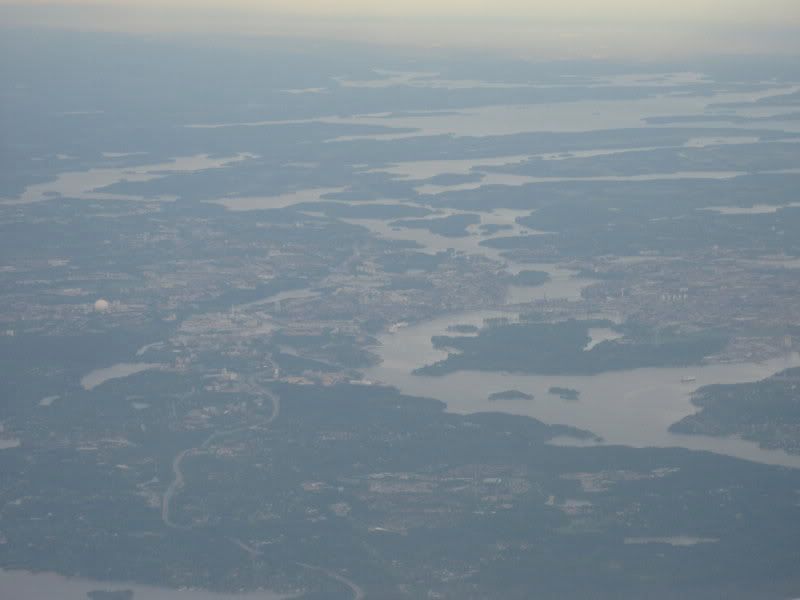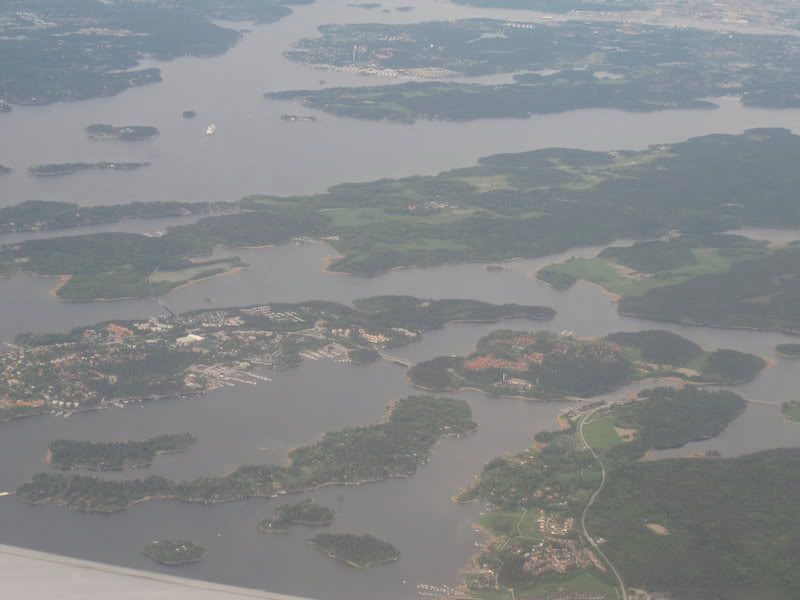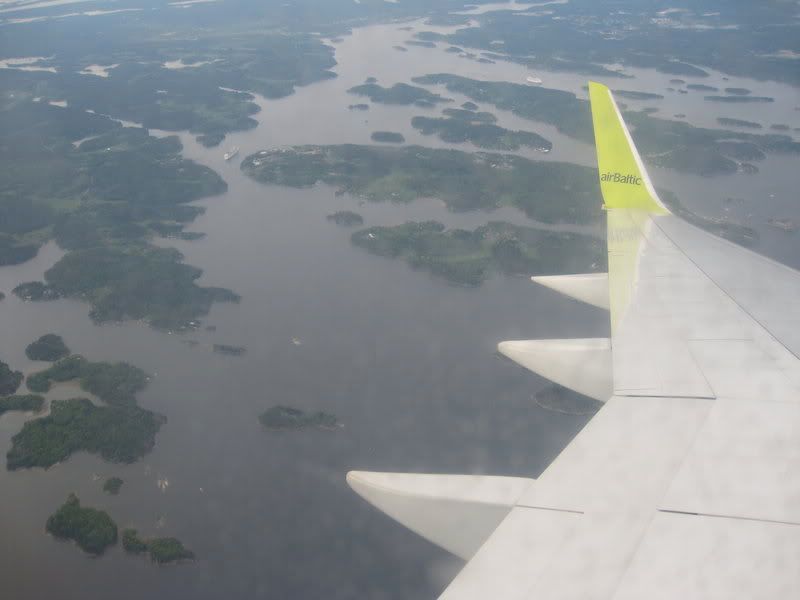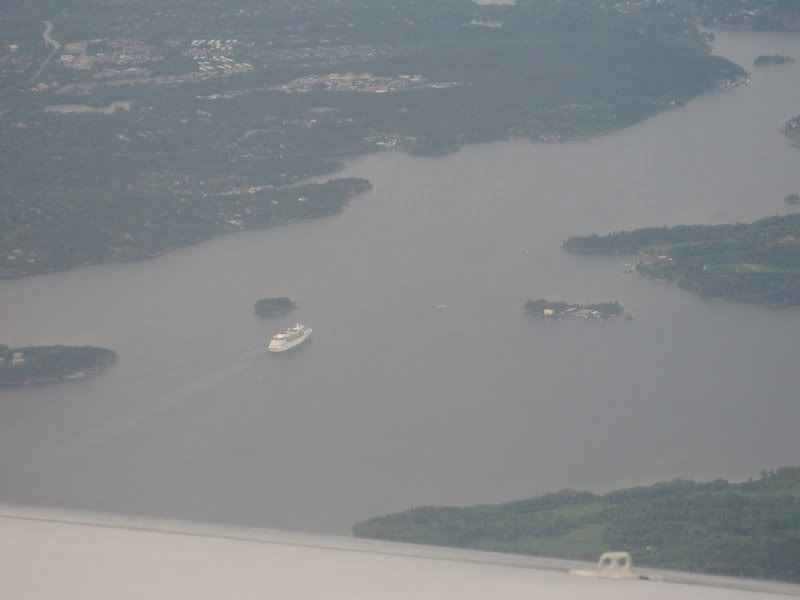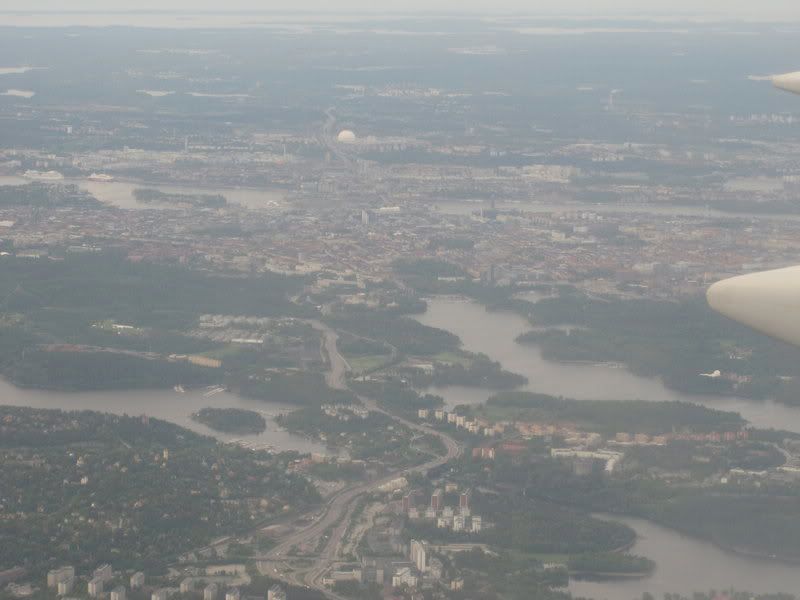 Bromma Airport (BMA):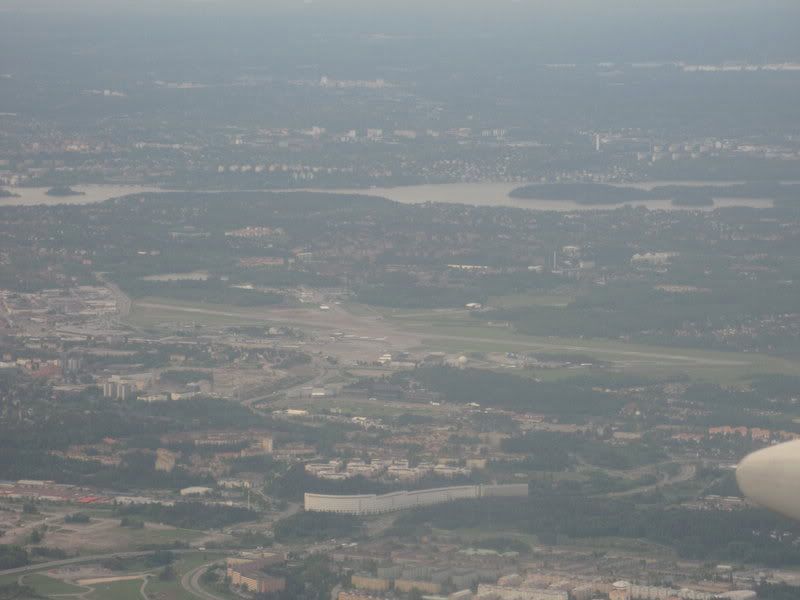 We turn northwards to line up with the 01 runways.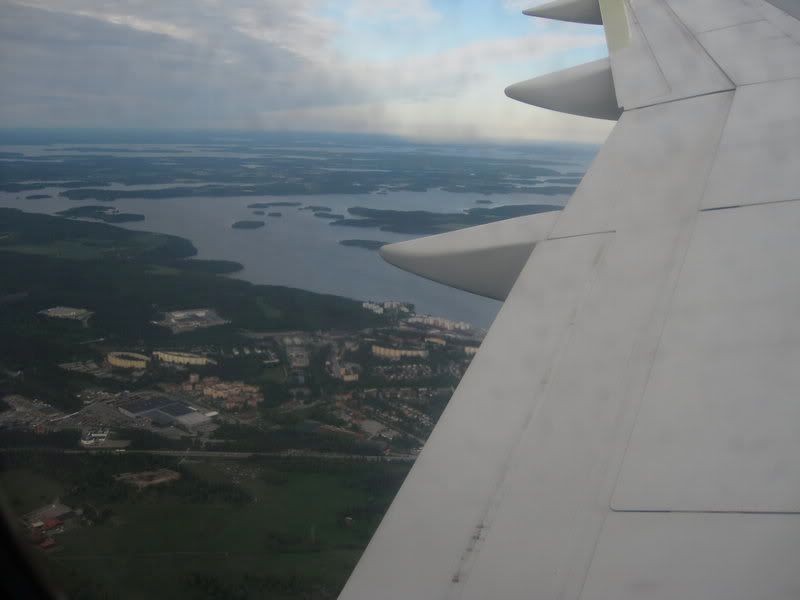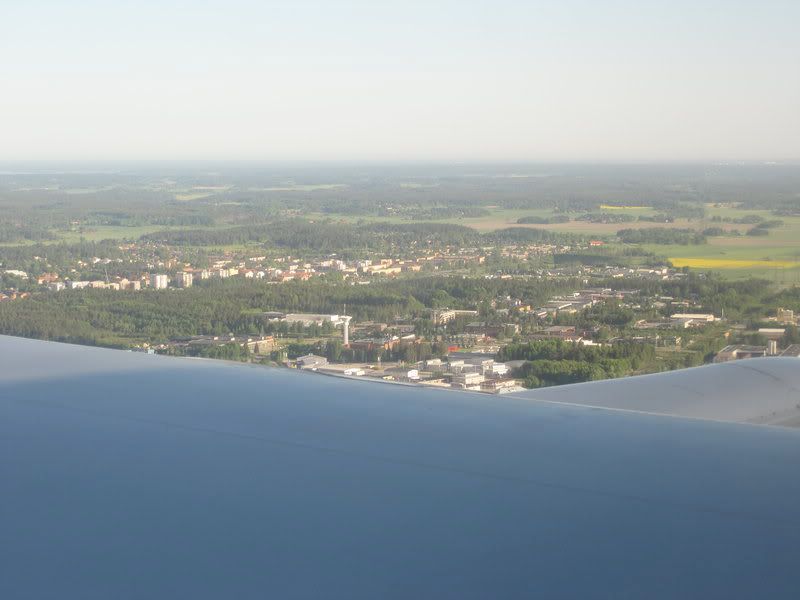 Chasing our shadow: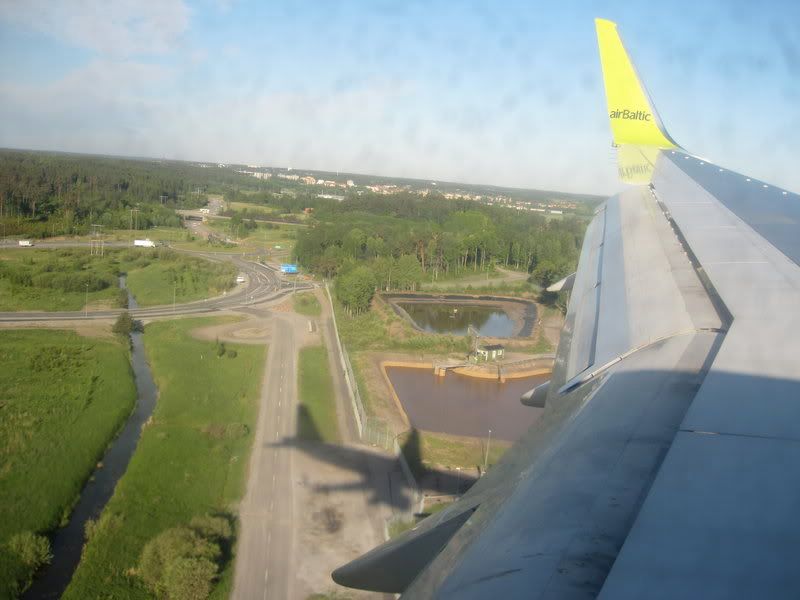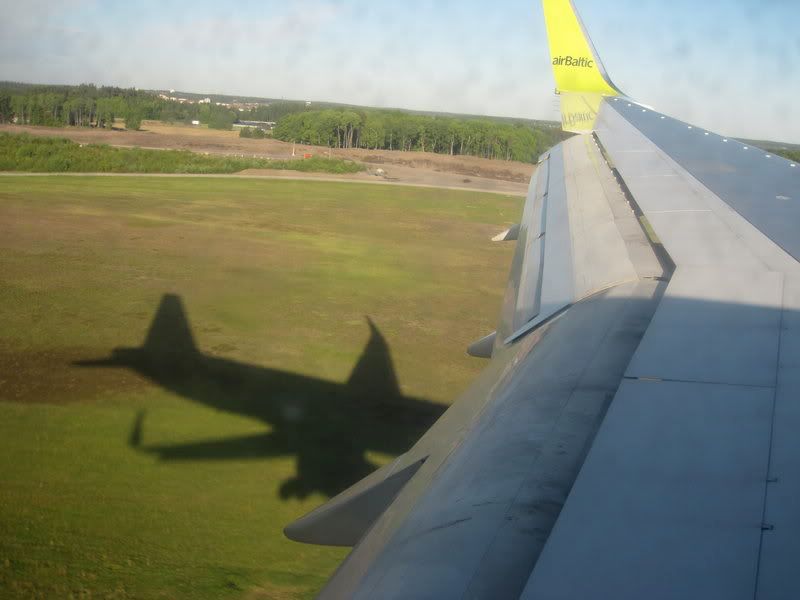 Right on short finals there are very loud beeps from multiple incoming SMSs from somewhere, it turns out that it is the older guy sitting on the other side of the aisle from my block - at least one of the stewards definitely notices this but doesn't say or do anything. The guy does something with his mobile but I'm quite certain he just silenced it instead of switching it off...
Heavy breaking: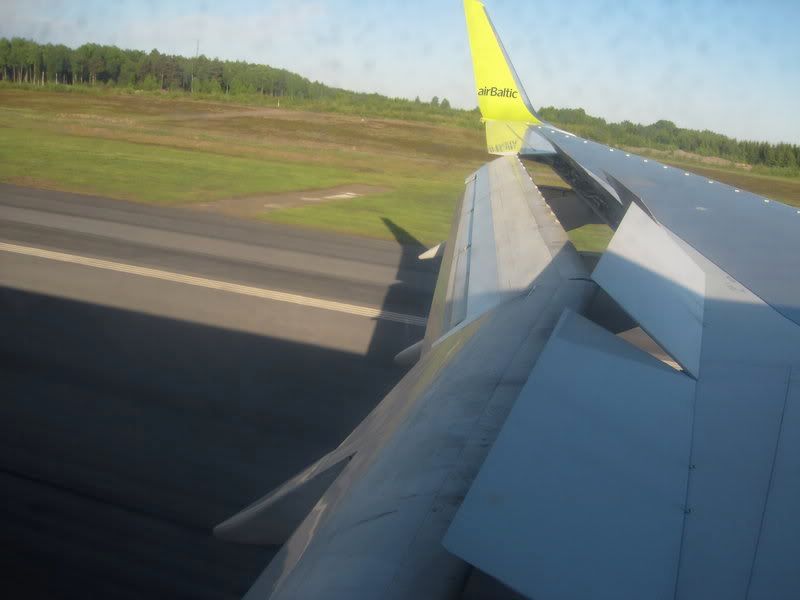 Landing is on runway 01L after around 50 minutes of flight and a few minutes later we dock to gate 6A in T5.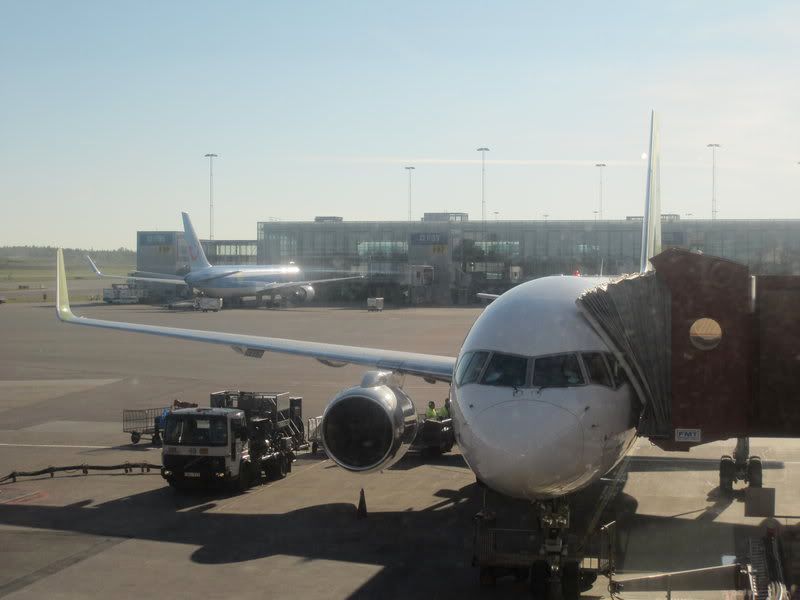 Stockholm Arlanda Airport
Conveniently the OUL flight is scheduled to depart from gate 6B, sharing the same jetway as this. Even more conveniently this is right across Starbucks so I head there for something to eat and drink while watching the beautiful morning outside and of course some planes as well.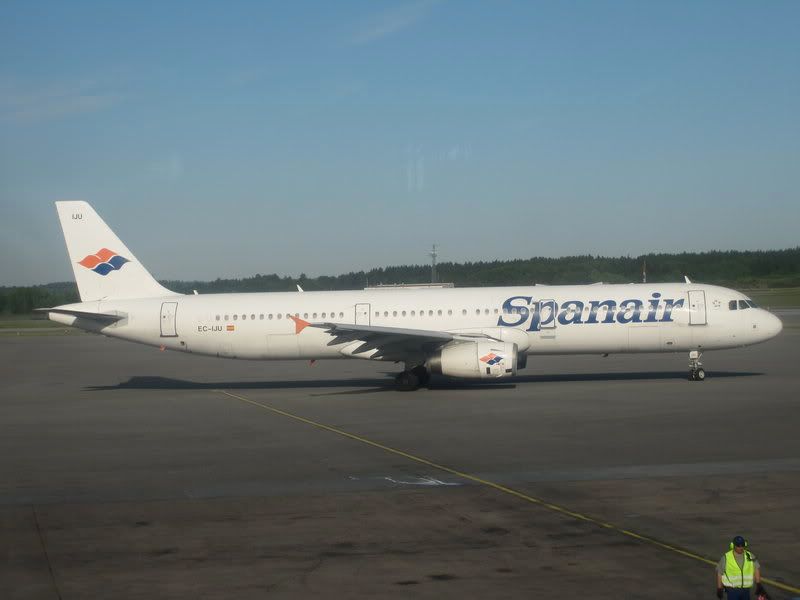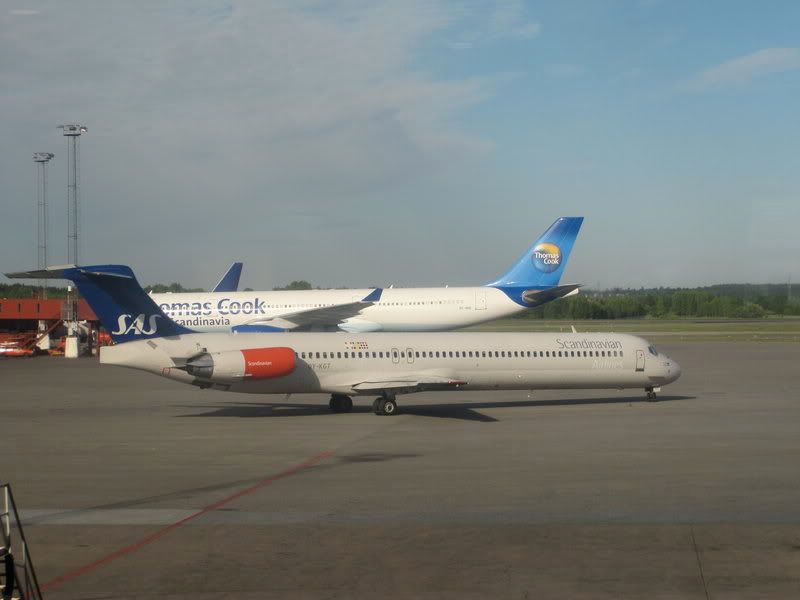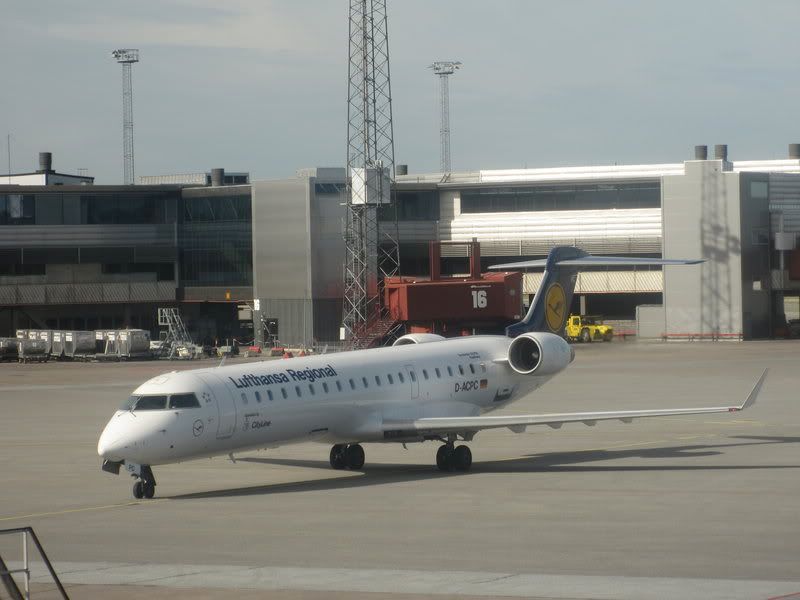 A JZ F50 taking off: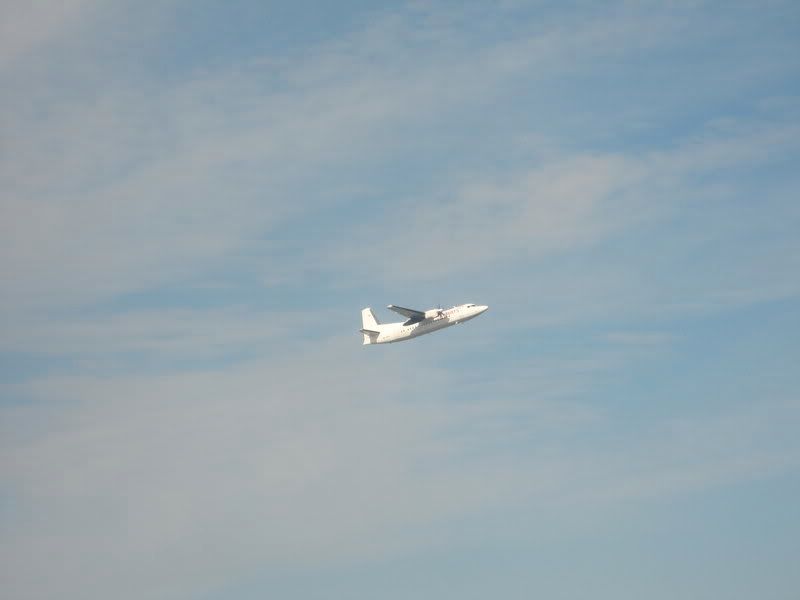 Well, at some point I hear (or more like see him standing and speaking to the microphone) the gate agent making an announcement and the gate display changes to a KF flight to TMP - I sense something is amiss here, finish my latte and head to check the monitors. Oh dear:
The expected 1h40mins delay means that I will miss my train and loose the money I paid for the ticket. I'm not very happy by this and head to the SAS Service Center (they handle BT here) to ask for any options. I explain to the agent that because of the delay there's no reason for me to go to OUL anymore and ask her whether I could just be booked straight back to HEL - KF has a convenient MD-90 flight leaving within an hour. Well, she makes some lengthy phonecalls and in the end the conclusion is that theoretically I could be rebooked but only on airBaltic operated flights and the next one to RIX and then onwards to HEL is only at two in the afternoon, six and half hours away. If I want to get rebooked on KF or SK I should call their call centre myself - I'd rather not!
Oh well, I thank her and decide to try my plan B which I came up with while waiting. I find somewhere to sit and get my work laptop out (yeah, I had planned to work my way through the train journey), purchase some internet access time (come on, Wifi should nowadays be free on all airports!!) and log to the Finnair site to check award ticket availability. As expected on a domestic flight there's plenty, so I select the 14.10 OUL-HEL flight and book it - knowing that if things get really hairy I can always change it for a later flight for free or even cancel it for a penalty. I try to keep a suitable stash of AY frequent flyer points handy for emergencies like this and it paid off, yay!
I log on to the Tallinn airport's website to check when the inbound flight will depart - it has been scheduled to depart around 9.00 local time, meaning that it should arrive 9.00 local time here at ARN. The original scheduled departure time from TLL was 7.00... Well, a bit later I check again and the flight actually departed around 8.45, "only" 1h45mins late, so it looks like the new departure time of 9.20 for my OUL flight is quite realistic. The gate got changed to 5B opposite the original gate. Finally at 8.50 the plane arrives, YL-BAS this time - my sixth flight on this one.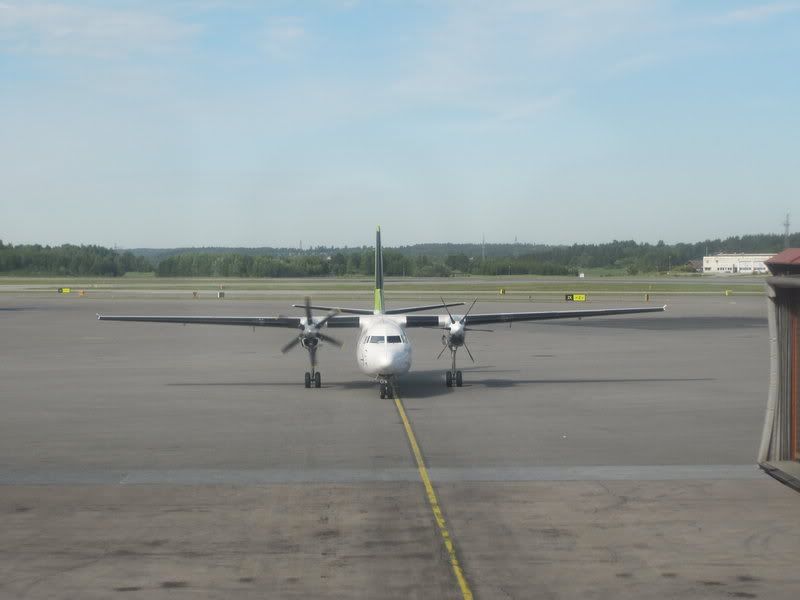 I count exactly ten people deboarding from the Tallinn flight, not great but it was another inaugural flight so not too bad I guess. Boarding is called twenty minutes later, the delay is explained with a technical problem, "But all is resolved now!" is added as a consolation. On the desk I spot a number of new boarding passes including one with my name on it so when my turn comes I point at that and say "That's me". I also ask where's the celebration, champagne and cake but the agent comments something unintelligible - so much for the inaugural flight, bugger.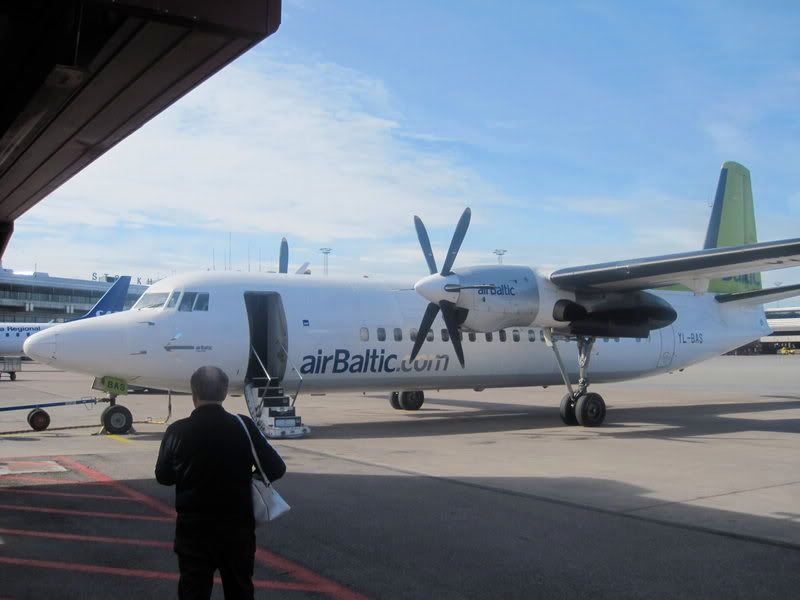 ARN-OUL
BT511
Fokker 50 YL-BAS
Seat 6D
9.22 - 12.00
My new boarding pass has 8B on it, I sit down there for a while but after all the passengers have boarded (8 in economy and 1 in business) I switch to 6D instead - I want a window and on the right hand side for the views of the Finnish coastline. Too bad the ground views are very limited by the engine pod.
No mention is made about the inaugural nature of this flight - just the regular BT announcements, including an estimated flight time of 1h45mins. Departure is finally 1h42mins late, with take off from runway 08 towards Finland.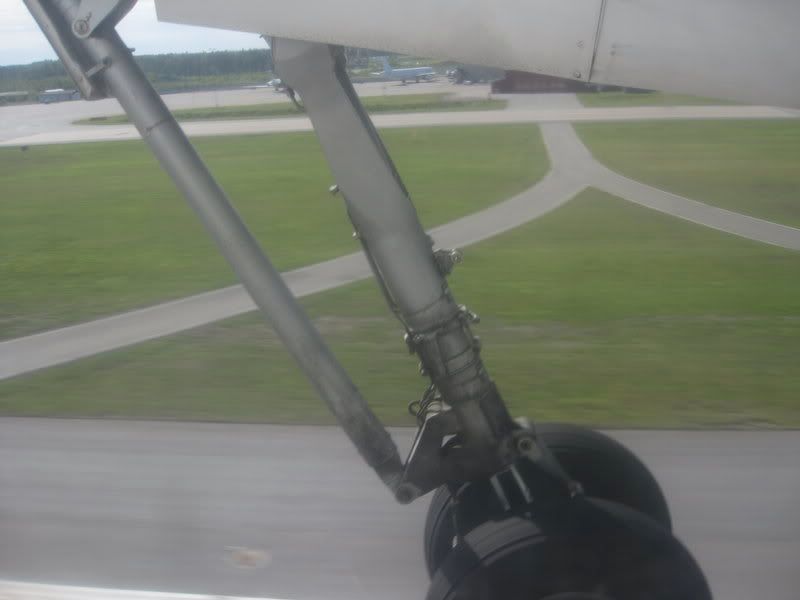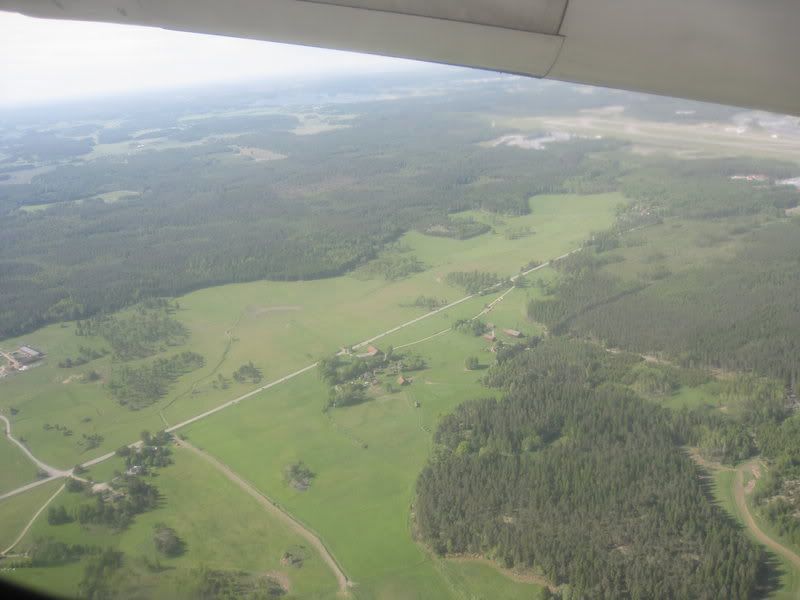 It is a very pretty day with no clouds and great views.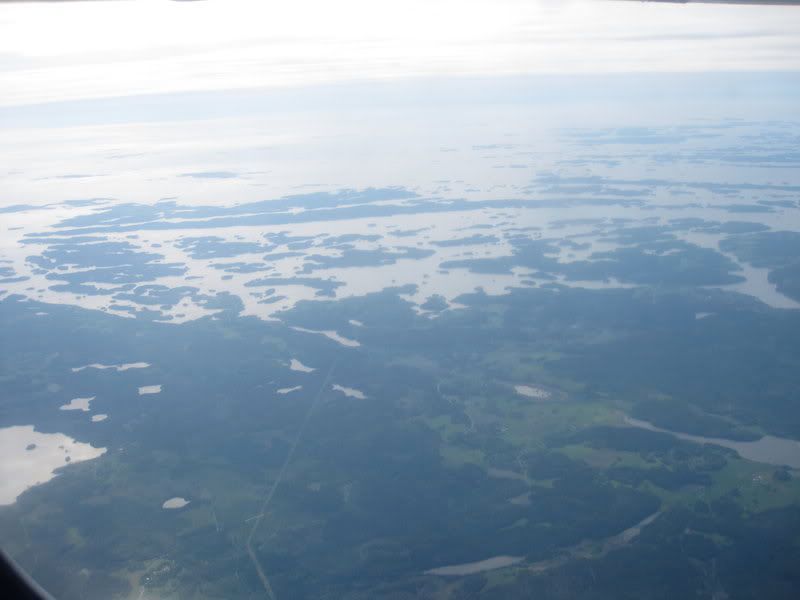 Norrtälje airfield: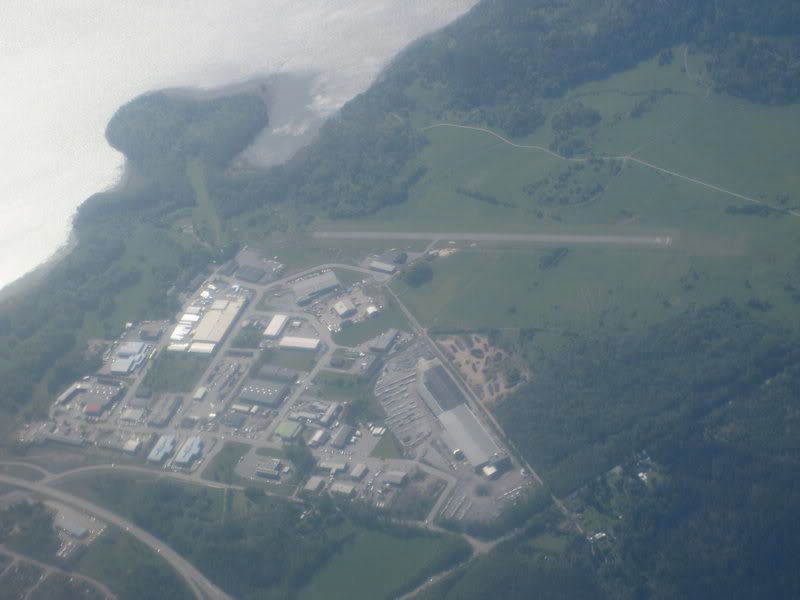 Bye Sweden, see you in a few days: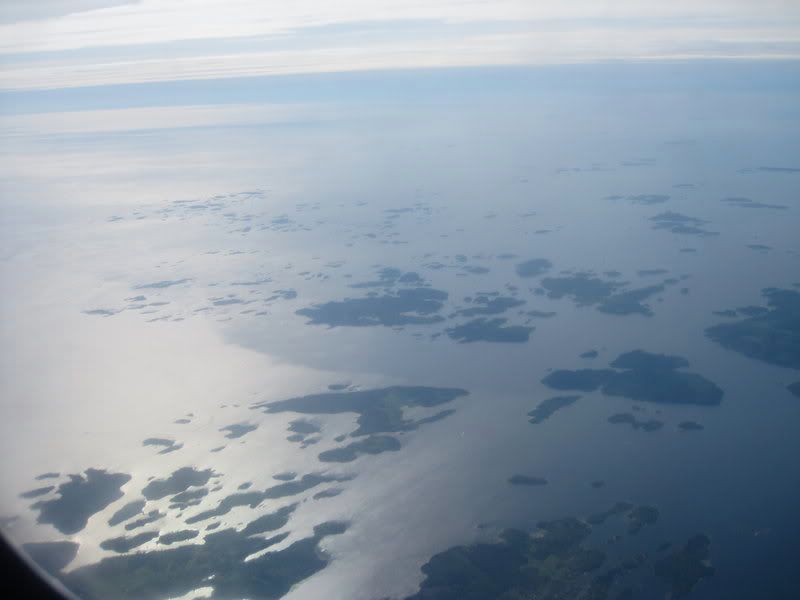 Another ferry: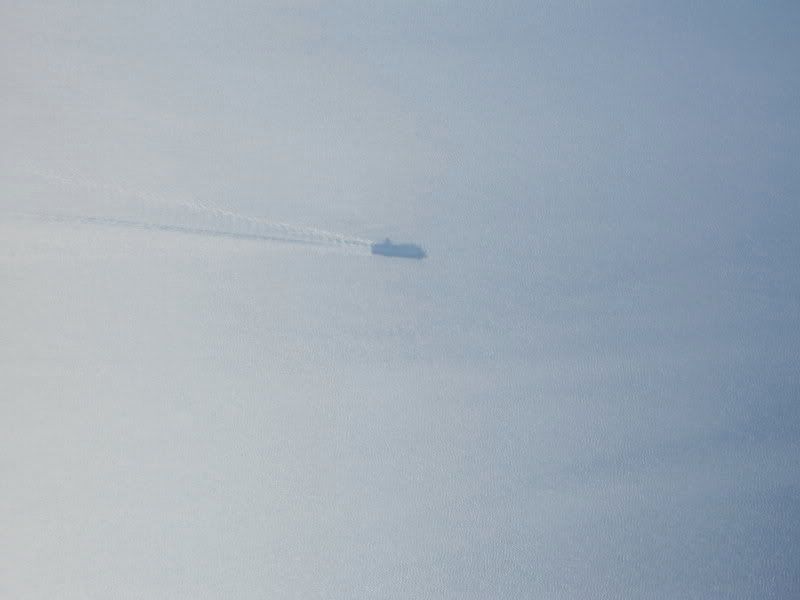 The route takes us first eastbound towards the Åland Islands: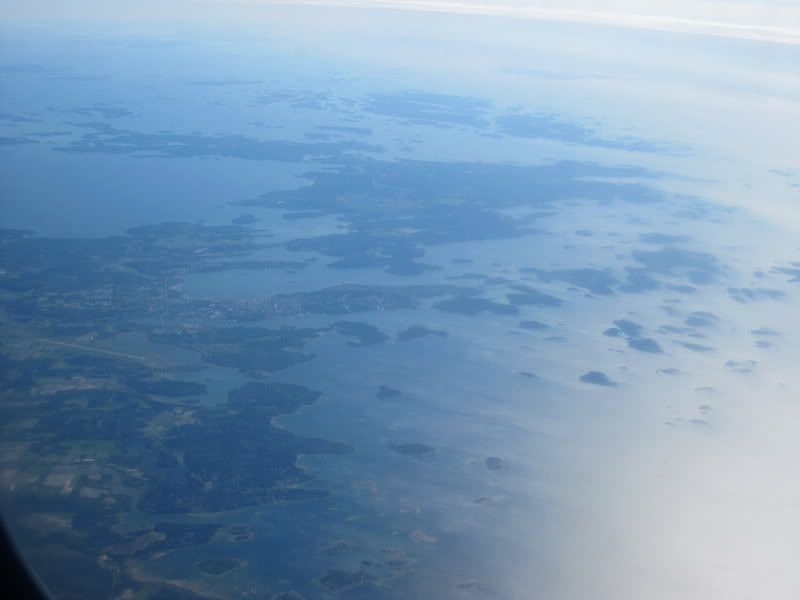 Just after reaching the islands we turn left towards the northeast for some great views of this special place. The capital Mariehamn with MHQ airport in the foreground: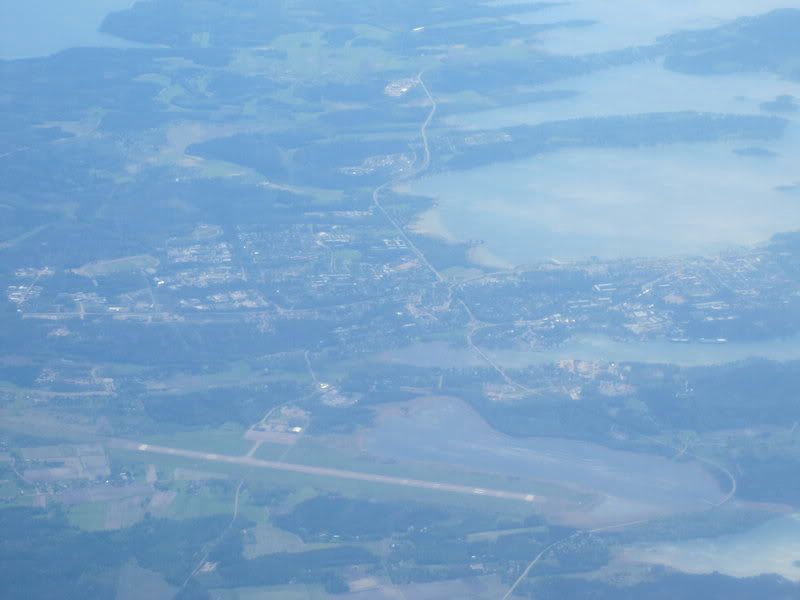 The Färjsund bridge:
The northern coast of the islands is much more rugged: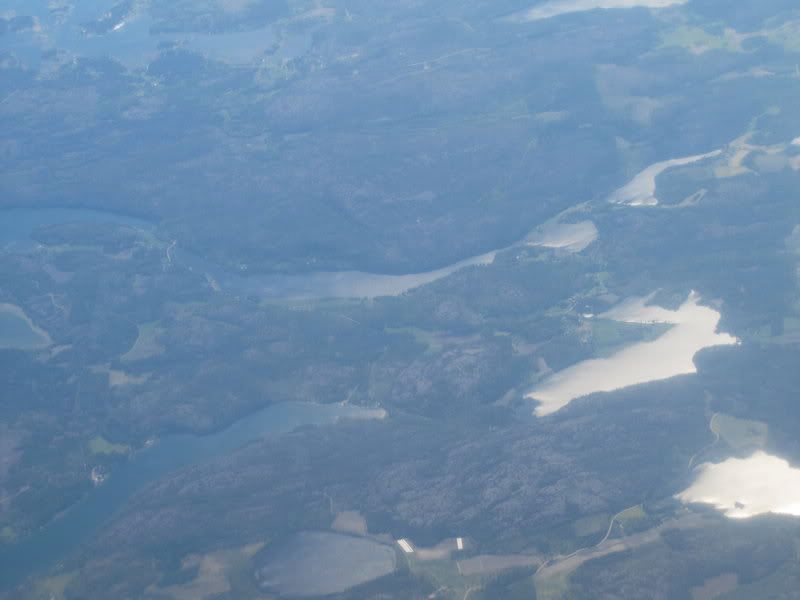 After the islands we fly along the Finnish coastline for a while: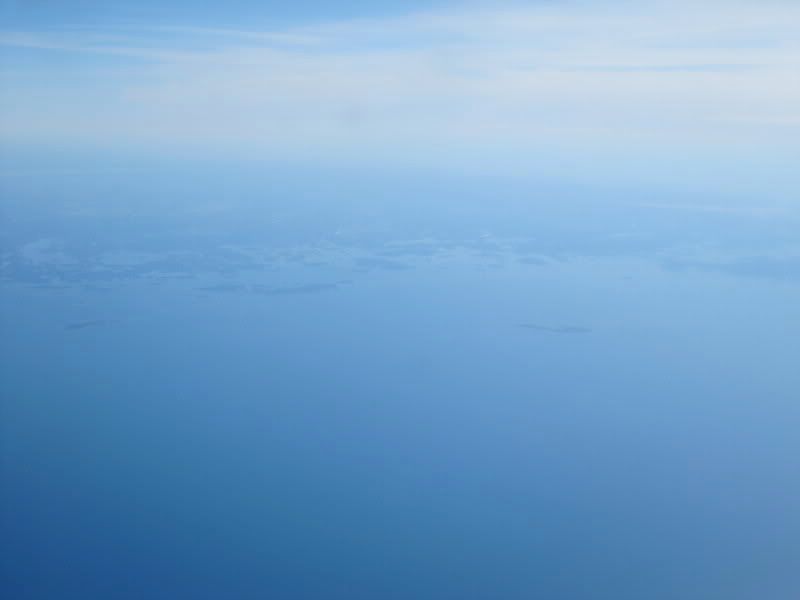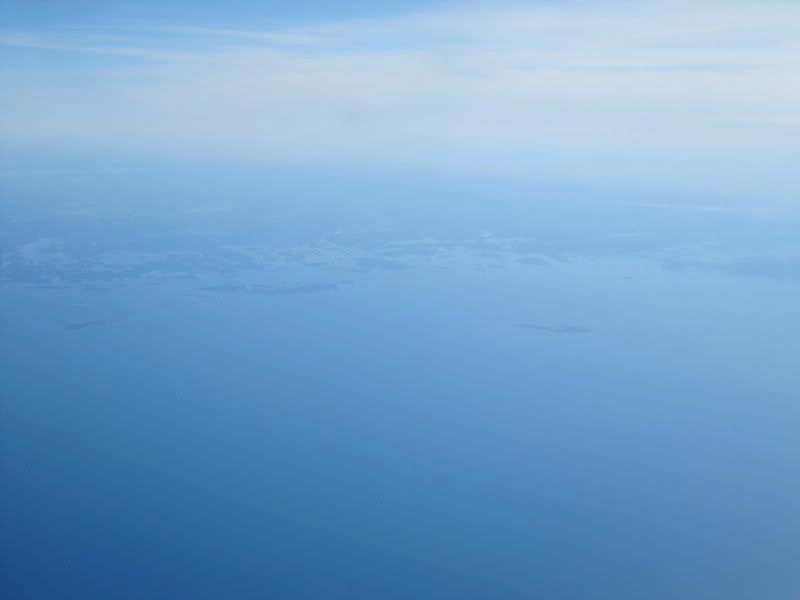 The city of Pori and POR airport just barely visible on the right: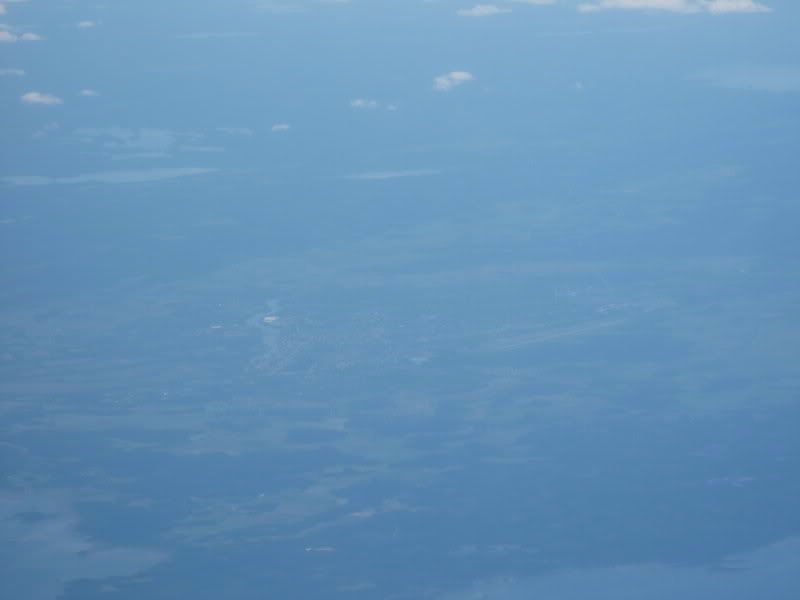 Sandy beaches of Yyteri with the port of Mäntyluoto at the end of the peninsula: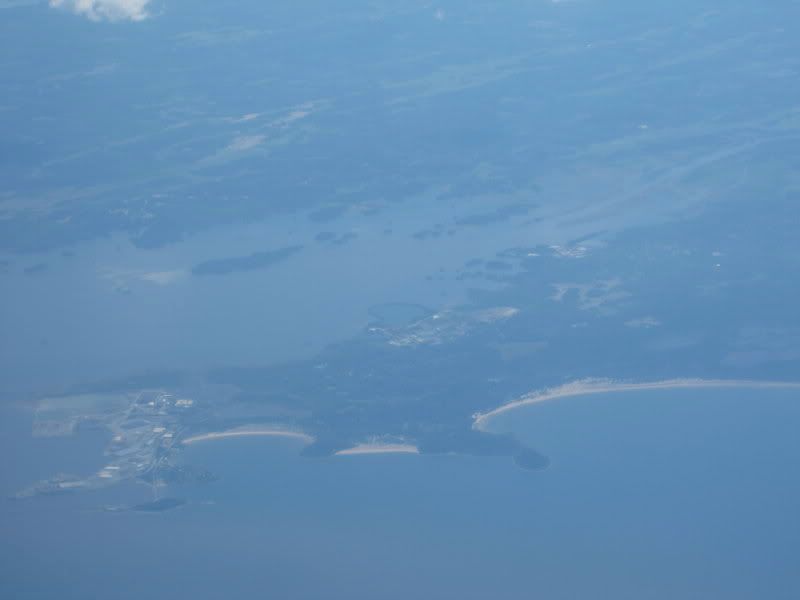 A bit north of Pori we make landfall. SJY airport: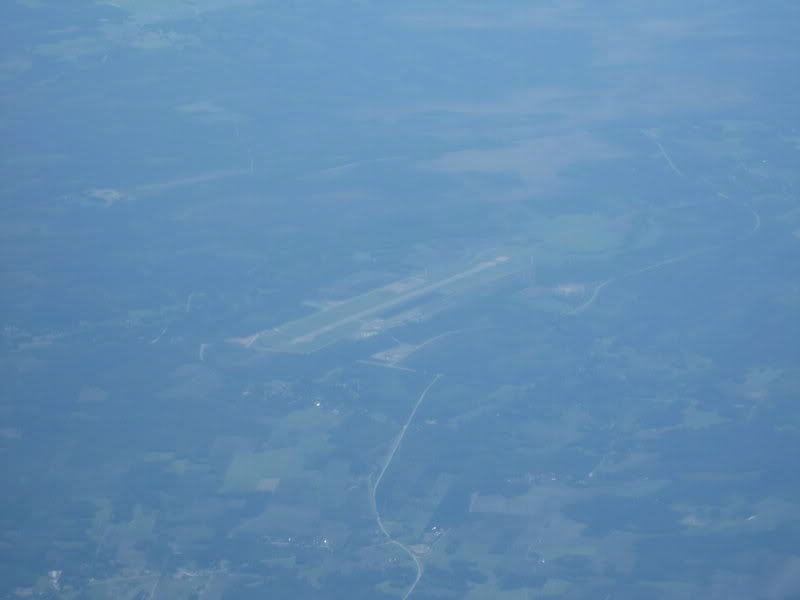 And he city of Seinäjoki it serves: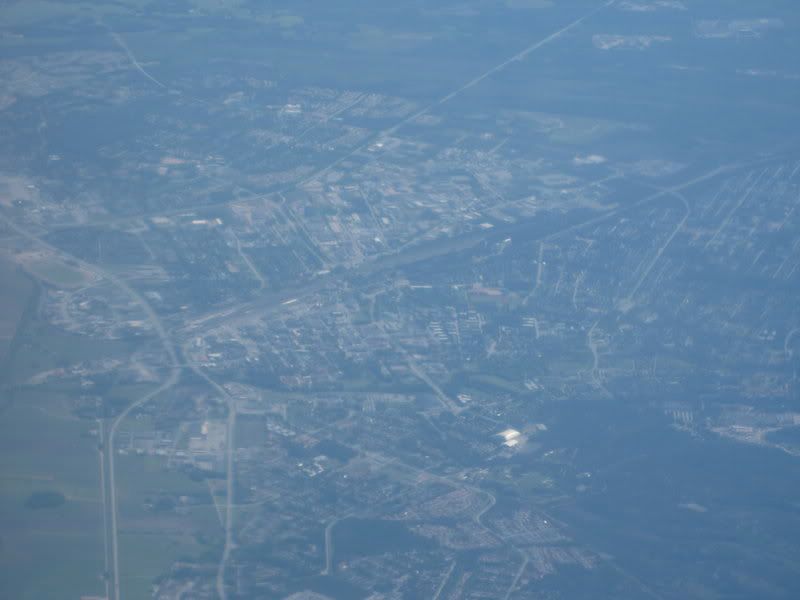 I head to the left hand side for a shot of the city of Vaasa and the Gulf of Bothnia, the VAA airport is visible in the foreground: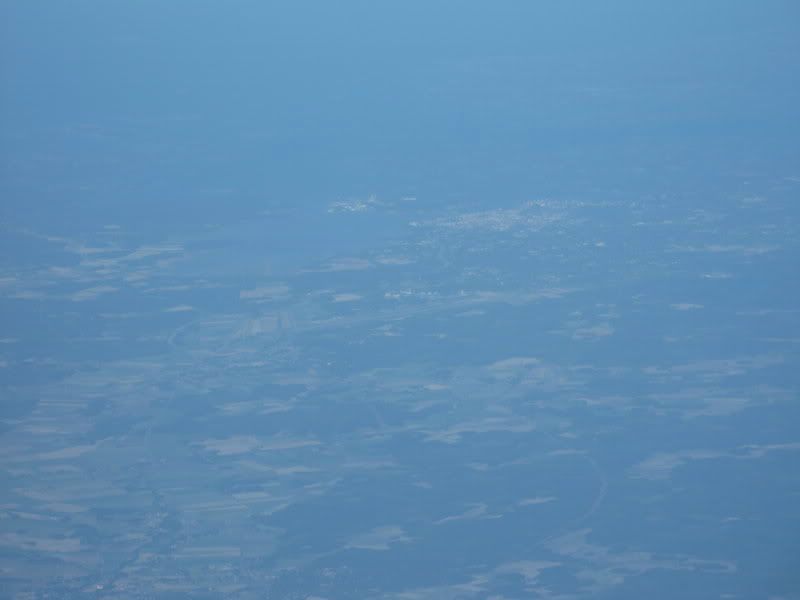 Ylivieska airfield - if Ryanair would start flying here they could call it "Oulu South":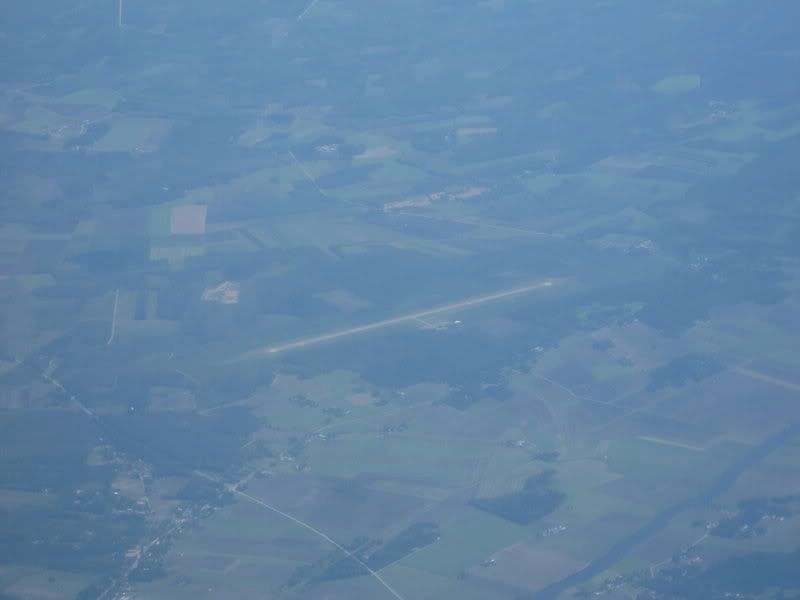 The town of Ylivieska: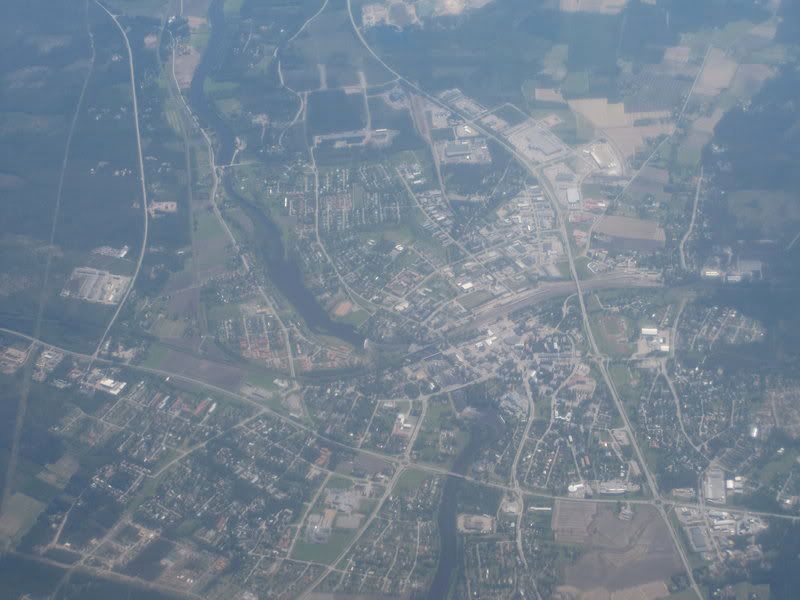 At some point the Estonian captain makes a short announcement, repeating the technical nature of the delay and not much else. The first officer appears to be Swedish and gives a much more detailed one in Swedish, including our routing and something else I don't really understand.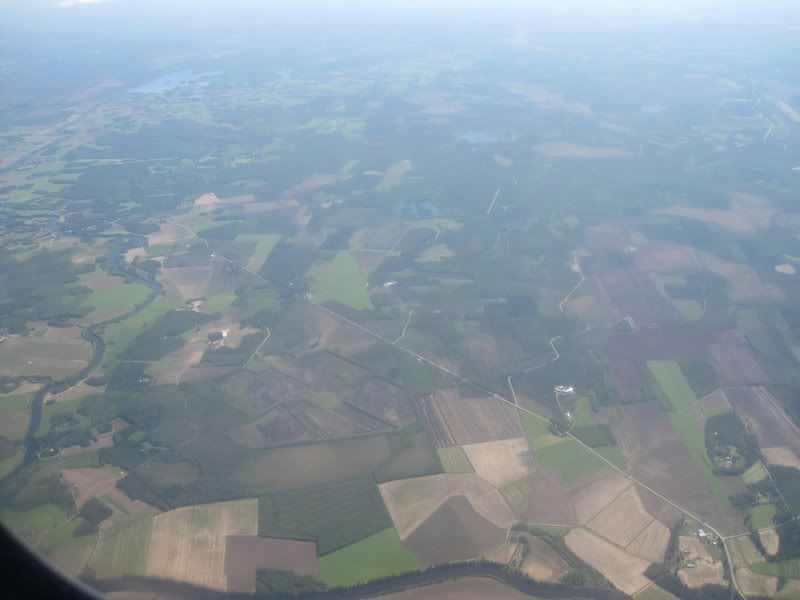 Descent starts after 1h15mins of flight and the seat belt sign comes on five minutes later.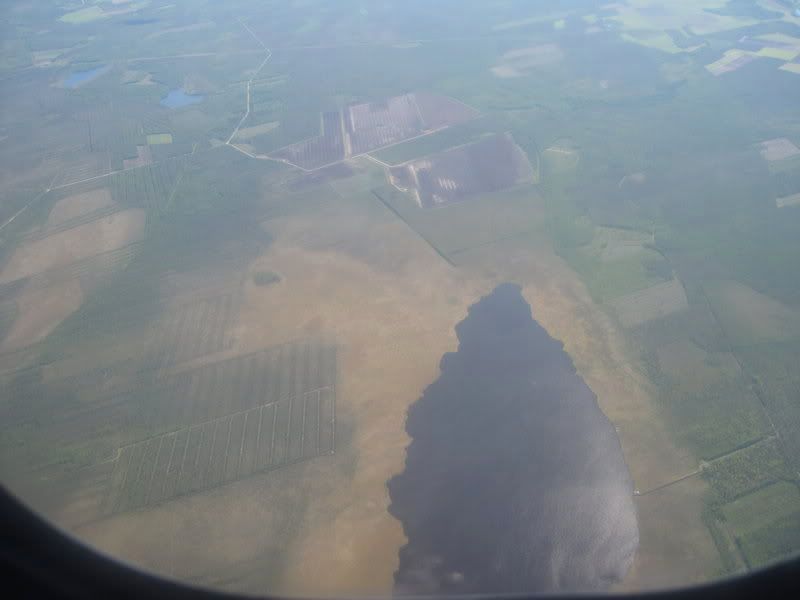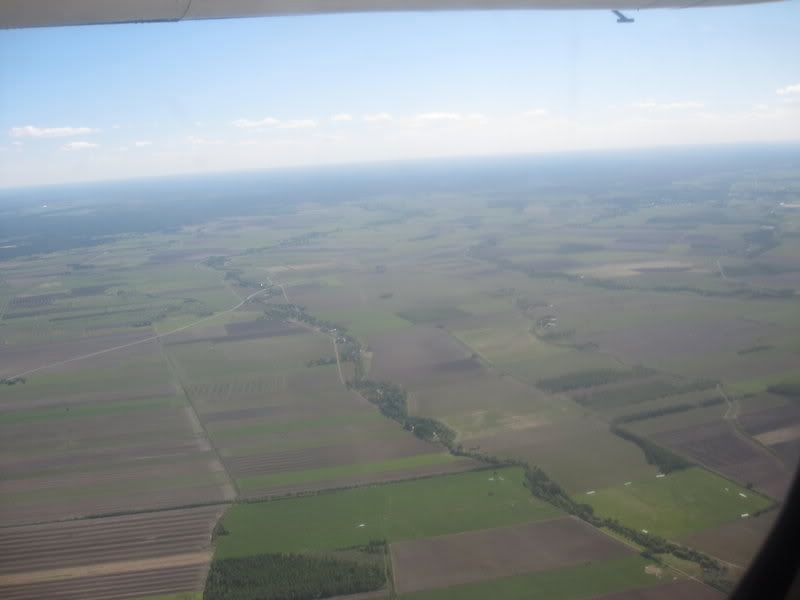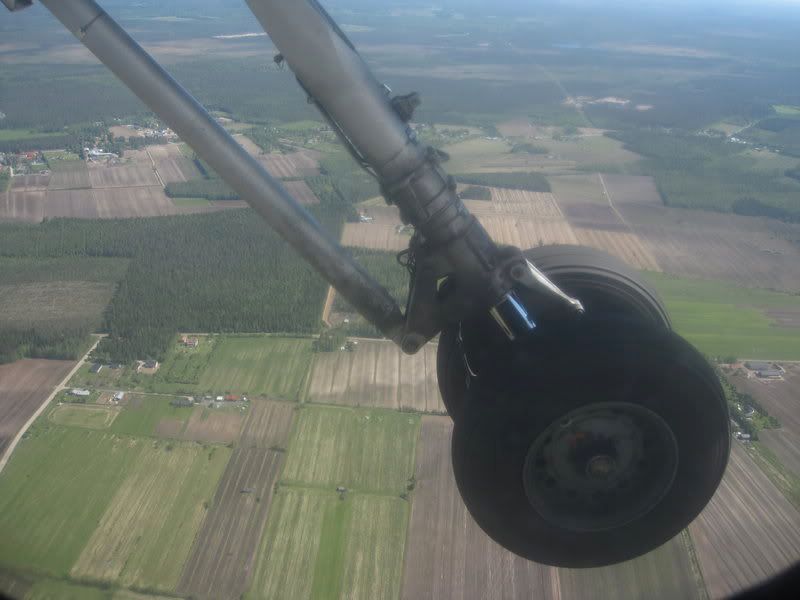 The large shopping mall Zeppeliini at Kempele: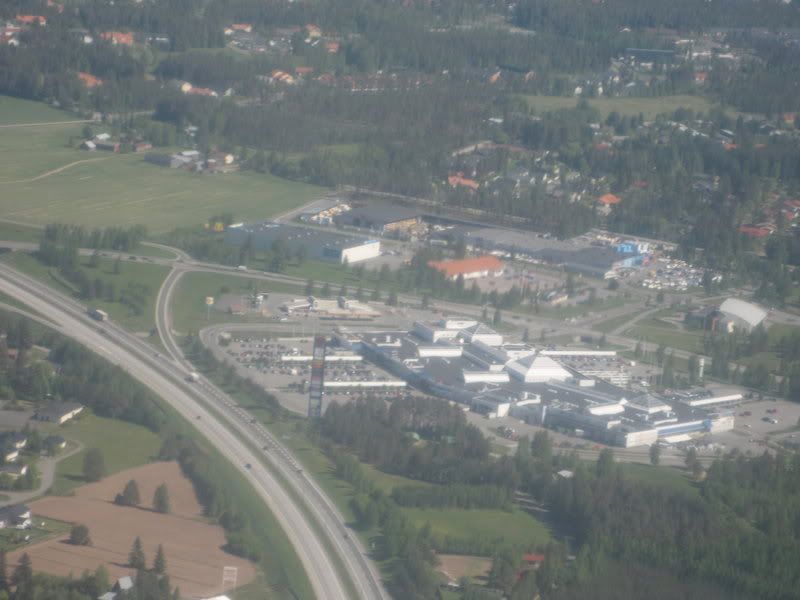 Over the towns of Kempele and Oulunsalo: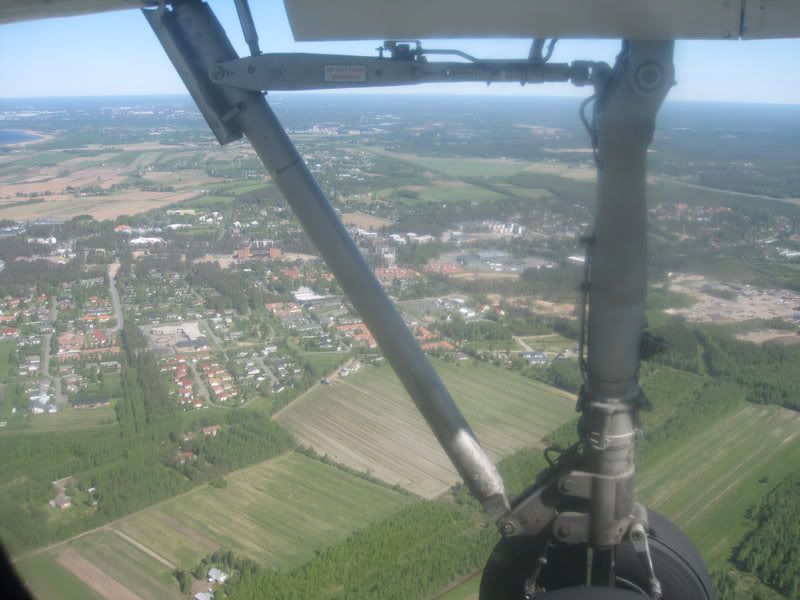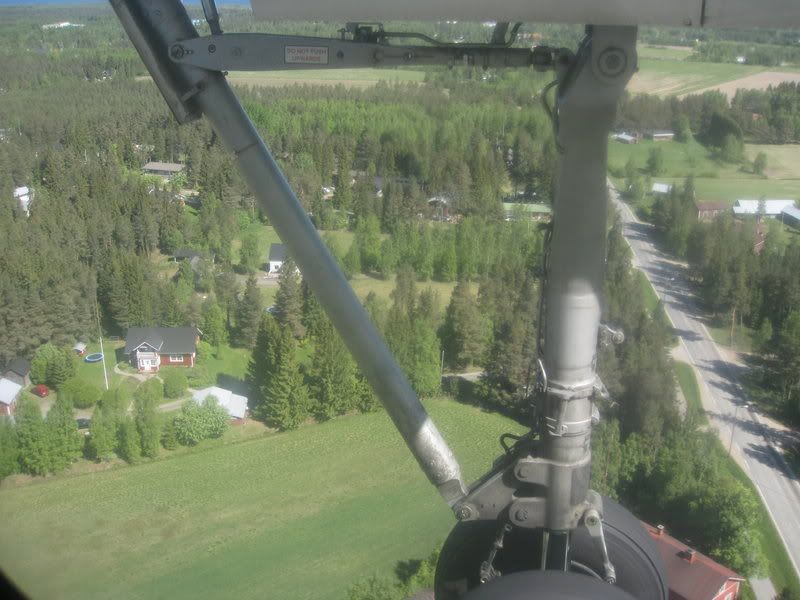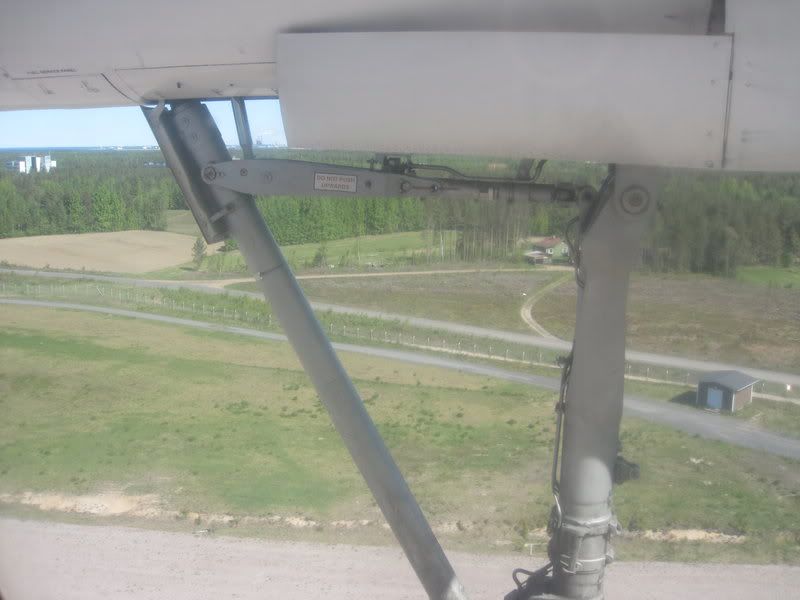 Landing is on runway 30 after around 1h30mins of flight time, followed by a quick taxi to a completely deserted apron and a walk to the terminal entrance. Finnish customs is once again greeting us with a sniffer dog.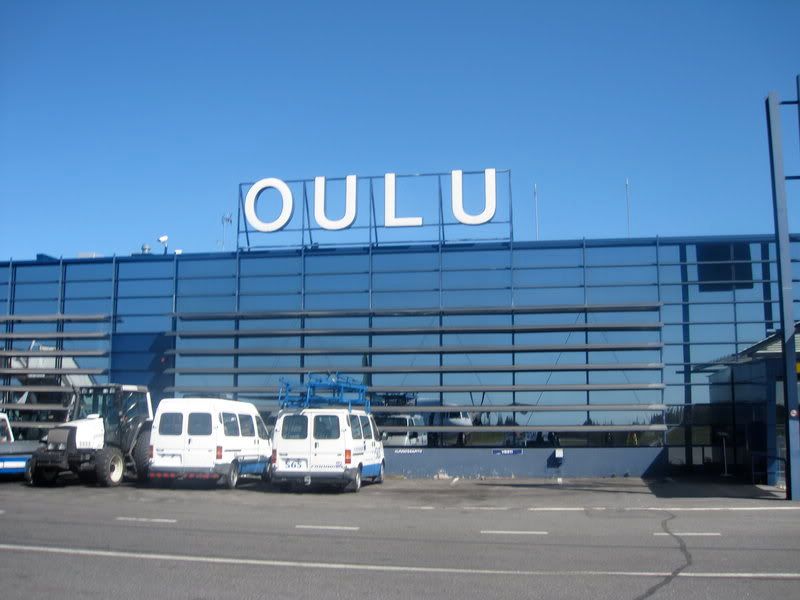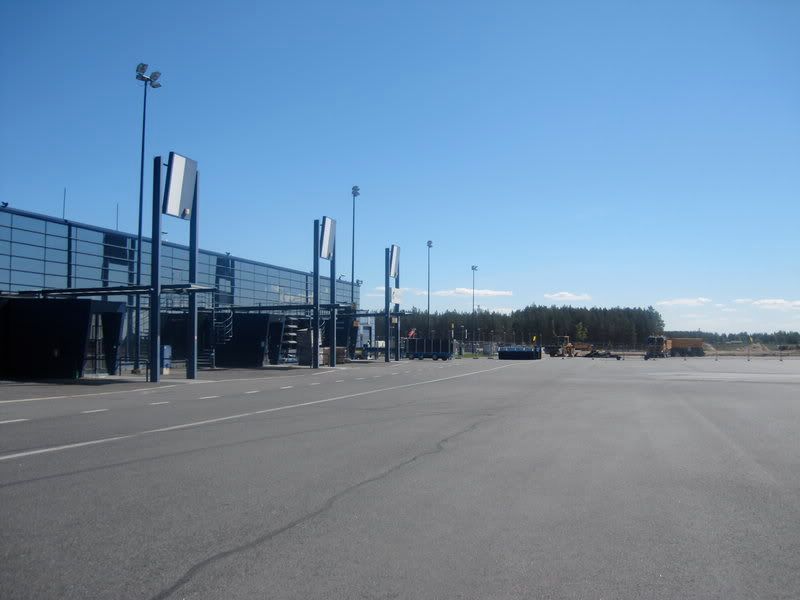 Oulu Airport
I go to the check in counter to see if there are any celebrations - the gate area (behind a glass so I can't partake!) appears to have a cake, some bubbly and a couple of men in suits, a shame that once again I flew an inaugural flight the wrong way... surprisingly this time it was the Finns that had the celebration. I exchange a few words with the checkin agent here - it is the same girl I talked with at VAA airport when doing the inaugural VAA-UME-VAA flights back in March, but she doesn't appear to remember me.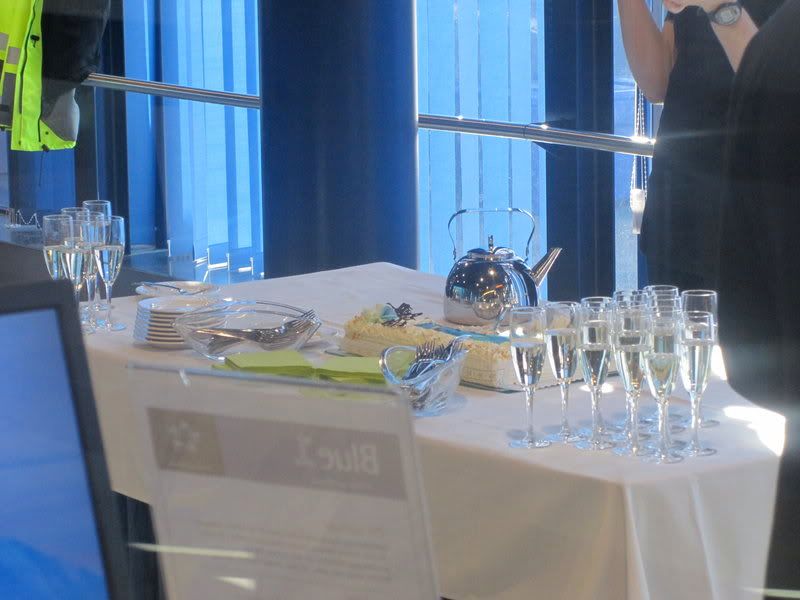 Then I hit the airport restaurant for some lunch and spend one and half hours doing some work, thanks to an abundance of power sockets and the free wifi connection.
The incoming AY plane from HEL arrives around 20 mins early so I head to the check in counters to get a proper boarding pass - I did OLCI at ARN and have the SMS which would be enough but I always prefer a real boarding pass anyway - before heading through security to the gate area, where boarding is just starting.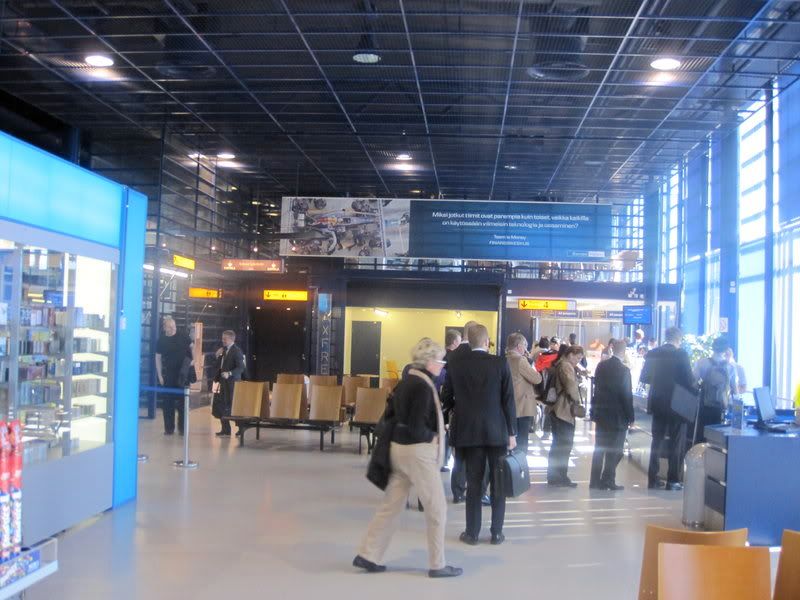 Quick walk across the apron to the waiting A320, OH-LXL, my second flight with this one.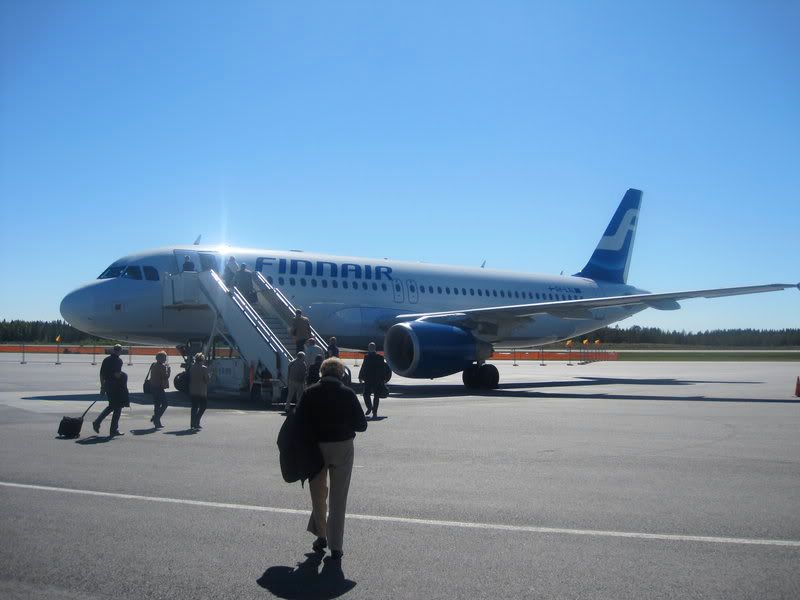 OUL-HEL
AY366
A320 OH-LXL
Seat 27A
14.09 - 15.10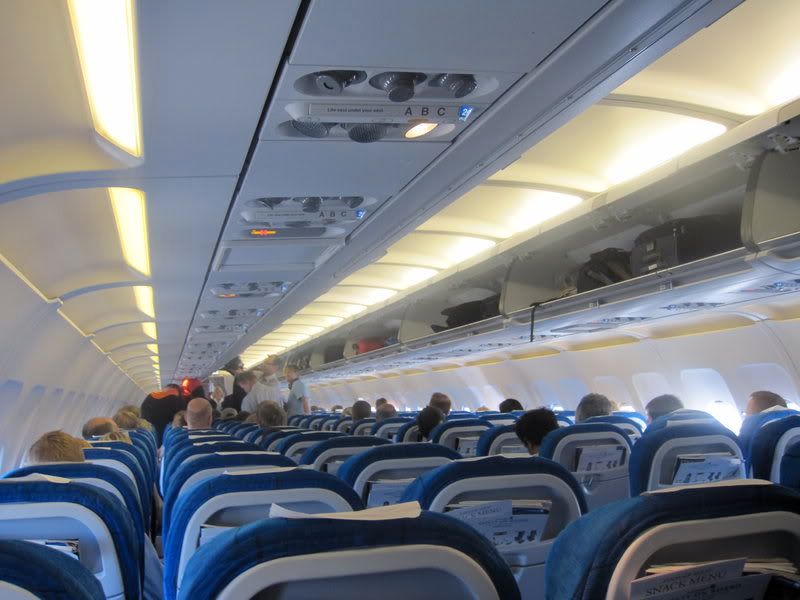 Today is the day when AY has introduced assigned seats for domestic flights (why? It's not like they are going to be introducing business class here...) so there's some confusion, especially for those who used the SMS check in as apparently it doesn't yet assign seats for domestic flights. Well, the plane is a bit over half full so luckily there's plenty of space for everybody. I picked a seat on the very last row, which only has ABC seats, and nobody else but me.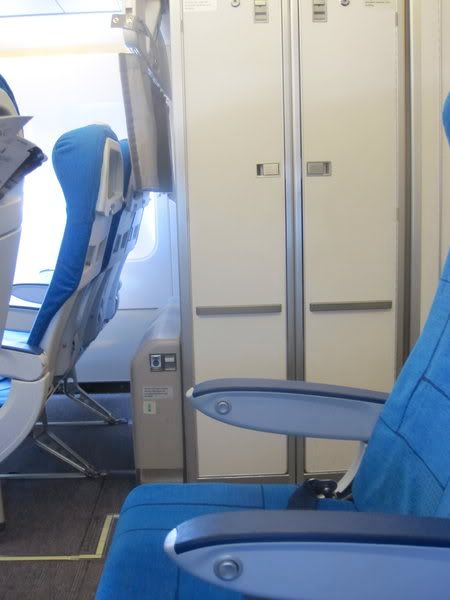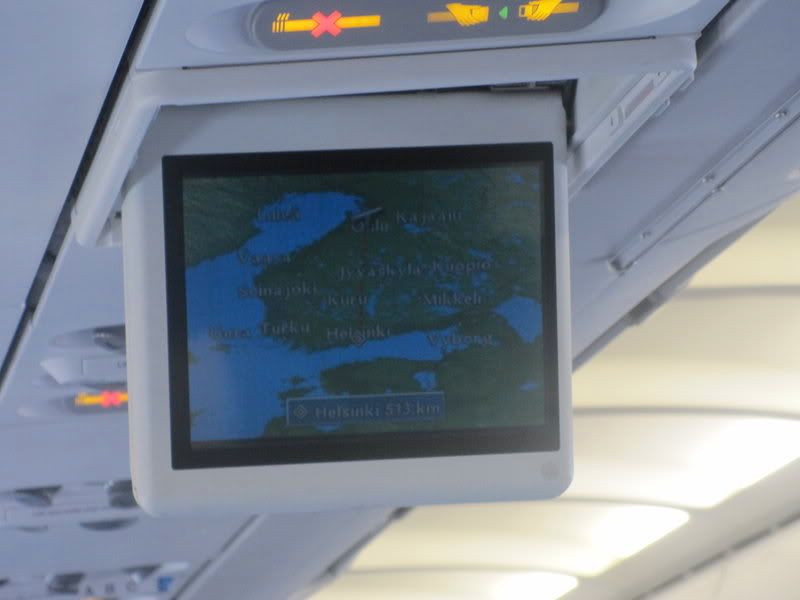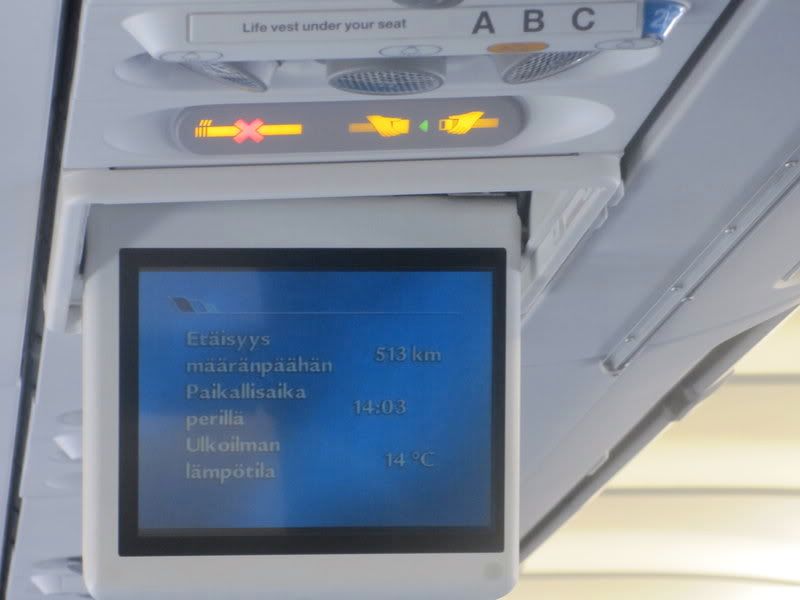 Flight time is announced as 55 minutes and departure is one minute before schedule. Apron expansion work: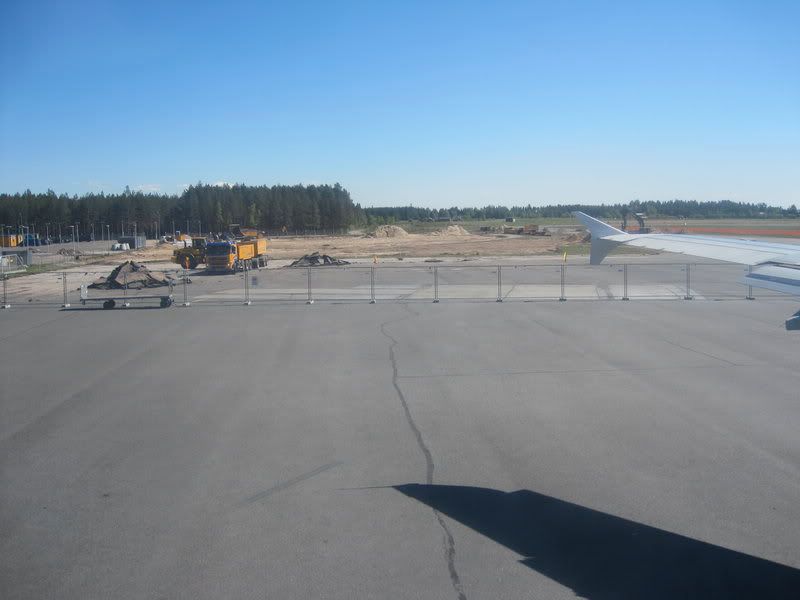 Because of the construction the taxiway to runway 30 is closed, so we need to use another one and then backtrack along the runway before turning around for a powerful takeoff towards the sea: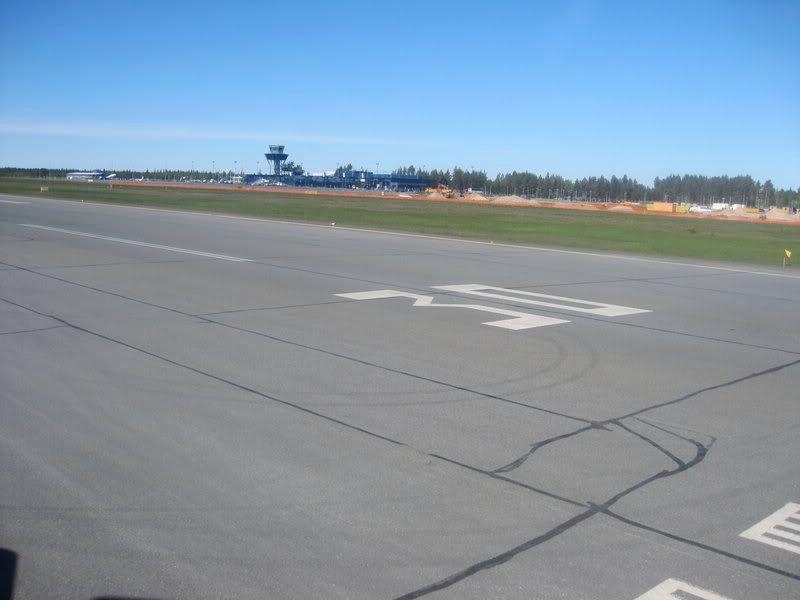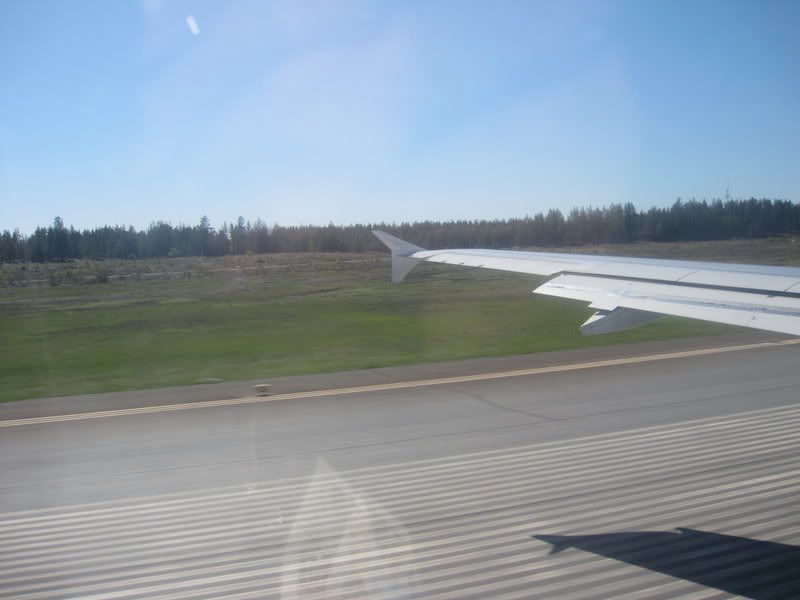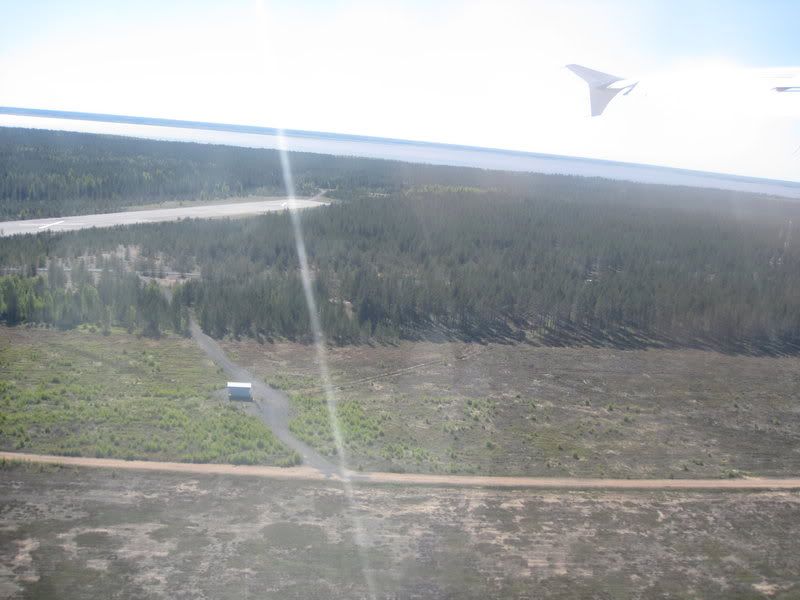 Finnish Air Force BAe Hawk and F-18 parked on the military apron: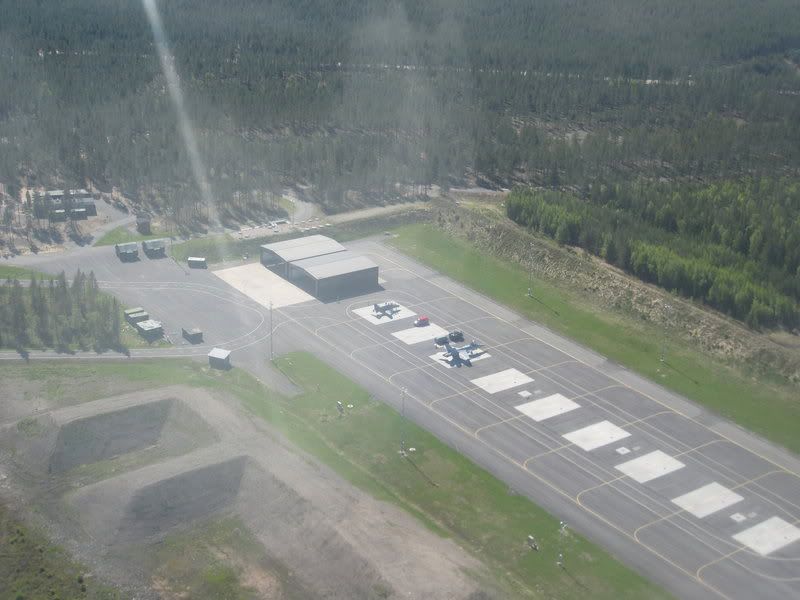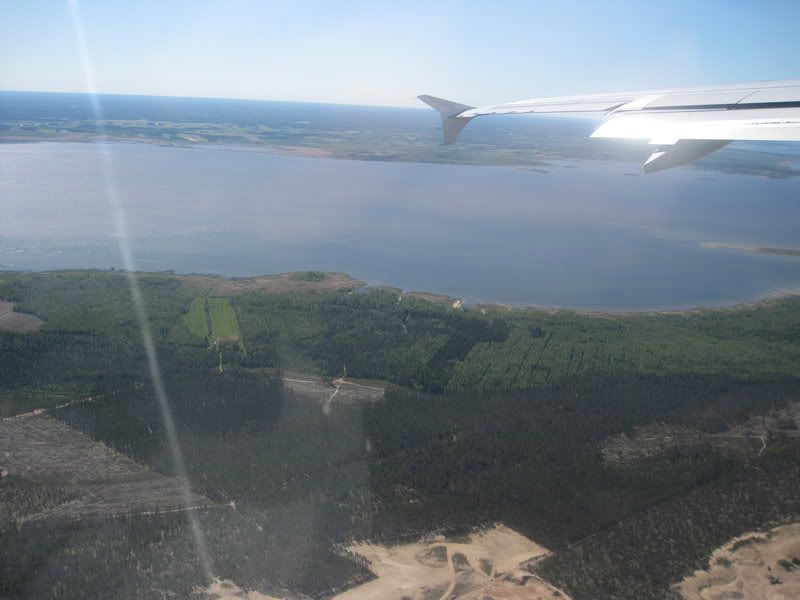 After take off a left turn takes us parallel to the airport with a great views over it: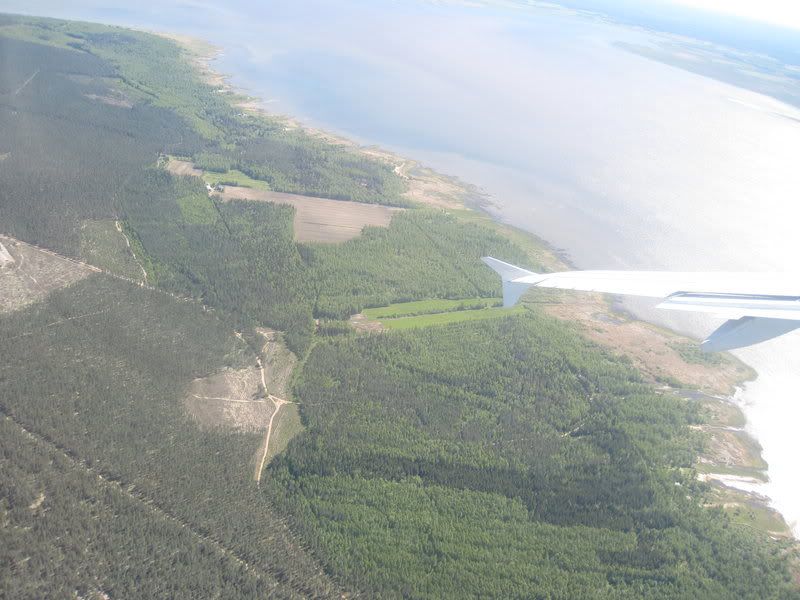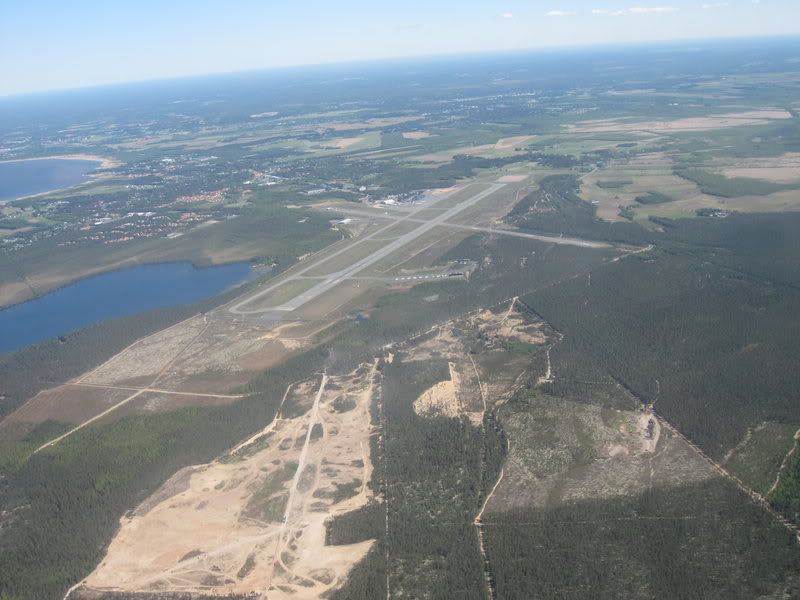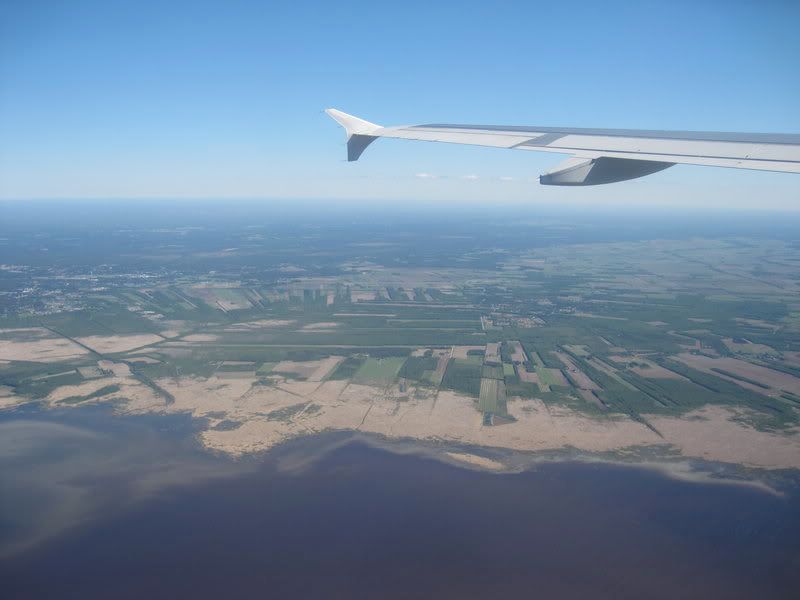 These fields belong to the town of Tyrnävä, known for its potatoes (and vodka distilled from potatoes!). I actually have some relatives there who used to grow potatoes but are now retired:
Service has been reduced again - now we only get coffee, tea, water or juice.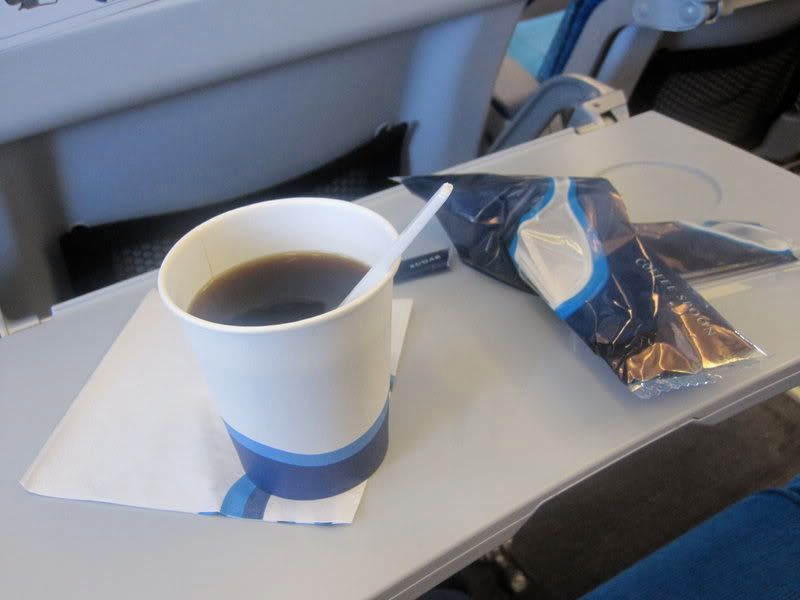 Not too long ago a sandwich or a cookie and soft drinks (on these longer flights) were included on domestic flights, but this time there's this on t