Premium Meal & PMI Spotting:
Munich - Palma de Mallorca on Condor 757-300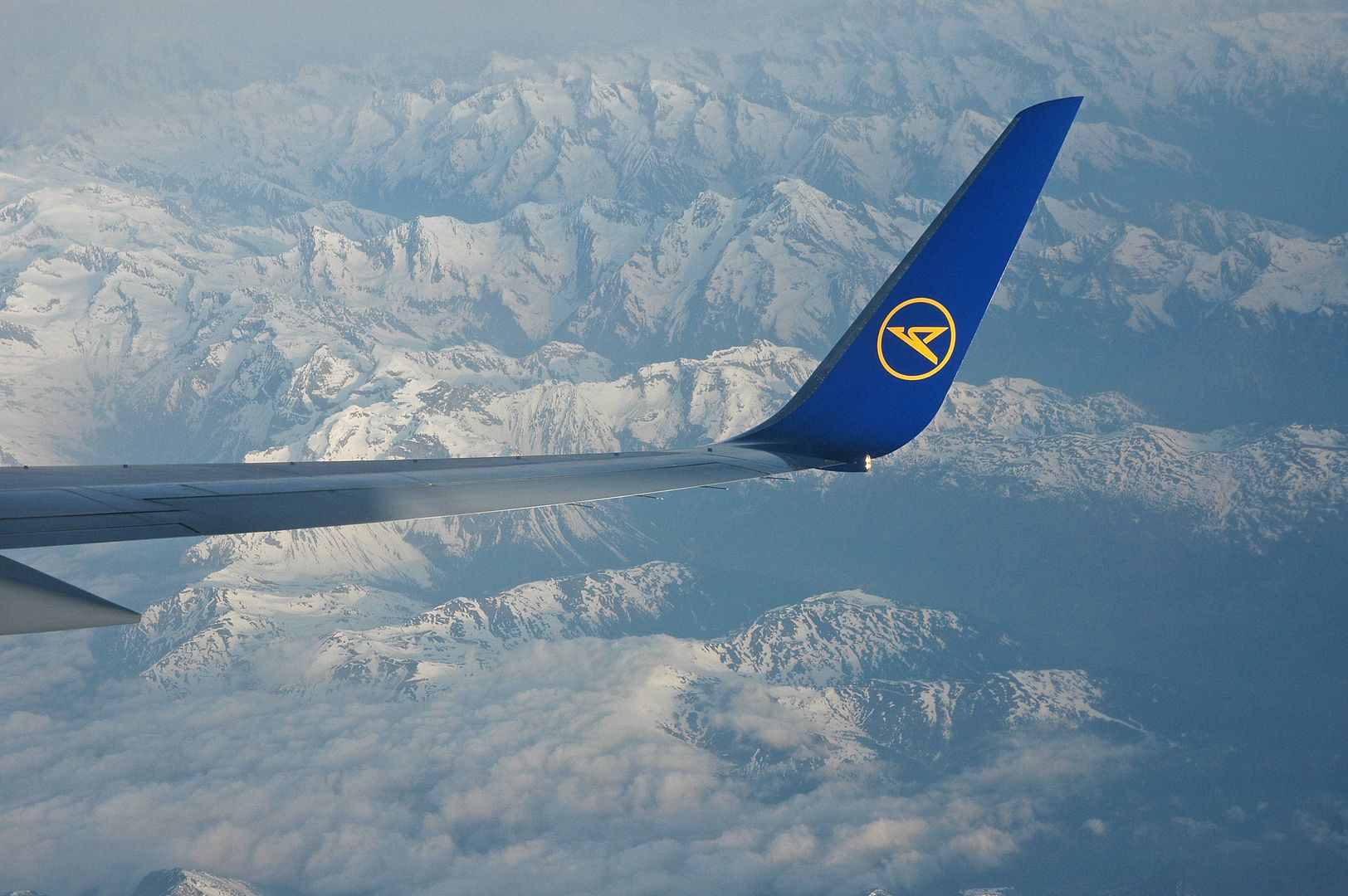 Picture by Satchmo
Intro
The focus is on
Condor's Boeing 757-300
in part 1 of my latest trip report series. I will give an impression of the plane's interior and the "Premium Meal" service offered on a flight from Munich to Palma de Mallorca. In addition to the flight report you will also find a few pictures taken on a spotting tour around Son San Juan Airport.
Background
In late November 2009 Condor was offering one-way flights from Munich to Palma for 69 Euro, available in spring 2010. My friend Satchmo hadn't flown on the 757-300 yet so he asked me whether I would be interested in a spotting tour in late April. I had already flown on NWA's 757-300, but I liked the idea of getting on that rare type again. However, I also wanted to add at least one new airline or one new type, so we started searching for interesting return trip options. Some time later the final itinerary consisted of four flights - and included one new airline and one new type for me. Details to follow in part 2.
Saturday, 24 April 2010
Munich (MUC) - Palma de Mallorca (PMI)
Condor DE7366
06:25-08:45 (06:35-08:42)
Flying time: 01:46 (hrs)
Economy Class, Seat 46E

Boeing 757-330
D-ABOH (s/n 855)
Delivered in 03/1999
1st flight on D-ABOH
2nd 757-300 flight
11th 757 flight
If you want to check in online for a Condor flight you need to reserve a seat for 10 Euro. We agreed that it wouldn't be worth it and so we tried to be at the check-in counters early enough. 1,5 hours prior to departure we joined the relatively small queue and soon got our boarding passes. Several window seats in the back had still been available.
Passing security was just a matter of a few minutes in the early morning and soon we took a seat at the gate area.
D-ABOH
, one of 13 757-300s in the fleet, was built and delivered in March 1999: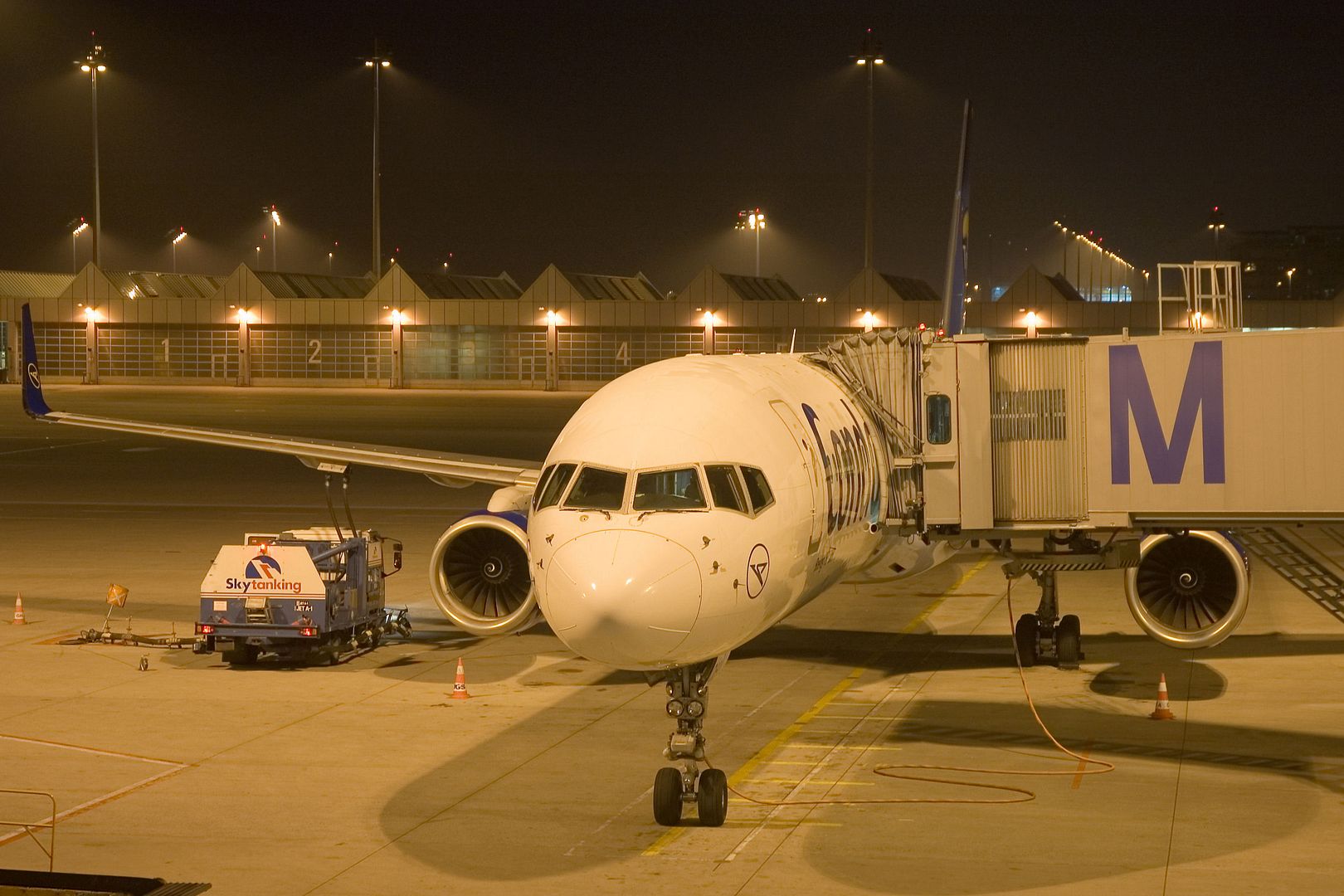 Picture by Satchmo
Friendly flight attendants welcomed us on board while we were walking down all the long way to row 46. The cabin was in good shape and the fabric seats were quite comfortable...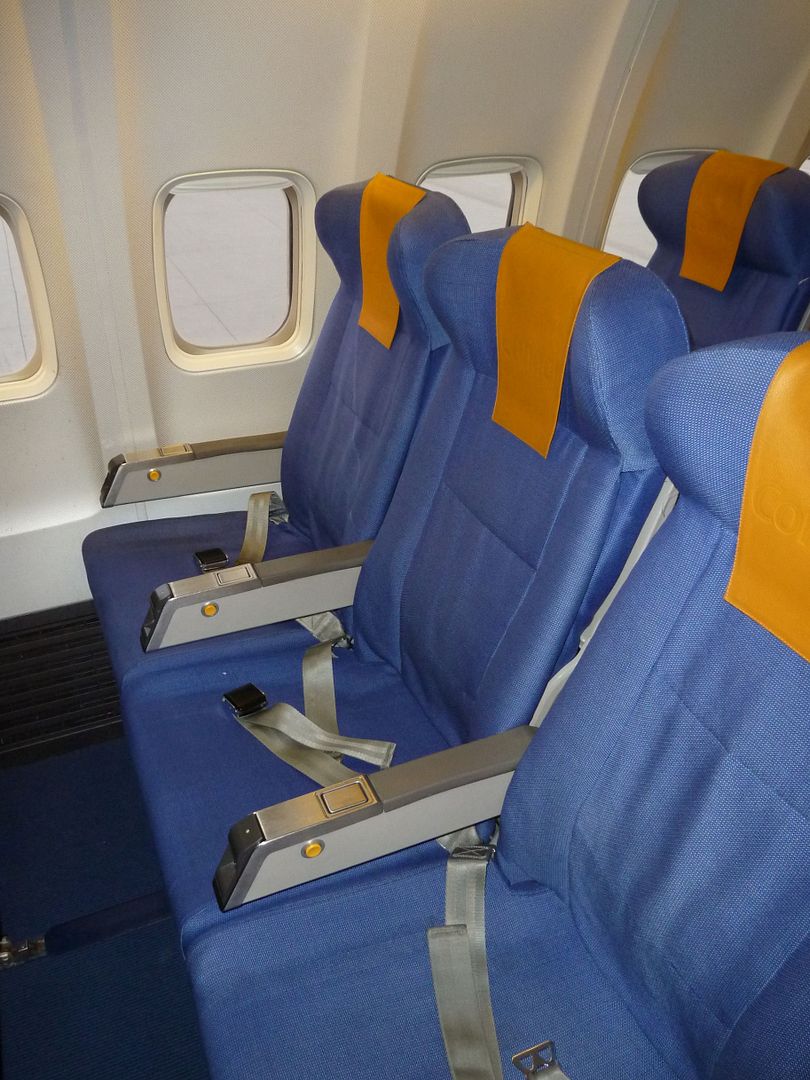 Legroom wasn't bad either: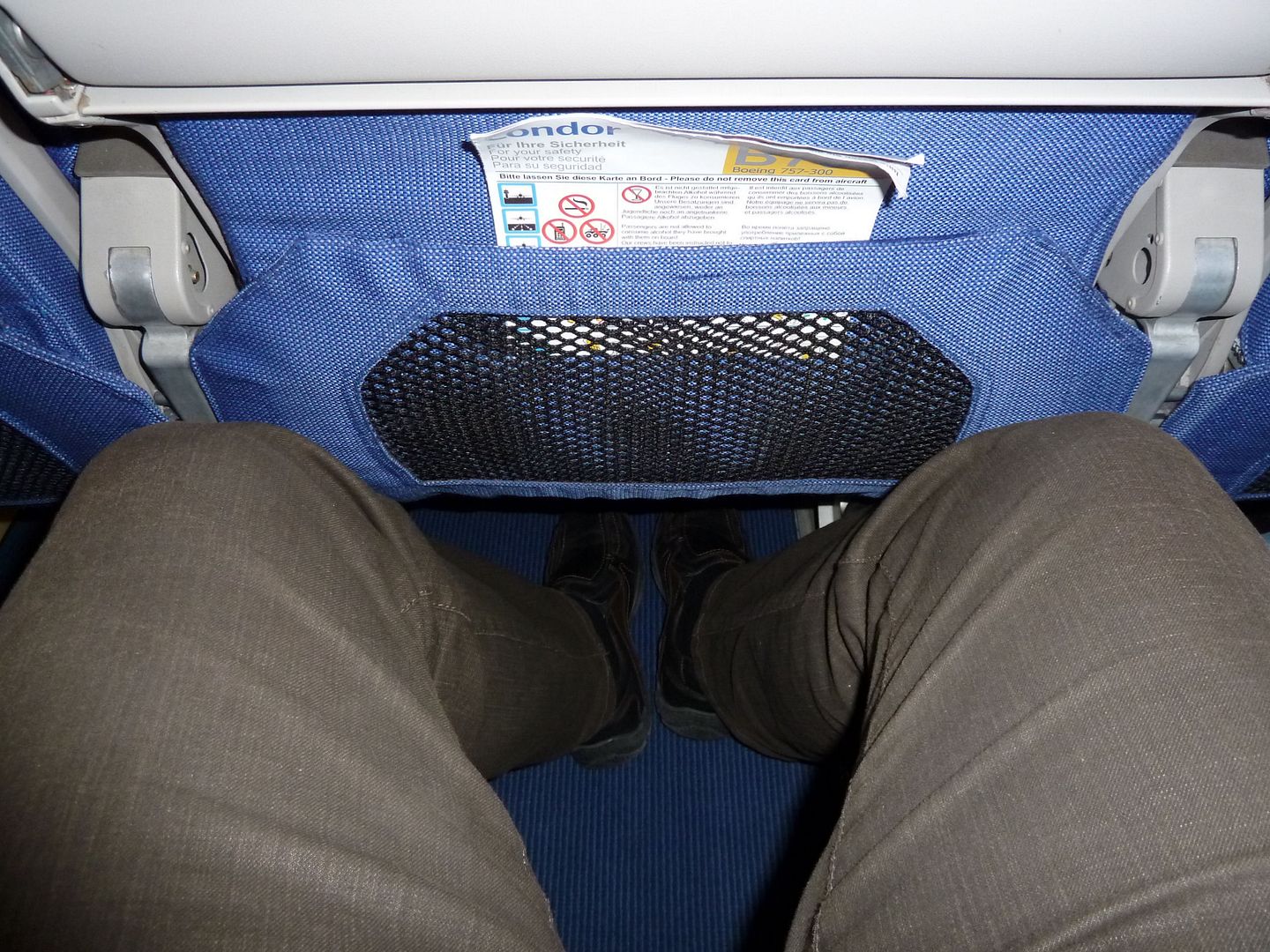 No doubts, the cabin design is intended to get passengers in holiday mood:
It wasn't very busy at Terminal 1 on that early Saturday morning. An Air France A320 and a KLM 737 were being prepared for their early morning flights to Paris and Amsterdam:
We left the gate ten minutes late and taxied to runway 08R. Takeoff was not as powerful as hoped...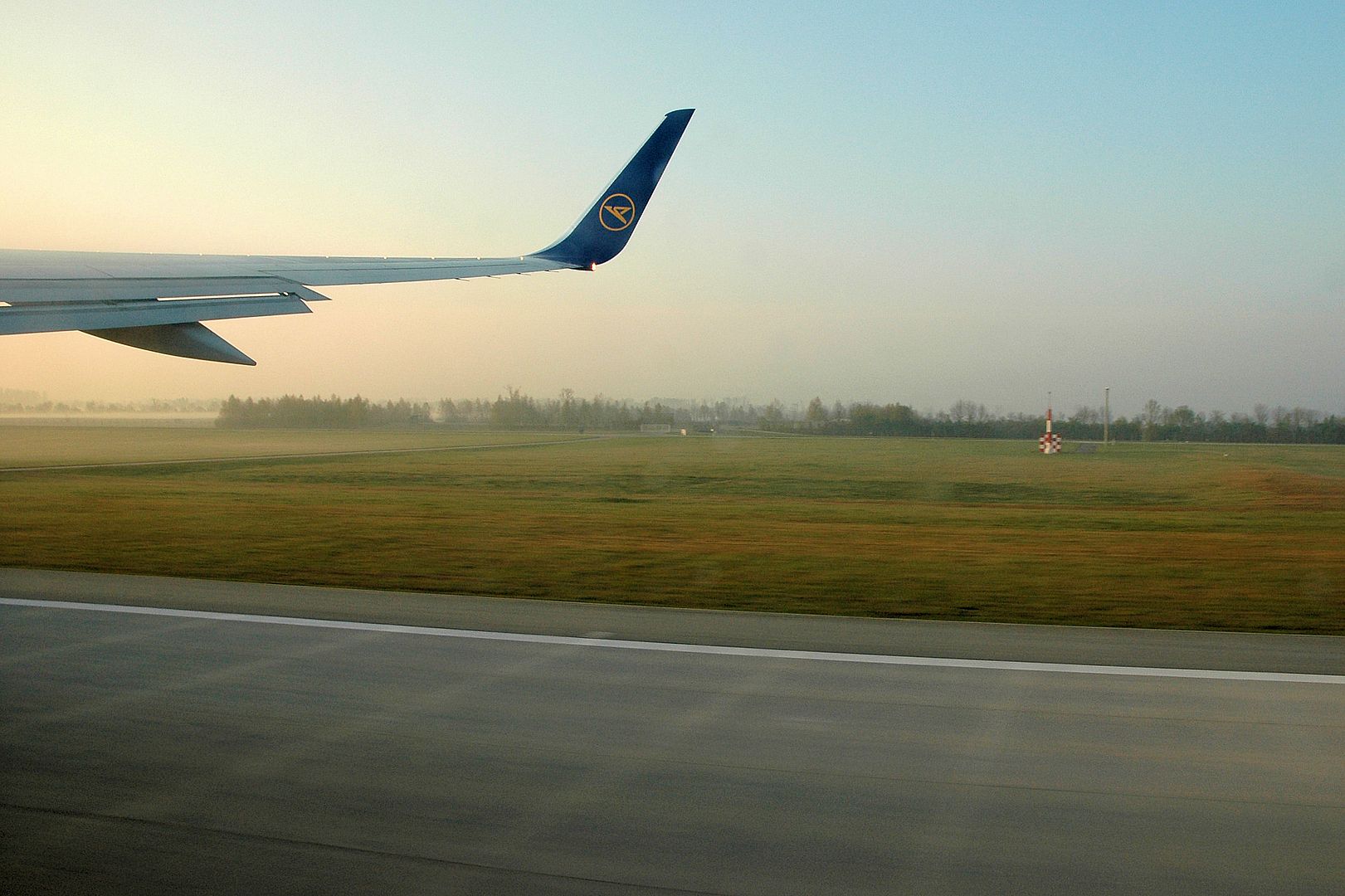 Picture by Satchmo
...but views were beautiful: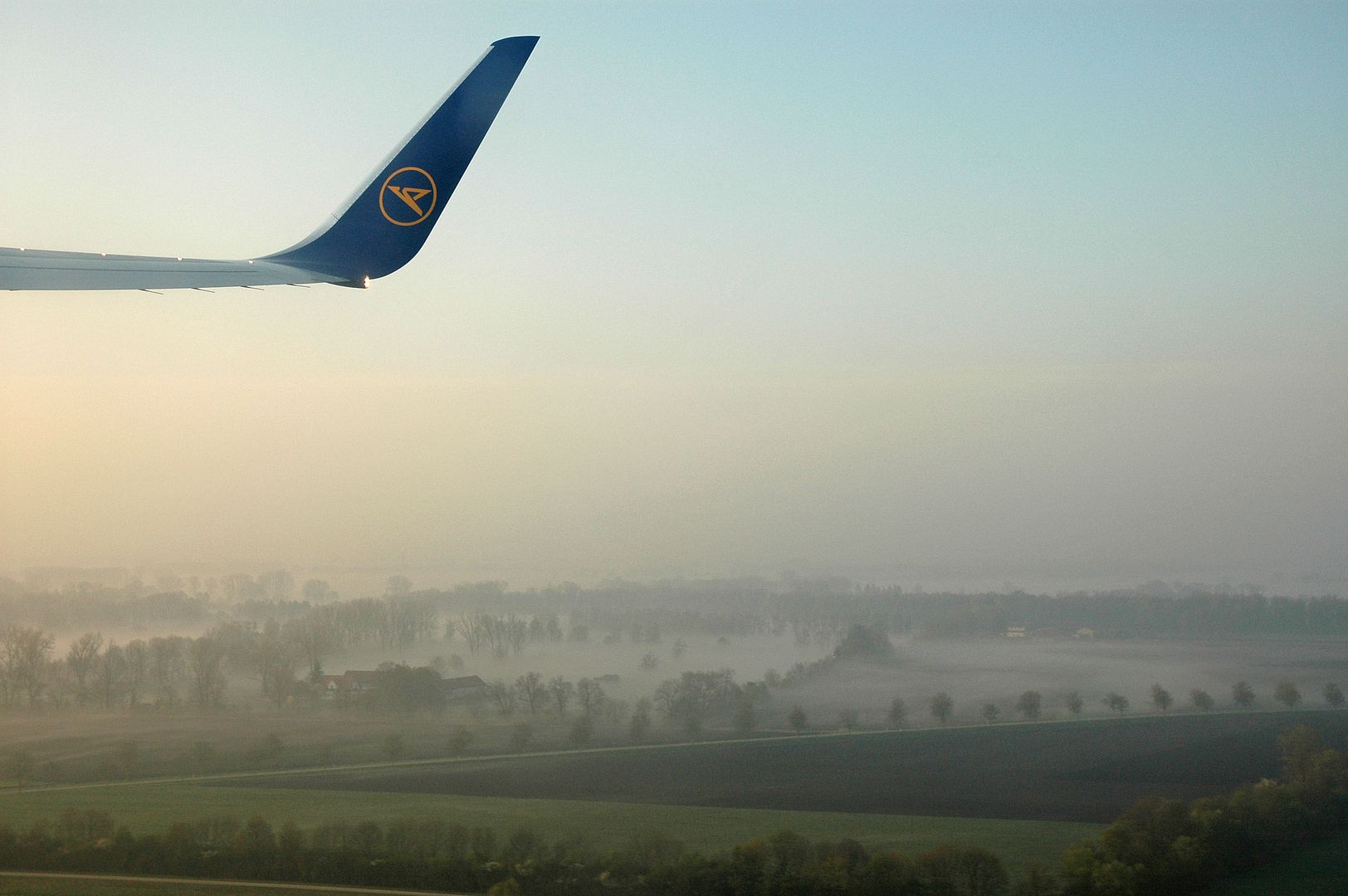 Picture by Satchmo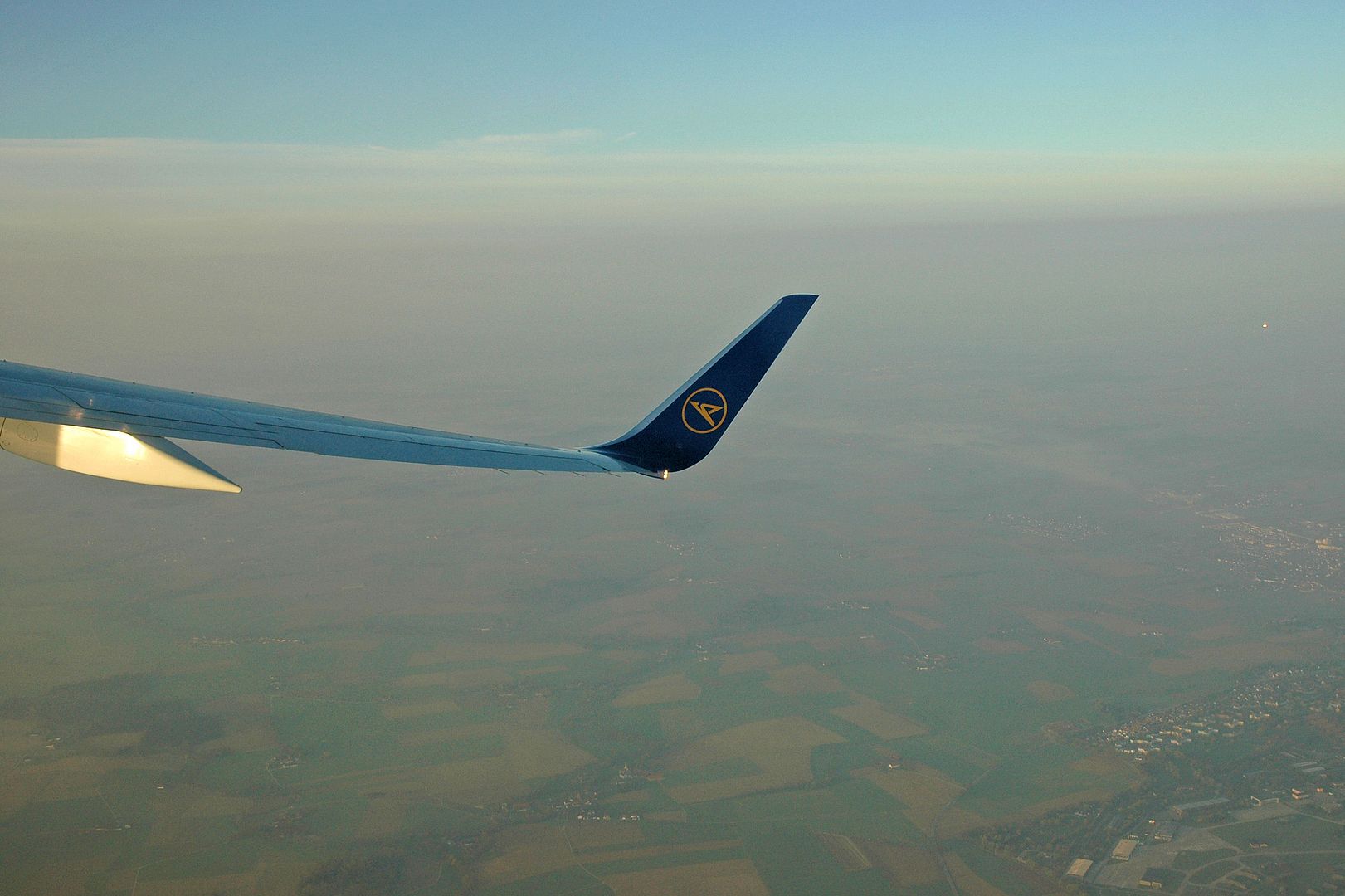 Picture by Satchmo
The load factor was in the 80 percent range and some seats around us had remained empty. The passenger in the aisle seat next to me moved to another row shortly after takeoff, so I could stretch out.
It didn't take very long until we were cruising over the Alps: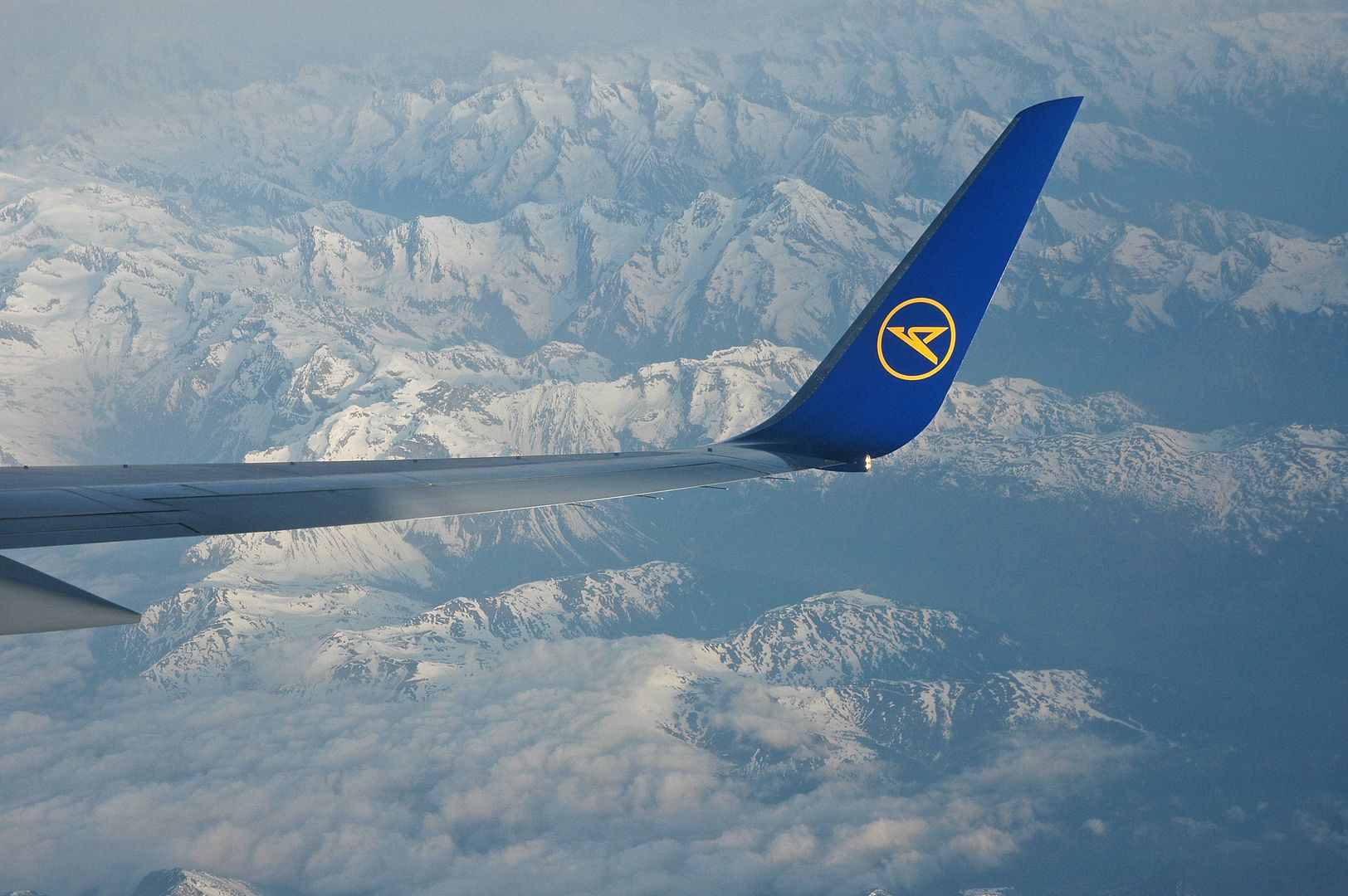 Picture by Satchmo
Half an hour after takeoff, before flight attendants started serving free non-alcoholic drinks and cheese sandwiches, I received my pre-ordered "Premium Meal" - a cold breakfast for 7 Euro. I was really curious to find out whether it would come up to expectations.
This is how Condor describes the "Premium Meal" service on its website:
"Haute cuisine above the clouds: In addition to our regular in-flight service, we offer you a selection of first-class meals on our international flights – our Premium Menus. We'll serve you an exquisite meal with select ingredients depending on the route and the time of day.
Enjoy an exclusive ambiance characterized by modern elegance, excellent cocktails and exquisite top-quality meals – courtesy of Kameha Suite – in Frankfurt, Cologne and on Mallorca. Kameha Suite's chef de cuisine created exquisite Premium Meals specifically for our flights from Germany."
And this is how Condor describes the cold breakfast:
"Get your day off to a healthy start with a colorful fruit salad chock-full of vitamins and a delicious fruit yogurt. We serve this with a selection of cold cuts with turkey breast spinach roll, Black Forest ham and stinging nettle cheese. Round off your breakfast with a croissant, a roll and jam. This breakfast finishes with a mini Bundt cake and a melt-in-your-mouth sweet delicacy."
Now let's see - here's the tray: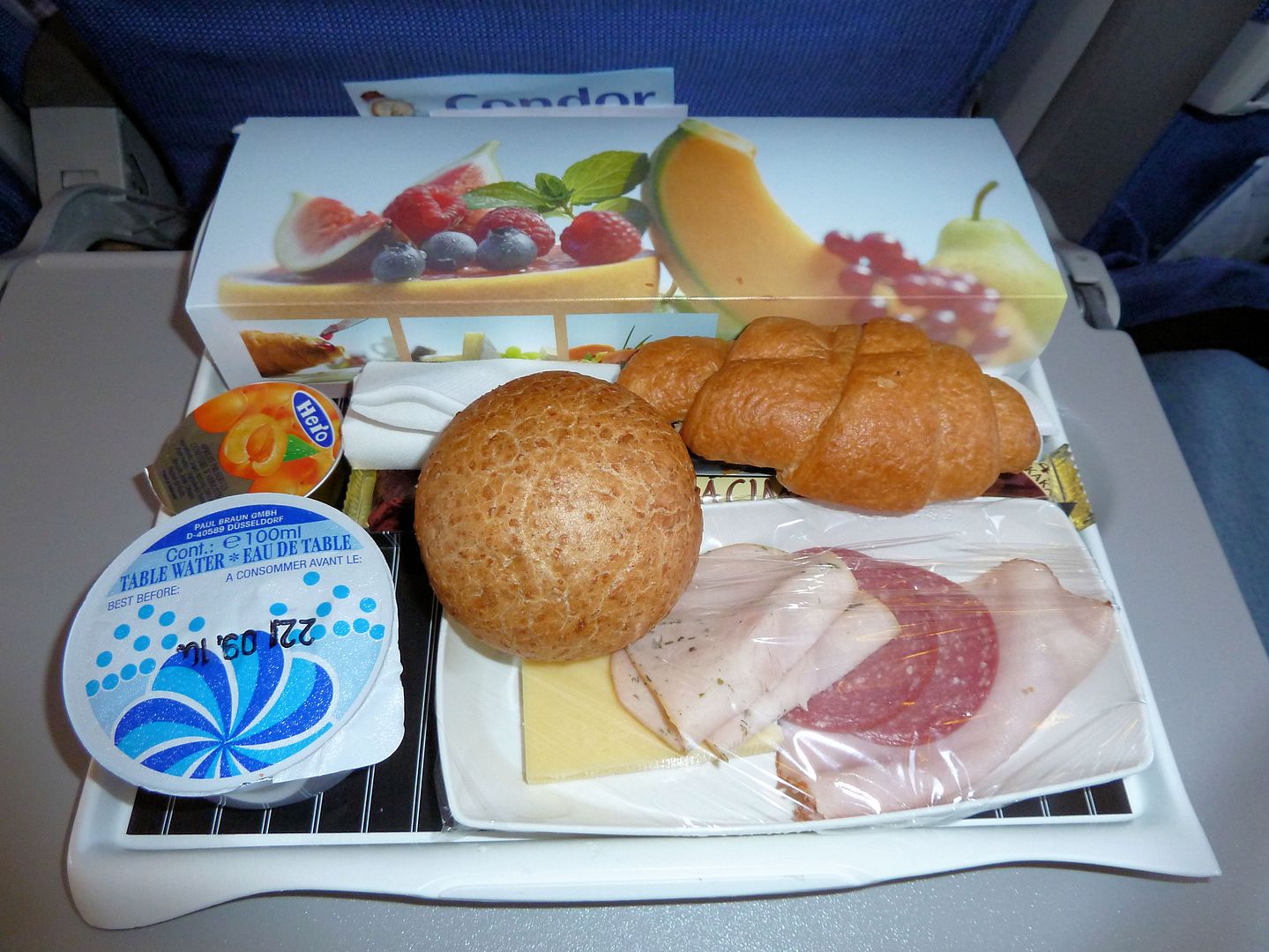 All items unpacked: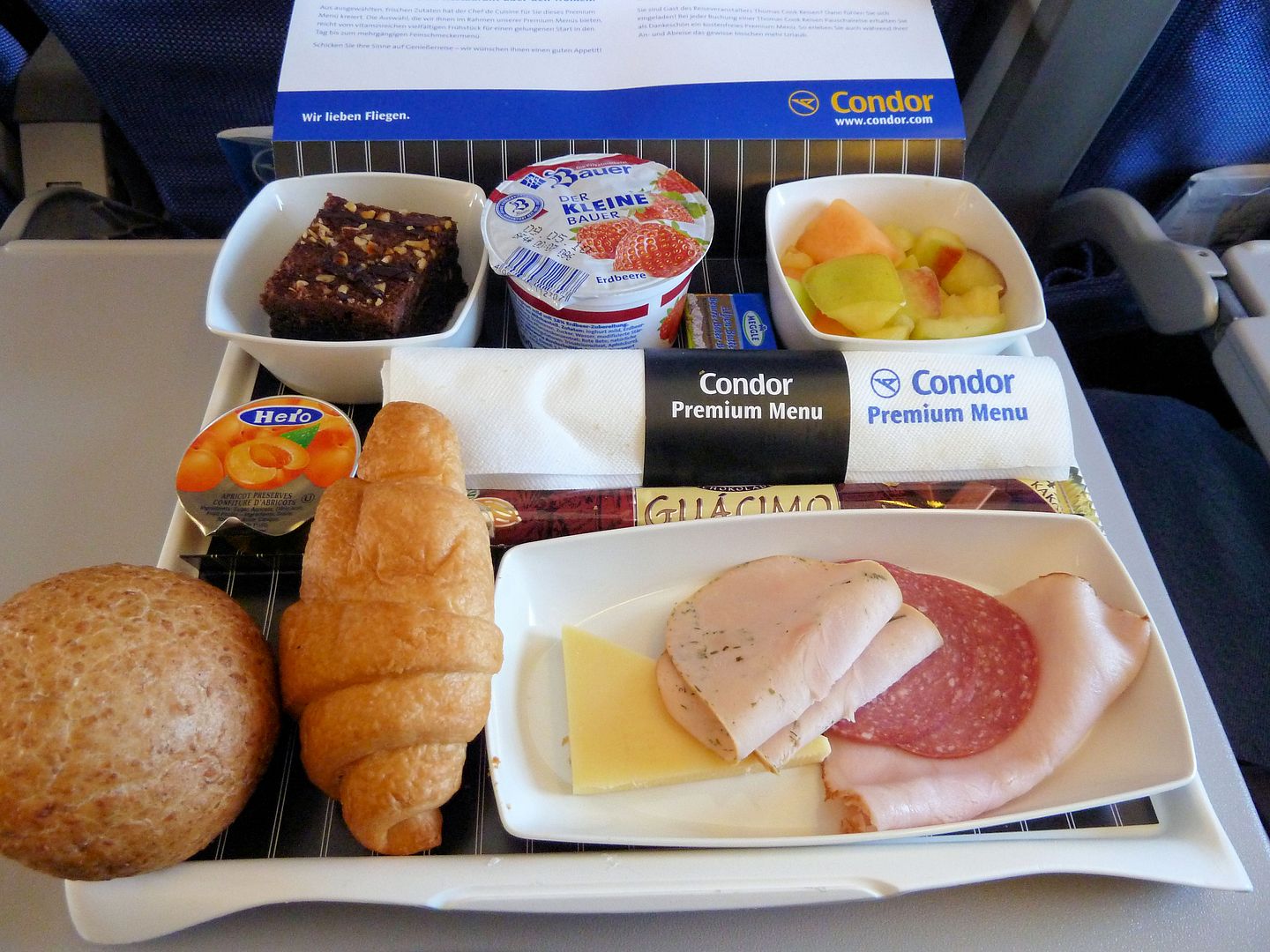 Was it really worth it? Yes, it was a tasty and filling breakfast. What I liked in particular was the
Guácimo
milk chocolate bar. I would definitely order such a breakfast again and I would also try the hot meals offered on medium and long-haul flights. However, Condor should improve the quality of its tea.
The cabin was equipped with overhead screens which were showing the airshow channel most of the time: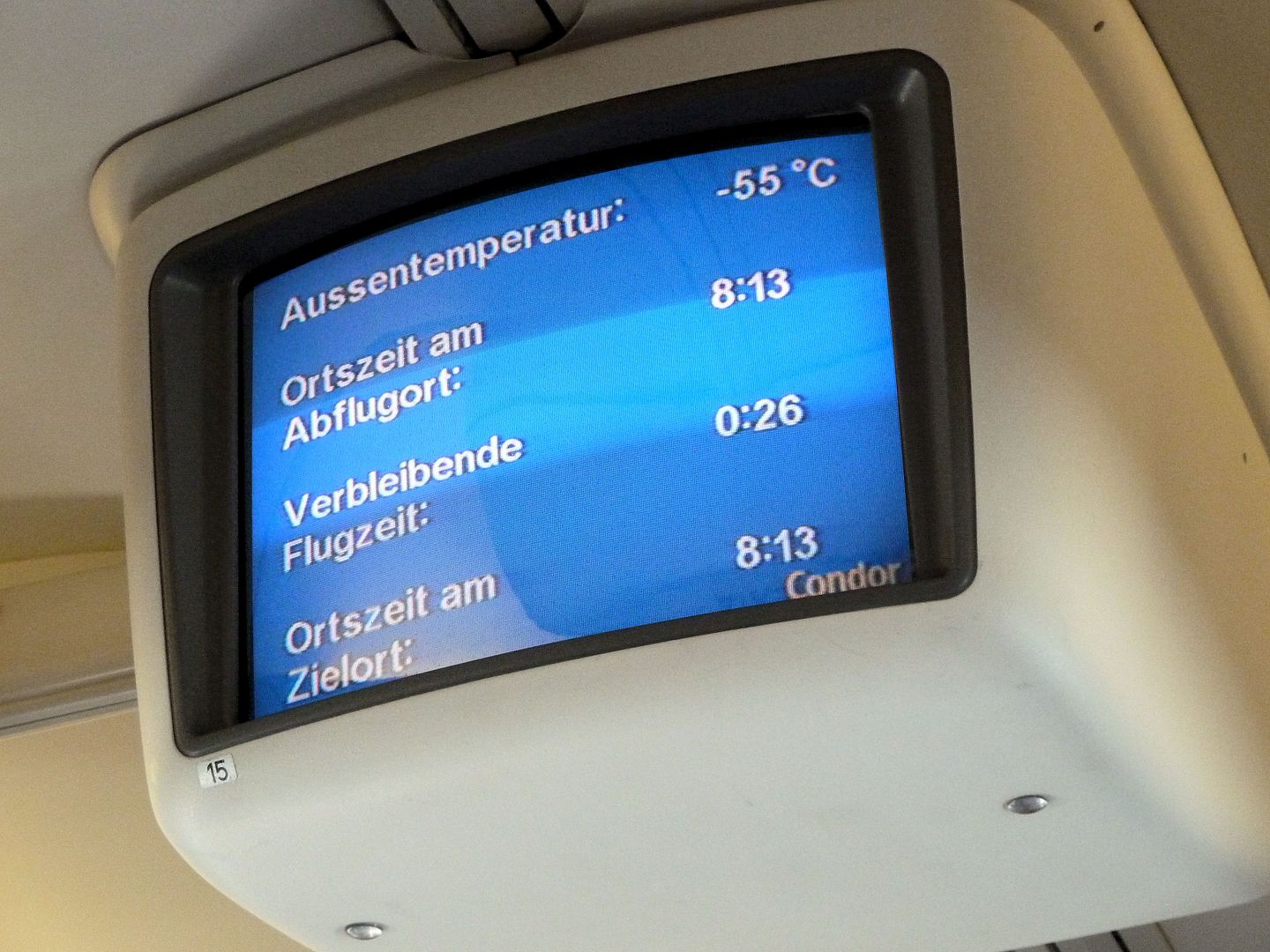 Several audio channels were available, too, but I preferred listening to my MP3s. Flight attendants had offered headphones for 3,50 Euro shortly after takeoff, but I'm quite sure they didn't sell many of them due to the short flying time.
Cabin shot:
Picture by Satchmo
On approach we passed
Port de Pollenca
and the
Cap Formentor
, the northernmost part of Mallorca:
Picture by Satchmo
Only a few more moments to go:
Picture by Satchmo
After a flying time of 1 hour and 46 minutes we touched down at runway 24L and taxied to a remote parking position next to some other Condor 757-300s.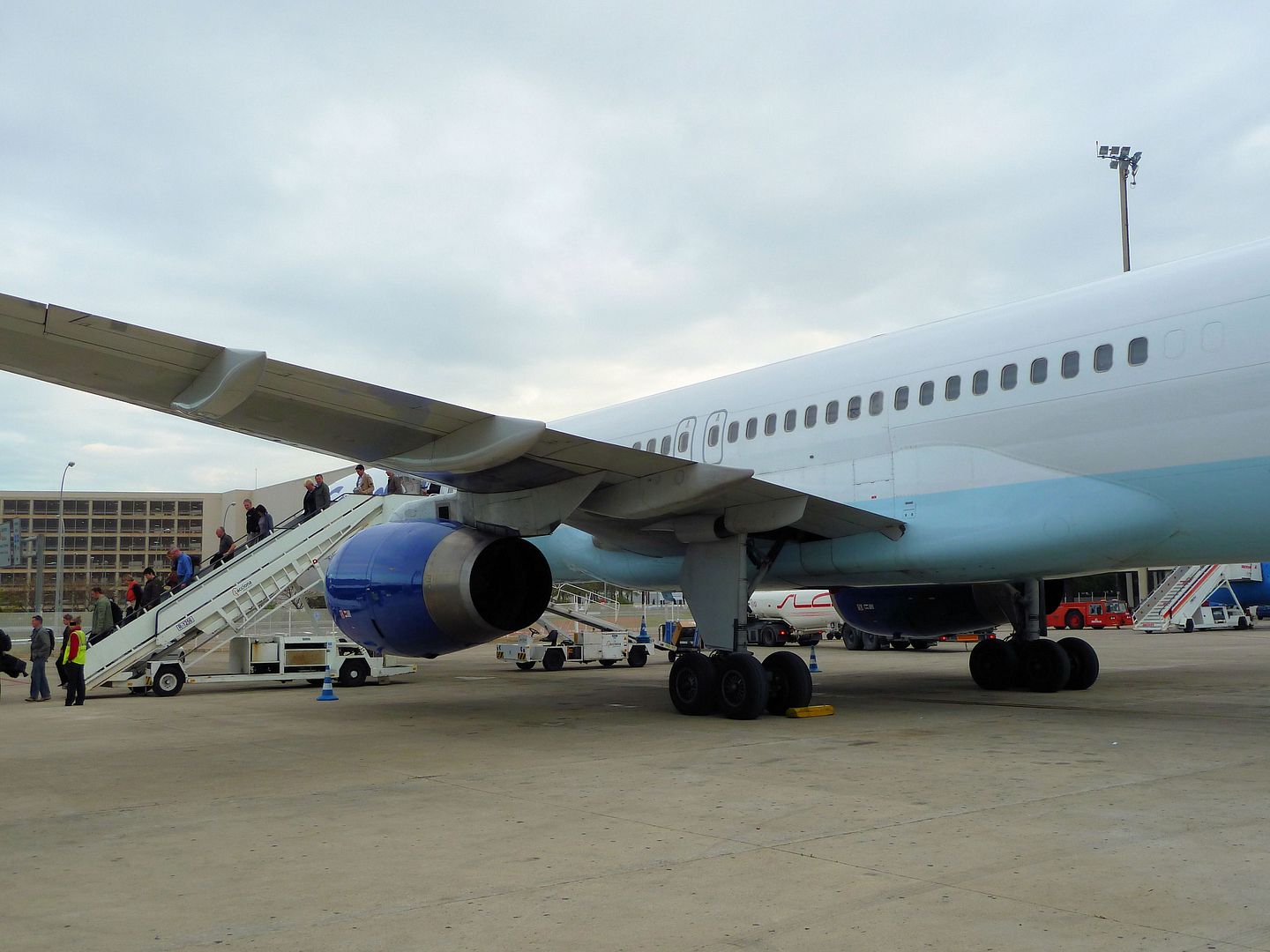 Since we were only travelling with hand luggage we could immediately leave the terminal. Unfortunately, it took some time until the "Hasso Rent a Car" shuttle bus showed up.
Palma Spotting
About one hour after arrival we finally got a red Fiat 500 (some 25 Euro per day) and went to the first spotting spot next to runway 24L: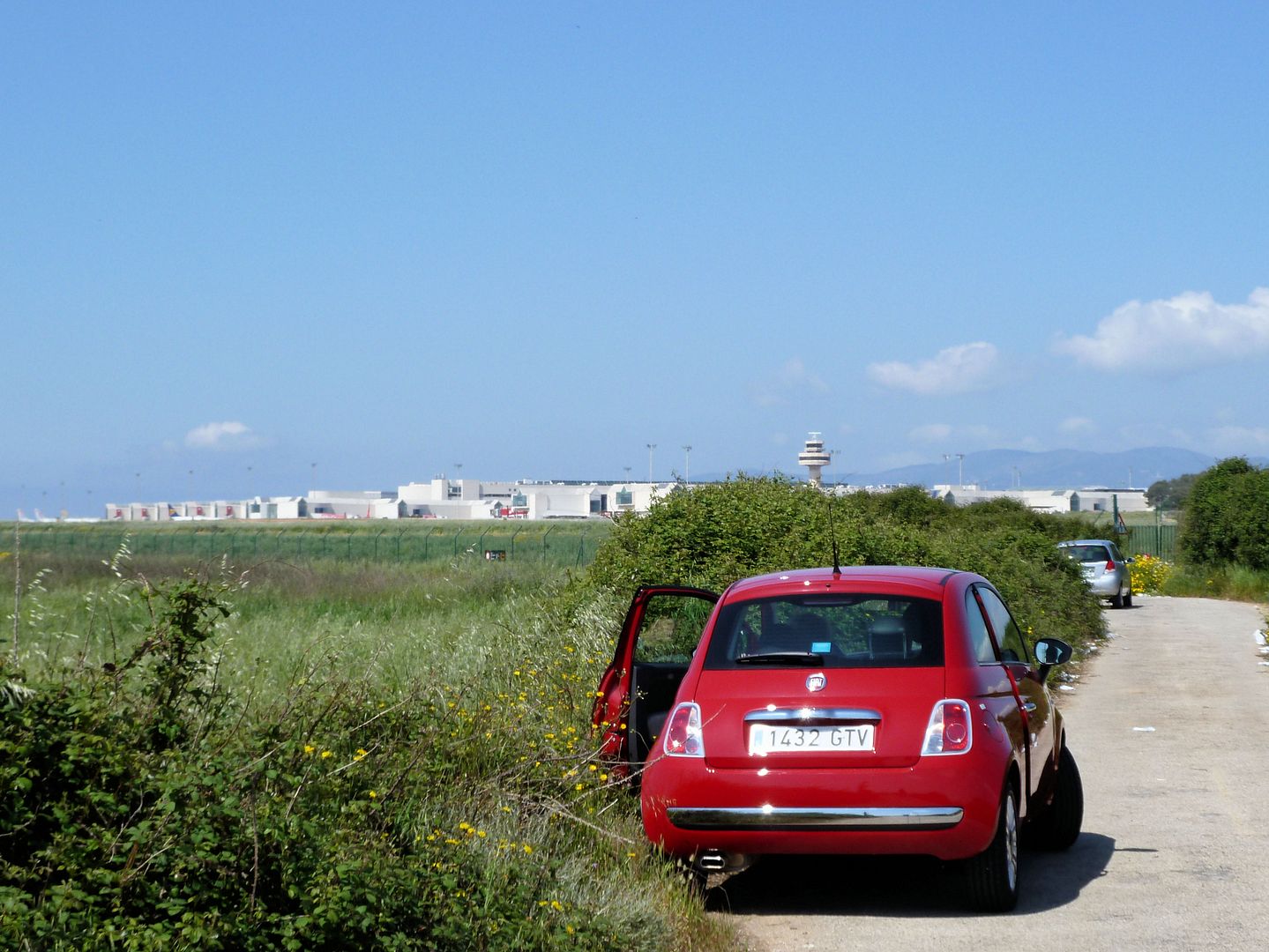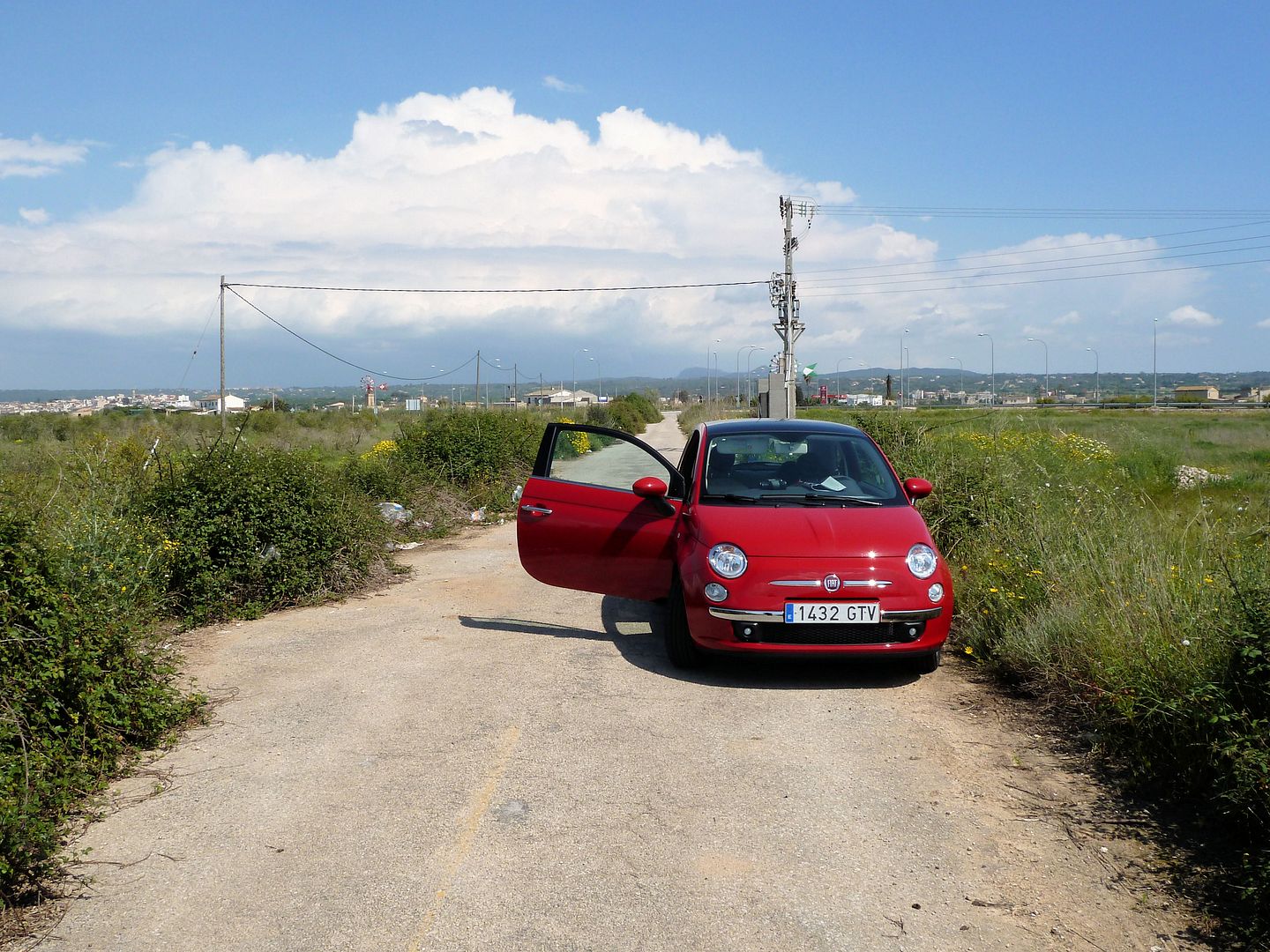 The surrounding area is not really pretty...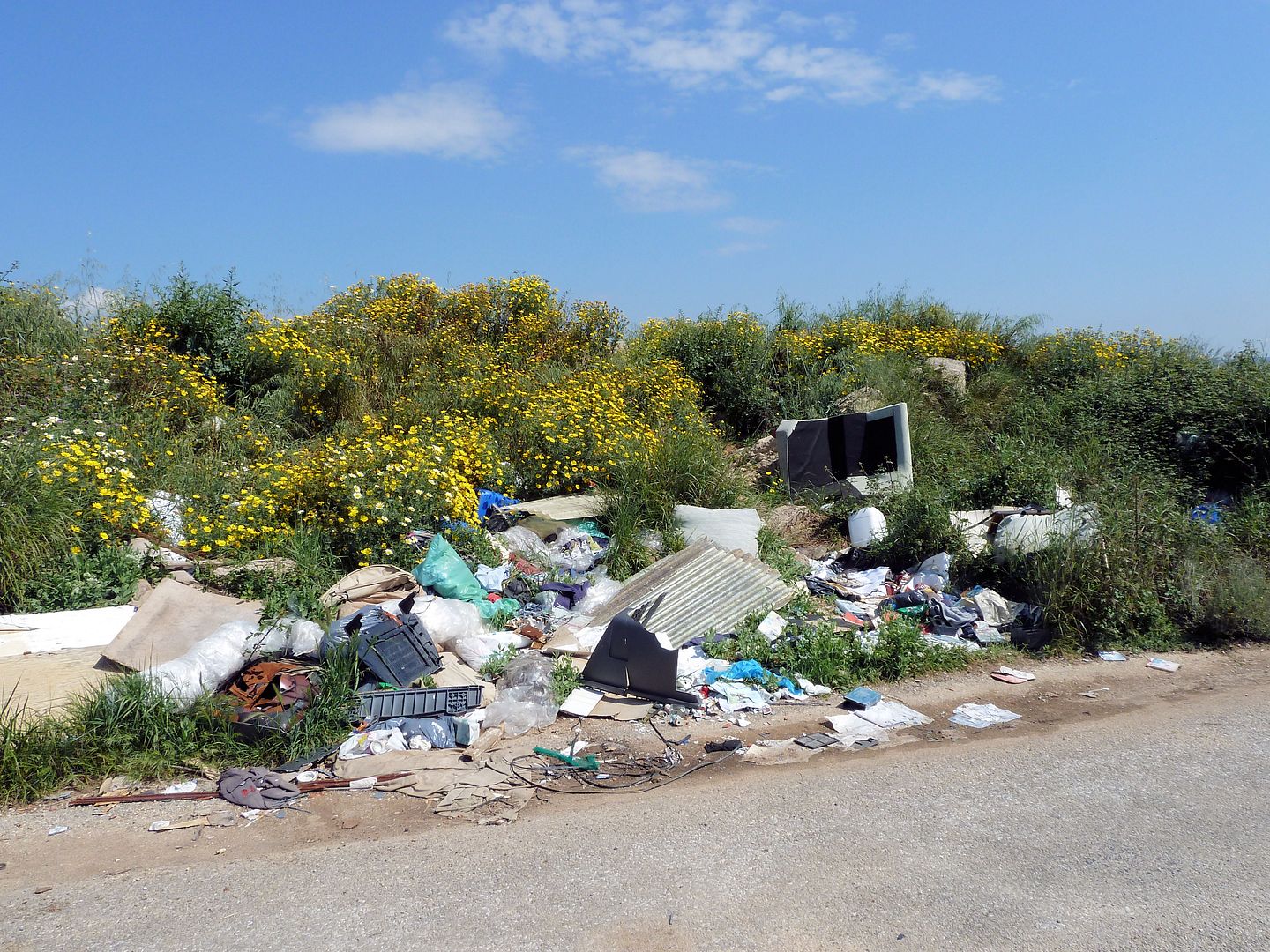 ...but the location offers good views of the runway. This is Air Nostrum DHC-8-300 EC-LFH, still wearing the basic Arik Air color scheme: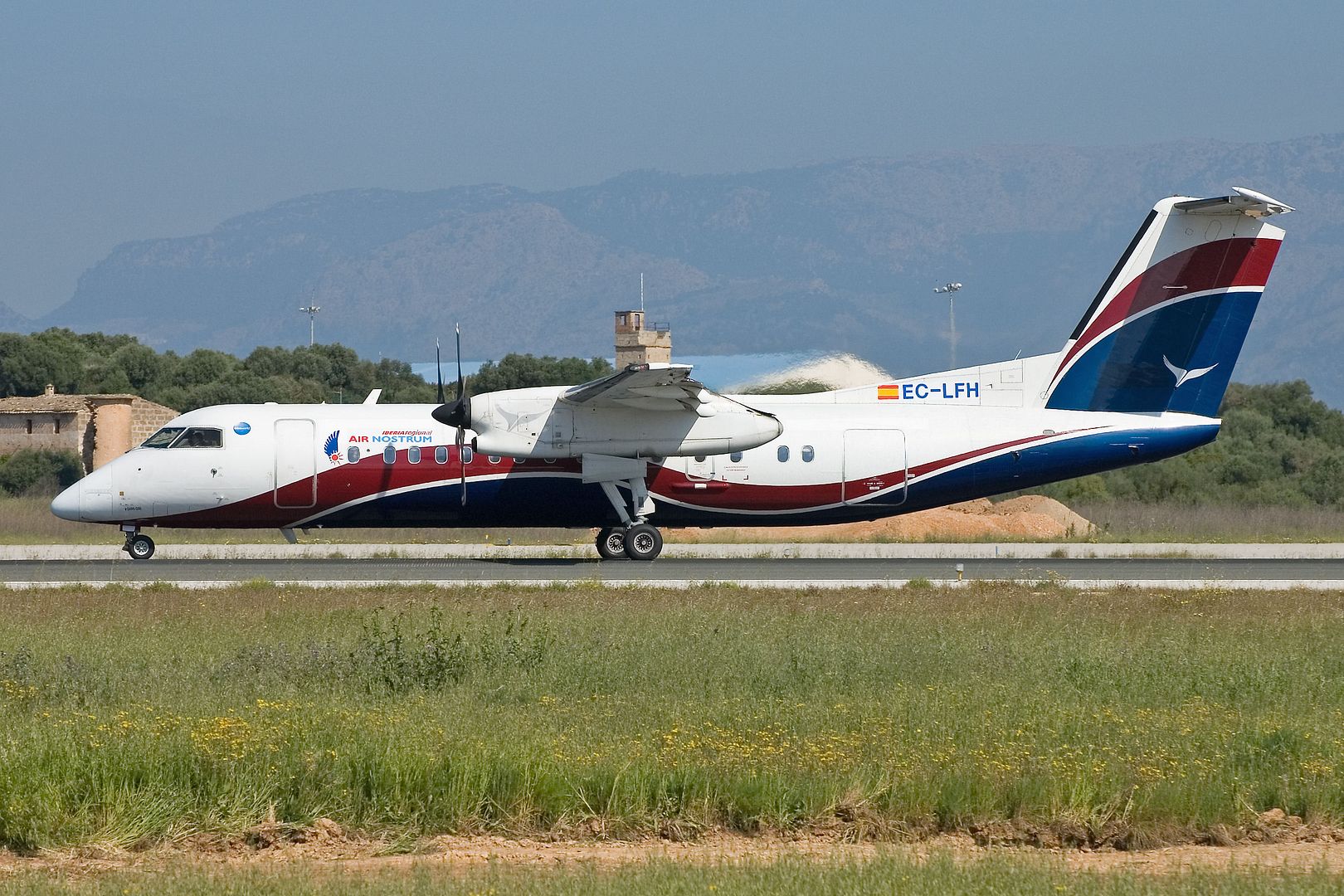 Picture by Satchmo
Air Europa Embraer 195 EC-KXD - cabin shots to follow in part 2: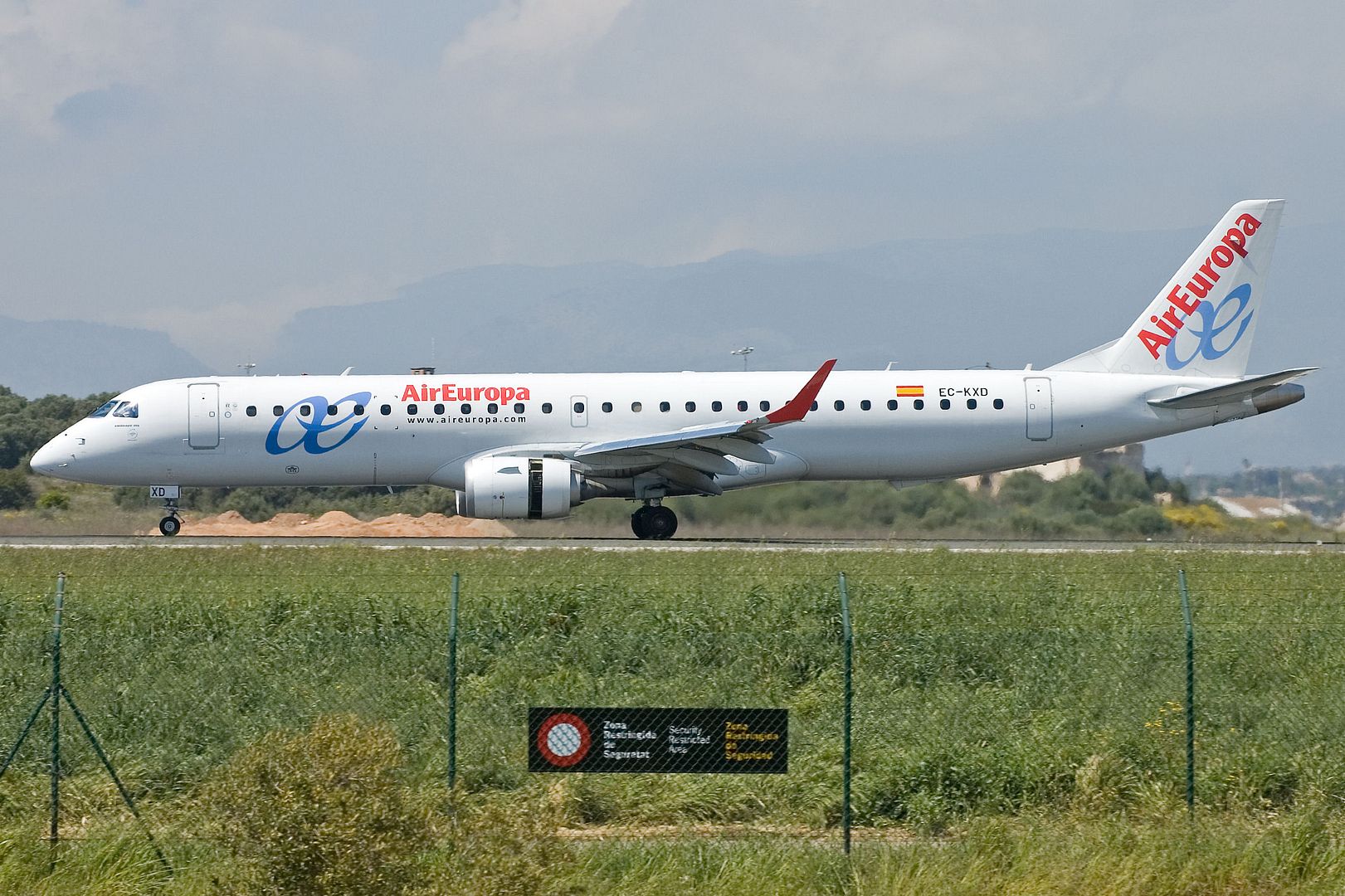 Picture by Satchmo
Some hours later we moved on to a spot next to runway 24R. This is EC-KXQ, meanwhile the last remaining ERJ-145 in the Andalus fleet: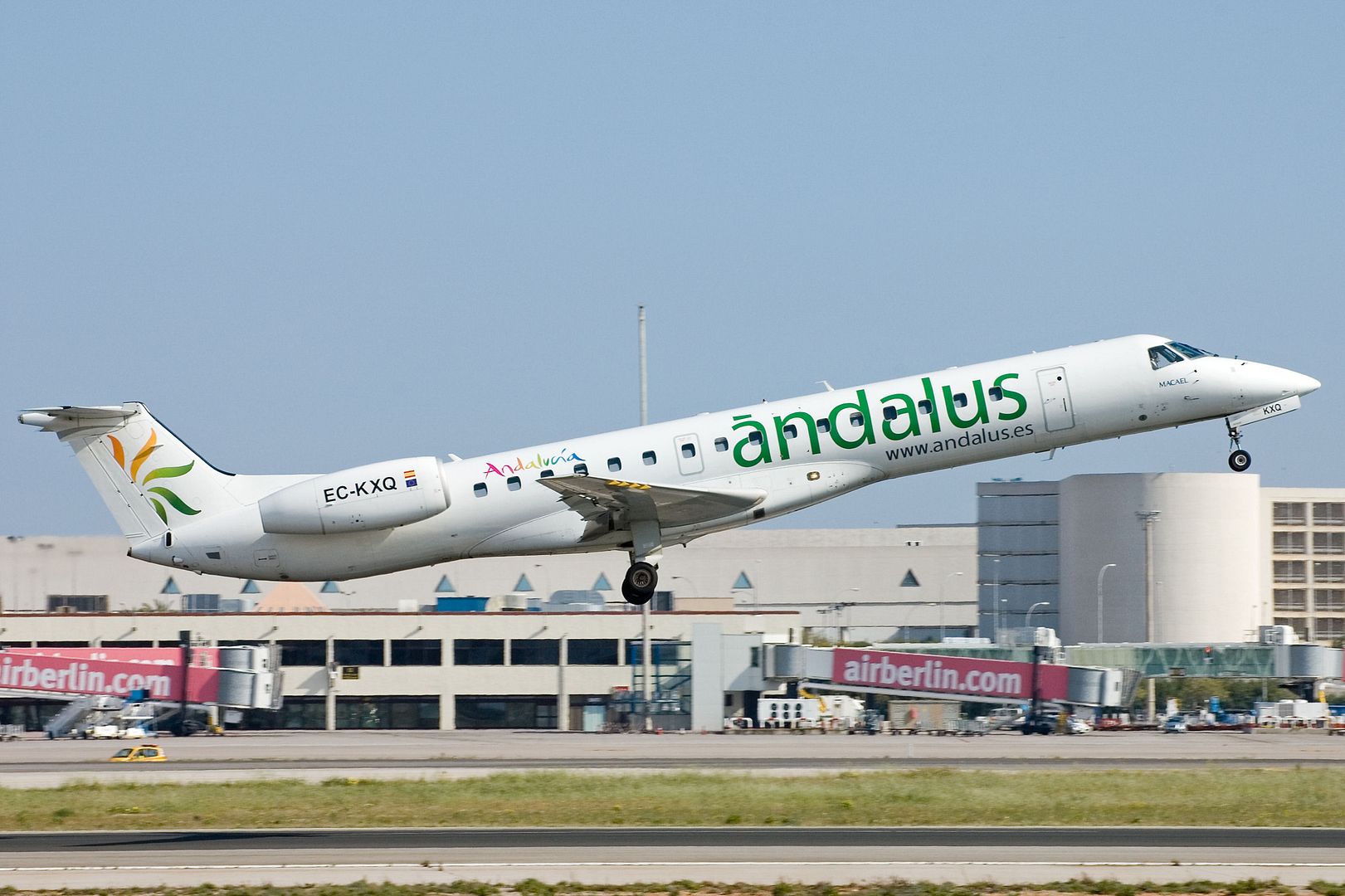 Picture by Satchmo
In the late afternoon it was time to switch to a spot under the approach path of runway 24L. Very nice scenery: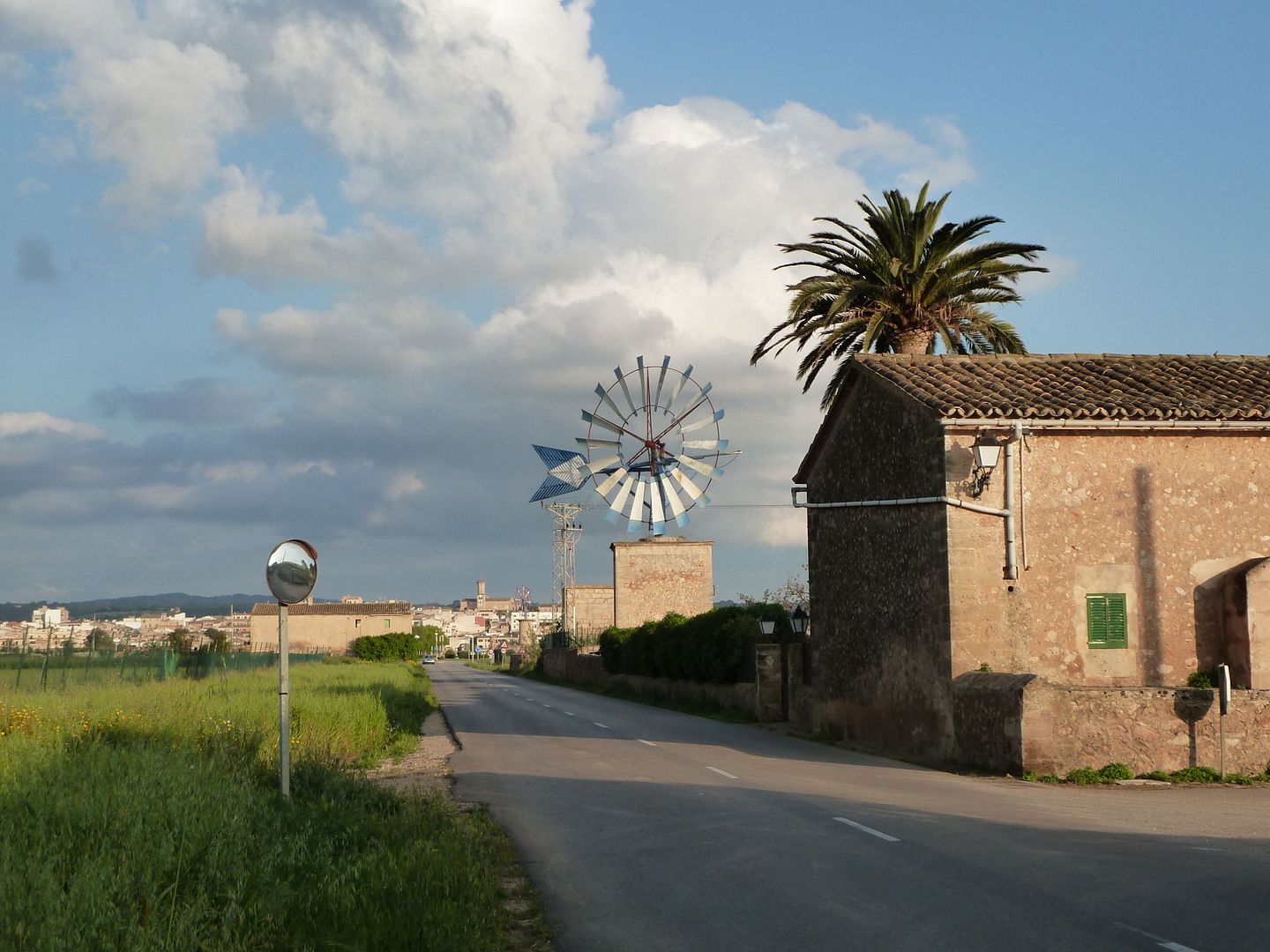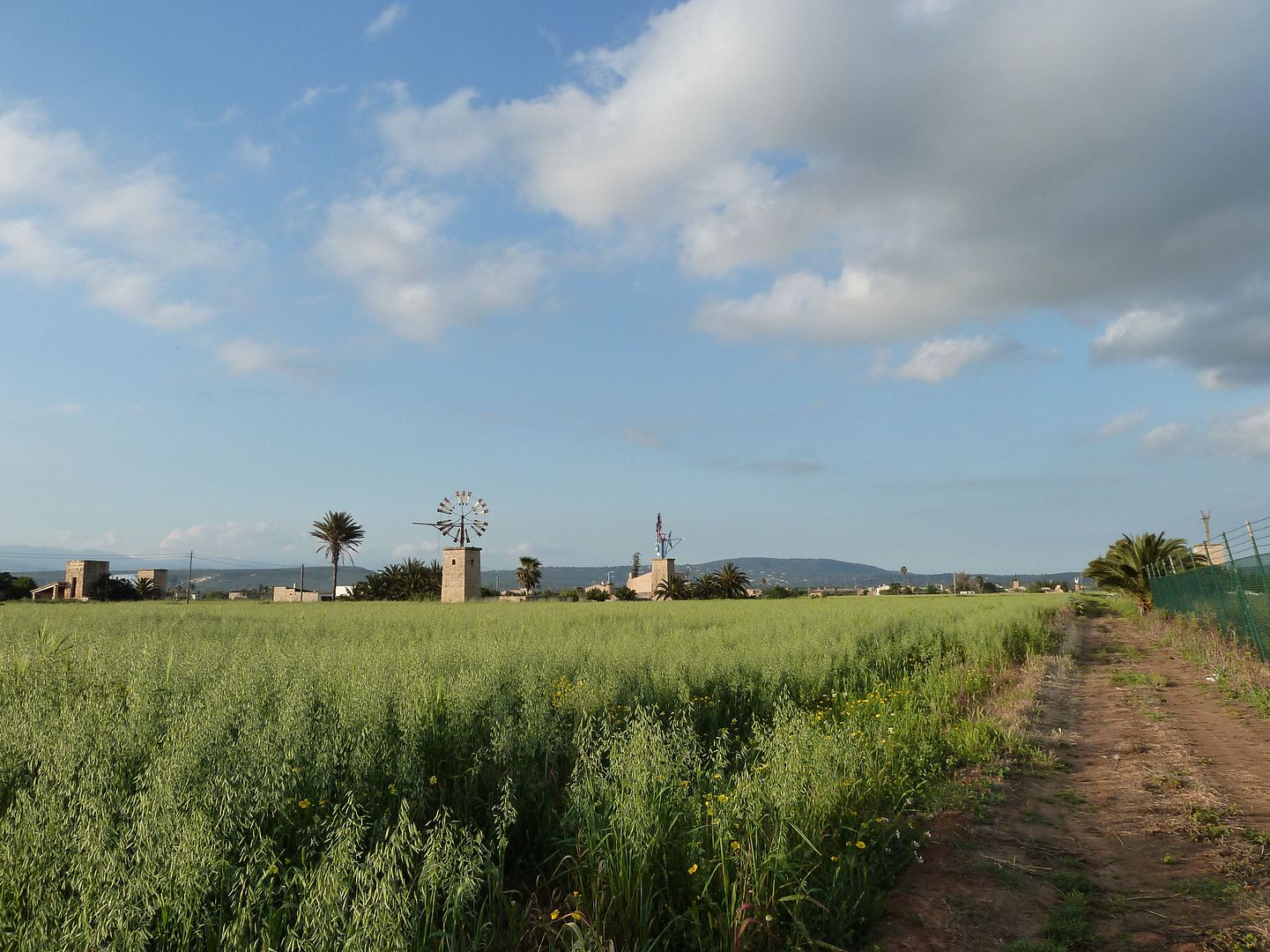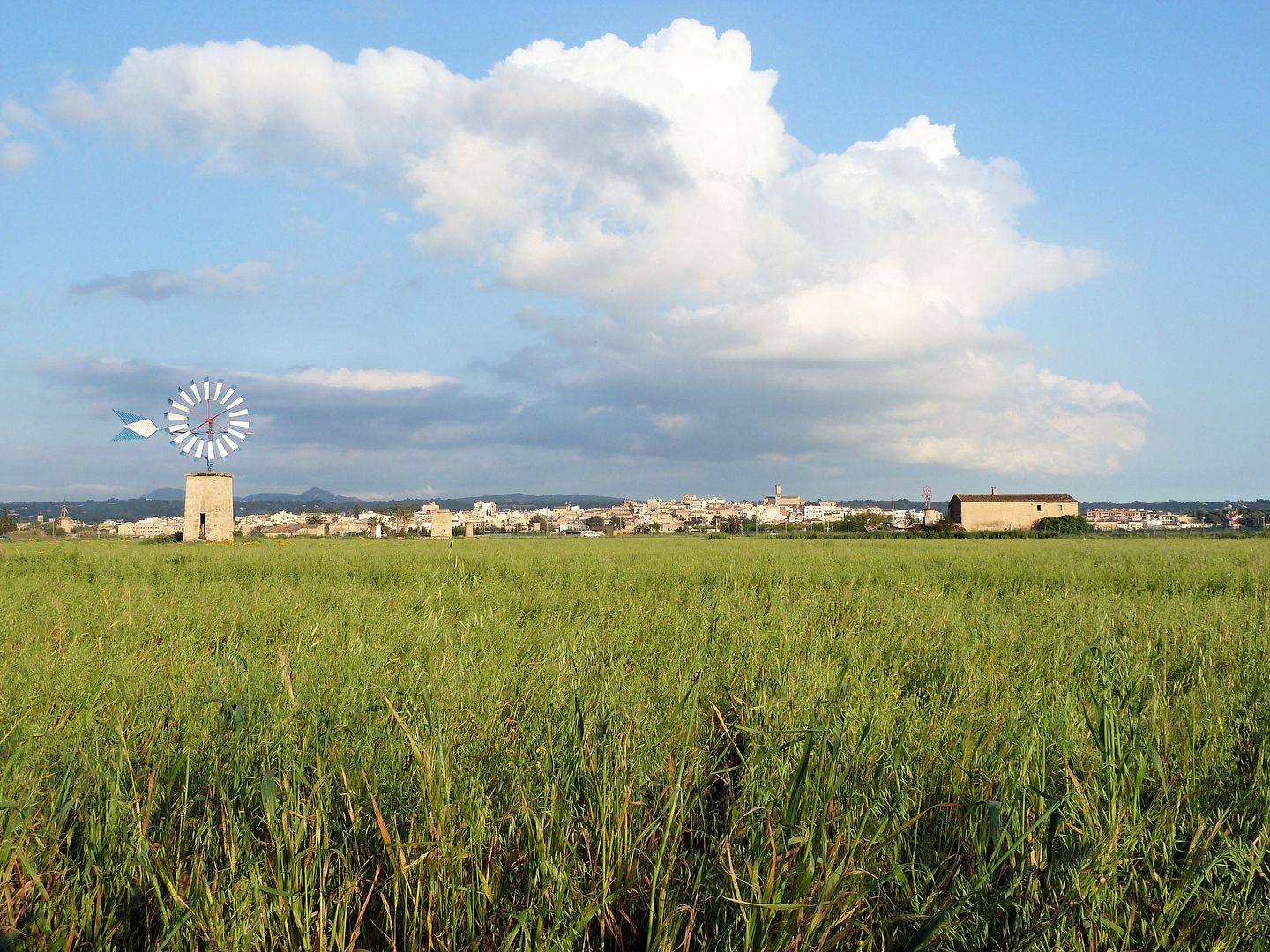 Air Berlin A320 D-ABFA: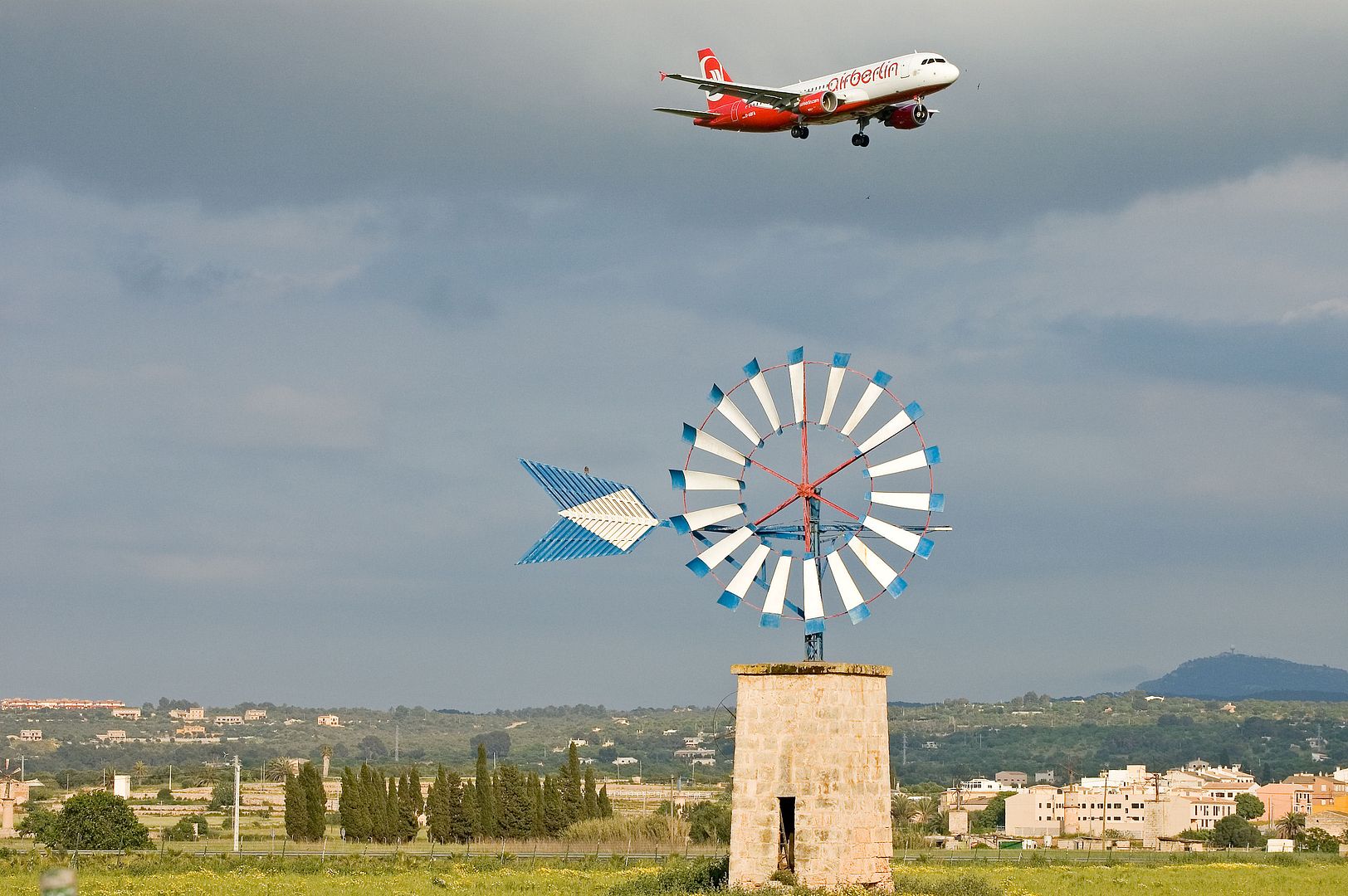 Picture by Satchmo
Spanair A321-200 EC-HQZ: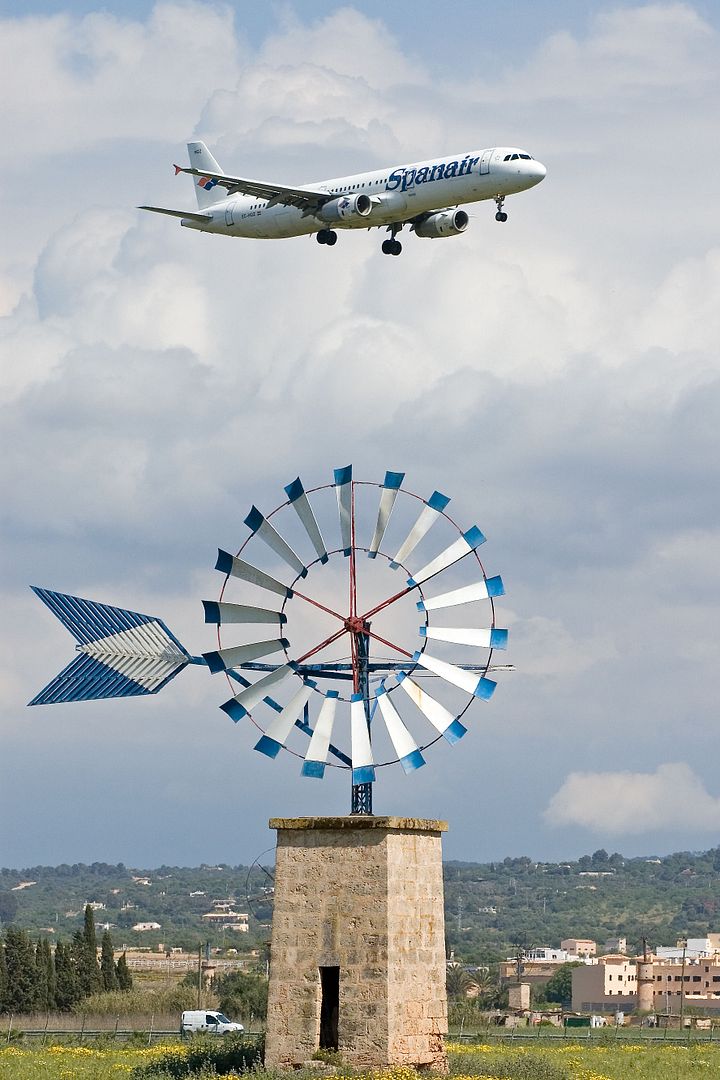 Picture by Satchmo
Primera Air Scandinavia 737-800 OY-PSC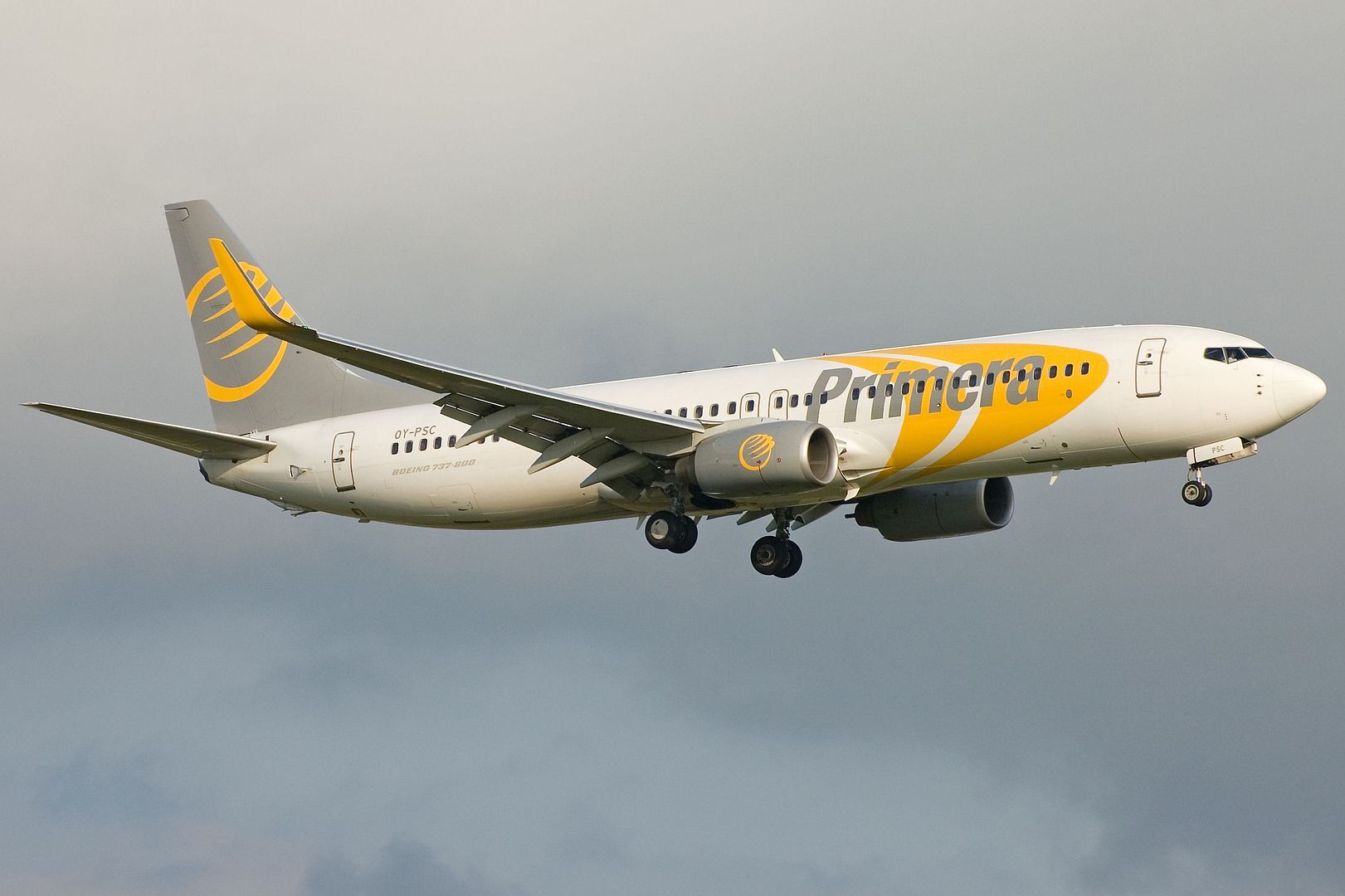 Picture by Satchmo
City Airline MD-87 SE-DIU: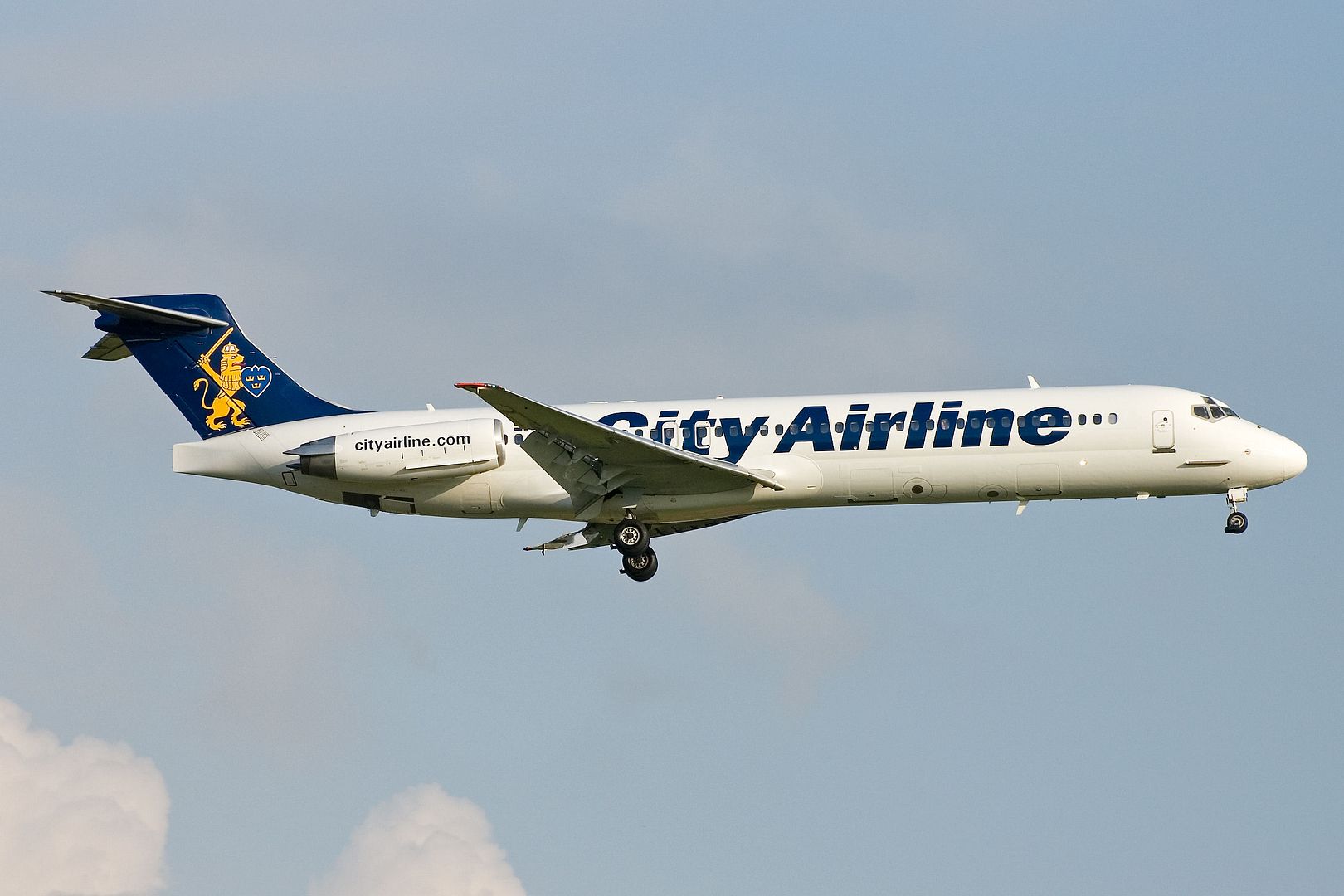 Picture by Satchmo
We were quite satisfied with our "hunt" in the end, even though we missed some aircraft from Eastern Europe. I logged a total of 56 new registrations at Palma during the whole day.
Later in the evening we checked in at the
Roc Linda Hotel
at
Can Pastilla
which is not far from the airport. It's a rather basic 3-star-hotel, but the room was clean and the staff was friendly. The low rate of 36 Euro per room even included breakfast and dinner buffet. Of course, you shouldn't expect any culinary delights.
Views from the room balcony: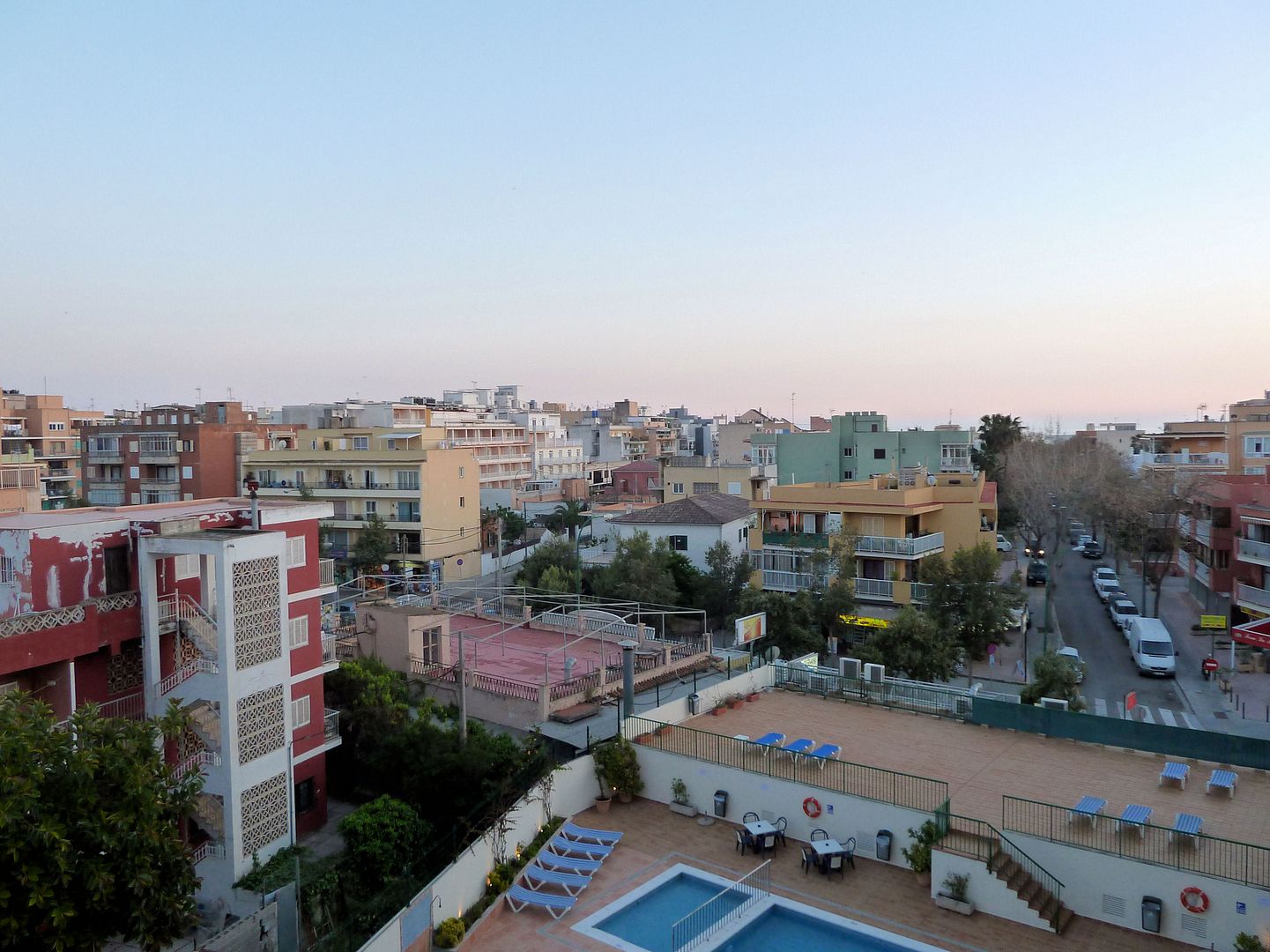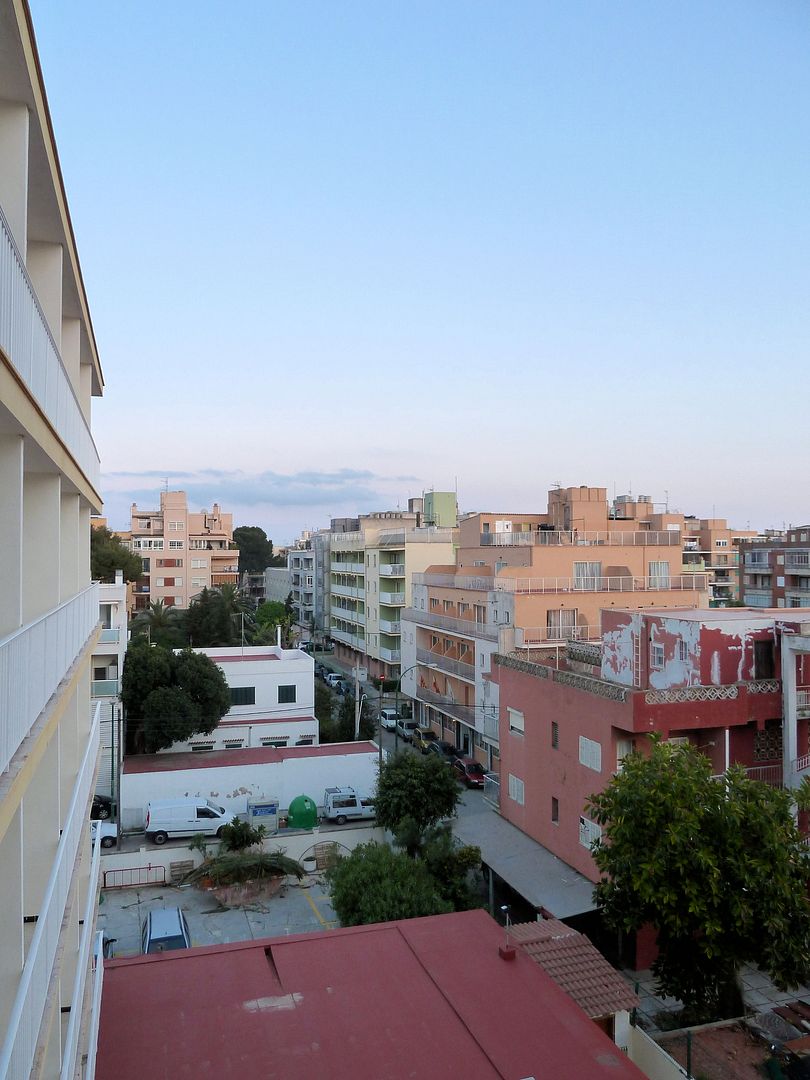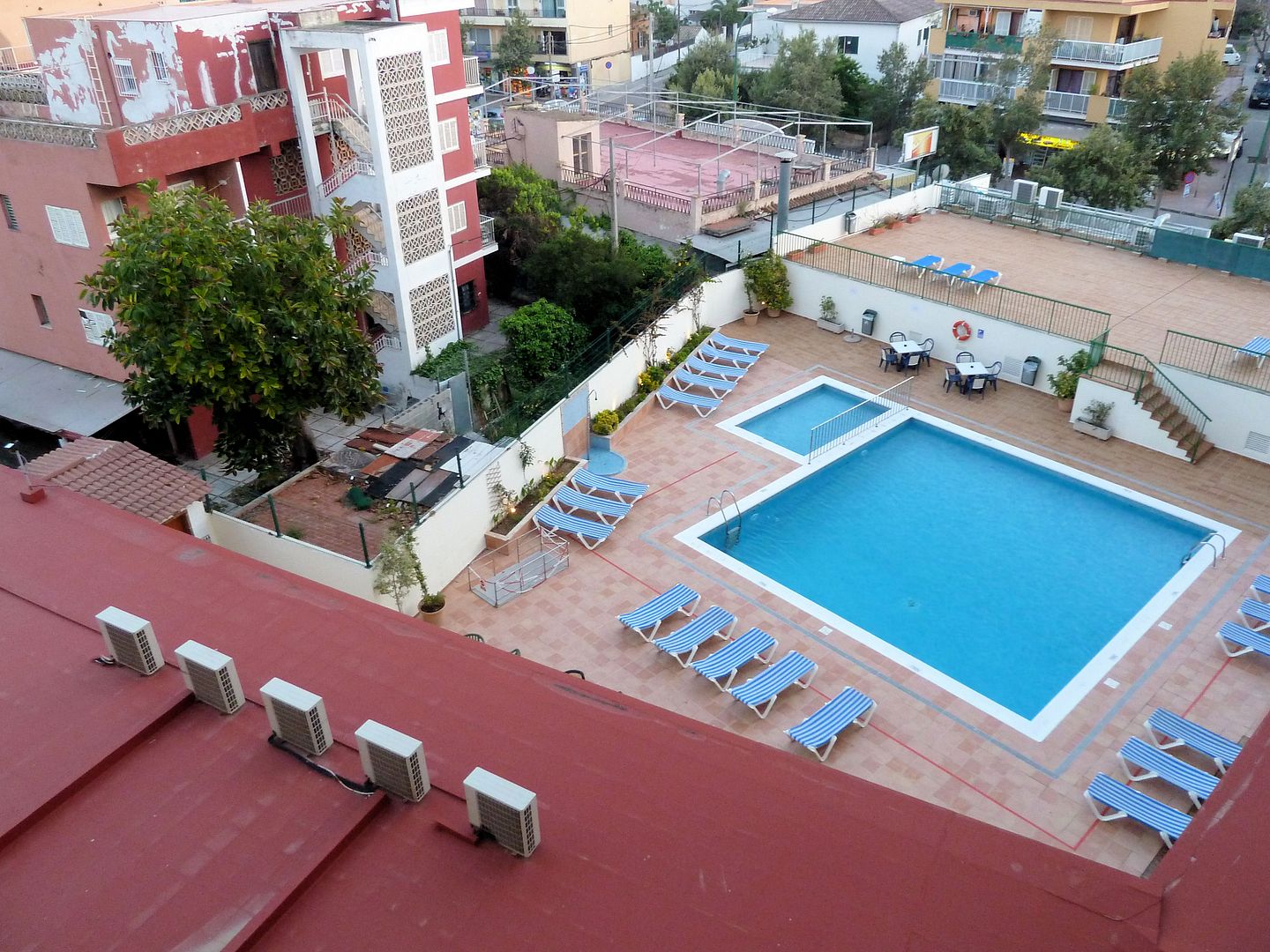 Early the next morning we headed to the airport again to start our two-stop return trip.
Story to be continued...
Conclusion
Condor
offered a decent product on the short Munich-Palma sector. All staff members were friendly, the 757-300 cabin was in good shape, seats were comfortable and legroom was sufficient. I cannot complain about the entertainment system either - the airshow channel is all I need on such short routes. It was also good to see that Condor still offers non-alcoholic drinks and sandwiches free of charge. The "Premium Meals" are a nice addition to the service concept, I wouldn't hesitate to order such a meal again.
Best Regards,
PlaneHunter
P.S.: Just in case you missed them - other more or less recent reports:
The Dead Slow Transfer: PEK-MUC On Air China A332
Cancellation Brings Joy: HKG-PEK on Dragonair A330
A380 Cacophony, 777 Star Livery: DXB-SIN-HKG on SQ
The Next 5* Carrier? MUC-MCT-DXB, Oman Air A330
Turkey For 1.5 Hrs: Daytrip To AYT On Sky Airlines
CO Scores Again: ATL-IAH-EWR-FRA On ERJ, 752 & 764
Riding The Ultra Long-Haul Twin: Delta 777-200LR
Pacific Coast Jaunt: 3 Carriers, E120, E140 & Fog
The Ultimate 737: LHR-IAH-PDX On CO 777 & 739ER
Bye Bye, Hell! TRD-OSL-TXL-NUE - DY/AB/HE DH4
My Trip To Hell: NUE-CPH-OSL-TRD On Cimber & SAS
SFO-YUL-FRA: Map- & Sleepless On Air Canada's 77W
Sin City Gloss & Virgin America's Chic First Class
Seat Dilemma & Canyon Glamour: FRA To LAX, AC 763
On Par With Air France? DTW-AMS-MUC, KLM A330
Goodbye, Red Tails! DC-9-40/50 & Chicago Tour
Champagne & World Of Coke: Air France A340 To ATL
"Mission A380": Disappointing Legs On BA/BD/EI
Delights Of Doha, 773 & 77W: DOH-DXB-LHR On EK
A380 Really a Step Forward? LHR-DXB-DOH On EK
Quality & Style: HKG-LHR On Air New Zealand 744
Taiwan Trio: TransAsia, UNI Air And The Taipei 101
"The Wings Of Taiwan": EVA Air A332, 744 Combi
SHA-SZX, Shanghai 757: Delayed By The Military
PEK-SHA, China Eastern A330 & Shanghai At Night
Striking Newcomer: Berlin-Beijing On Hainan A330
[Edited 2010-06-07 00:19:05]