Introduction
There still are a couple of domestic routes opened by airBaltic this year that I've yet to fly. This weekend started as my attempt to log Tampere to Rovaniemi. I ended up booking the flight both ways, a late Saturday evening flight up to the Arctic Circle, followed by a couple of hours of sleep at the airport (didn't see it worthwhile going to a hotel for such a short period) and the same plane back to Tampere early on Sunday morning. This was booked a couple of months advance at less than 30 EUR per leg, with the idea of driving to and from TMP airport.
Early May my attempt at logging the VAA-RIX route (see here:
Bumpy Times In Vaasa: VAA-HEL
(by
FlyingFinn76
May 8 2010 in Trip Reports) ) ended up not working (but with a very positive outcome for me) so I had to try another time. Somehow I figured out that I could do it the same weekend as the RVN flight, and ended up booking a flight for the Friday evening. HEL-RIX-(VAA)-UME was cheaper than just to Vaasa, so I booked it instead, for a total cost of around 150 EUR, paid partly by one of the vouchers. I had done the VAA-UME-VAA inaugural flights (report here:
A Night In Prison: HEL-VAA-UME-VAA-HEL
(by
FlyingFinn76
Apr 1 2010 in Trip Reports) ), but what the heck.
To make it to TMP in time of my RVN flight was a bit harder, sure there were plenty of flights available with various routings but the prices weren't very tempting. At one point I was even considering taking an 8-hour bus ride up to Haparanda on the Finnish border, then going over to Tornio on the Finnish side and finally making my way to Rovaniemi from there and just catching the RVN-TMP part back, but somehow that bus ride didn't sound too inviting to me. It anyway got me thinking about buses and checking the nearby airports instead of just UME as well, and I found cheap flights down to ARN from Skellefteå Airport (SFT), a hundred kilometers north of Umeå with a decent bus connection (oddly enough, booked through SJ or the Swedish Railways).
I originally wanted to book the later SK flight SFT-ARN than the earlier Skyways flight (for the convenient, later departure time AND it was scheduled to be an MD-80 as well) - both were a bit under 50 EUR, but I waited a few days too long and the SK flight jumped up to almost 100 EUR so I went with JZ instead. The early departure meant that I had to catch the 5.40 bus from Umeå instead of the 8.00 one, but sleep is overrated anyway. The bus ticket through SJ was around 13 EUR.
Finally I booked airBaltic from ARN to HEL via RIX for 85 EUR, not bad at all.
4.6.2010
While driving home from the office I make a short detour via the airport and check in using the self service kiosks. Not very good performance today either, it only lets me check in for the first leg... I sure hope that when BT's ground handling subsidiary, North Hub Services starts its operation at HEL later this year things will be improved - please give us OLCI, thank you. I arrive back at T1 with a bus around 17.50, 50 minutes before the scheduled departure time. The place is packed, even the security point has a considerable queue and the airside bars and cafes are full to the gills, so I have to drink my beer standing up for most of the time. Well it is Friday early evening and LH has an A321 and A320 departing for FRA and MUC, respectively, plus a full A321 to CPH from SK and a bunch of KF flights all departing within the next hour so I guess that explains most of the crowds.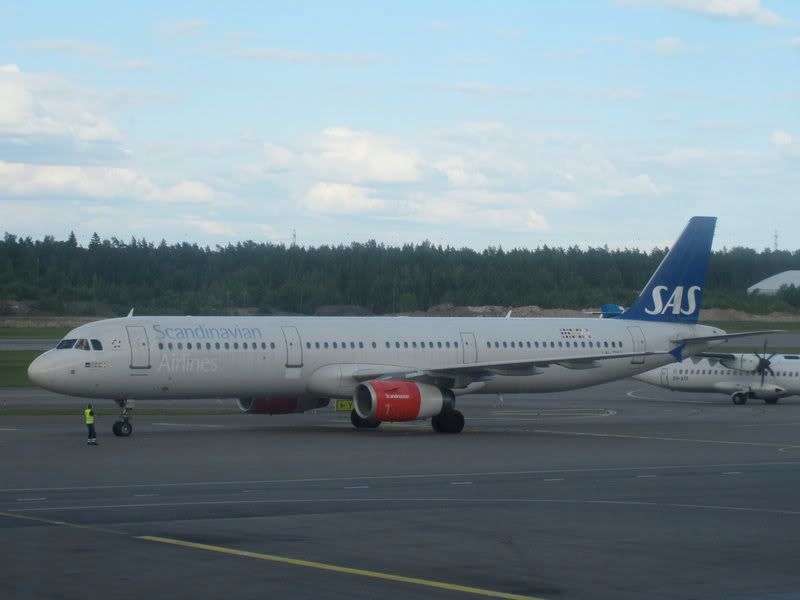 By the time I get to the bus gate 13A ten minutes past the boarding time printed on my boarding pass the first bus has already left and there are only a few of us remaining waiting for the next one. While waiting I ask whether the gate agent could check me in for my second leg, but she says it is too late as she already closed the flight - fair enough. I spy the load as 88 passengers from her computer, a good load for a chance! She tells me to board the bus last as she described me to the bus driver as the last pax, fine - when boarding the bus I give the driver thumbs up and he sets off, driving the short distance to the expected Carpatair Fokker 100 parked on the usual BT parking spot on the main apron.
YR-FKA, my second flight on this one: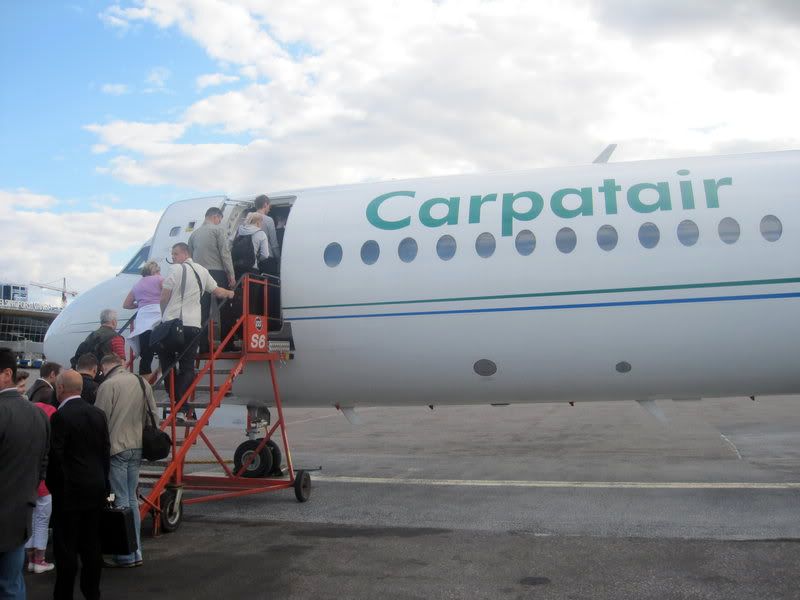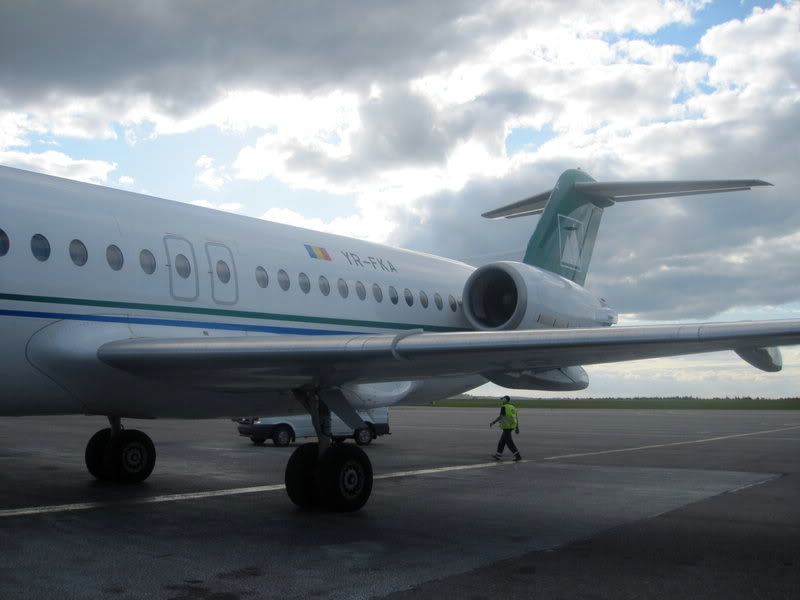 AY A333 OH-LTT - I wondered what it was doing on a Schengen gate but later it turned out it had done a holiday flight to the Med: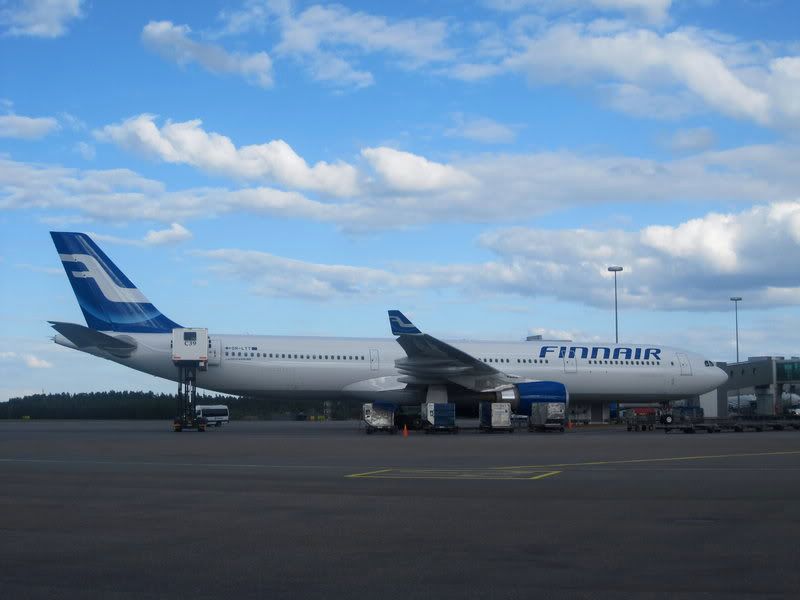 HEL-RIX
BT326 Operated by Carpatair
Fokker 100 YR-FKA
Seat 6F
19.24 - 20.15
Onboard there are two Carpatair FAs and one airBaltic one, just like on my previous flight with this plane a couple of weeks ago on the very same route. Boarding is completed about five minutes past the departure time and flight time is announced as 40 minutes. Then nothing happens for quite a while, I hear some noises from below us so assume that the luggage is still being loaded. After waiting for 25 minutes I'm starting to get a bit restless as my connection time at RIX is only 25 minutes and well... I'd rather make it to Umeå that evening than spend yet another night in Riga! Finally the captain comes on, announcing that "We have a small technical problem, we are investigating it, let's see how it goes."... hmm, not good at all.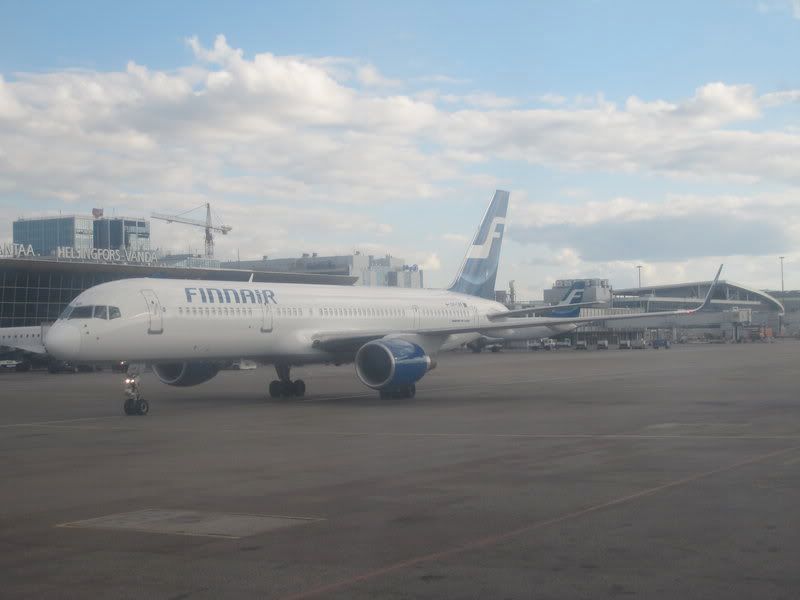 Another 15 minutes passes, some mechanics run around the plane and finally the captain makes another very happy announcement that everything's been sorted and we are good to go. Departure is finally 44 minutes late, with take off from 04R followed by a right turn towards TLL and further to RIX.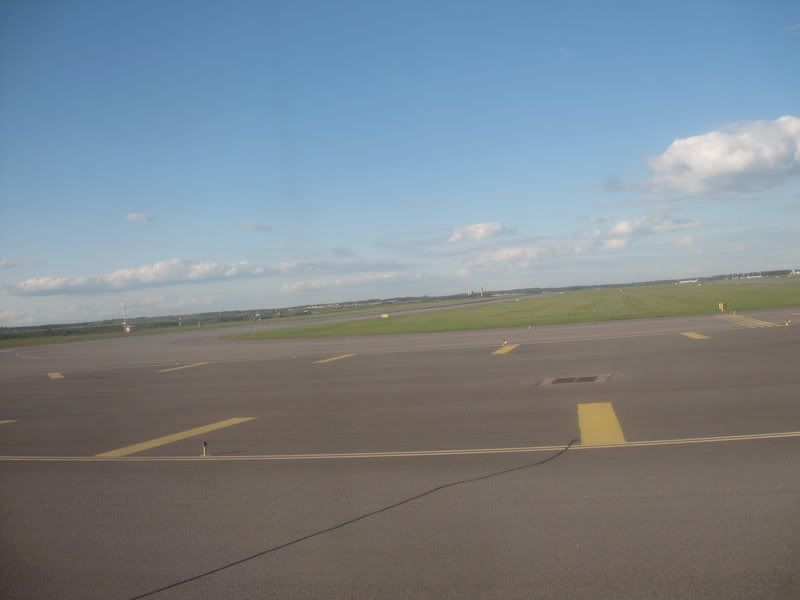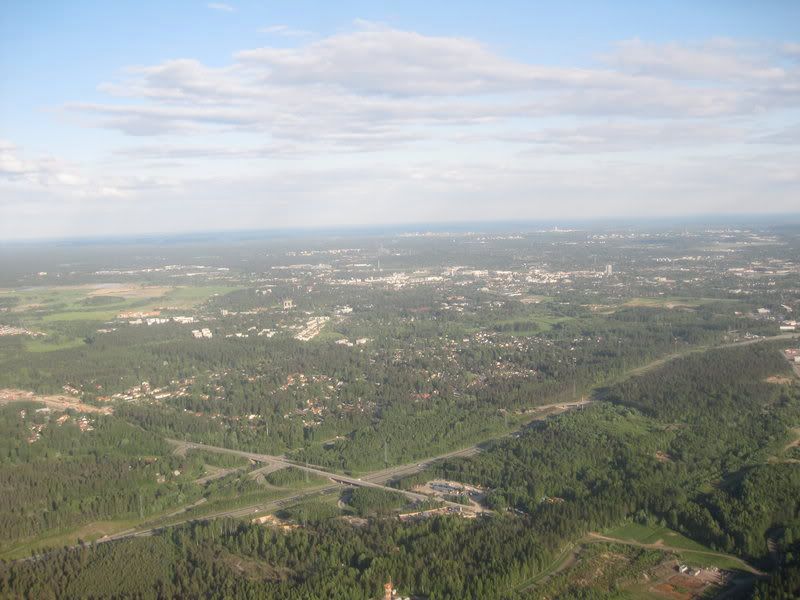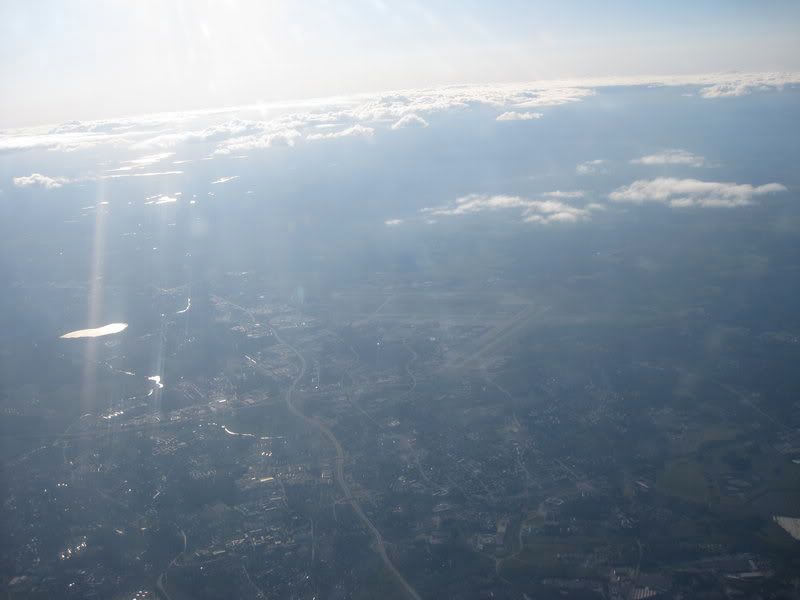 It's a very quick flight, I think we were allowed to take some shortcuts as the route is bit different than normally, taking us straight over Helsinki city centre: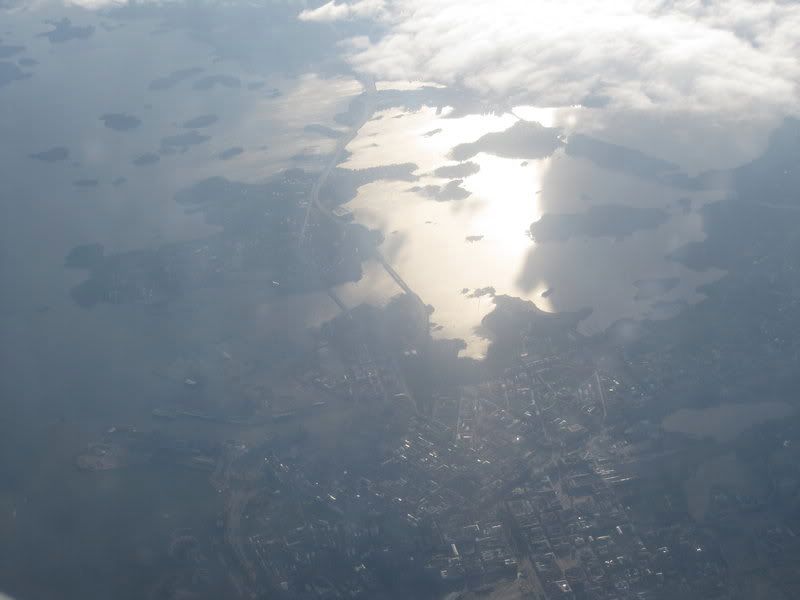 Route is just west of TLL, across Estonia to Pärnu and Gulf of Riga and finally past the RIX airport on the eastern side: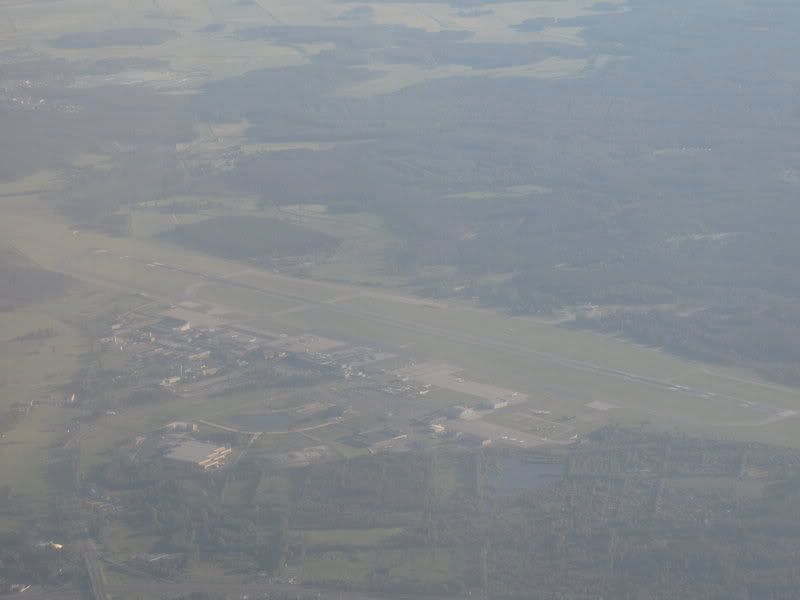 Followed by a right hand turn for a runway 36 landing after around 45 minutes of flight time. At this point it is 15 minutes past the departure time of my Umeå flight, so I'm sort of settled to spend a night here and request to be rerouted to ARN tomorrow.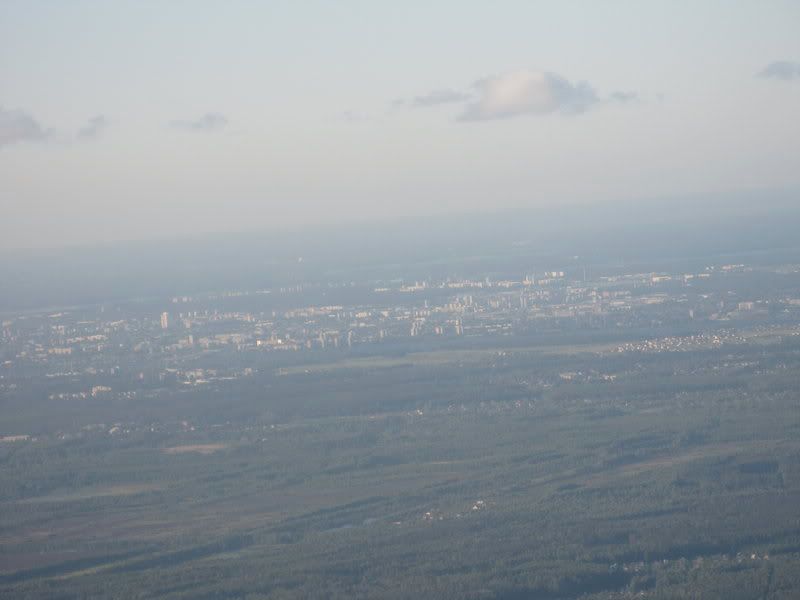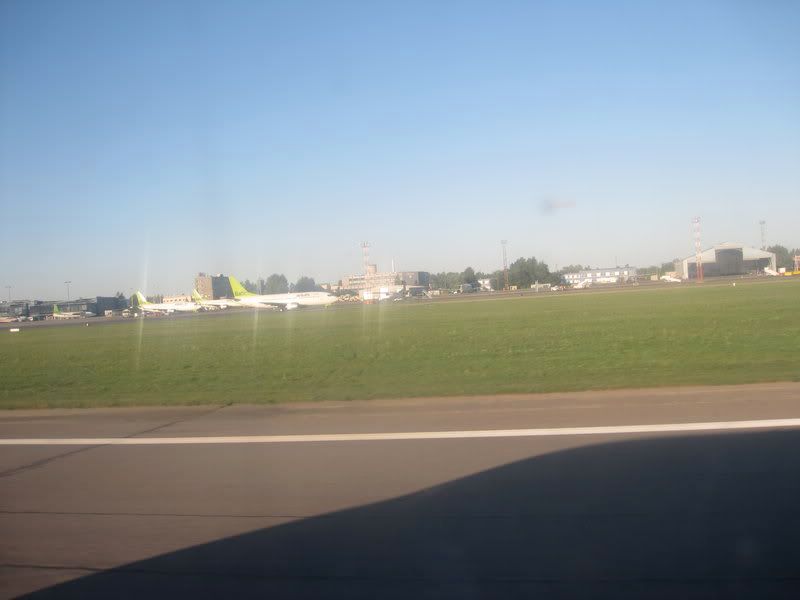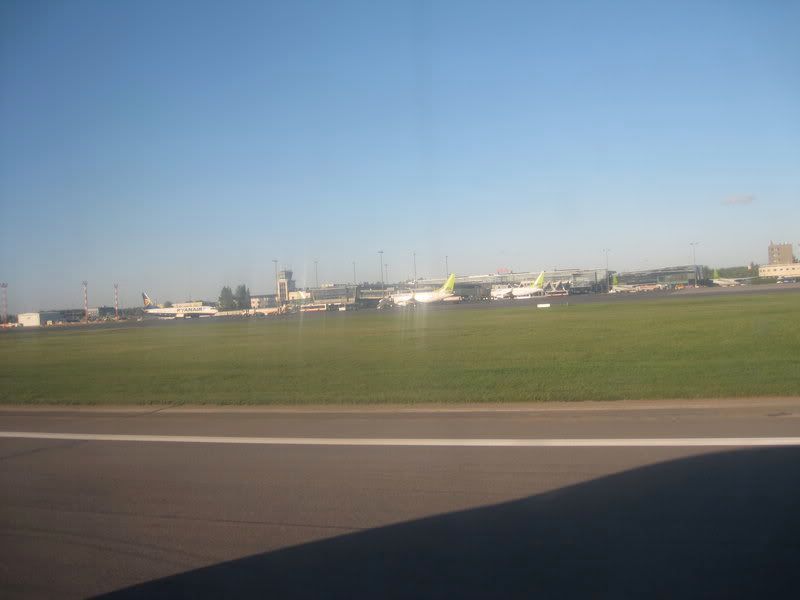 Riga Airport
By bus to the terminal and upstairs to the transfer desk. On the way I check one of the information screens and what do I see? Vaasa/Umeå - delayed to 20.50! Yikes, looks like I will make the flight after all! I quickly head to the gate and tell the two girls there "Boy am I happy to see this flight delayed, can you please print me a boarding pass?". Boarding is scheduled to start in ten minutes or so, so I head to the toilet. Once I take a closer look at the boarding pass I notice my seat as 19A - this flight was scheduled to be a F50 and there aren't nearly enough rows on one, so looks like there's some sort of equipment change. Hmm, maybe this flight is operated by the Fokker I just flew in on, at least the delay would be explained by that...?
Back to the gate and they are just announcing a further 15 minute delay until boarding. I ask which plane it is and the gate agent smilingly announces "It is the new Dash!" - oh well, fine with me. I give her the thumbs up and tell her that I'll head to the lounge for a few minutes.
I finally made the middle elite level at Baltic Miles just the previous day (well, it would've been already over a week ago but the Baltic Miles retro registration process is a huge joke, it took two and half months to get a couple of flights credited and I now have another dozen flights that have not posted automatically..) so I want to make full use of my lounge access privileges. Of course I don't have a real plastic card yet (if ever), but my temporary card printed off the website (which by the way looks very easy to forge) is accepted just fine by the smiling lounge attendant and I'm welcomed in. I'm the only guest there at this time.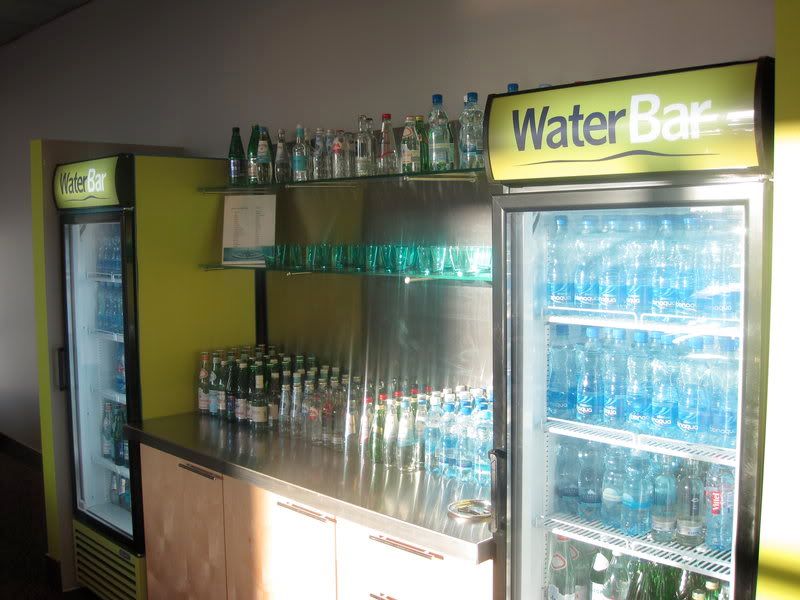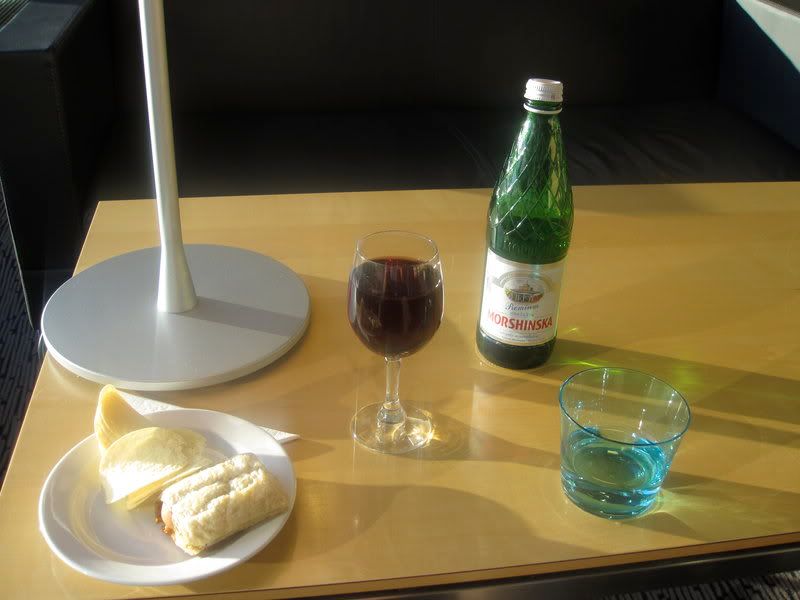 I grab some wine, snacks and Ukrainian mineral water (gotta love that water bar) and have just enough time to get a small second serving before the attendant comes to tell me that the flight is now boarding, so I hurriedly finish my snack and head back to the gate. Most of the passengers are already in the bus and I'm one of the last ones to board.
We indeed drive to YL-BAE, the first and currently only (there should be another one joining this month) one in the fleet. My second and third flights on her, then.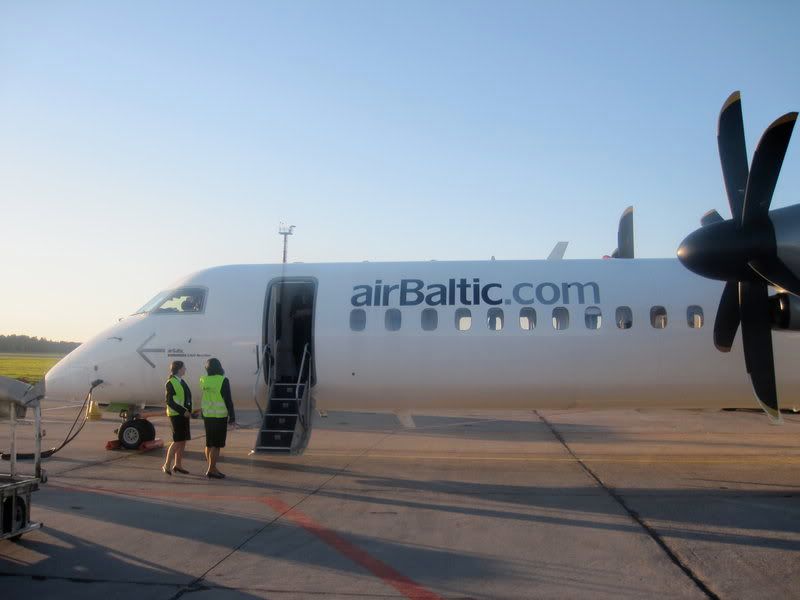 RIX-VAA
BT1357
Dash-8 Q400 YL-BAE
Seat 19A
21.25 - 22.55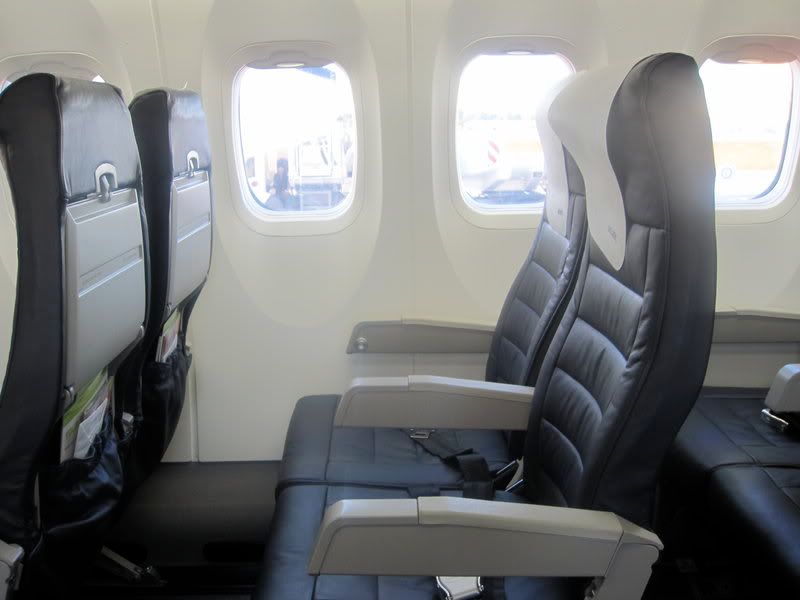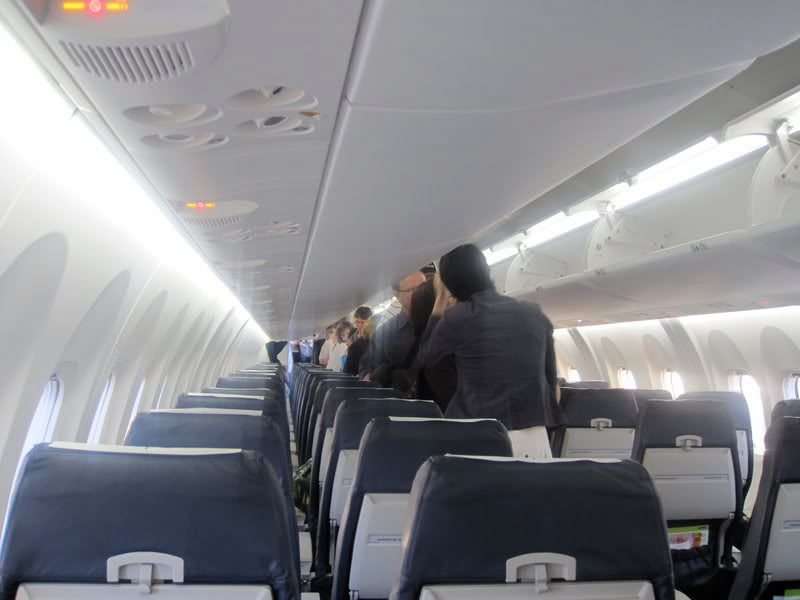 Load is quite good, most of the rows in the front are full with some vacant seats back here, luckily including the one next to me. Somewhere around 70% I think, with mostly Finnish and Swedish (or Swedish-speaking at least) passengers. The flight time to Vaasa is announced as 1h20mins with an apology (but no explanation!) for the delay. Departure is 1h25mins late, with take off from 36 a few minutes later.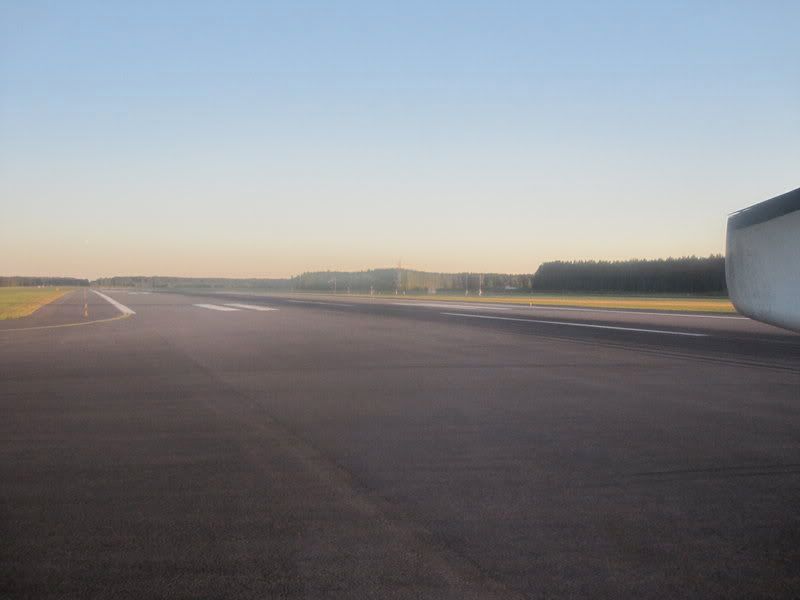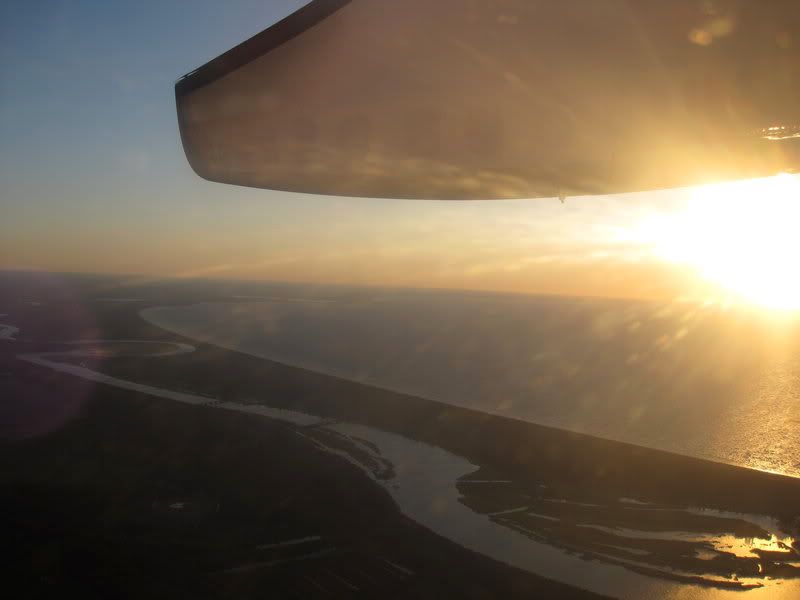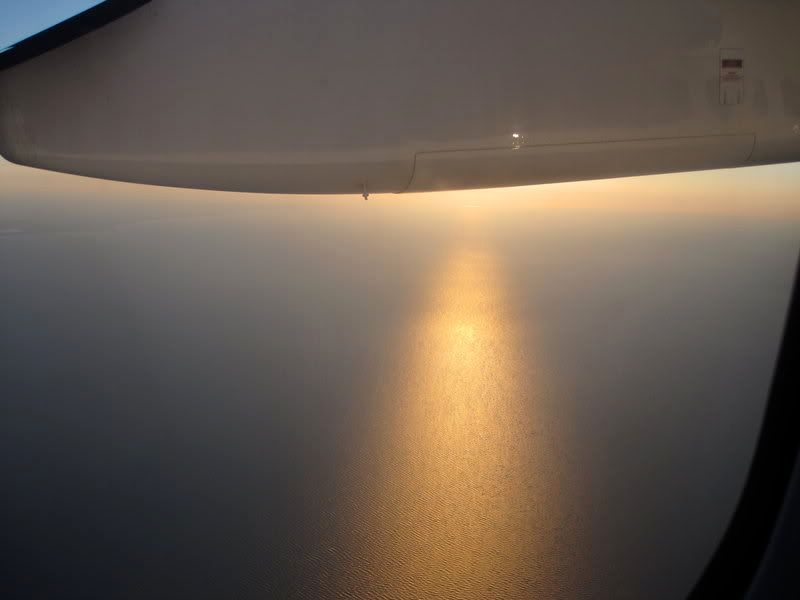 I get some beer from the BOB cart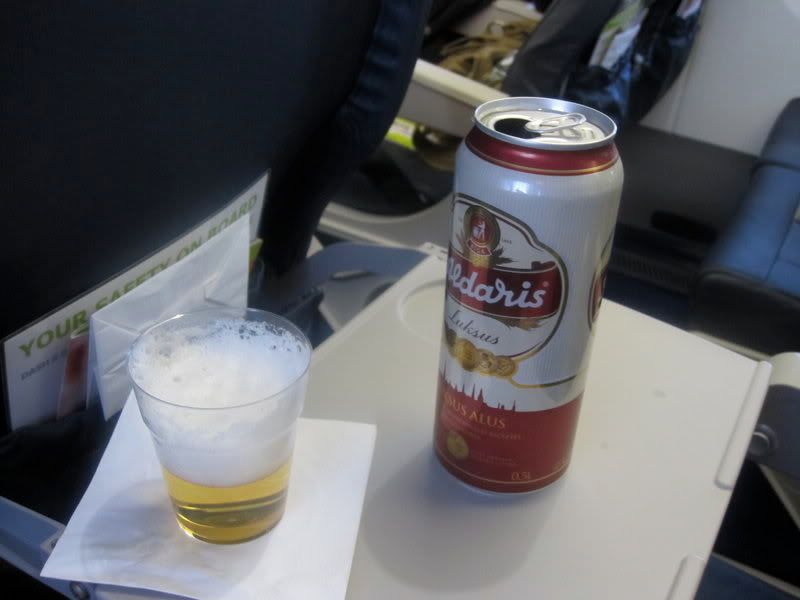 Hello, Finland: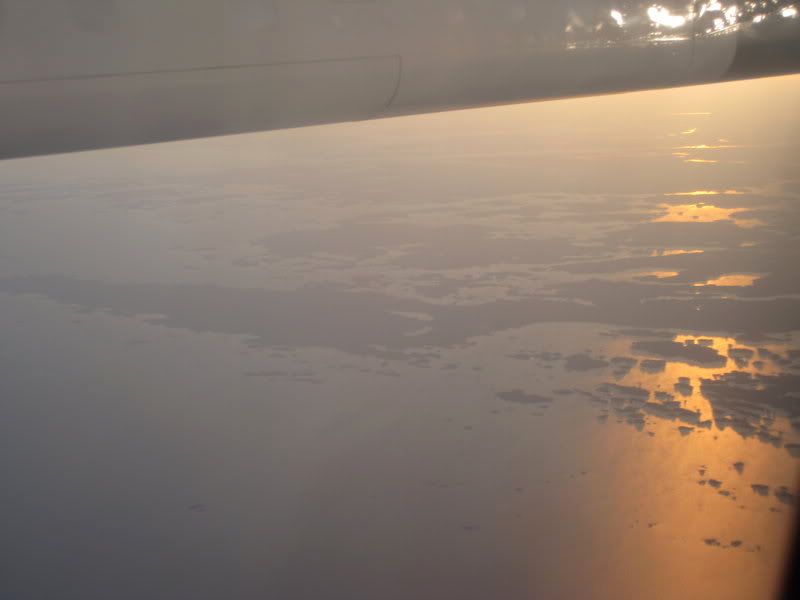 Salo: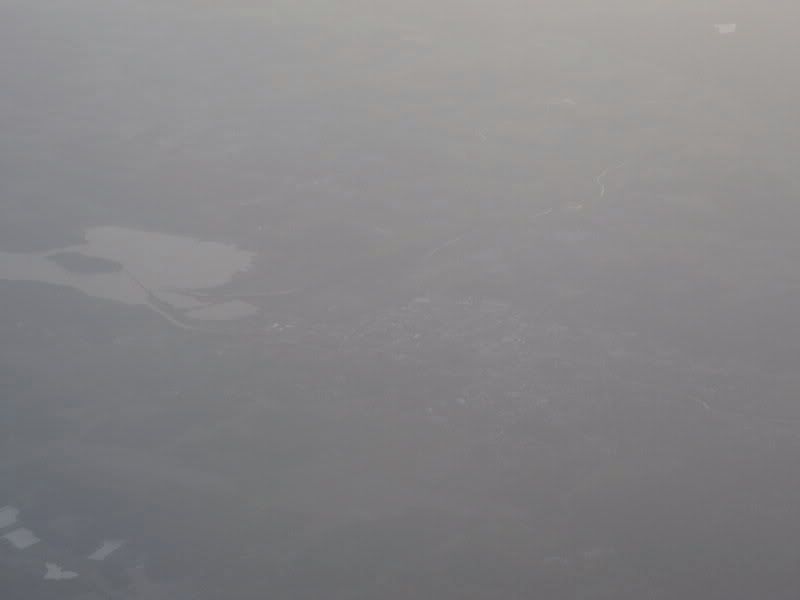 The route takes us along the Gulf of Riga and west coast of Estonia to the Gulf of Finland, across it to near Hanko, towards Salo and then across southwestern Finland to the town of Kankaanpää: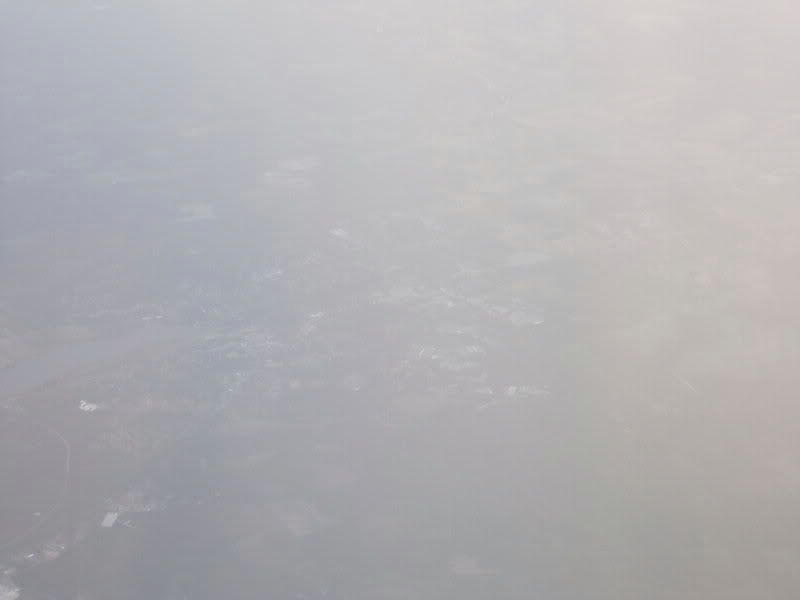 and the nearby garrison of Niinisalo, where we start our descent after one hour of flight right. That white, scarred-looking area is an army artillery firing range: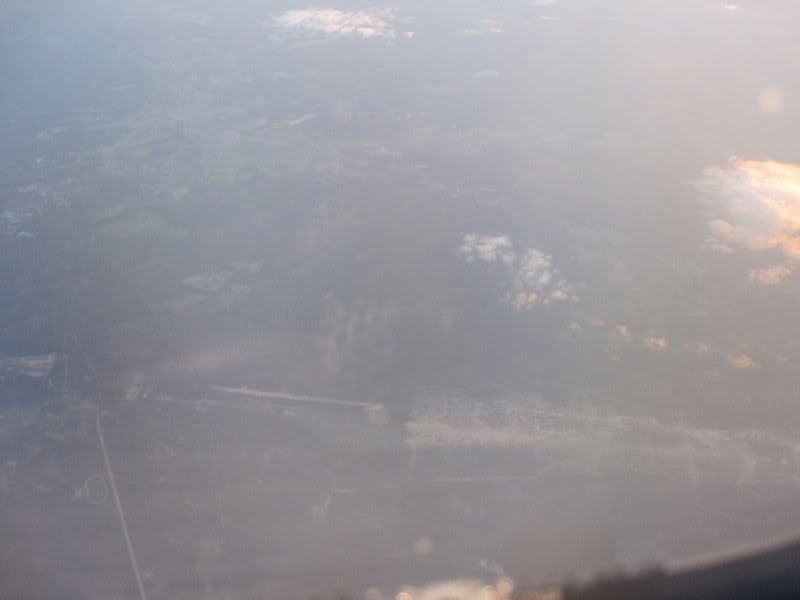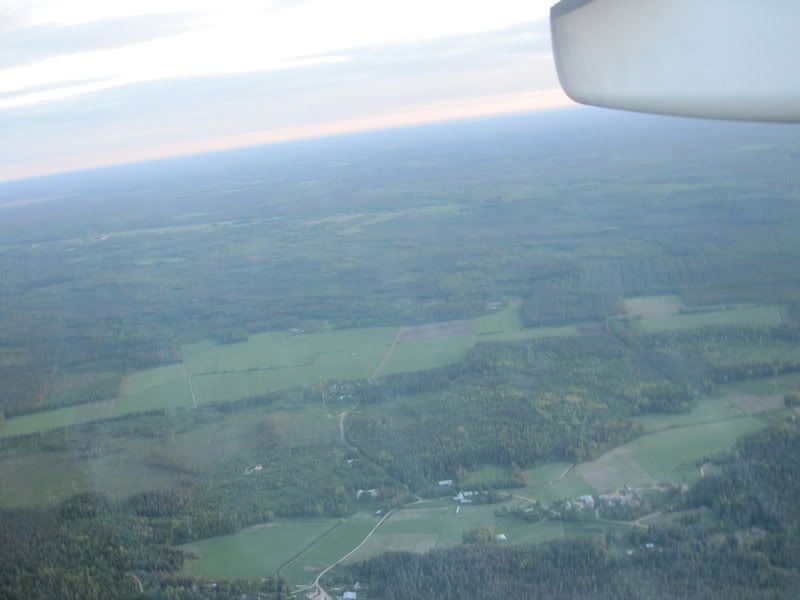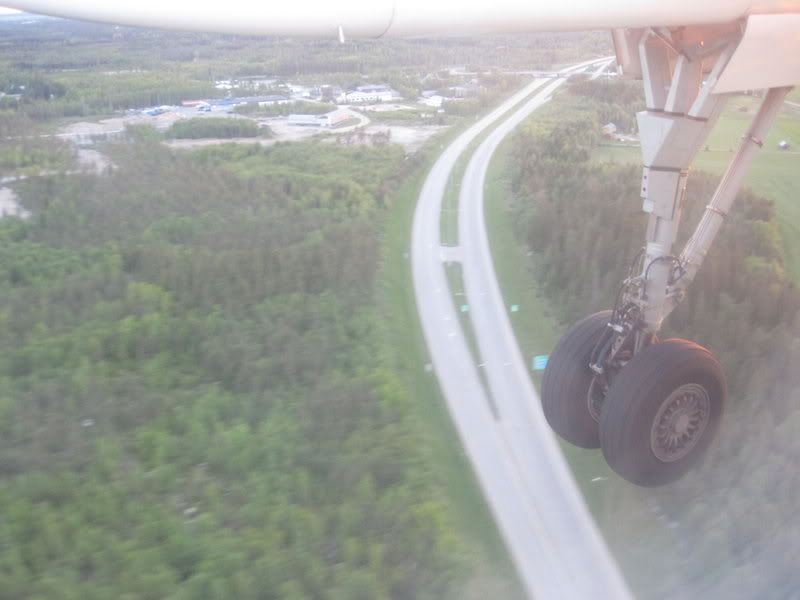 Landing on runway 34 is very very hard, the whole plane seems to bounce back to the air a couple of times before settling - I think the captain is still trying to get to terms with the new plane. The flight time was around 1h20mins. An announcement is made asking all Umeå-bound passengers to stay put and allow the ones getting off here free access.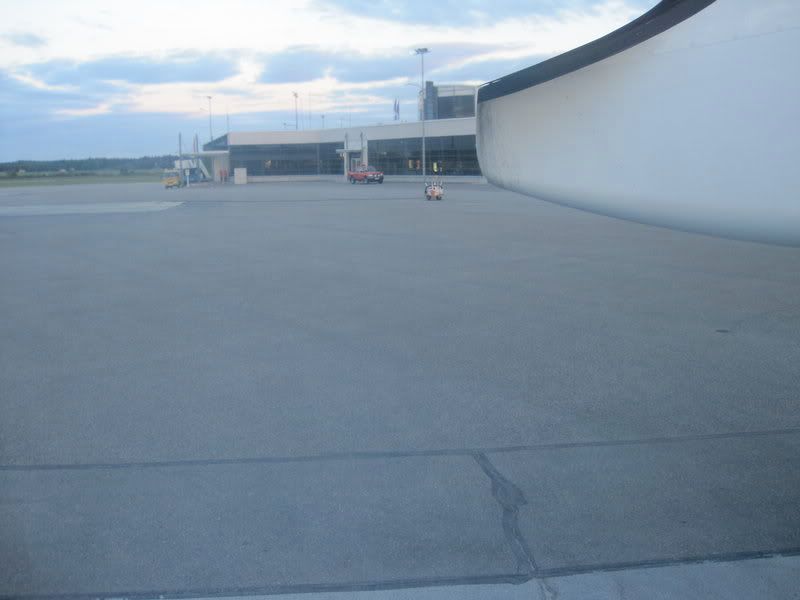 Vaasa Airport (from inside a plane)
Once we stop on the apron in front of the terminal building more than half of the passengers leave the plane. I need a toilet break - surprisingly there's no toilet in the back galley at all. Right when I get in the front toilet, one of the ramp agents comes in and goes to the cockpit, leaving the door open which effectively blocks me inside the toilet, unable to fully open the door, just pry it apart a bit. Luckily one of the FAs notices this and soon comes to rescue me
.
To my surprise they refuel the plane here - is it really that cheaper than in Sweden or maybe the UME airport cannot provide this service late in the evening or early in the morning? A surprisingly good number, 15, passengers soon board for the short hop across the Gulf of Bothnia to Umeå.
VAA-UME
BT1357
Dash-8 Q400 YL-BAE
Seat 19A
23.43 - 23.05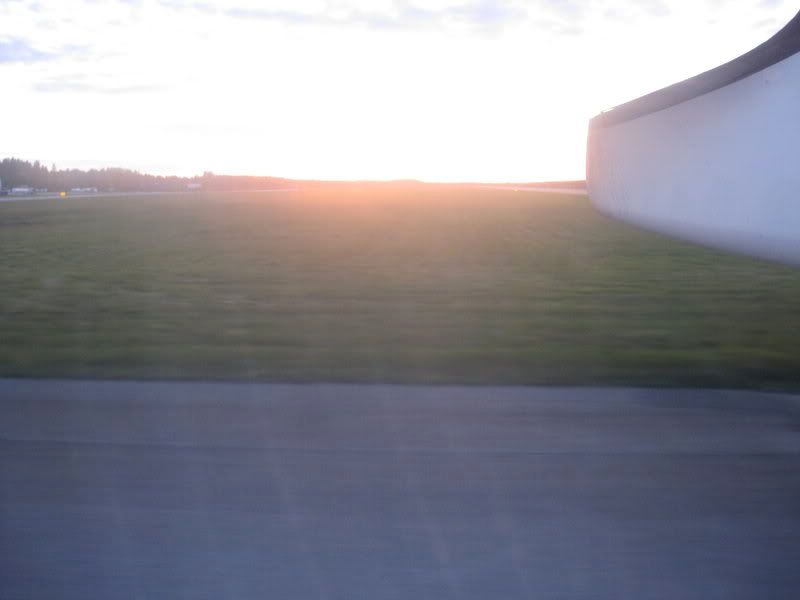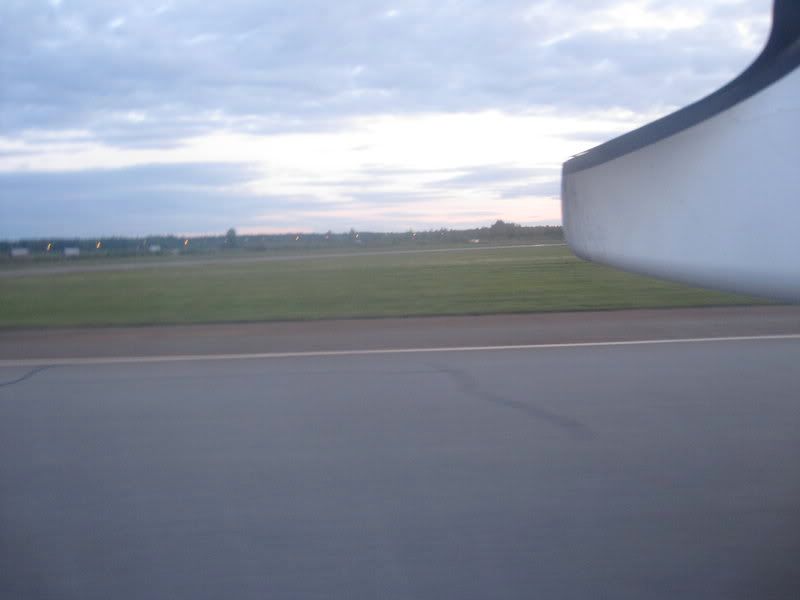 The ground stop ends up taking a good 45 minutes, somewhat longer than I imagined, before we finally start our engines again, taxi to the end of runway 34 and take off towards the northwest. Right after take off a left turn follows, taking us right over the Vaasa city centre: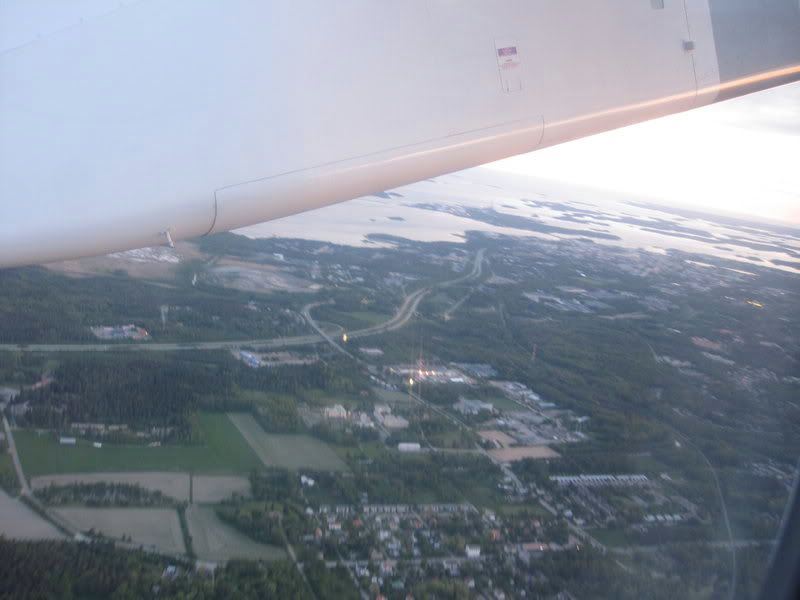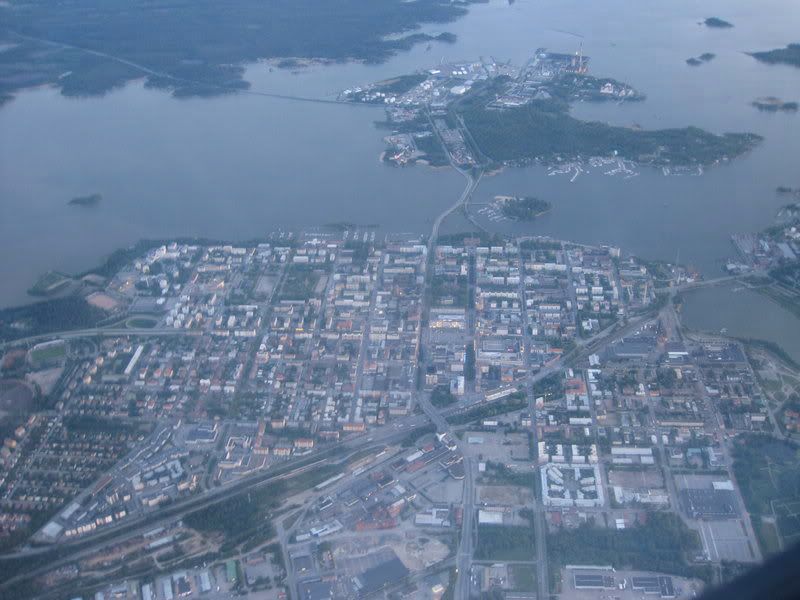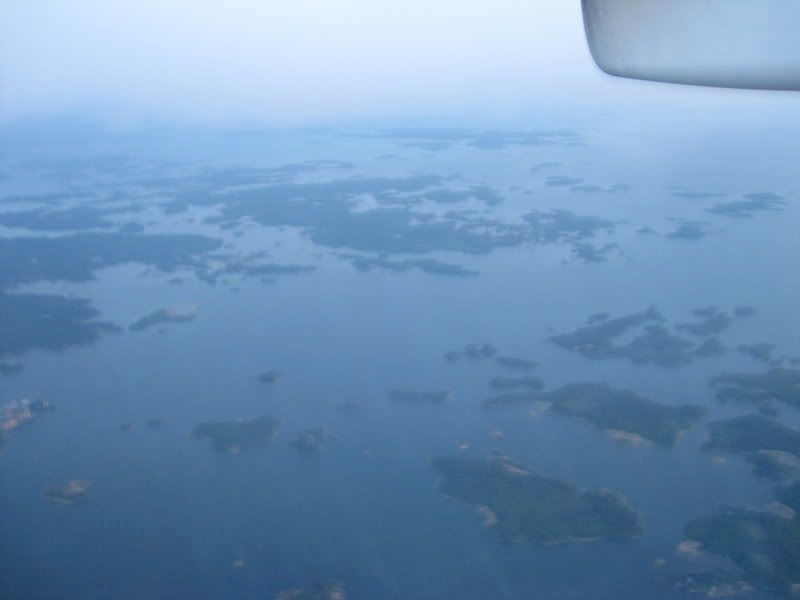 They announce that if anybody wants anything from the BOB menu they should press the call button - surprisingly a few of the people who just boarded at Vaasa order some drinks during the four minutes the seat belt sign stays off.
Hejsan, Sverige:
In no time at all we are descending again towards Sweden, flying over the archipelago: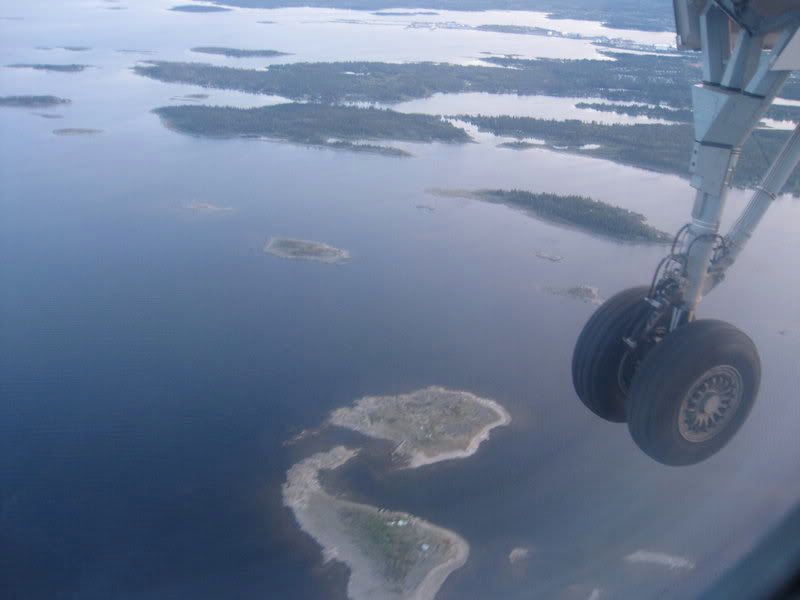 past the town of Holmsund with the port of Umeå: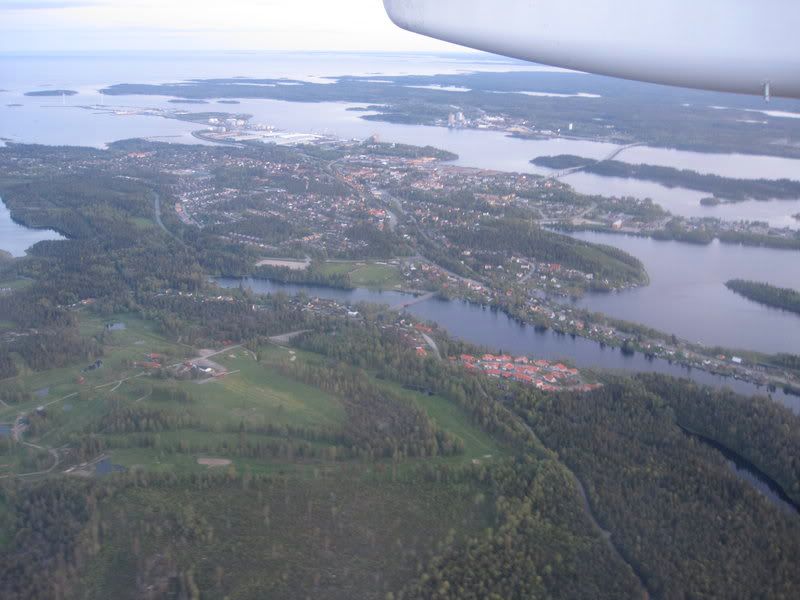 and over the Ume river eastuary: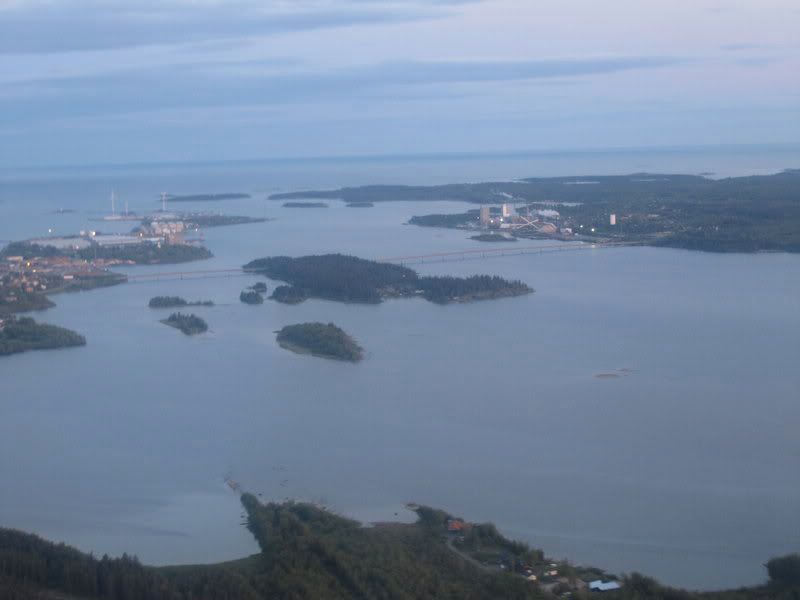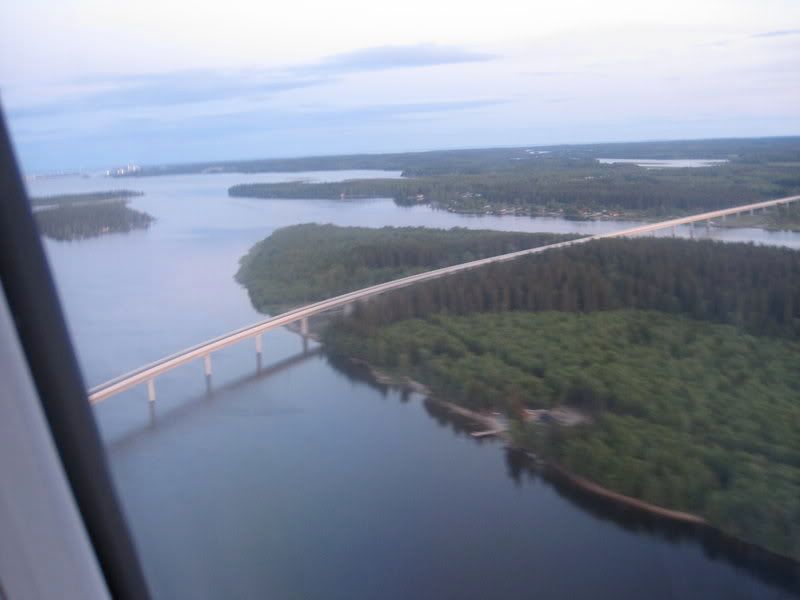 to land on runway 32 after a flight time of 20 minutes. Touch down is again very hard, I think the flight crews should take it a bit easier - after all we don't want the same thing to happen that forced SAS to give up on the Dashes...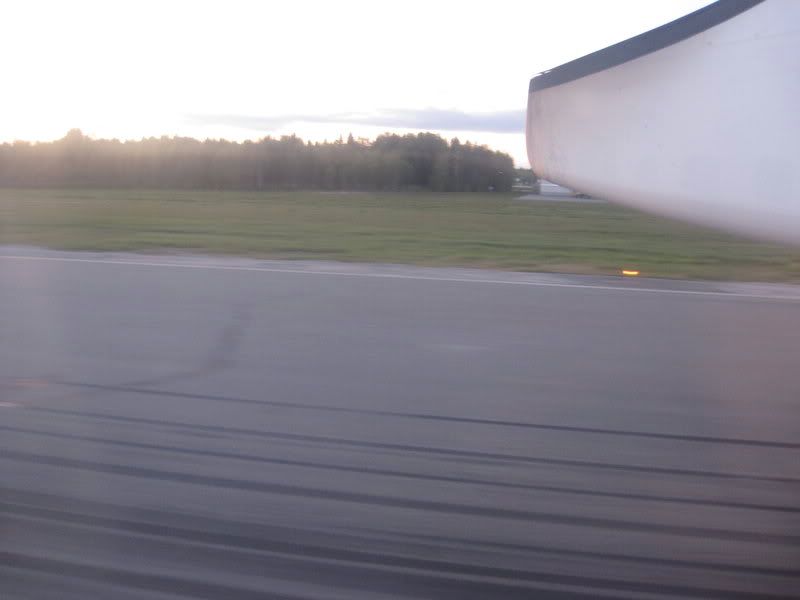 Overnighting TF Avro and SK 736: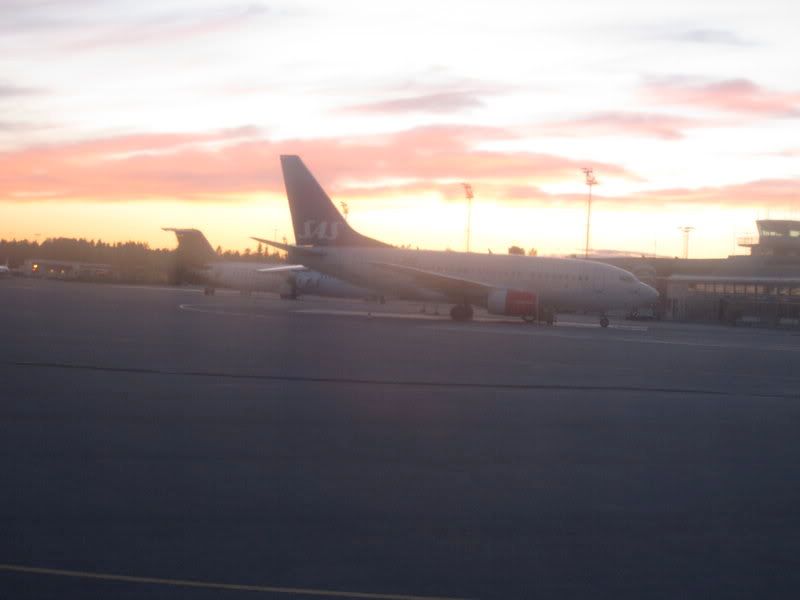 Taxi to an apron parking position - the very same one as last time I was here, sans the red carpet - is fast and soon I walk right through the terminal and hop on to a taxi for the ten minute drive to my hotel.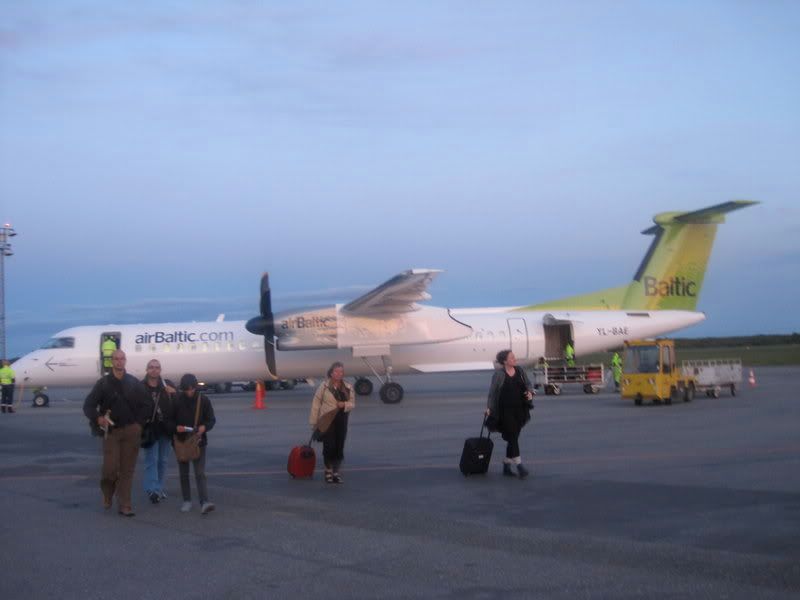 Umeå
The city center appears to be one mad party zone with tons of more or less drunken people having fun, with my hotel right in the middle of it. Before getting in I stop at the Pressbyrån convenience store opposite, buying some supplies and getting my bus ticket for tomorrow - you need to pick up your SJ ticket from somewhere and I completely forgot to do it at Arlanda a couple of weeks ago... Then it's to the hotel, the Comfort Hotel Winn, a surprisingly nice hotel right in the city center. It is around twice as expensive than the prison (seriously, read the report) I stayed the last time I was in town but well, the prison bed didn't really agree with my back...
Notice the funky wallpaper: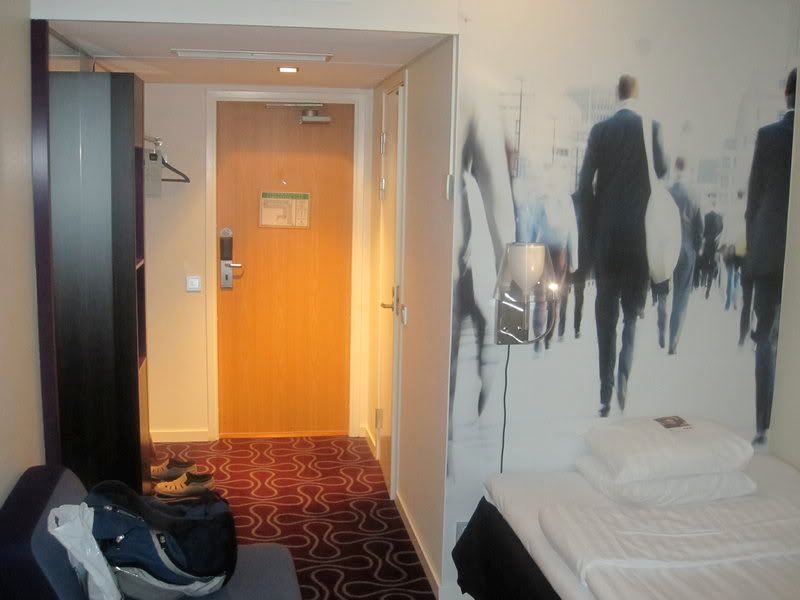 5.6.2010
Once again a very early start after not nearly enough hours of sleep to catch the 5.40 bus up north.
This terrace was full of partying people not too many hours ago: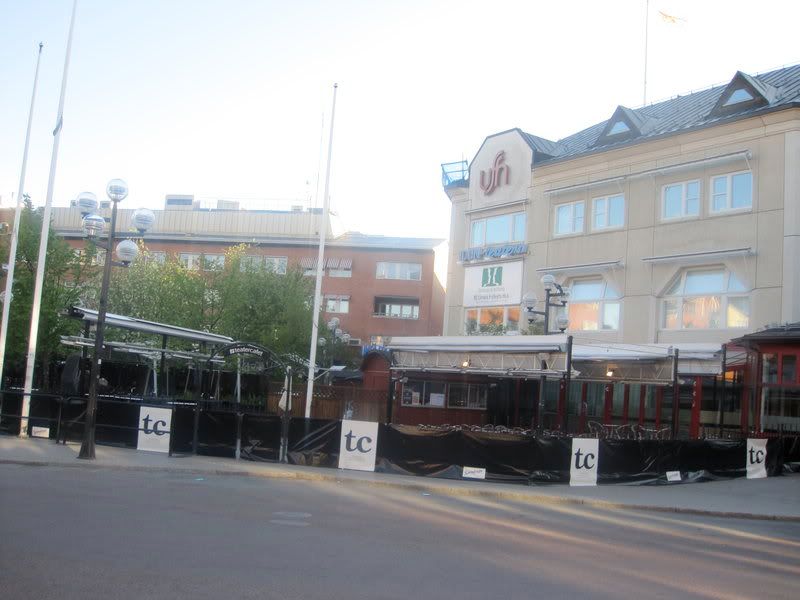 The Umeå city hall: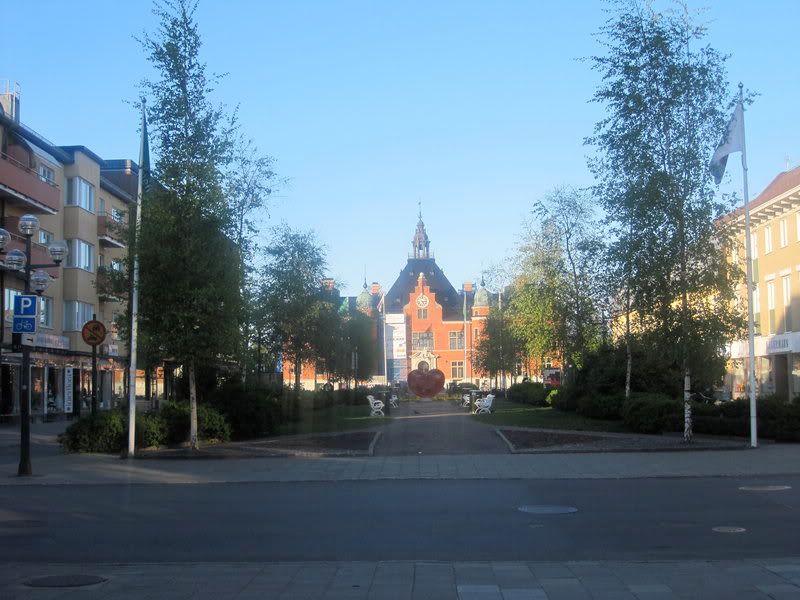 Hmm, is there something missing from this fountain: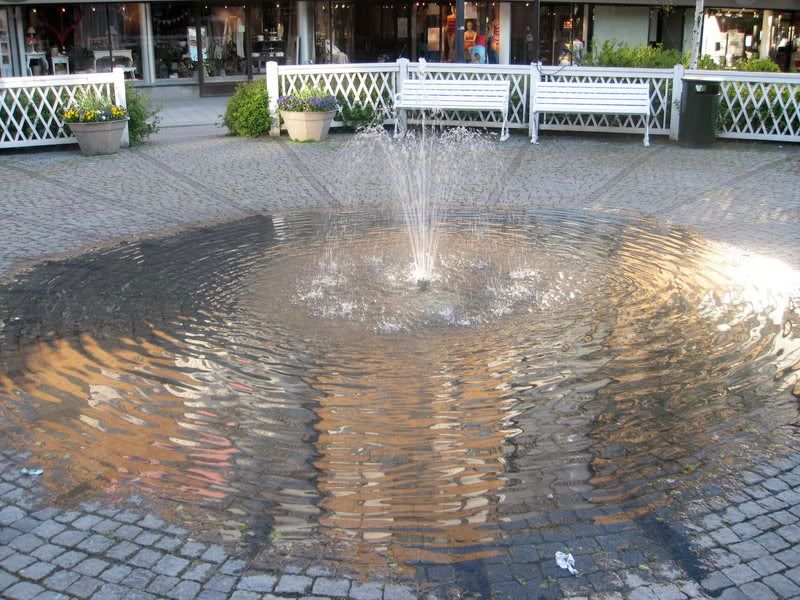 The green flame statue in front of the train station: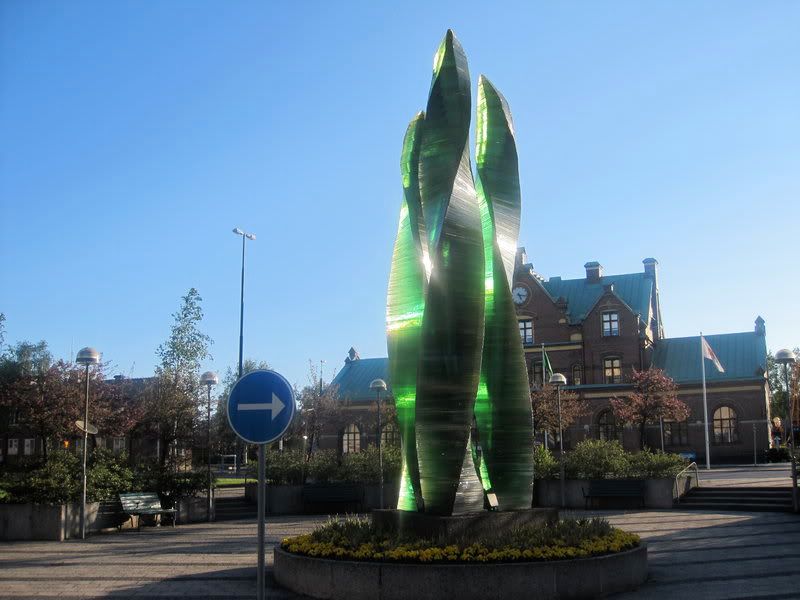 I walk the short way to the bus station that is still closed.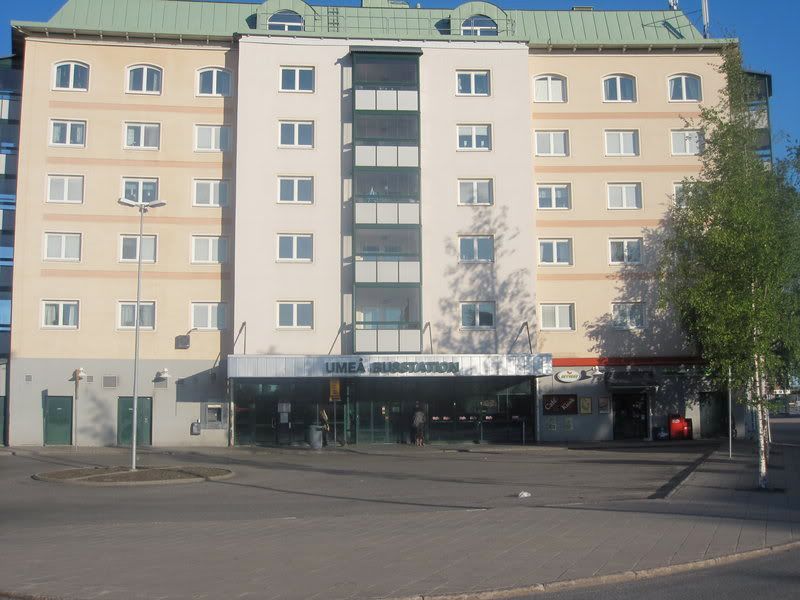 Around 5.30 the doors open and we can move inside to wait.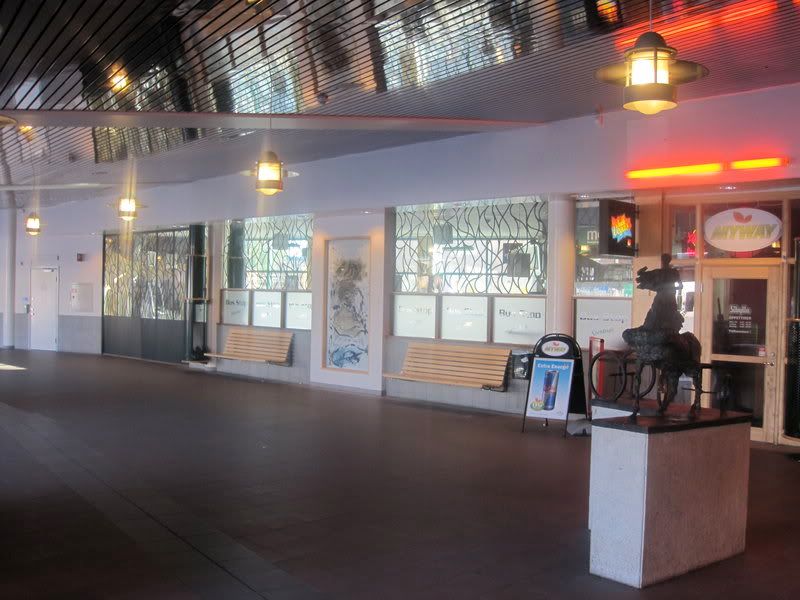 There are two buses leaving at this early time, the one going south to Sundsvall is already there and leaves right on schedule, whereas my bus is nowhere to be seen. After some time I start getting a bit worried and thinking about a back up plan - the next bus to Skellefteå leaves at 8.00, which is too late to make it to my flight. The alternatives seem to be either to find a taxi who wants to make the 100+ kilometer drive up to SFT, trying to get the money from either the bus company or my travel insurance or to go back to the hotel and online (they had a bunch of computers in the lobby) and try to find a reasonably priced flight to ARN. I'm deep in these thoughts when the bus arrives, 25 minutes late and I breath a sigh of relief.
Well, there obviously is something wrong with the bus as it has trouble starting and later the engine cuts every time the revs get too low, i.e. when leaving traffic lights or bus stops. Still, we get onto way and drive through some very pretty rural scenery on our way. A giant cheese cutter along the way - don't ask why: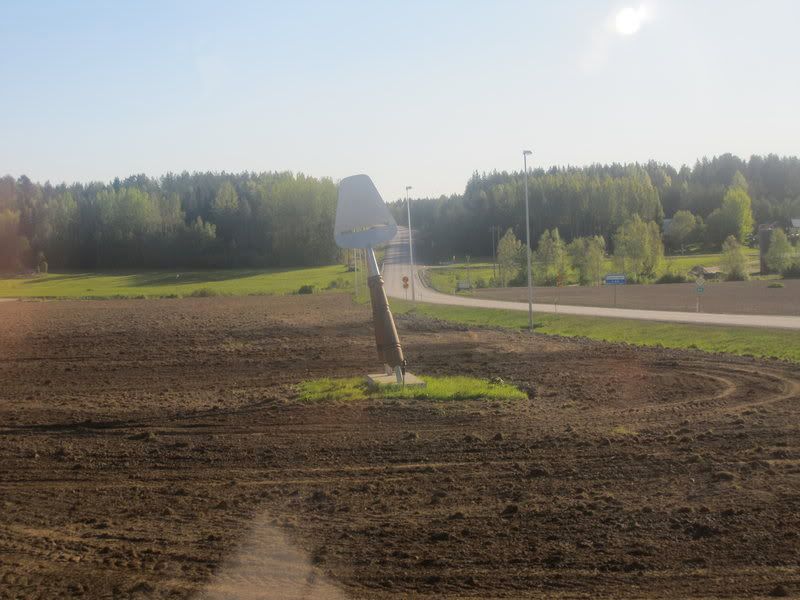 I doze half the journey and just watch the passing scenery for the rest of it. Eventually we get to the small town of Bureå half an hour late just before 8.00 and I step off the bus. I figured that there's no point going all the way to Skellefteå as the airport bus is not running on weekends and the taxi fare is much more than from here, much closer to the SFT airport.
Well, Bureå turns out to be a little smaller than I imagined it to be, there's no taxi rank or phone or anything at the so called bus station. At least they have a very pretty church: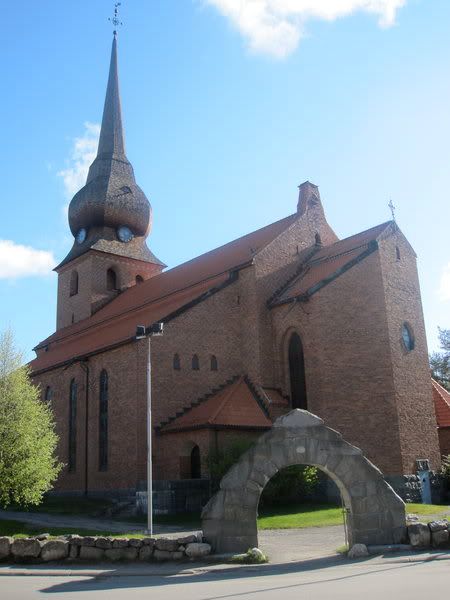 There's a large gas station/post office/supermarket/liquor store that seems to act as the centre of social life in this small town on the other side of the road so I head there. It opens at eight - there's already a queue at the door - and once inside I ask the girl a number for a taxi and call it, the guy agrees to come in around 20 minutes. I get something resembling a breakfast and head outside to have it al fresco - the morning is very beautiful but unfortunately very cold as well...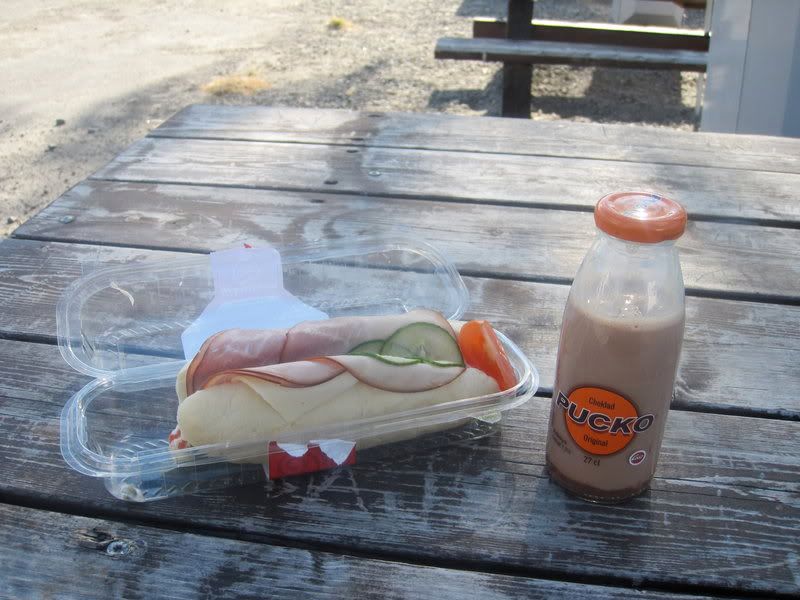 Yep, rural it is:
The one-size-fits-all-gas-station: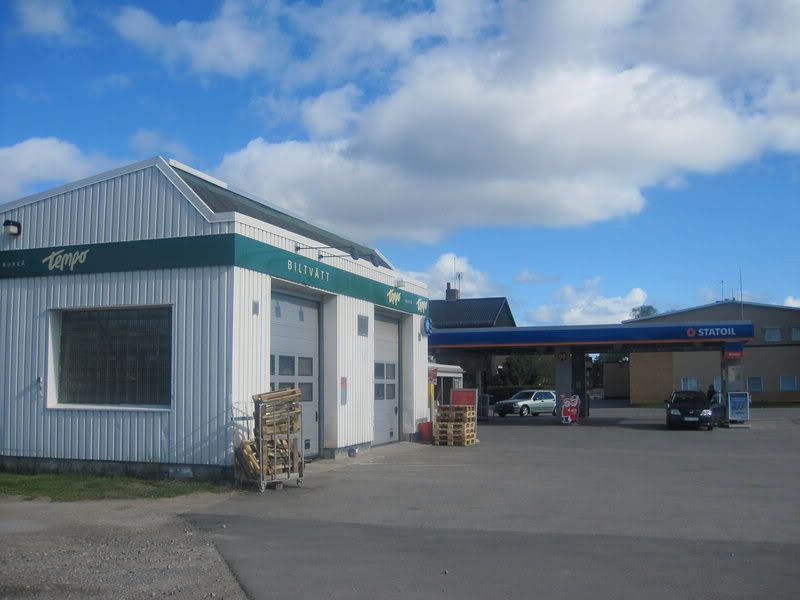 Soon the taxi arrives and we set off for the airport. Ten kilometers and around 25 EUR later we reach the airport, located in what looks like to be in the middle of nowhere, surrounded by nothing but forest.
Skellefteå Airport
A very cute little airport, as only Swedish airports can be:
When did you last see an ATC tower with wooden paneling: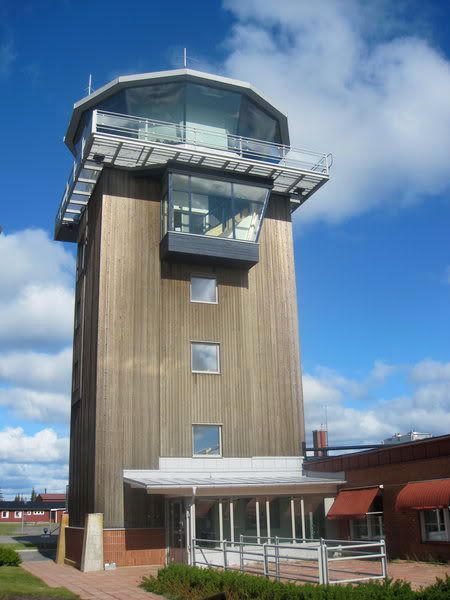 I get a boarding pass from the only open check in desk and wander around a bit. The plane seems to have overnighted here, SE-LED in the new Skyways livery, looking very perky. A new one for me: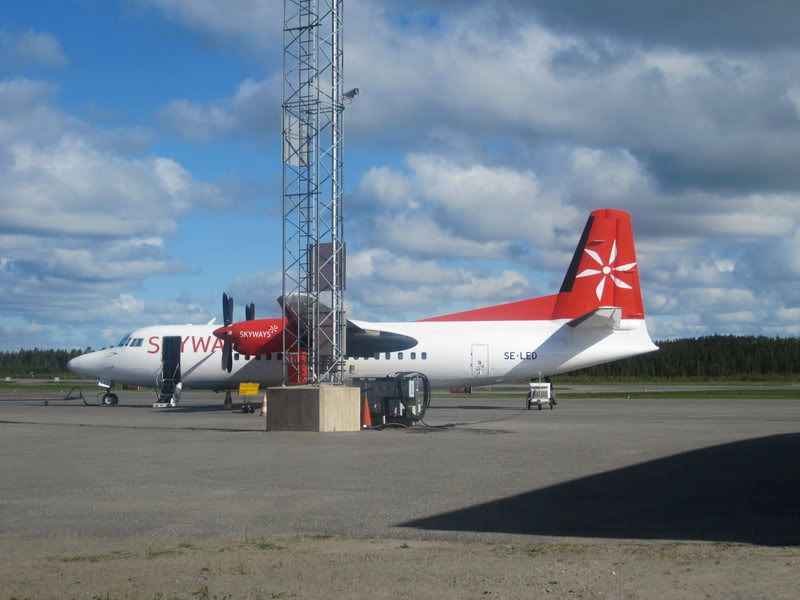 Err, okay:
A nice tile mural in the baggage hall, although it reminds me a bit too much of the "Socialistic art" favored by the communist states: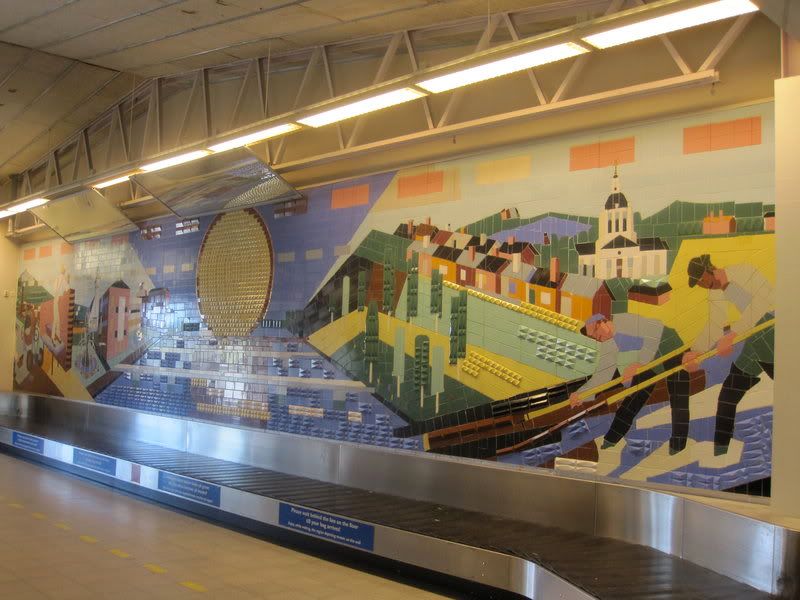 Soon the security checkpoint is opened and boarding passes are checked while entering it. The airside area is surprisingly large and even has a duty free store in the middle: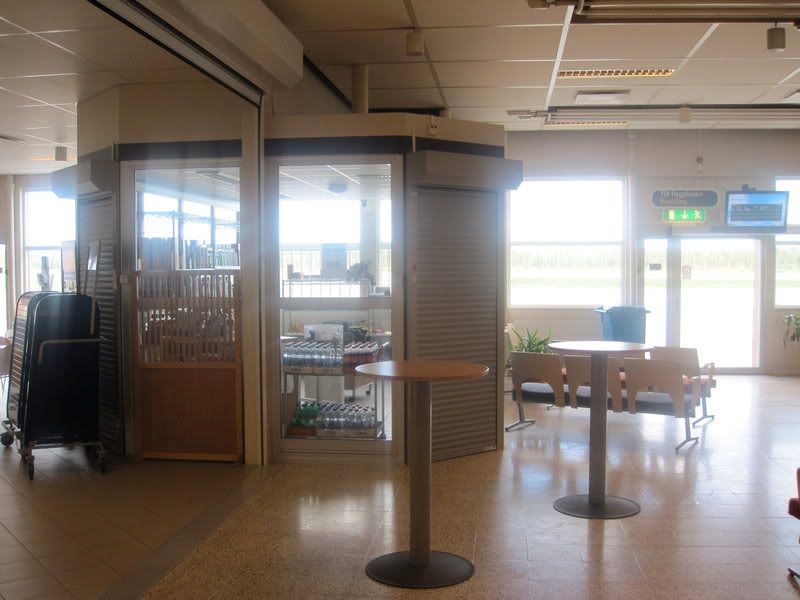 After a bit boarding is announced and the door to the apron is remotely unlocked and we are free to walk across the apron to the waiting plane. As usual I am the very first one to board.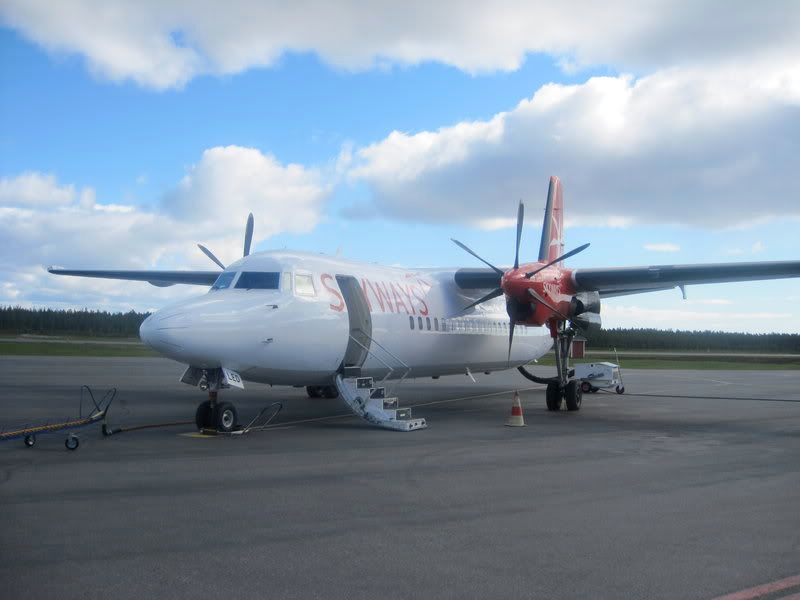 SFT-ARN
JZ293
Fokker 50 SE-LED
Seat 12E
9.16 - 10.32
One very friendly FA is working on this flight, but there's another deadheading steward (not in uniform though, I see his Skyways ID tag) helping with her duties, though. It is free seating, so I head towards the back to have better view outside - the engines rather limit your view in the middle of the cabin. I grab a window seat on the right hand side for the views of the Swedish coast on our way down - E is actually a window seat.. a familiar numbering scheme to me from the few ex-JZ Fokkers BT has in their fleet. It's been a couple of years since I last flew on a Skyways F50 and I'd forgotten how tight the legroom actually is: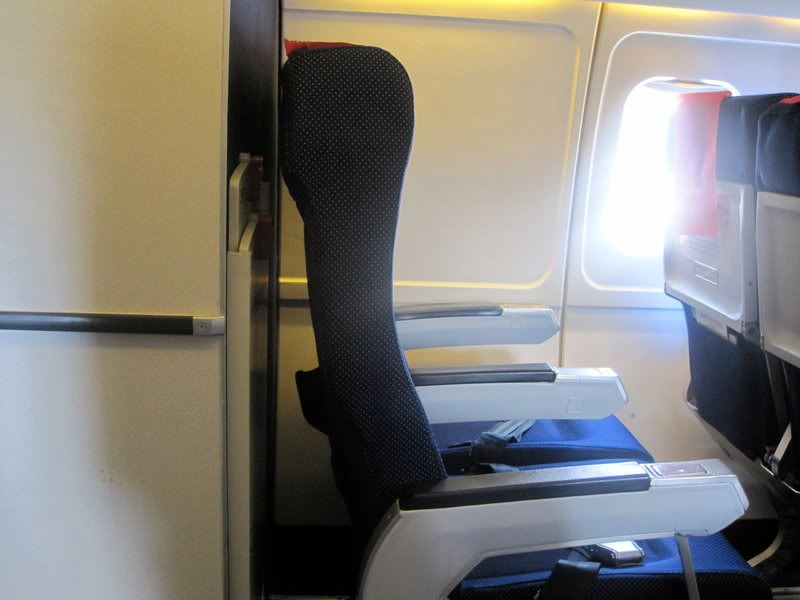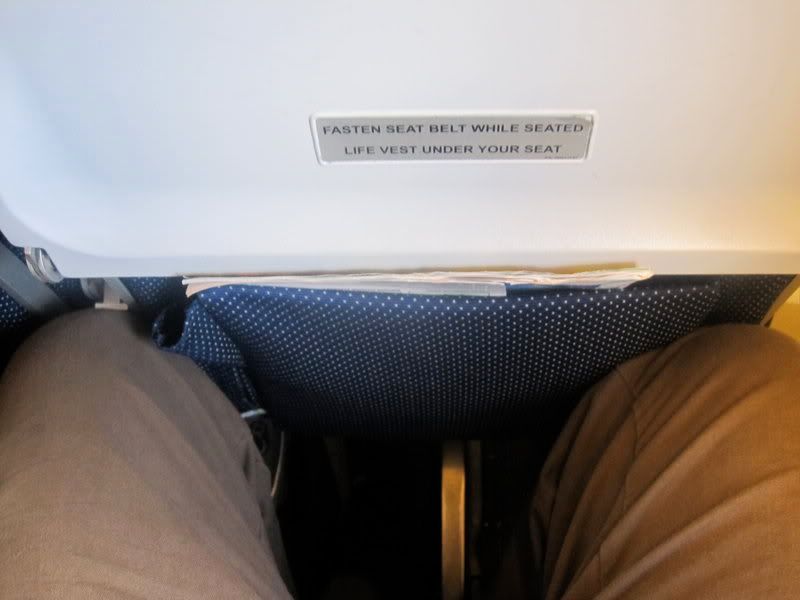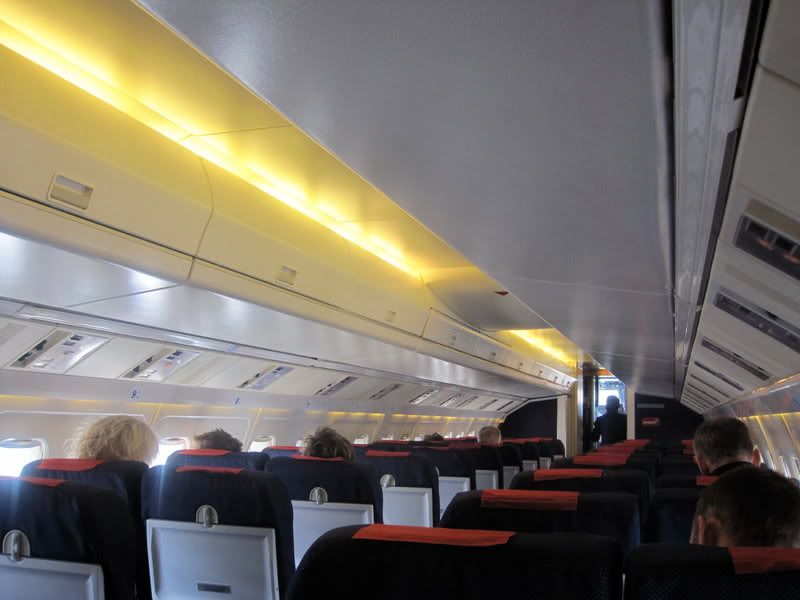 I count a total of 13 passengers, including the dead header on this flight. The captain soon welcomes us onboard, announcing a flight time of 1h20 to 25mins with little turbulence to be expected right after take off.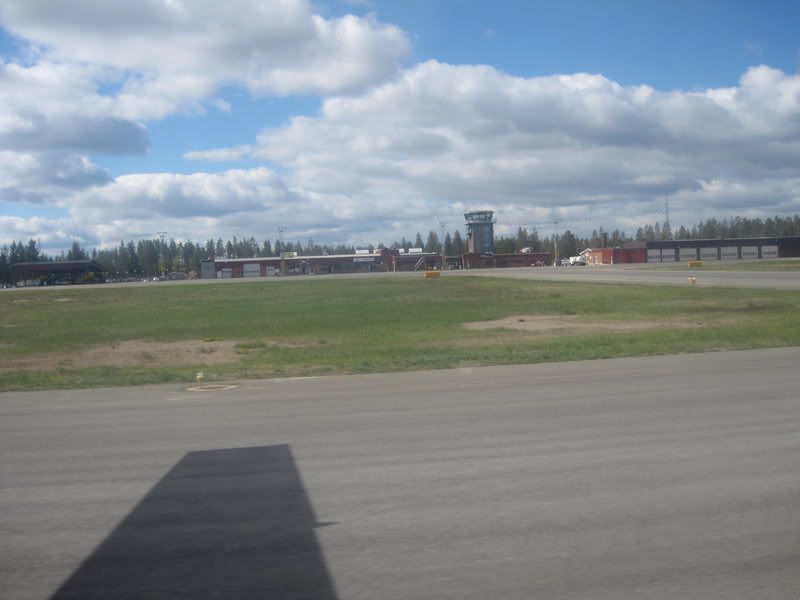 Departure is 4 minutes early, and we start our take off run from runway 28 right at our scheduled departure time - having backtracked a bit as there aren't any real taxiways here. It indeed is rather bumpy right after take off, all the way until our cruising altitude, from there on it is smooth sailing, though.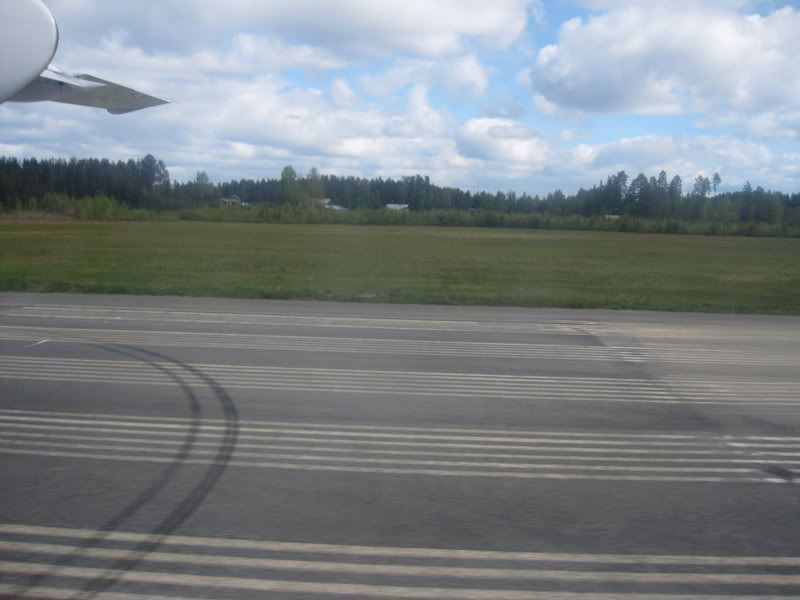 Okay, it's not really in the middle of nowehere if you look at this side: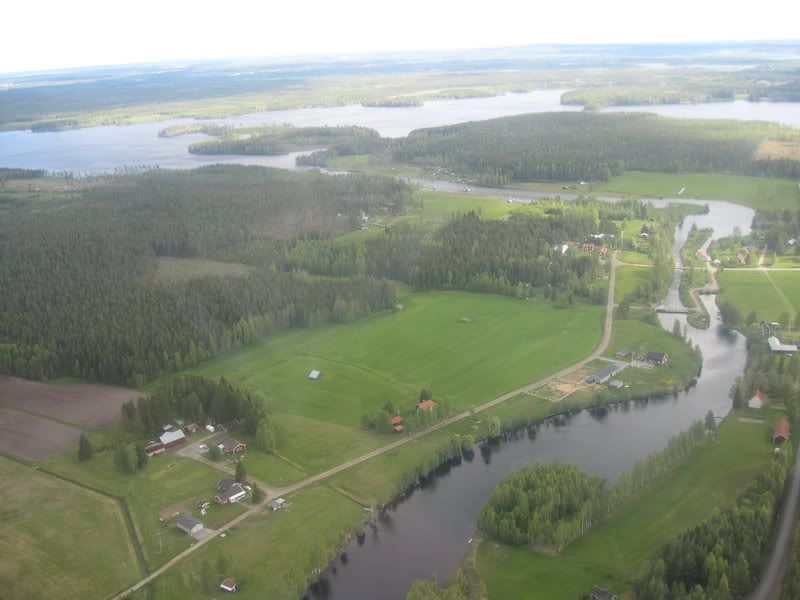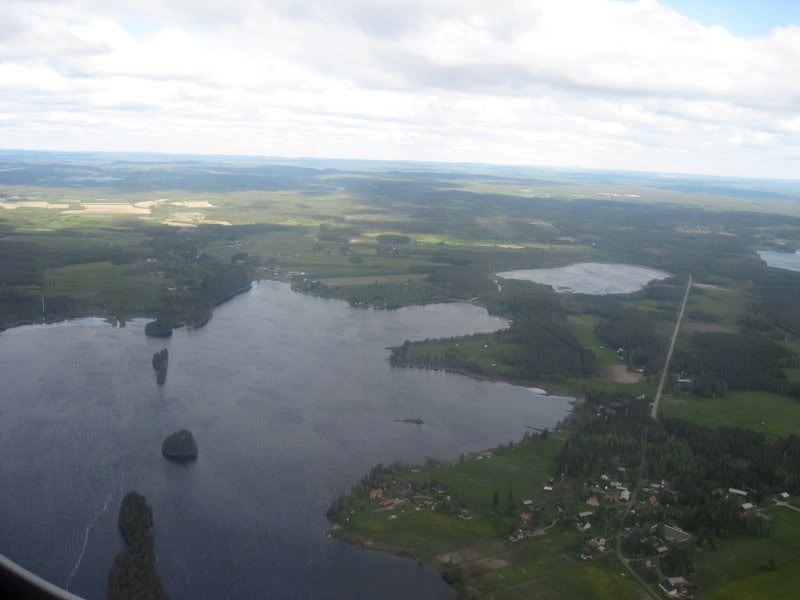 Very pretty, as only rural Sweden can be: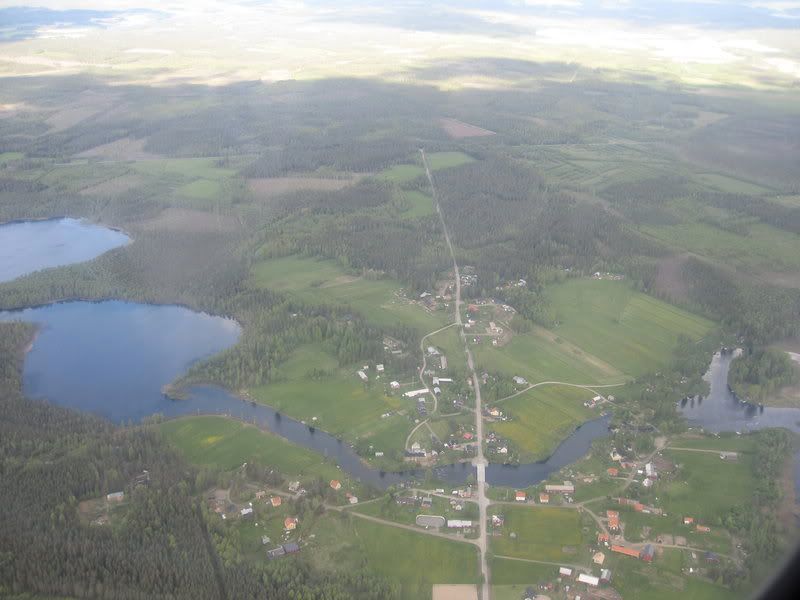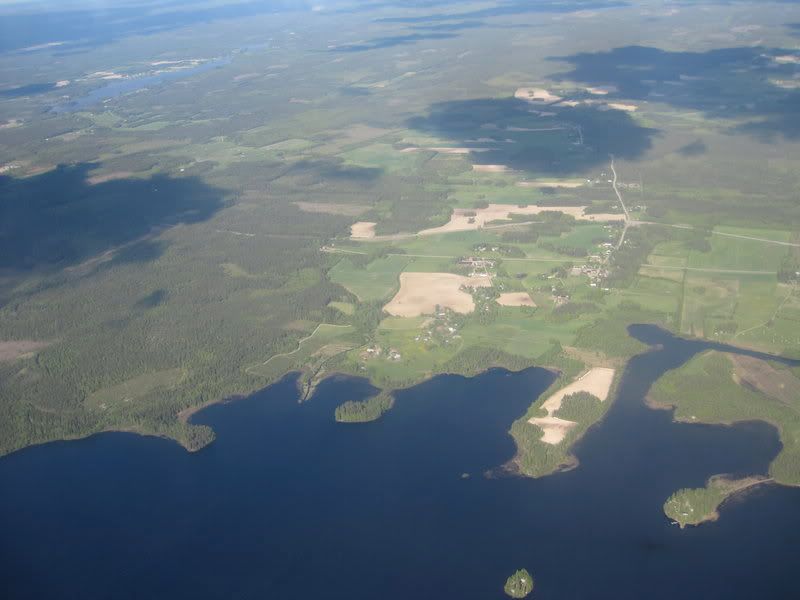 Passing Umeå, unfortunately the city is obscured by clouds but at least the airport I landed less than 12 hours ago is visible: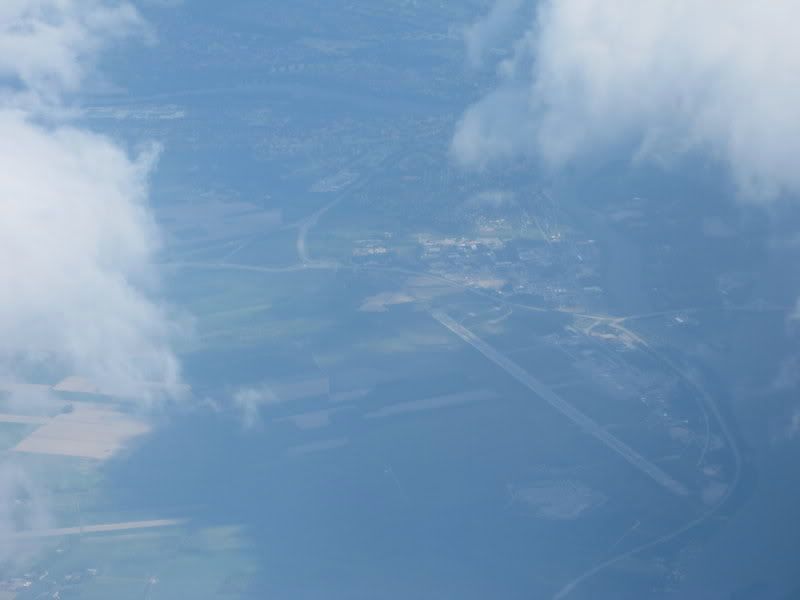 Service is coffee or tea and a piece of chocolate - there's even a choice between two different brands of chocolate: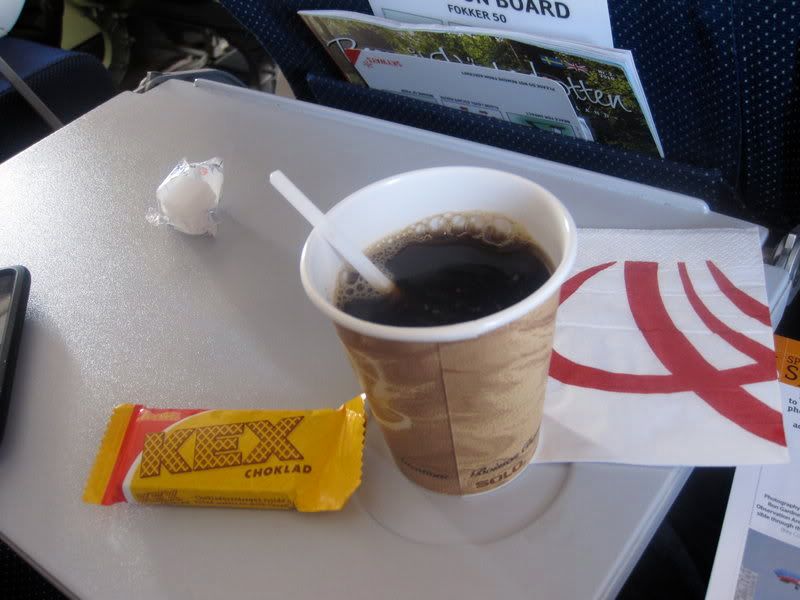 Top