Welcome to yet another of my trip reports! Although my trip reports are not fantastic or fascinating, I hope that I can share my trips with fellow a.nutters. Also, I am trying to be as detailed as I can for those who want lots of details since this is my first official TR after being an a.nutter. My previous reports were just a rough recollection of the flights. Therefore, please do not find me naggy!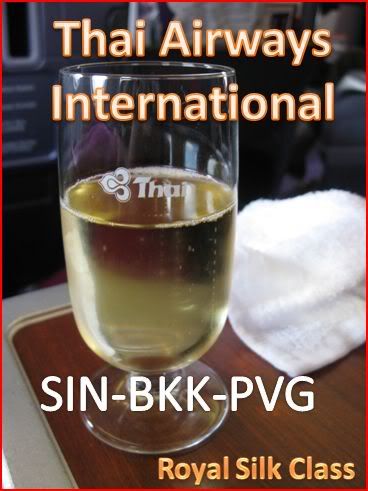 Background
It is time for yet another visit back to Shantou, China to visit my relatives and visit the Shanghai Expo. This time, I had the ultimate desire to travel in a premium class. However, SQ had their prices set at $3400 rtn for SIN-PVG in their old business class seats which does not really interest me. Therefore, my hopes turned to Thai Airways International. Besides having a low price for their Royal Silk Class, they also offer good service. They are the ultimate choice! After deciding on a carrier, it is time to decide on the routing. My final routing was SIN-BKK-PVG rtn in TG Business Class and SHA-SWA (Shantou Waisha Airport) in CZ Economy Class. Be sure to look out for that CZ trip report as it shall be the first to feature Shantou Waisha Airport!
Booking
Booking was done via the THAI website which was easy to navigate. The only complain, however, was the selection of dates. Most airlines' websites will switch the arrival month for you when you select a month that is later than the one shown. After following the prices for a few days, I finally made my booking on 16th March 2010. All left now is a wait of over 90 days! Price for routing SIN-BKK-PVG-BKK-SIN was an amazing $1535 SGD.
Online Check-In
I set my alarm at 7.35am, with my computer on from the last night and my Firefox browser already at the Thai OLCI site. All I needed to do was to key in my E ticket number and I am set to go. Despite checking in at 7.40am, exactly when the check-in opened, I had sequence 4 for my SIN-BKK flight and sequence 2 for my BKK-PVG flight. Did another a.nutter defeat me to it?
The Actual Day
After more than 90 days of waiting, 12th June has finally arrived! I have pre-booked a London Cab to get me to the airport from my residential area. Although the prices were sort of high, I wanted to have a great start to my trip. At 4.15am, I woke up to have a shower and some last minute checking to ensure that everything is in place. After showering, I had nothing to do so I thought of the excitement that I am going to be in Business Class for the first time in my life till about 4.50am when my London Cab driver messaged me saying that he has arrived. Great punctuality, I had my booking set at 5am! After some chatting with the driver and 40 minutes later, I am at my favourite place in Singapore, Changi Airport!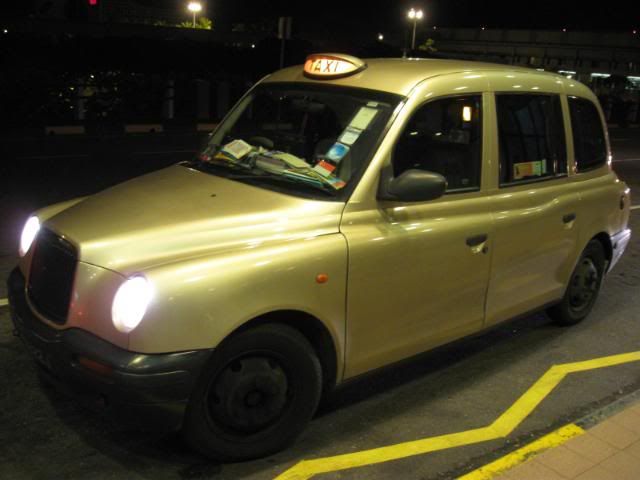 London Cab
Check In and Flight
After alighting from the cab, I walked briskly towards check-in row 4 which TG has their check-in. Of course, I went to the Royal Silk Class check-in queue. Right after queuing, a lady approached me and asked if I was a Business Class passenger or Star Gold member. I replied, "Royal Silk Class" and she walked away. 3 seconds later, another lady approached me and we had the following conversation:
Lady: Business Class?
Me: Yes, Business Class.
Lady: Oh, Business Class? *in disbelieve*
Me: Yes, maam.
Lady: Ok. For Business Class passengers you can use the sit-down check-in at the SATS Premier Check-In which is over there. *points to the direction*
Me: Thank you very much, I will go over now.
I guess it was too much of a shock to her seeing a 19-year old guy travelling in Business Class. However, I was not the youngest in the cabin. There was a boy who looks under 10 years old with his father. Being polite, I asked if I could take a picture of the check-in. The lady replied yes, but without looking at me in the eye or smiling. Not a very good move, I'd say.

Beautiful Premier Check-In Area
After checking in, it is time to go on to the Royal Silk Lounge which is located just a minute's walk from immigration. The lounge was great, far beyond my expectations. Sandwiches and pastries were offered and I even saw a large selection of hard liquor.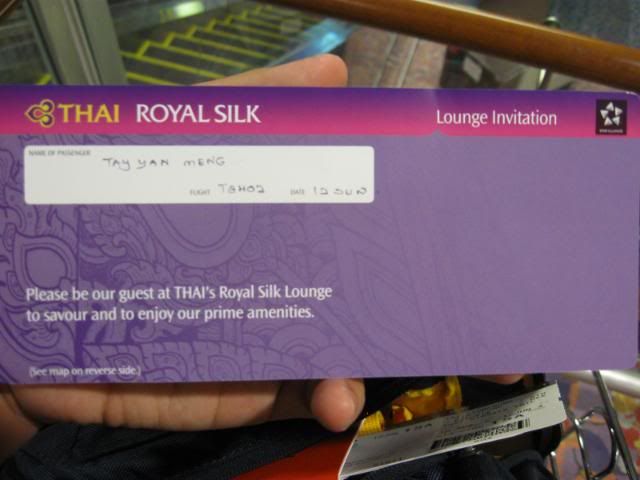 Lounge Invitation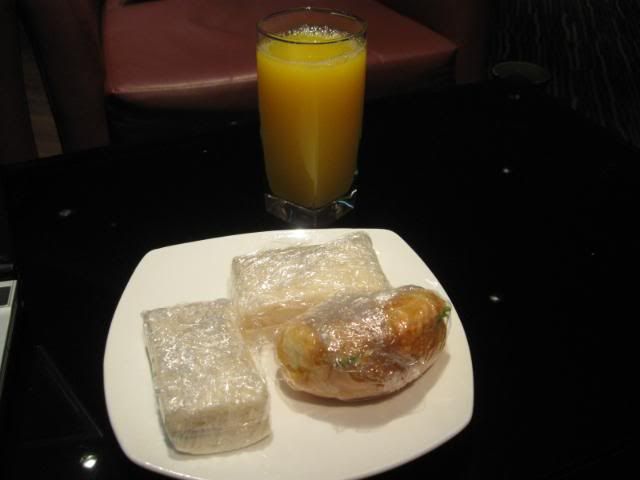 Tasty lounge food



My boarding passes


Wonderful place to be in!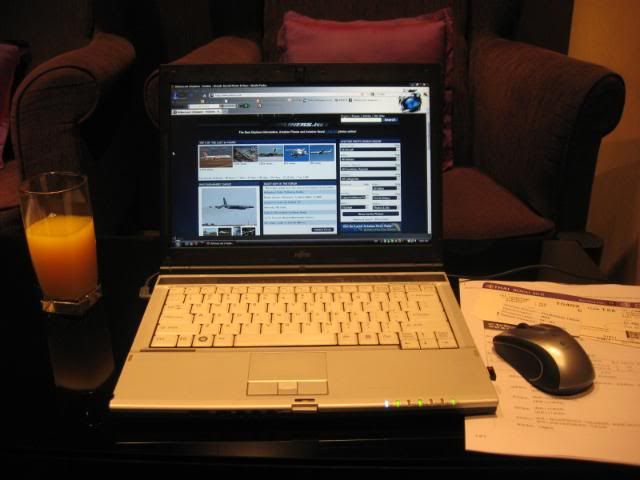 No prizes for guessing the website!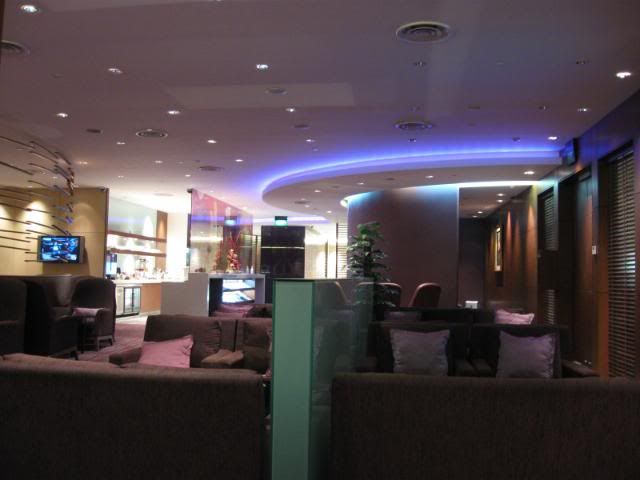 "Mood lighting"?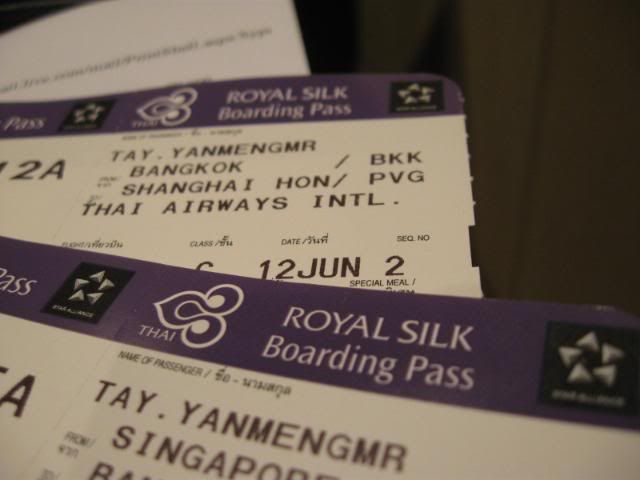 My boarding passes again
After enjoying the lounge, it is time for the flight! I headed over to gate C13 which is about a 3-5 minute's walk from the lounge. What greeted me was an Airbus A330-300 in Thai's old livery, HS-TEM which is also a frequent visitor to SIN. A thing to note is the name as I found it very familiar, it could actually be the plane I took in January 2008 on TG404 to Bangkok in Economy! I remember there were no PTVs in Economy. Although great to have one with old livery, it also means that it has the old interior. Small PTVs in Business and no AVOD. However, it was acceptable for a 2-hour flight. Boarding was about to commence soon so I took the time to camwhore the plane before boarding. When boarding was called, the normal situation happened; A long line of Economy Class passengers lining up for boarding. Boarding commenced at about 7.10am, 30 minutes before boarding time. Business Class passengers can board at any time without queuing up while Economy passengers have to go by row number. I was one of the first and I went straight to my seat, 15A. On a small note, my seatmate in 15B looks like the old man in the movie "UP", haha! I took OJ as a pre-departure drink. After sitting down, the F/A came around our seats and passed us the menus. Before pushback, our orders were taken. Pushback commenced exactly at 7.40am, our scheduled departure time.
Segment 1
12 June 2010
TG402
Route: SIN-BKK
Departure Gate: C13 (Terminal 1)
Arrival Gate: E5
Departure (Scheduled): 7.40am (7.40am)
Arrival (scheduled): 8.54am (9.00am)
Registration: HS-TEM (Jiraprabha)
Type: Airbus A330-323X (First flight on 6th June 2000)
Seat: 15A (Royal Silk Class)
Distance: 882 miles
We made a long 20-minute taxi to runway 2C for takeoff. We had a powerful takeoff and soon we were airborne and enroute to BKK.
HS-TEM preparing for her next mission

Seats in the boarding lounge

Cockpit
Shortly after departure, post-takeoff drinks were offered. I took OJ again. When flying, I always take OJ for no apparent reason. Around 15 minutes later, breakfast service started.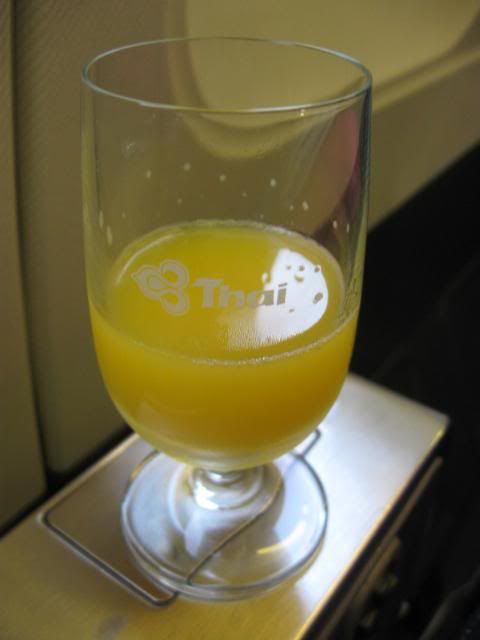 Orange juice, my welcome drink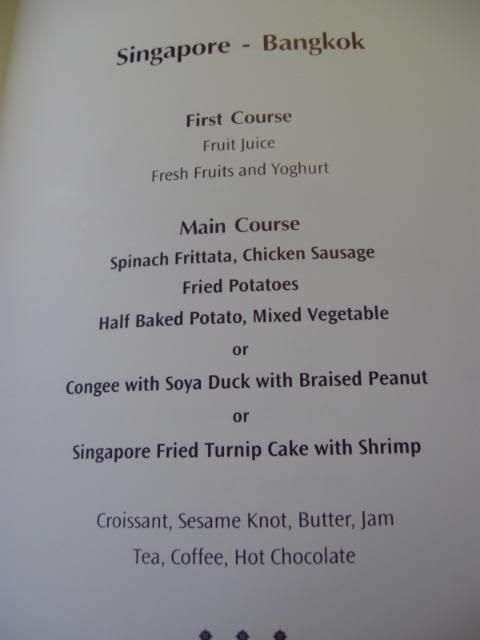 Menu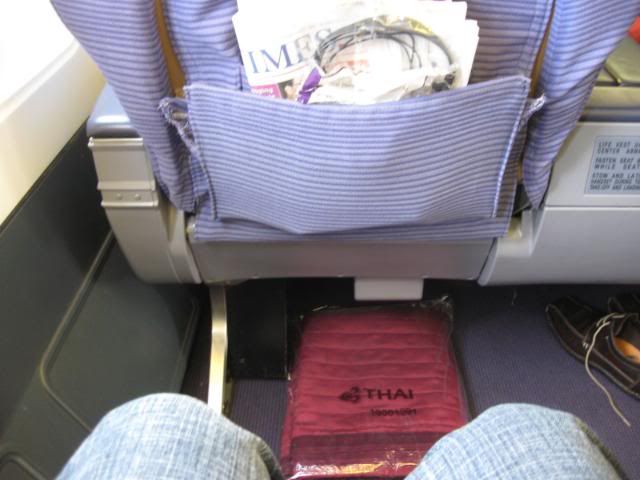 Legroom shot

PTV that is stowed in armrest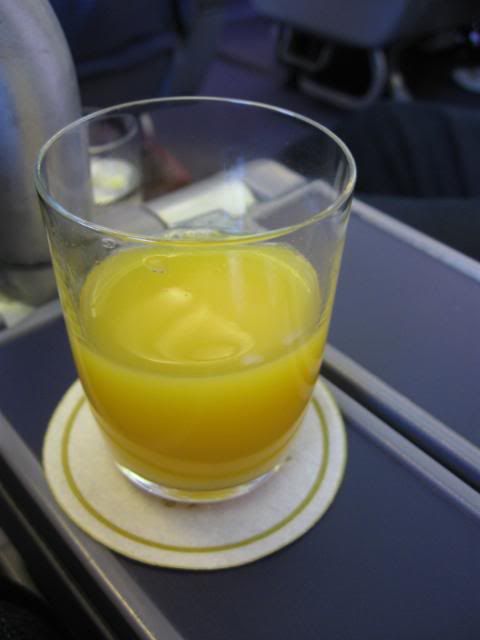 Orange juice for post departure
It was a very fulfilling breakfast and for some reason, I am eating VERY slow compared to my normal eating speed. I guess I was trying not to gobble up food when sitting up front? Guess so. Eating slow lets you enjoy the atmosphere and the food too. Bread was offered and I chose a croissant. It was tasty and crispy, too crispy till I had the crumbs all over my plate.

Preparing for breakfast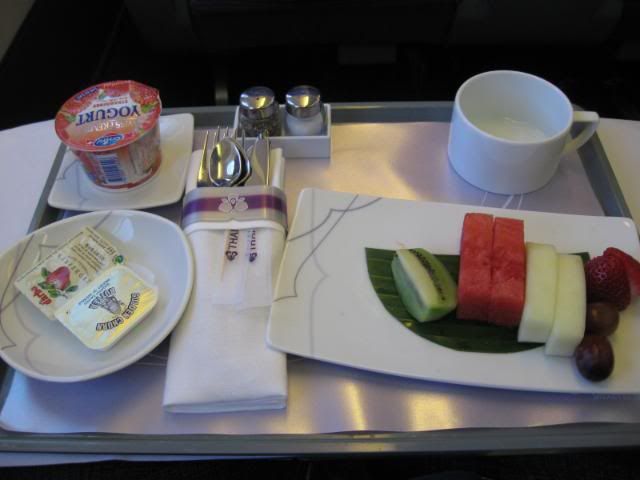 Starter, fruit plate

My main course, Spinach Frittata with Chicken sausages and potatoes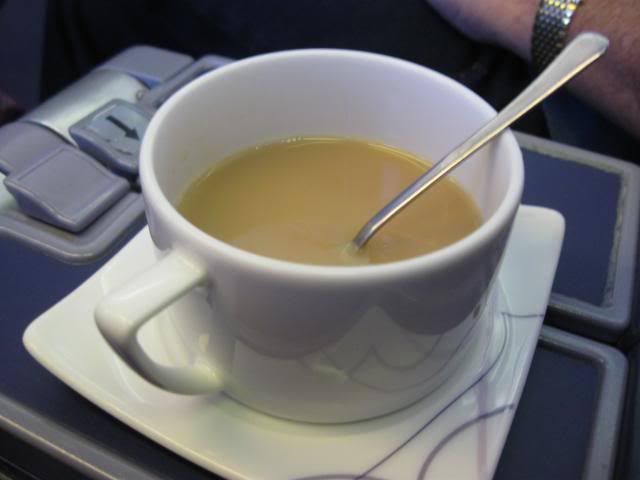 My tea for a drink
After the meal, it was time to explore with the IFE which was basically as good as non-existent. All the channels were playing the same show until a while later when 2 channels shared a show. Therefore, without anything to watch, I went to the most well-liked channel in airliners.net, the airshow channel! It kept me entertained for the rest of the flight. With nothing to do, I decided to do the mandatory lavatory visit and take some pictures of the galley at the same time.

Seatback

Galley view

Galley view

Cabin after meal service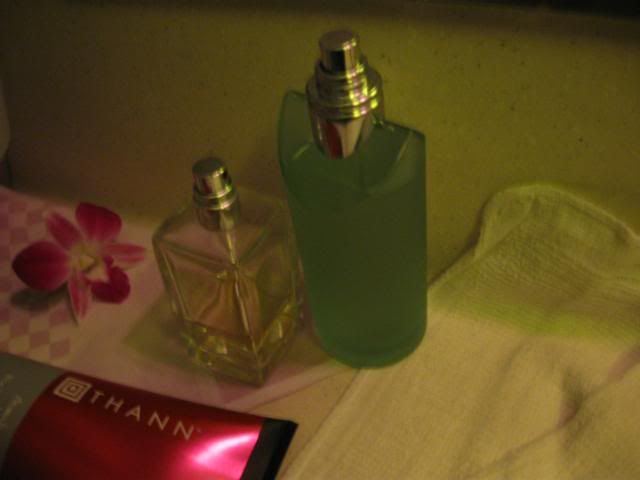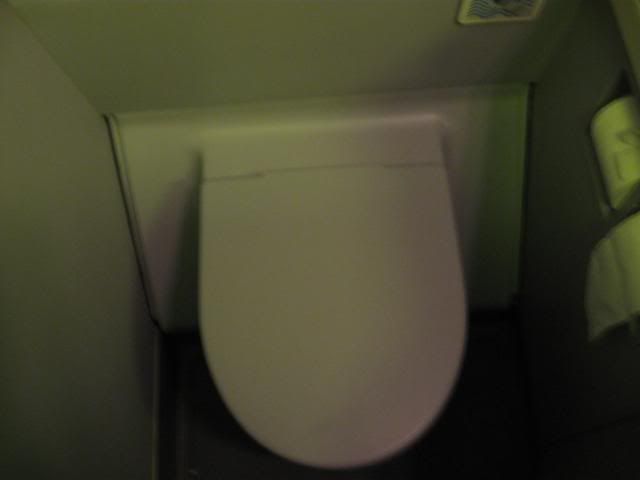 Lavatory view
Soon, we were on descent to BKK! We passed by BKK for a turn around and landed on runway 19L.

Airshow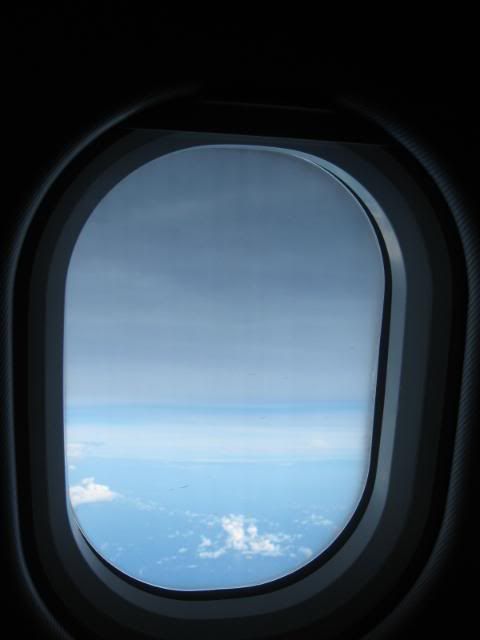 Window view
Any experts can tell me what is this for? It looks like an ashtray to me if it can be opened but it is tightly sealed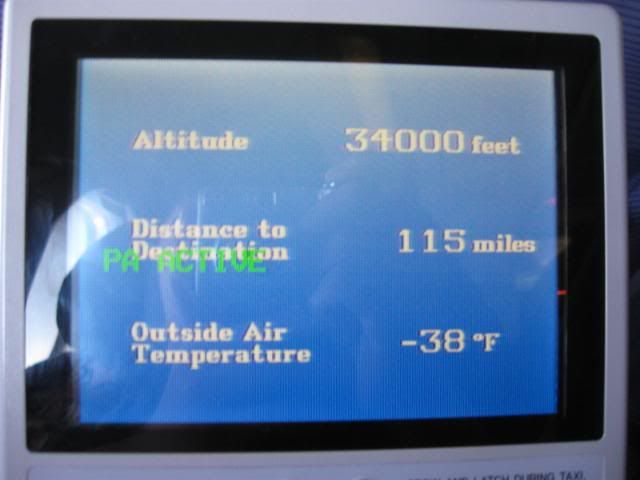 Flight information, the best IFE!
After landing, it is time to visit the lounge at BKK, which I had even higher expectations seeing that it is a hub for TG. Since I only had 2 hours, I decided to go to the nearest lounge which is located at Concourse E. However, I had to go through the transfer check first. At the entrance, there were 2 fierce looking ladies guarding. I went up to them and had the following conversation.
Me: Excuse me, do I go through here if I am transferring?
Lady: Where is your final destination?
Me: Shanghai (in my normal accent)
Lady: Chiang Rai? Chiang Mai?
Me: No. SHANGHAI.
Lady: Yes, you have to go through here. Boarding pass please.
After showing my boarding pass, I had to go through a security check again. After which, I went up and found the Royal Silk Lounge. Upon entering, the receptionist greeted me with a very warm "sawasdeeka" in which I replied "sawaskeekrup". A conversation went on.
Me: Here is my boarding pass.
Lady: Thank you.
Me: May I know where is my boarding gate?
Lady: It's Gate C7. Very far from here. 20 minutes walk!
Me: Ok, thank you.
Therefore, I found myself a seat beside the window so that I can do some spotting while surfing the net. However, I did not take any pictures due to a large screen blocking the window which makes photography very unpleasant. Despite that, I managed to spot some exotic aircrafts including an Air Berlin A332, Emirates 77W, Singapore Airlines 772ER, Thai 50th Anniversary 747-400 and some other Thai aircrafts from 777 to A330.

Lounge food at BKK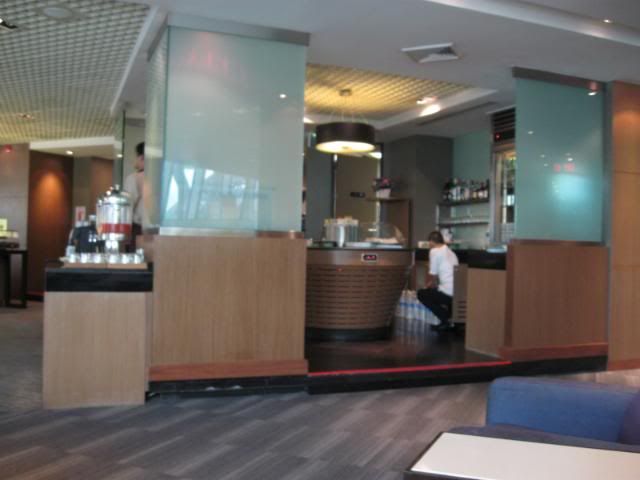 Views of the lounge
After an hour of relaxing, I left the lounge at about 10.05am Thailand time for the long trek to gate C7 which is about a 1.5km walk away. Sigh, if only Thai provides buggy service for Business passengers with gates far away.

The infamous artwork in BKK
Finally, I reached C7. Upon reaching, there was the announcement saying that boarding will start in 2 to 3 minutes. When boarding commenced, there was a woman holding a sign "Business Class" and we were told to line up for boarding. It makes us feel like small kids queuing up to get our food in Kindergarden.
Segment 2
12 June 2010
TG664
Route: BKK-PVG
Departure Gate: C7
Arrival Gate: E5
Departure (Scheduled): 11.01am (11.00am)
Arrival (scheduled): 4.18pm (4.15pm)
Registration: HS-TNC (Chon Buri)
Type: Airbus A340-642 (First flight on 12th July 2005)
Seat: 12A (Royal Silk Class)
Distance: 1801 miles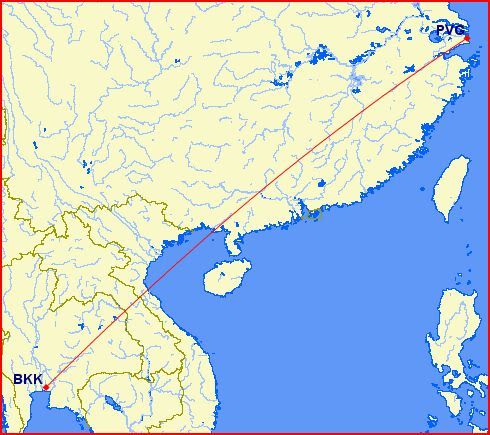 Upon entering, I was delighted by the First Class cabin up front and I was so tempted to take a seat there but oh well, I am in Business Class so I guess it is acceptable enough for me. However, I do not eliminate the possibility that I might go to the counter and pay for an upgrade to First on my way back… Once I sat down, I started playing around with the seats. Also, the F/A came by and gave us the welcome drink and I chose the champagne. The first champagne in my life, I'd say. It tastes nothing special to me, though. Also, like the previous flight, the F/A came by and gave us the menus (with wine list this time) and our order was taken before pushback. Another nice touch was the amenity kits given to us. When taking Thai, amenity kits will be given for flights longer than 4 hours in First and Business class.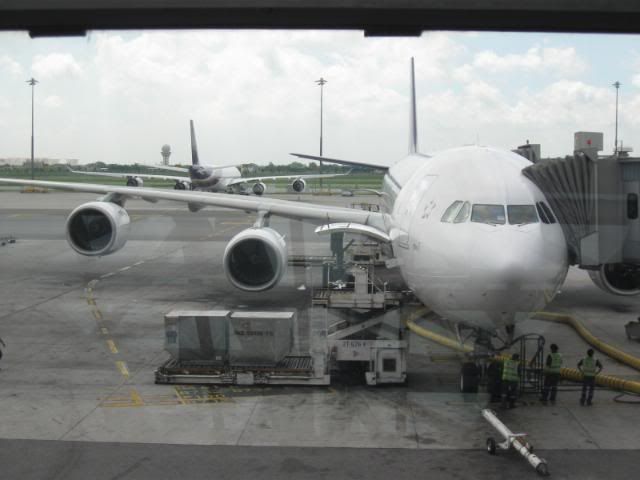 HS-TNC at the gate

My seat at 12A

View across

3 windows for a row! I could only capture 2 though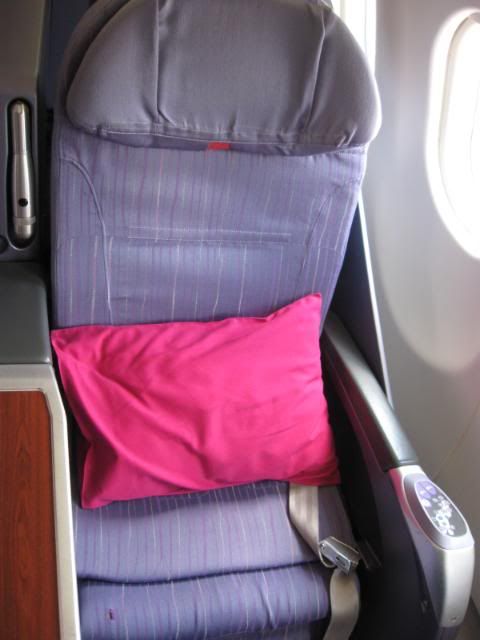 My seat again

PTV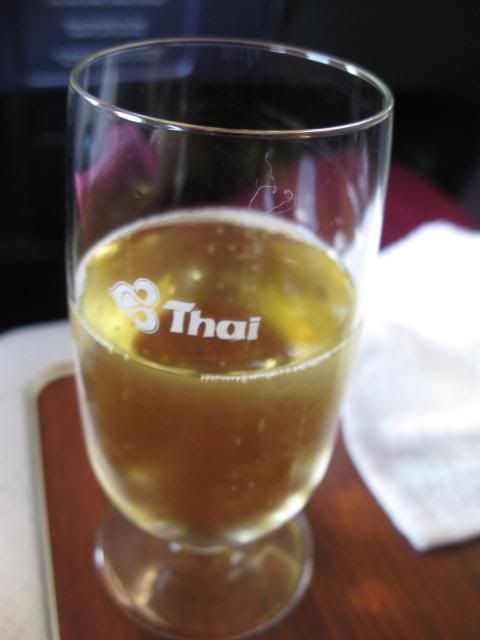 Pre departure drink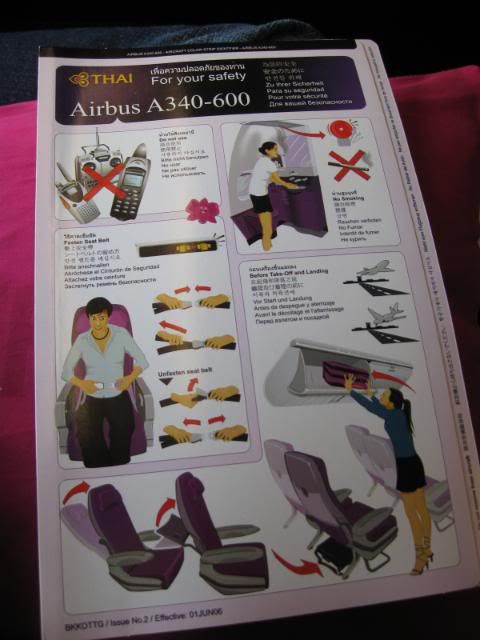 Safety card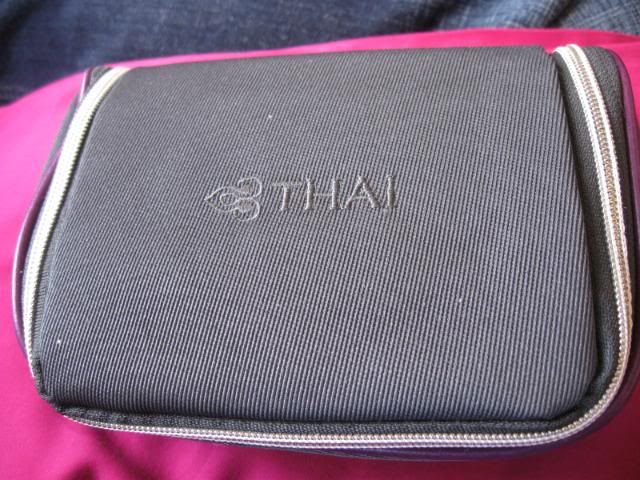 Amenity kit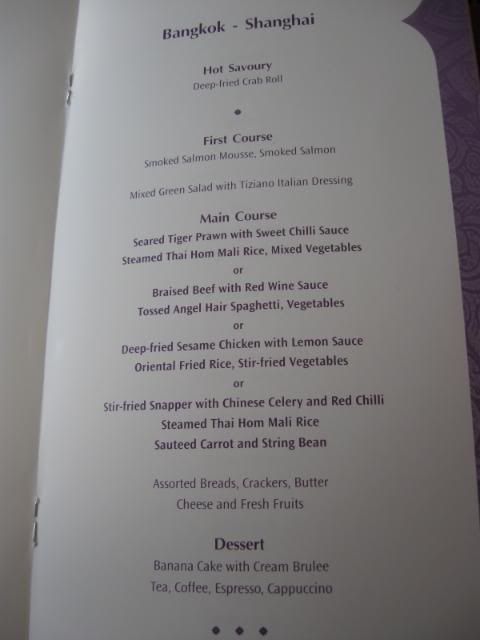 Menu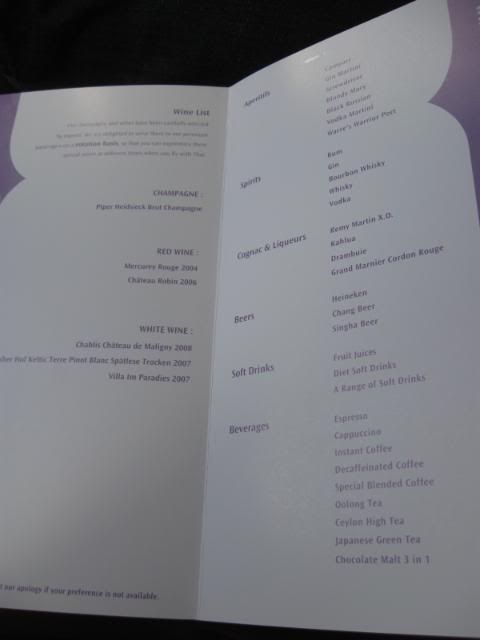 Wine list



Pushback occurred and we did a short taxi to runway 19L for takeoff, the same runway I arrived. A nice touch was that the nose wheel camera was turned on and of course that is the best IFE when on the ground!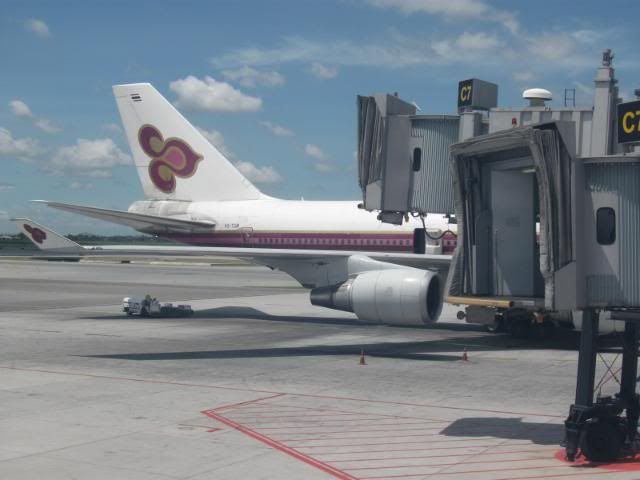 Company 744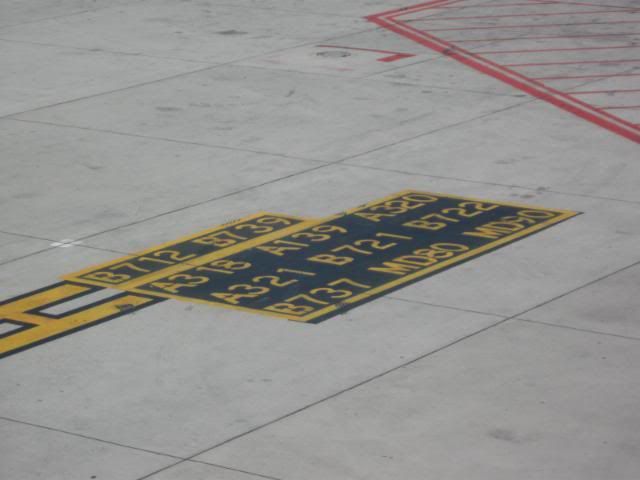 What's wrong with this picture? Notice it has "A139" painted instead of "A319"

Engine view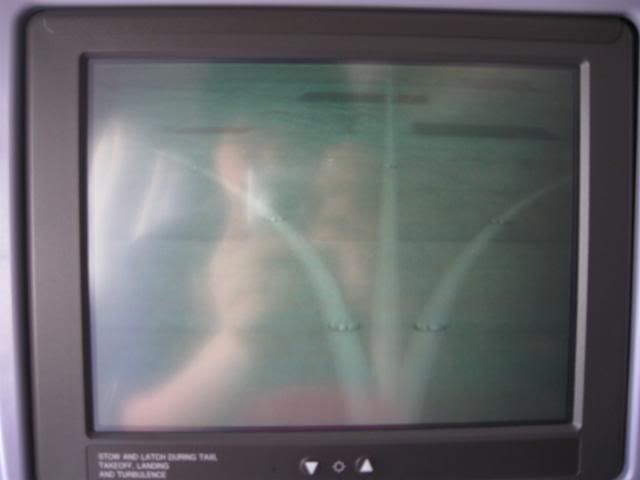 Front view camera



After takeoff, roasted pumpkin seeds were given as a snack. A little while later, a round of post-departure drinks service commenced. This aircraft is equipped with AVOD, so I was planning to use the time to see what options there were for movies. I planned to watch "Free Willy 4" when I saw it from the website but for some reason the movie does not catch my eye anymore. After more searching, I decided to watch Toy Story but turned it off after 20 minutes for meal service.



After takeoff snack

Nose view camera still on after takeoff



Meal service was great! It started off with a small starter which was superb and a while later the first course came. The smoked salmon was perfectly smoked and there was the smoked salmon mousse which definitely made my appetite better for the main course. Also, smoked salmon links me to Thai all the time.



Orange juice again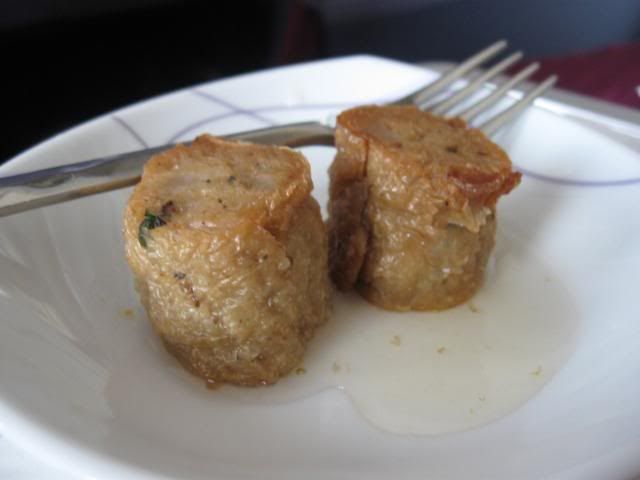 Hot Savoury - Deep-fried crab roll

Toy Story

Flight information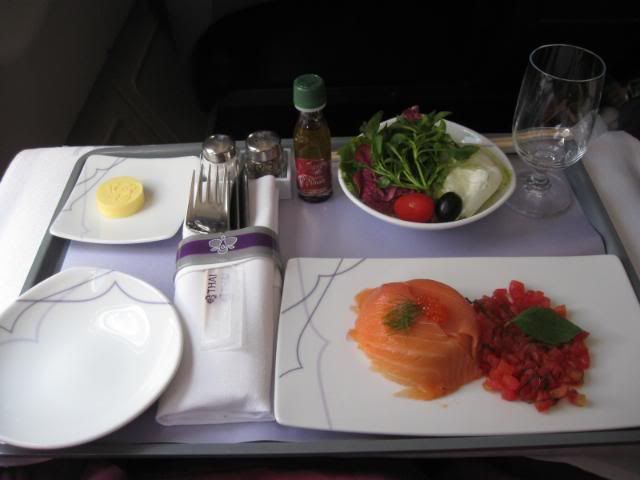 Appetizer. Smoked salmon mousse and smoked salmon

Mixed Green Salad with Tiziano Italian Dressing

Always a nice little touch!



After I was done with appetizers, the main course came. I chose the braised beef option. The beef was tender although it actually looks like it is very hard. Also, the sauce is cooked to perfection and goes on well with the angel hair spaghetti.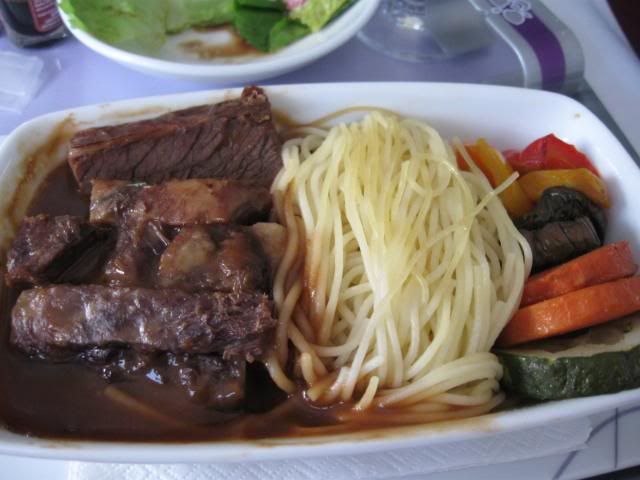 Braised Beef with Red Wine Sauce and Tossed Angel Hair Spaghetti



What is after main course? The course I been waiting for: Cheese plate! I chose all 3 cheeses and some fruits. Of course, I included biscuits to go with them.



Cheese plate with all 3 varieties of cheeses and fruits



Thinking that the meal has ended after the cheese course, I cleared my table and passed the table cloth to the F/A. However after checking the menu, I discovered that there is still the dessert left. Since it is just a small cake, the tray was not needed. The only problem was that it looks so appetizing that I ate everything up before I remembered that I needed to take a photo. Sorry!

This has got to be the best meal I ever had on a plane. After an ultimately satisfying meal, I went for the mandatory lavatory visit and wanted to go to the Economy class cabin to take a photo. However the curtains were closed tight so I banished that thought. The rest of the flight included me trying to watch shows on the PTV and sleeping when I felt sleepy.



Overflying Vietnam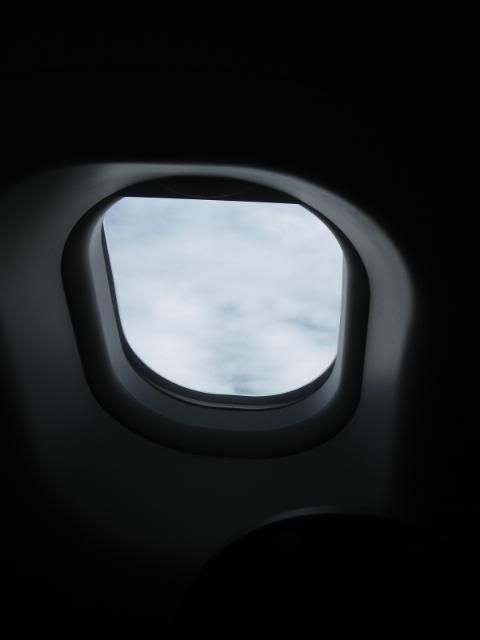 Lavatory with a view!

Toilet bowl

The empty Business Class at the back, with only 2 seats occupied

Relaxing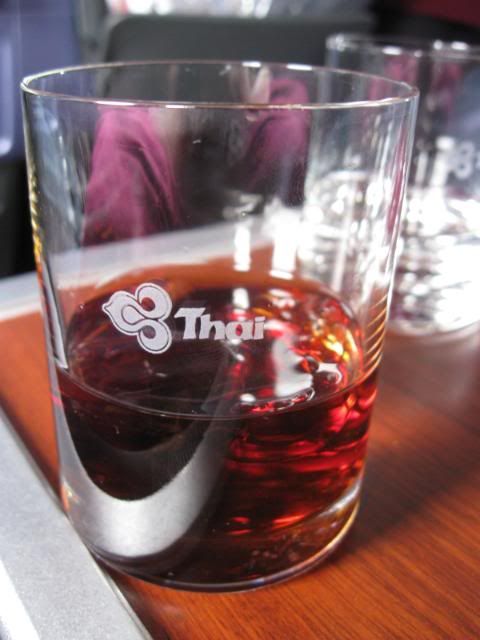 Some port wine to go with IFE

The joy of flying - A beautiful view!

Very elaborate seat controls!

Peek into First Class minutes before landing



Finally, after 4 hours of flight, it was time for our descent into Shanghai Pudong International Airport. It is my first visit to Shanghai so I was definitely very excited. Descent was bumpy and I can see that the ceiling today was quite low. It was not until 5000ft or so (estimation) that I got to see the land. With the map showing us being left with a left turn to line up with the runway, we actually made a right turn so I expected that the captain was circling to lose more altitude as we were too high up. True enough, we made a circle and lined up for runway 34 at PVG. Landing was smooth and soon we were at our stand.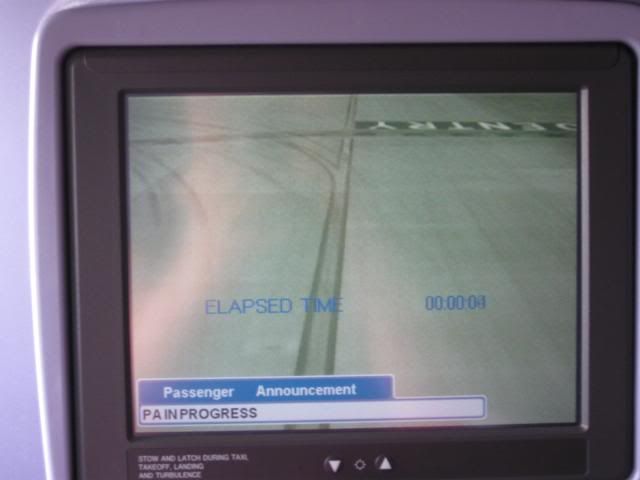 Exiting the runway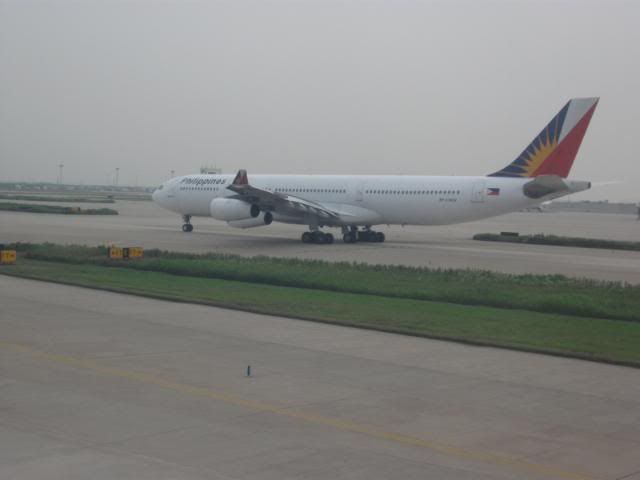 PR Airbus A340-300

Visitor from a faraway land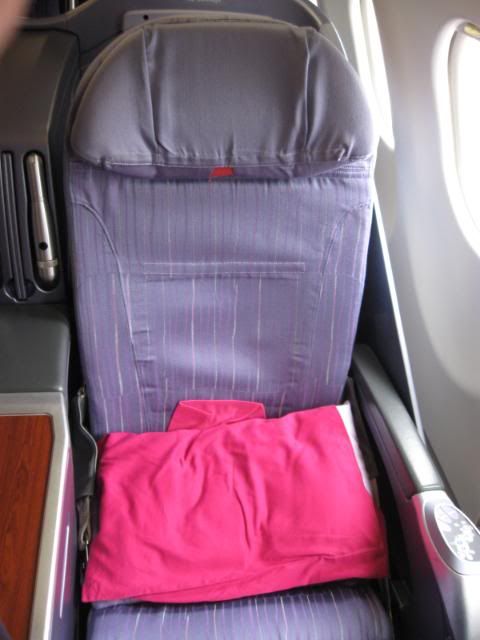 My seat after the flight

Looking back



Immigration was a chore at PVG. I guess with the Shanghai Expo 2010 going on, it is mandatory to ensure that the highest level of security is implemented. When I got to the counter, I told to fill in my Chinese name. After which, the officer requested my address in Shanghai which I had no idea as I only knew the name of the place. Again, he asked for information, my telephone number. I asked if a Singapore number is ok, he said that he would prefer a Chinese telephone number. It was not until I told him that I can take calls in Shanghai with my Singapore telephone number before he allowed me to write my Singapore number.

A trip from the airport to the hotel takes around 45 minutes to an hour. I did not have any pictures as my luggage was in another car. However upon reaching and after dinner, I went for sightseeing and here are some pictures to share. Enjoy!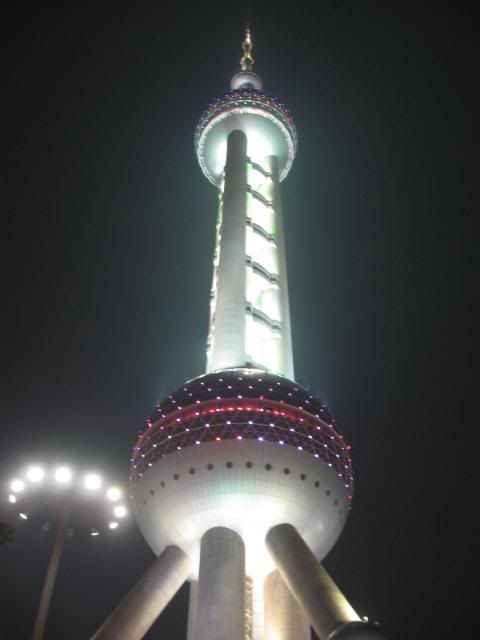 Oriental Pearl Tower (东方明珠塔)



The following pictures are taken at Cheng Huang Miao (城隍庙), a tourist shopping district.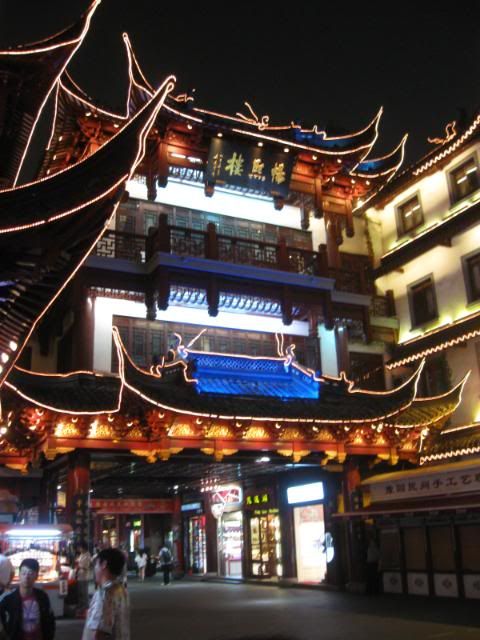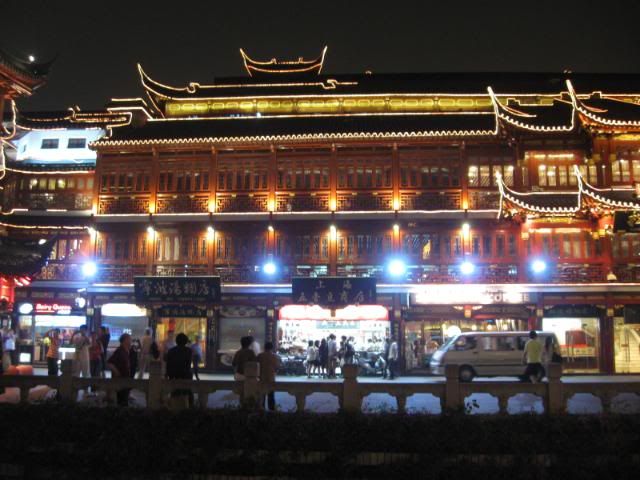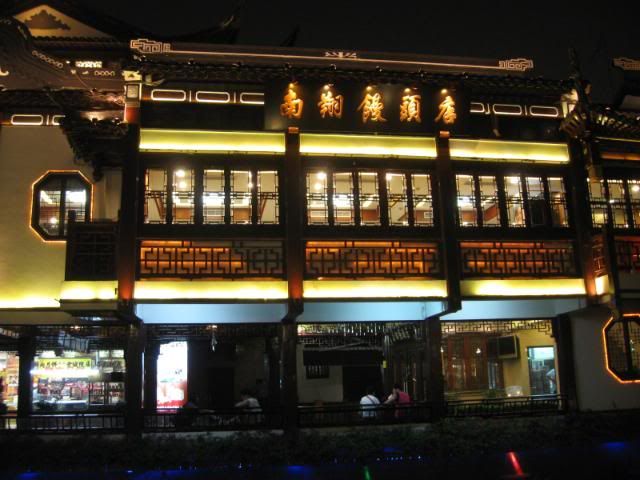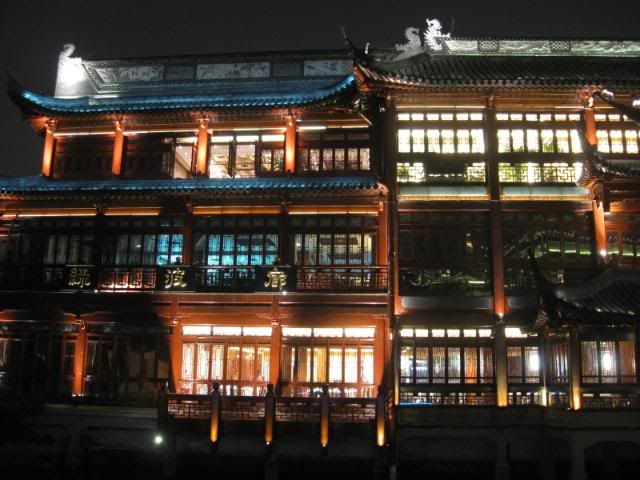 Conclusion

Although Thai has great service, they really need to brush up on their English. When making their announcements in English, it was almost inaudible as they had a very strong Thai accent and the broadcast was very soft. A good idea would be having good English speaking F/A onboard for all international flights. Also, the new Royal Silk Class seats were not as comfortable as claimed. My buttocks hurt when I put it in the lie-flat configuration and I could not fall asleep at all. I do not know how am I going to survive if I am on a long haul flight of over 10 hours. However, if you want a cheap and good Business or First class, Thai is the way to go.

My previous trip reports:

Away We Go - China Southern WUH-CAN-SIN (2/2) (by initious Apr 14 2010 in Trip Reports)
Away We Go - China Southern SIN-CAN-WUH Vv (1/2) (by initious Apr 2 2010 in Trip Reports)
Sardines In A Can - Jetstar Asia SIN-HKG-SIN (by Initious Mar 29 2010 in Trip Reports)
Flying 5 Star - SQ SIN-CAN-SIN (2009) (by Initious Mar 26 2010 in Trip Reports)
[Edited 2010-06-13 10:15:33]
[Edited 2010-06-13 10:24:13]