AF380 CDG-LHR-CDG 12 June 2010 Shortest & Cheapest Part 3
*****
On board the flights
from Team A.net
*
Nighthawk
MIAspotter
Hotplane
viveAF LHR-CDG
ZSOFN LHR-CDG
ketko2 LHR-CDG
packman LHR-CDG
MYT332
Madame Concorde
from Team FlyerTalk
*
Jouy31
Continentalclub
flospi
Rwoman
EmmaB
RivieraTraveler
(never knew if Bodory ever made the flights)
First to Fly the A380 with Singapore Airlines
*
Artemis Shamari
Madame Concorde
*
I hope I haven't forgotten anyone!
******
Flight AF 1981 LHR-CDG
Heathrow Airport Terminal 4 Gate 6
Departure Time EDT 12.50
The flight was less full from LHR than CDG-LHR. A number of Business Class seats stayed empty.
*
Gate sign
Busy rampers loading the aircraft
Another long line with passengers waiting to board the flight
*
In the distance, Miss Singapore 380 is taxiing and getting ready to go. There has to be someone I know on this plane... Mr Robert... are you in command today?
To her right, you can see Sister Emirates 380 parked at the gate at T3. She may have taken Miss Singapore's place.
Singapore Girl...
A view on the wing and engines from the gate room
Rear view as we board the plane
Looks like I have seen you before!
Going to the rear part of the upper deck, we go through the Business cabin. Every window seat gets two windows.
*
*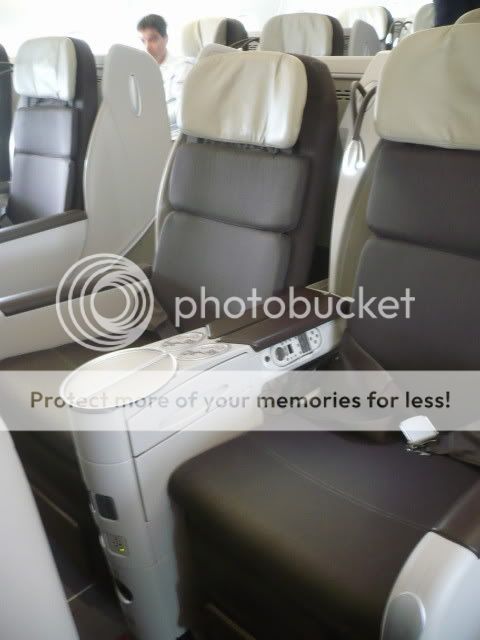 *
*
*
*
Upper deck Economy Cabin overview.
My upper deck 86B EcoSkysuite. This row had the two only A380 VVIPs on this flight: Artemis Shamari and myself.
We both flew on SQ380 and SQ308. Talk about party flights!!!
*
Overhead bin
The window seat boxes are really handy! I had not only one box but two!
Did I see you before?
Business Class - a view from the back
Everything I brought with on the trip could fit in one box.
*
IFE monitor says "Welcome on board"
while at the same time you can hear the Air France 380 music
http://www.youtube.com/watch?v=B7LDuLBNOEs
Push back was slightly late at 12.55 then we were put on hold for some time before taxi.
*
We get to see Sister Emirates 380 on our way out
*
*
Ready for take-off facing BA Cargo building
*
Take-off from LHR for what will be a very short flight.
Up in the air we go!
*
*
*
See my take-off video clip!
http://www.youtube.com/watch?v=IqFDOMD2gSE&feature=channel
The flight attendant in charge comes for drink service. Time for another same coffee... and coconut cookies.
The stewardess's smile makes up for the rest.
Taking a little walk around. Somebody on board wanted my 380 polo shirt!
*
Wing
Upper deck galleys - all nice and clean
*
The stewardess picks up used items
Mr Chef de cabine came to ask me if I would like to visit the art gallery. This was very kind of him. An offer I could not refuse.
The man himself showing me around
First time I get to visit an art gallery on an airplane. The program of art works gets changed everfy month.
Main stairway with access to the flight deck
Going back to my seat the same way as before. There are two Business Class cabins. Front and rear.
*
The rear stair case
Economy section flight attendants working area on the upper deck
Going back to my seat as we are on approach to Paris CDG airport
Skymap on the PTV
Descent into CDG
*
*
*
*
*
Touchdown!
*
*
Everybody on board seemed very happy about their flight in this amazing aircraft. The cabin crew and passengers alike.
*
*
We were bid goodbye on the PTV with the AF380 music to close the flight
http://www.youtube.com/watch?v=B7LDuLBNOEs
Parking at the gate
Smiles
The time came when we had to leave the aircraft...
Saying goodbye after a wonderful experience on board the Air France 380
with the last pictures of the aircraft from the jetway
*
*
*
*
*
Reflection - mirror view. I really like this!
As soon as we deplane ramp workers get the aircraft ready for another flight.
The last views of the aircraft and pictures before we leave
Leaving the gates area back to the main terminal building
and back in the same area where we came, ready to go our own ways. Time to say goodbye.
We will all keep good memories of this flying experience!
Shortest and cheapest.
CDG-LHR-CDG on the Air France A380 - 12 June 2010 - First day of flights.
Another airport to add to my already long list of first A380 flights with wonderful memories to behold.
Heathrow Airport Terminal 4 AF380 cards
Boarding passes
Flight certificates signed by the Captain and F/O.
Thank you Mr Eric Joppé and Patricia Haffner and all cabin crew onboard for the wonderful flights!
and last but not least my fabled T.shirt signed by British Airways Chief Concorde Pilot Mile Bannister and Formula 1 World Champion Lewis Hamilton on one side and by a number of great great A380 captains among which Jacques Rosay, First to ever lift off A380 prototype F-WWOW in Toulouse and Airbus Chief A380 Test Pilot not forgetting all the wonderful captains and pilots from Singapore Airlines. One more signature is now added on this one only tee shirt, with A380 Captain Eric Joppé and F/O Patricia Haffner from Air France. There will be many signatures to come I am sure.
*
*
I must extend my special thanks to Mr Jacques Rosay. I don't think all this would have happened without knowing him
and also to Mike Bannister, last Chief Pilot and Last to Fly the British Airways Concorde. There is not a day where I don't think of Concorde some way or other. She often comes back flying in my dreams.
Thank you also to all of you A.netters and FlyerTalkers who participated to these flights. We will meet again at some other times I am sure for more great times and adventures.
Wait... the trip report isn't finished yet.
On to part 4 and my late late return to Nice, the fabled French Riviera and another epic late night bus ride to Monaco.