Gdansk and the LOT Polish Embraer 175
Czesc, dear readers,
back home from the latest experience
Spanish Compilation: NT-UX-JK Gomera-FRA
(by
FLIEGER67
Jun 13 2010 in Trip Reports)
for some six hours only, preparations,
shower and some sleep.
Now it´s Poland on the schedule, with a city that I want to visit since some years ago
and also a, according to my log, rare plane type.
And btw. it´s another new airport for me.
Thursday, 27.05.2010
.
.
.
.
Service airberlin AB 6526 operated by TuiFly
Scheduled: 06.25 // 07.40
Indeed, it´s my cell phone, calling me off the bed at 03.30 am.
Pretty early, but when I want to catch my first flight of the day, no excuse here.
By car to STR, OLCI is quick and efficient on AB´s website Wednesday evening.
31 A, last row window, so it shows up on the seatmap, we will see.
The fare is pretty nice, some 30.-- Euro´s, done by LTURfly this time, the cheapest option.
Some minutes to wait at security today, lot´s of inexperienced vacationeer´s on travel.
No, they dont ever hear about that "new" security rules.
My flight seems ontime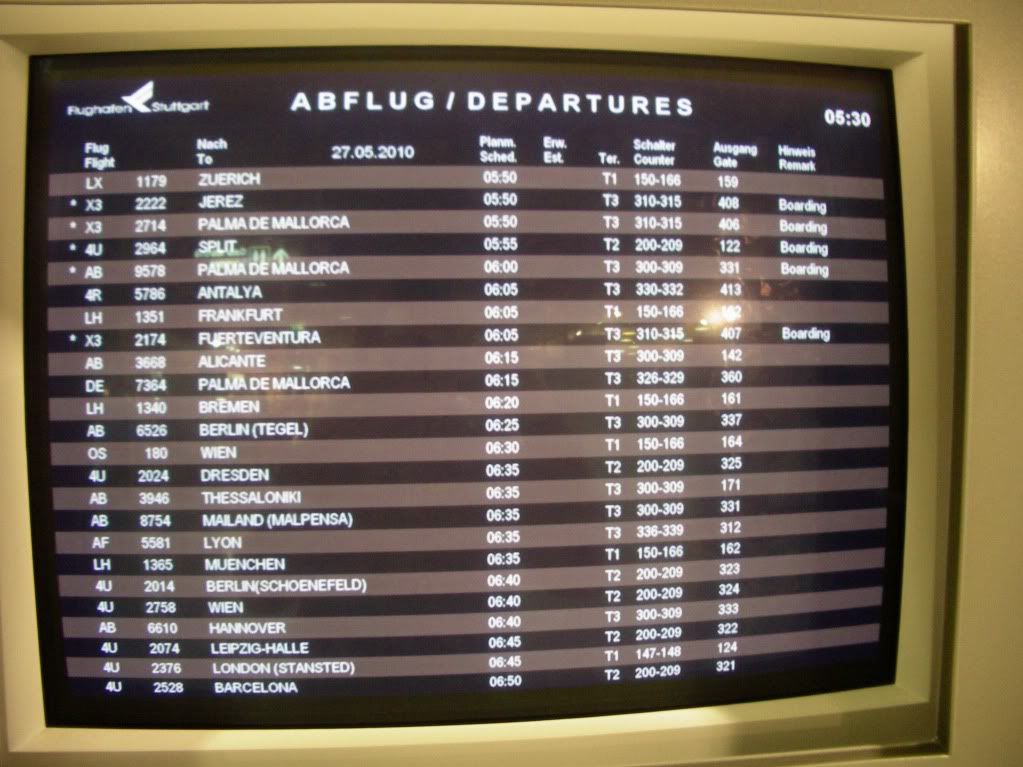 Where is gate 337?. It is a non-schengen gate at the far end of T3, first time for me from this one,
usually in service for TK or BA flights.
The plane is overnight here at STR, it looks like the scheduled 737-800.
Surprise, D-AHFS, that´s never ever an AB registration.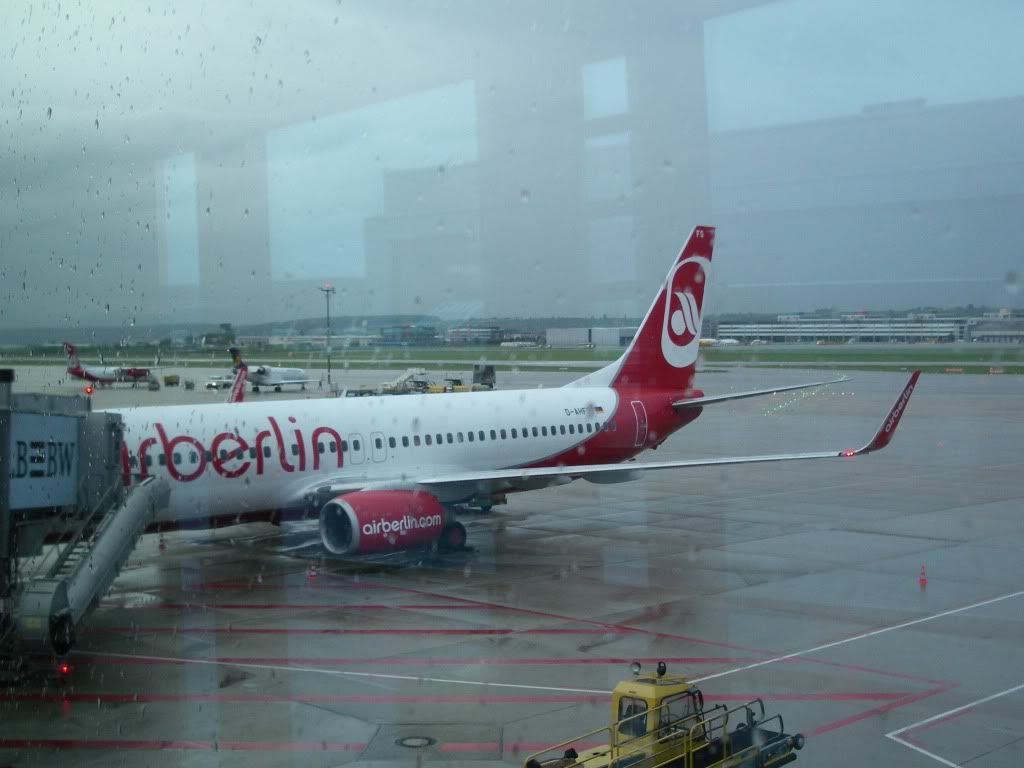 No, the owner is Tuifly, at first with Hapag-Lloyd from 21.05.2000, with AB from 27.03.2003 till 15.03.2006, further back to Hapag.
Hapag becomes Tuifly at 15.02.2007 and several sources see it with TuiFly till now.
But it is here in AB colours.
Leg no. 48 for me on type, the second leg on this plane.
Airfleets show´s 25 active 737-800 still in the X3 fleet.
There is a TV screen in the gate area and believe it or not, me boarding as the last passenger and what I see on the screen?.
Delays and cancellations at both Berlin airports due to groundstaff strike.
And here, boarding is ontime.
Cabin crew is ok, two females, two males. The purser introduces the whole staff by name, real nice.
The cabin looks like refurbished, new style, dark grey slimline Recaro leather seats.
The load is around 90% and 31A is indeed the last row window, three seats for me here.
Cockpit crew is from Germany, the pilot with a warm welcome during boarding.
He told us the well known story about that groundstaff strike at TXL, some minutes delay ahead.
Note the small operated by TuiFly sign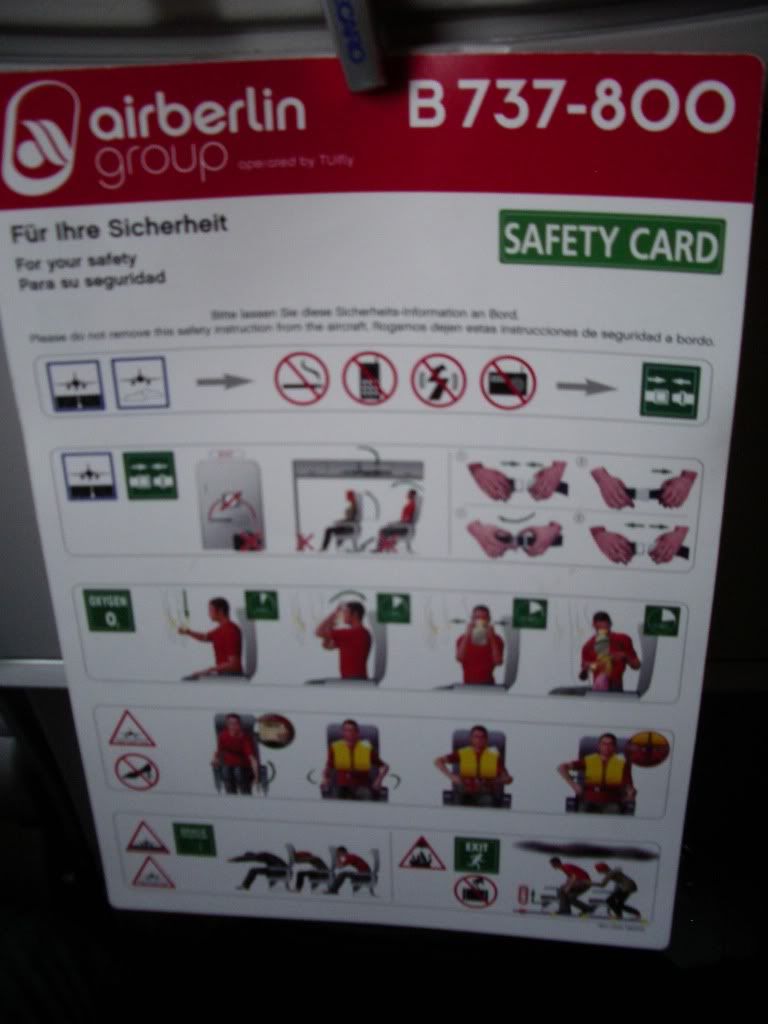 A view into the dark cabin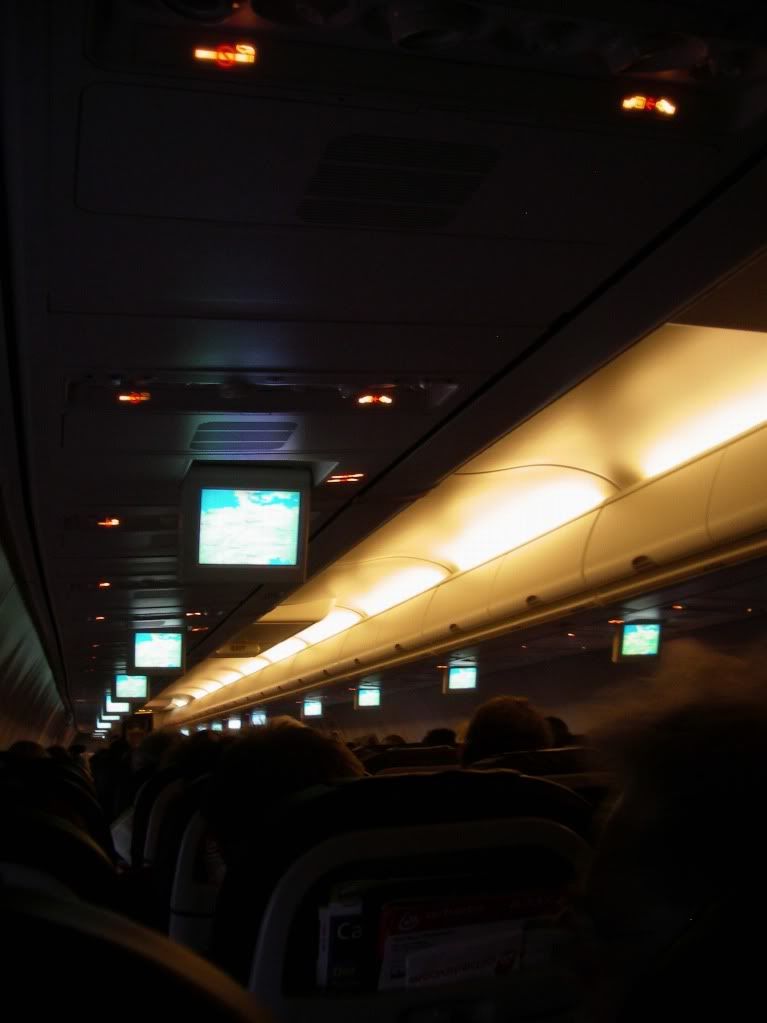 On the way for runway 25 with an Bulgarian Air Charter MD on the apron
We´re taking over three planes on the parallel taxiway and joining the runway not at the usual entrance, somewhere earlier.
Light rain here and the temperature is 13 degrees.
Also not the usual departure track today, a very fast takeoff run and an immediate sharp right turn directly above the city center, finally only some ten minutes late.
Flightlevel is 25000 feet, between the clouds, duration 55 minutes above ERF and LEJ.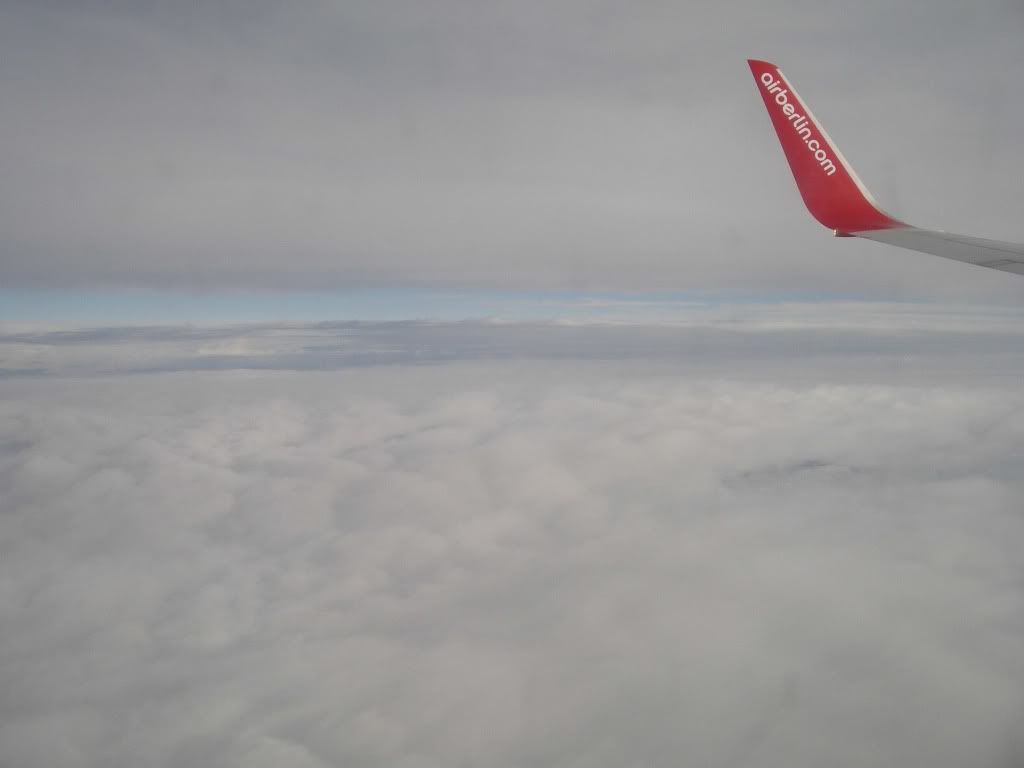 Service is free water, coffee and a breadroll.
The FO is also on the speakers inflight with detailed further informations.
Low clouds above Berlin, terra firma only to notice short ahead to touchdown on
the 3023 meters runway 08L.
9 degrees and cloudy, not the welcoming weather here in Berlin.
It is 07.30 am, that means ten minutes ahead to schedule.
The parking spot is close to the entrance for the 08 runway´s, far from the terminal.
More than ten minutes to wait till stairs arrived an again some more minutes to wait for the bus.
A last pic from my seat
D-AHFS on the apron at TXL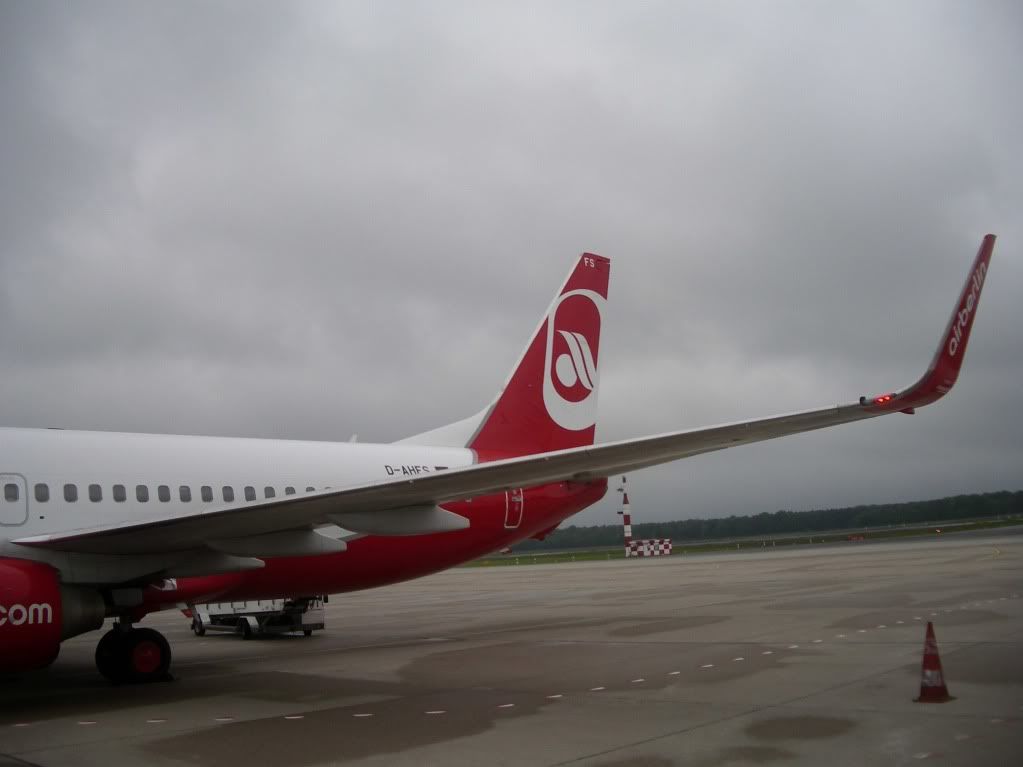 Bye-Bye D-AHFS
In the C terminal and up the stairs to the gate area, no extra security check this way.
Thursday, 27.05.2010
.
.
.
.
Service airberlin AB 8496 operated by LGW Luftfahrtgesellschaft Walter
Scheduled: 09.10 // 10.20
Most of the flights with minor delays and a heavy number of pax around.
Terminal C is not my favourite place at all, only a low number of less comfortable seats here.
C45 is the gate for my flight to Gdansk.
The fare is also some 30.-- Euro´s, done by LTURfly together with the earlier flight.
A CO 752 and a group of ground staff no-workers
Boarding is some minutes late till a bus arrived and it seems the ground staff will show us how hard it is to work out on the apron.
Close to 30 minutes in the bus with open doors, 8 degrees and light rain.
What to do to shorten the time?.
A nice american girl is also on the way for a short visit to Gdansk.
So we had a nice chat about that strike action, our travels and else.
This plane is on the apron since my arrival from STR
Good looking, isnt it?
It is D-ABQH, the scheduled Dash 8-400, a new entry to my log, leg no. 9 on type.
Since 30.05.2009 with LGW on AB services.
LGW operates actual 10 Dash´s.
The company is privately owned, all scheduled services nowadays running under the AB code.
A close view during boarding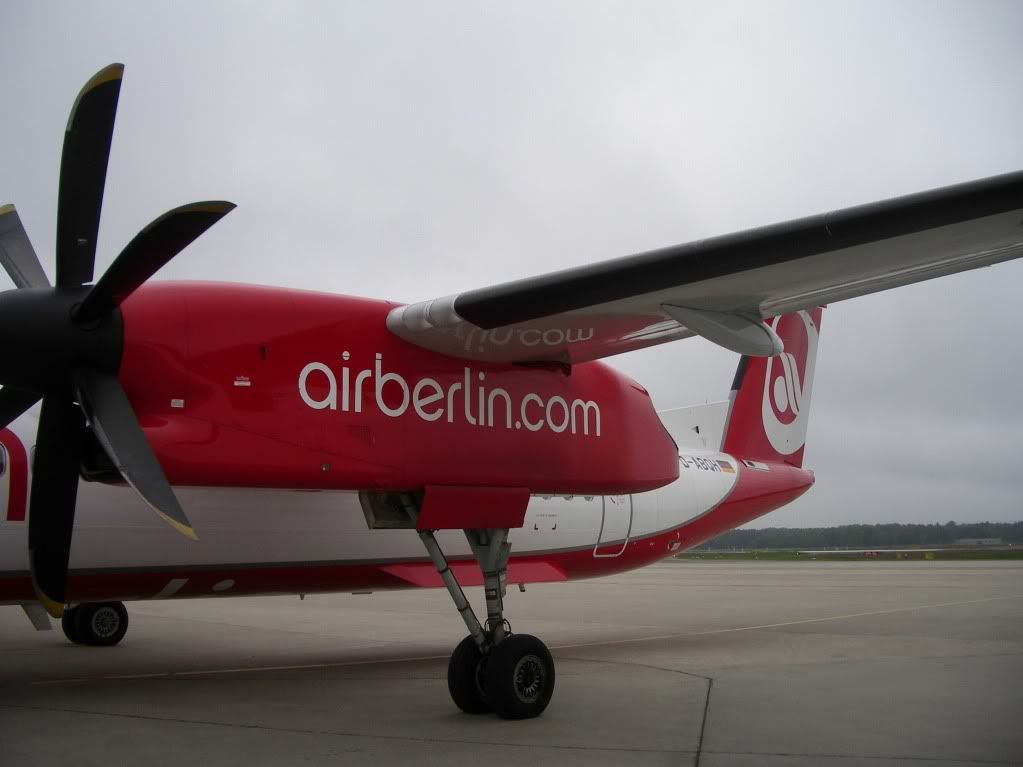 Note the small operated by LGW sticker
A pretty close view to the propeller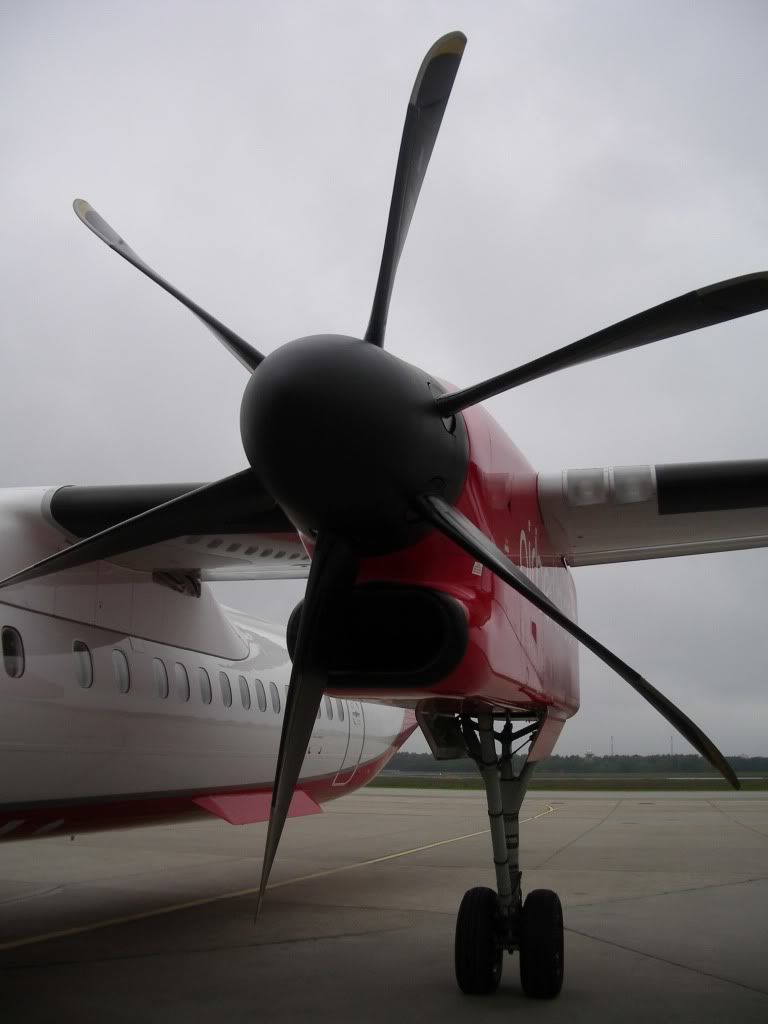 It is indeed a Q400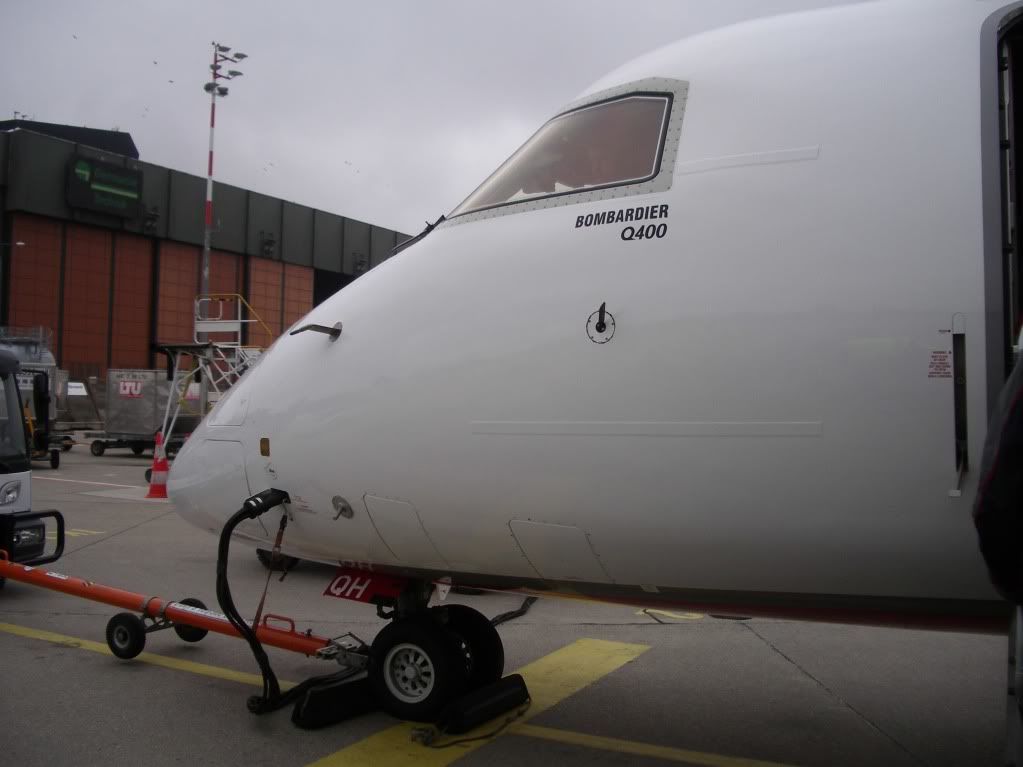 The german pilot with a detailed and very friendly welcome during boarding.
My view to the undercarriage
And the cabin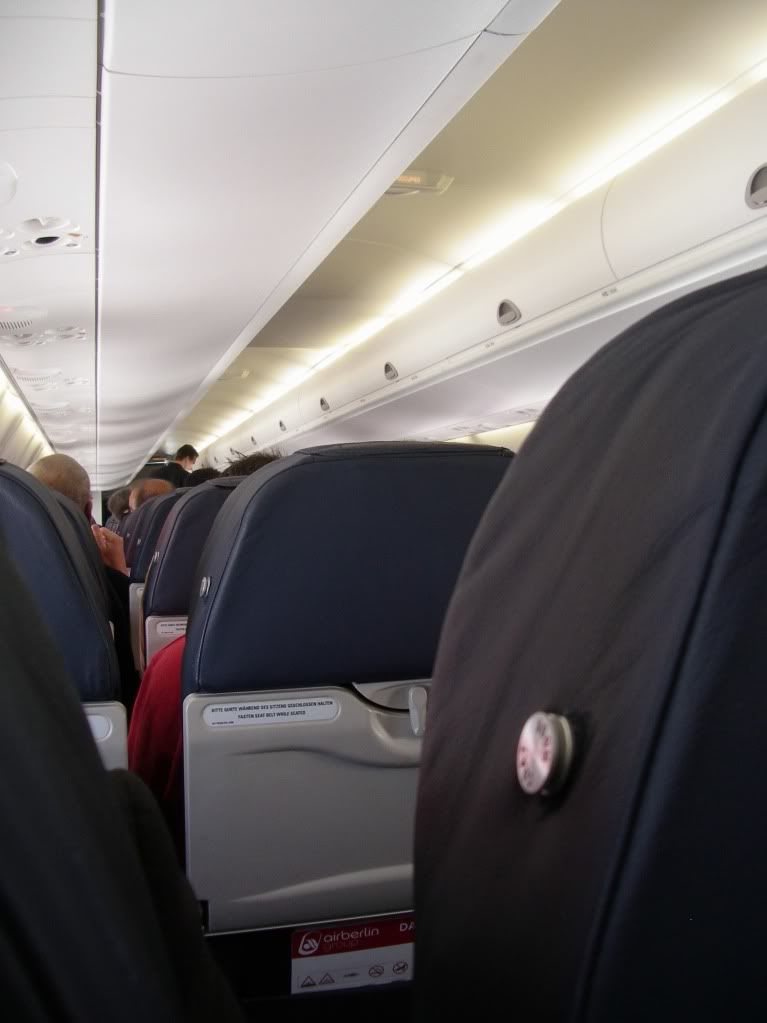 Dark blue leather seats, comfortable, clean.
My seat 18A, the third last row, the load is some 80% and also here, two for me.
Some minutes delay due to that groundstaff strike. It is 09.40 am, 30 minutes delayed and finally departure from the 2428
meters runway 08R. Duration 1 hour, no route informations.
Flight level 23000 feet.
One male and one female cabin crew, arrogant, less interested, nothing special here.
Well that´s what I call a nice magazine cover, thumbs up AB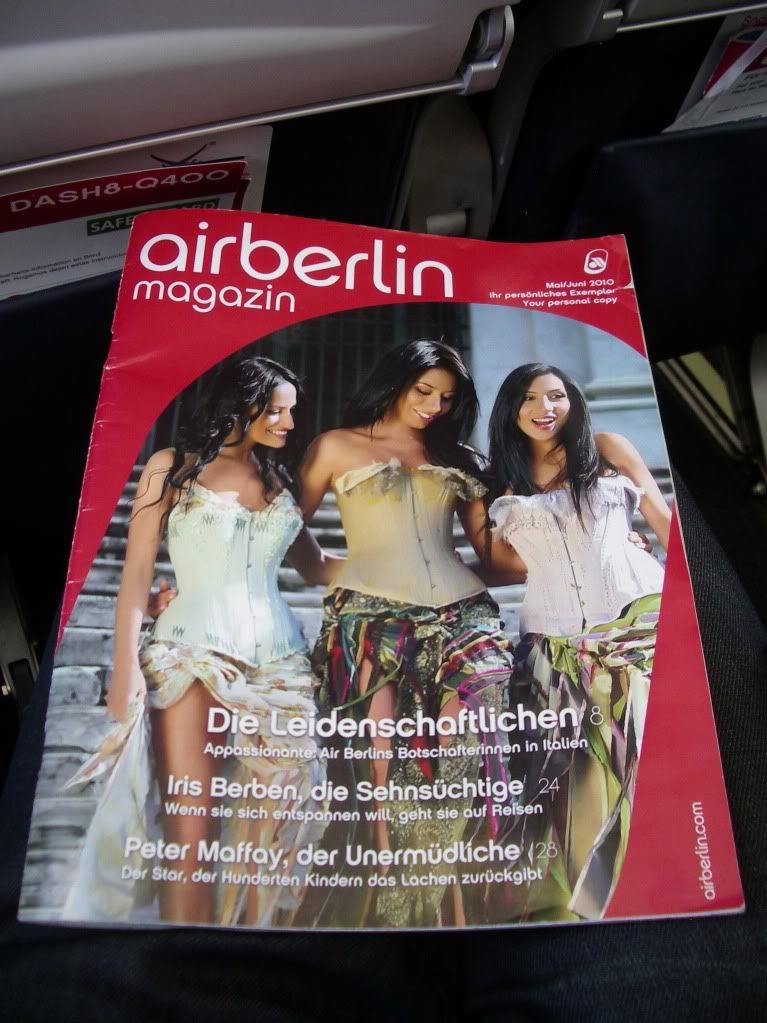 And the safety card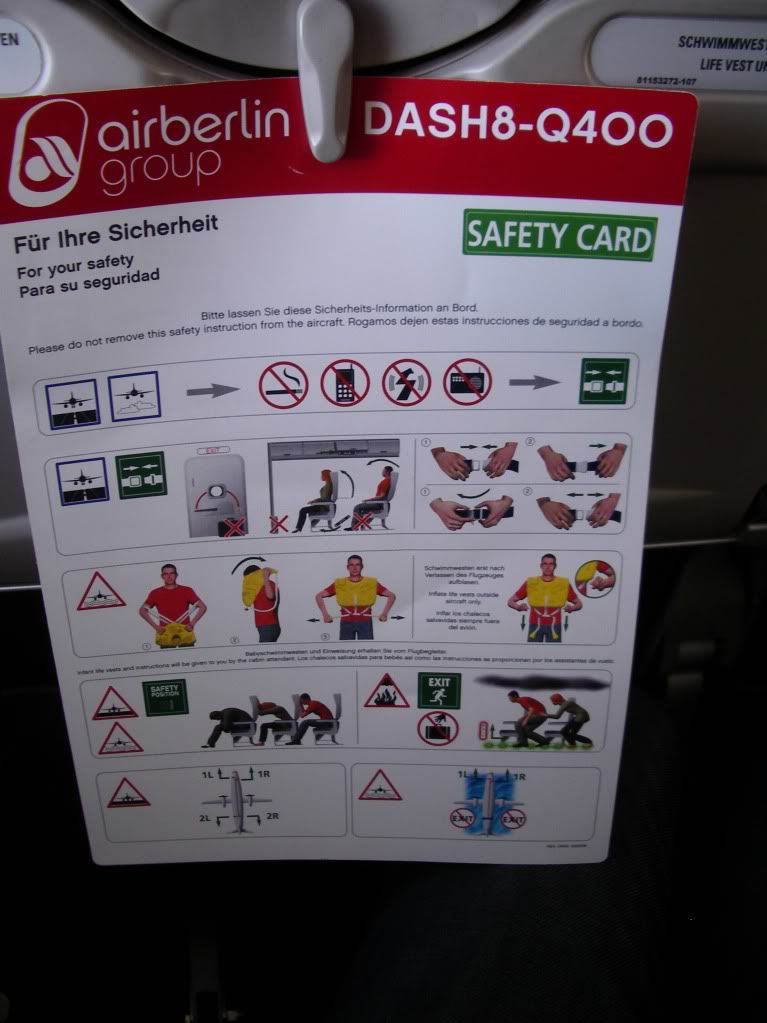 The FO with some more informations in a friendly style inflight.
Service is free coffee/water and a muffin.
Inflight close to GDN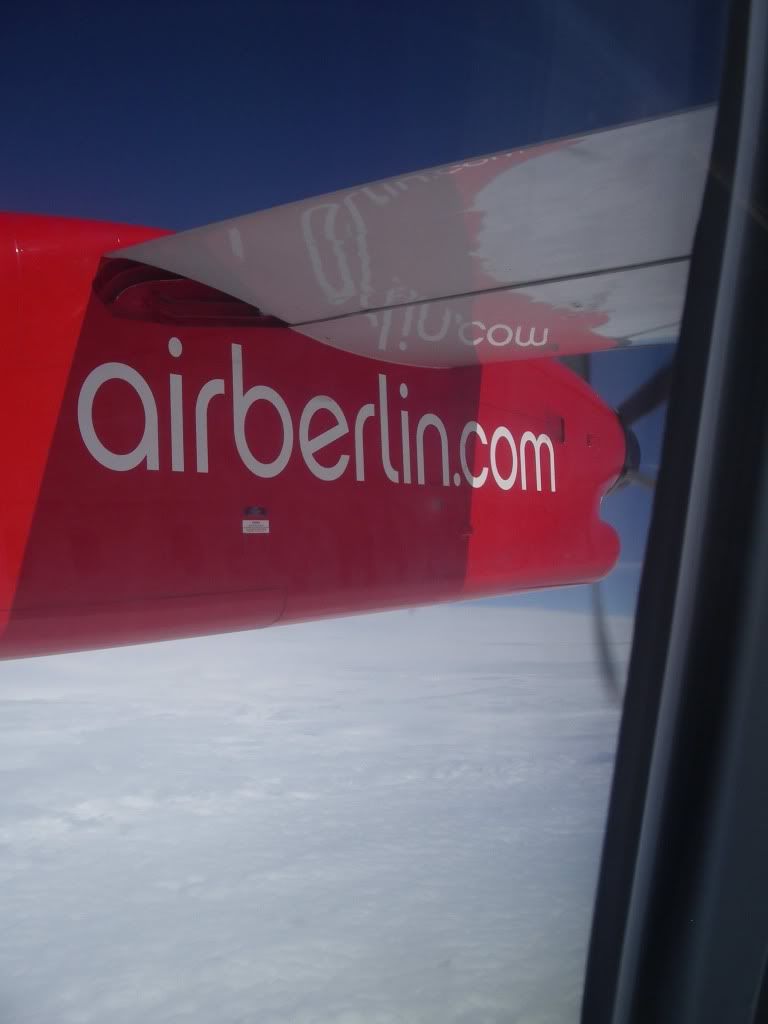 Above the suburbs of GDN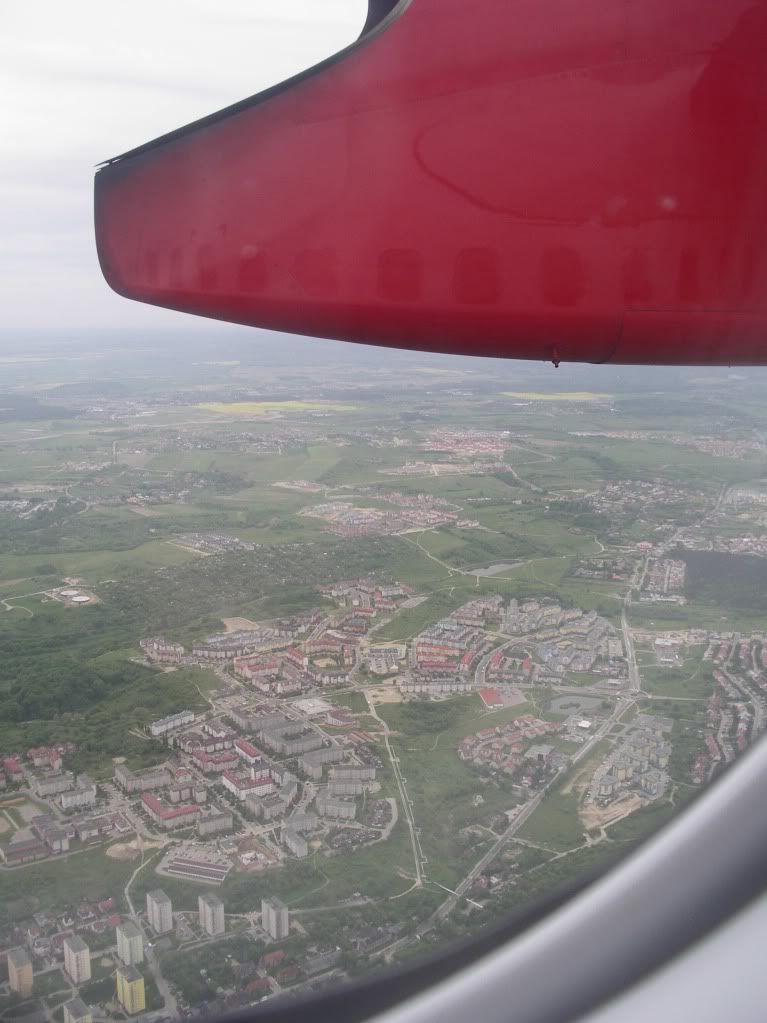 The runway down there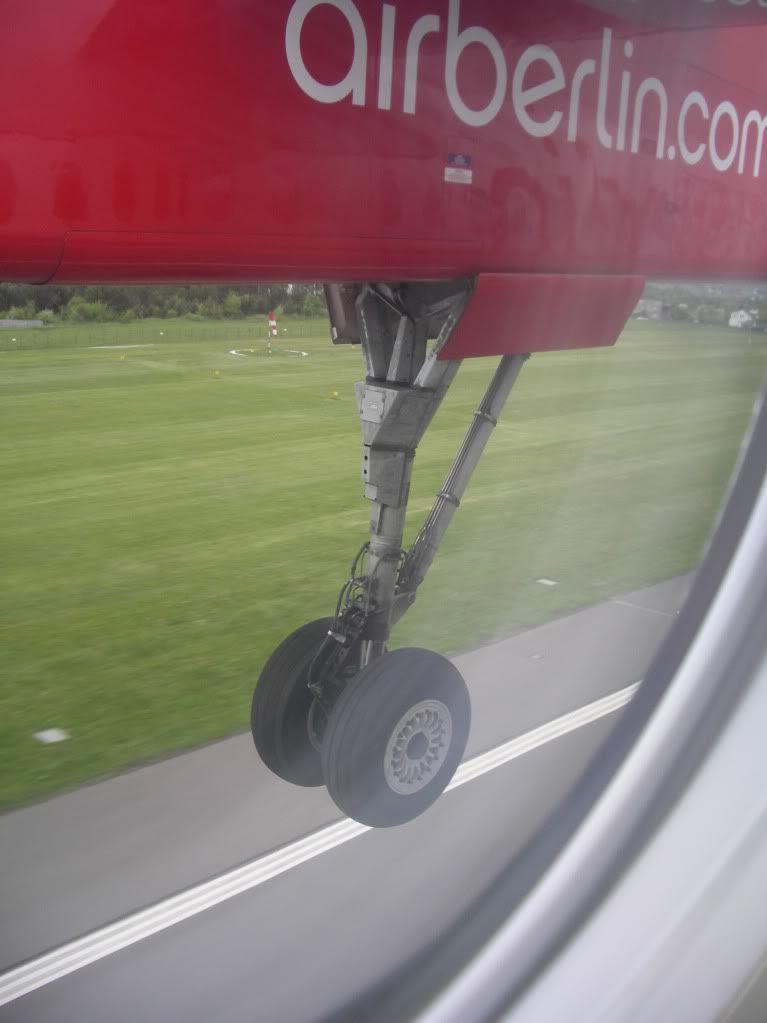 Close to touchdown, hard and heavy on the 2800 meters runway 29.
It is 10.30 am, some ten minutes delay.
The weather is not much better than in TXL, 10 degrees and cloudy.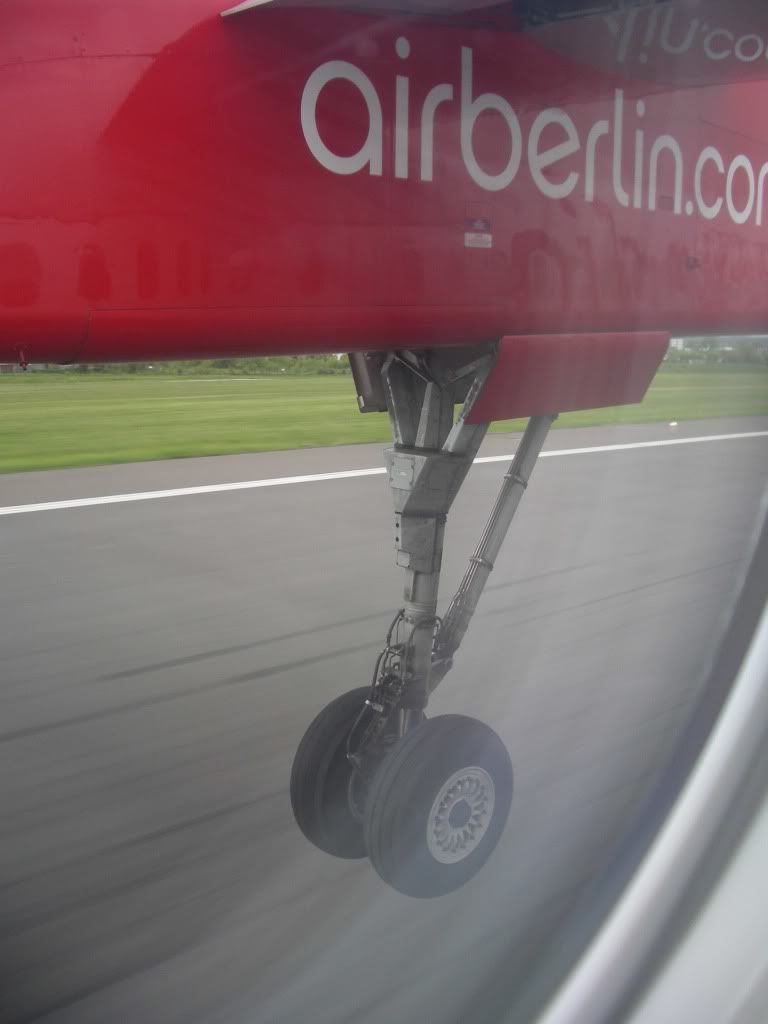 Also Wizz here at GDN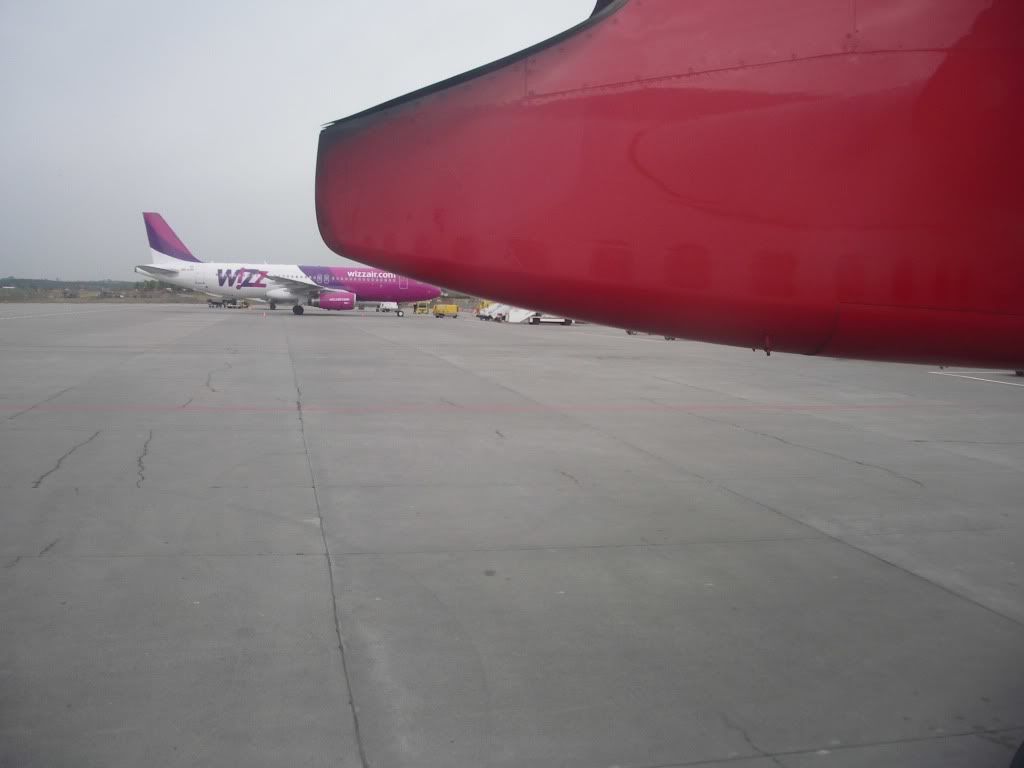 My machine on the apron
Some freighters in the background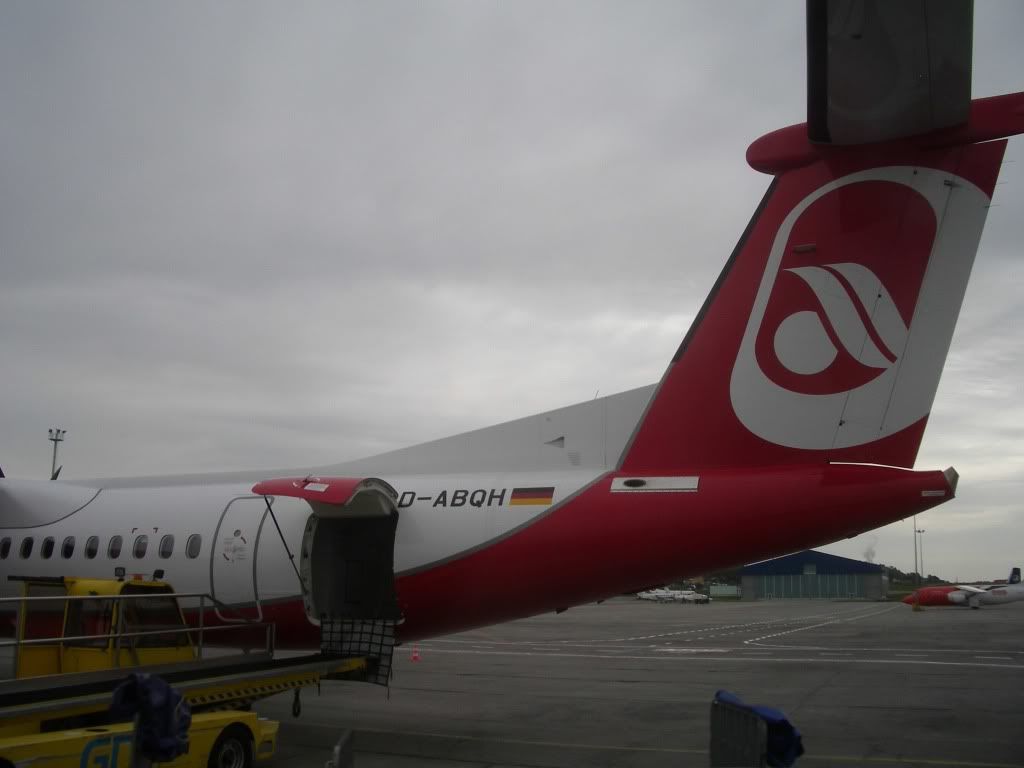 Bye-Bye to D-ABQH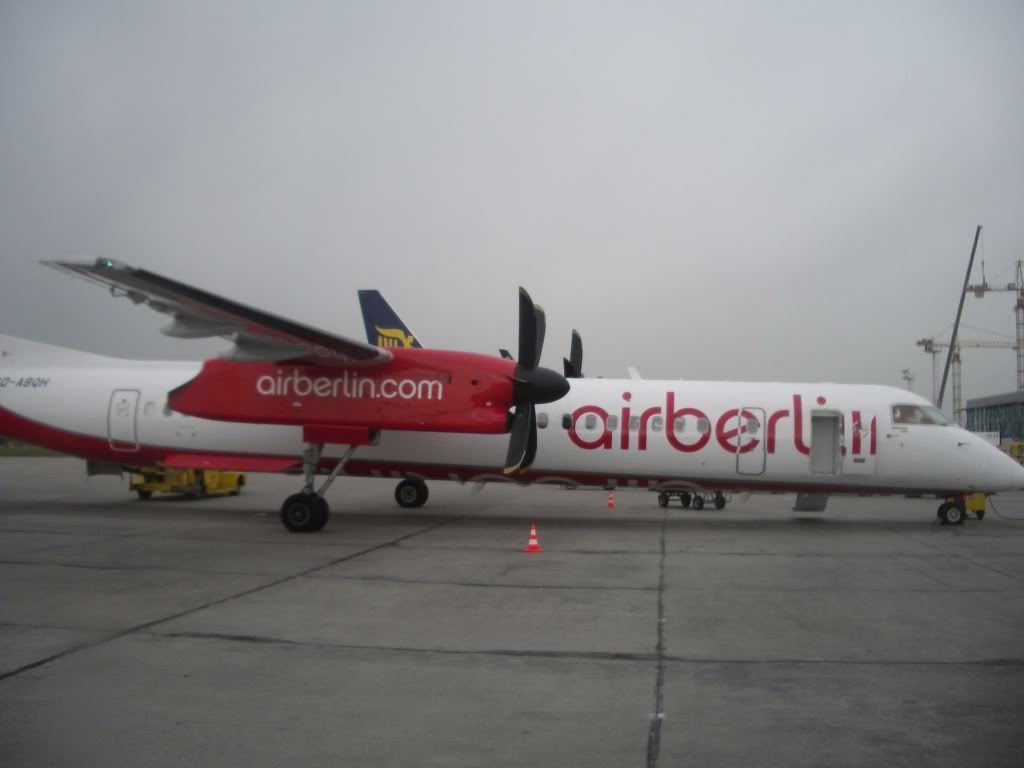 Close up from the bus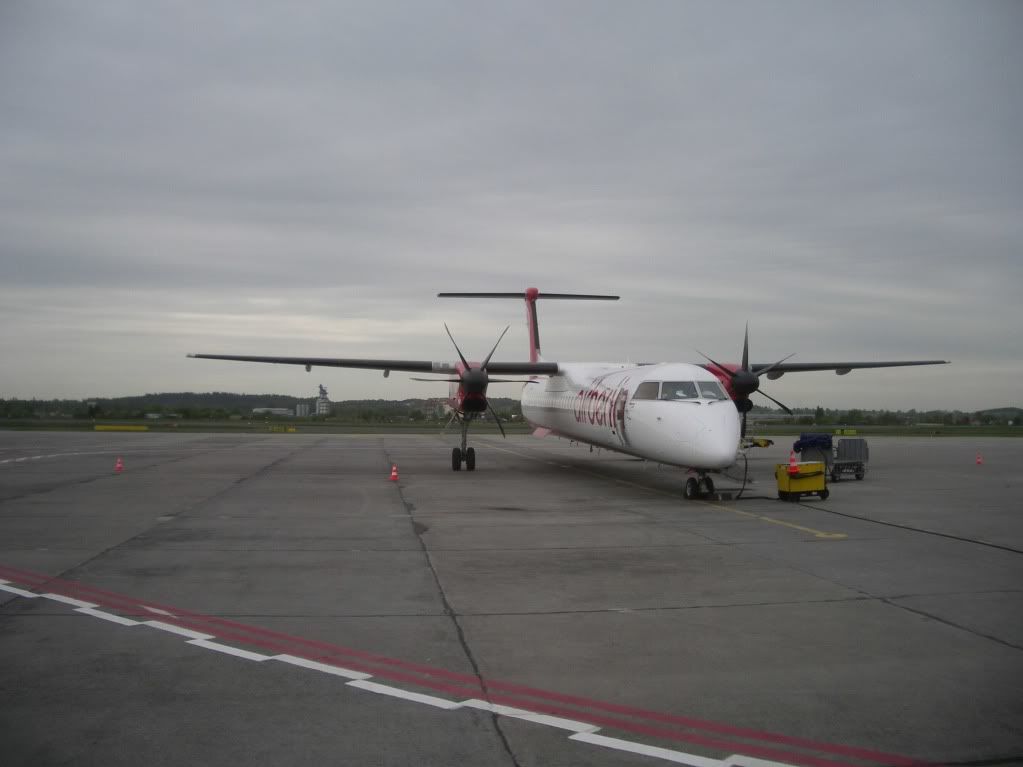 Quickly out in the public for a closer look to the bus stop.
Check-in for my flight later in the afternoon is not open.
Not that well signed, this place is a large construction site today.
Finally with some local advice, the bus is on approach, three Zloty to the main train station.
Sea front view with the "Krantor"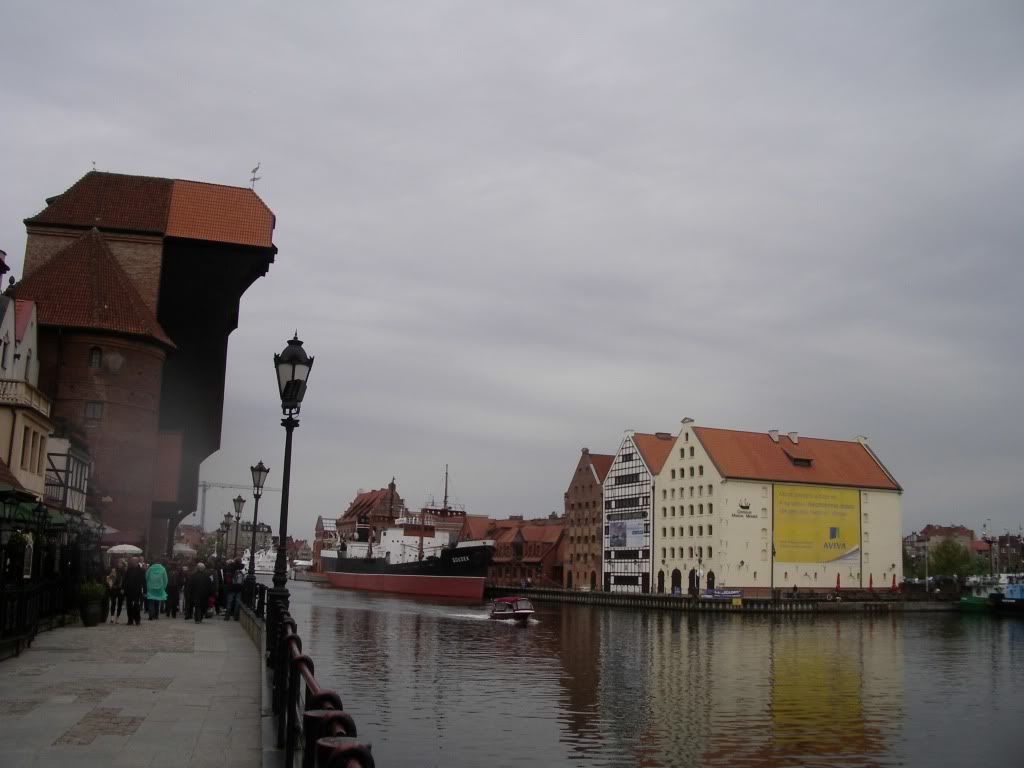 Some nice oldfashiond houses at the ul. Mariacka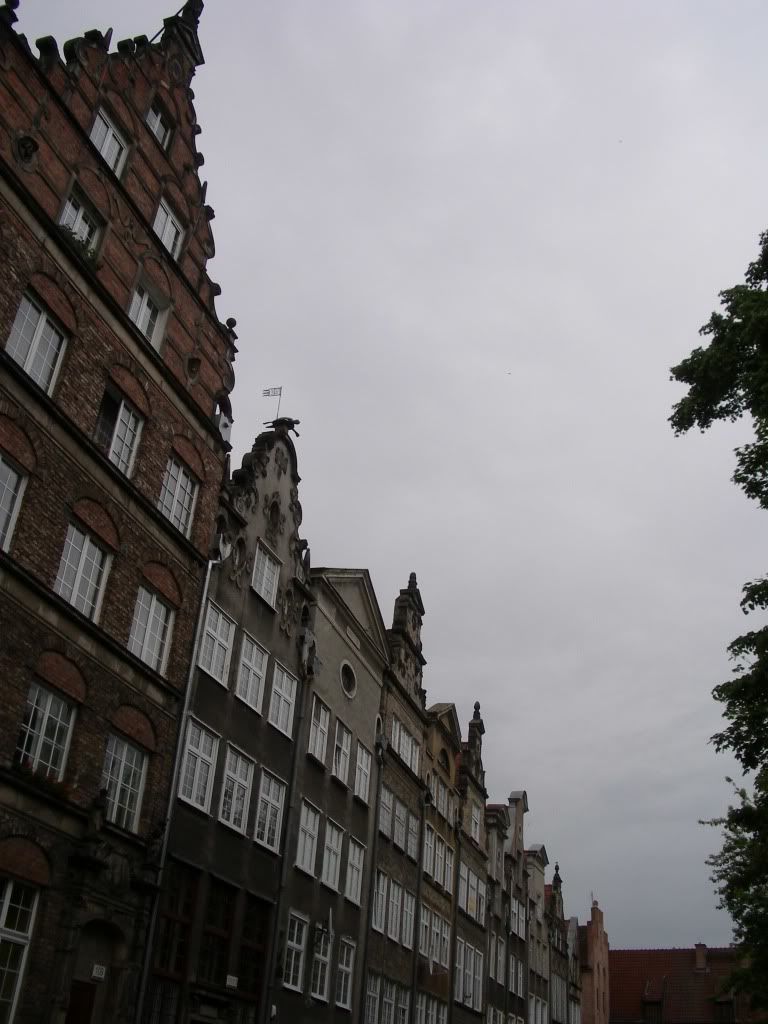 On the way to the harbour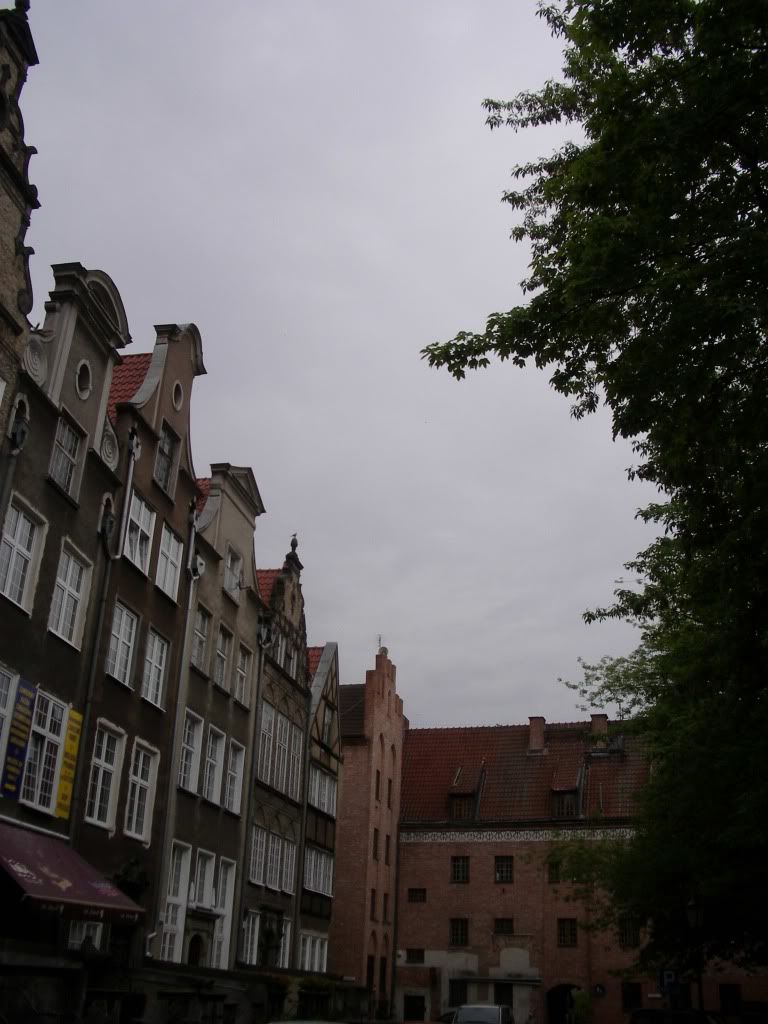 A view to a pretty small street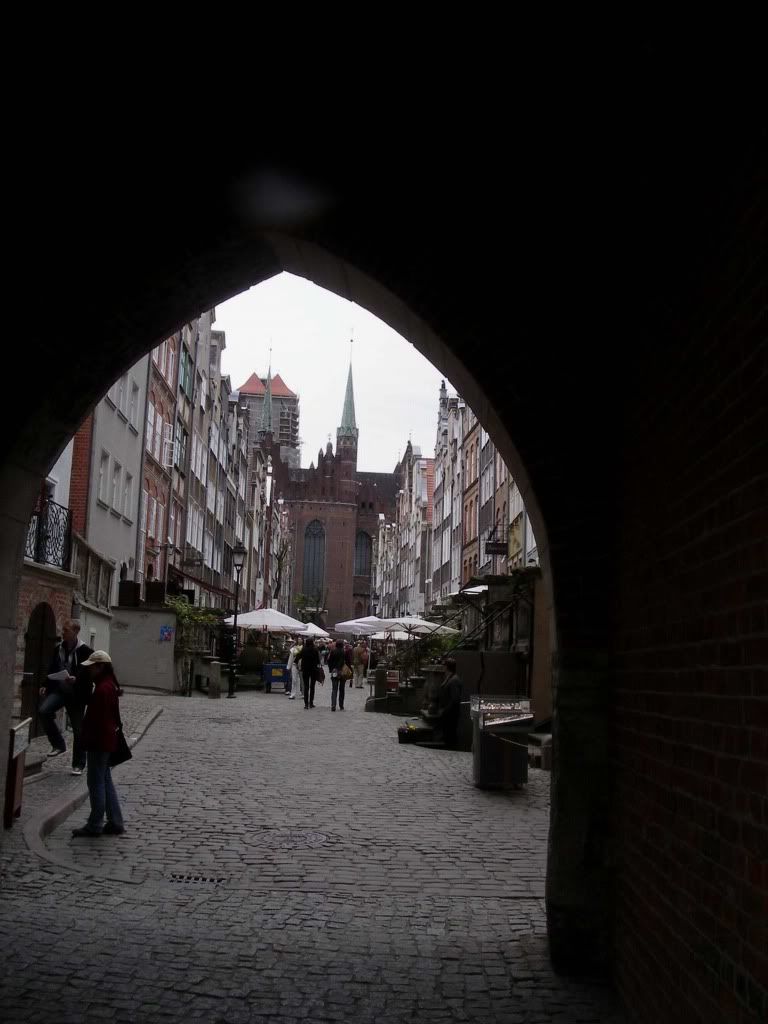 Ah, this is Elzbieta from Gdansk!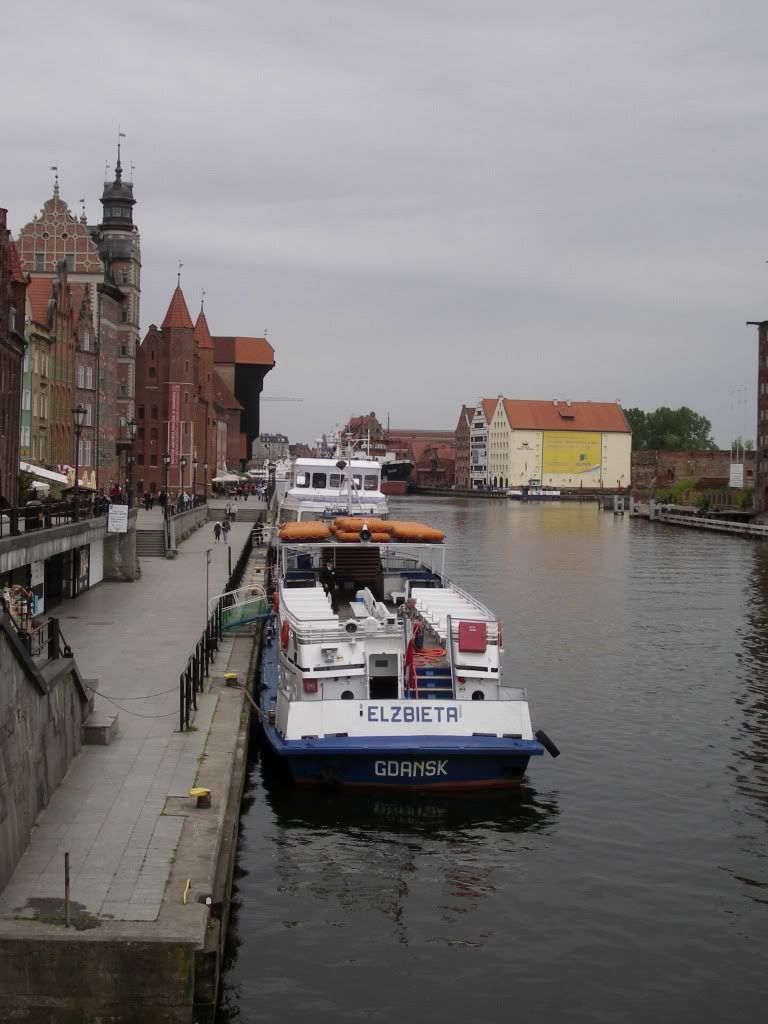 More seafront view
The "Grünes Tor"
The "Dlugi Targ"
And the "Rechtstädtisches Rathaus"
The "Krantor" en detail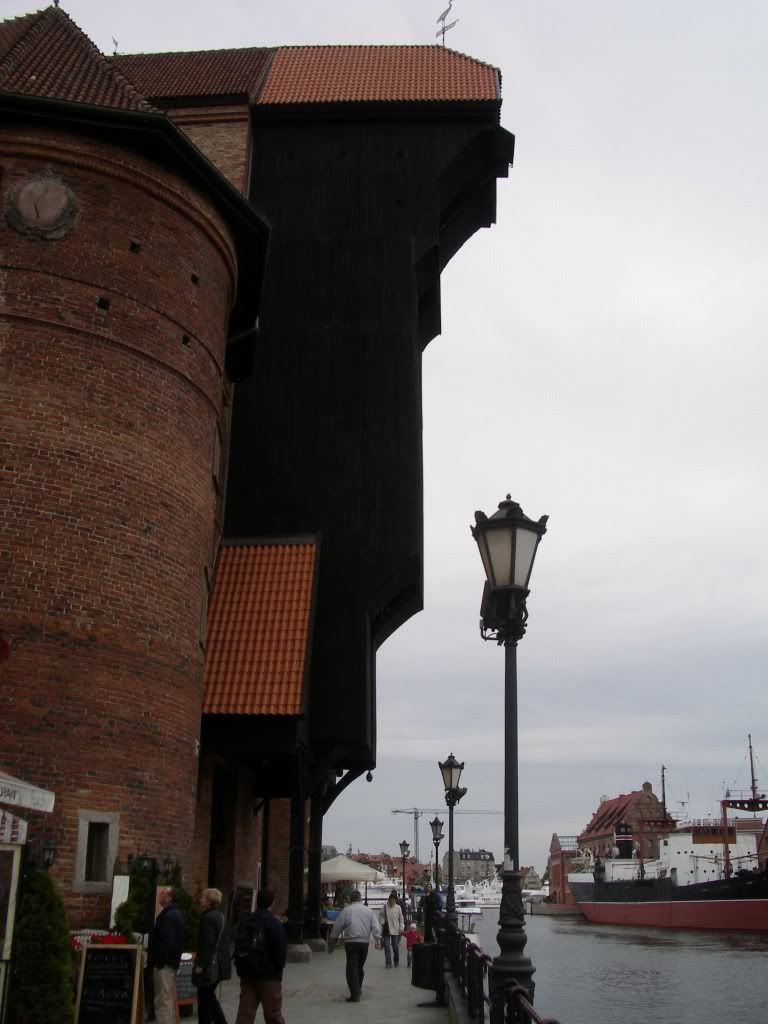 Traffic around the main train station
The train station
The bus is ontime and three Zloty´s later I´am back at the construction site called GDN.
Thursday, 27.05.2010
.
.
.
.
Service LO 355 operated by LOT Polish Airlines
Scheduled: 15.30 // 17.15
This booking is done by Ebookers for some 40.-- Euro´s.
These company dont show you the airline code with the confirmation,
so LOT offers online check-in for flights from Poland to Germany but it doesn´t work for me
without the confirmation.
The terminal is unbelievable small and also the LOT check-in area.
Thanks god, no queue there, the girl is super friendly, 21D is the last row window, no action needed here, the system knows me well and secured my seat of choice, again two for me.
She also checked after a short chat the incoming flight from Warsaw, ontime so it seems.
SK on the way to ARN viewed from the public area, first level, the place is packed with people.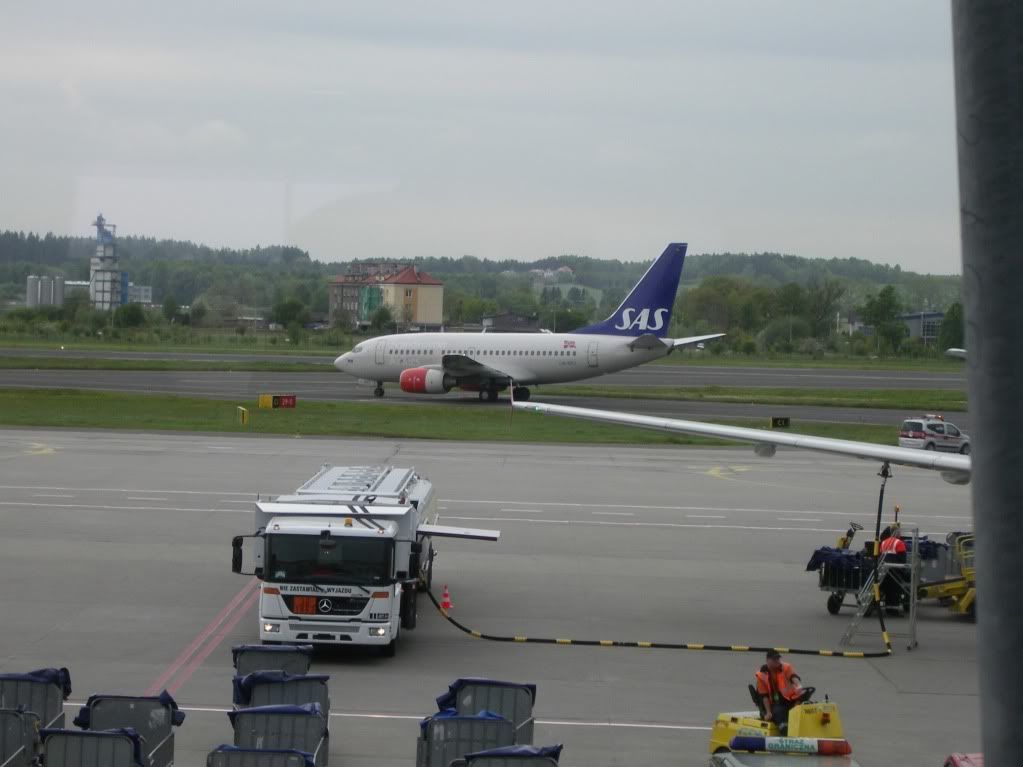 No delay for my inbound flight
The Wizz double on the apron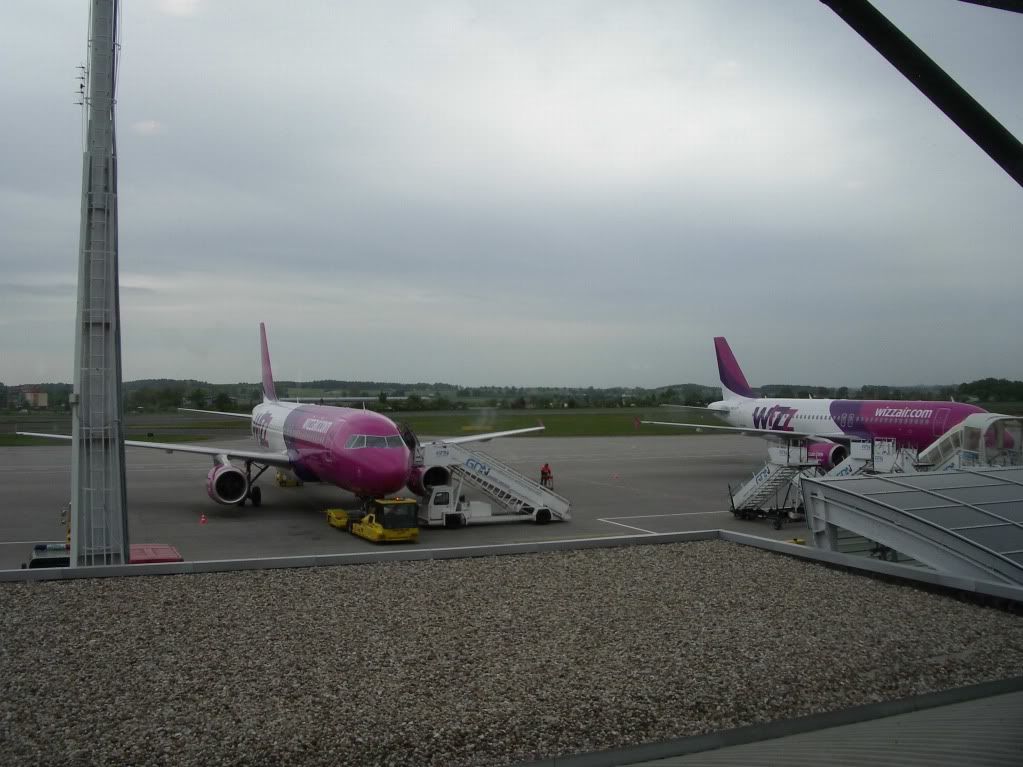 The E145 still in service with LOT
Wizz no. 3 on touchdown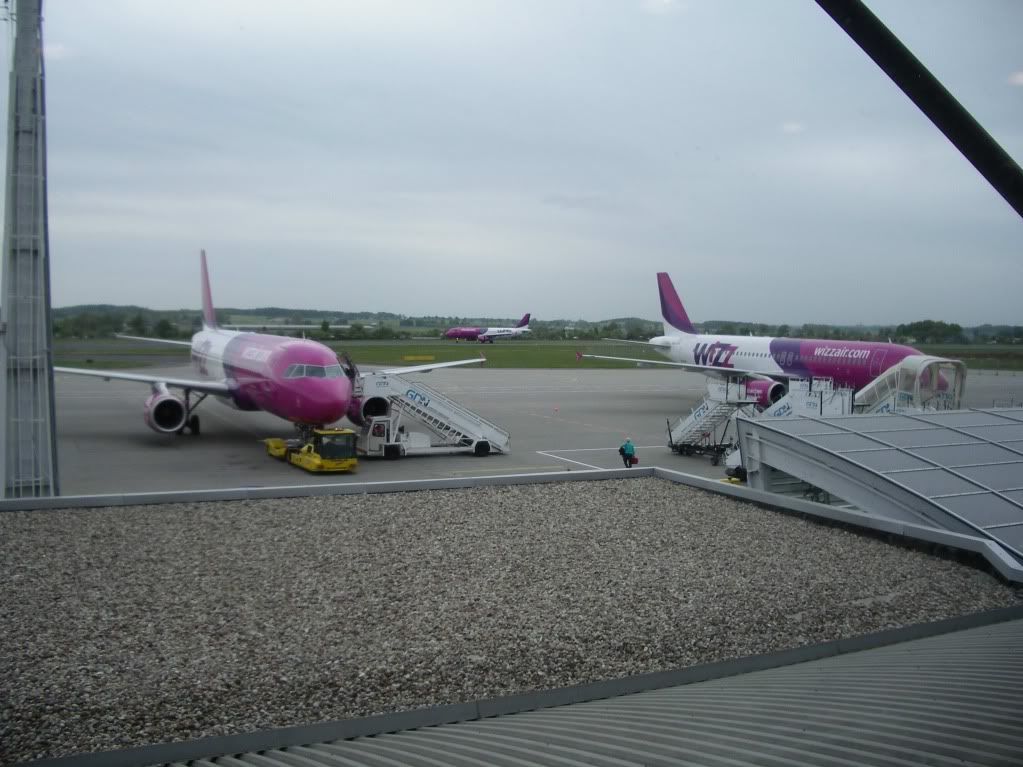 The LOT Embraer on take off
Through security, only some minutes to wait.
What a tiny gate area, these place is more like a dirty and worn out train station.
No screen in the gate area or not working.
Believe it or not, one male restroom with two cabins for the whole Schengen gate area,
a steadily long queue in front of the female toilet.
Duty free like as big as my car garage and a non inviting looking small coffee bar.
And these all with two good loaded Wizz A320s nearly the same time on departure,
LH to MUC and my flight to FRA.
It seems my plane on finals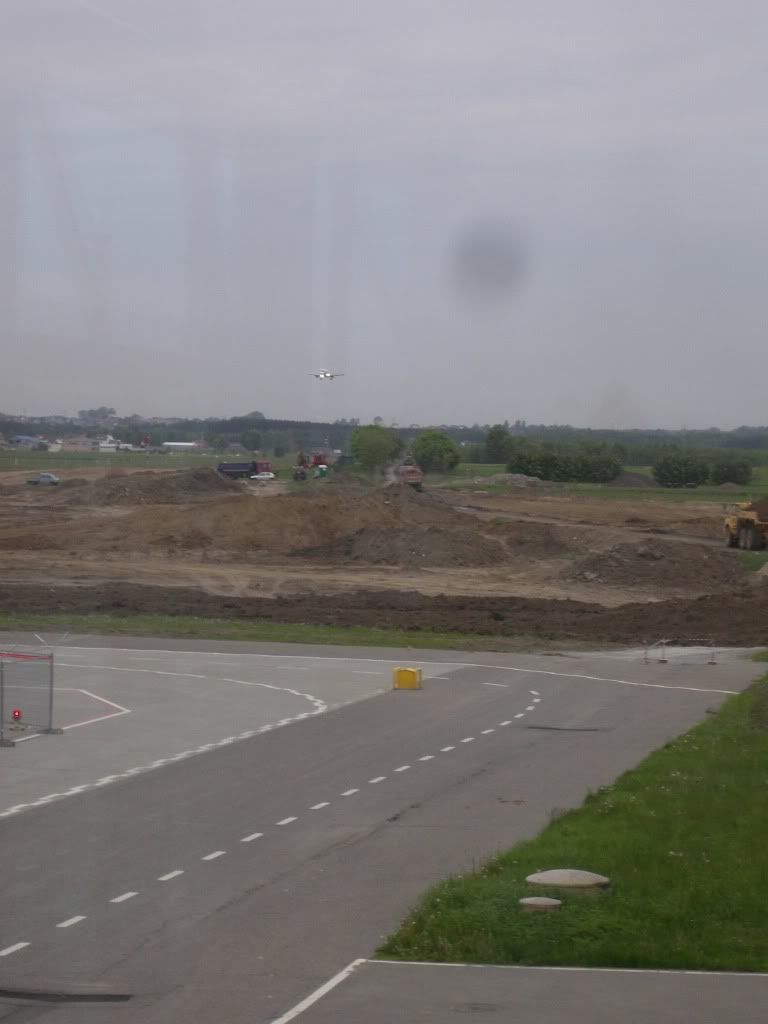 Yes it is, touchdown
Slowing down
Taxi
Behind the Wizz
It is SP-LIB, as scheduled an Embraer 175, another new entry to my log,
only leg no. 2 on this type.
In service with LOT since 30.05.2006.
One of total 10 in the fleet.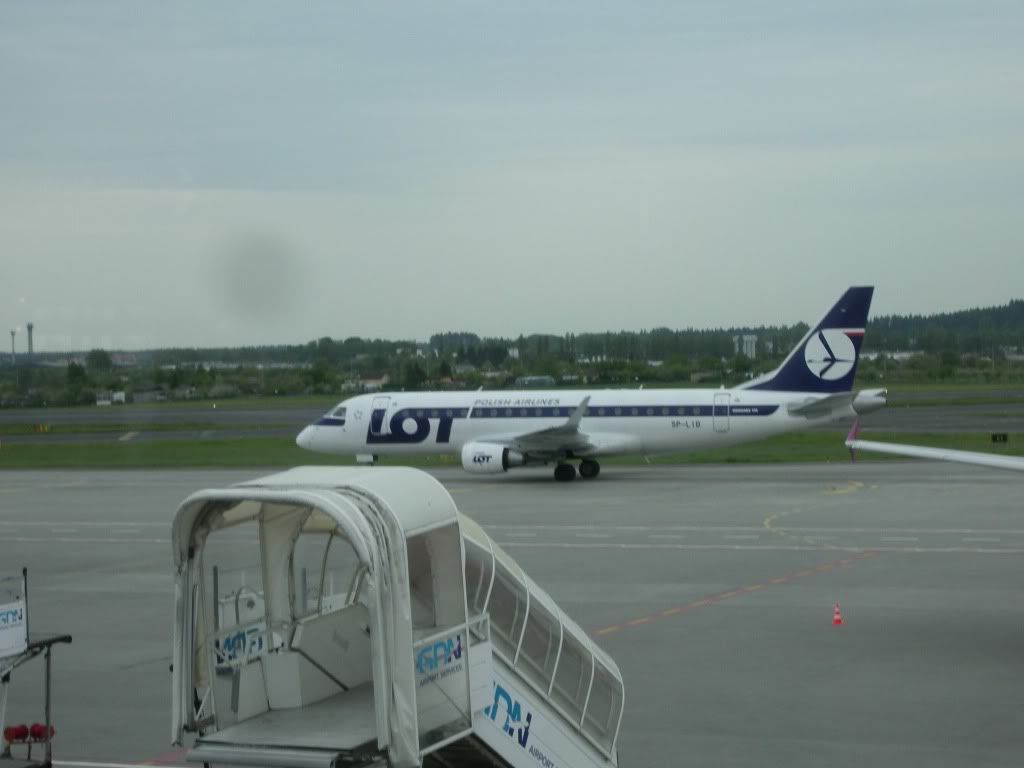 Taxi to the stand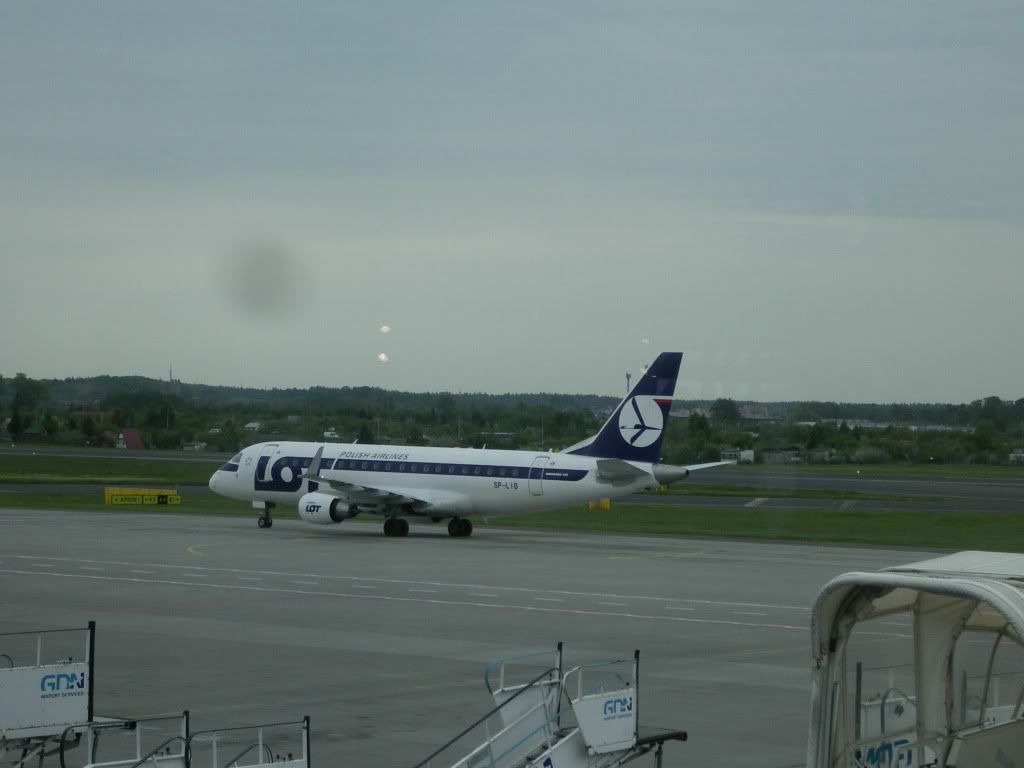 Wizz pushback
SK just arrived from CPH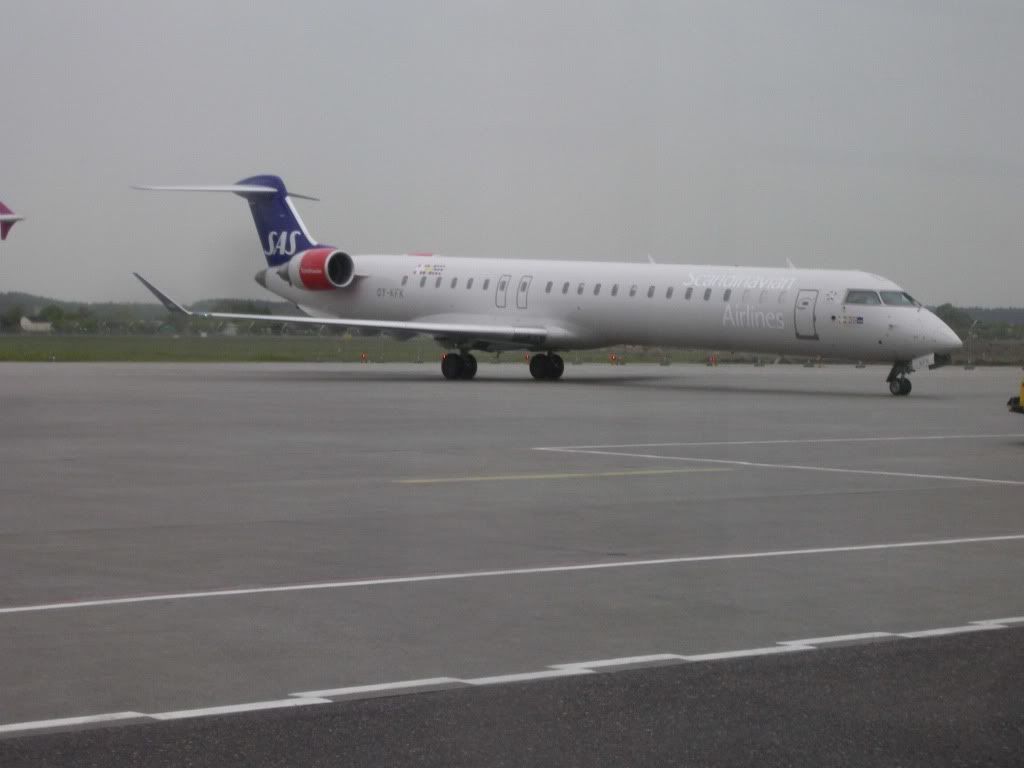 Boarding by bus, from gate 5, I´am lucky, no rain during my time in the city and also no more rain during boarding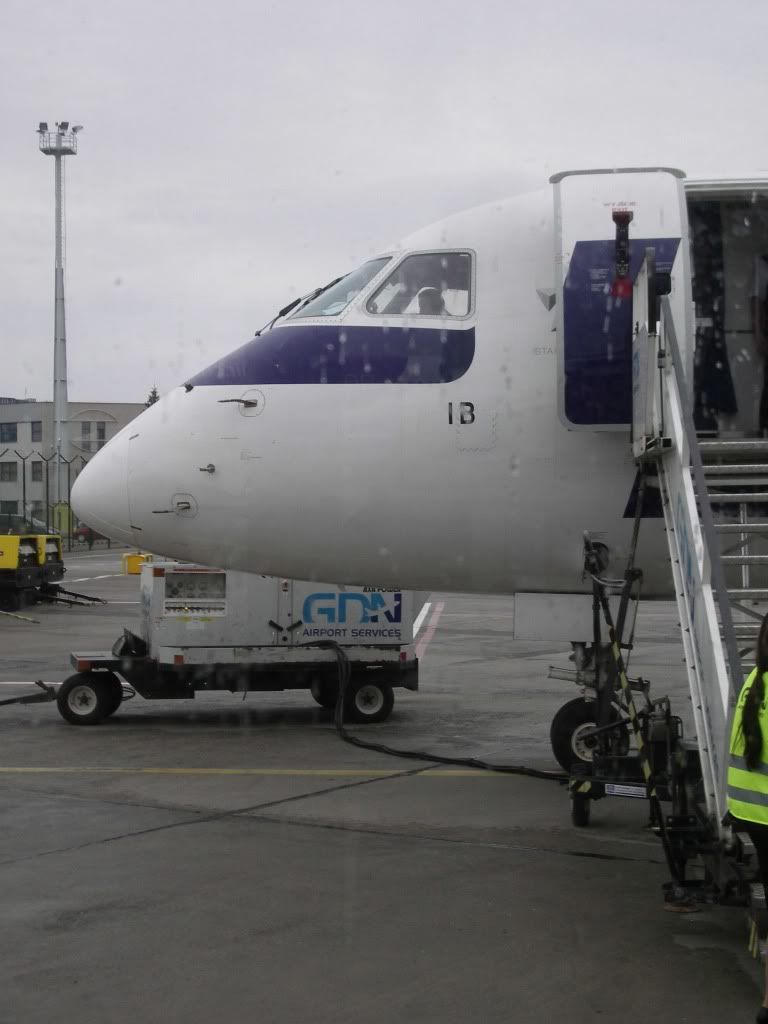 Nice colours with the classic touch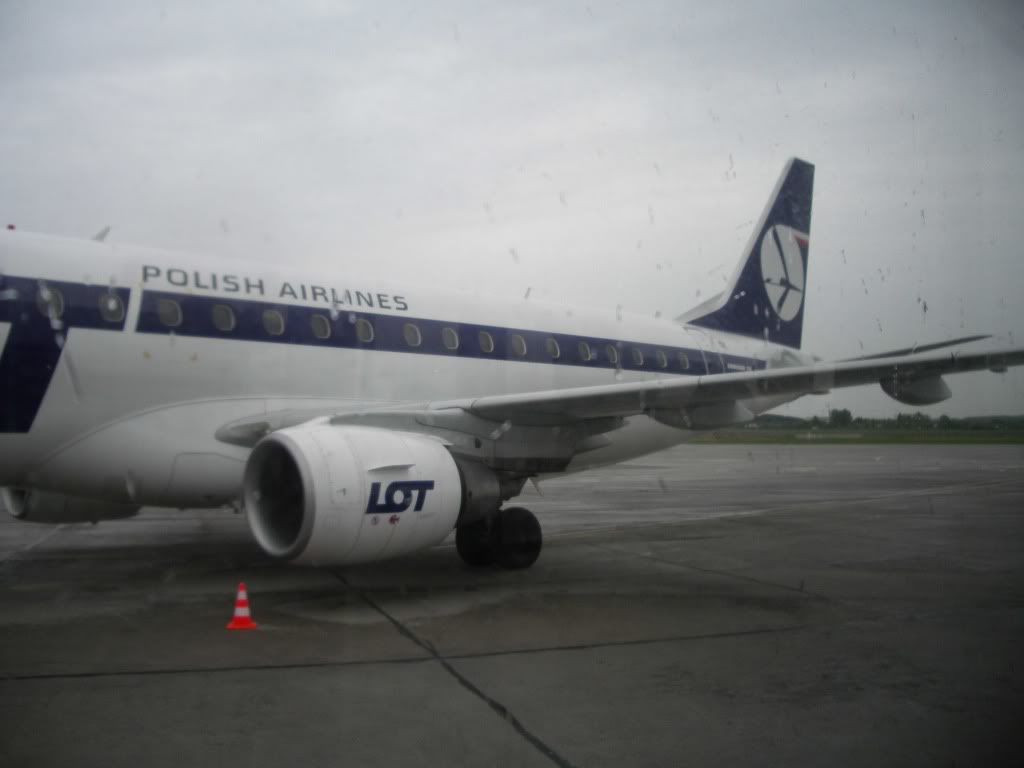 Yes, it is LOT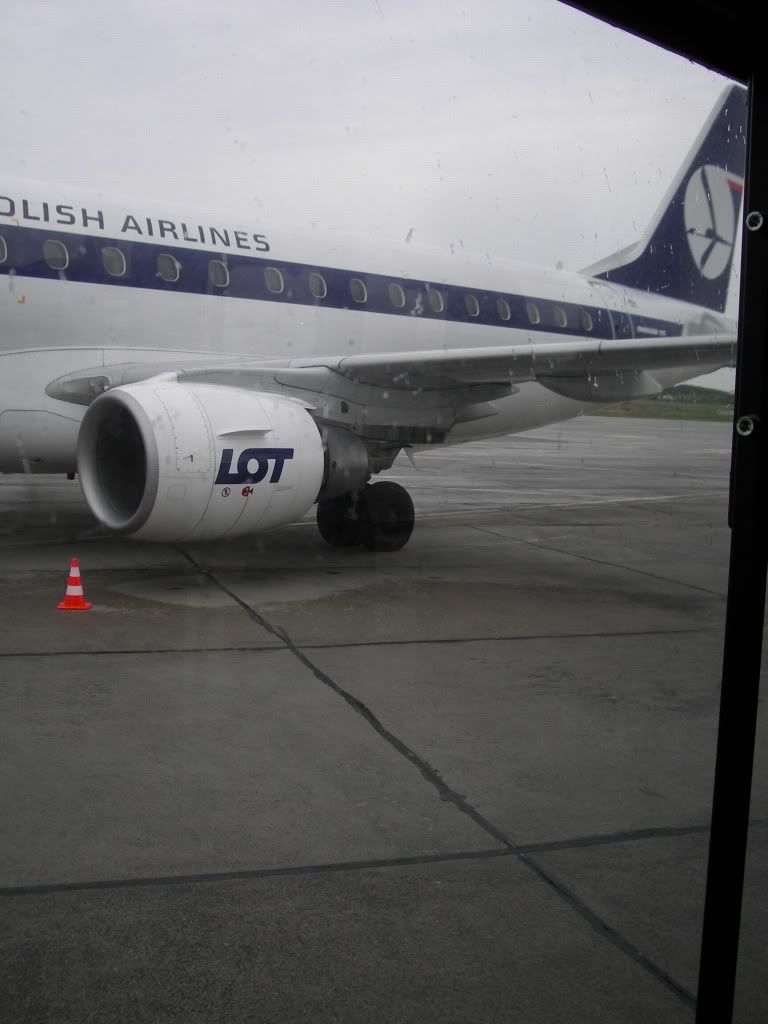 Cabin view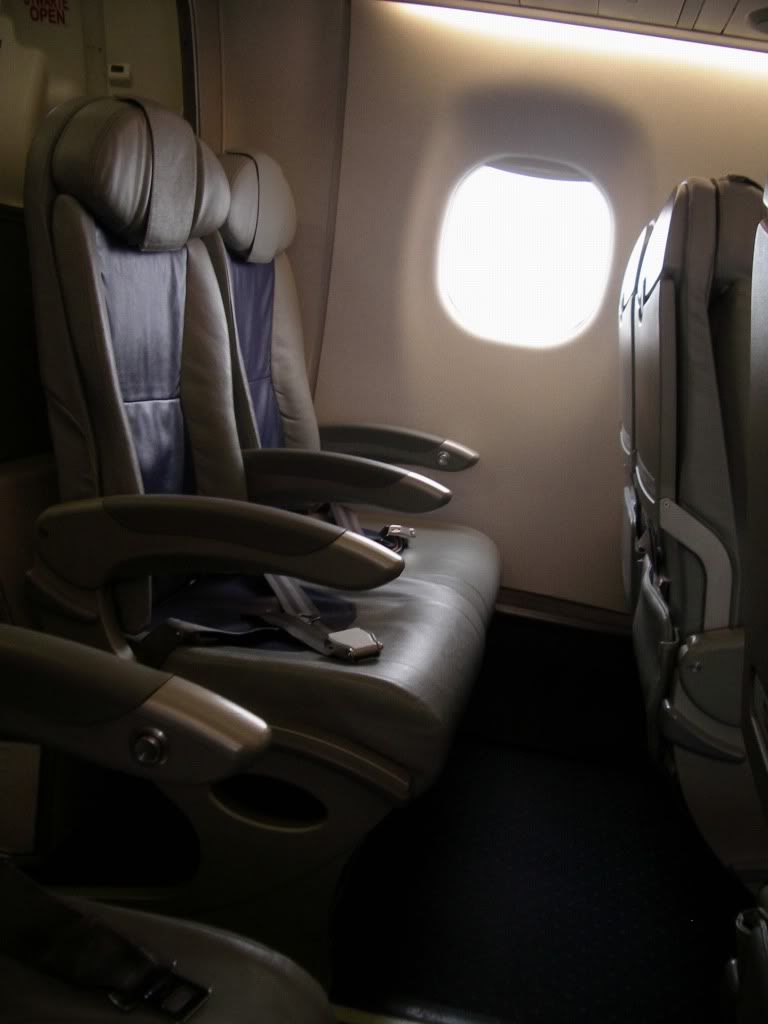 Leather seats in mixed colours, comfortable, real good legroom, clean.
The load is some 60 %.
Two male and one female FA, pretty nice in the end, a really interesting aviation related chat with one of the male FA´s, he also knows A.net.
Taxi to the active, 11 this time at 3.30pm with 12 degrees and rain.
The duration is 1 hour 30 minutes.
Cockpit crew is from Poland, the captain with a short but detailed info during cruise.
No route information, flight level is 26000 feet.
This is the safety card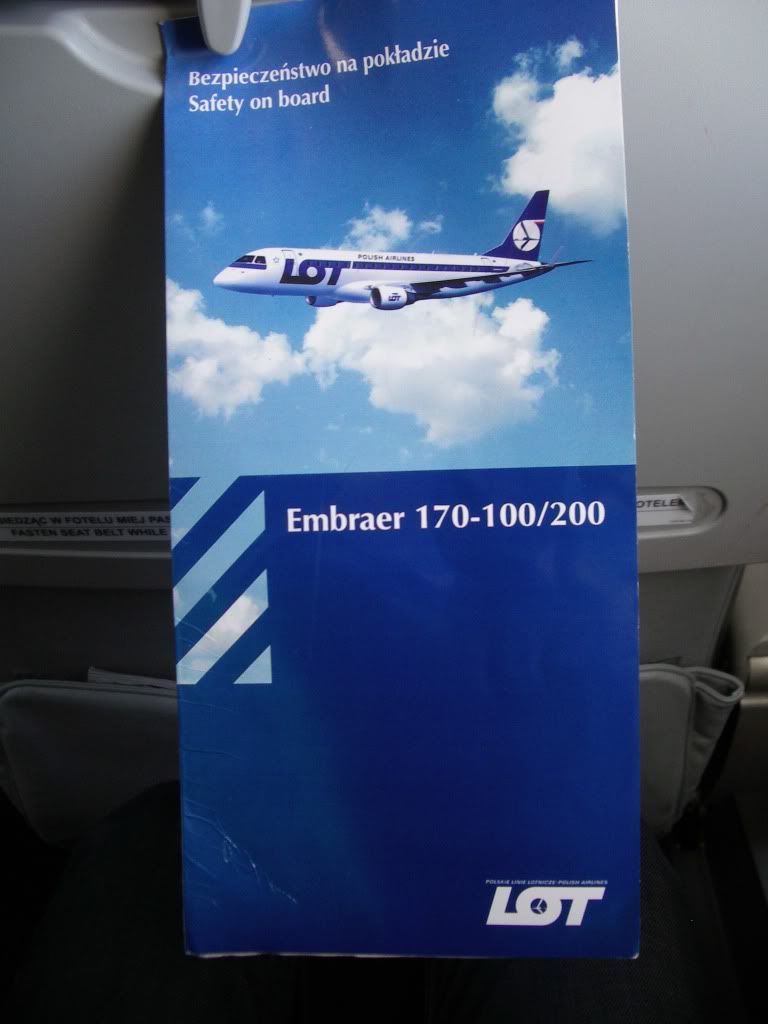 And the actual magazine
Above the clouds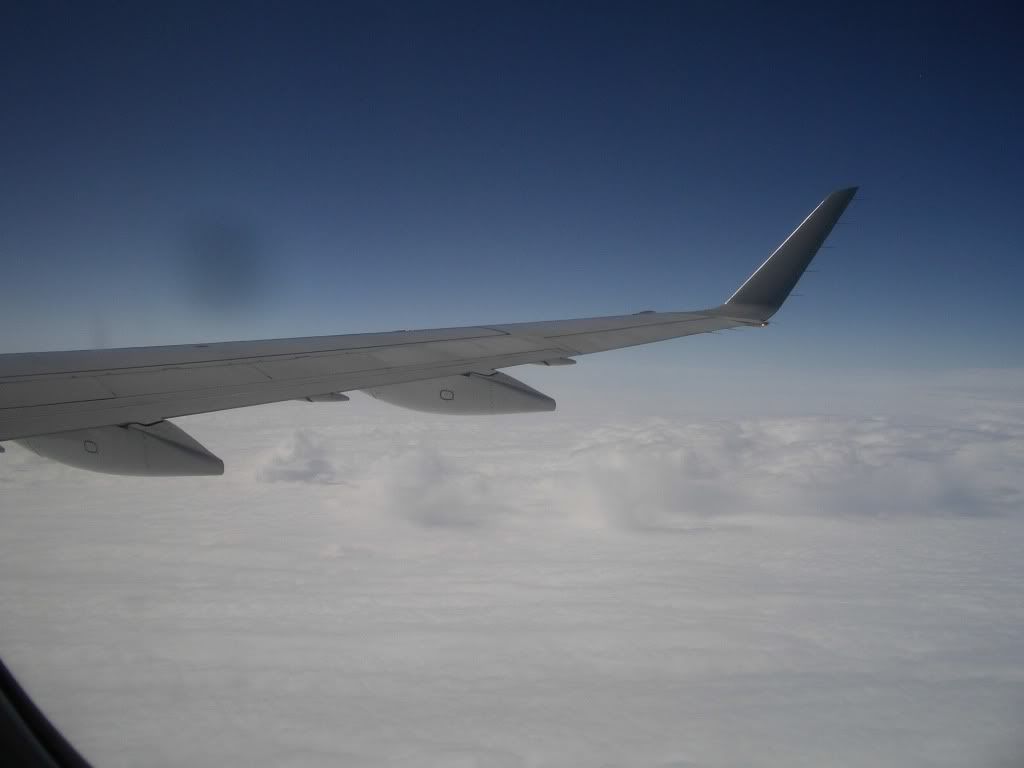 Another view to the cabin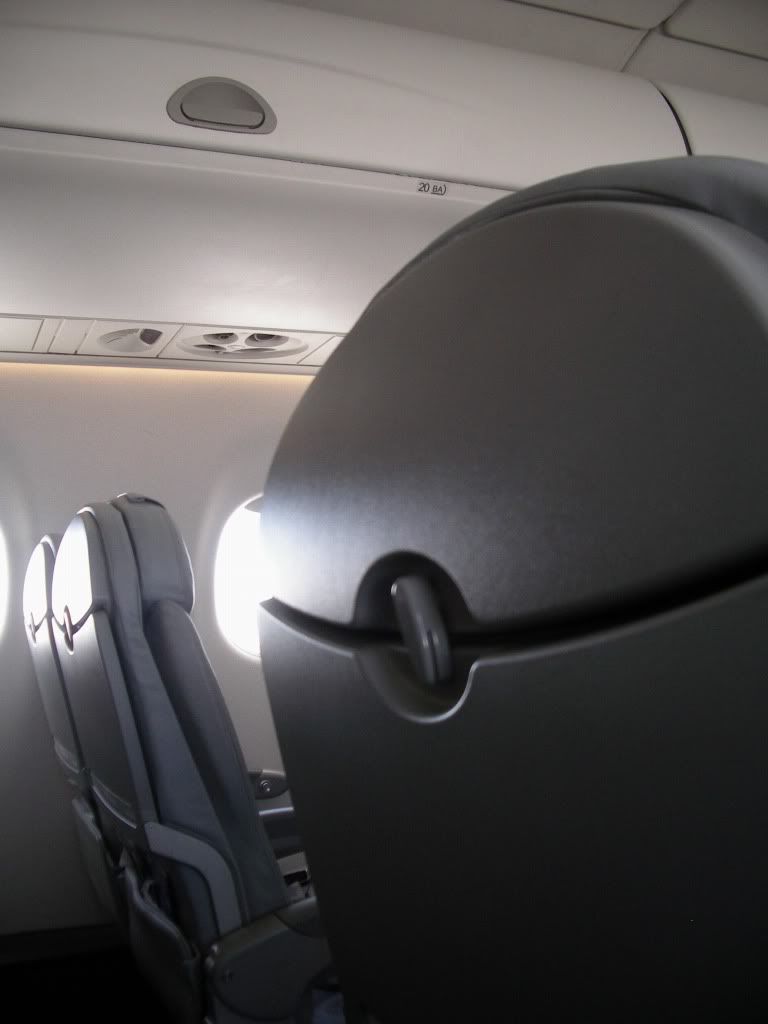 Thats LOT service nowadays, dont ask me what it is!
Much better weather in FRA, partly cloudy and 17 degrees.
Touchdown at the 4000 meters runway 25R at 5.05 pm, ten minutes ahead to schedule.
LH´s A380 at FRA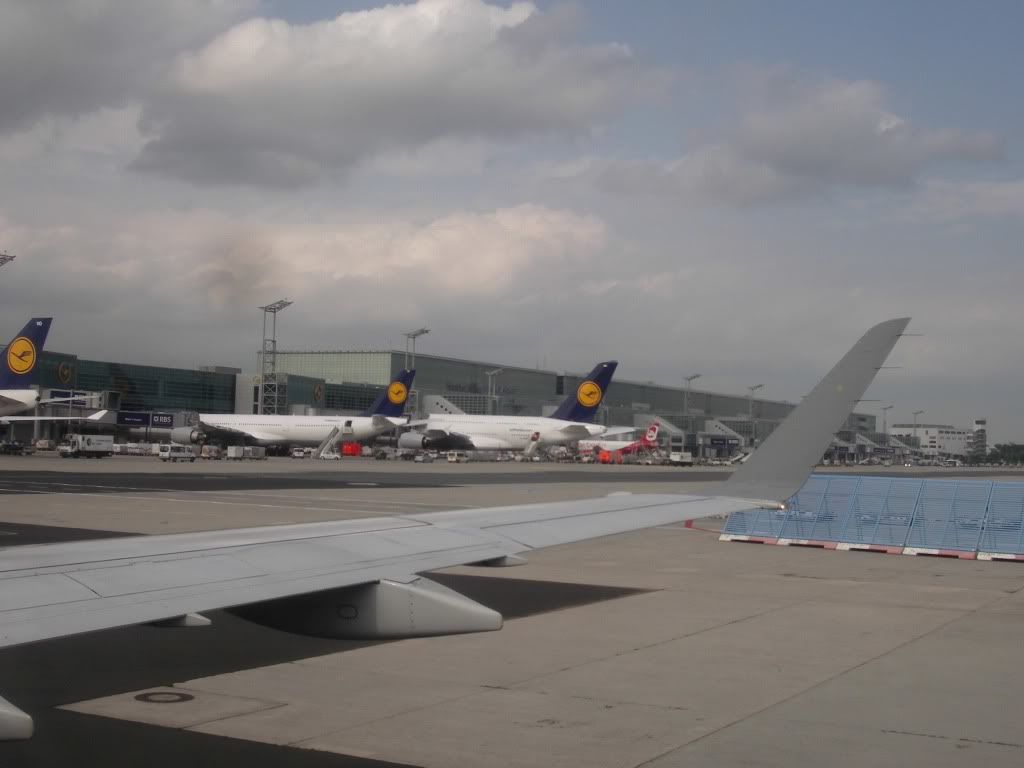 And finally parked at the gate in FRA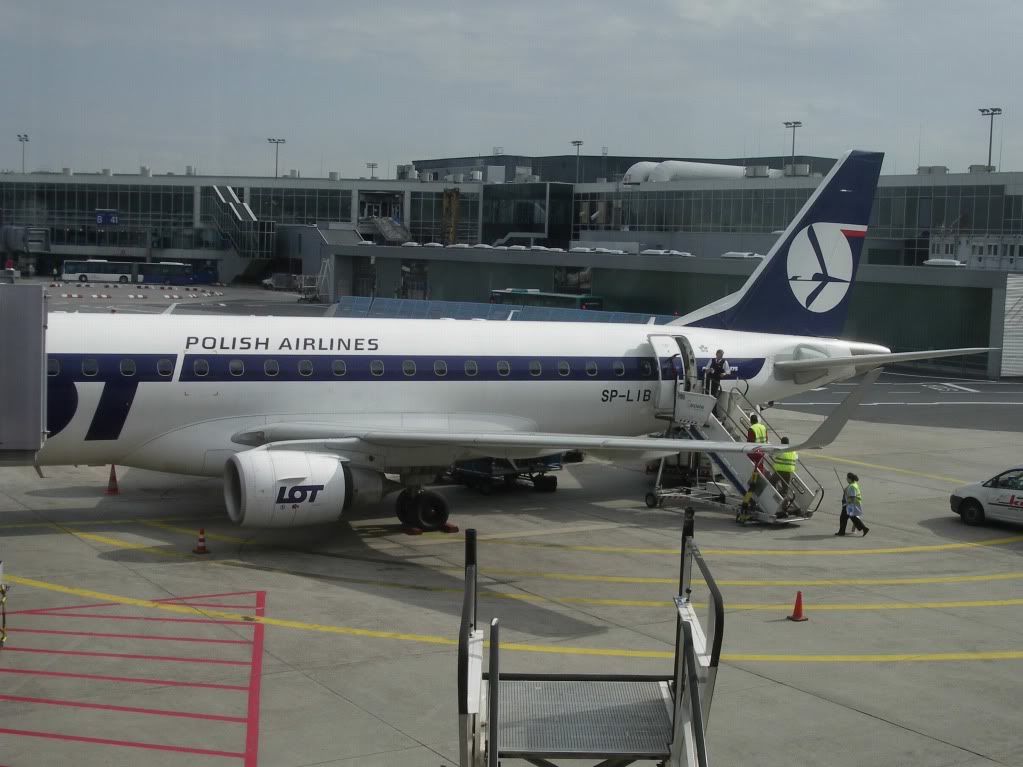 With no bag to collect I´am out in the public withhin minutes,
nevertheless to late for the earlier ICE service to STR,
but only some 30 minutes later the next is on schedule.
By ICE and the subway back to STR airport, collecting my car and back home at
around 9 pm.
Gdansk is a interesting city, show´s me a pretty historic feeling, I should visit it sometimes again.
AB by TUIfly is ok, lower level by LGW, but LOT is for sure the top here in terms of a price/earnings ratio, recommendable.
Seven hours now for further preparations, shower und some sleep.
Short nights seems now standard for me.
The next story is on finals
"The rare B717 from BCN to MRS".
Comments welcome,
Markus (FLIEGER67)