.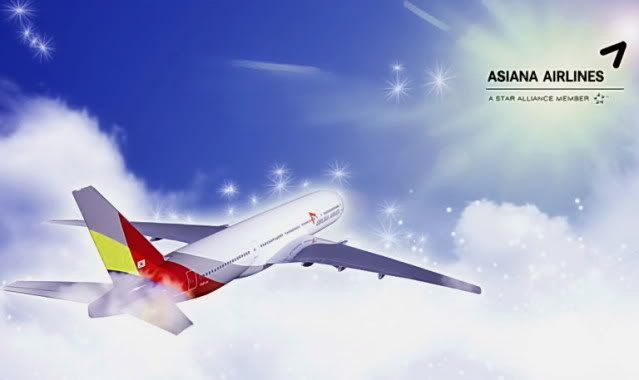 .
Business trips are no fun at all. Those impossibly long days sap you of energy, kill your enthusiasm and – the horror – can even make flying seem like a chore. Flights become nothing more than a means for getting from A to B, and vessels in which you discuss business with colleagues as work spills across the aisle.
But sometimes, life decides to give you a break. Economy Class to Seoul is fully booked and, in a strange turn of events, a global recession has put an empty, discounted Business Class within the budget of your employer. You're travelling alone with no work mates in tow. What's more, it's on an airline you haven't flown and know surprisingly little about. Can it get any better?
Of course it can. You could be flying Asiana Airlines – the carrier which won one of the most coveted of airline awards. Air Transport World's Airline of the Year, no less. (Asiana has since also recently been picked 2010's Airline of the Year by Skytrax - for whatever that's worth.) Winning the accolades was a coup for the relatively young Korean operator. A tedious business trip has suddenly turned a whole lot more pleasurable.
.
northbound - bangkok to seoul
.
.
I am a lot more hassled that I should today. Having just arrived at Bangkok's Suvarnabhumi with open-toe sandals and T-shirt from a largely alfresco existence in Chiang Mai, I am suddenly compelled to look at least half-respectable on official business. But changing on the go between levels on the airport's travelators is not a smart idea: believe me, swapping sandal for proper shoe and putting on a long-sleeve shirt is best not done on a steep incline.
With a winter coat in hand, I have sprung up quite a sweat when I reach the Asiana check-in desks at the center of the vast terminal, clustered with other Star Alliance airlines. At this time of year (this being mid-March [2009!], as airpearl tries to clear his backlog of trip reports) there's more than a thirty degree Centigrade temperature difference between Thailand and Korea - where the forecast is for snow the next few days. That's Asia regional flying for you: it's one hell of a big continent.
.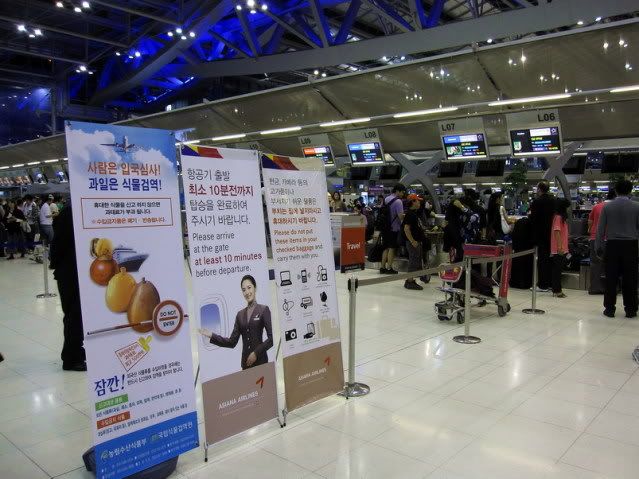 .
There's no mistaking the Asiana signs – they are crisp, clean and mostly in Korean. Judging from the nationality of most of the passengers at check-in, the airline's got it essentially covered. Apart from returning Korean holiday-makers which form the majority of the passengers, this flight also carries a sprinkling of U.S.-bound travelers connecting at ICN.
.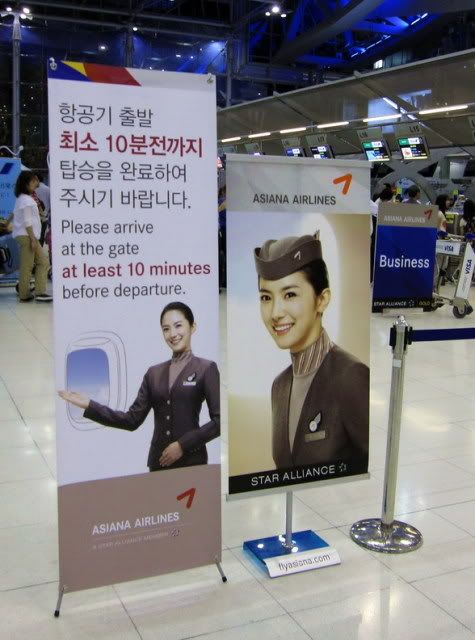 .
Seven check-in desks are manned by Asiana for this A330-300 departure scheduled for 23:15; the earlier of the airline's two red-eye services to Seoul Incheon tonight (the other, operated by a B767-300, leaves after midnight). Further along the same check-in island, ANA is also busy processing passengers for its overnight flight to Tokyo Narita. A polite Thai Airways agent pretends not to notice my disheveled look and efficiently issues my boarding pass, lounge invite and a fast track card (that comes with a seemingly generous discount voucher for the duty-free shop – but only if you plan to spend an extortionate amount of money).
.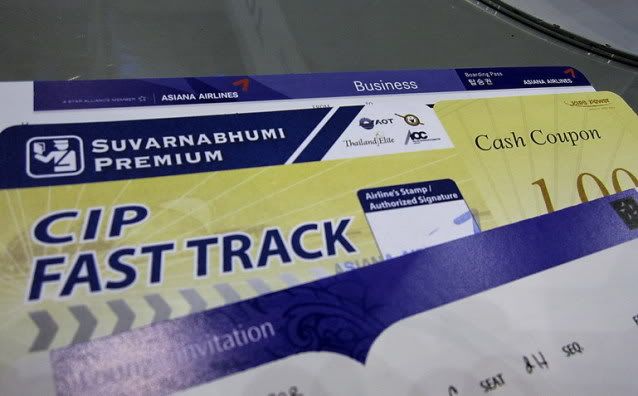 .
Immigration queues can sometimes be a pain at Suvarnabhumi so the fast track service – an innovation I am trying out for the first time – is well appreciated when it gets me into the cavernous departure hall without much of a wait. Previously, such a service was only limited to TG's F and J class passengers, but I suppose, it's now available to any airline willing to pay for it.
Also, until relatively recently, TG was the only provider of lounges for Star Alliance premium class passengers at Suvarnabhumi. But now, SQ offers a tempting (and as yet untried) alternative. Still, TG wins the toss-up easily for simply being the closest: I'm just not being very adventurous tonight.
.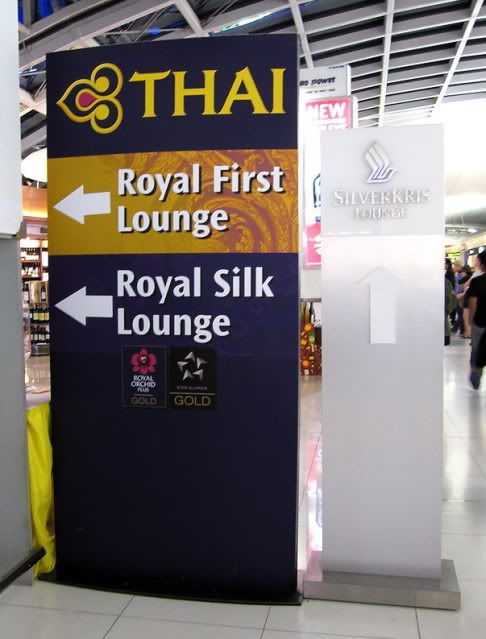 .
Thai Airways has five Royal Silk/Orchid lounges for the use of Business Class passengers at the airport and this one at Concourse D is, by far, the largest of the lot. It is also often the busiest of the lounges because the main entrance is linked directly to TG's premium check-in desks via dedicated escalators. For me, the key feature here is an aisle of several hundred meters long that runs the entire length of the lounge and that brings one, at the other end, to an exit at the confluence with Concourse C – where there are yet more TG lounges!
.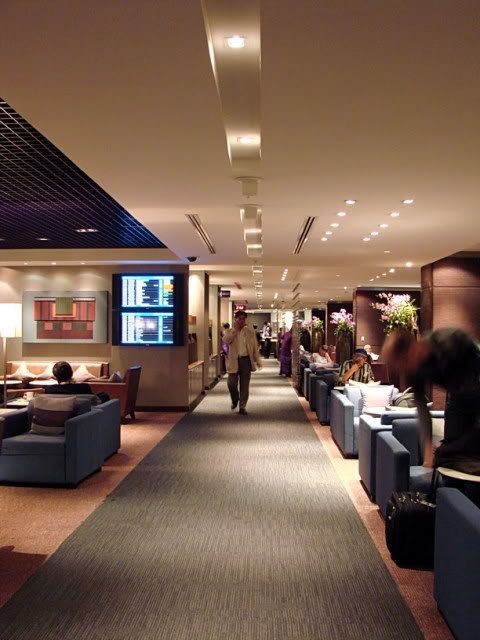 .
Despite its size, the lounge has enough quiet corners for it not to feel impersonal. I like the warm and refined tones of the TG lounges – they are quite a contrast to the rough-edged, fluorescent-lit, cement-finished factory that is Suvarnabhumi. Their key weakness – at least in the J class section – is the absence of any decent catering. Tonight, it is busy but not overly crowded ahead of the bank of departures for Europe and North Asia from this busy airport.
.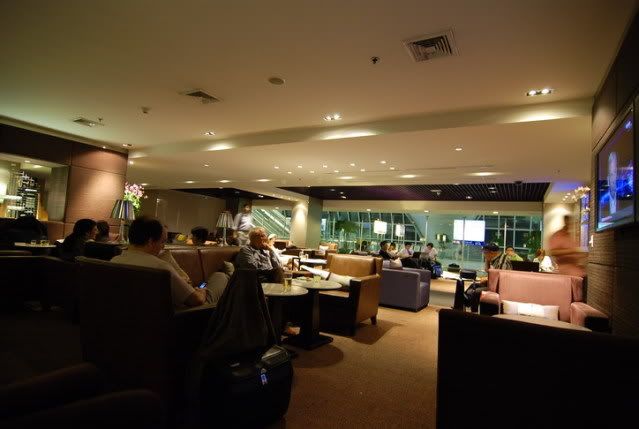 .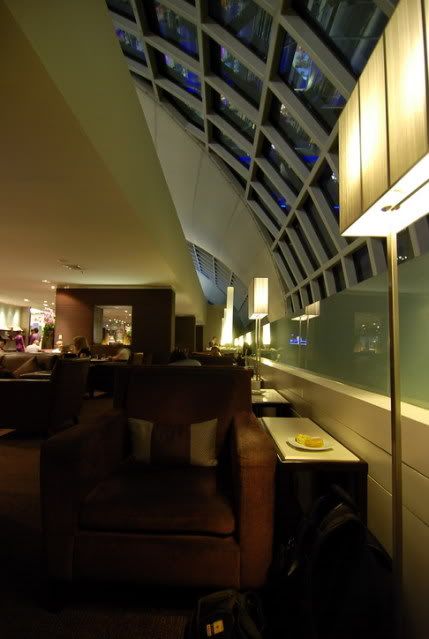 .
As is usual, about an hour to go before departure and I am all out of lounging. The departure screen doesn't show the gate as being open yet, but I thought I'd make my way down anyway. Like the city herself, Bangkok's international airport is a busy little place anytime day or night, as you can see. At least it was at the time. Hopefully Thailand manages to rebound quickly from this latest crisis.
.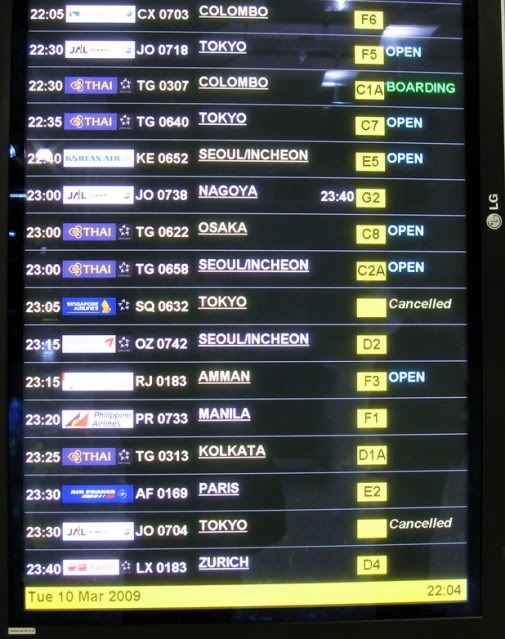 .
Star Alliance airlines get the prized gates at this airport. The eight gates at Concourse D are the ones that require the least amount of walking, particularly for arriving passengers, and most times of the day, you will them patronized by at least one or two of the Star carriers. Tonight is no exception: my Asiana Airbus is flanked by a Frankfurt-bound LH B744, and next to it is a Swiss A343 headed for Zurich. Further along, an Austrian B772 is boarding for Vienna while ANA has a B763 bound for Narita. Interestingly, home-based TG is a relative rarity here and prefers to congregate at Concourse C for its international flights.
.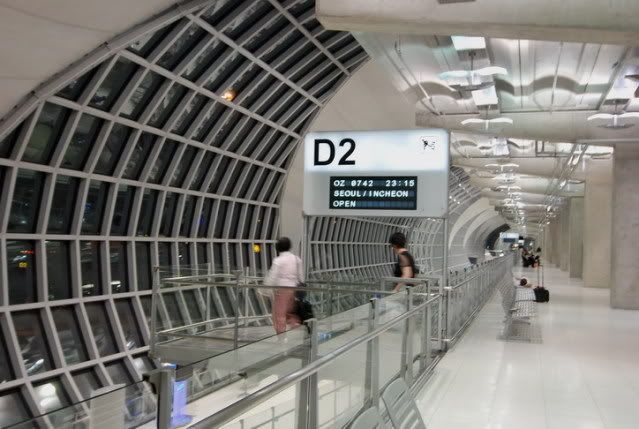 .
If one manages to ignore the rather poor finishings, Suvarnabhumi can be a rather stunning airport, in an industrial sort of way. From the holding lounges, the view of the entire multi-level tube-like structure appears obstruction-free and impressive. What the glassy-walled gates should have – but don't – is a good view of the tarmac. Even during daytime, taking a photo of the aircraft you'll be flying on out of those monsoon-stained concave panes is a challenge; at night, it's pretty damn impossible. I spot something resembling an old-liveried Asiana twin-jet parked outside, but can't even be sure of that.
.
.
Asiana Airlines
Bangkok – Seoul Incheon in business class
Flight OZ 742 Airbus A330-300 HL7740
Dept: 2317 Arrv: 0639 (next day, on time)
.
There's always excitement when you're about to board an airline you haven't flown on before. The fact that there's comparatively little written about the airline (in English anyway) is a little of a double-edged sword with Asiana. The airline's low profile coupled with the lack of mad fans (or foes) means your experience will come without much of the preconception one might have carried boarding a BA or EK or SQ for instance. There are few expectations of what Asiana "should be like". But alas, the only preconceived notion is one that's associated with the carrier's ATW Airline of the Year award: and by golly, expectations don't get uplifted any higher than this.
.
.
Welcome aboard Asiana. I may not have had a good view of the outside of the plane, but the interior of the Business Class cabin is nicely pleasant – if a little on the tame side – as I am welcomed politely with a bow at door 1L. The color tone at Asiana is an unimposing light brown that extends beyond seat cushions to stewardesses' attires and – this one I really don't like – one of the more bizarre -looking cockpit crew uniforms around. Call me old-fashioned if you will, but I think pilots really ought to
look
like pilots, and not valet parking attendants.
That strange departure aside, the general feel of the airline is one of understatement. Nothing really loudly shouts out: "hey we're Asiana, look at us!" The messages are usually subtle, such as in the magazine rack, where I find a copy of the February edition of the industry journal which recognizes the airline on the cover. I doubt if ATW is among the literature usually loaded aboard OZ flights.
.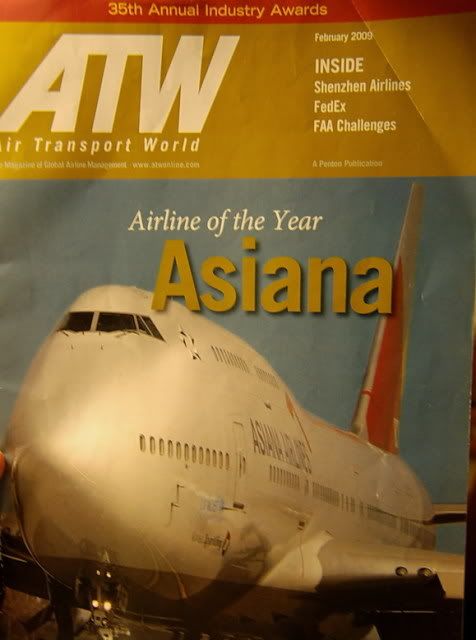 .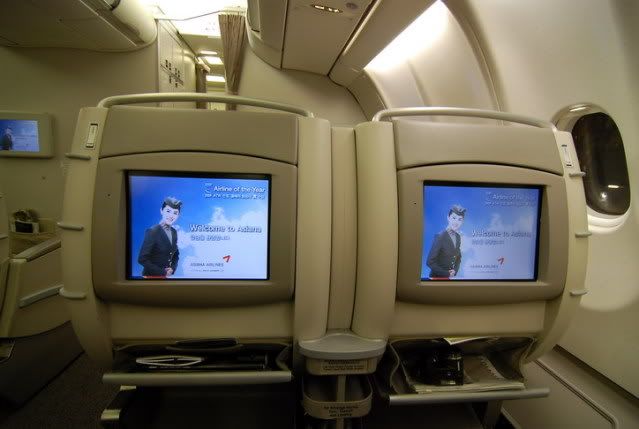 .
Less subtly, the welcome messages on the PTVs also advertise the ATW award. (I suspect they may now be promoting the latest Skytrax prize.) Still, at this early stage, I'm having a hard time trying to describe what Asiana is all about, just as I have difficulty finding fault, hard as I may try. There could be a word that succinctly relates the Asiana experience these past fifteen minutes, but it isn't yet in my vocabulary: I hesitate to use 'flawless' when the doors haven't even been closed.
After all, in a lightly loaded cabin tonight (only about a third of the seats taken), the service is bound to be pretty good. For sure, the stewardesses are all unfailingly polite, smile endlessly and bow a great deal, and are really taking great care of my needs. Steaming hot towels are offered (the first of many during this flight), champagne is on demand, while a small inflight comfort (but not amenity) kit at my seat includes a pair of slippers. The seat is cushy and wide, there's no one seated next to me, and the prospects of a comfortable and pleasant flight ahead are excellent - I'm as happy as a lark.
.
.
We depart almost on the dot with a barely audible welcome announcement telling us it's a short five hour flight to Incheon and Captain Kim is at the controls. The menu is distributed as we leave the gate for the short taxi to 19R for an unusually powerful take off run.
.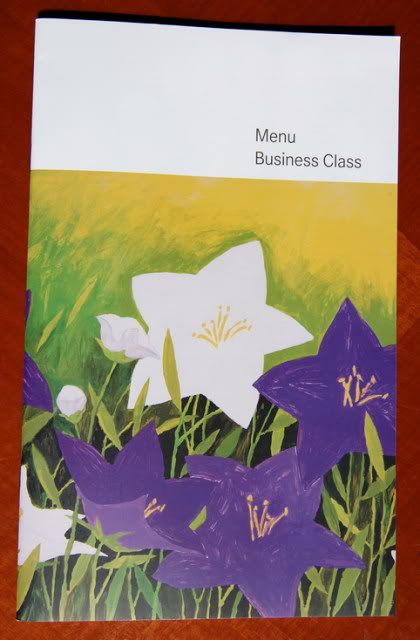 .
Catering is always a challenge for short red-eye flights with late-night departures. The days when airlines served two square meals on a flight like this are long gone - but these days, even the one hot meal that's served often seems skimpy. Airlines will say passengers prefer the lighter offering overnight (which is probably true), but cost-cutting plays a bigger part, I'm sure. Asiana serves supper - the full works of starter, mains, cheese, fruit and dessert - which is more lavish than many of its competitors that opt for a single-tray breakfast before landing. The main course choices all look appetizing, but I am a tad disappointed there isn't a Korean option that I'd been looking forward to.
.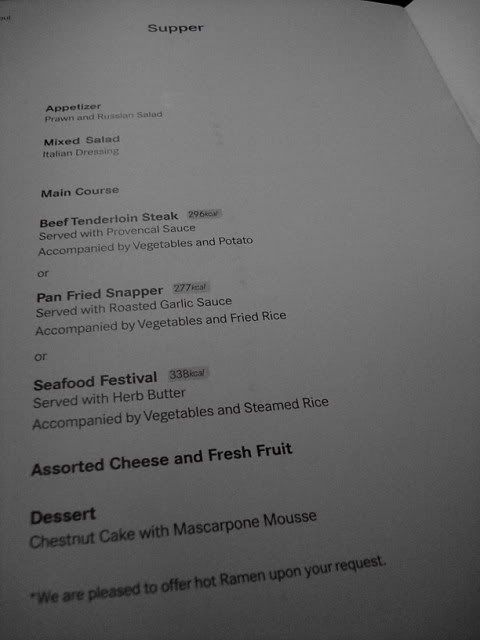 .
Meal and drink orders are taken not long after we take off, and the service starts in earnest as soon as we level off. As supper is the only sustenance on the flight, I think all of my fellow travelers opt to eat. It's a short night and my feeling is that the crew try to get through the service as quickly as possible in order for us to get some shut-eye - it does feel just a little rushed.
.
.
Still, the meal presentation is rather nice. The food is decent too and served course-by-course: the prawn and russian salad and mixed salad come with the tray, together with a choice of breads.
.
.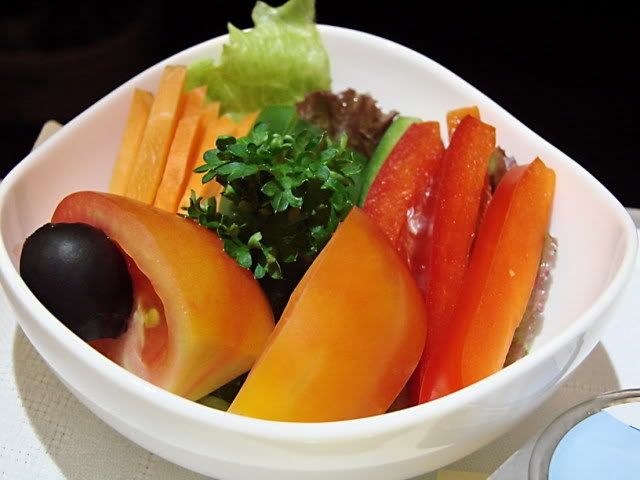 .
This is followed by the main course: I opt for Asian style pan fried snapper in oyster sauce and fried rice that tastes quite good actually. Then comes the cheese and fruit plate.
.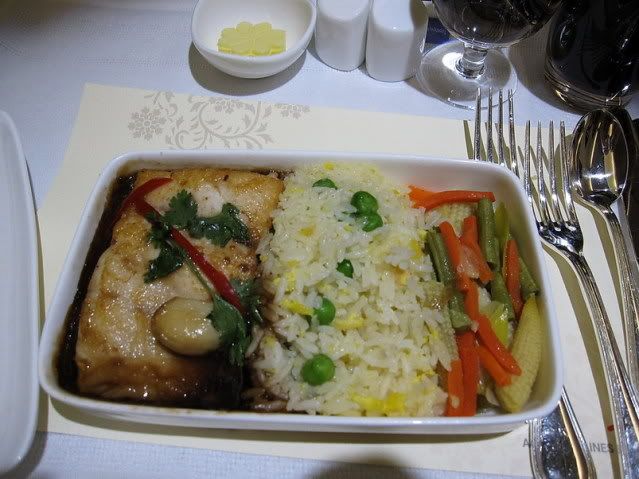 .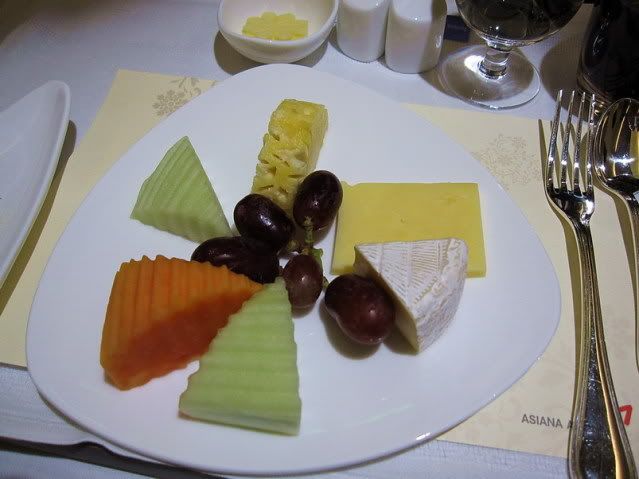 .
Dinner ends with coffee and a lovely dessert. The slighly expedited service notwithstanding, the crew is consistently good although there's a bit more "formality" than I'd like - but that's really just a personal preference. Everyone is unfailingly courteous.
.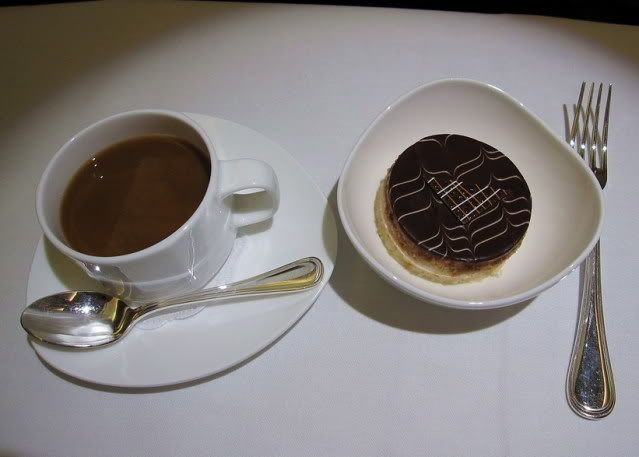 .
.
It seems we had left Thailand and crossed a further two countries during dinner and are now headed over the South China Sea - a bit south of Hainan island - and well on our way heading north-east. The PTV is best used tonight for the airshow - and although there's AVOD, the movie and TV offerings in English are not particularly exciting. And besides, an early appointment in Seoul means I really should be getting some sleep. A quick visit to the washroom reveals an immaculate, reasonably well-appointed facility.
.
.
Even with the rather comfortable seat, I sleep fitfully - it happens I suppose, which is why I try to avoid red-eye flights like this if at all possible. Each of the 30 seats in this business class cabin gets a 58 inch pitch, and an almost angled-flat contraption that's now a standard on the newer planes plying longer regionals in Asia - so I have no reason to complain. Still, staying awake does allows me to observe what the OZ crew are up to in the wee hours. And I am impressed by the conscientious, but discrete, patrolling of the darkened cabin by the flight attendants - about every 10 minutes without fail - throughout the night. I finally succeed in nodding off after more than an hour while counting stewardess cabin-rounds.
.
.
Cabin lights are switched on as we overfly Jeju island, south of the Korean peninsula. There's no further catering at this time but another round of hot towels and juices are made. It's start of a brand new day. The sun is just rising rather spectacularly in the distant east as we close in on the capital, which is also about the time my eyelids feel very heavy indeed and I fall into a deep sleep. I am only awoken as we brake to a halt on landing at Incheon.
.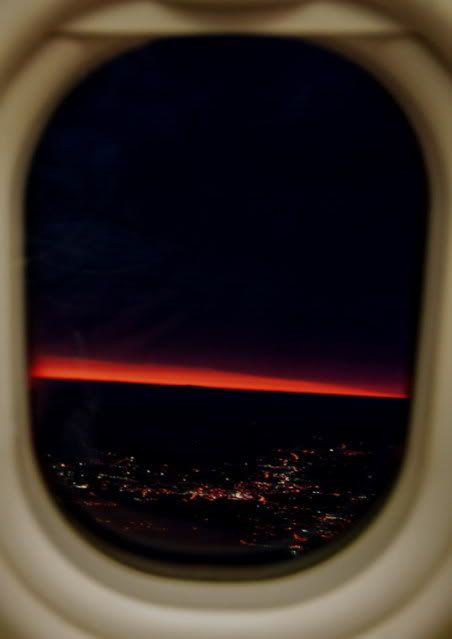 .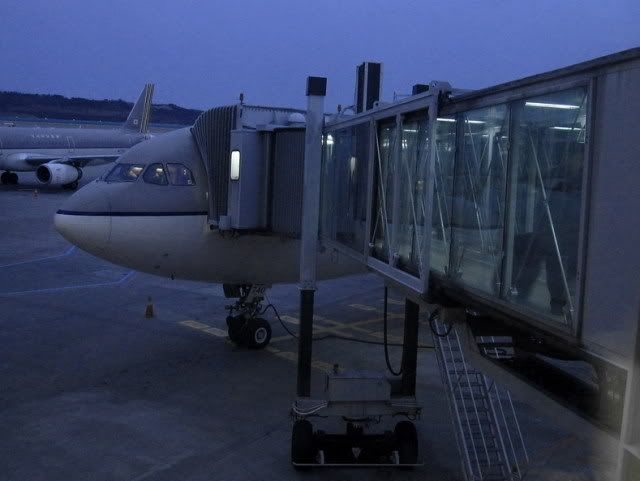 .
We arrive on time and park at the main terminal, together with a sprinkling of other Asiana machines that are painted in both the old and new liveries. It's barely above freezing at this hour and the airport is only just coming to life with early morning arrivals from Southeast Asia and the States - but immigration queues are longer than I had anticipated. The clean, simple lines of Incheon's arrival concourse is nevertheless a delight, and among the reasons why I would rate this airport so highly.
.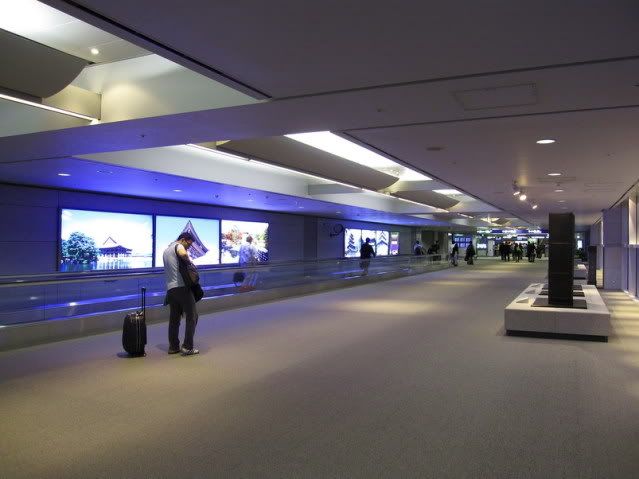 .
With no express rail link to Seoul yet, the most convenient way of getting into the city is by one of the many comfortable buses that operate frequent, scheduled services to the city center or suburbs. A plush coach operated by KAL Limousine brings me from airport terminal to Seoul Hilton door-to-door in less than an hour, for a very reasonable 14,000 won (about $11.50) oneway. And there's even the bonus of the entire contents of KE's seat pocket at each seat - bar the safety information card, of course.
.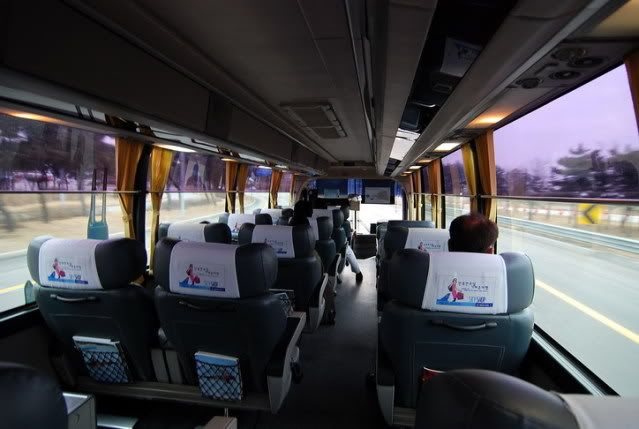 .
.
southbound - seoul to bangkok
.
After a few days in Seoul where I rediscover the reality of being on a business trip - that employers, if they're paying J, will make sure they squeeze many times the Business Class fare out of you - it's thankfully time to leave. Needless to say, I see nothing of Seoul. The reliable and comfortable KAL Limousine (it runs at 30 minute intervals) gets me back to Incheon door-to-door, taking about an hour to do the 50 kms from my hotel.
.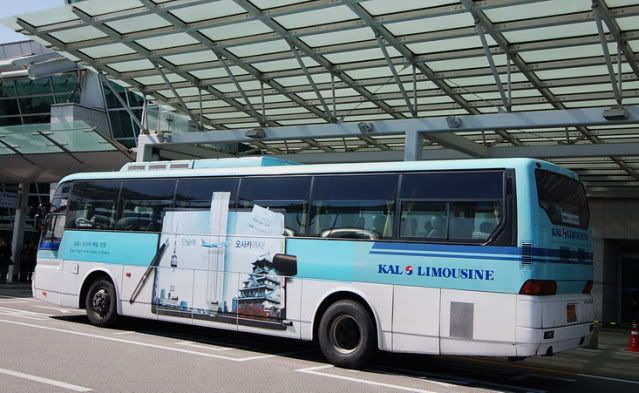 .
It is a cold but lovely, crisp and sunny winter's day in Seoul. Even though I didn't manage to see much of the city, I make sure I have enough time to explore the airport - after all, business is concluded and I can relax. I arrive at Incheon with a good four hours to spare for my flight. Today seems like a perfect day for exploration.
.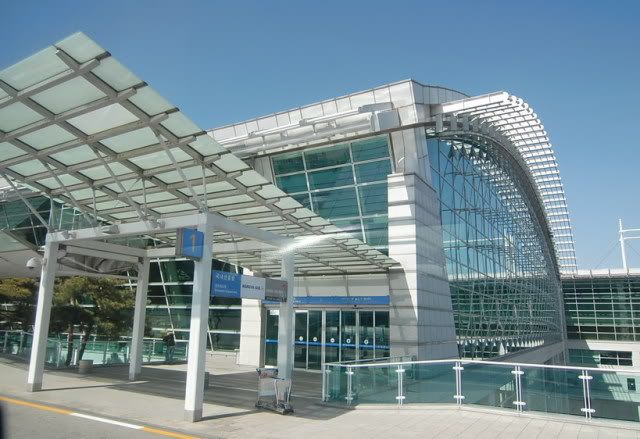 .
As the airport's second largest user Asiana, like largest Korean Air, gets its own sign at the door. Even though more than 60 other airlines fly into ICN, it doesn't feel it at all. It is early afternoon and there's obviously a lull in activity for it's quite deserted at the entrance.
.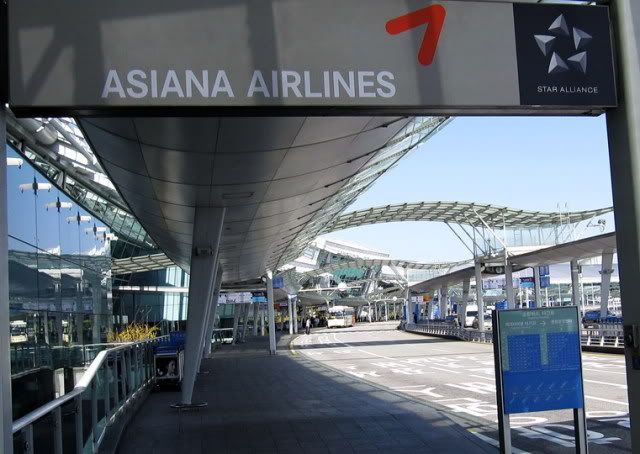 .
Inside, the terminal is equally as quiet. Asiana devotes an entire row of check-in desks for its First, Business and status frequent flyers. Despite the off-peak hour and absence of passengers, it's impressive to see almost all of the dozen or so counters manned - I can't think of many airlines (even top-rated ones) where this happens. I am escorted to a Business Class desk by a queue minder (one of a few here) and my check-in agent - perhaps just glad to see a customer show up - gets off her chair as I approach, stands back and bows deeply - again, very impressive. This is what I call five-star service - the Airline of the Year award is well deserved.
.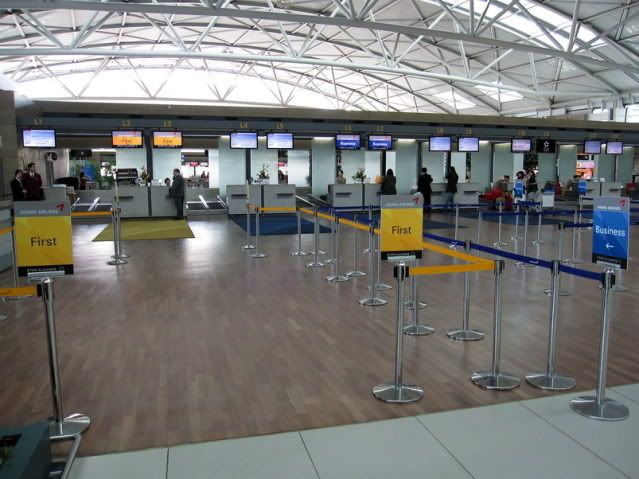 .
Check-in is conducted quickly and courteously, as expected. I take a wander down to the economy class - or 'Travel Class' as Asiana calls its Y - counters to see an equally painless and well-organized check-in area. There are quite a number of self check-in machines too here. Also present are constant reminders of which airline won ATW's top prize.
.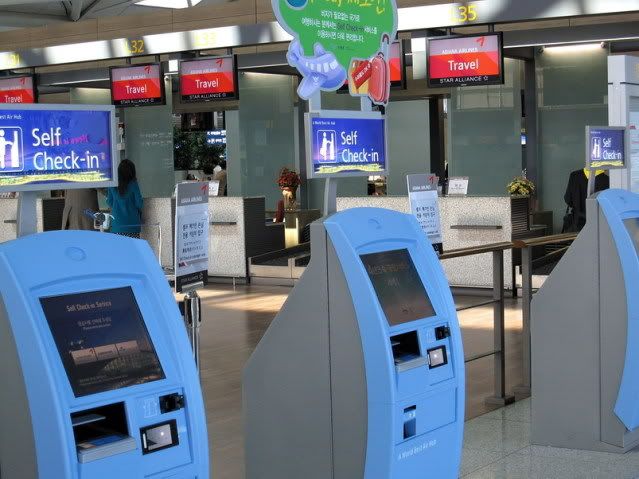 .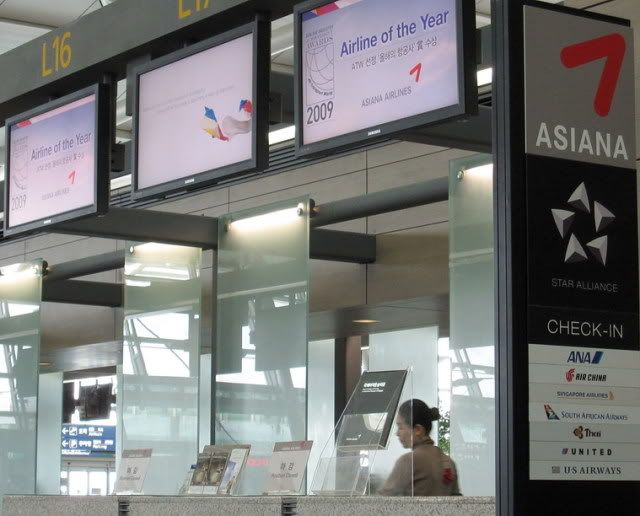 .
Still, Star Alliance makes its strong presence felt, to the extent that alliance branding sometimes takes precedence over individual airlines as you see below. I suppose it's not so surprising considering ICN is a major north Asian hub for two major airline groupings, and competition between them is intense here.
.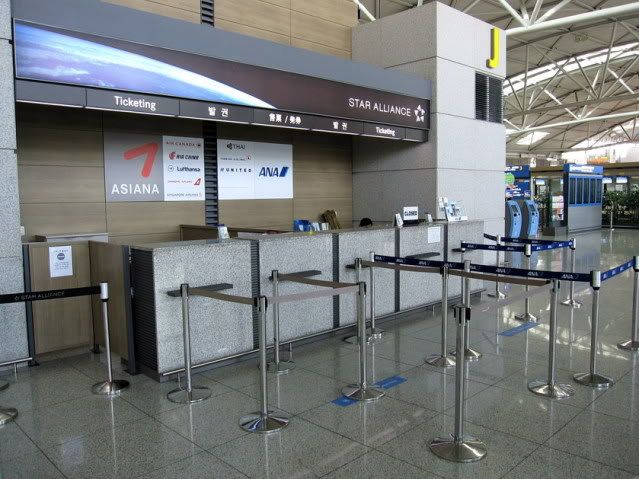 .
.
Time to explore the airport. Landside at the main terminal is a spacious, comfortable place where the modern architecture of glass and steel is softened and "humanized" somewhat with indoor gardens, water features and the extensive use of wood flooring throughout.
.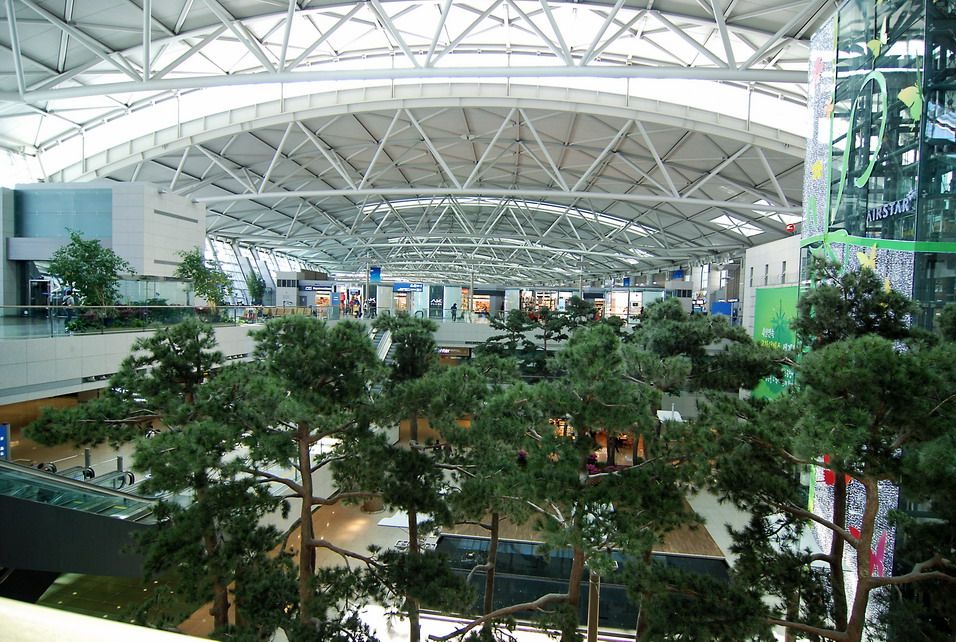 .
One of the most imposing buildings at Incheon - and this one really puts the airport in the sci-fi category - is actually not part of the main terminal at all. That this shiny beast with outstretched metal-tube arms and a strange crest from another planet is simply called the "Transportation Center" almost makes you believe interplanetary travel is a real option from here.
.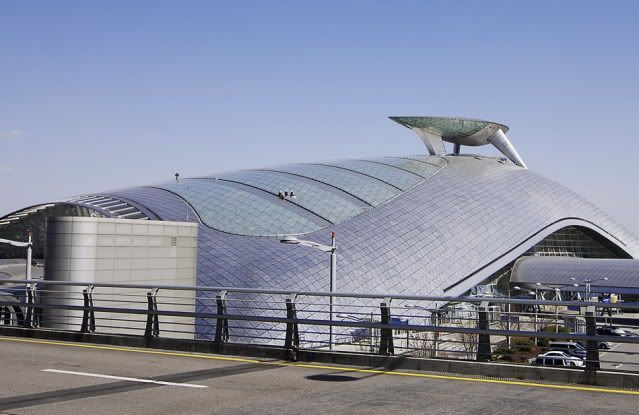 .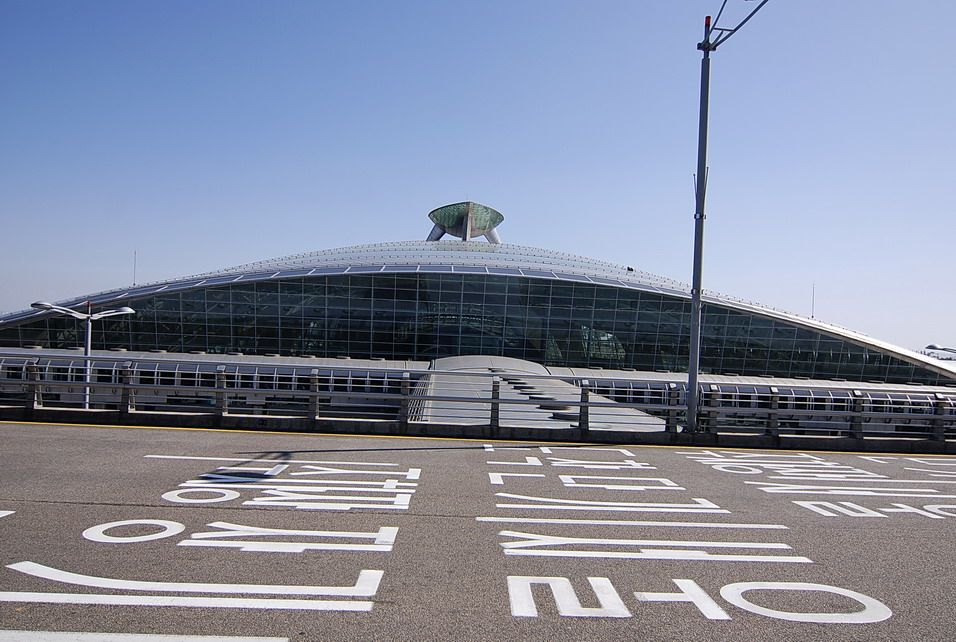 .
The interior of this futuristic mothership doesn't shatter the illusion that perhaps something more than meets the eye could be happening, somewhere in this building. It is quiet, empty and the cleanliness is clinical. The roof is strange, free-flowing and glassy, allowing plenty of natural light, while travelators and huge metal tubes stretch purposefully away from you, as if waiting for intergalactic passengers to arrive from some distant, invisible destination.
.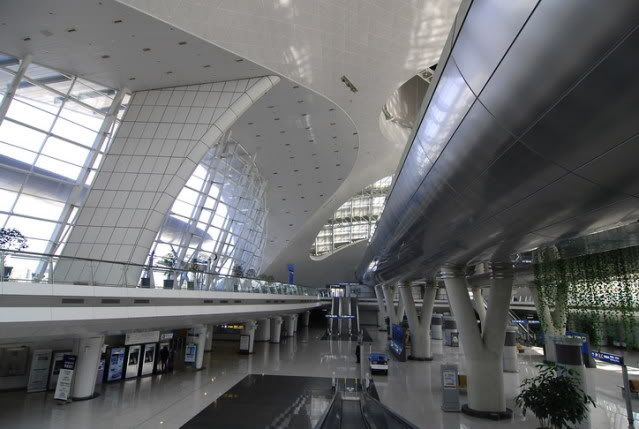 .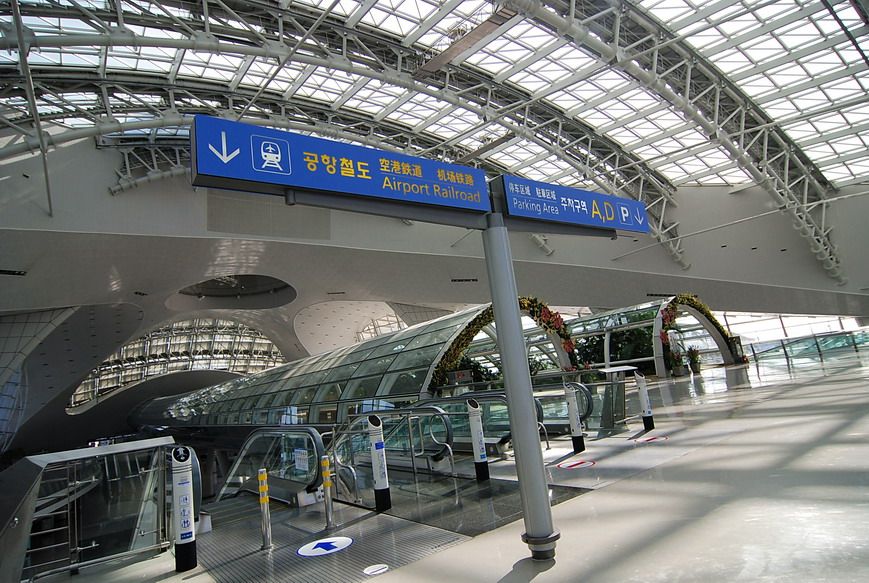 .
More down to earth, the signs in this grandiose building point only to an airport rail-link (to close-to-city Gimpo airport) and a car park - I presume the departure gates for Space Station V will only be completed in 2021 as part of Incheon's phase 4 development plans.
.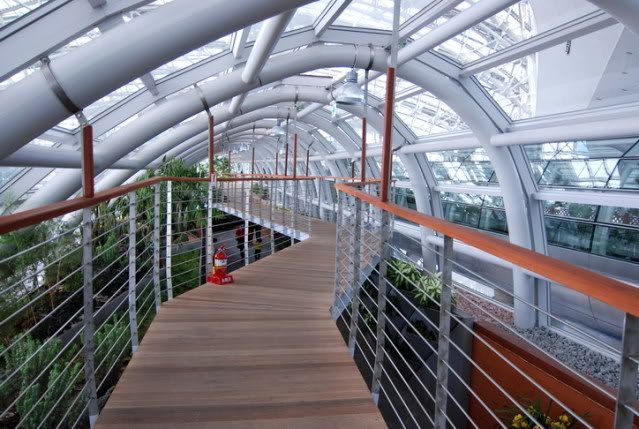 .
In the meantime, Stargarden - a huge indoor greenhouse containing mainly tropical flowering plants and cacti - takes centerstage at the Transportation Center. Split level platforms ensure the best vantage points to enjoy the wild folliage, mini waterfalls and attractive water features at a "safe" distance.
To be honest, this place looks a little bizarre for me. Like the rest of Incheon, it is spotless, organized and tidy - when it shouldn't really be: tropical settings I am used to are usually a little over-grown, a tad disorganized and far from spotless. Still, it's nice to see some green and color amid the drabness of winter.
.
.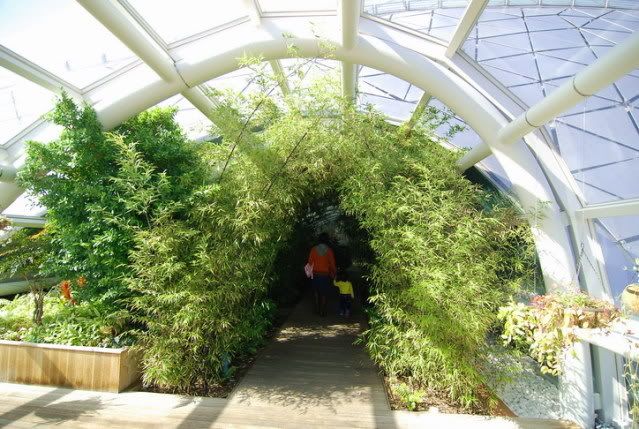 .
If you wander far enough and don't get lost in the bamboo forest, you will emerge into open air at the other side of this building - not at the launch platform for an interplanetary shuttle but rather an astro-turfed balcony with a commanding view of a car park. I take a cursory photo of the building, and rush back inside - it may be sunny but it's bloody freezing.
.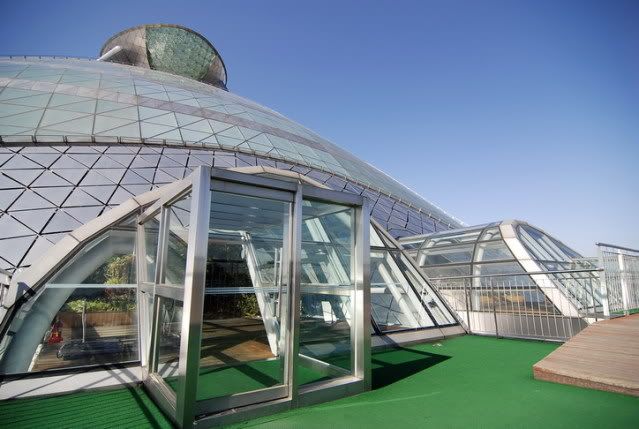 .
Less than two hours to go for departure and I retrace my steps back to the airport, get my passport stamped and backpack x-rayed and I am quickly and officially out of South Korea. It's the start of Incheon's evening peak with both hub airlines organizing their busiest bank of flights - mainly heading south and east - within the next 2-3 hours.
.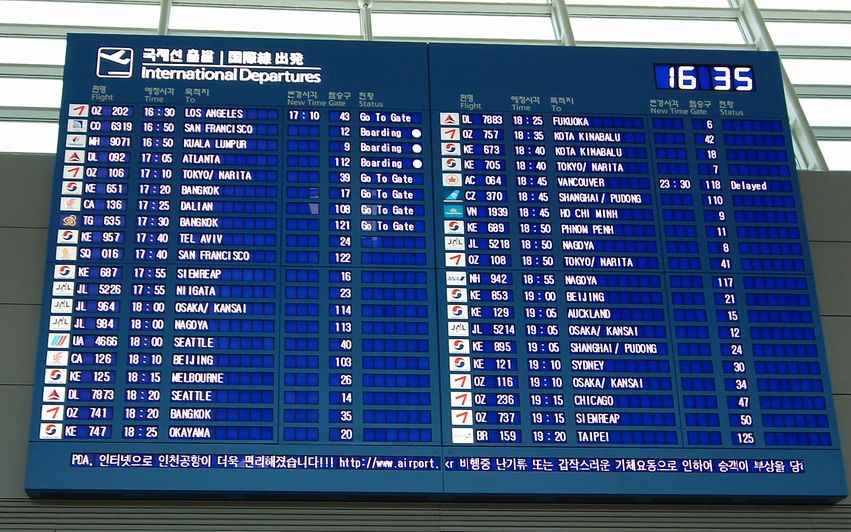 .
It may be busy but the spacious terminal doesn't get overly crowded at all. There's never a shortage of seats, while the huge windows ensure a good view is never too far away. Incheon may look like many of the other new glass and steel Asian mega hubs, but in many areas, it also manages to feel as convivial as a favorite coffee shop. I like it enormously.
.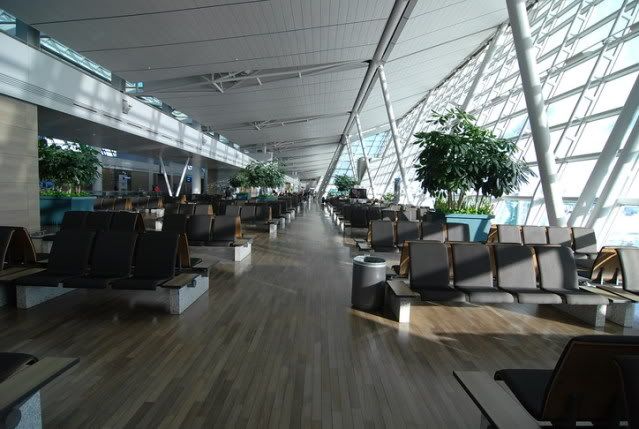 .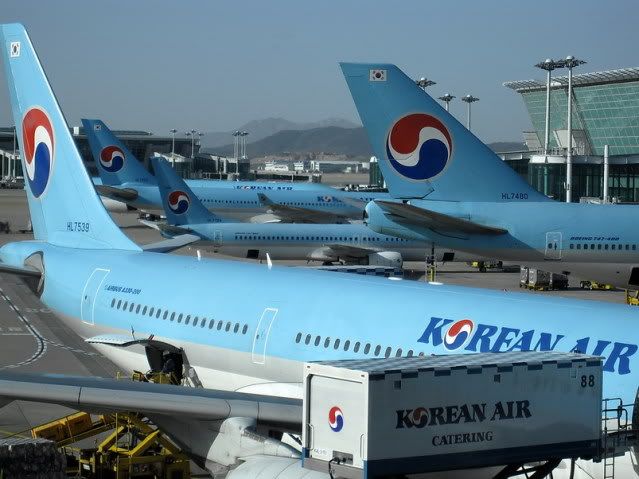 .
Spotting can be great, especially if you're a Korean Air fan. You will get an overdose of its jade blue livery. KE occupies one end of the main terminal while OZ - but with fewer planes and less uniformity in old and new liveries - take up the other. Non-Korean carriers are almost invisible as they occupy gates at a satellite terminal known as Concourse A, and those are only reachable if you're travelling with them.
.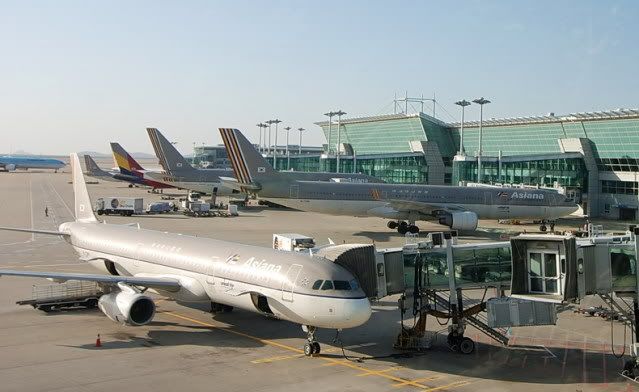 .
The A321 above is headed for Kota Kinabalu in Malaysia, which I find an interesting choice for Asiana that doesn't fly to Kuala Lumpur. The A333 behind it is HL7740, the plane I flew here a couple days ago from BKK. Below, this new-liveried B744 is departing behind schedule for LAX - I am there to see the passenger who gets to the gate late, is denied boarding and look very pissed indeed.
.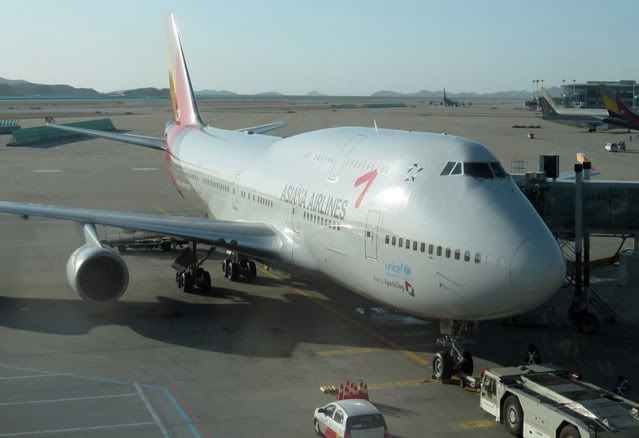 .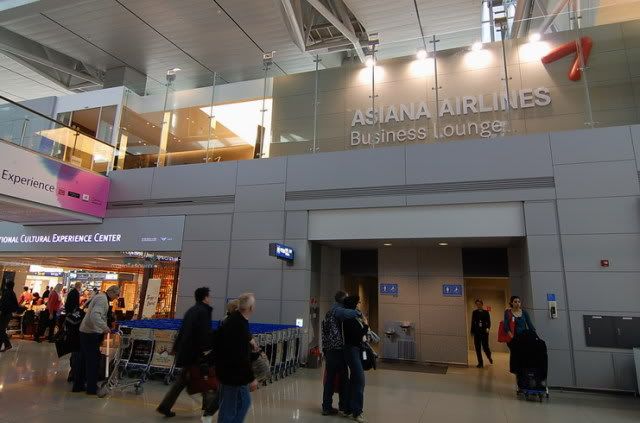 .
And now, back to my priveleged existence today.
Travelling in Business gives me access to the premium lounges of course. The main Asiana lounges are located on a different level and accessed via elevator from the main terminal but their presence is well advertised to those in the general departures concourse. (There's also another Asiana lounge at Concourse A specifically catering to other Star Alliance carriers.) Once upstairs, there's further class segregation.
.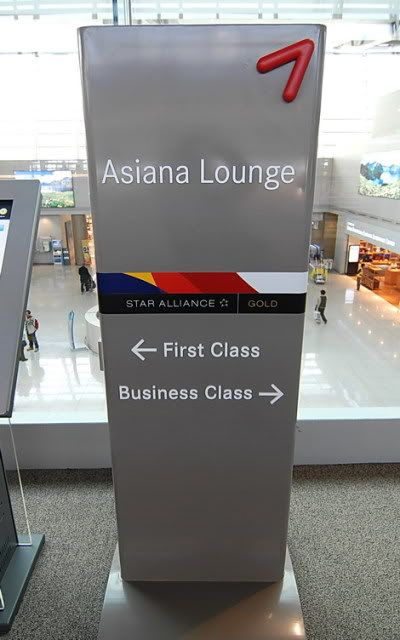 .
.
Welcomed politely (like with every other Asiana encounter so far) at the entrance, I'm ushered into the well-appointed Business Class lounge. All feels pretty predictable so far... that's until I turn the corner and am introduced to the centerpiece of the room. Like the thing with the pilot's uniform, I'd forgotten how much of a tease Asiana can be. Just when you think you've finally got OZ sussed out (hallmarks being reliability, politeness, conservatism), she throws you a curve ball, and lands a baby grand on you. Fancy that.
.
.
I wonder if a pianist shows up at dusk in a tuxedo and takes requests for jolly singalongs late into the night, but on first impressions this mid-afternoon, it all seems a little strange to be frank. With the walls lined with book shelves, I presume the intended effect is one of the rarified air of a library or British club. It may well look quite different in soft lighting at night, but by day, everything just appears contrived and unnecessarily extravagant.
.
.
Still, this lounge is pleasant and not such a bad place to while away some time, even if I do have issue with the designers and their eclectic style. But who am I to comment on something I obviously know little about. After all, the unique layout above may not be due to a lack of imagination - but from a disproportionately large number of OZ premium passengers who like watching television from a distance with the sound off?
.
.
There are far fewer seats by the window, which is unusual because these tend to be the most popular ones. But again, that's just me - and I obviously come from a different planet to that of the lounge designers. I settle down on a comfy armchair with a view of tarmac activity before grabbing some food from the decent-sized buffet. There's an acceptable mix of canapes, soup, salad, fruit and an assortment of bar snacks and instant noodles on offer, but no hot food at this time of day. There's also a dining area adjoining the self-service area.
.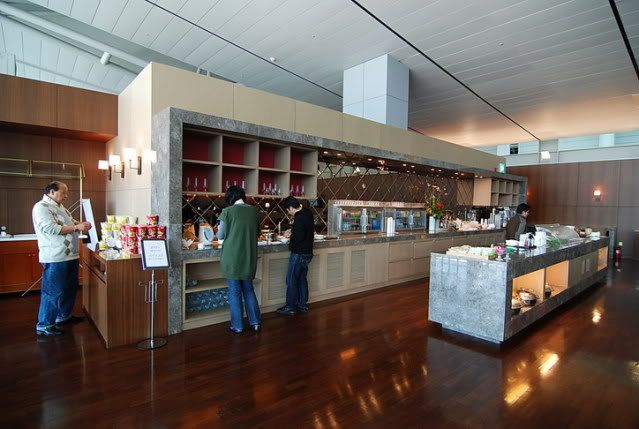 .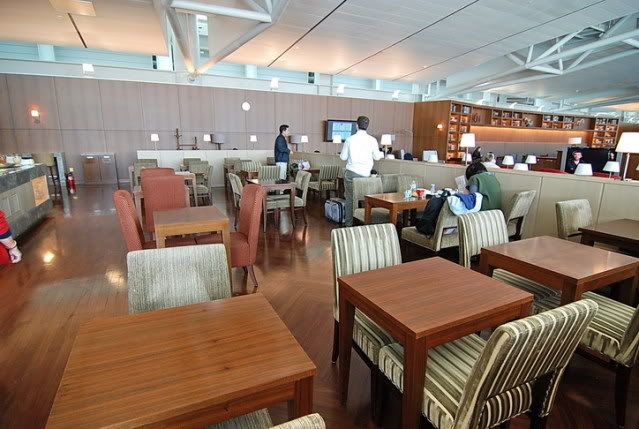 .
As the main Business Class lounge at a home base, this Asiana facility is not a particularly large one, but it has all the basic facilites like wifi and showers. At the quiet end of the lounge are a couple of "relaxing rooms" that come equipped with massage chairs. Not a bad place to while away a half-hour or so, but with just a few cubicles available, they are likely to disappoint more passengers than they satisfy.
.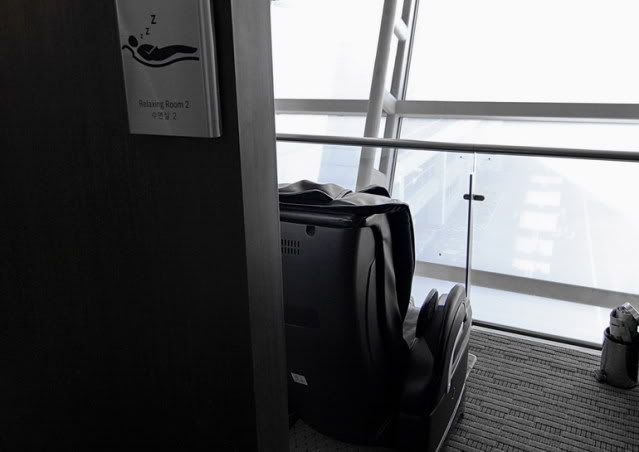 .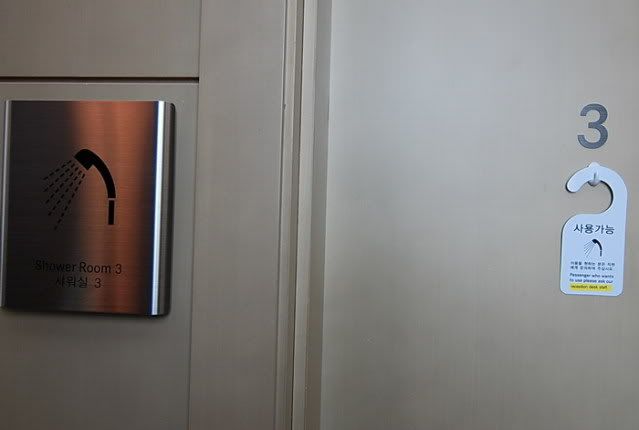 .
Across from the relaxing rooms are a small number of shower rooms, which will probably be equally in demand when the transits descend on this place. In order to use one you need to deposit your boarding pass at reception in return for a key to one of the shower rooms. I don't need a shower, but as I still have time before the flight, decide to take a peek into one.
.
.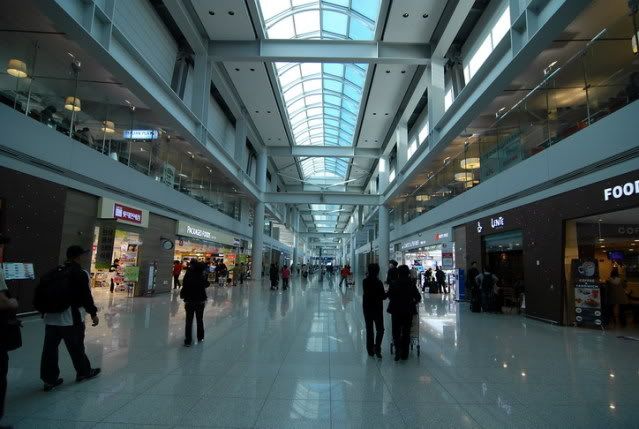 .
It's time to move on. My flight isn't shown as boarding yet but I like to take my time, especially when my walk to the gate is seldom the most direct route. OZ741 leaves from gate 35, which is at the tip of one of terminal's two fingers. This also means the view of the plane is not the best - unlike at most other gates at Incheon. I capture a partial, unsatisfying shot of the A333 that'll be carrying to Bangkok this evening, for the record. In the background is Concourse A that's looking rather quiet today.
.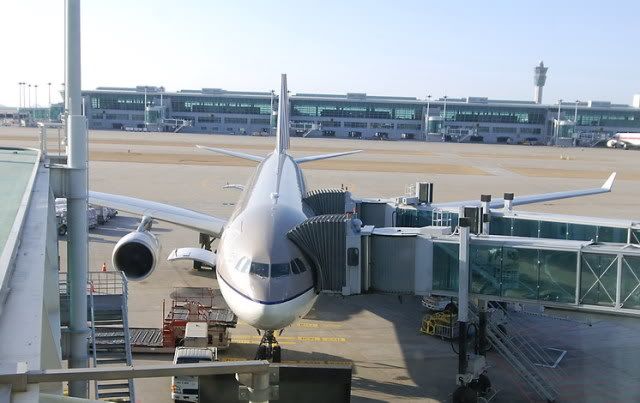 .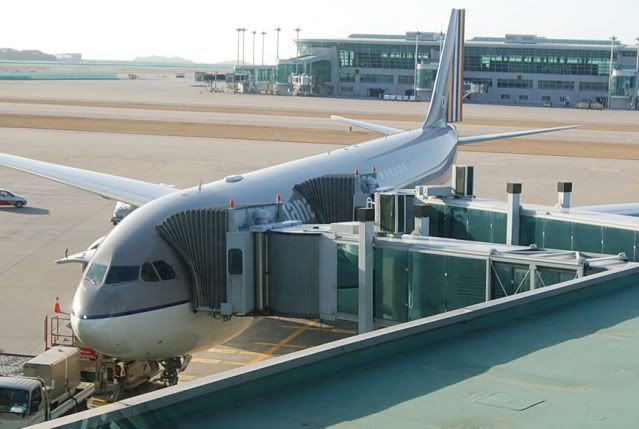 .
Asiana Airlines
Seoul Incheon – Bangkok in business class
Flight OZ 741 Airbus A330-300 HL7746
Dept: 1824 Arrv: 2231 (arrives 26 minutes late)
.
A short wait at the holding lounge and boarding, when it starts about 25 minutes before scheduled departure, is an orderly affair with the usual priorities. A dedicated aerobridge for the smallish J class cabin ensures that the process is not a hassle at all, before I'm greeted at the door with the signature Asiana bow and politeness.
.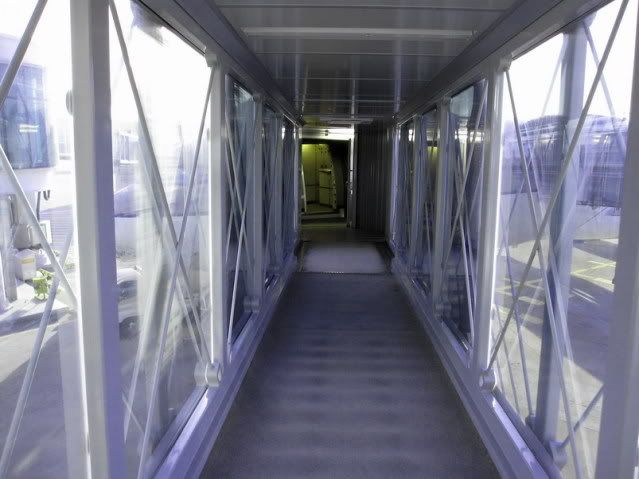 .
I get settled at the back of the cabin. Although this 5-row Business Class in a 2-2-2 configuration is identical to the one I flew on a few days ago, it's always much better to see it in the light of day. The fittings seem to be in good order for a three-year old aircraft, while the seats and legroom appear decent for a regional J product. I believe China Airlines in this region also fits these seats into its A333s.
.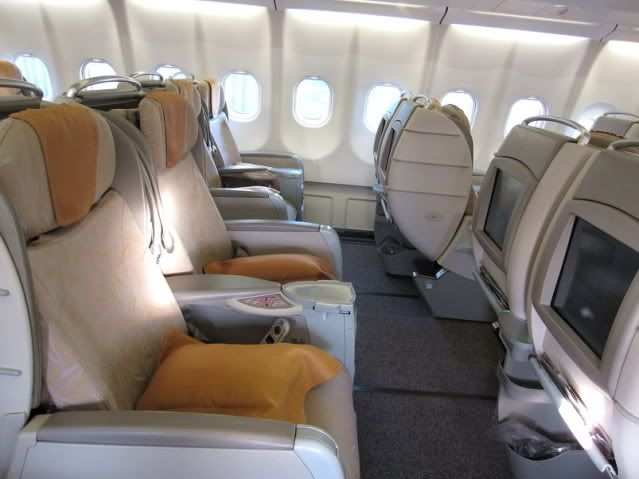 .
.
Welcome drinks, hot towels, newspapers, magazines interspaced with lots of smiles appear to a standard pre-departure routine. Reminds me quite a lot of Singapore Airlines - which has got uniformity down to an tee - only without the sarong kebayas. We are 15 pax in J class today and all three stewardesses serving the cabin are lovely, attractive and look and sound so alike they could have been cloned. Like on the outbound sector, a pair of slippers and comfort kit are found near my feet.
.
.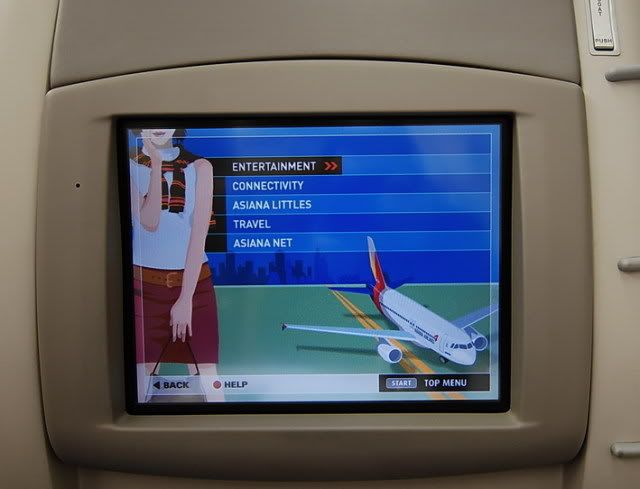 .
The 15 inch PTV screen looks nice and has good resolution but the movie and TV selections in English are small and aren't particularly inspiring. Not such an issue on this evening's six-hour haul traversing East Asia, but it may well be quite a source of frustration on a longer haul.
We push back almost on time and are waved away by Asiana's own tug crew. Like in Japan, the send-off from the ground staff here isn't half-hearted, with them waiting for us to fully taxi away before leaving - don't envy them though, it looks pretty cold out there.
.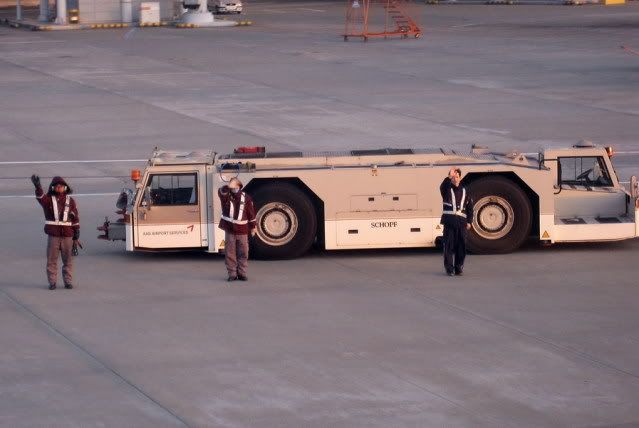 .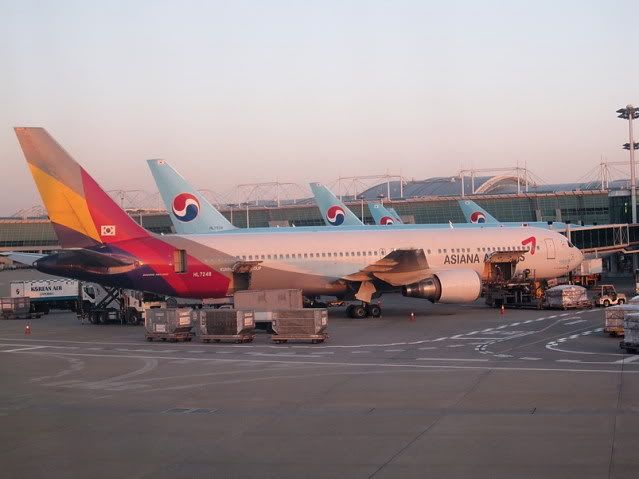 .
We taxi past an OZ B763 parked next door - that is scheduled to leave soon for KIX - after which it's a line-up of Korean Air machines that accompanies us all the way to 33L, where there's no further delay for takeoff. The two PW4168s spool up and we are thundering down the runway in almost no time.
.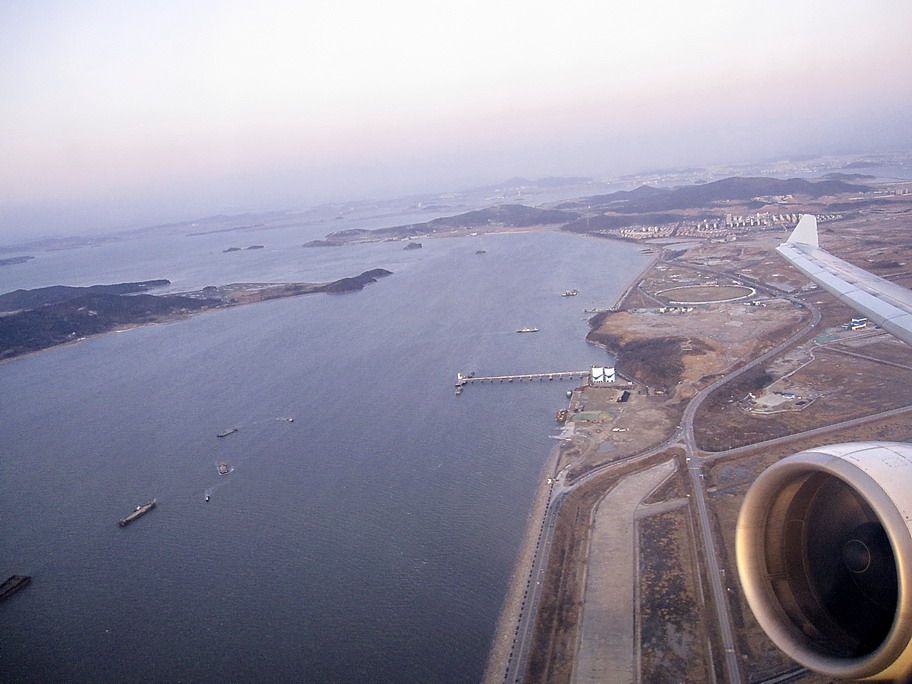 .
The sea is immediately visible on take off from Incheon - not suprising considering the airport is located on an island off the west coast of the Korean peninsula. In fact, the airport complex is built on reclaimed land between two small islands off the coast. Taking off from 33L is interesting too for the direction we're headed - essentially north-west - and at the current trajectory, I reckon it'll take us 5 minutes to enter North Korean airspace. Only a week earlier, North Korea had issued a thinly veiled threat to shoot down commercial airliners when it said it "could not guarantee their safety" in its airspace. That caused KE and OZ to immediately reroute their flights, giving South Korea's recalcitrant sibling a wide berth.
.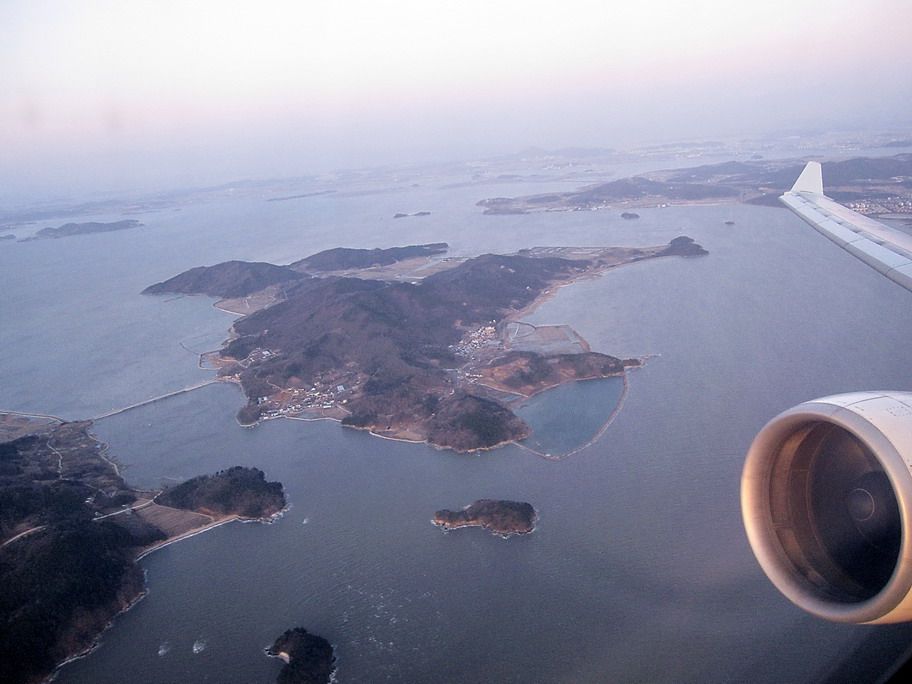 .
It's with a collective sigh of relief (or maybe that's just me) that we bank sharply to port soon thereafter, and immediately turn south over the Yellow Sea. Seeing the rather attractive sunset on my side of the plane is a nice reassurance we're now no longer headed in the direction of Pyongyang.
.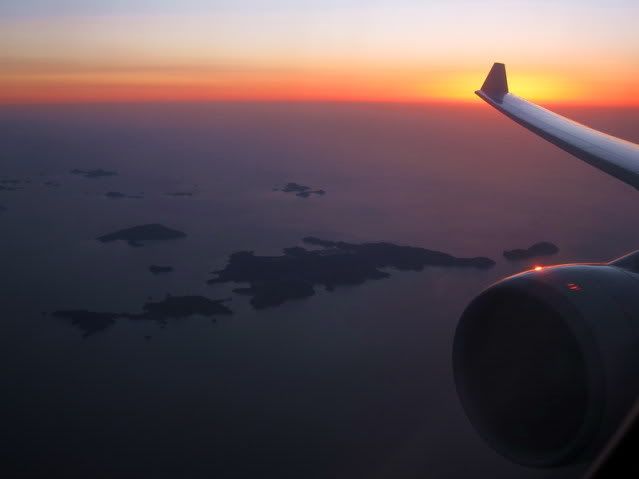 .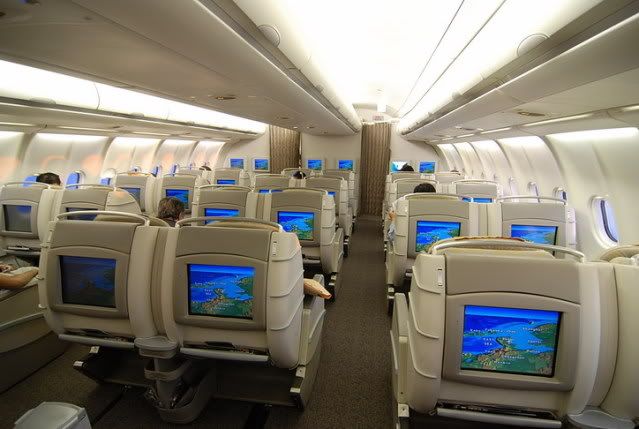 .
When the seat belt signs come off, a friendly stewardess (one of the three - I really can't tell them apart!) goes round distributing the menus, and takes drink orders. The service is more relaxed and less rushed than on the red-eye flight over, and that's a nice plus too. As the seats around me are unoccupied, I also take the opportunity for some cabin pics. These appear to be the same seats currently fitted on most of the airline's longhaul fleet, but it recently announced
new flat-bed OZ Quandra Smartium
(what could have inspired this name!?) seats that will replace these angled-flat seats and initially be fitted on the B772s.
.
.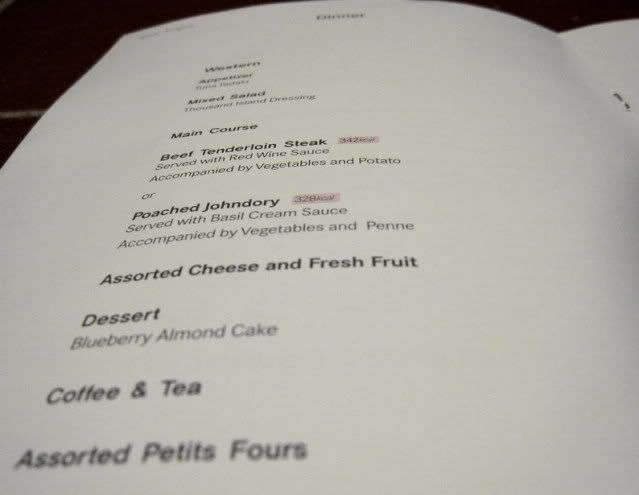 .
Orders for dinner are taken as we level out, and I'm glad to see that there is a Korean menu option on this flight. The "Western" menu looks like a safe but solid offering, but I opt for the "Mixing and Harmonizing" Bi-Bim-Bab that both major South Korean carriers like to call a speciality aboard their flights.
.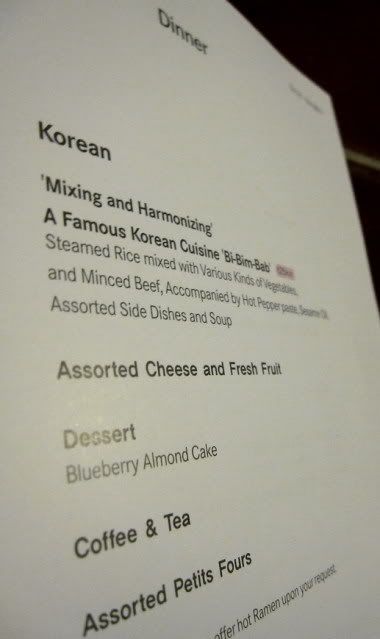 .
.
Bi-Bim-Bab is essentially what the menu says it is - a rice-based dish that works only with some DIY-style harmonious mixing beforehand. On Asiana, everything you need comes on a single tray together with a small, useful fold-out guide for first-timers on "how to enjoy Bi-Bim-Bab". Those who have eaten the popular Korean dish more than once will instictively know that you can't go too wrong by pouring everything into the biggest bowl and giving it all a vigorous stir. When the contents look a right mess, then it's ready to be eaten! This is not haute cuisine by any means, but is quite delicious and rather satisfying in the way comfort foods can be.
.

.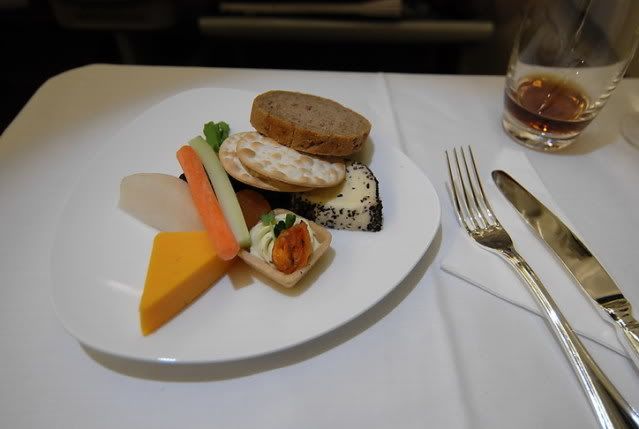 .
The meal takes a decidedly westerly-heading after the Bi-Bim-Bab with a cheese plate and then a tasty blueberry almond cake for dessert with coffee. We have made some good progress during dinner crossing the East China Sea and are now headed towards Taipei.
.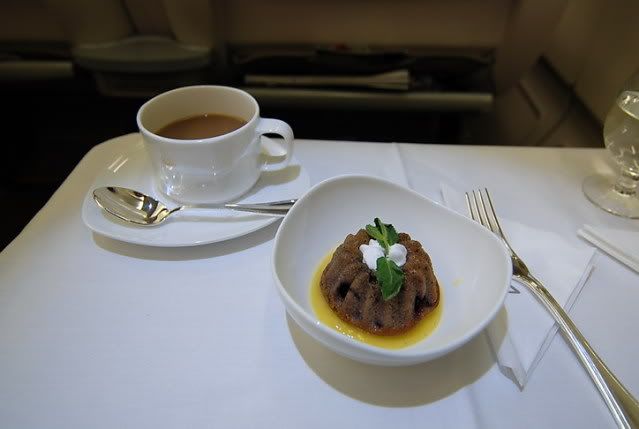 .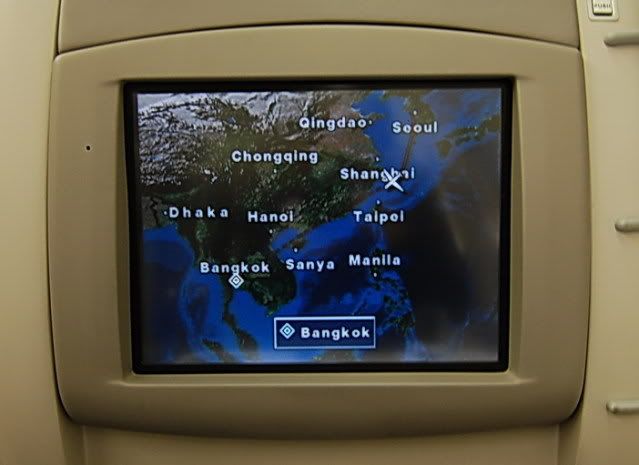 .
The fasten seat belt signs come on around the time we're skirting Taiwan's east coast, but I make a quick dash to the loo. Like on the flight over, the washroom is immaculate and it's reasonably well-stocked too. The seat belt signs stay on for pretty much the rest for the flight to Bangkok from here.
..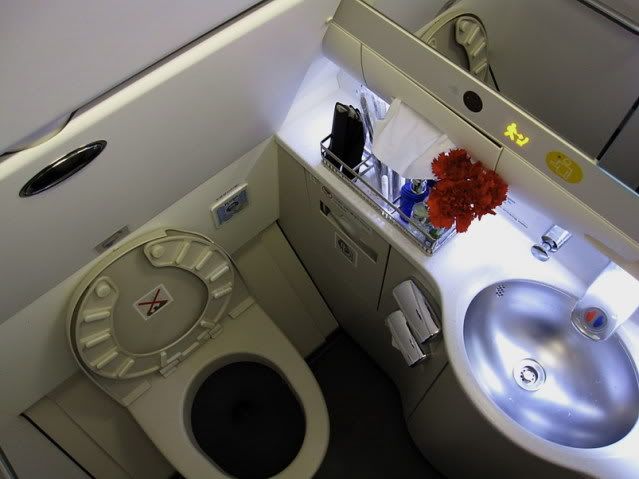 .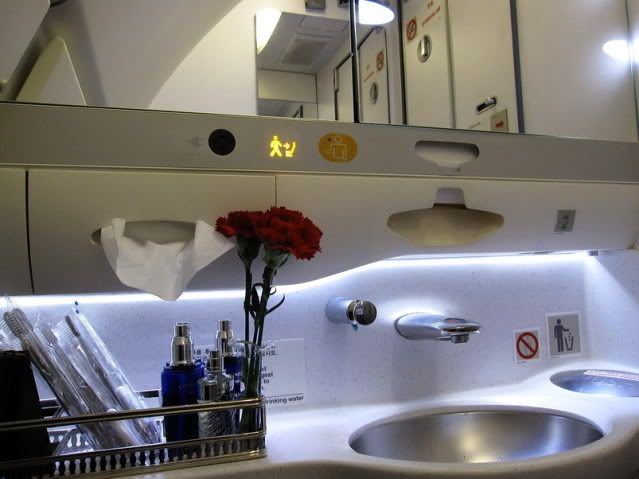 .
With not much on offer on the AVOD, it's time to test out the recline button and get some shut eye. The cabin lights go off too. The seats don't go fully angle-flat actually but this is what I prefer anyway. After a few long days, I find it easy to drift off to sleep this time.
.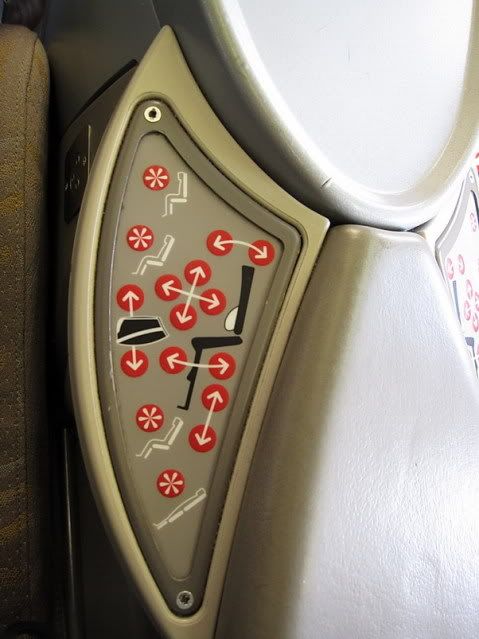 .
.
The next time I am conscious, the cabin is being prepared for landing at Bangkok. We are running more than 20 minutes behind schedule due to stronger-than-expected head winds - but it doesn't bother me for I have nowhere else to be tonight. Clouds obscure any night view of the city - it's pitch black outside except for the pleasing hum from the now brightly-lit engine number two. We land at Suvarnabhumi - it's a gentle one - and the appropriate end to a trip that would surely have been a lot less pleasant without Asiana.
.
.
last words
.
Asiana clearly deserves to belong among the world's top airlines. That it has managed to get there in a relatively short time makes it doubly impressive. Service is a major selling point. What I experienced - both inflight and on the ground - have been some of the most attentive and polite you can get. The planes and facilities are well-maintained and immaculately clean. But there are flaws too. IFE is an area that's important to many passengers but one that seems to have neglected by Asiana: it needs a significant overhaul. The airline's website is another space requiring improvement while its premium lounge at ICN could perhaps be made more practical. More annoyances than fundamental problems - and really quite easily fixed - after which, the carrier's Airline of the Year award becomes a lot more believable, even if it comes from Skytrax
.
Hope you enjoyed the read.
.
Cheers,
airpearl
.
South Korea has two world-class carriers. For a perspective on Asiana's homeground competitor Korean Air, you might want to take a look at
this trip report
on a flight in Y I took a few months after this one.
.