Just recently got back from what's become an annual round trip for my wife and me. We usually take ANA but have also flown JAL, United, American, and Northwest on this route. We've settled into ANA being our preferred airline because they've always had that combination of immaculate planes, extremely professional and courteous service, and a *lot* of that service. Y class always meant two full meals and a snack, and sometimes *two* snacks (one "regular" snack like soba noodles or cup noodles, and one very light snack like an ice cream). Flight attendants routinely walked around the cabin offering drinks, including wine.
ANA just introduced their new international product on this route called "Inspiration of Japan". New seats are in each cabin, including staggered business class seating in a 1-2-1 configuration and new "shell" slide-forward economy seats in a 2-4-3 configuration with an advertised 34" seat pitch, larger touch-based viewscreens and outlets for power, USB and iPod connectors. Along with the new seats, ANA has introduced various service changes that they're marketing as allowing for a more "personalized" experience but which we discovered were really just downgrades from their excellent service of the past. More on this later.
(The pic's from after landing at NRT, but that's our plane.)
I religiously follow the 3 hour rule when checking in to international flights, so we arrived at JFK for our 12:30PM flight at around 9:15AM. Check-in opened promptly at 9:30 and we were second in line. Since I'm 6'4" tall I asked for an exit row as I always do (one reason for getting there 3 hours early!) and while they didn't have any available, they did offer me a bulkhead. I accepted, and we finished our check-in and headed airside. ANA flies out of terminal 7 at JFK, which I enjoy - it's a small terminal but nonetheless has everything you might need before a flight. This terminal is never crowded whenever I've flown out of it.
Lots of legroom at the bulkhead!
We boarded, seated in the middle section of row 25, which is the front of the mini-cabin just in front of the economy class galley and bathrooms that ANA previously used for premium economy. Nope, no more Y+ in this new configuration! I immediately noticed that the new seats are generally more comfortable than the old. The main difference is that the bottom cushion is basically flat, whereas the old seats "cupped" your butt in a way that got tiresome really fast, and put a lot of pressure on the back of your knees. I always thought that couldn't be very healthy on a long flight and apparently somebody agreed because the new seats are a lot better in this area.
We had the bulkhead on the way out and an exit row on the way back, so I couldn't really test out the upgraded seat pitch. I will say that I still found the slide-forward seats problematic. For one thing, the seat belt doesn't go with you, meaning if you're overly aggressive in "reclining", you will cause yourself some pain. (Yes, I did this several times.) The seat belt requires constant readjustment. I ended up just leaving it very loose all the time, which is not very safe. Also, at least in the exit row/bulkhead where the tray table comes out of the armrest, it's basically impossible to use the table while reclined/slid forward. I'm not sure if this is a problem throughout the rest of the cabin but I would imagine it is, since you're still sliding yourself closer to the table. This is not a problem in traditional seats that recline backward, where you're moving away from the table as you recline.
On the positive side, the new economy seats do have power outlets cabin-wide, as well as USB and iPod connectors. We used the power outlets pretty much constantly for our laptops - this is something all airliners should have - but I'm not really sure what the point of the USB and iPod connectors are. I gather you can connect your iPod and listen to it over the IFE system, though I'm not sure why you'd want to do that. The IFE is another high point on ANA - it's AVOD, and looks very new, though I'm not sure what system it is. The movie selection wasn't great - it was actually better on our flight last year - but I watched Book of Eli. The best part of that movie is Mila Kunis!
On our way to our seats, we couldn't help but also notice the new business class, and we both immediately thought it looked pretty disappointing. Tastes might be different among ANA's base Japanese clientele, but it really seemed like ANA had missed the mark of what business travelers in the USA would want (my wife and I own a business and this was a business trip, so hopefully our next trip will not be in economy). The seats themselves are tiny - no wider than the economy seats. Seat pitch similarly looked very cramped, although the idea is you put your feet under the enclosure that holds the seat (really the side table) in front of you. So there may be more legroom than it seems - at least directly in front of you - but it *looks* very claustrophobic - the seat in front of you is very close. The staggered arrangement means a lot of space is wasted on a large table and storage area to the side - basically the entire width of another seat - that most people probably won't use. Additionally, there are no seats within speaking distance of each other at all, which probably makes for a very quiet cabin but means colleagues traveling together can't easily talk about business matters during the flight. I would not fly business class on ANA for all of these reasons.
The flight left on time and we immediately regretted accepting the bulkhead - we had a crying, screaming baby next to us for literally the entire flight. The flight attendants did their best, in their very Japanese way - repeatedly coming over and nicely asking the parents if everything was ok, offering toys and other help, and even at one point taking the baby to the back of the plane for a while so the parents could get some rest, but it was all pretty much in vain. This was my worst screaming baby experience on a plane ever.
The first meal service was the first area we noticed had been obviously downgraded. There is still a choice between Japanese and western meals, but the amount they serve is smaller (they used to really pile it on) and the quality is not what it used to be. I chose the Japanese selection, which was a seafood noodle dish. My noodles were all gummed up and stuck together, and it was all a pretty unappetizing brown mess.
In between meals, there used to be ice cream and at least a snack served about mid-flight. That's now been cut. Instead, you're now free to order any of the snacks available in business class. This is a neat idea, but the prices are pretty atrocious. 900 yen (about $10) for a bowl of noodles that used to be free, for example. We decided to just eat some of the Doritos we'd brought with us instead. This is not why I fly ANA!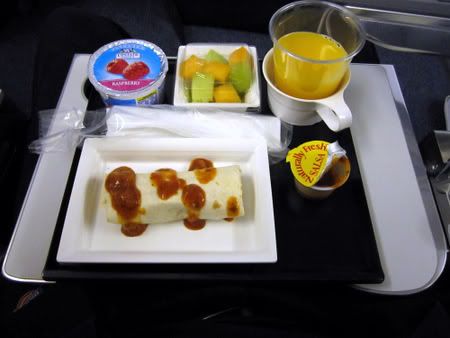 ANA's second meal has always been kind of odd - it's a running joke with us. On our last trip, it was some sort of Korean-style meat and cabbage thing that nobody could really identify and that much of the cabin was audibly laughing about (including the Japanese customers) - and this was breakfast. On this trip, the second meal was a burrito. Yes, a single meat and cheese burrito, with salsa (they described it as "piquant sauce", which I later realized was probably supposed to say "picante sauce"). It reminded me of the burritos you can get out of the freezer aisle at a supermarket for about $4 for a pack of ten.
One thing that's always annoyed me about ANA, even back when their service was better, is how long they make you wait before collecting the meal trays. Literally more than an hour after the first service, and about 45 minutes on the second (and only then because it's just before landing). My first time flying them I thought this was just a fluke, but they've done the same on every flight since, including both flights on this round trip. I guess they figure it's a long flight, may as well let people eat at a leisurely pace. But when I'm done eating, I just want that tray out of my way.
Our flight to Narita landed on time, as usual. I have never been (very) late flying ANA, and while I'm sure that a lot of that's just luck, I do feel that they really strive for punctuality. This is common in Japanese transportation, I've found.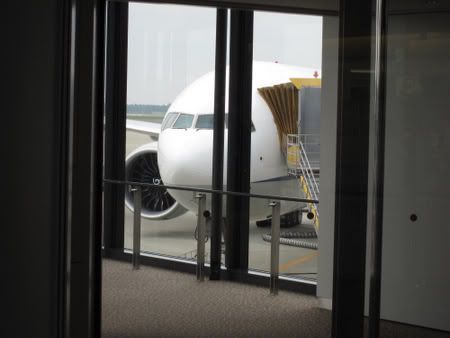 The flight back was basically similar, so I won't go into quite as much detail. We even had another crying baby next to us! It wasn't as bad, though - most of the time the baby was quiet, and overall I'd say it was worth getting the exit row on the return leg. The meals were again a little disappointing compared with what I'm used to on ANA... another very brown "stewed meat" meal for lunch...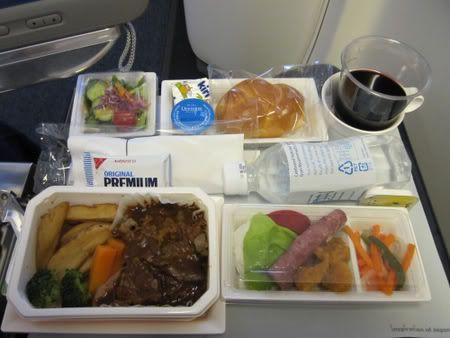 And a "continental breakfast" that basically consisted of a piece of cold ham and some cheese. The bread and pre-packaged yogurt were the best parts of the breakfast.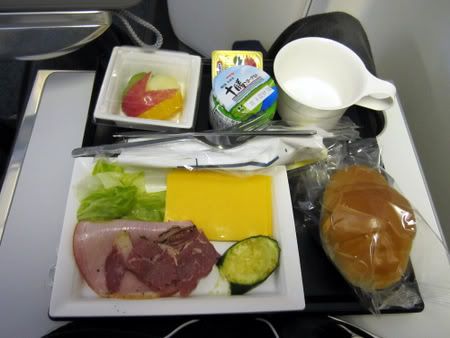 The return flight was actually pretty turbulent and we took an extreme southerly route that made us 20 minutes late (hey, I did say I was never
very
late flying ANA!), I assume trying to get around some weather. I never saw anything on the external camera but the flight was rarely smooth and it was difficult to get any sleep. By now I'm familiar with JFK's approaches and we took the scenic route - overflying Manhattan at about 10,000 feet before passing the airport and flying out over the ocean for a hard right low-altitude turn to runway 4R. I used to hate this approach, because if you're on that side of the aircraft, all you can see on that final turn is water very close to your window. But this approach was very smooth, despite the near-constant use of air brakes (something that I've noticed is common at ANA; they like to get down quick), and of course we touched down uneventfully.
Overall while I will always sing the praises of Japanese flight attendants and their focus on customer service, and that alone makes flying either Japanese airline worth it, I was pretty disappointed with my trip compared to previous trips on ANA. The free services have obviously been downgraded, and the new seats are a mixed bag. I'll probably keep flying ANA if the price difference isn't too great, but given that their service level isn't really that much different from other Star Alliance members now, price is going to be more of a factor for me than it used to be.
For the record, we flew on JA785 on the way out, and JA784 on the way back, and our flights were June 4 and June 13.
[Edited 2010-06-22 21:06:49]