Planning


Having flewn with Jetstar many times before on domestic flights within Australia, I decided to try
something different and book a short-haul international service from Jetstar's northern hub Darwin
to Singapore Changi Airport. Booking was easy and was made directly through the company's website
http://www.jetstar.com.au Jetstar flies this route twice
daily with an A321 and A320 however I decided to book flight JQ57/58 to and from Darwin as they are
both operated by the A321.


Flight Information
Aircraft: Airbus A321-231
Registration: VH-VWU
Flight No: JQ57
Route: Darwin International Airport (DRW) - Singapore Changi Airport (SIN)
Seat: 20F
STD / ATD: 16:10 / 16:07
STA / ATA: 19:10 / 16:58
Aircraft History: Test Rego D-AZAL
Del Date: 26-JUN-09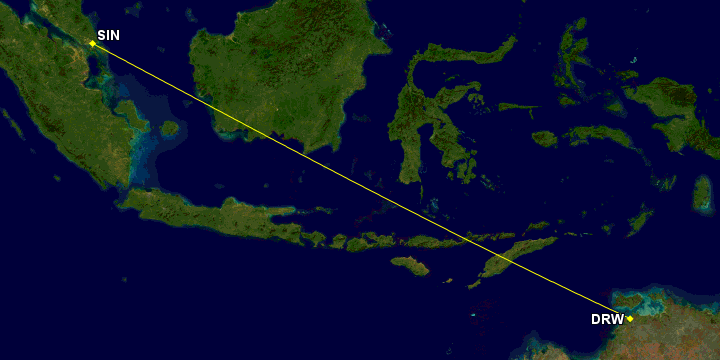 Great Circle Mapper -
copyright © Karl L. Swartz


Day of Travel


I arrived at the airport at approximately 14:15 for a 16:10 departure and was quickly at the front
of the jetstar check-in counters as there was no queue. I gathered by the silence at check-in that
the flight must not be full. Upon asking the check-in agent, she replied that there were no more
than 110 passengers on an aircraft which can seat 214. I then asked if she could block off the
seats next to me and the agent assured that this was no problem. I was assigned window seat 20F
with seats 20D and E blocked off beside me. After completing check-in formalities, I made my way
through security and into the International departure lounge where my flight would be boarding.
Darwin airport's international terminal is in the same building as the domestic terminal so all the
facilities are combined. Inside the international lounge there are 2 gates which are mainly used by
Jetstar for their flights to Singapore, Bali and Vietnam. The only other airline using these gates
was Air North with a few flights to East Timor. Boarding was announced at 15:45 and all 108
passengers were boarded by 16:00. Pushback was 3 minutes early and after starting the engines, we
made our way to the active runway. Darwin airport is also a joint RAAF base and we taxiied past
many hangars which house fighter jets on the way to the runway. Today runway 29 was in use and we
made a rolling start as we were number 1 for take-off. Climbout was to the west and we started
passing some thunderstorm build-ups on our way to FL320. Flight time was approximately 4 hours and 10 minutes.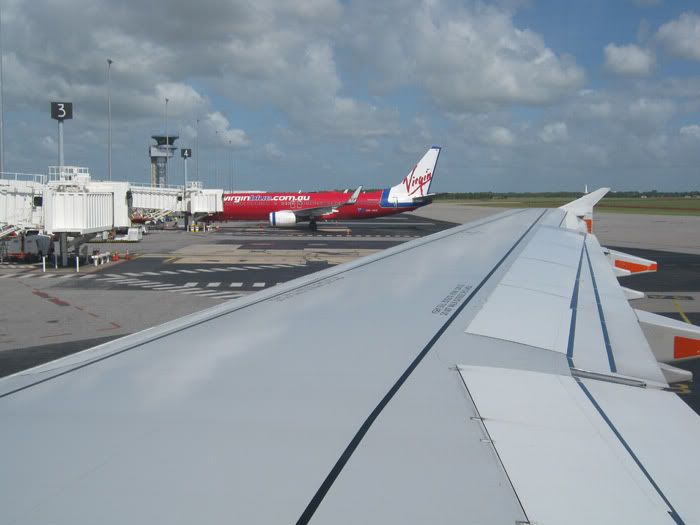 A Virgin Blue
B737-800 off to Melbourne soon.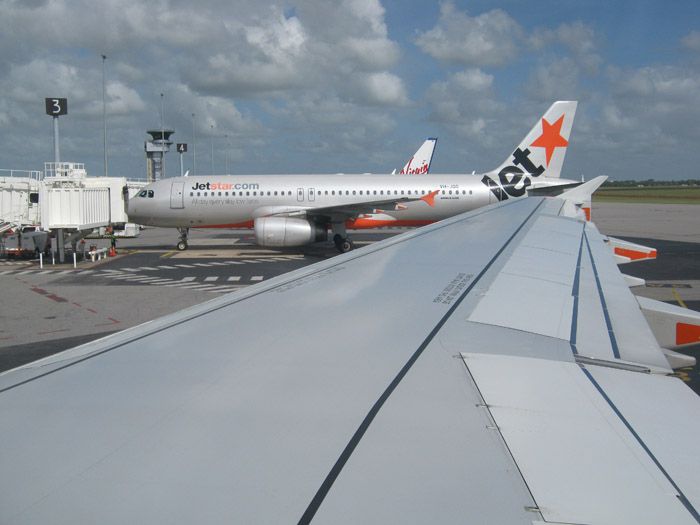 A company A320
pulling into bay beside us. Inbound from Brisbane.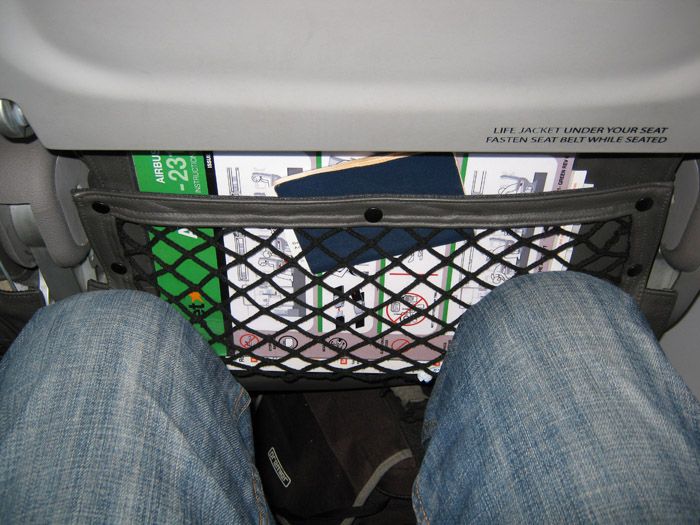 Not bad
legroom for a LCC carrier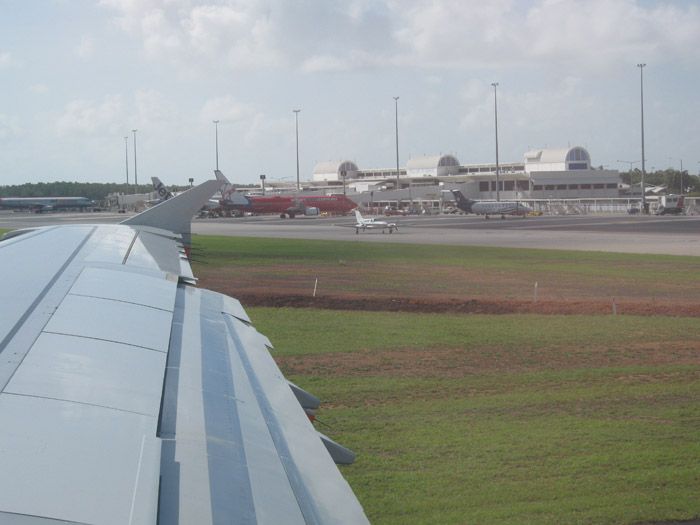 A view of the
terminal as we taxi out towards runway 29.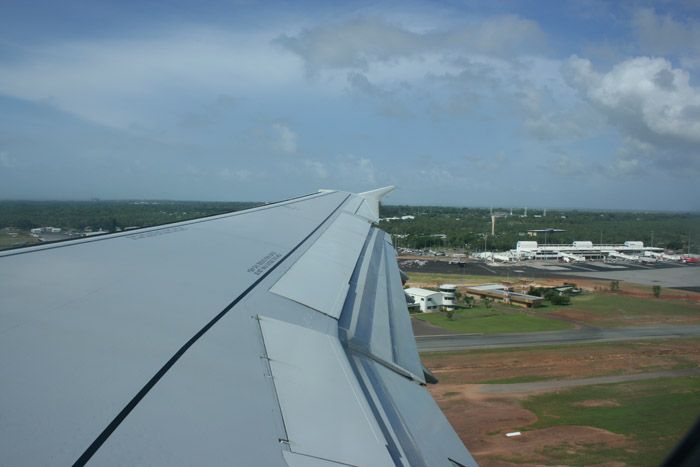 Take-off with
the terminal in view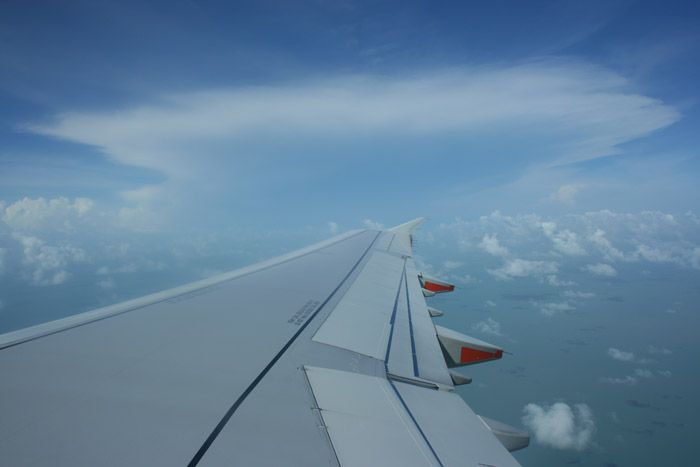 A nice
thunderstorm cloud pictured during climbout

Upon reaching cruising altitude, I firstly had the chance to sample the IFE for the trip which is a
portable VOD (Video on demand) screen. They usually cost about $10.00 to rent for the whole flight.
They feature approximately 15 movies, TV shows, games, music and more. Overall a nice relaxing way
to kill those long flying hours. A blanket kit was also handed out to all passengers which
contained a blanket, eye mask, blow-up neck pillow and ear plugs. The cabin crew were mostly
Singaporean returning home after a few days away from home base. The service was excellent and the
crew did everything in their power to make the flight more enjoyable for everyone.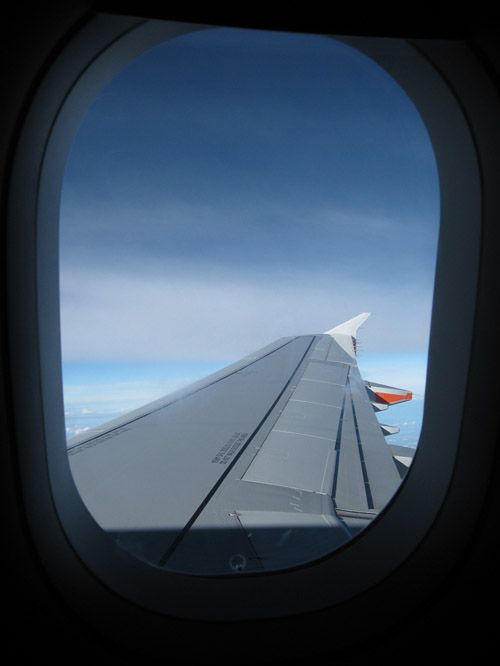 My window at
cruise altitude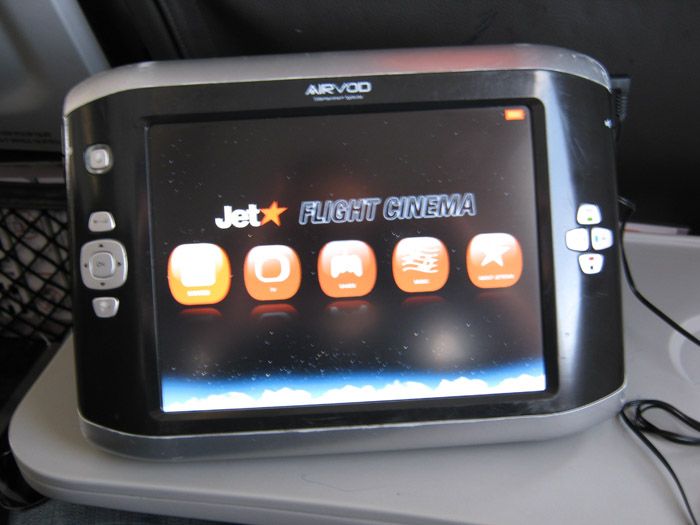 The VOD unit
which is a great way to pass the many flying hours.


The
contents of the seat pocket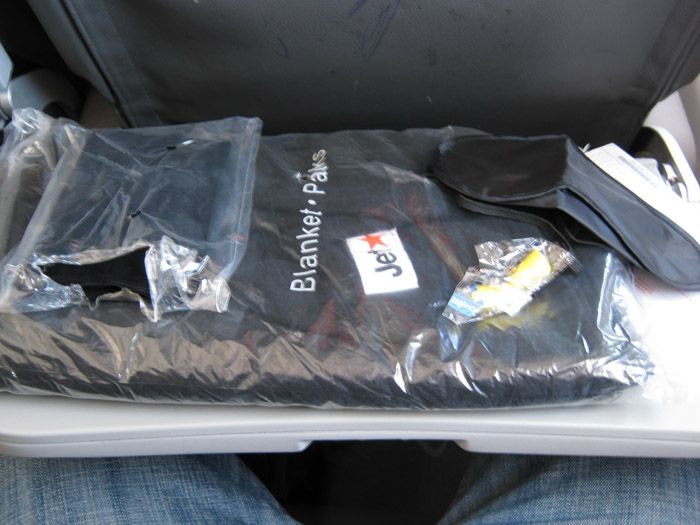 The blanket
kit distributed which contained a blanket, eye mask, blow-up neck pillow and ear plugs.

At Meal time, the cabin crew came around with two trolleys, one started at the front of the aircraft
and the other at the back. When it was my turn, I selected the beef and asian noodles which also
came with bread and a cadbury chocolate. The beef was quite nice and a little spicy. Drinks
service was also offered at meal time and I opted for a coke which was then topped up later by the
same cabin crew member.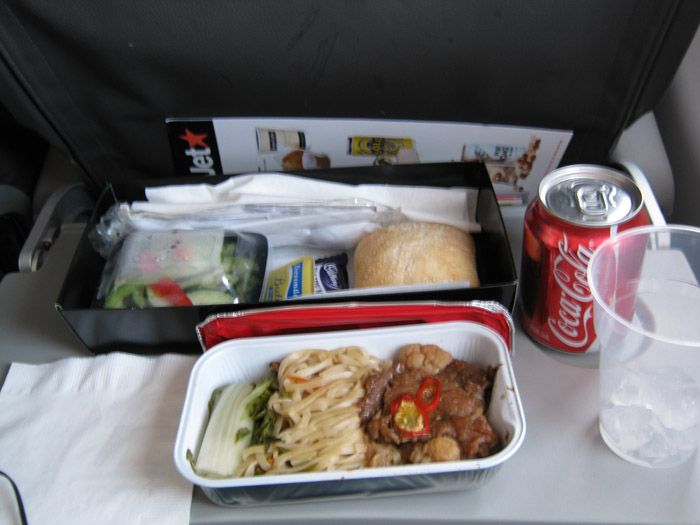 Beef with
Noodles was my choice




We began out decent over Indonesia and made a visual approach over Batam and the harbour to runway
02L. It always seems to amaze me how many ships are parked in the harbour each time I fly into
Singapore. Touchdown was at 16:58 and we were docking at gate C16 at Terminal 1 by 19:05. After
disembarking and thanking the crew for an enjoyable experience I was collecting my checked luggage
by 19:20.

Batam,
Indonesia during decent


Flight Information
Aircraft: Airbus A321-231
Registration: VH-VWU
Flight No: JQ58
Route: Singapore Changi Airport (SIN) - Darwin international Airport (DRW)
Seat: 23A
STD / ATD: 20:20 / 20:19
STA / ATA: 02:30 / 02:20
Aircraft History: Test Rego D-AZAL
Del Date: 26-JUN-09


I arrived into Changi Airport by air from Jakarta at 14:15 and would be continuing to Darwin on JQ58
which didn't depart until 20:20. I had alot of time to kill so I decided to head to terminal 3
which is the newest of the terminals and in my opinion has the best restaurants and 'things to do'
in order to pass the time between flights. They have multiple free internet kiosks around the
terminal which are very handy also. After a nice meal, I took the skytrain back to T1 however my
flight still wasn't showing on the main departure board. I found a nice spot, sat down and watched
the world go by. My flight finally was showing on the FIDS screens so I made my way to the check-in
row listed beside my flight. Surprisingly there were quite a few people waiting for the same flight
to appear on the screens. I arrived at check-in and within a few minutes I was checked-in with
window seat 23A. As this was a night flight I wanted to get a window seat so I could lean against
the window and hopefully fall asleep. After collecting my boarding pass, I proceeded through
customs and into the departure area where I found a bar upstairs where it was possible to watch
movements on runway 02L/20R and have a few drinks as the sun went down. The time passed quickly and
before I knew it, the gate was open and they were accepting passengers through the security
checkpoint. Boarding was announced soon after with passengers sitting in the rear asked to board
first however I don't think anybody listened. Once onboard, I was welcomed by the freindly Jetstar
crew and given directions for my seat. Upon arrival at my seat, to my surprise there was somebody
already sitting there whom had been given the aisle seat 23C. I quickly informed him that I had
reserved this seat and he reluctantly moved to let me into the window. The middle seat between us
thankfully remained empty throughout boarding. We pushed back a minute early and commenced taxi to
runway 02C.


Take-off was to the south-east and once airborne you could see all the lights from the ships in the
harbour gleaming up at us as we ascended into the night sky. Once reaching our cruise altitude our
meal was served first which was chiken and rice and your choice of beverage. After the meal, I
reclined my seat and went to sleep. I woke up as the cabin lights were turned on again so the cabin
crew could prepare the cabin for decent and landing. We commenced a straight-in approach from the
west landing on runway 11 and within minutes we arrived at gate 3. It was a breeze through customs
as we were the only flight arriving at this time and before long I was exiting the terminal and
proceeding towards the taxi rank.


Overall quite a pleasent experience with Jetstar and onboard their A321 and I would certainly fly
them again in the future.


Thanks for reading,

Sia744