The rare B717 from BCN to MRS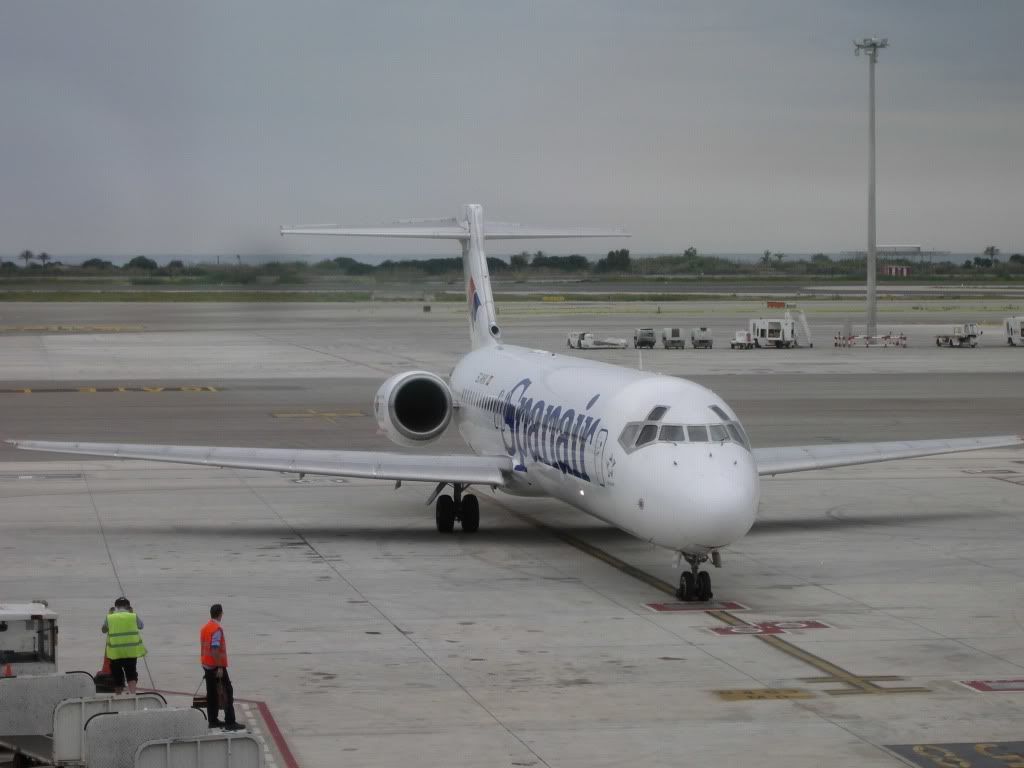 Bonjour, dear readers,
what to do with two open segments MRS-AMS-BCN from my earlier ride in May to Marseille?.
Well, MRS is good connected within France but there are only a small number of airlines with acceptable fares around Europe.
Not that easy to catch something interesting till I notice that Spanair will open a new route in comparison to IB/Air Nostrum from BCN to MRS.
Now thats the way to go, especially when I see that the equipment for this service is the Boeing 717,
two legs only in my log here.
But there is another point coming up, how to go for BCN that early in the morning?.
Here is the link to my Poland trip the previous day:
Gdansk And The LOT Polish Embraer 175
(by
FLIEGER67
Jun 19 2010 in Trip Reports)
Friday, 28.06.2010
.
.
.
.
Service 4U 2528 operated by Germanwings
Scheduled: 06.50 // 08.50
It is once again the cellphone, that calls me at 4.00 am, 6.20 am is the boarding time for my first flight today.
By car to the airport, P2 parking as usual.
OLCI is quick and easy at 4U´s website, no earlier seat reservation due to the extra costs, but 25A is ready for me.
The last row window on the plane and once more three seats for me on this flight with a 90 percent load.
4U beside LX with a tight connection at ZRH and also low time between the flights at BCN is the only way to reach my target ontime from STR.
During my first checks the fare is around 70.-- Euro´s, no way for me Germanwings management,
that fare is much to high for my personal expectations around 4U.
But we know, it´s the best option, waiting for the next sales action to catch a better fare.
The sales action comes and 4U gets the point, the fare jumps up to around 90.-- Euro´s and with the flight on a Friday during south Germany school holiday time, it´s finally me to press the book it button.
Some five minutes to wait at security, a good number of passengers around today.
That´s my first view to the apron this morning, with a nice surprise on the cargo part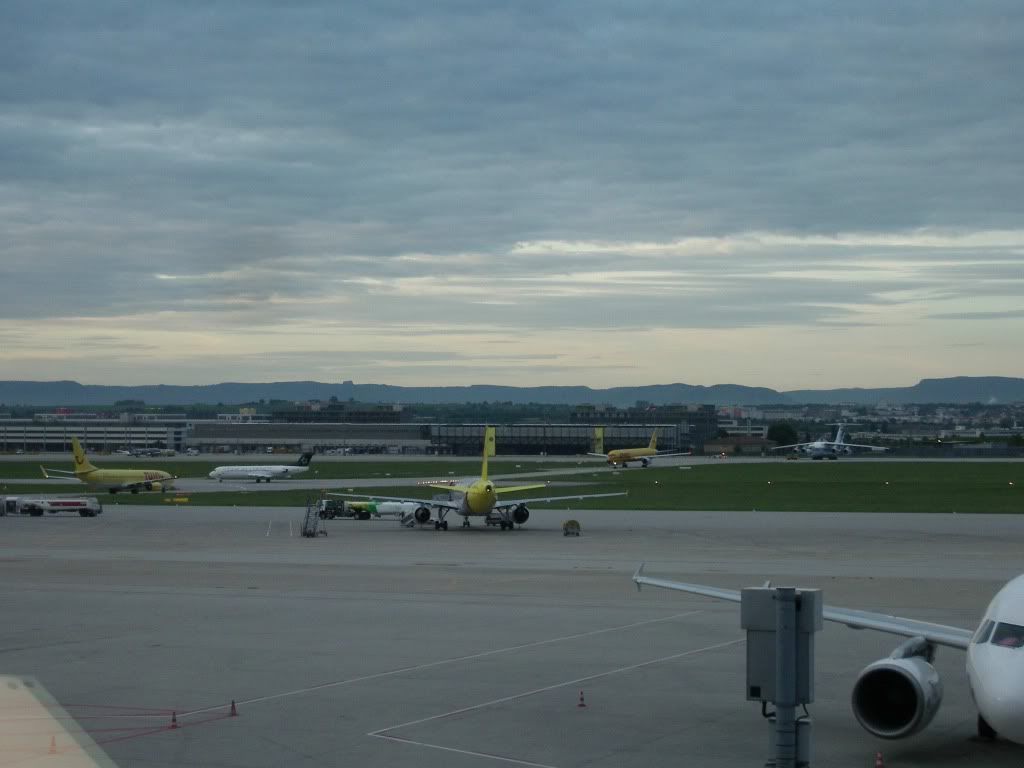 An Iljushin 76 from Russia
And the view on the screen, my flight seems ontime
325 is the gate for this flight, down to the groundfloor, the usual bus boarding area with several
4U services and a pretty good number of pax around.
Boarding is ontime, me in the second bus.
With a good number of 4U flights in the log and all STR planes done, it´s only a low chance to catch something new today.
How I like these photo position under the wing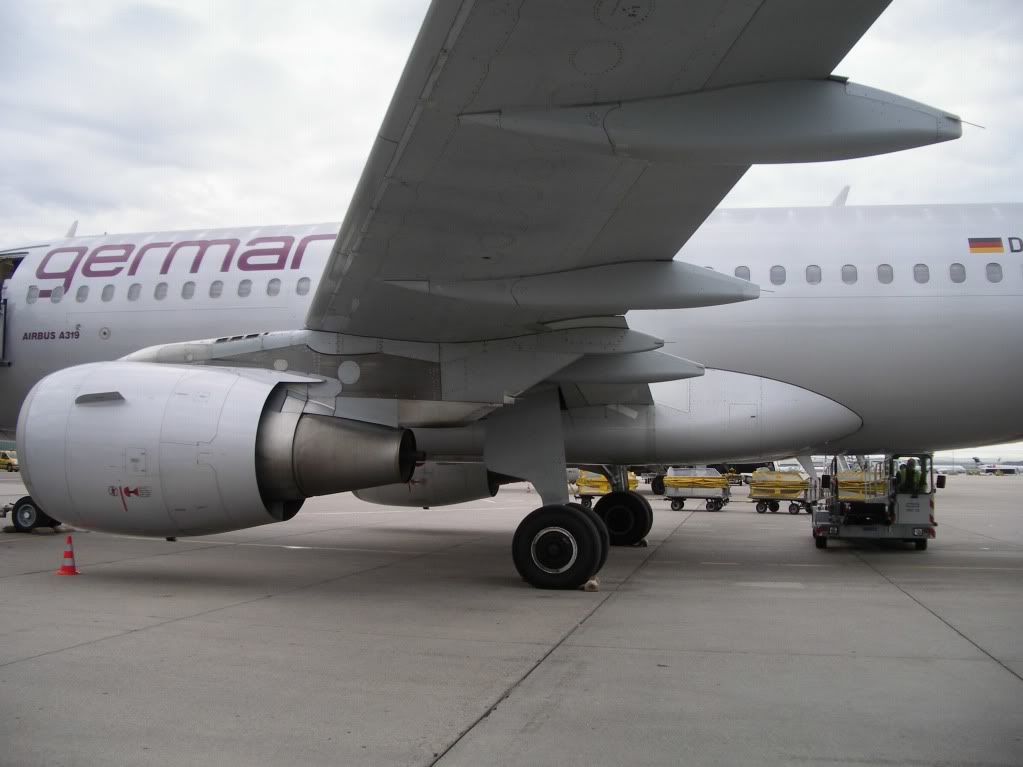 It is D-AKNK, an Airbus A319, what else, flight number 3 on this plane and in total ride no. 51
on the A319.
First in service with US from 10.09.1999 and since 04.10.2005 with Germanwings.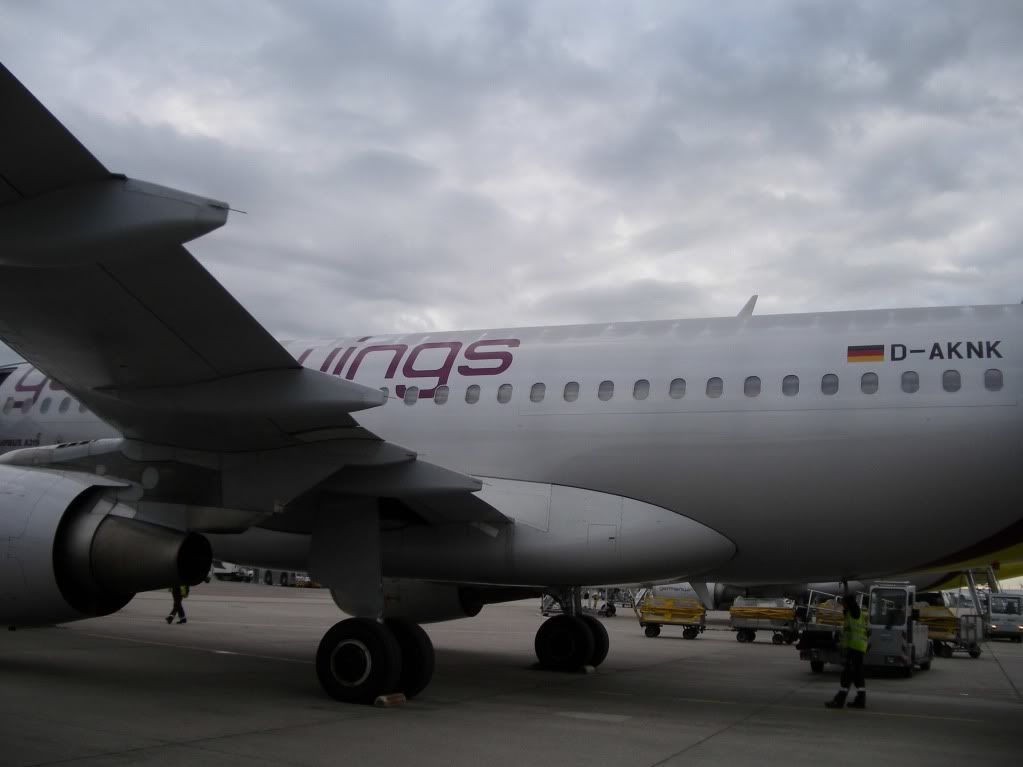 Why do they fix these place with a blue colour panel, looks something non professional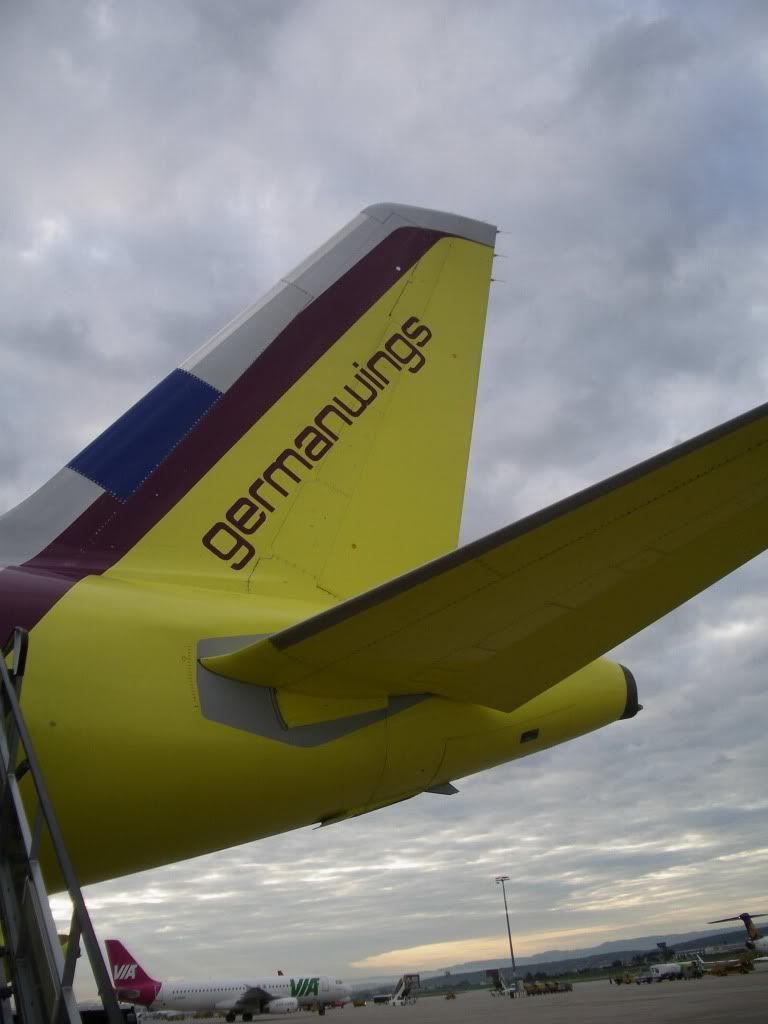 Three ladies with a not really high motivation level this morning in the cabin.
More about it later.
The cabin well used, bright grey leather seats and low legroom, but ok for me in the last row.
A very friendly welcome from the captain, he´s from Switzerland and I like his accent,
the female german FO is pilot flying today.
The FO is also on the speakers with short informations inflight.
The duration is 1 hour 35 minutes.
My seat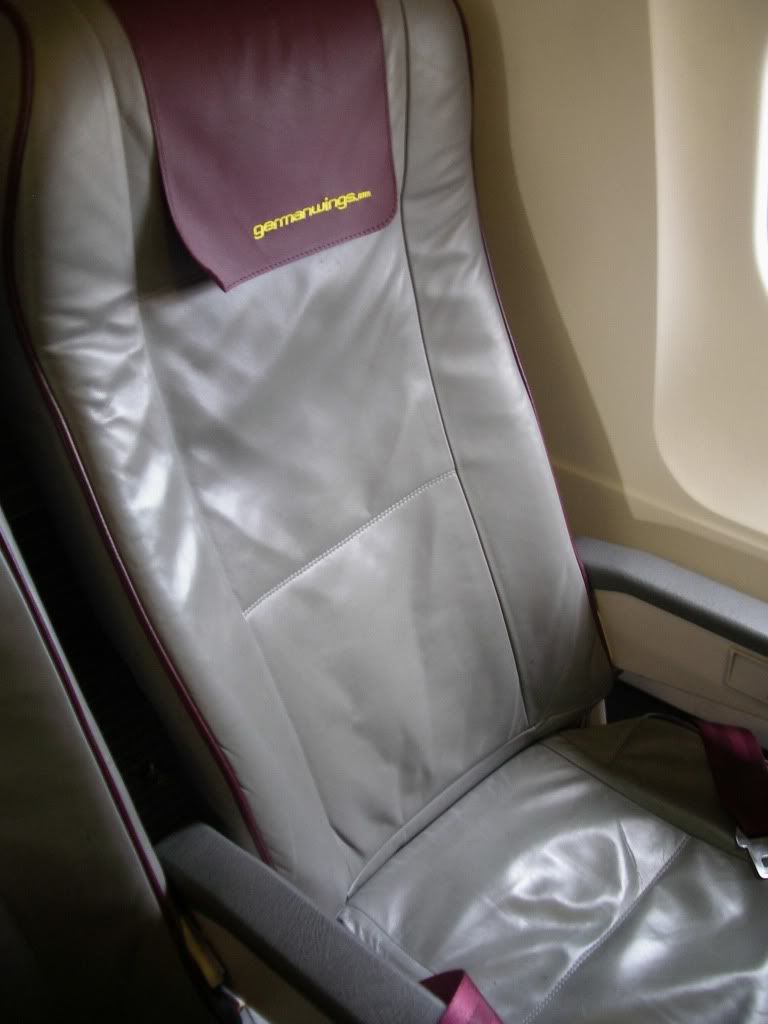 The cabin ceiling
The safety card
And the actual magazine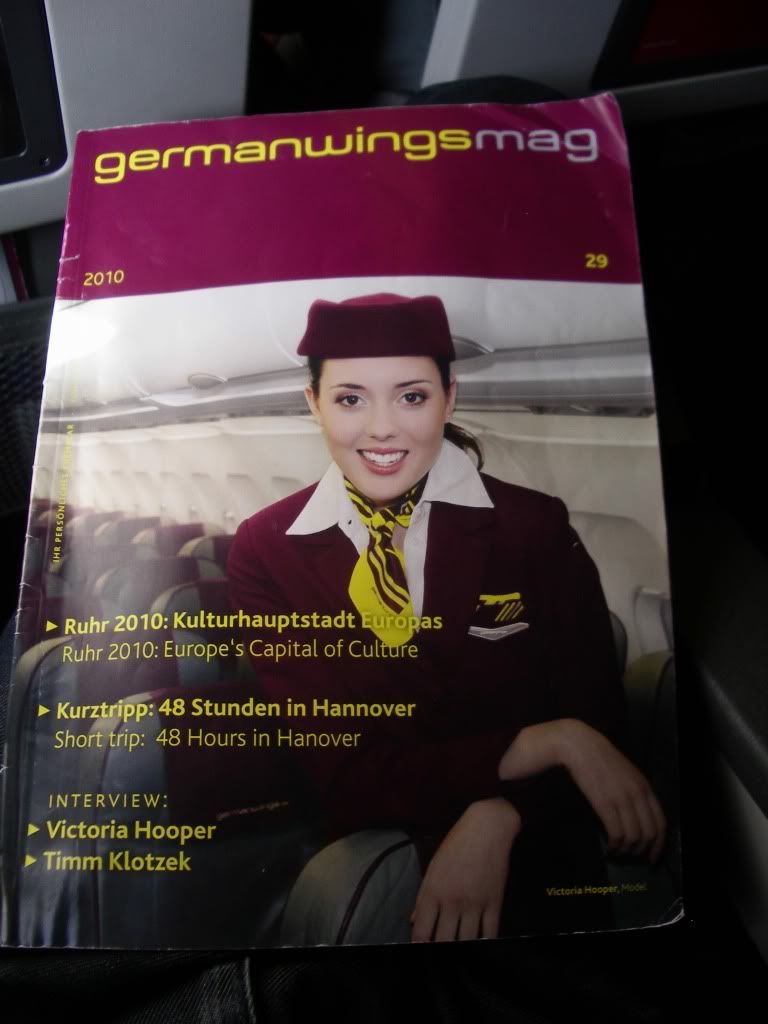 Departure is from runway 25, a rolling takeoff with no traffic on arrival or infront at 06.50 am ontime,
cloudy sky and 12 degrees.
A view from above to the Iljushin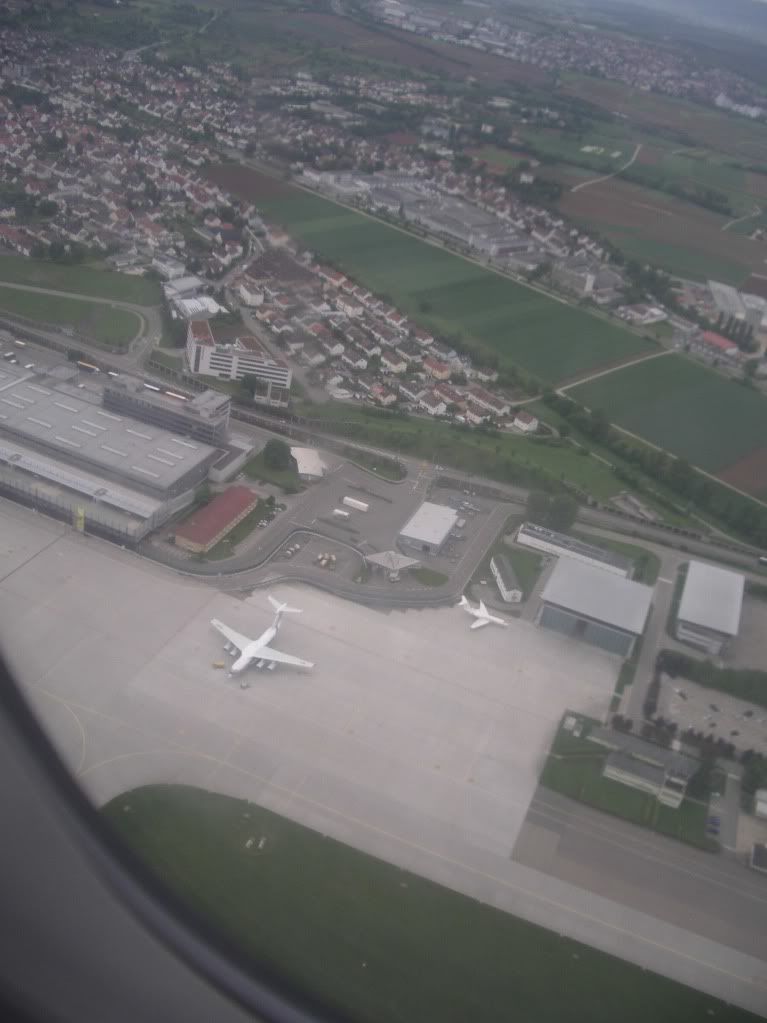 The route is along the alps to ZRH-GVA-LYS an MRS
Service is buy on board, nothing for free.
The cabin crew is somewhat desinterested here.
For example during approach is one overhead bin open, a pax forgot to close it,
one FA walking by and no, its not my job to close it, the overhead bin remains open during landing.
Not only Germanwings on approach to BCN today
A big MSC cruiser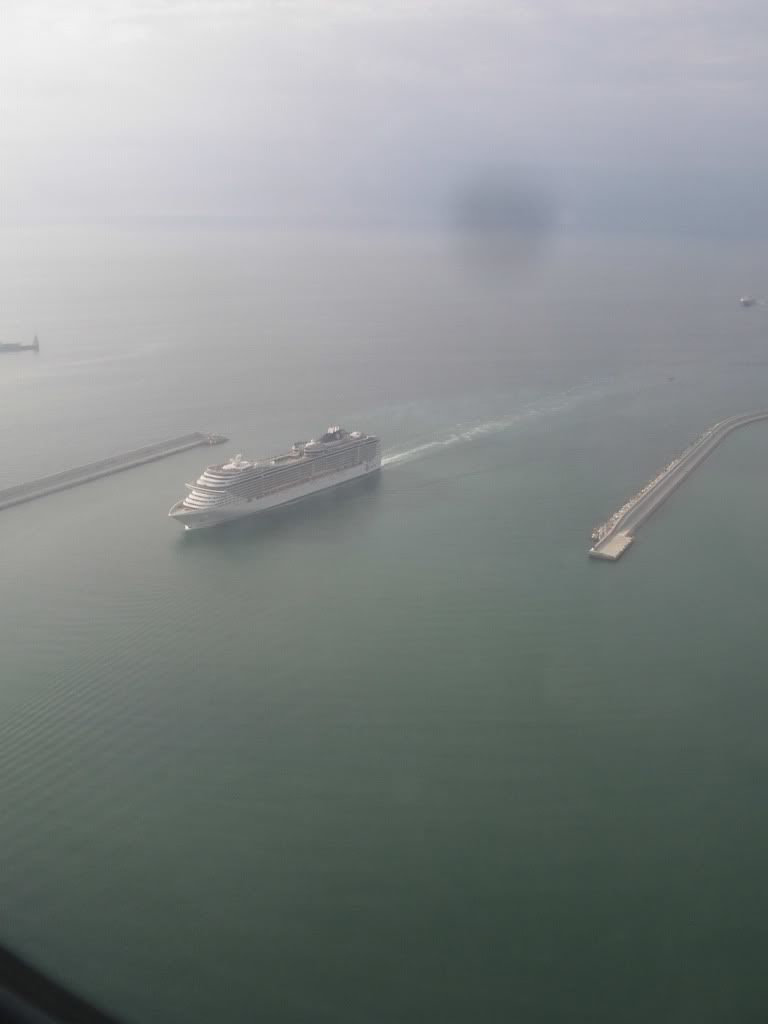 Touchdown on the 3352 meters runway 25R at 08.30 am, 20 minutes ahead to schedule, with cloudy sky and 18 degrees.
My plane at the gate at BCN Terminal 2
A huge number of shops not open, detours, construction places,
it seems they prepare for FR´s arrival here.
Quickly out in the public to catch the free transfer bus for Terminal 1.
Friday, 28.10.2010
.
.
.
.
Service JK 91 operated by Spanair
Scheduled: 11.30 // 12.30
Some ten minutes on the bus till arrival at the huge new terminal.
Lot´s of people around, large tour groups from the cruise ships,
especially thousand japanese's, so it seems.
But surprisingly no queue at security.
Booking for this flight is done via Govolo, offering the cheapest fare for some 50.-- Euro´s.
OLCI works pretty well with Spanair´s website, done within seconds, seat selection is possible.
Interesting planes here in BCN, the Delta double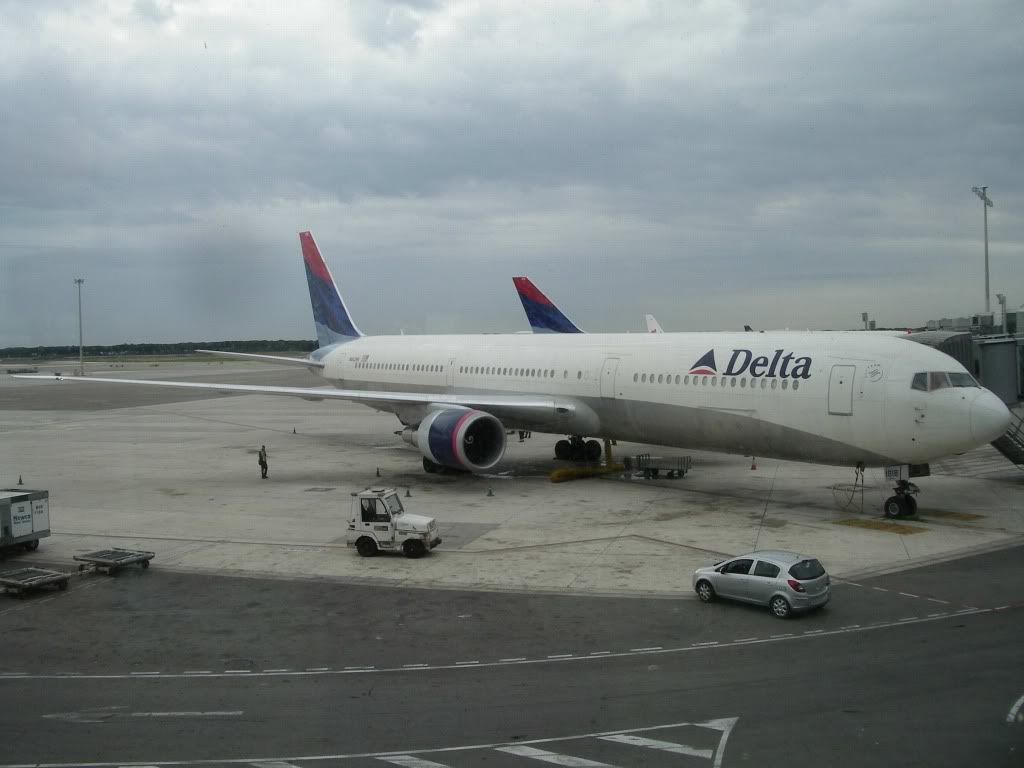 SIA 777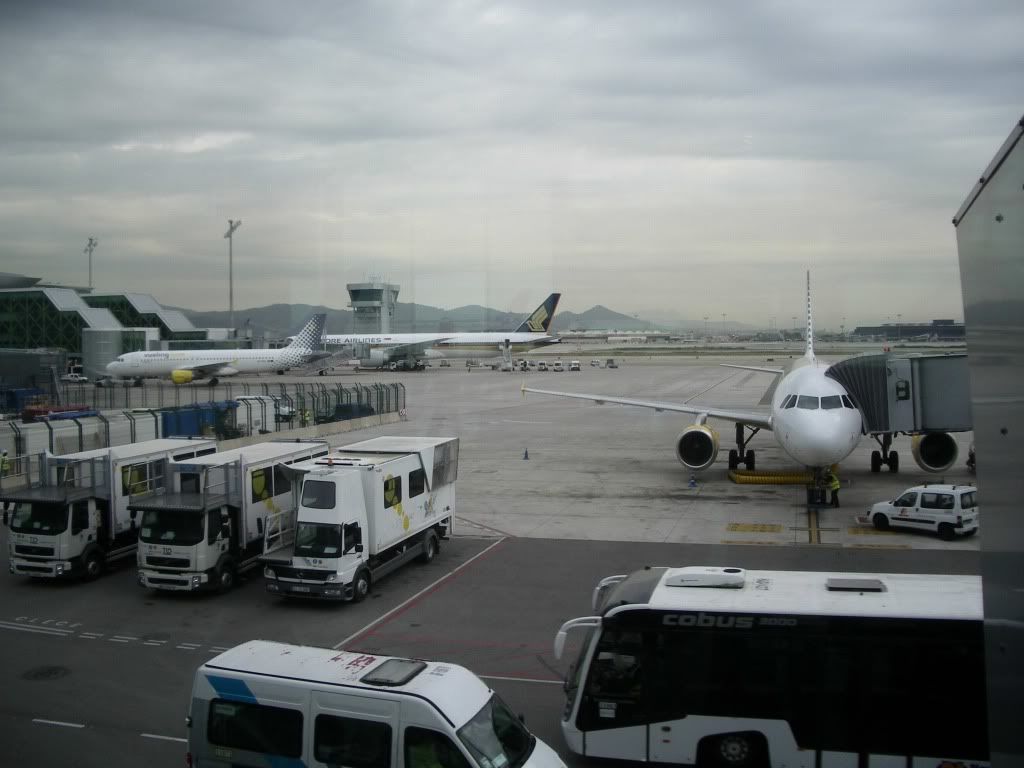 A Spanair MD
Delta and Wizz
Ghana International operation by Astraeus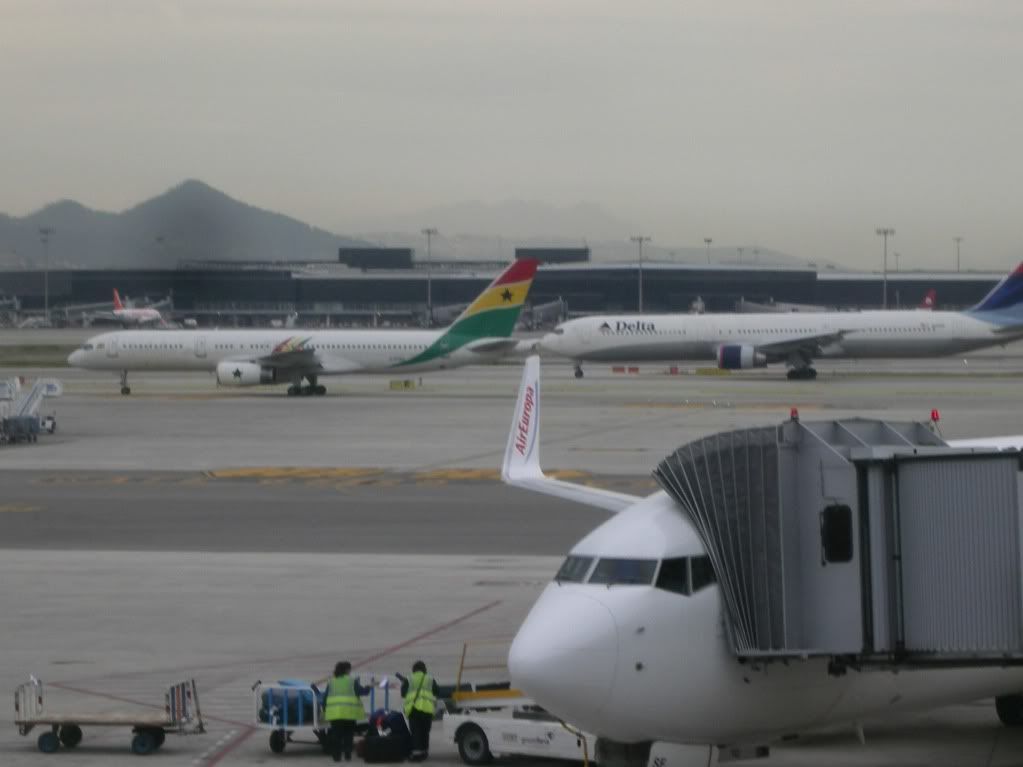 The bright and airy terminal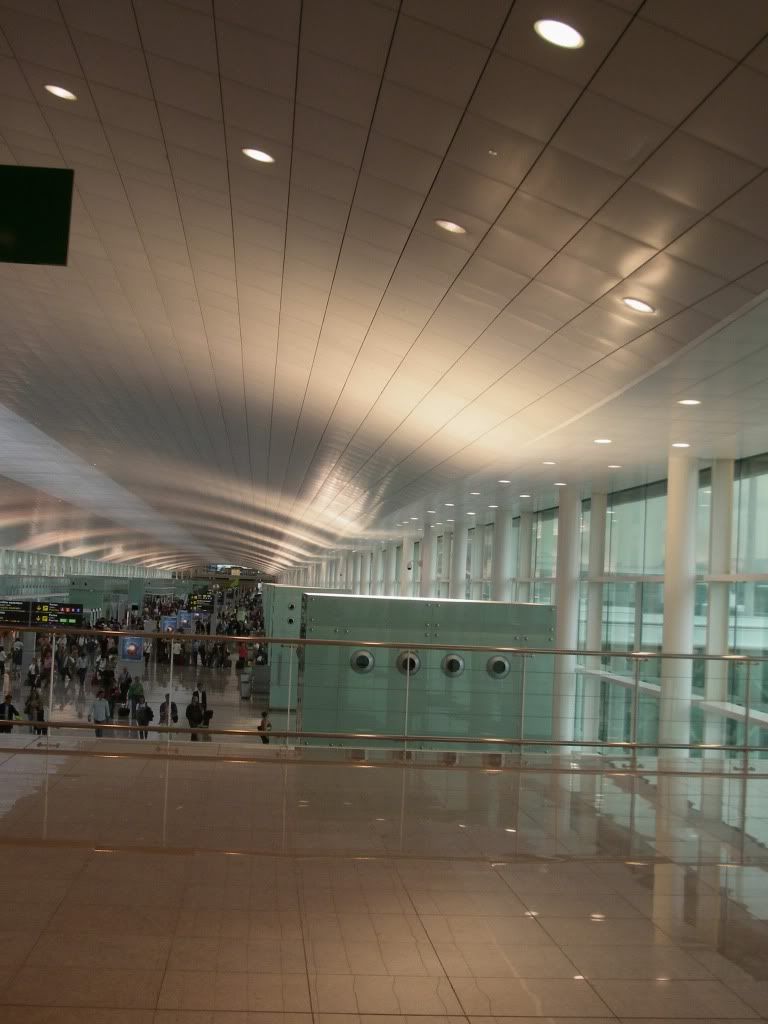 SIA to the active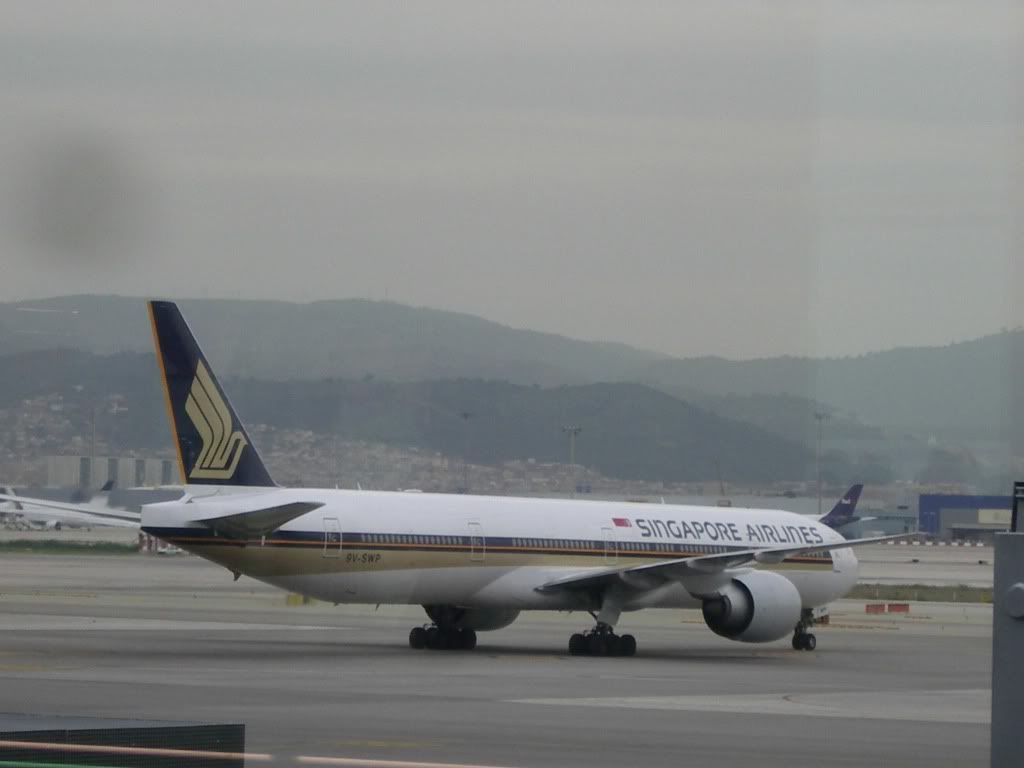 My flight seems ontime, Gate B44
SIA and Spanair
What a shorty machine with big engines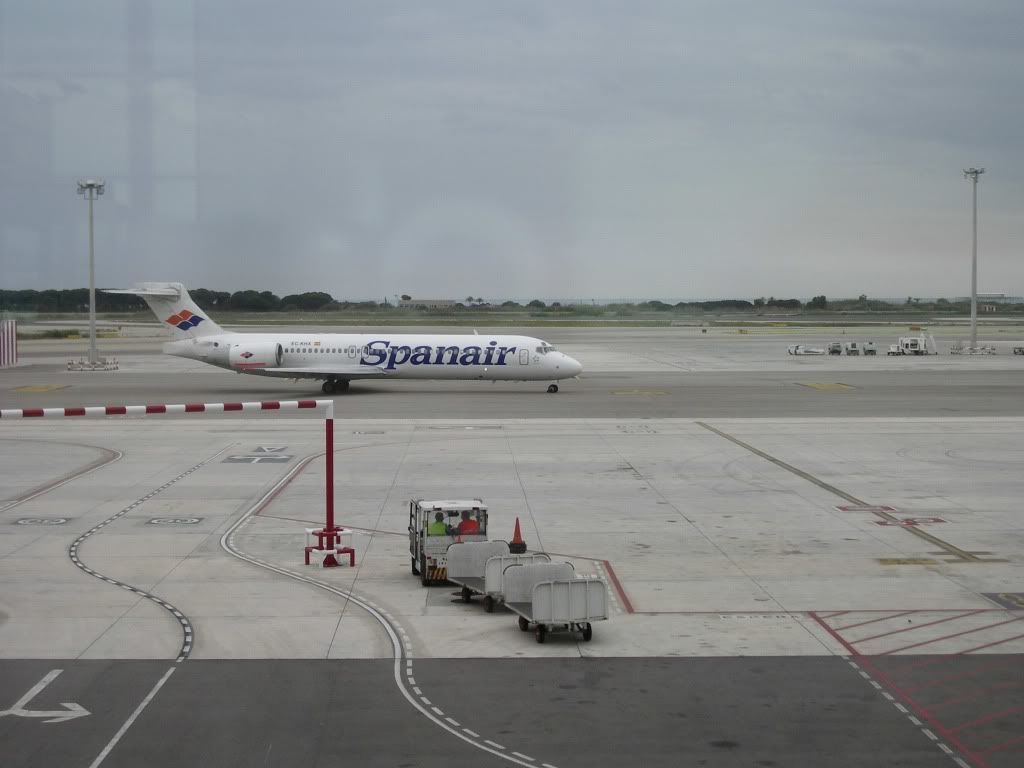 Turning in to my gate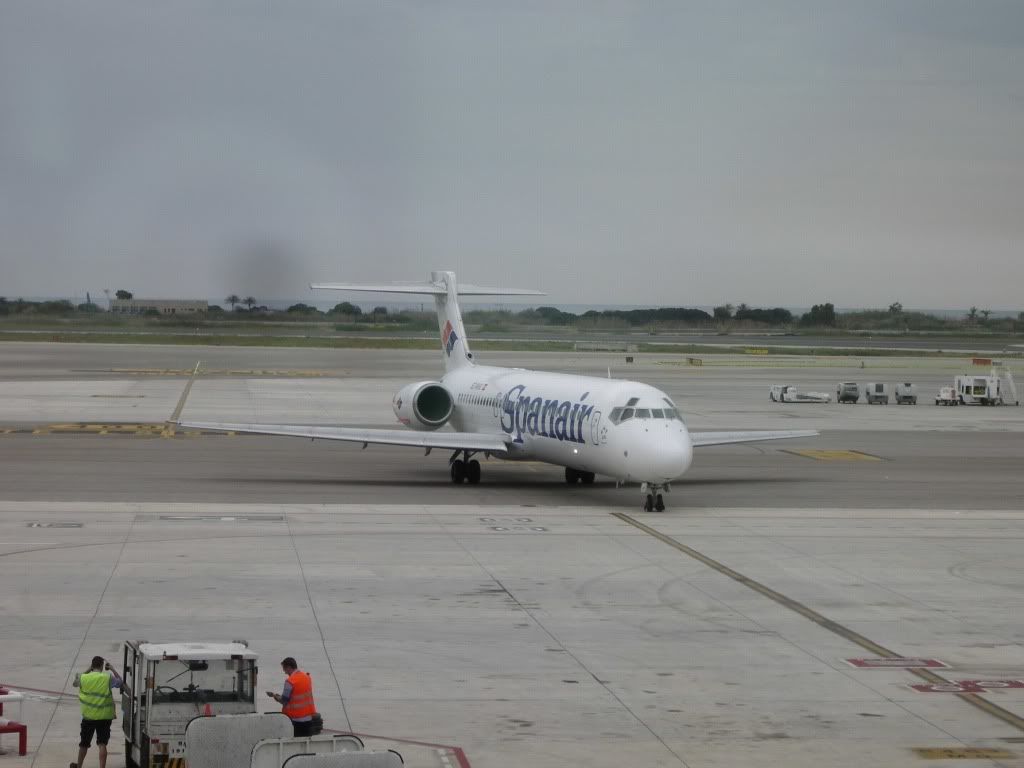 Closer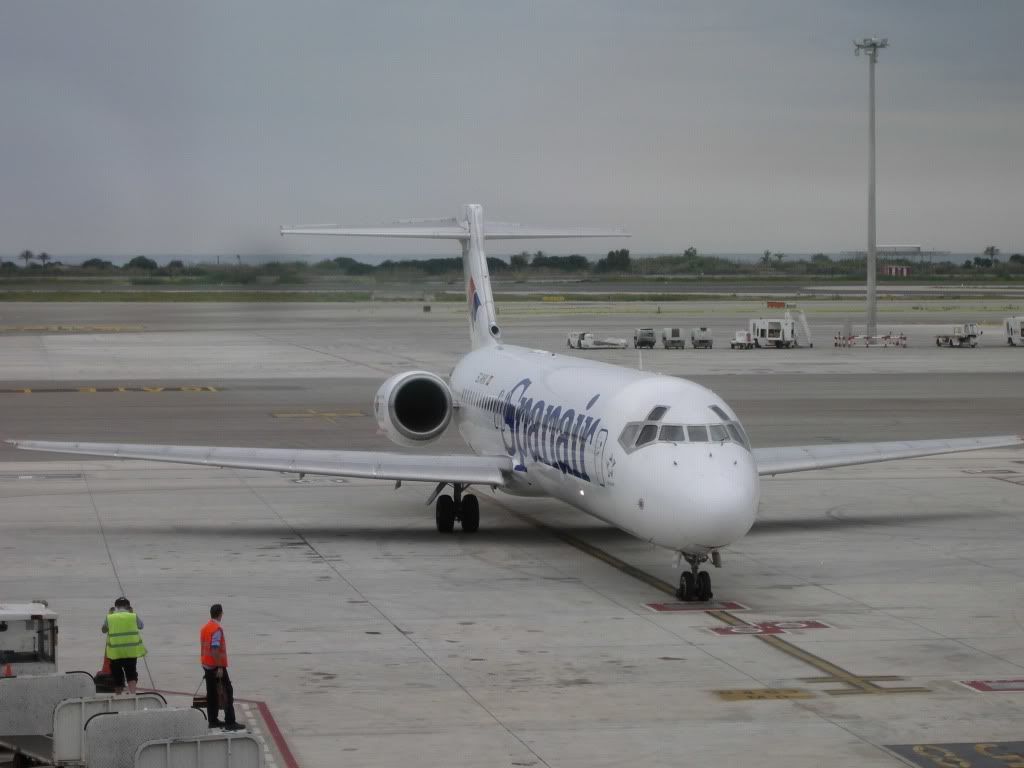 Ground handling preparations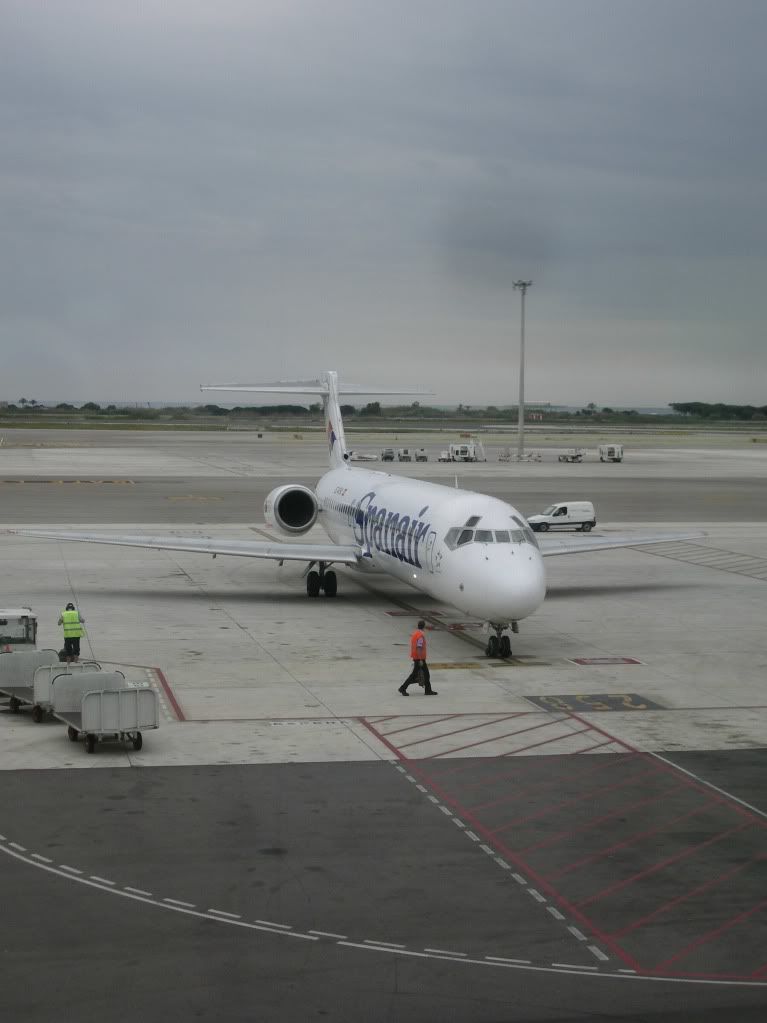 It is EC-KHX, a warm welcome to the Boeing 717, a new registration for me, only leg no. 3 on type.
In service with Olympic Aviation and Airways since 29.12.1999 and with Spanair since 11.07.2007.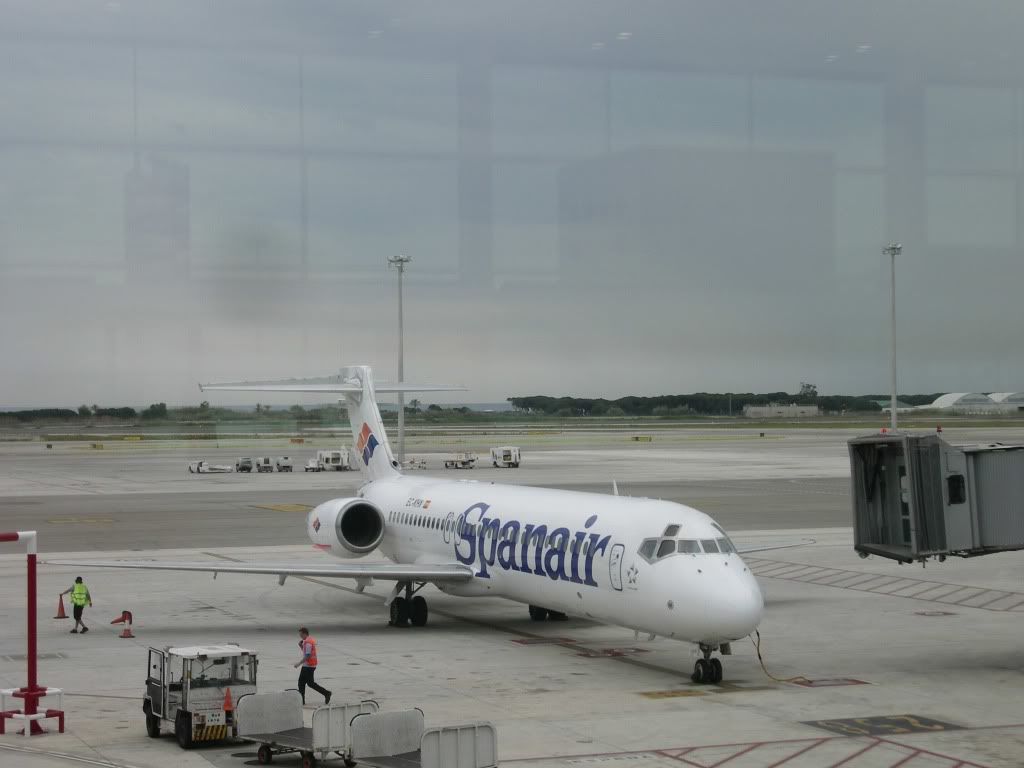 Spanair operates actually only 4 planes on type.
Boarding now
Ready to go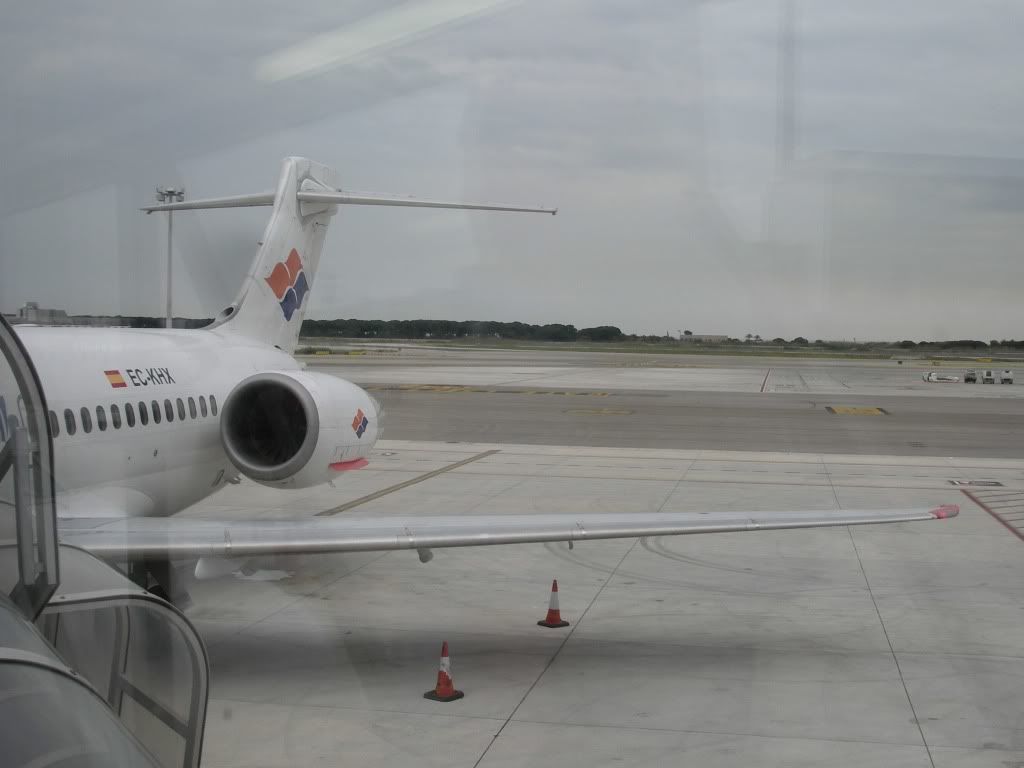 Oldfashioned dark blue fabric seats in the cabin, 21A for me, in total 24 rows and also here two for me. Low legroom, clean so far and pretty noisy. The load is some 50% only.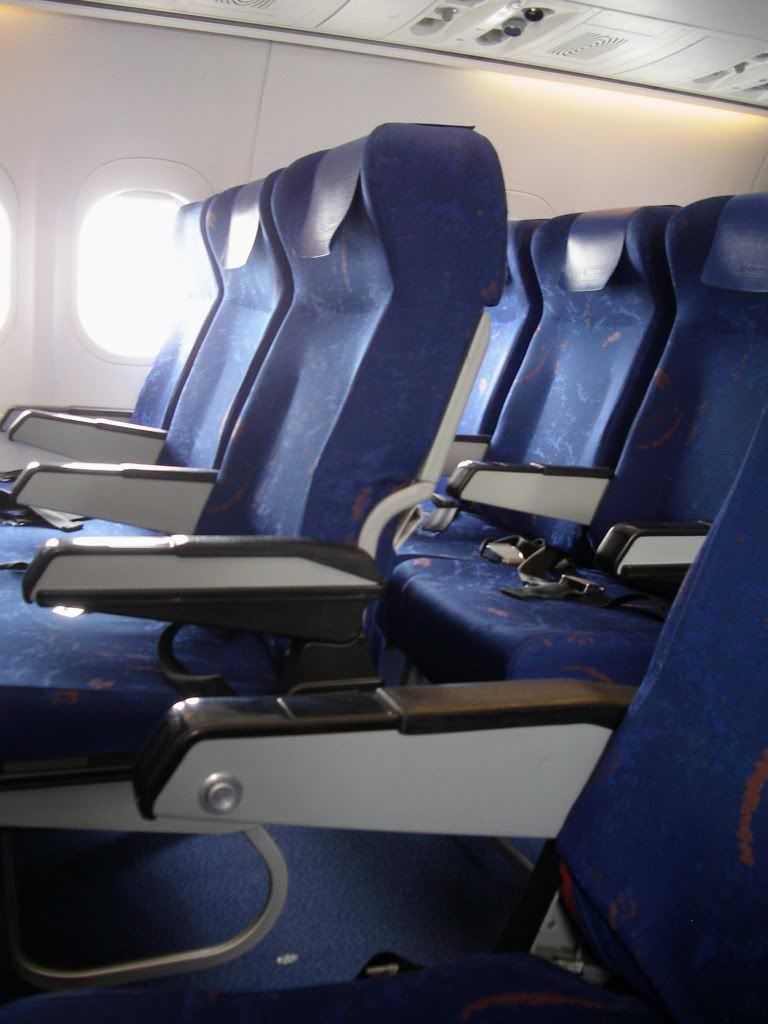 Three female FA´s here, all together nice and friendly.
Parallel lineup for departure
Turning on the active
With a nice MD behind us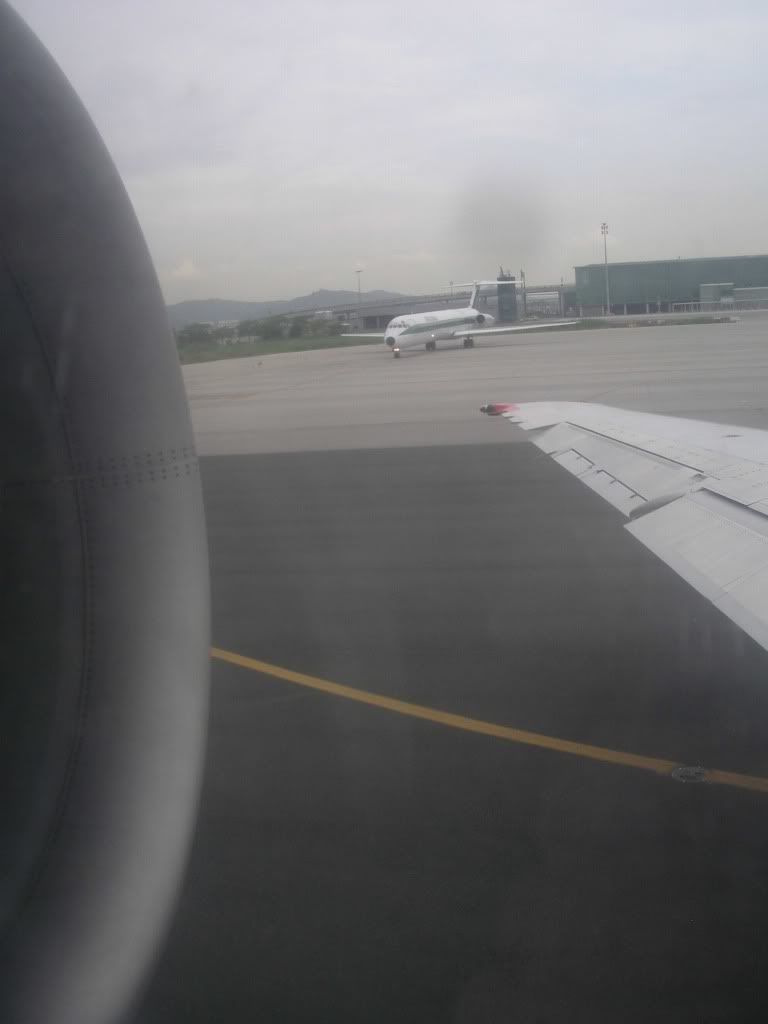 Takeoff from the 2660 meters runway 07R, it is 11.30 am, ontime, the temperature is 22 degrees and the sky is cloudy. 40 minutes only now to go for MRS.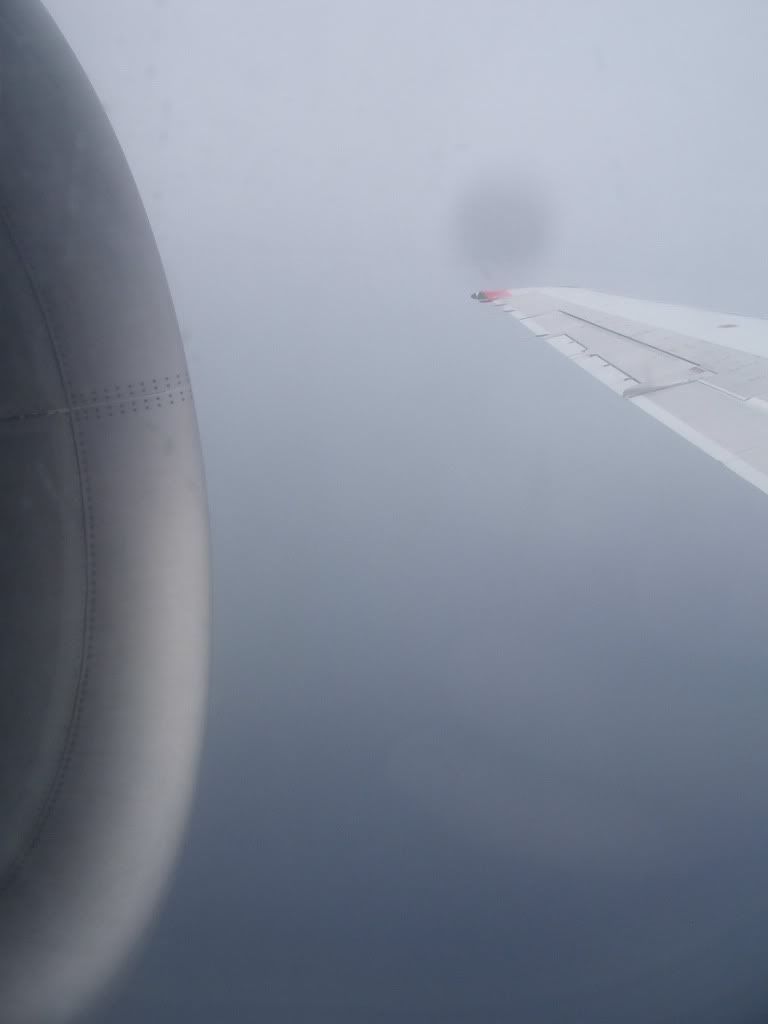 The safety card
And the actual magazine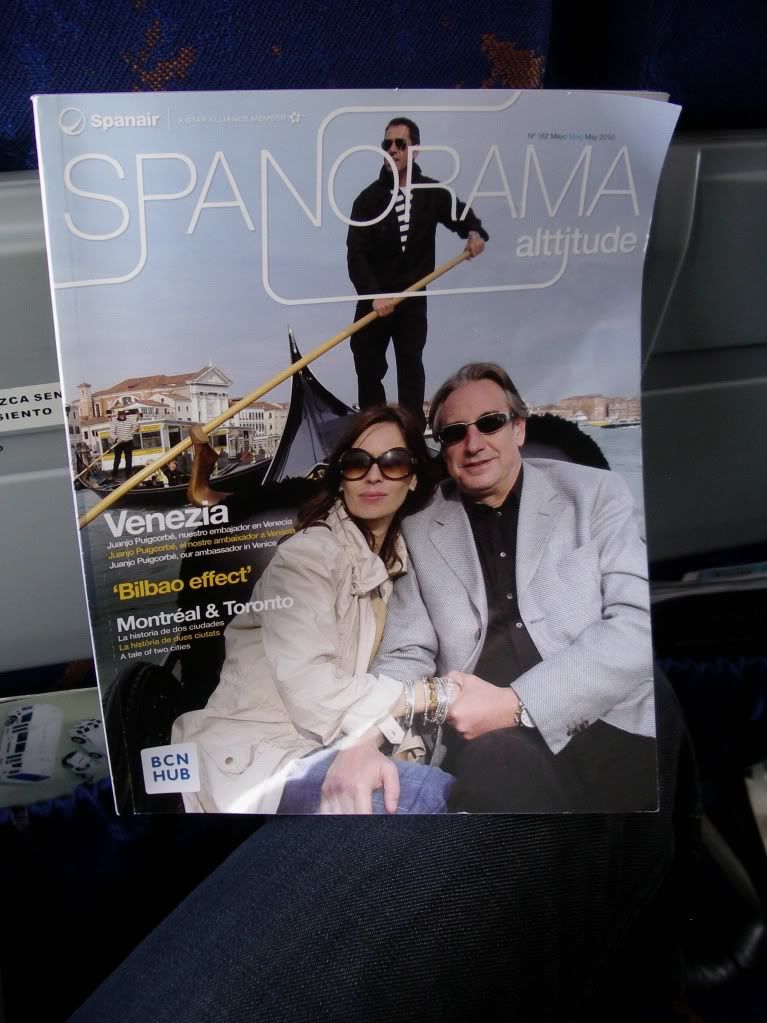 Engine view from my seat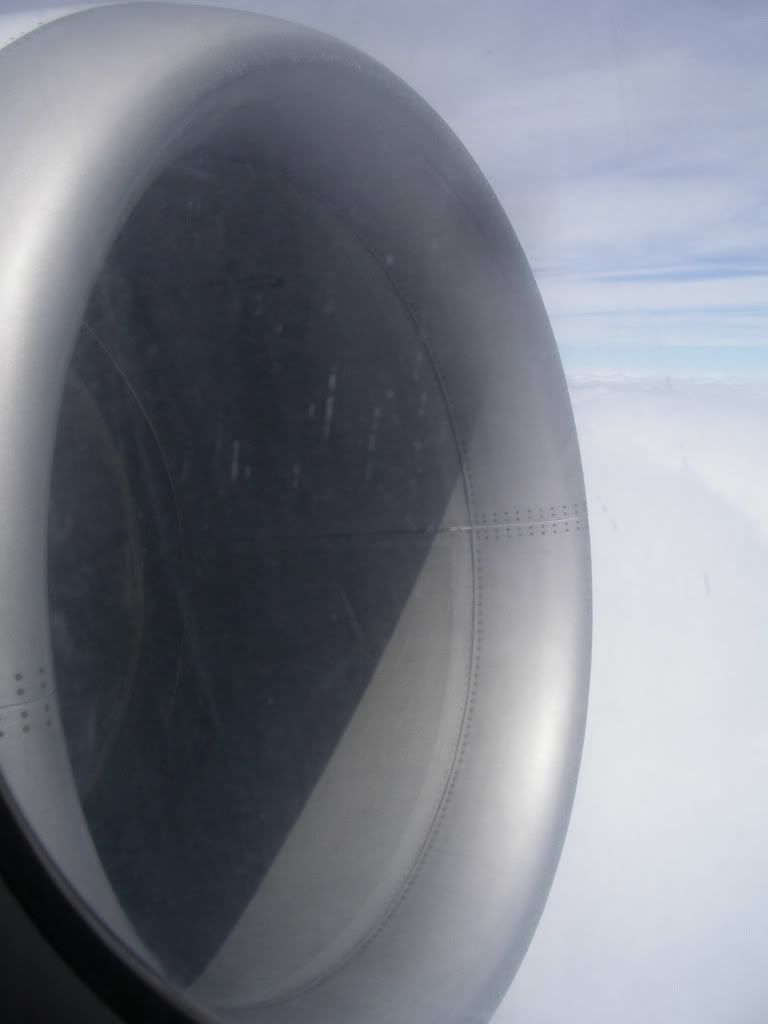 Take a closer look in the middle of these picture and you see the bright sun upfront,
the cockpit door is still open inflight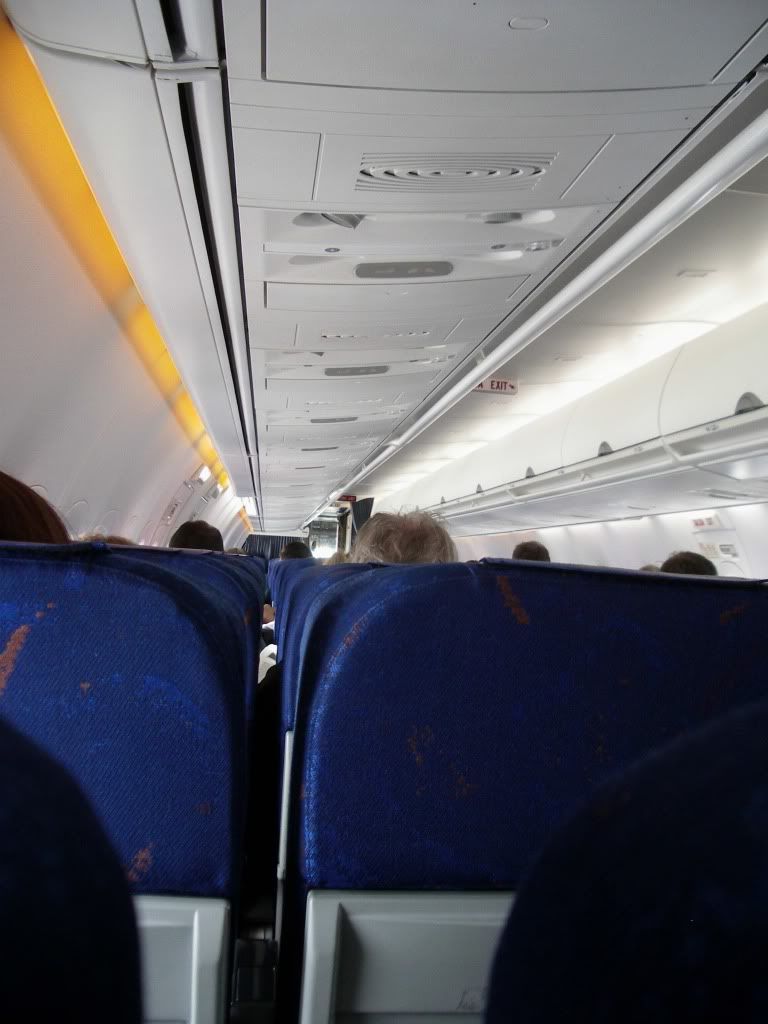 No comment from upfront, service is BOB, nothing for free.
The cabin with the now locked cockpit door
On finals to MRS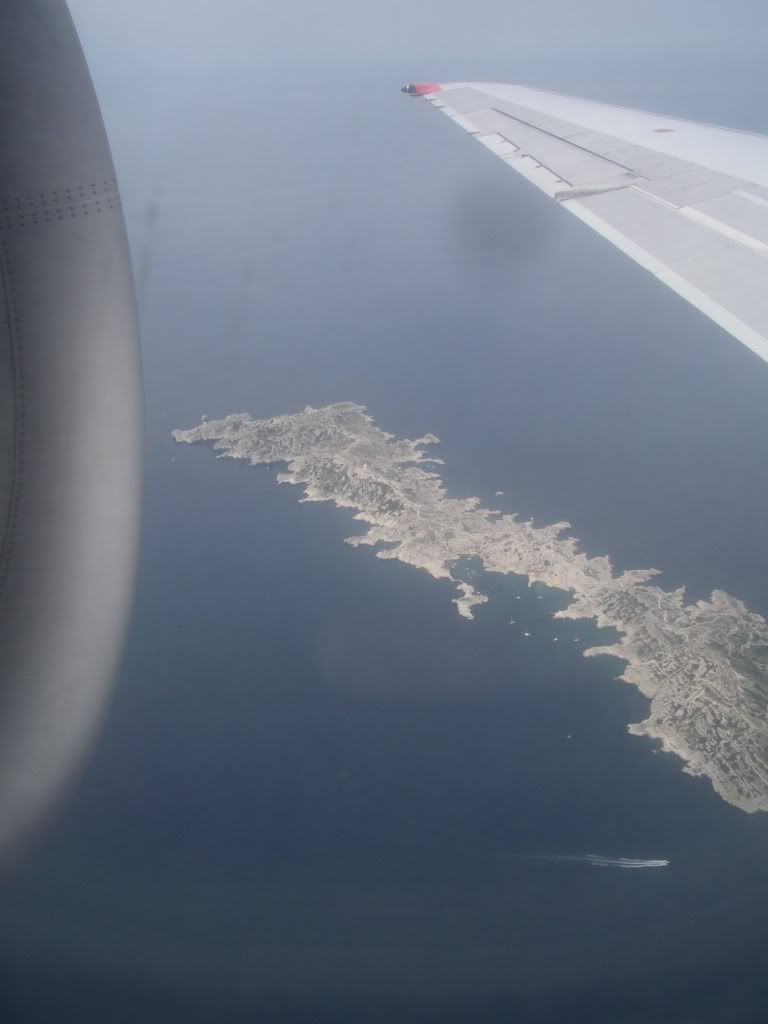 Touchdown on the 3500 meters runway 31R, it is 12.30 am, ontime again, cloudy sky here and the temperature is 19 degrees.
That KL plane looks also interesting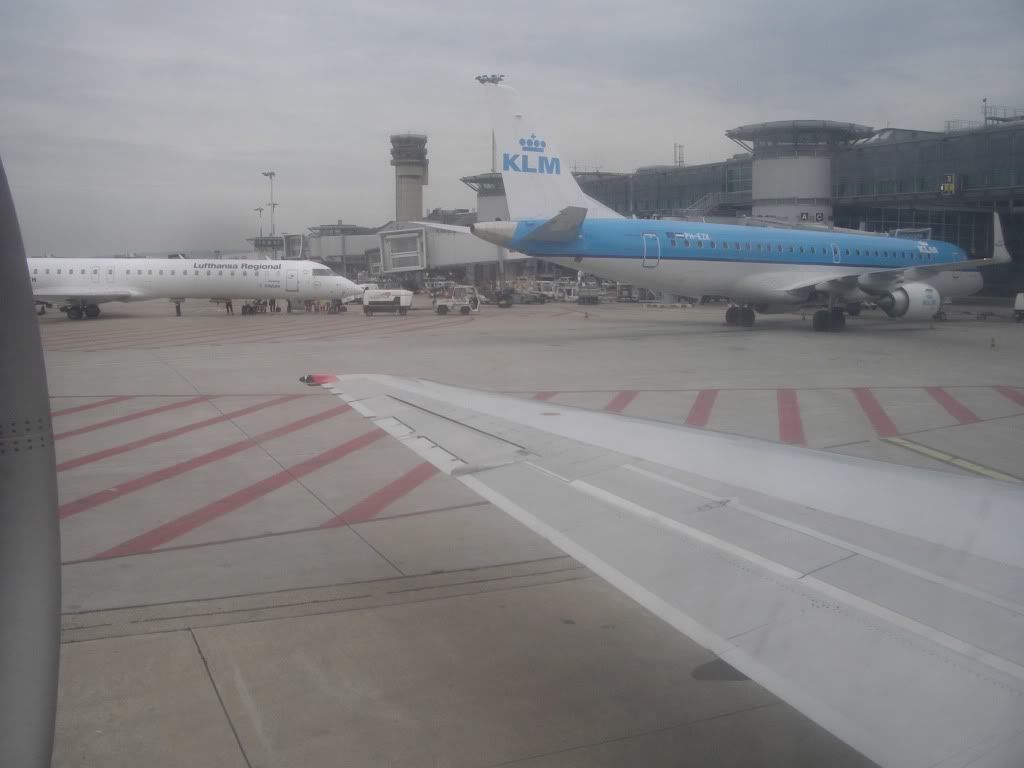 I should do AirCorsica sometimes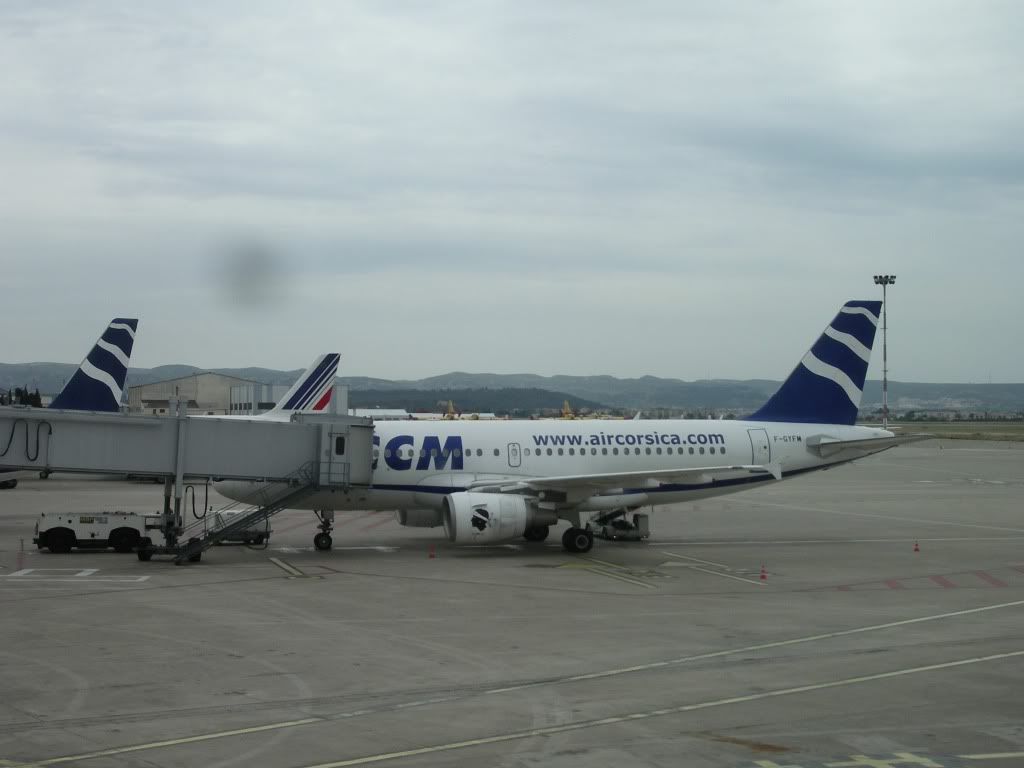 Very quick out in the public, a small door, looks more like a staff door, leads directly to the bus stops,
nobody cares.
The bus runs frequently and so it was not that long to wait till it shows up and I´am on the way to the main train station, some twenty minutes to go, the fare is 9.-- Euro´s.
Different weather conditions here, also some rain showers.
A first city view with Notre-Dame-de-la-Garde up on the hill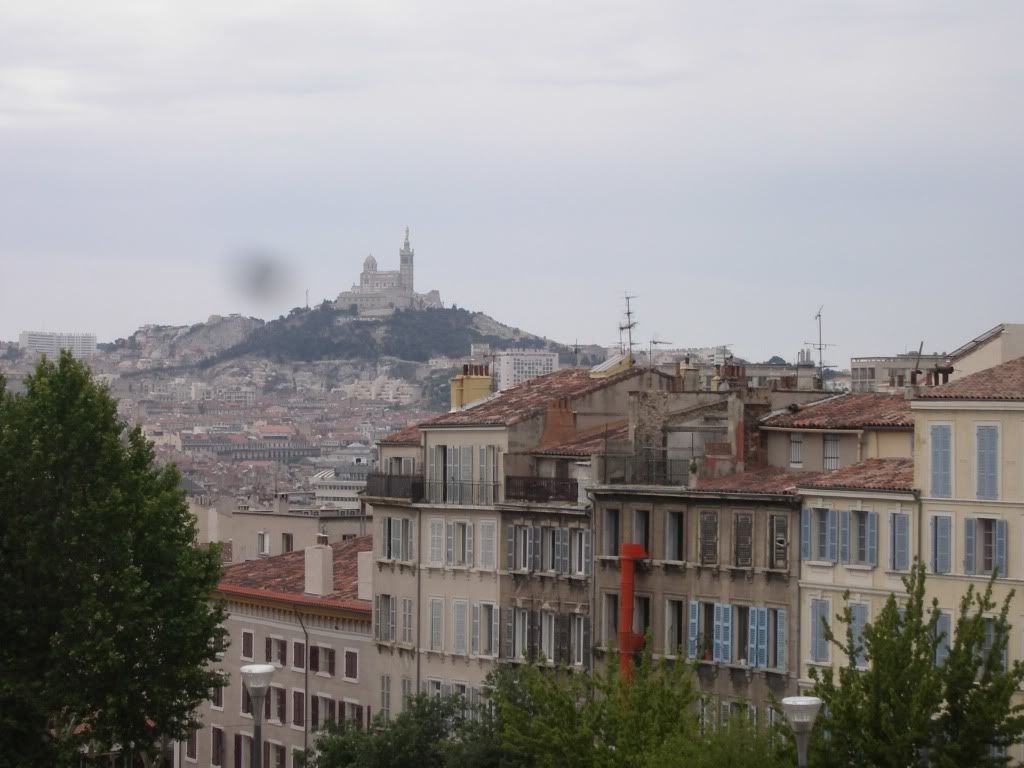 Historic Gare SNCF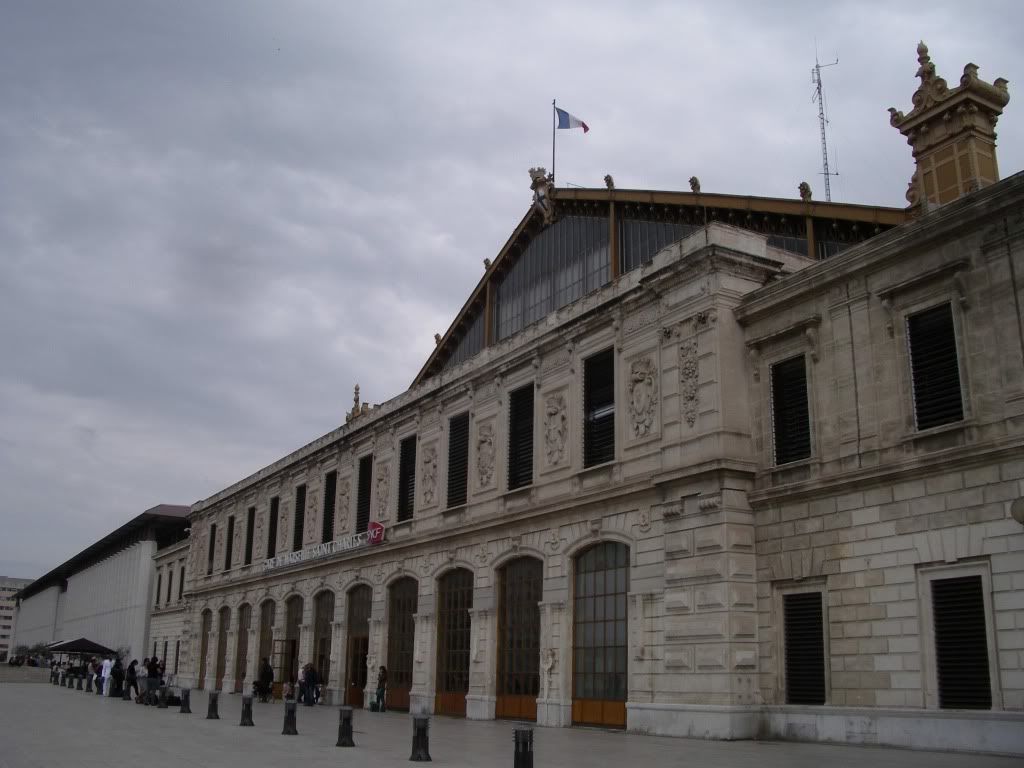 In the city
Close to the Vieux Port
And the Vieux Port
Lot´s of people all around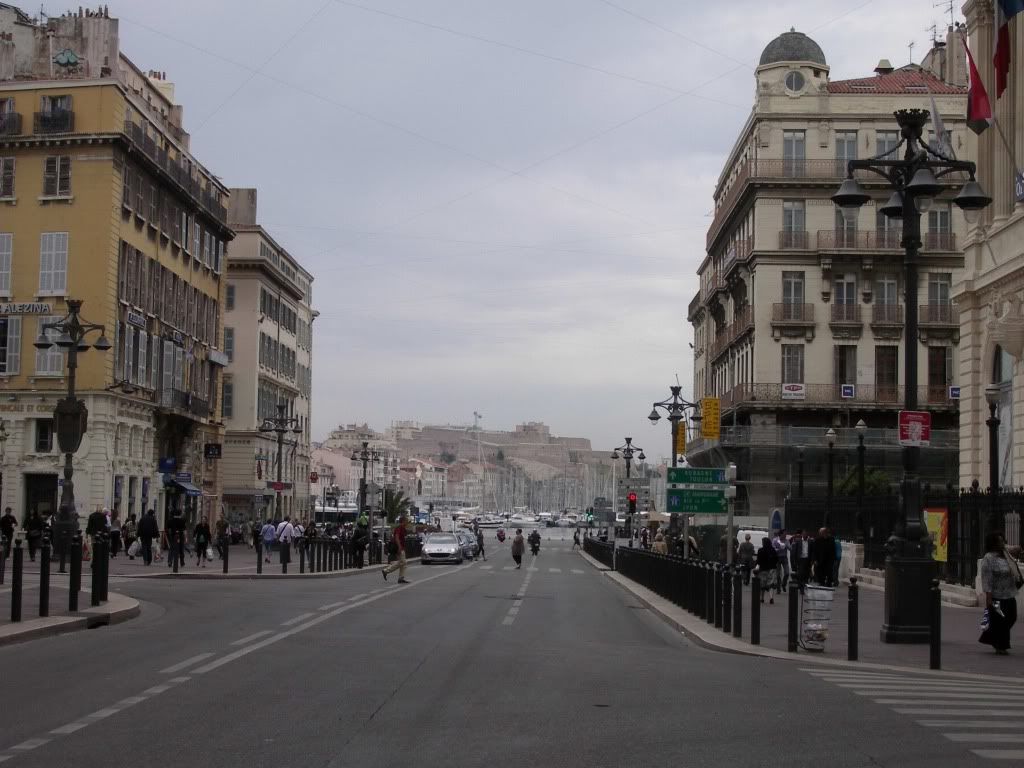 Boats in the harbour
Walking back up the hill to the train station
Back at the Gare
The next bus is around the corner, nearly no time to wait and on the way back to the airport.
The weather improves, some sun also.
Marseille is not my fav place, it feels more like a smaller local town, but definitely it´s a really large city with lot´s of immigrant´s from the North African countries.
Friday, 28.05.2010
.
.
.
.
Service KLM KL 1408 operated by KLM Cityhopper
Scheduled: 17.35 // 19.40
No time to wait at security, OLCI is done from home the night before.
Seat selection is possible. The gate is not far from security and it´s also time enough to walk
to the other end of the terminal with the french domestic flights.
The fare is some 40.-- Euro´s booked by Opodo together with the inbound STR-LYS-MRS earlier in May.
Windjet heading for Italy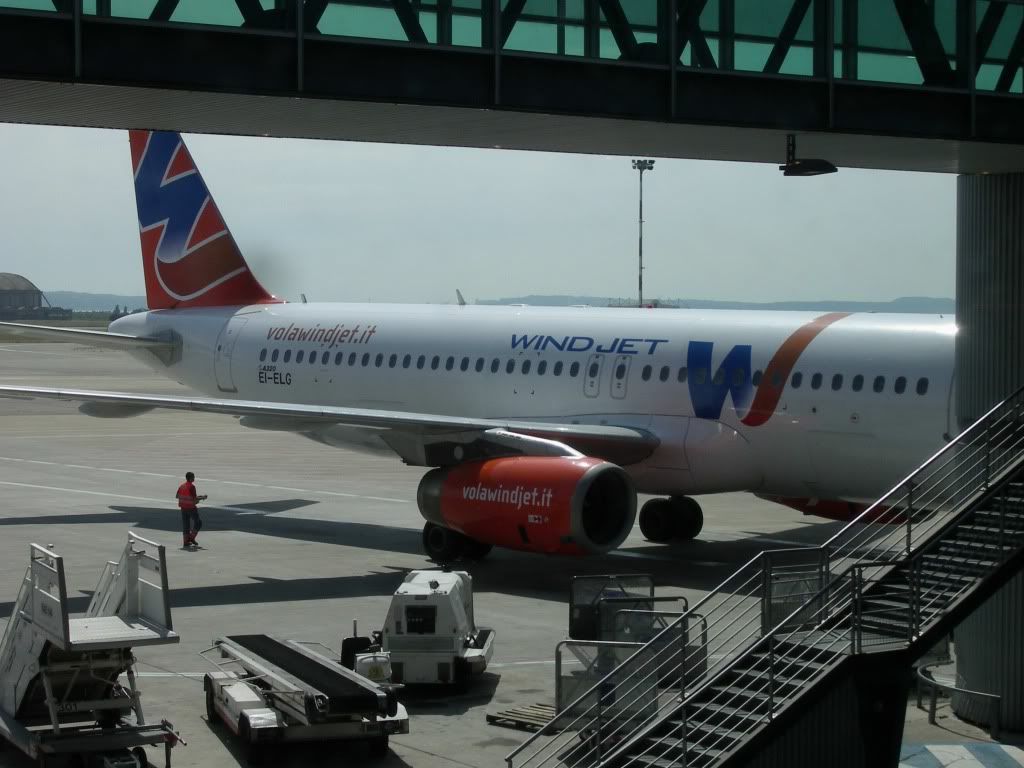 Twinjet´s Beech 1900 on the apron
Amsterdam seems ontime from gate 24
CCM with the ATR also, done these company years ago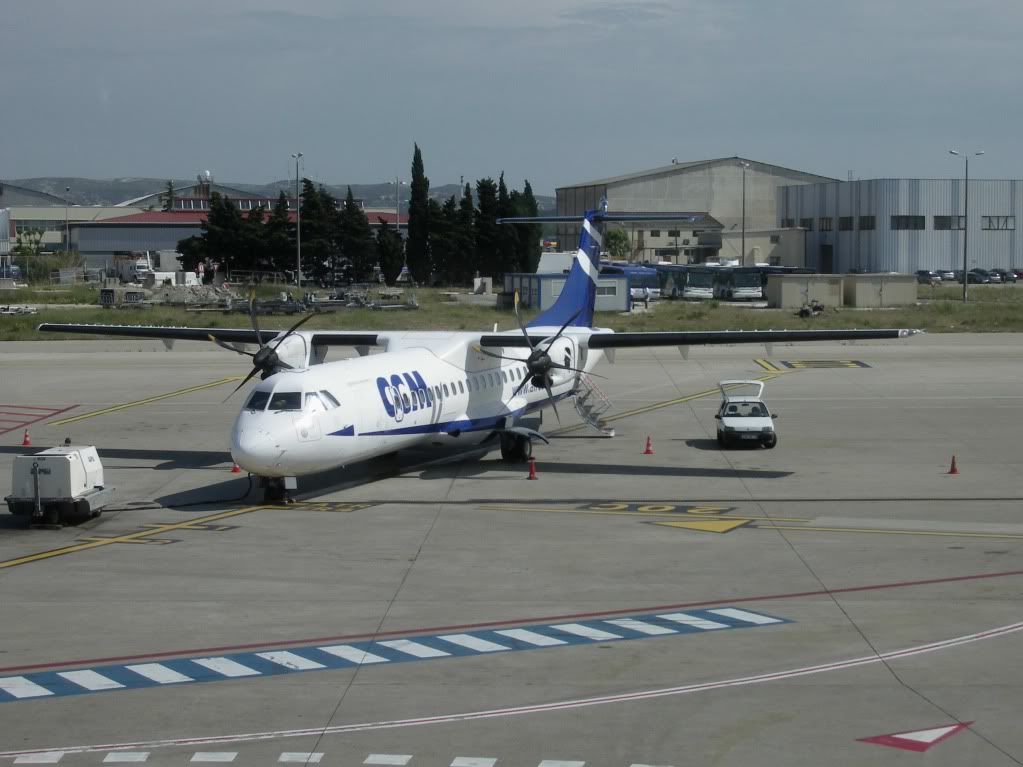 And here it is, the E190 on arrival from AMS
Turning to the gate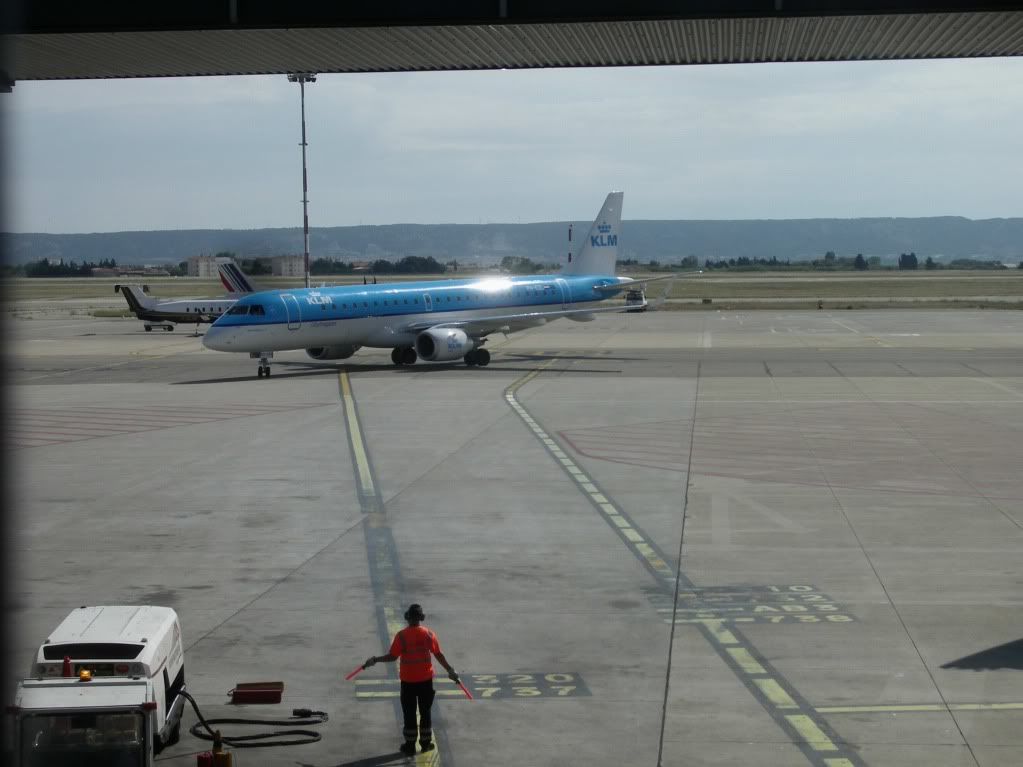 Not really on the centerline
But it seems ok
It is PH-EZL an Embraer 190 as scheduled, a pretty new machine, in service with KLCityhopper since 22.01.2010 only.
15 E90´s in the fleet with Cityhopper, leg no. 2 for me on type and a new registration.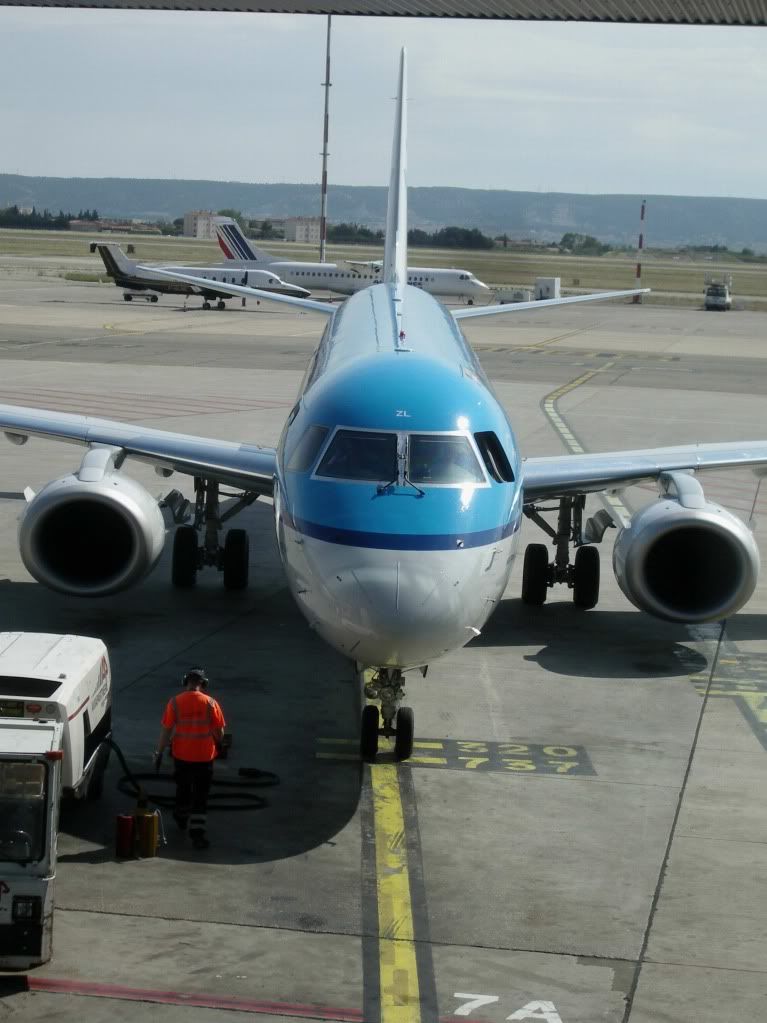 Boarding now
Two very friendly dutch girls doing the cabin service, really well done here with Cityhopper.
Dark grey leather seats, clean, comfortable, good legroom.
The only negative point is the cabin temperature, to cold for my personal well feeling.
My seat 26F, last row window and again two for me with a load close to 100%.
Also the cockpit crew from the Netherlands, superb nice here with KL Cityhopper, boarding is completed and the captain is out of his office, face to face with is passengers,
performing a very friendly and detailed welcome.
The FO looks pretty young, I see him while waiting for boarding from the gate,
he is also on the speakers nice and friendly during the approach later.
And finally leaving Marseille Provence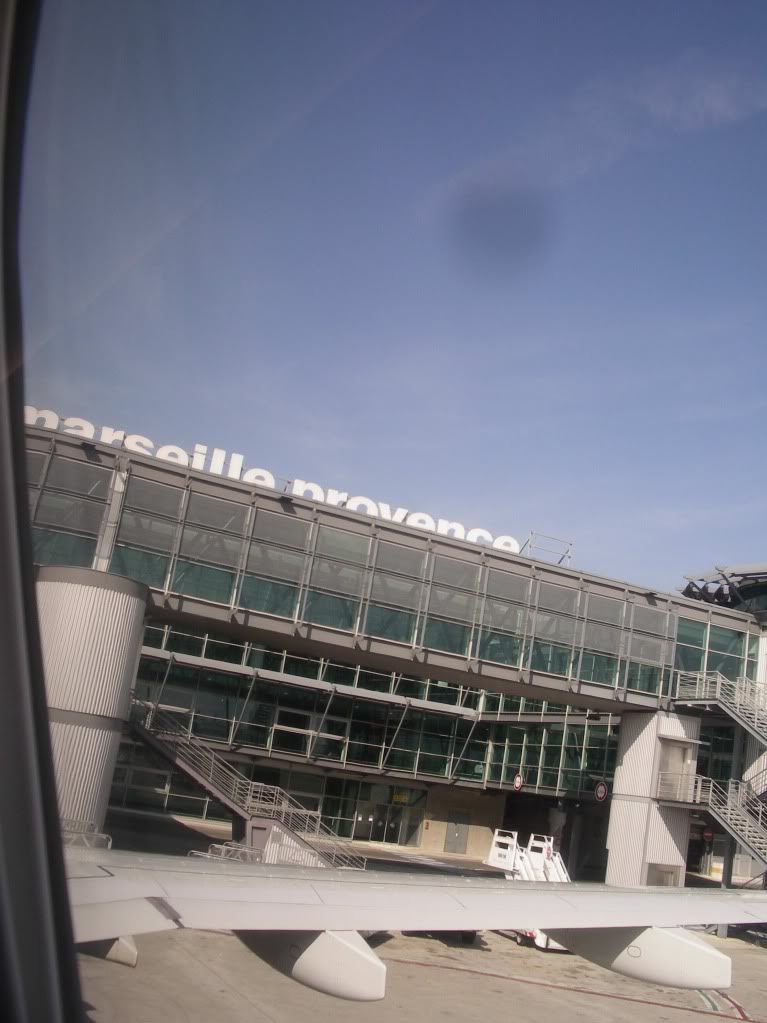 Takeoff from runway 31R like on arrivals, it´s 5.35 pm, ontime, sunny sky and 23 degrees.
The duration is 1 hour 35 minutes.
This is the safety card
And the magazine with a nice and fitting title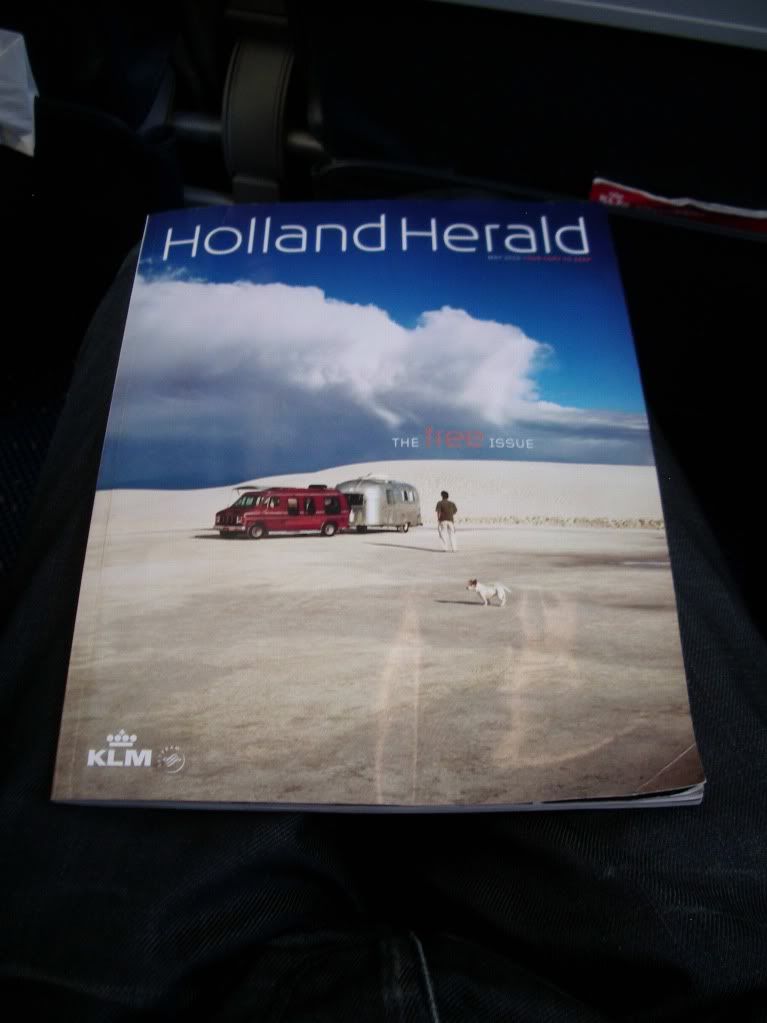 Free service is really good here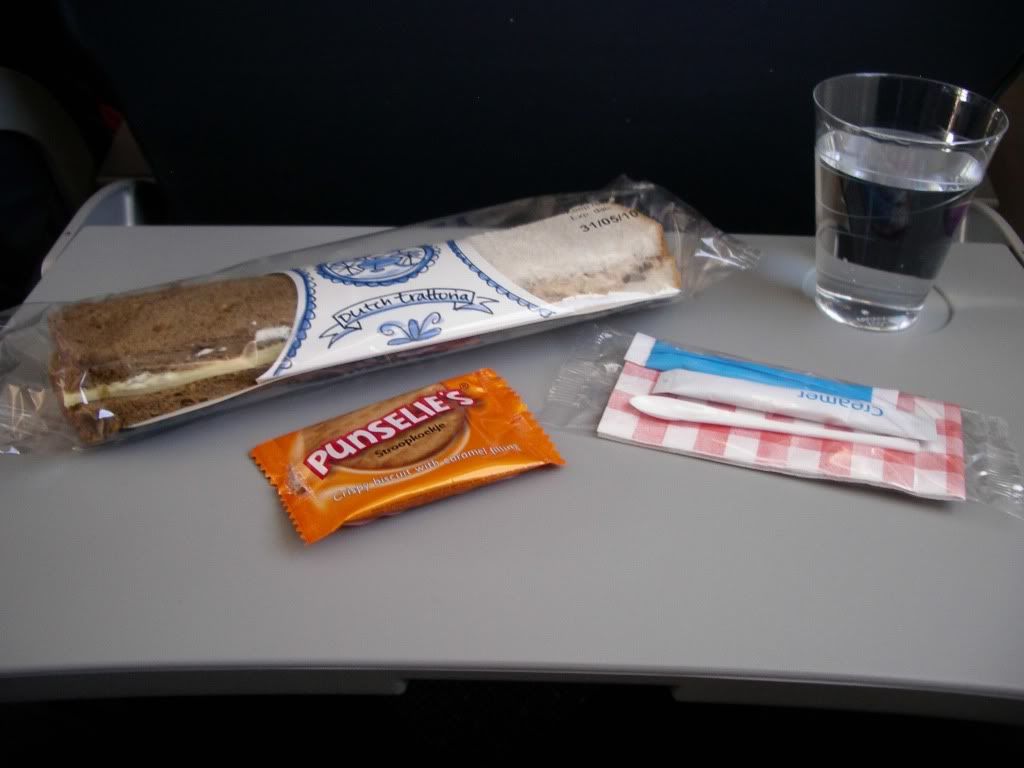 The modern cabin ceiling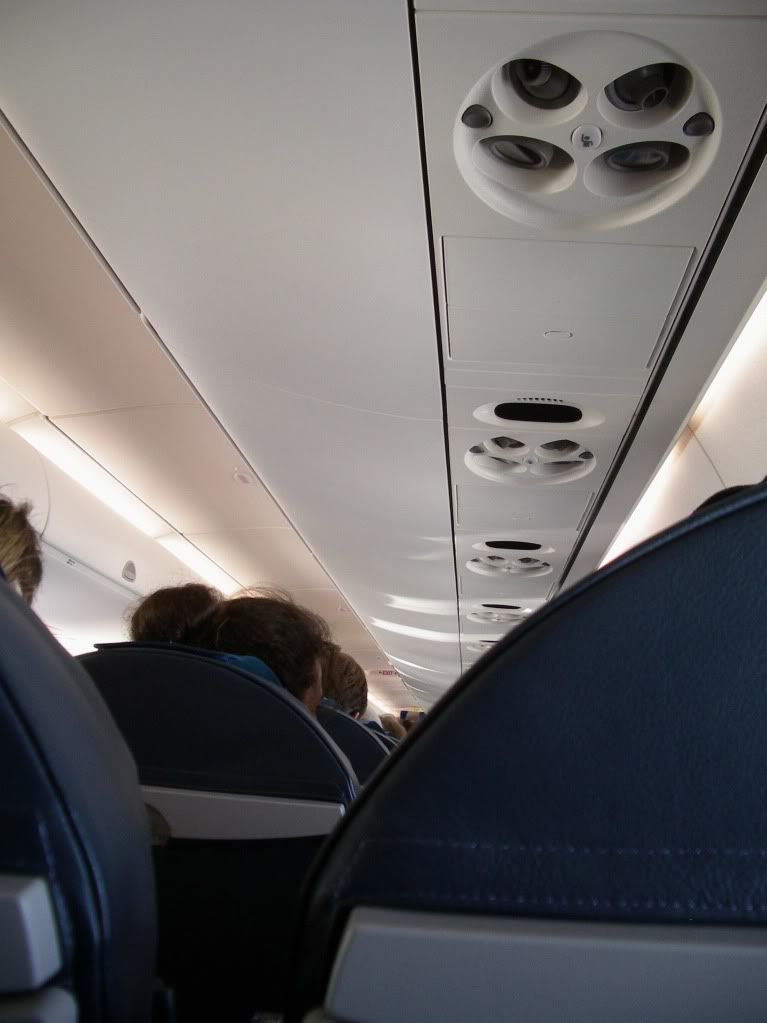 Nice weather above the Netherlands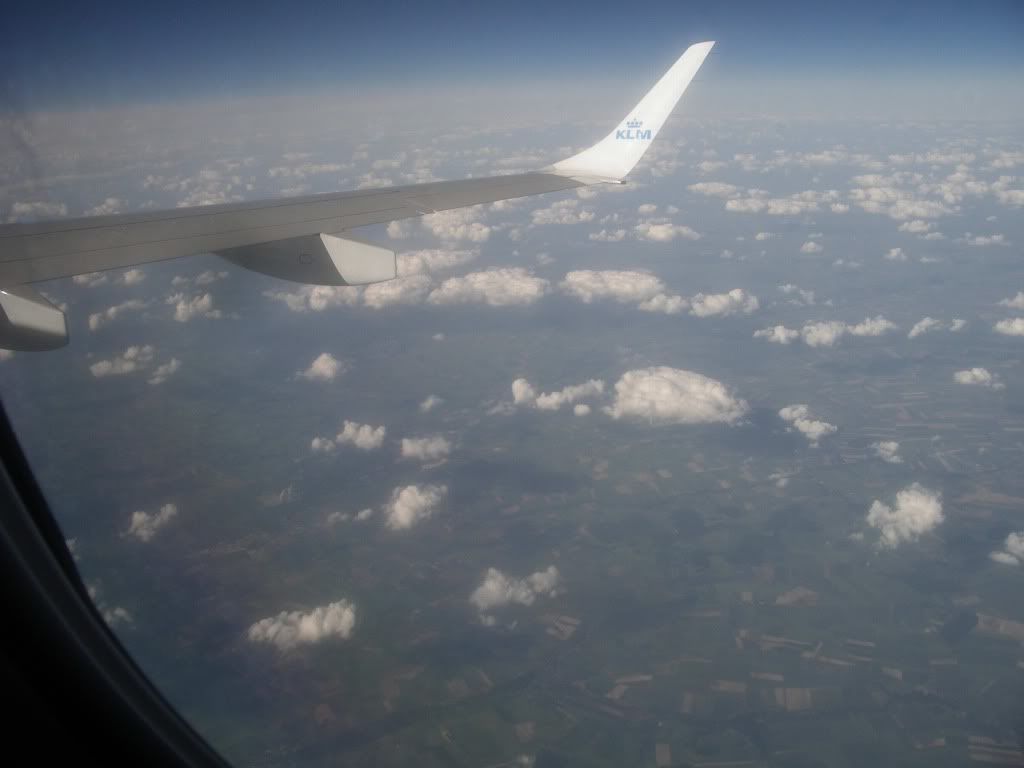 Close to AMS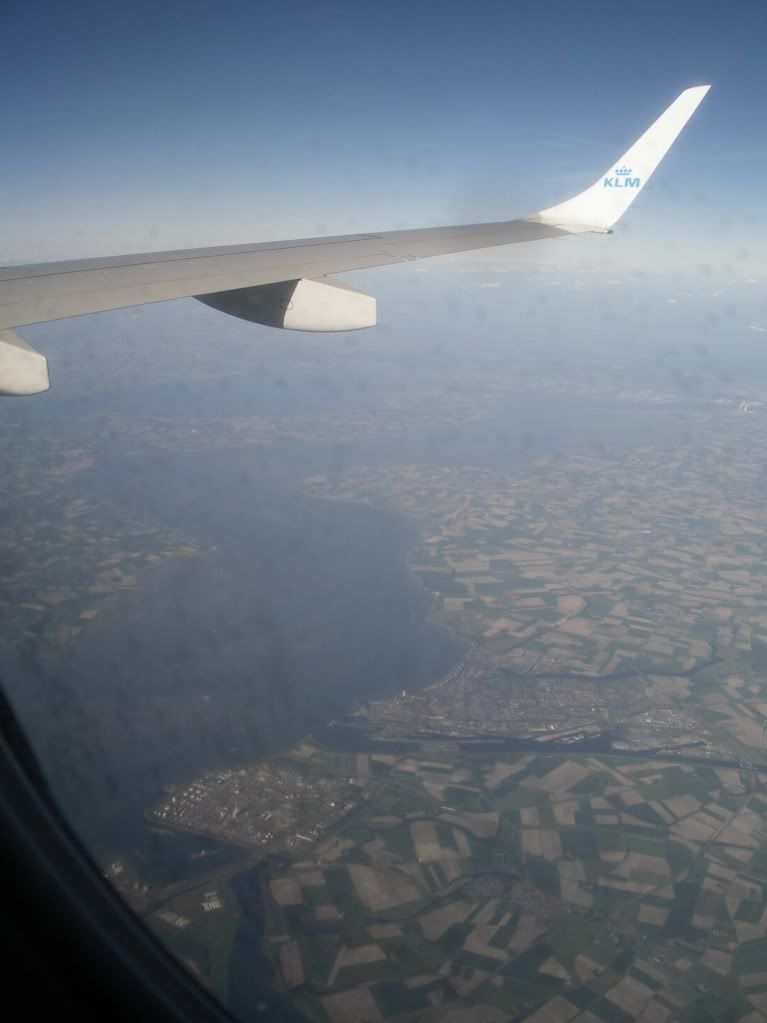 It looks like Rotterdam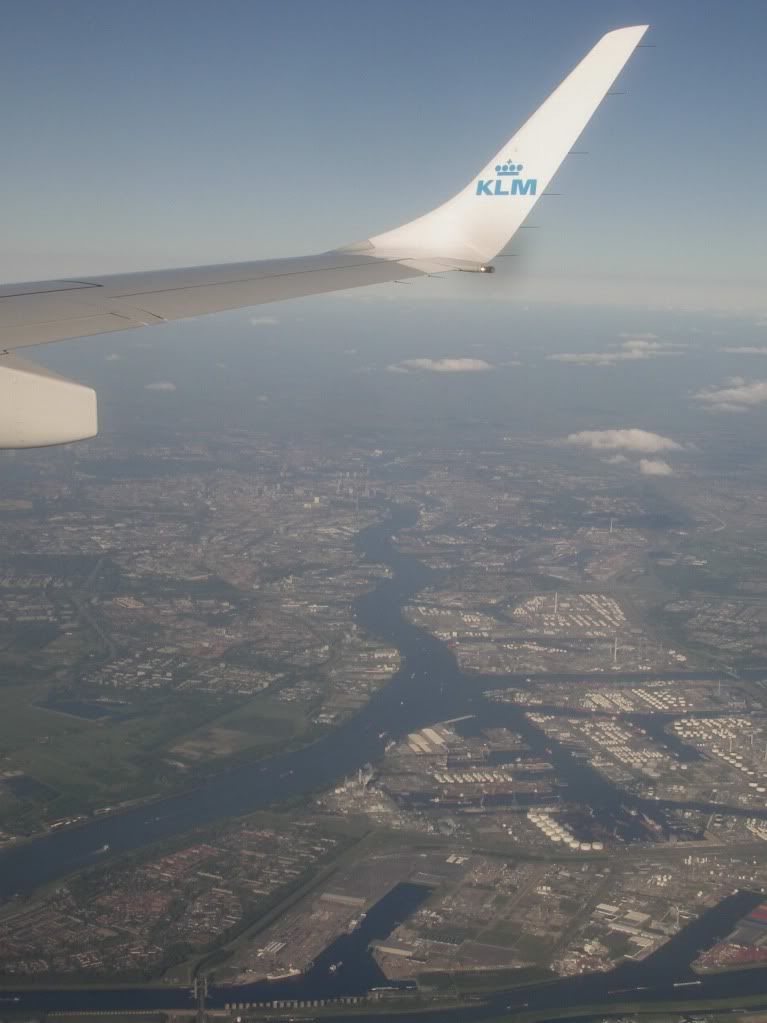 Touchdown is on the 3300 meters runway 36C, not really sure with that huge number of runways here, maybe some of our friends from the Netherlands check it, if its possible.
The time is 7.20 pm, 20 minutes ahead to schedule, the sky is perfect clear, no cloud at all and it´s 14 degrees.
Cargo haulers on the apron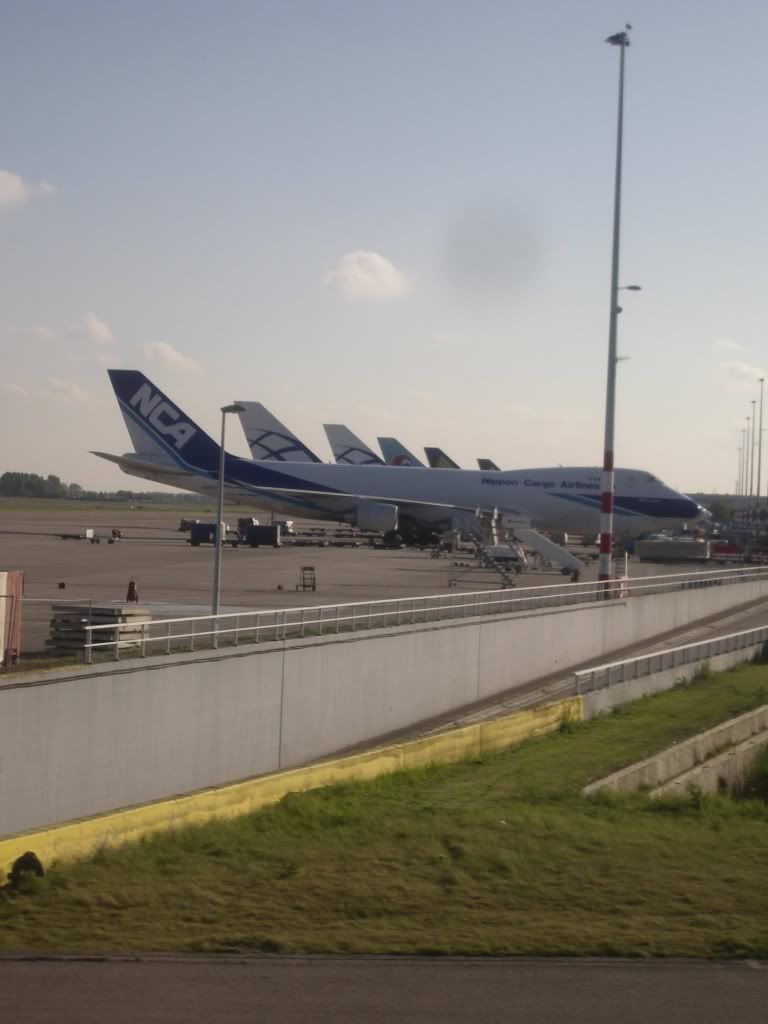 Pretty oldfashioned looking MD11, on schedule in August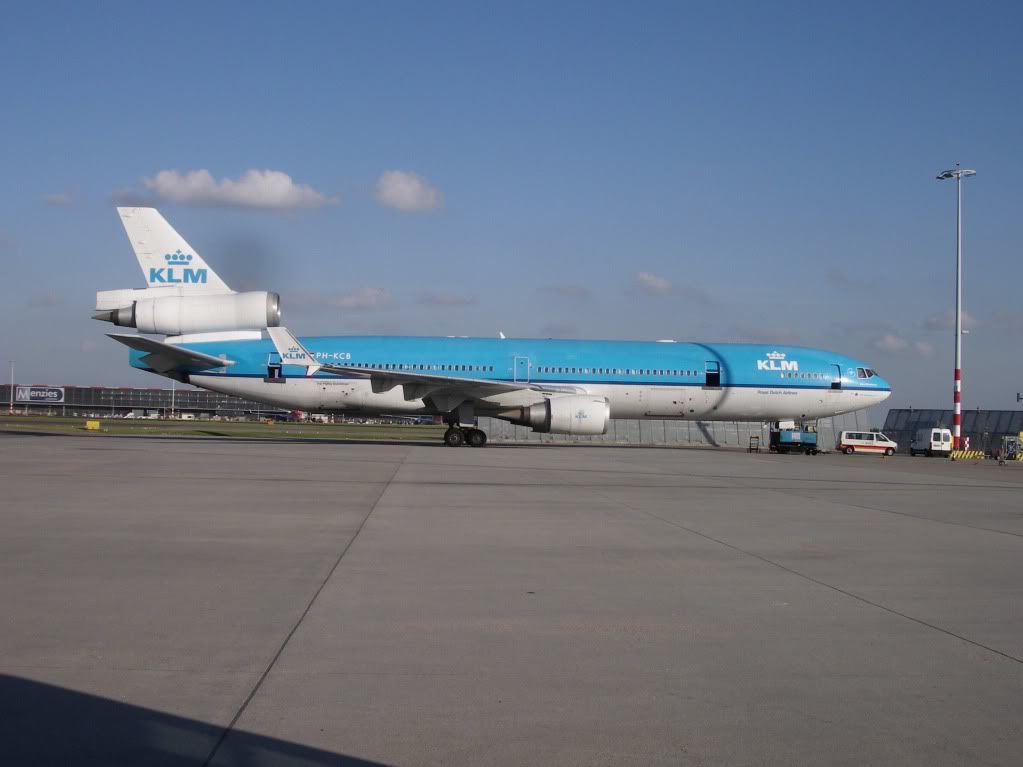 Apron disembarking and bye-bye
By bus to the terminal, up the stairs and some walk to my next gate.
Friday, 28.05.2010
.
.
.
.
Service KLM KL 1879 operated by KLM Cityhopper
Scheduled: 20.50 // 22.10
OLCI is also for this flight done the evening before.
Seat 16A for me. The aisle is taken here with a load close to 100%.
B07 is the place to go for STR, down at the groundlevel, that means another apron bus ride ahead.
Air France by Regional at the finger gates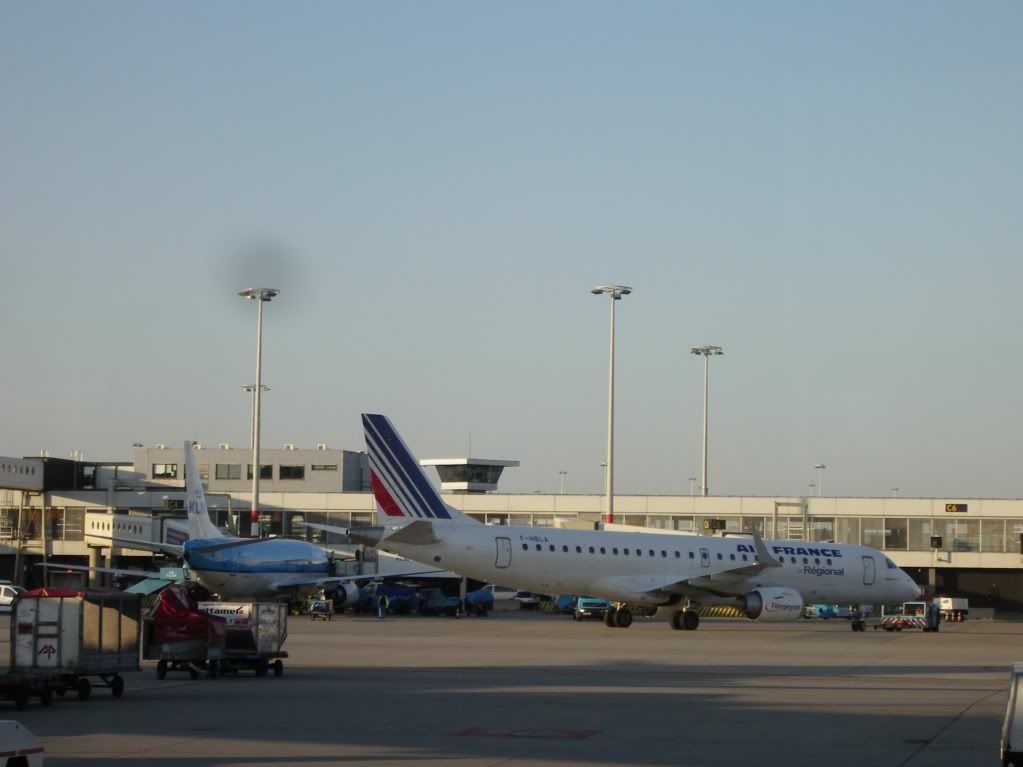 Crossing the apron with a huge number of blue tails, which will be mine?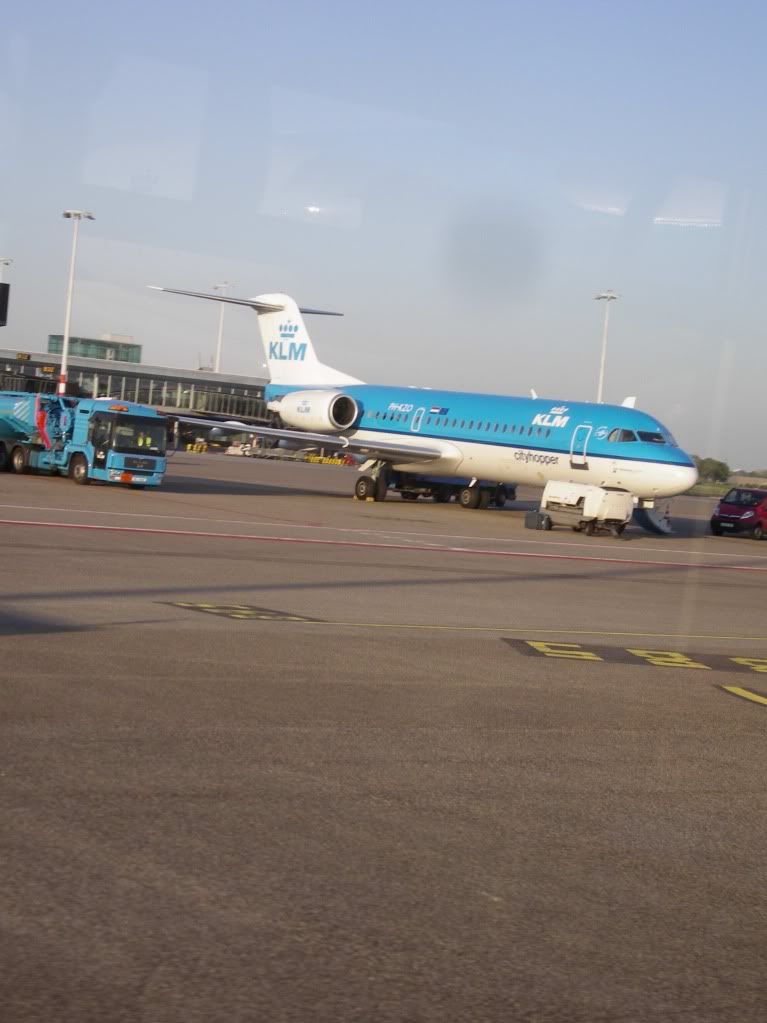 This one?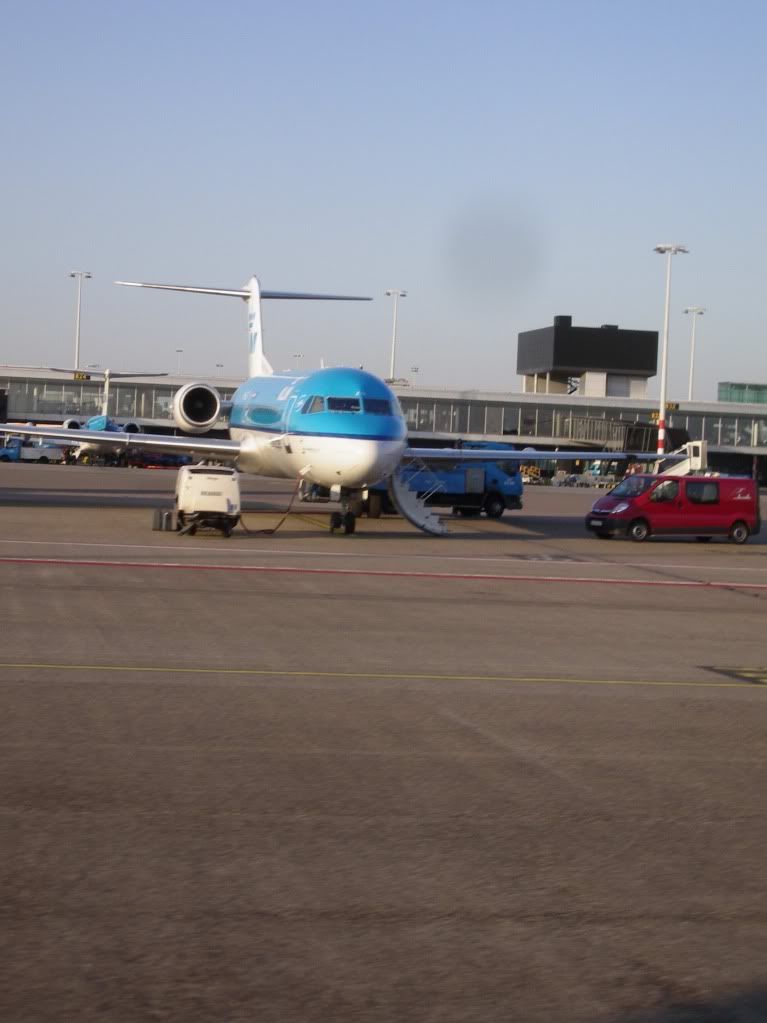 No, this one.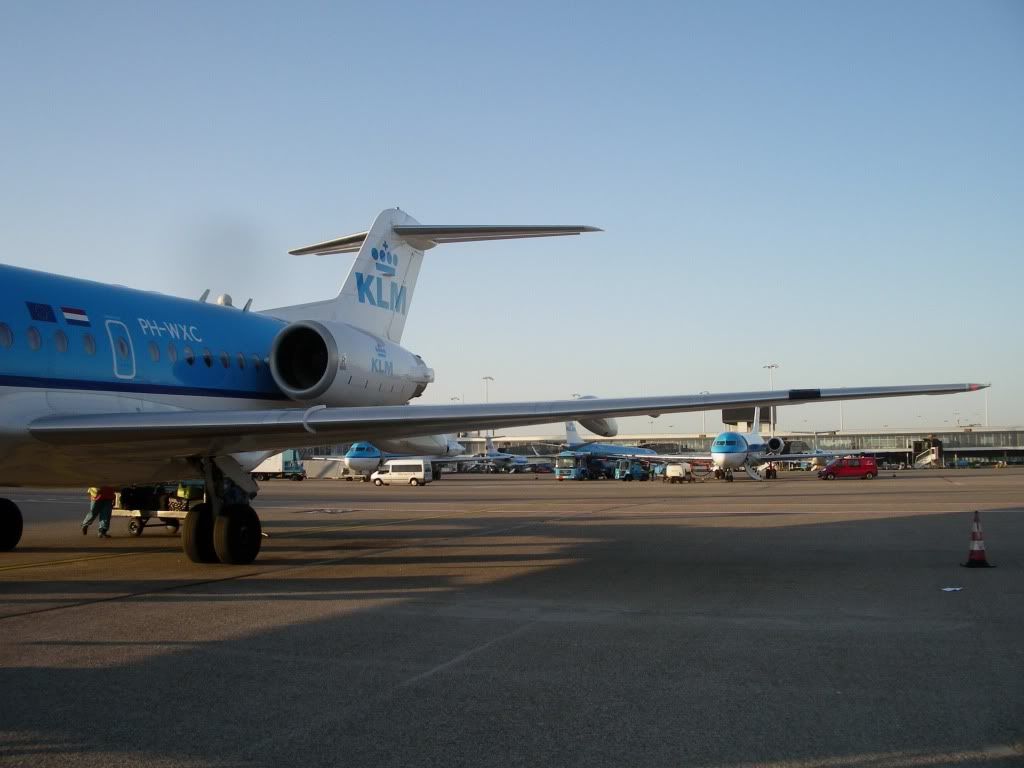 It is PH-WXC, a Fokker 70 as scheduled, in service with Avianova from 03.01.1996 and with KL Cityhopper since 15.12.1997.
The company operates actual 27 planes on type and this is a new registration for me,
leg no. 6 on type, according to my log.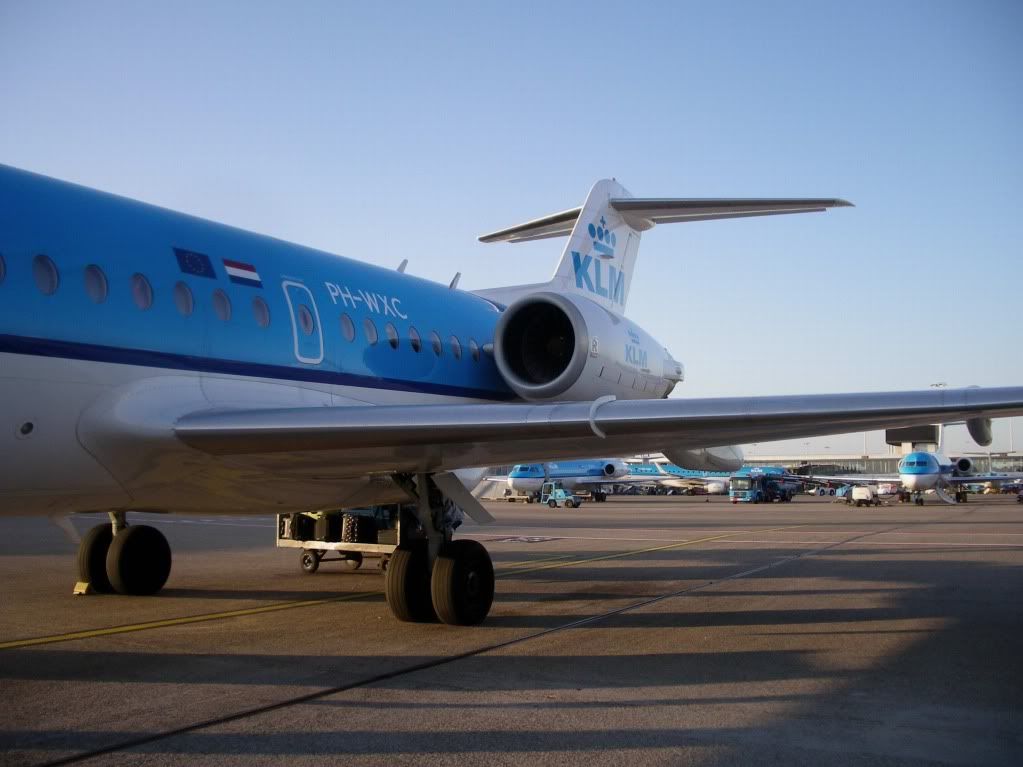 Sunny afternoon boarding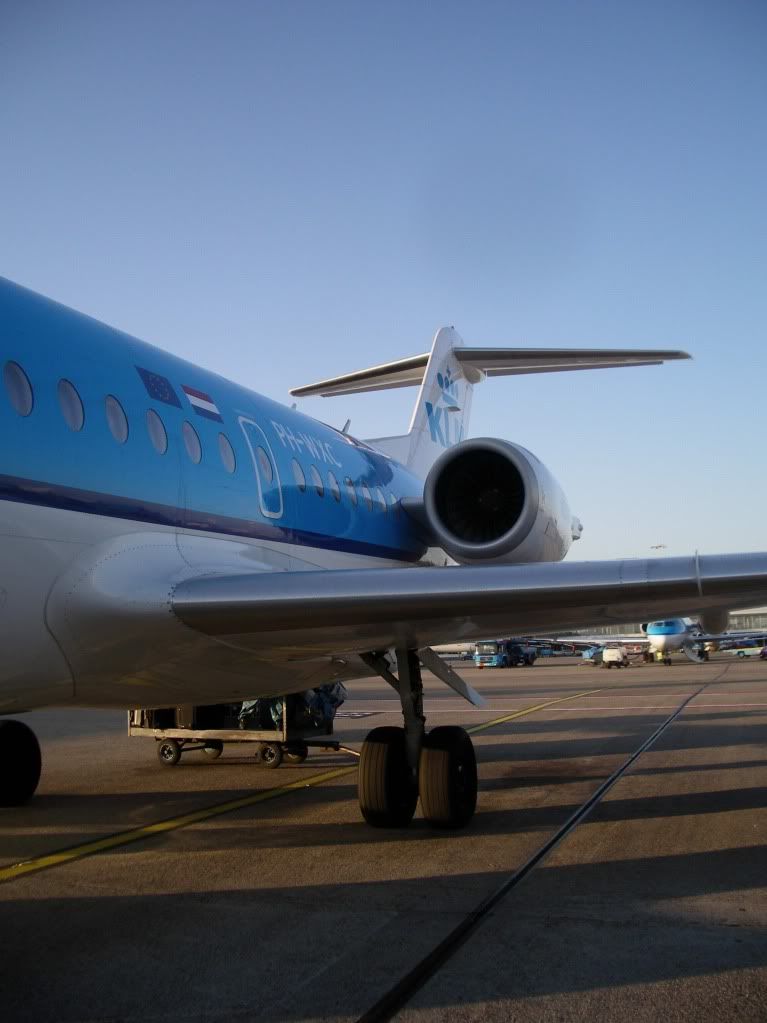 The nose close up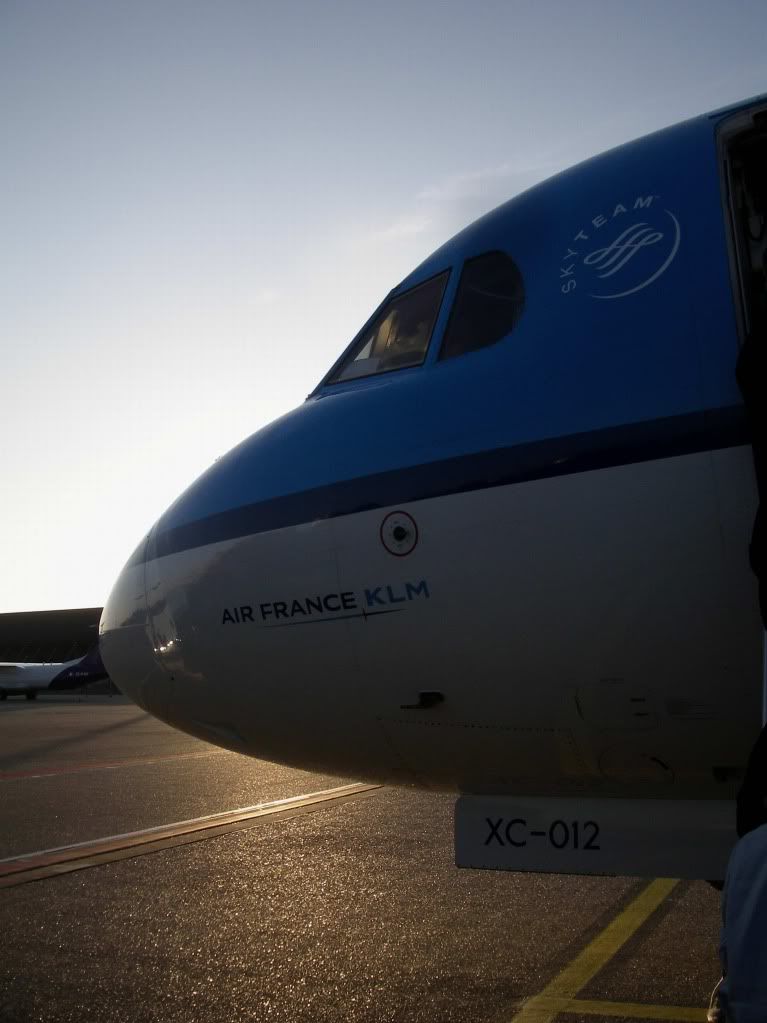 Blue and green together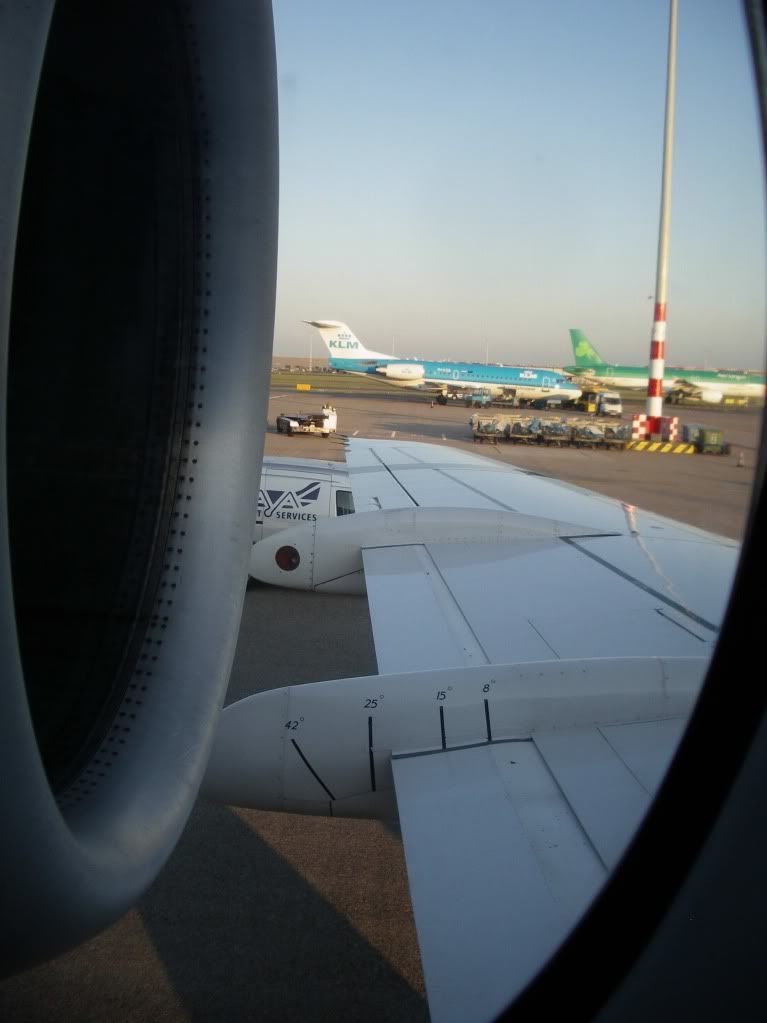 The UK captain is on the speakers during boarding with a very friendly and detailed welcome,
we see a start up delay due to some runway congestion.
The FO is from the Netherlands, he´s also to hear with a friendly goodbye during approach later on.
The safety card, same style like on the Embraer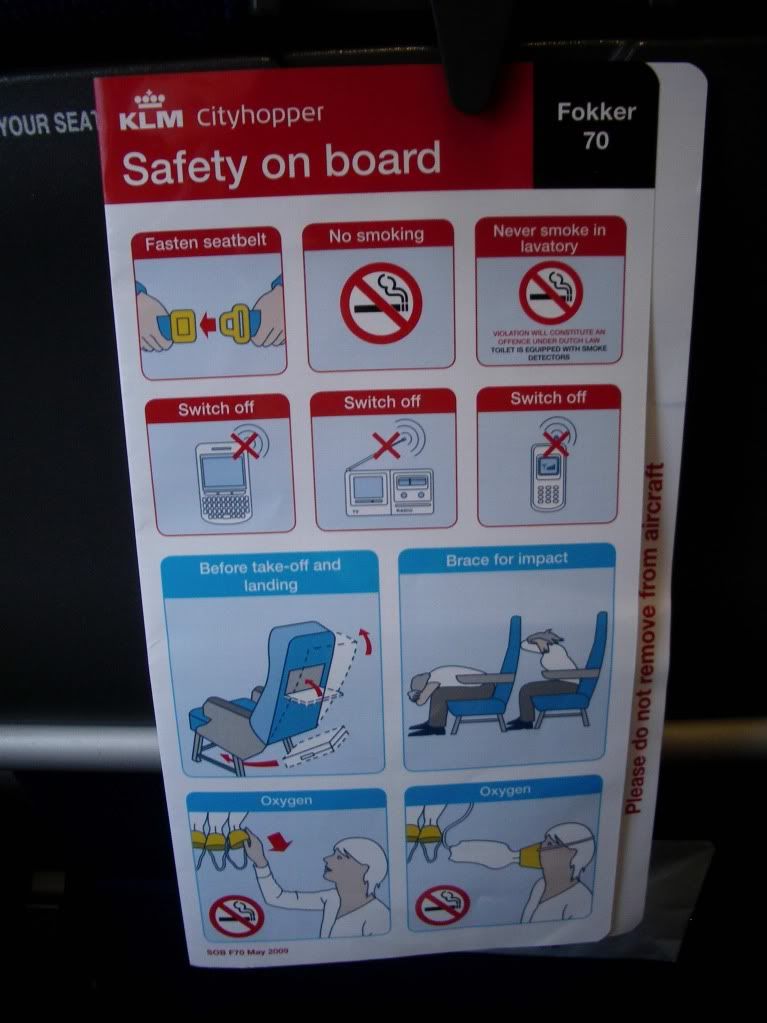 In the cabin, one male, one female in service, nothing special here.
Dark blue oldfashioned but nevertheless comfortable fabric seats, clean, good legroom.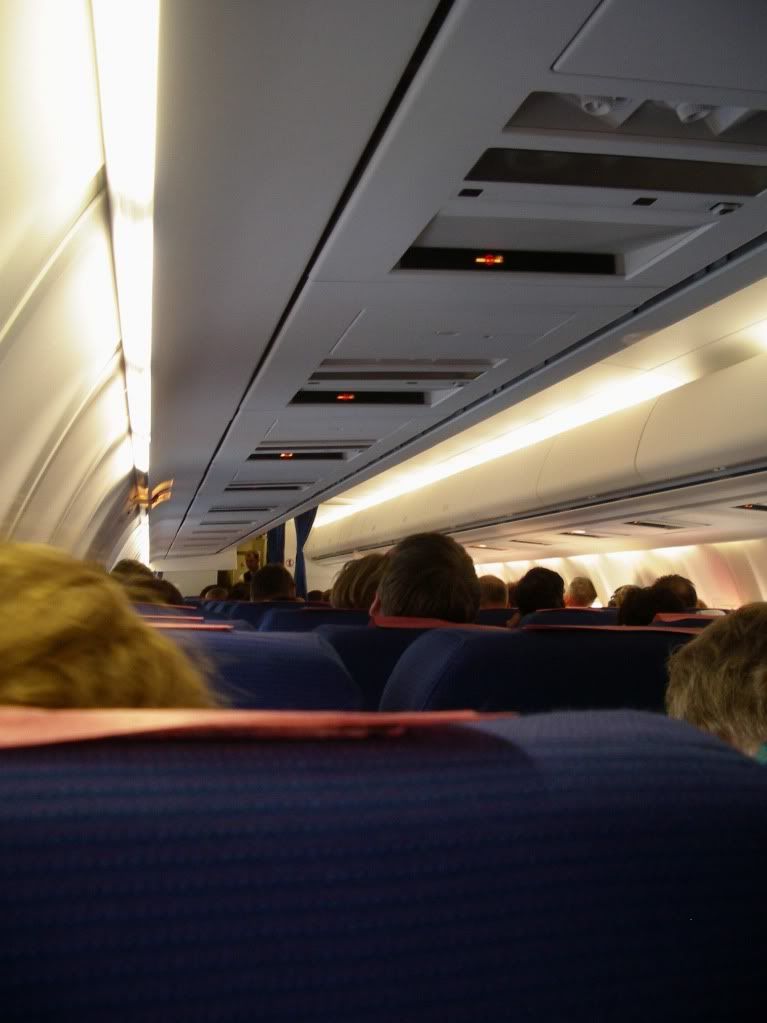 Something big ahead to departure, it is 9.10 pm, 20 minutes late, clear sky again and 12 degrees.
Flighttime to STR is 1.00 hour.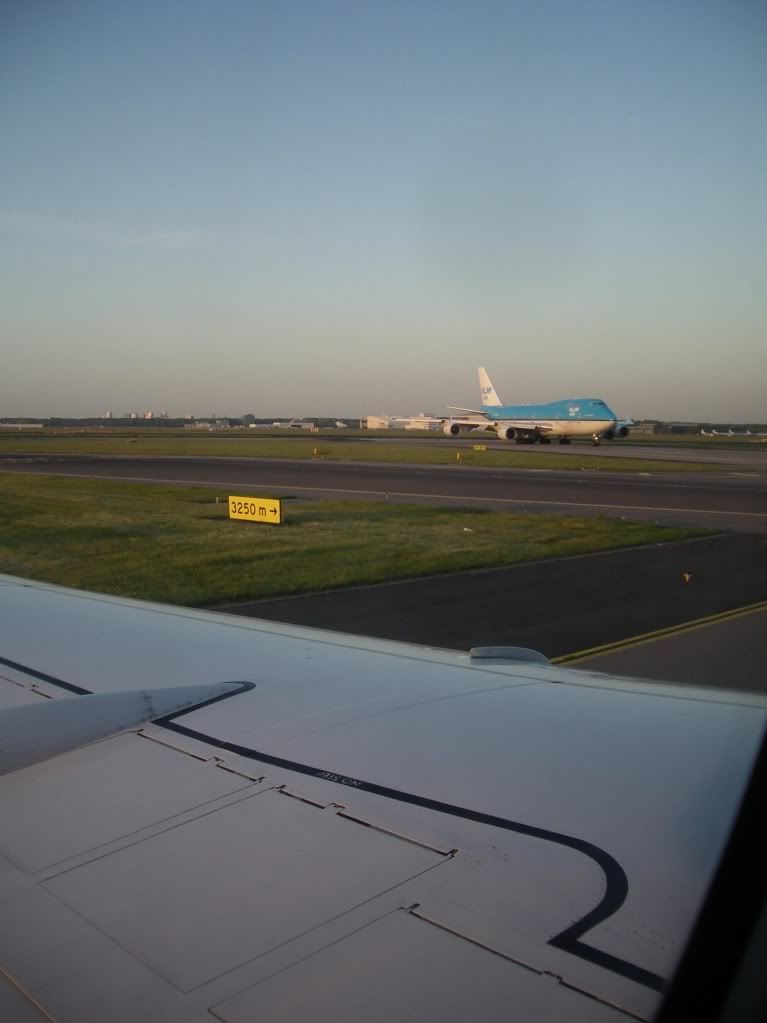 Turning right after departure from the 3500 meters runway 24.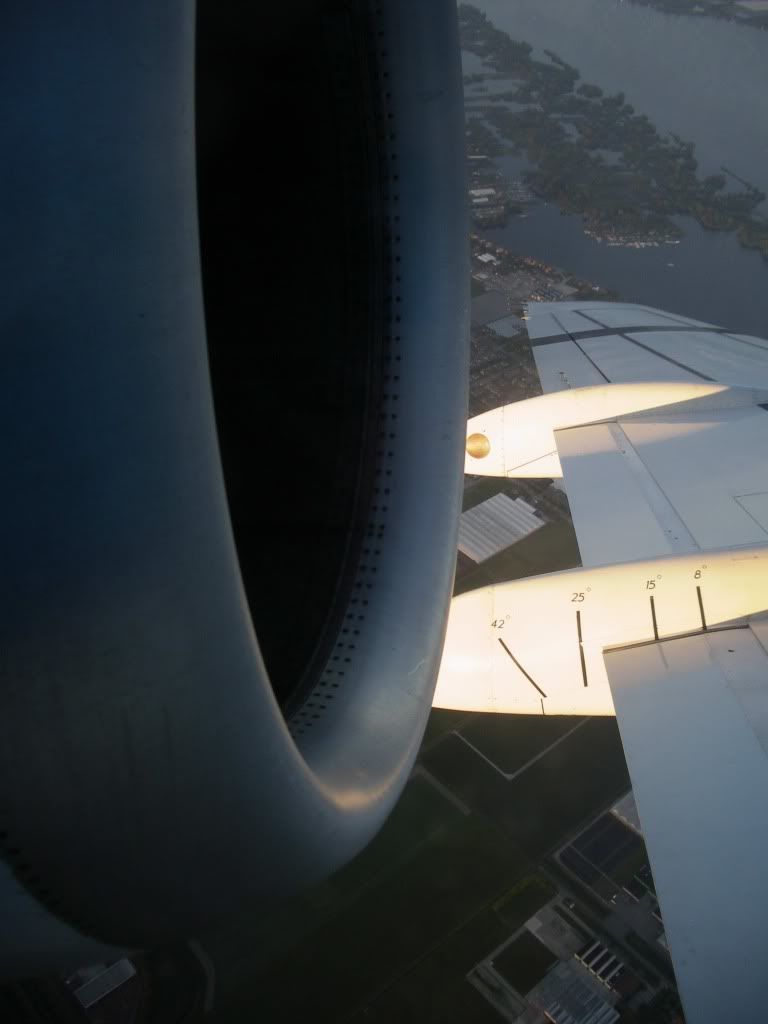 The sun is going down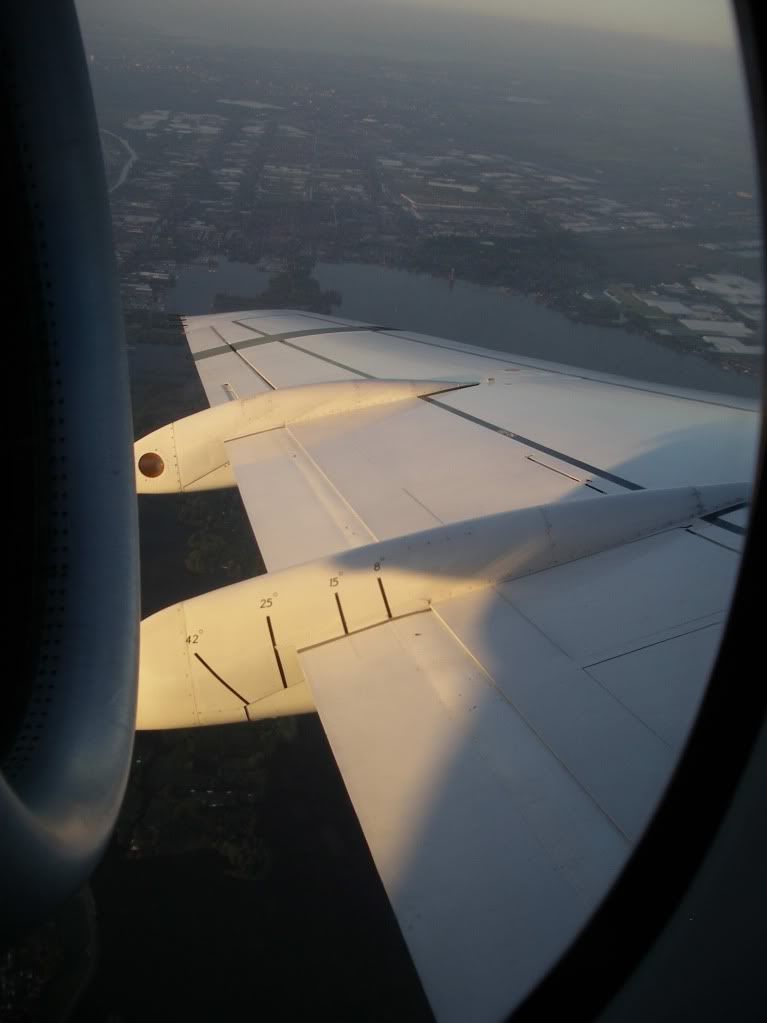 The perfect seat here on the F70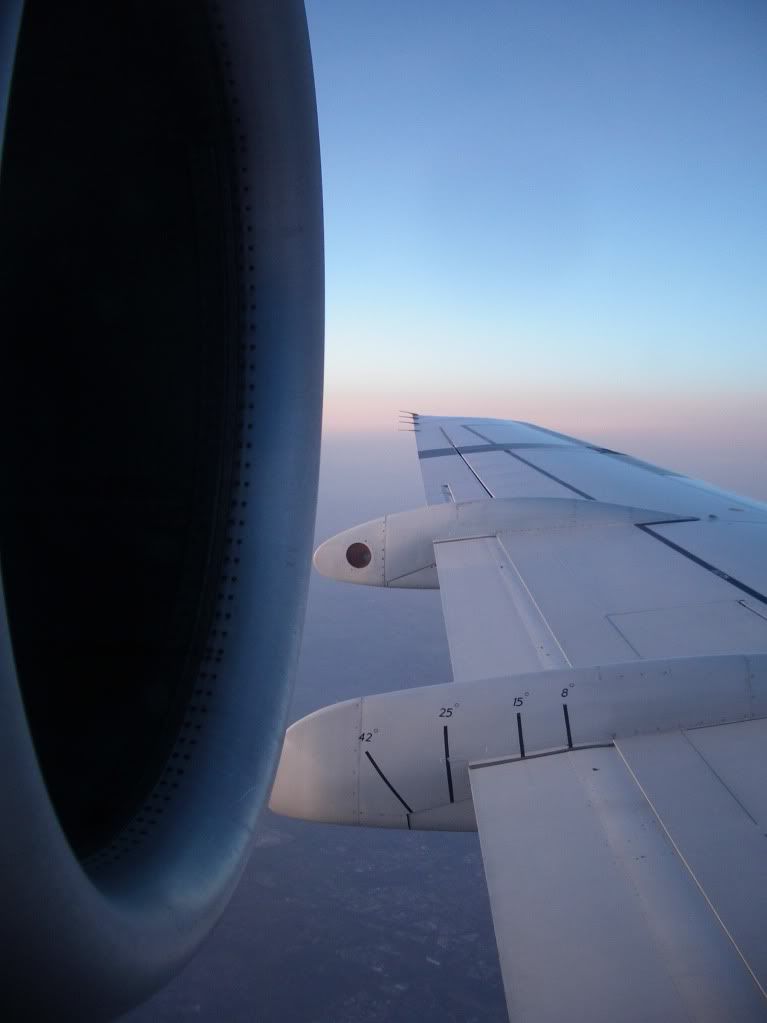 Service is crackers/biscuits and drinks for free.
Routing is above FRA at 21000 feet.
Touchdown on the well known runway 25 at STR, it is 10.10 pm, ontime, still cloudy and the temperature is 15 degrees, welcome back home.
Four flights with no. 3, the ride on the Embraer from MRS to AMS far above the others, well done KL Cityhopper.
It is around 11 pm when I reach finally my house, the earlier nights are short, but the next is even shorter. I need to catch an pretty early ICE from STR´s main trainstation to ride for FRA the next morning, but we know, no pressure, it´s just for fun!.
"Sarajevo/Bosnia on Croatia Airlines" is coming up soon.
Comments welcome,
Markus (FLIEGER67)