Having enjoyed this forum and reading the trip reports over the past few years and having been inspired predominantly by A'netters 'abrelosjos' and 'ronerone' I have decided to take the plunge and write a trip report of my own, so herewith my very first Trip Report...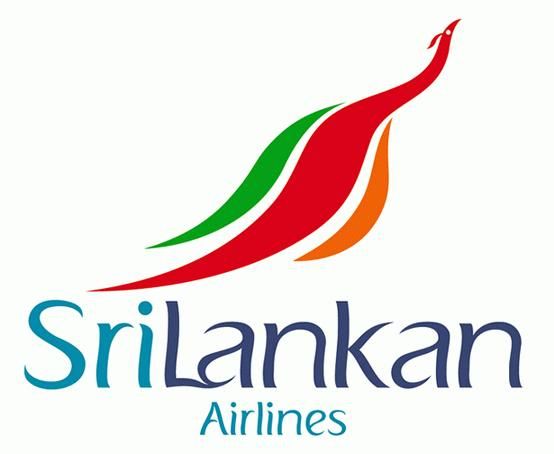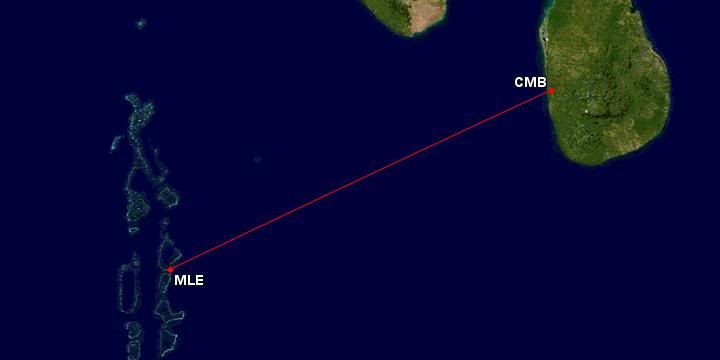 Background:
I had been working in Sri Lanka on a 6 month posting, I work for one of the UK's major tour operators and naturally the company policy is to fly us on our company charter flights however our flights into CMB did not fit into my plans so it was decided that I would take a seat on one our flights from the Maldives. There are multiple flights from CMB to MLE but the 07:10 UL101 on a Saturday suited my plans better as it would give a couple of days to see something of a country I had never been to before and catch up with colleaugues before taking a flight to the UK on the Monday.
I had been out with friends for a few drinks the evening before my flight but having grabbed a few hours sleep my driver was at my apartment bang on time at the ungodly hour of 04:00 to drive me to the aiport which at that time of the morning only took 45 minutes, during the day through in the hell of the Colombo traffic it can take up to 2 hours to make the drive.
Check In:
Security is tight all over Sri Lanka and more so at the airport, photography is strictly prohibeted so unfortuneately no shots of the terminal or the check in area, suffice to say that prior to entering the terminal all passengers and luggage are screened and tickets, passports etc. cheked, only passengers with tickets are allowed past the initial security check, from there it was a short walk into the terminal to the check in area where once again all luggage is screened.
There were two people in front of me at the Business Class desk but I waited no more than 5 minutes before my porter put the bags on the belt and I was dealt with quickly by a very friendly UL agent, she used my name at every point in the conversation, confirmed my pre-requested seat and issued my with an invitation to the Serendib Lounge. One more quick security check and I was in the line for emmigration where again I was processed swiftly and courteously.
Serendib Lounge:
It was still dark outside when I entered the lounge which was very quiet at this time of morning, perhaps six other passengers making use of the facility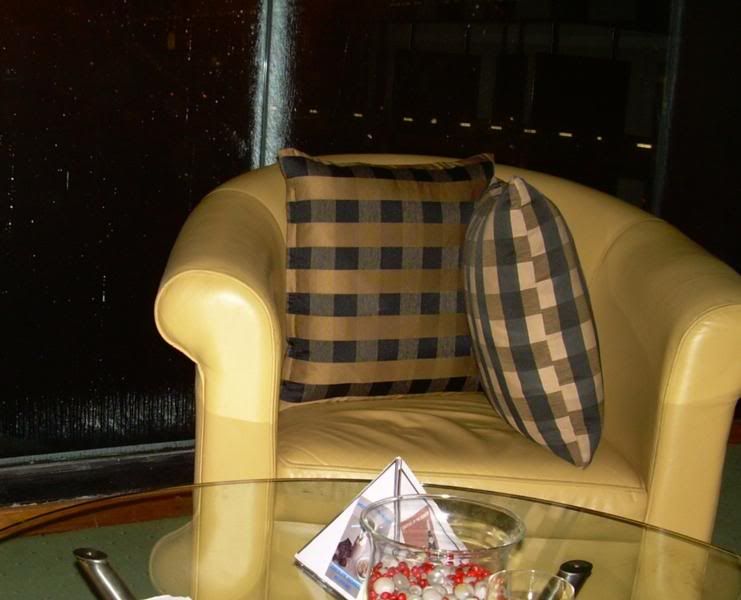 I decided to carry on from where I had left off from the evening before and made myself comfortable with a glass of Champagne, an OJ, coffee, newspaper and book.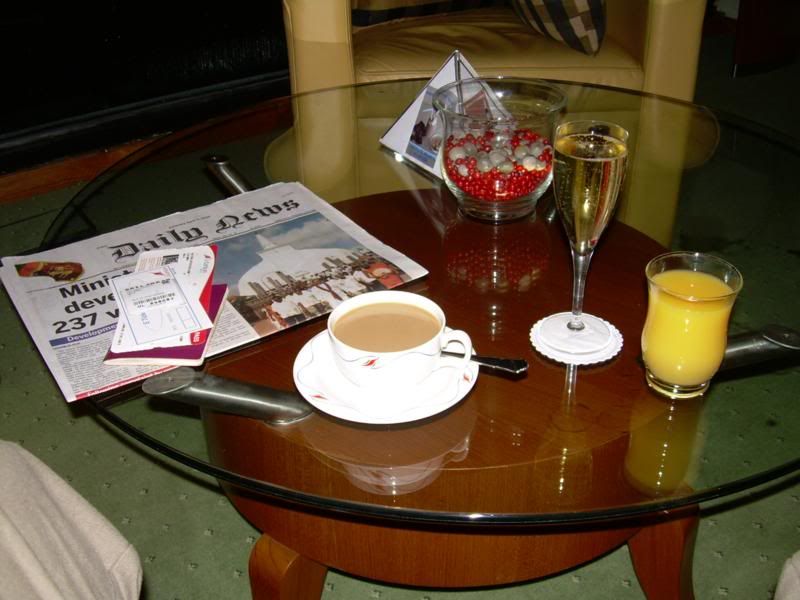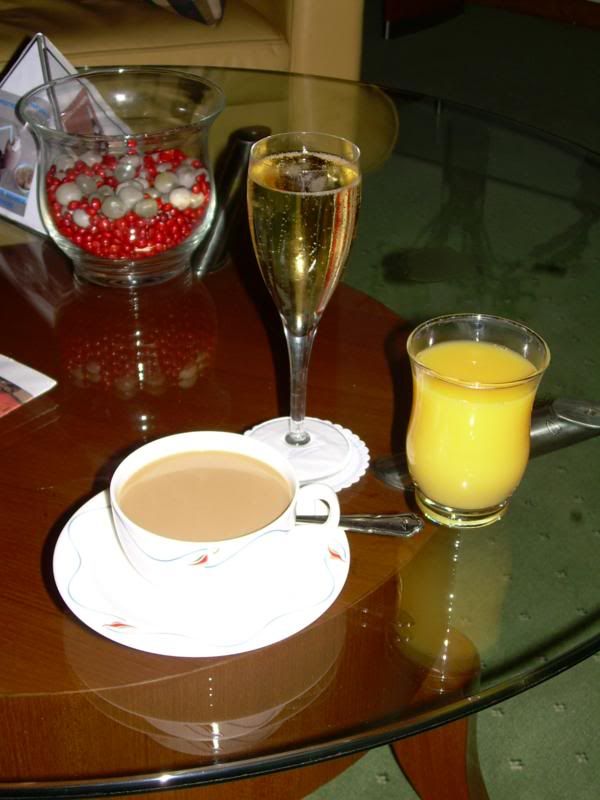 As dawn finally broke it was possible to see out over the tarmac but annoyingly the glass was either dirty or there was a condensation build up as the views were somewhat spoilt, my aircraft was sitting behind the UL A330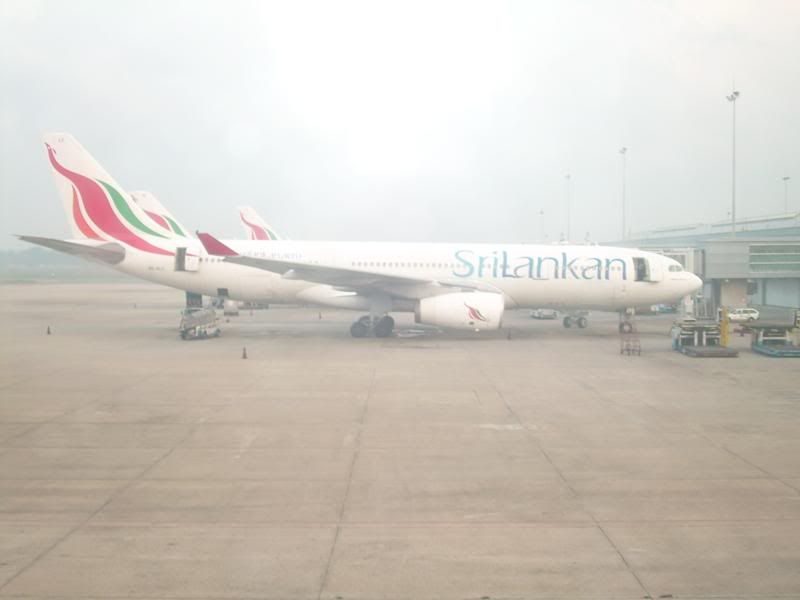 Time passed quickly and comfortably before my flight was showing as boarding, I was suffering from a slight hang over at this point so one more quick glass of medicinal Champange then I made my way to the gate.
On Board:
4R-ADE an Airbus A340-313X would be undertaking flight UL101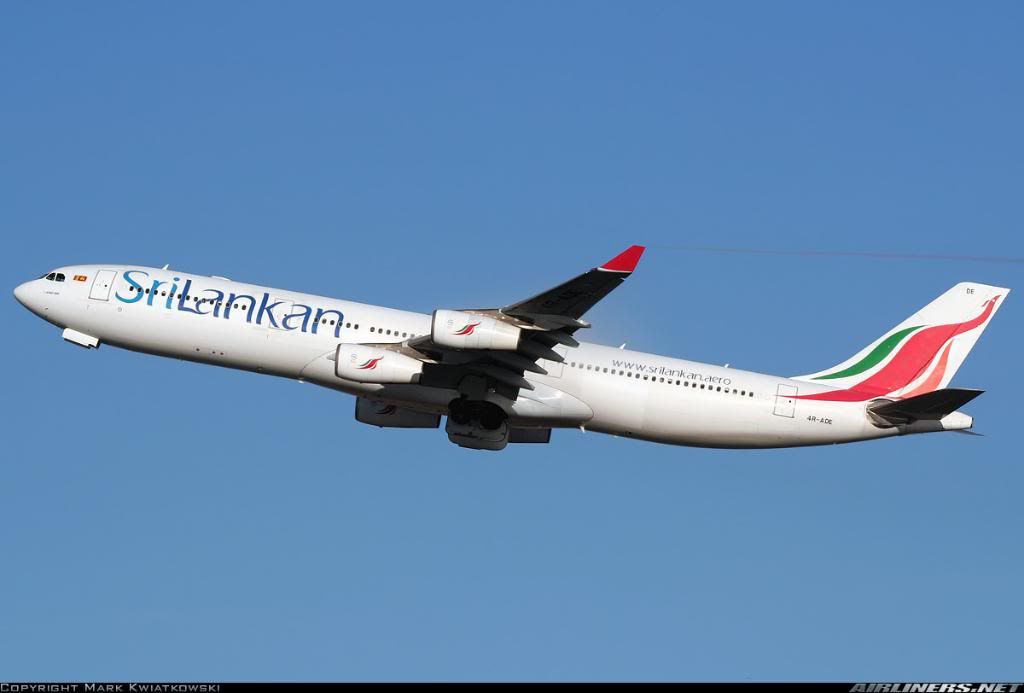 There was one more security check before entering the holding lounge which was empty by the time I got there so my borading pass was checked and I made my way striaght on board, greeted by name at door 2L by a male and a female cabin crew and taken through the galley and then taken left by another crew member and shown to my seat, 3F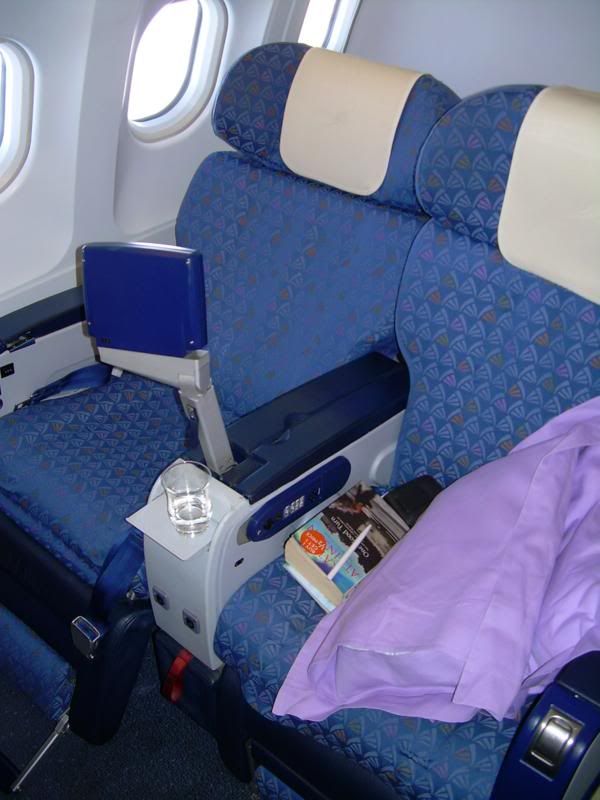 No sooner had my backside touched the seat cushion when another smiling member of the crew approached me, introduced herself, offered to stowe my carry on and asked me what I would like to drink, having had a few glasses of alcohol before boarding I opted for just an orange juice which was brought to me a few minutes later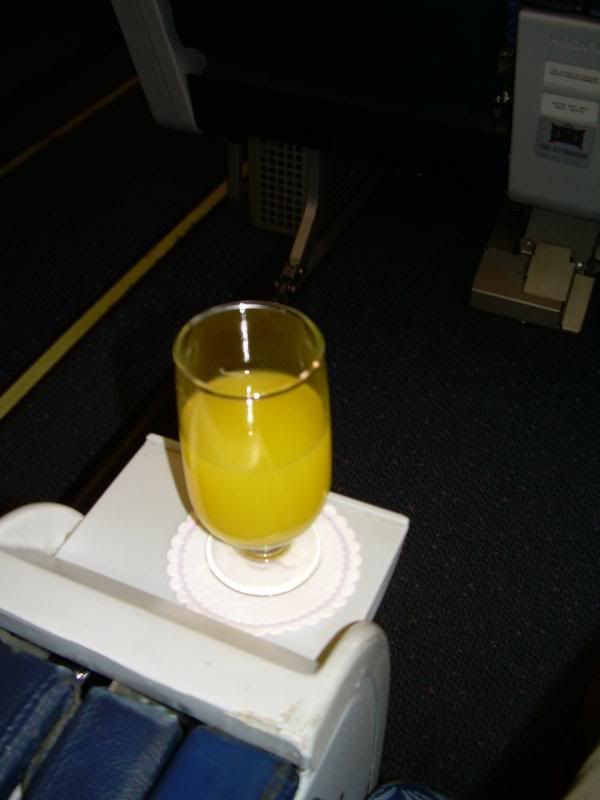 The cabin was spotlessly clean, although the seats were showing their age, I guess they were a legacy of the aircrafts previous owner, AOM French Ailines, there was just 9 passengers in the 18 seat J cabin for this flight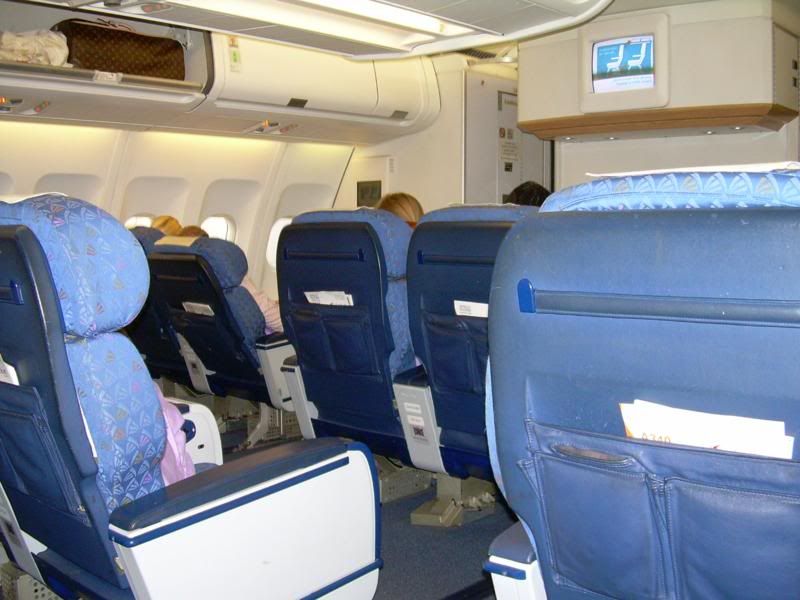 Leg room was plentiful
Prior to pushback menus were distributed, tree choices of main course being offered, two 'western and one Sri Lankan dish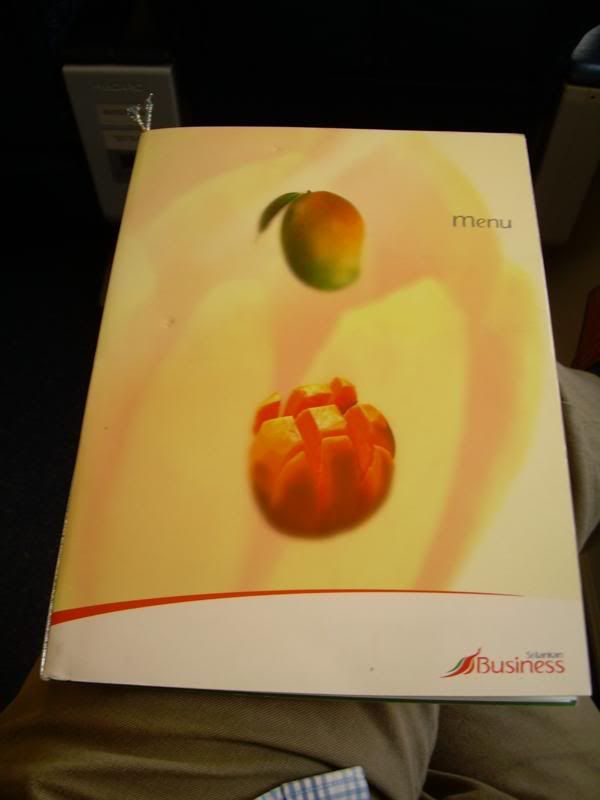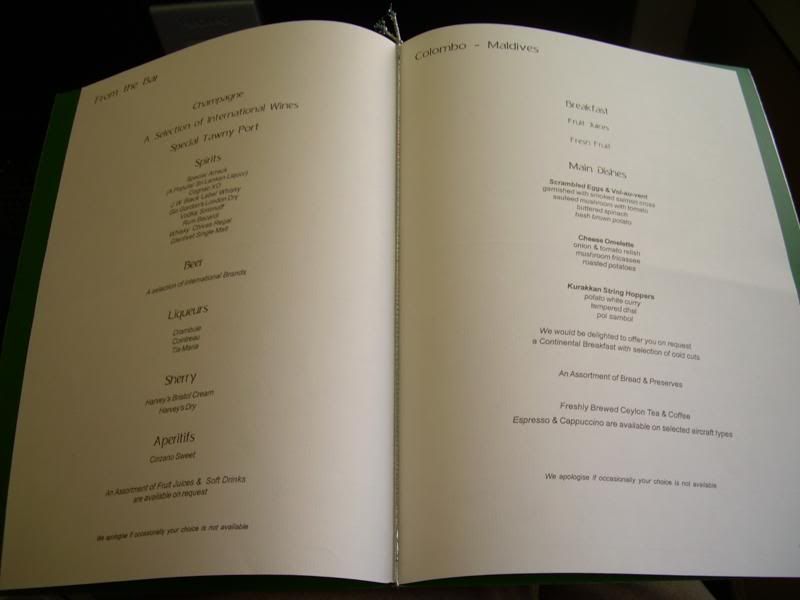 In Flight:
Pushback was bang on time and during our taxi out to the runway the Captain welcomed us on board and the safety demo was played on screens at the front of the cabin.
We held at the end of the runway for a few minutes before the engines powered up and the A340 made, the now famous, liesurely but graceful climb skywards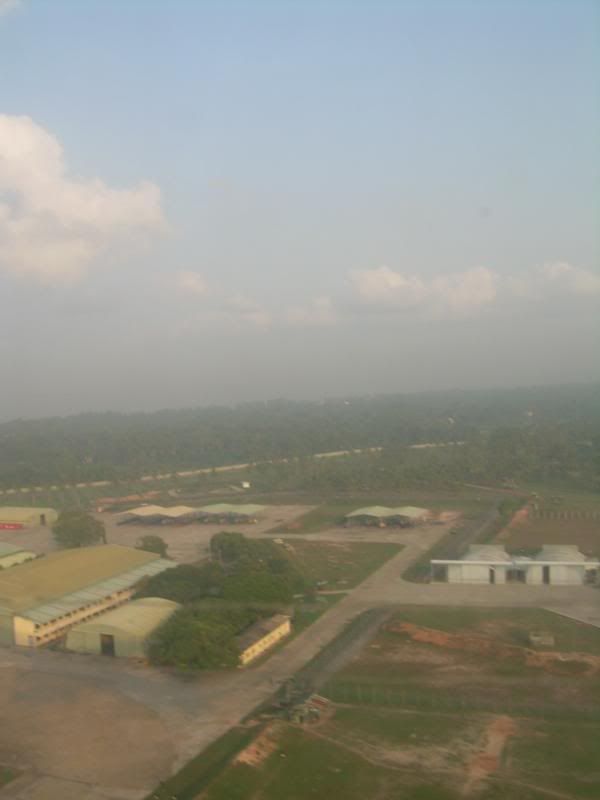 We flew out to the west over the Negombo lagoon and carried on climbing to our cruising altitude of 36000 feet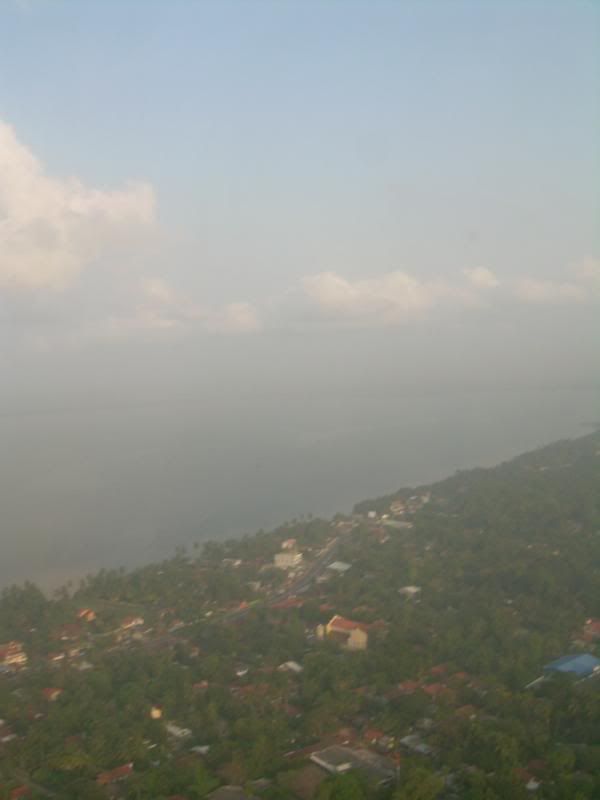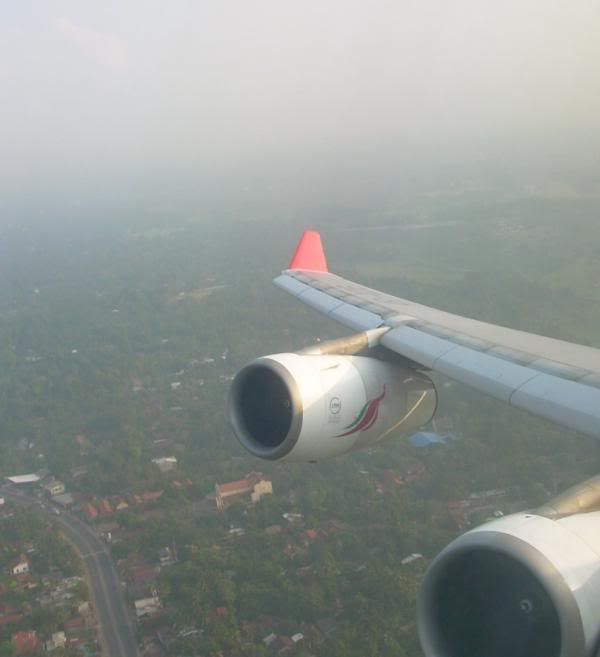 Serviced commenced approximately 10 minutes after take off when the crew distributed first the table covers and then the breakfast, which given the short 1 hour 20 minute flight time, was served on trays. I had chsoen the scrambled eggs and smoked salmon in a vol au vant pastry case, with hash browns, mushrooms and spinach, a bread basket was offered along with tea or coffee, a fruit yoghurt and freshly cut fruit was already on the tray
I really enjoyed the food, it was tasty, the main course was hot, croissants warm and the fruit and yoghurt well chilled.
Once the trays were cleared the crew were in the cabin asking if anyone wanted refills or anything else to drink, I at this point was starting to feel the after effects of last nights drinking so opted for a Bloody Mary, it was at this point that I fell in love with Sri Lankan!
I was brought what was quite possible the strongest bloody Mary known to man, at least 50% Vodka, together with a salt & pepper pot, a bottle of Tobasco Sauce and a glass of water - that's what I call service! In fact if the wonderful girl had brought me two asprin to go with it I think I would have married her there and then!!!
As 98% of the flight was over water there wasn't much to see during our brief cruise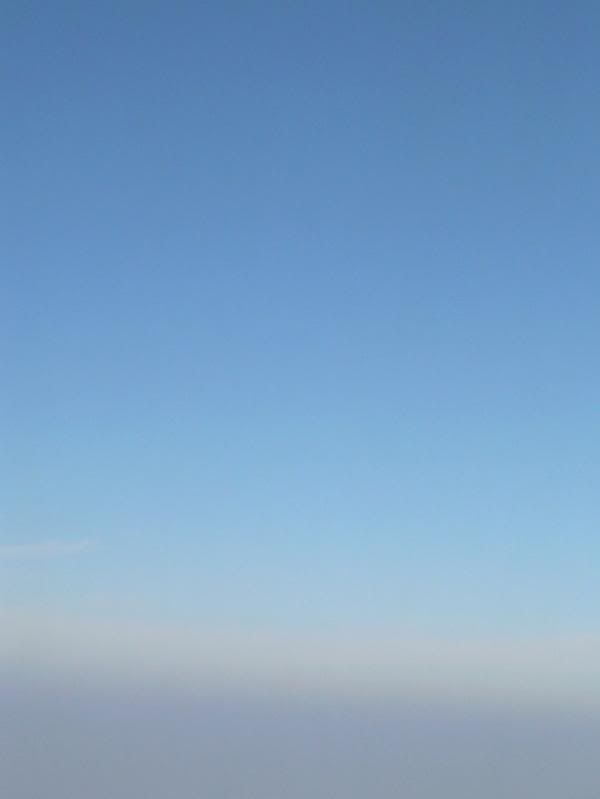 The IFE had been switched on for the flight, although there was nothing to watch only a few UL promotional videos, advertisments by the Sri Lankan Tourism Board and the moving map, which again due to there being nothing below us was somewhat boring, the screens were very old school and difficult to watch at a comfortable angle, but on a short flight like this it hardly matters.
The passenger seated in 2F fully reclined her seat which still left me with plenty of leg room and due to the vacant seat next to me there was no dificulty is moving out of mine, although I think I may have struggled to complete the manoeuvre with any dignity had somebody been sitting there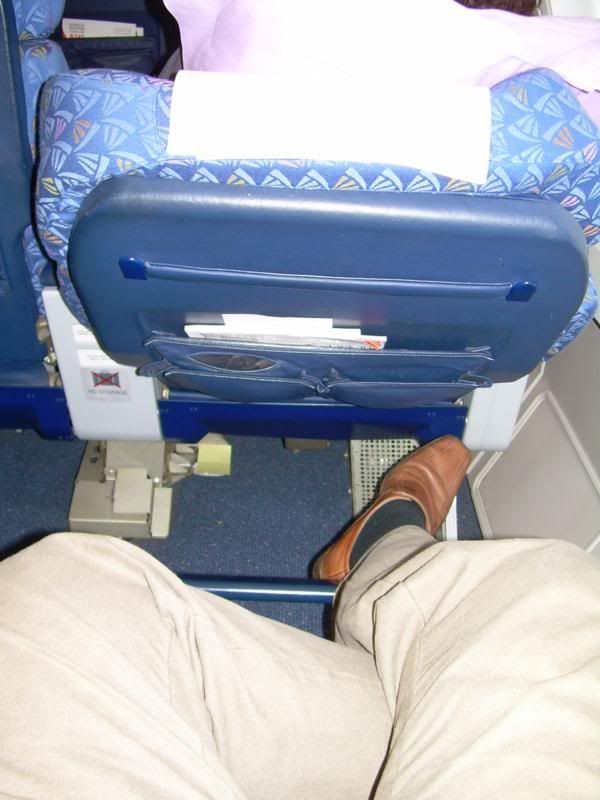 I made a visit to the loo, and contrary to other TR's I refrained from taking a picture of the actual appliance but it was spotlessly clean and well stocked with various toiletries etc.
As we began our intial descent in to Male, I had a brief chat with the crew that had been serving the J cabin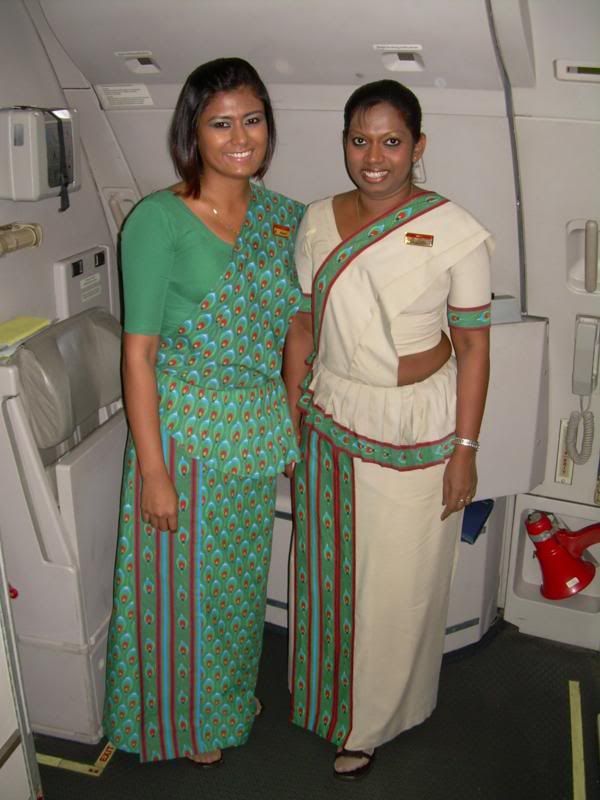 The seatbelt sign came on so I returned to me seat where I found the duty free items that I had pre-ordered from the UL website were waiting for me.
Landing:
We approcahed MLE from the south having made a very wide turn to the right approximately 2 mniutes from landing, it was difficult to judge what altintude we were at or how far we were from the runway as there was just sea below us and nothing to reference by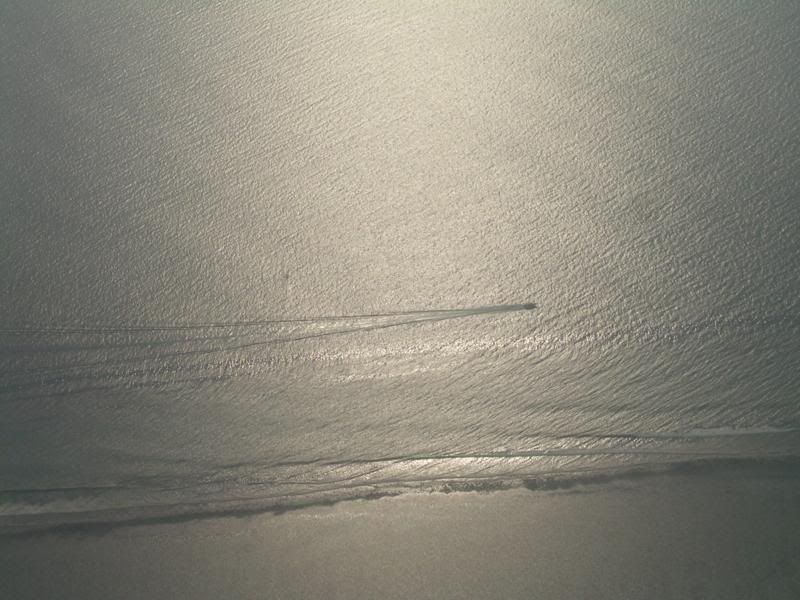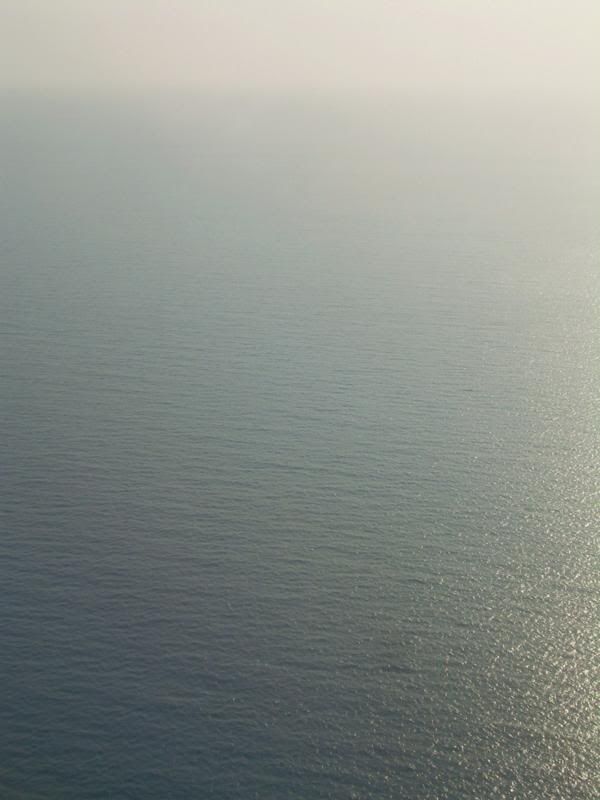 The actual landing was smooth, something I understand Sri Lankan pilots are famous for, we used the entire length of the runway in order that the aircraft could turn and back track to terminal, it was easy to spot the numerous sea planes moored up on the eastern side of the island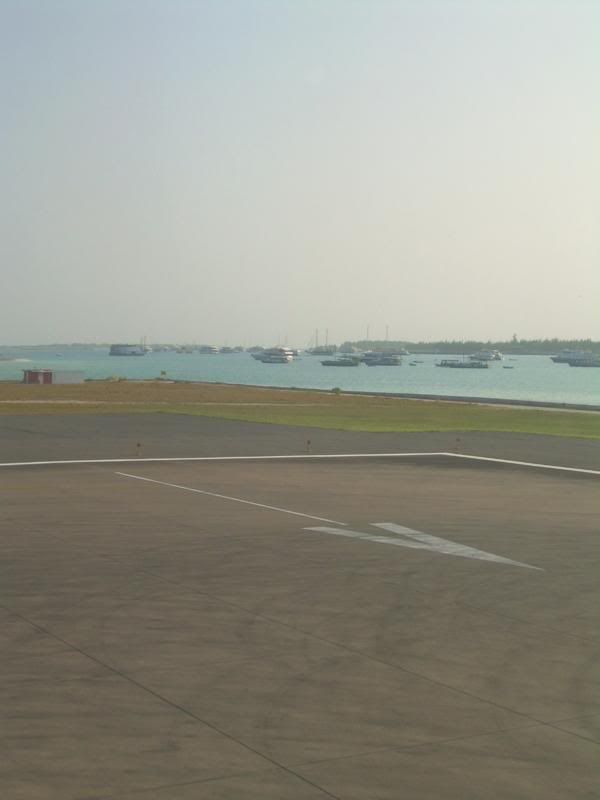 The city / island of Male itself could be seen as we made our way to our stand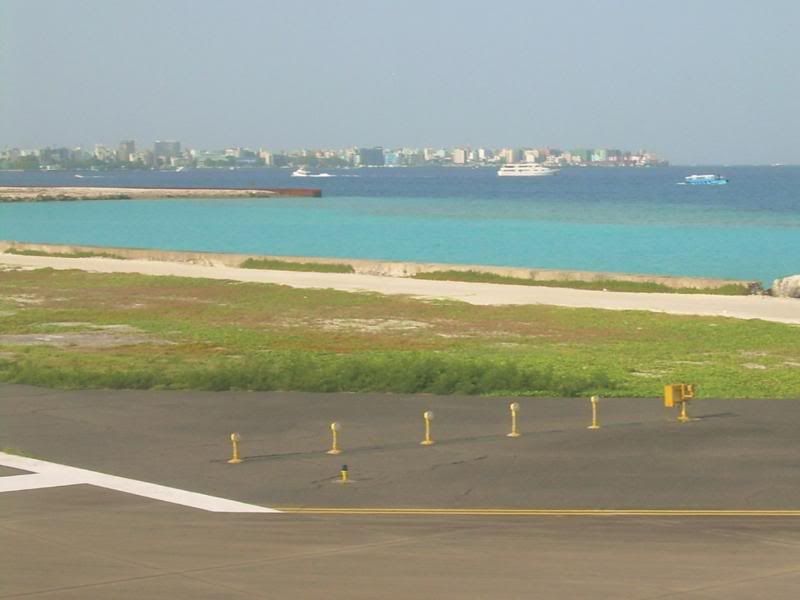 It was at this point that batteries failed on my camera so I didn't manage to take any pictures whilst disembarking, however we used door 1L to make the short walk walk into the treminal, the crew thanked all of J class passengers by name as we left the aircraft, I know there was only 10 of us in the cabin but there is no way I would remember 10 names in such a short period!
All in all it was a fantastic flight, very relaxing, with impecable service form a wonderful crew, Sri Lankan might not be as widely known or rcognised for their service levels like other airlines such as SQ, QR, BA etc. but I for one would have no hesitation in flying Sri Lankan in the future, a real niche carrier that seems to genuinely care about it's passengers.
Arrival:
The arrivals hall was packed, not least due to tha fact that a Transaero 747 had landed from Moscow shortly before us, consquently the reclaim hall resembled a hookers and pimps convention!
Baggage was on the belt swiftly after which I had to join another line to have by bags screened for alcohol which is illegal to import into the Maldives.
After a quick cup of coffee with my colleagues in the public arrivals area we took a water bus (Dhoni?) the short distance over to Male and my hotel for the next tow nights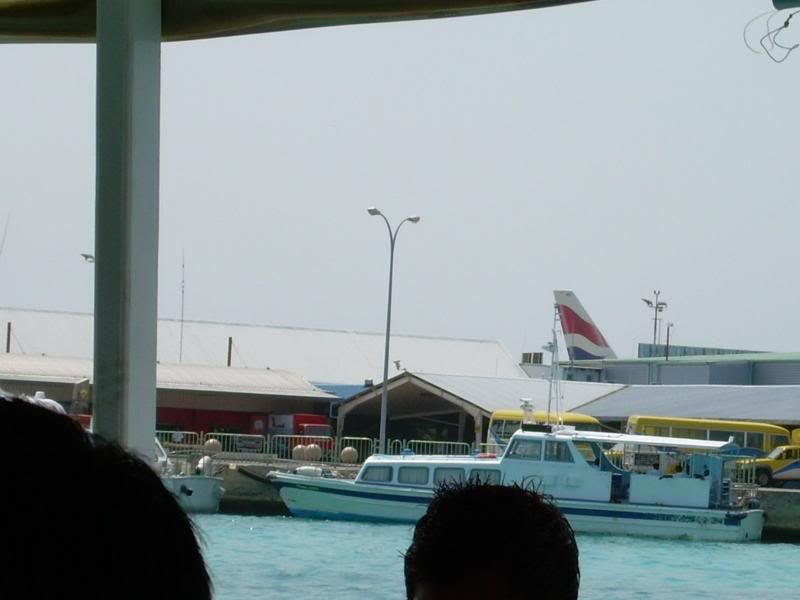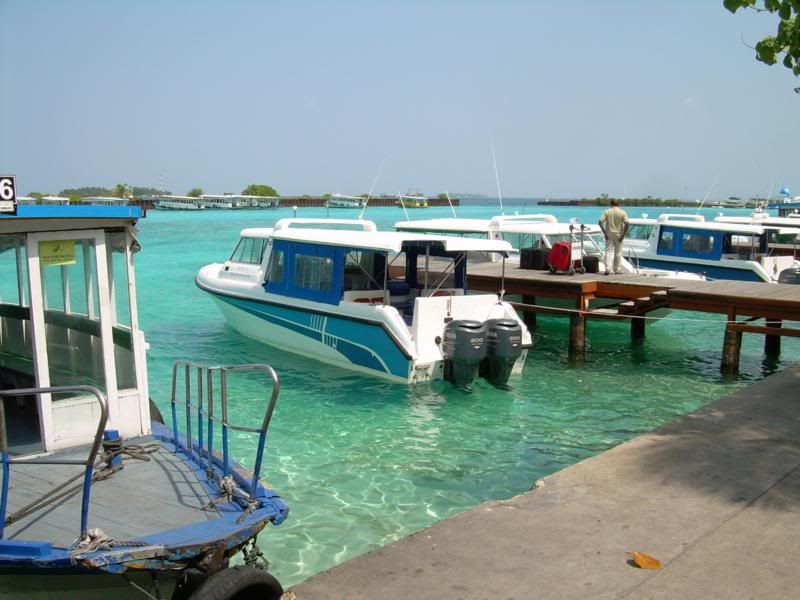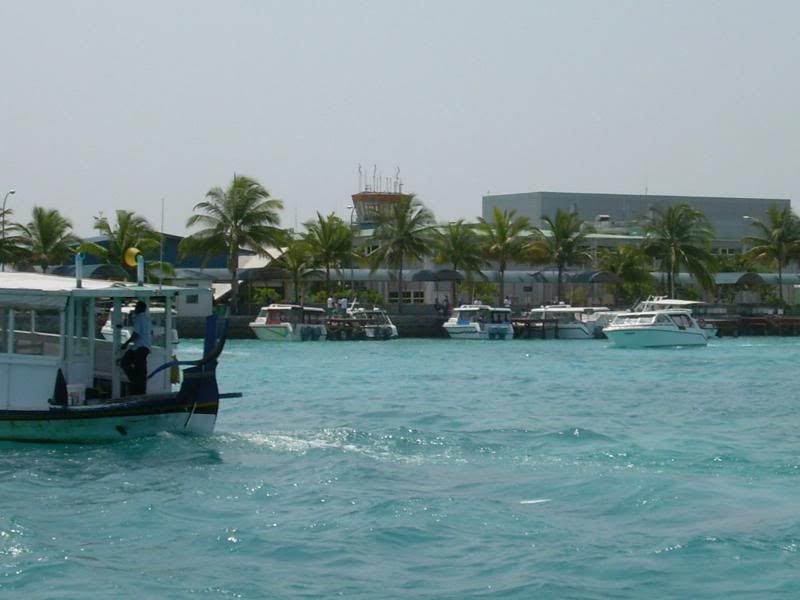 I had a great weekend, enjoyed the wonderful weather and spent a day at the Airport Hotel as they had a pool and most importantly a bar that served beer...
So that concludes my first Trip Report, pleased at no longer being a TR virgin but would apprecaite any feedback or comments whether positive or negative!
I must also say a big thank you to R. Wadei Hawi a.k.a 'ronerone' for his e-mails and advice on getting the pictures into my report, it is much apprecaited!
[Edited 2010-06-26 01:37:32]