Welcome to this Trip Report which I believe is the first on Airliners.net to feature Shantou Waisha Airport (SWA/ZGOW). Many of you might not have heard of Shantou before but you will get a view of how Shantou is actually like.
Background Information about Shantou
Shantou (simplified Chinese: 汕头; traditional Chinese: 汕頭; pinyin: Shàntóu; also historically known as Swátōw or Suátao) is a city of 4,971,000 permanent inhabitants (as at end 2006) in coastal Eastern Guangdong, China, occupying an area of 2,064 km2. With it and the immediately surrounding cities of Jieyang and Chaozhou, the metropolitan region – known as Chaoshan – covers an area of 10,404 km2, and had a permanent population of 13,139,800 at the end of 2006.
http://en.wikipedia.org/wiki/Shantou
This report is the second of the 3 installments of my trip to China in June 2010, the first installment can be found
here
.
Background
It is time for yet another visit back to Shantou, China to visit my relatives and visit the Shanghai Expo. My final routing was SIN-BKK-PVG rtn in TG Business Class and SHA-SWA (Shantou Waisha Airport) in CZ Economy Class. It's been a year since I returned to China so needless to say I was very excited!
Booking
Booking was done on the trusty website,
www.ctrip.com
which accepts international credit/debit cards. Should you need to travel domestically in China, this website is highly recommended. However, CZ has high prices for a short domestic flight (1h 30m) so I turned to MU, which has an even higher price! However, MU has their MD-90s on this route on some days and that's why I had a look at them. Final pricing for SHA-SWA-SHA was 1520 Chinese Yuan ($223 USD).
The Actual Day
Having arrived in Shanghai the previous day via PVG, I was checked into a hotel in the Puxi area. I set off for my flight to Shantou at around 10am. A taxi ride from my hotel to the airport only takes around 30 minutes costing only 45 Chinese Yuan ($6.62 USD). Upon arrival, I was greeted by the brand new Terminal 2 which is used for all domestic flights departing from SHA.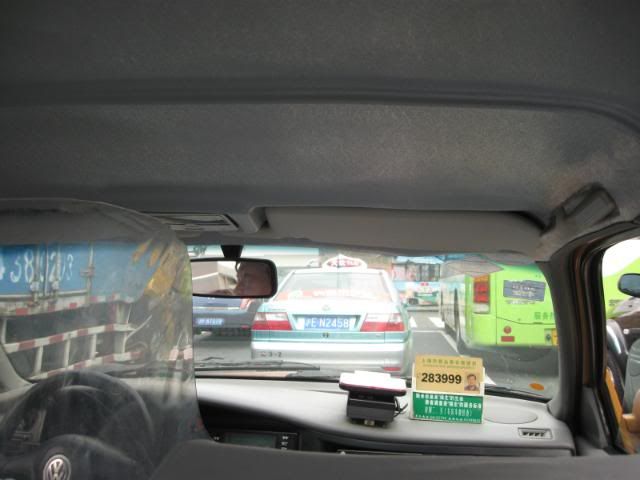 On the way to the airport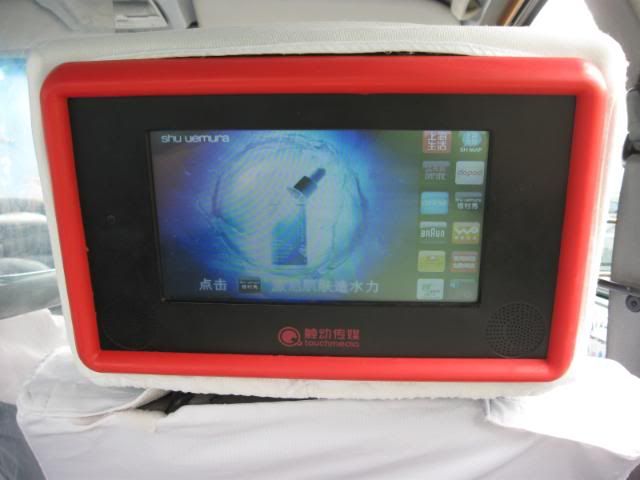 Yes, PTVs in the cab! Haha

Arrived at Shanghai Hongqiao International Airport!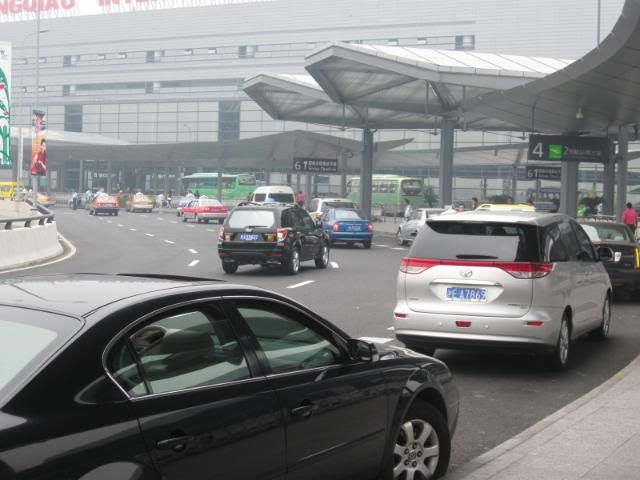 Kerbside of SHA
Check In and Flight
I went to the joint China Southern Airlines check-in counter as this is also a major focus city for them so all the flights are handled by a number of counters. I attempted to use the self check-in feature but seeing that an Identification Card number was needed, I went to queue for the Economy Class check-in. However, the queue was too long and I decided to upgrade to Business Class since I guess it will be cheap for this short flight, however, Business was full! Ahh! This means getting squashed in Economy for this short flight. After getting into the queue for Economy again, I decided to ask the agent standing by the self check-in kiosks as to what information do I need. She mentioned that I can check-in using my passport number. Great! After getting my boarding pass, she told me to queue up at the Premium Economy check-in to drop my bags. She even gave me a ctrip VIP card so that I can use it for discounts in the future. A wonderful ground staff I should say!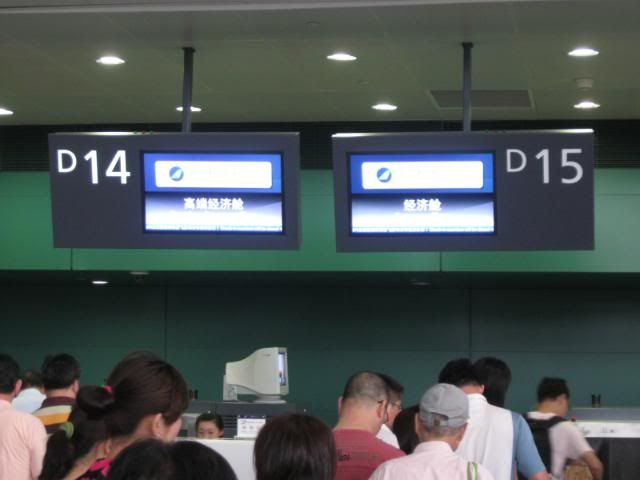 Economy and Premium Economy Check-in

Beautiful check-in area at SHA

FIDS. MU has a large presence here
After getting my luggage checked, I proceeded to go to the airside and see what it has to offer. The first stage, obviously, is to go through the security check. When I put my backpack into the scanner, they discovered something metal and they wanted to open my bag. I agreed and he took out some stuffs saying that it will be easier for another scan. After a few more times of taking out stuffs, they eventually dug out my whole bag and what they were trying to look for was a stapler. I don't know if they were trying to be a b**ch or what but I did not face any problems at SIN or BKK. After getting to the airside, it was time for some spotting!

I had no idea this was going to be my plane!

CZ has a large presence here too

My boarding pass to Shantou
After a long wait, boarding finally commenced and everyone rushed to the gate for boarding. There were no boarding by rows or whatsoever. Well, welcome to China!
Segment 1
13 June 2010
CZ3852
Route: SHA-SWA
Departure Gate: 72 (Terminal 2)
Arrival Gate: 4
Departure (Scheduled): 12.16pm (12.10pm)
Arrival (scheduled): 1.41pm (1.55pm)
Registration: B-5155
Type: Boeing 737-8K5 (First flight 12th March 2001)
Seat: 16A (Economy Class)
Distance: 604 miles
After settling down in my seat, I noticed that it has a very tight seat pitch, probably around 31". Being 1.87m tall, this is definitely unbearable for any flight longer than 2 hours. Thankfully this is only a short flight!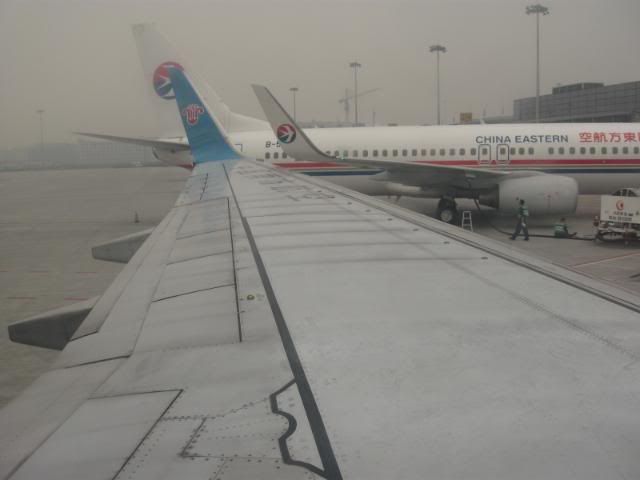 View from my seat

Legroom shot

This will be my view for the whole flight

Safety information card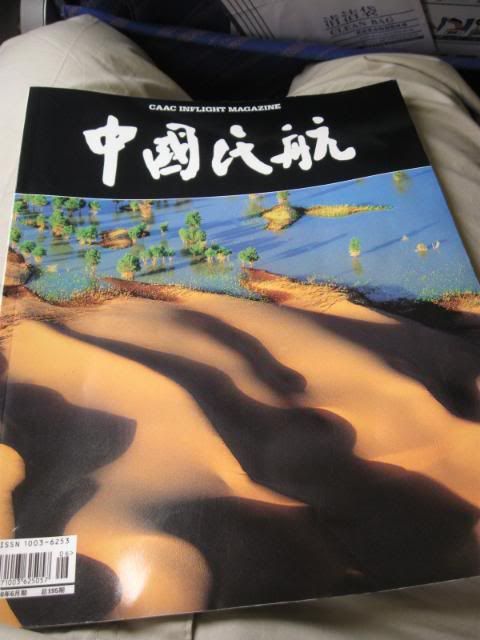 In-flight magazine
We pushed back on time and taxied to the runway for takeoff. There are no PTVs but acceptable for this flight. However, CZ uses this plane for flights up to 4-5 hours so you'll have to bring some sort of entertainment unless you are satisfied with the overhead TV.
The takeoff video can be found
here
.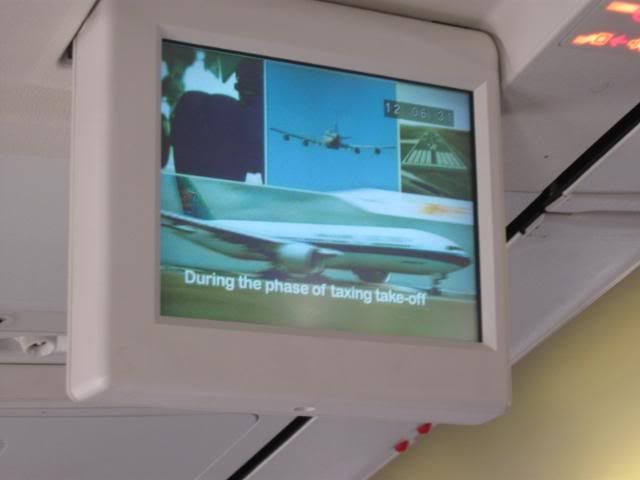 Safety video shown on the overhead screens, apparently takeoffs are "taxed" for!

Taxiing to the active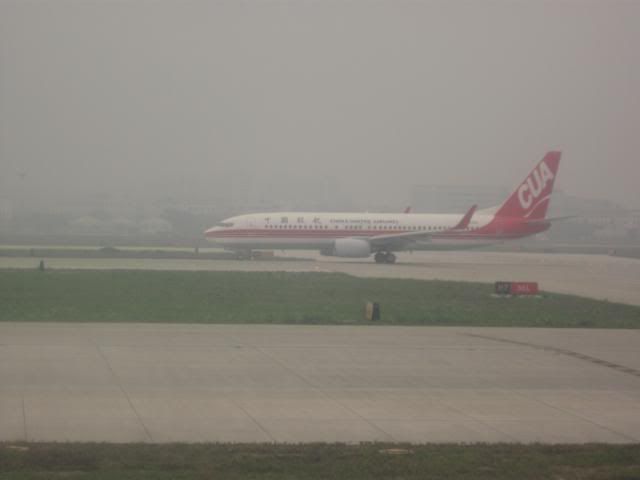 China United Airlines, based at Beijing Nanyuan Airport (NAY/ZBNY)

Shortly after takeoff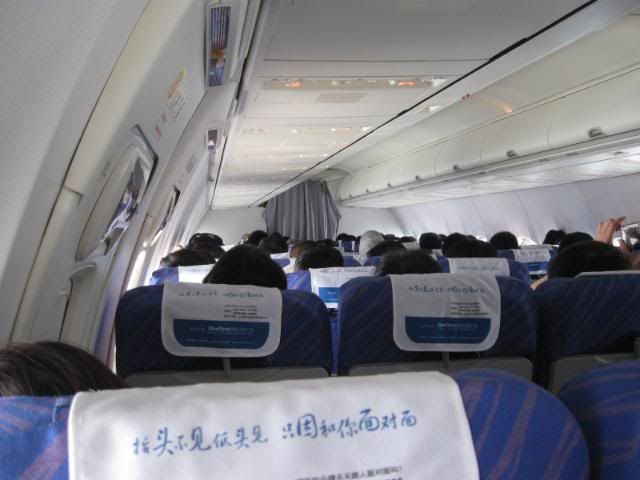 Cabin shot shortly after takeoff
The flight attendants were nowhere to be seen after takeoff, similar to a flight I took last year. Is this a common practice? However, they appeared about 30 minutes after departure and started the meal service. Since the time is limited, it resulted in a very rushed service with no formalities to speak of.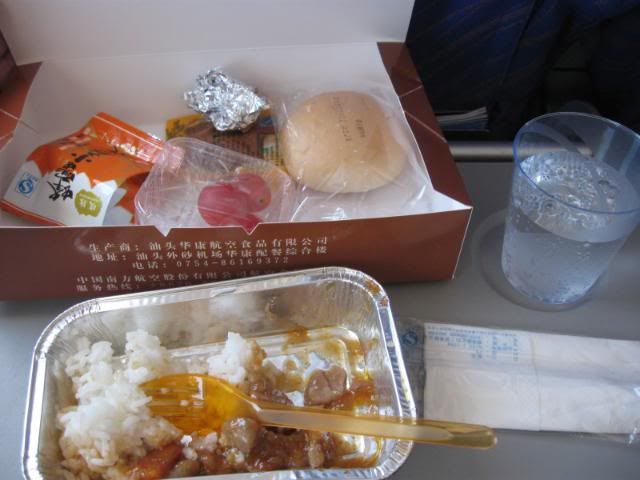 Meal served. The rice is SUPERB!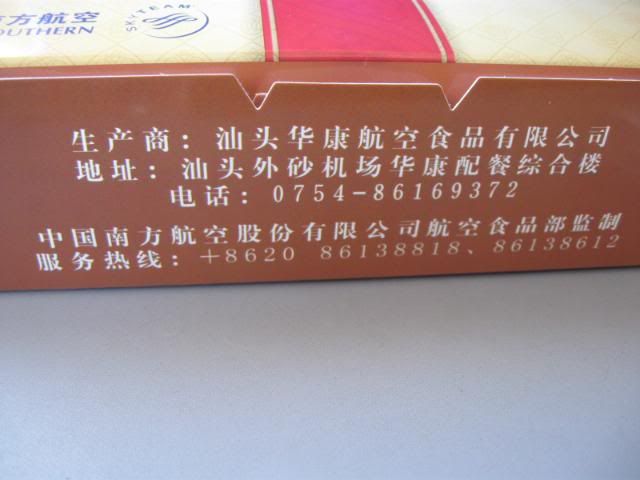 This is being catered in Shantou! I did not know there's a catering centre there!

Engines working hard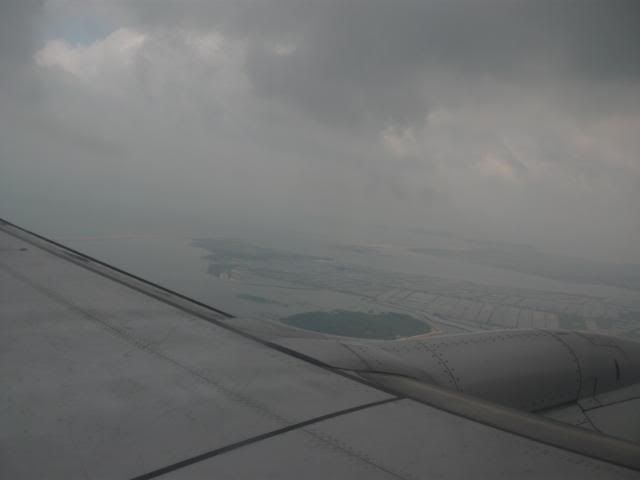 Descending to Shantou, I am getting excited!
I expected this to be a visual approach since Shantou Airport does not have ILS (just a rough guess). Not even knowing which runway we were approaching, However, the landing was very bumpy and when I thought all was over, the landing roll was EVEN bumpier! We braked hard as the runway is only 2500m long.
A video of the super bumpy landing can be found
here
. I dedicate this video to Sandeep (AI151) for his comment that he thought "we were gonna land in the river".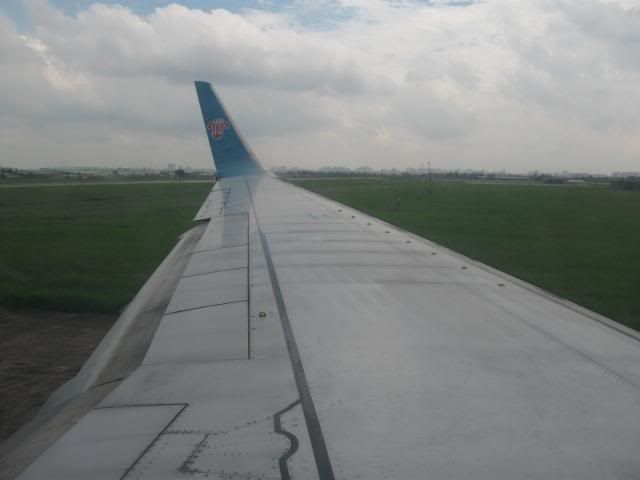 Shortly after landing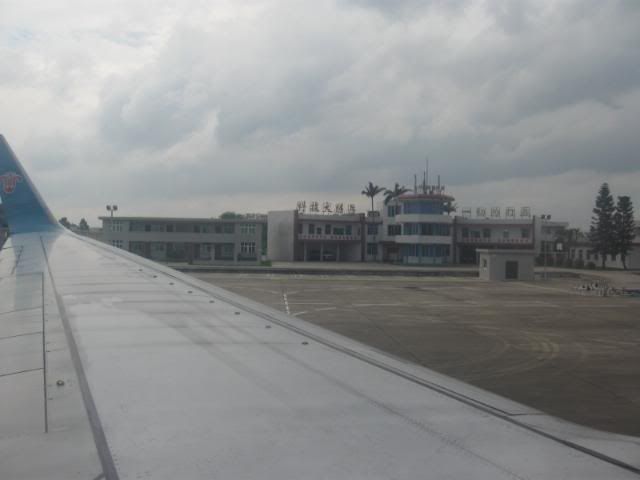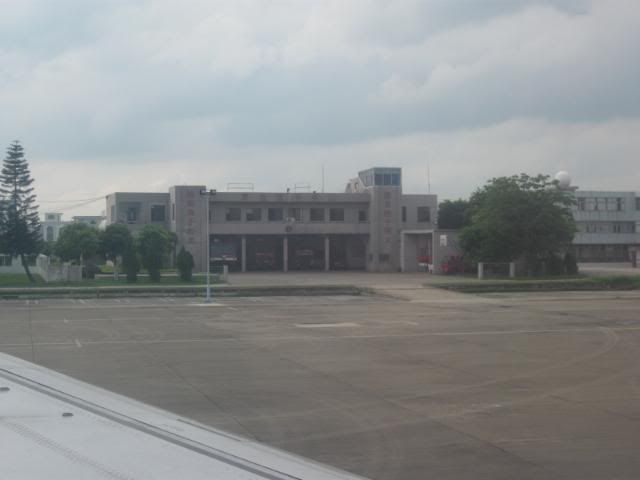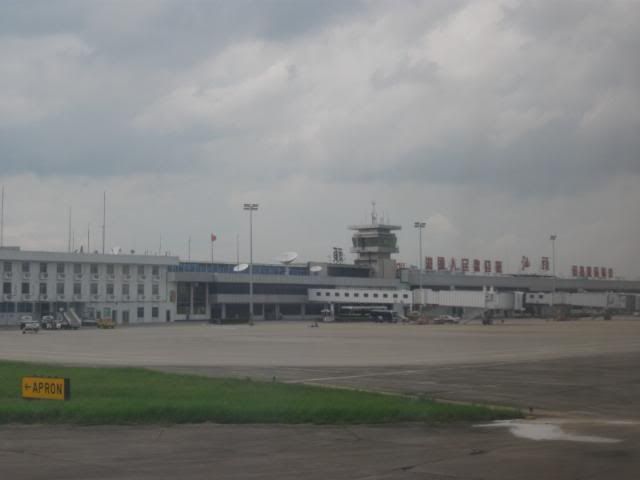 Some shots of Shantou Waisha Airport
What really surprised me is that there are actually jetways at Shantou! I did not expect it at all. I thought we would be deplaning by stairs. However, it is still a good touch though. Shantou airport is really small. Once you deplane, you walk down a flight of stairs to the baggage carousel and after collecting your baggage, it is just a 20 to 30 metres walk to the exit! Imagine how small it is. However, this is just the arrival side. The departure side is much bigger and will be covered for the return flight.
Since we reached the carousel so fast, the baggage took some time to arrive. An estimated time was around 10-15 minutes.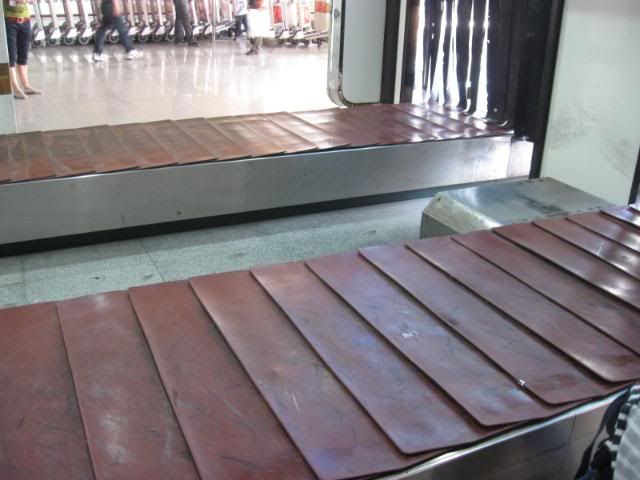 Baggage carousel
Shantou is really a great place to be in. The environment is suburban and the pace is very relaxed here. The best thing is, the food is great! Lots of Teochew delicacies can be found here, the place with the most Teochews on Earth! Now I guess it is time to showcase what Shantou has. Here we go!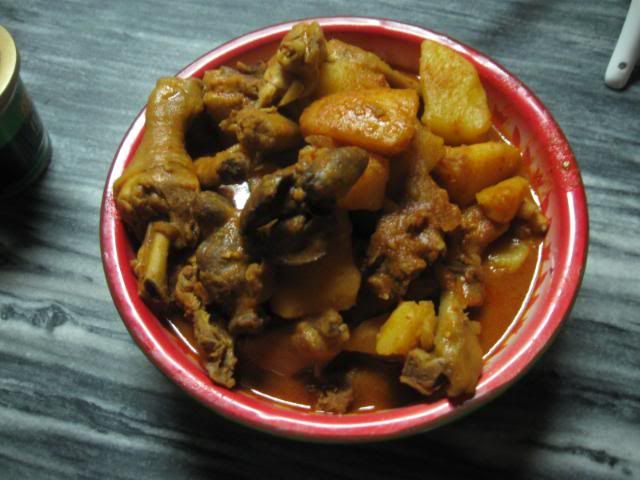 Curry Chicken, a Singapore delicacy cooked by yours truly! Culinary is my second hobby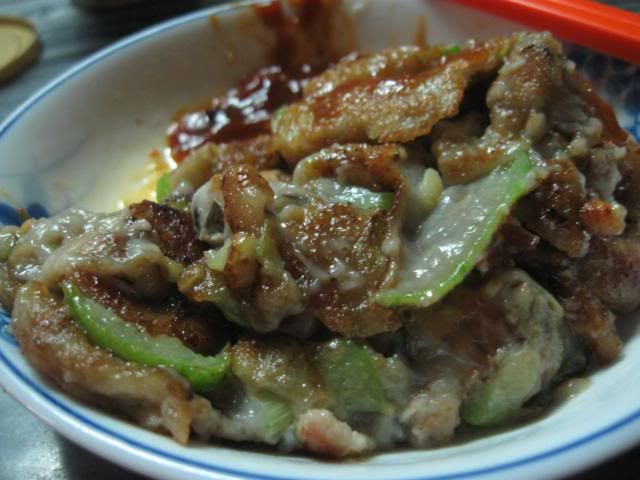 Fried Oyster, a Shantou delicacy and it tastes totally different from what we have in Singapore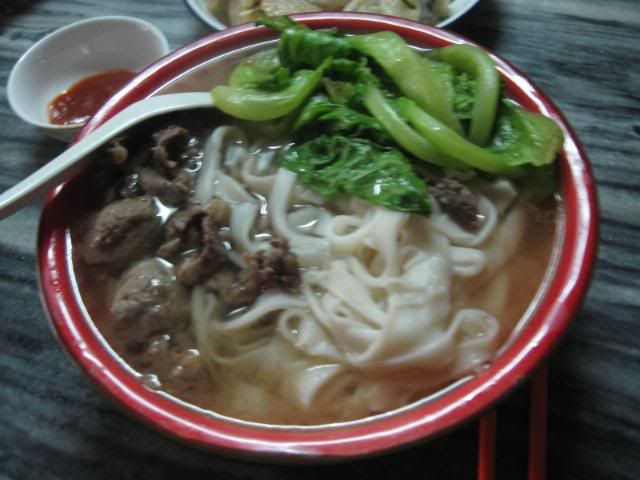 Beef Ball Kway Teow, I love the beef balls here!

Wonderful home cooked meal! I'm salivating now!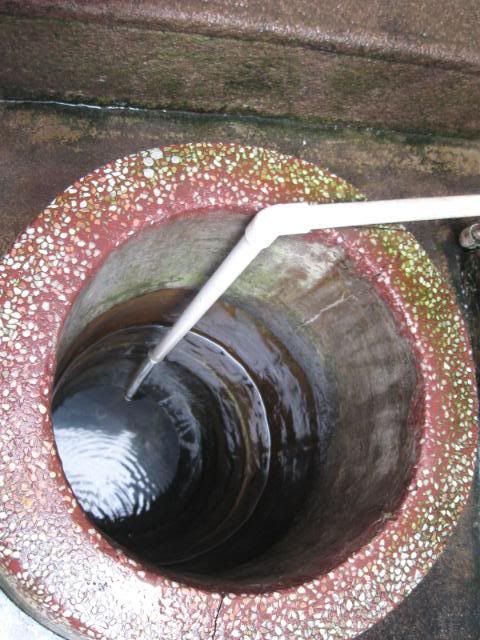 A well to get water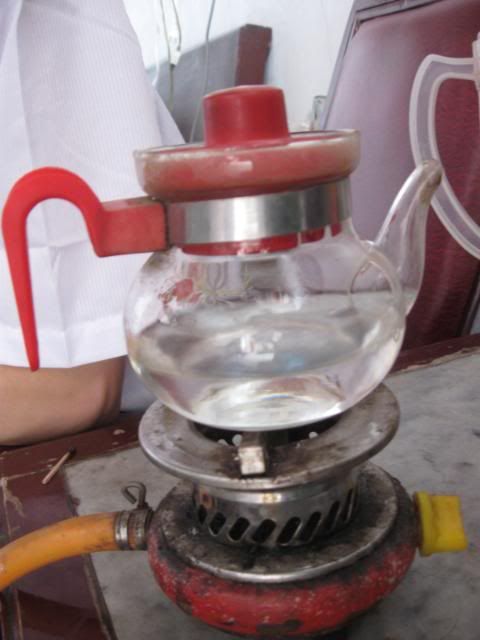 A kettle to boil water for Chinese Tea

Traditional Chinese Tea set

Delicious dumplings!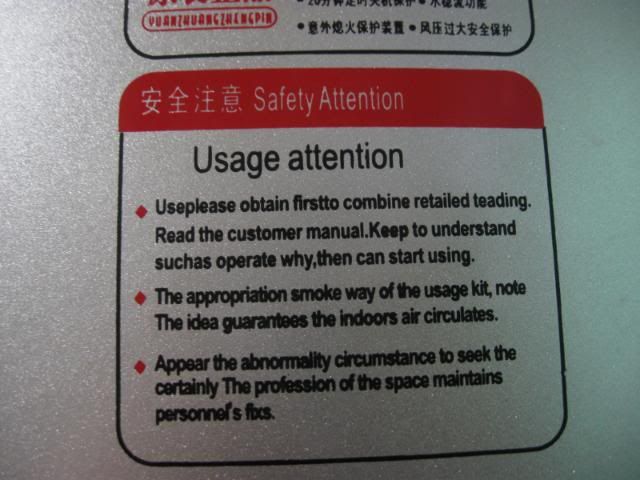 Someone try understanding this! I wonder what translator they used?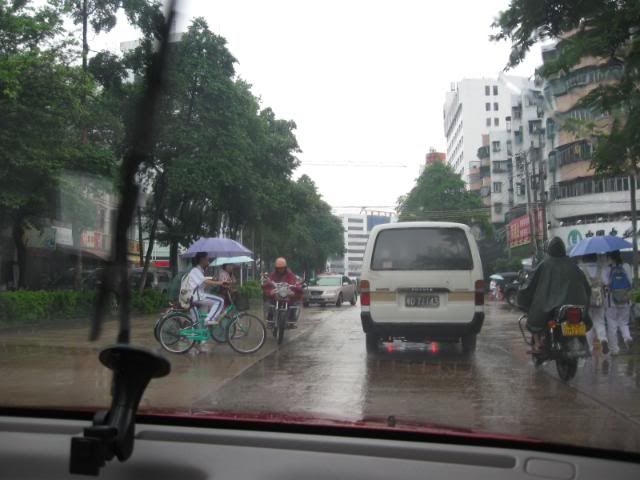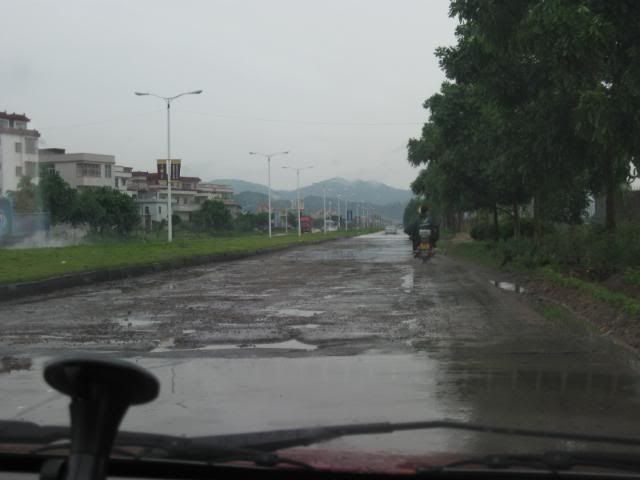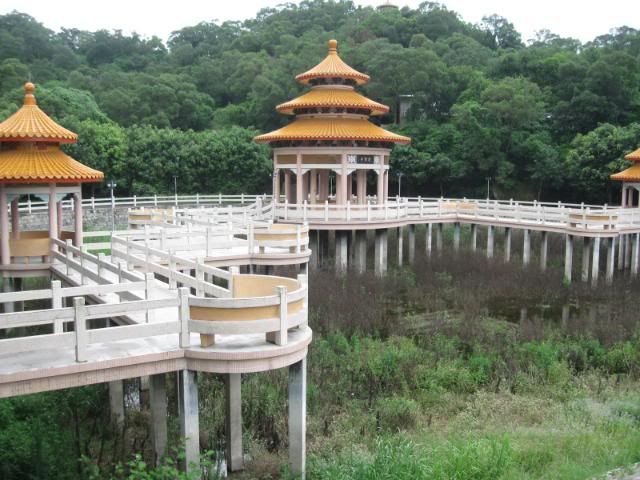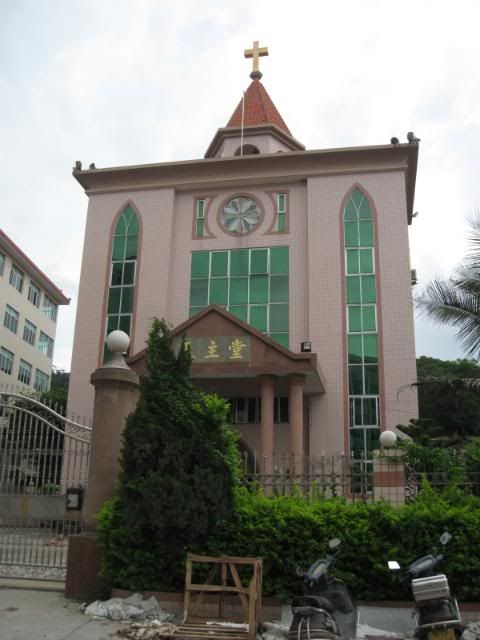 After a short and sweet 6 day stay in Shantou, it is time to head back to Shanghai to continue my exploration of this vibrant city in China!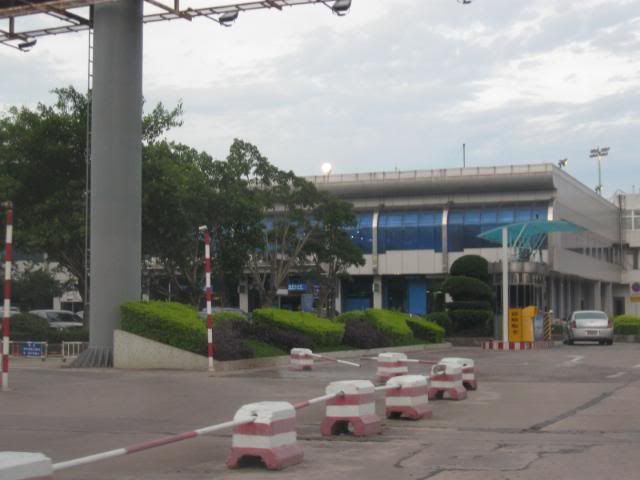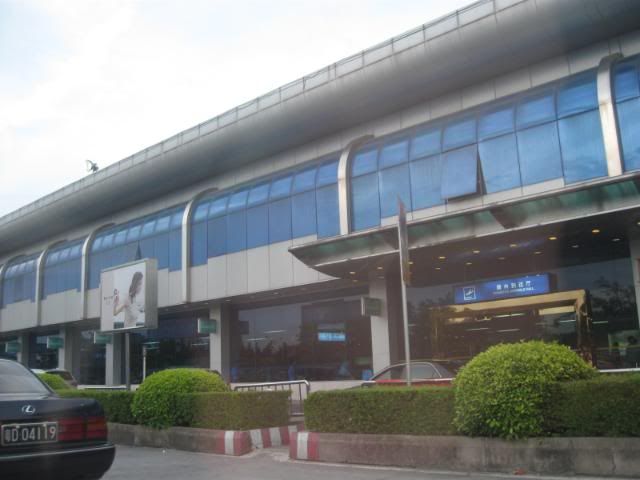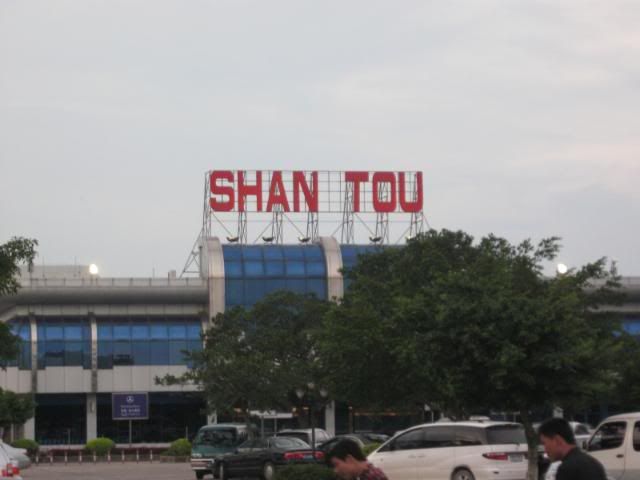 We meet again, Shantou Waisha Airport!
After heading into the airport, I headed straight to the only 2 counters open for CZ3853 to Shanghai, one for Business and one for Economy.

Check-in area at Shantou
I got my boarding pass and to my surprise, I was given an exit row seat at 15F. Always good news to have an exit row! After a farewell with my relatives, unsure when I'll be able to see them again, I headed on to Gate 2, the gate for my flight. Another interesting thing to note is that the lounges here are located before the security check area.
Segment 2
18 June 2010
CZ3853
Route: SWA-SHA
Departure Gate: 2
Arrival Gate: 74 (Terminal 2)
Departure (Scheduled): 8.01pm (7.50pm)
Arrival (scheduled): 9.38pm (9.25pm)
Registration: B-5155
Type: Boeing 737-8K5 (First flight 12th March 2001)
Seat: 15F (Economy Class)
Distance: 604 miles
Since the return flight is almost similar to that of the outbound flight, I'll let pictures do more of the talking. However, I was shocked to discover that the aircraft was actually B-5155 again.

The boarding gate

My boarding pass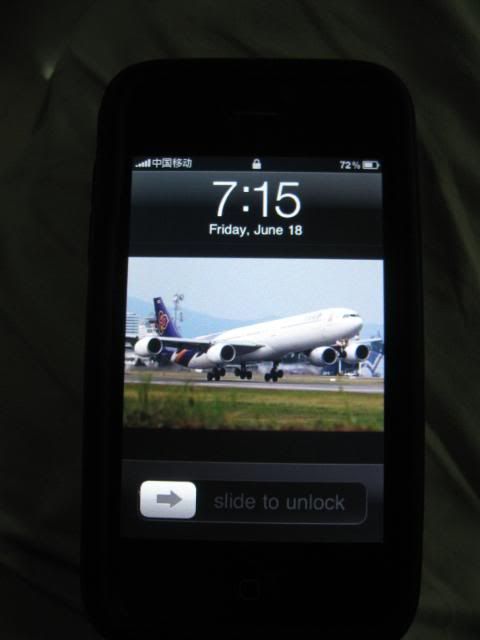 The plane hasn't arrived yet! I knew we'd be behind schedule..

Looking back to my previous seat at 16A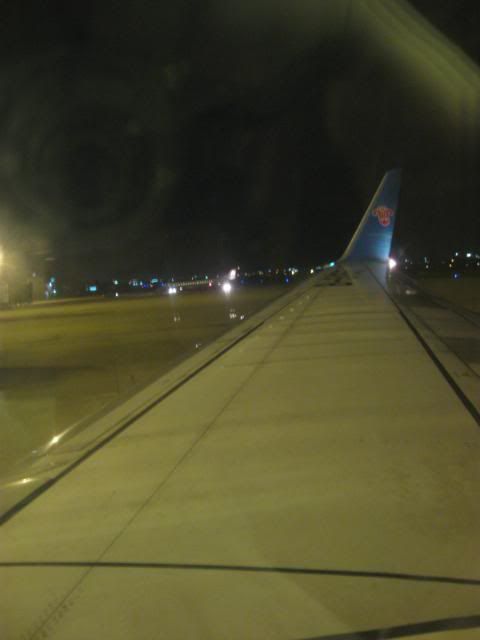 Looking out from my seat

Lots of legroom in the exit row! I guess 36" - 38"? Similar to that of Intra-Europe Business Class. The middle seat was empty too!
The plane reached at 7.30pm which made me think that boarding will not complete by 7.50pm and we will not depart on time. Sure enough, boarding commenced at 7.45pm and we pushed back at 8.01pm. We taxied to runway 22 (I finally knew the runway numbering!!) for takeoff after a short taxi. Takeoff run commenced at 8.09pm.
We made a moderate climb and reached 10,000ft at 8.14pm, evidence being that the landing lights were switched off. 20 minute after departure the flight attendants were nowhere to be seen, like the other CZ flights I had. At around 8.32pm we hit some moderate turbulence and service was said to be stopped but there was actually no service at all! Finally at 8.37pm, drinks service started from the front of the plane at row 4.

Landing lights still on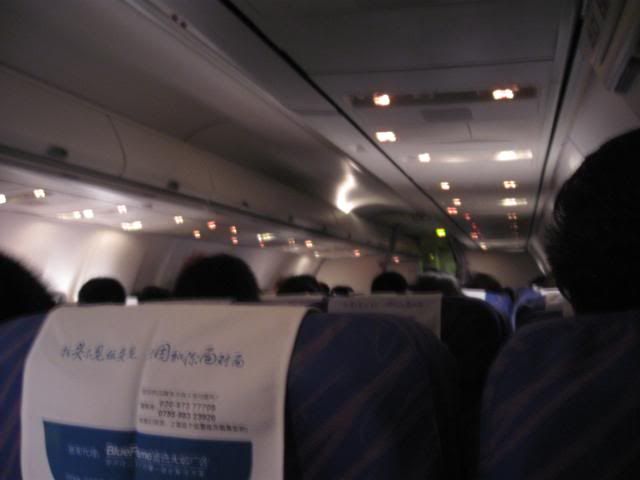 Cabin view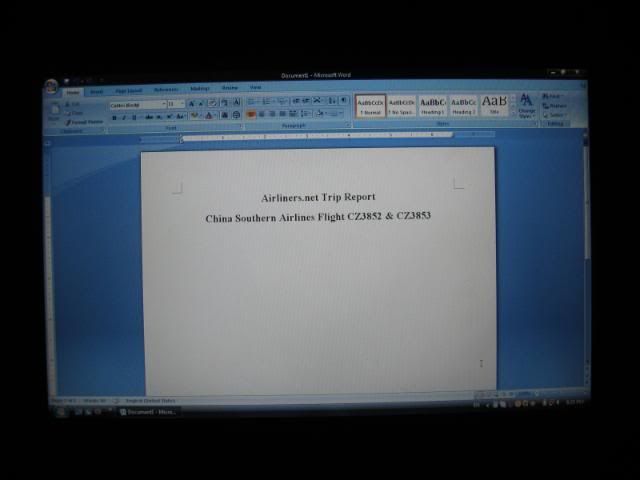 Trying to work on this trip report

Snack box. No rice this time, boo!
At 9.11pm, we started our descend to Hongqiao. The descend was uneventful and we finally touched down at 9.38pm on runway 18R, 13 minutes after ETA. After a short 5 minute taxi, we arrived at gate 74 at 9.43pm, 18 minutes behind schedule.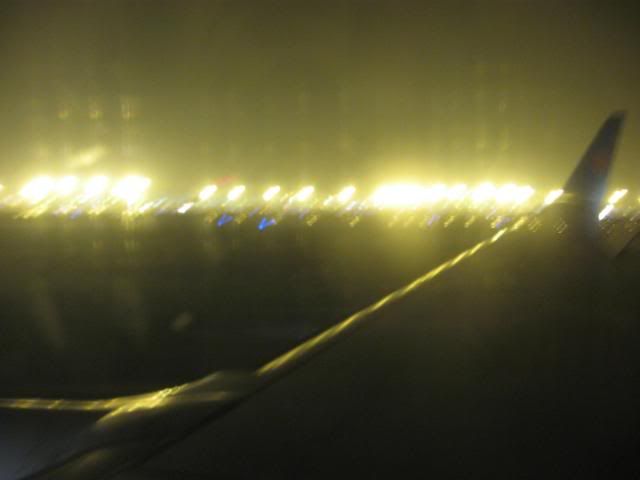 Landing at Hongqiao

My plane parked at the gate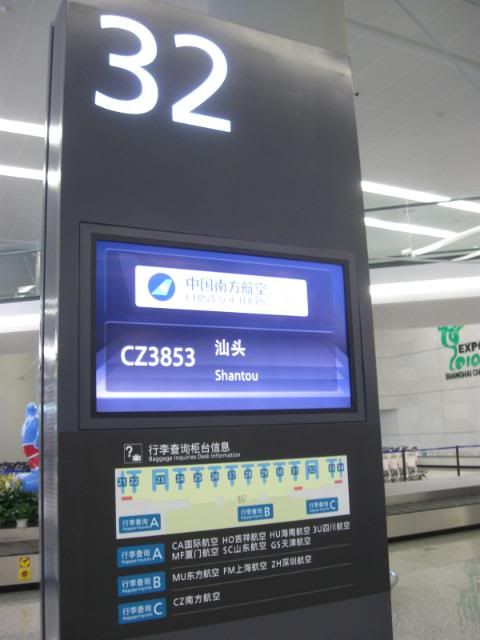 Baggage claim

Baggage claim area at Hongqiao
Conclusion
As mentioned by some a.netters, service on CZ can really be a hit or miss. On both of my flights, the service was poor. No smiles nor greetings, just asking what you want to drink or have. Is their pay so little that they do not bother with the formalities? Probably someone can tell us. Low pay can really affect staff morale! However, I'll still take CZ for domestic flights. Despite that, I'd not hesitate to try out MU, HU or CA for domestic flights either. As for international flights, I'll still stick to my trusty SQ and TG.
Previous Trip Reports
Oldest Vs Newest: Royal Silk Class On Thai
(by
Initious
Jun 13 2010 in Trip Reports)
Away We Go - China Southern WUH-CAN-SIN (2/2)
(by
initious
Apr 14 2010 in Trip Reports)
Away We Go - China Southern SIN-CAN-WUH Vv (1/2)
(by
initious
Apr 2 2010 in Trip Reports)
Sardines In A Can - Jetstar Asia SIN-HKG-SIN
(by
Initious
Mar 29 2010 in Trip Reports)
Flying 5 Star - SQ SIN-CAN-SIN (2009)
(by
Initious
Mar 26 2010 in Trip Reports)
[Edited 2010-06-27 07:24:52]