Background
One of the highlights of the month of January is the planning of our summer holiday. After a lovely stay in Santorini two years ago we decided we'd like to try another Greek island and went for Mykonos. Our flight to JTR had touched down there and we liked what we saw from the air. Anyway, for personal reasons we weren't able to book the trip at that point and by the time we did in March, not only had the price gone up but the hotel we wanted no longer had any sea view rooms. Not to be deterred, we paid the extra and settled for the garden view. Flights were direct to Mykonos with Edelweiss, although on certain dates they are operated by Swiss and sure enough, this was to be the case for us.
Seat reservation was done through the travel agents, highly recommended on holiday flights, for the fee of 30chf each.
The trip
OLCI was not necessary as we already had our seats. The alarm woke us at 0330 and we set off at 0415, arriving at Zurich just 25 minutes later. I enjoy driving at this time of the night (or morning). I wasn't sure what the check-in queues would be like as there were a few other charters departing at a similar time so allowed plenty of time, too much as usual. There was of course no wait at check-in. Look at how quiet the place is. It was so early, I couldn't even say hi to my colleagues, as they hadn't started work yet!
Check-in 3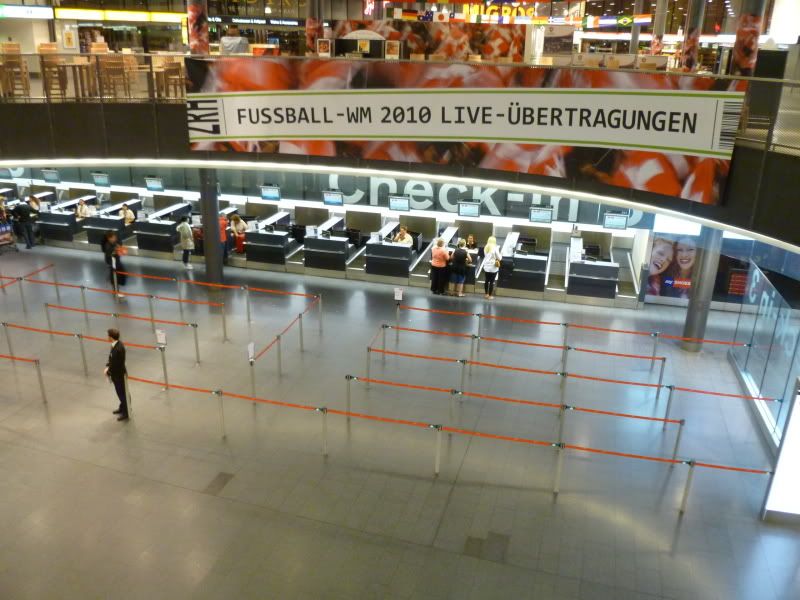 Shopping landside
Fids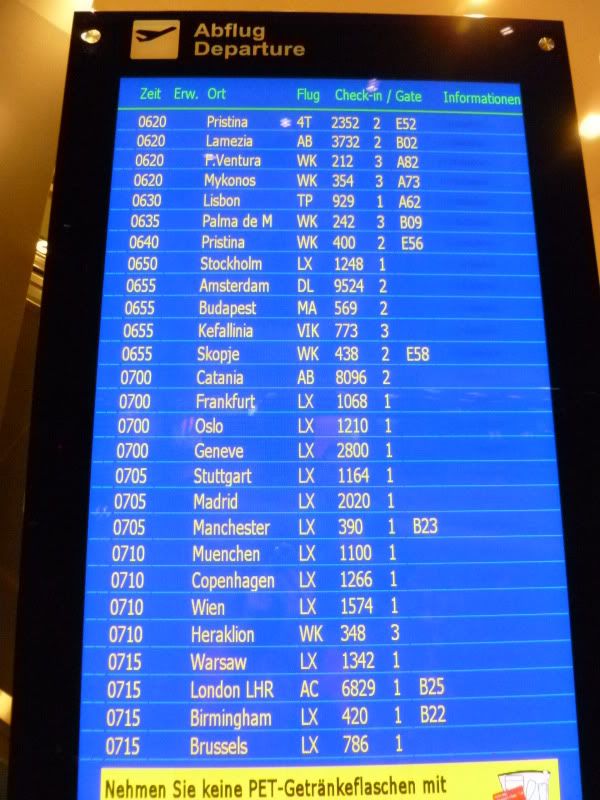 Transit zone A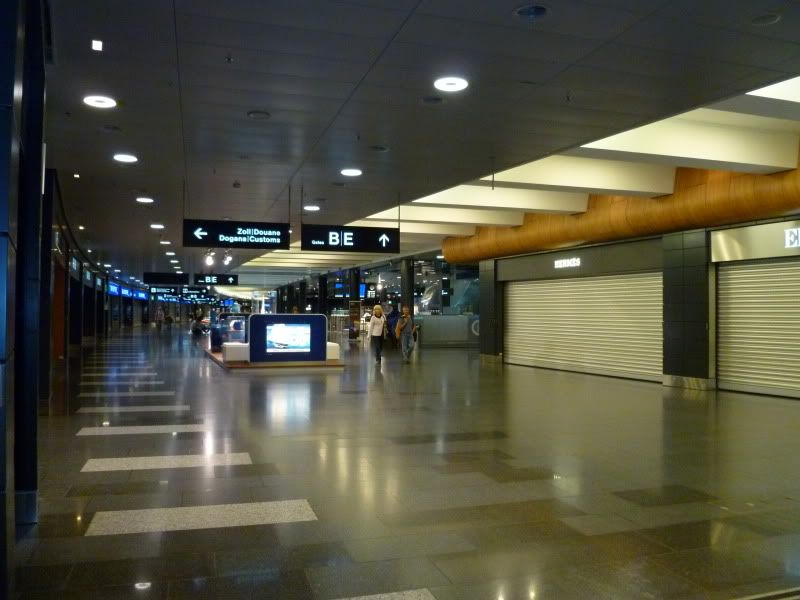 Our gate was A73 and there was one security point open along with one bar, which was making a fortune selling bottled water. You know who profits from the liquids ban……
Sunday June 13th
ZRH-JMK
WK354 operated by Swiss
STD/STA 0620 / 1000
ATD/ATA 0630 / 0955
A320-200 HB-IJW
Seats 32A&B
Load 100%
Boarding started at 0555 and those sitting at the back were asked to board first. Free newspapers were available in the air bridge. I guessed from looking at the seats that this was one of the old Swiss Sun planes- they still have the nice big leather ones. My records tell me it was my second flight on this aircraft. It was a full load today with 3 rows of business class. Someone behind wanted to change seats, to which the crew replied it was impossible. Interesting to note there was only one child on the flight – Mykonos is not the best place for kids.
Boarding was completed remarkably quickly and we pushed back bang on 0620. The crew welcomed us on board, played the saftey video and the pilot greeted us quickly.
Pushback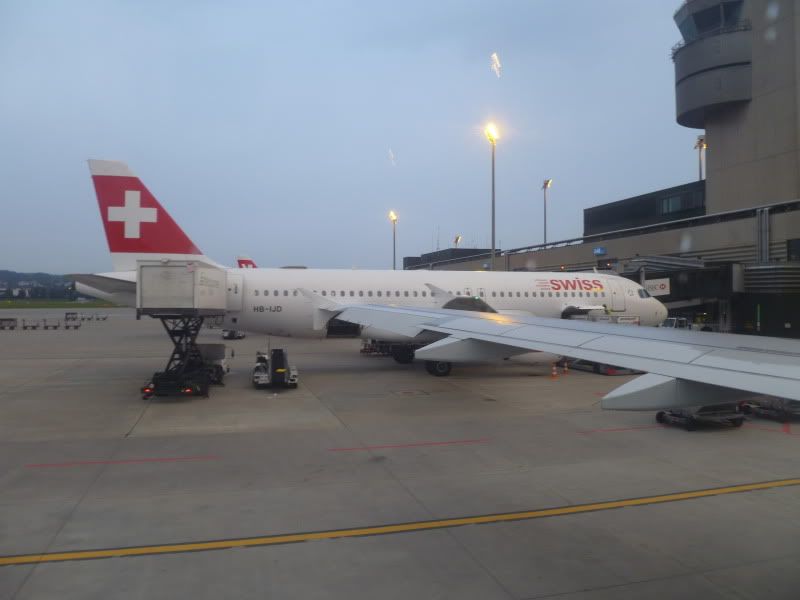 Air France coming up soon for me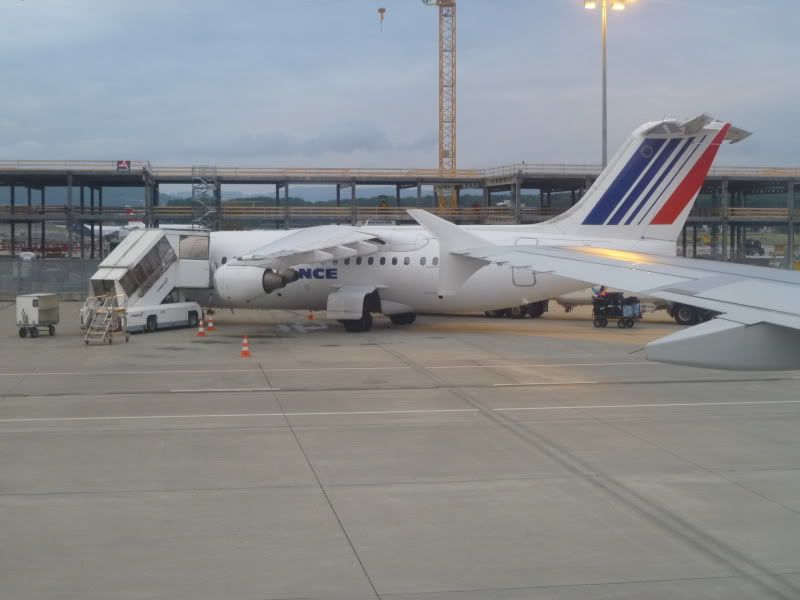 KL and their E90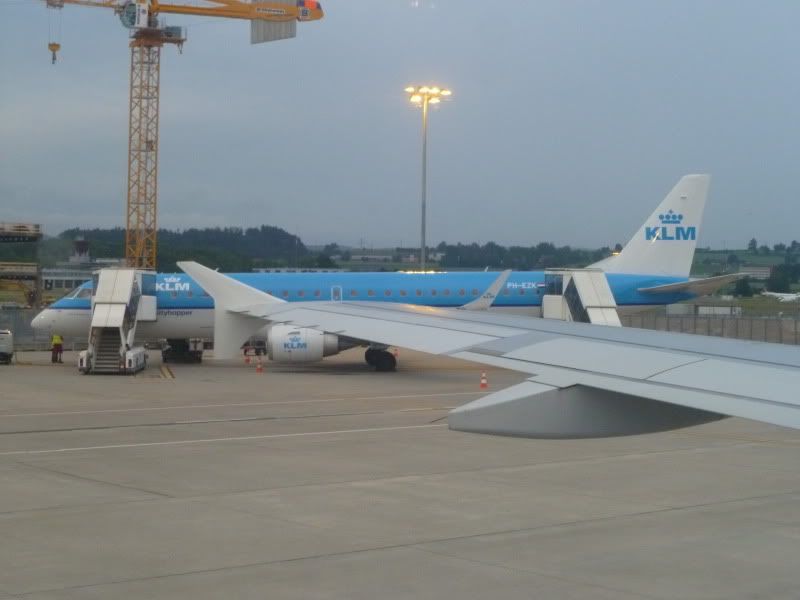 Work still ongoing at Dock B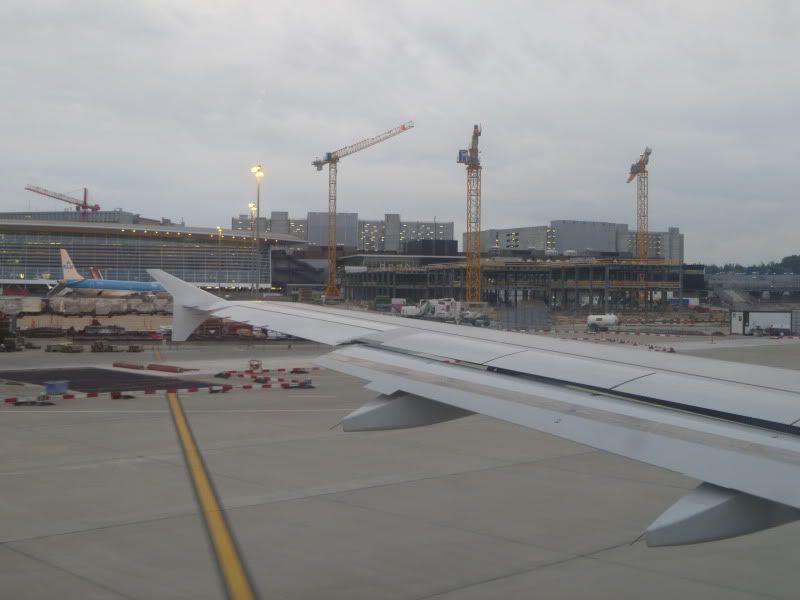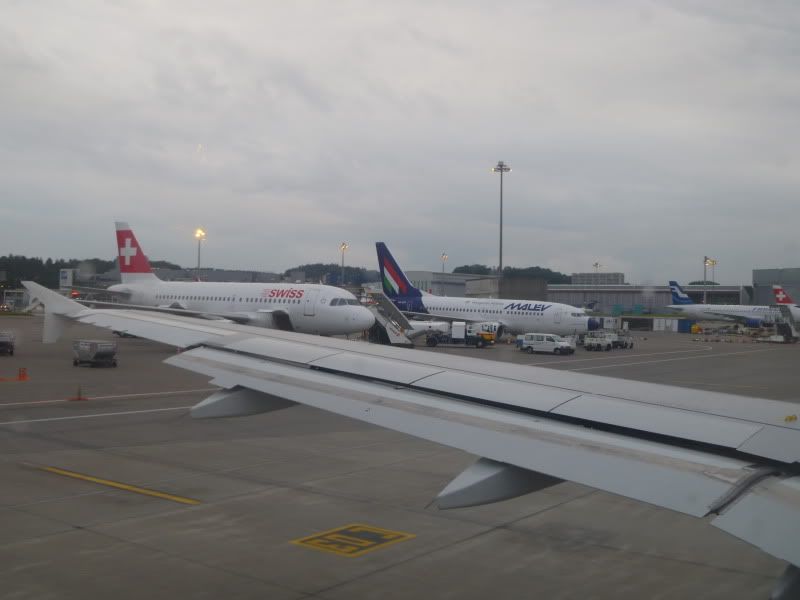 Wonder what AY was doing here? They don't usually overnight in Zurich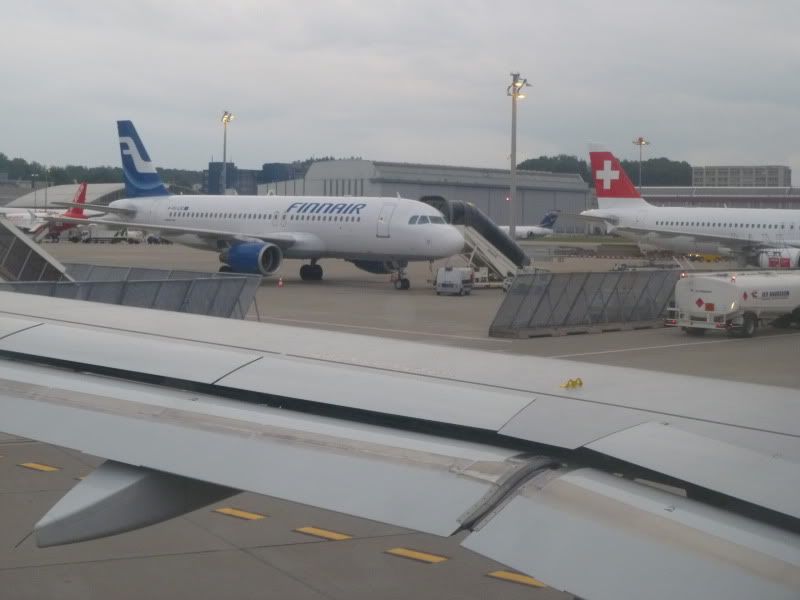 AB in the old colours and Hello MD-90
Our take off was from runway 34 at 0630, the restrictions at this time mean we couldn't fly over Germany so shortly after we were airborne we made a sharp turn to the right and headed for the Austrian border.
Turning
Wheel cam, a feature of the ex-Swiss sun machines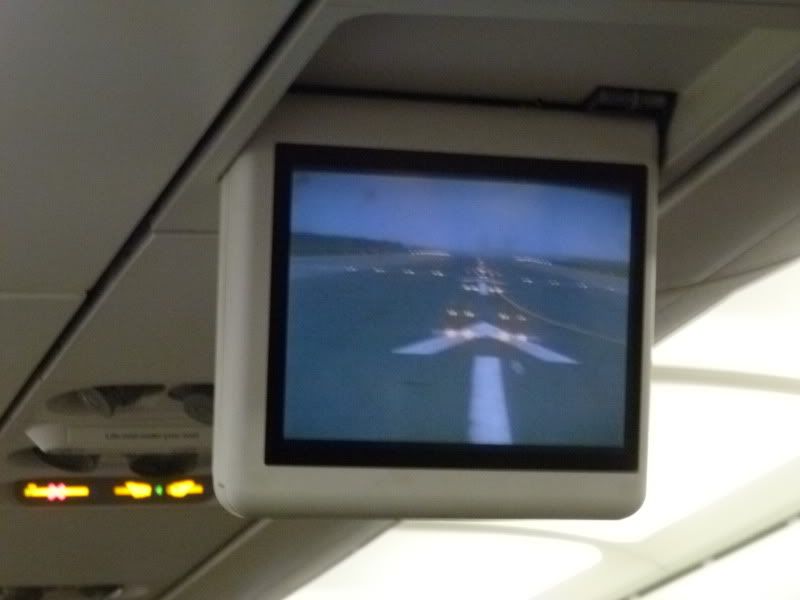 Take off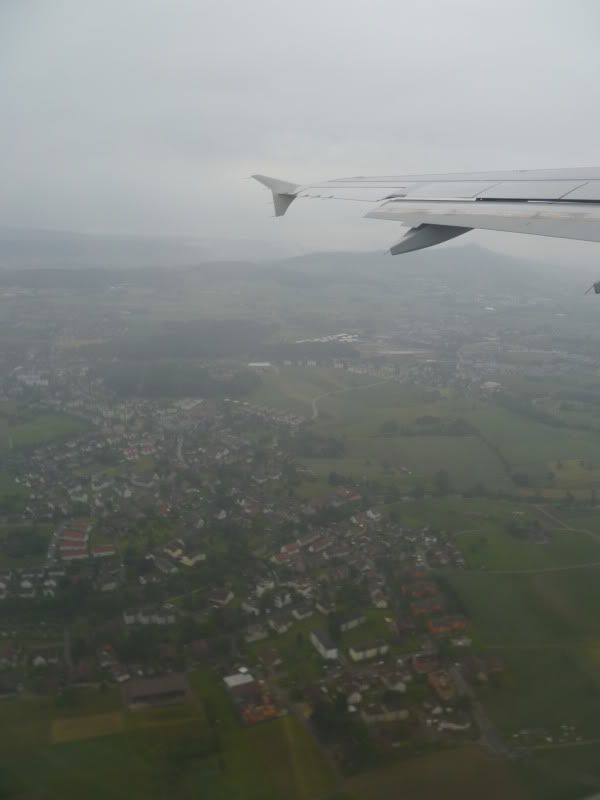 Just look at the horrible weather in Switzerland……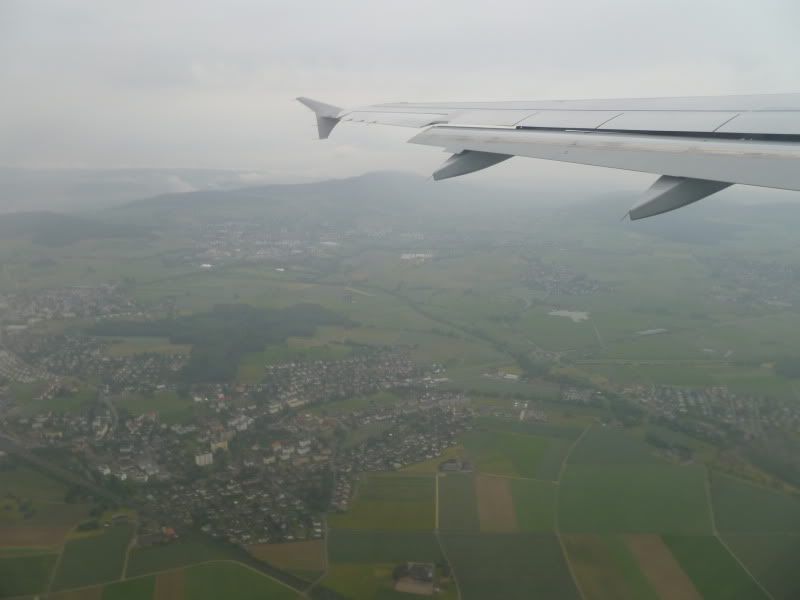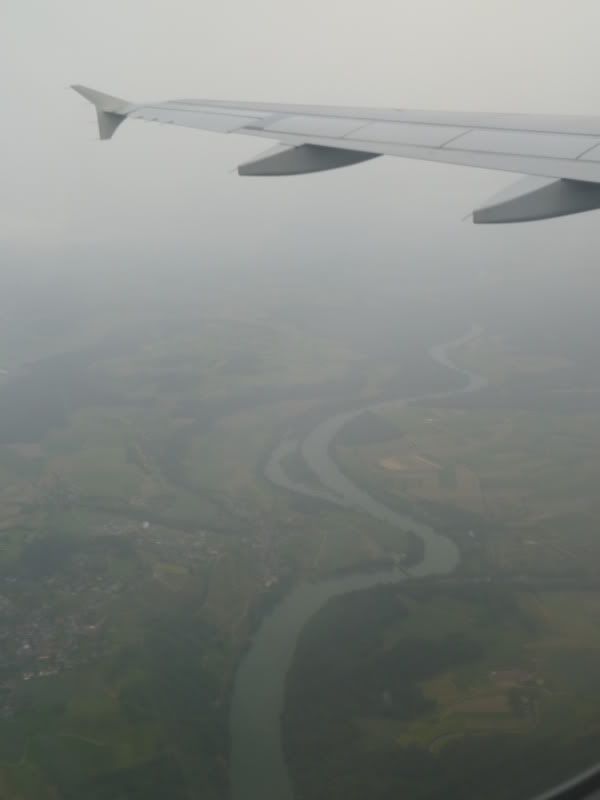 About 20 minutes or so after take off, the pilot made a very detailed announcement in Swiss German, which was a nice touch. He told us extensively about our routing which was to be over Innsbruck, the Dolomites, Venice, along the Adria past Zadar, Dubrovnik and on towards Athens. He then gave some information for the "technically interested", telling us that our take off weight was 71 tonnes; we would use 6 ½ tonnes of fuel on our way; our take off speed was 300kmh and our crusing altitude was to be 10000m to start with, climbing to 11000 later. I didn't catch the pilot's name unfortunately, but thanks for such a detailed announcement!
Dolomites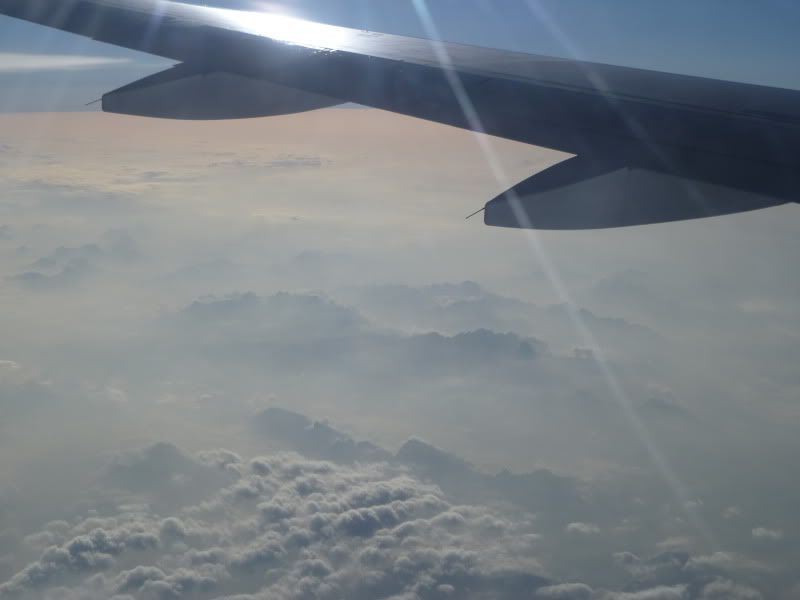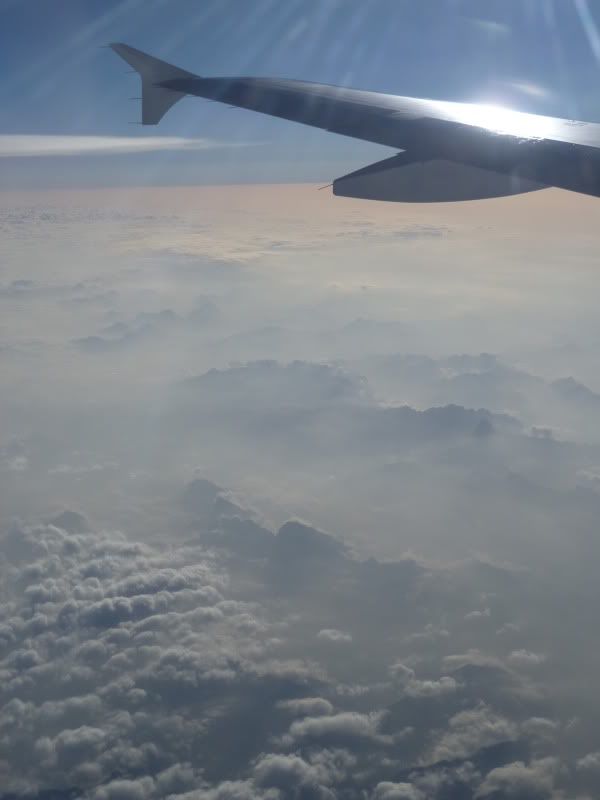 Those clouds on the left were pretty high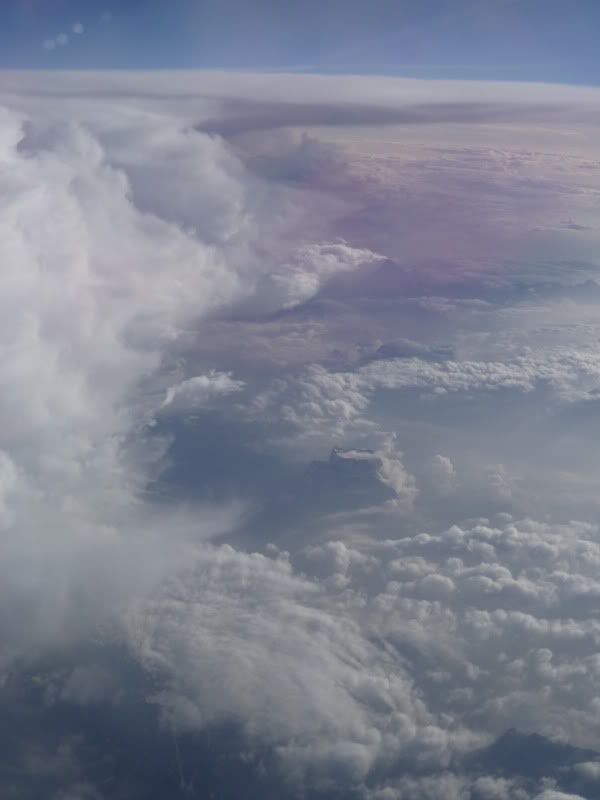 We had a bottle of water in the seat pocket, something usually reserved for C-class pax on LX, and the breakfast service began promptly. I was interested to see what we get as WK offer "proper" meals on their flights, but we were on an LX machine.
This was the vegetarian breakfast offering: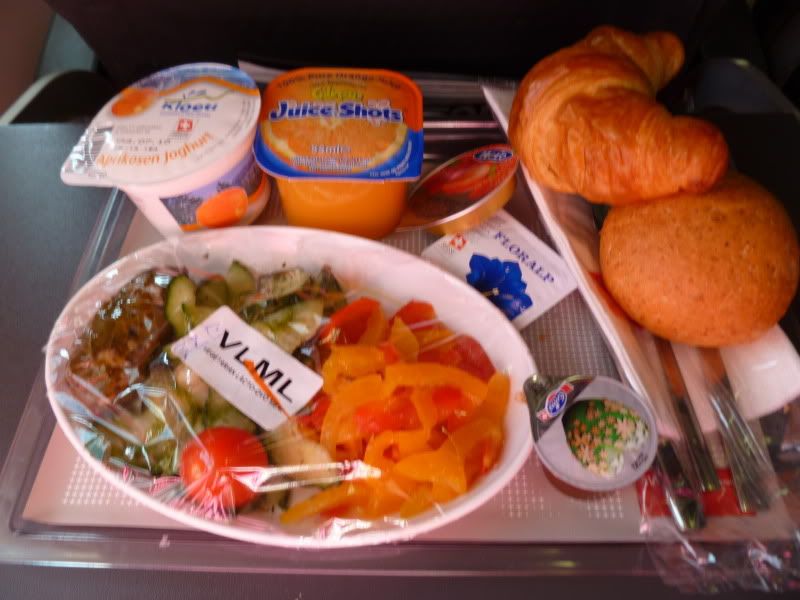 And the standard one:
A very comprehensive tray on a holiday flight with no extra cost - thumbs up. First we were offered soft drinks, later tea and coffee. Alcohol was extra. To be really picky, cucumber and roasted peppers wouldn't be my first choice at 7am, but I was hungry so it all went.
We overtook this OS F70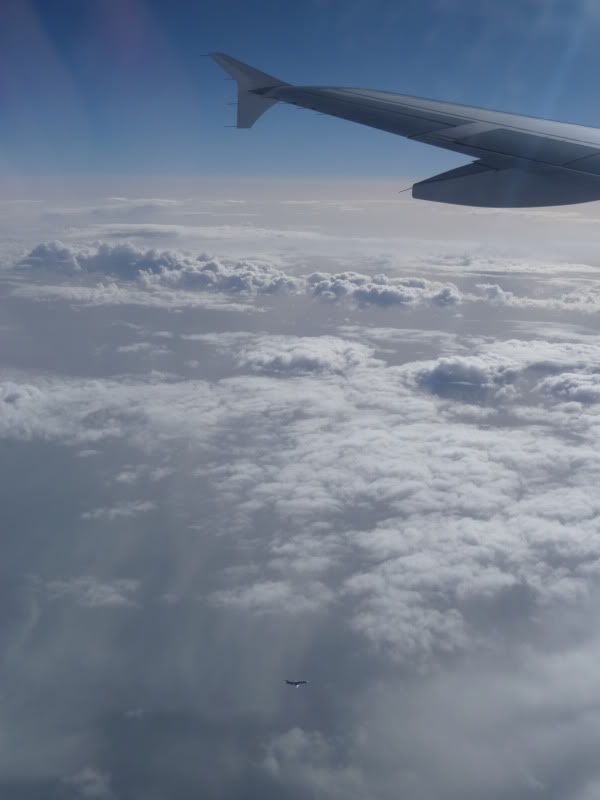 Adria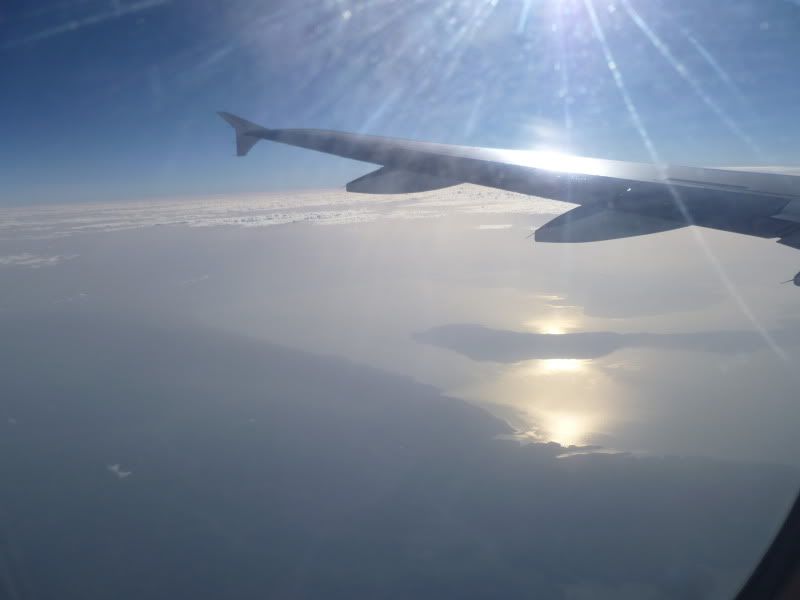 Over Greece now
We were still over the mainland when I heard the engines spool down and the pilot announced that we had started our descent and those on the right could see Athens.
Andros & Tinos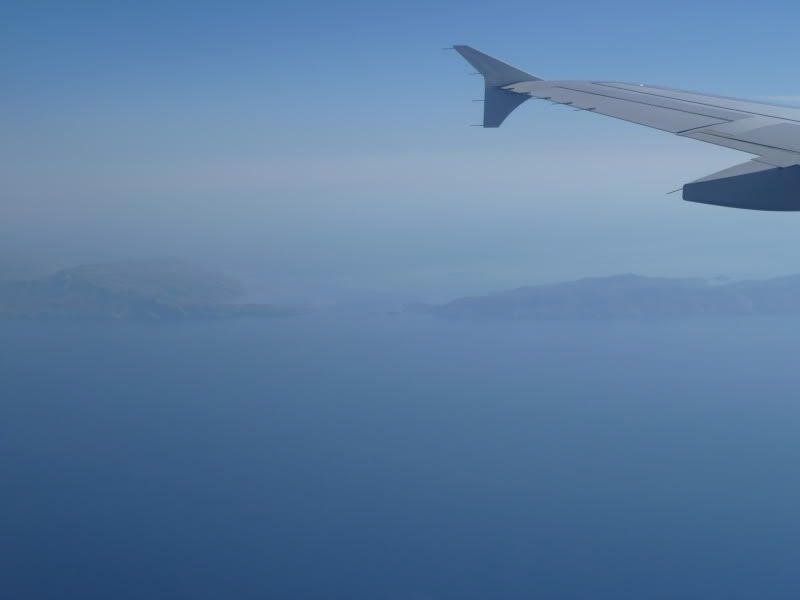 Syros - somewhere down there is an aiport with a 1000m runway!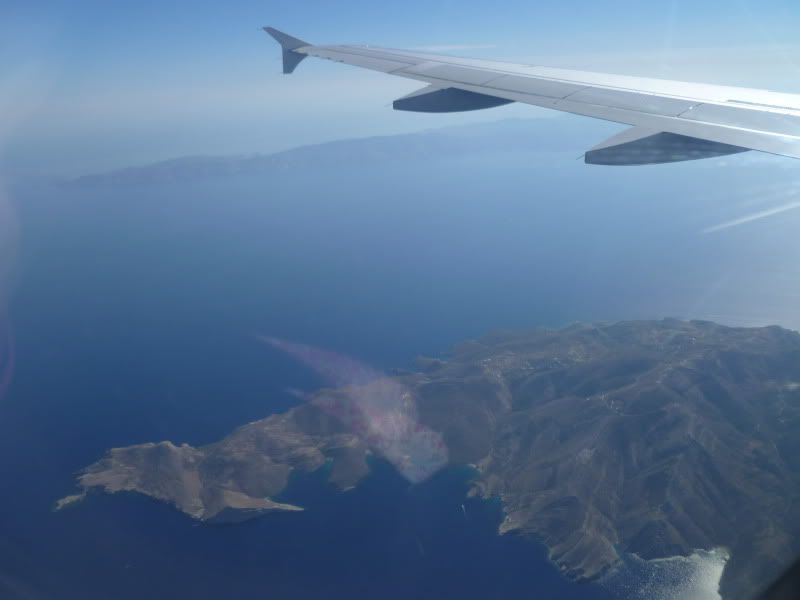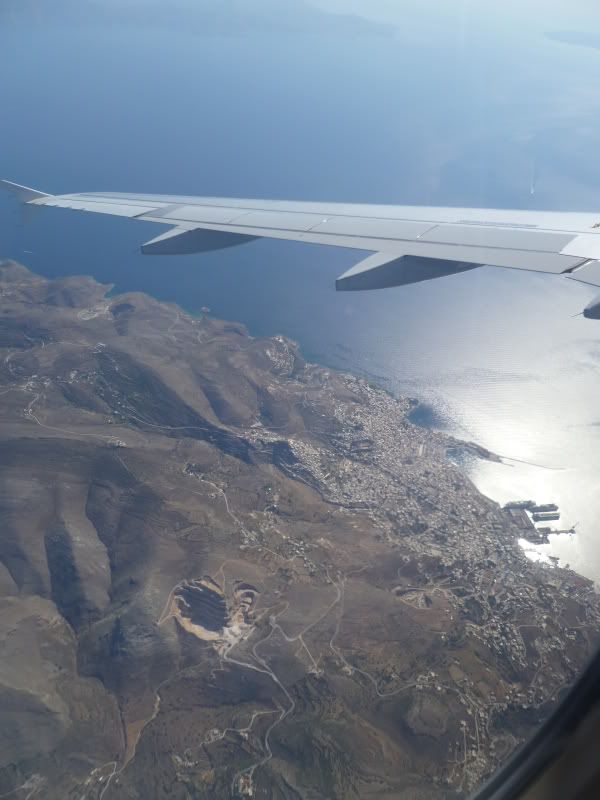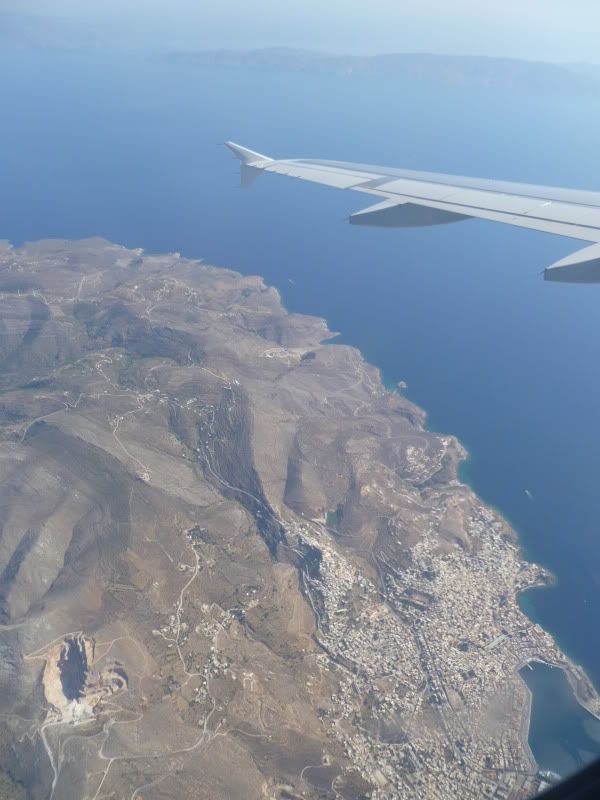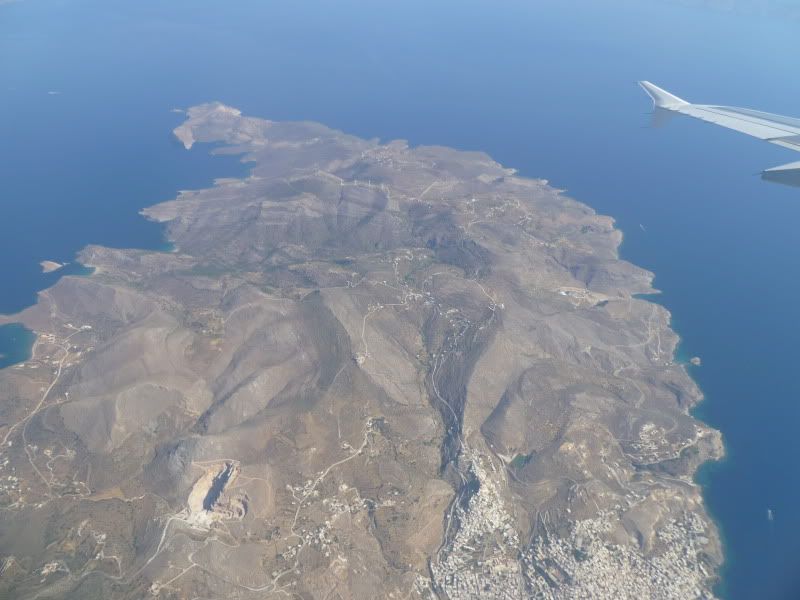 Tinos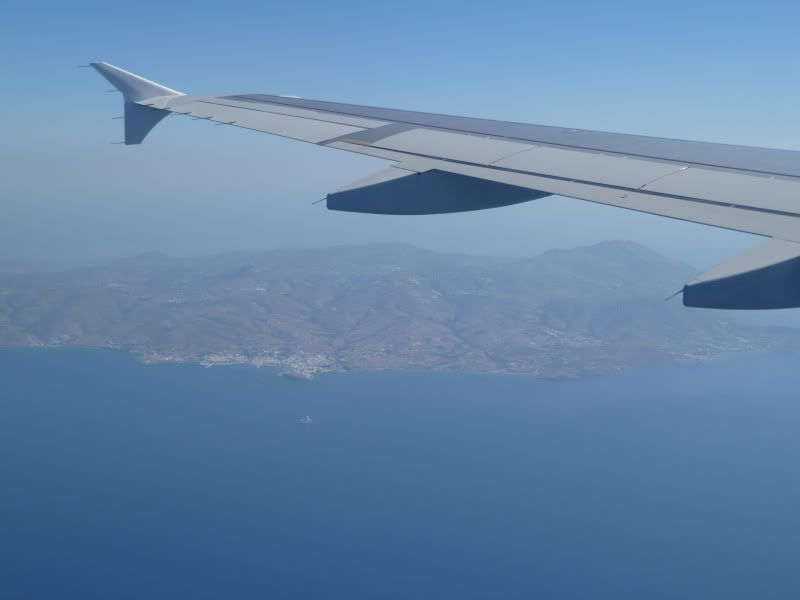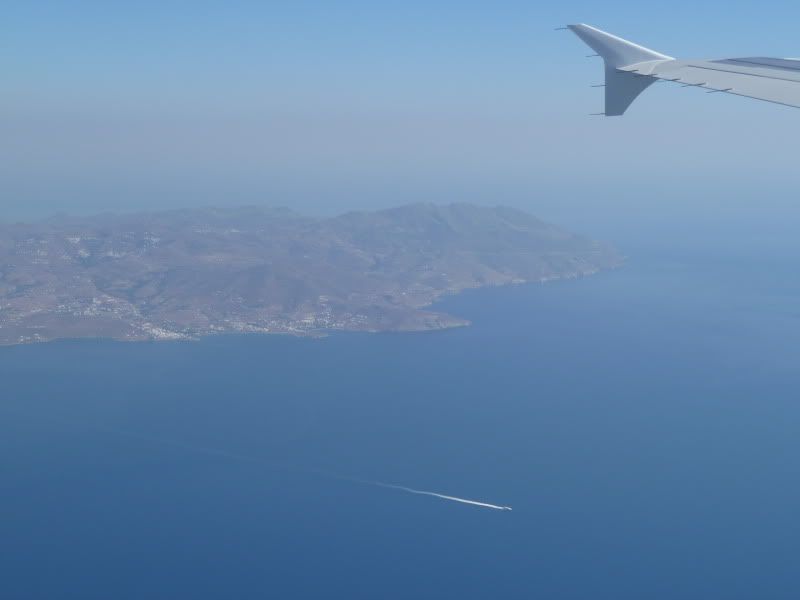 Mykonos in sight!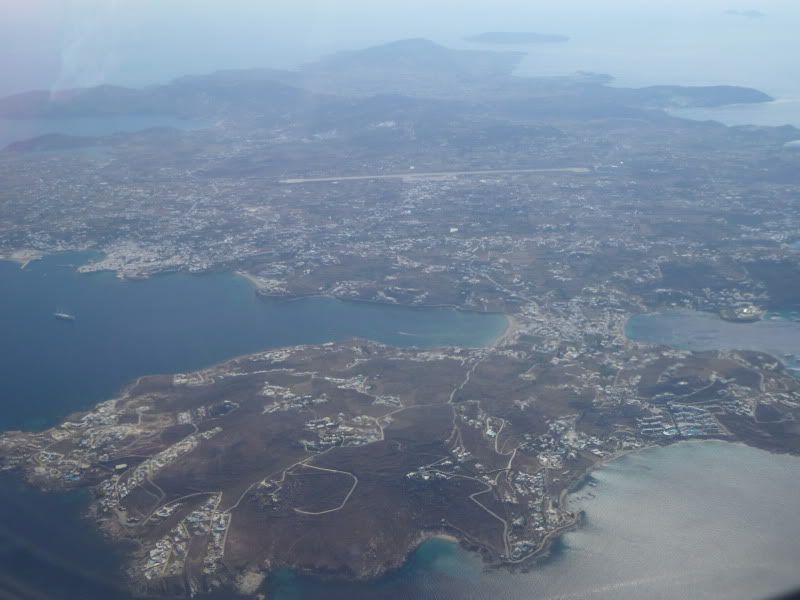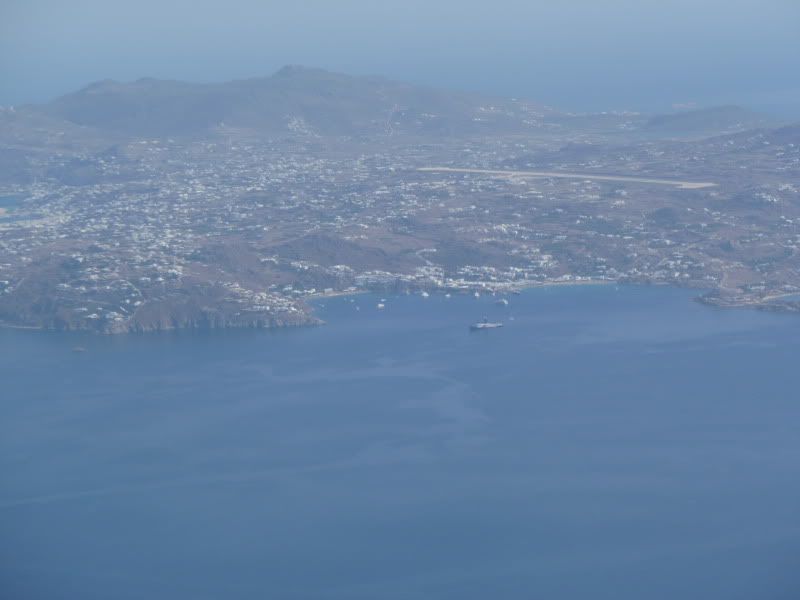 Turning over the sea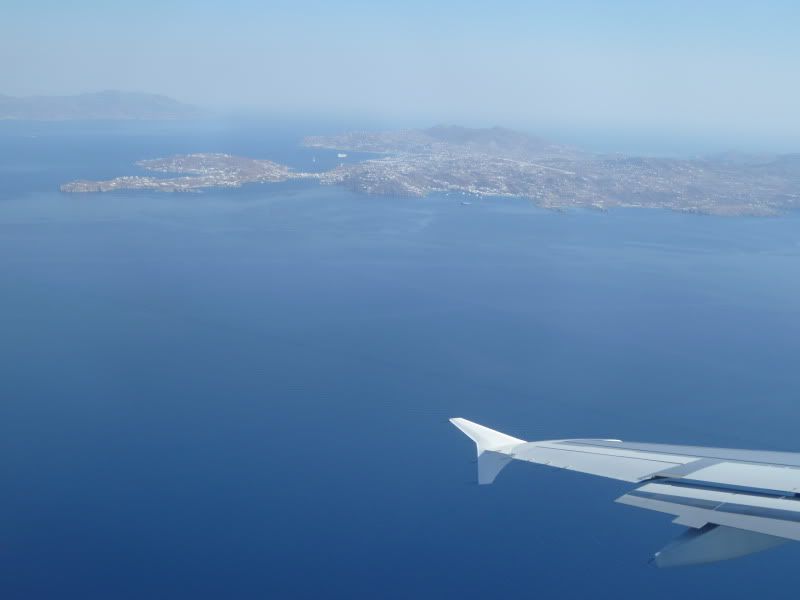 Delos / Rinia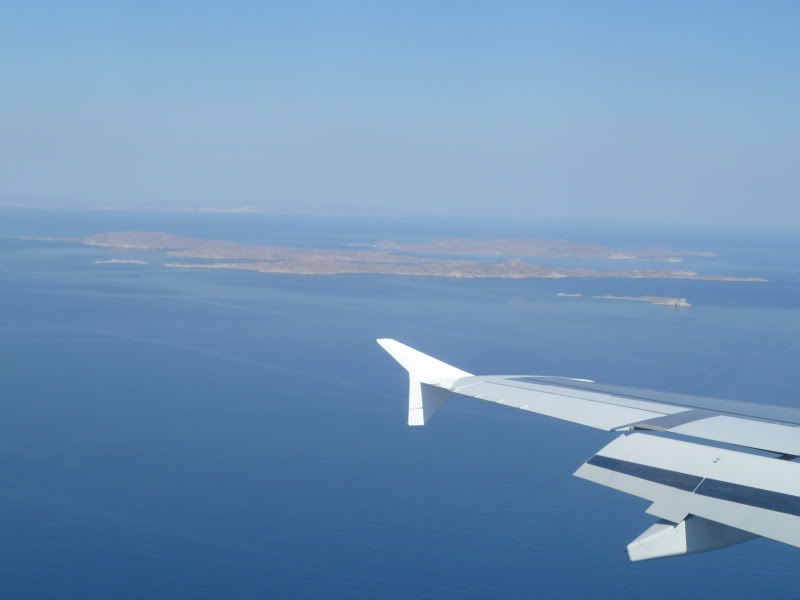 Paranga beach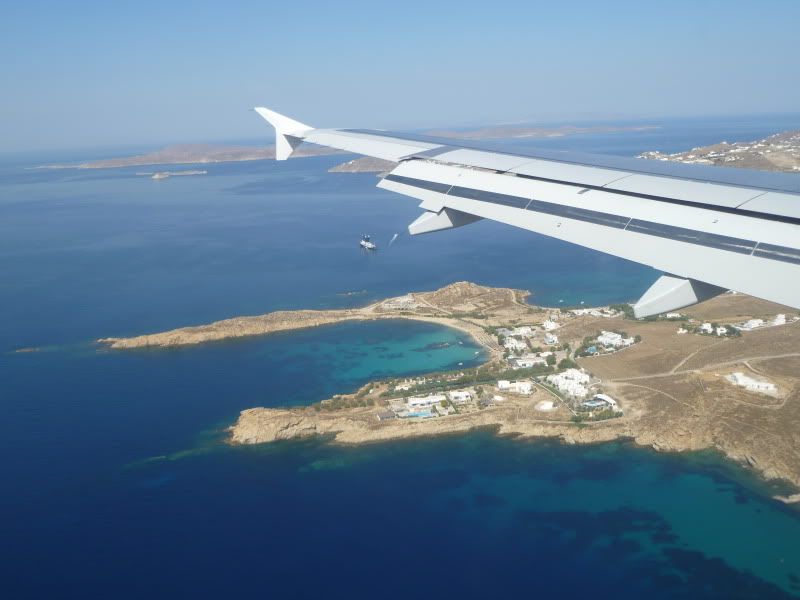 Paradise beach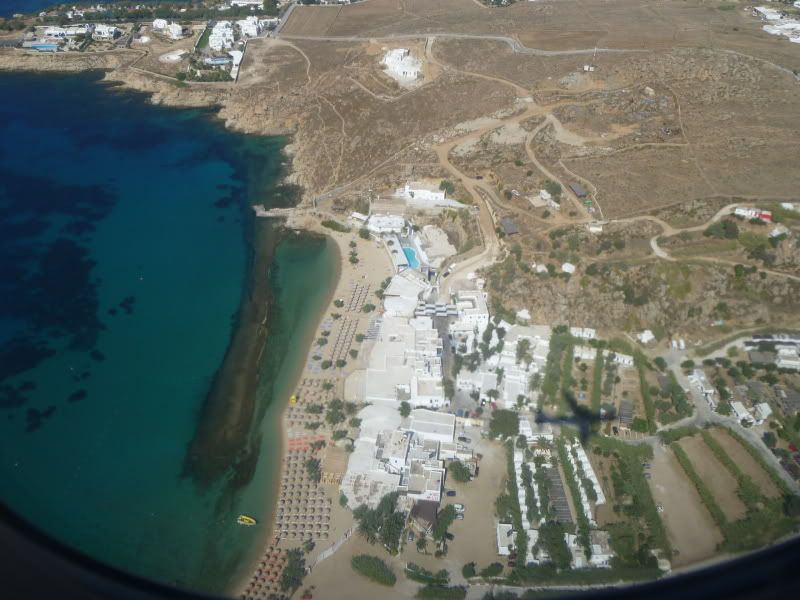 Nearly there….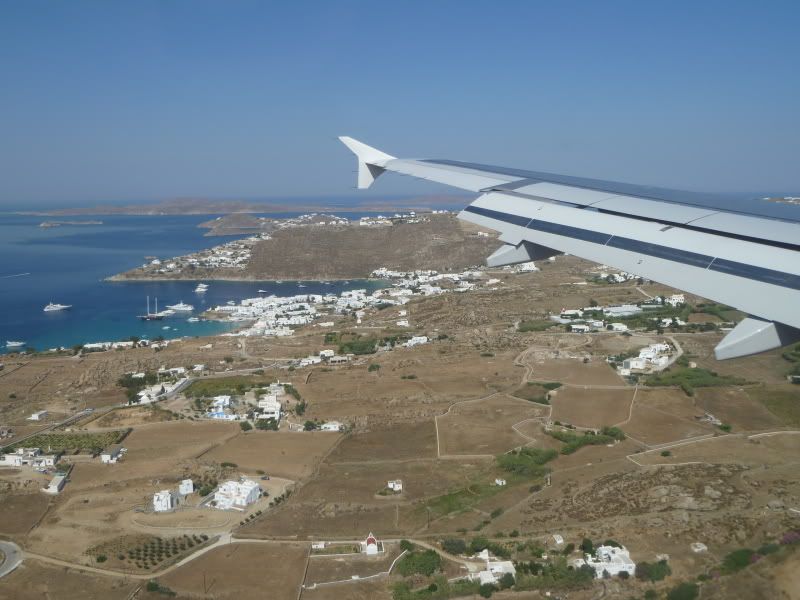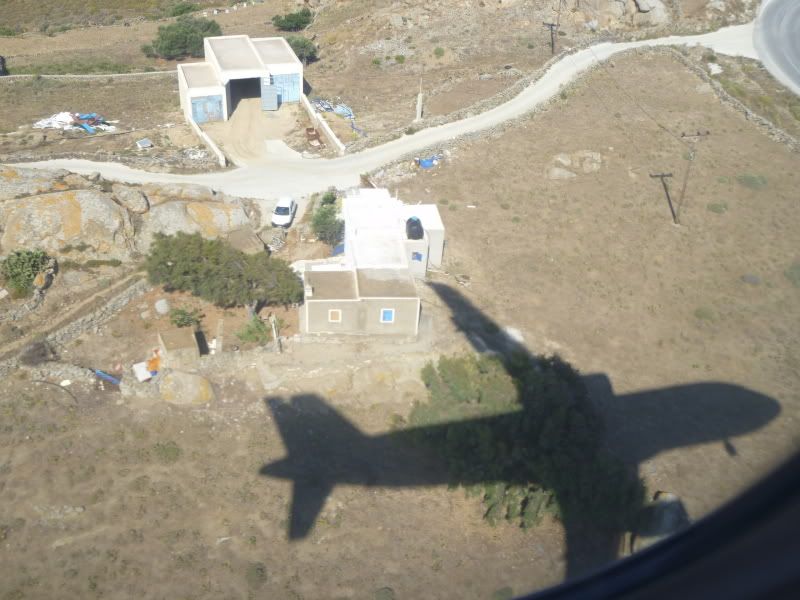 Landing was remarkably smooth as it was a wind-free day on the island, at 0955 on runway 34, approach from the south
After landing, turning
Backtracking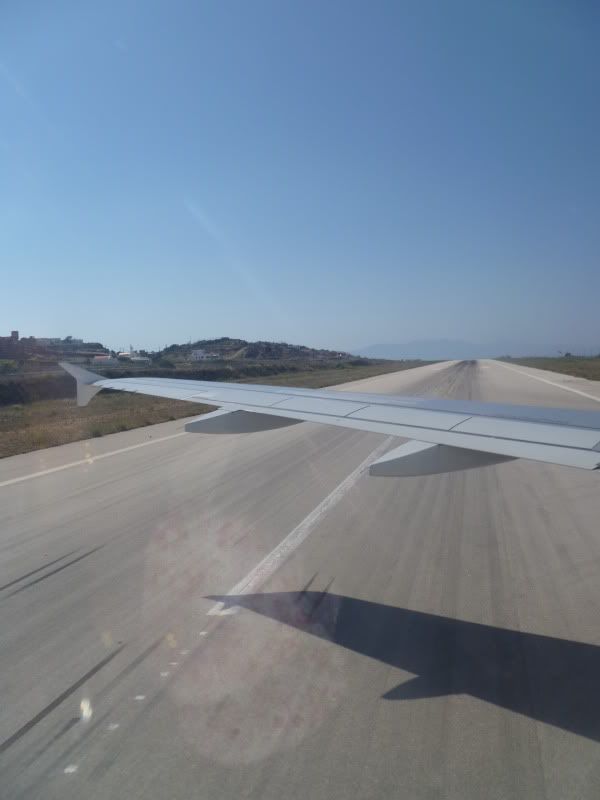 Terminal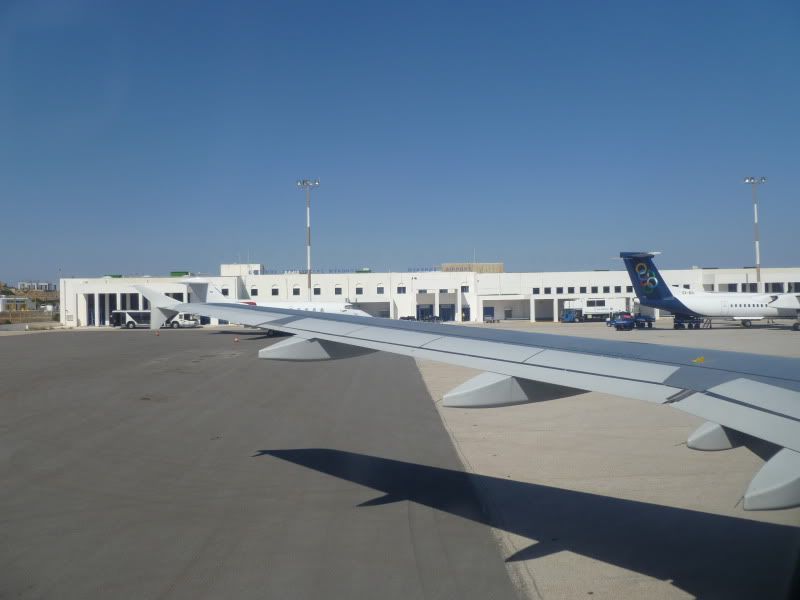 What's the rush? You're on holiday!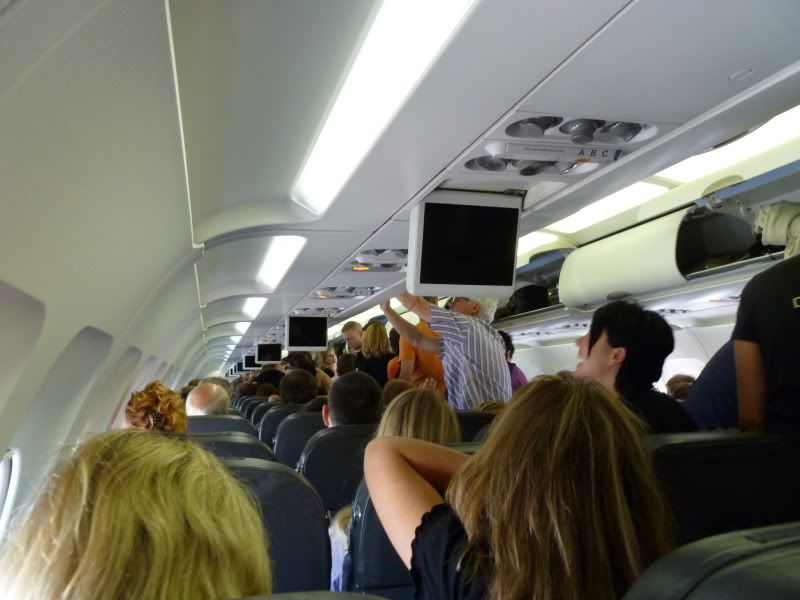 I'm always a bit wary about taking pictures at Greek airports so try to be as discreet as possible, hence the fact that people kept walking in the way !
Deboarding, thanks LX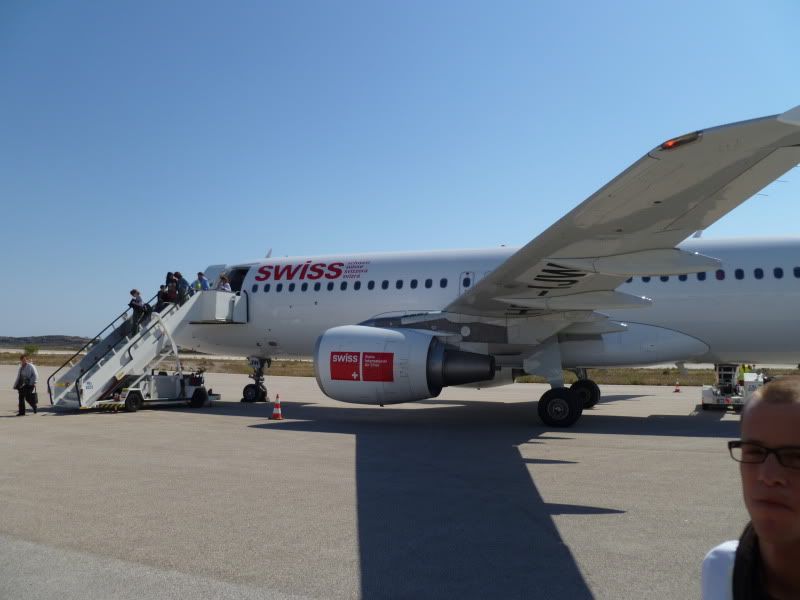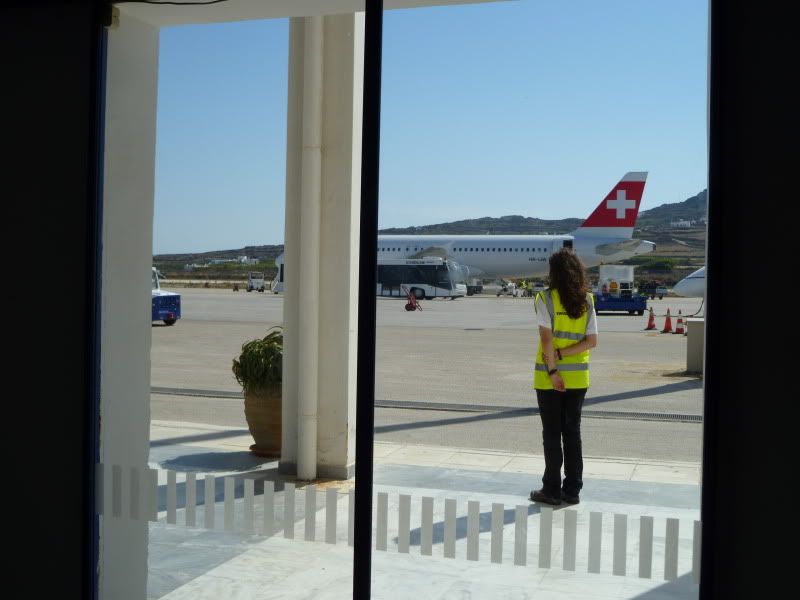 Baggage claim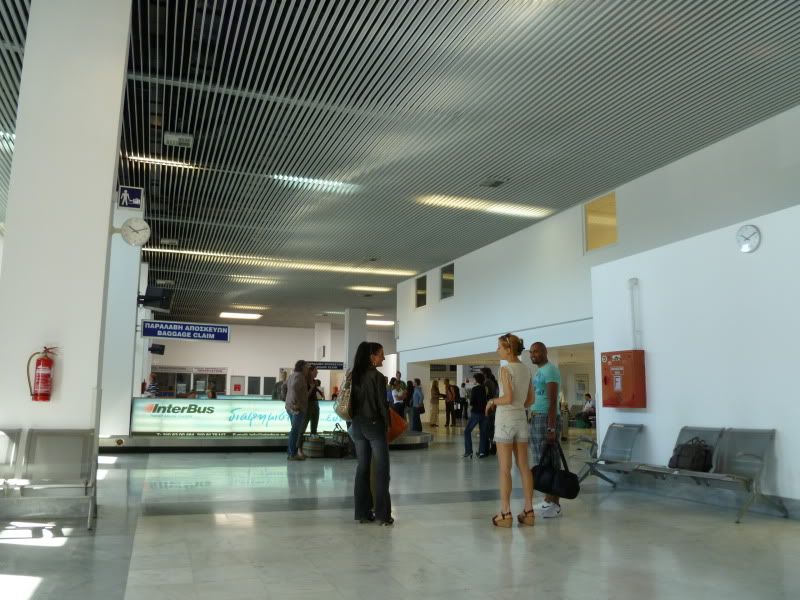 Eric – they moved the seats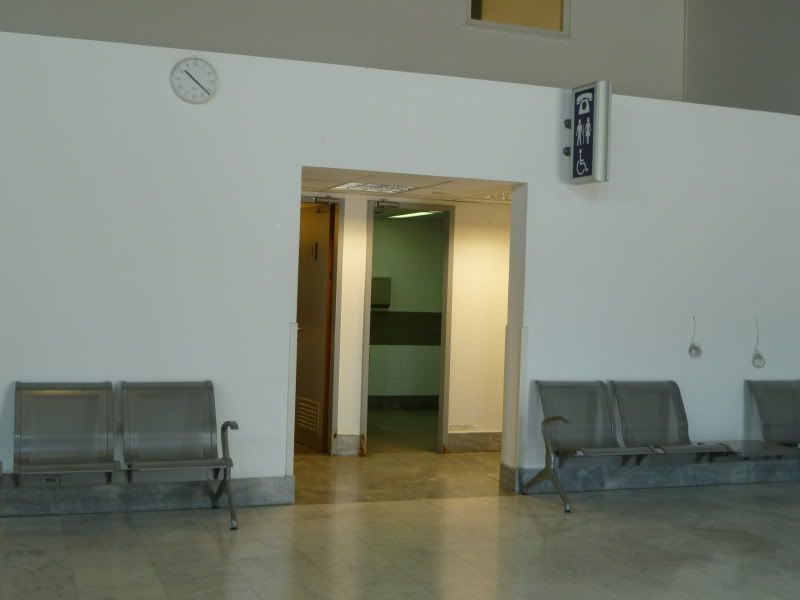 The rep from our tour company met us and showed us to the bus. After a very short ride we arrived at our hotel, the Vencia, located above Mykonos town, offering great views and a divine infinity pool. I cam warmly recommend this place, a small family run business offering excellent service and very nice rooms. I don't think I've ever encountered such friendly staff in any other hotel. Definitely a place for couples and not kids.
Some impressions of our stay :
Hotel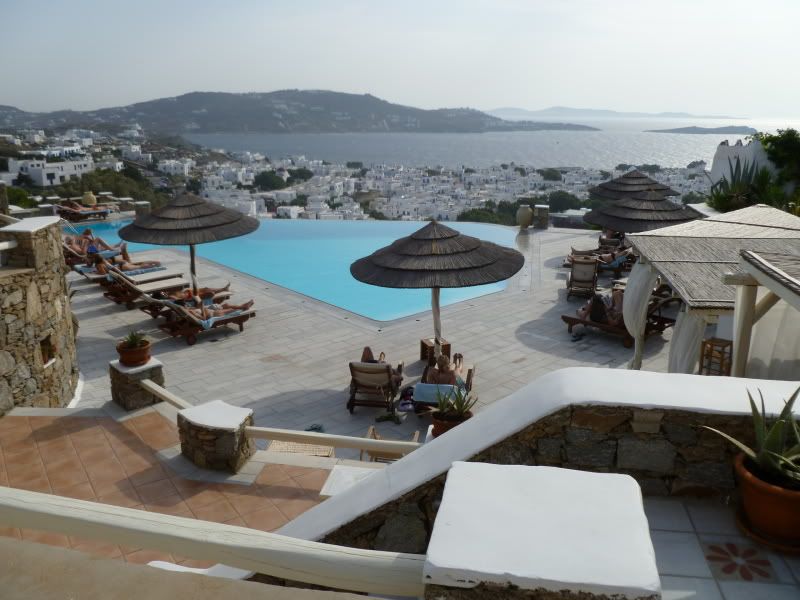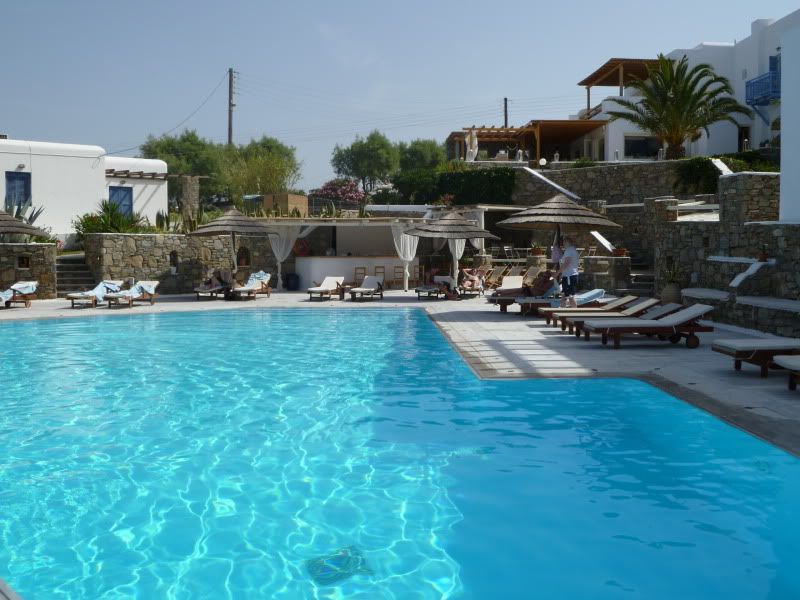 Plane spotting from the pool. Edelweiss returning to Zurich on the mid-week flight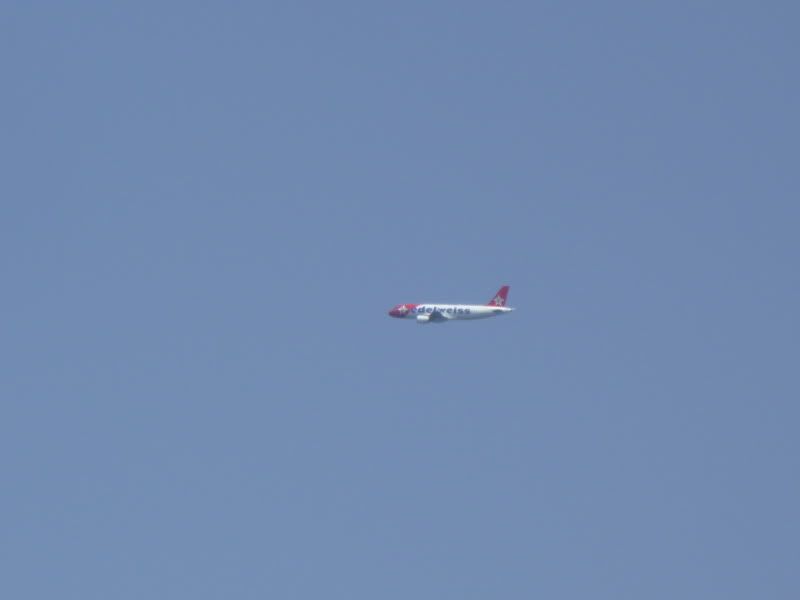 Plane spotting from the beach, think this was Psarou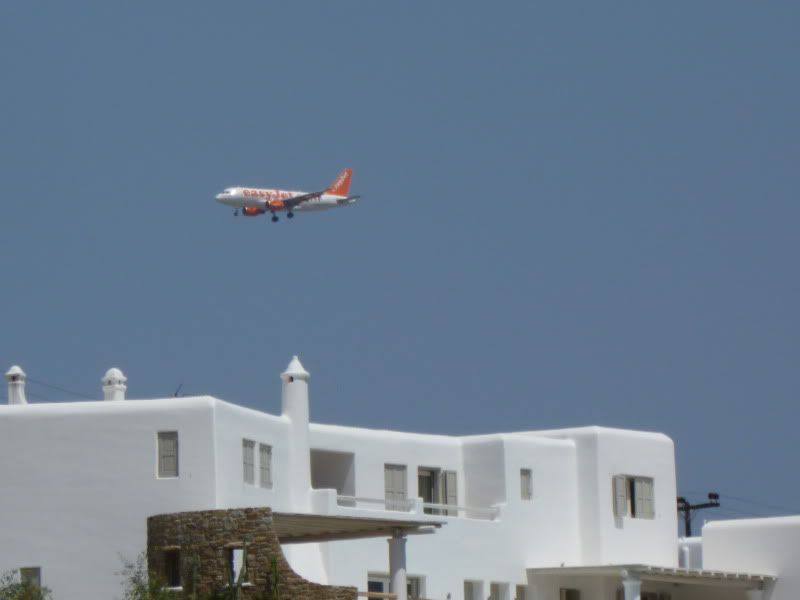 Mykonos town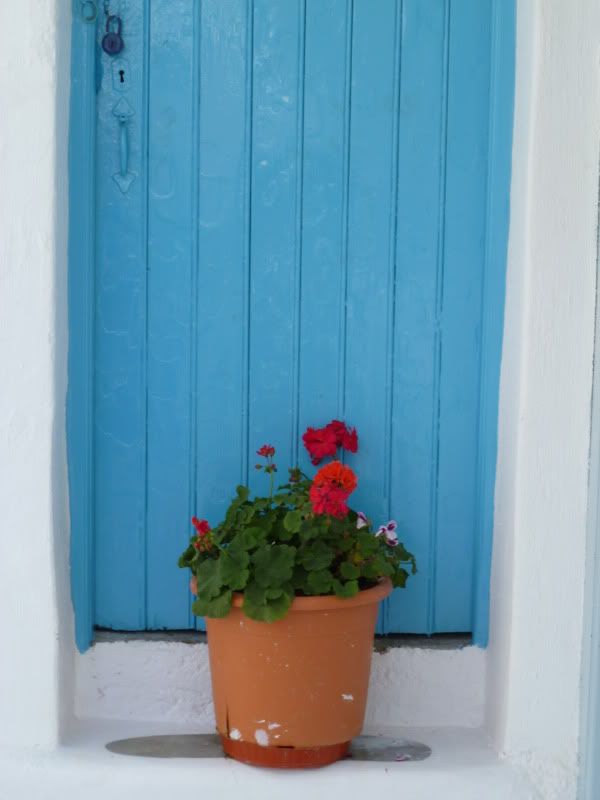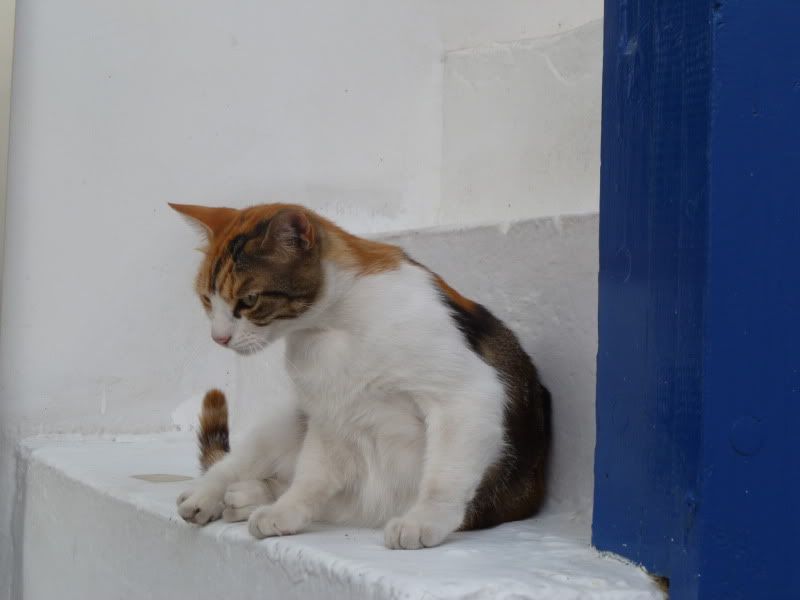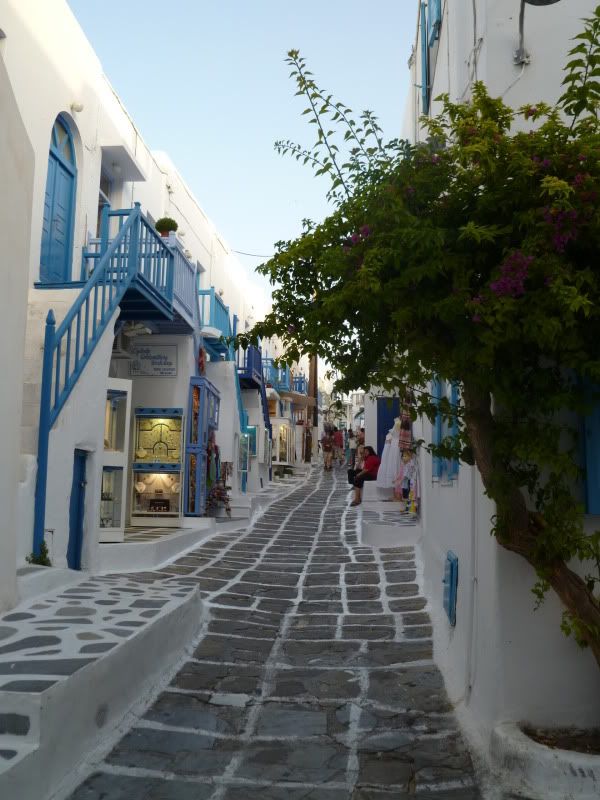 Little Venice
Windmills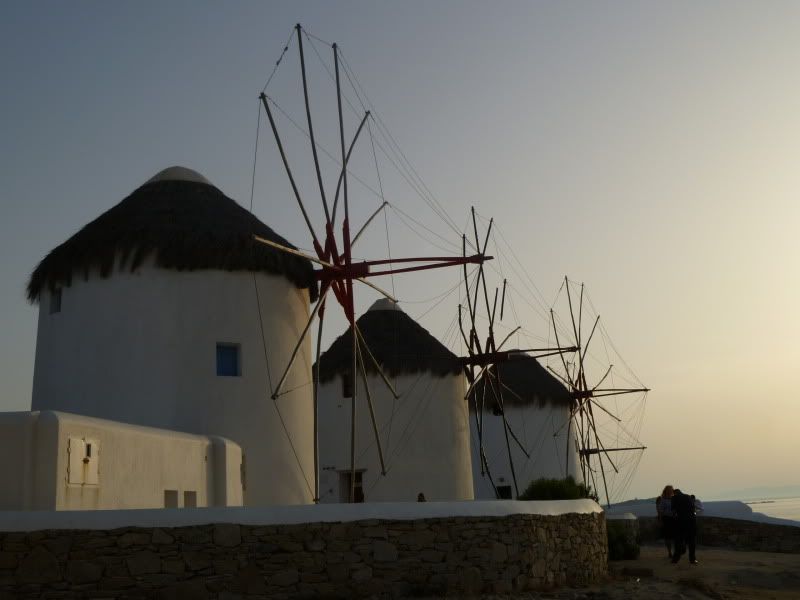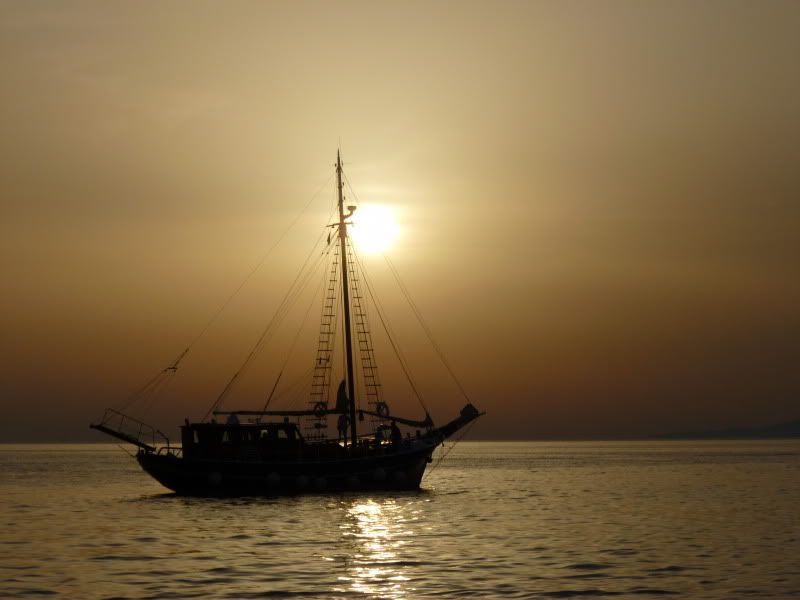 Delicious food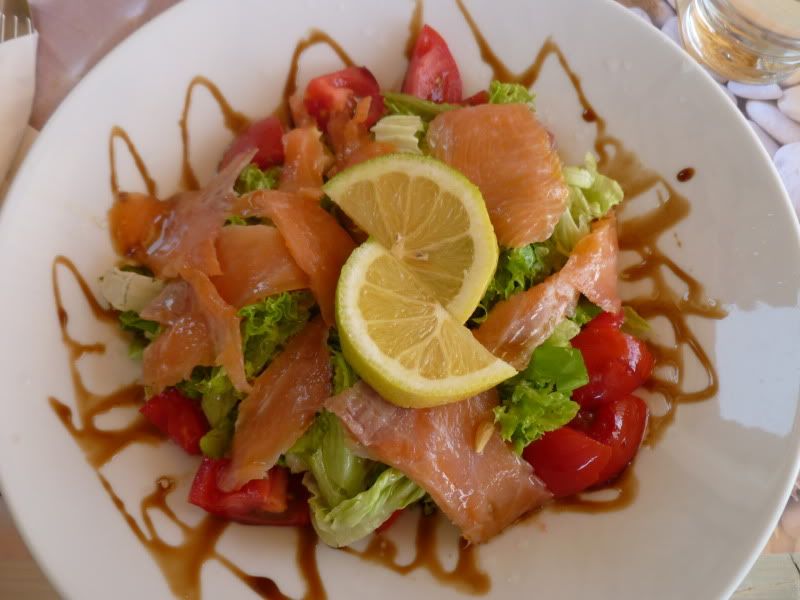 Elia beach, my favourite
Chill out area, Ornos beach
Paranga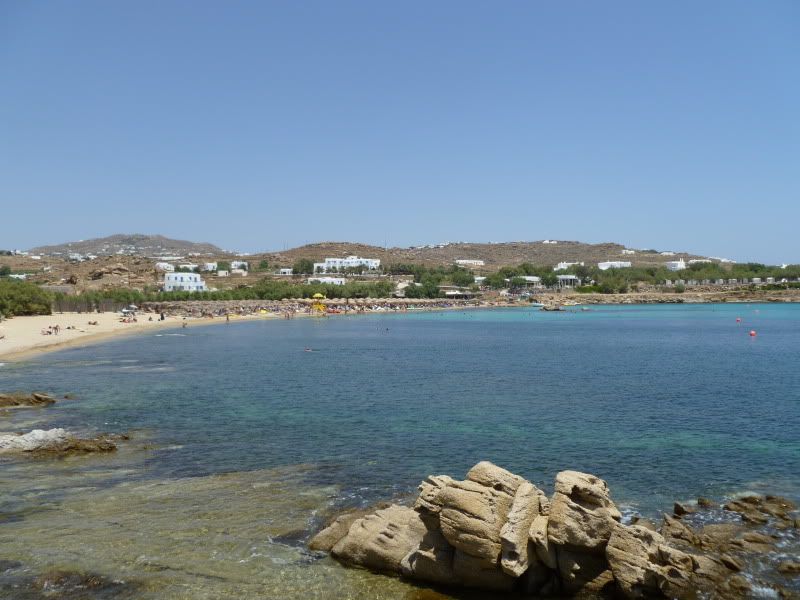 The return
Sunday June 21st
After about 6 hours of sleep the alarm woke me to remind me there was still packing to be done. I was cursing the liquid ban, as this meant I had to carefully pack 3 bottles of Santorini wine in the case in a way I was sure they wouldn't get broken. Breakfast was officially from 8, but we went down a bit earlier and enjoyed some fresh bread and honey. I used the free internet to check that our plane had left Zurich on time, which it had. Our pick up was at 8.25 on the dot and we were at the airport in a matter of minutes. Our minibus timed it just perfectly as shortly after we joined the queue it trippled in length. There was also a Germanwings flight for CGN checking in. After receiving our boarding cards we took our luggage back from the belt and took it to the x-ray machine where it was sent on its way to the aircraft.
Mykonos airport
Check-in queue
Departure board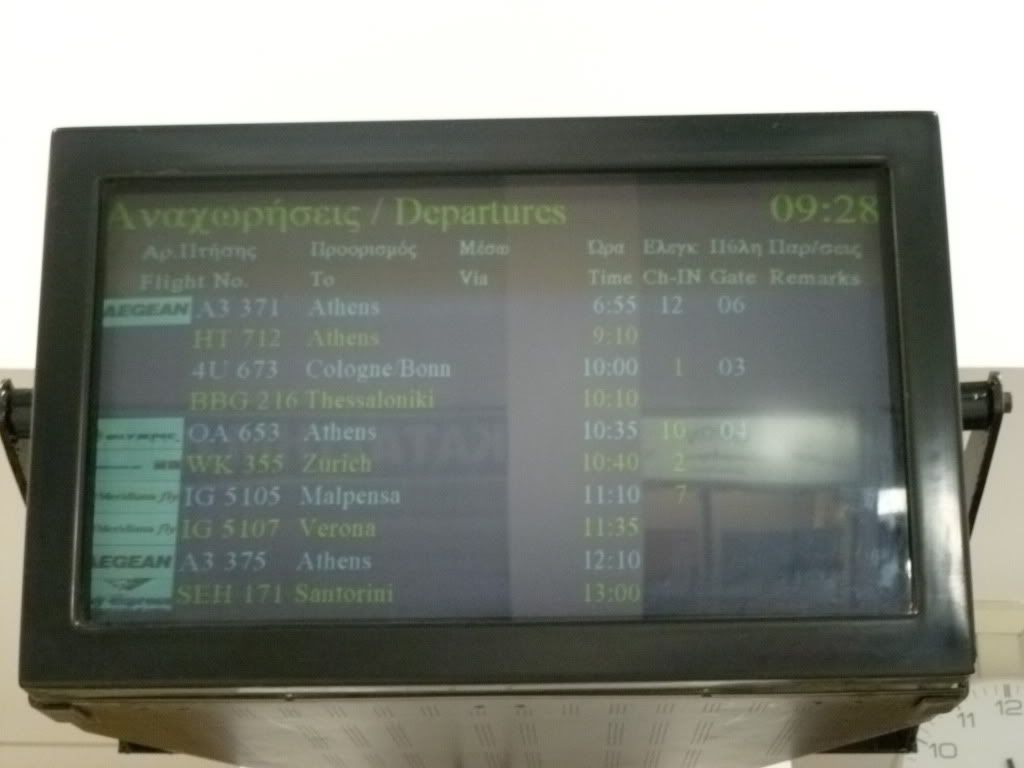 Departure hall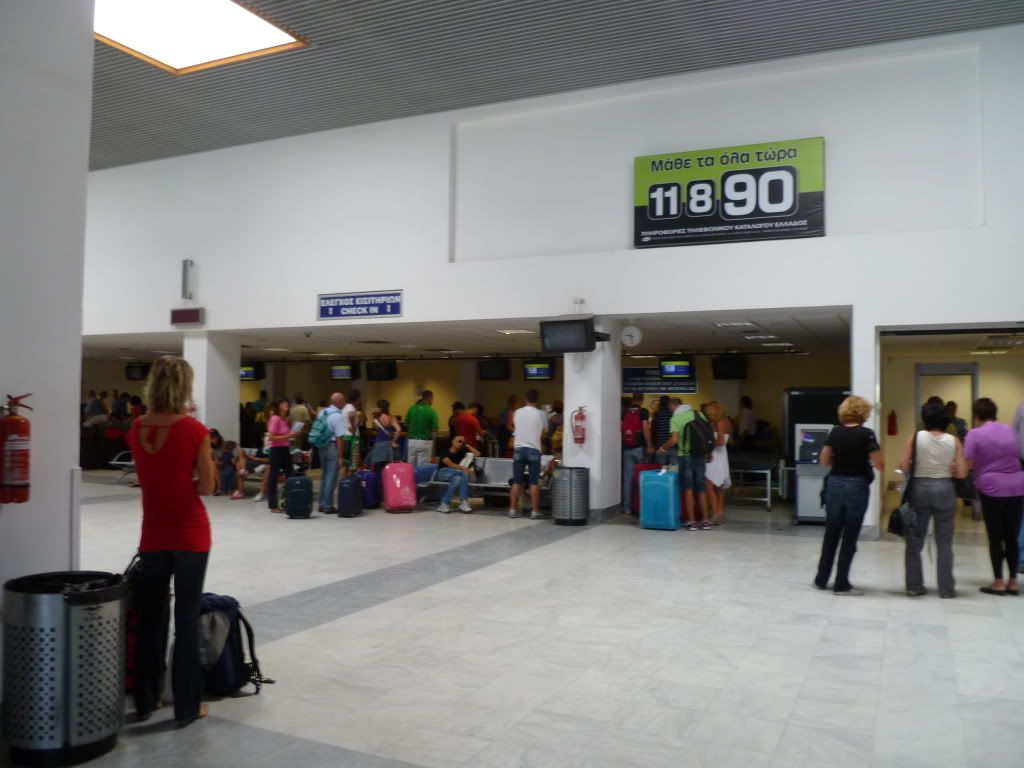 An advert for Munich airport in Mykonos ?!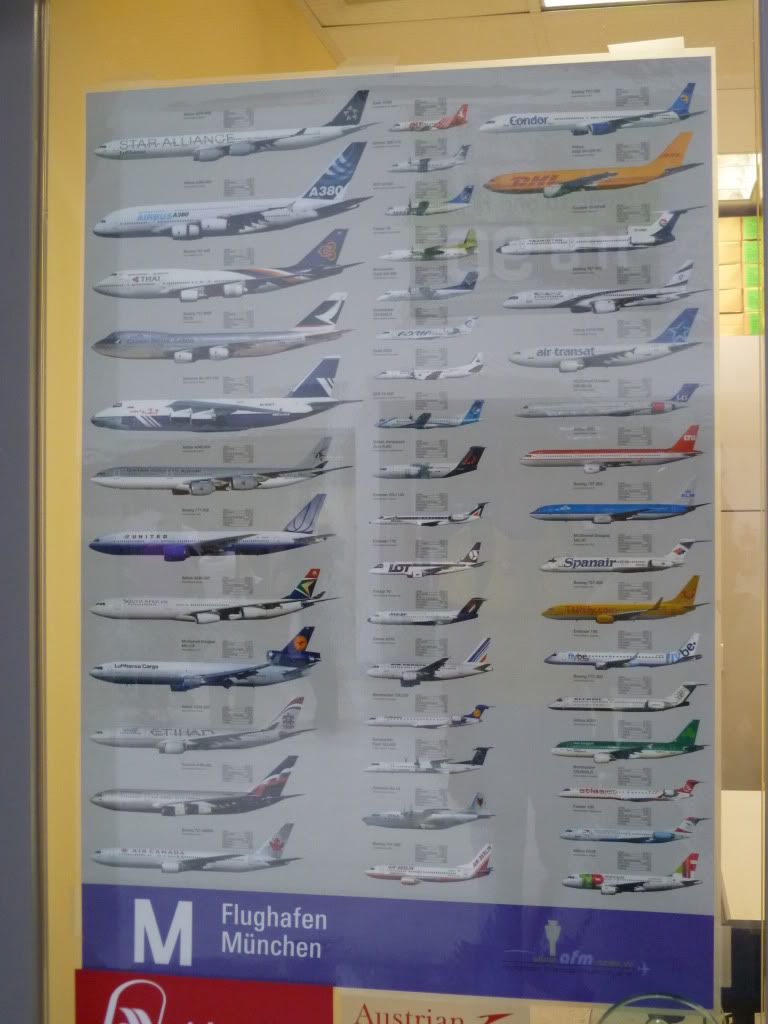 We then spent some time outside, soaking up some final rays of sun, as we knew the weather was bad back in Switzerland. Security was a lot more laid back than usual – I seemed to be the only one who produced my plastic bags of liquids and even when the machine beeped when I walked through, the chap took one look at me and waved me away. I obviously don't look suspicious then
Airside there were 3 gates, one cafe and one rather large tax free which had a good selection for such a small airport. The 4U 319 took off, to my disappointment I realised we would be taking off to the south so no nice views of the town as I'd hoped for. The whole holiday all the planes took off to the north, but of course today had to different……
Gate area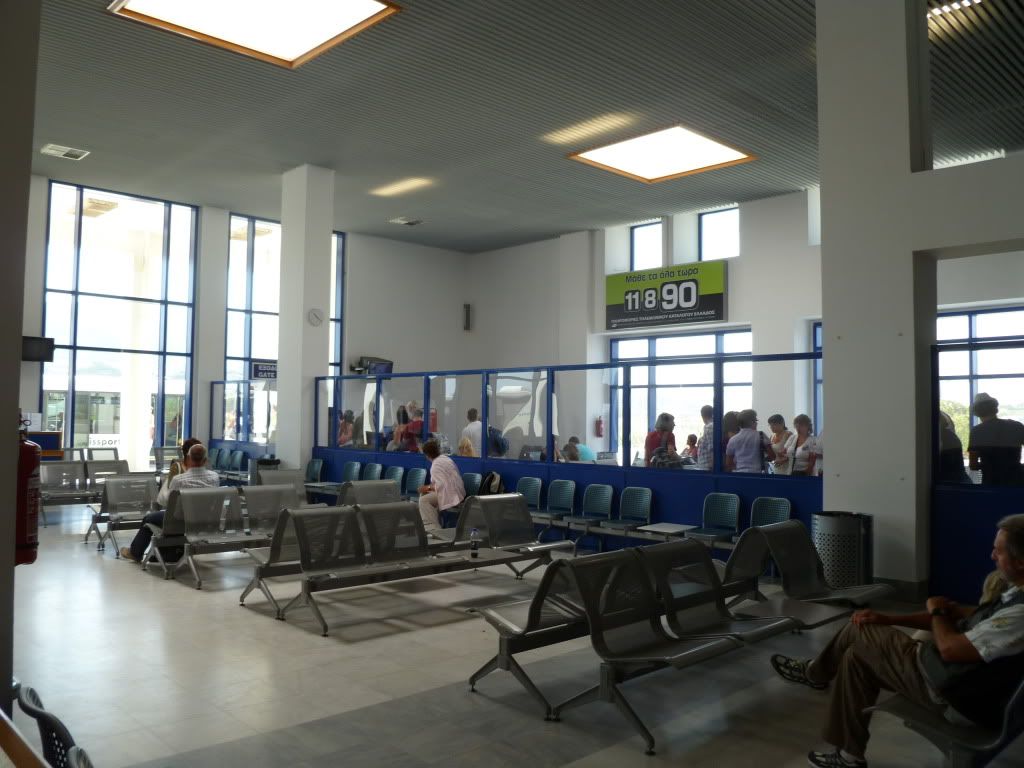 JMK-ZRH
WK355
A320-200 HB-IJV
STD 1040 / ATD 1050
STA 1230 / ATA 1220
Seats 32 A&B
At 1000 I saw the LX machine land. We started boarding about 25 minutes later from gate 3 and were bussed out to the waiting aircraft. It was another ex Swiss Sun machine, with the nice leather seats. We were welcomed on board by a young male member of the cabin crew, and once again free newspapers were ready for us.
Olympic…or is it Flybe? G-FLBE Dash 8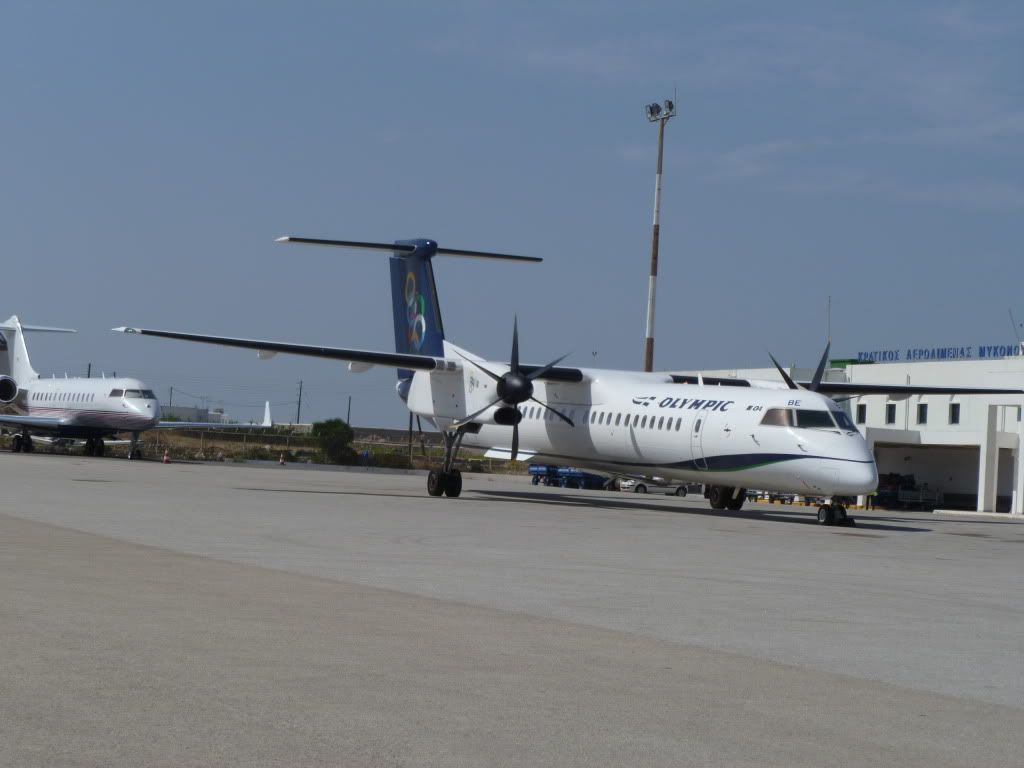 It's so much more exciting boarding by steps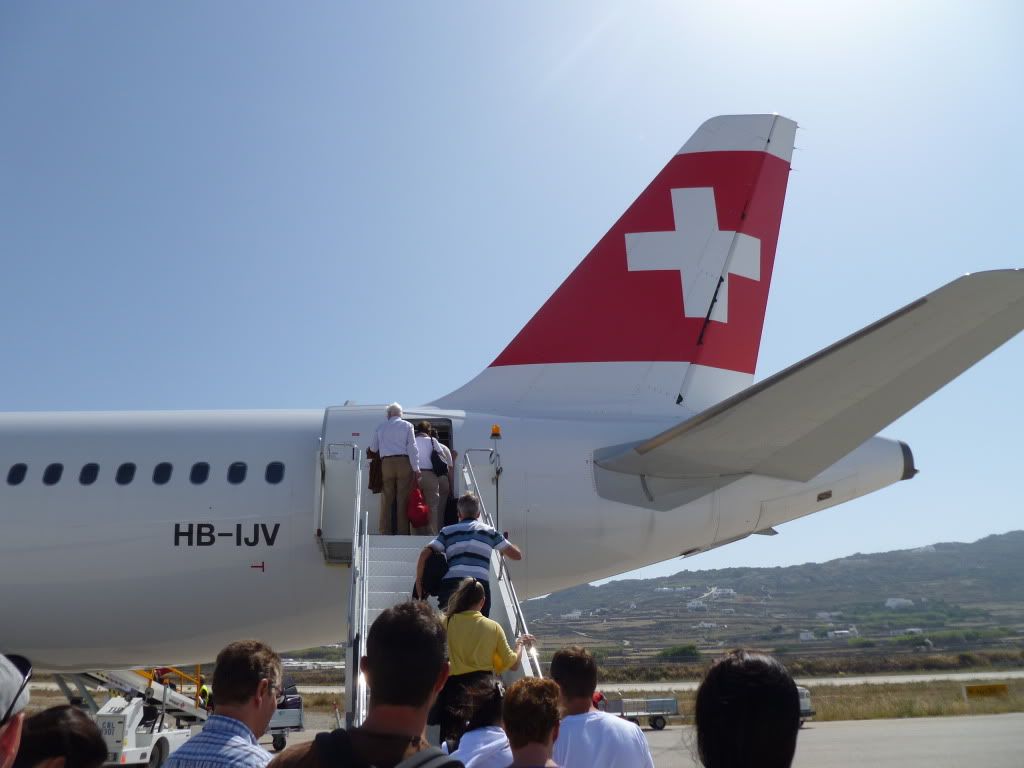 The second busload of passengers was also the last and I was amazed that the aisle seat remained empty. It seemed that quite a few holidaymakers had decided to stay for 2 weeks. Boarding was completed quickly and we pushed back at 1045. It seems the crew were a bit surprised by the short taxi to the runway as the pilot actually had to wait for the safety video to finish before we could take off.
Taxiing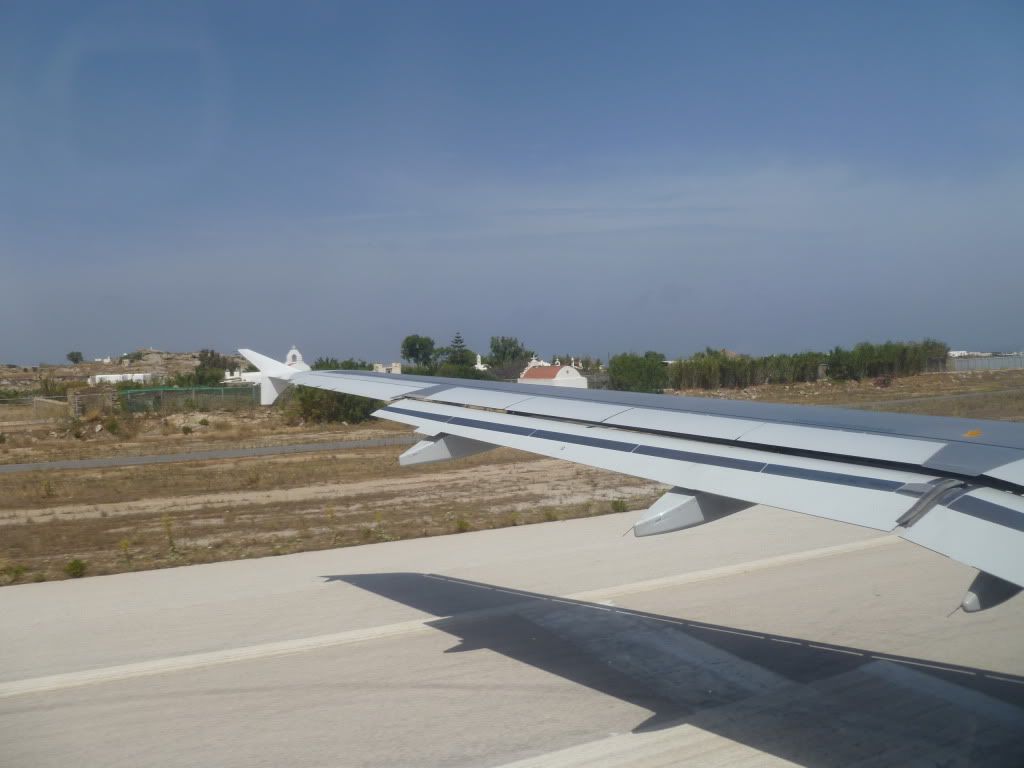 Turning
Unsurprisingly it was a powerful take off as the runway at JMK is just 1900m long. Shortly after we were airborne at 1050, the plane banked steeply to the right which meant that view i had was just water.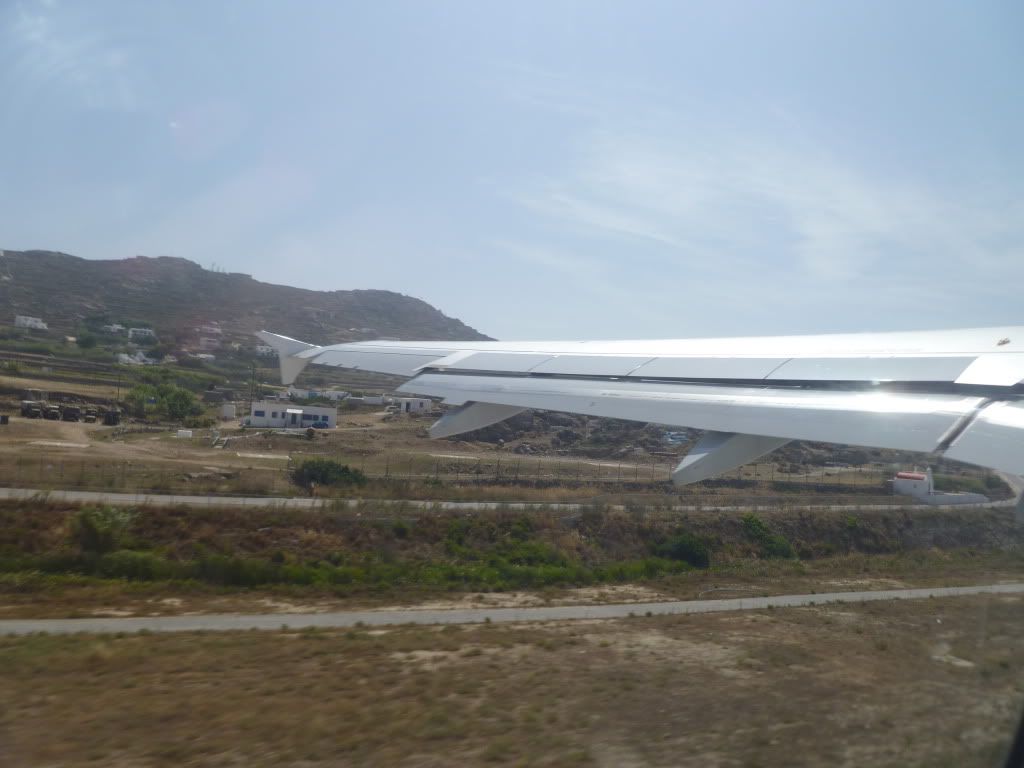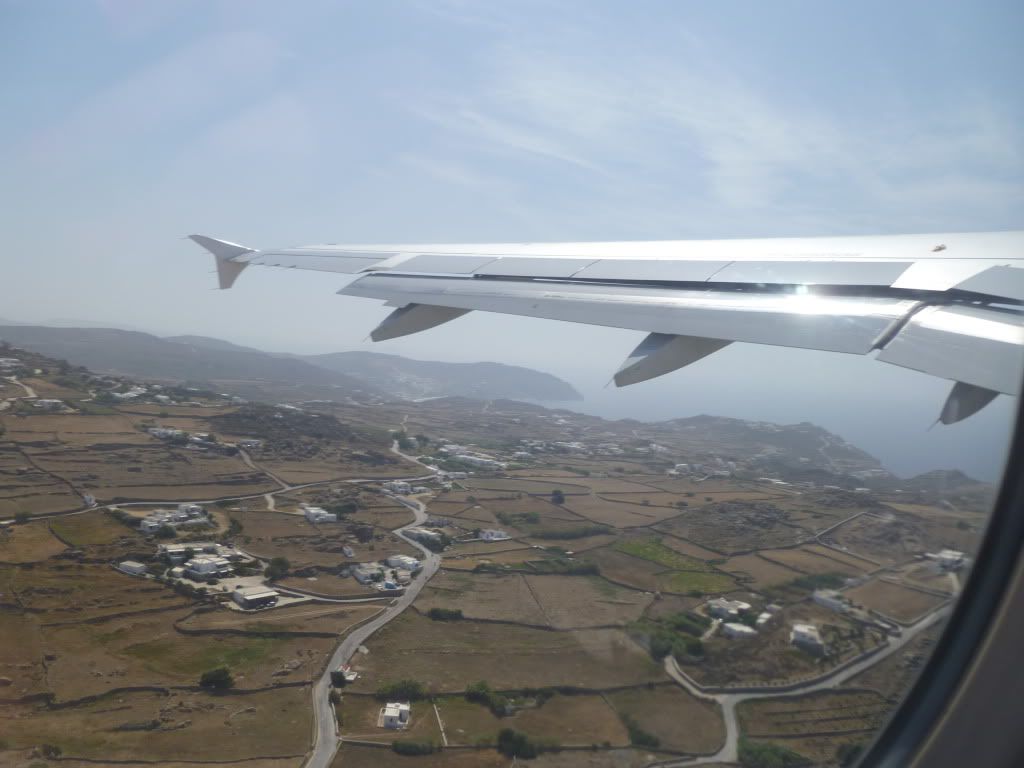 Only 5 minutes after take off the captain, Jakob Schmid, gave us some details about the flight. Our route was to be similar to the outbound: Athens, Tirana, Zadar, Split, Venice and St. Moritz. As it was a holiday flight, he also gave us some more technical details ; 126passengers, take off weight 67 ½ tonnes, landing weight approx 60. Cruising speed was to be 800kmh and it was a journey of 2000km taking us 2 ½ hours. The cloud built up quite quickly and we had a few bumps.
Think this could be Kythnos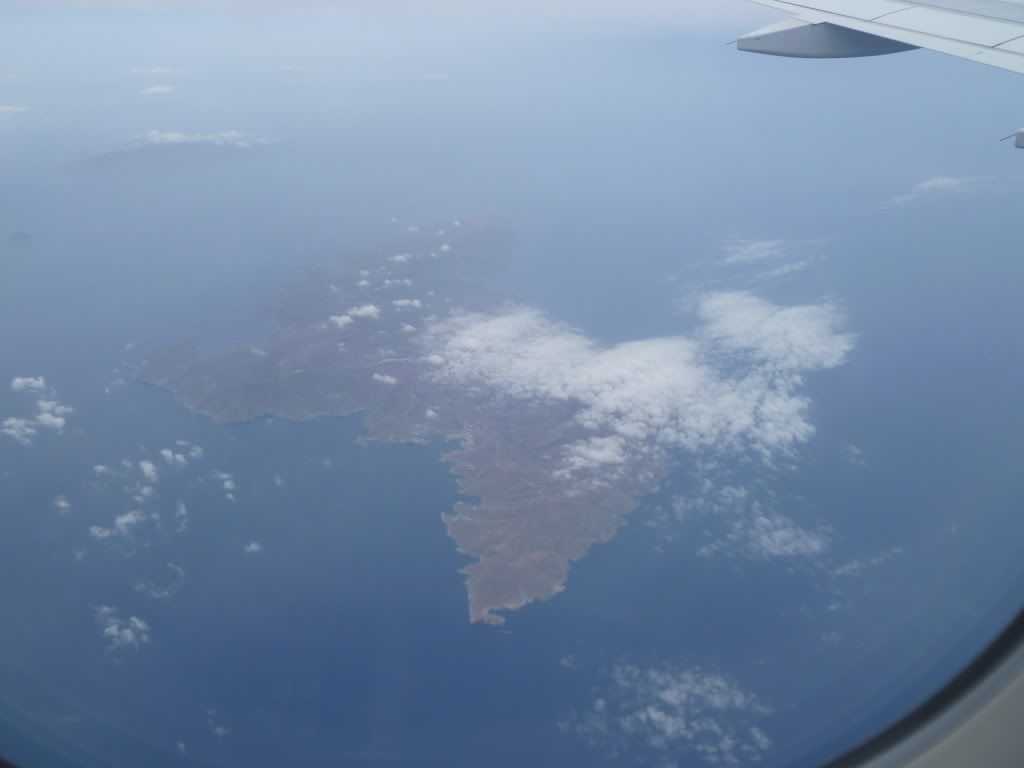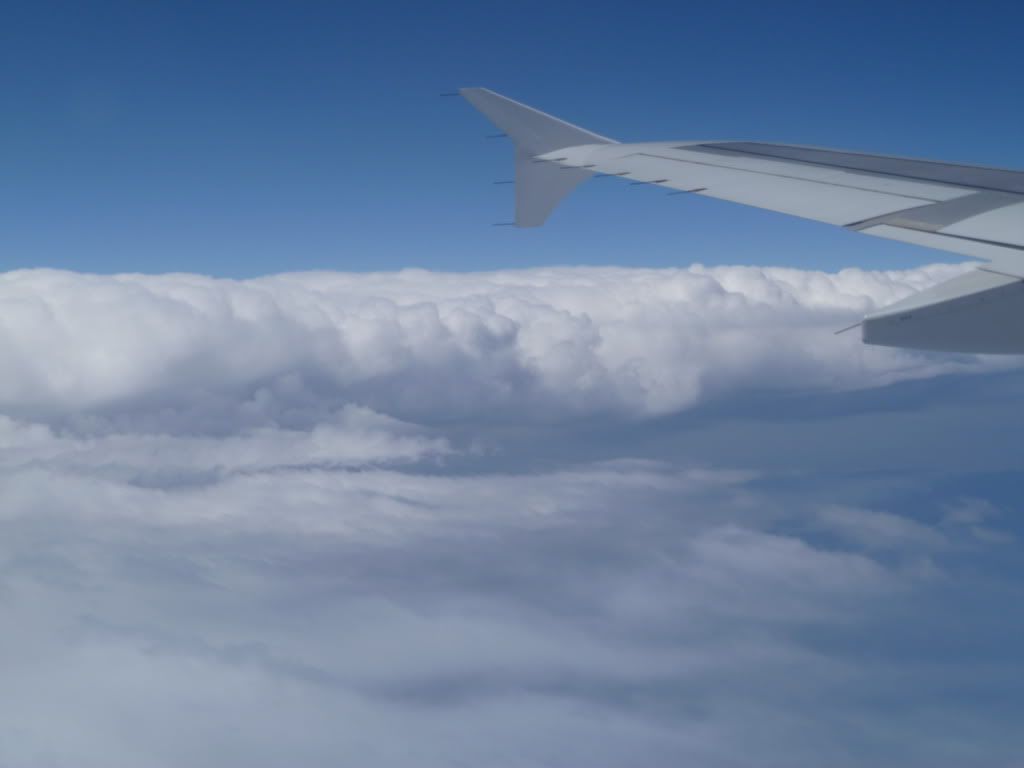 Interesting clouds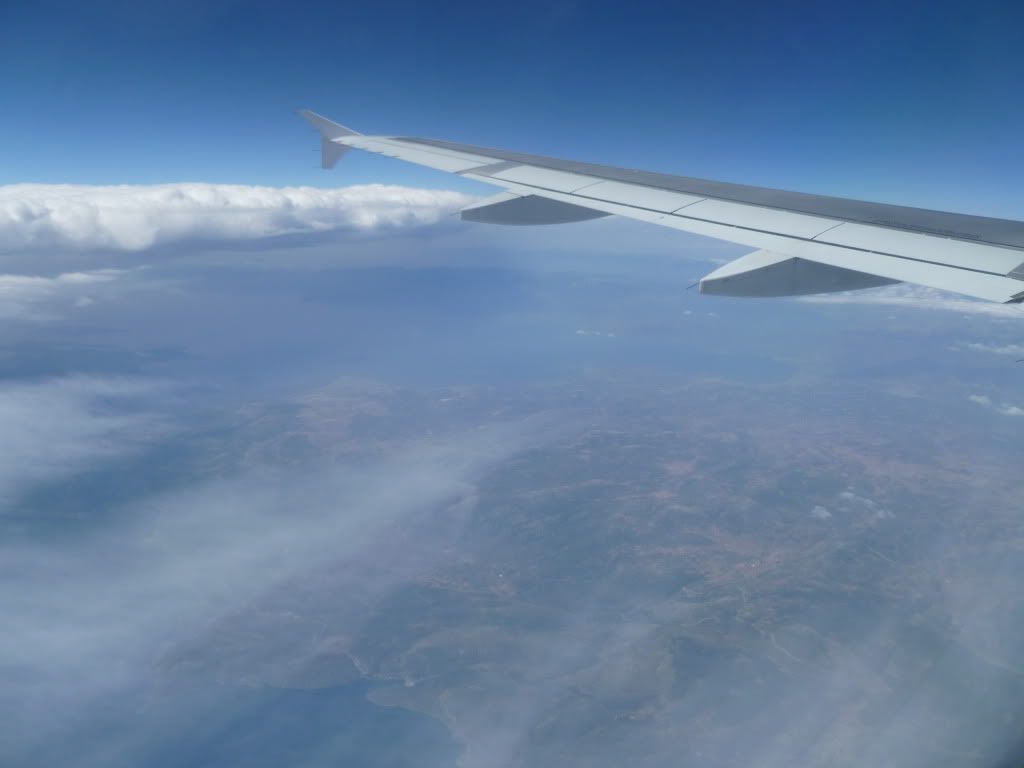 "Do nothing in haste, look well to each step and from the beginning think what may be the end" - Edward Whymper