My first decent holiday in 3 years. A trip 6 months in planning, with early-bird flight specials, and what I felt was a winning itinerary through Turkey and Eastern Europe. So far, I'm half-way through, and loving every minute of it.
But to enjoy a European trip, one must first get to Europe. Needless to say, from Australia, it is a lengthy and often expensive proposition. So, when a flight return to Istanbul for less than $1800AUD including taxes came up, I jumped on it. Especially when said flight was on Singapore Airlines, and included 2 A380 flights! Yesssss!!!!
However, the timetabling God's conspired against me, and an equipment change saw my MEL-SIN flight downgraded to a 773. No matter. I still have SIN-MEL in the A380 to come, unless SQ decide to sub the equipment again. I'll be somewhat filthy if this occurs.
Anyway, the day of departure finally arrived, and after a night in a fancy hotel in central Melbourne with the other half (sort of a tradition now, before a big trip, and it mollifies her a trifle, as she isn't coming with me) we troop off to the airport. I had checked in the previous day and printed my boarding pass, but they took those and issued me with the normal airport kind that I prefer. I was a bit peeved to note that my brand new title "Dr" was not appearing anywhere on my boarding passes, despite having made the booking with that name. What use is having a PhD if one cannot fully make use of the salutation???
The time eventually came for me to farewell the girl, and pass through the door of no return; which has moved at MEL to where the old food court used to be
Looks all shiny and new…
Departure board. Not with as many exotic destinations as some, but it will do.
Then the usual bunfight at security. This is something they've never been particularly good at at MEL, today was no exception. You join a big queue, to be sent off to smaller queues as you reach it's head, though there was yet another bigger queue off to one side. No prizes for guessing where I ended up.
Customs were their usual friendly selves (not), but they did open more booths to process people more quickly. It should be noted that departures in the afternoon are popular at MEL, with QF,MH,SQ,TG and CX all having departures scheduled in roughly a 2 hour time frame, so it can be quite busy. After passing through the gauntlet of temporary corridors, I ended up back at the old entry way, and in through the usual duty free outlets. To reach the gates, one must physically pass through a duty free store, you literally cannot avoid it. There is no clear path, and often they have displays in the way, creating a bit of a bottle neck. Capitalism is well and good, but this is just silly. Departure gates are at the top of the terminal building, and I had a bit of a look at the extensions. Looks…nice.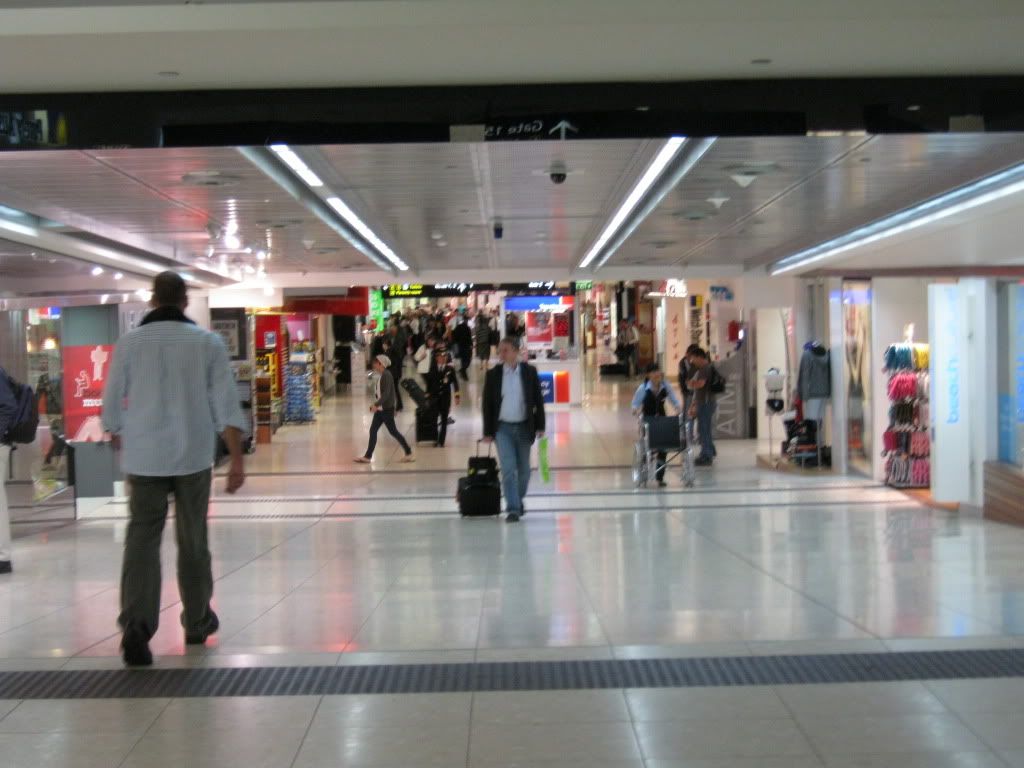 Looking back towards the start of the terminal. There's yet another duty free store behind me.
My chariot, an SQ 773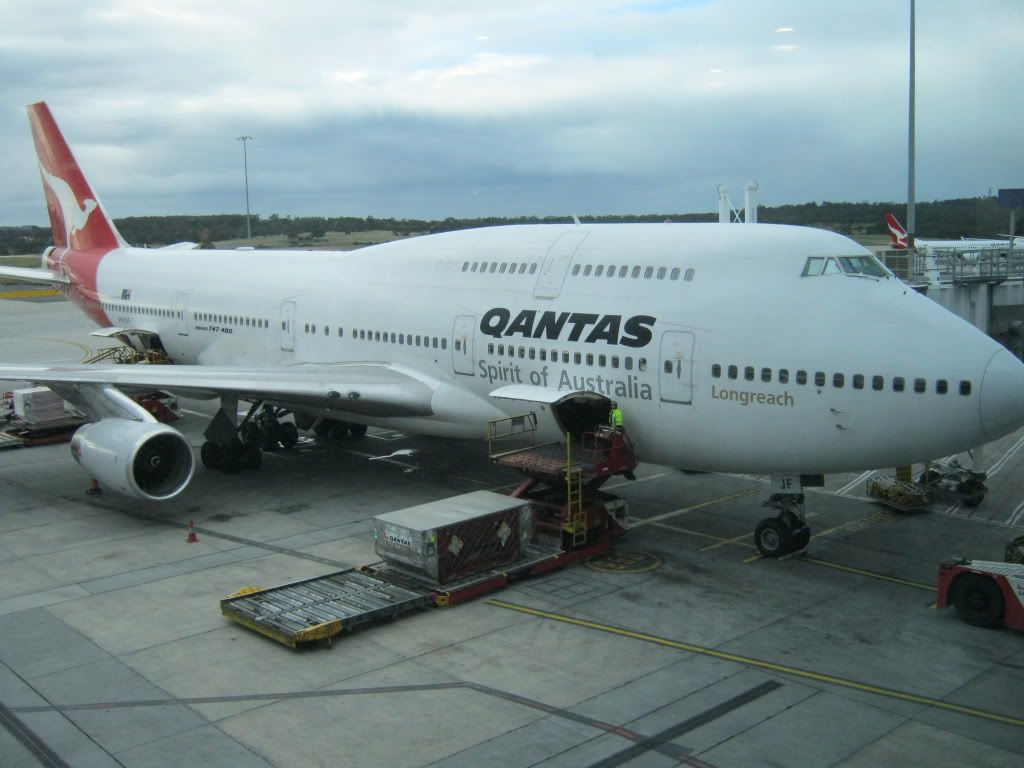 QF, heading to LHR via SIN
CZ, sitting quietly. It wasn't scheduled to leave until later.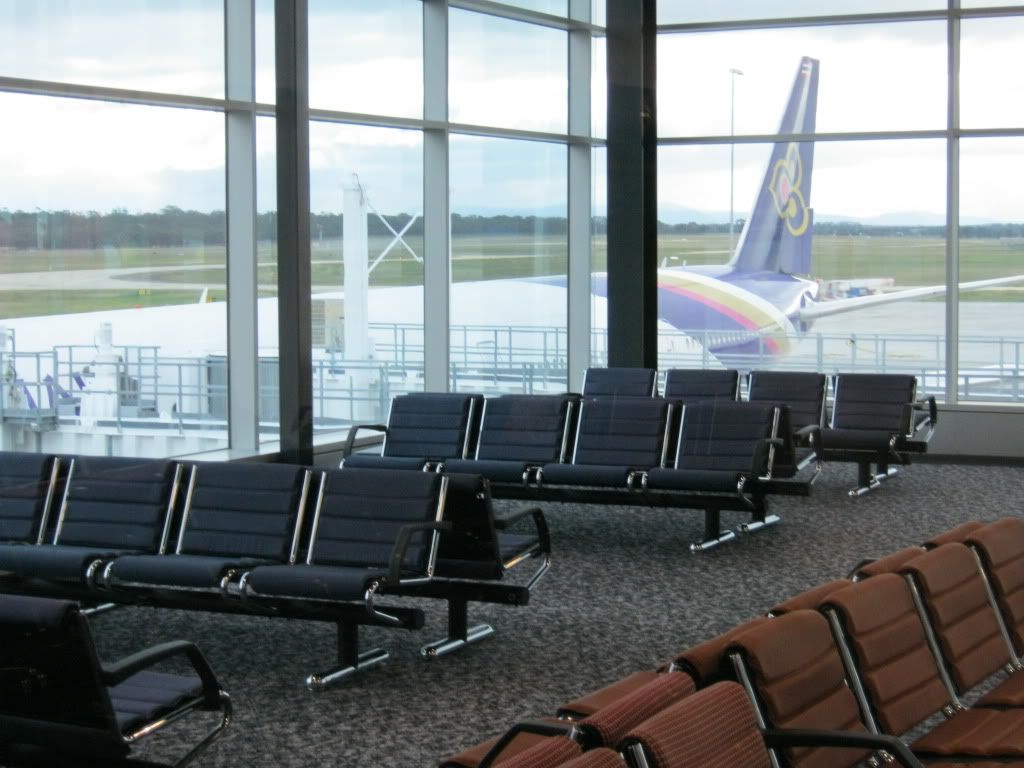 TG and part of the departure lounge.
Departure lounge for my flight. It felt quieter than normal, so I hoped that the flight would be less than full. It wasn't.
Boarding started about 50 mins prior to STD. I bided my time, content that I would spend enough time on aircraft over the next 24 hours that I didn't have to rush on board. Never really understand why people do that anyway, when they have allocated seats.
SQ228 MEL-SIN
10/6/10
Loading: 95%Y, unsure of other classes.
Aircraft- 773.
Seat- 43K.
Pushback 5 mins late, take off eventually at 1602.
Arrival 10 mins early. At gate on time.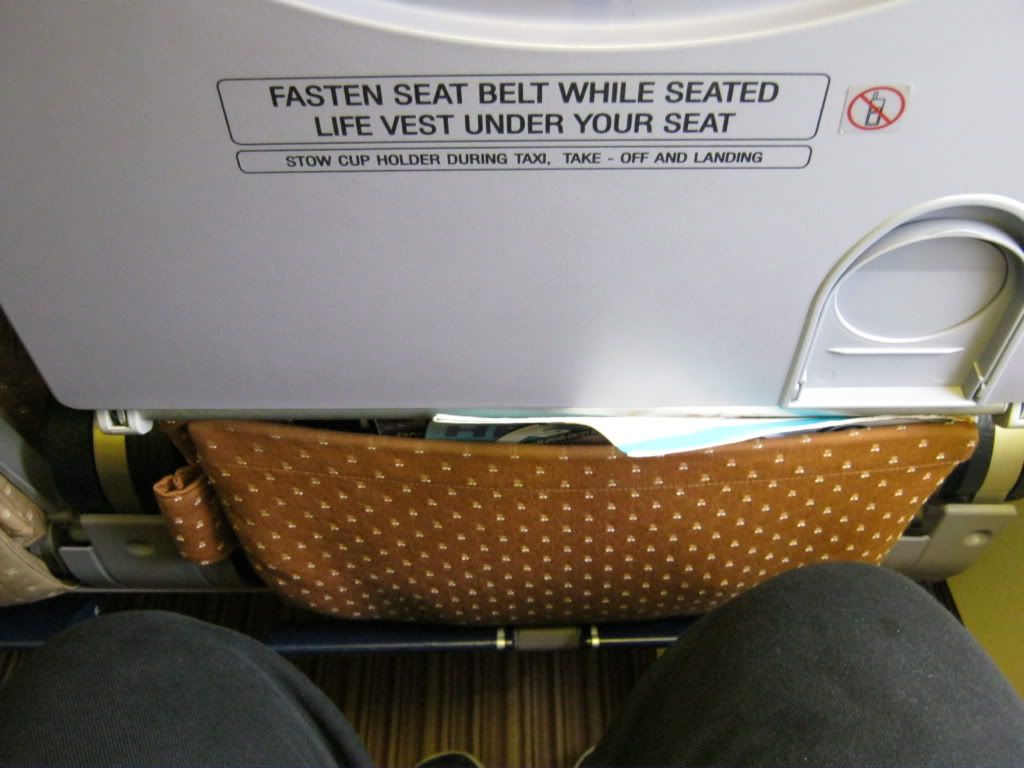 Just wouldn't be an A.Net report without it!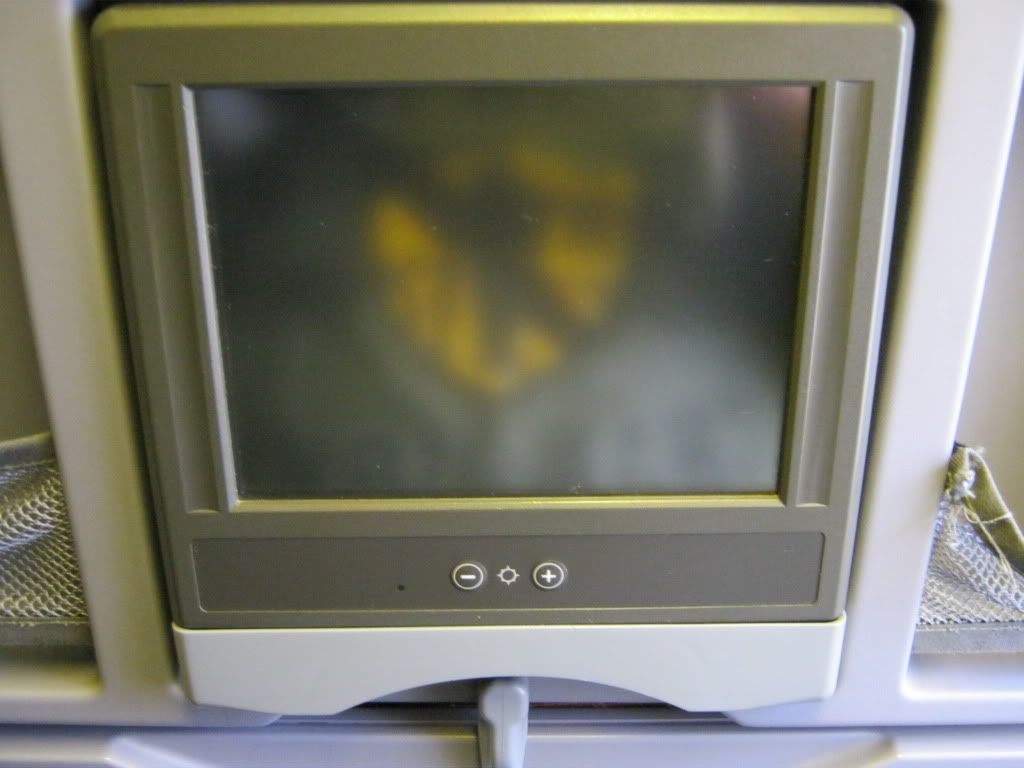 I guess this is the unrefurbished variety, but the seat covers were new, and made the plane feel much more comfortable and brighter than the next one.
Cabin shot. The buffoon standing on the left of the picture had a real issue with sitting down and buckling up, and had to be remonstrated with several times by the purser until he would. As soon as the seatbelt sign was off, he was out of his seat.
Just after take off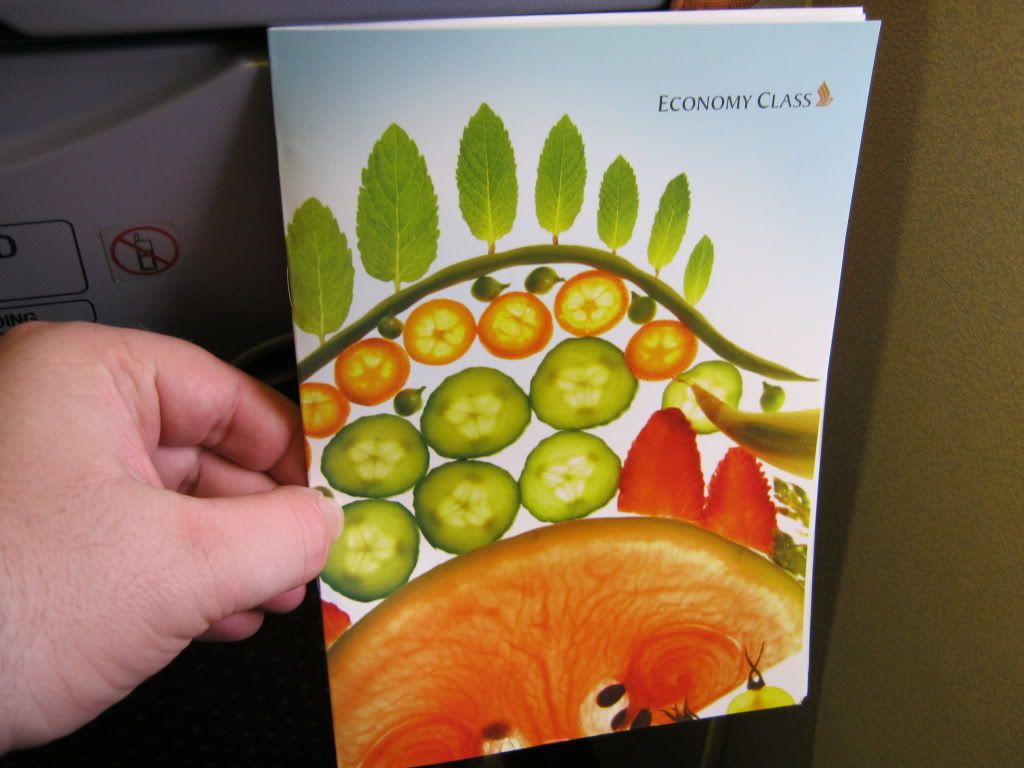 Menu card.
We had ham and potato salad, with a choice of roast chicken or Chinese style fish, and an ice cream for dessert.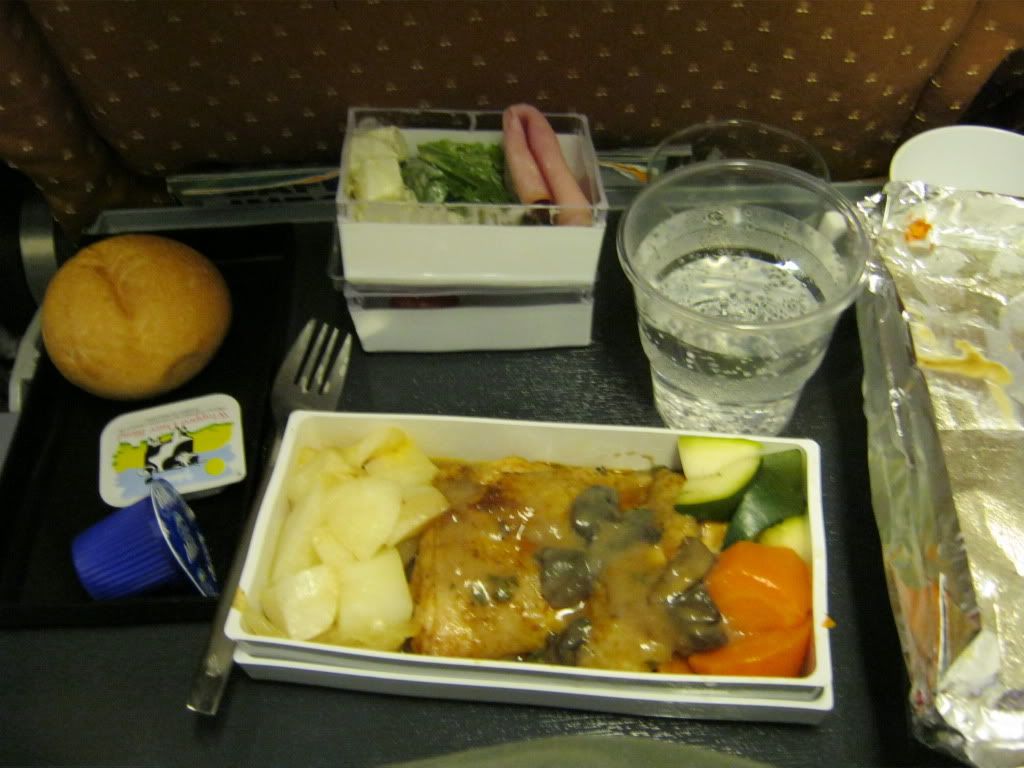 In case you didn't believe me, here's the chicken. It was…pretty average. And by average, I mean not good.
Flight was smooth with minimal turbulence. Somewhere over central Australia we passed this:
It's not Lake Eyre, it's another salt lake of some kind.
We arrived in SIN 10 mins early as noted, and were at the gate on time. Fairly prompt disembarkation, and pax scattered to the 4 winds in the terminal. Most had connecting flights; there were few takers for the Singapore immigration forms.
I had 2 hours or thereabouts. A quick bathroom break, followed by 1.5 litres of water, some email, a BK whopper junior and another bathroom break, and I was ready. I had to transfer terminals, but that was no big deal.
There are numerous photos of the SIN terminals on A.net. Here's another one for kicks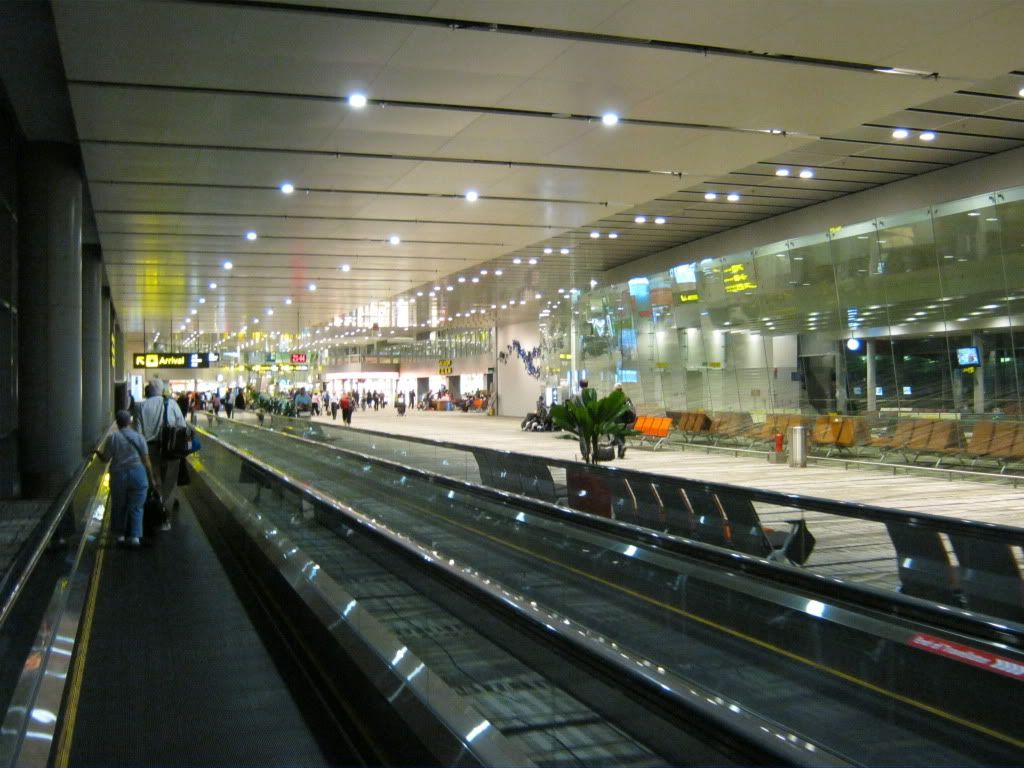 Ahhh…lets make it two.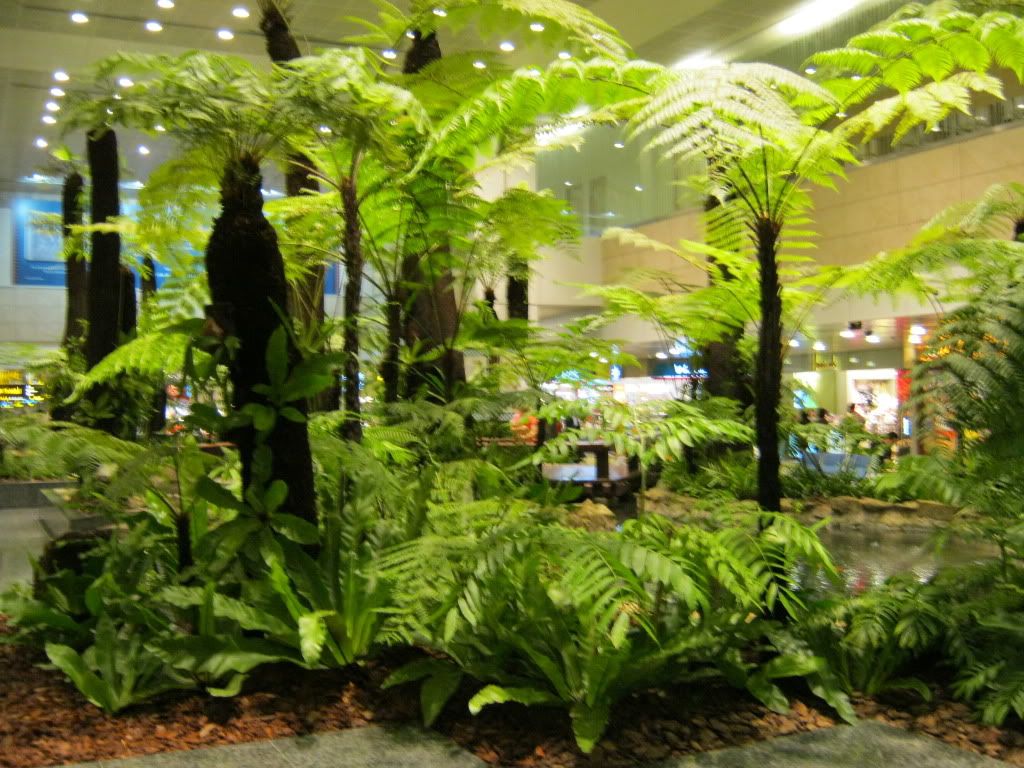 Security was as always tedious, but courteous. The departure lounge was depressingly full, so my hopes of a vacant seat were dashed. I pinned my hopes on my seat mate disembarking in DXB.
Sidebar: why do so many SQ flights to the Middle East make a stop in DXB. Both IST and CAI flights stop there, as well as a dedicated DXB flight around the same time. Most people seem to be going on to the final destination…so why the stop?
SQ490 SIN-DXB-IST
Loading: 100% Y, unsure of other classes. 90% after DXB.
Aircraft- 773.
Seat- 60K.
Pushback on time, take off eventually at 0020.
I noted, with some disappointment, my seat mate was not getting off in DXB. Very few other people looked like they were.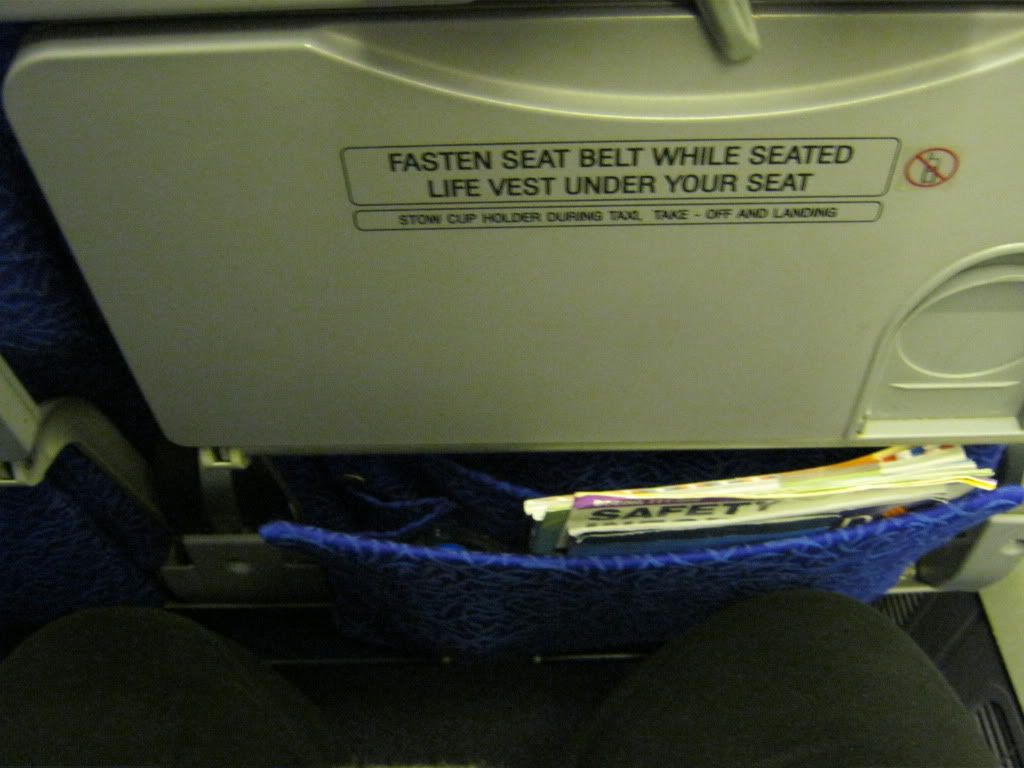 About the same leg room. Good…but not great.
Despite the late hour, they fed us. I didn't take a photo of it, but the choices were pan fried fish or Malaysian chicken curry, with a seafood salad. As I don't eat seafood, I was glad I made the burger stop. I took the chicken curry and nibbled at it…it was passable.
I watched a couple of movies, and tried to get some kip, but couldn't really get comfortable. Never can on long flights, don't know why I bother. I must've dozed for a bit though. I was pining for the fresh air vents that were depressingly missing. I like cool air on me when I try to sleep. I also like it to be dark. I had hoped the little Givenchy packs might contain a sleeping mask…but no; they had socks (why socks? Why?) and a toothbrush (that I can understand).
We landed in DXB at some god-awful hour local time, I think about 2:30am. This is where a bearable flight became brutal. Pax continuing to IST were forbidden from getting off the aircraft, and as that was most of us…it made life difficult for crew trying to clean the cabin and load new food. We were quite restless, and the guy who's job it was to check boarding passes was having a hard time. I suggested it might be easier if we were doing this in the terminal. He grimaced and said "yes…it would be…" but didn't elaborate further.
At one stage an announcement was made that me must return to our seats and stay there. Most people ignored it. Me included.
Our scheduled stopover was 1.5 hours. Even if all I had time to do in the terminal was to stretch my legs for 5 mins and take a whiz, I'd have taken it. As it turns out, we were there for 3 hours, as apparently we were requested to wait by IST.
So, if someone can give me good reasons for not letting us off the damn aircraft, I'd appreciate it.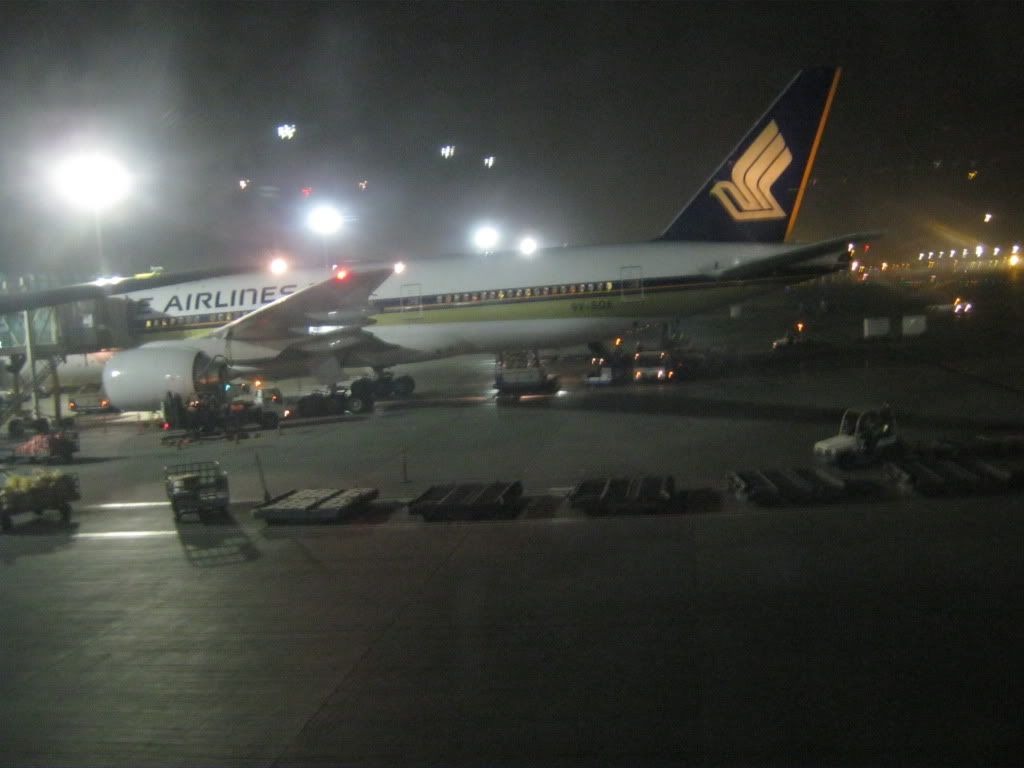 Company jet next door. This was the CAI flight.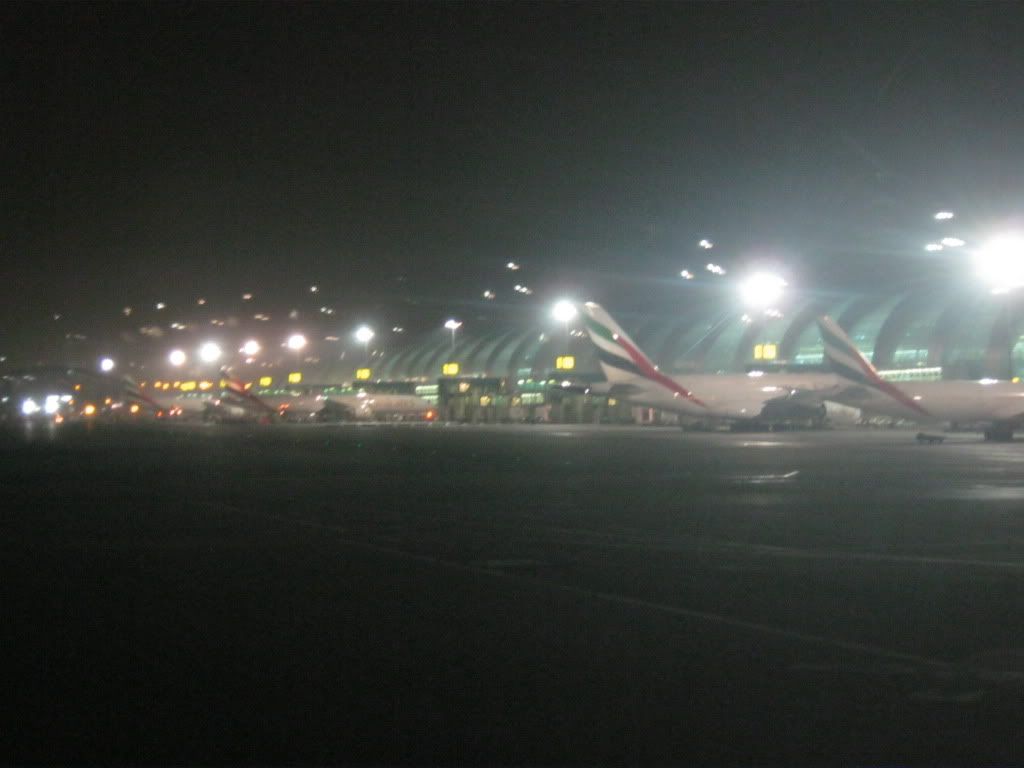 DXB terminal
We took off about 1.5 hours late. Yet we arrived in IST smack on schedule.
There was talk of light snacks being available after take-off…but nothing was forthcoming.
I tried to sleep some more; I went to look for vacant seats to move to…but there were no attractive ones. In the end I plonked back next to the Japanese lady, and tried to get some rest. I got about an hour I think.
When I awoke, the sun had begun to rise, and we were about 2 hours out of Istanbul. Now, even those most fervent A.netter would agree that the last 2 hours of a long haul flight (in Y) drag endlessly. Even the arrival of breakfast didn't speed things up.
Breakfast was probably the highlight though; a choice of Omlette with baked beans and chicken sausage, or banana pancakes with apricot jam. I would have been happy with either, but went with the banana pancakes. I ended up having three, as the Japanese lady didn't seem to enamored by them, despite choosing them, and the FA offered me a second (well…third) helping. They were delicious!
No photo. I regret not taking one now.
Istanbul drew closer: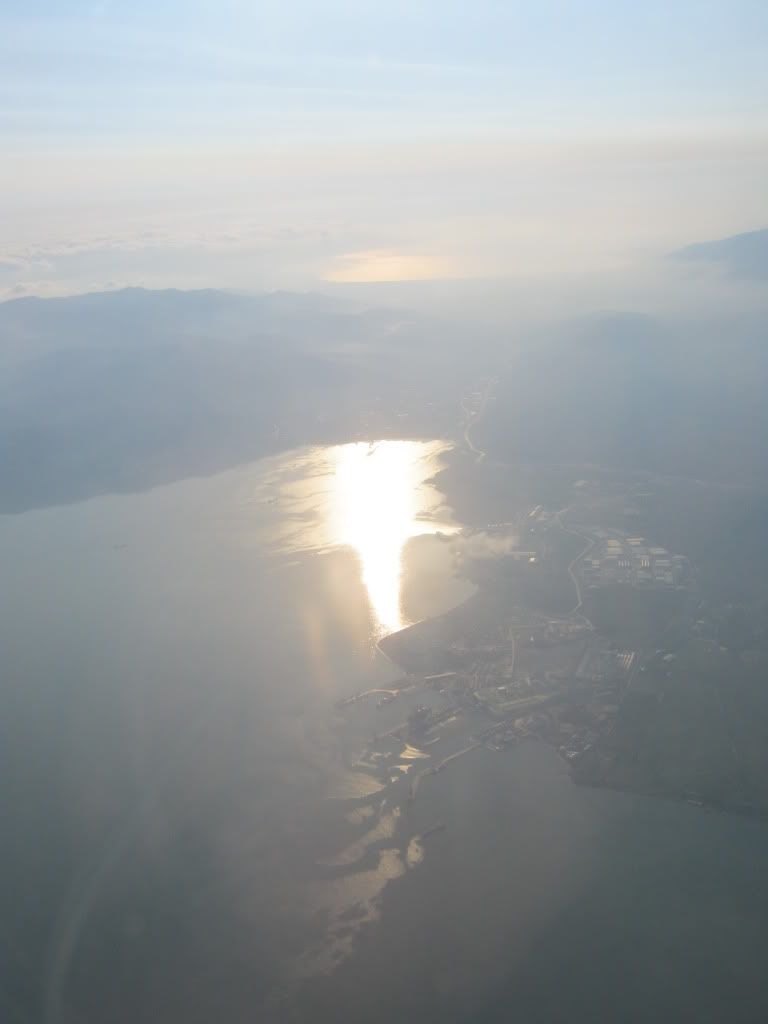 And eventually, we arrived.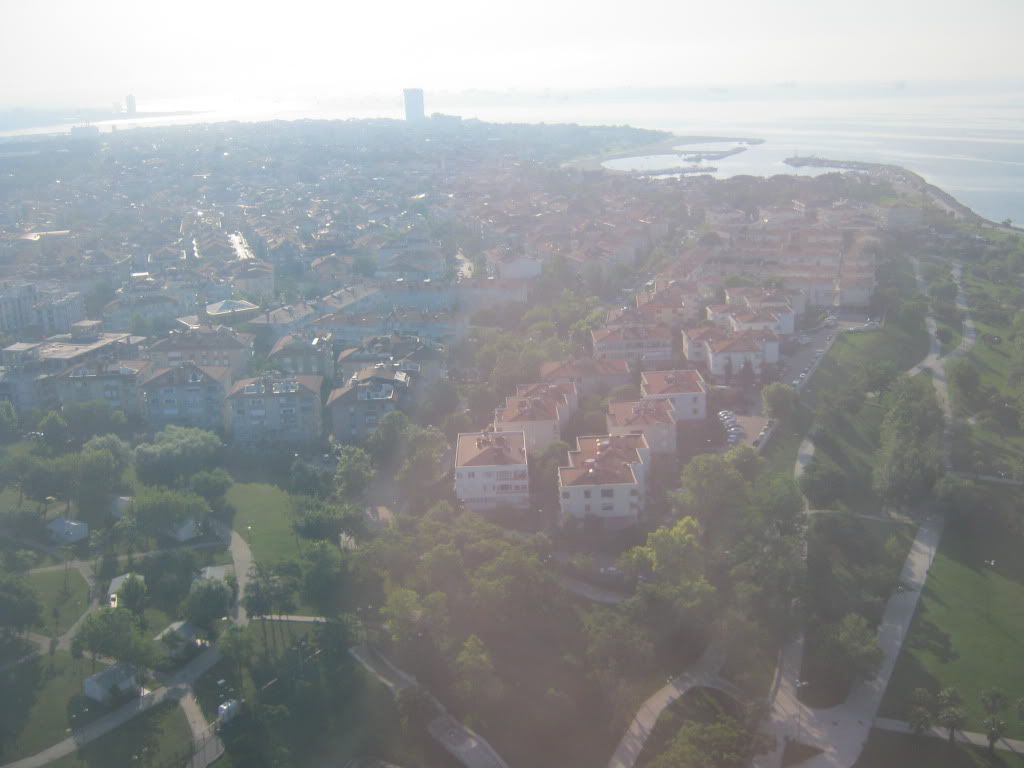 Prior to touchdown.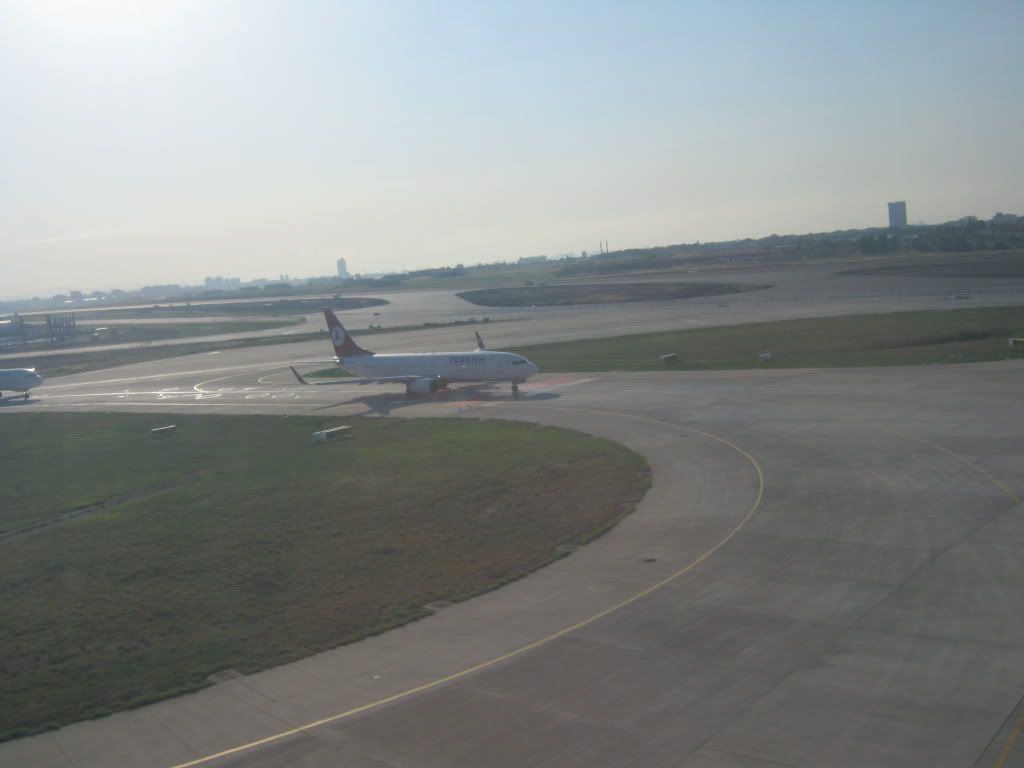 Nearly on the deck.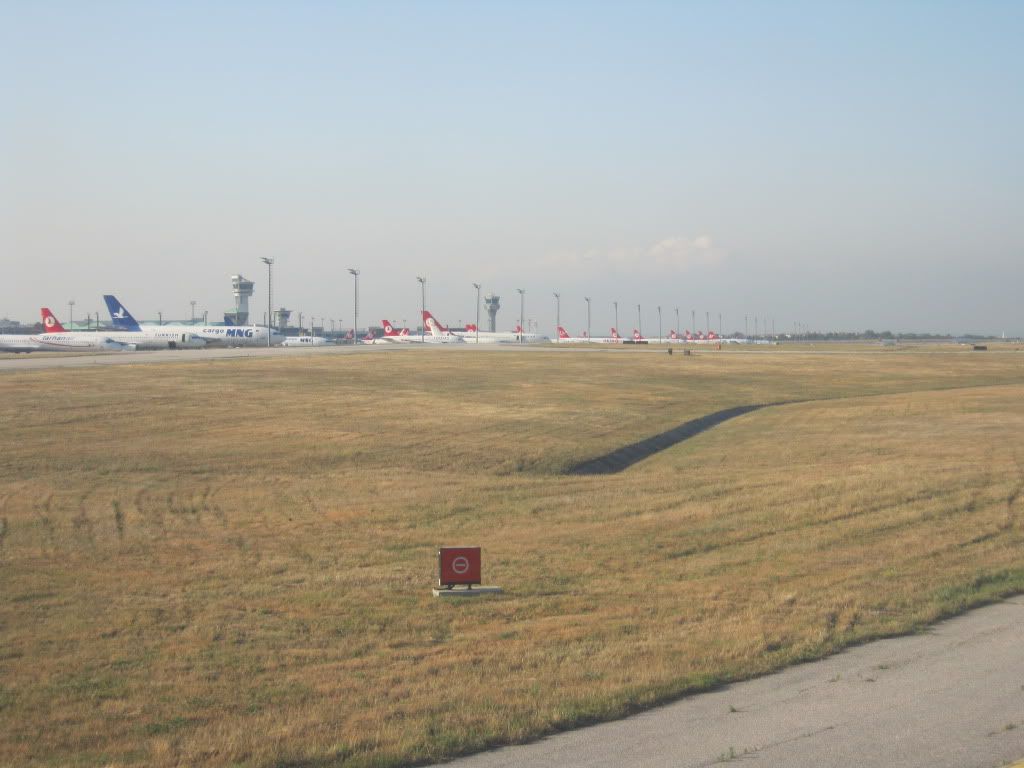 Taxiing.
As seems to be my karma, we were at the furthest possible gate, but as the airport was empty at that stage of international arrivals, it was no big issue. There was no queue at the Visa desk, and a crisp $20USD bill later, I had my Visa. Felt really shonky, sliding my passport to some guy with a $20 in it…but all legit.
Immigration however, was not so good. Lines moved at glacial pace in the "non-Turkish citizen" queue, so security direct a few of us over to the Turkish area which was empty. He didn't tell anyone there he had done that, and there was a minor argument as immigration officials told us to go back…before they relented.
One stamp later…I was through. No pesky forms, no questions, no welcome to Turkey.
My bag was already on the carousel; I grabbed it, hit the green channel, and was out the door. Found my driver with my name misspelled, and I was off to my hotel.
All up, a typical SQ experience, aside from the DXB stopover kerfuffle. Actually, in retrospect, it was probably the highlight of an otherwise staid experience. Not bad, not brilliant, but adequate. Had I been up in J or F, then no doubt I'd be singing praises or complaining about champagne glasses being presented the wrong way around…but as an Economy pleb, I can but say the flights were just a means to an end; just not overly pleasant means.