In June it was time for a week of holidays and I decided to go to Iceland, a country I had always wanted to visit. I had planned this trip in February, before Iceland became even more famous due to the volcano. Two airlines offered weekly non-stop flights from my home airport Stuttgart to Keflavik during summer season. Germanwings continued their STR-KEF-service which they had already offered during summer 2009 while Air Berlin stepped in in 2010 and offered one non-stop flight per week as well. Both airlines offer over-night flights ("red-eye"), using an A319-aircraft during night that would otherwise be idle on the ground at STR. Germanwings flies out on Thursday night, Air Berlin on Sunday night. Prices were about the same. I decided to go for AB this time as they still offer a bit more service and I booked myself on the inaugural flight STR-KEF, returning one week later.
AB offered flights from DUS, TXL, MUC and STR to KEF, so four aircraft would meet at KEF during night. But about eight weeks before my flight when I checked my reservation again I found out that the flights out of MUC and STR had been cancelled and would only be started later that summer, so no inaugural flight for me. Instead I was re-booked via TXL. I didn't get any kind of information from AB at that time though. Some weeks later I re-printed my receipt on AB's web page in order to have the new flight times on a piece of paper as well. This action caused an E-Mail with the new flight times to my E-Mail-address which AB obviously counted as information – I never got any other kind of information about the changes. When I talked to other passengers on my flight I found out that information was only provided a few days before the flight. While I do understand that AB doesn't want to fly four half-empty planes to KEF during pre-season, I would have expected immediate information as soon as it became clear that flights out of STR and MUC wouldn't operate on that date. Due to the connecting flights instead of a non-stop flight, flight time was about seven hours each way instead of four hours. Not a big deal for me – I got four flights for the price of two  - but the "ordinary" passengers were probably not amused.
Sunday, 20 June 2010
Stuttgart (STR) – Berlin Tegel (TXL)
Airline: Air Berlin, operated by TUIfly
Flight number: AB 6536
Scheduled departure time: 18:50
Scheduled arrival time: 20:05
Type of aircraft: Boeing B 737-700
Registration: D-AHXB
This aircraft was built and delivered to TUIfly in 2007. In October 2009 Air Berlin took over all "city-routes" (mainly the former HLX-routes) from TUIfly. At the same time, TUIfly leased its B 737-700-fleet to Air Berlin. The aircraft were painted in Air Berlin liveries.
And here are some pictures of D-AHXB from TUIfly times:
On Sunday afternoon I arrived at Stuttgart Airport by train and checked in at one of the check-in counters in Terminal 3 without any waiting time: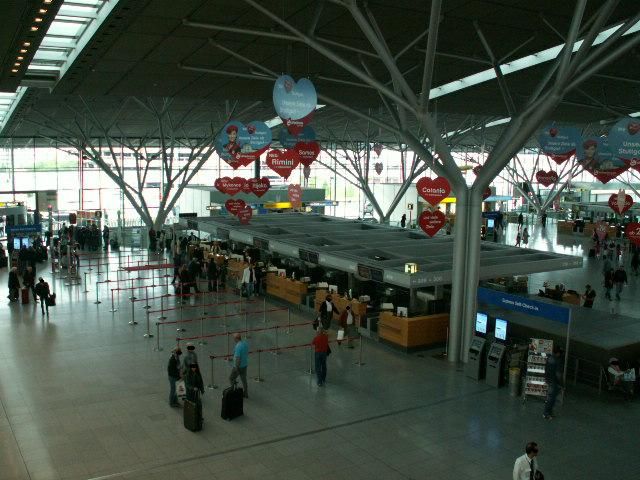 I had already made seat reservations during booking so I got my boarding passes for my reserved seat 23F for STR-TXL and for TXL-KEF: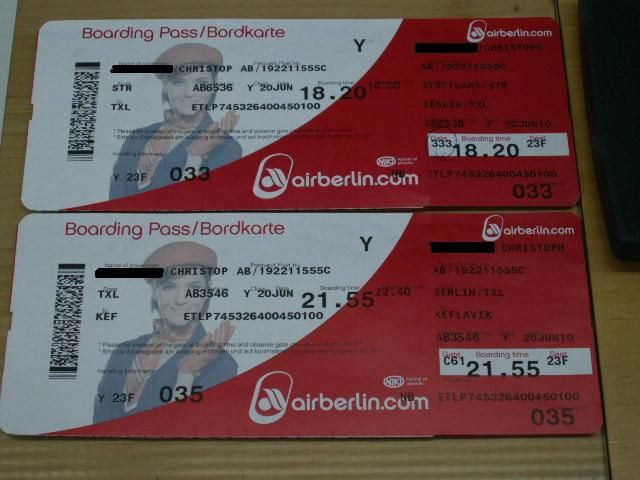 AB is celebrating the Soccer World Cup as well: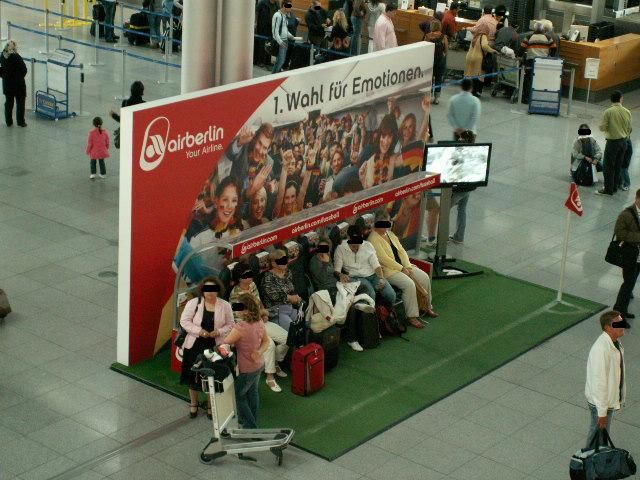 I spent some time on the viewing deck, and then I passed security check and proceeded to gate 333: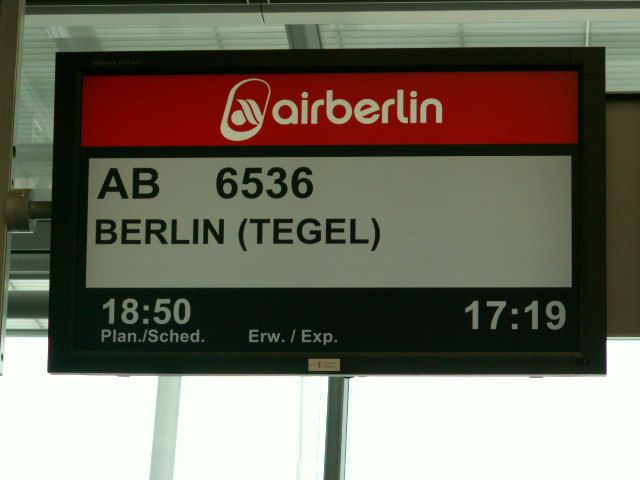 A small selection of newspapers and magazines was available at the gate. At 18:00 the aircraft for my flight arrived from TXL on time. It was D-AHXB, a TUIfly aircraft: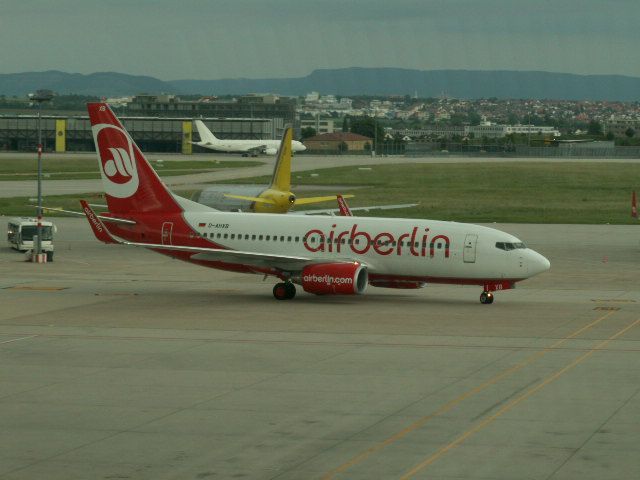 Operated by TUIfly: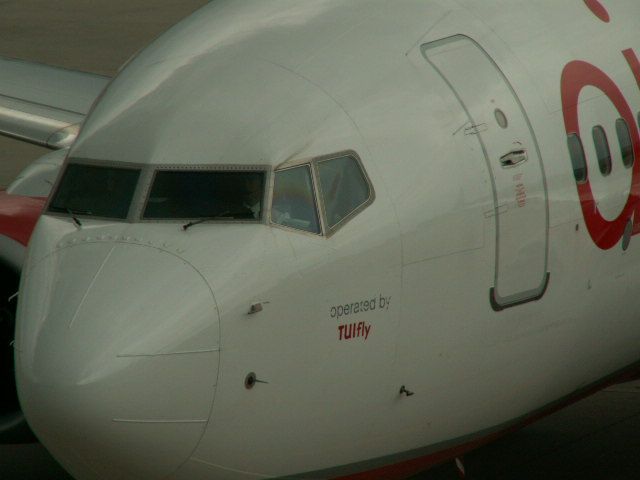 This was going to be the second flight on this aircraft for me – after GWT-STR in September 2009 when it was still flying for TUIfly in the yellow colour scheme. Boarding started 25 minutes before scheduled departure time and all passengers walked down the jet-bridge to D-AHXB where we were greeted by all in all three female flight attendants. With all the connecting passengers to KEF plus the usual Sunday evening rush, the flight was quite full. According to one of the flight attendants there were only eight free seats left, load factor 95%.
We went off-block on time and taxied to runway 25 where we took off in western direction without any further waiting time: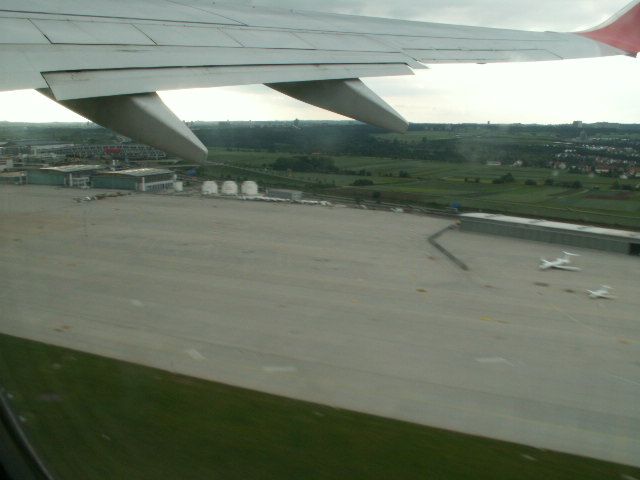 Terminals 1, 2, 3 and 4: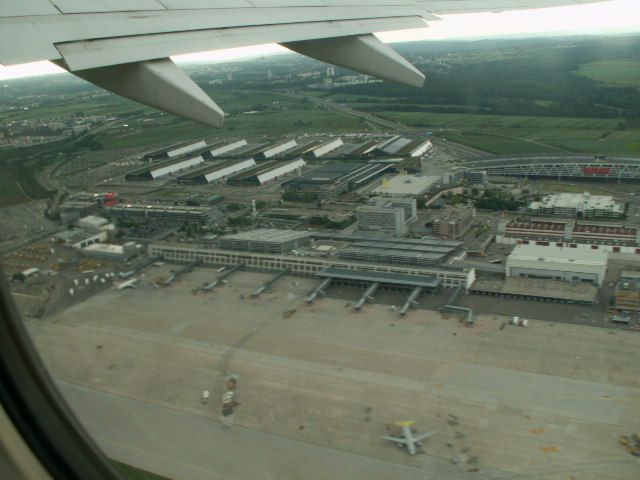 The town of Echterdingen: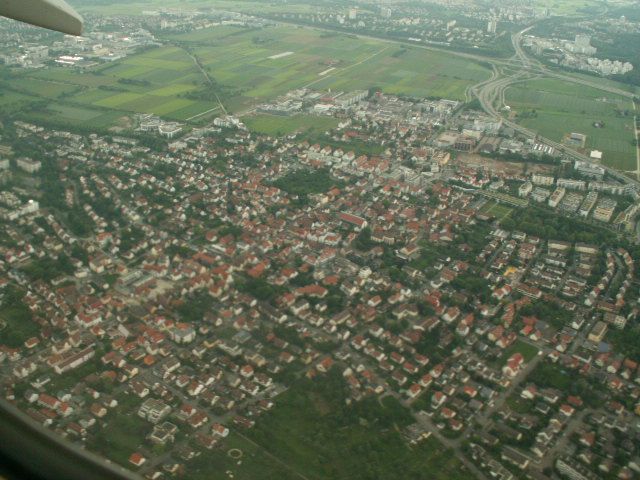 Waste incinerating plant near Boeblingen: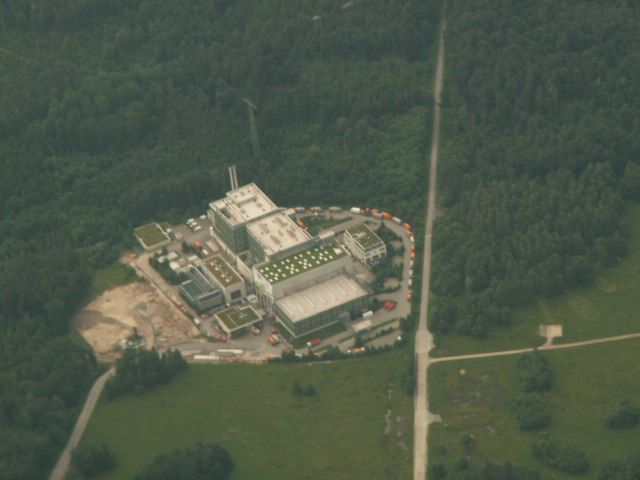 Motorway cross Stuttgart and the former headquarter of IBM Germany: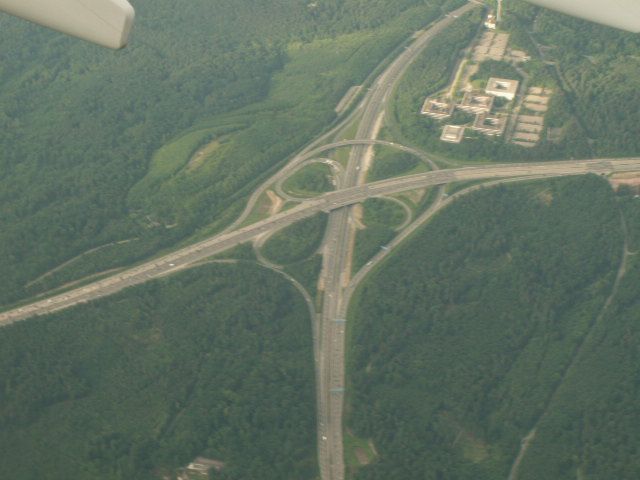 Soon we were above the clouds and there wasn't much to see outside. The female first officer informed us about our flight route which would be STR – Heilbronn – Wuerzburg – ERF – LEJ – TXL. Passengers could follow the flight route on the air-show as well: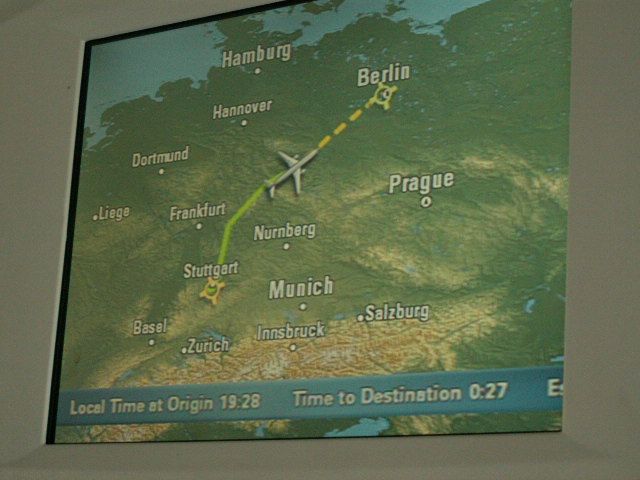 Cabin crew started their service and distributed free drinks and a sweet or salty snack. I had some crisps and an orange juice: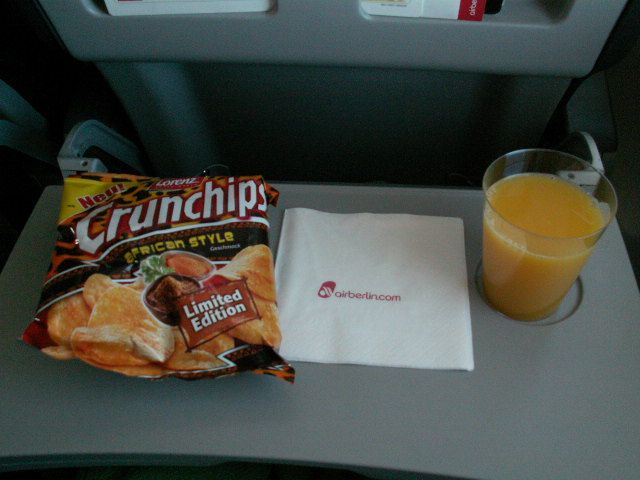 Our shadow: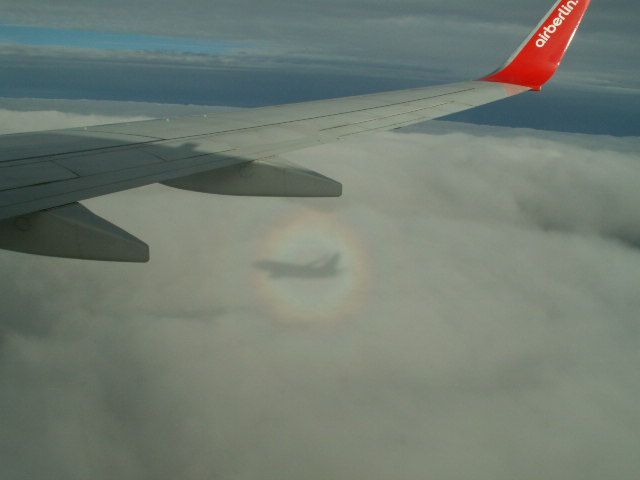 Soon we started our descent into TXL, arriving from the East. The rural landscape of Brandenburg:
Strausberg airfield near Berlin: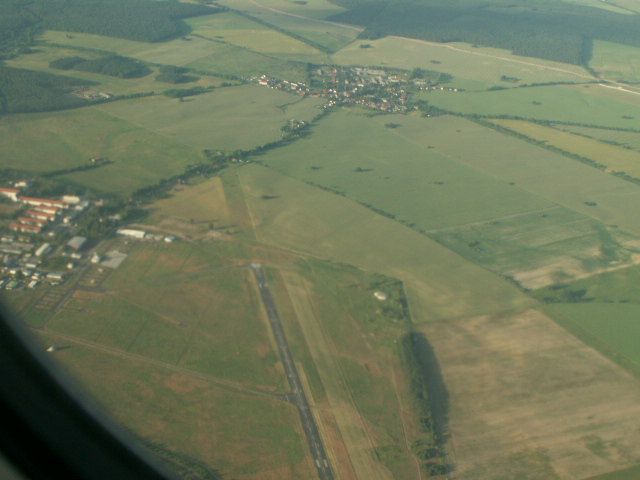 Motorway A10: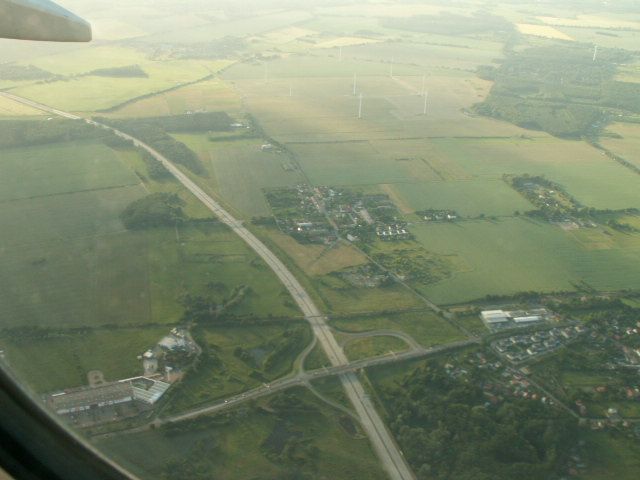 The village of Neu-Lindenberg – this village has an interesting shape: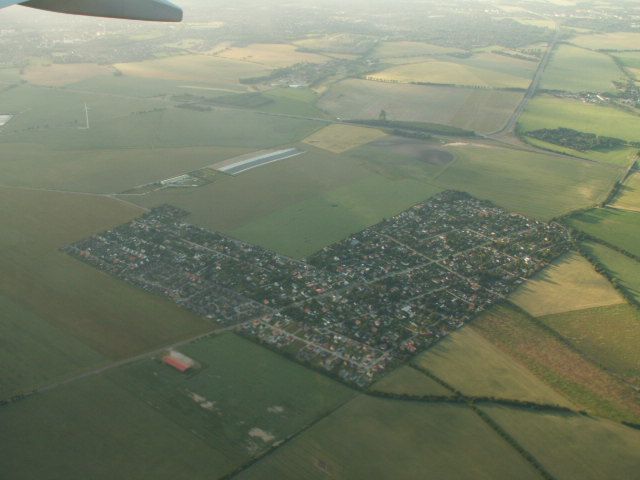 Approaching Berlin: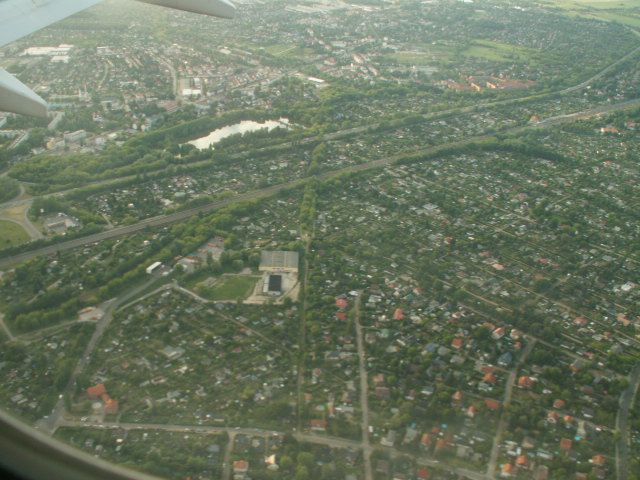 .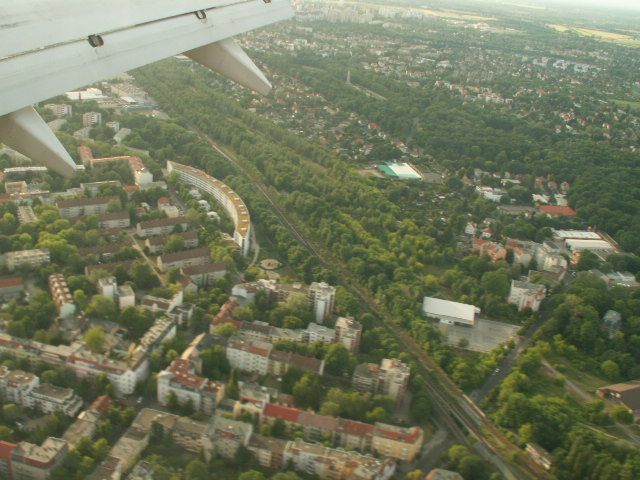 .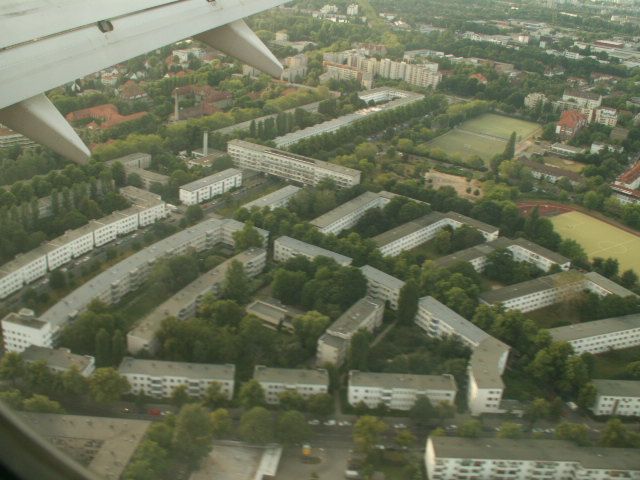 We touched down on runway 26R and taxied to a parking position in front of Terminal C, the interim terminal that was built three years ago to handle the growing traffic before the new airport BBI will be opened in 2012 (hopefully…) and TXL will be closed. Terminal C is used exclusively by AB.
At the doors flight attendants distributed the famous chocolate hearts that are given out only on domestic flights – a reminiscence of DBA. Leaving D-AHXB via stairs:
Impressive winglet: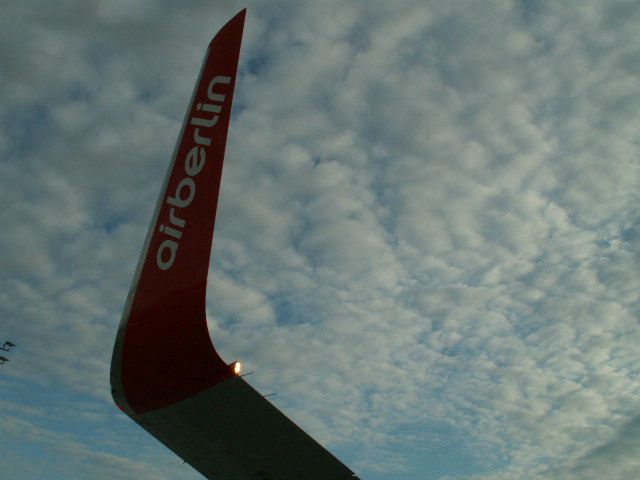 Two busses were waiting for the passengers. When everybody had entered, they drove about 50 metres and left us out again at the arrivals facilities. There was a separate gate for connecting passengers so I didn't have to go through security again.
A gate in the Non-Schengen area was printed on my boarding pass but as Iceland is part of Schengen the gate had been changed and a gate in the Schengen-area was displayed on the screens. I entered the Schengen-gate area which was totally crowded on that Sunday evening: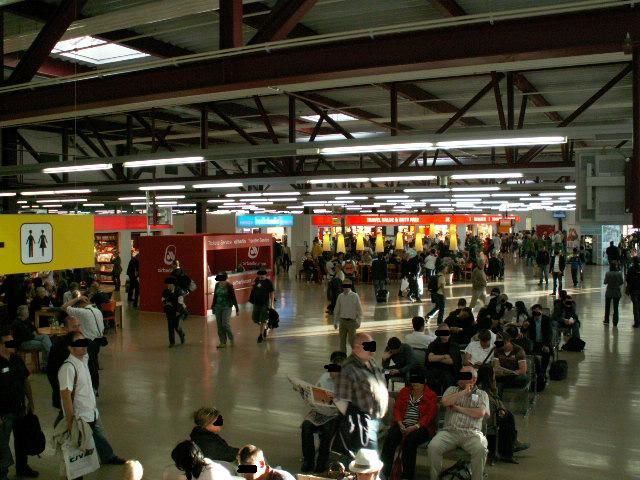 Only very few seats, a few small shops and not much space – not a very nice place to spend your waiting time. So I decided to go back to the transfer corridor where there were some windows with good views to the apron.
Sunday, 20 June 2010
Berlin Tegel (TXL) – Keflavik (KEF)
Airline: Air Berlin
Flight number: AB 3546
Scheduled departure time: 22:40
Scheduled arrival time: 00:25 (time difference -2 hours, so scheduled flight time was 3:45)
Type of aircraft: Airbus A 320-200
Registration: D-ABDG
This aircraft was built and delivered to Air Berlin in 2006. It is still wearing the old colour scheme.
I saw lots of AB aircraft arriving and departing – AB has become really big at TXL and now uses it as a hub as well. The gate area emptied the more flights left. Our flight to KEF should be the last departure of the day: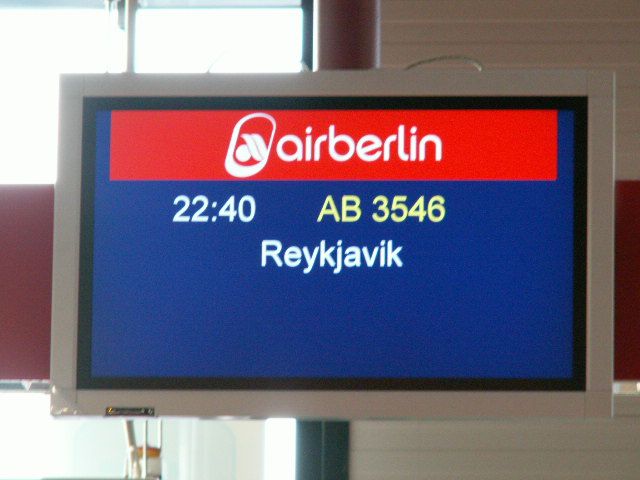 Only the passengers to HEL joined us waiting as their flight was delayed one hour. Boarding for the flight to KEF started 20 minutes before departure time with two gate agents. Two busses were waiting to take passengers to D-ABDG which was parked further away on the apron. I boarded through the rear door: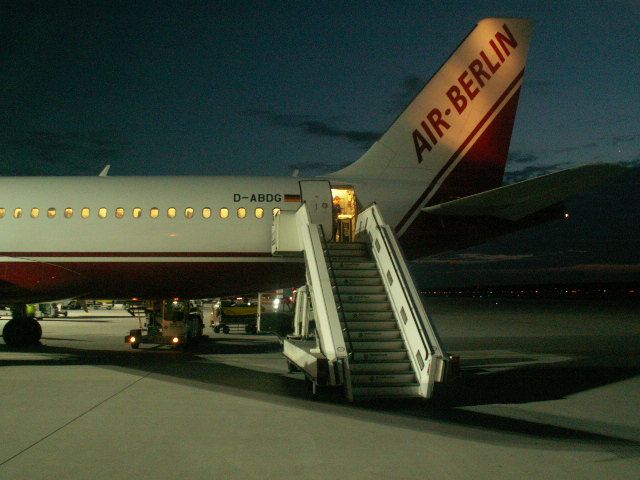 .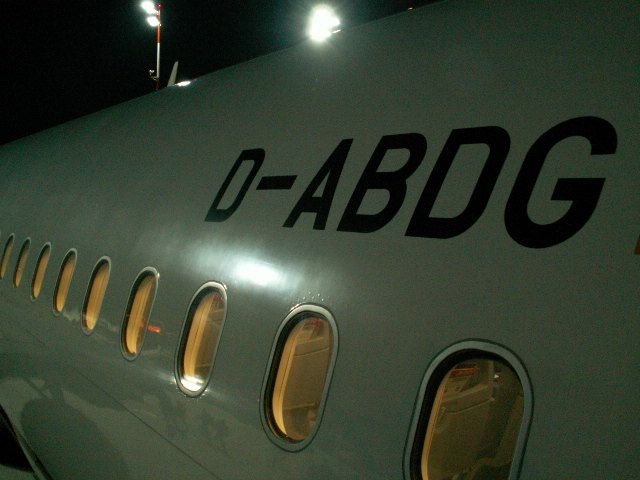 A young male flight attendant was present at the door and distributed candies. He was friendly and funny and joked with the passengers. Some magazines and newspapers were available as well. All in all cabin crew consisted of four flight attendants (two female, two male).
The cabin was in a good condition; the aircraft was equipped with the typical AB leather seats; legroom was ok. With all the connecting passengers from MUC and STR, this flight was full as well; only five free seats, load factor 97%. Luckily enough, one of these free seats was the middle seat next to me as a couple from Berlin had booked two aisle seats.
The purser introduced her team as "your cabin crew from Berlin" (is there something special about that when flying AB?) and the captain made a welcome announcement as well. Flight time to KEF would be 3:20 today. The safety video was shown on the video screens and then we went off-block. Some fair is taking place in the background: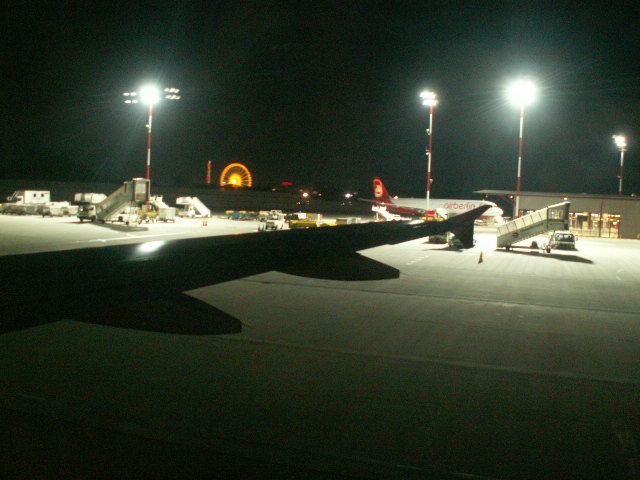 We taxied to runway 26L and after a company A 330 to TLV it was our turn to take off into the night.
Cabin crew started their service; at first they sold headphones for the entertainment programme for EUR 3.00 (I had brought my own ones though). They were showing the typical entertainment stuff with "Just for Laughs", Mr. Bean, "Two and a half men" and Disney cartoons. Between the programmes the air-show was visible. It is different from what I know from the TUIfly-operated B 737 aircraft. The graphics of this air-show are quite nice but any written names of cities, isles or anything else are missing completely: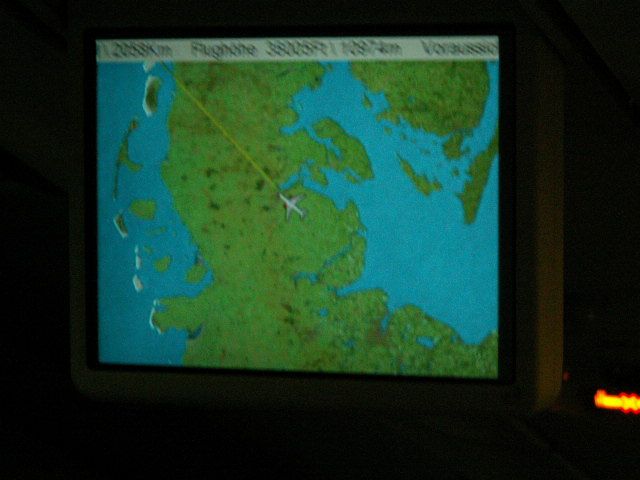 I was still able to locate myself here shortly before the German-Danish border, but it would become more difficult if you are just crossing some small islands.
Besides the video programme there were different audio channels available with all kinds of music, a children's programme and a programme to learn Spanish.
Meal service on longer European flights with AB consists of free sandwiches (two different kinds of choice) and free non-alcoholic drinks. Besides, you can buy hot meals designed by "Sansibar", a famous restaurant on the Isle of Sylt. They have four different meals available if you decide to order on the plane, among them the famous "Curry-Wurst" (curry sausage). If you order your meal in advance you can choose between 13 different meals. Flight attendants walked through the aisle and asked for orders. Quite some people bought a hot meal; especially the Curry-Wurst was quite popular. I had pre-ordered Indian Chicken Tikka Masala with rice and Naan bread for EUR 9.90: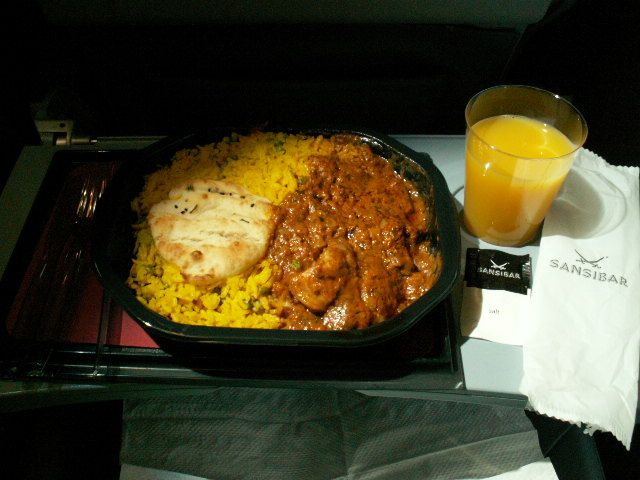 It tasted very good and the quantity was just right. I was asked if I would like to have a sandwich as well but I declined – I wasn't that hungry at that late hour. Later there was a second drinks service.
The captain informed us about our flight route which was from TXL in western direction to HAM – Isle of Sylt – Denmark and then via the North Sea, the Shetland Islands and the Faroe Islands to Iceland.
Outside I could watch the "sunrise" – shortly before midnight! Amazing: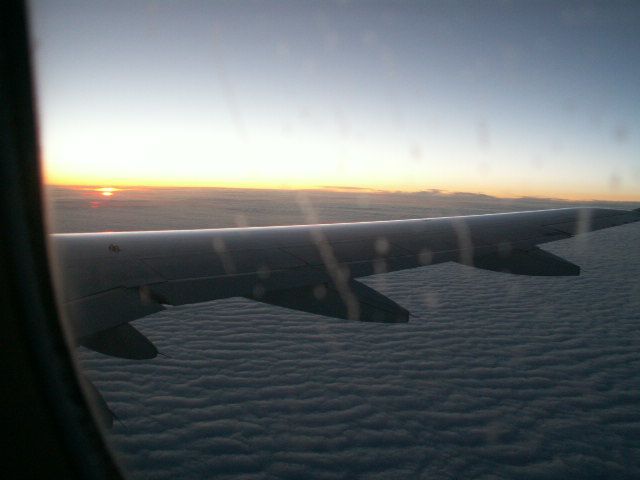 .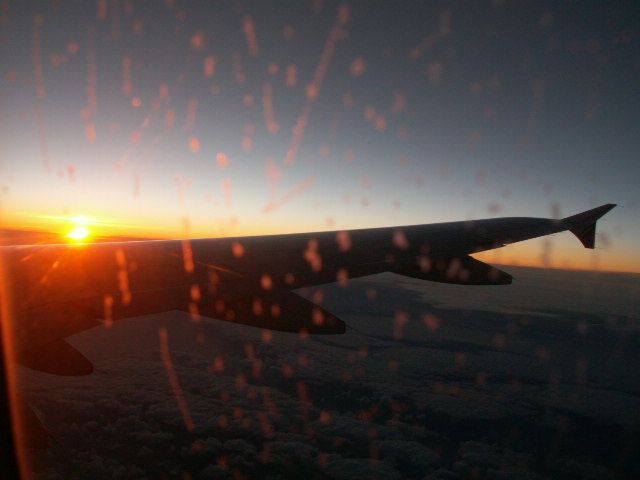 Cabin crew performed their duty free sale but not many people were interested. Then it became quiet in the cabin. The main lights were dimmed during the whole flight which was nice. I enjoyed the view out of the window and read a bit in the in-flight magazine.
The captain made another announcement and told us that we would have made it to KEF soon and informed us about the weather which wasn't too nice – 10 degrees Celsius and some light rain. But then again, I was going to Iceland and not to Spain…
The South coast of Iceland comes into sight: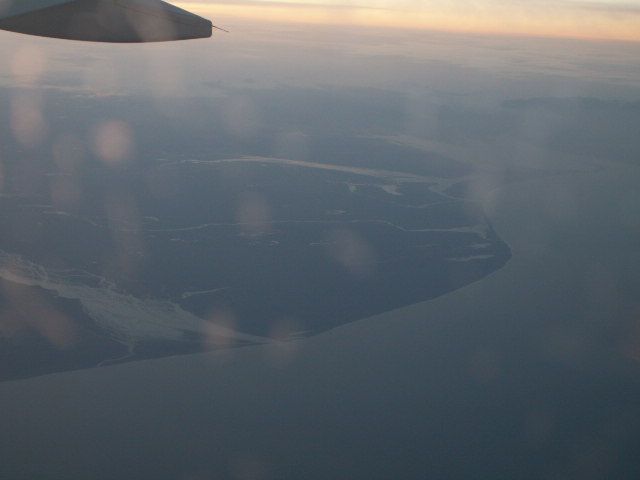 We approached KEF from the East. Shortly before landing we were flying above the town of Keflavik: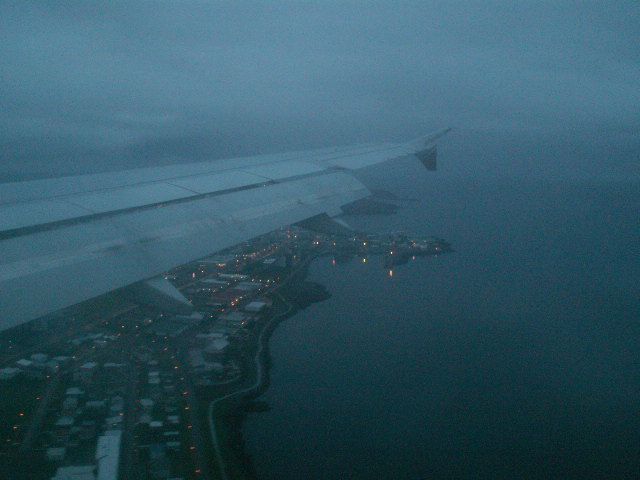 .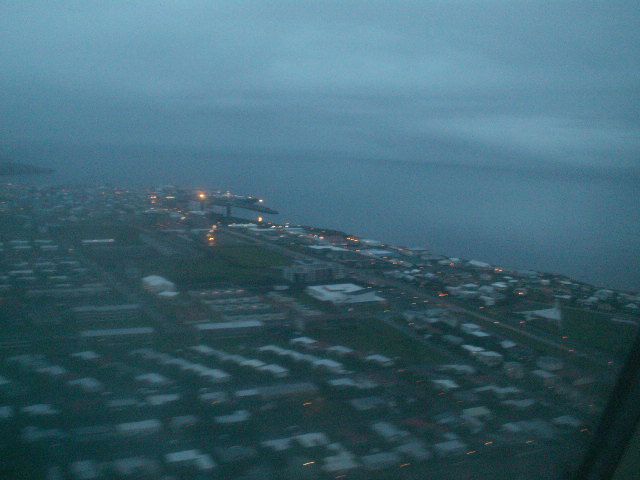 We touched down on runway 29 and taxied to a parking position in front of the terminal building where we were on-block on time. Although we had to leave the aircraft via stairs we were only allowed to use the front exit: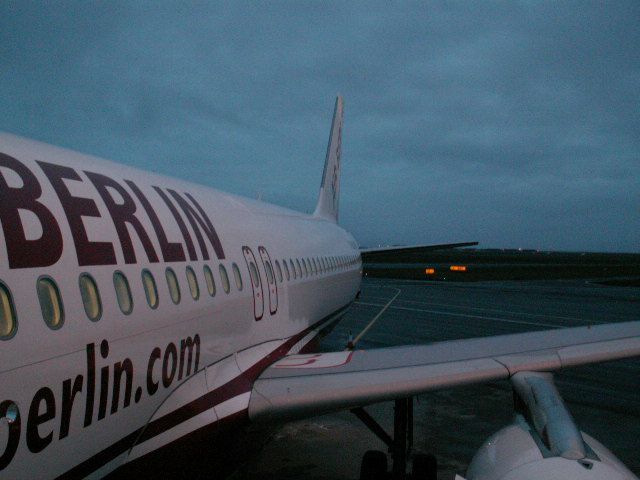 .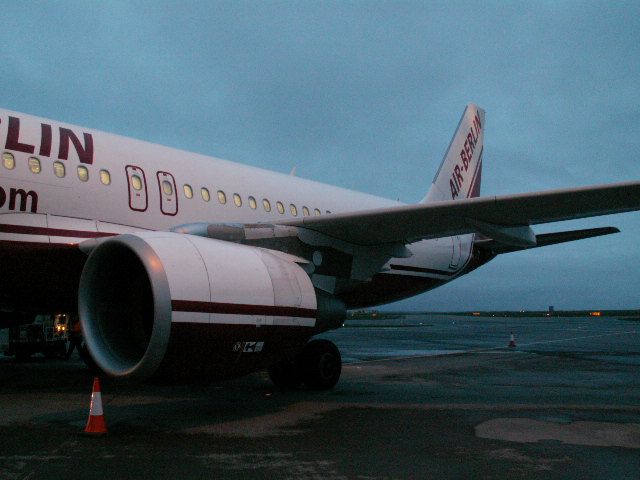 I collected my luggage and took a bus to Reykjavik which is about 40 kilometres away from KEF.
I spent the following week in Iceland – a really fascinating country. Beautiful nature, nice cities and friendly people. During summer, the sun is (nearly) always shining; the nights are only about an hour long. For those of you who are interested, here are some pictures of Reykjavik and the South of Iceland as well:
Hallgrimskirkja, the largest church in Reykjavik: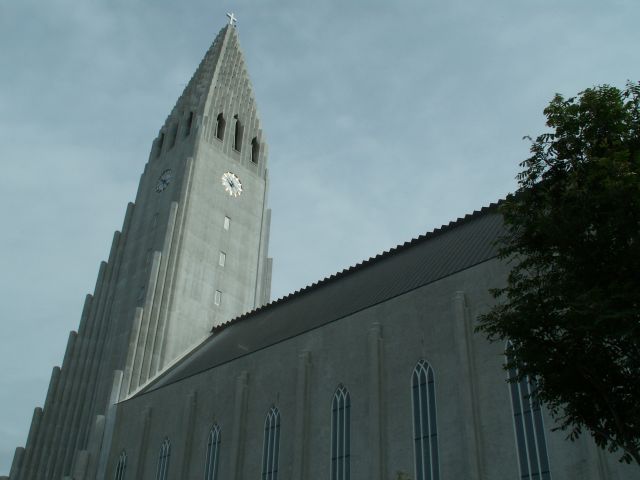 Views from the tower of the church to Reykjavik, a very nice, relatively small capital: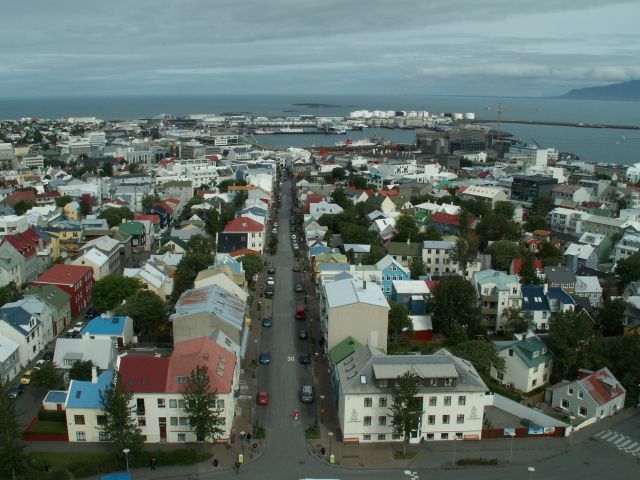 .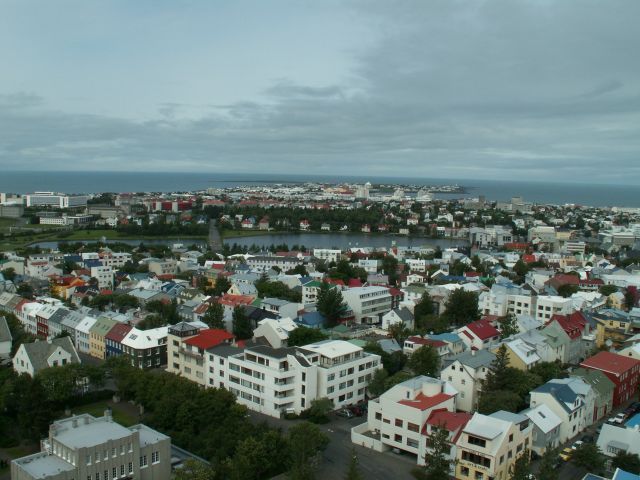 Reykjavik Domestic Airport (RKV) which is only used by smaller aircraft:
Tjoernin, a nice lake in the city centre of Reykjavik: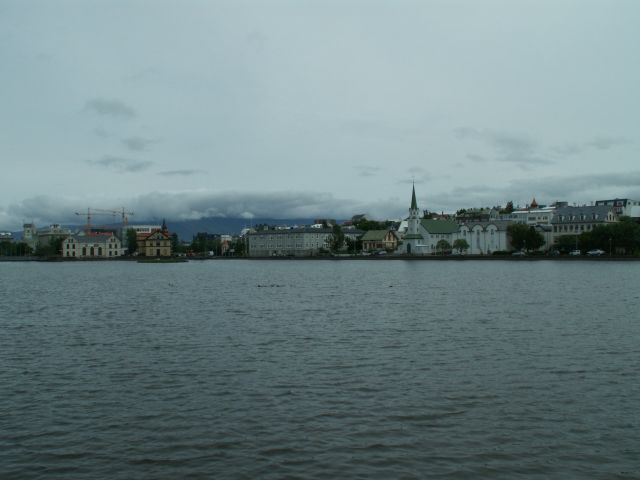 Gullfoss waterfall, one of the most popular sights in Iceland: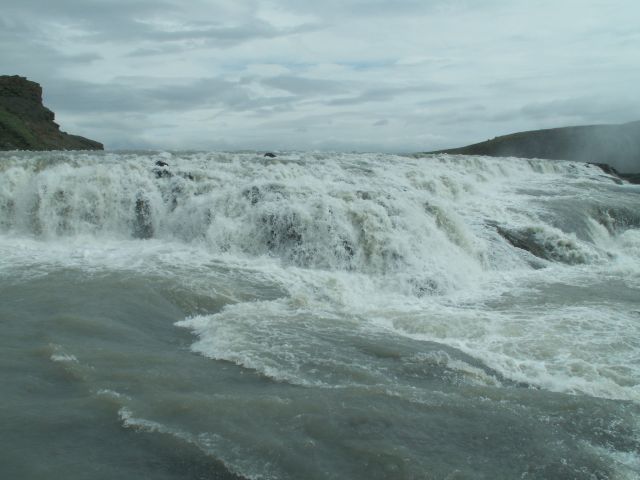 .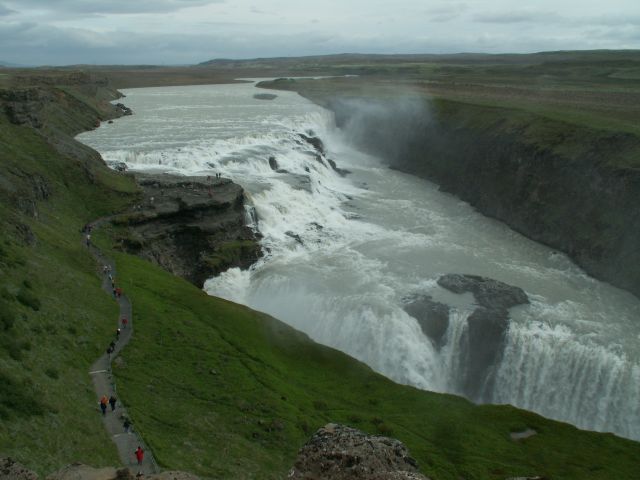 The geyser "Strokkur":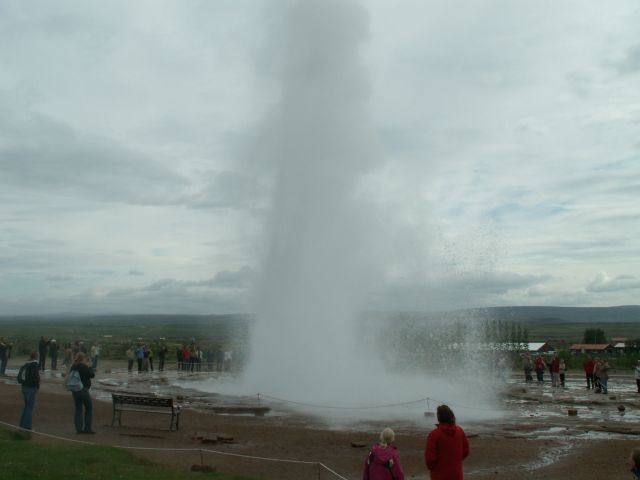 Thingvellir national park with its huge lake: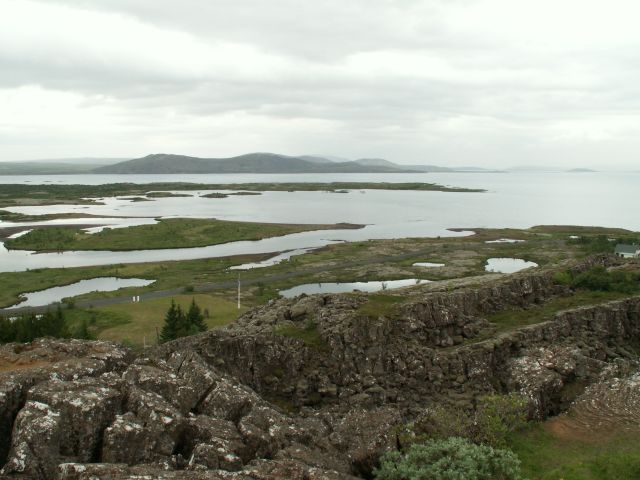 What's this?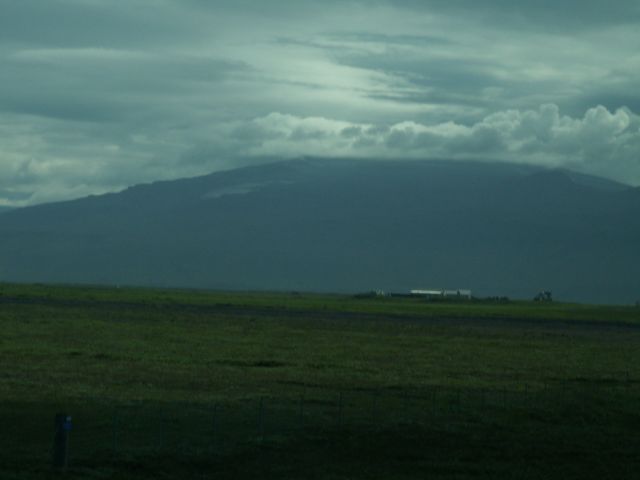 Looks harmless, doesn't it? Well, this is Eyjafjallajoekull, the famous volcano. This guy forced European air-fleets to the ground for several days earlier that year. While this is hopefully over for the rest of Europe, it is still an issue for the people living close by. There are still some ash clouds that go down on the region in the South of Iceland. Here you can see ashes on a roof: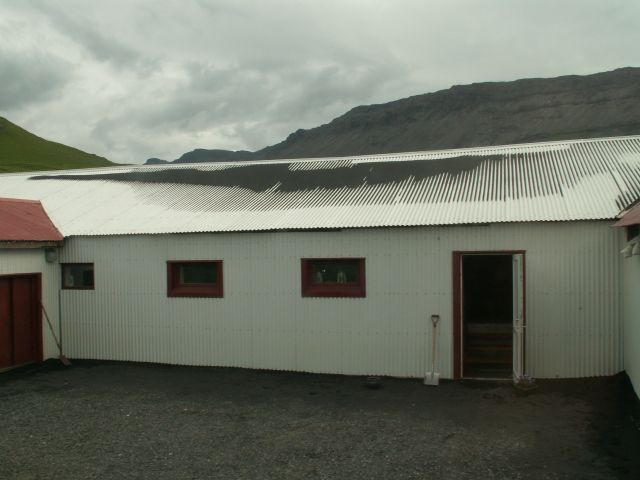 And this glacier should normally be white. But now it is brown with ashes: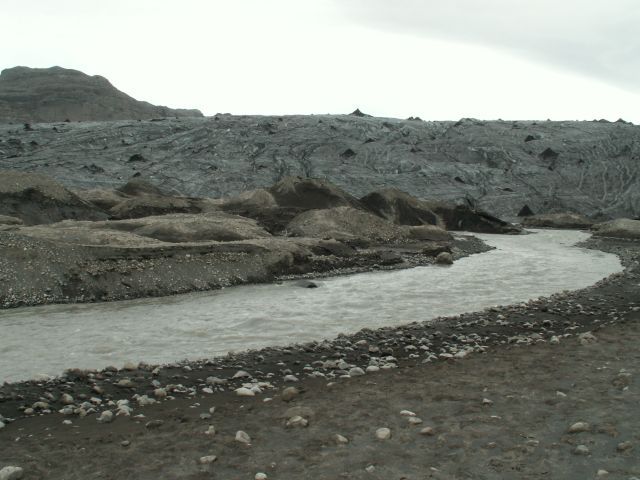 The black lava beach of Vik i Myrdal: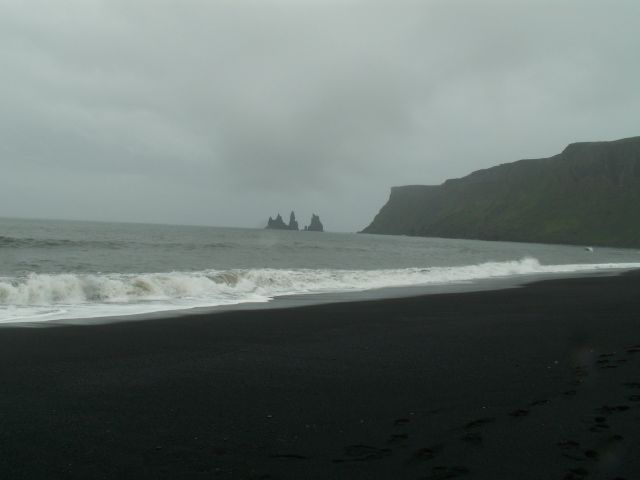 The waterfall of Skogafoss: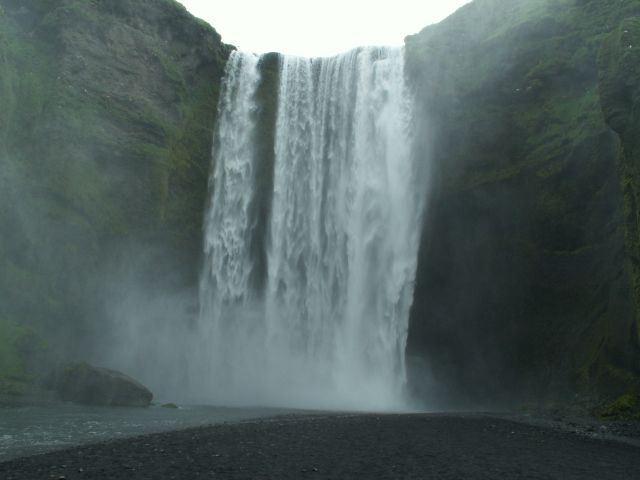 Blue Lagoon, hot springs located close to Keflavik Airport. The water is warm and there is a famous outdoor swimming pool. But this area is not designated for swimming: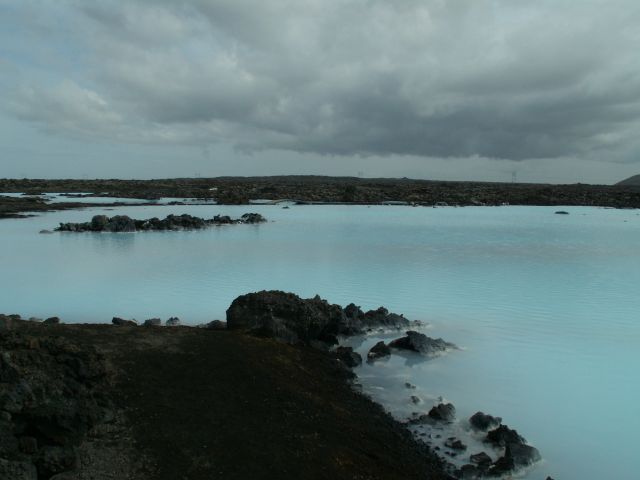 I also visited the North of Iceland, flying there with Air Iceland's Fokker 50 and Norlandair's Twin Otter. But that will be another story, covered in a separate trip report.
After one week in Iceland it was time to go back. I was staying in a hotel in the town of Keflavik at the end of my journey so I took a taxi for the short distance to the airport – there is no regular bus service and I found it a bit too far to walk with luggage.
Monday, 28 June 2010
Keflavik (KEF) – Berlin Tegel (TXL)
Airline: Air Berlin
Flight number: AB 3547
Scheduled departure time: 01:25
Scheduled arrival time: 07:05 (time difference +2 hours, so scheduled flight time was 3:40)
Type of aircraft: Airbus A 320-200
Registration: D-ABDS
This aircraft was built and delivered to Air Berlin in 2007.
I arrived at KEF airport at 22:00 on Sunday evening. As usual for this time of the year it was still bright daylight outside. The airport is modern with a small lake in front of the terminal building: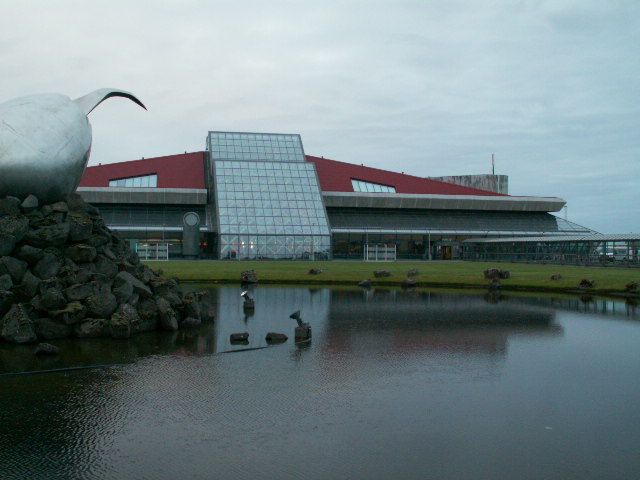 Modern art presented in the parking area: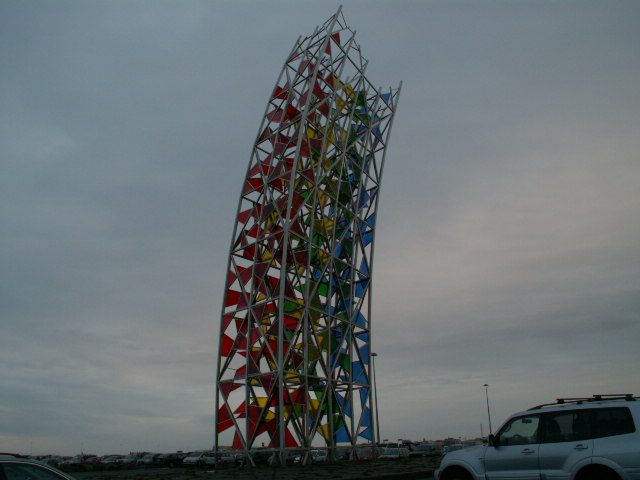 Inside the terminal building; on the right you can see the AB check-in area: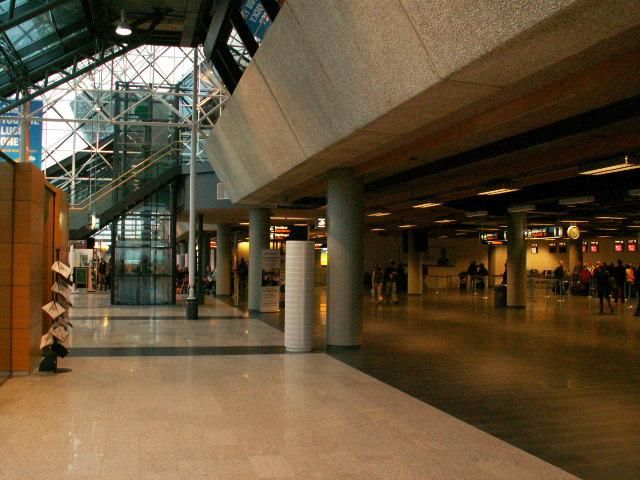 This night there would be three AB-flights to Germany: DUS, TXL and MUC. Only STR was further suspended. Besides there was a Germanwings-flight to CGN so this would be "Germany-night" at KEF.
Icelandair is by far the biggest player at KEF with two waves every day: in the early morning the aircraft arrive from the USA or Canada and proceed to destinations in Europe. In the afternoon it is the other way round. Iceland Express has a similar pattern but is focused more on Europe, although they serve two American destinations as well (EWR and Winnipeg). The remaining time can be very quiet at KEF. Only few other airlines are serving the airport on a regular basis like SAS or Air Greenland. Besides, there are seasonal flights from Central Europe, for example with Air Berlin, Niki, Germanwings, Edelweiss and Lufthansa. Most of them arrive and depart at KEF during night.
There were eight check-in counters open for AB "all flights". Online check-in is not possible for AB-flights out of KEF and there are no check-in machines so all passengers had to use the regular check-in counters. AB is represented by the handling company Airport Associates who handles practically all flights at KEF except Icelandair and SAS. With three AB A 320 leaving around the same time it was crowded but waiting time wasn't too long – maybe 15 minutes. A friendly lady checked me in and printed a baggage tag for TXL. I asked her about my connecting flight to STR but she replied she couldn't see anything about that in the system. I showed her my confirmation and she then printed a bag tag for STR manually and gave me my boarding pass for KEF-TXL. I would have to collect my onward boarding pass at TXL.
I passed security without any waiting time – shoes had to be taken off which surprised me as security at Iceland usually isn't very strict. For domestic flights at other airports than KEF there aren't even security checks at all.
I proceeded to my gate which was located at the end of the terminal building. It was one of – as far as I could see – only two parking positions without jet-bridges. Well, I prefer boarding via stairs anyway. Shortly after midnight the aircraft for my flight arrived from TXL about 15 minutes early: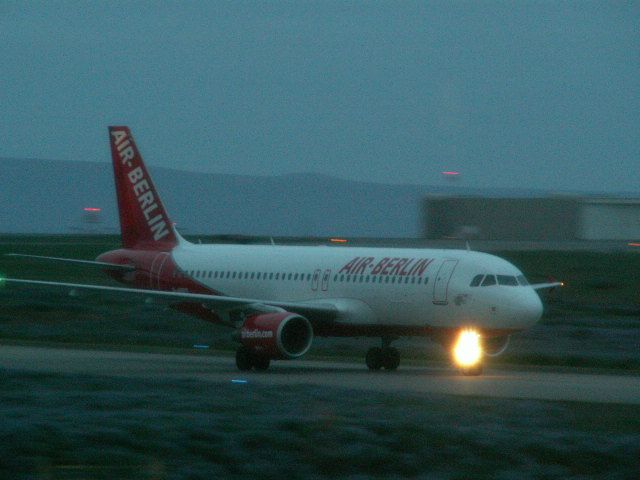 .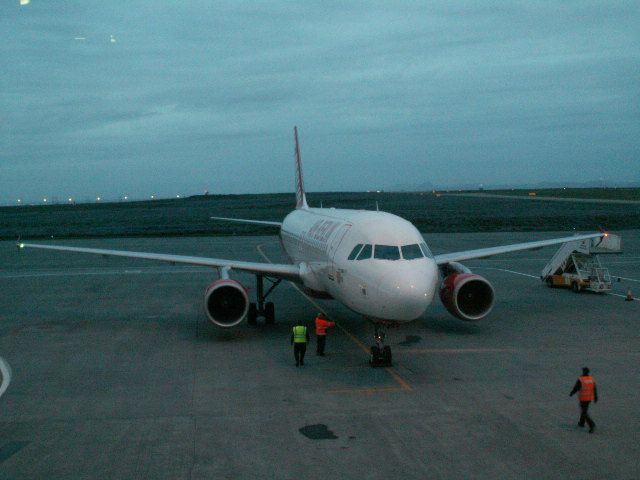 At 0:30 the gate agent made an announcement that our flight would depart at 1:00 instead of 1:25, so 25 minutes earlier than scheduled. Not a big deal here at KEF as AB's check-in counters close 60 minutes before departure so passengers had to be present anyway and the airport is not too big. But I still found it a bit strange. Maybe they needed the aircraft at TXL or the crew wanted to go home earlier? Anyway, boarding started soon and I entered the aircraft through the rear door where I was greeted by two friendly flight attendants who offered newspapers and candies. I took my window seat in row 23. Load factor was about 70% on that flight and I was lucky again sitting in the back as I had three seats for myself.
The safety video was shown and we were off-block shortly after 1:00 and taxied to runway 20 where we took off in southern direction without any waiting time. In the centre of the following picture you can se Blue Lagoon, in the background the town of Grindavik: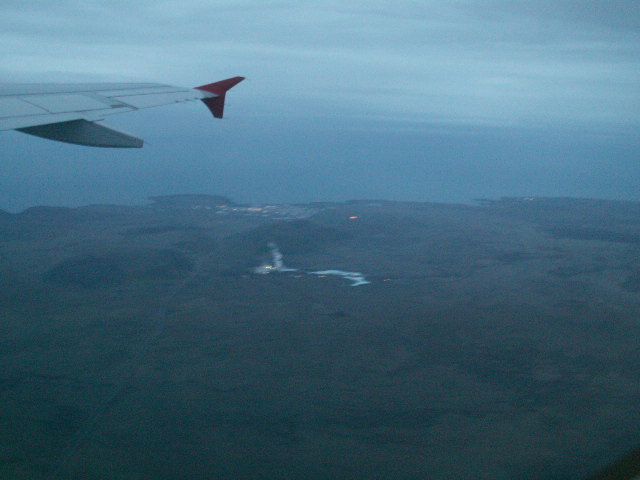 The moon is accompanying us but it never got really dark on that flight: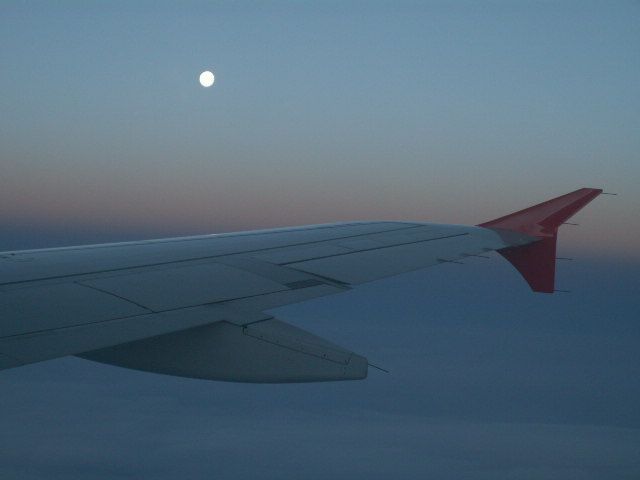 The female first officer was our pilot flying and she informed us about our flight route that would be from KEF to the South via the Atlantic Ocean to the west coast of Norway near Stavanger, then to Denmark and via the Baltic Sea to Germany, crossing the Isle of Ruegen and proceeding to TXL. Unfortunately there was no air-show on that flight – only comedy programmes or black screens.
I had ordered a hot breakfast for EUR 6.50 which was quite good: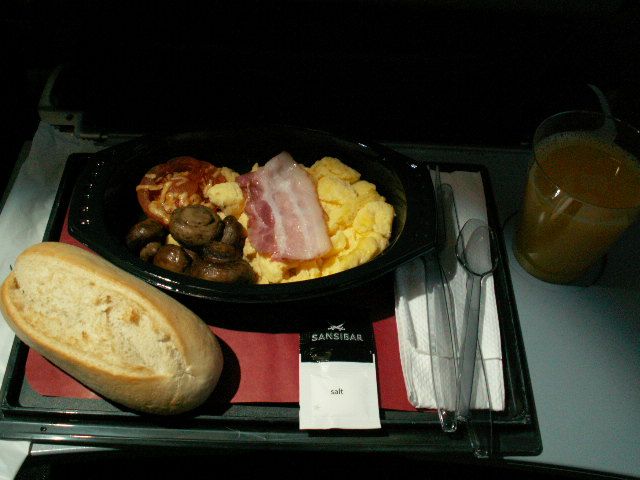 After meal service and duty free sales (quite some people bought something) it became quiet in the cabin. Many passengers tried to get some sleep. I enjoyed the nice view out of the window.
The City of Aarhus in Denmark: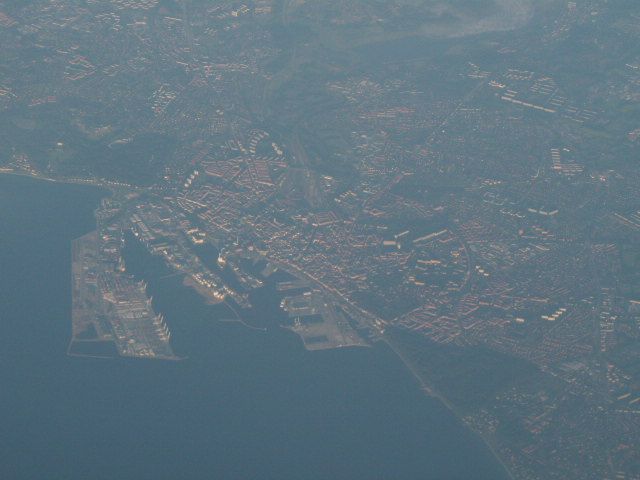 The Storebaelt Bridge linking the two Danish Isles Funen and Seeland: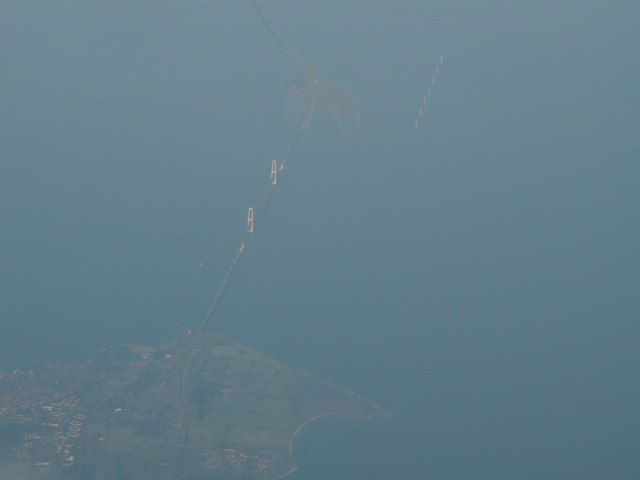 Reaching the German coastline of Mecklenburg-Vorpommern near the town of Ahrenshoop: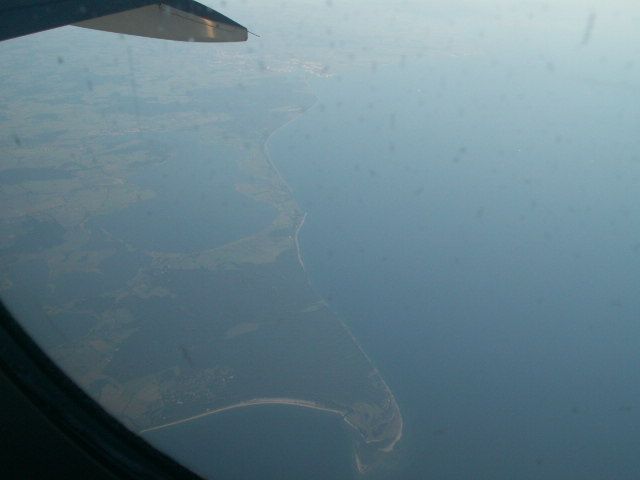 "Mecklenburgische Seenplatte" (lake area in the Northeast of Germany):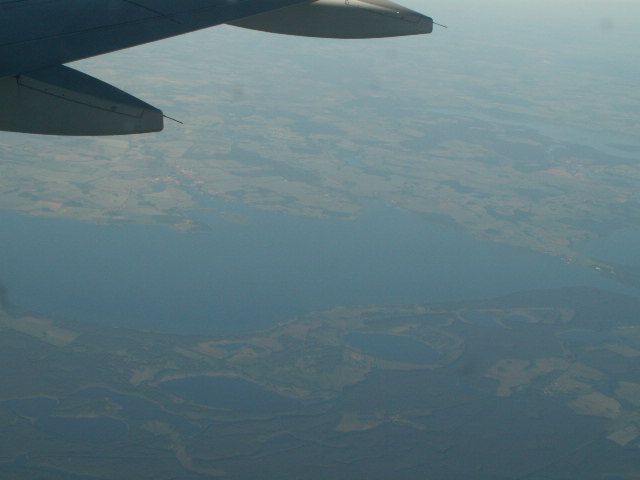 .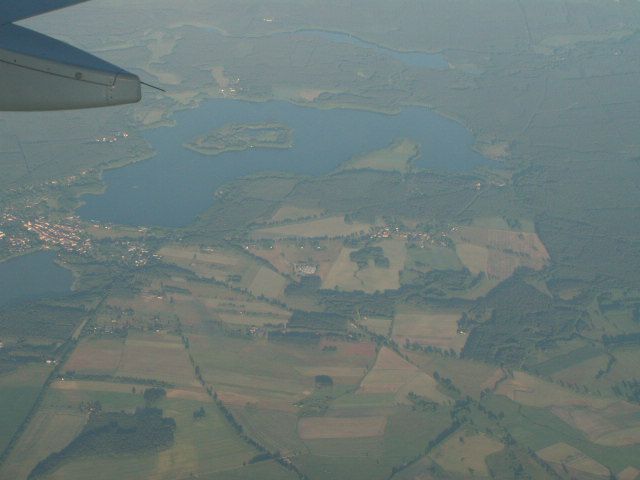 Havel channel and the village of Buchow-Karpzow: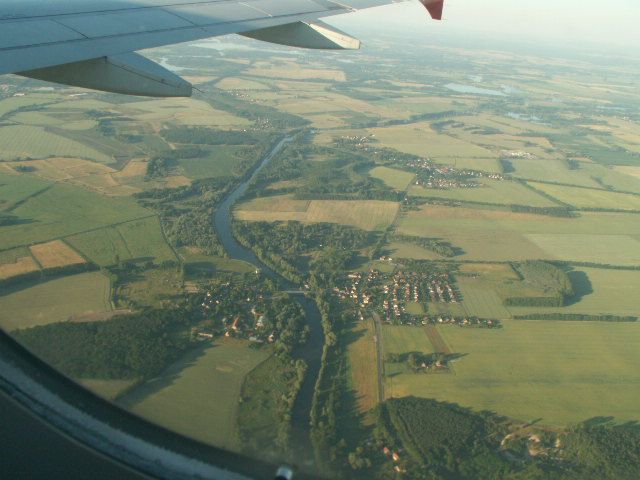 We came closer to TXL and approached the airport from the West. Former airfield at Berlin-Staaken: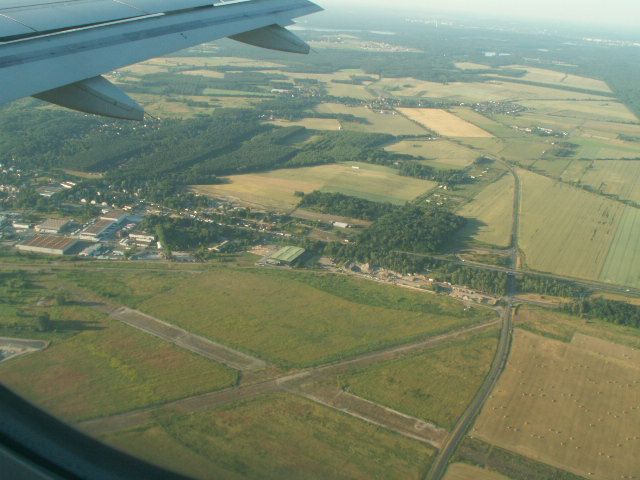 Depot of Deutsche Post and DHL: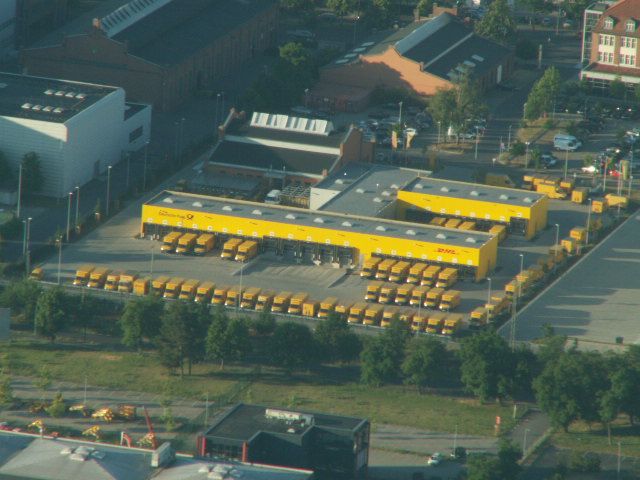 Berlin Spandau: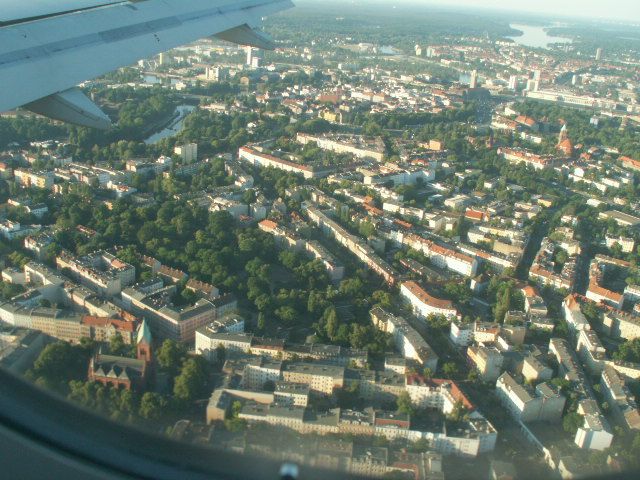 River Havel: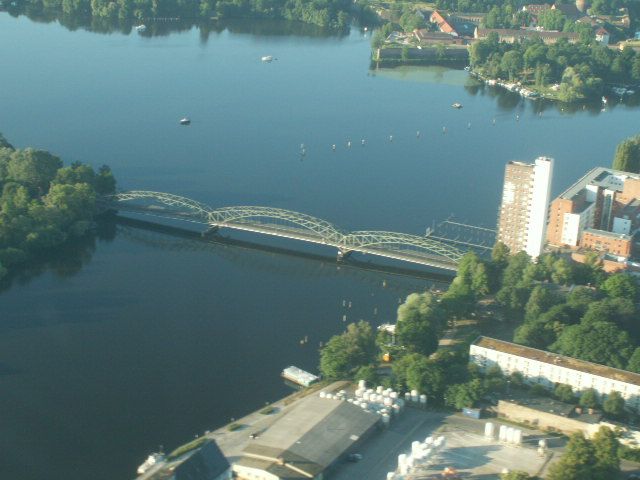 .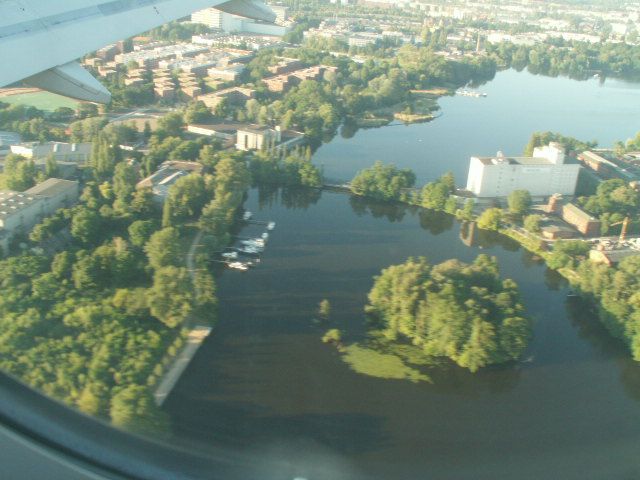 We touched down on runway 08L and taxied to a parking position near the maintenance hangars, far away from AB's Terminal C. We were on-block at 06:30 which was 35 minutes ahead of the original schedule. I left the aircraft via the rear stairs: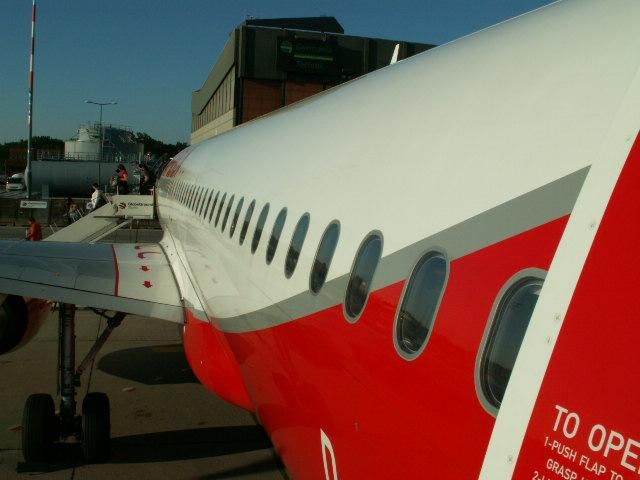 .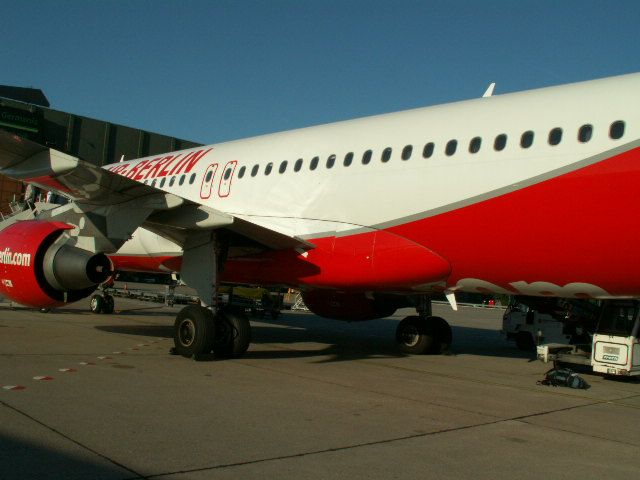 After the relatively cold weather in Iceland, this was really a temperature shock in a positive way – it was already quite warm although it was still early in the morning. Two busses took all passengers to the arrivals facilities but the doors were still closed – obviously nobody was expecting our early arrival. The bus driver left the bus and used his mobile phone while passengers had to stay in the bus for about 10 minutes. Finally they found someone to open the door and we were allowed to enter Terminal C.
I made my way to the AB transfer desk, together with about 20 other passengers from my flight who wanted to connect to STR as well, but the transfer desk was still closed. We asked a gate agent who told us that the transfer desk would open at around 7:00 am. An AB agent arrived soon but she told us that she wasn't able to print out any boarding passes so we had to wait for another agent who arrived some minutes later and issued the boarding passes for the STR-bound passengers.
Monday, 28 June 2010
Berlin Tegel (TXL) – Stuttgart (STR)
Airline: Air Berlin
Flight number: AB 6525
Scheduled departure time: 08:50
Scheduled arrival time: 10:05
Type of aircraft: Airbus A 319-100
Registration: D-ABGA
This aircraft was built in 2005 and delivered to Independence Air as N807BR. When Independence Air went into bankruptcy, the aircraft was returned to lessor who leased it to Air Berlin in April 2006, together with three sister ships.
And here are two pictures of this aircraft in service for Independence Air:
There were two flights leaving for STR within only 30 minutes. For some reason all passengers from KEF had been booked on the second one with a stopover at TXL of 1:45 hours. Some of the other passengers weren't really amused when they found out that there was an earlier flight to STR as well, but a re-booking was impossible. The first flight to STR would be operated by A 320 D-ABDS, the aircraft that had brought us here from KEF.
It was Monday morning and the gate area was totally crowded once again. Many "last announcements" were made and flights left late because passengers were stuck in long queues at security check. Boarding for my flight to STR started 30 minutes before scheduled departure and I was on the first bus to our A 319 which was D-ABGA, the first A 319 in Air Berlin's fleet. Boarding through the rear door: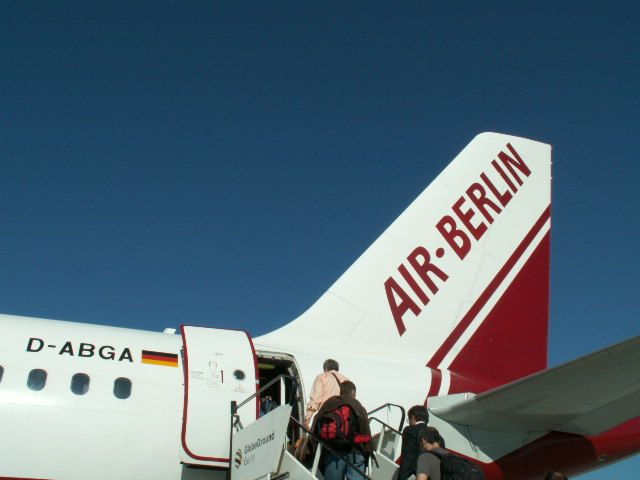 .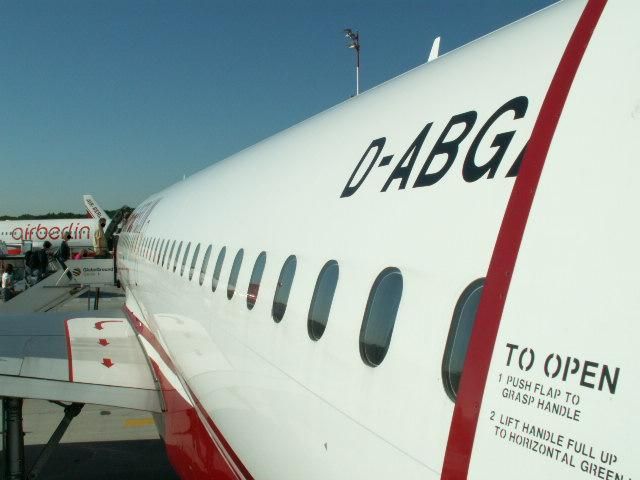 I took my seat in the second last row. Then we had to wait a long time for the second bus to arrive. The flight was nearly full; only very few empty seats could be found.
This former Independence Air-bird is one of the few aircraft in Air Berlin's fleet that isn't equipped with video screens so it is used mostly on the shorter, non-touristic routes. Flight attendants (two female, one male) were demonstrating safety instructions manually and the captain made a welcome announcement as well. Then we went off-block ten minutes late and taxied to runway 08R where we took off into eastern direction. Terminal C, used exclusively by AB: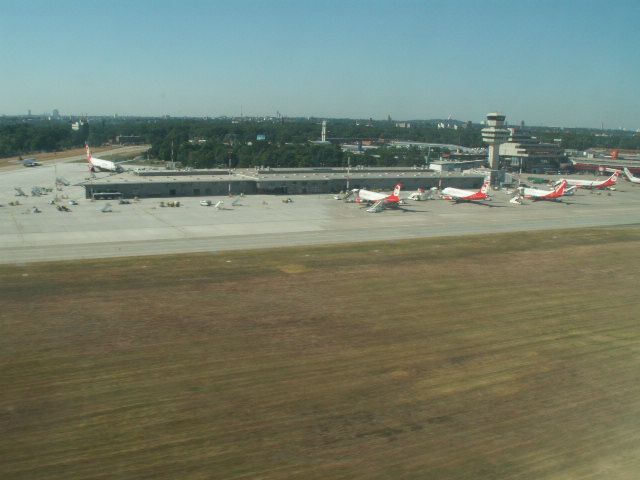 The fair during day-light: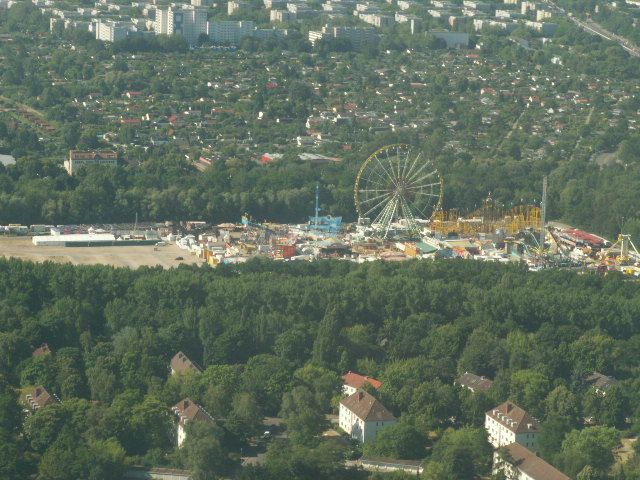 Downtown Berlin; the green area in the background is THF: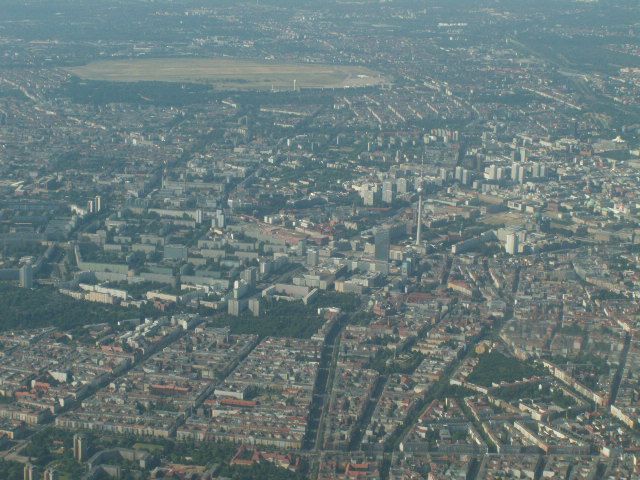 Television Tower: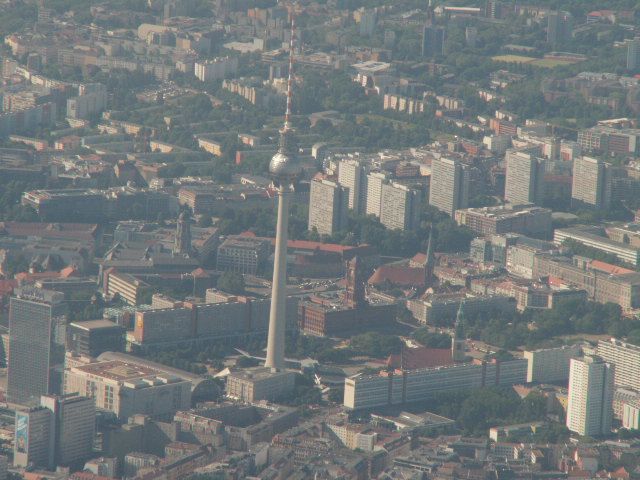 Cabin crew started their service as soon as it was possible – they had to hurry with the full aircraft and the short flight time. All passengers got a free drink and a hot "Laugenstange" (a special kind of bread roll):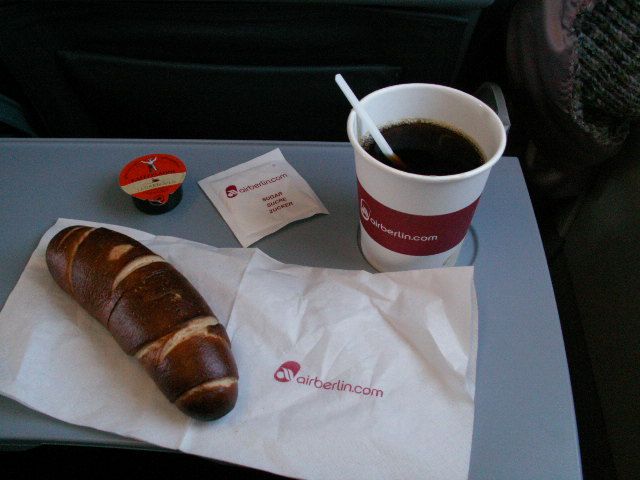 It was mostly clear outside so there were some good views to the ground. Here you can see the airport of Erfurt (ERF):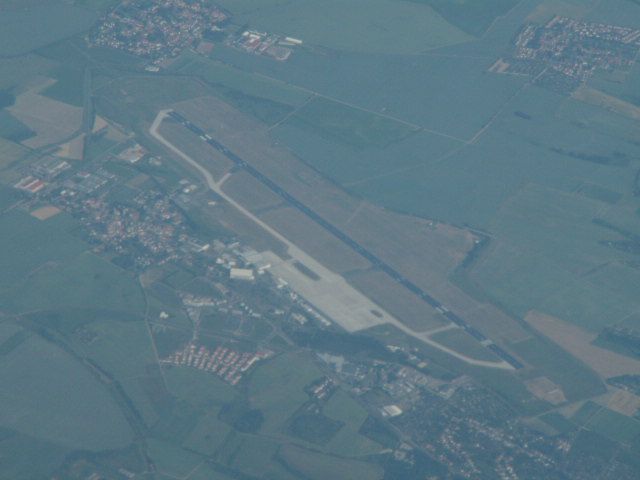 I was quite tired after the short night so I fell asleep for a short time. Here we are already approaching STR. The town of Holzgerlingen: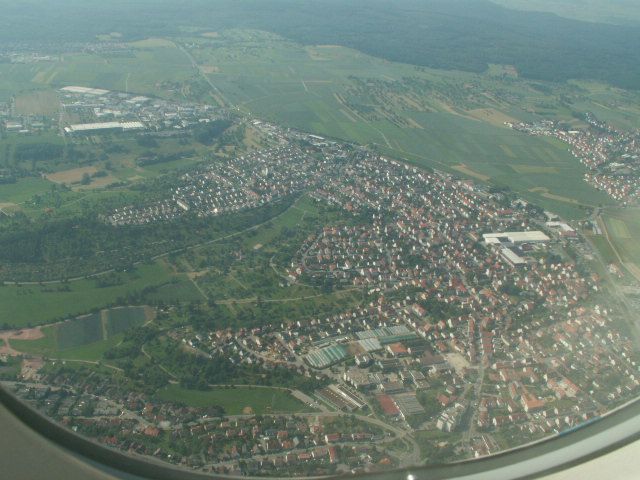 Final approach: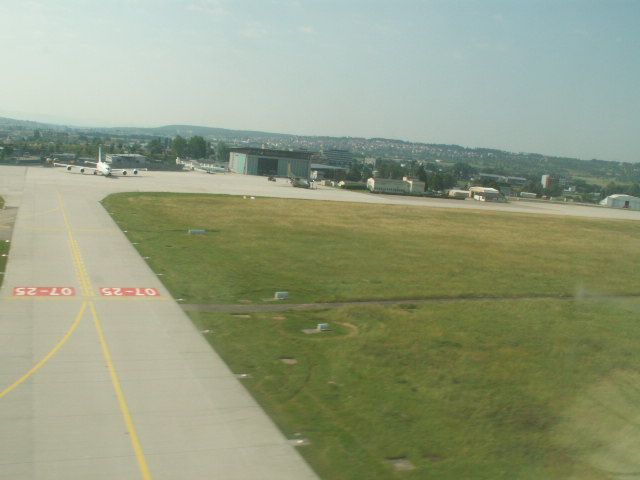 We touched down on runway 07 and came to stand on a parking position on the apron. Two busses took all passengers to the arrivals facilities of Terminal 3 where my luggage arrived quickly and I took a train home.
Conclusion:
My overall experience with AB on these four flight s was definitely positive. All flights were punctual, cabin crews were friendly and sometimes joking on the touristic sectors and flight crews provided good information. The hot meals are worth the money (if you like eating something hot on a longer flight). All in all value for money was good on AB. The only negative point was the missing immediate information about the cancellation of the STR-KEF service and about the re-booking via TXL. I would have expected some kind of information as soon as they didn't sell the non-stop flights any more. I don't know if it was simply a mistake or if it was done deliberately to prevent people from booking another airline.
TXL is not the nicest airport to connect through, but that isn't AB's fault and it will change with the opening of the new BBI-airport anyway. All in all I would definitely fly AB again.
Iceland is a fantastic country and for sure worth a visit, especially during summer with the long daylight.
Thanks for reading my report. Questions and comments are always appreciated.
Regards
Christoph