Planning


Having never flewn with any part of the Air Asia network previously, I was keen to try out their
product on a short haul flight betwen Singapore and Phuket with is operated by Thai Air Asia. I was
also heading up to HKT to do some aircraft photography in which I have displayed some sample photos
later in this report. Booking was quick, simple and cheap through www.airasia.com.


Flight Information
Aircraft: Airbus A320-216
Registration: HS-ABA
Flight No: FD 3525
Route: Singapore Changi Airport (SIN) - Phuket International (HKT)
Seat: 25A
STD / ATD: 13:05 / 13:31
STA / ATA: 13:45 / 16:12
Aircraft History: Test Rego F-WWDH
Del Date: 20-OCT-07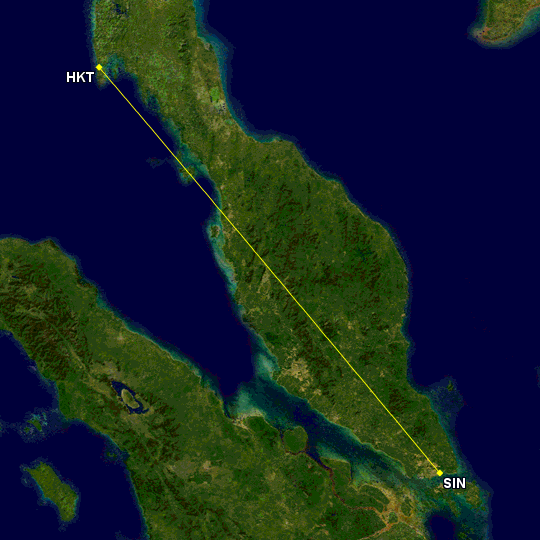 Great Circle Mapper -
copyright © Karl L. Swartz



An Air Asia Phuket
advertisement ( © Air Asia)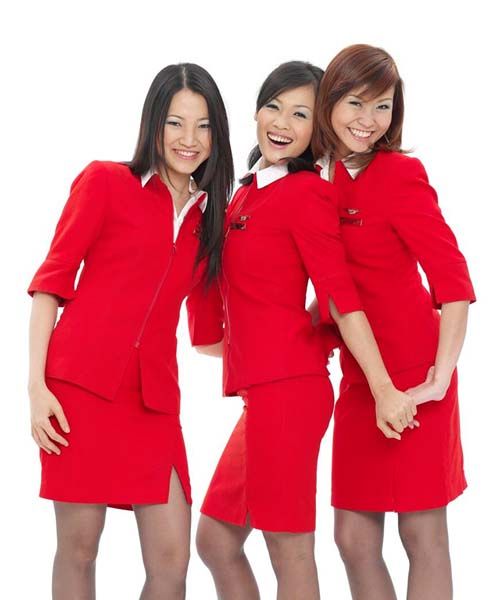 Air Asia crew ( © Air Asia)

Day of Travel

I arrived at Terminal 1 at about 10:15 for a 13:05 departure which enabled me plenty of time to
complete all the check-in and customs formalities. I headed straight for the air asia check-in
counters which were located on row 11. To my suprise, I was able to check-in straight away for my
flight an advantage because I didn't have to lug my bag around with me any longer. I was second in
line at the check-in queue and moments later I was holding a boarding pass for window seat 25A. I
asked the agent if the flight was ontime and he replied "there shoudln't be any delay". I then
headed upstairs to the food outlets to grab some lunch. Whilst heading back, I noticed the FIDS
screens were displaying "re-timed" beside my flight and had a new departure time of 1335 (a 30
minute delay). A 30 minute delay is certainly not a large delay in aviation standards however it
was rather inconvenient not being informed earlier about the delay. I made my way through customs
to Gate D37 and noticed there was still no aircraft at our gate. I decided to have a seat next to a
prominent window which overlooks most of the apron. After a while of gazing out the window, a red
and white A320 taxiied into view and parked on our gate.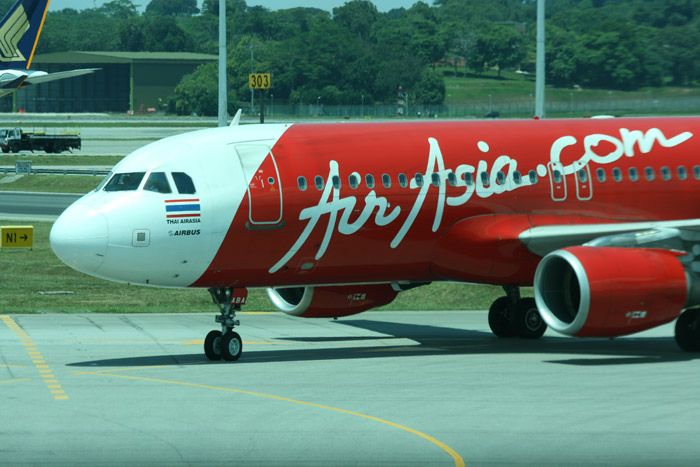 HS-ABA taxiing
in


A320 HS-ABA was on chocks at 1301. Boarding was commenced straight after disembarking had completed
at 1315 and by 1328 all doors were closed and we were awaiting pushback clearance. I was in seat
25A and nobody else was in the entire row (bonus). The flight was about 60% full. Pushback was at
1331 which completed a typical Air Asia style 30 minute turn-a-round. Following the quickest
pushback I've ever experienced, both engines were running and we taxiied out to runway 02C. We were
number 2 for departure behind a Singapore B772.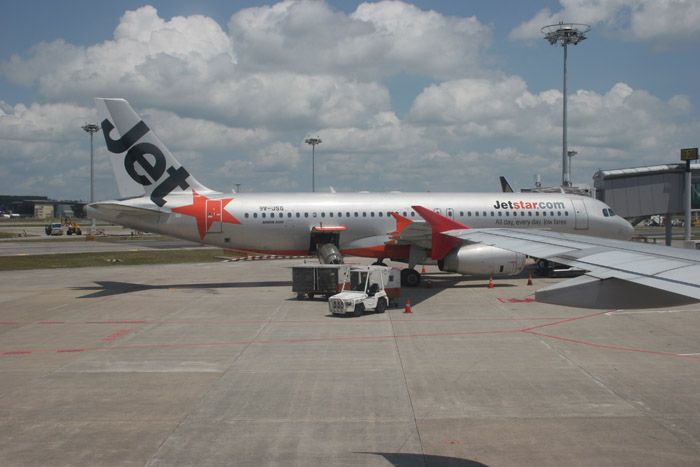 Jetstar Asia
beside us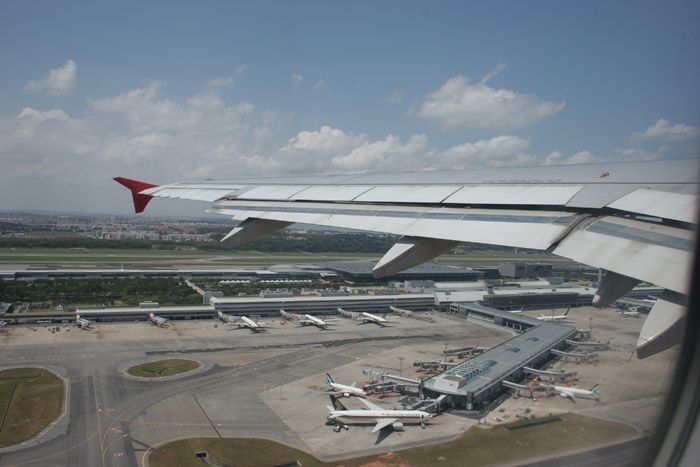 Some views of
changi as we departed


Once airborn, the meal service started 15 minutes later. I had pre-ordered a chicken and rice combo
which was quite tasty and hit the spot. After many pax around me had a smell of the pre-ordered
meals being servied, they decided to order one for themselves. I find it more convenient to pre-
order meals as they are about 20% cheaper and you get served first.


My chicken and
rice combo


The crew were all Thai and most of them spoke fluent english. Cabin announcements were done in both
Thai and english and the crew were also freindly.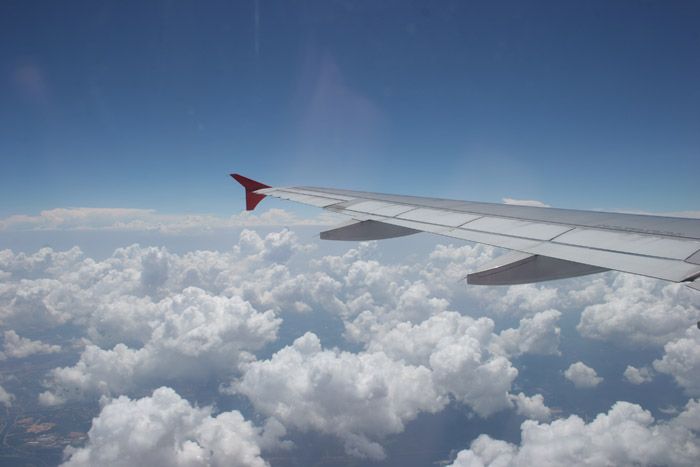 Flying above the
clouds


We commenced our decent and touched down on runway 09 at 16:12 and was parked on the gate by 16:16.
The next hurdle was the line for immigration which was quite long when I arrived as quite a few
flights had recently landed including two Transaero widebody's from Russia which ineditibly slowed
down the process. I waited in line for close to 40 minutes to finally be processed by the Thai
customs officer. Once completed I collected by bag and was outside the terminal by 1710.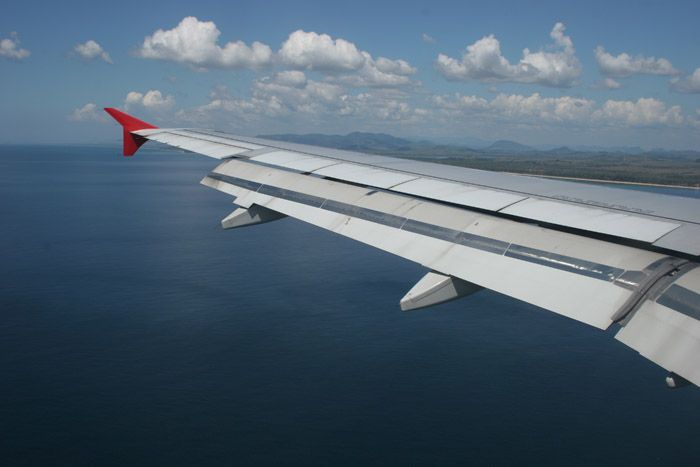 Arriving over
water towards runway 06





Flying over the
beach on short final


Spotting in Phuket


I travelled to Phuket during February which is probably the best time to travel because you have the
best weather and more charter flights from Europe. During February you can also photograph all day
long from the same side of the runway (southern side). Movements are slow until 0900 when aircraft
start arriving in and sometimes having to hold for a parking bay. There are numerous flights from
Europe by Air Berlin, Thomas Cook, Thompsonfly, Transaero, Aurela Air, Novair, Finnair and Condor
were some observed. Thai widebodys on domestic routes are frequent and include B747-400s, B777-
200s, A330-300s and A300-600s on flights to BKK. There are two main spotting locations at HKT
however there are probably more which I never found. The first spot is the beach at the end of the
runway 06 which can easily be accessed by walking up the beach towards the runway. You have shade
and a few logs to sit on to watch the movements arrive past you St Maarten style. There is also a
small mound you can stand on to shoot over the fence for aircraft waiting to take-off.


The beach St
Maarten style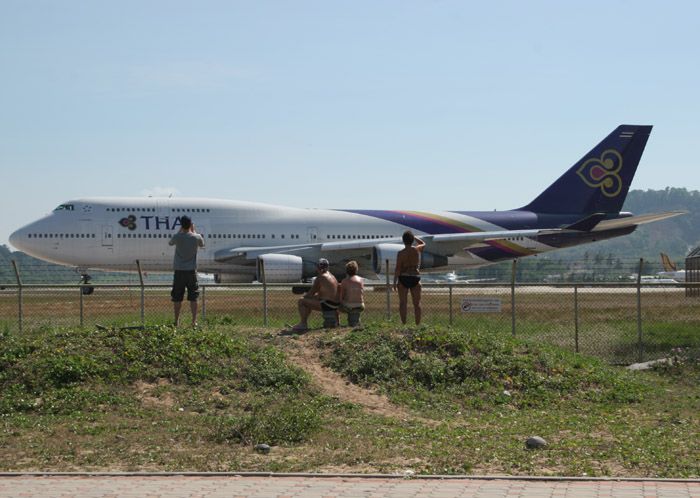 The mound to
photograph aircraft waiting to take-off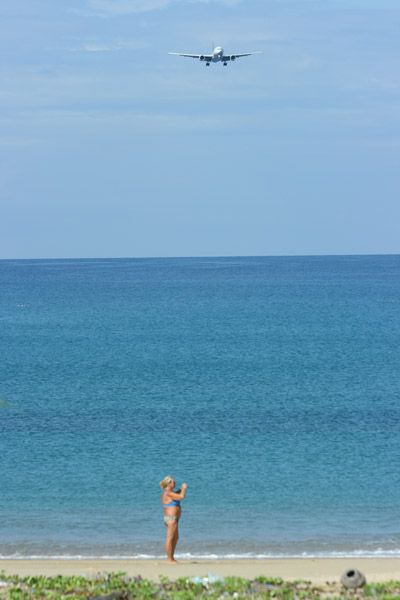 The second spot is located at the other end of the runway near the control tower although I had to
seek permission before tresspassing on the area. You are basically photographing down onto the
aircraft as they taxi past and land providing a very unique angle. As this spot was on private
property it is strongly advised to seek permission first!


Thomas Cook A330
taxiing past


Flight Information
Aircraft: Airbus A320-216
Registration: HS-ABI
Flight No: FD 3524
Route: Phuket International (HKT) - Singapore Changi Airport (SIN)
Seat: 22F
STD / ATD: 09:50 / 09:39
STA / ATA: 12:35 / 12:12
Aircraft History: Test Rego F-WWDK
Del Date: 07-JAN-07


On arrival at Phuket Airport, all passengers have their baggage screened before they are allowed to
enter the airport terminal. Once completed the Air Asia check-in counters were in full swing
however it only took a few minutes and I was holding a boarding pass for seat 22F. I proceeded
through customs and onwards to the gatelounge where there seemed to be a large amount of shops which
made some boarding gates a little difficult to find. The shops also blocked views onto the apron
although I eventually found a spot where movements on the runway could be seen. We commenced
boading the same time a Jetstar Asia flight from Singapore was disembarking. Jetstar's passengers
had to cross the path of Air Asia's passengers because it was the only corridor to the customs CIQ
area. This didn't prevent boarding however the gate staff adopted a "traffic light" system allowing
some pax to go through from Air Asia, then stopping them to allow pax to disembark from Jetstar and
vice versa. Once boarded the flight was about 70% full however I had both seats next to me empty.


We pushed back 11 minutes early and headed to the active runway. There was a slight delay in
departure as we had to wait for another Air Asia aircraft to land on runway 27 which is the opposite
end of the runway. Once that aircraft had cleared the runway we departed from runway 09. The
flight was uneventful until meal time when I received my pre-ordered meal first before the rest of
the cabin which was a chicken and rice combo. A beverage was also included.


Climbout and the
control tower


We commenced our decent passing some thunderstorm clouds and landed early on runway 02C and taxiied
to terminal 1. Upon arrival at the gate many passengers were standing before the seat belt sign was
switched off which is annoying. I said goodbye to the crew and was out the terminal by 12:28.


A very pleasent experience with Thai Air Asia and look forward to more flights on the Air Asia
network in the future.


Thanks for reading and your comments are welcome!


Sia744