Hot Meal & More: PMI-ALC-MAN-MUC on
Air Europa E195, Monarch A321 & easyJet A320
Picture by Satchmo
Intro
Part 2 of my latest trip report series will give an impression of
Air Europa's Embraer 195
,
Monarch Airlines' Airbus A321
and
easyJet's Airbus A320
. These aircraft were used on our return trip from Palma de Mallorca to Munich via Alicante and Manchester. If you have missed part 1 you simply need to click here:
Premium Meal & Palma Spotting: MUC-PMI, DE 757-300
Background
In late November 2009 Condor was offering one-way flights from Munich to Palma for 69 Euro, available in spring 2010. My friend Satchmo hadn't flown on the 757-300 yet so he asked me whether I would be interested in a spotting tour in late April. I had already flown on NWA's 757-300, but I liked the idea of getting on that rare type again. However, I also wanted to add at least one new airline or one new type, so we started searching for interesting return trip options. We tried to find a flight on a UK holiday carrier from Palma to London, Manchester or elsewhere, but either fares were too high or flight times weren't favorable. So I started checking flights from mainland Spain and finally found a Monarch Airlines A321 flight from Alicante to Manchester for 79 Euro. We quickly booked that flight and added connecting flights on Air Europa (Palma-Alicante, Embraer 195) for 31 Euro and easyJet (Manchester-Munich, A320) for 36 Euro. The final itinerary included one new airline (Monarch) and one new type (E195) for me.
Sunday, 25 April 2010
Palma de Mallorca (PMI) - Alicante (ALC)
Air Europa UX4017
07:05-08:00 (08:05-08:54)
Flying time: 00:37 (hrs)
Economy Class, Seat 30A

Embraer 195
EC-KXD (MSN 19000244)
Delivered in 03/2009
1st flight on EC-KXD
1st Embraer 195 flight
5th E-Jet flight
More than an hour prior to departure we left the hotel and were surprised by thick fog - we almost missed the right motorway exit on the way to the airport. After returning the rental car we went straight to the gate - I had already printed the boarding passes at home because Air Europa allows to check in up to 48 hours prior to departure for domestic flights from selected airports. Parked at the gate was
EC-KXD
, one of seven Embraer 195 in the fleet, delivered in March 2003:
We didn't see any more fog while waiting in the gate area and boarding was started on time. The plane is equipped with comfortable leather seats: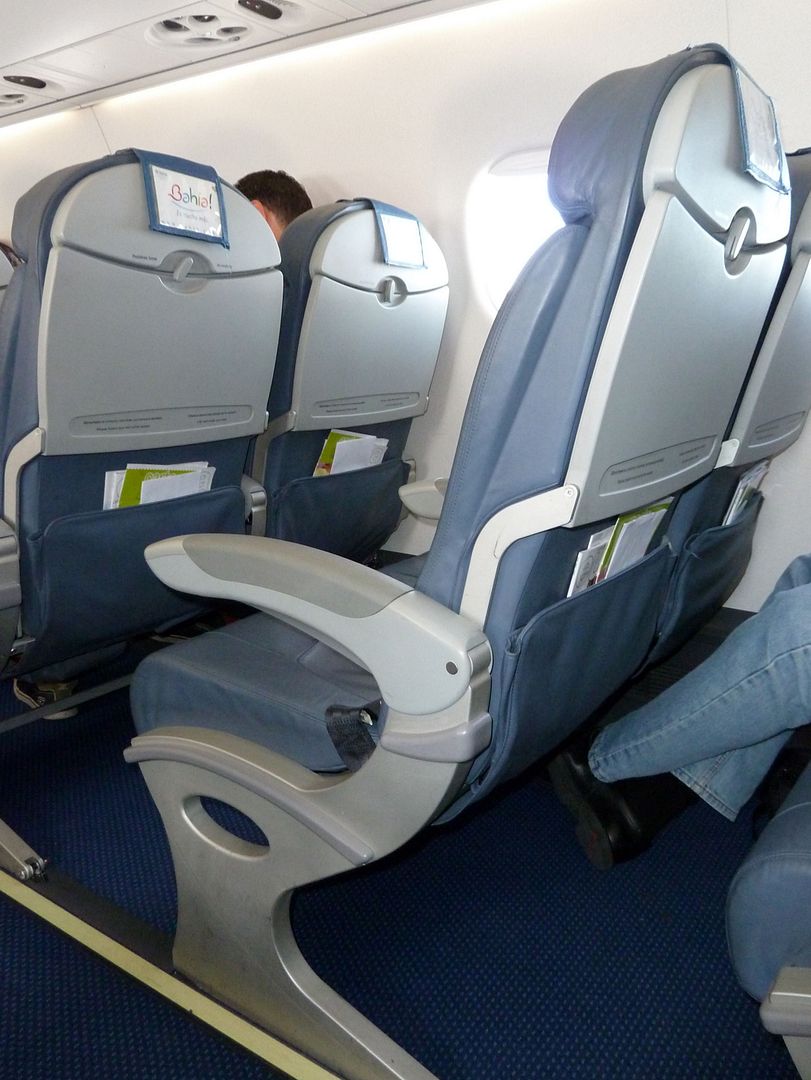 Legroom is generous as usual on the E-Jets: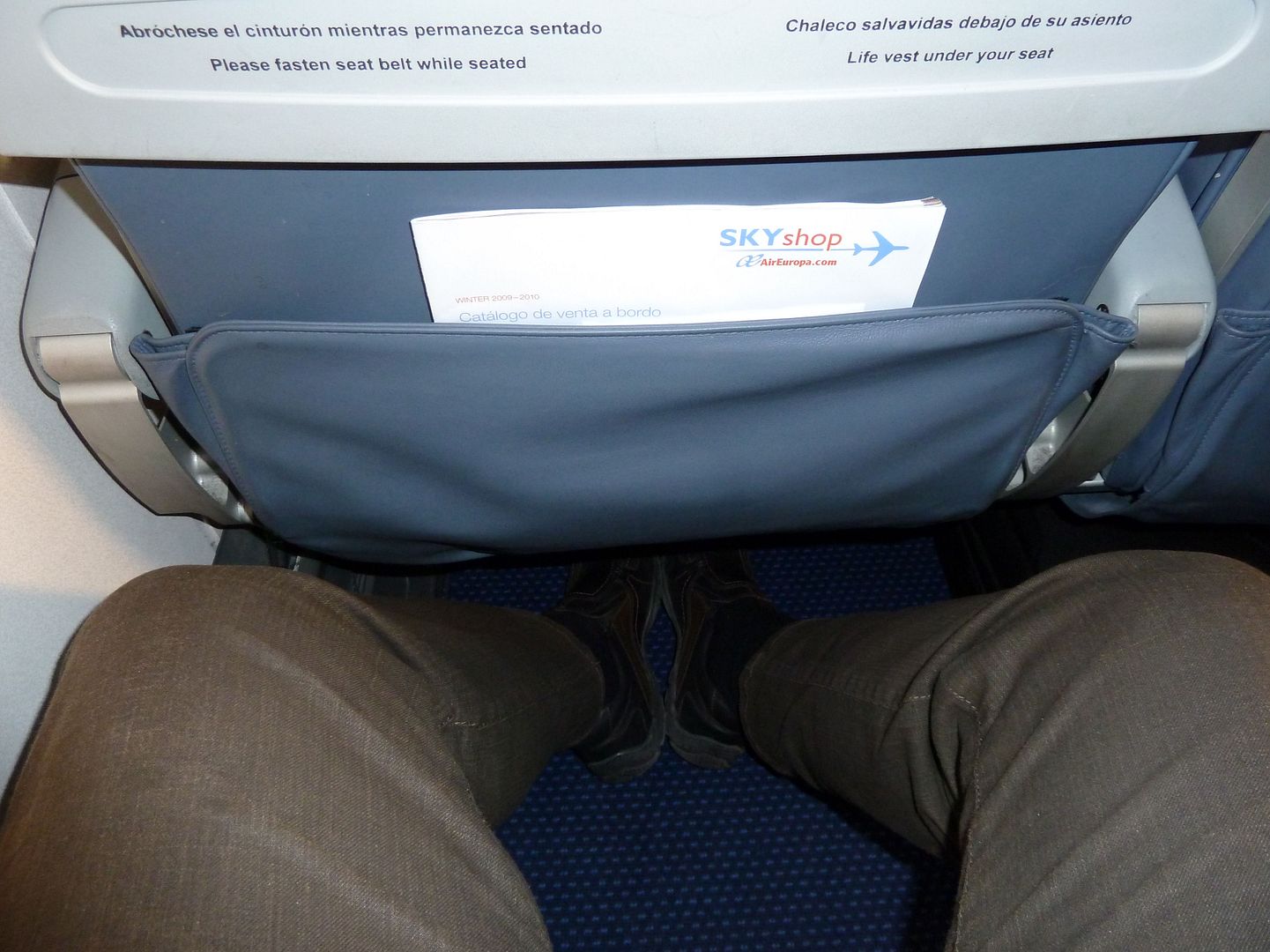 The fog was returning during boarding, becoming thicker and thicker. Parked next to us was sister ship EC-KRJ, wearing a special "color scheme":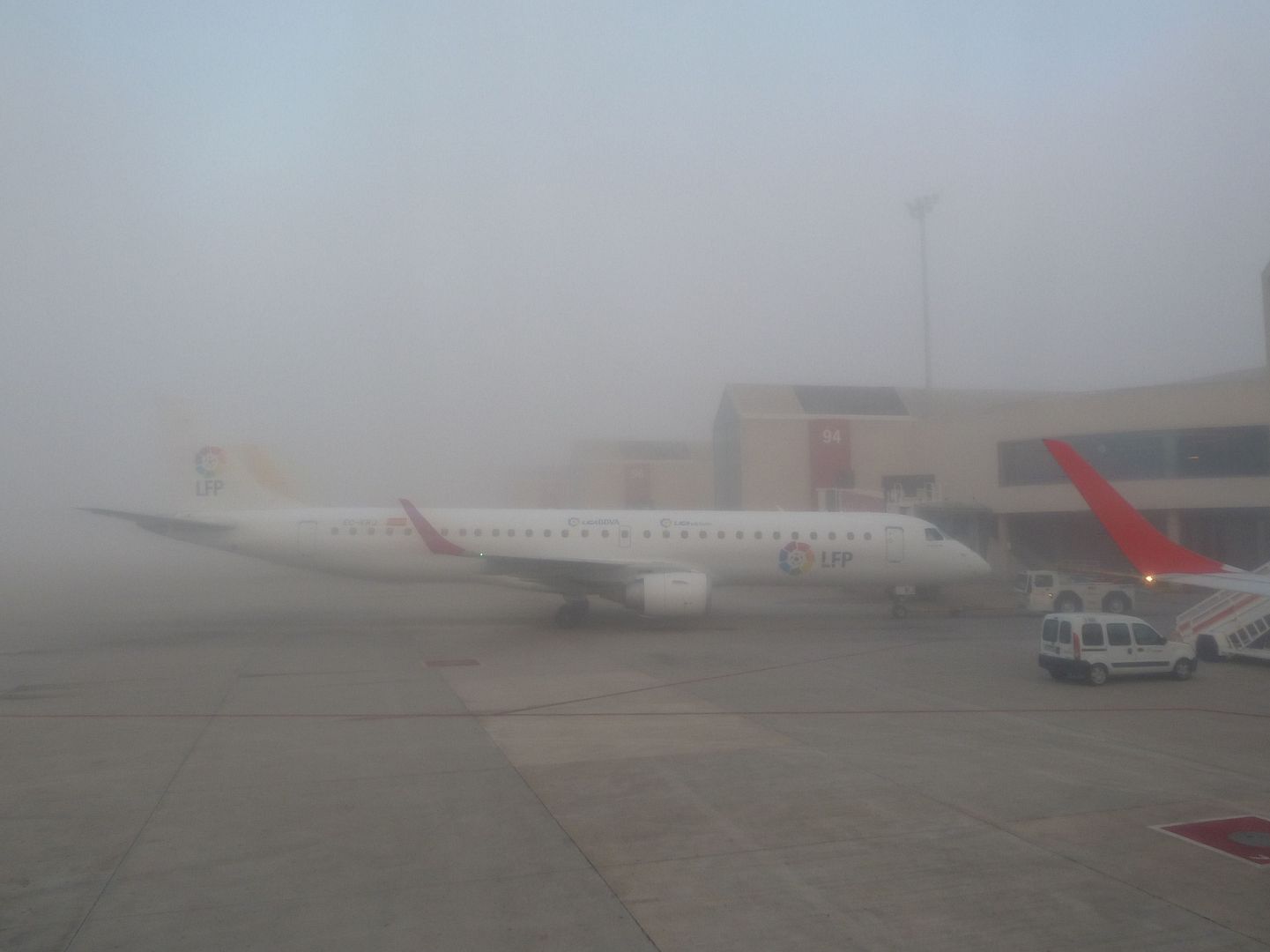 Nothing happened for a while after boarding had been completed and some minutes after the scheduled departure time the captain came on the speakers with bad news:
"There are some delays due to low visibility",
he explained and promised to keep us updated about the situation. Fortunately, our Monarch flight wouldn't depart earlier than 12:10, so we weren't concerned at all.
Ten minutes later the captain made another announcement and expressed his disbelief that ground radar wasn't available.
"It's incredible"
, he commented.
"Only one aircraft is allowed to move at a time."
We were really surprised about these news. I'm still wondering whether the airport is not equipped with ground radar or whether the system was out of order. Well, it was totally uncertain at that point of time when we would be able to depart and we simply had to wait. A group of teenagers started to move around in the cabin and they were loudly chatting - so I was really hoping the fog would disappear soon. It took about 30 minutes until the situation was really getting better: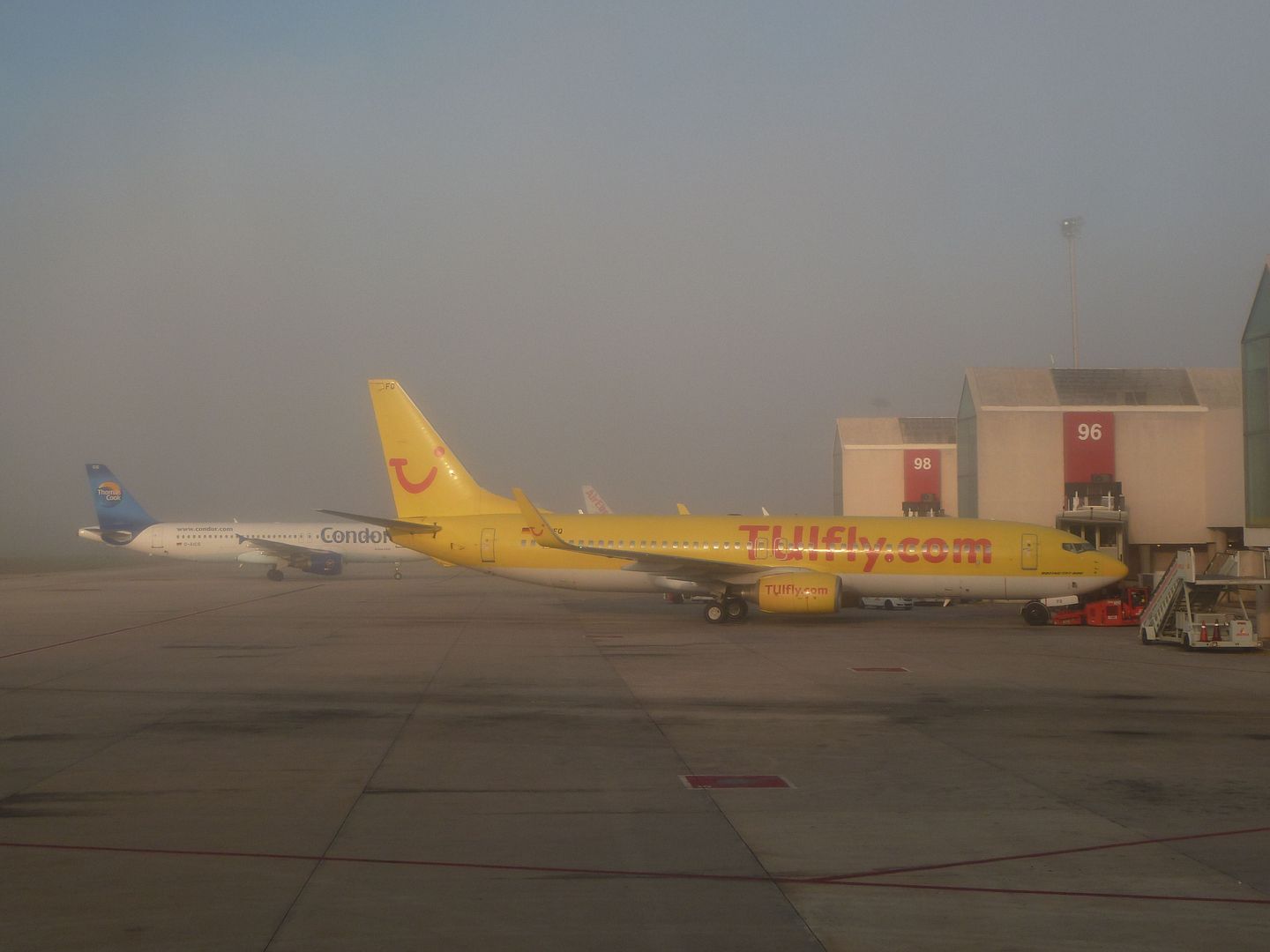 We were pushed back almost one hour late and started taxiing behind a follow-me-car. The group of teenagers started clapping and cheering once we were moving. Hello MD-90: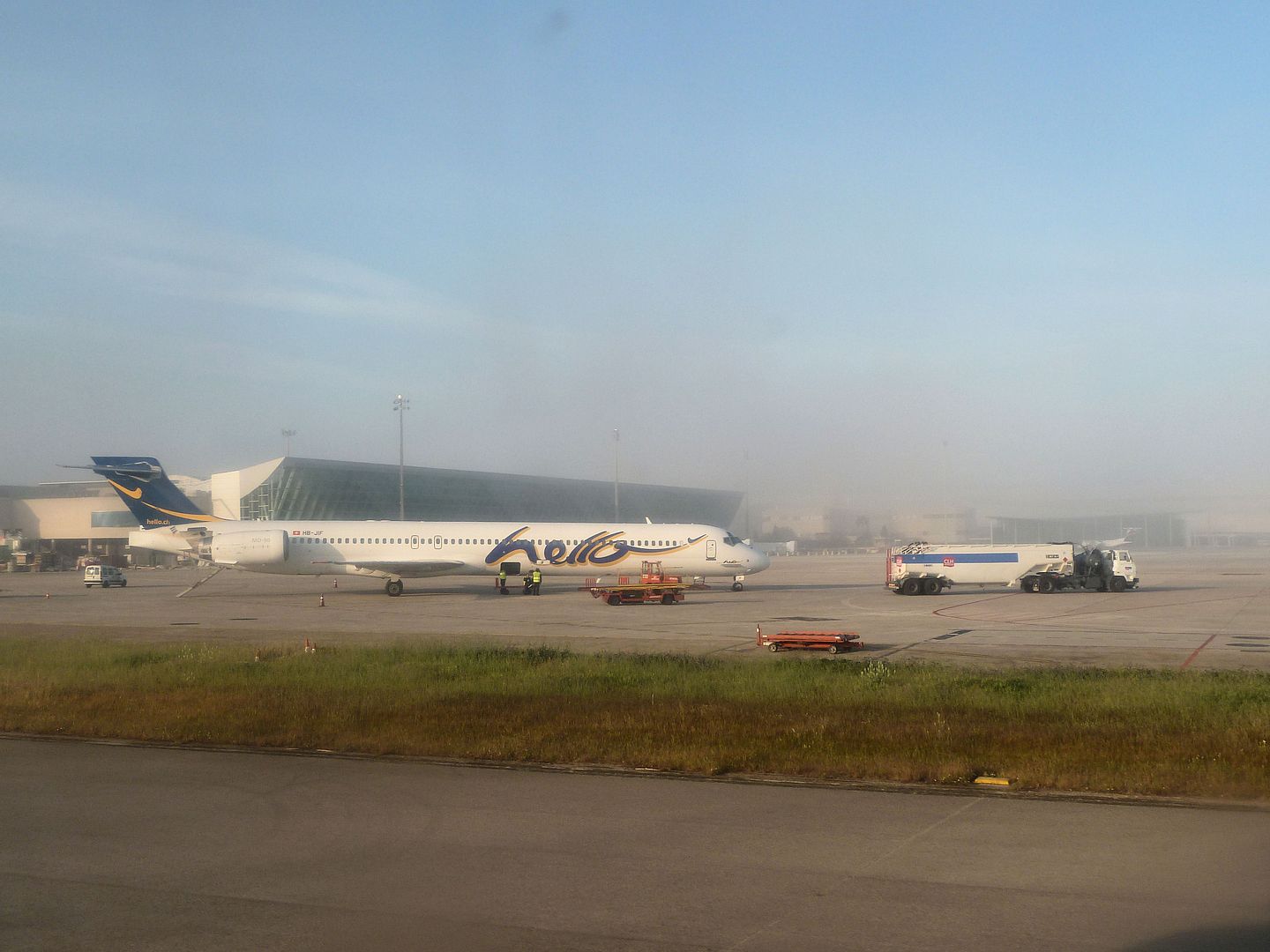 Finally
EC-KXD
entered runway 24R and started an amazingly powerful takeoff run: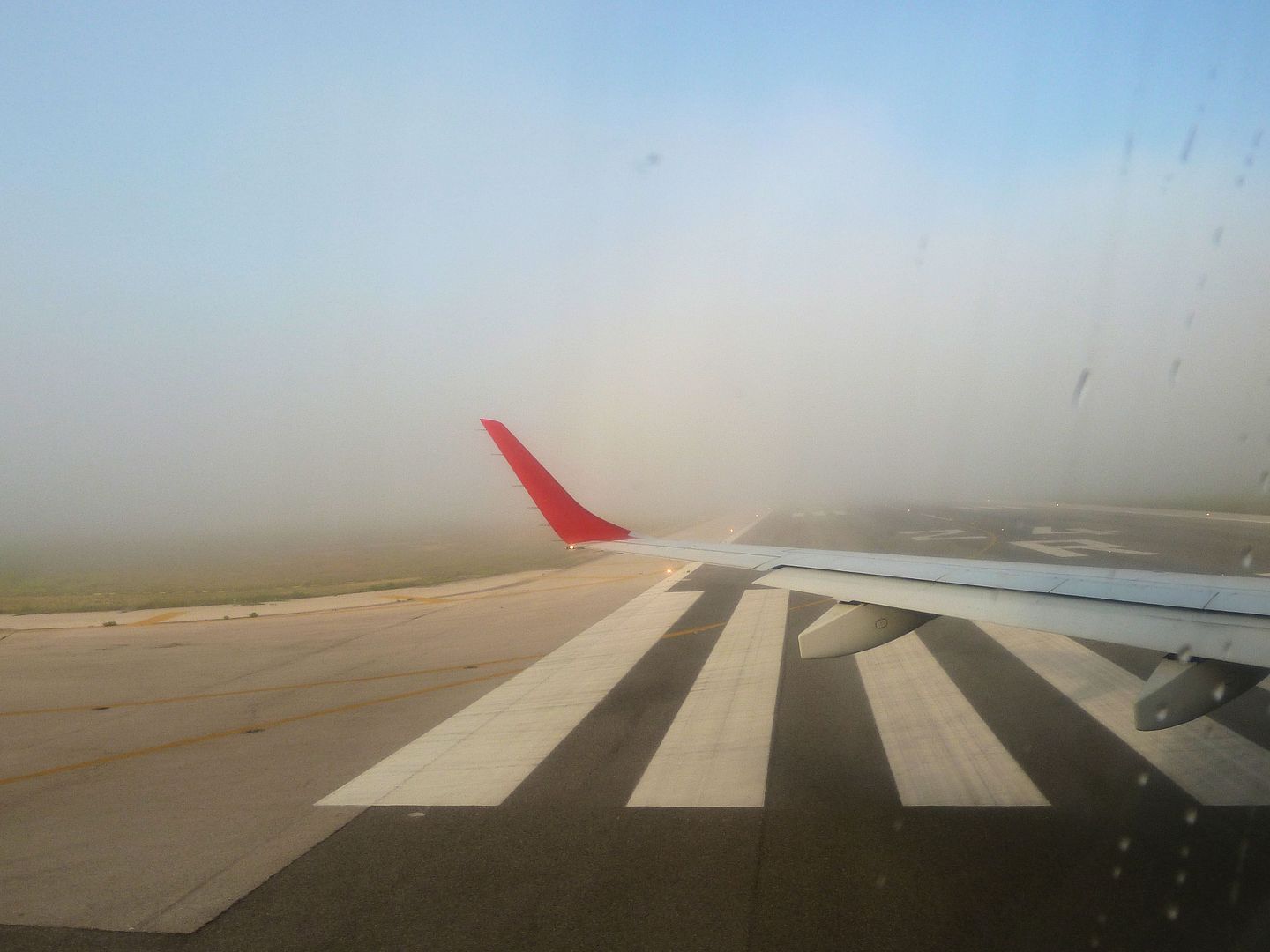 The fog layer over the airport turned out to be very thin: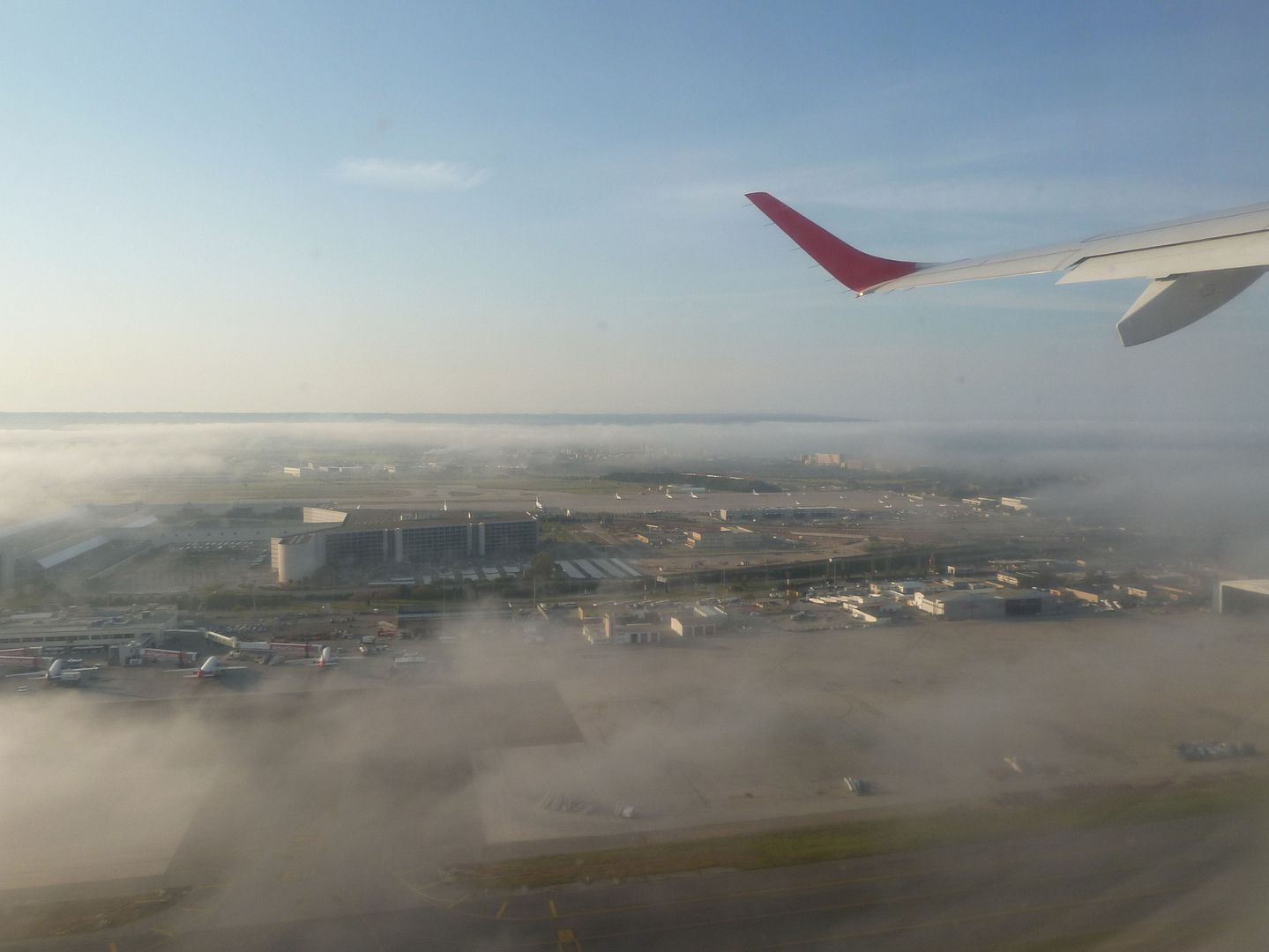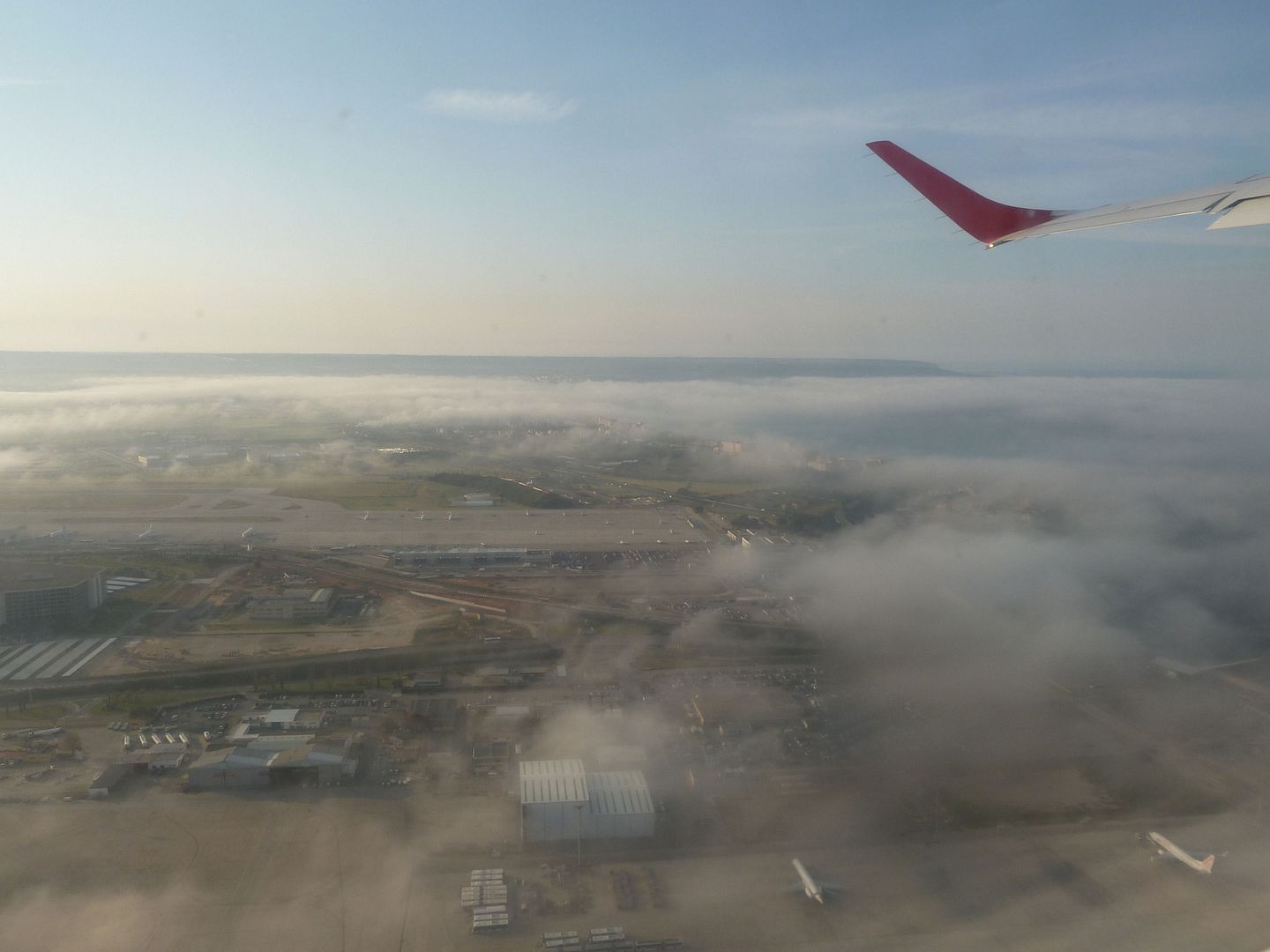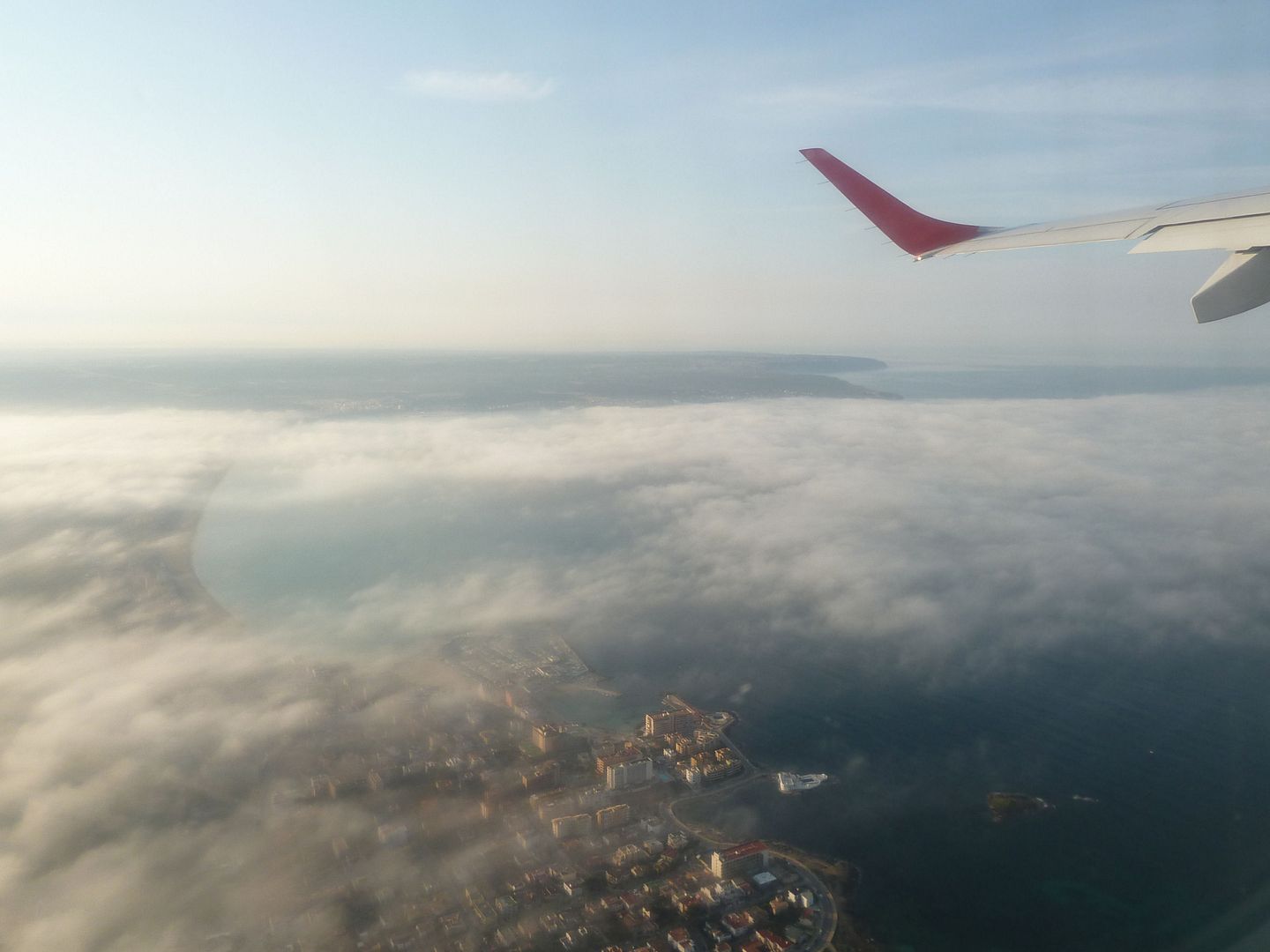 Here's what
Satchmo
saw from his seat on the opposite side where he had moved to during the waiting time on the ground:
Palma de Mallorca
...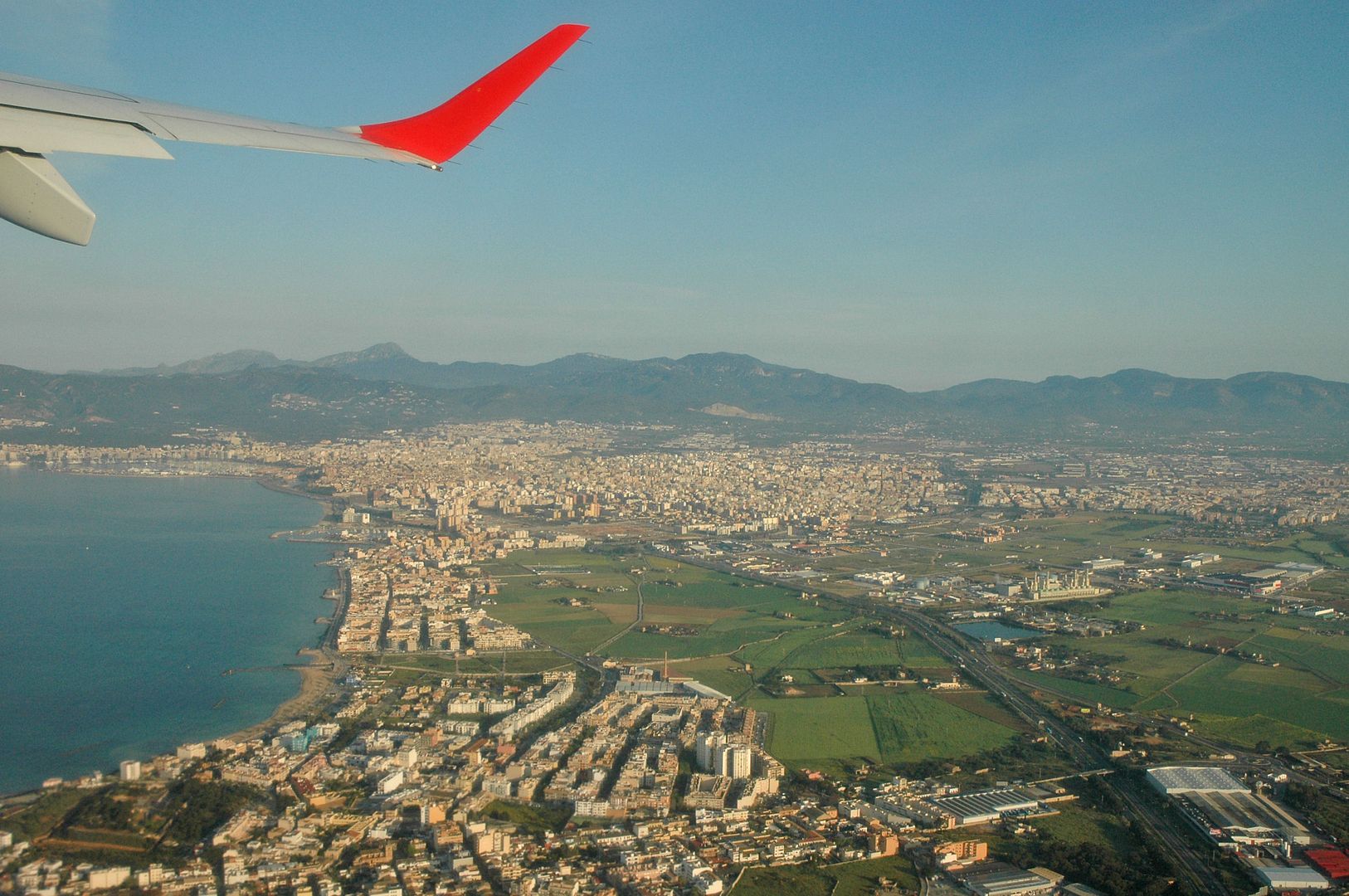 Picture by Satchmo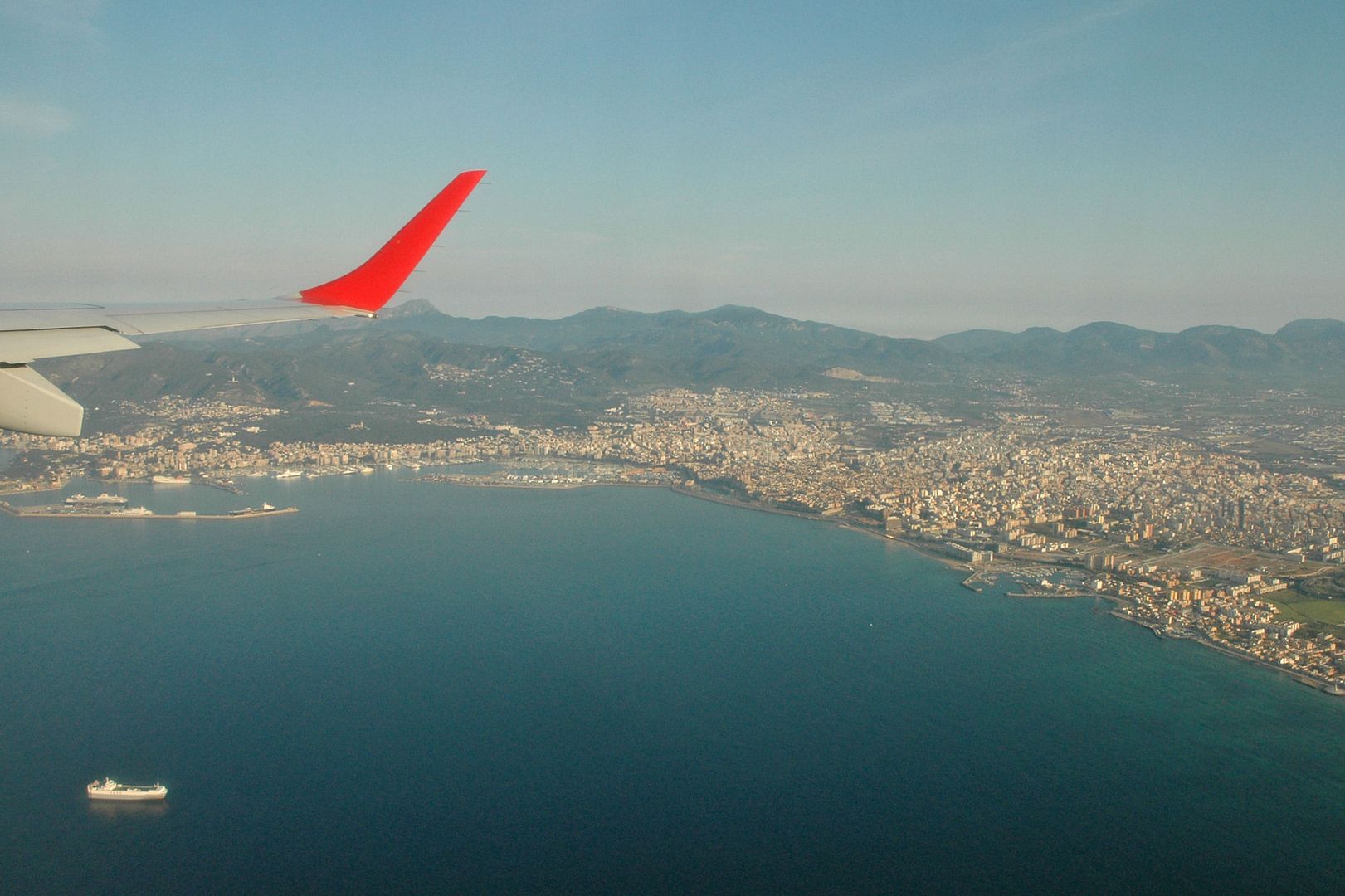 Picture by Satchmo
...the TUI cruise ship
Mein Schiff
...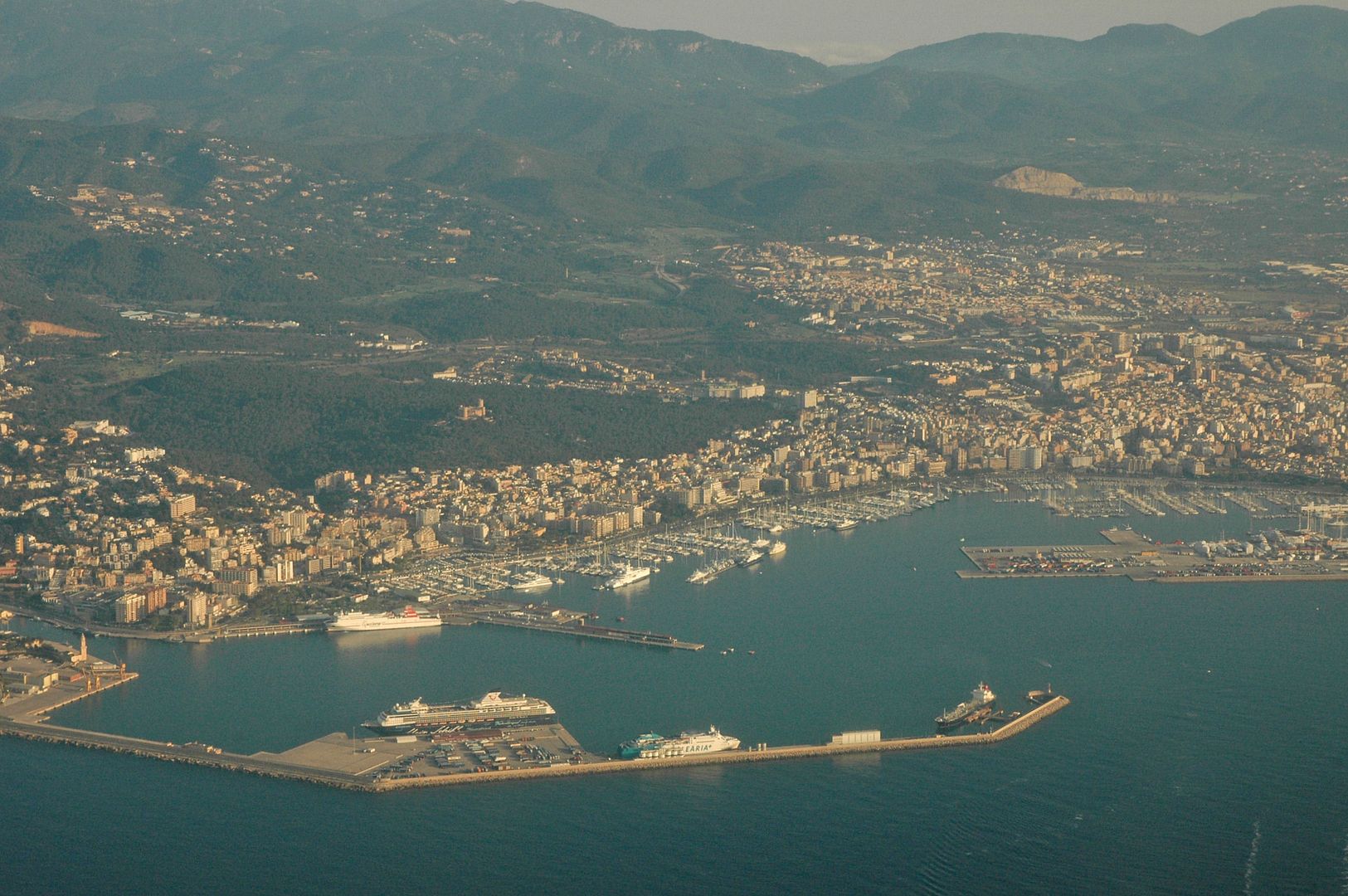 Picture by Satchmo
...as well as
Santa Ponca
(on the bottom right) and
Port d'Andratx
(top left):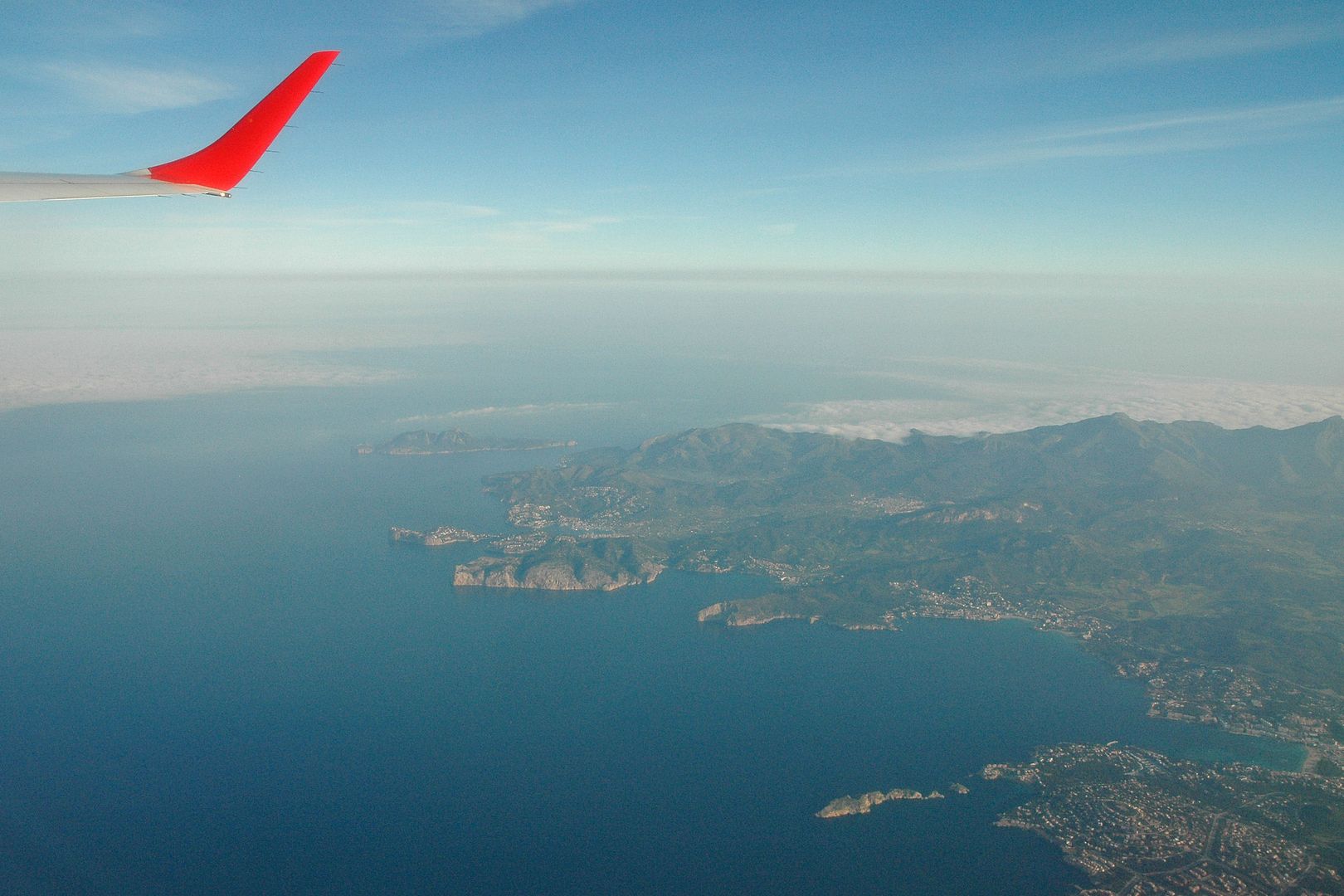 Picture by Satchmo
Cabin shot - load factor was in the 70-80 percent range:
Due to the short flying time neither drinks nor snacks were offered for sale. Cloudy skies over mainland Spain:
Final approach over numerous warehouses: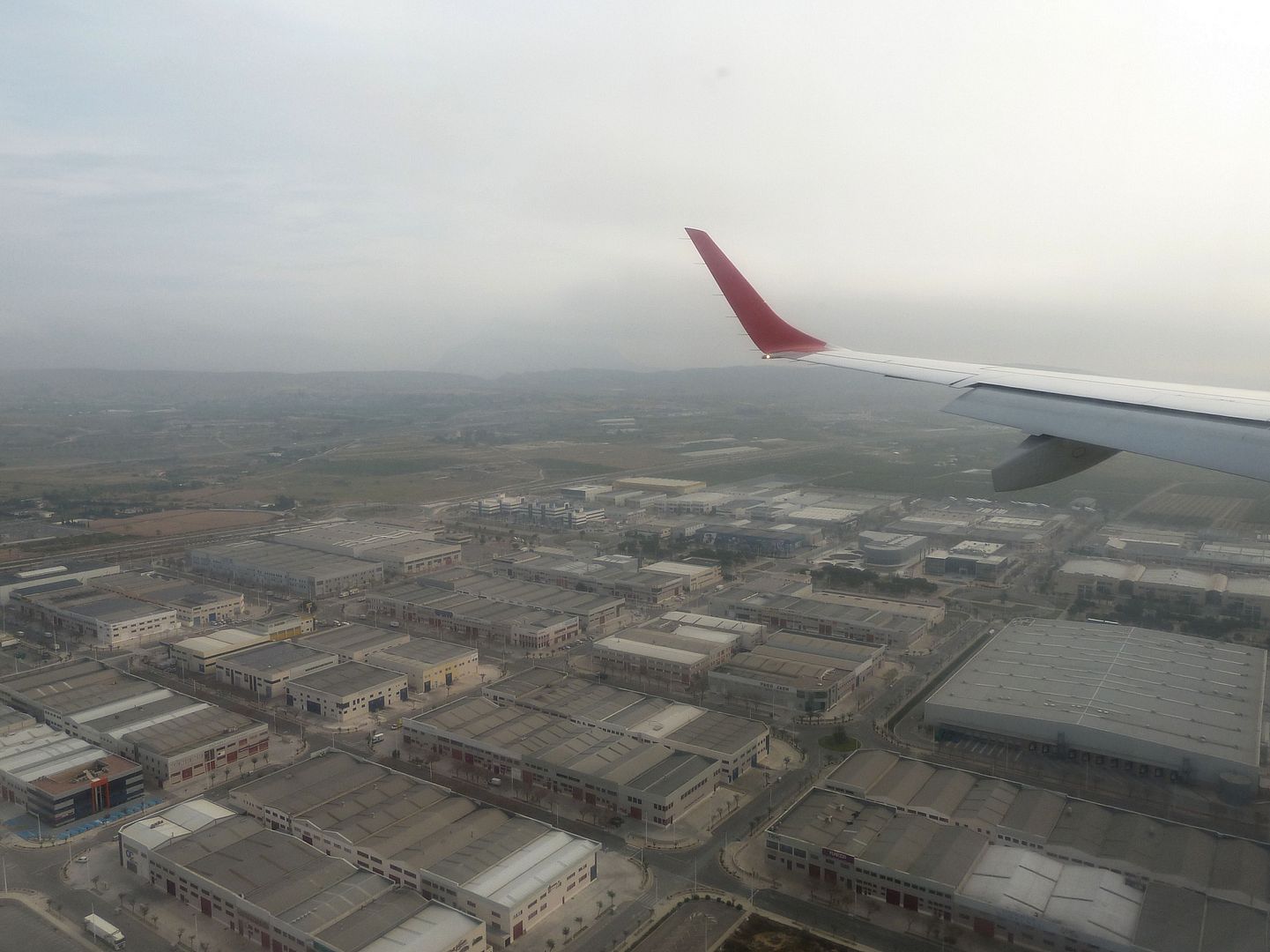 We touched down after a flying time of 37 minutes...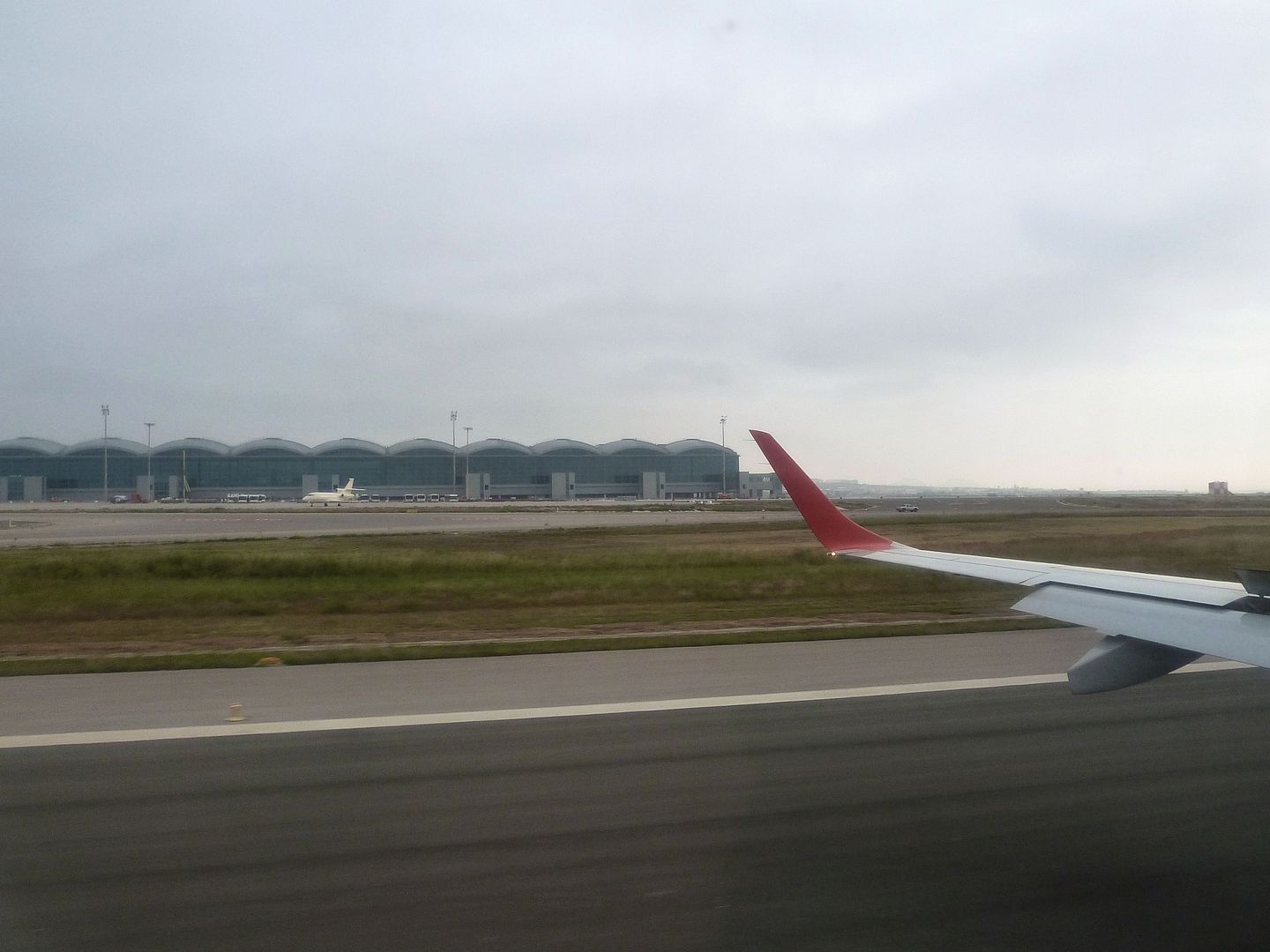 ...and taxied to a gate next to Jetairfly 737-500 OO-JAT: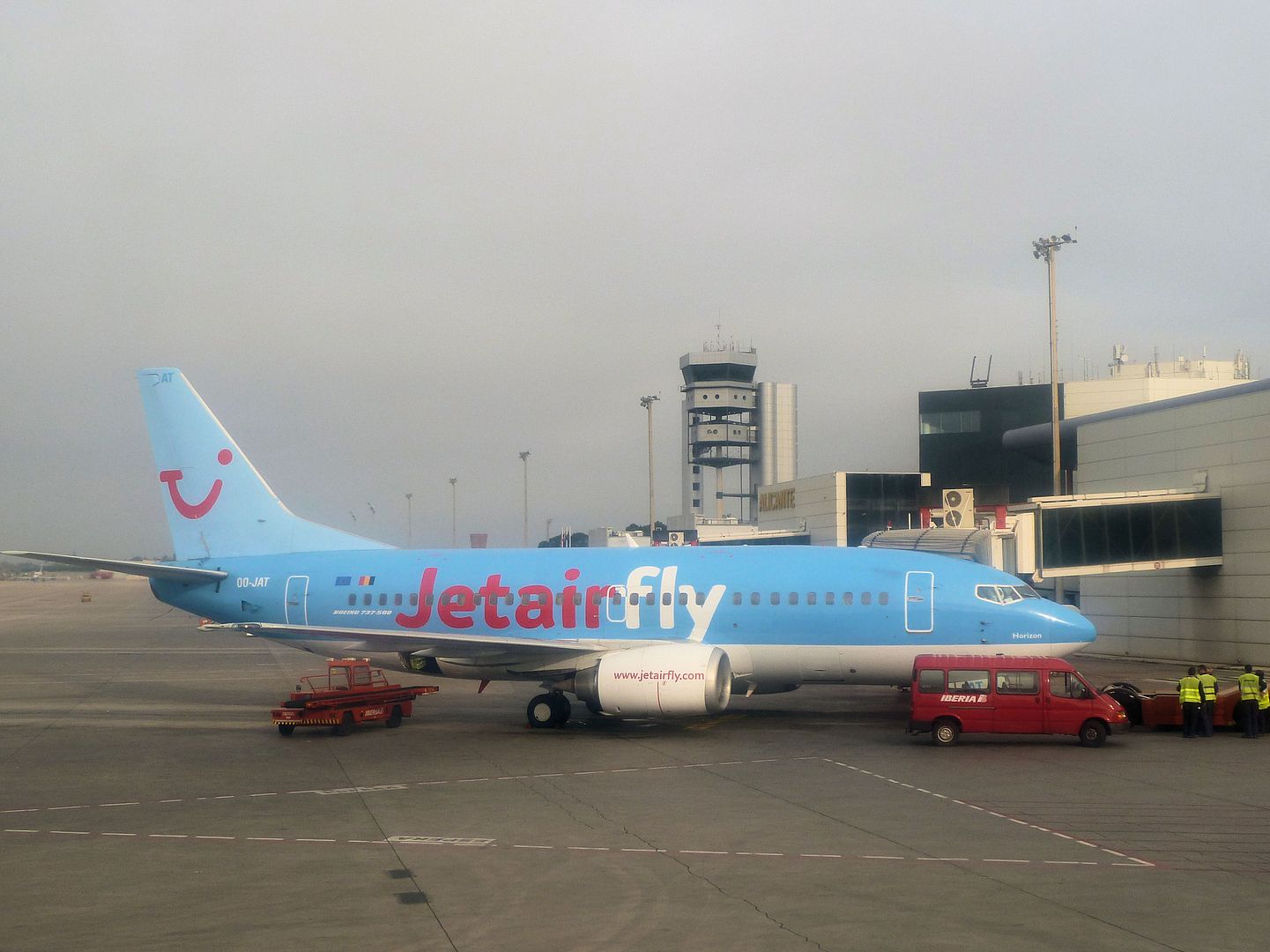 Sunday, 25 April 2010
Alicante (ALC) - Manchester (MAN)
Monarch Airlines ZB683
12:10-13:55 (12:16-13:47)
Flying time: 02:21 (hrs)
Economy Class, Seat 36F

Airbus A321-231
G-OZBU (MSN 3575)
First delivered to easyJet as G-TTII in 07/2008
1st flight on G-OZBU
5th A321-200 flight
8th A321 flight
91st airline
After disembarking we immediately went to the check-in hall - and we weren't amused to find long queues behind two Monarch Airlines counters. We hadn't wanted to spend 9 Euro per person for a seat reservation, so we hoped for the best. However, we soon found out that people were also checking in for an earlier Monarch flight. After a waiting time of some 25 minutes it was our turn and we were glad to hear that window seats in the back were still available. More than two hours prior to departure we went to the gate area and enjoyed spotting through large windows. easyJet and - surprisingly - Norwegian were dominating the scene. I logged 23 new registrations and
Satchmo
was also able to add some nice shots to his collection.
Norwegian 737-800 LN-NOT with "Eurovision" markings: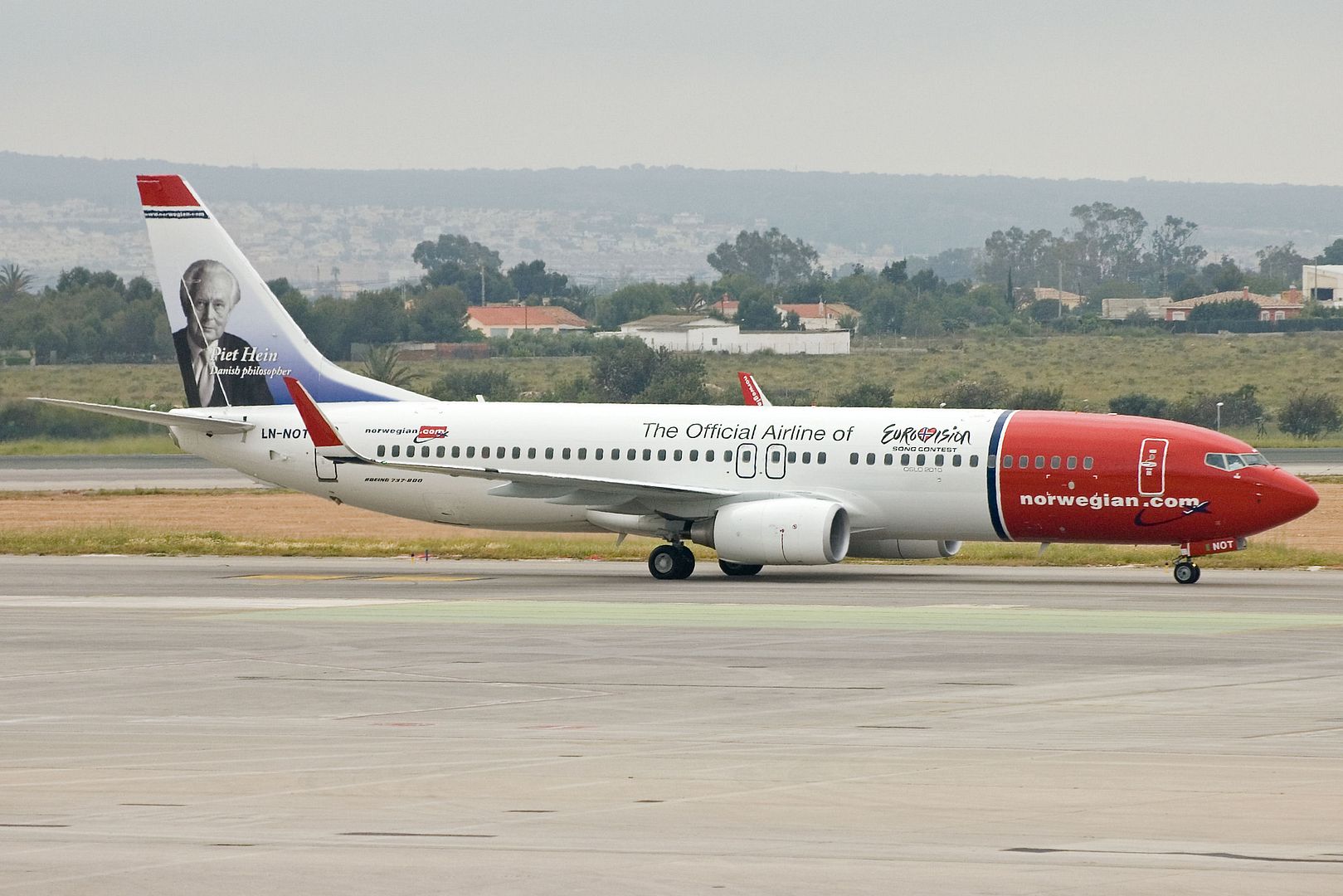 Picture by Satchmo
Norwegian 737-800 LN-NOL, the 6000th Boeing 737:
Picture by Satchmo
SAS Norge 737-800 LN-RRL in Star Alliance colors: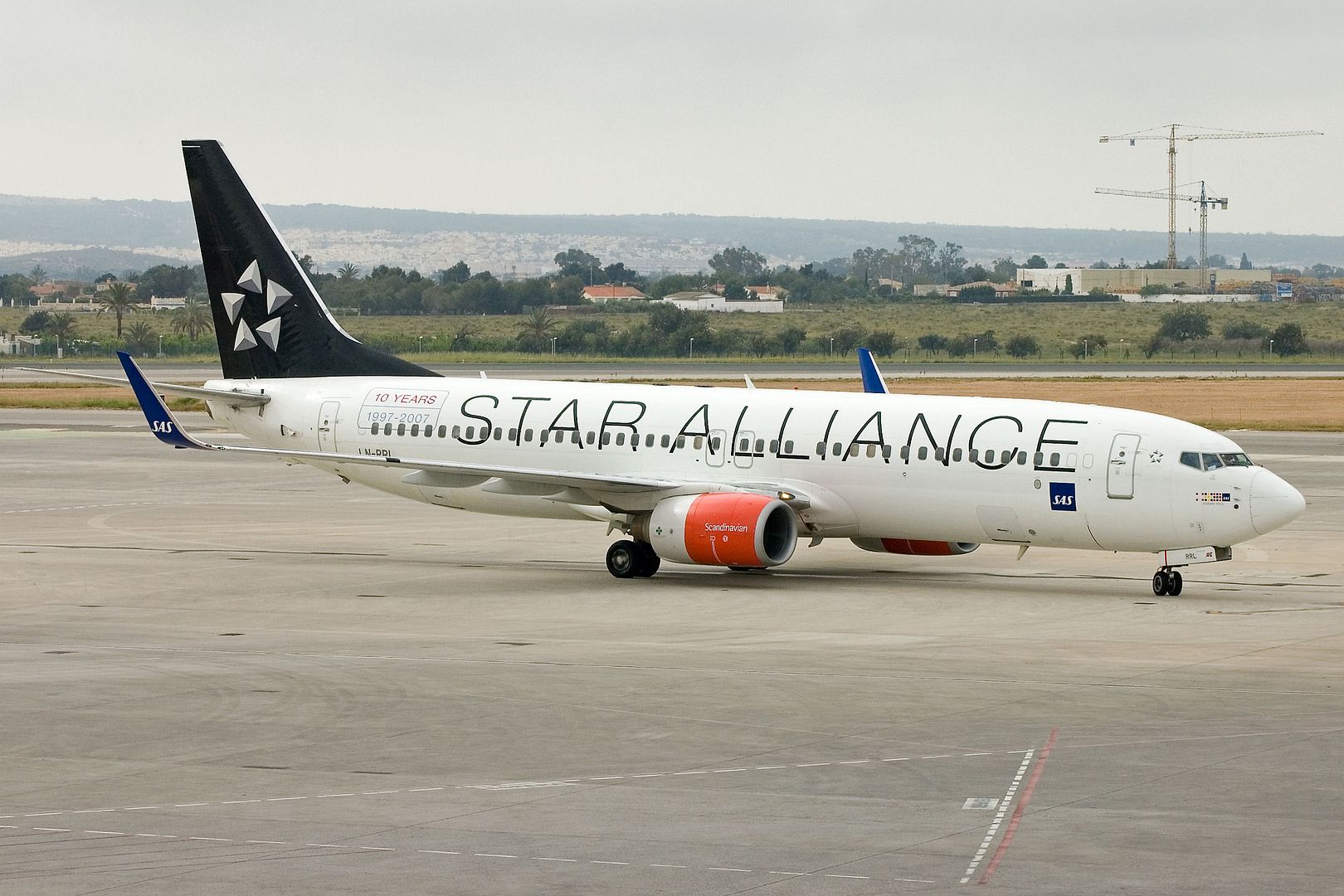 Picture by Satchmo
And this is
G-OZBU
, one of 16 A321-200s in the Monarch fleet - once ordered by GB Airways, delivered to easyJet as G-TTII in July 2008 and transferred to the current operator in February 2009:
Picture by Satchmo
We were glad that the plane had been parked at a remote stand, so we could take numerous pictures during boarding: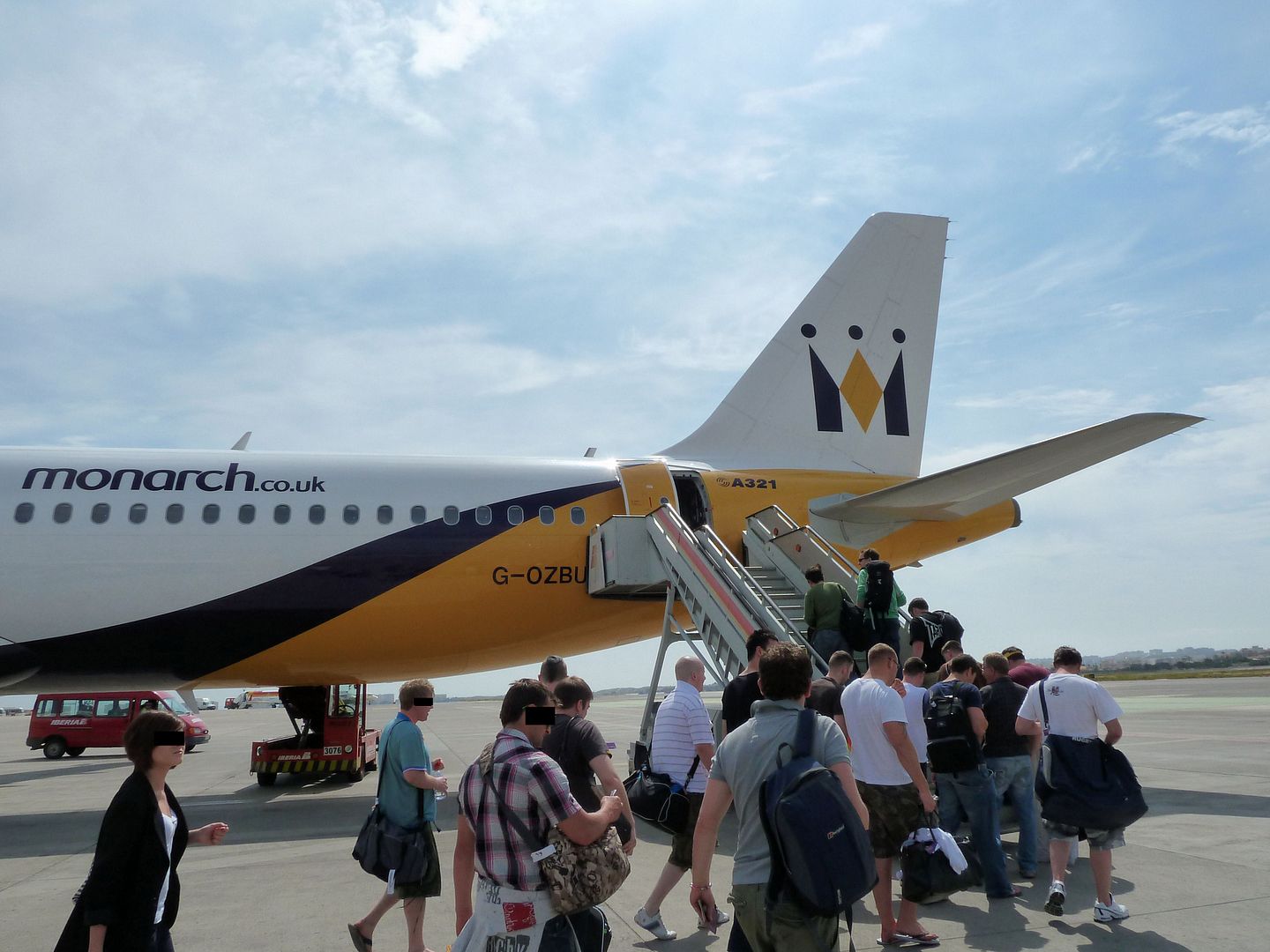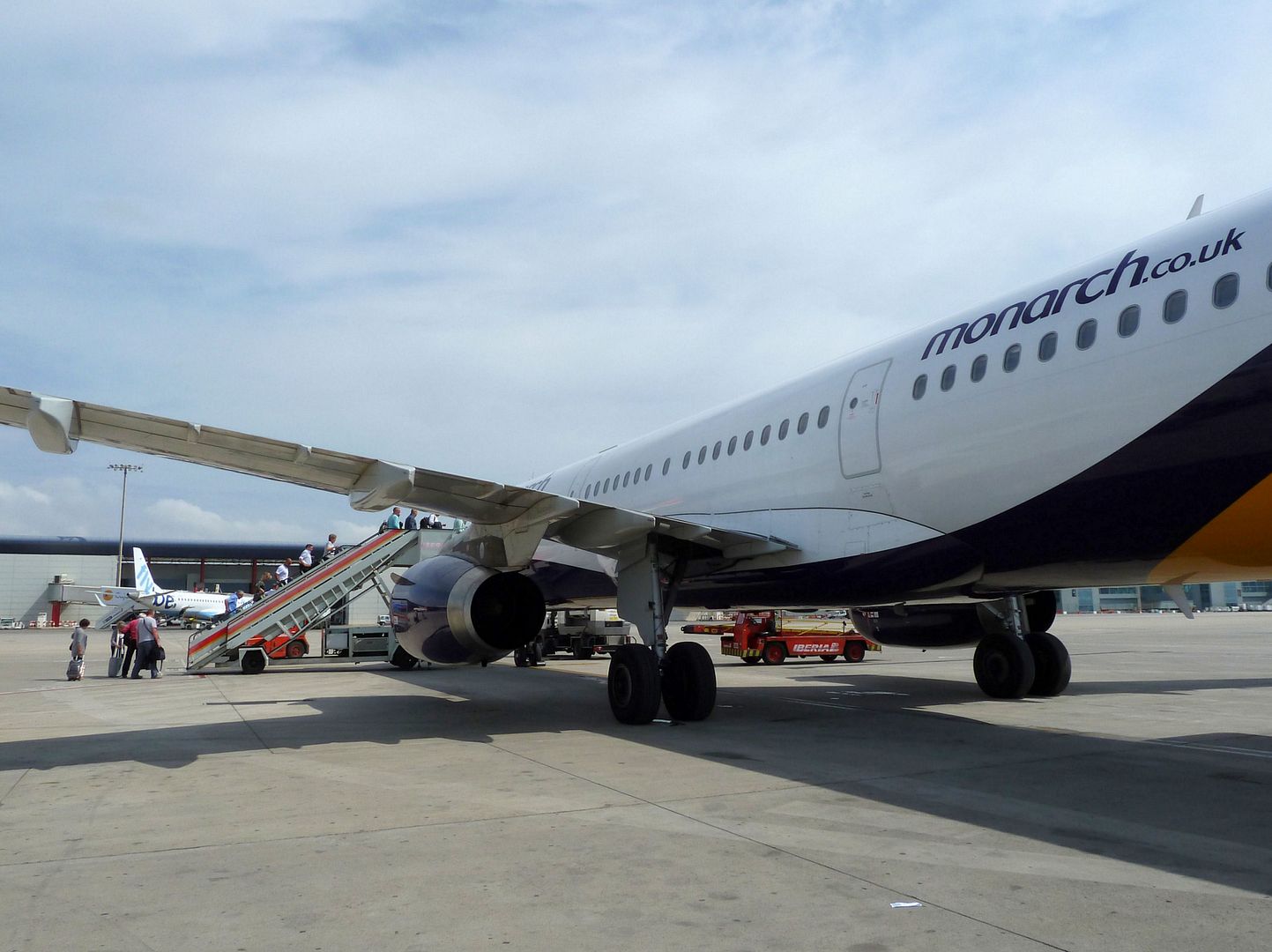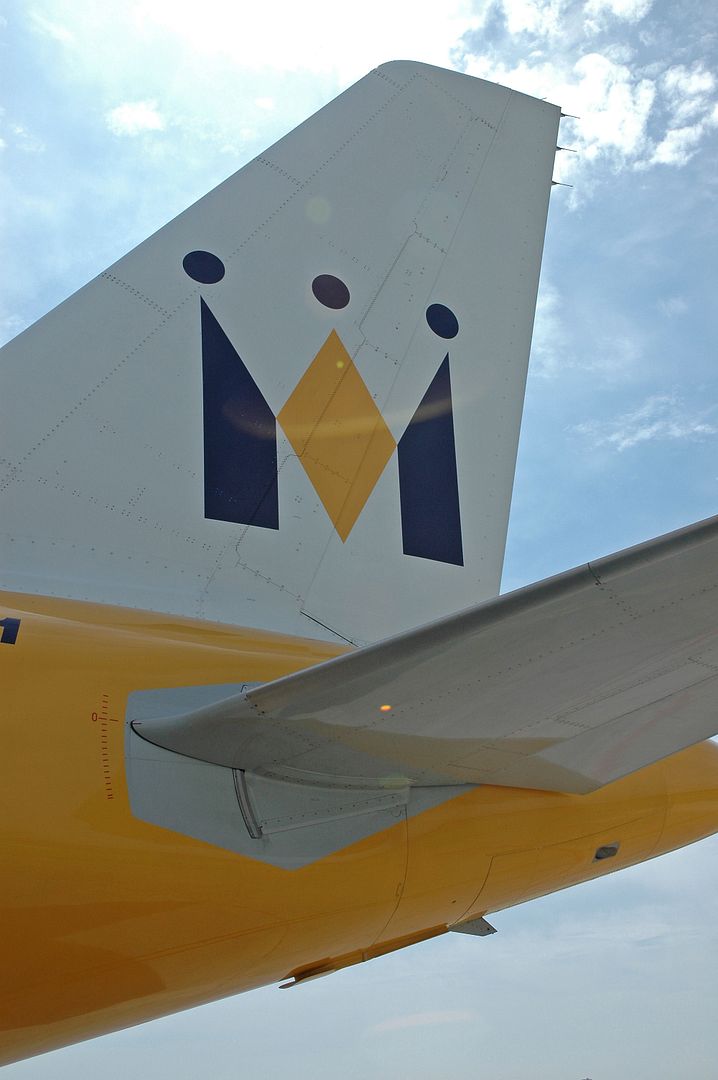 Picture by Satchmo
Picture by Satchmo
A friendly flight attendant welcomed us on board and we took our seats in row 36. British holiday carriers have become famous for tight seating, but we were pleasantly surprised: The leather seats were comfortable...
...and legroom was absolutely sufficient. I didn't feel cramped at all: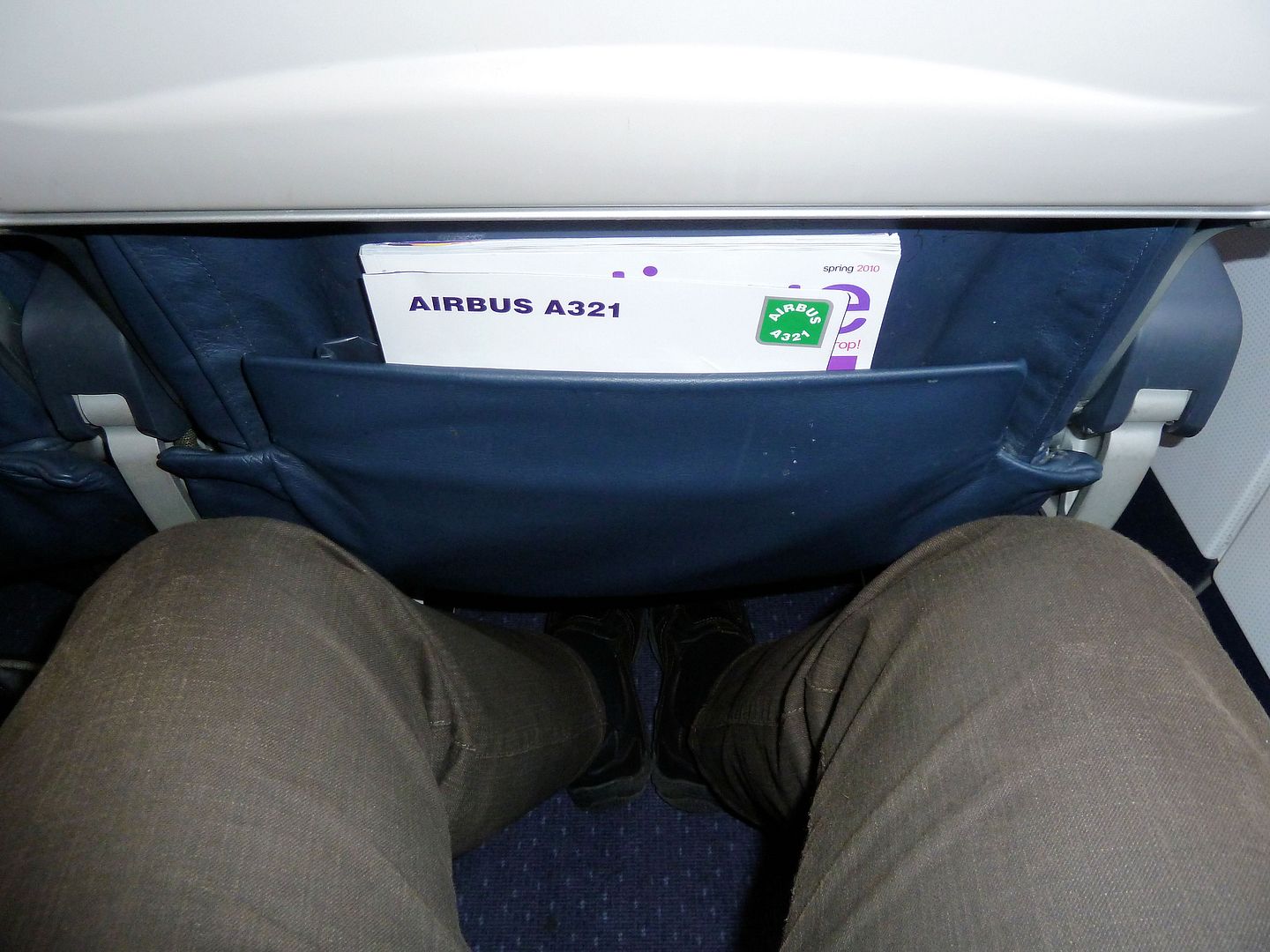 Despite the lack of TV screens IFE boxes were installed under the middle seats. At least they didn't take away lots of space:
I'm really wondering whether this was a standard configuration considering that the plane had been intended for GB Airways. Probably some British members can clear things up?
Even though the flight was packed (load factor in the 90-95 percent range), the aisle seat in our row remained empty. We left the gate slightly late and took off rather unspectacularly from runway 10: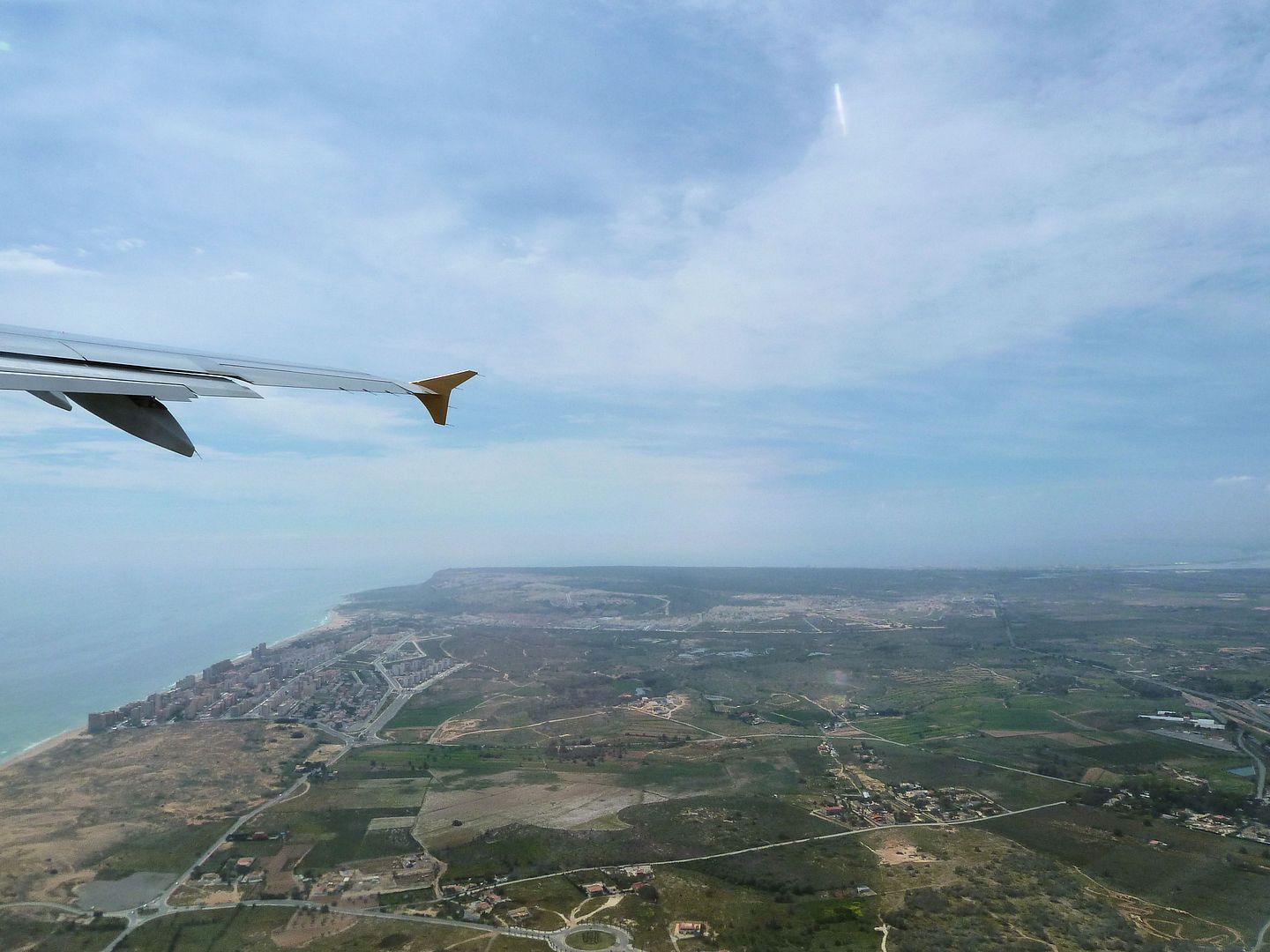 40 minutes later we were cruising over the Pyrenees: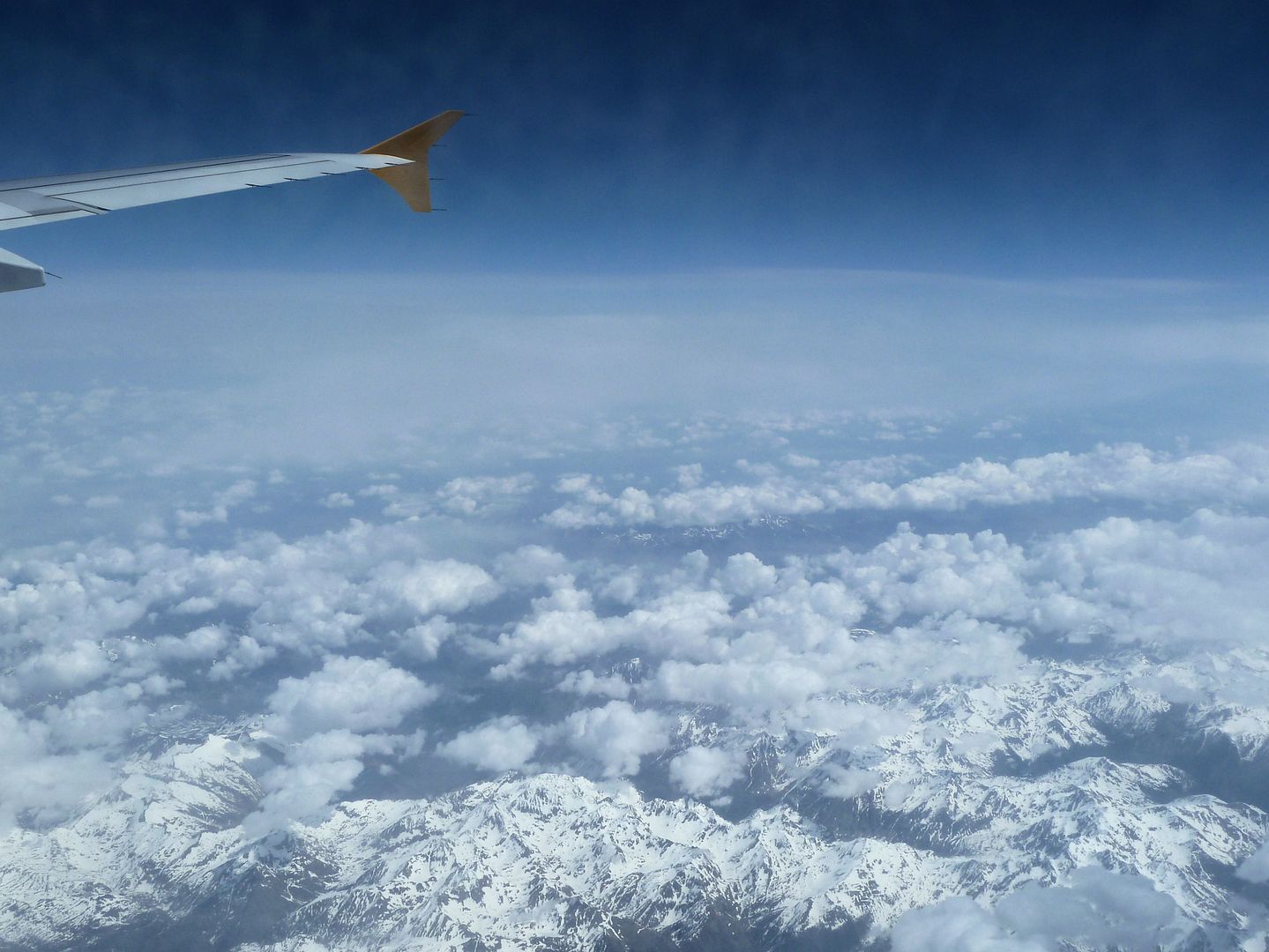 Monarch Airlines doesn't offer any drinks and snacks free of charge. Shortly after booking in fall we had decided to pre-order a hot meal for 8 Euro, so we were curious to find out how it would be like. However, before heating up our meals, the flight attendants passed through the cabin to sell all kinds of stuff to the other passengers. Many of them bought drinks, so we didn't get our meals earlier than about one hour after takeoff.
"Enjoy" it said on the packaging...
...and the food - shepherd's pie with vegetables and apple cake - didn't look bad at first sight: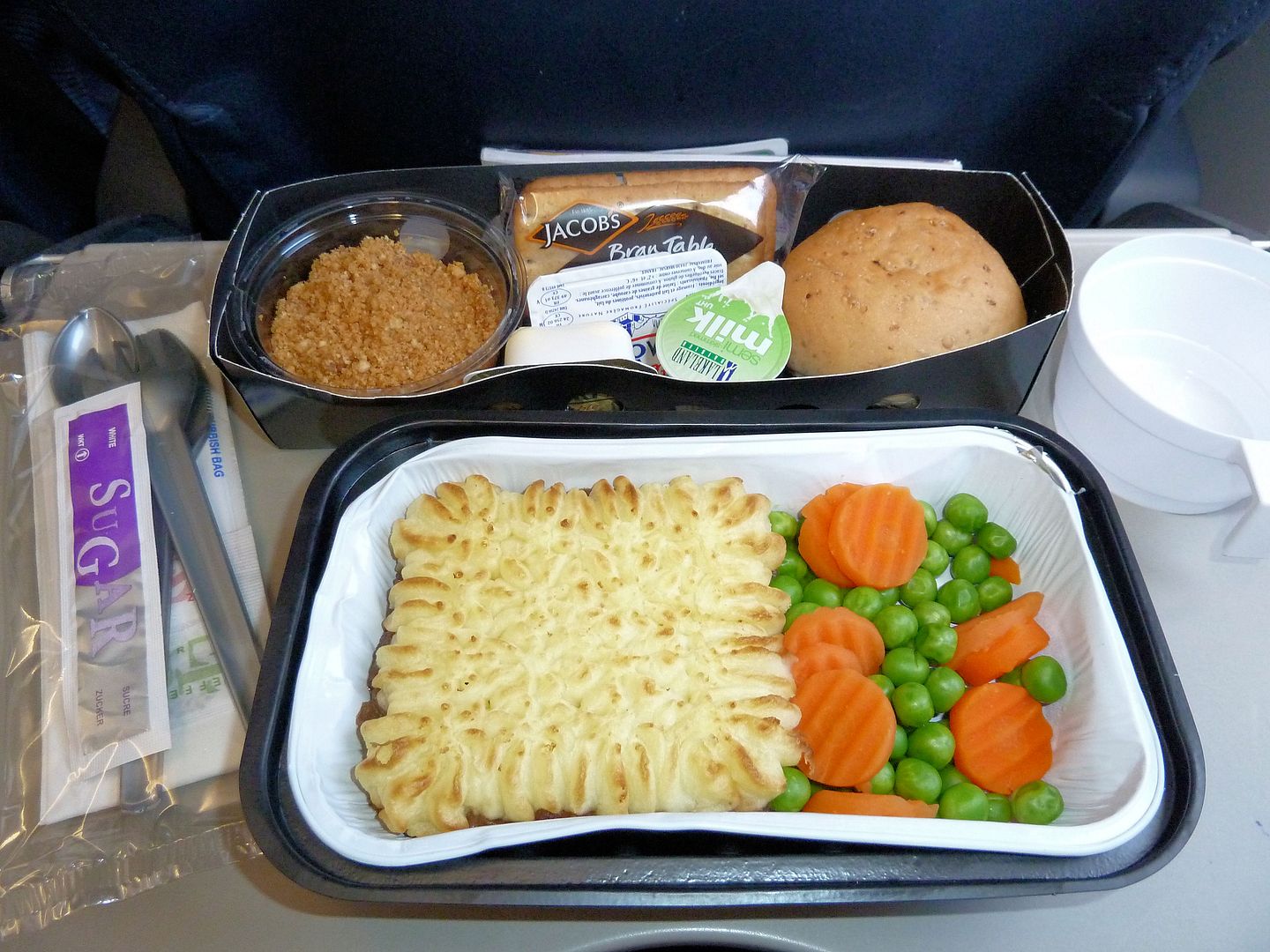 However, the positive impression didn't last very long. The vegetables and the potato crust were ok, but the sauce and the minced meat, which contained gristle, tasted terrible. I only ate a few bites and quickly switched to the vegetables, the (average) bread roll and the (decent) apple cake. Finally we also got an (average) tea. Was it worth it? Definitely not, the main course tasted worse than the worst prepared supermarket meal I have ever eaten. Now it seems Monarch doesn't serve shepherd's pie any longer. On the carrier's website you can only order a hot breakfast as well as a chicken meal and a vegetarian meal. Good decision!
It was not easy to make a good cabin shot because passengers were moving through or hanging around in the aisle most of the time: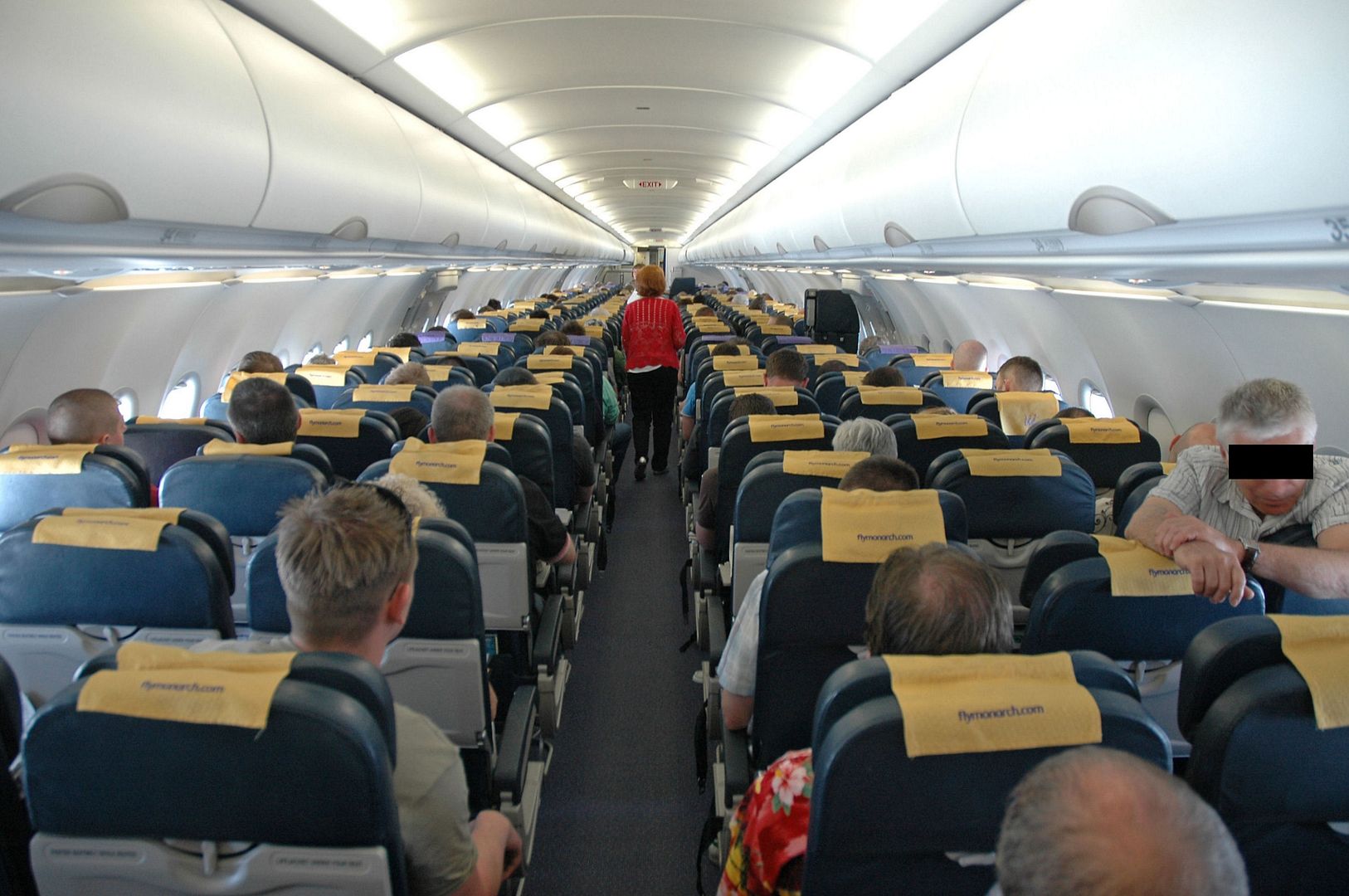 Picture by Satchmo
The weather had been nice during the whole flight, but thick rain clouds were waiting for us on approach to Manchester: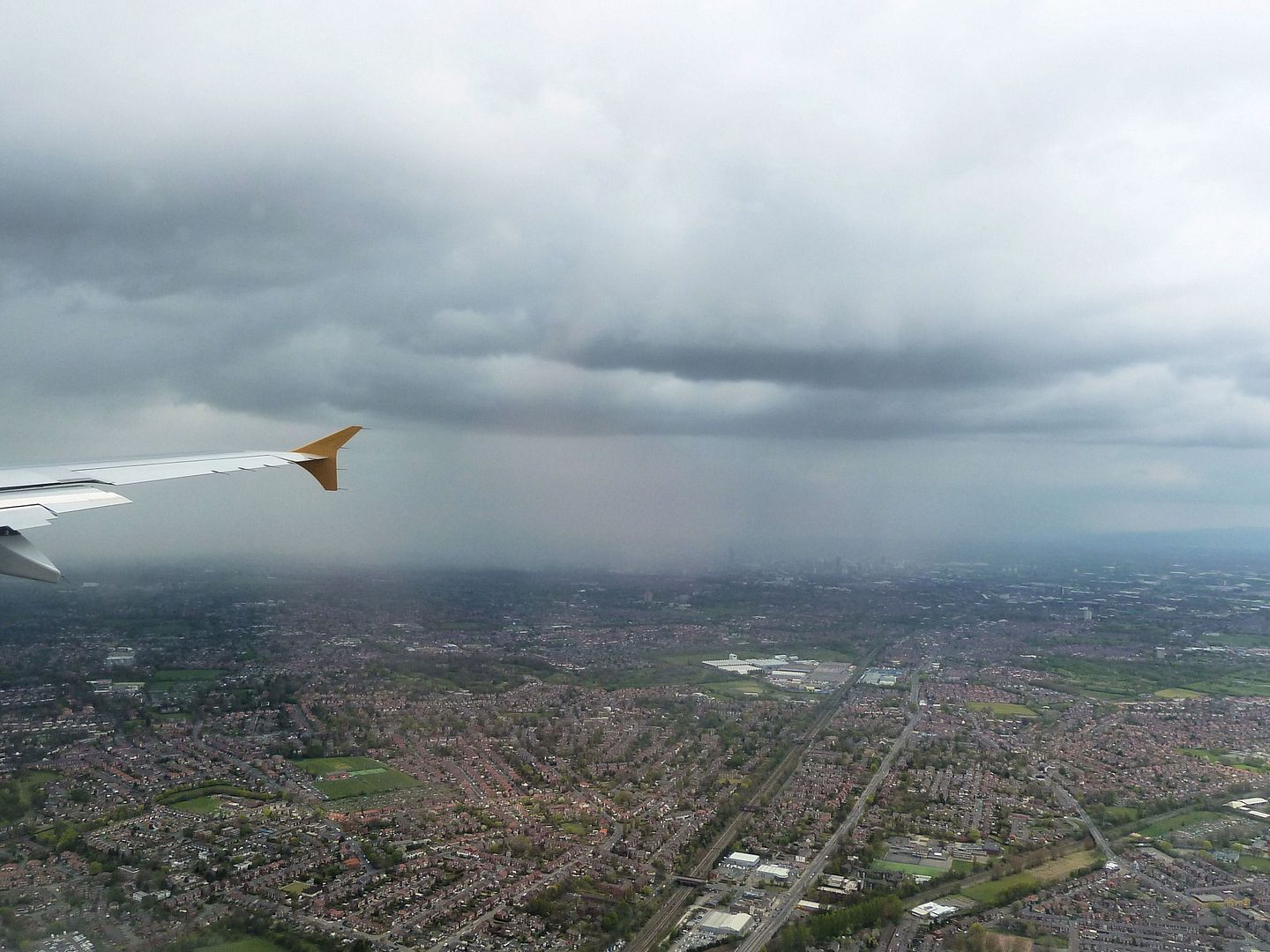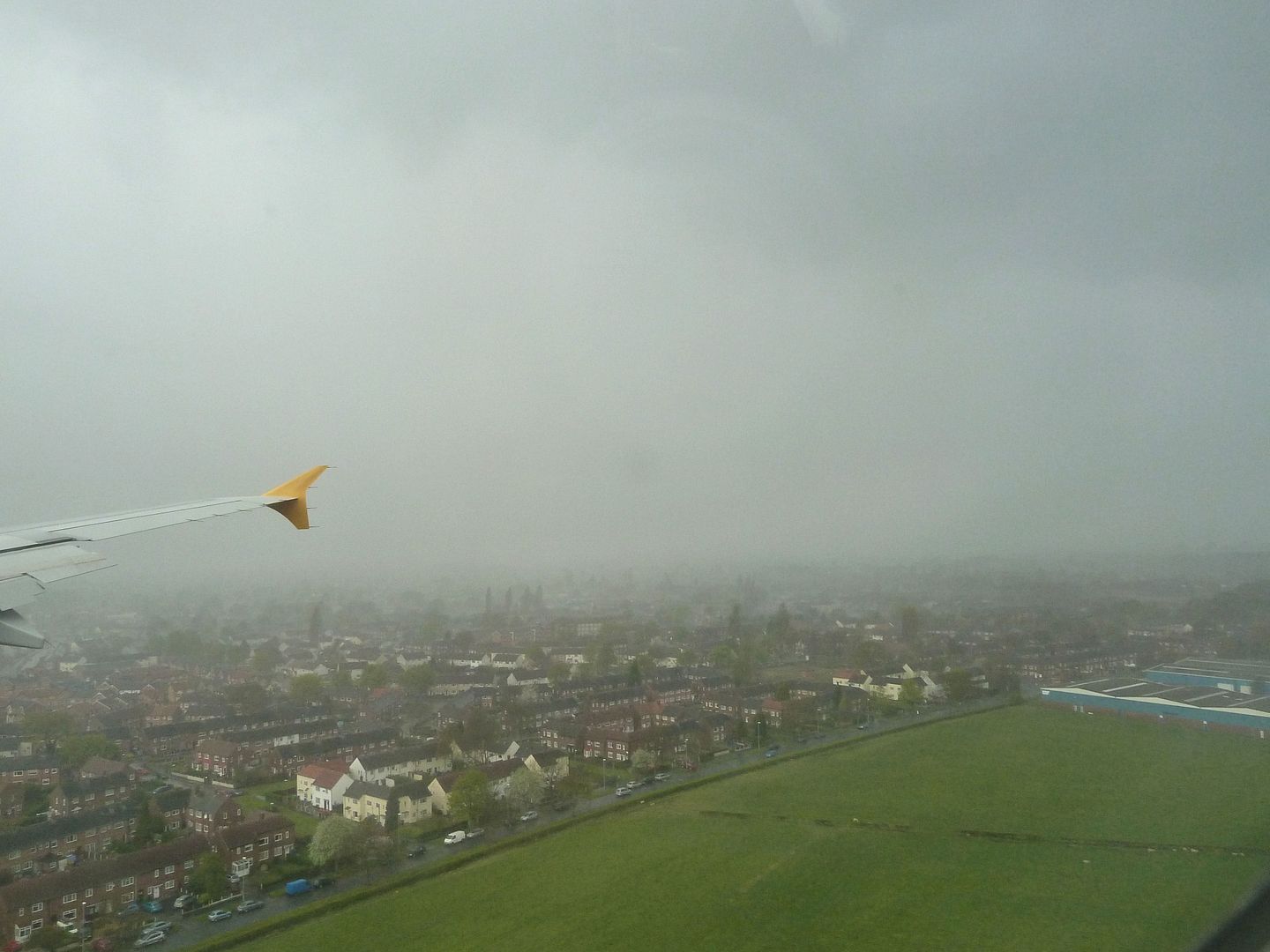 We touched down at runway 23R after a flying time of 2 hours and 21 minutes and taxied to a gate at Terminal 1.
Sunday, 25 April 2010
Manchester (MAN) - Munich (MUC)
easyJet EZY1887
18:05-21:05 (18:20-21:17)
Flying time: 01:40 (hrs)
Economy Class, Seat 29D (free seating)

Airbus A320-214
G-EZTM (MSN 4014)
Delivered in 08/2009
1st flight on G-EZTM
31st A320-200 flight
32nd A320 flight
After disembarking we went straight to the top level of the Terminal 1 parking garage. However, it started raining after an hour and we continued to Terminal 3 where we had to wait until the opening of the easyJet check-in counters. Unfortunately, easyJet had temporarily suspended its online check-in during the volcanic ash chaos and not yet reinstated it. So we had to use the check-in facilities at the airport. As soon as we had received our boarding passes we went to the gate area, but traffic was quite low in the late afternoon. Nevertheless, I still managed to collect 33 new registrations during the layover at MAN. Two of the most interesting visitors were Aurela 757-200 LY-SKJ and 737-300 LY-SKW: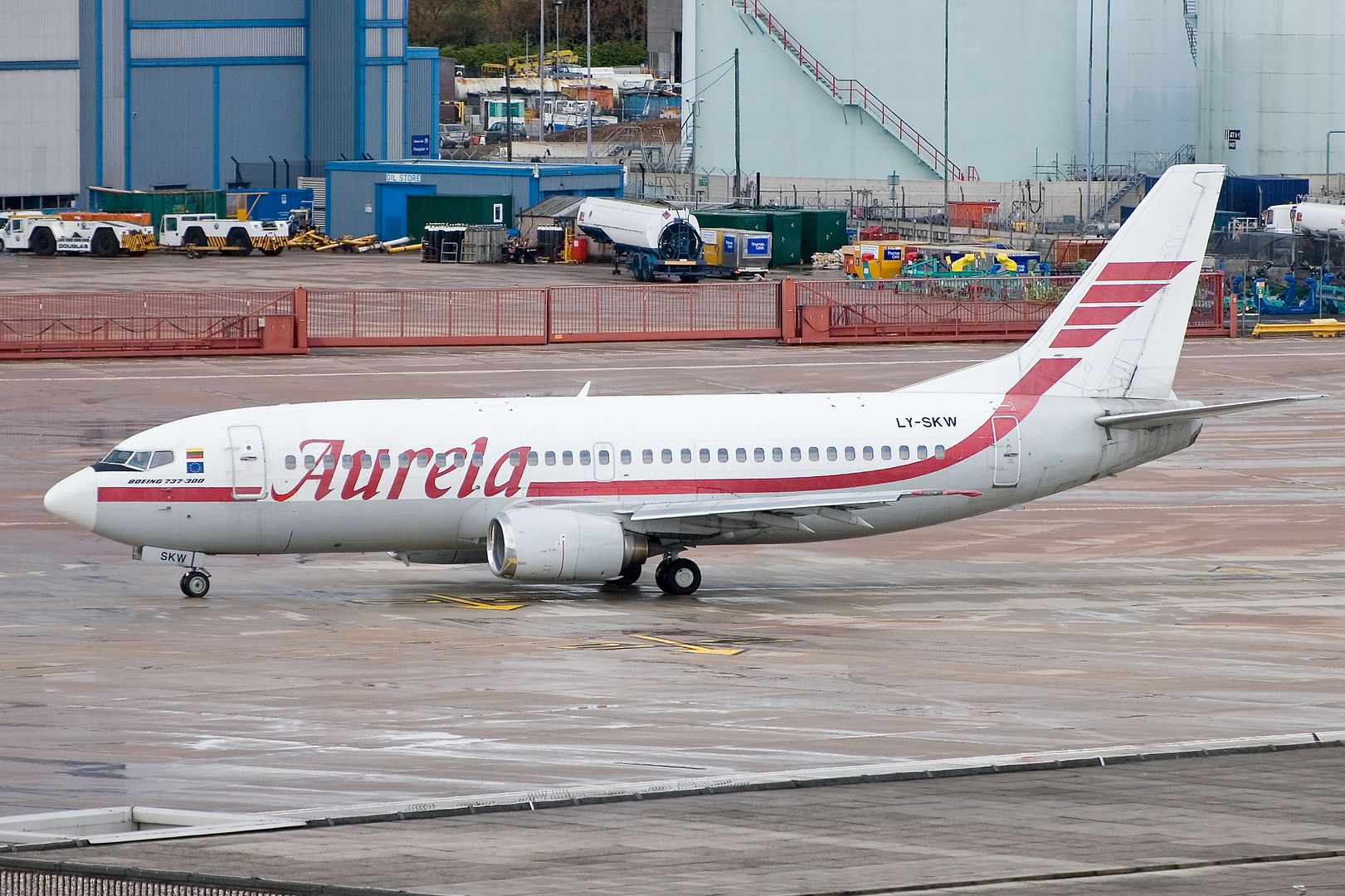 Picture by Satchmo
Finally our plane arrived - it was
G-EZTM
, one of 24 A320-200s in the fleet, delivered in August 2009:
Picture by Satchmo
Boarding was slightly delayed at first and once we had been allowed to proceed to the plane, the passenger crowd got stuck again in the stairway. Some minutes later we were finally allowed to walk to the aircraft.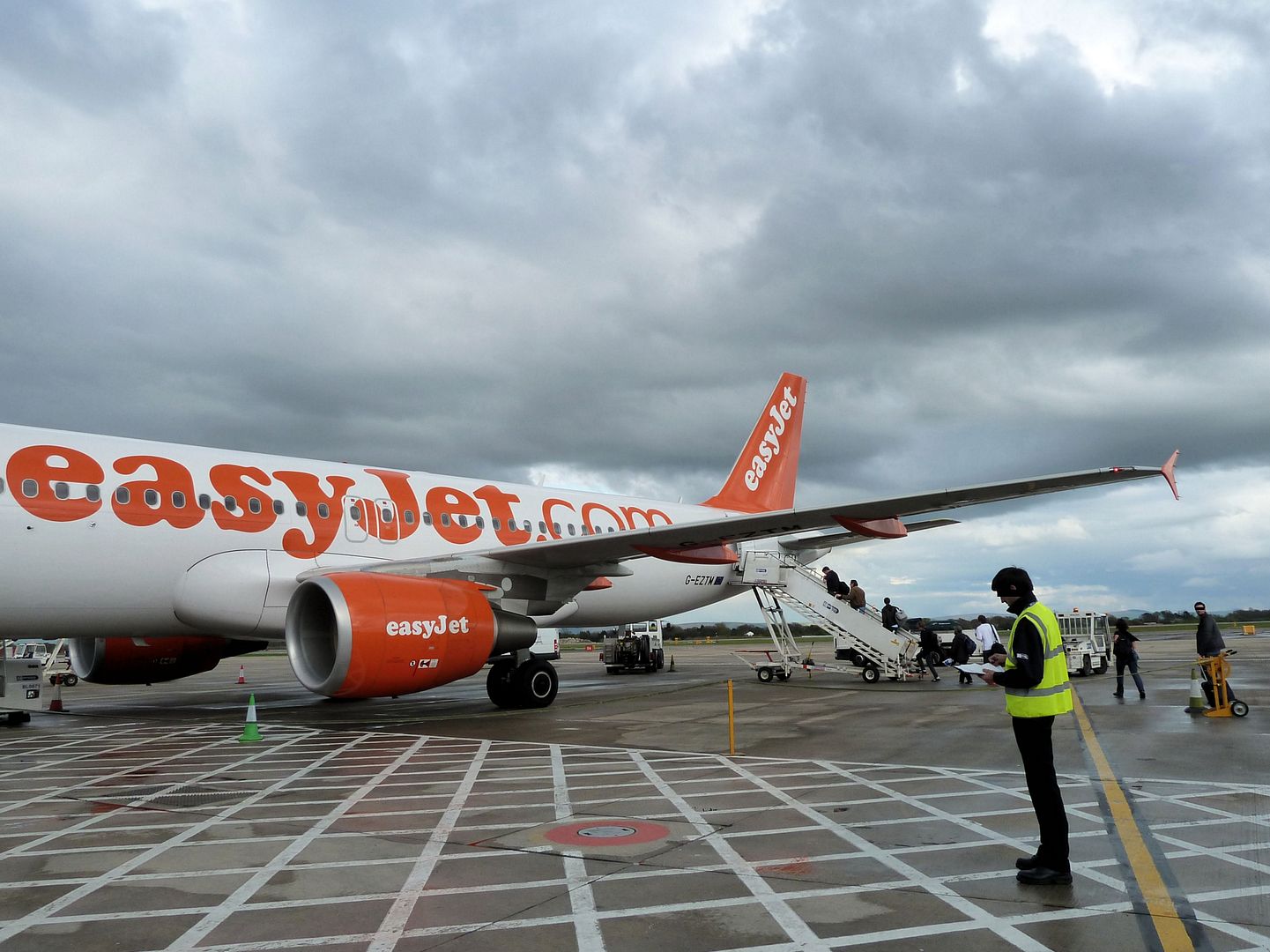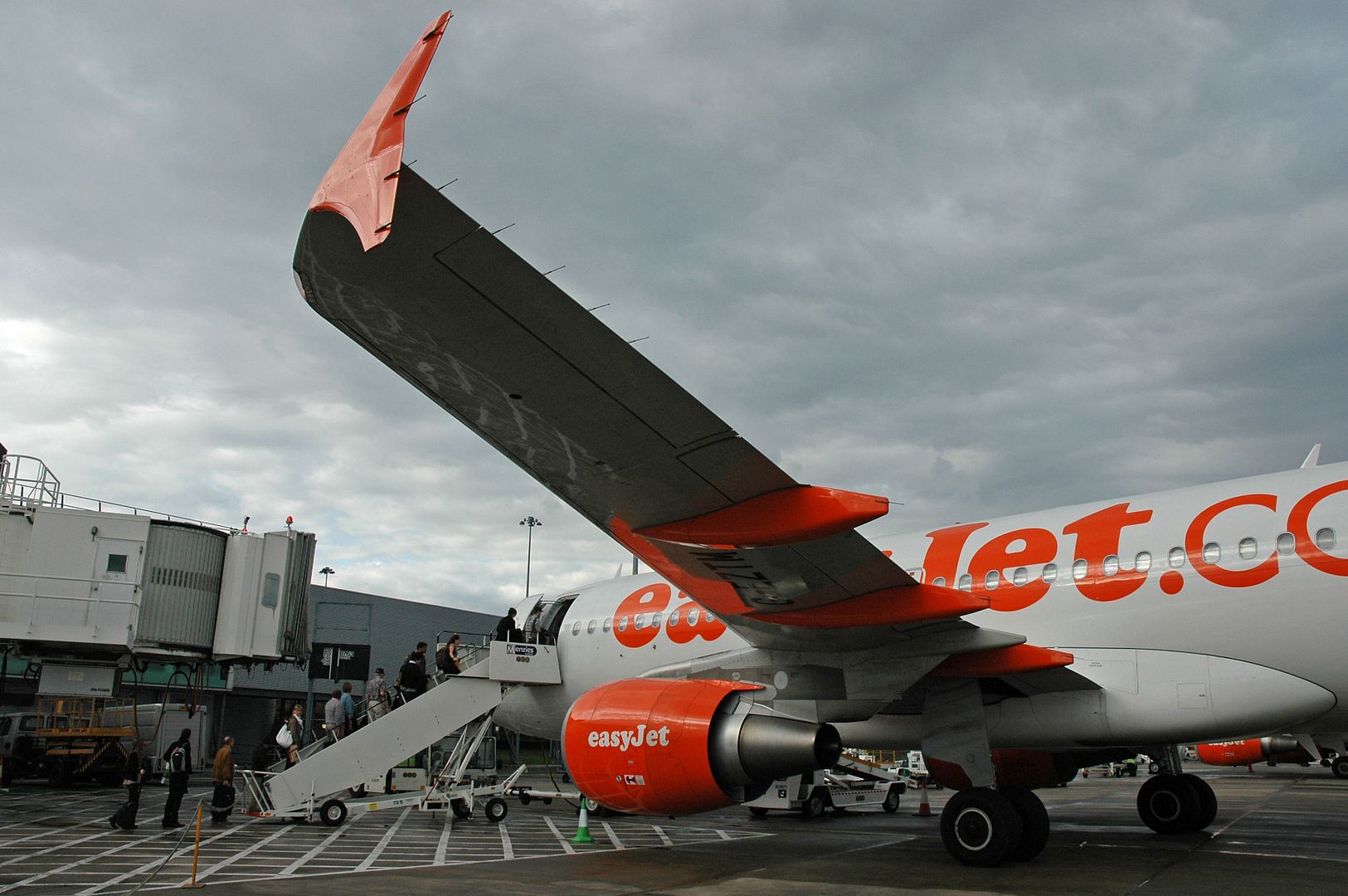 Picture by Satchmo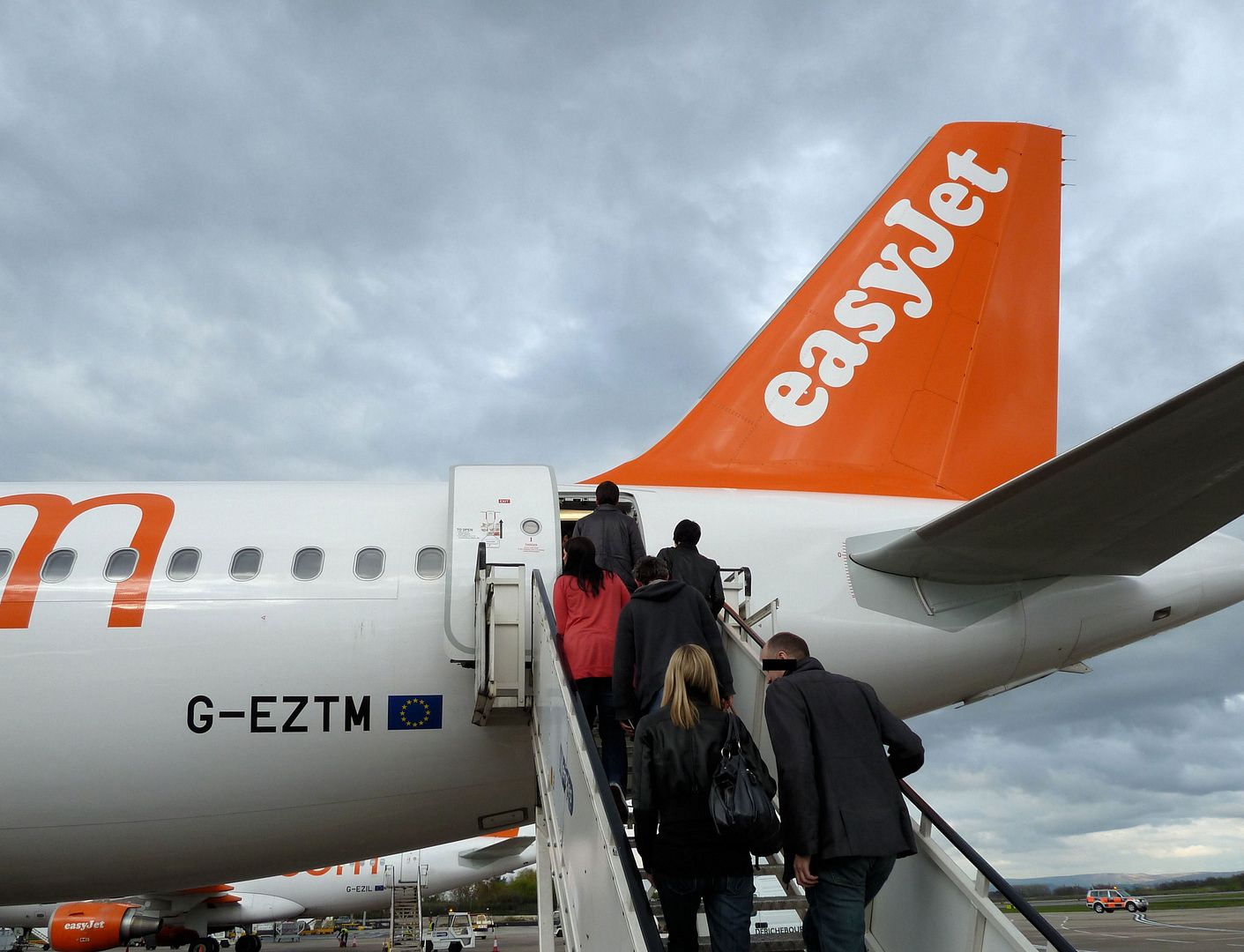 A friendly flight attendant welcomed us on board and we decided to sit down in row 29 (free seating). The seats were hard...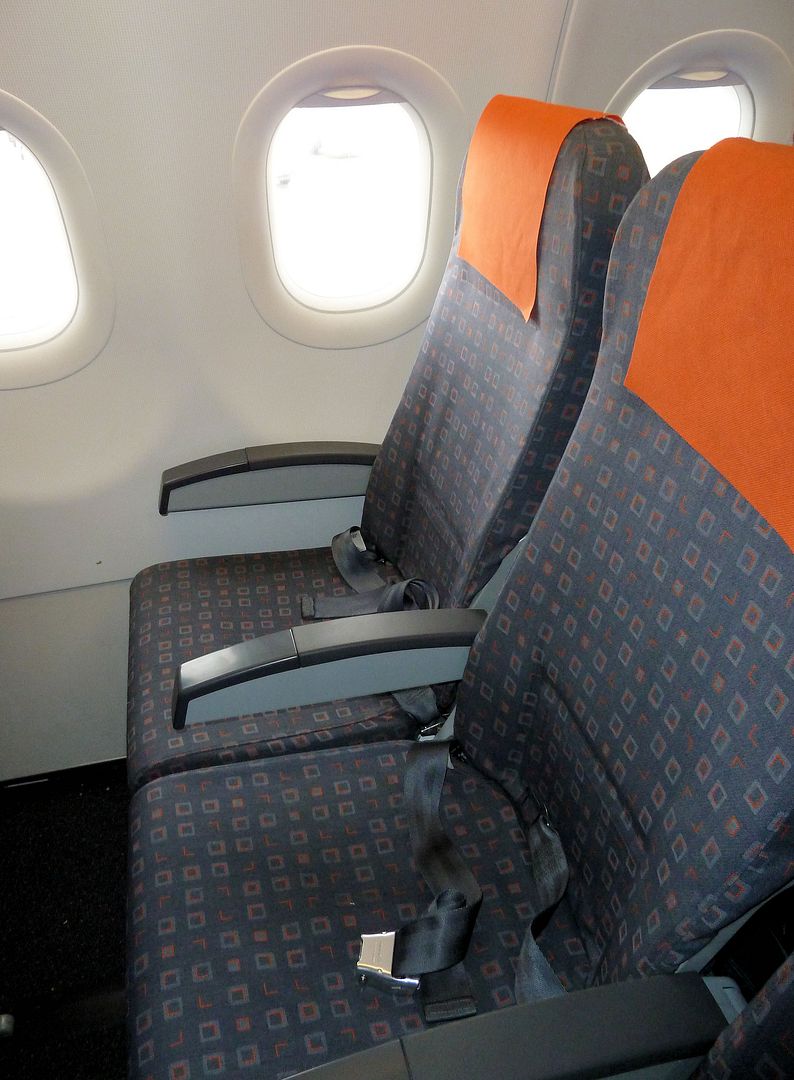 ...and legroom was barely sufficient: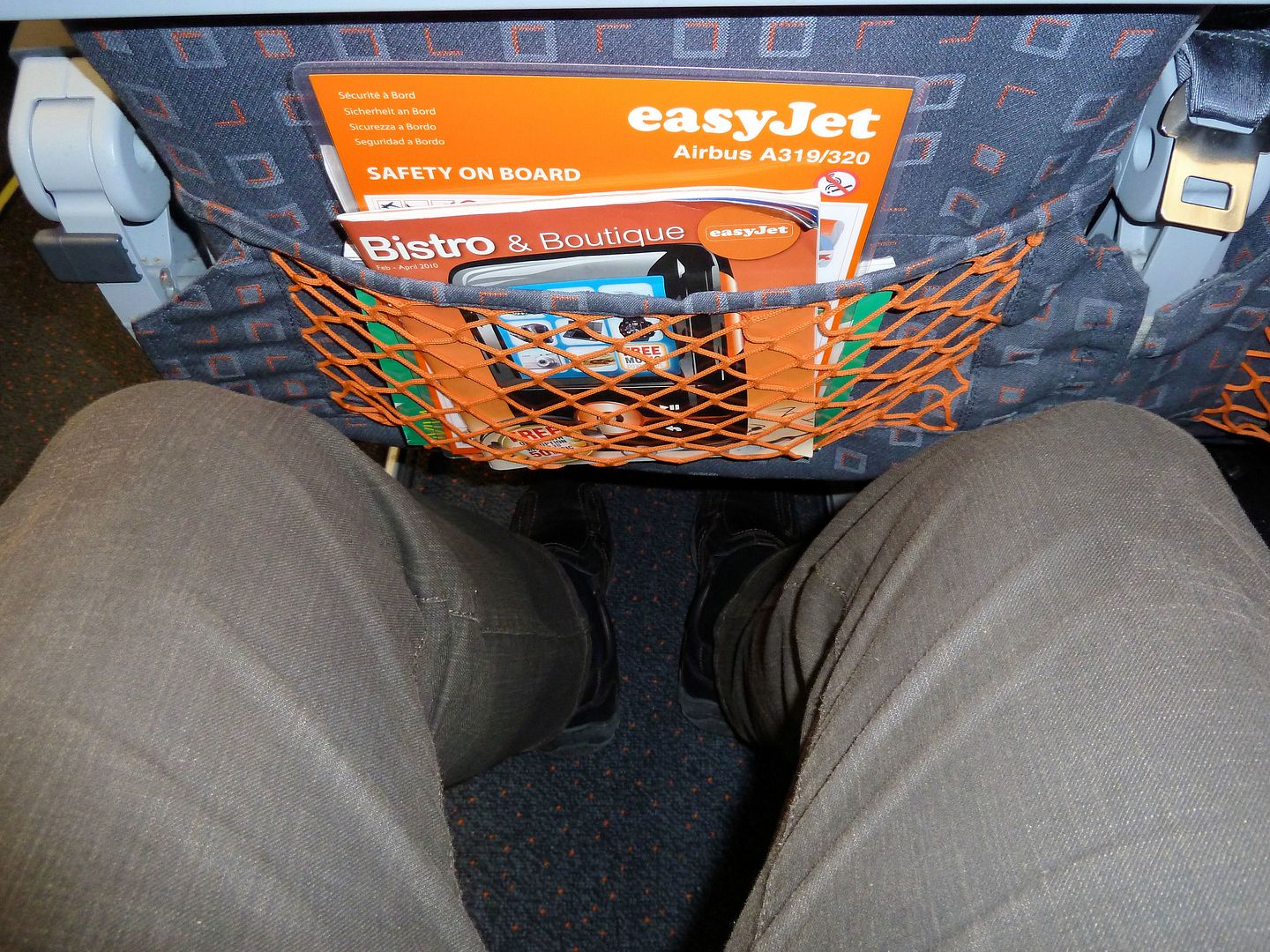 Satchmo
took the window seat, I blocked the row by taking the aisle seat, hoping that the flight wouldn't be full. Well, it was packed (load factor in the 80-90 percent range), but several seats around us remained empty. After doors had been closed, we could stretch out. However, a few minutes later doors were disarmed again and a mechanic stepped on board. We weren't amused about that and were wondering what had gone wrong. After the mechanic had left an announcement was made, informing us that it hadn't been possible to fix a problem with the oven. Hence hot food items wouldn't be available on the flight.
We left the gate 15 minutes behind schedule and took off from runway 23L. Some clouds around us looked quite threatening, but our climb-out remained mostly smooth: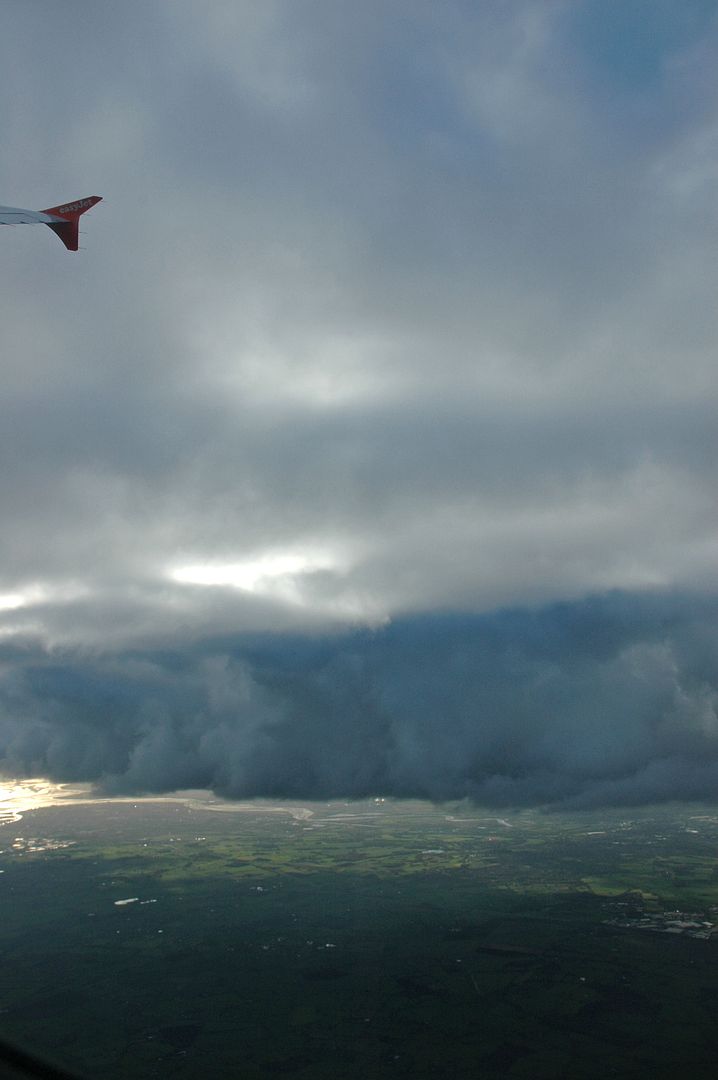 Picture by Satchmo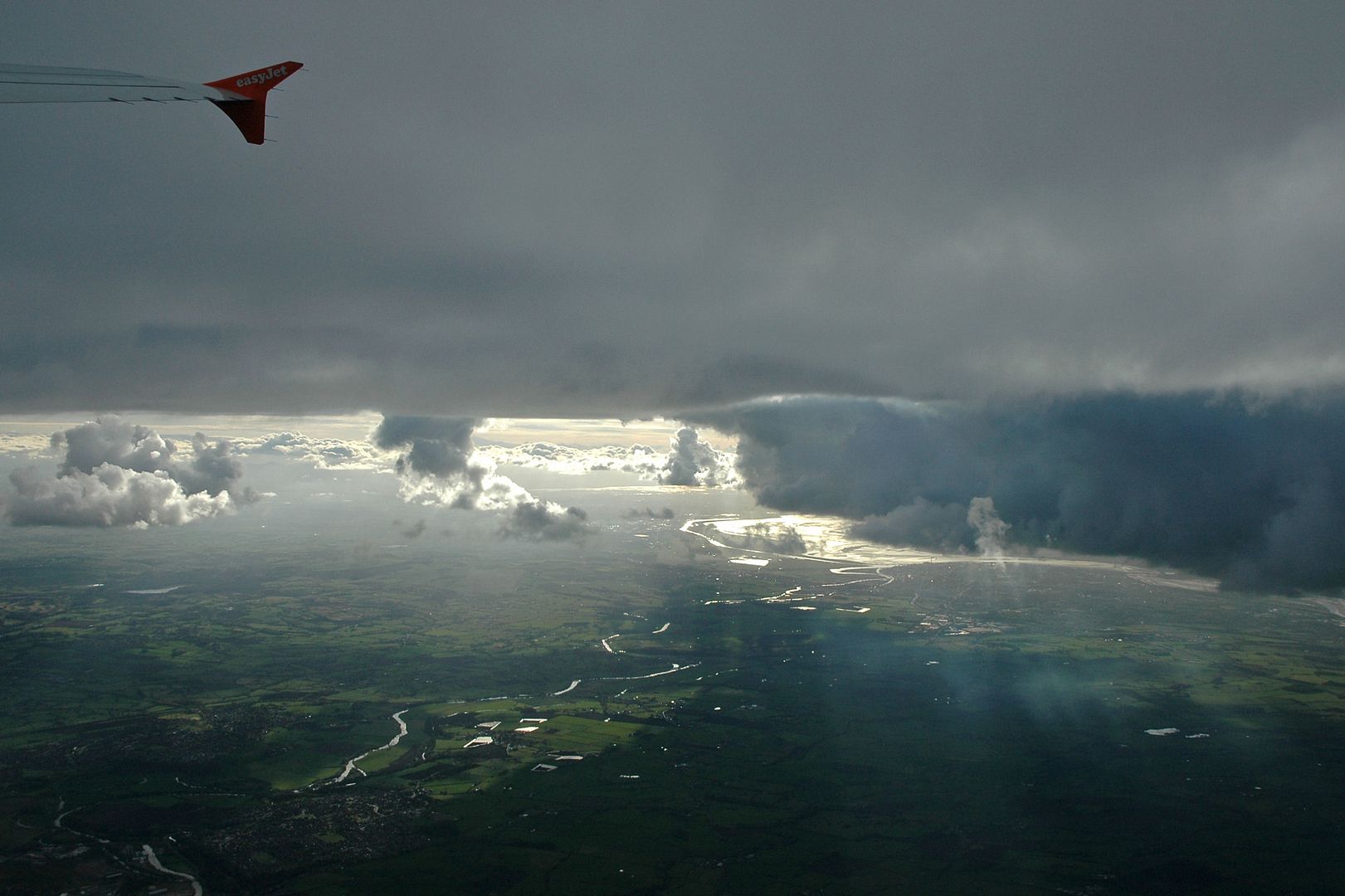 Picture by Satchmo
Since I was a bit hungry I had a look at the buy-on-board offerings. There are many options to choose from - too bad that the hot snacks were not available. So I decided to try a ham and cheese sandwich for 4,50 Euro and ordered a can of Orangina (33cl) for 2 Euro. The latter wasn't available, so I ordered a ginger ale (25cl) for 1,50 Euro: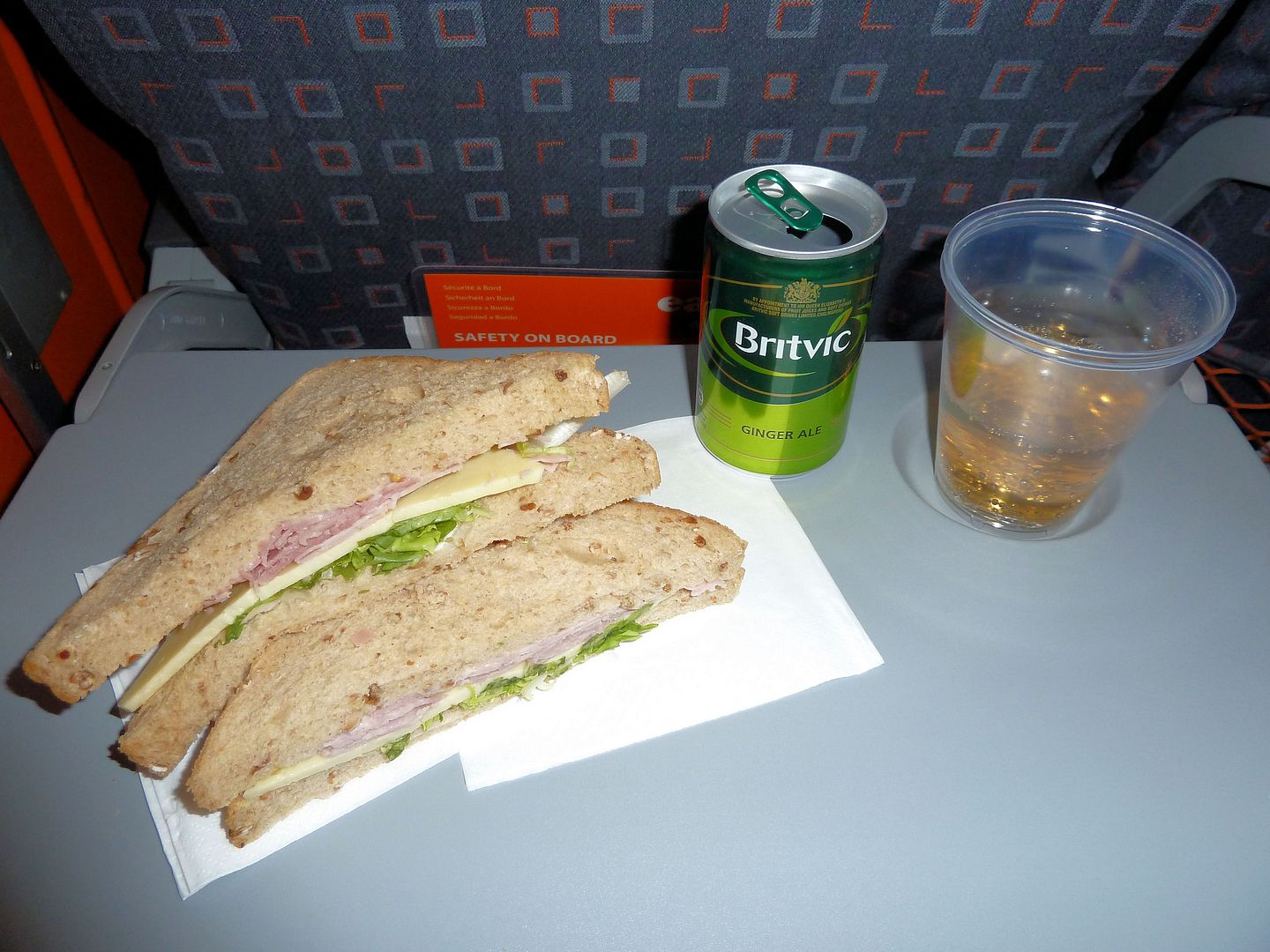 The sandwich wasn't cheap, but it was fresh and tasted very good. I would definitely try other snacks, too.
Even though I'm not a fan of easyJet's cabin design, it's still looks much better than Ryanair's:
Picture by Satchmo
Bright orange wingtip fence and a dark blue sky:
Picture by Satchmo
Beautiful scenery during sunset:
Picture by Satchmo
We finally touched down after a flying time of 1 hour and 40 minutes and taxied at a Terminal 1 remote parking position next to three easyJet A319s which had arrived from Edinburgh, London Gatwick and London Stansted.
Conclusion
Flying
Air Europa
on the short PMI-ALC route was enjoyable even despite the delay. Due to the high seating comfort spending twice as much time as planned on the Embraer 195 wasn't a problem at all. The captain kept us updated about the situation, so I have no reason to complain about anything.
Seating comfort on
Monarch Airlines
was decent, too, but it's not clear whether the plane had been in standard configuration. Unlike certain German holiday carriers, Monarch didn't offer any kind of in-flight entertainment and didn't serve free drinks and snacks. The pre-ordered hot meal was simply disappointing - good to see shepherd's pie is no longer available. At least flight attendants were friendly and motivated, but it doesn't change the overall picture: Monarch Airlines doesn't offer a much better product than an average low-cost carrier.
In contrast to Monarch Airlines,
easyJet
impressed me with tasty buy-on-board food. Flight attendants were friendly, too. However, seating comfort was limited. The slight delay and the interrupted boarding process were just a minor issues, at least they tried to fix the faulty oven.
After the trip I could add one new airline, one new type and four new registrations to my flight log. In addition I also collected 123 new registrations which is not bad at all. The next trip with two new carriers and one new type was on schedule less than ten days later...report to follow.
Best Regards,
PlaneHunter
P.S.: Just in case you missed them - other more or less recent reports:
Premium Meal & Palma Spotting: MUC-PMI, DE 757-300
The Dead Slow Transfer: PEK-MUC On Air China A332
Cancellation Brings Joy: HKG-PEK on Dragonair A330
A380 Cacophony, 777 Star Livery: DXB-SIN-HKG on SQ
The Next 5* Carrier? MUC-MCT-DXB, Oman Air A330
Turkey For 1.5 Hrs: Daytrip To AYT On Sky Airlines
CO Scores Again: ATL-IAH-EWR-FRA On ERJ, 752 & 764
Riding The Ultra Long-Haul Twin: Delta 777-200LR
Pacific Coast Jaunt: 3 Carriers, E120, E140 & Fog
The Ultimate 737: LHR-IAH-PDX On CO 777 & 739ER
Bye Bye, Hell! TRD-OSL-TXL-NUE - DY/AB/HE DH4
My Trip To Hell: NUE-CPH-OSL-TRD On Cimber & SAS
SFO-YUL-FRA: Map- & Sleepless On Air Canada's 77W
Sin City Gloss & Virgin America's Chic First Class
Seat Dilemma & Canyon Glamour: FRA To LAX, AC 763
On Par With Air France? DTW-AMS-MUC, KLM A330
Goodbye, Red Tails! DC-9-40/50 & Chicago Tour
Champagne & World Of Coke: Air France A340 To ATL
"Mission A380": Disappointing Legs On BA/BD/EI
Delights Of Doha, 773 & 77W: DOH-DXB-LHR On EK
A380 Really a Step Forward? LHR-DXB-DOH On EK
Quality & Style: HKG-LHR On Air New Zealand 744
Taiwan Trio: TransAsia, UNI Air And The Taipei 101
"The Wings Of Taiwan": EVA Air A332, 744 Combi
SHA-SZX, Shanghai 757: Delayed By The Military
PEK-SHA, China Eastern A330 & Shanghai At Night
Striking Newcomer: Berlin-Beijing On Hainan A330
[Edited 2010-07-04 06:45:39]