Outbound:
AA087
LHR-ORD
777-200
25th June 2010
Scheduled Departure: 10:15a
Actual Departure: 10:44a
Scheduled Arrival: 12:39p
Actual Arrival: 12:26p
(all times displayed are local)
Introduction
It was in late November that I stumbled upon a rather decent offer on eBookers that included a flight and a hotel for around £631 to Chicago for 8 days in June.
Had the choice of going with American Airlines on a 772; or paying an extra £10; and flying Virgin Atlantic.
Having travelled Virgin Atlantic many times in the past; I decided on the American Airlines option; being that I had never been on a 772, or flown an American Carrier. Given the bad rap that AA often gets; and the ominous loom of possibly FA strikes I started to wonder if it was such a great idea to have chosen AA.
Pre-Flight
Awaking early (4am) and wheeling my suitcase down the station was the easy part. A last minute platform change and the stairs at Liverpool Street station were not so easy. However by 5:45 of so I was sitting comfortably on the overpriced Heathrow express.
(An empty Heathrow Express Train)
Having checked in online there was no real need to rush to the airport; but I always enjoy having time to spare so I can sit back and enjoy being gouged by the "duty free" stores of Heathrow and to be able to (attempt) to spot a few planes around LHR.
The check in agent was surprisingly chirpy for 6.30am; and was very pleasant and efficient. He reissued me with some real boarding cards as the ones I had printed out were not reading correctly. Let that be a lesson to those who buy cheap ink.
(One better copy of the boarding card)
After a very enjoyable breakfast at Wetherspoons in terminal 1; it was time to head back to terminal 3 and its windowless departure lounge of doom.
A gate was assigned at about 8.45; and luckily for me it was one which required a long walk (those familiar with terminal 3 will know that the only time you get to see aircraft is when you head to the gate.
Thai 744
Air India 777
Gate 34 was jam packed; and woefully inadequate for a full 772, to which the gate agent also made the comment of. Luckily I was not chosen for an additional security search and neither was my friend – however finding space to stand in the gate room was now nigh on impossible.
Boarding was announced at around 9.45; with the usual crowd of people rushing to get on first; despite having assigned seats and not being in First, Business or with special needs.
Waiting my turn; I boarded the aircraft in a much more fashion; where I was greeted first by a rather friendly flight attendant and directed to my seat – all the way at the back.
Initial impressions were that the cabin was huge – and the 5 seats in the middle of economy made the cabin feel a little claustrophobic. Thankfully, I was sat in A and B so I had no issue of being stuck in the centre.
Legroom was very good – I am about 5ft 8 so not very tall, but it felt on par if not a little better than Virgin Atlantic's pitch – however the control for the entertainment was located in the top part of the arm rest making it very easy to accidentally mash buttons.
Legroom
5 Abreast Seating
More of the central section
The Flight
A friendly welcome onboard by the pilot informed us of a shorter than usual flight time; along with a fairly northern route. A safety video was then shown; and the plane began moving towards the runway. Interestingly; the IFE was active at this time of the flight – meaning you could watch a movie during the take off – Something I wish carriers like VS would adopt.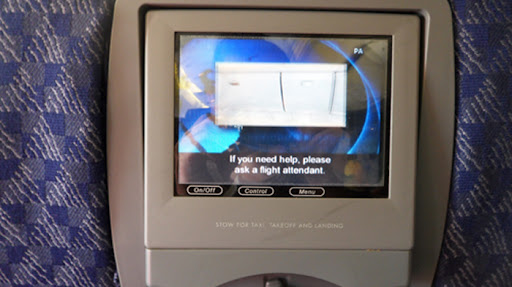 Personal Video Screen
As we headed out north; I took some time to play with the entertainment system. This didn't take too long as the technology feels quite archaic. There was a (bad) selection of movies, several TV shows, some music and a few basic games. Videos run on a loop; with movies/TV shows starting every 15 or so minutes.
Moving Map
Missing Content?
It's better than the old system of wait until each cycle is run; but it is certainly no AVOD. Lots of options however in the menu system such as "duty free", "meals", and "one world" all led to a "coming soon" screen. The touch screen was fairly unresponsive; and required a good hard jab to get it to respond. For the sake of the people in front; I stuck to the remote. Sticking it on map mode; I decided I was best off switching to the iPad.
We levelled out and a beverage service soon started. I chose to have a Sierra Mist; and it was served with a rather nice snack mix that filled a hole whilst I waited for lunch to be served.
Snack and Beverage service
Shortly after drinks lunch was served; with the choice of Tarragon Chicken or some sort of Penne Pasta. I chose to have the chicken; though sadly it had a strange bitter taste to it; and overall wasn't the best. However the tray was well loaded with cookies; crackers; cheese and a roll which helped fill me up where the chicken did not. I found the portions to be nicely sized; and was still eating when they started collecting!
Meal Tray
The chicken, up close and personal
A drinks service was again offered with the meal; and yet another one was offered after the meal. Usefully; the tray included a bottle of water which unlike the rather useless cuplets that some airlines serve was useful for later on in the flight.
In flight information
A seat with a view?
For the next 3, 4 hours we heard virtually nothing from the flight attendants of the cabin crew. I have no idea if I was allowed to go to the back and ask for a drink; but I didn't need to during this time as I had already stocked up on several cans of soda from previous drink runs.
Approximately 1 hour before the flight was due to land; a pizza was served. This was a vegetarian one offered to all economy passengers; and was served alongside some caramel biscuits and a tub of grapes. As this was so close to our descent the meal did feel rushed and the seatbelt light was on with the plane dropping in altitude before I was finished with my food.
Sure, its no real Chicago deep dish; but pizza is pizza!
We landed almost dead on time; and taxied to the international terminal where the usual surge of people trying to disembark through one tiny door happened. I then faced a fairly long queue at immigration followed by some rather weird issues with my fingerprints.
Overall
Overall I felt AA to be on par with what I would expect for the price. The seats were comfortable and legroom reasonable with a decent food service. Sadly the IFE is a letdown and an area I hope AA choose to improve on in Y with the competition now offering / starting to offer AVOD in all cabins.
The cabin crew felt professional and were friendly during the flight with some of them clearly looking like they enjoy their job.
The City
I won't bore you with too much about Chicago – But it is a fantastic city and if you haven't already been there then it's a really good destination choice.
The Famous "L"
A view from above
Cloud Gate
Me against the skyline
The famous Chicago theatre
Inbound:
AA046
LHR-ORD
777-200
3rd July 2010
Scheduled Departure: 8:15p
Actual Departure: 8:25p
Scheduled Arrival: 9:20a
Actual Arrival: 9:37a
(all times displayed are local)
Pre-Flight
The 8 days flew by and soon it was time to return home. With it being the holiday weekend; and rather hot we decided to take up the hotels offer of a taxi to O'Hare and it was certainly worth the money.
Checking in was a little more all over the place; as I was expecting a bag drop desk. However when I could not find one; I found that the self check in kiosks were capable of replacing the bag drop; and with the help of a surly assistant we were soon checked in and rid of our suitcases.
O'Hare is a huge airport; and offers quite good plane viewing. There are large unobstructed windows many of which face the international terminal allowing you to see some of Chicago's more unusual visitors.
A range of planes from BA, to RJ!
LOT
Spirit Airlines
Iberia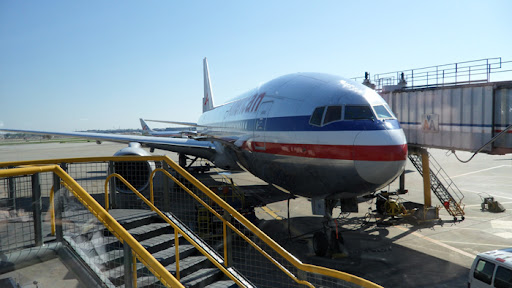 Less exotic AA plane
Boarding started around 19.45; and it was fun to avoid the large group of students travelling abroad for their trip; luckily my concerns of a noisy flight was soon put aside and I must admit, they are one of the best groups I have experienced travelling manners wise.
Legroom on this plane felt slightly more cramped; for some reason; and the IFE had the same films from the last month on it. This did not matter too much, as I planned to sleep as soon as the meal service was complete.
The Flight
Electronics were cleared for use very soon after taking off which mean't I was able to get a couple of photos during our climb.
Climbing
Crossing Lake Michigan
Less than one hour in a meal service was operational. The choice this evening was between a chicken curry like meal and braised beef. I chose the beef having eaten a lot of chicken in the past week; and I was not disappointed. The beef was tender and the gravy was balanced well along with the mash being quite creamy. Along with this there was a roll stale enough I could break the outer wall of the aircraft if I threw it; water crackers and a chocolate brownie for desert. A drinks service was offered at this time too; and I once again chose a Sierra Mist.
Dinner
After dinner was complete another drinks service was run and whilst I was not thirsty at that moment; based on my experience with drinks service on the previous flight; I once again chose to "stock up" on drink.
After this I managed to fall asleep on a plane for once; waking up with about an hour or so to go. Just in time for breakfast. On offer today was a croissant; jam and strawberry yoghurt. Along with this another drinks service was offered; though I chose a cranberry apple juice instead as I could not face any more Sierra Mist.
Breakfast
Trays were collected once again as we began our decent; and this flight we were treated to a scenic view of London and the south-east; before touching down at Heathrow earlier than expected.
We de-planed by stairs as the jet bridge was broken; thankfully this did not involve a bus and it provided a rare opportunity to disembark such a large plane by stairs.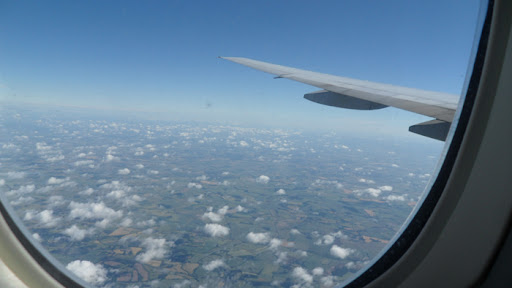 Somewhere over the South West
Inside the cabin
Thank you for travelling with AA!
Overall
This flight was not as enjoyable as the first. The food was better; however the crew were less friendly and were quite slow when it came to meal services. However, the plane was comfortable to sleep in overnight.
Conclusion
Whilst AA lack the "glamour" of Virgin Atlantic; and the AVOD system of their competitors; but they provide a good product with a good sized meal and of course they served my favourite – Pizza. If you get a good crew; the service is great however a bad crew can certainly change things around.
I would not have any issues travelling with AA on flights to destinations with flights that don't go past 9 hours or so (JFK, ORD, BOS etc.) – But I could not see myself wanting to travel with them beyond that in Economy.
Plus / Minus
+++ Food
++ Outbound Crew
++ Seat / Seat Pitch
- Too many drinks services at once
-- Inbound Crew
---IFE lacks
Thankyou for reading my trip report; I hope you enjoyed it. Please feel free to leave any questions and comments below!
My next trip shall be to ARN with BA in October.
Kev.