I had delayed the next few trip reports since a bunch of things had come up in life. I had enjoyed taking pictures and taking notes for these trips, but got a bit burnt out writing them. Now with time and new motivation, I'm back and hope y'all enjoy!
Background:
If you read some of my previous trip report, especially
Einsteigen Bitte Pt 3 - TXL-IAH
, you read that my friend and I had gotten $500 certificates to use on future CO flights for volunteering to get bumped off our originally scheduled TXL-EWR flight back in March 2007.
Fast forward to March 2008. I had already used my $500 certificate to do IAH-EWR-HKG-EWR-IAH in March 2008 followed by the EK HKG-BKK-HKG sector in J. My friend was not as interested in using his, so I told him I would use it since it would be a terrible waste. To at least use the entire value, i purchased a ticket too YYZ around Christmas time that would use up the entire value. I knew I wanted to go on an international trip, but did not want to really do YYZ, especially around Christmas time. Being the mile whore that I am, as well as having visited a bunch of amazing European cities, I wanted a change and continue going around Asia. China seemed interesting, especially with the upcoming Beijing Olympics. However, I was not sure if I would be able to get a visa in time despite the Chinese Consulate in Houston is not too far from me. Other than PEK and PVG, TLV, BOM, and DEL were interesting destinations to consider. Ultimately, I decided to go back to HKG, especially after tooling around on the CO website and discovering another great deal. So adding a few more dollars to my YYZ ticket, including the change fee, my ticket to HKG awaited for me during Thanksgiving 2008 with the hope of discovering more of Hong Kong.
Just a few weeks after I bought my HKG ticket, I received word of a family emergency in the Philippines, and felt it was my duty to represent all the relatives in the US who could not be there to help. The only possible, and nice way to do HKG-MNL is on CX, especially with the reasonable value in J. Also the CX flight connects better to CO flight rather than PR.
Trip Report:
Days before the flight I had done a bunch of shopping, especially with a bunch of chocolates bought the day after Halloweeen, as well as packing 2 big suitcases maxed to 70lbs since I could due to my CO Onepass Elite status.
Fast forward to 23Nov08, about 23h59min before my IAH-EWR flight, I was able to check in on line on the CO website for my flight to HKG. Since this was a while back, I do not remember if I checked on the CX website from home or while waiting for my EWR-HKG flight at the President's Club at EWR. With check-in complete, I had 5D the bulkhead seat on CO 52 IAH-EWR with my name on the waitlist for possible upgrade to F, while I comfortably had 16D, the bulkhead for CO 99 EWR-HKG.
Like most times I travel, I cannot sleep the night before. I get too excited and gitty with the thought of getting on a plane and jetting off to some exotic location, especially home to the Philippines! This time I would be going to EWR, then to HKG, and then finally back home to MNL!!!!! Also, I knew that if I did not sleep the night before my trip, I would be able to sleep on the way to HKG. While a handful of travelers, flight attendants, and pilots do EWR-HKG multiple times throughout the year, it just seems odd that the casual traveler would purposely choose to do the flight twice in one year, one of the longest flights in the world!
On the day of my flight, my parents dropped me off at Terminal E, which handles CO's international check in, around 05:45. CO has fitted out the check-in counters at E with check-in kiosks. A mix of CO staff and contractor service agents make their presence to help tag bags and get you on your way inside the terminal. I re-checked in for my flight and verified both bags were just a few pounds shy of 70lbs, each, just to be safe. The contractor agents wear a decent well-groomed looking uniform that differentiates them from the CO agents. One contractor agent had started to tag my suitcase when I informed her that I needed an agent to tags my bags all the way to MNL instead of just HKG. She asked me where HKG is and told her it is a part of China as well as I would be flying a 16+hr flight nonstop. She seemed impressed, while I just grinned. When the CO agent closest to me finally finished up with another customer, she came over and asked the problem. I told her that I would like my bags tagged all the way to MNL since I would be connecting to CX 905. With a smile and a "no problem, sir", I showed her my confirmed itinerary while she typed away to check my bags to MNL. With two tags correctly printed and priority tag affixed, she handed me a slip with my baggage receipts on them. Thanking her for the help, she wished me a good flight. With that, I made my way to security just a few steps away with no wait in front of me.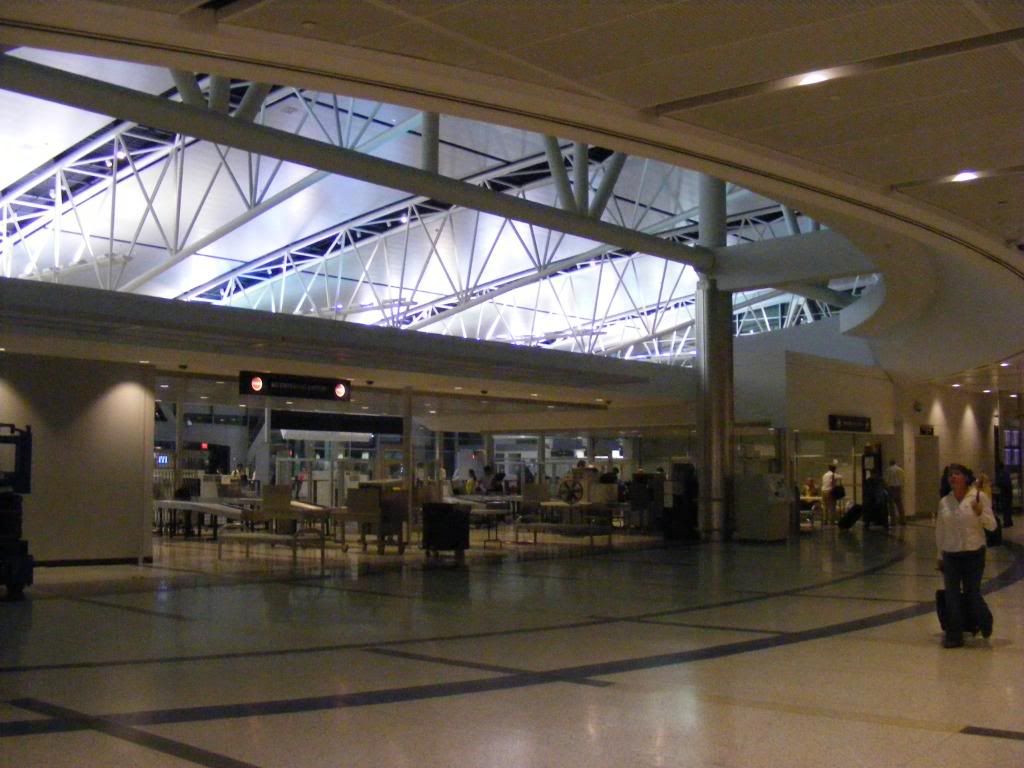 Post security at Terminal E.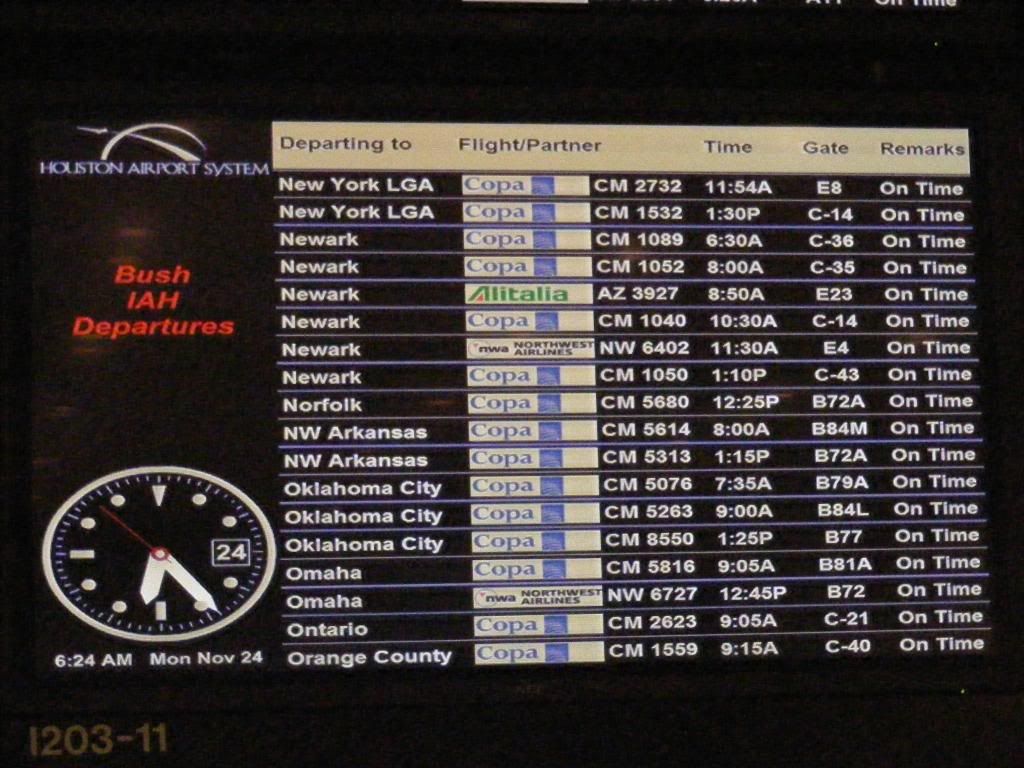 FIDS display with my EWR flight just after Terminal E security.
Once I completed security check by abiding by the usual TSA Simon-Says rules, it was time to venture around Terminal E as I made my way to Terminal C, where CO 52 would depart.
Outside view of Presidents Club while on the moving walkways. The floor above handles all arriving CO international flights that would take passengers to the FIS building that processes international arrival flights for both Terminal D and E.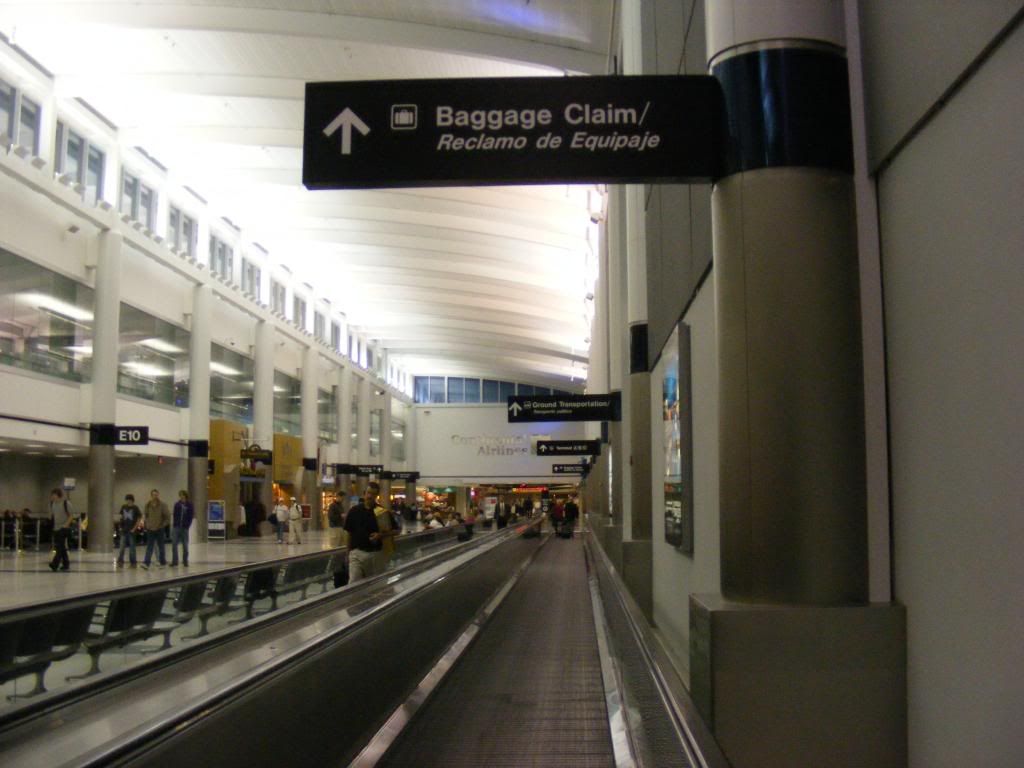 The long Terminal E hallway heading towards one of the food courts in the terminal as well as the connector to Terminal C.
Flight information for the World flight to LAD departing today.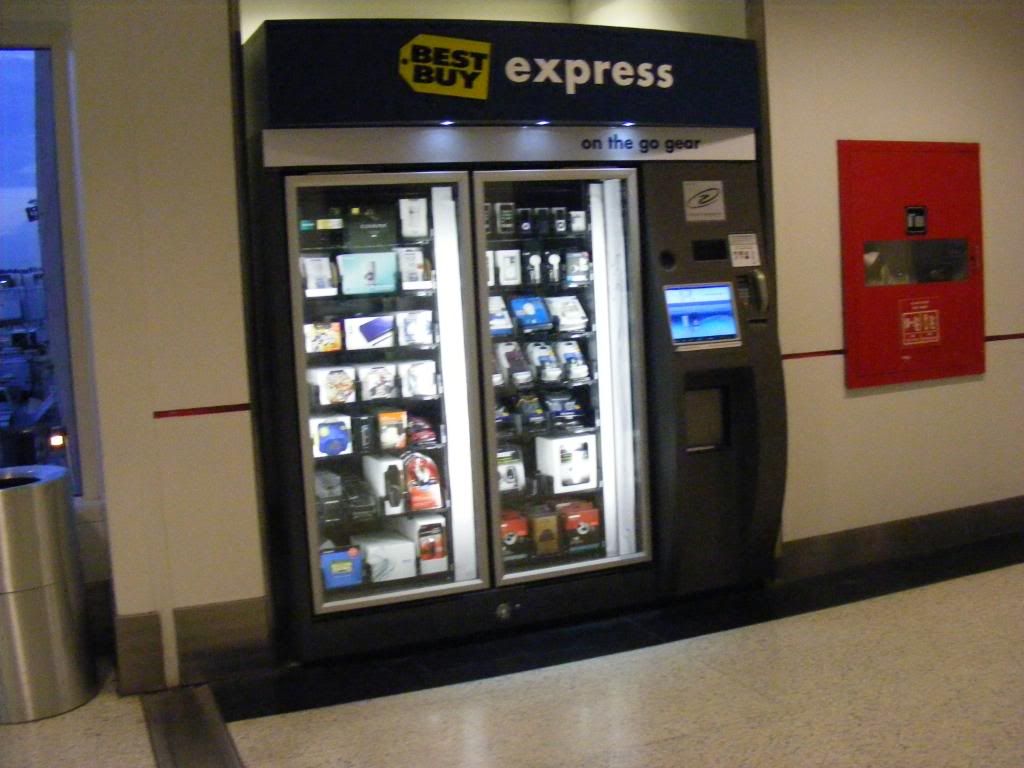 Best Buy Express ... I made sure I had all the necessary electronics for this trip! Did I forget to buy those noise-canceling headphones or want an iPod? I could just buy them from the Best Buy Express vending machine. Is my acne bothering me? I could just buy the infomercial favorite, Proactive Solutions!
Since my flight would depart from Terminal C South, I utilized the President's Club club in that part of the terminal. It had been a while since I used this lounge since my previous flights have departed from Terminal E. I purchased a day pass so I could utilize both this lounge and the one at EWR while I wait for my HKG flight. With the welcoming and payment taken care of, the ladies welcomed me in and even reprinted my boarding passes to the cardstock version. I walked around the relatively empty lounge and found a section of seats by the window to watch aircraft movements at IAH.
View of plane from PC Club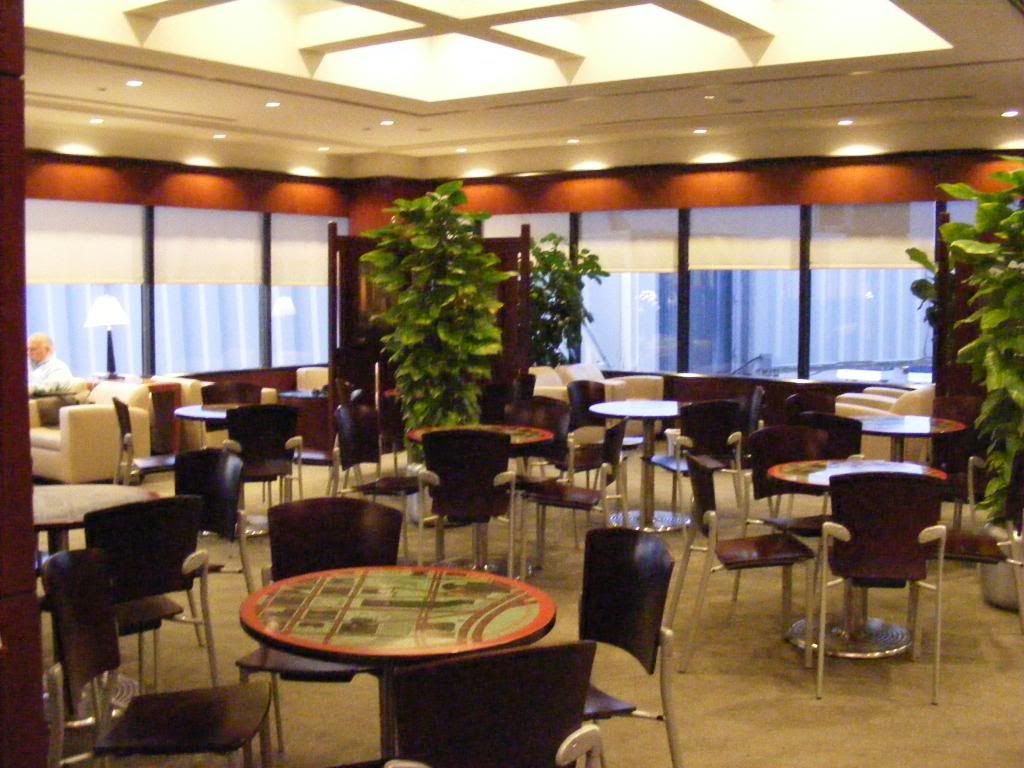 "Dining" area of PC Club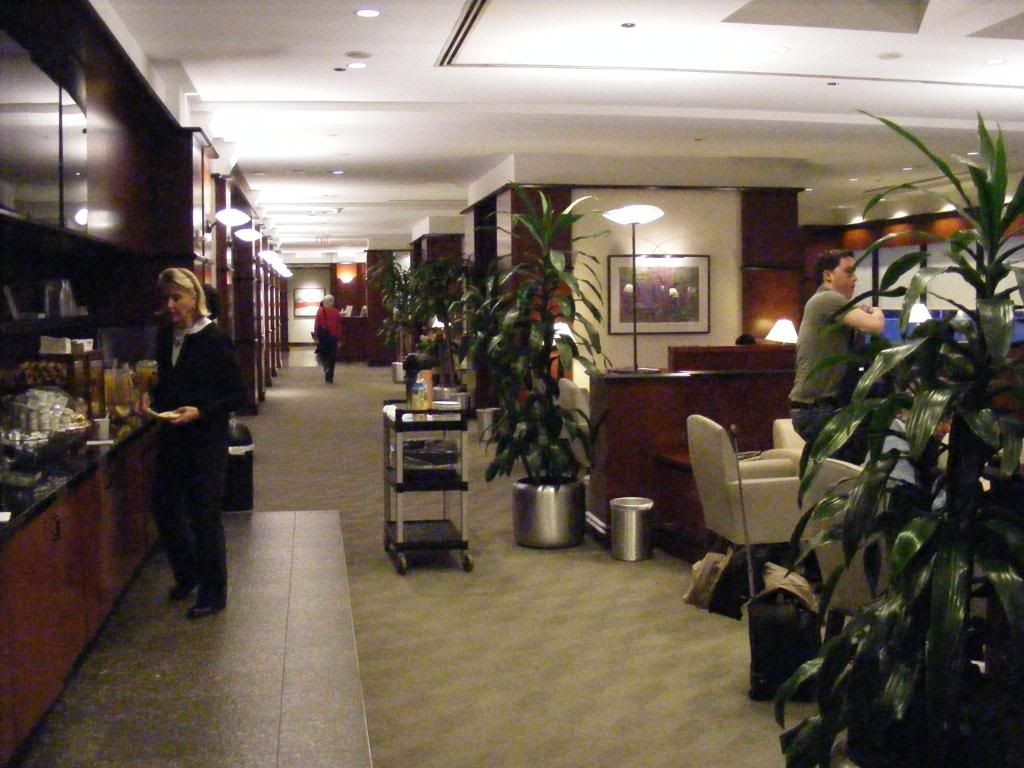 PC Club South Concourse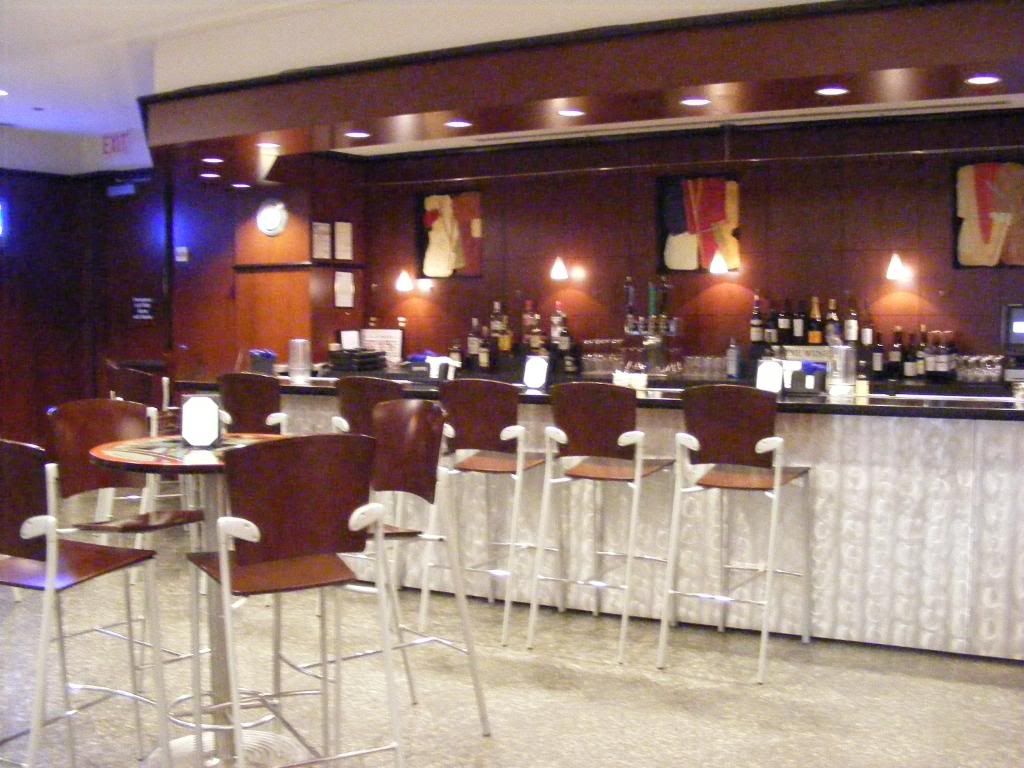 PC Bar Area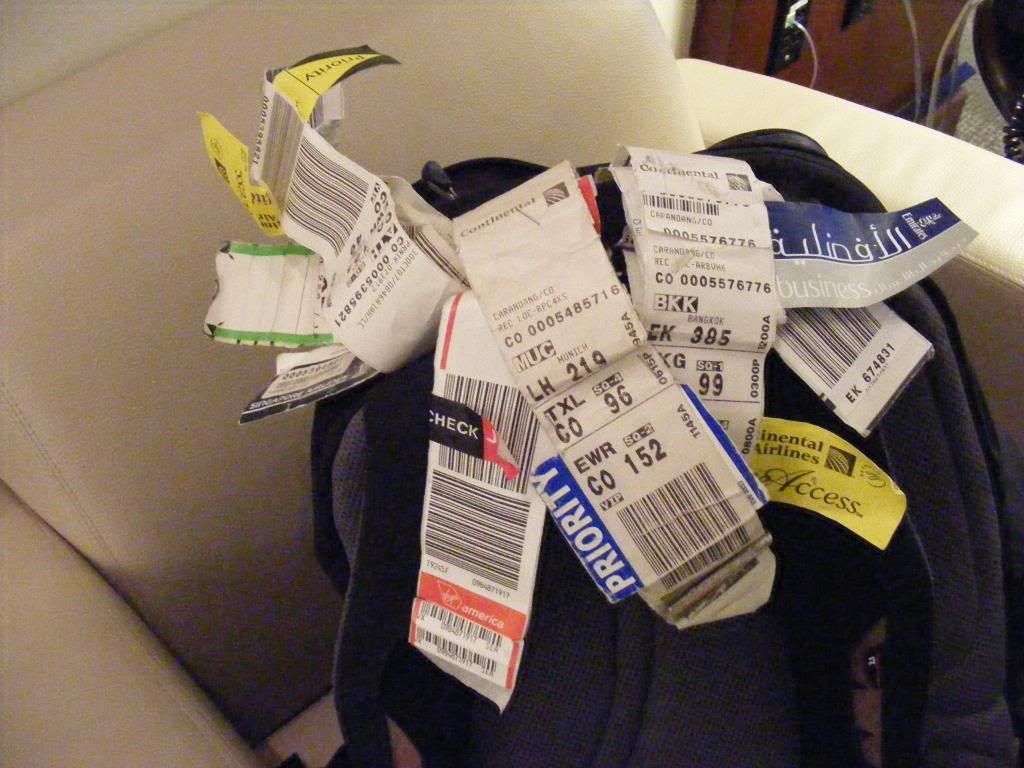 "The Brotherhood of Traveling Backpack" - If y'all a.netters read this and see this bag floating around in an airport, feel free to say hi!
At about 5min before the boarding time on printed on my boarding pass, I made my way to C35, my gate for CO 52 to EWR. I knew ahead of time, thanks to
CO Mobile
that my flight would be 100% full and I would just miss out for a battlefield upgrade. I was also not surprised that the flight was oversold and offering those willing to be bumped. The $350 offer was tempting, but I was told that the next flight to EWR was later in the afternoon, missing my connecting flight to HKG. Oh well, next time.
Calling for battlefield upgrades. As a gold, didn't get one on this flight.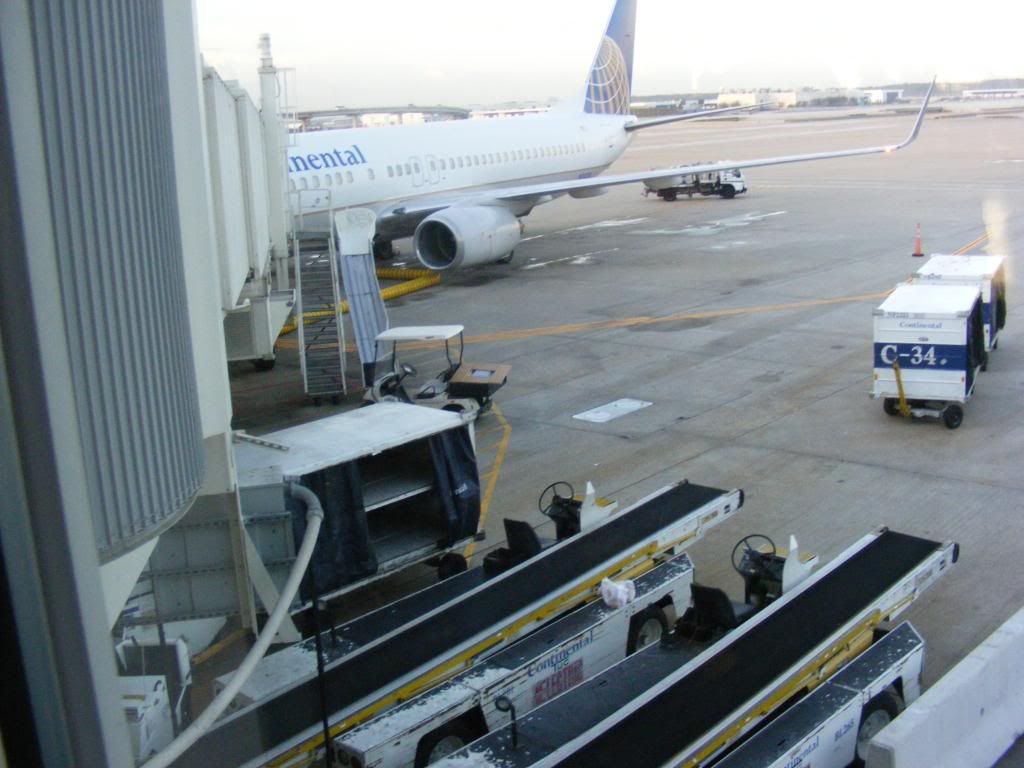 Plane awaiting departure of CO 52. I wish this flight was still a 762!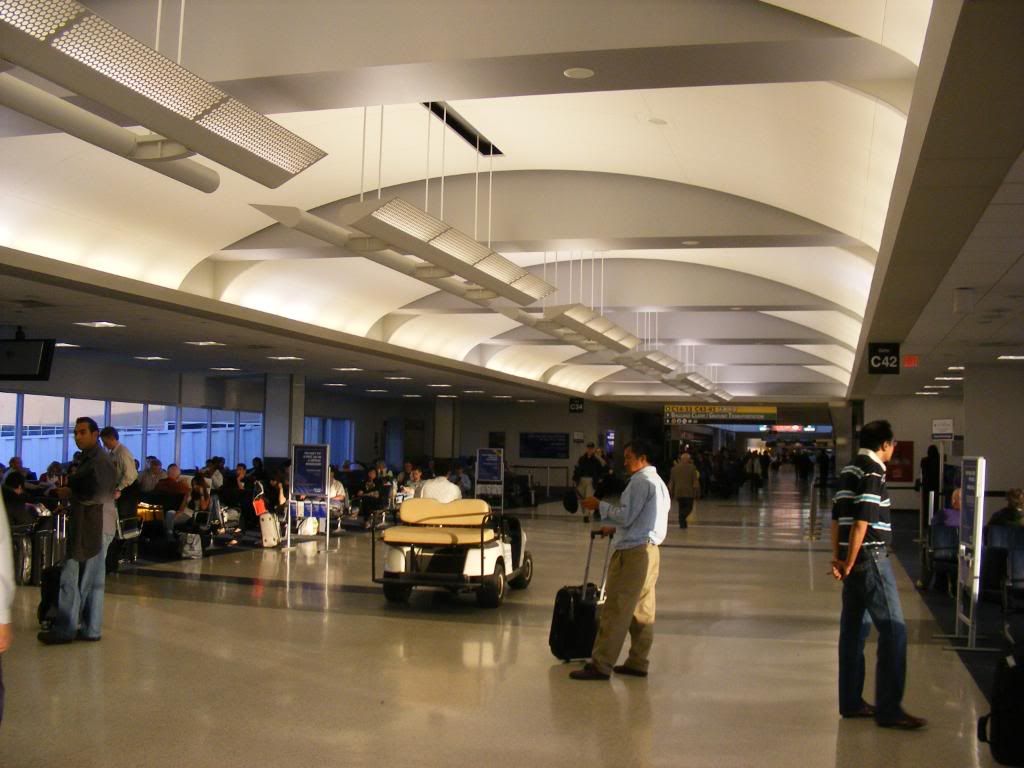 A rather quiet morning.
24 November 2008
CO 52
B737-800
Gate Departure: IAH C35
Departure Time (scheduled/actual): 08:00 / 08:05
Arrival Time (scheduled/actual): xx:xx / xx:xx
Gate Arrival: EWR C88
Seat: 6D
Registration: #n/a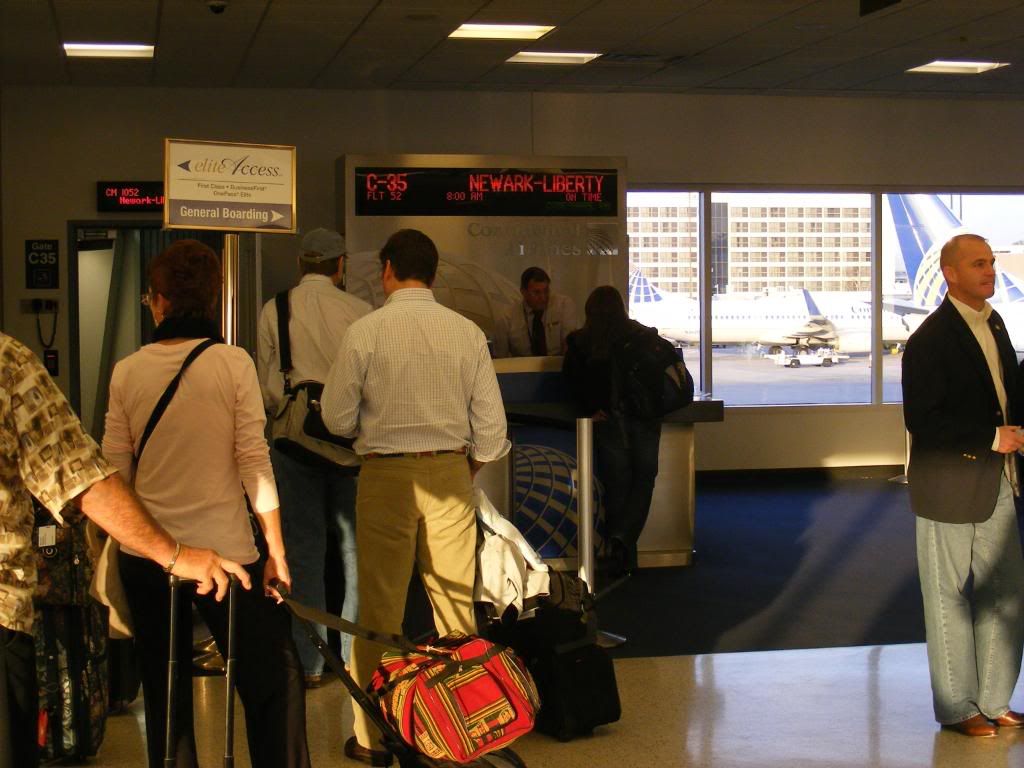 CO Elites getting ready to board.
At the printed boarding time, the gate agent called for pre-boarding for F followed by EliteAccess, and then SkyTeam Elite. I allowed the majority of F to board before queuing with other OnePass elites to get my boarding pass scanned and board the 738 to EWR. I had the bulkhead for this flight, so was not too bummed getting the upgrade, but I really wanted those cinnamon rolls offered on the breakfast service in F. I could only salivate at the sight and smell of those sweet, sticky pieces of crack!
Legroom at the bulkhead.
With everyone on board on time, we pushed back a few minutes early. prior to pushback, the Captain welcomed everyone on board. He came on again once airborne to welcome us all to the flight and gave us some details of our flight path. At this time, the effects of no sleep started its toll on my body and I did not wake up until i heard the FAs make their way with the carts in coach to offer the typical simple breakfast service.
F cabin from my seat after takeoff.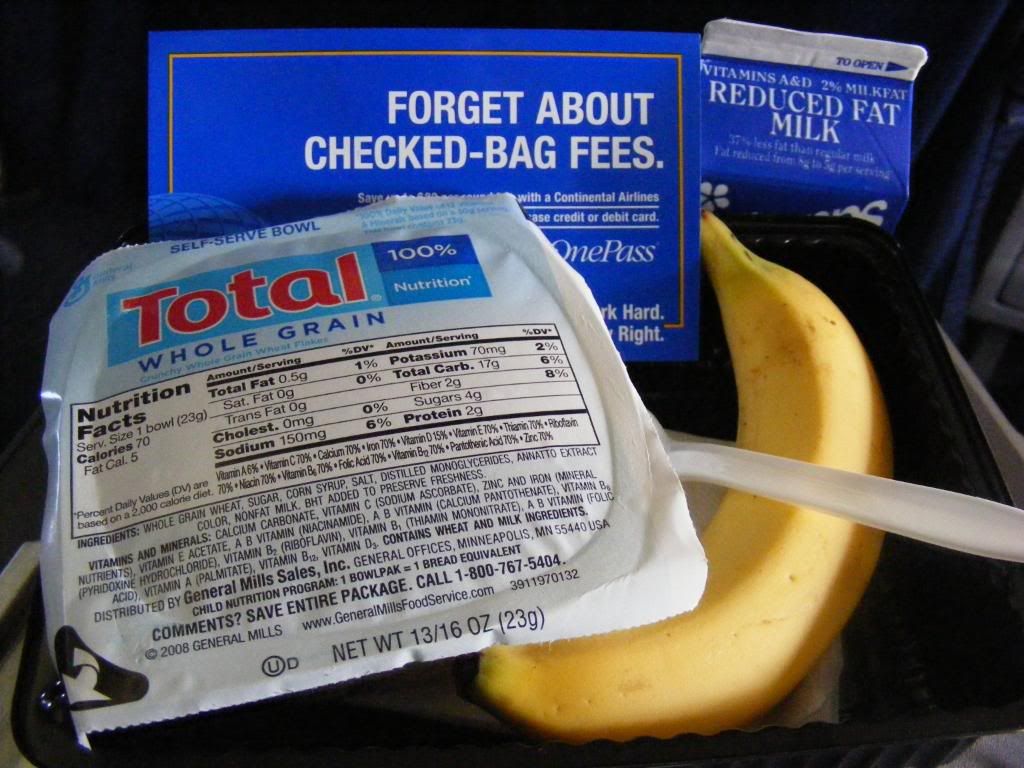 Breakfast in Y
After the FAs had collected the rubbish from the breakfast service, people began to relax for the flight up to EWR. The FAs did do periodic water runs and would go back to the galley if people requested other beverages.
I decided to go stretch my legs a bit and headed to the black of the plane and the lavatories with camera in hand.
Y cabin pic. 100%
I do not remember the movie shown for this flight, but do know it was not the flight advertised on the CO magazine. I would briefly watch it but not listen to it. Instead I used my iPhone on airplane mode since I had a couple of movies and favorite music playlists downloaded on it.