Feedback always appreciated.
*** TRIP REPORT 100 ***
I > Background:
It is trip report #100 … so something special … a review of Air Koryo's service from PEK to FNJ.
A few of us had qualified on a special approved "technical exchange" that would help DPRK and her airline industry. I had always wanted to go to the "other" Korea and this would be a fantastic opportunity to spend a week in the mysterious country. The visa was to be picked up from their Embassy in Beijing and a group of us were allocated a "special" flight to take us there.
I believe this would be the second report on Air Koryo, and the first featuring their TU-154M.
II > Pre-Flight:
a) Before Airport:
Air Koryo is the state-owned national flag carrier airline of North Korea, headquartered in Pyongyang. It operates international services and charter flights to points in Asia and Africa.
This is Air Koryo – so there really is no opportunity to buy an online ticket. In fact, I was surprised that the ticket given to us were e-tickets. Of course, there is no one to call for a seat assignment; no online viewing of itineraries (they are one of the few "flag" carriers with no website); of course no online check-in or anything that we take so granted these days.
b) At Airport:
Unlike most carriers who use the Norman Foster designed T3 @ PEK, Air Koryo uses T1. So swap the beautiful terminal filled with white people with a functional basic building with people who look as diverse as China's increasingly fascinating foreign policy. There are the few white people taking KL to AMS … but other than that, tons of flights to the "Stans" and those random other routes.
Air Koryo outsources the check-in process to a ground handling company and I was shocked ("disappointed"?) when she seamlessly issued me my boarding passes and tagged me to FNJ. Besides the IATA demarcation, there was nothing that seemed out of the ordinary. Both security and passport control were a breeze, and I was soon exploring the weird terminal filled with shops that belonged in a Communist era China. With Facebook and Youtube banned (seriously China, let go!), I didn't really want to hang out at the lounge which I had access to thanks to Priority Pass.
Boarding was called a few minutes earlier and one could feel the anticipation of those of us making the trek. We knew we were special – we were al going to embark on a journey that was different than anywhere we had gone before. There were lots of picture taking of the TU5 and each of us cursed the silly boarding gate for the obstructed view. Walking down the boarding gate, it hit me … I was going to DPRK … the "axis of evil" country that was an international pariah. A sense of anticipation crept within and for a traveler who takes flying as second nature, it was an amazing feeling. Within seconds, my blessed life flashed through me and I realized that I was a lucky guy. Amazing how at random moments you become grateful for what you have … I suddenly had this huge grin thinking of why I travel, and what a great industry this is. As I entered the aircraft, I was immediately swept to another era. I had entered a "coach" bus with an interior that was reminiscent of 1960s/1970s train. There were big chairs in JCL and the entire setting was something from a movie. To get to YCL, I passed through the galley with its metal tea pots and taps … it looked more like a galley of a train, than on a plane.
At entering, there was 2 North Korean flight attendants welcoming us … they say "Welcome" in Korean in extremely organized manner … but there was a wall and everything seemed significantly detached.
Y load was around 90% as I later learned the flight had our group and a bunch of tourists … who I am sure was equally anticipatory of the trip!
>Airport - External:
(Beijing Airport, T1)
*
Check-in: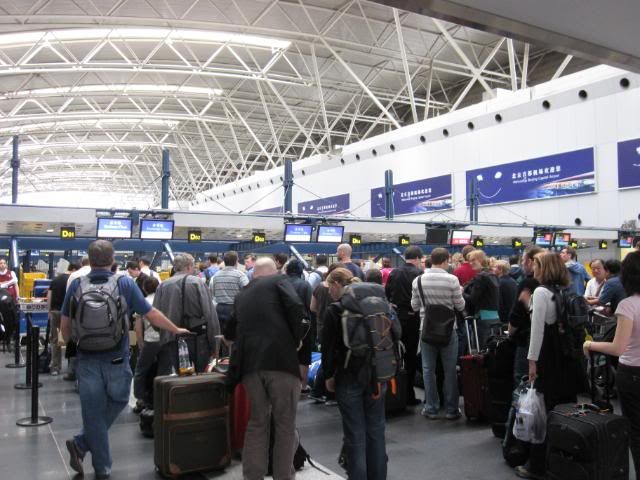 Airport - Internal:
(FIDS)
(Post Security @ FNJ)
*
Scenes of the tarmac:
(Flight to the "other" Korea)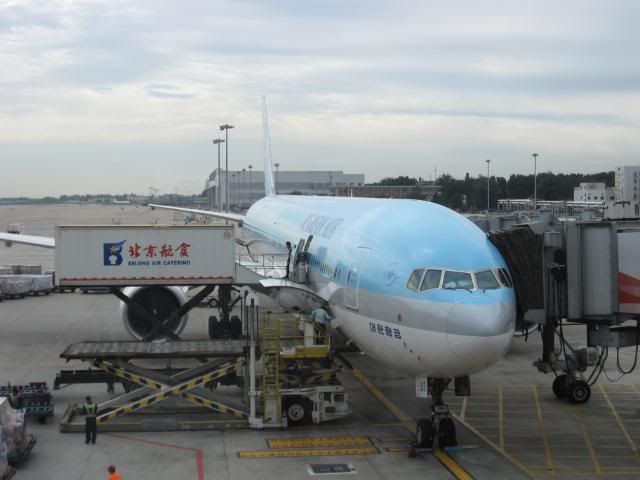 Lounge
NONE
Boarding:
(Yes, we are going to Pyongyang!)
(Boarding gate area)
III> In-Flight:
a) Service Schedule + Impressions:
After take-off, there was a full meal service followed by tea and café. During the entire service, Korean propaganda music was played … it was sort of eerie and I felt like I was going to be doctrinated by some member of the Dharma Initiative.
b) Aircraft + Seats:
Air Koryo's TU5 belongs to a different era. The first thing you notice is the open racks reminiscent of jetliners from the 1960s. It felt like a B707/B720 inside more than any other airliner. The entire aircraft was very well maintained and clean. While the lighting made the bathroom look antique, it was kept super clean during the entire length of the flight.
The seat itself was like any other YCL seat. The clothed seat was very comfortable and provided more recline than you would get in many US JCL seats. It was certainly more comfortable than sitting in a Euro JCL seat. Legroom was adequate for a flight of this length.
Aircraft:
(TU5 @ PEK)
*
Views from Aircraft:
(I wonder what each of the captains think looking at the other)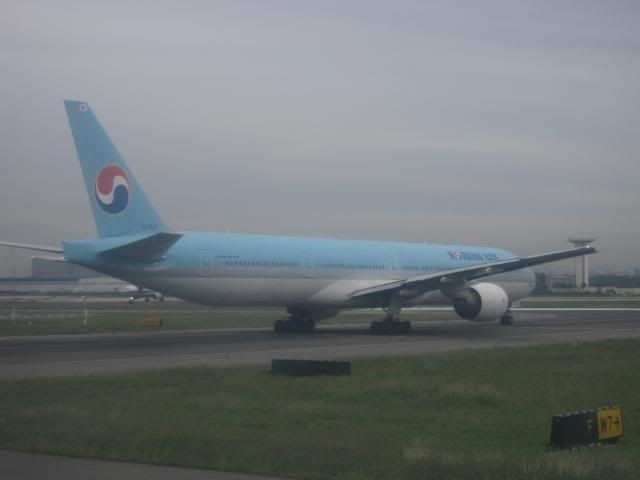 *
*
General Seat Views + Seat Legroom
(Seat controls)
(Legroom)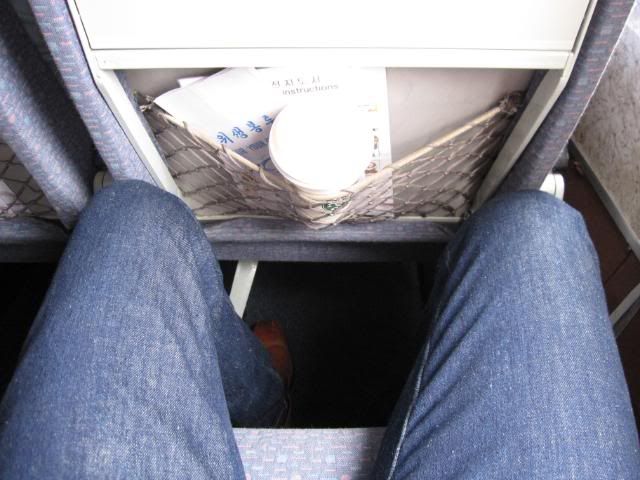 *
(Blanket)
NONE
Seat Recline + Angle View:
(Very generous recline: this will be the ONLY report where I blurry some of the passengers due to heightened sensitivities)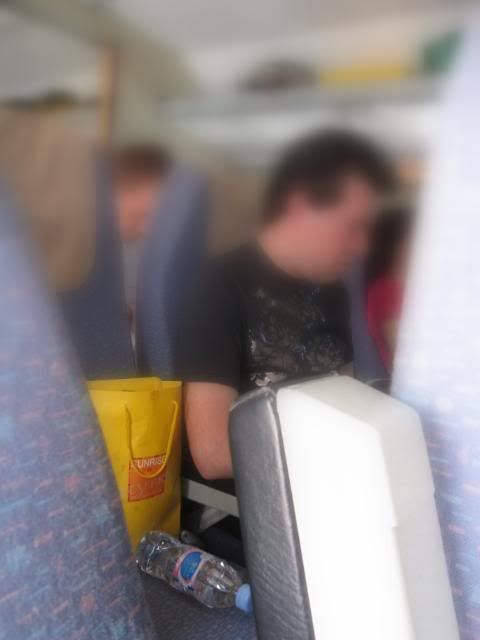 *
Cabin: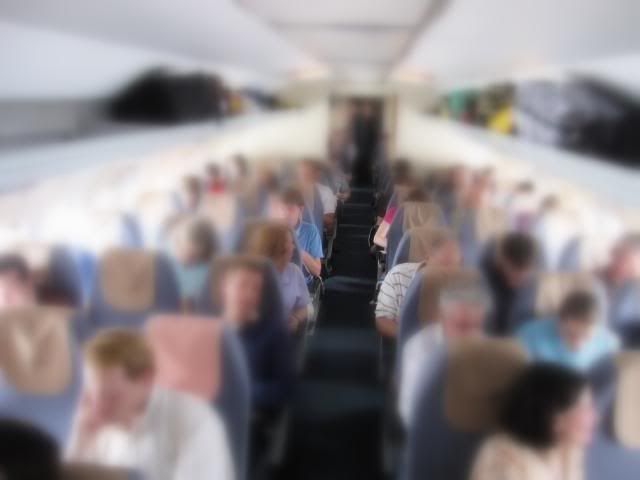 *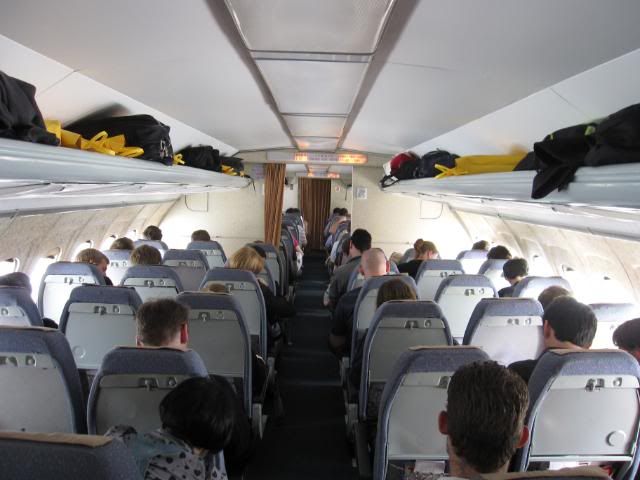 *
(Is this a plane?)
*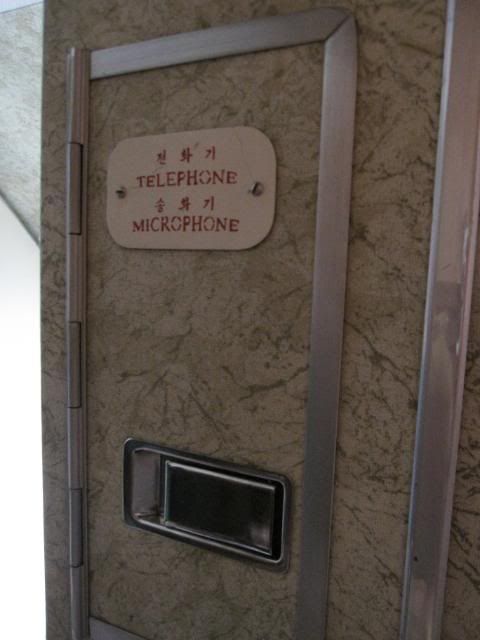 *
*
*
*
*
*
(Bathroom Amenities)
*
*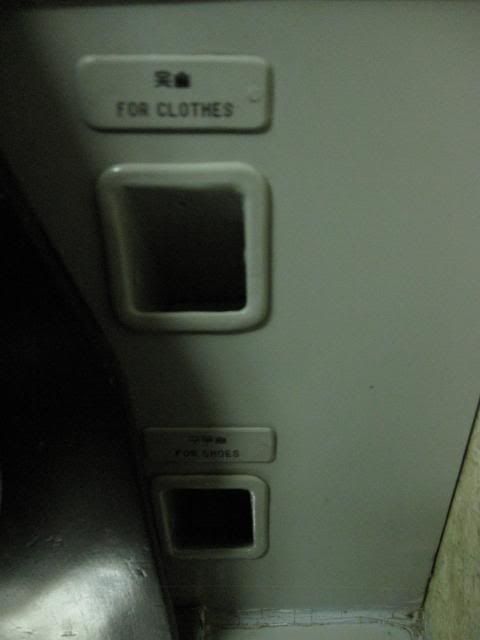 c) Meal + Beverage:
I was keenly waiting for lunch wondering what is served on Air Koryo … and boy, was I not disappointed! It was actually quite a great meal, and better food than I have encountered on many international long-haul JCL's. I am almost convinced of sending Lufthansa this meal to remind them that the portions they serve are good for children.
There was wonderful kimchi, a rice-filled dumpling kind of thing, a fruit medley, an unmemorable sponge cake, and a very filling and tasty chicken curry with rice. More importantly, the chicken curry was huge in quantity. The picture may not do justice, but the container was sort of what you'd find in a Chinese take-out in terms of portion. All together, just excellent!
The meal was rounded with North Korean beer (several runs), and finally tea/café. All in all, a very fulfilling affair.
(Lunch)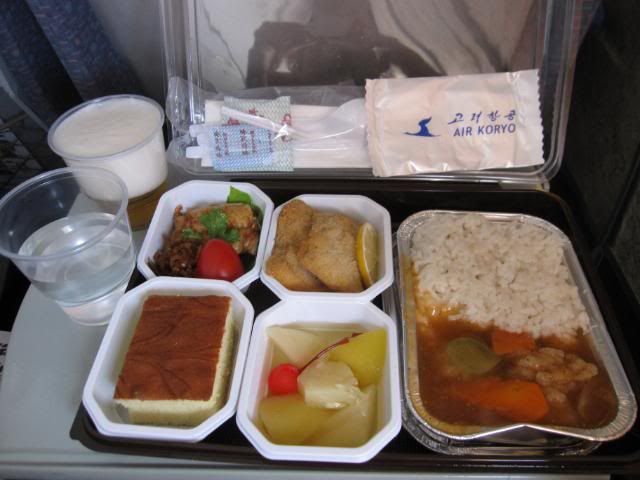 d) Inflight Entertainment:
Air Koryo has no ICE … but, somehow the IFE was the flight itself. Observing other passengers, talking to them, observing the crew, and watching the dramatic change in landscape as the flight crossed into DPRK was just exhilarating. The crew does come through with copies of the Pyongyang Times and the DPRK official magazine … both providing fascinating insight into the kind of discussion one would have in the country.
(Distributed magazines)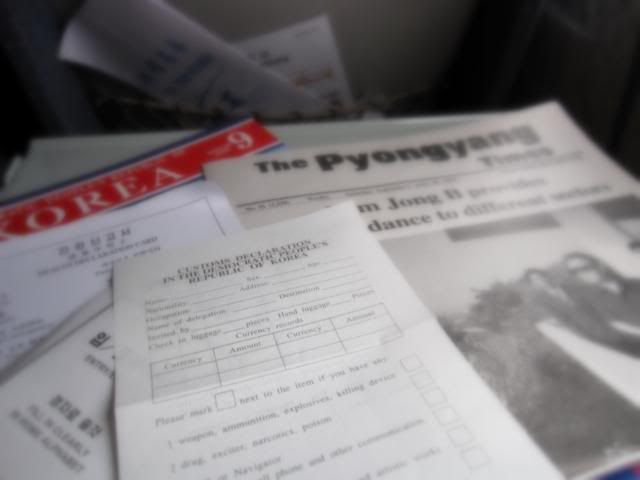 ("In-flight magazines", Boarding Passes, etc.)
(Fan given to everyone on board; boarding pass from return leg)
e) Crew:
Well, the Air Koryo crew was not really the definition of charming … but I am not sure they could be. Being DPRK, I am sure they were being watched and their performance monitored. Like an act in the Mass Games, they were extremely coordinated and the entire service was orchestrated to perfection. There were unison in welcoming and smiling … but too much of it felt like a show. However, to their credit, they efficiently moved around the cabin, did water runs, and promptly responded to any call button requests. Finally, they were extremely patient with customers who all took a zillion pictures on board. So, in short, better than many other crew members elsewhere!
IV> Post-Flight:
Arrival in Pyongyang was memorable as the plane touches down on a runway far away from the terminal building and then taxis in. As you do that, you pass a bunch of "exotic" animals such as the IL-18 and the IL-62. You then watch the terminal with "Dear Leader" and the "Great Leader" welcome you and remind you (just in case you had any doubt) that you have officially entered the country. At arrivals, your laptop and your mobile phone is confiscated ... and you then begin your journey of the Hermit Kingdom.
(FNJ)
(Arrival)
*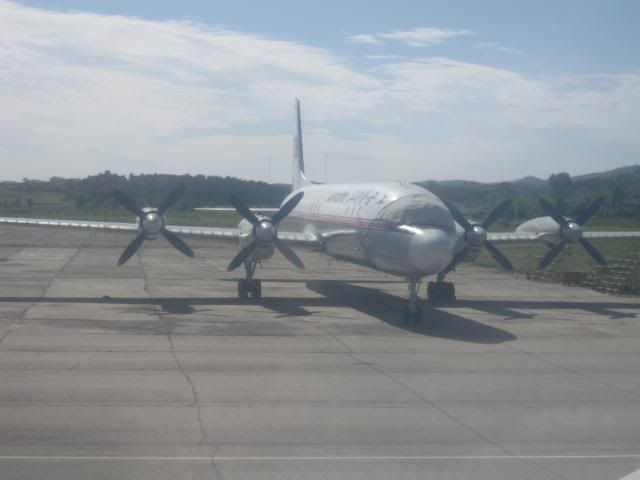 *
*
*
*
*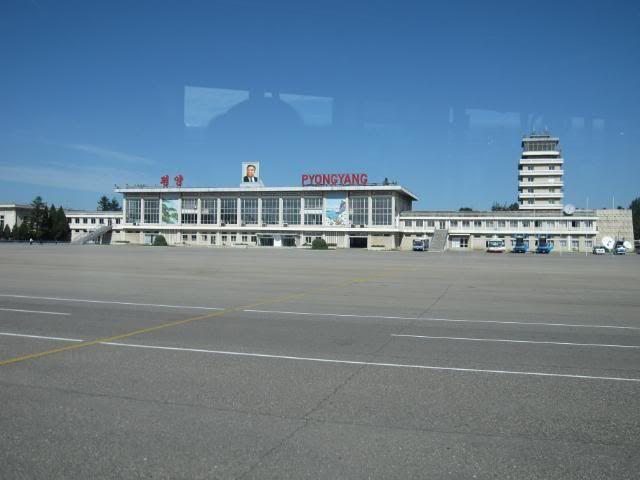 V> Impressions + Scores:
I did not fly on Air Koryo to sample their services. However, I was actually pleasantly surprised by some of it. While they are not going to win any awards anytime soon, I thought some of their soft product (ex: food) was excellent for YCL. While the hardware left much to be desired, it was part of the surreal fun. Given their unique "operational" basis, I thought the crew pulled it off well too.
Air Koryo is more than an airline. To fly it is to be part of an incredible journey into a country that few venture into. Given the chance (which is rare), I'd do it again. A thump up because they actually demonstrated that getting the basics right (food, basic courteous service) is not rocket science.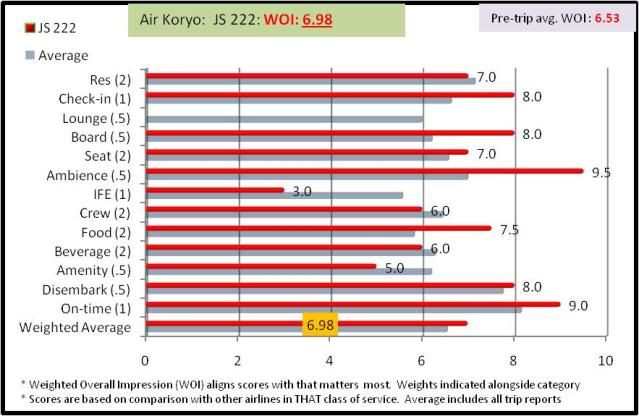 VI> Other Trip Reports:
PREMIUM:
8.66:
Brussels Airlines (93): FIH-BRU: 01/2010
8.64:
Turkish Airlines (59): JFK-IST: 11/2008
8.63:
Jet Airways (88): JFK-BRU: 10/2009
8.61:
Air Canada (49): YYZ-SCL: 06/2008
8.54:
Turkish Airlines (77): GRU-DKR-IST: 04/2009
8.36:
Kingfisher (98): BOM-HKG: 01/2010
8.30:
Jet Airways (74): KWI-BOM: 04/2009
8.23:
United Airlines (72): SFO-SYD: 03/2009
8.11:
Aeroflot (33): MOW-DEL: 09/2007
8.05:
Air India (80): CCU-JFK: 06/2009
8.04:
Korean Air (40): NRT-ICN: 10/2007
8.02:
Delta Airlines (24): JFK-CDG: 08/2007
7.64:
Royal Jordanian (91): AMM-YUL: 12/2009
7.46:
LAN (55): YYZ-JFK: 09/2008
7.82:
Singapore Airlines (06): EWR-SIN: 09/2006
7.25:
Iran Air (88): BOM-IKA: 12/2009
7.23:
Virgin Atlantic (81): BOS-LHR: 07/2009
7.14:
Swiss (52): SCL-GRU: 06/2008
7.11:
Austrian (79): VIE-JFK: 06/2009
7.07:
Privatair (84): BOM-FRA: 08/2009
7.02:
Qatar (68): DOH-JFK: 01/2009
6.96:
Etihad (61): JFK-AUH: 12/2008
6.93:
Delta Airlines (18): SEA-JFK: 11/2006
6.84:
ConViasa (65): CCS-DAM: 01/2009
6.81:
Air Canada (17): ICN-YYZ: 10/2006
6.70:
KLM (32): EBB-AMS: 08/2007
6.52:
Emirates (99): LHR-DXB: 02/2010
6.39:
South African (97): EZE-JNB: 01/2010
6.36:
Privatair (60): MUC-BOS: 12/2008
6.29:
TAM Brasil (96): POA-EZE: 02/2010
6.25:
Korean Air (45): NAN-ICN: 10/2007
6.21:
Iberia (87): BOS-MAD: 10/2009
6.11:
TAP Portugal (53): GRU-OPO: 06/2008
6.00:
Gulf Air (75): BOM-BAH: 04/2009
5.88:
African Express (89): DXB-NBO: 11/2009
5.75:
Singapore Airlines (16): CCU-SIN: 10/2006
5.64:
NorthWest (46): ICN-NRT-SEA: 10/2007
5.54:
Ethiopian Airlines (95): ADD-BOM: 01/2010
5.46:
Icelandair (83): KEF-BOS: 08/2009
5.39:
LOT (54): WAW-JFK: 06/2008
5.21:
Egypt Air (73): CAI-IST: 02/2009
5.07:
TACA (66): JFK-SAP: 01/2009
4.42:
Air France: CDG-JNB (25): 08/2007
ECONOMY: Long + Medium:
9.26:
Air India (48): JFK-DEL: 02/2008
7.38:
Avianca (01): BOG-LIM: 07/2006
7.07:
Sri Lankan (62): KWI-CMB: 12/2008
7.00:
LAN (94): IPC-SCL: 01/2010
6.41:
Avianca (78): JFK-BOG: 05/2009
6.41:
American Airlines (58): LHR-BOS: 11/2008
6.39:
Condor (85): SEZ-FRA: 09/2009
6.26:
Jet Blue (21): CUN-JFK: 02/2007
6.06:
Air Canada (04): YYZ-YVR: 09/2006
5.89:
USA 3000 (19): PUJ-BDL: 01/2007
5.85:
Spanair (69): MAD-LPA: 02/2009
5.79:
Air New Zealand (42): RAR-NAN: 10/2007
5.52:
Aerolineas (86): USH-AEP: 10/2009
5.46:
TAP Air Portugal (23): OSL-LIS: 05/2007
5.19:
Air Europa (70): LPA-MAD: 02/2009
5.16:
Iberia (71): MAD-BOS: 02/2009
5.11:
Air China (82): FRA-PEK: 08/2009
ECONOMY: Short
8.56:
Paramount Airways (38): BLR-MAA: 09/2007
8.56:
Kingfisher (64): HYD-CCU: 12/2008
8.24:
Kingfisher (14): IXA-GAU: 10/2006
7.87:
Indian (34): BOM-MAA: 09/2007
7.72:
Alliance Air (13): CCU-IXA: 10/2006
7.57:
Indian Airlines (10): DEL-CCU: 09/2006
7.23:
West Jet (03): YYC-YVR: 09/2006
7.15:
JetLite (37): BOM-GOI: 09/2007
6.98: Air Koryo (100): PEK-FNJ: 04/2010
6.70:
Spice Jet (09): CCU-DEL: 09/2006
6.63:
Air Fiji (44): NAN-SUV: 10/2007
6.63:
Jazeera (67): DAM-KWI: 01/2009
6.58:
Air Tran (02): EWR-MDW: 08/2006
6.48:
Air India Express (63): CMB-MAA: 12/2008
6.44:
CO Micronesia (39): ROR-YAP: 10/2007
6.41:
Pacific Sun (43): NAN-SUV: 10/2007
6.37:
Skybus (47): SWF-CMH: 02/2008
6.33:
Kenya Airways (29): NBO-BJM: 08/2007
6.33:
Sky Europe (56): LTN-BTS: 10/2008
6.31:
Indigo (15): GAU-CCU: 10/2006
6.31:
easyJet (57): BUD-LTN: 11/2008
6.22:
Air Link Swazi (28): MTS-JNB: 08/2007
6.22:
Air India (36): HYD-BOM: 09/2007
6.13:
Adam Air (07): SIN-CGK: 09/2006
6.13:
Air Rarotonga (41): RAR-AIT: 10/2007
6.00:
Transairways (27): INH-MPM: 08/2007
5.95:
Air Canada (05): ALB-YYZ: 09/2006
5.85:
SAS Norge (22): OSL-AES: 05/2007
5.81:
LAM Mozambique (26): JNB-MPM: 08/2007
5.69:
Air Deccan (12): IXZ-CCU: 10/2006
5.67:
Rwanda Air Exp (30): KGL-NBO: 08/2007
5.37:
Felix Airways (92): SCT-SAH: 12/2009
5.11:
Aero Republica (76): BOG-CCS: 04/2009
5.07:
Go Air (35): MAA-HYD: 09/2007
5.00:
Sky Airline (51): IQQ-SCL: 06/2008
4.96:
Valuair (08): CGK-SIN: 09/2006
4.78:
Air Comet Chile (50): SCL-IQQ: 06/2008
4.74:
Fly 540 (31): MYD-LAU: 08/2007
4.33:
Viva Aerobus (20): ELP-MTY: 02/2007
4.11:
Air Sahara (11): CCU-BOM: 09/2006
(Note on Codes: Y – Economy, J – Business, F – First :: I/D – International/Domestic :: SR/MR/LR – Short/Medium/Long Haul)
(Note on Date: Dates are modified to be +/- 3 days from actual flight date to not reveal actual flight pattern)
VII> Other Pictures:
(Air Koryo Video)
(Some pictures of DPRK)
*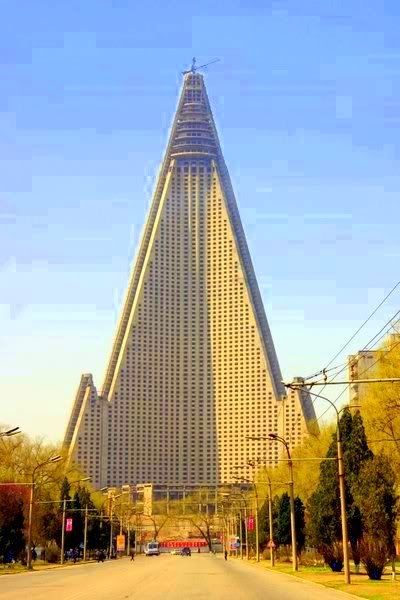 *
*
*
*
*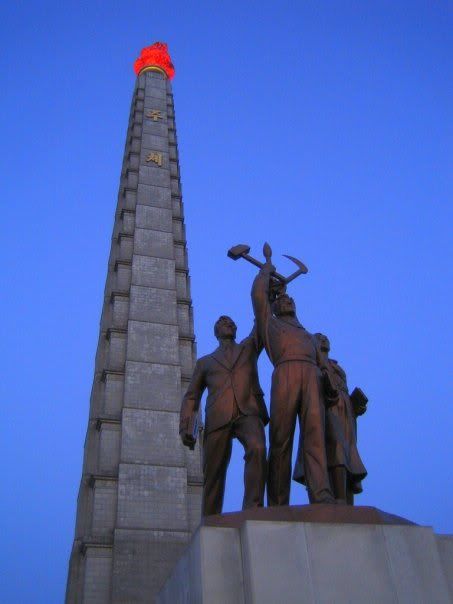 *
*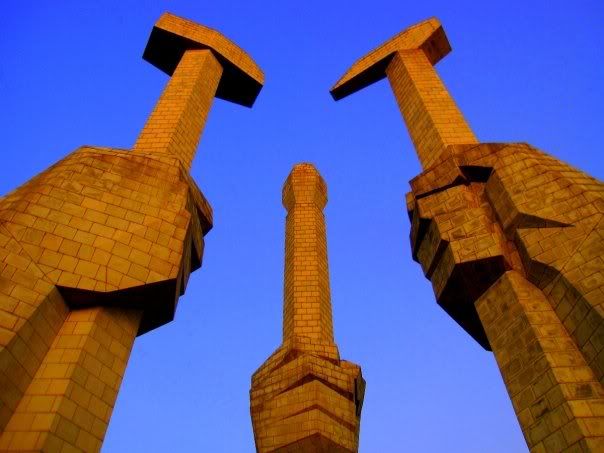 *