BA on strike or my first time at LGW
Hello, dear readers,
my first time at LGW, is this really true?.
Definitely with all other London airports and some more in the log, this will be my first flight out of LGW today. But not without any hassles thanx to BA.
Some very few hours at home, after arrival from Bosnia
Bosnia/Sarajevo On Croatia Airlines
(by
FLIEGER67
Jul 2 2010 in Trip Reports)
I´am ready, really?. Ok, let me say, I´am at least on the way to catch the last 4 of 20 legs around these heavy travel week.
Well, the nice guys at BA.
"Individual calls will be not responded, we contact every passenger prior to the booked flights".
So far, so good, but with my personal travel experience, I will go and check other options around one week prior to my flight. BA announces clearly on it´s website that my date is one of the strike dates.
What about an exotic sublease, EuroAtlantic, Titan, Astraeus, Jet2?.
I´am holding some miles on my frequent flyer account´s for such cases.
A nice surprise that Flying Blue shows a 10000 miles special offer for my date STR-AMS-LHR,
arrival is sometimes later than on the direct BA service originally done, but it seems possible.
It is also ok with FB award tickets to cancel it on short notice and restore the miles on you´re account. I fix it within seconds.
Well, we know, the nice guys at BA, no call or contact at all and while checking the website
at Thursday and Friday night my booking is completely gone, the reservation code is not longer accepted. The money is back on my credit card account some two weeks later.
So, my cellphone calls me at Sunday morning 4.15 am not for BA´s service at 07.00 am,
no it is KL to fill the gap today.
Sunday, 30.05.2010
.
.
.
.
Service KLM KL 1866 operated by KLM Cityhopper
Scheduled: 06.55 // 08.20
At the airport at around 6.15 am, ten minutes prior to boarding.
No time to wait at security, rain here with 11 degrees.
OLCI works perfect for me at KL´s website, seat 16A, the right location between the wing and the engine on the Fokker 70, two for me here again.
Tax for the flight to AMS is some 40,00 Euro´s.
The plane is at the gate, nightstop at STR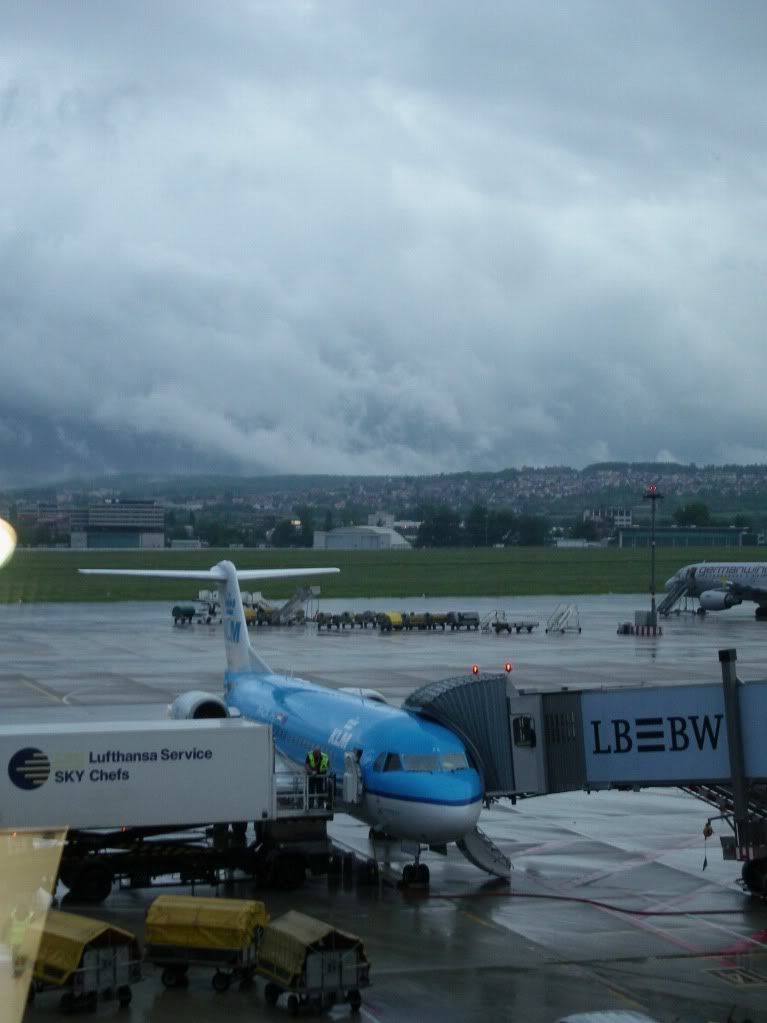 No sign of a delay close to boarding for my flight from gate 316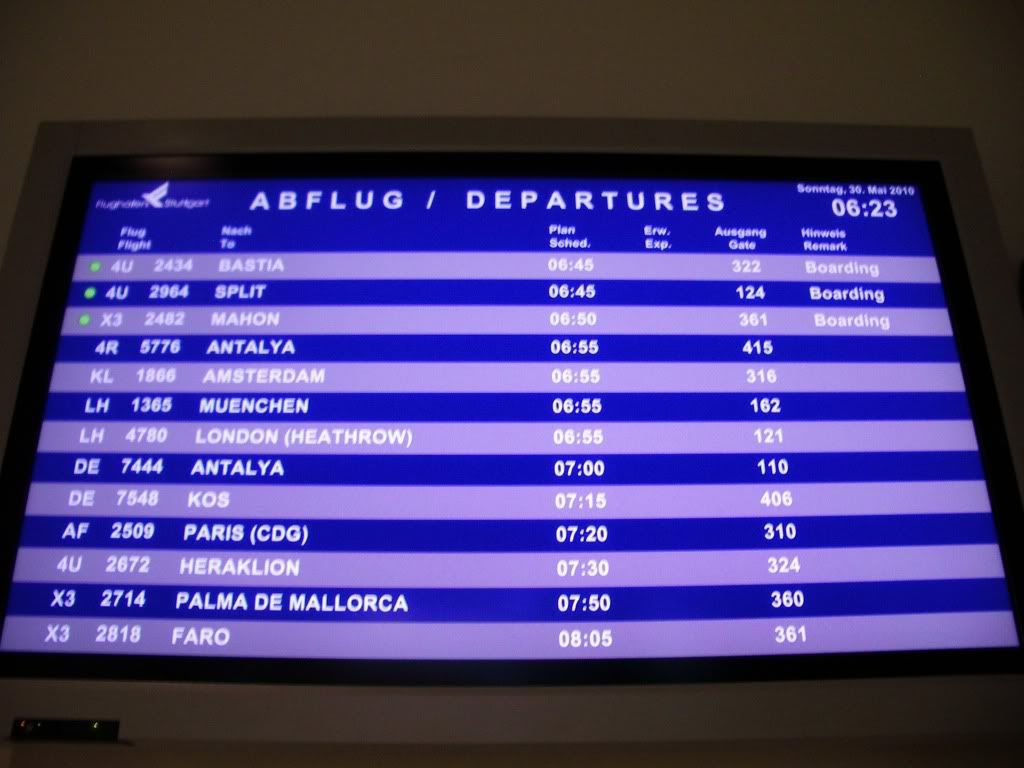 Boarding start´s seconds after my picture, well ontime.
This is the scheduled Fokker 70 here, PH-KZA, spend it´s whole life with Cityhopper, delivery date 07.02.1996, one of 26 in the fleet.
Leg no. 7 for me on type and a new registration.
One male, one female in the cabin. A super friendly welcome here.
Germany wins the European song contest during the night and it seems the staff watches the show.
Me as the last pax to board, been at the planes door when the male purser welcomes us with
nice congrats to the winner´s country and want to show us her name.
And the winner is, the winner is Lena, but what the heck is her full name?.
I´am also not sure, but another female pax helps out and so he´s greeting us with the full name and also the title of the song,
Satellite.
Really nice.
The cabin fitted with the comfortable oldfashioned fabric seats, well used, but clean.
The legroom is ok and it is very noisy, it seems more than on my last flight on this type.
The load is some 80%.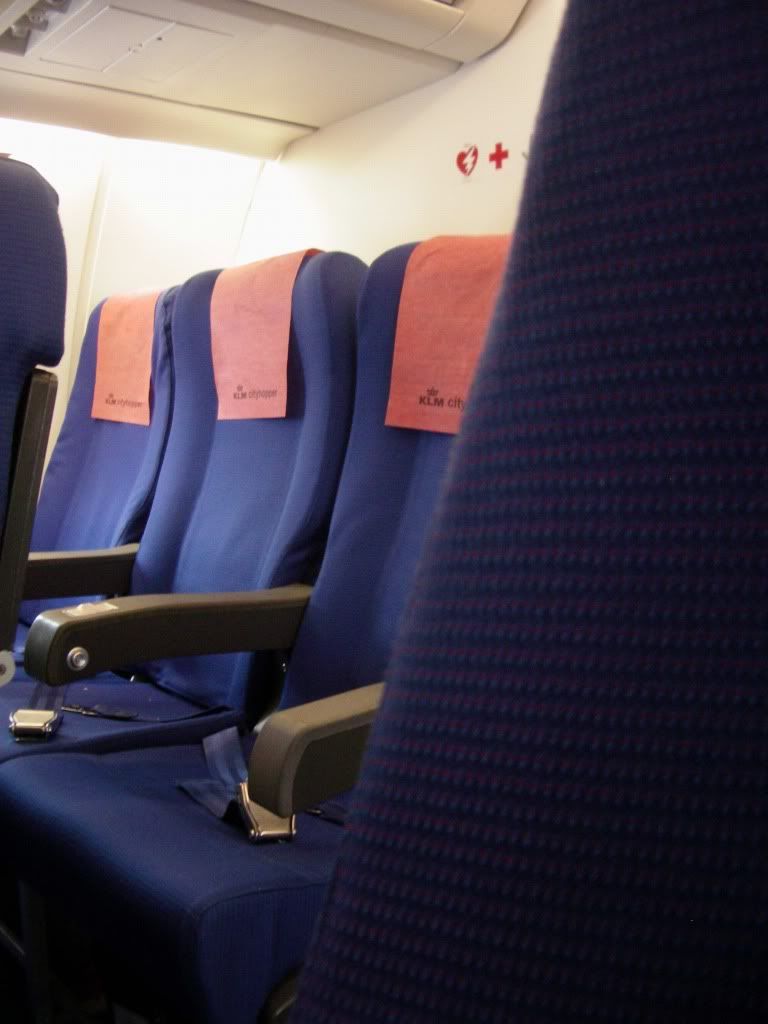 The cabin ceiling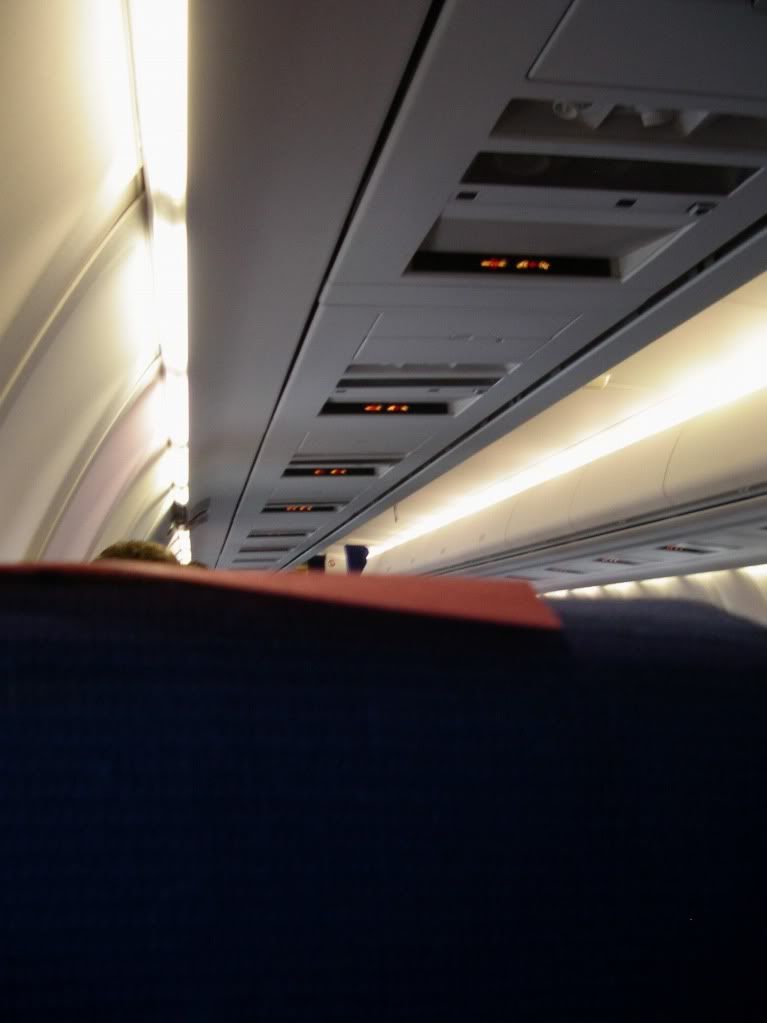 The safety card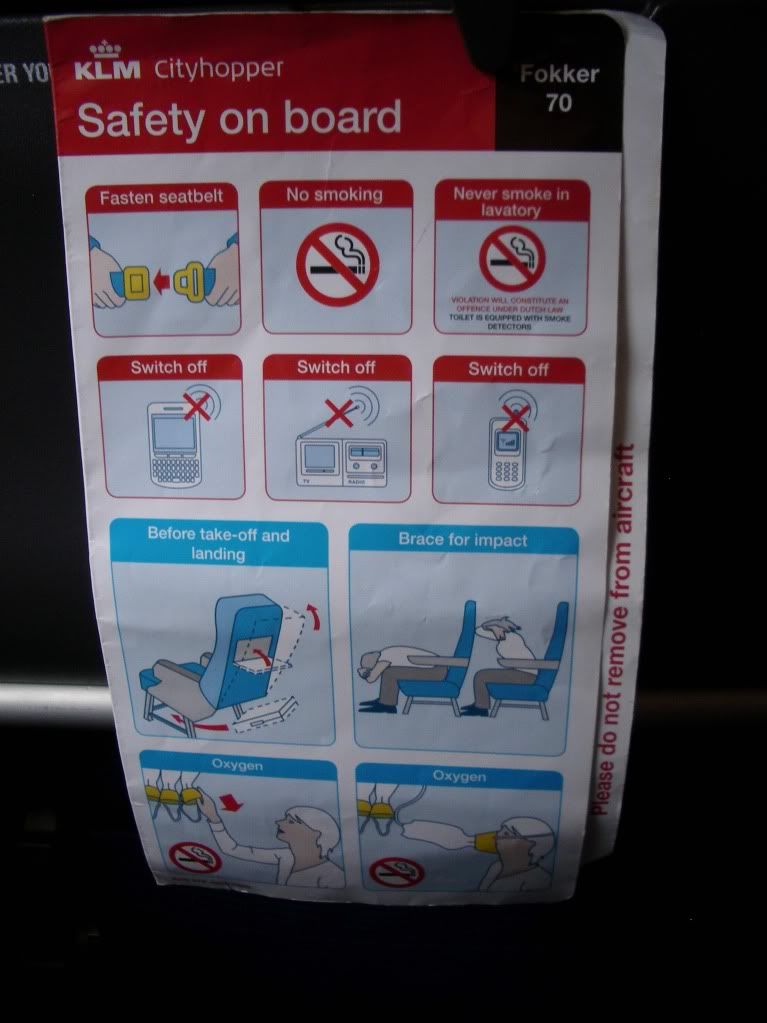 It is 06.50 am, close to ontime, departure from the 3345 meters runway 25, the duration is 1 hour and 5 minutes, the route above FRA and the flightlevel is 33000 feet.
Very detailed informations from the dutch pilot close to approach for AMS.
Service is also real good, coffee and tea coming twice on this short hop.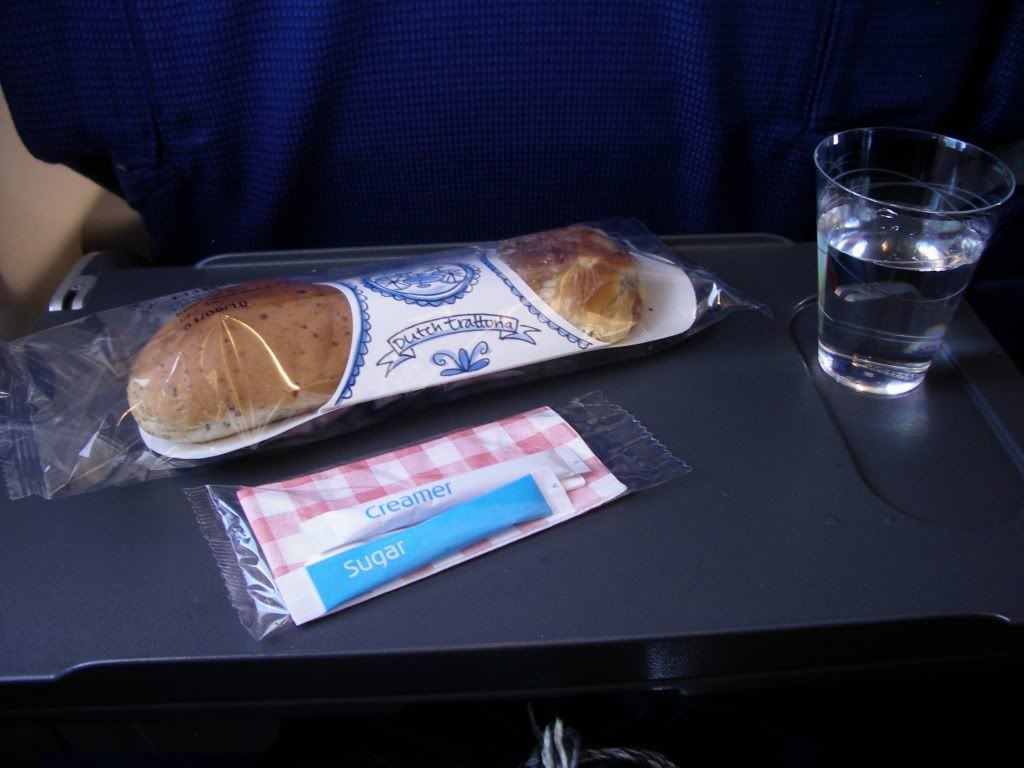 Touchdown on the 3300 meters runway 18C at 08.05 am, 15 minutes ahead to schedule.
Weather at AMS looks not that really better, 13 degrees and also rain.
Apron parking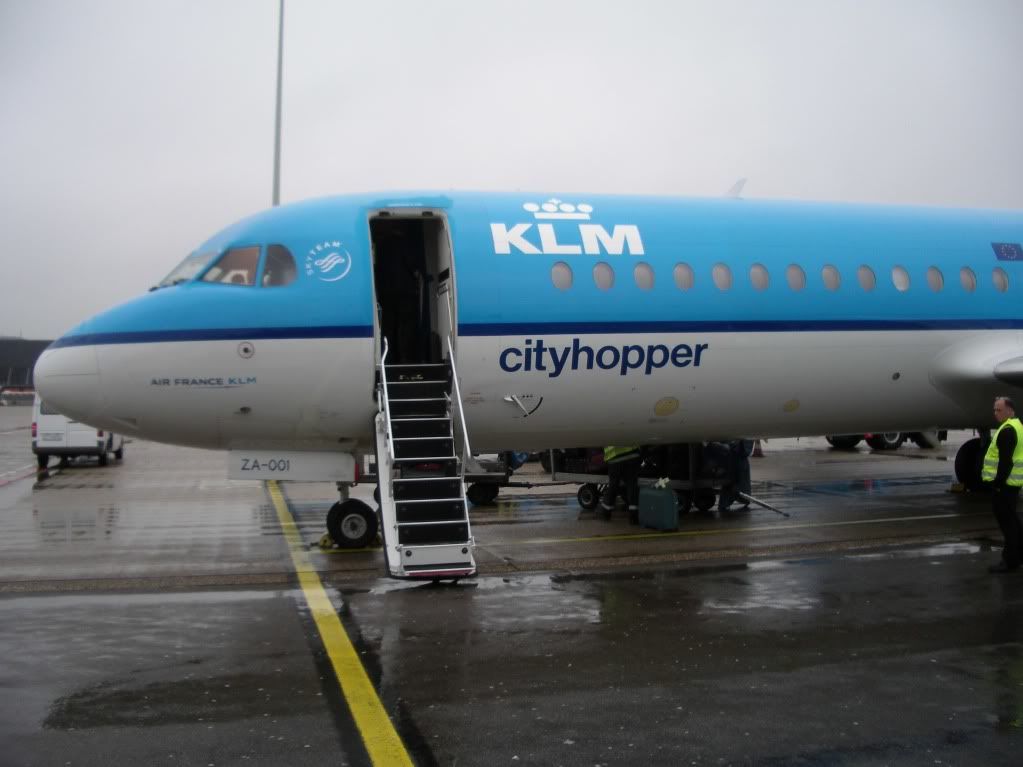 Bye-Bye to PH-KZA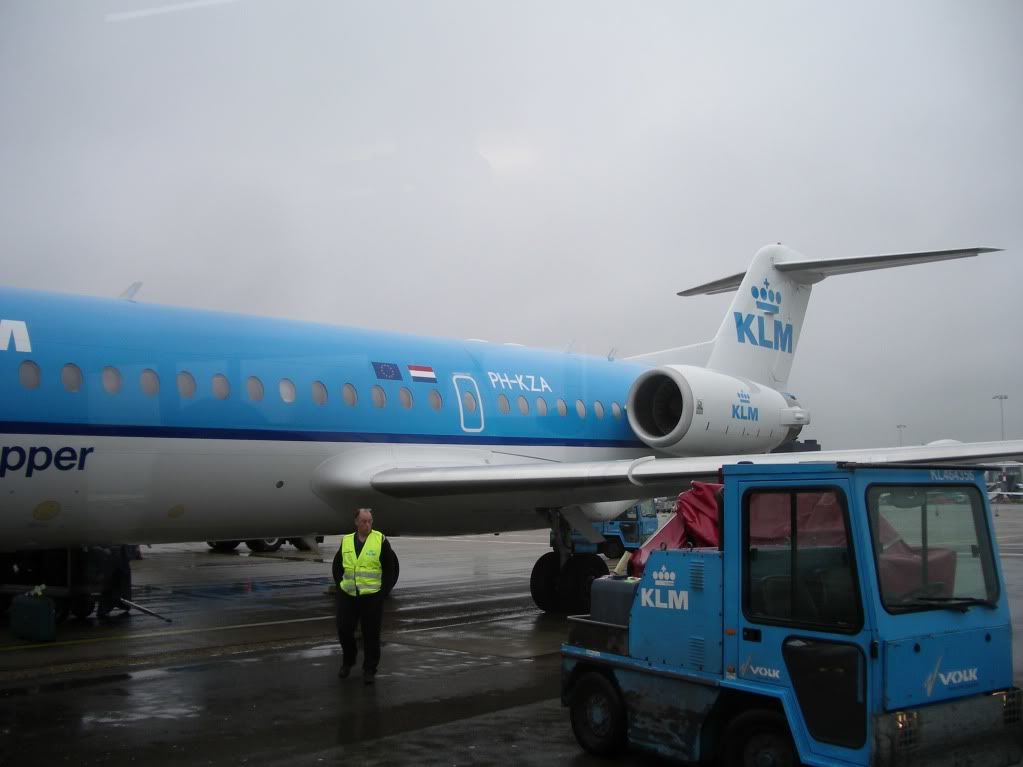 By bus to the terminal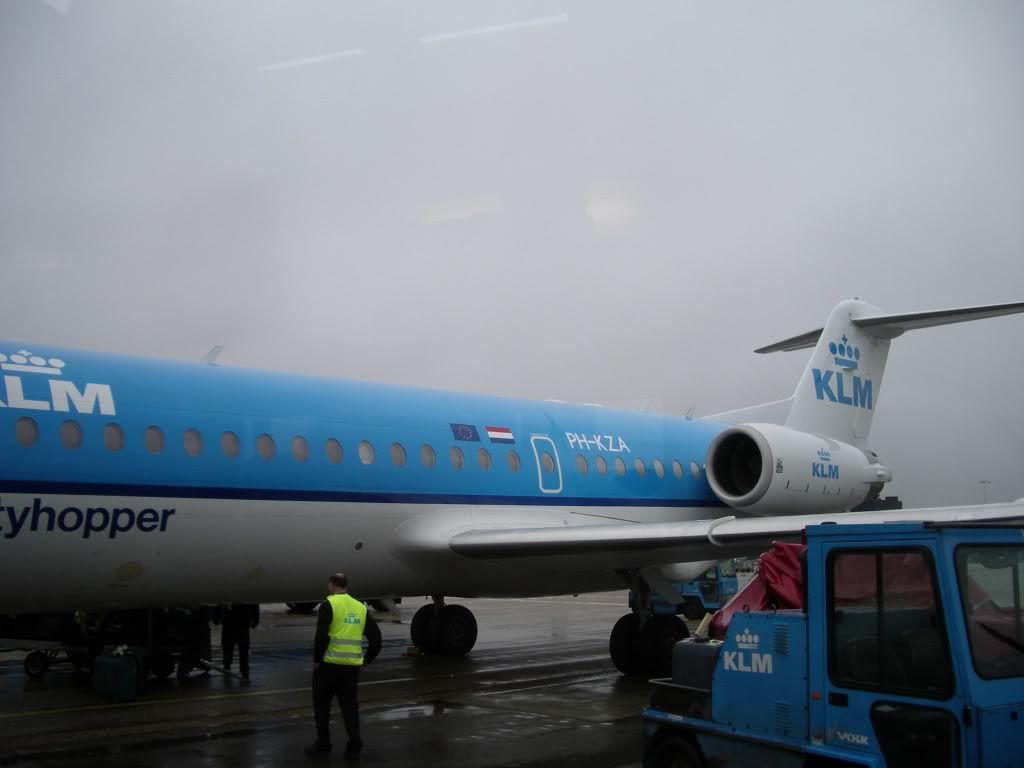 Sunday, 30.05.2010
.
.
.
.
Service KL 1009 operated by KLM
Scheduled 10.20 // 10.45
What about the Boeing 737-900, something new for my log?.
KL changes equipment often on the 737 routes.
In the temrinal up the stairs looking for a nice place to rest till my next flight.
It seems ontime, again some 40.-- Euro´s taxes for this leg.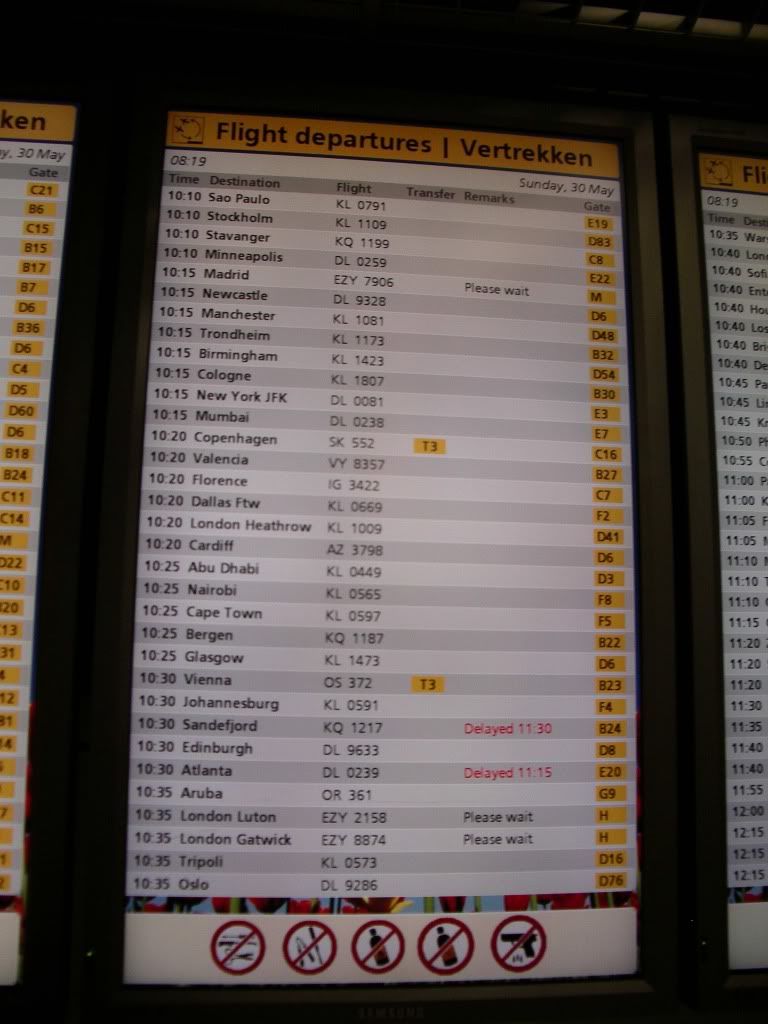 Should I go to the gate?. No way, with this nice place in the central area, calm, comfortable and good views to the apron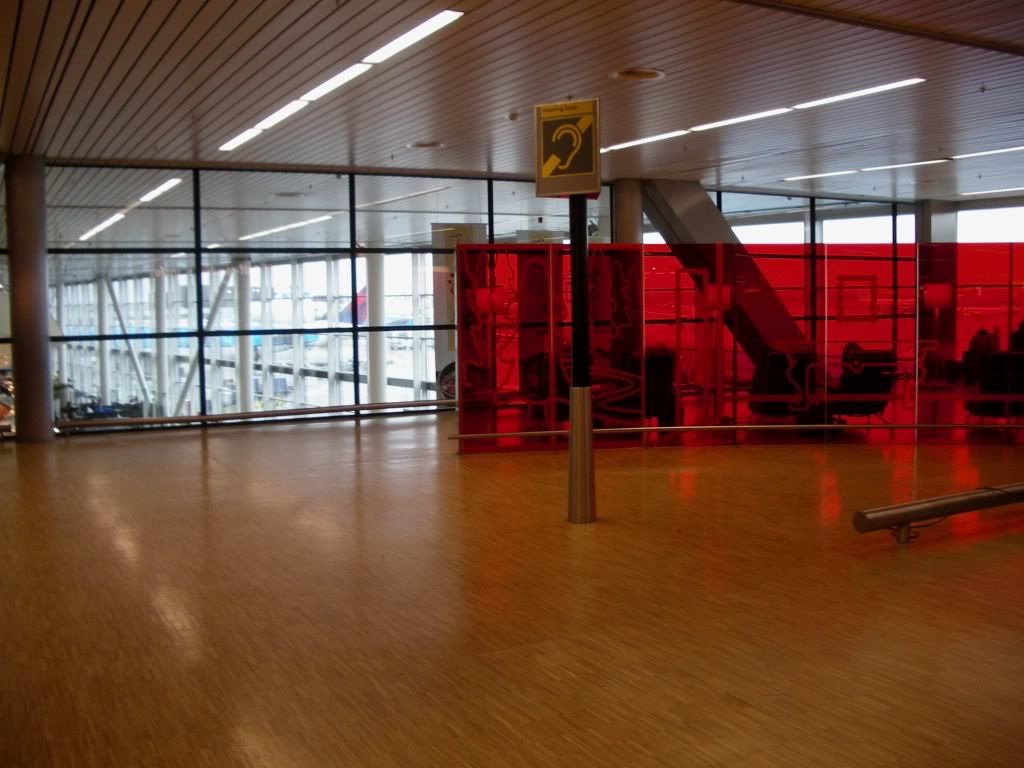 An Airbus A330 closeby
And also the MD11 is still in service here and hopefully also in August
Not the wise decision this time. Boarding is printed pretty early at 09.30 am for the 10.20 service.
When I´am back at passport control for the non-Schengen flights its nearly impossible to see the control stations itself, thousands of people queuing there, so it feels.
And with no real order between European and non European passport desks it´s a real mess here.
Border police picks up some not that standard looking people out of the queues for random checks, not that they are amused at all.
More than twenty minutes to wait here and boarding time is finally gone when I´am close to my gate.
The plane is here, boarding has not started yet
That´s a 737-800, so it looks like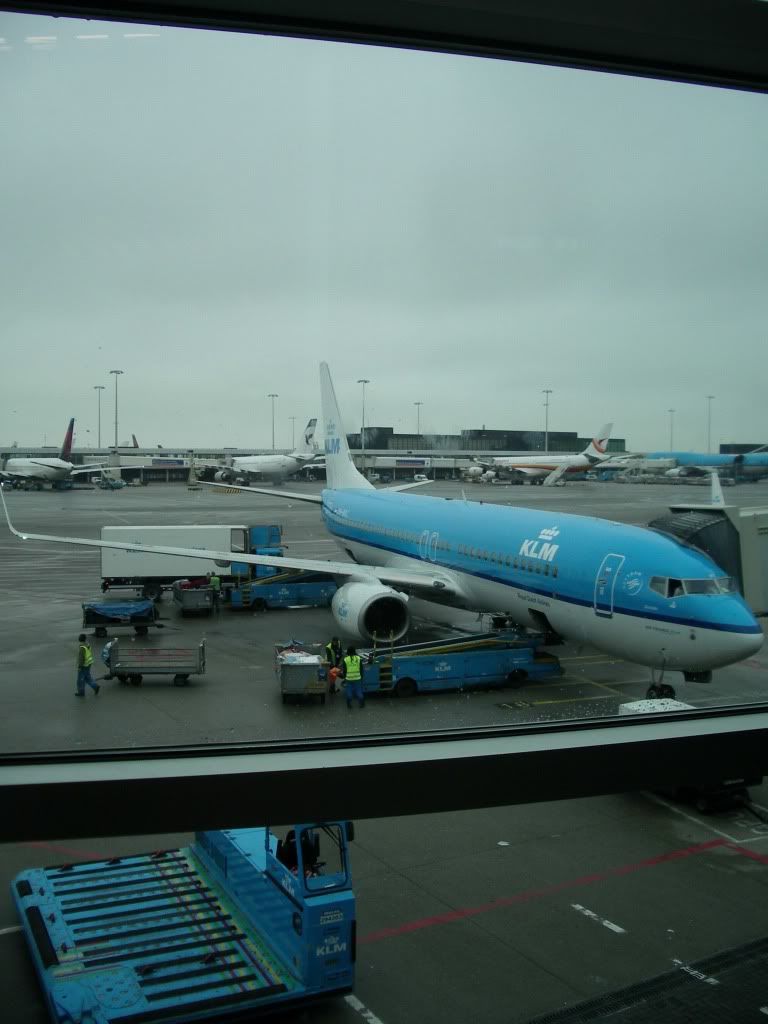 It is PH-BXC, indeed a 737-800, in service with KL since 30.06.1999 and it´s name is "Grouse/Koerhoen".
One of 21 in the KL fleet.
A new reg. for me and leg no. 49 on type.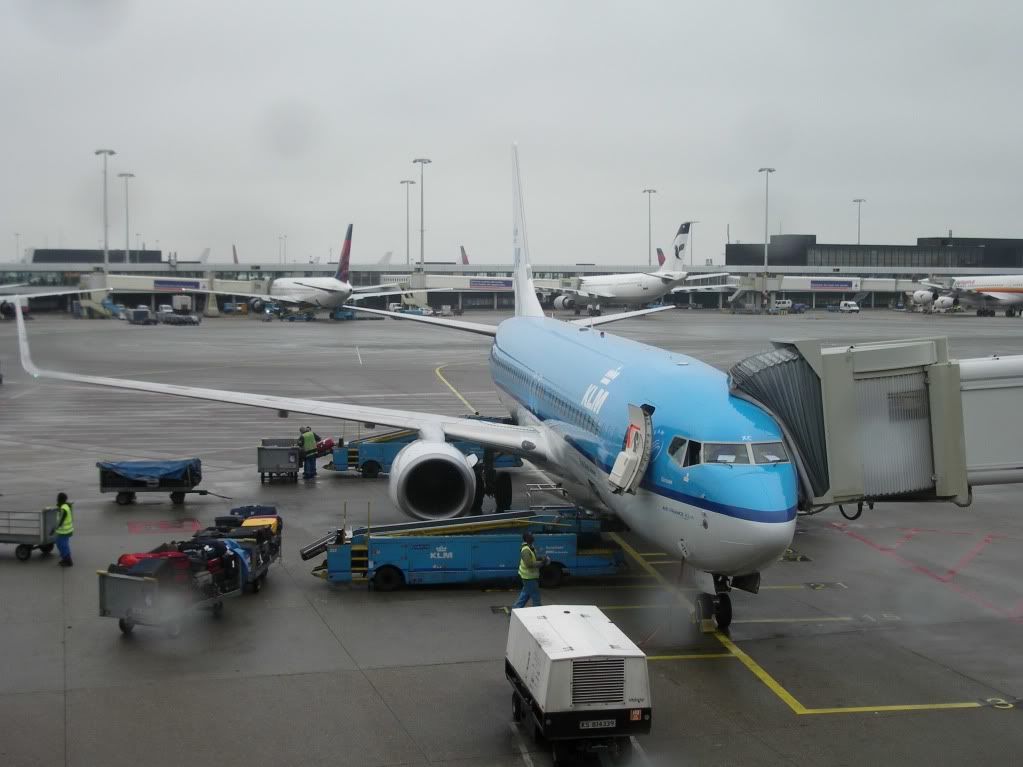 Extra security takes place at the gate entrance, me, waiting for no more other pax infront and also this time
I´am one of the last to board from gate D41.
OLCI shows row 30 as the last one, me on 30F, thats indeed the last row, the aisle is occupied by a african woman, but the middle seat remains free.
Not bad with a load close to 100% and a good number of pax on rebookings from BA,
there are also standby pax at the gate.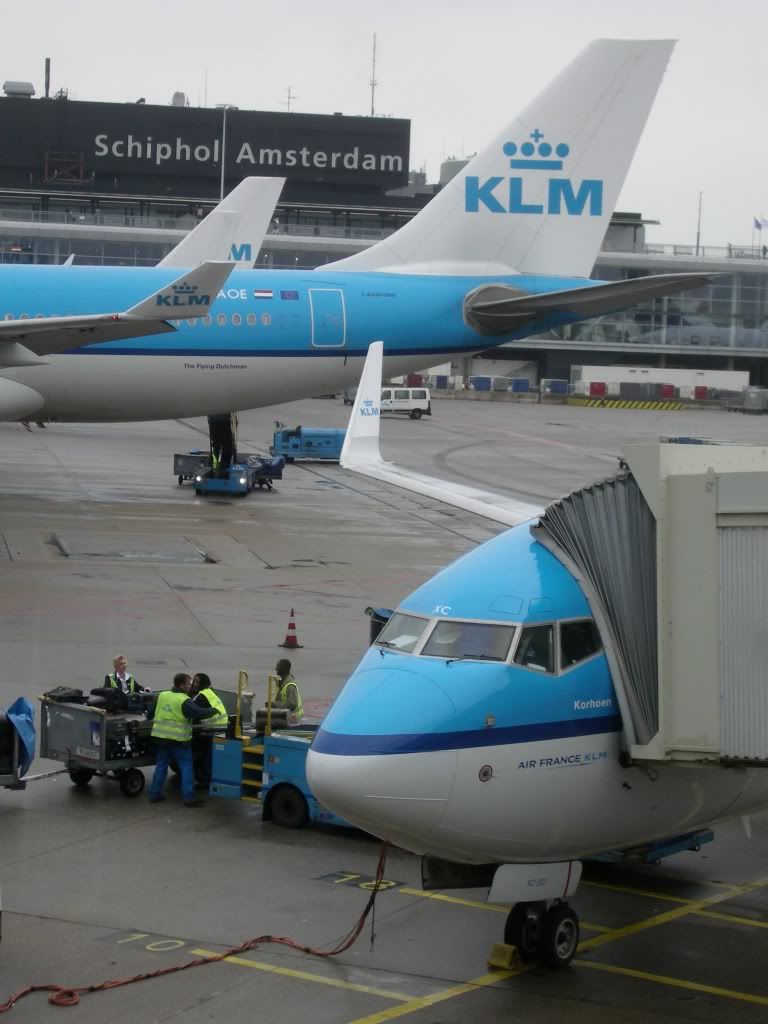 Dark blue fabric seats in the cabin, clean, but lower legroom than on the F70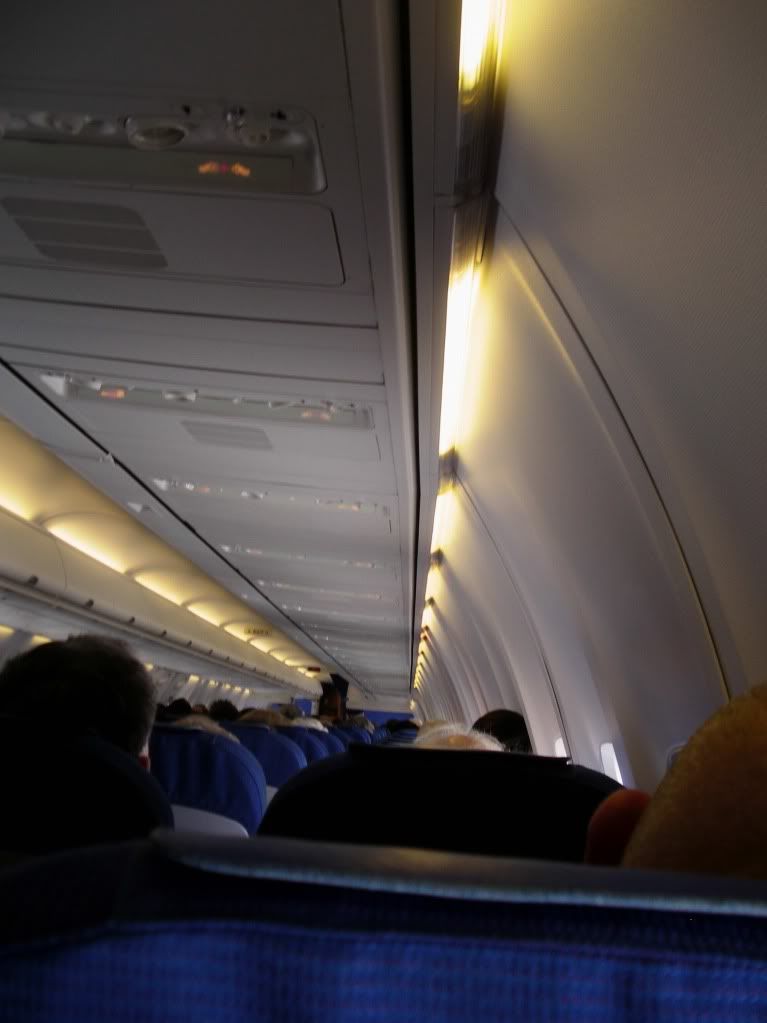 My seat
The safety card shows also the missing 737-900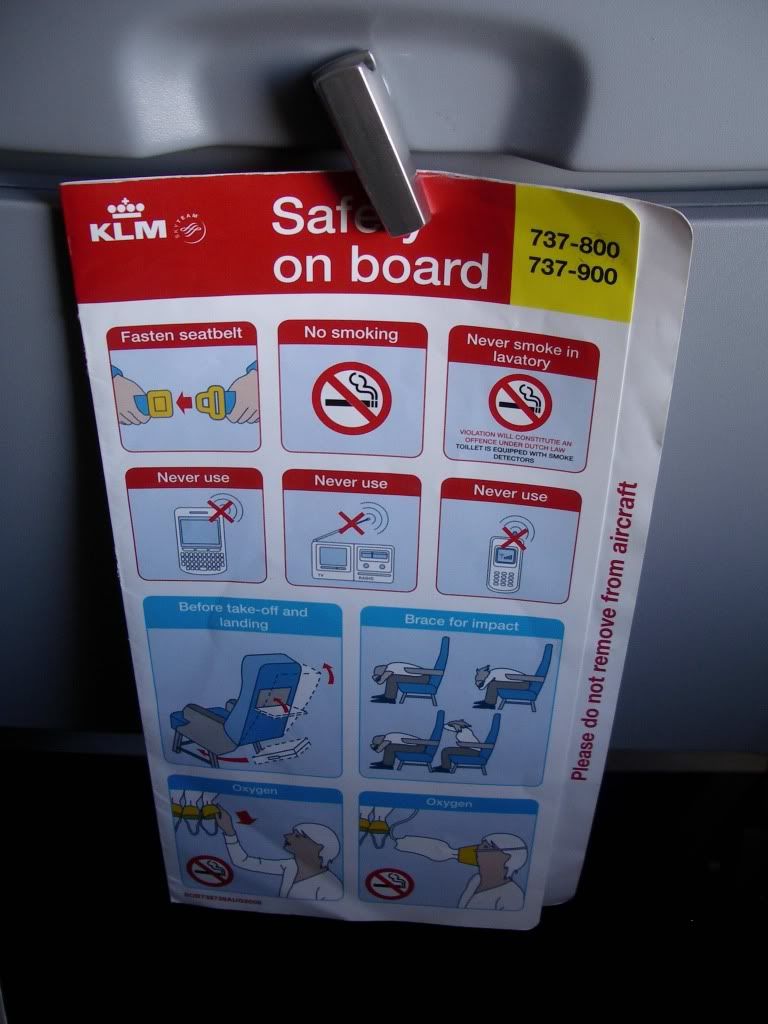 Departure is from the 3500 meters runway 24, it is 10.20 am, ontime, rain and the temperature is 13 degrees.
Three female and two male FA´s here, ok but not that nice like on the earlier flight.
Cockpit crew is from the Netherlands, detailed informations from the pilot short after departure.
The whole flight is shaky with the seatbelt sign mostly on, duration is 50 minutes only and the flightlevel is 24000 feet.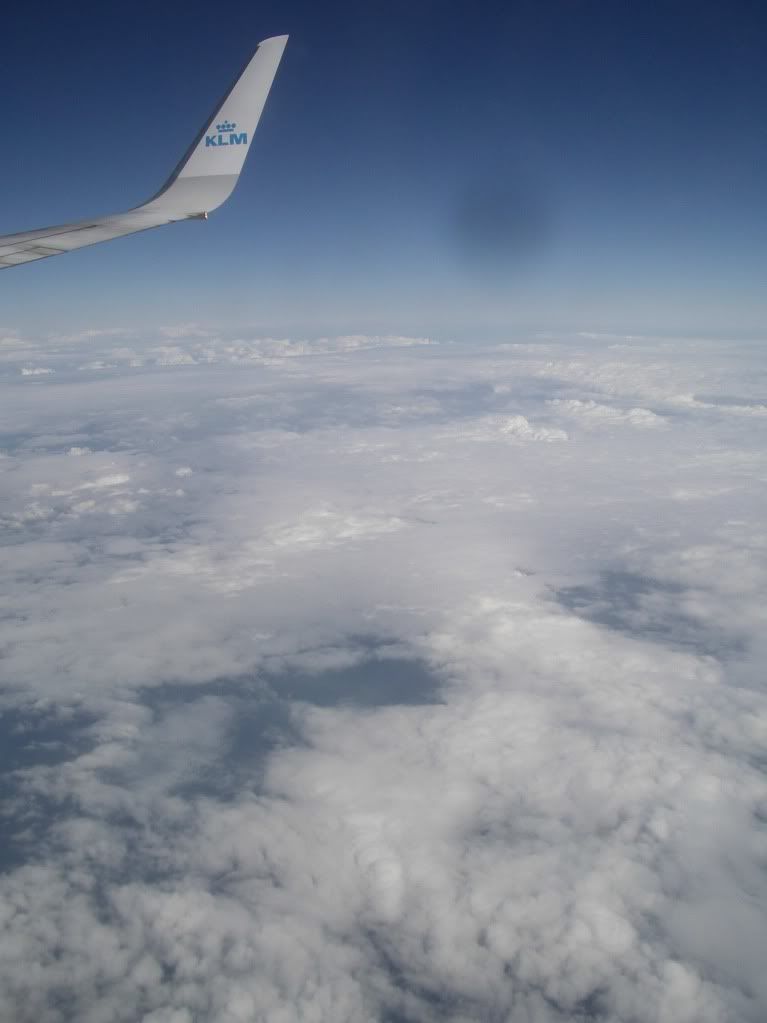 Above the water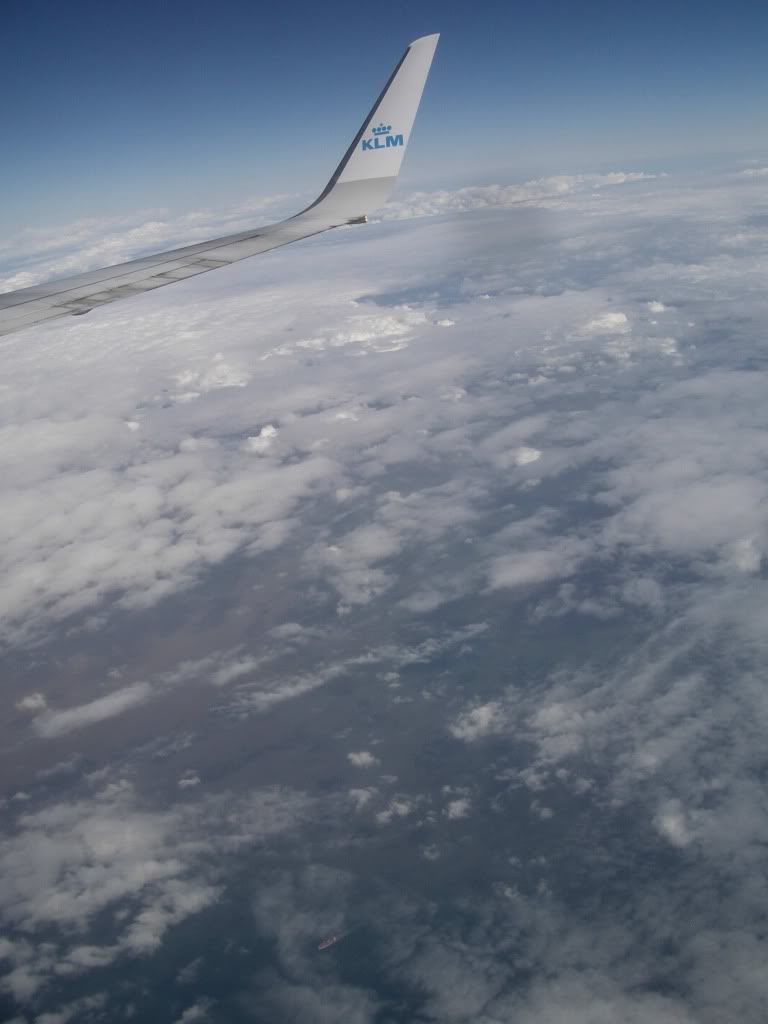 Service is free snacks and drinks.
And some circles close to the city as usual in London.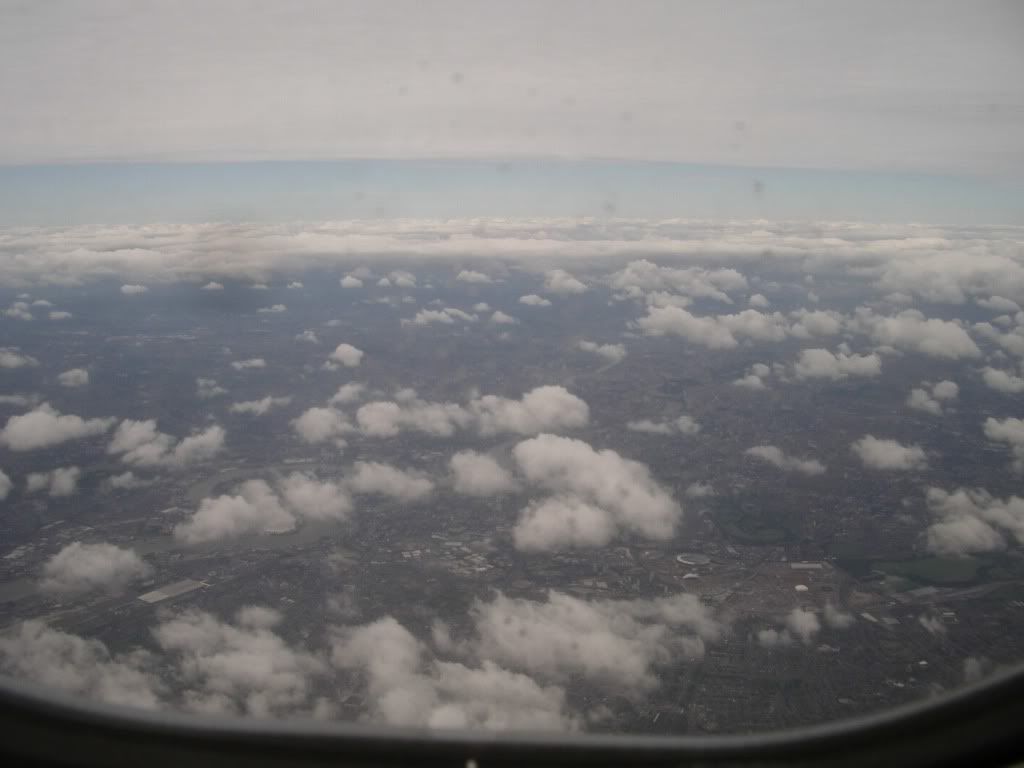 A very nice approach, like a sightseeing flight
Major sights here in one picture
City attractions
Touchdown on the 3901 meters runway 27R at 10.20 am, 25 minutes early, exactly my departure time at AMS, but with 1 hour time difference.
It is now 11.20 am in AMS.
Cloudy sky and 17 degrees.
QF superheavy here at LHR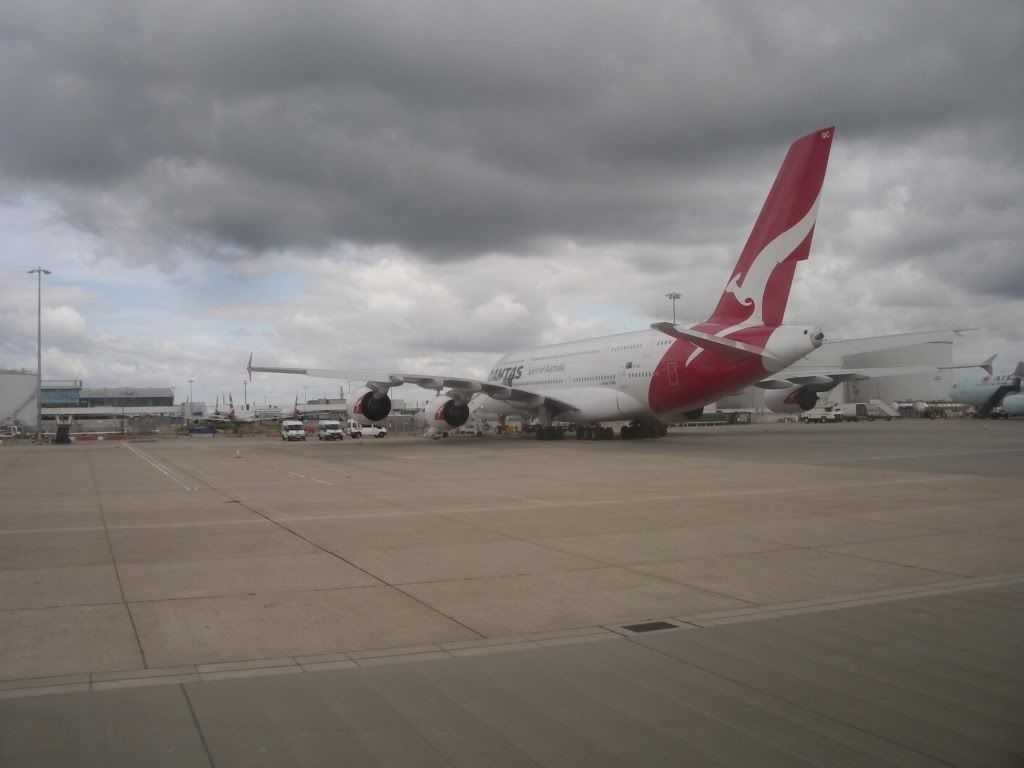 And Virgin superlong
EuroAtlantic subs BA
On the runway
Boarding for the next flight is printed at 1.30 pm, that means now some three hours to connect for LGW, sounds possible, isn´t it.
BA´s arrival time on the nonstop service is instead 07.50 am.
I decide not for any local train experiments today and book the Heathrow express instead for
some 16.00 pounds to Paddington.
One connection at Heathrow central needs more time than expected and in the city at 11.30 am.
Lost 4 pounds for tubing and also that need much more time than expected with lots of people around this sunday late morning.
Finally arrival Victoria station at around 12.15 am.
Catching the next Gatwick express train, done für some 15.00 pounds
and finally at LGW close to 1 pm, not that early as expected but nevertheless early enough.
Sunday, 30.05.2010
.
.
.
.
Service BE 1005 operated by Flybe
Scheduled: 14.00 // 16.30
It´s Flybe, that will deliver me to DUS, but first my impressions from LGW.
The board with my flight ontime, so it seems
A strange security system here, while waiting for one check station it is closing and they send us around the corner for another station.
How I dislike these non frequent vacationeers while I´am running out of time.
A couple with two children and also grandpa and mum in front, it need ages till they´re trough,
also shoes out for him, not for me.
In the big shopping area some minutes later, less nice views to the apron, but close to my gate 92 its better.
Afriqiyah to Tripolis and Viking from Sweden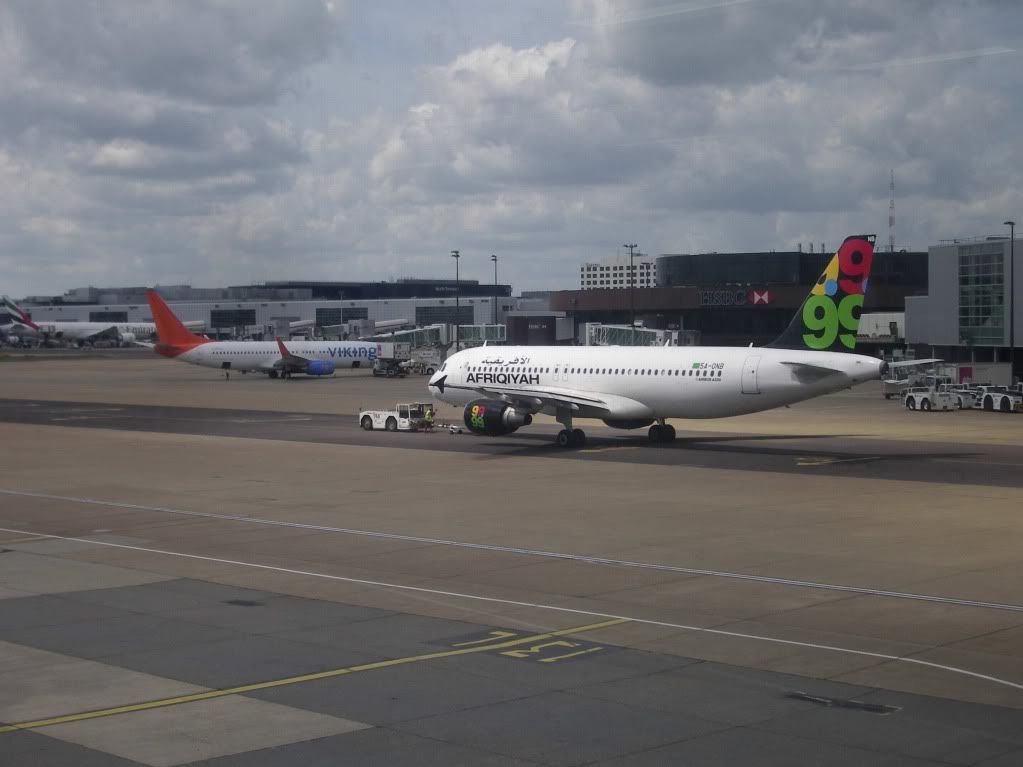 TAP and a Virgin Jumbo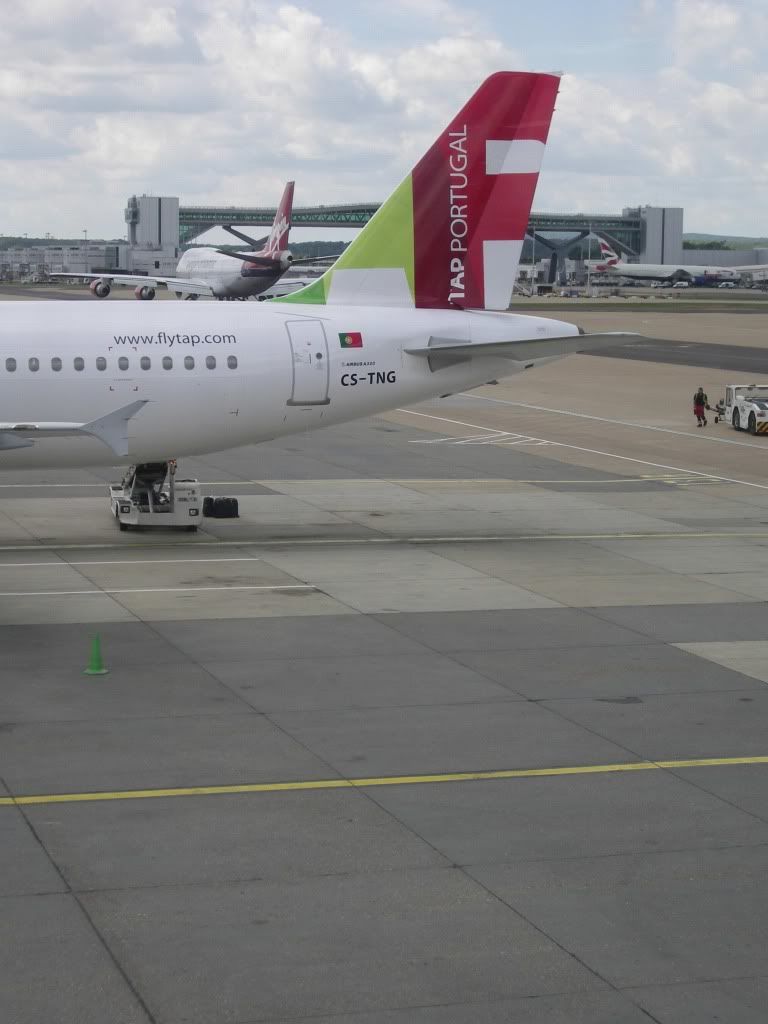 The whole apron with the nice bridge in the back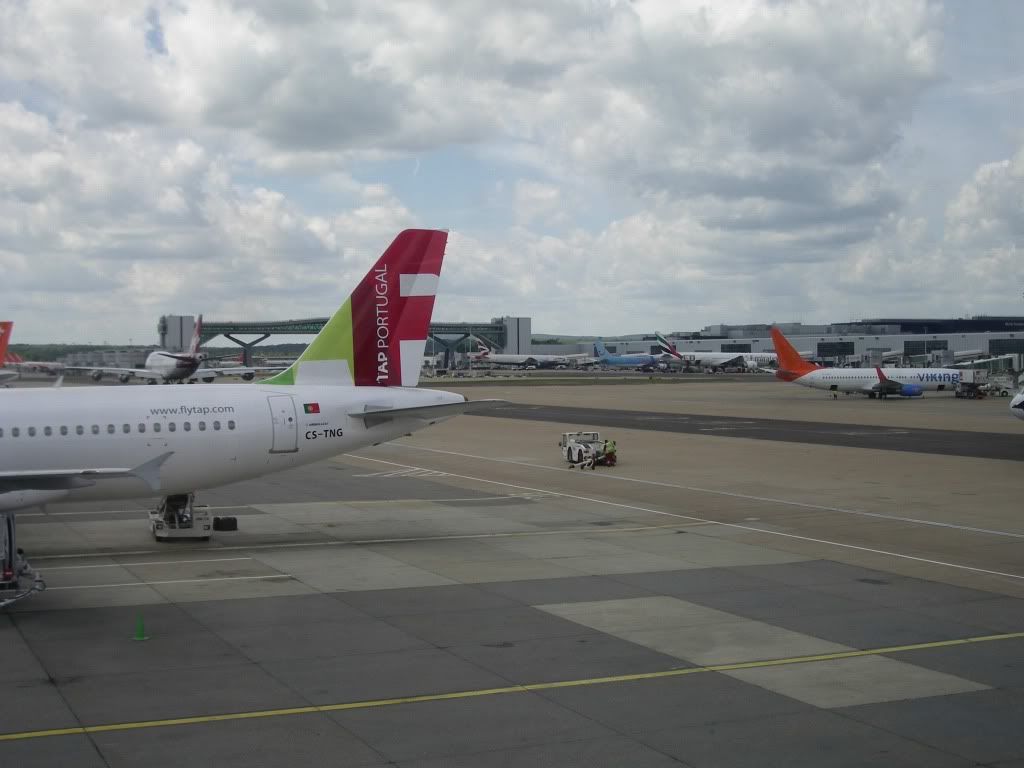 A better view to the bridge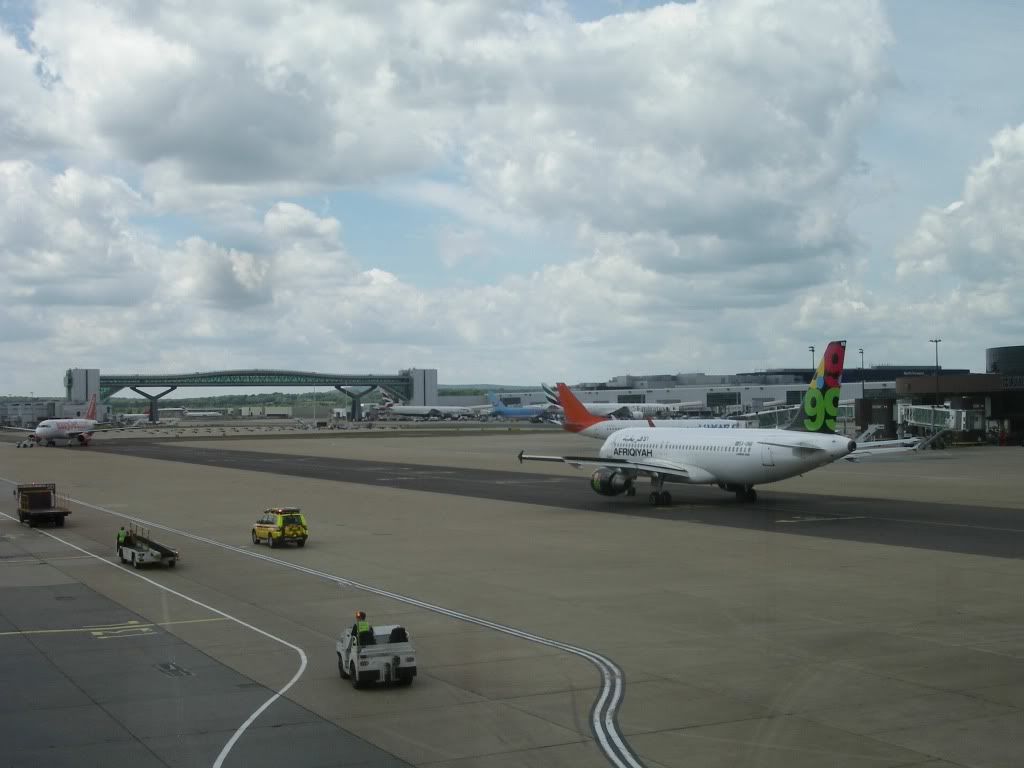 Booking for this flight is done via Flybe´s website directly, some 60.00 Euro´s.
They offer OLCI, but as mentioned by some other´s before, it is only possible to fix a seat during
earlier payable reservation.
So it´s, as ever possible, my choice to check-in at the airport kiosks.
Not today, with my short time between the airports, I check-in online and no question receive a
aisle seat.
I hope for some better seating in the plane, but with that huge number of pax around the gate, it seems not that really possible.
Boarding by bus here is some minutes late, well you need a bus for bus boarding isn´t it?.
Looks like something new for the staff here, a long wait till a bus arrive.
A first view to my plane from the bus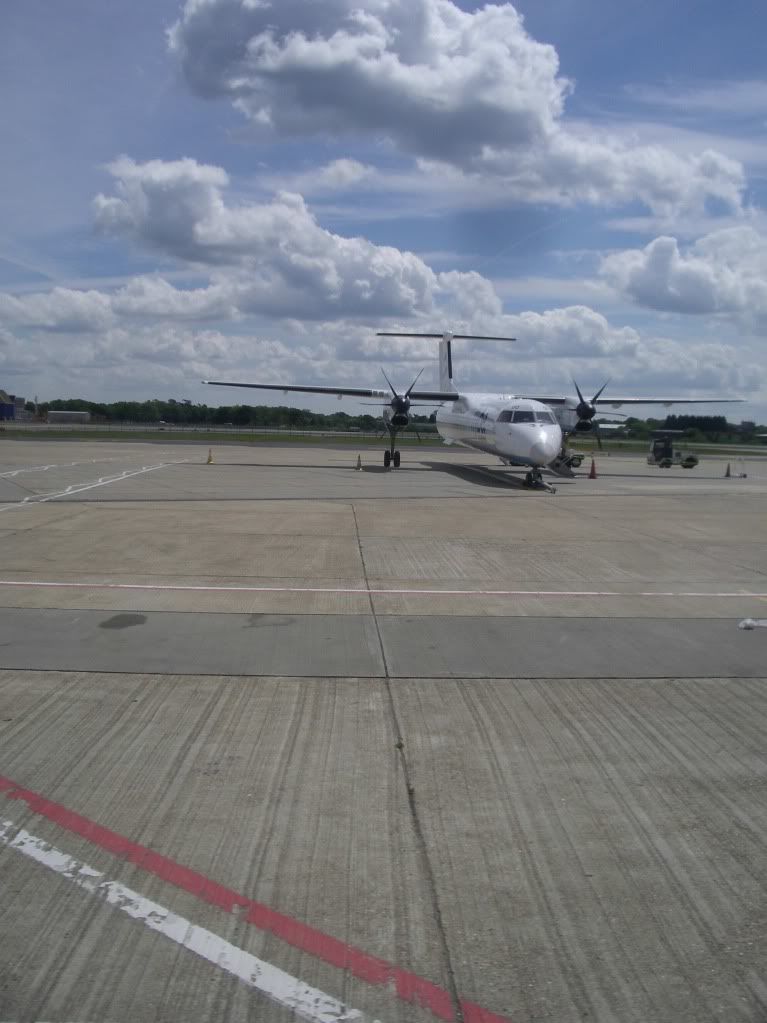 It is G-ECOO, the scheduled Dash 8-400, in service with Flybe since 30.01.2009.
Flybe operates actually 53 machines on type and this is my flight no. 11 on the Dash 8/400,
a new registration for my log.
Something patched on the planes bodie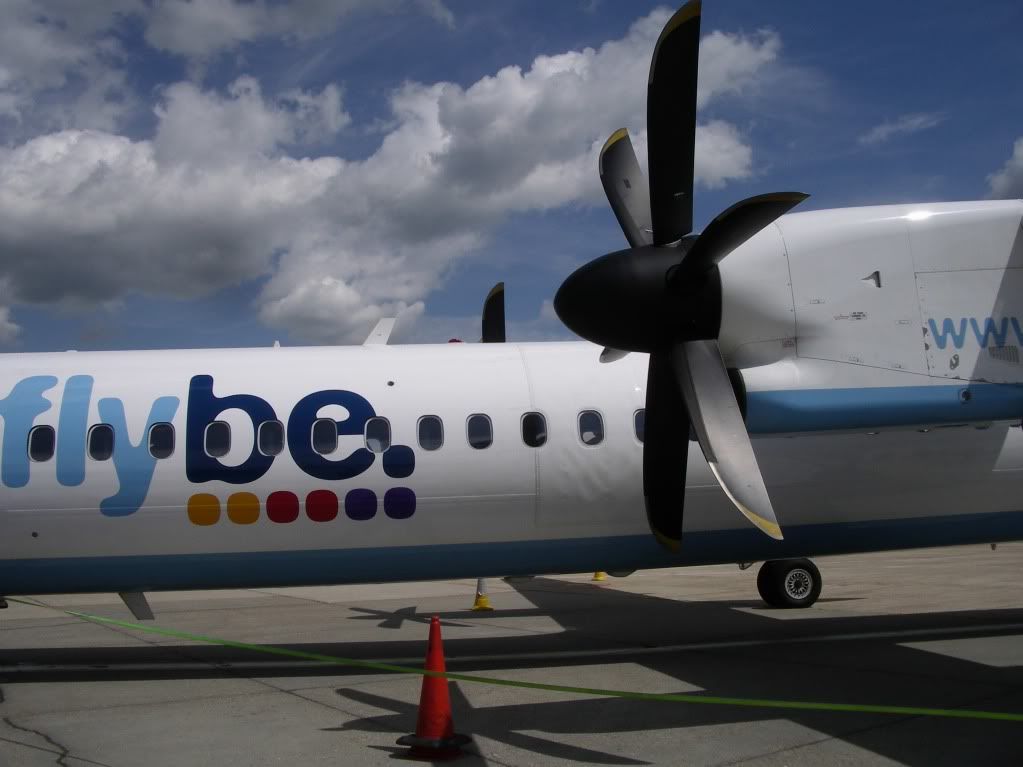 And my favourite view under the wing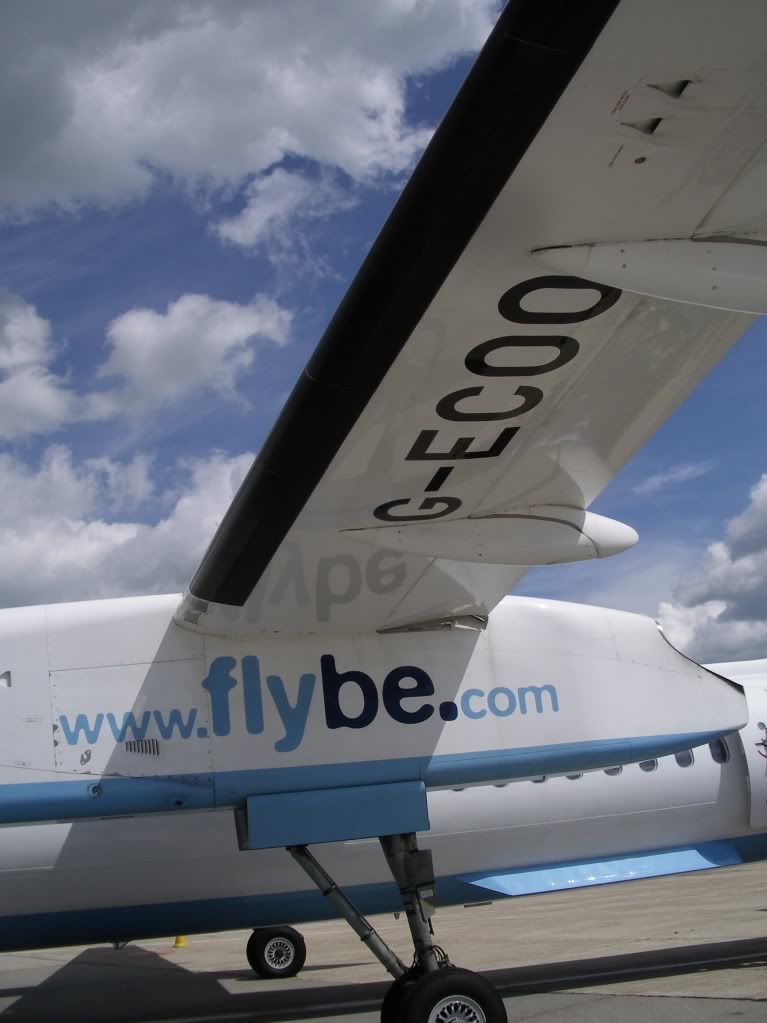 Bright blue leather seats in the cabin, clean so far, the legroom is ok.
The cabin ceiling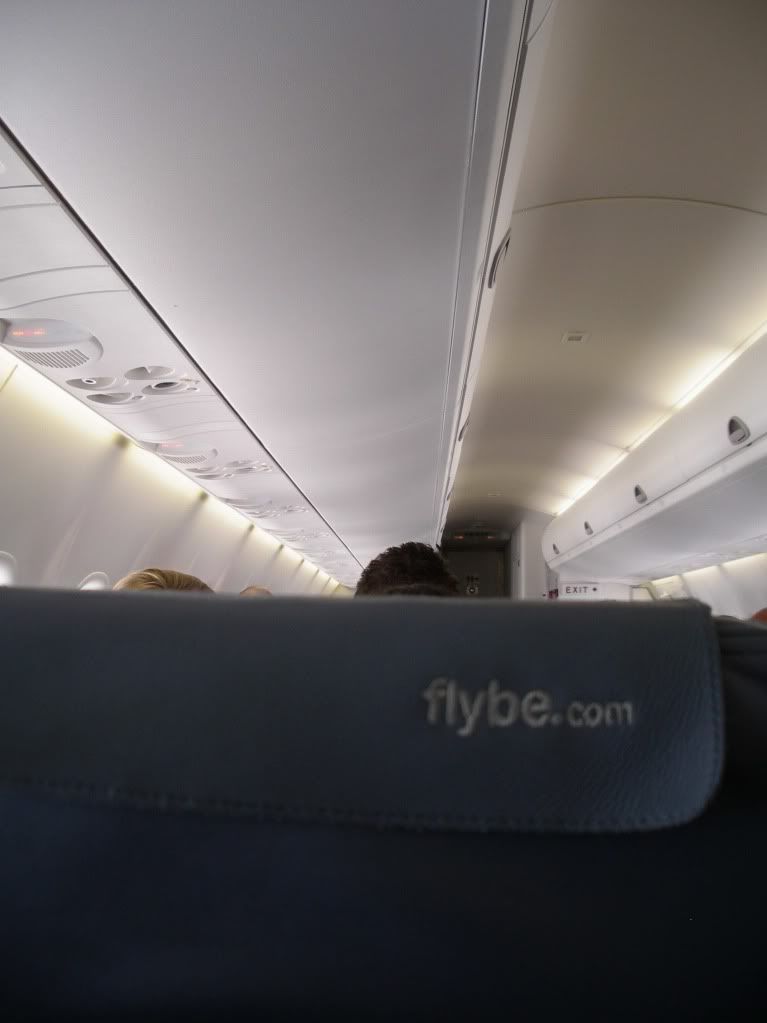 Two standard friendly female FA´s here, nothing special.
The safety card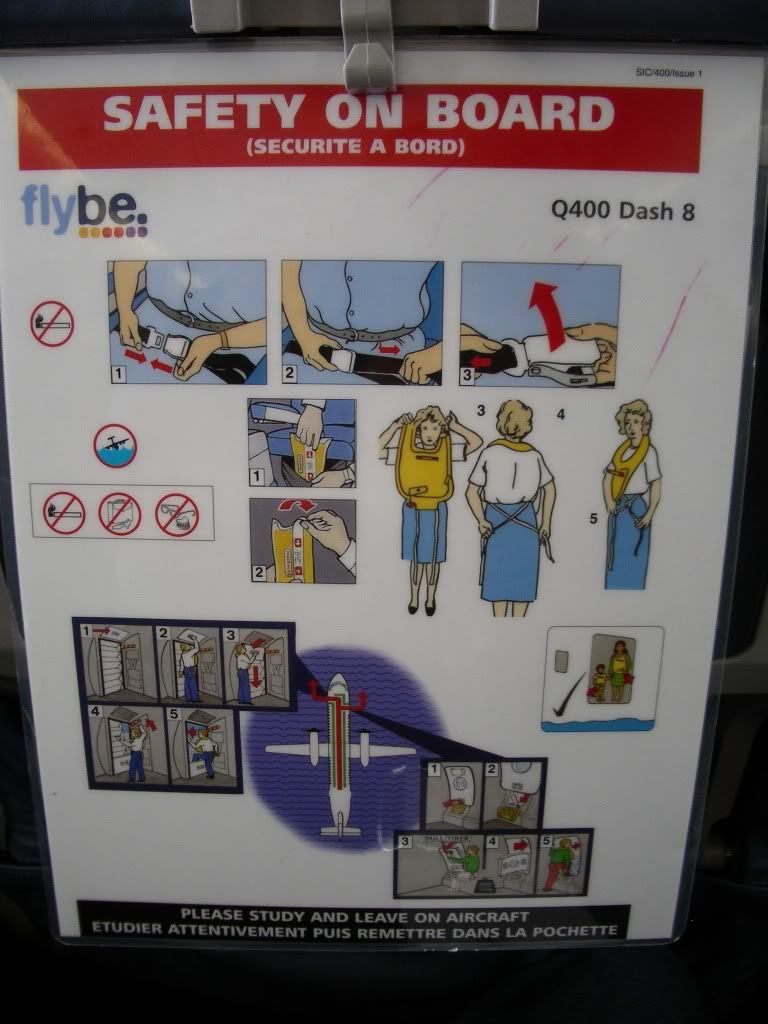 Cockpit crew is from the UK, the captain with a friendly welcome during boarding.
It´s 2.05 pm local, close to ontime, the sky is partly cloudy and the temperature is 18 degrees.
Departure from the 3316 meters runway 26L for the duration of 1 hour 05 minutes to DUS.
The load is close to 100%, thats it so far with my seat change options.
10B is my place for this flight.
Service is BOB.
The FO is on the speakers short during approach with the latest weather informations.
Well, the weather, low clouds, heavy rain and 15 degrees only.
Touchdown is nevertheless ok at 4.15 pm, 15 minutes ahead to schedule on the 3000 meters runway 23L.
Apron deboarding and by bus to the terminal.
Sunday, 30.05.2010
.
.
.
.
Service Lufthansa LH 906 operated by Contact Air
Scheduled: 18.50 // 19.50
It isn´t possible to change for the A gates in the secured area,
so some meters to walk after passport check through the terminal.
No time to wait at security for LH´s gate area.
Not the real comfortable place here, from my point of view.
There are no vending machines for something to drink, there is no shop beside that
newspaper shop.
Two restaurants/bars only, so when you want something to drink you need to join one of these expensive bars.
Booking is done here with Expedia, the best offer for this flight, some 70.-- Euro´s.
Surprise, it seems my plane is at the gate A80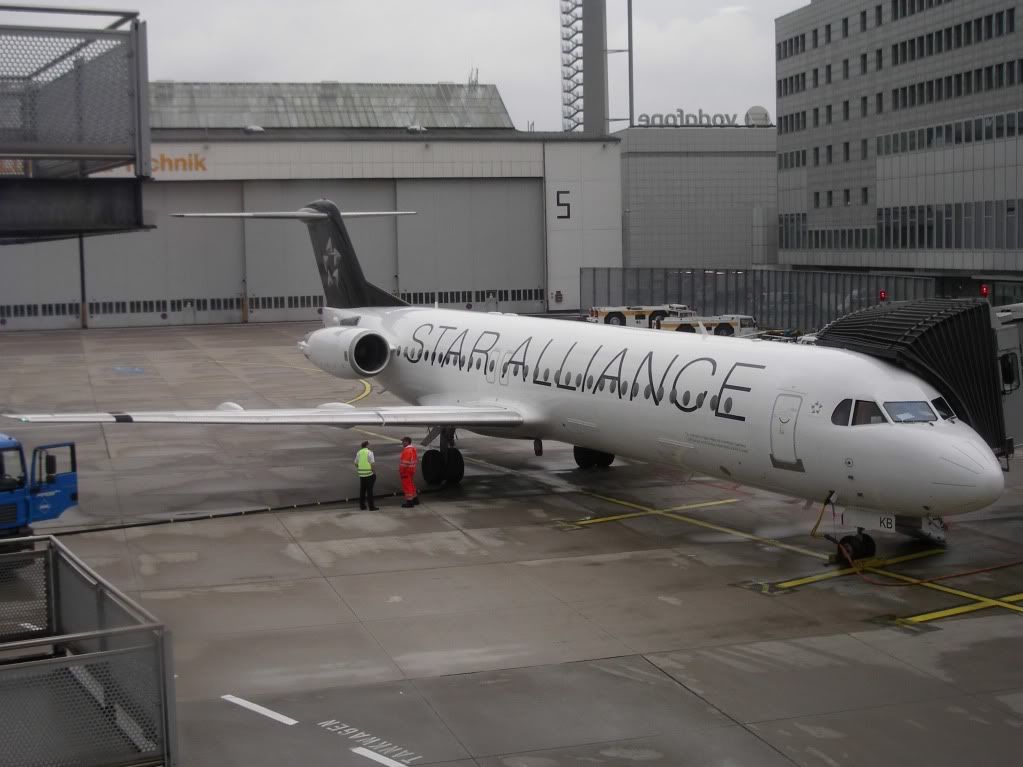 It is D-AFKB in Star colours, the scheduled Fokker 100, in service with Merpati from 03.12.1994.
To South America with TAM from 01.07.1998 and back to Asia with Mandarin at 01.07.2004.
Now it´s time to go for Europe, joining the KL Cityhopper fleet at 09.07.2008 and with Contact Air since 17.03.2009.
One of 8 planes on type in the Contact fleet, the newest example.
Leg no. 14 for me with the F100 and a new registration.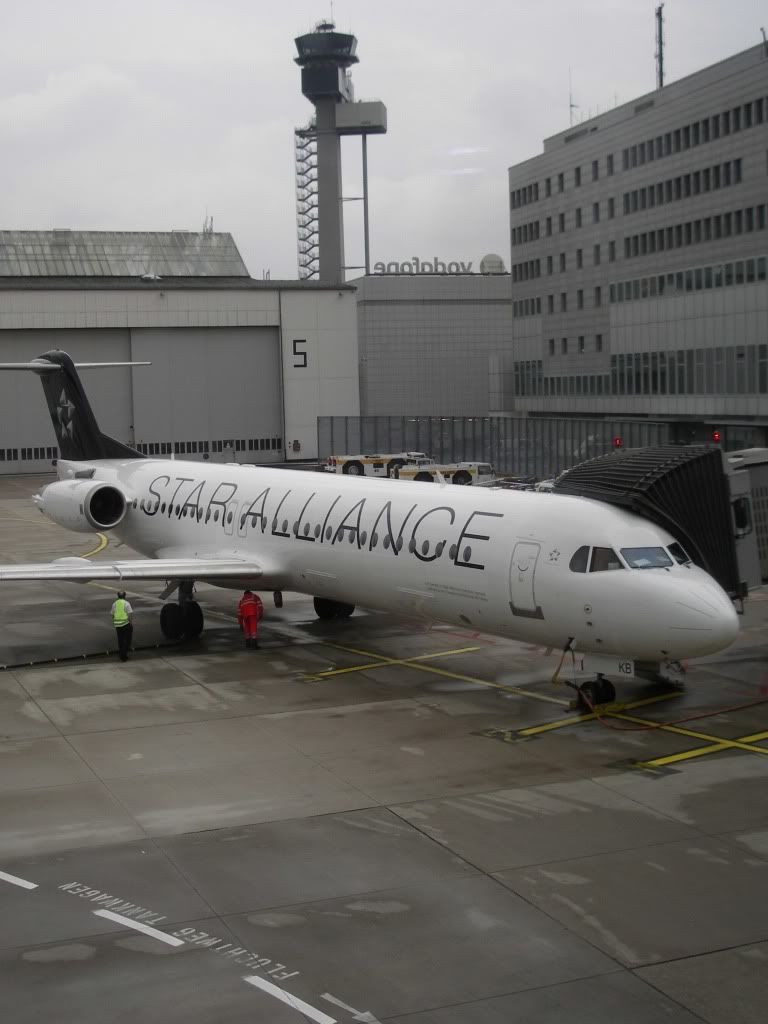 Condor is leading the delay board, 15 hours only to Tenerife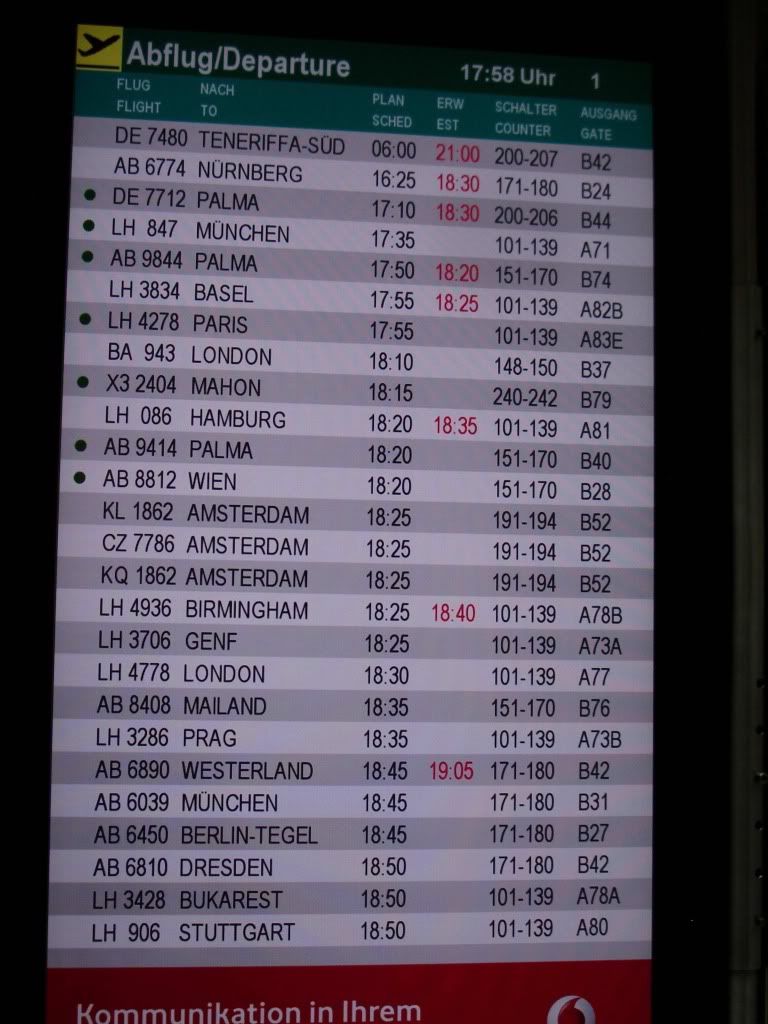 Ah, the integrated stairs again
The oldfashioned cabin ceiling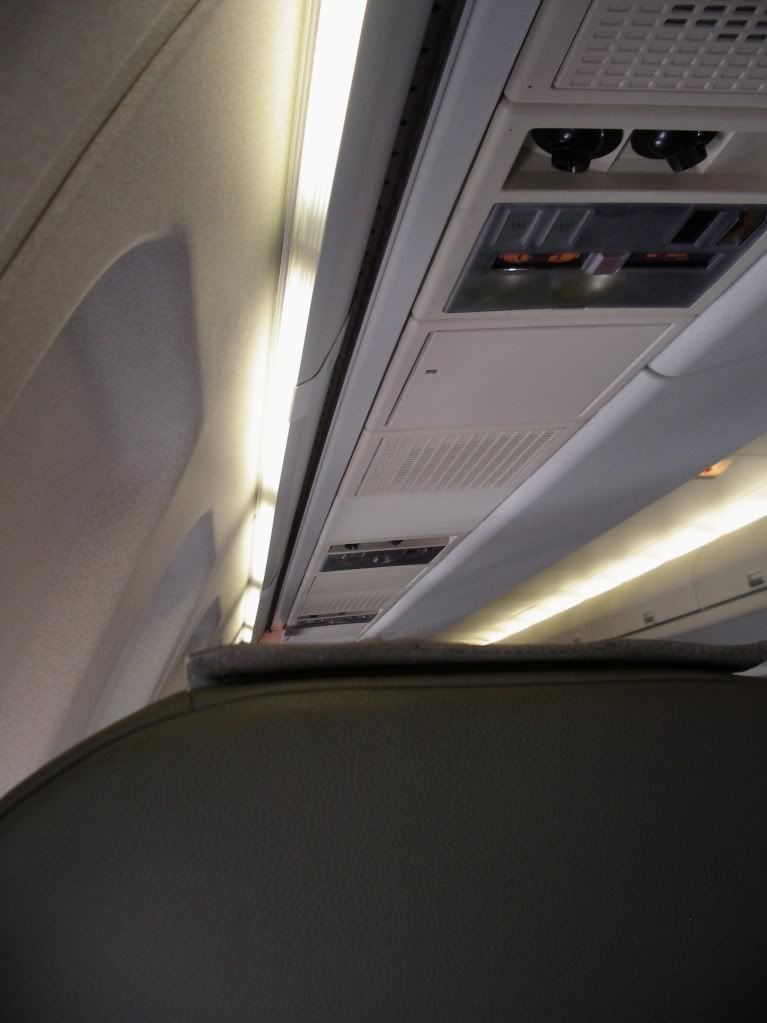 Seat 17A, I secure it during OLCI, two for me here.
The goodlooking magazine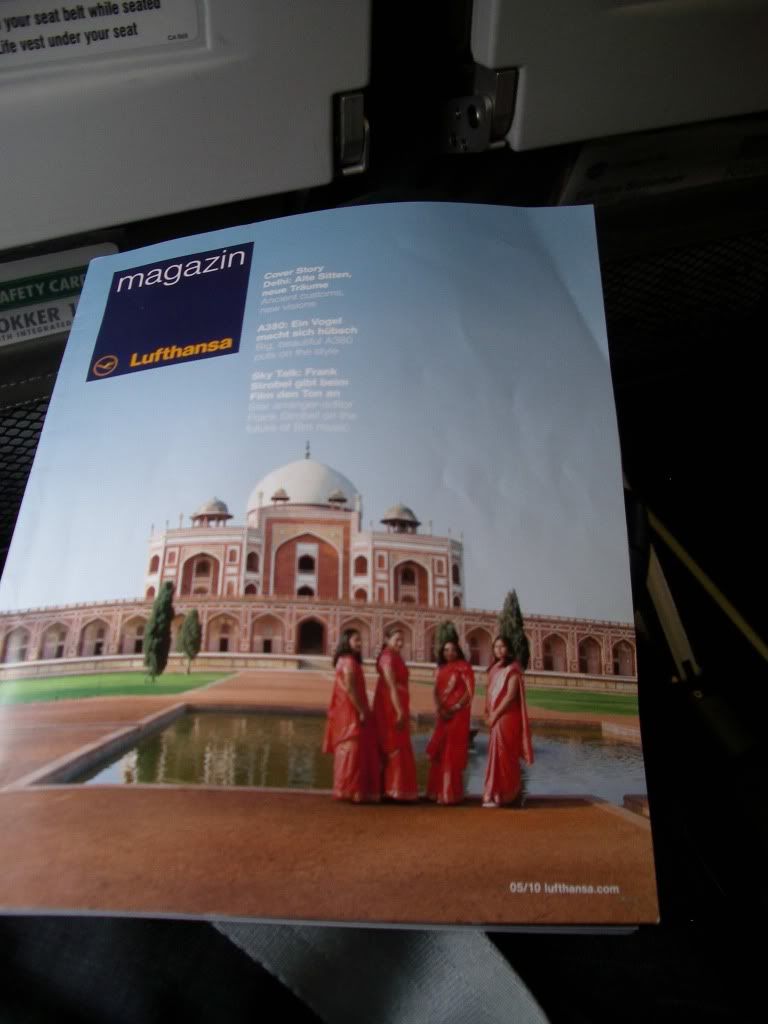 Comfortable new style, hard leather seaters, the cabin looks like freshly refurbished.
Real good legroom, he load is some 60%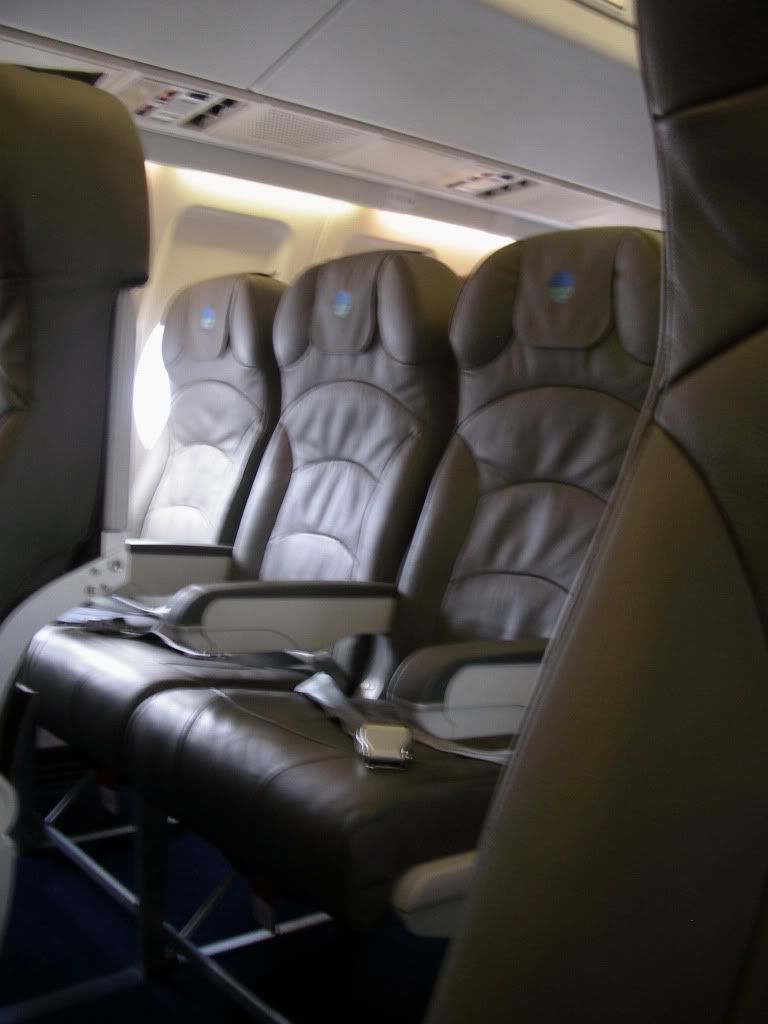 The german captain with a very friendly welcome during boarding.
The weather does not improve, heavy thunderstorm clouds coming in, we´re heading very slowly to the active, 23L again.
This is not the day for the angry flyers here, during our wait at the runway entrance we see three
very low level go arounds, one plane a Cityline CRJ 7 is still touching down with the main undercarriage and departed finally again.
An AB/LGW Dash 8 and also an WDL BAE 146 coming in fast and going around.
To much water on the runway?.
Then it is our time at 6.55 pm, close to ontime, the temperature is 13 degrees and we´re going really fast to rush through the clouds.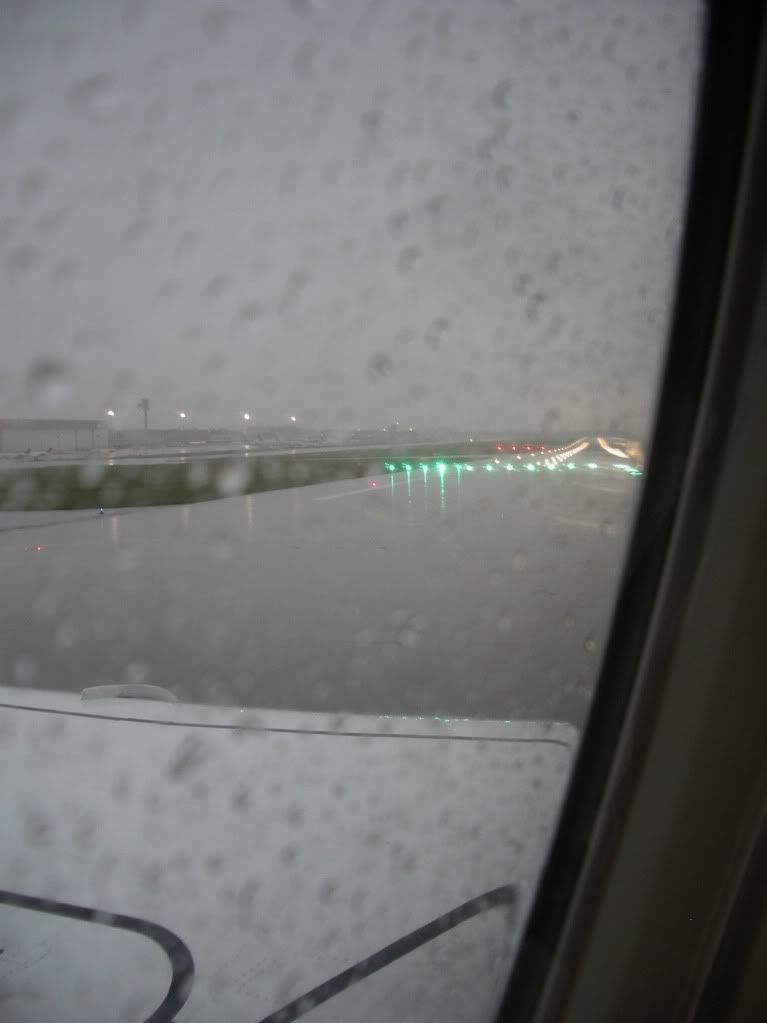 The duration is 45 minutes only.
Two female FA´s here, ok so far.
It looks like nothing special from above
The also german FO is on the speakers short after departure, he explains the situation during our departure very detailed.
There is no service inflight due to expected turbulences.
It is finally nothing really special, some shakers at all.
The whole flight is with curves around the heavy cloud tops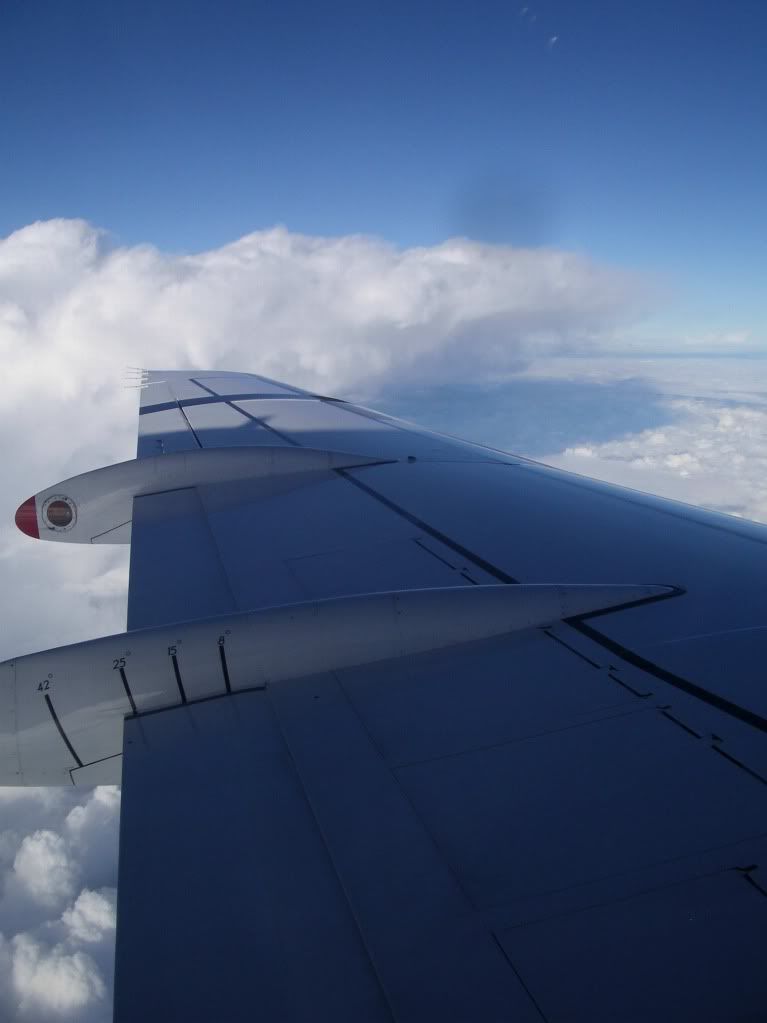 Also clouds above STR
Arrival at 8.10 pm,
runway 25,
that means a 20 minutes delay, the sky is cloudy, but at least no thunderstorm or rain here, with 15 degrees.
A finger gate is ready for us
Quickly out in the public to catch my car back home.
The last of 20 flights this week in the log!
LGW is still interesting for me, maybe another visit coming up.
Now it is close to three weeks without flying till a trip to Denmark is on the schedule.
"Two A.netters but no more Wings of Bornholm",
coming up soon.
Anyone on Facebook?.
"Markus Klaus Felger", that´s me.
If someone want´s to see me on the friends list, send me an invitation.
Comments welcome
Markus (FLIEGER67)