This is the third in an eventual five part series on my flights around Europe in the summer of 2010. The first part, detailing my flight from Australia is here:
MEL-SIN-DXB-IST On SQ
(by
RobMEL
Jul 2 2010 in Trip Reports)
The second, detailing my domestic travel in Turkey is here:
CKZ-IST-ASR On TK In Y
(by
RobMEL
Jul 3 2010 in Trip Reports)
And now…part 3.
My time in Turkey had come to an end, and I was to fly northwards to my old stomping ground in Estonia. I had picked up a dirt cheap ticket with BT from IST, including baggage allowance, so I was quite happy. The only problem…was getting back to Istabul from Cappadocia.
The solution- a marathon day of travel, involving a bus, a train and a ferry…and then the flights to cap it all off. My coach ride from Goreme took me to Ankara, where I was to get the overnight train. The drive itself was about 5.5 hours, and was reasonably bearable. For those that haven't experienced coach travel in Turkey, it's something to behold. Brand spanking new Scania's and Benz's ply the highways, with all the mod-cons, including in my case, a bow-tied conductor who provided complimentary tea, coffee and cakes for the passengers. It was better than some airlines I've flown.
I had a leisurely 8 hours to kill in Ankara. After visiting the museum of Anatolian Civilisations (quite good) and bumming around the hip district, I decided to do what I hadn't done in some time- I went to the movies. Life in the fast lane!
Anyway, my train was scheduled to depart at 2230, and arrive around 7:30am the next morning. As I know some of you are interested in trains, here are a couple of photos:
Train at Ankara Station. Very new and modern rolling stock.
My bed folded down from the wall over the seats; it was an easy thing to do, but the conductor insisted on doing it for me.
In the cupboard was a little fridge, which had a couple of snack things and a tub of water, airplane style.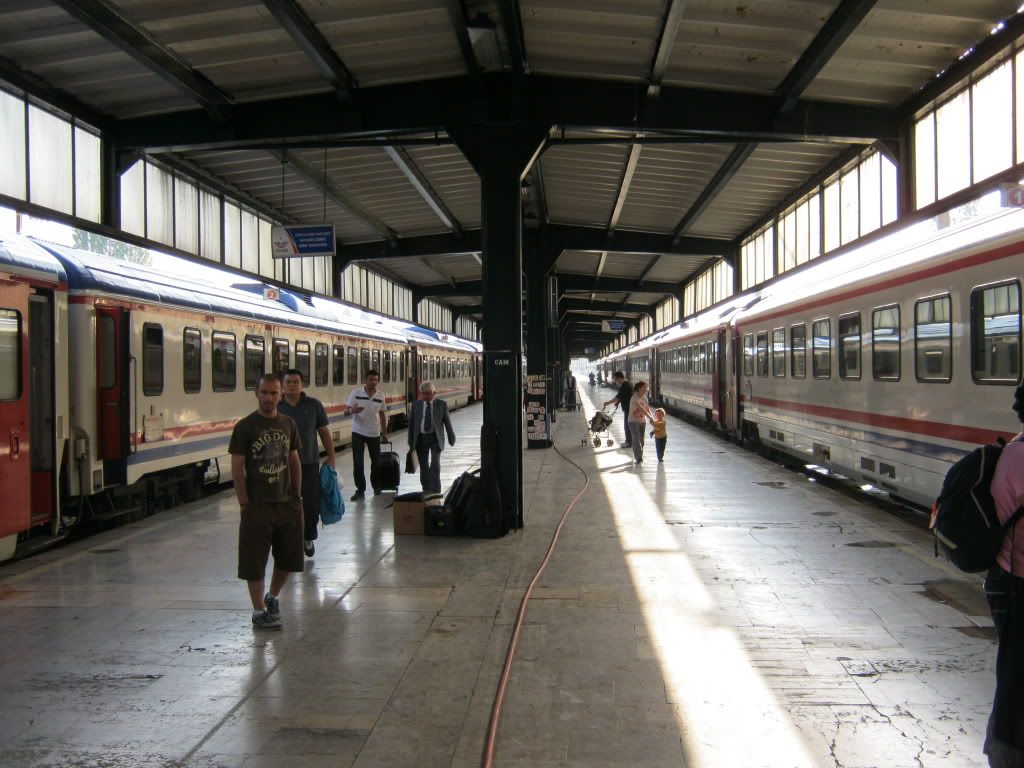 Arrival at Istanbul
The locomotive.
Istanbul Haydarpasa station. The Asian side.
Overall, it was a great trip. I booked a single cabin, and it cost a paltry 85 Lira. The train left on time, but was 30 mins late in to Istanbul. Hardly a surprise. Recommended for anyone who likes train travel, or hates overnight buses.
A ferry ride, then a tram ride and I was at Sirkeci station where I dumped my bag before setting of for some breakfast. I met with a colleague who happened to be in Istanbul, drank more Turkish coffee than is generally considered healthy, and set off by tram and then metro for IST. I truly was trying to experience all forms of Turkish transport in as short a period as possible.
I arrived at IST and went to check-in. Only 2 desks open, 1 for economy and 1 for business, but as business was hardly busy, they were checking us economy plebs in as well. I seemed to be the only person who had read the website carefully and pre-purchased my luggage allowance, as the 5 people in front of me were all sent off to pay for their bags.
I'm pretty sure the guy at check-in was either having a bad day, or didn't like that fact he couldn't charge me extra. I asked for a window seat, and he gave me an aisle seat. I asked again for a window seat, and he said "aisle seat is better for you". I thought perhaps this was code for something, like an upgrade or a premium seat…but wasn't sure. I would soon find out.
As noted by a few people, IST is unbelievable expensive when it comes to food. A meal from Burger King, admittedly the large one, was 20Lira! Still, I stole wifi from a café (they used the same password as they did in the domestic terminal) and went about my business, before wandering down to the gate.
Here are a few shots of the airside terminal: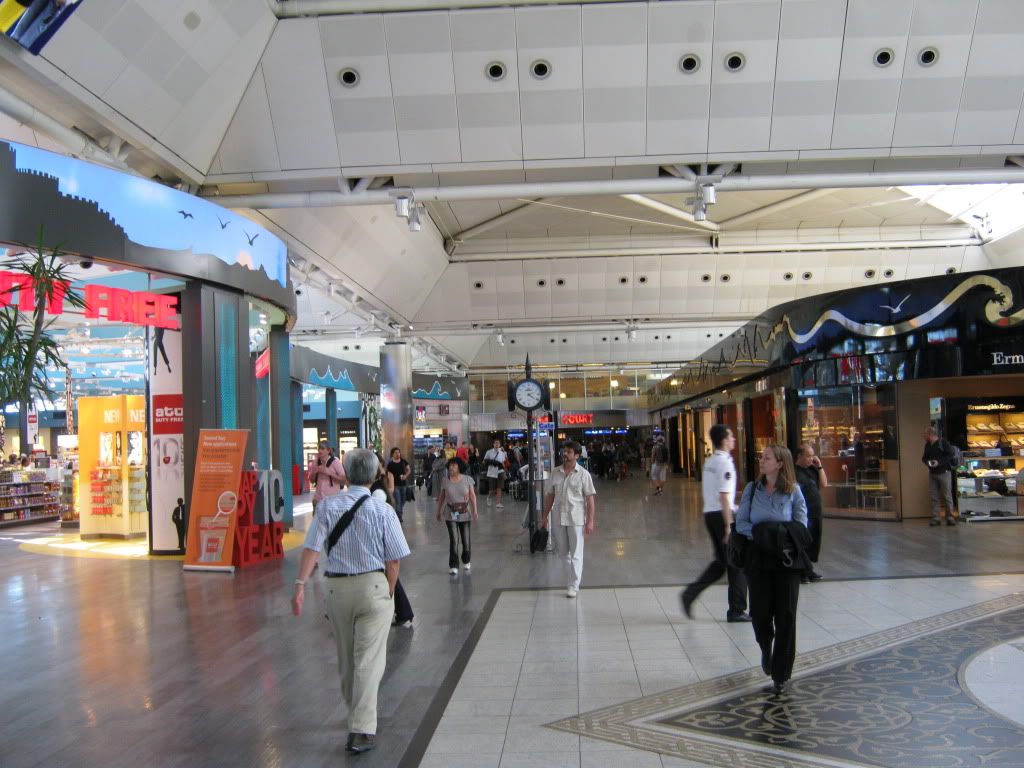 Spotting isn't so good at IST I thought, as air bridges and secure lounges get in the way. I did get this shot of an IcelandicAir jet. Cargo, if memory serves me right.
This was the best I could do for my BT jet.
Boarding started, and after a loooong walk down the air-bridge, I boarded and found my seat. It was neither an upgrade, or premium, or even very good. It was the last row before the emergency exit, so it didn't recline. There was no seat pocket, only this stupid plastic magazine holder that wasn't big enough to put anything worthwhile in. The only saving grace was that the seat next to me was empty.
Leg room…passable.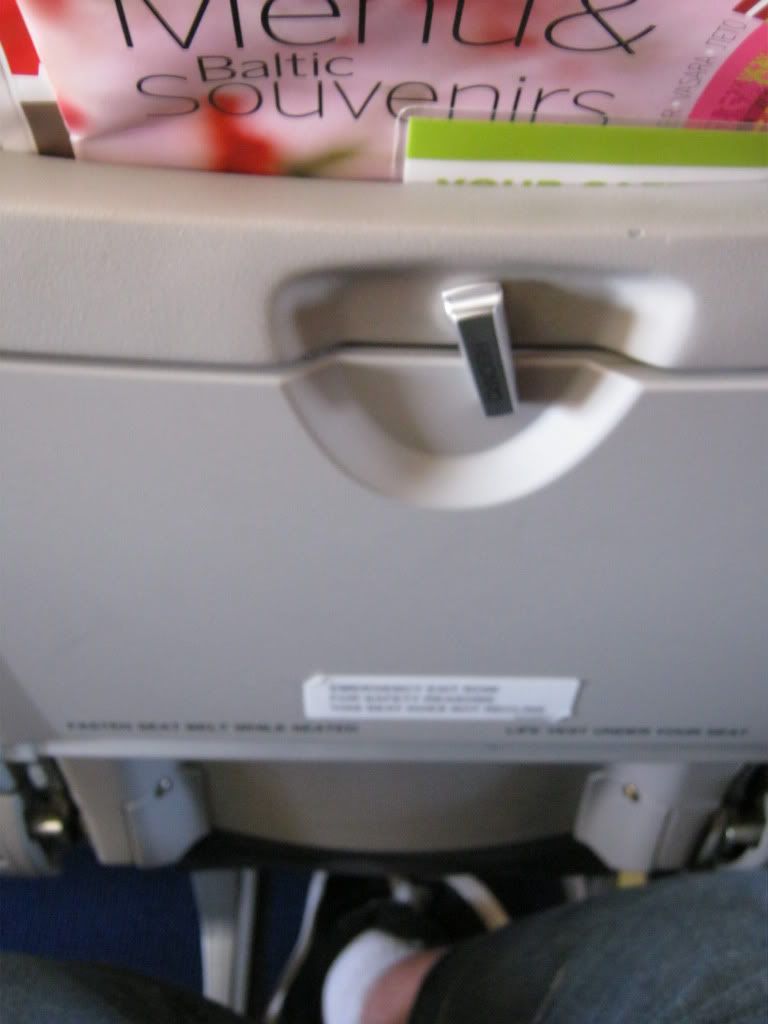 I do not endorse this type of arrangement whatsoever. Put back the seat pocket! It should be noted that seats row 11 and backwards all had seat pockets. I saw them when I went for a bathroom break.
On the subject of seating, it was somewhat erratic in how they'd allocated seats. In the row next to me, there were 3 people, who as it turns out, were not connected to each other. The row in front of them had 1 person. So…why put someone in the middle when there's a vacant aisle seat. A quick glance around the plane after the door shut showed similar things going on. Fortunately, everyone was smart enough to move around a bit and make use of the cabin…including the seat in front of me, which was promptly reclined after take off. Grrrrr.
BT712 IST-RIX
B737-500
21/6/10
Seat 10C (I think)
Load- 65%Y, 75%J.
Push back: 10 mins late
Arrival: 30 mins late
As with my domestic flight out of IST, we sat in a queue for take off. We were 12th. We had a 40 minute wait apparently. People started getting worried, as almost everyone had connections in RIX, some with very short times (25 mins for HEL pax I think). I had 2 hours so wasn't overly worried. Cabin crew re-assured everyone we'd still be on time as flight time was 30 mins less than scheduled. But, as 4pm came and went it became clear that we weren't going to be arriving on time, and that connections were going to be missed. Eventually it was out turn. As we turned on to the runway and rolled out, I counted 18 aircraft on the taxiway waiting take-off, and God knows how many were waiting to land.
There are no photos of the flight. I had to stash my camera in my bag as it wouldn't fit in that demented little magazine holder; but then I promptly forgot about it. At any rate, I didn't have a window seat.
Arrival in RIX was 30 mins late, and several flights were missed. I was shoved out of the way by one of these passengers as I stood up to get my bag. Im not exactly a small man, so to shove me takes some effort and decision, so it was no accident. When I looked at the person who had done it, it was a 40 something lady. I said "excuse me, but why did you shove me?" "I have plane to catch, you were in way" in a thick Russian accent. I said "well, it was quite rude, and it's got you nowhere, as the door isn't even open yet". She glared at me.
I had the last laugh. I was well aware of the fact we were at a remote stand, and we'd be bussing it to the terminal anyway. She obviously was not. Indeed, on the bus ride over, she glared at me the whole time as if it was my personal fault that she missed her flight. We arrived at the non-schengen door (coming from Turkey) and she bolted…but went to the wrong queue. Foolish woman. I later saw her arguing with BT staff in a heated manner about something. Thankfully, she was not on my next flight.
RIX hasn't changed much from my last visit in 2004. After clearing immigration in to the transit area, I got a bite to eat and had enough time for a quick visit to the men's room before boarding my flight. A shorter transit time is a good transit time, and I didn't feel bored nor rushed.
BT363 RIX-TLL
F50
21/6/10
Seat 7A
Load- 100% Y.
Push back: on time
Arrival: 10 mins early
My first flight on the F50. We bussed out to the aircraft and boarded in a relatively orderly fashion. I got a few snaps on the way.
Transfer bus.
RIX main terminal
BT 737 and 757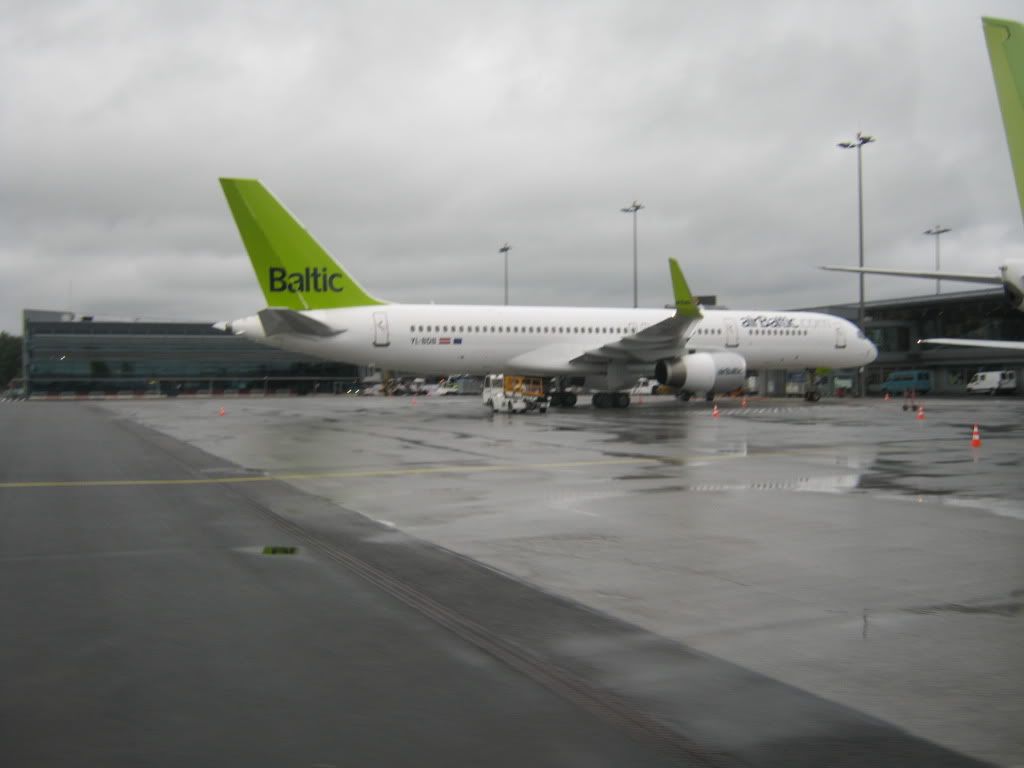 BT 757
Aeroflot…something or other. Tupolev I think. Russian made aircraft are not my forte. Note the MiG in the background (I'm probably wrong there too)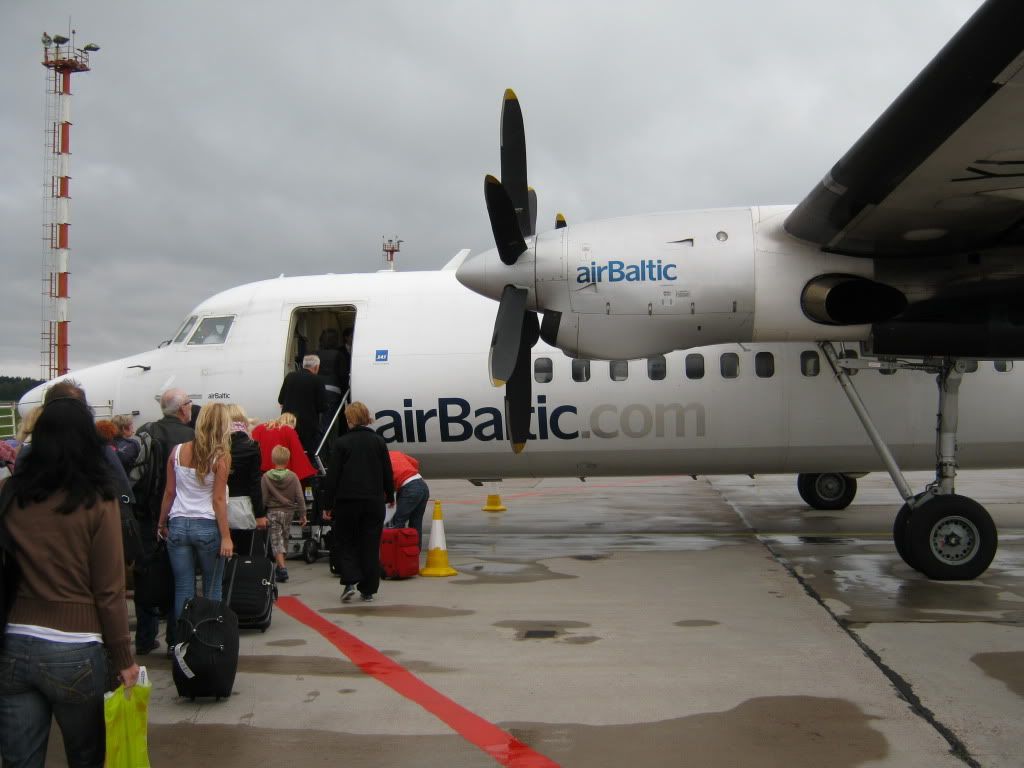 Boarding.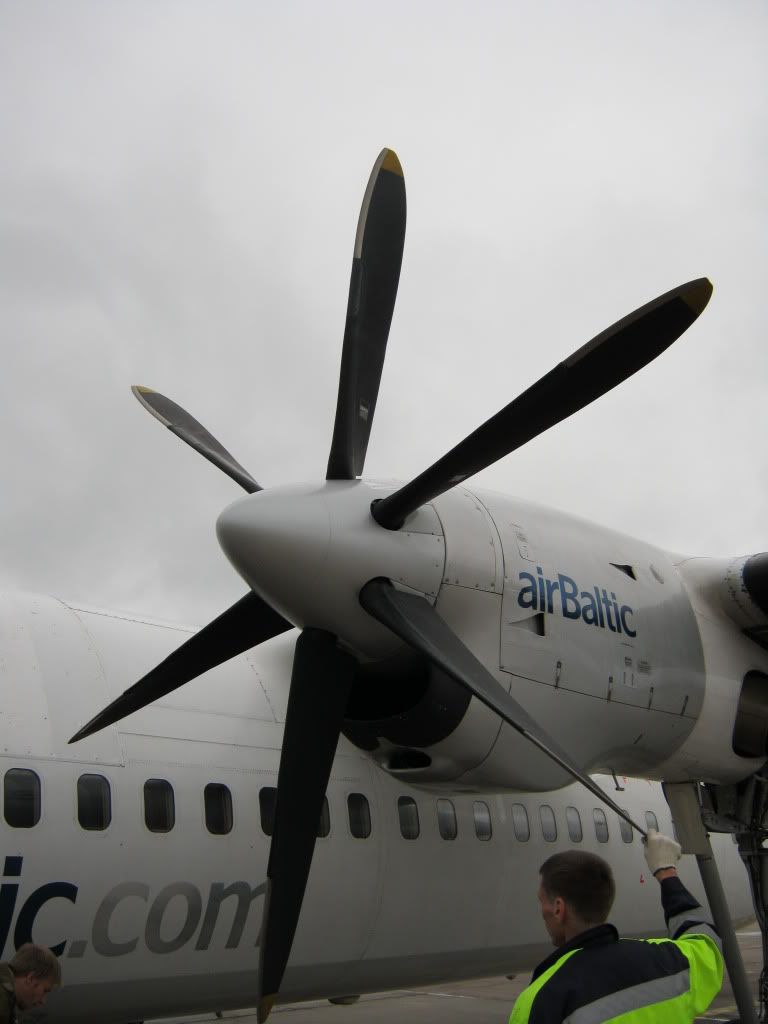 Ilyushins (?) hanging about.
You know it. Not a lot of space…good enough for a short hop. Barely.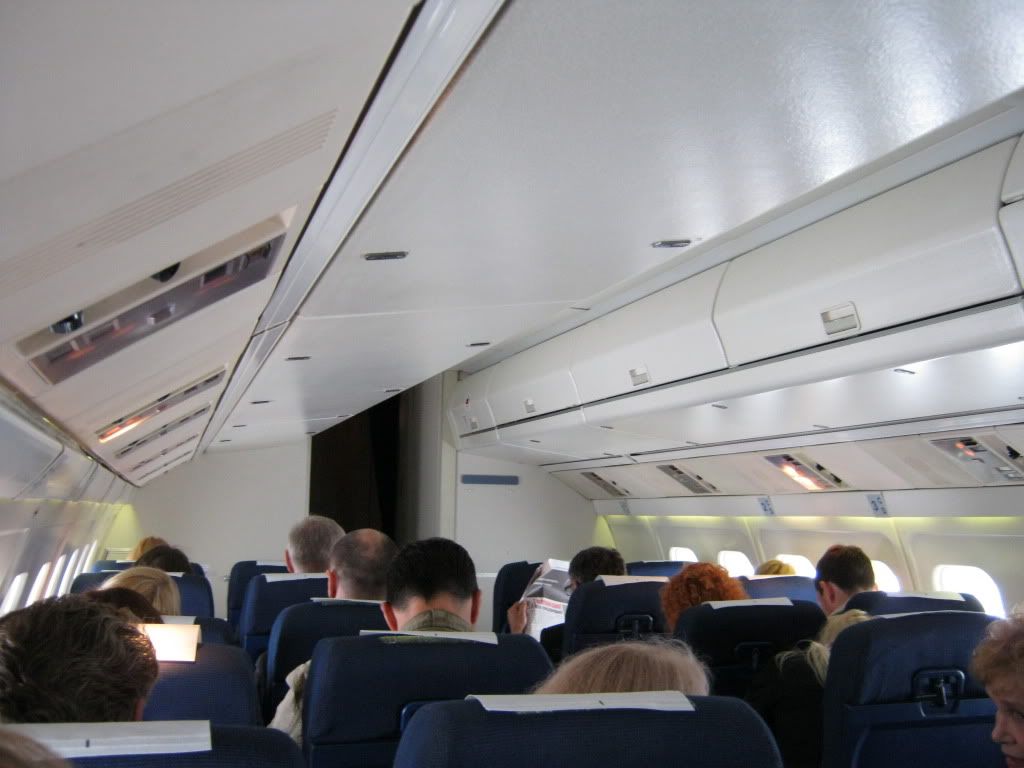 Cabin shot.
We taxied seemingly the whole distance around the airport before taking off. No queues here! I do love the sound of a prop on take off, very throaty and passionate roar. Flight time was about 40 mins, and before long we were out of the clouds and in to sunny TLL.
Somewhere over Estonia.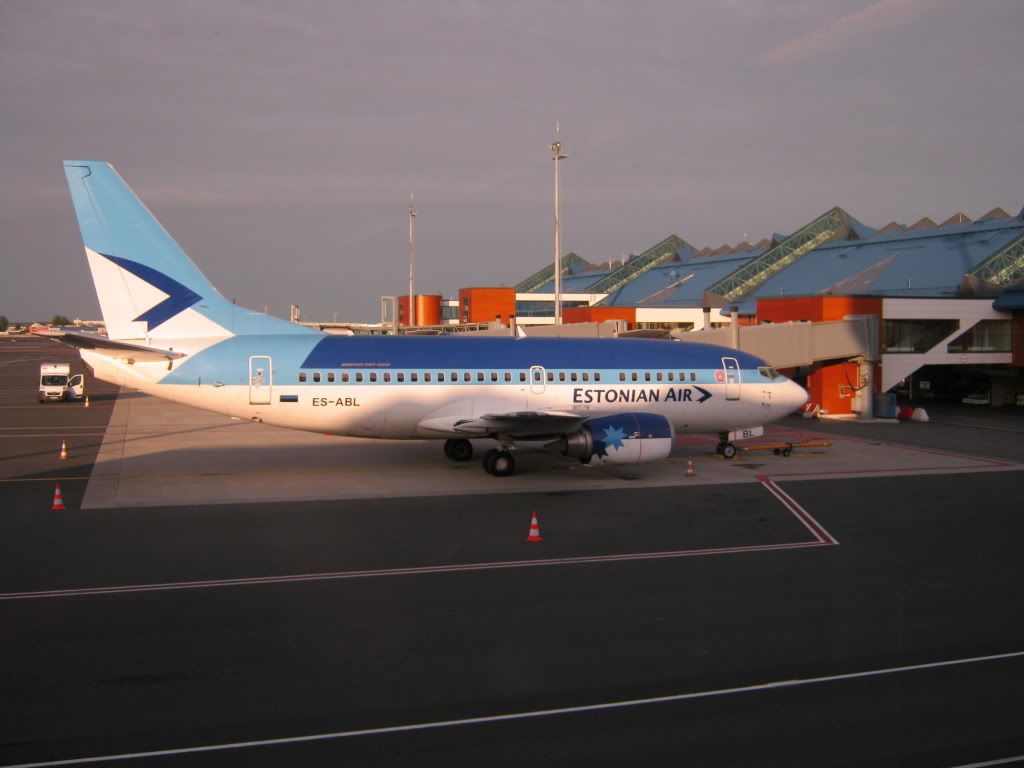 Estonian Air 737 at home.
TLL was extremely quiet on our arrival. We were the only flight in at that time, and there was literally no-one in the terminal waiting for a flight. I grabbed my bag quickly, and was out the door to meet my friend.
A solid experience on BT overall. They seem to be positioning themselves quite well as a respectable LCC link between Western Europe and the former Eastern Bloc, including flights to some pretty obscure spots in Central Asia and the Caucasus.