Feedback always appreciated.

I > Background:
Our company has a big office in NYC and I periodically make visits to check things out there. After a fruitful work week, I had the option of spending a weekend in NYC … or, take the opportunity to visit the Azores … a group of island that I had never been to, and one that had a lot of appeal to me. SATA had some attractive fares in JCL from BOS and I decided to bite the bait. I would go to the Azores, fly the 313, and sample SATA (which I had never done before)! Does one need more excuses? Anyways, took the Amtrak Acela (seriously, the U.S. NEEDS to invest in its railways) Thu afternoon, and was in BOS for my flight.
While I believe there have been a couple of reports on SATA, I believe this would be the first coverage of their trans-Atlantic operation and of their JCL product.
II > Pre-Flight:
a) Before Airport:
SATA International is an airline based in Ponta Delgada, in the Azores, Portugal. It operates scheduled flights to the Madeira Islands, mainland Portugal and other destinations in Europe and North America including Oakland! It recently rebranded its operations and is increasingly focused on its strategic location to build a "hub" of the Atlantic …the way I see it, sort of the Icelandair … just southern and in an island whose people I adore significantly more
.
SATA's website at
www.sata.pt
has improved tremendously over the years and I was quickly able to make my purchase. More importantly, I even got the option to choose my own seat, and later view my e-ticket. Only thing is that you are not able to modify online … either the reservation or the seat assignment.
b) At Airport:
SATA (like all other foreign carriers) use the international Terminal E @ Logan Airport. While I find Boston's Logan airport to be pleasant, facilities in the international terminal E is limited. My check-in agent was a charming chatty Italian woman who insisted on telling me how much she hated Boston and wants to go back … unprofessional maybe, but hilarious! Anyways, she was quickly able to print my boarding pass and issue me my lounge invitation. I was the last person to check-in for the flight and the agent was "shocked" that I turned up only an hour before the flight. Apparently, people start queuing over 5 hours before the flight and carry their kitchen sink … no wonder the 313 is such a perfect fit. The agent was more "shocked" when I told her I had no carry-on!
After a quick security check, I was in the small sterile area that is still stuck in 1970. SATA's departure is the last international flight out of Boston and the terminal is pretty dead by now. Given the dearth of F&B/Retail options, I made myself down to the "dungeon" (aka, basement) of Logan airport where the lounges are located. SATA uses the Aer Lingus Gold Circle Club which is another window-less lounge that looks like it needs a major revamp. Actually, it is probably one of the better lounges in Boston (sadly). It is also MILES ahead of the one-room crappy lounge that Lufthansa has (and, which I consider the worst in the world)!
Boarding was called 45 minutes prior, and was amazingly chaotic. It was interesting to be pushed back from gate 8A as the neighboring gate featured TACV's flight to RAI and the entire area was one Portuguese speaking love fest. It was actually cute and I really would like to do a sociological study on the fascination Portuguese speakers have with the Boston/Providence corridor. Anyways, the crazy boarding included everyone rushing to the gate, no special call for J class or "status" holders, and more importantly amusing scenes of people pushing and shoving. I hate to say it ... but it was kinda quaint. Upon boarding, the crew seemed indifferent towards the passengers and no one came to take my jacket until the very end. J load of 7%; Y load was 75%. Stepping into the 313 was being suddenly transported to the mid 1980s to mid 1990s period. The yellowish lighting, the seats, the entire cabin ... just felt like I had stepped back to taking a PANAM 310 across the water.
My favorite part of the entire boarding process was when a man in YCL walked up to the lead crew member and offered USD 250,00 for an upgrade to JCL. Frantic calls between the crew member and ground staff ensured and the man was able to buy-up last minute a seat in JCL! All very old-school … and definitely fitting the overall décor of the 313.
>Airport - External:
(Boston Airport, Terminal E)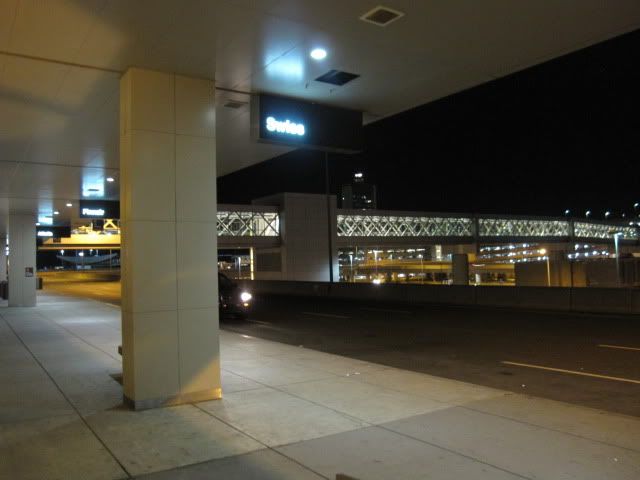 *
Check-in:
(I was the last one to check-in)
Airport - Internal: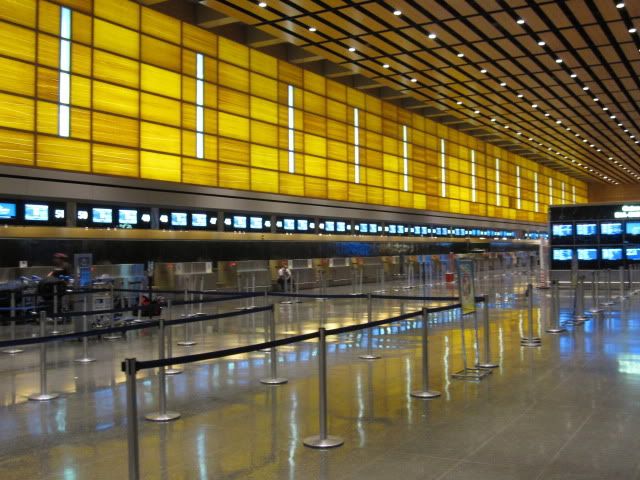 (FIDS)
(Post Security @ BOS)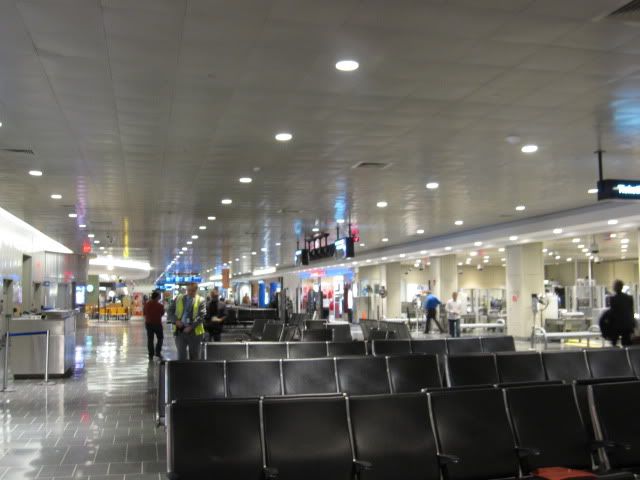 *
Scenes of the tarmac:
NONE
Lounge
(Aer Lingus "Gold Circle")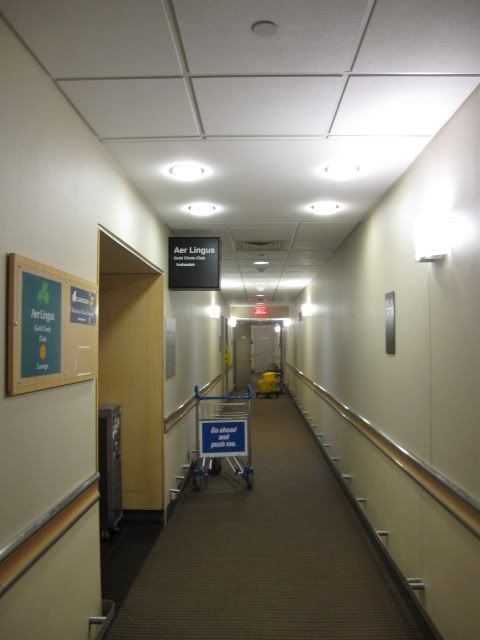 *
*
Boarding:
(Boarding gate area – after TACV flight just left)
("ILBST" should probably be changed to include "ILPBST" where P = Portuguese)
III> In-Flight:
a) Service Schedule + Impressions:
One of my pet peeves is slow service on a late-evening flight … especially one that is short. Service was tremendously slow. Prior to take off, only drinks were offered. After take-off, the skimpiest JCL blankets and pillows were distributed, followed by an amenity kit (not too shabby), and probably the worst set of headphones I have ever been offered in Business Class anywhere in the world. Finally, we were offered meal choices and orders taken. Full meal service ensured. Nothing offered prior to landing.
b) Aircraft + Seats:
SATA's Airbus A-310/300 have served numerous operators and I believe my bird was originally delivered to Air Afrique. They definitely showed their age – the yellow lighting and the dim interiors reminded me of a time 20-or so years back. While the aircraft was relatively well maintained, the entire feeling was a little too gloomy for my taste.
The seat itself was like any other U.S. domestic JCL seat. The clothed seat was very comfortable during seat position … but anything beyond that was not fun. Legroom was OK … but recline was abysmal. The worst was definitely the awkward leg-rest which did not add anything to the seat and made it weird to sit comfortably.
Aircraft:
(313 @ PDL)
Views from Aircraft:
NONE
General Seat Views + Seat Legroom
(Seat)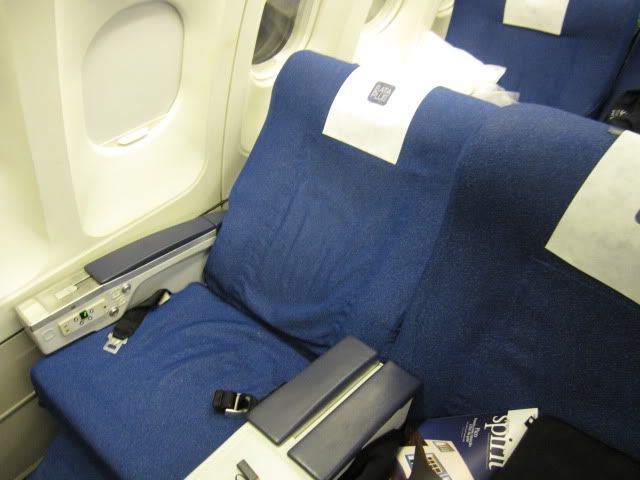 (Seat controls)
(Legroom)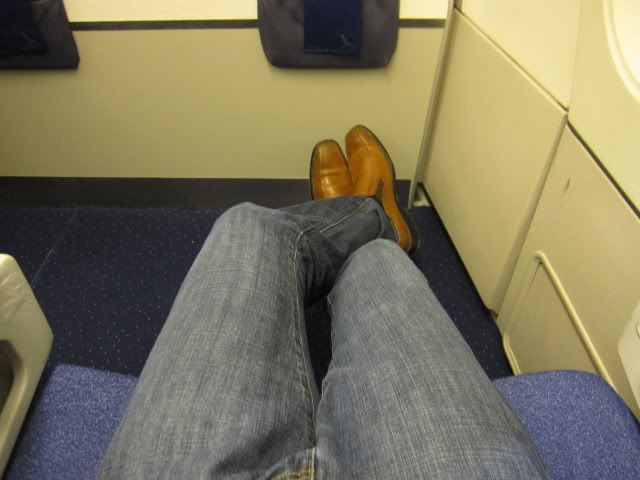 *
(Someone please tell me how to use these leg rests comfortably)
*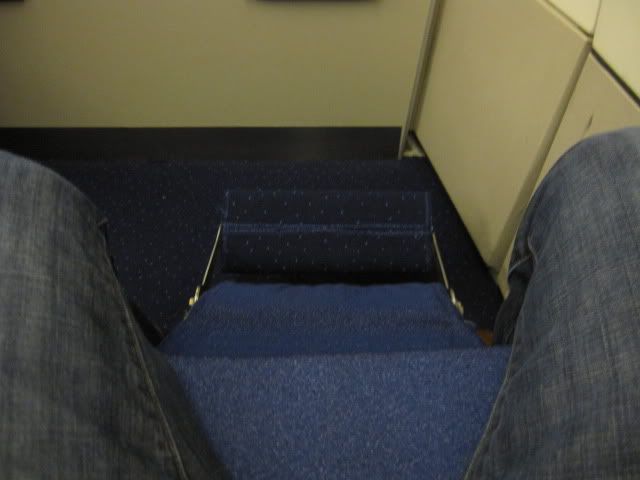 (Blanket – very much like what UAL gives in YCL)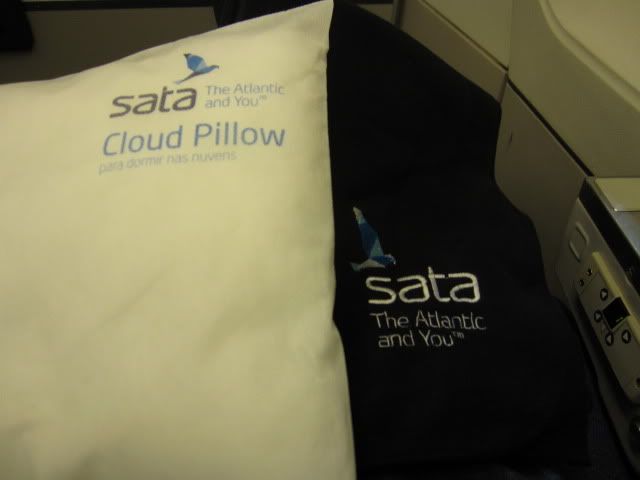 Seat Recline + Angle View:
(Not much of a view)
*
*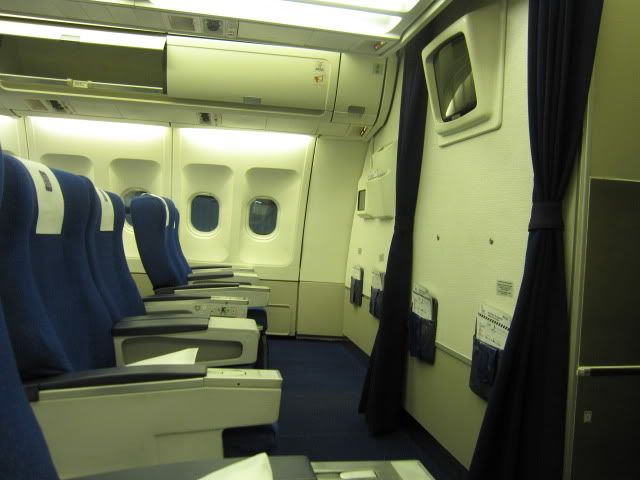 Cabin:
*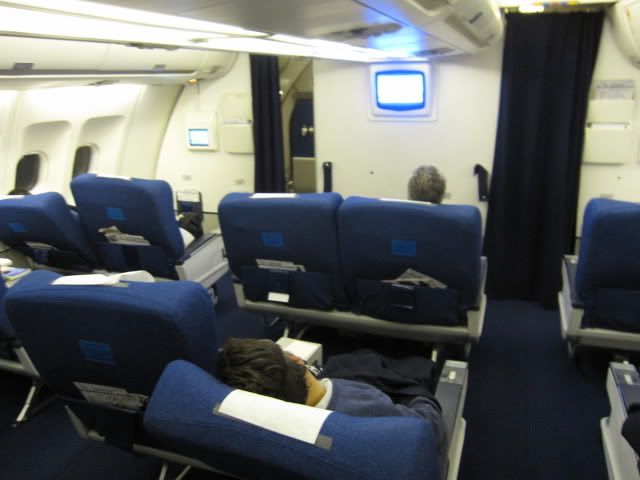 *
(Old School)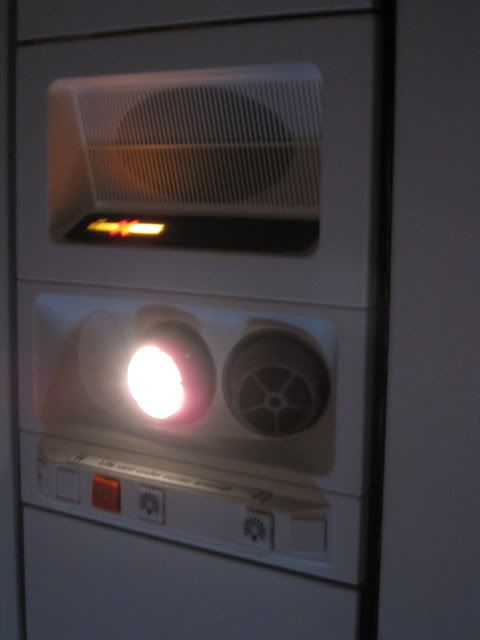 *
(Bathroom Amenities)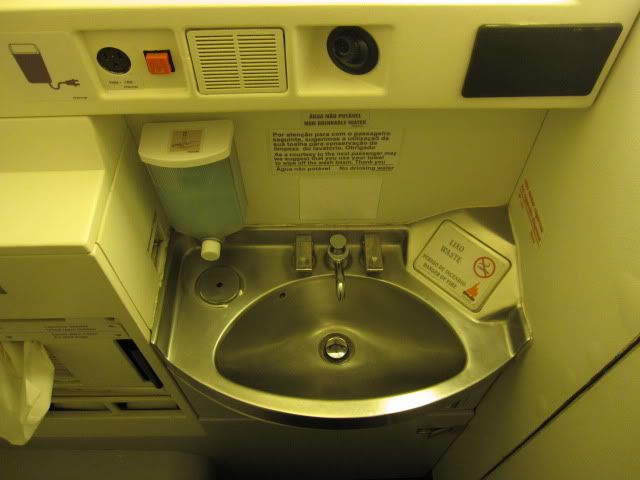 *
c) Meal + Beverage:
Dinner took forever to be served – on a late evening flight of such length, there really is no excuse for the entire service to take 3 hours. Meal choices included fish or chicken (no menu) and a choice of drink. Orders were taken just after take-off, but took forever to arrive. They consisted of a snack with a drink, followed by the entire meal service. The meal consisted of an average salad, the coldest bread I have found in JCL, an interesting medley of fish, potatoes, and carrots as my main (it was OK), and a nasty dessert which was pretending to masquerade as a chocolate soufflé.
All in all, an extremely disappointing affair made worse by the fact that there were no water runs or anything of that sort during the duration of the flight.
(Dinner)
*
d) Inflight Entertainment:
IFE on SATA consisted of a movie shown on flickering screens after the meal service was completed. Again, very much like it used to be in the 1970s/1980s. They showed "Willy Wonka" – and to complement the screen and the overall feeling, the earphones provided were hands-down the worst I've ever encountered in an intercontinental JCL. The in-flight magazine was above average and had a lot of coverage on topics such as SATA's past, and the aspirations for the future. However, given the state of the product, I feel that these cosmetic changes would do nothing if the service approach and mindset does not change … otherwise, it is like a pig with makeup. Sort of what I feel about Avianca … but at least, they have good IFE options!
(IFE Screen)
(Abysmal Headphones)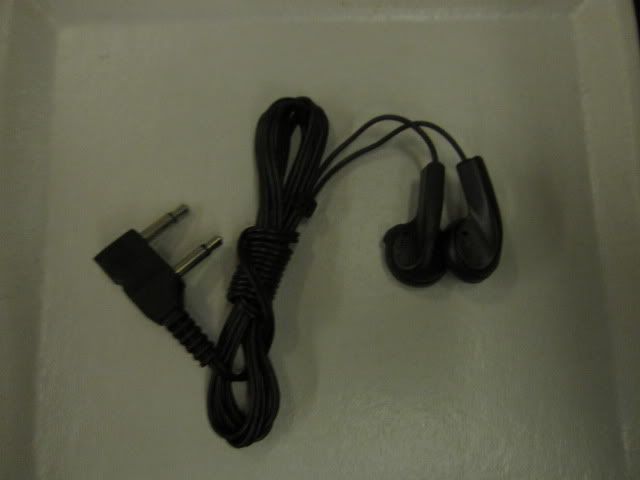 ("In-flight magazines", Boarding Passes, etc.)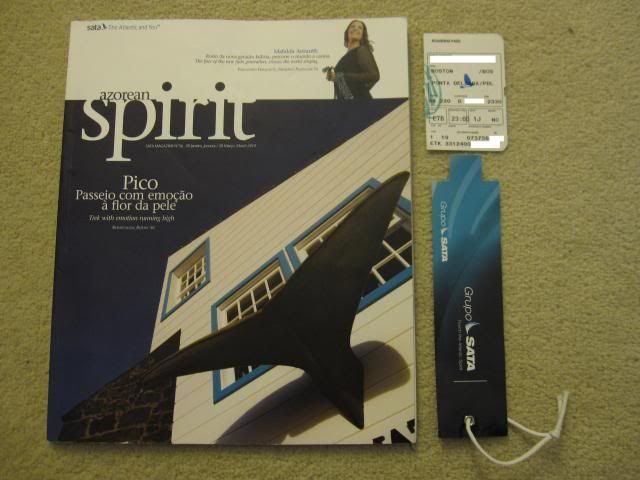 e) Crew:
One day when I have the time and money, I would commission a study to understand why Portuguese customer service culture is so weak … especially when it is hands-down (for me, at least), the friendliest country in all of Europe. The SATA crew lived up to this stereotype by being completely detached from their job, and thus the customer experience. I don't think I saw that infectious smile that is such a hallmark of their fellow country-folk. They were barely there during boarding when my coat lied next to me until the very end. Pre-take off drinks came well after we had pushed back, and the entire meal service was abysmal. For a load of 10% in JCL, there just is no excuse for taking as long as they did. More so because I counted and they seemed to have an abnormally high number of staff assigned to take care of JCL … actually, I think like a staff per pax! Upon arrival in PDL, they just merely stood at the gate without any desire to thank their passengers, or say goodbye. Overall, an extremely disappointing experience.
IV> Post-Flight:
Arrival into Punta Delgada is beautiful as the approach calls for the airline to fly along the coastline giving a great glimpse of the island before arriving in. Disembarkation was through stairs and I was quickly through Immigration and to the rental car place. The Islands are breathtaking and I have a special place for the Portuguese so it ended up being a wonderful trip.
(Approaching PDL and PDL Airport)
*
*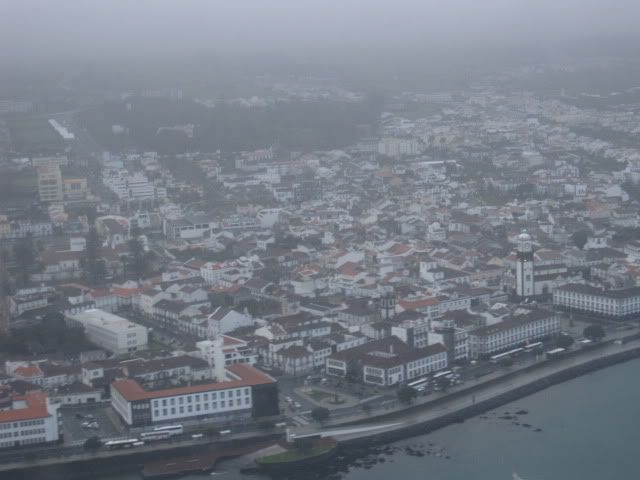 *
*
*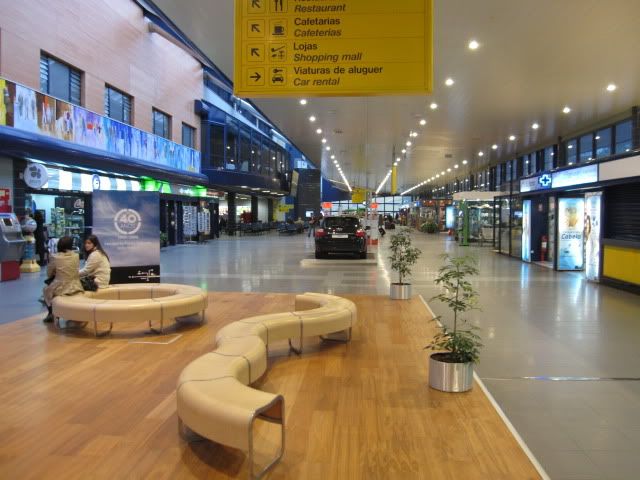 *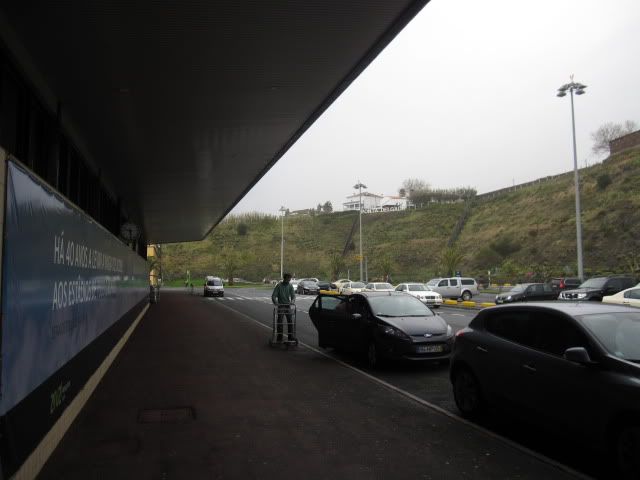 V> Impressions + Scores:
SATA is a mediocre airline that should look within before launching a rebranded effort to become something that it is not. To be fair, it serves a rather unique niche market and provides connectivity to the Azores. Beyond that, there are few redeeming features about the airline. The personnel are uninterested at their jobs; there is no real IFE; the seats belong to a different era (and, what's with those legrests?); and, the meal service and the meal leave much to be desired. Personally, I just do not see the value of their J class. Even when priced significantly below the other carriers, it is still a poor experience. In fact, if I were them, I would re-brand their JCL product as Premium Economy.
Unless I was flying to the Azores and had no option, I probably would never fly them again … irrespective of how much I was saving. Ok, maybe I would fly them in YCL … the upgrade to JCL is just not worth it. Two thumps way down.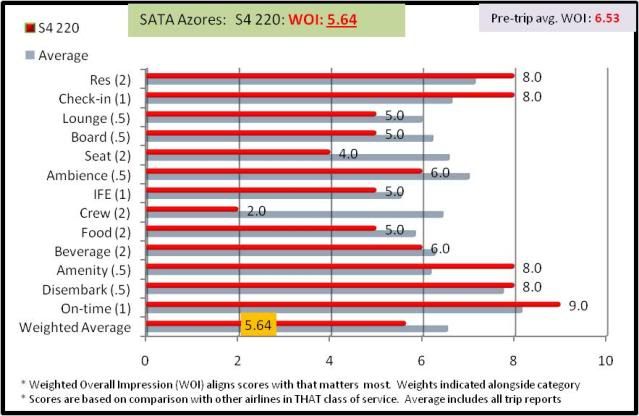 VI> Other Trip Reports:
PREMIUM:
8.66:
Brussels Airlines (93): FIH-BRU: 01/2010
8.64:
Turkish Airlines (59): JFK-IST: 11/2008
8.63:
Jet Airways (88): JFK-BRU: 10/2009
8.61:
Air Canada (49): YYZ-SCL: 06/2008
8.54:
Turkish Airlines (77): GRU-DKR-IST: 04/2009
8.36:
Kingfisher (98): BOM-HKG: 01/2010
8.30:
Jet Airways (74): KWI-BOM: 04/2009
8.23:
United Airlines (72): SFO-SYD: 03/2009
8.11:
Aeroflot (33): MOW-DEL: 09/2007
8.05:
Air India (80): CCU-JFK: 06/2009
8.04:
Korean Air (40): NRT-ICN: 10/2007
8.02:
Delta Airlines (24): JFK-CDG: 08/2007
7.64:
Royal Jordanian (91): AMM-YUL: 12/2009
7.46:
LAN (55): YYZ-JFK: 09/2008
7.82:
Singapore Airlines (06): EWR-SIN: 09/2006
7.25:
Iran Air (88): BOM-IKA: 12/2009
7.23:
Virgin Atlantic (81): BOS-LHR: 07/2009
7.14:
Swiss (52): SCL-GRU: 06/2008
7.11:
Austrian (79): VIE-JFK: 06/2009
7.07:
Privatair (84): BOM-FRA: 08/2009
7.02:
Qatar (68): DOH-JFK: 01/2009
6.96:
Etihad (61): JFK-AUH: 12/2008
6.93:
Delta Airlines (18): SEA-JFK: 11/2006
6.84:
ConViasa (65): CCS-DAM: 01/2009
6.81:
Air Canada (17): ICN-YYZ: 10/2006
6.70:
KLM (32): EBB-AMS: 08/2007
6.52:
Emirates (99): LHR-DXB: 02/2010
6.39:
South African (97): EZE-JNB: 01/2010
6.36:
Privatair (60): MUC-BOS: 12/2008
6.29:
TAM Brasil (96): POA-EZE: 02/2010
6.25:
Korean Air (45): NAN-ICN: 10/2007
6.21:
Iberia (87): BOS-MAD: 10/2009
6.11:
TAP Portugal (53): GRU-OPO: 06/2008
6.00:
Gulf Air (75): BOM-BAH: 04/2009
5.88:
African Express (89): DXB-NBO: 11/2009
5.75:
Singapore Airlines (16): CCU-SIN: 10/2006
5.64: SATA Azores (101): BOS-PDL: 04/2010
5.64:
NorthWest (46): ICN-NRT-SEA: 10/2007
5.54:
Ethiopian Airlines (95): ADD-BOM: 01/2010
5.46:
Icelandair (83): KEF-BOS: 08/2009
5.39:
LOT (54): WAW-JFK: 06/2008
5.21:
Egypt Air (73): CAI-IST: 02/2009
5.07:
TACA (66): JFK-SAP: 01/2009
4.42:
Air France: CDG-JNB (25): 08/2007
ECONOMY: Long + Medium:
9.26:
Air India (48): JFK-DEL: 02/2008
7.38:
Avianca (01): BOG-LIM: 07/2006
7.07:
Sri Lankan (62): KWI-CMB: 12/2008
7.00:
LAN (94): IPC-SCL: 01/2010
6.41:
Avianca (78): JFK-BOG: 05/2009
6.41:
American Airlines (58): LHR-BOS: 11/2008
6.39:
Condor (85): SEZ-FRA: 09/2009
6.26:
Jet Blue (21): CUN-JFK: 02/2007
6.06:
Air Canada (04): YYZ-YVR: 09/2006
5.89:
USA 3000 (19): PUJ-BDL: 01/2007
5.85:
Spanair (69): MAD-LPA: 02/2009
5.79:
Air New Zealand (42): RAR-NAN: 10/2007
5.52:
Aerolineas (86): USH-AEP: 10/2009
5.46:
TAP Air Portugal (23): OSL-LIS: 05/2007
5.19:
Air Europa (70): LPA-MAD: 02/2009
5.16:
Iberia (71): MAD-BOS: 02/2009
5.11:
Air China (82): FRA-PEK: 08/2009
ECONOMY: Short
8.56:
Paramount Airways (38): BLR-MAA: 09/2007
8.56:
Kingfisher (64): HYD-CCU: 12/2008
8.24:
Kingfisher (14): IXA-GAU: 10/2006
7.87:
Indian (34): BOM-MAA: 09/2007
7.72:
Alliance Air (13): CCU-IXA: 10/2006
7.57:
Indian Airlines (10): DEL-CCU: 09/2006
7.23:
West Jet (03): YYC-YVR: 09/2006
7.15:
JetLite (37): BOM-GOI: 09/2007
6.98:
Air Koryo (100): PEK-FNJ: 04/2010
6.70:
Spice Jet (09): CCU-DEL: 09/2006
6.63:
Air Fiji (44): NAN-SUV: 10/2007
6.63:
Jazeera (67): DAM-KWI: 01/2009
6.58:
Air Tran (02): EWR-MDW: 08/2006
6.48:
Air India Express (63): CMB-MAA: 12/2008
6.44:
CO Micronesia (39): ROR-YAP: 10/2007
6.41:
Pacific Sun (43): NAN-SUV: 10/2007
6.37:
Skybus (47): SWF-CMH: 02/2008
6.33:
Kenya Airways (29): NBO-BJM: 08/2007
6.33:
Sky Europe (56): LTN-BTS: 10/2008
6.31:
Indigo (15): GAU-CCU: 10/2006
6.31:
easyJet (57): BUD-LTN: 11/2008
6.22:
Air Link Swazi (28): MTS-JNB: 08/2007
6.22:
Air India (36): HYD-BOM: 09/2007
6.13:
Adam Air (07): SIN-CGK: 09/2006
6.13:
Air Rarotonga (41): RAR-AIT: 10/2007
6.00:
Transairways (27): INH-MPM: 08/2007
5.95:
Air Canada (05): ALB-YYZ: 09/2006
5.85:
SAS Norge (22): OSL-AES: 05/2007
5.81:
LAM Mozambique (26): JNB-MPM: 08/2007
5.69:
Air Deccan (12): IXZ-CCU: 10/2006
5.67:
Rwanda Air Exp (30): KGL-NBO: 08/2007
5.37:
Felix Airways (92): SCT-SAH: 12/2009
5.11:
Aero Republica (76): BOG-CCS: 04/2009
5.07:
Go Air (35): MAA-HYD: 09/2007
5.00:
Sky Airline (51): IQQ-SCL: 06/2008
4.96:
Valuair (08): CGK-SIN: 09/2006
4.78:
Air Comet Chile (50): SCL-IQQ: 06/2008
4.74:
Fly 540 (31): MYD-LAU: 08/2007
4.33:
Viva Aerobus (20): ELP-MTY: 02/2007
4.11:
Air Sahara (11): CCU-BOM: 09/2006
(Note on Codes: Y – Economy, J – Business, F – First :: I/D – International/Domestic :: SR/MR/LR – Short/Medium/Long Haul)
(Note on Date: Dates are modified to be +/- 3 days from actual flight date to not reveal actual flight pattern)
VII> Other Pictures:
(Probably the best part – a rather nice amenity kit)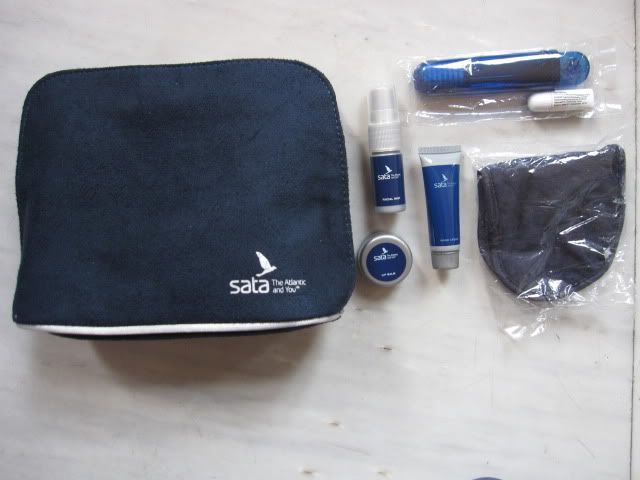 (Some pictures of beautiful Punta Delgada)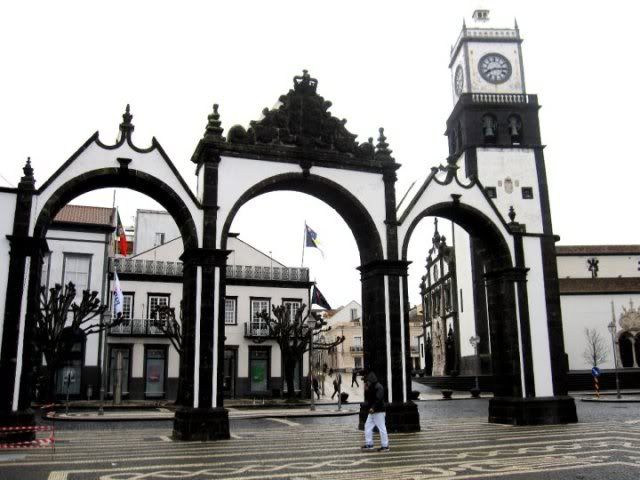 *
*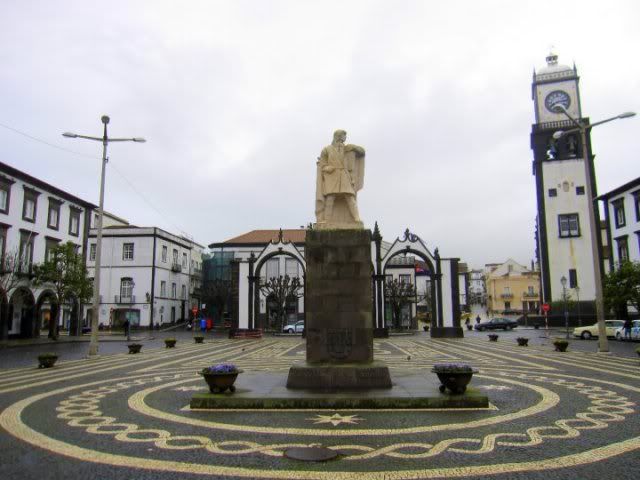 *
*