Asia Trip, Pt 1: Qatar Airways Business Class (LHR-DOH-ICN)
Hello Everyone!
Below is part one of my four part trip report coving my late April/early May trip to Asia. Part One will deal with my outbound flight from London to Seoul in Qatar Airways Business Class.
Asia Trip, Pt 2: China Southern and Hainan Airlines (Seoul-Dalian-Beijing-Shenzhen)
Asia Trip, Pt 3: Malaysia Airlines, Hong Kong to Penang
Asia Trip, Pt 4: Qatar Airways Economy Class (HKG-DOH-LHR)
Originally I had earmarked this holiday time to go to Cuba, but for a variety of reasons I decided to change to the Far East. I've now booked to go in July with Iberia (yikes! But I got a great Business Class fare).
As I work for a travel agent, I was able to get some pretty good fares through a travel agent only travel agent. QR had some great fares listed on their website, and as most Asian destinations were the same price, I decided to fly into Seoul and out of Hong Kong. The price to upgrade to business was just over £200 each way, so I decided to go with that. Unfortunately, as the fare books into QR Frequent Flyer program award inventory, there were no business class seats left on the return, so I went out in C, back in Y.
As with so many trips before this one (and so many since), I took the tube to Heathrow. Despite being a Saturday morning (usually fraught with engineering works) the journey was quick, and not too busy.
This would be my first flight out of LHR T3 for a while, and it was nice to see the well designed exterior of the terminal when emerging from the underground station.
QR separates their F/C and Y passengers. Unfortunately, the First and Business only get one desk each, both of which had a queue. If there are more than two or three people in each queue (as was the case today), you protrude into the main passenger walkway, causing congestions. Not an idea waiting area. After a five minute wait, I was checked in. my bag was tagged, and the chavvy looking agent gave instructions on how to get to the Cathay Pacific lounge. I was also given an invitation to the premium lounge in DOH (which wasn't requested anywhere so is now part of my aviation related paraphernalia collection).
I joined the fast track queue for security, but once into the screening area it became clear that it would be far quicker to join a normal line. Most people stayed in the 'fast' track, even though it took me less than a minute to get though. Some people are funny.
The CX lounge, as noted by ba319-131 in his report on QR, is well hidden in parts of the airport that don't look particularly well kept. The lounge itself was ok (no views). There was a small selection of breakfasty type things on offer, as well as a selection of biscuits and booze.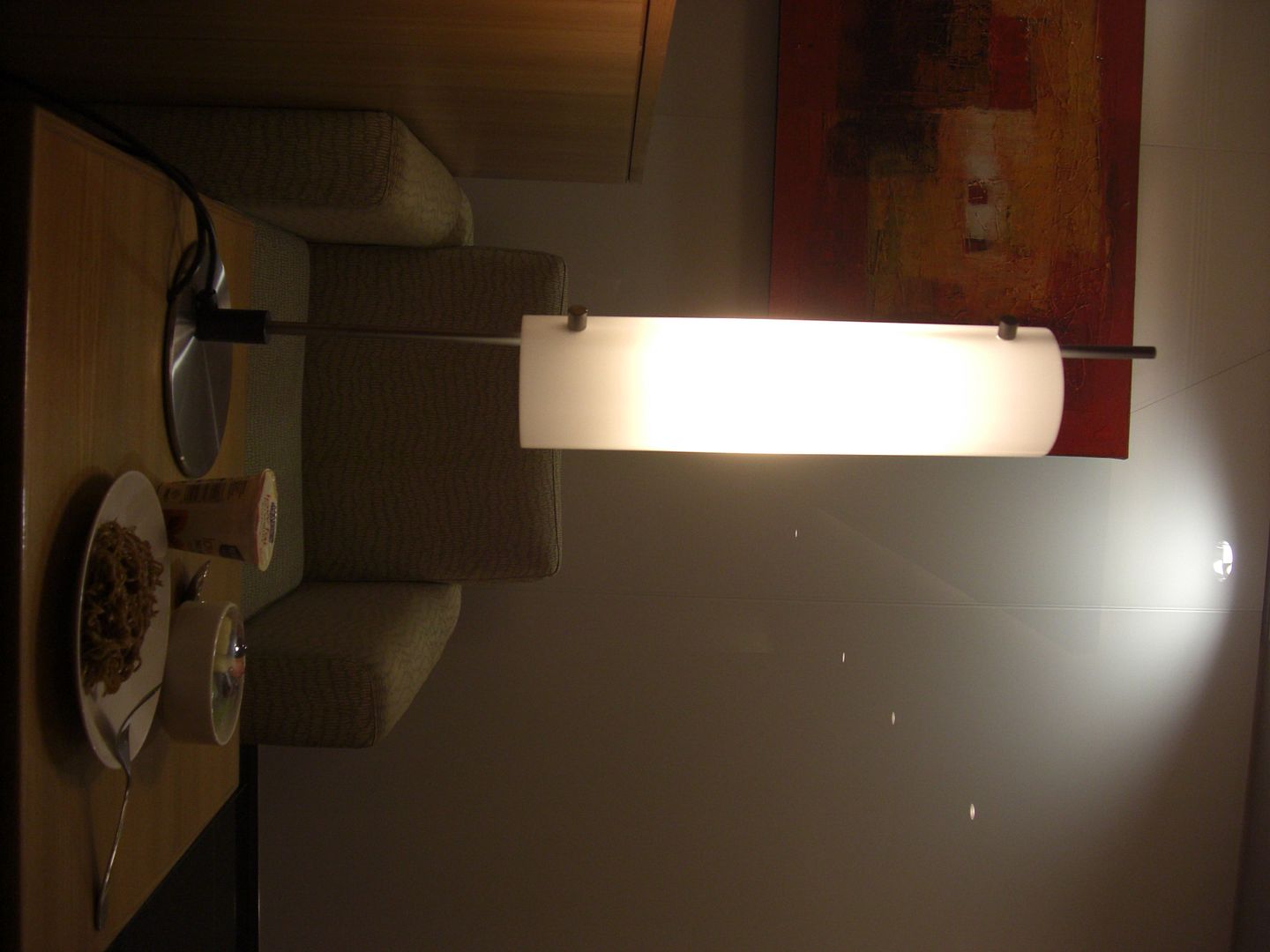 After checking my emails for the last time, I wandered though the duty free area to the gate. By the time I arrived, boarding was already underway. I joined the queue, and was soon aboard.
April 2010
Qatar Airways QR 6
London Heathrow (LHR) – Doha (DOH)
Airbus A340-600 (A7-AGC)
Scheduled: 1050-1945 (6h55m)
Actual: 1119-1942 (6h25m)
Business Class
The last time I flew on an A340-600 was on this same route back in 2007 just before New Year, although back in economy. I must say it was nice to be riding in the front this time. I was offered some Champagne (my first of many that day), and got acquainted with the seat. For those of you that are interested, on this sector we were offered 1998 Lanson Brut Millesime, but at DOH and on the DOH-ICN sector is was 200 Laurent Perrier Brut Millesime. The FAs were very proactive in making sure everyone was conformable and got their welcome drinks promptly.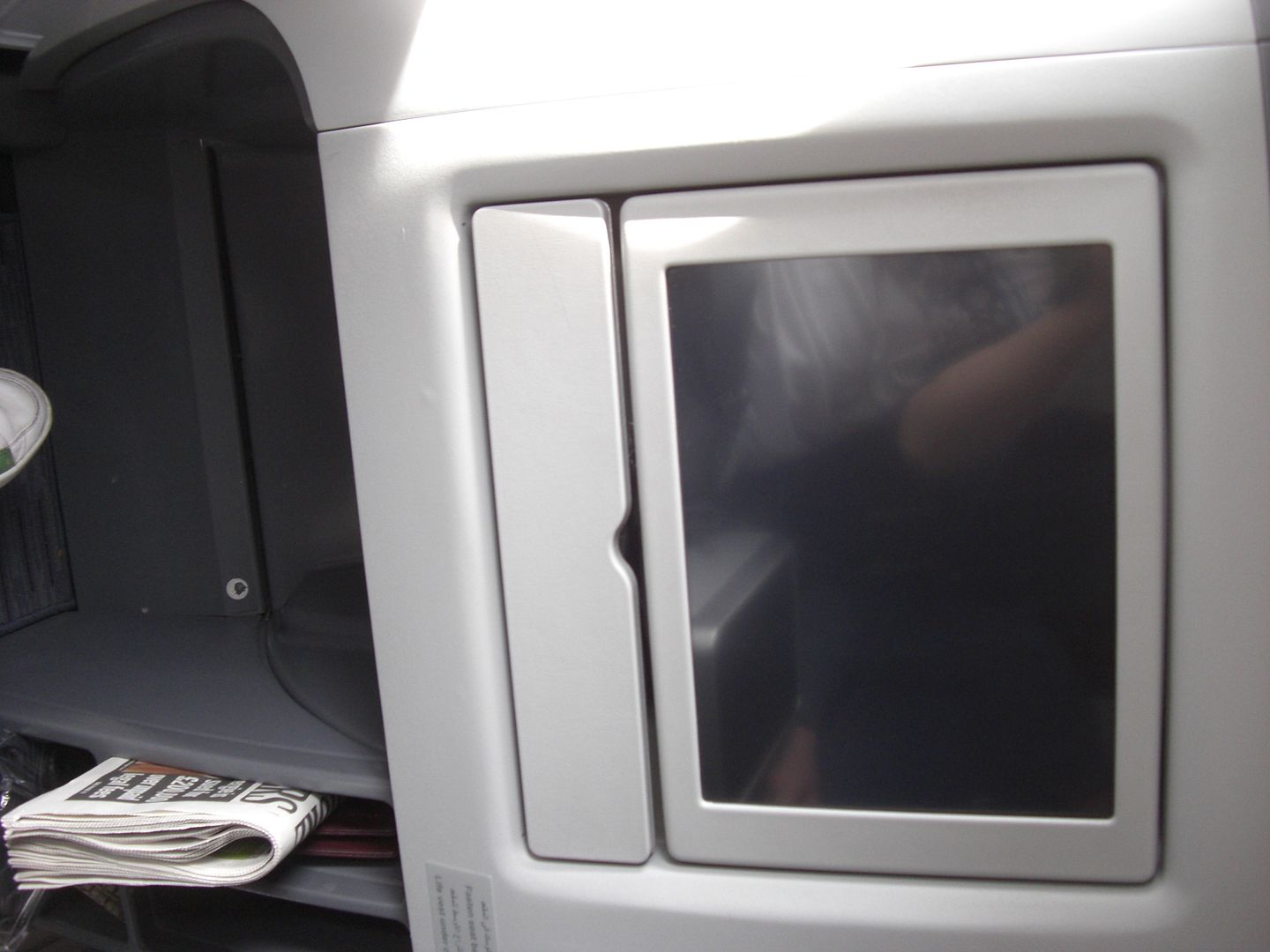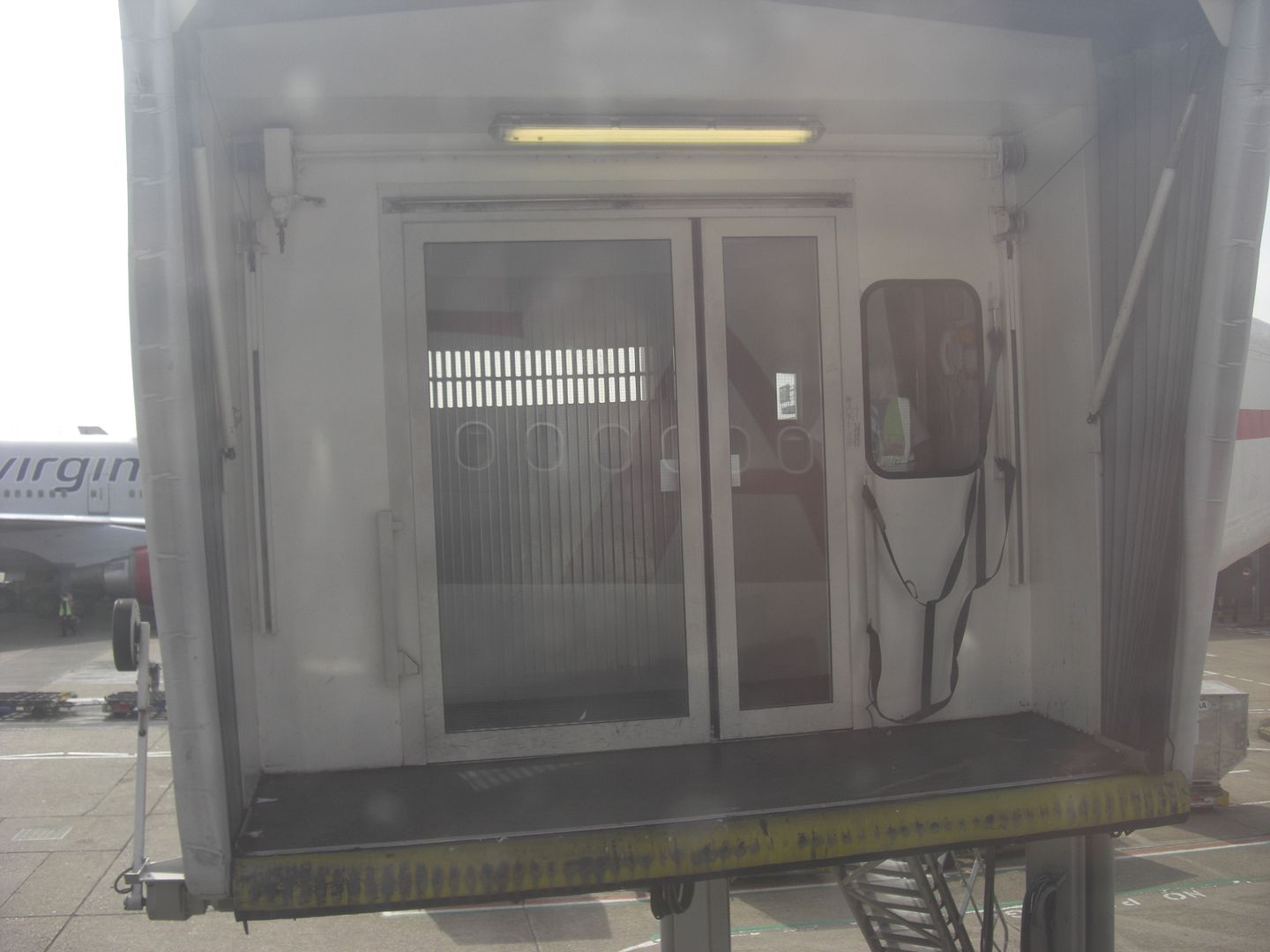 The cabin was around 80% full, not sure about first (I think there were about 6 out of 8 seats taken) or economy.
As usual there was quite a queue for the runway including quite a few Virgins, and a A300 from Kuwait. I also spotted the retro-livery Thai Airways B747-400 and the Qantas Socceroos next to each other.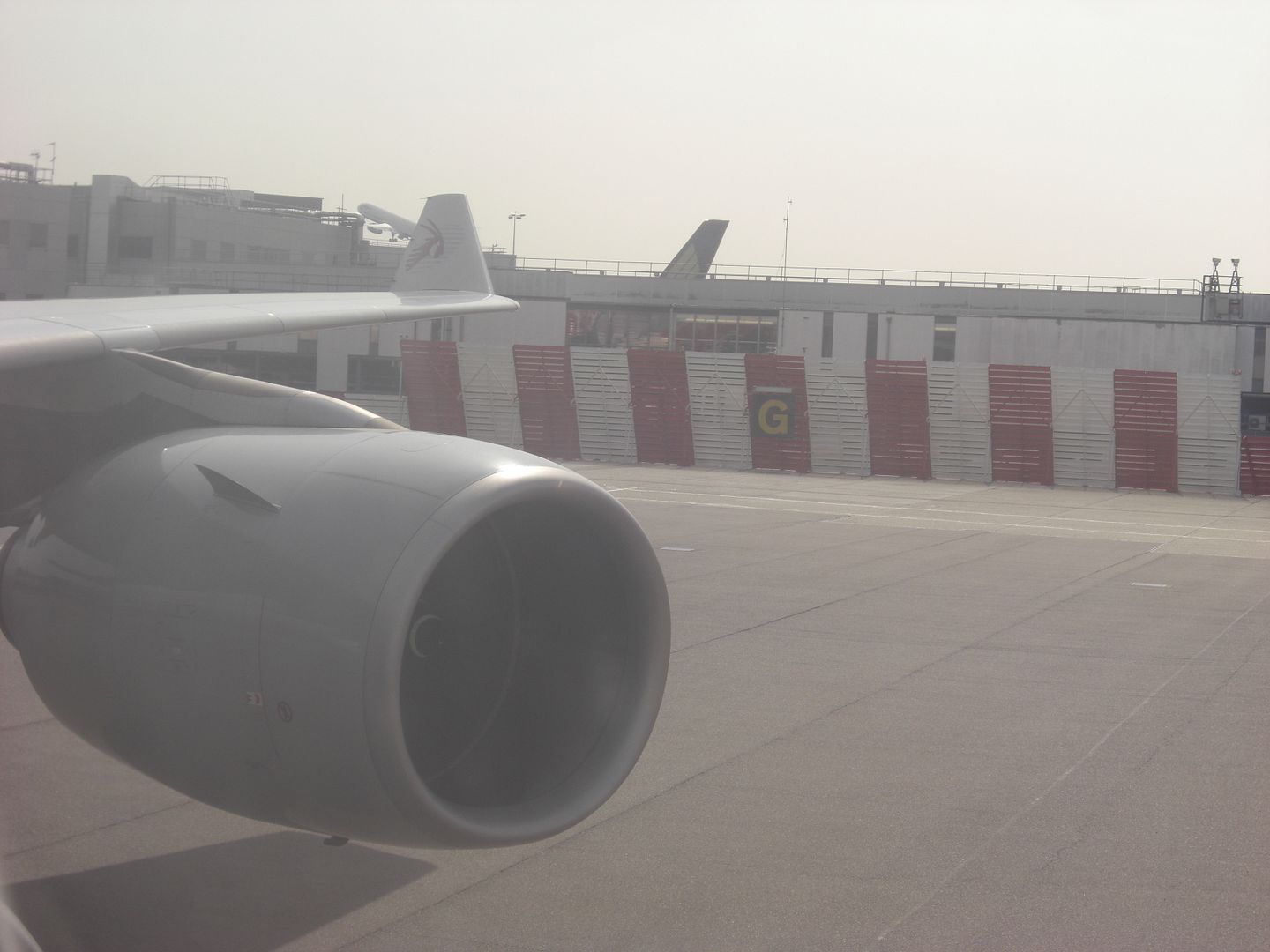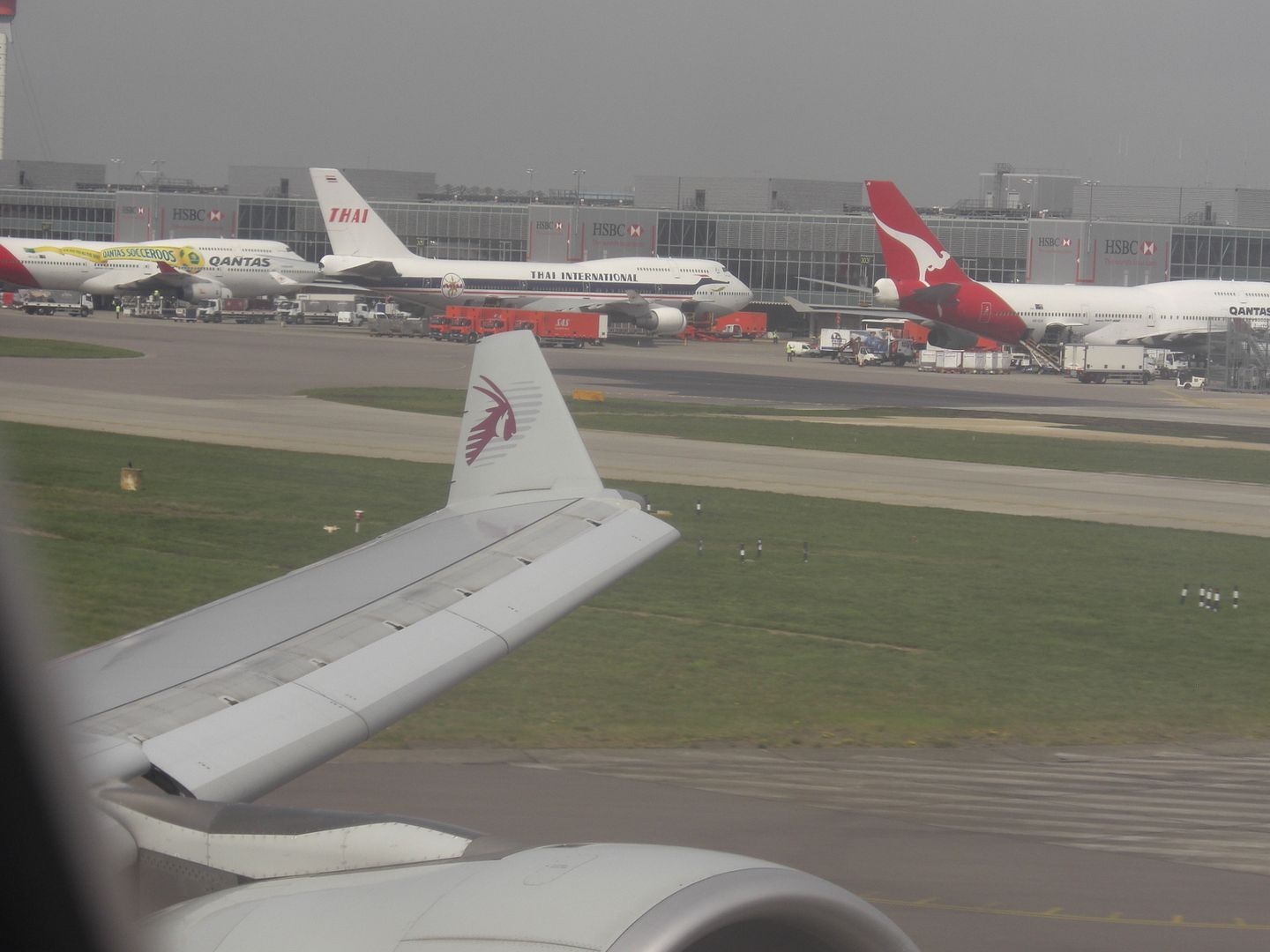 Enroute to DOH
Once the seatbelt sign went off, the crew were up, and coming through the cabin taking lunch orders, and dispensing hot towels. Lunch, as you can imagine on a 6 hours daytime flight, was a lavish affair.
The table was set beautifully, with a range of different breads. When originally looking at the menu, if looks (especially for breakfast on the DOH-ICN flight), that you get to choose one type of bread – but no, you get all of them!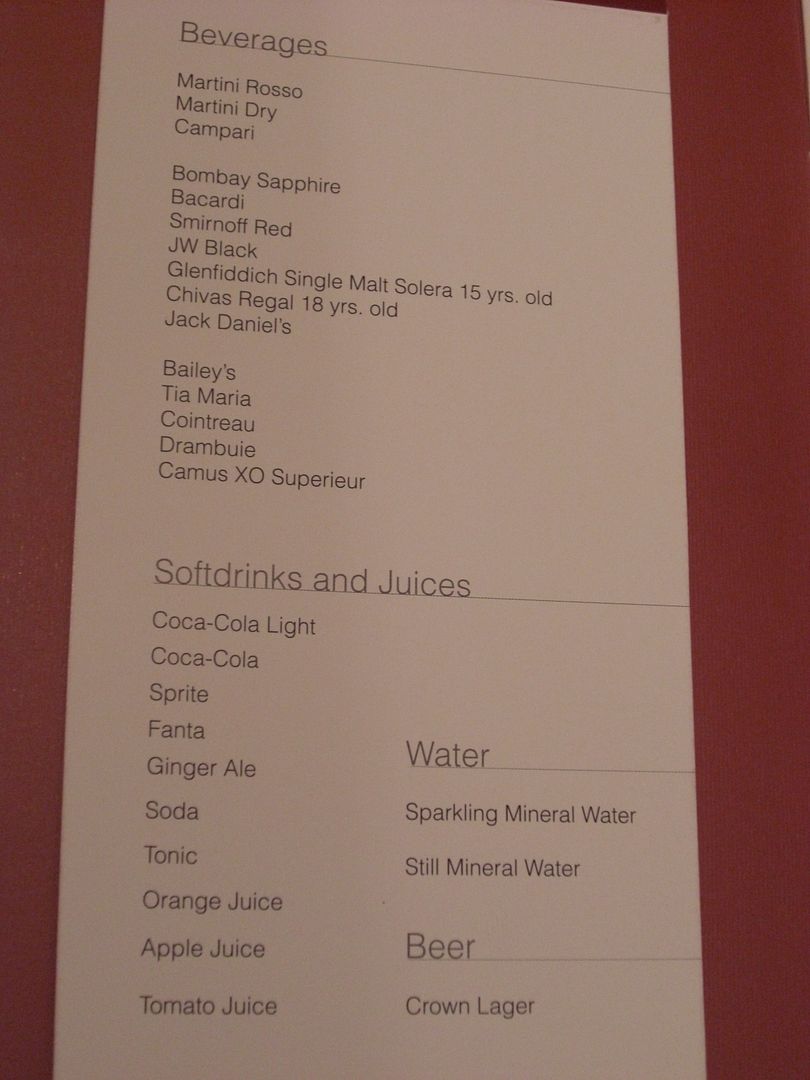 After the palate pleaser, there was a choice o Arabic mezze or a seafood cocktail. As a sucker for salmon, I went for the seafood. Very tasty.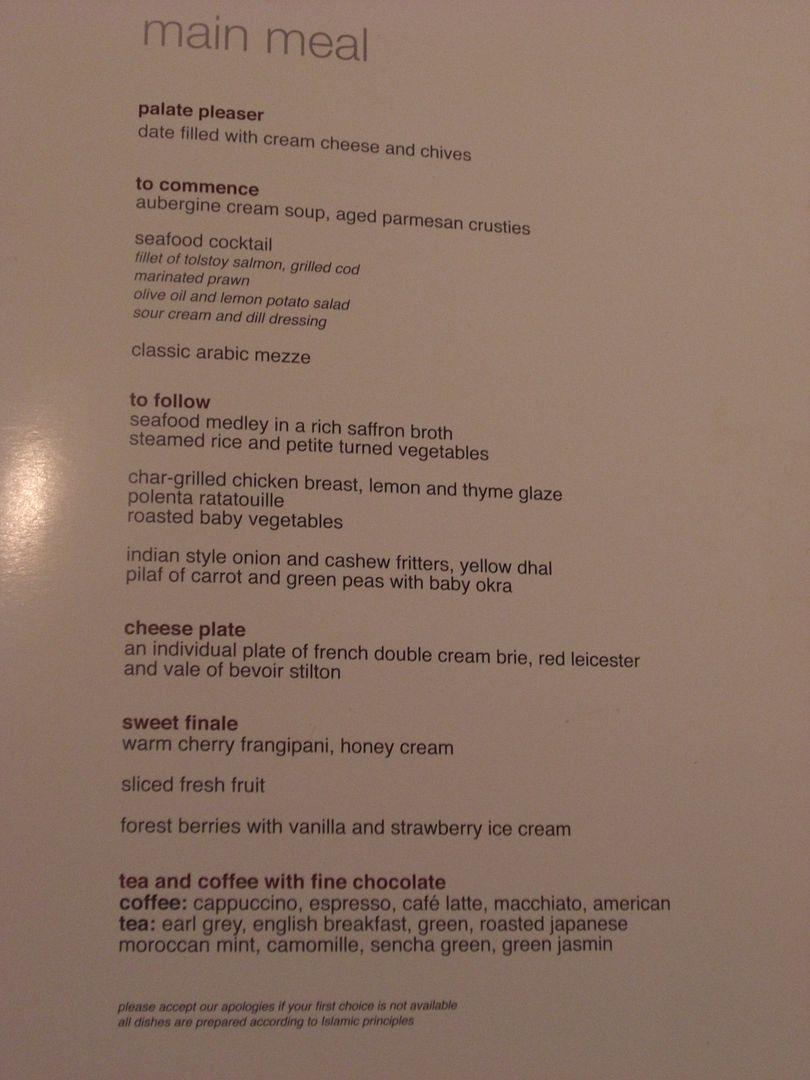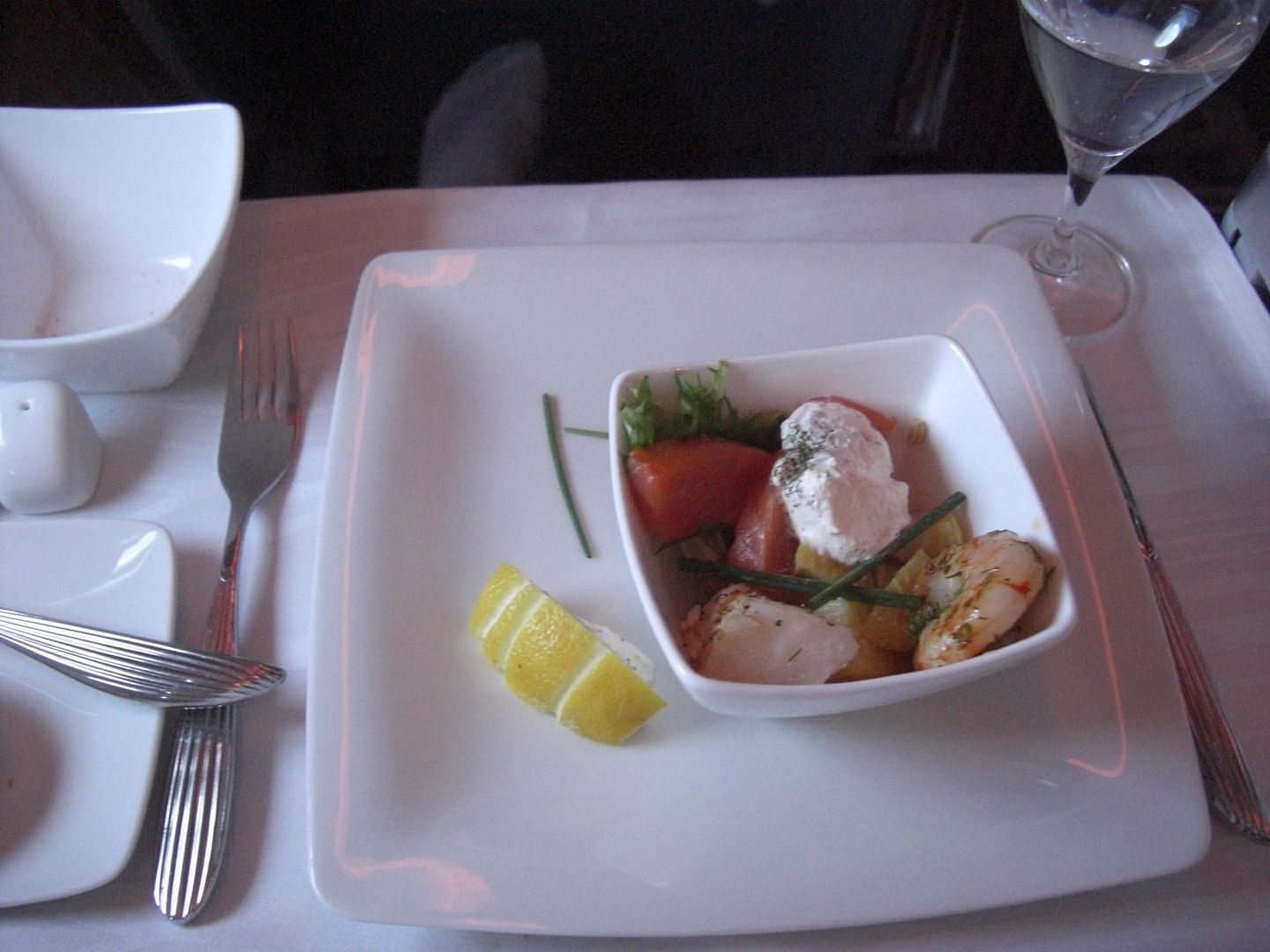 For the main course I once again went for the seafood, which was a very nice sort of risotto thing. Other options were chicken ratatouille or an Indian dish.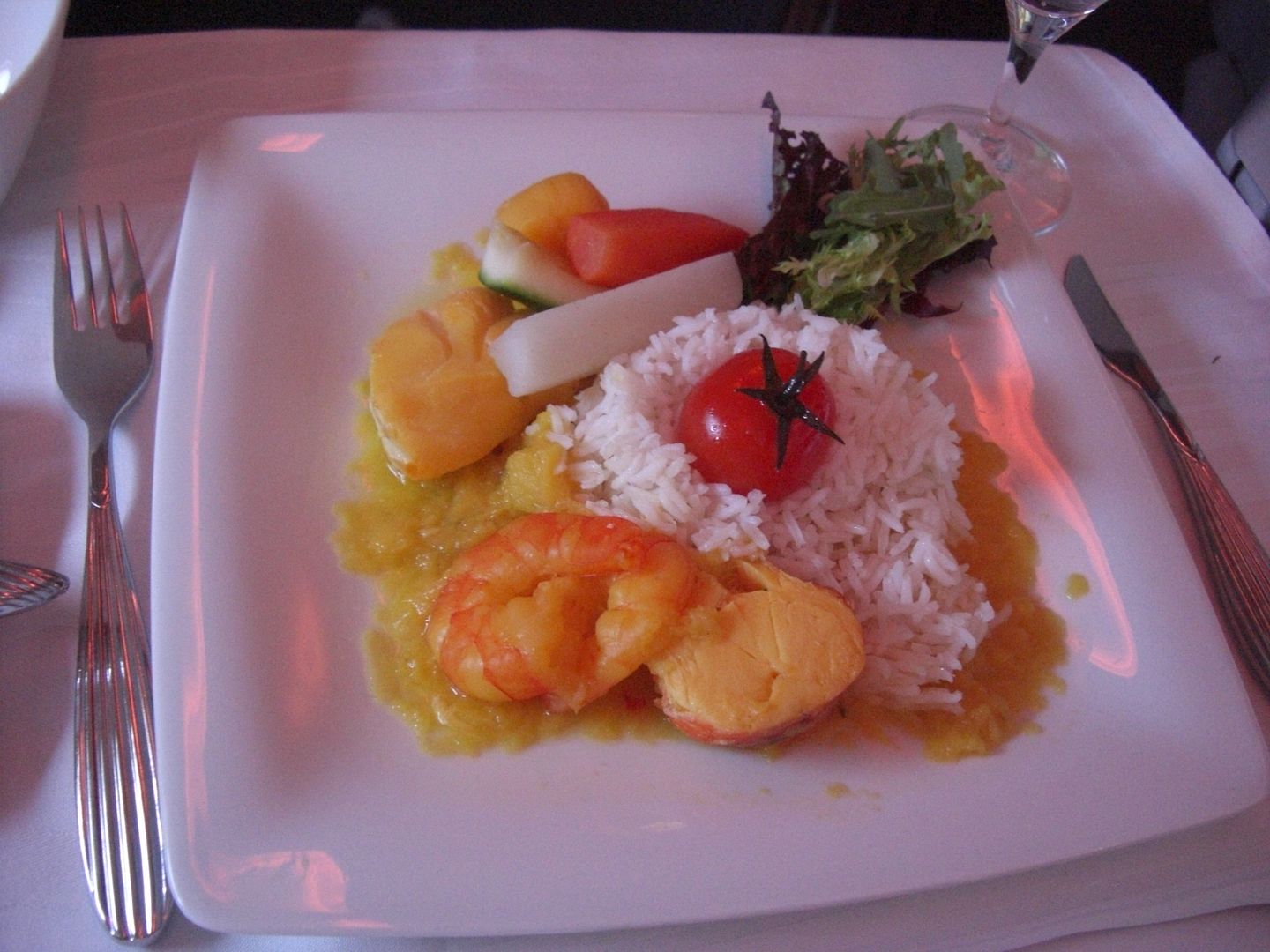 For dessert I went for the forest berries and ice cream – it was a small portion, but very refreshing.
I finished the meal with a cup of Moroccan mint tea. There should serve that in economy – it'd calm everyone down a bit. I think Qantas come around with Camomile tea – sounds like a nice idea, and shouldn't be too expensive.
Bottles of water and Godiva chocolates were then handed out.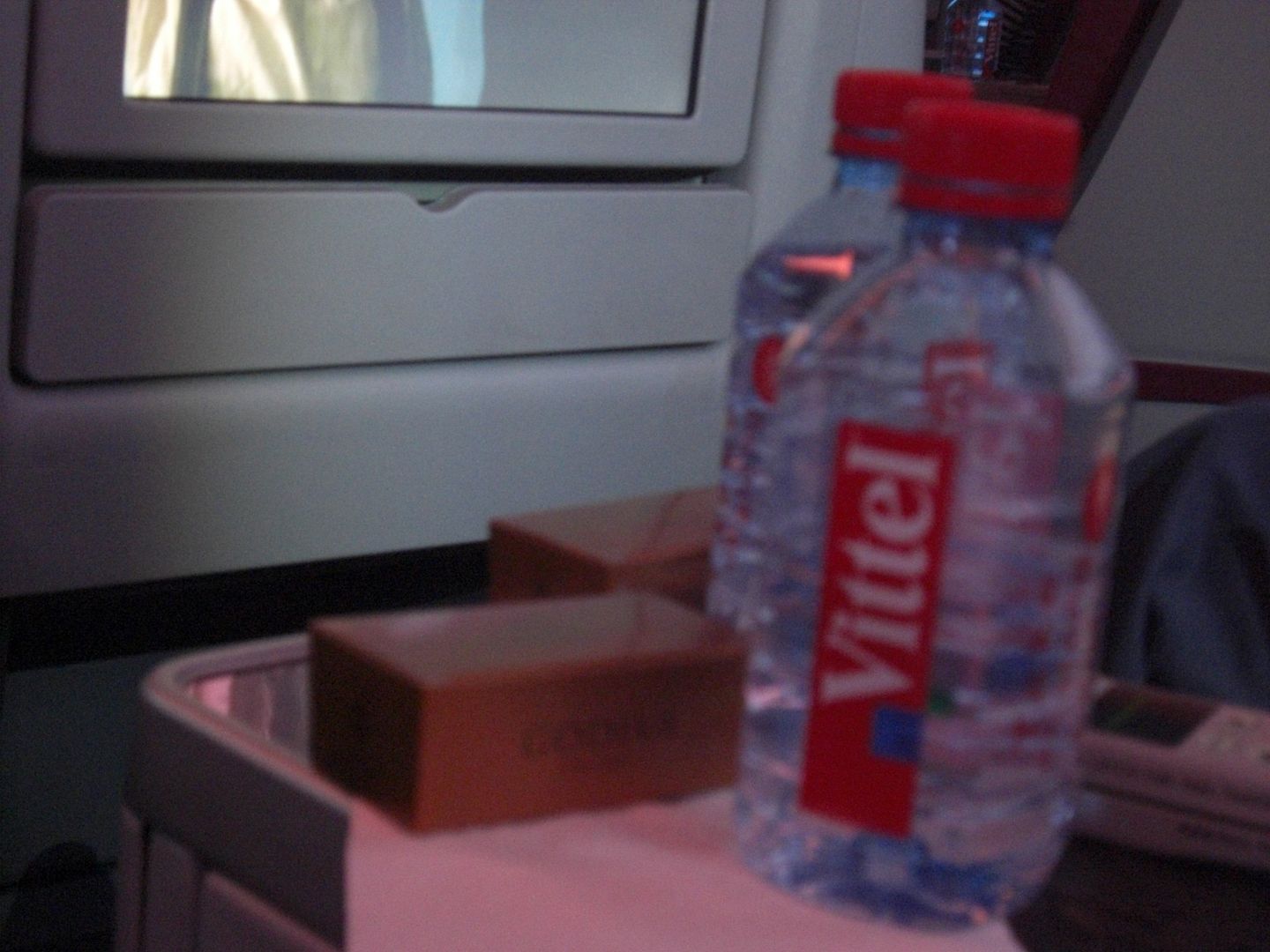 The lights were dimmed, and most people turned their attention to the PTVs. I watch Fantastic Mr Fox, which despite being a children cartoon, was probably the funniest film I've seen in a while. Couldn't help but laughing out loud at some points.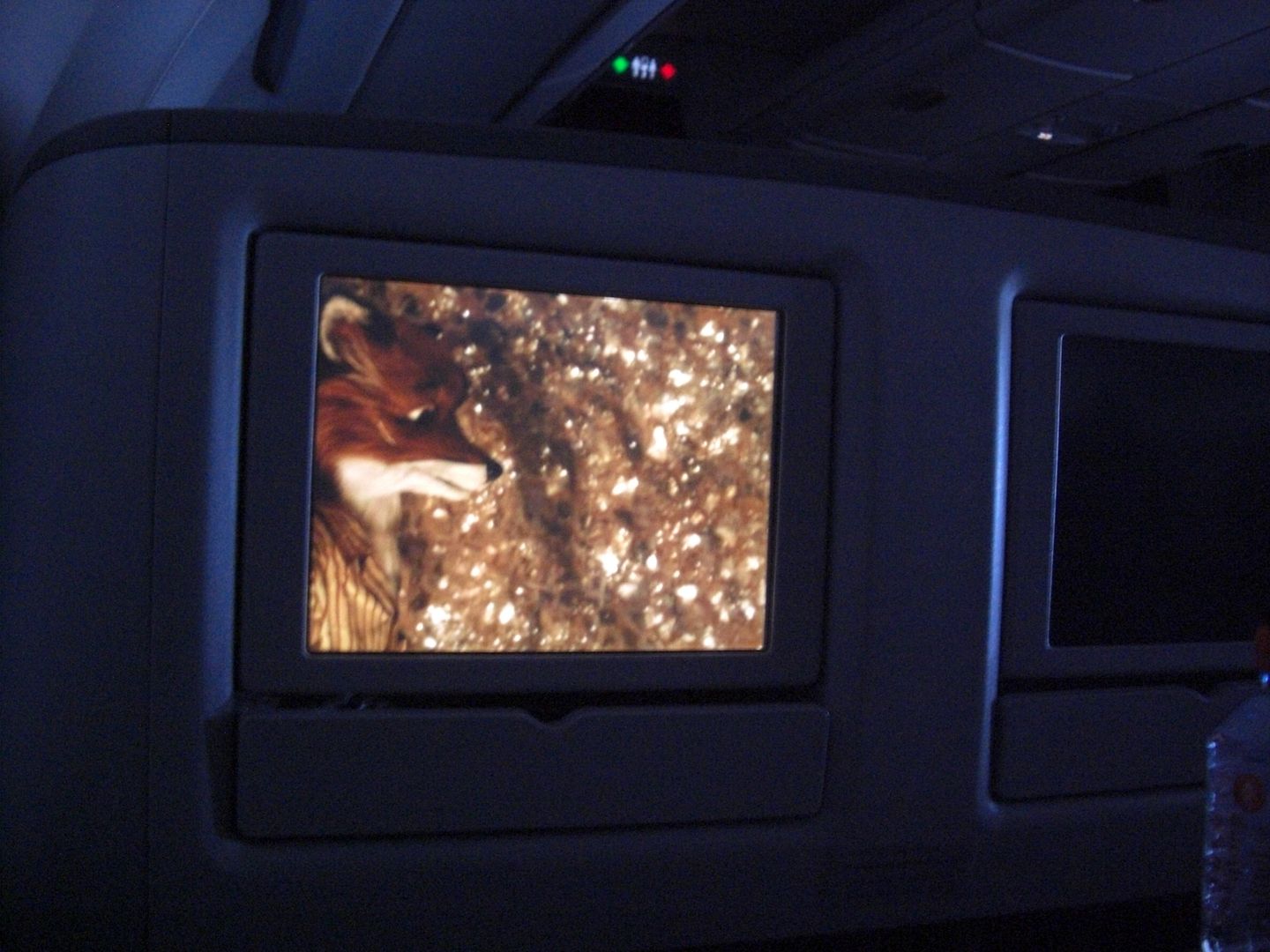 I made a trip to the loo at some stage. Its nice to see that QR have following in the footsteps of other carriers and installed "a loo with a view". Makes the small space seem much bigger.
About 90 minutes before arrival, the crew came around offering their indulgence menu.
I though that you had to choose something from the menu, but there wasn't actually a choice to make as they served everything, just in miniature portions. The highlights (everything was extremely delicious) was probably the lemon meringue tart. Mmmmmmmm.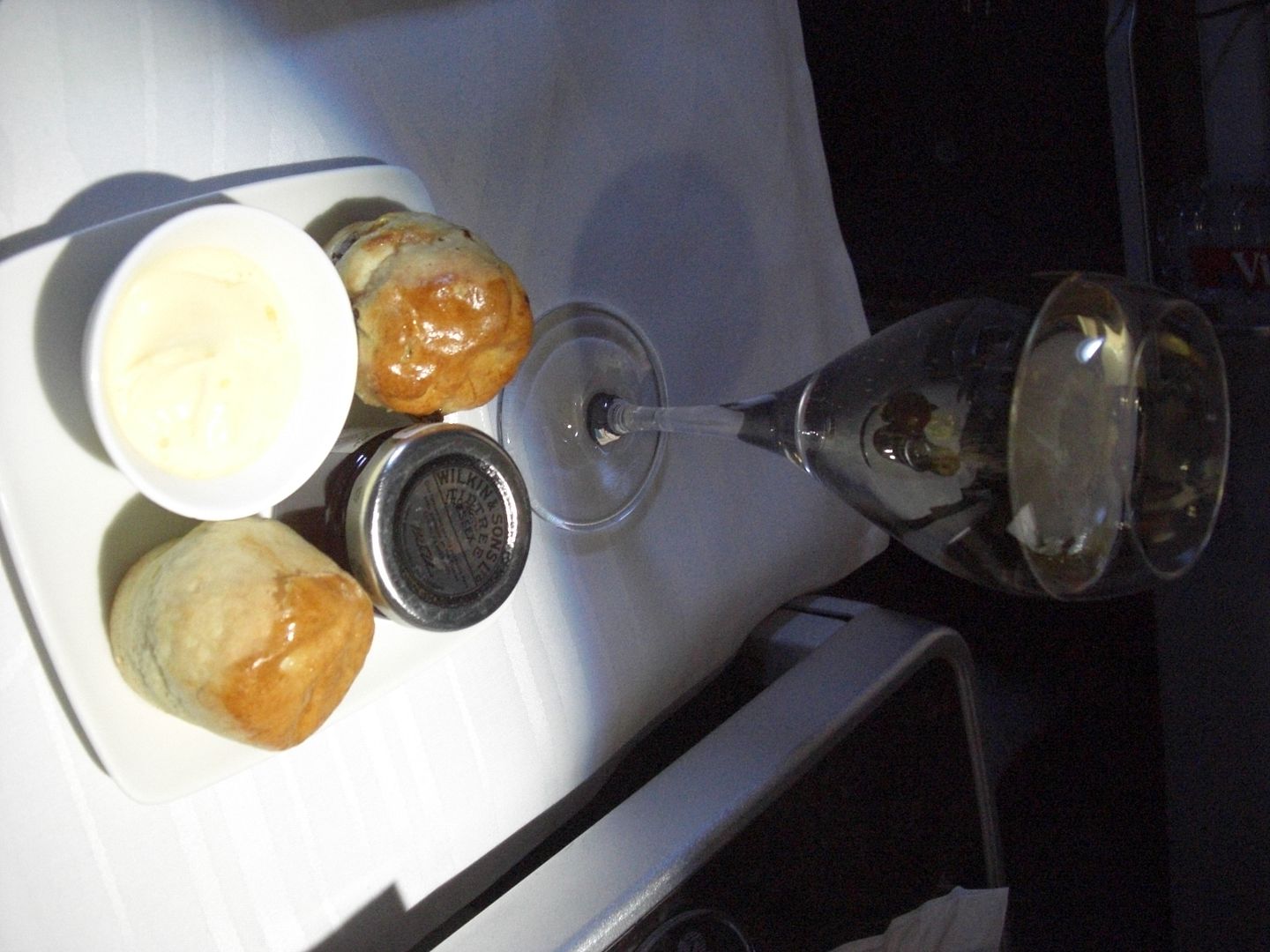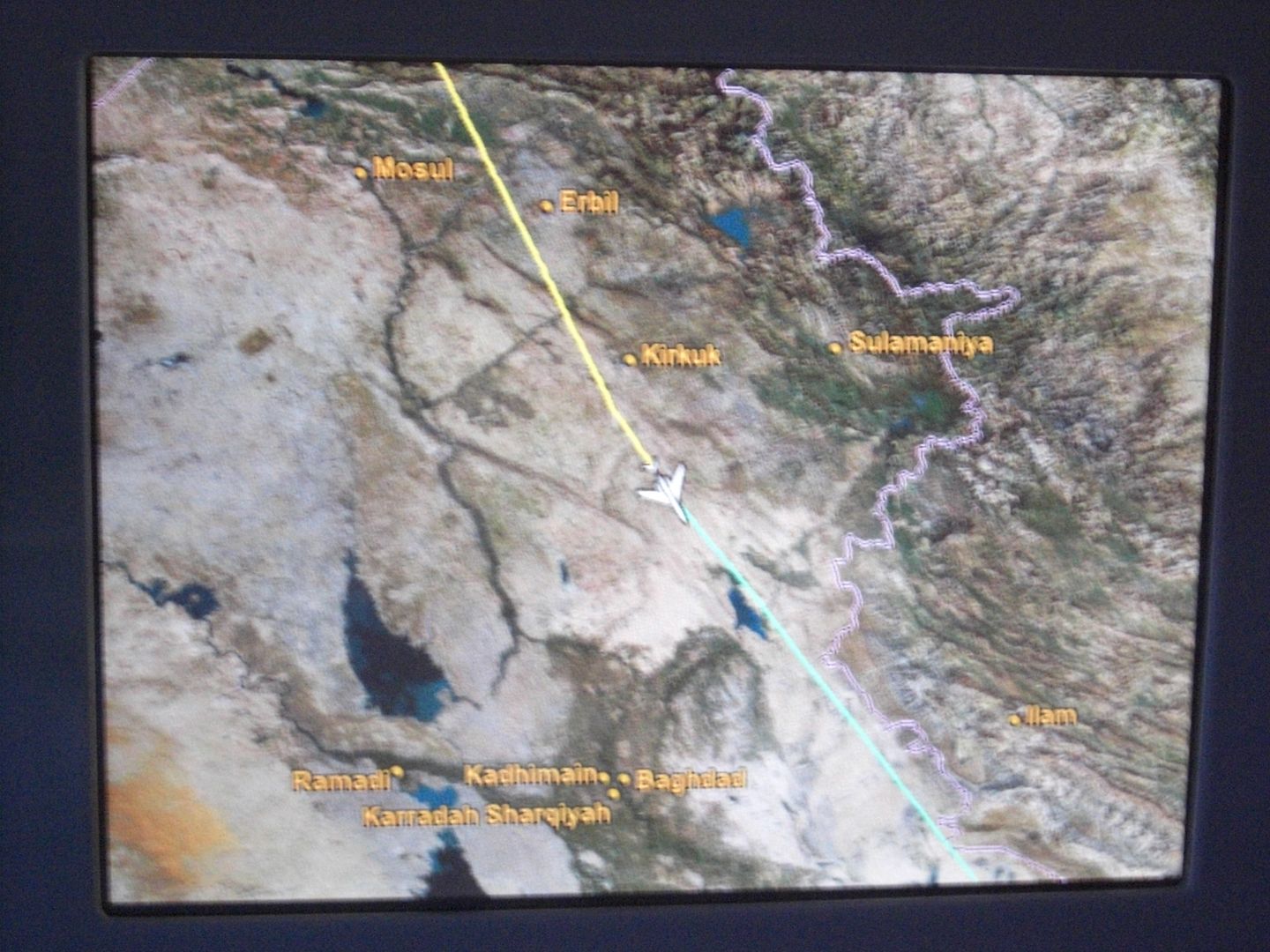 A few more glasses of champagne later and darkness had fallen. The crew prepared the cabin for landing, and we touched down bang on time.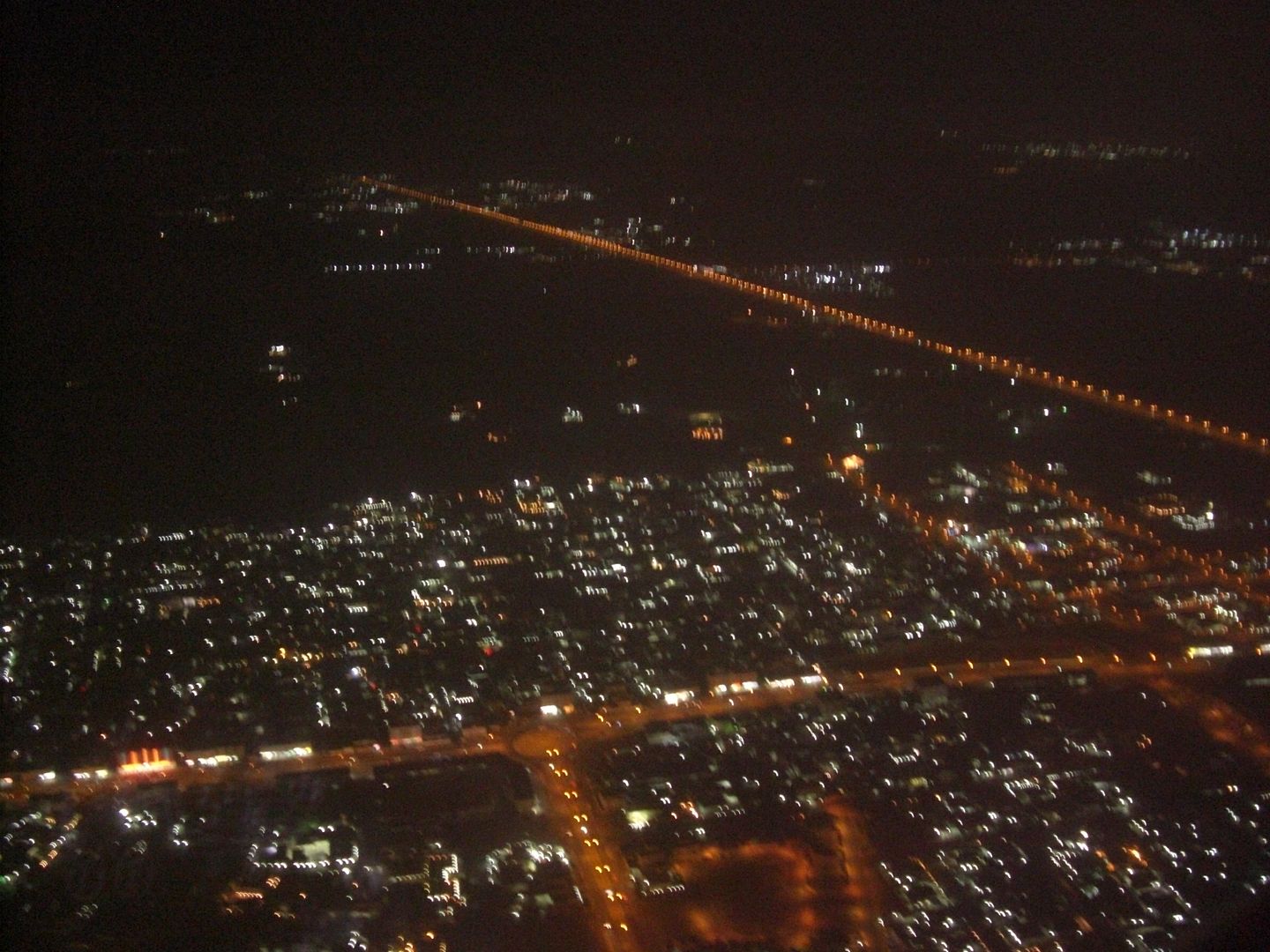 I had deliberately scheduled a 5 hour connection in DOH, instead of taking the afternoon flight from London which would have reduced the connection to 90 minutes or so. Why? Doha and Qatar Airways currently operates the only fully private First and Business Class terminal in the world. Must be worth checking out? DOH currently doesn't have any airbridges, so we walked down the stairs, where First Class passengers were assigned their private Audis and Beamers, whilst Business Class were given a normal, albeit less crowed bus. Economy disembarked from the back into sardine can-type buses.
The first stop was at the main terminal for immigration and arrival, the second was the First and Business Class terminal. After a very perfunctory security check, you pass though the very quiet duty free, before ascending the stairs to the lounges. First go right, business left. Also on the upper level was a first aid station (I went in there at some stage to get an aspirin – too much champagne), and a business centre (there were also computers in the lounge), and a kids play room (didn't go in there!).
As QR have a load of regional flights departing around 8-9pm, the lounge was pretty busy. I made a beeline for the showers – there was no queue, which was nice. The showers were just in a corner of the toilets. The attendants looks pretty depressed, and the shower rooms themselves, whilst being very adequate, weren't really in keeping with the luxury and splendour of the rest of the Business Class operation.
View from the dining area of the drop off zone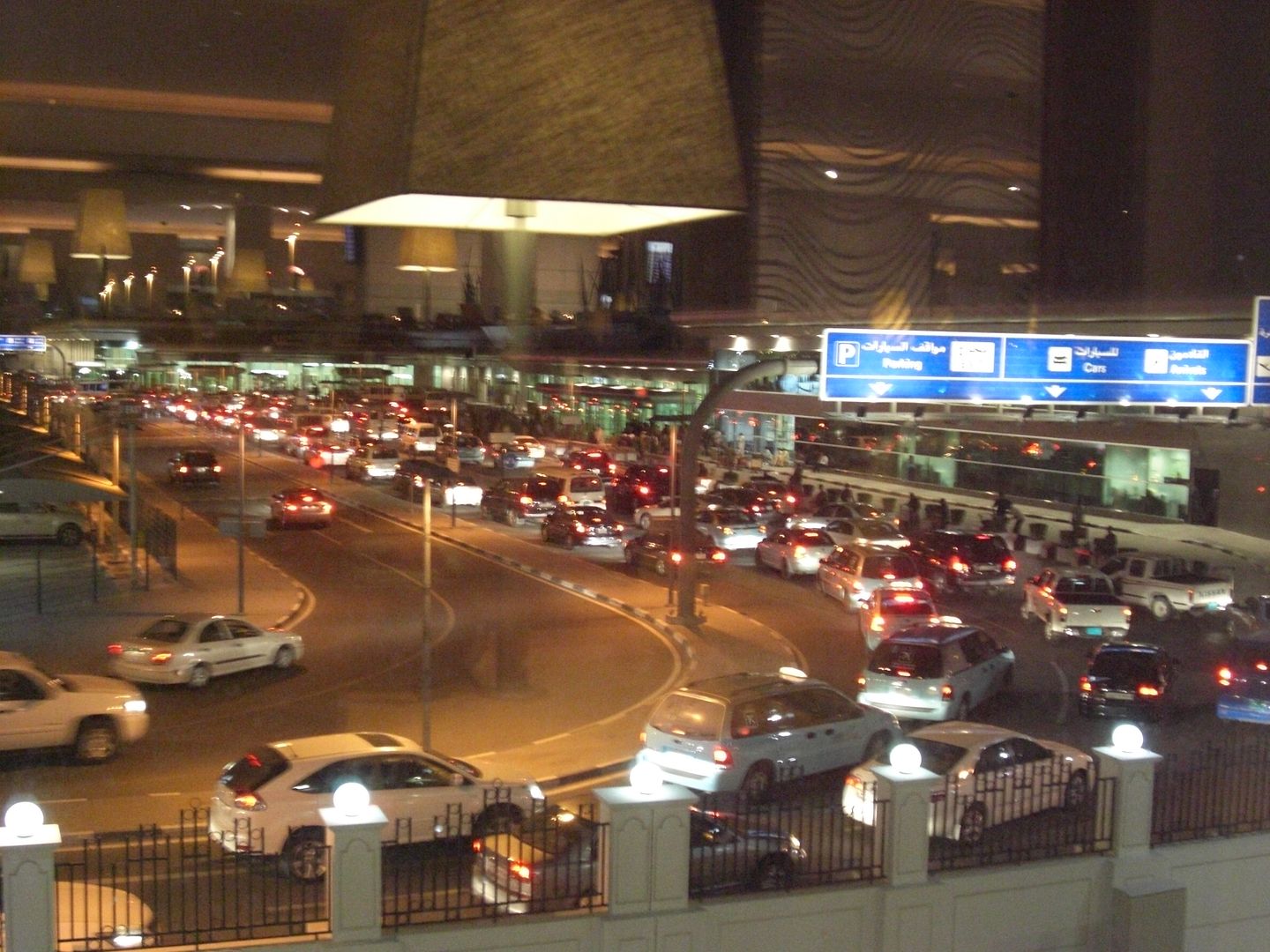 Post shower I headed to the less busy and smaller dining areas (same food in each area) – there was a reasonable selection of Middle Eastern and international dishes. Not outstanding, but enough to fill you up. The service was very good, with attendants coming around filling up your glasses very promptly. I asked a few of them what food might be served for dinner (i.e. snack, full dinner) on the Far East flights (so I know how much I should be eating!), but none of them knew. Surely that would be a fairy frequent question from customers?
Around 9pm the last of the regional flights had left, and the lounge emptied pout considerably. I took found a sofa and table, and made myself comfortable. This is where my biggest complaint comes in. there is no snoozing section. All there is are chairs (not even armchairs), and the odd sofa. If you happen to have an overnight or long connection, then there is no where to sleep. In the economy terminal there is a sleeping room with chaise-longues. Why doesn't the premium terminal have this?
There were numerous attendants floating about, and so I ordered a pot of mint tea, and some fizzy water (they gave me the full bottle). Around 11 I started on the Champagne again, and the lounge started to fill up with the afternoon European flights, and the returning regional flights, in preparation for the midnight departure bank.
Around 0040 my flight flashed up as boarding. I wet downstairs, and joined the short queue to have my boarding card checked. We were assigned a First Class coach (14 big comfortable seats) to take up to the plane.
April 2010
Qatar Airways QR 882
Doha (DOH) – Seoul Incheon (ICN)
Airbus A330-200 (A7-AFM)
Scheduled: 0120-1615 (8h55m)
Actual: 0150-1620 (8h30m)
Business Class
The crew on this sector in Business class were mainly Korean ladies. They were very friendly, and constantly checking that you had enough food/drink, and very comfy.
After an unexplained half hour delay, we headed off for Korea.
The menus came in a lovely leather folder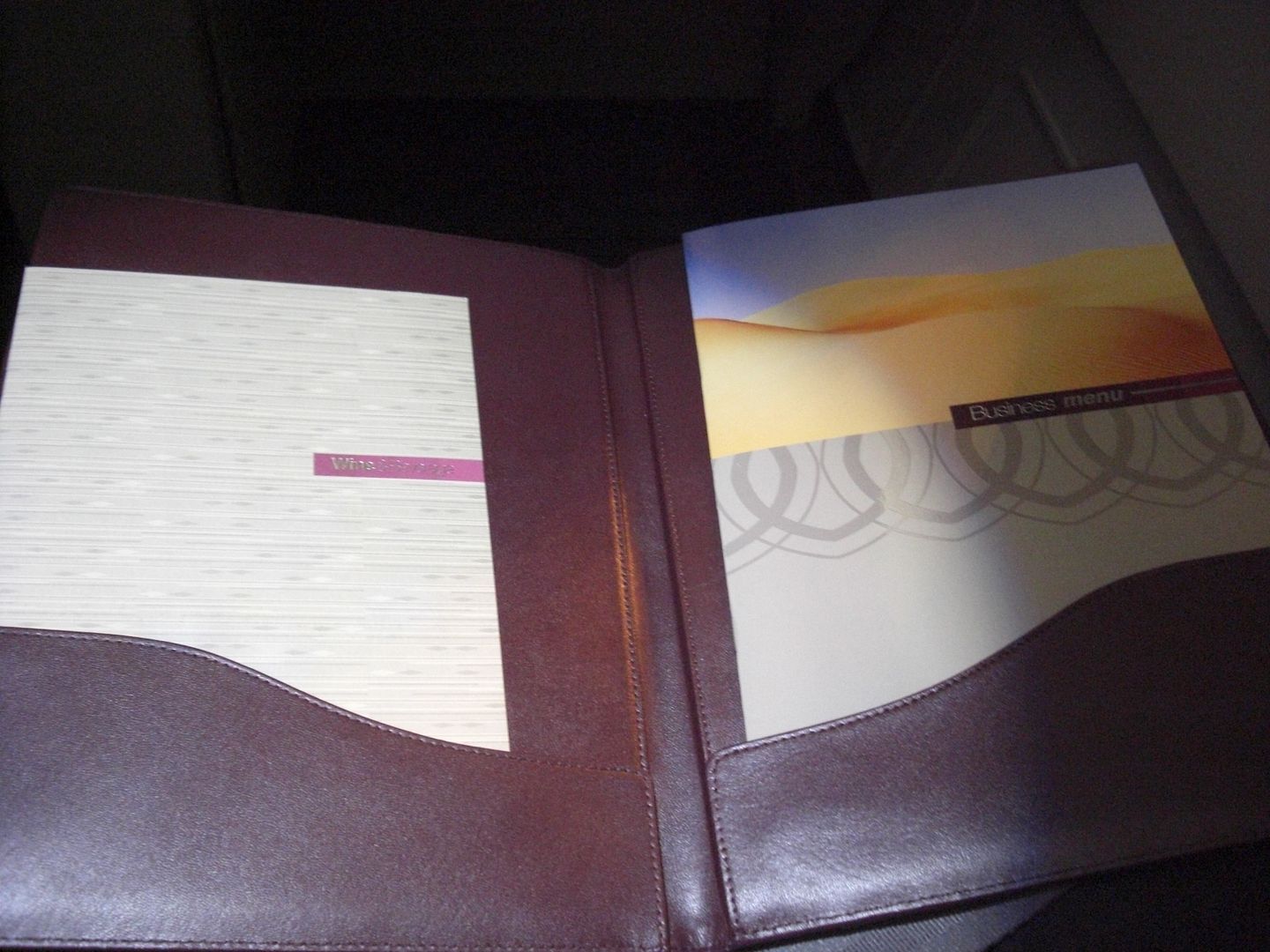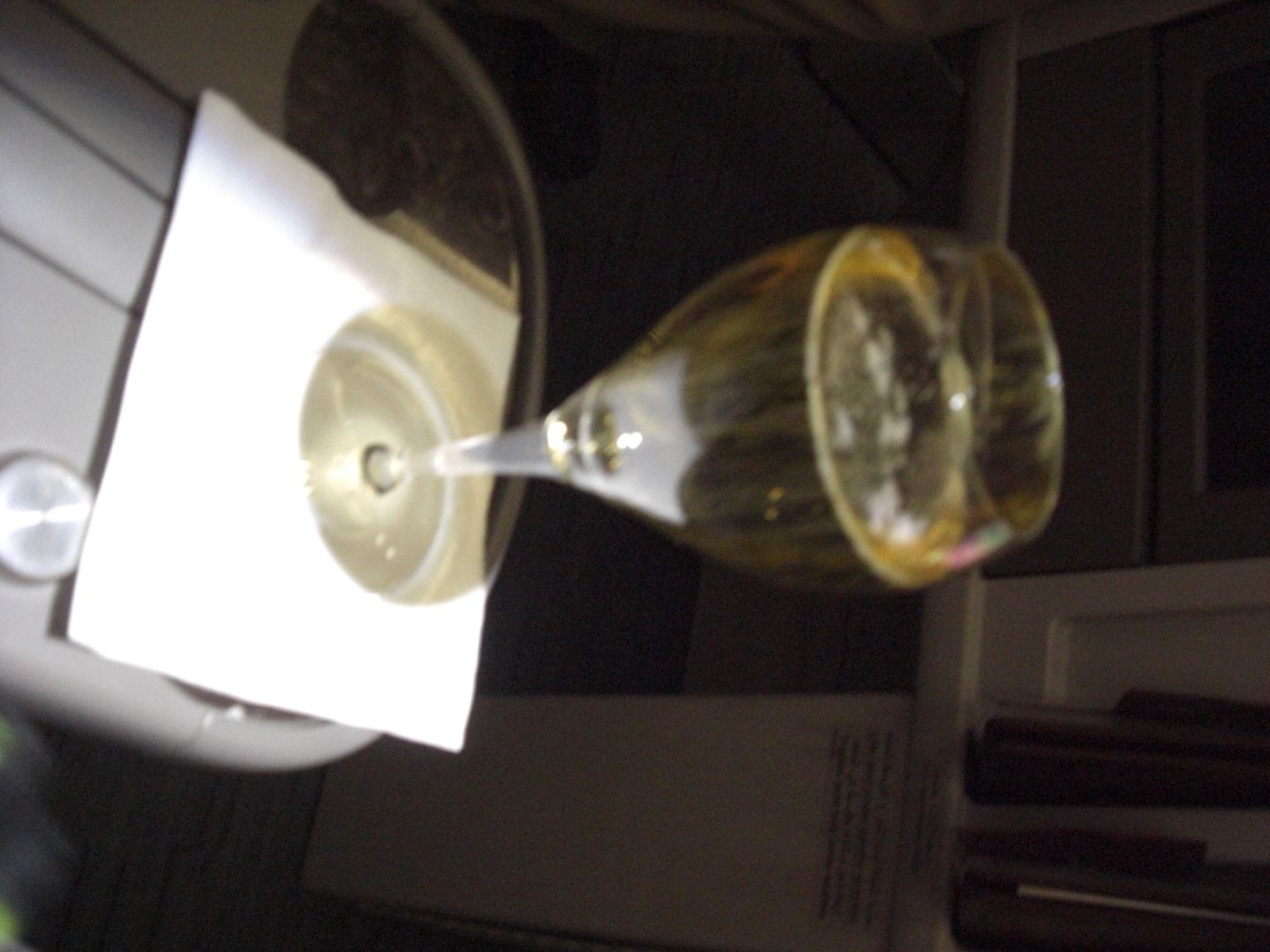 Unlike the second service from LHR-DOH, you had to coose from the menu, rather than having a bit of everything. After the sushi starter, I went for the friend noodles, which were nice. Sorry for the dark photos, I didn't want to disturb the cabin – most people decided to forgo dinner.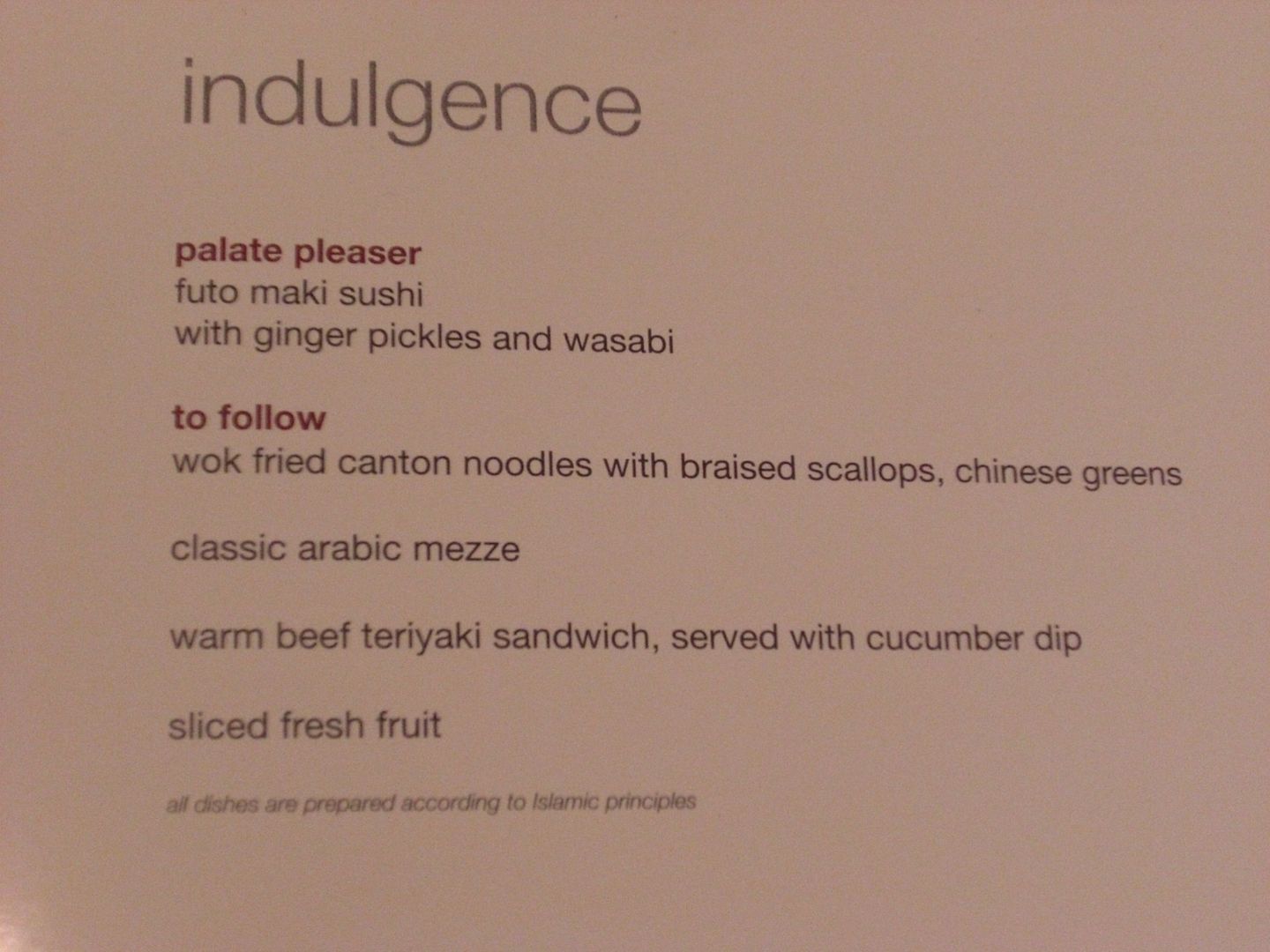 I ordered a G&T with dinner, but was pretty tired by this stage, so only had a few sips. The FA came up as she was clearing my plates to ask if I needed (not wanted!) a different drink, or if she'd made it wrong. Great service.
Pyjamas were handed out during boarding, so I used the time after dinner to get changed – it was my first time to get plane pjs, so I thought id made the most of the experience! The pjs themselves were fairly good quality, although they had an awkward seam running down the back, so weren't terribly comfortable. It was nice to not be sleeping in jeans though.
The seats were of the angleid lay-flat variety. I've experienced them before on LH, CA and NH. QRs versions are much the same – I couldn't sleep, although that may have been because the mood lights seemed to stay on most of the night.
Midnight snack of mint tea and shortbread.
Breakfast was served around two hours before arrival. Having eaten and drank to excess the night before I wasn't really feeling up to the challenge of a four course breakfast, but I gave it a shot.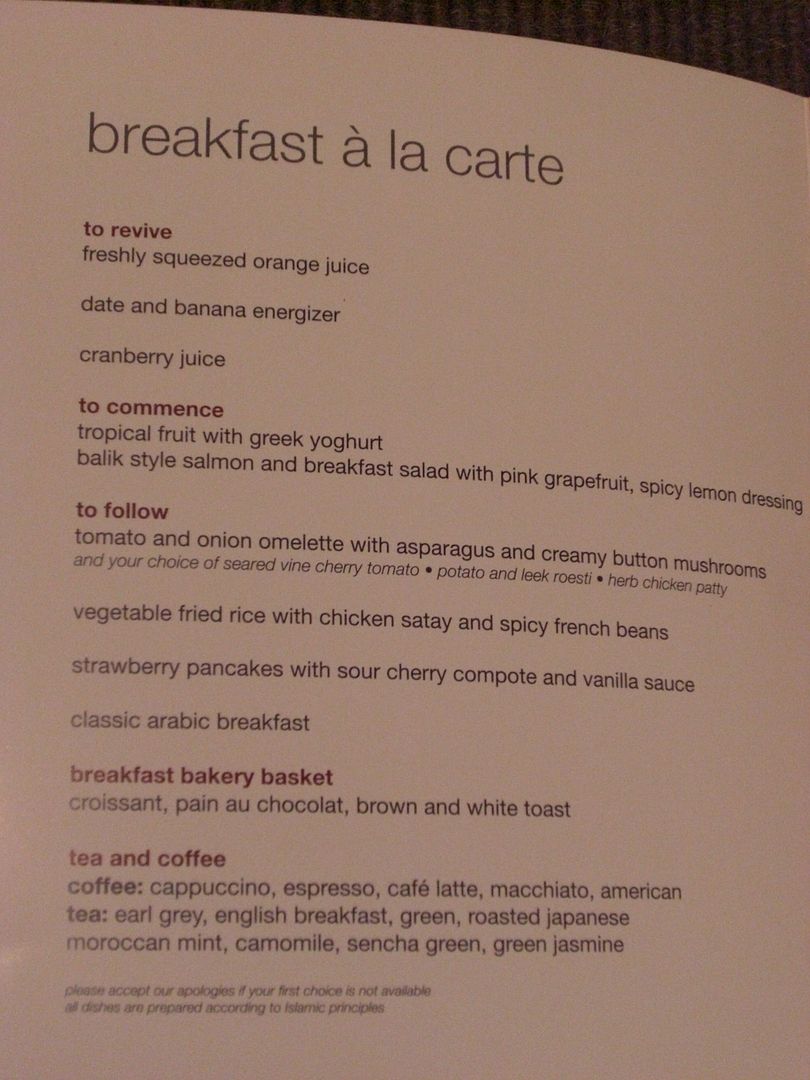 I thought from reading the menu that you had to choose from the break basket items. I was very impressed to get them ALL.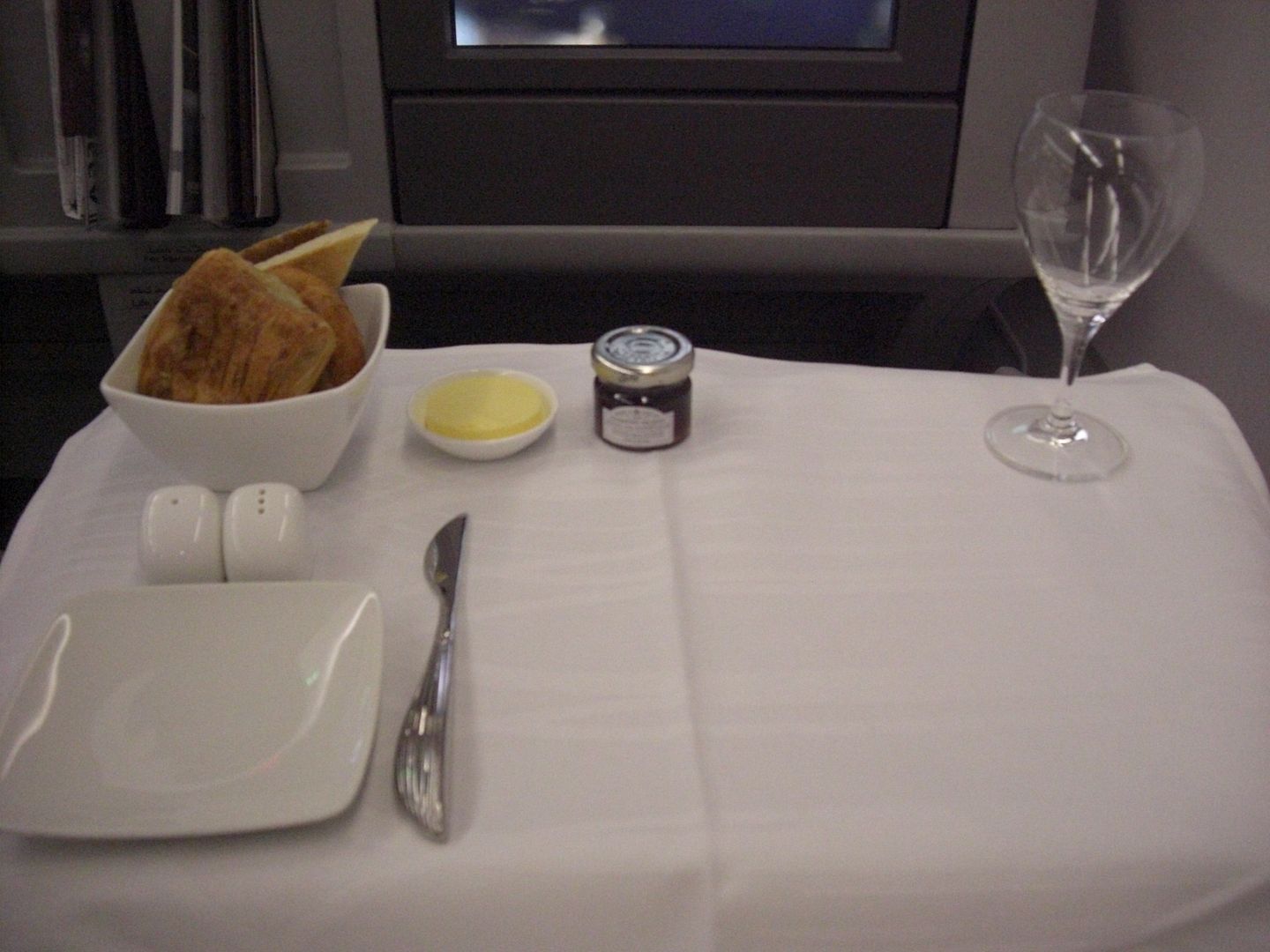 I started with more salmon – not a normal breakfast choice, but nice nevertheless
For some reason (looking back now it seems like a very weird choice from me) I went with the friend rice and satay for my main course. I was so full by this stage I could only eat a quarter of it. The FA came around and asked if I liked it or not, and if she could get me anything else.
Legroom before landing
Views of the islands around Incheon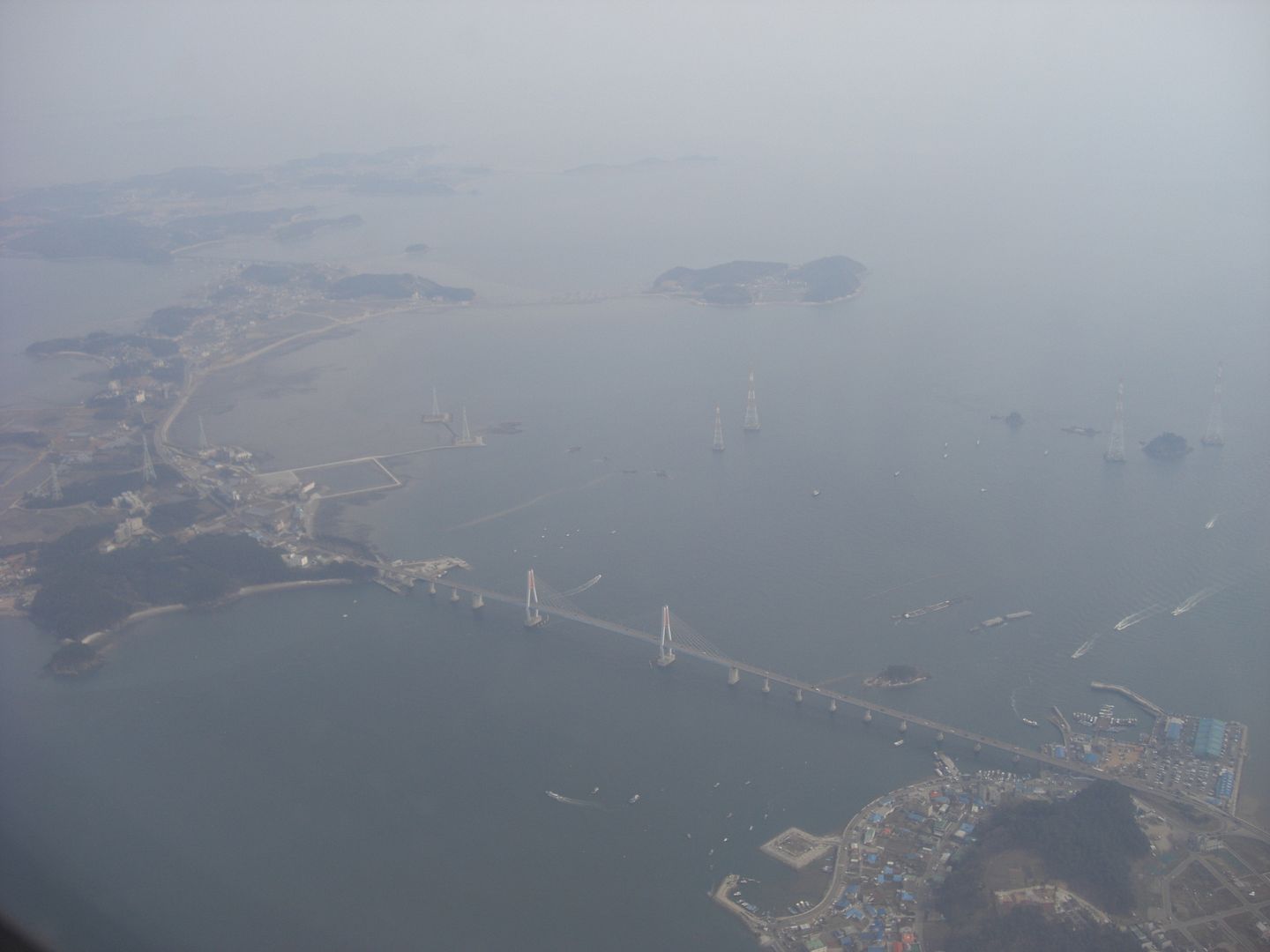 Welcome to Korea!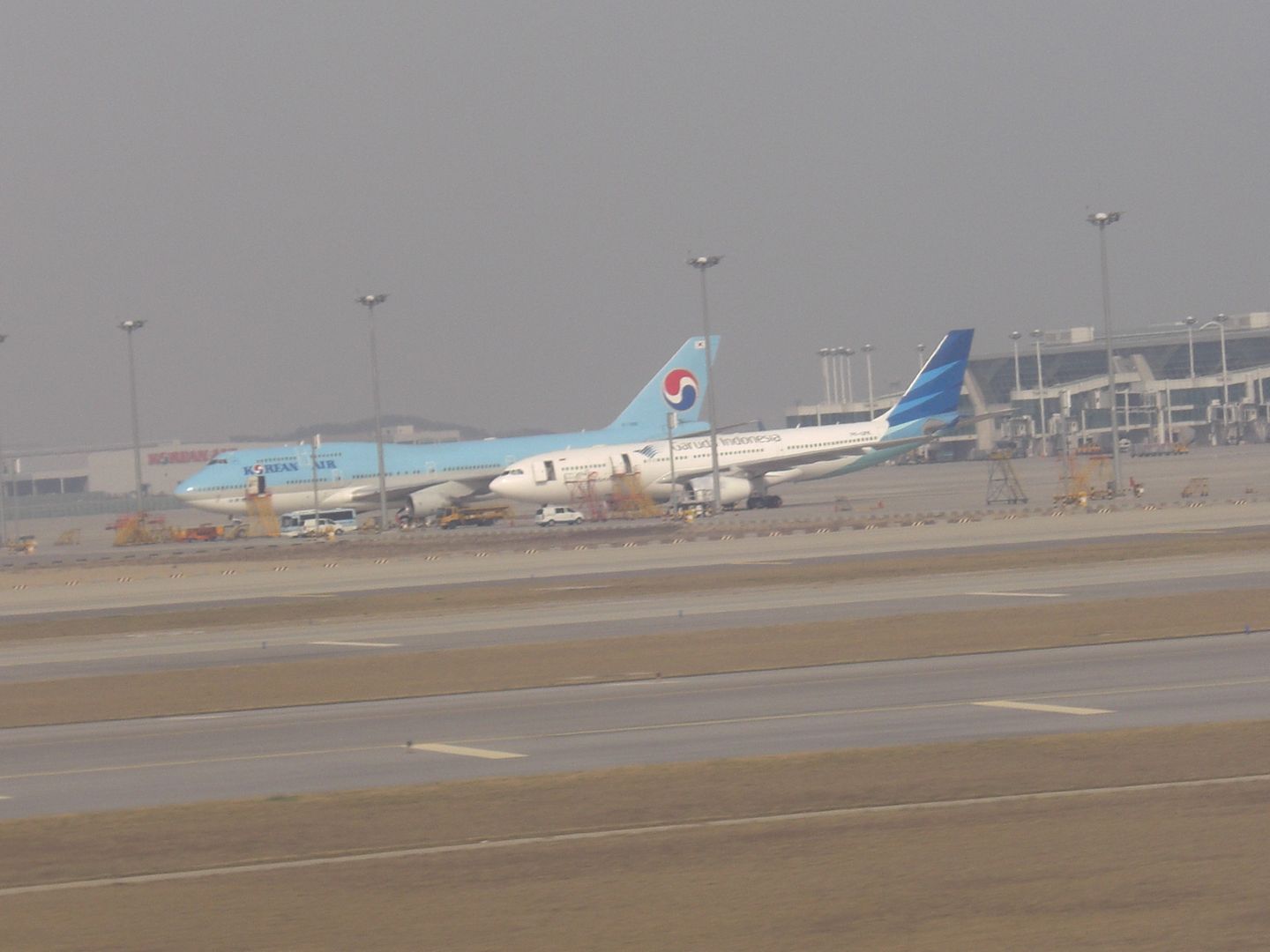 We touched down a few minutes late, and taxied to the very empty terminal. There was a lengthy journey from the plane to immigration, including a monorail trip. Immigration took about five minutes, and my bag appeared on the carousel not long after I arrived.
I took one of the very many shuttle buses into the city once I'd worked out how to use the ATM machine.
Below are a few photos from Seoul
Imperial Palace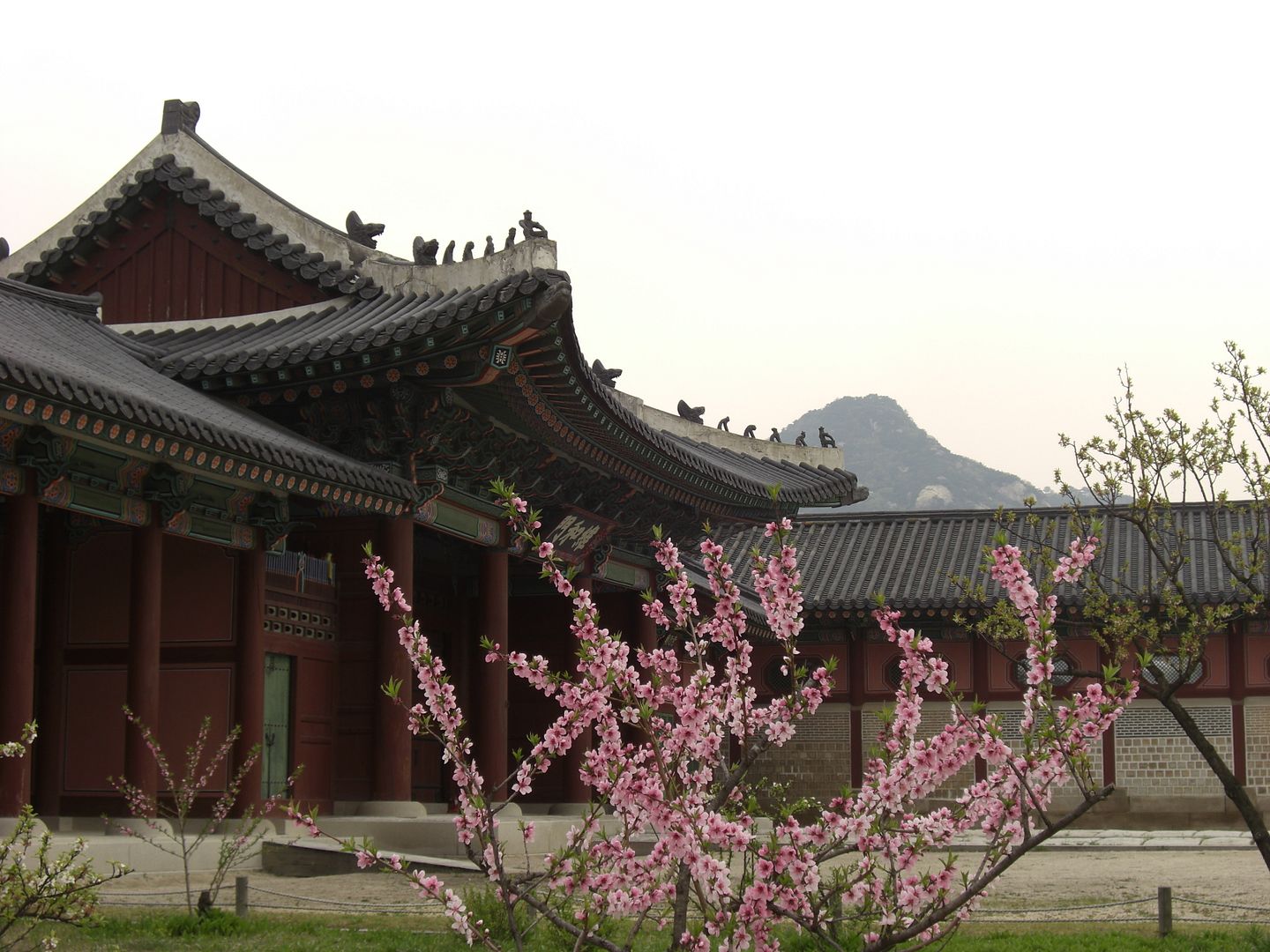 DMZ (Demilitarised Zone) between South and North Korea
World's tallest flagpole? North Korea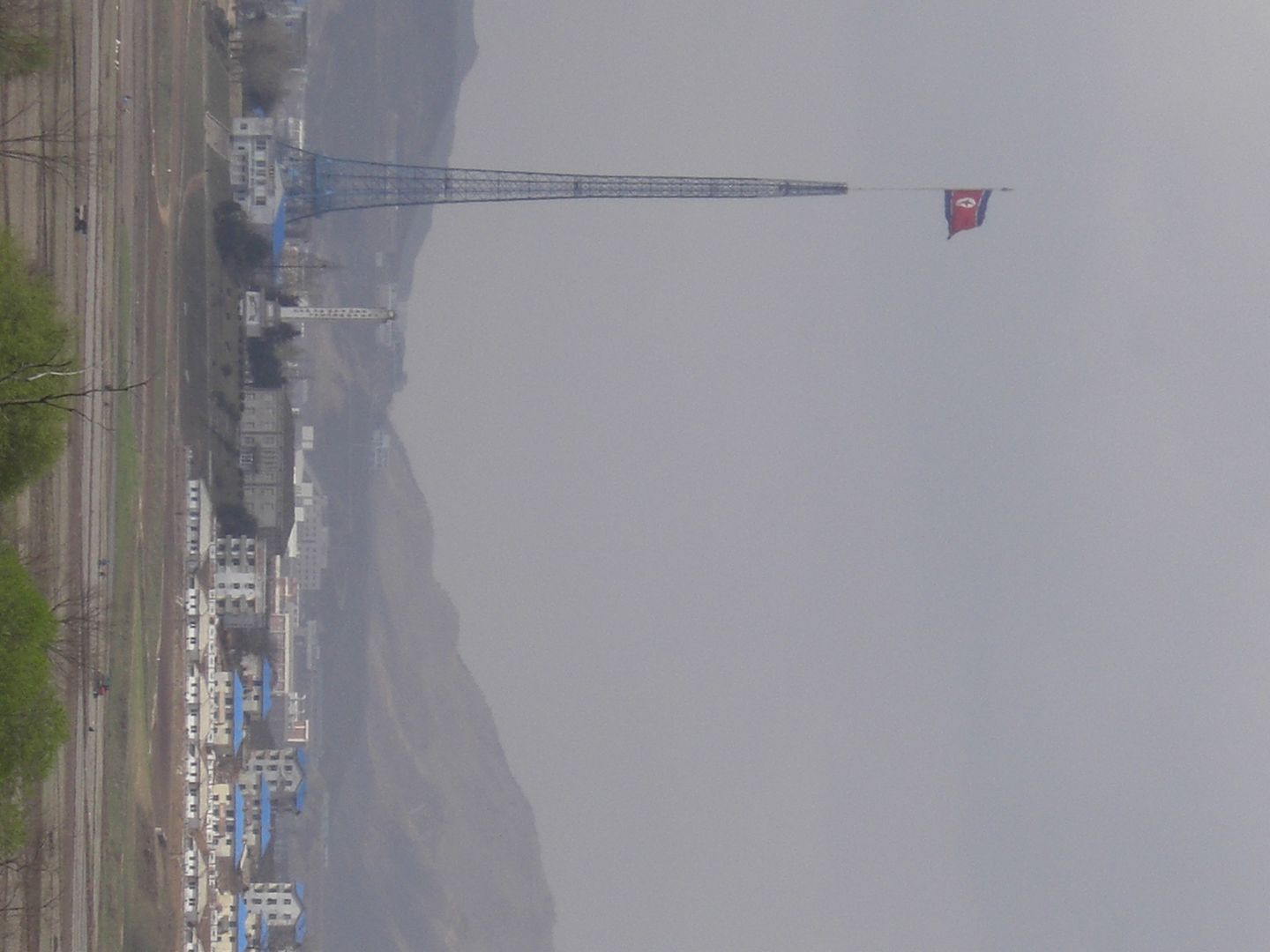 War Musuem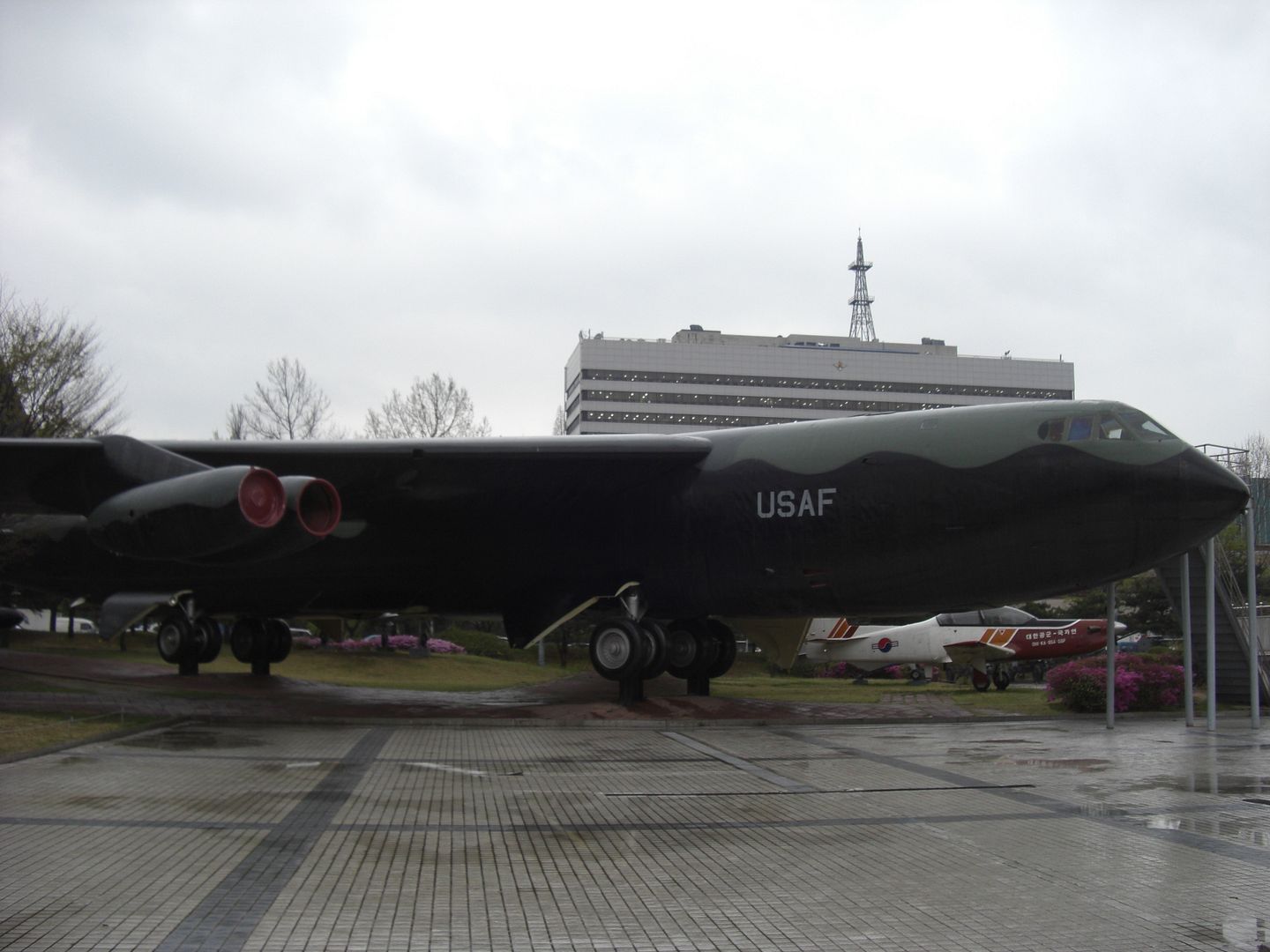 Gandalf
Seoul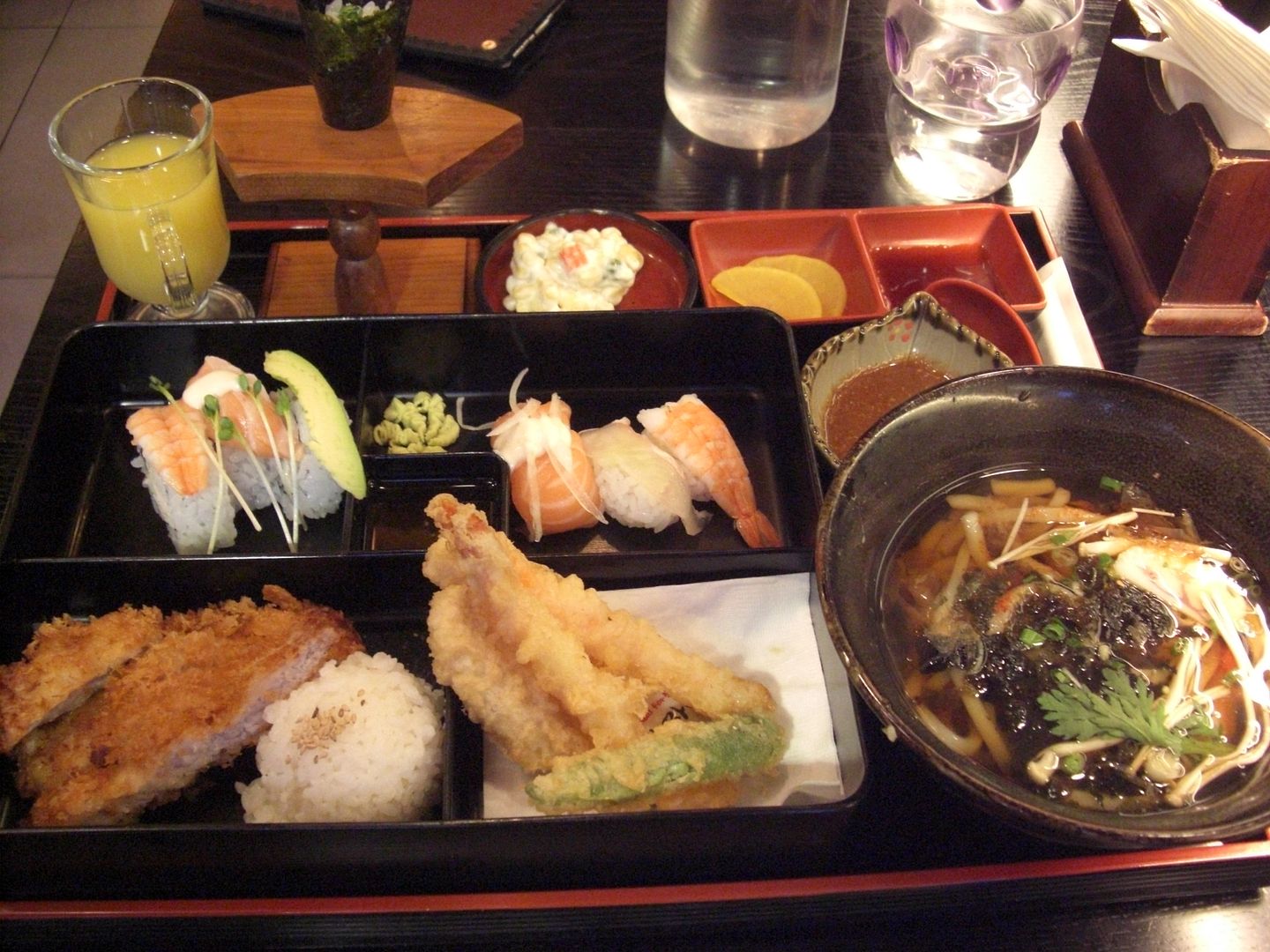 MIAT ads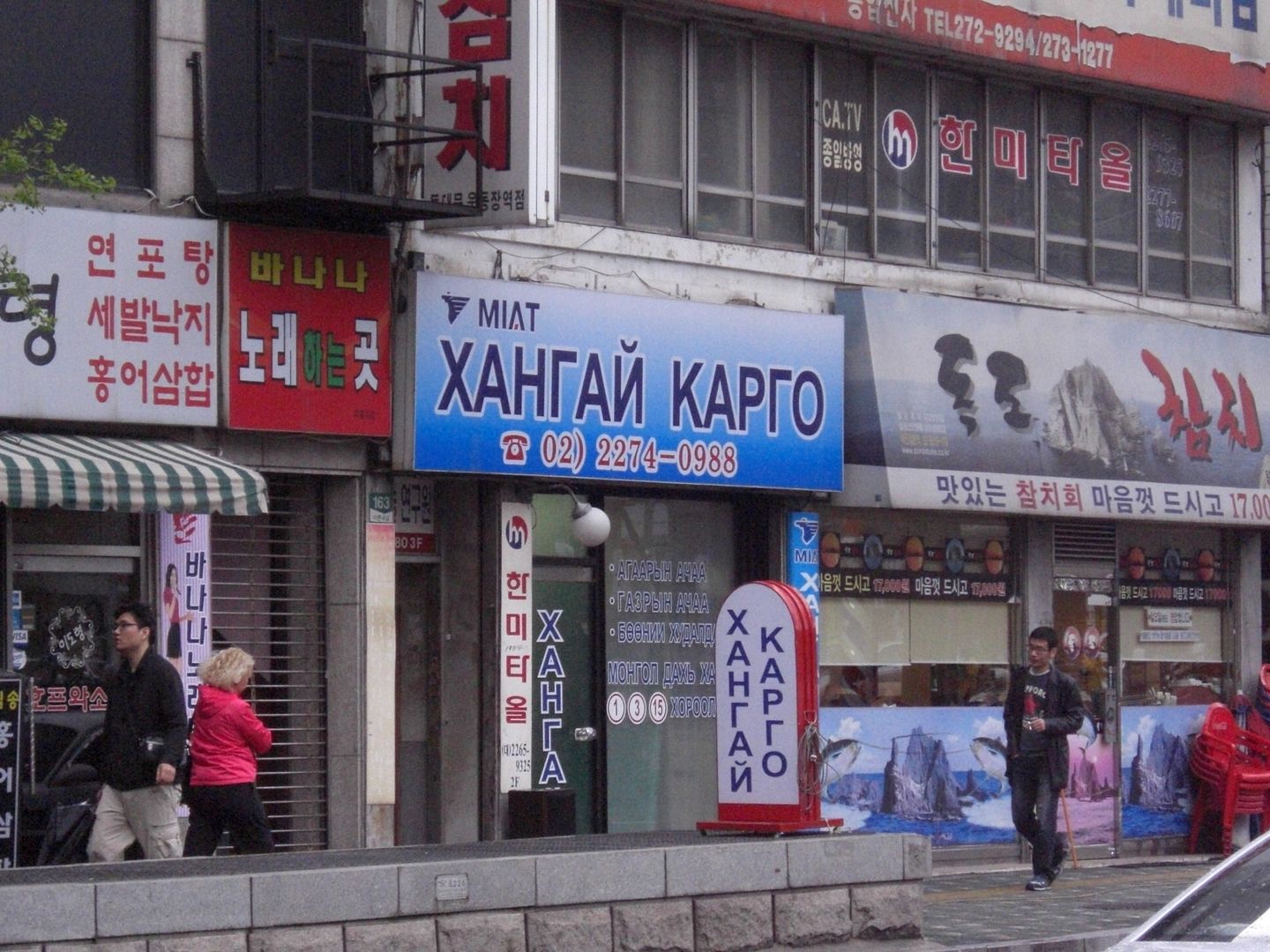 Comments and questions welcome. Parts 2,3 and 4 coming very soon.