Summer holidays, flying in and out of Beijing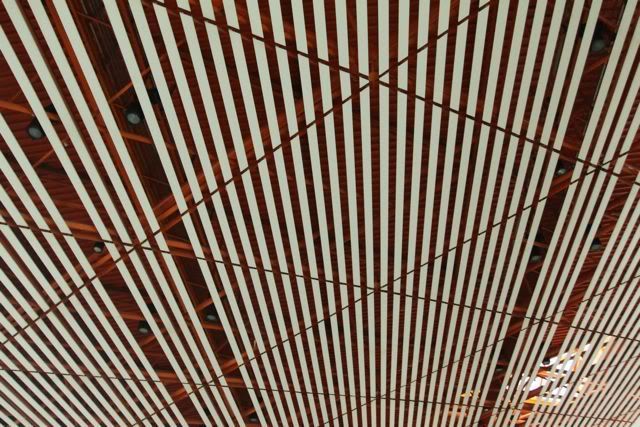 Roof of Beijing-Capital International Airport
Hellos! This is my first trip report, so please bear with me! I'm a Singaporean studying in Beijing and it's the summer holidays! Cheeeeeeeers! Even though it's holidays, I still have to attend summer classes which are on Tuesdays and Thursdays weekly. Beijing-Guilin-Beijing was done post-exams, pre-summer classes, while Beijing-Shanghai-Beijing was done over my Fri-Mon long weekend.
Beijing-Guilin-Beijing
Having accumulated sufficient miles, I decided to redeem a Guilin-Beijing flight on Air China since the Beijing-Guilin flight is much cheaper, at only 630RMB compared with over a thousand yuan for the return trip.
Route: Beijing Capital - Guilin Liangjiang PEK-KWL
Carrier: Air China
Flight number: CA1311
Plane model: A320
Registration: B-MAH
Date: 1st July 2010
Scheduled dep time (actual): 0730 (0815)
Scheduled arr time (actual): 1035 (1050)
Since the flight is so early and I don't stay exactly near the airport, I arranged for a driver to pick me up at 5ish. Before I knew it, my friend and I arrived at the humongous man made structure called BCIA terminal 3. As usual, PEK is extremely busy in the morning, but we checked in rather quickly and collected our boarding passes. We then headed for the gate soon after.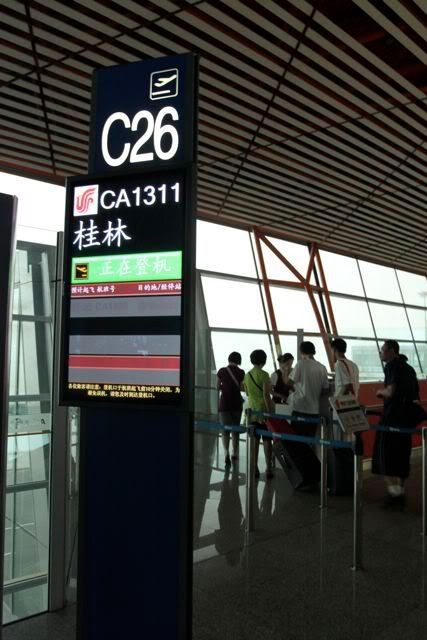 Boarding gate
At the boarding gate, we realised that it's an Air Macau plane! That set my friend and I thinking, "is it a flight codeshared with Air Macau?!"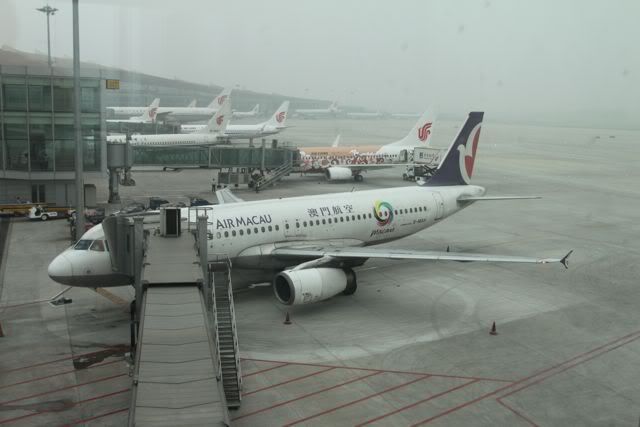 Sadly that is not the case as the next photo will tell you: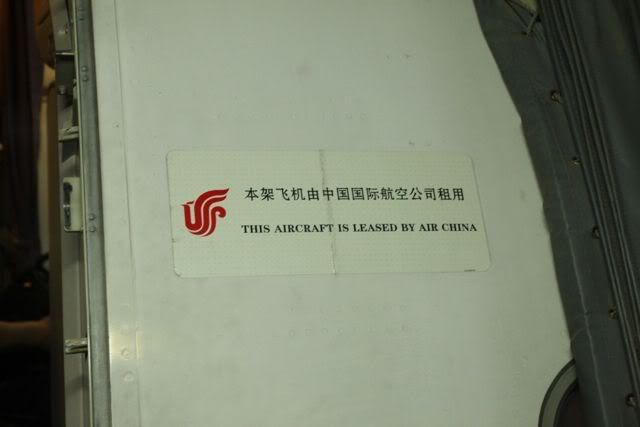 Honestly, this sticker looks rather cheap.
Boarding commenced at 6ish 7 and my friend and I quickly settled into our seats. The plane is pretty packed, with about 9 out of 10 seats in Economy being filled. A guy quickly settled into the seat next to mine and I was utterly shocked when I saw how long his nails are! It totally grossed me out. As the last few rows of seats were empty, my friend and I quickly shifted so that it'll just be the 2 of us over 3 seats.
0730 came and went and the plane was still docked at the airport. At 0740 we finally push backed. However, we merely shifted to another area to wait as PEK is extremely busy in the morning and most (if not all) flights are delayed. Honestly, PEK needs to do something about their terrible traffic. Open a new runway or something. (ok, that may not solve the problem, someone tell them what they can do please)
We finally took off at 0815 and breakfast was served at 0900 or so.
Breakfast, eggs were dry and the hotdog tastes more of starch
The FA was pretty nice, with smiles and all, but one thing I totally dislike about Air China is the lack of blankets and pillows on most flights (except the highly competitive routes like Beijing-Shanghai etc). Also, they hardly do any water runs! We are getting dehydrated here mind you!
Here are some in flight shots: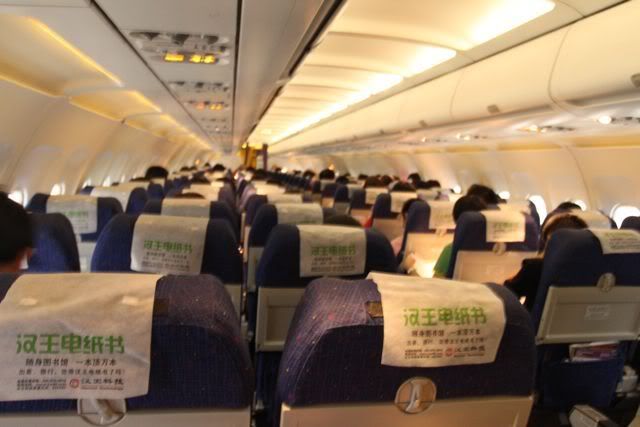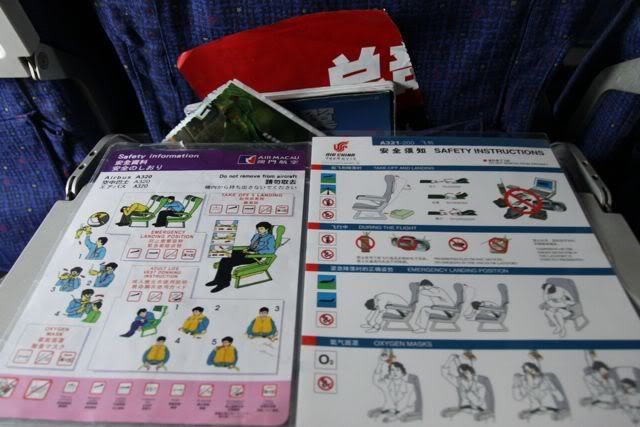 Air Macau or Air China? Go figure.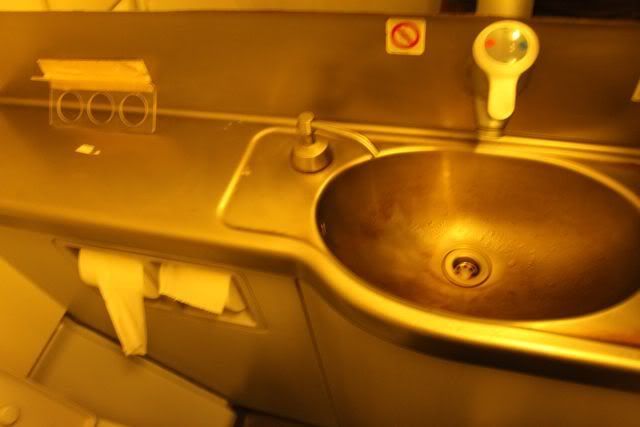 /
There isn't even hand soap!!!!!!!!
We soon arrived at Guilin and that marks the end of my PEK-KWL journey. It's another typical Air China PEK flight I guess, delayed take offs, air crafts which needs some serious refurbishment. I guess I shouldn't be complaining since I paid peanuts for this flight, but some others paid much higher prices!
Route: Guilin Liangjiang - Beijing Capital KWL-PEK
Carrier: Air China
Flight number: CA1226
Plane model: 737-800
Registration: B-5486
Date: 5th July 2010
Scheduled dep time (actual): 2120 (2220)
Scheduled arr time (actual): 2355 (+1, 0045)
Guilin airport is quite a basic airport, not one of the thousands (i know i'm exaggerating) new airports springing up all over China. However, look at this: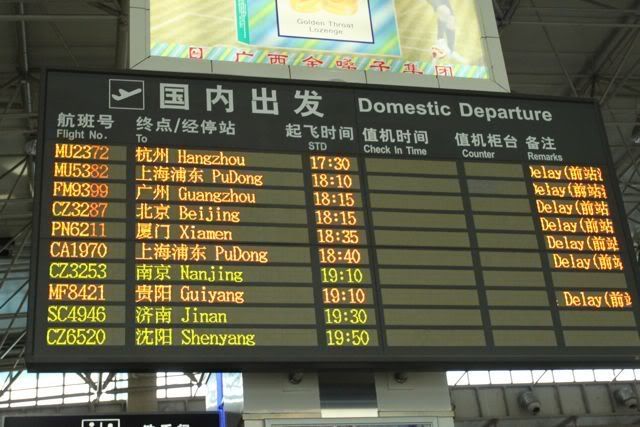 So many delayed flights! Must be due to the horrendous storms ravaging China, and heavy traffic
We boarded at 2050 and as usual, the flight is delayed as PEK is experiencing heavy traffic. When is it not anyway?! One person asked the FA for some water, then another did. After the third person did (yours truly), the whole aircraft was abuzz with beeps, with people asking for water. They then finally decided to do a water run.
A few of the passengers were taking photos of the female FAs in a slightly dodgy manner, zooming all the way when they are far away, etc. My friend and I were quite disgusted really. When the FA asked them to not take photos of them, the guys started flirting with them. I was both amused and disgusted at the same time by now.
It was also quite obvious that the FAs (being from the north, deduced by their accent) was not as polite to the passengers speaking with a southern accent, which I felt rather disturbing.
We finally took off one hour later and a snack of a super dried out sandwich was served.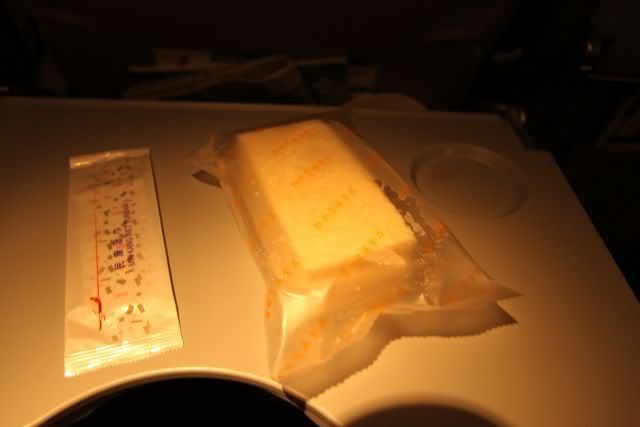 Snack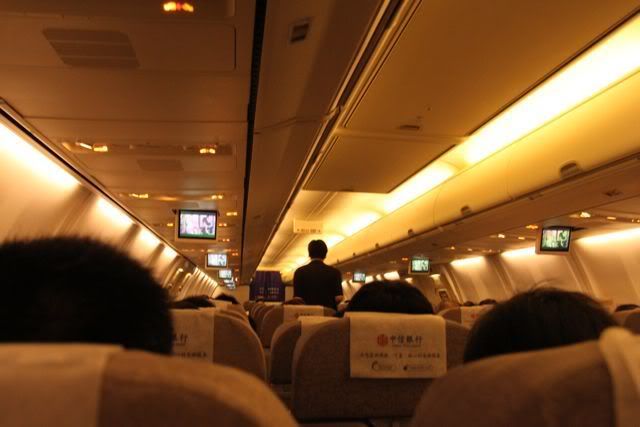 Cabin shot
As usual, no water runs after meal service. Dehydration~~~
Soon, we touched down at PEK and headed home!
In case you're wondering, Guilin is amazing, the scenery is just fantastic, and the Shangri-la Guilin is fabulous! Rooms are big and the service is excellent.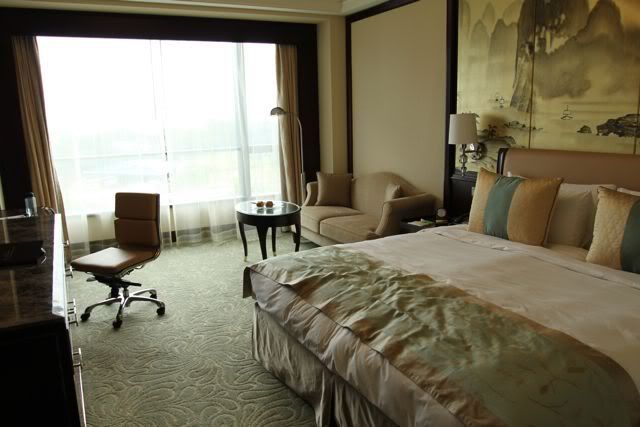 Shangri-la Guilin
They even take down your taxi number on a card whenever you board or alight from one so that you can trace it if you left something on the cab! How's that for service?
Here are some pictures of Guilin, and the surrounding Longji rice terraces and Yangshuo: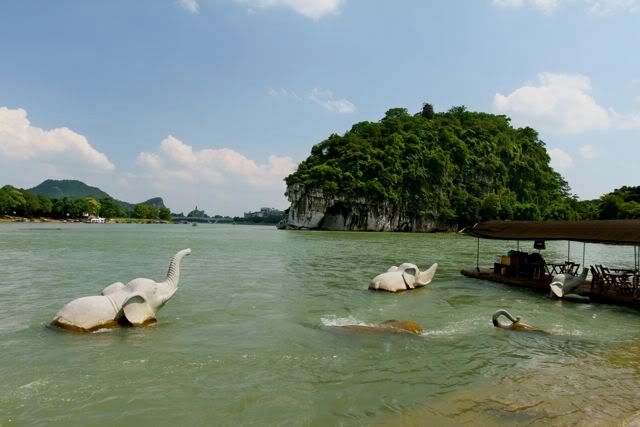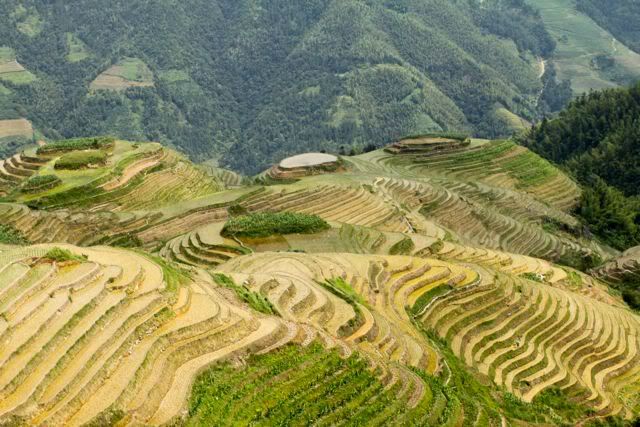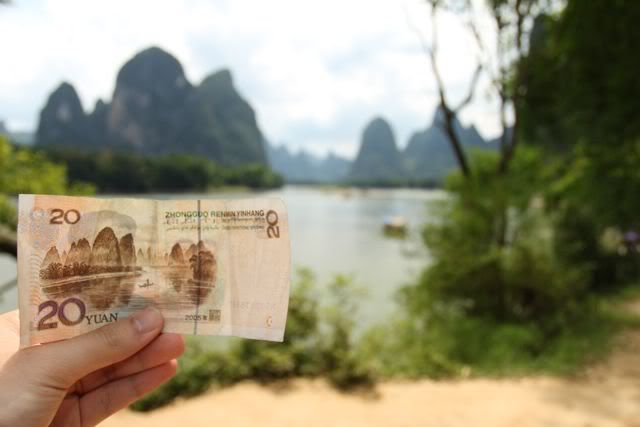 Beijing-Shanghai-Beijing
My friend is leaving for Singapore soon and we decided to make a trip to Shanghai for the expo. Since my friend's open SIN-PEK-SIN ticket allowed for re-routing (with a charge), the trip back to Singapore will be from Shanghai-Pudong. Hence, my routing was Beijing Capital-Shanghai Hongqiao, Shanghai Pudong-Beijing Capital.
Beijing Capital - Shanghai Hongqiao PEK-SHA
Carrier: Air China
Flight number: CA1501
Plane model: 747-400 Combi
Date: 9th July 2010
Scheduled dep time (actual): 0830 (0935)
Scheduled arr time (actual): 1040 (1150)
Boarding was done via a little bus which fetched us to the international side of the terminal. I think it may be because this plane arrived from an international destination.
After we settled in, we received the (expected) news that our flight is delayed by an hour or so. After taking off, breakfast, which is the same as the PEK-KWL flight, was served. The plane was so warm! There aren't any adjustable air vents and my friend and I felt sooooo warm and stuffy! Once again, there weren't water runs after the meal service.
After reaching SHA, we headed to the luggage collection belt and waited patiently for our luggage. 10mins... 20mins... 30mins... I spotted an Air China officer and questioned her where our baggage went. She said, "I am going to find out now." I was thinking, only now?! No surprises I guess.
Once again, another typical delayed CA flight with service and hardware which need improvement.
Shanghai Pudong - Beijing Capital PVG-PEK
Carrier: Air China
Flight number: CA176
Plane model: A330-400
Date: 12th July 2010
Scheduled dep time (actual): 2025 (2130)
Scheduled arr time (actual): 2235 (2345)
We took the maglev to get to the airport as we haven't been on such a ride. It was great fun! (Not that much if you have lots of luggage though.)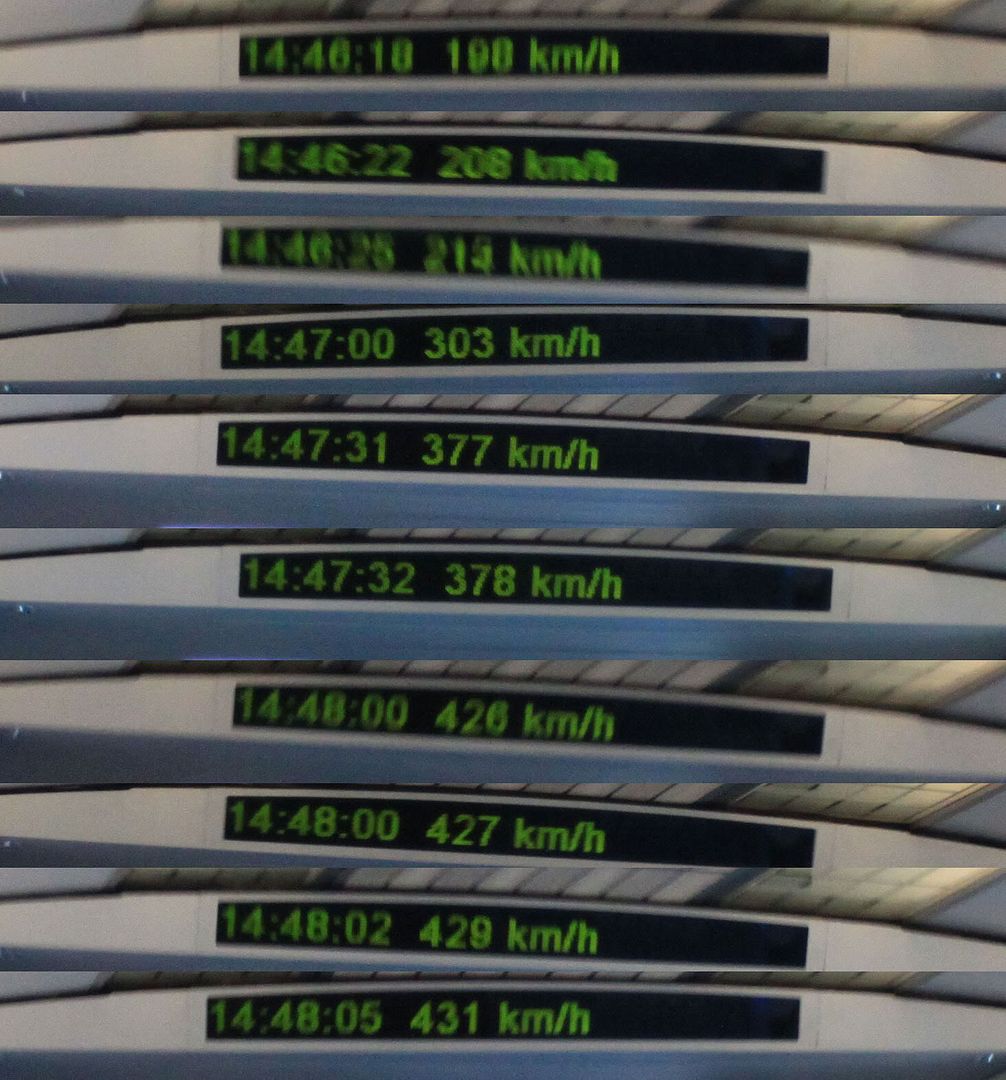 Look at the acceleration!
My friend decided to go on the 1635 SQ flight back to SIN instead of the originally planned 1910 flight. That left me alone at PVG from 1520 to 2025 alone. Great. I basically chilled at Burger King, reading a book.
Due to late arrival of incoming aircraft from Sydney, boarding only commenced at 2000. This PVG-PEK is part of a SYD-PVG-PEK. Once again, flight was delayed by an hour or so. There was actually IFE on this flight, which is really rare for Air China. I caught half of "Up in the Air" on board while the meal was a small bun that honestly tasted quite terrible.
After reaching PEK, I took a cab home and that ended my summer holidays mini-holidays.
I am rather thankful I did not take a SHA-PEK flight as the 2010 SHA-PEK CA1550 was cancelled.
Honestly, I am avoiding Air China these days as they always get their flights delayed and service, catering and air craft amenities are all quite poor. If not for their cheap prices or suitable timings, I would have taken other airlines. Hence, I am crediting all my mileage onto Cathay Pacific, which also explains why I'm flying CX for PEK-HKG-SIN-HKG-PEK when I return back to Singapore. (SQ is just too expensive, and CX offers a free HK stopover, so, why not?)
Here are some pictures of Shanghai and the expo: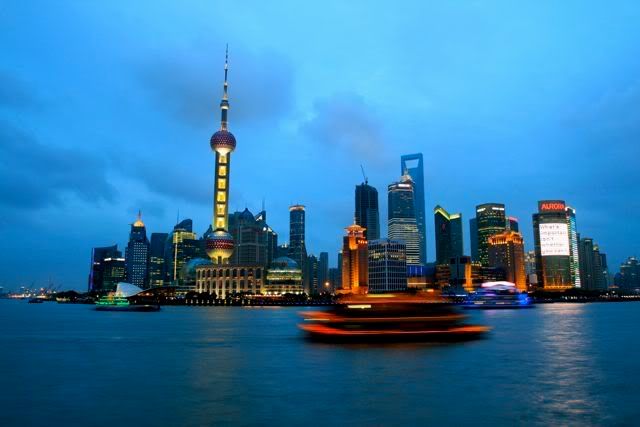 Pudong financial district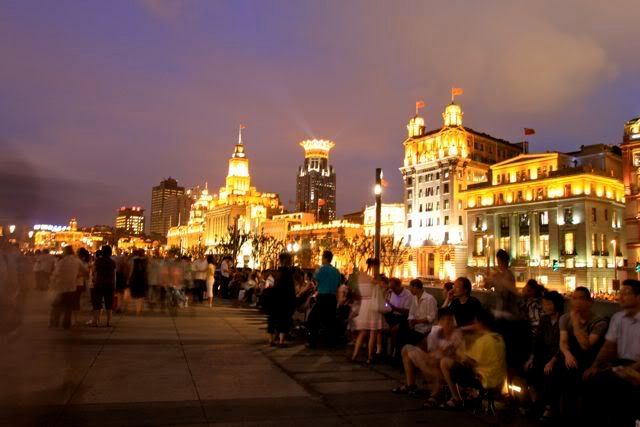 The bund
Viewing Shanghai from 492m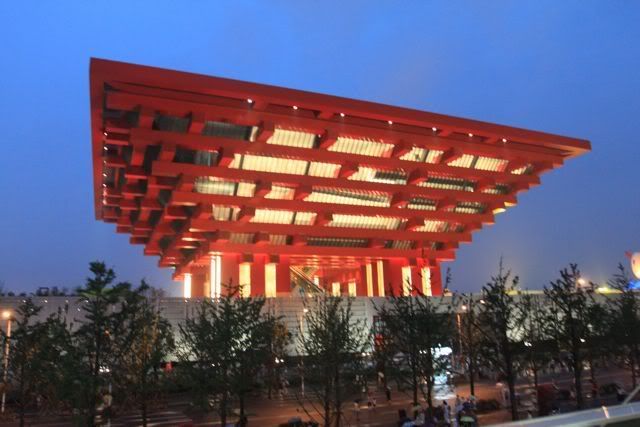 Chinese pavilion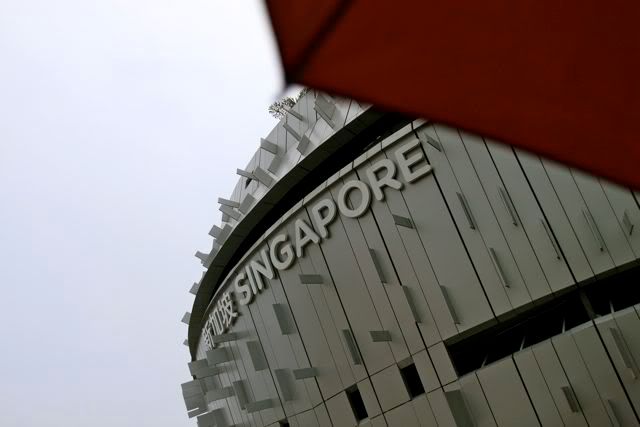 Singaporean pavilion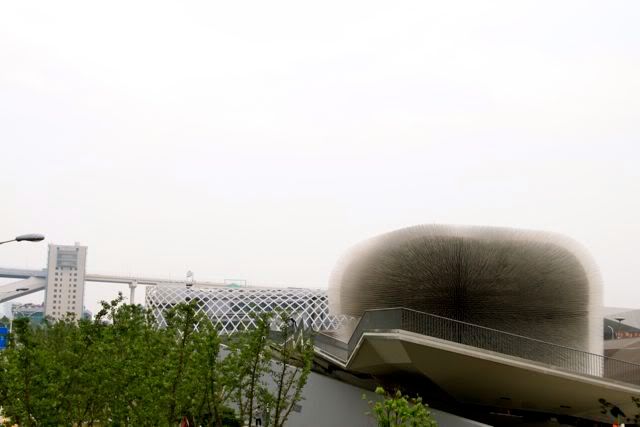 British pavilion
The expo was honestly quite a disappointment as there were literally throngs of people and I did not intend to queue (8hrs to get into the Saudi pavilion,1.5hrs on average for the rest) so I only visited pavilions that did not require queueing. Also, the weather was too warm to enjoy the expo. It does seem that Shanghai decided to make the expo such a big affair (which some say rival the Beijing Olympics) so that they will not seem inferior to Beijing. However, I also feel that Shanghai gives me a feeling that they are only building so that they can tear it down in 30 to 50 years time. On the other hand, Beijing is being held back by its heritage and is unable to develop as quickly as Shanghai as people are split over how to better develop a lot of the historical districts.
I hope you enjoyed reading my trip report and not be offended by some of my personal opinions. Thank you!
[Edited 2010-07-16 07:10:32]
[Edited 2010-07-16 07:12:31]