Danish sunburn and a German go-around
God dag, dear readers,
searching the airport timetables up and down is something what I like to do.
An interesting company shows up at CPH,
Wings of Bornholm, a virtual airline. The operation is done by swedish registered
Avitrans Nordic with the Saab 340.
Interesting enough to book it in March for a short hop from Ronne/Bornholm to Copenhagen
in June.
Very friendly A.net colleague Eric/Airbuseric finds it also interesting enough to join me and so we
looking forward for some nice flying together.
Well, sometimes in April another friendly colleague here shows us some reports from the airport website there with several problems around Wings of Bornholm.
Finally only some days later they inform all passengers that they will stop flying at 30.04.
What a surprise that they send the whole fare back to my credit card account some days later.
Now I hold a booking to Ronne, but no more flight back to CPH.
Well, there is another airline to fill the gap.
This is the link to my recent story:
BA On Strike Or My First Time At LGW
(by
FLIEGER67
Jul 10 2010 in Trip Reports)
Thursday, 17.06.2010
.
.
.
.
Service SK 668 operated by Scandinavian Airlines
Scheduled: 07.00 // 08.35
How to reach Copenhagen from STR early in the morning?.
SK wins my business today, some 40.-- Euro´s only, done by Exp.
Boarding from Gate 159 is printed on my OLCI paper for 06.40 am.
That means the usual cellphone alarm at 04.30 am and finally at the airport at around 06.30 am.
Next time I will do some more minutes sleep, way to early here!.
No OLCI possible at SK´s website, but we know the way, LH is the handling agent for SK at STR and
no problems to check-in via LH´s website.
Seat 22A, after Eric´s advice not to go for the last row on this plane type.
No time to wait at security and down to the bus gates on the ground floor.
The early morning departure screen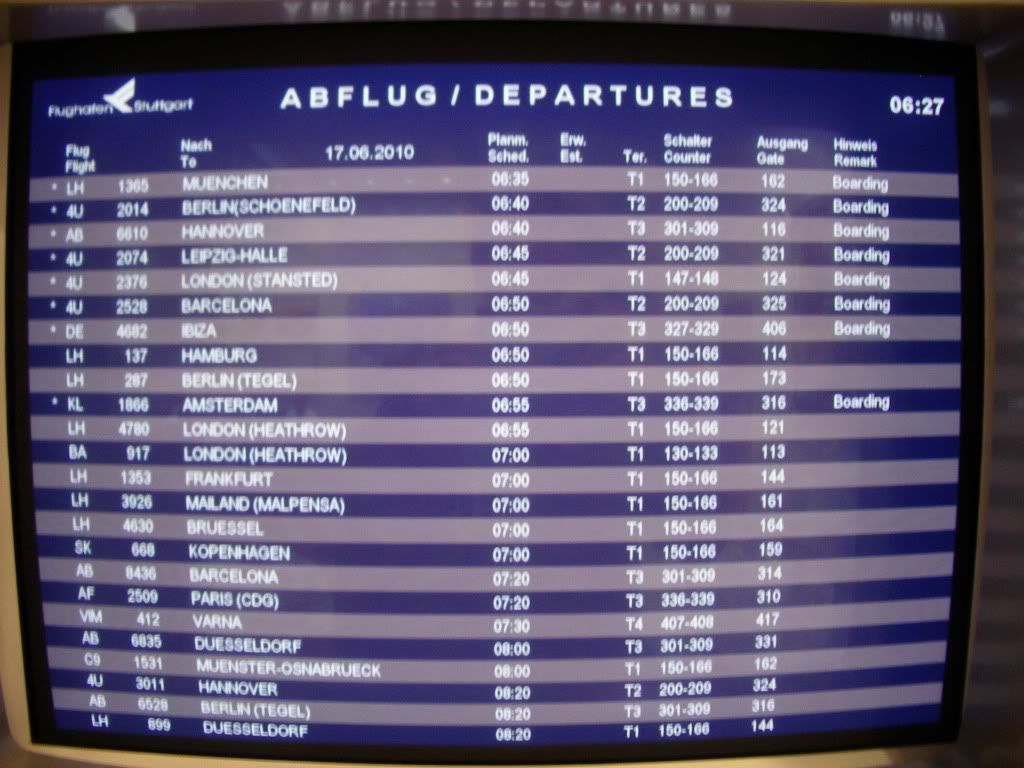 These nice Tuifly machine in retro colours operates for Germanwings during the summer season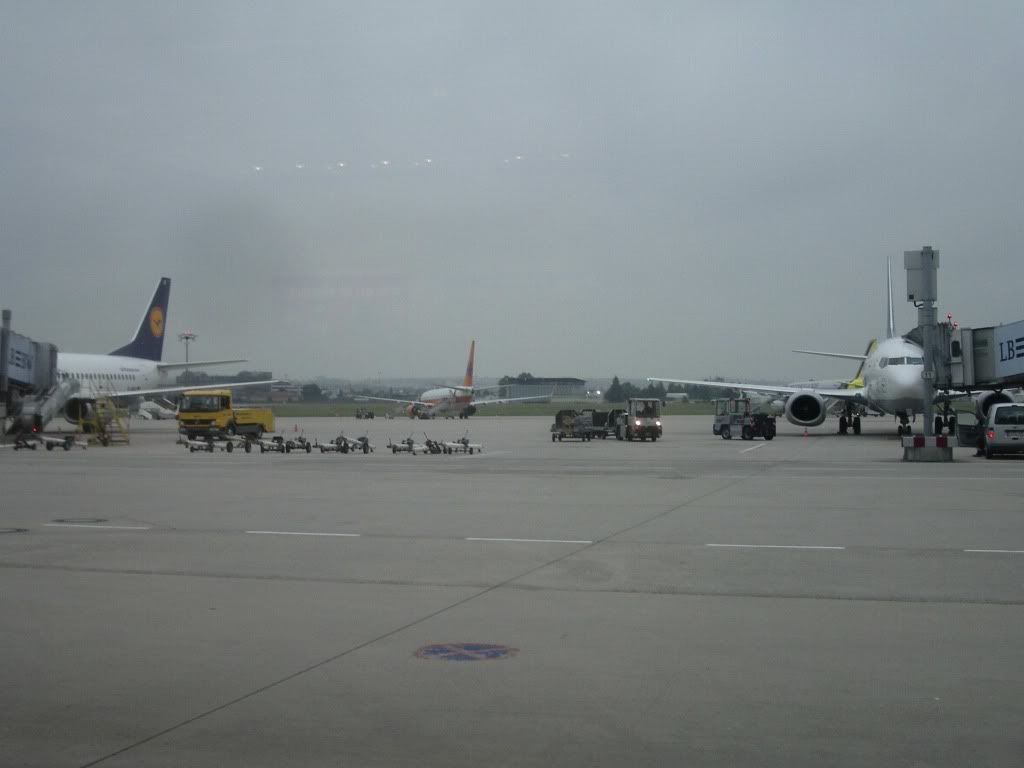 Boarding is perfectly ontime, me in the second bus, the plane is nightstopping on the apron.
OY-KFF, leg no. 4 only on the CRJ900 for me, a new registration.
This machine is one of total 11 in SK´s fleet and is in service there since 03.05.2009.
It´s name is "Karl Viking".
Pretty small engines on this long plane
One male, one female FA here, introduced by name and ok so far.
Dark blue fabric seats in the cabin, clean, acceptable legroom and quiet.
It looks something oldfashioned, once more my impression with this cabin equipment.
My seat, the aisle is occupied, third last row here.
Boarding as the last pax, but no better seat options with a close to 100% load.
Cockpit crew is from Scandinavia, the captain with a friendly welcome during boarding.
Departure at 07.05 am, close to ontime, the temperature is 13 degrees, cloudy sky, runway 07.
The duration is 1 hour 30 minutes.
Contact takes over
Using not the full runway lenght, we too.
The weather in southern Germany is overcast the whole week, wet and cold, much better in the northern country parts.
The safety card
Cruising the french med sounds also interesting, NCE is on schedule for August
in company with another nice colleague here
This is the cloud border somewhere south of FRA
Pretty nice weather up the north till the coastline
The captain is two times more on the speakers with detailed informations in a friendly style.
The route is above HAJ at 36000 feet.
Service is BOB.
Wind energy close to Denmark
Touchdown on the 3600 meters runway 04L at 08.25 am, ten minutes ahead to schedule, it is superb sunny with 13 degrees.
Well, this is Copenhagen with sistership FK at the gates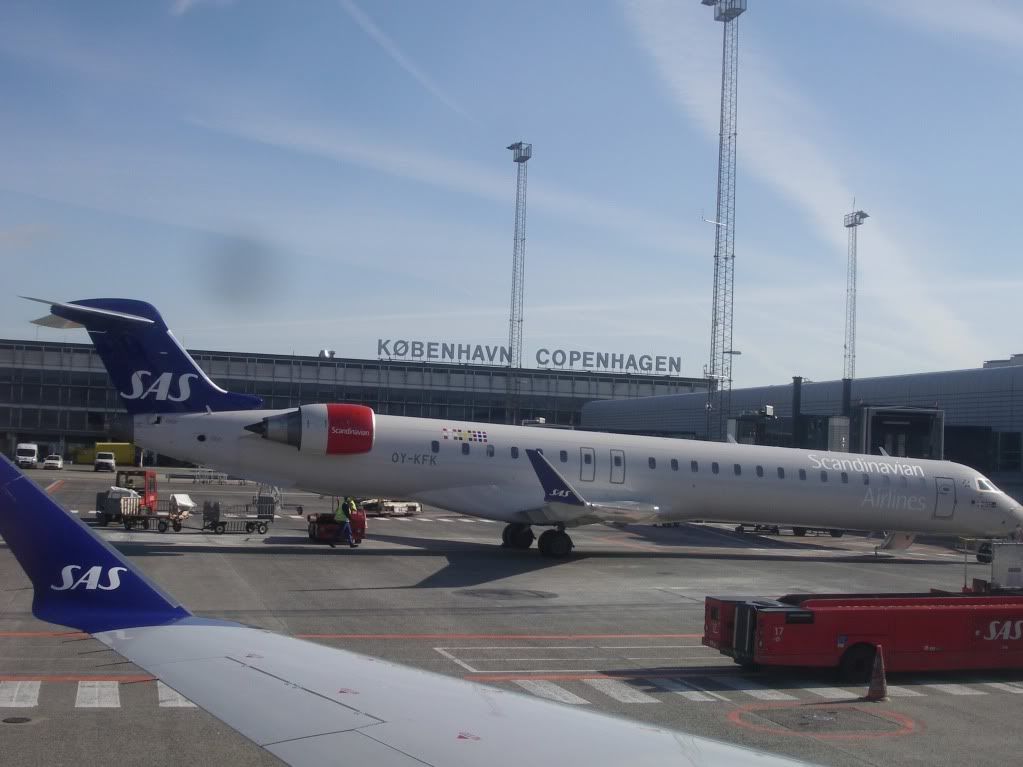 Gate parking but apron disembarking
A pretty long machine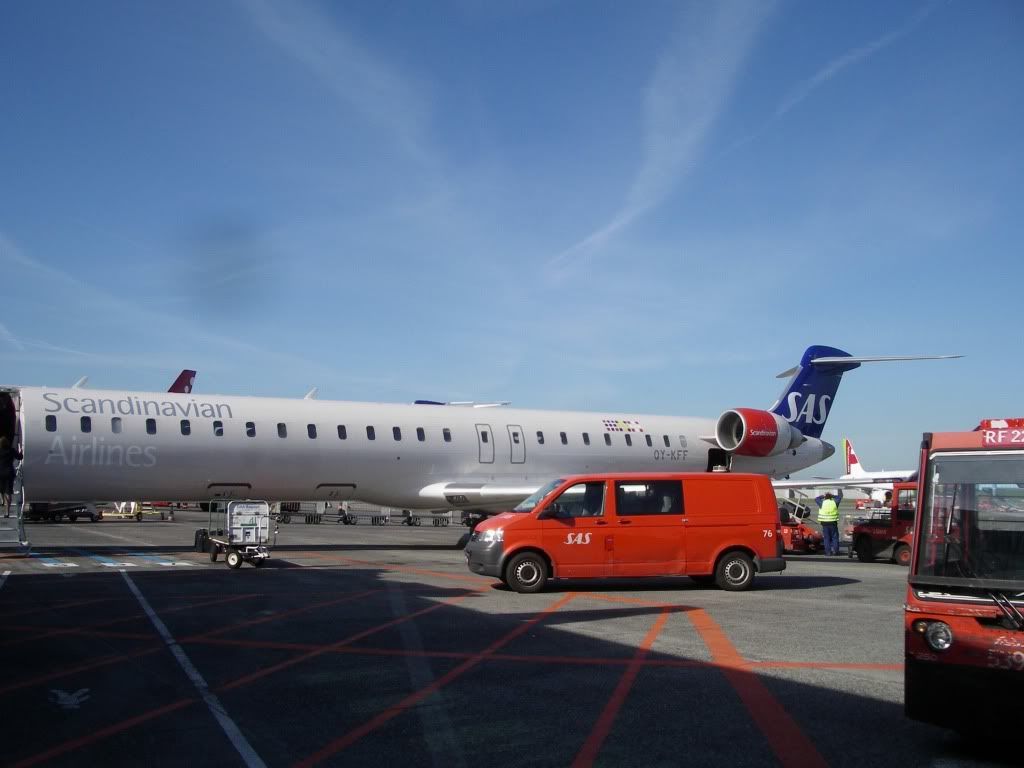 The gate for the next flight is our meeting point,
but Eric on arrival from AMS some minutes earlier makes the point and welcomes me at my arrival gate.
The plane from the gate window
Time enough to walk to the A gates, along some nice planes, with the domestic services
Modern architecture here and good conversation on the way
Thursday, 17.06.2010
.
.
.
.
Service QI 617 operated by Cimber Sterling
Scheduled: 09.45 // 10.20
LH´s OLCI system accept also my Cimber booking, a surprise, seat number assigned at the gate,
shows the paper, it´s free seating anyway.
Booking is done together with the first leg by Exp., the fare also some 40.-- Euro´s.
This plane is on the apron close to the gate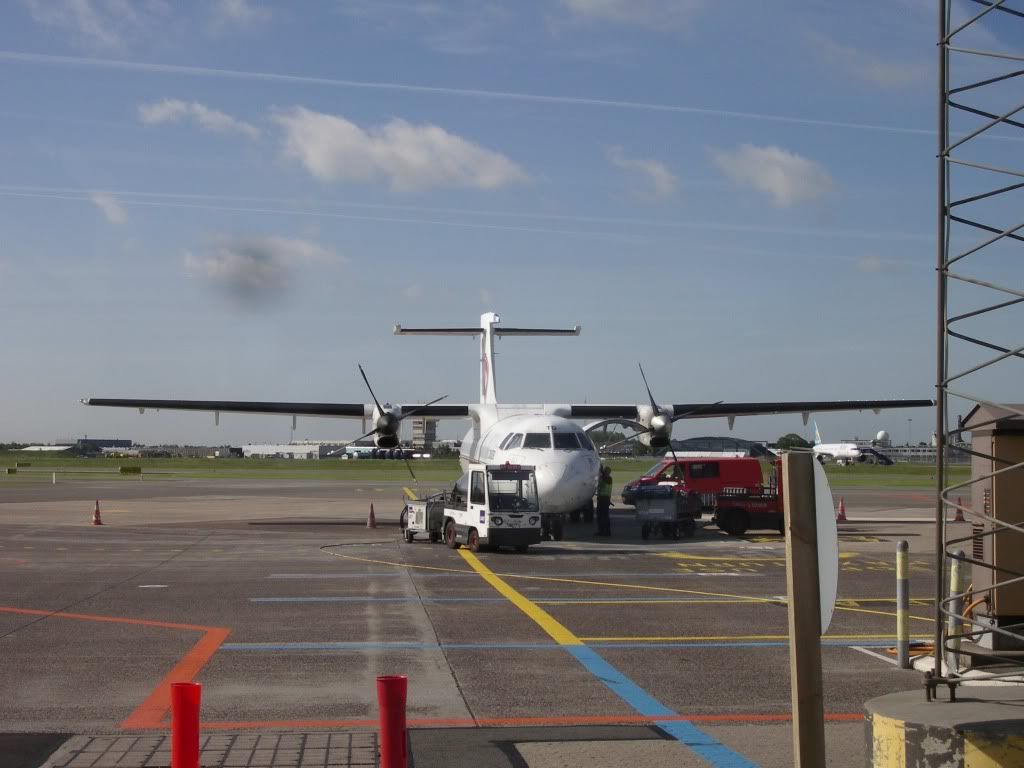 It is definitely our service to Bornholm from gate A31
Looks somewhat well used
Heavy domestic business here in Denmark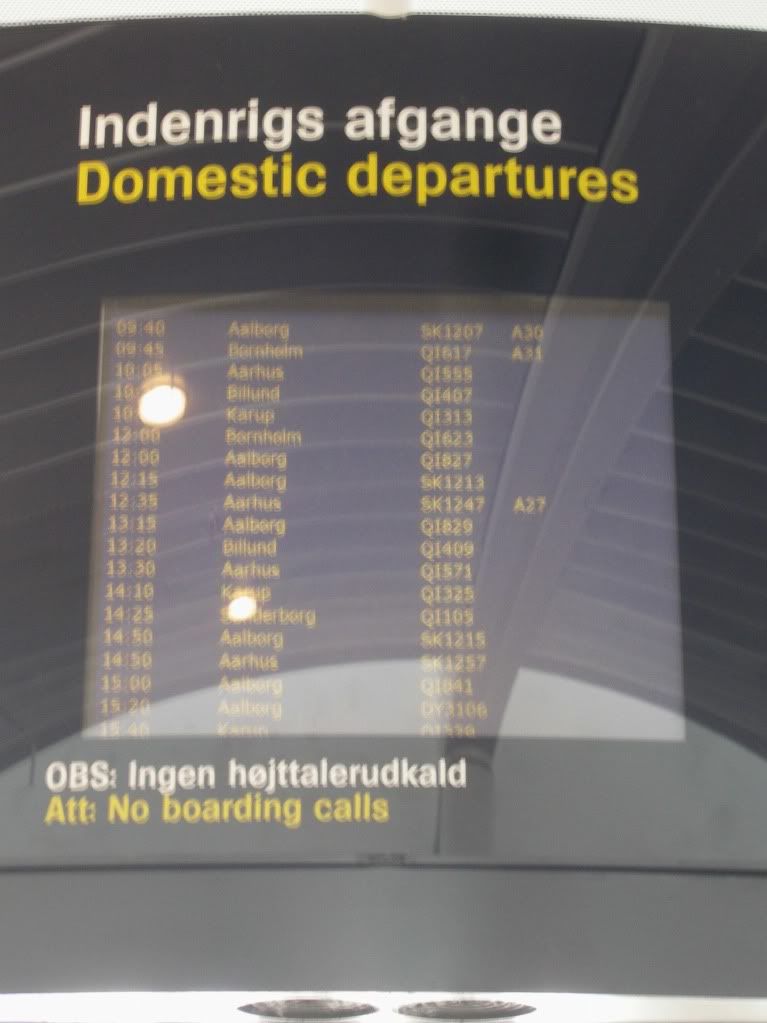 Some restroom issues, between closed for ages of cleaning or no lights at all. Soon it is time for boarding.
Joining the queue, something what I usually dislike, but with nice company here it is ok
Self service to the plane
It is OY-RTD, a new registration for me, the scheduled ATR 72 and a plane with a wide history.
One of four in the Cimber fleet.
Leg no. 16 for me on type.
Delivery at 19.12.1997 to KLM UK, from 31.10.1999 in service with Gill Airways, from 28.03.2000 joining British Regional Airways, a long way to go for Vietnam Airlines at 27.09.2000 and back to KL UK at 31.07.2002. Alisea run´s it from 01.07.2003 till 18.10.2004, the date of joining the Cimber fleet.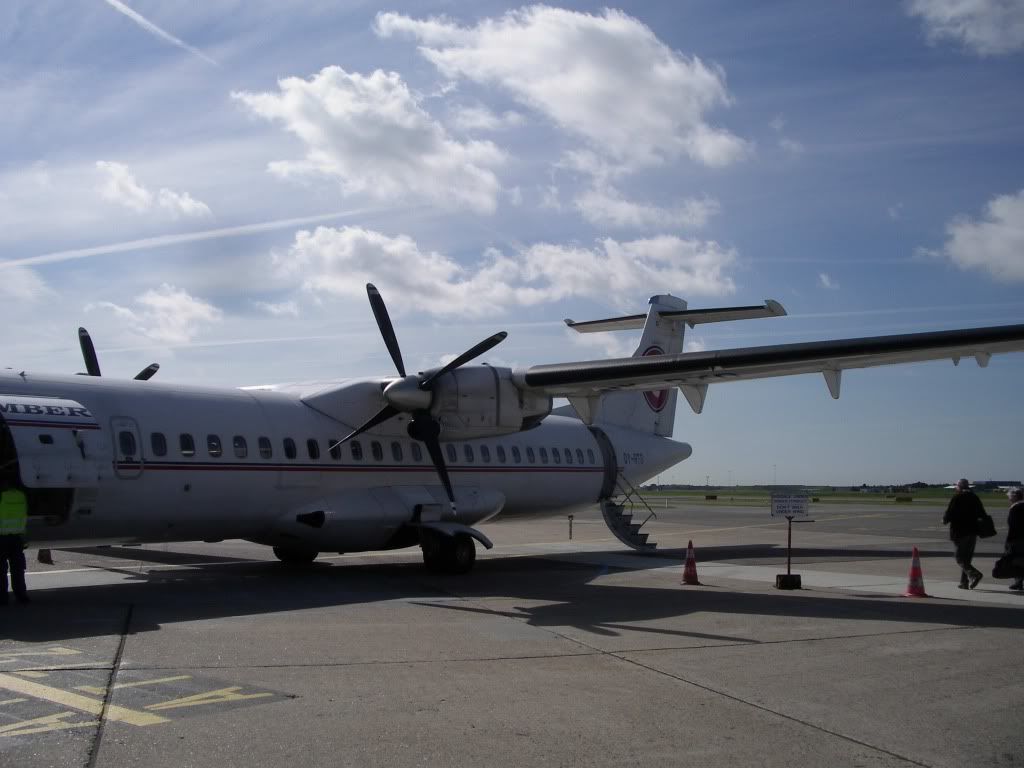 My under the wing shot
Oldfashioned cabin
and seaters, 3F, two for me. Eric take´s 3A for a view to the other side along the route.
The seats are very hard, a really well used machine. The load is around 80%.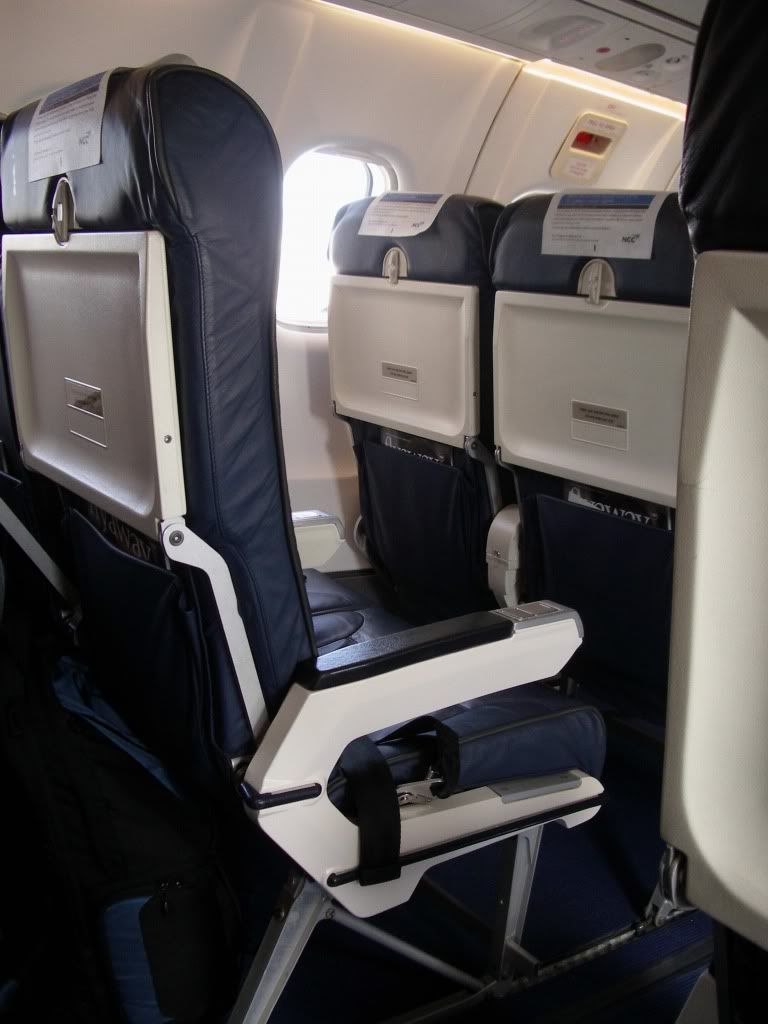 No action with the propeller
The scandinavian captain with a detailed and friendly welcome during boarding also with some route details.
The safety card
The magazine
Two female FA´s here in service, but no service at all.
Departure is from the 3600 meters runway 22R, it is 09.45 am, ontime, sunny again with 15 degrees.
A little bit Denmark down there
Öresund traffic
Where is the runway?. It seems close to the same level like the sailing boats
Touchdown on the 2002 meters runway 11 at 10.20 am, ontime, it´s superb sunny with 17 degrees.
On the apron
Stop the propeller
A nice short chat with one of the FA´s shows us no, according to the schedule, dejavu,
the plane runs back to CPH and further on to Aalborg.
How I like sunny weather apron disembarking and much more with nice groundstaff like
one of these funny guys at Bornholm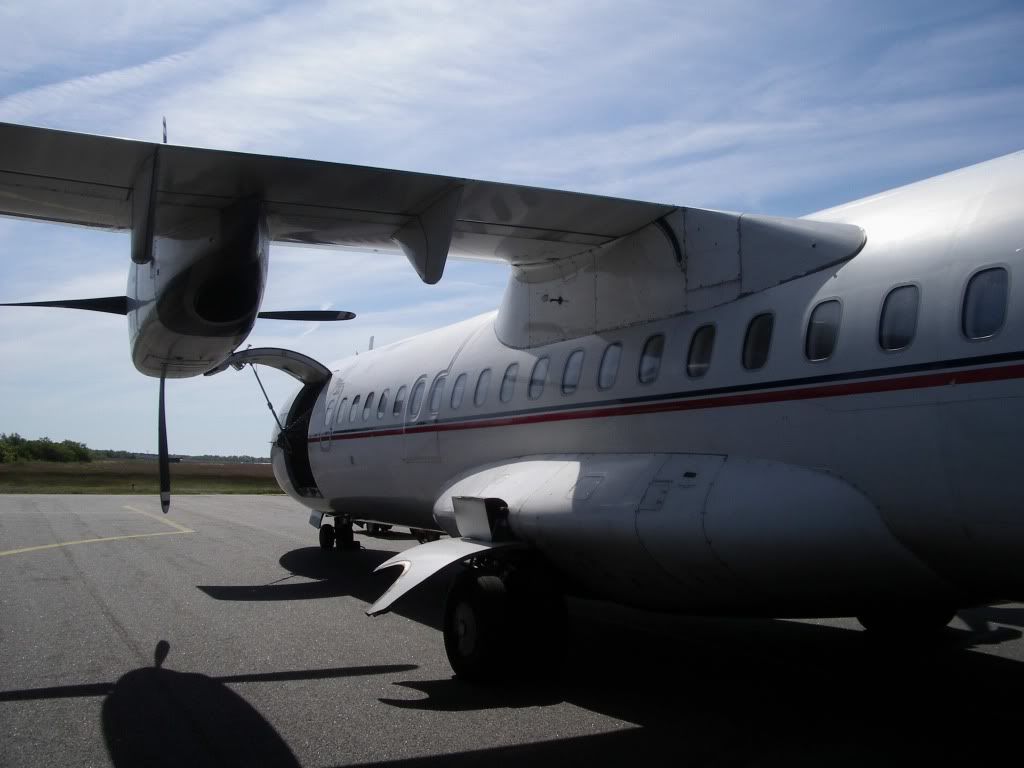 What a nice tail logo
A last view to the plane on the apron
That´s what I call efficient baggage work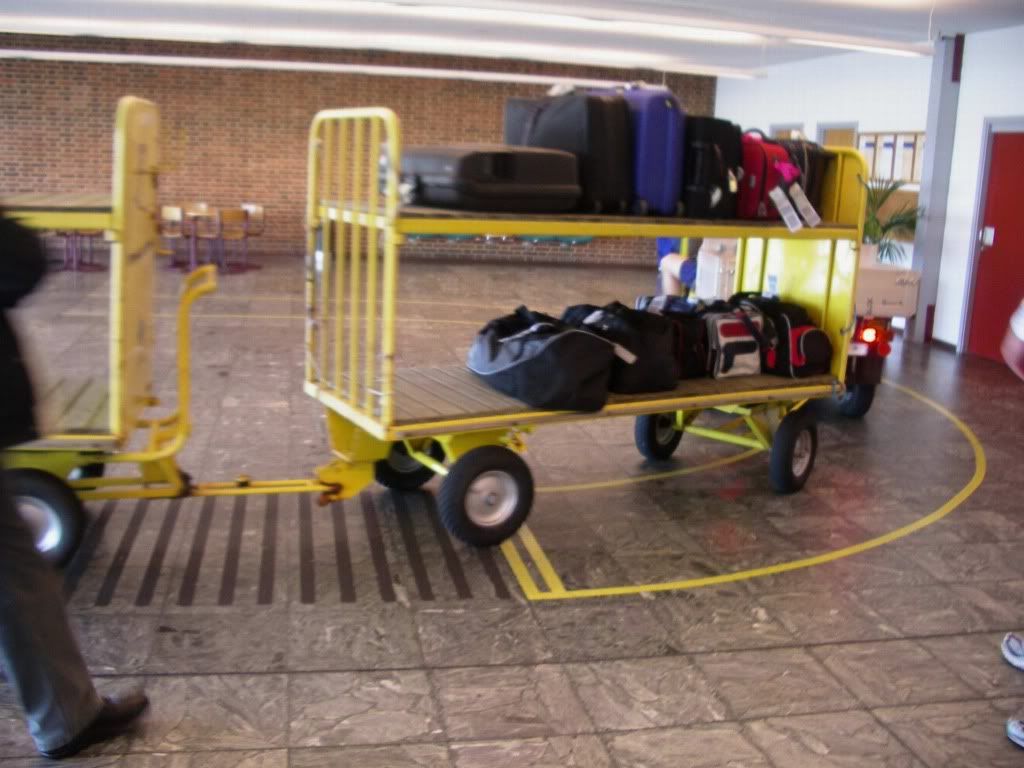 CPH seems a popular destination here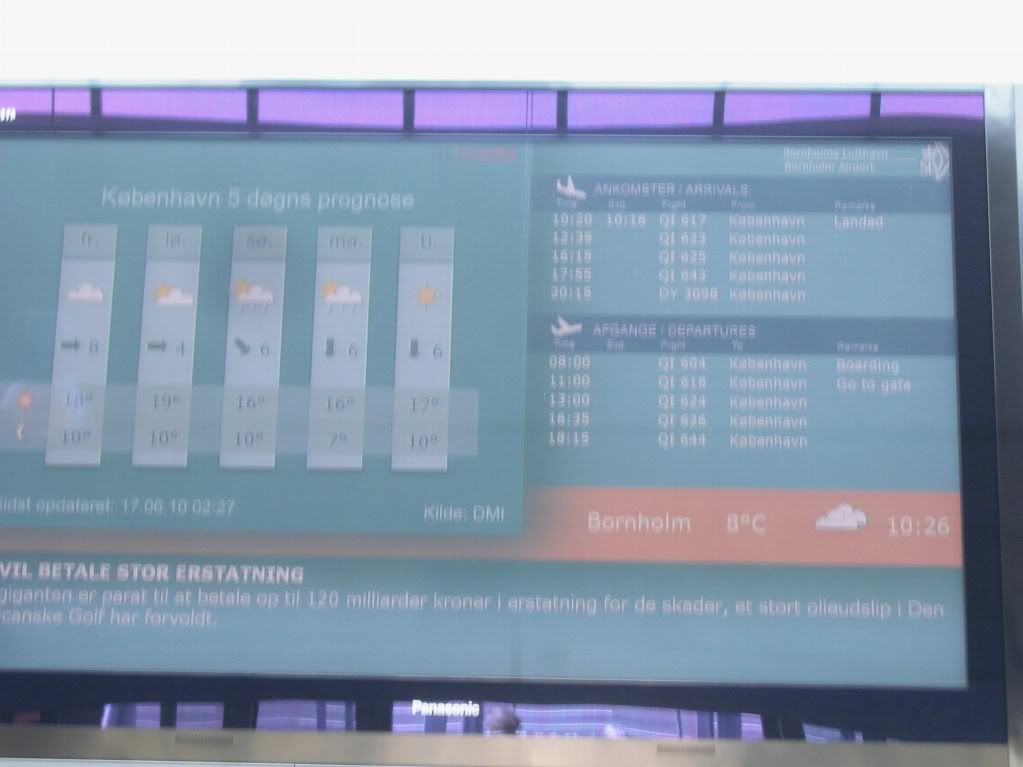 Our plane on the way back to CPH
Nice departure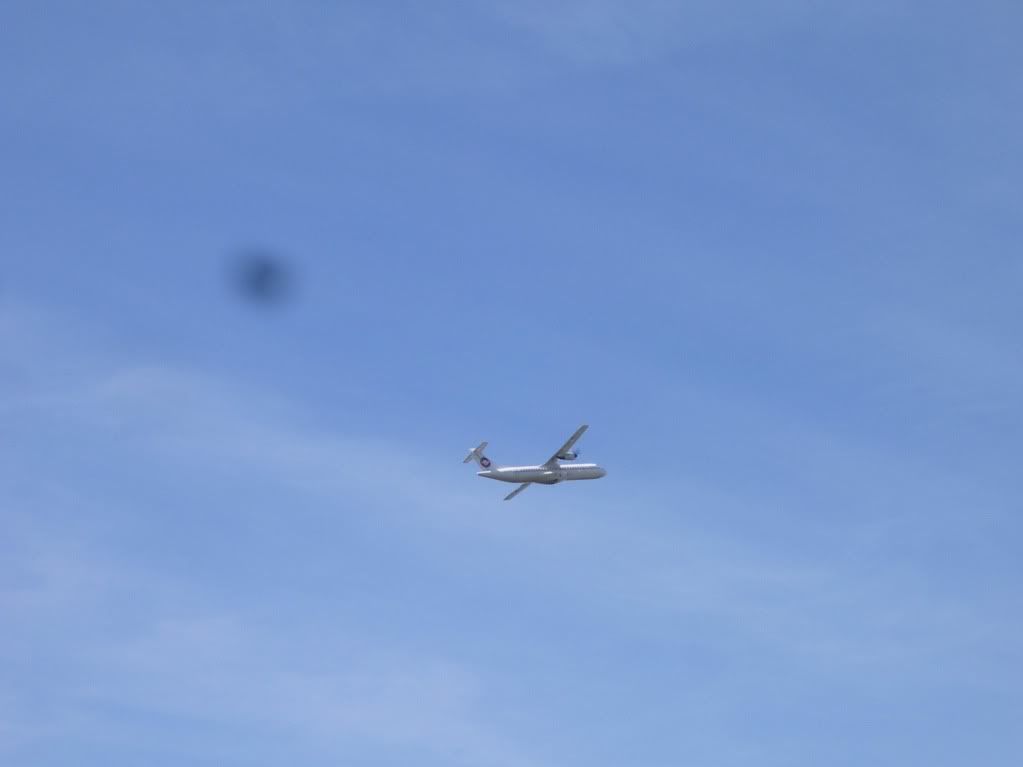 Thursday, 17.06.2010
.
.
.
.
Service QI 624 operated by Cimber Sterling
Scheduled: 13.00 // 13.35
Joining a bench with an apron view and going for some nice aviation and else talk,
that´s the sunny way to do here at Bornholm.
The terminal
The time goes by very fast and soon our plane coming in from CPH
Its OY-CIN, some issues with the plane earlier at CPH according to Eric´s photos.
These business was the cheapest way via Cimber´s website for some 30,00 Euro´s.
The website dont want to accept my reference for OLCI, but SK´s website finally does.
Through security and ready for the flight back to CPH.
Btw., this is the sub booking for "Wings of Bornholm" originally scheduled later in the afternoon.
This plane is in service with QI since 18.03.1999, another new registration for me.
Leg no. 17 for me now on the ATR72.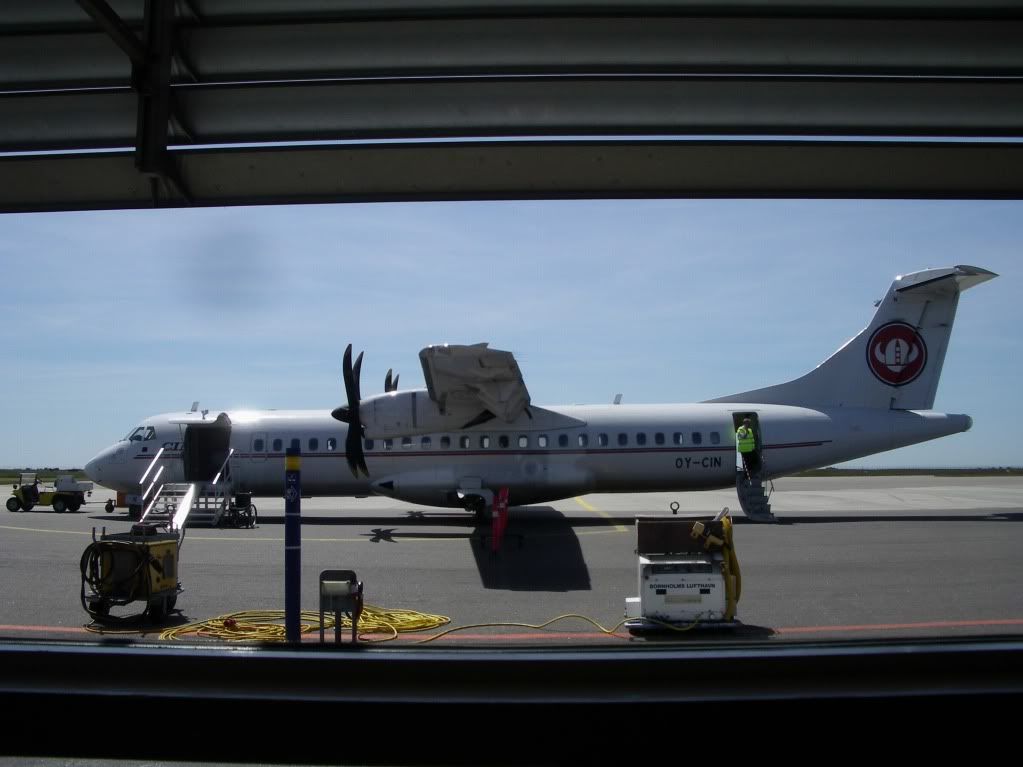 Ground handling at work
And boarding now self service style from gate 1.
We had a good laugh about our non usual short visit to Bornholm with the ground staff guy, he recognizes us from the earlier inbound leg.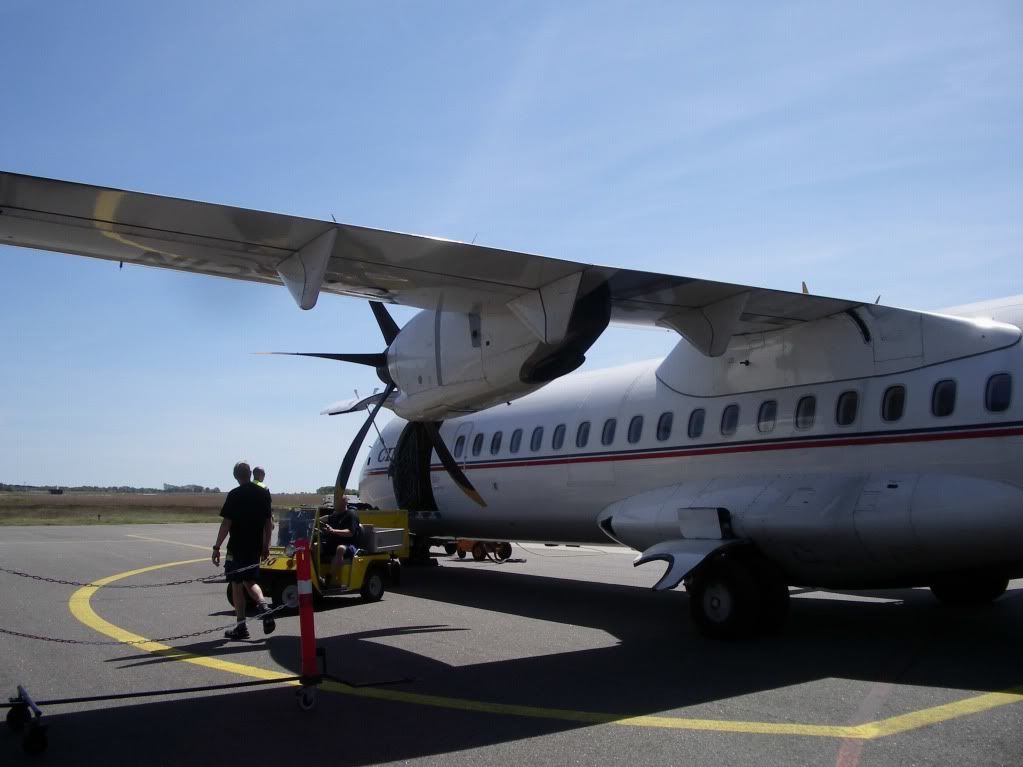 Reg. shot
And the seats, 5F,
two seats for me
Propeller start up
Now it runs. Ready to go from runway 29 at 1 pm, ontime, 17 degrees and sun all around.
Two female FA´s here, nothing special.
Leaving this green island, like my book told me, with the longest beach around the nordics.
The duration is 25 minutes
The small capital town of Ronne
Inbound ferry traffic
The safety card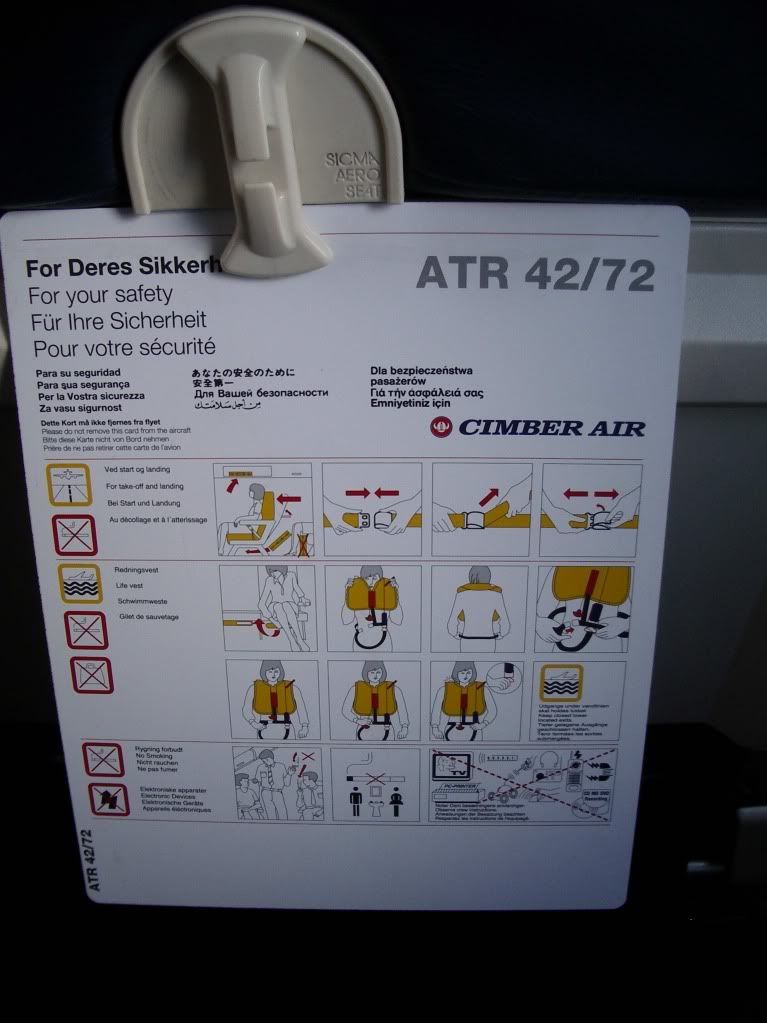 Seatback, dark blue leather seats, more comfortable than the earlier flight, better legroom.
The load is again some 80%.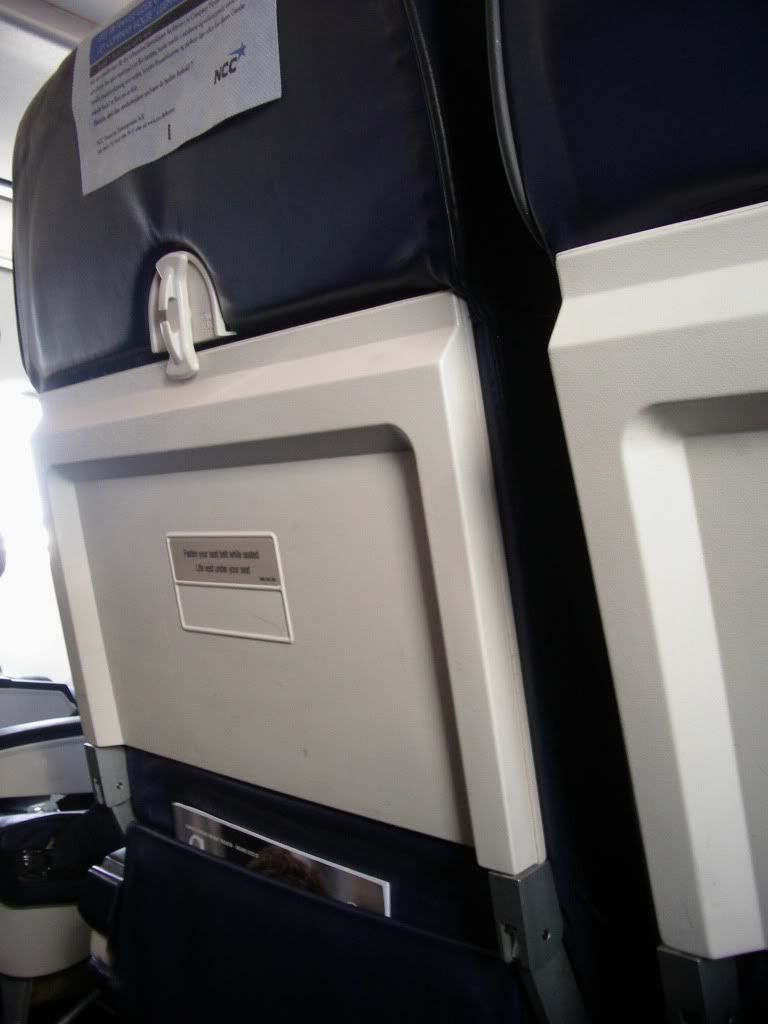 The captain with a friendly welcome during boarding.
Engine in action
It looks like Malmo
The Öresund ahead
Better known as "The bridge to nowhere"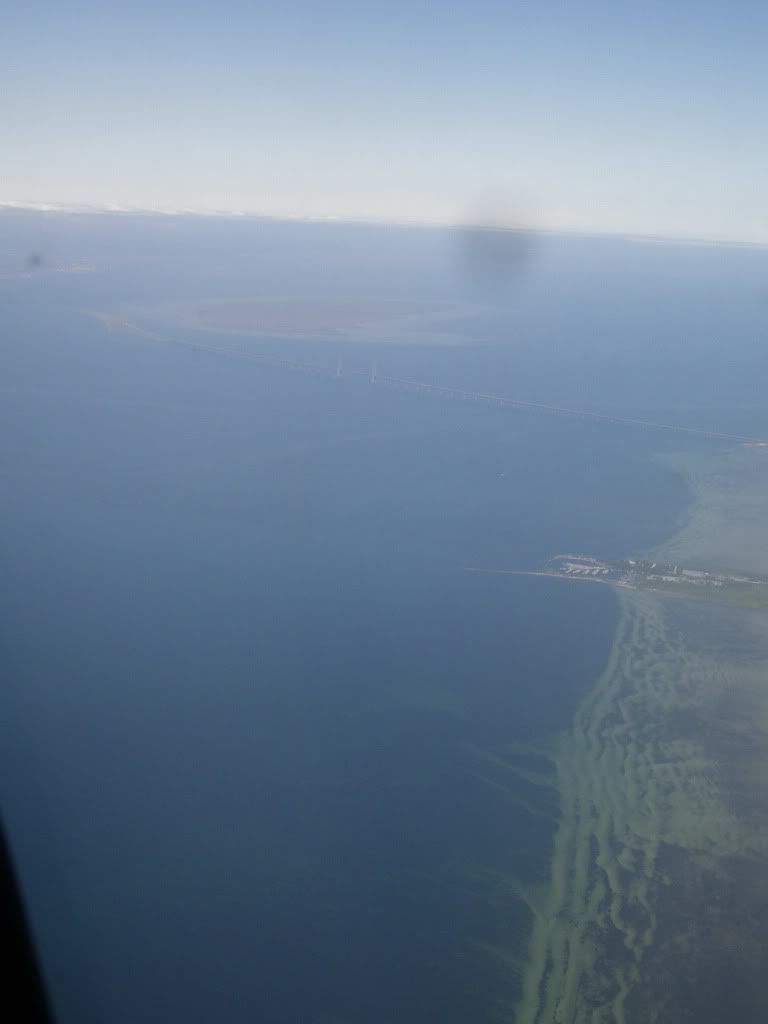 Some clouds in the distance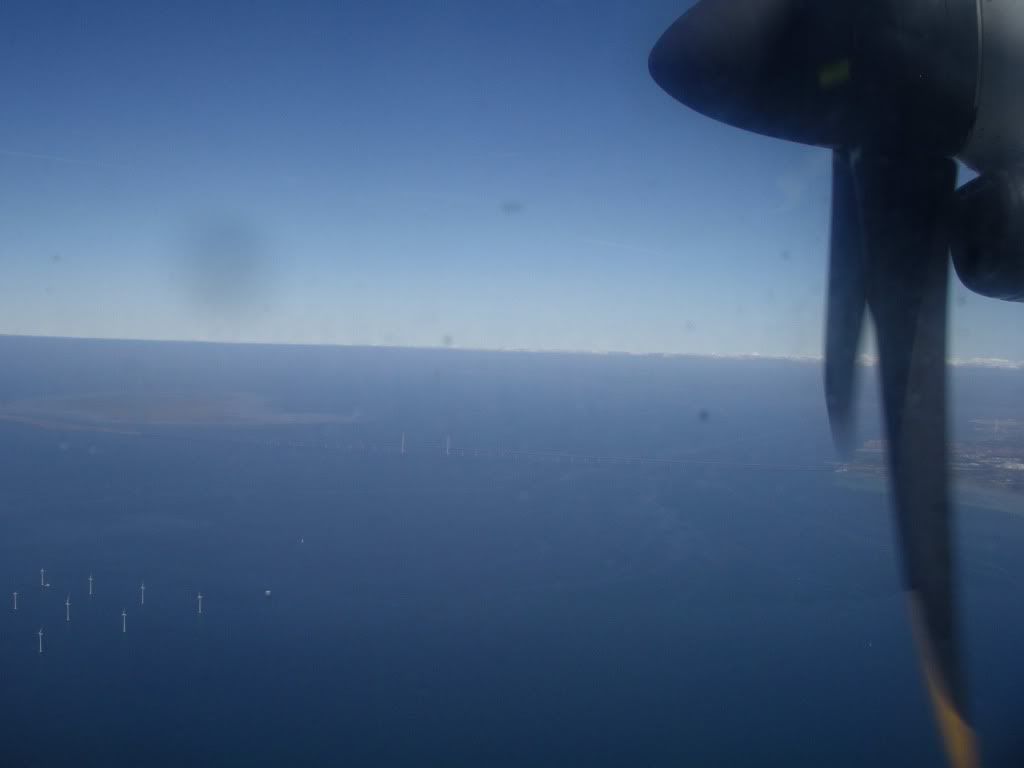 Touchdown on runway 04L, like in the morning. It is 1.30 pm, five minutes ahead to schedule, it is sunny again and the temperature raises to 20 degrees.
Taxi to the apron
The C gates again
A last view to the cabin
Apron disembarking
Ground handling in action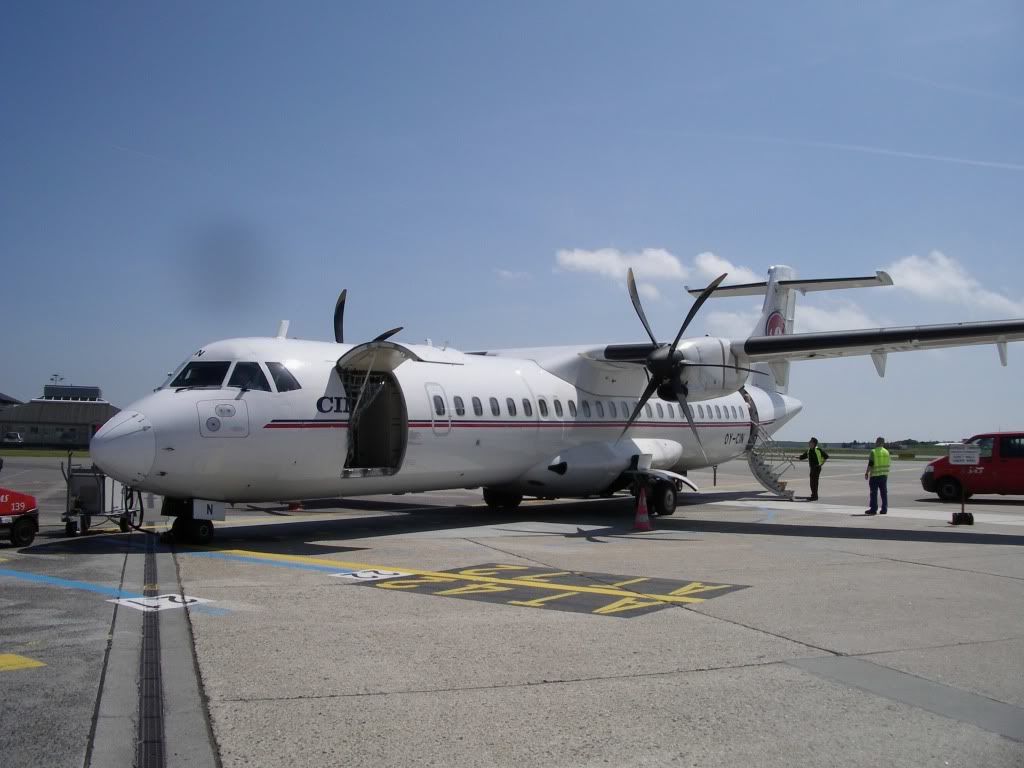 Some time to wait at a non welcoming coffee shop, thanks god I saw someone with a Starbucks
cup walking by and so we changing for it.
Coffee and something to eat brings the power back.
There is a pretty nice spotting place some 30 to 40 minutes walk from the terminals, "Flyvergrillen", that´s the target now.
Aviation discussion shortened the time and soon thereafter we are there.
Tuiflynordic with the 767-300
Cimber and SK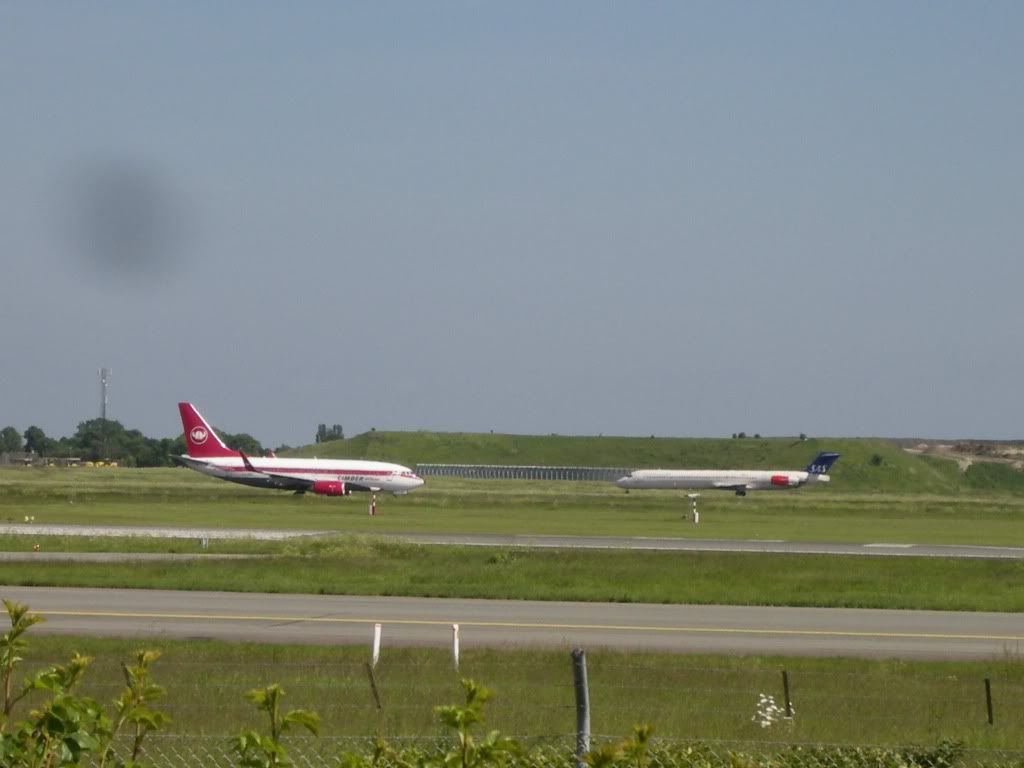 SK heavy and IB
Oneworld by Finnair
TK
Spend a good time there, a pretty interesting and recommendable place, thanx to Eric and finally walking back to the terminals.
The sun is so bright, some sunburn catches me.
My plane will leave some minutes earlier than Eric´s, we will see!.
[Edited 2010-07-17 06:58:03]
[Edited 2010-07-17 07:06:56]