Asia Trip, Pt 3: Malaysia Airlines, Hong Kong to Penang
Parts one, two and four cover my long haul flights on Qatar Airways (outbound in Business, return in Economy), and my three flights with Chinese Airlines from Seoul down to Shenzhen via Dalian and Beijing.
Asia Trip, Pt 1: Qatar Airways Business Class (LHR-DOH-ICN)
Asia Trip, Pt 2: China Southern and Hainan Airlines (Seoul-Dalian-Beijing-Shenzhen)
Asia Trip, Pt 3: Malaysia Airlines, Hong Kong to Penang
Asia Trip, Pt 4: Qatar Airways Economy Class (HKG-DOH-LHR)
After spending a few days with friends around Shenzhen, on of my friends who is based in Hong Kong and I took the ferry from Shekou to Hong Kong. After a night out in Lan Kuai Fong, it was time for our flights to Penang. It had been my job (of course) to look for a holiday to "somewhere nice" for 5 days. My friend suggested Bangkok but I vetoed it due to the violence (despite the great deals). After a bit of searching I found a great deal with Cathay Pacific Holidays to Penang in Malaysia staying at the Golden Sands Hotel (the hotel that I used to stay at as a kid). Unfortunately by the time we decided to book, the seats had gone. Grrrrrr. A bit more searching came up with a DIY package staying in the Hard Rock Hotel (not far up the beach from the Golden Sands) and flying with Malaysia Airlines (MH) via Kuala Lumpur (KUL). It was a bit more expensive than the Cathay deal, but we decided to book it.
This would be my first flight with MAS (aka Malaysia Airlines, stands for Malaysia Airlines System, and is the name most locals know MH by) since flying from Kota Kinabalu to Labuan back in 2003l and I was keen to re-experience their 5* service.
My friend and I checked in at the City Centre terminal, then hopped on the surprisingly busy Airport Express train. We'd timed our departure from home to have as little time at the airport as possible (and maximum time sleeping).
As such by the time we'd arrived at the airport, gone through security and immigration, boarding time was near.
May 2010
Malaysia Airlines MH 75
Hong Kong (HKG) – Kuala Lumpur (KUL)
Airbus A330-300 (9M-MKF)
Scheduled: 0845-1225 (3h40m)
Actual: 0858-1212 (3h15m)
Economy Class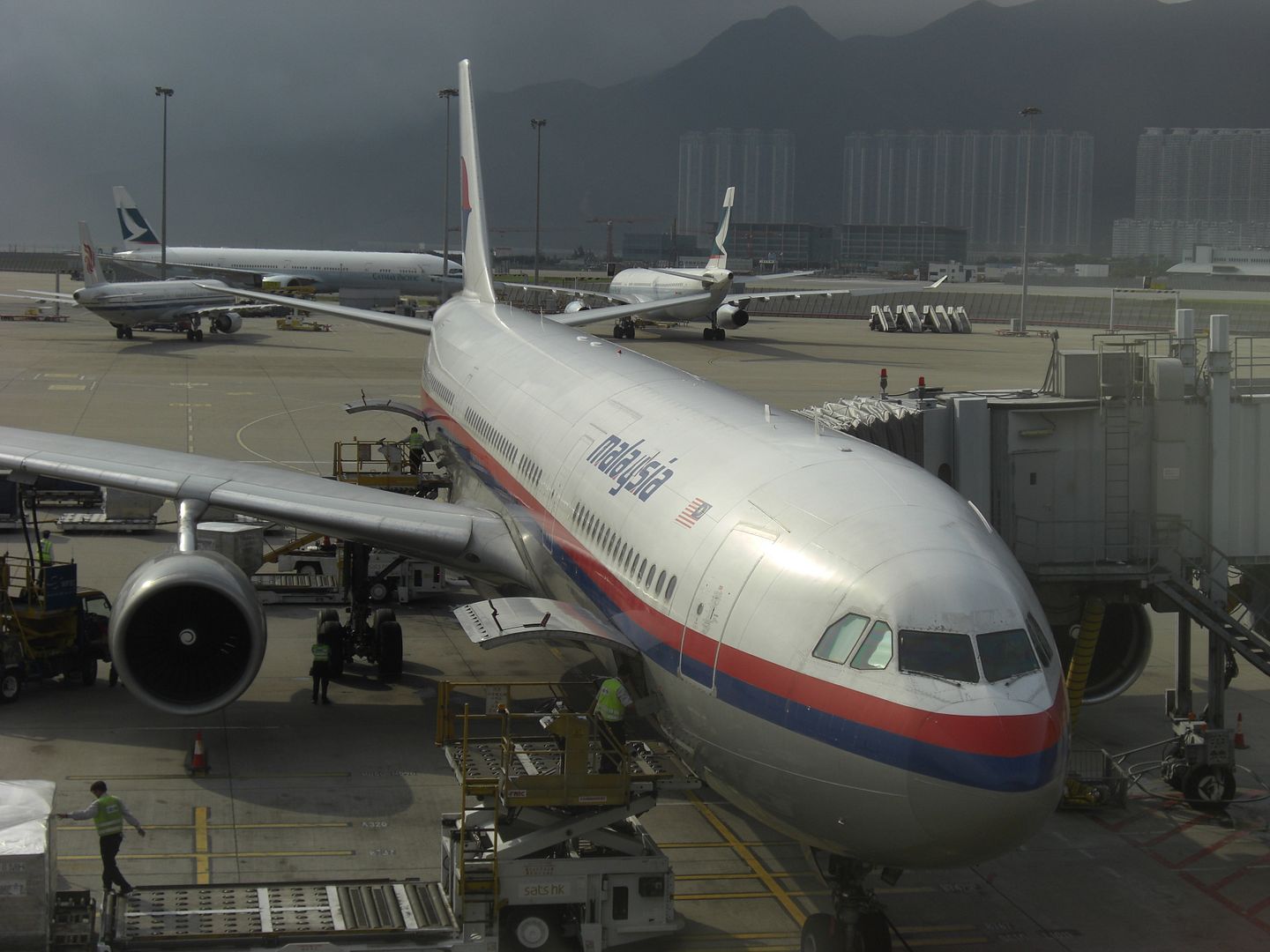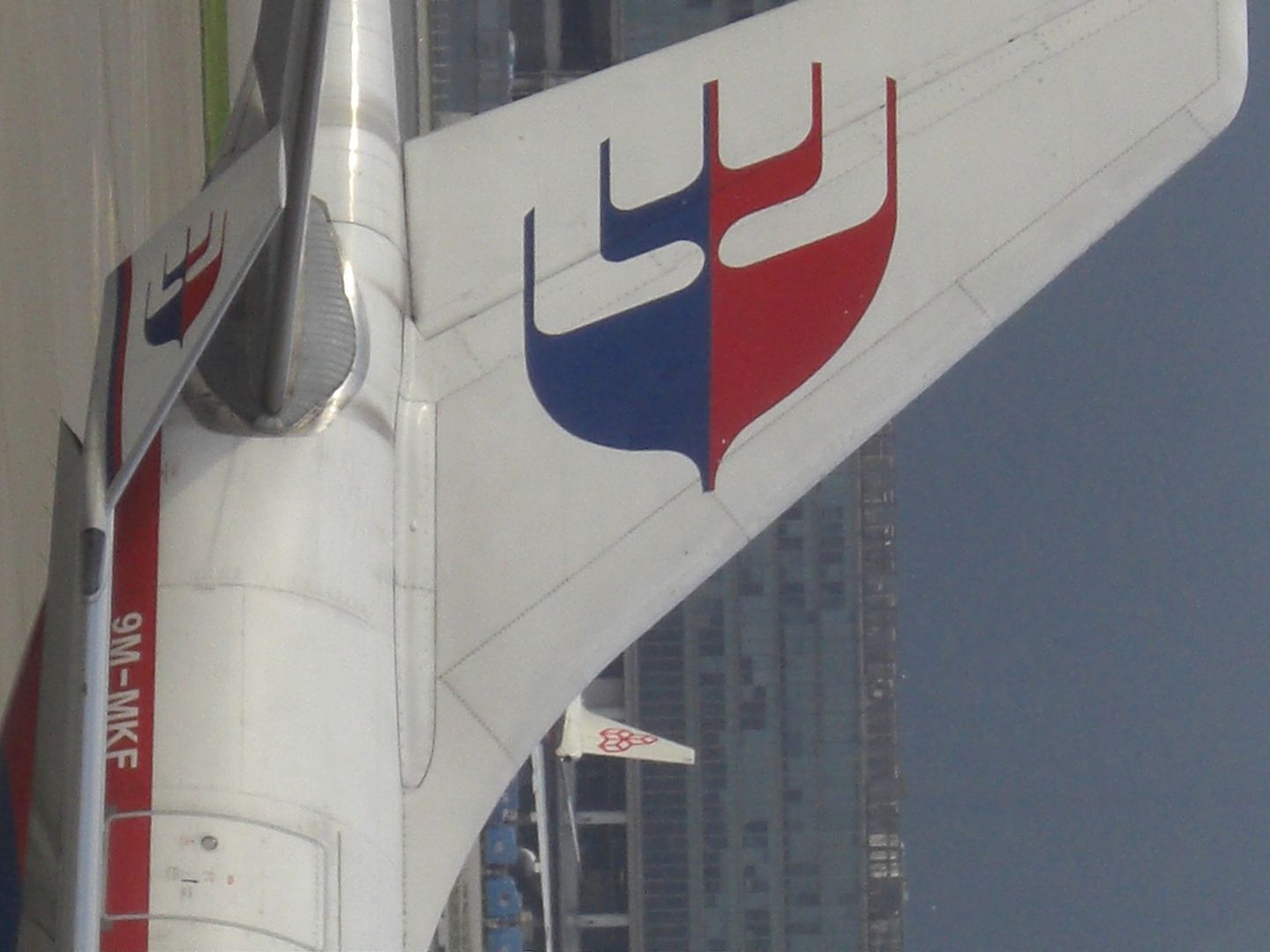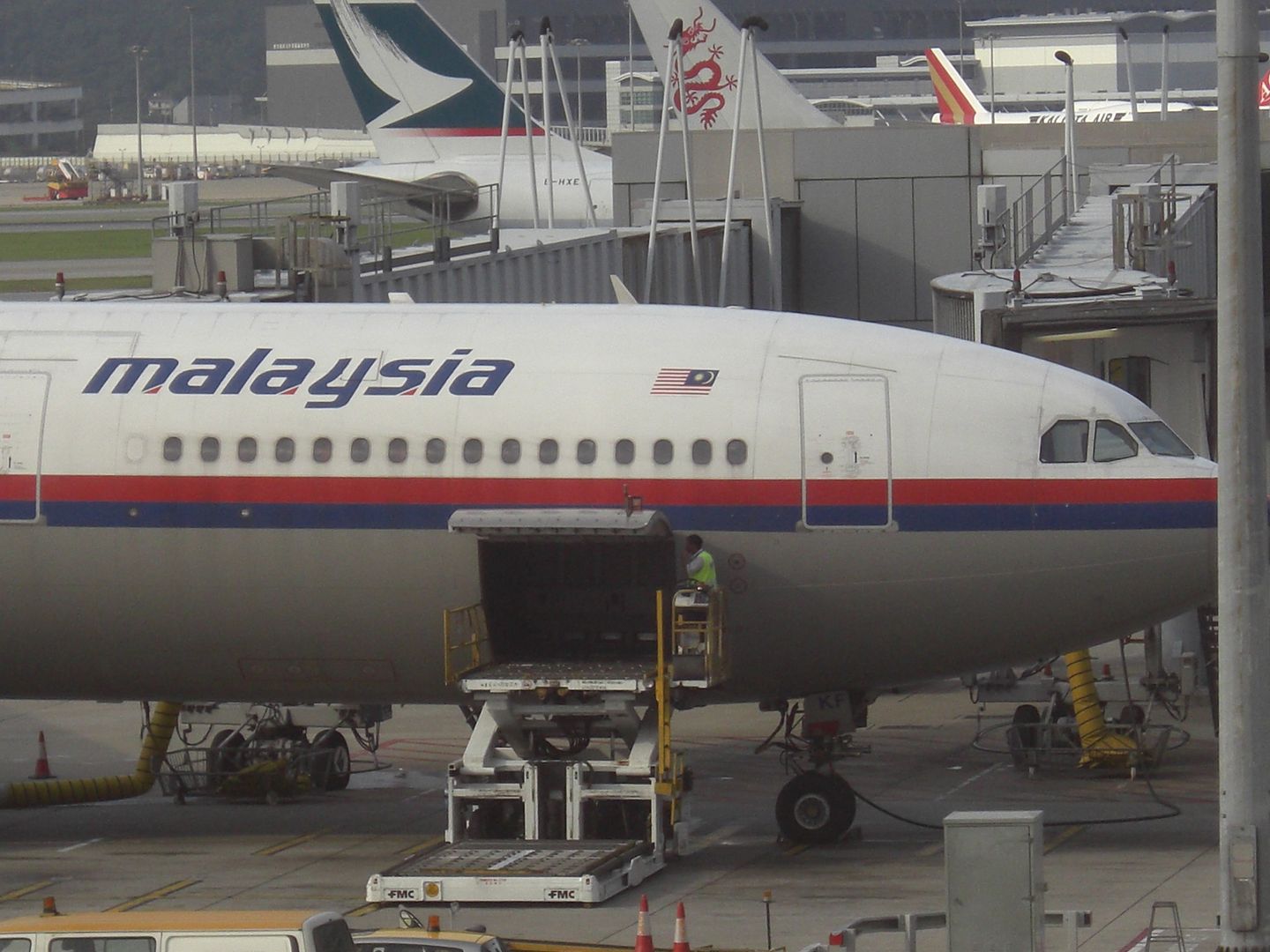 By the time we arrived at the gate most people had already boarded. We joined the short queue and were shortly onboard the rather old looking A330. the load was very light, with each of us taking a window on opposite sides, and no one sitting in any of the six seats between us.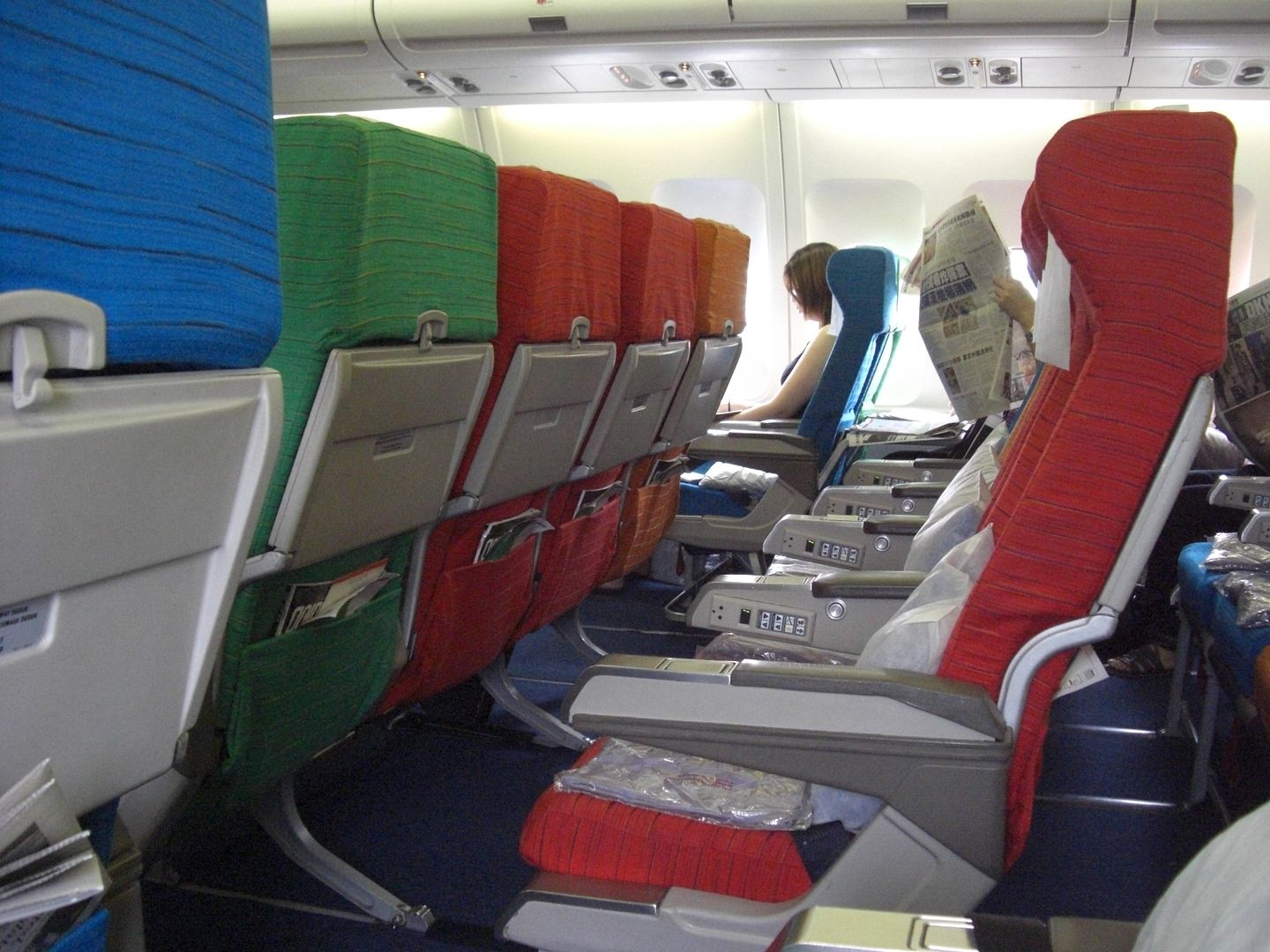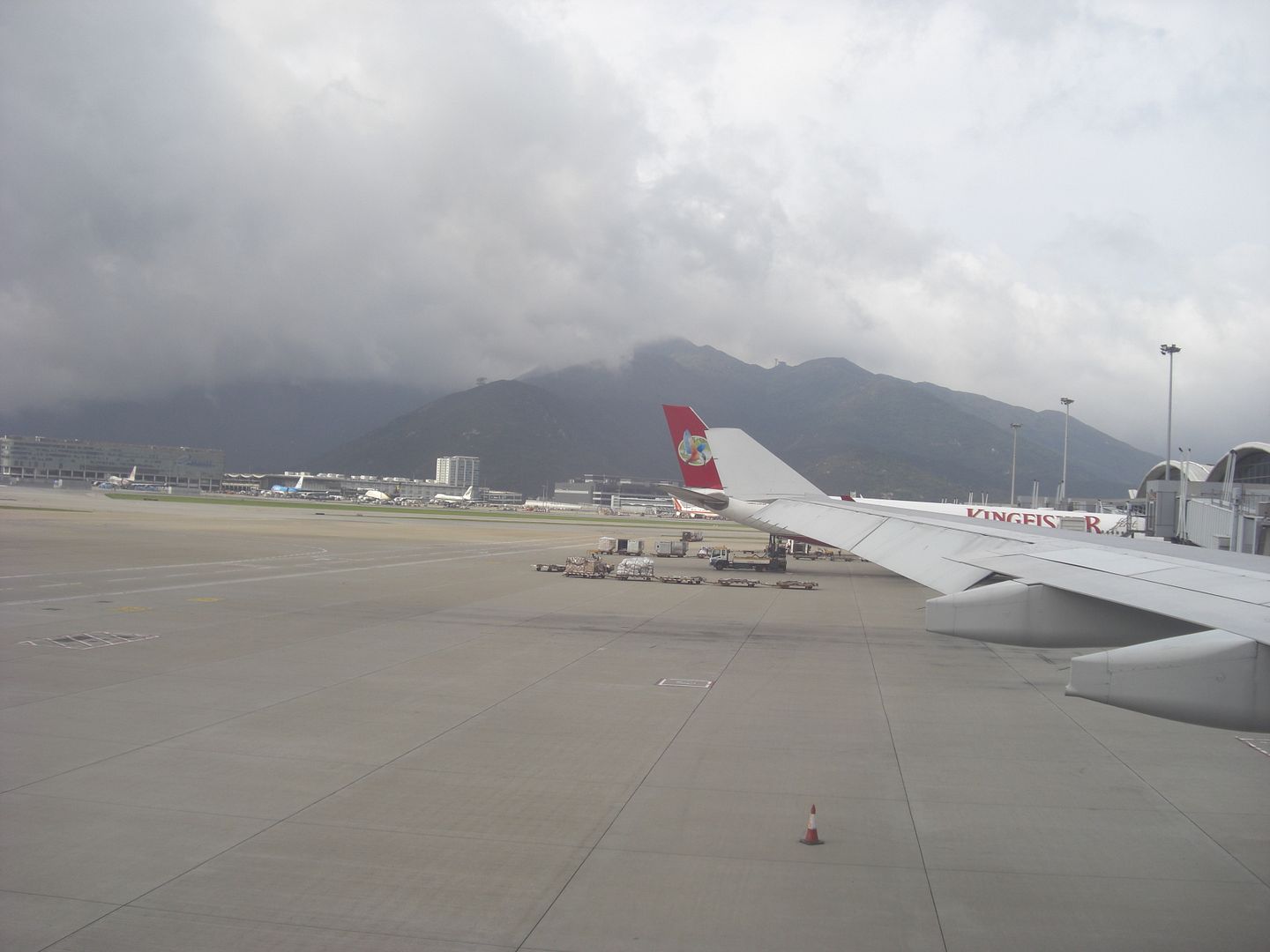 Not long after departure, the crew came though with numerous fruit juices on a tray. I took some guava juice, which was nice, although I felt that serving from trays:
a) reduced the choice available to passengers
b) was more work for the crew
c) created more waste if no one wanted what had already been poured.
I feel that it is a bad service concept. After the juice run breakfast was served. I was relieved to see that the guys no longer wore those ridiculous bowties. The choice was with chicken noodles, or omelette. Both we served with a chocolate cake (for breakfast?) and fruit salad. I went with the noodles, which were quite delicious.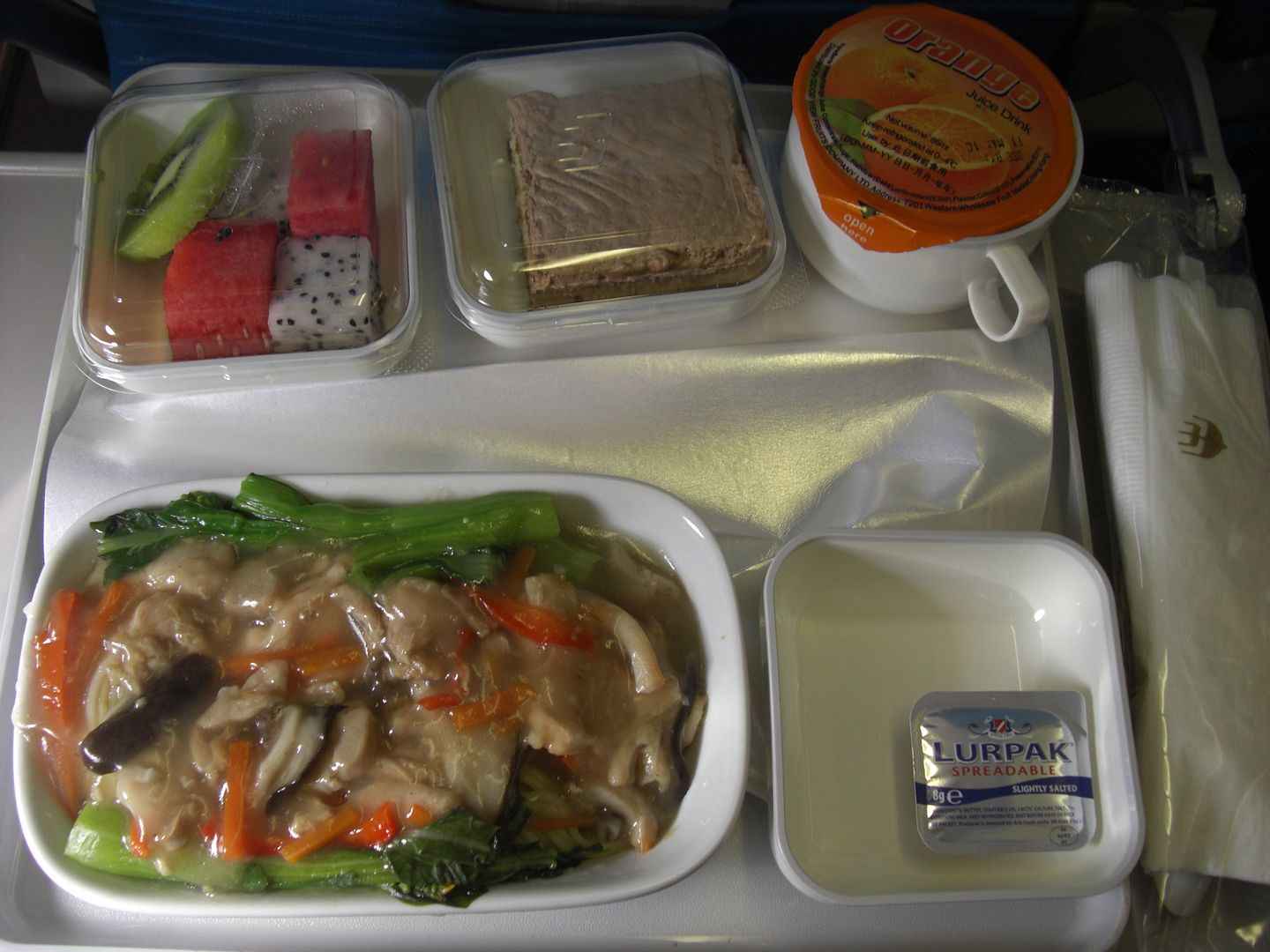 I'm ashamed to say that I also went with the omelette, asking one of the crew if there were any spare meals. Yum!
This A330 was PTV less. The main screen was showing some terrible film. I tired to watch for a bit, but the audio was worse than the film. Thankfully the MAS magazine was quite interesting.
The crew came through with juice and water a few times, however my main complaint with the tray concept came now. I asked one of the juice laden crew for a beer. Now, if they had a trolley, no problem. However, they obviously didn't have any beer on the tray. "I'll be right back". Ten minutes later, still no beer. I flag someone else down. "Sorry sir, I'll be right back". Still no beer. I ask again, and finally a very harried looking guy comes over with two glasses of flat beer. Hmmmm, not impressed. How about serving one glass and the can? Or how about using trolleys! I don't think given the low pax load, and the fairly simple request that waiting 20 minutes for a drink on a 'Five Star Airline' was adequate. Maybe the Malaysian Hospitality doesn't extend to beer (a majority Muslin country). Who knows.
My two glasses of beer.
Approach to KLIA (Kuala Lumpur International Airport)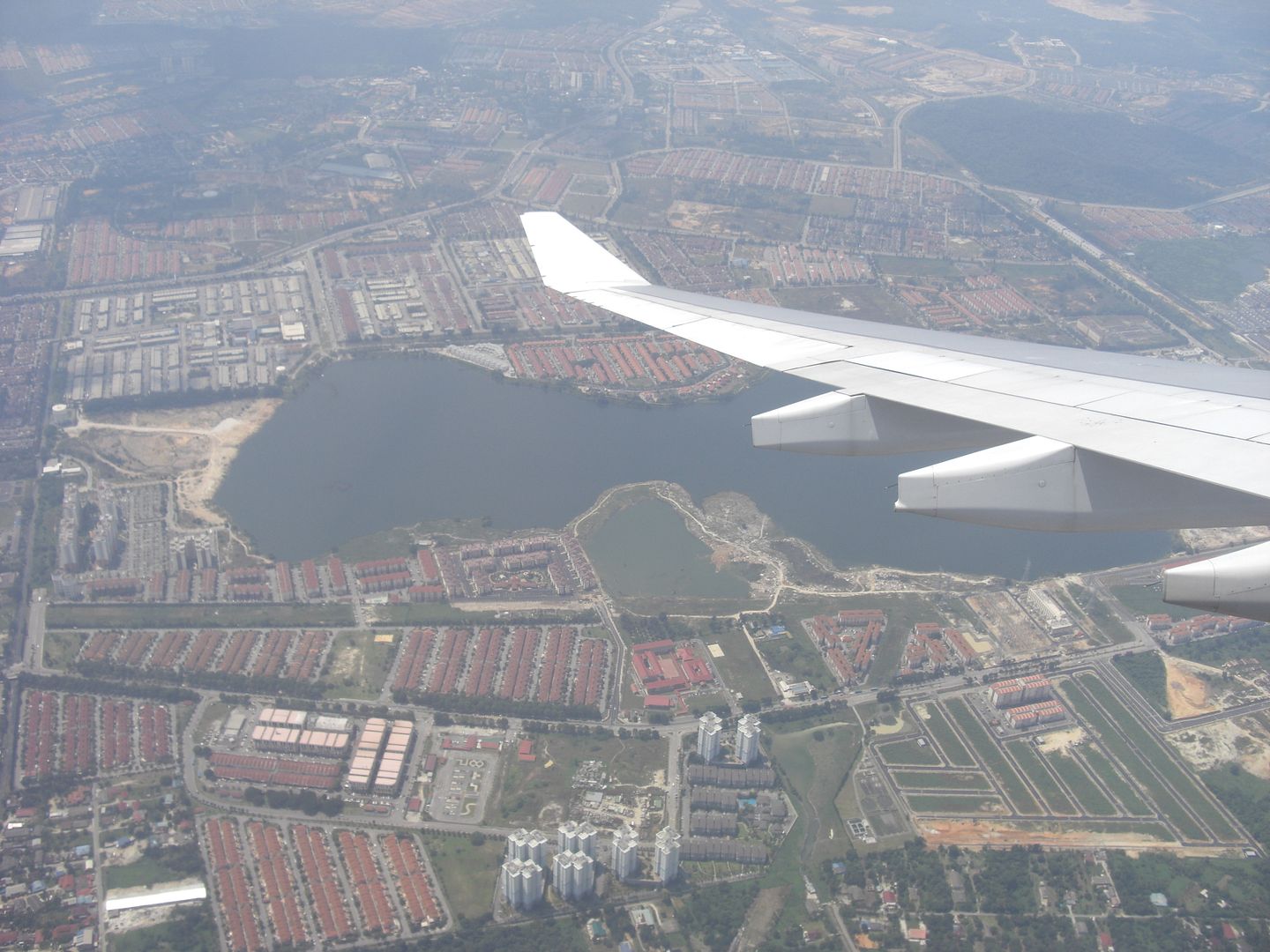 Movements in KUL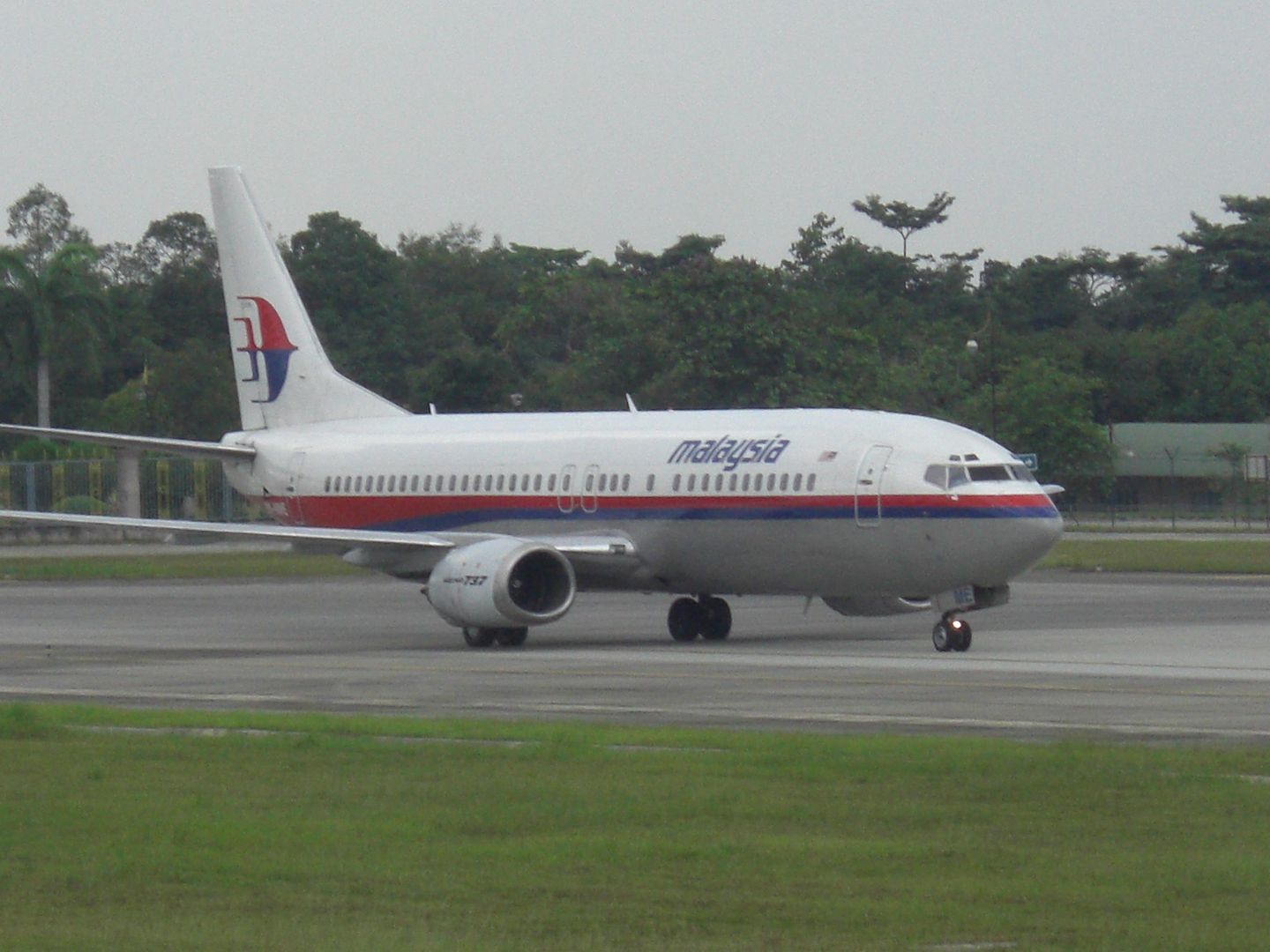 We touched down a few minutes early, and taxied to the 'A' (?) pier, which I normally associated with domestic flights, away from the main international pier out in the middle of the airfield. Parking here, did however, make our connection very easy. Without any bags to collect and recheck, we found ourselves in the extremely boring domestic departures are in less than 10 minutes. I tired to pay to upgrade to First Class for this sector so we cold wait in the lounge, but the lounge woman said that the only way was to go through to the check in area, and pay for it there.
Other than the lounge, there was one café, and one shop. Not very inspiring. As anyone who has been to KLIA knows, there generally isn't much happening. I saw a few MH B737s, including one of their new B738s, but otherwise, mile after mile of empty baking hot asphalt.
Clean, new and shiny, but terribly boring: KLIA domestic departures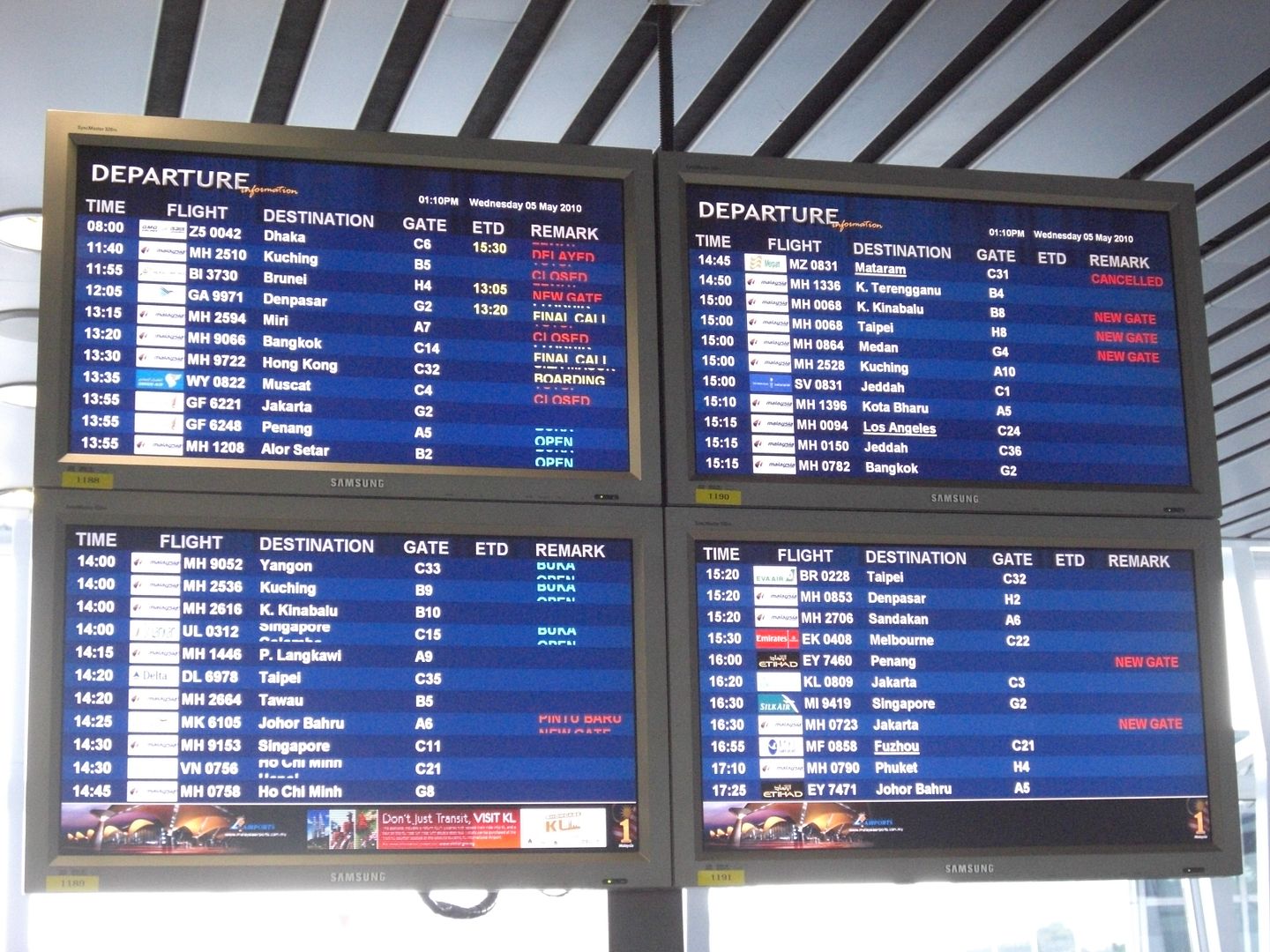 May 2010
Malaysia Airlines MH 1148
Kuala Lumpur (KUL) – Penang (PEN)
Boeing B737-300 (9M-MME)
Scheduled: 1355-1445 (0h50m)
Actual: 1410-1440 (0h30m)
Economy Class
After what seemed like an eternity, our flight was called for this short hop to Penang, probably Malaysia's most popular (though far from the best) holiday spot.
This flight was completely full in economy. After a short taxi across to the active runway, we took off into the characteristically turbid air.
Service on this sector was juice (from a tray!) and a packet of peanuts.
Not much else to report on this sector. After just 30 minutes flying time, we landed at the rather old, but quite efficient Penang International Airport.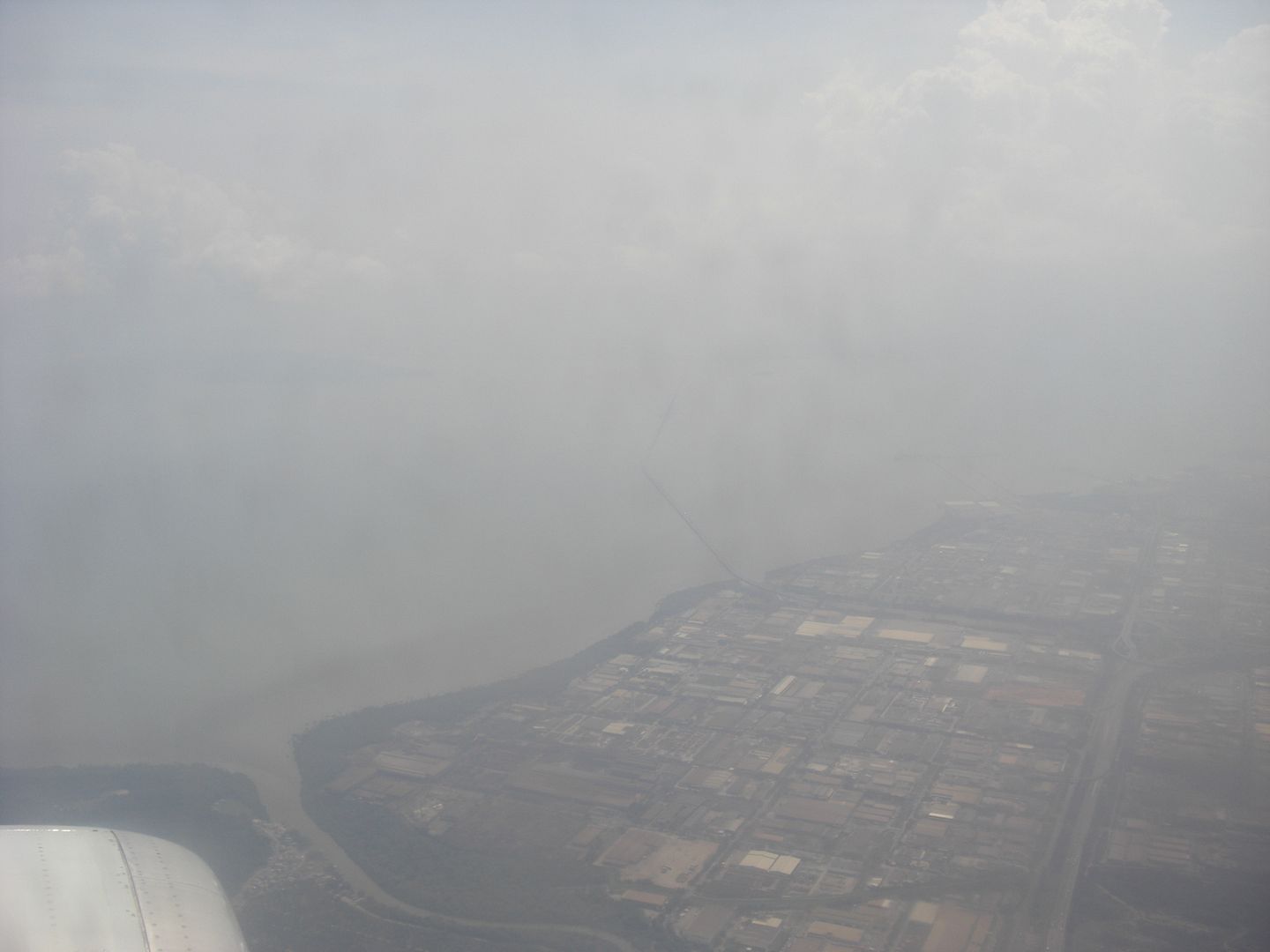 A China Airlines aircraft had just arrived from Taipei
We collected our bags, bought a taxi token (no bargaining needed here from taxi touts), and jumped in the air con cab heading up to the beaches on the north of the Island (Batu Ferrenghi).
A few photos from Penang
The Hard Rock Hotel has the largest freeform pool in Northern Malaysia. Part of the pool has sand in, which is actually very nice
The Botanical Gardens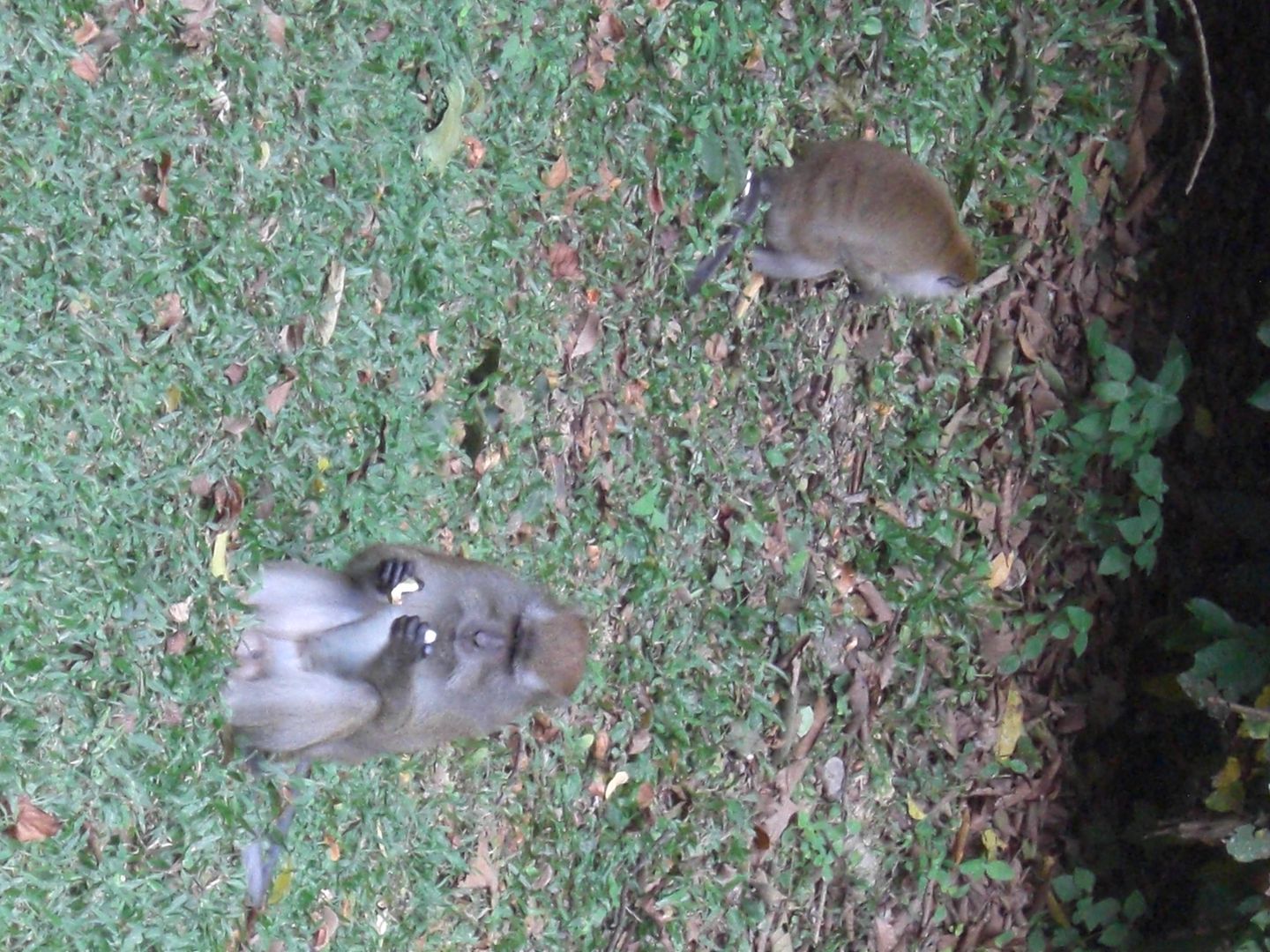 The terrible car we hired. The petrol gauge was broken so we were never sure when it was nearing empty. It only cost GBP 15 for 2 days though, so couldn't really complain. As we were about to return it, it broke down, with the alarm blaring. Nightmare!
Night market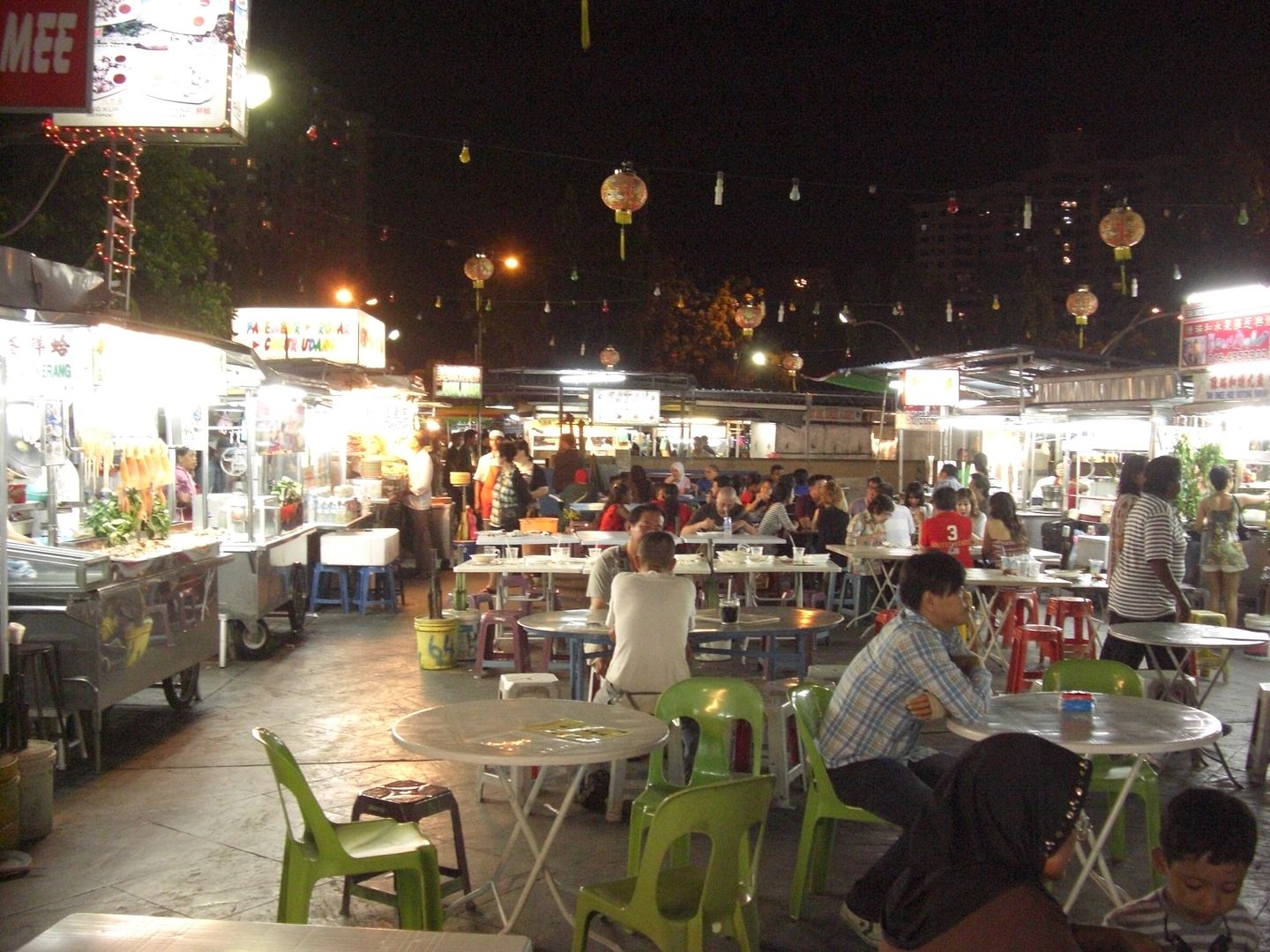 Reclining Buddha and Temples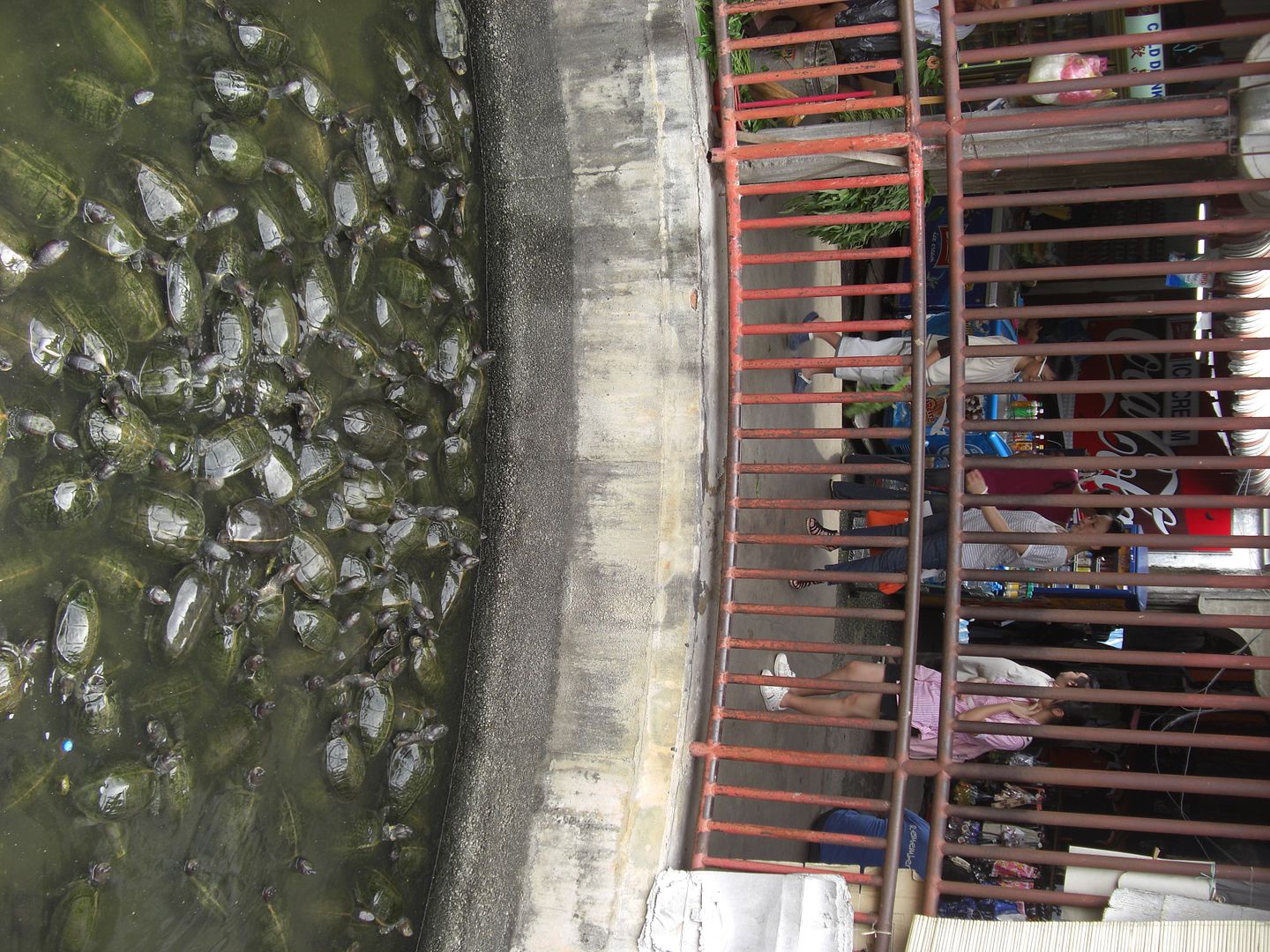 After five action packed days in Penang, it was time to head back to Hong Kong (via Kuala Lumpur) for my final night before flying back to London (via Doha).
We caught a taxi to the airport at around five thirty (far too early for a holiday morning, and we missed the free breakfast!). Our 0710 flight was the second of the day to KUL. I didn't think to ask to change to the earlier flight (which we would have made) until it was already boarding, as was too late. Check in was fast an efficient, as was security. The domestic departures area would have been ok if we were there an hour later. As it was, all the shops were closed, and it was dark outside, so you couldn't see anything.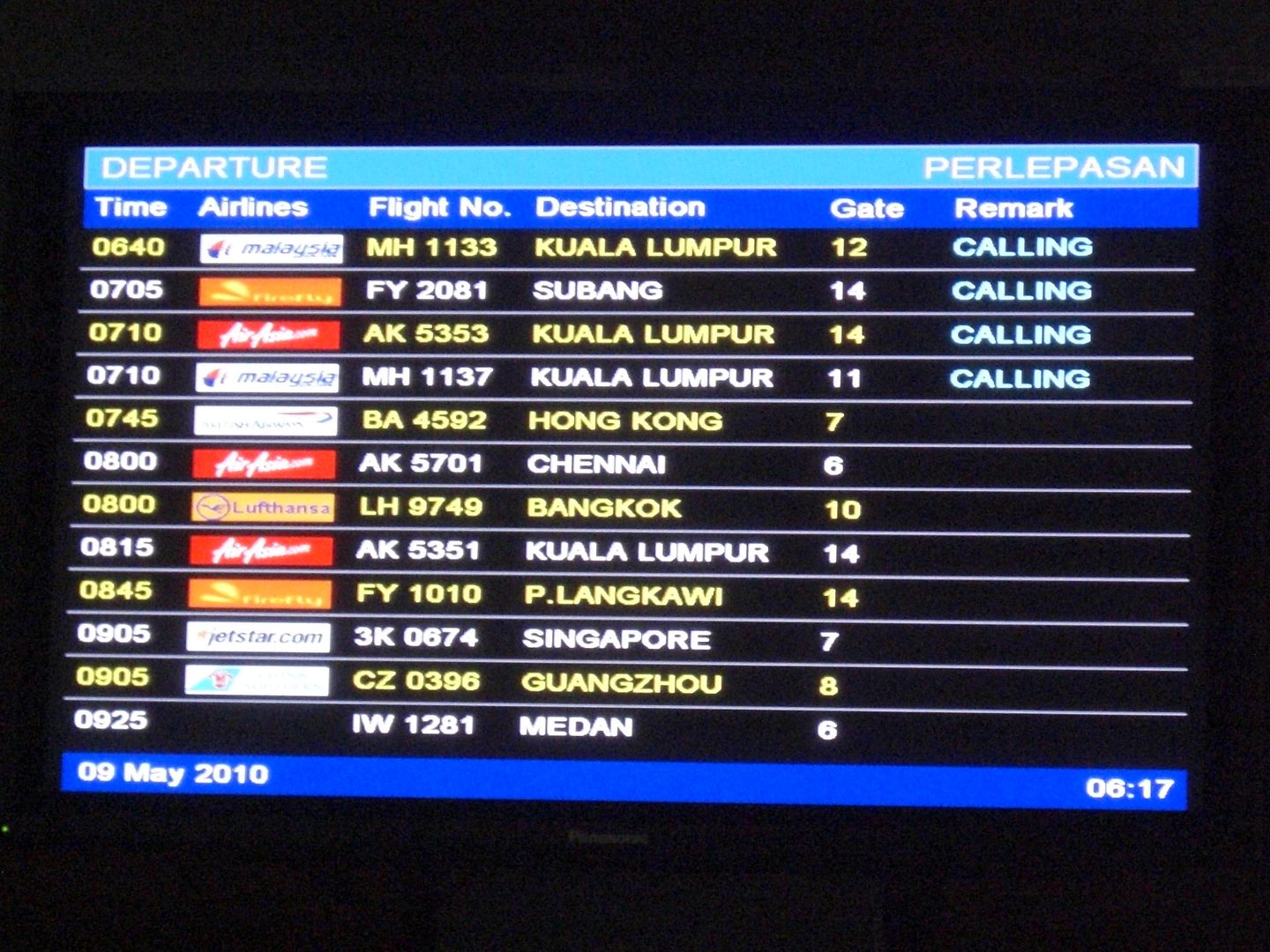 May 2010
Malaysia Airlines MH 1137
Penang (PEN) – Kuala Lumpur (KUL)
Boeing B737-300 (9M-MMJ)
Scheduled: 0710-0805 (0h55m)
Actual: 0715-0754 (0h39m)
Economy Class
Finally, boarding was called, just as a few shops were beginning to open.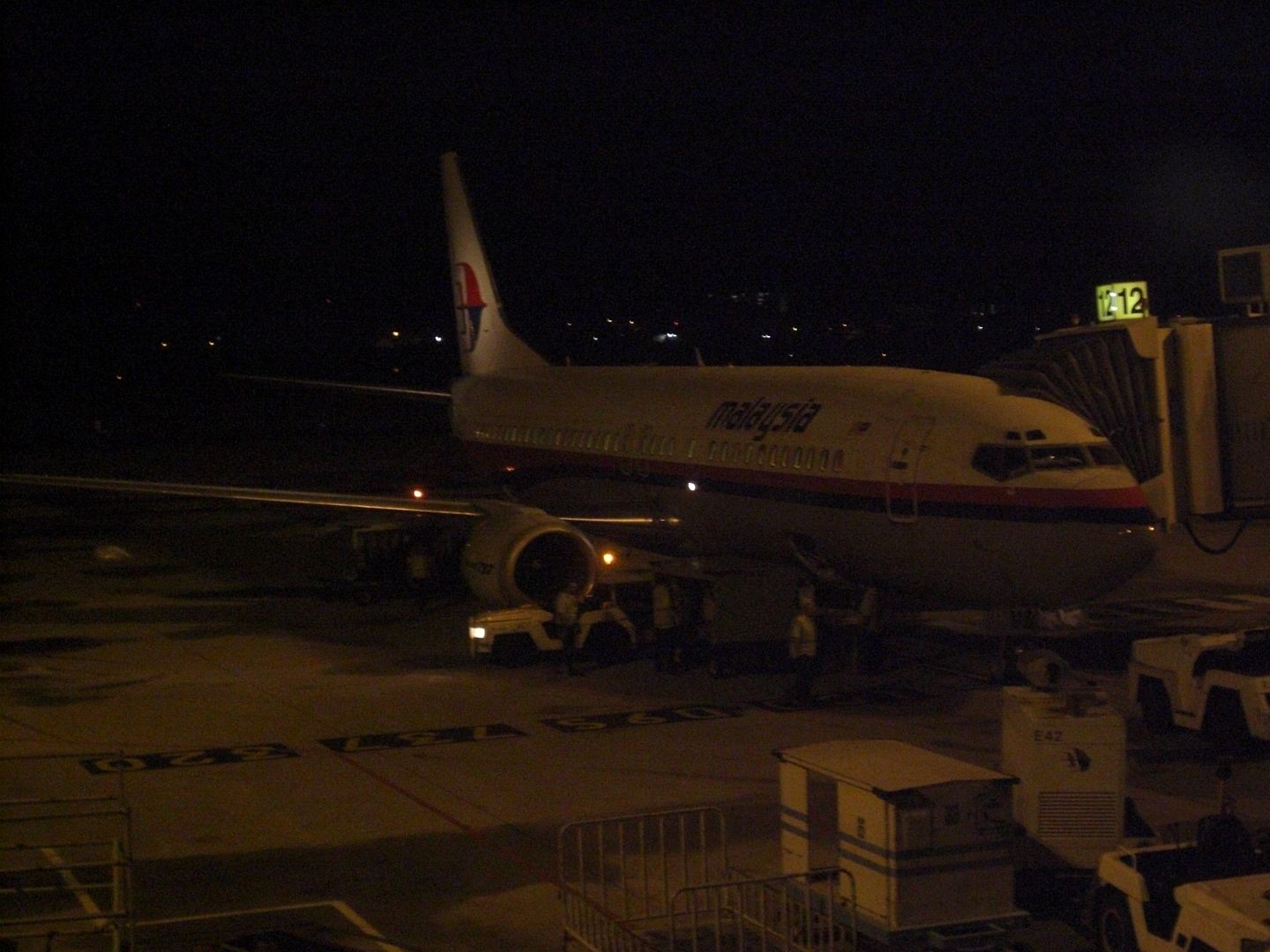 Dawn was breaking just as we were boarding. On one side of us was a Thai Airways flight to Bangkok, on the other an Air Asia flight to KL as well.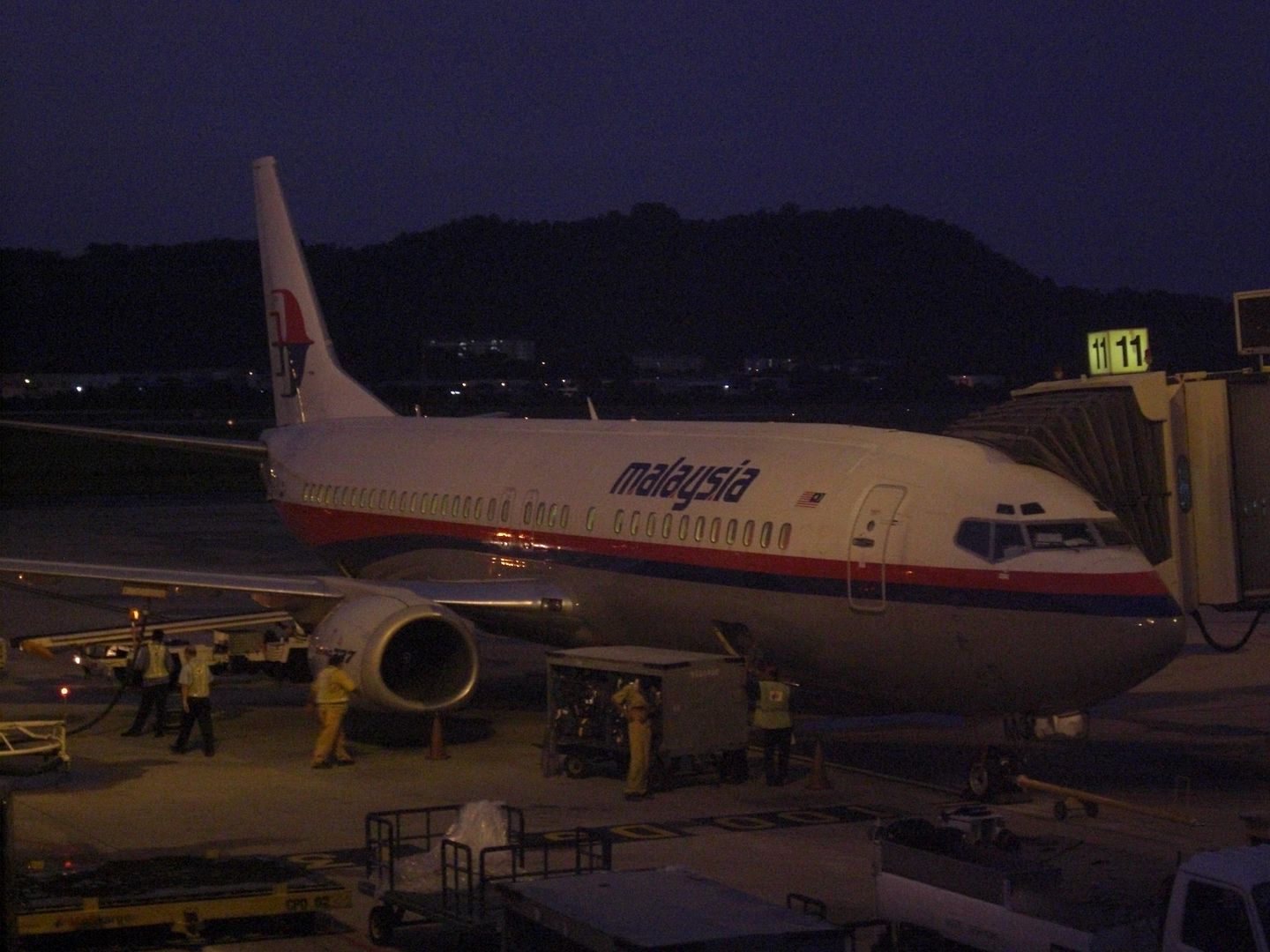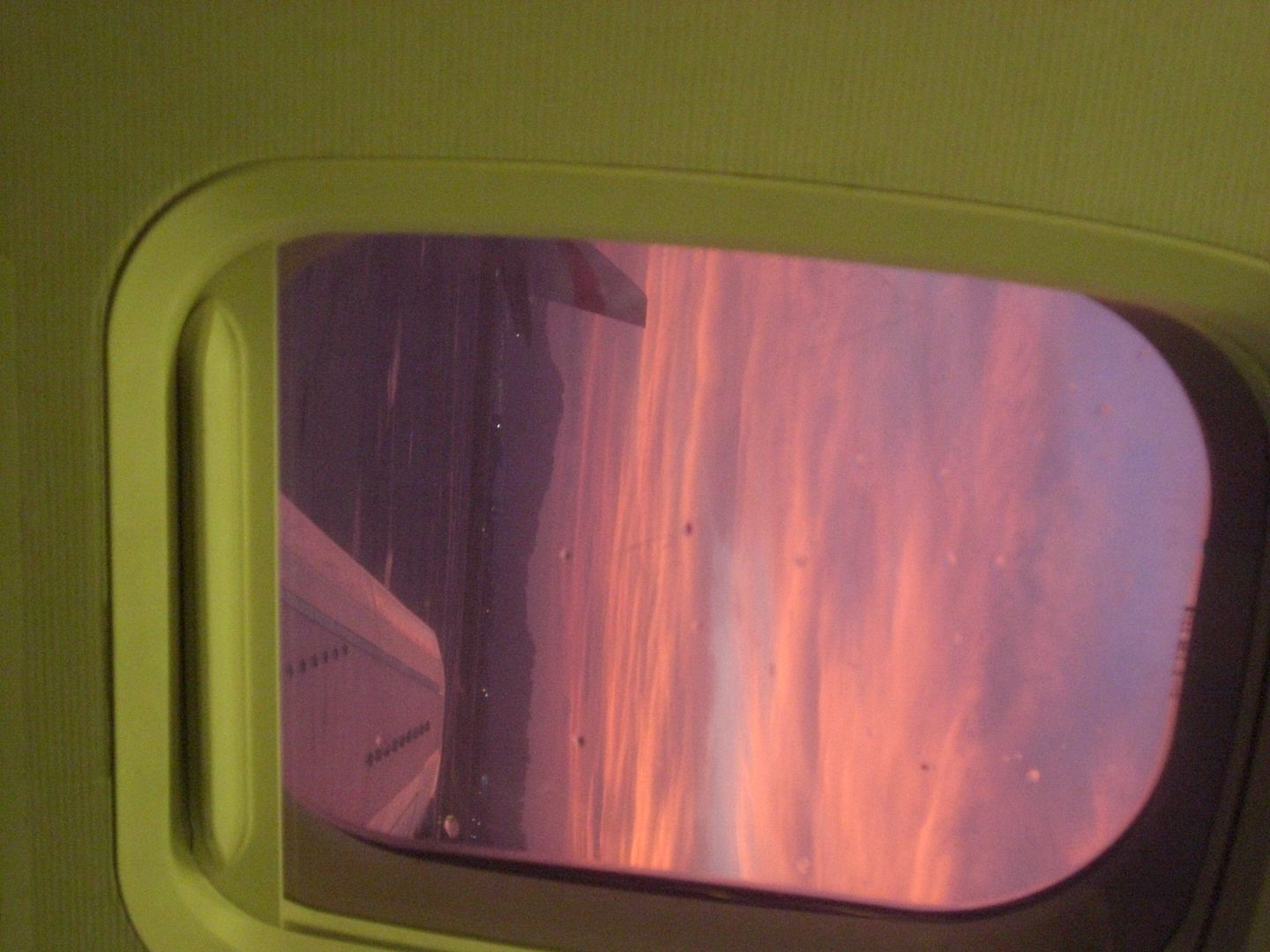 CZ to Guangzhou
The Cathay Flight that we might have been on
This flight was fairly full towards the front, but down the back it was nearly empty. Once again, fruit juice was served from a tray, along with a bag of peanuts.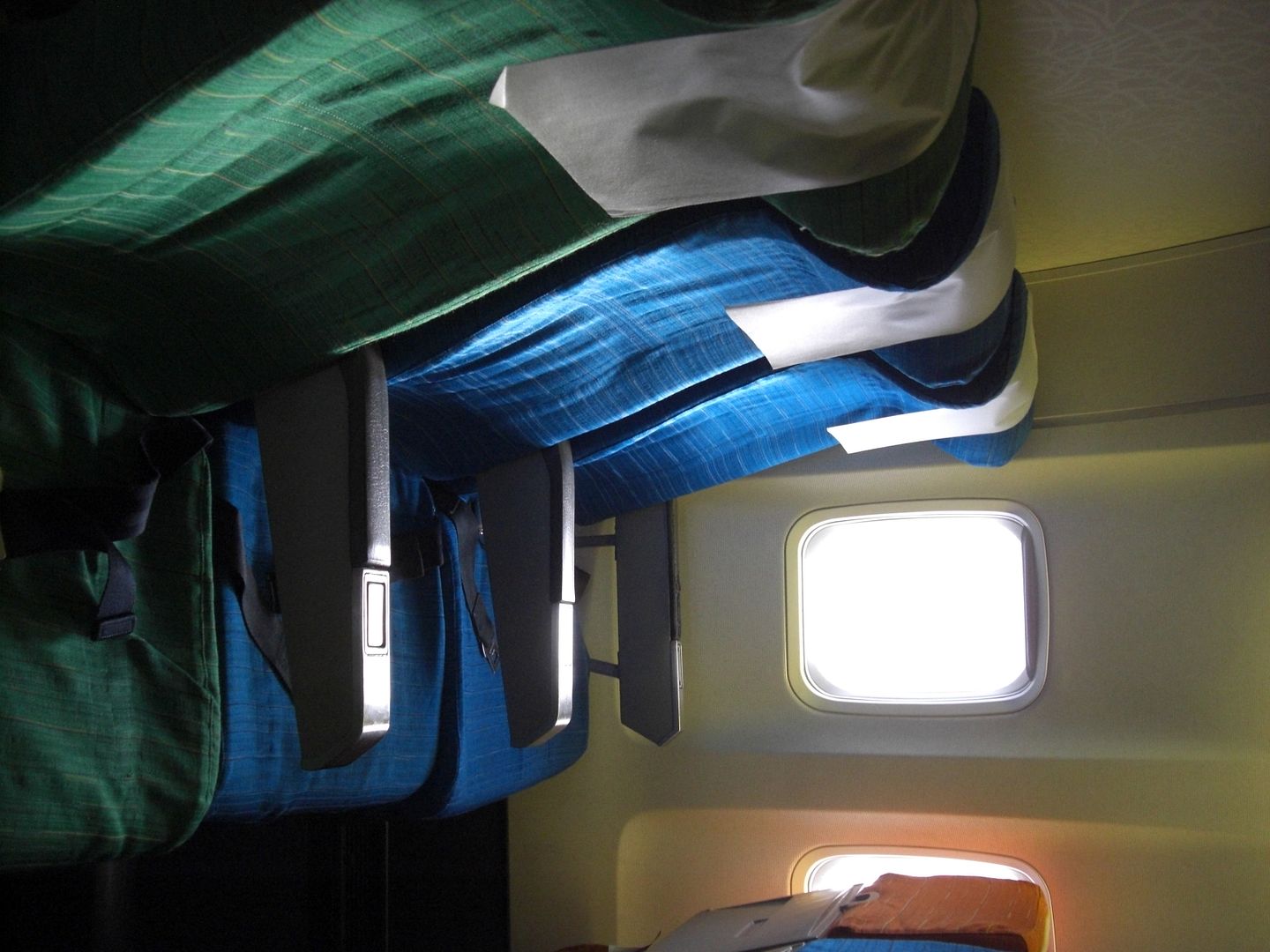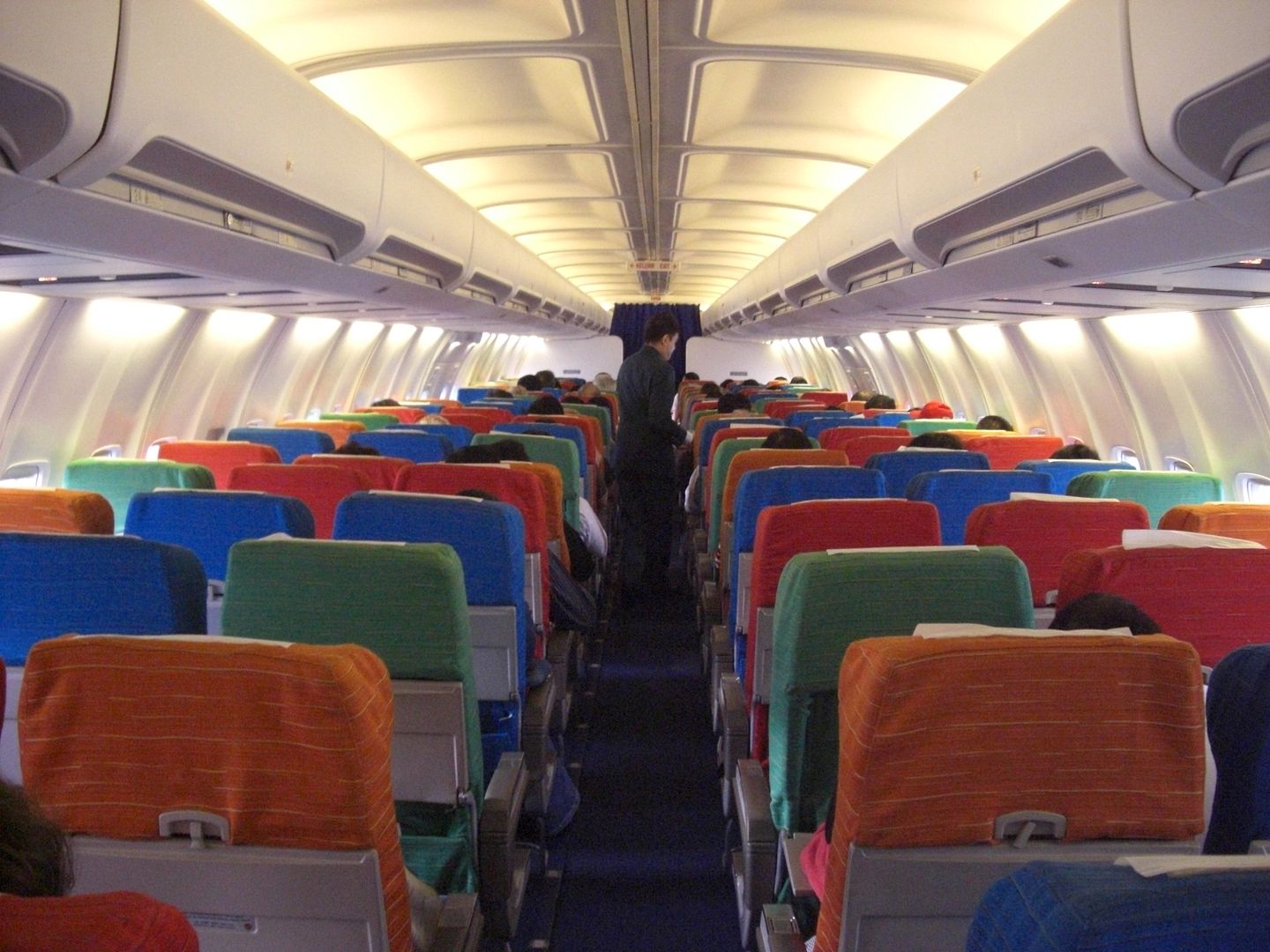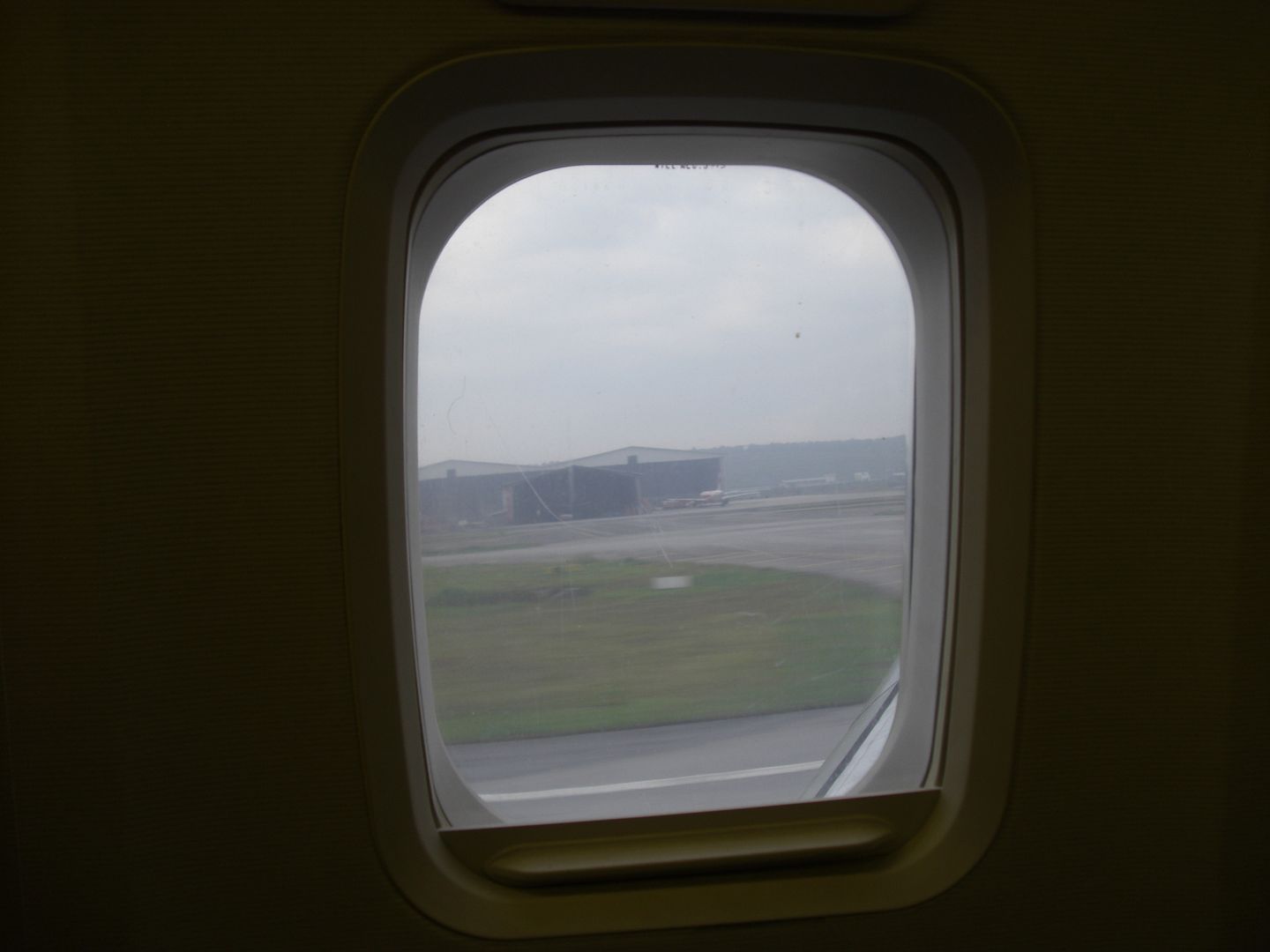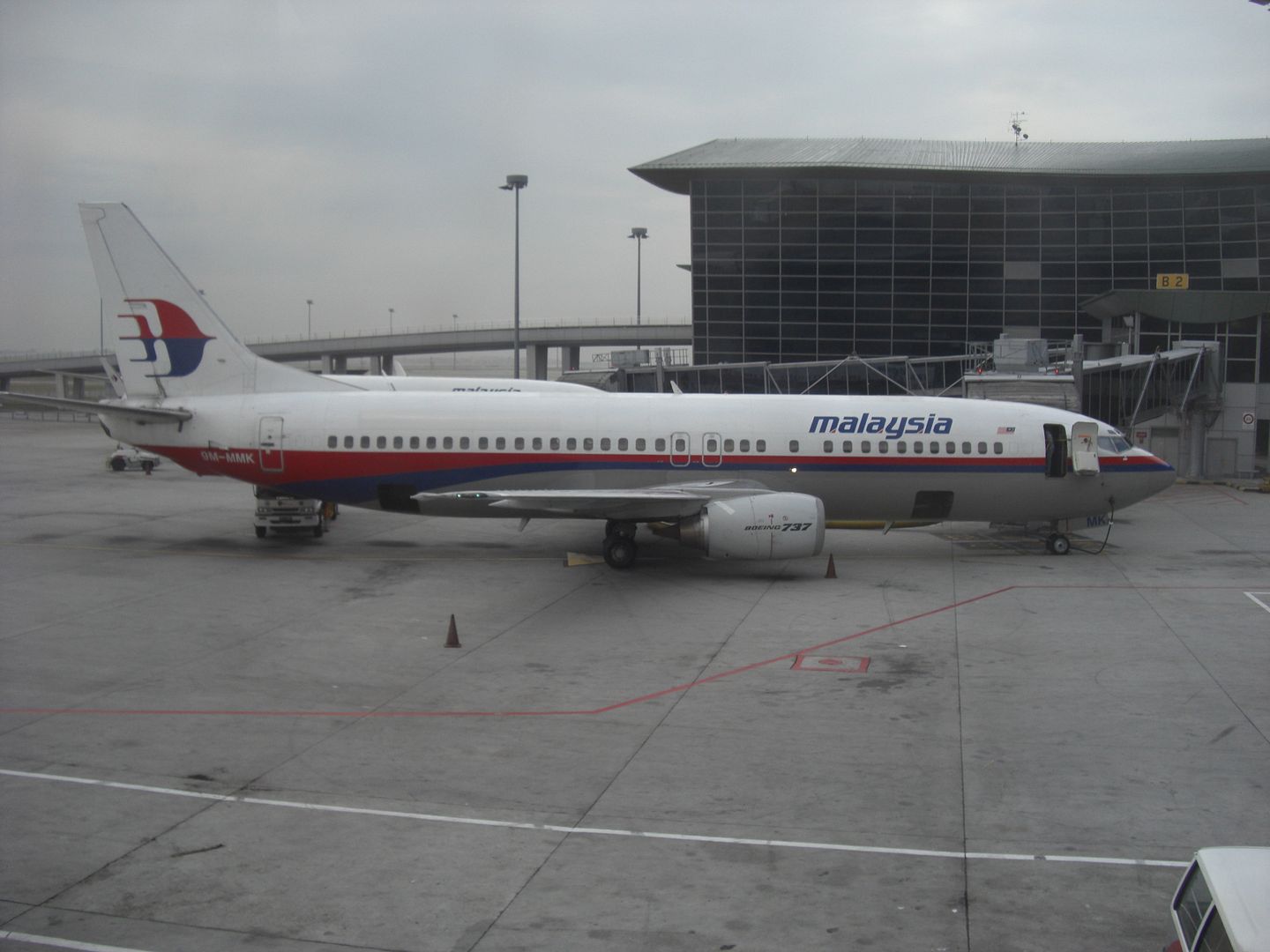 We once again docked at the domestic area, and took the shuttle monorail over to the international pier. We split up and had a browse through the duty free. I then went to have a look at the KLIA 'Jungle Boardwalk', a unique airport attraction – in the doughnut hole in the centre of the terminal is a rainforest. Its not the largest or most spectacular rainforest, but a very nice addition to an international airport where the majority of people passing through will be enroute from Europe to Australia, so not having previously visited a tropical rainforest. Compared to the Cactus and butterfly gardens down the road in SIN, I think the Boardwalk is just as good – a view of the planes would be better for me, but I imagine the majority of the visitors would rather a more authentic rainforest visit.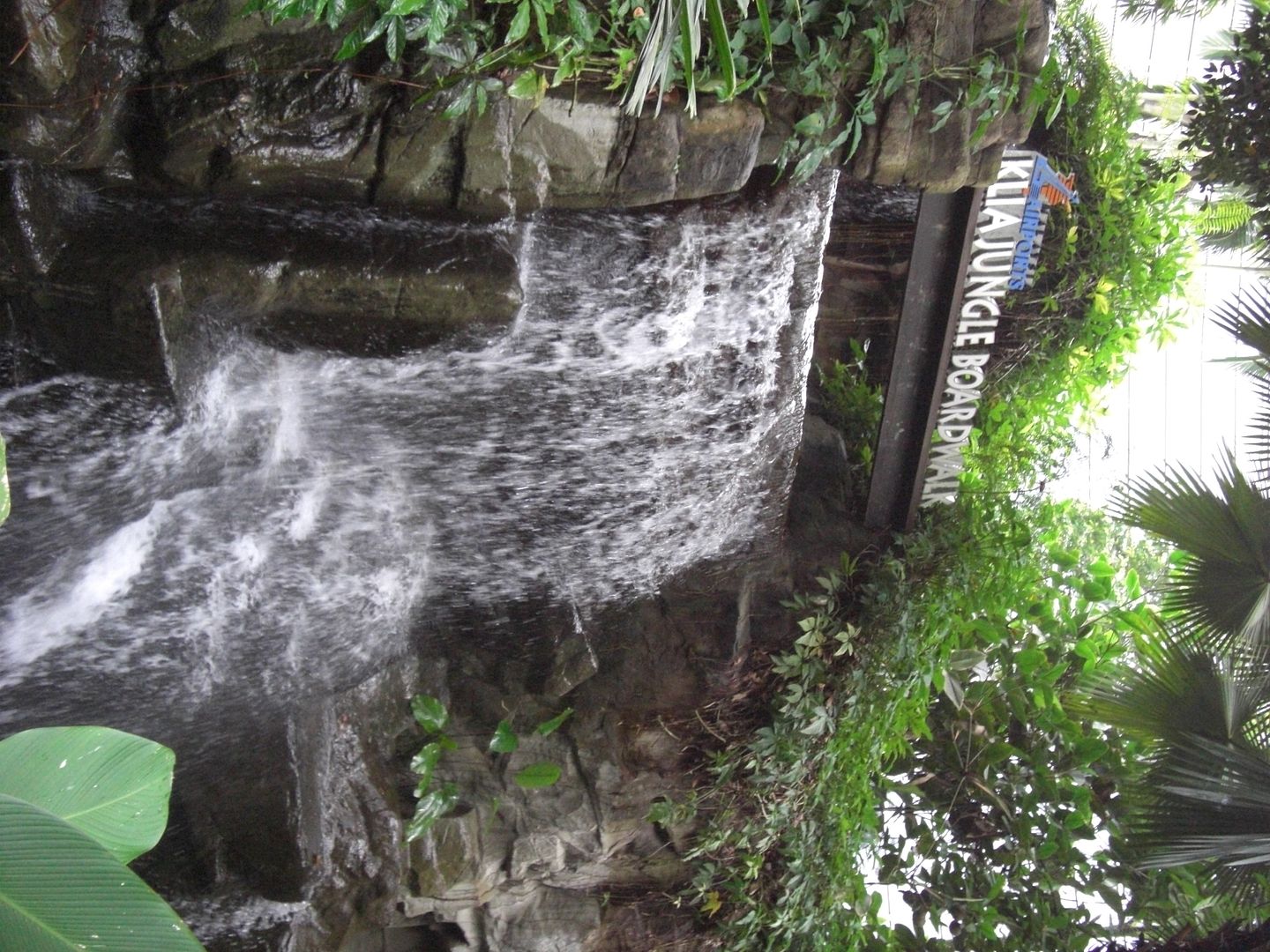 More KUL pics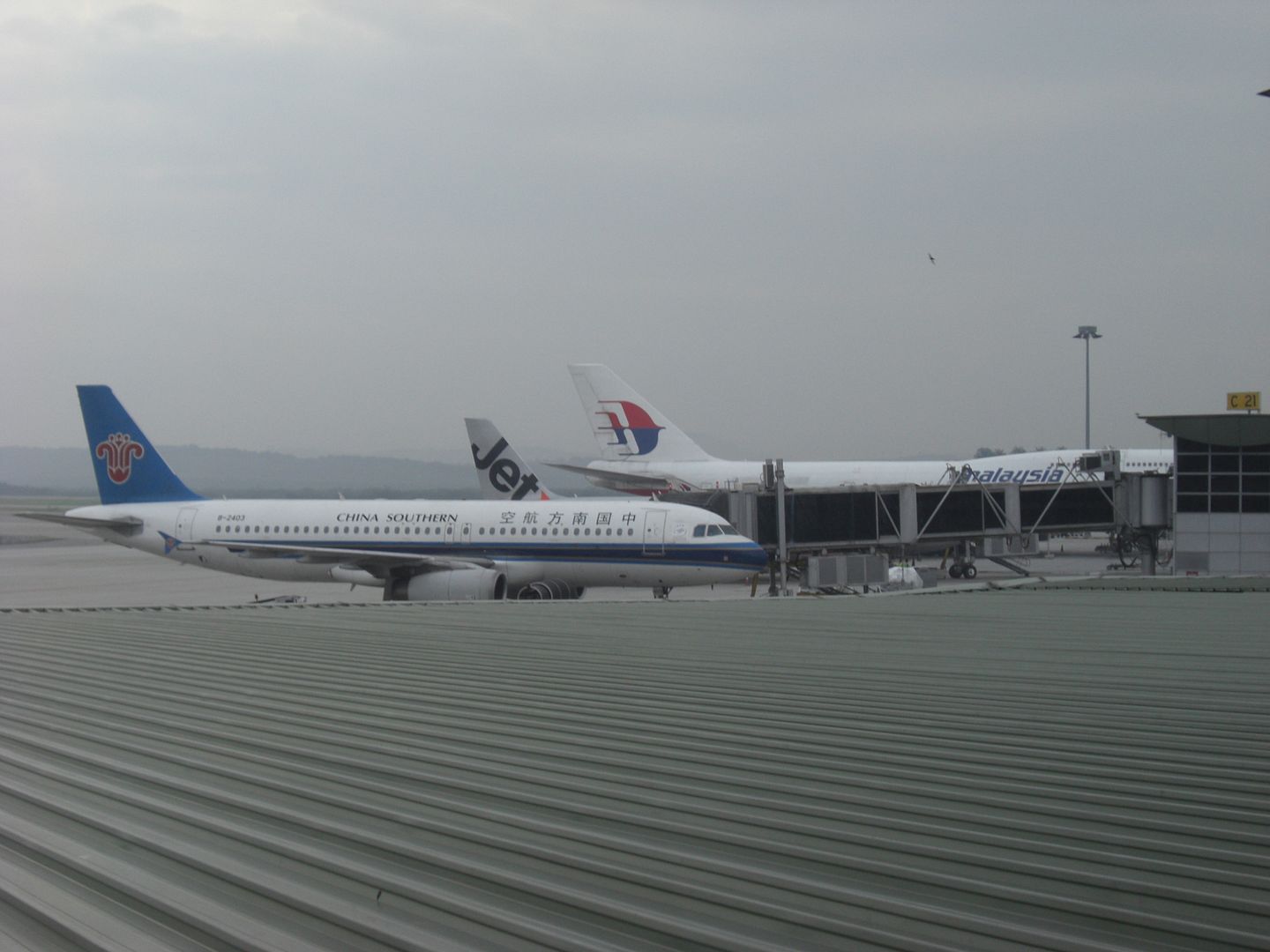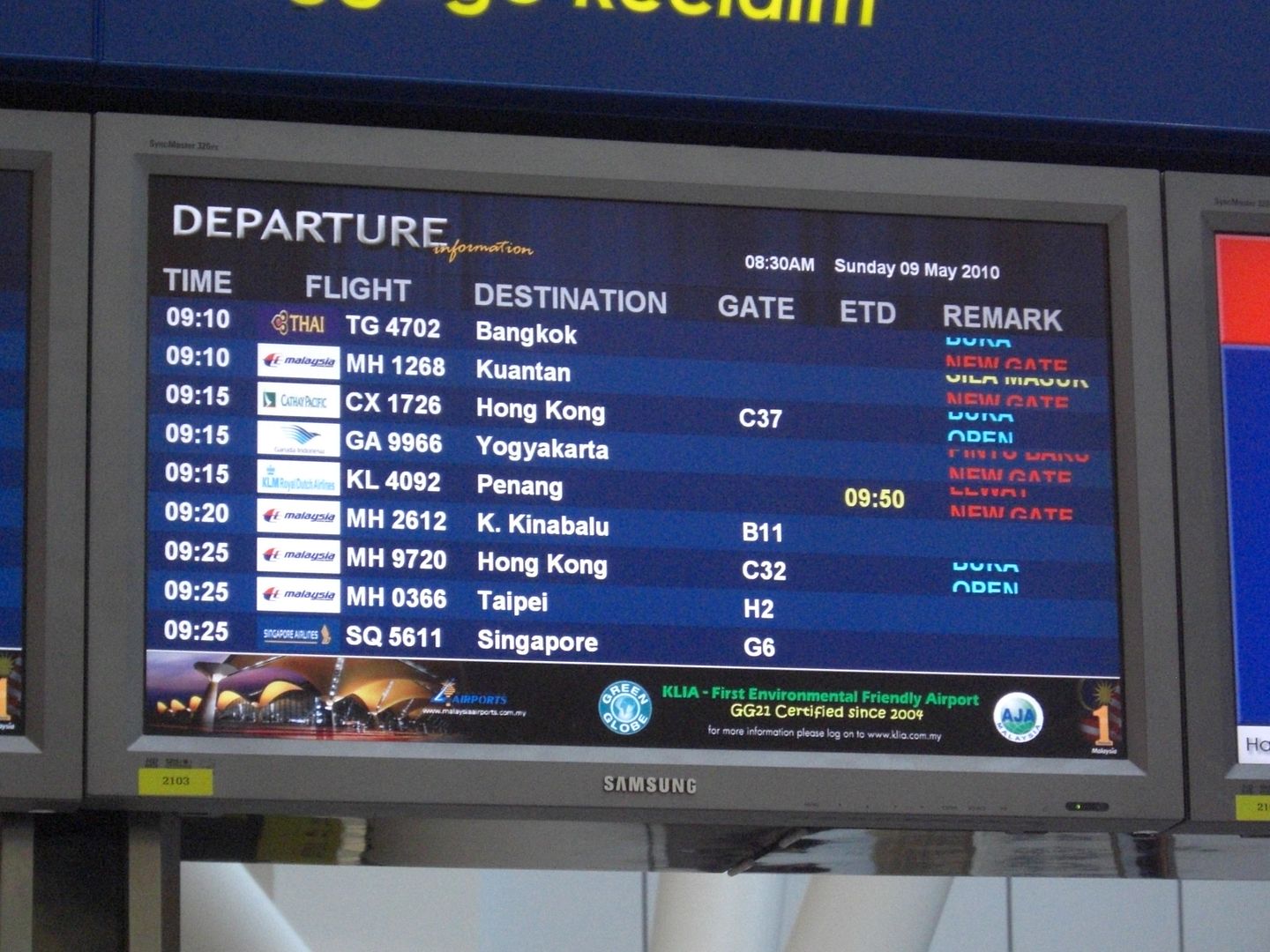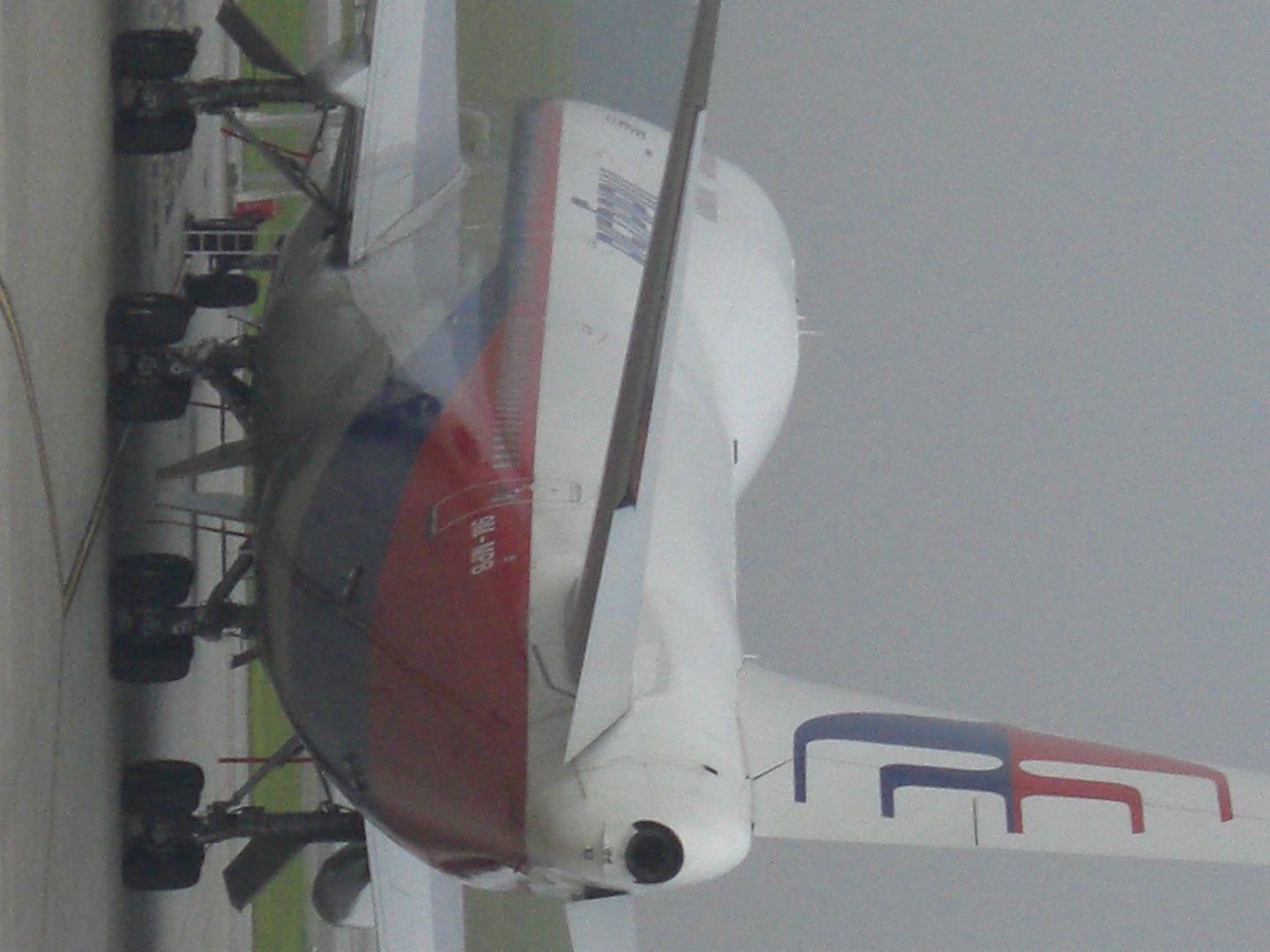 May 2010
Malaysia Airlines MH 72
Kuala Lumpur (KUL) – Hong Kong (HKG)
Boeing B777-200 (9M-MRO)
Scheduled: 0915-1300 (3h45m)
Actual: 0937-1253 (3h16m)
Economy Class
After a bit of a delay in boarding (no reason was announced), a general boarding call was made without any regard to Business Class or families. We were amongst the firs to board, and I got a few pics of the empty part of the rear cabin.
We had two pairs of seats in the back rows. We were hoping for a nice empty flight again, but this time the flight was much busier, but we still ended up with an empty seat each.
After our delayed boarding, we pushed back late, and finally took off just over half an hour later – lucky all airlines pad their schedules.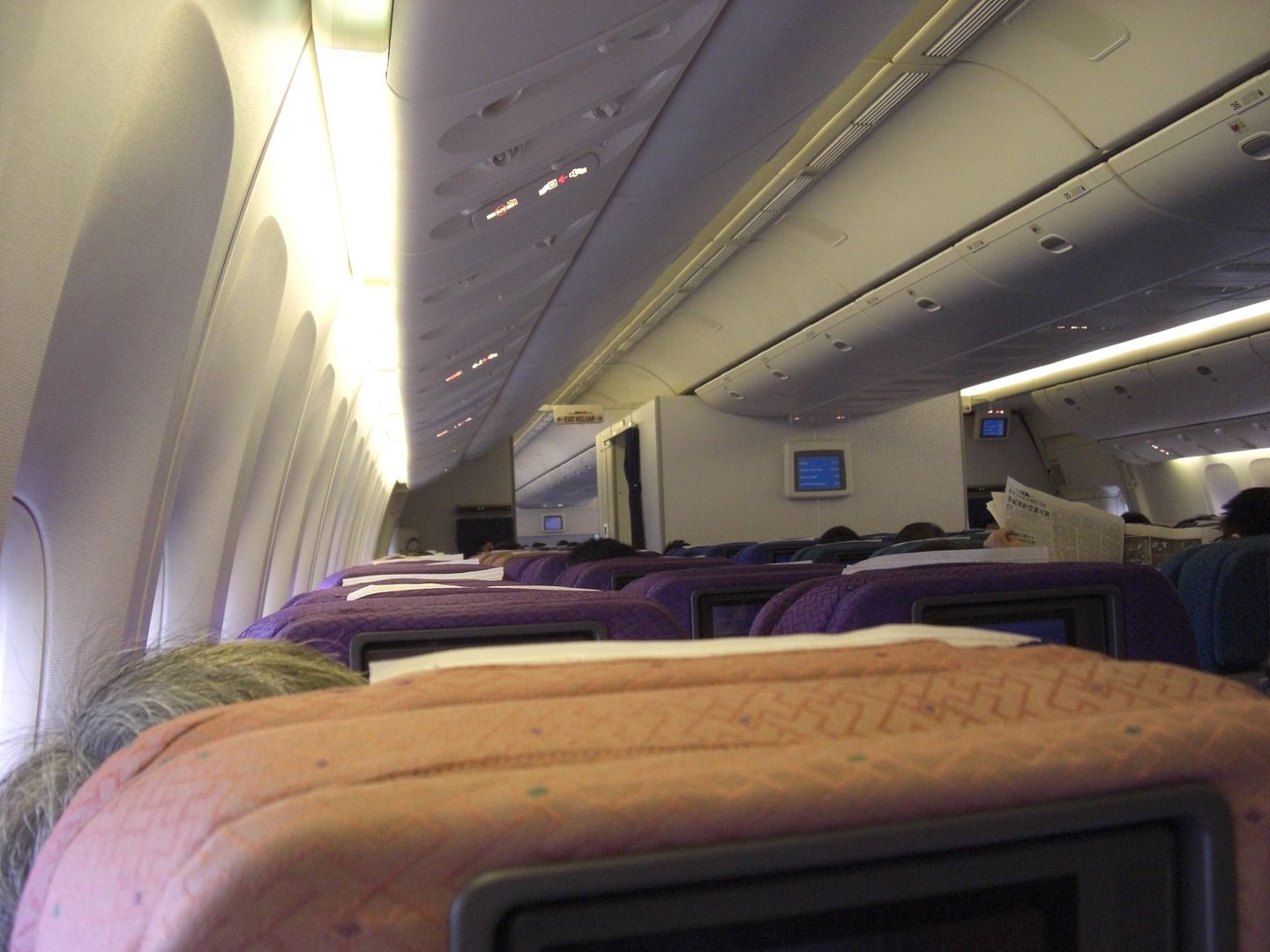 This B777, unlike our outbound A330 have PTVs fitted, and although the system is AVOD, the range of films on offer isn't nearly as extensive as the SQ one. I did, however, manage to watch a film I had been wanted to see, although now that's its been a while since the flight, I can't remember what it was exactly!
The legroom on the B777 was far better than the A330 – more than enough room to cross my legs.
Guava Juice
Brunch choices were announced via the PTV screen as apposed to handing out menus. There was a choice is Nasi Lemak (traditional Malaysian dish), or Chicken sausage and omelette. I wanted to try the nasi lemak (omelettes aren't very interesting, however, they'd run out by the time they reached us, so I had to settle with an omelette, which wasn't as nice as the one of the way out, but was filling nevertheless.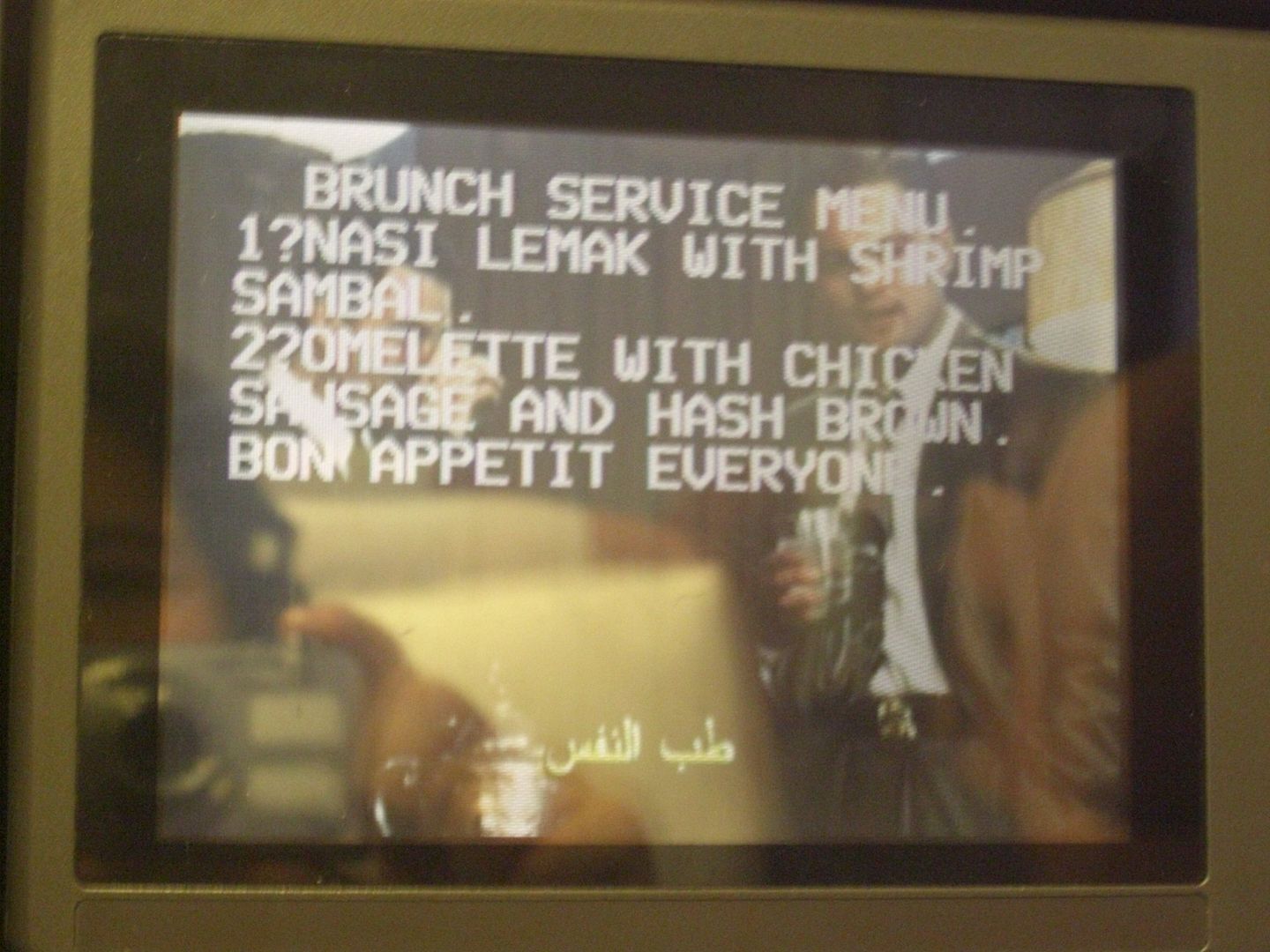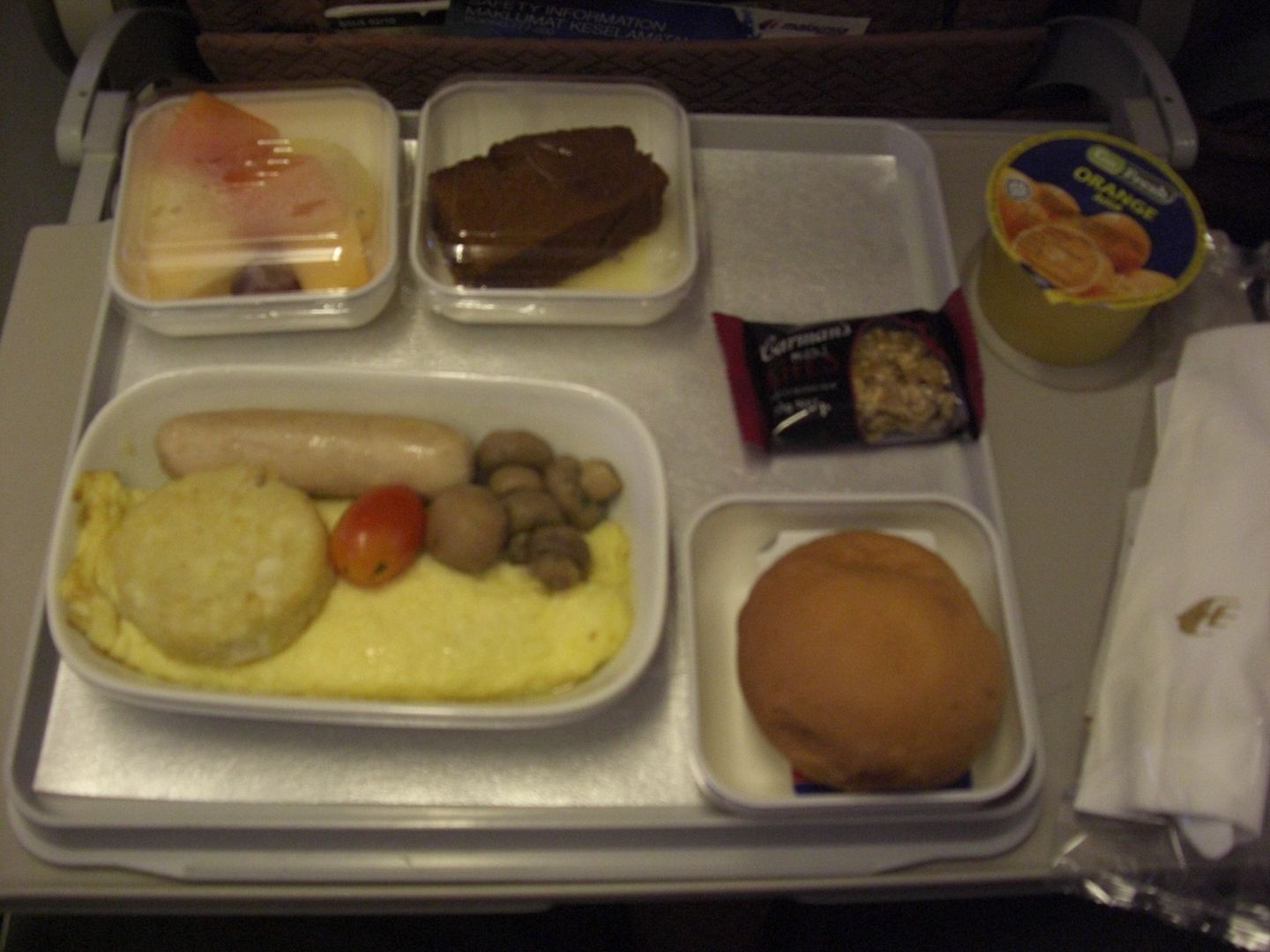 This time I asked for a beer, and it turned up pretty quickly – just one glass and a can this time – perfect!
Vietnamese Coast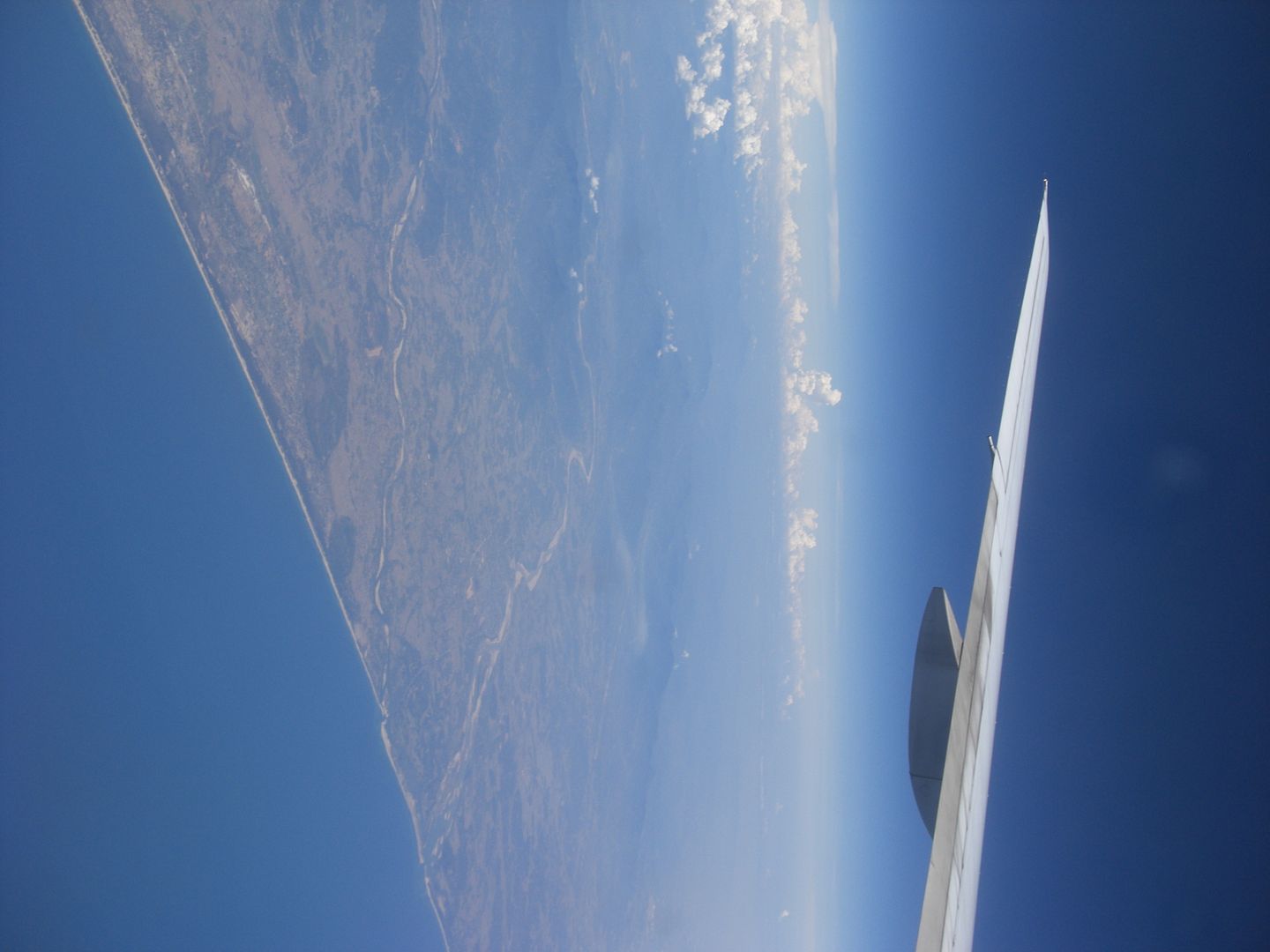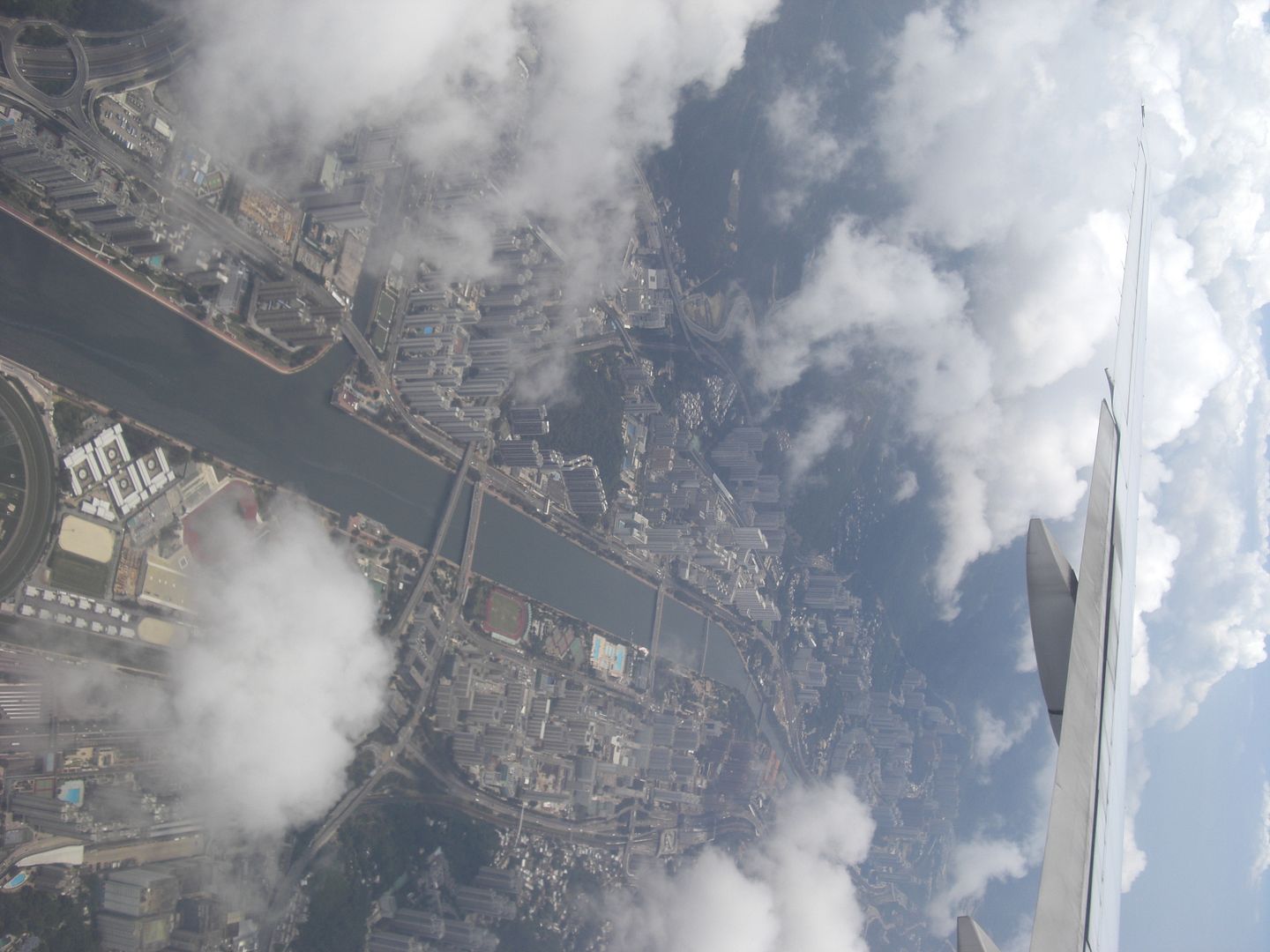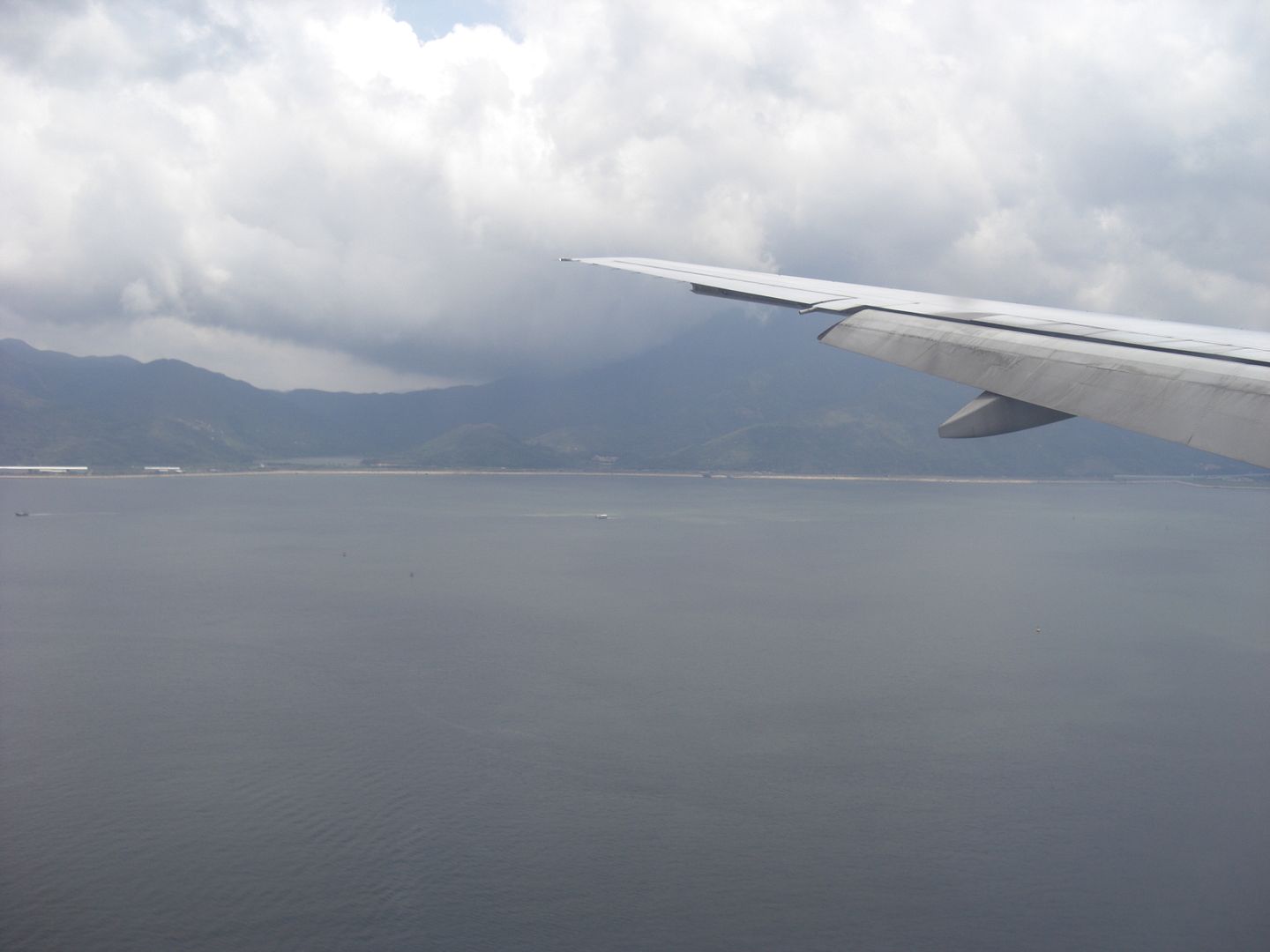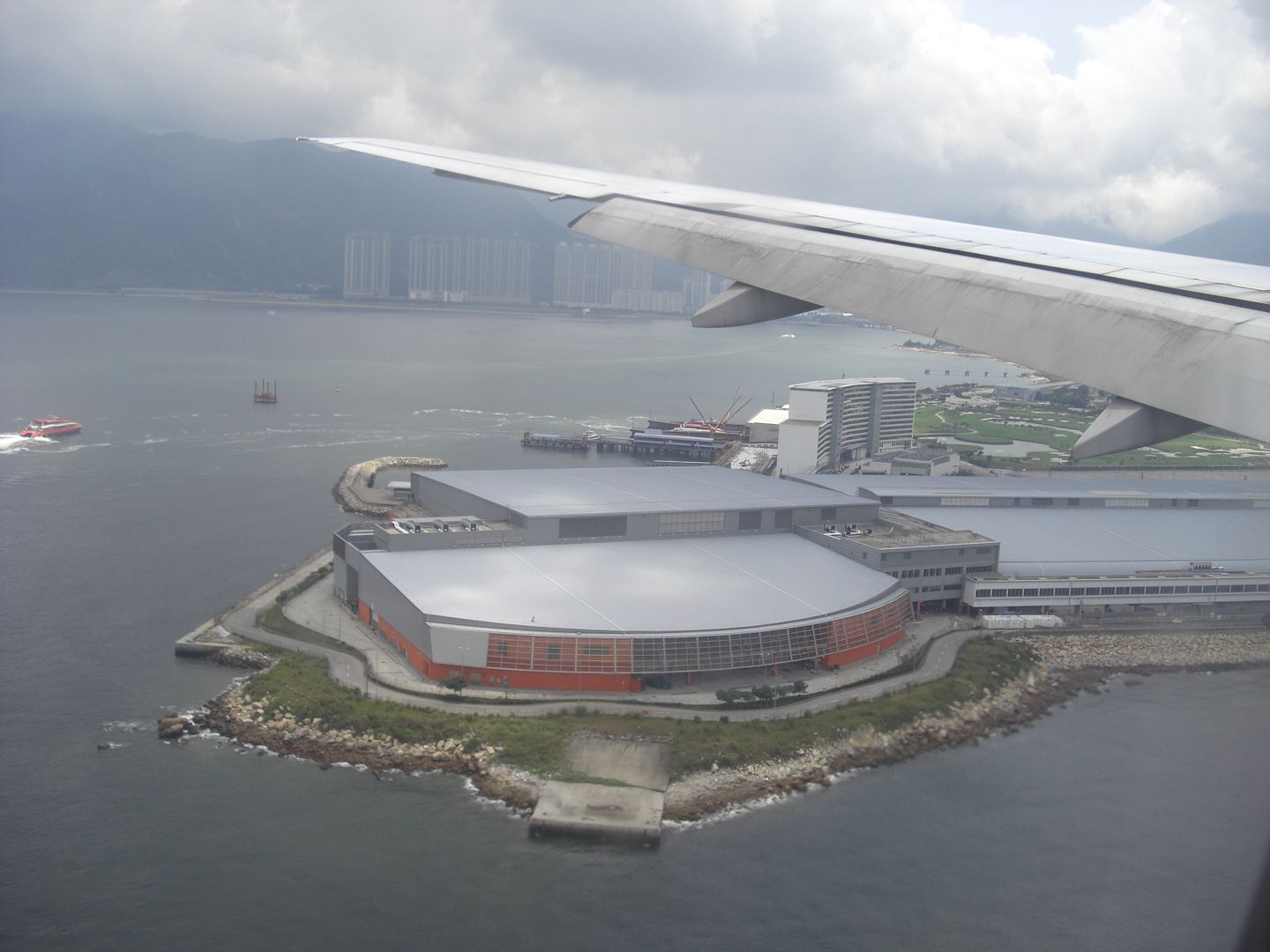 We landed a bit early, and somehow managed to get allocated a gate pretty close to the arrival area. My friend zipped through the HK residents queue, and left me to follow with a delay of around 10 minutes. The jokes on her though as my bag came out first. Having read the HK immigration website I just found out that I'm eligible for a fastrack card as I've flown through the airport three times in the last 12 months, so I'll shortly be applying for that. The queues here always seem to take a while, and are terrible compared to Singapore.
Once we had our bags we headed out to get the bus into town. About half way back I realised that I'd left my noise cancelling headphones on the phone. Once we were back in my friends flat, I gave MAS a call – they'd been found. The next day when I was heading back to London on QR I stopped by their ground handling desk and picked them up. Great service!
Part 4 coming up