Asia Trip, Pt 4: Qatar Airways Economy (HKG-DOH-LHR)
Parts one, two and three cover my long haul flights on Qatar Airways (outbound in Business, return in Economy), and my three flights with Chinese Airlines from Seoul down to Shenzhen via Dalian and Beijing.
Asia Trip, Pt 1: Qatar Airways Business Class (LHR-DOH-ICN)
Asia Trip, Pt 2: China Southern and Hainan Airlines (Seoul-Dalian-Beijing-Shenzhen)
Asia Trip, Pt 3: Malaysia Airlines, Hong Kong to Penang
Asia Trip, Pt 4: Qatar Airways Economy Class (HKG-DOH-LHR)
Alas my two and a half week trip to Asia had drawn to a close. These flights I'd originally been waitlisted for in Business Class, but they didn't clear (the flight went out 100% full), so I was in back in economy. On the plus side, it was still Qatar Airways, whom are probably in the top 3 of the Worlds best economy classes.
A short bus journey from Hong Kong Island delivered me to the airport two hours before my flight.
I was pleased to see quite large queues for most check in desks, except for mine – obviously everyone else had checked in earlier.
I went to the MH ground handling desk to pick up my headphone I'd left on the previous day's flight from Kuala Lumpur to Hong Kong.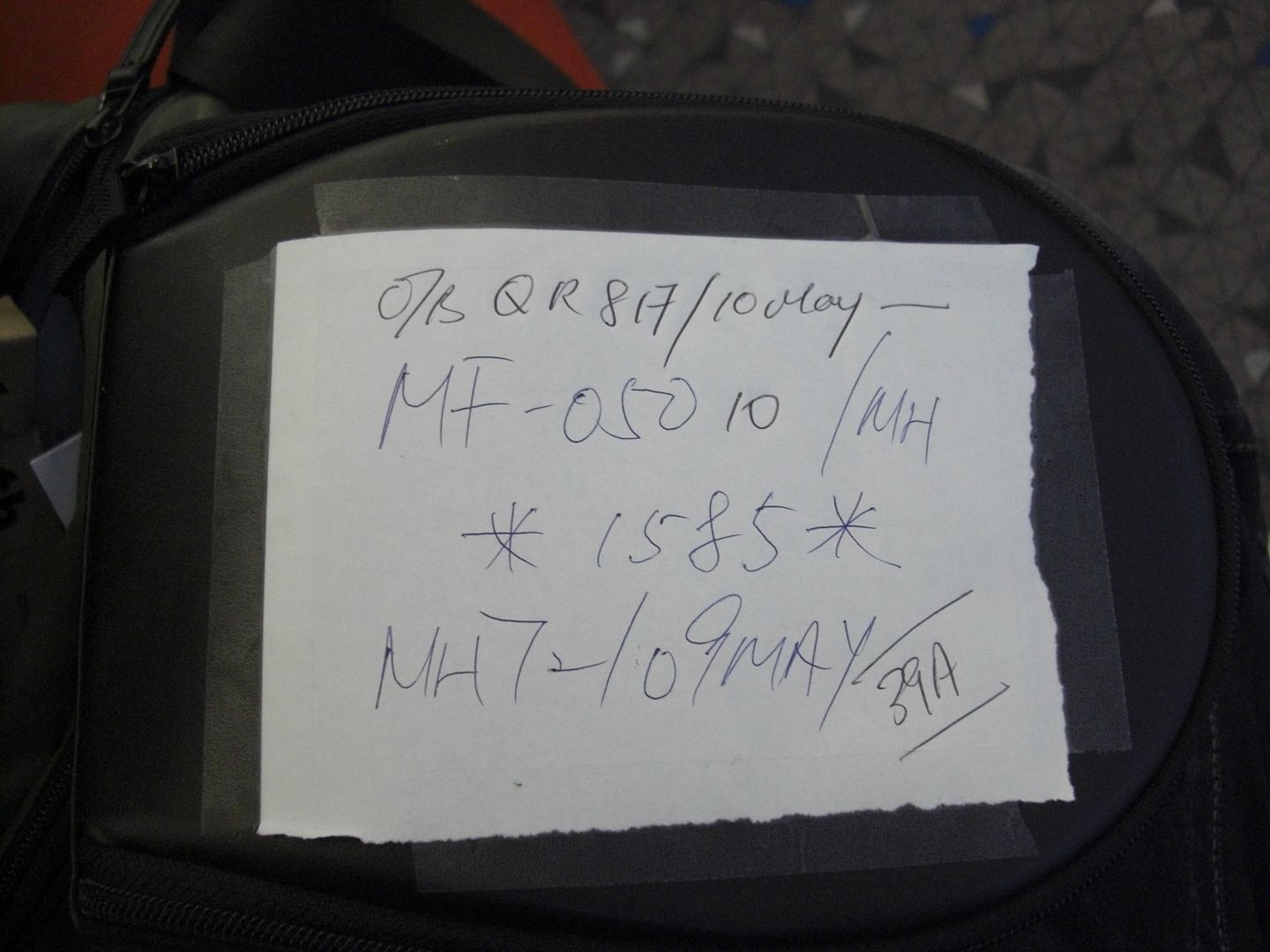 May 2010
Qatar Airways QR 817
Hong Kong (HKG) – Doha (DOH)
Airbus A330-200 (A7-AGJ)
Scheduled: 1930-2300 (8h30m)
Actual: 1941-2332 (8h51m)
Economy Class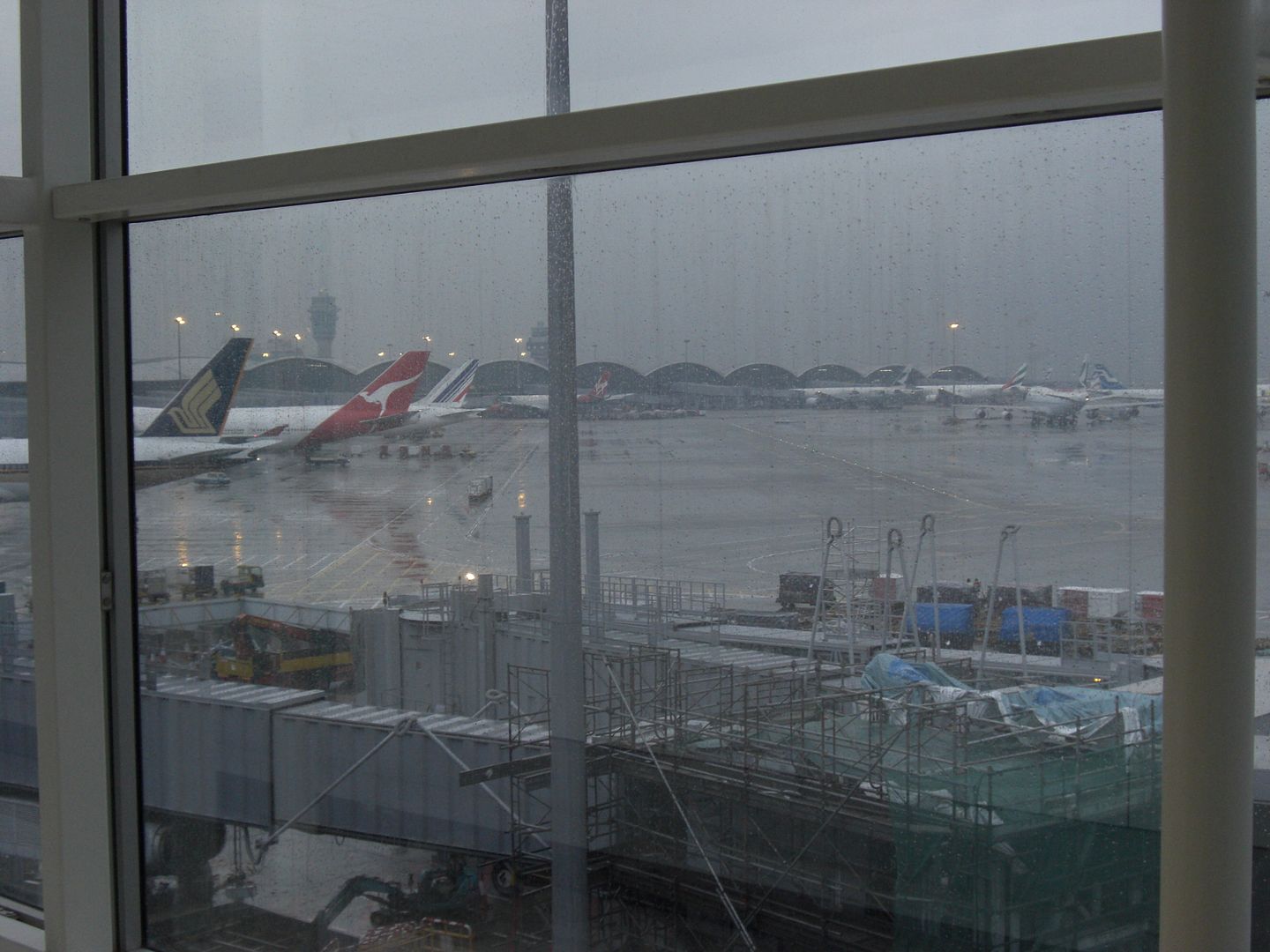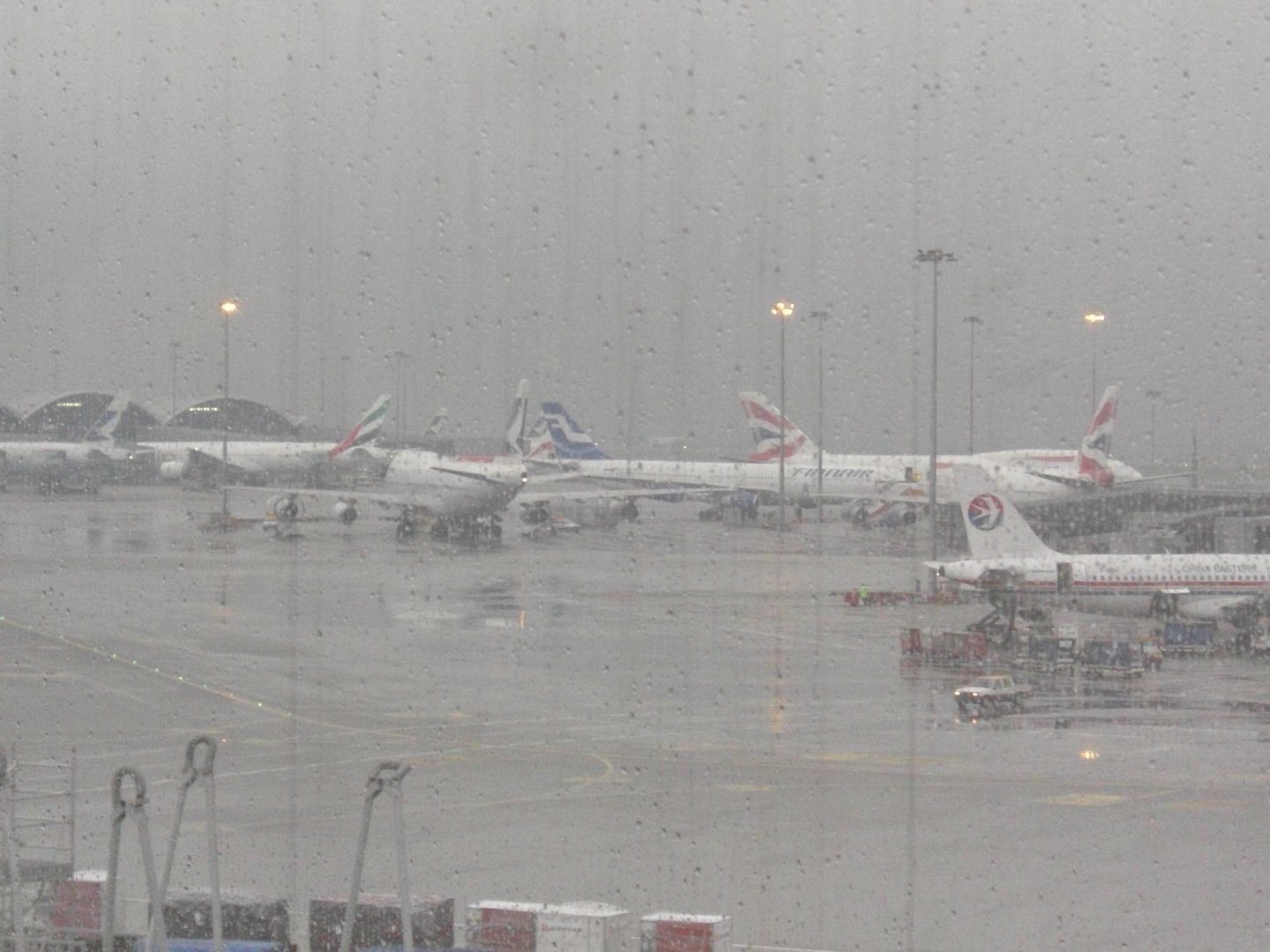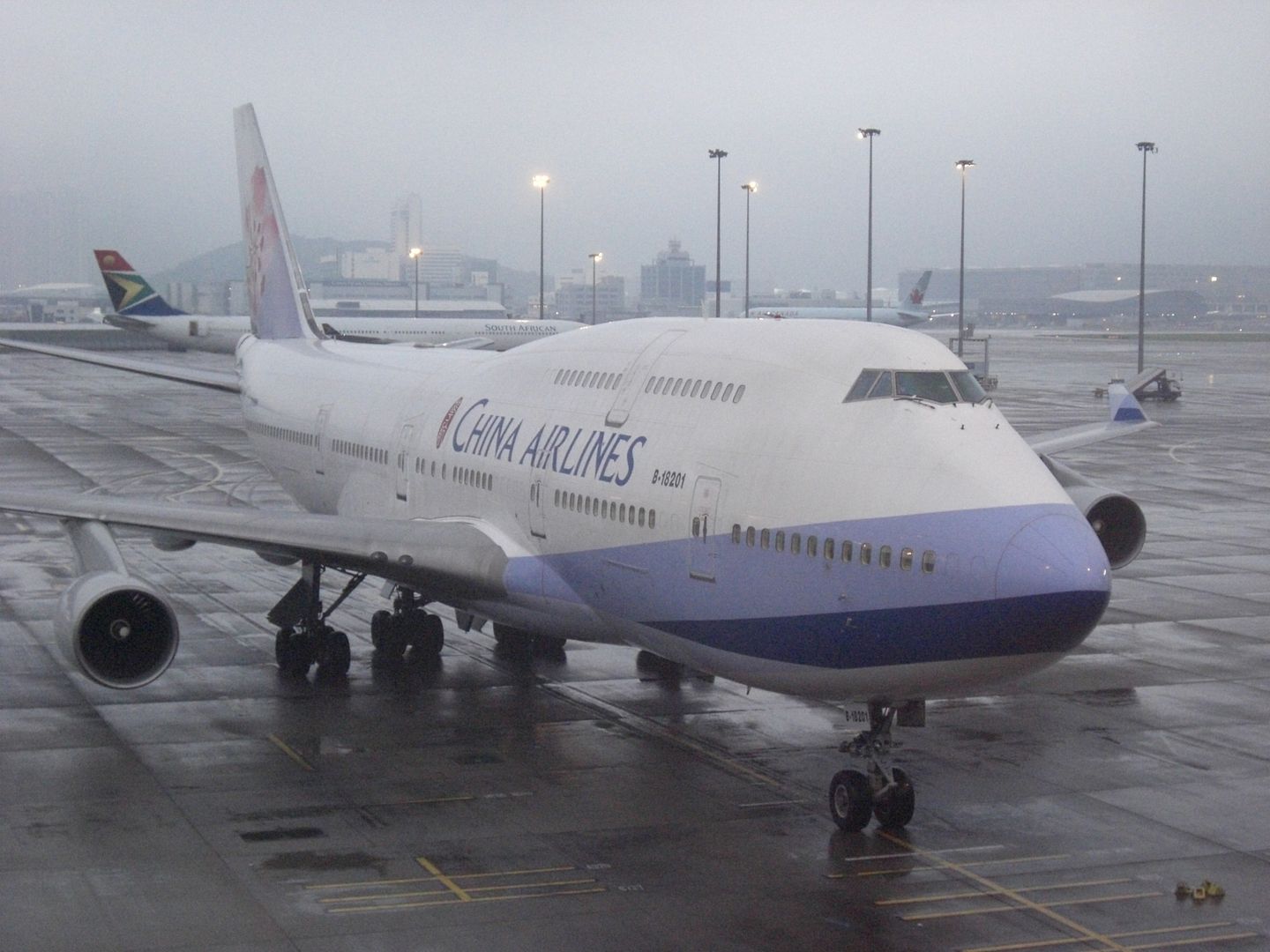 Immigration wasn't too busy, and I was soon walking around taking my last few photos before daylight disappeared. I'd booked a window seat for this flight, although as we started boarding I began to wish that I hadn't, and gone for an aisle instead. I enquired about a seat change, but to no avail.
Luckily, when I reached my seat I saw a little Pilipino woman sitting in my window looking steadfastly out of it. Obviously she was hoping for a window, and got an aisle. I sat in her seat, and neither of us said a word – phew, that worked out well! Luckily she took up far less space than most other passengers, and she didn't get up once – the perfect seat mate!
By the time we took off, it was dark outside, so the window wasn't of much use. Once the cabin lights had come back on, the crew did a drinks run.
The crew on my side of the aisle were a very friendly Spanish lady, and I think a Moroccan man (they were speaking in French). Choices for dinner were grilled chicken or fried rice. I went with the fried rice, which was very tasty washed down with a bottle of white.
Menus
Dinner
Once the trays had been collected, the lights were dimmed. For the next six or so hours the plane was an oasis of blue lights, and the glow of TV screens. I think this flight is perfectly timed, leaving HK in the late afternoon, having a long 'daytime' flight before landing at midnight local time. There isn't a need for sleep, so the flight can be enjoyed.
I watched a few films, drank some more wine, and snoozed for a bit.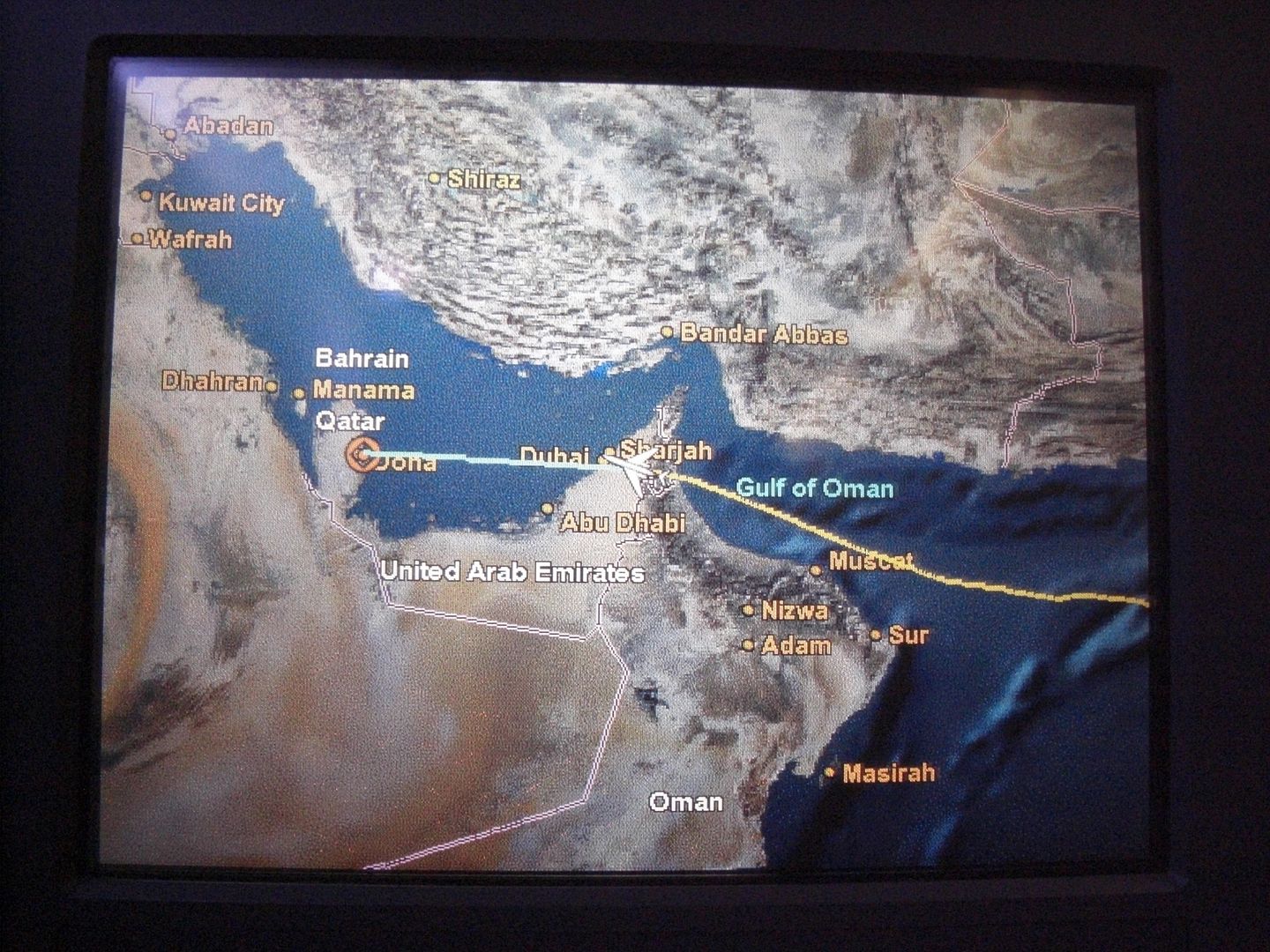 An hour or so before landing, the crew came around again with a second dinner (choice of fried rice or beef stew). I went with the rice again, and was again very satisfactory.
We touched down half an hour late, which was great as it reduced my agonisingly long transfer time in the less than comfortable economy terminal. We were bussed the long way around the airport perimeter to the terminal.
I sought out the sleeping room, which provided a busy room of snoring people in reclined leather chairs. I snoozed a bit, then heading over to my gate to find most of my fellow passengers already waiting in the pen for the bus.
The terminal was packed at this time of night – I wanted to have a lok at the duty free, but it was a nightmare.
May 2010
Qatar Airways QR 7
Doha (DOH) – London Heathrow (LHR)
Airbus A330-300 (A7-AEB)
Scheduled: 0150-0715 (7h25m)
Actual: 0203-0702 (6h59m)
Economy Class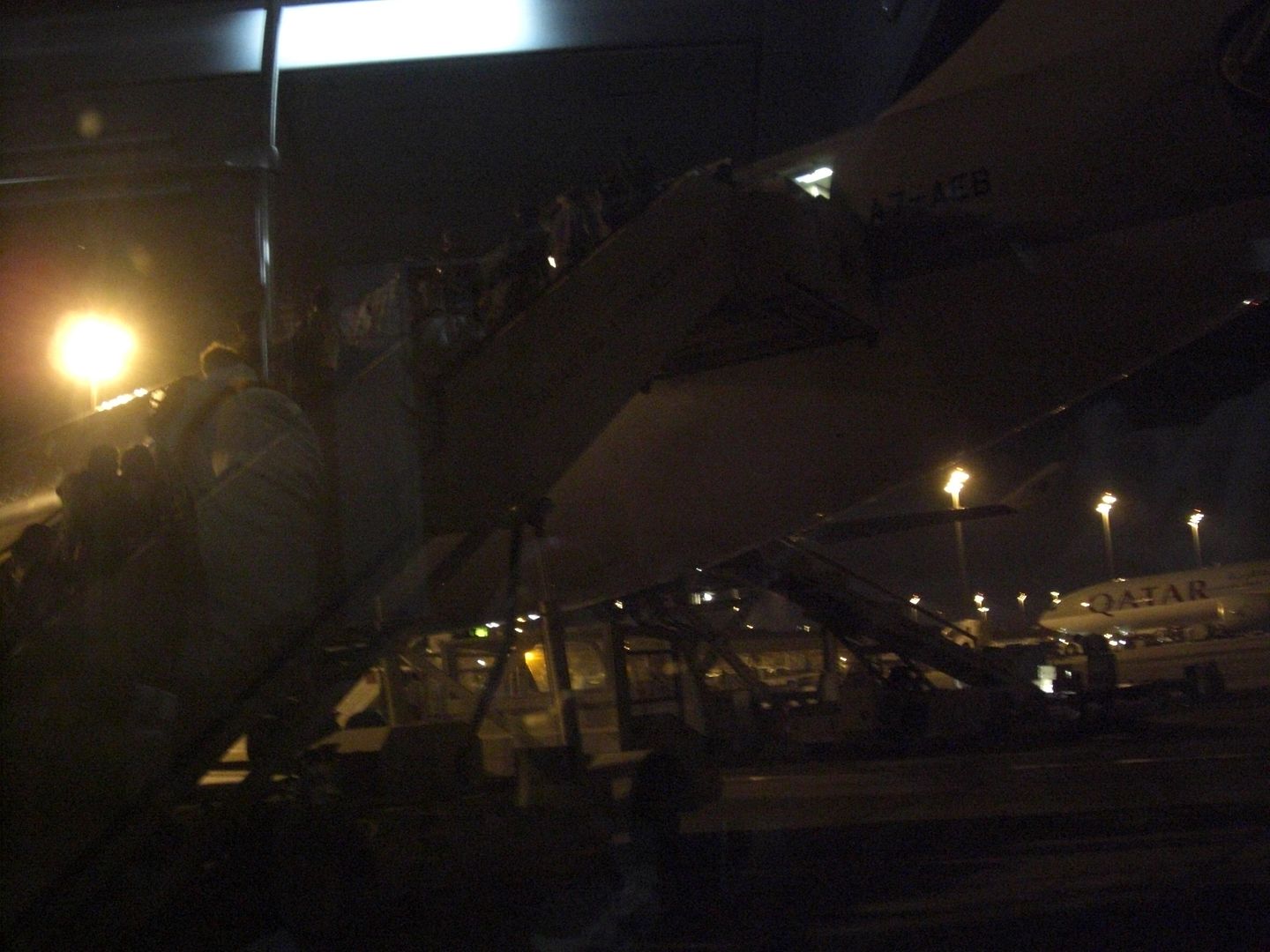 I was once again welcomed aboard the plane by a smiling crowd of multiethnic crew. I found my central aisle seat, and got ready for the next bus of people to come along and claim the other seats. Miraculously there was only one bus, so I had the central 4 seats to myself. Great!
Take off was a bit late. The crew came around with a lamb and mint pie thing, which was quite tasty.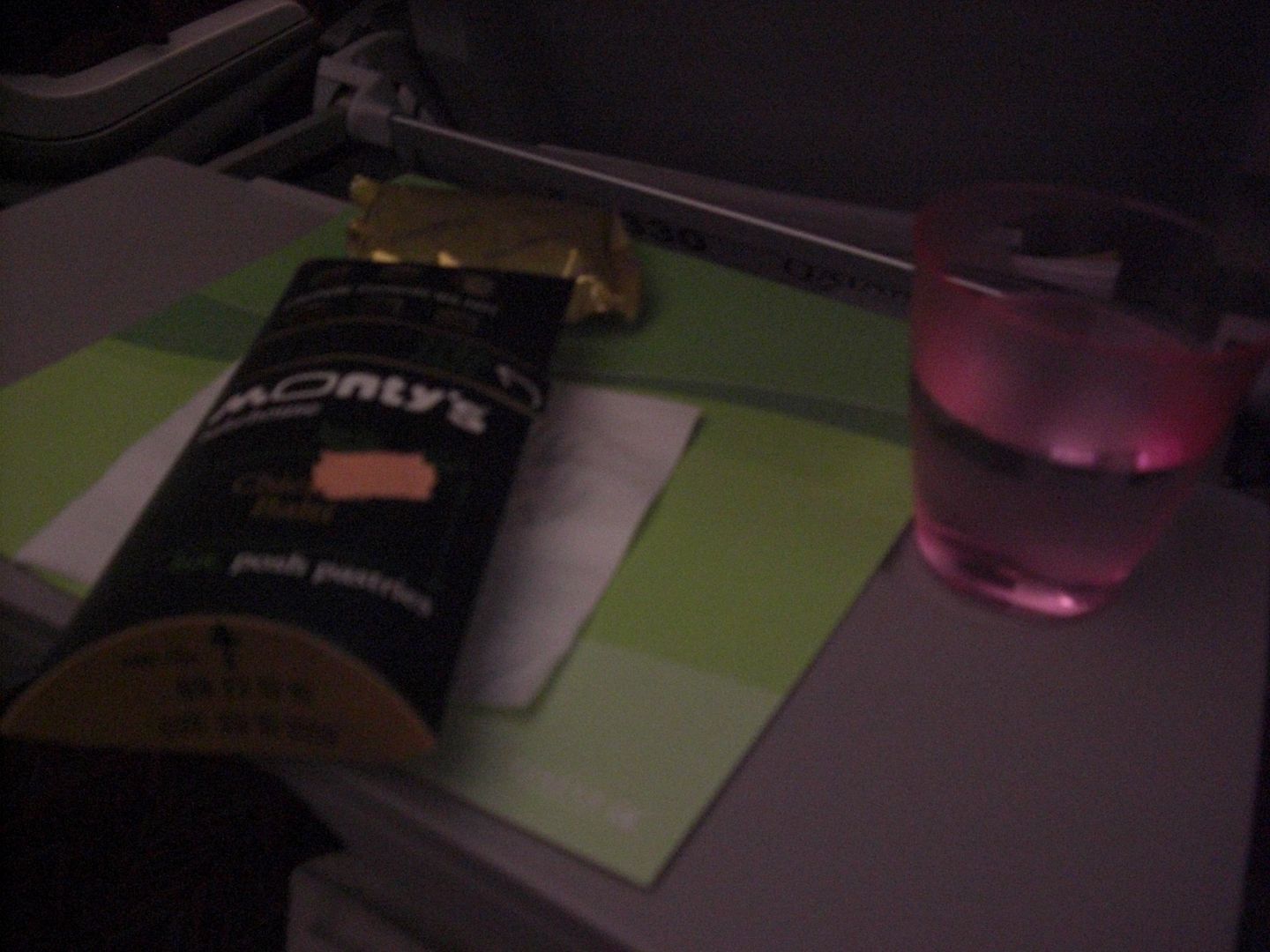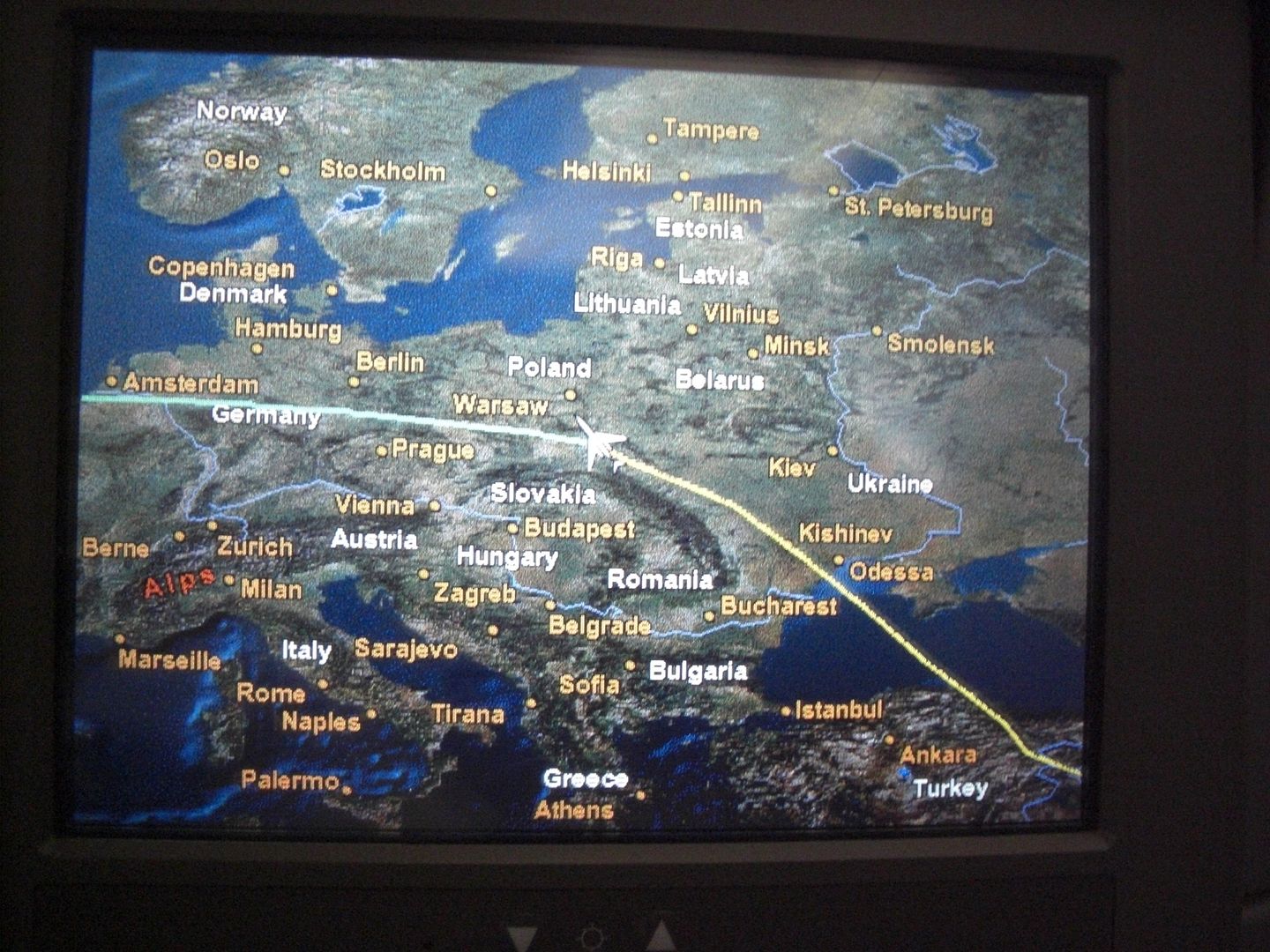 Once we neared the Polish border the lights came one, and the crew came around with breakfast. No menus were handed out on this secotr, but the choices were shown on the PTVs. I was going to go with the hot 'English' breakfast, but at the last second changed to the pancakes – yum. Very tasty, although full of sugar no doubt.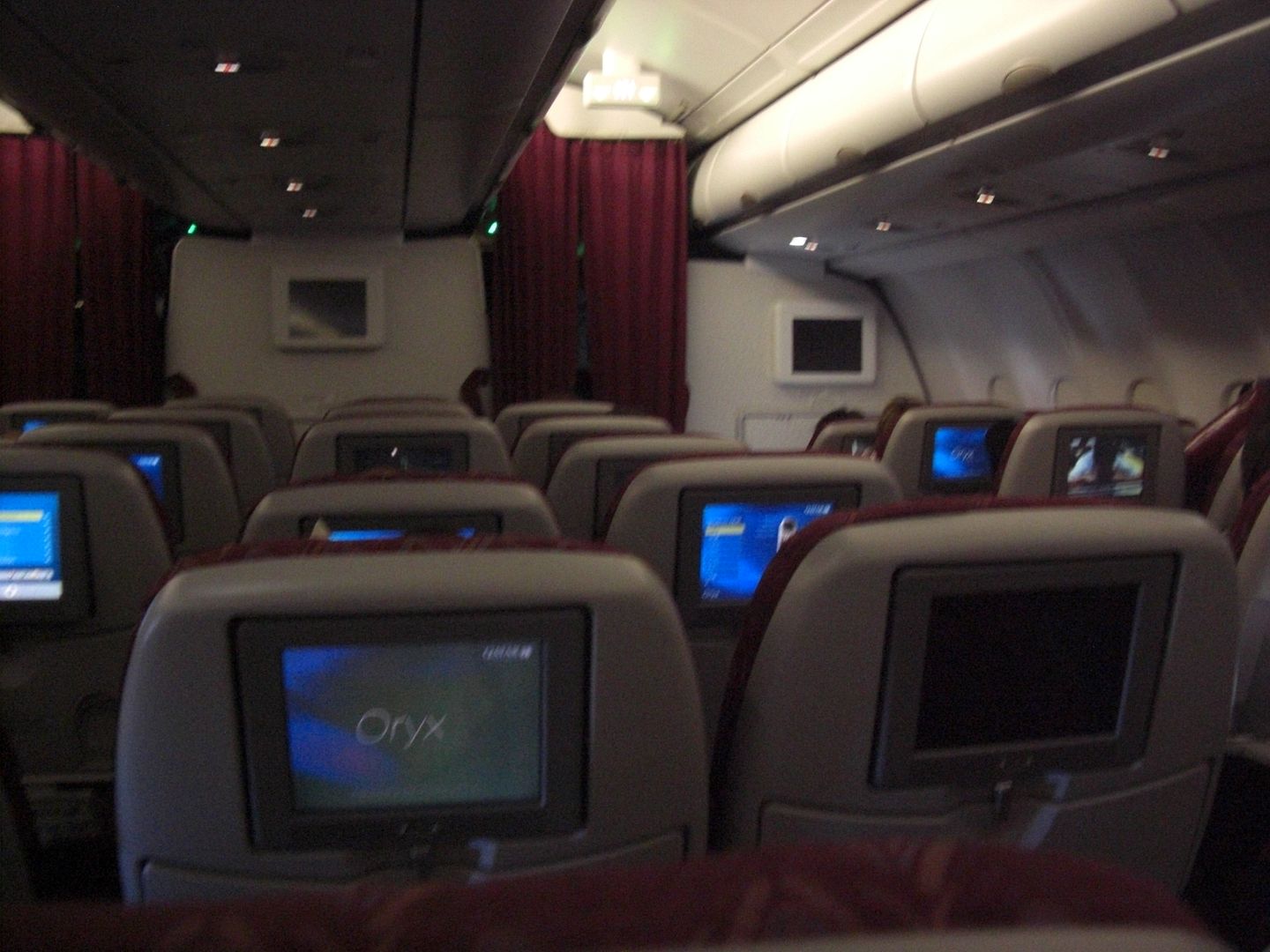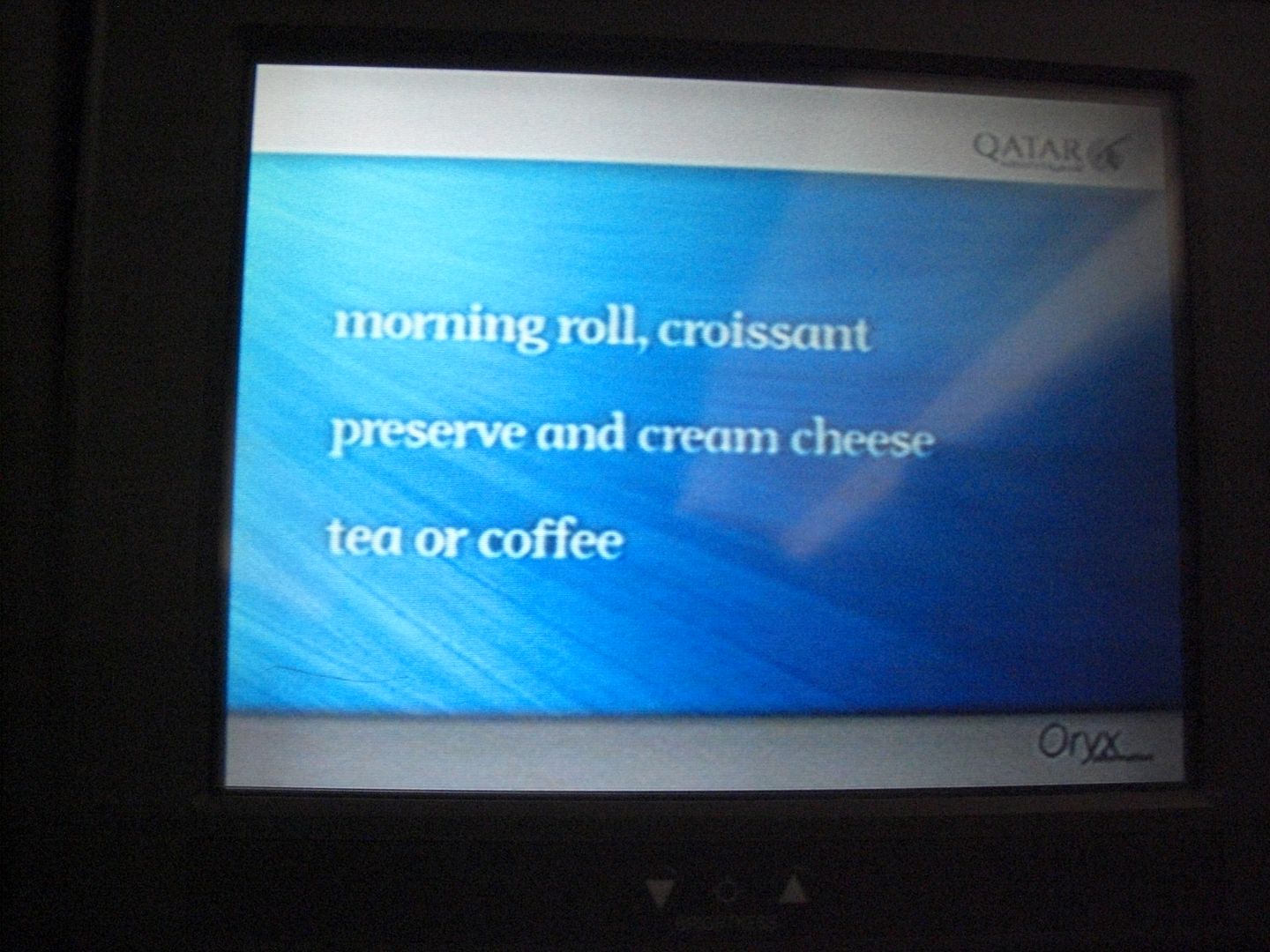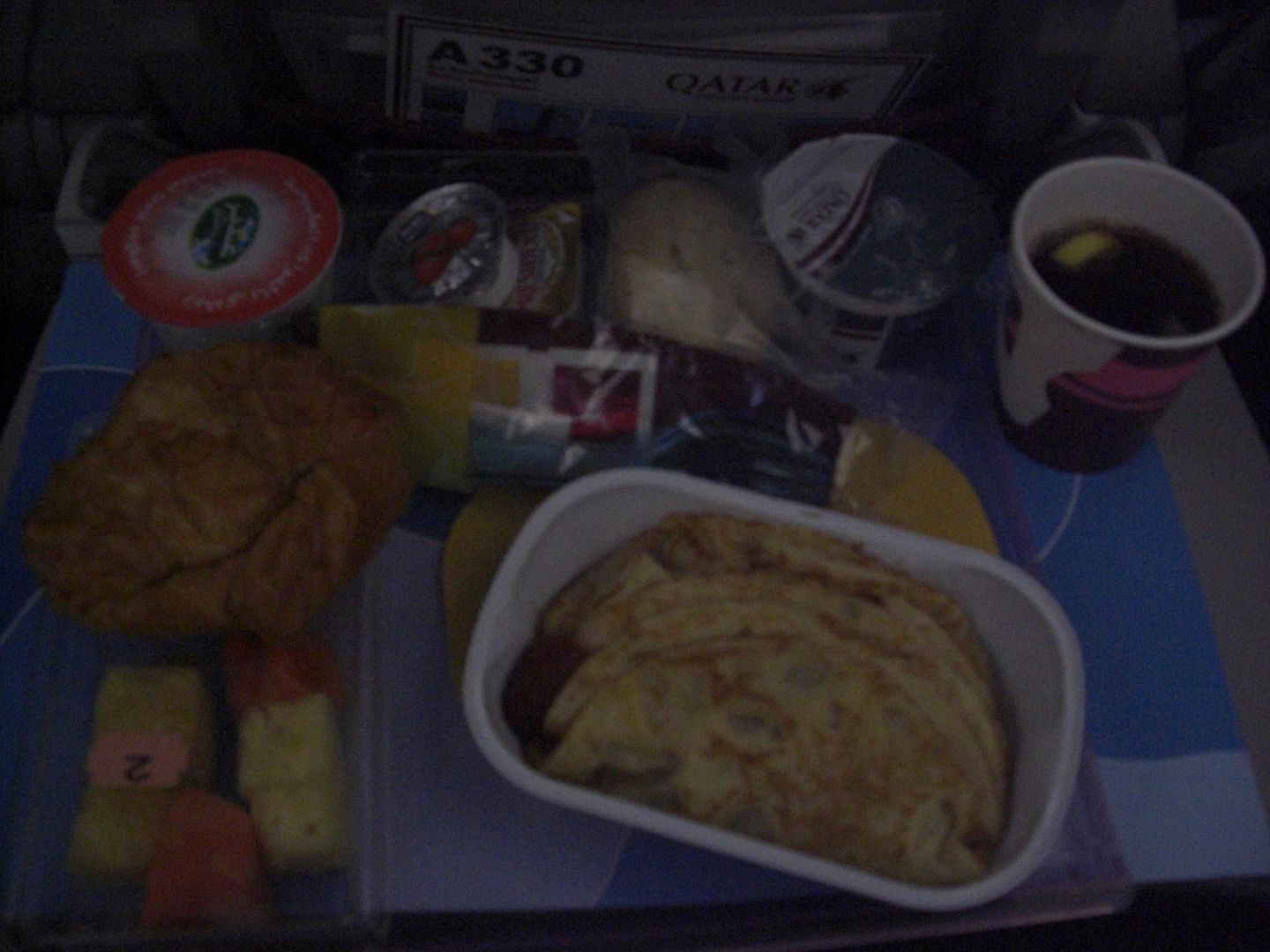 As the flight was so empty, I was able to move over to the window for landing.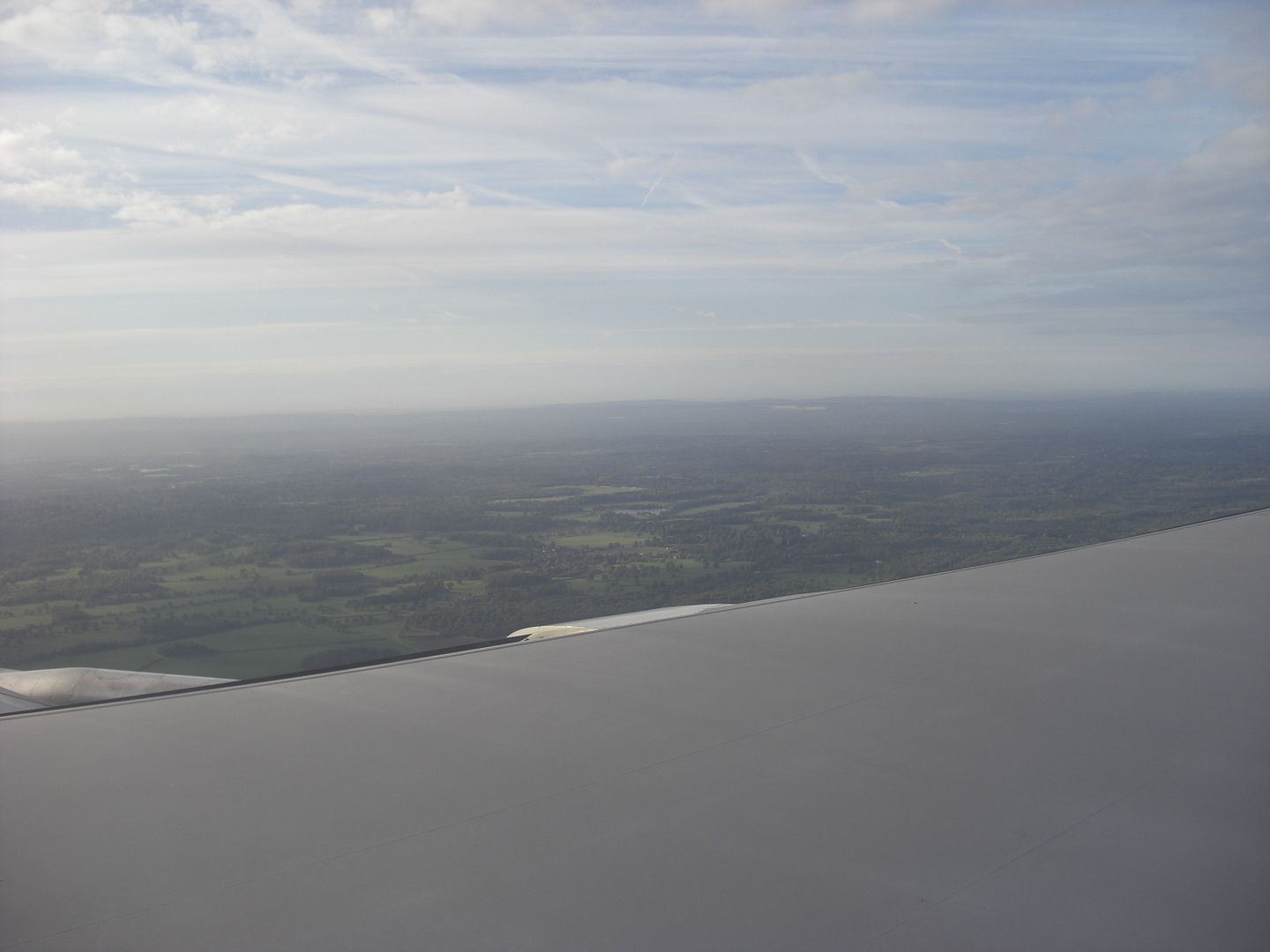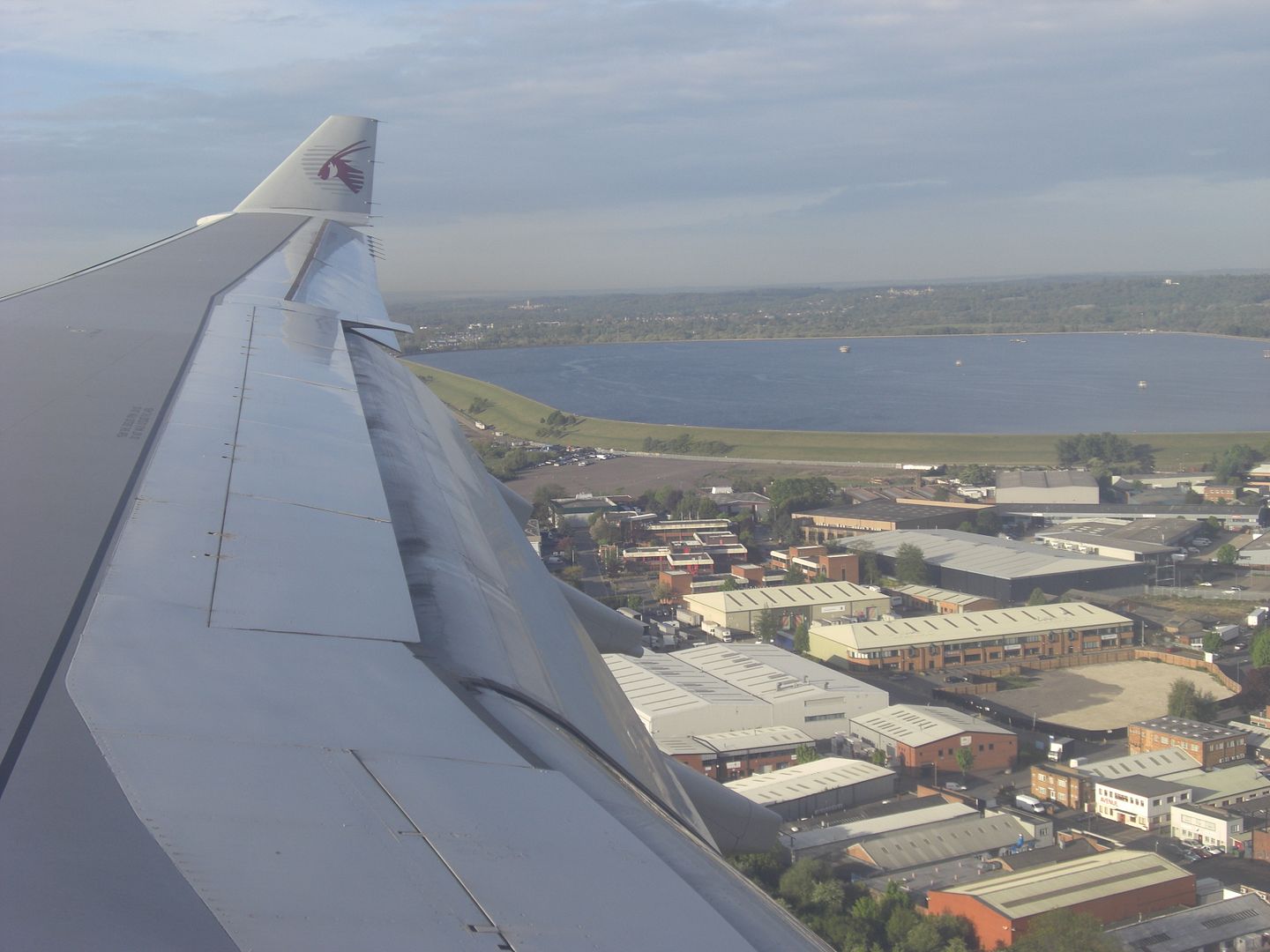 Welcome to BA land!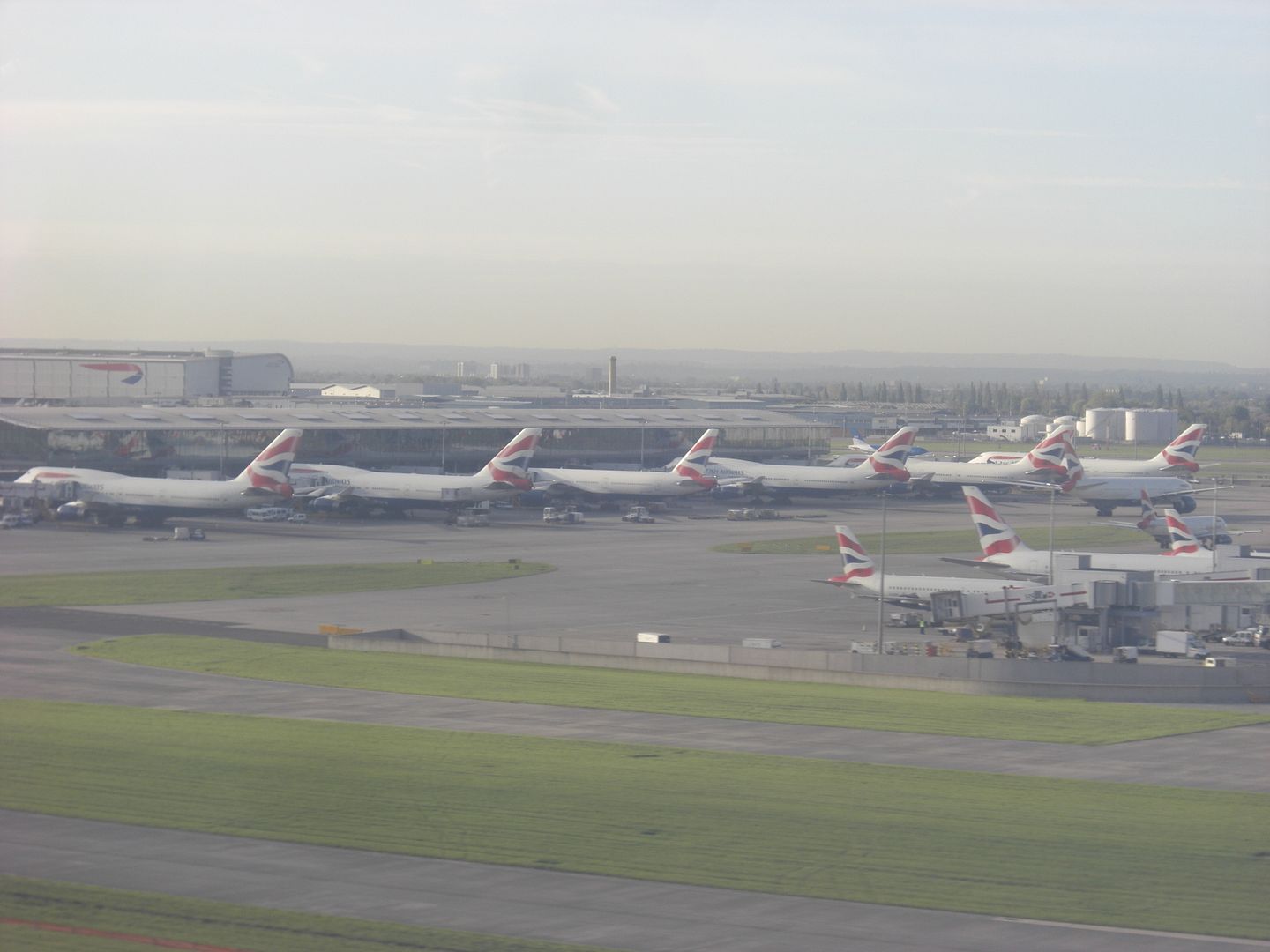 The temperate was a bit of a shock after Malaysia – 7am and its only just above freezing in May! Yikes!
Oryxs meet in London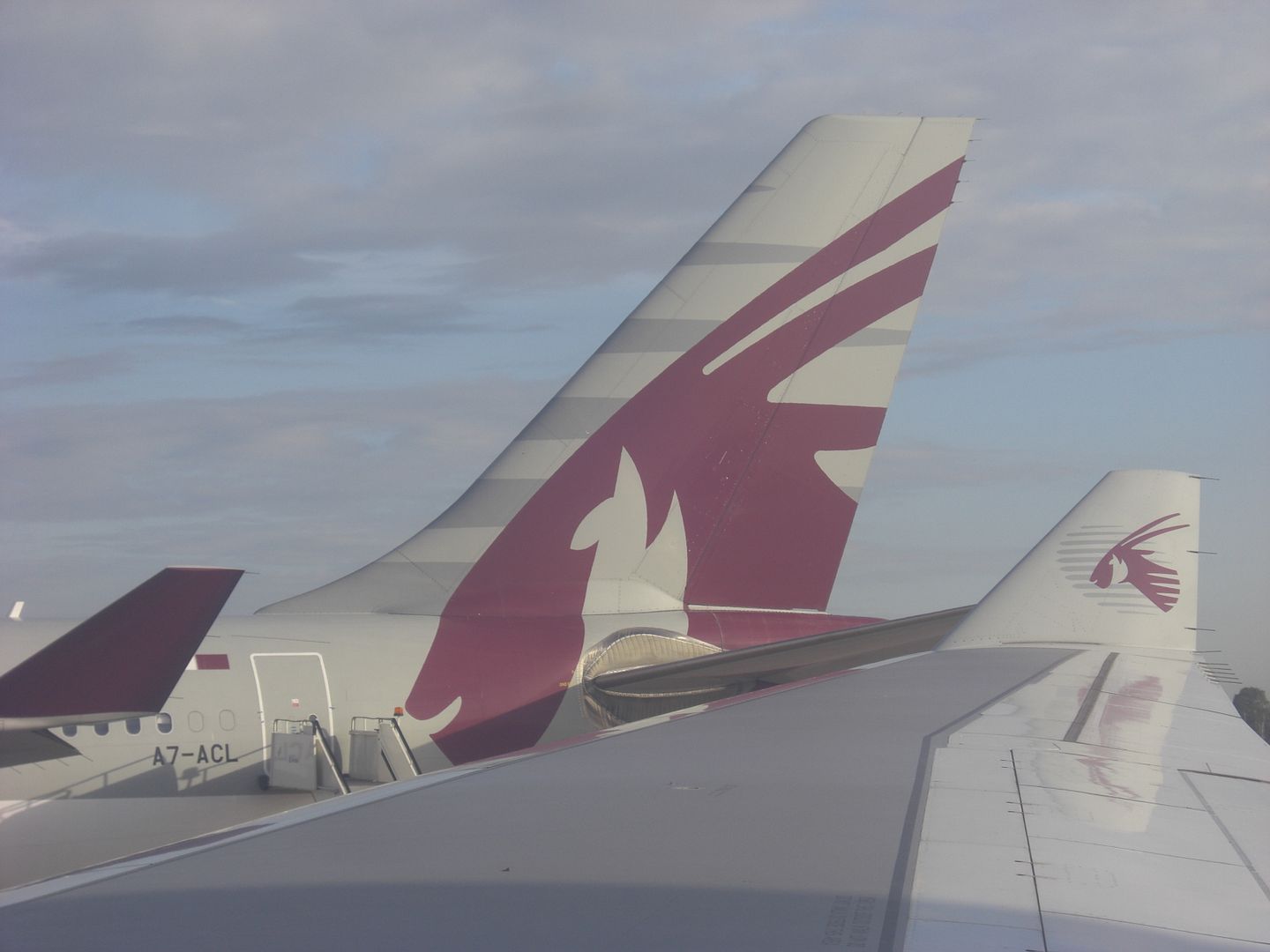 Arrivals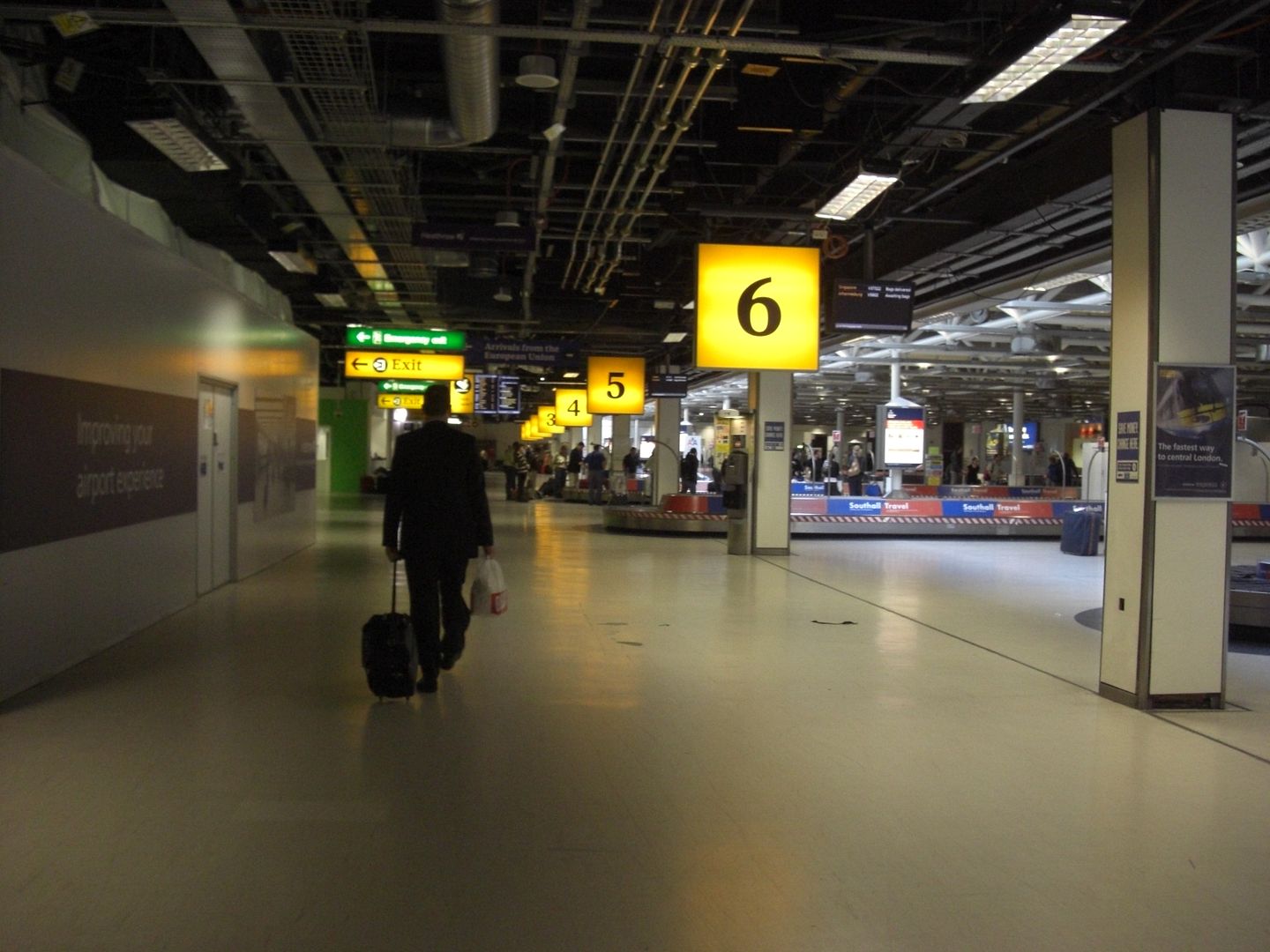 So, quite a collection of various airlines and flights. Qatar Airways were brilliant on all four flights, but in front and behind the curtain. No qualms flying with them again. Malaysia Airlines was a bit strange given their very high Skytrax ratings. Crew were generally good, but could have been much better. Nice legroom, but their planes are very long in the tooth. China Southern was great on the first sector, not so much on the second, but getting better every time I fly with them. Hainan Airlines were pretty good. Nice new planes with fairly good IFE.
Thanks very much for reading – all your comment and questions are welcome!