Introduction
This is the main trip of my summer vacation in July 2010. I had this idea to spend my AY miles on an intra-European business award to somewhere, as the AY business class is still a very good product. To get maximum value for the miles, it had to be somewhere as far as possible, and LIS sounded good with over four hours of flight time from HEL. Conveniently, I could combine that with a trip to Madeira, experiencing the famous FNC airport for the first time. Even more conveniently, both TAP and SATA operate flights between LIS and FNC, so it would be possible to log two new carriers for me (did Portugalia back in January, but I've never flown on TP mainline).
Fortunately I hesitated a couple of days before booking the flights because just the next day AF came up with their famous CDG-LHR-CDG flights aboard the A380. After some debate with fellow a.net members Monday the 12th of July was fixed as the great "half of a.net flies the big whale" day and I adapted my plans accordingly, first booking an open-jaw AY business award HEL-CDG/LIS-HEL plus the AF flights.
Next I fixed the LIS-FNC-LIS flights, going with TP and back with S4. Stupidly I used Expedia to book the flights as a roundtrip ticket which at 140 EUR was at least 40 EUR more expensive than booking two one ways on the respective carrier's websites would've been. Oh well, live and learn.
Finally, or so I thought, Lufthansa Italia offered the cheapest and most interesting connection between CDG and LIS, via MXP of course for less than 90 EUR. With my FTL status and lounge access plus having never flown LH Italia before it sounded like a nobrainer so was quickly booked.
Now most of you are probably already aware that 12.7.2010 was one of the infamous dates when AF cancelled the A380 operation, replacing the flights with a boring A321 in my case. I was very surprised to get a call from a nice Finnish girl at the AF Finland sales office (I didn't even know they retained a sales office here after they ceased flying to HEL in the aftermath of 9/11, opting to codeshare with AY instead) telling me about the cancellation and offering a free rebooking to an alternate date. I told her that I had already fixed all of my schedules around this so couldn't really do it, but appreciated it anyway.
Oh well, when life gives you lemons, make lemonade. I very quickly decided to only use the outbound segment of the AF ticket and to look for something more interesting for the return trip back to Paris. I very quickly settled on CityJet as that's another carrier I haven't flown before and booked an evening LCY-ORY flight on the Avro 85 for around 80 EUR, making it a nice day out in London, which is always a blast... Besides I've never flown AF shorthaul before, so that will be a new experience as well.
Finally I was good to go - only some minor schedule (less than 30 minutes) and equipment ( A320 to A319) changes occurred on the TAP segment.
11.7.2010
Here I go, having just arrived from my previous trip:
Lithuanian Star Shines:HEL-RIX-VNO-EDI-CRL-RIX-HEL
(by
FlyingFinn76
Jul 16 2010 in Trip Reports) a few hours earlier I do a turnaround at home, carrying out some chores, finish packing, grab a quick shower and change of clothes and hop back in a taxi to the airport - hey I'm flying business class so why not arrive to the airport in style as well?
The airport is very quiet at this Sunday evening - there's a bit of confusion as to where the AY bag drop desks are - they have moved to the new check in area in the place of the former check in hall 3. The bored-looking older guy checks my OLCI BP and accepts my bag and wishes me a good flight. Quickly through security and I'm just about to enter the AY Silver Wings lounge when I realize something - I don't have any AY status any more and for sometime now those traveling AY business class on Schengen flights are directed to the Gateway Tower Lounge instead. Ouch, as this is an inferior lounge to the Silver Wings one, but I can perfectly understand the reasons - just take a look at the SW lounge on a workday afternoon around 16.00 and you'll too - it gets completely packed! Well, luckily there are only a few pax in the Tower lounge and this lounge does offer excellent views to the intersection of runways 15/33 and 04R/22L - here's Air Åland Saab departing for MHQ: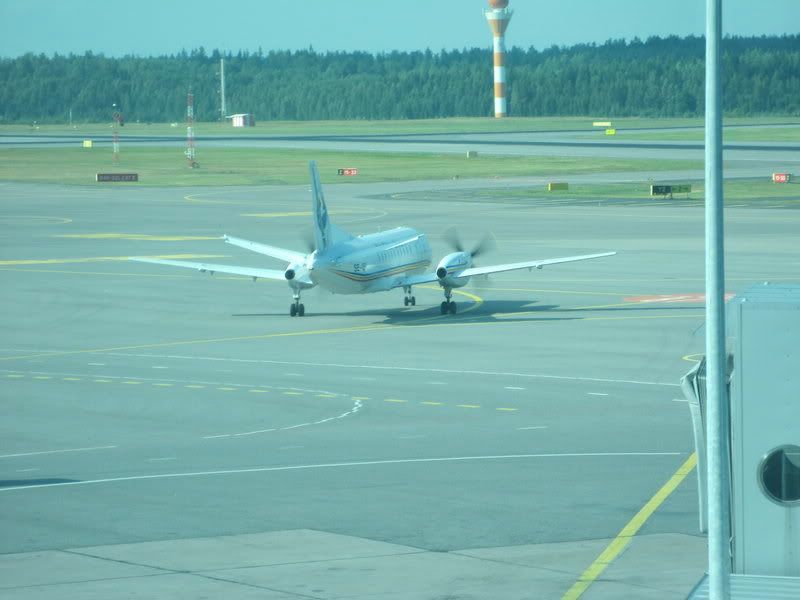 A couple of AY's Asian departures: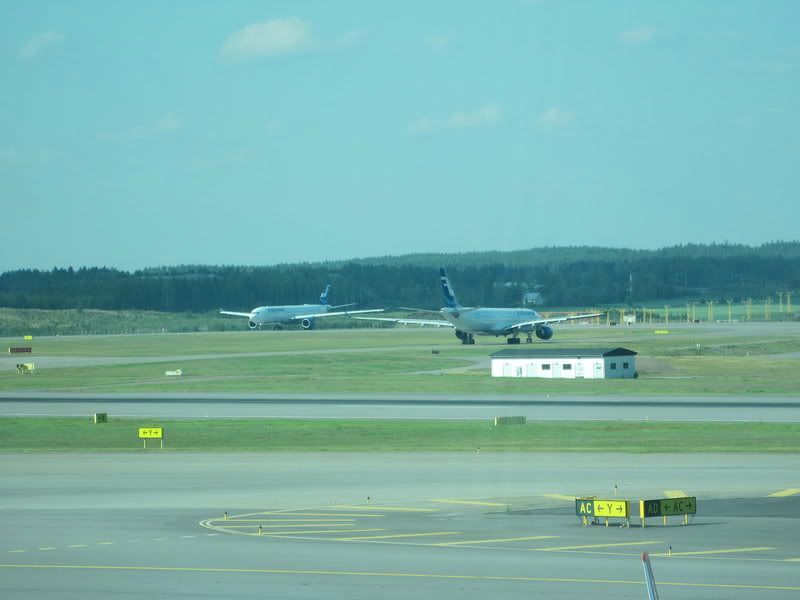 Greta Garbo returning to her native Sweden: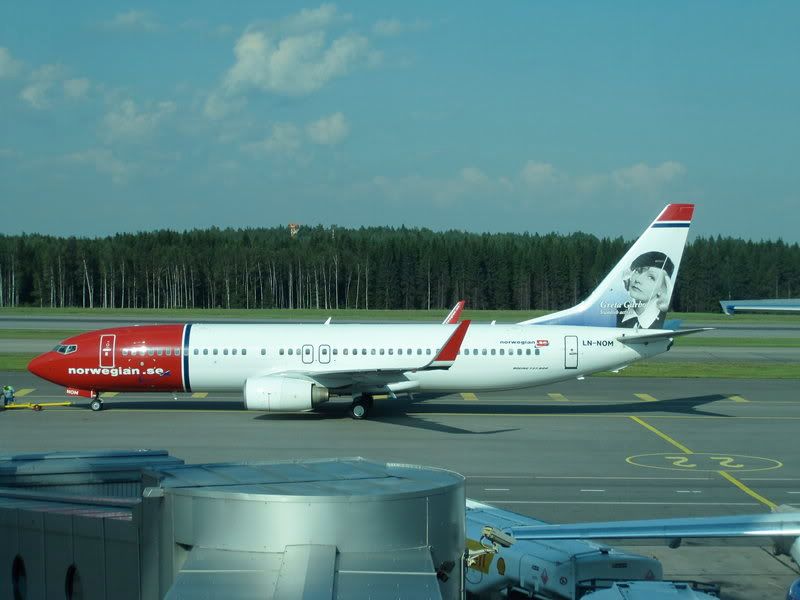 The food offerings look disgusting - some sort of pasta salad and falafels with BBQ sauce, but I still dare to try them and am glad that I did - they are actually very good, I guess looks can indeed be deceiving! The drink offerings are rather laughable, Karjala beer on tap and two tap wines, both of which give the impression that they went for the cheapest wines they could find.
Not a good day for Ezy: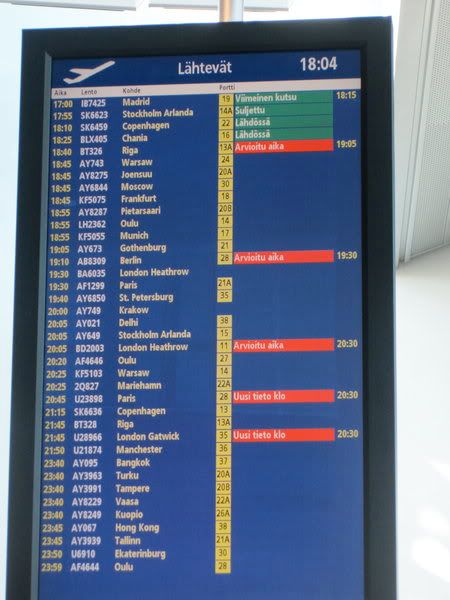 Rossiya: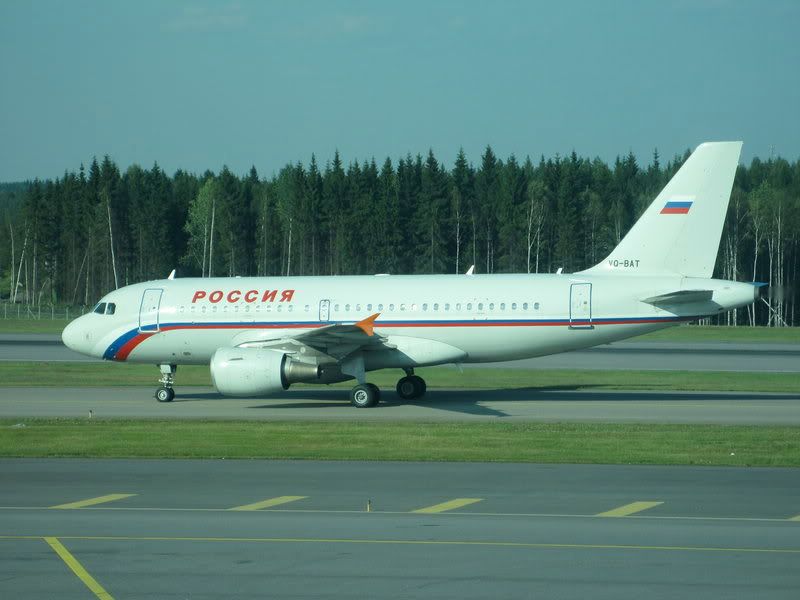 I ask the lounge attendant to look up the plane assigned for my flight from her computer - it turns out to be OH-LVL, bummer. I was hoping for OH-LVI as that's the only A319 in AY's fleet I've yet to log, or even -LVE as that is the Finnish Airlines retrojet. Victor Lima is well known to me, this will become my fifth flight with her.
The flight status changes to "Go to gate" around 25 minutes before departure, it's a bus gate downstairs, fortunately not too far from the lounge. Only a single bus is used so the load doesn't look too good, maybe around 80 persons in the bus. I chat with the driver during the drive towards the AY maintenance hangars, where our lonely plane is waiting, eager to get airborne.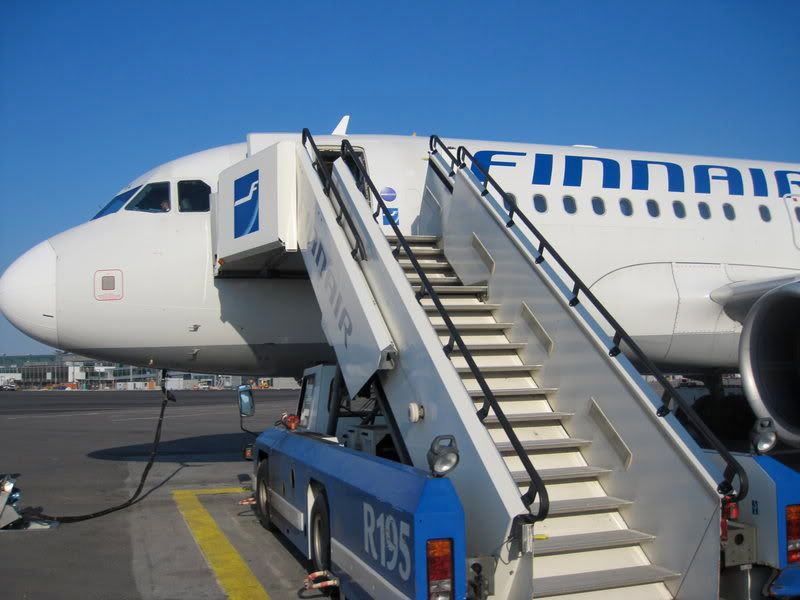 HEL-CDG
AY3677
A319 OH-LVL
Seat 4A
19.33 - 21.19
I'm again one of the first ones to board and quickly set down on my seat on the last row of the 4-row business class cabin. There are 6 passengers in business class, an older Finnish couple, two middle-aged French ladies (I think they are a couple, though) and an Asian young man who spends most of the flight deep asleep. The purser serving the business class cabin is very senior, almost grandmotherly lady as is often the case with AY - that's what seniority-based flight allocation gets you. If you want some young cuties, fly economy on the Embaers!
The A319s feature the old, comfortable seats. Legroom looks tight, but is actually rather good: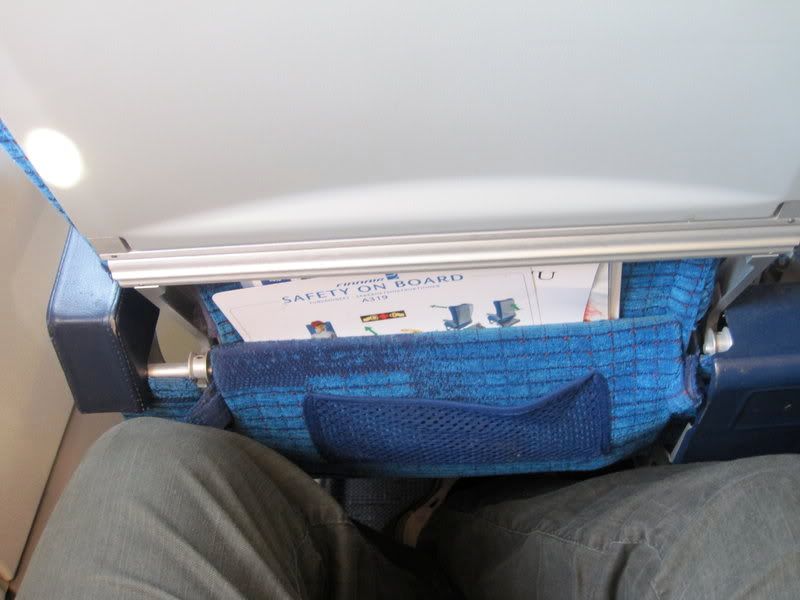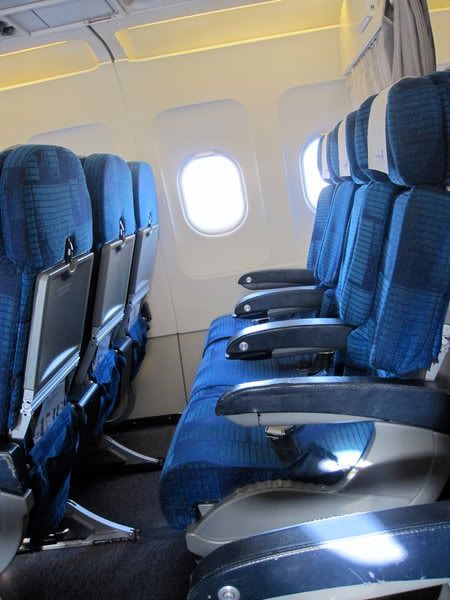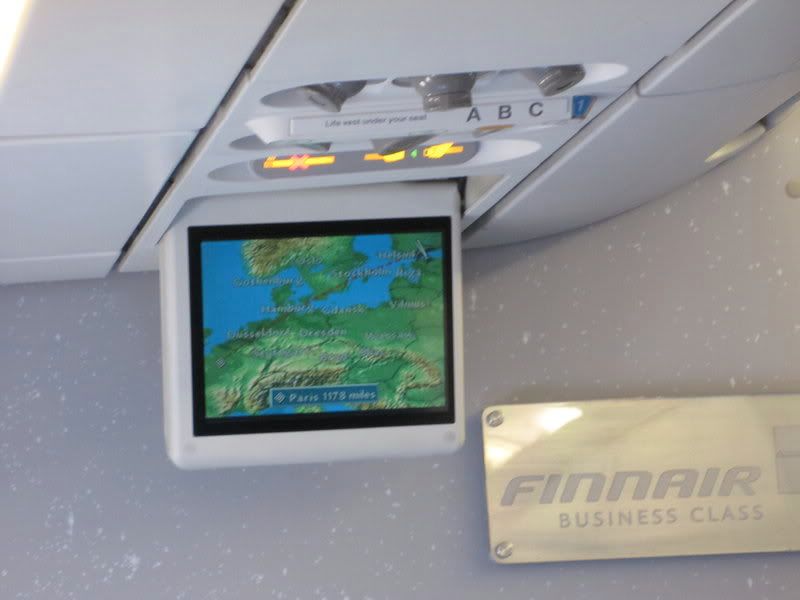 Our captain announces our flight time today as lengthy 2h45mins, there are some headwinds that we need to fight along the route. Paris is reporting sunny weather and 31 degrees (which is about the same as the temperature here as well!). We should be ready to go just as soon as the luggage loading finishes. Well, that doesn't take long as around five minutes after the announcement we push back and take off from 22R a few minutes later.
Apparently this plane has been standing here for a while, after engine startup we get some steam: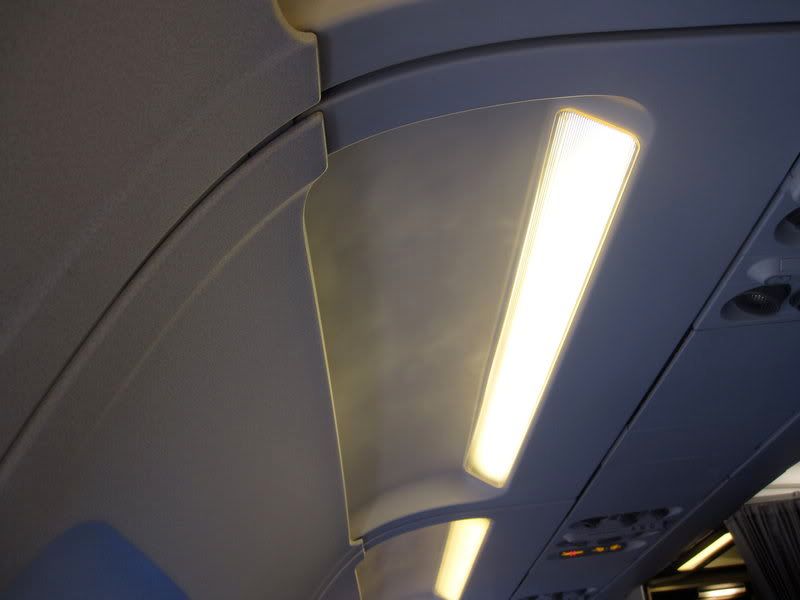 I really like the forward camera on these AY Airbuses: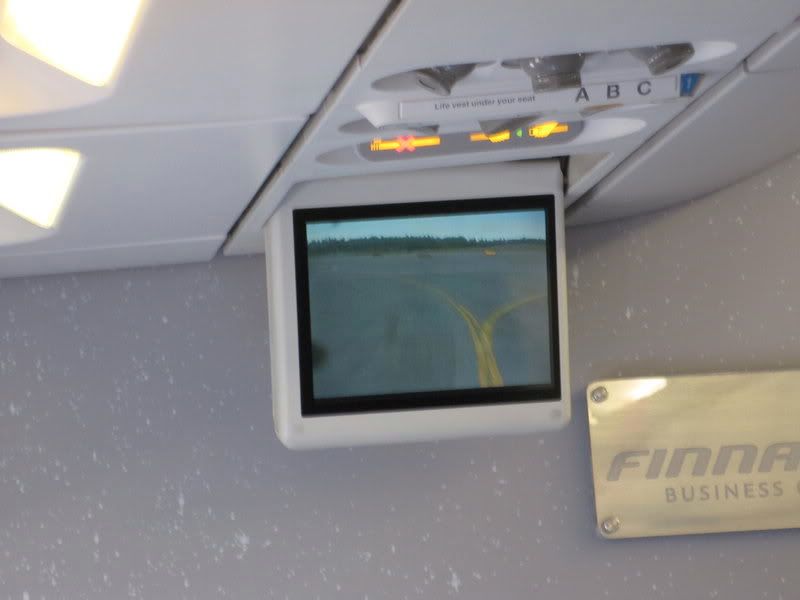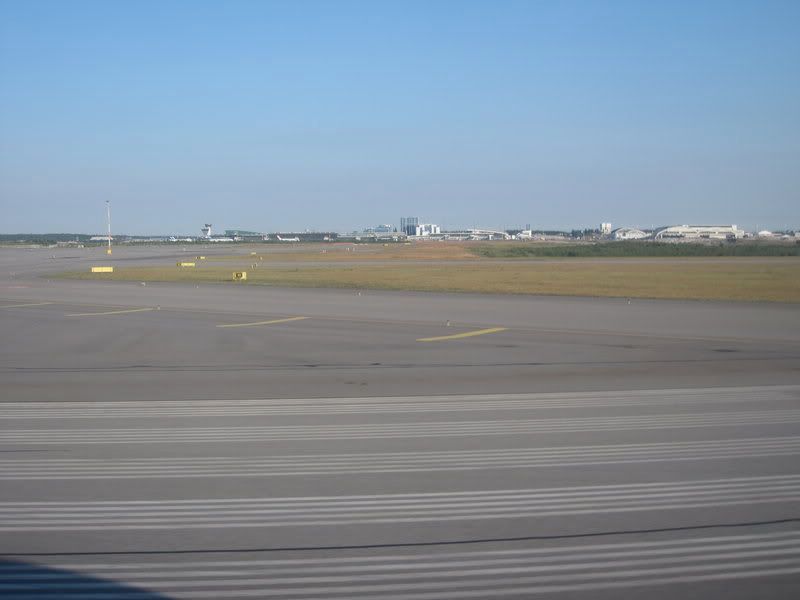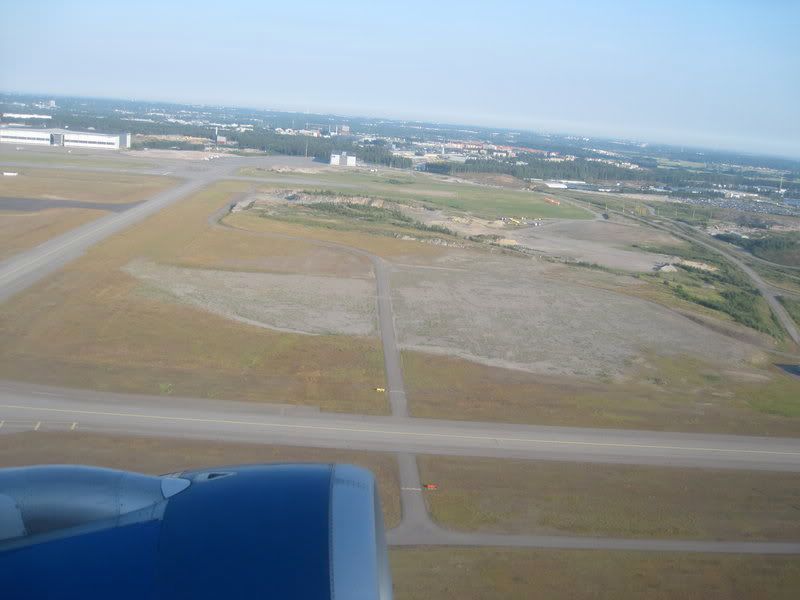 Some bumps on climbout - our climb rate is rather high today as we reach the cruising altitude of 11K meters already before reaching the Saaremaa Island.
At this point the service starts, first menus are distributed: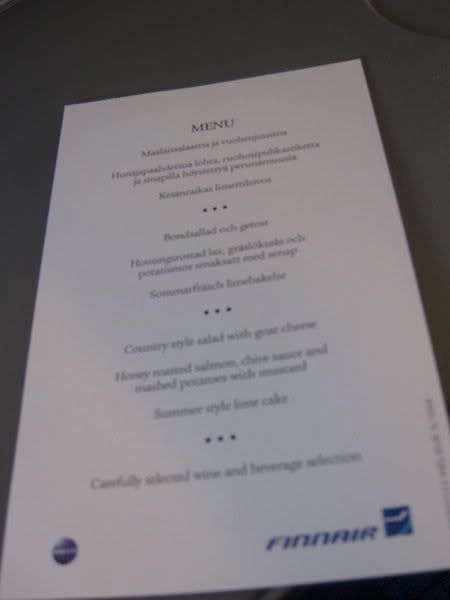 In case you can't make it out I'll write the English version down:
Country style salad with goat cheese.
Honey roasted salmon, chive sauce and mashed potatoes with mustard.
Summer style lime cake,
Followed by hot towels: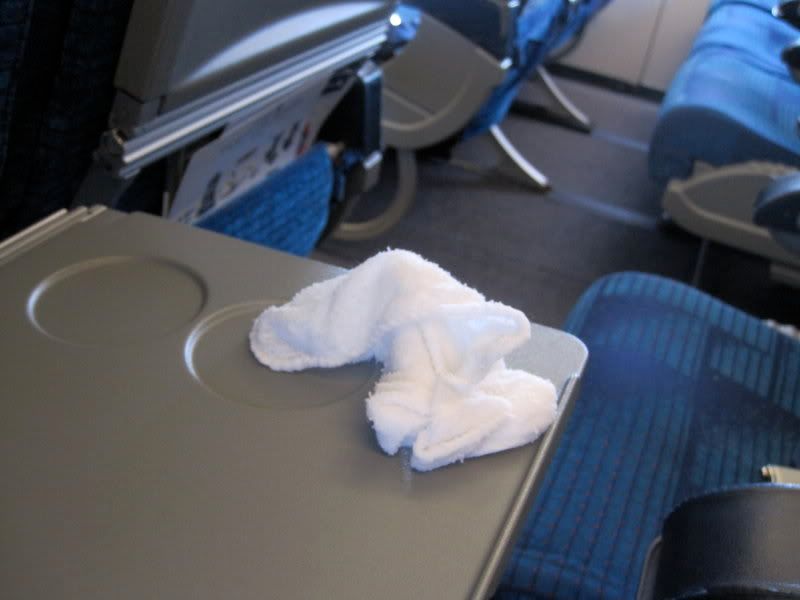 As I preordered a Seafood special meal (reportedly very good on AY) and seeing that today's menu features fish anyway I ask the purser if I have the same meal. She goes to check and comes back with the news that yes, it is the same entree, which is just fine with me.
Next comes a round of drinks, or aperitives as AY calls them. No doubt what I get: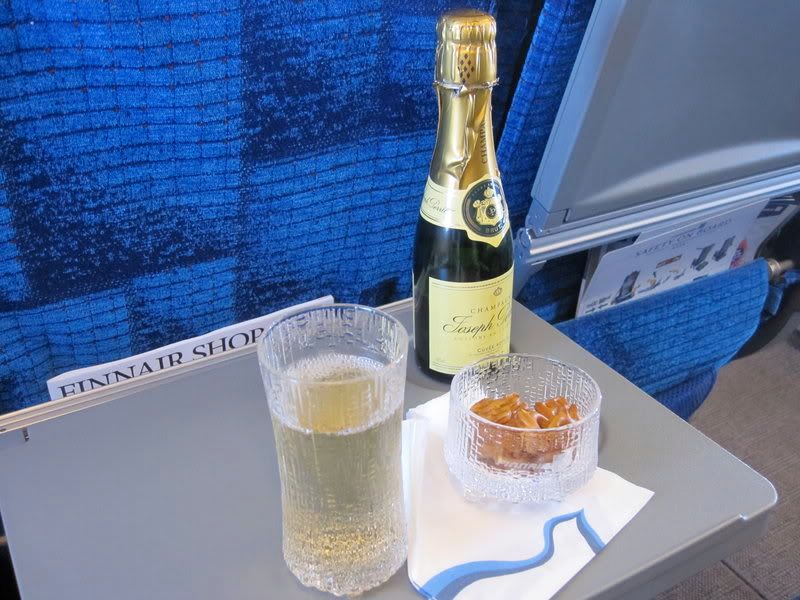 They have improved the presentation, on all the previous flights I can remember (hic) the nibbles have always been served in their bag, not on a small bowl like here.
AY logo on the glass: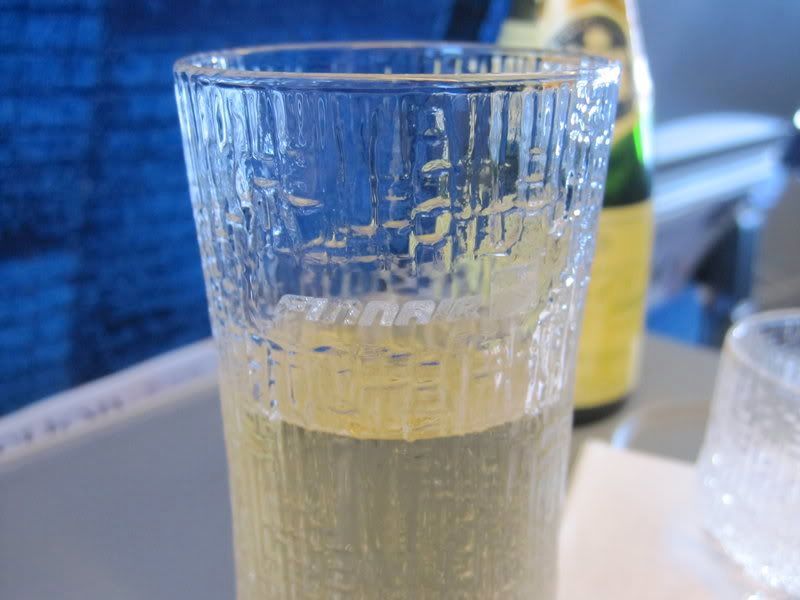 The food tray follows: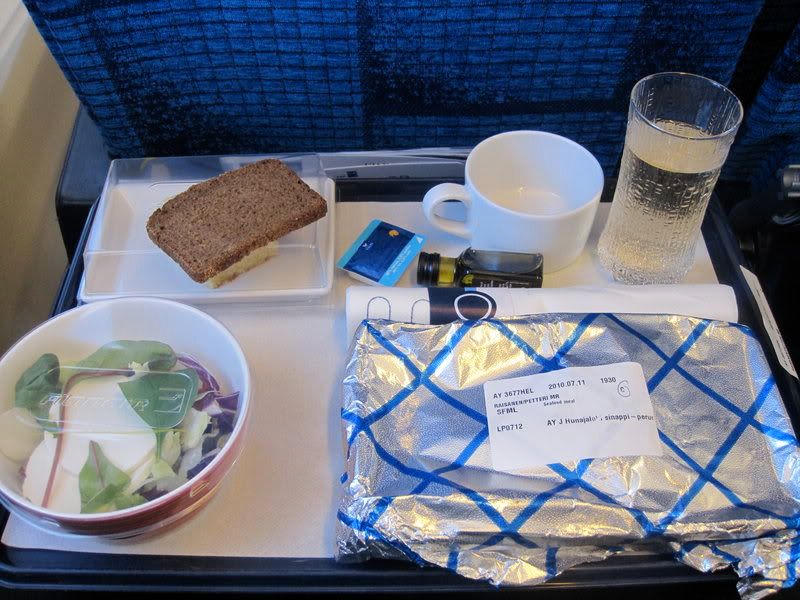 The main entree: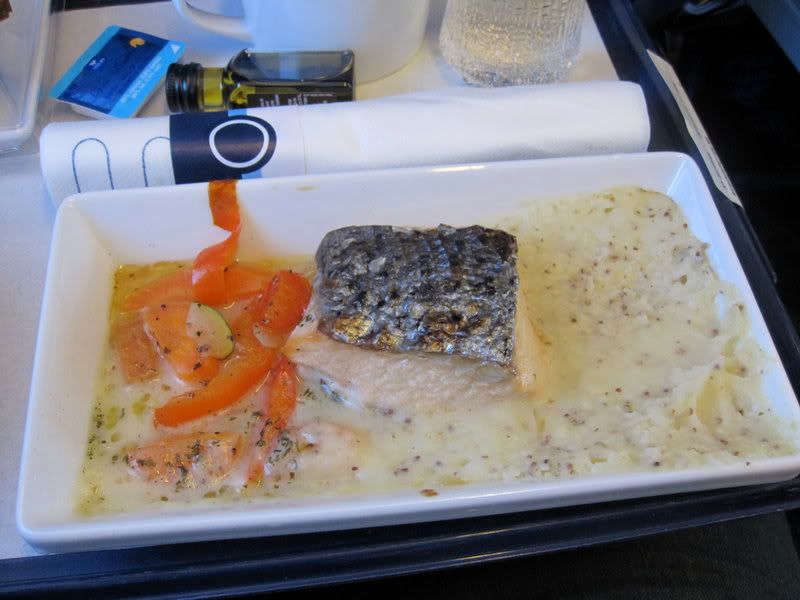 It's fish - so white wine it has to be: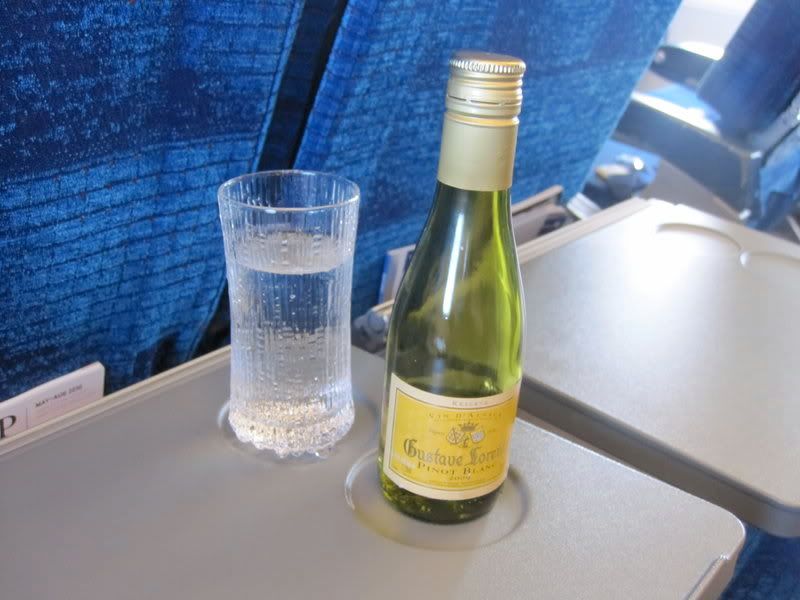 The food is just delicious, especially the mashed potatoes with mustard for taste that accompany the main course. The salad is nothing earth shattering - I'd preferred some Feta over the goat cheese but it's not bad either. There's a small bottle of balsamico to accompany it: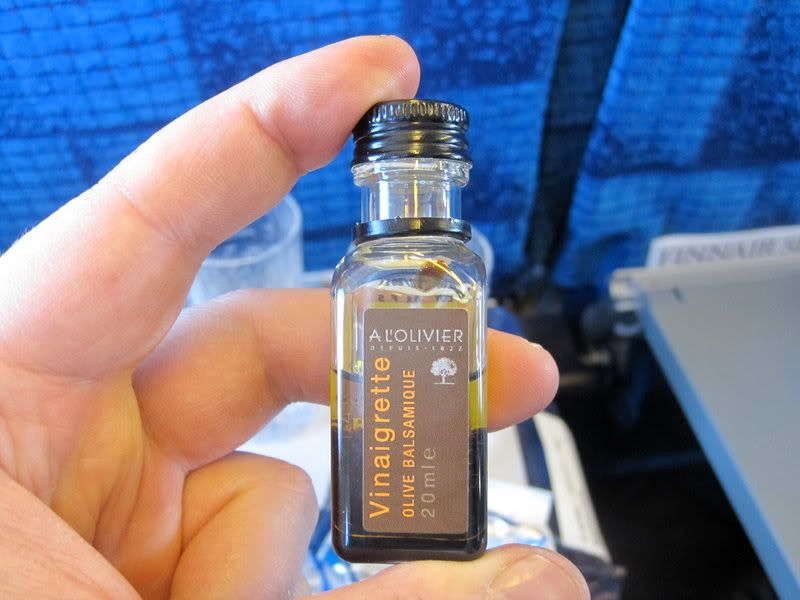 Coffee or tea follows, I ask for a cognac with my coffee but when the purser tells me she also has some Calvados and shows me the bottle I switch to it - after all I'm going to France. The lime cake is very good, sweet and soft.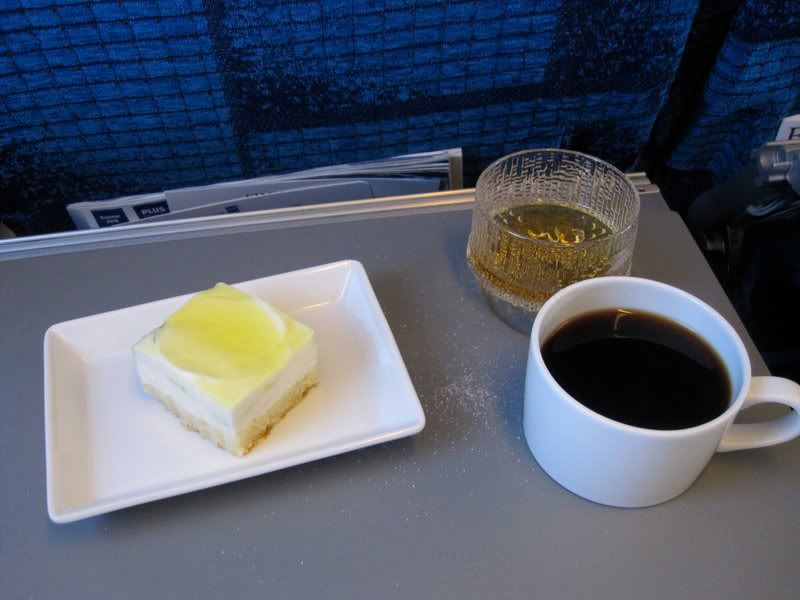 KLM somewhere over the Baltic: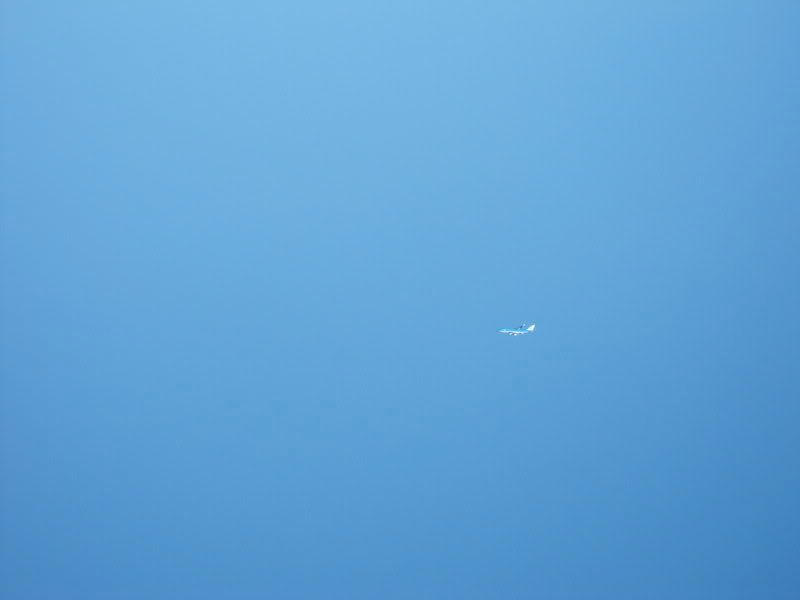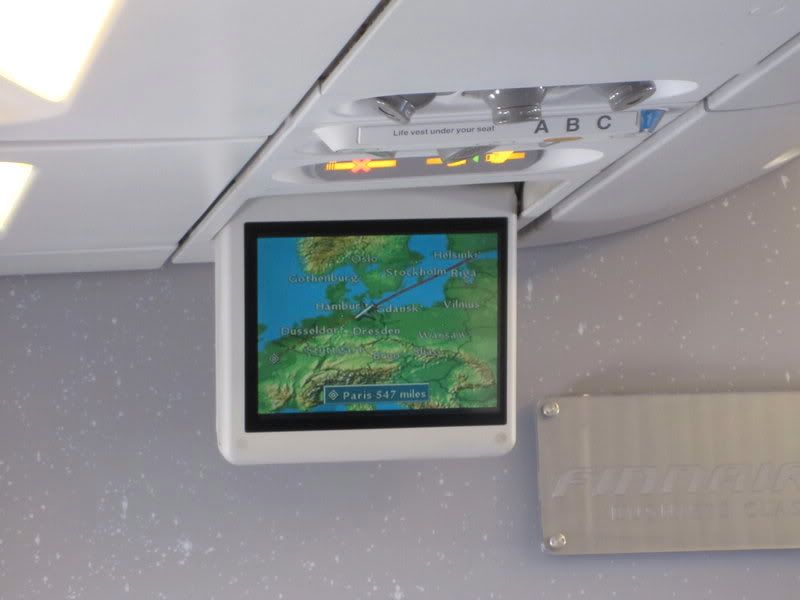 Otherwise I do some trip report work with my laptop and just enjoy the views. Here's Hannover: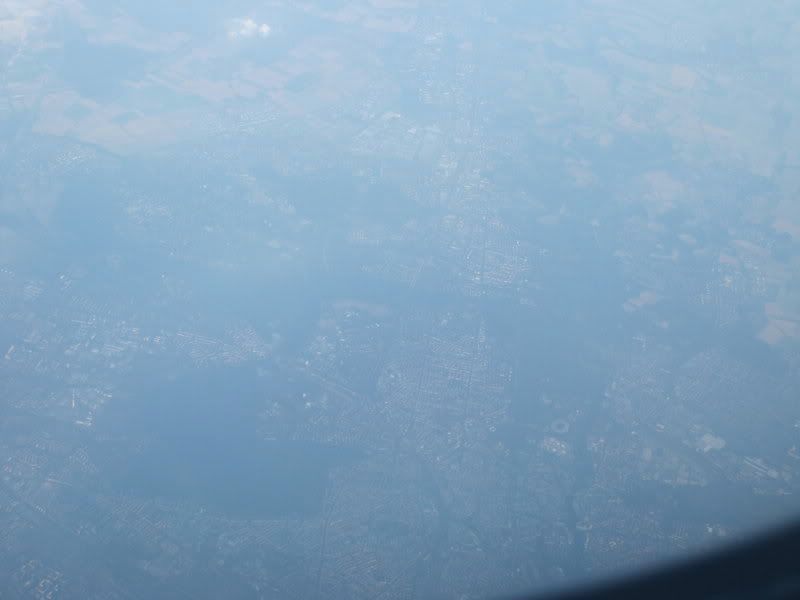 PAD airport: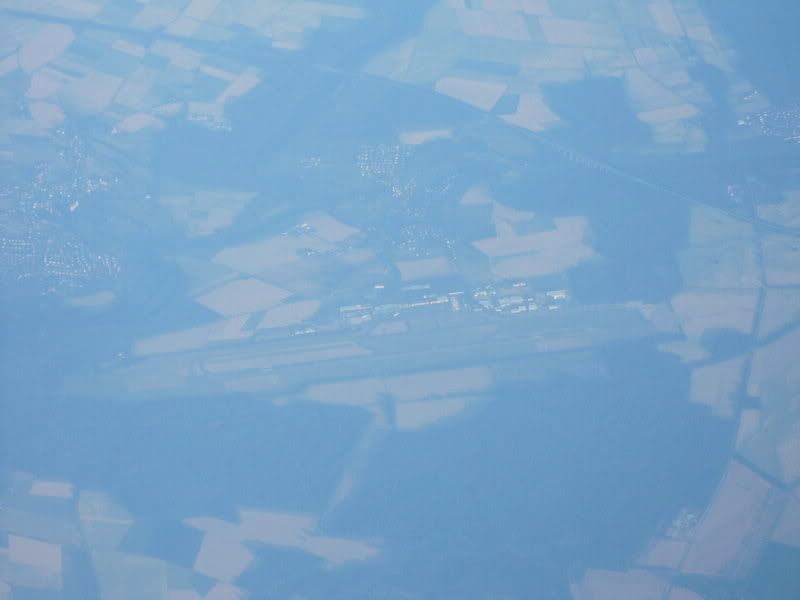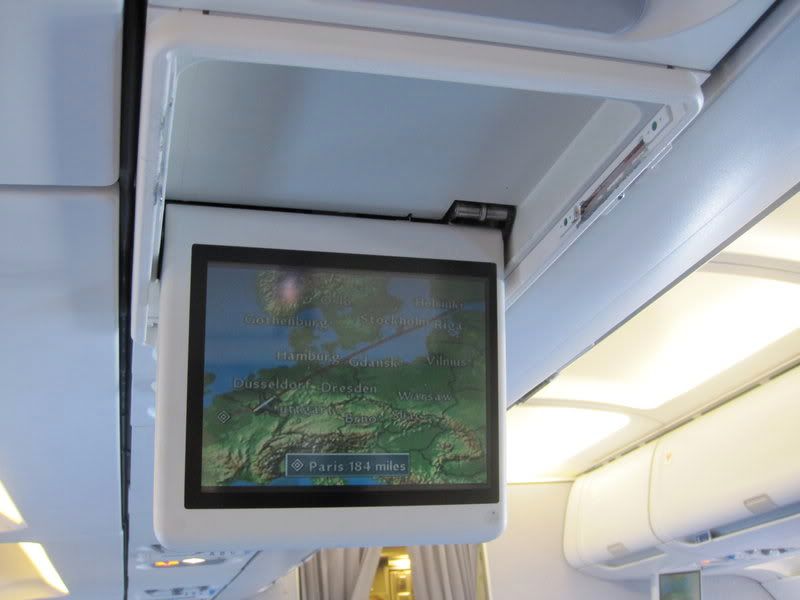 Our routing is a bit more easterly than normally, following the Baltic Sea to Germany, making landfall somewhere between HAM and RLG, onwards to HAJ, then between DUS and DTM towards LUX. After passing the Luxembourg-France border the descent starts, I decide to get a G&T to finish this nice flight: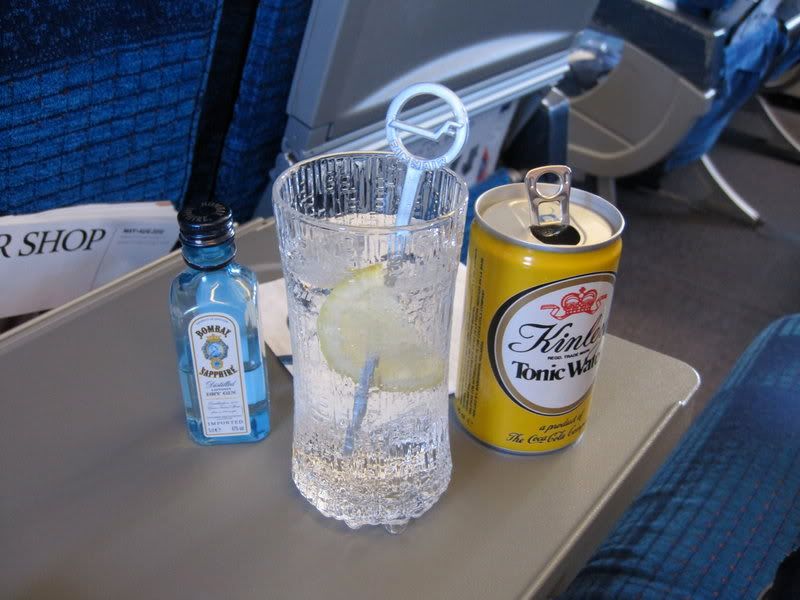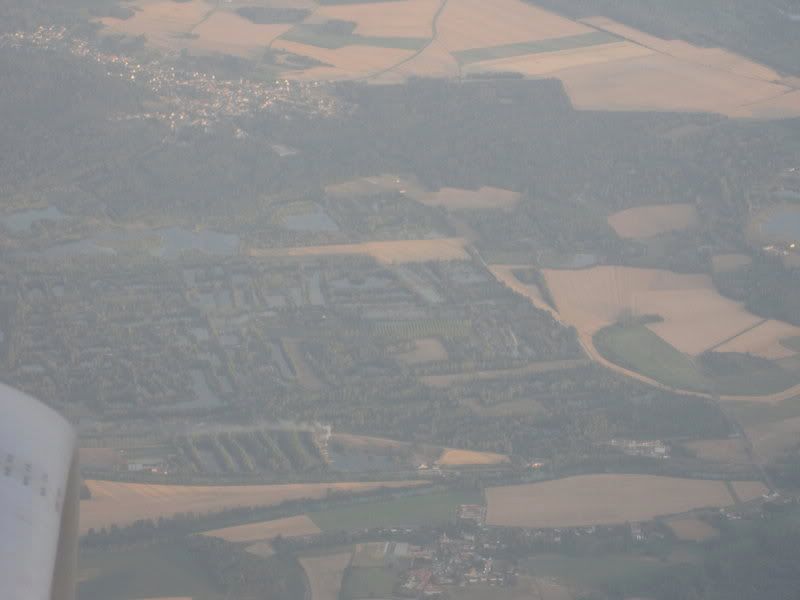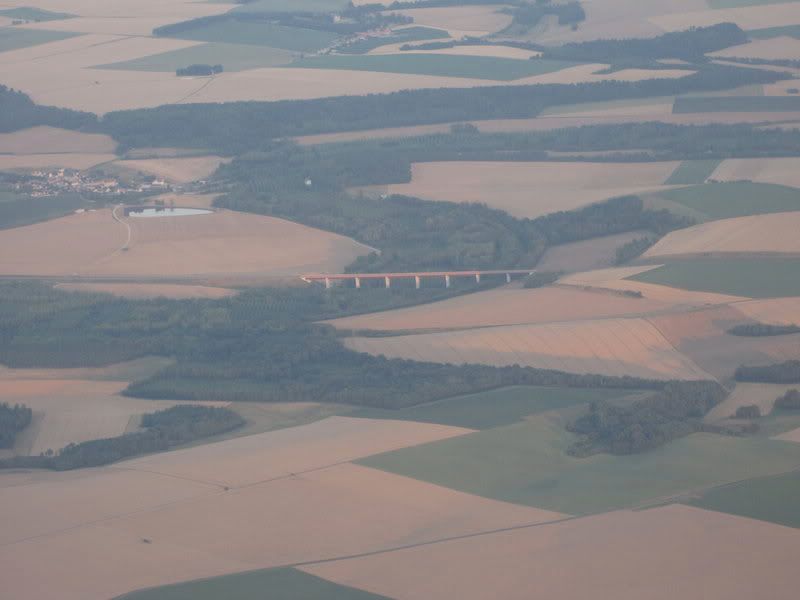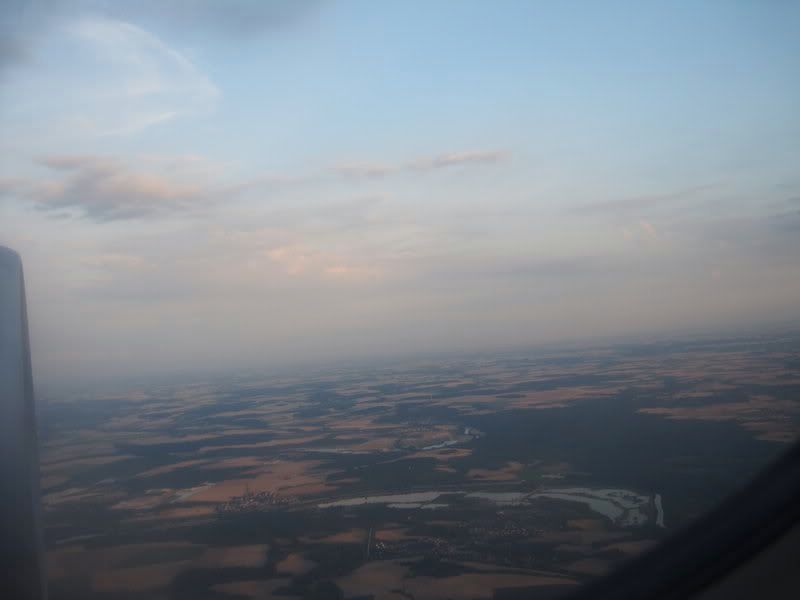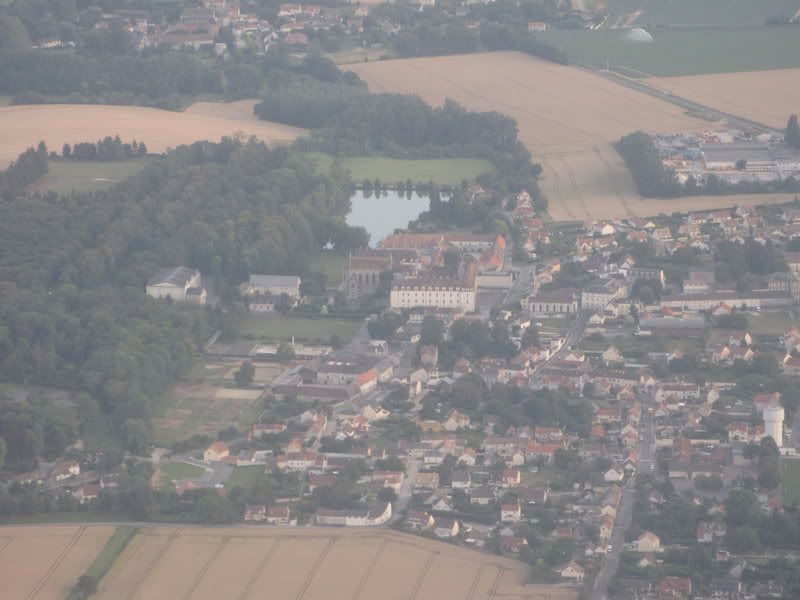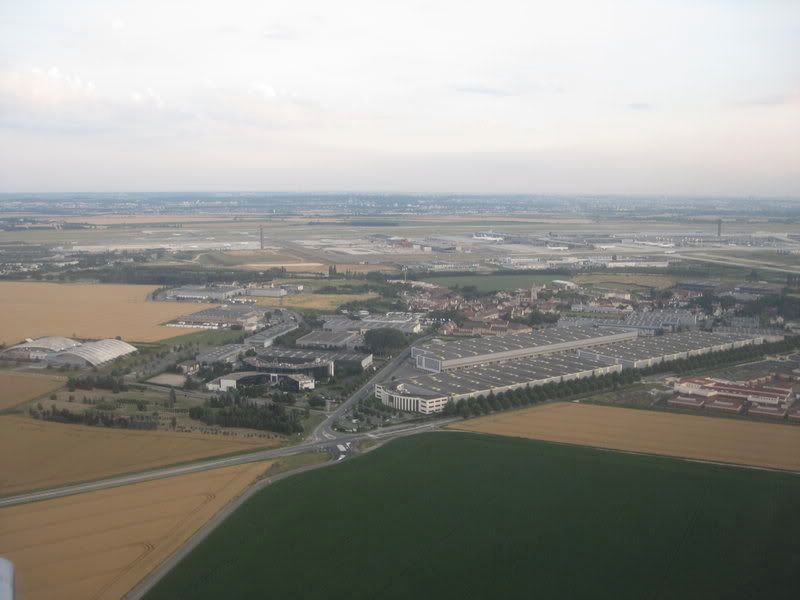 Landing is on runway 27R after around 2h30mins of flight, followed by a ten minute taxi to an apron parking position in front of Terminal 2D - this plane will overnight here before departing back to HEL the next morning.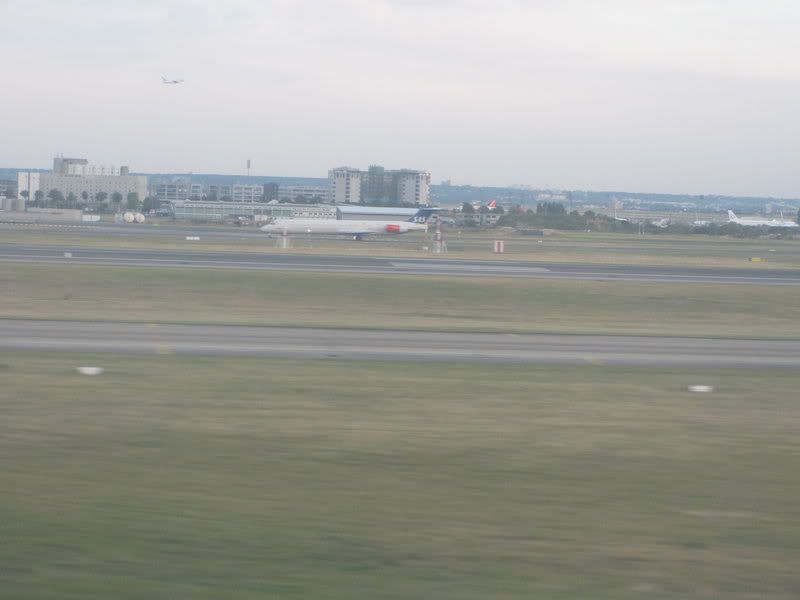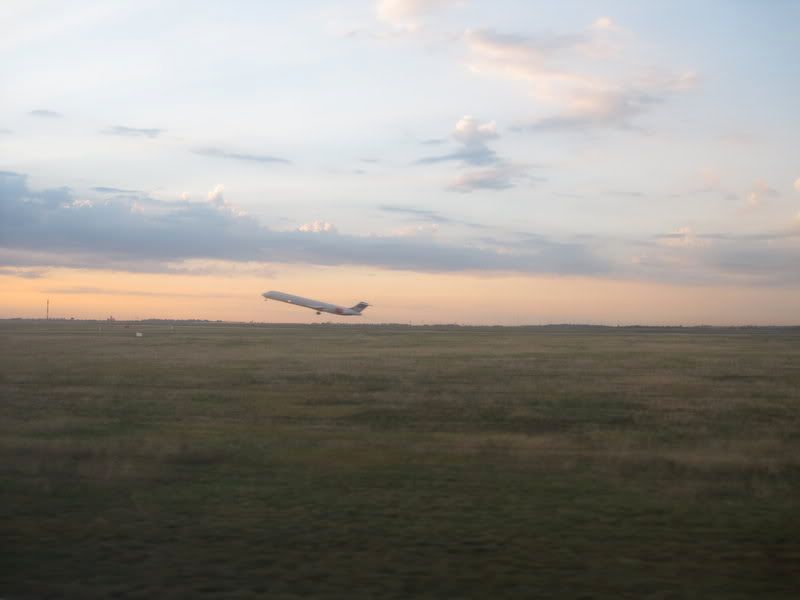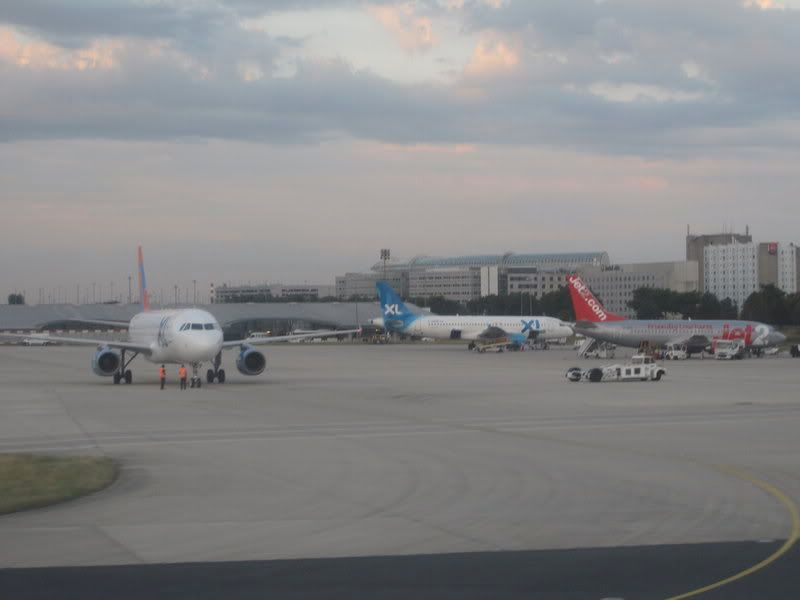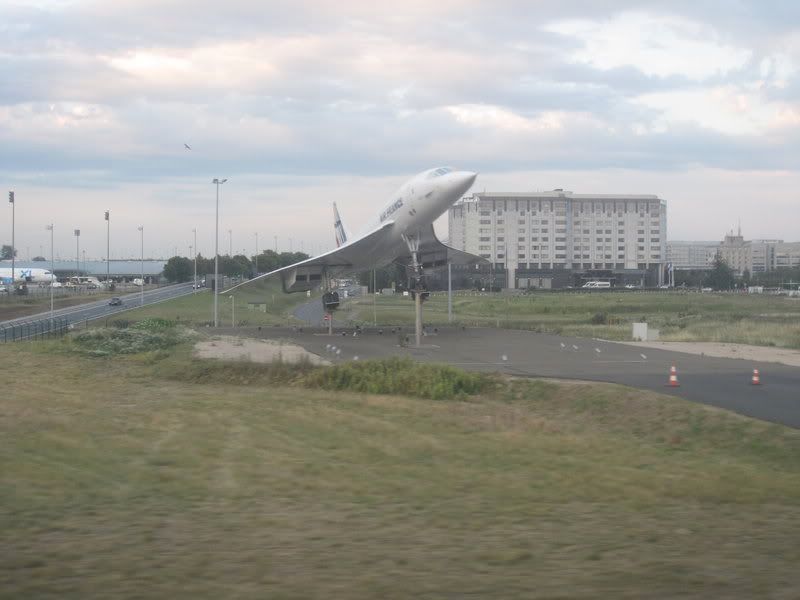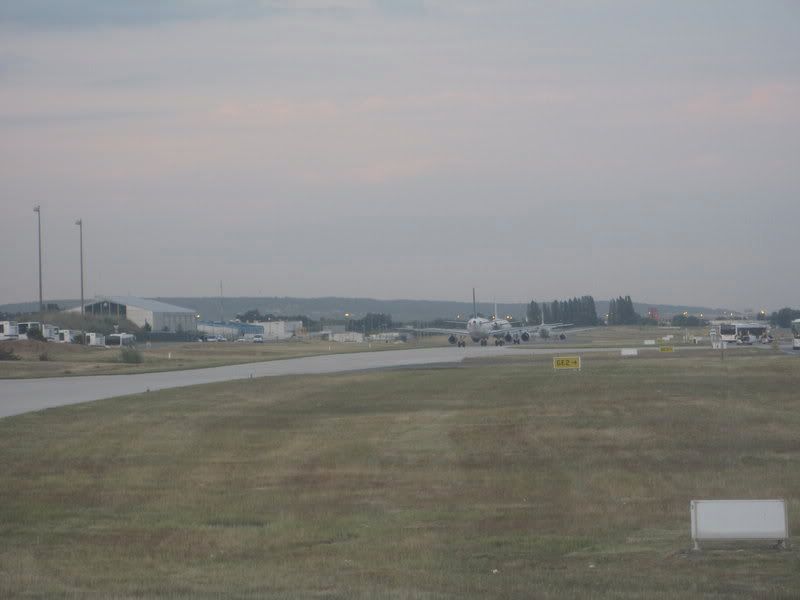 Charles de Gaulle Airport
Well, this wouldn't be CDG if the bus driver wasn't late and drove the straightest route to the terminal, non. Eventually we end up at a completely deserted 2D: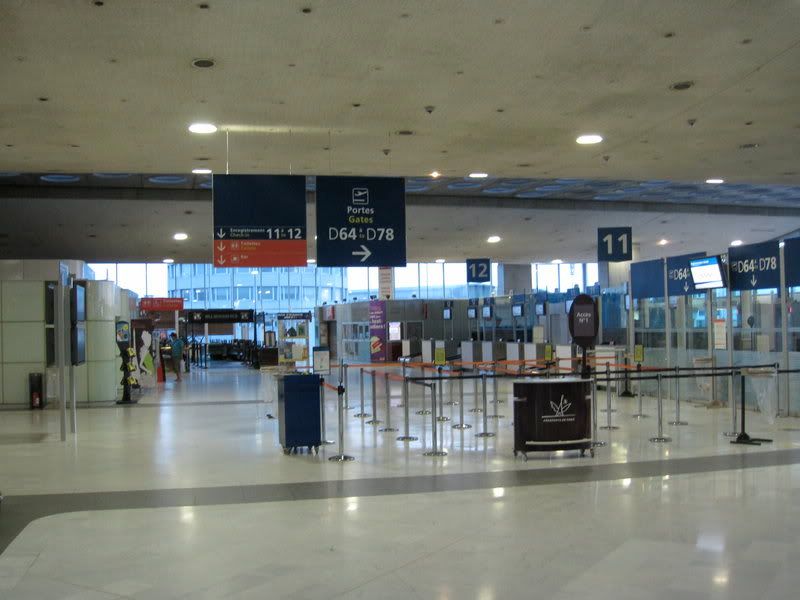 Not too much to wait for my bag and it is one of the first ones on the belt, maybe the priority tag they put in is actually working. After it is a tedious journey via the CDGVAL automated train thingy to the Roissypole complex and a loooong wait for the hotel shuttle. I joke with a funny Greek guy that all the shuttle drivers are probably watching the football final match which is going on right now. My hotel shuttle never shows up, but luckily a one for the Holiday Inn just across the street from my hotel comes after 25 minutes or so and I hitch a ride on it, the driver couldn't care less whether we have the proper credentials or not.
I'm staying again at the Mercure Roissy, I kinda liked the place during my stay there in May and I got it through Priceline for 50 EUR per night, a very good deal.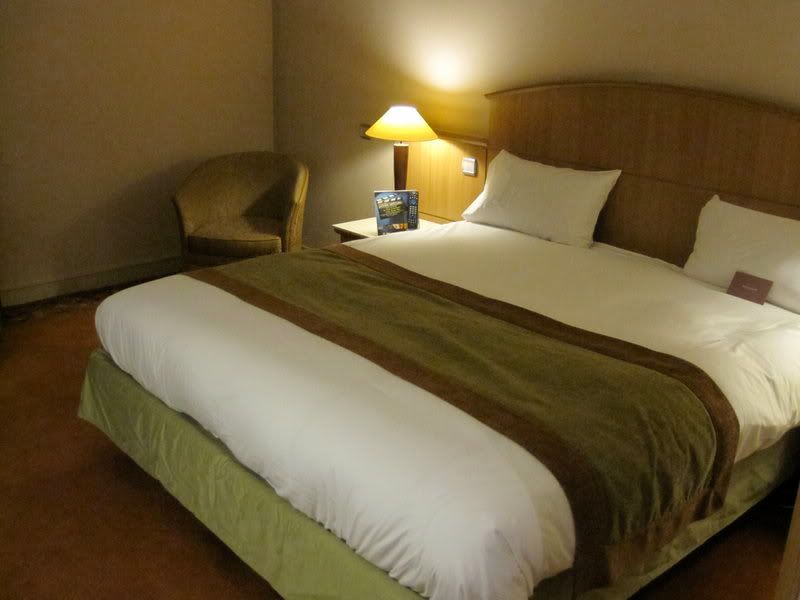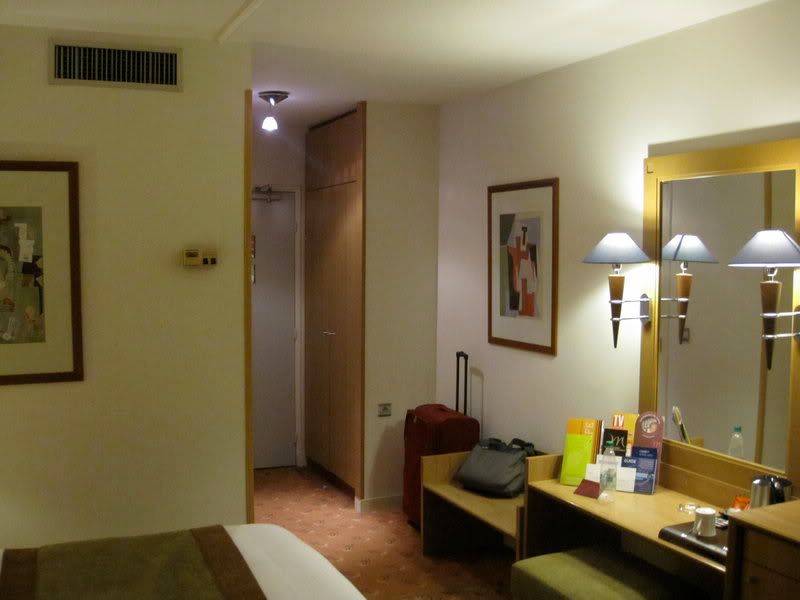 12.7.2010
I wake up to the sound of rain and thunder outside - whoops, looks like the weather had a radical change of direction! I am supposed to meet Eric (airbuseric) who is flying from AMS before my flight - he soon sends me an SMS that his plane is delayed by at least half an hour, so I decide to take a later shuttle to the airport. The shuttle ride ends up being very frustrating as the driver is just learning the ropes and another senior driver is guiding him, in addition to some heavy traffic and torrential downpour, but finally I reach terminal 2 - the ride took almost 40 minutes!
I go to 2E, from where my flight is departing from. Some nice architecture, I like the ceiling - I bet they got a lot of complaints from people about the claustrophobic low ceilings of the older terminal 2 parts (ABCD) and decided to go overkill: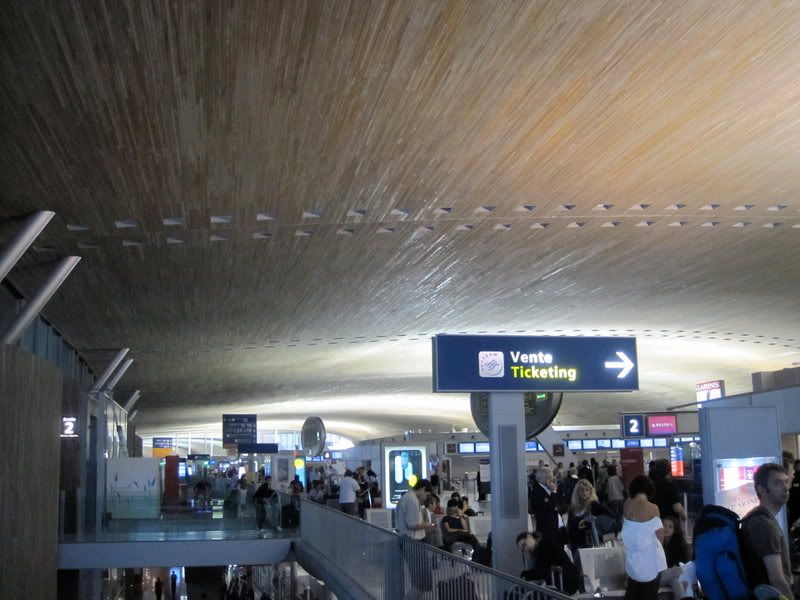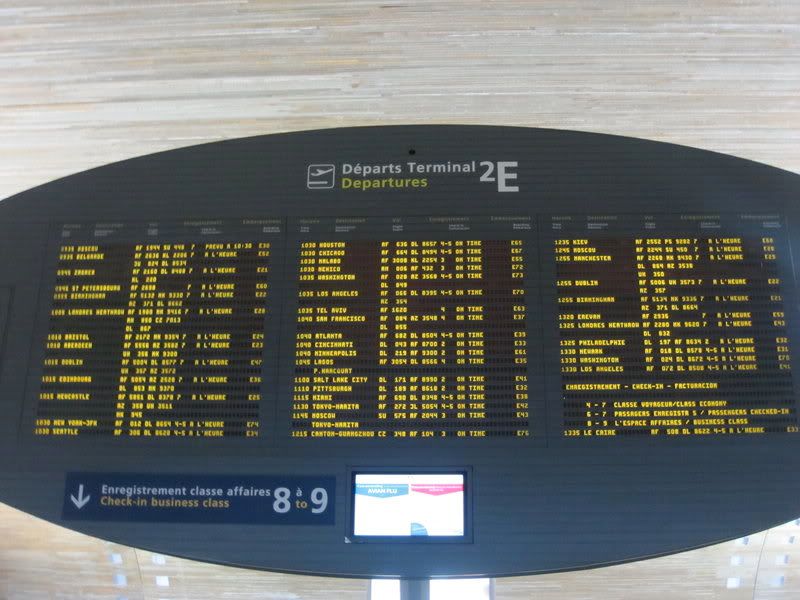 I grab some disgusting cold pizza for breakfast from Paul (well, the other alternatives were sweet sweet sweet, I can't eat that much sugar early in the morning!) and take the underground walkway across to 2F where Eric's flight is arriving in. After waiting for a long time and still no sign of him and no update on the screens I go back to 2E to check the status of my flight. I'm just about to text Eric that sorry buddy, I must go to my gate when I notice that a 30 minute delay is now posted for my flight. That is enough time, so back to 2F it is and soon enough Eric arrives, worrying about his next flight to MLH which is supposed to board in about 15 minutes.
We again go back to 2E as that is the way to reach 2G for Eric as well, and luckily see another delay for Eric's flight, so we just have enough time for a quick espresso and some chat before we both must be on my way. Cheers mate, it was fun but way too short!
I'm starting to dislike 2E right when entering the security area - they ask for my boarding pass and ID card twice within 50 meters (gee, this is just like the bloody TSA in the States!) plus the girl directing people for EU or non-EU passport control lines doesn't believe that Finland is indeed in the EU and tries to tell me that my Finnish ID card is no good and that I need a passport. Well, I go to the EU passport booth anyway and am through in a jiffy, you just can't argue with these morons.
The main departure area of 2E looks rather impressive actually: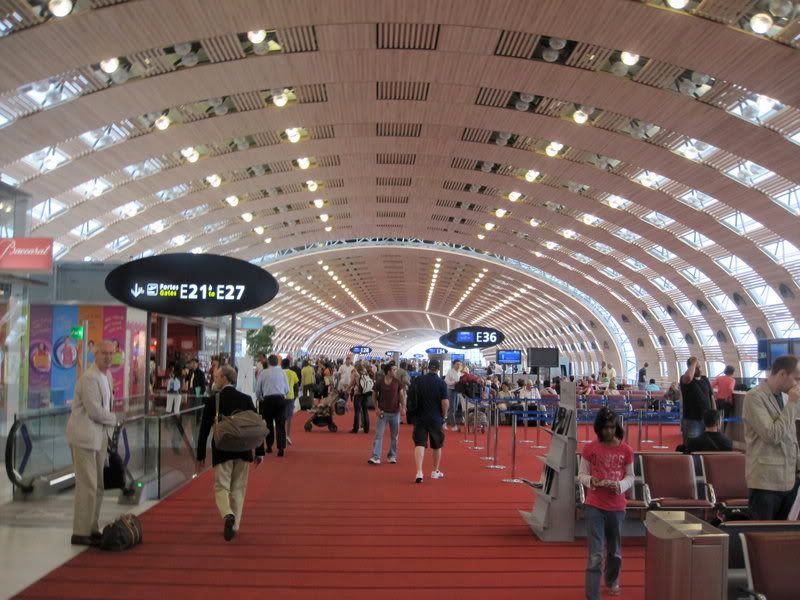 I've been to 2F before and this reminds me a bit of it, but on the two piers of 2F all the services and shops were on a separate floor below the pier, here there's a whole different shopping/restaurant area. I like these gate displays, they also display the flight crew's names etc: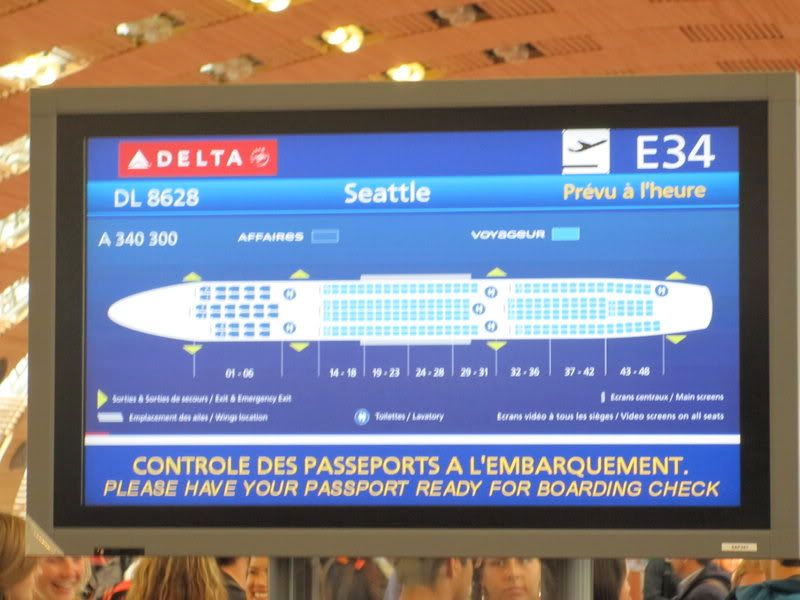 Our gate: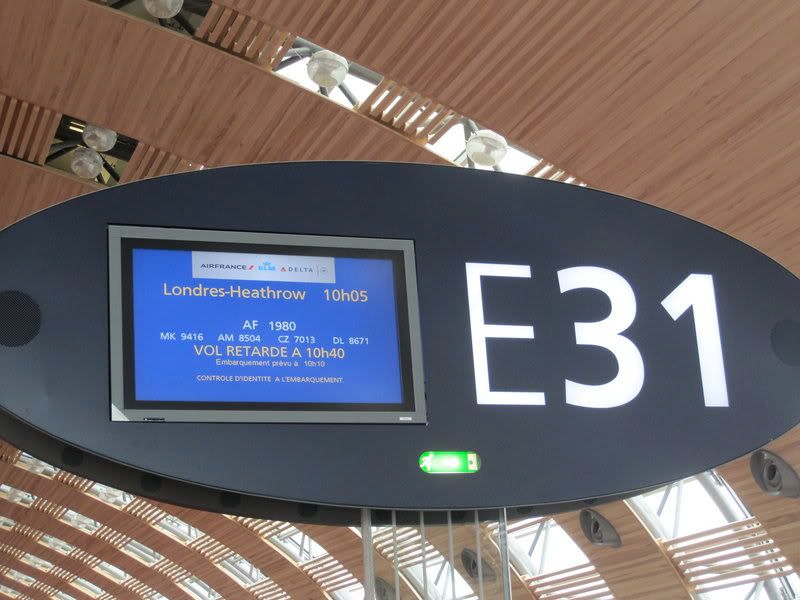 Looks like somebody was delayed overnight and chose to sleep here - doesn't look too bad a place to sleep actually: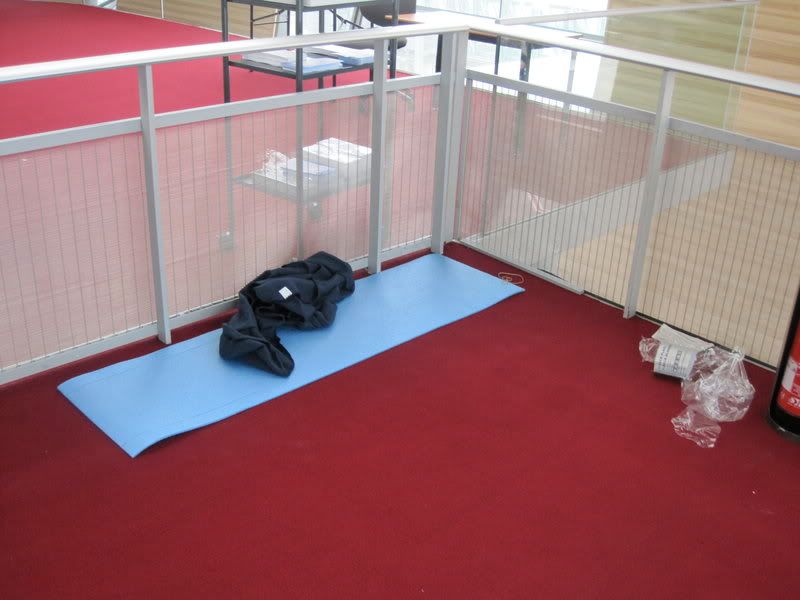 Nice, easy chairs with a big window opening towards 2G - a good place to spot planes: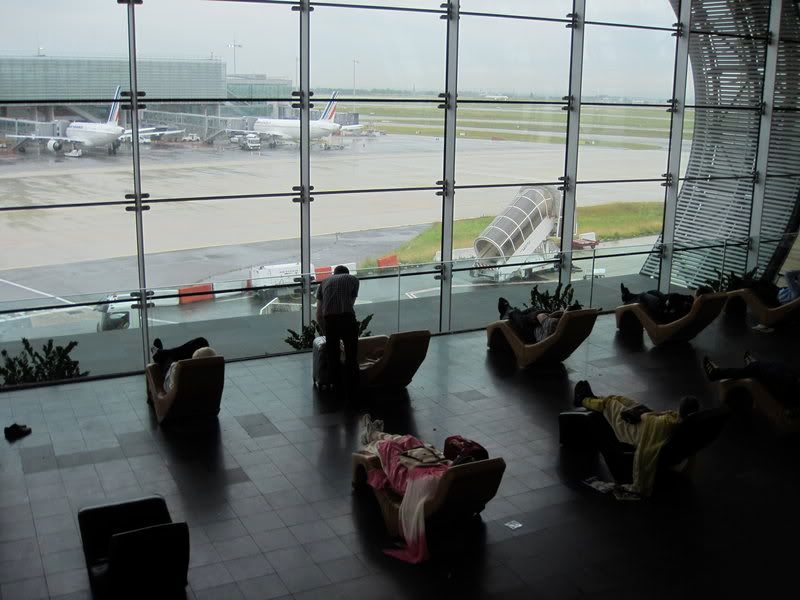 While hanging around the gate area I'm really surprises when fellow a.net member Suruyo (akhmad) approaches me - I had somehow assumed that all the other people rebooked to alternative dates. Well, a positive surprise of course, so we got talking about various things and soon join his partner as well. You can read his report:
Paris, Le Bourget And Outward Mission 12th July
(by
akhmad
Jul 16 2010 in Trip Reports) for more details and some toilet tidbits as well
.
Boarding is called about 35 minutes after the scheduled departure time and is a bit of a hassle, we only join the queue towards the end of it. Down we go: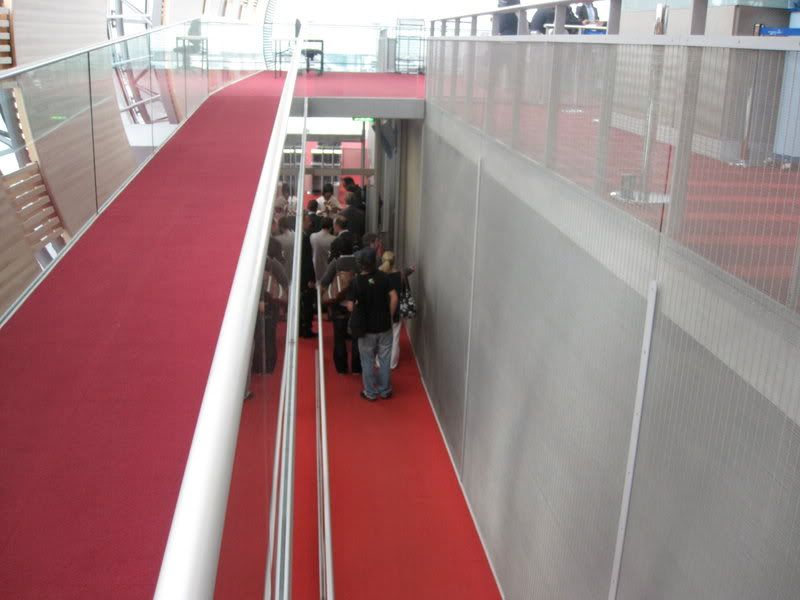 Paperwork is checked once again when entering the jetway, the guy just wishes me a nice flight without a second glance at my credentials.
Yep, it is the scheduled A321: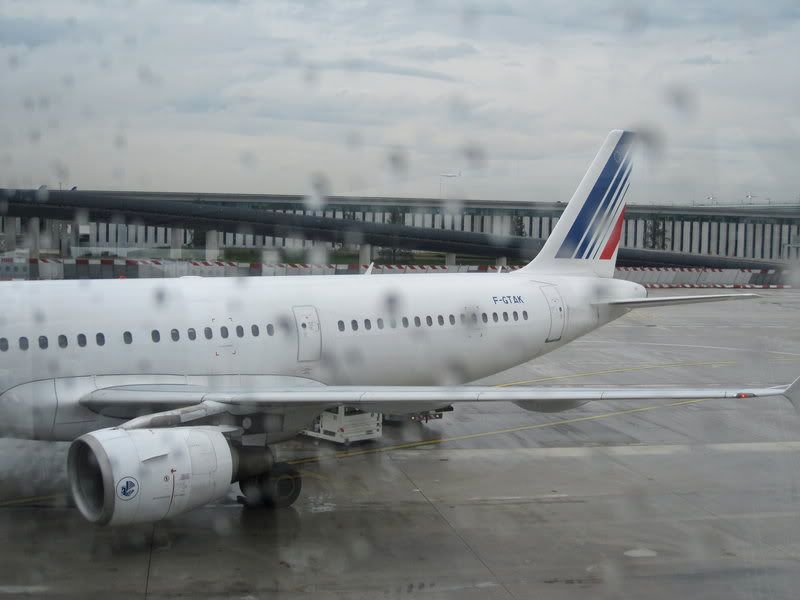 Nope, that line is not needed this time: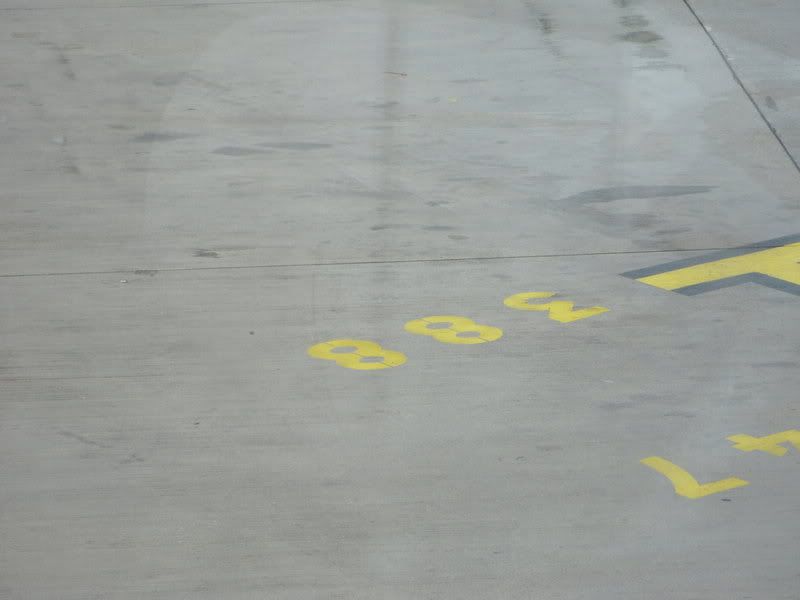 I see a ramp agent dropping this thing on the ground, looks like a pen to me. Hopefully there won't be any FOD on our plane at least: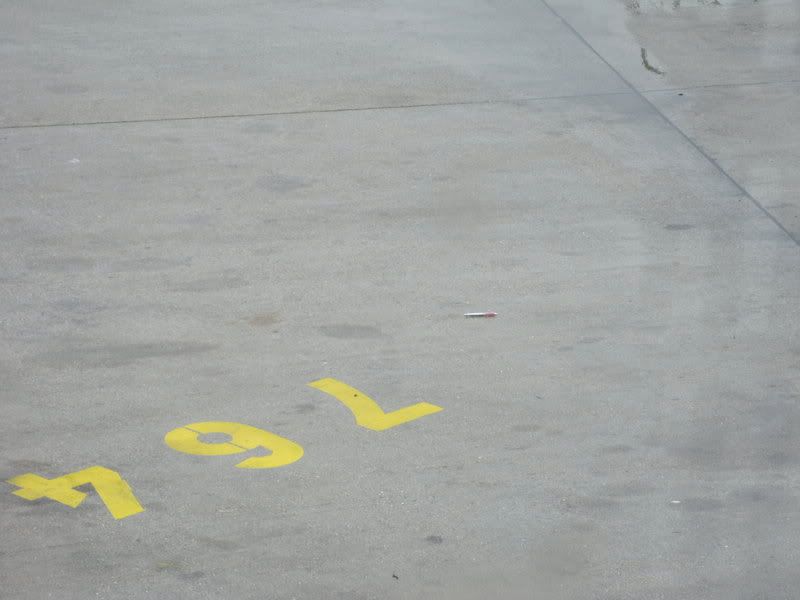 CDG-LHR
AF1980
A321 F-GTAK
Seat 35F
11.00 - 11.08
It appears to be a completely full flight, lots and lots of hand luggage in the overheads - reminds me of domestic flights in the US. I fight my way to the last row, secured by OLCI the previous day. My seatmate looks like he belongs to one of the Macchu Picchu bands, you know the South American ones that can be found in most European cities. He's a bit of a mystery to me actually, doesn't speak any English, French or Spanish (the FA tried all of those) and he tries to ask me something but we can't really find a common understanding. Well, he sleeps most of the flight anyway.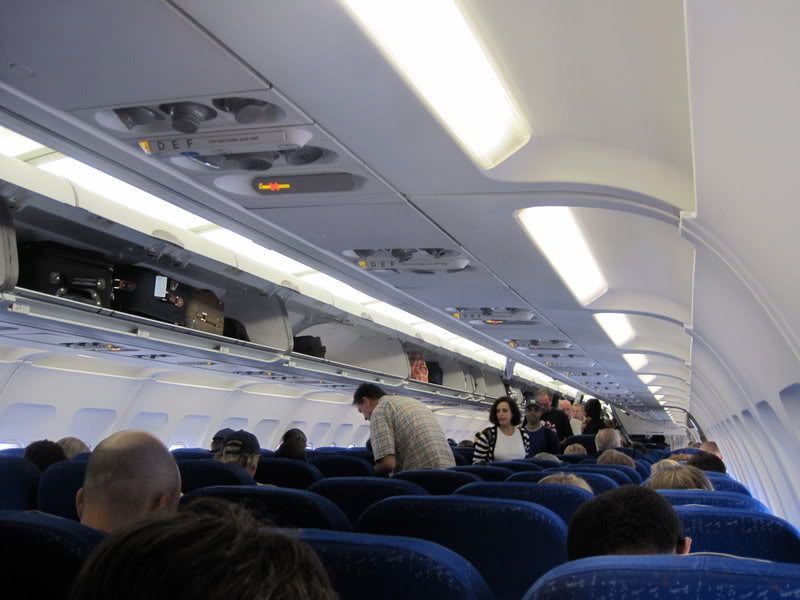 Legroom is a bit tight: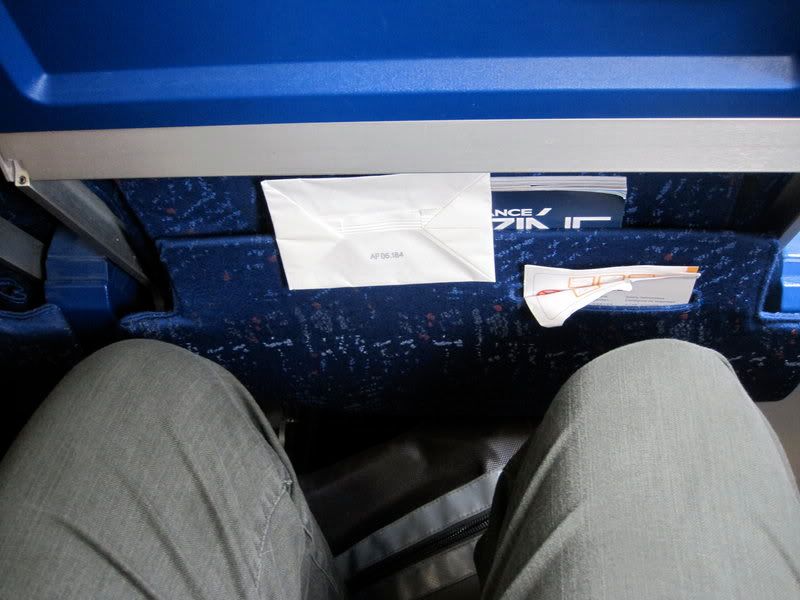 Our captain announces the flight time as 40 minutes "depending on the London traffic" and it being eighteen degrees with light rain and cloudy in London. Apparently we have a departure slot for 11.15, "because of the very bad weather here in Charles de Gaulle". Push back is 55 minutes late, after which we slowly taxi to runway 27L. This is the spotter window: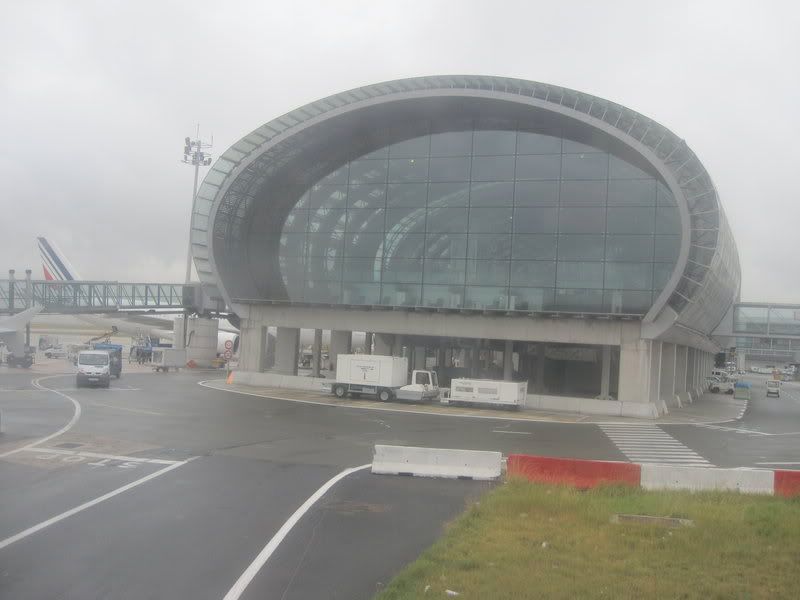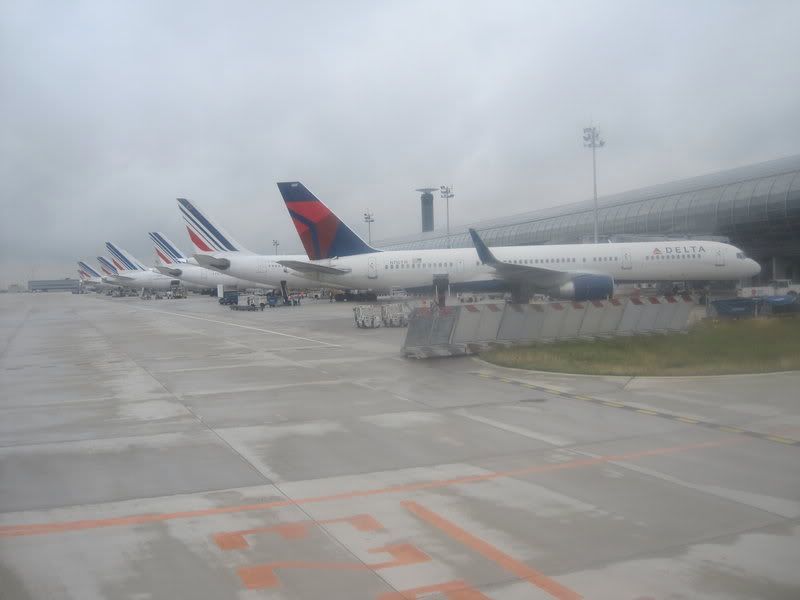 Arlinair: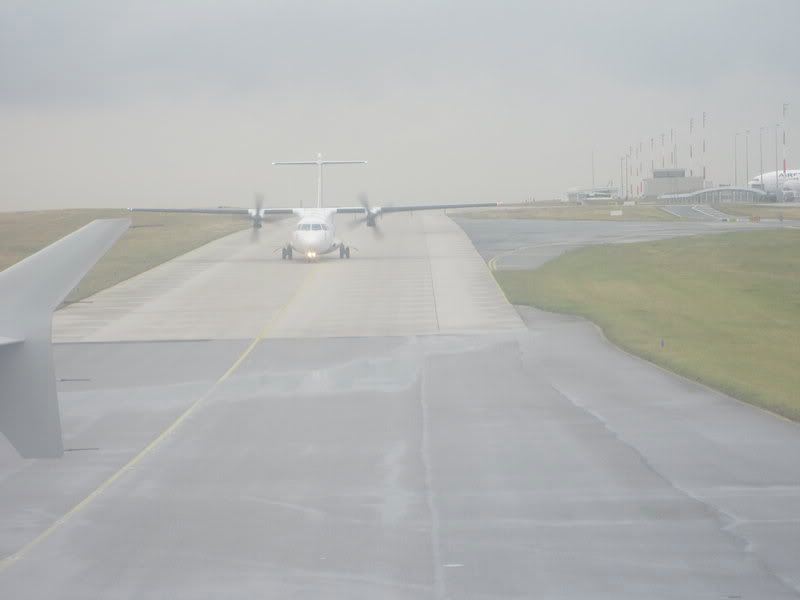 The commuter apron - I guess Eric departed from here?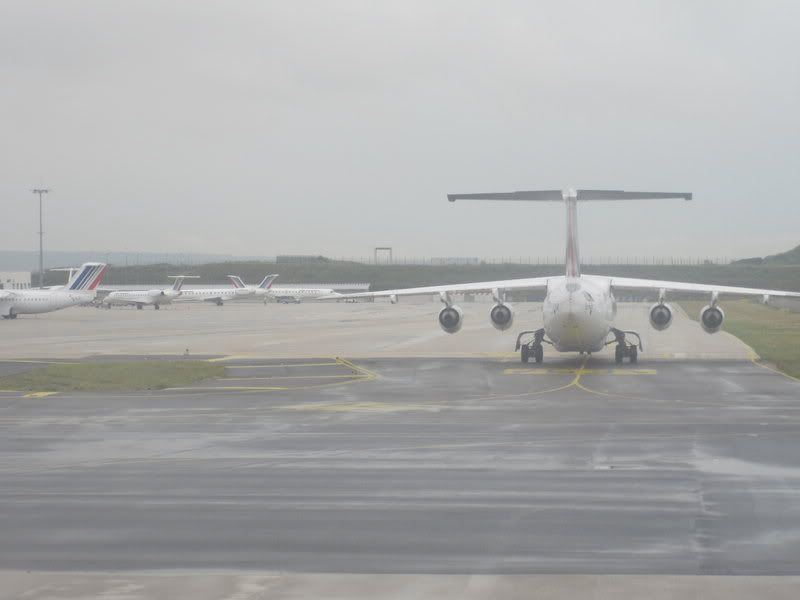 Extra Large Viking: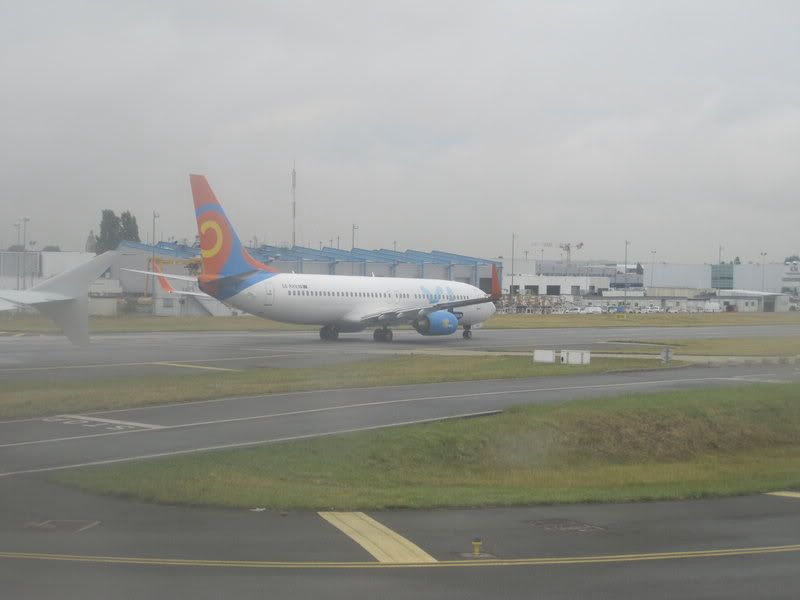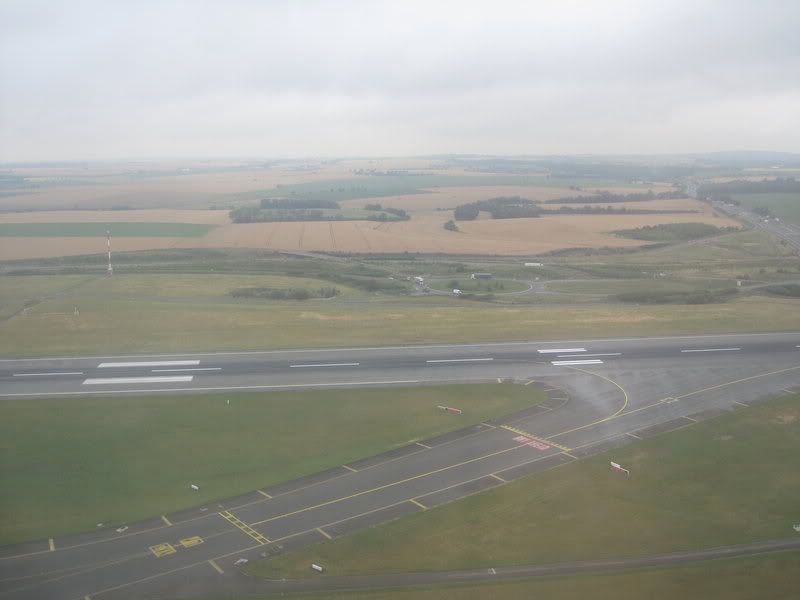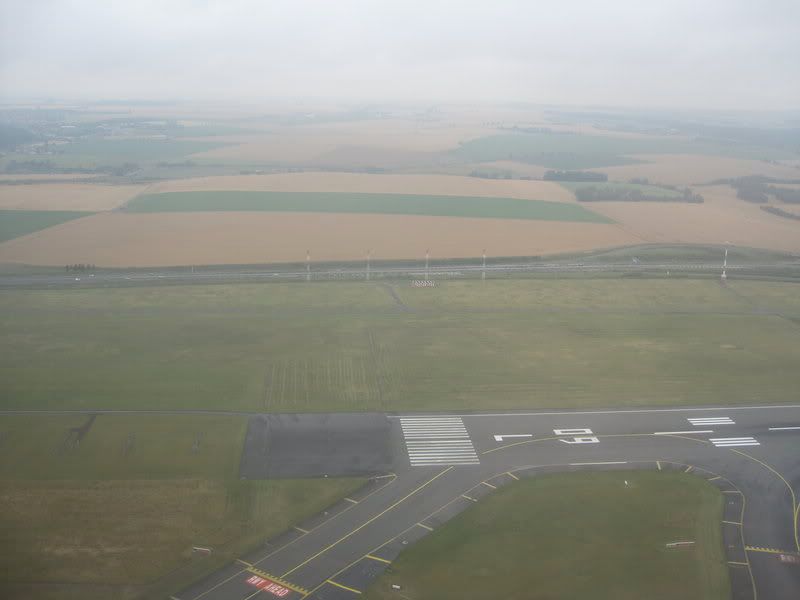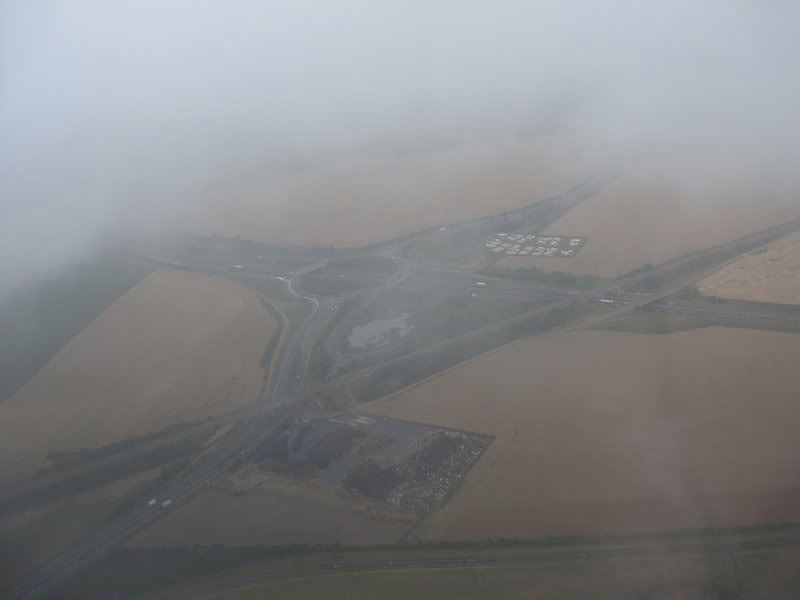 The captain was indeed right and we take off at 11.15 promptly, 1h10mins after the original departure time. The initial climb out and first half of the flight are quite bumpy, as expected. Actually I saw a water bottle being knocked over to some poor teenagers and getting them soaked during one particularly violent bump - the FA looked terrified at first but then apologised and said "It's only water!" - well, water or not but it is still wet!
Some nasty looking clouds: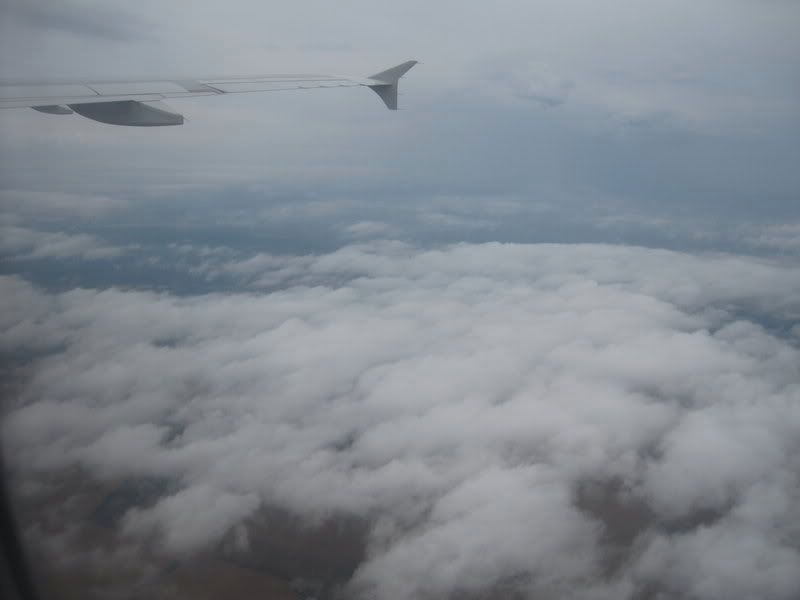 The Creil Air Base:
Service is either a salty or sweet snack and drinks, I go for the salty nibbles and a Pepsi: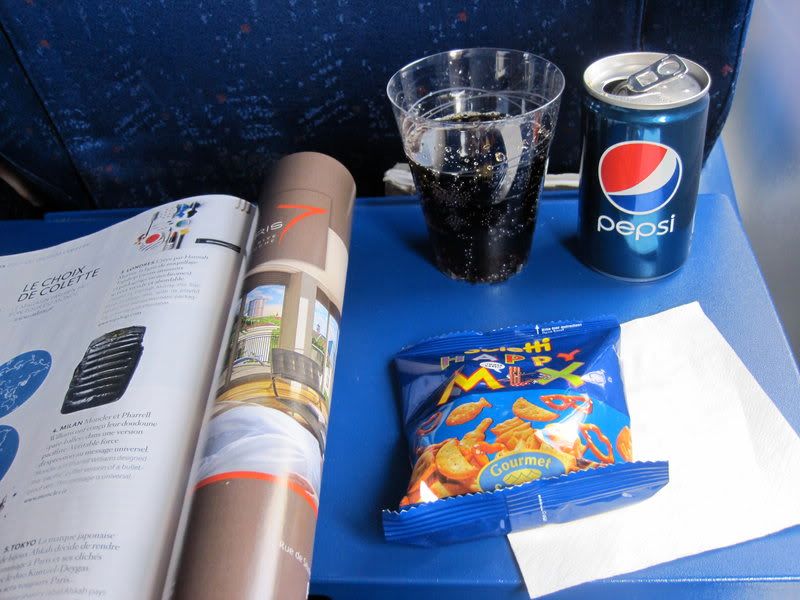 25 minutes after take off the captain is on the horn again, advising us that our descent is starting and we should be landing at 10.57 local time, 17 minutes from now. Once we break the clouds we definitely are in the UK, somewhere over South London in fact: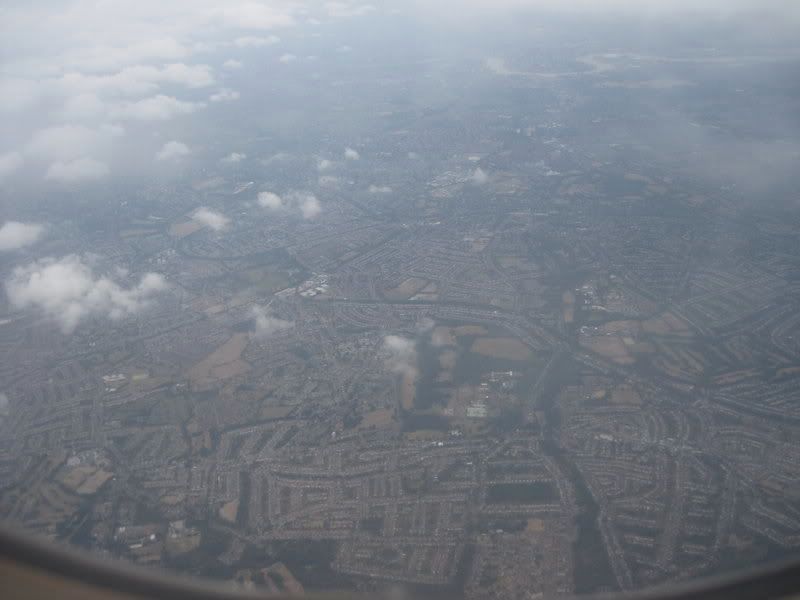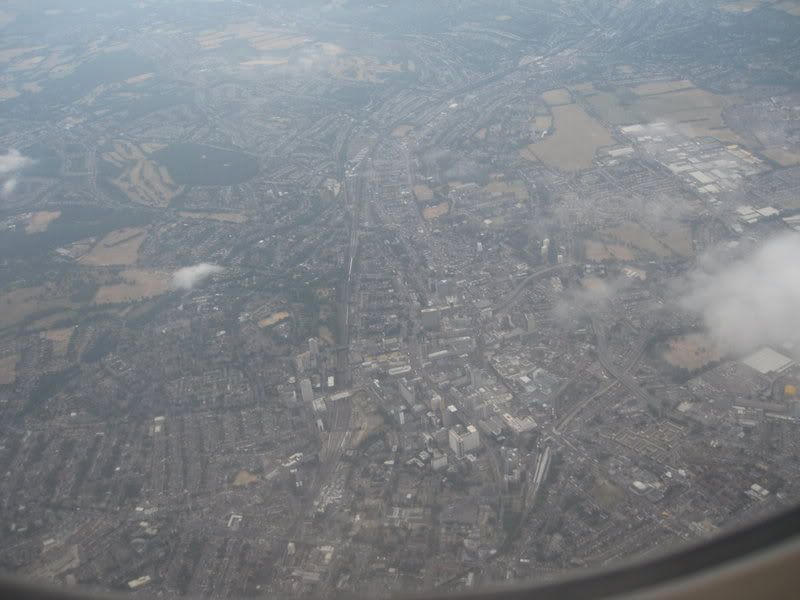 Well, the captain was being a bit optimistic as we make some turns in a holding pattern before finally going in for the approach. Luckily the 27s are in use today and my side gets great views over central London - the reason why I went for this F seat in the first place. LCY, see you in a few hours: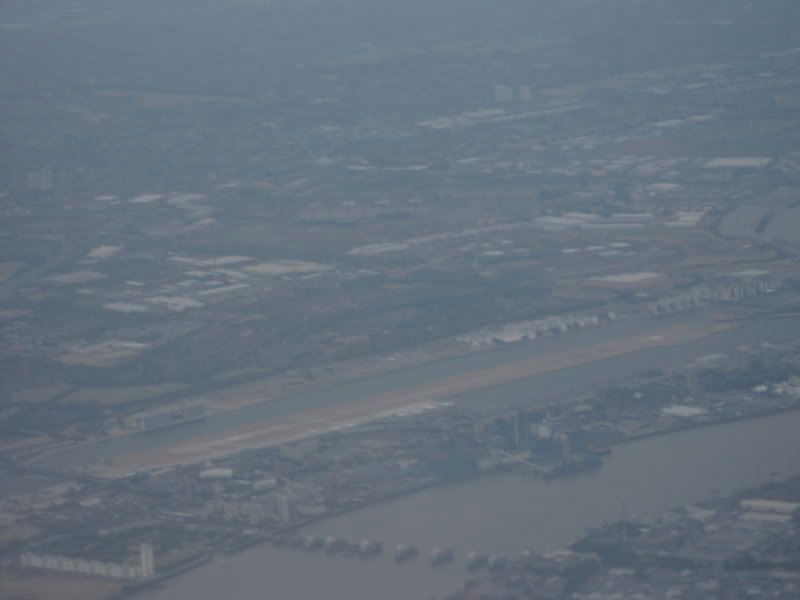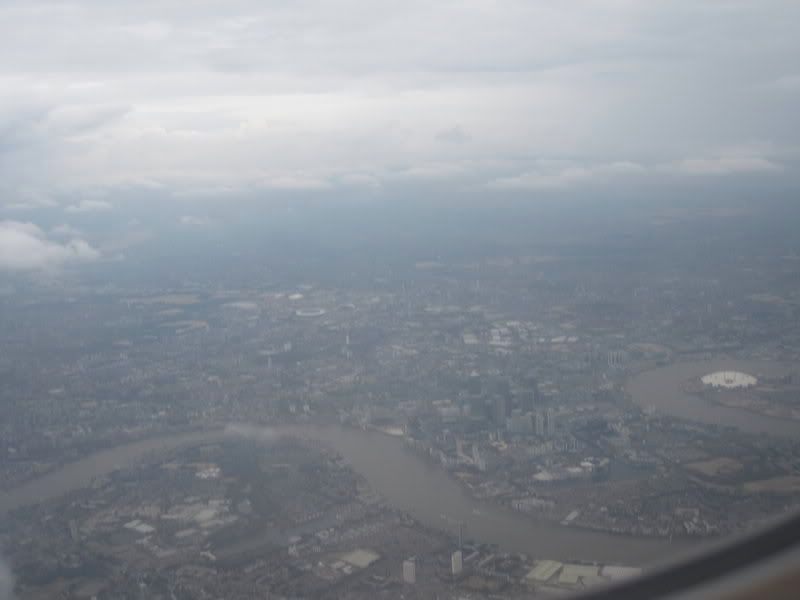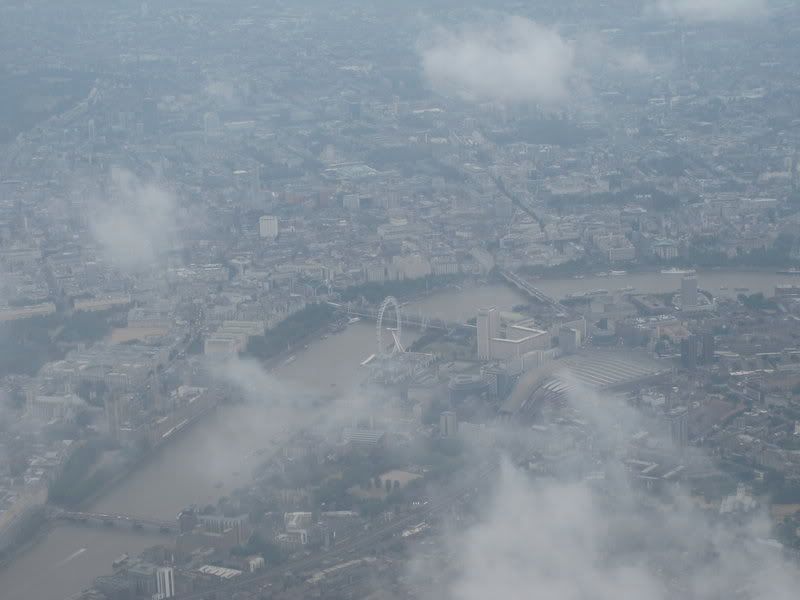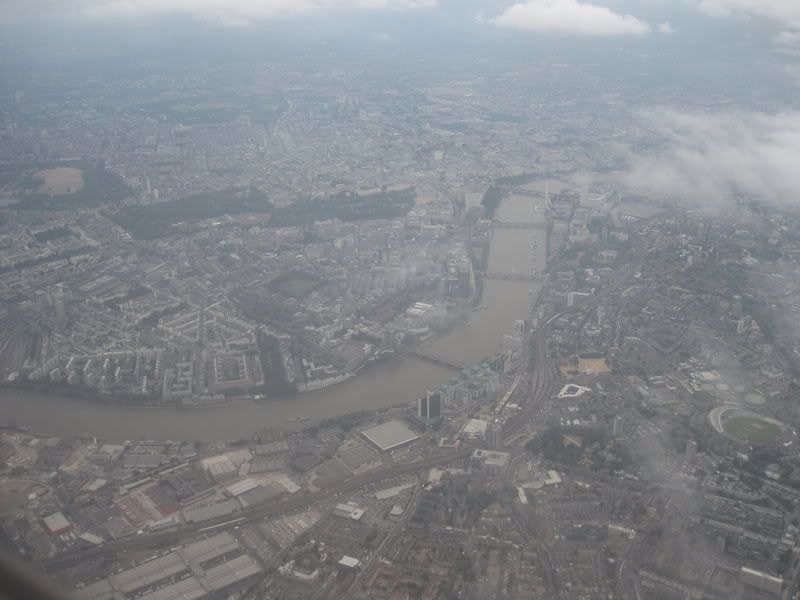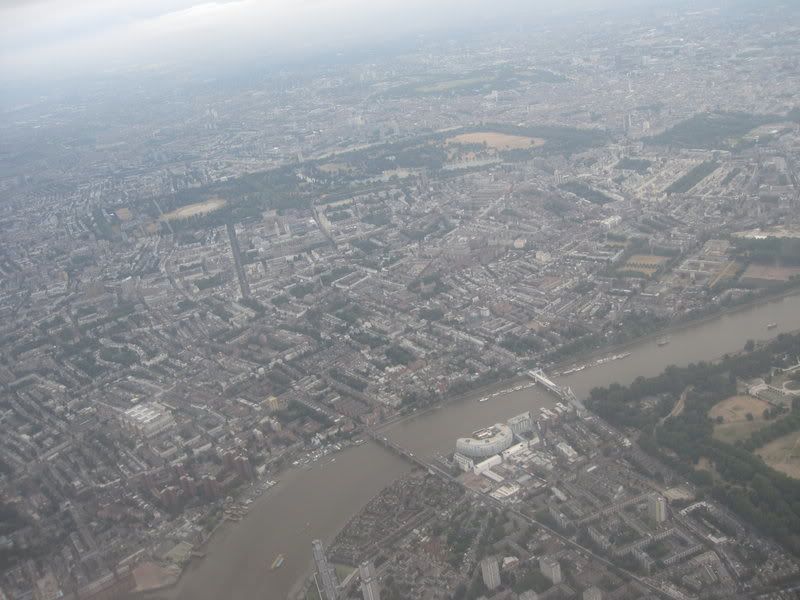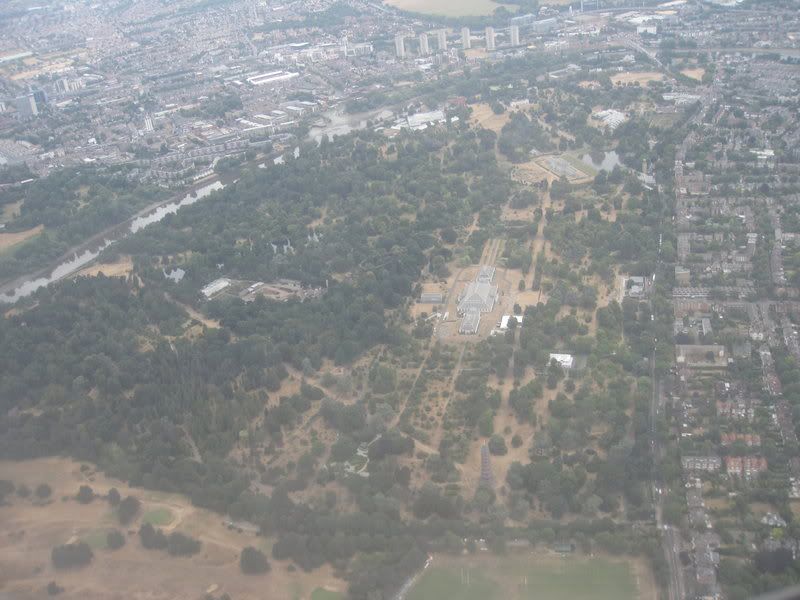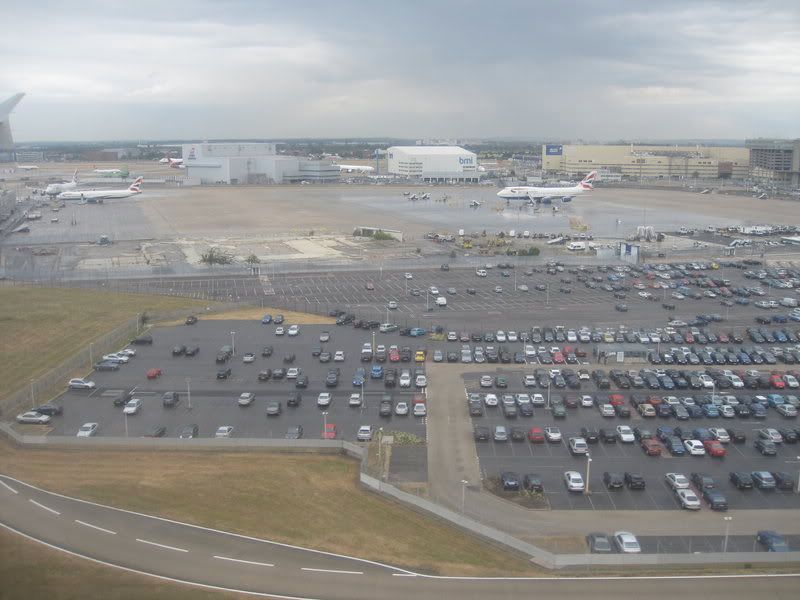 Landing is on runway 27L after a flight time of 53 minutes.
A trio of whalejets - the irony is clear here: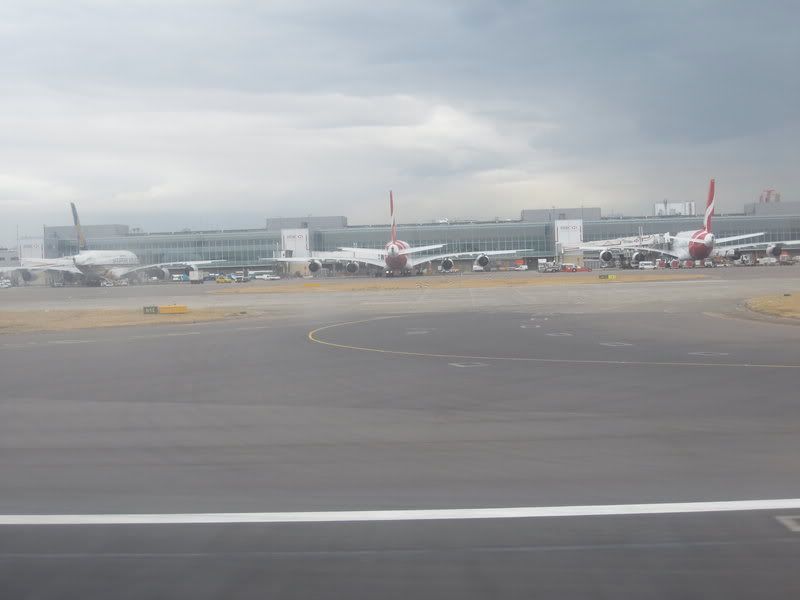 Once more: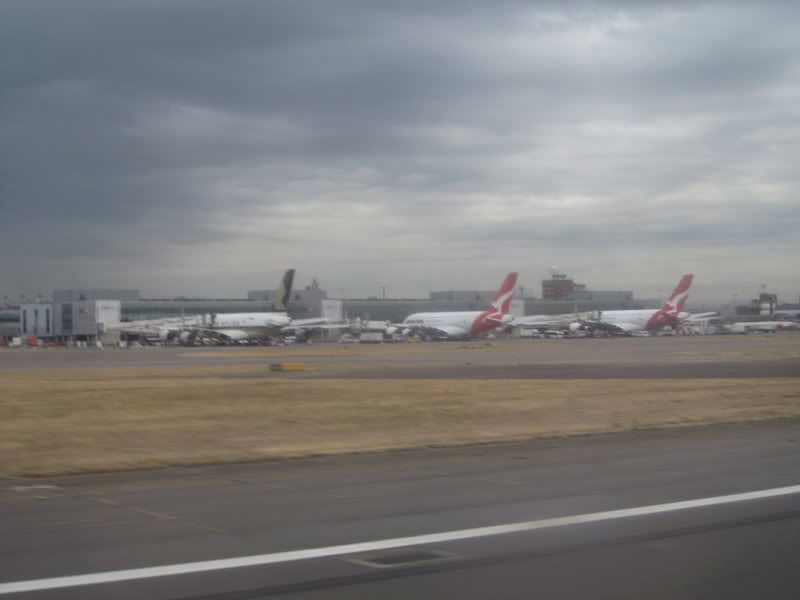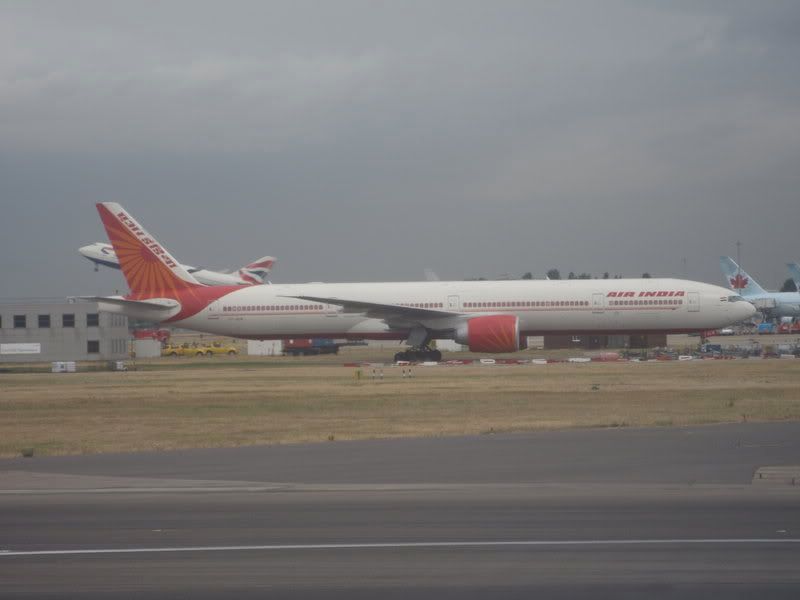 At T4 we dock to a jetway next to this bird: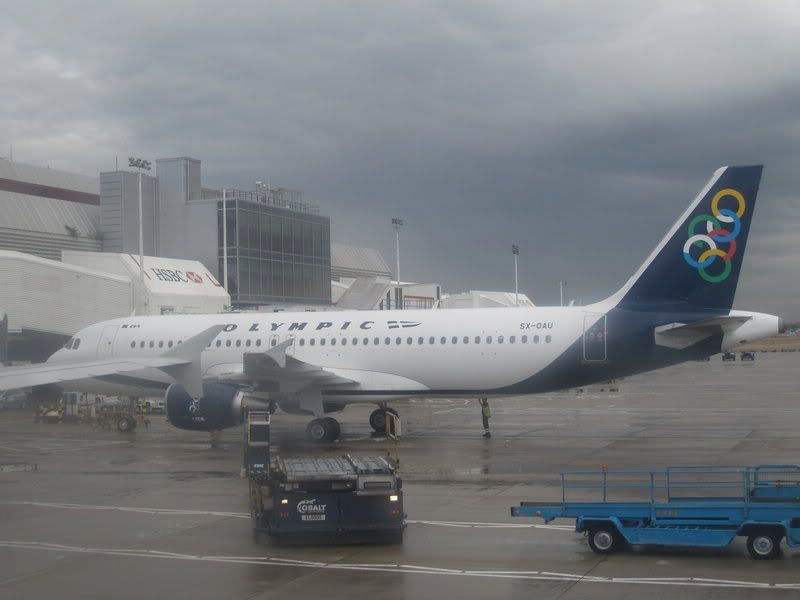 Deboarding takes its sweet time, being in the back row and all. Suryo and his partner are waiting for me, and after a bit of walking and talking together we split ways, I head for the arrivals and they for the transit, of course not before Suryo has snapped some photos in the transit corridor
.
London
UK border is empty so in no time at all I'm in the tube station, buy a day pass from the machine and hop on to the Piccadilly line train. An hour later I alight here: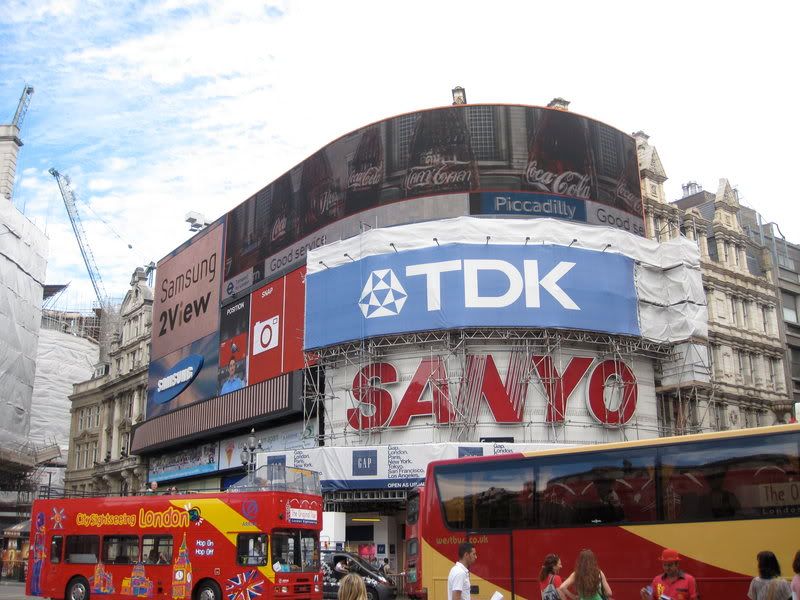 The weather is a mystery, as only UK weather can be - the forecast was all rain and apparently the morning had been very wet. But the afternoon is beautiful, sunshine alternating with clouds and very warm, so I have some alfresco lunch at Leicester Square and think about what to do. I really don't have a set plan, so just decide to walk around and enjoy London - wondering why it's been almost 20 years since my last proper visit here. I've been here many many times on business trips and in transit, but those hardly count as proper visits, do they?
Anyway I end up walking through most of the essential tourist sites in central London, including a visit to the Cabinet War Rooms - a very very interesting place for a military history buff like me, but rather expensive at 15 quid a pop.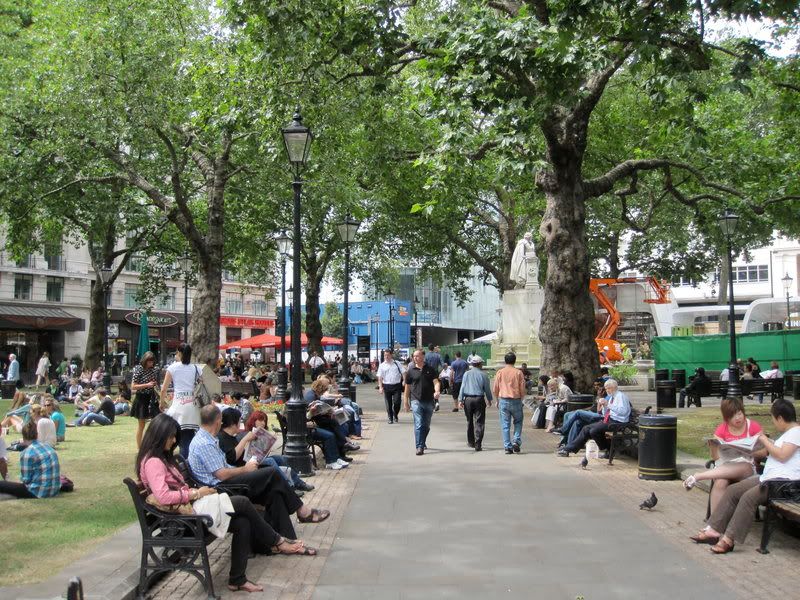 Trafalgar Square: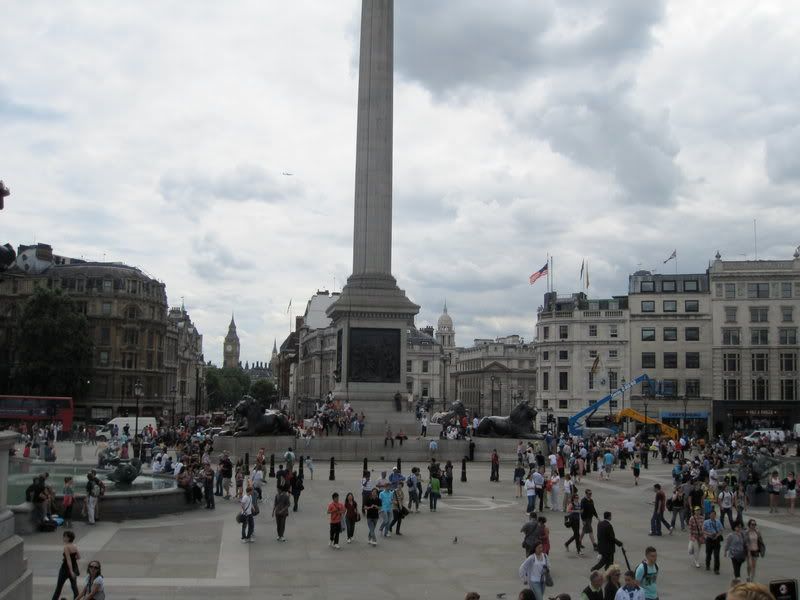 Nelson up there lonely:
Admiralty Arch.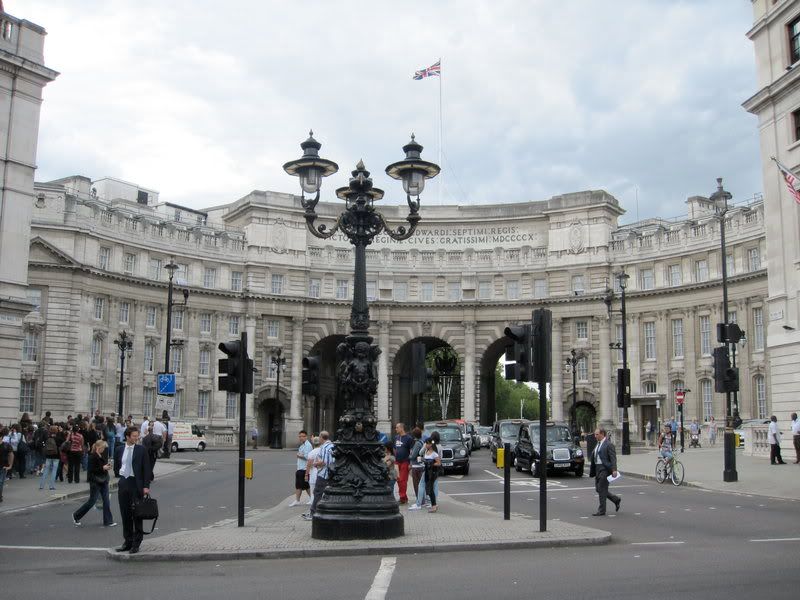 Entrance to Downing St: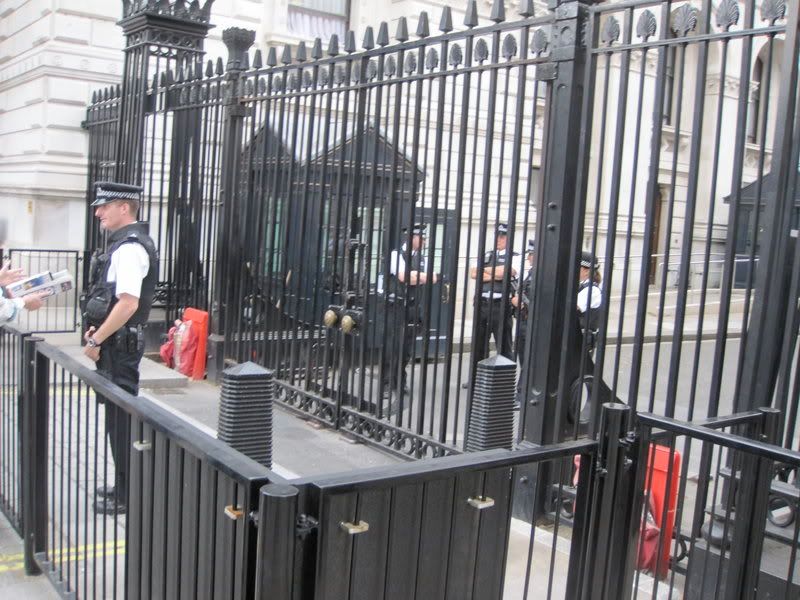 Westminster Abbey: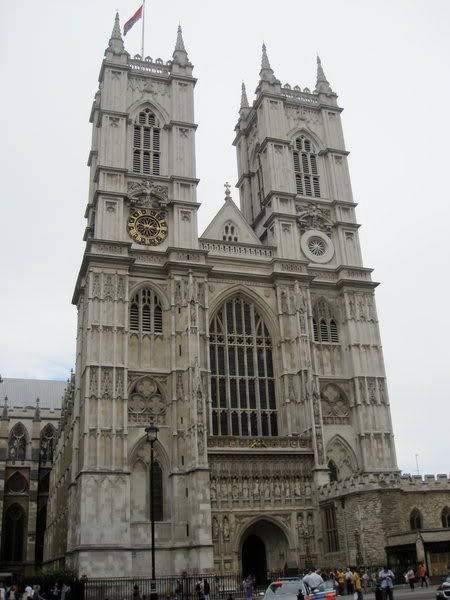 There is some sort demonstration camp in front of the Houses of Parliament - these guys are yelling some amazing things. Sorry buddy, I think it is working just fine - the outcome just isn't what you expected: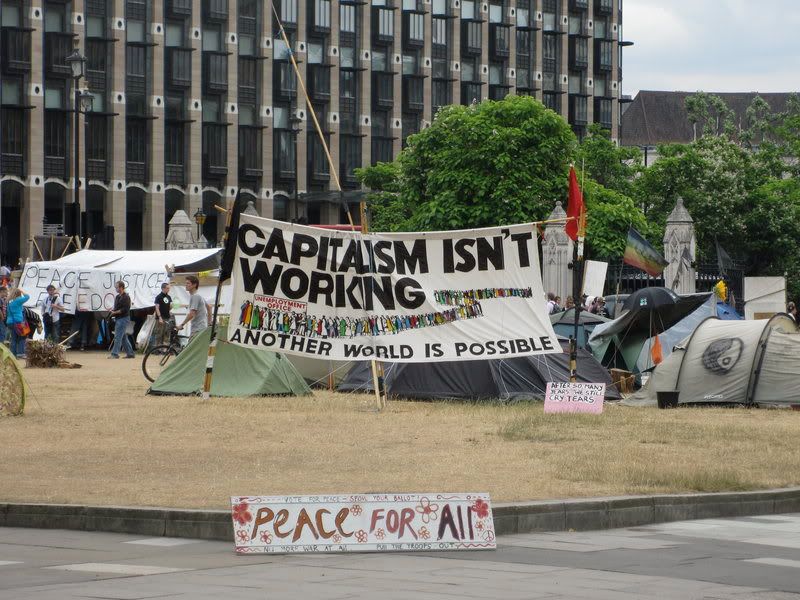 Top