Date: July 17th, 2010
Airline: Air France
Flight : AF 673
Codeshare : KL DL
Registration: F-GSPB
Aircraft: Boeing 777-200ER
Departure City: PPT Papeete
Departure Time: 07:30
Destination: LAX Los Angeles
Arrival Time: 18:45
Scheduled Flight Time: 8 hrs 15 minutes
Class: Affaires Business Class
Seat: 6A
View Large
View Medium


Photo © Matthew Wallman - Jetwash Images
View Large
View Medium


Photo © Jerome Mervelet
I am back in the air as a passenger after my last Asia trip. This time I'm on my way to Denmark to pick up my 3,5 yo niece who is visiting her father and grand parents in Merring, closest airport Billund.
I was to fly nonrev to LAX and then use my AMEX credit card earned miles when I saw that the flight PPT-LAX was getting full, very full... So I went to the Papeete Air France office and bought a ticket with my miles on the PPT-LAX too. I was now ticketed for PPT-LAX-AMS-BLL on AF and KLM.
Week before my departure I was on a CDG trip and arrive in PPT in the very early morning. I drove to my mom's place, took a shower, changed and packed my suitcase and drove back to the airport for check in. I had checked in online the previous day and was passenger 005 on the list. It took quite some time to check in at the Affaires queue but It cleared after a while. It looked like it was going to be a very full flight today !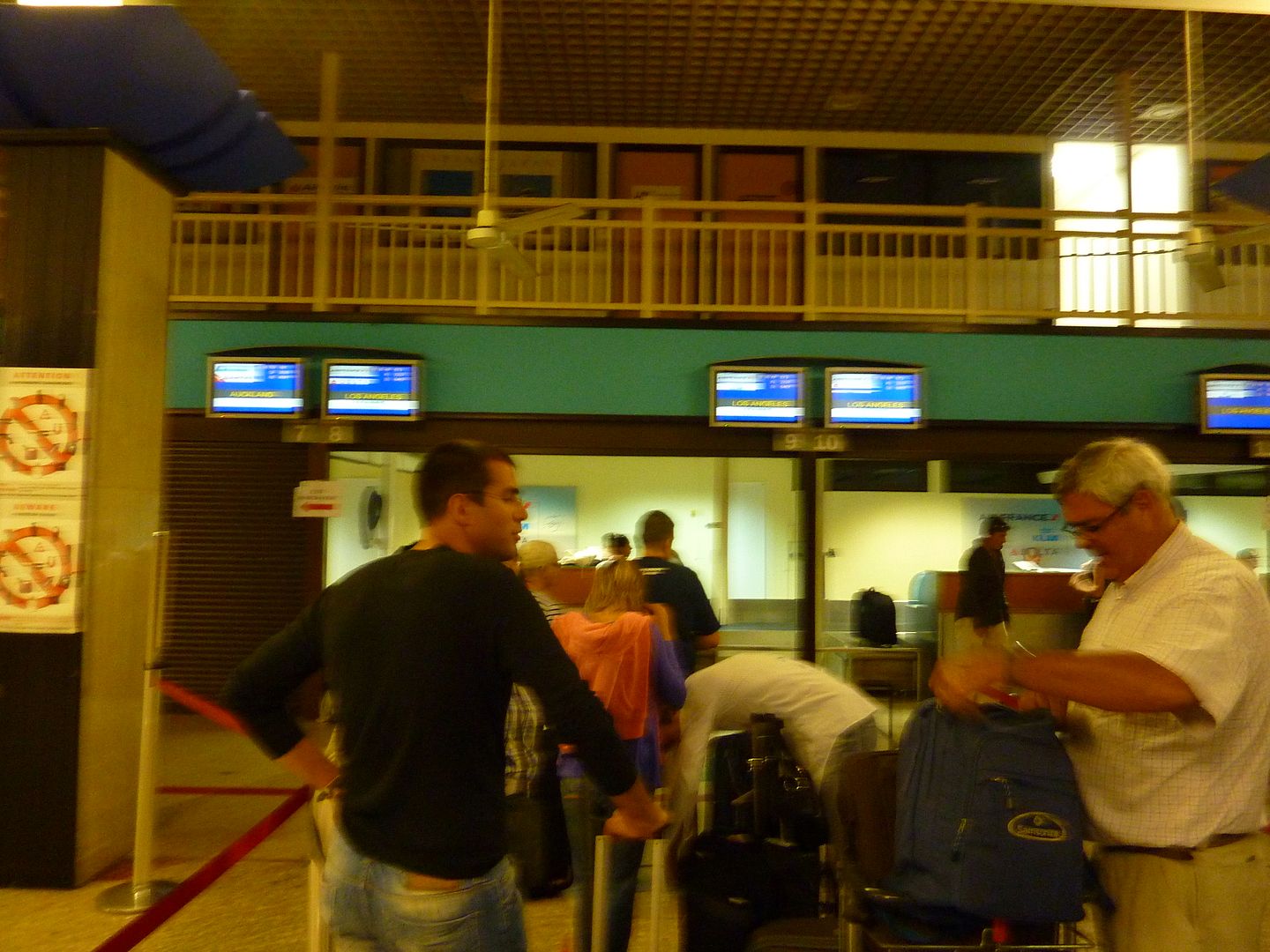 After check-in I went to immigration and security check. It was nice and empty and was a breeze !
The airport finally got new seats in the main boarding lounge and I must say it looks really nice and a little more up to date now.
I went to the small duty free shop, bought my Mom's cigarettes and a bottle of Absolut and then met up with my good friend Lorna and invited her to the lounge with me.
The lounge is owned and operated by Aeroport de Tahiti ADT and all airlines operating to PPT use the facility. It used to be owned and operated by Air New Zealand.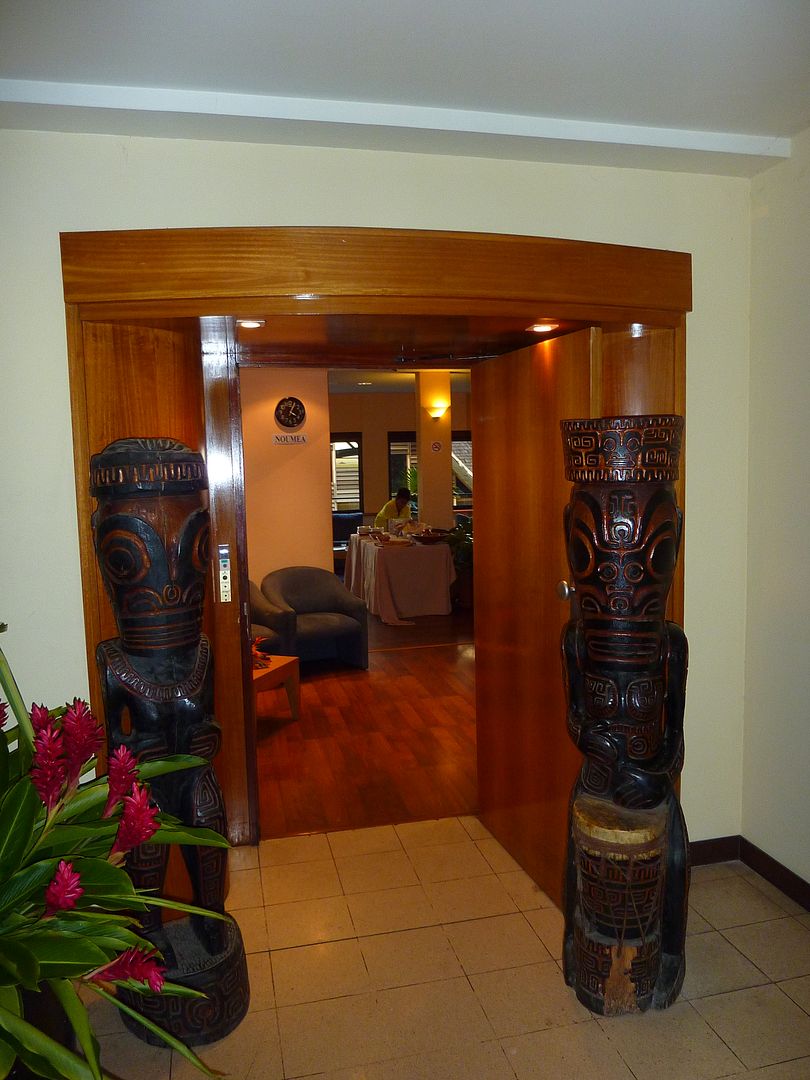 Lounge was busy with people and we were nicely greeted by the ADT staff and directed to the Affaires side. An attendant was also on hand to clear the cups, plates or glasses.
The food offerings were appropriate for a breakfast with danish pastries, fresh fruits, cookies, oatmeal, cereals, fruit juice. You also had a wide range of drinks such as mango and pineapple juice, sodas, liquors etc... An espresso machine was available for a shot of caffeine.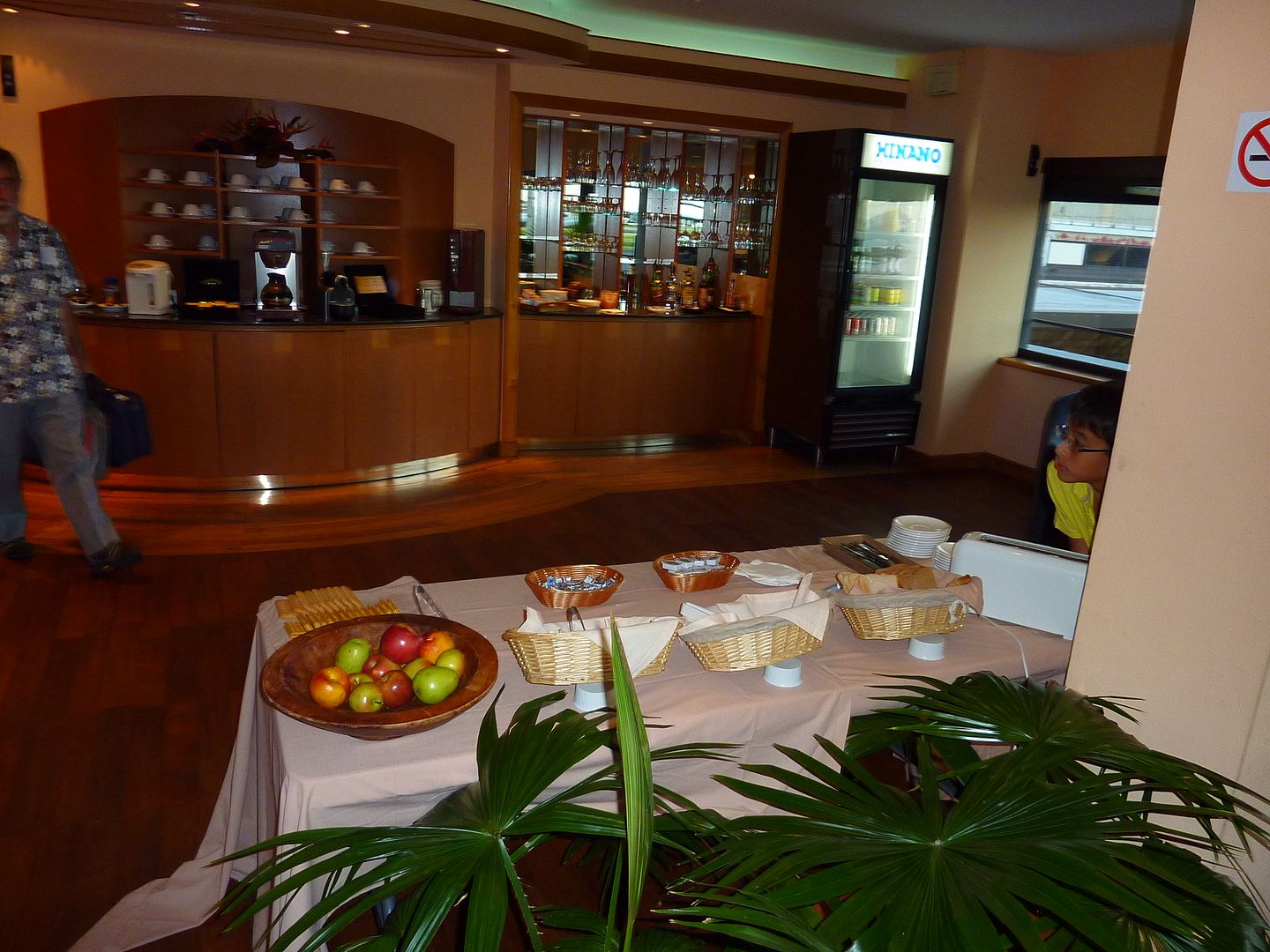 Lorna and I got comfortable in the lounge, had a chat, gossiped our hearts away and then headed to the boarding gate. It was properly seperated from the Voyageur line as when you get of the lifts the La Première, Affaires and Premium Voyageur line was there and you'd have to go all around the boarding lounge to join the Premium cabins to join this queue.Heading downstairs you have 3 stunning traditional costumes on display.
Boarding in Papeete is always nice as you walk on the tarmac to the aircraft. The aircraft I flew on this very morning was there waiting for it's load of customers on their way to summer vacation in Europe, North America or further afield...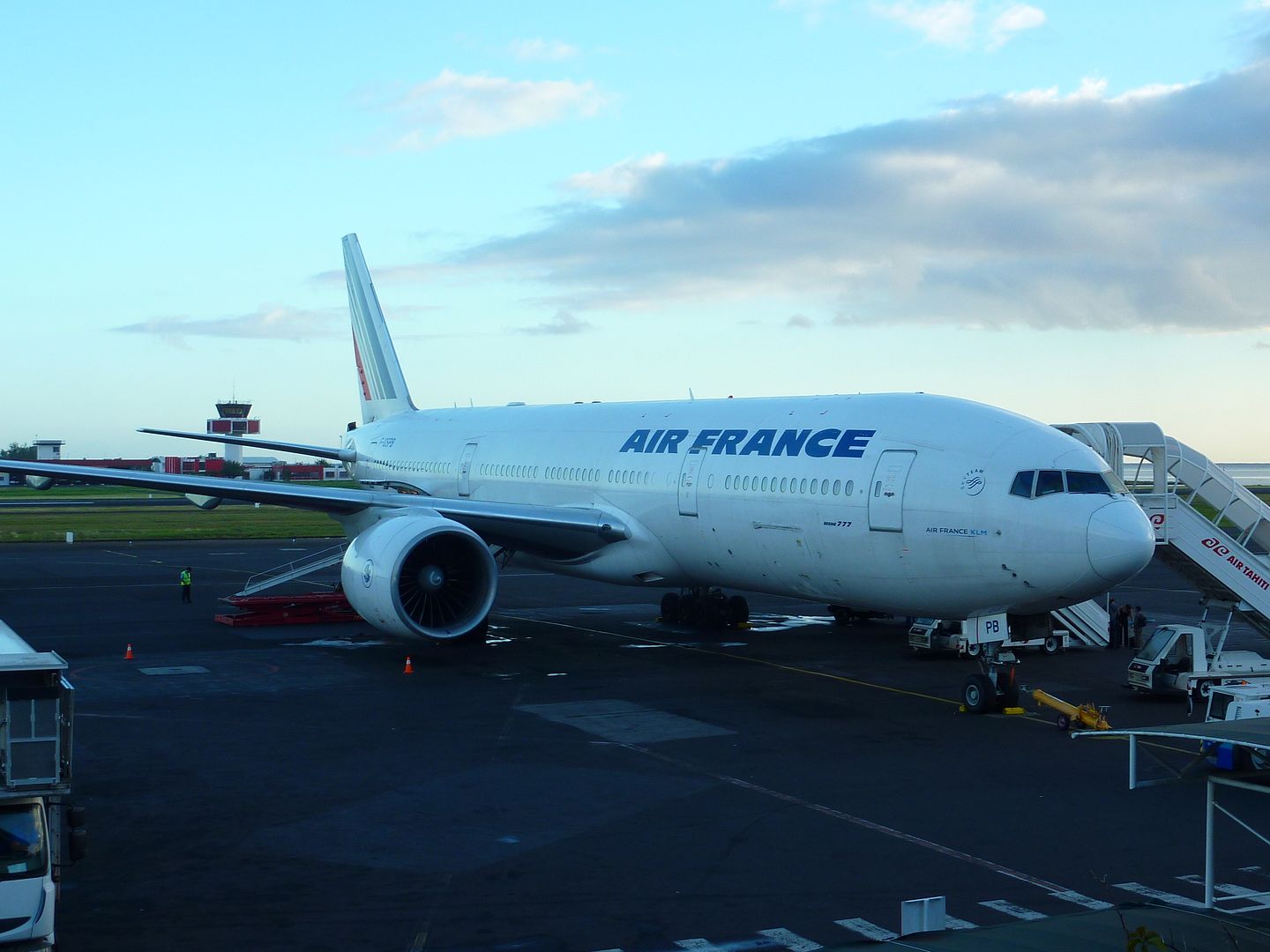 Next to our airplane we have a n Air Tahiti Nui aircraft F-OJGF waiting for it's 10:00 flight to Auckland.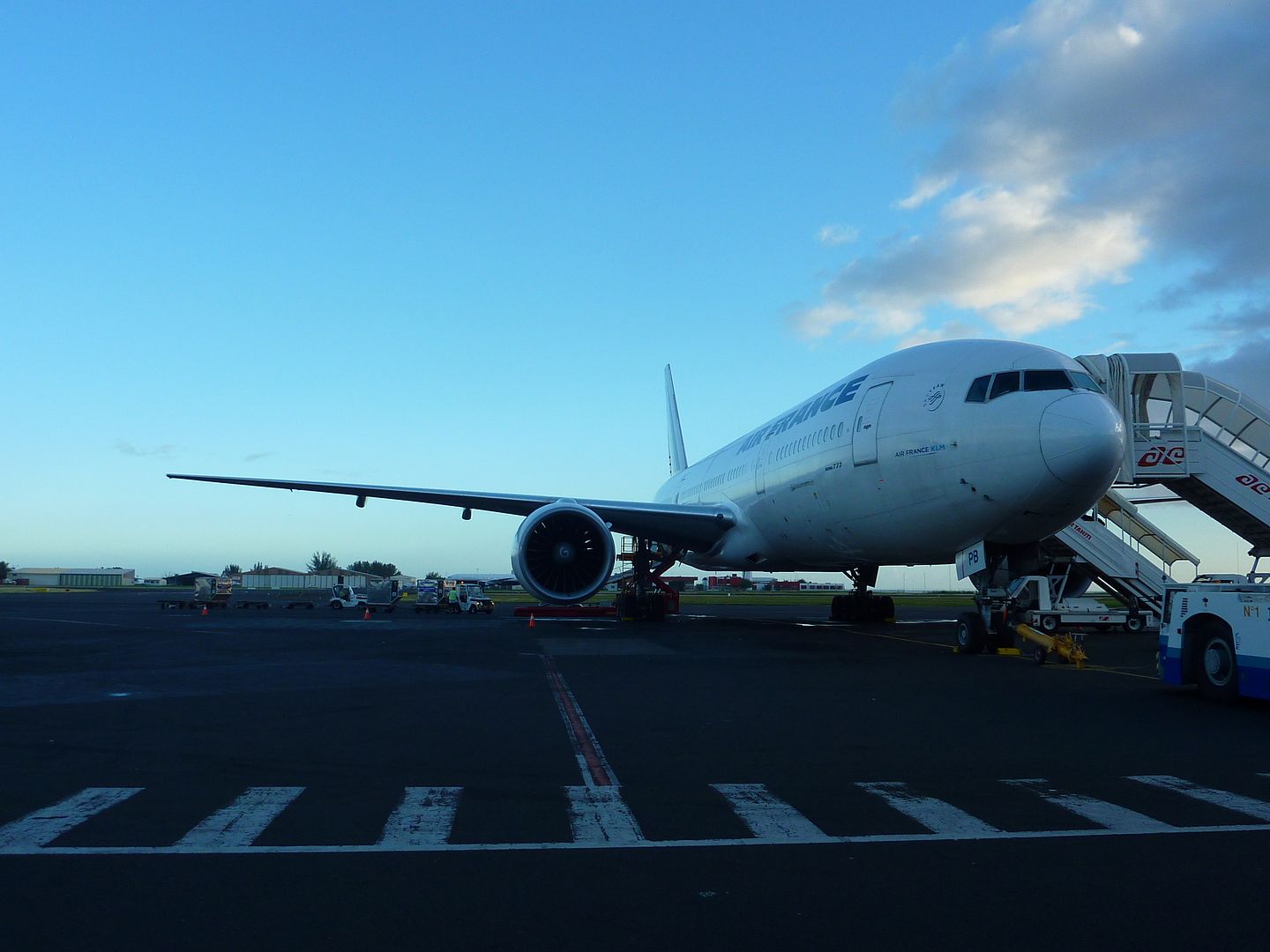 The massive GE90 engine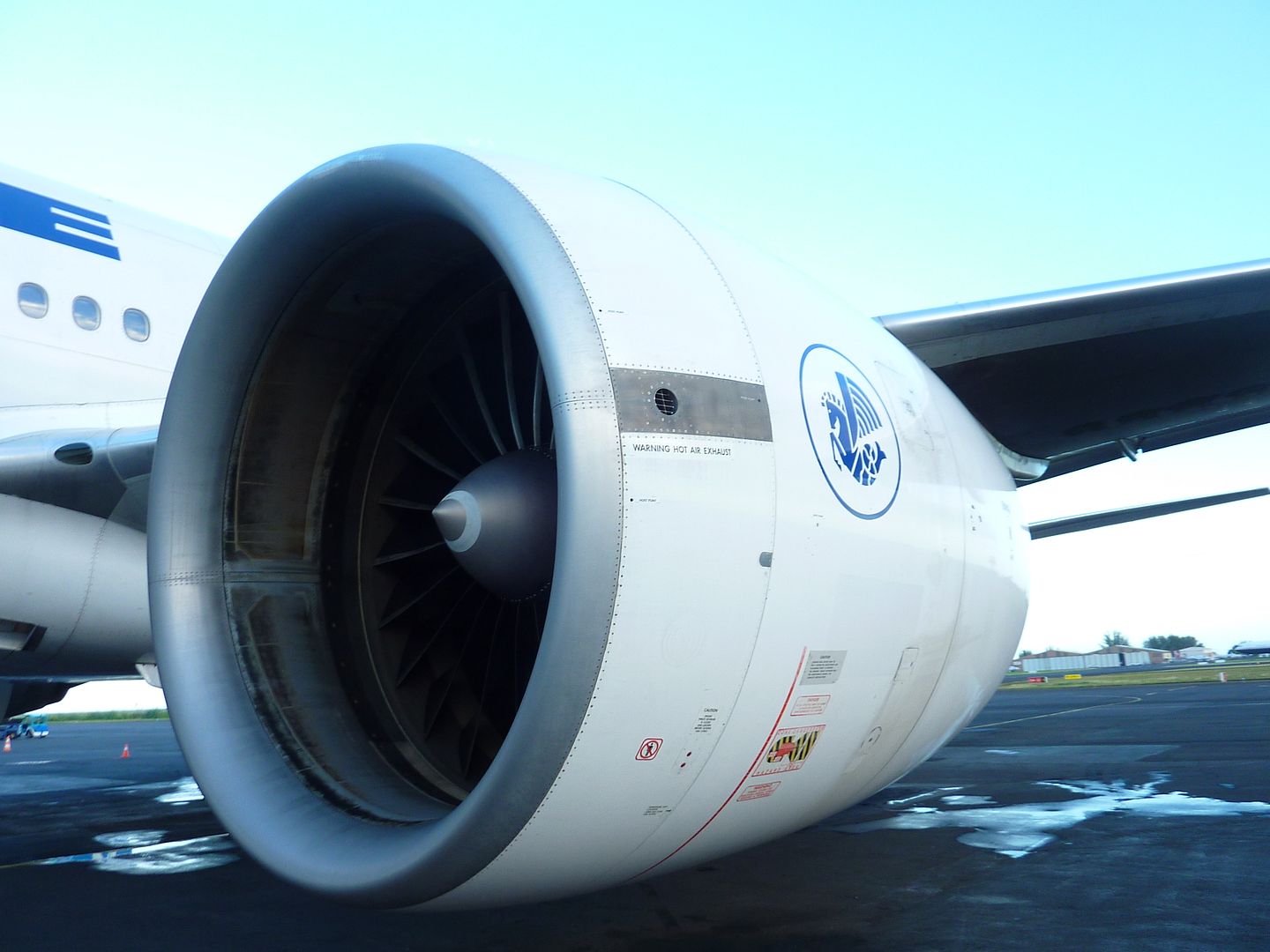 Air Tahiti Escale Internationale stairs to door 2 left
Got to my seat and made myself comfortable, I had seat 6A on the first row of the second Affaires cabin.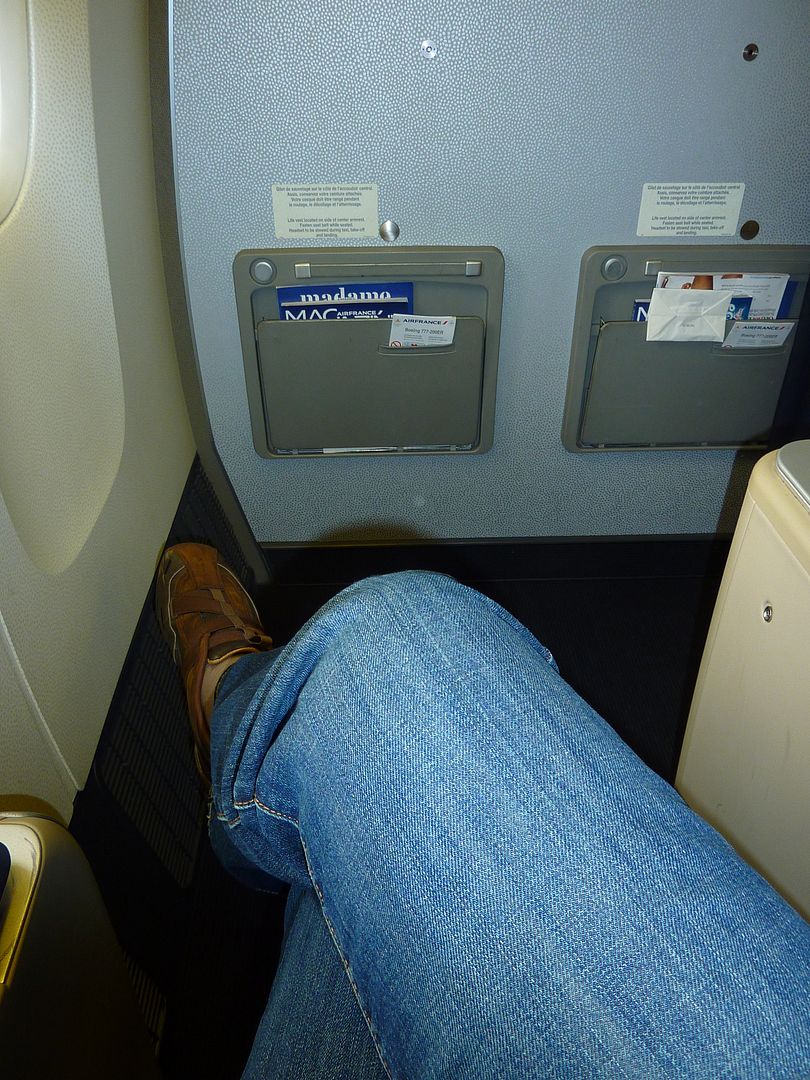 Greetings from the IFE system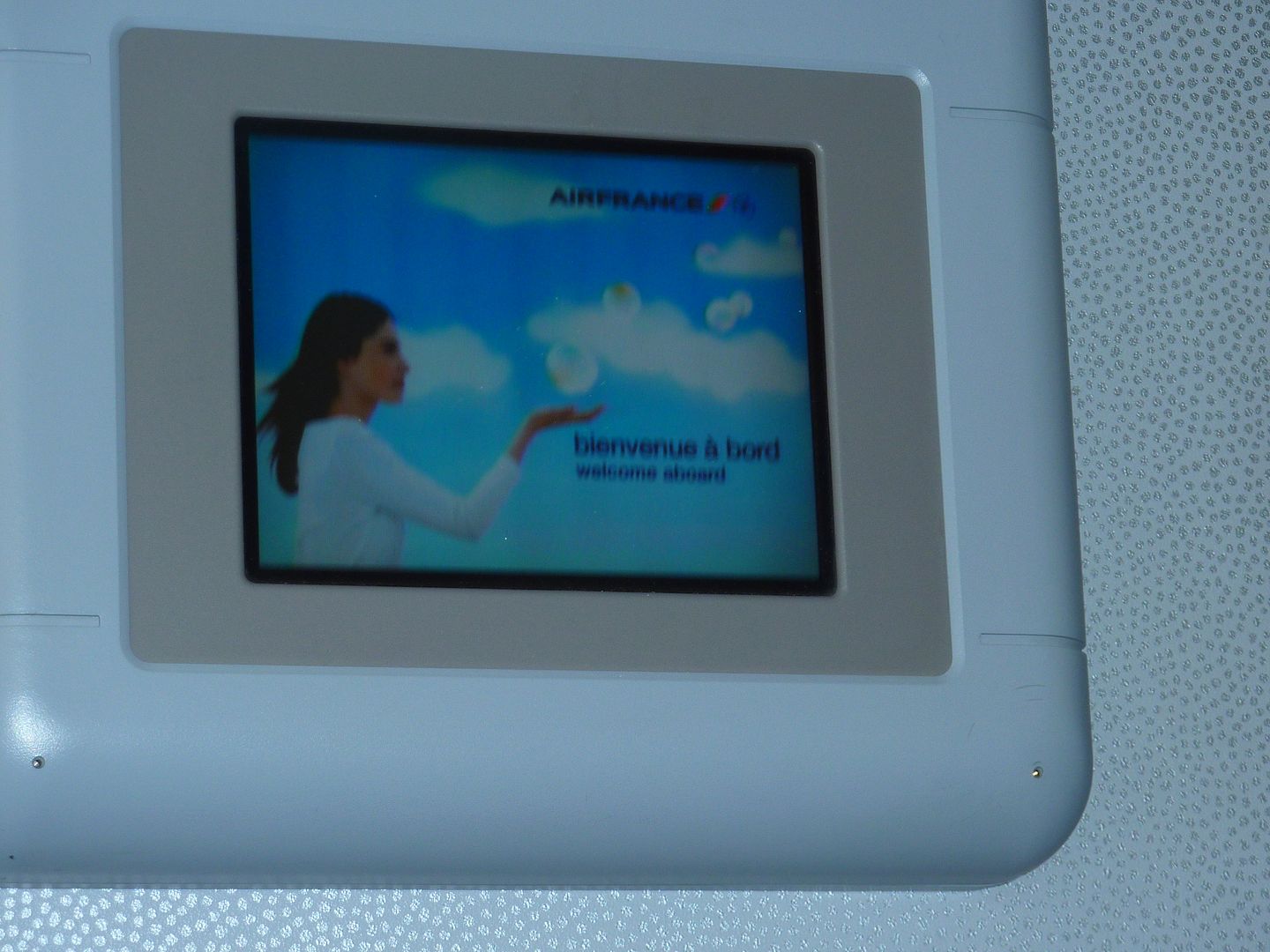 The stairs were removed on time and we puched back 10 minutes after schedule.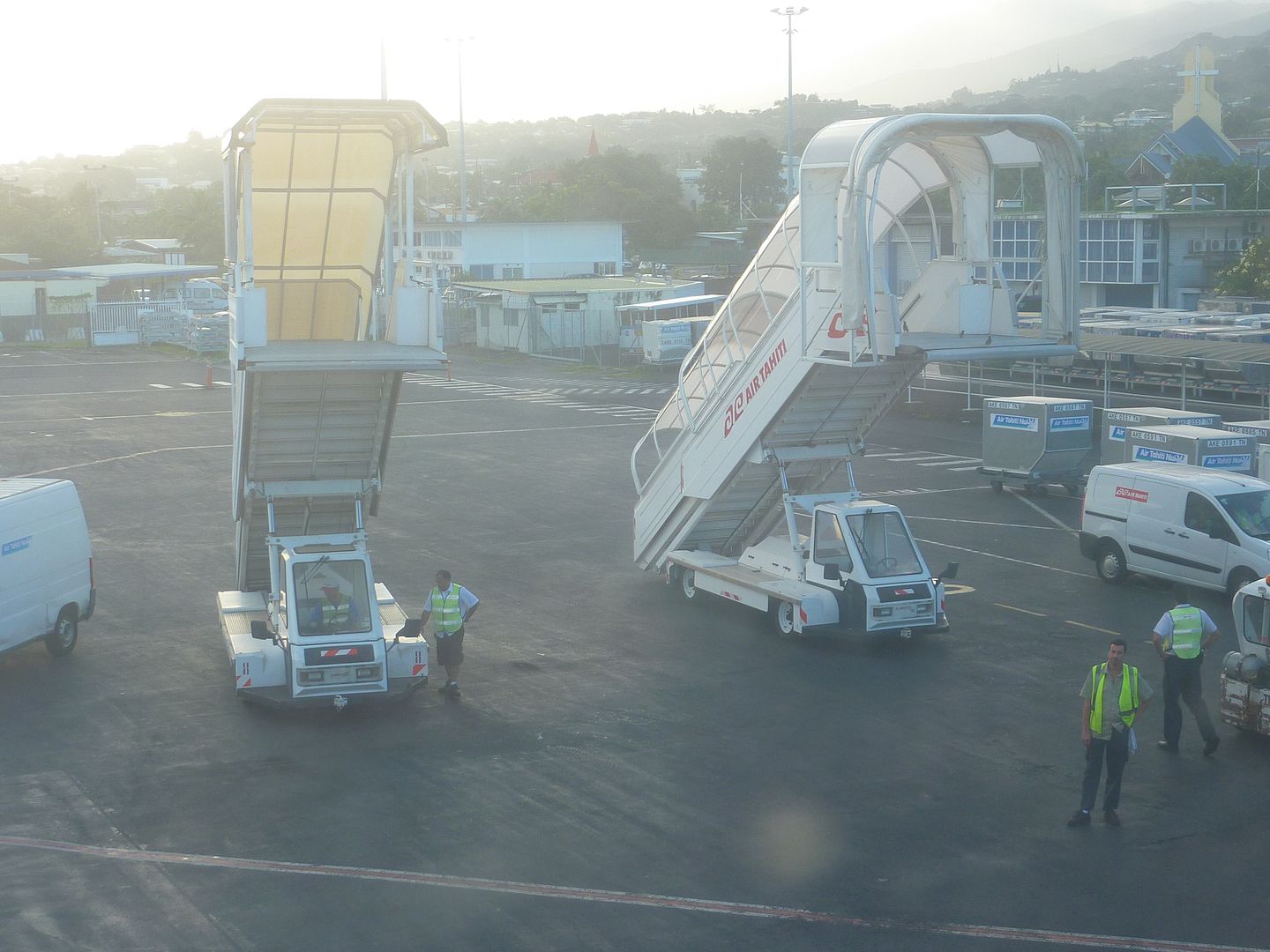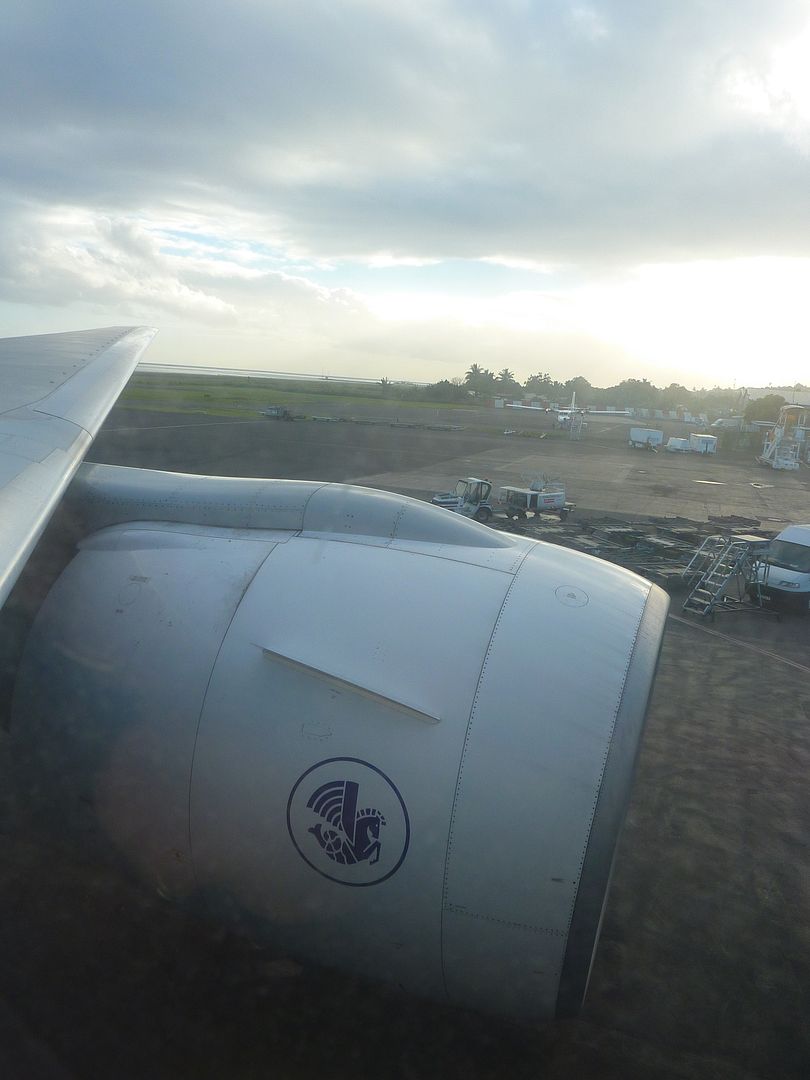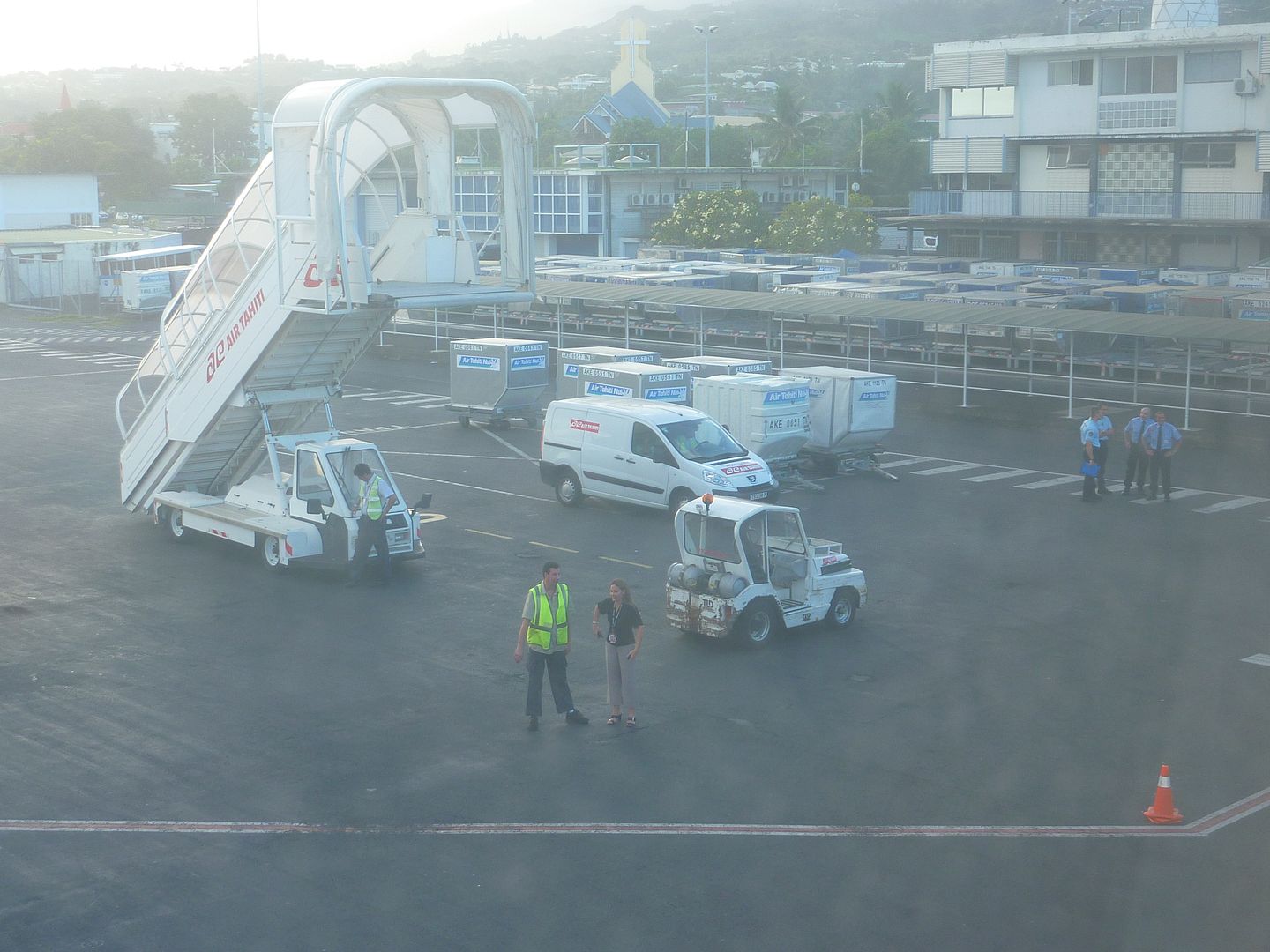 Good Bye Aéroport de Tahiti Faa'a !
Safe flight to AKL ATN !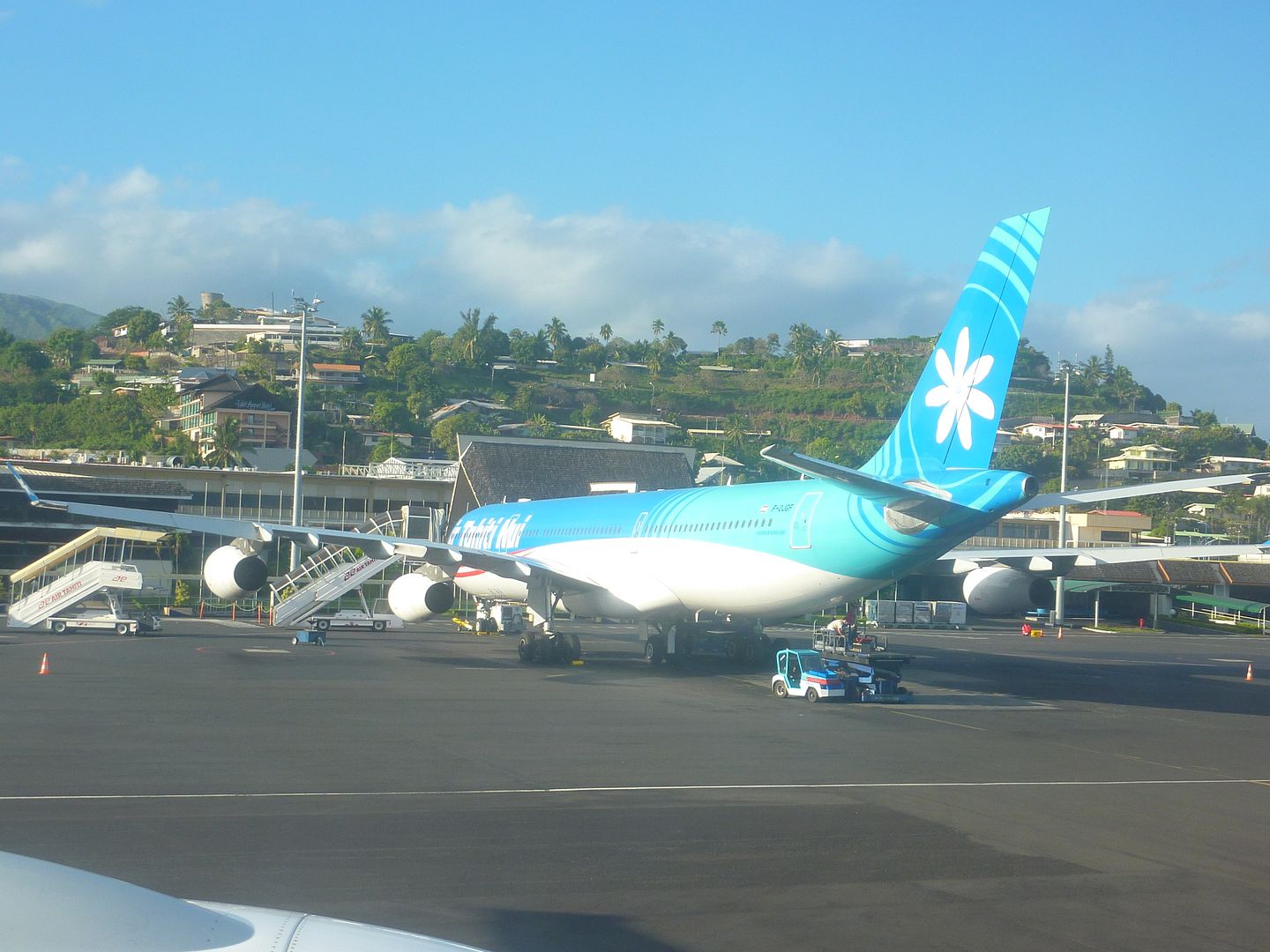 And we are leaving the parking area... and taxiing on the runway.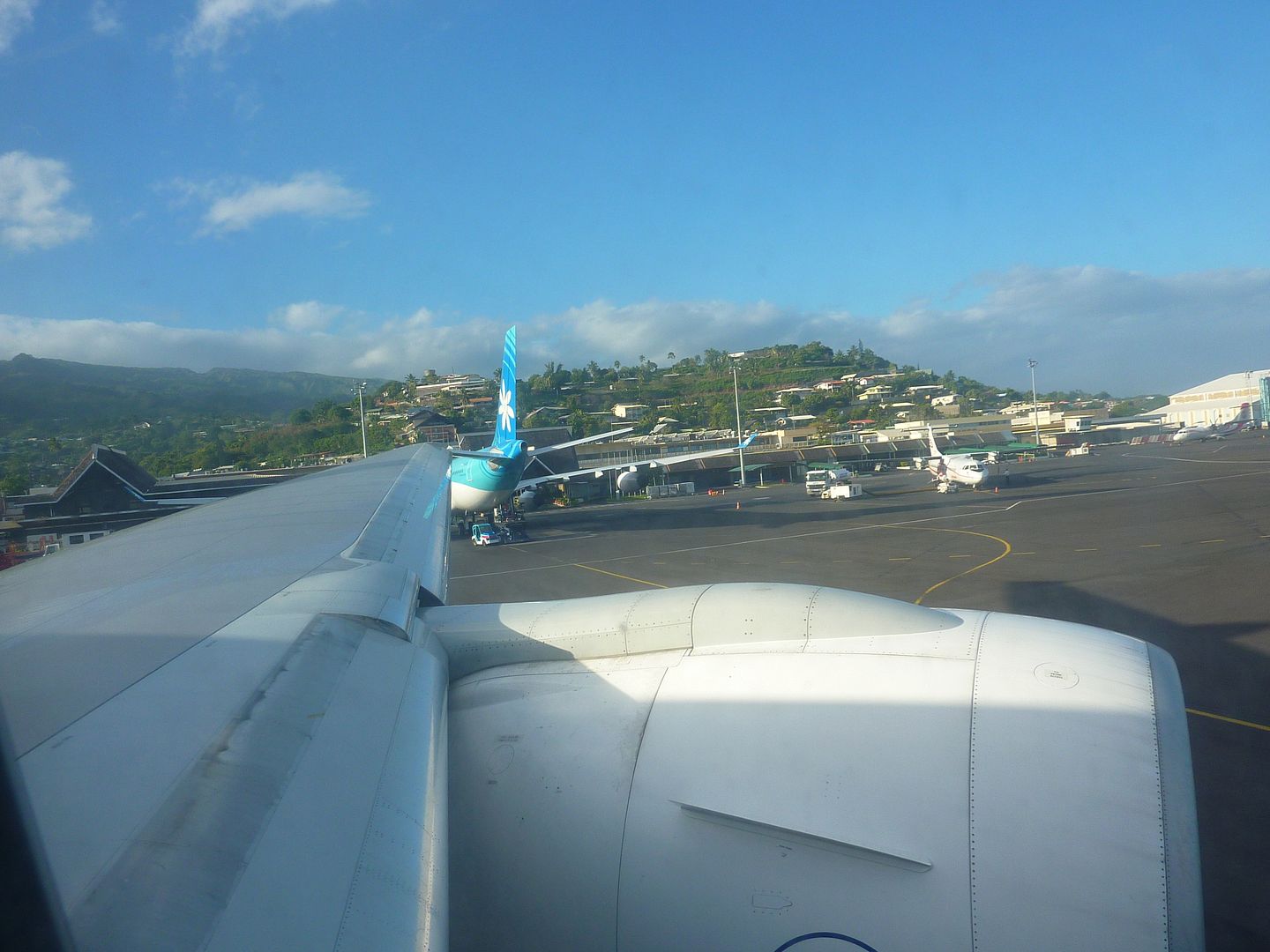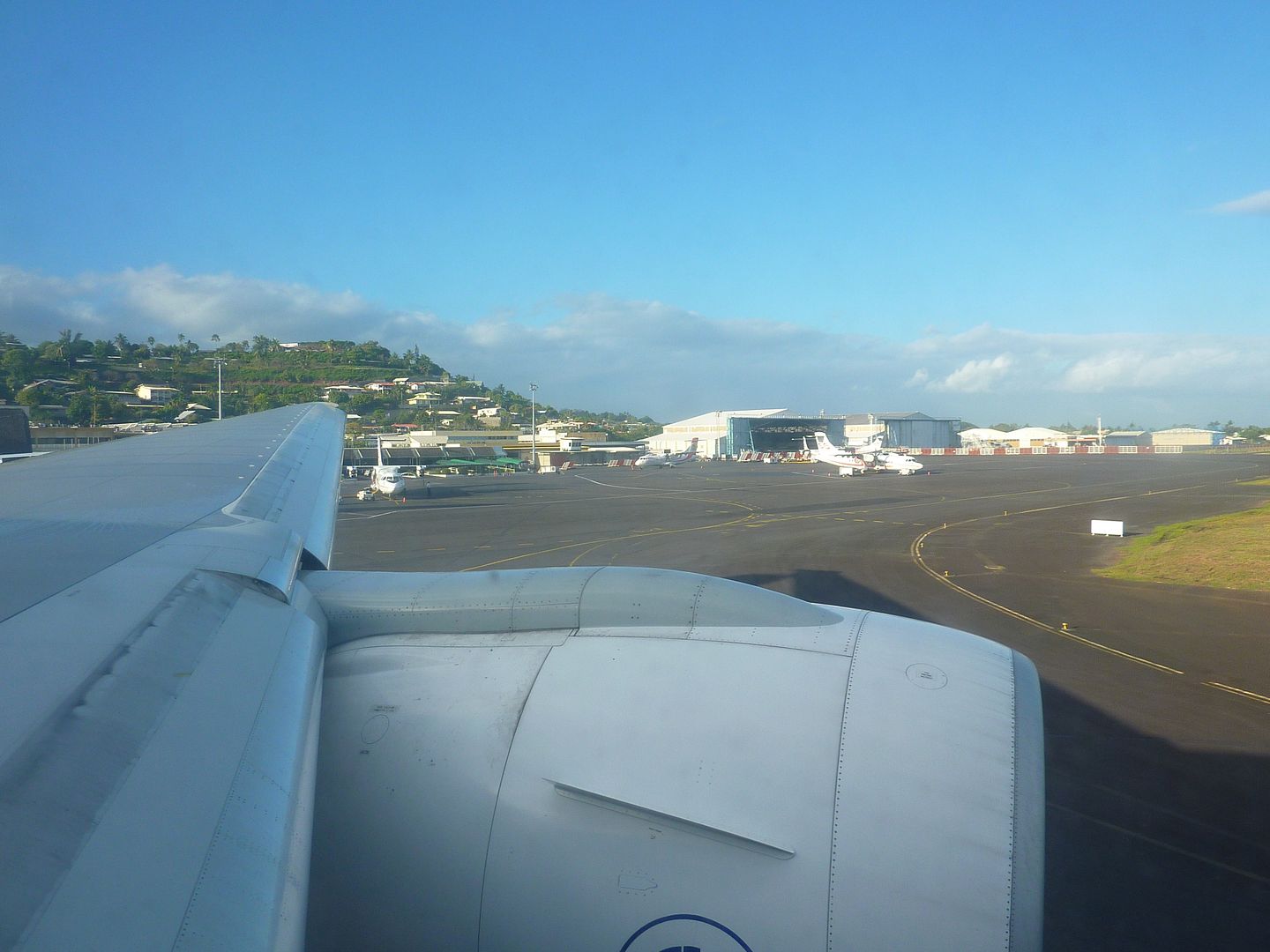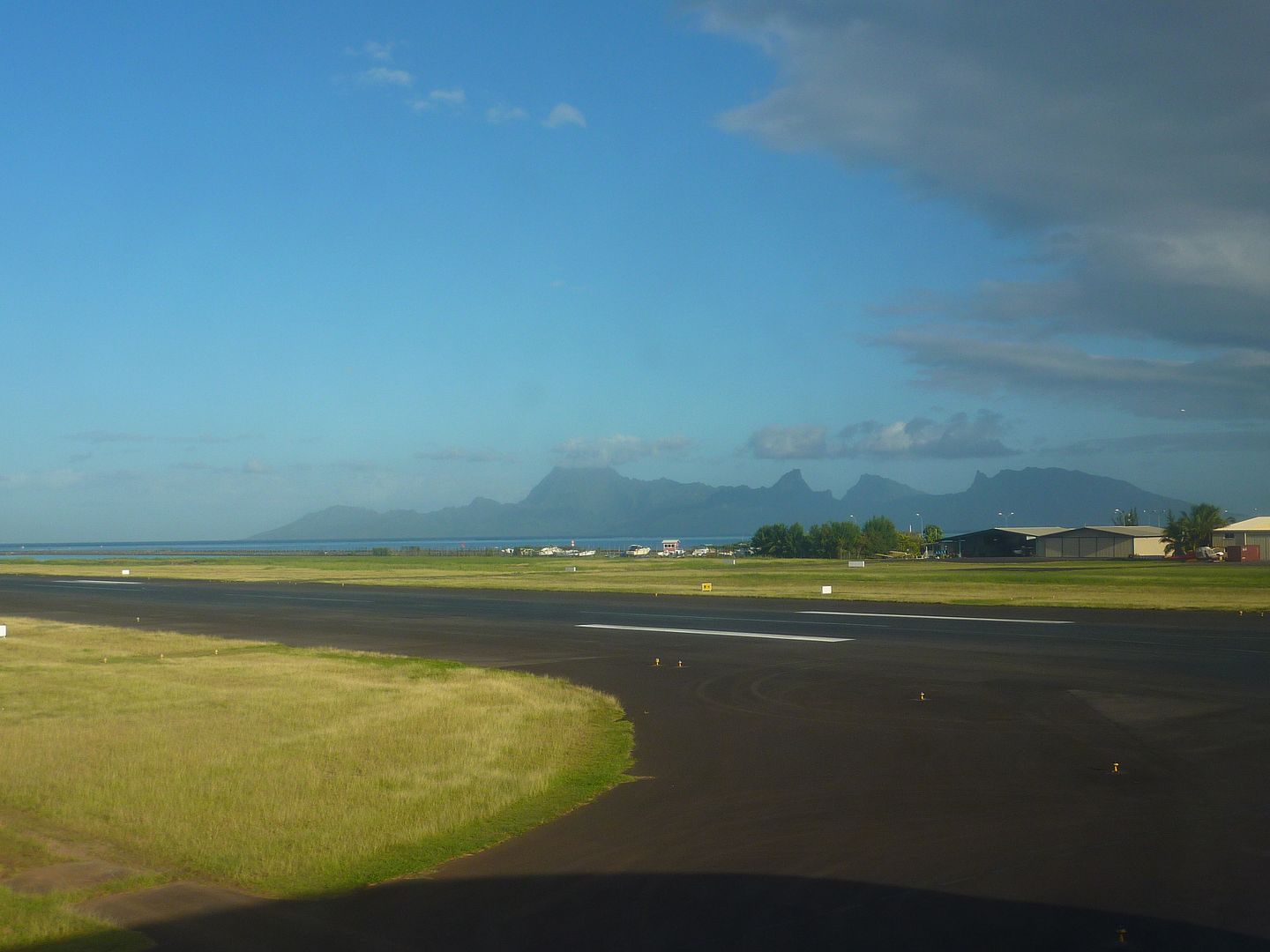 Engine spooling up and we are thrundering down the runway towards downtown Papeete...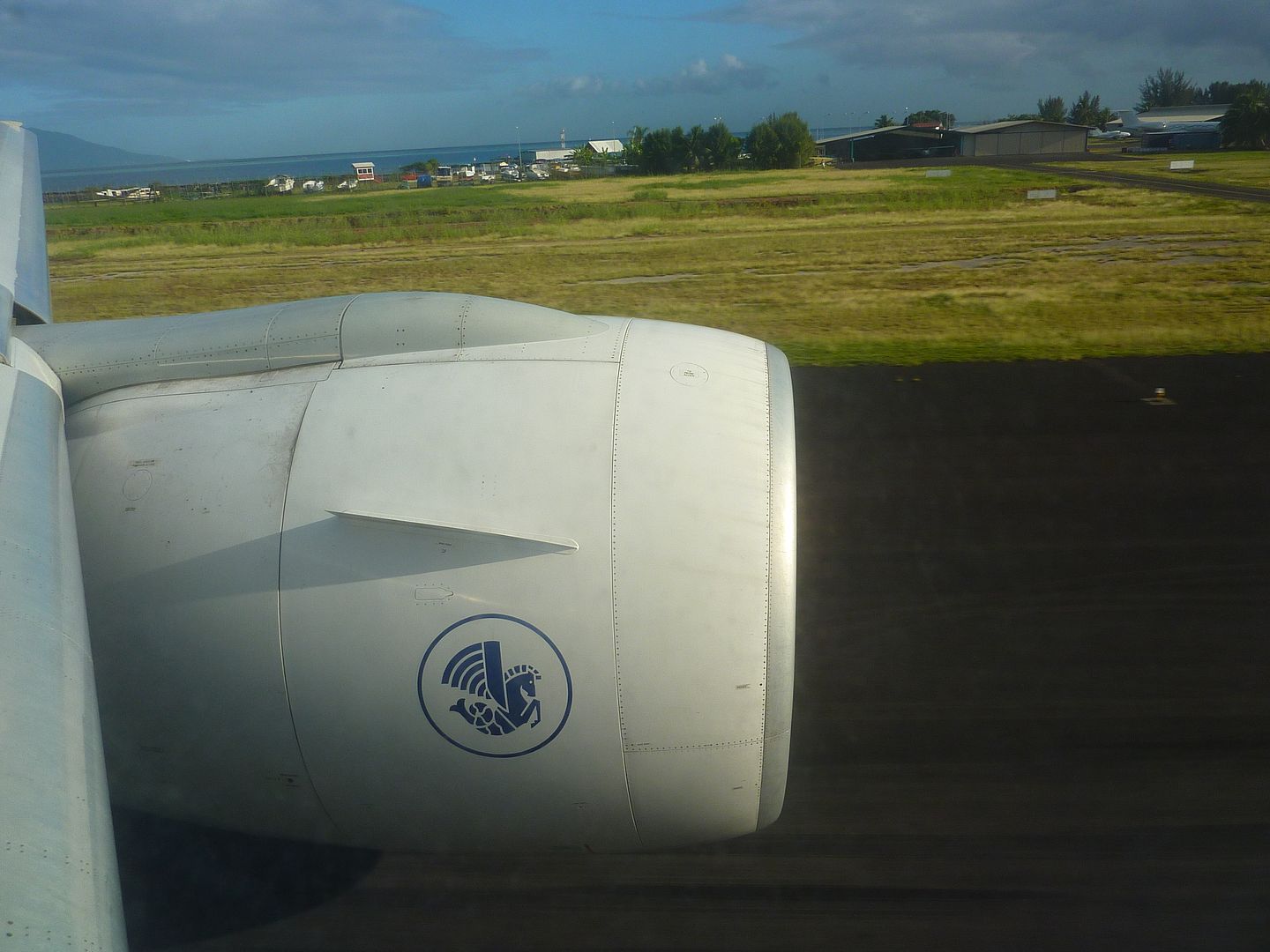 Lift off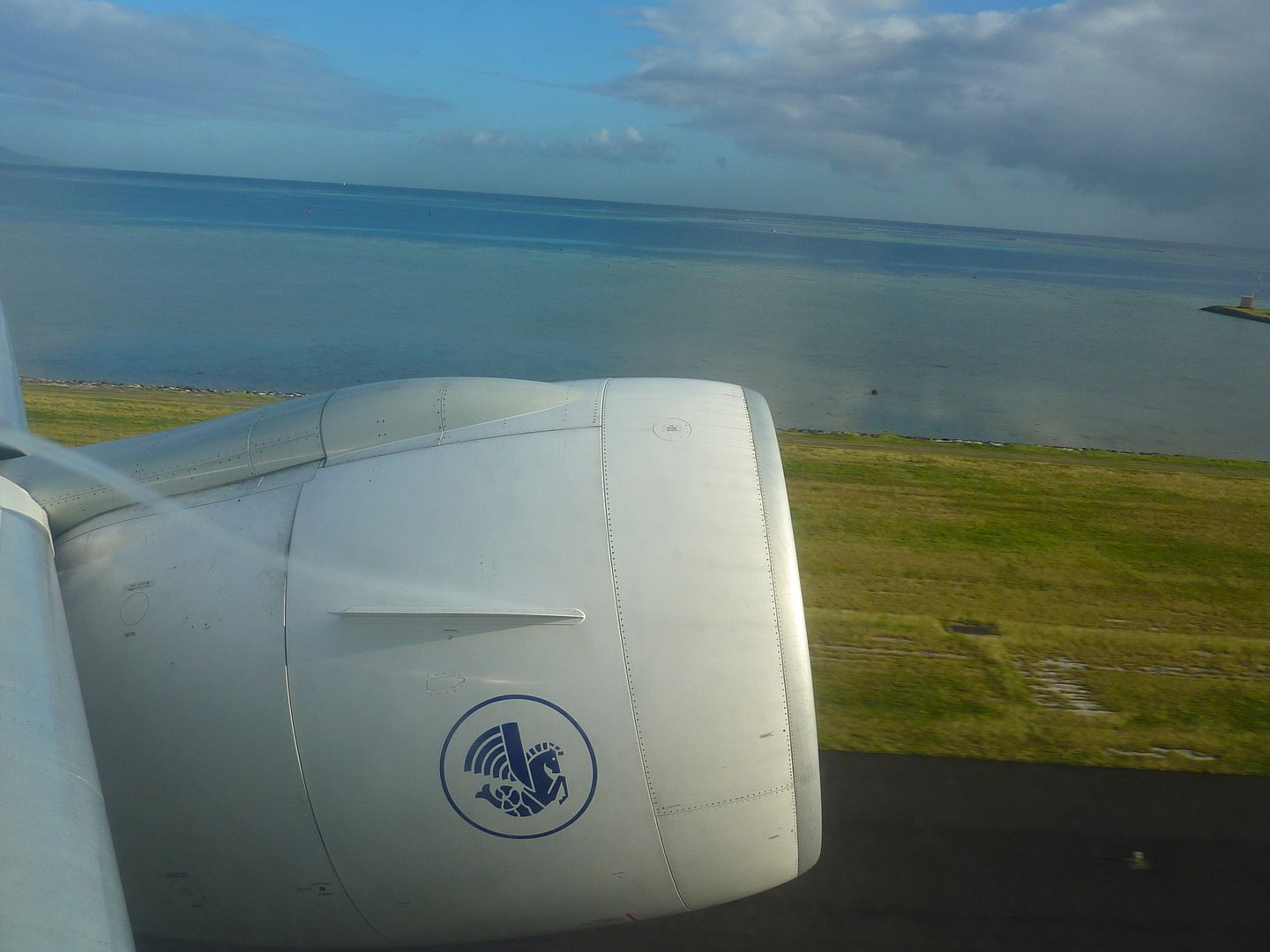 Over the reefs surrounding Tahiti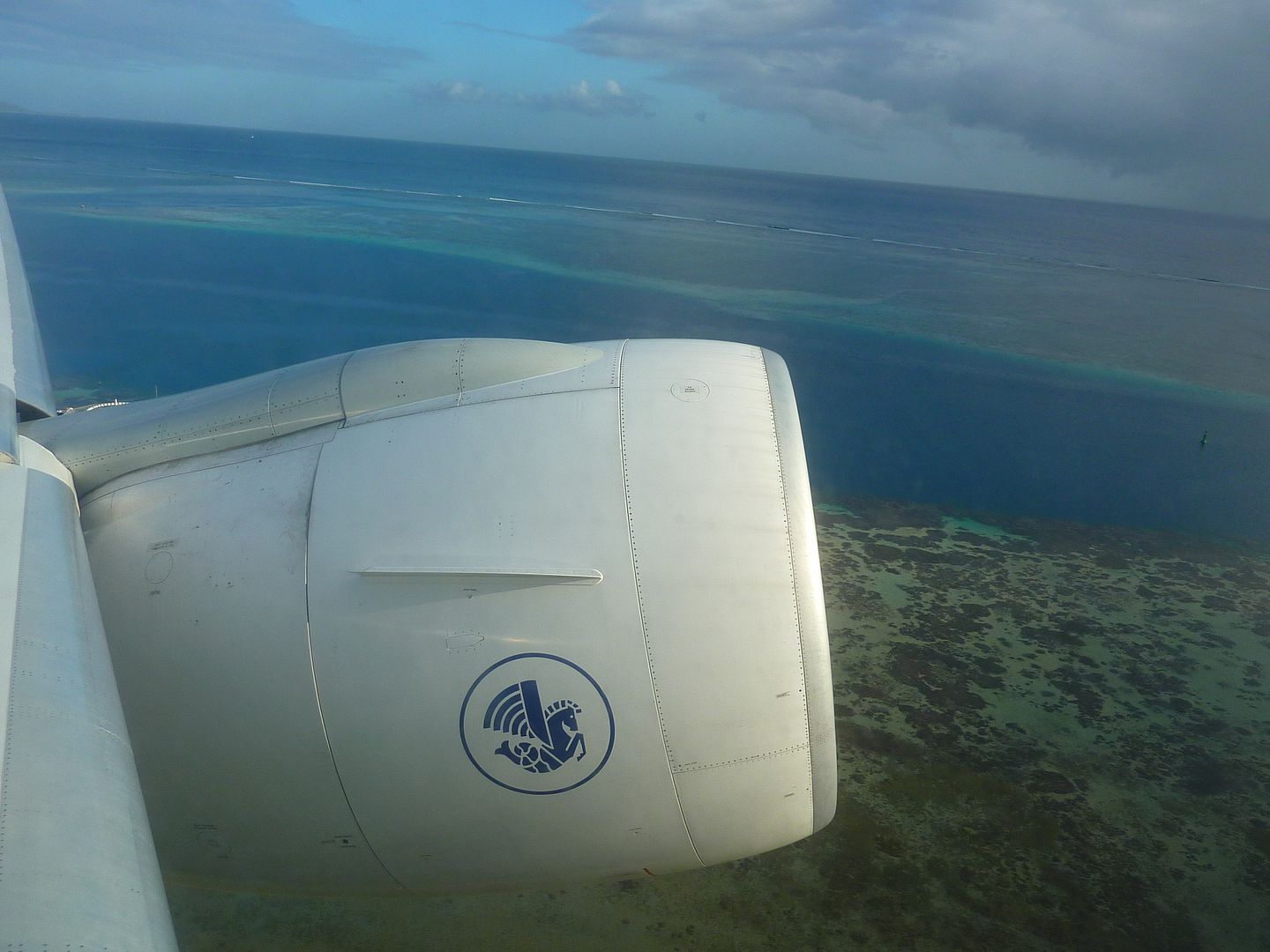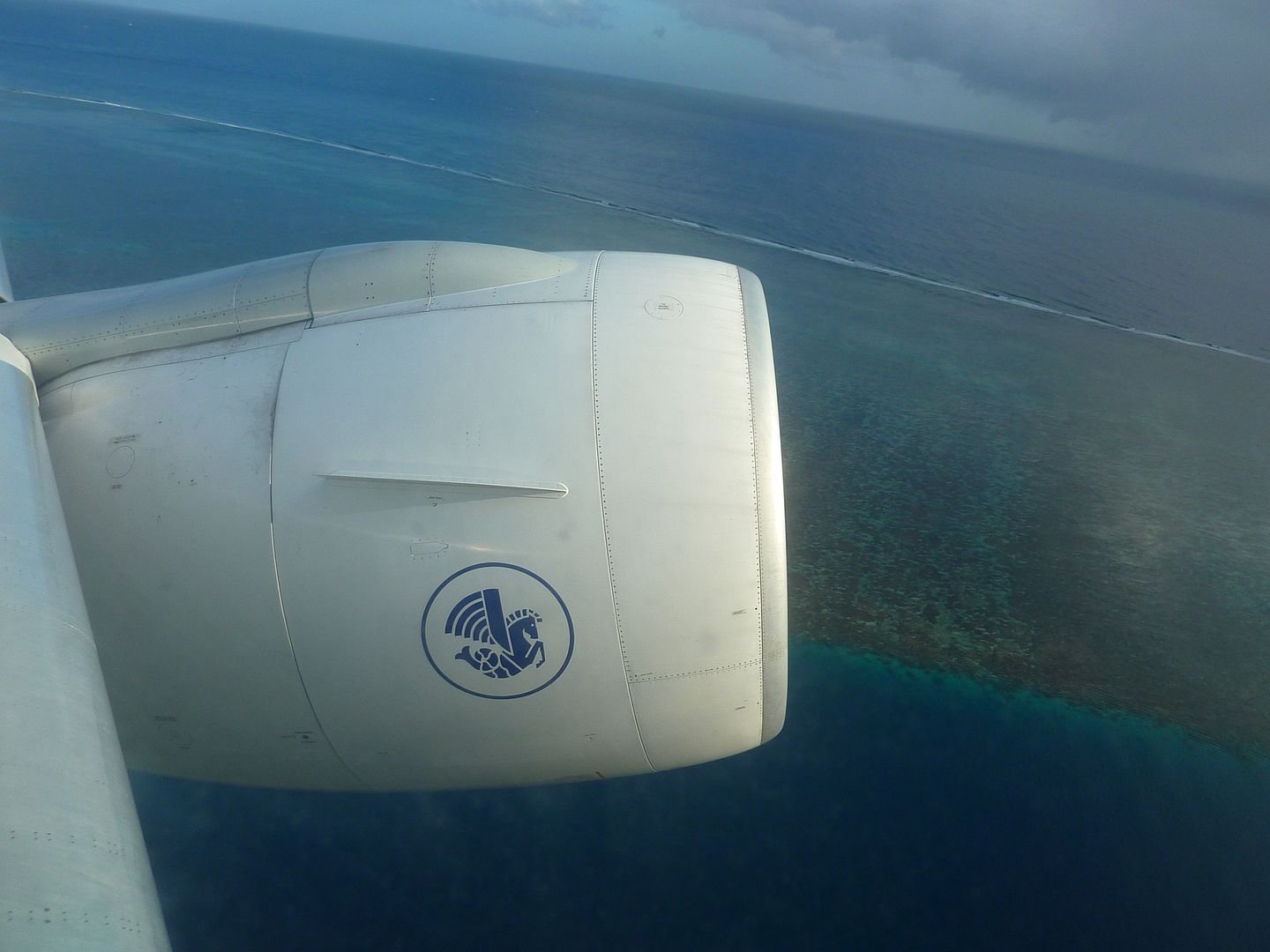 Tahiti and Faa'a Airport in the back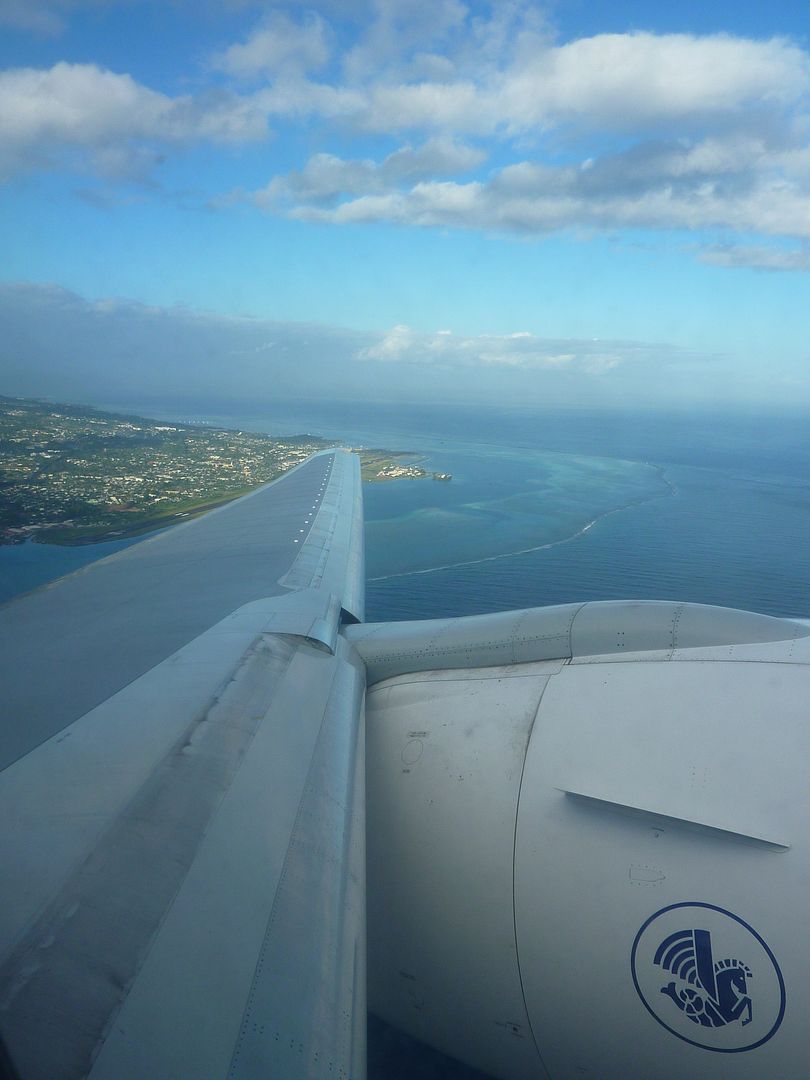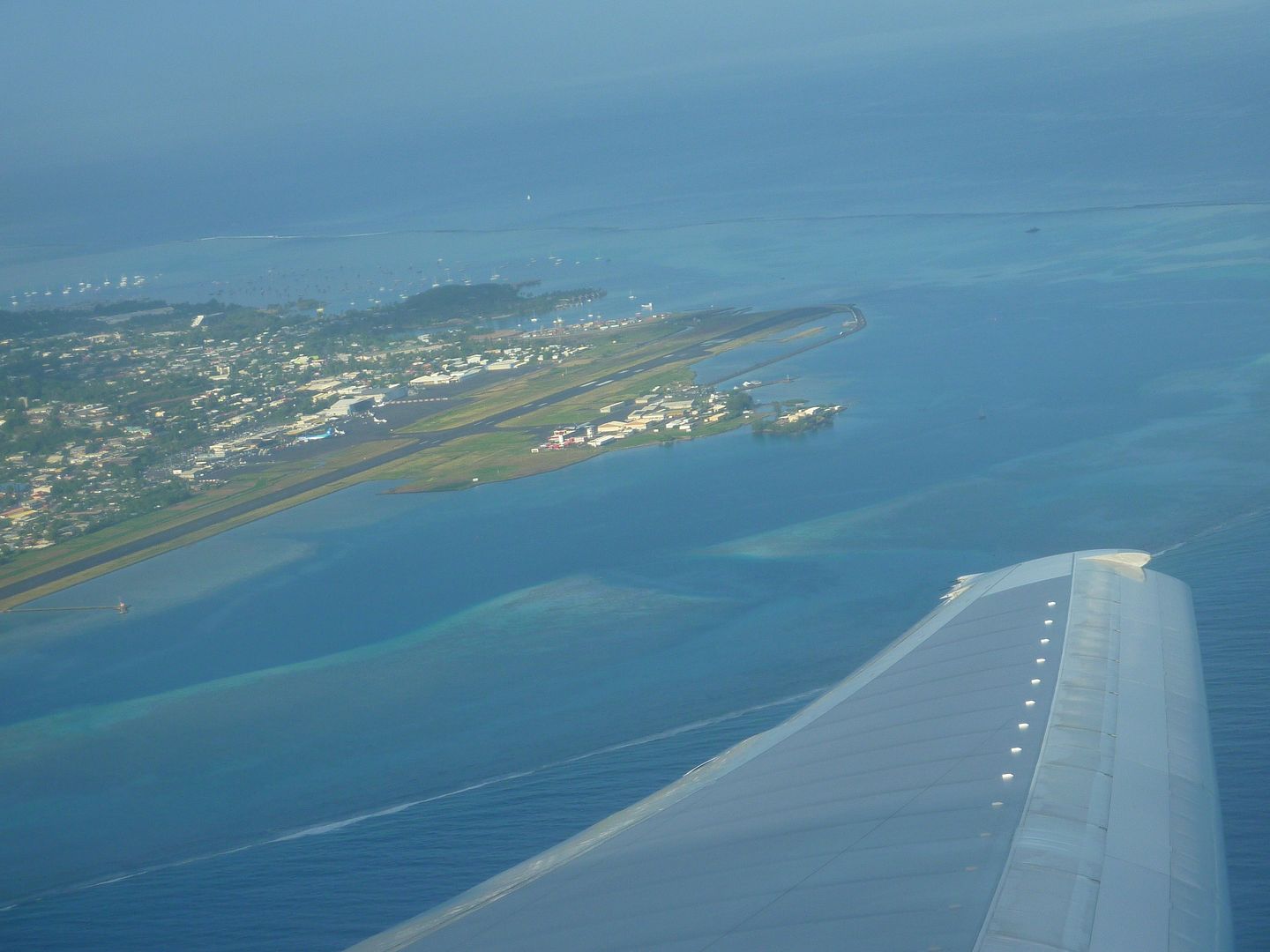 The captain took the scenic route to LAX and we enjoyed amazing sights !
Moorea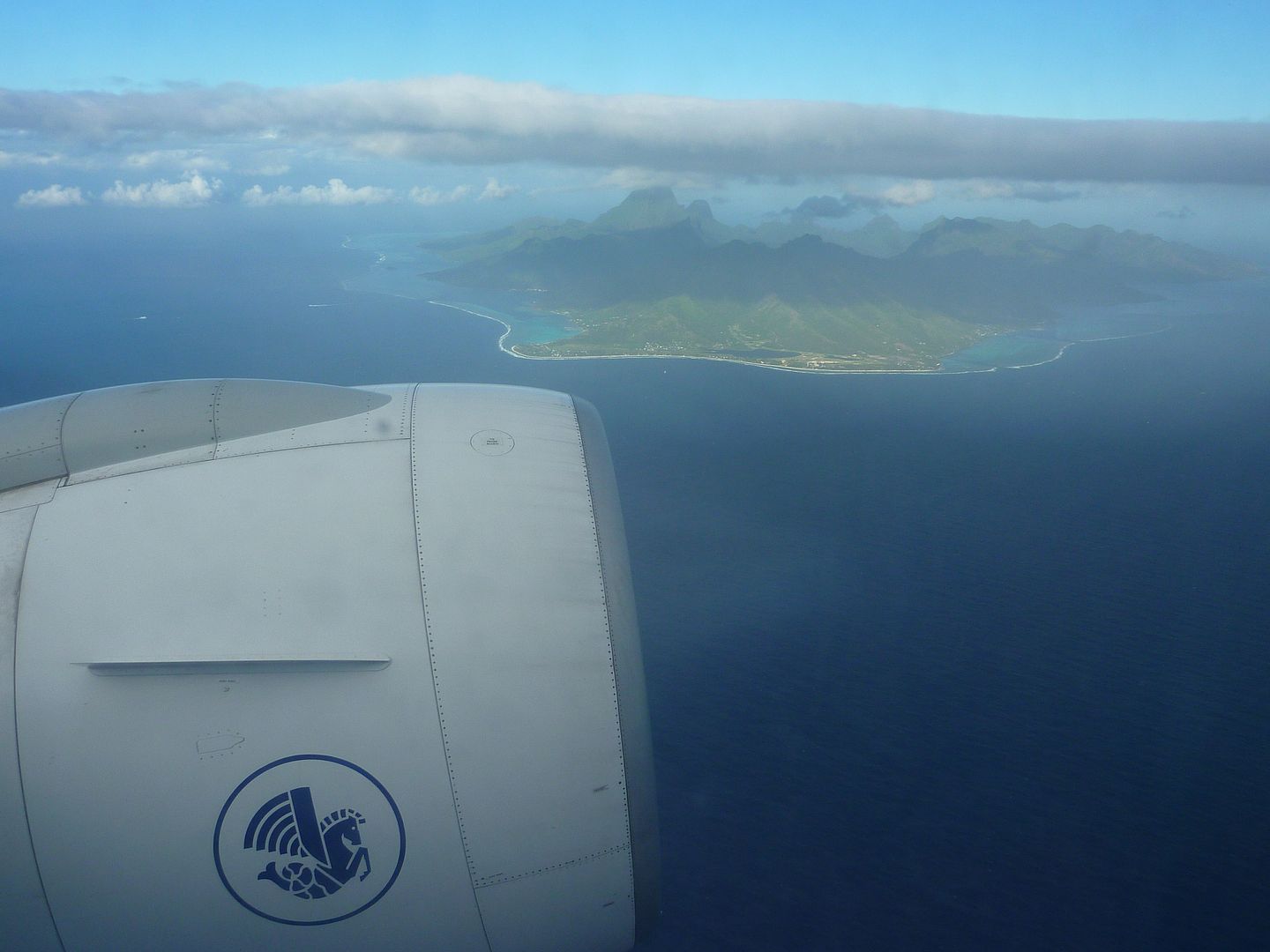 Tetiaroa, Marlon Brando's private atoll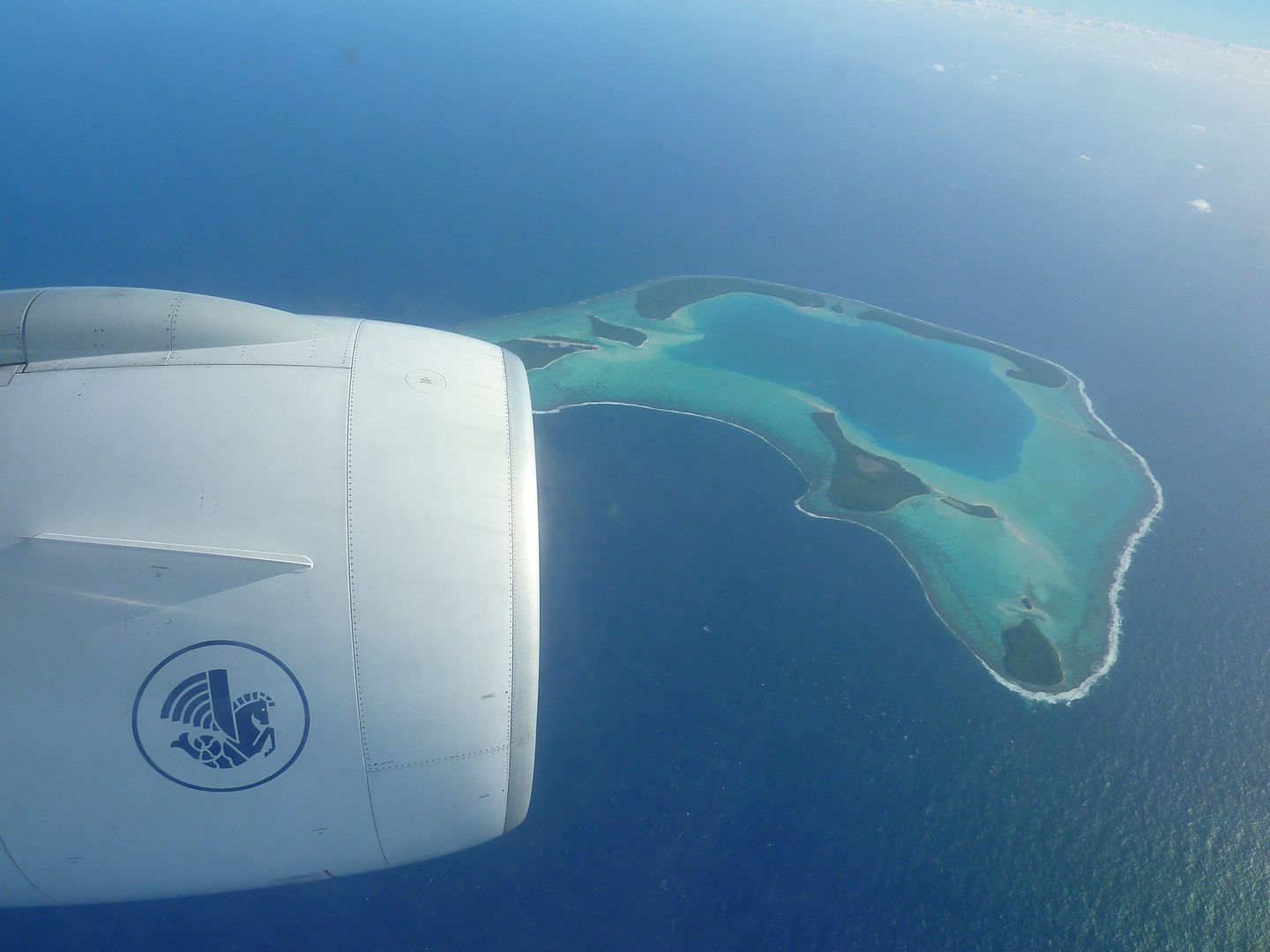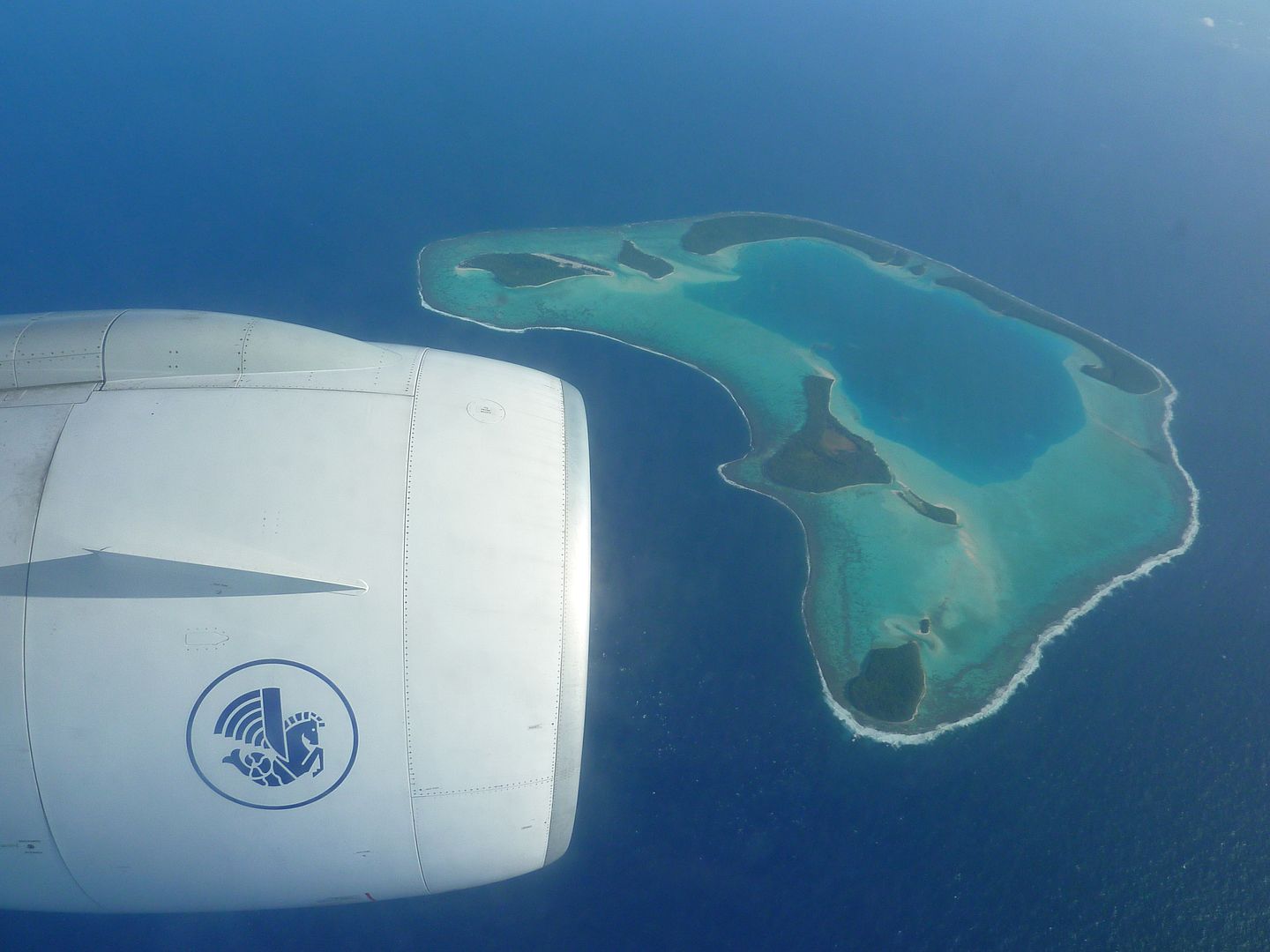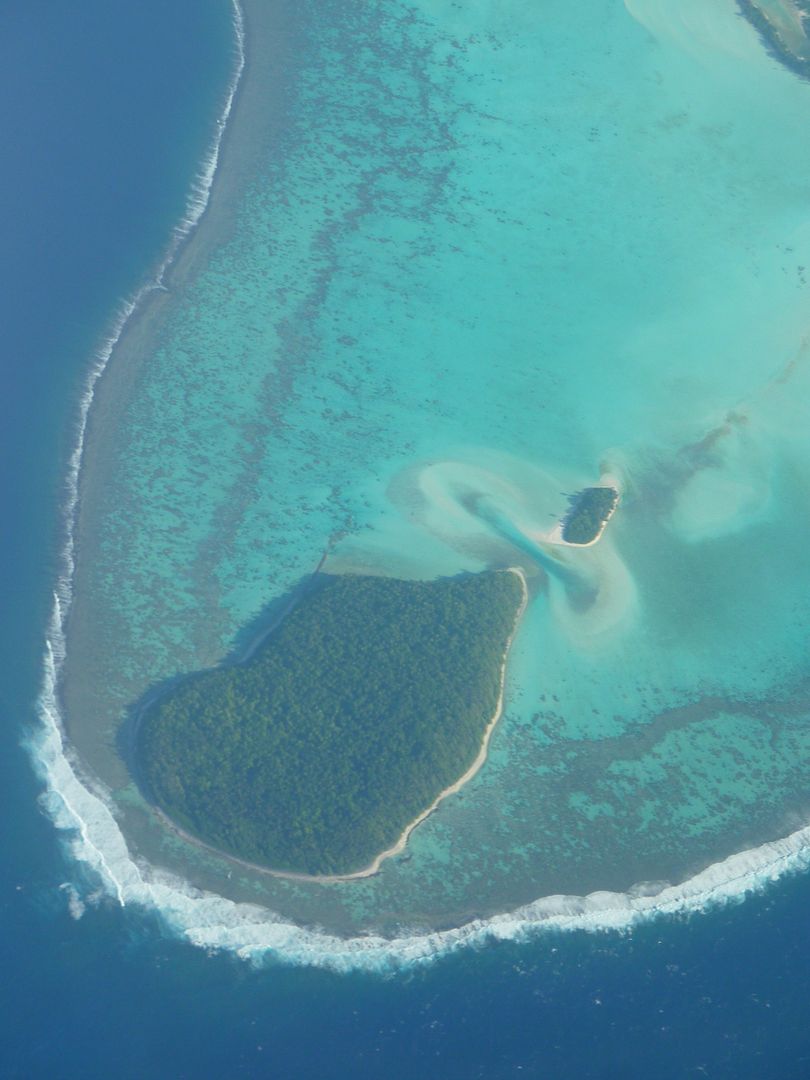 Tikehau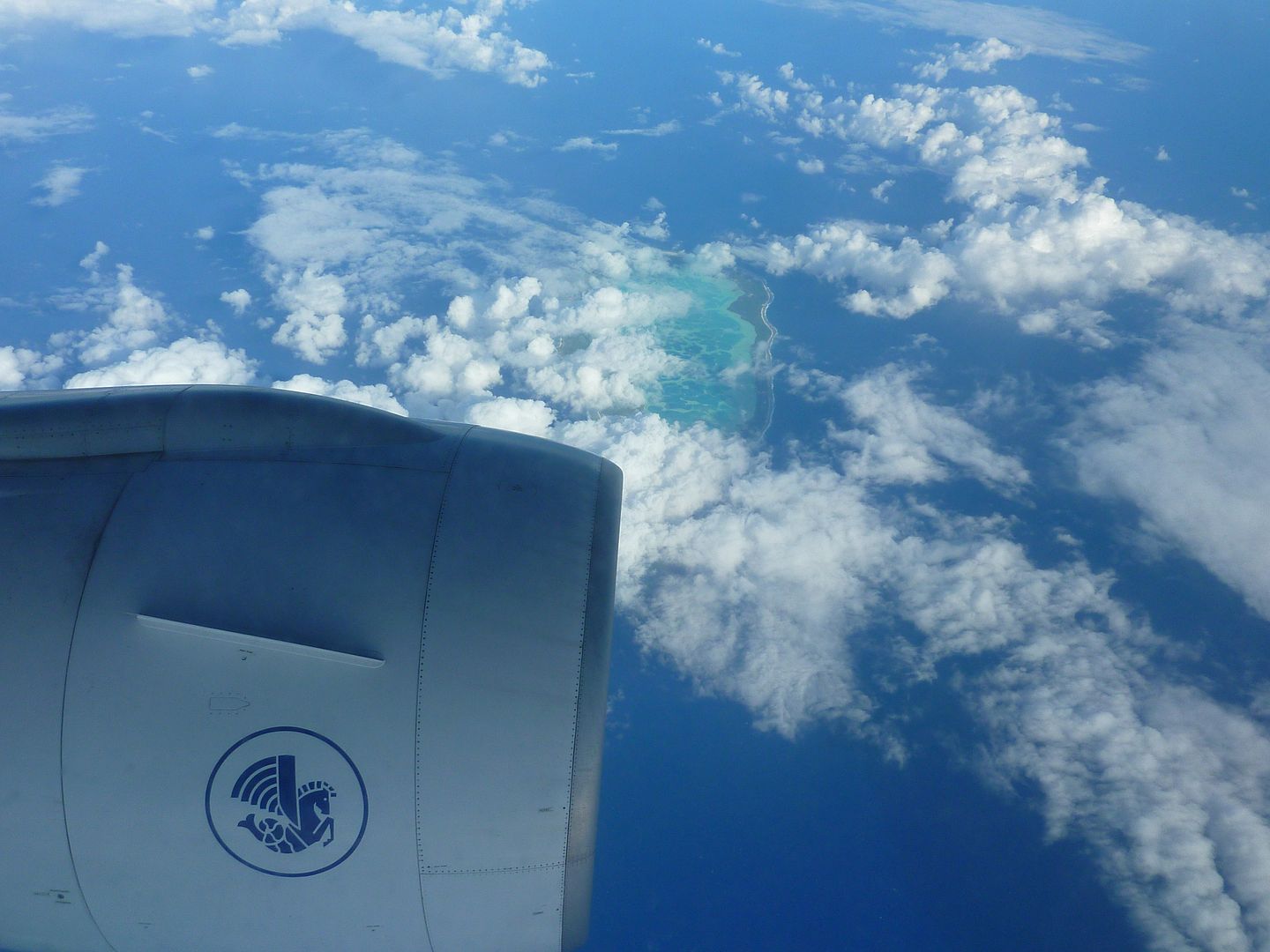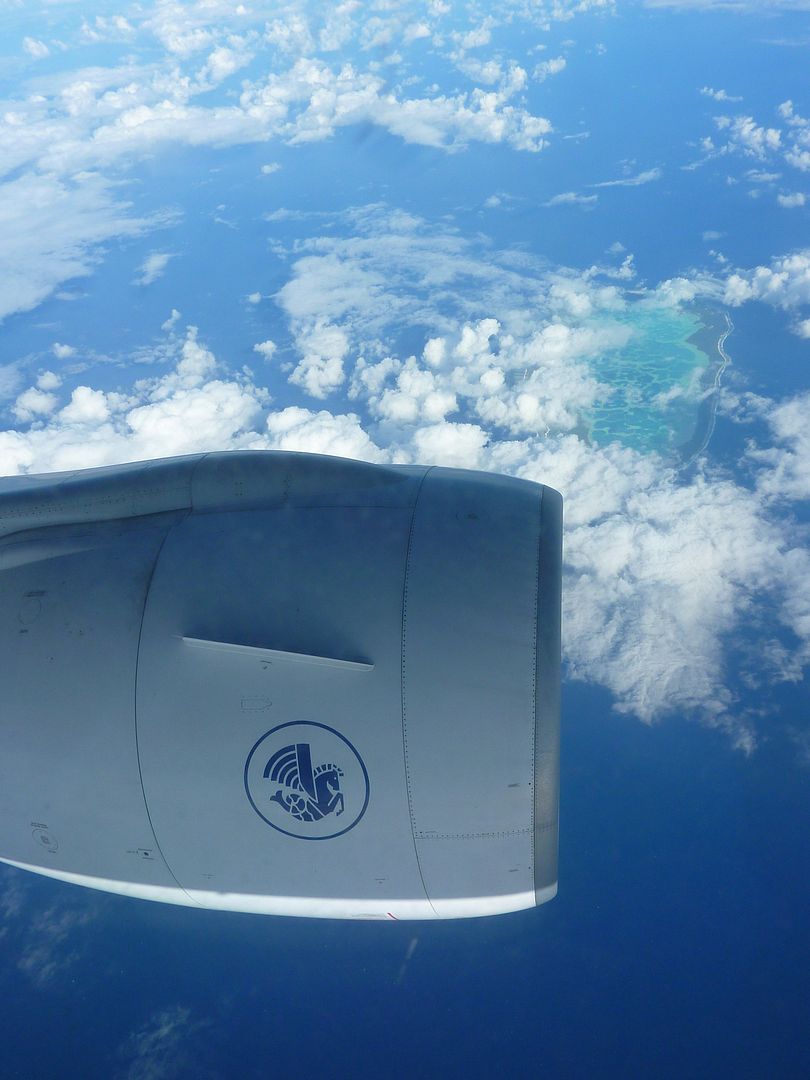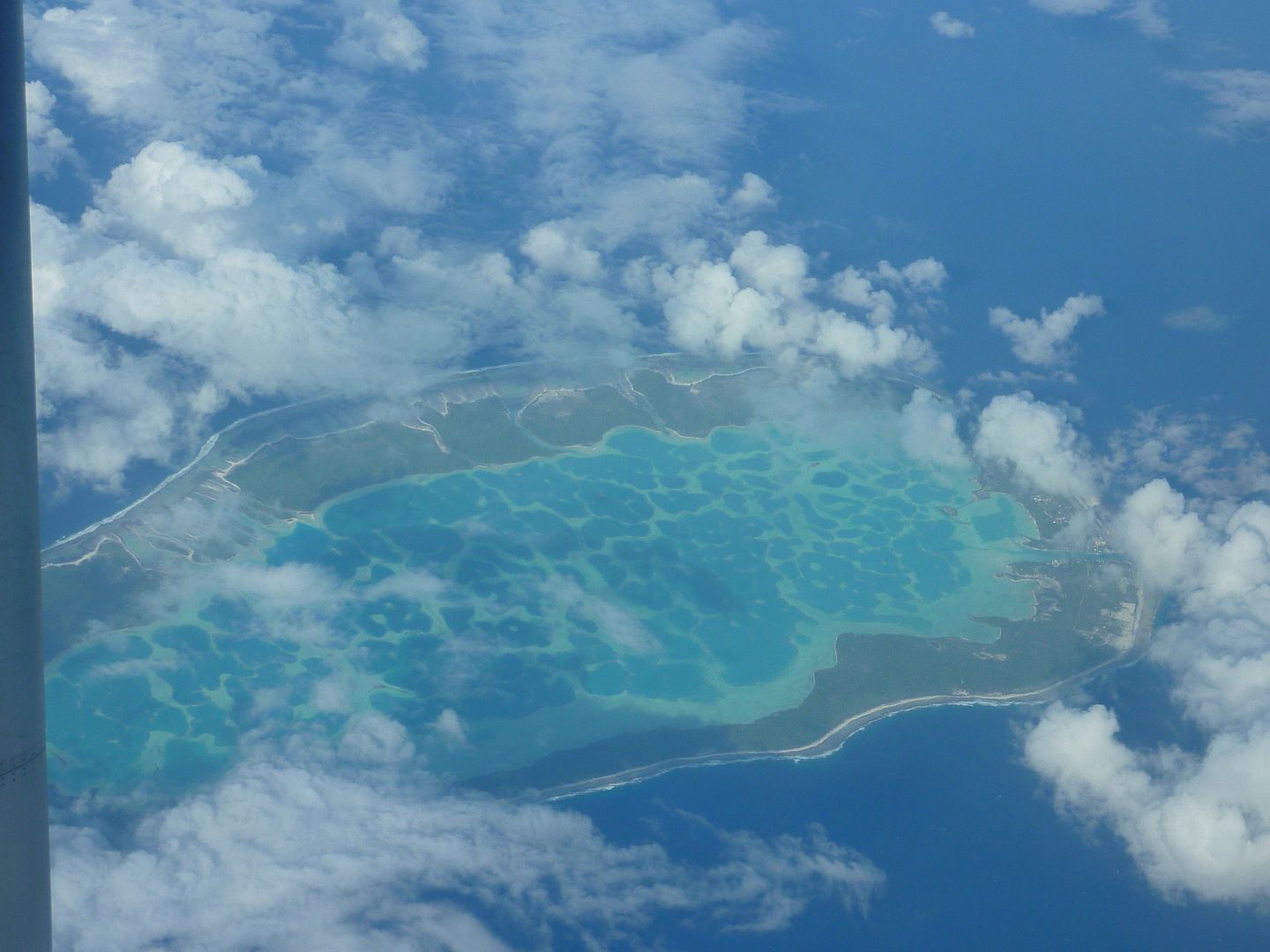 Our journey over French Polynesia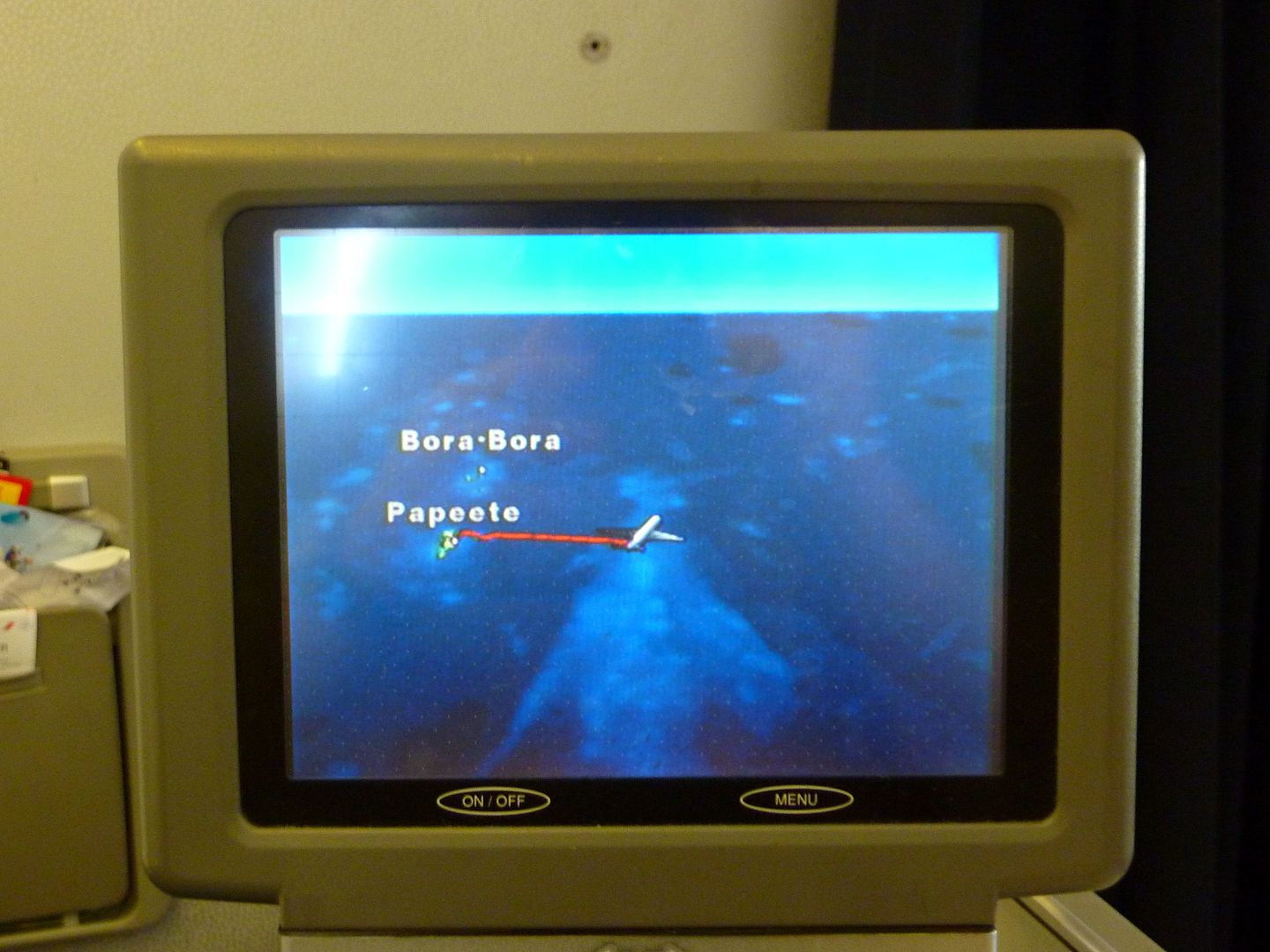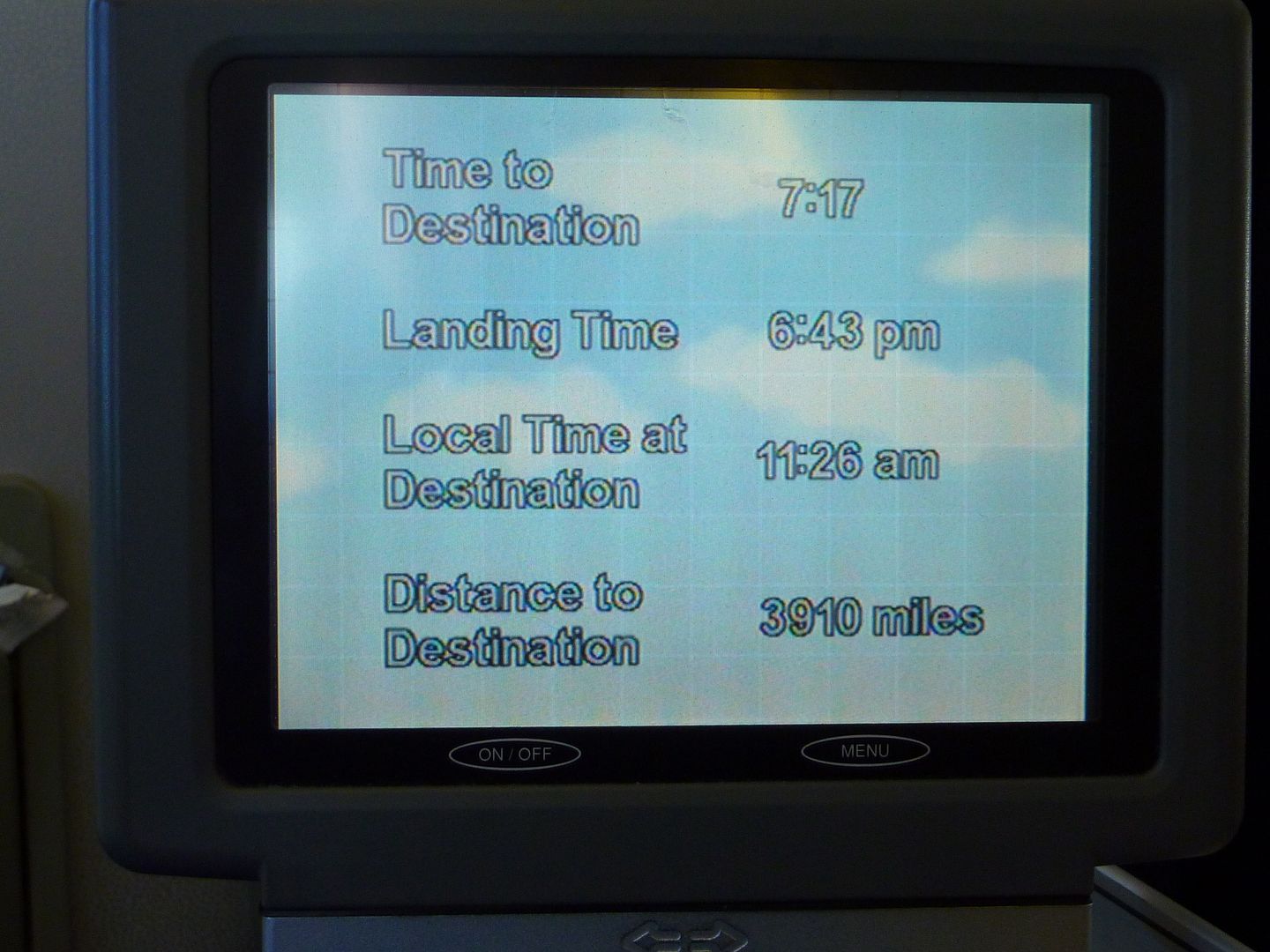 I switched on my TV and started to have a look at what was available. AF has 85 movies on demand, 200 CD's available, TV series and documentaries, more than you need for an 8 hour flight.
The crew started the service and offered us a hot towel followed by the menus. On the ground we were offered newspapers and a welcome drink. Choice was Champagne, Orange juice or water.
After the menus were offered they started the aperitif service I requested a glass of white wine and the amuse bouche was Salmon Roe and Shrimp Canape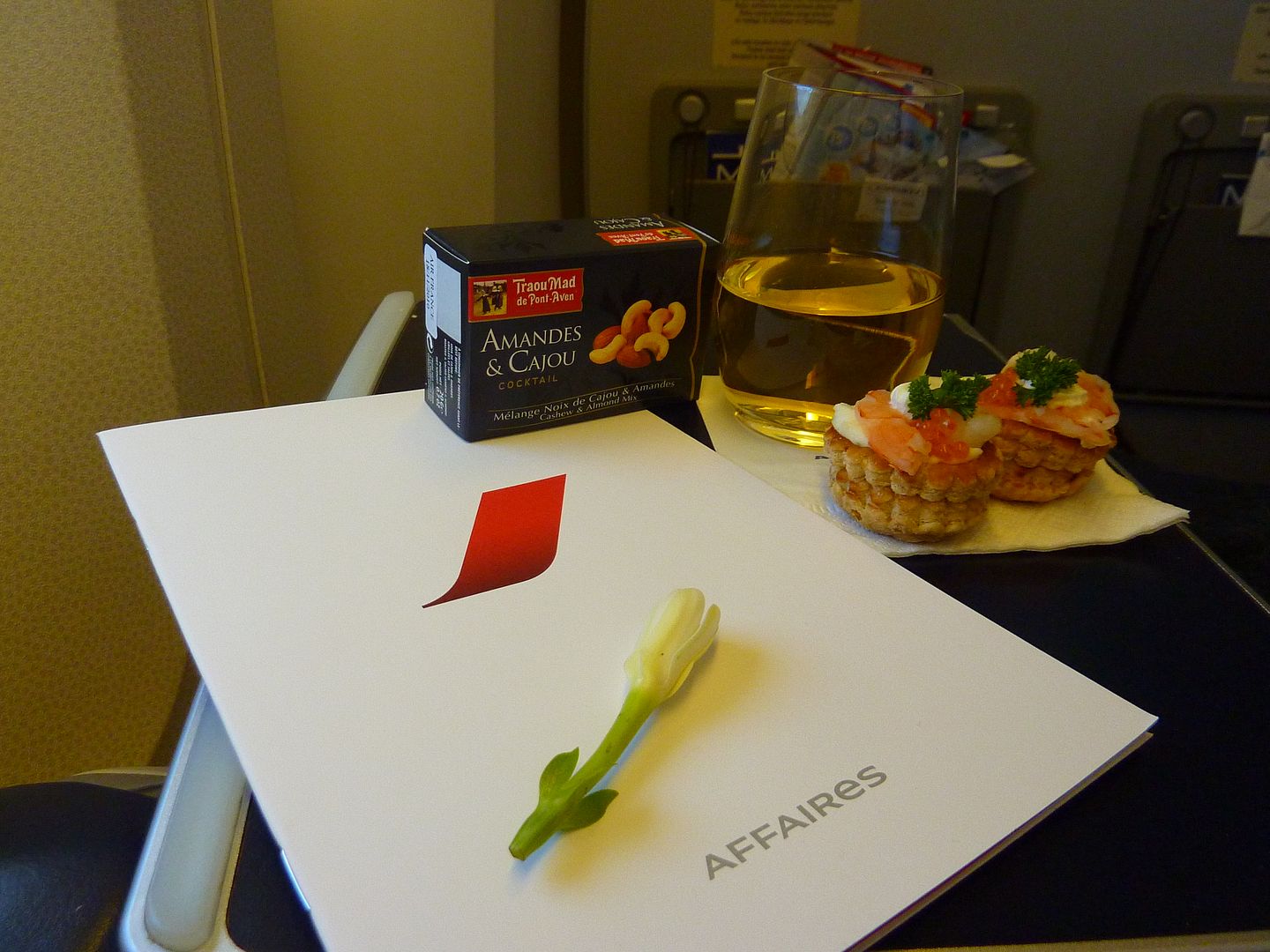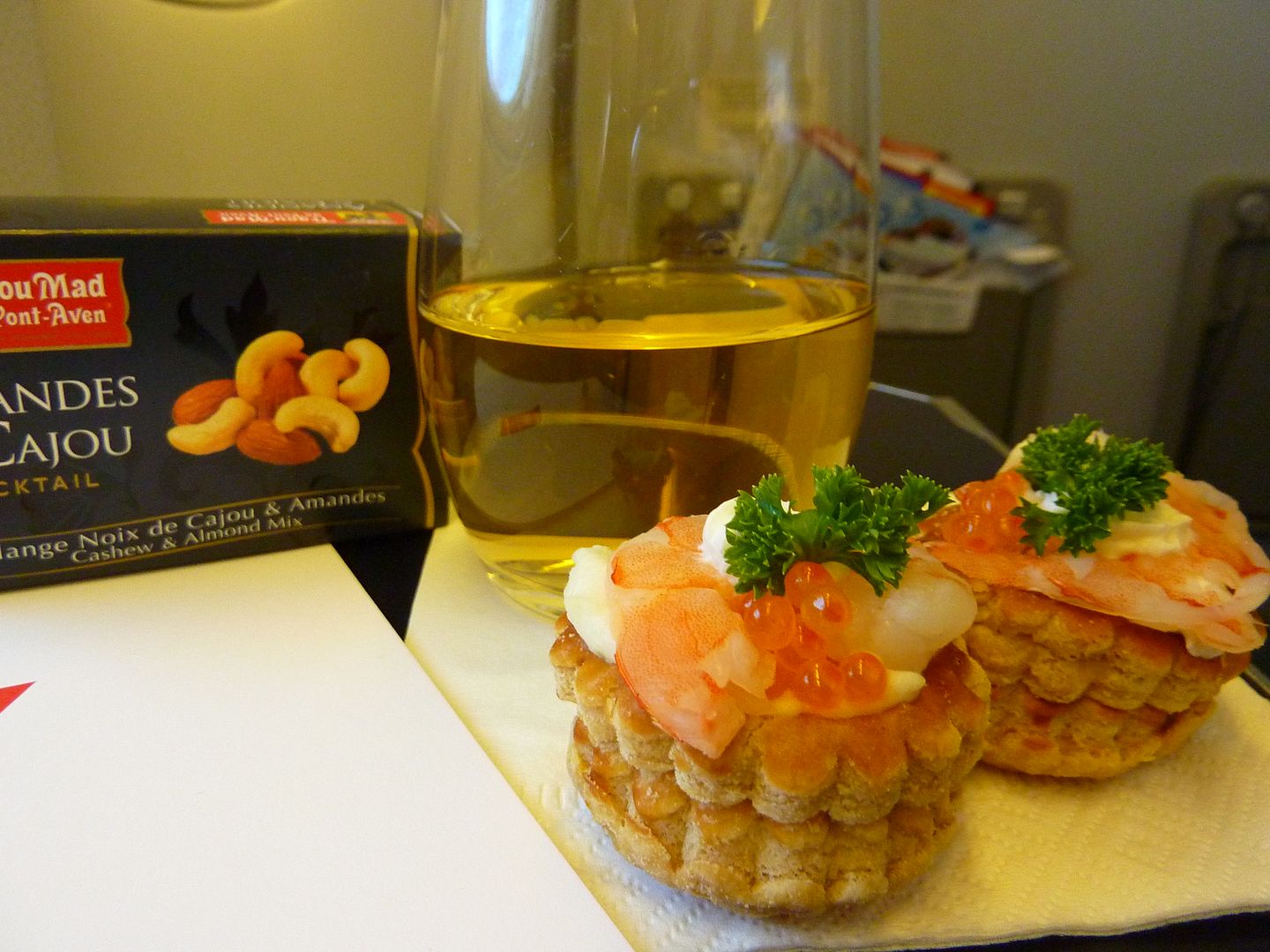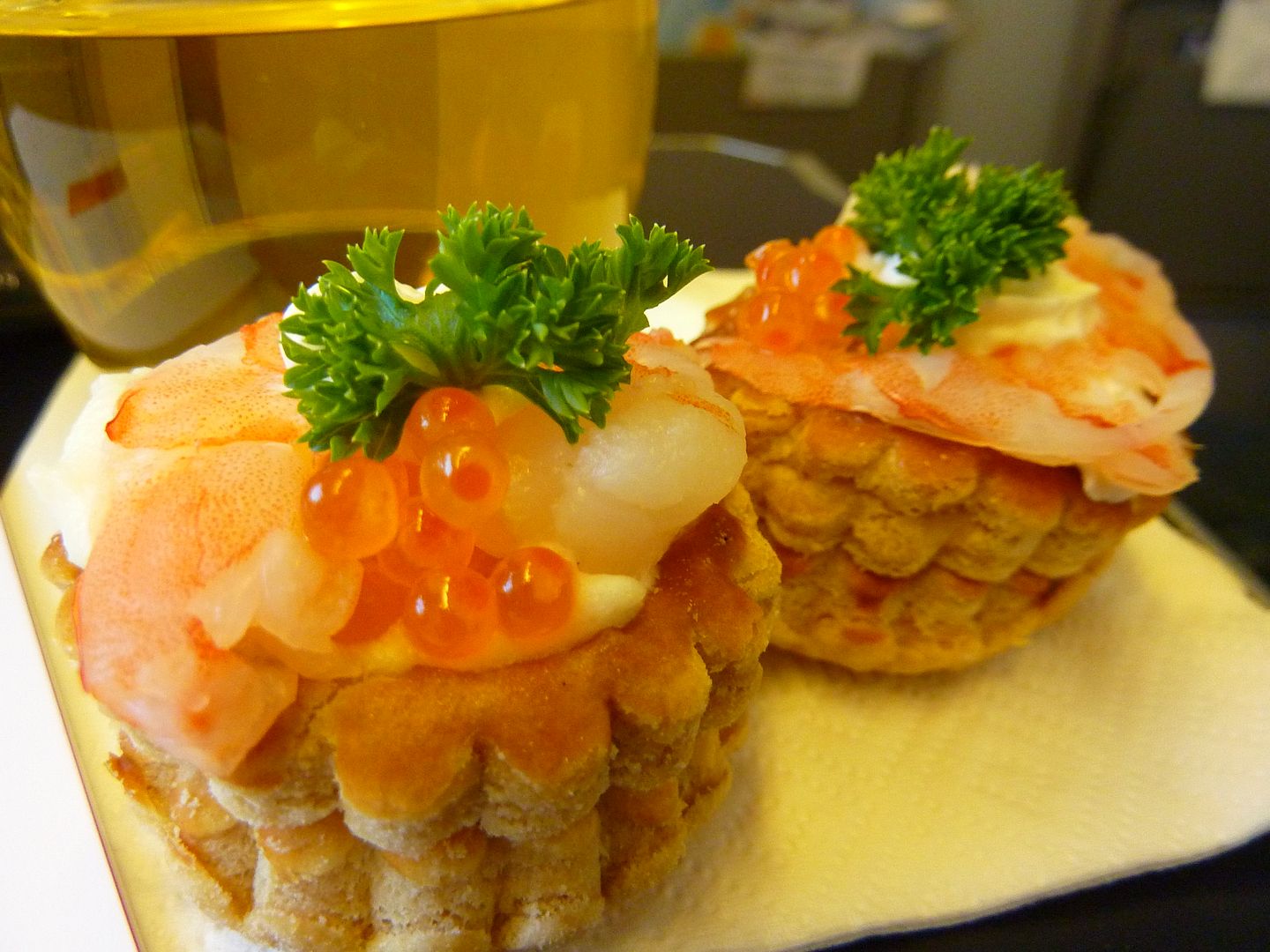 Table linen detail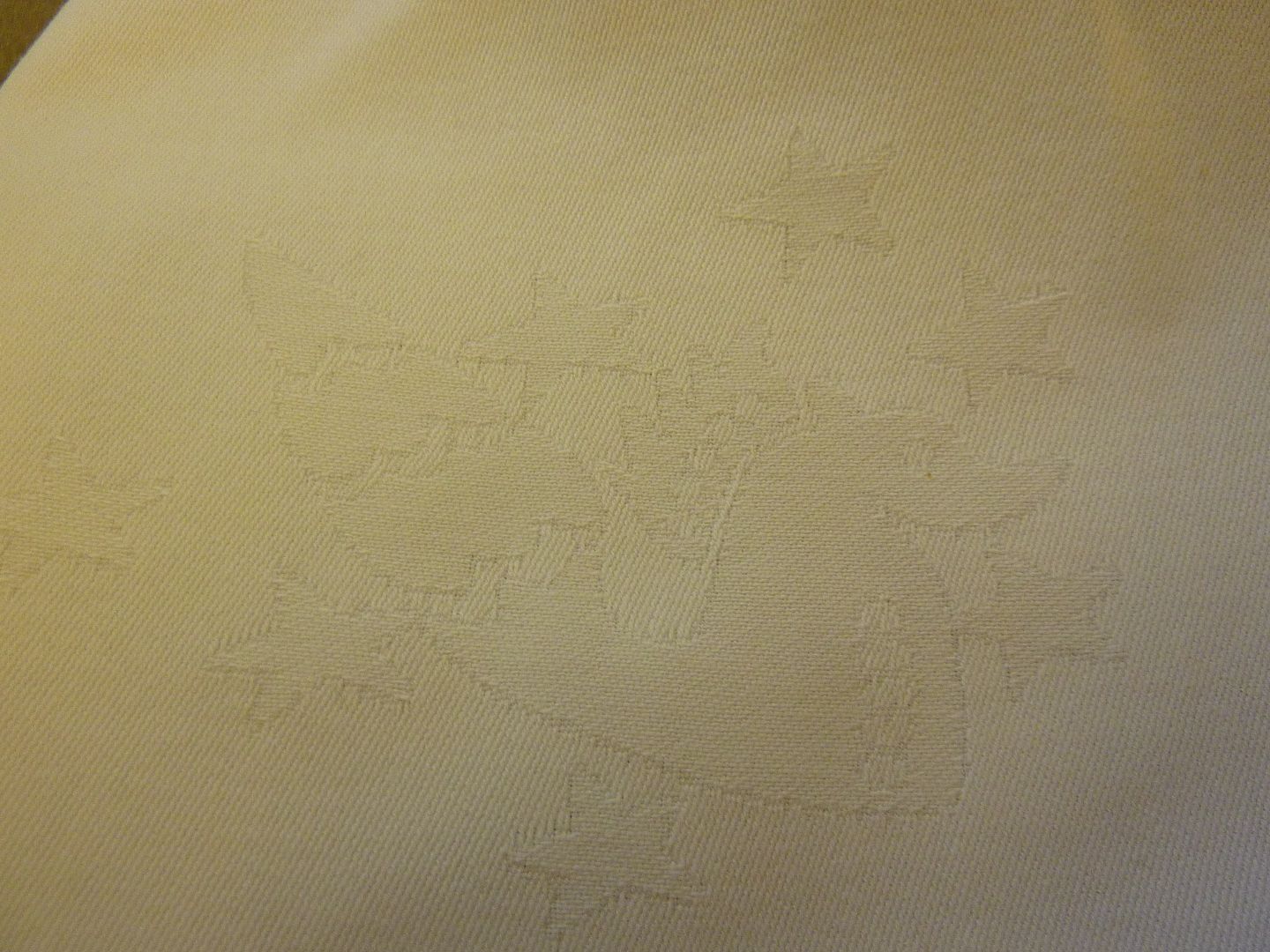 After the aperitif we were served the starter Gourmet Appetizer and Seasonal Salad Layered lamb, grilled Mahi Mahi, cauliflower and carrot terrine.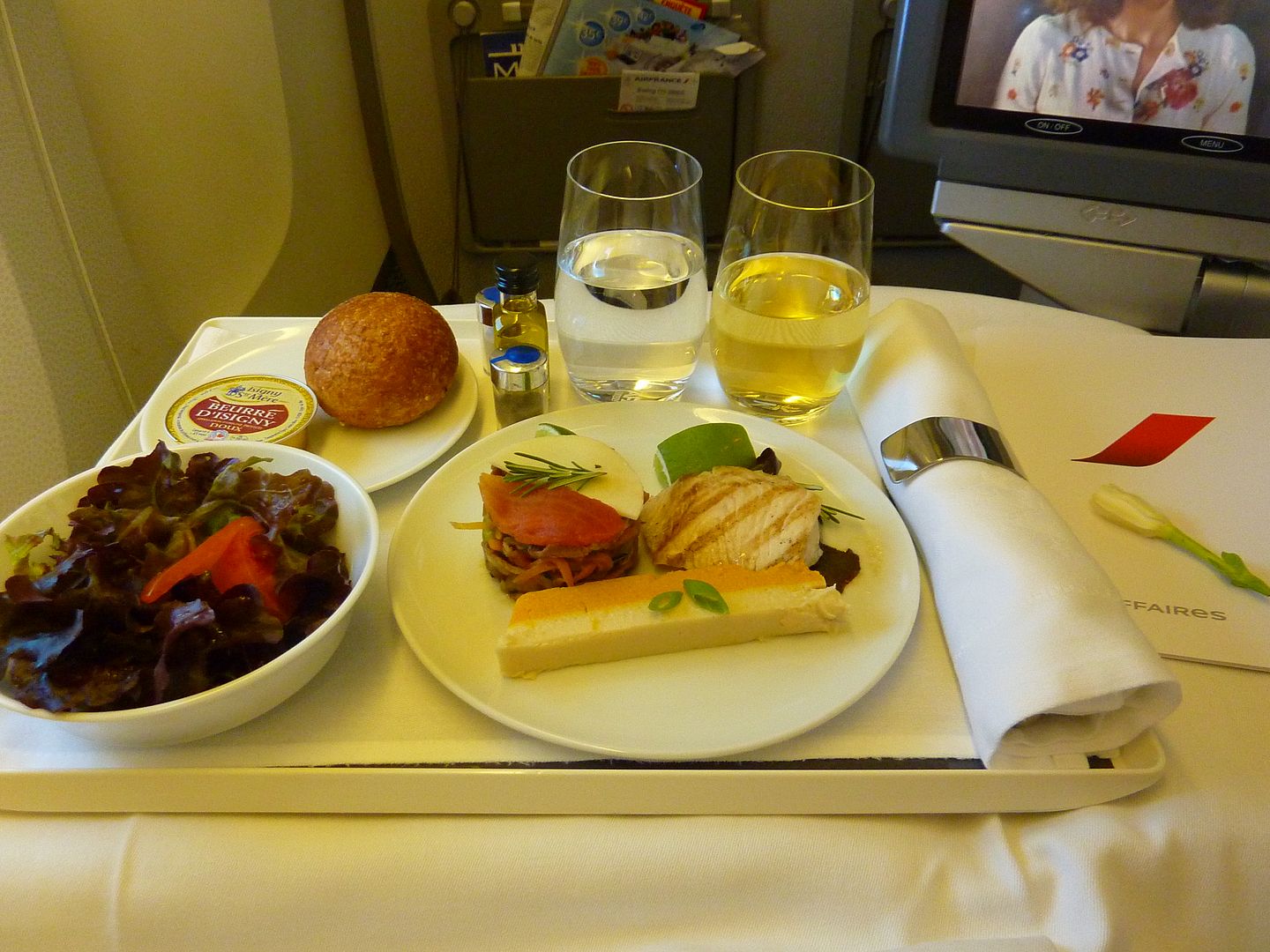 I had a glass of Languedoc Blanc limoux terroir de Haute Vallée 2007 Cave Sieur D'arques.
Following the starter I had the Vegetable and Polenta Galette with Bell Pepper Coulis.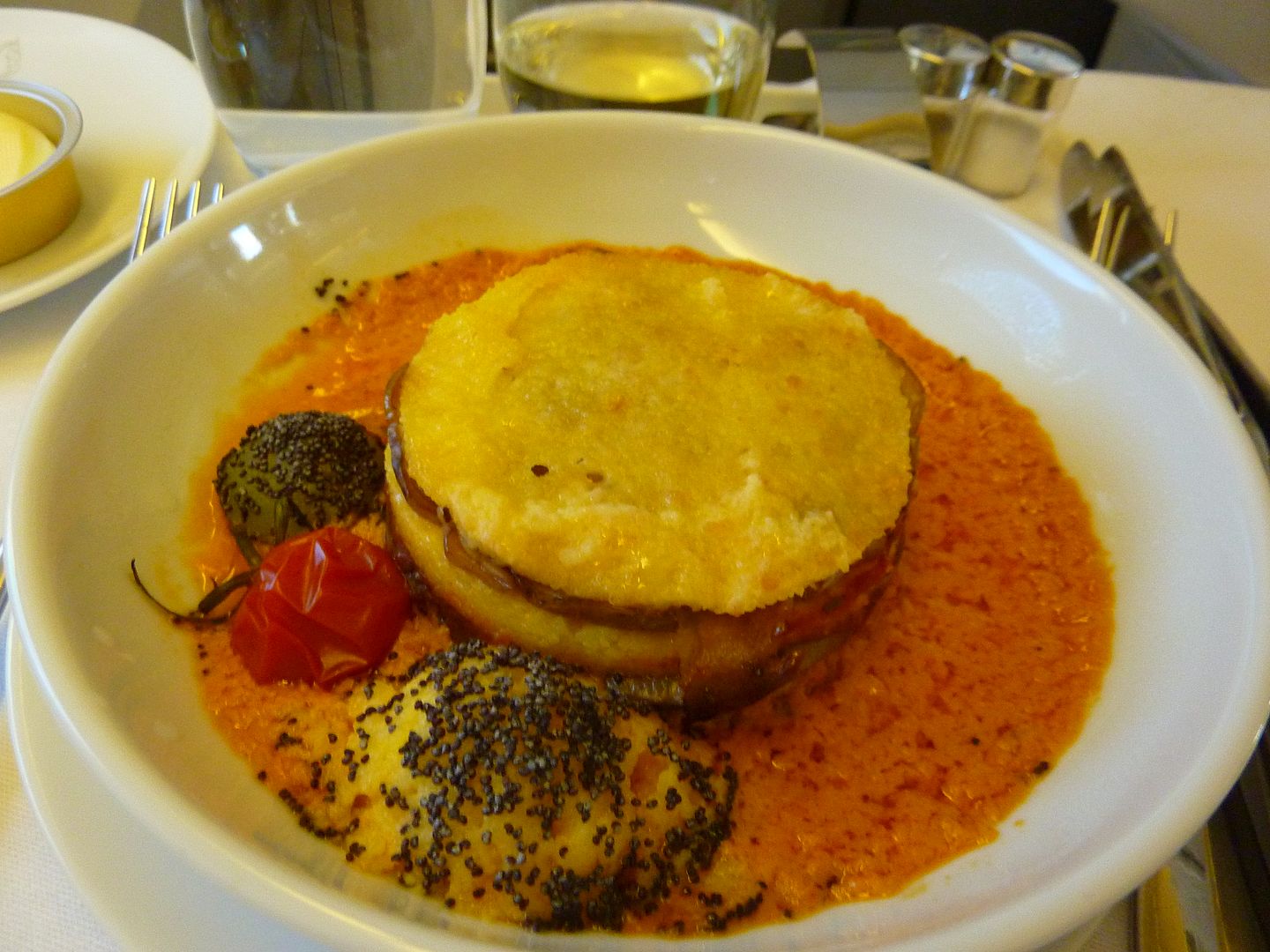 Cheese was served at the same time which doesn't bother me much. Bread and wine was offered each time.
Detail of my glass of water and the new Air France "virgule"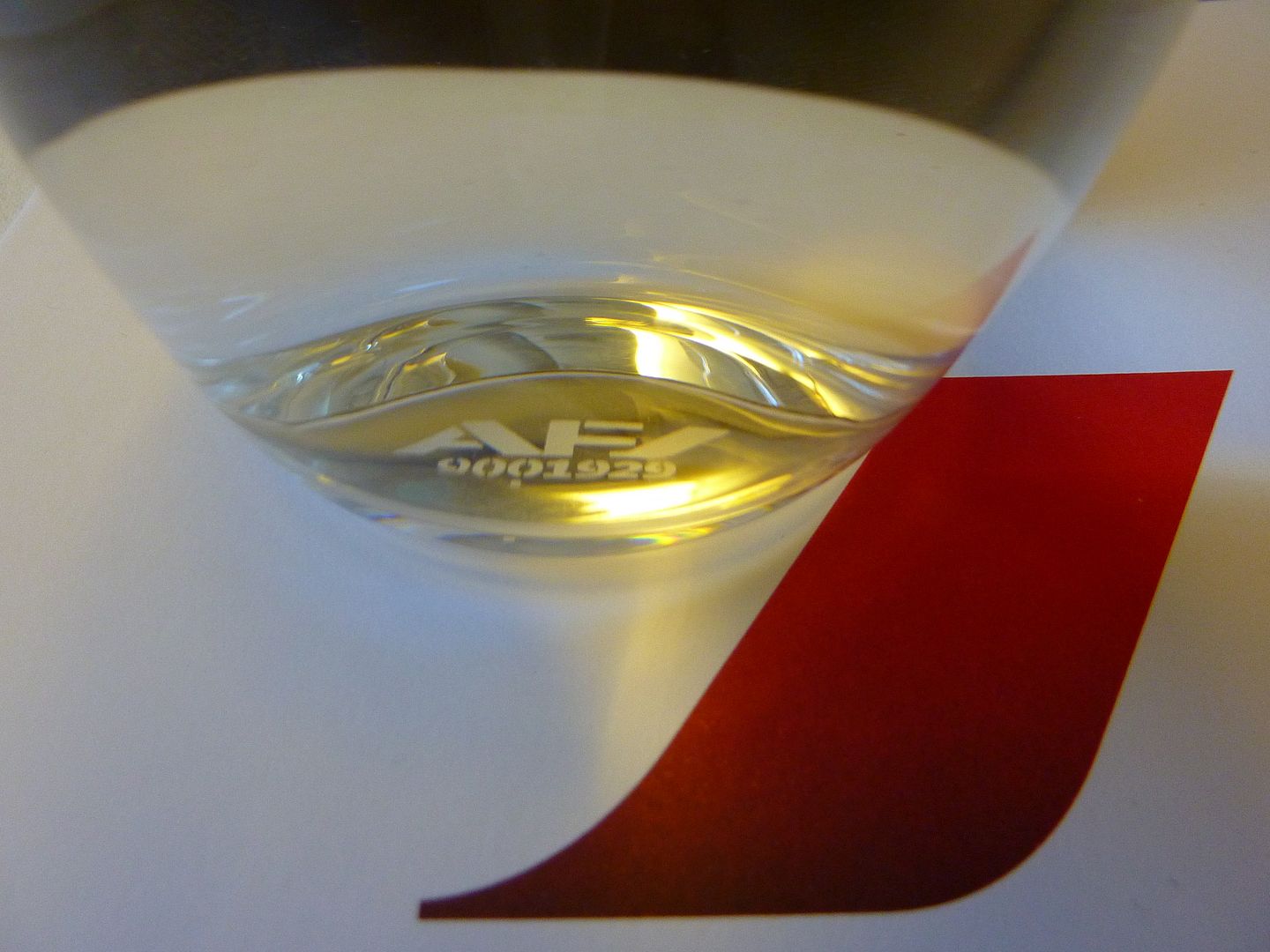 Trays were cleared and we were offered desserts. The choice was the Dessert trio with Pineapple Tartlet, Praline Caramel Puff, Strawberry Macaroon; Pineapple, mango or strawberry sorbet and choice of fresh fruits.
Teas and coffee were offered and Espressos available at the bar. Teas are coming from the Maison Fauchon.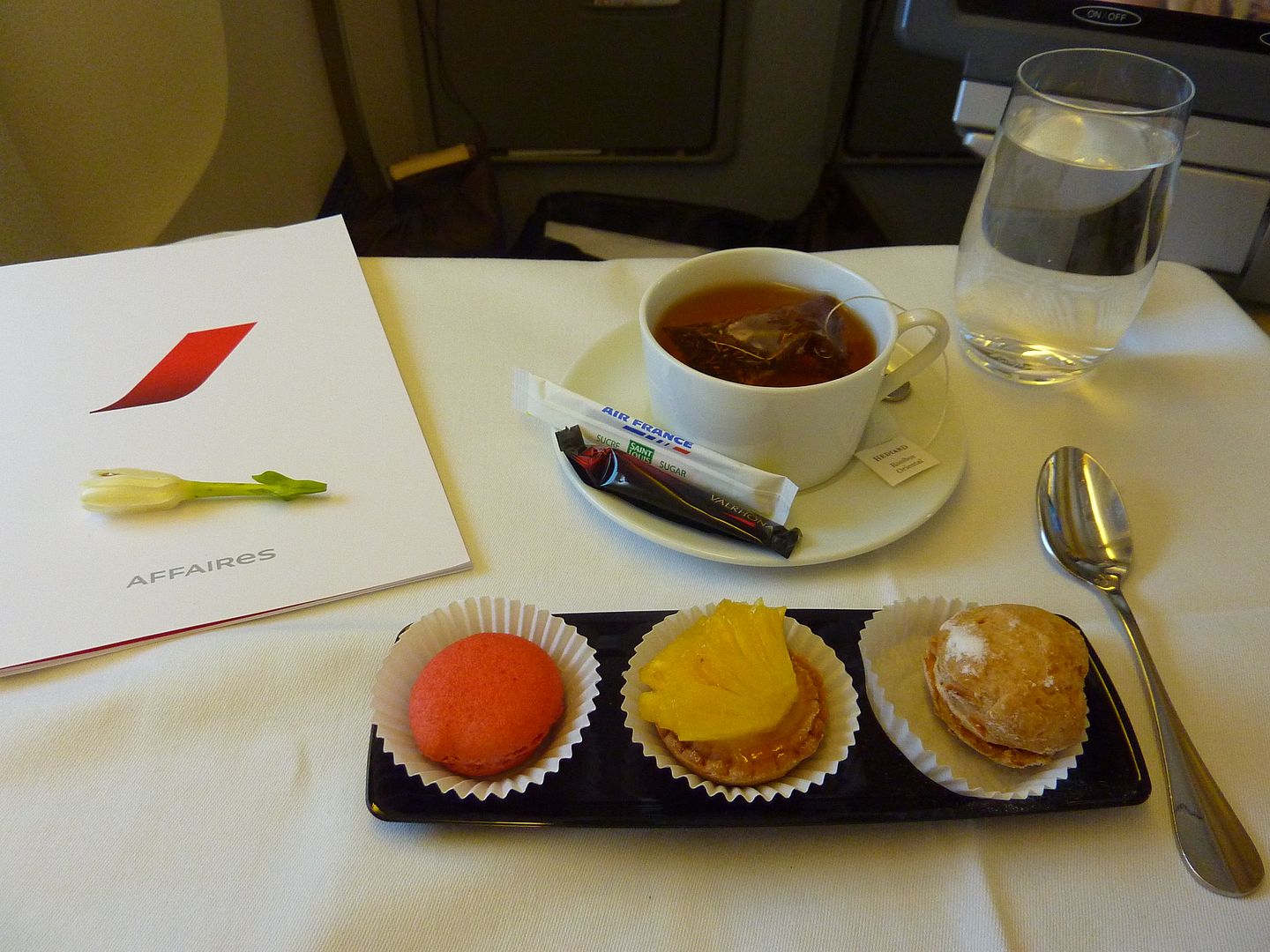 After the meal service I reclined my seat fully, watched a movie and fell asleep. I was woken up every so often by a screaming toddler... I don't know how that kid didn't end up without voice at the end of the flight...
I woke up just before the snack service preceding decent into LAX.
The Light Meal was Smoked tuna canapé with eggplant caviar, goat cheese canapé with tapenade. hazelnut-chocolate cake, assortment of fresh fruit, fromage blanc.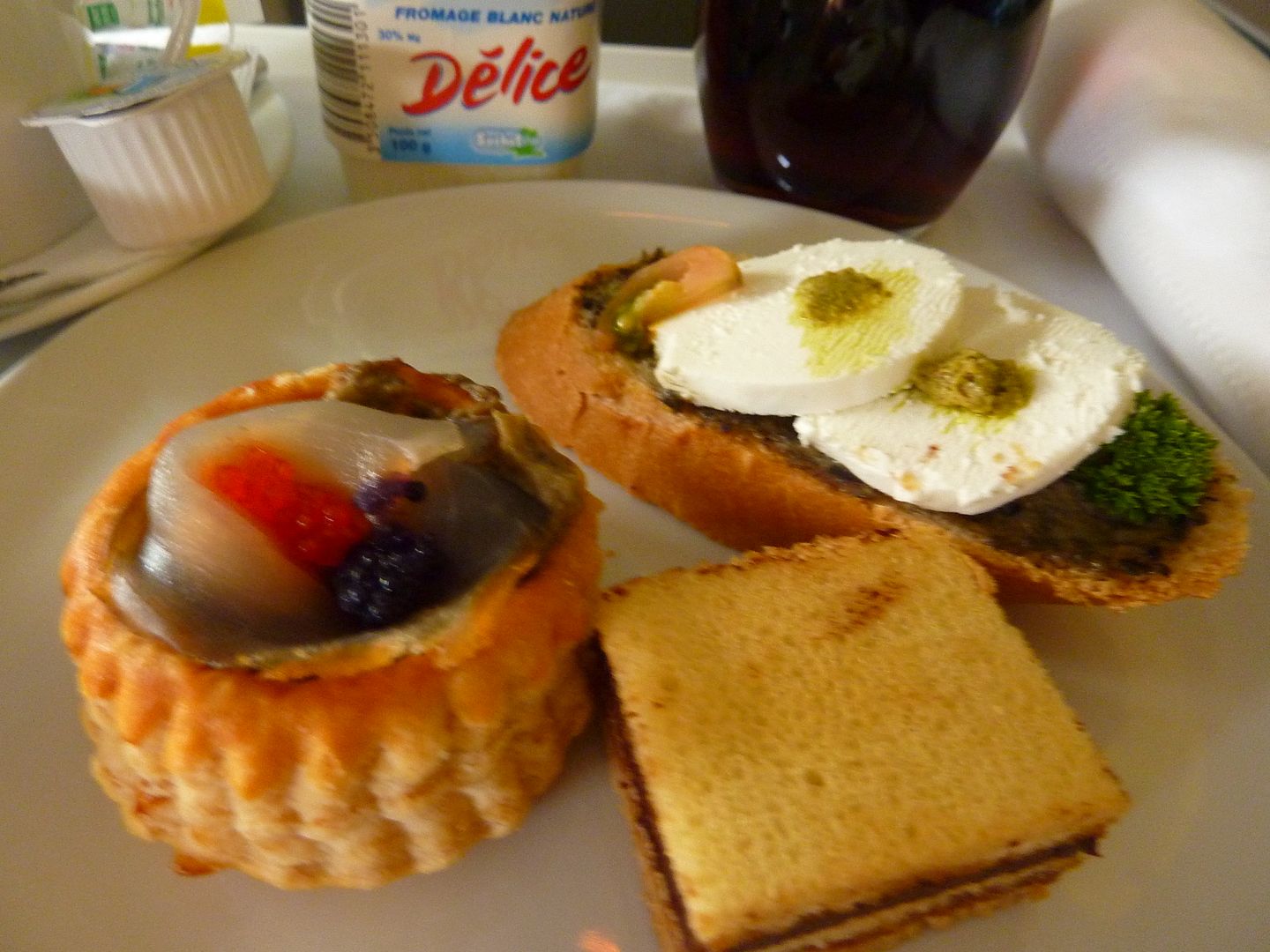 The light meal was nice, loved the goat cheese with tapenade, sharp in taste ! I had a glass of Pepsi and a cup of tea.
My sister was operating the flight and I had a picture of her and my friend Lorna before we arrived in LAX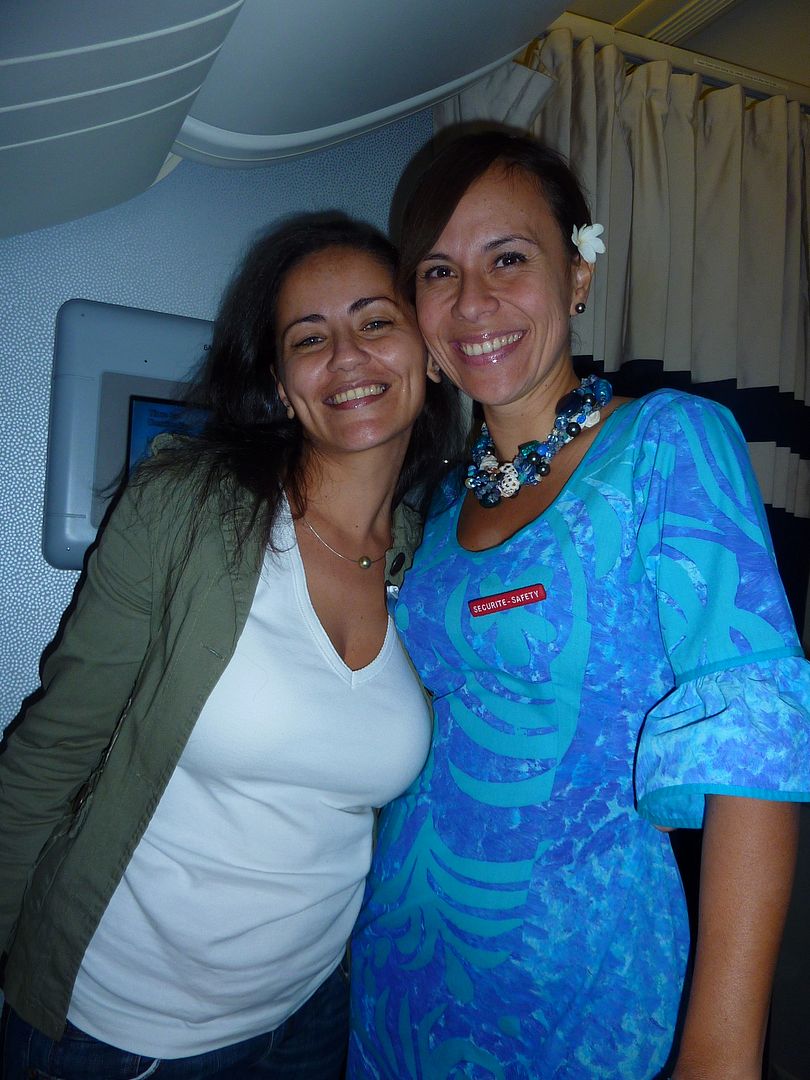 The approached California over Long Beach and headed towards LAX airport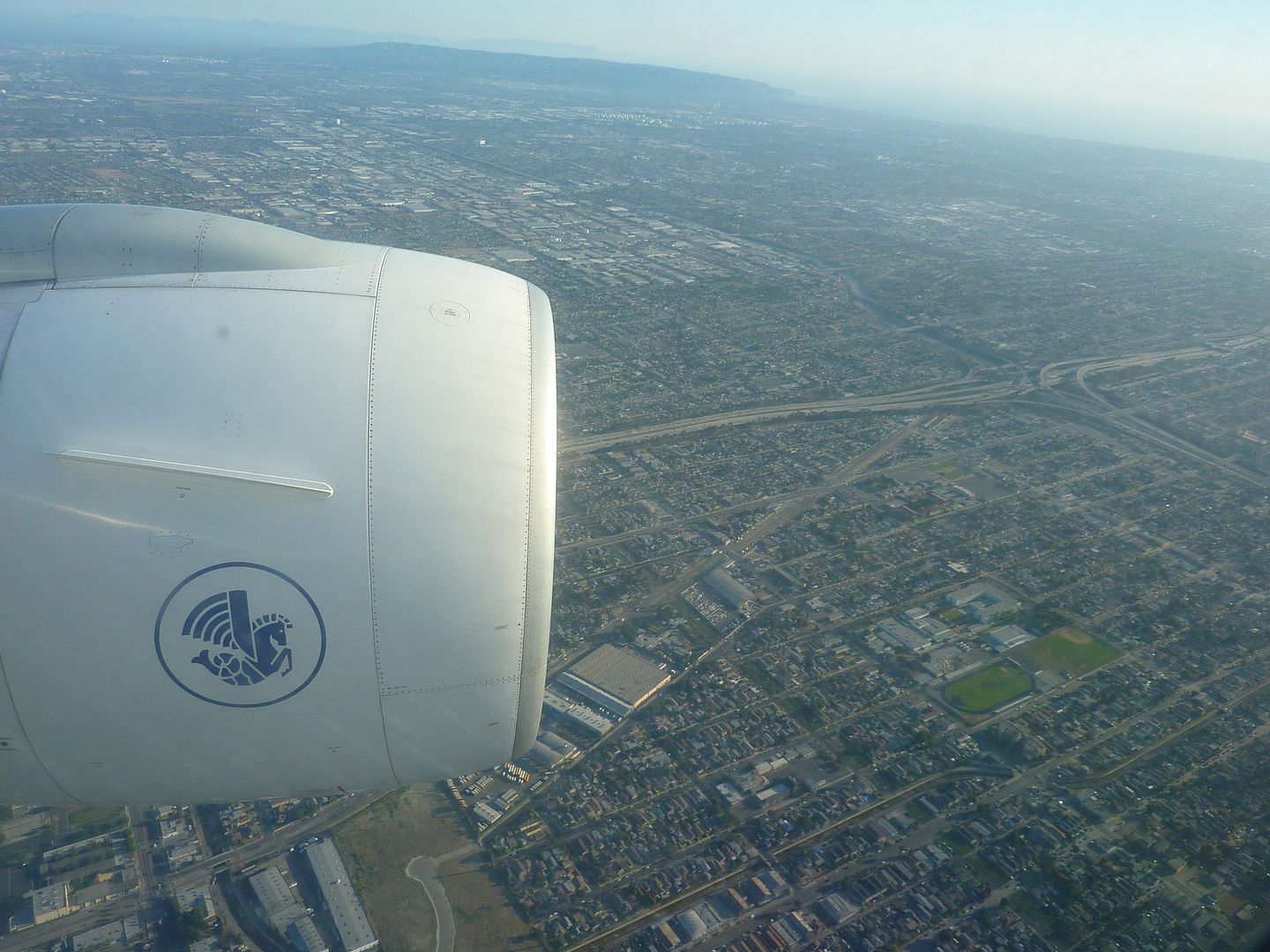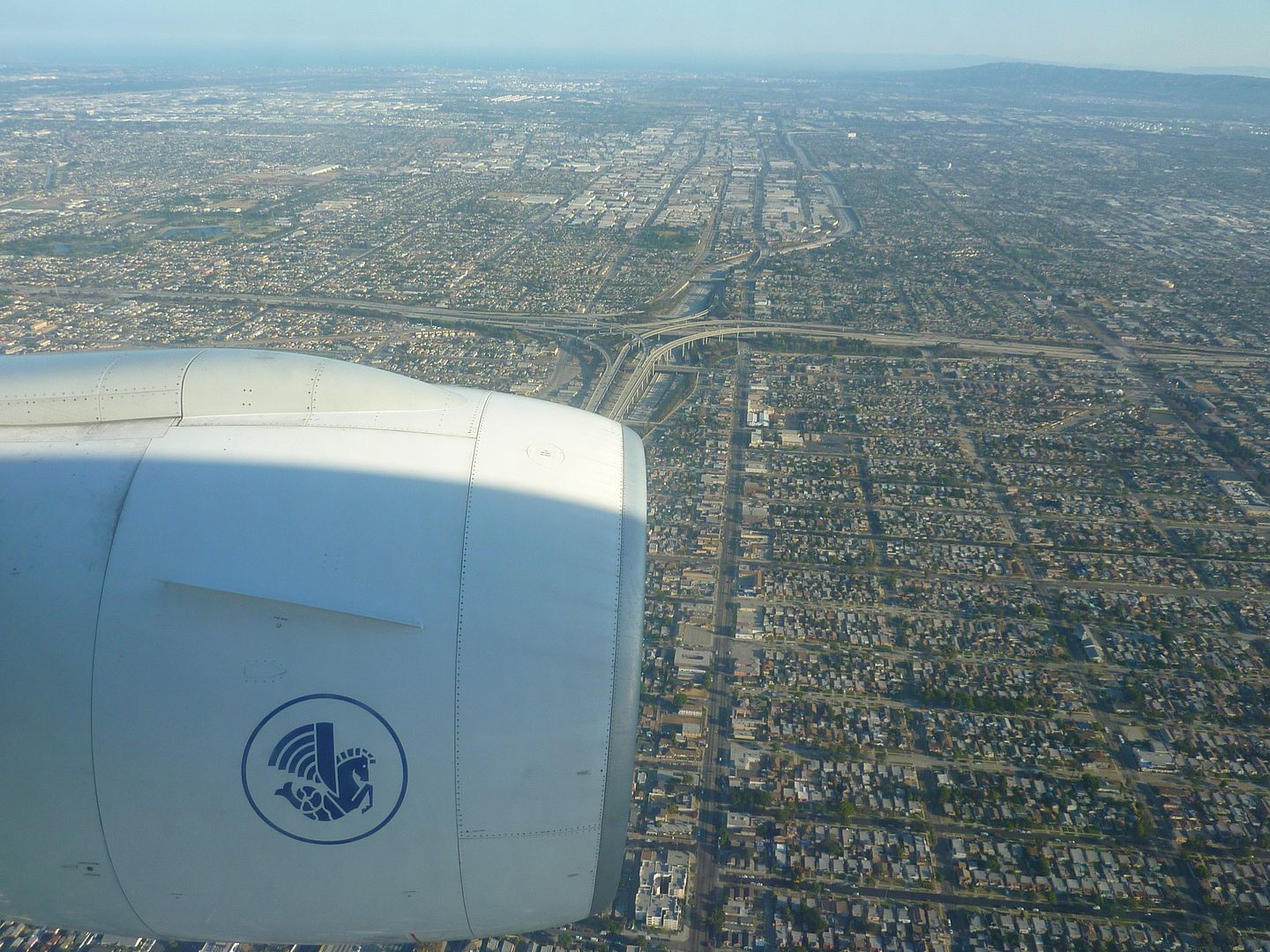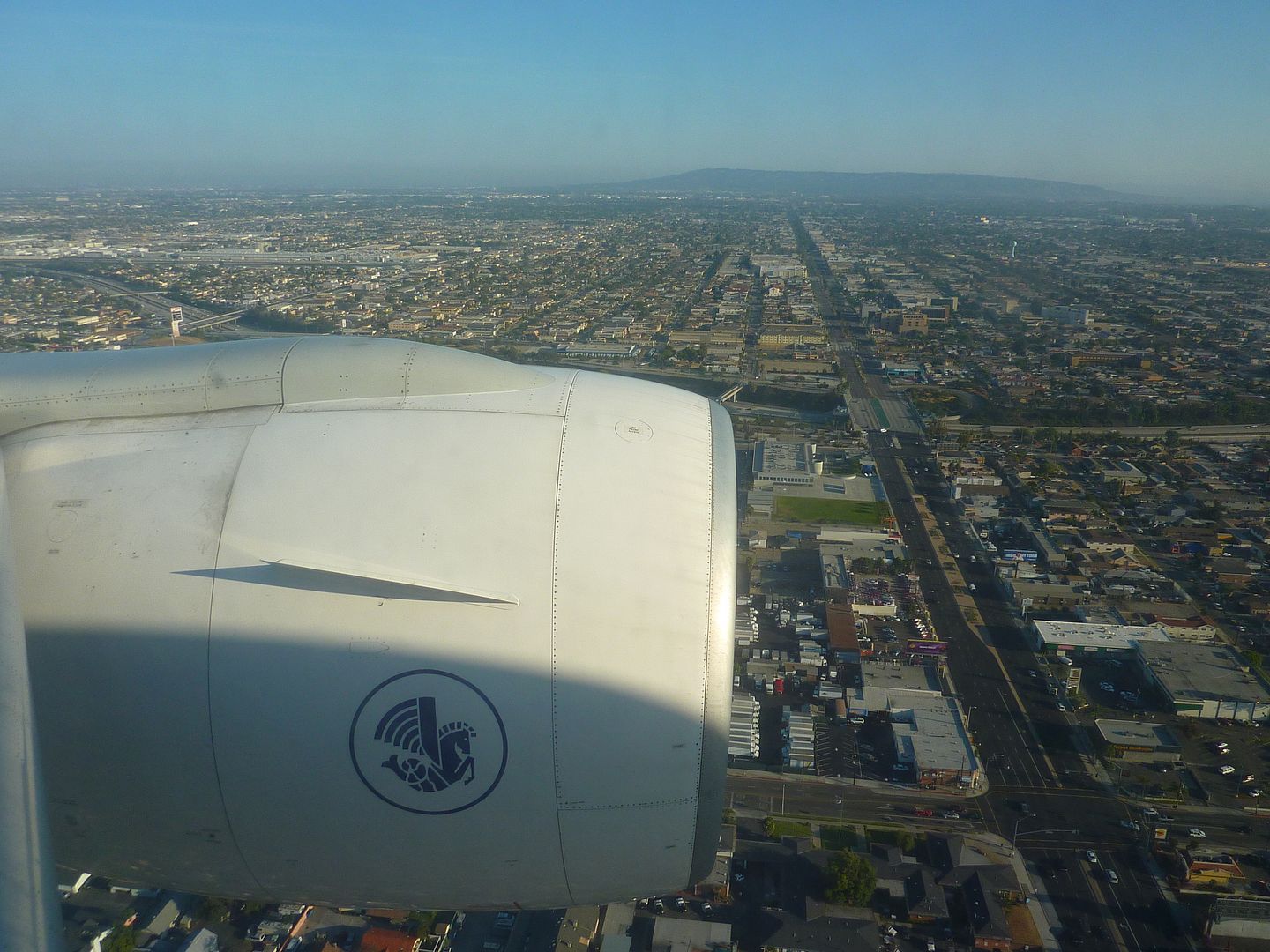 405 freeway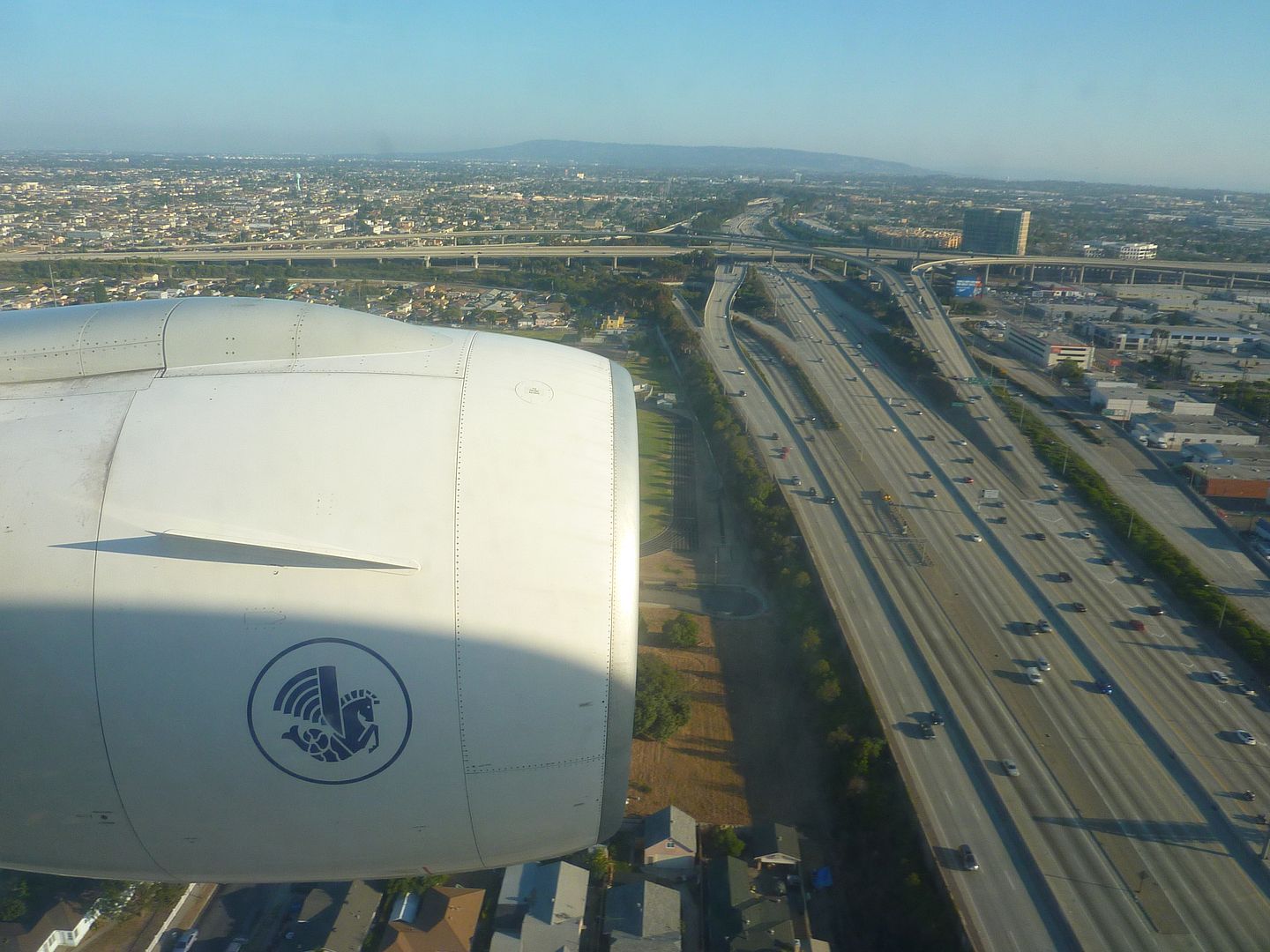 Nearly there...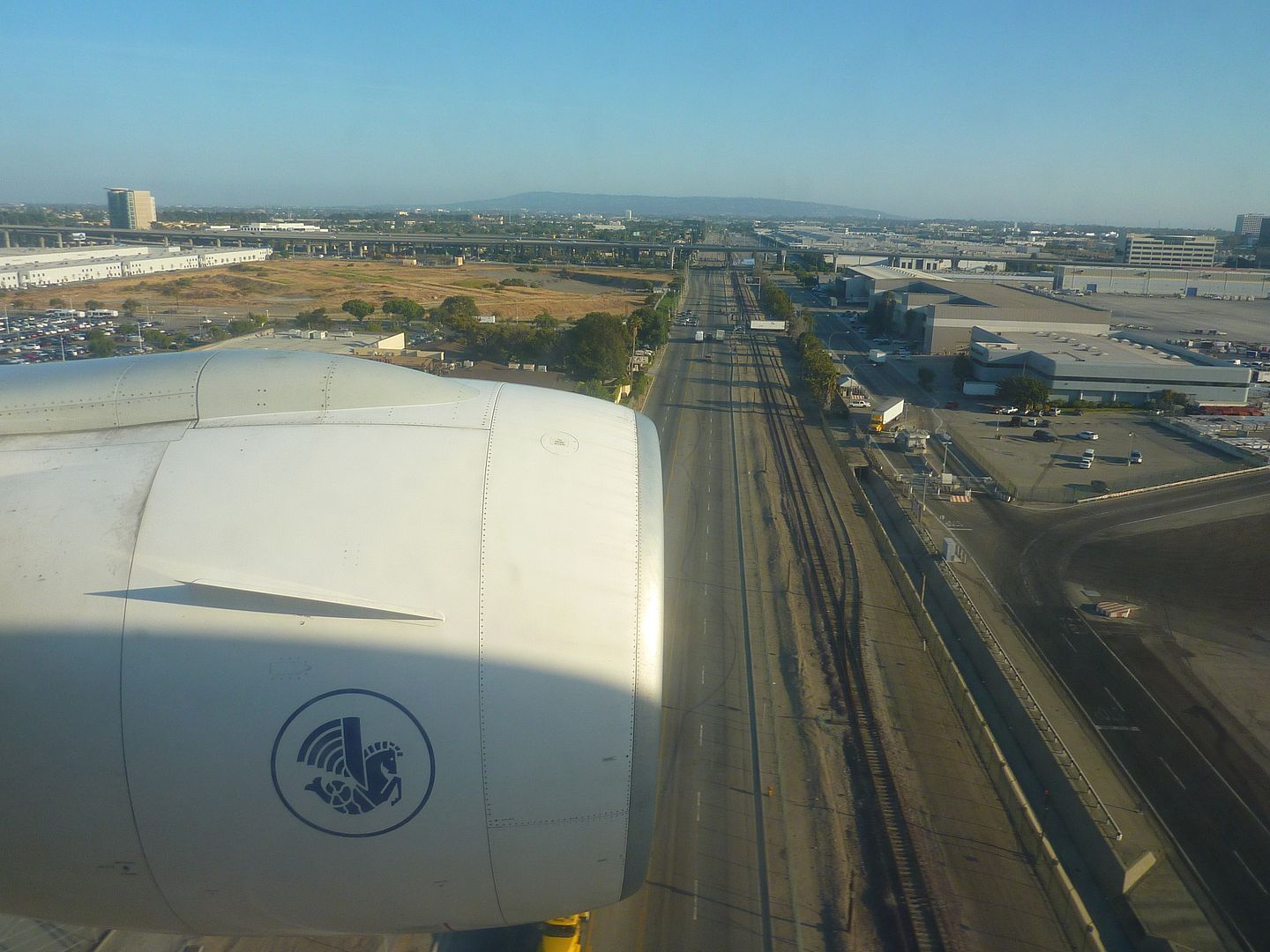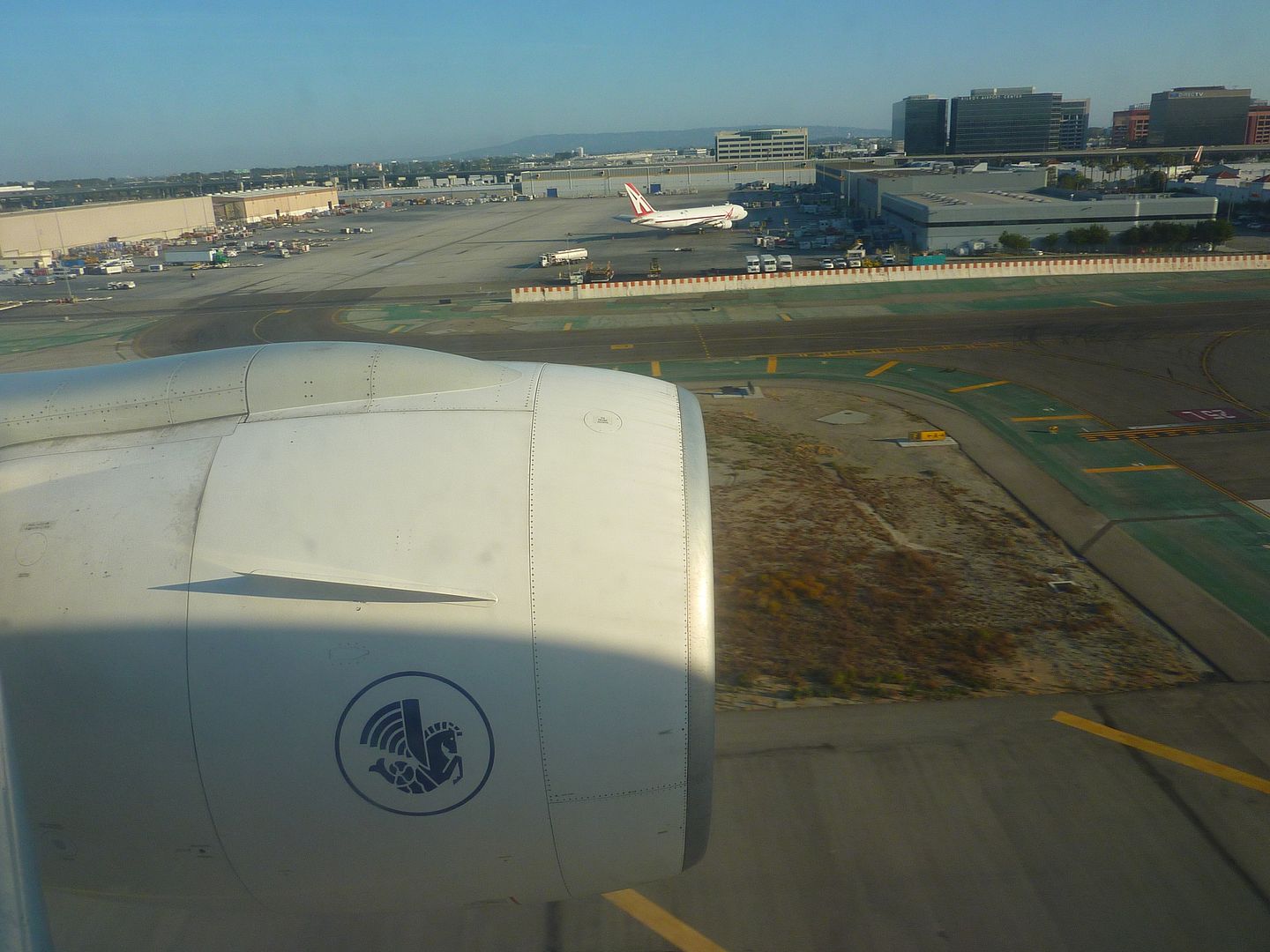 We touched down near Fedex terminal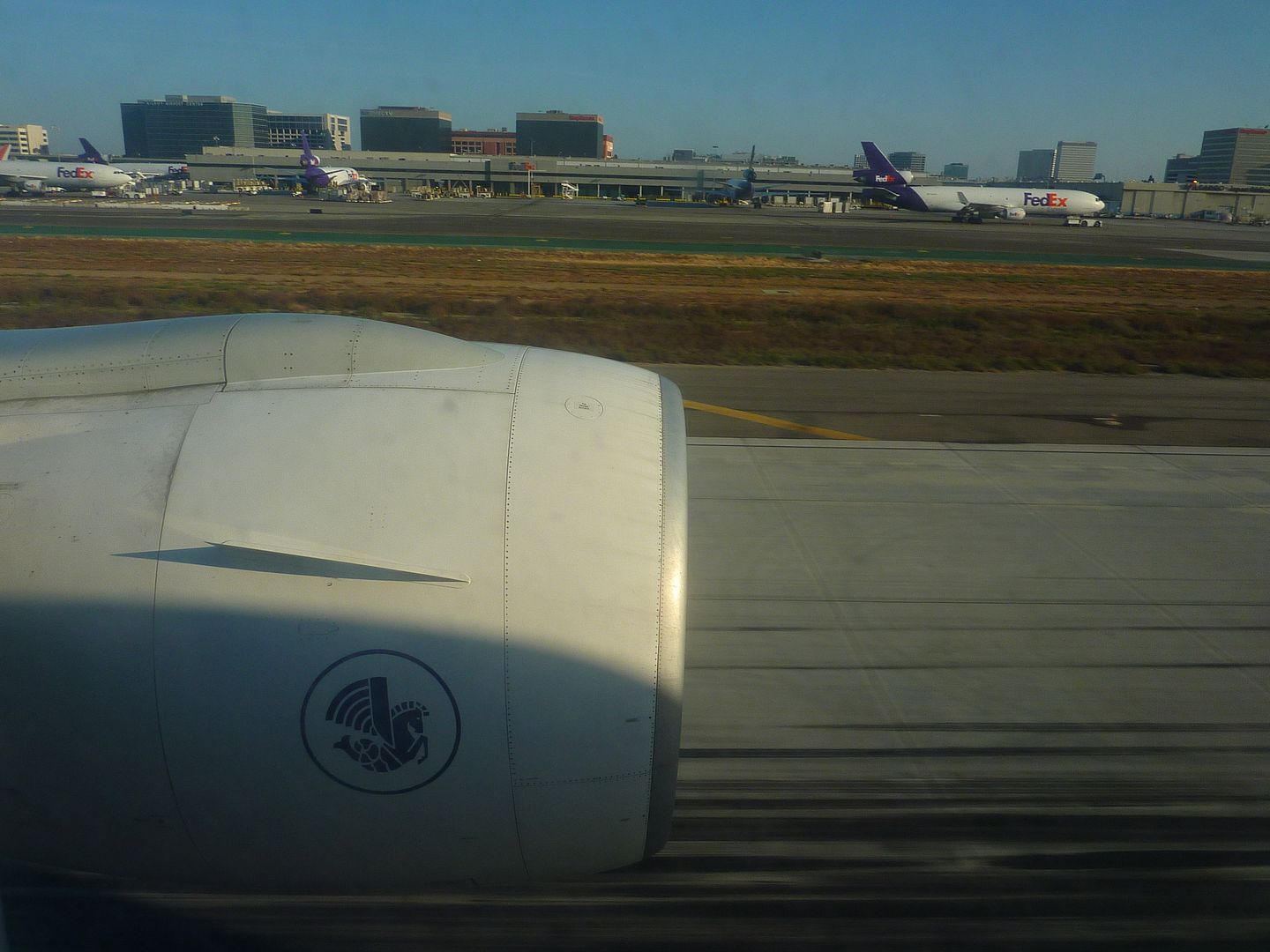 Engines went into reverse mode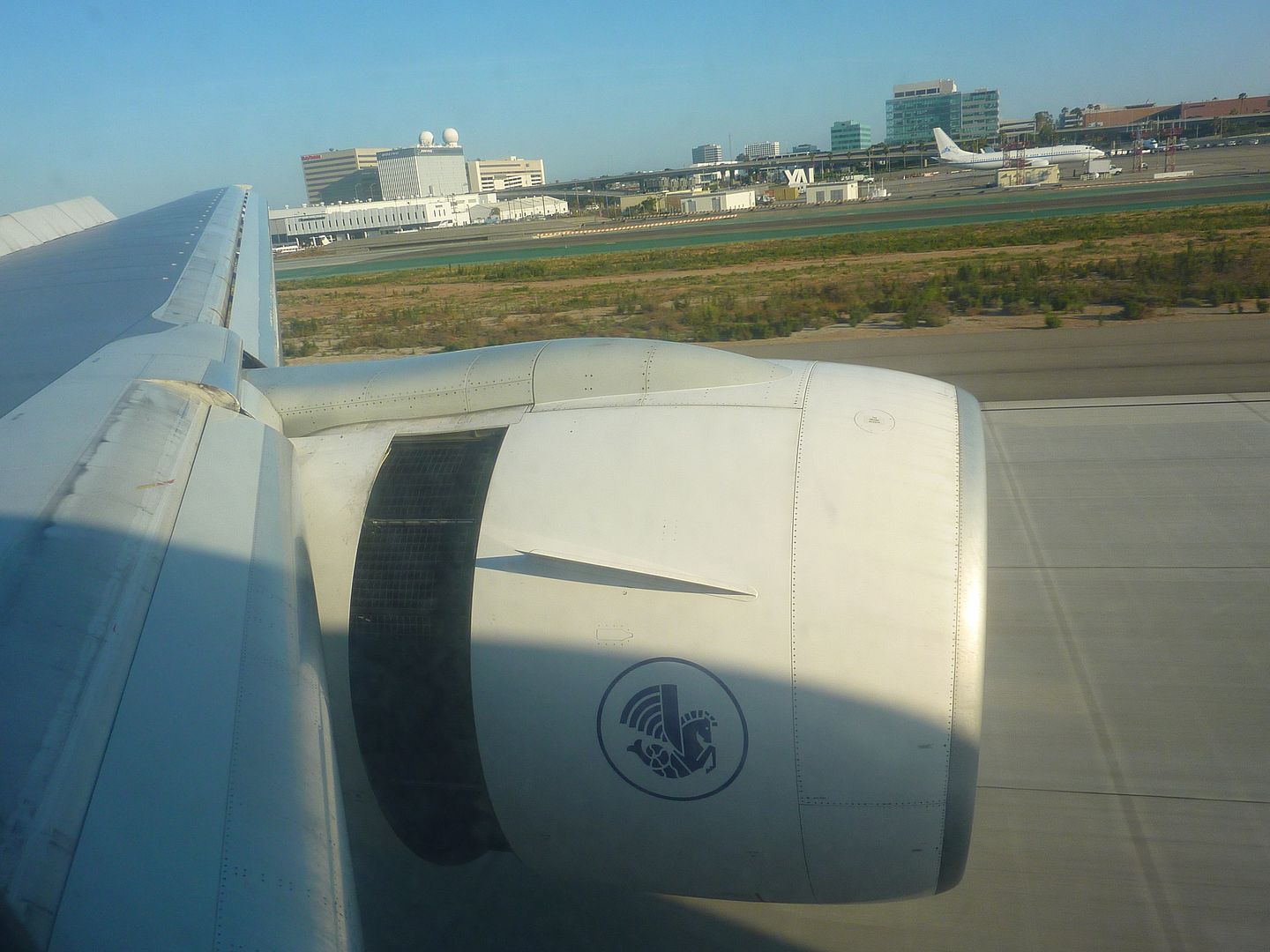 Leaving the runway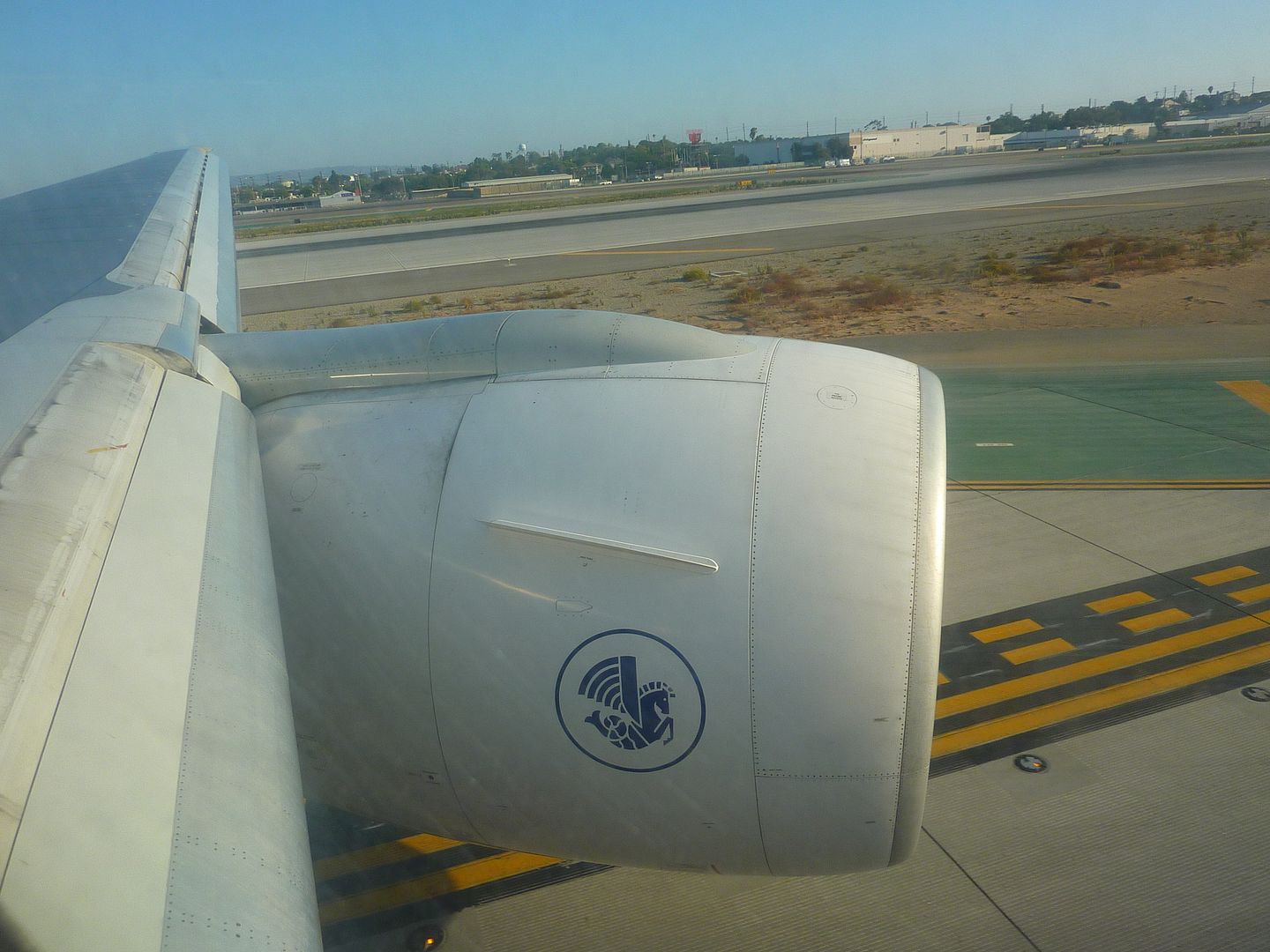 No mistake WE ARE in LAX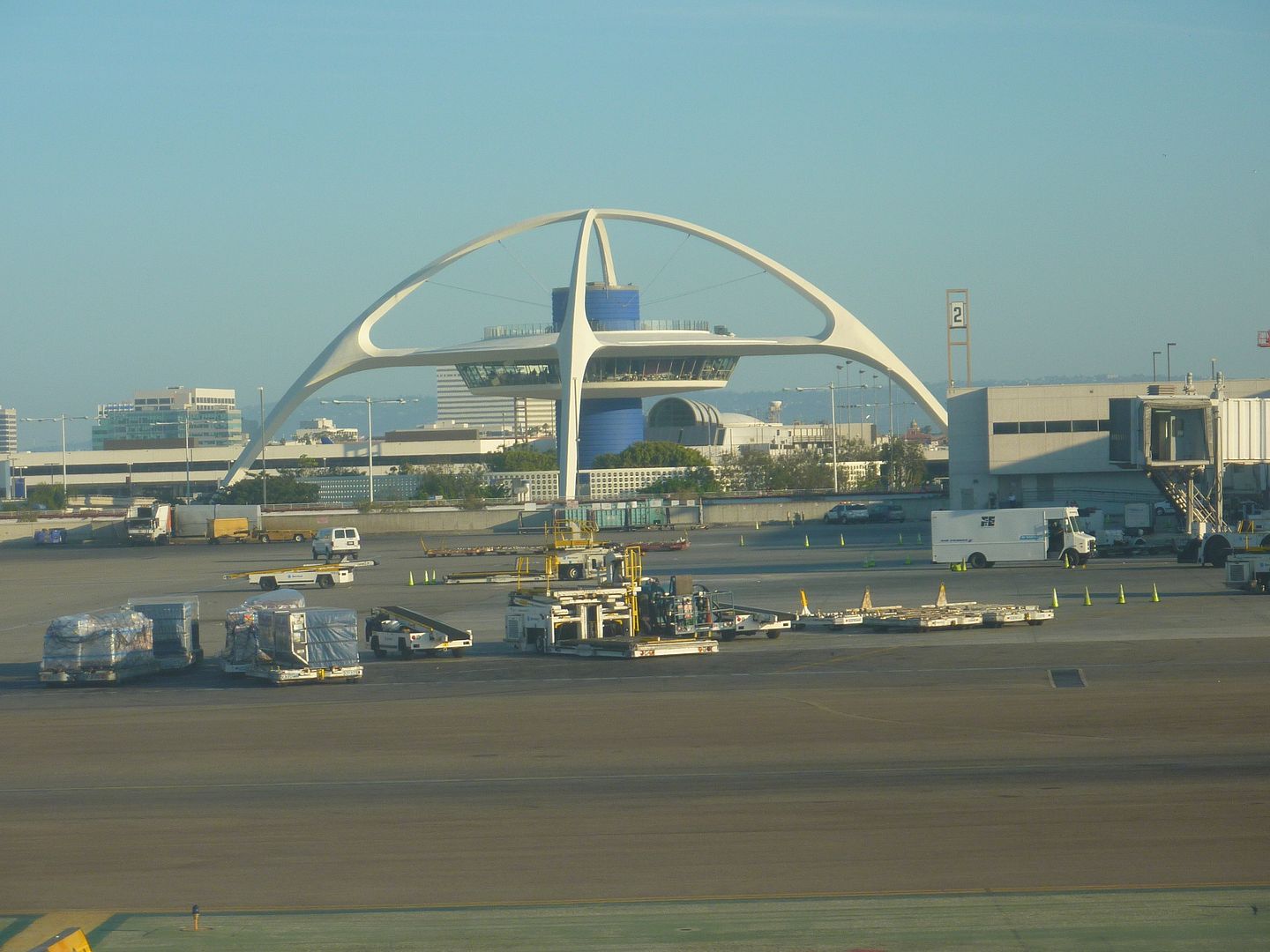 Arriving at terminal 2 with Air China and Westjet .
Good Bye, Au Revoir !
This is the end of part one of my trip. On arrival I met with my friend Meg and my cousin Kora and went for dinner and then went back to the Crowne Plaza LAX Airport.
I am now going to get ready and leave the hotel and go check in for my flight to AMS on KLM 602.
Happy Flying,
AF Cabin Crew
[Edited 2010-07-18 11:10:21]