Hello and welcome to my tripreport!
I used two different cameras, therefore the different quality of the pictures and videos!
This time I headed for Frankfurt and back to Sweden with JZ,TF,SK and BA.
The purpose of this trip was to meet up with Markus (Flieger67) who was in Gothenburg fo a couple of hours, connecting to Frankfurt from London. At first I only planned to drive down to Landvetter and meet him up and then go back home, but I was free for 3 days so I decided to go flying to. After looking on several flights to Denmark and Norway I decided to go on same flight to Frankfurt with Markus and flying home with another airline. I having troubles finding cheap one way tickets but after a tip from Markus I book BA for my returnflight.
So the routing was: Karlstad->Stockholm Arlanda, Stockholm-Bromma->Gothenburg, Gothenburg->Frankfurt, Frankfurt-> London Heathrow, London Heathrow-> Copenhagen and finaly Copenhagen->Karlstad.
Six flights on four airlines!
June, 27th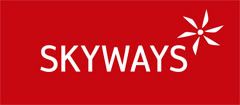 Karlstad-Stockholm/Arlanda
Flight: JZ0214
A/C Fokker 50
Dep time: 17.15
Arr time: 18.10
Fl time: 40 min
Karlstad Airport:
Boarding:
I arrived at the Airport 40 min prior to departure and checked-in for my ARN-flight. I was the first one there. A couple of minutes later more and more people arrived and
we were a total 25 onboard this flight, so the 50-seater Fokker was half full. Boarding was quick and when everyone had take their seats one of the groundstaff came onboard and approach
a passenger in the front. The discusses quit heavily for a couple of minutes. Apperantly the guy had booked his flight just an hour before departure and JZ had mot recive any money.
Minutes passed and start to quit nervous since I have to changed airport in Stockholm which can take more than an hour.
Finaly they arrange so the passenger could pay cash at JZ office at Arlanda. Thats was nice I think. I thought they were going to offload him and his luggage.
Anyway, as soon the gateagent leave the aircraft the F/A closed the door and the pilot´s started the enigines. The F/A had already done the safety-briefing during the discussion
between the gate-agent and the passenger (!) so we taxied for departure straight-away.
Cabin: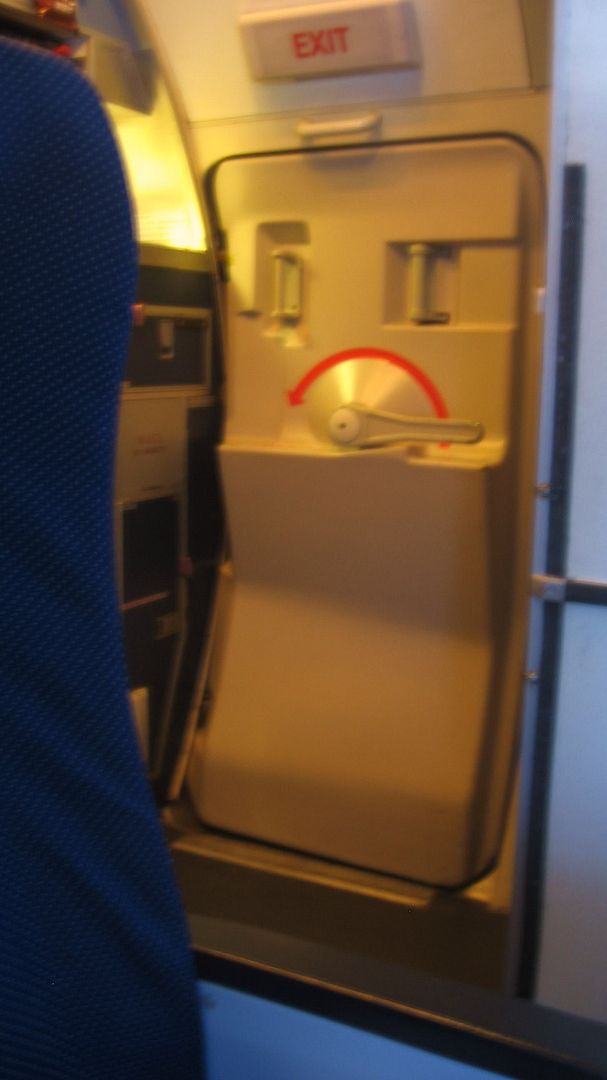 Inflight magazine
We took of from runway 21 to the south. Made a sharp turn to the east over the lake of Vänern. Passed Karlstad and climbed to our cruising altitude of 4500 meter ( 15000 feet).
The route was Örebro-Västerås-Uppsala-Arlanda.
Passing Karlstad´s old airport, closer to the city-centre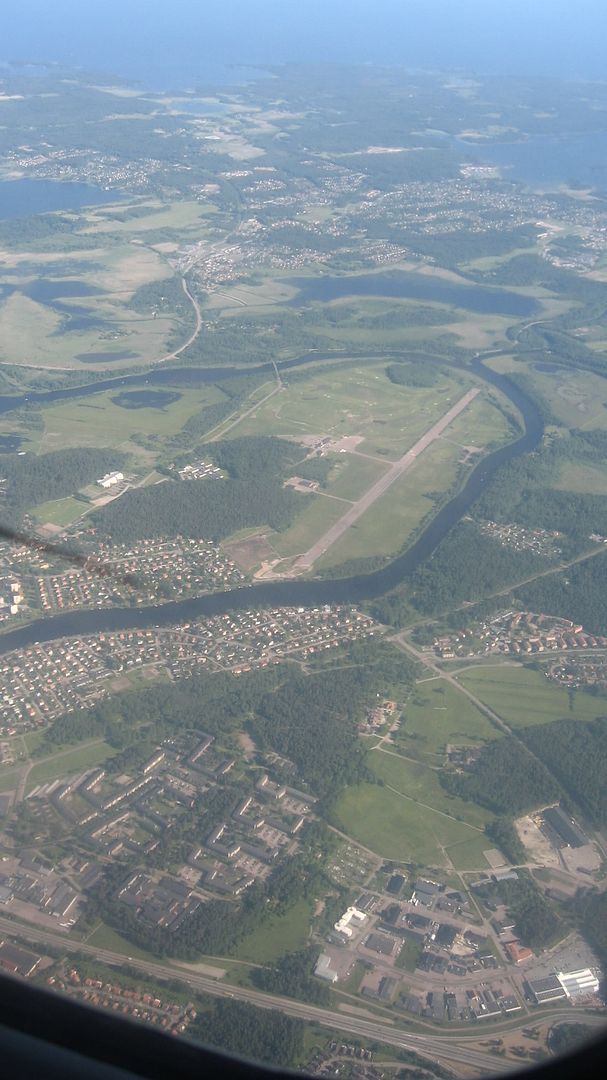 Central Karlstad
A couple of minutes into flight when passing central Karlstad the fasten-seatbelt sign was turned of and the F/A started the cabinservice.
One single middle-aged male F/A onboard, very friendly. Cabin service consisted of a chocolat-bar with hot and cold drinks.
20 min into flight the pilot´s started their approach, flying in from the north over Uppsala to land at runway 19R. Like always when I land at Arlanda the approach is very turbulent. But this time was the worst.
The aircraft jumped up and down and from side to side and 30 sec before touch-down it went calm. The weather at Arlanda (on the ground) was +24 degrees and light winds
Approach: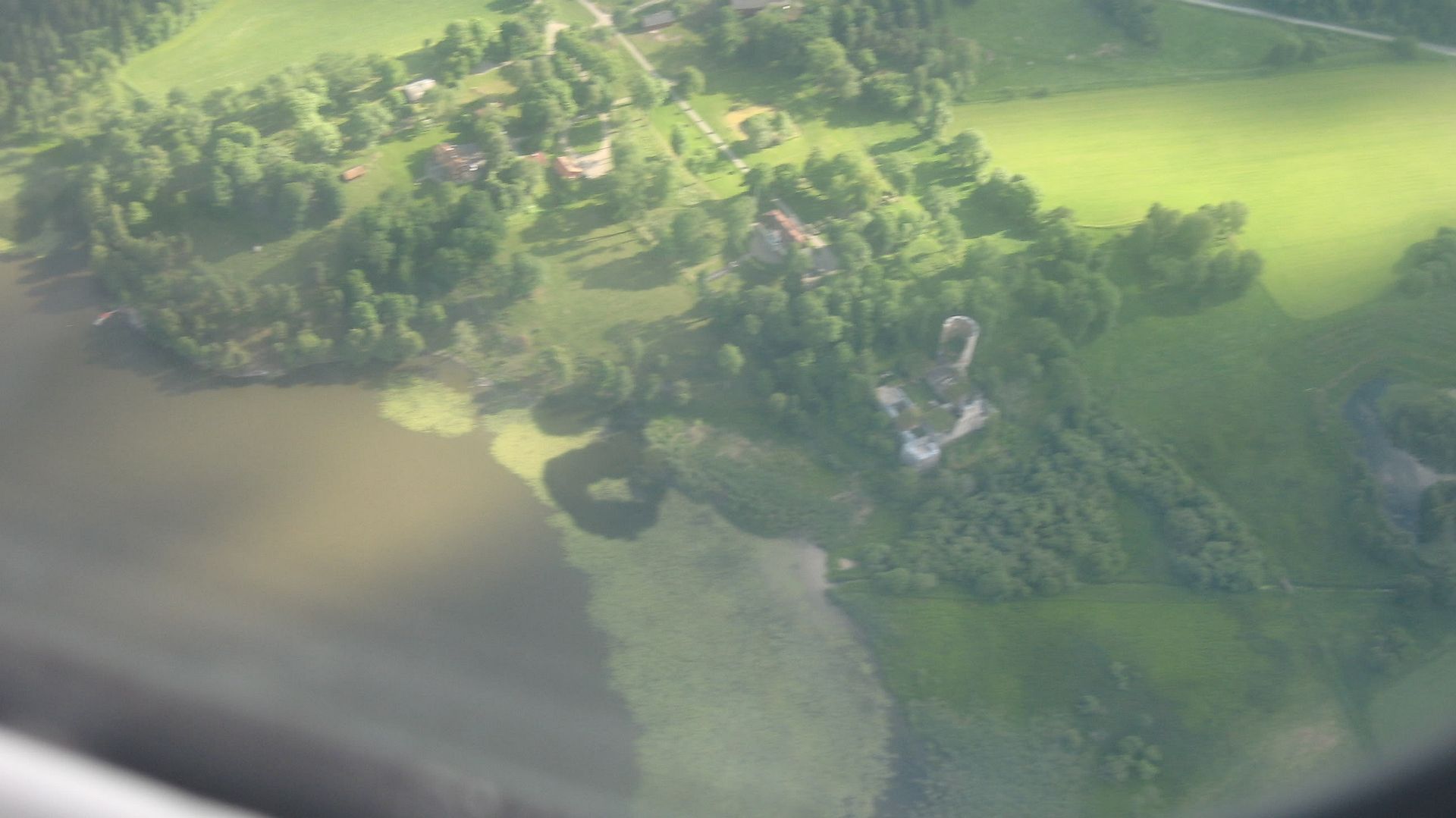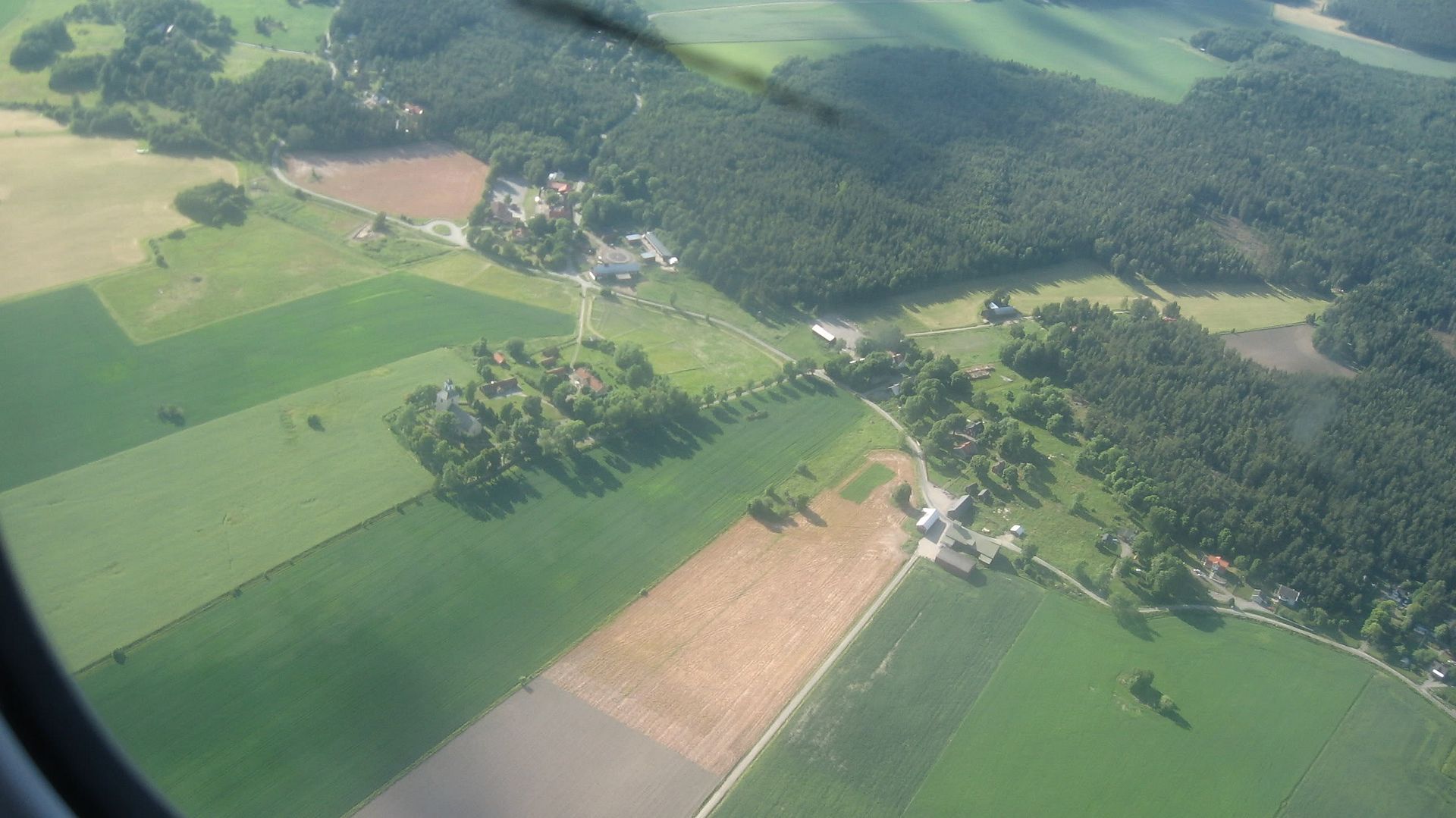 Landing video:
http://www.youtube.com/watch?v=fAZ4dr-vq4M
Parked at the gate.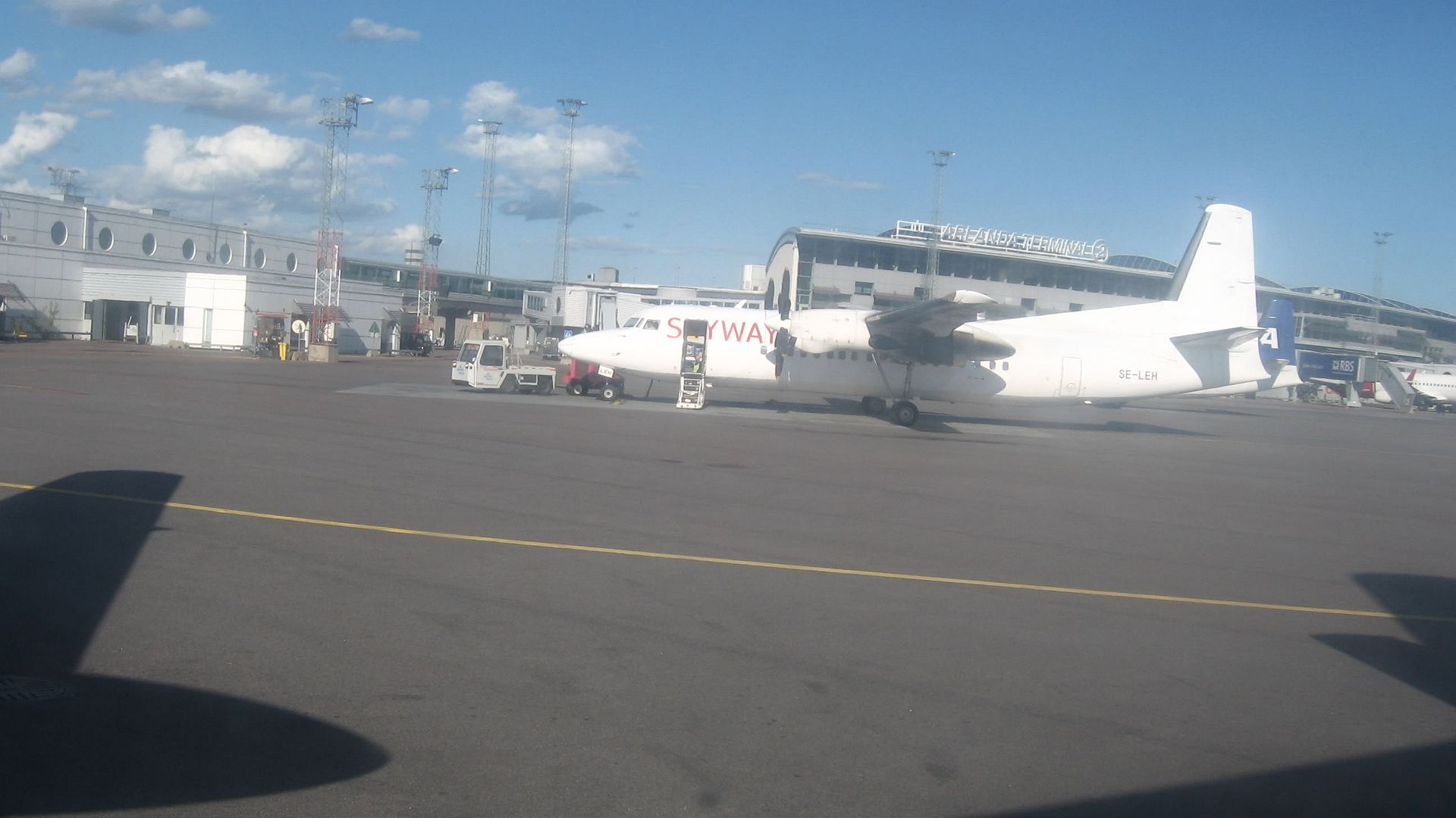 I walked up to the arrival-hall and picked-up my bag and cath the express-train to Stockholm City. 20 min later I arrived at the main train-station. Now the time was 19.00 and my flight departed from Bromma at 20.45
I made the short walk to the bus-station which is connected with the train-station. I took the airport-bus to Bromma. The ride took 15 min and the fare was 40 SEK (4euro).
Stockholm-Bromma City airport was opened in 1936 and it was then Sweden´s international airport and SK´s main-hub. In 1959 Arlanda was build and the SK-traffic and most of the international traffic was moved to ARN.
Since then the most flight from Bromma has been domestic. Current there are two international flights from BMA, Sun-air (British Airways) Dornier 328 flights to Billund and Århus in Denmark and Brussels Airlines flights to Brussel. For some
reason Brussels only use BMA and not ARN in Stockholm. Any Belgian a-netter who knows why?
In 2008 BMA hade 1,8 millions passenger and it´s therefore Sweden´s third biggest airport in passenger-numbers.
It have a single 1600 m runway. The biggest A/C which can be used at BMA is the RJ100. Otherwise is mostly turboprops at BMA, like the Saab, F50 and ATR.
A old picture from BMA (wikipedia):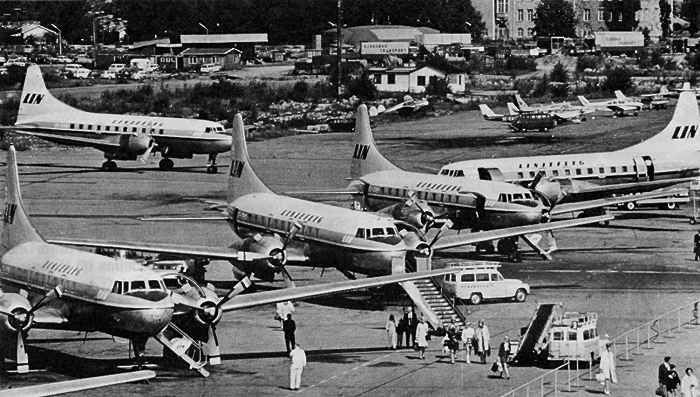 My next flight is with Malmö Aviation to Göteborg-Landvetter (Gothenburg) with their Avro RJ100.
Malmö Aviation was founded in 1981 and was then a air-taxi company. Today they have nine Avro´s in their fleet and one of Sweden´s biggest regional airline. It have three hubs, Stockholm Bromma, Göteborg-Landvetter and Malmö-Sturup.
Stockholm Bromma-Göteborg Landvetter(Gothenburg).
FLight: TF029
A/C Avro RJ 100 SE-DSS
Dep time:20.45
Arr time:21.45
Fl time: 45 min
Bromma´s airport building is small so no long walks from the check-in to the gate, maybe 50 meters. Quit many pepole at the airport. Their were tree other flight departing in the same time
Two TF flights, one to Malmö, on to Umeå. Also one Brussels Airlines flight to Brussel.
Gate 1A and boarding started 15 min prior to departure. At BMA you have to look which aircraft-stand your aircraf is parked at. Often it´s quit close and you follow the signs and their are often a sign with your destination next to the aircraft. Sometimes one of the F/A meet up the passenger. When flying to Brussel back in 2007 we have to walk at least 200 meter to our A/C!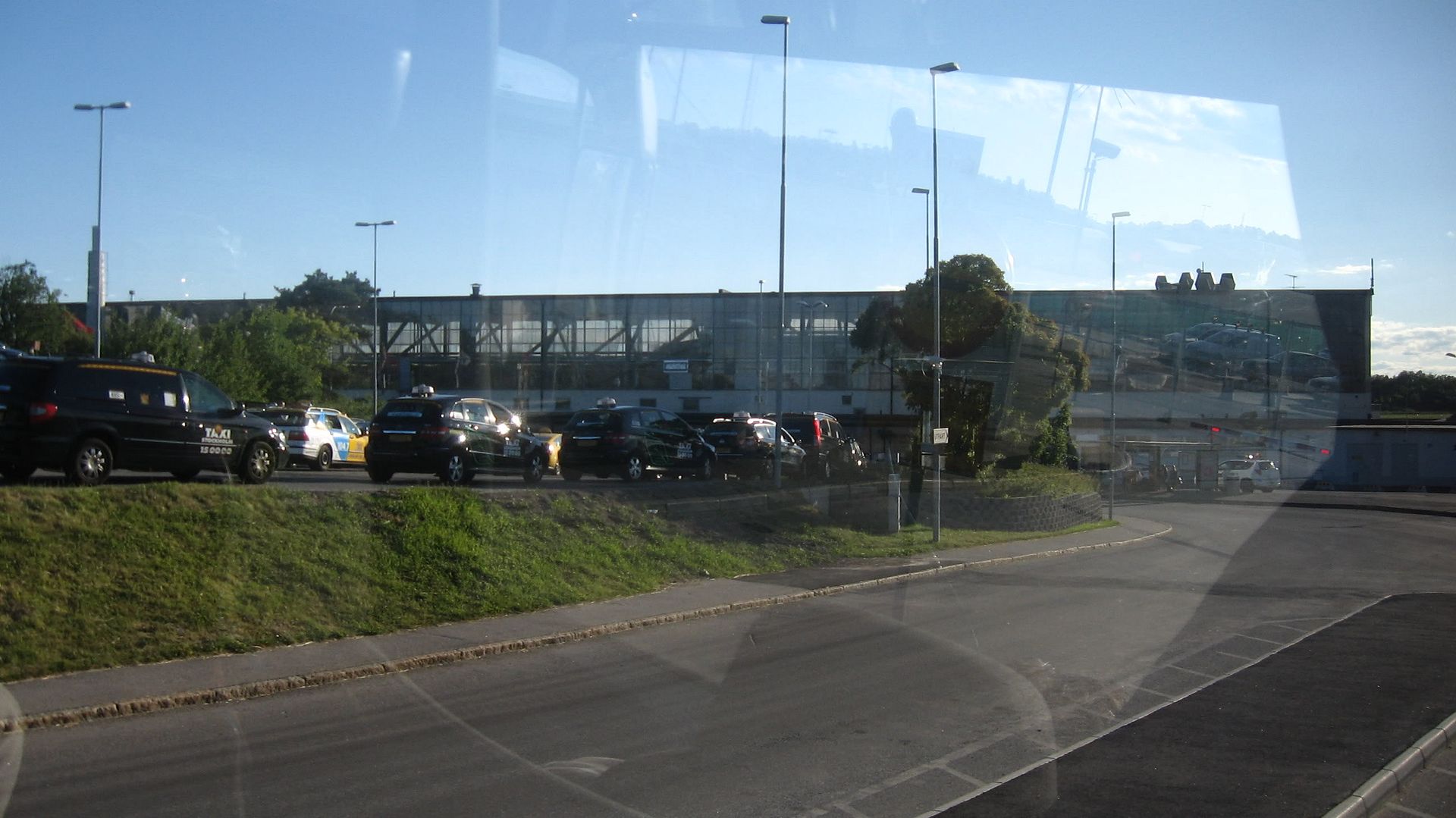 I boarded at the rear door and took my seat at row 16. TF have a 3-3 layout on the RJ so very narrow seats but at least there is a quit decent leg-room. According to the cabincrew it was 105 pax onboard. TF´s RJ have 112 seats so a realy good load. Lycky for me the middle seat was empty at my row. I had a window-seat.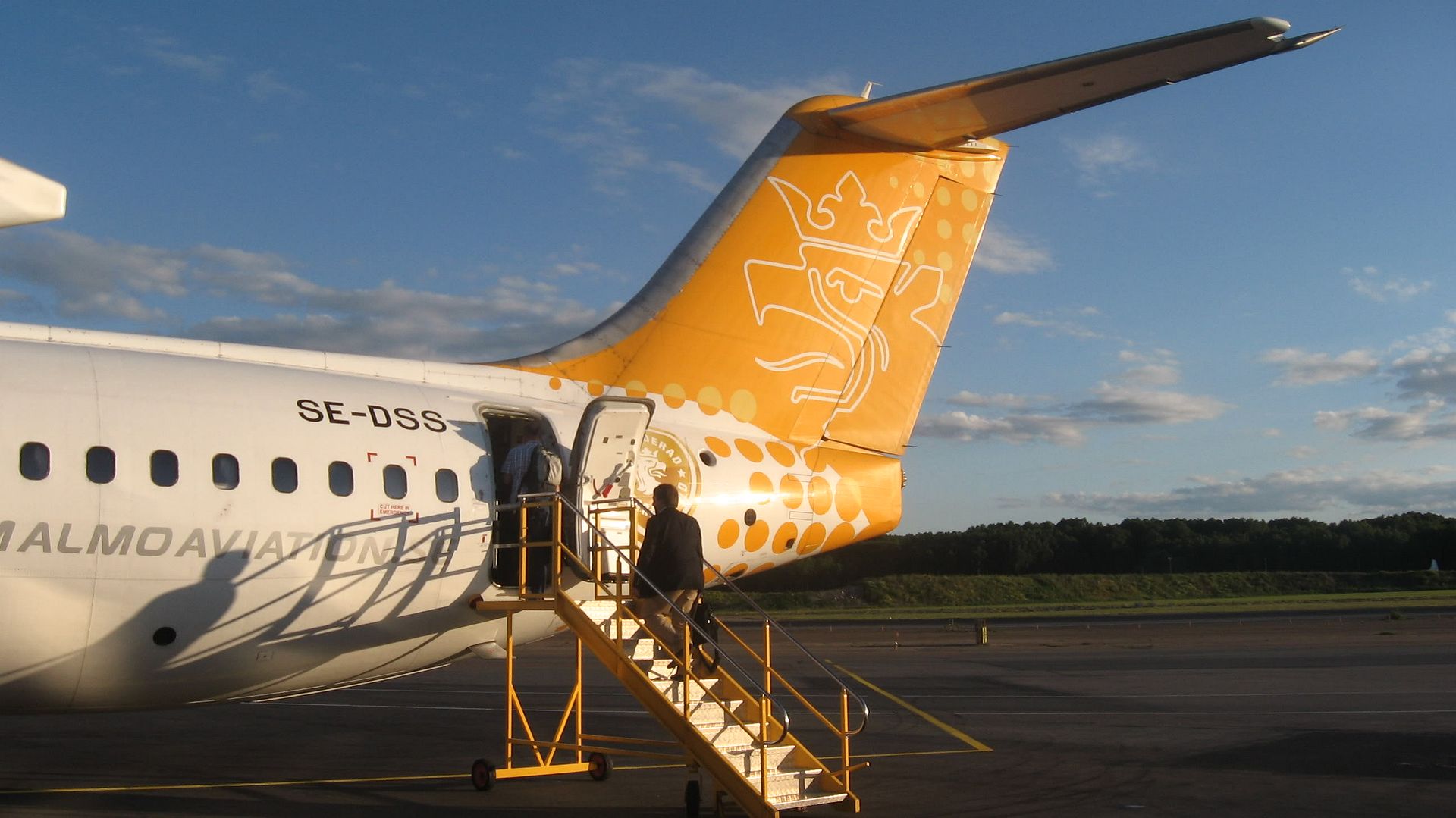 We taxied to runway 30 set the breaks. The pilot´s gave full power and maybe 10 sec later the breaks were released and the aircraft went like a rocket down the runway. 15 secunds later we was in the air.
here´s the takeoff video, it´s not the best quality. The aircraft vibrated a lot during the take-off roll and the climbing was quit turbulent. Also the windows are very low at the Avro combined with that I try to hide my camera for my seatmate:D
You can see how close the airport is to the city-center in the video.
http://www.youtube.com/watch?v=v545e3m9P6k
A couple of minutes in flight the seat-belt sign was turned off and the F/A´s started their cabinservice.Three female F/A´s on this flight. Two younger in the front and one middle-aged serving the rear. The older one was very frindly and she walked in aisle talking and joking with the other passenger. She dosn´t look stressed at all thinkong of that she have to serve over 50 people in 20 minutes!
The two other F/A´s stayed in the front but they seem nice too. Laughing a lot. To start they served all passenger a wt towel, a REAL one! Not a paper one. Realy nice I think. After we were served a chocolat-muffin with coffe or tea.
20 min into flight we started our descent to Landvetter landing after a 45 min flight at runway 21. Disembarked quickly and then walk to the Landvetter airport hotel.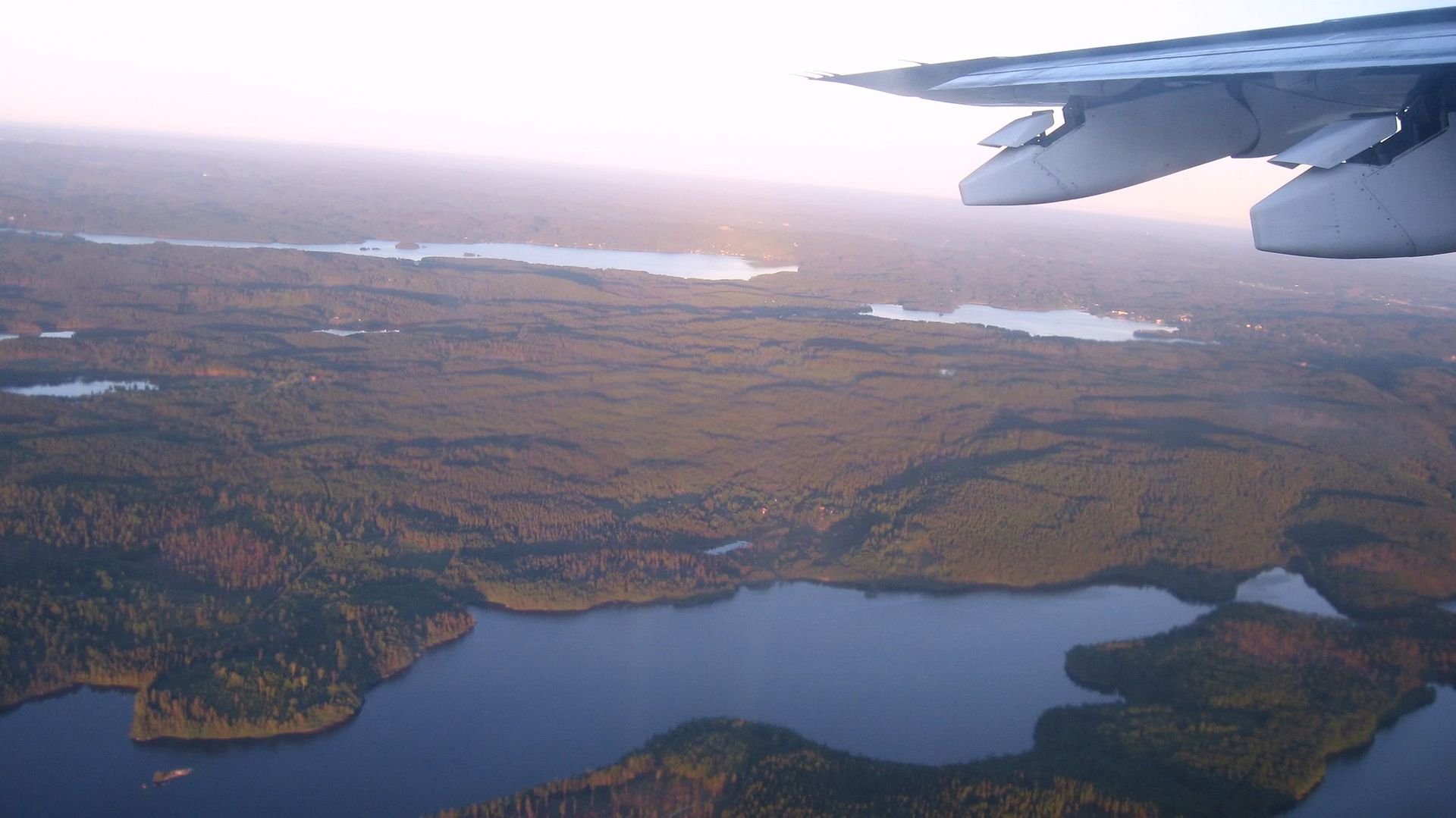 Landing video:
http://www.youtube.com/watch?v=XfYjWw2SH6s
Remeber the frindly middle-aged F/A on my TF flight? She was in front of me in the reception at the hotel checking-in. She was a completly different person! She complain loudly over that she get a room so far away from the reception and that she have to carry her luggage so far. She was realy arrogant and rude. She could not get another room because that´s what TF pays for. The cheapest rooms. she then walked away
and start to complain loudly to her colleauge, the first officer.
I checked-in in no-time and went for the elevator. There was the angry F/A again. She screamed to me that I have to wait because she was there first and then she slam at the button in the elevator and the doors was closed. I didn´t see her anymore.....:P
The next day I check-ot just before 12.00 and headed for the airport to meet up Markus who arriving from London 45 min later. We were going to spend a couple of hours in Göteborg and I don´t want to drag around my luggage so I checked it in at the self-service machine and the went to bagage-drop. All done in ten minutes.
June 28th
Markus flight was early and I meet him up at the arrival-hall and the went to catch the airport-bus to the city center.
A couple of our later we were back at the airport and walked to security. Our flight was scheduled to 17.10 and boarding started 16.45.
Some pics from Landvetter: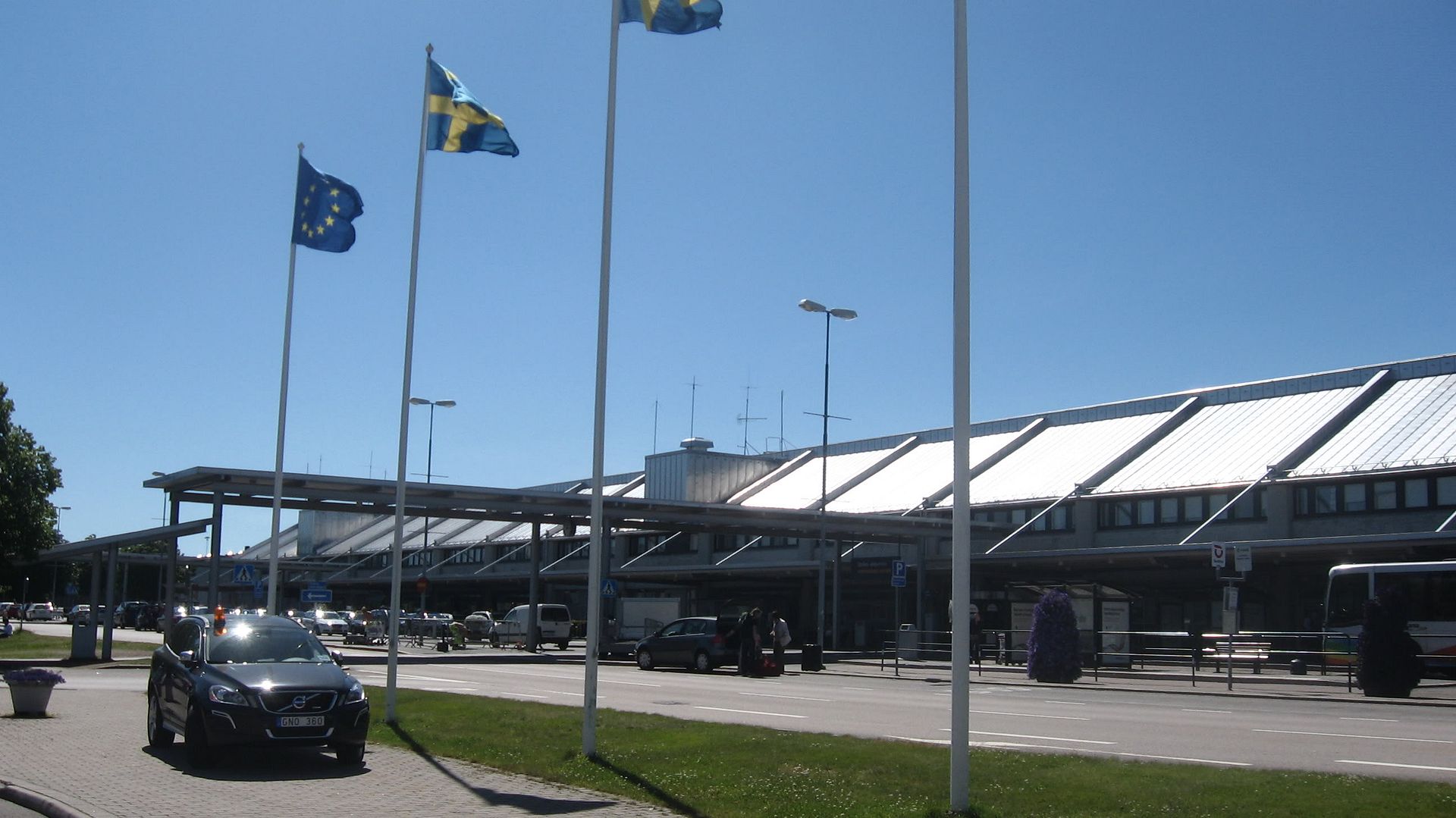 Inside: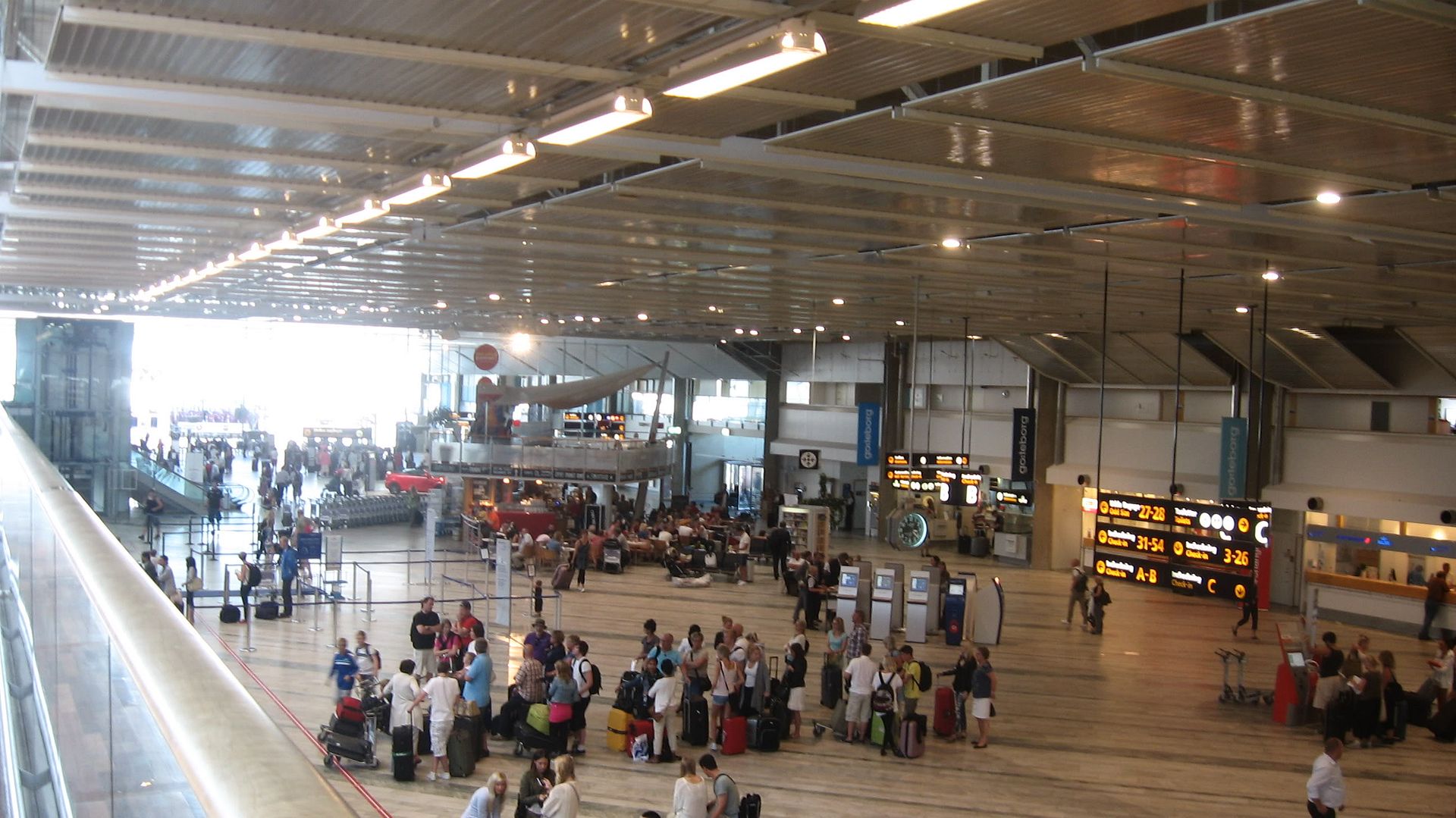 SK´s CRJ going to CPH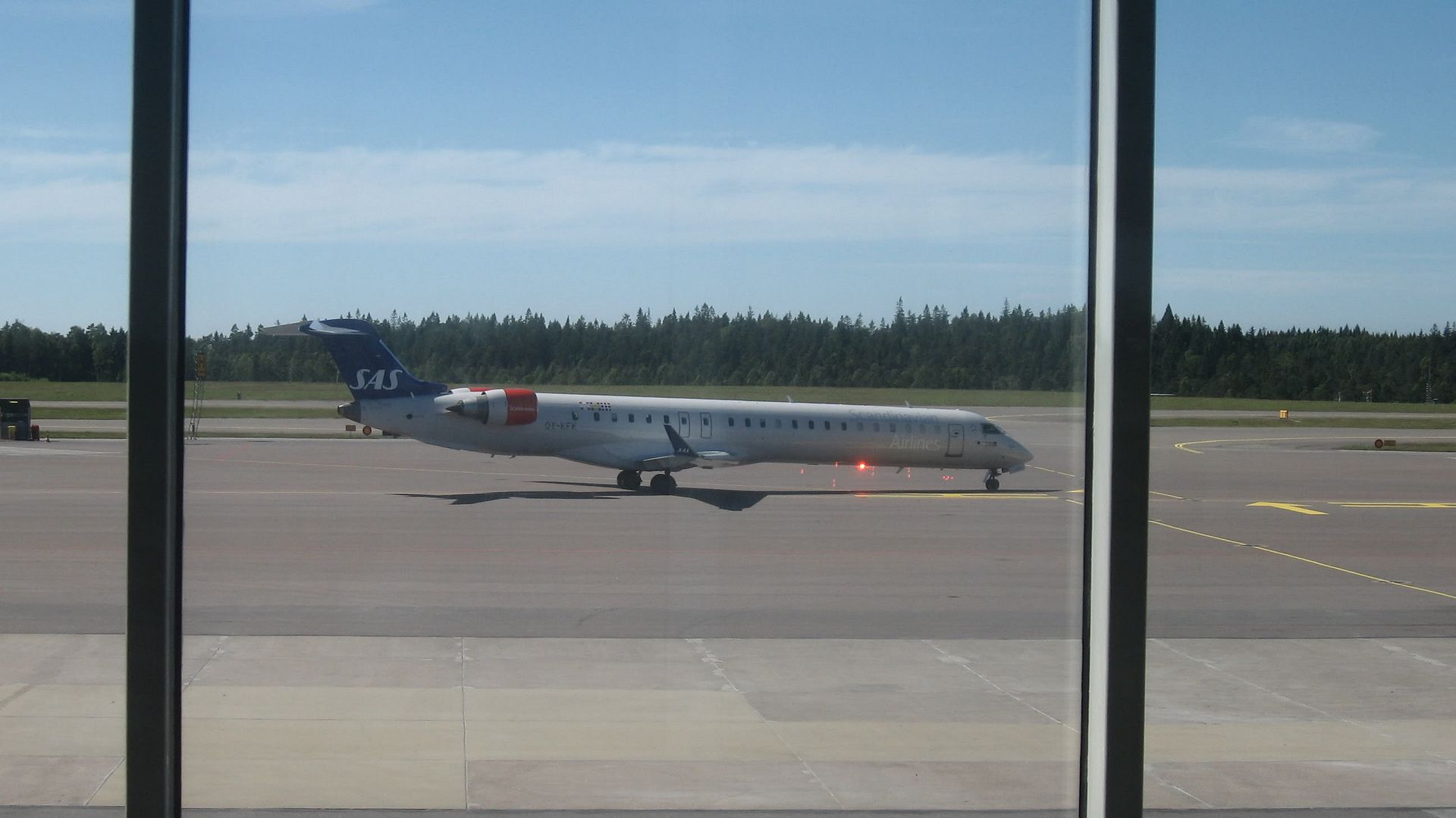 Our A/C arrives
At the gate
At the gate again
Wiew from my seat, 21A
Göteborg-Landvetter-Frankfurt
Flight SK2633
A/C: Boeing 737-600
Dep time:17.10
Arr time:18.55
Fl time around 1h 30 min I think (busy talking)
Markus was as usual in the last row window seat, but the cabincrew reseated hom further in the front because of some guy travelling with his child.
I was seated next to a young italian couple headed for Bologna. We talked the hole flight and we now talking at facebook
Nice to get three new friends in one day
Since I was busy talking with the Italian couple not many pictures from the flight.
The flight was completly full and their were three F/A´s on the flight, one female two male.Very, very senior, but all friendly
Nothing for free here at SK. I purchased a cup of coffe for 20SEK (2euro). Since I was talking the hole flight it went fast and soon we were descending. Landed on-time at runway 25L (correct Markus in case I´m wrong). Shame I didn´t sit on the left side because then I would have seen the city during approach!
Parked at FRA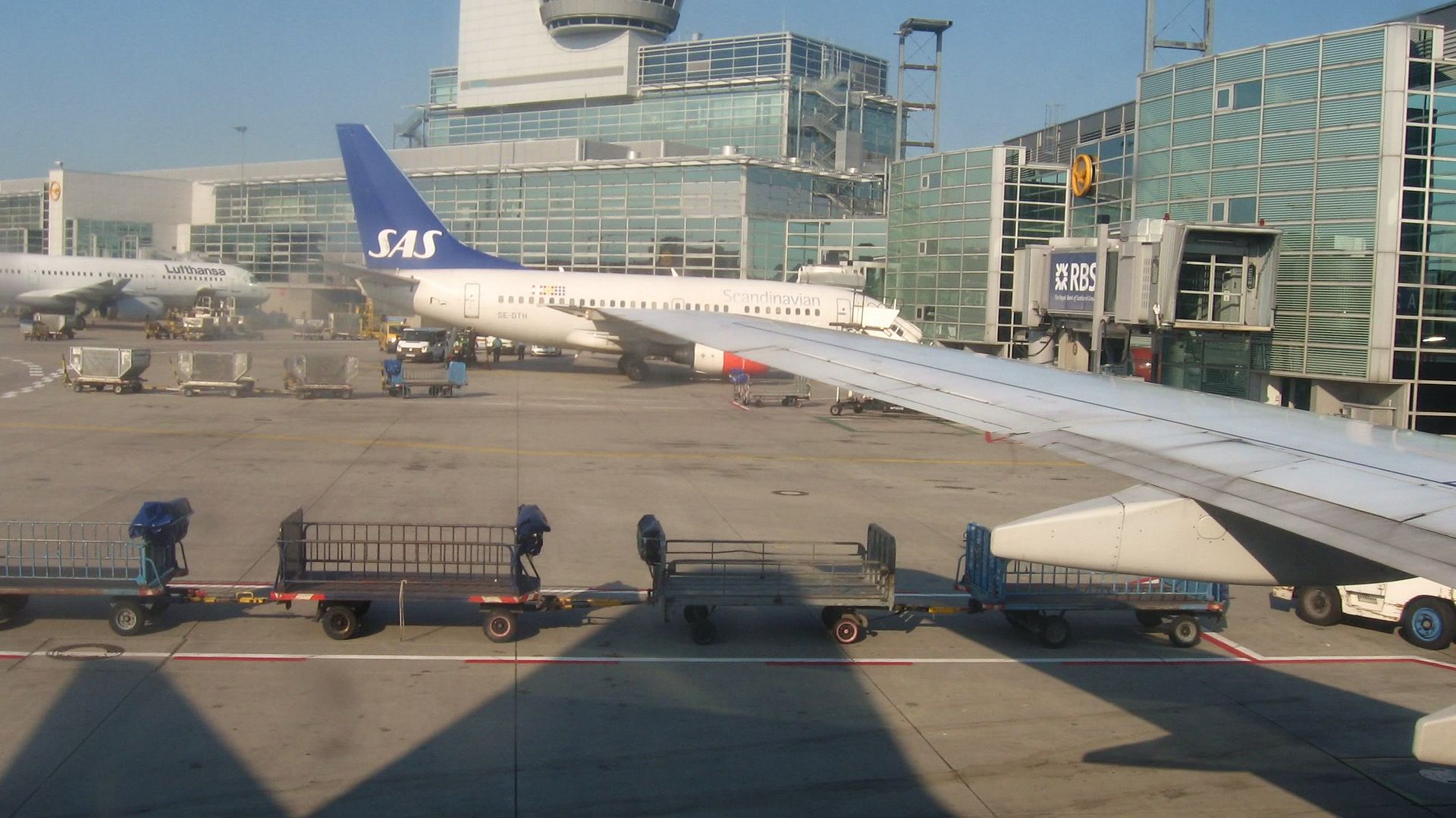 Some spotting
Aer Lingus A320
Air Astana B757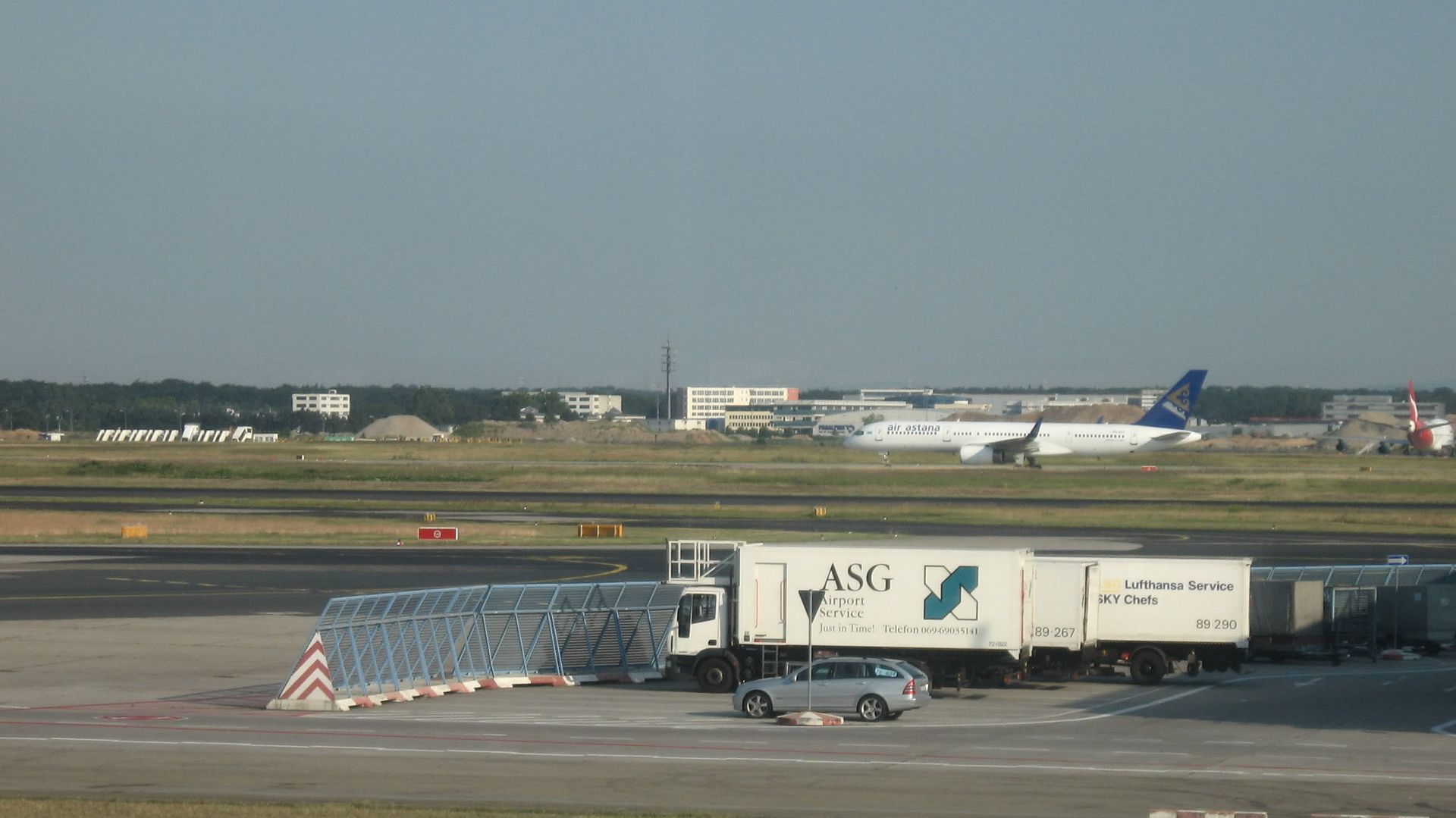 Emirates B777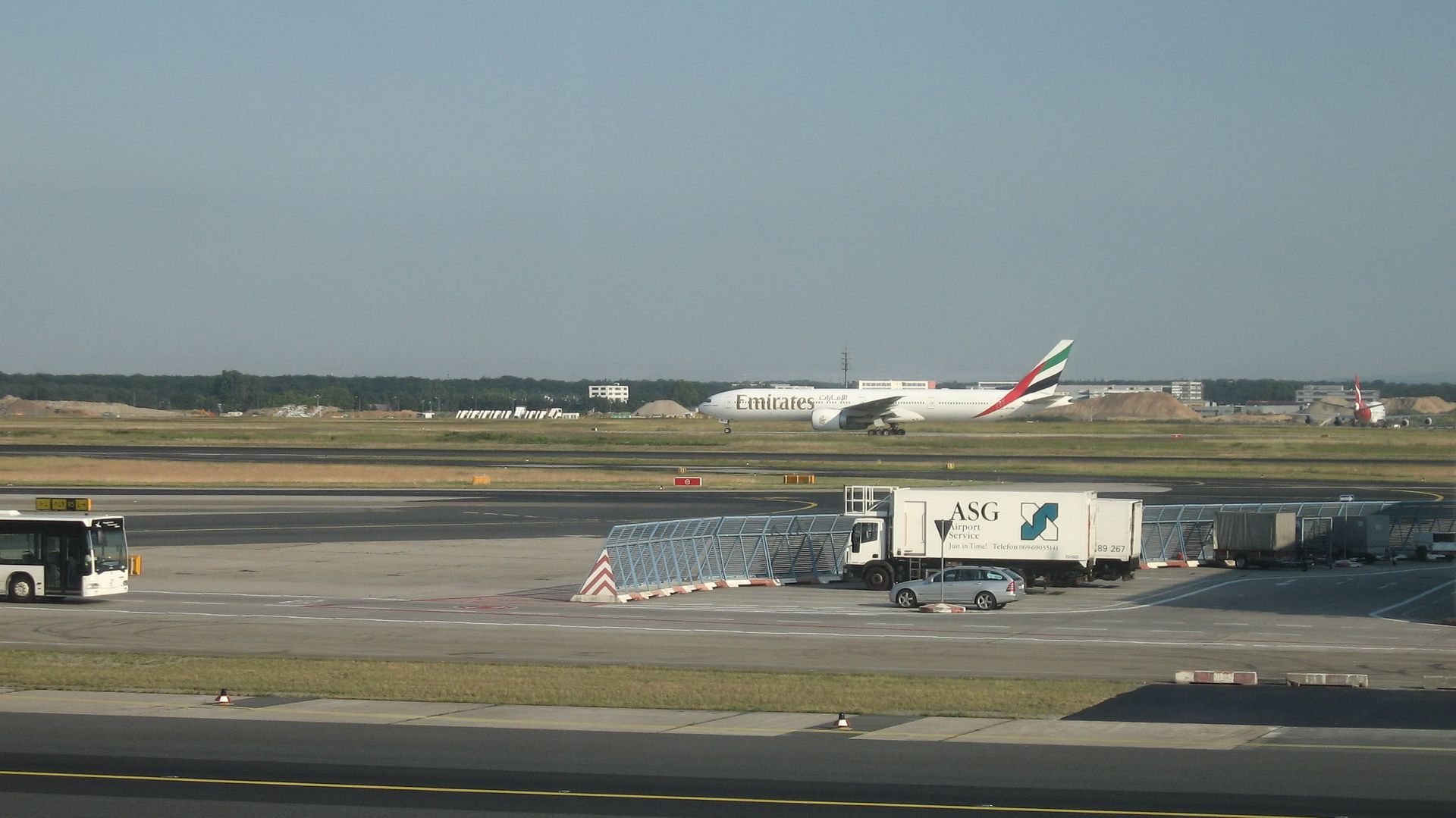 Frankfurt is very big and after a very long walk we arrived at the bagage-claim area. My bag didn´t show up so I and Markus went to the bagage-tracing. My bag was still in Göteborg and they will send it with the next flight. Lucky for me there was another flight to FRA that evning! it arrived sometimes around 23.00
I took the subway to the city.
Thank you Markus for a nice day with nice company. Thank you also for your help at the bagagetracing and showing me the correct subwaytrack!
Continued below