This was my 2nd attempt at flying on ANA's Inspiration of Japan. It was my return flight after taking the LH A380 from FRA to NRT. ANA originally launched this new plane and new product on its NRT-JFK route and recently launched the new product daily on the NRT-FRA route. The first time, I found a great business class fare: SGN-NRT-JFK on the very first day of the scheduled launch of Inspiration of Japan. Unfortunately the launch was delayed at the 11th hour. The new premium economy seats, the original reason for the delay, are still not installed on the plane I flew from Narita to Frankfurt; registered as JA785A.
For this trip I had a coach class ticket. Upon check in, I attempted to get myself into a business class seat, but the best the check-in agent could do was moving me from a middle seat to an exit row: 30A. For this, I was thankful.
SEATS
Row 30, "window" seats have no window. You can see out a window if you lean back and turn your head. The emergency slide on both sides of this 2-4-3 seat configuration protrudes into the exit row. Boarding and departure were picture perfect for this flight that consisted of 11:34 flying time.
As was the case on my last ANA flight, all electronics needed to be turned off immediately after boarding. This was strictly enforced. The first thing I noticed was how narrow the seat was. My left shoulder was jammed right up against the wall of the plane. The seat was also hard as a rock. This aircraft was delivered to ANA in March of 2010 so the seats either have not been broken in yet or the manufacturer used a very tough material.
By hour five of the flight, I was sitting on my pillow
because my ass hurt so bad. By hour 8, I was sitting on 2 pillows! The backs of these new economy seats are fixed but the back and bottom of the seats do slide to provide a small amount of recline.
I took some quick pictures of the
business class seats
(below), which look narrow and there appears to be a lot of wasted space, but I have not sat in them yet.
FOOD
There were two meals served, The first was great in terms of quantity, quality and authenticity. The second meal was exactly the opposite. Terrible, in fact. I have had better coach meals on US carriers. ANA is offering "My Choice" dining between meals. From what I could understand, for a fee, economy passengers can order food and drinks through their in seat monitors, although that feature was not working properly on this flight. The food was still available though. I paid for a bowl of noodles and they were very tasty. Beer and wine were complimentary at meal time but were not available between meals for pay or free; that's annoying; either make it available or don't.
AUDIO VIDEO ON-DEMAND
The TV screen was the largest I have ever seen in economy. The music selection was pretty weak but the movies and games were great. There is a USB hook up to play your ipod through the planes system. There was also power at each coach seat, but mine did not work. If you are an airline and/or geography buff, you will love the half dozen, customizable moving maps and the nose camera.
CONCLUSION
I believe the Inspiration of Japan will be a success for All Nippon Airways. The food in economy needs some help, but the service was top notch. Perhaps 3rd time is a charm and I will experience ANA's new Business Class seats on the Inspiration of Japan.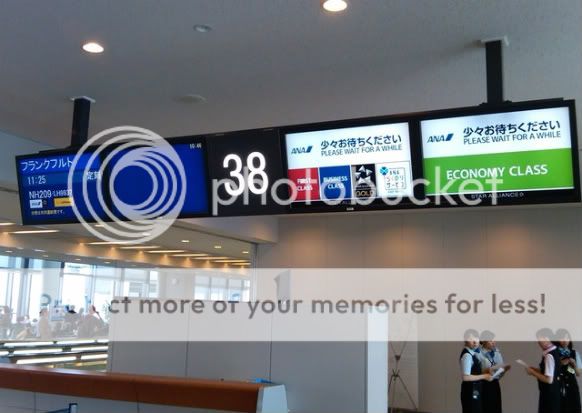 30a
view from 30a
mini economy cabin right behind business class
s-video, usb, headphone and power outlets
from top left: no clue, fruit, potato salad with fish roe, noodles with pork & egg, soup
my choice dining menu; different choices on different routes
whiskey 4 ways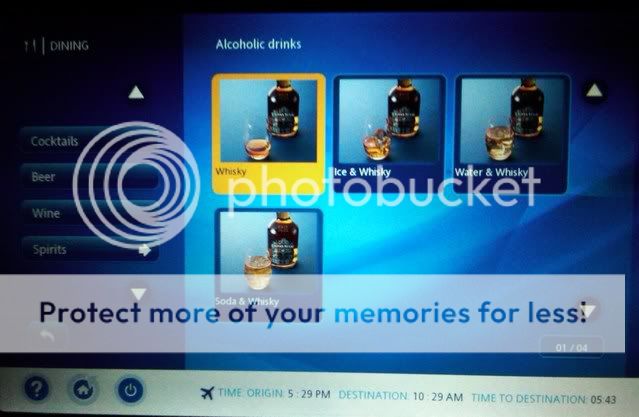 Y cabin
business class
"meal" before landing
lufthansa cargo on approach to FRA
inspiration of japan; JA785A
[Edited 2010-07-20 13:39:18]