Contact goes tech and two A.netters on the SK B736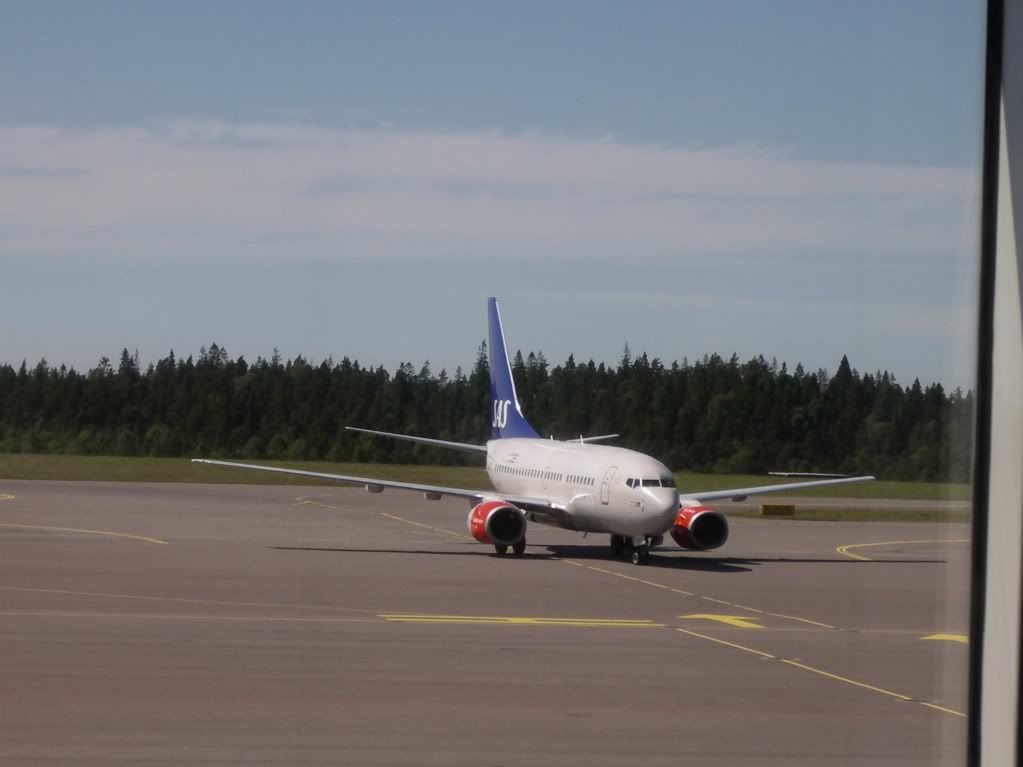 Hej, dear readers,
less than two weeks after the A.netter´s joint-venture trip to Denmark
Danish Sunburn And A German Go-around
(by
FLIEGER67
Jul 17 2010 in Trip Reports)
it is time to do some more flying.
Check-in for the first flight of the day, LH´s service 4780, departure 06.55 am, on Contactair´s Fokker 100 is done online
the evening before.
Easy and quick to use, a window in the rear part of the cabin, not the last row on the Fokker this time, for me.
Boarding is on my paper at 06.25 am, me, with the target to go as late as possible to the airport,
preparing the cellphone for a 4.15 am wake up call.
It works and so I´am in P2 to park the car at around 06.00 am.
A new message on the cellphone that early in the morning, let me see what it is
Well, or not well, it seems no Contact F100 for me today.
My mission in such cases, no panic, but act fast.
While walking to the terminal I´am calling the LH number.
A very friendly male agent there. And also as always, check the best option for you´re self.
I show him BA is also heading for LHR, nearly similar timing.
"Sorry, there are no connections between LH and BA, so it is not possible to rebook you on the BA service", is his answer.
Some more talking the arguments up and down, close to LH frequent traveller, lots of Star Alliance flights during the last time and else.
He responds, "I´am checking the BA flight right now, there are a very few number of open seats,
I secure one of them for you, but you need to go to the LH counter, the final decision is with LH´s station manager and there is also some paperwork to do".
Well I´am there meanwhile.
Five to six agents at work, a good number of pax waiting, pretty interesting to hear what they offer:
Germanwings to Stansted, no question, a LH company and LH connections via FRA or DUS, nothing to hear about BA at all.
A friendly female call´s me in, I tell here about my conversation with the agent, she picks up my paper and walk away.
She´s back a minute later, it´s ok and working with her computer.
No bag to check helps once again.
"Technical", I ask the lady.
"Technical", she responds.
Exp. wins my business this time for some 60,00 Euro´s and there are a good number of pax around which looking like, they payed much more for the flight than me.
We should be quick, BA check-in closes in a couple of minutes.
Finally done, around the corner for BA, no more pax there, a friendly male agent secures also my BA frequent traveller number from the system.
No more open window seats, but aisle last row, 22D is also ok in this case.
No other chance to catch my connection at LHR.
One Star-Alliance leg missing now, on the way to reach 30 for Frequent traveller.
What´s coming up now, a new airport together with meeting a local A.netter from southern Sweden
and pretty interesting planes.
What about some aircraft generation comparison?.
This is the flightdeck of plane no. 2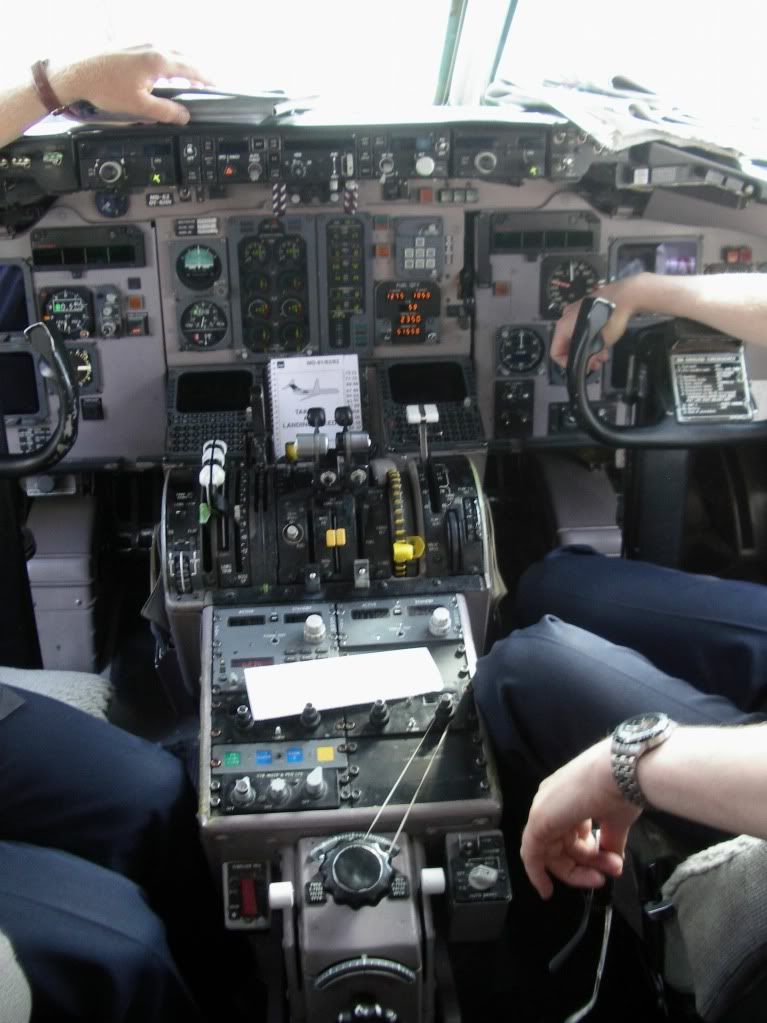 And this ist it from plane no. 3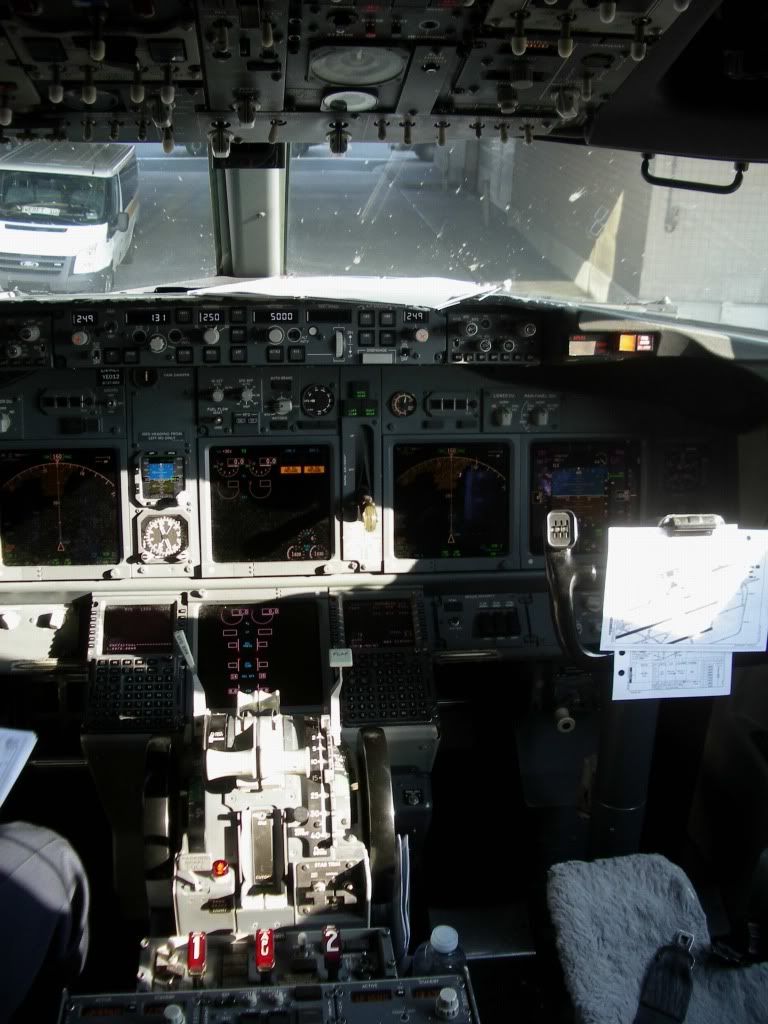 Monday, 28.06.2010
.
.
.
.
Service BA 917 operated by British Airways
Scheduled: 07.00 // 07.50
It is 06.30 am, when I´am through security, after some minutes to wait, close to boarding time,
from Gate 113.
Not that really nice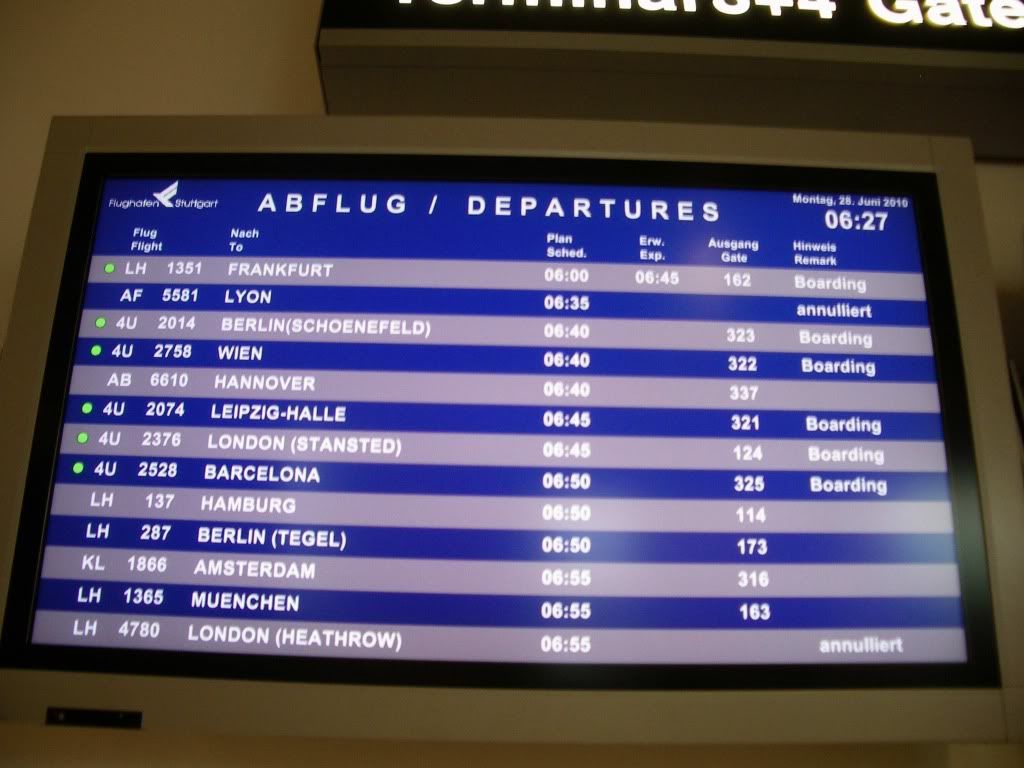 Much better
And this is today´s unexpected plane, G-EUPE an Airbus A319, 33 examples are right now in the BA fleet.
Leg no. 54 for me on type and a new registration.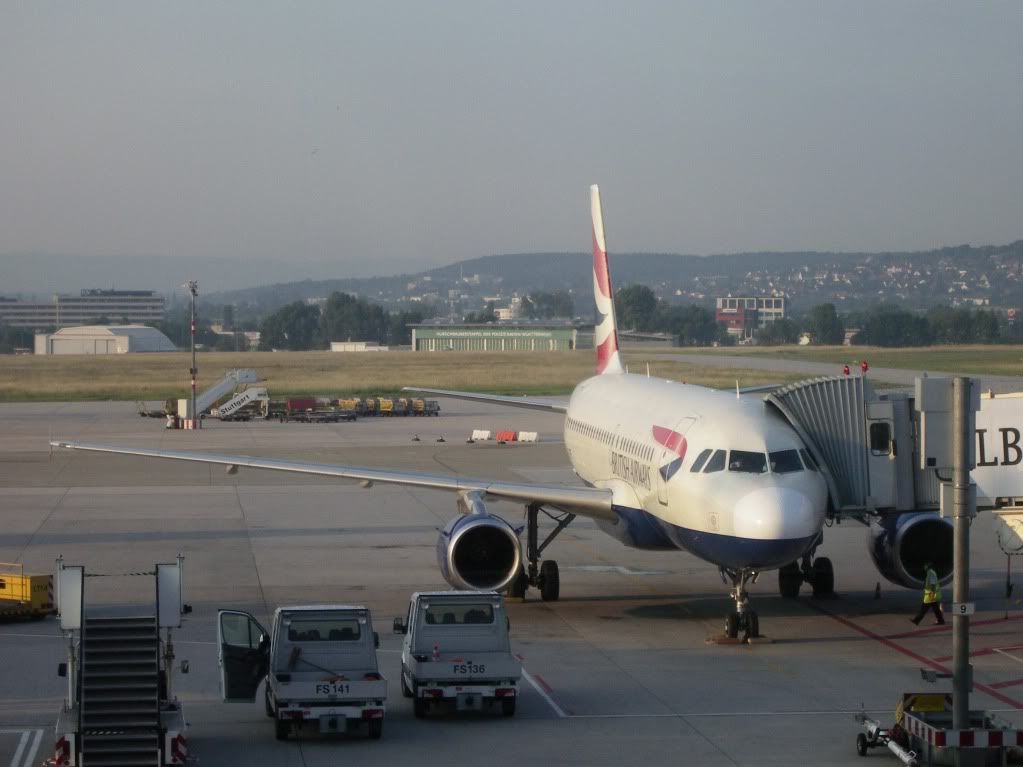 The nose cone looks like new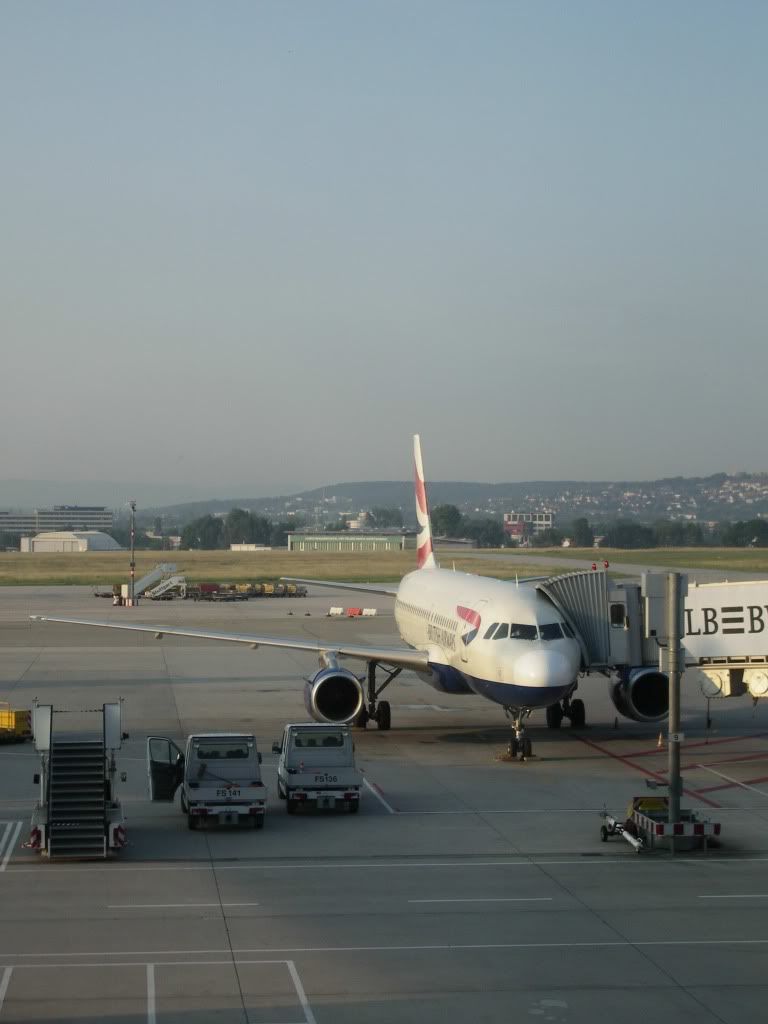 Airbridge boarding as one of the last pax, maybe some better seats there,
not at all, but the middle seat remains free.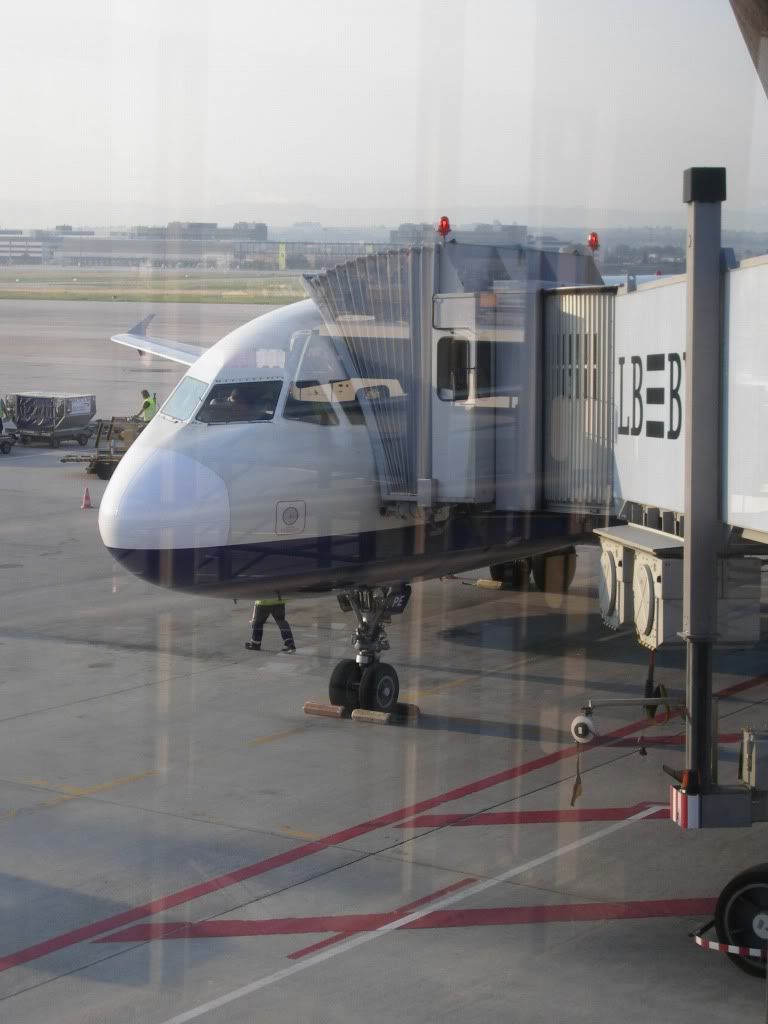 A good load here, around 90%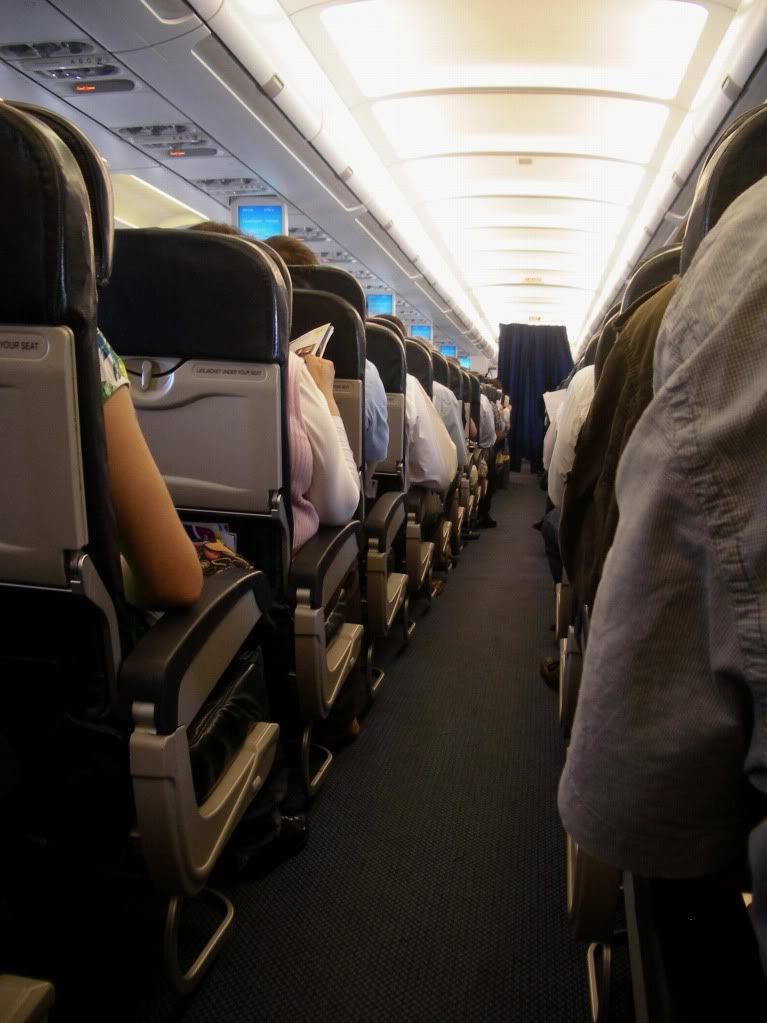 Two male, one female FA on this service, correct, doing a nice chat with one of the male FA´s during our wait to leave the plane at LHR later.
A very friendly and long welcome from the UK captain, once more short during approach later.
Flight level 38000 feet, more southern than the last times via Strassbourg, Metz and Lille.
This is the safety card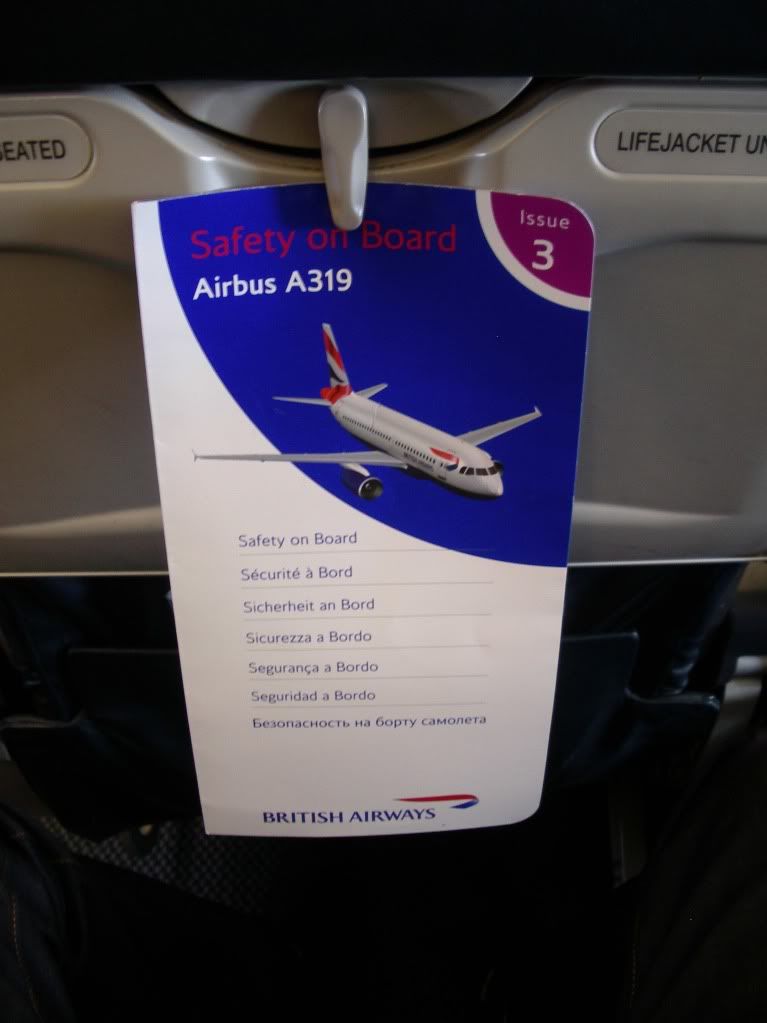 And the less welcoming magazine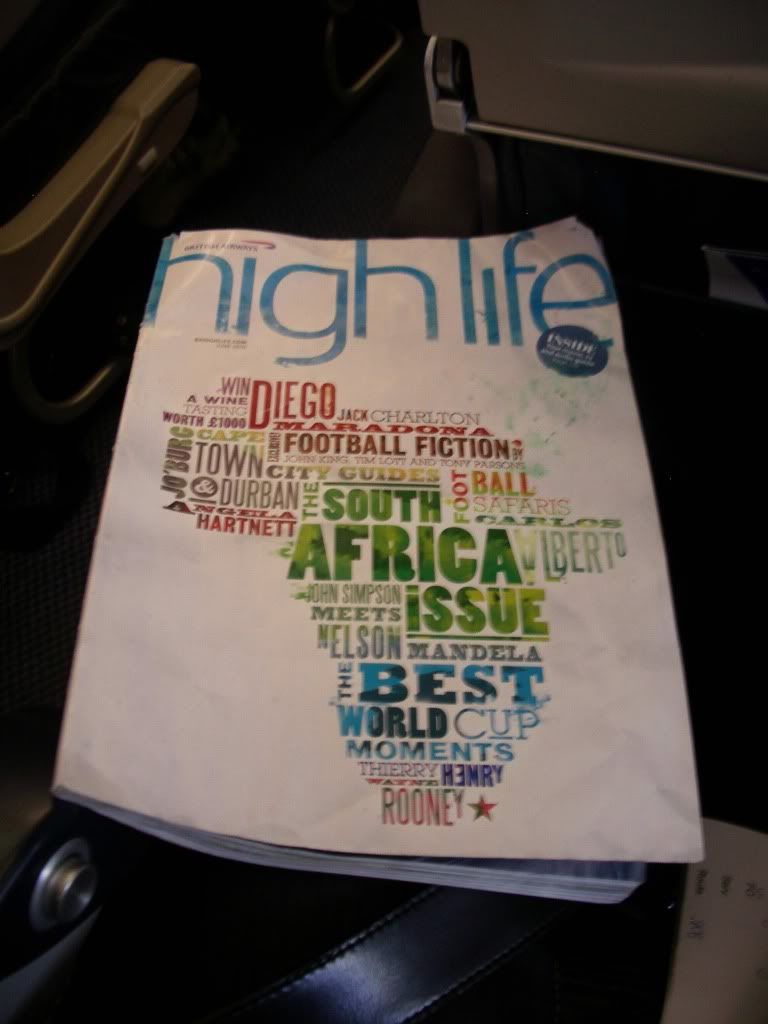 Departure from runway 07 at 07.00 am, ontime, with pretty nice weather, sunny and 14 degrees.
Sandwich, water, coffee for free here on BA
The modern style cabin, dark blue leather seats, well used, but comfortable so far, legroom is ok.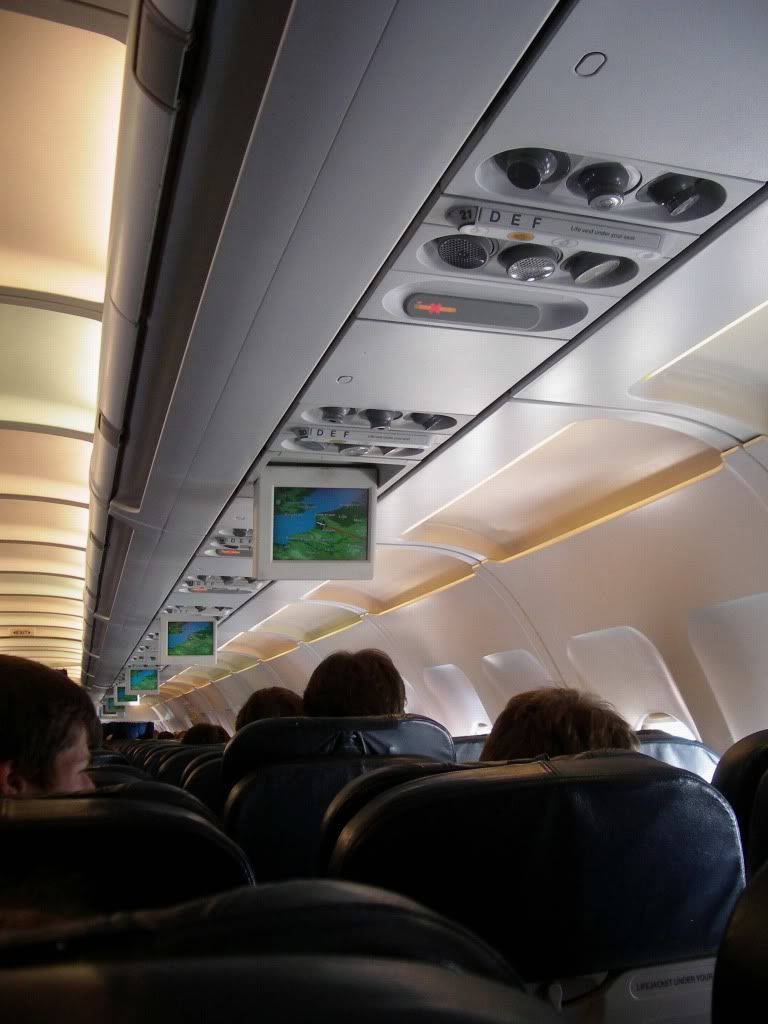 One holding circle only, above southeast London and touchdown on the 3658 meters runway 27L.
It is 07.30 am local, 08.30 am in Germany, 20 minutes ahead to schedule and the weather is also superb nice here,
sunny and 18 degrees.
My seat during disembarking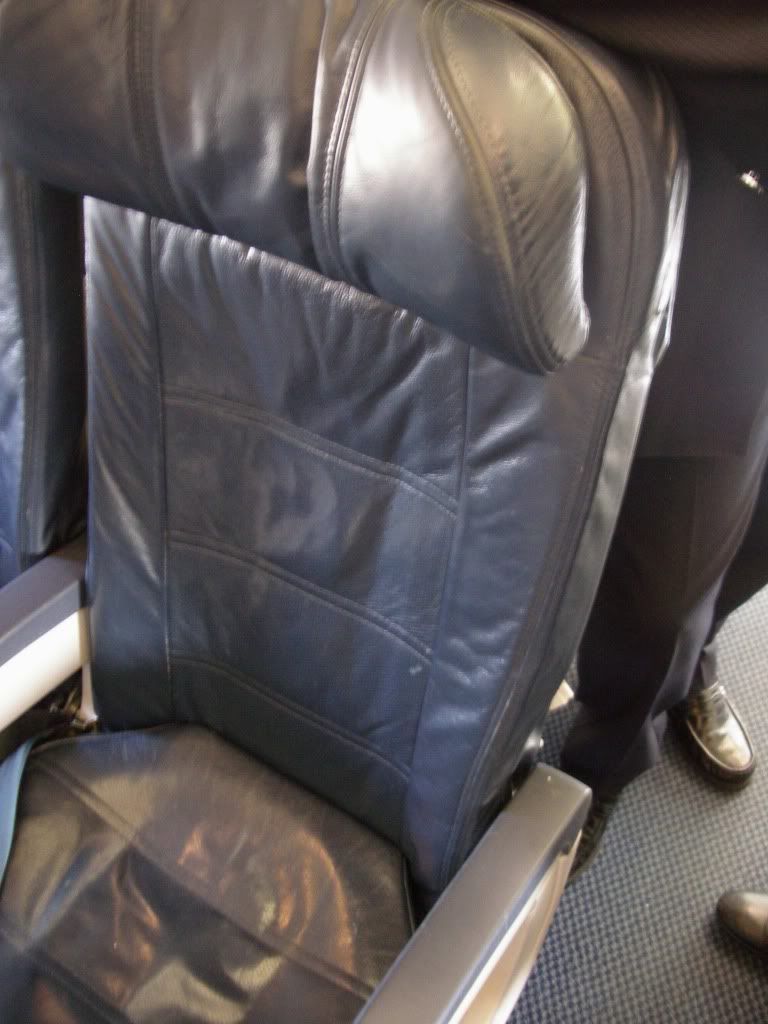 Engine view
T5 from the apron
Bye-bye G-EUPE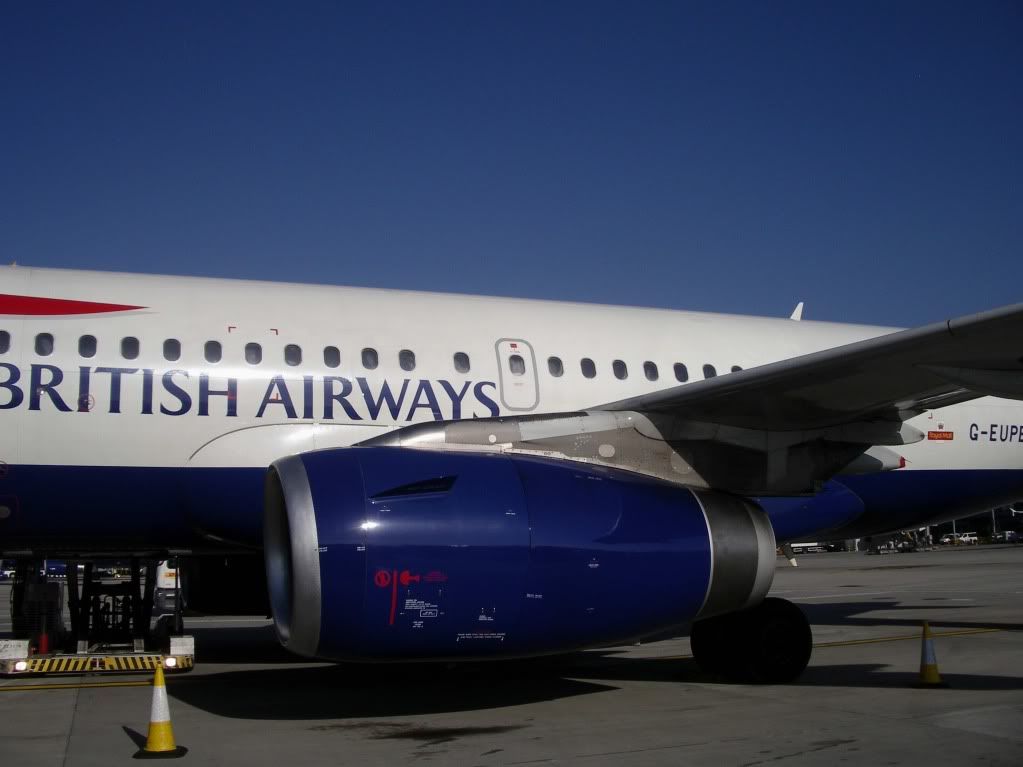 Standard terminal by LH is T1, departure from T3 for the next flight, not that far away.
Now it is a bit more way to go from T5 but time enough, more than one hour for the next boarding time.
No need for immigration, staying inside and using the bus shuttle for T3, running frequently.
Monday, 28.06.2010
.
.
.
.
Service SK 524 operated by SAS Scandinavian Airlines
Scheduled: 09.20 // 12.20
One more security check at the entrance to T3.
Looks like something futuristic
The board, sorry for the blurry picture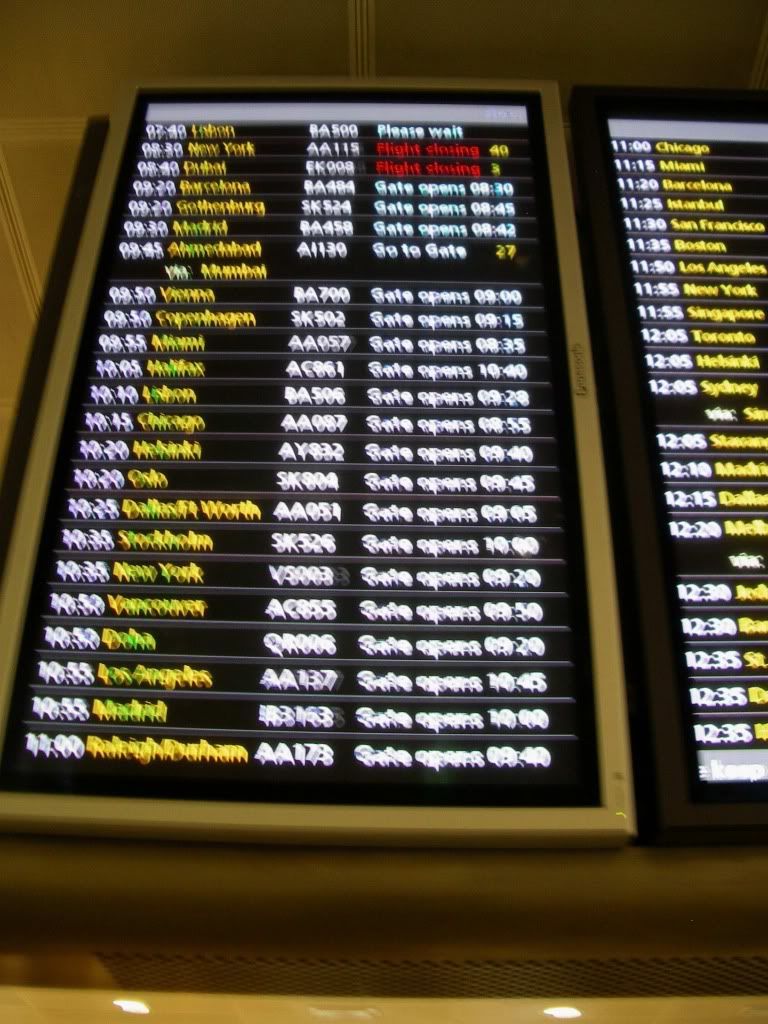 Check-in is also done here online at SK´s website.
A warm welcoming plane change, the Boeing 737-600 on the confirmation, but the MD81/82
on the seatmap.
Seat 26A for me, the last row window before the aft cabin galley, the aisle is also taken on this flight, the load around 90%.
Booking is also done via Exp. for some 60,00 Euro´s.
And here it is OY-KHN, close to twenty years in service with SK, since 29.01.1991.
Leg no. 2 only on the MD 81 for me and a new registration.
One of 9 examples in the SK fleet, this is "Dan Viking".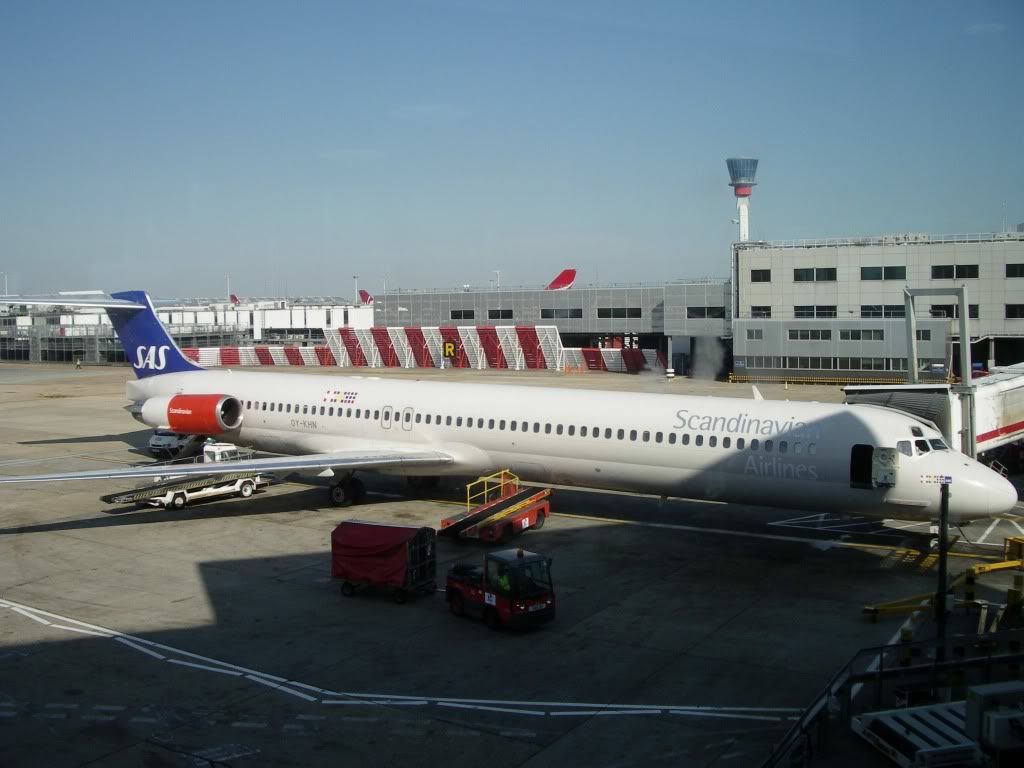 The tail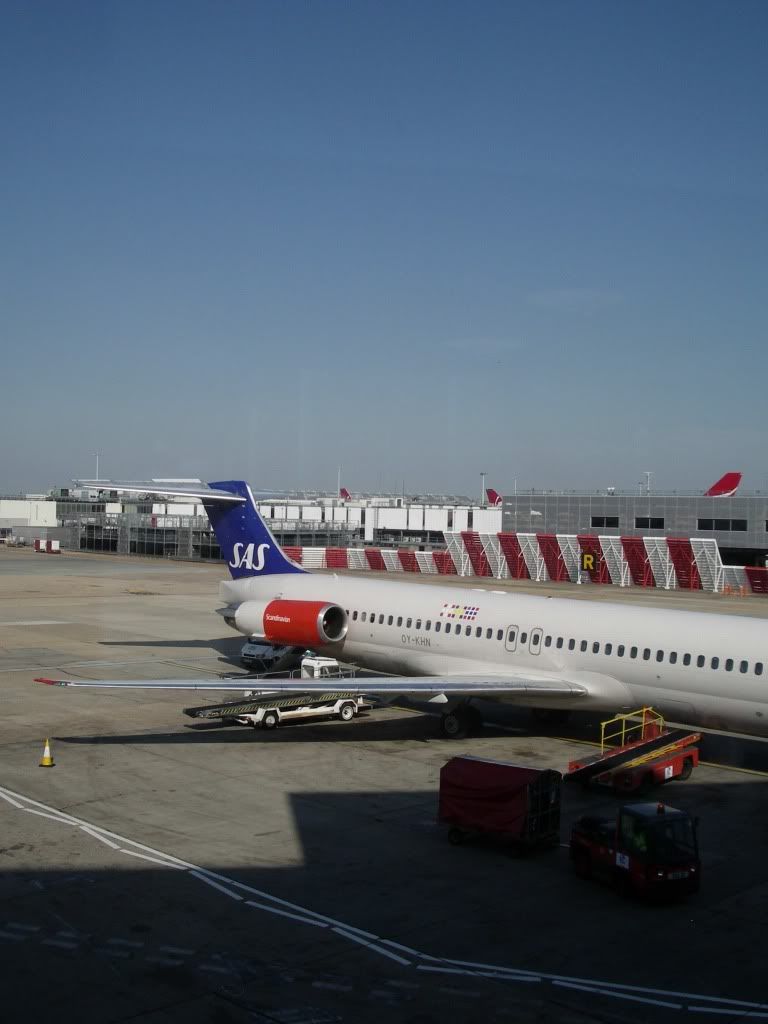 And the nose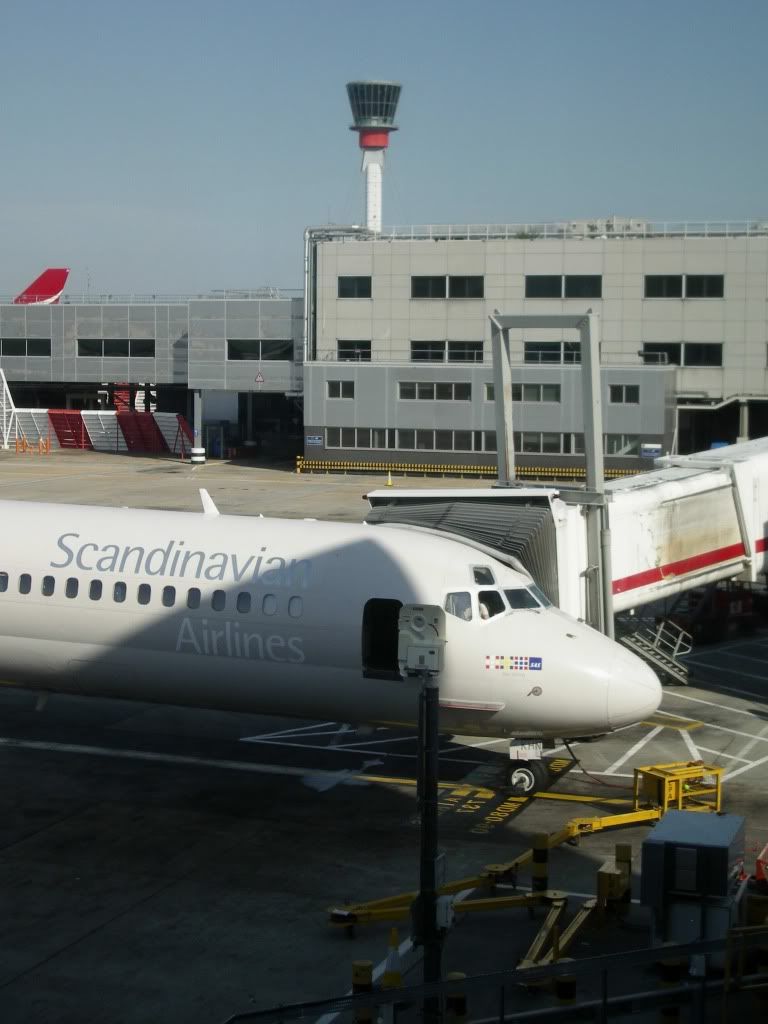 I like these large BA logo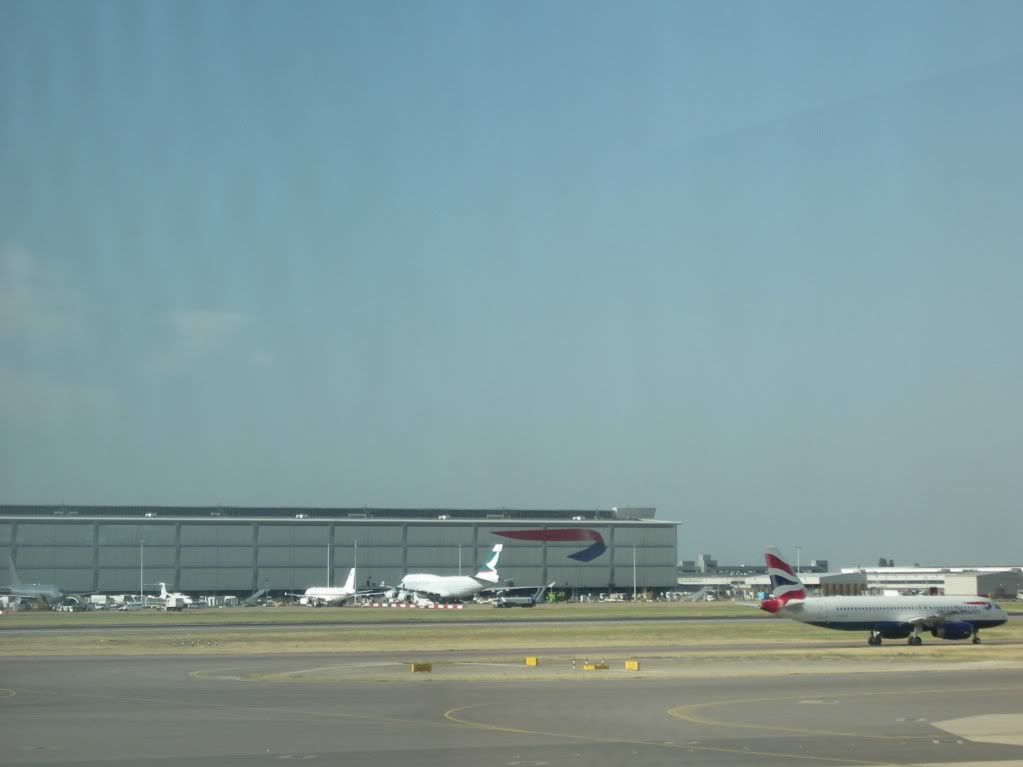 Gate no. 9 for me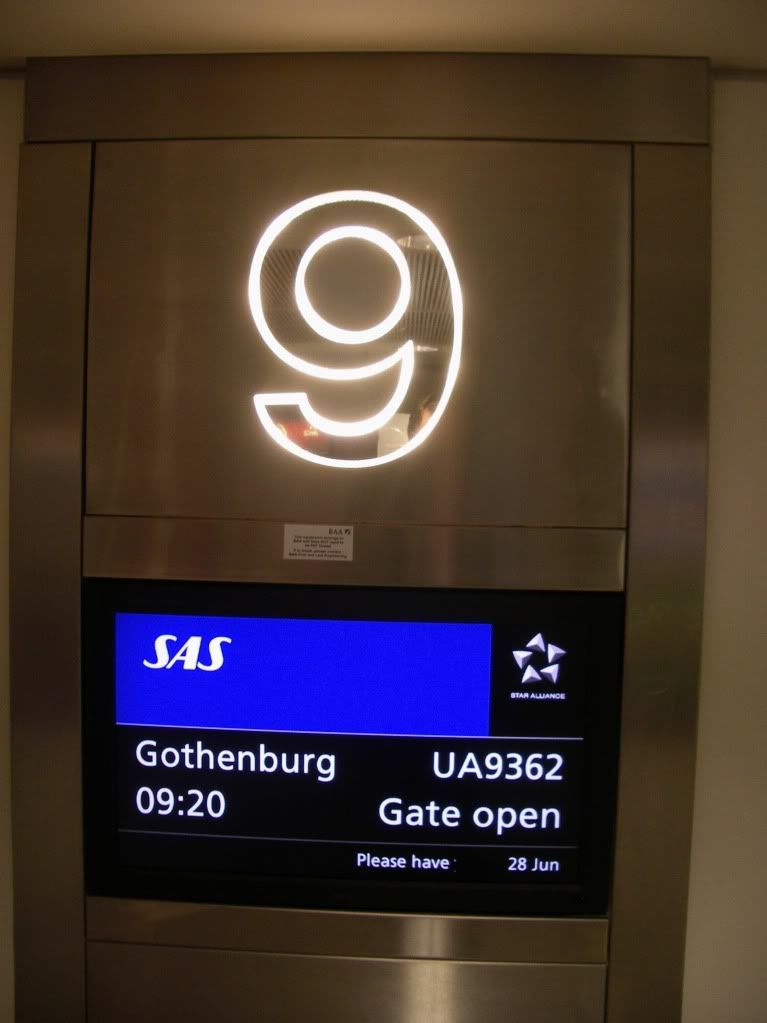 Qantas towing
What a nice phrase on the planes fuselage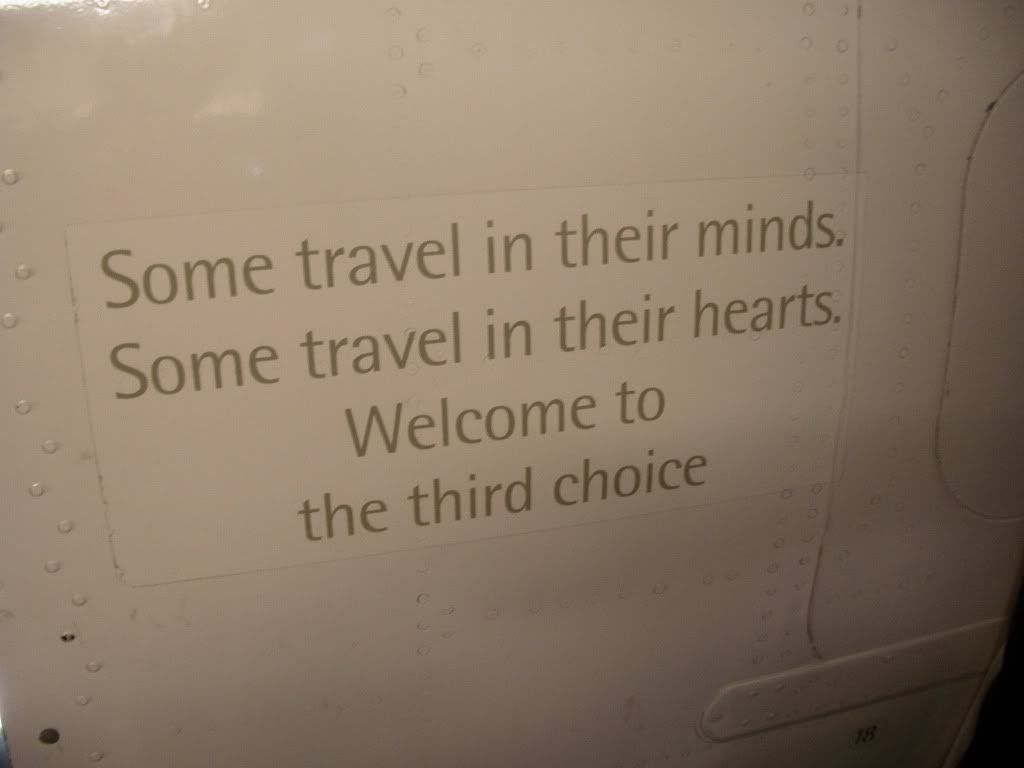 The big brother from CPH beside
And the much bigger plane from Singapore
More A380 here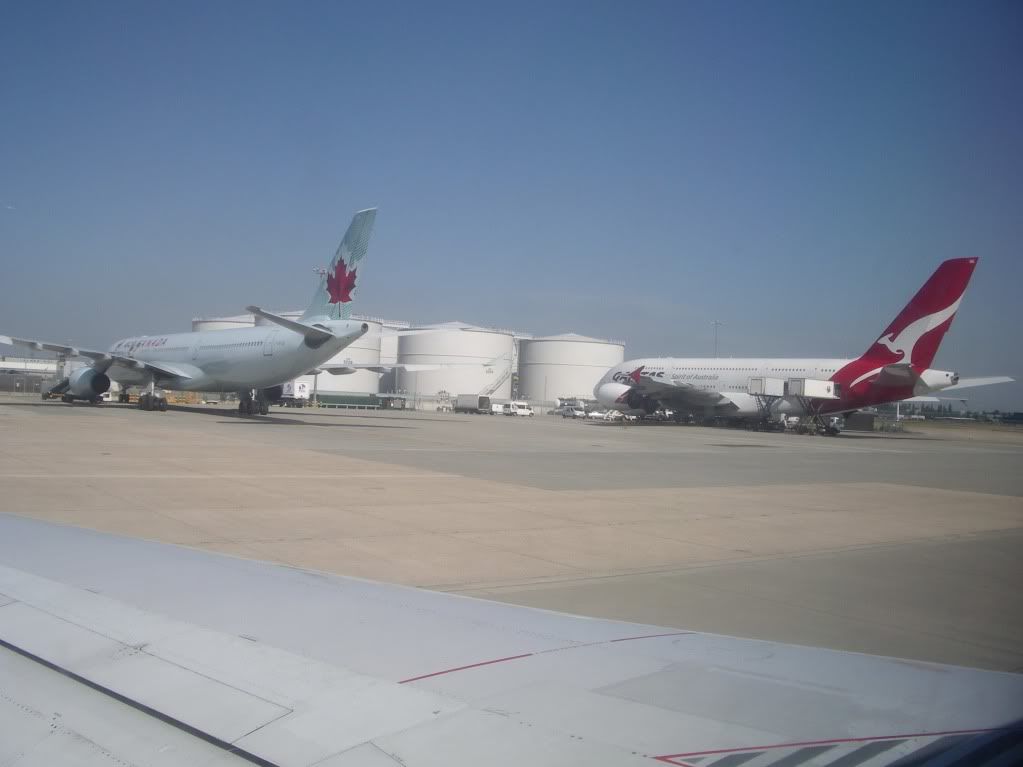 Departure from the 3901 meters runway 27R, BMI goes ahead.
It is 09.20 local, ontime and the temperature is 18 degrees, still sunny.
Duration 1 hour 30 minutes.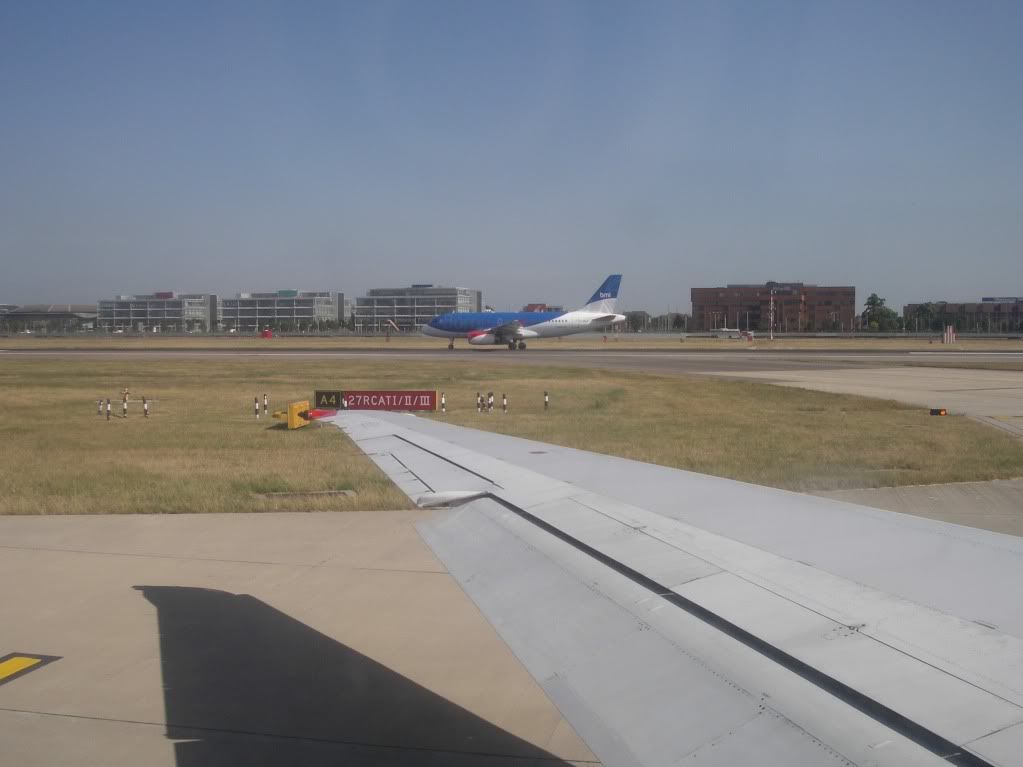 Close to Windsor castle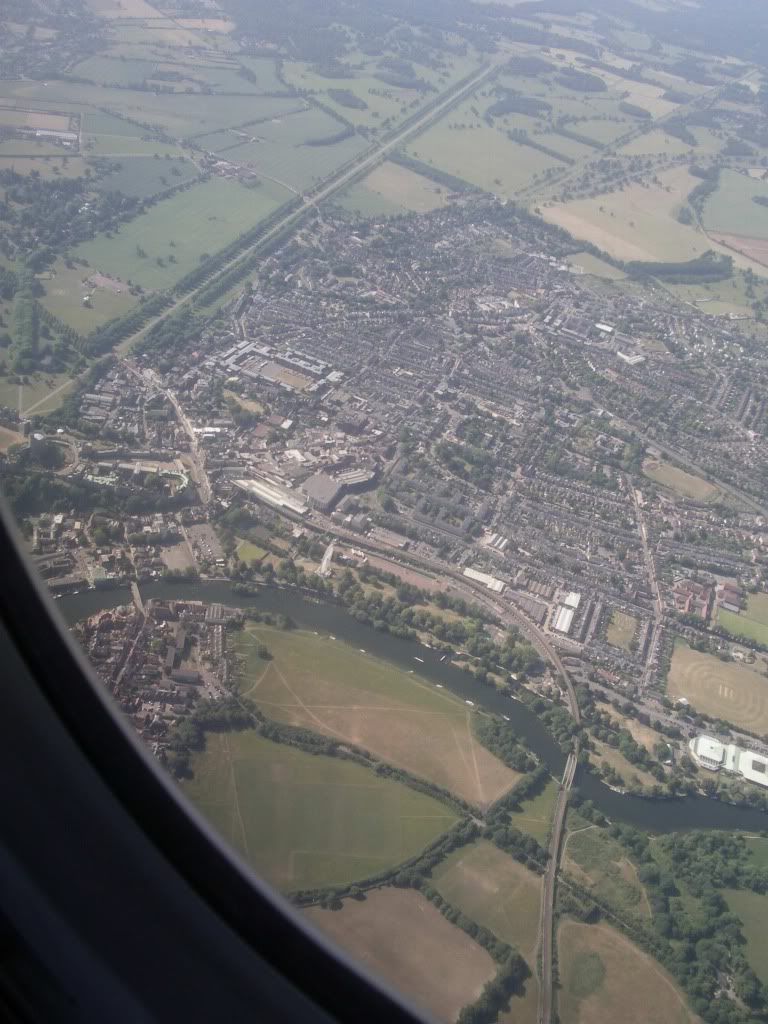 The oldfashioned cabin fitted with fabric seats, legroom ok
and also some oldfashioned smell around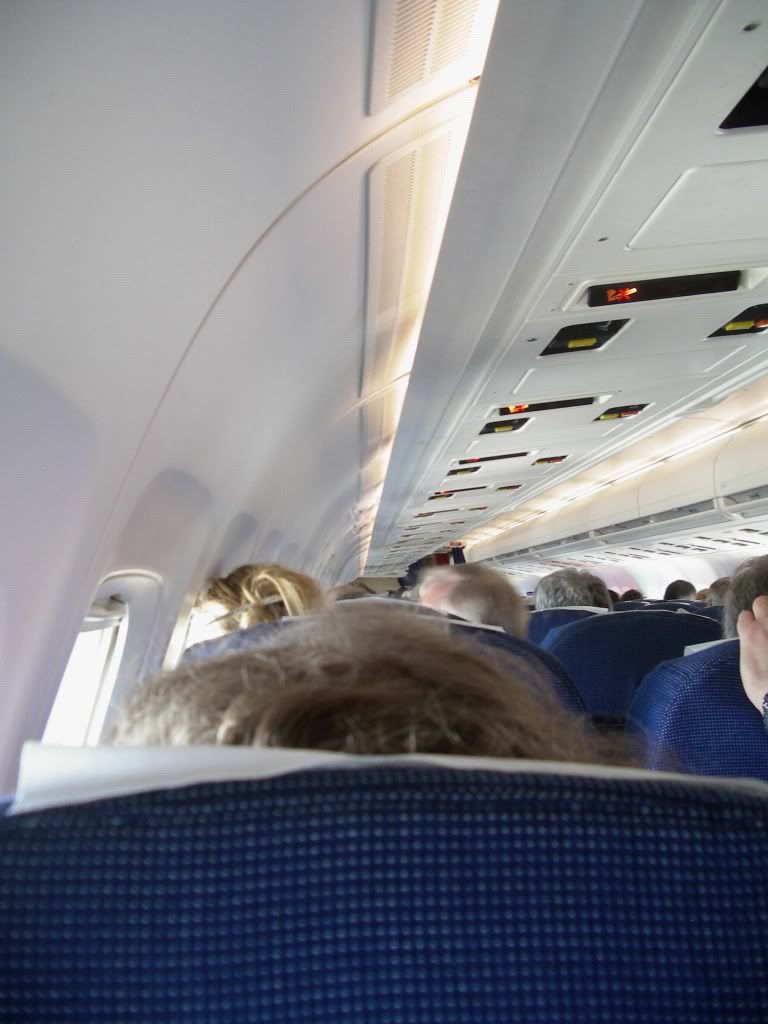 Comfort is limited here, the "you should buy two seats next time" lady in front of me
is somewhat smelly and there are three movie style special agents in the last rows taking care or not for a deportee, looks like from Iraq or Afghanistan.
He´s crying the whole time till we reaching cruise altitude and starting again during the approch into GOT.
Cockpit crew is Scandinavian, a short welcome less detailed inflight.
Three females, one male FA, all senior and ok.
Service is BOB.
And the safety card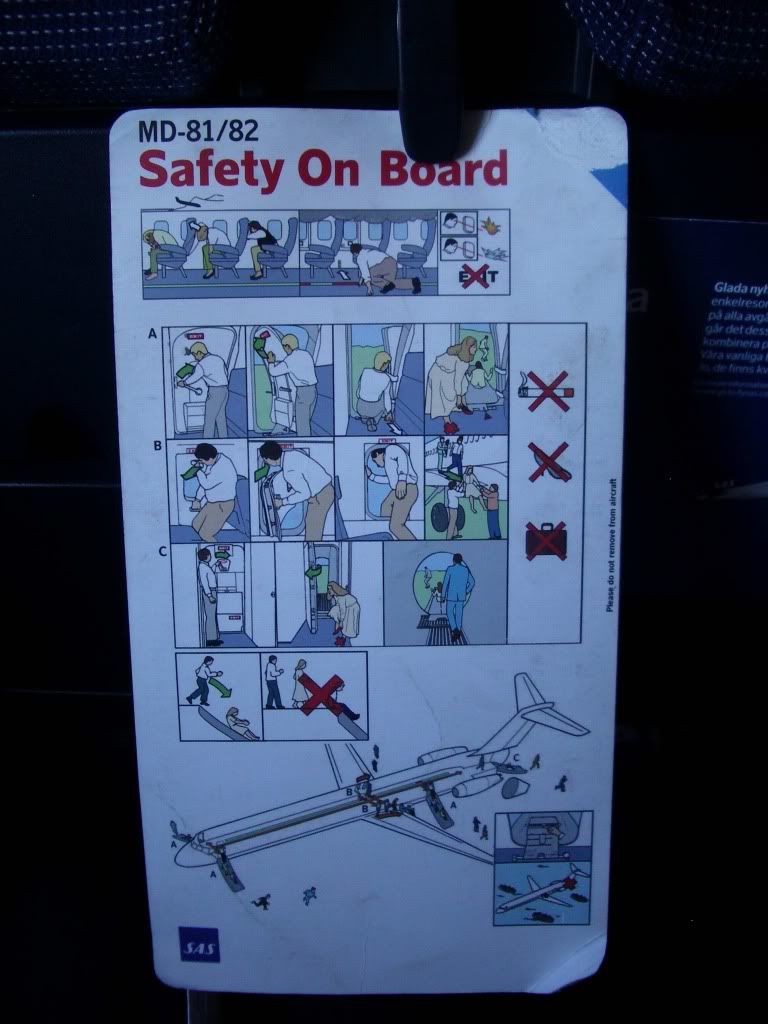 Leaving the UK near Norwich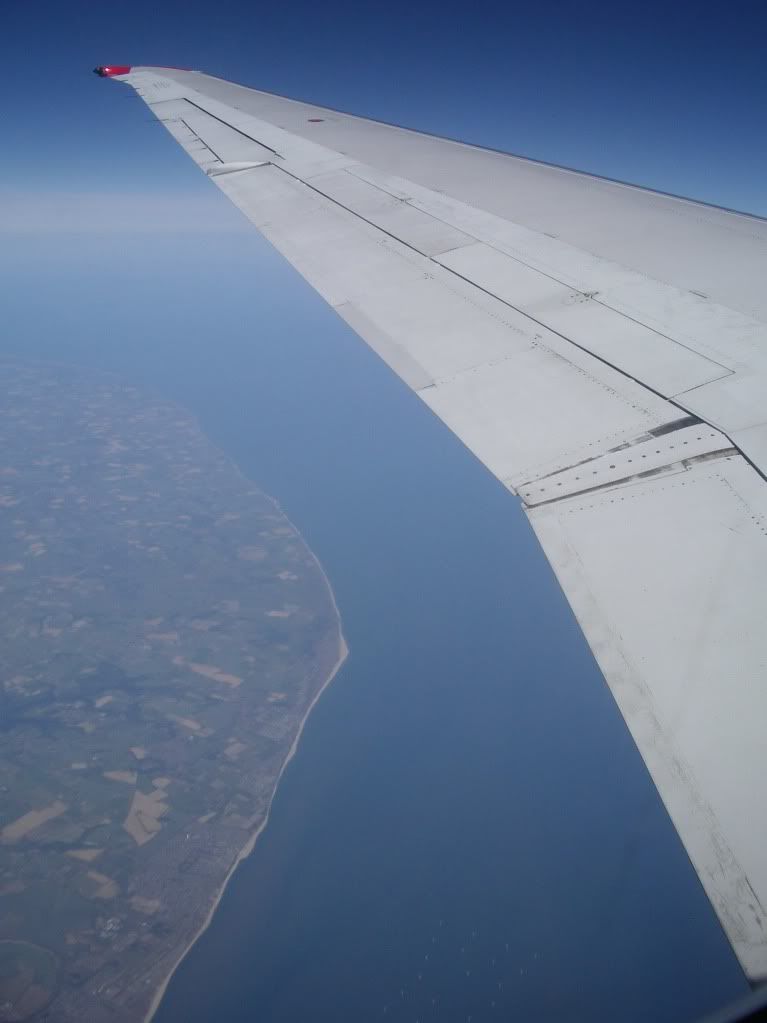 And above the blue, sorry north sea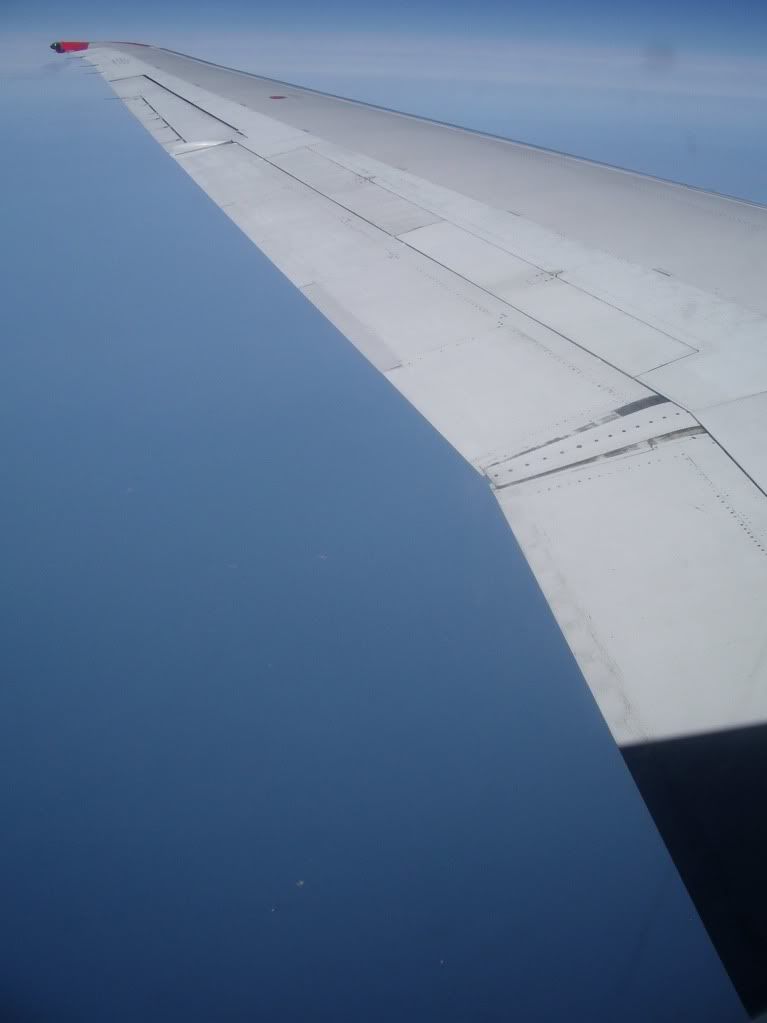 The cabin ceiling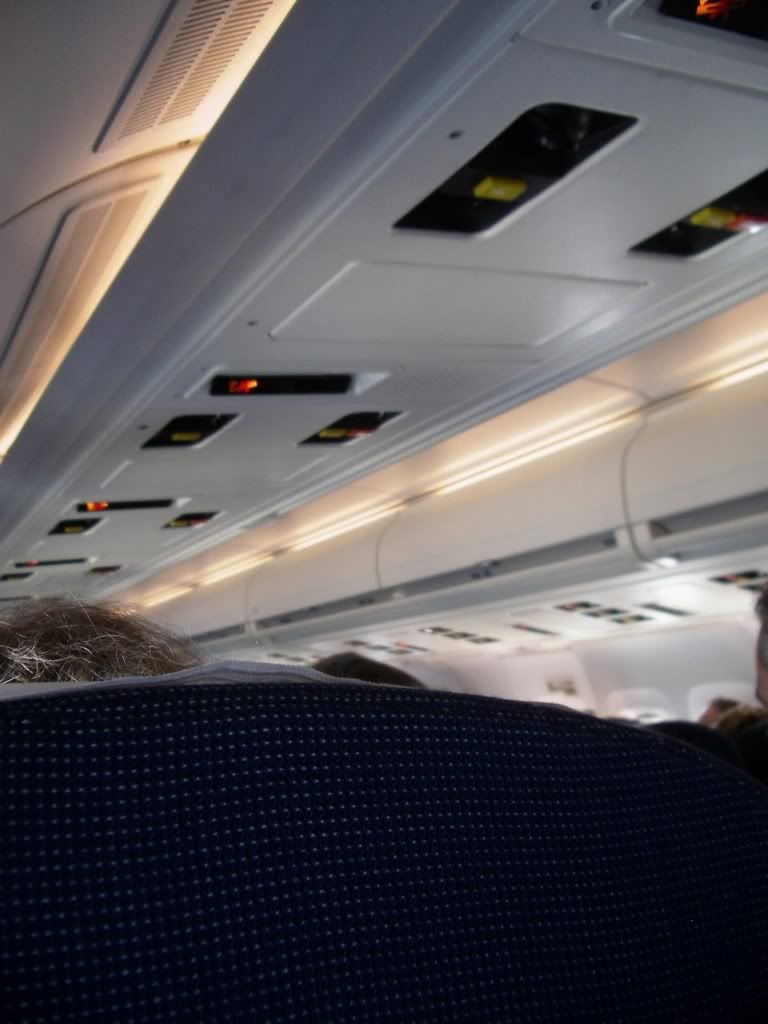 Southbound traffic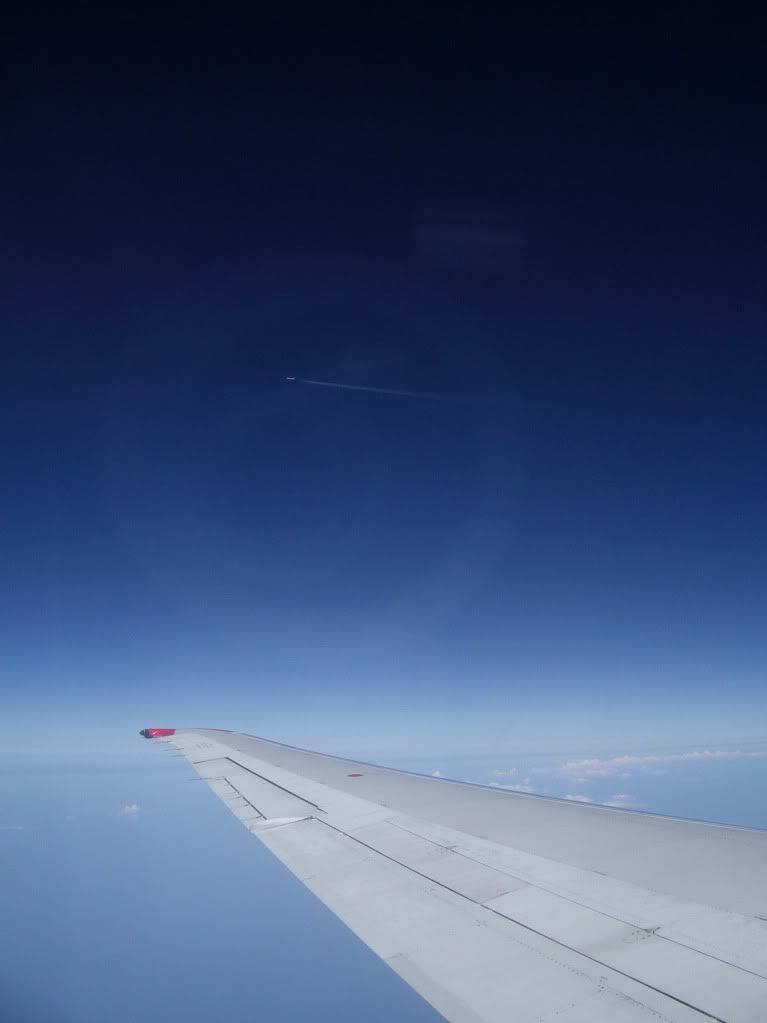 Wing detail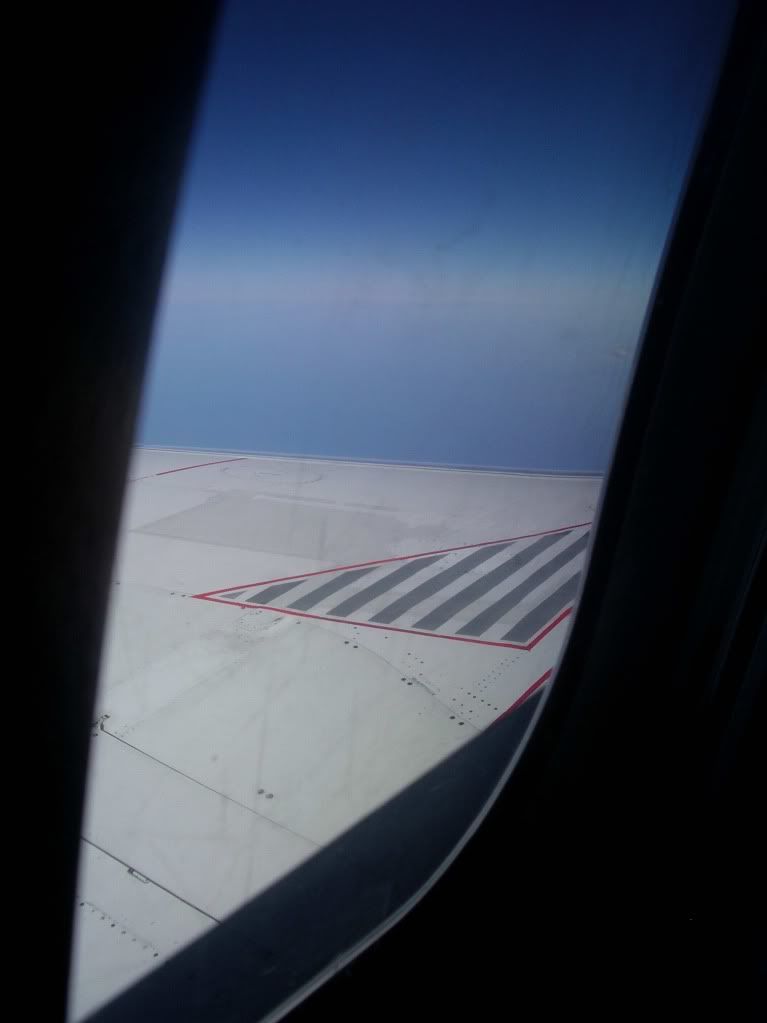 Now that´s Denmark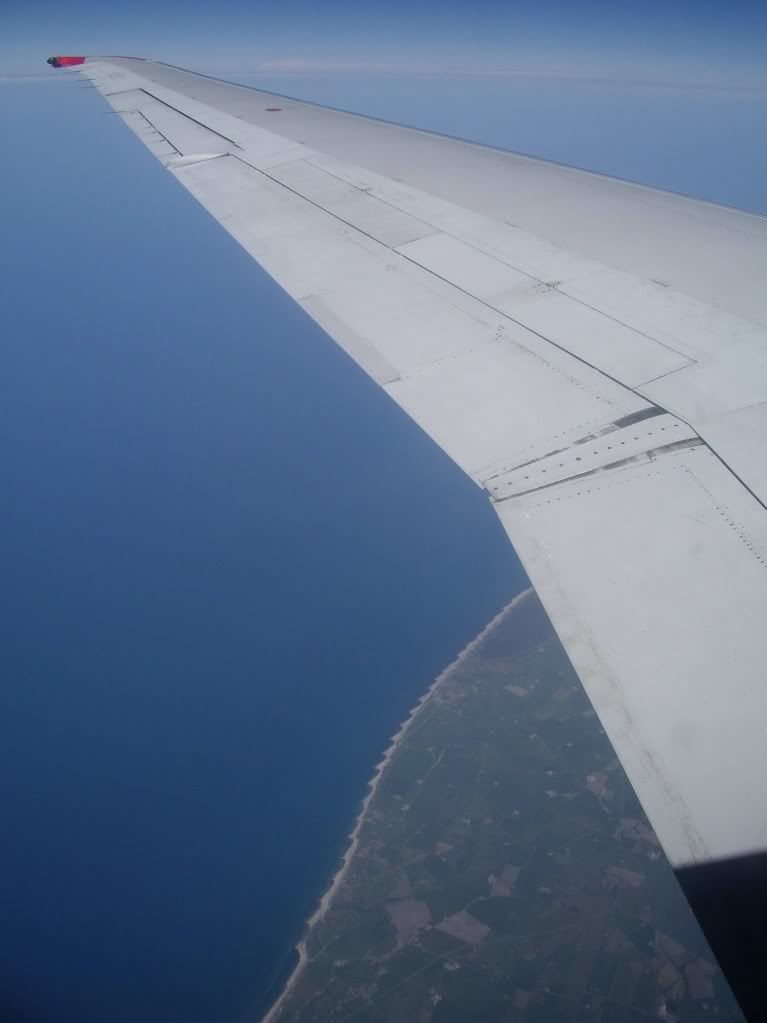 The north sea coast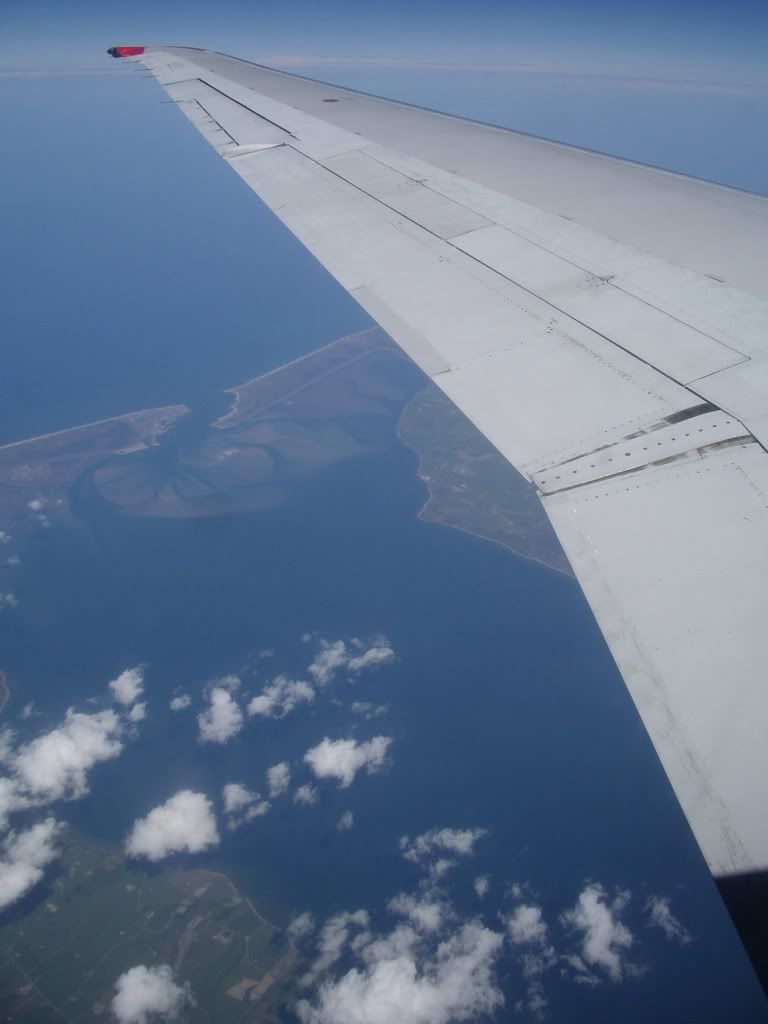 Some danish airport down there
And finally that looks like Sweden
Touchdown on the 3299 meters runway 21 at noon, 20 minutes ahead to schedule, the weather is also nice here,
light clouds and 20 degrees.
Nice metal on the apron, what the heck is this short big bird there?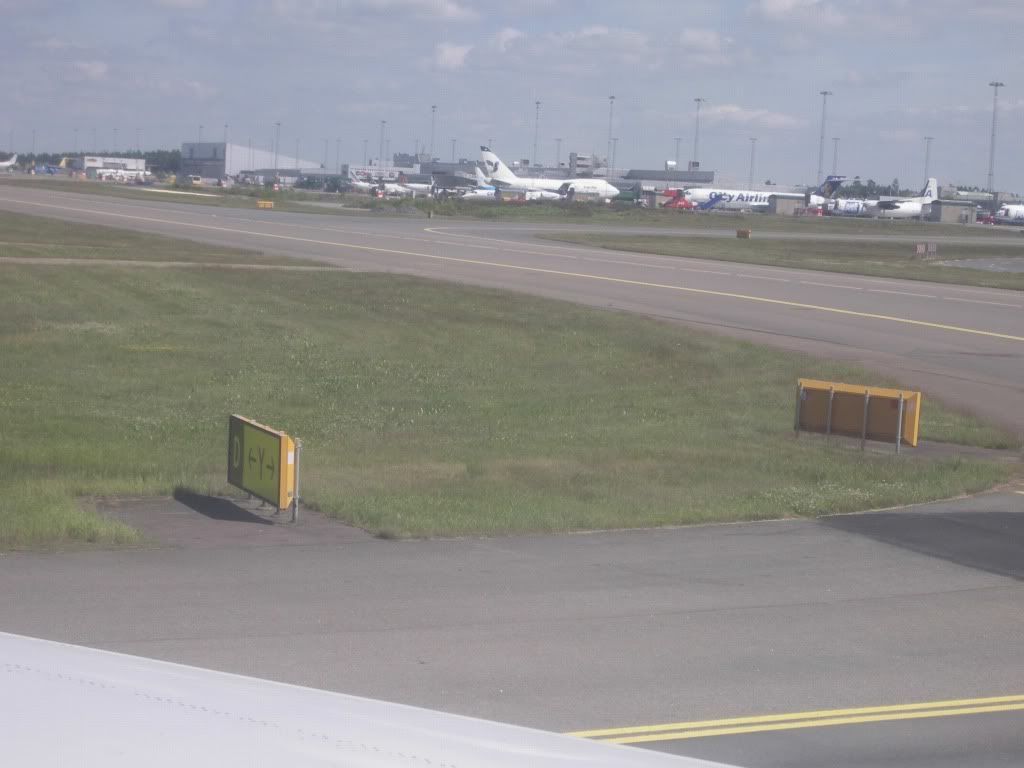 Unbelievable, the Iran Air 747SP, in service since 10.05.1976 and by now on the EU blacklist.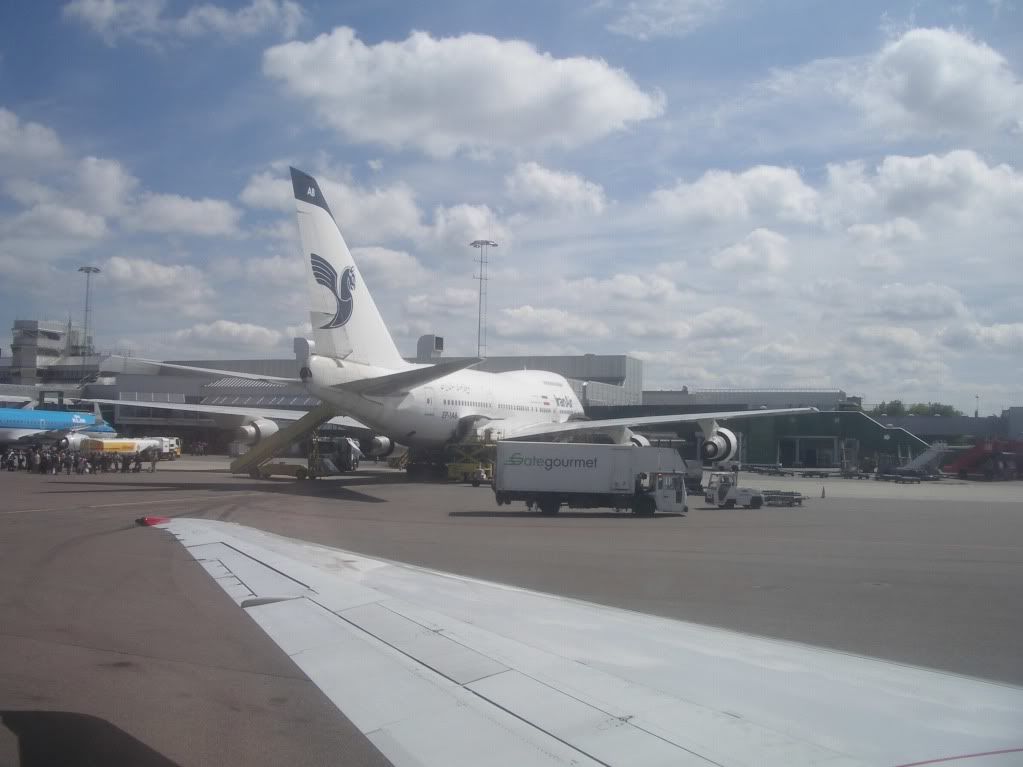 Good looking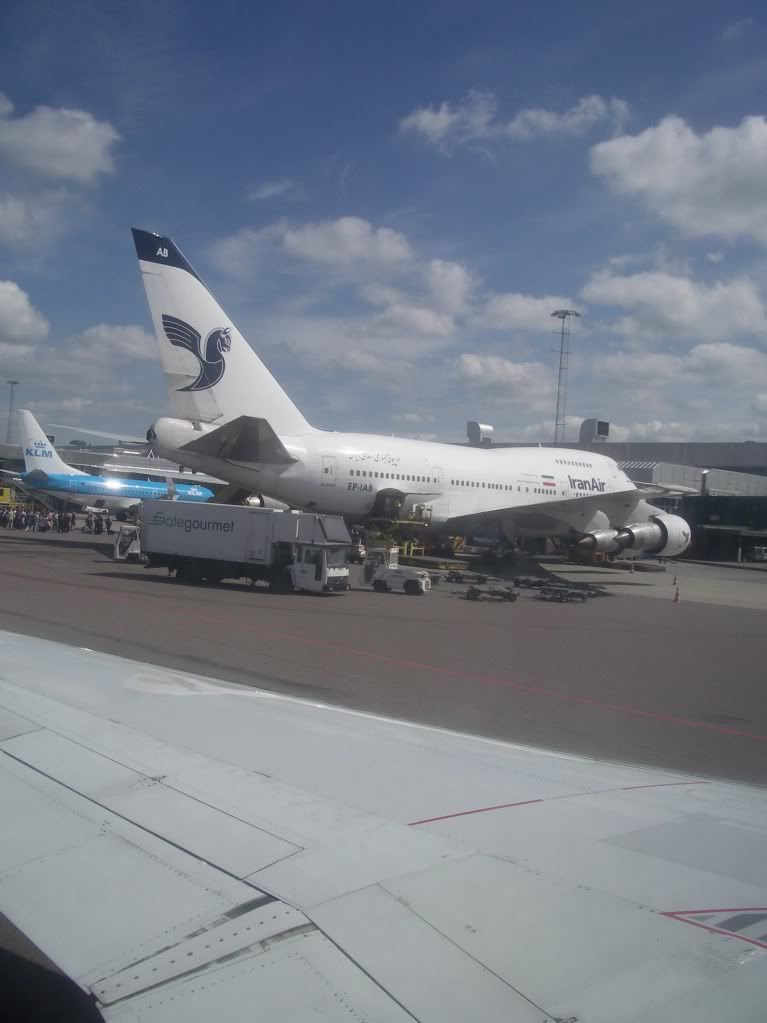 Short and big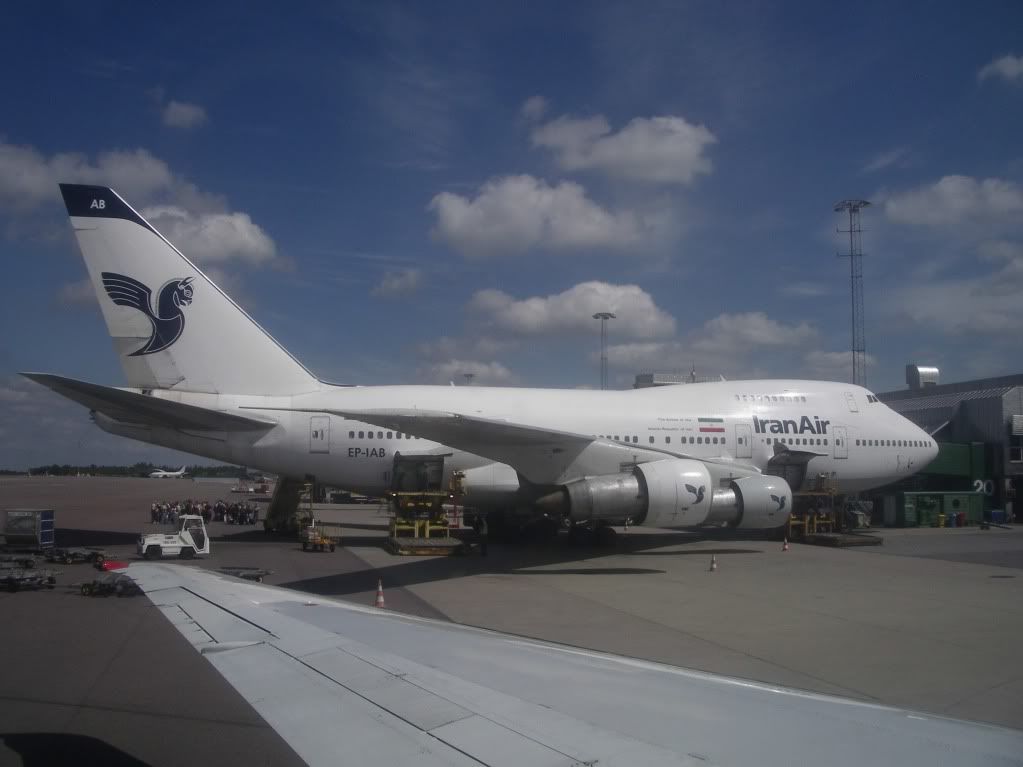 Love these engines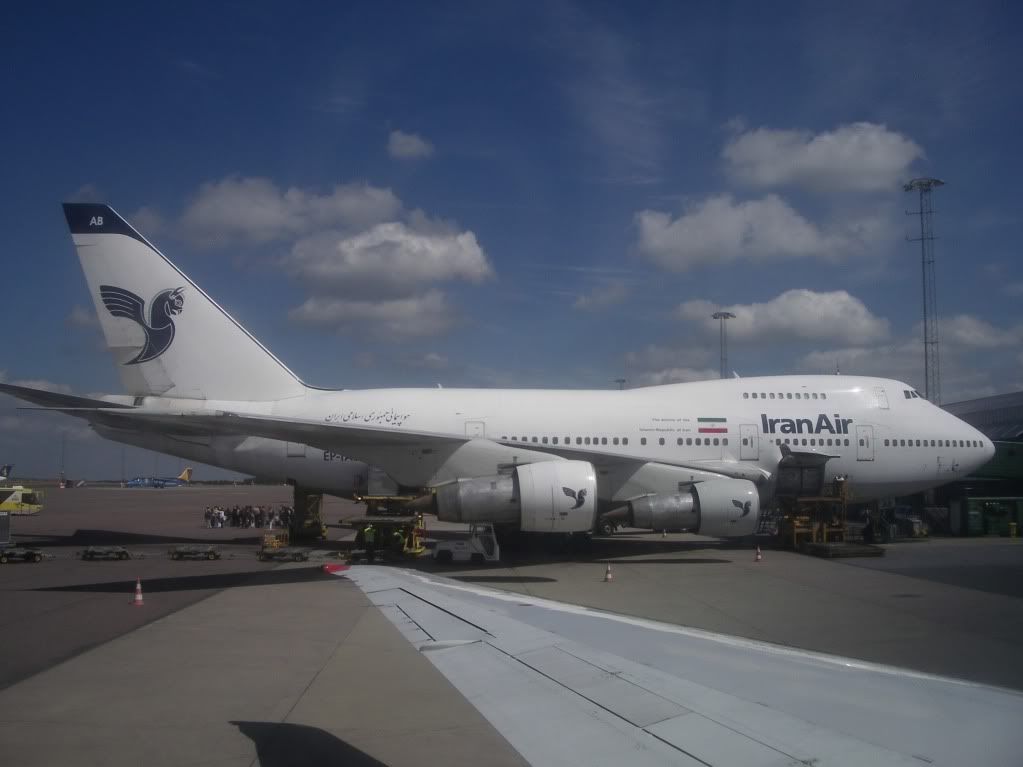 Different generations here around
My seat during disembarking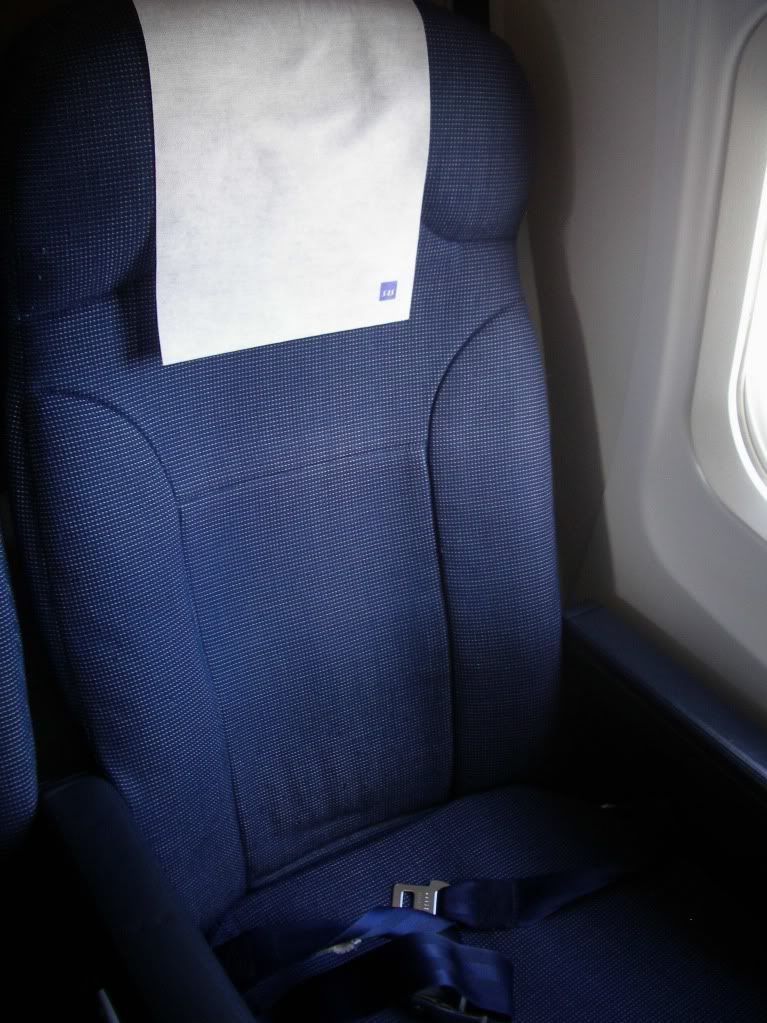 What a beauty
Ground handling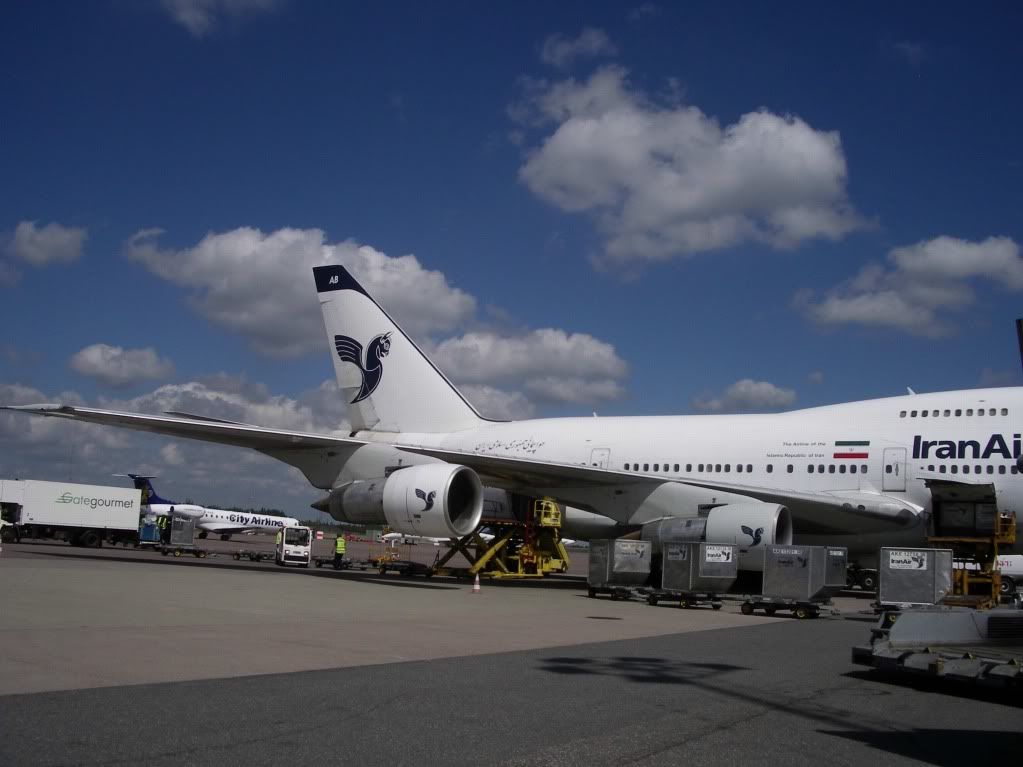 My plane
And the big birdie close by
The nose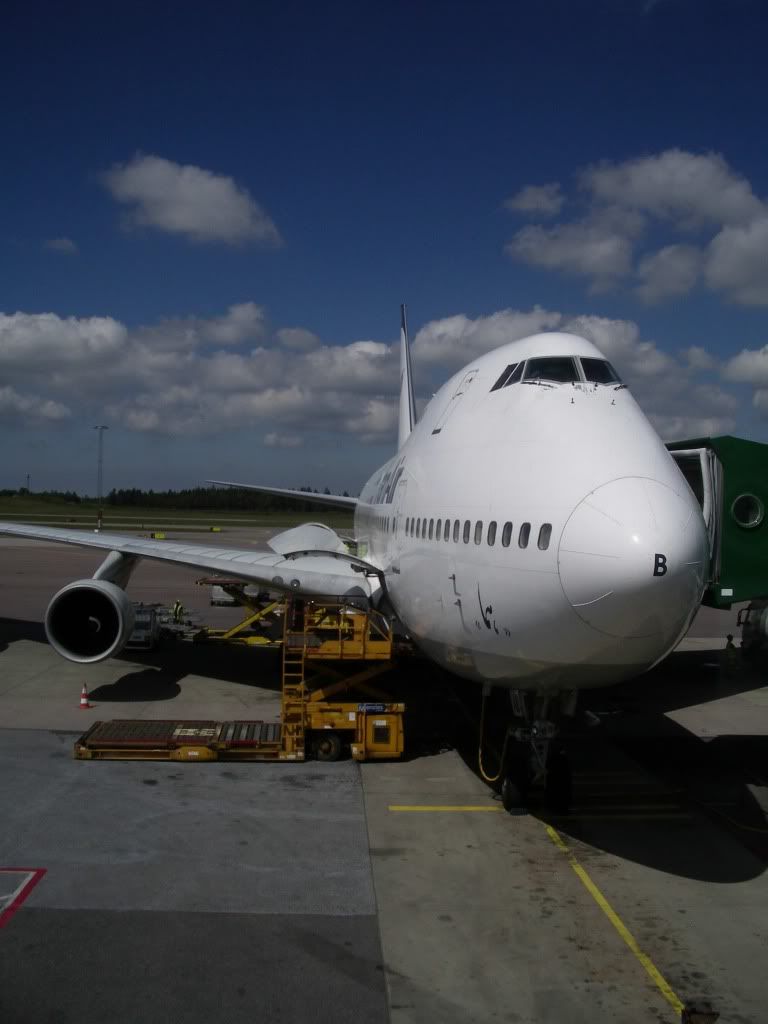 A long time to wait at immigration, with all that not that long earlier inbound from Teheran pax.
I´am staying in contact with local A.netter Robert/parton87.
He decides to spend also some time on travel during these days and will pick me up now at the airport,
for some walking around the city and doing the third flight for me of the day down to FRA together.
Good company, Robert, thanx for this nice day.
The Flygbussarna is the best way to reach the city for some 15,00 Euro´s return.
That´s the Opera house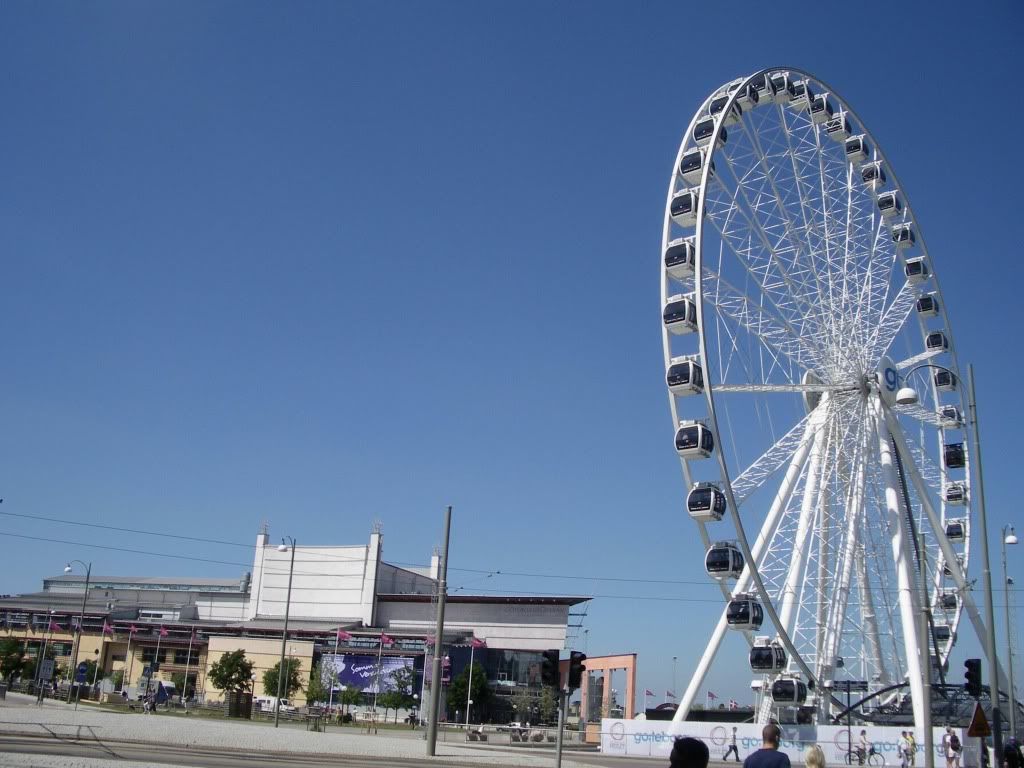 And the big wheel
Street life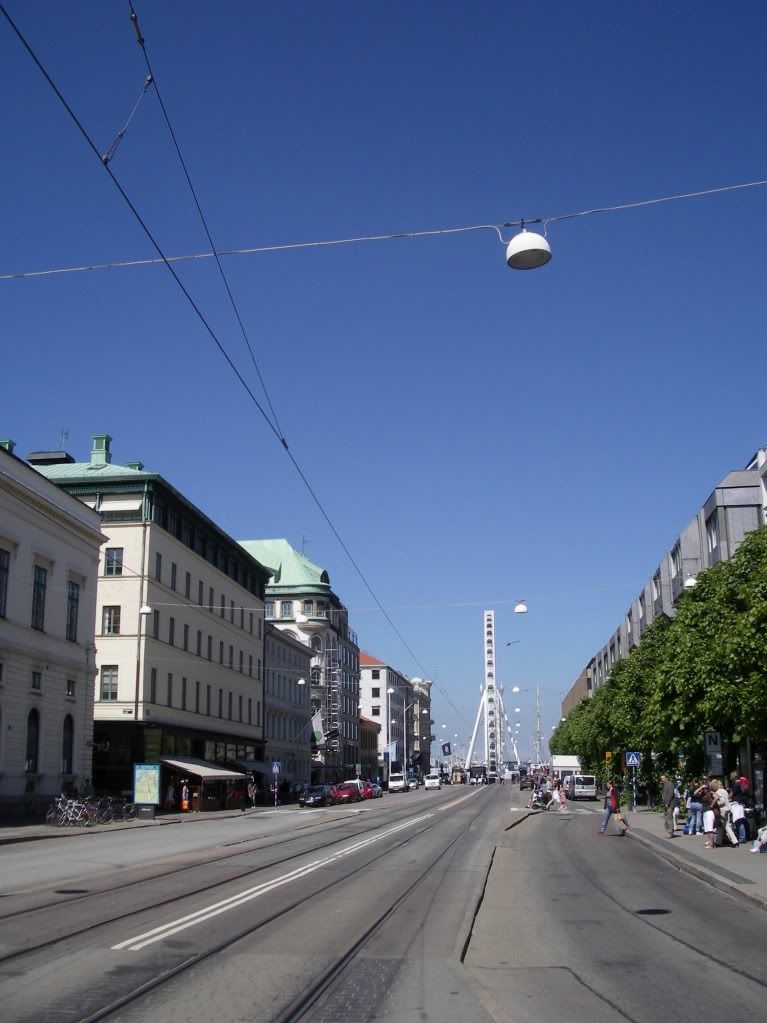 Oldfashioned public transport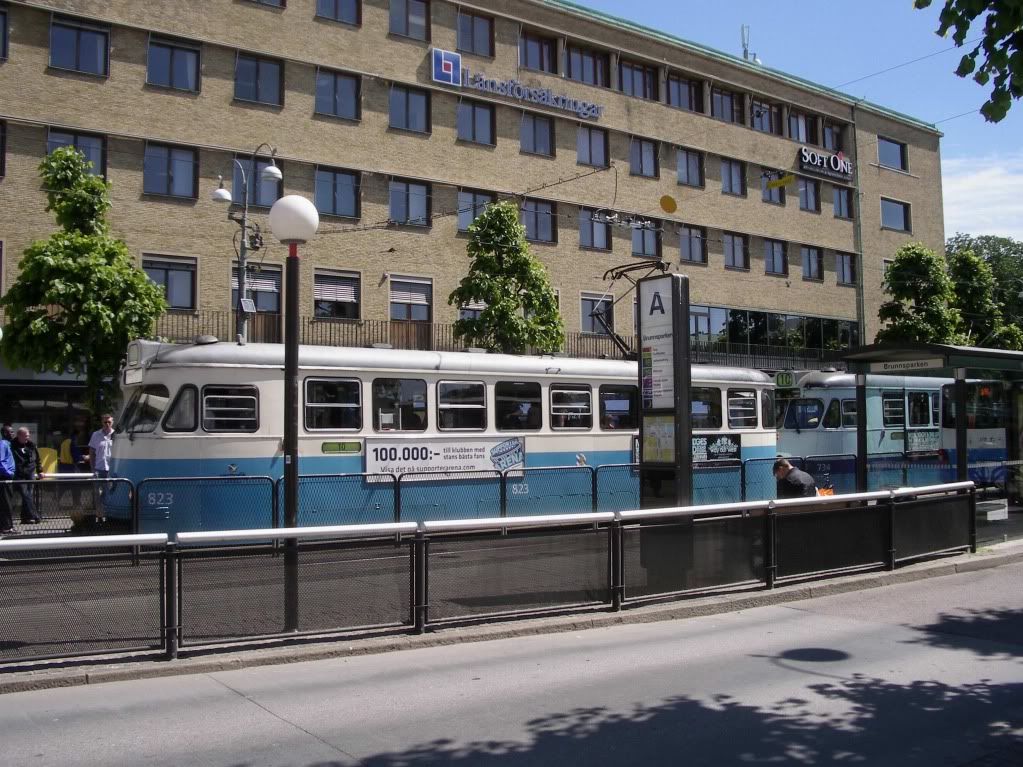 The main place with the Radhuset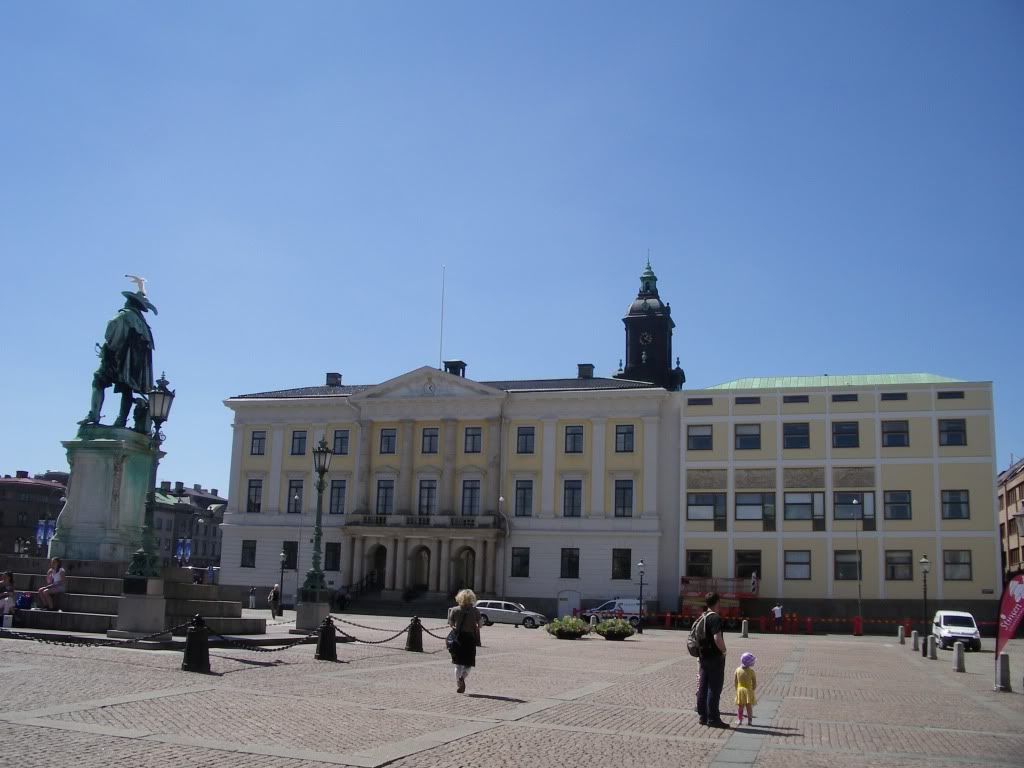 and the Börsen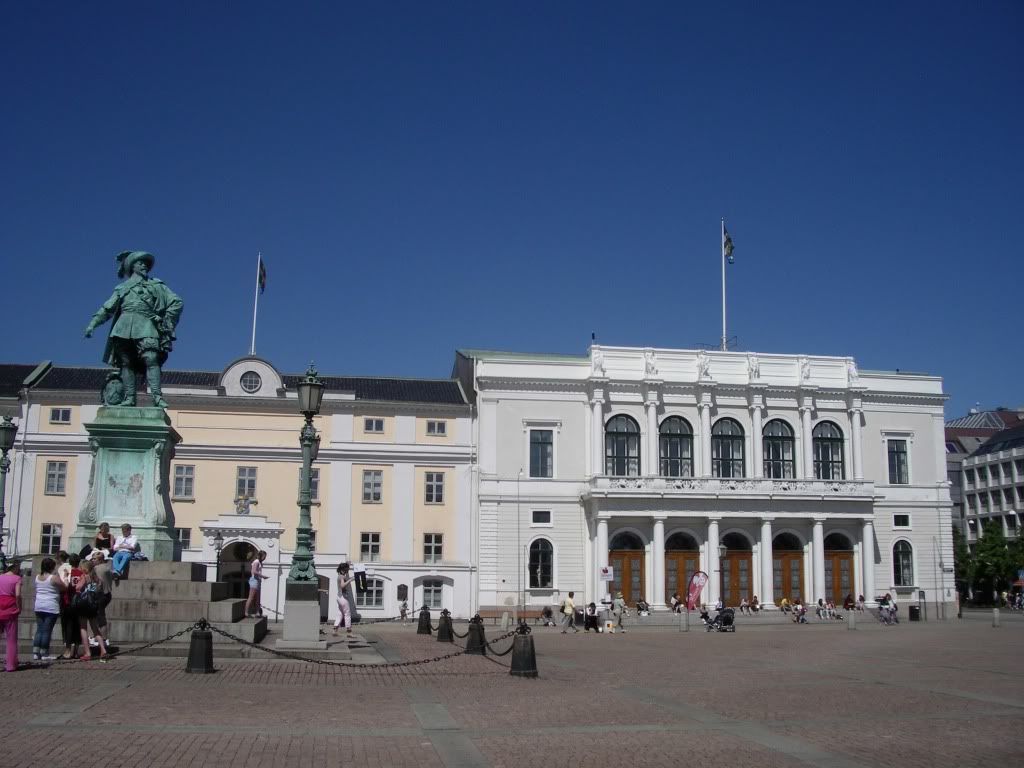 The, for us landside people, always pretty nice harbour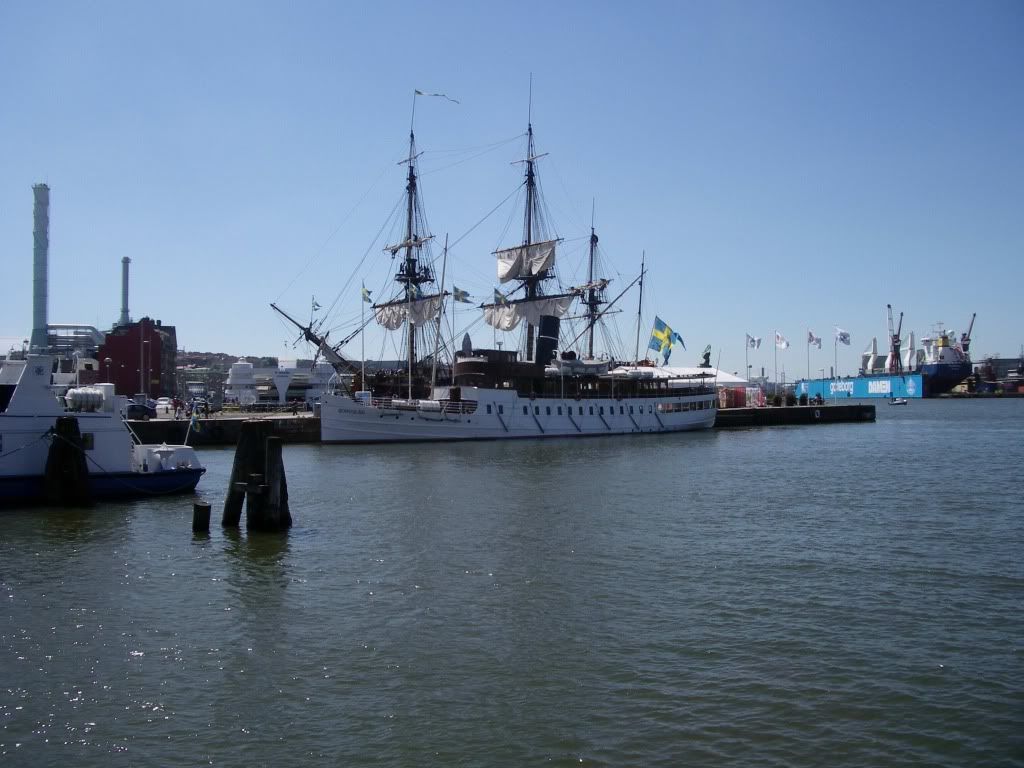 The huge crane
Big ships here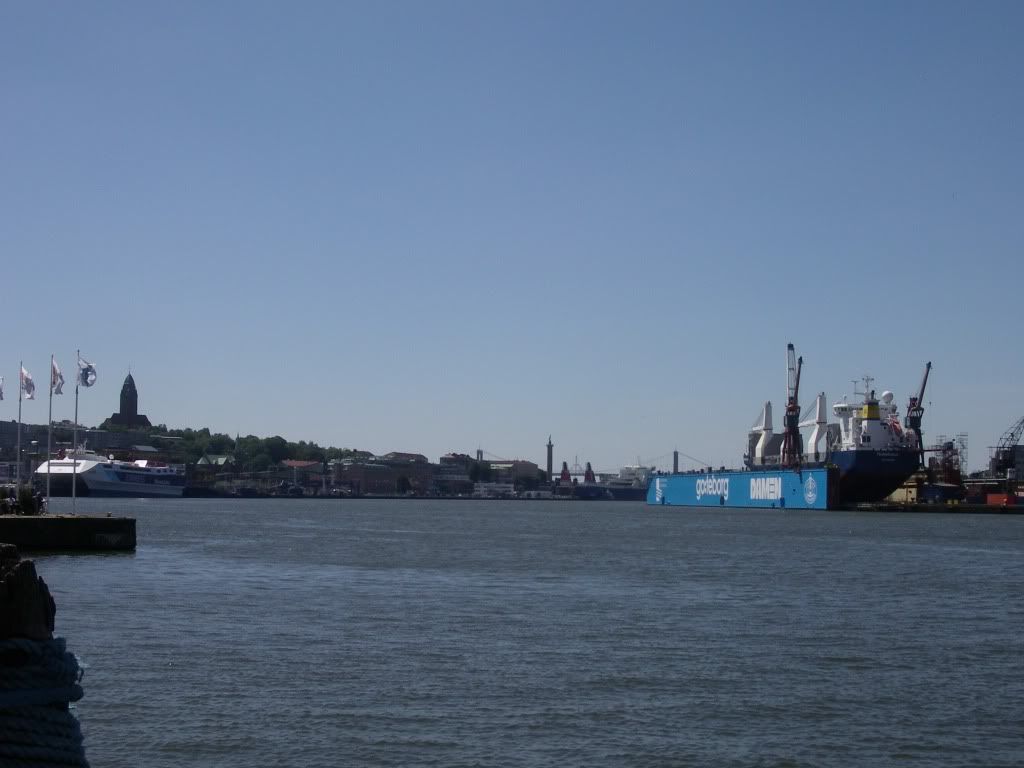 What a nice museum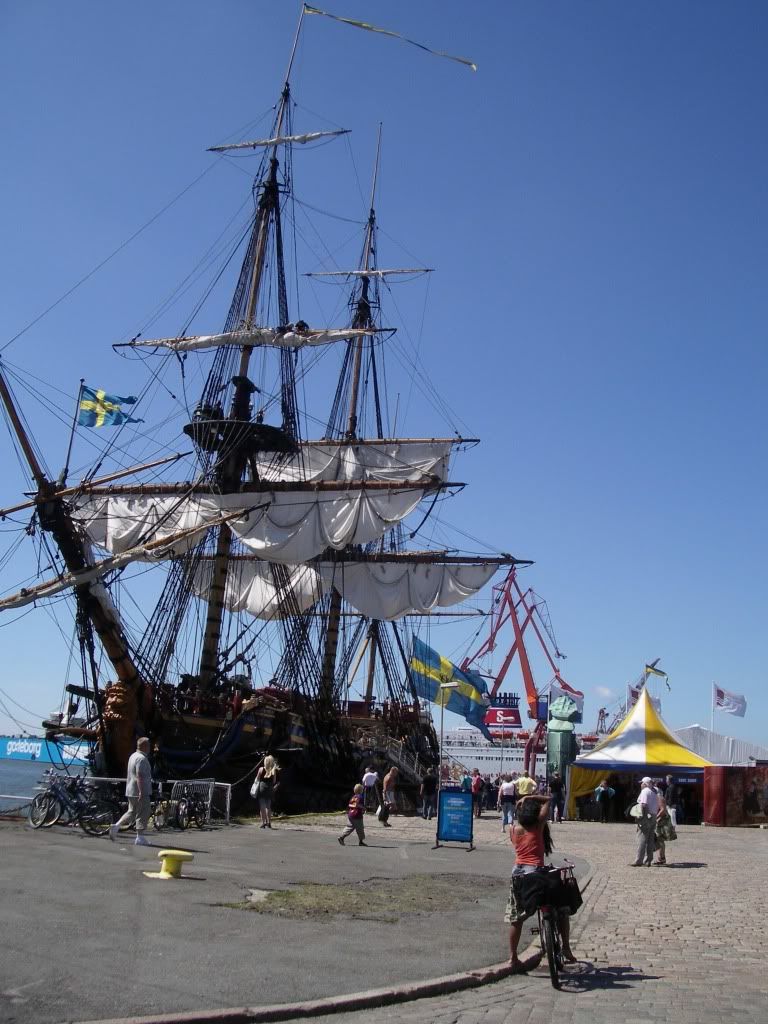 Not at all, see the people up there on the mast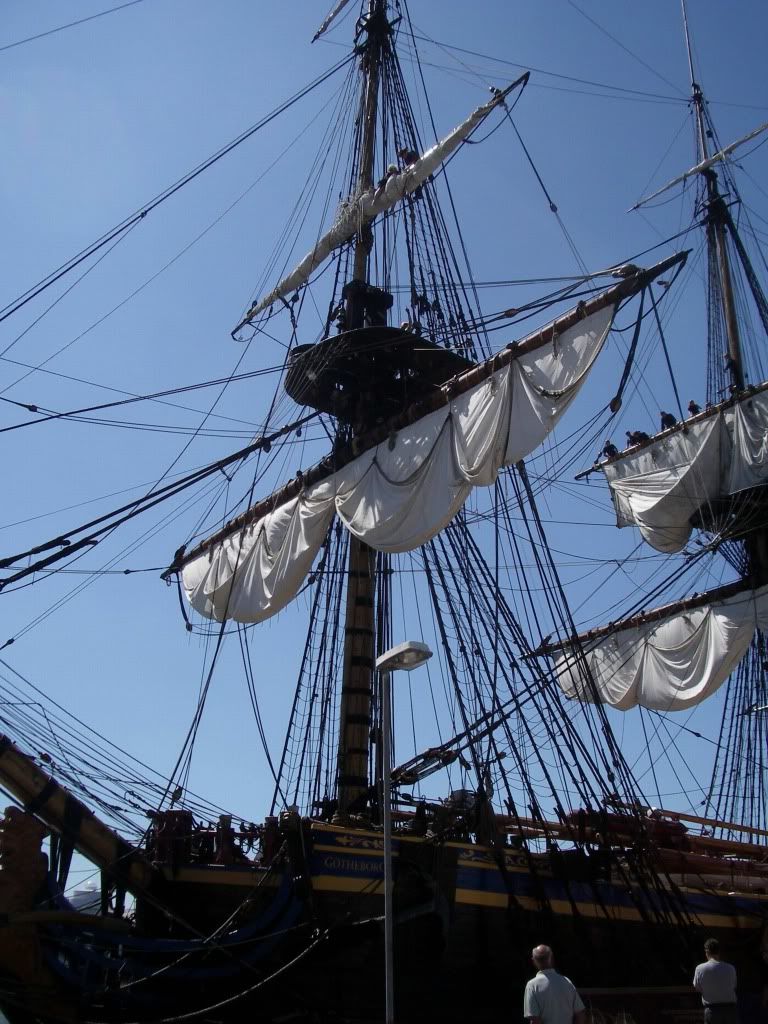 Preparing to sail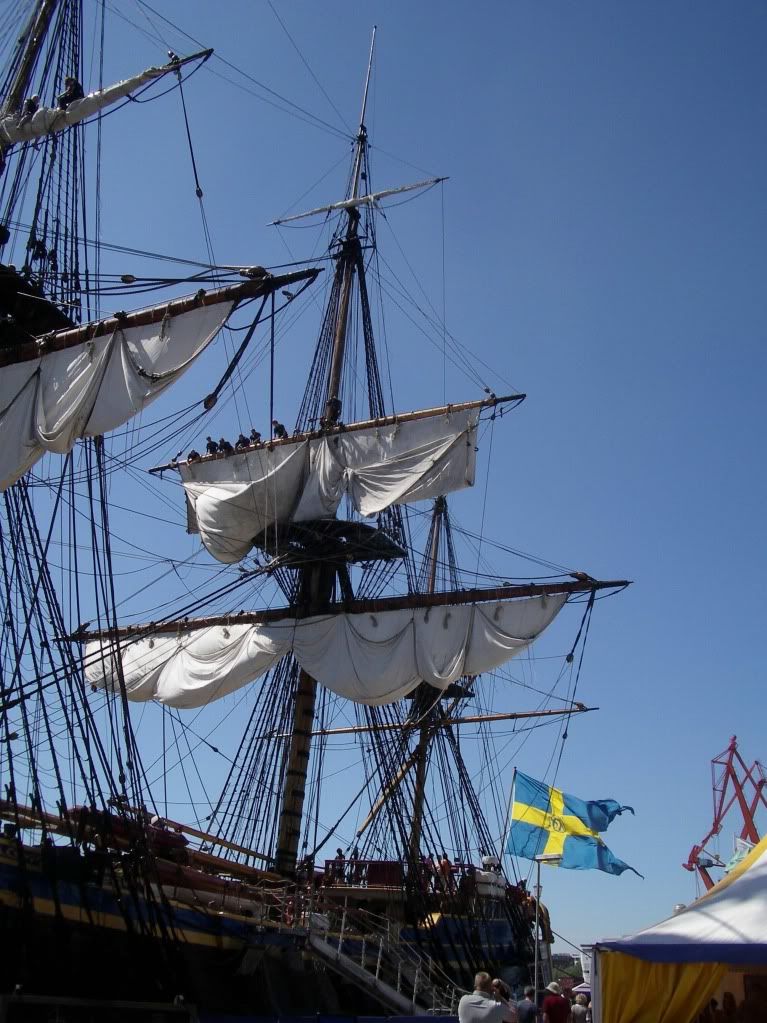 View to the city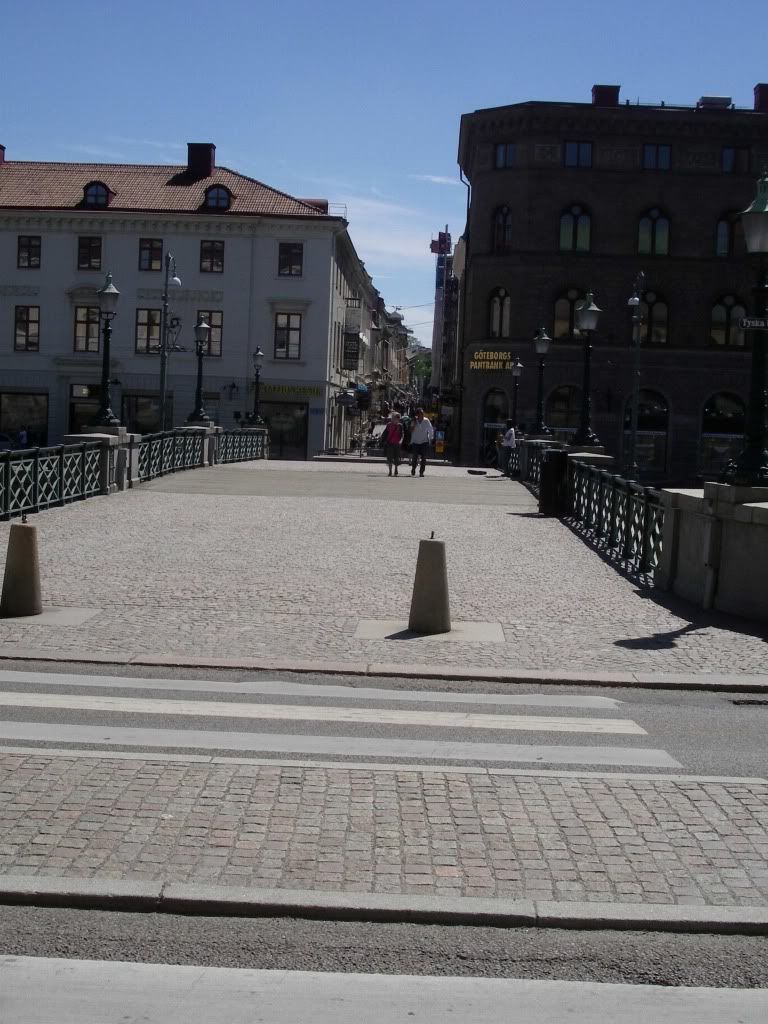 Abonnerad, no public service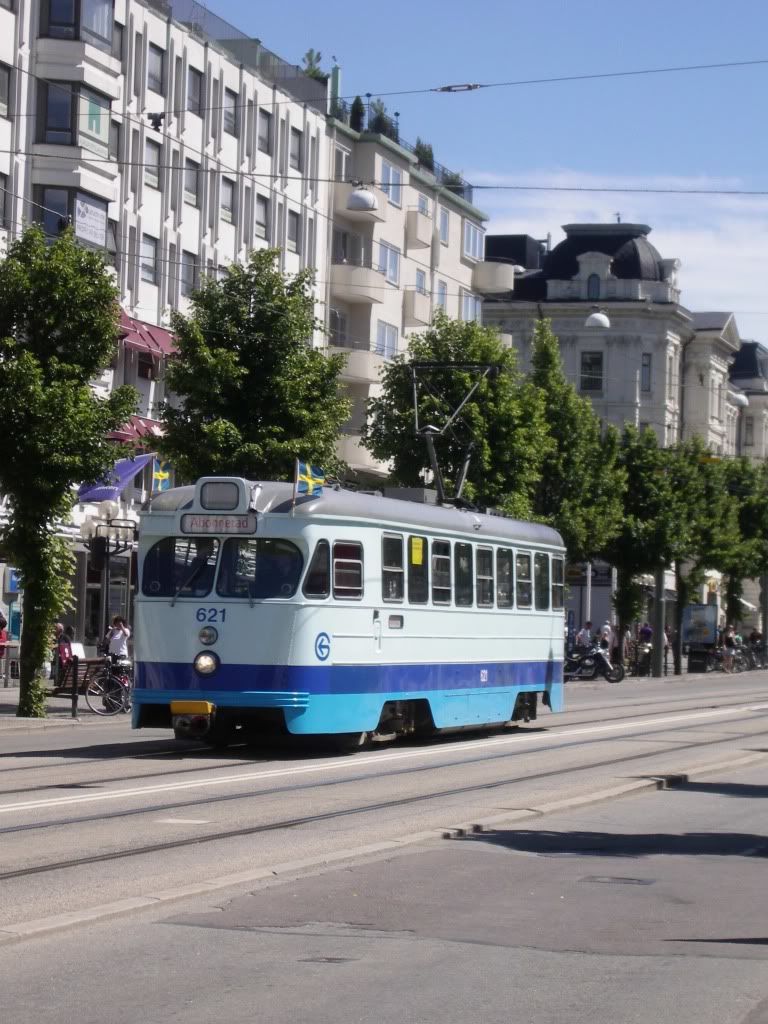 The library
A big and goodlooking building
Pretty nice weather and also nice aviation and else related conversation, that´s the way
to spend the time in Sweden.
Monday, 28.06.2010
.
.
.
.
Service SK 2633 operated by SAS Scandinavian Airlines
Scheduled: 17.10 // 18.55
That´s the airport with the Flygbussarna
Check-in for this flight is also done online at SK´s website,
Seat 22F for me, the last row window, not at all, more about it later.
The airport looks much better from the inside
Scandinavian style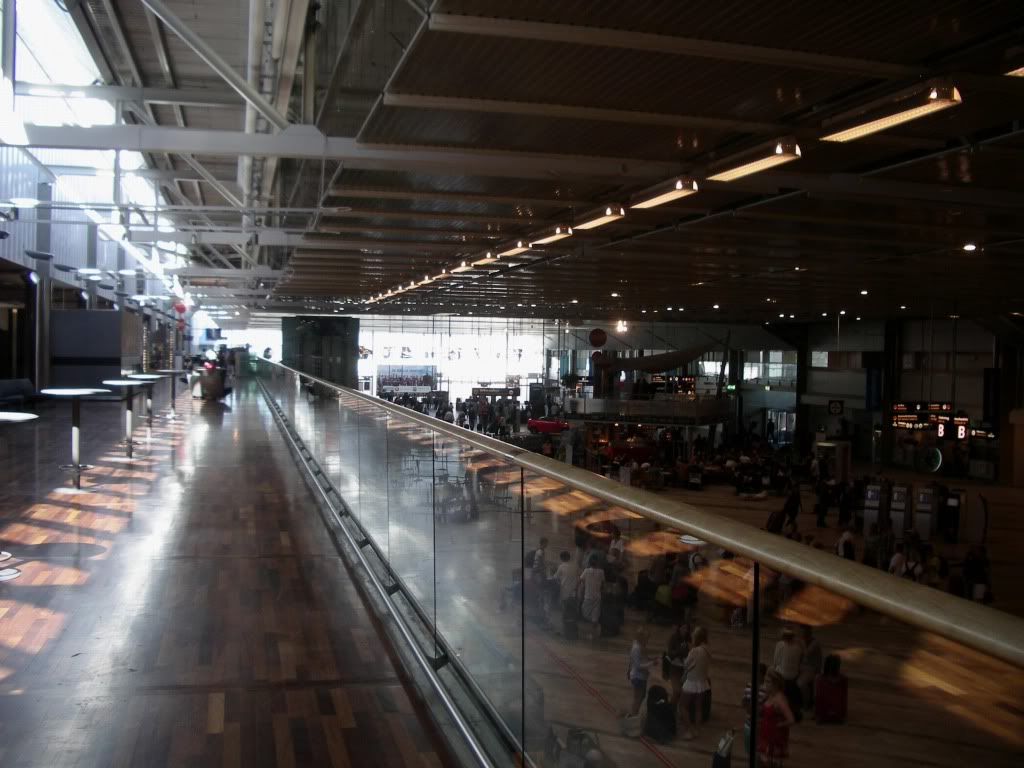 Booking is also done via Exp. for some 60,00 Euro´s
The SK CRJ900 on the way for CPH
Another less covered type coming in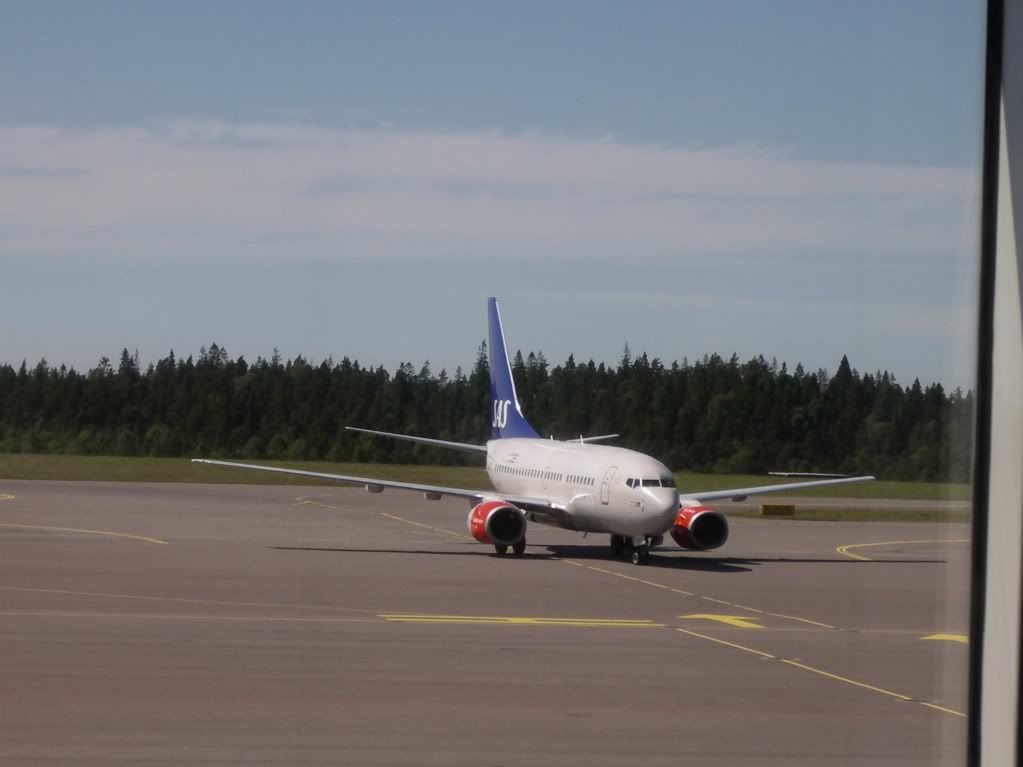 The shorty 737-600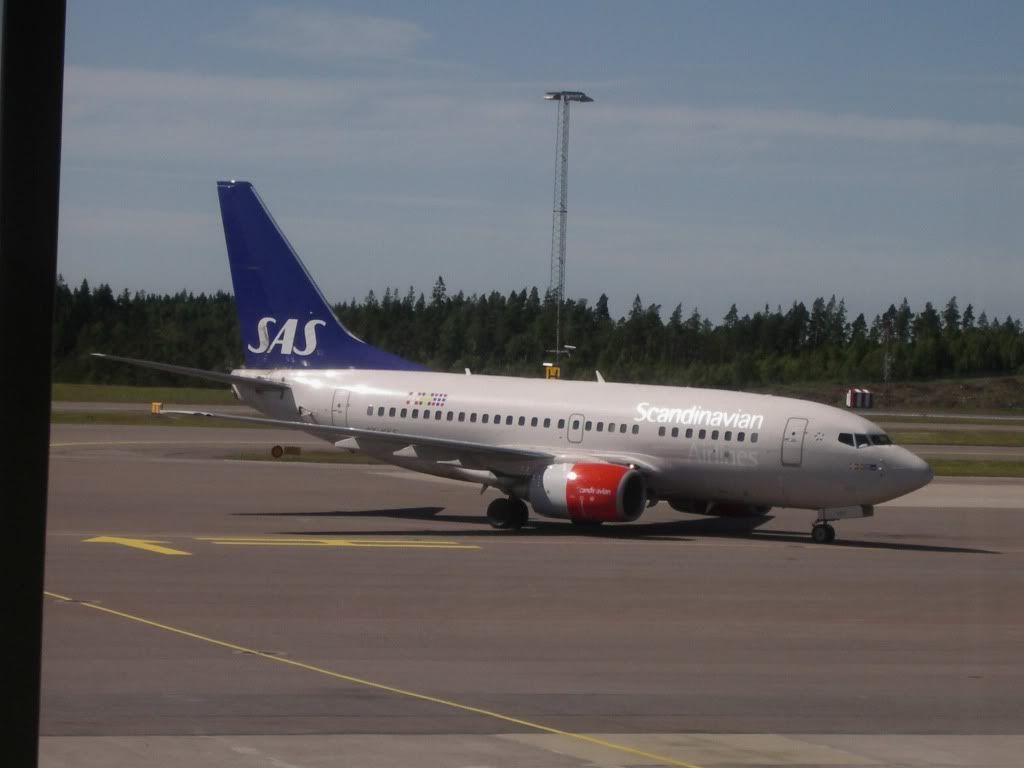 Thats the board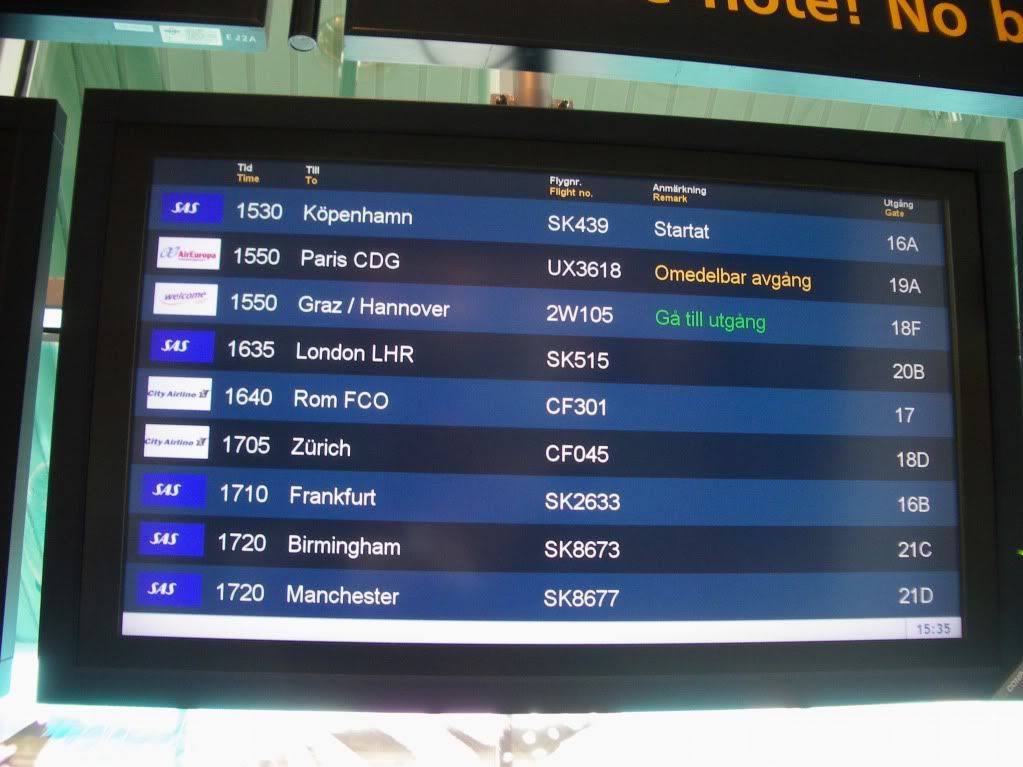 My machine from LHR still there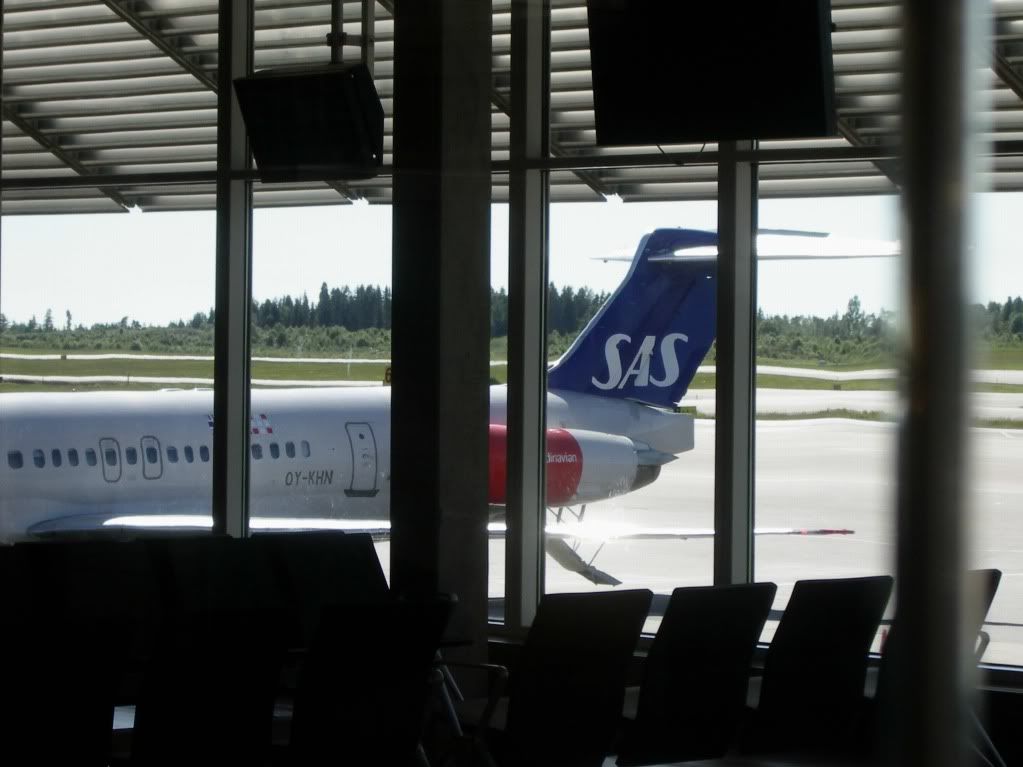 City with the MD87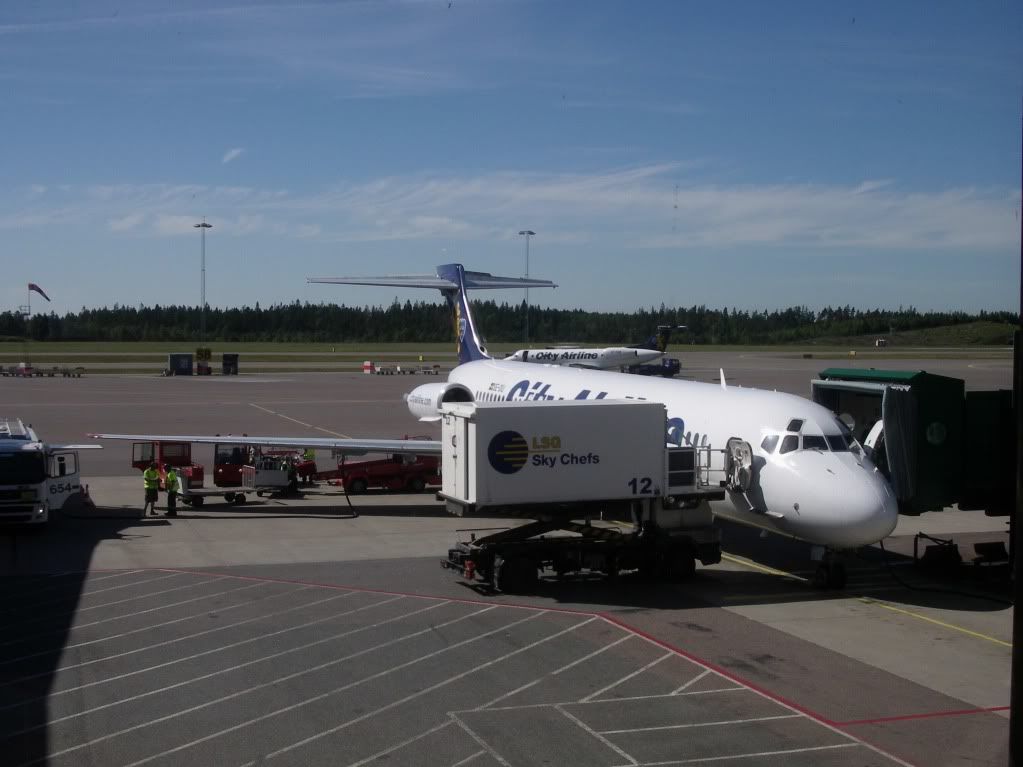 Novair A321 bound for Preveza/Greece
Close to our gate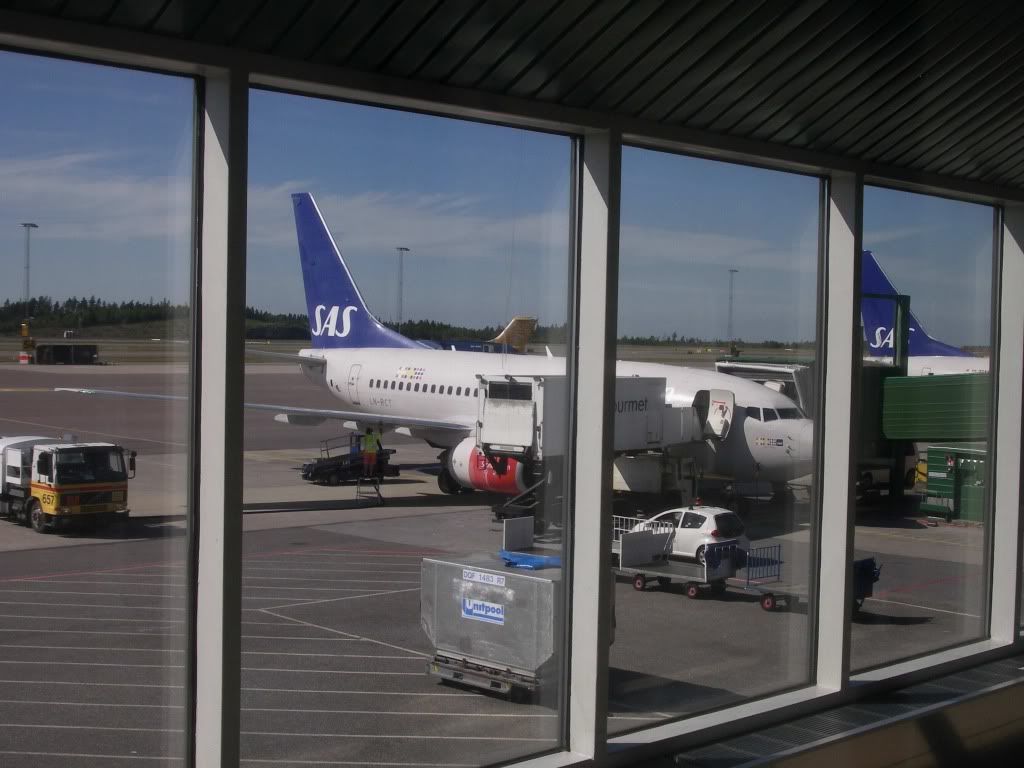 The plane is at Gate 16B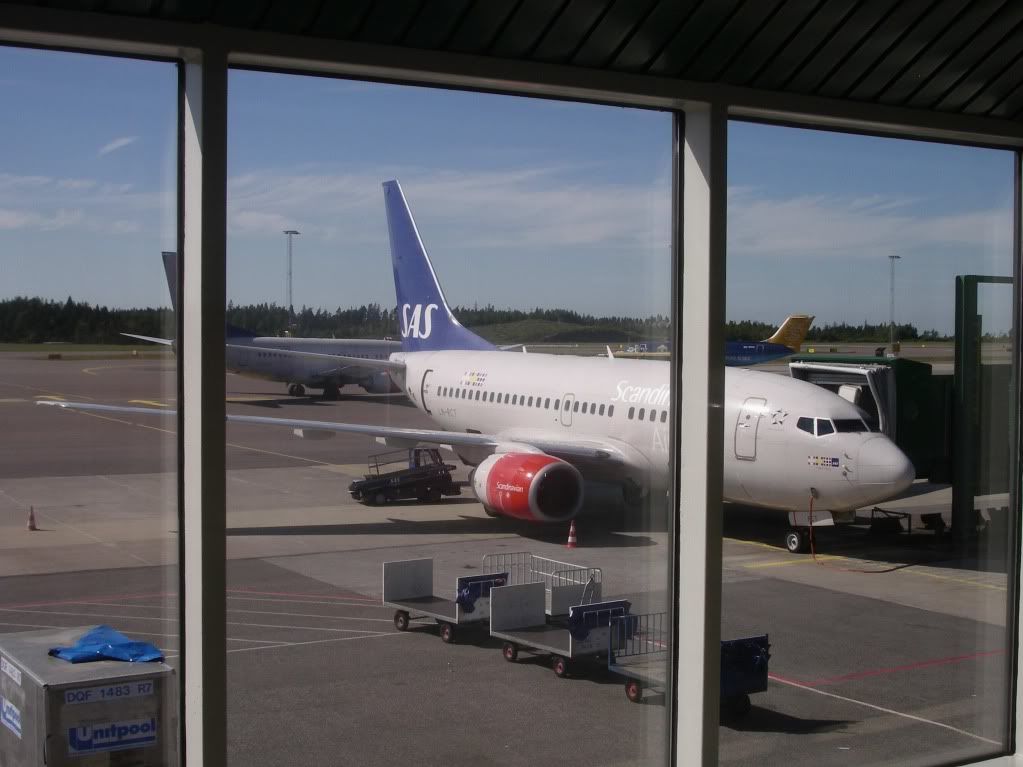 City with the Embraer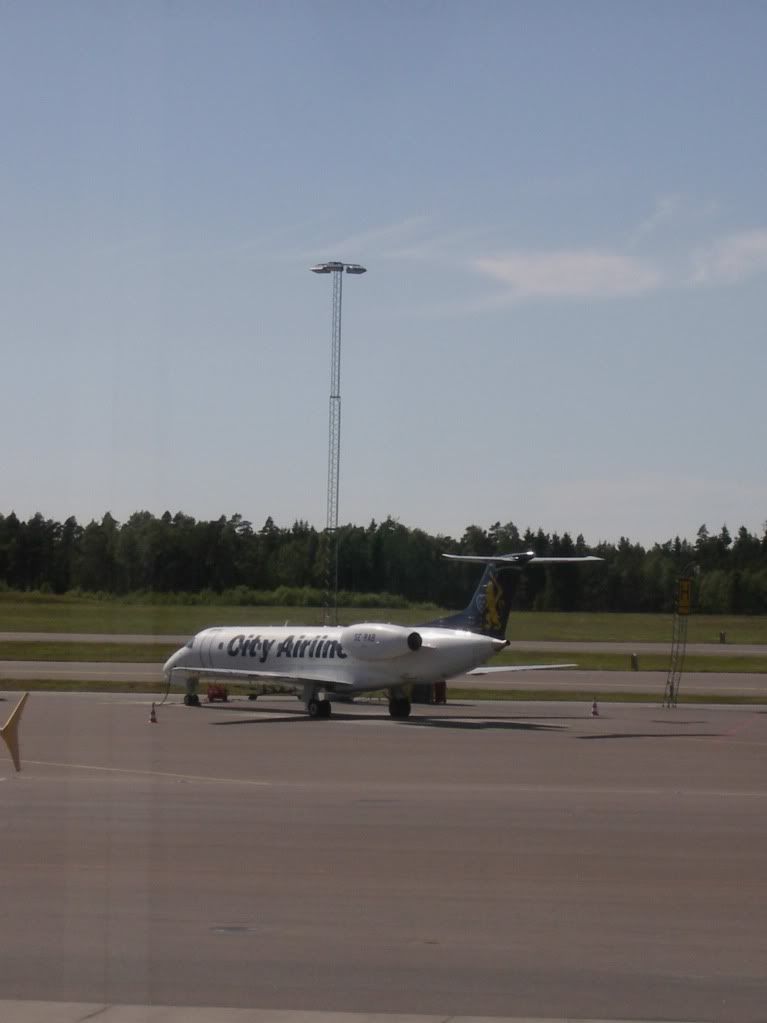 Ready to go for FRA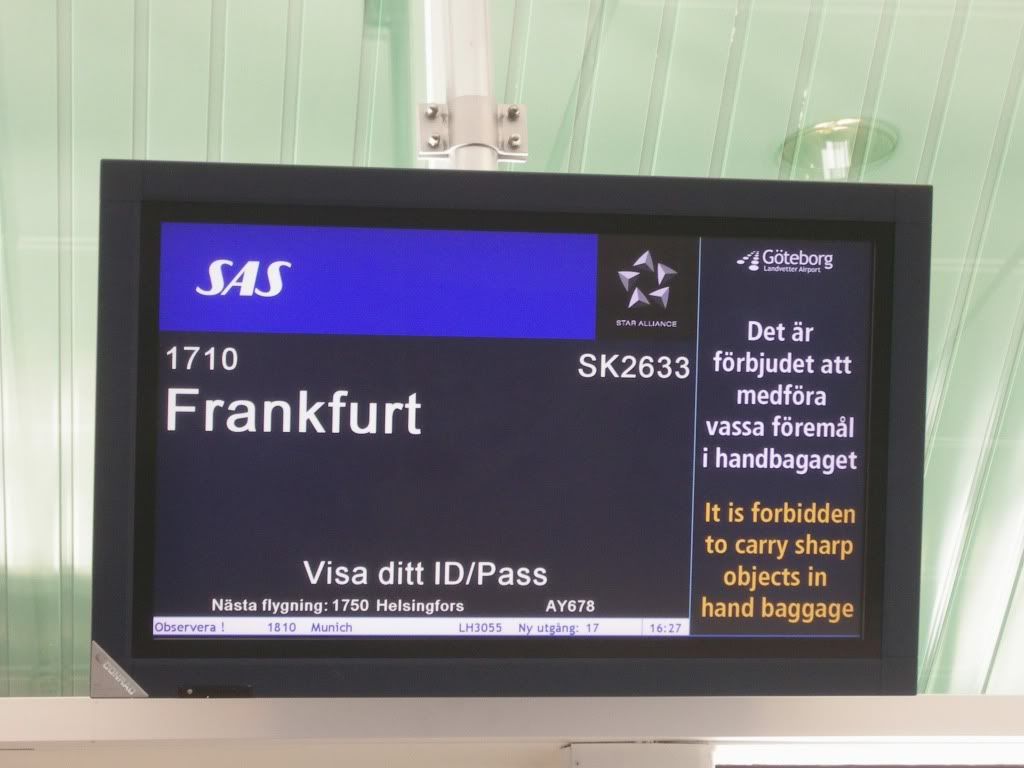 The gate desk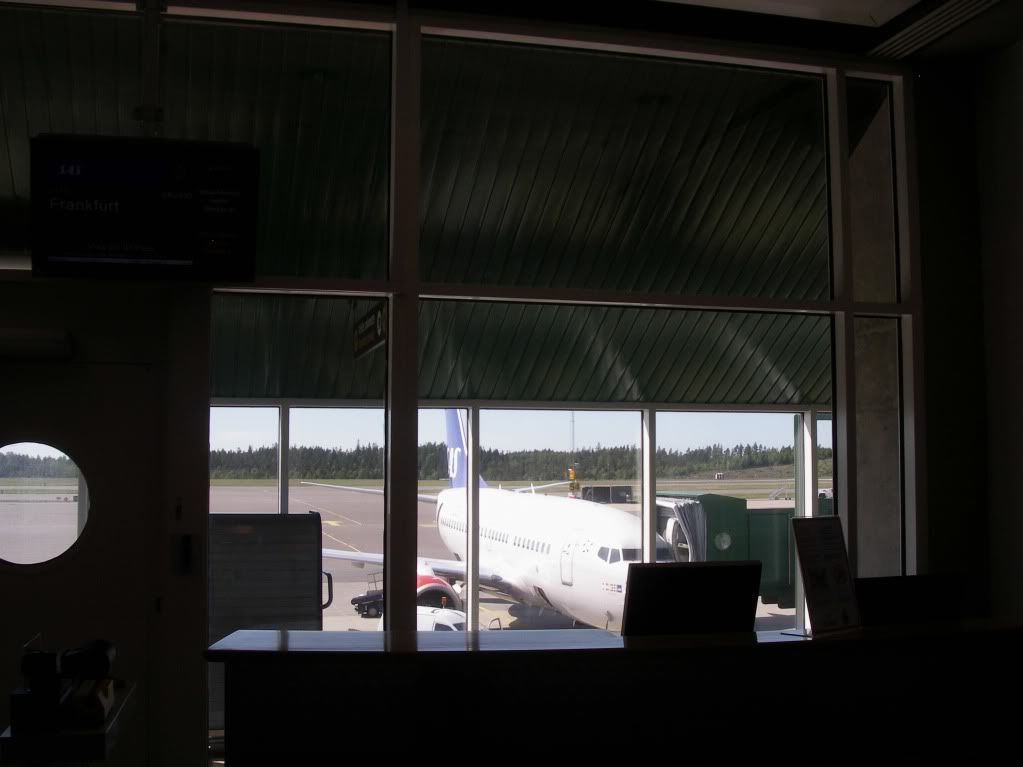 Malmo with a really nice livery on the way to the active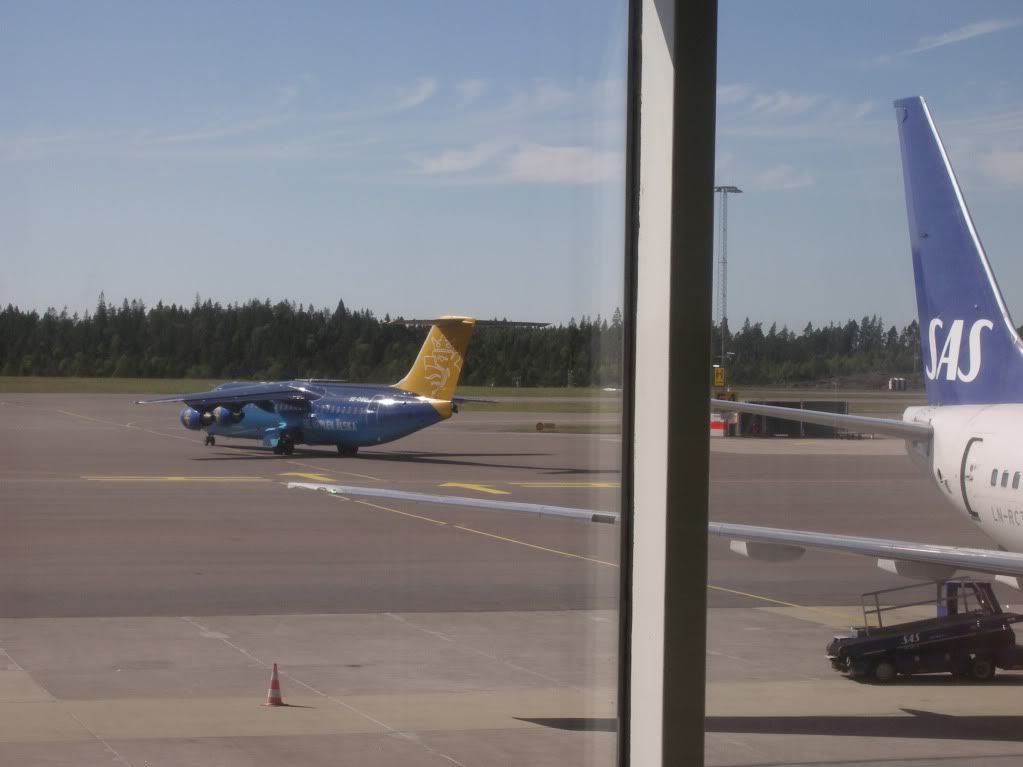 It is LN-RCT, a warm welcome to the Boeing 737-600, leg no. 4 only for me, a new registration.
SK operates 28 planes on type and this particular aircraft is in service there since 25.06.1999.
It´s name ist "Fridlev Viking".
Boarding
Another nice phrase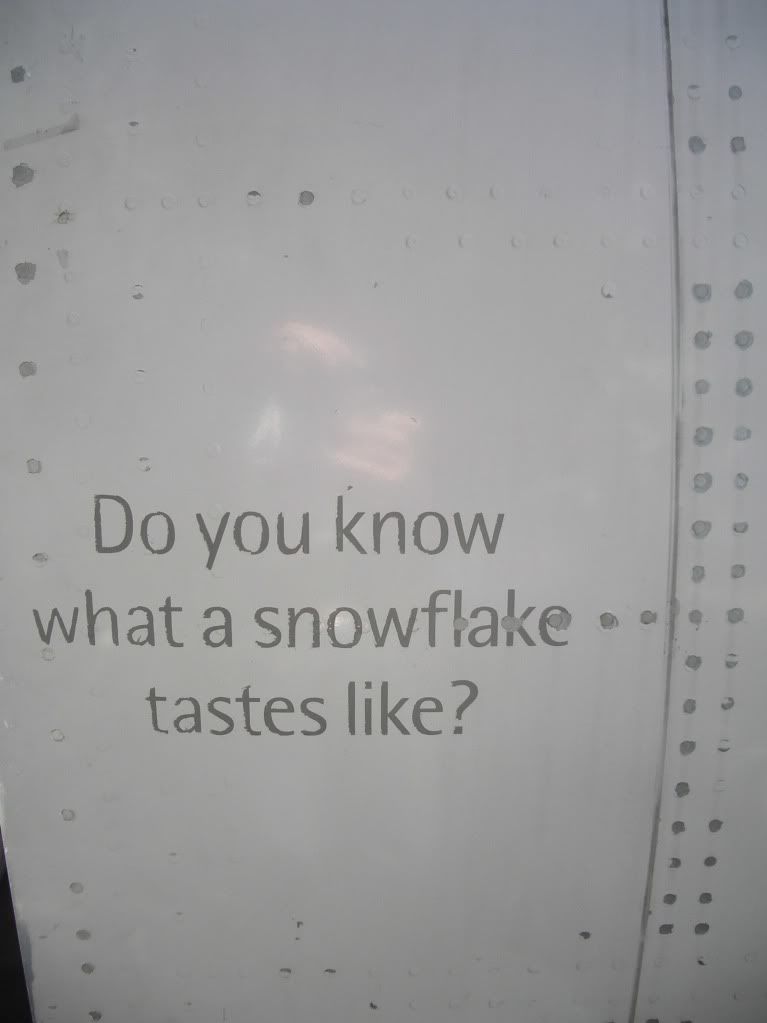 Really non welcoming seat issues here with SK, me in 22F, Robert in 21A, to take pictures from both sides inflight.
One of the last pax is an middle aged guy with a small child approaching my row and shows the FA that he´s in
22D and F.
The FA want´s to see my boarding pass, no problem, 22F is me.
He´s heading for the purser and coming back with a ground staff lady.
They want father and child together and therefore shuffle me to another seat.
The load is 100% every seat taken, no way without a window for me,
8A is on offer, well lets go.
Two government style looking ladies between 50 and 60 years in 8B and C, suspicious views with every pic I take inflight. How I miss the last row.
I am out of my seat inflight for some nice talk with Robert.
Leaving GOT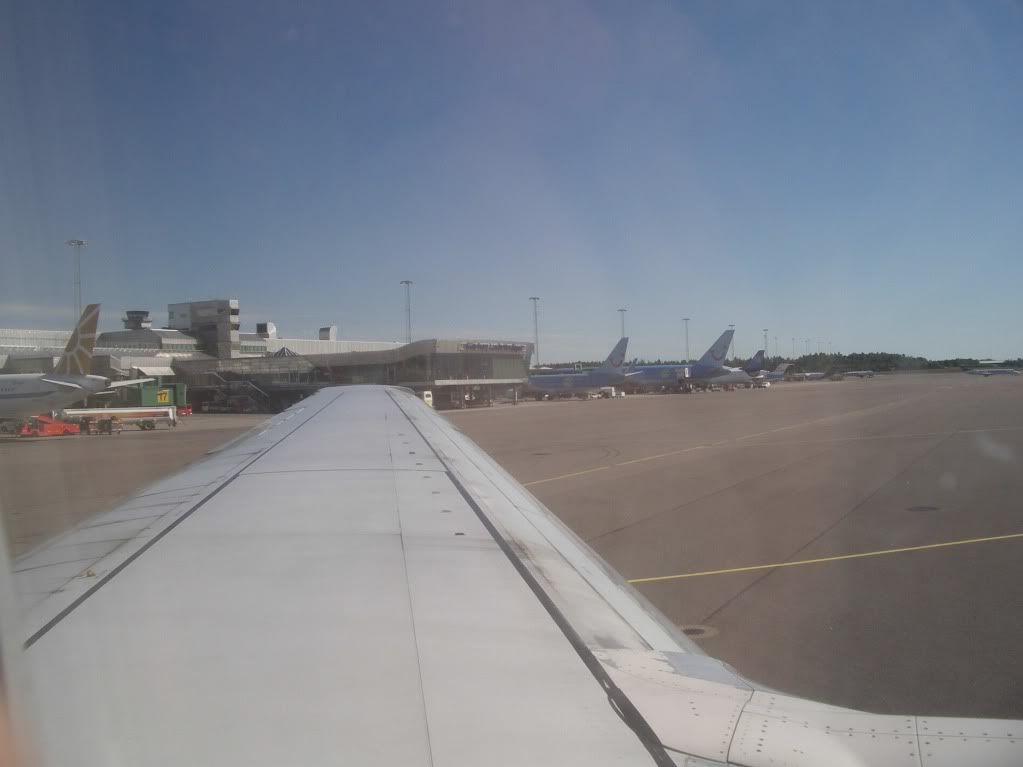 Taxi to the active
Two male, one female FA in the cabin.
Dark blue fabric seats, lower legroom than on the MD, clean so far.
Very nice weather here, sunny again and 22 degrees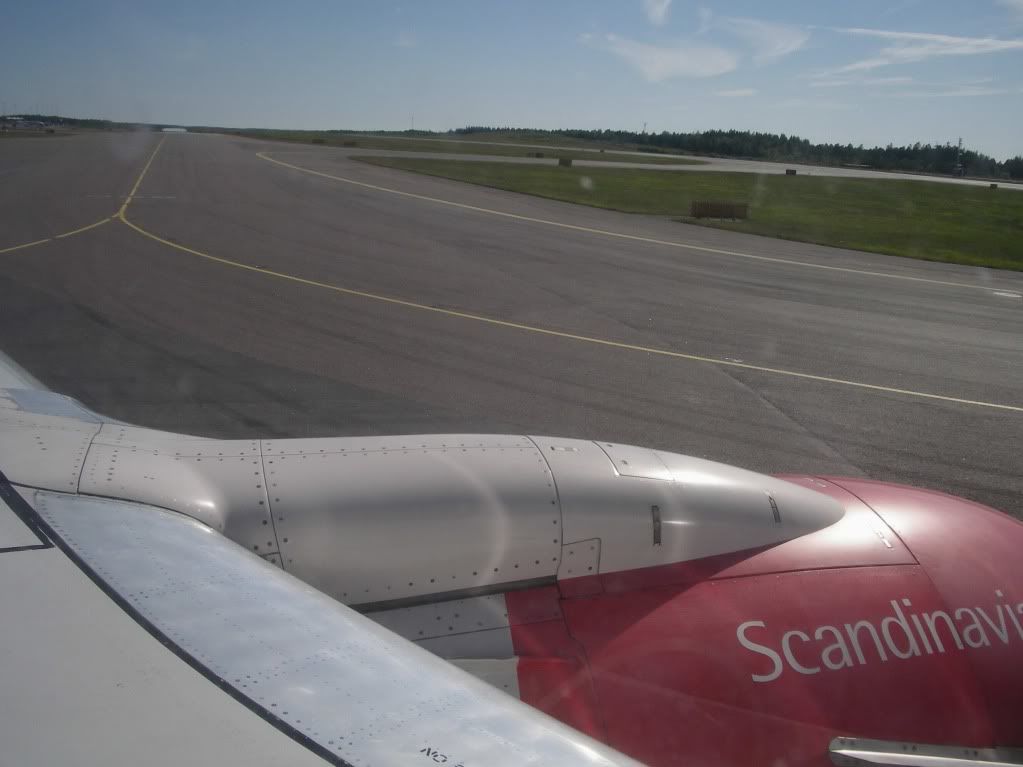 Runway 21 for this leg, it is 5.10 pm, ontime, the duration is 1 hour 35 minutes.
That´s Sweden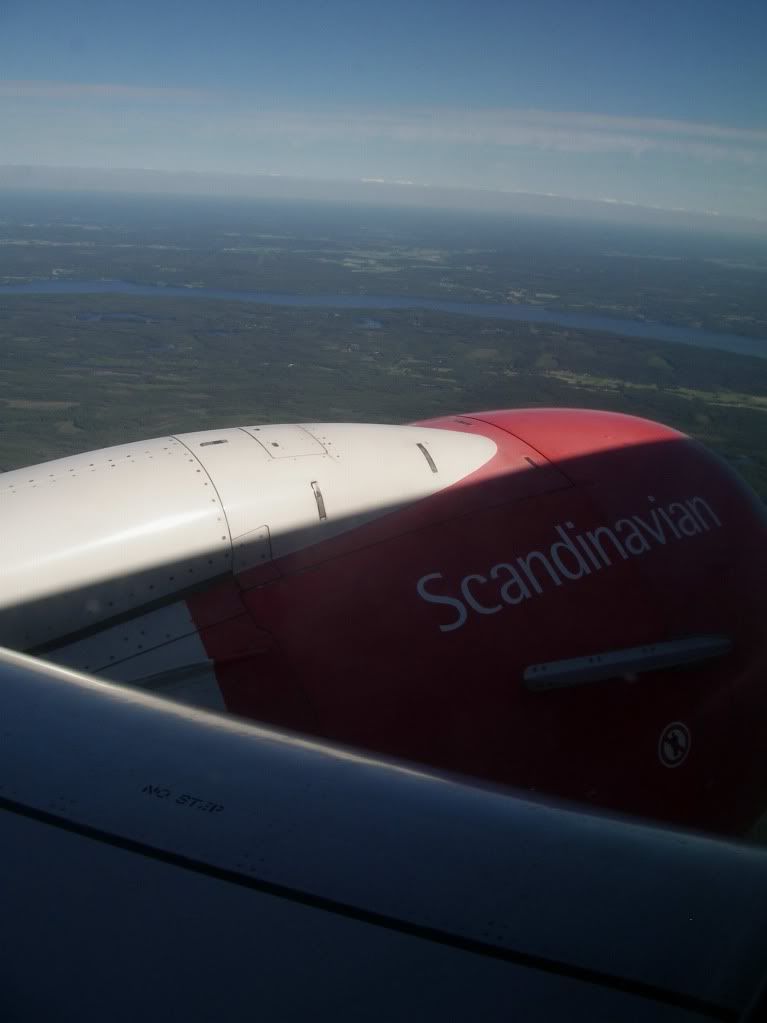 Leaving the country
Cockpit crew is again from Scandinavia, the FO twice to hear with short, but less detailed informations inflight.
Service is BOB again.
The cabin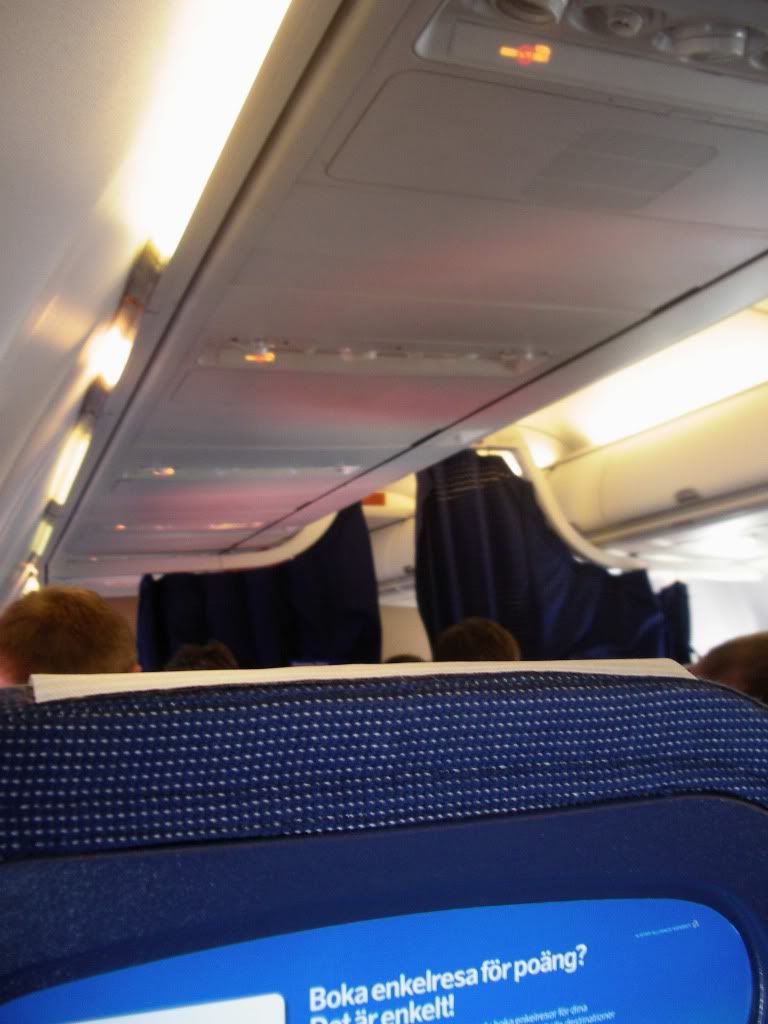 And the safety card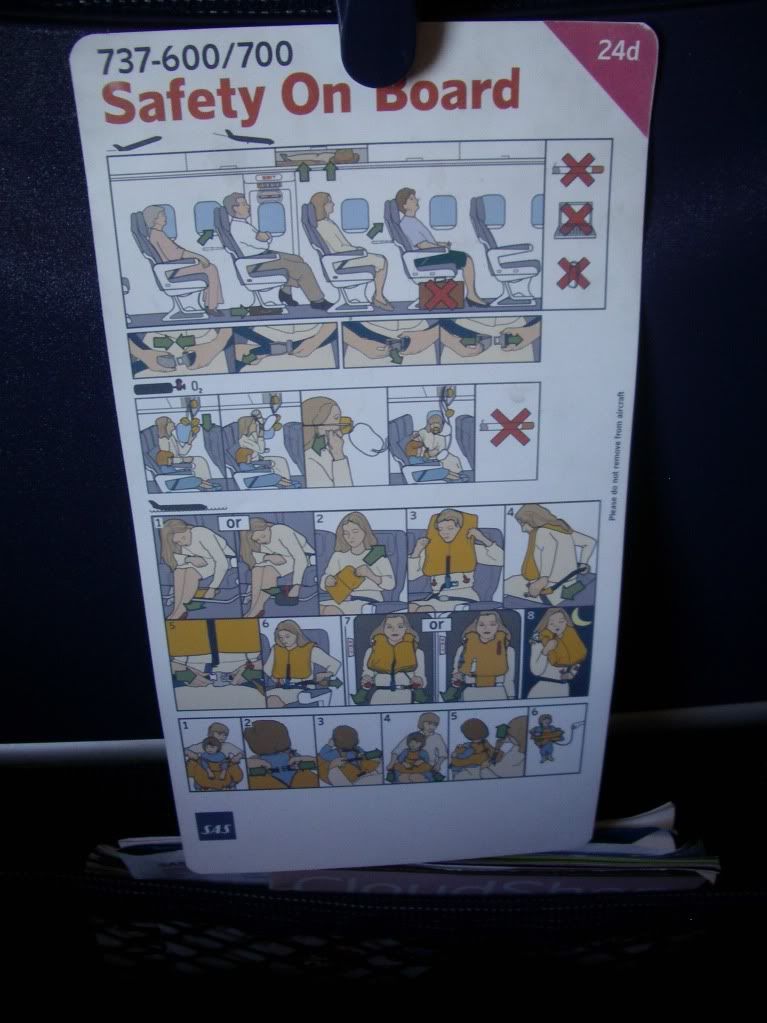 Some special magazine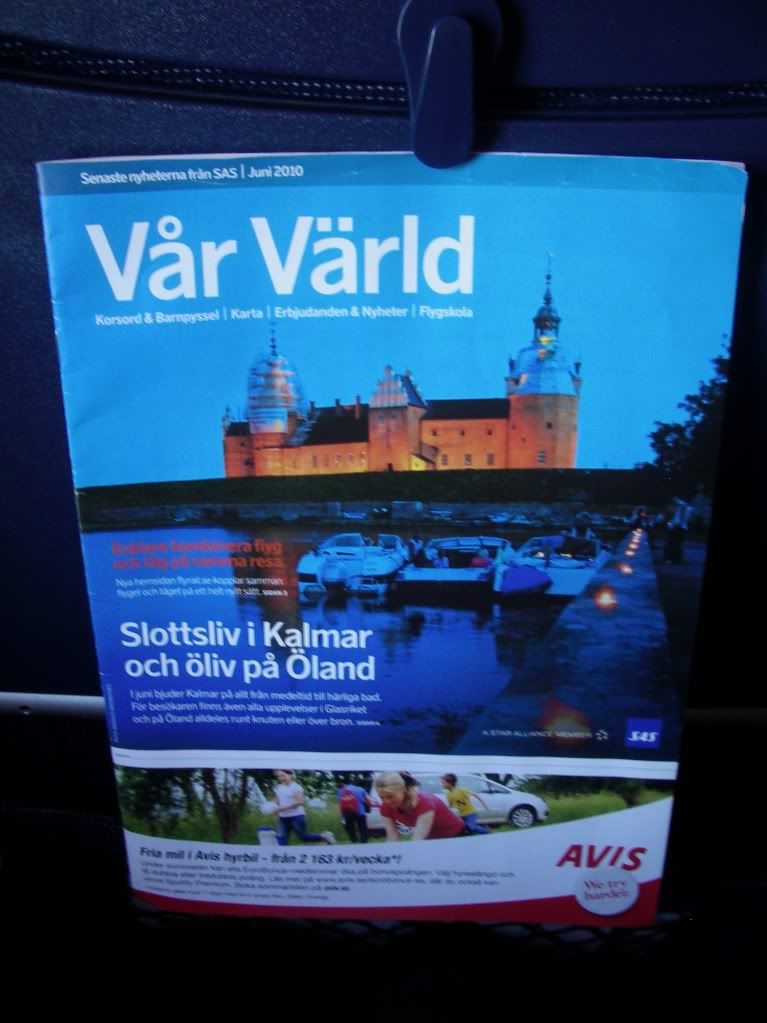 Traffic close to the Öresund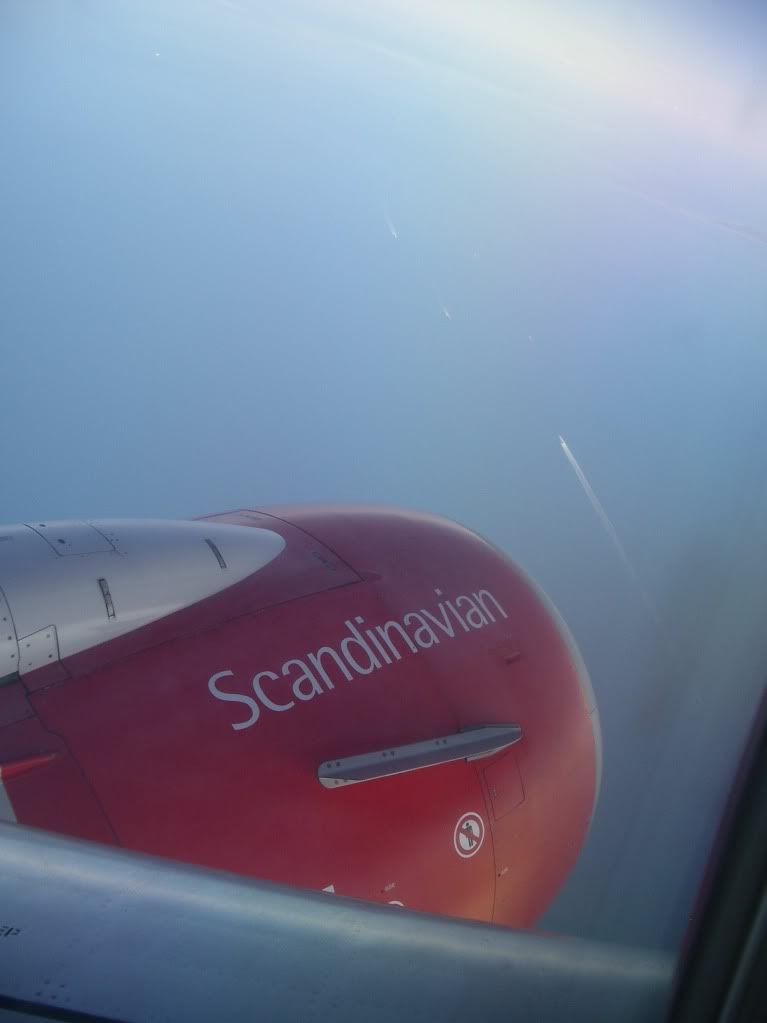 Wing view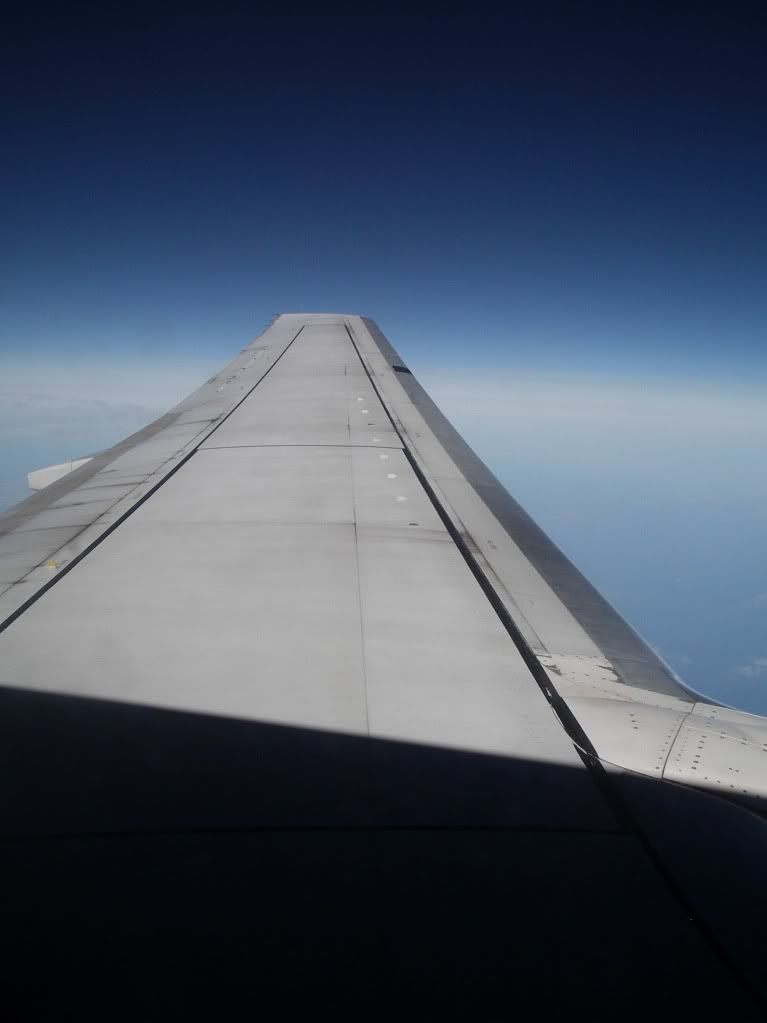 Notice the haze close to FRA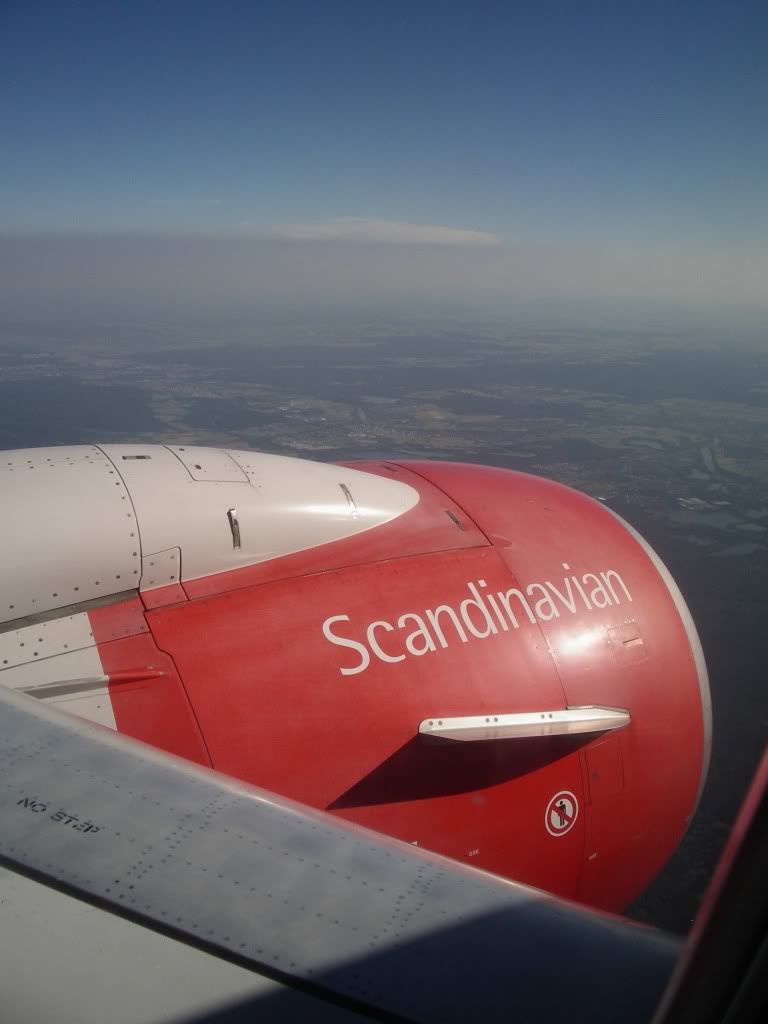 The weather here is also not bad, touchdown on the 4000 meters runway 25L with sunny 29 degrees
at 06.40 pm, 15 minutes ahead to schedule.
Another 736 at the gate in FRA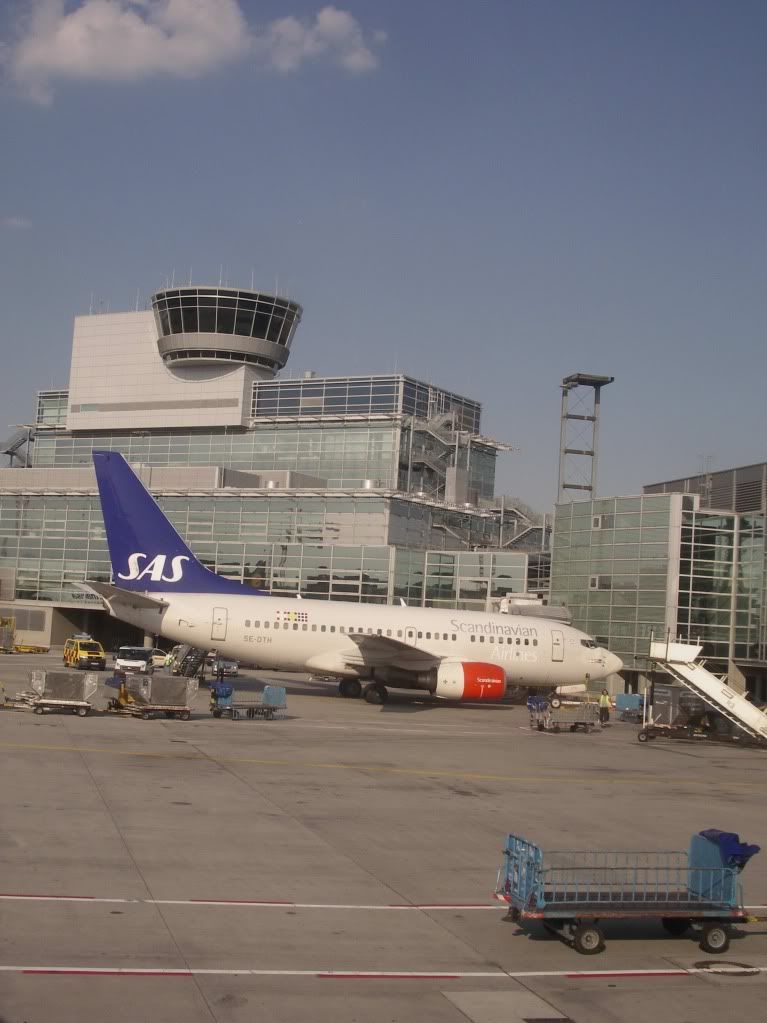 My seat
Finger disembarking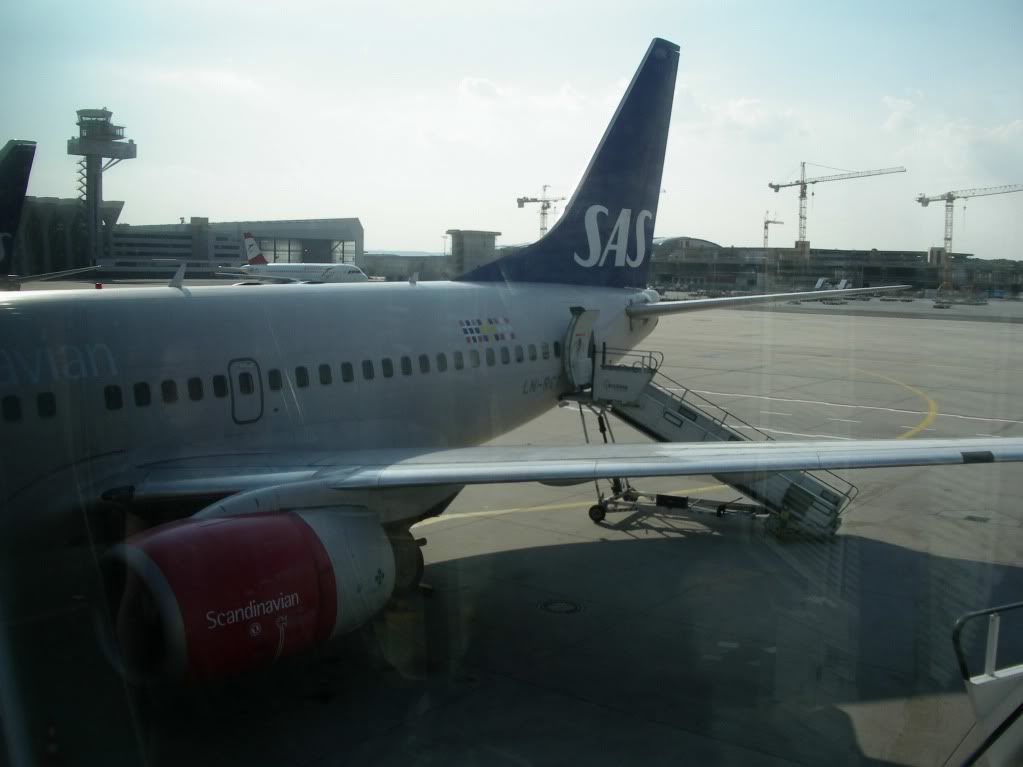 Bye-Bye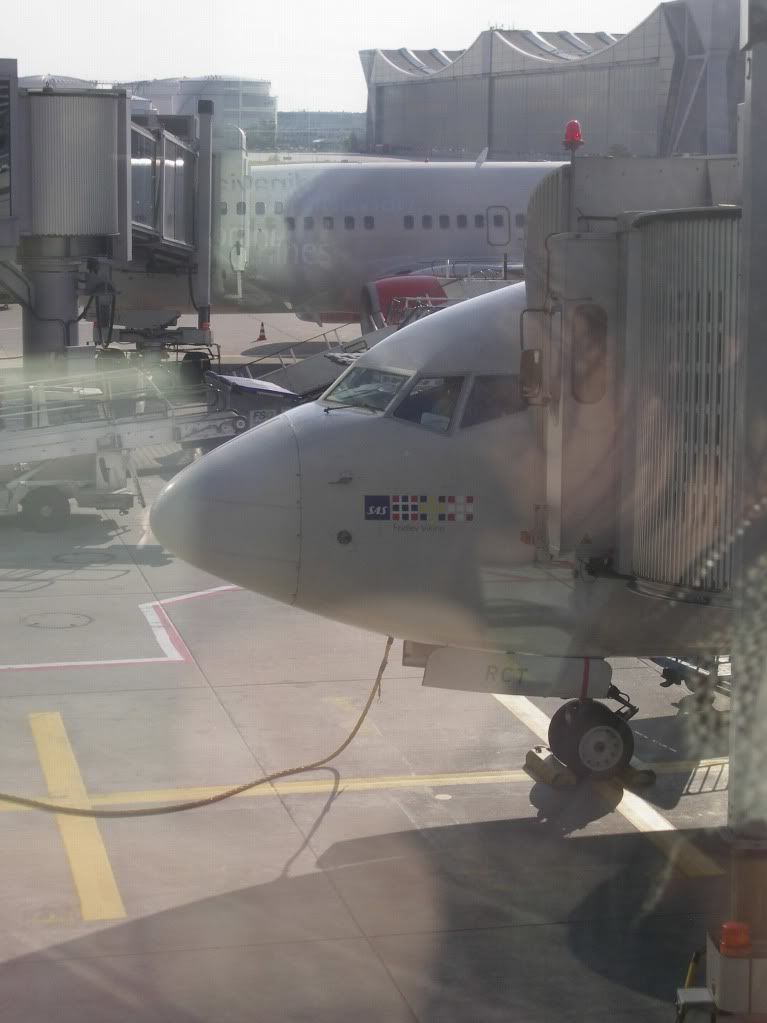 Small and big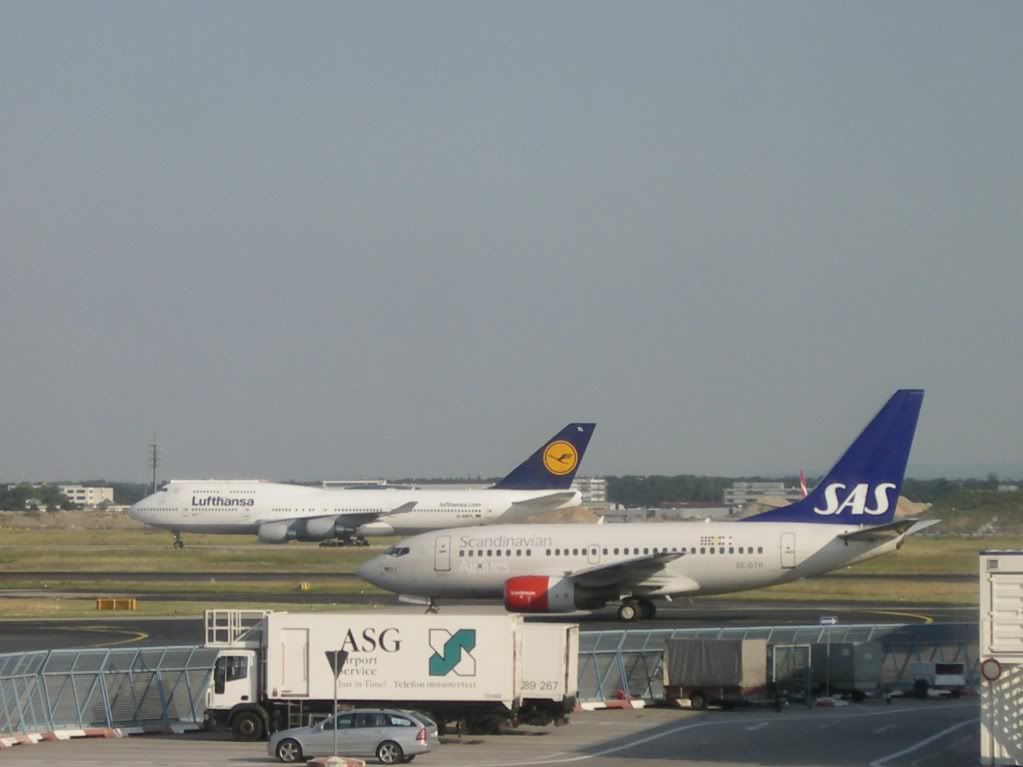 The nice retro LH A321 also still in my log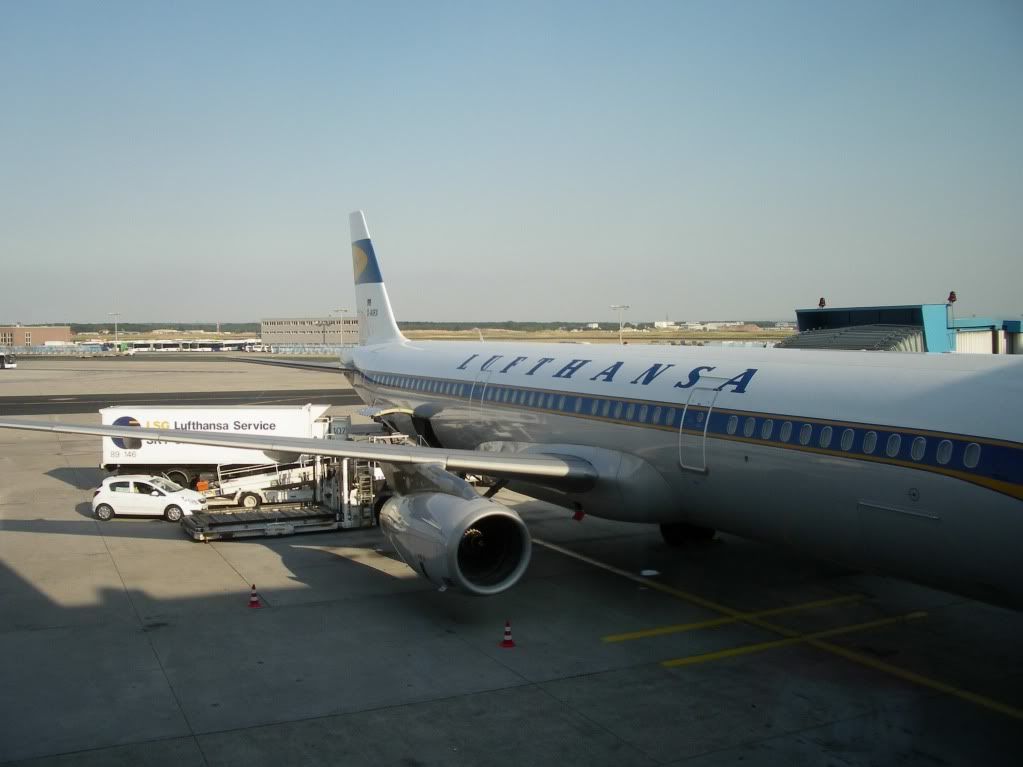 Some more pictures and also issues with Robert´s bag which obviously is staying still in GOT.
But finally, so he informes me, it arrives later in the evening.
Me joining the next ICE train to STR , the train from FRA is some minutes late, thanx to Deutsche Bahn nothing what I usually like, but this time perfect for me, approaching the tracks and seeing the late train coming in.
Not a minute to wait at Mannheim and with the next S-Bahn from Stuttgart´s main train station to the airport, on the board departing in 1 minute, enough for me to catch it also.
The SK MD81 is still the winner of the day, going more and more rare here in Europe.
Very nice aviation and else to talk with Robert, so a fullfilled day here,
back home at around 10 pm.
One week to go now for another A.net meet, this time four legs together on AF/Regional and no talking about the upcoming plane type on the CDG-LHR-CDG route.
Comments welcome,
Markus (FLIEGER67)