Introduction
Here's the third and final part of my summer vacation trip in July 2010. For the earlier parts, see here:
No A380 To London: HEL-CDG-LHR/LCY-ORY
(by
FlyingFinn76
Jul 17 2010 in Trip Reports) and here:
LH Italia & Stunning FNC Landing :CDG-MXP-LIS-FNC
(by
FlyingFinn76
Jul 23 2010 in Trip Reports) .
15.7.2010
After a relaxing day spent at Funchal, Madeira, it is time to leave the island. I had prebooked a taxi for 8.00, which gave me just enough time to have a breakfast at the hotel restaurant before packing up and checking out. I could've taken the airport bus for much less money but felt spending a bit more (well, seven times as much, actually) for the convenience.
I'm at the airport at 8.15 which turns out to be way too early. There are some large queues inside: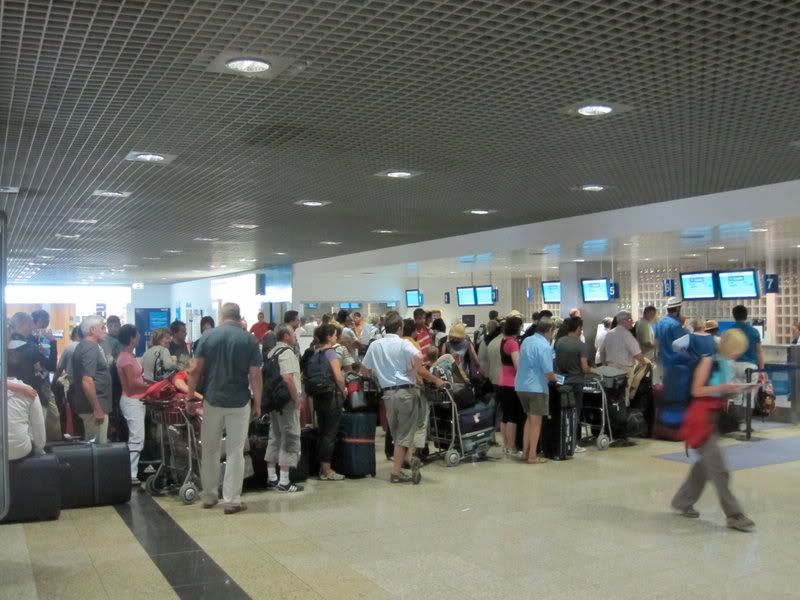 But luckily those belonged to a pair of Condor flights to FRA and MUC. The Sata desks are almost empty, so I get relieved of my bag in no time at all - I ask for "An A seat on the left hand side of the plane so I can get a last view of the beautiful island of Madeira" which gets me exactly that and a very warm smile from the middle aged female agent.
Love these old fashioned departure boards: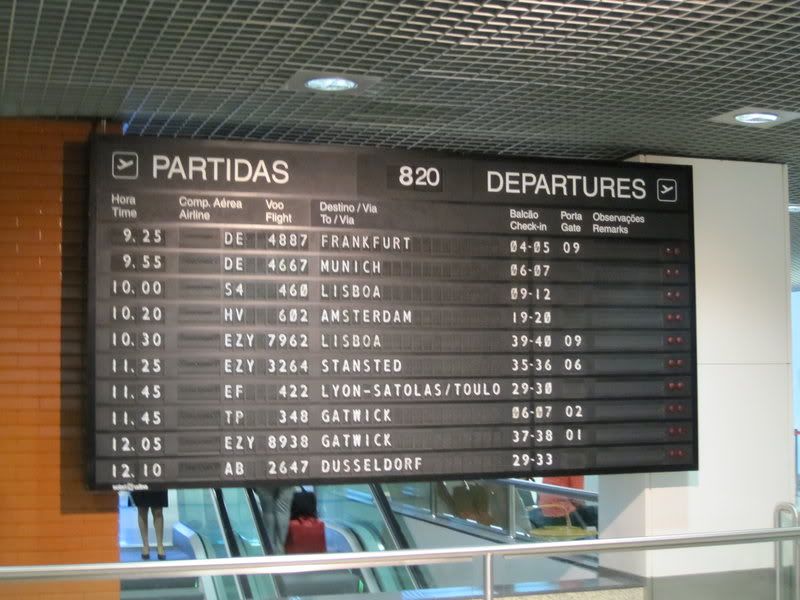 Hmm, does this mean you have to attach a baggage tag to your pet and check it in: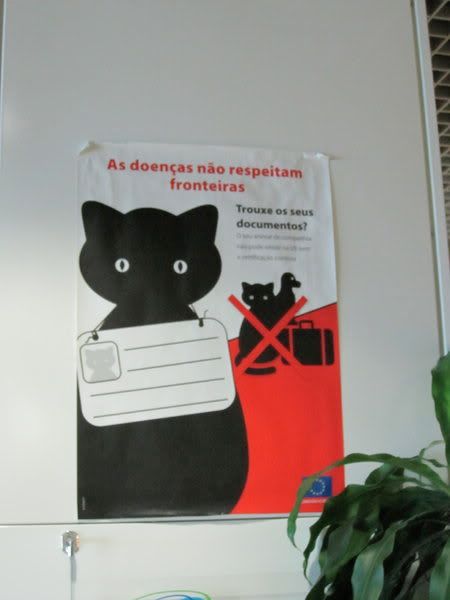 The airside isn't terribly interesting: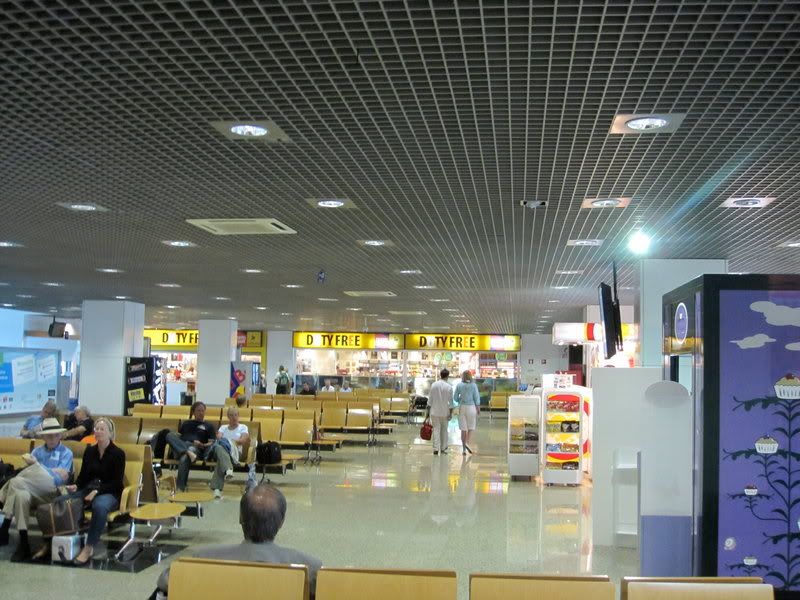 Luckily the top floor has a cafe, but more importantly a large outdoor terrace/viewing area - no doubt where I spend the next 45 minutes! It is rather chilly actually with wind from the north, but I don't mind at all as there are quite a few planes here or just arriving.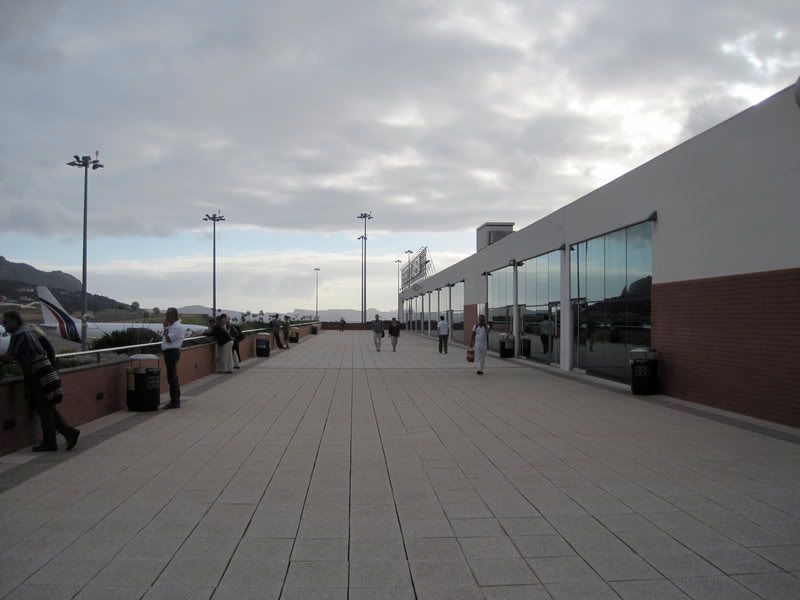 Here's White - love that tagline "Colored by you" - operating the DE flight to FRA: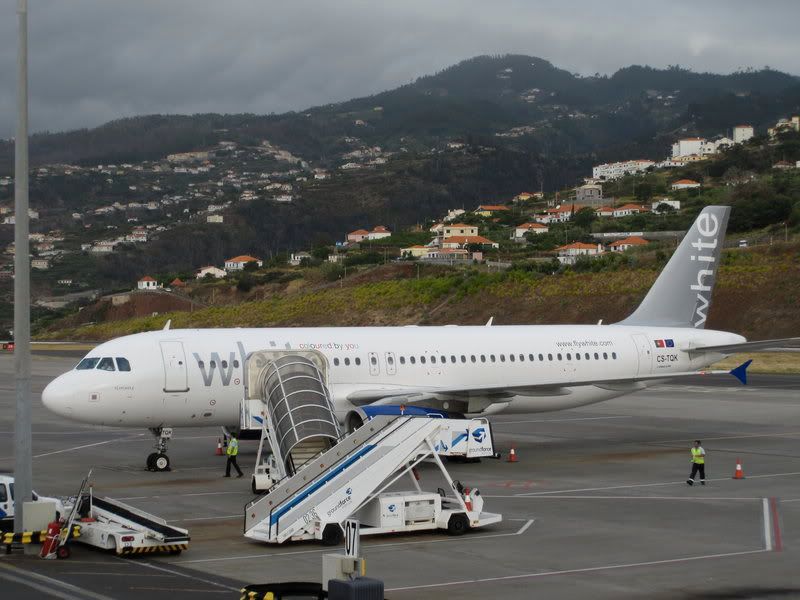 Maybe this plane will operate my flight up to LIS: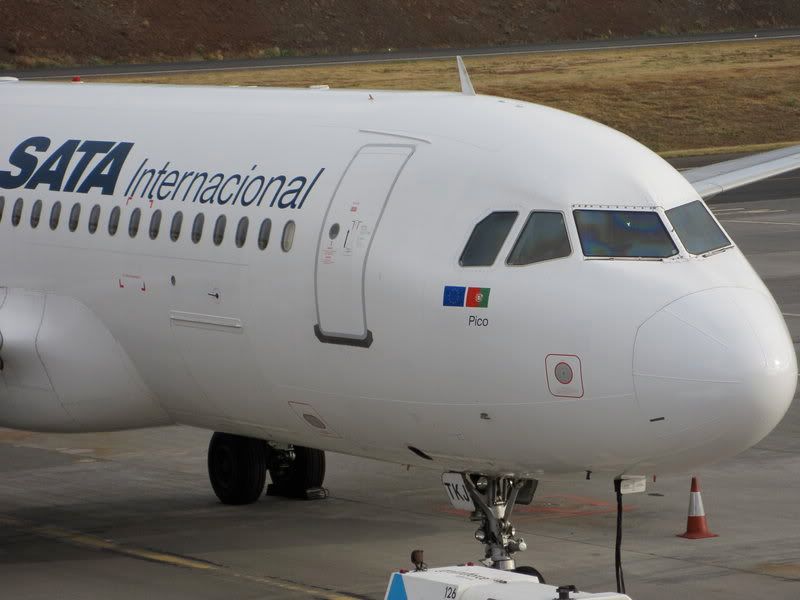 The runway extension on top of the concrete pillars:
Who's that: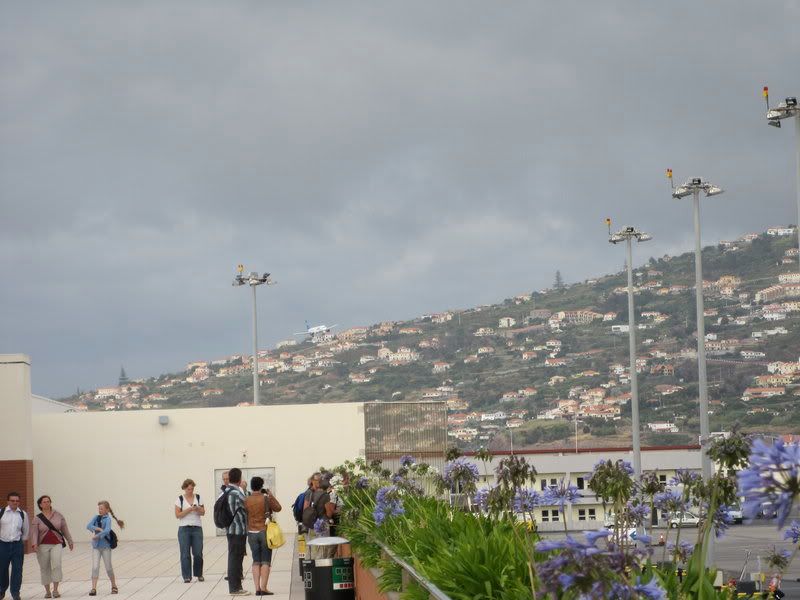 Oh, it's Condor from MUC: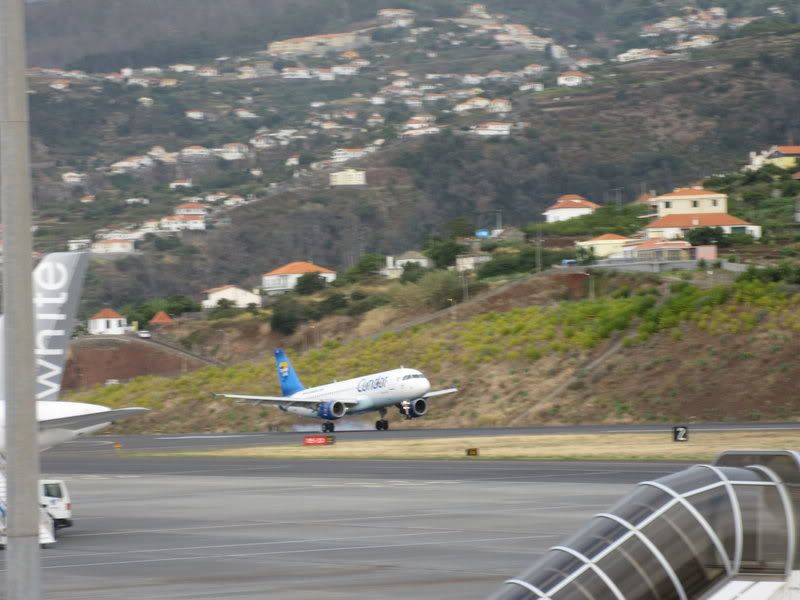 Oh wait, it's actually Snoopy: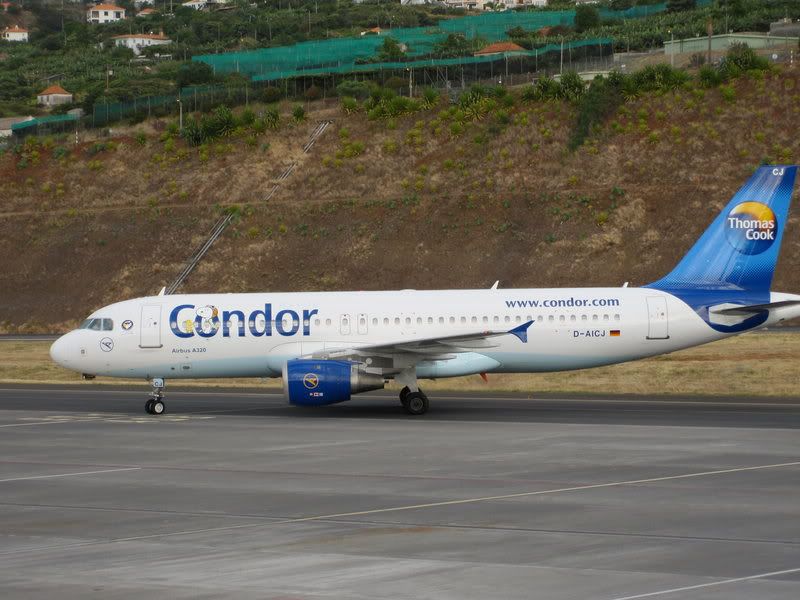 Something from the Air Force: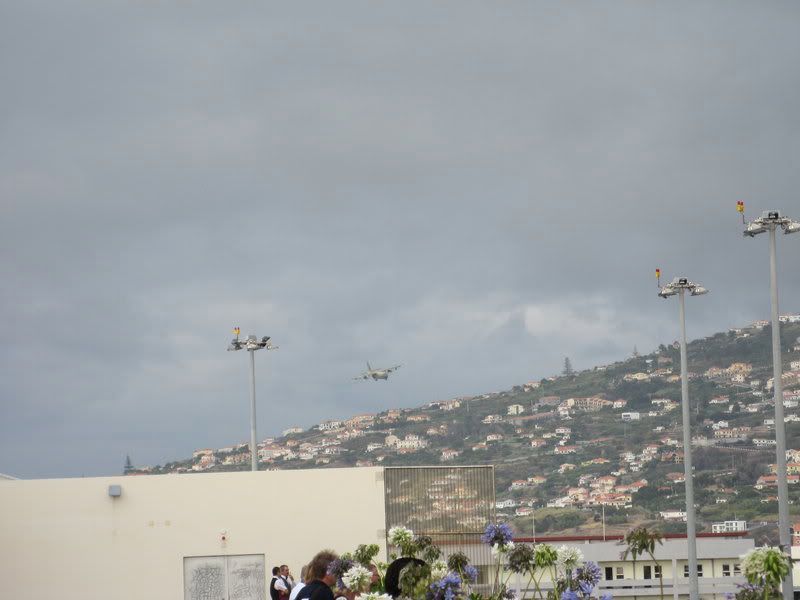 A Casa C-295, opening its tail ramp while still taxiing: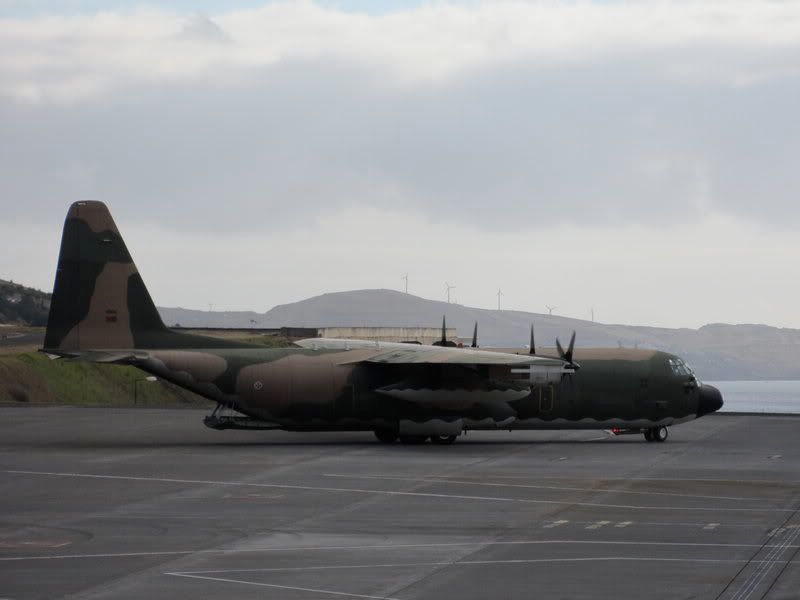 A Sata Air Acores Dash - sad to see the ATPs gone: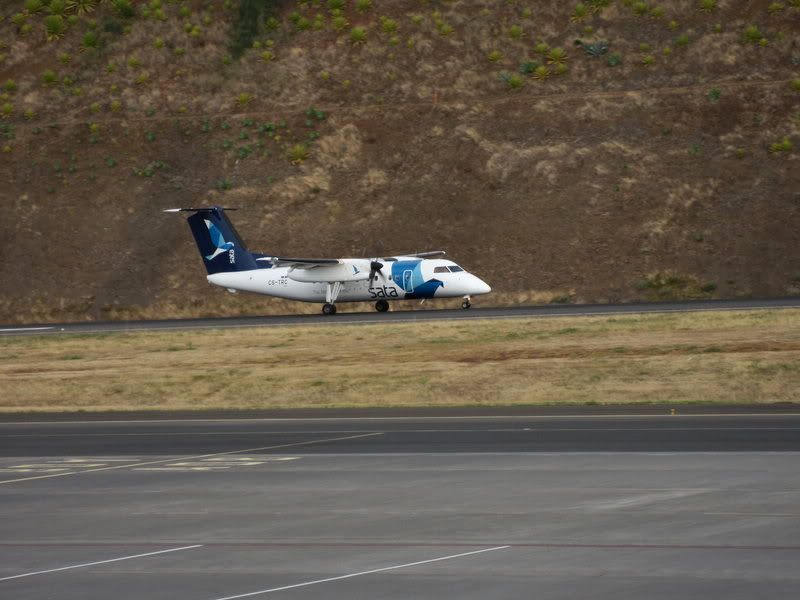 Oh, here's another Sata Airbus, this turns out to be my ride: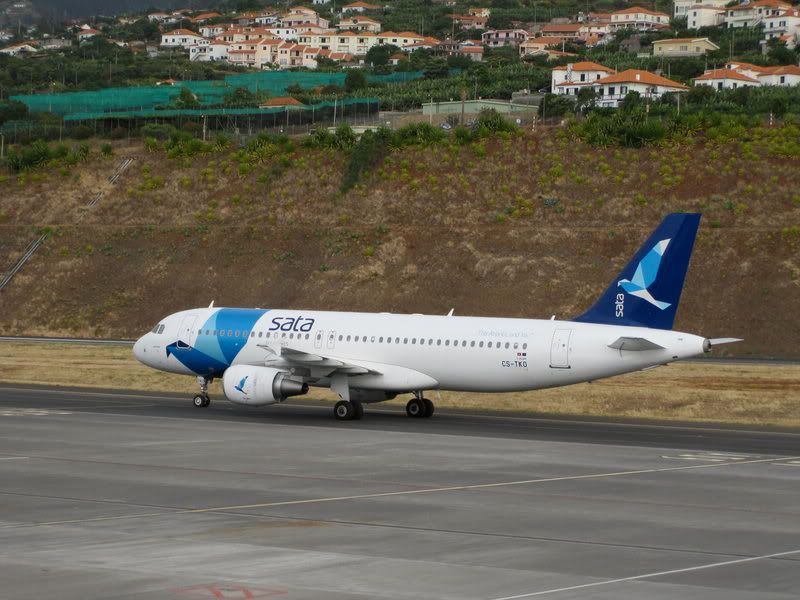 "Diaspora", that's a weird name for a plane: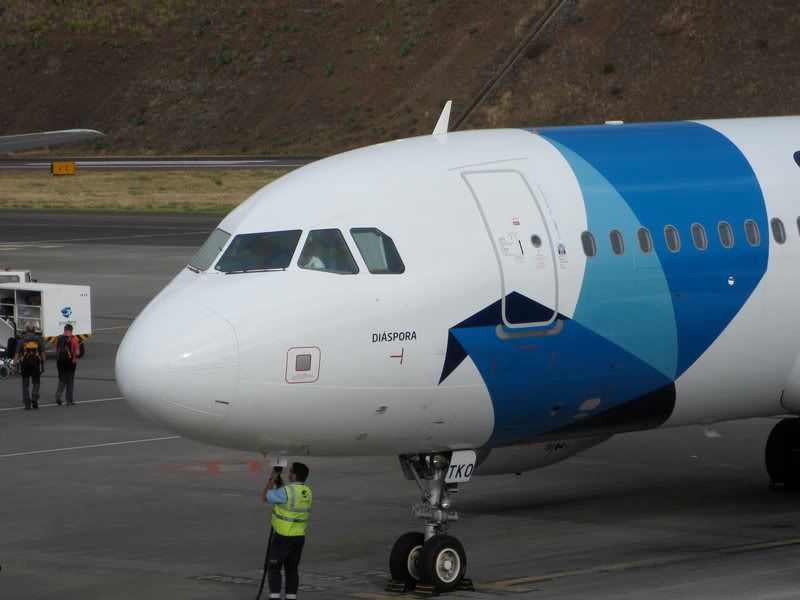 Boarding is called around 9.30, the progress is very slow as there's only one agent handling the gate and he does not seem to be in any hurry.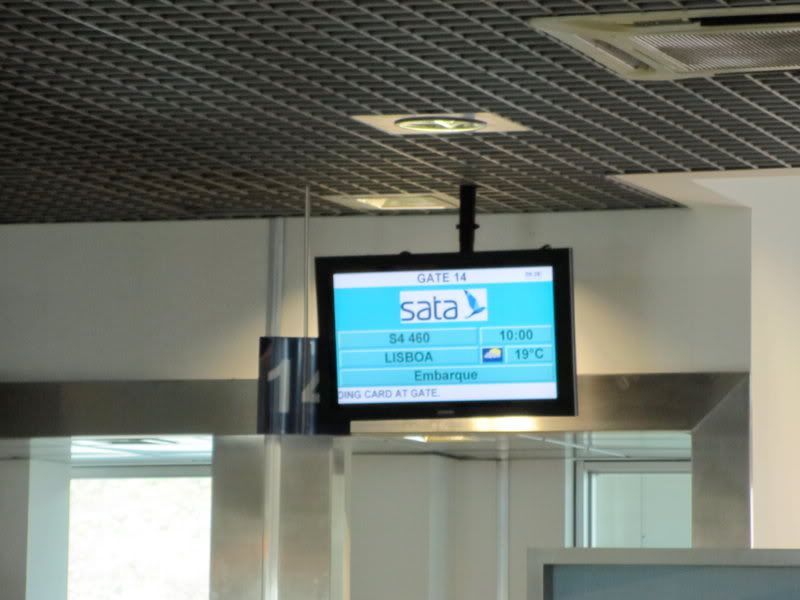 A short walk across the apron to CS-TKO and I board via the back door: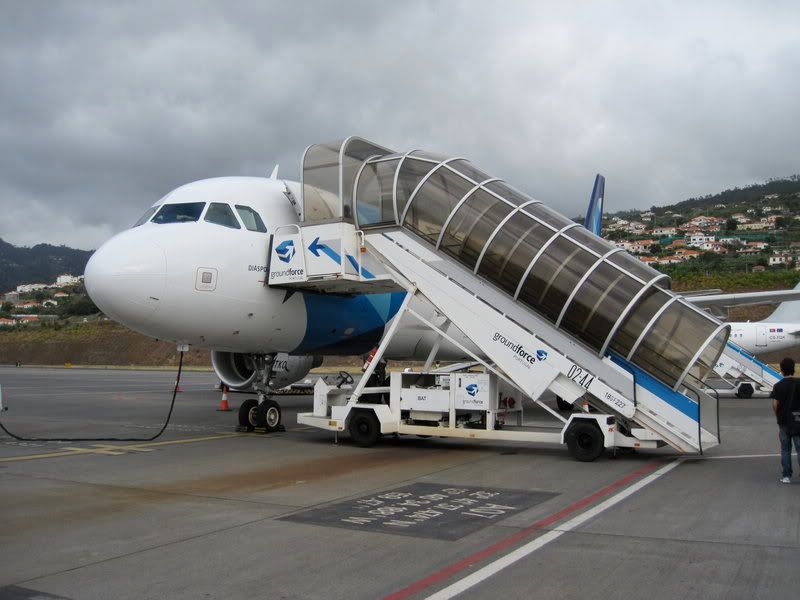 "The Atlantic and You (TM)":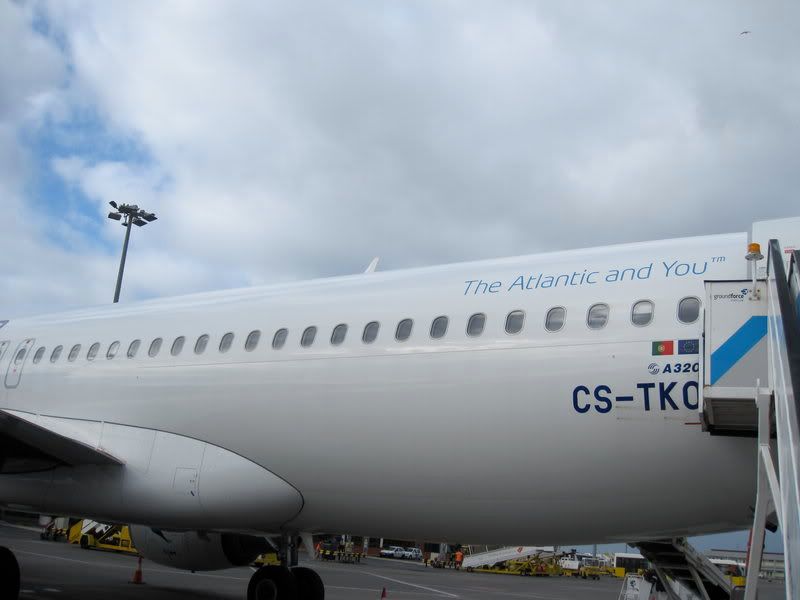 I like this logo, very stylish: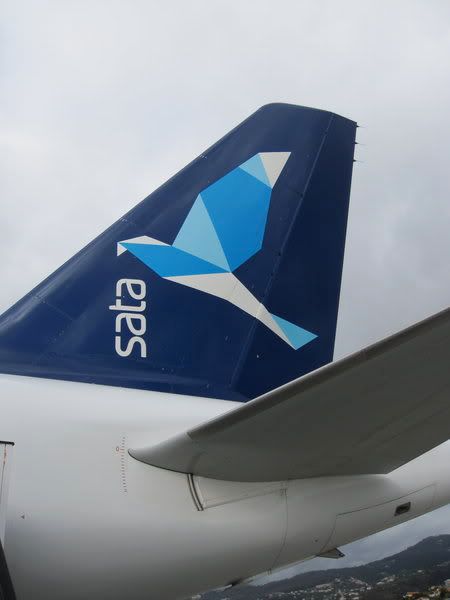 .
FNC-LIS
S4460
A320 CS-TKO
Seat 19A
10.05 - 11.27
This plane has dark blue leather seats, a bit more modern than TAP: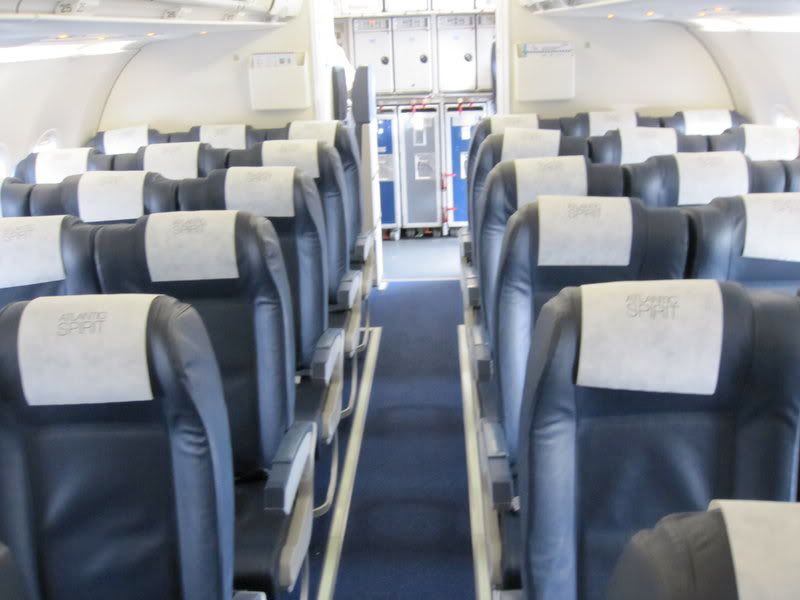 But still with a similar kind of cramped legroom: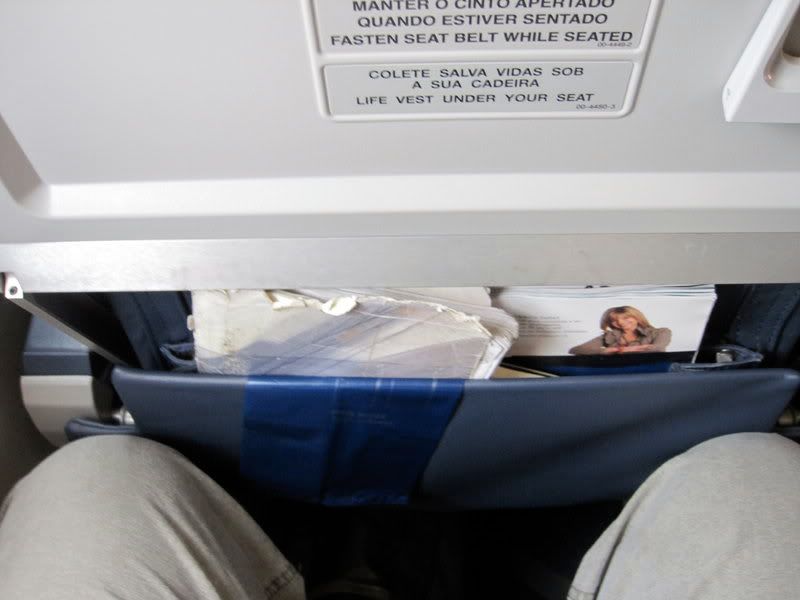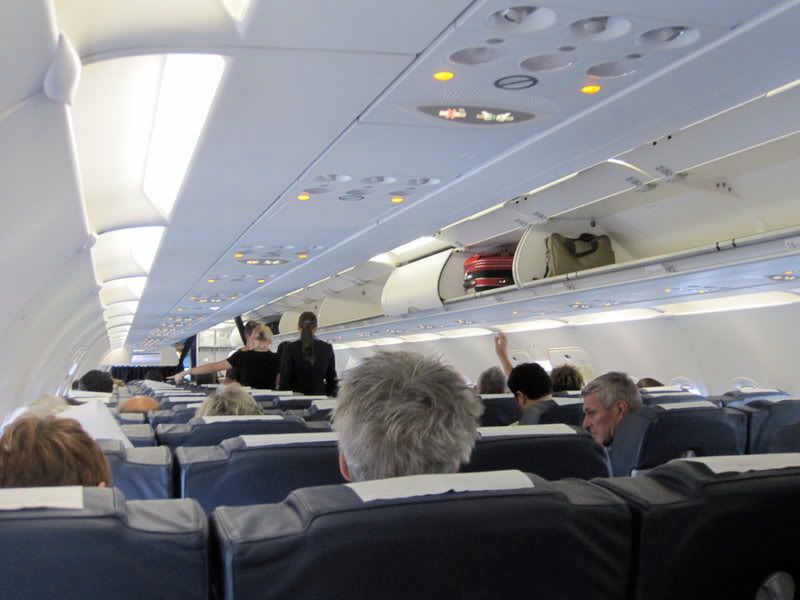 As is evident from these latest generation cabin controls this is quite a new plane, delivered new to SATA Internacional in April 2009.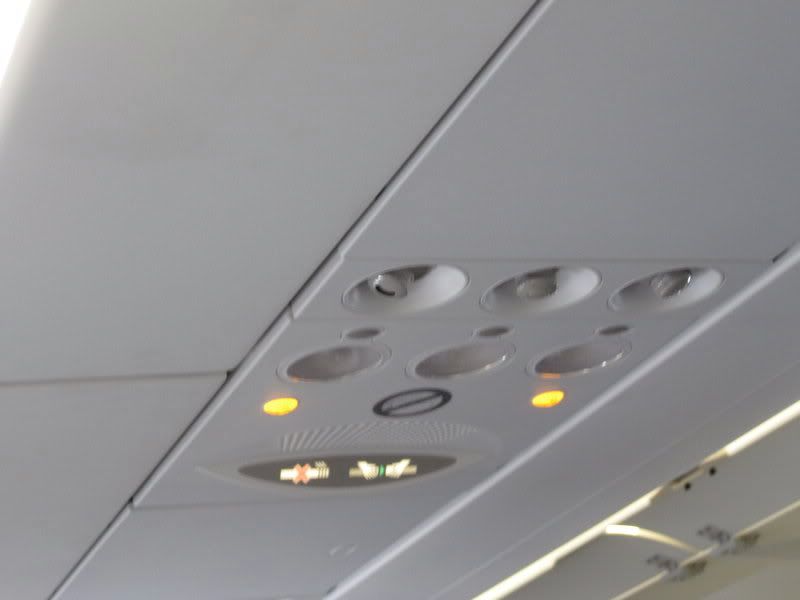 Oh, I'll drink to that too!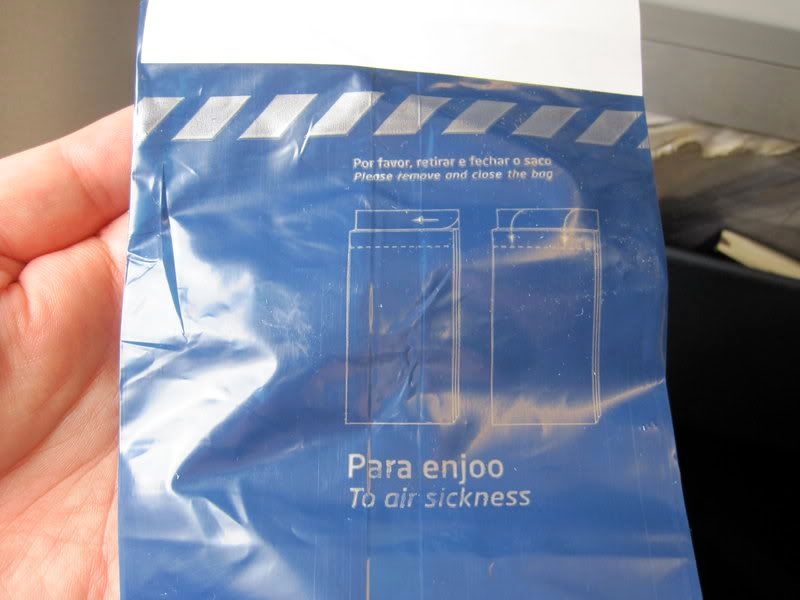 Boarding continues to be slow, and as the plane appears to be almost full it is finally completed a few minutes after our scheduled departure time. Right away the doors are closed, our flight time is announced as 1h20mins and we depart only five minutes late, not bad.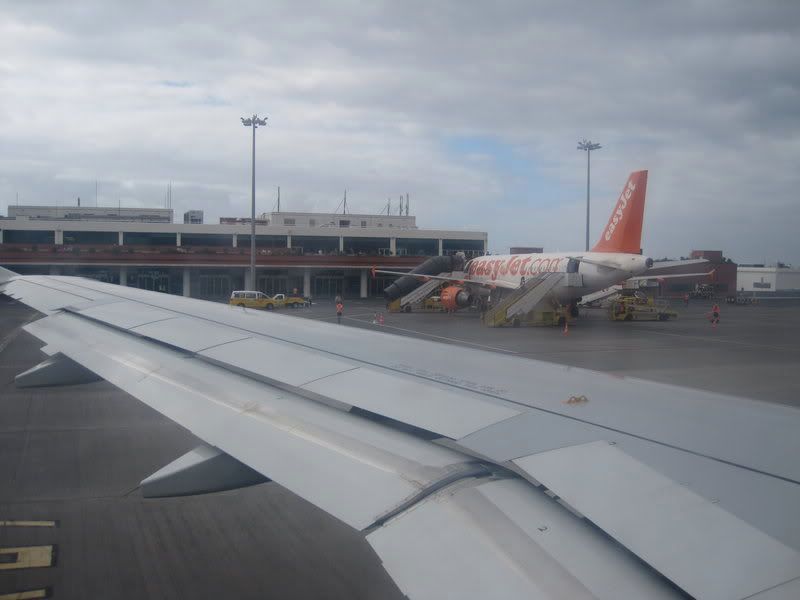 Turning around the far end of 05: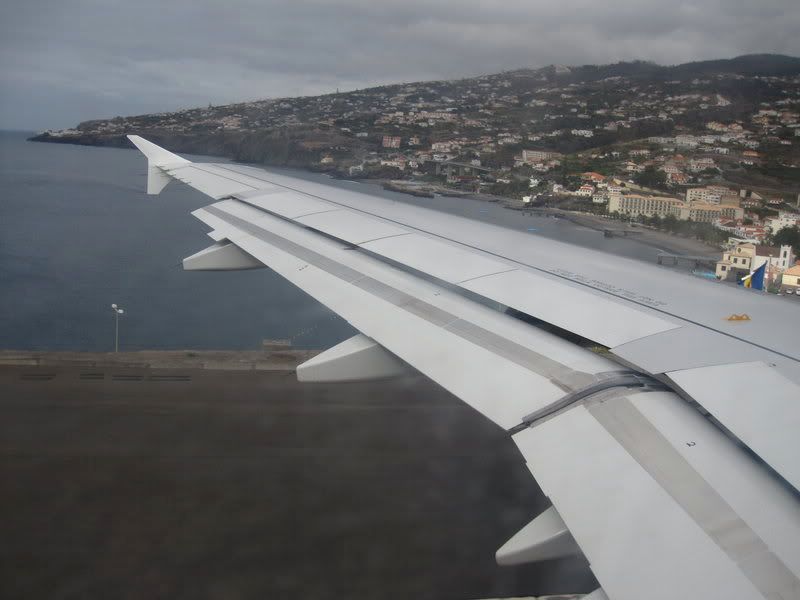 And then we go: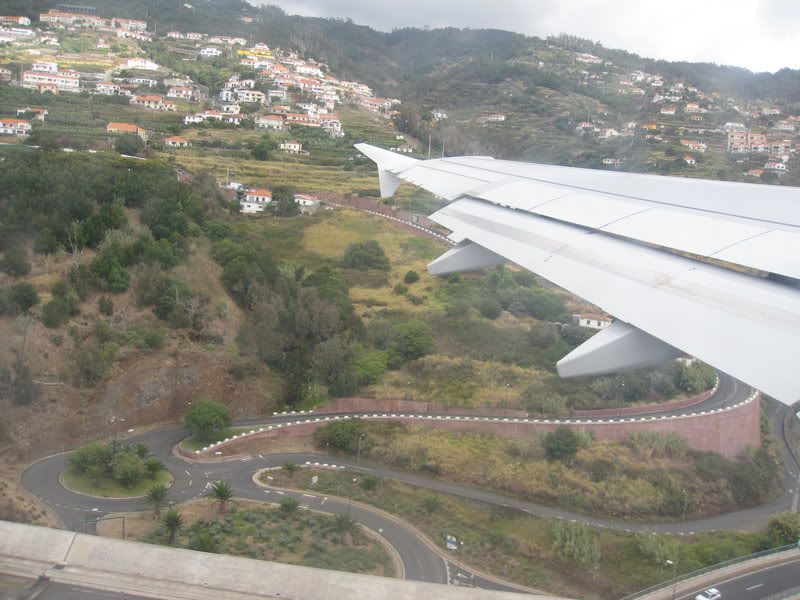 Bye, Madeira: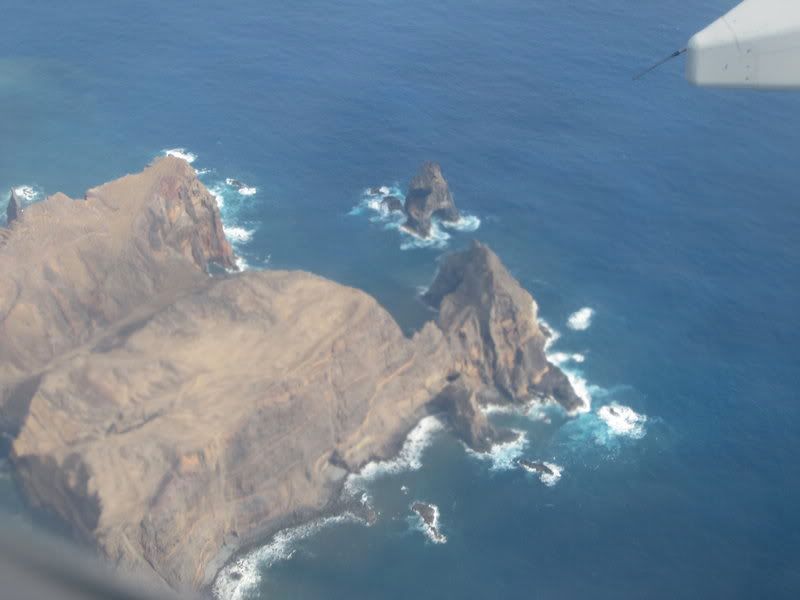 Just as on the flight over right after leaving Madeira behind there's nothing but sea between us and Lisbon, so not much views until landing. They don't play the airshow at all, instead the monitors constantly loop around the same SATA information, including their route network and information about their planes, kinda like the last few pages of any decent inflight mag: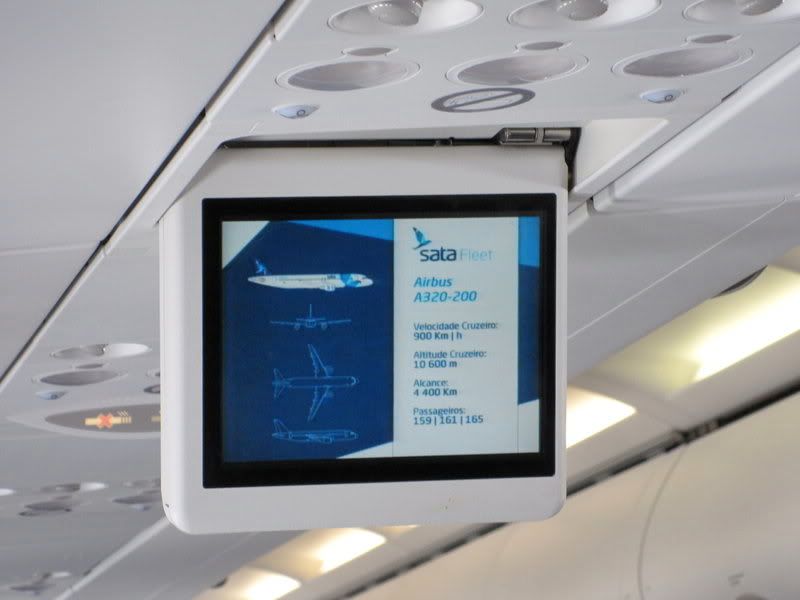 Service is worse than on TAP, only a few biscuits are handed out, followed by drinks, not sure if they carry any alcohol as I prefer a coffee this time: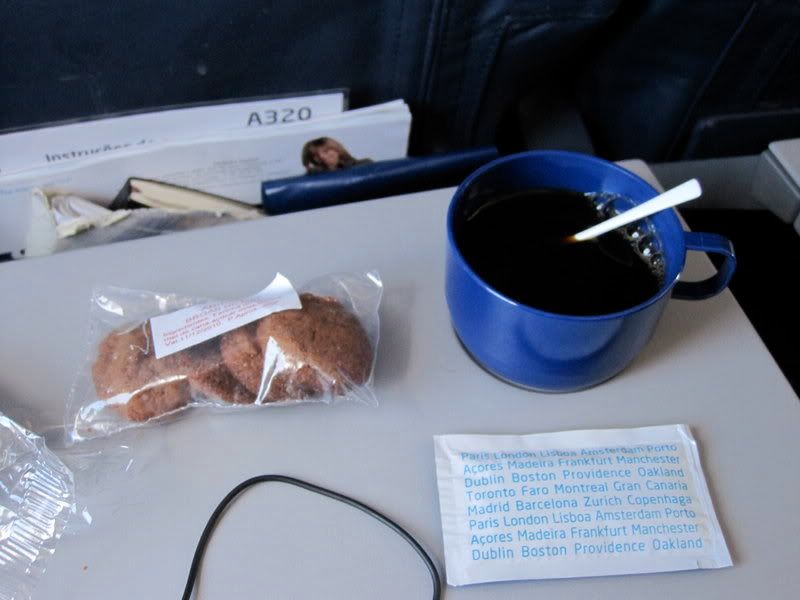 No word from the cockpit at all. The crew is a bit friendlier than on TAP, I witness at least two of them smiling
. Speaking of the FAs, one of them is a real hottie - probably not in the classical hottie way but there's something about her that just strikes exactly the right chords in me. Well, we can always dream.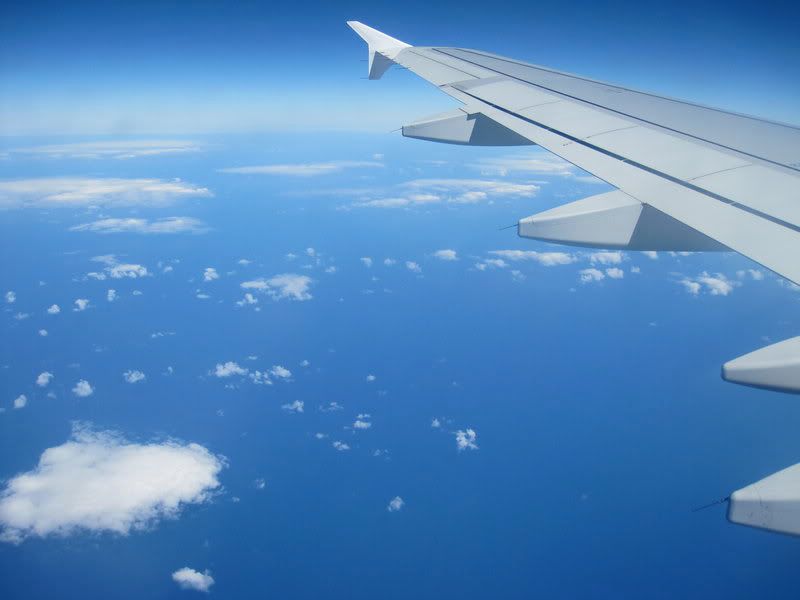 Descent starts exactly one hour after take off, and the Portuguese coast soon comes into view. Here's the westernmost point of continental Europe, Cabo da Roca (the peninsula further away):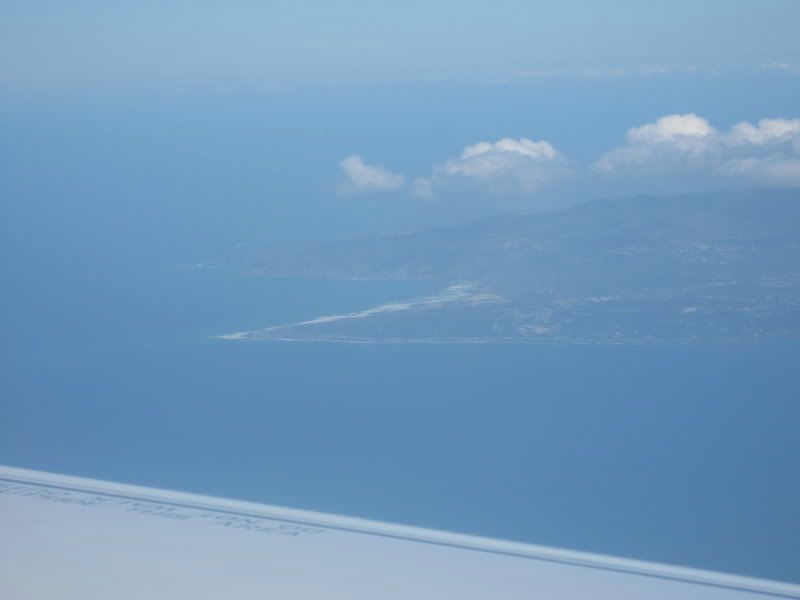 Estoril - I once spent a holiday there: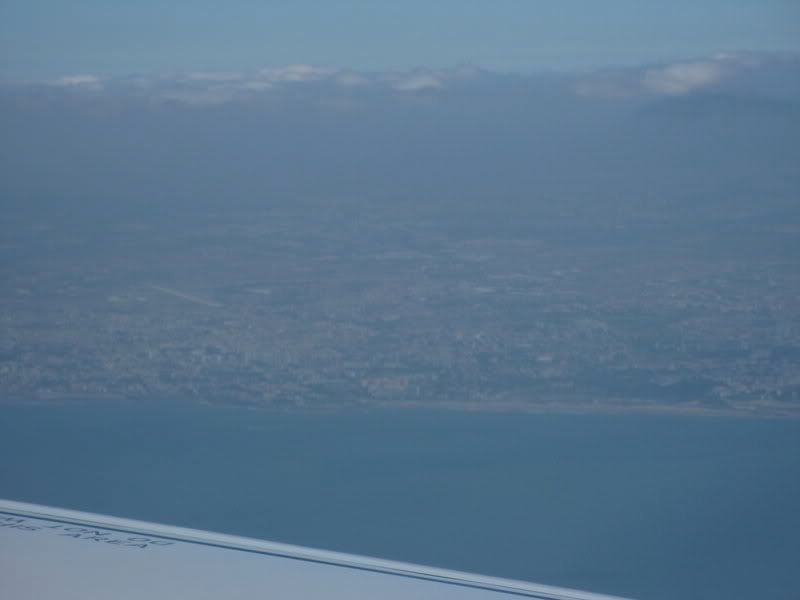 Landfall over the sandy beaches of Costa da Caparica: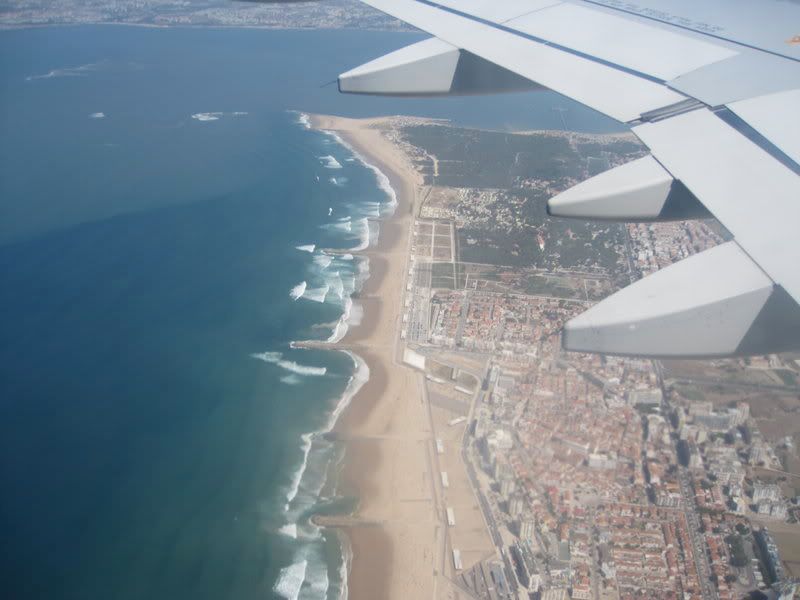 Torre de Belém, an UNESCO world heritage site: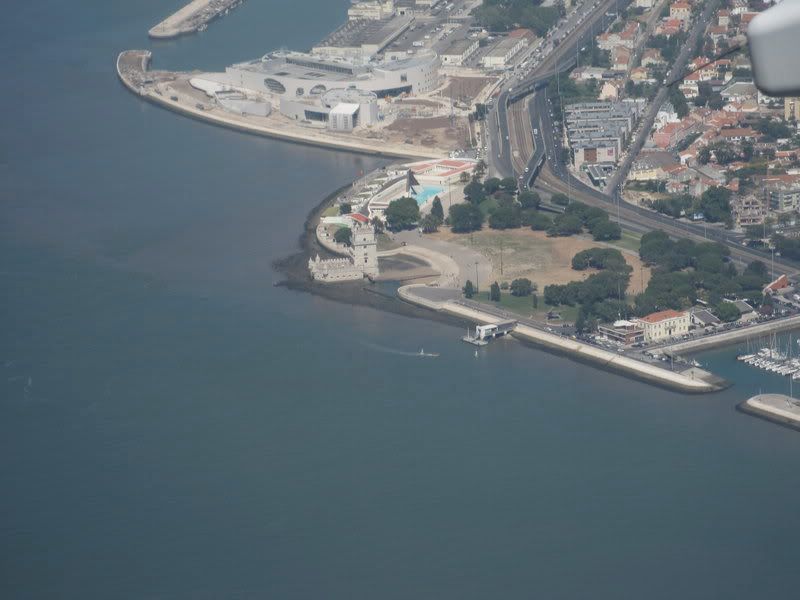 The Jerónimos Monastery, the second half of the UNESCO site: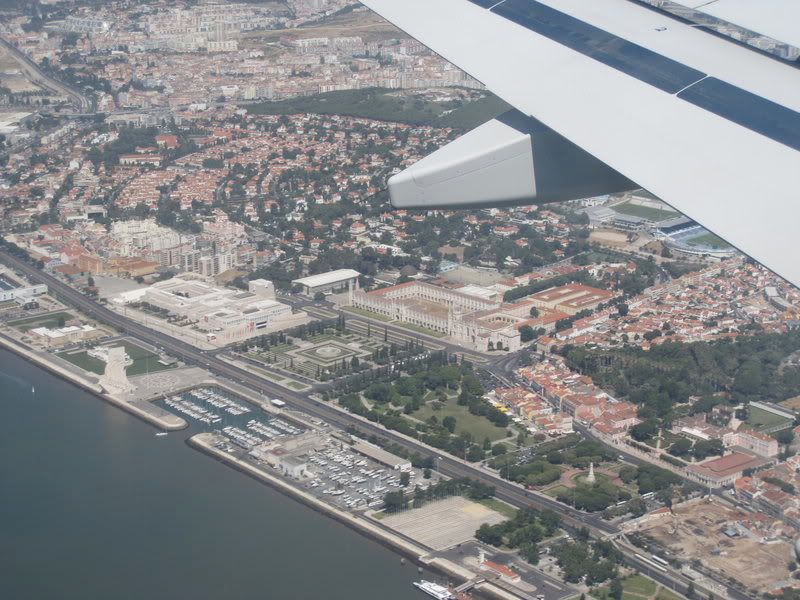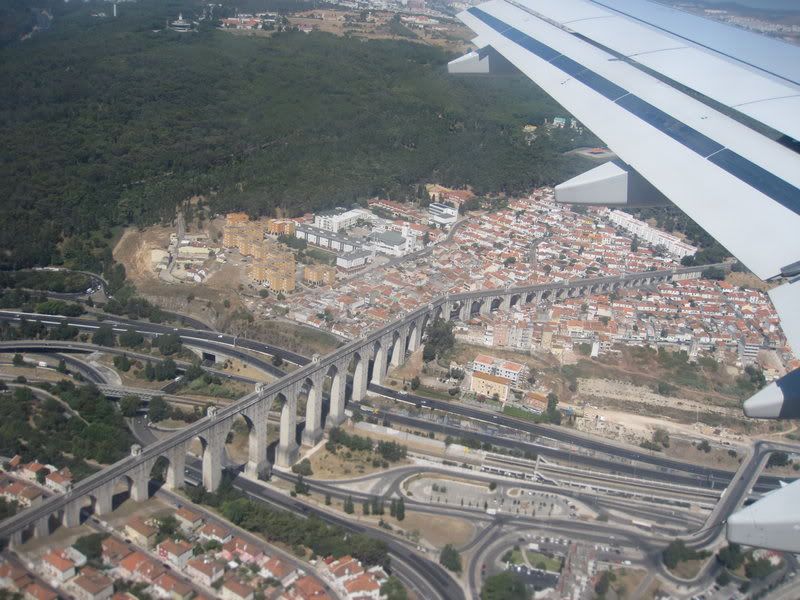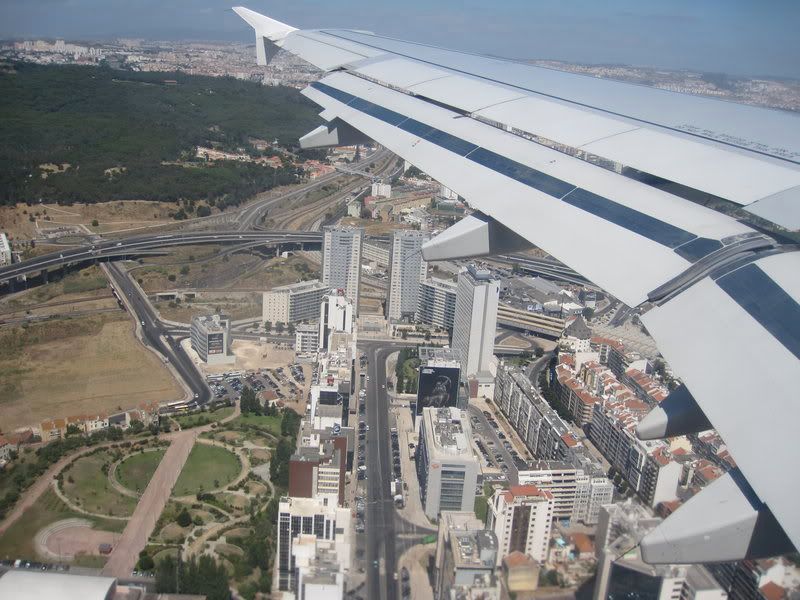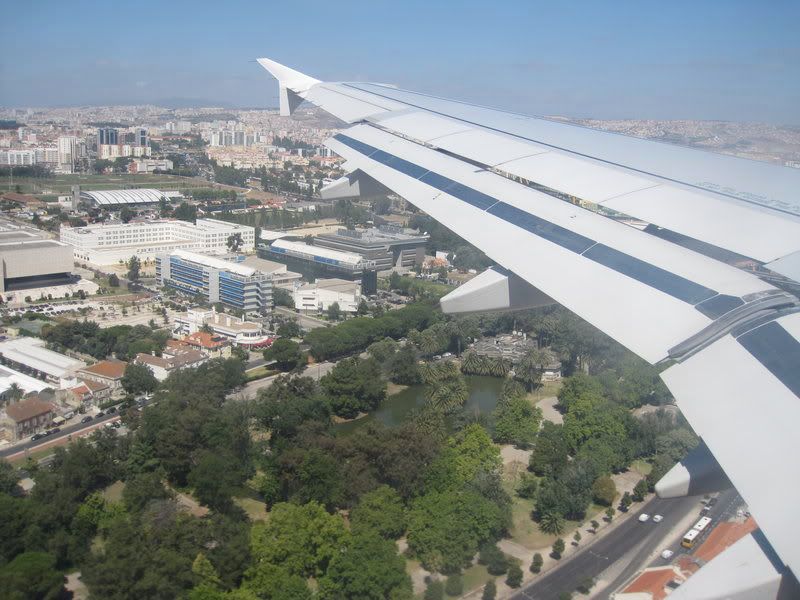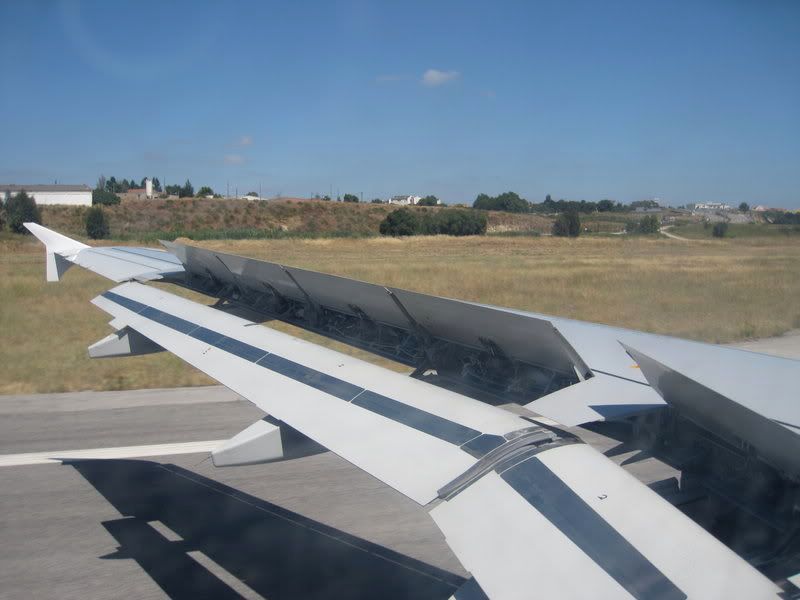 Landing is on runway 03 after a bit over 1h15mins in the air. The recently finished non-Schengen pier extension of Terminal 1:
I still find flying an 757 over the pond a bit weird: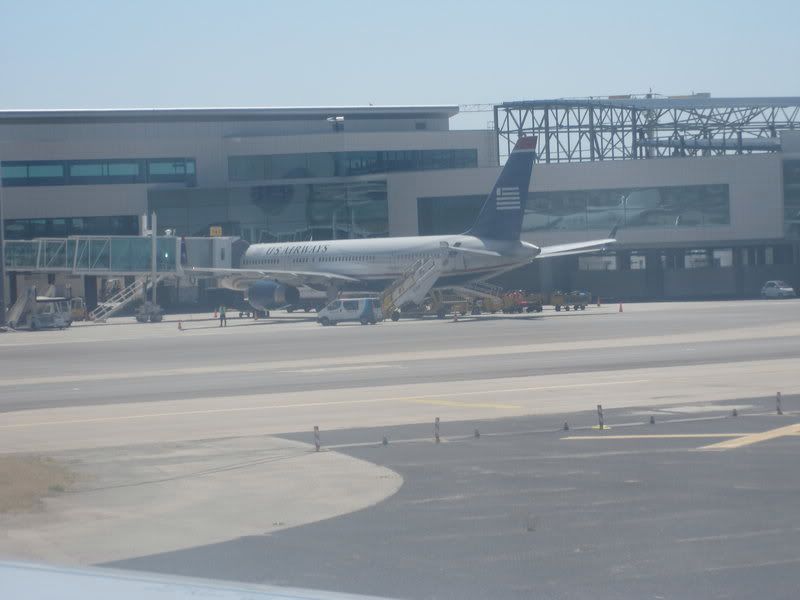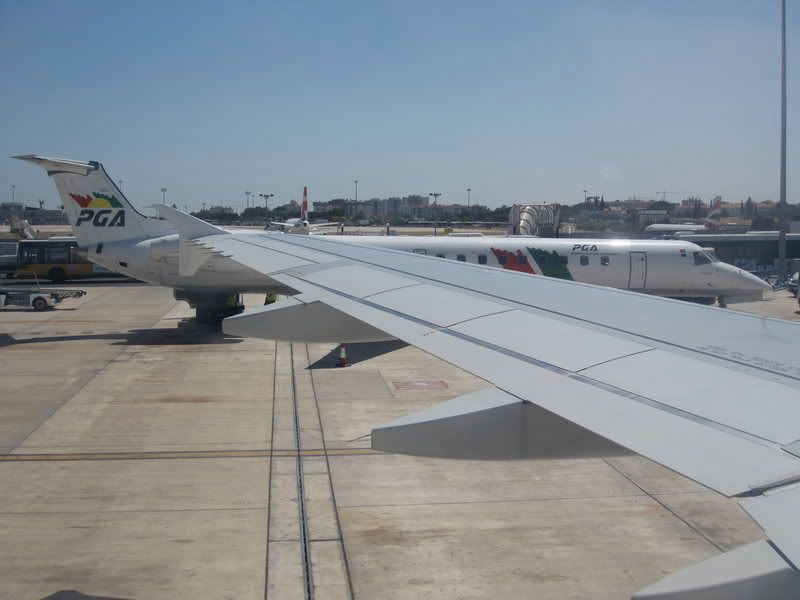 That's just beautiful: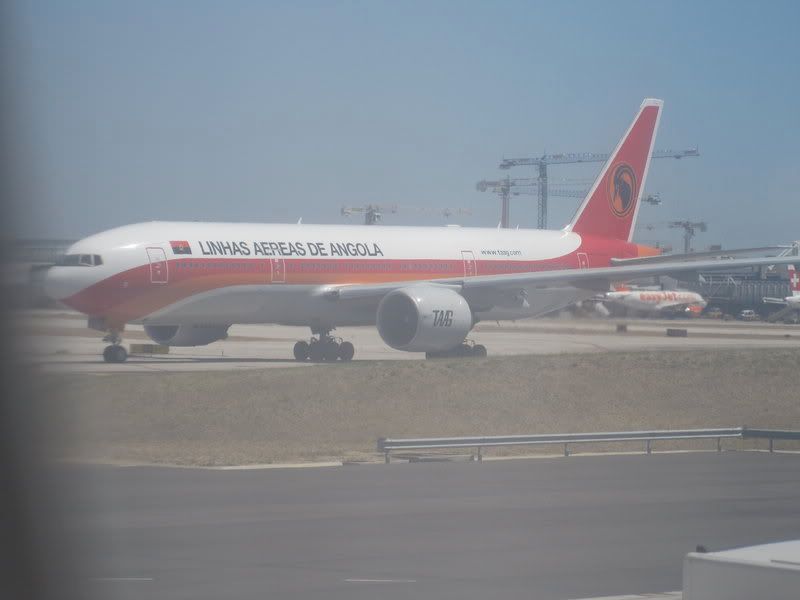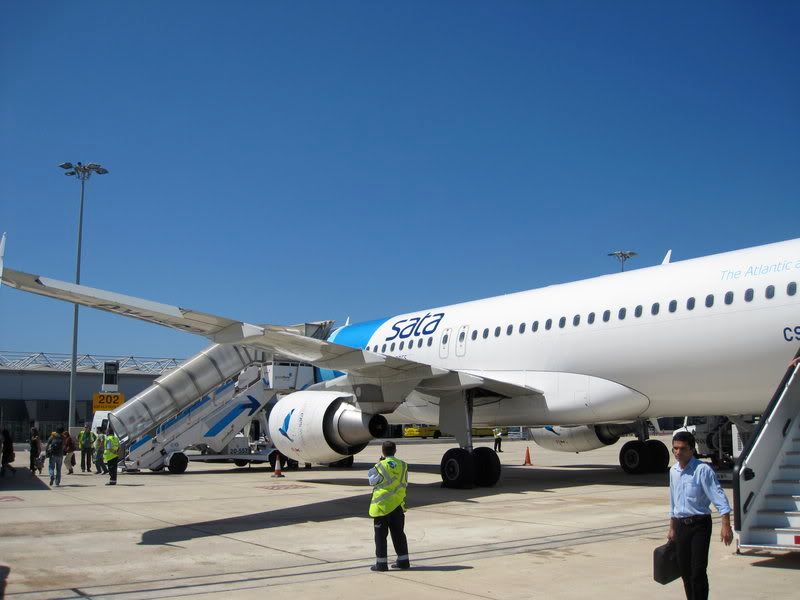 We get an apron parking position, and surprisingly are bussed over to Terminal 1 instead of the domestic terminal - well I didn't see any arrival facilities around there so maybe there are none. The baggage belts have signs for Porto and Faro as well, so I guess this is common practice.
Speaking of the bags they sure take a while to arrive, but mine finally shows up. Then I try to find the bus that would take me to Oriente - very confusing as the Lisbon public transportation website showed me a route number which I can't find on any stop, instead there's something called an "Aero Shuttle" which actually is exactly the thing I'm looking for - only that they don't use the line number anywhere but on the bus itself...
Lisbon
I'm staying at the Parque das Nações area near the airport - that's the area constructed for the World Expo 1998 as a showcase of Portuguese development and modernity and one that I really like. Sure, it's all modern with none of the charm of the older parts of the city but I've been there many times and want to hang around here this time. I'm staying at the Tryp Oriente hotel, a modern high rise facility just a stone's throw away from the Gare do Oriente station and the huge Vasco da Gama shopping mall - a chain which I've had some good experiences with before: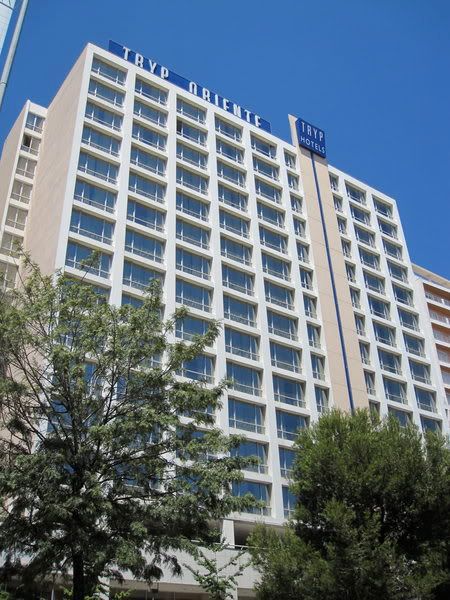 My room on the 15th floor: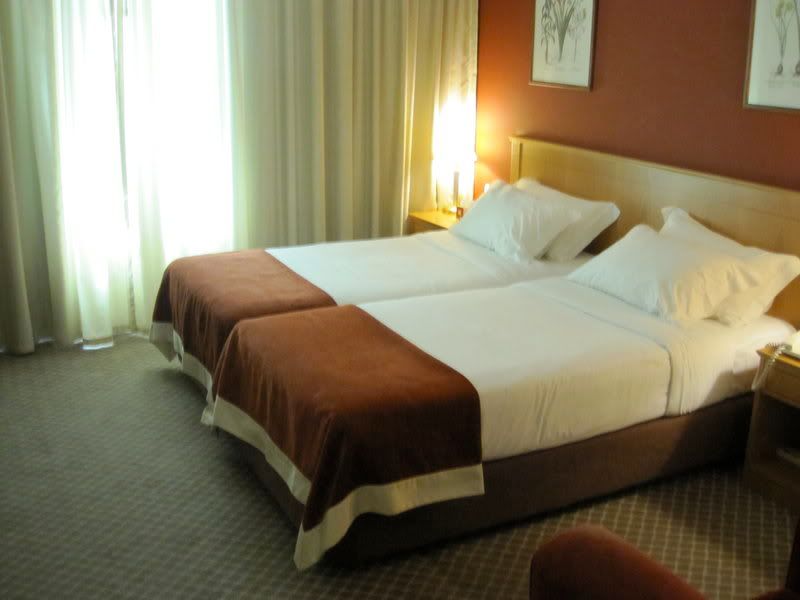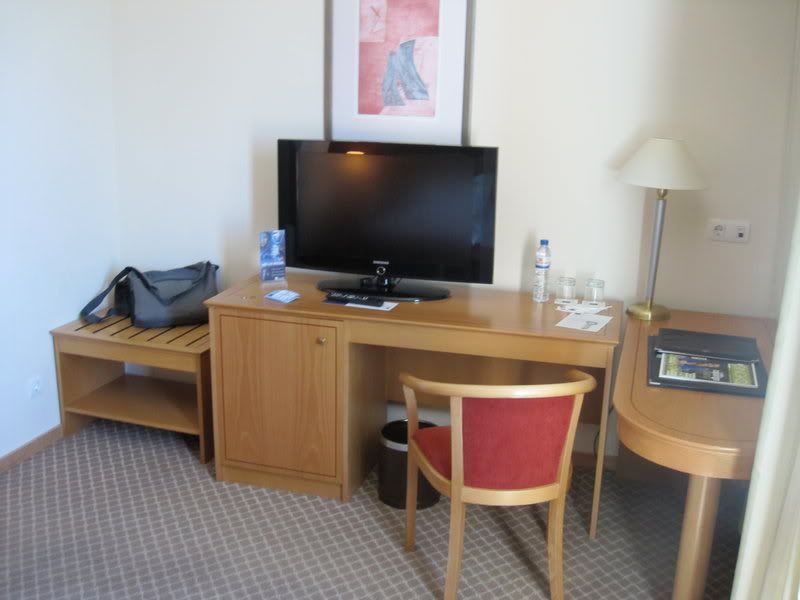 The window overlooks the platforms of the station:
The station building, very impressive architecture here: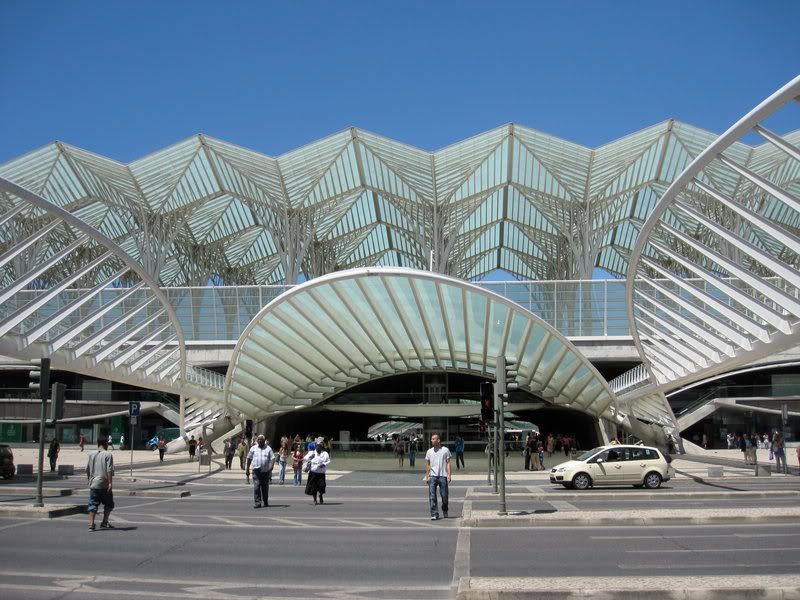 The Vasco da Gama shopping mall - takes care of all the shopping needs one could have: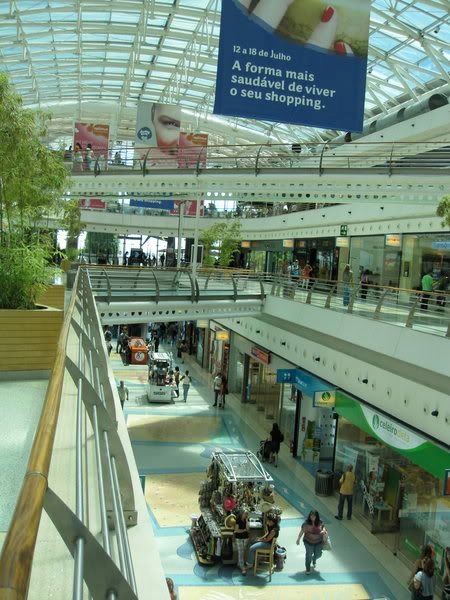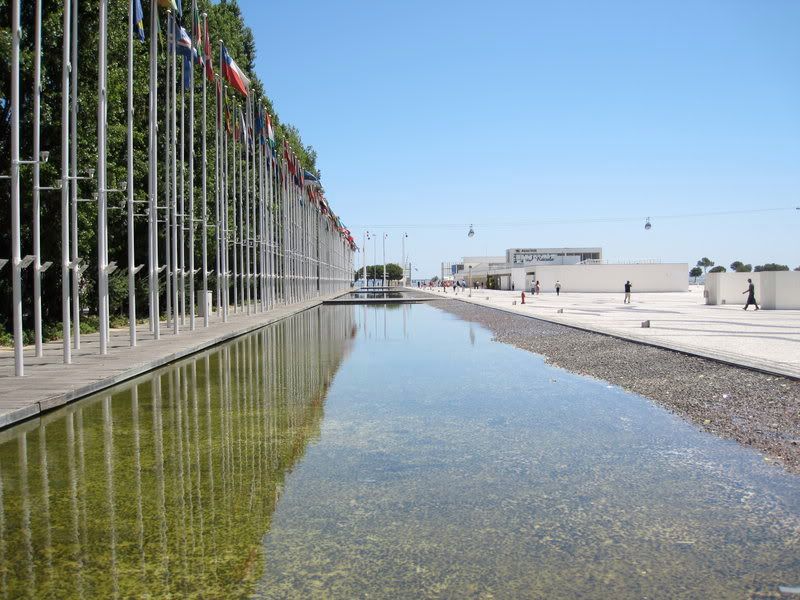 The Lisbon aquarium:
I took this cable car ride once - very nice views: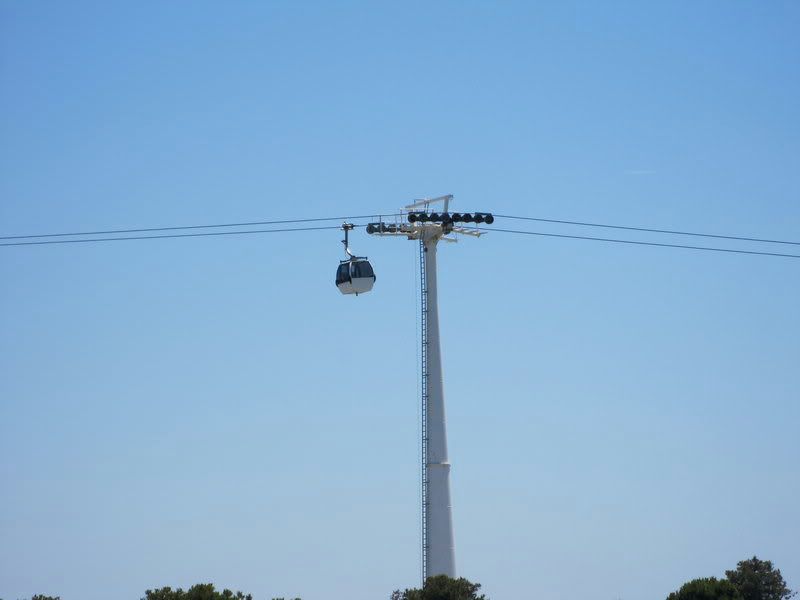 Snails, anyone?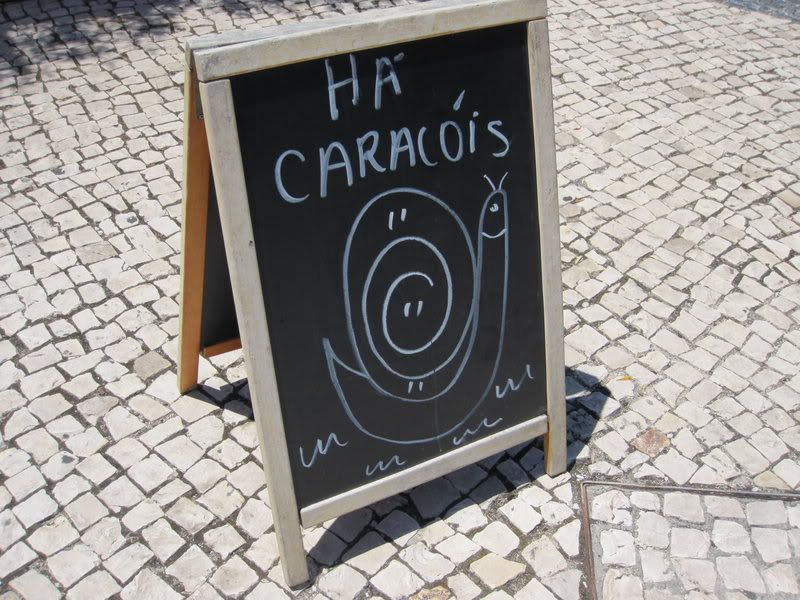 The impressive, 17 kilometers long Vasco da Gama bridge: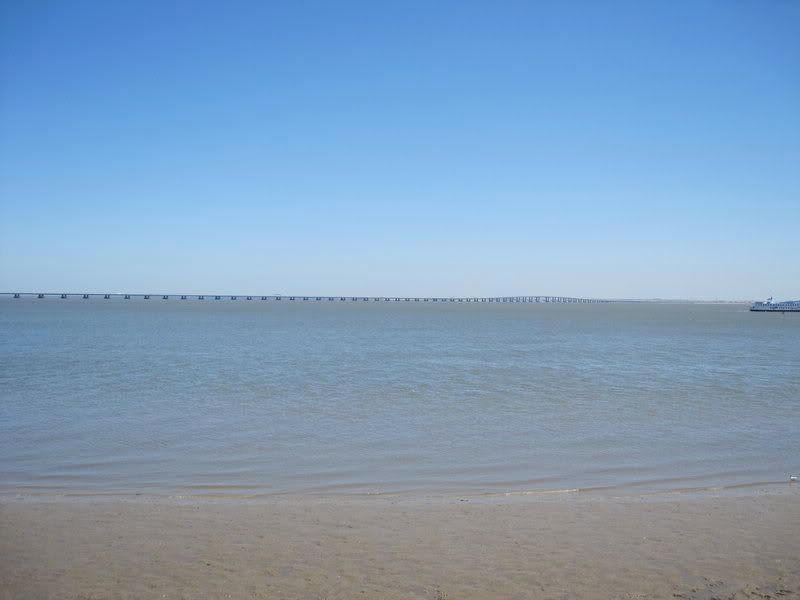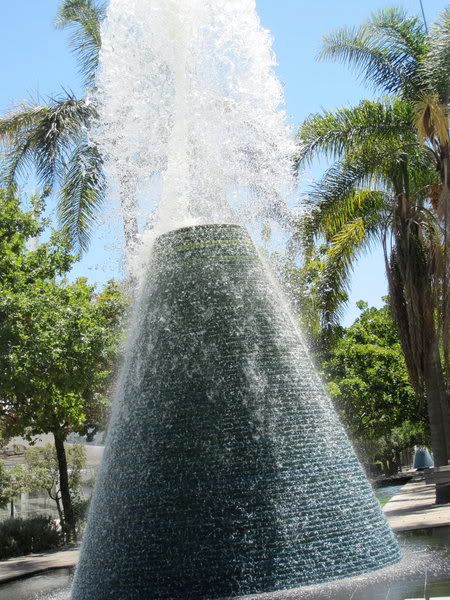 The rest of the day is spent just wandering around the area lazily, enjoying the sunny weather, doing a bit of shopping and finally almost killing myself by overdosing on meat at a Brazilian buffet.
16.7.2010
Up at six to catch a taxi for the short ride to the airport, arriving there two hours before departure. The AY check in desks are almost the first ones when one enters the area, very convenient. A bit of a queue on the economy ones, but only one Chinese family before me on the business one. A very friendly older male agent soon asks if my preallocated seat 1A is fine with me (it is) and gives me directions to the lounge.
Security is almost empty but all the people seem to fall into the "flying once per year and not aware of any security regulations" category which makes it a bit of a wait, but once finally through I do a quick bout of shopping and head for the sanctuary of the lounge - this place is seriously busy even at this early hour! Well, I actually go to check the plane out before going as the gate is right next to the lounge - OH-LXA, Finnair's first A320 spent the night here: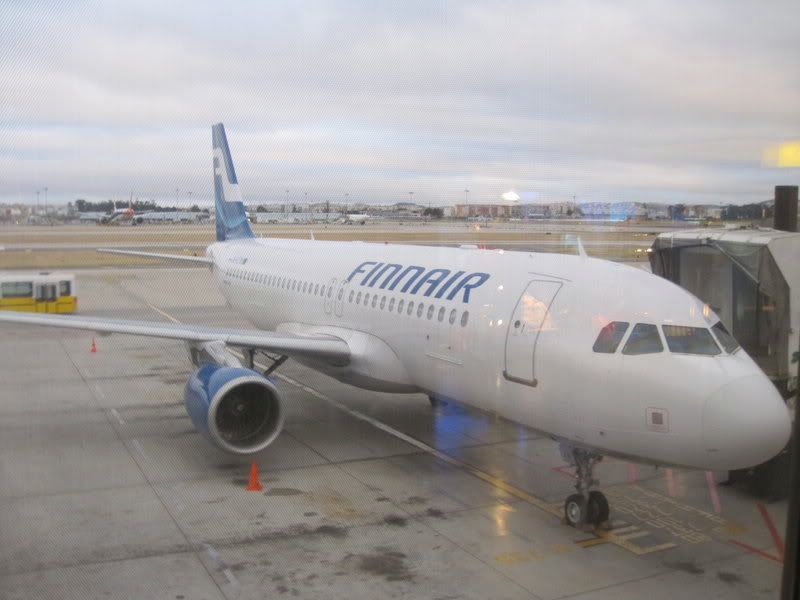 Only my second flight on this plane.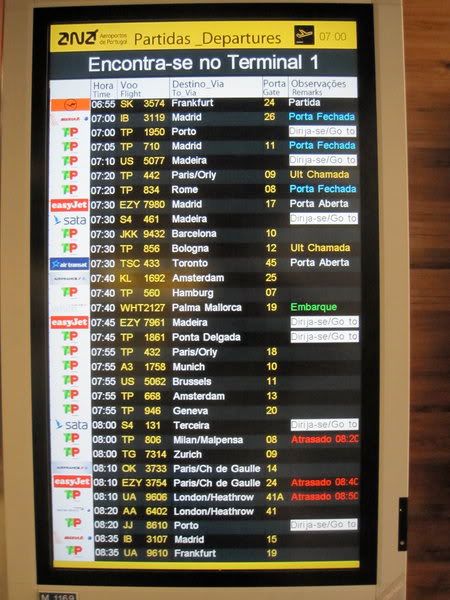 The Lisbon Lounge (if I remember the name right) is located right next to the large and quite fancy-looking TAP facility. A perfectly acceptable and decently-sized lounge, they have some breakfast offerings plus lots of drinks. I think all the other passengers here are Finns, there are actually surprisingly many, including someone I used to know from my work some years ago with his family, so I exchange a few words with him. Quite a few of my fellow Finns are hitting the booze right after seven in the morning... I stick to my capucchino and juice and the previous day's Finnish newspaper - nice that AY makes a point of providing this lounge with them.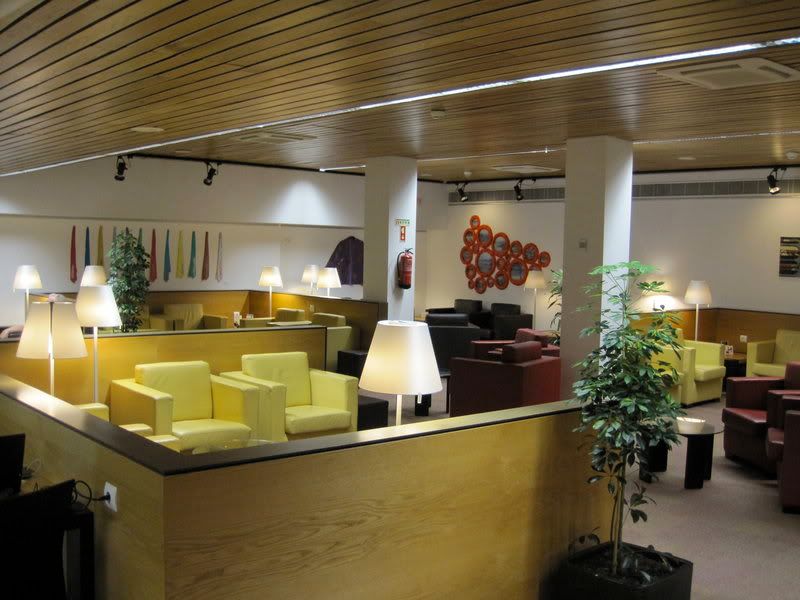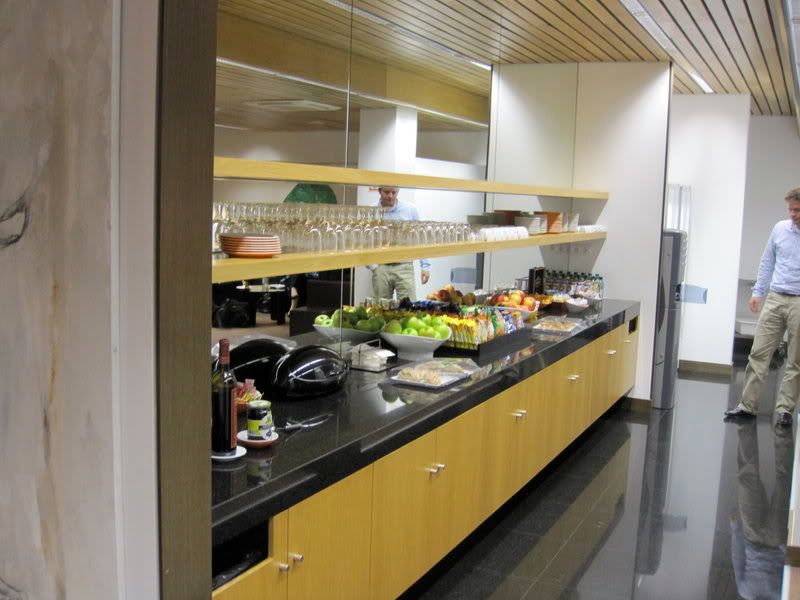 Looks like anything goes as "Art" nowadays: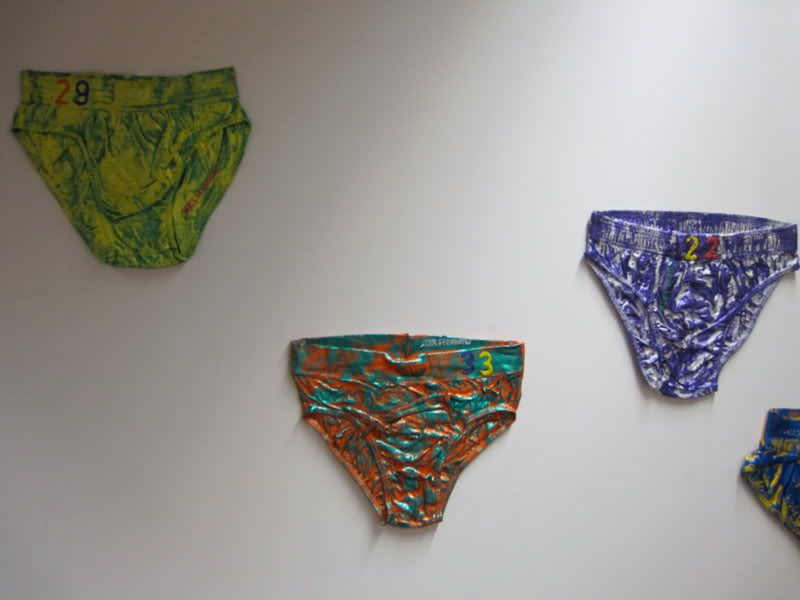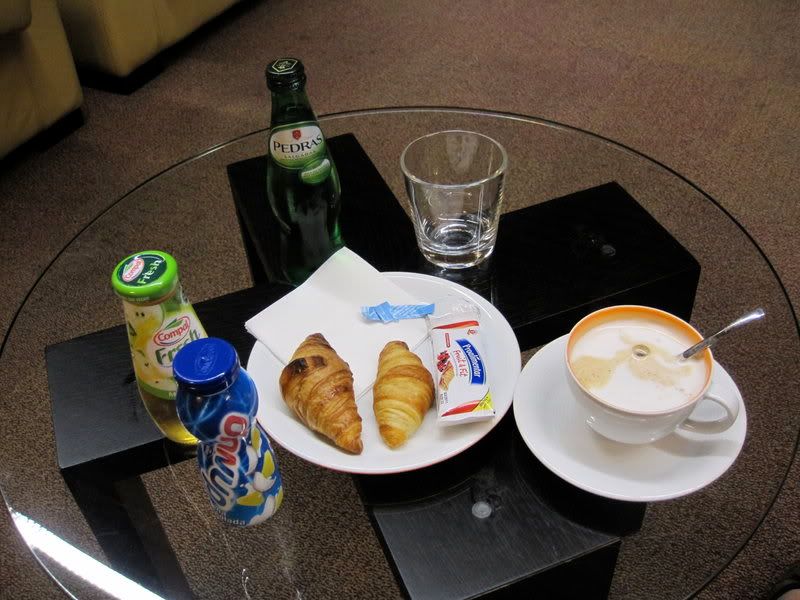 Boarding is scheduled for 8.10, around that time I make my way to the gate where it starts five or so minutes later, with families with kids and business class passengers (and even business class passengers with kids - there are quite a few of those today!) given the priority.
LIS-HEL
AY3694
A320 OH-LXA
Seat 1A
8.50 - 15.15
A senior crew again, pretty customary with AY actually. Seat 1A has great legroom thanks to the bulkhead: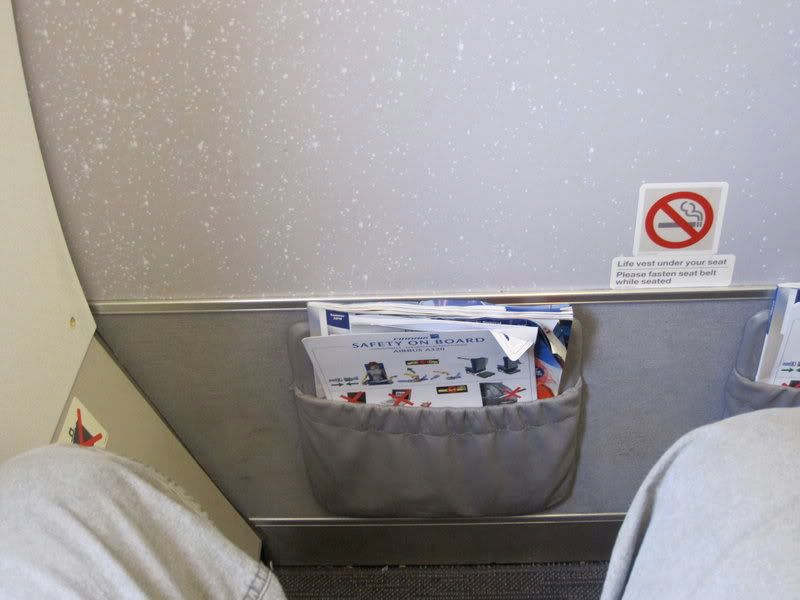 Looks like I forgot to take a picture of the seats, but the A320 features the newer slimline Recaro seats with light blue fabric covers, a decent seat but it's quite hard so can give one some nasty back ache after a couple of hours of sitting on it. Just search for some other reports for pictures of the seats, I know I've posted some.
The load is completely full today (asked the check in agent actually), 4 rows of business are full as well, as mentioned a surprisingly number of kids here. From what I see all the business class passengers except for one Portuguese guy are Finns. There's quite a bit of Asians onboard (AY strategy at work here!) but all are in economy (AY strategy failing a bit here!).
Five minutes before the scheduled time of departure the captain welcomes us onboard and announces that it will be another ten minutes for "organizing the flight", which I assume means the paperwork, before we departure for our flight, with a speedy flight time of 3h55mins today due to some favorable tailwinds, and should be arriving somewhat ahead of schedule in HEL.
He is dead right on his estimations, push back is exactly ten minutes later, five minutes late. Portugalia F100 next to us: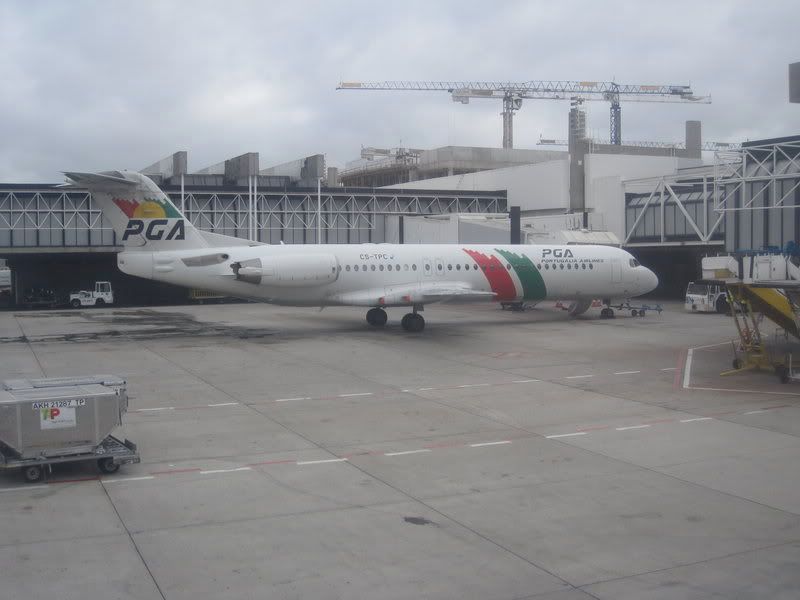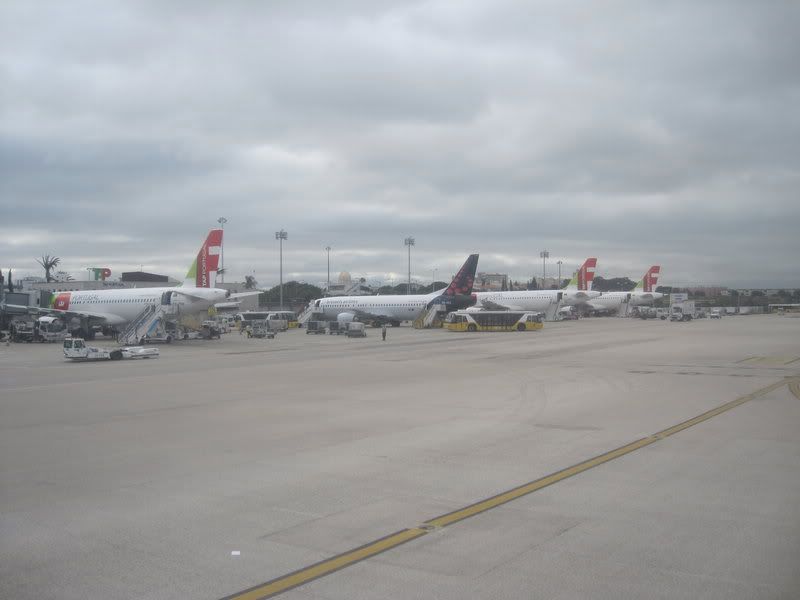 There's quite a rush at this hour with plenty of landing and departing planes, so we spend the best part of 20 minutes queuing for the runway, and I keep snapping at the arriving planes: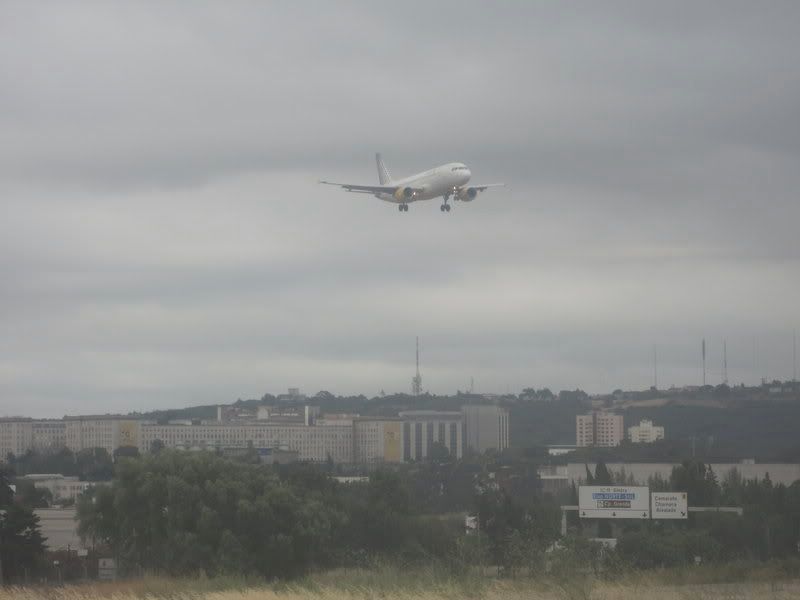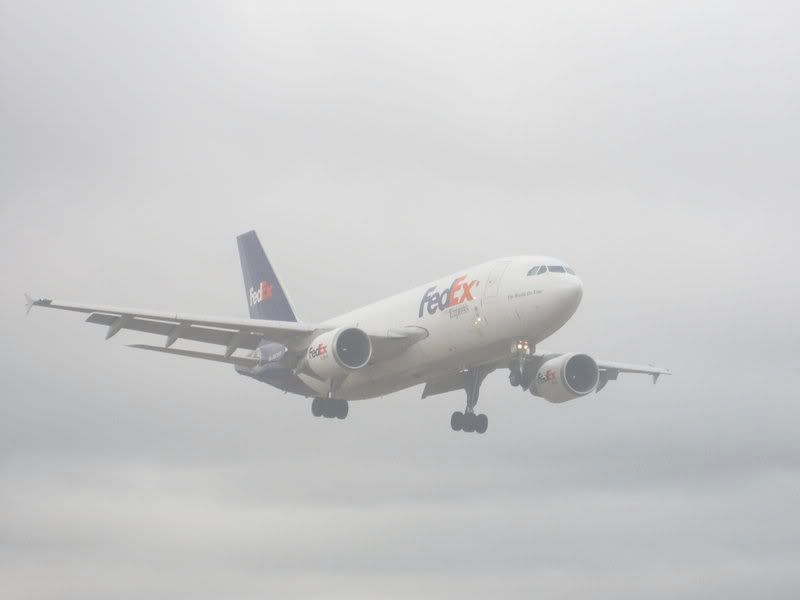 Finally our turn: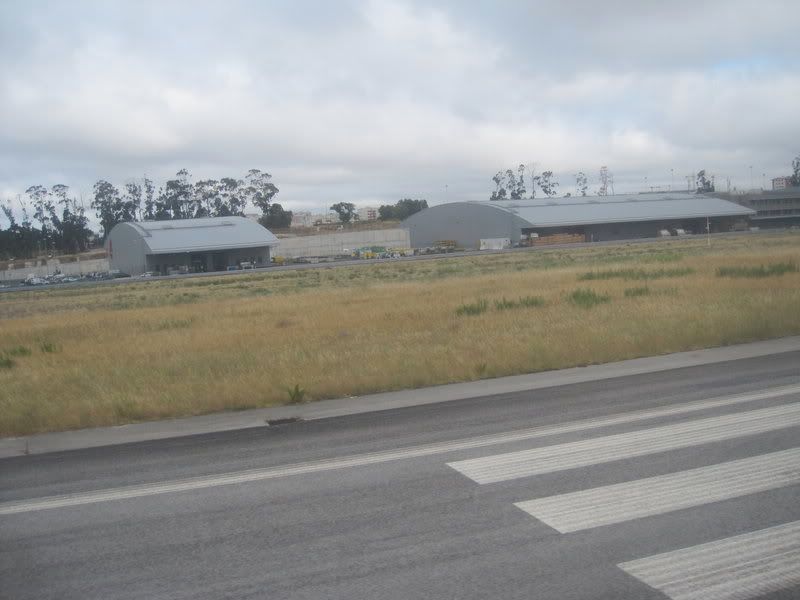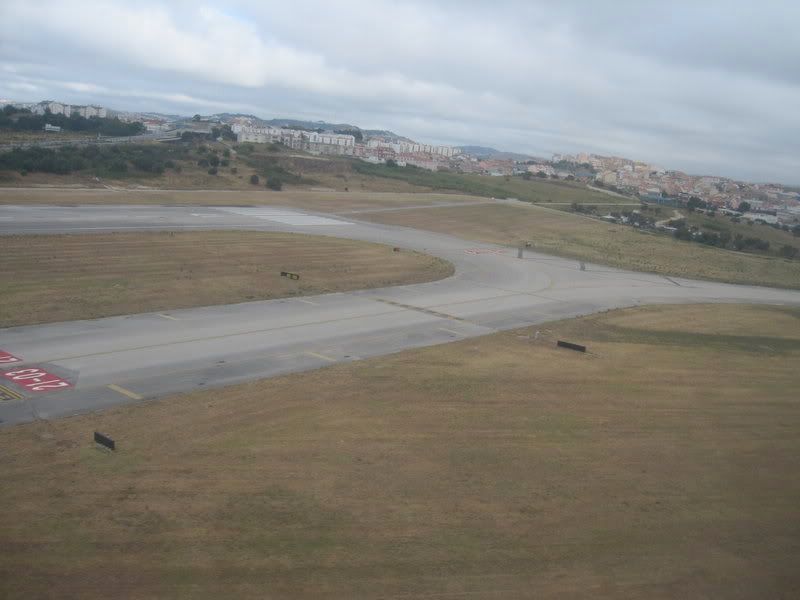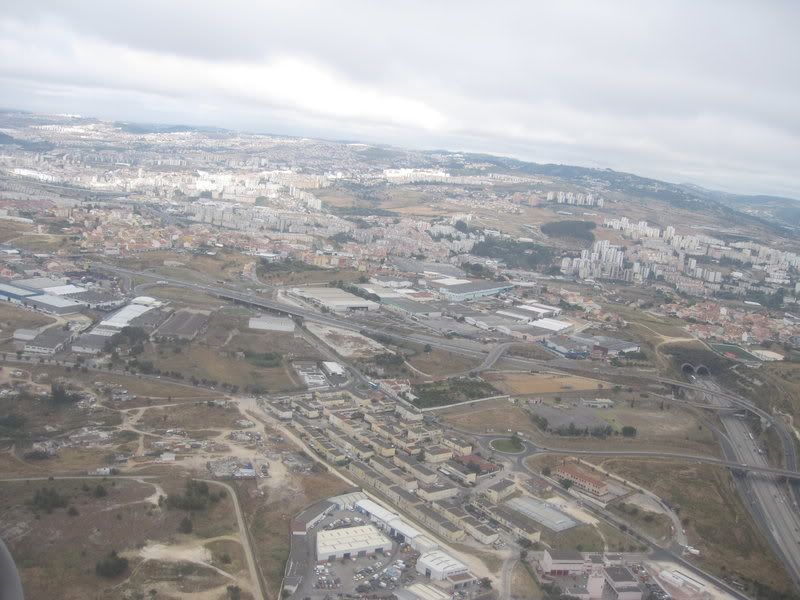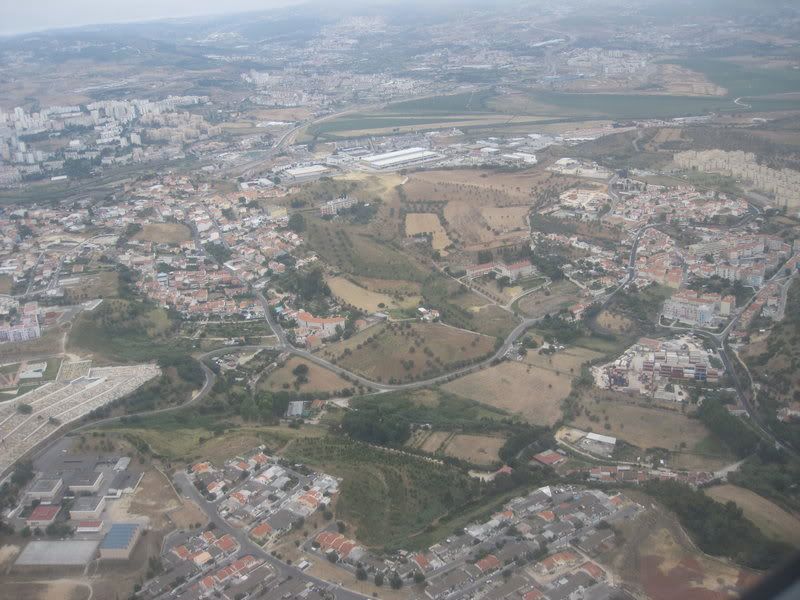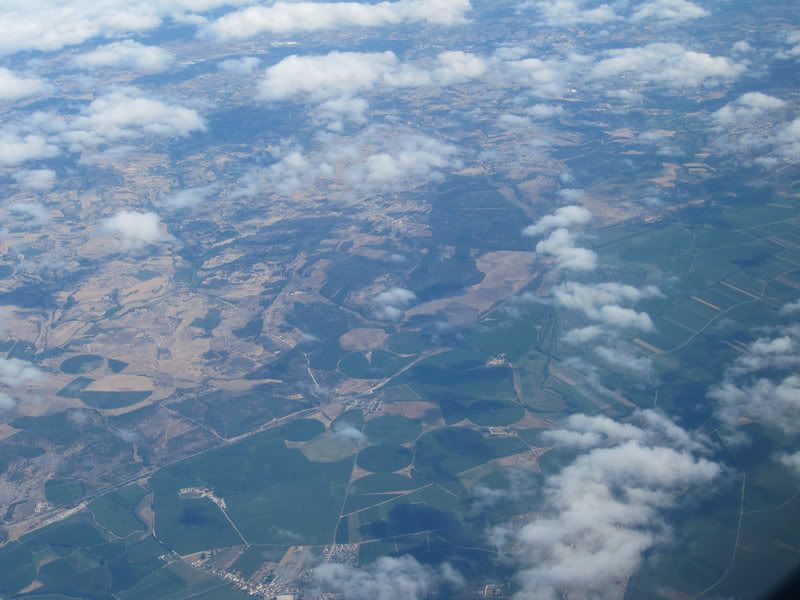 Pretty soon after take off the service starts with the hot towel: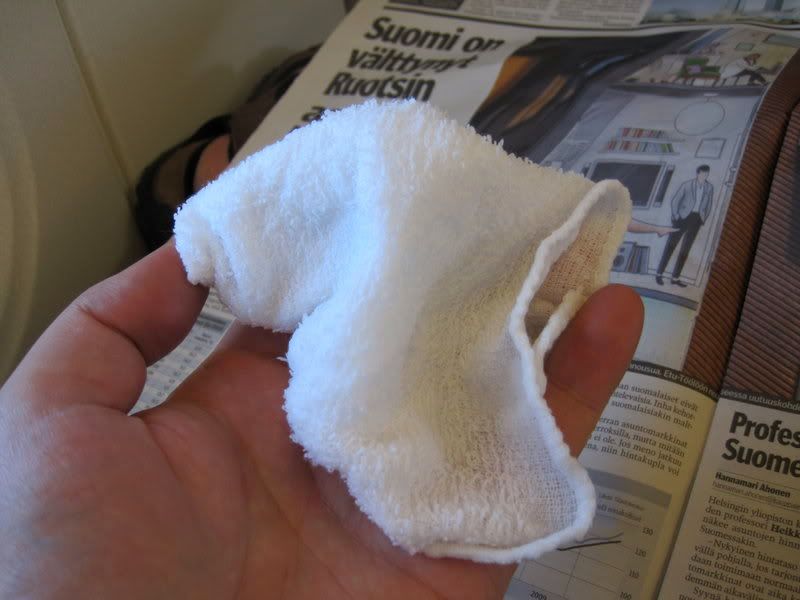 I keep watching the beautiful scenery of Portugal and Spain: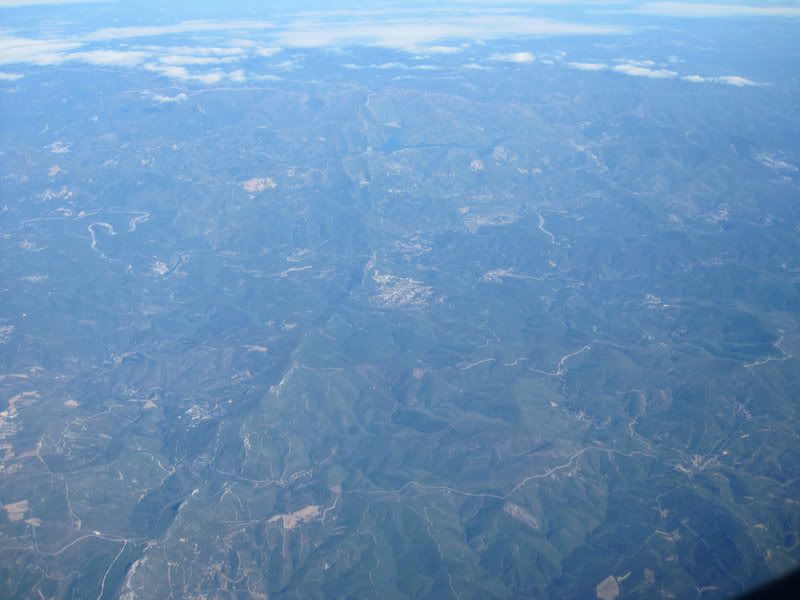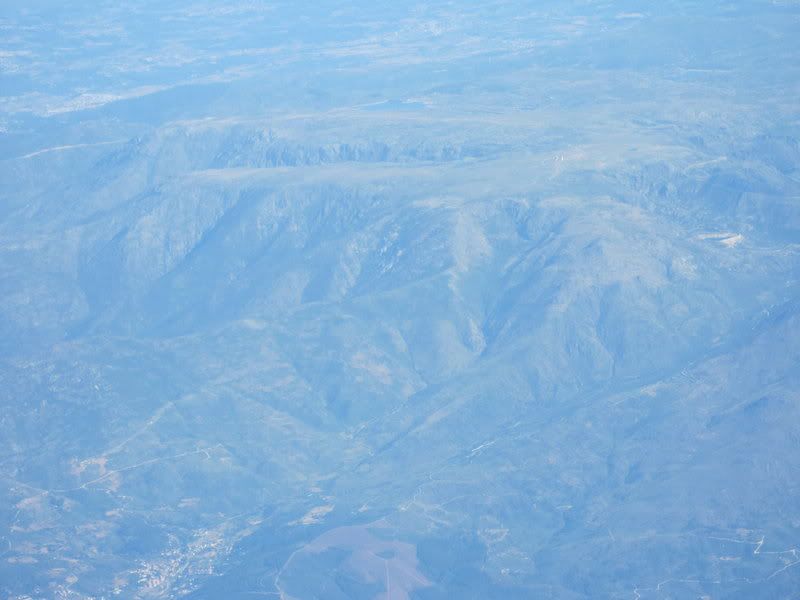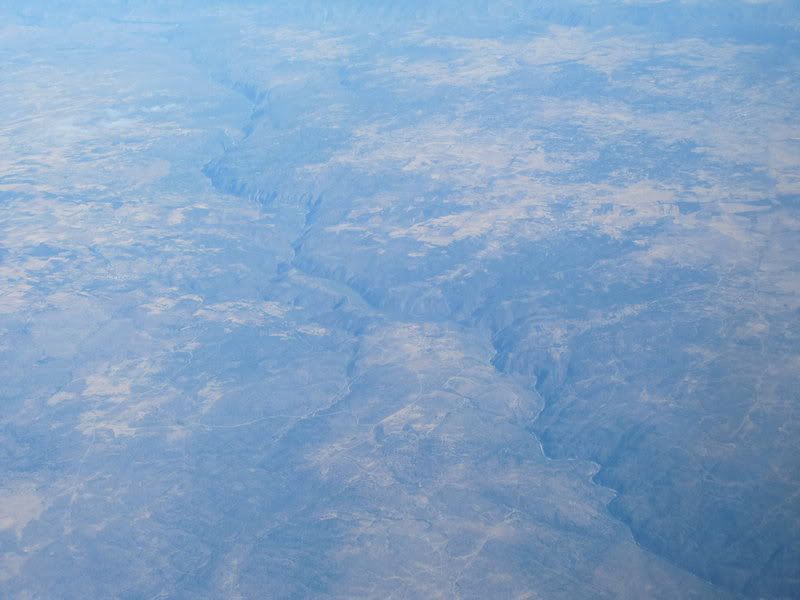 Finally the hot breakfast is served: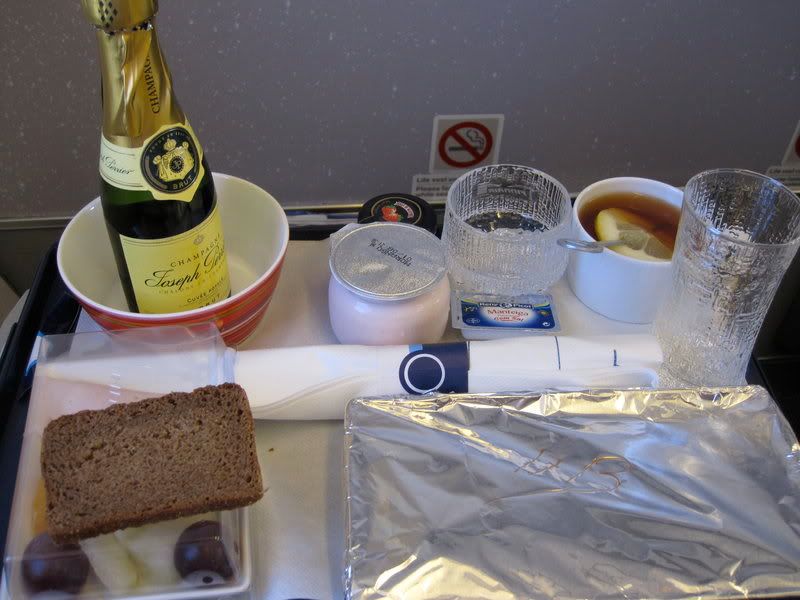 On the tray there is a fruit salad and a tub of youghurt plus some condiments and the actual breakfast:
...which turns out to be a major disappointment. Pretty much the only edible things are the single sausage and the potato thingy looking like a flower. The weird large lump in the middle is actually scrambled eggs, even though it has the appearance and texture of oatmeal - and the taste is horrible as well, the reheating certainly didn't do it any good! The bacon is also very dry and bad tasting - I'm not a big fan of bacon even when it is good and this certainly isn't, so one nibble is enough for me.
I've had some good breakfast on AY business, I particularly remember one with lots of fried potatoes and sausages, but I don't know what happened today. Maybe it is because this meal was catered at HEL the previous day and only served some 36 hours later.
Some champers (ahh, the breakfast of kings!) and tea with lemon goes nicely with this breakfast.
My seatmate is showing all the symptoms of a heavy hangover, he proceeds to have a bottle of red wine and G&T with his brekkie, and falls asleep right after devouring them. Every now and then he wakes and requests another G&T, downs it and nods off again. During one of these moments he tries to talk to me but apparently he (re)started the drinking already in the lounge as I have a hard time understanding anything from his slur - pretty much the only things I gather are that they are celebrating some sort of deal they made for their company here. For whatever reason only two of their rather large entourage are in business, the rest of them are back in economy. Most of them look to be more or less in the same condition, though.
A dam somewhere in Northern Spain: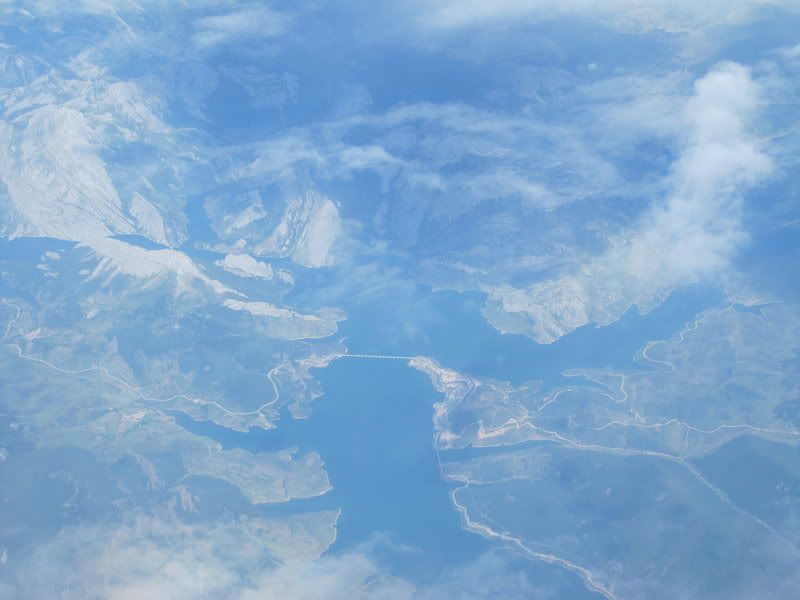 Right after entering the Bay of Biscay it gets overcast, staying very much so until somewhere north of Amsterdam when there are again some nice views. Our route so far: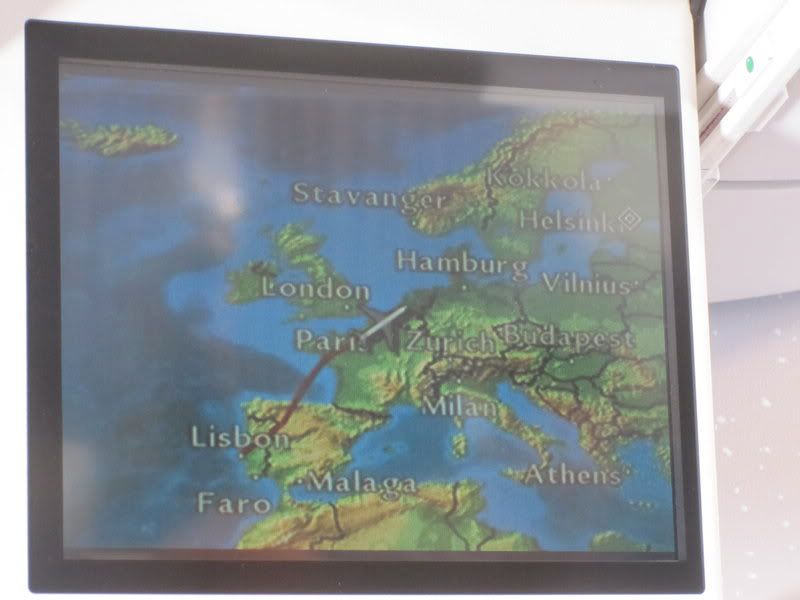 Looks like Groningen: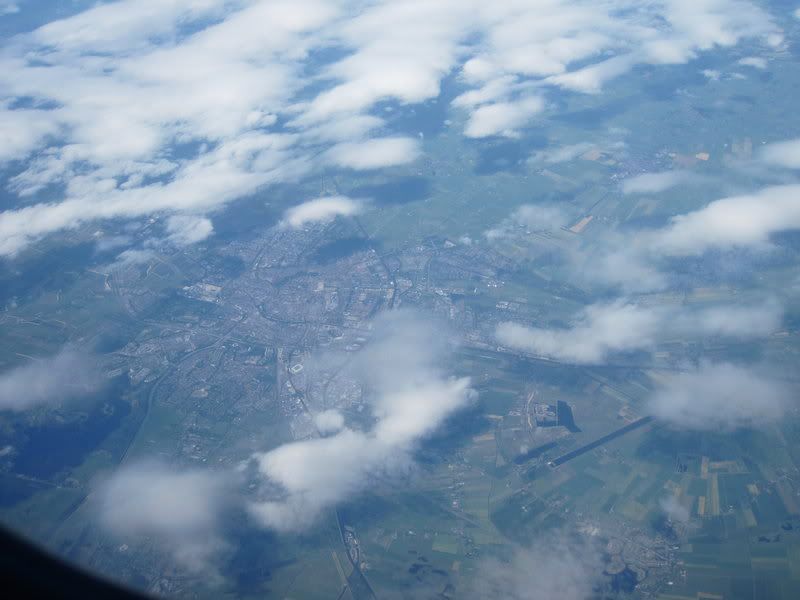 Eemshaven: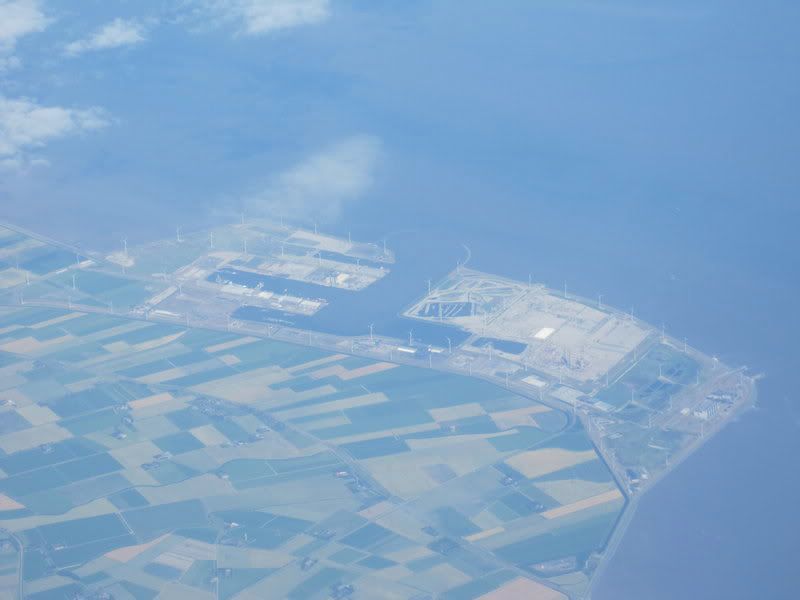 The East Frisian Islands belonging to Germany: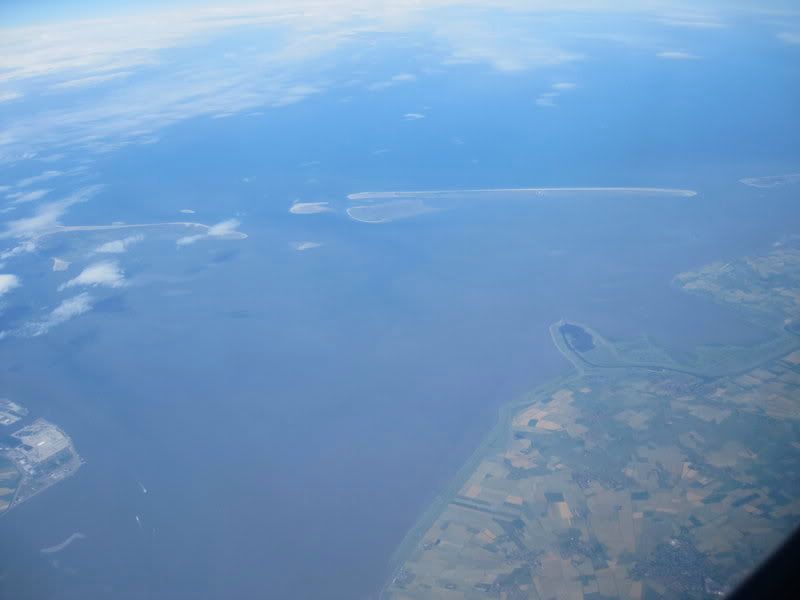 Nordeney: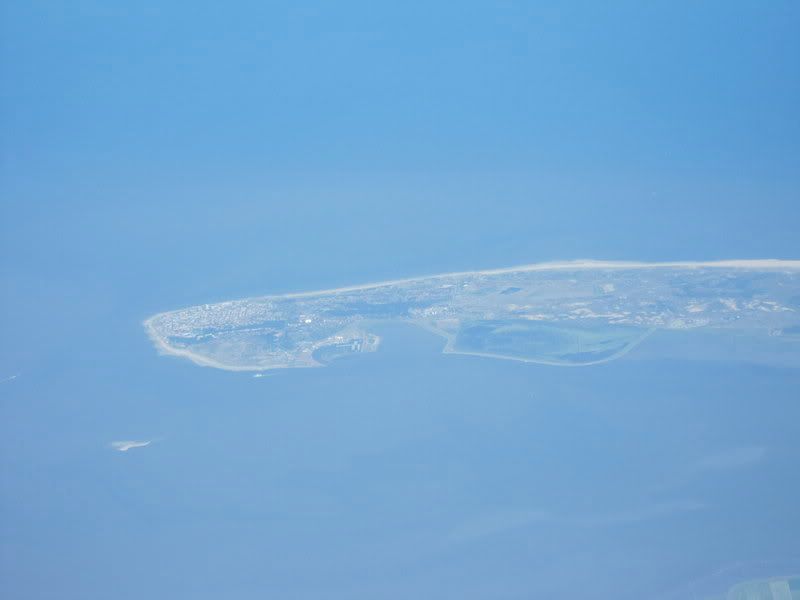 Baltrum: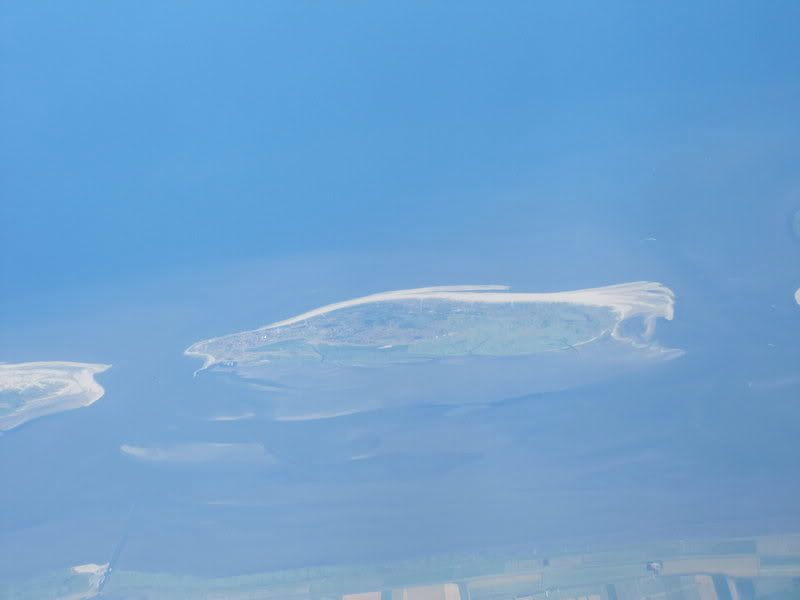 We flew parallel to this Norwegian 738 for a long time, finally when entering the Danish airspace it started descending, most probably landing at CPH: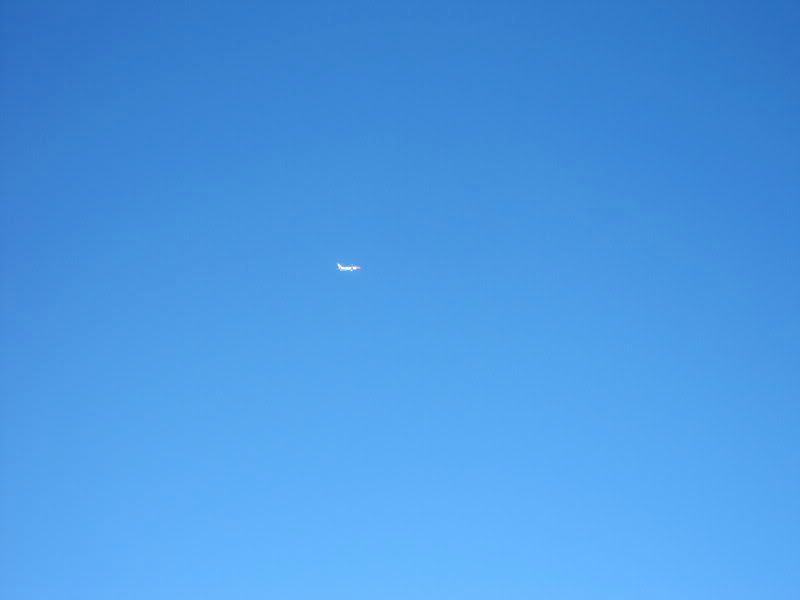 Flensburg in extreme northern Schleswig-Holstein, near the Danish border: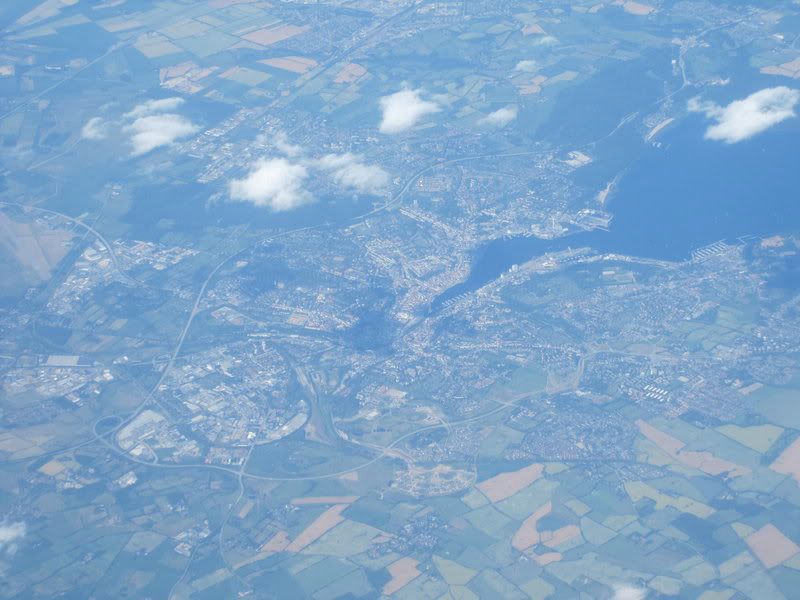 Sønderborg in Denmark. SGD airport, the home base of Danish airline Cimber Air is visible on the top - I'll be flying out of there in October: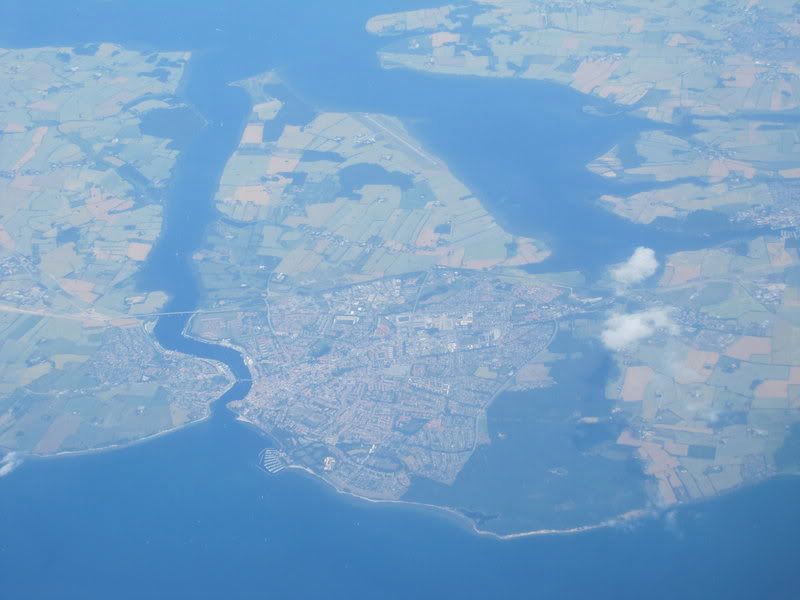 Kalundborg Fjord on the island of Zealand, Denmark: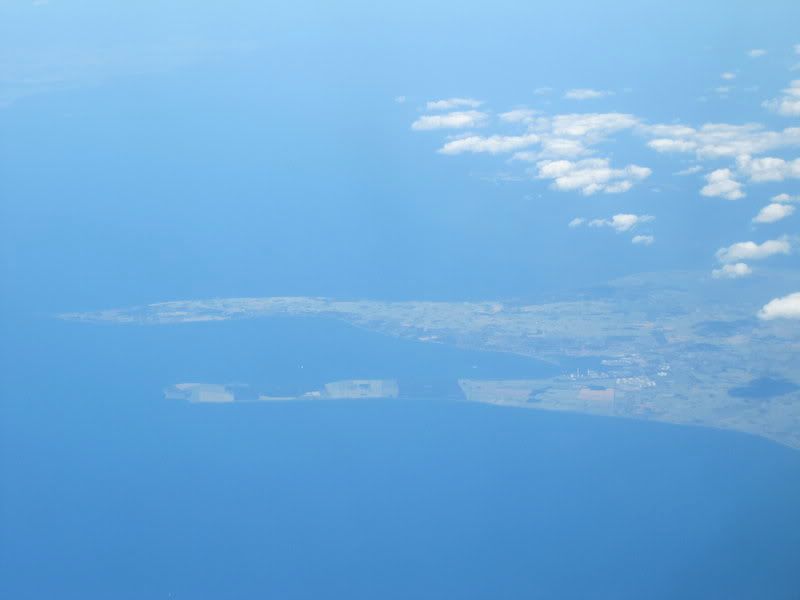 The town and port of Frederiksværk: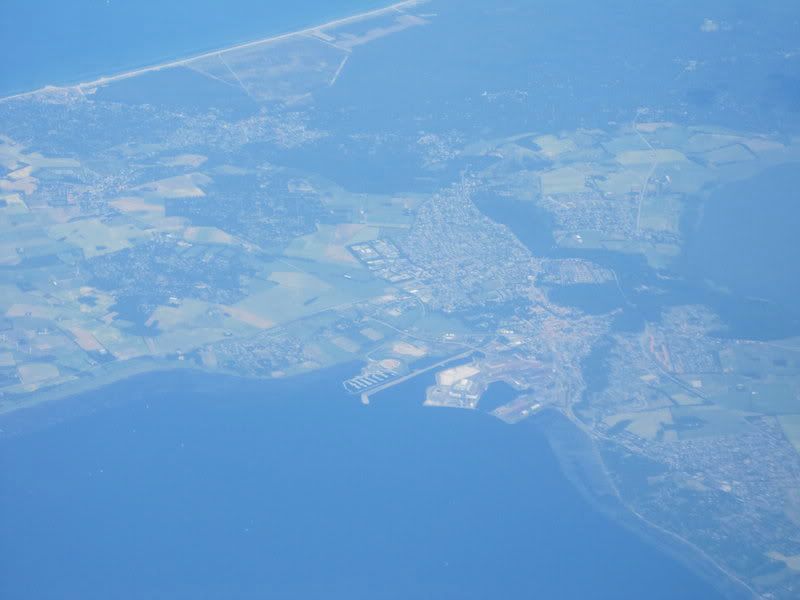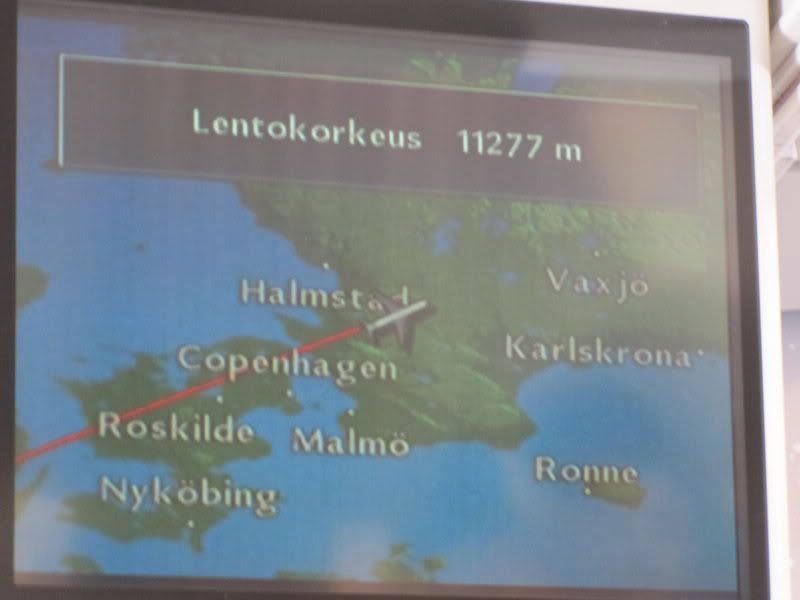 Leaving Sweden for the Baltic Sea, soon home: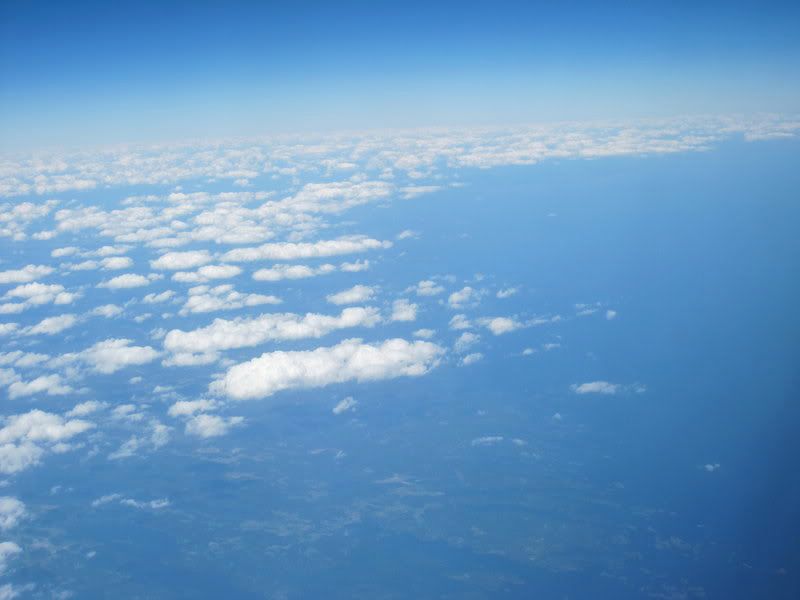 During the flight I manage to keep myself well hydrated with Champagne, what else - the tally comes to four mini bottles by the time we start our descent 250 kilometers out of HEL, around 3h30mins after take off.
AY displays connecting gate information on the drop down screens - a very nice feature. Too bad they are having some encoding issues today:
Top