Hello Everyone and welcome to my latest trip report.
23/6/10 - 7/7/10
I warn you, this one is quite long, featuring photos of the cabins on the Air New Zealand 777-200ER, Air Canada E190 and United 320, Koru Clubs, United Red Carpet Lounges and the Eva Air lounge in SFO (contracted by NZ). I have also included some photos of my activities around Seattle which should interest those who frequent this forum, including some of the Boeing Factory and the Museum of flight.
BACKGROUND
This trip is a family holiday. The winters in NZ can be a little cold and dark, so we usually like to escape most years for a Couple of weeks. Last year we did a mid-haul trip to Tahiti and its surrounding islands, and enjoyed our flights on the 763ER which had been refurnished. This year we decided to visit the pacific North-West, although this is my 3rd time to San Francisco it was my first time to Seattle and Vancouver. So the plans began to fall into place. While deciding what to do i booked on a decent AirNZ deal flights from CHC-AKL-SFO, returning SEA-SFO-AKL-CHC on the Air New Zealand website. I booked my companions in Y+ with airpoints upgrades to J, and myself in Y with requests to use my airpoints Gold upgrade vouchers up to business on the way back, and points on the way over. More on this later. We then decided that we didn't have enough time to drive from SFO-YVR so I booked flights on the AC E-190 direct service.
FLIGHT 1
The first flight (CHC-AKL) was nothing irregular, another good 733 flight, so I won't cover this in my report.
FLIGHT 2
23rd Jun 2010
NZ 8
Route: AKL-SFO
Airframe: 777-200ER
When we checked in at Christchurch we quickly found out that the chances of us getting any upgrages were slim with the flight oversold and every seat taken. So economy it was. This didn't worry me at all as I'm short enough (1.73m) to find the Y seats on the 777 quite spacious, with ample legroom shown by the fact that i could fully extend my legs in front of me. For the first time on a long haul service (apart from an EK a345 European flight a few years back) i decided to take the isle. This was as it is dark the whole way to the USA, and the aisle would allow me to get up and get drinks / food etc with relative ease. The takeoff was smooth, and in typical 777 fashion- very powerful, i just adore the sound of those RR engines roaring down the runway, earning the right to be in the sky.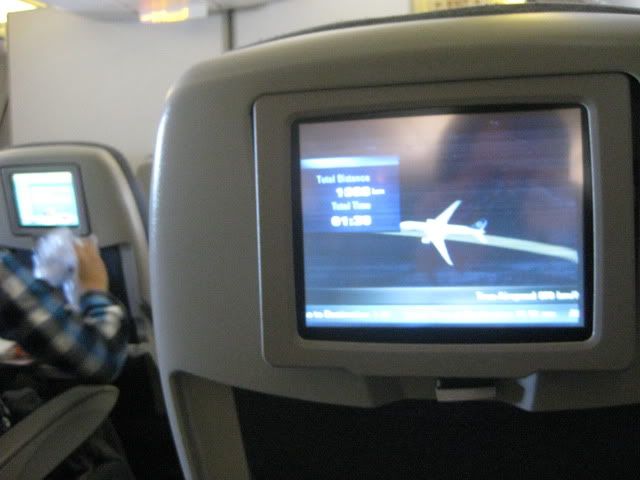 Dinner Was served shortly after takeoff. I opted for the chicken curry, which was delicious. I washed my meal down with an orange juice and a boody mary cocktail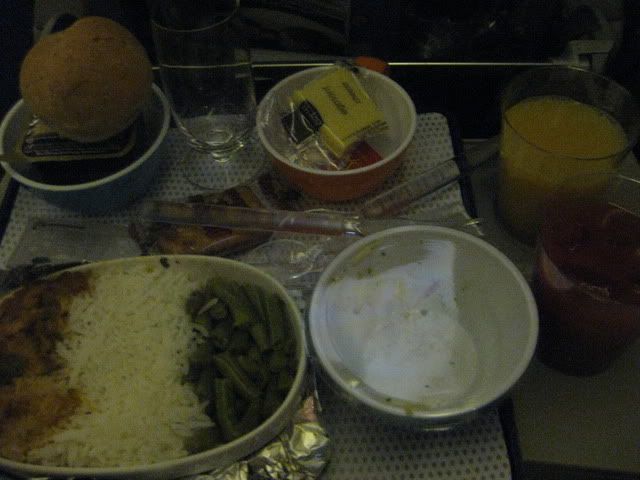 The flight proceeded nicely after dinner, i managed to get 3 or 4 movies in before going for a wander around the plane. I found a small self service snack bar at the back economy galley, offering crisps, biscuits and all the usual drinks. Great for economy! The crew were friendly and always willing to chat. Throughout the night, the crew came through the cabin offering iced water scented with lemon (fresher and cooler than those plastic bottles served in the premium cabins).
About 2 hours before landing the breakfast service commenced, I opted for the hot option, which filled me up nicely.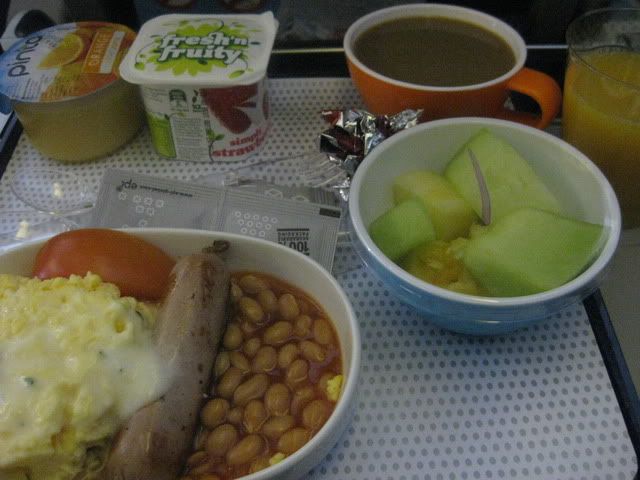 We then proceeded our decent into SFO, does anyone know if Air NZ is still doing continuous approaches into SFO? we didn't seem to hold at all?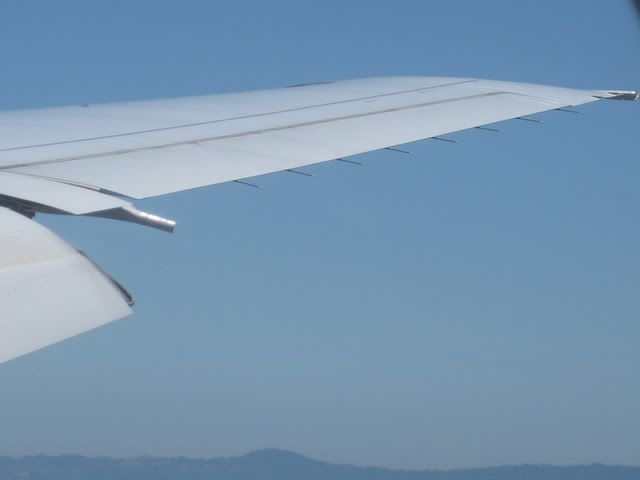 Our 772 after landing, taken from the train to the rental car depot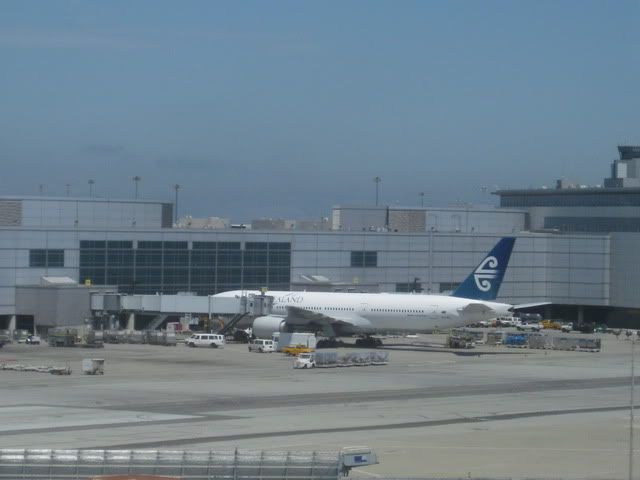 Overall, i was very impressed with the Y product on the 777, as i have been in the past. While i feel that the NZ service is very casual compared to the likes of EK and SQ, the 9 abreast makes it more than comfortable. I will be interested to see if Air NZ's reputation within the market changes with the introduction of the 10 abreast 773ER seating. If this means that the price of the Y+ won't increase (which is why i suspect they are going 10 abreast), then i'm happy.
FLIGHT 3
30th June 2010
AC563
Route: SFO-YVR
Airframe: E-190
When booking this flight the prices on UA and AC were the same, so it was a no brainer to go with AC, as UA operates the a320 (which I would fly on SEA-SFO), and I had not travelled either AC or the E-190 before. Check in went smoothly in SFO, with the agent very friendly, joking with us. We then proceeded to the UA lounge in T3. Despite what i was expecting, I found the lounge very pleasant. The dark brown leather seats were comfortable and the atmosphere altogether more elegant than the Koru lounges, but not as much so as EK (my favourite lounges). I also visited the UA international lounge, but found the T3 one to be much better. The food offerings were minimal, but cheese, crackers, yogurt and chocolate biscuits, and cranberry juice was sufficient for our noon flight. With about 20 minutes to go before our flight we headed back to the gate. We then boarded when the called for business class and Star Gold passengers. The Y seats on the E190 were fantastic, as wide as the Y+ seats on Air NZ's 744 Premium Economy, with legroom close to that of space+ on NZ's 733 and a320 fleet, and all for a regular Y fare! The entertainment system was great for such a short flight, and I enjoyed my documentary on the B-17 production during the war. Up to 14-16 per day at one point! I want 14 Dreamliners per day Boeing!
After check in with the friendly AC staff, I headed to the United lounge: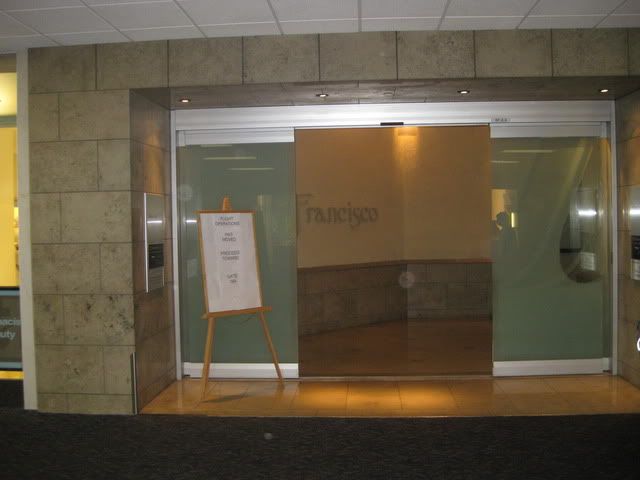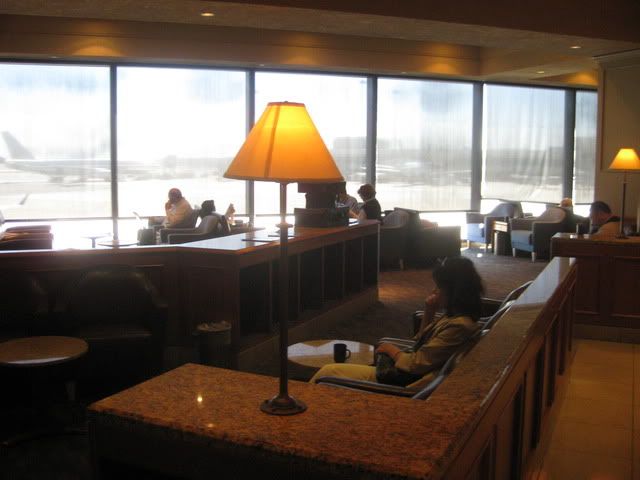 I found the lounge to have a nice feel, much better than what i was expecting after all i've heard about United on this forum. Very comfortable brown leather chairs, personally i find these better than NZ's 'beach' chairs.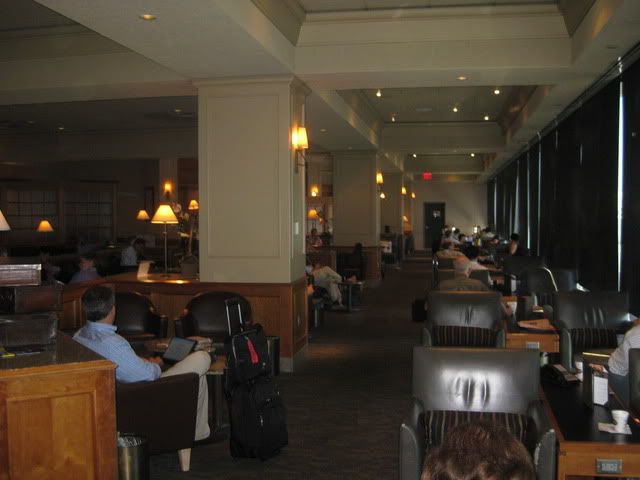 The Bar where drinks are sold: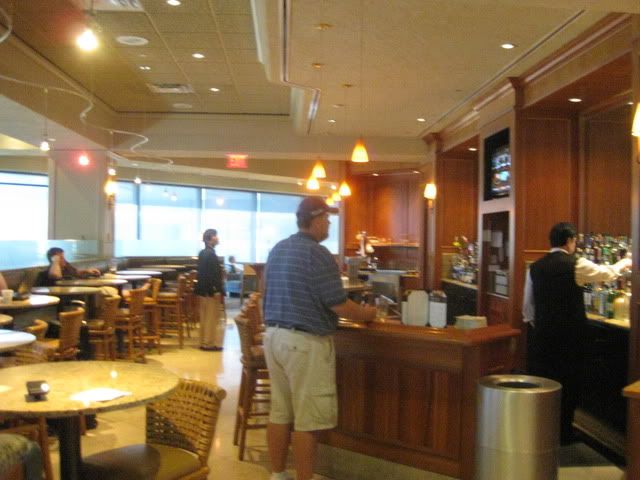 Self service area: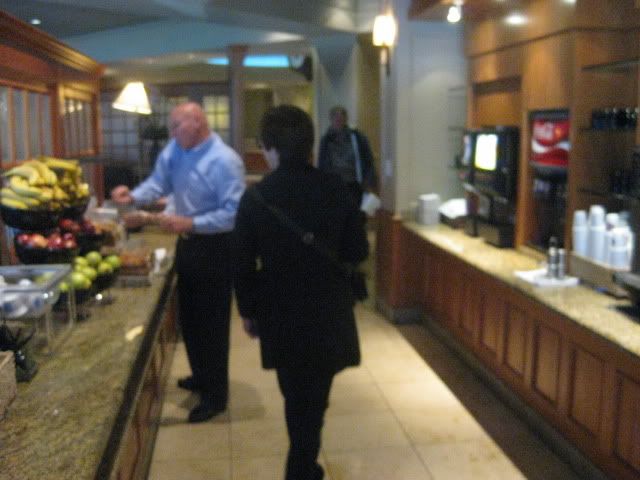 My selections: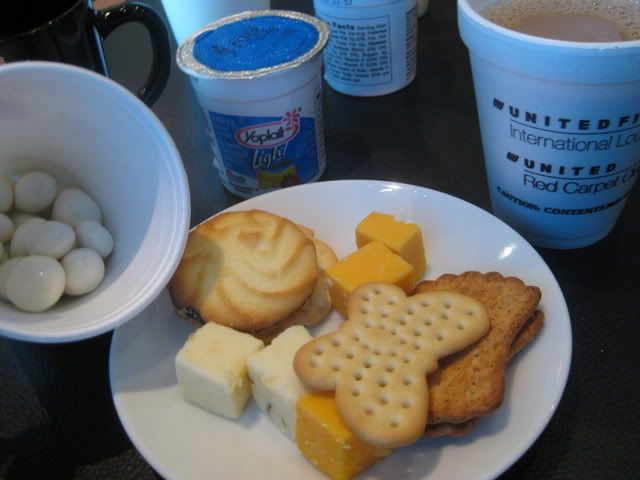 View from the lounge:
Our E190 arriving: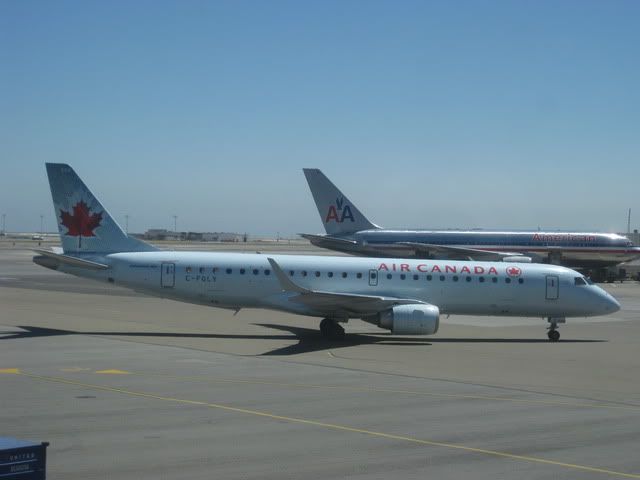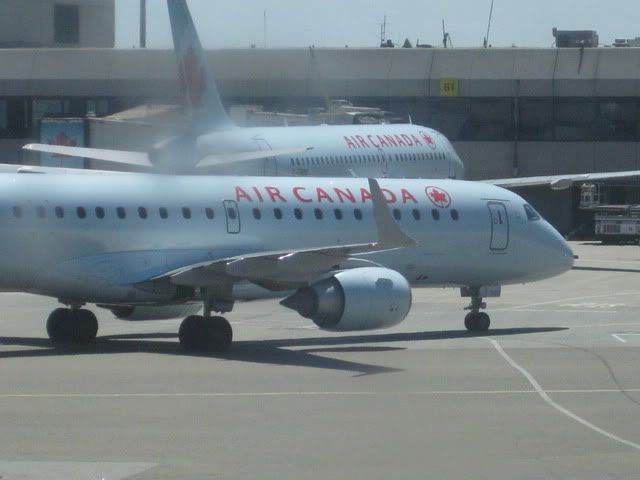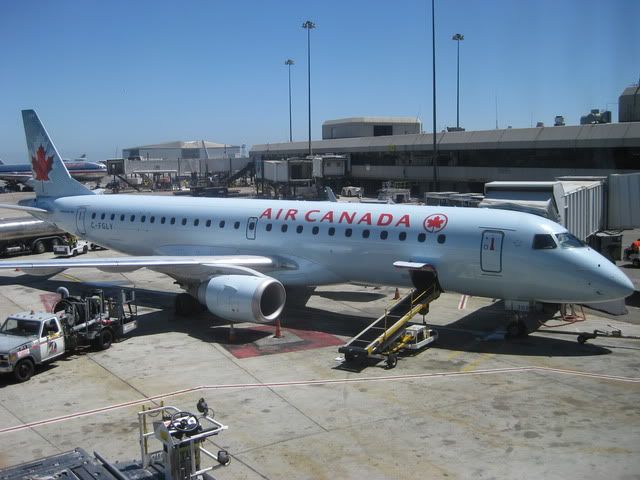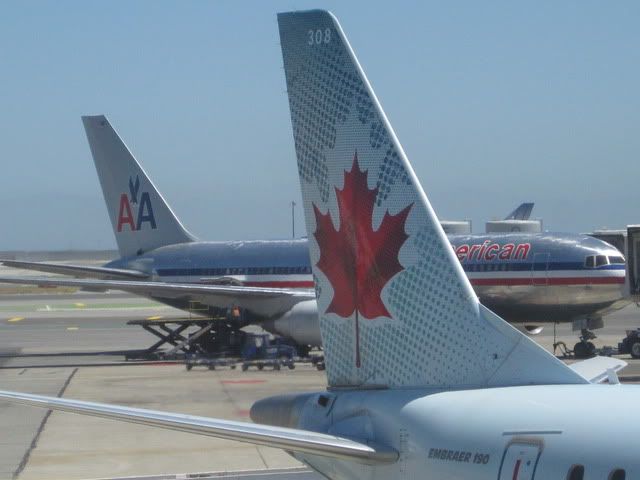 Time for Boarding, we boarded when star gold was called.
Long thin Cabin:
Good seat width, and above average leg room:
IFE: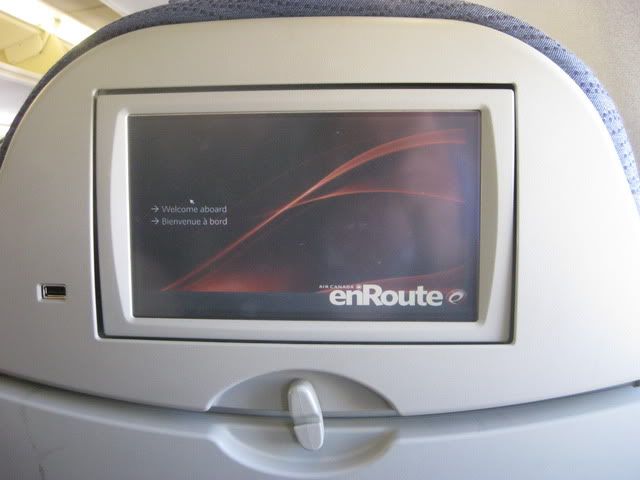 Southwest activity: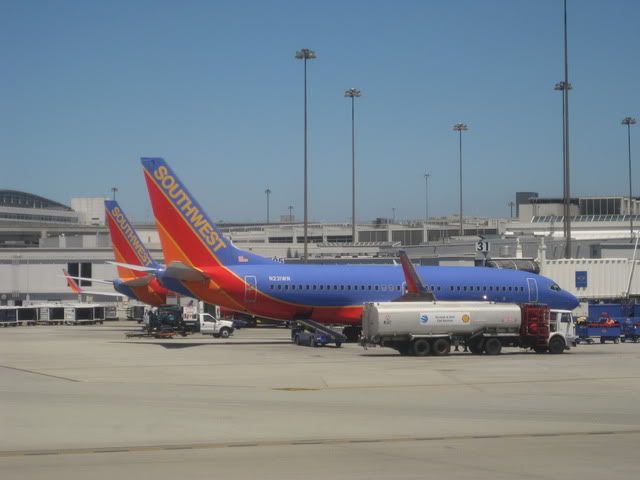 Virgin America- Join Star Please!!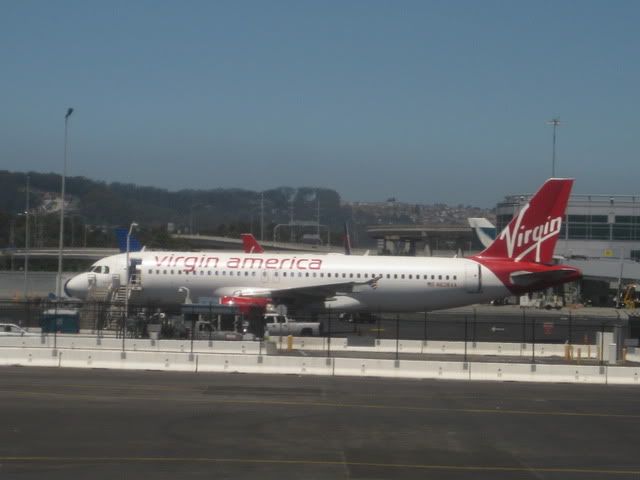 During the flight we were offered drink, I chose the coffee. The AC flight attendants were great, spending time to get to know some passengers, and one FA was laughing so hard as she joked with us, that she had to hold the back of our seat to remain standing! Classic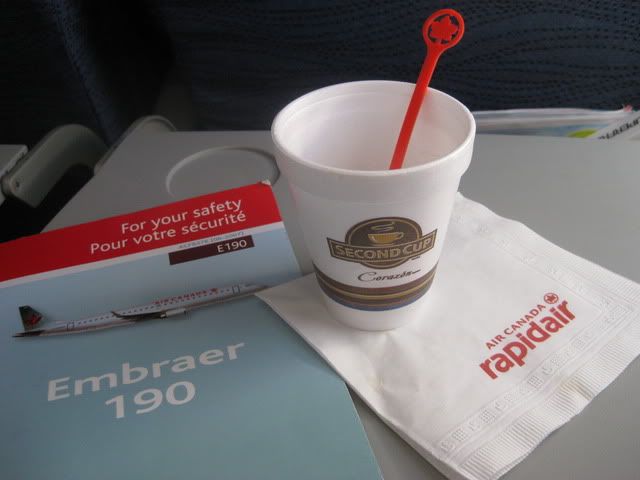 Crater Lake under the wing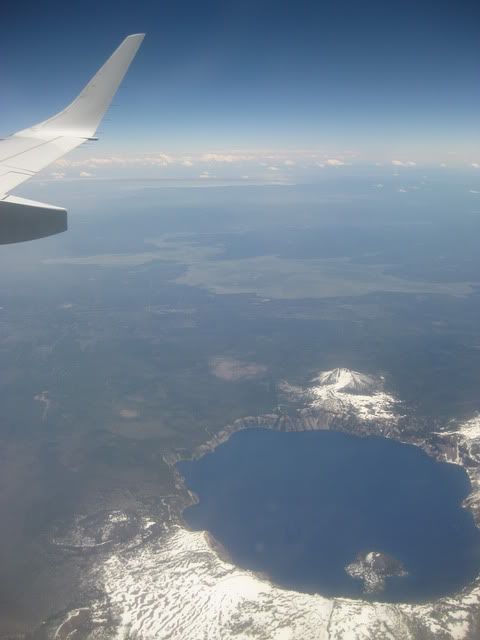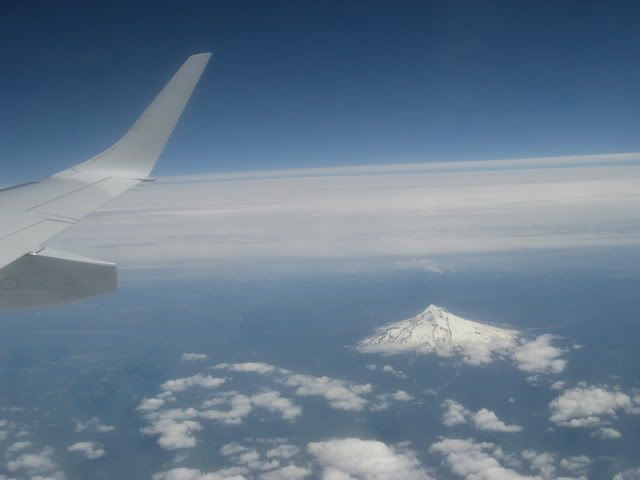 Mt Rainier, we eventually drove down here from YVR, before going back up to SEA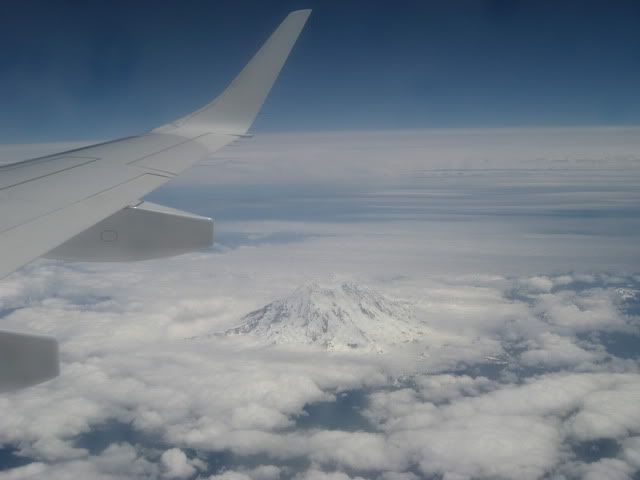 Vancouver before landing
After touchdown
My conclusion of AC is entirely favourable, fantastic airline, I hope it remains around for long to come. Good hard product, excellent crew and good food offerings (as per market industry standards).
FLIGHT 4
7th July 2010
UA 204
Route: SEA-SFO
Airframe: Airbus a320
Isn't it ironic, that the one Airbus flight in this entire trip had to depart from SEA, the home of Boeing. Only one day earlier our tour guide at the Boeing factory had told us to insist that if "its not Boeing, i'm not going"!! Well when i booked this service it was initially scheduled t be a 752, so i was disapointed to hear from NZ after 2 schedule changes that it would be an airbus. Still, worse can happen i guess.
Check in went well, after checking our bags through to CHC we went to the United Lounge.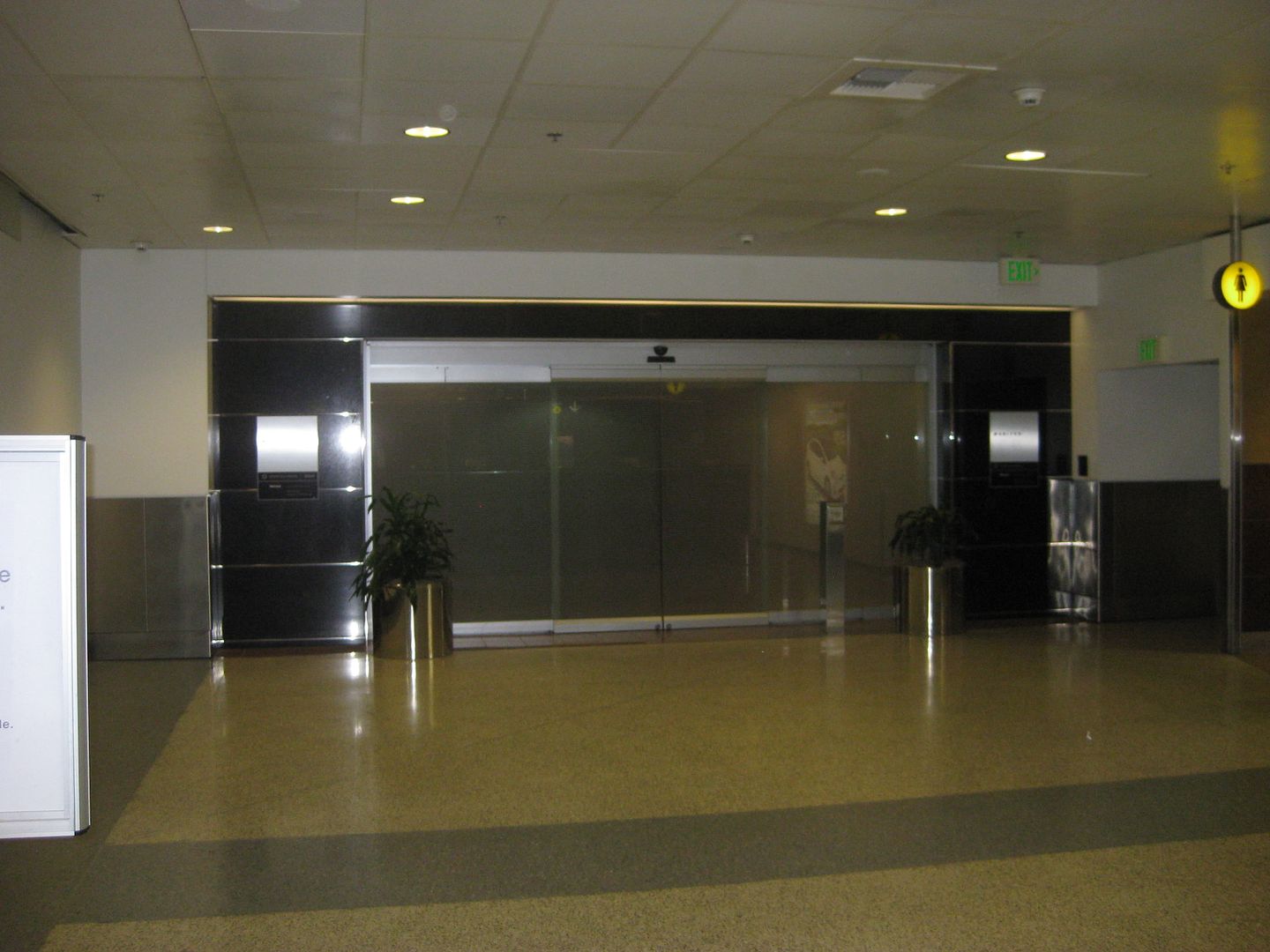 View of lounge. More dated design than at SFO, and no windows!! In the distance you can see the bar where the cold drinks are served including the complimentary ones (no soda fountain here!)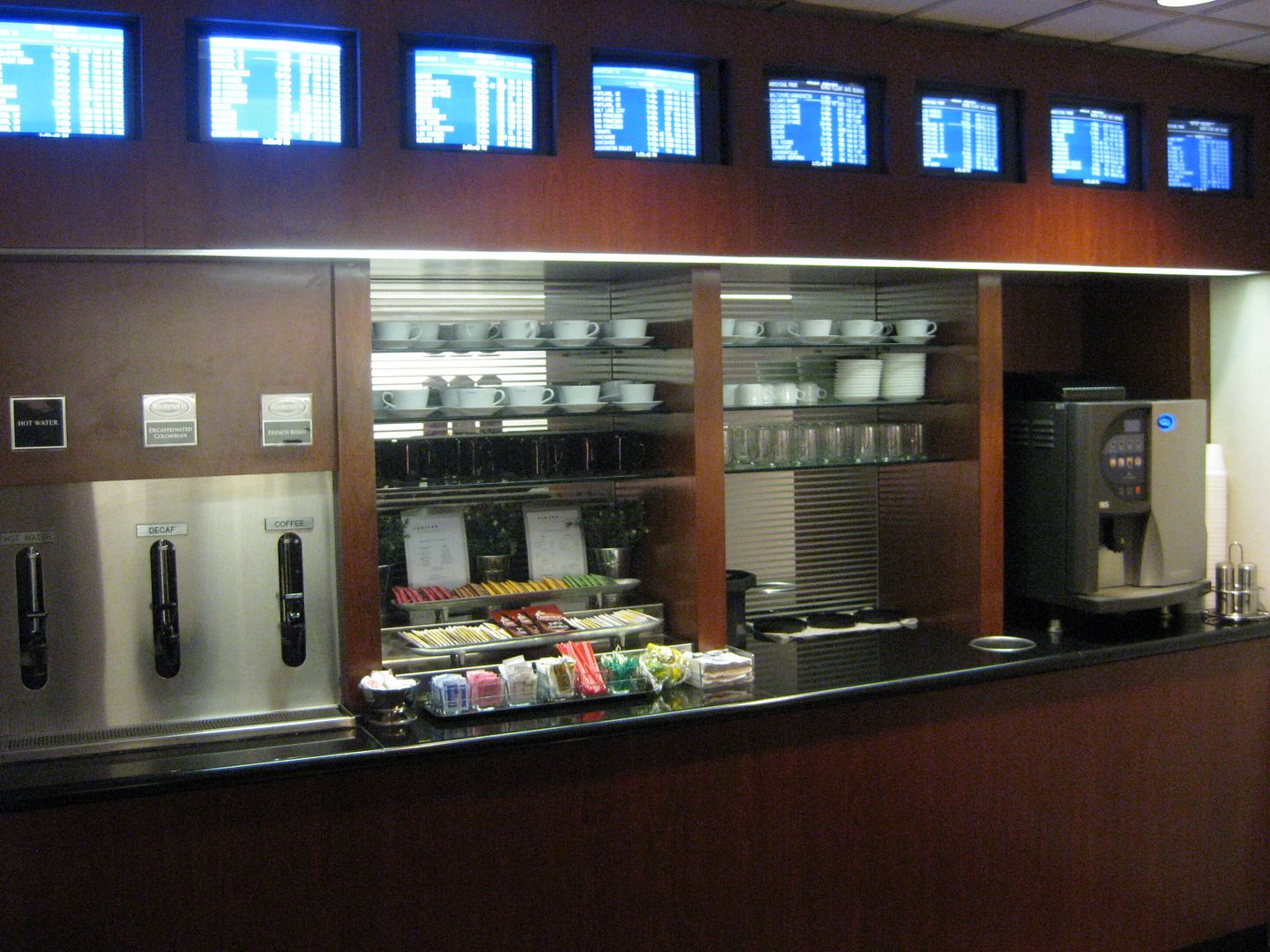 Snacks:
After a refreshing Cranberry Juice i proceeded to the holding area so as to watch some aircraft take-off and land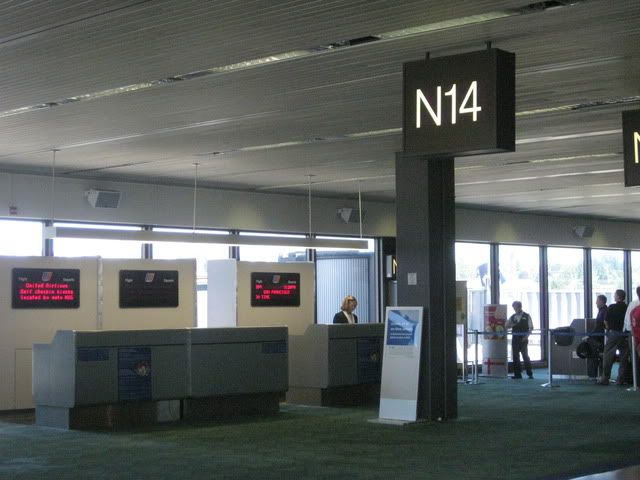 Our a320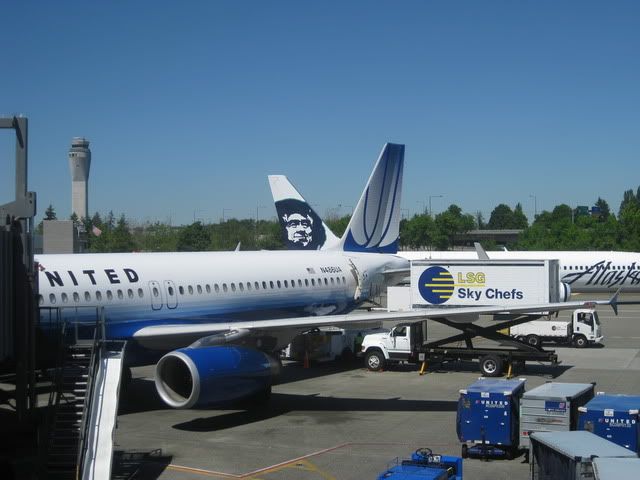 Onboard entertainment consisted of a documentary on the flag which was interesting. I also loved UA's channel 9, where i could hear all cockpit radio transmissions with ATC, as i have done a bit of flying in my spare time (PA-38), i found the conversations very intersting. I'm suprised that United's the only airline to offer this feature.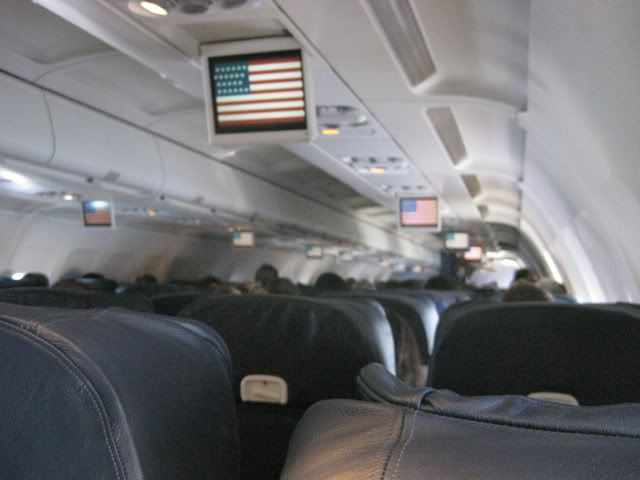 Service was once again a coffee:
Landing at SFO: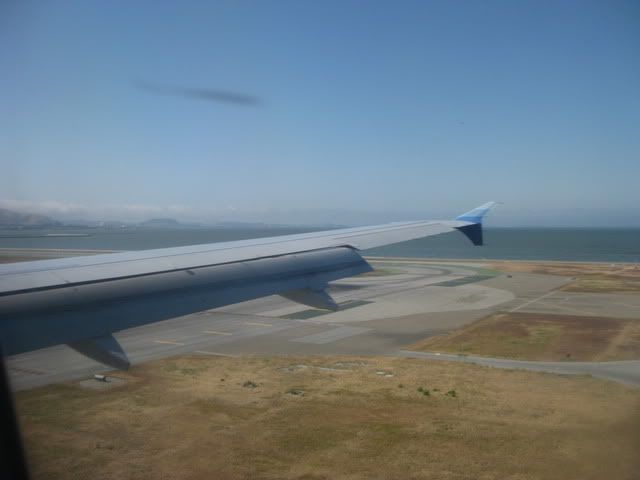 After landing at SFO we taxied to T3, from here i could simply walk along a walkway into the International terminal, no need to clear immigration or security. For this reason United is a great choice for connecting to an international flight at SFO. Once again i found the UA crews to be friendly and efficient, with a more natural form of service than the 'plastic' 'robotic' feel I sometimes get from Asian carriers. I would happily fly United again.
FLIGHT 5
7th July 2010
NZ 7
Route: SFO- AKL
Airframe: Boeing 777-200ER
After out United flight from SEA we walked straight to the United lounge in the International terminal thinking that this would deal to the Air NZ flight. However, I was advised at reception that Air New Zealand now uses the EVA Air Lounge 'around the corner'. This surprised me as they arn't in Star, and as far as i know, have no other ties with Air New Zealand. So we proceeded to the EVA Air Lounge, and at reception asked the status of our upgrades. There were 2 seats left in J, which my 2 silver companions got, and myself (gold) took a seat in premium economy (a little strange as gold should rank above silver?). This didn't worry me as I had been so comfortable in economy on the way over, and wasn't really tired, so the seat would be more than enough for me. I could also wander between the J and Y+ cabins to keep in touch with my companions. Also, i was keen to try the Y+ seats before they are phased out with the role out of the new cabins on the 773ER. The lounge agent advised me that I was no 1 on the waitlist for an upgrade to J, but this didn't eventuate.
Lounge entrance in SFO:
Seating area: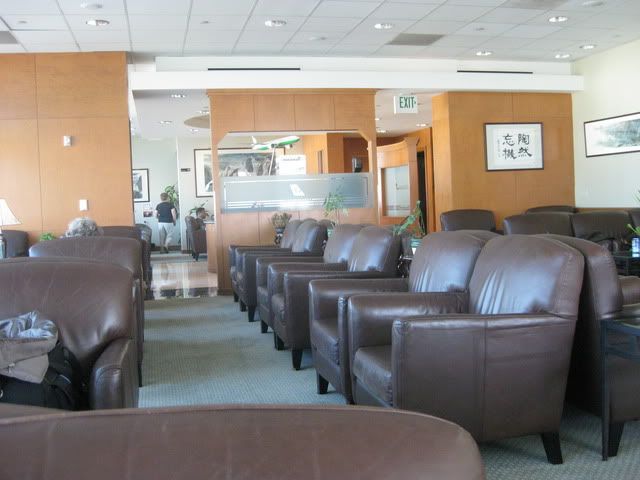 This shot came up a bit dark, it doesn't do justice to this excellent lounge, the best of my trip, which had control tower like views across T3 and the International terminal.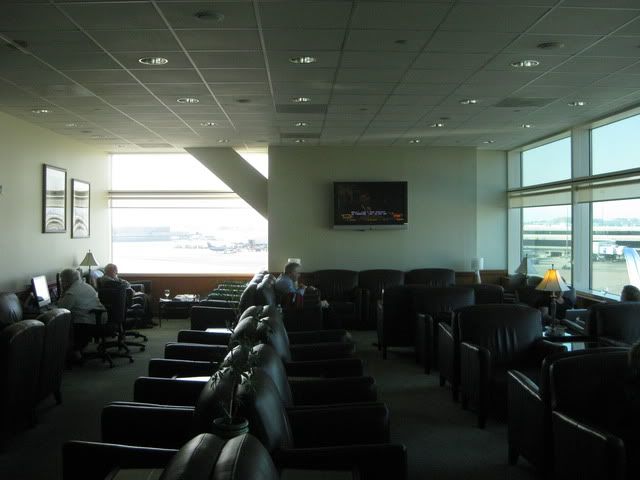 I enjoyed the food on offer, which included various hot and cold dishes. I exited the lounge at one point and went and had a look around the United lounge, which was rather dated, and much worse than the one in T3. I smiled as i watched some unfortunate LH pax eating raisins out of plastic cups while drinking orange juice, a vast contrast to the EVA lounge. Does anyone know why Air NZ switched to the EVA Lounge? Quality? Why not the SQ one? (was just opening for the evening as we left).
Buffet with 777-300ER model:
Some tasty Asian food:
I then left the lounge, and headed to the plane. Here is an Air China 744: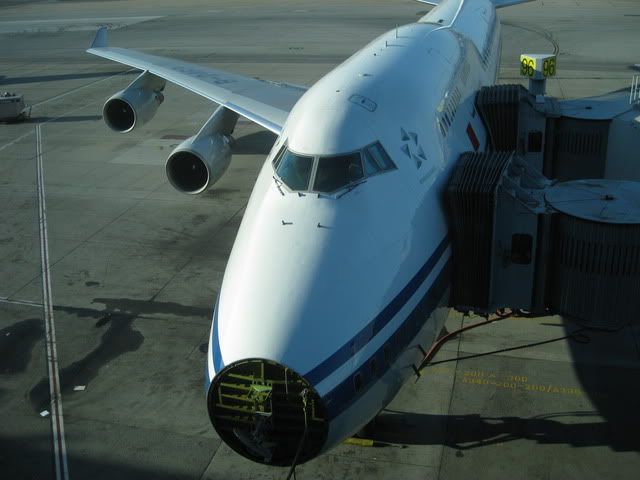 Also at the terminal were various United 772 and 744's, a LH 346, LX 343 and SQ 773ER among others.
Our 772 at the same gate that ive found it at on my past 2 SFO-AKL flights in 2005 (744) and 2007 (772).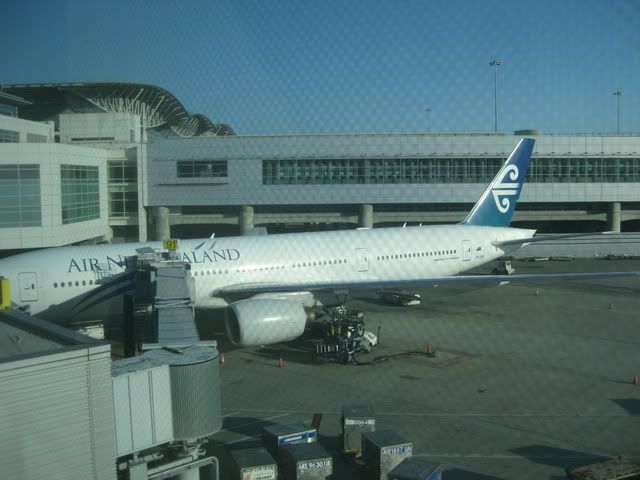 Boarding went well, with a warm welcome from the crew. One steward even offered to take photos of me in my seat, which i allowed. Here is my allocated Y+ seat, 23K the best Y+ seat on the plane, along with 23A,B,C and 23 H & J. The offer unlimited legroom, infact it is so great that i had to unbuckle myself to reach my magazine pocket on the bulkhead. Amenity kits were provided with socks, eye shades, ear plugs etc. Exactly the same contents as those in J with the exclusion of the pen. The food was also exactly the same as J, although the Menu cards were slightly different.
Seat: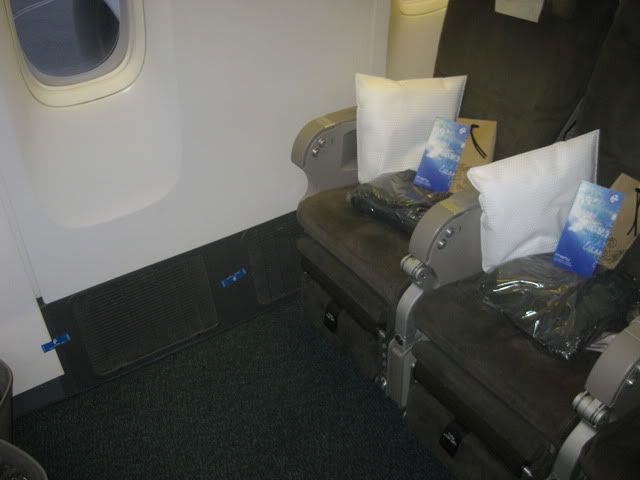 Unlimited leg room: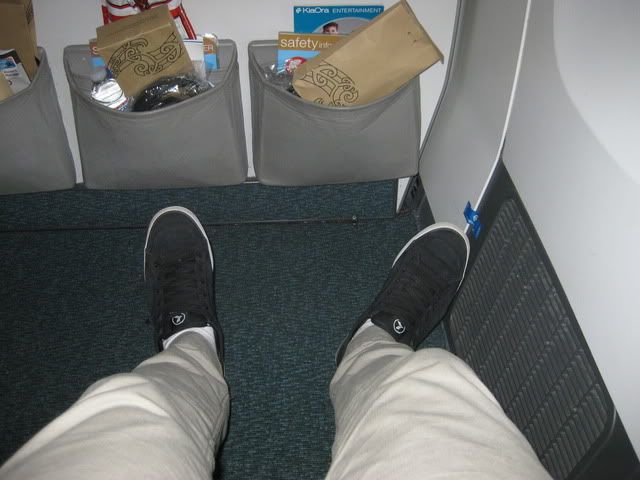 The cabin wasn't full, so after takeoff i moved as it would be dark all the way to AKL, so nothing to see out the window. This allowed the couple sitting next me to spread out a little width wise, and the same for myself. I moved to the middle bulkhead seat 23D. The leg room was probably 30cm less, about the same as the bulkhead rows of space + on the 733. This actually worked out quite well as i could fully extent my legs and rest them on the magazine rack, and recline and have a good 160degree semi lie-flat seat! This seat thus ended up being quite comfortable.
After Takeoff, the dinner service commenced:
The starter was seared tuna, devine along with lobster dressing and various breads.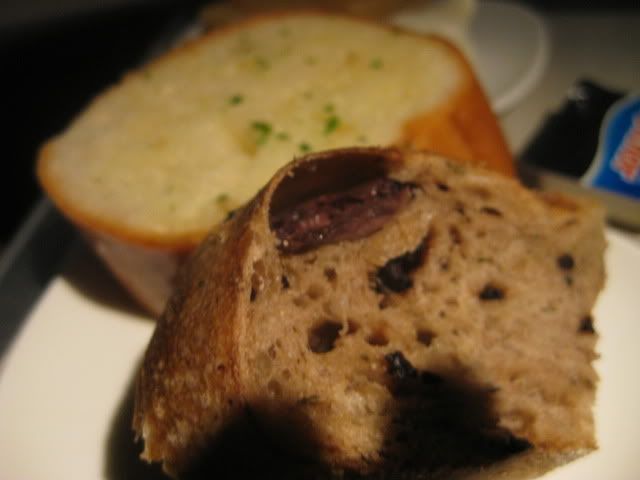 I usually favour the seafood option so i went for the Pacific Pan seared Snapper, which was excellent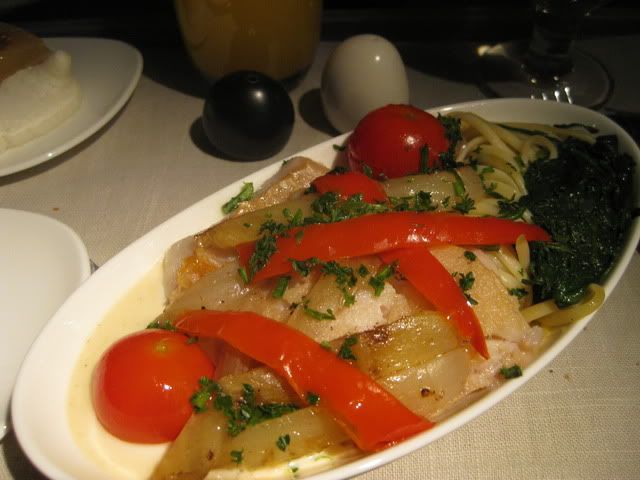 This was followed by a cheese plate:
And tea service: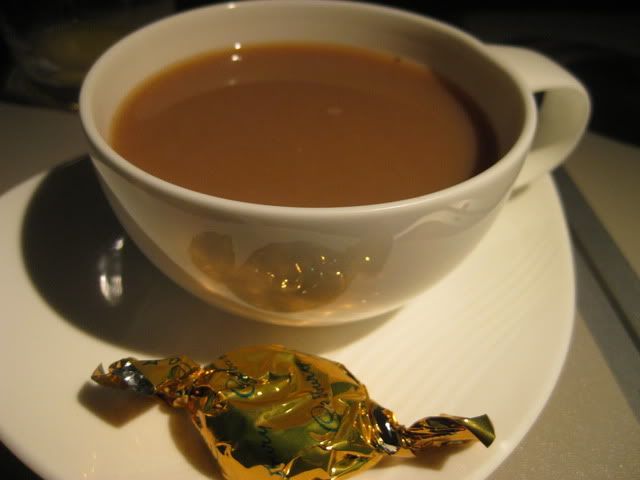 In-flight shot of the J cabin:
As much as I always try to stay awake on these long haul flights, i always end up sleeping! Must take more no-dose next time. The crew turned on the lights 2 hours before landing and commenced the breakfast service. I enjoyed both the Granola and hot option as offered by the crew. These were served along with various bakery items. The omelette was ok, but the crepe option may have been better.
Smoothie: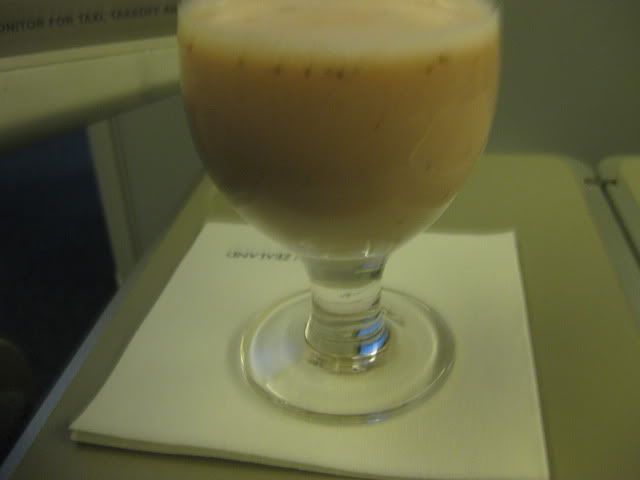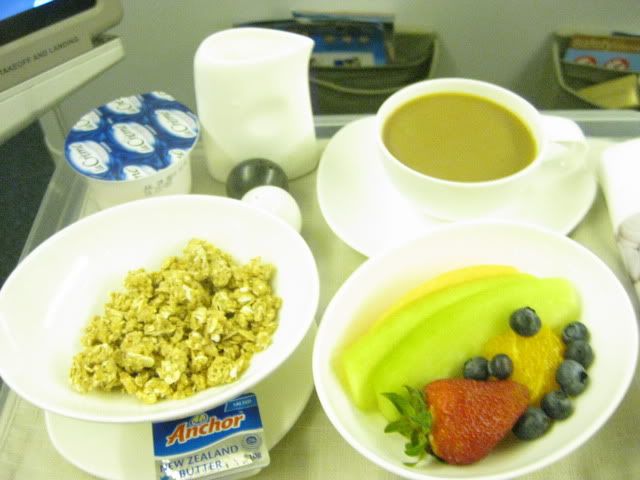 Main: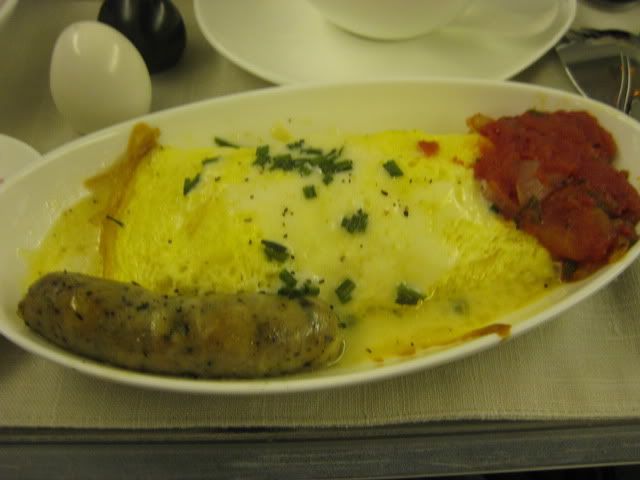 The cabin was then prepared for landing, which was smooth and uneventful.
We then remained in the International terminal to connect with the direct NZ303 flight to CHC where we would clear customs. I had a refreshing shower and another breakfast in the Koru lounge.
FLIGHT 6
9th July 2010
NZ 303
Route: AKL-CHC
Airframe: Boeing 737-300
Seat: 2a
This flight was full to the brim with passengers from various international flights, and most were fast asleep before takeoff. After a quick, powerful liftoff the F/A's offered a light breakfast of either a muffin or Granola with fruit, and hot drinks- i took the latter. This was great for such a short flight. It's the first time that ive struck a morning koru hour service, and i was impressed.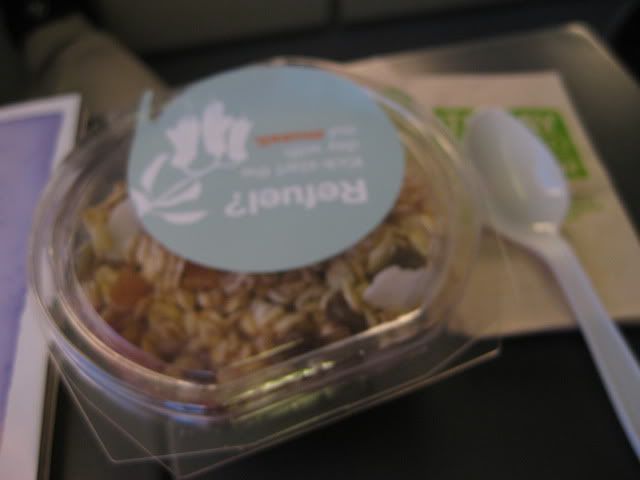 CONCLUSION:
I was impressed with all the flights back from SEA. Highlights for me were the lavish EVA Lounge in SFO, the Food on AKL-SFO and the suprisingly friendly UA crew along with United's channel 9. I think AirNZ's long haul service was once again surprisingly good. I think NZ's mentality towards long haul is to get one from A -> B as comfortably and seamlessly as possible, providing a good sleep after a quick, decent dinner service. Maybe this difers from EK which tries to make flying an event, by providing an onboard experience greater than that of NZ. Either way NZ is my choice across the pacific.
Below are some photos of my time in SEA, of both the Museum of flight and the Boeing tour for those who may be interested.
Museum of flight: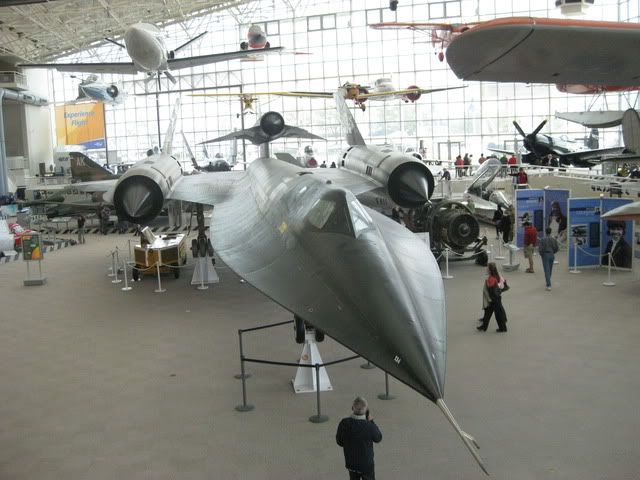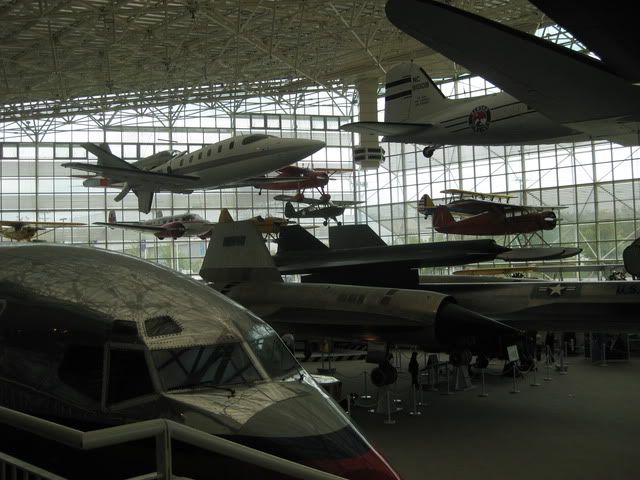 BA Concorde at the outdoor viewing park: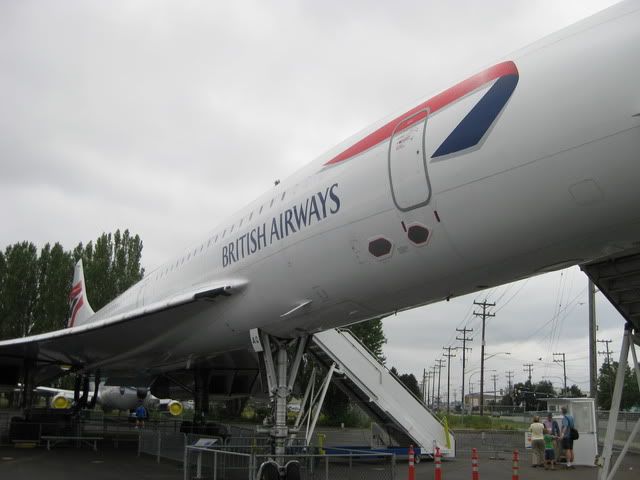 Main Gear:
Concorde Cabin!!
Concorde Flight Deck: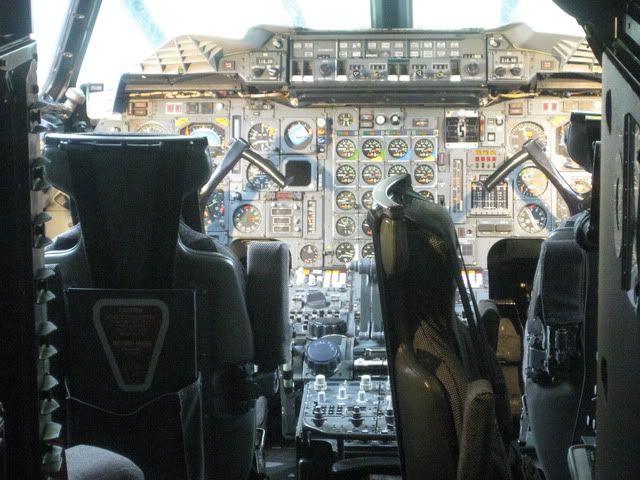 The original 747-100, looking a bit dirty at the moment: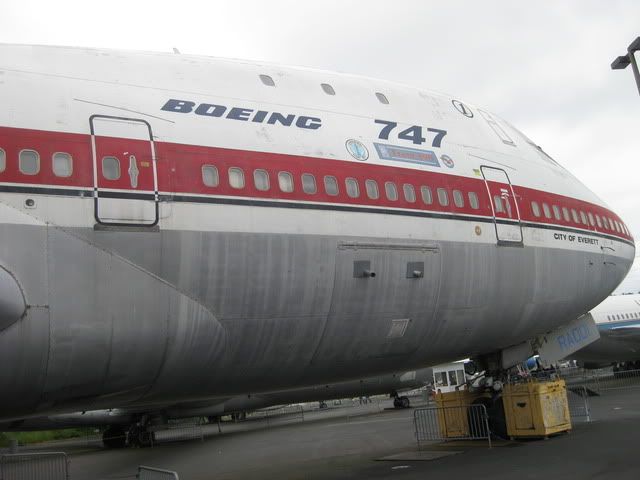 I then walked though the first 707 Airforce One used by various US presidents including Nixon and Kennedy
Some Cramped looking J seating: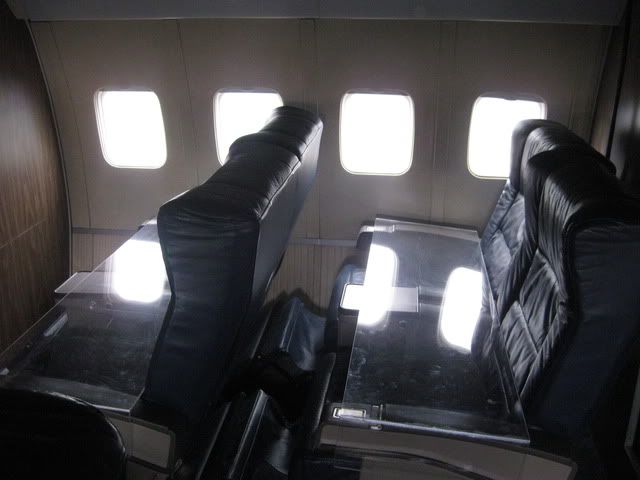 707 cockpit: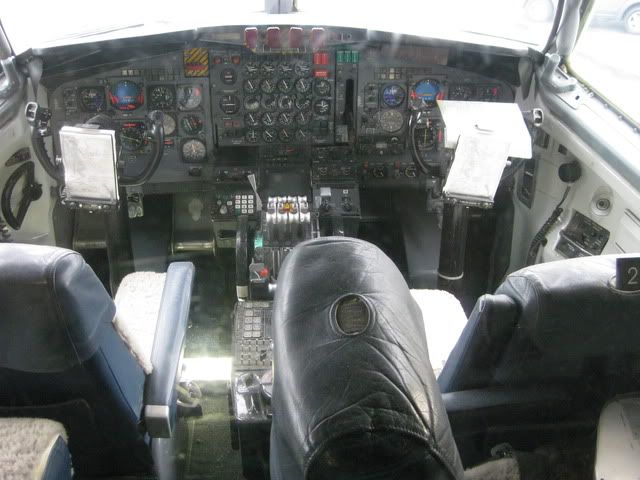 From the Boeing Factory: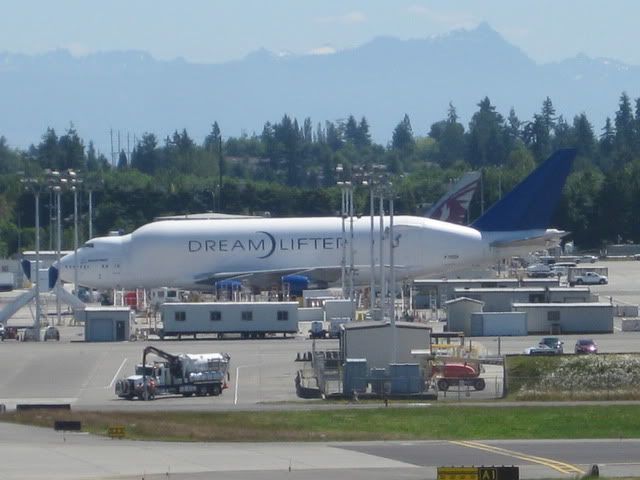 787's!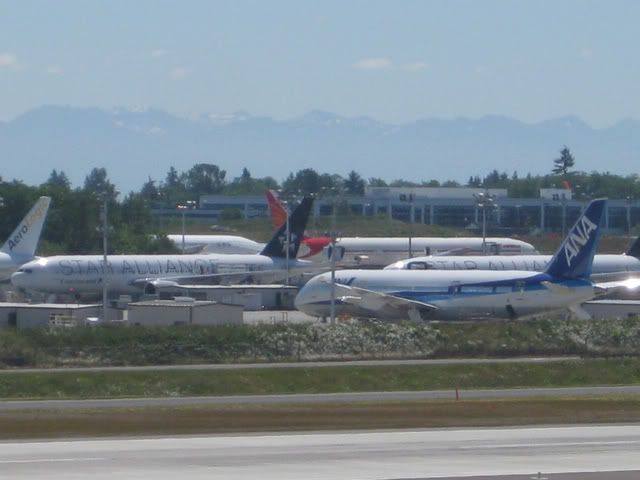 Wing Flex test!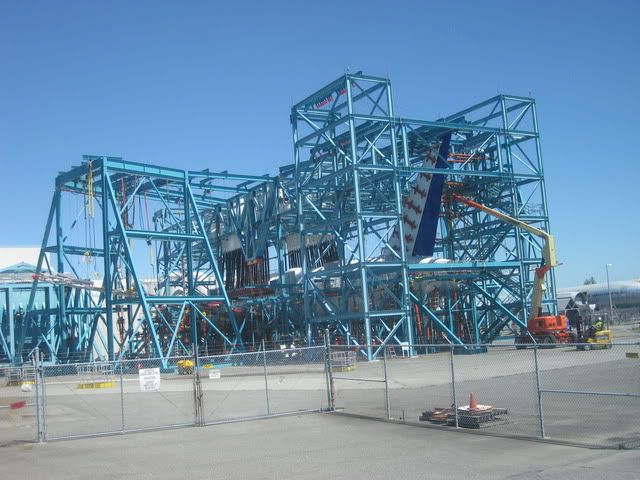 787 Cabin Mock Up, note the large windows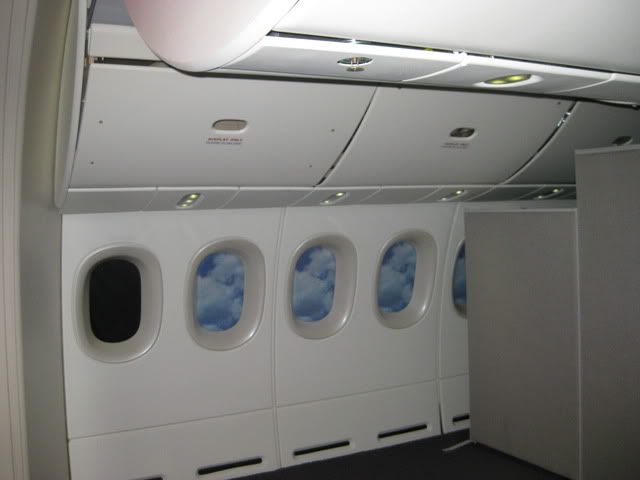 747 Tail, note the person standing at its base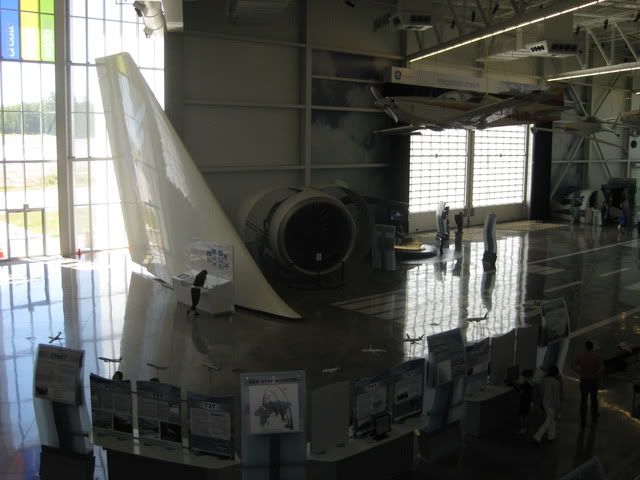 First Class Seat, used by Cathay Pacific, Asiana, Korean Air, Gulf Air and TAAG.