Back in April, Air Berlin had a 2 day sale with some pretty cheap flights available. Believe it or not, I'd never flown with them before and decided it was time to do something about it. After all, they are the second biggest carrier out of Zurich. I asked a friend from work if she fancied a day trip somewhere and we settled on Hamburg, booked for a very reasonable 94CHF each.
OLCI was done the day before, very easy and with a good selection of seats (are you listening LX?!).
Thursday 24th June
Only 4 days after returning from Mykonos:
In Search Of The Sun: ZRH-JMK
(by
infodesk
Jul 2 2010 in Trip Reports)
…… it was time to fly again. After a late shift at work, my alarm woke me the next morning at 5.15 and I set off shortly before 6. Too early really, but the traffic gets really bad and I didn't want to risk getting held up. At the airport at 6.30, a quick chat with my colleagues and then I met up with my friend at 7 at Starbucks. I tried to reprint my boarding pass from the kiosk but it wouldn't let me and I didn't fancy joining the queue at the desks.
FIDS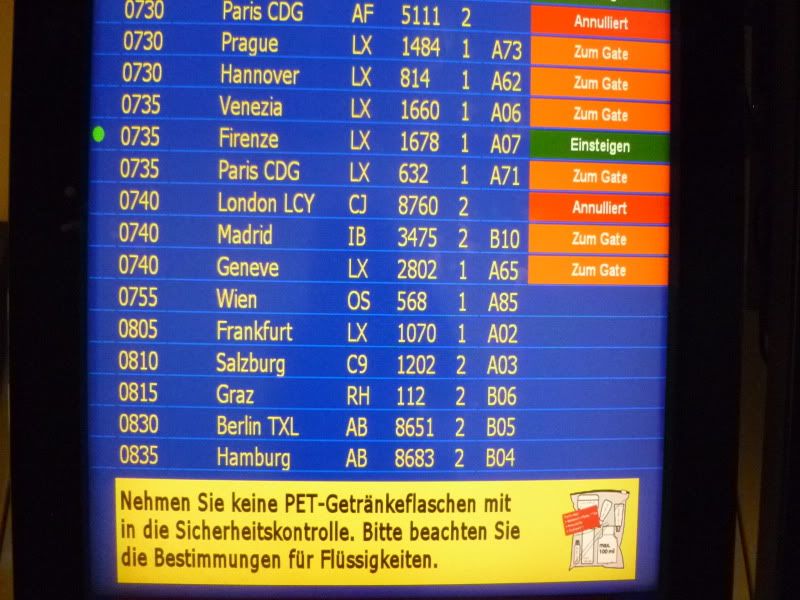 We proceeded through boarding pass control where it was time for some duty free shopping, well worthwhile with our staff discount. We were at Gate B04 in good time as security wasn't busy. This would be my first time departing from the new Schengen B Gates, they are mainly used by AB, MA, AF and KL.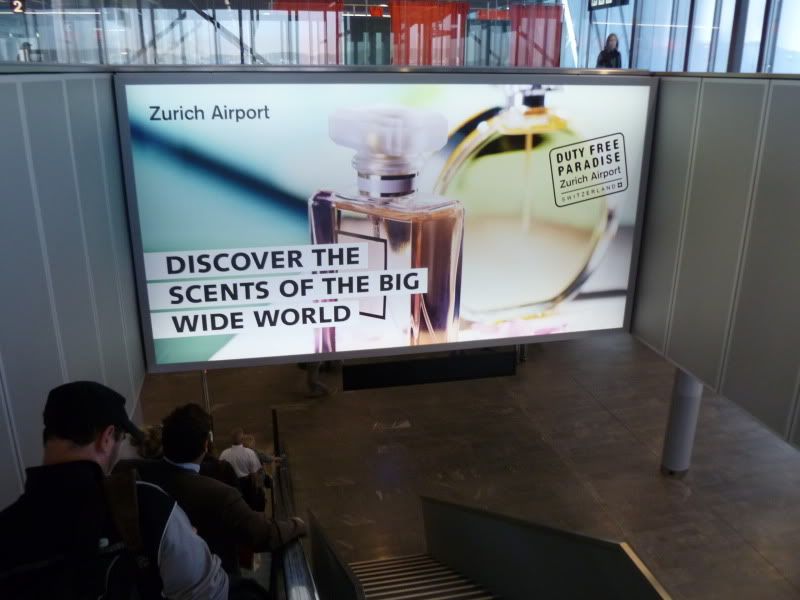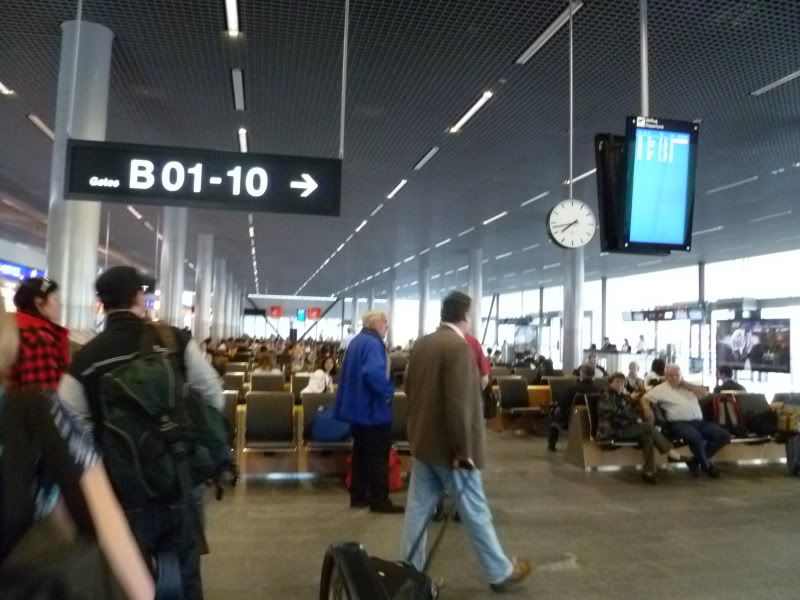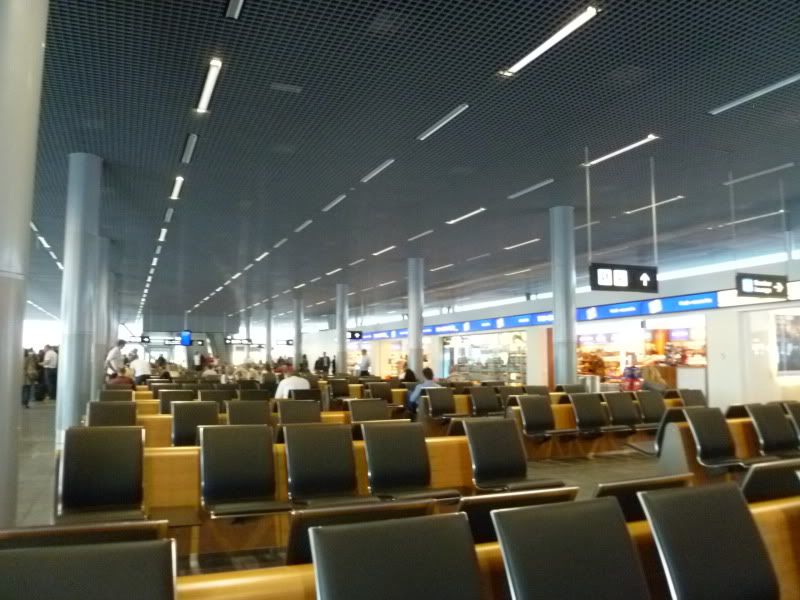 AB8683
ZRH-HAM
STD 0835 / ATD 0900
STA 1005 / ATA 1010
A319-100 D-ABGA
Seat 5F
Boarding started bang on 8.00 and we were bussed out to the aircraft.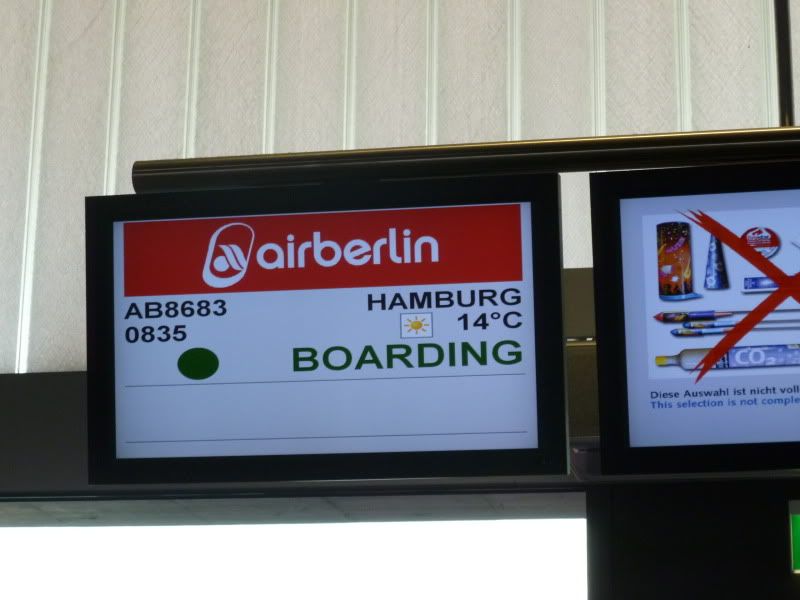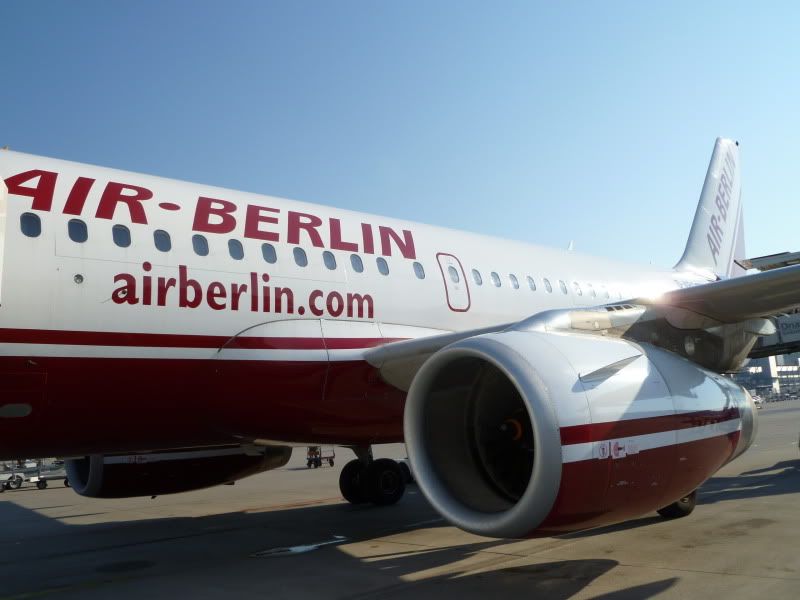 Company A321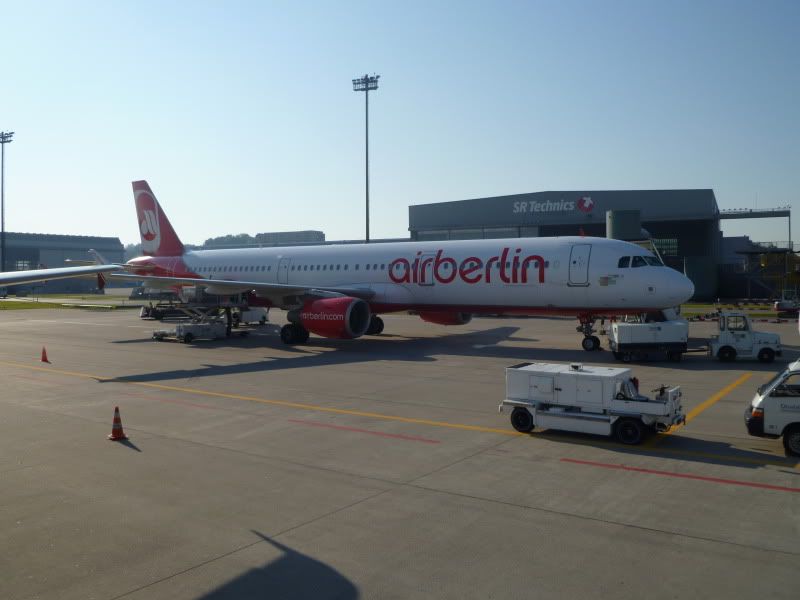 How come AB manages two sets of stairs but LX only ever have one on the open stands ?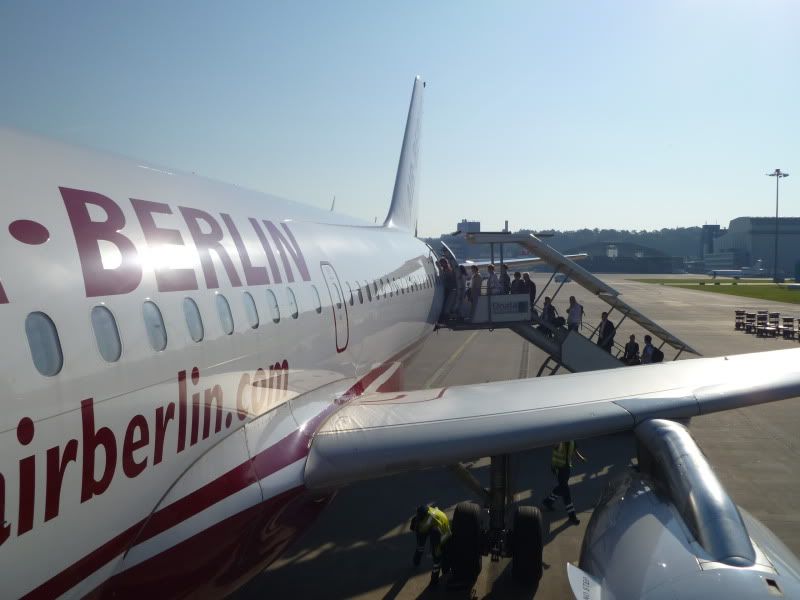 After a year with Independence Air, the aircraft was delivered to AB in 2006. Boarding was nice and organised, lots of business travellers on this flight. Newspapers and boiled sweets could be taken at the doors and I settled down in row 5. A second bus load of passengers arrived, but the aisle seat remained free. 110 passengers were on board today.
The doors were closed promptly and then the pilot welcomed us. It was quite difficult to hear the announcement, but the gist was that we would be delayed for a while until we received a slot in Hamburg. One of the runways was closed for maintainence. We were happy to chat and catch up on things until we pushed back at 0850.
The cabin crew did the safety demo as there were no drop-down screens on this aircraft.
The big boss at ZRH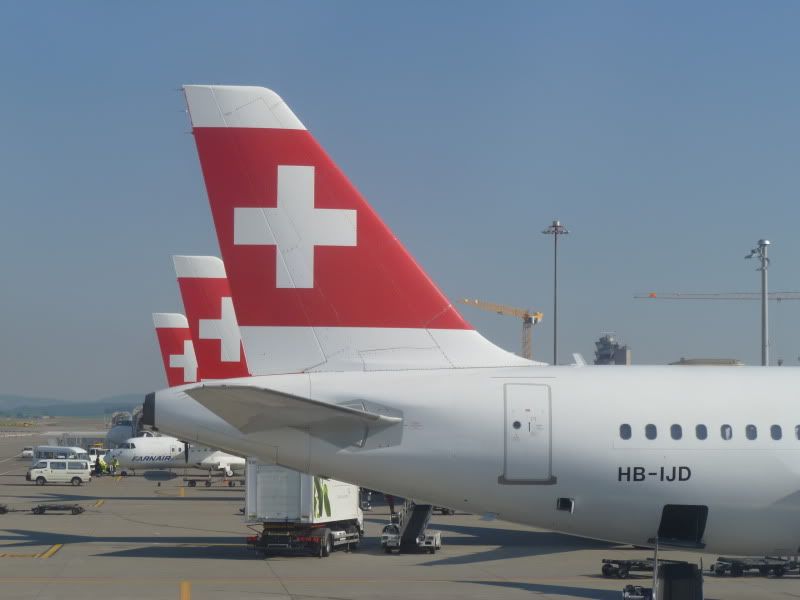 Dock A
Swiss Avro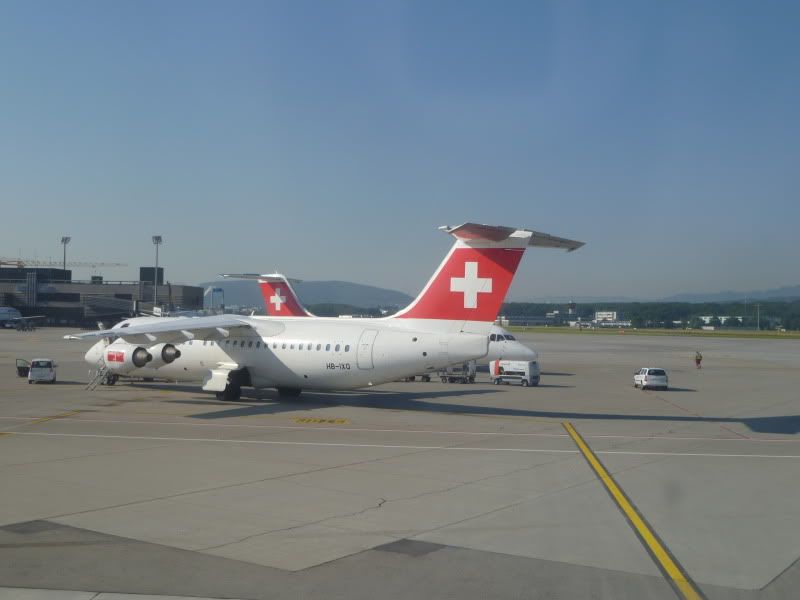 Helvetic F100 & Darwin Saab 2000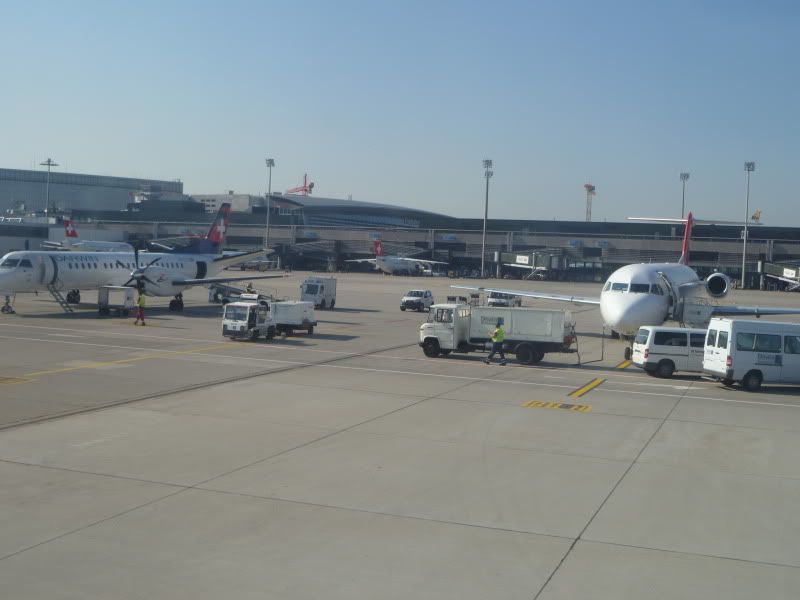 Take off was from runway 28 at 0900. We banked sharply to the left, flew over Zurich and were treated to some lovely views of the Alps on this glorious day.
LX, CO &UA at Dock E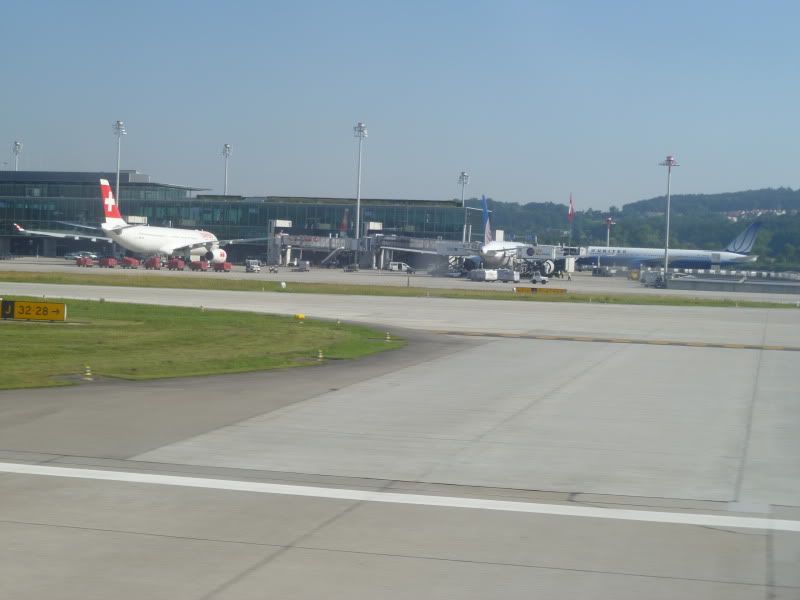 Spot the A380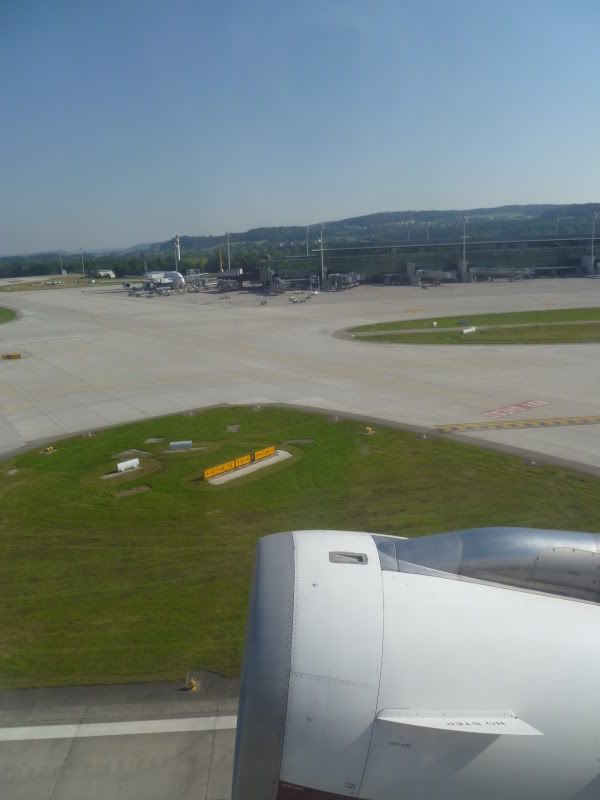 Runway 16
16 & 14
Heading towards the Lägern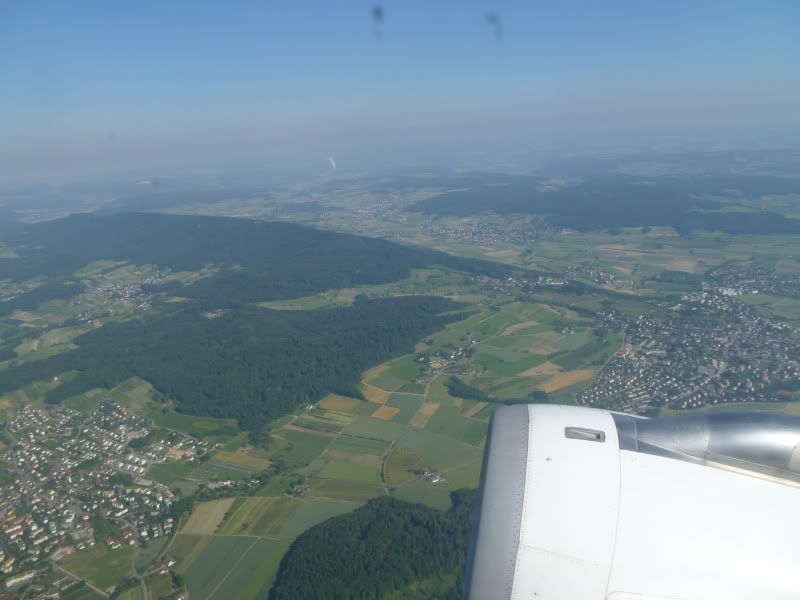 Neuenhof & Wettingen
Just beautiful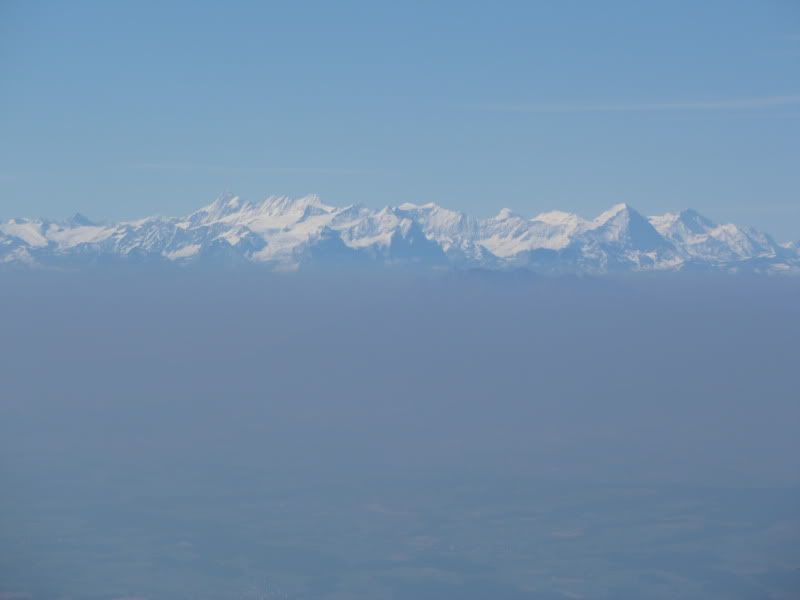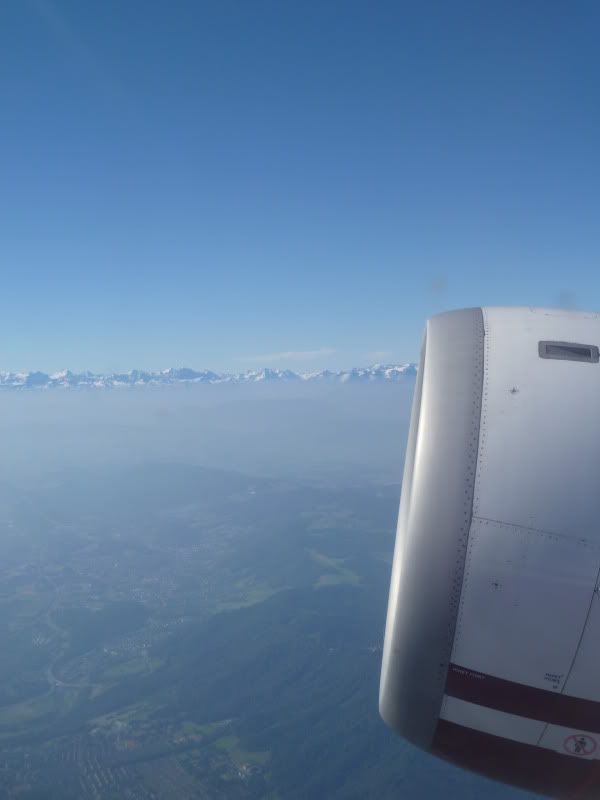 Zurich & the lake from above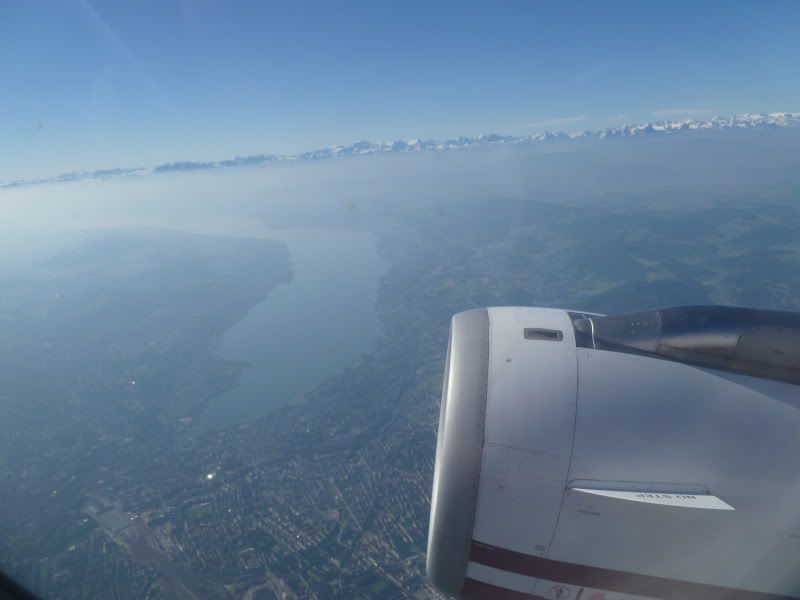 Zurich HB, main railway station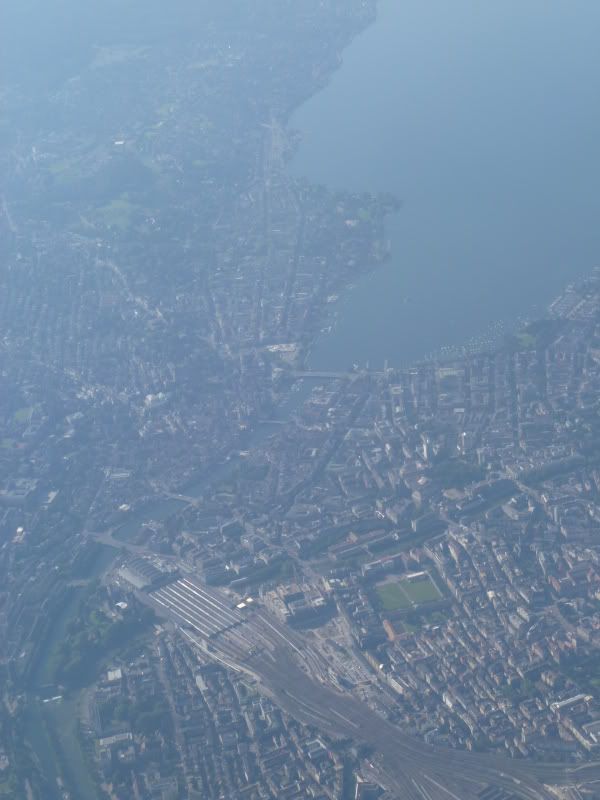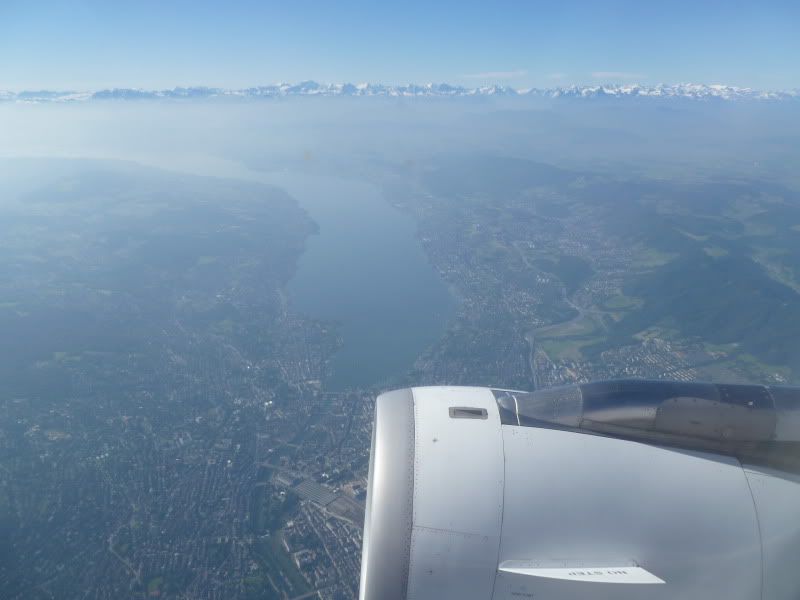 Looking up the lake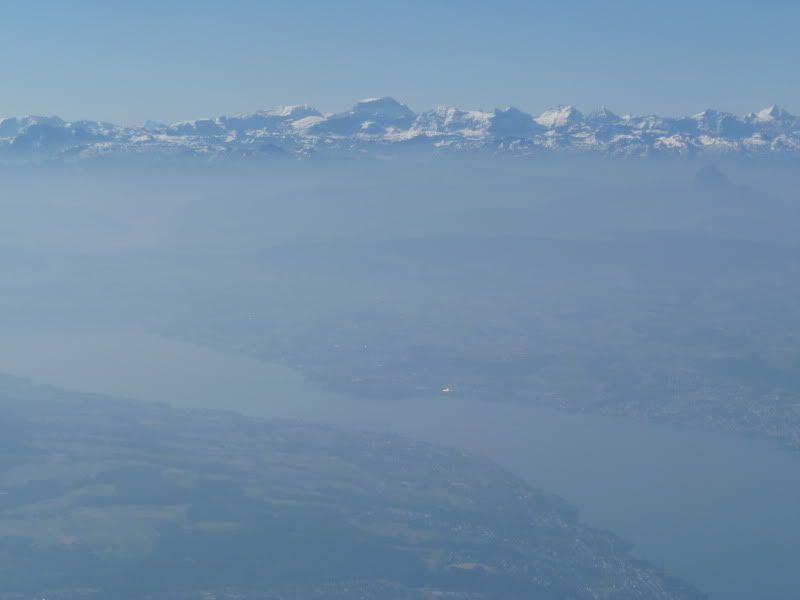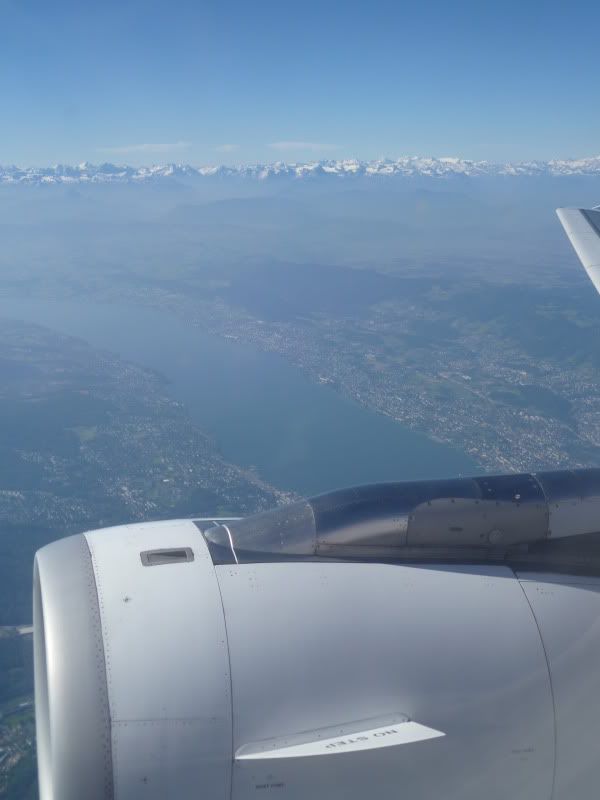 Greifensee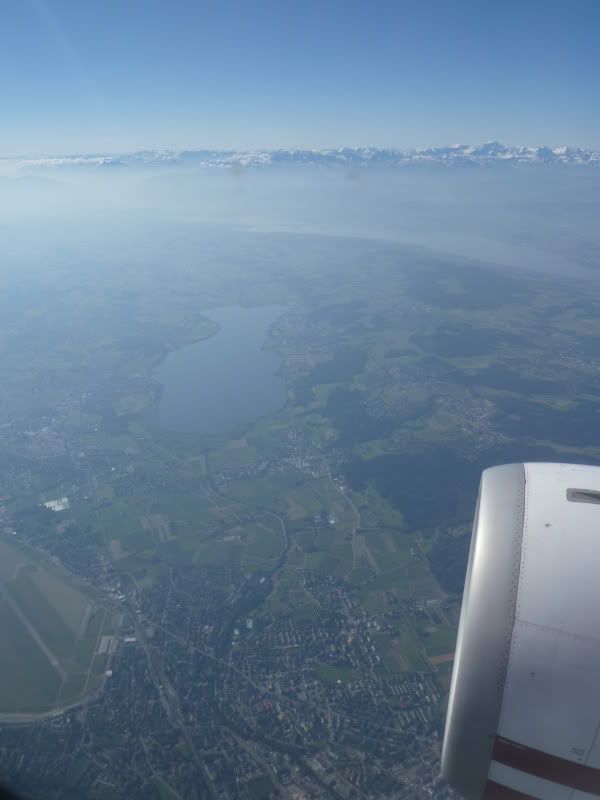 Military airfield at Dübendorf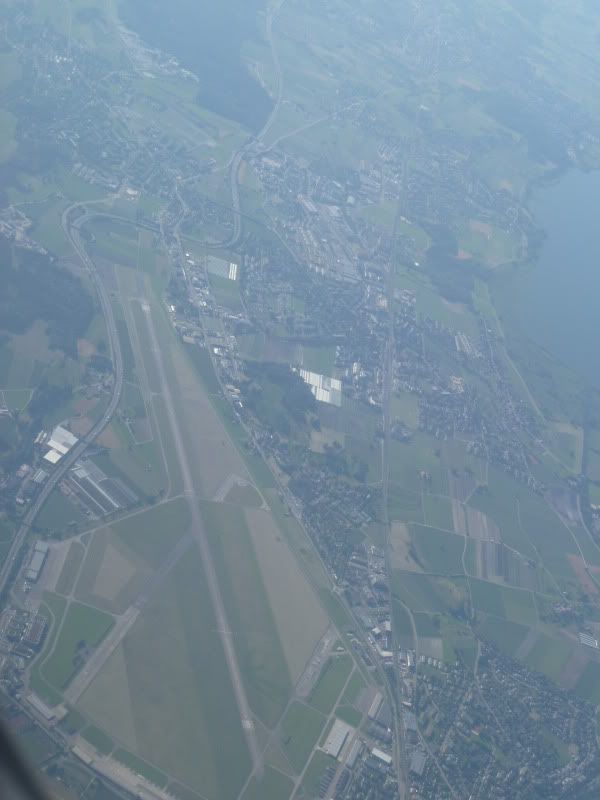 Pfäffikersee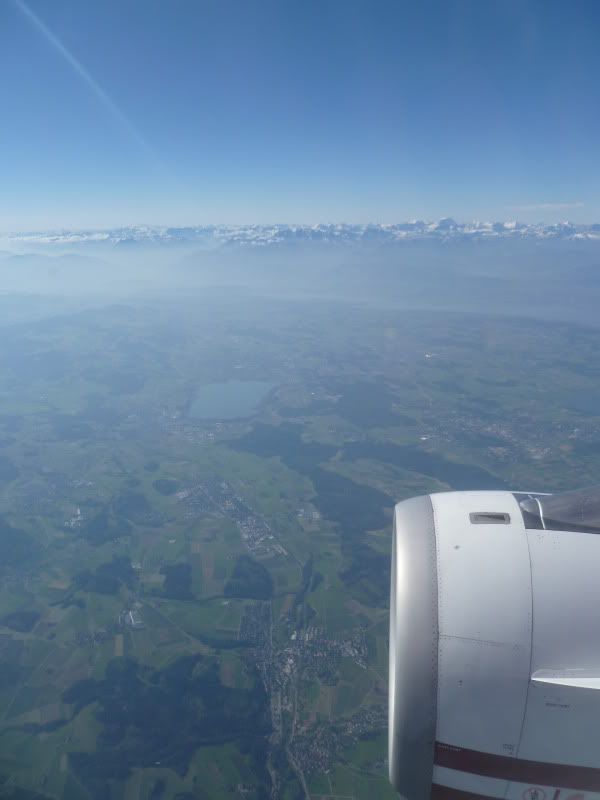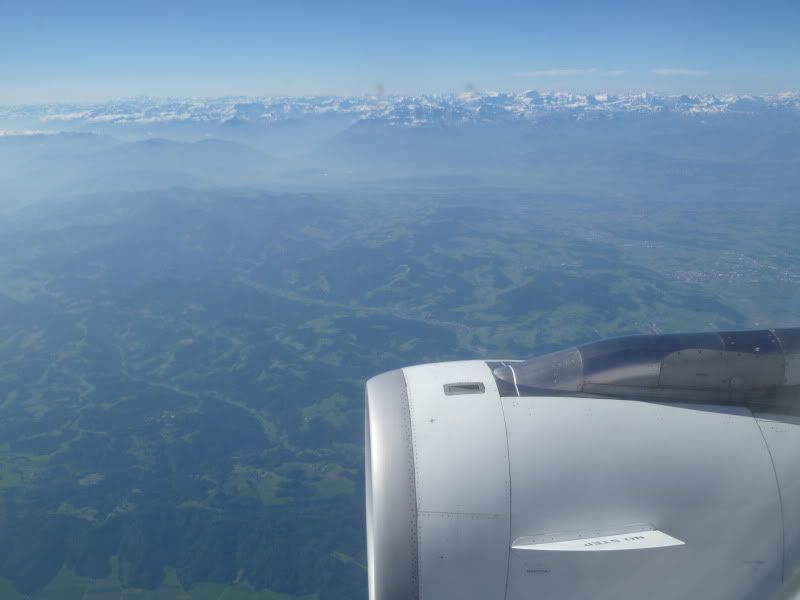 Crossing Lake Constance – the reflection of the sun looks uncannily like a map of Greenland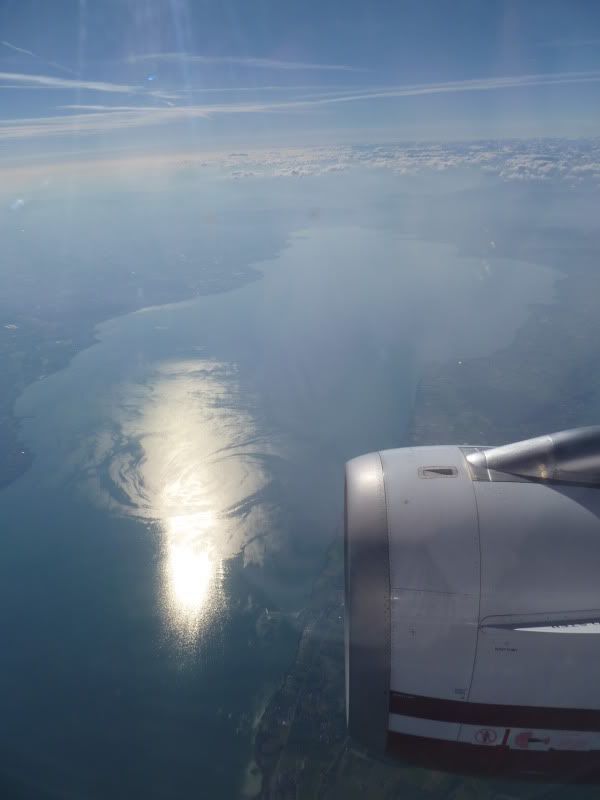 As the announcements were so quiet I didn't catch much about the routing or our cruising altitude, just that we would be flying over Hanover.
There were 3 females cabin crew members on the flight. The purser wasn't the friendliest of people, she looked bored stiff during the safety demo and had evidently never been told what a smile was.
Service began promptly, we had the choice between a brezel and a Swiss Birchermüseli.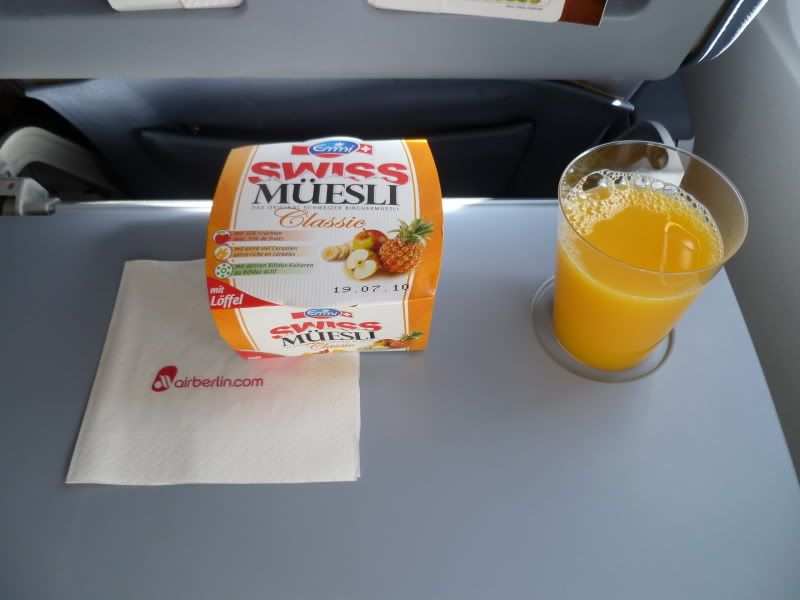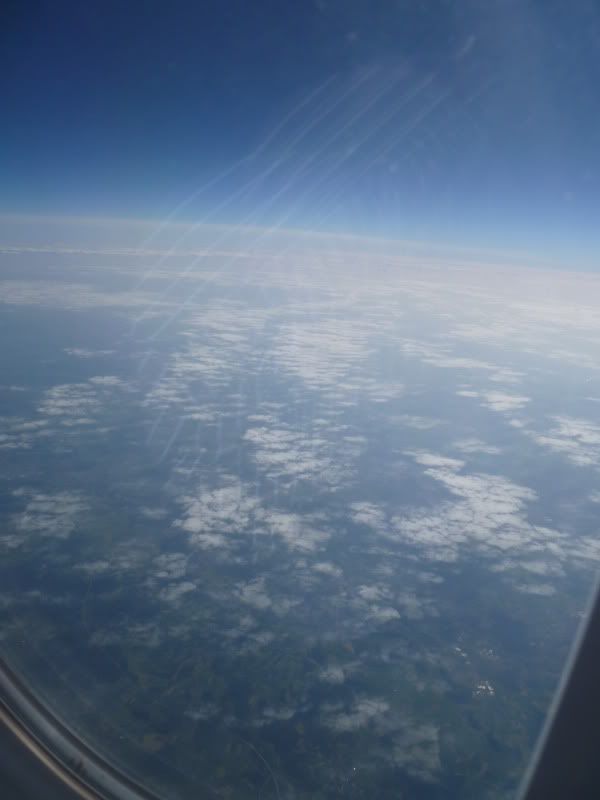 Safety card, only valid for 4 aircraft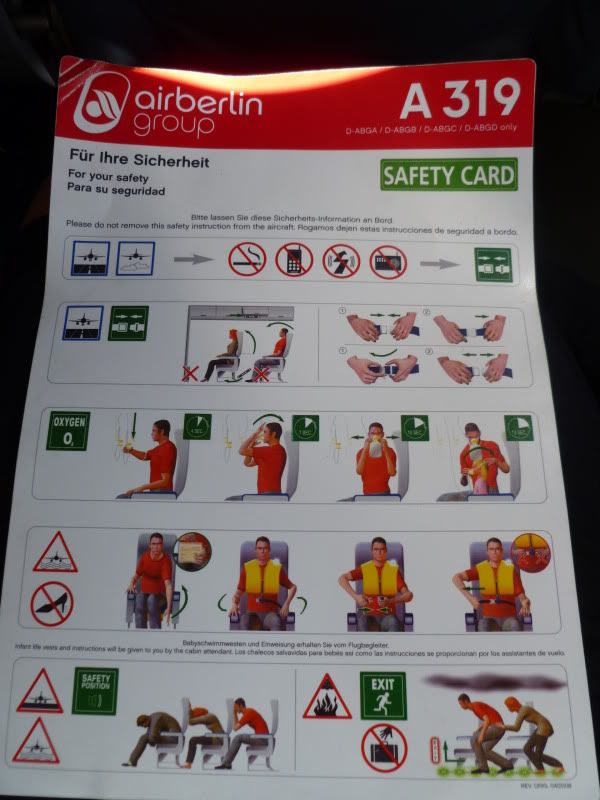 Our flying time was 1hr10 and before long the engines quietened and we started our descent for Hamburg.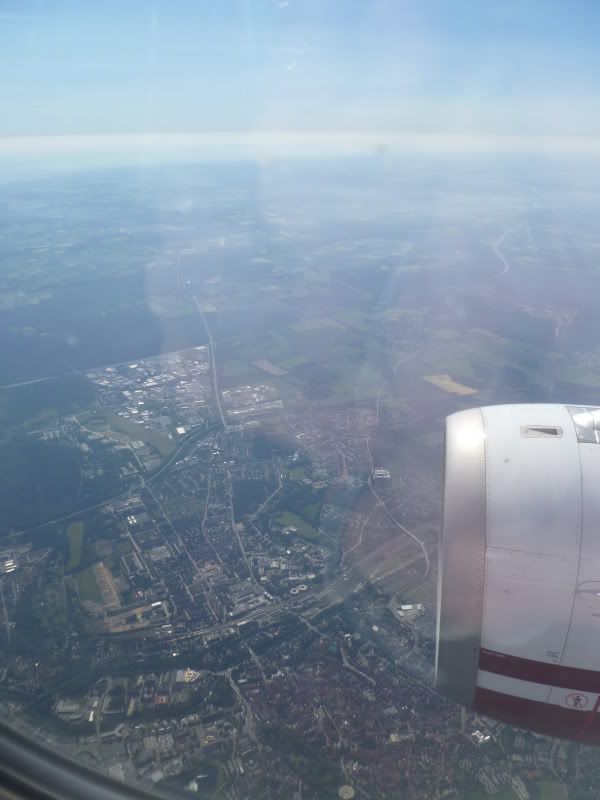 The Elbe in sight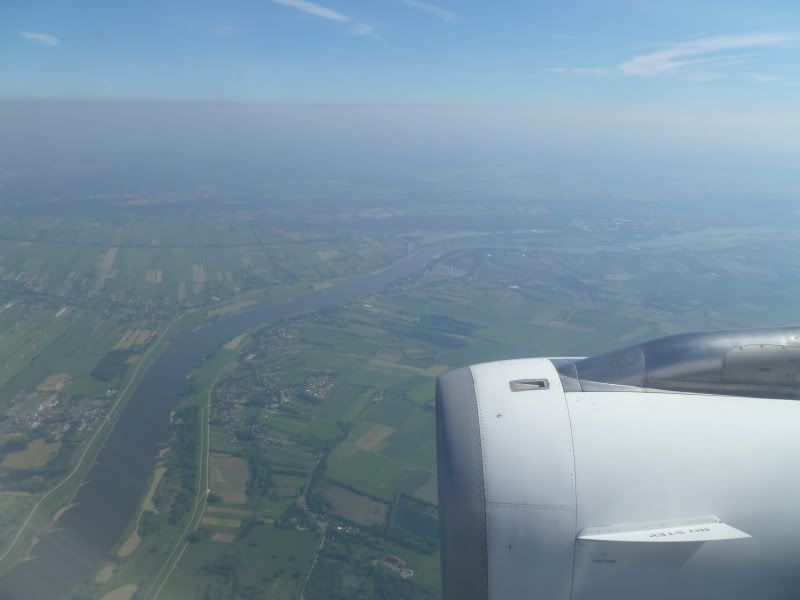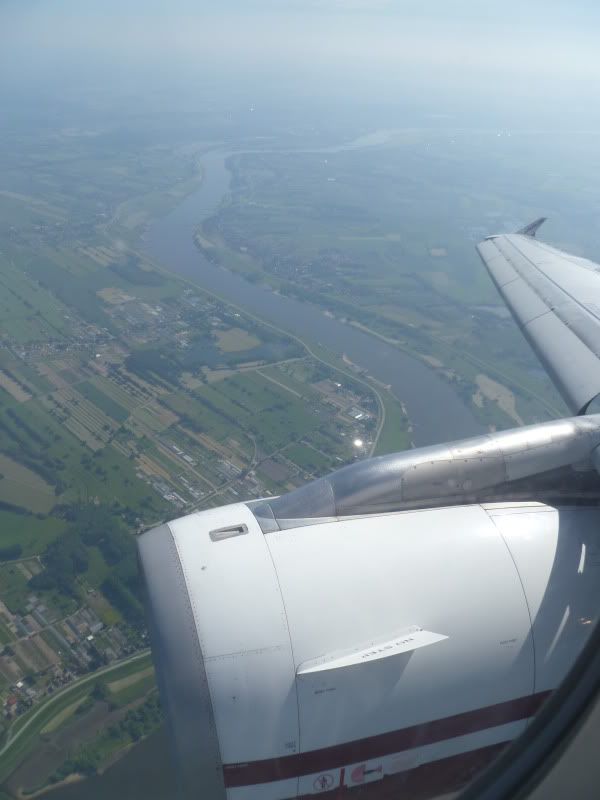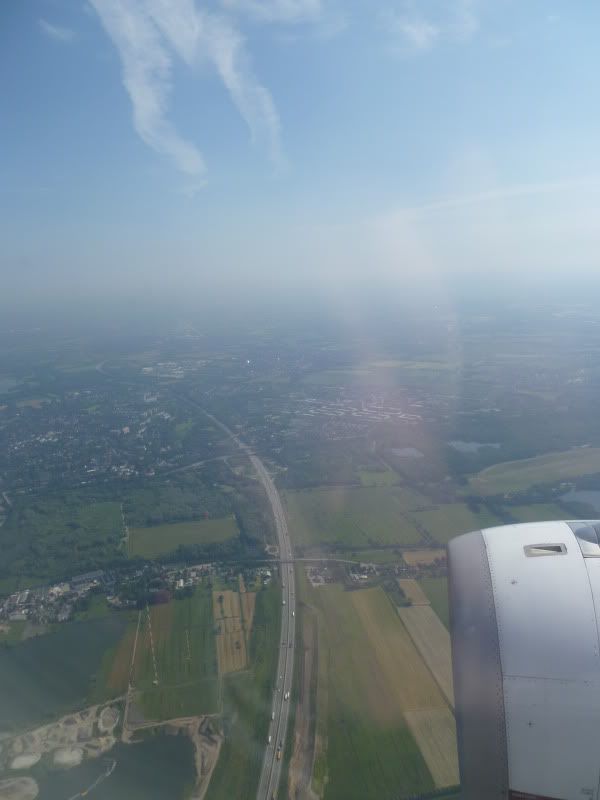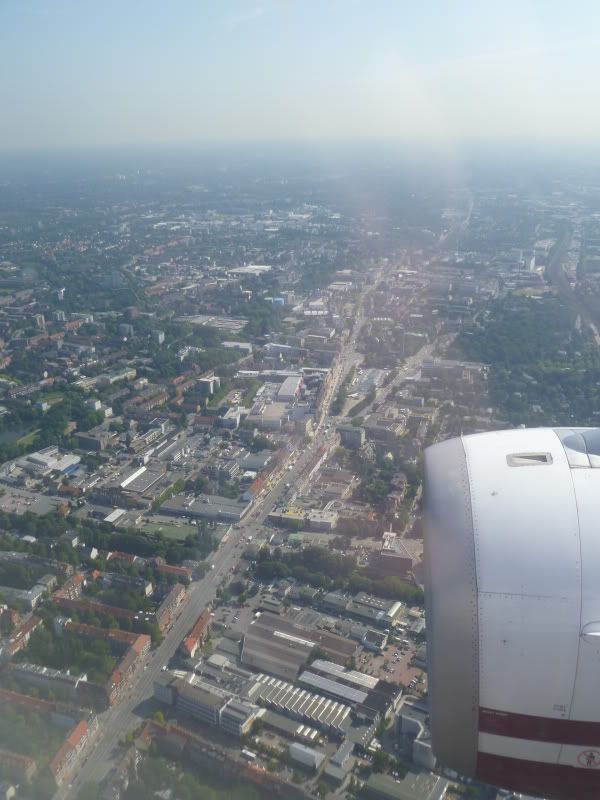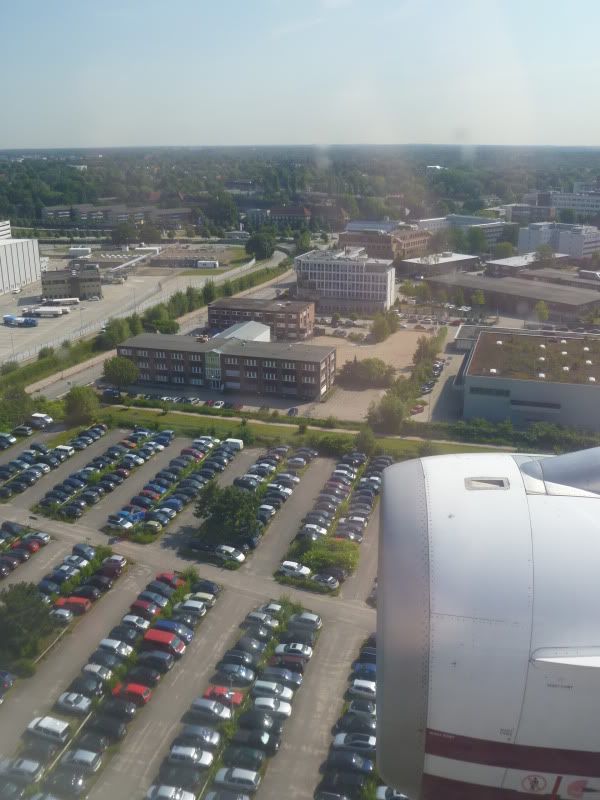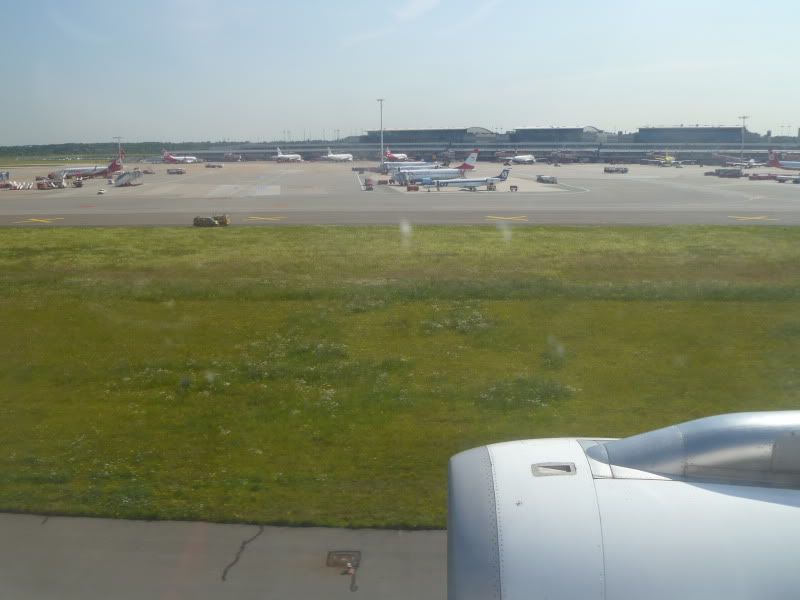 Landing was at 1010 on runway 33.
Sky A320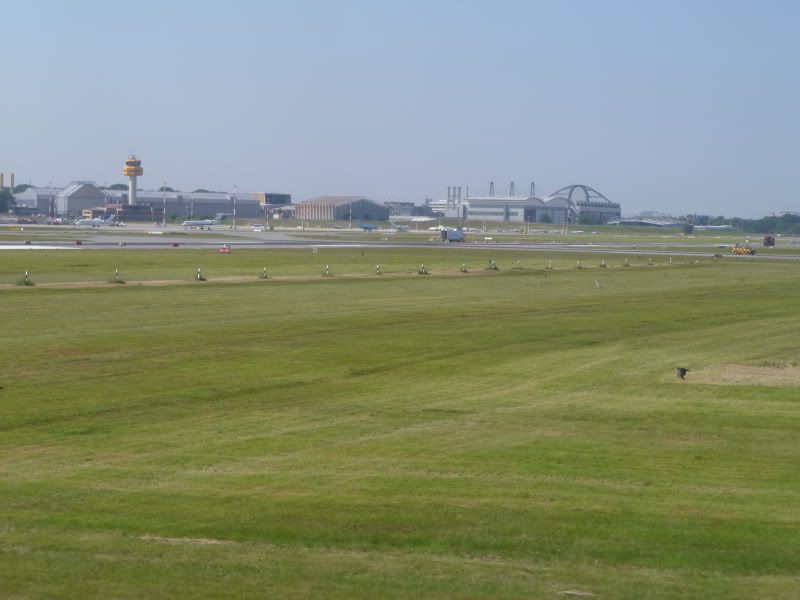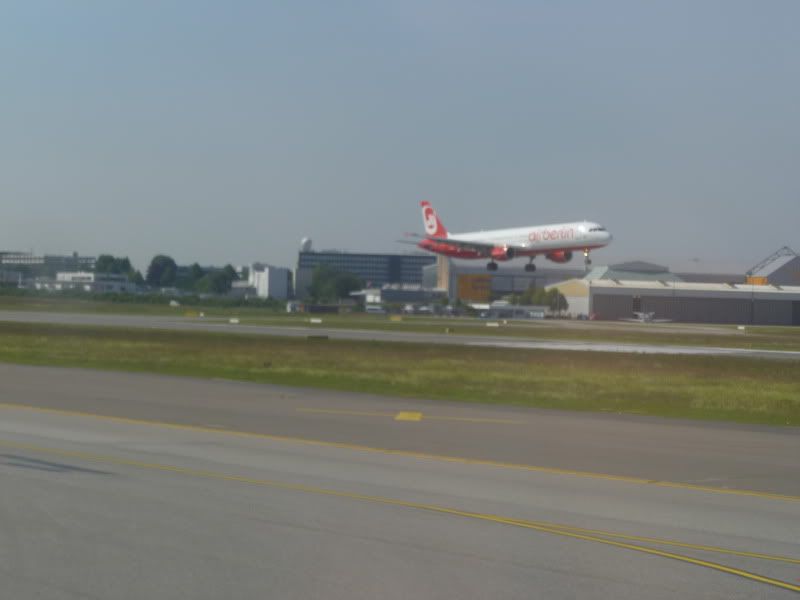 Air Transat, one weekly flight to YYZ with an A310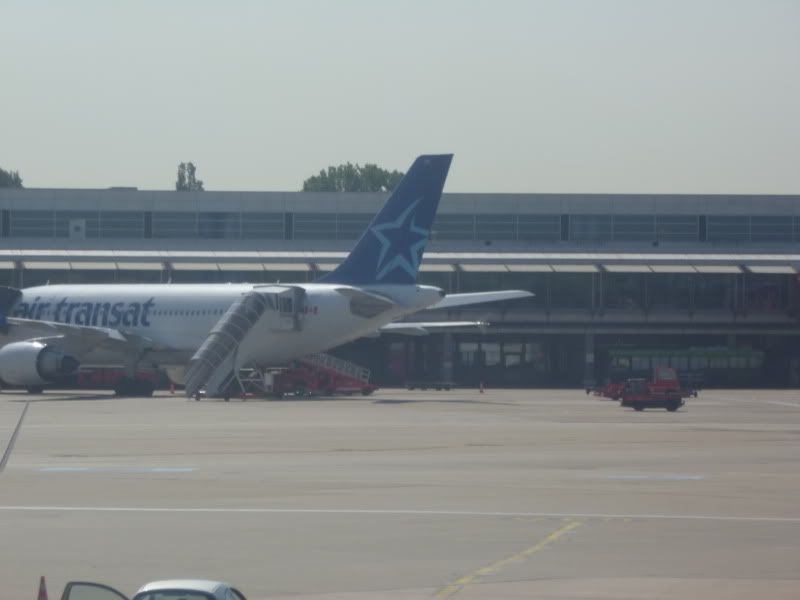 Hello easy!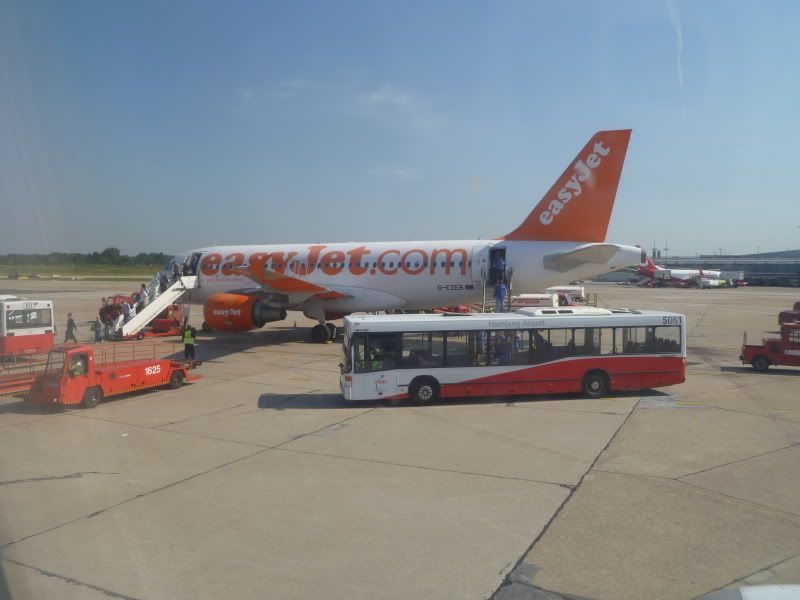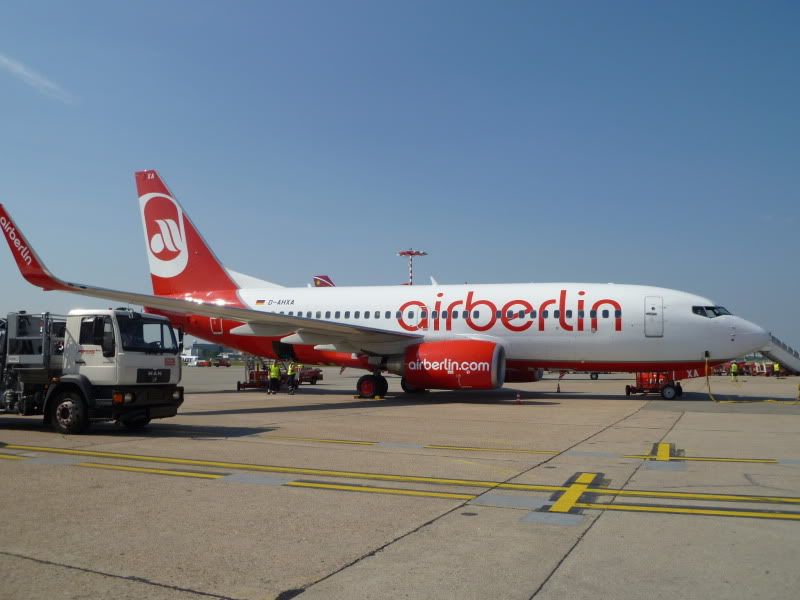 Thanks AB !
We were bussed to the terminal building and made our way to arrivals T1.
Baggage claim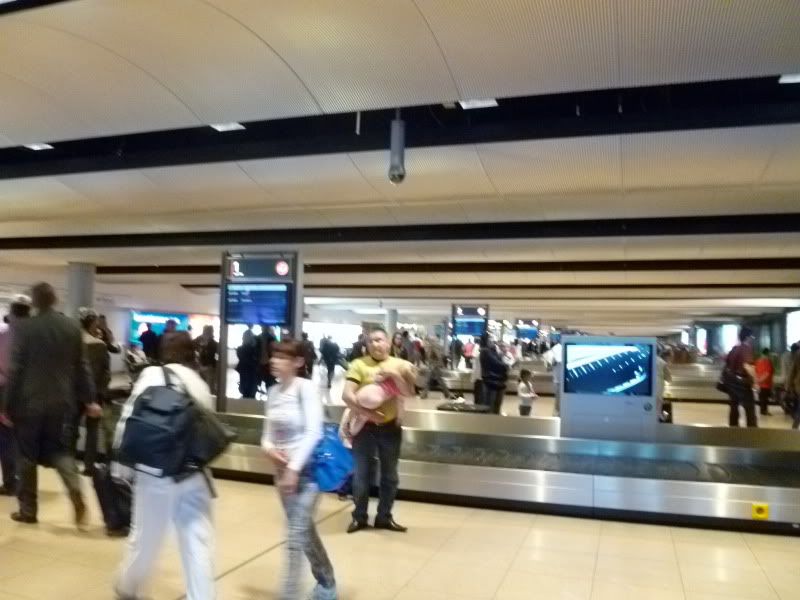 Arrivals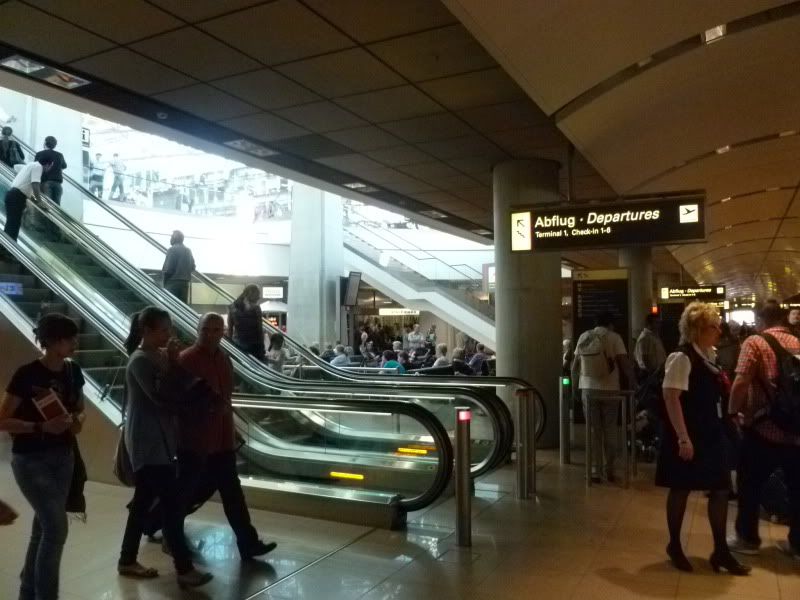 Shopping corridor connecting T1 & T2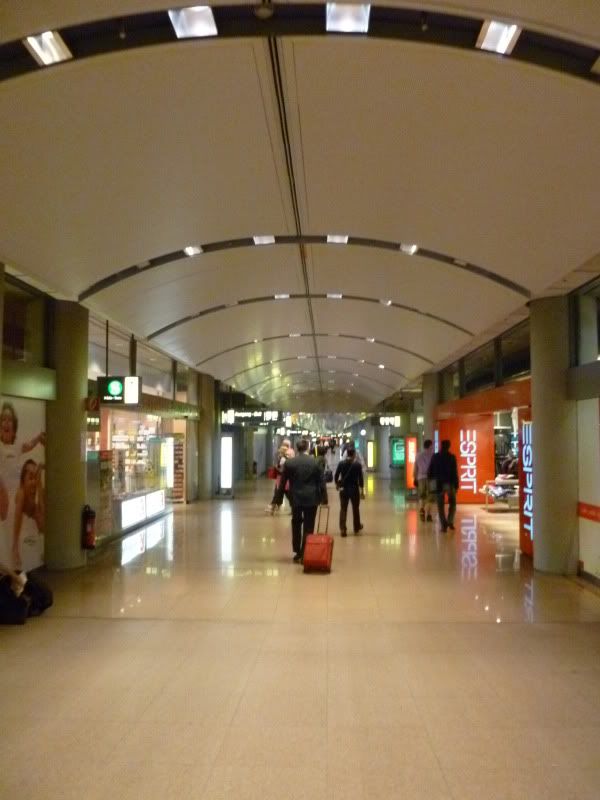 What do you do when you're in a new airport and need some help? Go to the information desk of course! After visiting the one up in the check-in area, we proceeded to the Airport Office, where they help with more touristy questions. After explaining that we work at the desk in Zurich, we got the special treatment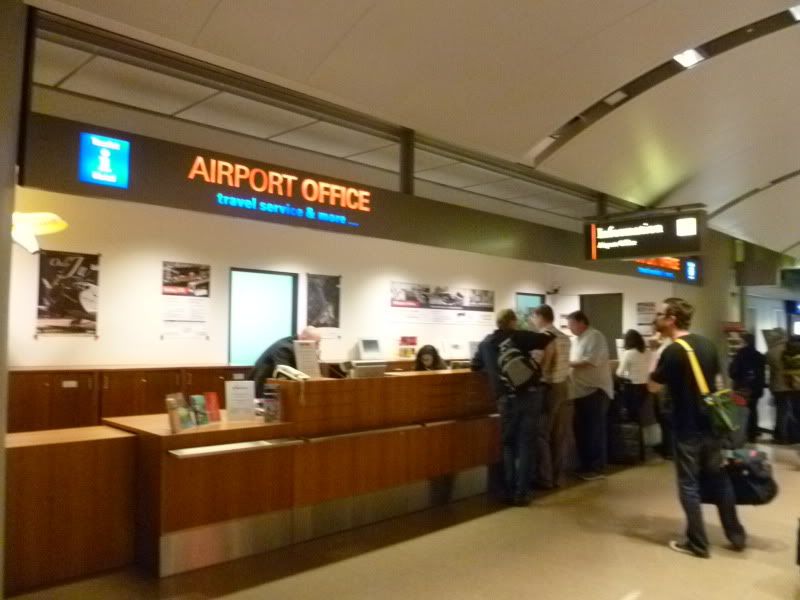 Airport railway station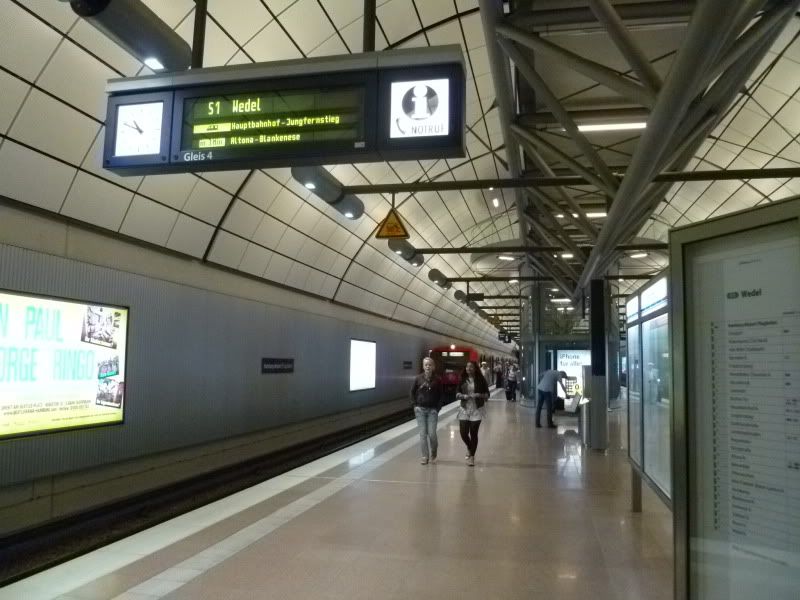 The train the Hamburg city centre runs every 10 minutes and takes about 30 minutes. We alighted at the "Landungsbrücken" and went on a boat tour of the canals in the Speicherstadt and the harbour itself. A gentleman was quick to sell us tickets and told us the boat would leave at 12.00. Well, 12.00 came and went, still so sign of any action and more and more passengers kept turning up. When the captain finally boarded at 1220, my friend gave him a piece of her mind. It seems they'd deliberately waited until the boat was full before setting off.
Despite this start, the cruise turned out to be worthwhile. First we sailed along the canals of the Speicherstadt, before returning to the Elbe where we saw a lot of the port. Very interesting when you live in a landlocked country and don't usually see ships of this size.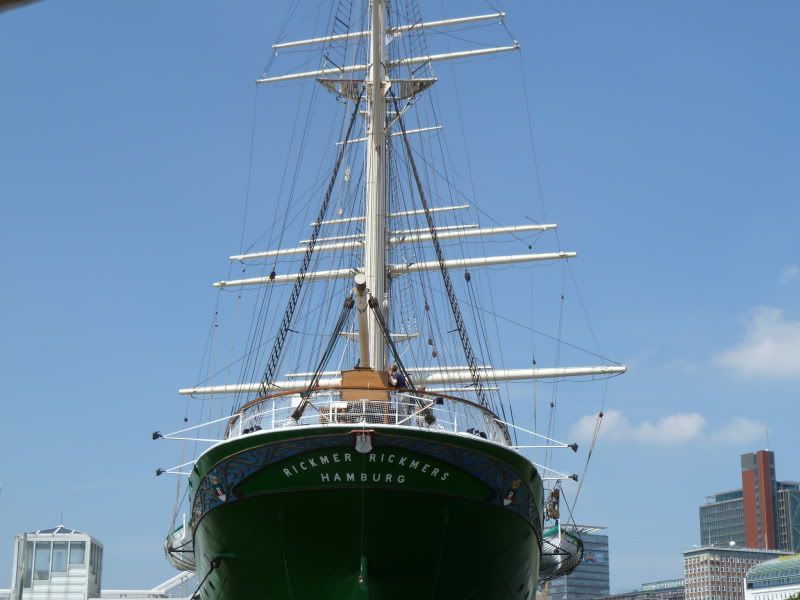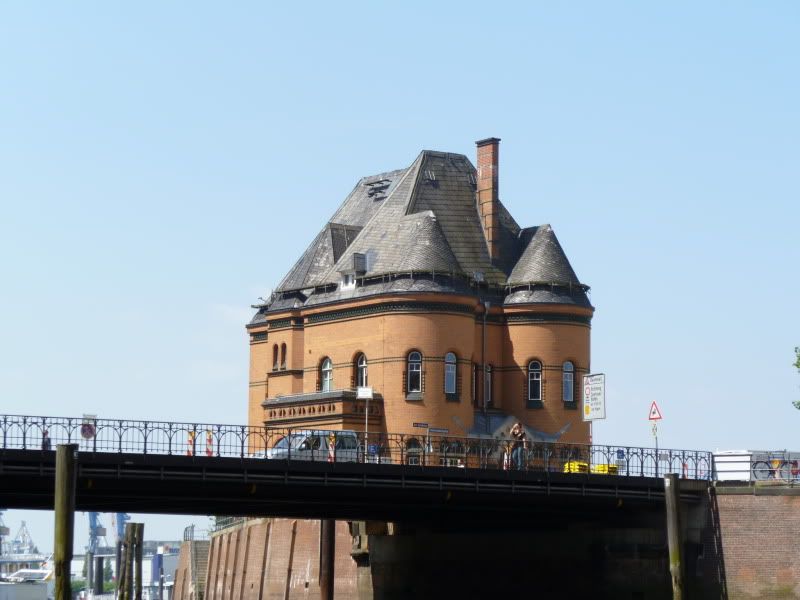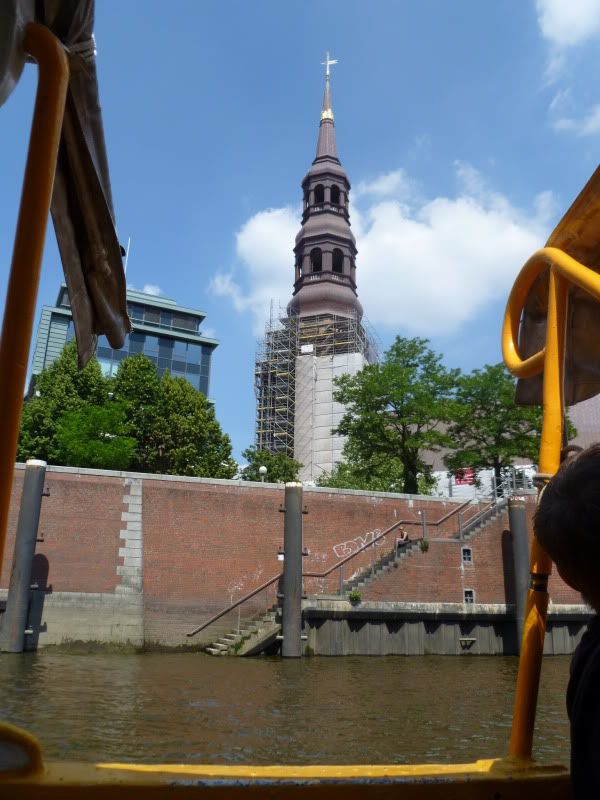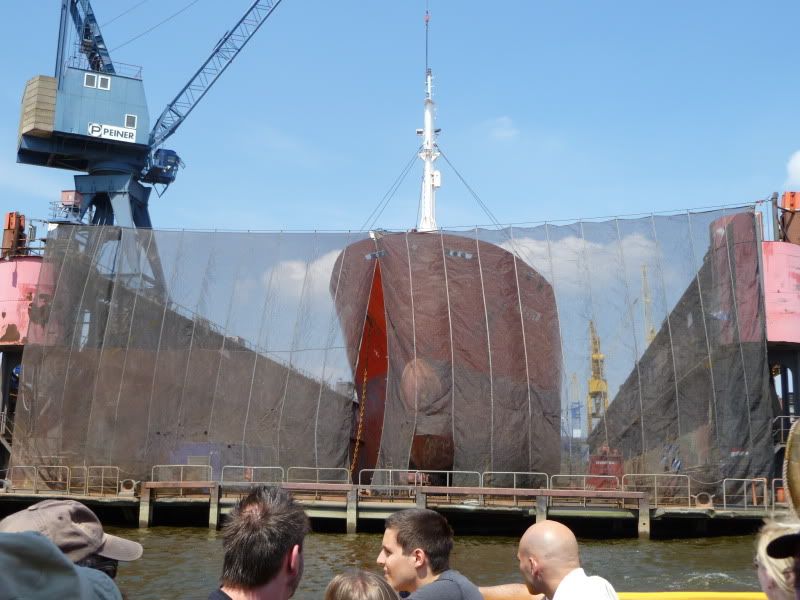 Some familiar up in the sky…..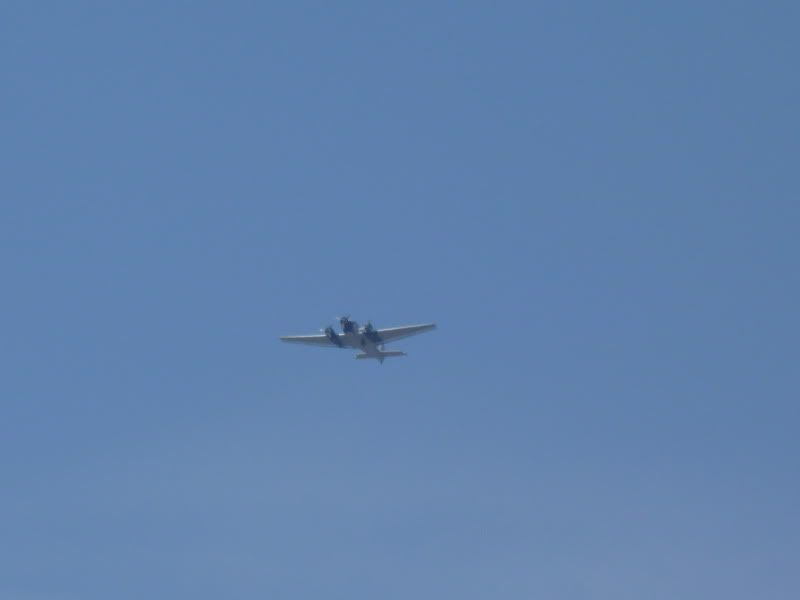 The lock we passed through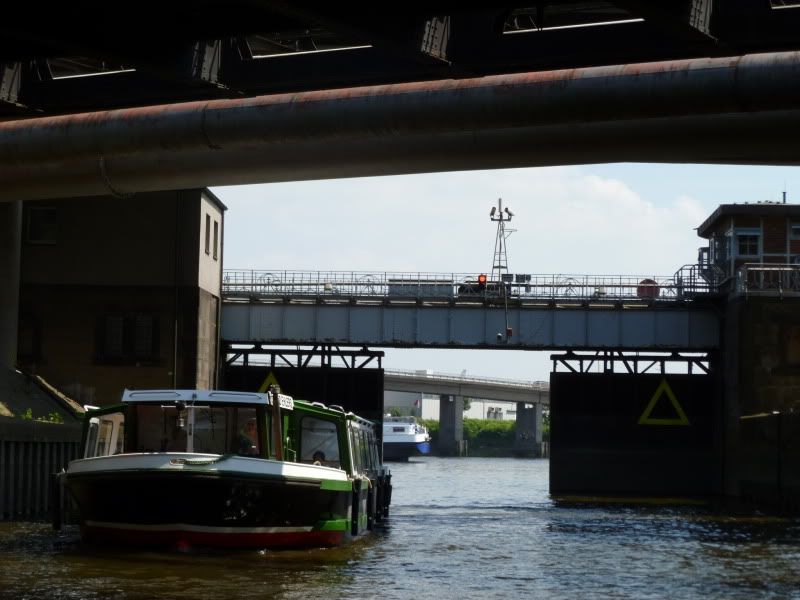 Container terminal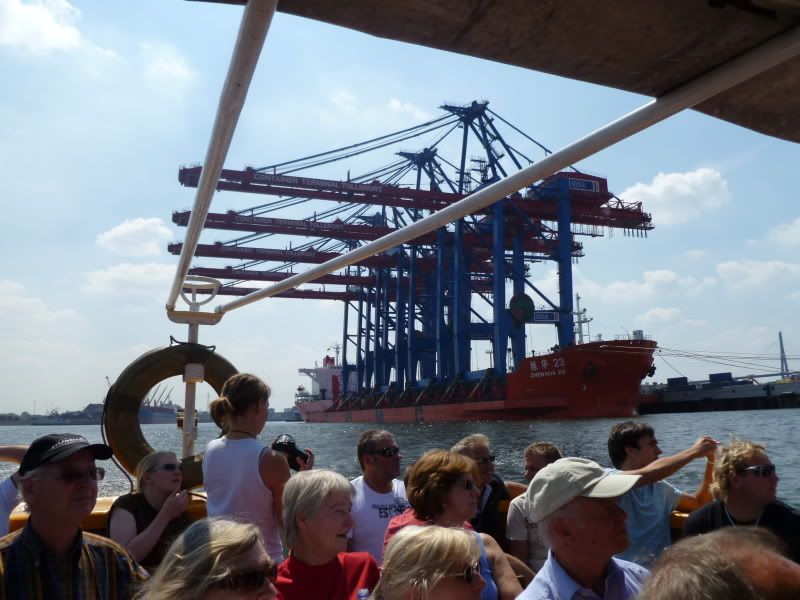 Just huge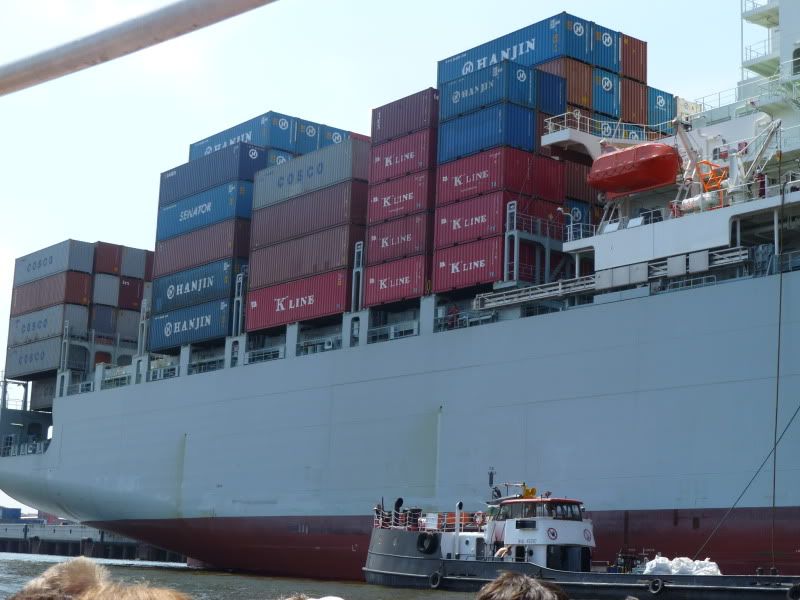 Fischmarkt,sadly no market today
This cruise ship had to cut its journey short due to engine trouble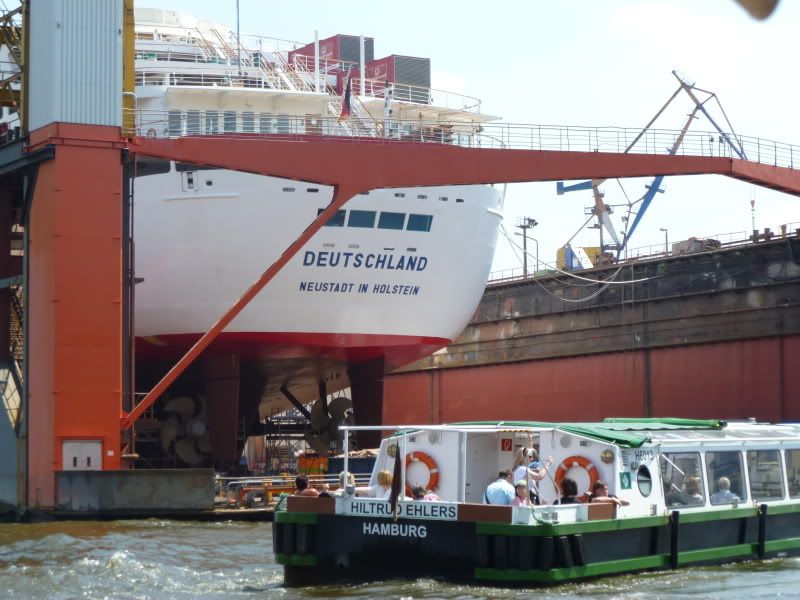 Dock 17, where the Queen Mary 2 is often looked after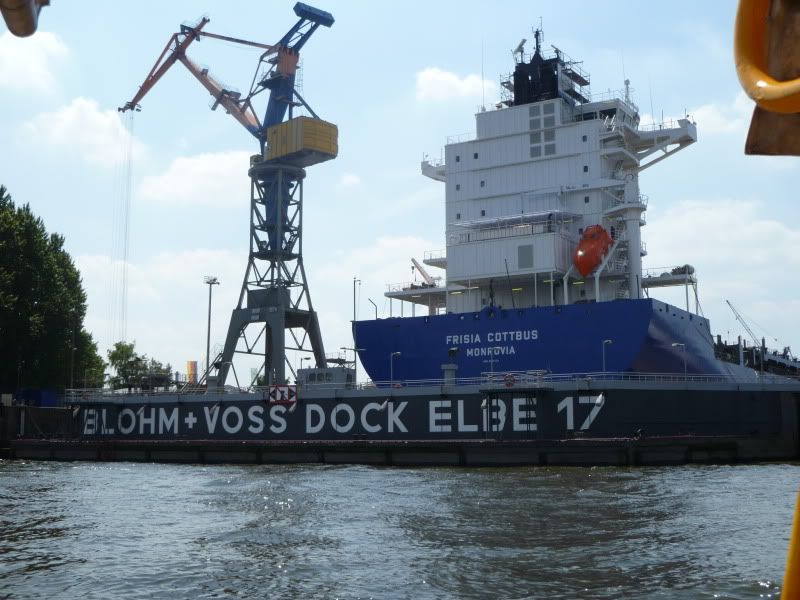 Back at the Landungsbrücken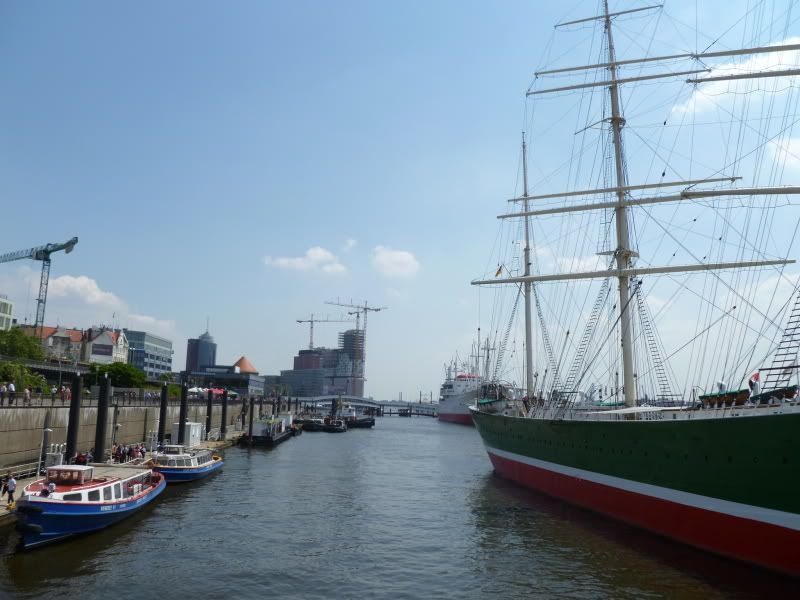 After this trip we had a nice lunch on the riverside before heading back into the city centre. Well, two ladies in Hamburg, plus a good exchange rate for us at the moment - we had to do a a bit of shopping
A good spot for lunch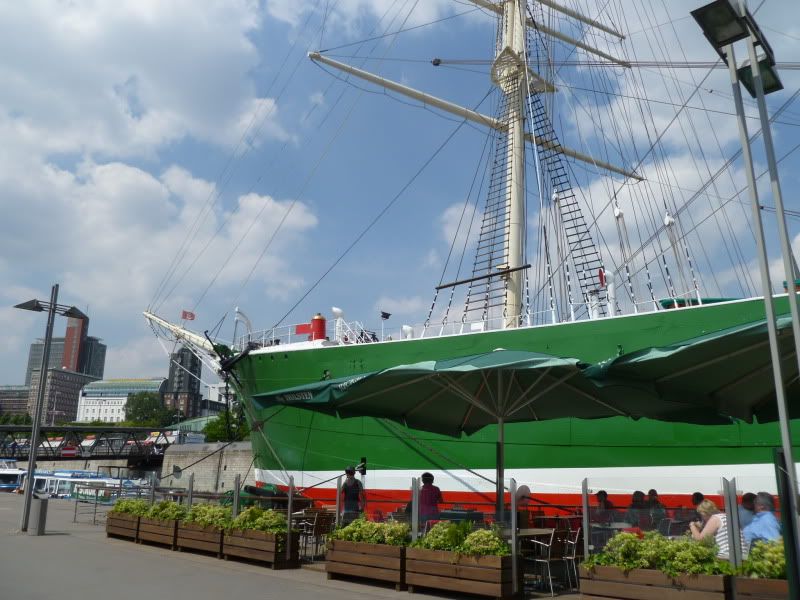 Landungsbrücken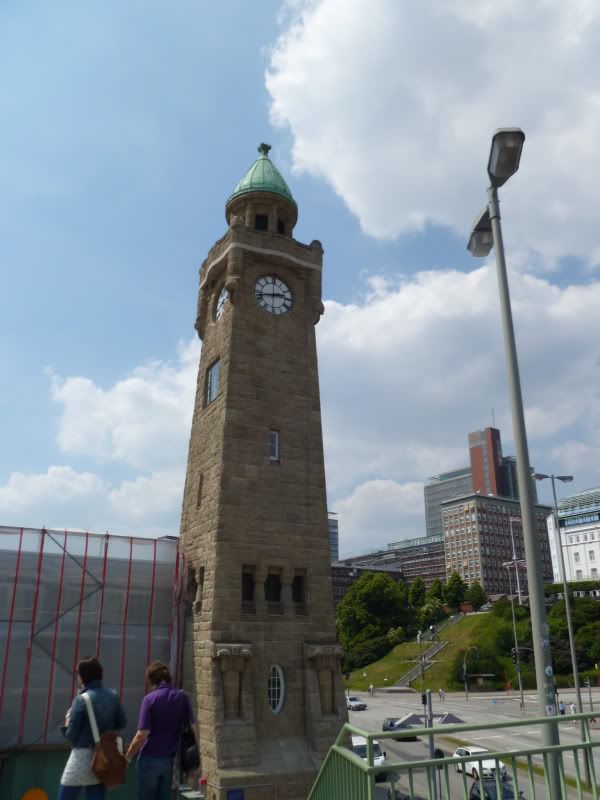 Not a lake but the Alster river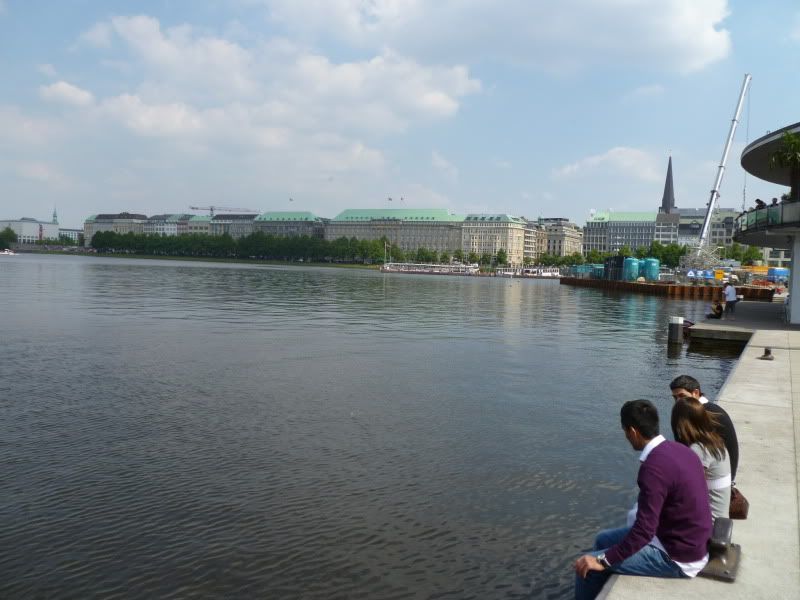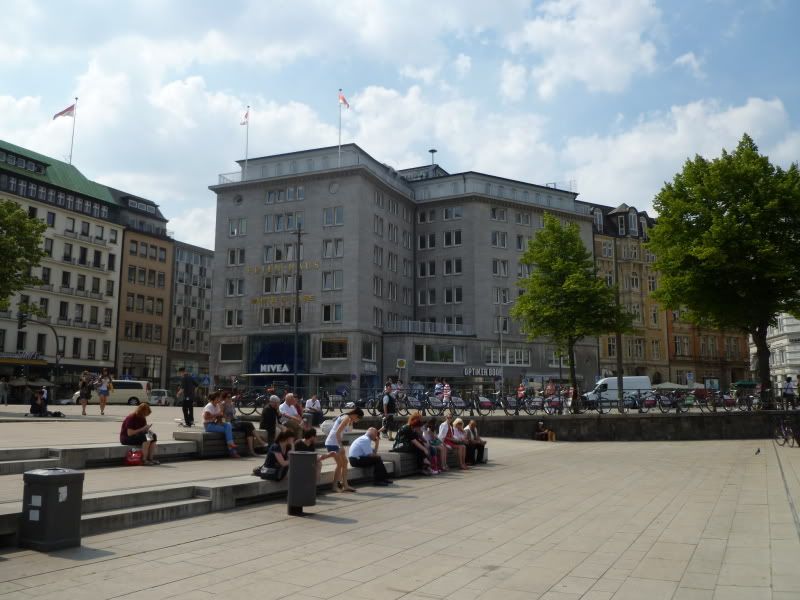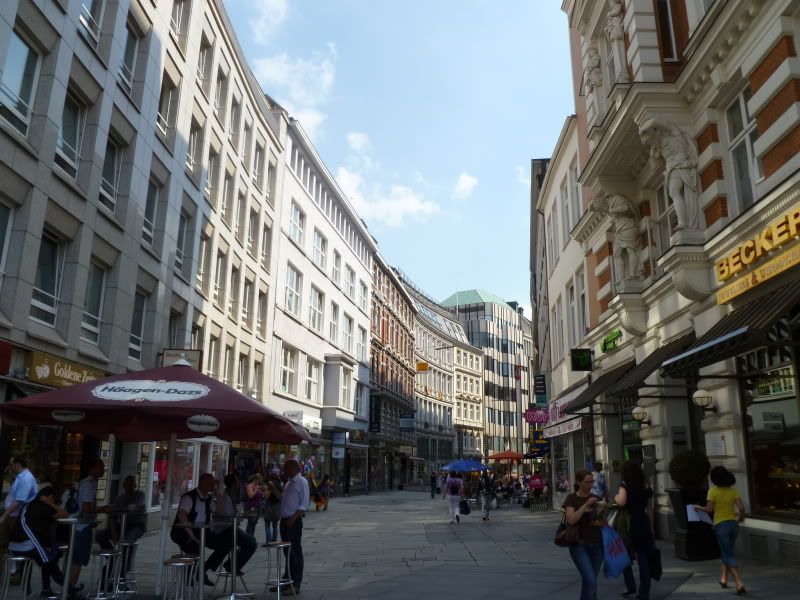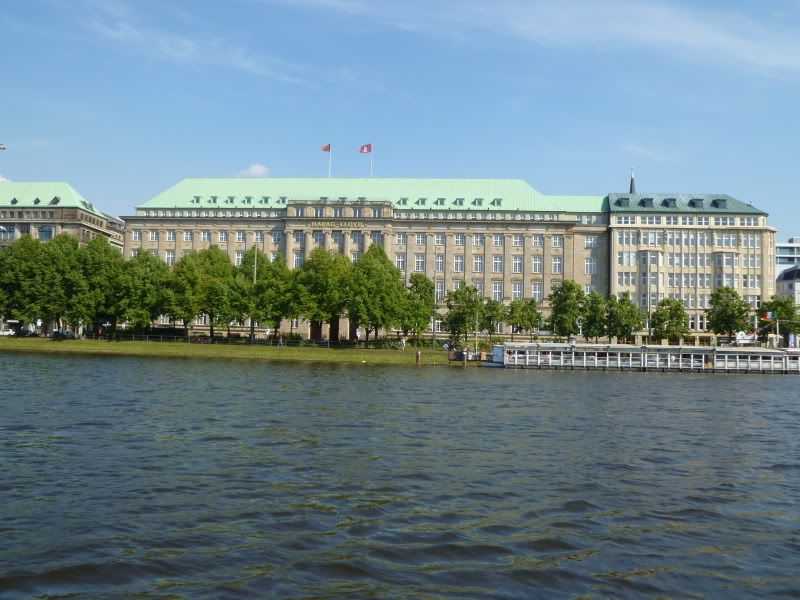 Town hall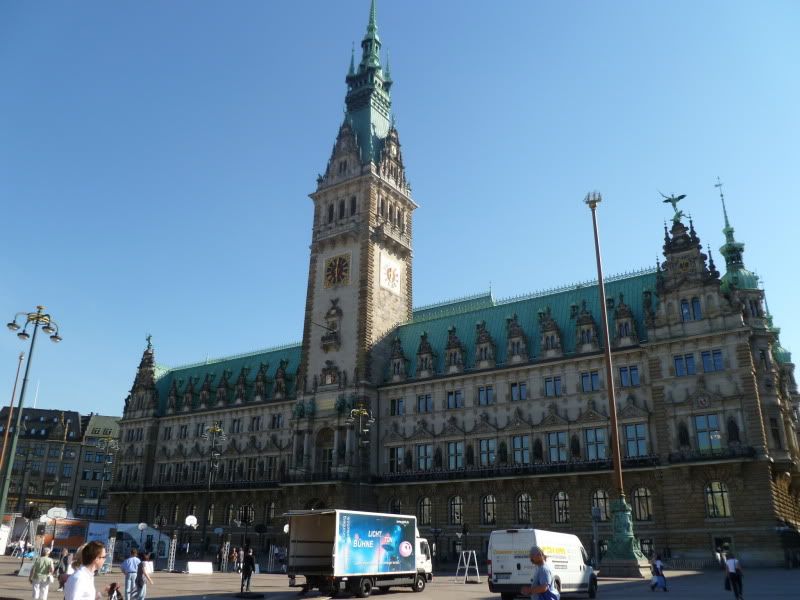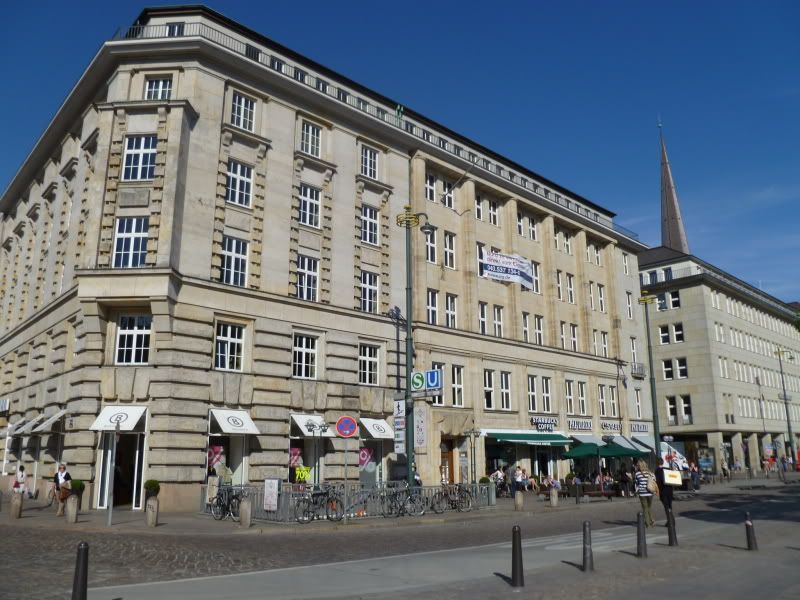 I was very pleasantly surprised by Hamburg. I somehow had expected the city to be more industrialised and had no idea how green it is. Definitely a place to return to and spend a bit longer in. The Airbus factory would also be worth a visit.
Around 6.30 we headed back to the airport. We already had our boarding passes, so collected our bags from the left luggage office and proceeded through security. I really liked Hamburg airport, both terminals are light, spacious and airy. Airside is also a nice simple layout, great for not-so-frequent travellers. Once through I did a final bit of shopping and was delighted to find some Fazermint Finnish chocolates . Having a wealth of choccie in Switzerland it's not easy to find "exotic" brands like this!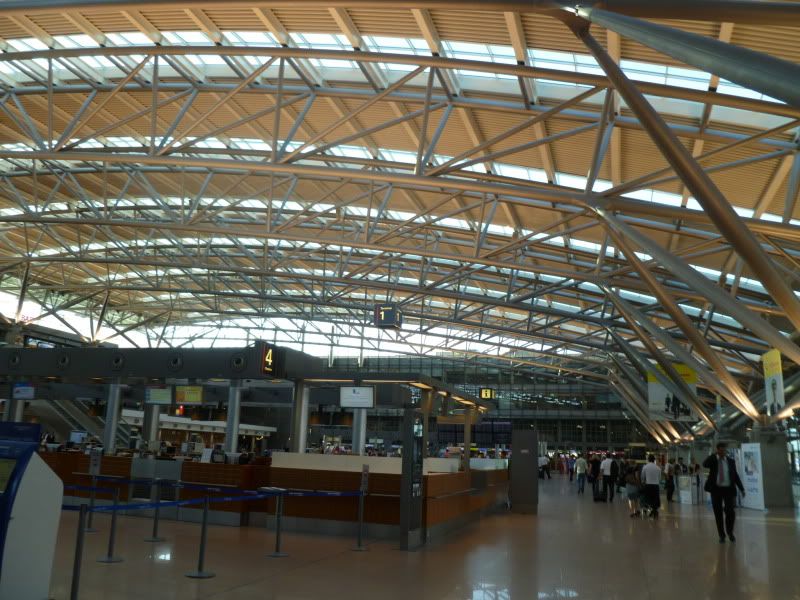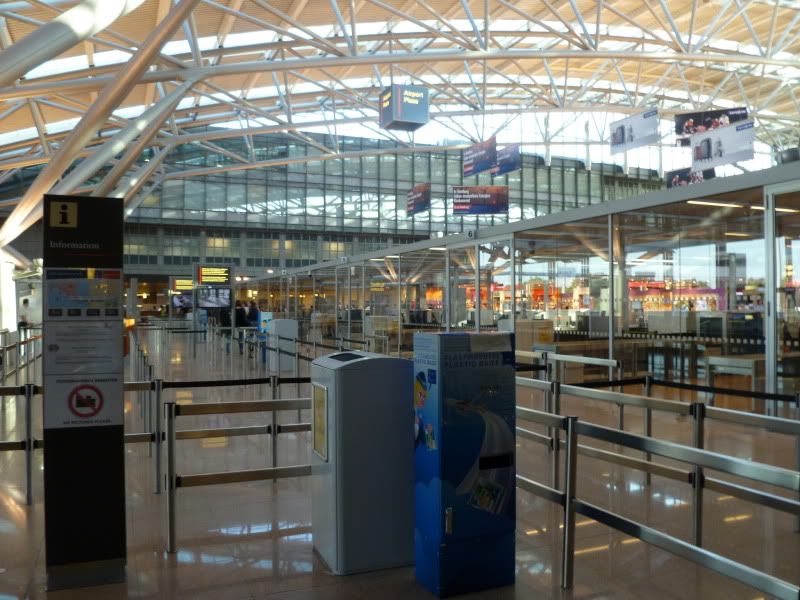 Airside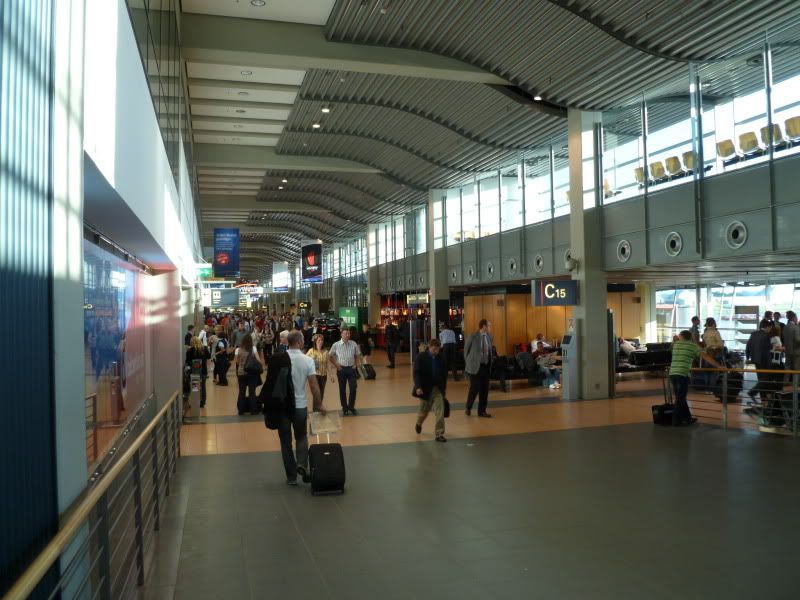 There was an announcement that our flight was going to be delayed, as the inbound from Zurich was late arriving. We didn't mind, it was a lovely evening with the sun streaming in through the windows and we were happy to sit and chat at our Gate, C07.
AB8714
HAM-ZRH
STD 2045 / ATD 2130
STA 2210 / ATA 2230
A319-100 HB-IOX
Seat 5 A
I'd guessed that we might get a Swiss based aircraft on the return leg, as it was the last flight of the day. This was indeed the case, an A319 in the new colours, delivered less than two years ago.
Our aircraft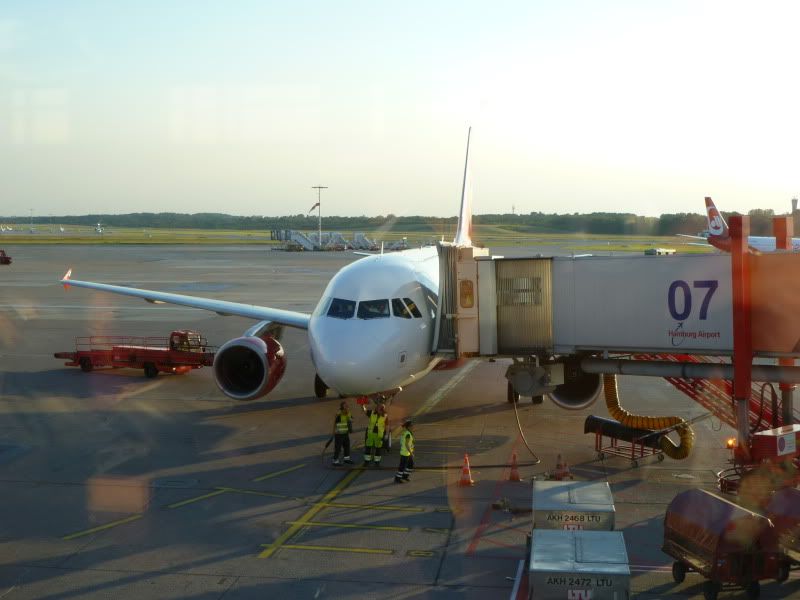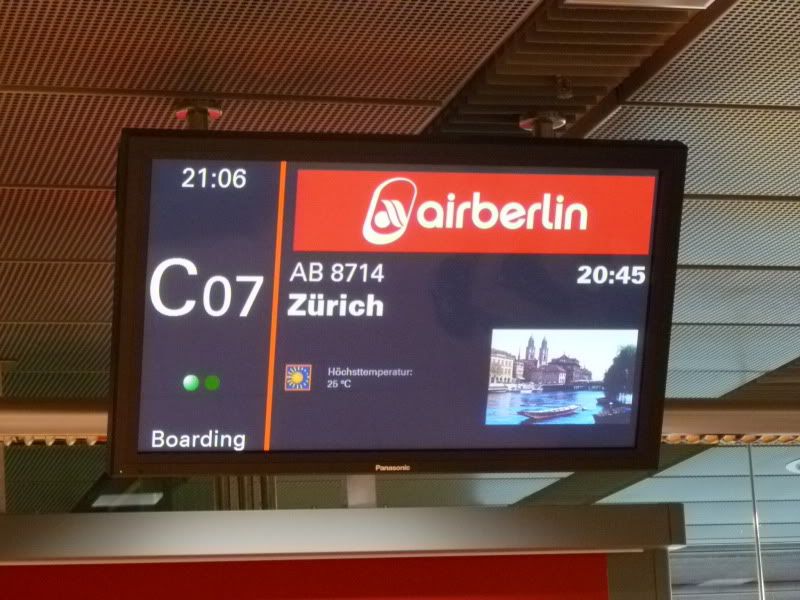 Boarding started at 2105, quick & organised. The usual papers were on offer again although there weren't many takers and friendly purser was actively encouraging people to help themselves. As this was a newer aircraft with the drop down screens, a manual safety demo like on the way out wasn't necessary. Comfy recaro seats and good legroom.
Pushback at 2120
Take off was at 2130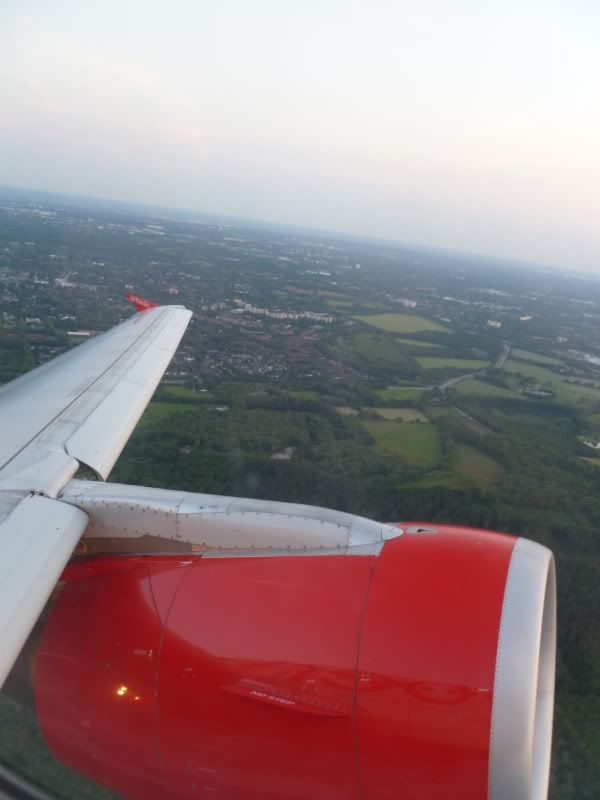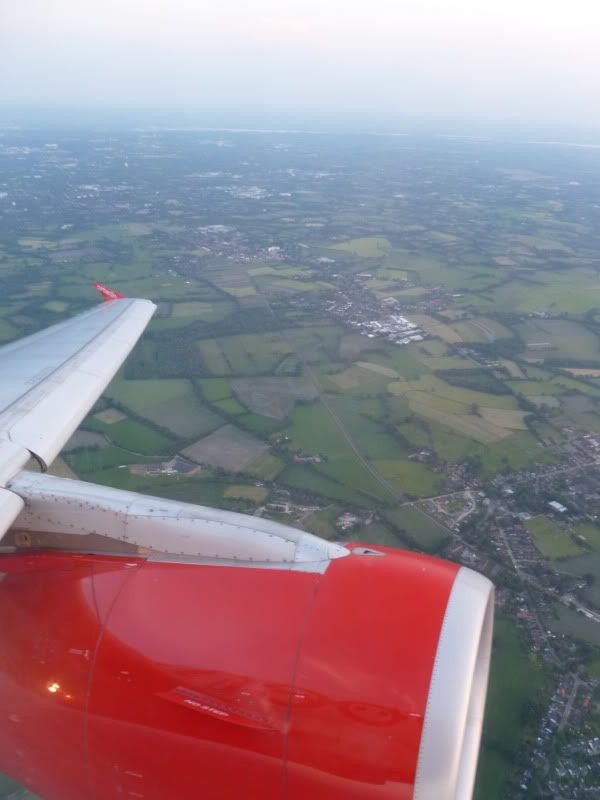 We banked and had a nice view of the airport in the distance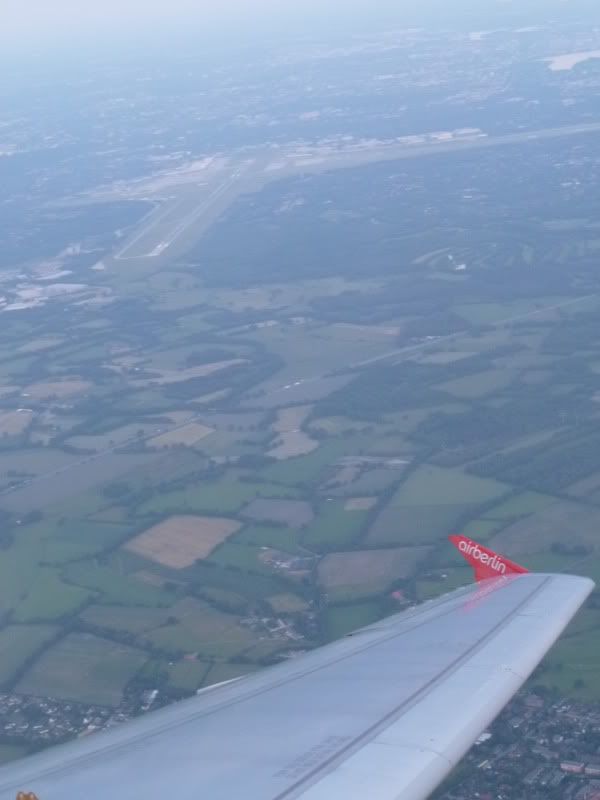 Pity it was getting darker and darker as we flew over the city. Here you can see the runway at the airbus factory at Finkenwerder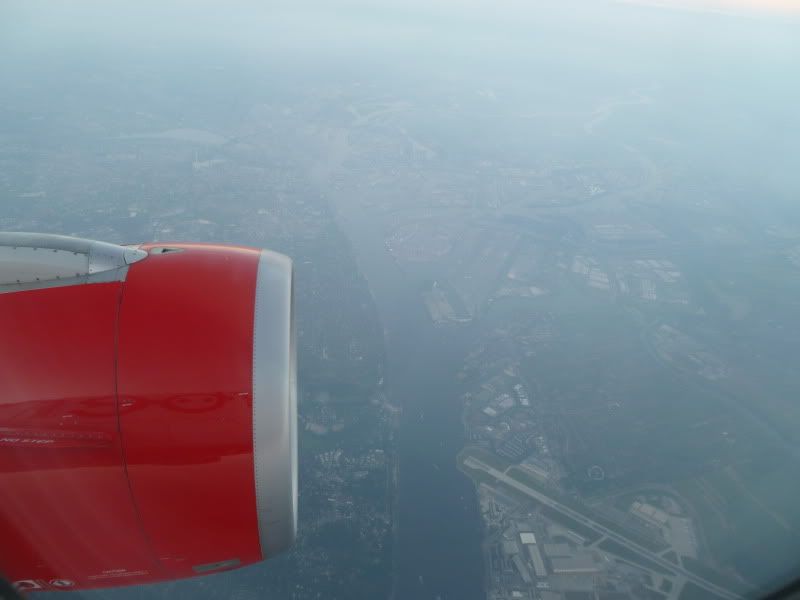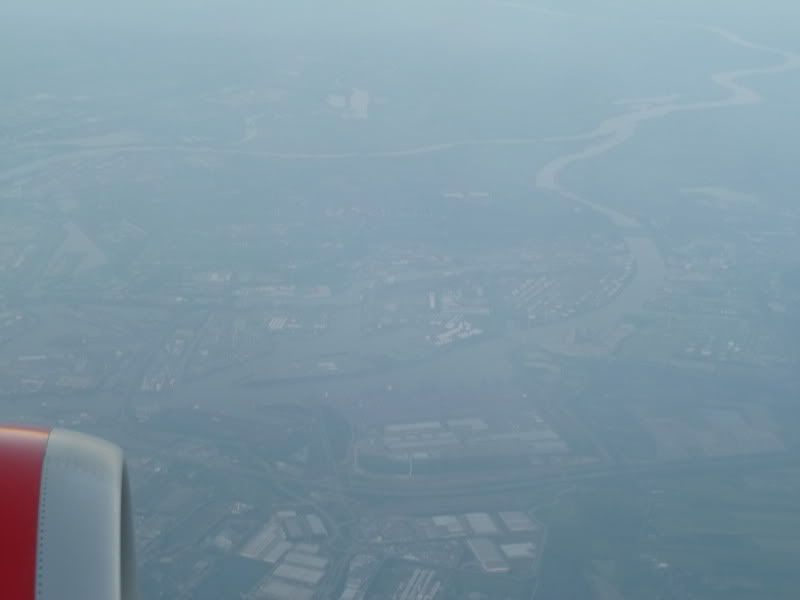 The captain made a friendly announcement shortly after take off. He was Swiss and the first officer was German. Our routing was to be over Frankfurt and then west of Stuttgart and on to Zurich, flying time about 1 hour.
The service started promptly. We were served by the purser, a German who obviously loves his job and was joking with the passengers. When the woman infront of me asked for a tea, he answered "With milk or lemon? Or maybe salt or pepper"?" She didn't seem too amused at this and he quickly added "Well madam, tastes are different these days".
Snack was a choice of sweet or salty, here's mine: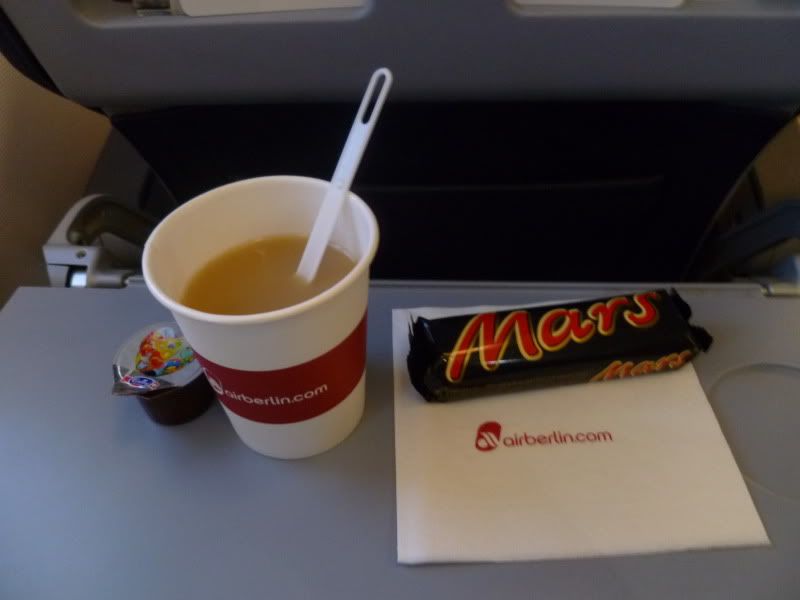 My friend treated herself to a bottle of wine, so she got both snacks: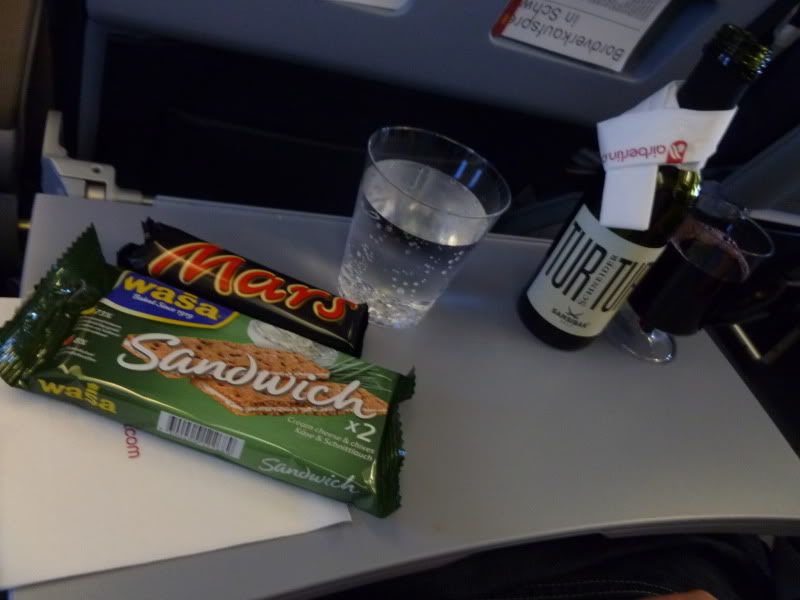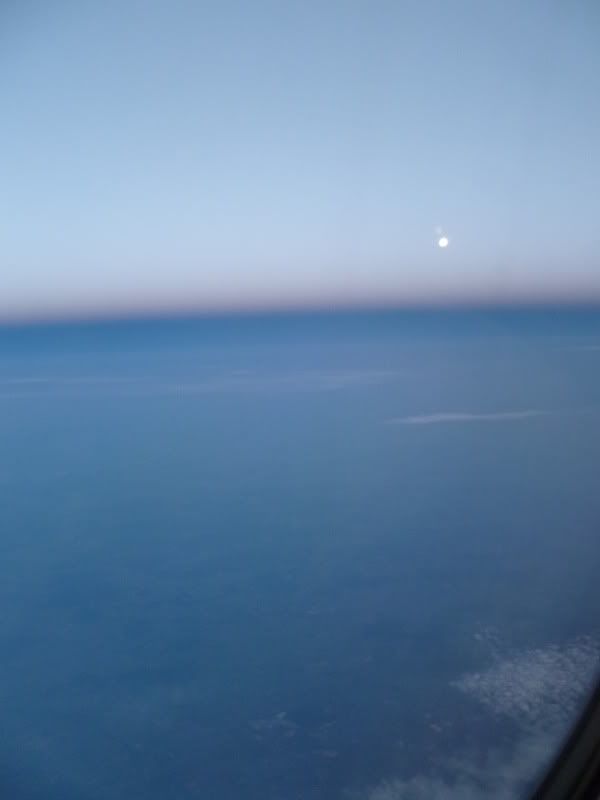 Cabin shot on descent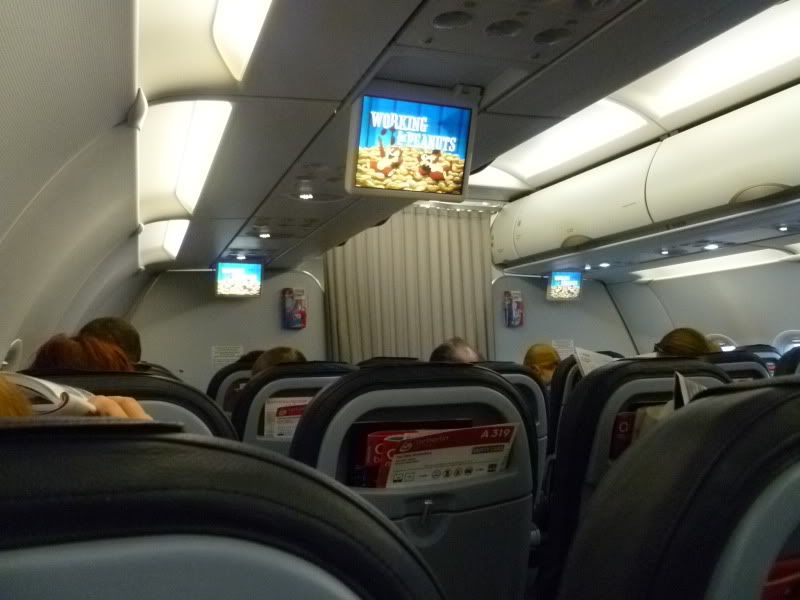 Before long we were on approach to Zurich. Nice views again of the sea of lights beneath us. We landed at 2230 on runway 28 and taxied round to our open stand, where we were bussed to the terminal. As we had no bags to collect, I was back in the flat 1 hour after landing.
Back in Zurich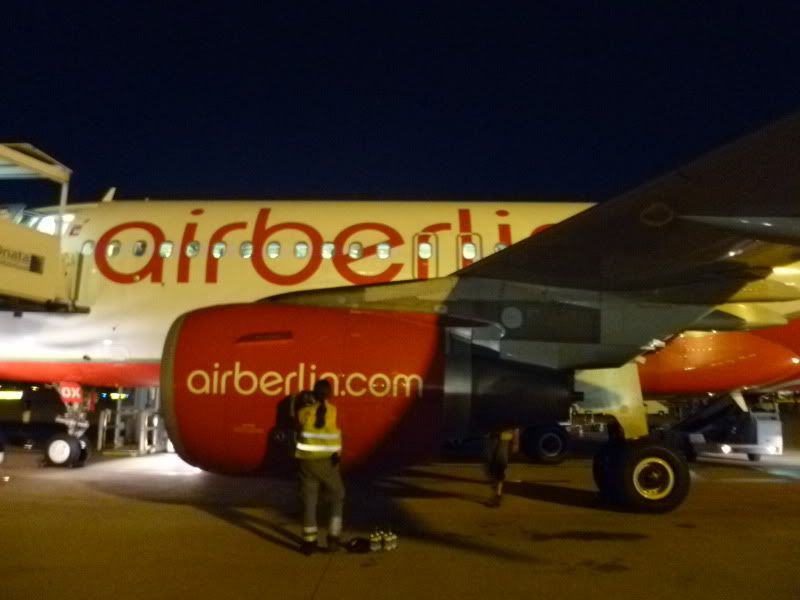 My verdict
A very positive first experience with Air Berlin. A bargain fare, two good flights (except for the lack of smiles on the outbound) and a most enjoyable day in Hamburg. Definitely something to do again soon.
My next report will be about a day trip to London with fellow member Markus, courtesy of AF and the A380.
Comments welcome as always.
Happy flying
Infodesk