18 Hours of Royal Orchid Service
TG PVG-BKK-SIN
It was hard to believe that just 2 weeks ago I stepped onto the soil of Shanghai and now I am leaving this vibrant city. Shanghai did not disappoint me. The sights, sounds and even the food is certainly one of the best among the Chinese cities I visited. As the time of departure creeps nearer, my heart starts sinking.
However, I comforted myself that I will be experiencing what the airline that just celebrated its 50th birthday a few days ago – Thai Airways International has to offer for their Royal Orchid Service. Orchid has been the very distinctive feature of Thai Airways International. Business and First Class passengers are given a fresh orchid flower upon landing, a wonderful touch added to the legendary service provided. This time, I had the chance to experience Thai Airways International's newest Business Class in 2 aircrafts, the Airbus A340-600 and Boeing 777-200ER. Coincidentally, both aircrafts I was on was
anointed
on 23rd June 2010, 2 days before my trip. HS-TNC was royally bestowed "Chon Buri" while HS-TJS has been bestowed "Phra Nakhon".
ITINERARY
TG 665 PVG-BKK -> 11 hour layover in BKK -> TG403 BKK-SIN
I was called "crazy" when I told people that I will be having the long layover in BKK. However, it gave BKK the chance to place itself as my favourite airport next to SIN. Despite suffering from the seizure of the Yellow Troops in December 2008 and the riots from the Red Troops recently, it still remains as a vibrant financial hub in South East Asia
ACTUAL DAY
Before blasting myself down the runway in a pressurized metal tube and rotating off Chinese soil, I wanted to experience a blast on the ground. Up till now, the only way to blast faster than 400km/h is taking the Shanghai Maglev Train from the Longyang Road Station in Pudong to Shanghai Pudong International Airport, pricing from ¥50 for Economy Class and ¥100 for VIP Class with a 20% discount when you have a confirmed airline reservation with a 20% discount when you have a confirmed airline reservation (¥40 for Economy, ¥80 for VIP).
While in the train, you don't really feel the acceleration. However when the speed reaches 431km/h, almost everyone in the cabin was taking photos of the speed shown on the screen.

The train approaching the station




Side view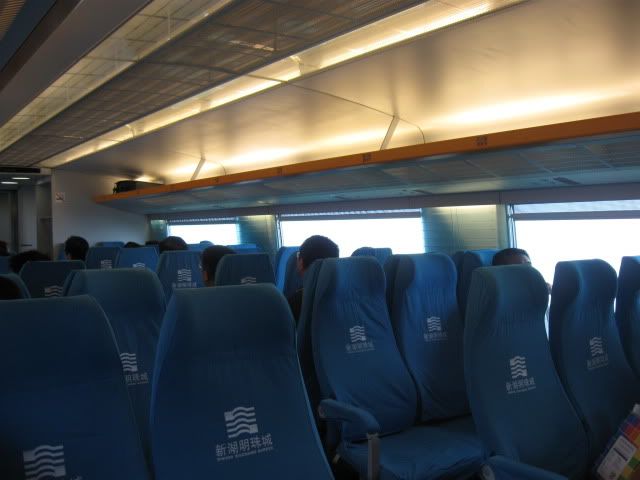 Cabin views



The magical moment that lasted less than 15 seconds!
THE JOURNEY BACK HOME
After less than 10 minutes, I stepped into Shanghai Pudong International Airport for the second time. This time, I am leaving this vibrant city. Will I get to step into this airport again? Only time will tell. As I walked down the walkway towards the check-in rows, I was both filled with excitement and disappointment. I am going on a plane again! However, I am also going to start school 2 days after landing in Singapore and going back to my busy schedule.

FIDS at Pudong
I headed off to my check-in row which was not open yet. I am at the airport at 2.30pm for a 5.25pm flight and there were no check-in counters open yet! However, there was already an indication of where the check-in row will be so I made my way there and got into the queue for Royal Silk Class passengers. When I got into the queue, a man his mid-forties lined up behind me. Apparently, he got into the queue meant for Royal First Class passengers and he is now crossing over to the correct queue. When he got himself settled down in the queue, something told me that I had to chat with him. Therefore, I pluck up my courage and engaged in a conversation. How it went? Here goes
Hello sir, may I know if you are travelling in Royal Silk Class too?
Yup.
Cool. You look like a frequent traveler, am I correct?
Yeah, I travel frequently for business purposes.
May I know where is your final destination?
Zurich.
That's cool, Zurich is a place I been wanting to visit. Are you going there for business purposes?
Yup, I am a businessman based in Germany.
Since you travel so much, may I know if you are actually an aviation fanatic?
Well, I actually hold a Private Pilot's License and have some knowledge about planes.
I guess you know airplane types well?
Sort of, I guess this flight will be operated by an Airbus A340-300 or Airbus A340-600.
It's an Airbus A340-600 sir, Thai does not have any Airbus A340-300.
Ah, I got it. Anyway, if you want to know more about my business, here's my name card.
Thanks, my pleasure.
Shortly after our conversation ended, the check-in rows opened. I proceeded on to the counter and asked if my luggage will be checked through to SIN. The agent replied yes and tagged my luggage with the striking Star Alliance Priority Tag. After getting my lounge invitation and boarding passes, I bade goodbye to the businessman and proceeded on to the lounge

Boarding passes all the way to SIN



Lounge invitation
The SAL lounge was a complete disappointment. Food choices were limited and there were almost no seats for me. Apparently this lounge is being shared by almost all the Star Alliance airlines departing from PVG. Not recommended for a long period of stay and it actually took me 30 minutes to get connected to the internet. Throughout the process, I made the initiative to ask a man beside me which has internet access and from his accent I actually figured out he is a Singaporean and I was right. =D He's travelling back by SQ but I do not envy him as the aircraft today (9V-SYI, Boeing 777-300) still has the old J class seats =) (correct me if I'm wrong). Finally, the time neared and I packed up for the short walk to my gate to board the aircraft.
Segment 1
25 June 2010
TG665
Route: PVG-BKK
Departure Gate: D75 (Terminal 2)
Arrival Gate: C2
Departure (Scheduled): 5.24pm (5.25pm)
Arrival (Scheduled): 9.06pm (9.00pm)
Registration: HS-TNC (Chon Buri)
Type: Airbus A340-642 (First flight 12th July 2005)
Seat: 12A (Royal Silk Class)
Distance: 1801 miles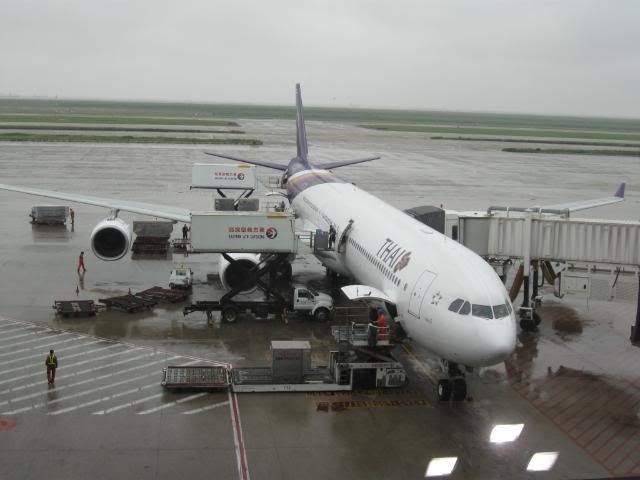 HS-TNC at the gate
When I was looking at the registration from the lounge, I worked it out to be HS-TNE, an Airbus A340-600HGW. However, I got to the gate and noticed it was HS-TNC, the same aircraft that brought me to Shanghai 2 weeks ago! Moreover, I will be in the same seat that took me to Shanghai too! The night before, I had the decision to change seats but I changed back to 12A. Talk about coincidences!
After a 15 minute wait or so, TG665 to Bangkok was ready for boarding. Although it is my second time boarding the Airbus A340-600, I was still as excited as before. This time, boarding was divided into 2 rows. Trying to make out the row for Business Class, I peeped at everyone's boarding pass but to no avail. Therefore, I just put myself into the shortest row. A bad thing about the boarding process is that Business and First Class passengers were not given priority boarding. I actually saw some Economy Class (non elites and Gold Card) boarding before me. Hopefully this will be improved in the future. Nothing beats turning left when entering an aircraft. I supposed I was in the aft Business Class cabin when entering but I actually saw my seat before walking though the cabin divider. This got me thinking that I was already in the front Business Class cabin.

Great looking Royal Silk Class seat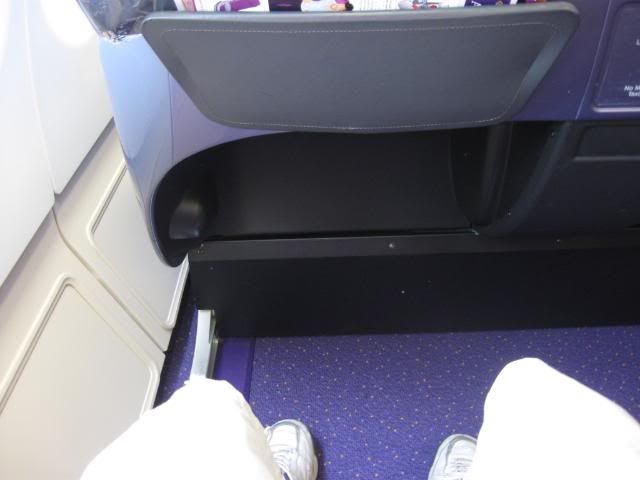 Great looking Royal Silk Class seat



Seatback view



Pre takeoff drink, Champagne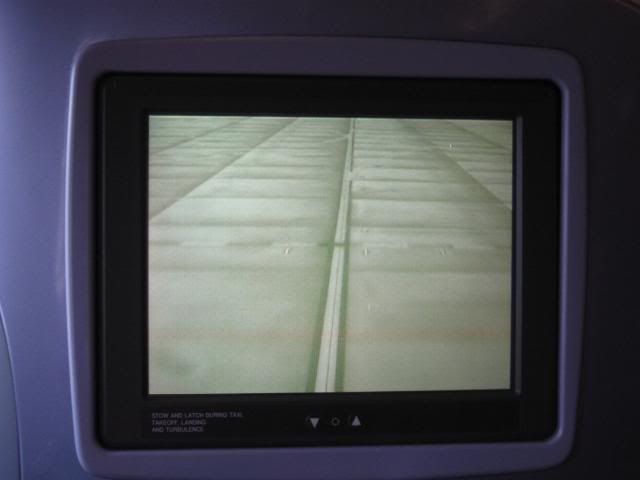 Taxi to the runway!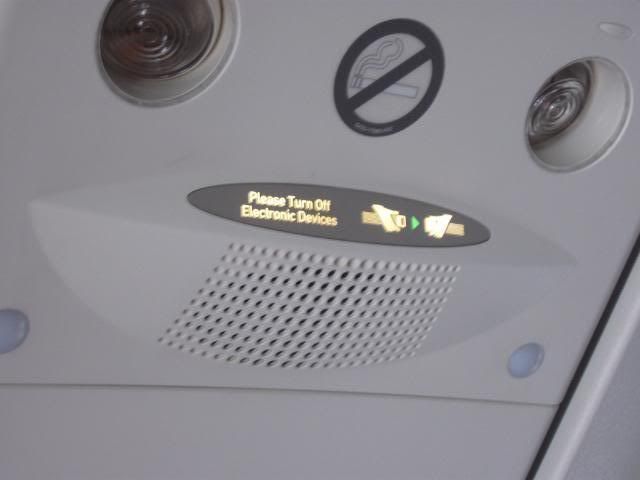 The turn off electronics sign which replaced the non smoking sign
After settling down, I noticed my amenity kit has a faulty zip so I requested for a change. It took them 10 minutes to change it for me but nevertheless I managed to get it before takeoff. An Indian man sat down beside me shortly after. I decided that he did not look very kind so I kept quiet throughout the flight. We taxied to runway 35R for takeoff and it is finally time to bid farewell to Chinese soil.
Menus were distributed after takeoff and the dinner choices looks interesting.

Shortly after takeoff



Menu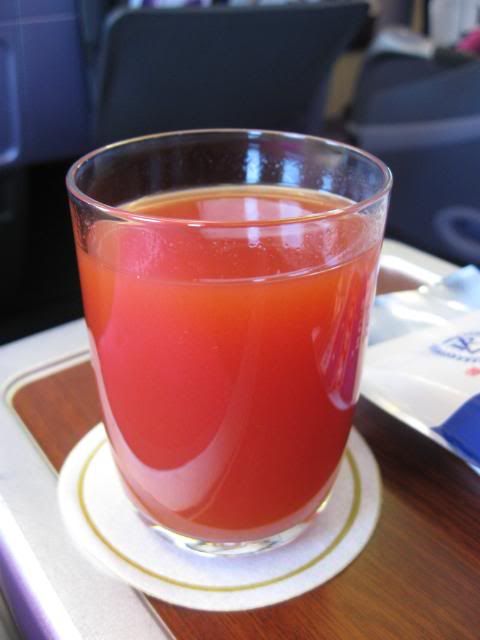 50th Anniversary napkins



Lovely windows!
I decided to watch Toy Story (again) as I did not finish it on my inbound flight. Furthermore, I watched Toy Story 3 in Shanghai so it is natural I want to know what happened at first. 20 minutes into the movie, the meal service began!

Toy Story



The starter. So nice that I asked for a second helping!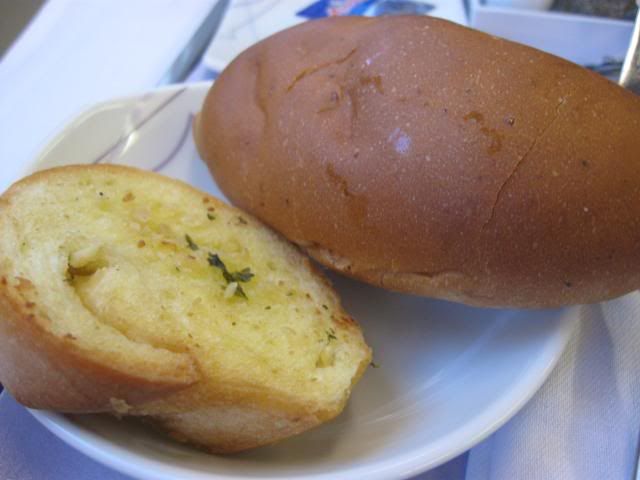 Bread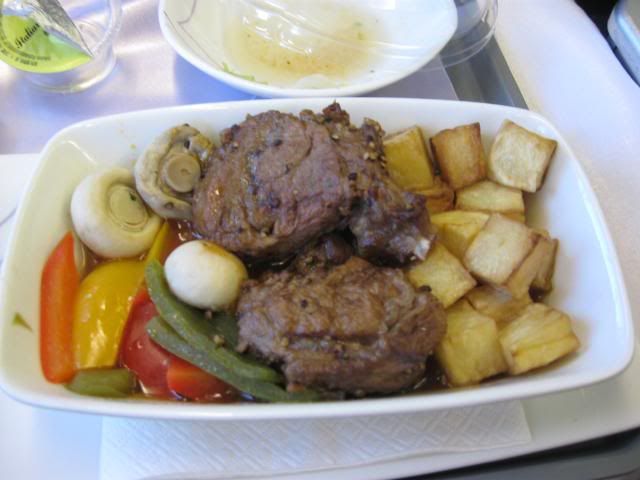 Main dish, Roast Cutlet of Lamb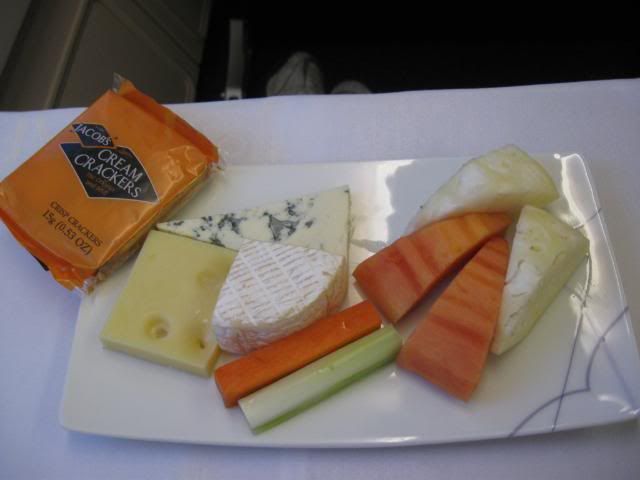 My favourite course, cheese plate!



Blackforest cake, delicious!
Shortly after finishing my meal, I asked for a second serving for the appetiser. This was there the ice between the Indian man and I broke off. We had the following conversation.
Him: They did not serve you the first dish eh?
Me: They did, it was so delicious that I wanted a second serving. I see that you missed it. You should try it!
Him: It's ok my boy. *patting on my head*
Me: Alright.
If I had to choose one thing I love about Thai, it has to be their catering. They never cease to amuse me.

Back to the airshow channel



Cabin and seat views after sunset
Continuing my conversation with the Indian man, he says that he is a member of Thai's Royal Orchid Plus and always travels in Business Class whenever he flies. However, he only does that once or twice a year. We came in for a smooth landing at runway 19R and taxied to gate C2. While descending, I noticed lots of lightning over Luang Prabang, the capital of Laos and I guessed we took a detour and resulted in a longer flight time.
I bade goodbye to the Indian man and proceeded on to the transit area. While on my way, I heard my name being called. It's him calling me. Why? He proceeded on to give me some tips on passing Thai transit area. I thanked him for the tip and let him know that I transited on my way to Shanghai so it will not be a problem. Oh yes, he was very shocked to know that I had the 11 hour transit and asked why I did not book a nonstop flight instead.
ELEVEN HOUR TRANSIT AT BANGKOK SUVARNABHUMI
An 11-hour transit is almost a traveler's nightmare. However, I was looking forward to it as I can further explore Suvarnabhumi airport to see what I missed out on my flight to Shanghai. Apparently, the signs are not very well organised. After walking around like a headless chicken, I finally found my way to the Royal Silk Lounge at Concourse D. It was a nice lounge but no shower rooms. The one equipped with shower rooms will be at Concourse C. However, I just went into the lounge for a little rest and caught up with some friends in MSN.
After reading up on the Royal Orchid Spa service that Thai provides for their premium passengers, I was tempted to give it a try. Therefore, I went to the spa at 10pm Thai time and opted for the foot massage. It was great and I'd definitely go back again. Now, anyone knows how to get the Royal Orchid Spa vouchers? I wouldn't mind paying for it!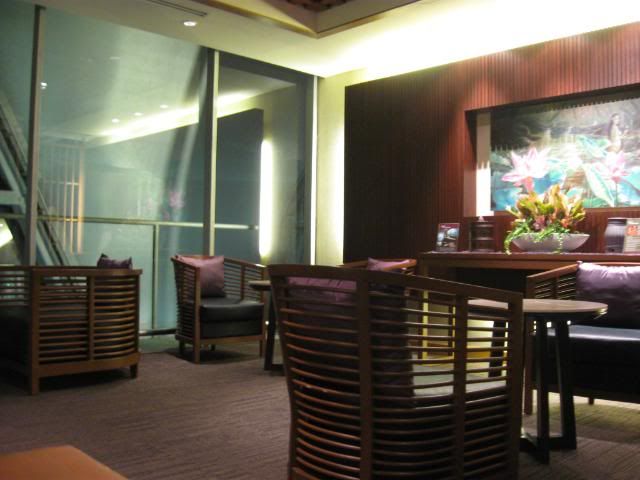 Wonderful place to relax before massage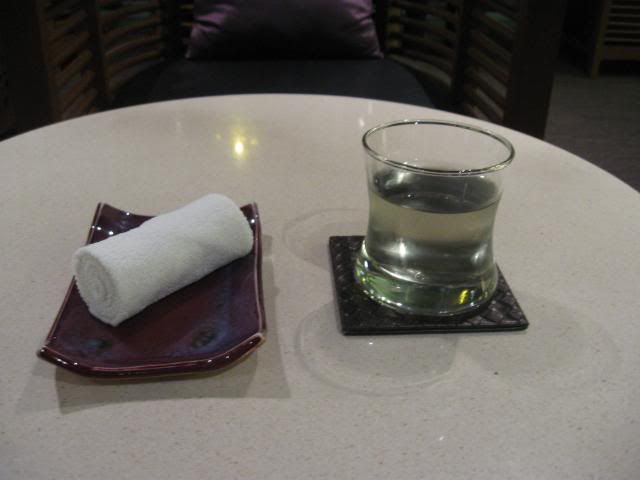 Cold towel and nice drink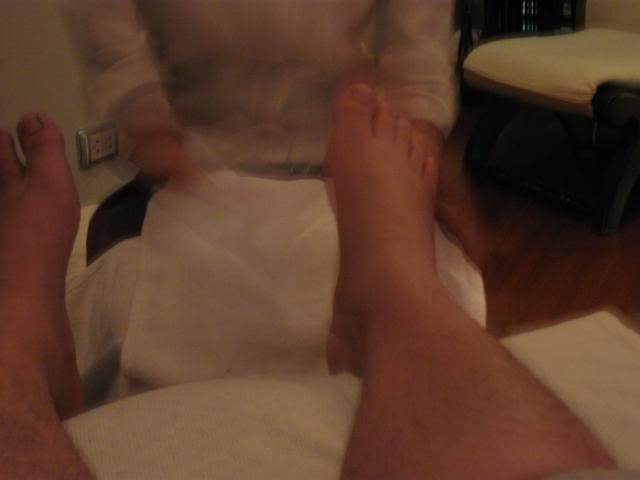 Massage. I have a sensitive foot! =p
After the wonderful 30 minute foot massage (and worrying that I might kick the masseur in the face), I proceeded to the lounge at Concourse C to use the shower rooms. It was better than what I expected. Roomy and has all the facilities available.

Shower room
Since the lounges would be closed from 1am to 5am, I opted to go to the Louis Tavern Lounge for the dayroom. Upon reaching, I took a look at the price list and it was 84 USD for a 4 hour dayroom. However, I was so tired that I just paid using my card and off to the room I go. An interesting thing to note is that the television in the room has only 2 channels and other channels are the flight information. Also, I got a double room instead of a single room - I guess not many people are staying in here.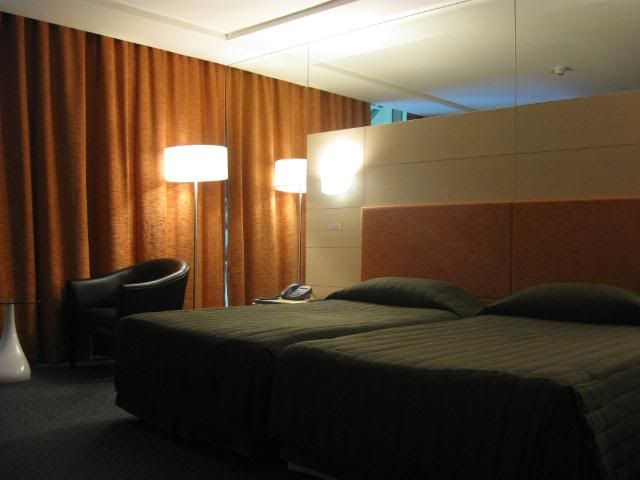 Twin Dayroom at Louis Tavern Lounge, Suvarnabhumi Airport
THE FINAL JOURNEY

Singapore, here I come!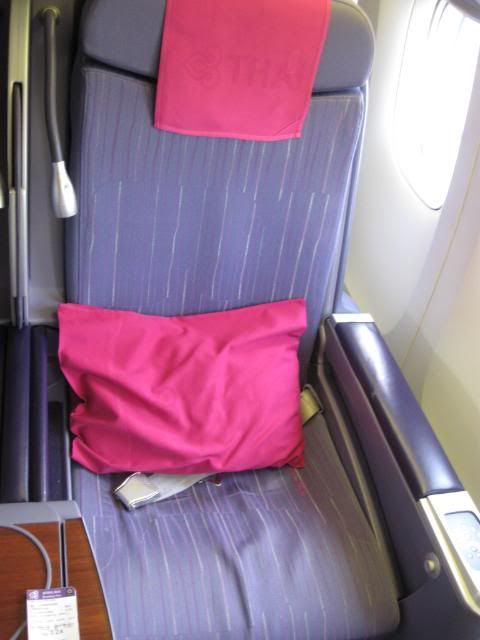 New Business Class seats on this young aircraft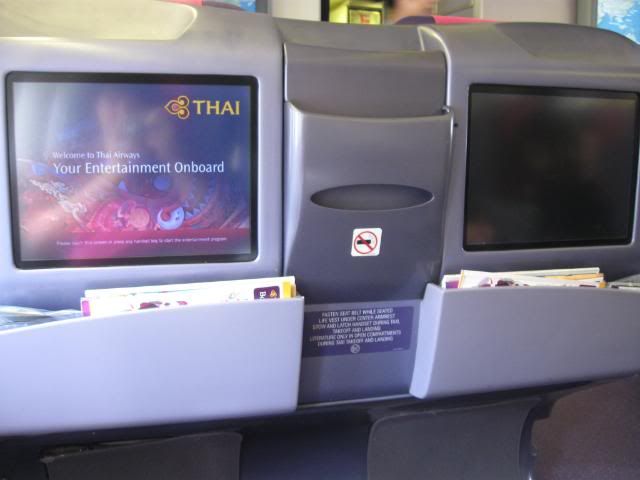 Seatback view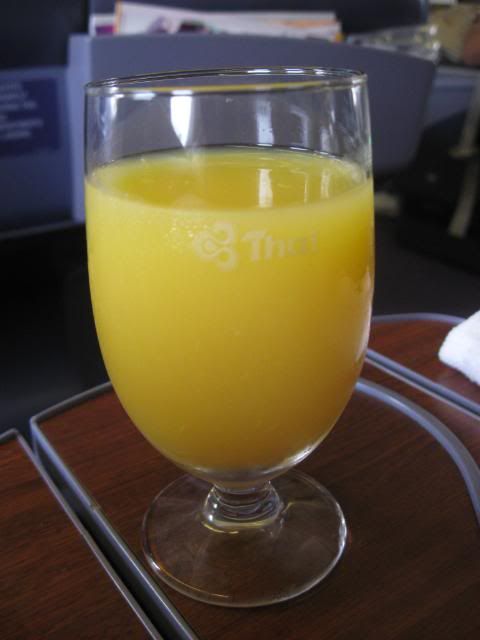 Welcome drink, Orange Juice



This infamous sign from my previous trip report
Upon reaching my seat, my seatmate was there too.Surprisingly, she is the friend of the lady I previously met at the lounge. I made a comment to her that I met her friend in the lounge and we started chatting. It turns out that they were from Switzerland too! Meeting 3 people from Switzerland is really an interesting encounter and all of them were very nice. To add on, I met 2 more gentlemen from Copenhagen (Denmark) while in the lounge. Is this a sign I should visit the places I haven't got to?
We pushed back on time and headed to runway 19L for departure. I have officially used both runways at Suvarnabhumi! =D This time, the seatbelt signs were switched off very early, at about 6000ft. Is this normal? Shortly after takeoff, menus were given out.

TG A330-600 HS-TAY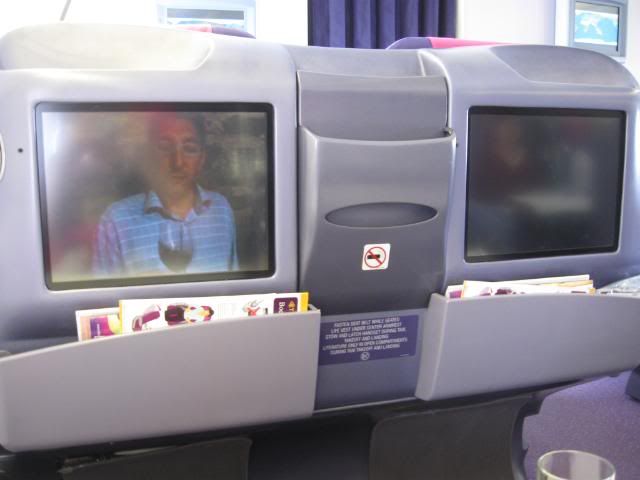 IFE activated. I love the large 15 inch screens!



Starter. I love how they cut the apples!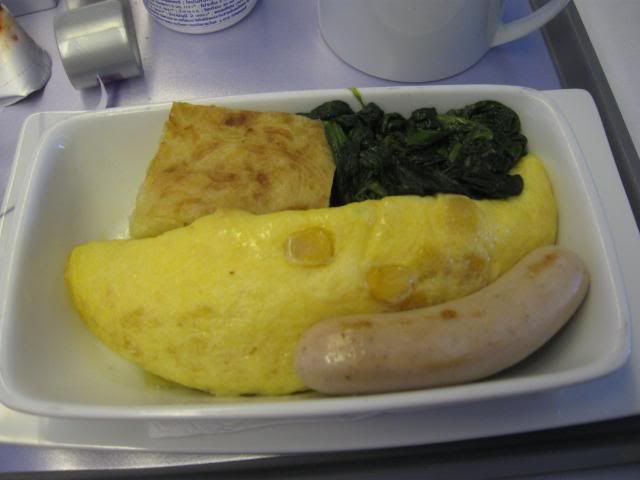 My main dish. Omelet with Spinach, Sausage and Potatoes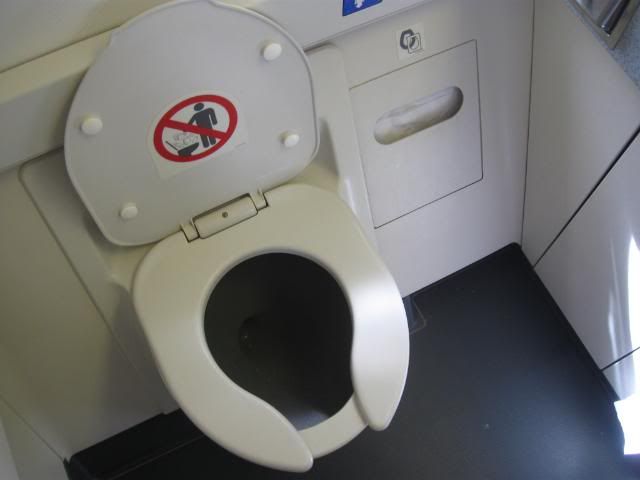 Mandatory lavatory visit



Economy Class cabin. The first time I walked through both cabins in a flight!
The whole flight was Smooth as Silk and the cabin crew this time was exceptionally great, especially the head steward. He never fails to put a kind smile on his face that makes you feel comfortable. Shortly before landing, the flight attendants started giving out orchids to the female passengers. My seatmate is a female so naturally she got one. However, the flight attendant offered one to me too. I guess it's because I am sitting beside a female passenger, or she knows that I secretly want an orchid? *winks*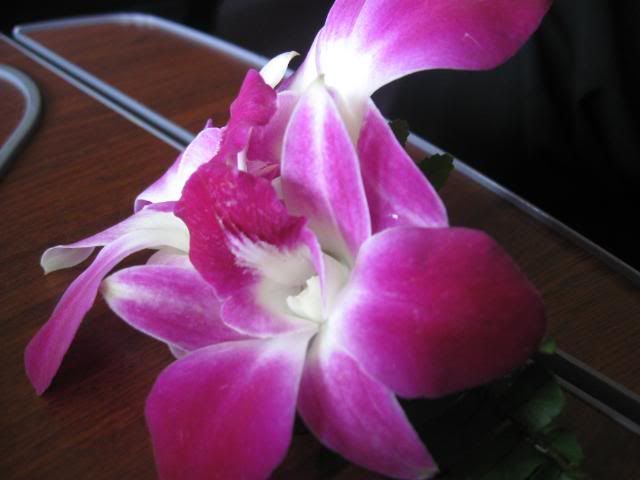 Fresh Orchid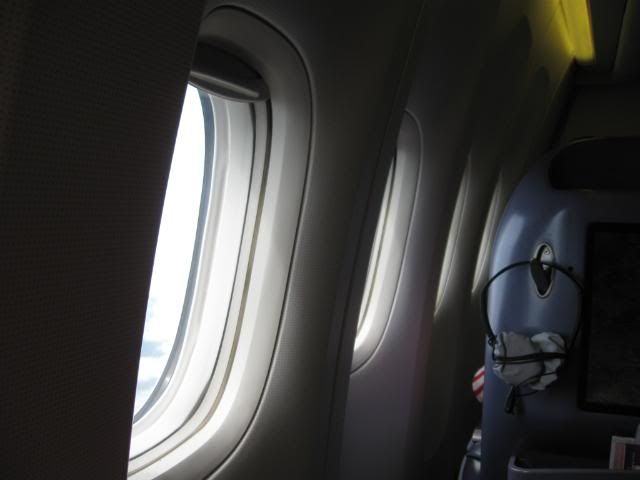 I love Boeing's windows!
We executed a smooth landing on runway 20R, one of the very few times I get to use this runway as I normally use 2C/20C. While taxiing, I looked around and is relived that I am back in my hometown. However, this also means that my Royal Orchid experience is coming to an end. Nevertheless, it was a great experience!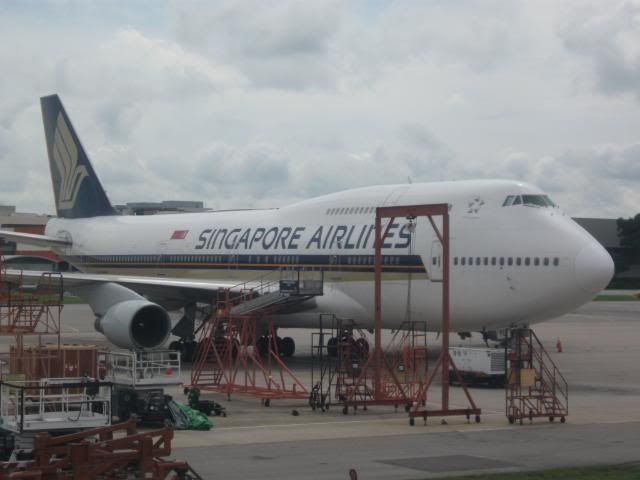 SQ Boeing 747-412, a sight no more after a few more years



Jetstar (Valuair) Airbus A320-232. Since when did they add the Valuair titles on top of their Jetstar livery? It looks ugly!



Our gate!
CONCLUSION
Thai really exceeded my expectations for my return flight. Not only they managed to add a good ending to my vacation, it also leaves a memory that I will remember forever for my first Business Class flight. Thai, Smooth as Silk and of course one of the BEST way to fly (next to SQ)!
======================================================================================
Now for some pictures of Shanghai and the Shanghai Expo!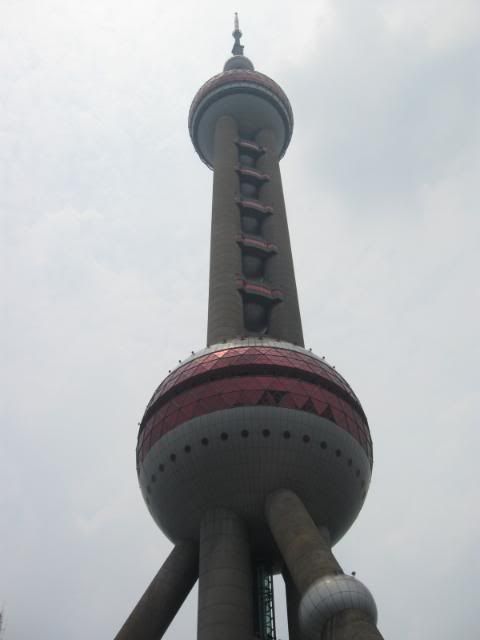 Oriental Pearl Tower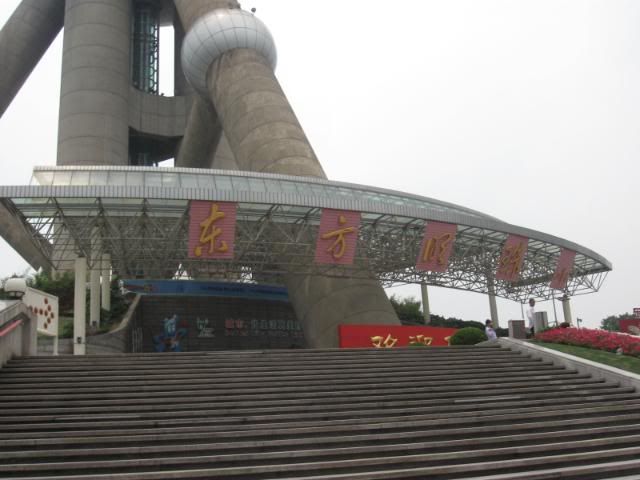 Entrance to the Oriental Pearl Tower



Elevator to the second capsule for the buffet lunch at the revolving restaurant



Some dishes at the buffet



View downwards



Messages left behind by leaders of various countries. Do you see your country?



The space cabin at 350m!



Underground tram for transportation between Pudong and Puxi



Apple II!



No introduction needed for this person! (Sorry for blurred image)
NIGHT VIEWS @ THE BUND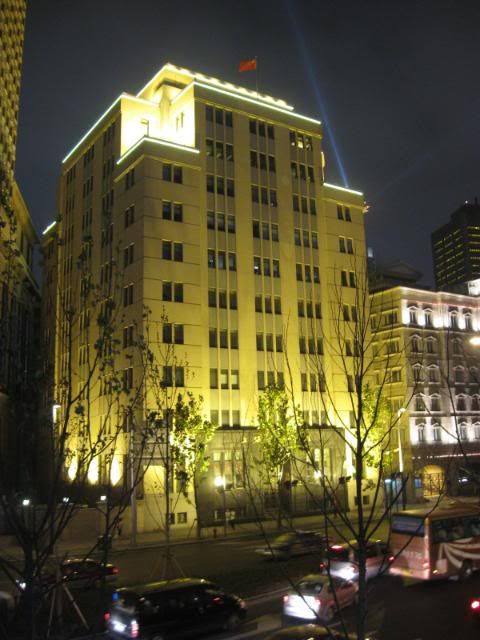 SHANGHAI EXPO AND SHANGHAI SURROUNDINGS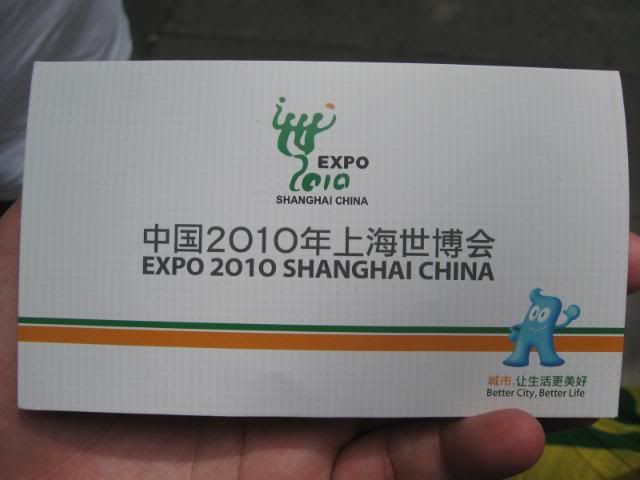 Expo ticket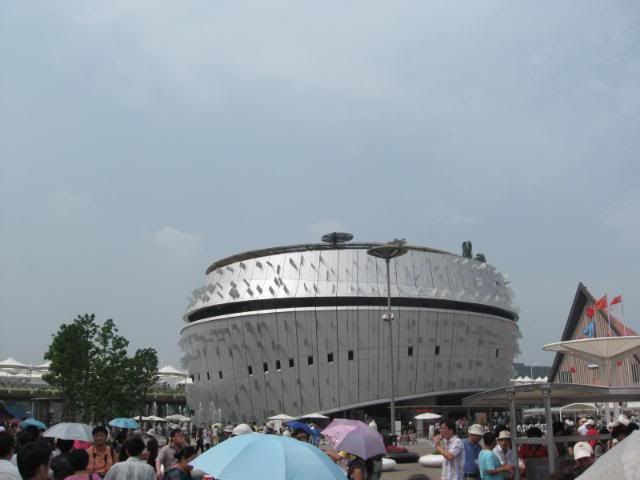 Singapore Pavilion



Mini "Fountain of Wealth"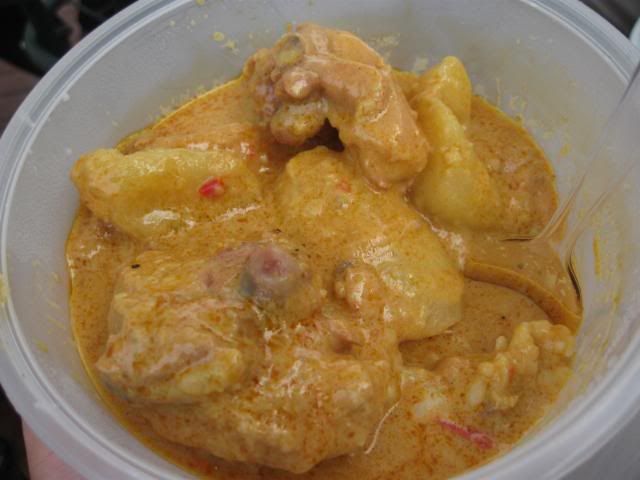 Curry Chicken, Singapore delicacy! (20 yuan)



Parade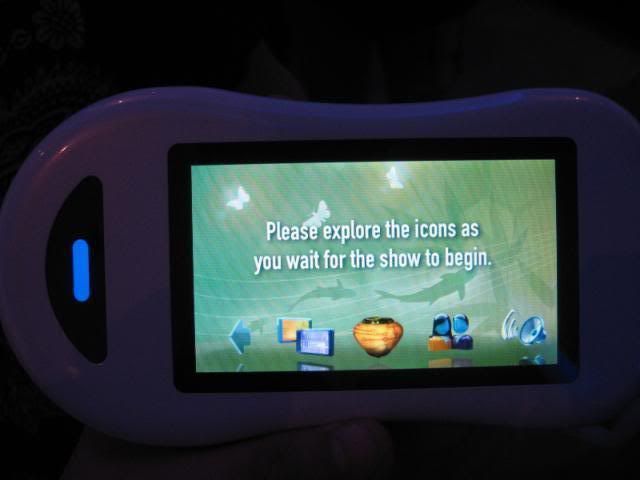 PSP like controller for the Technology Pavilion



Nice little bun bought from Singapore Pavilion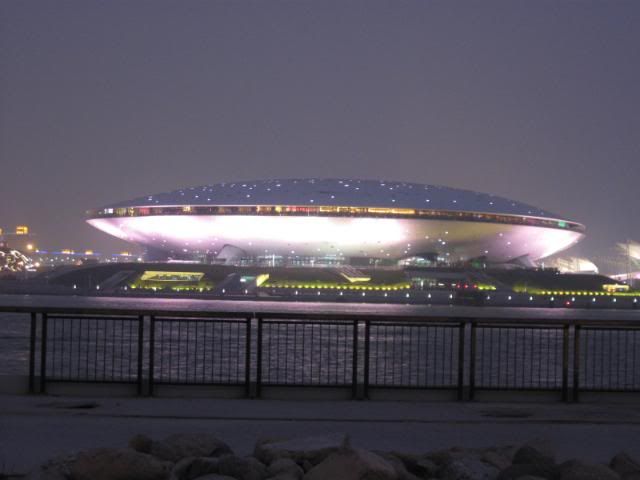 They call it Flying Saucer, I call it Dorayaki (Doraemon's favourite food)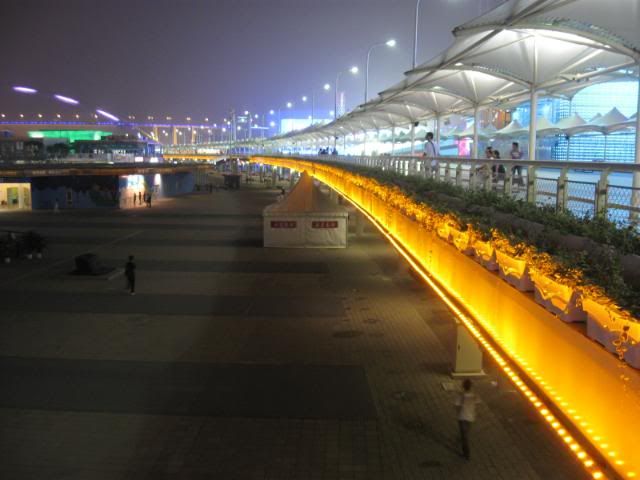 Walkway at night, Expo Axis



Night view



Parade at night!



The Red House, a luxurious French restaurant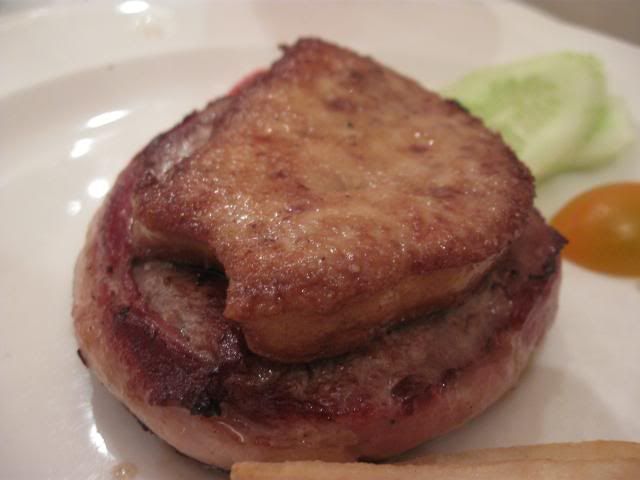 Foie Gras with Steak. The first time I ate Foie Gras in my life!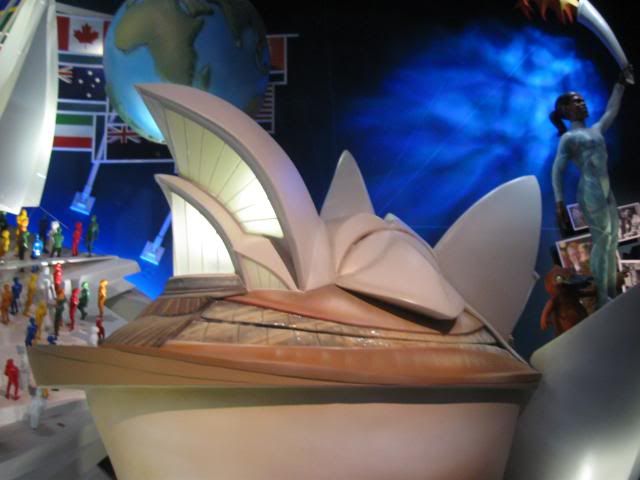 Inside Australian Pavilion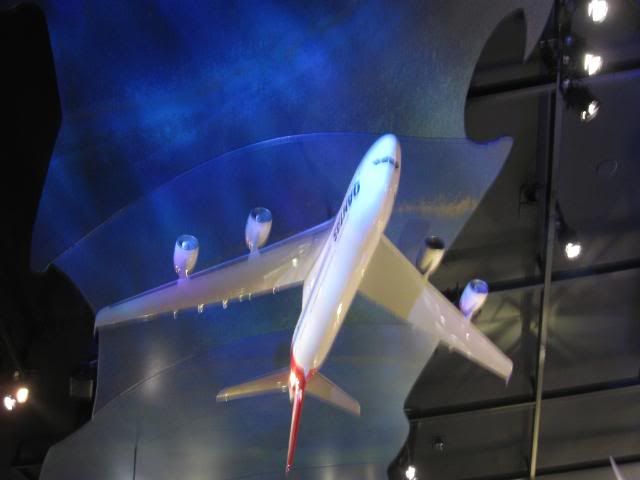 Qantas Airbus A380-800 and Boeing 747-400 hung upside down. Isn't this inauspicious?



Display inside Australian Pavilion, I was lucky enough to capture a jet engine without knowing!



More effects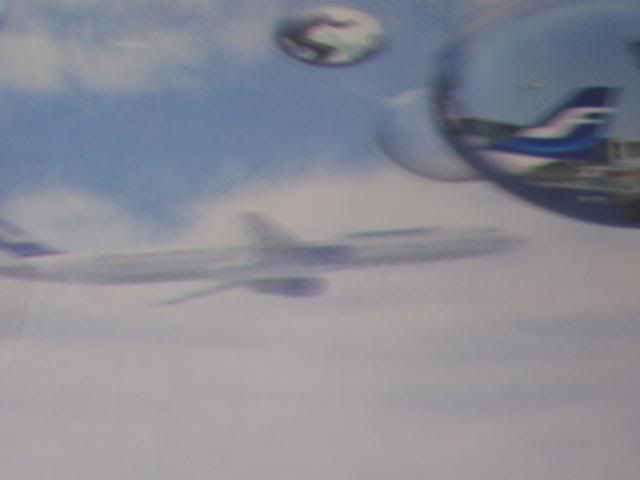 Finnair inside Finland Pavilion
Pavilions I visited at Shanghai Expo
1. Philippines
2.
Australia
3.
Finland
4. Slovakia
5. Czech Republic
6. Belarus
7.
England
8. Singapore
Countries in bold are worth visiting. Please do not be offended if your country is not bolded. For the Singapore Pavilion, I shall be impartial. If you are a Singaporean, go ahead and visit it as no queuing is needed if you present your Singapore passport. If you are going to queue 6 hours for it, you are gonna hate it as there is almost nothing for you to see. Australia and England Pavilions are the best!
That's all folks, ciao!
Previous Trip Reports can be found here
[Edited 2010-07-27 06:22:03]
[Edited 2010-07-27 06:23:46]