Flying with Captain Niki Lauda: HOQ-FRA-VIE-FRA-HOQ on
Cirrus Airlines Dornier 328, Niki A321-200 & Adria Airways CRJ200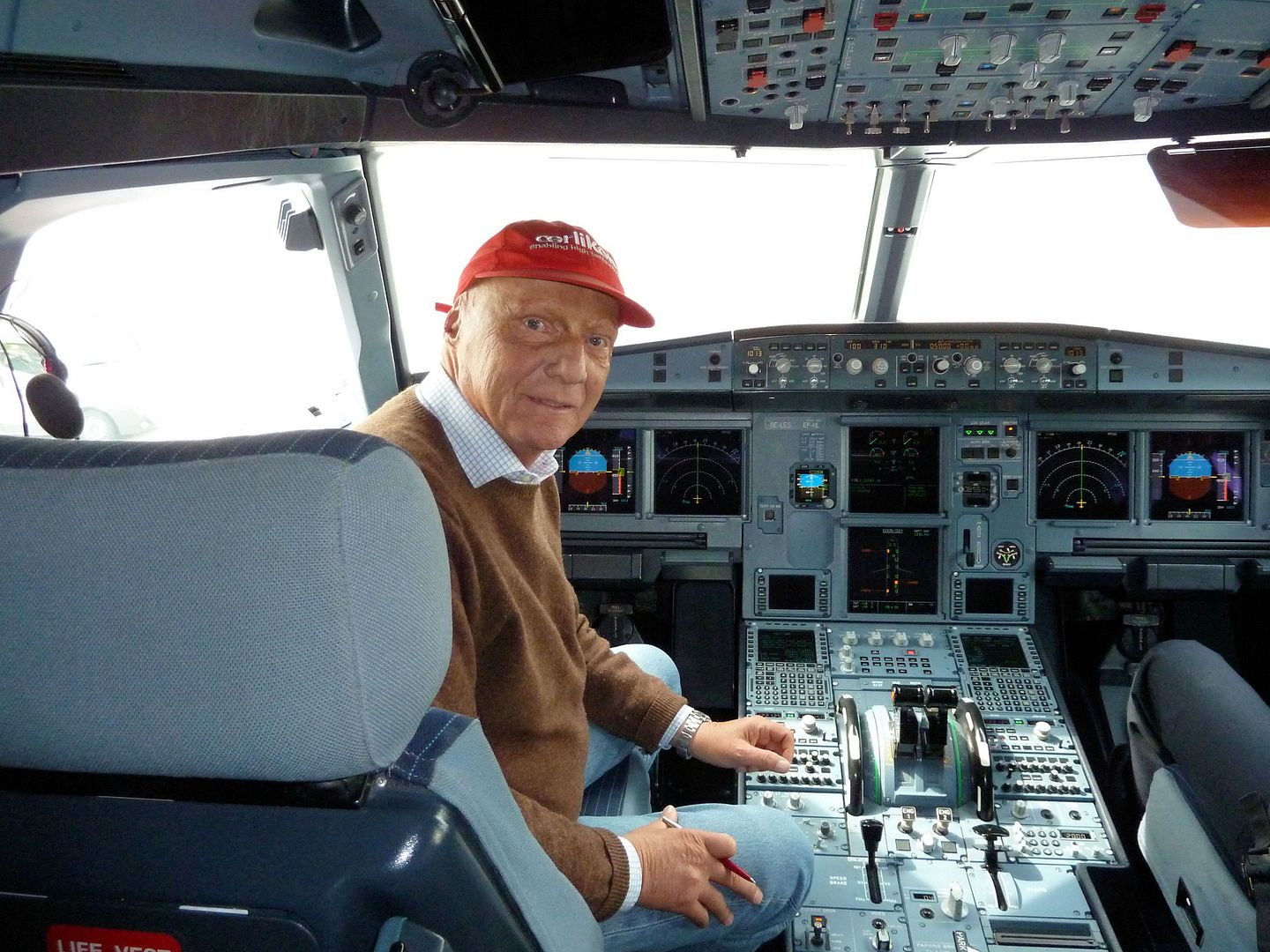 Background
In January Cirrus Airlines announced the takeover of operations on the state-subsidized Hof/Plauen-Frankfurt route from April 1, offering code-share flights to Lufthansa's main hub. After Augsburg Airways DHC-8-300s and Contact Air ATR 42-500s the even smaller 31-seat Dornier 328s would be used now - excellent news for me considering that this rare type and this airline were still missing in my log. Just like its predecessors, Cirrus Airlines chose to offer three daily round-trips on weekdays and only one each on Saturdays and Sundays. I found reasonable same-day return fares on a Tuesday in early May and selected the first HOQ-FRA flight in the morning and the last FRA-HOQ flight in the evening.
Since I would have plenty of time at Frankfurt I started searching for possible flights to squeeze in between. It wasn't easy to find interesting options at a reasonable price, but in the end Adria Airways' Frankfurt-Vienna-Frankfurt flights caught my attention. I'm not a fan of the CRJ100/200, but I would get a new airline. However, I wasn't keen to fly on the same carrier twice so I booked a VIE-FRA late afternoon flight on Adria Airways and added a rather cheap FRA-VIE morning flight on Niki, to be operated by an A321. I had already flown on Niki's A320 twice, but not yet on the carrier's A321.
Tuesday, 4 May 2010
Hof (HOQ) - Frankfurt (FRA)
Cirrus Airlines C91520
06:00-07:00 (06:01-07:02)
Flying time: 00:49 (hrs)
Economy Class, Seat 11A

Dornier 328-110
D-CIRB (c/n 3017)
First delivered to Air Engiadina as HB-AEF in 09/1994
1st flight on D-CIRB
1st Dornier 328 flight
92nd airline
Former appearances:
View Large
View Medium


Photo © Ralf Langer
Flying from Hof/Plauen Airport was very convenient once again - after a 40 minutes drive I was able to park my car free of charge only 50 meters away from the small terminal building:
I had already used Lufthansa's online check-in service in the evening before and walked straight to the sole security checkpoint. While passing the two check-in counters a friendly female agent asked me if I already had a boarding pass. I confirmed and she said:
"Then you must be Mr. PlaneHunter."
She handed a regular boarding pass over to me and explained that a scanner for self-printed boarding passes wasn't available. So it seems no other passenger had checked in online for this flight...
After passing security I took a seat in the small gate area - here you can see about 50 percent of all available seats: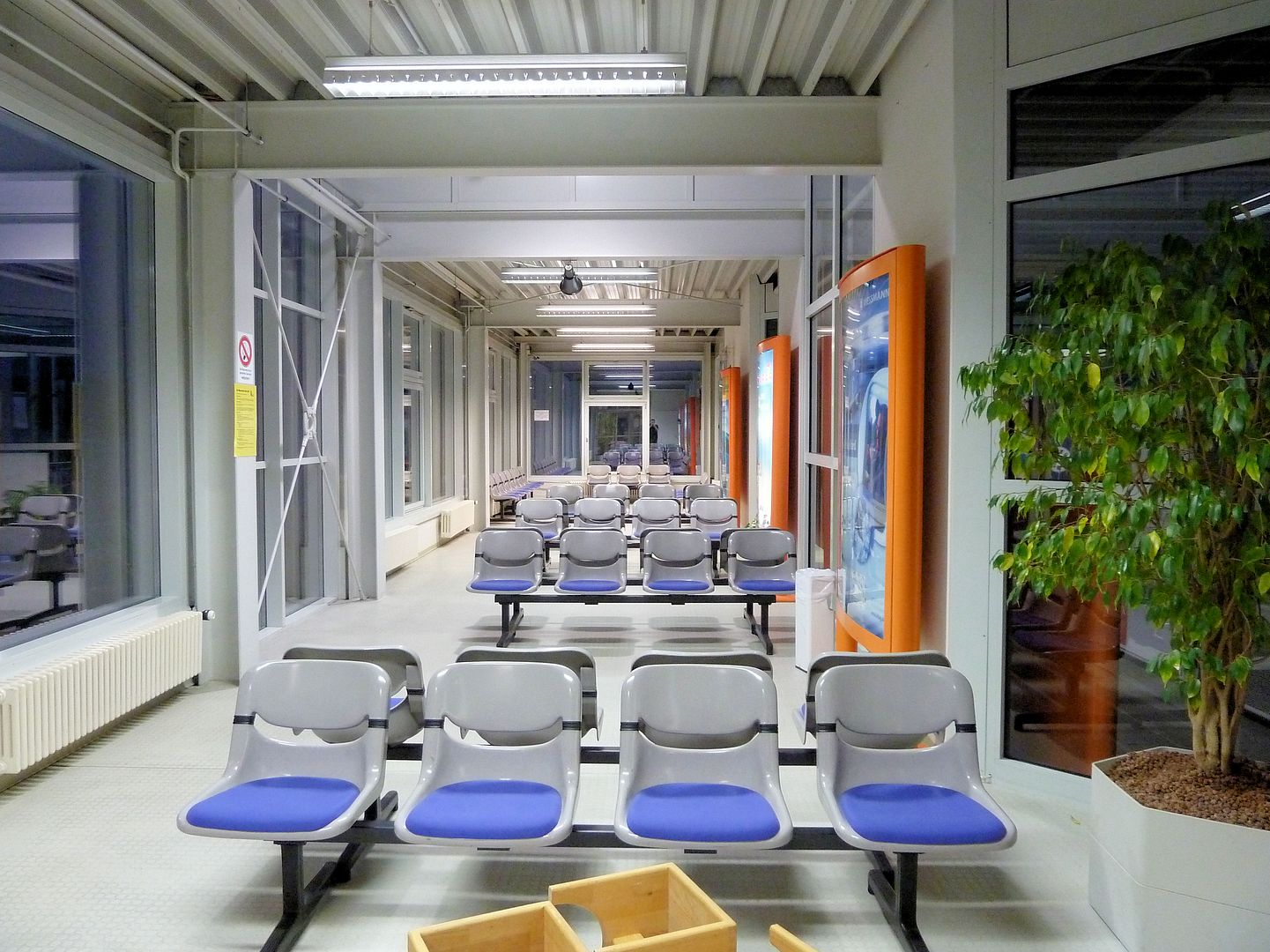 D-CIRB
, built in August 1994, was pulled out of the hangar shortly after my arrival. 30 minutes later boarding was started and I was surprised that the passenger load was less than 50 percent on a weekday morning flight.
The Dornier 328 is one of the best looking small aircraft in my opinion: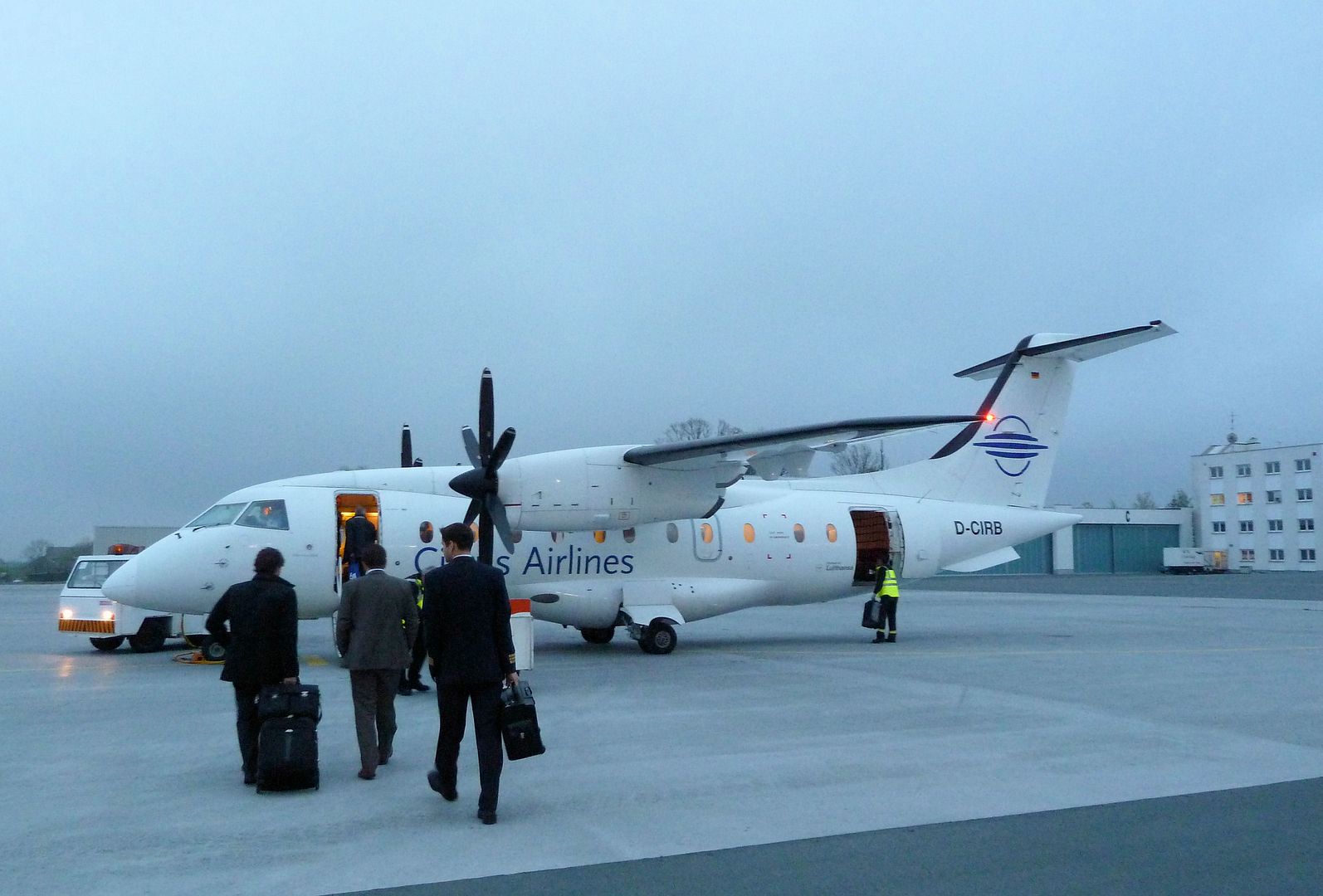 All passengers were welcomed by a cheerful and charming female flight attendant. The leather seats were comfortable...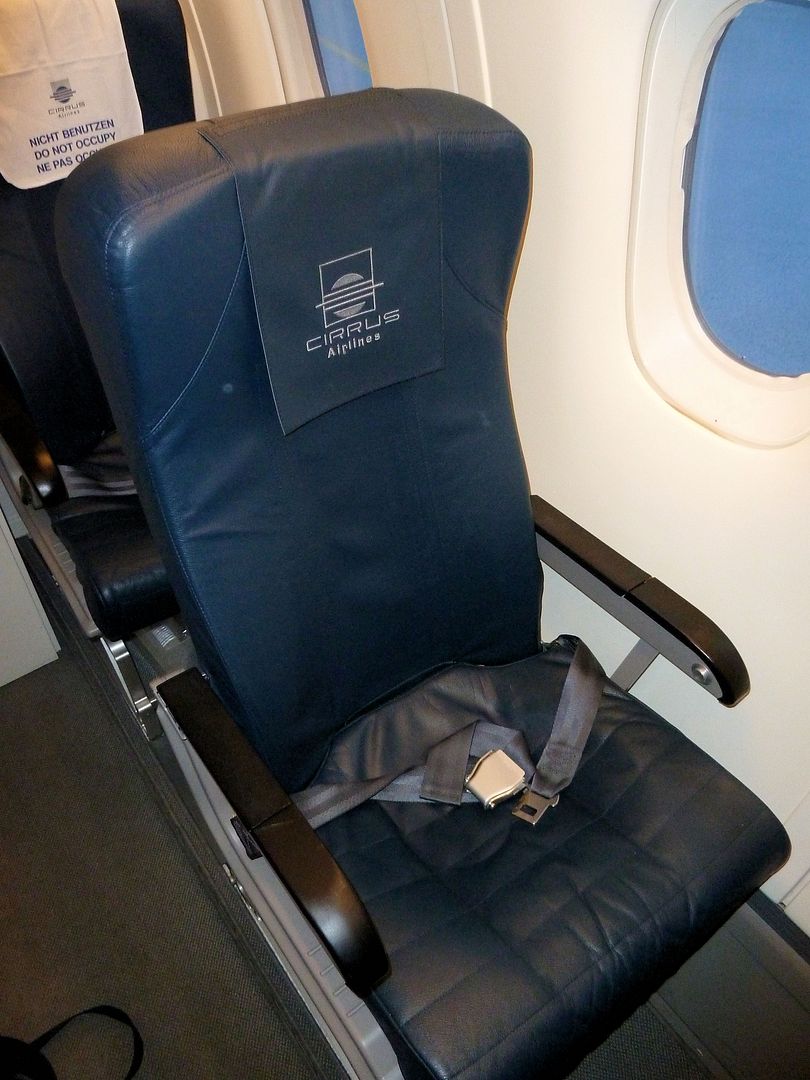 ...and legroom was absolutely sufficient for short hops. I didn't feel cramped at all in that small cabin.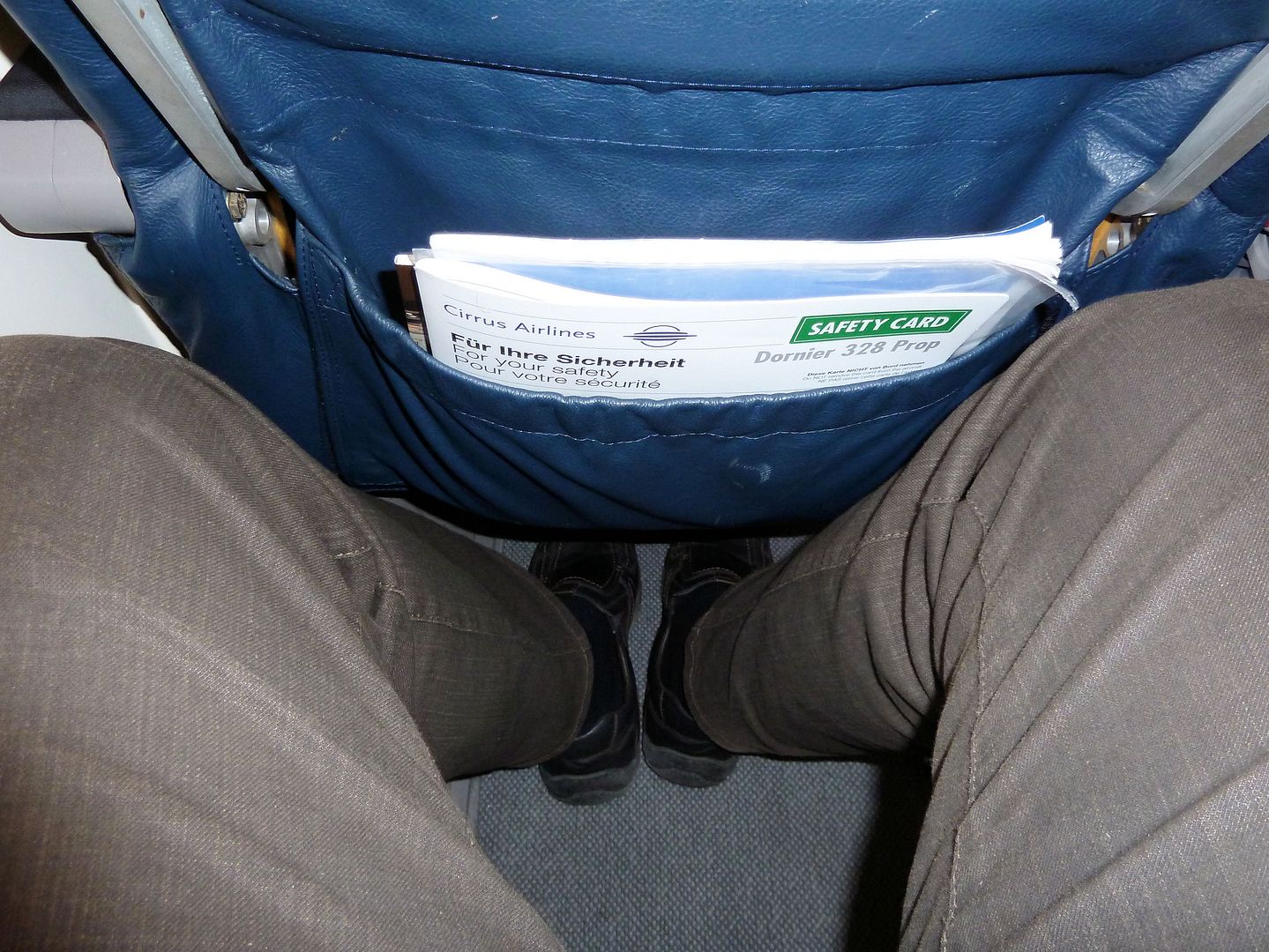 Another positive surprise followed after engine start-up: Both the noise level and the vibration level were quite low compared to other turboprop aircraft. We left the parking position almost on time and taxied to the nearby 1480-meter (4856 feet) runway:
Engines howled, brakes were released and the Dornier rocketed down the runway, lifting off quickly into the gray skies - what an impressive take-off!
Always nice to break through the clouds: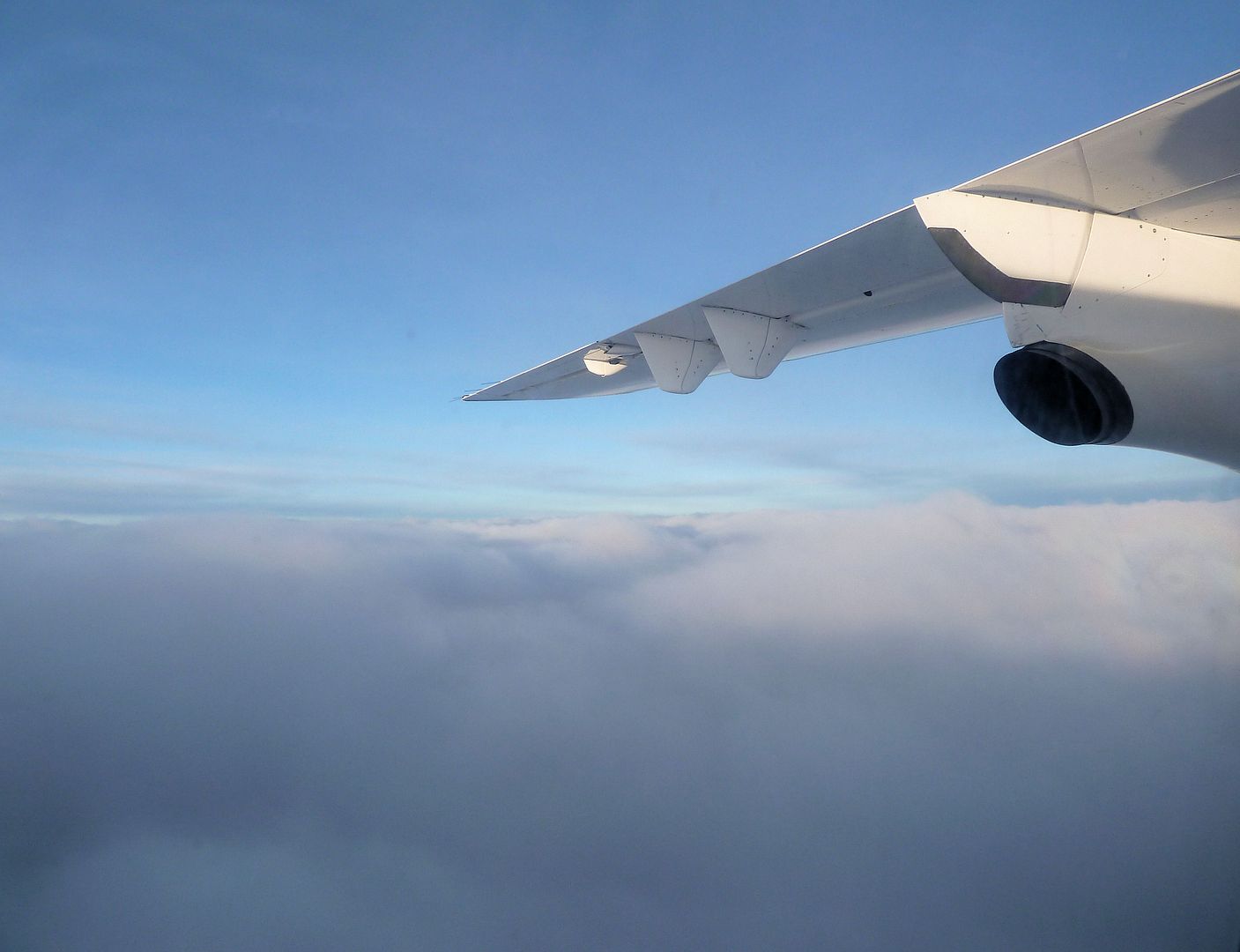 As soon as the seat belt signs had been switched off the flight attendant served cold and hot drinks: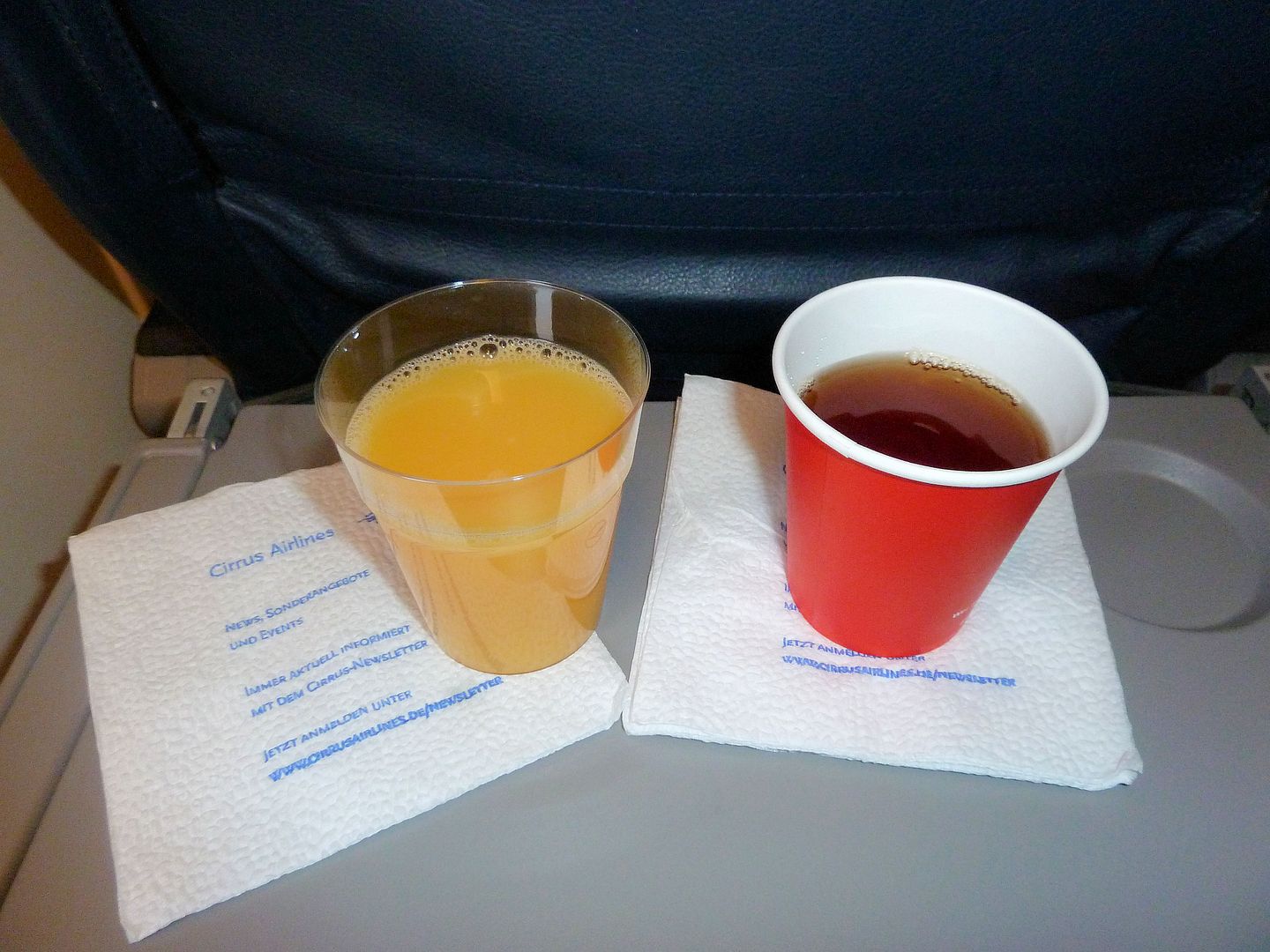 After taking a cabin shot...
... the flight attendant kindly said:
"I hope you take pictures because you find it nice."
I shortly told her about my hobby and confirmed that I was impressed by the plane.
Not even 20 minutes after take-off the captain informed us that he had already started descending and referred to a remaining flying time of 20 minutes. After collecting all the trash in the cabin the flight attendant showed up again with a basket and offered small snack packages containing salty stuff and candy.
Soon we passed Frankfurt Airport to the north...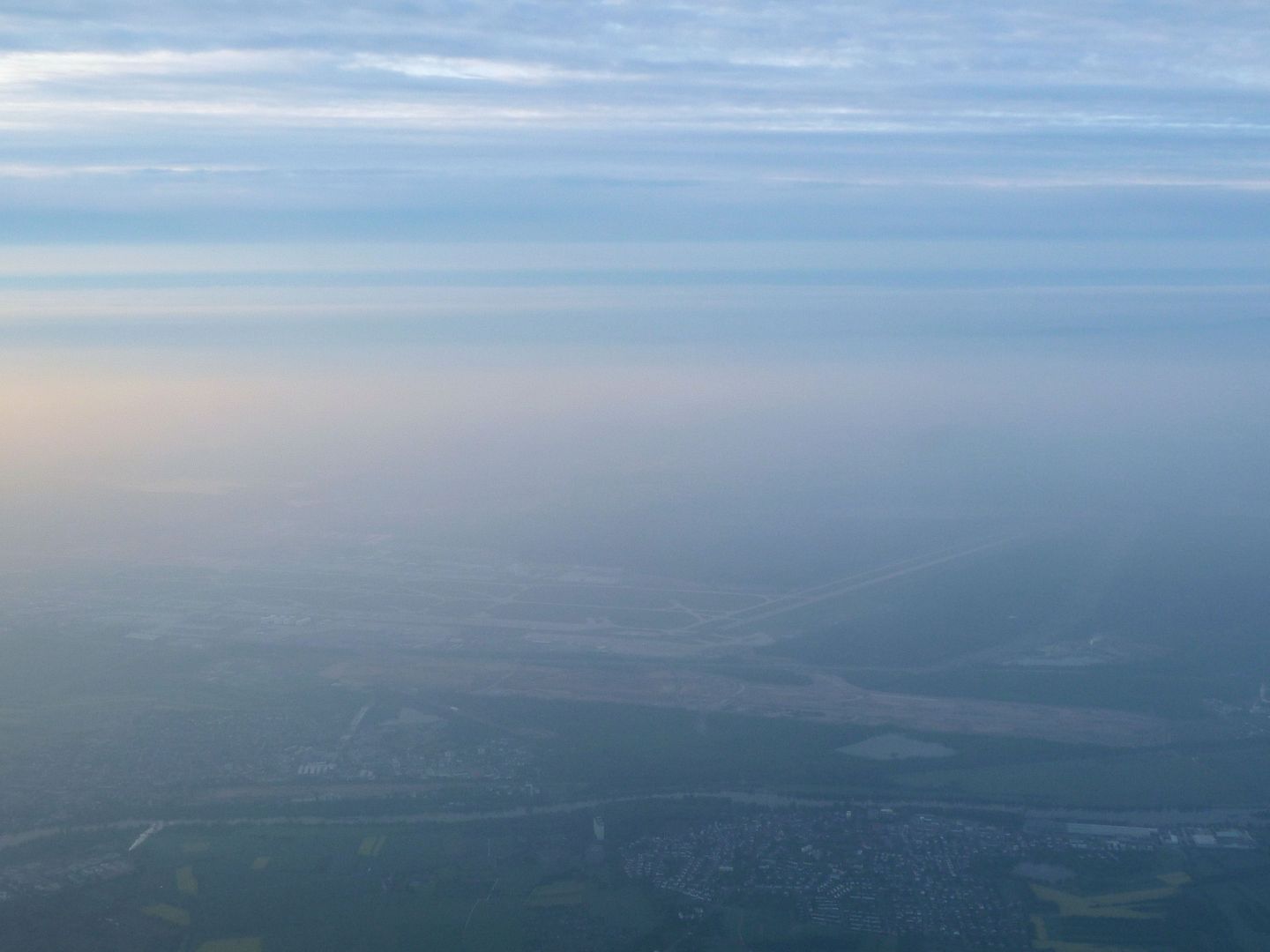 ...and finally touched down at runway 07R after a flying time of 49 minutes: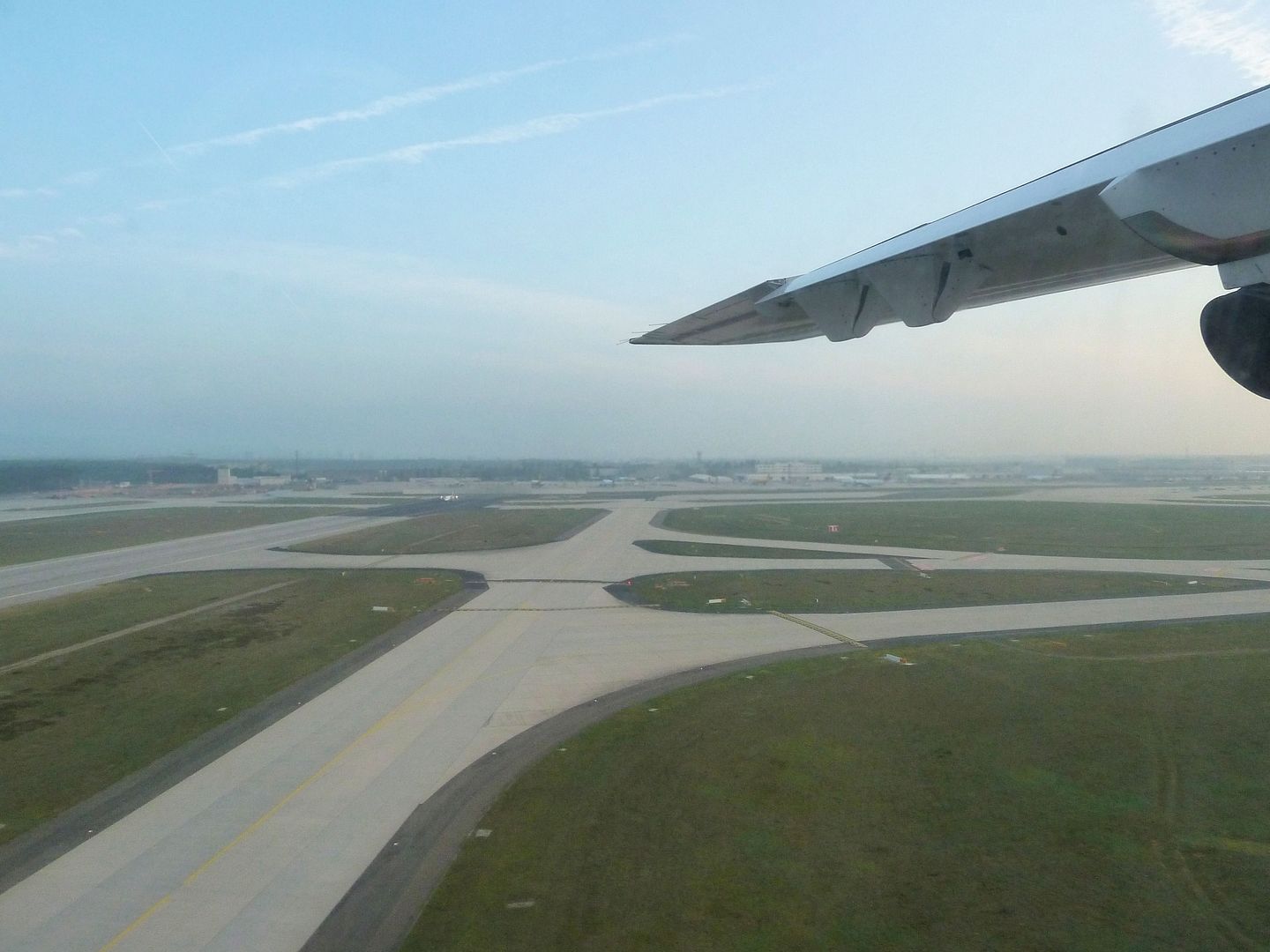 On the way to the regional aircraft apron in the north-eastern corner of the airport we passed numerous heavies...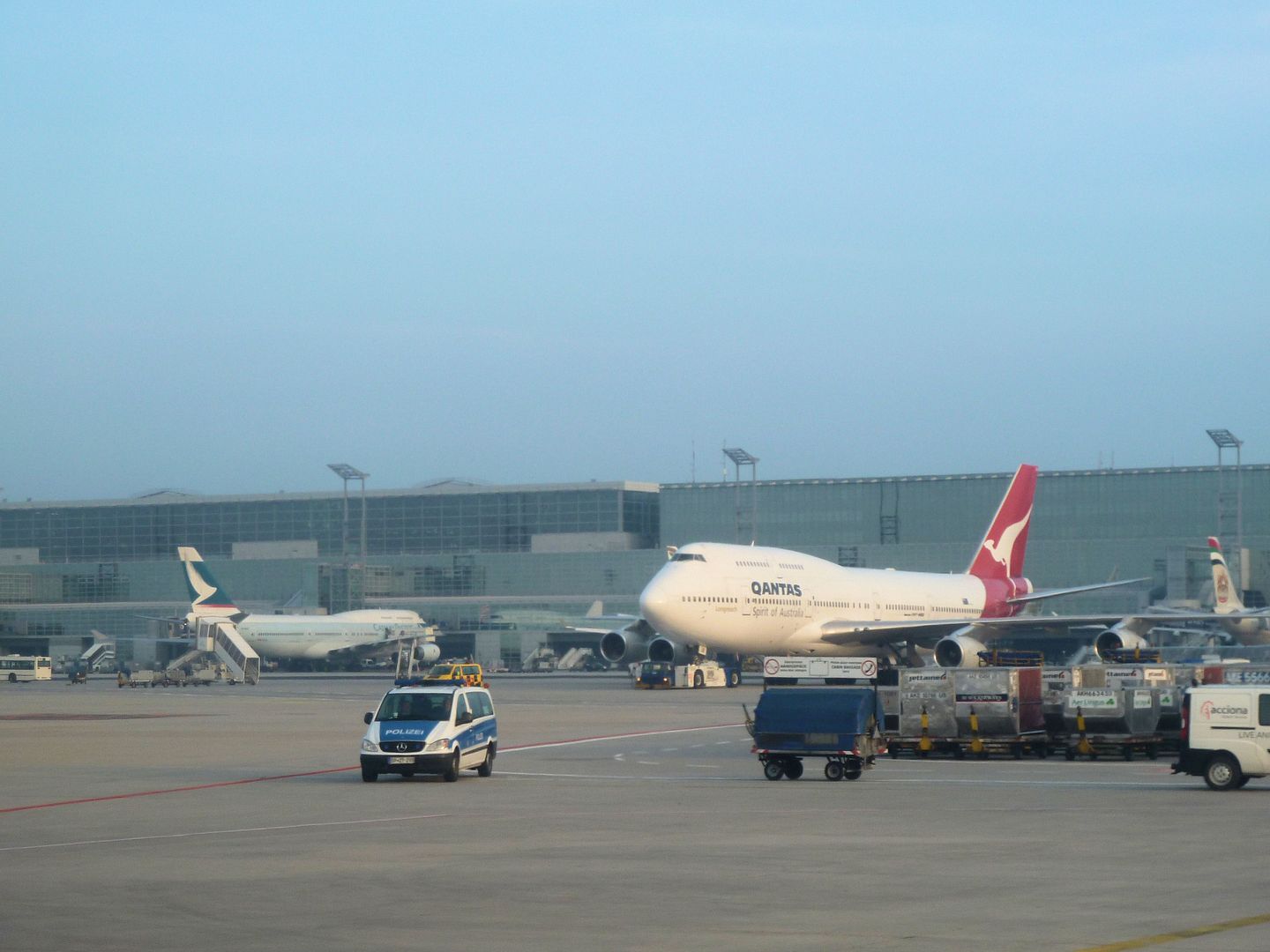 ...and many other aircraft: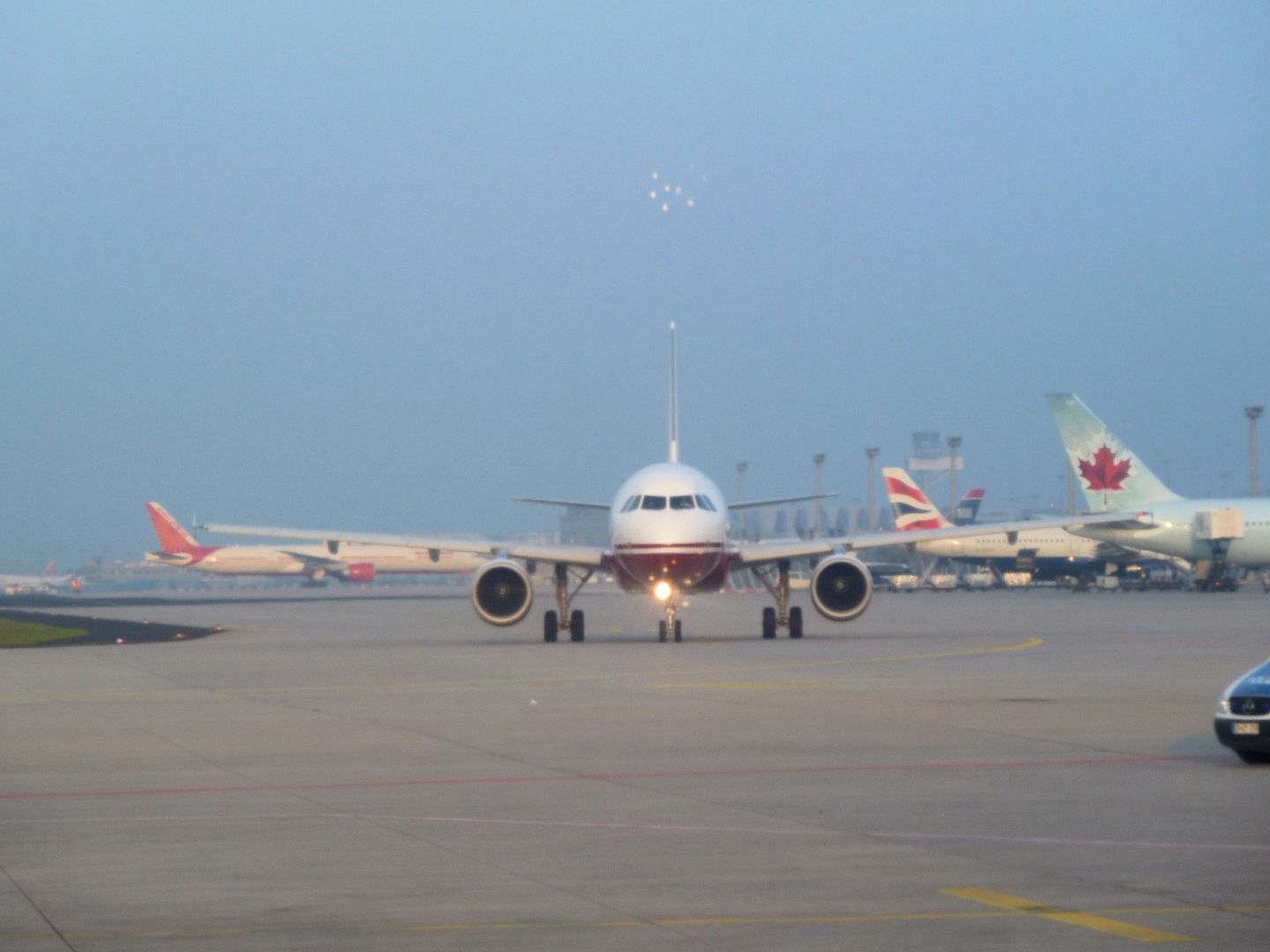 I had plenty of time for the transfer so I enjoyed the long bus tour to Terminal 1 and wrote down several registrations.
Tuesday, 4 May 2010
Frankfurt (FRA) - Vienna (VIE)
Niki HG8771
09:40-11:00 (09:33-10:50)
Flying time: 00:57 (hrs)
Economy Class, Seat 35F

Airbus A321-211
OE-LES (MSN 3504), named "Boogie Woogie"
Delivered in 05/2008
1st flight on OE-LES
6th A321-200 flight
9th A321 flight
After arriving at Terminal 1 I immediately took the SkyTrain to Terminal 2. I had already checked in on the evening before, so I could go straight to security. The gate number hadn't been announced yet, so I took a seat next to window in a passage. However, viewing opportunities weren't good in that lower Terminal 2 area. Later I continued spotting from the gate.
OE-LES
, the first of two A321-200s in the Niki fleet, arrived on time and taxied to a remote parking position. Some 30 minutes later a bus brought us to the aircraft. The passenger load in the 50 to 60 percent range didn't justify an A321, but probably there had been more people on the VIE-FRA flight. I was glad that the equipment hadn't been changed.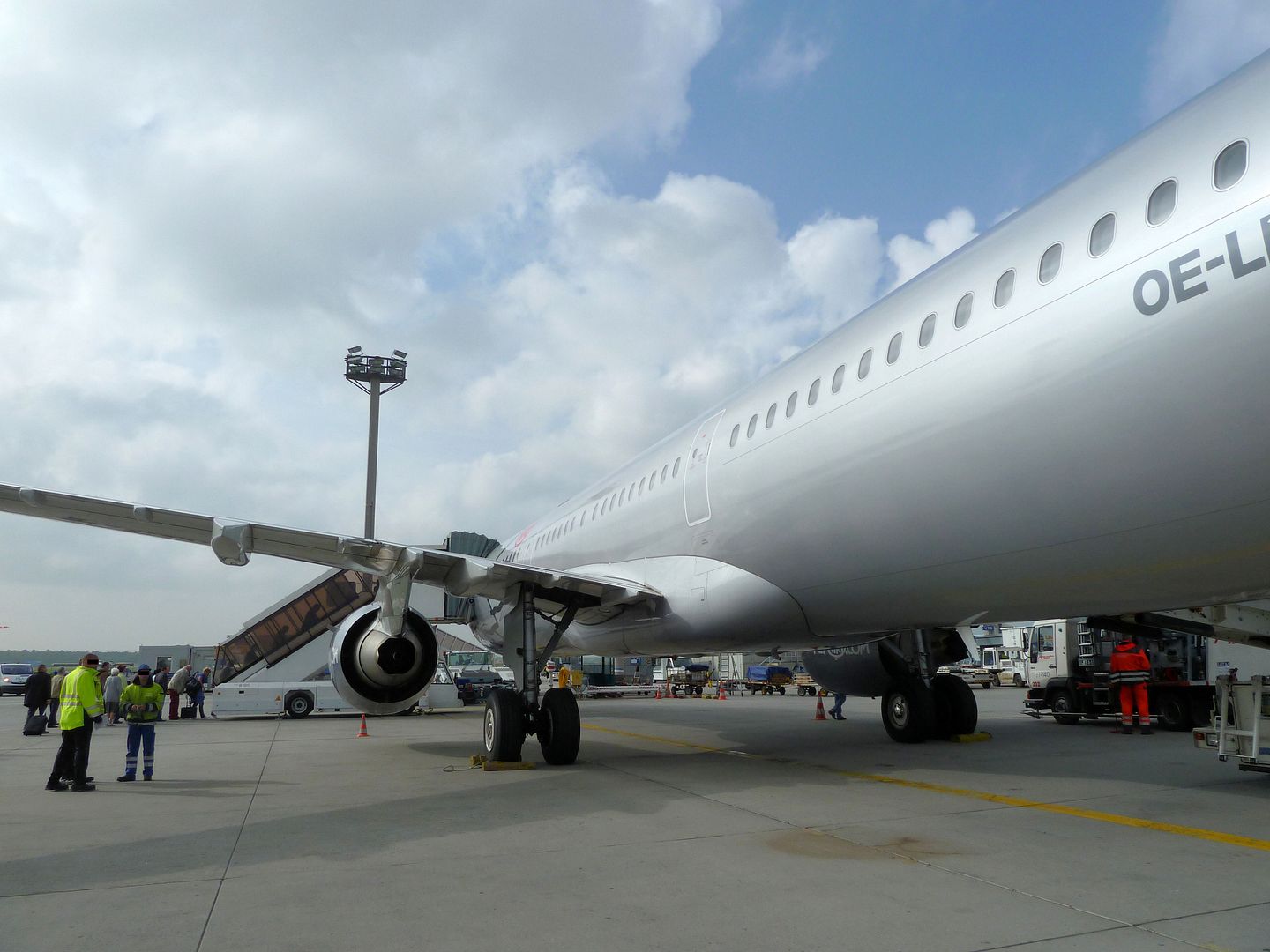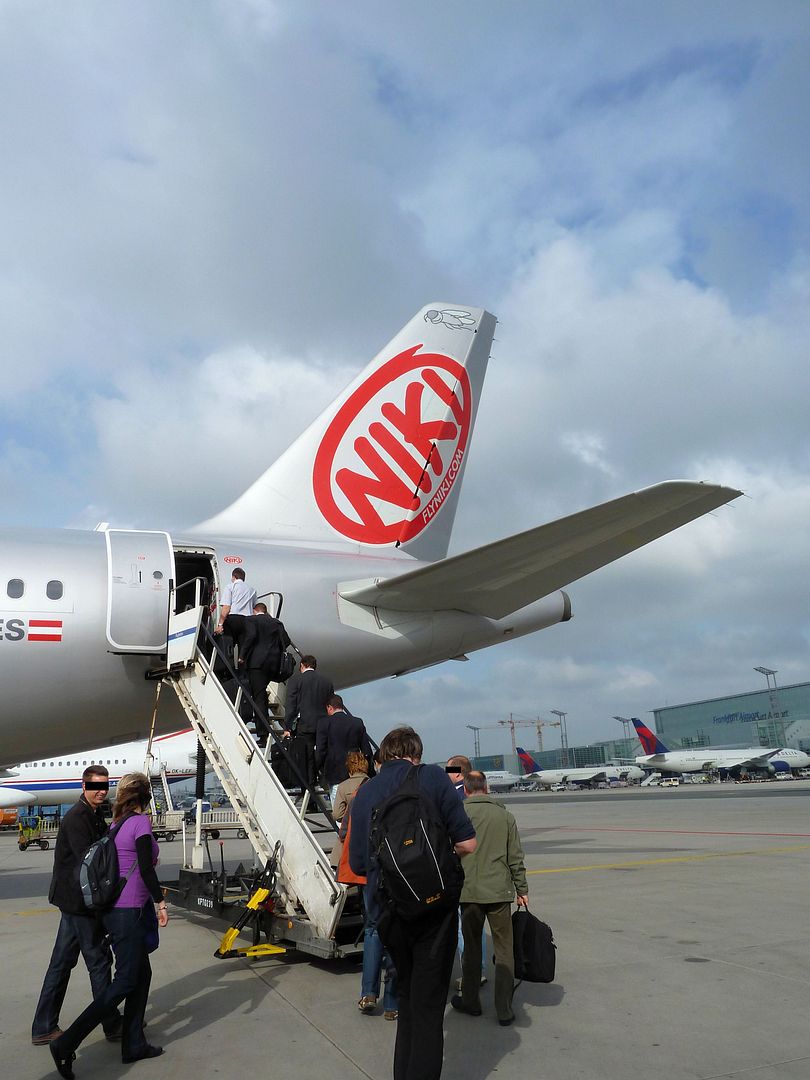 Delta 777-200LR and 767-300ER parked next to Lufthansa 747-400s: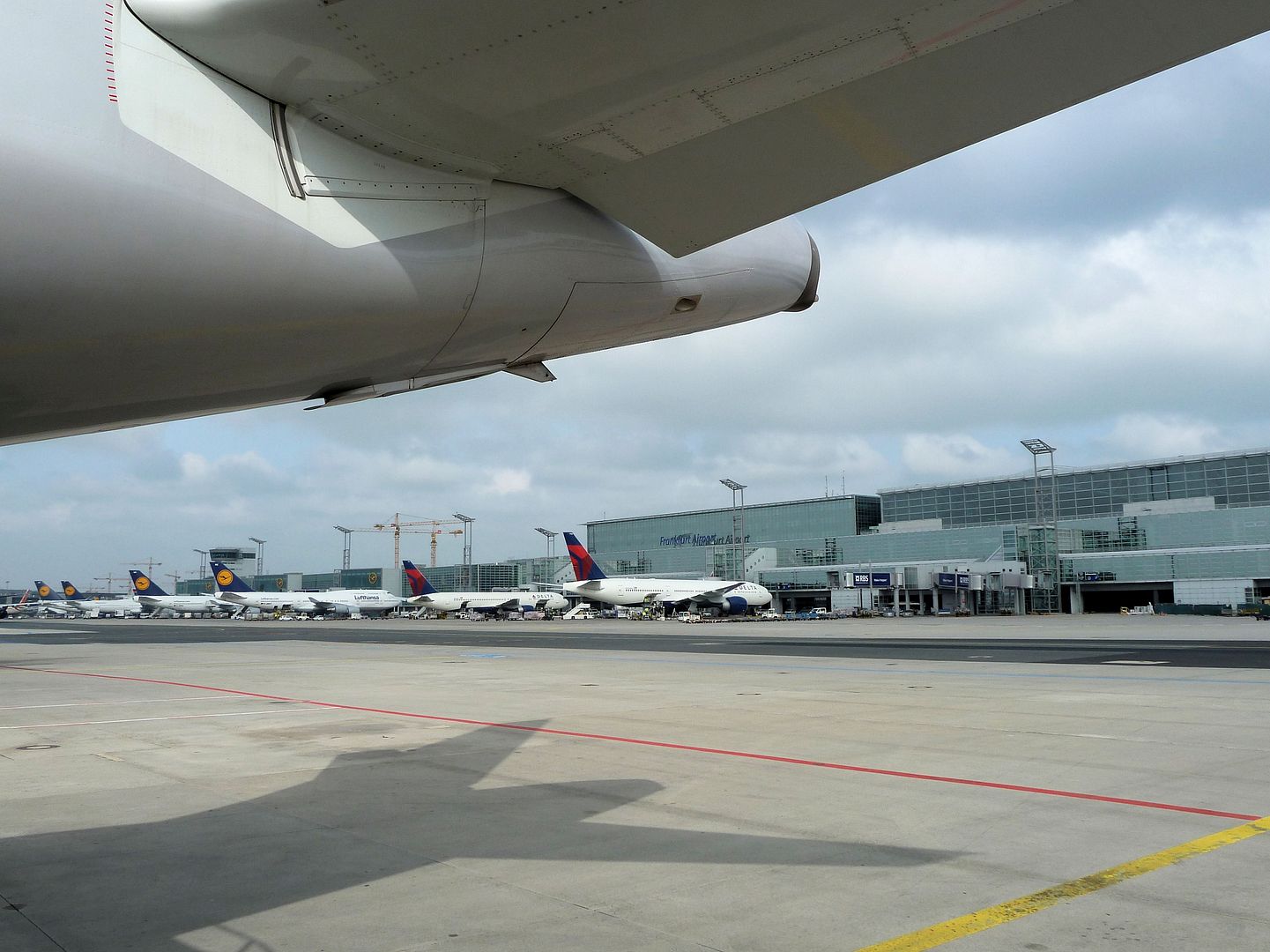 After a friendly welcome by a female flight attendant I took my window seat in row 35. The slimline seats weren't bad...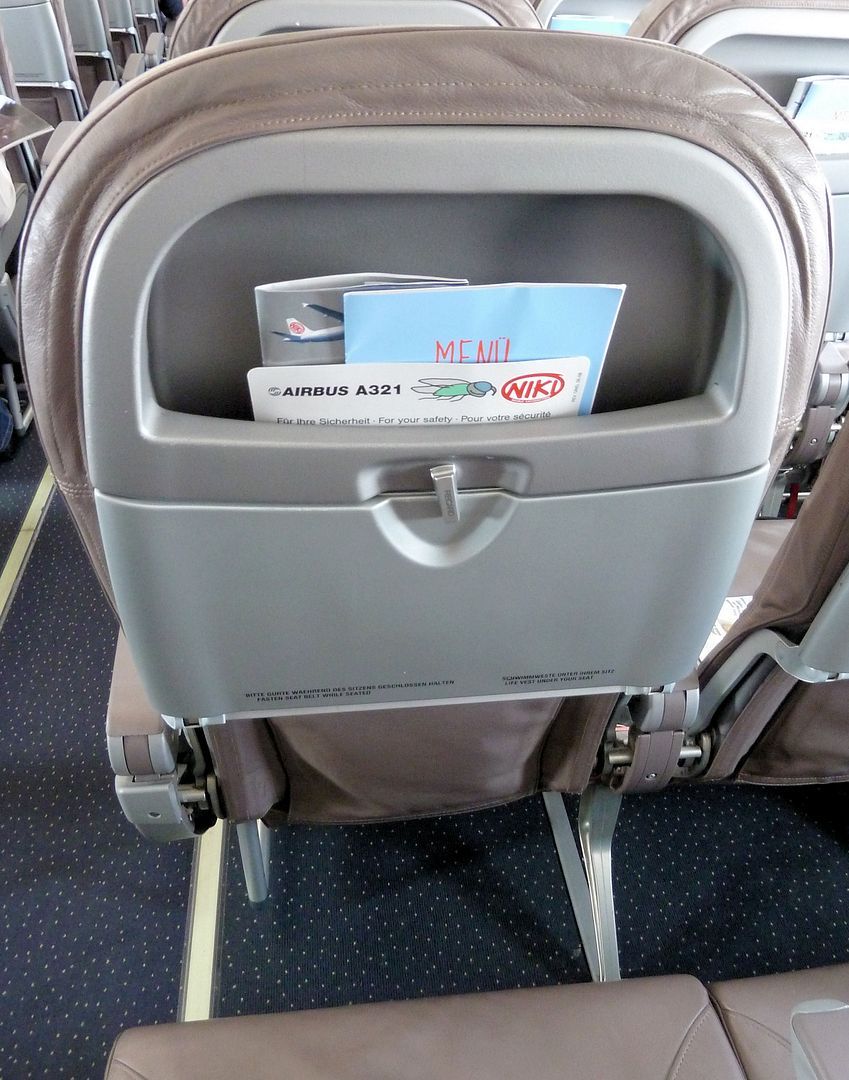 ...but legroom wasn't very generous: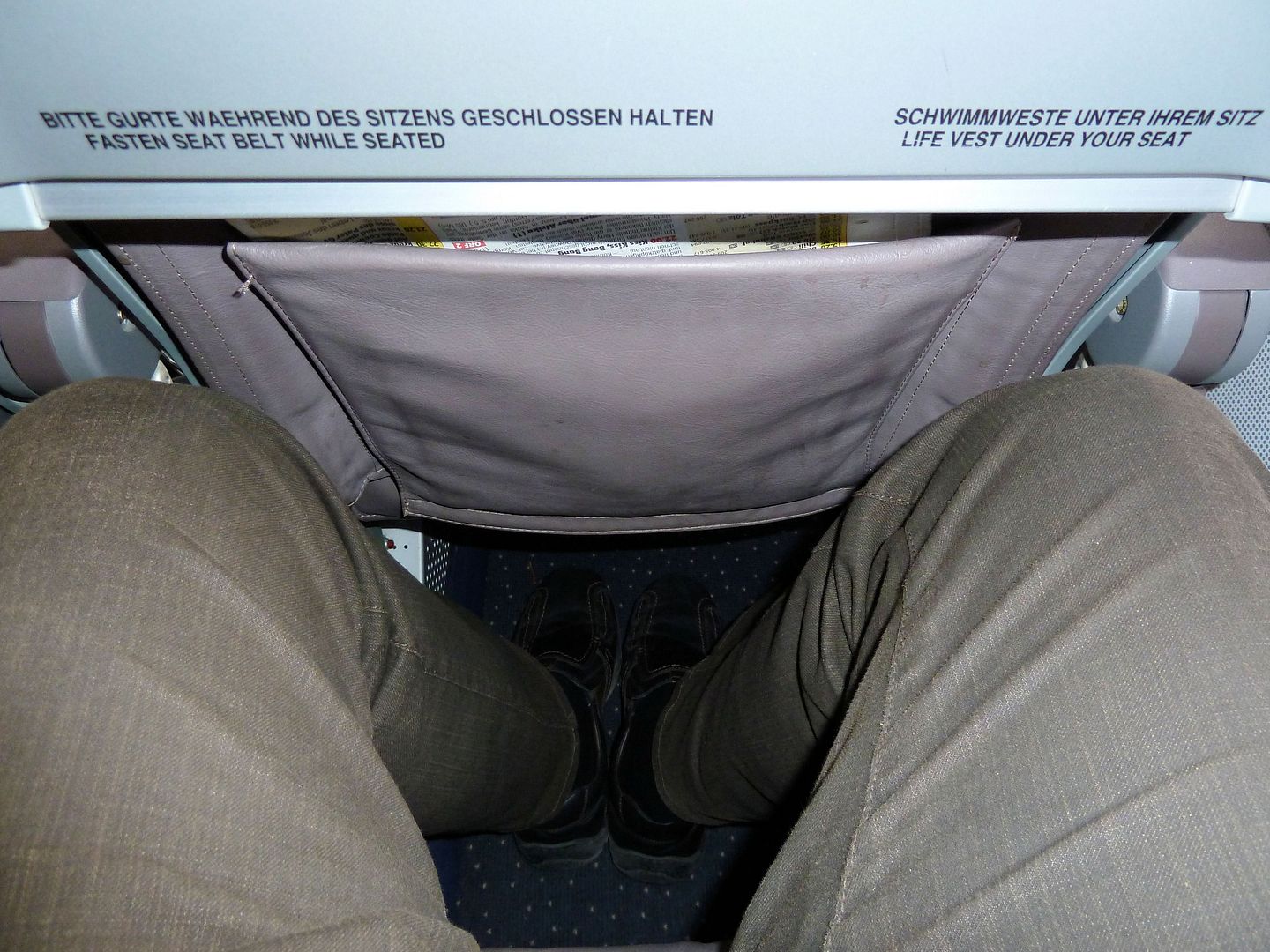 Niki ads were shown on the fold-out screens during boarding:
After flying Niki twice in the past I wasn't overly excited, but an announcement by a flight attendant suddenly changed my mind:
"The captain on this flight is...Niki Lauda."
Several other passengers were surprised, too, and I heard some "ohs" and immediate chatter. While the plane was leaving the parking position I started wondering about the possibility of a flight deck visit after landing.
Actually you can hear Niki Lauda's voice on every Niki flight because it was used for the safety video - but this time his voice also came straight from the flight deck: During taxi Niki Lauda made a welcome speech, telling us that we would take off from runway 07R and climb to an altitude of 35000 feet.
Safi Airways 767-200ER YA-AQS awaiting its next service to Kabul: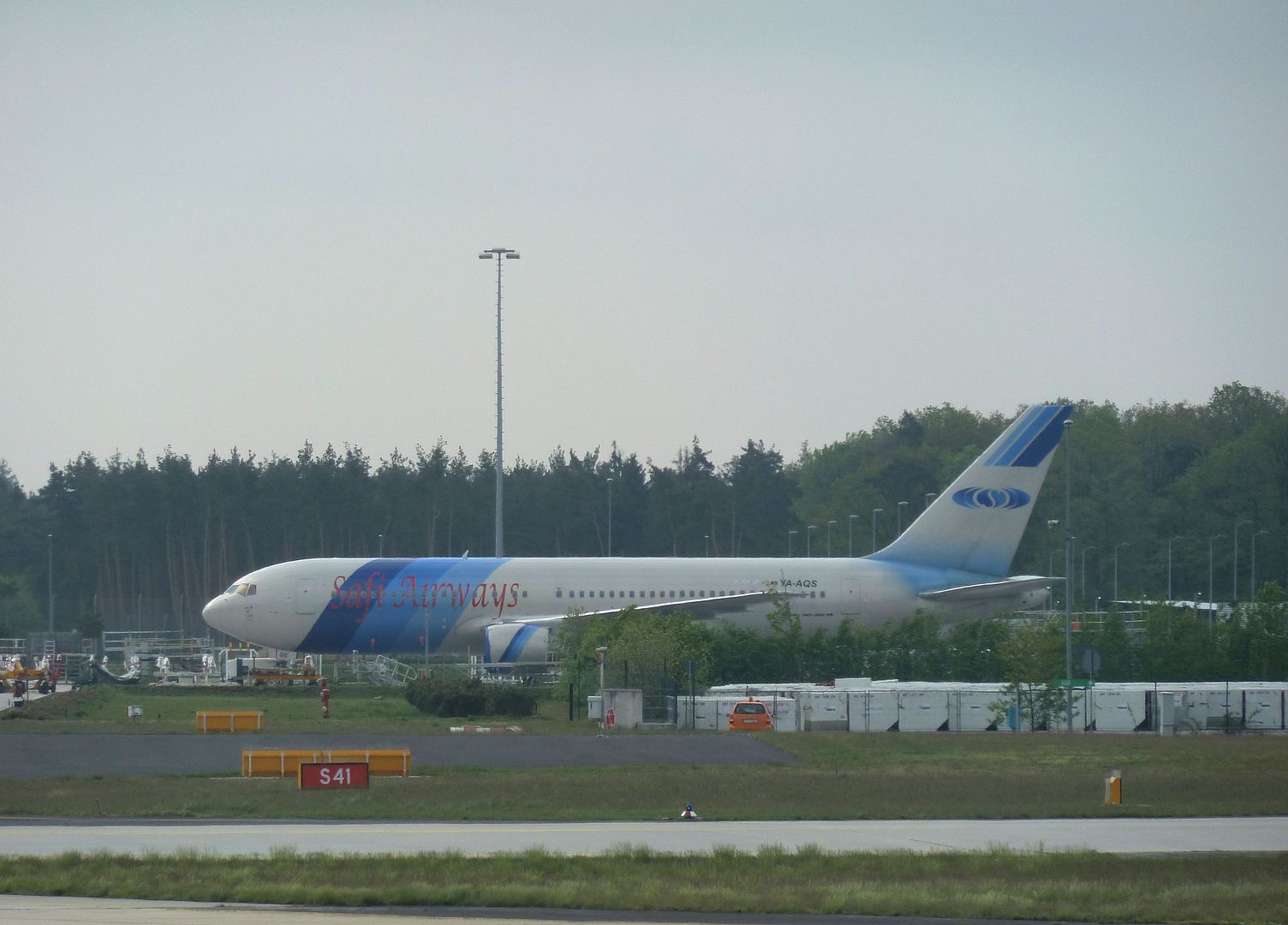 15 minutes after leaving the parking position
OE-LES
rolled onto runway 07R and accelerated:
Interesting line-up: China Eastern A330-200 (hardly visible), South African A340-600 and Thai 747-400 in retro colors:
As soon as the flight attendants had passed with their trolley I took the chance to make a cabin shot:
Niki offers free sandwiches and free non-alcoholic drinks on all flights - and not just common stuff, but sandwiches freshly prepared by famous caterer
DEMEL
. The triangle design once introduced on Lauda Air has become legendary: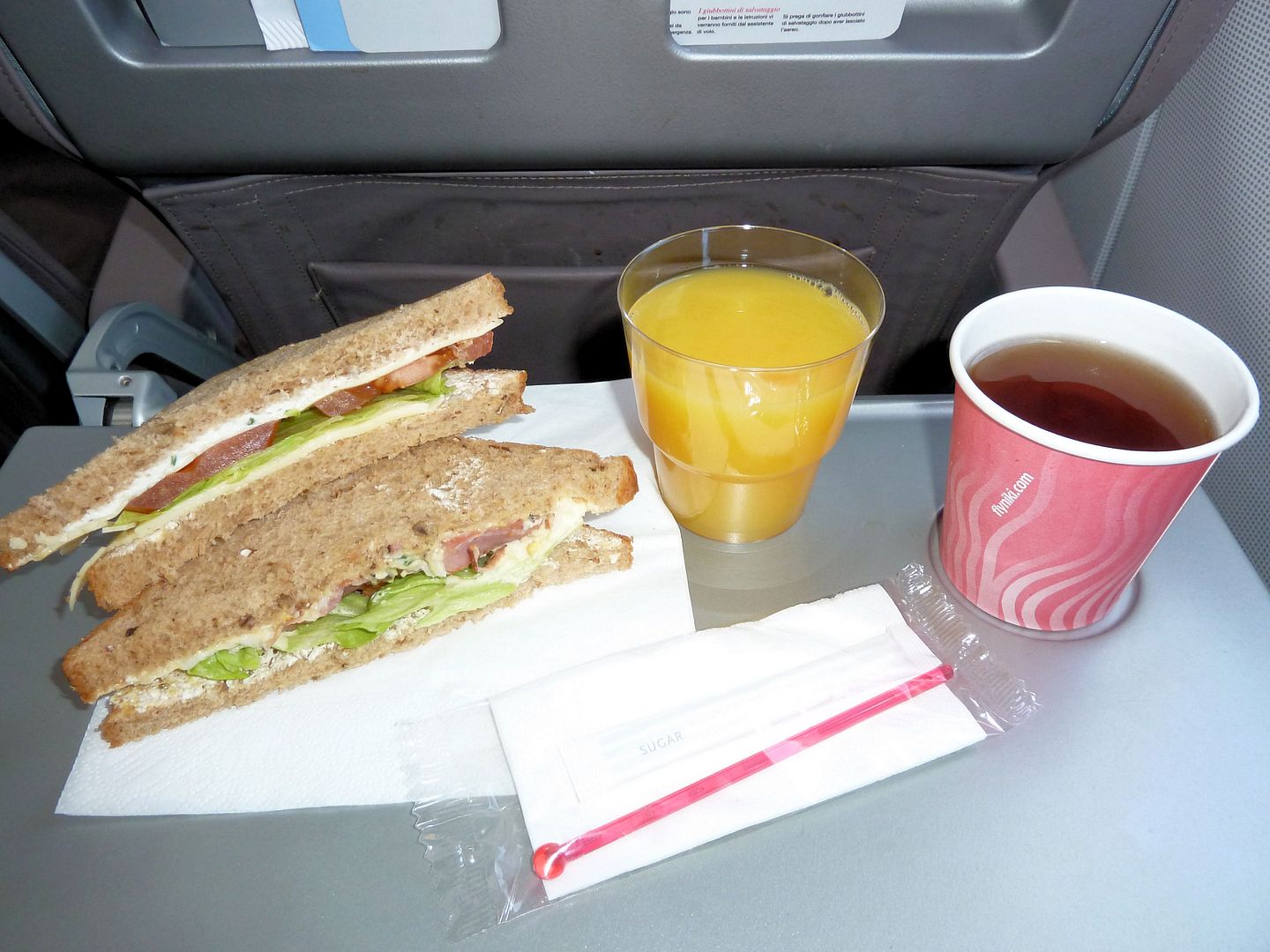 These cheese and tomato sandwiches look tasty, don't they? I can tell they ARE tasty! No doubts, they can be called gourmet sandwiches. I also found it quite nice that the flight attendants always offered an additional drink - either hot or cold, depending on the first choice. All those who don't like sandwiches can order
DEMEL
gourmet meals available at prices between 8 and 12 Euro. However, for all flights lasting less than 90 minutes, these need to be pre-ordered on Niki's website.
Later in the flight I went to the galley and asked a flight attendant whether it would be possible to talk to Niki Lauda for a minute after landing. She replied that he usually leaves the flight deck and says goodbye to his passengers after landing, so chances would be good.
After an approach through gray skies...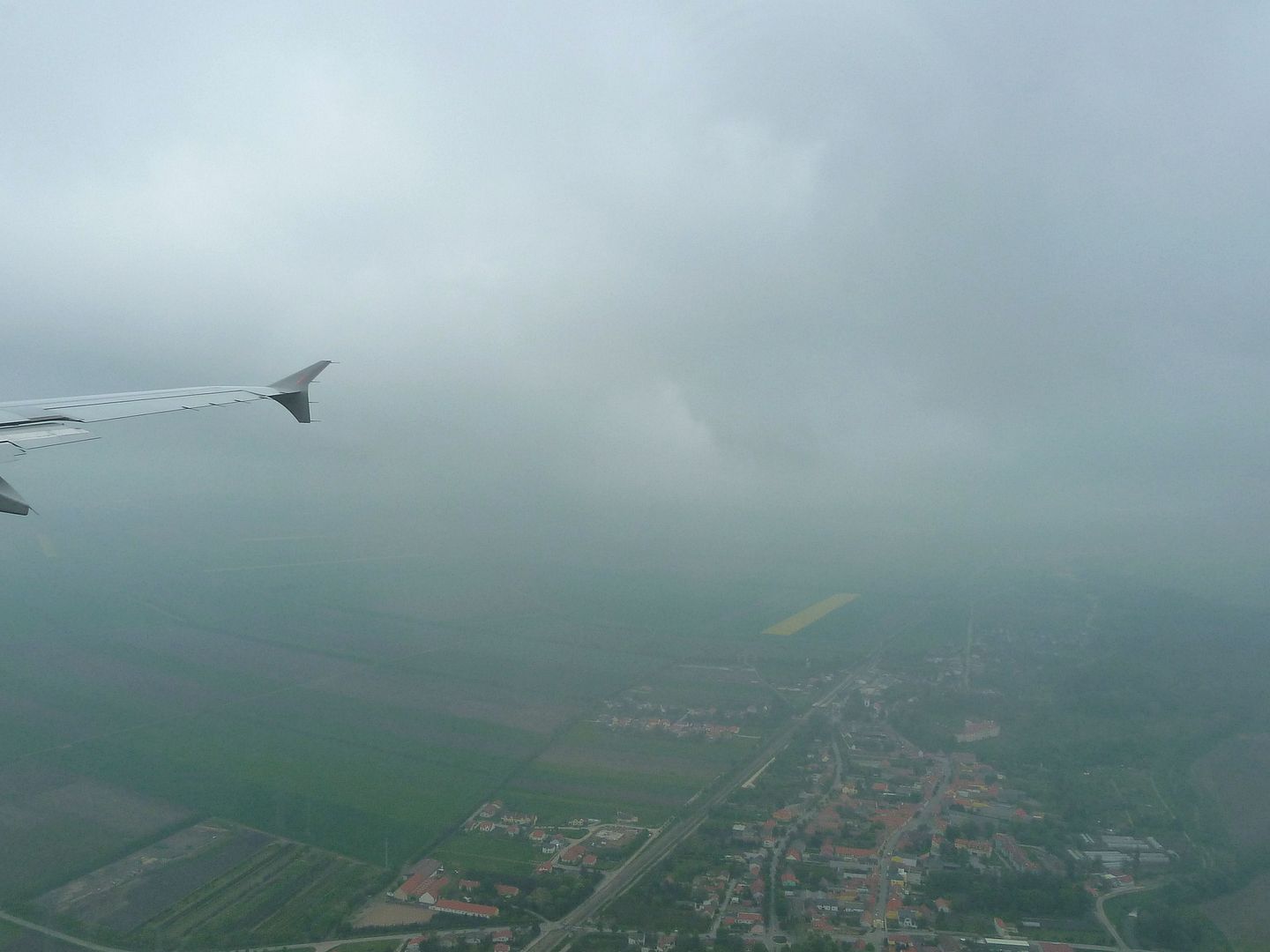 ...we touched down after a flying time of 57 minutes and - unfortunately - taxied to a remote parking position:
Now I knew it would be difficult to achieve my goal, but I was determined to try my luck. Passengers were allowed to use both the front and rear exit for disembarking, so it was impossible to gain ground. Finally, after most people had left the plane, I was able to walk forward. However, Niki Lauda wasn't there and the cockpit door was closed. So I asked a flight attendant about the possibility of a short flight deck visit and she immediately promised to ask. Another man was waiting, too, but he was just keen to get an autograph. Some seconds later the flight attendant returned with good news - but she kindly added that we should hurry. The man walked in first, got a magazine page signed and left quickly.
Then it was my turn - I walked in, said hello and shook hands with Niki Lauda. While his young (and smiling) female first officer wore a uniform, Niki Lauda wore blue jeans, a brown pullover and the characteristic red cap. I told him that I like his airline and he quickly replied:
"Always keep flying with us."
Then I asked if it was ok to take pictures and he agreed - but he politely asked me to hurry,
"because all other passengers are waiting in the bus"
.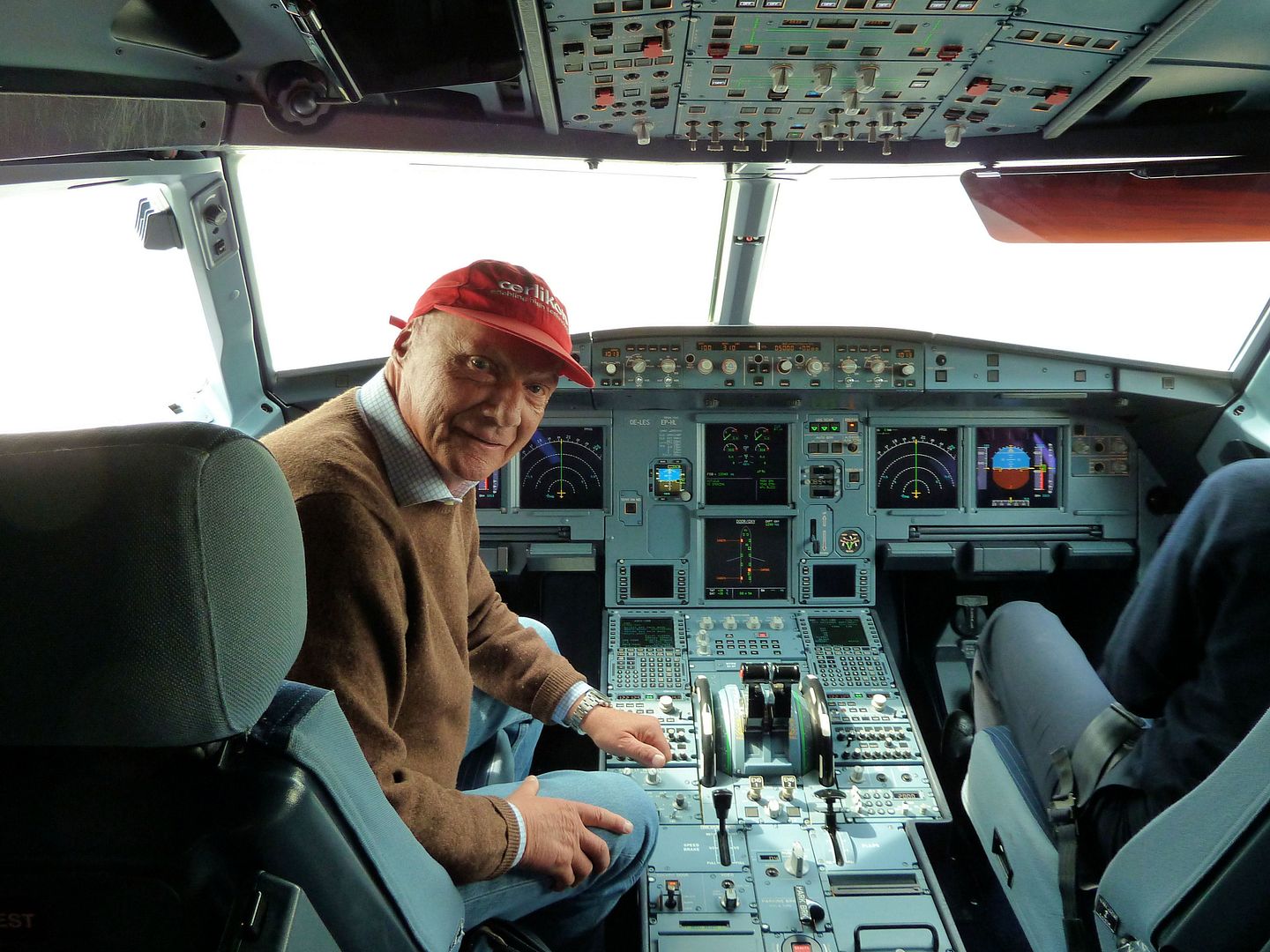 The flight attendant behind me suddenly asked if I also wanted a postcard. Of course I confirmed and - surprisingly - she handed the postcard over to Niki Lauda who quickly signed it for me: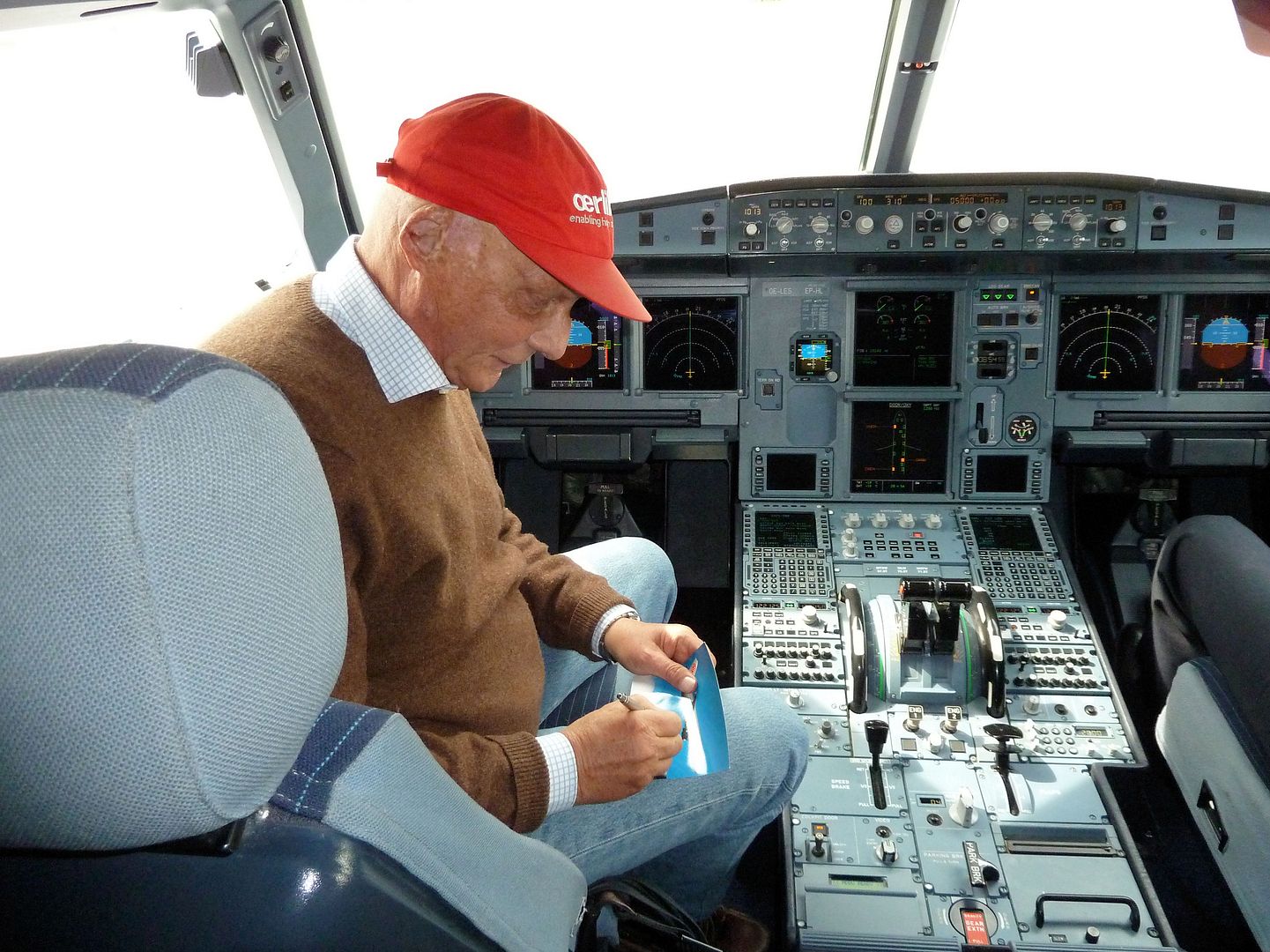 I wasn't satisfied with my first picture because the flash had been deactivated - so I asked for a final picture. Niki Lauda agreed, but pointed out again that all the other passengers were waiting in the bus. Anyway, this time I was entirely satisfied with the picture: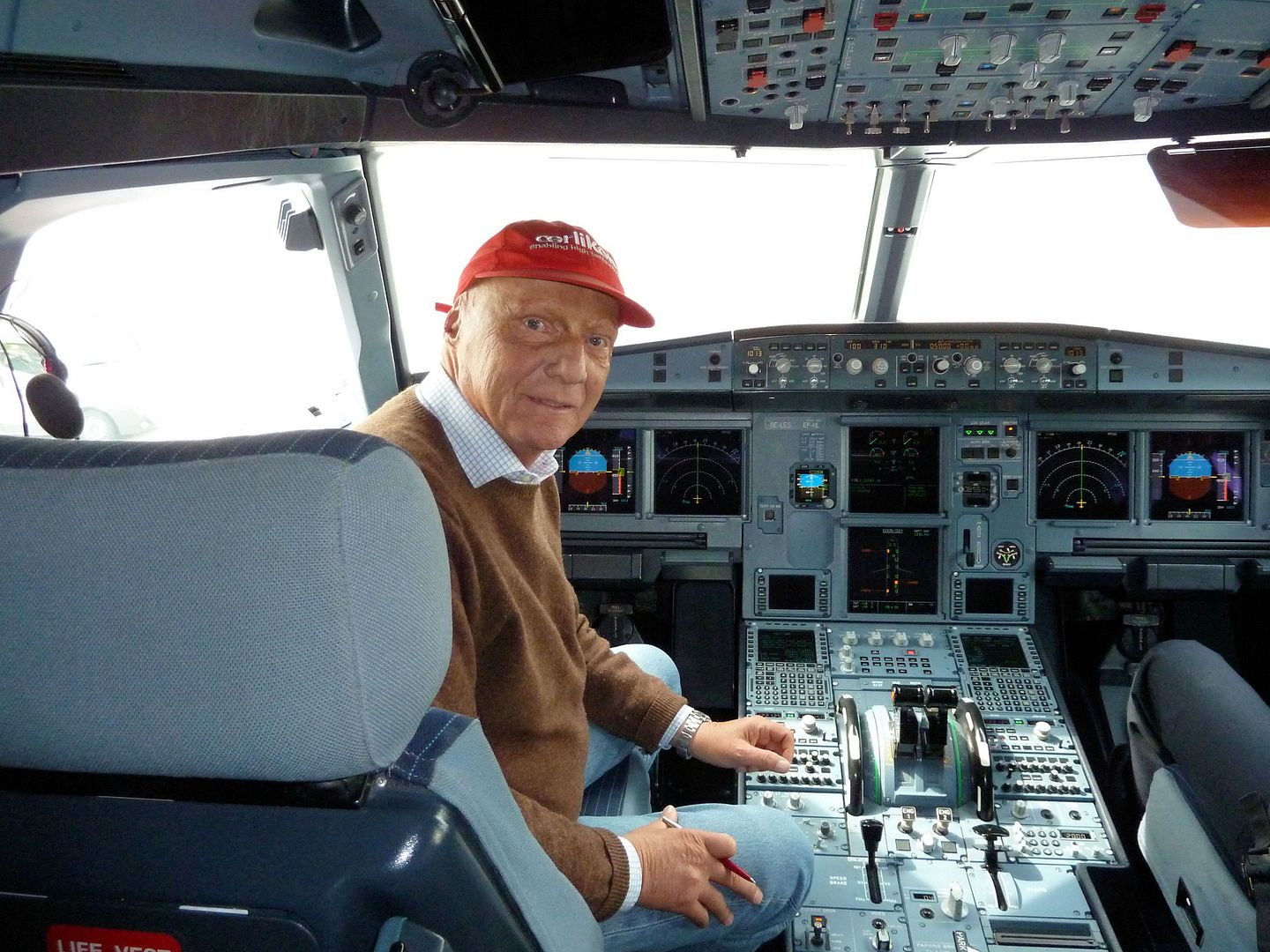 Then I thanked Niki Lauda for granting me access to the flight deck, said goodbye and walked to the bus. I guess some of the people waiting there weren't amused about my late arrival, but I couldn't care less.
Here's the signed postcard:
Vienna Spotting
After arrival at Terminal 1 I immediately went on top of the P4 parking structure next to the NH Hotel. However, views were obstructed by the new Skylink Terminal. Then I walked to P3 where I could see parts of the apron and runway 11/29: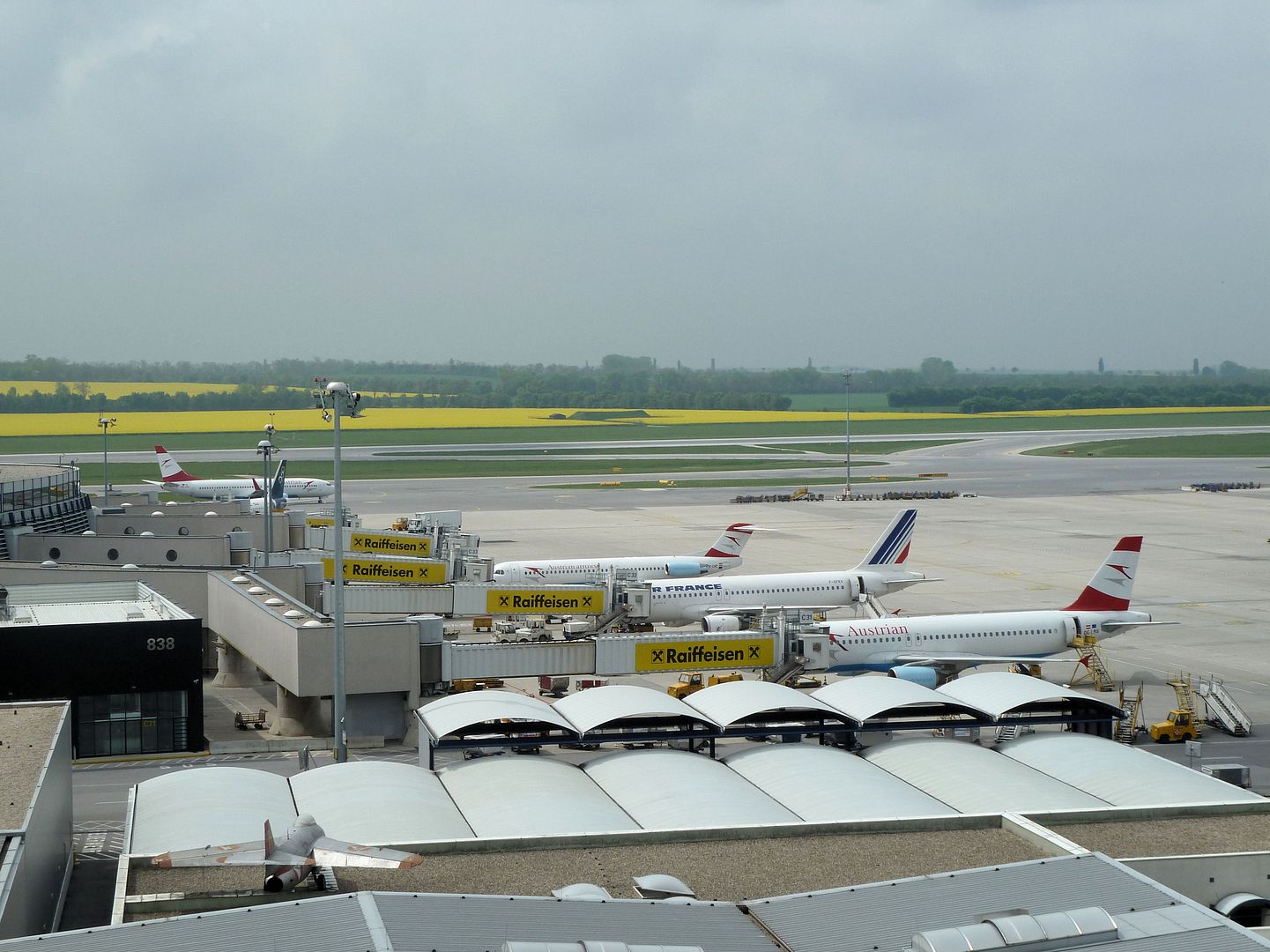 OE-LES
with Captain Niki Lauda departing again: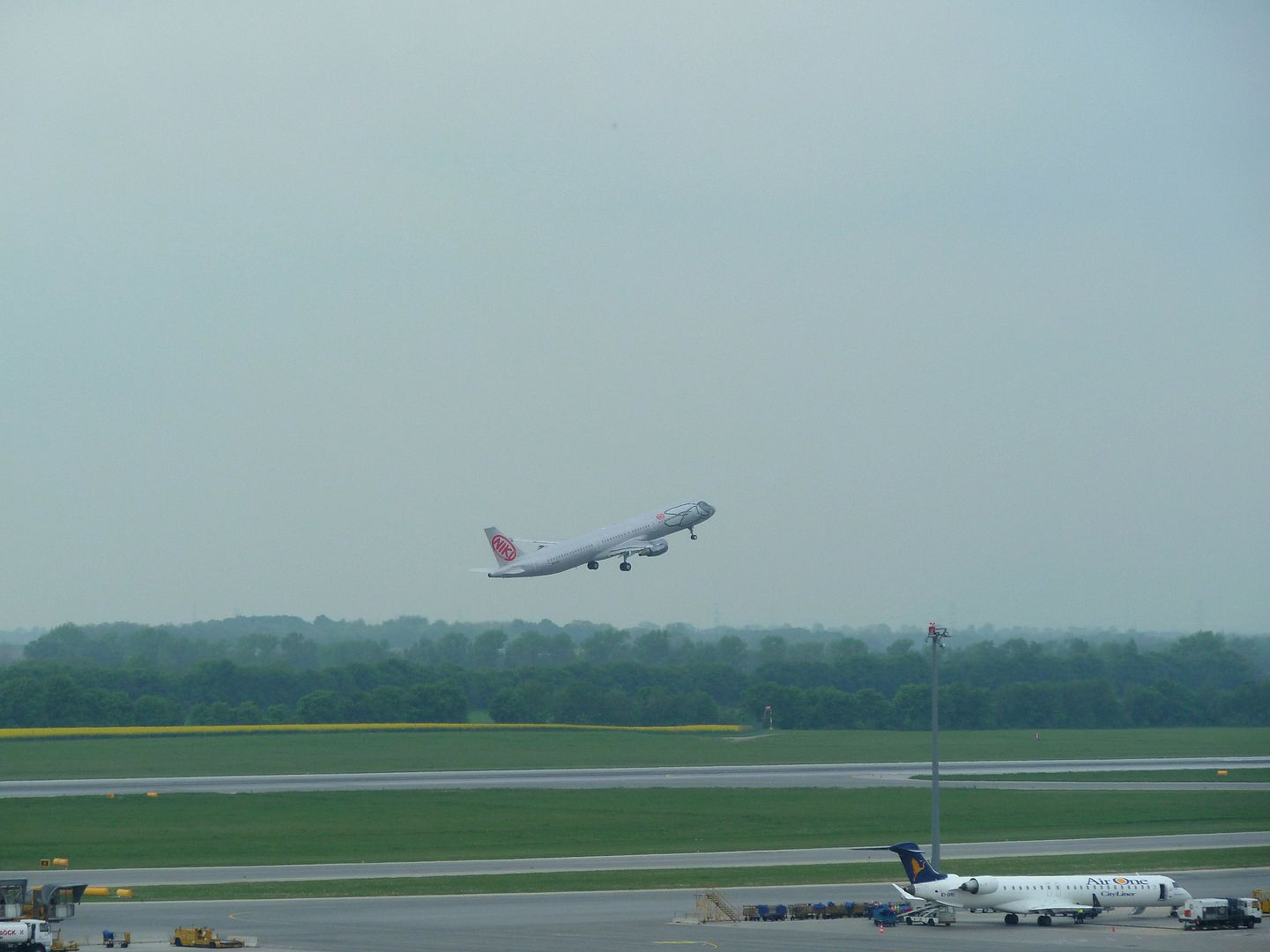 I missed several aircraft arriving at and departing from the other runway, but I was still able to log numerous new registrations. One of the most interesting visitors was Estonian Air 737-500 ES-ABO in "Tallinn 2011" special colors:
Austrian and Tyrolean are clearly dominating here:
Tuesday, 4 May 2010
Vienna (VIE) - Frankfurt (FRA)
Adria Airways JP174
16:25-17:55 (16:51-18:13)
Flying time: 01:07 (hrs)
Economy Class, Seat 10D

Bombardier CRJ200LR
S5-AAJ (MSN 8010)
Delivered in 01/2005
1st flight on S5-AAJ
4th CRJ100/200 flight
6th CRJ flight
93rd airline
Checking in online hadn't been possible on the day before, so I left the parking structure 1.5 hours prior to departure and went to a check-in machine in Terminal 1. I selected seat 11D, printed the boarding pass and passed security. Unfortunately, viewing opportunities weren't good in the B gates area, but I was still able to log a few registrations. Even though boarding time was coming closer, the aircraft hadn't arrived yet. Finally an Adria Airways CRJ showed up and only 15 minutes later the boarding process was started. Less than 20 people entered the bus, so for a second time on that day the passenger load factor was less than 50 percent.
Two Adria CRJs were parked at the apron and we stopped next to
S5-AAJ
, the newest of seven CRJ100/200s in the fleet, delivered in January 2005: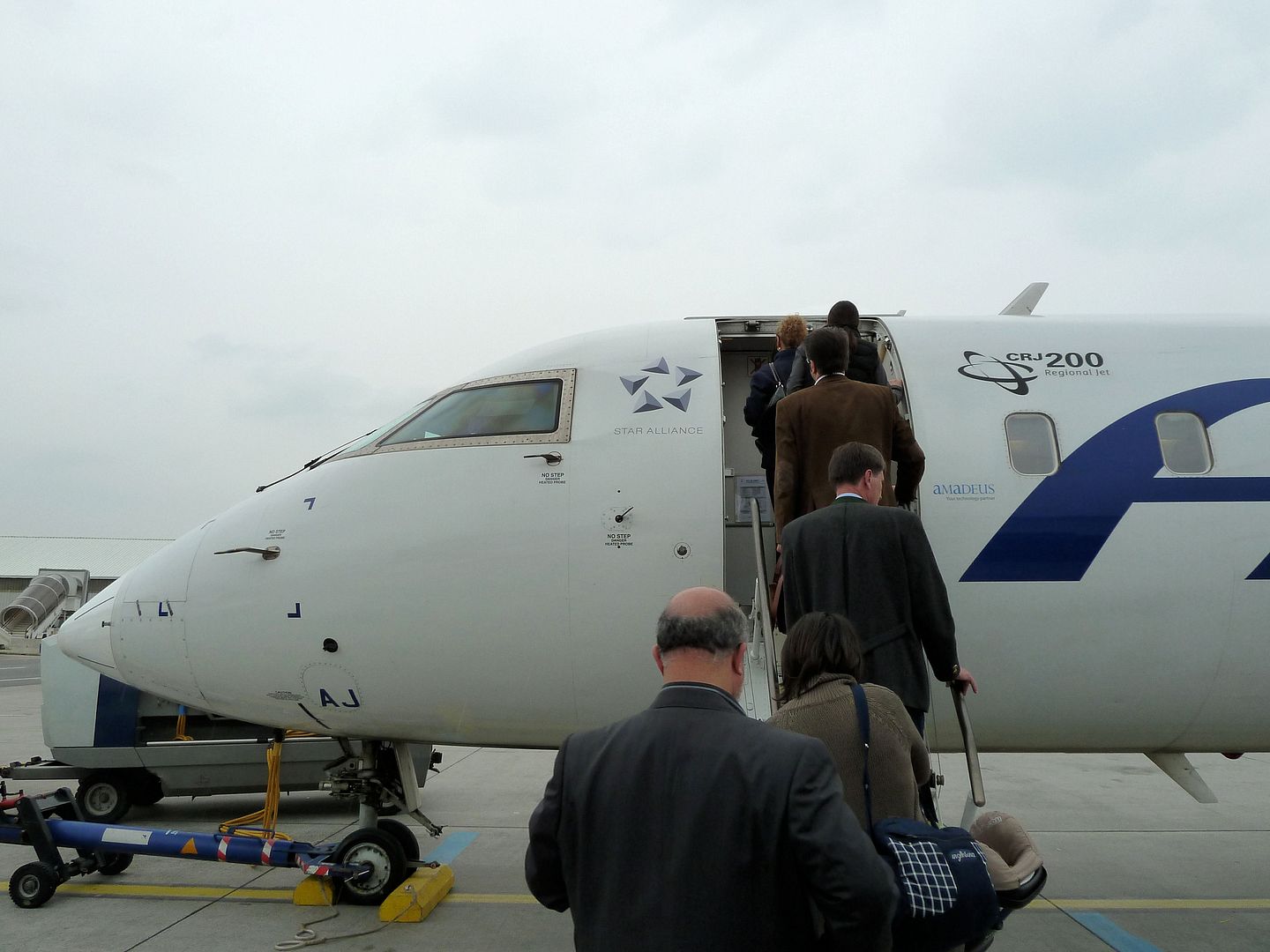 All passengers were welcomed by a friendly female flight attendant. Another flight attendant - a young male - was polite, but very reserved and didn't smile at all. When I noticed the lack of a window in row 11, I asked him whether I could switch to 10A and he agreed by robotically saying
"yes"
. The leather seats weren't bad...
...and legroom was generous, too: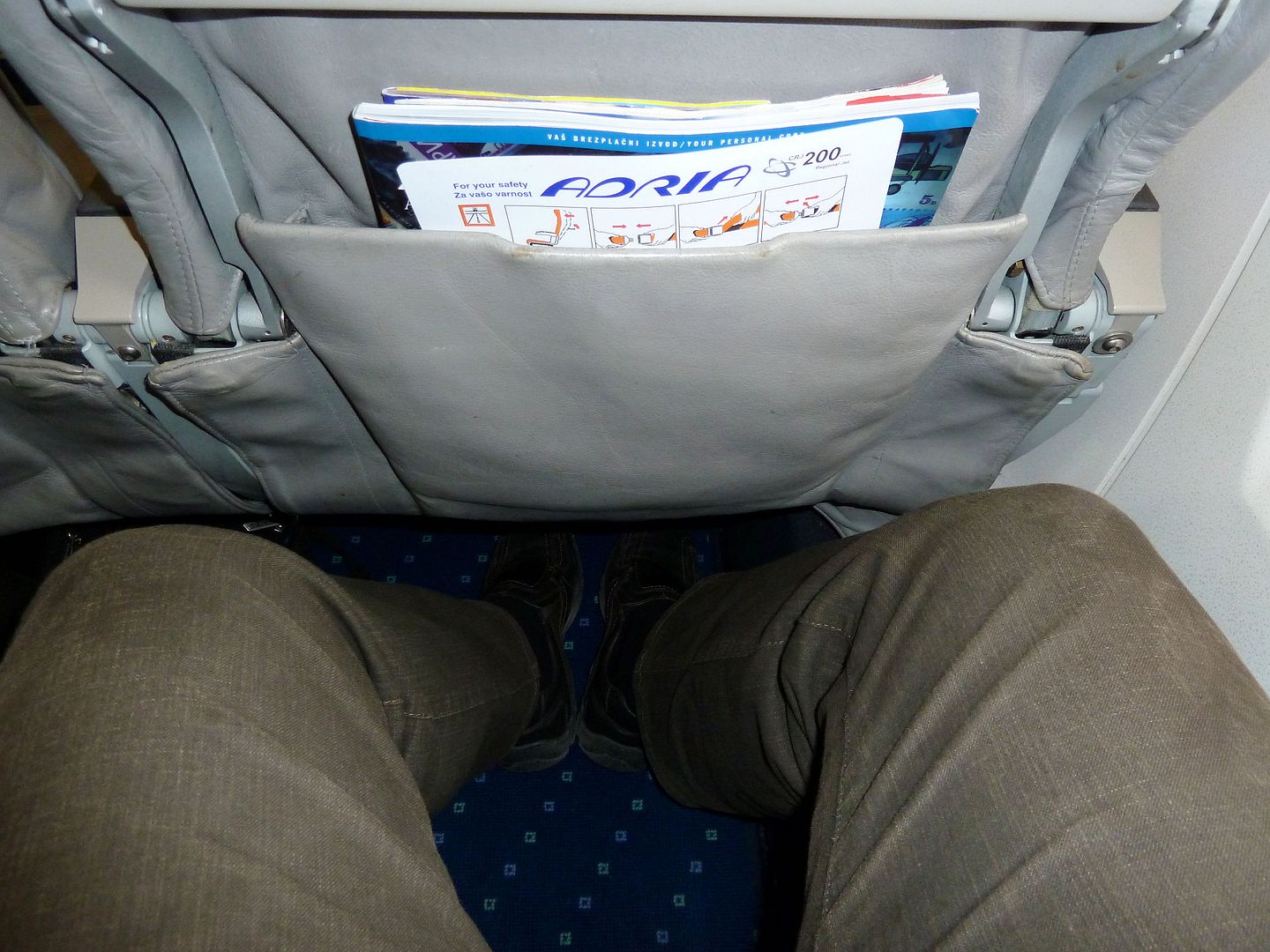 Parked next to us was sister ship S5-AAI - unfortunately it had started raining:
Some minutes after the scheduled departure time the captain informed us about a 35 minutes delay because only one runway could be used for take-offs. Well, I didn't hear him mentioning Frankfurt, but later I would find out that traffic had been restricted at Frankfurt, not at Vienna. While we were waiting on the ground the male flight attendant offered water and orange juice - nice service!
We finally left the parking position 26 minutes late and soon took off from runway 29: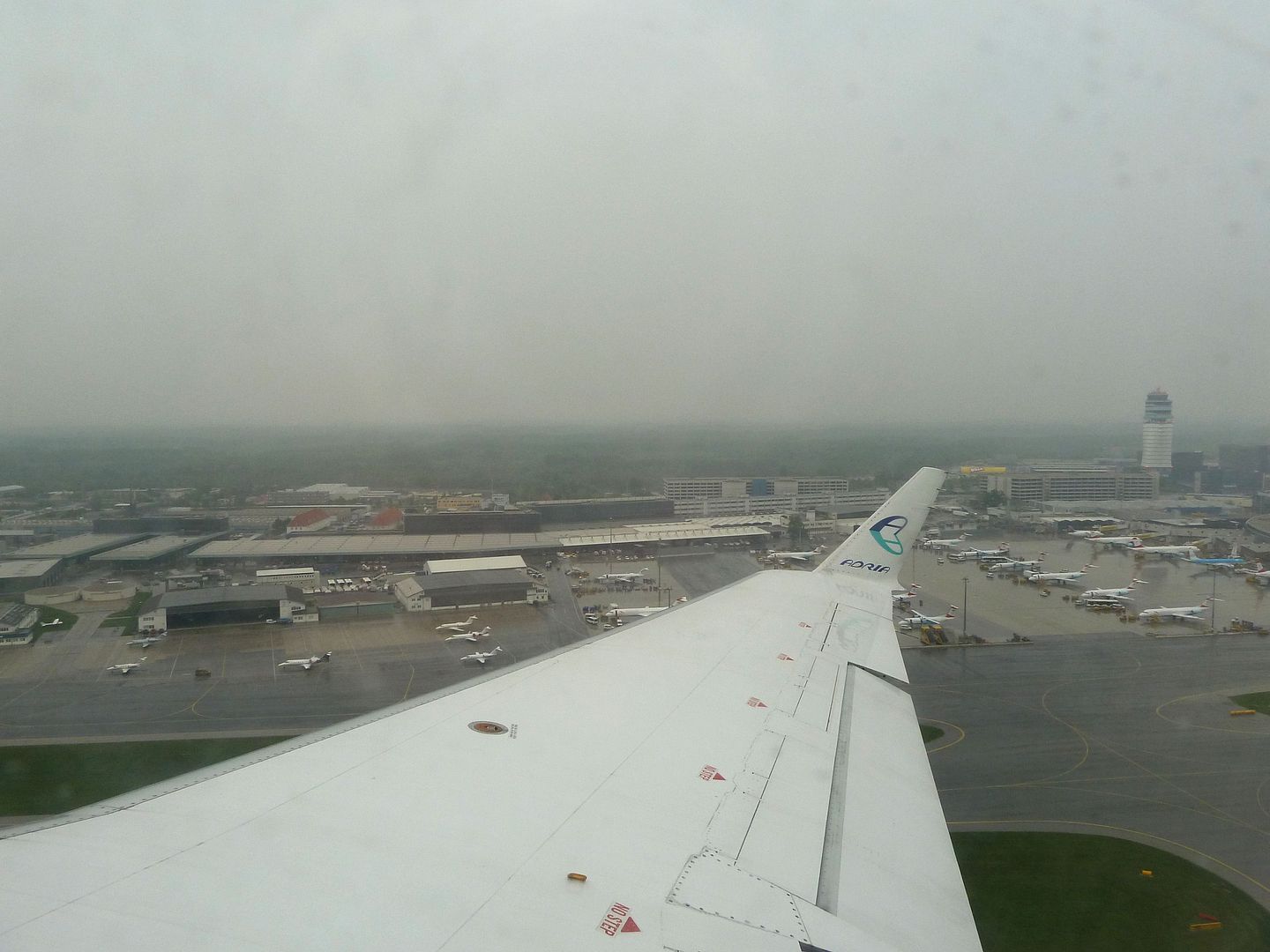 Shortly after take-off cold and hot drinks as well as cheese and salami ciabattas were offered. I decided to try the cheese variant:
The quite big and fresh ciabatta tasted very good - well done, Adria Airways!
After I had finished eating it was time for a cabin shot: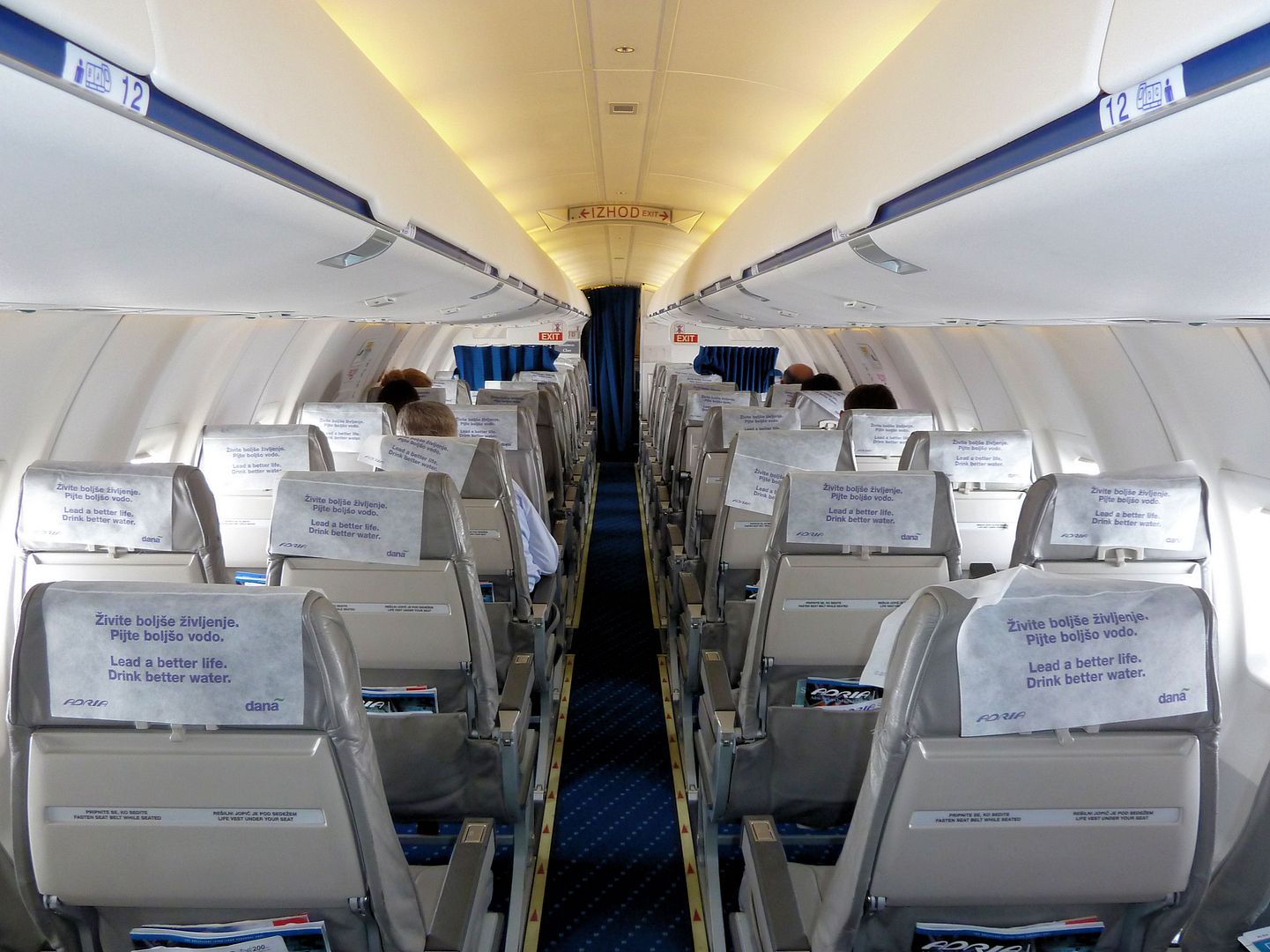 The approach direction was still the same as in the early evening: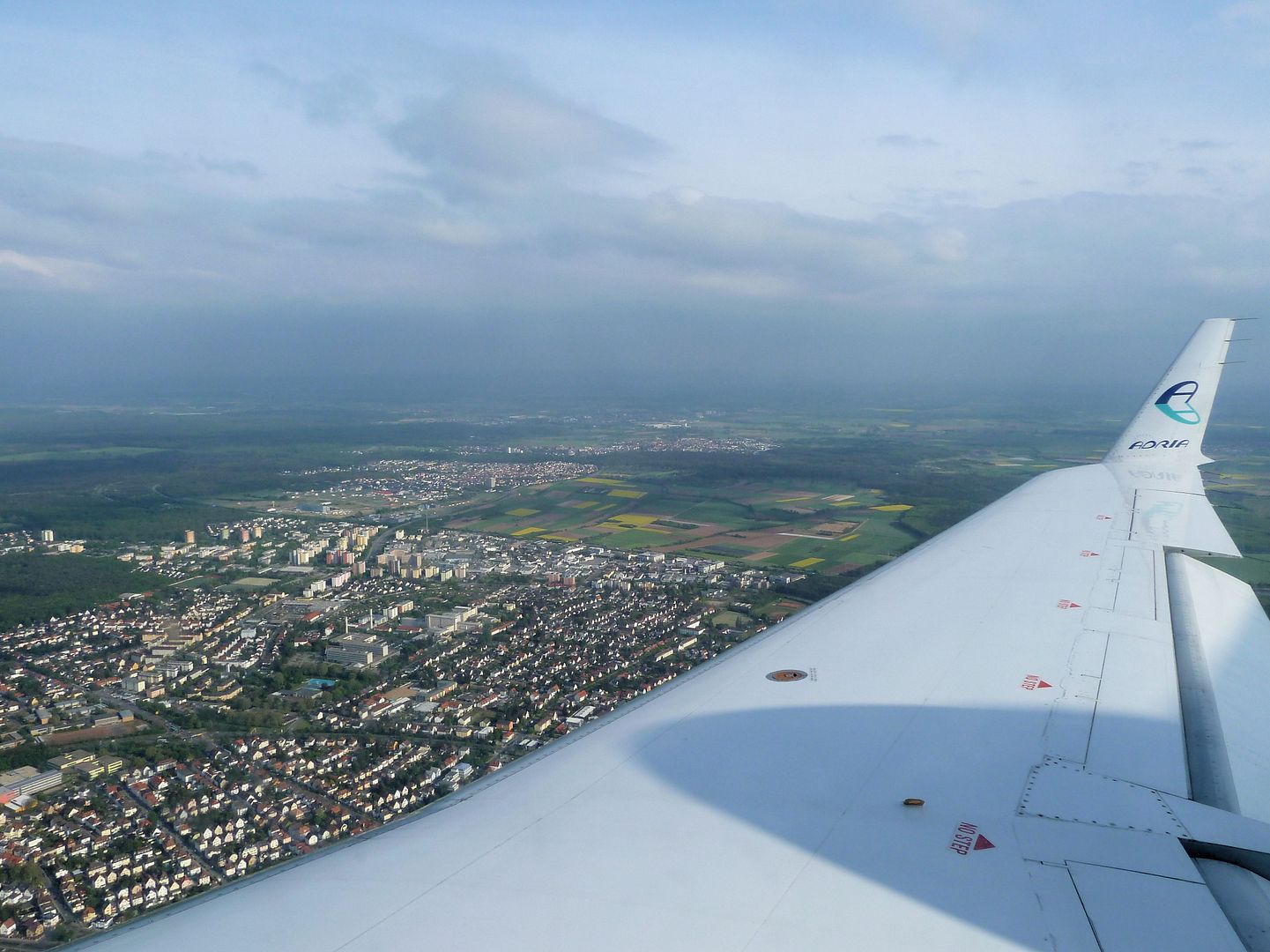 Air Namibia A340-300 parked in front of a LH Technik hangar: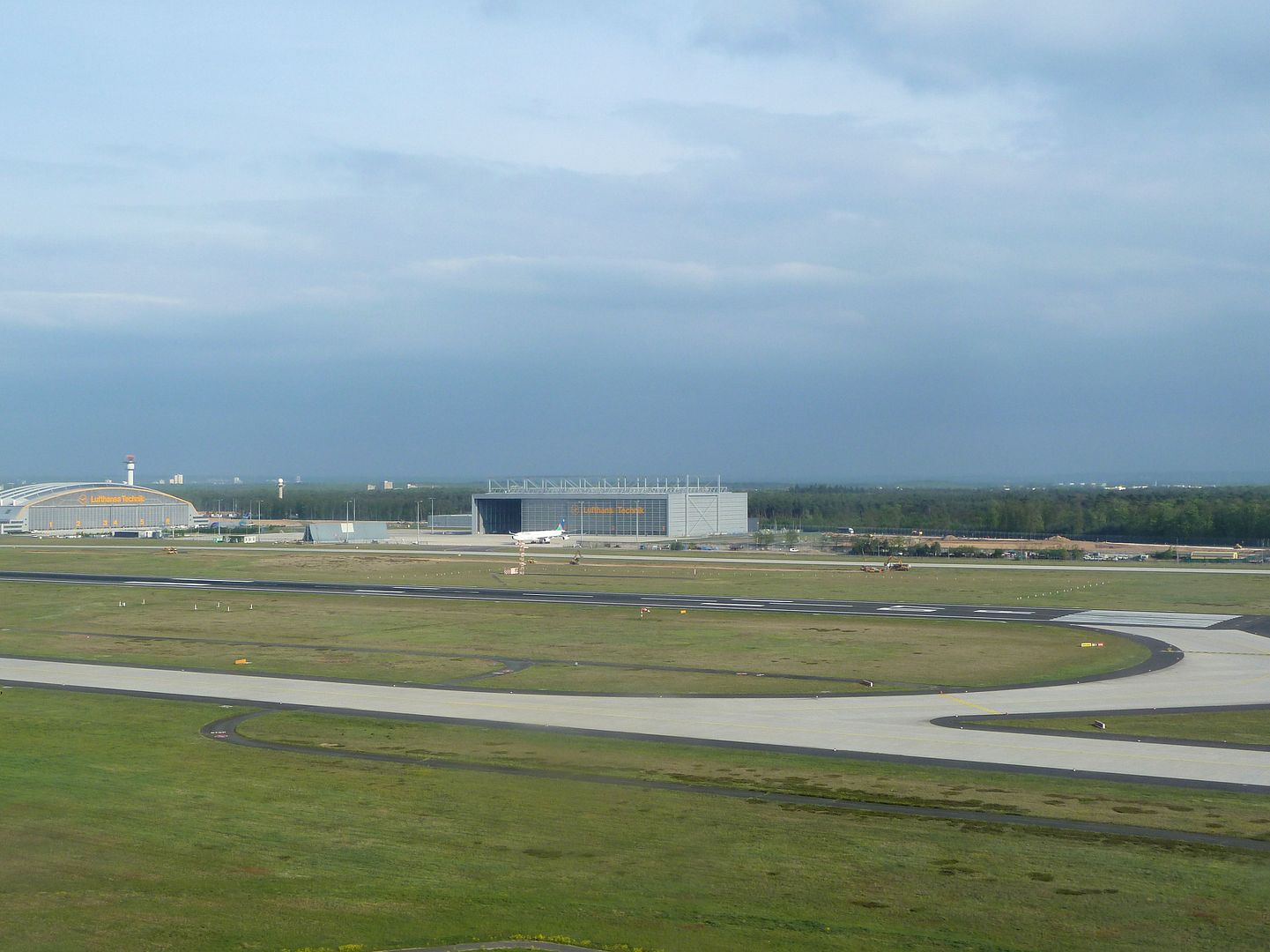 We touched down after a flying time of 1 hour and 7 minutes and taxied to a remote parking position near the airport's large fuel depot:
A female passenger involved in a discussion with the Adria crew delayed the departure of our bus, but I didn't mind at all considering that I had been responsible for a similar delay earlier today.
After arriving at the Terminal 1 B concourse I walked over to concourse A, using the tunnel under the apron: Looks quite dull, doesn't it?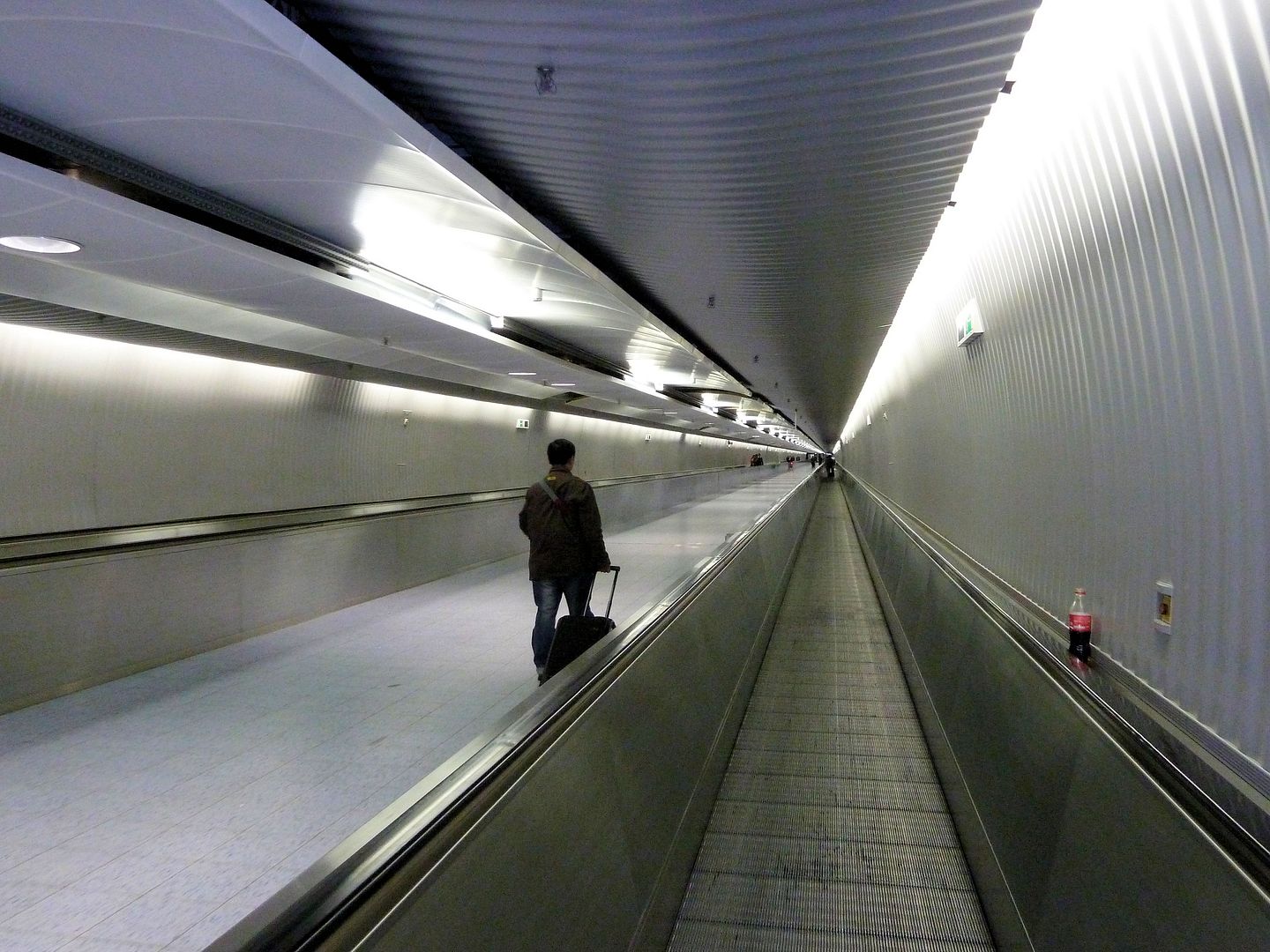 Tuesday, 4 May 2010
Frankfurt (FRA) - Hof (HOQ)
Cirrus Airlines C91527
21:05-22:05 (20:53-21:50)
Flying time: 00:34 (hrs)
Economy Class, Seat 11A

Dornier 328-110
D-CIRB (c/n 3017)
First delivered to Air Engiadina as HB-AEF in 09/1994
2nd flight on D-CIRB
2nd Dornier 328 flight
Once in the concourse A gate area I went to a check-in machine, selected seat 11A again and printed my boarding pass. Then I walked to the front end of the building, took a seat next to the glass front and enjoyed spotting. Less than an hour prior to departure I went to my gate which was still deserted. The situation didn't significantly change until the agents started the boarding process. So in the end only five (!) passengers - including me - entered the one and only bus bound for the aircraft.
Of course
D-CIRB
was waiting again - the aircraft had been based at HOQ for a while back then.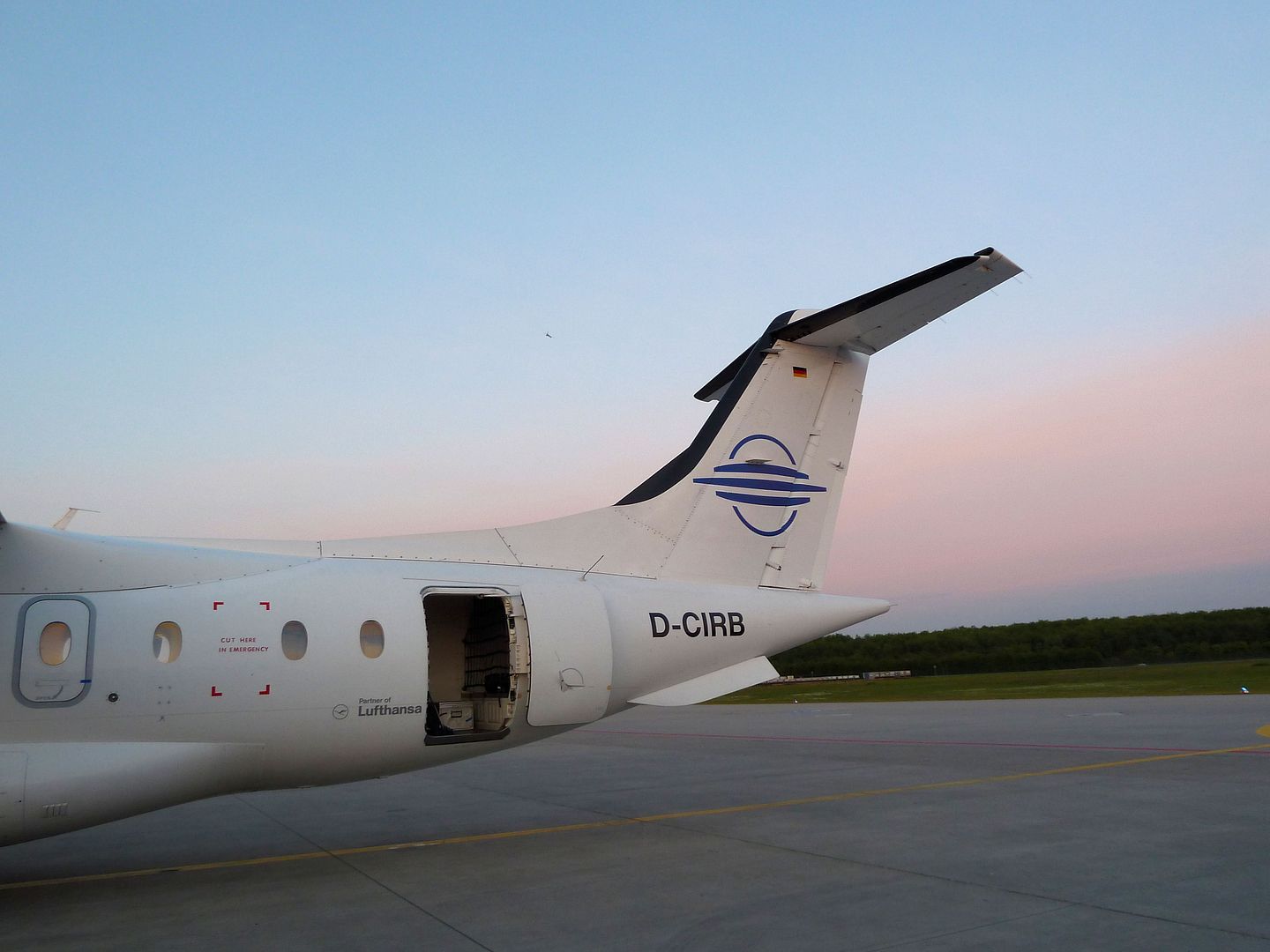 Again a very friendly flight attendant welcomed me on board. Parked next to us was Luxair ERJ-145 LX-LGZ: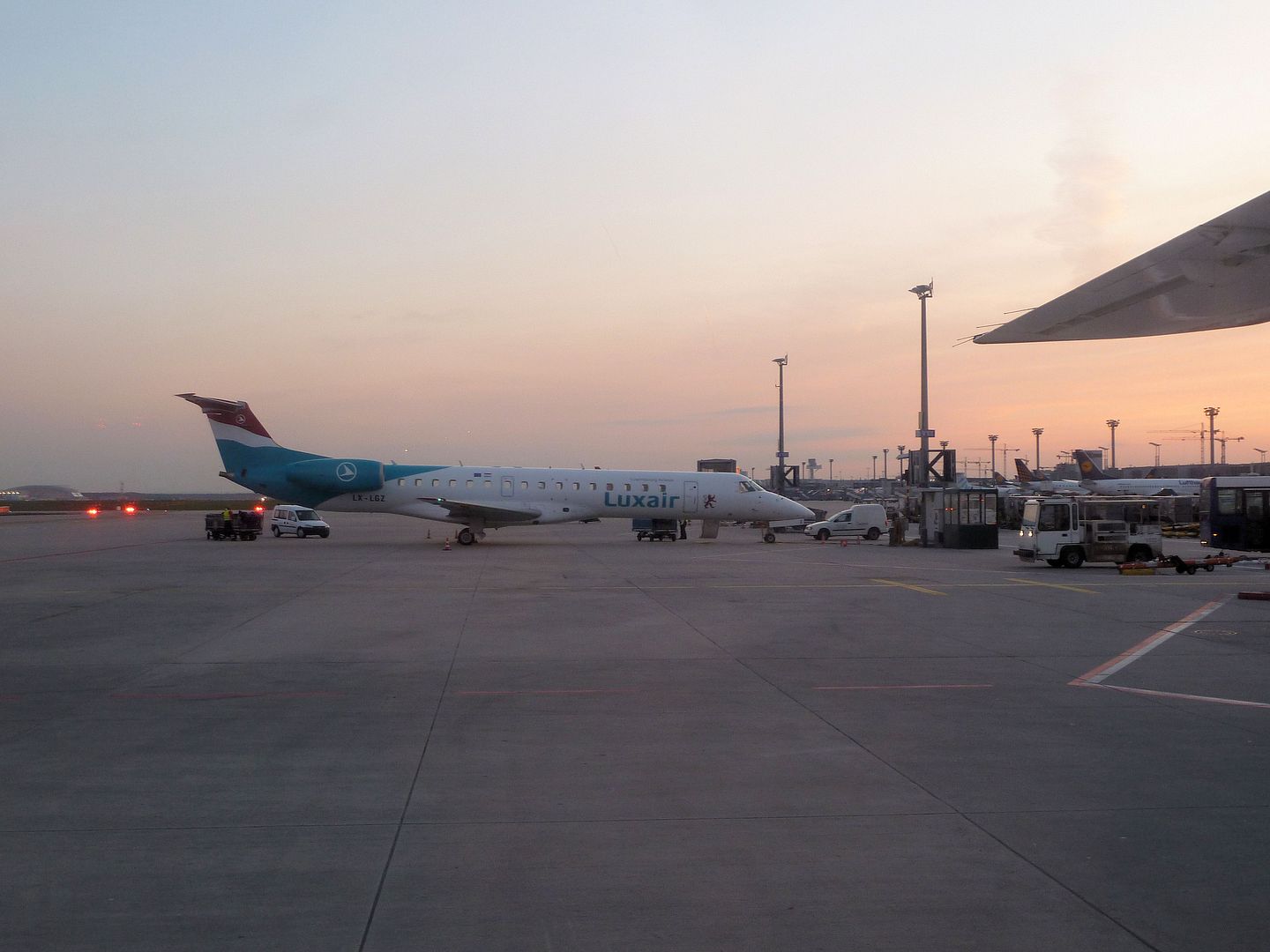 We left the parking position 12 minutes early and taxied to runway 07L which took more than 15 minutes. Meanwhile the captain had told us about a runway closure due to strong winds and subsequent delays earlier in the day. The take-off was not as powerful as in the morning, but a bit shaky - the wind was still blowing quite strongly.
The service wasn't different on this evening flight. After the flight attendant had finished the drink service I asked her about the average loads between HOQ and FRA. She replied that the flights were quite popular on Mondays and Fridays, but demand was usually lower on other days.
"We have already operated a flight with only one passenger"
, she added.
After a flying time of only 34 minutes we touched down at HOQ again and arrived at the parking position 15 minutes ahead of schedule. During disembarking I took one more cabin shot:
The friendly flight attendant also offered to take a picture of me standing in the aisle which I gladly accepted. Only five minutes later I started my car and drove home in less than 40 minutes. I really wish there were more flights available from Hof-Plauen Airport.
Conclusion
Flying
Cirrus Airlines
was a pleasure. Friendly and charming flight attendants offered a great personal service. Free drinks and even small snacks were available free of charge - what else can you ask for on such short hops? The cabin was in good shape and the comfort level on the Dornier 328 was much higher than expected. I really want to fly on that nice little plane again - and of course I also need to try the 328JET.
When asked about
Niki
one can immediately refer to friendly and motivated flight attendants as well as free drinks and gourmet sandwiches. It was good to see that these characteristics haven't changed since 2006 when I tried Niki for the first time. However, I wasn't entirely satisfied with the seating comfort. Legroom may not be sufficient on longer flights.
The flight on
Adria Airways
was enjoyable, too. A good level of service was provided throughout the flight and also on the ground prior to departure. What impressed me most was the big and tasty ciabatta. Even though I'm not a fan of the CRJ100/200, I had no reason to complain about the seating comfort.
Other than expected, the Niki flight turned out to be the highlight of the day. It was very exciting to know that a living "aviation legend" was in command of the flight. I'm also very glad that
Niki Lauda
granted me access to the flight deck and allowed me to take pictures.
Of course the trip would have been a success even without that special occurrence considering that I flew on airlines No. 92 and No. 93, got a new type and collected 76 new registrations.
Best Regards,
PlaneHunter
P.S.: Just in case you missed them - other more or less recent reports:
Monarch Hot Meal, E195 & More: PMI-ALC-MAN-MUC
Premium Meal & Palma Spotting: MUC-PMI, DE 757-300
The Dead Slow Transfer: PEK-MUC On Air China A332
Cancellation Brings Joy: HKG-PEK on Dragonair A330
A380 Cacophony, 777 Star Livery: DXB-SIN-HKG on SQ
The Next 5* Carrier? MUC-MCT-DXB, Oman Air A330
Turkey For 1.5 Hrs: Daytrip To AYT On Sky Airlines
CO Scores Again: ATL-IAH-EWR-FRA On ERJ, 752 & 764
Riding The Ultra Long-Haul Twin: Delta 777-200LR
Pacific Coast Jaunt: 3 Carriers, E120, E140 & Fog
The Ultimate 737: LHR-IAH-PDX On CO 777 & 739ER
Bye Bye, Hell! TRD-OSL-TXL-NUE - DY/AB/HE DH4
My Trip To Hell: NUE-CPH-OSL-TRD On Cimber & SAS
SFO-YUL-FRA: Map- & Sleepless On Air Canada's 77W
Sin City Gloss & Virgin America's Chic First Class
Seat Dilemma & Canyon Glamour: FRA To LAX, AC 763
On Par With Air France? DTW-AMS-MUC, KLM A330
Goodbye, Red Tails! DC-9-40/50 & Chicago Tour
Champagne & World Of Coke: Air France A340 To ATL
"Mission A380": Disappointing Legs On BA/BD/EI
Delights Of Doha, 773 & 77W: DOH-DXB-LHR On EK
A380 Really a Step Forward? LHR-DXB-DOH On EK
Quality & Style: HKG-LHR On Air New Zealand 744
Taiwan Trio: TransAsia, UNI Air And The Taipei 101
"The Wings Of Taiwan": EVA Air A332, 744 Combi
SHA-SZX, Shanghai 757: Delayed By The Military
PEK-SHA, China Eastern A330 & Shanghai At Night
Striking Newcomer: Berlin-Beijing On Hainan A330
[Edited 2010-07-27 11:49:42]