Amazing Romania Trip with TS , LH & KRP
Once again I return to Airliners.net with a trip report, after an absence of about a year or so. I've been quite busy lately and had very little time for things such as writing trip reports or even spending time on the computer. With the recession going on, a lot of us are feeling the pressure and vacations are not at the top of the list so I can't say I've been in too many trips lately, especially ones that involve flying somewhere. Aside from flying for necessity, it has been a while since I flew for pleasure. I did plan originally to go back home to Romania sometime in October of this year to see how I can convert my Canadian CPL license to a JAA ATPL; something I've wanted to do for a while. My dream has been to fly for a Romanian regional airline, called Carpatair.
With all that being said, a couple of months ago, I received an e-mail from my best friend in Romania. "It is our pleasure to invite you… wedding… July 10 2010… Hateg, Romania". So my friend is getting married!!! How can I miss that??? This was an opportunity to hit two birds with one stone. One, go to my best friend's wedding and two, apply at Carpatair.
I started looking for flights and the best thing I could find was a flight through Chicago, but traveling through the US has become a bit more than a hassle lately (congestions / border wait times, etc) so I try to avoid if possible. I kept looking and finally I found a ticket from Vancouver, Canada to Munich, Germany with Air Transat at an awesome price of $1050 Canadian. I purchased the ticket right away, with a departure on Wednesday July 7th and a return on Thursday July 15th 2010. As you can see, a week in Europe is pushing it, but I had other responsibilities at home in Vancouver. My original plan was to rent a car in Germany, but that proved too expensive for 1 week, so I opted for a flight with Lufthansa, from Munich to Timisoara for about $150.00 CAD.
So after all, my return flights were booked separately, as follows:
Vancouver, Canada - Munich, Germany with Air Transat (with a technical stop in Calgary)
Munich, Germany - Timisoara, Romania with Lufthansa Regional
-
-
Date: Wednesday July 7th 2010

Airline: Air Transat

Flight: TS942

Aircraft: Airbus A330-243

Reg: C-GITS (note this is the famous "Azores Glider")

Departing: Vancouver, Canada (YVR) @ 20:00

Arriving: Munich, Germany (MUC) @ 17:00 (the following day)
I spent most of the day getting ready for the trip and hanging out with my girlfriend, since I wouldn't be seeing her for the next 7 days. It's quite a shame that she couldn't come with me, but she just started a new teaching job and asking for vacation was not the most appropriate thing.
She drove me to the airport that afternoon and after we said our good-byes, I proceeded toward the check in counter. Since I was there quite early, there were only about ten or so people in front of me. Flying low-cost charters, one must adjust to certain things. For starters, you're only allowed to bring one check in bag, no more than 23 kg and one carry-on, under 10 kg. Since I was only going for 1 week, I didn't have a problem with that, but I can see how some people can easily surpass the allowed limits.
I checked in my backpack and was assigned a window seat. The security process was quick, and then I proceeded to Milestones, where I had a beer and watched a re-run of the World Cup. About an hour or so later, I walked around the airport and snapped a few pictures of the planes parked at the gates, and then made my way to the gate.
There were lots of people there, but no aircraft at the gate. This seemed a bit odd, so I asked the gate agent: "Will the flight depart on time?". She assured me it would. I don't really know how, since it was 30 minute prior to scheduled departure and the aircraft was not even at the gate. For a moment I thought that perhaps they changed gates and I was expecting an announcement stating so.
The check in desks at YVR: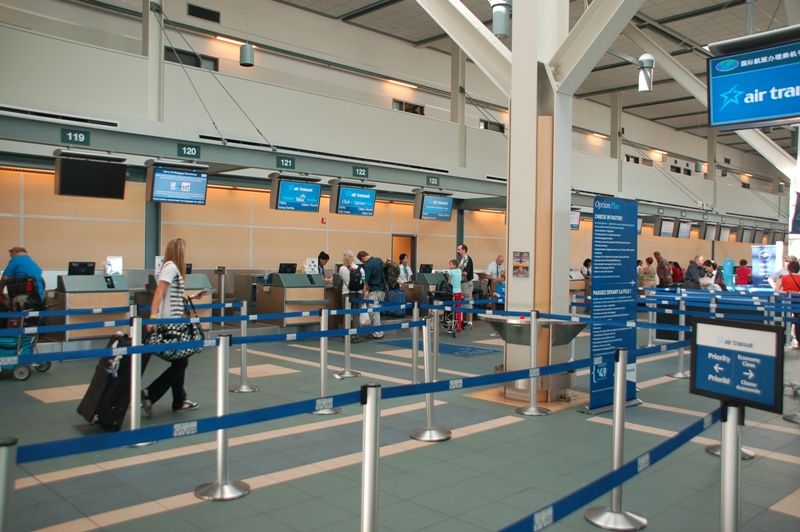 YVR Airport: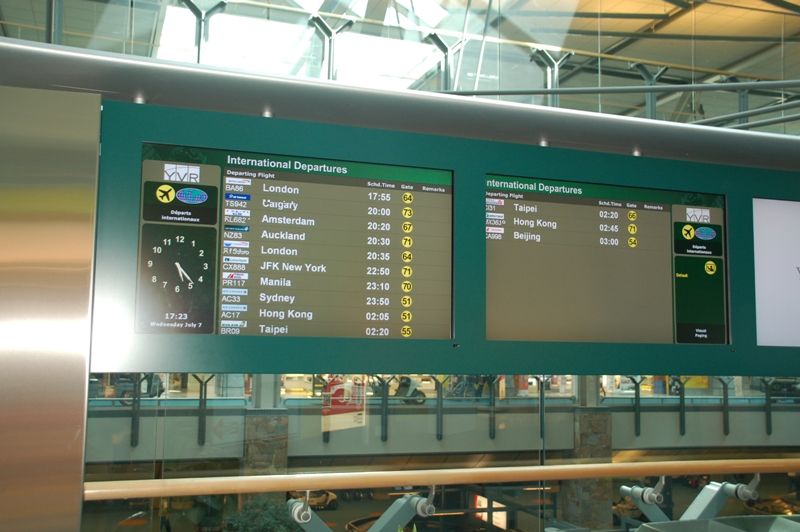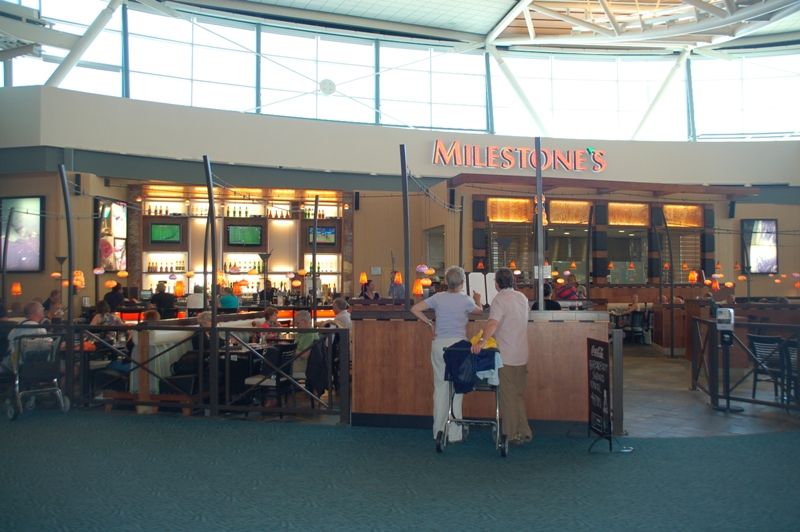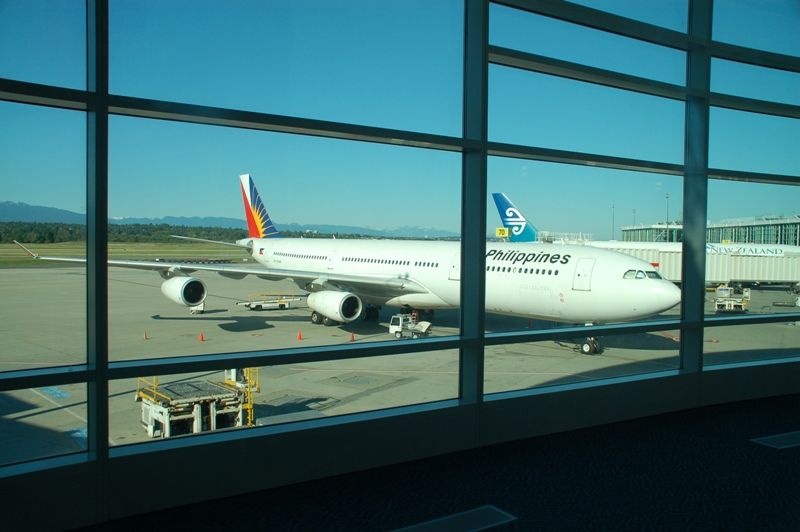 I love this KLM MD-11. It's here every summer, while during the winter months, they bring an A330 from AMS: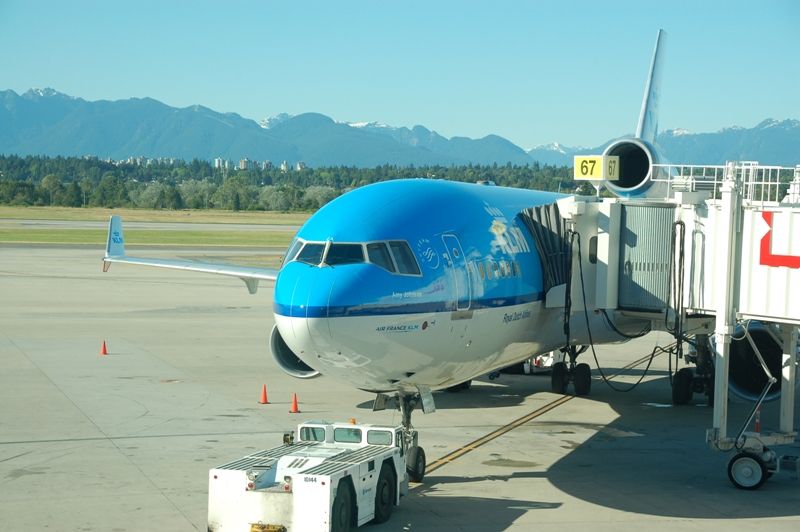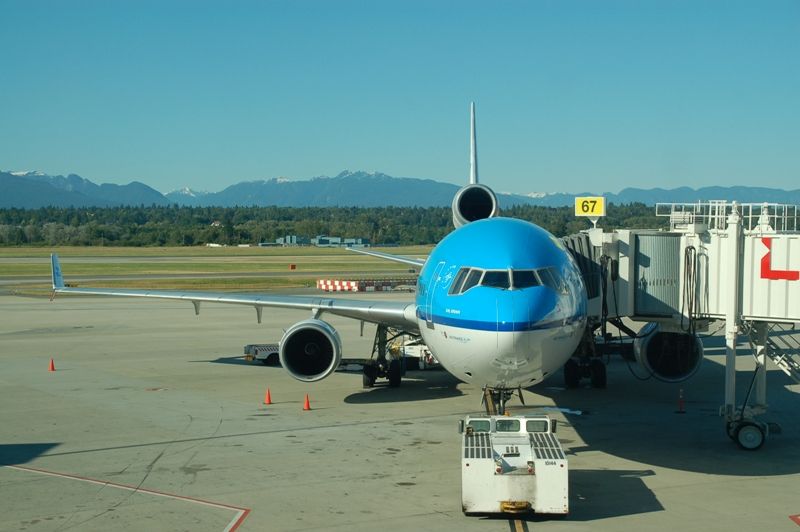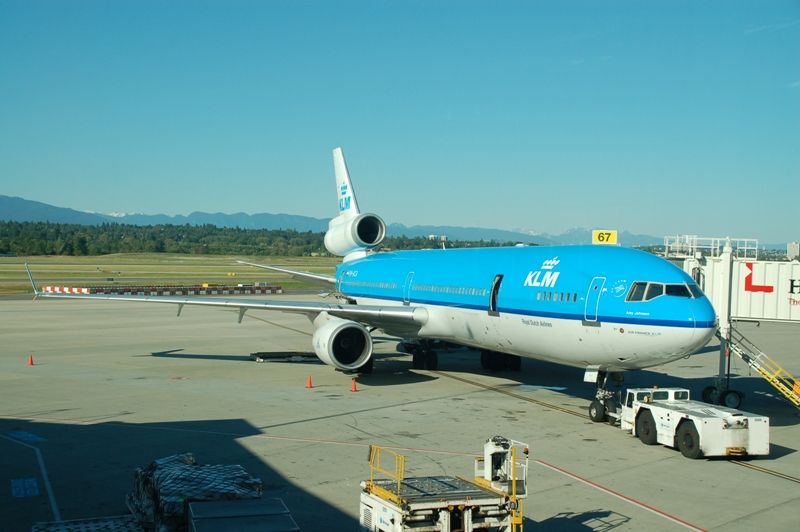 So the announcement came about 10 minutes later: "Attention all passengers travelling on Air Transat, flight TS942 to Munich, via Calgary, the flight has been delayed until tomorrow morning at 9:00am..."
WHAT???
" Right away I knew I was screwed. I had purchased my LH tickets separately and there was no way I would make the 21:00 flight. Originally I had left a 5 hour window between the two flights, thinking that there was no way a plane can be late more than 5 hours, but I guess I was wrong. That's what you get when you cheap out and fly an airline such as Air Transat, which has a limited amount of airplanes, of which none to spare.
Courtesy of Air Transat, we received some lame excuses and some robotic apologies. We were offered a shuttle to a hotel or taxi vouchers to our place of residence, if we chose to stay there. Of course I took the taxi back to my house and my girlfriend was shocked to see me back. She felt sorry for me, but at the same time, happy to see me again. I spent that evening trying to reach the LH office, but it was closed. I ended up calling long distance, the number in Germany and somehow, I managed to get through an agent after pressing random options on the automated system which I should mention, was in German. I asked the agent if he spoke English and lucky for me, he was also an Aussie citizen so he was able to "help" me out. Well he did say that I missed my flight and that was it, there was nothing he could do, which is fine, but he also told me that my return flight, from Romania to Munich was also lost. WTF? How does that work? So I miss my flight, that's fine, it's gone, but the return flight I can still make and they cancel both of them? This is beyond retarded! So now, not only do I need to find a ticket to Romania, I also have to find a way back to Munich. Great!!! I spent the evening pretty upset, looking at flights, airlines, etc. LH was kind enough to offer me a new ticket for the price of 680 Euros. Yeah right...
So the following morning I woke up, ordered a taxi and made my way to the airport. I still had no idea how I would get to Romania once I arrived in Munich, but I was hoping that if I go to the LH counters they'd have a last minute standby deal, or something.
Once I got to the airport, I didn't have to check my bags, since they were kept at the airport overnight. I proceeded straight to the gate and once again, no plane. I started to sweat a little. Now it was a question of "Will I make it in time for the wedding, which was on Saturday?". I had to find out a way. According to the new revised schedule, the plane was to leave Vancouver at 09:00 and arrive in Munich at 06:00 the following morning, which was a Friday, about 13 hours late.
While waiting in line at Starbucks, I noticed the pilots for Air Transat. They said the plane was fixed and that a replacement hydraulic part had to be flown, via private jet, overnight from their home base in Montreal. Okay, well the good part in this was that I'd make it to Germany by Friday morning; the bad part, is that I had to find a way to get from Munich to Hateg, Romania (you read it Hatzeg, the "t" like the tz in "Hertz"). I finally made it back to the gate after wondering the airport for 30 minutes and I was happy to see our bird being loaded and prepped for the long haul to Germany, via Calgary.
The airport once again: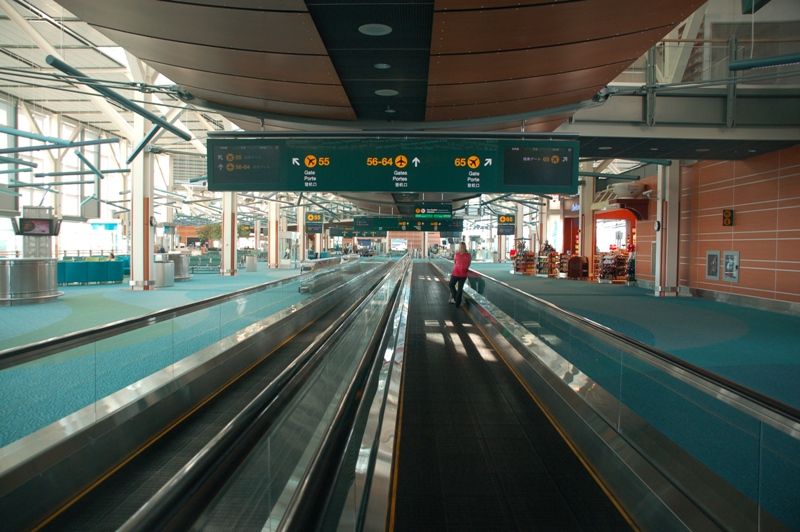 Our A330 still parked in a remote area of the airport with technicians and engineers still working on it: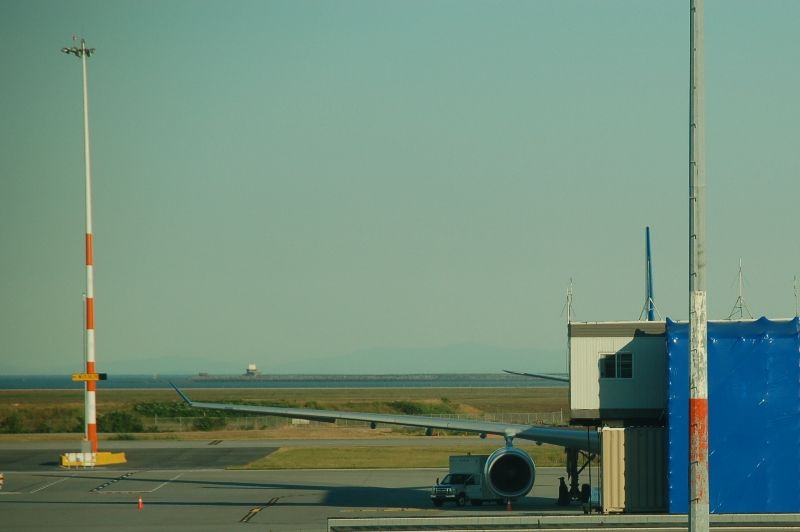 Finally, our bird at the gate, the famous "Azores Glider". This exact aircraft, was involved in a serious incident a number of years back, when it ran out of fuel over the Atlantic, and the pilots had to glide it to the nearby islands of Azores. You can search it up on the net. Quite amazing: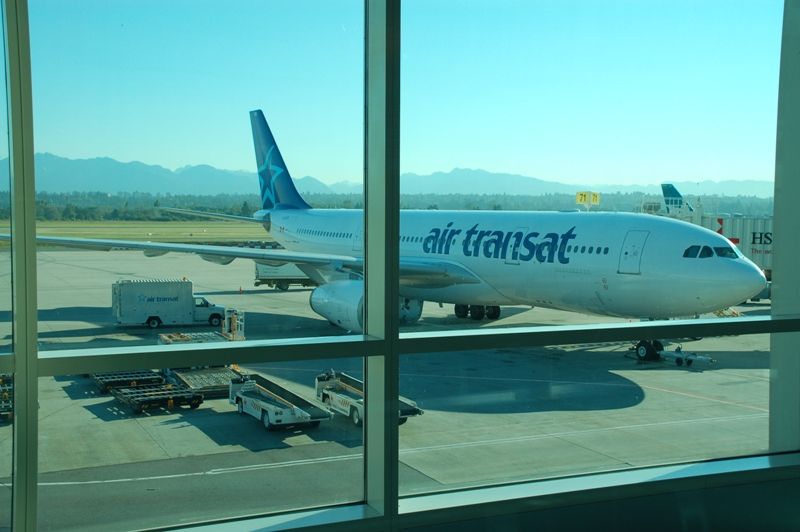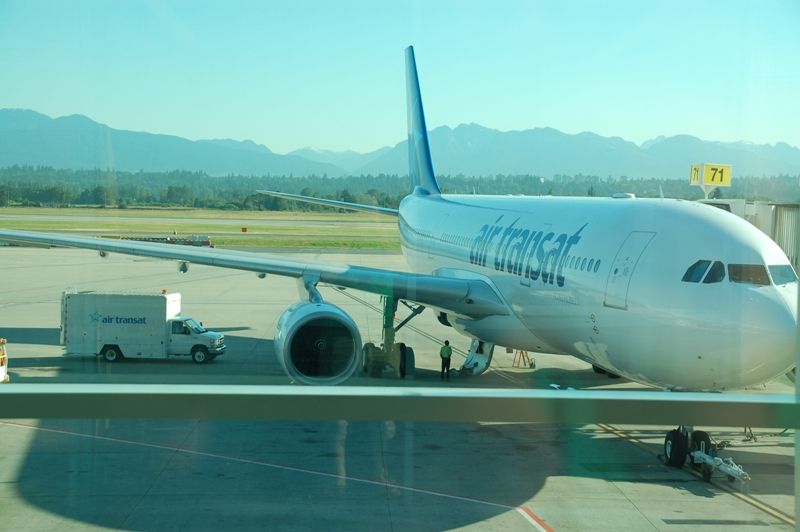 Boarding started not too long after. The load factor was about 60%, but we would pick up more passengers in Calgary, before flying to Munich. The seats are configured 3-3-3, while toward the tail it transitions into a 2 - 3 - 3 configuration. I sat toward the back on the left side of the aircraft. On the isle seat, sat a guy in his late teens, while nobody sat in the seat between us. We hoped that nobody would sit there, and if that wasn't the case, at least it should be a good looking woman.
We taxied from the gate to runway 26L and took off fairly quick, making a left hand turn over the ocean and flying back over Richmond, Delta, Langley and eventually toward Calgary. The day was beautiful and I could see the airport, the city and the North Shore Mountains. It was strange to fly from Vancouver to Calgary in such a big aircraft. I've flown this route more than 50 times, but it was either a B737, A320, Embraer or some sort of CRJ. Since I flew in Calgary many times, I was hoping for a Runway 34 arrival, which would give me a great view of downtown Calgary, but it turns out we landed on runway 16, same runaway, but coming from the North side. We touched down in Calgary, taxied to our gate where more passengers, cargo and fuel was loaded. We were not allowed outside the aircraft, not that anyone wanted to go. Being 13 hours late, all we wanted is to get to Germany.
Boarding the plane to Calgary: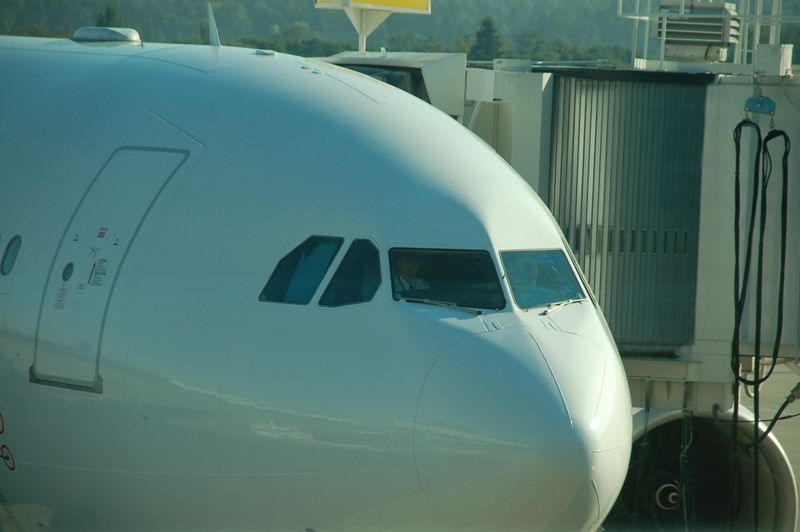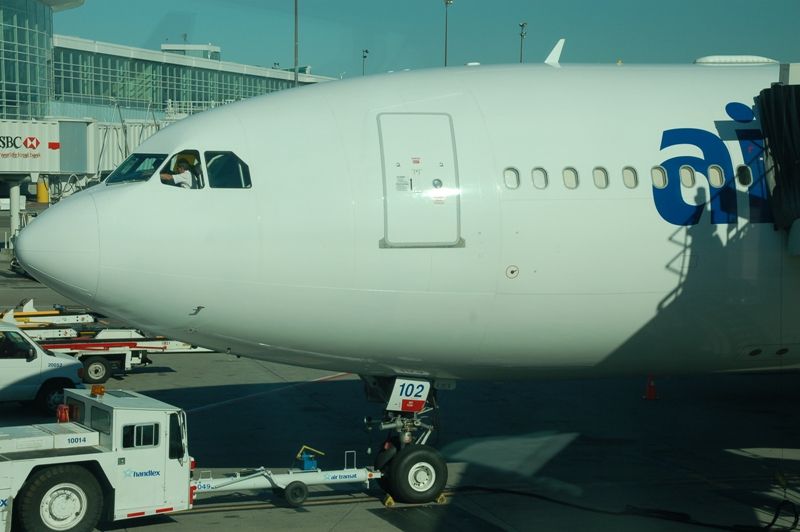 Taxiing to the active runway: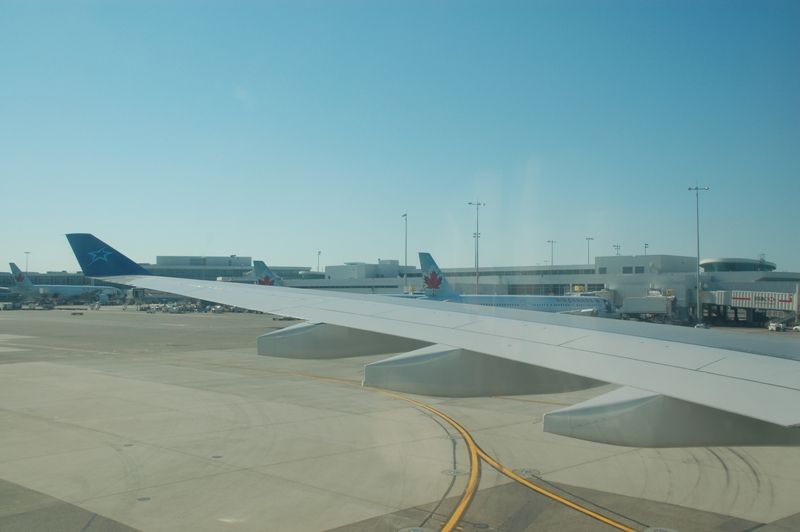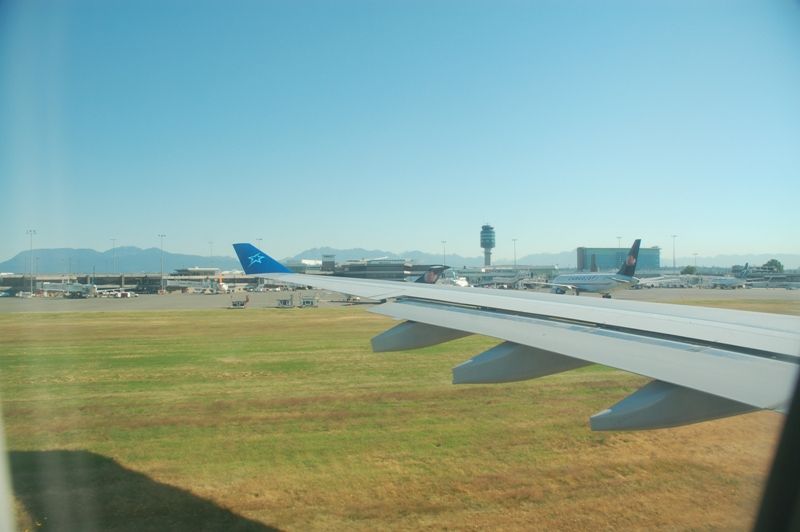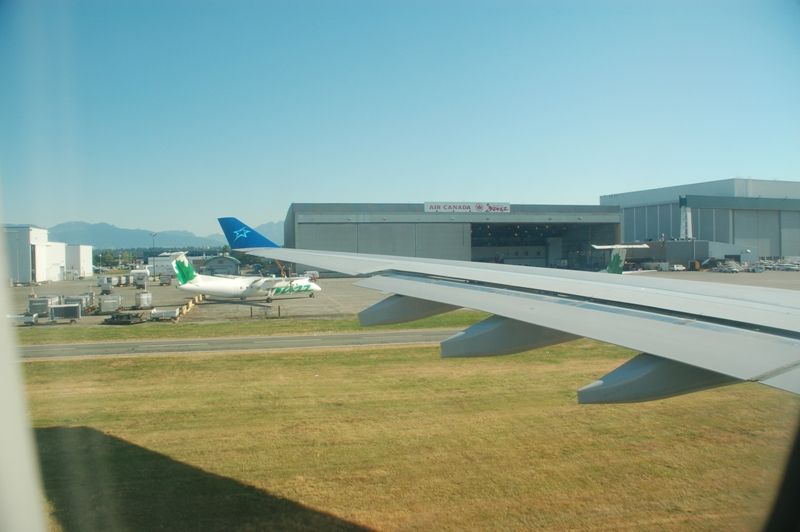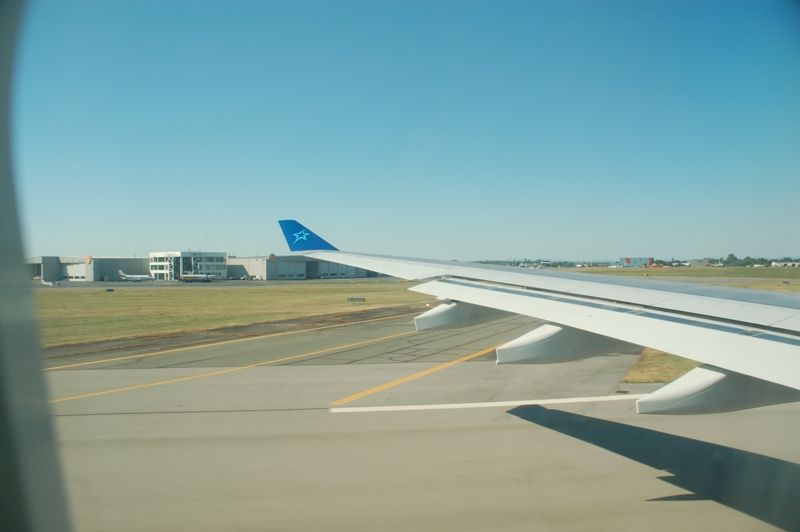 Take-off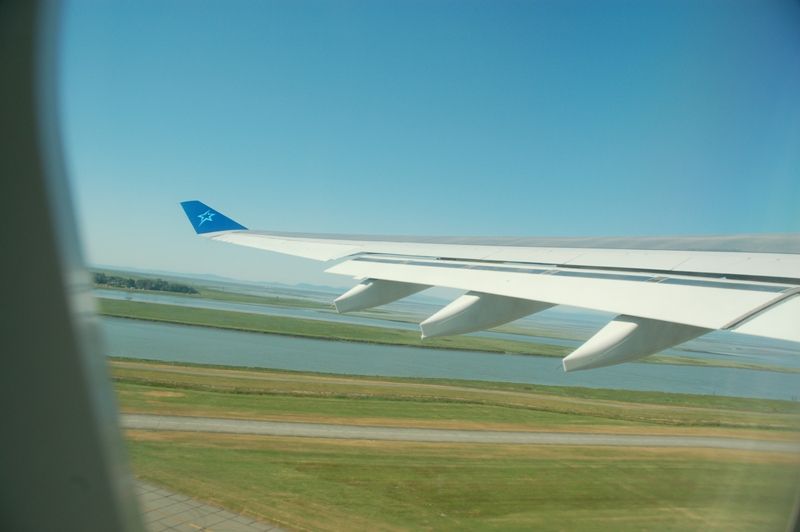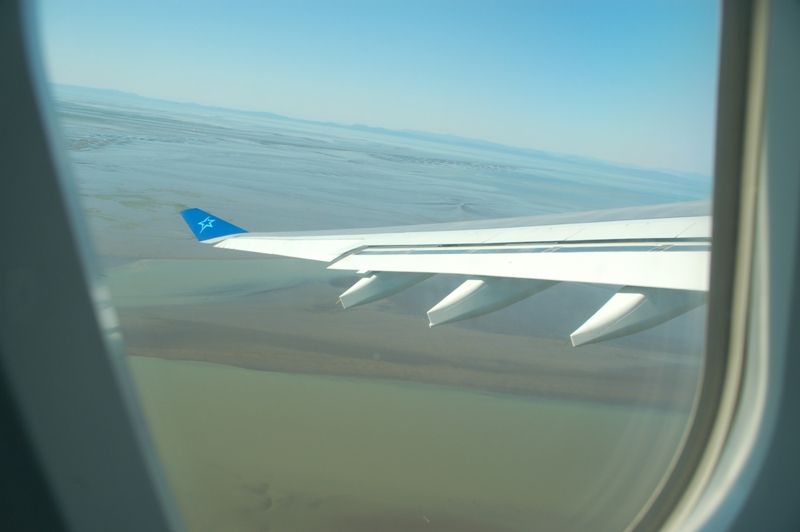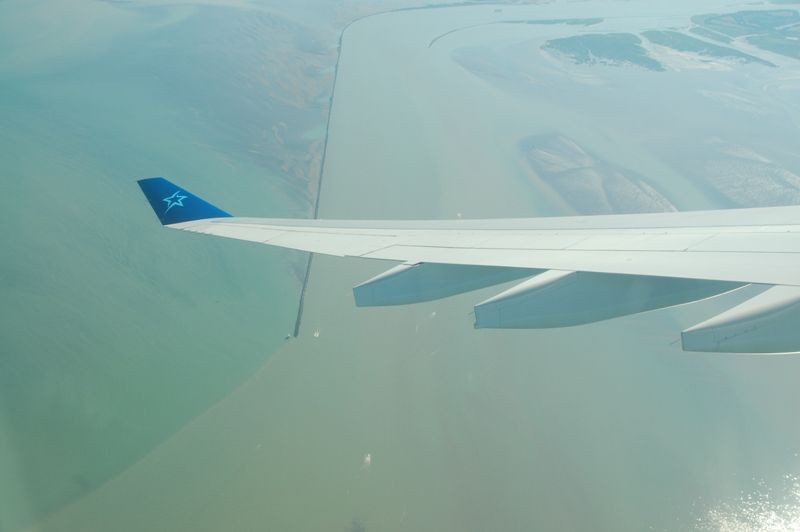 YVR-Vancouver International, with the city in the background: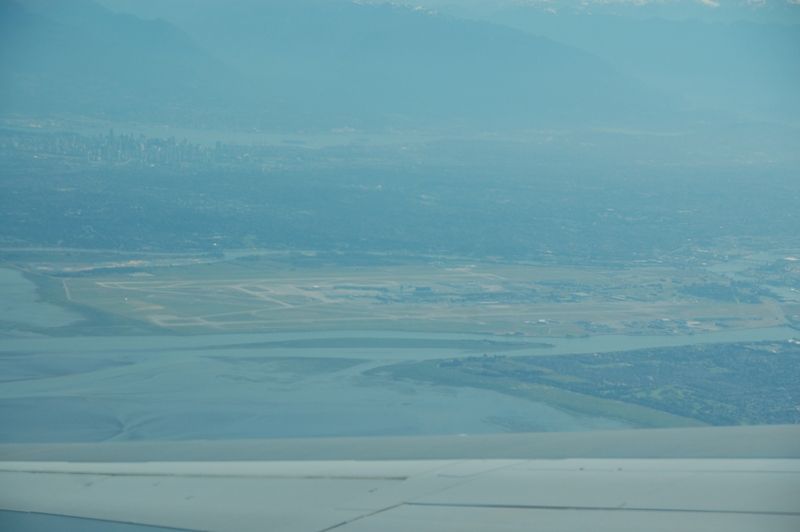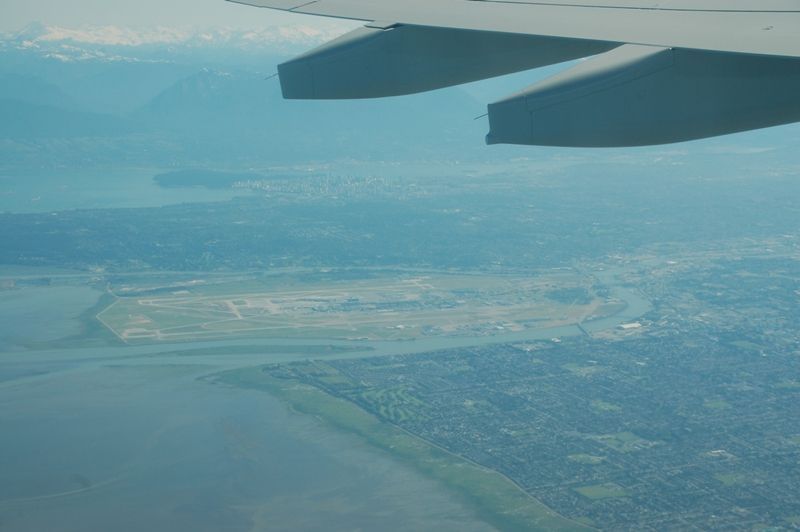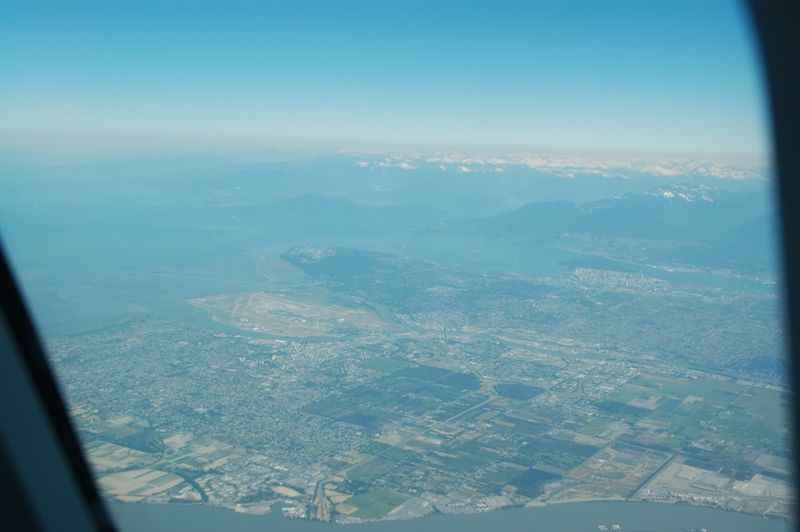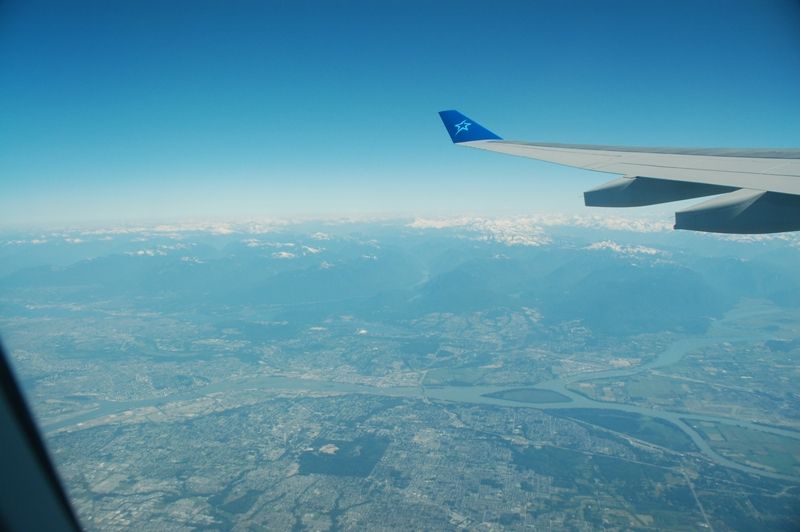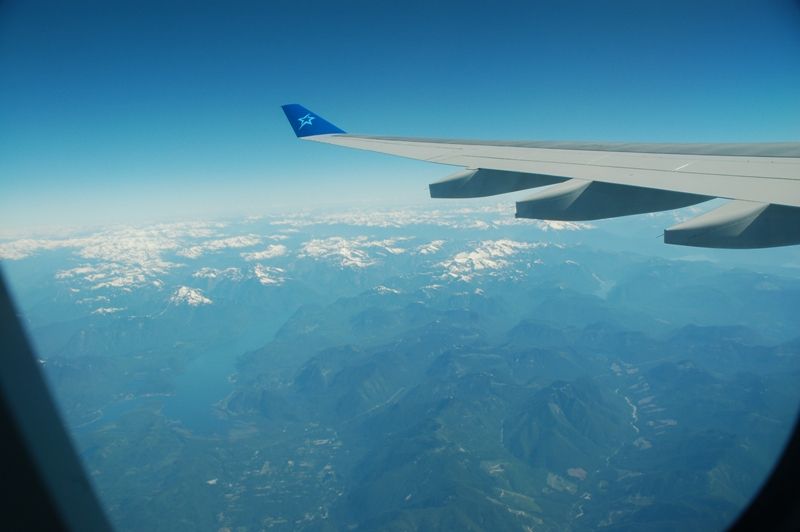 Kelowna, BC: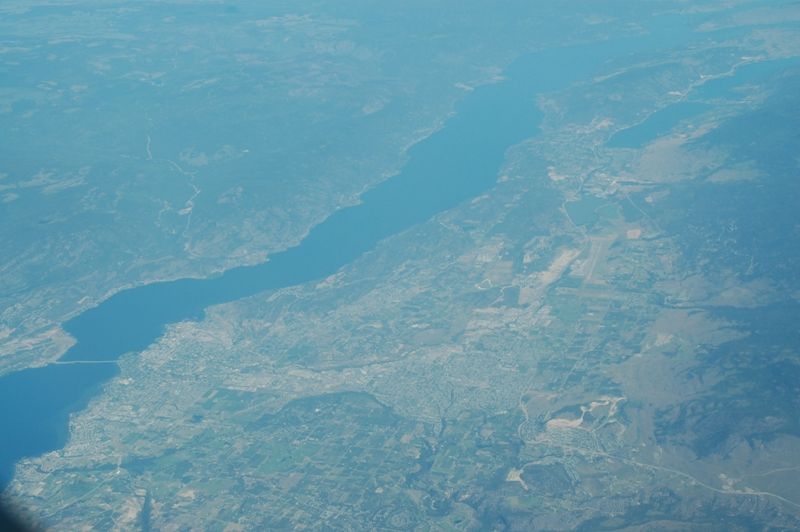 The Rocky Mountains: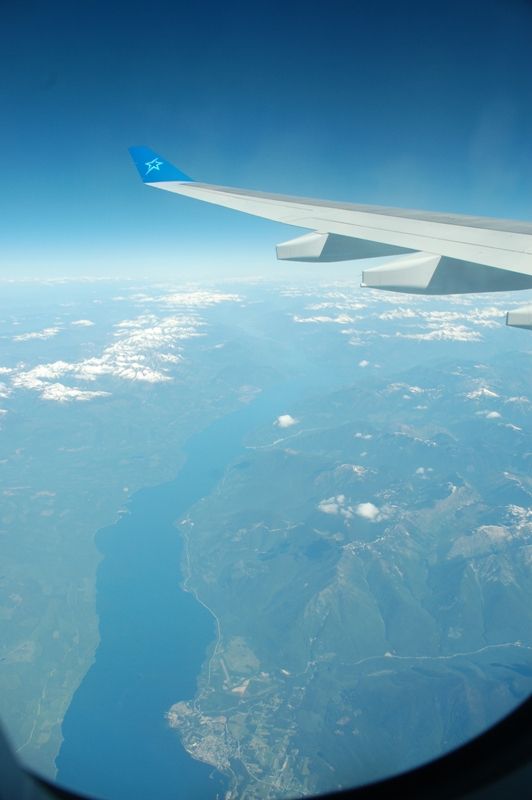 -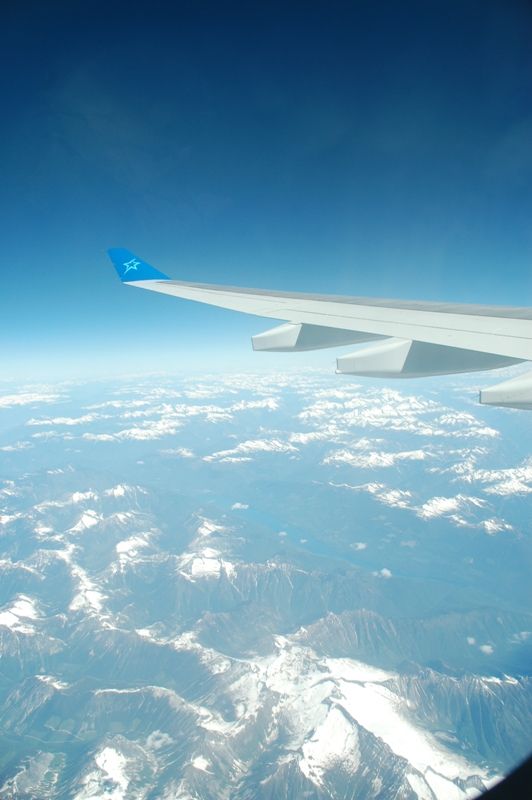 -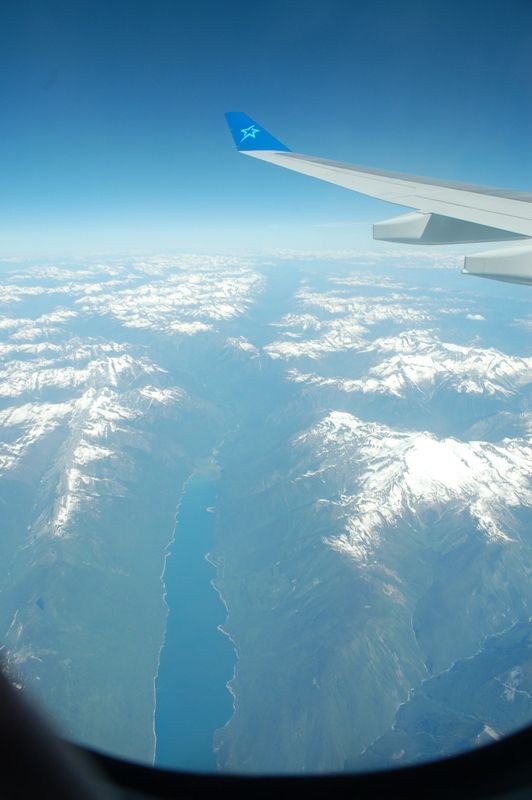 -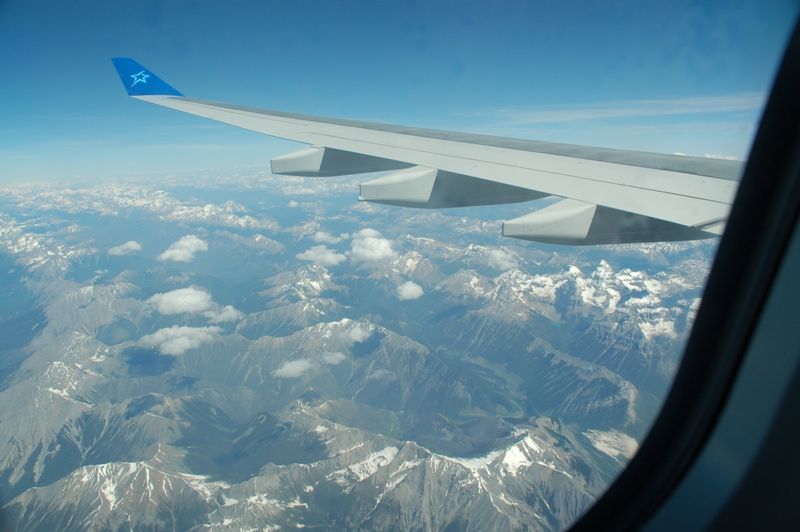 -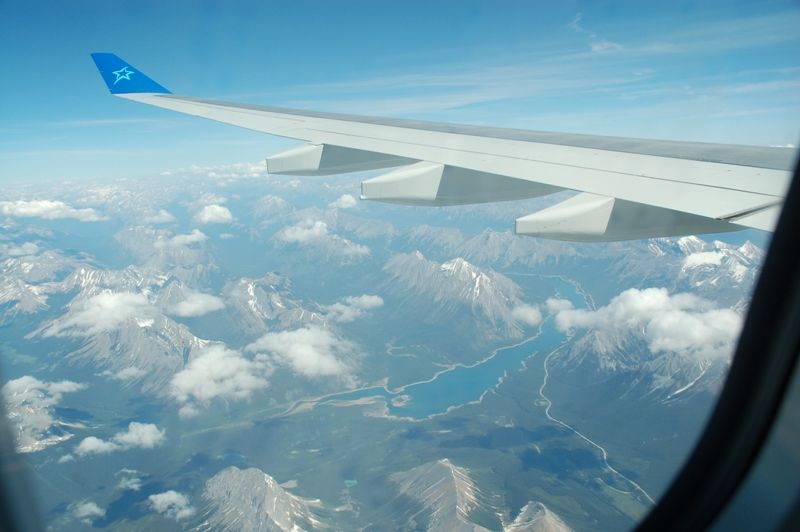 -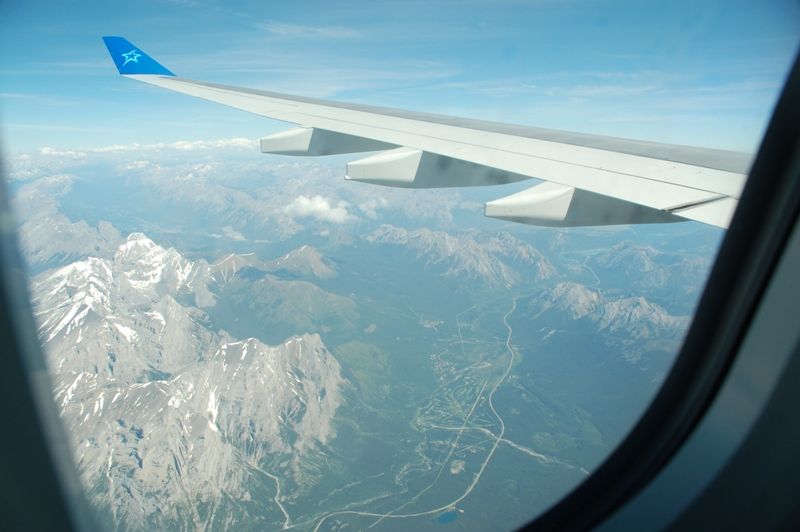 -
Approach and Landing in Calgary, Alberta: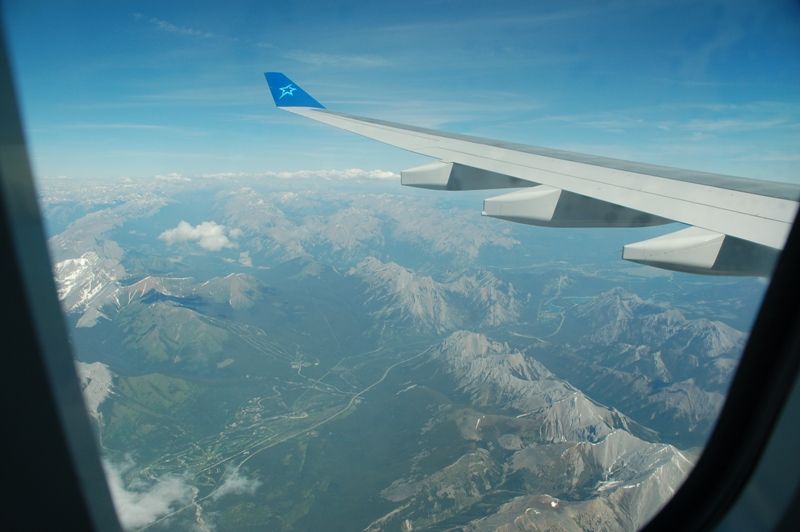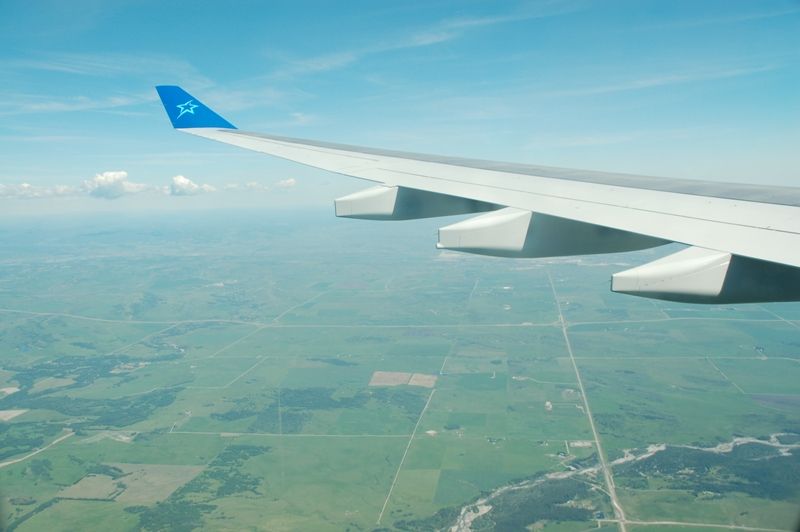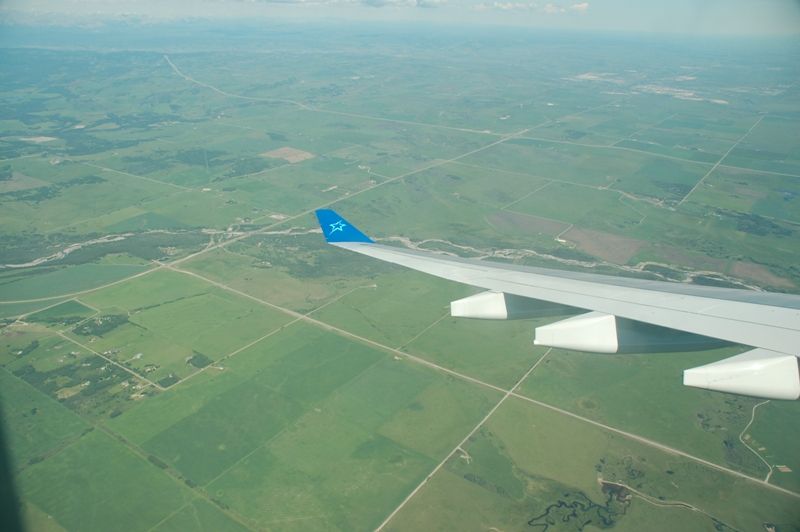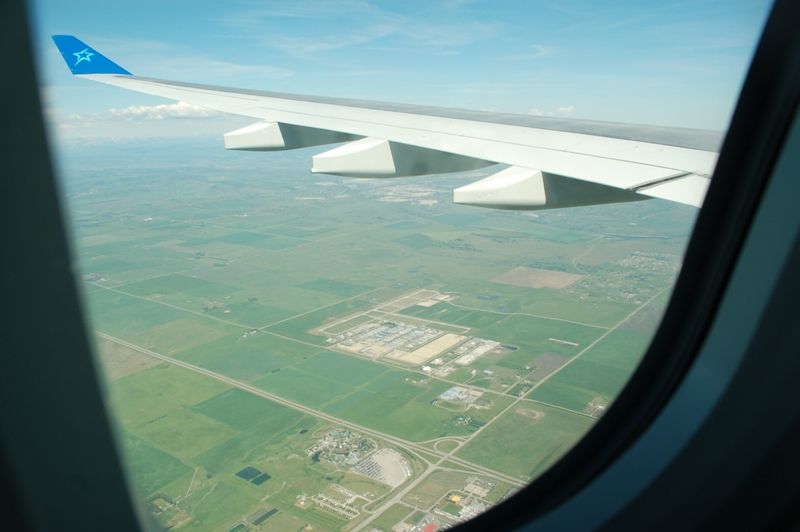 Good ol' Springbank Airport, CYBW, where I have done many circuits back in the day, while working toward my PPL / CPL.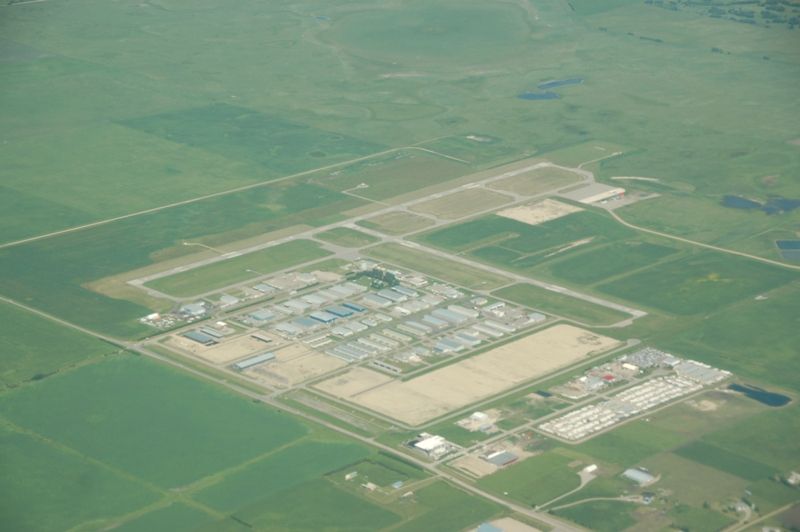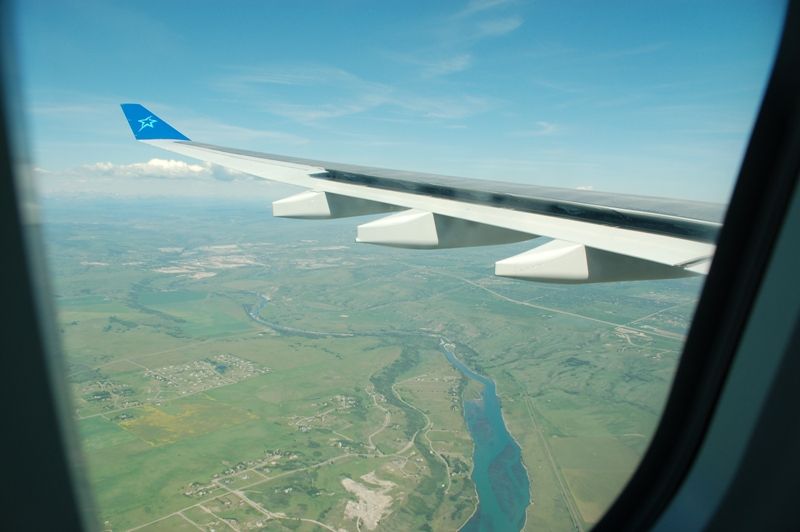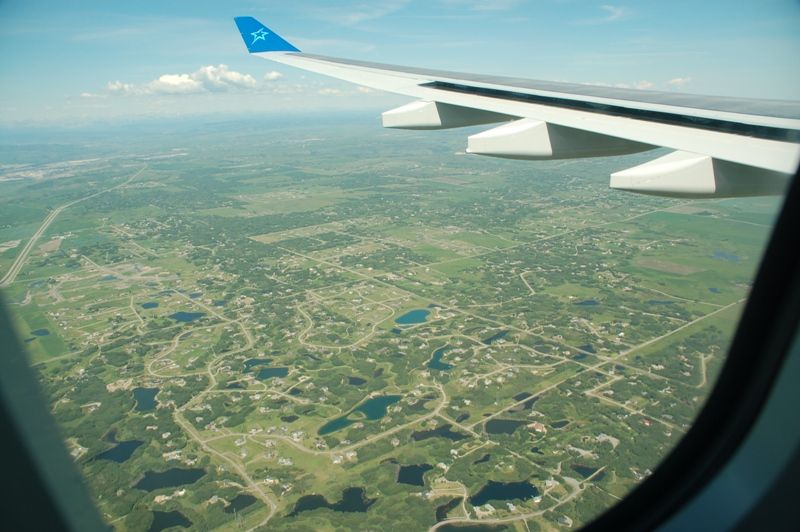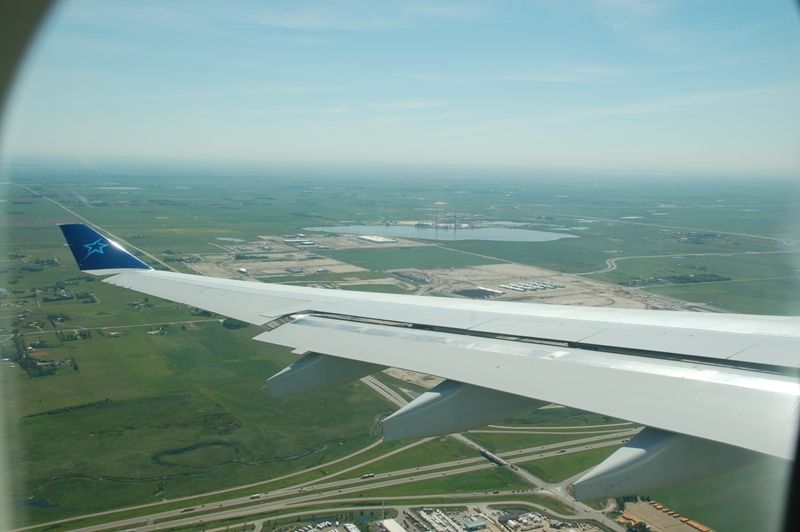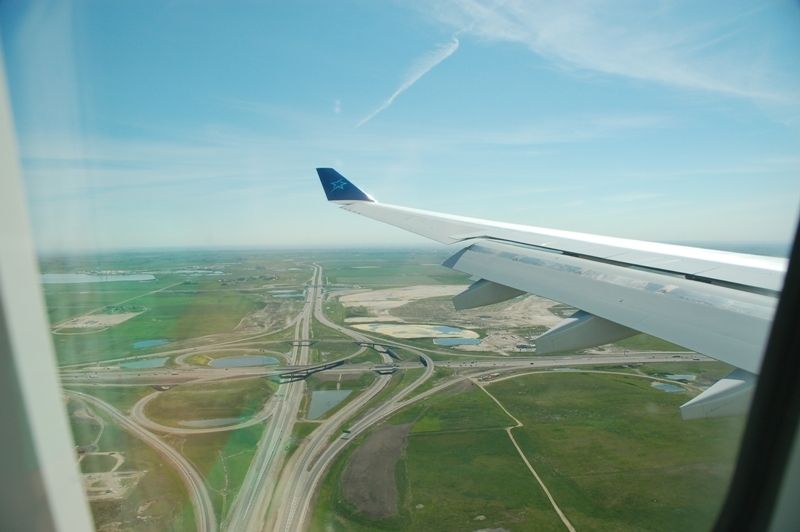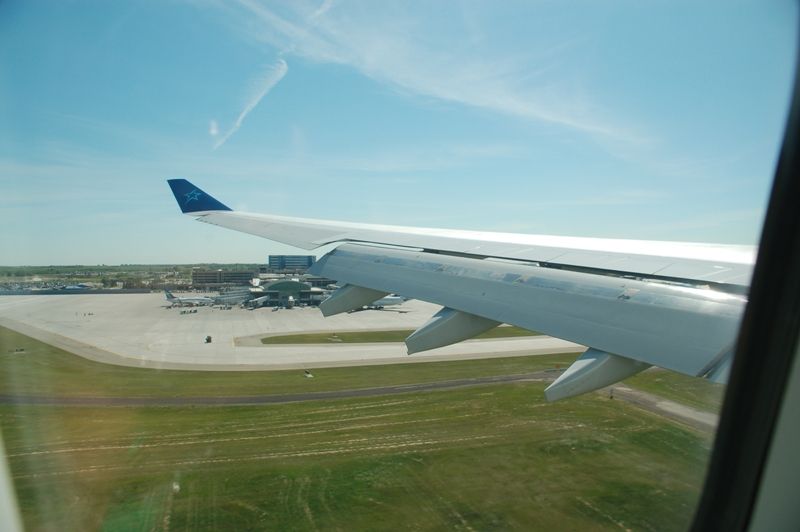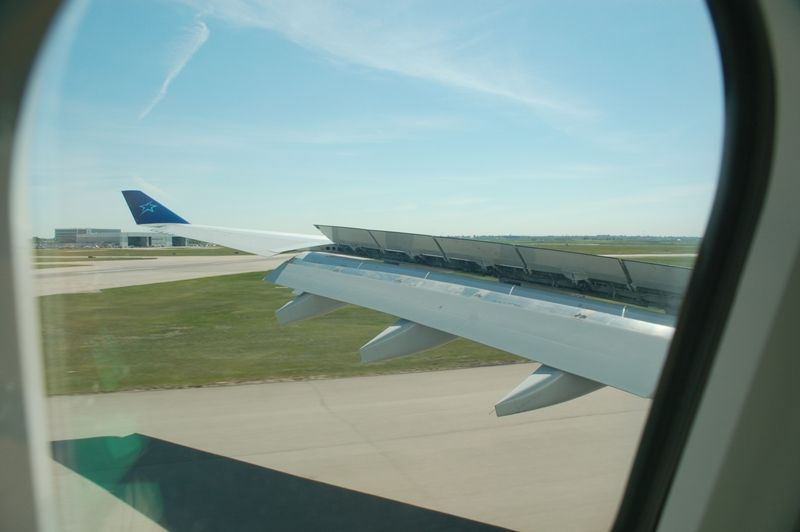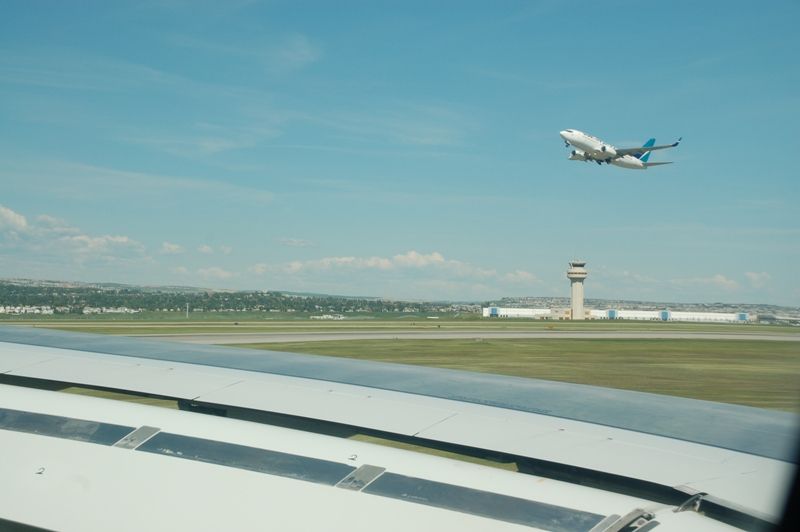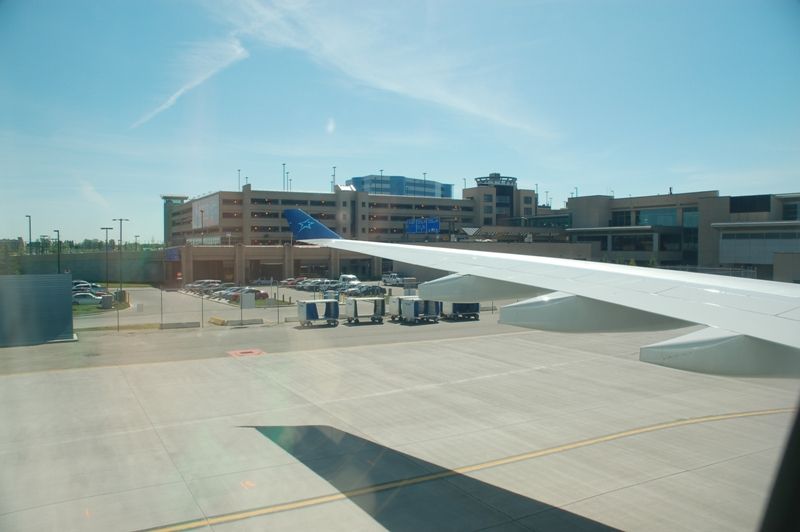 About an hour after, we pushed back once again, this time, taxing out a lot heavier than in Vancouver. We had a 3rd seat mate joining us. We might have preferred to have the extra room, but it turns out that half our "wish" came true. We had a charming young lady, herself in her late teens, early twenties, who was travelling to Croatia.
Having trained mostly at CYYC, I know that airport like the back of my hand. We taxied down Charlie taxiway all the way to the South side of the airport, and took off on runway 34, toward the North. Once airborne, the A330 turned toward the N.E. flying over the Alberta plains. I did recognize a few places, including Three Hills, AB, a small town with an airfiled where I did my first night flight and a few other towns / geographic landmarks along the way.
The flight to Germany was uneventful. We flew over the Canadian Arctic and had quite the view. The meal was served a few hours later with a complimentary wine "glass". The food itself was dog food grade, something that would be banned in prison and the "glass" of wine was actually more like a "shot" of wine. Then again, you get what you pay for. I must say, I did order a beer that I didn't have to pay for since we were "so late". Midway through the flight, we received a 100 dollar gift certificate for a future flight with Air Transat... Lucky me huh?
I read a bit, but for the most part, the three of us talked the entire flight, telling stories of Croatia, Europe or talking about random stuff. Our new lady friend told us all about the latest Hollywood gossip, which I must say was the least interesting topic of this trip, but overall we all had a great time. It sure made for a more exciting flight, which would've been extremely boring otherwise. The in flight entertainment consisted of a few movies on the "old style" monitors that come out of the ceiling... I'll say it again, thanks to my seat mates for making this flight bearable and fun.
Taxiing by a LH sister bus, which was to depart to Frankfurt later that day: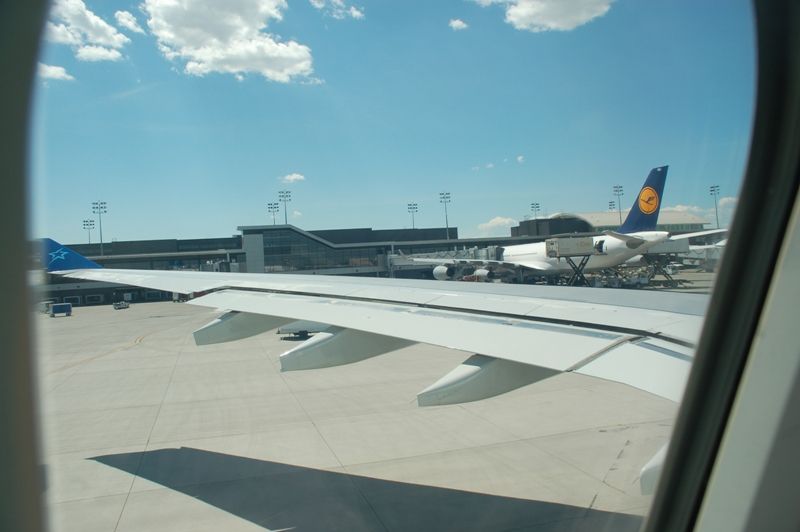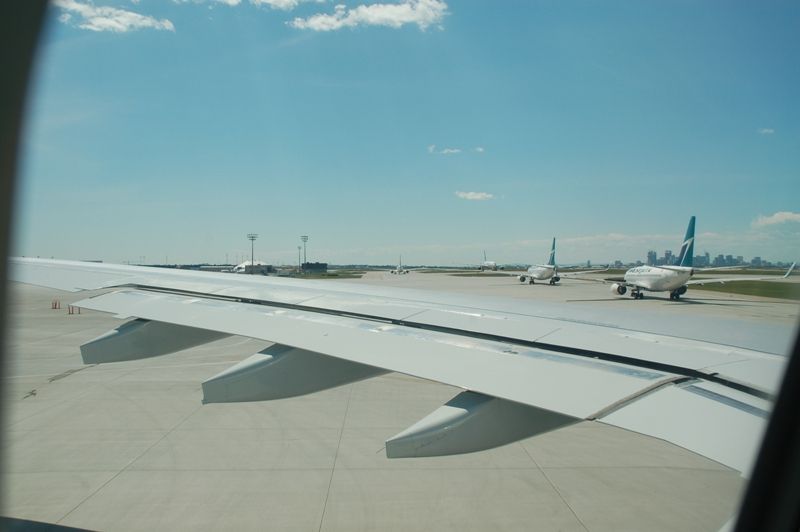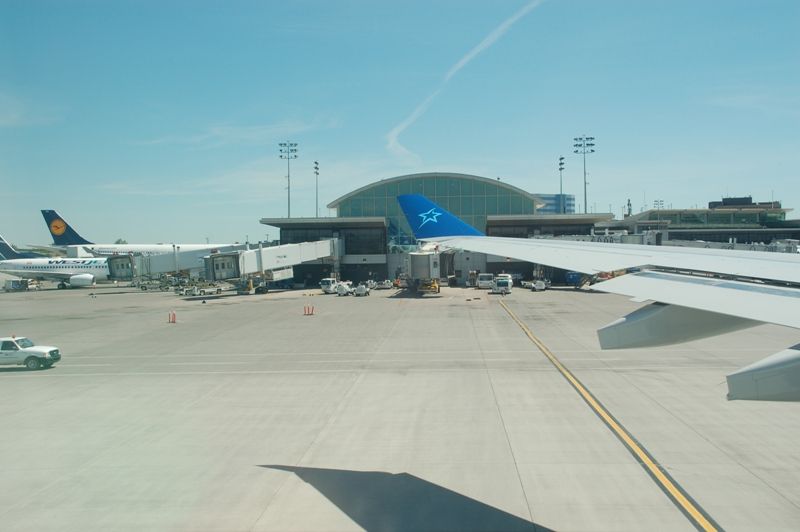 I nice surprise by the WestJet hangar on the East side of the airport. The Canadian Snowbirds...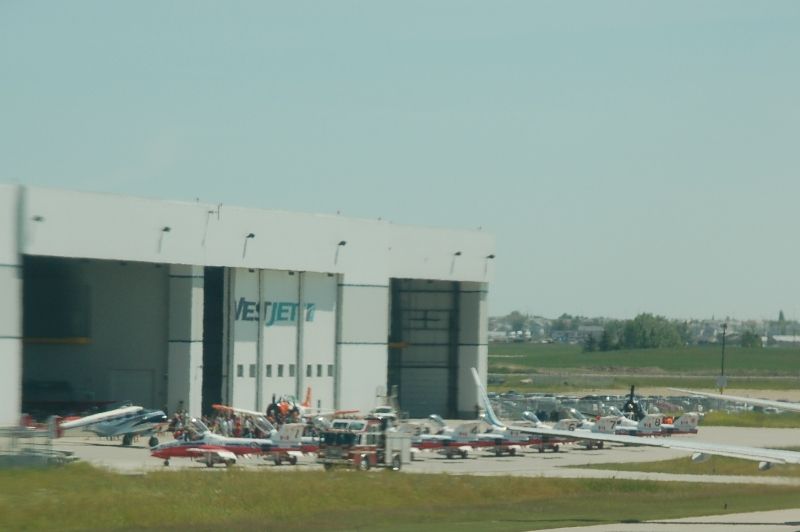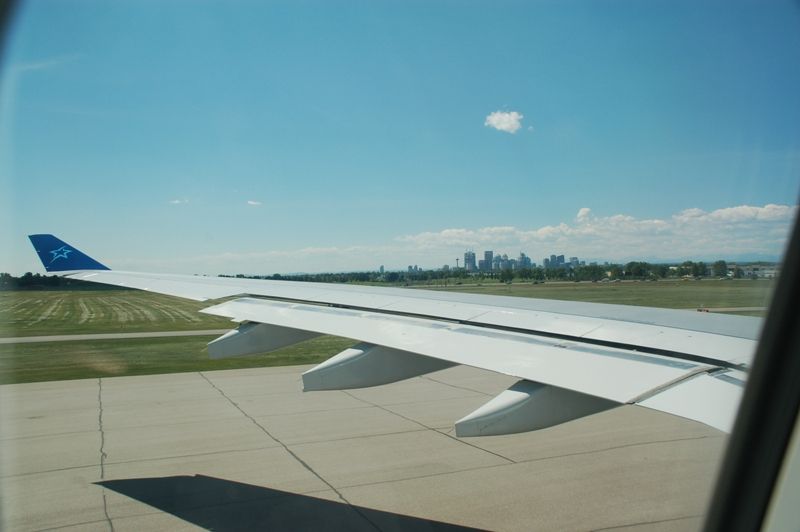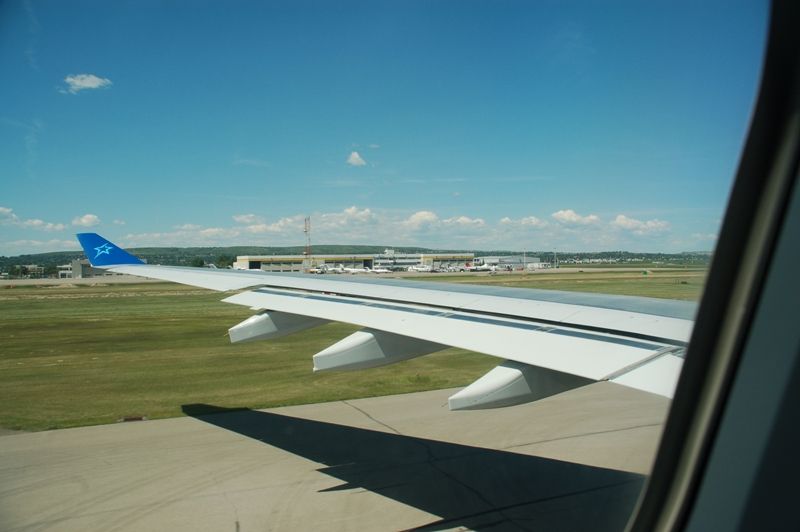 Take-off from Runway 34 at CYYC: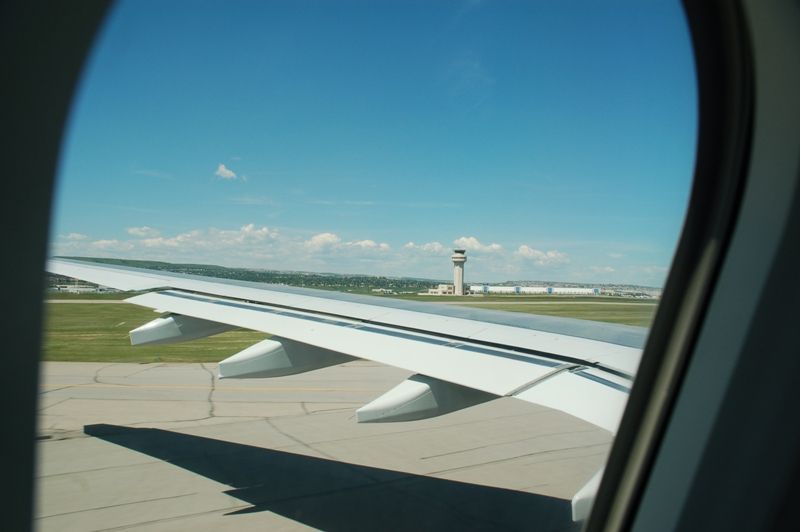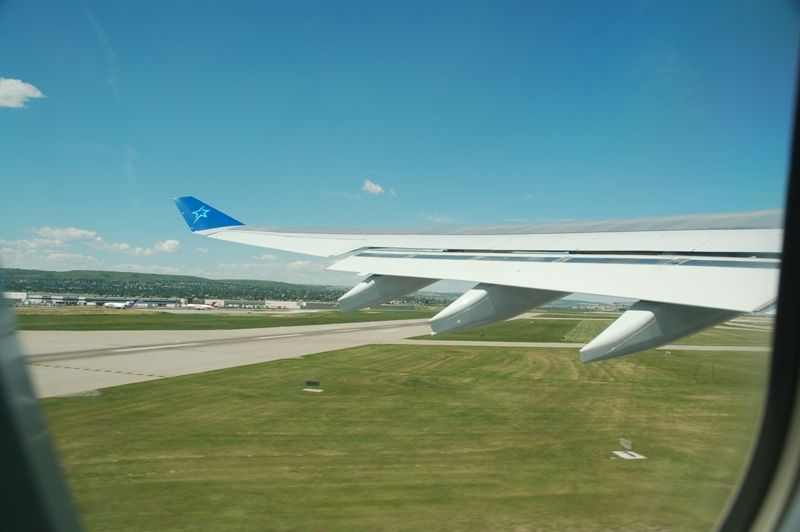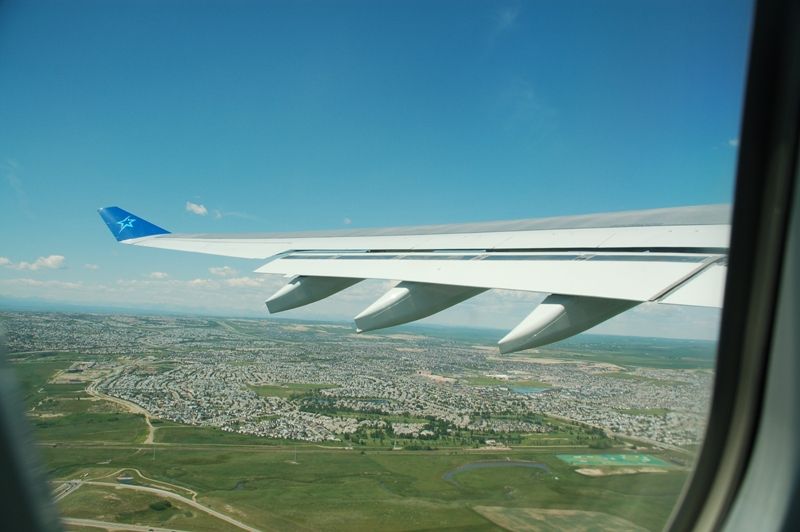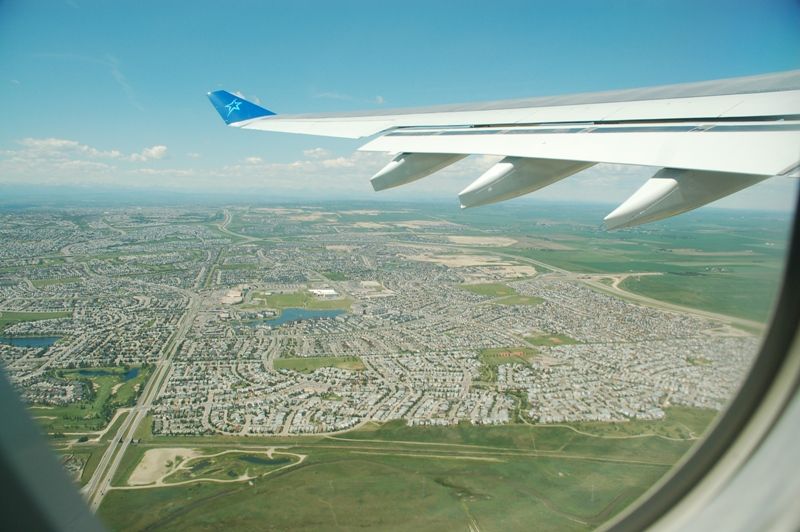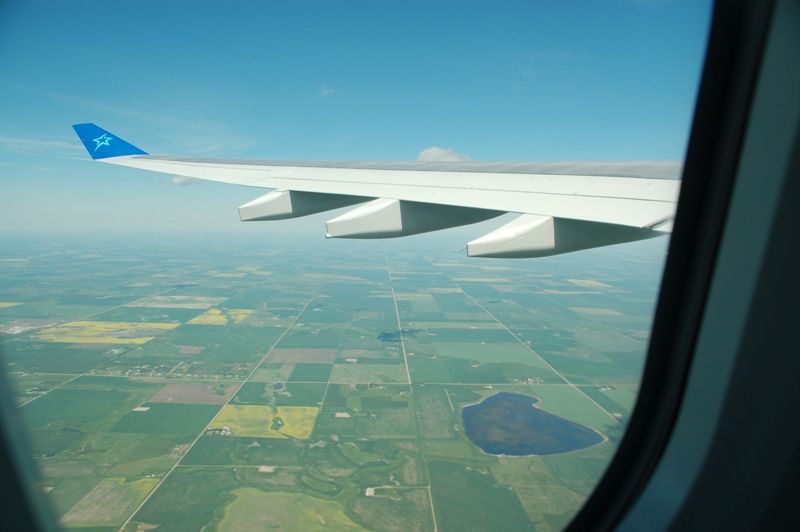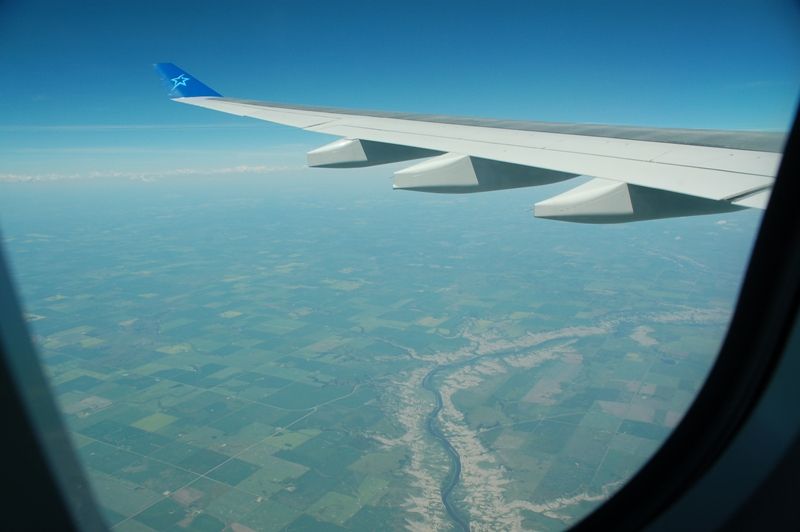 Some reading material... (I'm due for an IFR ride soon)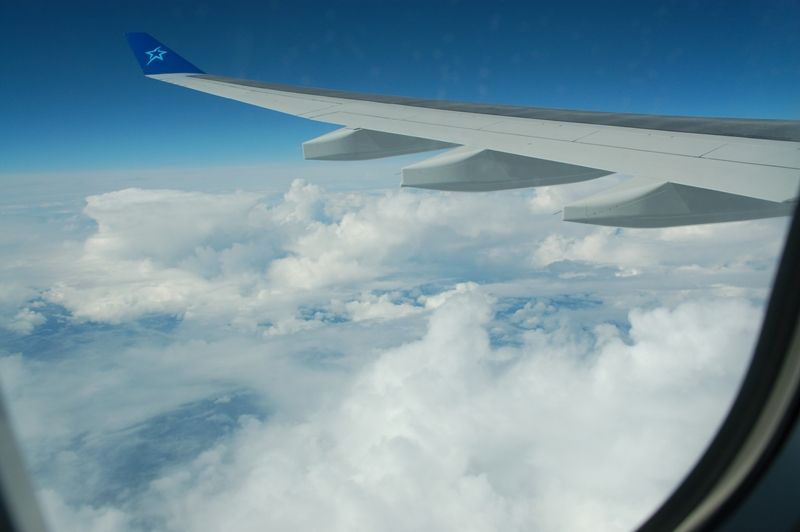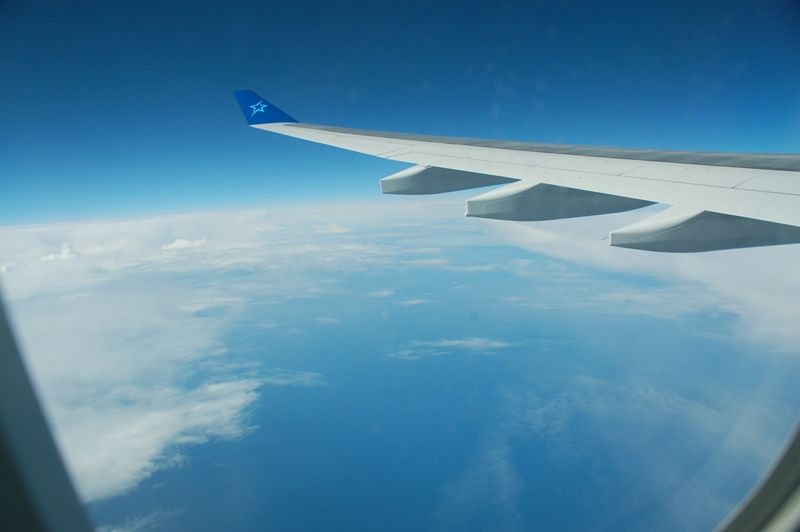 The food: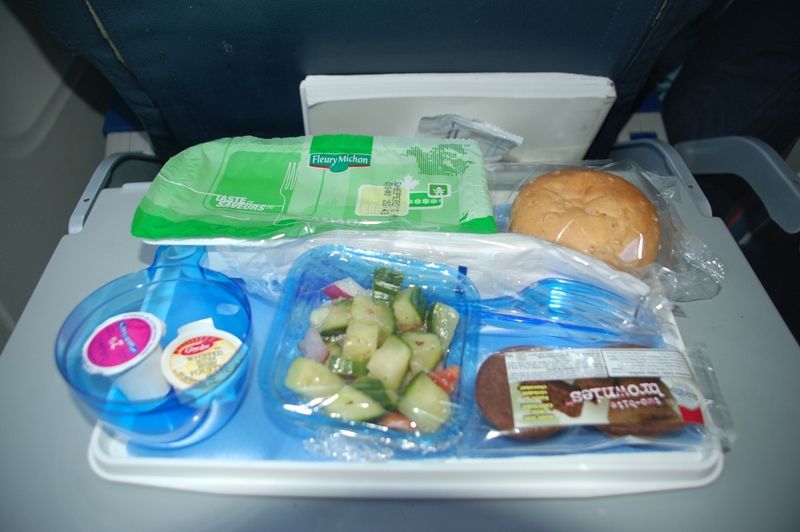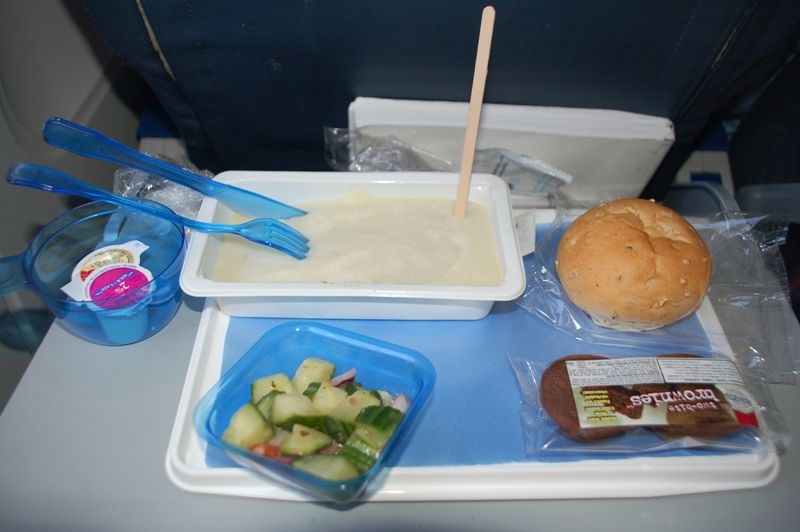 The pathetic "glass" of wine: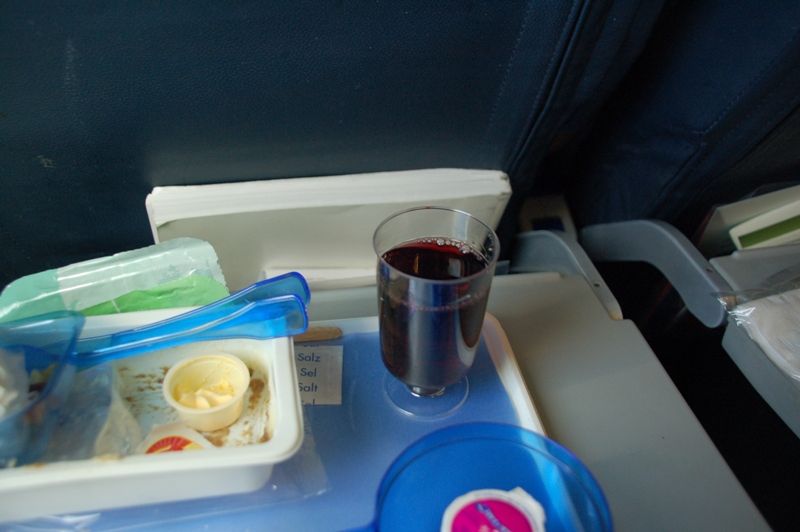 The Canadian Arctic: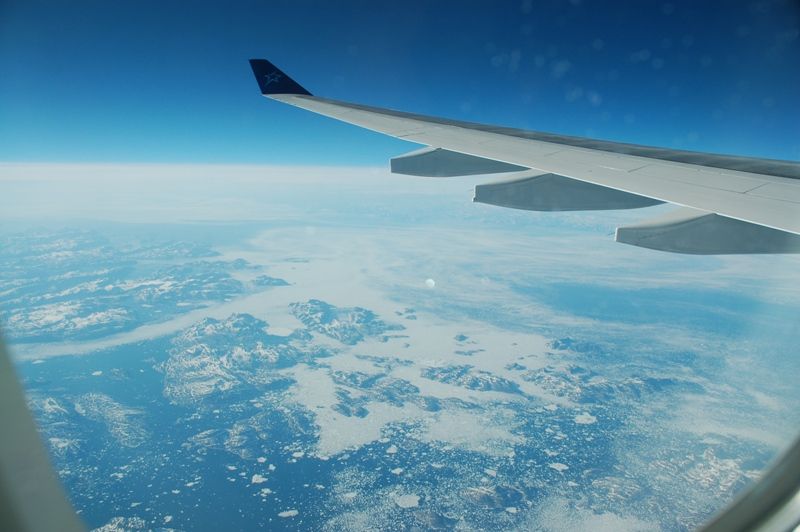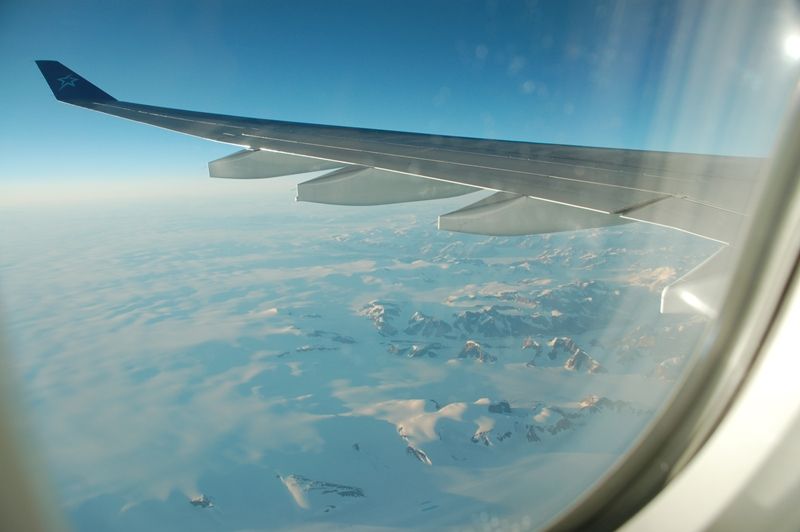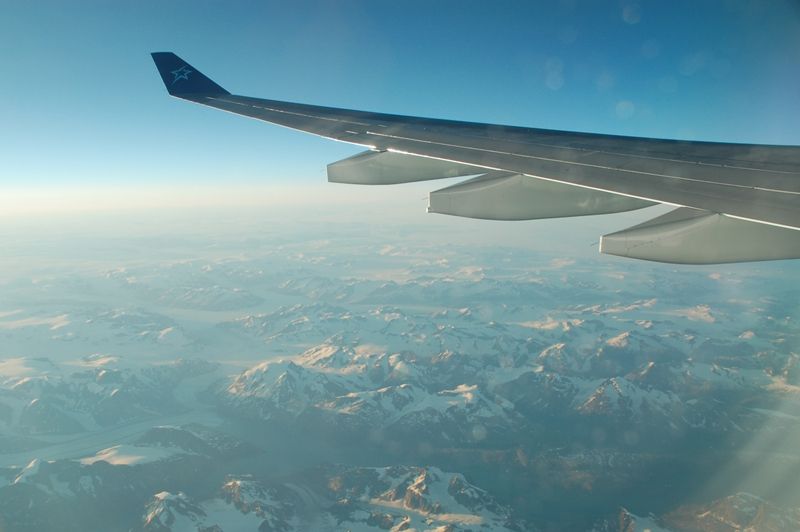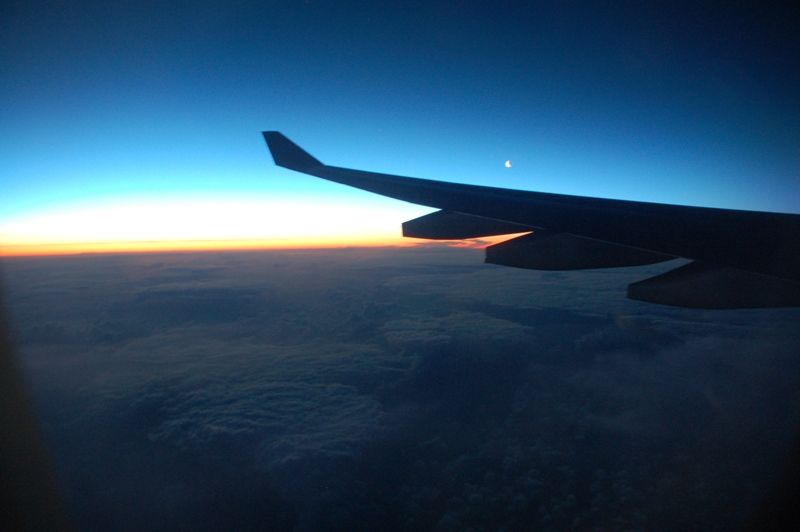 The 100 dollar gift certificate: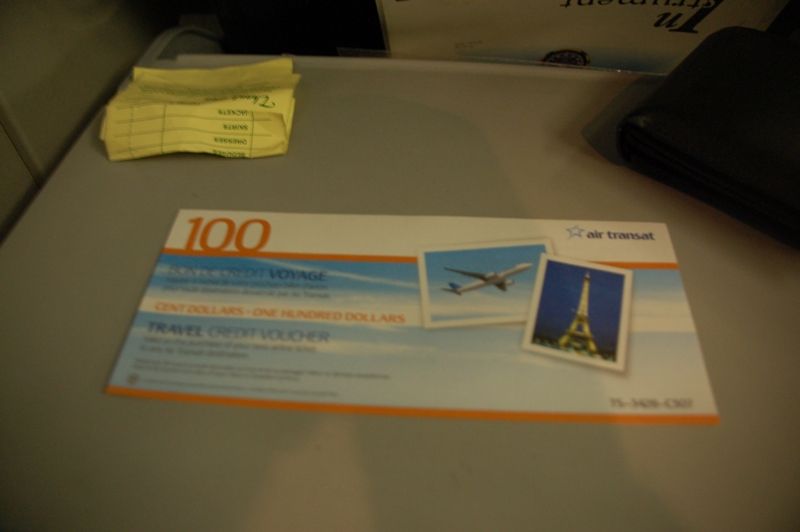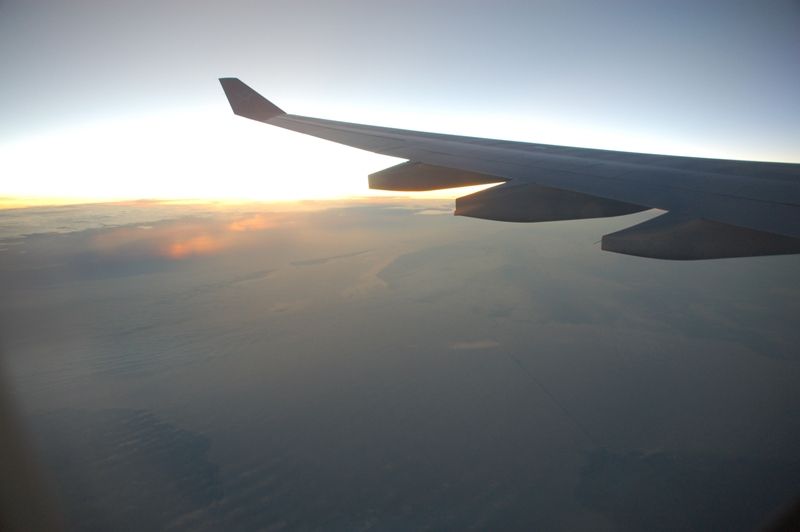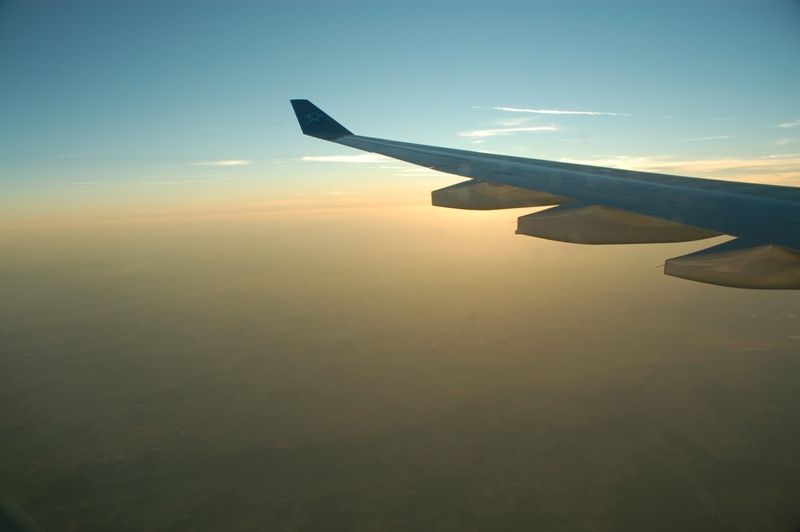 Sometime around 05:00 local time, we started our descent into Munich. The sun was shining bright so I was not able to take any decent pictures. The approach was something of a blur. I was extremely tired and I kept falling asleep for fractions of a second, while trying to snap photos: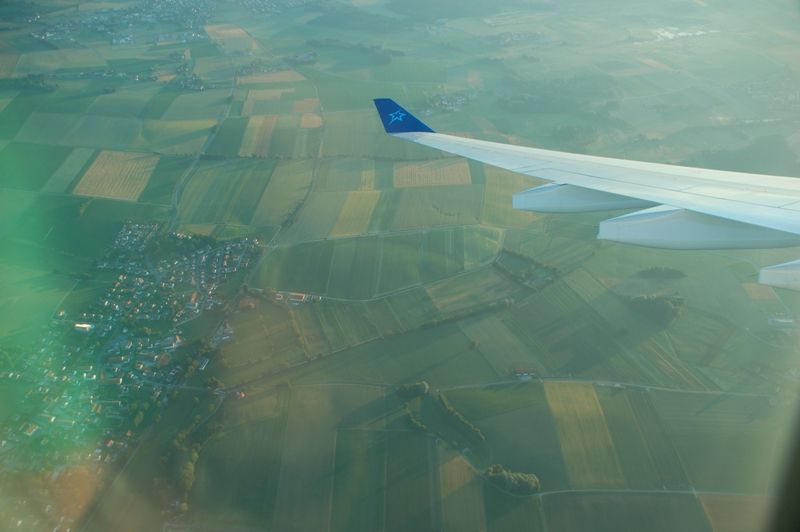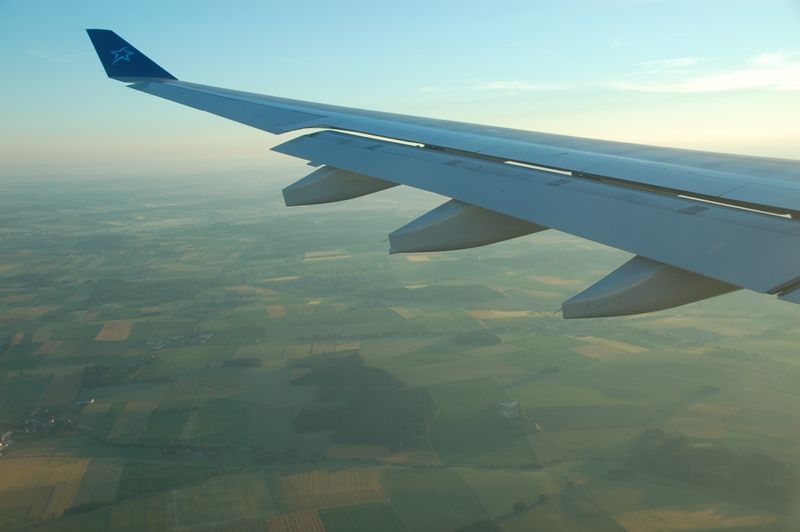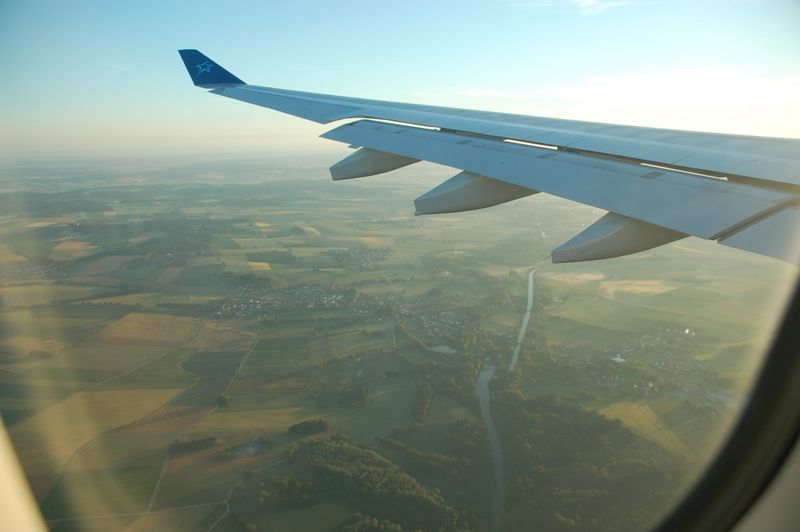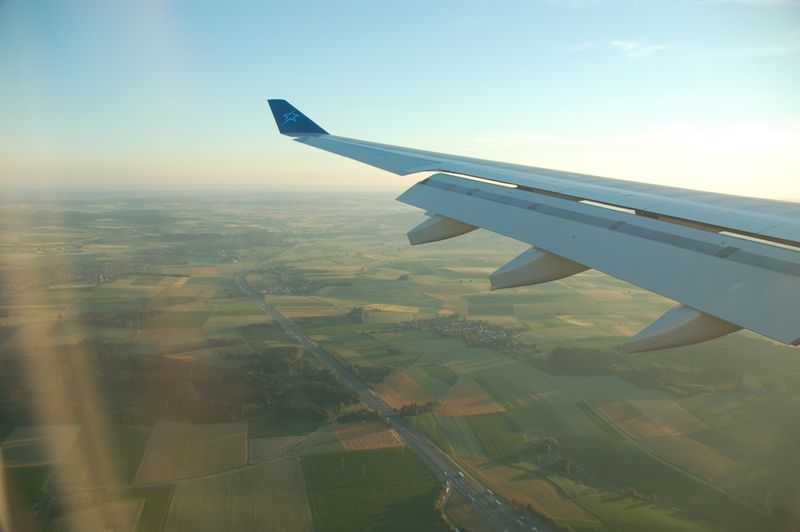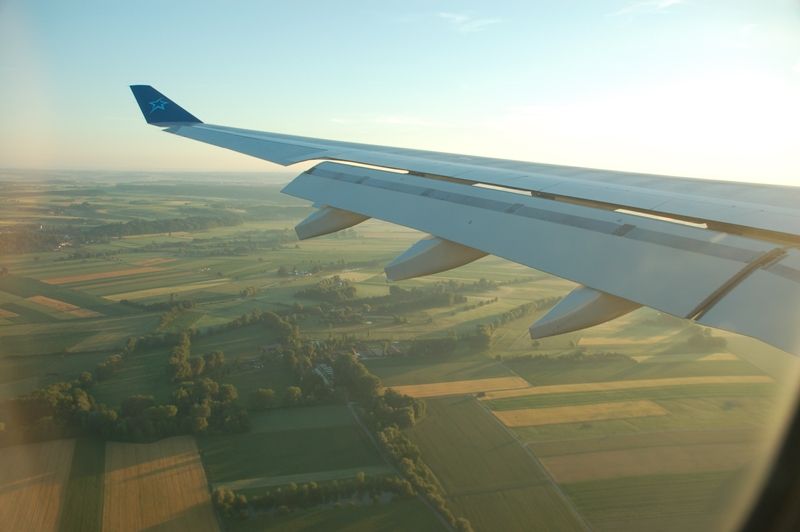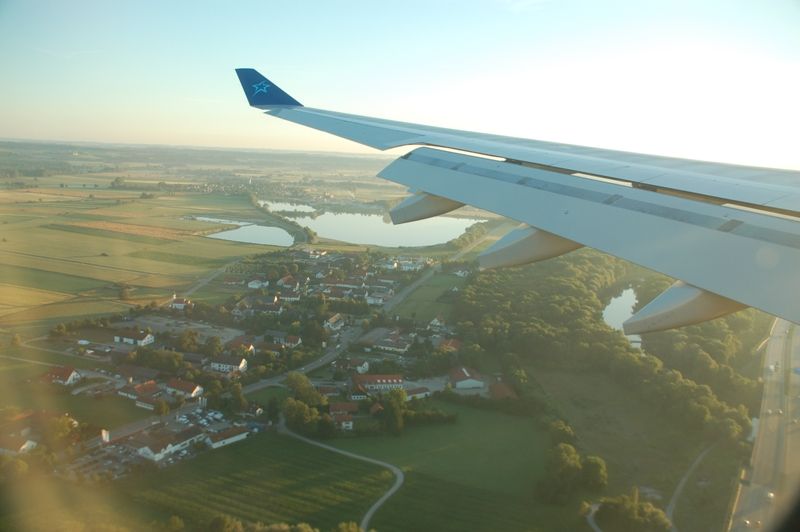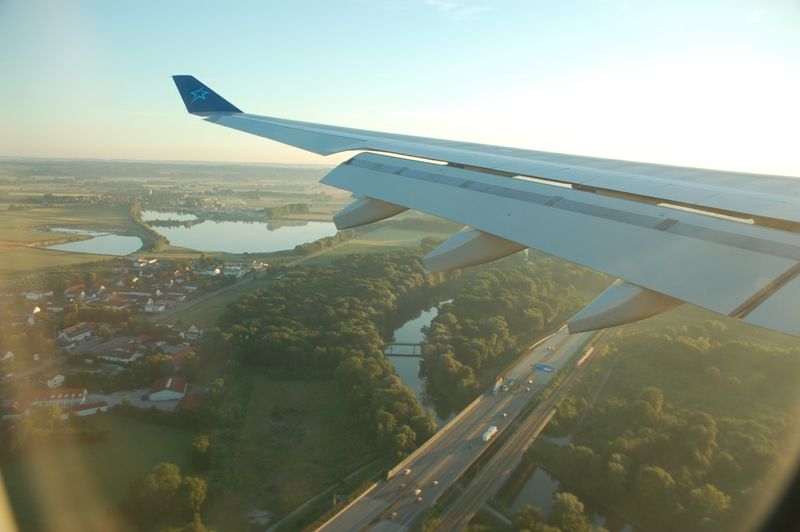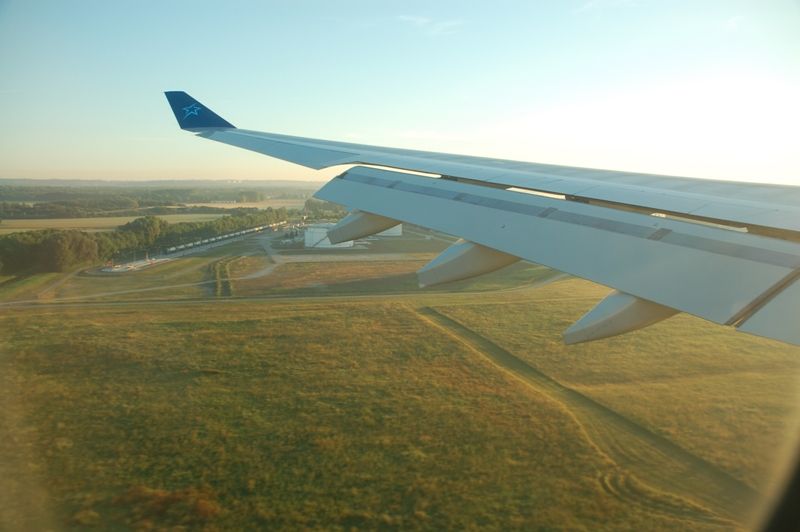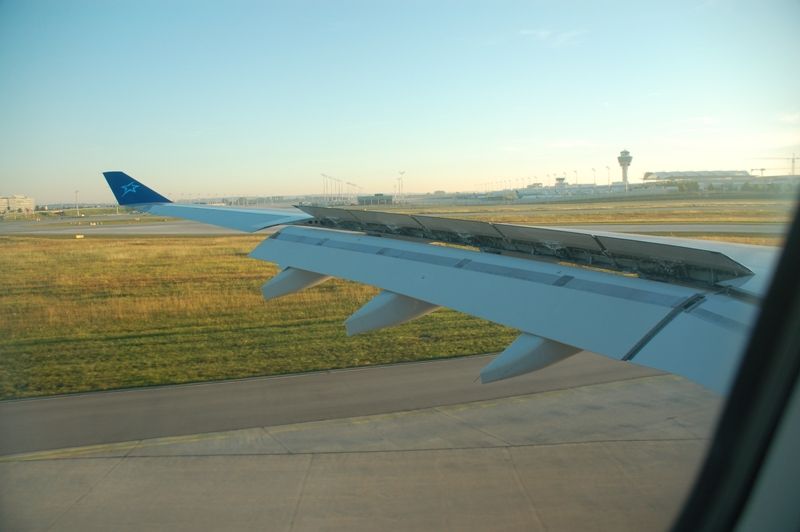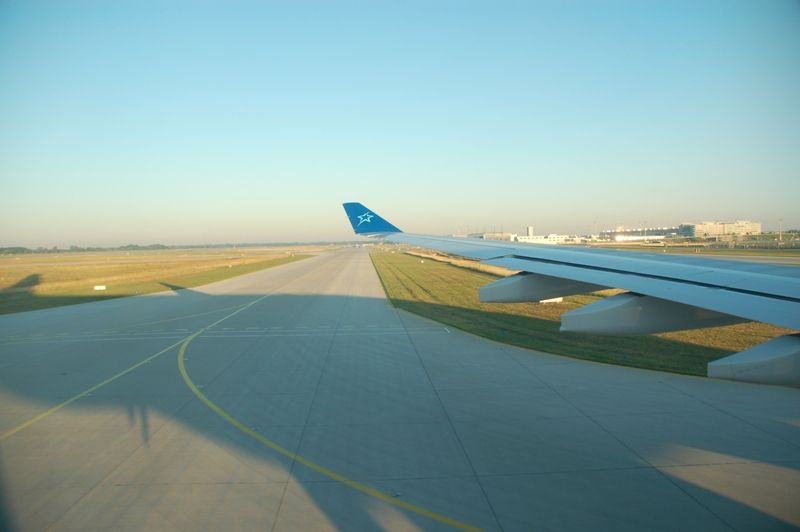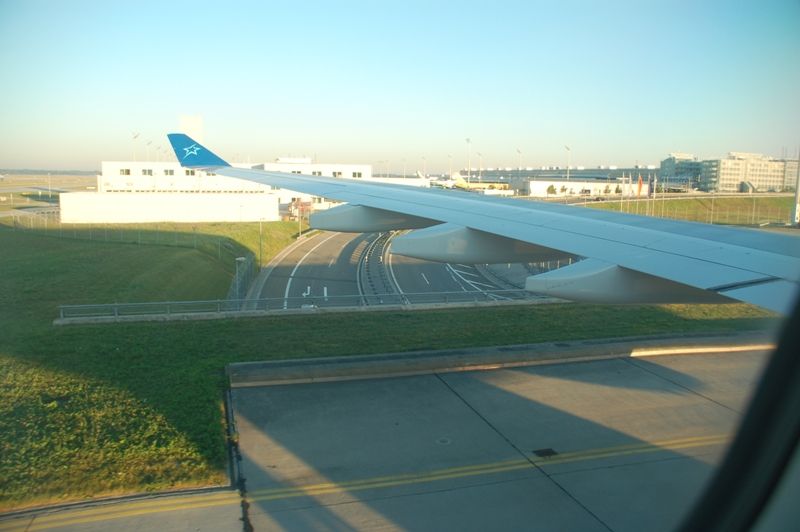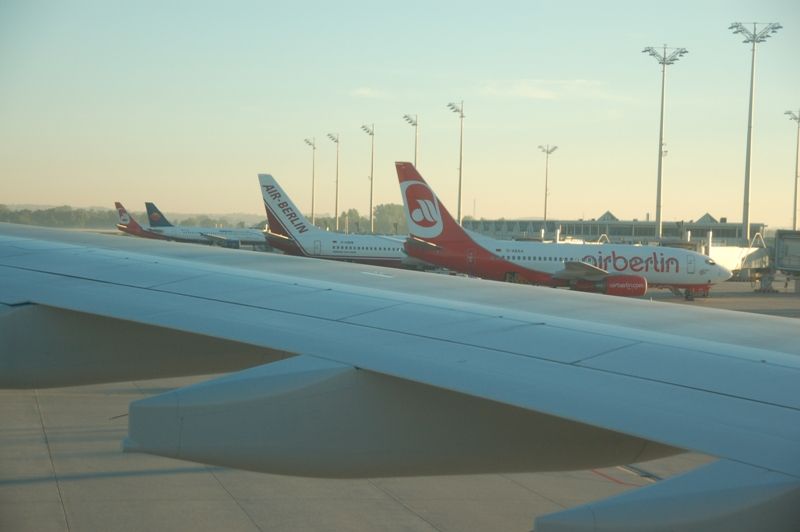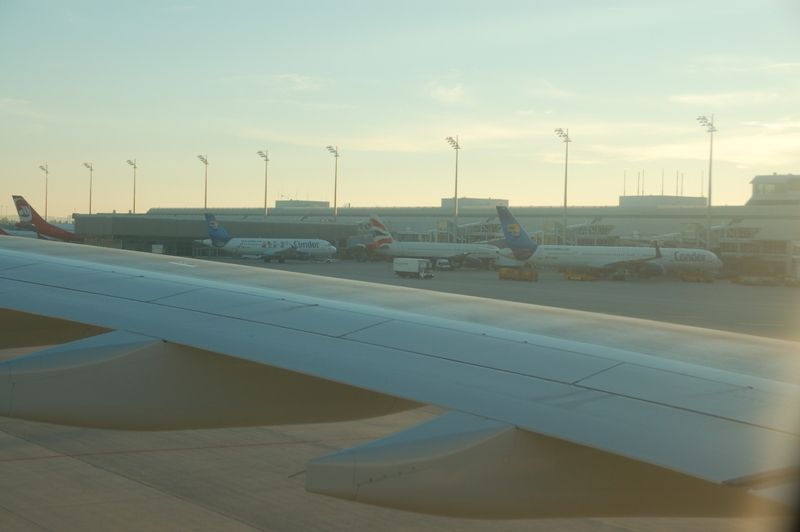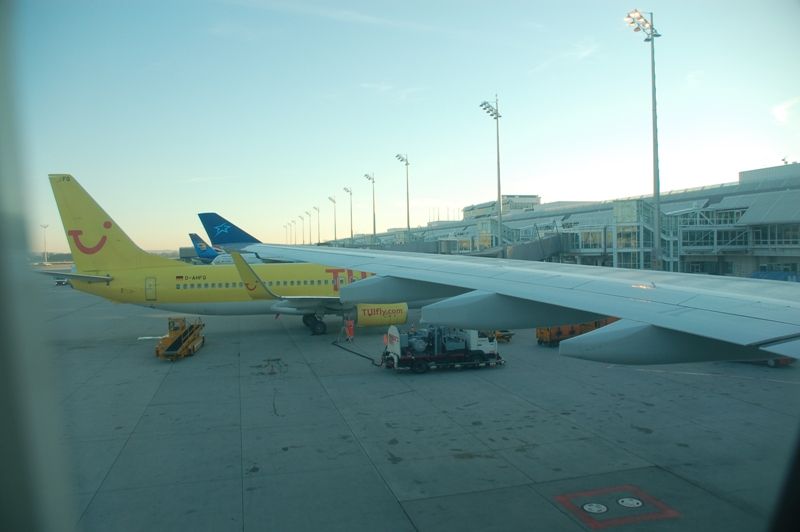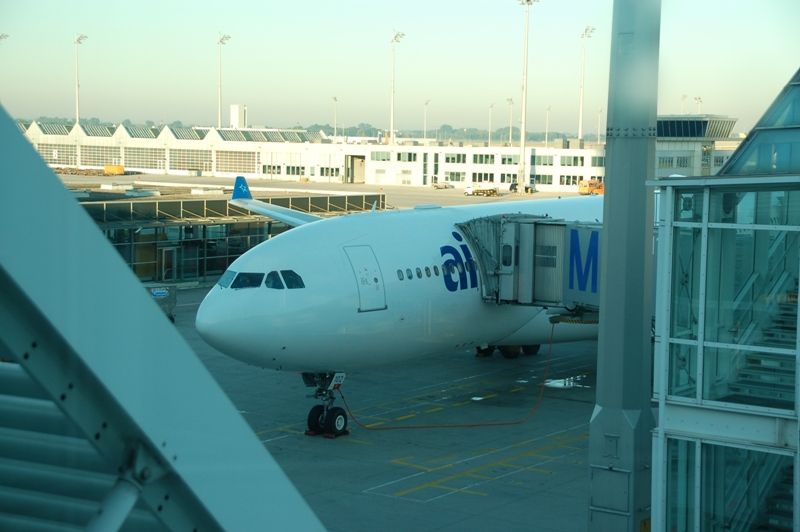 After we landed we de-boarded and passed through customs. I love customs in Europe. They are thorough, professional but extremely polite. Some of our North American counterparts should learn a few things from them.
I grabbed my backpack and walked outside the terminal. My first European breath of fresh air in two years. It's always great to be back in Europe. I just love it. First thing first, I was extremely hungry from the flight, having eaten very little before it and the portion size just didn't do it for me. I went to one of the airport pubs and had "The German breakfast of champions"... Sausage, and pretzel. Unfortunately, it was way too early in the morning to be drinking, so no beer for me. The restaurant had some amazing photos on the wall with historic german aviation, including some black and white pictures of Otto Lilienthal, who in my opinion is just as important as the Wright Brothers to human aviation.
After I had something in my stomach, I went to the Lufthansa counter and told them my story. Again, I got the same response. Sorry sir, you lost both flights. I was a little upset. I mean I understand loosing the first flight, but why did I loose my return flight? I think this policy is retarted. I was expecting this, so it didn't really ruin my day. Now I had to find a way to get to Romania. I had a some options: buy a new plane ticket (LH was 750 Euros return, to Timisoara), take the train or rent a car. Well the train was 150 Euros and would take more than 10 hours, while a car was about 380 Euros for the week. The car seemed like a good choice, but I was really short on time.
Since I have never flown with Carpatair before and want to one day work for them, I decided that this is a good opportunity to fly with them, regardless of the cost. I went on their website and managed to find an awesome flight leaving at 10:55 from Munich, going to Timisoara, for 125 Euros (one way). Great, I bought it right away, without thinking too much about the return flight. I would sort that out when I get to Romania.
After I had my e-ticket in my hand I started to relax a bit and enjoy my trip to Europe. I walked around the airport a bit, met some new people, etc. The time passed pretty quickly and once time for boarding came, we were loaded on a bus and drive to our plane. A few firsts for me here: first time flying with Carpatair, first time on a Saab 2000 and first time flying to Timisoara Airport. I have been to Timisoara before, but never actually flew there. Once I saw the green and white tail of the beautiful Saab, I started getting butterflies in my stomach. I have been dreaming of being a pilot on that exact plane for more than 4 years now. I was the last person to board the plane and I had a small request from the flight attendant. I told her about wanting to fly with them and that in the upcoming days I'd apply at their flight training school... etc... Unfortunately, I was not able to take any pictures during this flight, but all I will say, it was for good reason and it was one of the best flights I've ever had.
We flew over the beautiful Austrian Alps, over Hungary and eventually into Romania, landing on runway 11 and shortly taxied to the ramp. I said good-bye to the crew and thanked them for an amazing flight. What great crew and great airline. Now I want to fly for them even more...
Once at Timisoara Airport, I started feeling so at home. I missed my home country very much and to hear my mother tongue spoken everywhere was a great feeling. Since Romania is now part of the EU, the "passport control" was a mere formality. I did get a stamp on my passport, since I used my Canadian one. I still don't have a Romanian passport yet, because I've lived in Canada most of my life and when we moved here I was on my dad's passport.
Once I collected my checked in back-pack I walked out of the small terminal and met my friend's friend who came to pick me up and drive me to Hateg in Hunedoara County, about 130 km from Timisoara. The trip itself took about 2 hours, since we stopped for food, etc. in a city called Caransebes. I was once again on home soil, having amazing Romanian food (though, not too healthy for the heart)
...
Munich Airport: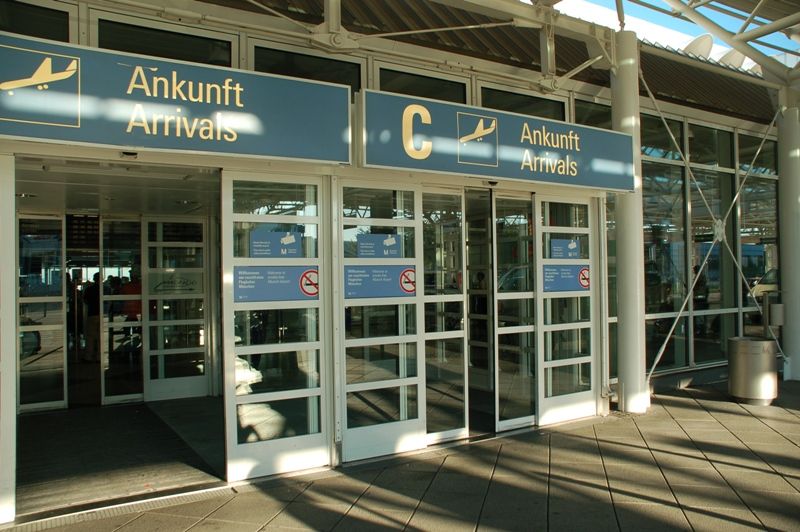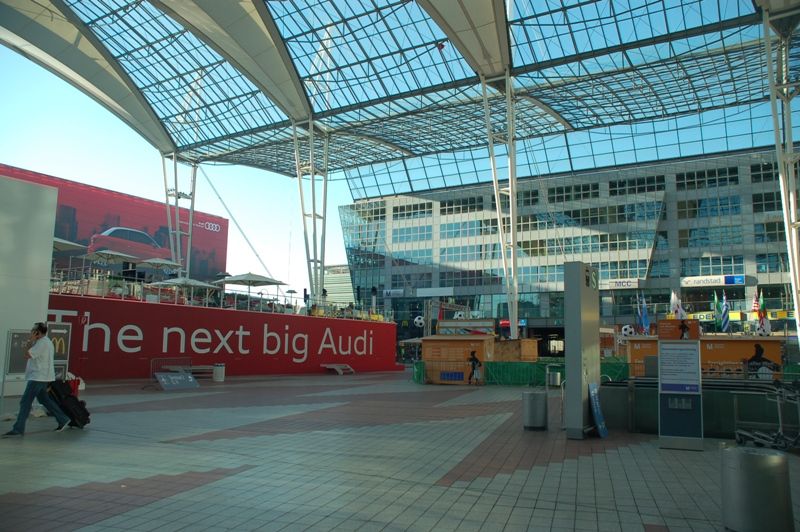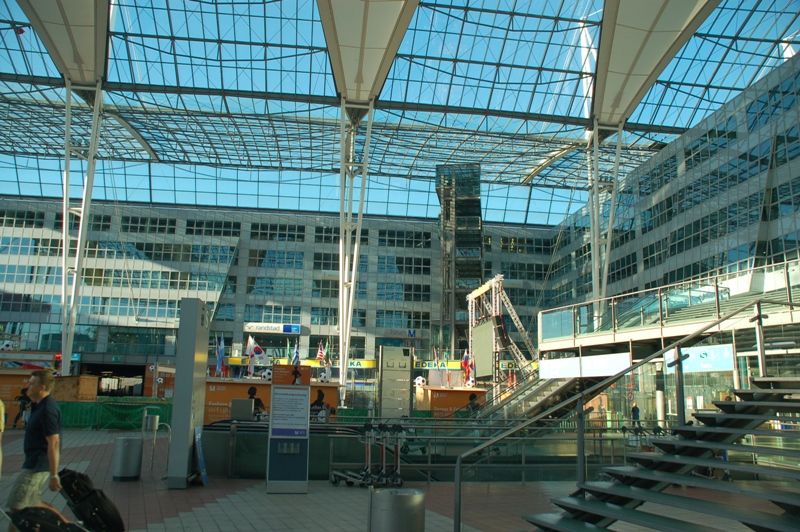 Very interesting photos of historic German aviation:
Superior decisions reduce the need for superior skills.